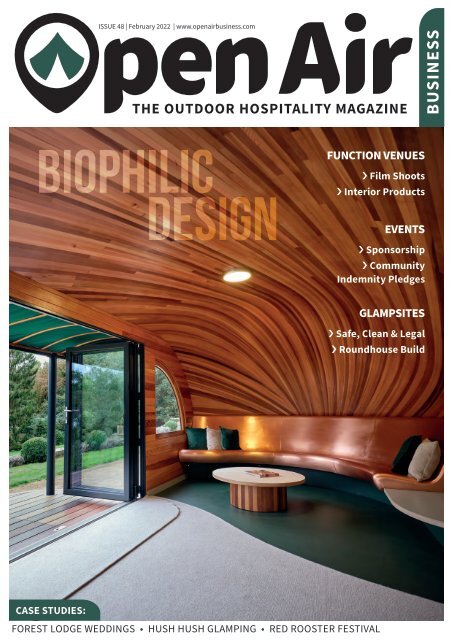 February 2022
The UK's outdoor hospitality business magazine for function venues, glamping, festivals and outdoor events
The UK's outdoor hospitality business magazine for function venues, glamping, festivals and outdoor events
SHOW MORE
SHOW LESS
Create successful ePaper yourself
Turn your PDF publications into a flip-book with our unique Google optimized e-Paper software.
ISSUE 48 | February 2022 | www.openairbusiness.com

BUSINESS

BIOPHILIC

DESIGN

FUNCTION VENUES

› Film Shoots

› Interior Products

EVENTS

› Sponsorship

› Community

Indemnity Pledges

GLAMPSITES

› Safe, Clean & Legal

› Roundhouse Build

CASE STUDIES:

FOREST LODGE WEDDINGS • HUSH HUSH GLAMPING • RED ROOSTER FESTIVAL
---
https://www.lcn.com/support/categories/se

tting-up-and-managing-email/

0100 TO 100 ROOMS ROOMS BUILT IN IN 12 A HOURS DAY

EVENT ACCOMMODATION. REIMAGINED.

www.cubemodular.co.uk

Tel: 01905 955814

www.cubemodular.co.uk
---
ISSUE 48 | February 2022 | www.openairbusiness.com

WELCOME

WE ARE soon heading off to the Event Production Show and

International Confex, delighted to be back amongst event

organisers and the business event crowd. The outlook is positive

for both sectors with live events back on track and festivals in

particular raring to go and make up for lost time. In this issue

we have information on the appetite for event sponsorship and

an alternative promoters can take to mitigate against any future

Covid related cancellations. Rather than paying big premiums

for the Live Event Reinsurance Scheme, Ticketsellers' Mo Jones

introduces the concept of a community indemnity pledge – if it's

good enough for Shambala, then…

I enjoyed Andrew White's contribution this issue – he's obviously been having a bit of

a Netflix binge and asks, following a number of series glamourising too good to be true

lifestyles, what the 'perfect' conference venue might look like? The picture he paints is

very alluring; please someone build it, or tell me about it if it's already out there! A big

consideration of this perfect space is nature in design – biophilia. And as if it were planned

(it wasn't…) Charlotte Winship gives an overview.

You can't get more 'of nature' than Kate Symonds' straw bale and "smooshed" clay

roundhouse. A glamping structure comprising local, natural and beautiful materials hand

built by her family and a group of Workaway volunteers. It is a truly gorgeous space and

one I want to stay in.

Thank you to Keri Maundrell, owner at Wellington Barn, our Entrepreneur's Chat

candidate. Sad for her, but lucky for us, storm Eunice put pay to her skiing holiday in order

that she could talk to us. Thank you universe; you do work in strange ways (P.S. She did

manage to hit the slopes a day later).

Tally Rix

Editor / Publisher

PUBLISHERS

Steve Rix - steve@openairbusiness.com

Tally Rix - tally@openairbusiness.com

EDITOR

Tally Rix - tally@openairbusiness.com

ADVERTISING SALES

Marney Whyte - 01892 677743

marney@openairbusiness.com

David Hobden - 01892 677741

david@openairbusiness.com

ADMINISTRATOR

Kirsty Farrow – 01892 677740

kirsty@openairbusiness.com

DESIGN

James English -

www.jamesenglishdesign.co.uk

PUBLISHED BY

Coffee Shop Media Ltd

www.coffeeshopmedia.com

Milroy House, Sayers Lane,

Tenterden, TN30 6BW

01580 848555

Contents ISSUE 48 – FEBRUARY 2022

UP FRONT

4 News

7 Product News

11 Entrepreneur's Chat

– Keri Maundrell,

Wellington Barn

FUNCTION VENUES

17 Forest Lodge

Weddings – a horse

friendly venue in the

woods

22 Biophilic Design –

bringing the outside

in for the benefit of

all

27 Netflix 'Perfect' –

Andrew White on the

must haves

28 Film Shoots – how

to market to location

scouts

30 Interiors and

Furniture – products

in action

GLAMPSITES

35 Hush Hush

Glamping – working

three jobs to get a

farm diversification

off the ground

40 Safe, Clean, Legal -

Quality in Tourism's

accreditation is more

relevant than ever

45 Making a

Roundhouse – an

eco-structure made

with love

48 Landscapes and

Exteriors – products

in action

EVENTS

50 Red Rooster Festival

– American southern

roots festival

attracting 6,000

people

55 Sponsorship – how

to attract and retain

sponsors

58 Community

Indemnity Pledge

– an alternative to

Covid insurance

60 Event Glamping –

products in action

62 Spotlight

63 Classifieds

65 Behind the Scenes

– Steve Butcher,

Chilfest

OPEN AIR BUSINESS IS

NO LONGER FREE

To start a paid subscription, please visit

www.openairbusiness.com/subscribe

Find more expert advice online:

www.openairbusiness.com

SUBSCRIBE

ONLINE

BIOPHILIC

DESIGN

FUNCTION VENUES

› Film Shoots

› Interior Products

CASE STUDIES:

FOREST LODGE WEDDINGS • HUSH HUSH GLAMPING • RED ROOSTER FESTIVAL

EVENTS

› Sponsorship

› Community

Indemnity Pledges

GLAMPSITES

› Safe, Clean & Legal

› Roundhouse Build

COVER PHOTO

Inside of one of Timeless Composites innovative new

structures, a luxury hosting pod. Adaptable, sustainably built

and ideal for any outdoor event looking to create a wow

factor for guests.

07980 651578, piers@timelesscomposites.com,

www.timelesscomposites.com

BUSINESS

WWW.OPENAIRBUSINESS.COM 3
---
Tripadvisor

Passes One

Billion Reviews

Tripadvisor announced on 1 February

that its community had enabled an

historic internet milestone: 1 billion

reviews and opinions.

Founded 22 years ago by current

president and CEO Stephen Kaufer,

Langley Steinert, Nick Shanny and Tom

Palka, reaching this landmark comes

just several years after announcing it

had reached half a billion reviews and

opinions, in 2017. New research shows

that today the platform remains the

most important review destination

online for millions of consumers and

businesses.

"We are so grateful for the

contributions that the Tripadvisor

community has made over these last

22 years," says Kaufer. "Trusted reviews

and opinions from travellers are the

heart and soul of the platform and

help make everyone a better traveller,

enabling millions of businesses to

flourish and drive trillions of dollars in

economic value across the globe."

To mark the occasion, Tripadvisor

released new research titled The Power

of Reviews. This analysis about review

content showed how long-form reviews

influence booking decisions. It is also

launching Write a Review Day on 3

May, and every first Tuesday of May

thereafter.

UKHospitality

on Living with

Covid Plan

UKHOSPITALITY HAS

responded to the

government's Living with

Covid plan with a statement

from CEO Kate Nicholls, who

said: "It is heartening to hear

that we are now moving to

trading based on the safety

measures that businesses

have put in place and we

hope that this will ignite

consumer confidence in our

sector and beyond.

"The hospitality industry

has proved that its venues

are safe for staff and

consumers and that, when

allowed to trade without

restrictions, it can be a

major driver of economic

growth and recovery. We are

pleased to see that much of

our five point plan for living

with Covid has been taken

forward by government.

Sustainability

Accreditation for

Corporate Events

GREEN TOURISM and the Meetings

Industry Association (mia) have secured

an exclusive five-year partnership to

drive standards for sustainable business

meetings and events. The partnership will

help mia members secure Green Tourism's

accreditation, which has a strict threepillar

sustainability criteria.

Independent assessors will examine

members' adoption of the criteria,

which will be integrated into the mia's

AIM Secure accreditation, ranging from

energy, water and waste through to

"Hospitality was hit first,

longest and hardest by this

pandemic, however, and

with costs rising across

the board and a VAT rise

due this April – just as the

cost of living crisis is set

to bite – businesses in the

sector still need support.

At the very least, we need

the government to commit

to keeping VAT at 12.5%

beyond April in order for the

industry to be able to play

its full role in the UK's social

and economic recovery."

Key measures from

UKHospitality's five point

plan included consistency

in regulations across the

UK, an appeal to trust

businesses to look after

their staff and customers,

planning for international

travel to avoid a return

to decisions that prevent

in-bound tourism, the

ability to ramp up health

infrastructure, and clear

communication as the

pandemic highlighted

how public messaging

directly impacts consumer

confidence.

catering, procurement and travel, as

well as awareness, communication and

community involvement.

Kerrin MacPhie, chief executive of the

mia, said: "We are moving into a new era

of business meetings and events. Covid-19

has been a catalyst in focusing the industry

on what is important, and sustainability

will play a vital role in supporting the

sector's road to recovery."

MIA

CAMC Expand Glamping Offering

PROPOSALS HAVE been submitted for a mixture of 12 glamping pods and three safari

tents at Caravan and Motorhome Club (CAMC) owned Lady Margaret's Park Caravan

Club Site.

CAMC is currently looking to improve its facilities across the UK. In a planning

statement entered with Wrexham Council they said: "The CAMC wishes to diversify

and enhance the facilities at the site in order to meet both the high standards its

membership requires and also ensure increased compliance with disability and other

regulations."

4 WWW.OPENAIRBUSINESS.COM
---
Steve Heap

Recognised

as Industry

Legend

STEVE HEAP, general

secretary of The

Association of Festival

Organisers (AFO), has

received the Industry

Legend Award at the 2022

Event Production Awards.

With over 55 years of

experience in the festival

and events industry, Steve

is also the director of Mrs

Casey Music, chairman of

the Events Industry Forum

(EIF) and a contributor to

The Purple Guide dealing

with health, safety and

welfare at music and other

live events. He was also

the director of Towersey

Festival for 45 years until

August 2019.

Alongside his work with

the EIF and AFO, he is also a

supporter of Creative Lives,

LIVE, and Vision 2025.

In presenting Steve the

award at the ceremony in

London, Festival Insights'

Andy Lenthall said: "It's

hard to pin a label on him

so let's just settle on two

words – Industry Legend."

Glamping Expansion at Suffolk Farm

WHITEHOUSE FARM, near

Wetherden in Suffolk, has submitted

plans to expand its holiday

accommodation with 10 lodges, six

glamping pods, four shepherd huts

and 10 camping pitches. The plan

also includes a newly-created lake

for activities including canoeing,

swimming and paddle boarding, and

a 'trim trail' which will run around

the site.

Rob Hasselder, owner of

Whitehouse Farm, said: "The overall

plan is to expand the existing

holiday cottage business with the appeal of glamping and staycations that we've got at the

moment. I don't want it to feel like a holiday park, I want everything to have its own private,

almost secluded, spot."

JONATHAN JT TAYLOR, ANISEED PHOTO

UK Farm Holidays

Popularity Surge

FARM STAY UK, the market leader

in UK farm holidays, has reported a

sharp increase in bookings for 2022 as

Brits and visitors to the UK continue to

value the space, close access to nature

and independence holidays in the

countryside offer.

A year-on-year comparison of traffic

to the booking platform's website

in 2020 and 2021 showed a jump of

190.18% over the Christmas and New

Year period, with 53,519 unique users

between 25 December 2021 and 16

January 2022. Compared to the 18,468

visitors across the same date range

in 2020/2021, numbers have almost

tripled.

Google Analytics evaluation also

showed that the number of new visitors

to the website was up by 194.47%, and

page views by 150.29%.

Kay Barriball, chairman of Farm

Stay UK, said: "As a not-for-profit

cooperative of rural properties across

the UK, we've definitely seen an

increase in people looking for short

breaks in the countryside, wanting

to book directly with their hosts and

generally connect with food and

farming."

ROB HASSELDER/WHITEHOUSE FARM

MAC CABINS LIMITED

Modular • Artisan • Contemporary

Glamping Sites, Leisure Parks, Holiday Rentals,

Bed & Breakfasts (B&B), Hotels & Resorts, Golf Clubs,

Camp Sites, Holiday Retreats, AirBnB and Land/

Garden Owners.

Whether you are looking to start,

expand or diversify your own

existing holiday rental business,

MAC Cabins brings you the

perfect selection of the best

Timber Log Cabins, Glamping

Pods, Timber Lodges and Small

Homes Tiny Houses, collectively,

for you to choose from.

MAC Cabins actively supports and promotes the sustainable tourist industry.

0800 999 1564

maccabins.co.uk

WWW.OPENAIRBUSINESS.COM 5
---
Join the leading

conference for a

greener live sector

Early bird tickets now available:

agreenerfestival.com

London

29 April 2022

Royal Garden Hotel

Kensington High Street, W8 4PT
---
PRODUCT

Beautifully Handcrafted Shepherd Huts

WHITE DOVE Shepherds Huts is a new

player to the market, founded by Paul

Cunningham. A family business in

the centre of Lancashire, White Dove

has been born from Paul's successful

joinery manufacturing business which

he has been running for over 20 years.

Joined by sons Sean and Martin who

have joinery and steel manufacturing

expertise, the team creates truly bespoke

huts from the chassis up.

"People come to us with ideas and

plans and we do are very best to turn

them into their dream hut," says Paul.

"Internally, we can manufacture bespoke

furniture in our fully equipped joiner's

workshop to a very high standard."

Huts are hand built traditionally from

locally sourced materials within five

to six weeks, and feature C24 grade

structural timber, full insulation and

double glazed sealed windows and

doors. The roofing system comprises

curved corrugated galvanised 0.7mm

steel with Dripstop (condensation

controlled fleece) and a 200 micron

resistant top coat.

07976 616253, info@

whitedoveshepherdhuts.co.uk,

www.whitedoveshepherdhuts.co.uk

Cube Modular Launches

Sustainable Event Hotel

NEW FOR the 2022 events and festivals season,

Cube has launched the state-of-the-art and

sustainable Event Hotel. The 20 bedroom hotel

is constructed using market-leading and awardwinning

Continest foldable containers, buildings

which can be rapidly deployed to create multiroom

accommodation structures.

The eco-friendly pop-up modular hotel is

suitable for any large scale event, making it ideal

for organisers looking for on-site accommodation

to reduce their travel and transport costs. The

entire structure, consisting of 20 bedrooms with

ensuite facilities, is transported on just two trucks,

leading to an 80% saving in carbon fuel emissions

compared to fixed framed portable buildings.

The insulated buildings can be jointed and

stacked to form a two-storey structure where

space is at a premium, and is supplied with air

conditioning where required.

The Event Hotel is the latest addition to Cube's

sleeping accommodation range, which also

features Snoozy luxury glamping pods.

01905 955814, theteam@cubemodular.co.uk,

www.cubemodular.co.uk

Pushing the Boundaries of Luxury

TIMELESS COMPOSITES is launching three products

this year including a 30m2 fully mobile and adaptable

event pod. This pod pushes the boundaries of

luxury hosting spaces, complete with copper seat,

underfloor heating and air conditioning. Its second

product is a trailer which demands attention and will

serve as the design centrepiece of any high quality

outdoors event.

The innovative, curvaceous forms have to be seen

to fully understand their impact which aspires to

leave a lasting impression.

Both the trailer and the event pod are built using

sustainable products found predominantly in the

marine industry including recycled PET (plastic

bottles) and bio resins.

Within the next few months, Timeless Composites

will also be unveiling a glamping and garden

structure.

07980 651578,

piers@timelesscomposites.com,

www.timelesscomposites.com

WWW.OPENAIRBUSINESS.COM 7
---
PRODUCT

New Matting for

Tents and Structures

EVENT SHED has launched a new matting product, created

specifically for glamping tents and structures. The PapaFlex

outdoor matting is currently used throughout the world

at larger tented events and, after many requests, the

company has now developed mats which are just perfect

for glamping tents and different sized structures.

Not only do the mats look great with a natural weave,

but they are fire retardant, made from synthetic fibres

(therefore easy to wash, clean and maintain), and are stain,

rot and UV resistant, meaning they'll last for years! Available

in standard and bespoke sizes.

07776 056650, hello@eventshed.co.uk,

www.eventshed.co.uk

Unique Glamping

Business for Sale

FEATURED ON George Clarke's Amazing Spaces in 2014, Bedroam

is a truly unique glamping concept. Inspired by Japanese sleeping

pods, Bedroam has evolved into a flourishing and established

glamping business with 18 individual luxury sleeping pods, two

fully equipped contemporary style bathrooms and a large multifunctional

awning ideal for socialising in.

After many adventures providing luxury mobile accommodation

around the country, owner Ollie is looking to find someone to

acquire this unique opportunity. Bedroam can enhance any

established glamping site as well as provide accommodation

solutions for weddings, parties or festivals.

Take a look at Bedroam's website and social media pages to

find out more and learn about the potential the business provides.

Please note, Bedroam's current woodland site is not for sale.

07870 174477, enquiries@bedroam.co.uk, www.bedroam.co.uk

On Cloud Nine!

FOR THE second year running Silent Noize Events are bringing their

legendary silent disco back to the Cloud Nine Glamping Festival in

Dorset. Twice a week on a Thursday and Saturday evening, the team at

Silent Noize put on a three channel silent disco party providing a truly

unforgettable experience for festivalgoers.

Music provided by a live DJ spans everything from classic party hits

to dance, rock and current chart. With three channels of music there's

something for every age and taste offering fantastic entertainment for

the whole family.

Event director Gaby Williams said: "The Silent Disco is a staple for

family entertainment at Cloud Nine, and comes included in the price

of each booking. It encompasses our core values; being together as a

family and enjoying a moment of silliness in a field. It's a chance for

guests of all ages to let loose and dance like nobody is watching (or

listening in this case!). The atmosphere across the site is fantastic on

silent disco evenings and everyone leaves not only with a massive

smile, but memories made."

Set in the beautiful Dorset countryside, Cloud Nine runs from 22 July-

19 August offering guests the ultimate family escape.

0203 727 5382, info@silentnoizeevents.com, www.silentnoizeevents.com

8 WWW.OPENAIRBUSINESS.COM
---
Beautifully Hand Crafted

Shepherd Huts

Little moments making tomorrow's

precious memories

Create your ideal space with a bespoke Shepherd Hut

from White Dove Shepherd Huts. We have various

styles and designs of huts for sale, all bespoke and

catering for individual needs and tastes.

We can cater for both residential and commercial

premises, glampsites, venues, bars, restaurants and

hotels. The beauty of White Dove Shepherd Huts is

their uniqueness, which makes them a talking point

for any space, creating a beautiful, magical escape.

We can also help with interior design and bespoke

furniture pieces to give your huts their own

individuality and character.

07976 616253

info@whitedoveshepherdhuts.co.uk

www.whitedoveshepherdhuts.co.uk

Stunning tents for

stunning events!

Step away from the traditional marquee with

Alternative Stretch Tents. Based in Hertfordshire

providing Stretch Tents up and down the country.

WE LOVE STRETCH TENTS!

Years of experience, passion and enthusiasm

to get what you want from your event.

Sales & Full Installation Services.

t: 01920 830256 e: info@alternative-stretch.co.uk

w: www.alternative-stretch-tents.co.uk

@alternative_stretch_tents

WWW.OPENAIRBUSINESS.COM 9
---
R

WOW - FACTOR

Let us transform your garden to create memories

PROFESSIONAL & RELIABLE

www.tentickle-stretchtents.co.uk

0121 740 1385 or 07826 843 099

Stretch Tents, furniture, lighting, heating, flooring - short and long term hire - purchase

@TentickleUK

@Tentickle_UK

TentickleUK

First Class Cleaning

for Your Event

Since 1889 OPAS have

been keeping things

looped, clipped, stuck,

pinned, strapped, sewn,

riveted, hooked, zipped

or popped together.

Site Cleaning | Recycling

Toilet Hire & Servicing

Compostable Food Packaging

Our comprehensive range of top value quality

textile and marine fasteners, marquee and

exhibition stand materials are backed up with old

fashioned service and free technical support.

OPAS are also certified to ISO 9001/2015

underscoring our commitment to achieving and

maintaining excellence.

AUTHORISED DISTRIBUTOR

01443 844492

07841 120411

info@eventclean.co.uk

www.eventclean.co.uk

Call, email or go online for advice and wholesale quotations.

01903 239 955 | sales@opas.co.uk

www.opas.co.uk

10 WWW.OPENAIRBUSINESS.COM
---
PEOPLE

ENTREPRENEUR'S CHAT

Keri

Maundrell

We talk to Keri Maundrell about the development of her family's Wellington

Barn and how she kept things together through her busiest season yet

WWW.OPENAIRBUSINESS.COM 11
---
PEOPLE

You know the barn up in that field? That looks a good place to have

a party!" And that's how it started for the Maundrell family at their

Wiltshire farm 20 years ago.

Keri, the sixth generation to live in the farmhouse, her children the

seventh, explains: "Someone in the village approached my dad. They

wanted a party with a loud band and our open sided barn was perfect as

it's in the middle of acres of farmland, well away from any neighbours. It

was at the event that someone said what a fantastic site it would be for a

venue, and we went from there!"

The 400 acre Manor Farm is now entirely arable, the barn left over from

its livestock days. The family applied for rural development grants and

between Keri's father Pat and her younger brother, the venue took shape.

"I was working as a TV producer in Bristol at the time," she says. "Apart

from some bed and breakfast mum had been doing, we didn't have any

experience in hospitality! It was a bit 'finger in the air' from a business

point of view too as rural venues of this type didn't exist – you either

got married in a hotel or a marquee. There were no other barn venues

to compare but we did know we had an incredibly special location that

people would love."

The design of the new space preserves the original 18th Century

barn and adds to it with a modern half-glazed extension giving a total

2,712 feet of floor space. The Old Barn accommodates 100 people for

ceremonies, 70 people for seated dining or up to 150 people reception

style. The new part holds 180 people seated or 300 for a standing buffet.

After returning to the family farm in 2013 Keri quickly realised that

the business needed a rethink. "Bookings were falling and prices were

going up. It became apparent that the arrangement we had in place

with external contractors was not working. It was really nice to take the

management on but the paperwork was torture."

Keri uses trips to other venues in training her team. "We'll go and see

other venues that are relatable to ours and look at what they offer, how

they conduct showrounds, structure packages and so on and discuss

what we feel is successful. It's important to experience hospitality and I

look for inspiration everywhere I go. Entering wedding awards is another

great opportunity to learn and network within the industry."

LEE MAXWELL

AUTHENTIC HUTS

A big change that Keri undertook was the addition of accommodation

to Wellington Barn's offering. "I realised that we had a fair number of

viewings that weren't converting as there was nowhere for guests to stay.

People want the rural converted barn in the middle of a field but also

want a hotel nearby, which is obviously not the case here."

In 2016, Keri took delivery of three shepherd huts from Blackdown

Shepherd Huts. "I went along to the Glamping Show to check out

the options. I felt that the huts from Blackdown were more authentic

than some. I remember as a child camping in the barn and there was

a genuine shepherds hut in the field. It wasn't glamourous at all but I

vividly remember the light was a copper pendant that hung from twisted

chord – I guess it also acted as a heat lamp for lambs. Blackdown had the

exact same chord detail and that sold it for me. Their huts incorporate

tiny details like the old fashioned round light switches, and their quality

is superb.

"I went back to the show last year and saw some lovely huts from

Ashwood Shepherd Huts too. I keep thinking about their show hut as I

have the perfect place for it!"

STEWART MCPHERSON

HYGGEE HOUSE

New for 2022 is Keri's grand design, Hyggee House which sleeps up to 10.

"It has always been my dream to build an eco-house but planning was

always going to be tricky at the barn site. Half a mile away is a reservoir

that used to be home to a trout hatchery. There was an old 1970s house

there that the fisherman lived in until he died. He left it to a friend but

they didn't qualify to live in it as it has an agricultural restriction attached

so my dad bought it and the Hyggee House now stands in place there."

12 WWW.OPENAIRBUSINESS.COM
---
PEOPLE

Keri wanted a quick and efficient build method. "A traditional

build could take up to two years. I wanted something quicker so

that I wasn't borrowing money a long time before the house started

earning. I looked at the German prefabricated Huf Haus structures

but wanted something less glassy and got quite far down the road

with Weber Haus. Unfortunately they were reticent to put a number

on a piece of paper – perhaps because we were approaching Brexit.

Luckily the UK architect that worked with them told me about timber

frame company MBC Timber Frame UK in Gloucestershire, right down

the road from us! They have been brilliant."

Keri oversaw and project managed the entire build herself with an

experienced project manager employed on a "handholding basis".

The finished Hyggee House is essentially a passive house structure,

being super insulated and airtight, so energy performance is

outstanding. "It also went up in just three weeks!"

Keri reports that if it hadn't been for the pandemic and the knock

on effect on business, she would be at the end of paying back the

loans her parents put in at the beginning. "It has been so frustrating.

We are still running weddings from last year and 2020 and missed out

on the busiest part of the booking period in January/February 2021.

We had an influx of enquiries but weren't able to open for viewings.

Then when June came around and we could open, it didn't really give

couples enough time to plan for 2022."

CORPORATE

Wellington Barn attracts corporate business too. "Although corporate

also died a death over the last two years. The majority of our

corporate event income comes from Christmas parties and I am

hoping that will come back this year. We are having lots of enquiries

for family fun days etc. as companies look at how to reintegrate teams

after working remotely for so long, but bookers are a little behind the

curve on how it works, wanting a summer Saturday – obviously we

don't have too many of those available!

"I've tried lots of different things to get our name out locally, most

recently a Christmas market. I hired in the chalet style huts and called

around all the Christmas events to attract traders. I pulled it together

in just four weeks! We had 1,500 people through the doors over

three weekends – it didn't make money but was a great PR exercise,

bringing a lot of people to us at a time when we would otherwise

have been closed. We also set up a café and served Sunday lunches

with over 120 covers through the Autumn 2020 when we were

allowed to be open as a restaurant but not for weddings and events."

Wellington Barn employs three staff members. "We lost two of the

team in Covid; I had to make redundancies which was horrendous.

We have been so lucky with the wonderful people we have but Covid

really made me assess staffing. I made a big change by bringing in a

catering company, which is now based at our venue and caters all our

ROB TARREN PHOTOGRAPHY

"A TRADITIONAL

BUILD COULD

TAKE UP TO

TWO YEARS

AND I WANTED

SOMETHING

QUICKER

SO I WASN'T

BORROWING

MONEY A LONG

TIME BEFORE THE

HOUSE STARTED

EARNING"

DGS PHOTOGRAPHY

LITTLE PHOTO COMPANY

To view the full range of high quality,

durable and sustainable products,

visit: www.glasdon.com

WWW.OPENAIRBUSINESS.COM 13
---
PEOPLE

LEE MAXWELL

events. Having a sole in-house caterer means we need one less staff

member on the books and we share overheads. I put out a tender

to several of the caterers on our preferred suppliers list and Nick

Collins from Cleverchefs took it."

The pandemic period was challenging for the team, and it seems

not all customers appreciated the hard work going on behind the

scenes. "We had 25 weddings in August 2021 – five a week for five

weeks. We are far from a sausage factory venue but we were so

backed up and brides determined to get married that month were

prepared to take any day of the week.

"We were exhausted and there was concern surrounding more

possible lockdowns that Autumn, not to mention the worry of what

happens if any of us got Covid! The last thing a couple that has had

their wedding postponed three times wants is me calling them up to

say we were all in isolation!

"We had a few unpleasant people last year and even staff in tears.

I think some customers got so fed up with postponements, the

rules changing and not knowing whether they were allowed 15 or

30 people inside, six at a table, dancing/no dancing etc. They were

demanding, short tempered and sometimes just downright rude – it

was a big lesson for me."

Keri called on her experience aged 24 working for Crystal Holidays

at a ski chalet. "Week after week, we would welcome 20 people and

there was no benchmark for managing their expectations – 20 could

love it and another 20 could hate every minute! I learned quickly

to always say sorry, even if it isn't your fault! Saying sorry diffuses

a situation and that makes things easier to solve. It is something I

needed to help my younger part time event staff with as they often

believe saying sorry is the same as saying 'it's my fault, sue me'.

They are frightened to say it.

"You'll always get one or two nasty people in a season but nine

out of 10 are a delight. I take huge comfort from the letters and

emails sent by those who take the time to thank us and tell us how

we made their day fantastic.

"In the past months or so, there has definitely been a rise

in confidence and the back log of weddings are finally coming

through. We have taken 20 bookings in February alone which is very

reassuring that recovery is just around the corner, and we must be

doing something right! Hyggee House is absolutely the new jewel in

our crown and couples cannot wait to come and stay there."

Hyggee House is also available for holiday lets and short stays.

Should anyone fancy a long weekend in Wiltshire just get in touch!

DETAILS

LEE MAXWELL

Wellington Barn

Manor Farm, Calstone

Calne, SN11 8PY

www.wellingtonbarn.co.uk

14 WWW.OPENAIRBUSINESS.COM
---
New for

2022

glamping

mats

Purchase Stylish Products, for Event Professionals

Fire Retardant Matting | Oak Cross-Back Chairs

Festoon Bulbs | Giant Shepherd Crooks

We'd love to talk! hello@eventshed.co.uk

www.eventshed.co.uk | Follow us on Linked In

WWW.OPENAIRBUSINESS.COM 15
---
FUNCTION VENUES

CASE STUDY

Forest Lodge

Weddings

An immersive woodland venue where horses are welcome

We talk to Amie Price of

Firefly Tipis, who manages

Forest Lodge Weddings on

behalf of site owners Hannah

and Jeff Hibbs. The small

team worked hard to keep

couples' dreams on track

through Covid and are now

looking ahead to how they

can bring more woodland

wonder to nature lovers this

season and beyond.

When did you start your venue

business and what is its history?

Forest Lodge Weddings started in

2018 when the best friend of Little

Lodge Farm owners, Hannah and

Jeff Hibbs, asked to get married

in their woodlands. It was from

the success of this wedding that

Forest Lodge Weddings was born

in collaboration with us at Firefly

Tipis.

Little Lodge Farm already offers

holiday accommodation and

equestrian breaks and the venue

side of the business is an excellent

diversification.

Tell us about your location

and site

Set in a secluded private woodland

"WE OFFER

RUSTIC,

BOHEMIAN

AND CLASSIC

WEDDINGS

– THEY CAN

ALL BENEFIT

FROM THIS

MAGICAL AND

MYSTICAL

SETTING IN

THE FOREST"

at Little Lodge Farm in the heart

of Thetford Forest, the Forest

Lodge site is surrounded by nature.

Covered by a canopy of trees, it

is our aim to realise woodland

wedding dreams for couples looking

to embrace the great outdoors.

We offer rustic, bohemian and

classic weddings – they can all

benefit from this magical and

mystical setting in the forest. We

are also horse and dog friendly so

couples can bring their beloved

animal along to the ceremony or

make their entrance atop a horse!

The main challenge with

being an outdoor venue is the

good old British weather, so our

wedding season runs from May to

September.

WWW.OPENAIRBUSINESS.COM 17
---
FUNCTION VENUES

What facilities for outdoor

functions do you offer?

The natural woodland canopy is

perfect for outdoor ceremonies.

We also offer a giant Nordic

tipi along with rustic props and

furniture, on-site camping and

lodges (subject to availability),

exclusive use of a mobile horsebox

bar and luxury toilet hire. There is

also the facility to stable a horse

before and after the ceremony.

What services do you offer?

We are licensed to hold legal

ceremonies and offer bespoke

wedding packages which include

wedding planning and an onsite

wedding coordinator.

Describe how you researched and

sourced your structures

All of the structures needed to gain

the ceremony licence were researched

and granted with the help of the local

council. The tipis offer something

different to the traditional white

marquee and they fit in perfectly with

the woodland venue and theme.

How do you work with your

customers to make their event

unique?

We work very closely with all our

customers and help them with

everything we can from start to finish.

Our team takes away the stress and

strain of organising a wedding with

over 12 years' experience in the

industry.

18 WWW.OPENAIRBUSINESS.COM
---
FUNCTION VENUES

"WE WERE LUCKY THAT WE

WERE ABLE TO HELP SO MANY

REARRANGE THEIR WEDDINGS

AND KEPT IN CONSTANT

CONTACT WITH COUPLES,

SUPPLIERS AND STAFF TO

ENSURE THAT ALL NEEDS

WERE MET DURING THIS TIME"

How do you publicise yourself?

We publicise ourselves through

our website and have Facebook

and Instagram accounts. We have

had some excellent coverage in

local press and are planning print

advertising in wedding magazines

and to attend some wedding

shows.

How would you describe your

style or unique selling point?

We are a completely unique rustic

outdoor woodland wedding

venue.

How did the pandemic impact

you?

Covid has had a huge impact on

us. We lost thousand of pounds

worth of business in 2020-21 with

the country being in lockdown

and then with the restrictions

put in place. It meant that many

weddings couldn't take place and

had to be postponed. We worked

with all of our customers to

rearrange wedding dates not once

but twice on some occasions.

It was such a difficult time

for many couples that had to

make the decision on whether

to go ahead with a wedding with

restrictions on guest numbers or

to postpone or cancel completely.

We were lucky that we were able

to help so many rearrange their

weddings and kept in constant

contact with couples, suppliers

and staff to ensure that all needs

were met during this time.

How large is your team?

We are a very small but close team

and work with some fabulous local

suppliers.

What are your plans for next

season?

Our plan is to spread the love for

the great outdoors and have our

wedding business thrive, with the

possibility of offering more on-site

accommodation.

Describe your average day midseason

Early to rise and late to finish,

on your feet most of the day

coordinating the wedding couple,

guests and suppliers.

What do you enjoy about the

business and why?

The days may be long and hard at

times, but it's such a joy to see a

wedding couple finally have the

day they have dreamed of with all

their friends and family around

them.

WWW.OPENAIRBUSINESS.COM 19
---
FUNCTION VENUES

What other outdoor hospitality

sectors do you operate in?

We work closely with the owners of

Little Lodge Farm who offer lodge

stays, camping and are hosting a

music festival this year.

What are you most proud of?

What we have achieved with a

small piece of beautiful woodland.

What advice could you give

to someone coming into the

industry?

It's hard work, long hours and

there are many working weekends

during the wedding season, so

make the most of your time off.

But it is very rewarding!

ADDRESS BOOK

MARQUEES

Firefly Tipis www.firefly-tipis.co.uk

GENERATOR

Stuart Power

www.stuartgroup.ltd.uk/power

TOILETS

Hillstock Services

www.hillstockservices.co.uk

GLAMPING

Norfolk Bell Tent Hire

www.norfolkbelltenthire.co.uk

BAR

Wonky Donkey Mobile Bar

www.wonkydonkeybar.co.uk

DETAILS

Forest Lodge Weddings

Stanton Downham

Brandon

Suffolk

IP27 0TX

www.forestlodgeweddings.co.uk
---
Free next working day delivery* on

beds & mattresses. No minimum order.

We've made sure our trade mattress range caters to

all budgets, and types of accommodation. Check out our

Landlord, Leisure, and Hotel Pocket ranges, exclusively

available through Mattressman and then, whether you

need one mattress or one hundred, get in touch with

our Trade team for the very best deals!

Call: 0800 5677625

Visit: mattressman.co.uk/contract

Source 5 fire regulation products available. Standard and special sizes. Fast, free national delivery, installations, assembly and disposal services available.

* Thousands of domestic mattresses and frames in stock. Terms and conditions apply.
---
FUNCTION VENUES

ELMORE COURT/JACOB MALINSKI

Biophilic

Design

Charlotte Winship on how to

incorporate the trend for biophilia

into hospitality and events

BIOPHILIA IS a term used to

describe our instinctive human

attraction to the living world.

The term was first used by Erich

Fromm in the 1960s to describe "a

psychological orientation of being

attracted to all that is alive and

vital."

Since the industrial revolution

and mass migration to urban

centres, our connection with nature

has gradually diminished. This

man-made existence fights against

our biophilic tendencies rooted in

human biology and could explain

why so many seek to escape their

urban lives for the sanctuary of the

countryside or coast.

Our need to embrace nature and

the associated benefits have been

discussed widely. In 2021, a report

by the Mental Health Foundation

surmised that: "Our relationship

with nature – how much we notice,

think about and appreciate our

natural surroundings – is a critical

factor in supporting good mental

health and preventing distress."

Throughout human history we

have had a predisposition to nature,

bringing plants into our homes,

displaying landscape paintings and

drawings of the natural world and

coveting ownership of green spaces.

Artists and designers have drawn

on nature for inspiration for many

thousands of years and there have

been widespread campaigns since

22 WWW.OPENAIRBUSINESS.COM
---
FUNCTION VENUES

TIPI SPACES

ELMORE COURT/STEVEN ROONEY

the nineteenth century

for the need for green spaces

in urban landscapes for health

reasons.

As the biophilic design movement

has gathered momentum

architects around the world have

developed structures and interiors

incorporating natural elements that

bring their inhabitants closer to

nature in their life and work. Natural

lighting and ventilation, living

walls, roof gardens and organic

materials often feature in modern

architectural design. The simple

inclusion of a garden and windows

in a design scheme can enable

inhabitants to access daylight,

helping our circadian rhythms to

"VENUES THAT CAN OFFER A DIRECT

CONNECTION TO NATURE ARE IN HIGH

DEMAND. DRAW ATTENTION TO YOUR

GARDEN OR WOODLAND CEREMONY

SPACES, NATURAL VISTAS, PROXIMITY

TO WATER AND ANY NEAR-BY WILDLIFE"

ELMORE COURT/ROB TARREN PHOTOGRAPHY

function. Consideration of airflow

and temperature and incorporating

water and plant life into interior

design can all positively influence

feelings of comfort and relaxation

while reducing stress and fatigue,

promoting healing and encouraging

focus, creativity and concentration.

BIOPHILIC WEDDINGS AND

EVENTS

For many couples an outdoor

wedding is their dream. A warm

summer's day within a verdant

garden surrounded by fragrant

flowers, a woodland setting

immersed in bird song and tree

creatures, or on a beach with sand

between your toes listening to the

waves lapping the shore. A multisensory

experience of natural views,

scents, textures and sounds.

Venues that can offer a direct

connection to nature are in high

demand. Draw attention to your

garden or woodland ceremony

spaces, natural vistas, proximity to

water and any nearby wildlife.

Indoor or more urban venues can

also create a connection with nature

using the natural textures of stone

and wood in their interior design

and furnishings combined with

plenty of natural light, good air flow

and thermal balance. Wildflowers,

foliage, potted trees, rustic furniture,

reclaimed wood, natural fabrics, fire

and candlelight all add to indoor

biophilic ambience.

Wellbeing events are also

becoming more popular than ever.

Organisers will be looking for venues

that ideally offer the benefits of

outdoor spaces and connection with

nature. Outdoor yoga workshops,

mindfulness retreats and wellness

festivals will actively incorporate

aspects of biophilia to their

programmes.

Opportunities for venues exist

with companies wanting to unite

their workforce again after lockdown

and homeworking. Bookers are

looking for inspiring spaces and

activities that will rejuvenate their

team and outdoor pursuits that offer

them the opportunity to bond in

nature are highly coveted.

BIOPHILIC VENUES

Temporary canvas structures such

as marquees, tipis and yurts all offer

a biophilic advantage. A portable

venue that can be erected in any

outdoor space offers direct contact

with nature and the opportunity

and freedom to create a totally

immersive natural experience.

Tipi Spaces hires ivory-white

tipis and tents for weddings and

events in the West Country. Director,

Shane Martin, says: "The idea for

creating outdoor wedding venues

was born out of our own love for

outdoor adventures, gatherings and

celebrations. We have lots of happy

memories of spending time with

family and friends outdoors, playing

music, telling stories and sharing

a meal around a fire and beneath

a starlit sky. Uniting all these

experiences has been the element

of a space in nature and freedom

beyond the confines of the indoors."

WWW.OPENAIRBUSINESS.COM 23
---
FUNCTION VENUES

ELMORE COURT/STU JOTHAM PHOTOGRAPHY

ELMORE COURT/JACOB MALINSKI

Permanent venues can also offer

a deep connection with nature.

The Gillyflower at Elmore Court is a

"future-rustic" dinner and dancing

venue that has been designed with

biophilic principles at its heart.

Features include walls made from

rammed earth, timber sustainably

sourced directly from their own

woodlands, floor to ceiling windows

that frame the countryside views

and a meadow roof that blends

the building with the surrounding

nature.

In-Spira, a timber building

manufacturer in East Sussex, uses

biophilic and organic principles

in the design of its structures.

Its original design is based on

Fibonacci's sequence which is

used to describe certain shapes in

nature such as shells, sunflowers

and galaxies. Chief designer, Brian

Martin, says: "We have created

curved walls that wrap around

to create a cocoon and provide

a feeling of security. The timber

interior and exterior blend into the

natural environment providing

a visual, tactile and olfactory

connection with nature. The room

captures natural light from the

roof-light above and the windows

framing the views outside. Biophilic

design allows us to create spaces

that take cues from nature, natural

forms and environments and instil

these qualities in the room itself.

This promotes wellbeing on a

number of metrics leading to better

focus and creativity."

BIOPHILIC ACCOMMODATION

Camping and glamping

accommodation offers guests the

opportunity to connect with nature

and detach from the artificial world.

There have been some extraordinary

and inspired biophilic design

developments in the past few years

from hanging tree pods to floating

cabins and earth burrows.

Secret Water at Hippersons

Boatyard.in Suffolk offers the first

luxury floating glamping pods in the

UK for a unique biophilic experience.

They provide direct access to the

Southern Broads for you to immerse

yourself in river life.

The Glamping Burrows at The

Quiet Site in the Lake District are

large underground living spaces

with views over the Ullswater Valley.

Energy efficient, secure and virtually

invisible, they offer true sustainable

accommodation for the most

discerning eco-hobbits.

The Tree Tent at Pennard Hill

Farm in Somerset is a suspended

spherical structure strung between

two trees overlooking the Mendip

Hills, enabling you to truly get

amongst the birds in this beautiful

woodland setting.

BIOPHILIA AND SUSTAINABILITY

The best thing about the biophilia

trend is that it goes hand-in-hand

with sustainability. By adding more

nature to our lives, we reduce

our reliance on our man-made

lifestyle. By embracing the natural

world and enabling more human

connection with nature we are

creating opportunities for people

to be inspired to help preserve the

natural world whilst supporting

their own wellbeing. As E.O Wilson

proclaimed, "Nature holds the key to

our aesthetic, intellectual, cognitive

and even spiritual satisfaction."

TIPS FOR VENUES

› Create and draw attention to

garden or woodland ceremony

spaces, natural vistas, proximity to

water and any near-by wildlife

› Inside, provide plenty of natural light,

good air flow and thermal balance

› Show a connection to nature by adding stone and

wood to your interior design material palette

› Rustic furniture, reclaimed wood and natural fabrics

give authenticity to a biophilic design

› Use botanical prints for wallpapers and soft

furnishings, and colour schemes that echo the

natural world

› Add real nature with wildflowers, foliage and potted

trees

› Fire and candlelight add to indoor biophilic

ambience

› Incorporate natural scents and soundscapes for a

multi-sensory experience

› Promote your local produce and sing about your

sustainability

› Think about offering outdoor yoga, mindfulness

retreats and encourage wellness festivals to use your

spaces

› If you offer accommodation, think about adding

some 'back-to-nature' structures

› To attract corporate bookings from companies

wanting to reconnect and rejuvenate their teams

after the pandemic think about how to provide

opportunities for people to bond in nature.

ABOUT THE AUTHOR

Charlotte Winship has over 20 years'

experience transforming good wedding and

events venues into great ones. She is an

expert in helping venues reach their ideal

customers, maximise sales opportunities,

increase profitability, establish effective teams

and streamline venue operations. 07493 350303 /

charlotte@charlottewinship.com /

www.charlottewinship.com

IN-SPIRA

24 WWW.OPENAIRBUSINESS.COM
---
CWC Advert (Open Air Magazine).pdf 1 23/02/2021 12:04:51

C RE®

EVENT-STRUCTURES

UNIQUE OUTDOOR

MULTI-LEVEL STRUCTURES

Expert

advice to help you

achieve the most

from your venue

business.

C

M

Y

CM

MY

CY

CMY

K

• Increase

profitability

• Reach your ideal

customers

• Maximise sales

opportunities

• Streamline your

processes

CALL NOW FOR A FREE QUOTE

T: 0845 299 6499 - E: sales@core-eventstructures.com

www.core-eventstructures.com

www.charlottewinship.com

07493 350303 / charlotte@charlottewinship.com

ADVERT-EVENT-STRUCTURES.indd 1 27/01/2022 12:07:22

WWW.OPENAIRBUSINESS.COM 25
---
Unforgettable Experiences with...

SILENT DISCO / SILENT CINEMA

SILENT FITNESS / SILENT YOGA

Silent Noize Events are the UKs leading supplier of silent discos and multi-channel

wireless headset systems. Provide your audience with a totally unique and immersive

experience through the power of headsets!

With dry hire and full packages available, contact the team at Silent Noize Events

to see how we can give your event the WOW factor.

0203 727 5382 / 0741 515 3137 • info@silentnoizeevents.com

www.silentnoizeevents.com

26 WWW.OPENAIRBUSINESS.COM
---
FUNCTION VENUES

INDUSTRY COMMENT

Business Events

Netflix 'Perfect'

Andrew White outlines the elements a 'too-good-to-be-true' venue would boast about

GETTY IMAGES

NETFLIX'S TINDER Swindler and Inventing

Anna have highlighted an absurd, yet harsh

reality, of being sucked into online scams.

The programmes suggest that travelling

by private planes, arriving on a chartered

boat, and living a 5* lifestyle makes us better

human beings. It got me thinking; what

would the definitive 'con'ference space

look like if it was to feature on Netflix in the

blurred lines between real-time and online

– what would this aspirational, must-book

space have?

For sure we'd see a big focus on

sustainability; what the space was made

of, how it was constructed, the furnishings

and décor, even down to the service teams

uniforms. We'd also see how nature is

ingrained into the spaces with elements

such as natural lighting and ventilation and

green walls which are all proven to help

reduce stress, improve general wellbeing

and reduce carbon footprint.

A deeper delve into sustainability is

'localism' and the use of hyper-local

suppliers, artisans and growers. Our

space will see the workforce drawn from

the neighbouring communities and the

involvement of local community projects

to support the spaces. Neighbourhood

grown ingredients, food projects that

give employment to the less privileged,

a conscience around reduction and

environmental impact, and managing food

waste and repurposing items are all big

components of localism and sustainability.

The board room is now the 'bored room'.

Ditch any notion of formal seating in favour

of agile working spaces backed by boutique

hospitality service levels. In the last 24

months we've all proven we can make

decisions around the kitchen table; we now

want our business environment to mirror

our home life. Any new design would benefit

from turning to airport lounges and private

members' clubs who have nailed business

informality.

Tech will have the biggest impact across

the space. As the hospitality industry

struggles to find staff, automation and

robots will increasingly fill a gap. We're

getting used to checking into our hotel room

via our phone, we've enjoyed looking at and

realising the benefits of robot vacuums in

lobby spaces, now get set for robot luggage

delivery and even robots in food and

beverage service. This isn't science fiction,

it's out of a need to provide higher service

levels with a diminishing workforce. Tech

will also be ingrained in any event space

as we've proven that hybrid events are as

effective as the former all company face-toface

meeting.

Food and drink are now a national

obsession and we're all hooked on

provenance and local producers and the

arena has stepped up to the mark postpandemic

as we've all learned how to cook

and how to shop locally. Better quality food

is a requisite and consideration also needs

to be given to our new ask for foods that can

have an impact on our stamina, strength

and immunity to fight off viruses and other

health deficiencies. We are also tracking and

monitoring our activity through wearable

apps which means that dishes must be

labelled and dietary and nutritional values

easy to decipher.

None of these considerations are too

far removed from where we are or where

we're heading. We're now in the business

of creating events where up to 50% of the

attendees are digital natives. They expect

an outstanding online experience and if

they need to be face-to-face, it needs to be

exceptional; a hybrid experience as good

online as it is in the conference room.

If you think vacuum robots are a fad

and fictitious nonsense, have a look at the

metaverse and what this could mean for

events and conferences. You may want to

consider what your metaverse conference

venue will look like!

ABOUT THE AUTHOR

Andrew White is

MD of Triggerfish

Communications, a

specialist in helping heritage

venues and leisure attractions

build awareness and market share

in the business of events.

www.triggerfish.co.uk

WWW.OPENAIRBUSINESS.COM 27
---
FUNCTION VENUES

TRADE SECRETS

Lights, Camera, Action!

Olivia Riddiford on how to promote your venue as a filming location

VENUES NEED to utilise their space as

much as possible. There may be gaps in

the diary that need filling with bookings

other than events (especially as you

near them) so have you considered

getting yourself out there to TV and film

production companies? Literally any venue

or space can be used as a filming location

(depending on the script being used of

course!). It might seem a little alien to

you but it's another great way to not only

provide additional revenue but can work

wonders for your PR! Here are my top tips

on preparing your venue for the small (or

big) screen!

DO I HAVE THE RIGHT KIND OF

PROPERTY?

Anything goes when it comes to filming.

You might be required for a photoshoot, TV

show, advert or feature film and your first

thoughts should be:

› Can a crew fit inside the property

comfortably?

› Is good lighting available?

› Is there plentiful parking for large trucks,

buses and other vehicles?

› Are the dates completely free with no

crossover from other events?

› Are you happy with many people on

site?

GET YOURSELF LISTED

Once you know you're happy with the

above, then you need to get yourself out

there. One of the first considerations a

production company will have is where the

filming will take place. Here's where you

come in. A location scout either working

for the production company or employed

through an agency will likely be the

person searching for you. They will search

organically for a property suitable or use

a directory site. Some of the most popular

are:

› www.locationworks.com

› www.airspacelocations.co.uk

28 WWW.OPENAIRBUSINESS.COM
---
"ALL FILM PROJECTS

WILL HAVE A BUDGET

FOR THE VENUE, SO GO

AHEAD AND ASK. DO NOTE

THAT AGENCIES WILL

TAKE A COMMISSION OF

THE OVERALL BOOKING

FOR THEIR FINDING AND

CONTRACT FEES, SO MAKE

SURE THIS IS COVERED TOO"

› www.field-studies-council.org

› www.film-locations.co.uk

› www.ukfilmlocation.com

› www.kays.co.uk

HOW MUCH SHOULD I CHARGE?

You'll need to price location enquiries

on an individual basis subject to the

requirements of the job. You know your

daily costs, which obviously need to be

covered, but pricing above this will be

relative to the type of filming proposed. If

it's a three hour photoshoot it's going to

be considerably less than a full-blown, 100

crew feature film that requires the use of

your venue for five weeks. It needs to be

worth it for you and your business.

All film projects will have a budget for

the venue, so go ahead and ask. Do note

that agencies will take a commission of

the overall booking for their finding and

contract fees, so make sure this is covered

too.

WHAT HAPPENS IF WE ARE CHOSEN?

Hooray if that's the case! It could be a long

wait until actual filming takes place or it

could be really last minute. A 'recce' will be

done by the production team to plan ahead

and study the facilities in more detail. The

production company or agency will usually

draw up a legally binding contract that you

will need to read carefully before signing. A

date will be set for shooting and voila you

have a filming contract in place!

PROMOTION

It's a newsworthy story for the media (and

your social channels) that (insert name

of film/tv show) is filming at your venue.

People love this sort of news to read, which

can of course lead to future bookings.

However, you must check your contract as

often you'll have to sign a non-disclosure

agreement (NDA) which means you will not

be able to shout about the fact you have

been chosen as a location at the time. You

should however be able to do so once the

programme/film has been aired.

SOMERLEY HOUSE

CASE STUDY

One of our member venues at Host

Venues, Somerley House, has had

huge success as a filming location.

They have been lucky enough to have

Netflix hits 'The Crown' and 'Bridgerton'

film at their stately home in Hampshire.

Alex Dollin-Webster, weddings manager,

appeared on Channel 4 lifestyle show

'Steph's Packed Lunch' speaking about

her involvement with these two huge

historical dramas. Alex says: "We had an

increase of 900% worth of website hits

after appearing on the show with many

enquires and two bookings from the

appearance".

WHY PROMOTE AS A FILMING

LOCATION?

› Fill those gaps in the diary

› Make additional revenue with less effort

› Generate fantastic PR

› Exposure can lead to more event

bookings

› Shoots can be great fun!

ABOUT THE AUTHOR

Olivia Riddiford is the

founder of Host Venue

Consultancy and its

sister multi-award

winning planning

company Host Weddings

& Events. Olivia became one

of the UK's youngest general

managers at the age of 22, setting up an

exclusive use wedding venue near Bristol,

bringing the business more than £8million

revenue within five years.

With over 10 years' experience working

within venues, Olivia fully understands

the bridal buying process and operational

logistics in both large and small wedding

venues. Along with her skill set in planning

weddings and selling them, she has the

perfect tools to mentor others to achieve top

results. www.hostvenueconsultancy.co.uk

SOMERLEY HOUSE

WWW.OPENAIRBUSINESS.COM 29
---
FUNCTION VENUES

PRODUCT IN FOCUS

Interiors & Furniture

Event Shed produced 2,500 square metres of

matting for Stunning Tents with only a few

weeks' notice, ensuring the timely delivery

of many events for their clients.

The PapaFlex matting has grown in

popularity over the past five years, replacing

other types of less practical flooring such

as carpet and coir. Its functional nature

means it is fast becoming the global

leader for tent flooring, with sales in the

UK, Europe, America, Australia and New

Zealand. Not only is it functional, but it

looks great, meaning that the hard-wearing

PapaFlex matting can be seen at every event

from large scale festivals, like Wilderness,

Glastonbury, Download and Hyde Park

Winter Wonderland, right through to the

most luxurious and intimate weddings.

Event Shed has recently developed its offer

and now provides matting for glamping

tents too.

Stunning Tents, Nationwide

Product: PapaFlex tent matting

Supplier: Event Shed, 077760 56650, hello@

eventshed.co.uk, www.eventshed.co.uk

Details: The Event Shed team has over 15

years' experience in the events industry

understanding the DNA of the market

and exactly the type of products event

professionals require. After spending years

developing PapaFlex, its most popular event

matting, it was delighted to provide it to

Stunning Tents, the UK's leading supplier of

Tentipi giant Nordic tipis and an exclusive

Sperry Tents partner.

Supplying large tents to events up and

down the country, Stunning Tents used the

matting at numerous high-end weddings

and events throughout summer 2021.

"Working with Stunning Tents has been

the dream," said Richard Monaghan, cofounder

of Event Shed. "They have a clear

vision for how their event flooring needs

to look and we're delighted to be able to

deliver on that vision. Timing is critical and

we work hard in a tough market to ensure

delivery and short lead times. To see our

product at such high-profile events has been

wonderful!"

Working to tight lead times in 2021, after

the uncertainty of Covid restrictions and the

affect on weddings and large-scale events,

"THE PAPAFLEX

MATTING HAS GROWN

IN POPULARITY OVER

THE PAST FIVE YEARS,

REPLACING OTHER TYPES

OF LESS PRACTICAL

FLOORING SUCH AS

CARPET AND COIR"

Feedback: Co-founder and director of

Stunning Tents, Tom Bucknell, said: "We

work in such a fast-paced industry and

delivery is key. Having worked with the

Event Shed team for many years, they

never fail to deliver. The PapaFlex matting

is important to us for its functionality, but

it also looks great and clients love it. We

work with high net worth individuals and

therefore everything we provide has to be

of the utmost quality. Event Shed always

understands this."

30 WWW.OPENAIRBUSINESS.COM
---
FUNCTION VENUES

The Golden Hinde,

London

Product: Saniflo Sanicubic

Supplier: Saniflo, 020 8842 0033,

www.saniflo.co.uk

Details: A highly-acclaimed piece

of British heritage, a replica of the

famous ship the Golden Hinde –

known for circumventing the globe

during the 16th century under the

command of British explorer Sir

Francis Drake – is now a stunning

floating museum and events' venue

near London Bridge.

The ship remains faithful to its

original design while catering for the

modern world in providing exclusive

and memorable educational and

hospitality services.

After a re-vamp during the

Covid-19 lockdown, the floating

museum provides catering on board

for weddings and events and boasts

facilities for overnight stays, thanks

to the installation of new WC

cubicles, basins and even a new

kitchen area in the galley with a

dishwasher, sink and icemaker.

Getting the Golden Hinde to

a standard high enough to host

exclusive events also involved

lowering the floor in the hold

to improve head height and

fitting bench seating around the

perimeter of the ship. To complete

the look and ensure an authentic

experience, all interior wood was

sandblasted to take it back to

its original colour and specialist

lighting was installed to create a

delightful atmosphere.

The new hatches have improved

ventilation and air flow for customer

comfort and a Saniflo Sanicubic was

fitted in order to provide the new

improved bathrooms and kitchen,

which can now operate with piping

hot water – making the entire

project possible without mains

drainage.

"TO COMPLETE THE LOOK AND

ENSURE AN AUTHENTIC EXPERIENCE,

ALL INTERIOR WOOD WAS

SANDBLASTED TO TAKE IT BACK TO ITS

ORIGINAL COLOUR AND SPECIALIST

LIGHTING WAS INSTALLED TO CREATE

A DELIGHTFUL ATMOSPHERE"

WWW.OPENAIRBUSINESS.COM 31
---
FUNCTION VENUES

PRODUCT

SNAPSHOT

Hotel Collection Mattresses

Mattressman

0800 5677 625

tradesales@mattressman.co.uk

www.mattressman.co.uk/contract

Introducing mattresses from the British Bed Company's

Contract Hotel Collection, exclusive to Mattressman.

Featuring a variety of options that incorporate supportive

pocket springs, hypoallergenic fibres, breathable cotton

or insulating wool fillings, as well as a variety of mattress

firmnesses, you can be sure to find something for every

kind of sleeper in the Hotel Collection.

Mattresses are available in all standard sizes and are

congruent with Source 5 fire regulations. The British Bed

Company has created zip and

link options too, so you can

transform a large bed into

two singles with ease.

Mattressman's trade

team will be happy to

help you find the ideal

mattresses for your

establishment and

can offer speedy next

working day delivery.

Luxury Matting and Artificial Grass

Marquee Floors by William Armes

01787 372988

info@marqueefloors.co.uk

www.marqueefloors.co.uk

Marquee Floors by William Armes

supplies high quality luxury matting to

the marquee, tent and tipi hire sectors.

DandyDura has a long-standing reputation

as the UK's bestselling polypropylene matting.

It's extremely durable, easy to maintain, fully reversible, water

resistant and lightweight. DandyDura matting can easily be rolled

for handling, transporting and storage. Available in seven colours,

supplied in rolls, cut length pieces and bespoke shapes.

Marquee Floors also supplies DandyCoco, a made to measure

traditional woven unbacked coconut matting, made from natural

fibres. This matting is eco-friendly, flame retardant, bio-degradable,

extremely durable and has excellent insulating properties.

Marquee Floors has also launched Likelawn artificial grass.

Extremely hardwearing yet soft underfoot, Likelawn can be laid

on any surface and is 100% weatherproof. Its durable backing has

perforation holes to allow drainage and can be easily cleaned. Ideal

for use all year round. Rolls and cut lengths available.

Creative Furniture

Creative Structures

+31 (0)76 2100 401

sales@creativestructures.nl

www.creativestructuresworldwide.com

CORE Wheel-Inn Kit

CORE Bar and Event Hire

0845 299 6499

sales@core-barandeventhire.com

www.core-barandeventhire.com

The CORE 'Wheel-Inn Cellar-in-a-box' kit is a mobile fully featured

cellar set up that allows you to dispense kegged beers and ciders

whenever and wherever needed – in minutes!

Easily integrated into CORE's modular bar solution, it means

you can have a professional bar set up for any event irrespective of

location. The CORE 'Wheel-Inn Cellar-in-a-box' kit can dispense up

to three different drinks and ensures that professionally dispensed,

ice cold beverages can be served so you are not limited to only

bottled drinks. The kit

is ideal for any situation

where you need to serve

kegged beers and ciders

in a temporary location

without the need for

expert installation

crews. Kits are available

to purchase or rent by

contacting the friendly

CORE team.

Creative Furniture from Creative Structures is more

than just furniture. The unique click system offers quick

installation by one or two people with a classy and solid

result, and the inventive transport box makes it ideal as

a temporary or semi-permanent furniture solution.

Including Lounge Boxes, Bar Boxes, Table Boxes and

High Seats Boxes, the range is unique in its compact

transport packaging and click together system (meaning

no tools or screws required for installation). Available

in natural impregnated, white or grey pinewood, the

weatherproof cushions are also available in different

colours with custom printed panels and printed/

embroidered cushions an option.

32 WWW.OPENAIRBUSINESS.COM
---
WWW.EVENTPRODUCTIONSHOW.CO.UK

GET YOUR FREE

PASS TODAY!

Dedicated to the live events industry across sports, music and culture,

visitors can experience the latest products and services to find everything

they need to put on a spectacular event. From staging, AV, equipment

hire, event technology to security there's something for everyone... join us

on the 8th and 9th March at ExCel London!
---
Quality Glamping

Cabins and BBQ Huts

CALIFORNIAN GRILLS

OUR RANGE OF SANTA MARIA BARBECUES

The beauty of the Santa Maria

Grill is that the grilling grate can

be raised or lowered by a hand

crank mechanism to control the

temperature whilst cooking.

These steel barbecues are modular,

giving you a variety of different

ways to enjoy an outdoor fire.

Bespoke racks and standalone grills

can be made specifically for the

catering and hospitality sector

including outdoor built-in kitchens.

Visit our website

www.californiangrills.com

Finman

Sleeper Cabin

For all year round bookings, upgrade your bell tent or

yurt to a Finman Sleeper cabin. Available in 4m, 5m and

6m diameters. They are assembled on site so perfect

for hard to reach locations.

EN-SUITE AVAILABLE • OFF-GRID OR ECO OPTIONS

BESPOKE SOLUTIONS • FULLY INSULATED AND HEATING OPTIONS

Phone 01732 321242 01389 887205 info@logspan.com www.logspan.com

34 WWW.OPENAIRBUSINESS.COM
---
GLAMPSITES

CASE STUDY

Hush Hush

Glamping

When Alice Pond and Kevin

Jones decided to live together

at Kevin's family farm, they

turned to glamping as a

diversification strategy. We

talk to Alice about working

three jobs to pay for the

start-up costs, hand to mouth

survival through the pandemic

and the couple's pride in what

they've achieved through grim

determination.

A two pod adults only escape with alpacas

What's your back story – your life before

glamping?

In 1949, my husband Kevin's grandfather

bought a farm in the mid-Wales Radnor Valley,

and it soon became the family's sole business

venture. Kevin is a sixth generation farmer

and also runs his own contracting business

offering precision drilling fodder beet and

swedes and hedge trimming.

Despite not coming from a farming

background, I have always been fascinated

by animals. I went to Hartpury College to

complete a Level 3 Extended Diploma in

Animal Management and secured a job as an

owl centre manager at a local farm park. Kevin

and I met during this time. I decided to leave

my job and we discussed at length our next

steps.

I was very aware that the animal job

opportunities were lacking in the area so we

were faced with two choices; relocate to find

work I was passionate about (but Kevin would

have to leave the farm) or move in with Kevin's

parents to be at the farm (but there would be

no opportunity for me to follow my passion

and the financial prospects for Kevin were

bleak).

We decided to move to the farm with the

intention of beginning a diversification project

that would allow us to support ourselves

whilst being able to both pursue our passions.

We wanted to create a glamping offering and

an alpaca business but we needed funds until

our project was fledged. I changed vocation

to become a project manager at the local

council and we both worked weekends at a

local chicken shed, packing eggs. I also began

working as a virtual assistant (VA) in the

evenings.

In Autumn 2020, I left 'employment' and set

up my own web design and VA business, Wise

Birdy, that I could operate from home whilst

overseeing the glamping and alpacas.

What made you decide to start offering

glamping accommodation?

As you know from our stories, the farm and

the agricultural contracting business were

unable to financially support the whole

family (a sad reality of most farms nowadays

WWW.OPENAIRBUSINESS.COM 35
---
GLAMPSITES

which causes younger generations

to relocate and opt out of farming

leaving behind older generations

that struggle with the workload). We

wanted to be a part of the farm but

knew diversification would be the

only means to achieve that.

We researched our options, from

grape vines to bike tracks to horse

livery, before settling on glamping

and alpacas. We opened our first

pod, Hare's Form, in July 2019 and

our second pod, Huacaya's Cush, in

April 2021.

How did you research the

business before entering it?

We did a lot of Googling! We

researched suppliers and drafted

in help from our local McCartneys

branch to assist with the planning

application. We didn't find a lot of

the information easy to come by,

which has led us to create our own

'Glamping Business Start Up Guide'

to make the process easier for other

prospective glamping business

owners.

Tell us about your site and any

challenges its location presents

Nestled underneath the Radnor

Forest in Mid Wales at 1,300ft above

sea level, overlooking the three

counties of Powys, Herefordshire

and Shropshire, in the company

of inquisitive alpacas and woolly

sheep, Hush Hush Glamping's

setting is in a rather special spot.

Local walking trails can be accessed

on foot right from the pods,

making it a great base to explore

the countryside. Surrounded by

hundreds upon hundreds of acres

of farmland, Hush Hush Glamping

offers such a peaceful, distractionfree

and idyllic setting to unwind in.

Based in a dark sky area, guests are

often blown away by the sparkle in

the skies at night-time.

A challenge we have faced that

causes an ongoing issue is the

access road, as neither the local

council nor Forestry Commission

will take ownership or responsibility

which has resulted in it falling into

disrepair. This is a regular complaint

in these rural areas from other

residents and business owners, as

a lot of roads have been removed

from local council lists and left to go

to ruin.

How did you tackle planning?

We drafted help from our local

McCartneys agent. However, it

was a painfully slow process that

took nine months with various

delays (not for serious reasons,

but because our local council

36 WWW.OPENAIRBUSINESS.COM
---
GLAMPSITES

"WE DO OUR BRANDING OURSELVES

AS I RUN WISE BIRDY AND HAVE THE

KNOWLEDGE TO DO SO"

is notorious for being slow in

processing and communicating

between departments). After eight

and a half months of waiting, I

wrote a strongly worded email to

the head of planning expressing

our disappointment and frustration

copying in local councillors and

two weeks later we were granted

planning permission.

How did you finance the project?

We borrowed approximately 50%

of the money required and each

worked multiple jobs to fund the

rest to get our first pod up and

running.

What glamping accommodation

do you offer and why did you

choose it?

We chose pods as they can be kept

warm year round, withstand the

wind and rain we experience here

and look attractive at the same

time. We are open all year except for

January when the weather is less

than desirable here and there is risk

of guests being stranded in snow.

What occupancy levels and price

per night do you achieve?

Hare's Form hits around 80%

occupancy with an average price

per night of £93 (depending upon

season and weekday/weekend

nights). Huacaya's Cush hits around

60% occupancy with an average

price per night of £172. Both rates

have of course been impacted by

Covid.

How did you work out your

brand and how do you publicise

yourself?

We do our branding ourselves

as I run Wise Birdy and have the

knowledge to do so. We use the

services of a copywriter to assist

with marketing content and SEO

work on our website and advertise

with particular agencies. We have

strong marketing and social media

strategies in place to continually

improve our online exposure.

How would you describe your

ethos and unique selling point?

We are an adults-only glamping

site that caters for those who want

to escape into nature without

compromising on home comforts.

Our main selling points are the

view, the alpacas and being adultsonly.

How did you choose your

interior decoration?

Kevin was tasked with the

groundworks and I was left in

charge of interior decoration! In

both cases with our pods, the

initial internal furnishings were

directed a lot by budget, as funds

were tight. However, we gave

Hare's Form a glow-up in 2021

when we had the time and spare

funds to do so and intend to do

the same this year for Huacaya's

Cush. The items chosen are of

good enough quality to withstand

constant use but also have an

aesthetic value too.

• Super hygienic LDPE interior lining for quick handovers.

• Durable and classic Thermowood

exterior complements the glamping setting.

• Choice of Internal or External wood fired heaters.

• Two sizes available 4 person / 8 person.

Snowford Hill, Southam CV47 9QE t 01926 504067

e sales@glamptubs.com www.glamptubs.com

WWW.OPENAIRBUSINESS.COM 37
---
GLAMPSITES

hospitality sectors, but we do run

an alpaca business, which works

wonderfully with the glamping

pods, as guests enjoy seeing alpacas

appearing right outside the pods.

What challenges have you faced?

Covid of course! That is a sure

answer for anyone who has been

in the hospitality industry over

the past couple of years. We had

only been open with our first pod

for eight months when the first

lockdown happened. It was an

incredibly difficult couple of years

as we had laid money out to get the

business on its feet and we then

faced outgoing bills with no income.

Thankfully, over 75% of guests were

happy to reschedule their stays

so we did not need to refund their

deposits. Even then, at times, we

weren't sure how we were going

to afford to eat, but we made it

through day by day, week by week.

Initially, we also faced delays with

the building of our first pod as the

contractor kept delaying which led

to us cancelling our first guests. We

chose a different supplier for our

second pod and were much happier

with the level of care shown and

timelines were kept in check.

What are your plans for next

season?

For the upcoming 2022 season,

we are planning on a glow-up for

our larger pod, Huacaya's Cush,

to create an Instagram-worthy

outdoor seating area underneath

the glass pergola and interiors to

lust over.

Describe your average day midseason

We typically leave our guests to

self-check in and do not see the

"IT IS ALSO

WONDERFUL

TO SHARE

SUCH A

SPECIAL

LOCATION

WITH OUR

GUESTS.

SEEING

THE LOVELY

REVIEWS IS

THE BEST

THING!"

majority of them as they enjoy

their glamping break in total peace.

However, there is still much work to

do besides guest interaction as we

take care of enquiries, keep our social

media up to date, work on marketing

strategies, ensure changeovers

are completed and keep on top of

maintenance jobs. We also look after

our alpaca herd and Kevin works on

the farm whilst I work as a VA and

web designer.

Do you enjoy the business?

We both enjoy the business as it

has provided us with a future at the

farm and allows us to have a flexible

working pattern. It is also wonderful

to share such a special location with

our guests. Seeing the lovely reviews

is the best thing!

What are you most proud of?

In honesty, everything we have

achieved! Considering neither

of us had previous experience in

accommodation letting and our

minimal budget, as well as a global

pandemic that halted travel for

months on end, we managed to pull

off something short of a miracle in

getting the business to where it is

now and couldn't be more pleased

with ourselves for persevering – the

incredibly long days, tears and empty

bank accounts were worth it! And we

are so pleased with the responses we

have received from our guests.

What other outdoor hospitality

sectors do you operate in?

We do not operate in any other

What advice could you give

to someone coming into the

industry?

Do your research so you know

your niche/USP and make

that a prominent part of your

marketing strategy. Consider your

target audience and build the

accommodation to suit – you don't

need to cater for everyone, but you

do need to cater well for your target

audience. Enjoy the process!

DETAILS

PODS

Modulog (Hare's Form)

www.modulog.co.uk

Arch Leisure (Huacaya's Cush)

www.podfactory.co.uk

BOOKINGS SYSTEM

Bookalet www.bookalet.co.uk

DIRECTORY SITES

Cool Stays www.coolstays.com

Go Glamping www.goglamping.net

Host Unusual

www.hostunusual.com

The Wanderlist

www.thewanderlist.uk

BRANDING & PR

Wise Birdy www.wisebirdy.co.uk

INSURANCE

NFU Mutual www.nfumutual.co.uk

DETAILS

Hush Hush Glamping

Fostings Farm

Kinnerton

Presteigne

Powys LD8 2PF

www.hushhushglamping.co.uk

38 WWW.OPENAIRBUSINESS.COM
---
Do 'wild' in style.

Bring luxury to the great

outdoors with the new

Kocoon cubicle.

The Kocoon's low level shower tray

and clean, geometric lines are

complemented by designer wall

panels, in a choice of colours with a

sleek shower control. There's no need

for grout or silicone either, making the

Kocoon a simple way to transform any

showering space.

Designed by the experts at

Follow us on

kinedo.co.uk
---
COMING

SOON

n Industry news

n Market trends

n Movers and shakers

n Opinions and comment

n Architecture and design

n In depth case studies

n Products in focus

ISSUE ONE

SPRING 2022

PRIVATE

EQUITY

INVESTMENT

Luxury Outdoors

The explosion of

boutique retreats

Resort & Retreat is Open Air Business's new sister

title created for the high-end boutique retreat and

larger scale resort businesses in the blossoming

back to nature leisure and wellness industries.

PLUS: DESIGNING

IN THE X-FACTOR

LANDAL

BARNSOUL

Landal GreenParks rewrites

the holiday park blueprint

Don't miss out - subscribe at www.resortandretreat.com/subscribe
---
GLAMPSITES

Safe, Clean & Legal

GETTY IMAGES

Post pandemic, Quality in Tourism's Safe, Clean & Legal certification is more relevant than ever

CONSUMERS OFTEN assume that any

property they stay in is safe and compliant.

In reality, this may not be the case,

particularly with the boom of the internet

and the rise of glamping. Our assessors

are the enforcers of legal standards for the

industry, ensuring that businesses have the

correct documentation and checks in place,

from fire safety to food safety, confirming

that the accommodation meets or exceeds

minimum standards.

Our checks are annual, robust and

objective, rather than personal opinion. It's

this impartiality that makes the scheme so

strong.

What's more, in the post-pandemic world

of travel, nearly 80% of potential guests

expect any accommodation provider that

they book with to have an independent

accreditation of their standards, and 64%

expect the accreditation to include an

independent inspection. That makes Safe,

"THE ACCREDITATION WORKS FOR ANY BUSINESS LOOKING

TO DEMONSTRATE THEIR COMMITMENT TO STANDARDS,

REASSURING POTENTIAL GUESTS THAT YOU HAVE

APPROPRIATE STANDARDS AND THAT THEY HAVE BEEN

INSPECTED BY AN INDEPENDENT THIRD PARTY"

Clean & Legal more relevant than ever to the

industry.

Who is Safe, Clean & Legal suitable for?

The accreditation is suitable for hospitality

operators and accommodation providers,

who want to provide guests with

reassurance of standards, but for whom

quality (star) ratings may not be relevant

or applicable. The accreditation works

for any business looking to demonstrate

their commitment to standards, reassuring

potential guests that you have appropriate

standards and that they have been

inspected by an independent third party.

The scheme has been reviewed by

Cornwall Council under Quality in Tourism's

Primary Authority partnership. This means

that for local authorities across the country

there is a system in place where properties

that are advertising on shared economy

platforms such as Airbnb or HomeAway can

apply to be assessed under the Safe, Clean &

Legal scheme. Accreditation will help to give

confidence in the policies and procedures

under which those accommodation

providers are operating, with the aim of

raising levels of compliance within that area.

WWW.OPENAIRBUSINESS.COM 41
---
GLAMPSITES

For Destination Management

Organisations (DOMs) who are helping to

promote properties to visitors, they can

encourage the property owner to undertake

a Safe, Clean & Legal scheme assessment

to help ultimately protect the consumer.

Our ultimate aim is to provide consumers

with a badge of confidence to look for when

booking accommodation for an overnight

stay; whether that's glamping, B&B, a hotel

or self-catering establishment.

We have been working with partners

such as the Short Term Accommodation

Association (STAA) to raise the profile and

importance of independent verification

within the industry. We have written a

white paper regarding the safety standards

in the sharing economy, outlining what

consumers think along with a proposed

solution.

MORE INFORMATION

Quality in Tourism's Safe,

Clean & Legal accreditation

costs from £125 to

£2,000+VAT, depending on

business size. You will be

asked to upload your fire

risk assessment and public liability insurance

certification alongside your application in order

to qualify for a visit. Once the certification has

been uploaded, an assessor will arrange to visit

in order to accredit your property. To apply call

0845 300 6996 or visit www.qualityintourism.com

What do we look for in an assessment?

Safe, Clean & Legal inspects everything

that a hospitality or accommodation

operator needs to do to be compliant

with regulation, committed to quality

standards and of course safe and clean.

It has been running since 2018, but

has been updated to reflect additional

requirements and standards for travel in

the post-Covid era.

Safety & legal requirements

› Compliance with the Regulatory Reform

(Fire Safety) Order October 2005

› Health and safety assessment of the

property

› Public liability insurance

› Home and contents insurance

› Compliance with food safety and

hygiene regulations

› Compliance with regulations

surrounding allergies and food labelling

› Licenses for serving alcohol to the

public and special events (where

relevant)

› Planning regulations adhered to

› Data Protection Act 1998

› General Data Protection Regulation

(GDPR) 2018

› Equality Act 2010

› Consumer Protection from Unfair

Trading Regulations 2008

› TV licence

› Other licences where relevant

- Performing Rights Society,

Phonographic Performance and Motion

Picture Licensing Company

Furniture, Facilities and Equipment

› Equipment should comply with British

Safety Standards

› Handrails fitted to staircases

› Garden ponds fenced off

Cleanliness and hygiene

› All areas should be cleaned and

checked thoroughly between lets –

guests don't want reminders of other

guests!

› Broken or damaged items should be

replaced

Communication with guests

› All advertising and pre-booking

information should explicitly cover

what is included in the price

› Full details of sleeping arrangements

and bathrooms available should be

provided in all communications

› Any in-house policies must be

communicated at the time of booking

› Guests should be informed, prior to

booking, of any additional charges

or facilities available including

cancellation terms, housekeeping and/

or breakage deposits

Evaluation and report

› Safe, Clean and Legal is a pass or fail

scheme, based against a full list of

criteria. Our assessors will offer advice

on best practice or improvements

where relevant.

GETTY IMAGES

42 WWW.OPENAIRBUSINESS.COM
---
Bear Habitats

• Sewage Treatment Systems •

• Sales • Installation •

sales@theseptictankstore.co.uk

01295 236 101

www.theseptictankstore.co.uk

A portable twin toilet & shower block to

satisfy your glamping bathroom needs

bear@theseptictankstore.co.uk www.theseptictankstore.co.uk

S2T GRASS

REINFORCEMENT

PERFO

interlocking tiles - effective

protection for soft ground

Ideal for the reinforcement of

parking areas, access tracks,

pitches etc. at:

- camping & glamping sites

- open air event venues

- country & leisure parks

Tel. 01992 522797

www.perfo.co.uk

The Bell Tent Shop is a well-established online tent shop

located in Warwickshire. We offer free shipping across the

UK. From 100% cotton canvas, fireproof & fire-retardant

eco-friendly, sustainable bell tents to luxurious camping

equipment, we have it all!

OUR TENTS ARE PERFECT FOR

PROFESSIONAL AND INDIVIDUAL USE

please visit us at www.thebelltentshop.co.uk

e: thebelltentshop@gmail.com t: 07834768348

WWW.OPENAIRBUSINESS.COM 43
---
Join our dynamic portfolio of

unique glamping structures

Visit www.qualityunearthed.co.uk

or call 01348 830922

THE ULTIMATE MUD SOLUTION

INSTANT HARDSTANDING, ANYWHERE

100% RECYCLED, PLAYGROUND

CERTIFIED MATERIAL

PROTECTS THE GROUND, LETTING

VEGETATION GROW THROUGH, FOR

A TOTALLY NATURAL LOOK

TEMPORARY OR PERMANENT, CAN BE

REPOSITIONED AGAIN AND AGAIN

CREATE SOLID PATHWAYS, GATEWAYS,

YARDS OR LOAFING AREAS, QUICKLY &

EASILY, LAID STRAIGHT ON THE MUD

CAN WITHSTAND 60+ TONNES OF

COMPRESSION. INERT, STABLE & COVERED BY

A 20 YEAR MANUFACTURER'S WARRANTY

FOR REVIEWS & TESTIMONIALS, FIND US ON FACEBOOK & YOUTUBE

SALES@MUDCONTROL.CO.UK / TEL: 01536 669630

44 WWW.OPENAIRBUSINESS.COM
---
GLAMPSITES

TRADE SECRETS

Building our

Roundhouse

Kate Symonds shares her family's hands on journey

in creating eco accommodation at Round the Woods

PHOTOGRAPHY BY JONNY KEELEY

WE HAVE been hosting guests in our two

yurts, Oak Tree and Hazelnut, at Round

the Woods since 2015. Whilst there's

something magical about sleeping in a

comfy bed under canvas you'd have to be

pretty hardy to want to spend your holiday

in an uninsulated yurt in winter, even with

a woodburner, and so as Autumn comes

around each year we pack away the yurts

and store them until Easter.

Our lifestyle managing a 20 acre nature

reserve and glampsite means we enjoy

observing the changes of the seasons

and appreciate each time of year for its

own merit. We look forward to winter as

a chance to slow down and get cosy and

we've noticed how many beautiful sunny

days there are, inviting us to enjoy a brisk

walk and then read a book in front of the

fire.

It always felt such a shame that none of

our guests were appreciating the colder

seasons and that our business was based

"SO WE SET OUT ON AN

ADVENTURE TO CREATE A

YEAR ROUND CABIN THAT

WOULD BE WARM AND

COSY IN THE WINTER AND

EQUALLY INVITING IN THE

WARMER MONTHS"

solely around providing holidays in the

summer months. Autumn and winter can

be the perfect time for a much needed

holiday, a chance to relax after a busy

summer of being active outdoors and an

opportunity to enjoy all that Norfolk has to

offer during the quieter months. So we set

out on an adventure to create a year round

cabin that would be warm and cosy in the

winter and equally inviting in the warmer

months.

THE DESIGN

We knew our new structure would need

to be circular and being called Round the

Woods it was pretty essential. We found

ourselves drawn to round open-plan shapes

as they offer our guests a unique space to

spend time in, encouraging connection with

each other as well as with the outside with

no corners to hide away in or partition walls

separating different spaces. We absolutely

love our yurts, especially the natural light

flooding in through the skylight and as

we had always wanted to build with straw

bales, we designed a natural roundhouse

with strawbale walls and a reciprocal roof,

providing a 2m wide skylight.

The design and planning process took

almost a year to complete and involved

collaborating with an architect and a

structural engineer to sign things off.

WWW.OPENAIRBUSINESS.COM 45
---
GLAMPSITES

THE BUILD

Having opted for timber in its natural

round form, with a complex roof and

joints as well as needing to meet Building

Regulations, we decided it would be best

to work with professional framers. The

team at Built by Artizans began work

onsite in September 2018 constructing

the roundwood frame and sedum roof.

In October they handed the build over

to my family to hand build the rest with

the help of volunteers along the way, all

while hosting guests in our yurts and home

educating our two boys. We completed the

build in December 2020.

SUSTAINABILITY

With our sights set on a natural build, and

Round the Woods being an eco-glampsite,

we wanted our materials to be as low

impact as possible and went to great

lengths to source everything responsibly.

We sourced as many of the materials

as possible locally, with the strawbales

coming from a farm just a few miles away

and the clay dug from the ground down

the road. Douglas Fir for the non-structural

parts including the windows and doors

was sourced a few hundred metres away

from our local golf course; a massive

achievement after repeatedly being told

Sweden was the only option. Persistence

pays off!

The kitchen counters and window seat

are the most local, having been planked

from the oak tree which fell part way

through the build and lay right alongside

the roundhouse, luckily just stroking the

outer walls when it fell. Even the sink is

beautifully hand carved by my dad from

an old oak tree from our woods. The

roundwood frame is made from larch

and sweet chestnut, both of which were

sourced local to the builders in Sussex for

them to prep before delivery to site, which

was ideal as they're not species that are

easily sourced in Norfolk.

The glass for the windows is reclaimed

from a cafe in the next village, the roof

and floor insulation is sheep's wool and

we opted for formaldehyde-free OSB and

treated the wood throughout with oil.

PUTTING THINGS TOGETHER

Our stage of the build involved the nerve

wracking job of notching oak beams into

the roundwood posts to support the floor

as well as fitting the floor joists and the

sub floor. We then moved onto the walls,

reshaping each strawbale to take on the

curve and slotting them in place like giant

bricks. My partner Seb handmade the

windows and doors, including a round

window in the ensuite toilet. With the

strawbales exposed to the elements for

over a year as we constructed the walls

we hung tarpaulins from the roof, battling

with the weather every time the wind

blew.

We were excited to apply the lime putty

render and recruited an amazing team of

volunteers from near and far who came

together at various points over three

weekends in September and October 2019

to complete each of the three coats of

lime. The following February and March

were reserved for internal clay plastering

and in the meantime I spent hundreds of

hours sieving clay through mesh to remove

all the stones. The clay was mixed with

various quantities of sand and water and

was 'smushed' onto the strawbales, again

with a group of eager and hardworking

volunteers. It was so great to be supported

by a community of people interested in

natural building; it was an idyllic sight with

children running through the meadow and

climbing trees while the adults covered the

walls.

46 WWW.OPENAIRBUSINESS.COM
---
GLAMPSITES

The final stages of the build involved

laying a unique mosaic log disk floor and

handcrafting furniture and the kitchen

from beautiful bark edged wood left

over from the build. We completed it

just in time for the winter of 2020/21 but

lockdown meant we couldn't open until

April 2021. In the meantime we enjoyed

a few holidays to try the accommodation

out – the perks of the job!

A LEARNING EXPERIENCE

This project really was a family affair

and was an inspiring home education

experience for our two young sons to be

part of. They got involved at every stage

of the build and have developed strong

problem solving and creative skills.

Natural building methods are typically

electricity, a woodburner for heating and

a compost toilet (shower facilities are

provided in a nearby shipping container

converted into a shower building). The

space is super cosy and snug in the winter,

heating up nicely, with stored heat in the

walls given off slowly, while in the warmer

months it provides a cool and welcome

retreat from the heat.

Willow Roundhouse can sleep up to

seven with a king size bed and sofas and

chairs that convert into comfortable

additional beds, meaning it's a great

space for couples but can easily adapt to

accommodate larger bookings. The space

has been cleverly zoned with lighting

creating a kitchen area, dining space,

lounging area by the woodburner and a

bed.

It's been an incredibly rewarding

process to build with our own hands, to

learn building techniques and to work

with natural materials. I would encourage

anyone interested in sustainability to find

a way to bring natural, locally sourced and

sustainable materials into any projects at

your business. There is a growing interest

in people wanting to experience staying

in eco accommodation and opting for

low impact holidays, especially those

surrounded by nature.

The occupancy in our roundhouse cabin

in 2021 was over 60% with an average

nightly rate of £175.

"WHAT WE HAVE CREATED IS A BEAUTIFUL, WELCOMING

SPACE MADE WITH ALL NATURAL MATERIALS, AND WITH

A VERY LOW IMPACT ON THE ENVIRONMENT"

really accessible and

easy to learn for novice

builders, including

children.

Throughout the

build we also hosted

Workaway volunteers at

various stages who came

and lived in our home

and enjoyed meals with

us whilst we worked

on the construction

together. We absolutely

loved having these

people become part of

our family and would

highly recommend

anyone taking on a unique build to

reach out to see if anyone is interested in

learning the skills you are practising; it's a

great opportunity for cultural and labour

exchange. In March 2020 we hosted a

couple looking to try out Workaway for a

couple of weeks and they ended up living

with us for three months due to the first

lockdown and all their pet sitting jobs

being cancelled. This enabled us to really

crack on with the roundhouse build while

making great friends who've been back to

visit several times.

THE RESULT

What we have created is a beautiful,

welcoming space made with all natural

materials, and with a very low impact on

the environment. It is off-grid with solar

WWW.OPENAIRBUSINESS.COM 47
---
GLAMPSITES

PRODUCT IN FOCUS

Landscape & Exteriors

Stradey Castle, South

Wales

Product: PERFO-AK Anchor Tiles

Supplier: PERFO Ground Reinforcement

(S2T Group), 01992 522797, info@perfo.

co.uk, www.perfo.co.uk

Details: Parking space at Stradey Castle

was required but, due to the sensitive

historic and rural setting, a tarmac or

concrete car park was not desirable.

Instead a solution was needed that

was permeable, would blend in with

the surroundings and that met with

strict requirements of CADW, the Welsh

government body responsible for the

protection of historic sites.

The area selected for the car park was

overgrown, uneven and poorly drained,

but the best location option due to

space constraints. This area needed to

be cleared and levelled and a sub-base

prepared. Prior to installation of the

selected PERFO-AK Anchor Tiles, a

project meeting took place, with S2T

Group's expert advising on the most

appropriate installation method.

A 100mm bedding layer of

5-10mm crushed stone with

added seeded soil for greening

of the parking spaces was

prepared, into which the PERFO-

AK Anchor Tiles were embedded

using appropriate compaction

equipment. Finally, the surface

was dressed with additional stone to

enhance the overall appearance.

Feedback: The car park has met with

the customer's expectations in terms

of functionality and appearance, and

blends in well with the castle and its

beautiful surroundings.

PRODUCT SNAPSHOT

RHS Award-Winning Playscapes

Wild Hart

07971 869058

info@wild-hart@co.uk

www.wild-hart.co.uk

With an ethos of 'reconnecting with nature',

Nick Sneller's Wild Hart brand includes bespoke

cabins, shelters, furniture and playscapes.

Wild Hart's naturalistic play environments

provide an exciting addition to any site and make

a very memorable experience for all. Handcrafted,

RHS award-winning, expertly designed and

made with care, Nick's creations promote

wellbeing and a greater understanding

of environmental issues. He has a real

appreciation for natural environments

and works painstakingly to ensure his

installations sit sympathetically within the

landscape. He also uses sustainably sourced

timber and works collaboratively to support

local businesses.

If you have a vision for any furniture,

structures, or a unique and tailored

outdoor space for your guests to reconnect

with nature then get in touch.

48 WWW.OPENAIRBUSINESS.COM
---
GLAMPSITES

PRODUCT

SNAPSHOT

Instant, Porous, Reusable Hardstanding

Mudcontrol

01536 669630

sales@mudcontrol.co.uk

www.mudcontrol.co.uk

Mudcontrol supplies high quality, heavy duty 100%

recycled plastic products, specialising in the groundbreaking

Mudcontrol slabs. Revolutionising mud control

in the UK, with 5-star reviews across the board, slabs are

certified to over 60 tonnes and suitable for vehicle use.

Designed to be the base and sub-base in one, the ground

underneath is protected, with grass growing up through the

holes giving a totally natural look.

Ideal for managing any muddy areas, for livestock and

other purposes – if you need instant, porous, removable,

reusable hardstanding for a prefab building or static

caravan, or as a pathway, track or roadway, Mudcontrol can

help.

The company also supplies 100% recycled plastic fencing

and associated products with a commitment to customer

service and sustainability at the forefront of its ethos.

Sustainable Outdoor Spaces

Glasdon UK

enquiries@glasdon-uk.co.uk

www.glasdon.com

Glasdon has over 60 years' experience in designing,

manufacturing and supplying essential products which

can improve spaces, enhance site safety and help to

support waste management systems. Its range includes

seating, litter bins, recycling bins, dog waste bins and

water safety equipment.

To help keep areas tidy and litter free, Glasdon has

a large selection of indoor and outdoor waste and

recycling containers and dog waste bins, available

in a selection of styles, sizes and colours to suit all

requirements.

Create inviting and sustainable outdoor spaces

where you need to with seats, benches and picnic

tables manufactured from recycled materials.

Glasdon's Enviropol material is predominantly

produced from post-consumer polyethylene and

polypropylene. This means the Enviropol slats on

one of our seating products could contain as many as

102,420 recycled bottle caps!

Corner Dining with Fire Pit

Gardenman

0333 2008 333

sales@gardenman.co.uk

www.gardenman.co.uk

Looking to give your glampsite

a summer revival with some

outdoor furniture? The Heritage

Ciara Corner Dining Set with Fire

Pit Table is the perfect addition

for family and friends to relax

and enjoy the sunshine during

the day while keeping warm and

eating together at night.

The set's key feature is the

stunning rattan casual dining

table which boasts a large gas

fire pit in the middle. There is

plenty of space to dine using

the table, but the fire pit adds

something special to the

furniture and the atmosphere

when using the set. The fire pit

allows you to keep your guests

warm and use your furniture

well into the evening, adding

light and heat to your outside

space.

Gardenman supplies a range

of fire pit sets, corner sofas, sun

loungers, daybeds and more

available now with free next

working day delivery to your

property.

WWW.OPENAIRBUSINESS.COM 49
---
EVENTS

CASE STUDY

Red Rooster

Festival

American southern roots festival attracting 6,000 people

to Euston Hall, Suffolk

We talk to promoter and

production manager James

Brennan of The Dark Horses

on how his friendship with a

"well-spoken roadie" led to

him finding one of the most

beautiful festival sites in the

country.

Describe your event and how many

people it attracts?

Red Rooster is a festival that celebrates the

American southern roots of music, from

Cajun, soul, rock n roll, blues, roots and

country. The real deal, not the middle of the

road rhinestone country stuff. We attract

around 6,000 people a year, including

around 1,000 kids. All of the content at

the festival reflects the genres, including

cigar box guitar workshops and vintage

thrift stores, through to a display of 1949

American hot rods.

Explain a bit about your venue and your

history with it

I met Harry Grafton out in Austin at SXSW

around 10 years ago. We kept finding we

were at the same rock n roll gigs. He was

the merch co-ordinator for The Rolling

Stones on the Bigger Bang tour. We stayed

mates, going to a number of London gigs

together and we always talked about doing

a show like Red Rooster. He called me one

day and said that his father and, then a few

months later, his grandfather had passed

away, and he'd become the Duke of Grafton;

would I like to come up to his place and see

where we could do this festival. I wasn't

aware of his background, I just thought he

was a well-spoken roadie!

I look at lot of potential sites, so to be

honest I thought it might just be another

few cow fields. However, on arriving I

quickly realised differently. It's an 11,000

acre country estate and Harry was the

direct descendent of King Charles II. His

50 WWW.OPENAIRBUSINESS.COM
---
EVENTS

estate is phenomenal, designed

by Capability Brown and William

Kent; it is arguably one of the most

beautiful festival sites in the country.

Being East Anglia, it's pretty

flat which is perfect for building

structures on, and with the sand

consistency of the soil, there can

be heavy rain and after 30 mins you

can drive an artic over it. We got

the show going within a year and

working with Harry is unlike working

with any other site owner. He knows

rock n roll and, having toured 150

shows, he knows what the support

crew need and what we go through.

How is your relationship with the

local authority and community?

When I first started working with

Harry I brought in my guys to help

get the estate a licence; now they

can host a number of events every

year. West Suffolk council are

very easy and accommodating

to work with. I'm one of the

few promoters who is also

a production manager, so

know our production

"WE'VE

NOT HAD

A SINGLE

ISSUE

ON THE

FESTIVAL IN

THE EIGHT

YEARS WE'VE

RUN IT, SO

WE CHECK

IN WITH

THE LOCAL

AUTHORITY

BUT THEY

TRUST US

TO CRACK

ON"

team are very experienced. We've

not had a single issue on the festival

in the eight years we've run it, so we

check in with the local authority but

they trust us to crack on.

How have you planned the layout

of the event?

The layout is almost fully planned

– we haven't made too many

adjustments over the last few years.

The main stage is in 3,500

capacity big top from Yes Tents. The

Little Red Rooster stage is our stage

2, and is a bespoke timber build.

Our late night venue, The Howlin'

Woods, is in a 60 foot Berber tent –

we build a bespoke set out the front

and it gives a great intimate feel.

How do you work with creatives

to make these spaces work?

We do all the creative in-house at

The Dark Horses. J'me Howard

heads up creative with me. He

brings his go to chippies and décor

crew, and keeps things simple and

built on time.

How did you research and source

your marquees, flooring, bars etc?

I've booked structures for festivals

for the last 15 years, so I have my

regular go tos as I know they deliver

with impeccable service.

How do you choose your acts?

We work with all the largest talent

agencies from around the world on

a regular basis and we know the acts

we're keen to book, if their routing

works out of course. Rupert Orton

from PRB Presents books; he lives

within these genres of music, a

number of them he also represents

as an agent.

What provisions do you make for

power, lights and sound?

As a production manager I know

the kit I need and on what stages.

Maddie Harris, also at The Dark

Horses, is our site manager and

she specs accordingly with my

assistance on the stages and

content. The red diesel ban is a

huge issue across shows, the

increase in cost will hurt.

Unfortunately with all the

problems Russia have

recently created, this is only

to get worse.

WWW.OPENAIRBUSINESS.COM 51
---
EVENTS

How do you manage admissions

and visitor safety?

I've used the same gate team on

shows over the last 15 years. Festival

Gates run the team at Glastonbury,

and created the very first "gates" at

a festival all those many moons ago.

There's really no one better. Last

year we worked with H&S managers

when producing Red Rooster, as

there were of course a lot more

safety protocols that were needed.

Usually, Red Rooster being small,

we've just dealt with H&S in-house.

"FESTIVAL

GATES RUN

THE TEAM AT

GLASTON-

BURY, AND

CREATED

THE VERY

FIRST

"GATES" AT

A FESTIVAL

ALL THOSE

MANY

MOONS AGO.

THERE'S

REALLY NO

ONE

BETTER"

How did you cope during 2020

and 2021?

In 2020, we weren't able to operate,

even though we tried to reschedule

from June to September. However,

we were pleased to run Red Rooster

successfully in 2021. We didn't

receive any support whatsoever

and were rejected by the Cultural

Recovery Grant.

What ground protection do you

use for cars and footfall?

We use some EuroMat where

needed, but we've never needed to

put in trackway.

How do you publicise the event?

I promote the show in-house

through local and national press.

operations from 2022 is probably

around 30%. Everything is going up

in price, for a multitude of reasons.

Some is a lack of staffing – Brexit

really is the gift that keeps giving.

How have you financed the event

and how profitable is it?

It's funded through private

investment and a few sponsors

adding in small amounts too. It

takes a while for festivals to make

money, but it's getting there.

What are your plans for

next year?

An introduction of a new stage

would be great, but we need to

see how 2022 pans out first.

What additional challenges have

you faced?

The increase on infrastructure and
---
EVENTS

What advice could you give

to someone coming into the

industry?

If you listen to some of the great

crew out there, heed their advice

and take on as many shows as

possible, you'll get to where you

want to go. It's a tough industry

with long hours and in Britain

you're always fighting against the

elements. But if you can survive

a few seasons, you can survive

anything.

ADDRESS BOOK

MARQUEES

Yes Tents www.yestents.com

Roaming Tent Co.

www.roamingtentco.co.uk

STAGES

Ideal www.idealeventservices.co.uk

STANGE BUILD & DÉCOR

In-house at The Dark Horses

www.thedarkhorses.com

LIGHTING

Coloursound

www.coloursound.com

POWER

Gofer www.gofer.co.uk

BARS

Soulshakers

www.soulshakers.co.uk

TOILETS

Hallmark

www.hallmarkeventhire.co.uk

TICKETING

Seetickets www.seetickets.com

VISITOR MANAGEMENT

Festival Gates

www.fghsecurity.co.uk

SB Security Solutions

www.sbsecuritysolutions.co.uk

INSURANCE

Media & Music Insurance Brokers

www.mediainsurance.com

DETAILS

Red Rooster Festival - 2-4 June

Euston Hall, Thetford

Suffolk IP24 2QW

www.redrooster.org.uk

WWW.OPENAIRBUSINESS.COM 53
---
SPECIAL RATES FOR 2022

Book with confidence as we offer

a no cost cancellation policy.

Terms Apply.

DCRS Hire A4 Advert.indd 1 07/12/2021 15:08

54 WWW.OPENAIRBUSINESS.COM
---
EVENTS

Sponsorship

We talk to We Get Sponsors' Danny Wheeler about, well, how to get sponsors!

THE MARKET for live event sponsorship –

how's it looking out there?

This year is looking to be the resurgence

of live events. This is the first summer

where organisers are planning confidently

and the feeling is that it's game back

on. It's been tough for both events and

sponsors since the hospitality industry

felt the effects of lockdowns. There is

lost revenue to recuperate and stored up

energy for incredible events to unfold.

Brands are eager to get themselves in front

of the right demographics in the right way.

Explain about the importance of

working with brands that share your

values

Alignment is the single most important

factor in long term partnerships with

"ON-SITE BRAND

ACTIVATIONS CAN IMPROVE

YOUR AUDIENCE'S

EXPERIENCE AT THE EVENT,

WHICH IS A PLUS FOR

BRANDS AS THEY CREATE

A GENUINE CONNECTION

WITH PEOPLE TAKING

THINGS A STEP FURTHER

THAN JUST VISIBILITY"

any brand. You should share the aim of

providing the best value to your audience

with marketing campaigns that make

sense based on both of your resources.

On-site brand activations can improve

your audience's experience at the event,

which is a plus for brands as they create

a genuine connection with people taking

things a step further than just visibility.

Successful partnerships should be a winwin-win

for the audience, the event and

the brand.

How do you pitch to a sponsor? What do

you need in your arsenal?

You have to build the case for why your

brands can be presented together.

What are the synergies? How can you

collaborate? Once you establish those

facts, they form the base for your pitch.

You need to back this up with detailed

audience profiles, historical data and the

ability to collaborate in a creative way.

WWW.OPENAIRBUSINESS.COM 55
---
EVENTS

What if you're a start-up event?

Target localised brands at a small to

medium size that can

find synergies with your

offering and audience.

Do your due diligence on

your local area, organise

meetings, connect with

your community and

make some noise.

Typically, brands like

to work with events that

have some skin in the

game. They like to see

data and have confidence in the event.

On the other hand, brands like to find

new innovative events to partner up with.

Understand what sets you apart and why

it would be great for a brand to work with

you. Once this is established, there needs

to be a lot of outreach and pre-planning!

What does sponsorship look like? Is it all

about money?

Being true to your values is powerful for

meaningful sponsorships. The fit has to

be real and genuine. The money is an

important factor and this is where the

demographic data and performance of

campaigns makes the difference. However

some sponsorships can be all about

brand sentiment, rather than short term

sales success. It's about finding the right

balance and understanding what means

most to the brands you work with. A brand

will want to ensure that the event aligns

with their broader marketing initiatives.

How should you see sponsorship in

terms of your overall business plan?

Utilise it as added value; it's not wise to

simply rely only on sponsorship. You can

make good revenue of course but from

our experience sponsors want to see

good traction before they invest heavily

themselves.

How do you ensure a lasting

partnership?

It's about synergy and results. Go above

and beyond where you can. Added value

is super important and sometimes costs

nothing for the organiser.

What can go wrong and how can you

mitigate against potential problems?

When partnering with another brand

in a campaign, make sure to research

their reputations to educate yourself

on their views and morals and ensure a

good pairing. Having two mismatched

"BEING TRUE TO YOUR VALUES IS POWERFUL FOR

MEANINGFUL SPONSORSHIPS. THE FIT HAS TO BE REAL

AND GENUINE. THE MONEY IS AN IMPORTANT FACTOR

AND THIS IS WHERE THE DEMOGRAPHIC DATA AND

PERFORMANCE OF CAMPAIGNS MAKES THE DIFFERENCE"

companies involved with opposing

company mission statements can have a

negative impact.

When evaluating any potential brand

relationships, it is vital to understand

and analyse audience overlap. In order

to protect and represent the brand in the

right way ensure that the brand message

connects with your audience profile.

Each partnership should go through

a bespoke process to understand the

brand's marketing strategies. This is

how we deal with our global network of

sponsors, venues and events here at We

Get Sponsors. We connect our network

based on synergy.

Give us some success stories

We Get Sponsors received a marketing

brief from BoohooMan which we aligned

to Hideout Festival, where all parties

agreed there was synergy. Hideout

were able to provide us with accurate

demographics and historical data which

matched what BoohooMan were looking

for. The key here is to understand a brand's

strategy and demonstrate with tangible

data why the event is a perfect fit.

We also connected Under Armour to

Football For Change (FFC) in October 2021,

succeeding because Trent Alexander-

Arnold is leading the FFC campaign. FFC's

footballing stars are already ambassadors

for Under Armour which meant the

alignment was perfect to support the

event. This was a large-scale event that

made sense in terms of partnerships and

a great way to onboard new footballers

as ambassadors for Under Armour, whilst

supporting a meaningful cause.

ABOUT THE AUTHOR

Danny Wheeler is head of business

development at We Get Sponsors. "We

work closely with a global network of

events, venues, music artists, and sports

professionals. Helping to secure long lasting

relationships with sponsors. We integrate with

your event to understand your business and

needs; this enables us to be an extension of

your team. If we don't already have the right

sponsors in our network, we will actively

outreach to find them. If you are looking for

sponsorship of your event then let's have a

conversation."

www.wegetsponsors.com

56 WWW.OPENAIRBUSINESS.COM
---
A modern, portable and established

glamping business for sale.

(woodland site

not included)

Bedroam offers a versatile glamping

experience with 18 luxury sleeping

pods, 2 fully equipped bathrooms and

a large multi-functional awning.

Contact: enquiries@bedroam.co.uk

or 07870174477 for more details

www.bedroam.co.uk

TOPCAT

BIGTOPS

T E N TS & MA R Q U E E S

TOP CAT BIG TOPS manufacture & hire

out colourful Big Big Top Top style style Marquees.

Staffed by a crew of highly experienced

personnel with many years of in experience the

festival, in the festival, local authority, local authority, educational educational &

corporate & corporate fields. fields. We We can can supply supply small small

to

to

large

large

colourful structures built

built

by

by

our

own craftsmen, that can withstand

our own craftsmen, that can withstand

extreme UK weather conditions.

extreme UK weather conditions.

01654 700030/07599 882654 Email: info@topcatbigtops.co.uk Web: www.topcatbigtops.co.uk

t: 01654 700030

07956 878157

e: info@topcatbigtops.co.uk

w: www.topcatbigtops.co.uk

MAKE YOUR GUESTS AS SAFE AS THEY CAN

BE WITH OUR COMPLETE SERVICE OFFERING.

CROWD SAFETY

SECURITY

STEWARDS

TRAFFIC MANAGEMENT

01295 722844

WWW.NEWMANEVENTS.CO.UK

WWW.OPENAIRBUSINESS.COM 57
---
EVENTS

GETTY IMAGES

Community

Indemnity Pledge

We talk to TicketSellers' Mo Jones about creating a

community indemnity pledge, an alternative to Covid

cancellation insurance

What is a community indemnity pledge?

Events tend to run on very tight budgets,

requiring money to be spent throughout

the year in order to give customers a

wonderful weekend experience. Pre-Covid,

events would have invested in cancellation

insurance to cover these costs, should the

event be faced with cancellation due to

adverse weather conditions near the time.

Not having insurance is simply too risky.

Imagine paying all those costs throughout

the year only to have your event cancelled

last minute due to a new outbreak of Covid.

This risk is what led nearly all events to

postpone from 2020 to 2021 and many

events not to even attempt an event in 2021.

The community indemnity pledge is a

way for events to ask their audience a very

honest question: 'If you want us to host

the event that you love coming to, are you

prepared to share some of the financial risk?'

Happily, the answer in many cases, is yes.

Customers make a commitment at purchase

that a certain percentage or amount of

money per ticket would not be refunded

should the event be cancelled due to Covid.

Where did the idea come from?

Brainchild Festival was the trailblazer here.

Having sold out their event, but at the

critical point of having to make essential

payments, they were faced with the very

real scenario of either postponing again or

asking their customers that critical question:

'We'll go for it, but we need you to share

the financial risk with us'. Happily, their

committed audience were well in favour

of risking a fairly significant chunk of their

ticket cost in order to get the event they

wanted to attend.

What's wrong with the Live Events

Reinsurance Scheme?

We haven't ploughed through the many

pages of text for this but, anecdotally,

this government initiative is all bluster

and little use. It only covers certain costs

(mainly artists' deposits, which are already

refundable or would roll over should events

have to cancel) and it is prohibitively

expensive.

How has TicketSellers helped to create

the mechanics of the pledge?

With Brainchild, the pledge was

automatically added as an additional

ticket at basket stage, so it was super

clear to customers that they were buying

a refundable entry ticket and a nonrefundable

element. The message was

backed up with a pop-up warning, to

ensure all customers were fully aware of

the commitment they were making before

purchase.

What part does the festival audience play?

The audience commitment is paramount.

Without their agreement and sale of tickets,

the event simply wouldn't happen.

How have festivals communicated

this to them?

The message generally comes from the

58 WWW.OPENAIRBUSINESS.COM
---
EVENTS

event. Towersey Festival is using the pledge this

year and on its website event director Joe Heap

has actually recorded a message to make sure

things are super clear to customers.

It's tantamount to the great relationships

that often exist between passionate, dedicated

independent festival organisers and their loyal

audiences, that customers would rather forgo

some cash and help the organiser actually put on

the event, than demand a full refund or indeed,

fail to buy a ticket altogether.

What has been the feedback?

Feedback has been overwhelmingly positive.

The choice is clear and well explained, so if any

customer should not be comfortable, they will

simply choose not to buy and wait until tickets

are on sale for a future event with no need for a

pledge.

Would this work on a wider scale? An industry

movement?

Absolutely. Another factor we haven't mentioned

here is how this also benefits customers in terms

of cost saving. If an insurance policy has a fee of

8%, for a budget of £100,000 the event is spending

£8,000 on a premium that isn't likely to cover the

key costs even if they did need to claim. By sharing

the risk, that budget can be spent on the event

instead – more artists or other audience benefits.

So customer money isn't spent on insurance

unless absolutely necessary.

ABOUT THE AUTHOR

Mo Jones is a director and

co-founder of TicketSellers.

Starting way back in 1998

promoting rave events in

Birmingham, TicketSellers kept

innovating and became the first

company to launch e-ticketing in 1999,

paving the way for other ticket agents to join the

industry. Today it remains fiercely independent and

brings a wealth of experience and a technological

edge to everything it does, making life easier both

for event organisers and their customers. www.

theticketsellers.co.uk

CASE STUDY

Towersey

Festival

Taken from the Towersey

Festival ticketing page…

"With TicketSellers, we have developed an idea

which means together we can futureproof the

festival through a radical, collective, community

solution – a Community Indemnity Pledge.

"The good news is that this pledge is all rolled into

your ticket cost, not added on, so has no effect on

the cost of your Towersey experience (the pledge

will be automatically added in your basket to all adult tickets). And even better news

than that, your agreement to this pledge will ensure the future of Towersey Festival

is more certain, even if the worst should happen and we are forced to cancel.

"What this means for you – it means that you will be contributing to the viability and

future of Towersey Festival! If we deem it unsafe or unviable to go ahead with the

festival due to risks or restrictions caused by a pandemic which are not insurable,

the pledge portion of your purchase (less than 25% on adult tickets) would not be

refunded. Your pledge will go towards the costs required to keep Towersey thriving

for years to come."

WWW.OPENAIRBUSINESS.COM 59
---
EVENTS

PRODUCT IN FOCUS

Event Glamping

Remote 40th Birthday

Party, Yorkshire

Service: Luxury mobile accommodation

for up to 18 guests

Supplier: Bedroam, 07870 174477,

enquiries@bedroam.co.uk,

www.bedroam.co.uk

Details: Bedroam provided the perfect

additional accommodation for a joint

40th birthday party at a remote Yorkshire

farmhouse. With the local pub and B&Bs

already full with visiting guests, Bedroam

was called to the rescue.

Some guests had travelled all the way

from Austria and, as family members

were keen to stay on site to help out

with preparations, the main farmhouse

was overflowing. Bedroam provided

the perfect private escape, arriving a

couple of days before the event and only

requiring a park site location and power

connection.

The large awning was a blessing, used

to help store drink supplies and as a VIP

chill out area away from the main action.

The large fresh water tanks ensured the

hot showers lasted the full event and

kept guests away from the main house

services.

Customer feedback: Client, Marcus

Freuis, said: "After speaking to Ollie we

realised Bedroam was the perfect and

best solution to our accommodation

issue. Its two separate toilets and shower

units were perfect and the 18 sleeping

pods gave ample space for all our guests.

"The awning was superb for chilling

and socialising while not around the

house area. Bedroam has a superb

layout and is finished with great quality.

"There was no need for taxis, no

fuss, just a simple solution. I would

recommend Bedroam and use it again,

100%. All my friends and family slept

perfectly, praised the service and will

definitely spread the word. Well done

Bedroam and thanks for bringing my

friends and family to me."

Glastonbury Festival,

Somerset

Product: Snoozy glamping pods

Supplier: Cube Modular, 01905

955814, theteam@cubemodular.

co.uk, www.cubemodular.co.uk

Details: The iconic Glastonbury

Festival last took place in 2019

and returns in June 2022 after a

two-year break. It is the largest

greenfield music and performing

arts festival in the world, located in

a 900 acre site in the Vale of Avalon,

Somerset.

Snoozy glamping pods created a

luxurious pop-up accommodation

village at Glastonbury in 2019 and

will be returning in greater numbers

in 2022. The environmentally

low-impact, visually stunning

pop-up units provide lockable,

secure accommodation with

lighting and USB power. The

height adjustable galvanised feet

ensure fast levelling and keep the

structure off the ground for better

thermal performance. A raised

flooring secures the interior from

any moisture and, along with its

integrated LED lighting, helps to

create a fresh-feeling, enjoyable

space.

60 WWW.OPENAIRBUSINESS.COM
---
EVENTS

The Masked Ball, Cornwall

Product: 18 two berth and two four berth

Shire Huts

Supplier: The Shire Huts, 07846 282404,

hannahbatt@theshirehuts.net,

www.theshirehuts.com

Details: The Masked Ball is an immersive,

multi-level party kingdom with ballers all

dressed to excess in a venue carved out of

the cliffs overlooking the stunning Mount's

Bay in the quintessentially Cornish fishing

village of Porthleven.

Shire Huts provided 18 two berth and

two four berth glamping huts for revellers.

All huts come fully furnished including

beds with 4" foam mattress along with

a sheet and cushions, bedside unit plug

sockets, bedside lamp, oil heater, coat

hooks, rug, door mat, bin, mirror, bunting,

key (lockable doors), bespoke stools and a

welly stand. The beds can be made into a

twin or double depending on a customer's

preference. Bedding is offered at an

additional cost.

The Shire Huts is totally independent

when it comes to the set up and take down

of its huts. Its organised team loves what

it does and takes great pride in making

glamping areas inviting and magical.

There is a communal fire pit set up in the

middle of the hut site, which is a great

way for everyone to get to know each

other and become friendly hobbit-shire

neighbours! Colourful festoon lighting is

also run all the way along the huts.

The company arranges all the meet

and greets with guests and is on call 24/7

during an event.

Feedback: "Staying with The Shire

Huts is like spending time with our

extended family. The huts themselves

are magical, bijou, cosy and so much fun

to stay in! Plus they are secure and have

electricity – bonus! Hannah is wonderful;

her customer service is second to none,

though we have never had an issue

in the five years we stayed in them at

festivals. They even hire out for weddings!

I know, because they were at mine

and were amazing. I can't recommend

them enough for the ultimate glamping

experience."

PRODUCT SNAPSHOT

Lotus Belles for 300 People

Wild Hare Events

07855 229568

info@wildhareevents.com

www.wildhareevents.com

Wild Hare Events is the largest supplier of Lotus Belles in the UK and

is partnered with a number of other companies (under the Wild Hare

banner) offering a complete one-stop-shop for weddings, events and

festivals.

Its inventory includes a fleet of Lotus Belle tents and interiors to

sleep up to 300 people, and two Lotus Mahal structures – a medium

size marquee in the same style as the Lotus Belles, which is perfect as

a reception, bar, guest lounge etc.

Wild Hare also provides event lighting and electrics, luxury

toilets and showers, a fully licensed bar and professional catering,

commercial firework displays, as well as furniture, crockery and linen

hire as part of the glamping package.

It offers a full build and break service and an experienced crew who

can offer reception/concierge 24/7. Committed to providing excellent

customer service, the team can take customer bookings direct if

required and deal with all payments. In addition, Wild Hare offers

flexible, staged payment terms and is fully insured (public/product/

employers' liability).

WWW.OPENAIRBUSINESS.COM 61
---
Spot light

A roundup of products for the outdoor hospitality industry

BEAUTIFUL LOG HOLIDAY HOMES

Scandinavian Homes

0845 299 6337

info@scandinavianhomes.com

www.scandinavianhomes.com/selfbuild-holiday-homes/

Will holidays ever be the same?

With more and more people

deciding that the UK has so

much to offer, they want to

holiday nearer to home. So create

luxurious holiday accommodation

for them with a beautiful log

holiday home. Easily customised,

these can be designed to suit your

target market. With typical British

weather, a warm, welcoming,

genuine log holiday home will

help you generate year round

income. You'll be able to provide

holidays that your customers will

remember, and book again and

again. Contact us today to discuss

your holiday accommodation

plans.

ADDING VALUE TO VENUES AND

HOTELS

Blackdown Shepherd Huts

01460 929774

info@blackdownshepherdhuts.co.uk

www.blackdownshepherdhuts.co.uk

Hotels and wedding venues, by

their very nature, often have the

potential to add a glamping stay

space to their grounds offering the

chance to add value to previously

under-utilised land with minimal

disruption to pre-booked events

during the install.

Blackdown Shepherd Huts

have proven expertise in this

area and were delighted to be

the provider of choice for this

month's entrepreneur chat

feature, Wellington Barn. Its three

shepherd huts offer super comfy

accommodation for guests who

want to stay at the venue, as well

as an additional line of income for

the business.

SEMI PERMANENT MARQUEES

HTS TENTIQ

01276 462600

salesuk@hts-tentiq.com

www.hts-tentiq.com

HTS TENTIQ supplies one of the

most diverse ranges of commercial

tents and structures globally,

from small, economical pagodas

and party tents to striking large

event marquees and multi-storey

temporary structures.

Our semi-permanent structures

come with a wide range of

design options, enabling you

to fully customise and enhance

the appearance, comfort and

functionality of the structure.

Enhance the visual appeal of

your venue while increasing its

capacity for events, weddings,

parties, and corporate functions. A

semi-permanent marquee is a great

investment for your venue.

PERFO GROUND

REINFORCEMENT SYSTEM

S2T Group

01992 522797

www.perfo.co.uk

S2T Group's PERFO range of

ground protection products

comprises a system of

interlocking, self-anchoring

permeable plastic tiles which

are embedded into an existing

surface, eg. a mature grass area

or prepared base consisting of a

layer of crushed stone chippings,

depending on the application.

A number of light to heavy duty

solutions are available to suit

varied ground conditions, traffic

profiles and loading requirements.

Unlike other geogrid systems,

PERFO tiles are usually installed

without the need for excavation,

being compacted directly into

the existing surface using rollers

or compactor plates. Installation

is therefore rapid and planning

issues less problematic.

62 WWW.OPENAIRBUSINESS.COM
---
EVENTS

UNFORGETTABLE 'SILENT'

EXPERIENCES

Silent Noize Events

02037 275382

info@silentnoizeevents.com

www.silentnoizeevents.com

Unforgettable 'silent' experiences

from the UK's leading supplier of

multi-channel wireless headsets.

From silent disco to silent yoga and

everything in between, immerse

your audience in the world of Silent

Noize Events!

We provide everything you need

to create a truly memorable silent

disco including a fantastic team

of DJs and event staff alongside

the little extras including lighting,

smoke machines and decor to give

your event the WOW factor.

Both dry hire and full service

packages are available and with

over 12 years' experience, you're in

good hands with the team at Silent

Noize Events.

Classified Directory

Finman

Glamping

Cabins and

BBQ Huts

From

£4,992

UNIQUE • QUALITY • CUSTOMISABLE

01389 887205 www.logspan.com

• Sewage Treatment •

• Sales •

• Installation •

TEAM

SEPTIC

01295 236 101

sales@theseptictankstore.co.uk

TWO-WAY RADIO

SUPPORTING

YOUR EVENTS

Call FREE:

0800 043 2688

sales@dcrs.co.uk

www.dcrs.co.uk

WWW.OPENAIRBUSINESS.COM 63

DCRS Open Air Magazine Classified Advert.indd 1 06/12/2018 09:36
---
ISSUE 33 | January 2020 | www.openairbusiness.com

R

ISSUE 35 | March 2020 | www.openairbusiness.com

ISSUE 38 | October/November 2020 | www.openairbusiness.com

ISSUE 39 | January 2021 | www.openairbusiness.com

ISSUE 40 | February 2021 | www.openairbusiness.com

Classified Directory

A tiny ad

for a HUGE

choice of fasteners

• Certified to ISO 9001/2015.

• Textile and Marine Fasteners.

• Marquee & Exhibition Materials.

• Old fashioned service.

• Free technical support.

AUTHORISED DISTRIBUTOR

01903 239 955 | sales@opas.co.uk

www.opas.co.uk

TIMBER INTENT LTD

01297 444416 • mail@timberintent.co.uk • www.timberintent.co.uk

tensile fabric structures • standard and bespoke

architecture • design • planning

01654 700030

07956 878157

www.topcatbigtops.co.uk

Colourful

BIG TOP STYLE MARQUEES

MANUFACTURE

FOR SALE OR TO HIRE

BUSINESS

Alfresco Dining

BUSINESS

STAYCATION

INVESTMENT

BUSINESS

BUSINESS

Customer

First

BUSINESS

SUPPLIER

SHOWCASE

/ /

/ /

/ /

/ /

/ /

FUNCTION VENUES GLAMPSITES

EVENTS

> Legalities

> Biophilic Design

> Events Report FUNCTION VENUES GLAMPSITES

EVENTS

FUNCTION VENUES GLAMPSITES

EVENTS

FUNCTION VENUES GLAMPSITES

EVENTS

FUNCTION VENUES GLAMPSITES

> Seasonal USPs

> Bespoke Structures

> Changing Diets › Promoting Events

› Market Research › Testing Times

› Changing Habits › Casual Excellence › 2021 Predictions

› Delegation

› Instagram 1

> Wedding Insights

> Professional Services

> Marquees › Contingency Plans › Booking Channels › Necessary Change › Venue Searches

› Tree Advice

› Event Glamping › Industry Taskforce › Planning Exemptions › Marketing Post-Covid

› Start-up Venues › Small Space Design

› Customer Excellence › Glamping Show › Coping with Covid

CASE STUDIES: HEATON HOUSE FARM • BROOK MEADOW • DOGFEST

CASE STUDIES:

CASE STUDIES:

CASE STUDIES:

OAB Gathering 2020 – Don't miss our very own conference this March!

SKIPBRIDGE COUNTRY WEDDINGS • TRECOMBE LAKES • WEEKEND AT THE ASYLUM

THE ORCHARD AT MUNSLEY • HOLLY WATER HOLIDAYS • LANTERNS AT CHESTER ZOO

HOUCHINS • THE PADDOCK RAMSBOTTOM • FRINGE BY THE SEA

CASE STUDIES:

CHILLI BARN • MAD DOGS & VINTAGE VANS • HEVER CRAFT AND DESIGN FAIR

EVENTS

› Placemaking

› Covid Insurance

Open Air Business is now £20 per year

If you know someone who would benefit from a print subscription, please let them know!

www.openairbusiness.com/subscribe
---
PEOPLE

Behind the Scenes with…

Steve Butcher

Festival owner Steve Butcher runs us through his festival

day at Chilfest Weekender

PICTURES BY PAUL HODSON PHOTOGRAPHY

THIS JULY a cloud of hairspray

and glitter will likely rise above the

Chiltern Hills as 80s music royalty

including The Proclaimers, Martin

Fry and Tony Hadley take to the

stage at the Chilfest weekender.

I founded the event 10 years

ago with the aim of delivering a

crowd-pleasing mix of nostalgic

tunes alongside a boutique festival

experience. Since then we have

welcomed 71 artistes (including The

Human League, UB40, OMD, Sister

Sledge, Rick Astley, Big Country,

Boney M and Billy Ocean, to name

but a few), 68,000 attendees and

raised £30,000 for charity.

As managing director of Universal

Event Productions (UEP), my team

has provided event staging and rigs

for a wide variety of top live events

throughout the country, and the

Chilfest arena comprises a topquality

stage and sound rig, a wide

"SINCE I HAVE TO

LEAVE LONG BEFORE

BREAKFAST IS BEING

SERVED, IT'S A POWER-

THROUGH SORT OF

SITUATION UNTIL LATER,

WHEN MY WIFE MIGHT

ROCK UP WITH A BACON

SANDWICH IN HAND"

variety of food and drink outlets and

plenty of toilet facilities, providing

all the ingredients for a great

weekend of live music.

On festival days I'm up and out

the door by 5am. My wife and I stay

at Pendley Manor Hotel, right beside

the site, to be nearby. Since I have

to leave long before breakfast is

being served, it's a power-through

sort of situation until later, when

my wife might rock up with a bacon

sandwich in hand.

The build-up and the planning

has always been my favourite part

of the festival process (it gets a

lot trickier once people actually,

you know, turn up), so having to

trade a few extra hours' kip for that

pre-festival, early-morning buzz of

excitement feels more than fair. This

year I'm even looking forward to it.

Standing in a dawn field with friends

and colleagues after such a long

time apart — there will be grown

men crying, you can count on that.

Once the festival is really up and

running, it's pretty much all go,

checking and sorting issues. We

have a police presence nearby but

the immediate duty of care is still

on us, so we have health and safety

meetings every two to three hours.

In the past I've walked 34km just in

loops around the site.
---
PEOPLE

I'm lucky enough to have an

incredible management team,

but my role is still pretty fullon,

ensuring that everything's

happening as it should. I don't

really eat except if someone puts a

sausage roll into my hands. Much as

I hate to crush any fantasies, running

a festival isn't the lounging in frontrow

seats you might envisage.

DISASTERS? STROPPY STARS?

Although we've been pretty lucky,

there has been the odd disaster. In

our first ever year, we had between

six and seven thousand people

gathered to watch Little Mix, and our

bar provider, despite having been

recommended to me, couldn't cope.

We're talking about an average wait

time of one hour for a drink — this

does not a happy British crowd

make!

Although it wasn't my fault, it was

my responsibility, so I was dragging

in every family member I could to

work the bar, desperately trying to

keep on top of demand. Not pretty,

but we came back strong the next

year, and now have an average

wait time of five minutes. This has

prevented any further beer-deprived

angry mobs, you'll be pleased to

know.

As for stroppy acts, my lips are

sealed. If you're twisting my arm, we

have had the odd baffling request.

One act demanded pineapplescented

candles in their dressing

room — we figured, better not ask.

It's actually getting harder and

harder to book people, since the

retro crowd is getting on a bit and

there aren't many 80s artistes left

that we haven't worked with. From

this year, people will start to see us

moving more into the 90s for that

reason. With people reuniting for

the first time since the glory days,

Chilfest can be a great atmosphere.

It's something special, just to watch

them all catch-up.

The best part of the festival for

me is generally the last hour of each

day. That's when I can finally take a

breath. I watch the final act, look out

at everyone having a great time and

just revel in that atmosphere. As a

feeling, you can't beat it.

Chilfest is taking place on 1-2 July

in Tring, Hertfordshire, with a killer

line-up of tributes and throwback

stars. We pick a charity each year to

support, and this year the money

will be going towards Herts Young

Homeless.

DETAILS

Chilfest

1-2 July 2022

Cow Lane

Tring

Hertfordshire HP23 5NS

FIRST PUBLISHED ON BUCKS & OXON

66 WWW.OPENAIRBUSINESS.COM
---
Blackdown, discerning makers

of inspired spaces ...

blackdownshepherdhuts.co.uk

info@blackdownshepherdhuts.co.uk | 01460 929774

Shrubbery Farm | Catherine Wheel | Ilminster | Somerset |

Huts for home | Huts for business | Huts to build yourself
---
Take advantage of the growth in staycations and construct a luxury log holiday home.

Spacious, warm, welcoming and beautiful, a genuine log holiday home will generate year round income.

You'll be able to provide holidays that your customers will remember, and book again and again.

0845 299 6337 / INFO@SCANDINAVIANHOMES.COM

WWW.SCANDINAVIANHOMES.COM/SELF-BUILD-HOLIDAY-HOMES