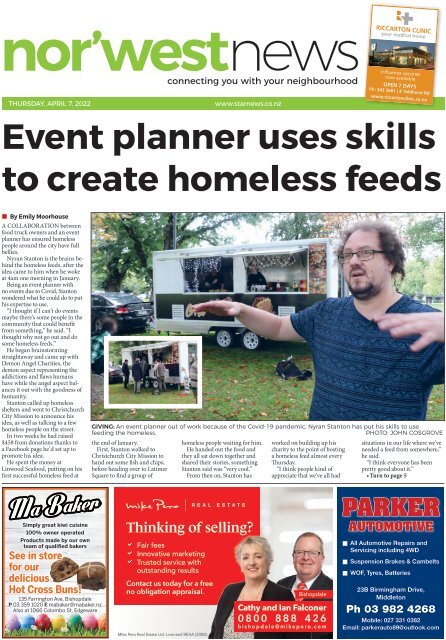 Nor'West News: April 07, 2022
Create successful ePaper yourself
Turn your PDF publications into a flip-book with our unique Google optimized e-Paper software.
connecting you with your neighbourhood

Influenza vaccines

now available

OPEN 7 DAYS

Ph: 343 3661 | 4 Yaldhurst Rd

THURSDAY, APRIL 7, 2022

www.starnews.co.nz

www.riccartonclinic.co.nz

Event planner uses skills

to create homeless feeds

• By Emily Moorhouse

A COLLABORATION between

food truck owners and an event

planner has ensured homeless

people around the city have full

bellies.

Nyran Stanton is the brains behind

the homeless feeds, after the

idea came to him when he woke

at 4am one morning in January.

Being an event planner with

no events due to Covid, Stanton

wondered what he could do to put

his expertise to use.

"I thought if I can't do events

maybe there's some people in the

community that could benefit

from something," he said. "I

thought why not go out and do

some homeless feeds."

He began brainstorming

straightaway and came up with

Demon Angel Charities, the

demon aspect representing the

addictions and flaws humans

have while the angel aspect balances

it out with the goodness of

humanity.

Stanton called up homeless

shelters and went to Christchurch

City Mission to announce his

idea, as well as talking to a few

homeless people on the street.

In two weeks he had raised

$458 from donations thanks to

a Facebook page he'd set up to

promote his idea.

He spent the money at

Linwood Seafood, putting on his

first successful homeless feed at

GIVING: An event planner out of work because of the Covid-19 pandemic, Nyran Stanton has put his skills to use

feeding the homeless.

PHOTO: JOHN COSGROVE

the end of January.

First, Stanton walked to

Christchurch City Mission to

hand out some fish and chips,

before heading over to Latimer

Square to find a group of

homeless people waiting for him.

He handed out the food and

they all sat down together and

shared their stories, something

Stanton said was "very cool."

From then on, Stanton has

worked on building up his

charity to the point of hosting

a homeless feed almost every

Thursday.

"I think people kind of

appreciate that we've all had

situations in our life where we've

needed a feed from somewhere,"

he said.

"I think everyone has been

pretty good about it."

• Turn to page 5

Simply great kiwi cuisine

100% owner operated

Products made by our own

team of qualified bakers

See in store

for our

delicious

Hot Cross Buns!

135 Farrington Ave, Bishopdale

P 03 359 1020 E mabaker@mabaker.nz

Also at 1066 Colombo St, Edgeware

PARKER

AUTOMOTIVE

All Automotive Repairs and

Servicing including 4WD

Suspension Brakes & Cambelts

WOF, Tyres, Batteries

23B Birmingham Drive,

Middleton

Ph 03 982 4268

Mobile: 027 331 0382

Email: parkerauto89@outlook.com
---
2

Advertise locally and

target customers most

likely to shop with you!

Effective Ad packages start from just $99

(inclusive full colour ad, creative setting,

photography and proofing).

No contracts required.

Your local community newspaper connects

neighbours in the following suburbs

Harewood • Burnside • Bishopdale • Bryndwr

Fendalton • Merivale • St Albans • Mairehau

Papanui • Casebrook • Redwood • Styx Mill

Regents Park • Northwood • Belfast • Strowan

29,389 homes every week.

ADVERTISING

Monique Maynard

Ph: 021 372 481

monique.maynard@starmedia.kiwi

GENERAL INQUIRIES Ph 379 7100

CLASSIFIED ADVERTISING Ph 379 1100

www.starmedia.kiwi

what's on

this week

JP Clinic

Saturday, 10am-noon, at

Fendalton, Tuesday, 10am-1pm, at

Papanui and Shirley, Wednesday,

10am-1pm, at Bishopdale

Fendalton, Papanui, Shirley and

Bishopdale Libraries

A justice of the peace will be

available to witness signatures

and documents, certify document

copies, hear oaths, declarations,

affidavits or affirmations, as well

as sign citizenship or rates rebates

applications. No charge.

Bolivia Card Game

Thursday, 1-3pm

Ōrauwhata: Bishopdale Library and

Community Centre

Go along to Ōrauwhata Bishopdale

Library for a fun and friendly card

game of Bolivia. All are welcome.

Go Well Group - play

Rummikub

Thursday, 1-3pm

Fendalton Library

Go along to Fendalton Library and

play Rummikub - an exciting, interactive

strategy game.

Knit 'n' yarn

Thursday, 2-3.30pm

Fendalton Library

Go along to Fendalton Library to

enjoy a chat with others as you knit.

For anyone who loves to knit or wants

to learn.

Scrabble Club

Friday, 11am-noon

Redwood Library

Have a way with words? Go along

to Scrabble Club every Friday between

and test your skills while having fun.

No obligation, just go along when you

can and join the friendly group. All

materials are supplied. Free, no bookings

required.

Majong Group

Friday, 2-4pm

Fendalton Library

Interested in playing Mahjong? For

beginners and advanced players, if

you have your own set please take it

along, otherwise go along and join in

a friendly game every Friday. Please

request to be put on the waitlist. Held

in the Fendalton Library Community

Room.

Afterschool Activity Zone

Every Friday, 3.30-4.30pm

Papanui Library

Every Friday afternoon during term

Thursday April 7 2022

Redwood School Exhibition – poppies, Friday, 8-9am, Redwood

Library. Redwood School pupils' artwork features in this months

community display at Redwood Library. A tribute to Anzac Day, the

artwork displays a vibrant use of crayons and water colours.

time Papanui Library will be running

a new craft activity for everyone to

enjoy. If you like to use your imagination

and create fun and interesting

projects, then go along. For ages five

and over. Free, no bookings required.

Please note under 12 year-olds must

be accompanied by an adult. Guardians

and children over 12 will need to

wear a face mask.

Bishopdale Monday Book

Club

Monday. 10-11.30am

Ōrauwhata: Bishopdale Library and

Community Centre

Go join the friendly group of

readers and chat about your current

reading and old favourites. With no

set book to read, this is a relaxed and

social group who meet monthly in the

library.

Not-for-profit organisations can

send their What's On listings to

norwest@starmedia.kiwi

Get your business

admin out of the

too hard basket

TRY XERO FREE FOR

30 DAYS AT XERO.COM

Terms apply
---
Thursday April 7 2022 3

Take a walk for as far as you like

IS IT A WHILE since you've

been into town? Perhaps a walk

on the Hidden Worlds Discovery

Trail will help to rediscover the

beauty and fun of our city centre.

The Hidden

Worlds

Discovery Trail

is available to

download as

part of Walk

Waitaha/Canterbury

and

takes in city

John Filsell

sights such as

the Botanic

Gardens, Canterbury Museum,

Christchurch City Art Gallery

and the Tūranga Central Library.

Walk Waitaha is a selection of

self-guided walks and walking

activities around the city and region

and offers an alternative to

the traditional Walking Festival

which was unable to run in its

usual form this year due to the

Covid-19 red light setting.

It runs from through to May

15 and city council head of community

support and partnerships

John Filsell says they've tried to

develop a programme that caters

for every kind of walker.

"We wanted to offer walks that

take people to different parts

of Waitaha/Canterbury; places

where people might not have

been before or haven't visited in

a while and that showcase the

incredible diversity of landscapes

Easter

we're lucky enough to have in

this part of the world.

"Along with walking activities

like disc golf – there's a new

course just opened at Warren

Park – and orienteering, we've

also developed a selection of selfguided

walks.

Children can spot the fairy

doors at Christchurch Adventure

Park.

"There's an art walk at Pegasus

Wetland and beach for instance

which takes you around Te

Kohanga Wetlands and onto the

beach where you're invited to

create a unique piece of beach art

– bring a garden rake or something

to help you get creative.

"Families might enjoy

looking for the fairy doors at

the Christchurch Adventure

Park Village, or exploring the

Richmond Red Zone where

there will be a special Anzac

art display of white crosses and

knitted poppies from April 20-

27.

"Walk in the Willows West

Melton is a gentle 4km meander

amongst willows, poplars, pine

forest and mature kowhai. Bring

a picnic and make a day of it.

Or follow the Scape Public Art

Trail to see some of the amazing

large-scale artworks within the

FITNESS: A

selection of selfguided

walks

and walking

activities are

available across

the city.

central city.

"Walking can enhance our

mental and physical well-being

and autumn is the perfect mellow

season to get together with

friends or family, lace up your

walking shoes and enjoy the

fresh air and (hopefully) sunshine."

There are 15 accessible walks

of varying distances from 500m

– to as far as you want to go.

is coming

ORDER NOW

sales@kiddscakes.co.nz

OPEN 7 DAYS Cnr Cranford St & Innes Rd

P: 03 355 6921

www.kiddscakes.co.nz (34 on site car parks)

Baking fresh each day since 1986

Fall in love

with your favourite

furniture all over again!

• Recover your chairs and couches

and save money!

• Excellent range of fabrics

• Quality workmanship guaranteed

• Free quotes available

• Over 30 years experience

Somerfield Upholstery welcome you to email a

photo for a quote online: somerfielduph@gmail.com

before

after

Somerfield Upholstery Ltd

FURNITURE RECOVERY SPECIALIST

6/47 Sonter Road, Wigram | Ph 021 251 6200 | 349 0456

We were so impressed with Cameron and his team, we knew we were in

great hands with their professionalism and amazing organisational skills.

Everything ran so smoothly and efficiently. Cameron certainly knows what

was happening with the market at the time we had our house listed and

this was a huge part of us selling our home with him and our successful sale.

A huge thank you to Cameron and his amazing team Sam and Lisa, I would

certainly recommend them to everyone thinking of selling their home.

- Jill & Ramon -

Phone or text 027 555 7079

REINZ Residential Salesperson of the Year across all brands in NZ

No.1 Harcourts Canterbury 2012-2021

cameron.bailey@harcourts.co.nz

No.1 Harcourts New Zealand 2017-2021

www.cameronbailey.harcourts.co.nz No.1 Harcourts International 2017-2021

Licensed Sales Consultant REAA 2008
---
4

Thursday April 7 2022

We'd love to

see you

We're holding an Open Day and you're invited

If you've ever been curious about village life, now's the time to

get in touch as our wonderful village community at Summerset

at Avonhead is growing quickly and homes are selling fast.*

We have a stunning range of brand-new serviced apartments

available now from just $350,000!* Our serviced apartments

offer light and spacious open plan living, a kitchenette and

separate double bedroom with a large ensuite.

We'd love to give you a taste of the Summerset life that our

residents love so much and show you around our stunning

village and show homes, so we're holding an Open Day this

coming Thursday 14 and Thursday 21 April.

Open Day

Thursday 14 and 21 April

RSVP essential

Summerset at Avonhead

120 Hawthornden Road,

Avonhead

03 357 3202

*Licence to occupy.

Spaces are limited as our Open Day is by appointment

only, so you'll need to RSVP.

Call our friendly sales team on 03 357 3202 to book your spot.

We're looking forward to seeing you!

03 357 3202 | summerset.co.nz/avonhead

By following our Covid guidelines it's safe to visit our villages. For the latest information visit summerset.co.nz/covid-19

SUM3741_FP
---
Thursday April 7 2022 5

Food trucks help to feed the homeless

• From page 1

The 45-year-old admitted he

had a bit of a rough upbringing,

having an absent father due to

his rock and roll career, making

Stanton's home life a bit hectic.

Born in Australia, Stanton said

would often bunk school and

take chips to feed the homeless

people in public parks.

When he was nine, Stanton

moved to New Zealand to

live with his uncle and shifted

around a bit before settling in

Aranui.

Stanton said he knows what

it's like to live in poverty so can

appreciate helping out those that

need it, especially when mental

health is involved.

"There's a lot of satisfaction

talking to someone who's got

• By Emily Moorhouse

THE NORTH Avon BMX Club

is one step closer to making its

asphalt pump track a reality after

being granted $200,000.

The money was approved by

the city council's sustainability

and community resilience

committee, coming from the

capital endowment fund.

The club also received $100,000

from the Rātā Foundation last

mental health problems over

food," he said.

"It's quite interesting actually,

even as a curiosity standpoint,

and a giving standpoint so

they can talk to you without

judgement."

After a few feeds, Stanton

began reaching out to food

trucks to see if they wanted to

participate at a subsidised rate

from money he raised.

He recently had Tracey

Cashin from Tracey's Grub on

Hubs food truck reach out to

him expressing her interest in

providing food for the homeless.

Cashin said she enjoys the

experience of helping others and

has helped Stanton on several

occasions before.

"We've probably fed maybe 20

week, leaving one final funding

application to be approved before

it can start construction of the

track.

North Avon BMX president

Mark Lewis said the club will

be applying for a grant from the

Lotteries Commission to help

them get the track over the line.

However, this won't be until

September when the next round

of applications opens.

Combined with the money

to 25," Cashin said. "Last time

I was here we fed 64 people,

they come and they go, they

come and sit down and have

something to eat, fill their bellies

and then off they go," she said.

Stanton has plans to continue

growing his charity and has a

goal of raising $200 a month

through his Givealittle page to

cover food costs.

He said putting the feeds on is

extremely satisfying and hopes it

is making a positive difference in

people's lives.

• To donate to Stanton's

next homeless feed go

to https://givealittle.co.nz/

cause/httpswwwfacebookcomdemonangelproductions

received from Kiwi Gaming

Trust, New Zealand Community

Trust, and Pub Charity and

Boosted Sport, the club has

raised a total of $410,000

towards the project, with

the total cost a projected

$690,231.

Lewis said the club has been

actively raising funds to get

an asphalt pump track built at

Bexley Reserve for about a

year now.

GENEROUS: Nyran Stanton chats with chef Tracey Cashin

at her food truck during last Thursday's homeless feed at

Latimer Square.

PHOTO: JOHN COSGROVE ​

Grants take BMX club closer to pump track

"There's been lots of behindthe-scenes

work," Lewis said.

"Watching the meeting livestreamed

(it) was great to see

how quickly everyone was to say

absolutely . . . it really reflects

their support."

Lewis said the project crew

were "quietly stoked" to have

reached this important milestone

and couldn't have achieved

it without the support of the

community.

FOR ALL YOUR

MECHANICAL

REPAIRS

Open Monday – Friday 8am – 5pm

164 Kendal Ave. Ph 358 9399

Sarah

Pallett

MP for Ilam

My team and I are here to

help. Please get in touch with

my office if you need any

assistance.

0800 sarah 4 ilam (0800 727 244)

sarah.ilamMP@parliament.govt.nz

Shop 5, 376 Ilam Road, Bryndwr

sarah4ilam

Authorised by Sarah Pallett MP,

Parliament Buildings, Wellington

Restoring your confidence through your smile

Full service Denture Clinic

and Laboratory

Caldent Denture Cleaner

Free Consultation

No Obligation

Ph: 385 5517 + 396 Innes Road, St Albans

admin@denturesplus.co.nz

+ denturesplus.co.nz

mart Deals Smart Deals Smart Deals Smart Deals

BENDON

$30 Bras & $15 Briefs.

Selected styles, conditions apply.

CANTERBURY

Men's and kids 2021 Anchor Range

50% off RRP.

While stocks last.

Styles may differ to images shown.

Open 10am–5pm, 7 days

409 Main South Rd, Hornby

dress-smart.co.nz

RODD & GUNN

Footwear from $69. T shirts from $29.

Selected hoodies from $69.

T&C apply.

SWANNDRI

Buy any 2, get the 3rd item free.

Conditions apply.

mart Deals Smart Deals Smart Deals Smart Deals
---
6

REAL ESTATE

Thursday April 7 2022

88 Dunbarton Street, Redwood 3 1 1 1 2 1 www.harcourtsgold.co.nz | Listing #PD5111

Act With Haste on

Eighty-Eight!

Prepare to be impressed at

88 Dunbarton Street with its

immaculate grounds, modern

decor and delightful outdoor living

space. Intent to move out to the

country, my owner is committed

to seeing the hammer fall come

auction day.

The family-friendly suburb of

Redwood beckons your arrival,

with handy proximity to Dunbarton

Park and the Styx Conservation

Reserve. Easy access to key arterial

routes ensures the CBD, North

Canterbury and the airport are all

within an efficient commute.

Act with haste - this entry-level

gem is simply ready for you to

move in and enjoy!

Auction

Thursday 14th April 2022

from 10:00am (unless sold prior)

Gold Auction Rooms,

471 Papanui Road

Caleb Griffioen

Licensed Sales Consultant REAA 2008

Harcourts Parklands

027 637 0231

caleb@harcourts.co.nz

Sheena Robinson

Licensed Sales Consultant REAA 2008

Harcourts Parklands

021 061 6983

sheena.robinson@harcourtsgold.co.nz

The Personal Nature of Personal Taste

You would think that after

considerable time in a business

that has more than its share of

opinion-based rhetoric that I

would have learnt most of its

important lessons, but they still

keep coming.

You see, I'd forgotten that everyone looks

at things through their own, very unique

lens and none of us are the same or

exercise the same choices.

So, here's a simple scenario: it is from my

role as the owner of a staging business.

It's a relatively new business having been

in operation for around 15 months. It's a

business that I love and it's given me and

the team a lot of joy.

During that time, in excess of 150 stages

have been completed and the value

of properties being staged has ranged

from $500,000 to over $6,000,000. The

feedback has also ranged from absolute

rapture – including offers to purchase

every single staging item that's gone

into the property – to the occasional

expression of disappointment. Now, a

good 95% have been really happy, but

95% is not 100% and I've worked hard to

ease the frustrations of the two – three

parties who decided it wasn't their 'look'.

But that's the point where interpretation

begins, and I've had to dig deep to

understand and adjust accordingly.

For example, when people say 'modern',

it could mean modern colours, modern

and contemporary, mid-century modern

– like you would find at Mr Mod – or

modern in 1989!

I've been asked for table runners (similar

to what my grandmother loved), glass

plates with three tealight candles

arranged neatly on top and centered,

big corner couches from one of the city's

discount stores… and I've been reminded

that it's the client who calls the shots,

which they do!

So, I've removed, restaged and

reimagined, worked all weekend and

been at the staging sheds at 5am to help

sort. And it's worked, which I'm grateful

for. So the lesson is to ask more questions,

listen hard to the responses and maybe

pass the baton graciously when there's a

gaping distance between preferences or

there's nothing that adequately captures

a potential client's style in five large sheds

of accessories and furniture.

It's so true that life lessons are what make

the world a more interesting place and

space to live in, as does a beautifully

presented home!

Lynette McFadden

Harcourts gold Business Owner

027 432 0447

lynette.mcfadden@harcourtsgold.co.nz

PAPANUI, NZ

PAPANUI 352 6166 | INTERNATIONAL DIVISION (+64) 3 662 9811 | REDWOOD 352 0352

PARKLANDS 383 0406 | NEW BRIGHTON 382 0043 | GOLD PROPERTY MANAGEMENT 352 6454

GOLD REAL ESTATE GROUP LTD LICENSED AGENT REAA 2008 A MEMBER OF THE HARCOURTS GROUP

www.harcourtsgold.co.nz
---
Thursday April 7 2022 7

$300,000 council grant

for housing project

A CHARITABLE

organisation with plans

to build a seven-unit

affordable housing facility

for vulnerable young

families has been given a

helping hand.

The city council has

approved a grant of

$300,000 to the Society of

St Vincent de Paul towards

construction of the Pavitt

Street Housing Project.

The funding has been

given through the city

council's Capital Endowment

Fund and the facility

will be built behind the

Society's headquarters in

Richmond.

"The grant will go

towards the development

of a purpose-built

facility that will give

up to seven young

families at a time

access to warm, affordable

and secure

housing along with

wrap-around support,"

said councillor

and chairwoman

of the sustainability

and community resilience

committee Sara Templeton.

"Some of the most atrisk

members of our community

will benefit from

this project, right from

Sara

Templeton

when the doors open and

for many years to come,

so we are very pleased to

stand in support of this

much needed facility,"

Templeton said.

The Society is collaborating

with St

John of God Waipuna

which will provide

wrap-around

support to those

living in the facility

via the Housing

Opportunities for

Parental Enhancement

programme.

Area president Mike

Daly said the aim is to

provide suitable accommodation

for parents aged

primarily between 17 – 24

years old, with weekly

rent determined on an

individual basis

"The idea is that young

parents are supported to

build life skills in a safe,

secure environment," Daly

said.

"This grant means we

have the confidence to

continue to completion.

We'll still have a (funding)

shortfall but it will be

smaller and more achievable

to try and recover."

The complex will

comprise six new twobedroom

units and one

three bedroom unit which

will be available to rent for

between three months and

two years.

Construction started at

the end of last year and the

facility is on track to open

in November.

IN 2008 when Jane Mackay

purchased a small homebased

Baby On The Move

franchise, her intention was

to be self-employed while

her two small boys were at

home.

Fourteen years later, the

boys are at high school,

and the business has grown

into a thriving retail store,

employing five staff.

Baby On The Move

started life as a car seat hire

business, mainly hiring

infant capsules to new

parents, as well doing short

term hires for grandparents

with family visiting, and

this continues to be an

important part of the

business today.

Car seat safety has always

been a core value of the

franchise, and all staff are

trained as child restraint

technicians.

Whether you're purchasing

a car seat or hiring one

short-term, Baby On The

Move staff can help you

figure out what is going to

be the most appropriate car

seat to suit your needs, and

they will install the seat into

your car so that you know

it's as safe as it possibly can

be.

If you're preparing for

littlies coming to stay,

portacots, cots, highchairs,

CONTENT MARKETING

Baby On The Move for all the

things your infant requires

buggies and the like are also

available for short-term

hire.

Hires are not all you

will find at Baby On The

Move in Wairakei Rd,

though. The retail store

stocks quality brands of

all kinds of baby products

from Lamington socks to

Stokke Tripp Trapp chairs

and the incredibly popular

NZ buggy brand, Edwards

& Co.

Whether you're hunting

for the perfect baby shower

gift or looking to set up a

whole nursery, there are

options aplenty, and the

friendly, knowledgeable

staff are happy to assist.

Littlies coming for Easter?

Baby On The Move have a great selection of

short and long-term hire items, not just car seats.

Highchairs, buggies, cots, bouncers and more!

hire me!

CHRISTCHURCH NORTH / 03 960 9752

515 Wairakei Road, Burnside. Email north.christchurch@babyonthemove.co.nz

0800 222 966

www.babyonthemove.co.nz
---
8

Thursday April 7 2022

Woolston Brass secures building funding

• By Emily Moorhouse

AFTER YEARS of using an

earthquake-damaged band

room, the Woolston Brass has

been given a grant to help with

its rebuild project.

Woolston Brass will receive

$400,000 over the next two

financial years, coming from the

city council's capital endowment

fund, with $270,000 granted

for the 21/22 financial year and

$130,000 for the 23/24 year.

The existing band room

located at 37 Dampier St was

built in 1905, but suffered

significant damage in the

earthquakes.

While it continues to be

used by about 200 regular

members and nine external

organisations, the city council

has advised the rebuild be undertaken

by 2025.

Woolston Brass members

believe they will have raised sufficient

funds by mid-2023

to begin construction,

finishing in late 2024.

The proposed design

consists of two floors with

a range of performance

areas, tuition spaces and

storage, and will have accessible

parking.

Linwood Ward councillor

Yani Johanson

was advocating for the

organisation to get the funding

by encouraging colleagues to

support their vision.

Yani

Johanson

"It's been a long road postearthquake

to look at their facilities,"

Johanson said. "I

was just happy to help out

as much as I could to get

them some endowment

fund money to support

their project."

He said the city council

supported a lot of groups

after the earthquakes,

but there were still some

facing challenges with

rebuilds today.

"It's the sort of thing the endowment

fund was set up to support

in my view, which was civic

projects that bring benefit to

the city and to the community,"

Johanson said.

Spreydon Ward councillor

Melanie Coker acted as chair

for the sustainability and

community resilience committee

during this grant approval and

said councillors felt this was a

worthy cause to support.

"Security of funding from

(the city council) will provide

Woolston Brass with a better

ability to apply for further

funding elsewhere to get their

project off the ground," Coker

said.

FUTURE: Woolston

Brass' new band hall and

performing arts facility,

designed by architect

Trevor Wilson.

TOYS

7 MODELS

$

$ 49. 95

INC GST

OPEN TO THE PUBLIC

14. 95

INC GSTwww.rstradecentre.co.nz

FREE CHRISTCHURCH DELIVERY

0800 99 99 76

LOCATIONS:

484 Papanui Road, Papanui

68 Montreal Street, Sydenham

HOURS:

Monday - Friday 7.00am - 5.00pm
---
Thursday April 7 2022 9

RAY WHITE BISHOPDALE & STROWAN

Do you own a rental property?

Let us take care of your investment,

so you can sit back and relax.

We have great tenants waiting!

Get in touch with Joanne Mackley

or Mark Davison today.

0800 YELLOW

(0800 935 569)

Recently Rented

RENTED

RENTED

RENTED

RENTED

1/208 Bealey Avenue,

Christchurch Central

6/10 New Brighton Road,

Shirley

24 Vauxhall Street,

Bishopdale

58 Pitcairn Crescent,

Bryndwr

Joanne Mackley

027 248 0091

Mark Davison

027 510 7822

Joanne Mackley

027 248 0091

Mark Davison

027 510 7822

Ray White BS Ray White BS

Bishopdale & Bishopdale Strowan & Strowan

0800 YELLOW (0800 935 569)

0800 YELLOW (0800 935 569)

5/333 Harewood Road, Bishopdale | 55 Blighs Road, Strowan

5/333 Harewood Road, Bishopdale | 55 Blighs Road, Strowan

rwbishopdale.co.nz | rwstrowan.co.nz

rwbishopdale.co.nz | rwstrowan.co.nz

Inline Realty Limited (Licensed REAA 2008)

Inline Realty Limited (Licensed REAA 2008)

Proudly owned by

Karen Ellis

021 519 275

Barry Ellis

021 519 274
---
10

Thursday April 7 2022
---
Thursday April 7 2022 11

Award-winning band

conductor's vision

SUMNER SILVER Band has welcomed an

award-winning conductor into its ranks.

Last year Ray Blampied retired from his

role as musical director for the band and

handed the baton over to John Mason, of

Tasmania.

Mason has been a member of the NZ

Army Band for seven years, and also

played BBb Bass with the NZ National

Band at the 2017 world brass band

championships.

He won the BBb Bass solo at the NZ

national championships in 2016 and 2017,

and finished second in the Eb Bass solo

in 2021. He is also a playing member of

Woolston Band.

Mason's strategy to ensure a strong

future for the Sumner band includes the

establishment of a development band to

run alongside the main one.

This group will be open to anyone from

the age of 10 upwards who has a basic

ability on a brass band instrument and

wishes to build on this by playing in an

ensemble.

It will meet on Thursdays at Redcliffs

School, prior to the main Sumner band

practice.

Mason is also available as a brass

instrument teacher and can be contacted

via the band's website.

Although the RSA has decided to

limit the Anzac Day commemoration in

Sumner this year, the band will still be

playing before and after the short service

at the memorial gates.

HELM: John Mason, the conductor

for Sumner Silver Band, intends to

establish a development band to

run alongside the main one.

As a community band Sumner is always

ready to welcome brass players into its

ranks.

The band practises from 6.30-8.30pm

every Thursday evening at Redcliffs

School.

Contact Peter Croft on 3849 534 or visit

the band's website if you are interested.

36 St Martins Road, St. Martins

A Home for the Ages

Just three proud owners have held this phenomenal cedar-clad dwelling since its

construction in the 1920's, but after 30 years in the stewardship of our vendors it's now

time to add a new name to the title.

You'll inherit a beautifully polished gem, which wholeheartedly embraces the patina of its

original construction, thanks to the meticulous preservation of unique features including

timber panelling, wonderful rimu joinery and mullioned windows which echo the ethos of

Arts and Crafts craftsmanship.

From the spectacle of the grand staircase to elegantly proportioned ceilings, the floorplan

is configured to embrace sun and space, with the accommodating formal lounge and

separate dining demonstrating considerable comfort, warmed by a gas fire and heat pump

respectively.

The timeless kitchen fuses classic charm with modern convenience, and its floor to ceiling

cabinetry and glass fronted cupboards will delight purists and pragmatic household cooks.

A century of establishment lends the leafy 862m 2 grounds grandeur, and their usefulness is

heightened by a garden shed, single garage and off-street parking, although the significant

parcel may also tempt those with an eye to future subdivision.

If long tenure is testament to greatness, then this long-held home is among the best we've

been privileged to offer.

GRENADIER

Grenadier Real Estate Ltd MREINZ Licensed Agent REAA 2008

Need A Ladder?

The Amazing, Portable, Easy to Use Ladder System

Margann. | "Best Ladder on the Market"

Simply the best ladder I've ever used, it's everything it's cracked up to be and the

little extras such as the work platforms, leg adjusters and wall standoff make it

incredible value.

• Certified Safety Rating up

to 180kg

• Use it on Stairs Safely

• Create your own

Scaffolding System

• Versatile, Compact and

Telescopic

Free

Free

Free

Debbie Pettigrew

M 027 777 0411

Free

Gifts *

Worth

$660.00

*Ts & Cs Apply

*1 x Wall Standoff + 2 x Work Platforms + 2 x Leg Levellers

3 1 1 1 1 1 2

Auction Thursday 14th April 2022,

11am (Unless Sold Prior)

(98 Moorhouse Avenue, Christchurch)

View harcourts.co.nz/BE193898

Limited Time Offer! Call Now! 0800 665 665
---
12

Thursday April 7 2022

Shop

LOCAL

Support

LOCAL

Weekly Special $15

Monday

Burger + Pint - $15

(Chicken & Cheese)

Tuesday

Chicken Schnitzel + Pint

Wednesday

Steak + Pint - $15

Open 11am – Late | Ph 352 5123 | 88 Harris Cres, Papanui

Open 7 days for Dine – In and Takeaways

Thursday

Ribs + Pint -$15

Friday

Fish & Chips + Pint - $15

Sunday

Big Breakfast + Pint -

$15

hire me!

STEAM FREE BATHROOMS FOR ONLY

(Incl GST) Supplied and installed

Capsule hire

Available now from your local

car seat experts – including

installation by a trained Child

Restraint Technician.

Phone 03 960 9752

515 Wairakei Road, Burnside.

north.christchurch@babyonthemove.co.nz

www.babyonthemove.co.nz

P: 0800 SWIPER (0800 794 737)

E: info@swiper.co.nz W: swiper.co.nz

$389

"In joy or sadness, flowers are

our constant friends"

- Okakura Kakuzo

Cnr Wairakei & Idris Rds

Phone: 351 7444 www.victoriaflorists.co.nz

Happiness =

Peaceful Mind + No Pain

Lan's Energy Network can bring these to you instantly.

This remedy without needles was discovered and published

in a book by Lan, who graduated from Beijing Medical College

and is an NZ ACC Registered Acupuncturist.

Happiness will increase the immune system.

Don't wait, contact Lan now: 027 231 8388 or 03 323 4168.

8 Waterview Court, Clearwater.

Was $339

Now $89

OUTLET CLEARANCE

FRIDAY 8 APRIL 7.30AM-5PM

SATURDAY 9 & SUNDAY 10 APRIL 9AM-4PM

IN-STORE ONLY AT OUR CHRISTCHURCH OUTLET STORE

155 Roydvale Ave, Burnside (at the rear of the building)

Was $129

Now $39
---
Thursday April 7 2022 13

LEADERS

in their field

MENTORS at their office

"It's a testament to both character and culture that

our team of consultants can draw on the expertise

and support of in-house mentors.

I think it's one of the things that sets gold apart."

- Lynette McFadden

(Harcourts gold Business Owner)

FROM LEFT TO RIGHT:

CALEB GRIFFIOEN

MARY TURNBULL

CAMERON BAILEY

MARK O'LOUGHLIN

www.harcourtsgold.co.nz

PAPANUI 352 6166 | INTERNATIONAL DIVISION (+64) 3 662 9811 | REDWOOD 352 0352

PARKLANDS 383 0406 | NEW BRIGHTON 382 0043 | GOLD PROPERTY MANAGEMENT 352 6454

LICENSED AGENT REAA 2008
---
14

Thursday April 7 2022

Exhibitors

wanted!

1 – 3 July 2022

Christchurch Arena

Reach over

10,000 potential

customers across

three days!

You could feature in Canterbury's most

highly marketed Home and Leisure show.

This is the perfect opportunity to reach

new customers, generate ongoing leads

and boost your brand's awareness.

Stands are available in a range of sizes

to suit all budgets. We also have a new

exhibitor pack and monthly payment

options available to get you started.

Your business or services may also fit into

one of our unique zones, including:

NZ OWNED

HOMESHOW

HOMESHOW

CHRISTCHURCH

CHRISTCHURCH

ONLY

WE havE sTands avaiLabLE To suiT aLL budgETs!

Contact Lisa now on 021 800 809 or email lisa.lynch@starmedia.kiwi for a no obligation quote.

Payment options available. Terms & Conditions apply.
---
Thursday April 7 2022 15

Sisters' healthy food tour no raw deal

TWO SISTERS are spreading

the healthy diet message on a

nationwide tour, alongside their

childhood idol of Harold the

Giraffe.

Rosa and Margo Flanagan,

known as the Two Raw Sisters,

are teaming up with Life

Education Trust and 5+ A

Day Charitable Trust to visit

schools.

Rosa, 26 a former national

steeplechase star, and Margo, 23,

created the Christchurch-based

food company five years ago

after attending a vegan culinary

school in Los Angeles. They host

workshops around the country

as well as teach courses and cater

for events.

The pair said they used to love

it when Life Education Trust's

mobile classroom visited their

school. Not only did they get

time out of lessons, but got to ask

Harold lots of interesting questions.

"Harold's visits taught us both

valuable life skills on the world

and where our place is in it," Rosa

said.

They were enjoying the

nationwide tour, which started

about two weeks ago and visiting

Riccarton School.

The pair are pleased to be

fulfilling their goal of inspiring

children and parents to base their

meals around in-season fruit and

vegetables, while adding meat or

another source of protein on the

side.

HEALTHY EATING: Two Raw Sisters Margot (left) and Rosa

Flanagan are teaming up with Harold the Giraffe to visit

schools around the country.

"This then helps them

ensure they are getting their

five-plus-a-day ticked off and

achieve the balanced diet that

Harold recommends," Margo

said.

Life Education Trust chief

executive John O'Connell said

the programme came at a critical

time for many families.

"One in five children in

Aotearoa live with food insecurity.

While the path to food

security is a complex one, teaching

healthy eating habits from

a young age is proven to be an

PLANT-BASED: Riccarton School pupils Nargis

Qurbanzada and William Crawford learned how to

prepare a healthy dish when Two Raw Sisters and Harold

the Giraffe visited recently.

important part of the solution,"

O'Connell said.

With 45 teachers working in

1400 schools, the trust was New

Zealand's largest health education

provider.

"Meeting with both tamariki

and parents in their communities

is a great way of providing

information in an accessible,

interactive format that's both

engaging and motivates longterm

positive change. We're really

looking forward to sharing the

youthful and engaging approach

of Two Raw Sisters."

EGG-CITING APRIL DEAL$

$16.99

EACH

$19.99

EACH

$22.99

EACH

$22.99

EACH

$24.99

EACH

$24.99

EACH

$24.99

EACH

$24.99

EACH

$25.99

EACH

$25.99

EACH

$26.99

EACH

Jim Beam Gold; CC

Premium

7% 330ml 6pk cans

Tui Vodka Soda

(ex bourbon) 7% 250ml

12pk can ranges

Jim Beam & Cola

CC (incl zero)

CC Soda & Lime 4.8%

Effen 10pk can ranges

Jack Daniel's

Double Jack 250ml

Part Time Rangers

330ml 10pk can ranges

Cruiser

5% 12pk bottle range

ODD Company

10pk can range

Smirnoff Soda

10pk can range

Jack Daniel's

(incl zero) 4.8%

Scapegrace

10pk can ranges

Smirnoff Ice

Double Black Guarana

(incl zero) 7% 250ml 12pk cans

Clean Collective

5% 250ml 12pk cans

Rinse

6% 330ml 10pk cans

Long White

10pk bottle range

$11.99

EACH

$13.99

EACH

$13.99

EACH

$14.99

EACH

$15.99

EACH

$15.99

EACH

$20.99

EACH

$13.99

EACH

$36.99

EACH

$36.99

EACH

$37.99

EACH

$39.99

EACH

$42.99

EACH

$42.99

EACH

Hardy's VR 1L

Edenvale

(alc removed) ranges

Stoneleigh

Marlborough;

Lighter ranges

Villa Maria

Private Bin

(ex PN/Syrah) range

Penfolds

Koonunga Hill

(Cab Sauv, Shiraz)

19 Crimes

(ex cali red)

range

Brown Brothers

Prosecco (incl Rose)

Taylors Estate

ranges

Pasqua 1.5Ltrs

Kylie Minogue Rose

Madam Sass

(Pinot Noir & Rose)

Canterbury

Cream

700ml

Jagermeister

Jagermeister

Cold Brew

700ml

Stolen Dark

Teachers 1L

Jim Beam

Canadian Club

(incl spiced) Larios Rose

Larios Citrus 1Ltrs

Gordons Pink; Orange;

Sicilian Lemon 700ml

Gordons & Smirnoff 1L

Absolut; Ballantines

Beefeater 1L

Beefeater 24 700ml

Bailey's

1L

$43.99

EACH

$47.99

$49.99

$54.99

$54.99

EACH

$56.99

EACH EACH

EACH

EACH

$57.99

EACH

$63.99

EACH

$13.99

EACH

$13.99

EACH

$14.99

EACH

$18.99

EACH

Famous Grouse

St Remy 1L

Haymans Gin 700ml range

$19.99

EACH

JB Devils Cut

JB Black 1L

Makers Mark 700mls

$19.99

EACH

Chivas 12yr 700ml

Jameson 1L

Jameson Black Barrel 700ml

$24.99

EACH

JB Double Oak 1L

Haku Vodka

Roku Gin; Ratu Rum

700ml ranges

Malfy

700ml range

$25.99

EACH

Johnnie Walker

Double Black

700ml

$28.99

EACH

Jack Daniel's 1L

Woodford Reserve

700ml

$33.99

EACH

Jim Beam

1.75L

$37.99

EACH

Kingfisher Strong

330ml 6pk cans

Monteiths Rekorderlig Ultra

(ex cider) 6pk bottle range (berry; passionfruit) 6pk can range

$38.99

EACH

$42.99

EACH

Fortune Favours

6pk range

$43.99

EACH

$24.99

EACH

Tiger; Tiger Crystal

12pk bottles

Pan Head

(ex rat rod) 6pk bottles

Heineken

12pk bottles

Tui; Export Gold; Extra

DB Draught 15pk bottles

THIRSTY LIQUOR PAPANUI

495 PAPANUI RD, PAPANUI

03 260 2380

Peroni

12pk bottles

Export 33

15pk bottles

Haagen

24pk bottles

Lion Red; Waikato

Speights or Summit

24pk bottles

THIRSTY LIQUOR VICTORIA ST

65 VICTORIA ST, CHRISTCHURCH CBD

03 260 1155

Speights Summit

Ultra Low Carb

24pk bottles

Steinlager

24pk 330ml bottles

Asahi

24pk bottles

Promotion period between 1/4/2022 to 30/4/2022.

While stocks last. Promotion only available at

participating stores – please contact your local store

to confirm whether they are participating in the

promotion and check the pricing in-store prior to

purchase. Online pricing will vary.
---
16

Use cheese to

dress up veges

Parmesan and

mozzarella are

flavoursome

cheeses that

will add a

gourmet taste

to pasta or

vegetables

Pasta-filled

capsicums

Serves 12-16

*Prepare in advance

Ingredients

Boil up 150gm Risoni and

leave in saucepan to go cold

6-8 large red capsicums

(cut lengthways with stalk

and seeds removed, place

on oven tray that has been

lined with a layer of tin

foil (non-stick is best) with

olive oil drizzled over the

tin foil).

Filling:

1 tablespoon olive oil,

place in frypan

1 onion (finely chopped)

3 or 4 cloves garlic

(crushed)

3 slices bacon, finely

chopped (optional)

150gm Risoni (cooked, see

above)

1 cup mozzarella cheese

(grated)

60gm parmesan cheese

2 tablespoons parsley

(chopped)

Directions

Heat oil in frypan, sauté

onion and garlic, then add

the bacon (if using) and fry

until crisp.

Turn heat off and leave

onion/garlic/bacon to cool

while other ingredients are

being prepared.

Break up lumps of Risoni

with your hands, add the

cheeses and parsley and

mix through with hands,

add onion/garlic/bacon

and repeat. Fill each of the

capsicum halves, packing

firmly and place on tin foil.

Make up topping, as follows:

Topping:

1 x 425gm can Italian or

pesto tomatoes in juice

(chopped), place in bowl

with:

½ cup dry white wine

1 tablespoon tomato paste

1 teaspoon oregano

1 teaspoon basil

Pour over the filled capsicums.

Bake at 180 deg for

60min.

Parmesan-coated

roast vegetables

Serves 4-8

Ingredients

3 tablespoons olive oil,

place in largest bowl with:

4 cloves garlic (crushed)

1 teaspoon Vegeta

2 heaped soup spoonfuls

parmesan cheese

Vegetables, can use anything

suitable, cut into

bite-size chunks

Directions

Mix olive oil/garlic/vegeta

together thoroughly, then

add the parmesan cheese

and mix again.

Add vegetables, put lid

on bowl and toss to coat,

put lid back on bowl and

re-toss. Place on baking

tray or oven dish that has

been lined with non-stick

tin foil. Bake at 200 deg C

for 40min.

Parmesan and lemon

roasted potatoes

Serves 4-8

Ingredients

1kg gourmet potatoes,

place in saucepan and boil

in salted water for 10min

¼ cup olive oil, place in

large bowl with:

4 cloves garlic (crushed)

2 teaspoons thyme

Peppercorns

Lemon zest

¼ cup grated parmesan

cheese

2 tablespoons chopped

parsley

Directions

Turn oven onto 200 deg C.

Mix olive oil/garlic/thyme/

peppercorns and lemon

zest thoroughly. Drain

cooked potatoes and toss in

olive oil mixture.

Place in single layer on

oven tray lined with nonstick

tin foil and roast for

15min.

Remove from oven, add

parmesan cheese and return

to oven for 5min until

golden and crispy. Garnish

with parsley.

Cheesy vegetable

bake

Serves 4

Ingredients

2 potatoes, peeled and

thinly sliced

2 rashes shoulder bacon,

diced (optional)

2 cloves garlic, crushed

1 cup grated mild cheese

300ml cream

1 kumara, peeled and

thinly sliced

250gm pumpkin, thinly

sliced

½ cup broccoli florets

250gm baby carrots

2 teaspoons liquid honey

1 teaspoon toasted sesame

seeds

Peppercorns

Directions

Line medium-sized oven

dish with two thicknesses

of non-stick tin foil.

Arrange half of the potato

slices in a single layer,

followed by half of the

bacon (if using), half of the

garlic, half of the cheese

and half of cream.

Repeat this process

with kumara and

pumpkin slices, adding

spasmodically broccoli

florets. Season with

peppercorns, then add

remaining potato slices,

then pour over remaining

cream and sprinkle over

remaining cheese.

Bake at 180 deg C for

45min until golden brown.

Boil or microwave carrots

until cooked, then coat in

honey and sesame seeds.

HOME & HEATING

Keep cosy with

RD Petroleum

this winter

RD Petroleum (RDP) is a familiar sight

for farm and rural residents around the

Canterbury region, however now days urban

residents also enjoy the same excellent

customer service for which RDP is known for

in rural communities, through their home

heating diesel.

RDP began its home heating diesel delivery

service to the lower South Island's main urban

centres of Christchurch, Timaru, Dunedin

and Invercargill a number of years ago.

Customer demand has continued to increase

year upon year, and RDP has responded

with specialised improvements to its delivery

equipment.

The trucks that deliver RDP's home heating

diesel in each urban centre are drawn from

the company's extensive vehicle fleet. This

Thursday April 7 2022

means they have the latest communication

and GPS tracking technology on board, so

the operations team always know where they

are and how far away they are from their next

delivery stop.

RDP's home heating diesel trucks come

equipped with a specially-designed hose,

through which the diesel is pumped from

the truck into house tanks. The length of

the hose allows the trucks to access tanks

without having to enter the property, avoiding

damaging the driveway. RDP is the place to

go if you require diesel conveniently delivered

to your home and as a loyal RDP customer

you're offered discounted pricing and can

become eligible for value-added benefits.

For all enquiries please phone

0800 44 00 14, or visit the RDP website at

https://www.rdp.co.nz/home-heating or

signup at apply.rdp.co.nz/home-heating
---
Thursday April 7 2022 17

HOME & HEATING

Ground moisture barrier

under low sub-floor

Now with the colder and wetter weather on

its way, home owners are focusing on ways

to make their homes comfortable, warm

and healthy for their families throughout

winter. Rising damp is an issue that affects

many of our older properties which suffer

from poor, or no, ground moisture barrier.

In Canterbury especially, post-quake, many

people have relocated to homes that suffer

from rising damp which can be associated

with health problems. Independent tests have

shown that up to 40 litres of water can rise

from the ground and enter a house every day,

leading to mildew, mould, condensation and

musty smells. Moulds can produce various

allergic reactions and the frail, elderly and

very young are especially vulnerable.

Canterbury Foam Concrete Ltd is a

locally owned and operated firm. The team

understands the problems caused by rising

damp and are there to help. They will come

to your damp home and pump a lightweight,

flowable foam concrete under your timber

floored home.

While insulation is important, it has been

recognised that it is dampness that is the real

villain in the house. The new Healthy Homes

Standards introduced by the government

effective from the 1st July 2019 now has

a requirement to install ground moisture

barriers, a key element in the armory to fight

moisture in the home.

Dr Larry Bellamy BE (hons) PhD in a

report dated 1988: Foam Concrete Under

Timber Floors: An Energy Analysis assessed

the effects of placing Foam Concrete over

damp soil and had this to say: Condensation

on the underside of a timber floor can occur

where the floor is suspended over damp

ground and the inside air temperature falls

close to the crawl space air temperature.

Much energy is required to vaporize moisture

that penetrates the structure. By avoiding

underfloor condensation, foam concrete can

reduce floor heat losses by up to 90%.

• Canterbury Foam Concrete Ltd can in most

cases, install a Ground Moisture Barrier

under the suspended wooden floor of your

home, even when there is no crawl space.

• BRANZ Appraised; Appraisal Number 961

• Members of the Insulation Association of

New Zealand.

• We offer a free measure and quote in the

Canterbury region with no obligations.

• Assessments can be made in all other

regions by arrangement.

Contact Canterbury Foam Concrete Ltd

now for your free, no obligation quote and

complimentary appraisal of your underfloor

ground moisture barrier needs.

Phone 03 376 4608, 0508FOAMCO or

www.foamconcrete.nz for more information.

Does your range

hood suck?

Whether it plain sucks, or whether it

doesn't suck enough, or even if it is a noisy

sucker - Smooth-Air can help.

Smooth-Air can either improve your

current Range Hood, or custom build to

your specifications.

"We can take your attractive but noisy,

underperforming range hood and retrofit

it with one of our whisper quiet remote

extraction fans." says Richard Jack, Regional

Manager of Smooth-Air, "We have fans

which can sit in the ceiling space, or outside

on your wall or roof to make it extra quiet."

In-house testing showed a difference of

20dbA (decibels) between a remote fan

from Smooth-Air and a common in-hood

fan range hood. This corresponds to a

quadrupling in perceived noise level.

Range Hood conversions

include removal of existing fan

and rewiring for new remote fan.

Your local sparky can easily carry

out installation of the new fan.

For kitchens not suited to a

standard range hood, Smooth-

Air can manufacture and

powdercoat a bespoke range

hood to match your décor.

Custom built range hoods have

the benefit of being designed

specifically for your house.

As well as being whisper quiet,

Smooth-Air's remote fans are

powerful - sucking out cooking

smells and moisture so they don't circulate

around your home.

Moisture in your home can cause mould

and mildew on your walls and furnishings.

It is also bad for the health of the occupants.

Household cooking is a major source of

internal moisture, therefore an effective

kitchen extraction system can make a

significant difference to internal moisture

levels.

Smooth-Air can also help with other

forms of ventilation, such as bathroom

extraction, condensation reduction or

whole house ventilation.

Contact Smooth-Air on 0800 SMOOTH

(0800 766 684) to ask how they can help

you with your kitchen extraction, as well

as any other ventilation requirements.

ATTACK RISING DAMP

Smooth-Air

Ventilation Equipment Suppliers

to

trade

&

retail

Smooth-Air has a wide range of

ventilation equipment to bring

fresh air into your home.

T. 03 376 4608 E info@foamconcrete.nz

W. www.foamconcrete.nz

Domestic

Commercial

Industrial

HEAT PUMP

SALE NOW ON!

Amazin' Autumn Deals!!

Remote Extraction Fans

80%

SubSidy

Warmer KiWi HomeS

Programme

*Eligibility criteria apply

• We will offer you the best quality brands and

option of heat pump for your home/business

• Providing Heat Pump solutions for over 20 years to Cantabrians

• We personally guarantee all our products & installs for 5 years

(providing annual maintenance has been completed)

Range Hood Cupboard Inserts

Phone us today for your free consultation & quote

41A SHAKESPEARE RD, WALTHAM

PHONE 03 366 0525

www.enviromaster.co.nz

"A local team for local people"

0800 SMOOTH

(0800 766 684)

sales@smooth-air.co.nz

264 Annex Rd

Riccarton

Christchurch

03 343 6184

Monday - Friday

7.30am - 5pm

www.smooth-air.co.nz
---
18

Thursday April 7 2022

CHRISTCHURCH

CREMATORIUM

FUNERAL SERVICES

SUDOKU

Every row, column and box should

contain the digits 1 to 9.

WORDBUILDER

WordBuilder

138

6

H R A

E T H

CROSSWORD

1 2 3 4 5 6 7 8

238

words of three or more letters,

How many words of three or more

including plurals, can you make from the six

letters, using including each letter plurals, only once? can No you foreign

words or words beginning with a capital are

make from the six letters, using

allowed. There's at least one six-letter word.

each only once? TODAY

No Good words 19 beginning Very Good 23 with Excellent a capital 28

are Solution allowed. 137: ant, There's any, atony, ban, at least bat, baton, one bay,

boa, boat, bony, bot, BOTANY, boy, nab, nay, nob,

six-letter not, oat, tab, word. tan, ton, tony, toy, yob, yon.

Good 19 Very Good 23 Excellent 28

9 10

11 12

DECO

13

13 14 15 16 17

18 19 20

21 22 23 24

25 26

27 28

SOLUTION

No.138

14 15 16 17 18 19 20 21 22 23 24 25 26

N A I P C Z F E T L H G Q

1 2 3 4 5 6 7 8 9 10 11 12 13

K S W J R M U Y B D V X O

14 15 16 17 18 19 20 21 22 23 24 25 26

Decoder

S A

H

Across

1. Made a formal request (7)

5. Japanese warrior (7)

9. Approximately (L) (5)

10. Deadlock (9)

11. Pact (9)

12. Authority (3-2)

13. Civic leader (5)

15. Later (9)

18. Many-legged insect (9)

19. Friends (5)

21. Male duck (5)

23. Scrounger (9)

25. Attempt (9)

26. Cautious (5)

27. Resembling a dream (7)

28. Filled with anger (7)

14 15 16 17 18 19 20 21 22 23 24 25 26

A B C D E F G H I J K L M N O P Q R S T U V W X Y Z

11 22 33 44 55 66 77 88 99 10 11 12 13

21 23 21 19 13 1 6 4 6 21

22 1 22 20 9 9 6 4 18

1 8 7 25 9 9 14 26 9 9 4

Down

1. Praise (7)

2. Depiction (9)

3. Mindless (5)

4. Hopeless (9)

5. Clever (5)

6. Confused upheaval (9)

7. Prepared (5)

8. Extremely chilled (3,4)

14. Say again (9)

16. Book of synonyms (9)

17. Signature (9)

18. Lunacy (7)

20. Wandered (7)

22. Snake (5)

23. Glower (5)

24. Compere (5)

22 13 25 7 25 21 14 9

2 11 26 22 21 19 9 8 23 22 15

All puzzles copyright

15 25 21 15 10

18 6 4 18 13 19 18 25 15 13 10 24

13 24 4 13 10

T H E P U Z Z L E C O M P A N Y

www.thepuzzlecompany.co.nz

21 26 22 1 5 22 11 6 6 1 13

21 10 19 16 3 21 8 14

S

A

DECODER

Each number in our DECODER grid represents a different

letter - there is a number for all 26 letters of the alphabet.

Each Enter number the given represents letters into a different all squares letter with of the matching alphabet. numbers. Write the

given The challenge letters into now all squares is to work with out matching which letters numbers. are Now represented work out

which by the letters other are numbers. represented As you by the get other numbers. letters, enter As you them get into the

letters,

the main

write

grid,

them

and

into

the

the

reference

main grid and

grid.

the

To

reference

keep track

grid. Decoder

of the

uses

letters

all

you

26 letters

have

of

found,

the alphabet.

cross them off the alphabet provided.

18 13 9 15 5 21 3 13 5 1 2

24 23 12 16 13 7

15 6 16 10 7 17 24 21 15 11 15 23

5 2 10 16 23 21 17

D

6 15 2 26 7 21 5 15 10 21 24

9 12 9 11 6 19 13 8 10 22 8

U

20 14 8 18 7

N

25 5 7 10 25 21 9 15 19 15 15 5

5 23 20 23 23

15 24 21 6 16 2 17 24 21 5 21

17 22 4 14 2 14 11

17 24 13 14 21 22 16 18 21 10 25 21

23 20 18 2 15 5

21 12 7 23 22 24 13 3 5 15 8

A B C D E F G H I J K L M N O P Q R S T U V W X Y Z

1 2 3 4 5 6 7 8 9 10 11 12 13

U D

14 15 16 17 18 19 20 21 22 23 24 25 26

N

SOLUTION

No.137

4 8 8 25 9 19 26 15 4

H

17 22 19 26 25 8 17 9 11 7

The challenge now is to work out which letters are represented

by the other numbers. As you get the letters, enter them into

the main grid, and the reference grid. To keep track of the

letters you have found, cross them off the alphabet provided.

Each number in our DECODER grid represents a different

letter - there is a number for all 26 letters of the alphabet.

Enter the given letters into all squares with matching numbers.

139

138

1 2 3 4 5 6 7 8 9 10 11 12 13

V T Z O P C I N F X S E W

A J L D U G R B K Y H Q M

14 15 16 17 18 19 20 21 22 23 24 25 26

Crossword

Across: 1. Applied, 5.

Samurai, 9. Circa, 10.

Stalemate, 11. Agreement,

12. Say-so, 13. Mayor, 15.

Afterward, 18. Millipede,

19. Mates, 21. Drake, 23.

Scavenger, 25. Endeavour,

26. Chary, 27. Surreal, 28.

Seethed.

Down: 1. Acclaim, 2.

Portrayal, 3. Inane, 4.

Desperate, 5. Smart, 6.

Maelstrom, 7. Ready, 8.

Ice cold, 14. Reiterate, 16.

Thesaurus, 17. Autograph,

18. Madness, 20. Strayed,

22. Adder, 23. Scowl, 24.

Emcee.

WordBuilder

are, art, ate, ear, earth, eat,

era, eta, eth, hare, hart,

hat, hate, hater, hath, hear,

heart, HEARTH, heat, heath,

her, rah, rat, rate, ret, rhea,

tar, tare, tea, tear, the.

Sudoku

DECODER

139

A F Shuker

Supplied by KNIGHT FEATURES

20 Crescent Grove, London SW4 7AH

Tel: 020 7622 1467 Fax: 020 7622 1522

Email: info@knightfeatures.co.uk
---
Thursday April 7 2022 19

Classifieds Contact us today Phone our local team 03 379 1100

Wanted To Buy

AAA Buying goods

quality furniture, beds,

stoves, washing machines,

fridge freezers. Same day

service. Selwyn Dealers.

Phone 980 5812 or 027

313 8156

TOOLS, Garden garage,

saw benches, Lathes. Cash

buyer Phone 355-2045

Trades & Services

BETTER

LAWNMOWING

Better job. Better

Price. Better ring Grant

0277402508

BRICKLAYER

George Lockyer. Over

40 years bricklaying

experience. UK trained.

Insurance work, EQC

repairs. Heritage

brickwork & stonework

a speciality. No job too

small. Governers Bay.

Home 329 9344. Cell

027 684 4046. E mail

georgelockyer@xtra.co.nz

CARPET LAYING

Exp. Repairs, uplifting,

relaying, restretching.

Phone John on 0800

003181, 027 240 7416

jflattery@xtra.co.nz

CHIM

CHIM

CHIMNEY SWEEPS

We'll sweep your

logburner's flue, check

firebricks, baffles, airtubes

& controls. We're experts

on coal-rangers, and can

sweep any sized open fire.

We quote & undertake

repairs, flue extensions &

install bird netting. 0800

22 44 64 www.chimchim.

nz

Trades & Services

ROOF

PAINTING 24/7

Rope & harness

a speciality,

no scaffolding

required,

30 years of

breathtaking

experience.

FREE QUOTES

20% OFF other

roof quotes

Exterior staining,

exterior painting,

water blasting.

Moss and mould

treatment $300.

Phone Kevin

027 561 4629

ELECTRICIAN (CERT)

Prompt, quality. Call Jack

027 206 0080

PAINTER, QuALIfIEd

local professional, int/

Ext,roofs,wallpaper, call

or text Corban 027 846

5035

STuMP GRINdING

Best price guarantee Tony

0275 588 895

TILING

Flooring - Splashbacks -

Wall incl tile removal, Ph

Dave 027 334 4125

VHS VIdEO TAPES

& all camera tapes

converted to DVD or

USB. Video taping

special occasions, www.

grahamsvideo.co.nz ph 03

338-1655

Trades & Services

ELECTRICIAN

Contact for a free quote

phone 027 331 0400

dave@davesimpsonelectrical.co.nz

davesimpsonelectrical.co.nz

Experienced Domestic Electrician

Quality Workmanship

• New Build

• Renovations

• Fault finding

• Power

• Lighting

• Switchboards

SCRAP METAL

Dominion Trading Co Ltd

• Scrap metal buyers

• Canterbury owned & operated

• Top prices paid $$$

• Open Saturday morning

Open Mon-Fri 8am – 4.30pm Sat. 8.30am-12.30pm

www.happyscrappy.co.nz

03 343 9993 333 Blenheim Rd

Trades & Services

PLUMBER

NEED A PLUMBER?

• Father & son Plumbing Business with over

40 years experience.

• Bathroom alterations a specialty.

• Cylinder replacements.

• We do all small jobs.

Call us now for fast friendly service.

Get your problems sorted out

quick smart - on time!!

THOMSON PLUMBING

Phone Eugene now

Phone 03 377 1280 | Mobile 021 898 380

WINDOW TINTING

tintawindow

advanced film solutions

99% uv block

fade protection

heat control

reduce glare

25 Years Experience

privacy films

frosting designs

non-darkening films

Workmanship Guaranteed

Lifetime Warranties on Most Films

UV

block

Free Quotes Canterbury and Districts

03 365 3653 0800 368 468

ADVERTISE YOUR BUSINESS HERE

Phone for further details

(03) 379 1100

Need Heat Fast?

The Fastest, Warmest Indoor/Outdoor Heater You Will Ever Own!

Buy One Get Second Half Price! *

+Plus

Free

Floor

Stand!*

worth

$199.99

• Heats Up Instantly

• Suitable for Indoors or Outdoors

- In Rain, Fog, Wind or Snow

• Carbon-Fibre Bulb Technology

• Multi-Directional Stand

• Includes Remote Control

& Built-In Timer

• Motion Detection Function

1.8m High

• Commercial Grade

• Multi-Directional

• Easy Install

• Portable

• Indoors & Outdoors

*Call for Terms

& Conditions

CALL NOW! 0800 665 665
---
20

Thursday April 7 2022

RAY WHITE PAPANUI NEWS

How to Choose a Dining Table

Family dining, entertaining, homework,

games hub, even work and Zoom calls:

a dining table must tick a lot of boxes.

That's why it's important to choose

a table that's right for your style,

functionality and budget.

If you are in the market for a dining table

to entertain many guests or looking for

a dining table to accommodate a small

family, with key advice and a wide range

of dining tables, you will find a style and

shape to suit your needs.

A dining table is the heart of a home.

It is a place where family and friends

can gather to eat and enjoy long

conversations.

"If chosen carefully, a good quality

dining table will last you a long time, so it

pays to spend a considerable amount of

time researching the best possible dining

table that can be enjoyed for many years

to come," says a Focus on Furniture and

Bedding spokesperson.

The four-S process for ideal choice

Here is a quartet of quick-and-easy tips

for choosing the right dining table for

your home:

Size – If you're considering entertaining

larger guests, you may want to consider

how you will accommodate everyone

at the dinner table comfortably. First,

consider the size of your existing room,

then leave enough space for people to

get in and out of their seats. Measure

Award Winning Property

Management Services

We were honoured to achieve recognition

in all three categories of the Ray White

Canterbury zone awards last week, and

while we love some more certificates to

hang on our wall, it is what this means for

our clients, both current and future, that

really means something to us.

So let's start with one of the most

important parts of our promise to our

landlords, rent collection. It may seem an

easy task to collect rents, but particularly

in tough times, like now, we really need

to work hard to ensure not only are

we empathetic to our tenants who are

experiencing hardships, but also able

to help them to ensure they can pay

their rents on time every week so that

our landlords are able to meet their

own financial obligations. It is all about

communication, and we are very good at

this, which has been proven once again

by us taking out Number 1 ranking in the

coveted 'Zero Arrears Club'!

The second award was a growth award

where we achieved Number 2 in the

number of new managements for our

region. What does this mean?, well you

can only achieve this if you are providing a

top notch service to your clients. I believe

Feature Properties

the height of the seat you are thinking of

buying with your dining table so you can

sit comfortably. As a rule of thumb, leave

about 20-30cm from the seat to the

tabletop.

Shape – First consider the shape of

your room. Round tables can work well

in smaller spaces and rectangular and

square dining tables will suit larger areas.

If you are considering a large rectangle

table, ensure you leave enough room for

chairs not to meet with other pieces of

furniture in the room. Bench seating is a

great option when space is tight as they

can slide right under the dining table,

preventing overcrowding.

Style – If you're after a sophisticated

style of dining décor, a tempered-glass

that the best referral tool we have is the

clients we already have and our reputation

and that is ultimately why people choose

us to take care of their investment

properties.

Net growth was the third award, where

we placed second, and this ties in directly

with the service we provide our existing

landlords. It is all very good to bring in

new business, but if clients are leaving in

droves, you need to have a long hard look

at the why. I am very proud to achieve this

award, it reiterates we are doing it right!

The final recognition was for community

service. We are very passionate about

supporting the communities we work

in and we love getting involved in local

projects. We are all about getting amongst

it as well as providing financial assistance

where we can, whether that is cooking

meals for families at Ronald McDonald

House or dressing up and helping to

entertain the kids at Halloween!

Katrina Green,

Operations Manager

Property Management

027 606 0030

top combined with stunning Oak

detail will create a beautiful statement

piece. For a relaxed style of dining,

consider a table made from brushed

Acacia for a lighter look.

Storage – If you enjoy entertaining

and require extra storage space for

all your beautiful crockery, tableware

or glassware, consider adding a

buffet in the same room. Focus on

Furniture and Bedding provides

matching buffets and dining tables, so

it's worth investigating — to not only

allow for those little extras but also

tie the room in together. Buffets and

hall tables can also provide a handy

space to display extra food during a

party or showcase your most valuable

collections.

Content inspired by Real Estate Voice

Vanessa Golightly,

Business Owner

and Licensee Agent

Ray White Papanui

027 664 9292

SOLD Properties

4/584 Cashel Street, Linwood

Tracy Thomson & Hasna Ngara

5 Deepdale Street, Burnside

Tracy Thomson & Hasna Ngara

11B 15 Bay Ranger View Street, Road, Moncks Mairehau Bay

Tracy Thomson & Hasna Ngara

26 Norah Street, Mairehau

Vanessa Golightly & Maria Paterson

Vanessa Golightly

Licensee Agent &

Business Owner

027 664 9292

Stuart Morris

Licensee Agent

& Auctioneer

027 422 6395

Katrina Green

Operations Manager

Property Management

027 606 0030

Ben McNab

Licensee Salesperson

& Auctioneer

027 427 7232

Hasna Ngara

Licensee Salesperson

021 262 4943

Reece Billett

Licensee Salesperson

021 221 6774

Claire Morris

Licensee Agent &

Business Owner

027 662 4822

Tracy Thomson

Licensee Salesperson

027 440 3035

Maria Paterson

Licensee Salesperson

027 543 4689

Olivia Hendry

Licensee Salesperson

Executive Assistant

Estelle Schuurman

Property Manager

Richie Eggelton

Property Assistant

021 089 65594

Rodney King

Mortgage Broker

0274 555 863

18 Voss Street, Shirley

Tracy Thomson & Reece Billett

25 Derby Street, St Albans

Vanessa Golightly & Maria Paterson

3/56 Geraldine Street, Edgeware

Vanessa Golightly & Maria Paterson

Staci de Geest

Mortgage Broker

027 233 9989 Georgia Tuuta

Executive Assistant

Level 1, 7 Winston Avenue, Papanui

Phone (03) 352 0567 | rwpapanui.co.nz | /RayWhitePapanui Morris & Co Limited | Licenced REAA 2008