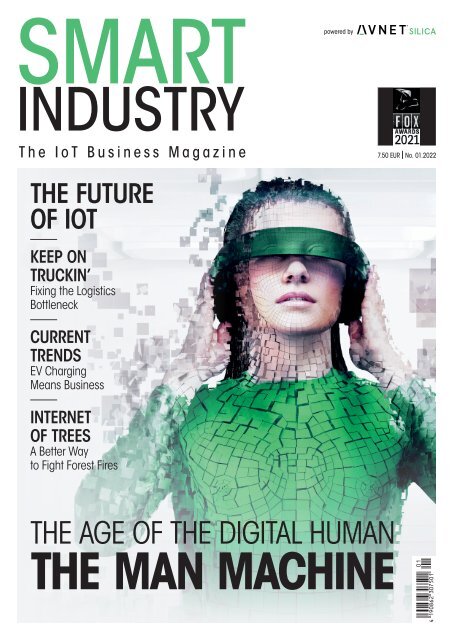 Smart Industry No.1 2022
Smart Industry No.1 2022 - The IoT Business Magazine - powered by Avnet Silica
Smart Industry No.1 2022 - The IoT Business Magazine - powered by Avnet Silica
SHOW MORE
SHOW LESS
Create successful ePaper yourself
Turn your PDF publications into a flip-book with our unique Google optimized e-Paper software.
smart

powered by

industry

The IoT Business Magazine

7.50 EUR No. 01.2022

THE FUTURE

OF IOT

KEEP ON

TRUCKIN'

Fixing the Logistics

Bottleneck

CURRENT

TRENDS

EV Charging

Means Business

Internet

of Trees

A Better Way

to Fight Forest Fires

The Age of the Digital Human

THE MAN MACHINE
---
XILINX INNOVATIONS

GET STARTED

WITH YOUR DESIGN

WINNING THE 5G RACE

Wherever 5G drives innovation, from over the air, satellite

to ground, and private network to 4.0 automation, cutting

edge 5G applications require both increased bandwidth,

and fast computing into a lower power and smaller form

factor radio.

The RFSoC product family's breakthrough integration

translates to lower power, a smaller footprint, and higher

performances. It enables demanding 5G applications such

as multi operators, 400MHz iBW, Multi Carriers, Sub 6GH

and MMwave, whilst supporting ease of use and flexibility

of design evolution.

By enabling a 'Radio in One chip' design (from O-RAN interfaces

to RF) with high performance and low power, the Zynq

RFSOC family provides significant benefits for applications

that require fast computing at a lower cost.

avnet-silica.com
---
Editorial

Creating

the Future

Tim Cole

is editor-in-chief of

Smart Industry –

the IoT Business Magazine.

Smart homes and factories, smart clothing

(so-called "wearables"), autonomous

cars, trucks and drones and other

stuff from the world of science fiction

have become everyday phenomena that introduced

the world to IoT technology and its

giant potential. The continued growth of this

technology and its use has created a global IoT

market of $389 billion, which is forecasted to

reach $1 trillion in 2030 (according to Statista).

IoT allows the physical world to be integrated

into computer-based systems, which, in turn,

helps to improve the efficiency of the systems

and reduces human intervention. So we've

come a log way, right?

And it's everywhere, effecting industries from

transportation (shipment & tracking), retail

(inventory management) hospitality (voice

assistants) to healthcare (health & wellness

monitoring).

Let's take a closer look at some of them.

In retail, the global market for IoT is expected

to reach $182.04 billion by 2028 according to a

report by Grand View Research. Much of this

growth will be due to advances and reduced

cost for IoT hardware and sensors, etc., but improvements

in customer experience through

much increased customer tracking and personalization

are expected to be the real drivers.

Using beacons, brands or retail stores can

attract passersby to visit their stores by sending

IoT-enabled notifications to their smartphones.

The Internet of Things connecting

everything to everything also means connecting

to everyone.

Supply chain optimization will not only unlock

the bottleneck for stuff that has stifled both retails

waiting for shipments from Asia but manufacturers

of cars and sophisticated electronic

systems desperate for chips. IoT sensors do not

just track location, but also humidity, temperature,

tilt, shock, speed and driving behaviors,

meaning that logistics teams can determine if

their stuffs safe, on time and has been transported

under the right conditions, thus avoiding

loss and spoilage.

In Smart Factories, or as the Europeans prefer

to call it, Industry 4.0 machines, will take over

mundane and repetitive tasks on the assembly

line, freeing qualified workers for more

demanding tasks where lack of talent is being

felt around the world. Using powerful AI tools

such as image recognition and analysis, manufactures

will dramatically raise quality with

hope of achieving the golden grail of making

stuff – zero-reject production.

The hospitality business rocked by lack of people

willing to work for sweatshop wages will

have to invest heavily in automation provided

by IoT in everything from "connected rooms"

where everything from temperature control to

room service to lowering the blinds and turning

on the TV will be guided by Alexa-style

gadgets and smartphone that enhance the

guest experience. And in maintenance where

hotels spend a lot, IoT sensors can help to reduce

this expenditure by detect problem and

notify staff, for instance about faulty lighting

and other fixes.

The Internet of Things brings numerous opportunities

for any business to transform itself.

Companies like our sponsor Avnet Silica

and many others will be happy to point out

ways in which, you, too, can reap the benefits

of IoT a myriad of practical use cases and applications.

In you aren't there yet, setting out

on your journey to the connected future has

never been easier. Bon voyage!

3
---
contents Imprint

CONTENTs

03 Editorial

04 Contents/Imprint

06 Smart People

24

Welcome to the Metaverse

Online communities have existed since at least the mid-1980s, but the metaverse could represent

a whole new dimension. Imagine it as an online virtual world which incorporates augmented

reality, virtual reality, 3D holographic avatars, video and other means of communication. As

the metaverse expands, it will offer a hyper-real alternative world for you to coexist in.

Smart Business

12 The Man Machine: Building a Better Brain

24 The Metaverse: No Time for Fun & Games

29 Avnet Column: Gilles Beltran

30 The Future of IoT

34 Interview: Lou Lutostanski

38 Why IoT Projects Fail

42 IIoT: How to Eat an Elephant

Smart Communications

46 Keep on Trucking

52 Taking Security to the Edge

58 EV Charging: Current Trends

58

Current Trends

The electric vehicle industry is on its way to market maturity but there are still twists in the road

for stakeholders and customers. From accessibility and standardization issues to a lack of convenient

and secure payment methods at charging stations, unresolved issues could still throw a

spoke in the wheel of electric vehicles, leaving full adoption out of reach.

Smart Lifestyle

62 The Smartest City

66 Internet of Trees: Fighting Forest Fires with IoT

72 Taking 5G to the Max

76 Interview: The World is Shrinking

Smart Solutions

78 Old Data for Sale

82 Lidar

86 Bernd Schöne: Liquid Software

88 Smart Sensors: Smart Eyes for IoT

90 Smart Companies

92 One More Thing

62

The Smartest City

Poblenau, formerly a run-down suburb of Barcelona, has reinvented itself as a neighbourhood

buzzing with innovative startups, research centres and international businesses.

Today, it is regularly touted as a template for urban, economic and social renewal, as well as

a hotbed of IT innovation.

98 Gerd Leonhard: The Future Looks Great!

4
---
12

The Man Machine

The idea of linking the human brain to machines and

to each other is intriguing and far from new. But now

the dream of countless Sci-Fi readers may be coming

true at last. Will we soon be able to control our smart

machines simply through thought? Maybe it's time to

rethink our relationship with technology.

IMPrint

Publisher

Avnet Silica (Avnet EMG GmbH), Gruberstrasse 60d,

85586 Poing, Germany

Production and Project Management

RSP Management GmbH, Hohenbrunner Weg 41B,

82024 Taufkirchen, rspitz@rsp-publishing.de

Square Publishing GmbH,

Bretonischer Ring 10, 85630 Grasbrunn

Project manager Richard Spitz

Editor-in-chief Tim Cole

Text editor Eric Doyle

Art director Sara D'Auria, www.inframedesign.de,

Harald Sayffaerth, www.01graphics.de

Contributors Göran Appelquist, Gilles Beltran,

Rainer Claaßen, Marc McCoy, Sebastian Ganschow,

Alan Earls, Gordon Feller, John Koon, Greg Langley,

Tom Leddo, Gerd Leonhard, Michael Moorfield,

Stian Overdahl, Bernd Schöne

Pictures Shutterstock, Fotolia

Production manager Stephan Quinkertz

Printing Westermann

Managing director Richard Spitz, Stephan Quinkertz

© 2022 RSP Management GmbH and

Square Publishing GmbH

INTRODUCING THE MICROSOFT AZURE

SPHERE ENABLED LORA GATEWAY

One of the most secure and easy to manage

gateways, featuring Azure Sphere

• Securely monitors, tracks and manages data in

almost every environment, from buildings to factories,

smart cities, hospitals, agriculture and retail

• Supports cellular, Wi-Fi and Ethernet connectivity

• Remotely upgrade your gateways in the field, with

daily authentication of hardware and software,

and a failsafe over the air update mechanism

• Guaranteed maintenance over the lifetime of

the product

• Pre-integrated security will ensure that your

LoRaWAN gateway is secure and safe of the risk

from cyber-attacks

avnet-silica.com

REQUEST

DEMO
---
Smart People Behind the scenes

Behind the Scenes

Smart people

All over the world, brilliant individuals are hard at work creating the technologies and

solutions that will one day make the Internet of Things come alive. We visited a few

of them and listened to their fascinating stories.

Stockholm University

Artificial Intelligence

for the Planet

Swedish resilience researcher

Victor Galaz believes that artificial

intelligence should follow the

dictates of sustainability in the

context of the environment and

climate change. "Like many other

technologies, artificial intelligence

offers a mixture of opportunities

and risks with regard to climate

change," he says.

Crunching the

Climate Numbers

While AI offers more

postive than negative

impacts on the climate,

more work still

needs to be done to

extract correlations

from the mountains

of data available.

As associate professor in political

science and deputy director of

the Stockholm Resilience Centre

at Stockholm University, Galaz recently

gave a much-discussed lecture

on Planetary Responsible AI at

the Complexity Science Hub Vienna

(CSH), where he focused on the

ethical perspective of AI which he

maintains must always be included

in the design and use of AI systems

– whether to design them according

to principles of inclusion and diversity,

or to reflect on the dilemmas of

self-driving cars which one day may

have to decide on the life and death

of road-using humans.

That AI offers numerous opportunities

to halt or even reverse climate

change is obvious: relevant patterns,

changes or correlations can

be extracted automatically from the

growing mountains of data resulting

from the monitoring of our environment.

Galaz emphasises that the predictive

power of artificial intelligence offers

a major advantage. He believes

A Positive impacts of Al: 79 % (71 %) B Negative impacts of Al: 35 % (23 %)

source ©: Springer Nature Limited

17

12

13

9

15

8

1

100%

100%

14

(100%) 75%

(88%) (69%) 3

90%

69%

(90%)

(69%)

80%

100% 4

(70%)

(93%)

26%

56%

(15%)

(44%)

82%

100%

(59%)

(100%)

90%

100%

(75%)

(100%)

10 100%

100%

(91%) 92% 58% (90%)

7

(77%) (52%)

Enviroment: 93% (85%)

Economy: 70% (55%)

16

2

11

6

5

Society: 82% (77%)

17

12

13

9

15

8

1

86%

33% (43%) 25%

(8%)

3

14

30%

(13%) 8%

(13%)

(8%)

20%

70% 4

(20%)

(60%)

11%

33%

(5%)

(31%)

27%

63%

(16%)

(28%)

70%

40%

(55%)

(40%)

10 50%

20%

(34%) 33% 25% (10%)

7

(25%) (15%)

Enviroment: 30% (12%)

Economy: 33% (23%)

16

2

11

6

5

Society: 38% (25%)

1 No Poverty

2 Zero Hunger

3 Good Health and Well-Being

4 Quality Education

5 Gender Equality

6 Clean Water and Sanitation

7 Affordable and Clean Energy

8 Decent Work and Economic Growth

9 Industry, Innovation, and Infrastructure

10 Reduced Inequalities

11 Sustainable Cities and Communities

12 Responsible Consumption and Production

13 Climate Action

14 Life Below Water

15 Life on Land

16 Peace, Justice and Strong Institutions

17 Partnerships

6
---
that, with improved data availability,

predictive modeling of climate data

will make it possible to estimate developments

ever more accurately

and locally. AI already plays a role in

the optimisation of existing systems

– for example, in the more efficient

use of renewable energies.

High benefits also require the responsible

use of the systems and

Galaz's central question is: "How do

we ensure that AI does not intensify

environmental degradation, misinformation

and social inequality?"

Artificial intelligence is already being

used in many variations in the

field of smart farming worldwide,

for example, using satellite data to

optimise irrigation, pesticide use

and harvesting times. To Galaz, it is

unclear what ecological effects such

digital agriculture, forestry and water

management will have and this

AI offers a mix

of opportunities

and risks.

Victor Galaz

Associate professor in

political science and deputy

director of the Stockholm Resilience

Centre at Stockholm

University

raises a social question. Galaz asks:

"Will the advantages resulting from

automation be evenly distributed or,

for example, will it have a negative

impact on small farmers in African or

Asian countries?"

source ©: Goethe-Institut

AN ENGINEER'S

GUIDE TO 5G –

AVNET SILICA'S NEW

RESOURCE FOR

DESIGNERS

There has never been a better

time to accelerate your 5G design

journey. From infrastructure

to endpoint, 5G will reach into

every aspect of our business and

personal lives. And there is no

better place to fuel that journey

than Avnet Silica's 5G solutions

page.

DOWNLOAD

EBOOK

avnet-silica.com
---
Smart People Behind the scenes

source ©: LinkedIn Corporation

source ©: Davey Bickford Enaex source ©: Aspermont Media Ltd

Davey Bickford Enaex

Having a Blast and

Still Staying Safe

The most dangerous moment in

mining is when someone lights

the fuse and everybody starts

running. Aymeric Denuelle, a

researcher and group product

marketing manager at mining

How to Achieve a

Better Blast

IoT enhanced

detonators provide

a higher level of accuracy

and reliability,

improving blast performance

while offering

a user friendly

human machine

interface allowing

fast programming.

Time is money

in the mining

industry.

Aymeric Denuelle

Researcher and group

product marketing manager

at mining services company

Davey Bickford Enaex

services company Davey Bickford

Enaex, wants to defuse the situation

with its DaveyTronic Edge

remote control electronic detonator.

The system uses a common

IoT radio frequency protocol to

communicate with up to thousands

of detonators before triggering

each explosive device.

Electronic detonators have been

around since the 90s but, Denuelle

says, they had an Achilles heel

because the complex fixed-wire

networks connecting the detonators

to the blasting machines

were prone to electrical leakage.

Early wireless detonators were

unidirectional – in other words,

signals could be sent to a detonator,

but no response could be

received. DaveyTronic Edge not

only does away with the need

for surface wiring but also controls

multiple electronic detonators

from a single, safe location,

thereby making the blasting

process less risky and more efficient.

Until now, mining workers were

forced to manually check conditions

before pressing the button

– a process known as 'priming

the blast'. This is costly and

time consuming, as well as risky

in the event of human error,

but the main worry was finding

detonators that failed to go off,

which meant searching for hours

through huge piles of debris.

The new system has been successfully

tested in a large mine in

Chile, where it proved capable of

operating safely over a distance

of several kilometres. As Denuelle

says, "Our goal is to always

provide safer solutions so that

our customers can trigger larger

blasts from a remote firing point.

Time is money in this industry and

mining companies need to spend

more time collecting the ore than

organising the blast."

8
---
MORE EXPERTISE

LESS COMPLEXITY

Bipolar

transistors

Diodes Analog &

MOSFETs GaN FETs

Logic ICs

ESD protection, TVS, filtering

and signal conditioning

It's never been easier to complete your design, with essential components and expert support from

Nexperia. Search & specify all your discrete and MOSFET components, analog and Logic ICs, directly online.

You'll quickly find what you need from our portfolio of 15,000+ devices, industry-leading small packages,

meeting the highest industry standards.

For easy access to the essential components, get more with Nexperia.

nexperia.com
---
Smart People Behind the scenes

Omni:us

Taking a Flyer

on Insurance AI

"I like to take risks. That's how I was

brought up", says Sofie Quidenus-

Wahlforss, founder and CEO of

Omni:us, based in Berlin. The serial

entrepreneur founded her first

company in Vienna while still attending

high school. Now, with

Omni:us, her fourth company,

she is using artificial intelligence

to disrupt the insurance industry.

Following the company's launch

Quidenus-Wahlforss made the

Forbes list of Europe's Top 50 Women

in Tech.

"When I was a little kid, I used to

climb to the top of the tallest trees,"

she recalls, adding that it was always

important to her parents that

she gained as much experience as

possible. "When I fell from the tree,

that was also an experience and it

showed that I was brave."

Omni:us uses artificial intelligence

to digitally capture documents,

including handwritten ones, to

automatically evaluate them and

understand what they are about.

As a kid, I used

to climb to the

top of the tallest

trees.

Sofie

Quidenus-Wahlforss

Founder and CEO

of Omni:us, based in Berlin

Omni:us Classifies

Documents

into predefined

categories based

on visual and

textual information

and retrieves data

using end2end information

extraction

techniques.

The system learns as it goes and

its analytical skills get increasingly

better. Omni:us is focusing on the

insurance industry. "That's where

we see the greatest potential because

everyone deals with insurances,"

Quidenus-Wahlforss maintains.

The startup earns money by

selling licenses for its software.

As an entrepreneur, she has learned

to deal with setbacks. "I can only

do this if I believe in it," she says.

Quidenus-Wahlforss is firmly convinced

that artificial intelligence is

source ©: omni:us / Qidenus Group GmbH

capable of taking the paperwork

away from an insurance company's

clerks so that they have more time

for their customers' needs. "It's not

about replacing the employee but

enabling them to focus on what

they can do; namely, empathic

behaviour," she explains. "No one

wants a machine to end up making

decisions."

International investors have apparently

been won over by this

idea, investing a total of around

€20 million in Omni:us. Many large

insurance companies are already

working with Omni:us, currently

one of the largest German insurers

Wüstenrot is running a proof-ofconcept

test project.

Omni:us is part of the Qidenus

Group, which may look like a misspelling.

In fact, Quidenus-Wahlforss

had the "u" removed deliberately

– something her parents

and her grandmother, in particular,

remain irritated about. "I kind of

thought it was cooler without the

'u'," Sofie explains. "Qi is the Chinese

word for energy and if you flip

the letters around it's IQ. Both just

fit well."

source ©: omni:us / Qidenus Group GmbH

10
---
nRF9160

Low power cellular SiP with integrated

LTE-M/NB-IoT modem and GPS

Start your development today with the most

compact, complete and energy-efficient

cellular IoT solution on the market

AVAILABLE NOW

nordicsemi.com/nRF9160
---
Smart Business Title Story: Augmented Humanity

Augmented Humanity

THE

MAN MACHINE

Psychokinesis, or mind over matter, is a popular dream

of sci-fi and horror story writers. In the digital world, dreams often come

true and there are signs that soon we may be able to complete tasks

without moving off our sofas. Remote control is changing

to cerebral control – if you think it, you can do it.

n By Alan R. Earls

The idea of linking humans

with the machines we have

created and to each other is

intriguing and far from new.

Today, many people carry a multitude

of electronic signatures and

interfaces. The smartphone is the

most obvious and most capable,

but credit cards also carry chips

with personal information and, with

the pandemic ongoing, the idea of

chipping vaccinated people is not

out of the realm of possibility – and

let's not forget our biometric signatures.

Despite their usefulness, all

of these require manual manipulation.

Maybe it's time to rethink the

processes by just thinking about the

process.

Science fiction has ridden the concept

of controlling things with the

power of the mind for years, notably

Firefox, a Clint Eastwood thriller involving

a thought-controlled fighter

jet. The reality of this has been

getting closer of late.

Facebook shared ideas about

thought-to-text capabilities in 2017,

shortly after entrepreneur Elon

Musk announced his plans to build

Neuralink, a firm promising to `wire'

brains in the future. Startups and

research projects are now emerging

across the globe and the key

to much of this future is the `brain

computer interface' (BCI).

Alexandre Gonfalonieri, an AI consultant

based in Switzerland and

head of innovation at DNA

12
---
13
---
Smart Business Title Story: Augmented Humanity

source ©: Ars Electronica Linz GmbH & Co KG

To Think it is to

Do it

Wacker Neuson

challenged visitors

to Ars Electronica in

Linz to operate its

heavy construction

equipment entirely

by eye movement

and thought control.

Your BCI could

detect that your

attention level is

too low or adapt

the lighting

based on how

stressed you are.

Alexandre Gonfalonieri

DNA Global Analytics

nual expo in Linz, Austria, that celebrates

advances in digitalisation,

Wacker Neuson, a British manufacturer

of heavy construction equipment,

challenged visitors to steer a

15-ton backhoe excavator entirely

by eye movement and brain power.

The company envisages applications

for this new technology in controlling

heavy machinery in tight or

hazardous environments where human

operators would be in danger.

Release the Beast

A lot comes down to definitions,

says Evan Coopersmith, executive

VP of data science at AE Studio, a

source ©: Medium

Global Analytics, recently wrote in

the Harvard Business Review, "The

development of BCI technology

was initially focused on helping paralysed

people control assistive devices

using their thoughts, but new

use cases are being identified all the

time. For example, BCIs can now be

used as a neuro-feedback training

tool to improve cognitive performance.

I expect to see a growing

number of professionals leveraging

BCI tools to improve their performance

at work. For example, your

BCI could detect that your attention

level is too low, compared with the

importance of a given meeting or

task, and trigger an alert. It could

also adapt the lighting of your office

based on how stressed you are or

prevent you from using your company

car if drowsiness is detected."

Imagine, Gonfalonieri says, if your

manager could know whether you

actually paid attention in your last

Zoom meeting. Imagine if you could

prepare your next presentation using

only your thoughts. Scenarios

like this might soon become a reality

thanks to developments in the field.

BCIs may even find their way into

such mundane tasks as steering an

excavator. At Ars Electronica, an ansoftware

development and data

science venture studio that conducts

projects for clients and also

funds its own BCI research. "Right

now, we think of BCI in terms of

something internal to a person

manifesting as external action,"

he says. Is a cochlear implant BCI?

Yes, says Coopersmith, though he

admits that others might disagree

with that assessment. A BCI could

also be a device that notifies the

brain of an oncoming seizure. "I

would say anything that is a neurological

interface that connects the

brain to the outside world, in either

direction, is BCI and I think those

boundaries will increasingly blur,"

he explains.

The work AE Studio is pursuing

is leading edge but without any

literal cutting edge involved. Coopersmith

says implanting devices

in someone's skull is not the name

of the game. Rather, he sees an

opportunity to make better use of

what can be learned from brain activity

to get to a much more powerful

kind of interface than is available

today.

"Our expertise is in software development

and machine learning,

and in understanding data,"

14
---
Invasive IoT

The Internet of Bodies

IoB Examples

source ©: RAND Corporation

Cochlear

implant

Electronic

tattoo

Self-lacing

shoes

Bluetoothconnected

diaper

Wearable baby

monitor

Depression headset

Augmented reality

contact lens

Wearable UV monitor

Pacemaker

Microchip implant

Smartphone with

health apps

Prosthetic

Temperature-sensing pacifier

Antidrowning monitor

Sleep-tracking onesie

Brain interfaces may be a future goal

but, here and now, WiFi devices are

increasingly becoming integral to

the delivery of quality healthcare.

Common devices such as sleep

trackers and heart monitors are a

reality but researchers at The Rand

Corporation, a think-tank, want to

take the link between humans and

machines a step further – literally.

Swallow and Collect

They imagine an era of the Internet

of Bodies: a range of devices that

can be implanted, swallowed or

worn in order to collect and transmit

data about our physical states

over the internet. The result will be a

huge amount of health-related data

that could improve human wellbeing

and prove crucial in fighting the

Covid-19 pandemic.

VivaLNK, a startup based in Silicon

Valley, for instance, has developed

smart thermometers marketed under

the brand name Fever Scout.

Unlike traditional thermometers,

which usually involve long tubes,

Intraocular lens

with camera

Internet-connected

glasses

Tooth-mounted

sensor

Electronic pill

Clothing with

temperature monitoring

Fertility measurement

device

Internet-connected

scale

Internet-connected

toilet

VivaLNK has created peel-and-stick

thermopatches that connect via a

smartphone app and have already

received Food and Drug Administration

(FDA) clearance in the US.

The company believes its product

is especially suitable for monitoring

child patients.

For health professionals, the Internet

of Bodies opens the gate to a

new era of effective monitoring and

treatment. In 2017, the US Federal

Drug Administration approved the

first use of digital pills in the United

States. Digital pills contain tiny, ingestible

sensors as well as medicine.

Once swallowed, the sensor is activated

in the patient's stomach and

transmits data to a smartphone or

other devices.

Meditation headset

Bluetooth-connected

hearing aid

Smart watch/

fitness tracker

Temperature bracelet

Artificial pancreas

Electronic health

records (EHRs)

Sleep-sensing

mattress

Not Just a Patch-over

VivaLnk, a Santa Clara-based

connected health startup, has

received FDA clearance for its

first device, a peel-and-stick

patch thermometer for children

called Fever Scout.

IoT Gets Physical

From AR contact lenses to artificial

pancreas and Bluetooth

connected diapers: No part of

the human body will remain

untouches by IoB technology,

says RAND.

Virtual Rehab

In 2018, Kaiser Permanente, a healthcare

provider in California, started a

virtual rehab programme for patients

recovering from heart attacks.

The patients shared their data with

their care providers through a smartwatch,

allowing for better monitoring

and a closer, more continuous

relationship between patient and

doctor. Thanks to this innovation,

the completion rate of the rehab

programme rose from less than 50

percent to 87 percent, accompanied

by a fall in the re-admission rate and

programme cost.

Scientists at The Rand Corporation

are studying the rapid growth of

this technology, as well as the broad

privacy and policy issues these developments

raise. In particular, they

are trying to assess the benefits and

risks, the regulatory picture, and

how best to balance risks and rewards

going forward.

source ©: Wareable Ltd

15
---
Smart Business Title Story: Augmented Humanity

Silent Speech

Close, but not Close

Enough (Yet)

source ©: Facebook

Giving AR and VR

a Hand

Sean Keller, Meta's

head of research,

is inventing soft,

lightweight haptic

gloves that can bring

full hand presence

into AR and VR.

Housed in its top-secret Skunkworks

tucked away in Building 8 on

Meta's campus in Menlo Park, Facebook

Reality Labs (FRL) worked on a

project to build a headset or headband

to allow people to send text

messages by thinking – tapping

them out at 100 words per minute.

Though last year Facebook decided

16

Touchie Feelie

To deliver a realistic

sense of touch, a haptic

glove needs hundreds of

actuators (tiny motors)

all over the hand, moving

in concert in a way that

makes the wearer feel

like they're touching a

virtual object.

Scientists from the

University of San

Francisco

working with Facebook

have developed a wearable

prototype that uses

near-infrared light to measure

blood oxygenation

in the brain and indirectly

measure brain activity in a

safe, non-invasive way.

source ©: Facebook

to put this 'silent speech' project on

the backburner for a while, Regina

Dugan, who was then head of the

Building 8 hardware division, remains

a believer. "It sounds impossible

but it's closer than you realise,"

she told Technology Review.

It now seems it was not quite close

source ©: Facebook

enough. In a blog post last April,

FRL research director Sean Keller

said the team was happy to say that

"for the first time, someone with

severe speech loss has been able to

type out what they wanted to say

almost instantly, simply by attempting

to speak". However, he added

that Facebook decided to transfer

its results to the broader neuroscience

community, effectively releasing

it into the wild where it will

continue its existence as an opensource

project.

"While we still believe in the longterm

potential of head-mounted

optical BCI technologies, we've

decided to focus our immediate efforts

on a different neural interface

approach that has a nearer-term

path to market: wrist-based devices

powered by electromyography,"

he explained. Electromyography

(EMG) is a technique for analysing

and recording the electrical activity

produced by skeletal muscles.

EMG can pick up and decode the

signals for hand and finger movements

at the wrist and translate

them into digital commands for a

device. In the near term, these signals

will let people communicate

with their devices with a degree of

control that's highly reliable, subtle,

personalisable and adaptable to

many situations. As this area of research

evolves, EMG-based neural

interfaces have the potential to dramatically

expand the bandwidth

with which we can communicate

with our devices, opening up the

possibility of things like high-speed

typing.
---
source ©: UPMC, Pitt Health Science

he says. No two brains are identical

and they can produce a broad

range of electrical responses. The

challenge, he believes, is understanding

how to interpret those

responses and fit that knowledge

into other evidence and, thereby,

enhance our means of interacting.

Coopersmith's other aspiration is

to see BCI developed by neutral

parties rather than big, for-profit

enterprises that may be tempted

to use what they learn to supercharge

their marketing. "The risk is

both for some upstart looking to

become the next Facebook/Meta,

as well as Meta itself attempting to

gain even more intimate access to

our thought patterns," he says. "We

see this [approach to BCI] as aligning

with the goals of a Web3 or Web

3.0 that is more decentralised than

what we have today."

For now, BCI is still mostly useful

for people who have some degree

of diminished agency, for example

those dealing with paralysis, but

here, too, targets are shifting. "We

don't know how we will define

agency in 20 to 50 years; we went

from a 12-second flight on a beach

[the Wright brothers, 1903) to landing

on the moon [1969], events

separated by just 66 years," Coopersmith

notes. "It is hubristic to

predict what BCI will do." Nonetheless,

it seems likely that human beings

will increasingly interact with

the world and each other through

the mediation of technology.

Pittsburgh's

RNEL

lab is investigating

the feasibility

of using

intracortical

microelectrode

arrays implanted

in motor cortex

for providing

high degree of

freedom control

of a robotic arm.

The pandemic

accelerated

our plans for

in-home testing

but this has

been a goal for

a long time.

Jennifer L. Collinger

University of Pittsburgh

Rehab Neural Engineering

Labs (RNEL)

The direction things are heading is

obvious. In May of this year, a team

of neural engineers at the University

of Pittsburgh's Rehab Neural

Engineering Labs (RNEL) published

a proof-of-principle for a bidirectional

BCI – a type of BCI that enables

not just data reading but also

provides feedback through data

writing abilities.

Taking Control

In other words, it enables patients

with paralysis to control a rosource

©: UPMC, Pitt Health Science

source ©: University of Pittsburgh, Rehab Neural Engineering Labs

17
---
Smart Business Title Story: Augmented Humanity

botic arm using their thoughts and

enables them to feel how hard the

arm is clutching an object. Study

participants were able to take control,

without assistance from the researchers,

to perform difficult tasks

from home.

Jennifer Collinger, the senior author

on this report, believes this proves

that BCI studies no longer need to

be restricted to an on-site lab. "The

pandemic accelerated our plans for

in-home testing but this has been a

goal for a long time," she explains.

"We need to get the technology

into real-world environments. We

just want study participants to be

able to do the things they want to

do with a BCI."

It's All in Your Head

BCI is in fact already an industry

segment of significant size. A recent

study, Brain Computer Interface

source ©: Next Reality, WonderHowTo

The new Reality

Qualcomm's latest

AR headset supports

seven cameras,

including two internal

cameras for eye

tracking and four external

cameras which

give the wearer the

capability of spatial

mapping.

Market Size, Share & Trends Analysis

Report by Grand View Research, an

Indian consultancy, says the global

brain-computer interface market

size was valued at $1.2 billion in

2019 and is anticipated to grow

at an annual rate of 15.5 percent

through 2027.

According to this report, braincomputer

interface technology is

increasingly used in mobile and

virtual gaming industries by integrating

BCI within virtual reality

(VR) headsets. Virtual gaming has

opened a plethora of new opportunities

for mind-controlled headsets

and gadgets, which is further

driving the adoption of brain-controlled

interface technology. Manufacturers

are increasingly focusing

Elon Musk in his Own Words

"A FitBit in Your Skull"

"Think of Neuralink like a FitBit in

your skull. Or an Apple Watch. So,

we take out part of the skull, we replace

that with the chip and the inductive

charger and the Bluetooth

antenna, and it's really quite, almost

literally, like a FitBit in your skull."

From an interview with Kara Swisher

of the New York Times

source ©: Wikipedia / Heisenberg

"I want to be clear, the early applications

will really just be for people

who have a serious brain injury, like,

where it's, like, the value of the implant

is just enormous."

From Cnet

"Neuralink will seek to solve a number

of neurological diseases. In

the next few years, we'll hopefully

18
---
on the development of BCI-enabled

video games. Grand View believes

innovations such as these, are likely

to drive the market for brain-controlled

computer interface technology

over the next few years.

International Data Corporation

(IDC) is taking a wider view of the

market, one that includes technologies

such as augmented and virtual

reality (AR/VR), biometrics, exoskeletons,

affective computing, ingestibles,

injectables, implantables,

wearables, and smart devices, as

well as brain-computer interfaces.

The research firm predicts that the

Apple's Private Eyes

The much-rumored Apple

Glasses won't be on the

market until 2023. But

details have leaked out. A

new Apple patent mentions

"privacy eyewear" that aim

to stop people snooping on

your iPhone's display.

source ©: Martin Hajek / iDrop News

European segment of this augmented

humanity (AH) market will reach

over $50 billion by the start of 2022

and more than $100 billion by 2025.

Augmented humanity removes

accessibility barriers that limit humans

from performing their daily

tasks, according to IDC. AH aims to

empower people by developing

data-driven, tech-based, innovative

solutions to enable them to

perform at levels they could not

achieve before.

IDC's The Future of Augmented Humanity

in Europe: 2020–2025 Forecast

estimates that investments in

AH technologies will surge as both

people and corporations invest

in tech to improve their quality of

life and achieve enhanced ways of

working.

Consumer needs change fast but

streamlining and automating domestic

and routine tasks rebe

able to help someone who is a

paraplegic walk again, or someone

whose arms are paralyzed use a

computer again. We hope to have

our first human trials in the next six

months or so."

From TechWeek Italia

"I think you would, in principle, you

would be able to communicate very

quickly and with far more precision

language, I'm not sure what would

happen to language but in a situation

like this though, it'd be kind of

like the matrix. You want to speak

a different language, no problem.

just download the program."

From Designboom

"The technology being developed

by Neuralink will allow us to integrate

with computers to access and

process information just as well as

our AI counterparts. Essentially, our

brains will have our very own AI in

a cloud that our brains can synthesize

with as needed. We already

source ©: Neuralink

interface with our computers on a

regular basis, so the jump from an

external device to an internal one

would be a natural progression."

From Teslarati

"With the direct neural interface,

we can improve the bandwidth

between your cortex and your digital

tertiary layer by many orders of

Doing by Thinking

Thanks to its latest

brain implant, Neuralink

has enabled

a monkey to play

video games through

thought control.

magnitude. I'd say probably at

least 1,000 or maybe 10,000 or

more. And we could also spend

a lot more time thinking about

interesting things, as opposed to

taking complex thought structures,

compressing them down

into words which will also gain

a very low bitrate and then having

someone else receive those

words, decompress them and

then send words back at you."

From Clubhouse

"The output of the human brain.

This is excruciatingly slow, compared

to, for example, the high

bandwidth of the visual interface

with the brain – the eyes

of people. In other words: data

comes in quickly, but to talk or

type? That process is really slow.

His idea is to capture thoughts

and convert them into text or

movement. Then the humanity

would communicate a lot more

efficiently."

From superhumantalks

19
---
Smart Business Title Story: Augmented Humanity

VR

Allows the user

to see and hear what

the avatar sees

Gloves

with electrical contacts

at the base of the f

ingers and electrodes

between fingers

Face Projection

Images of the face are

important for the

colleagues experience

Surface EMG

Electrodes

For recording heart rate

and skin moisture

source ©: Human Fusions Institute, Case Western Reserve University

IMUs

Inertial measurement

units

embedded in the

shirt to record

arm movement

Electrode

Mesh

This mesh will

cover muscles of the

arm and chest

Network

Mimicked

Movement

Positional feedback

from the user

Touch

Images of the face are

important for the

colleagues experience

SENSA

The SENSA skeleton

is based on the

RE2 HDMS arms

mains a priority, according to the

report. In fact, investments in smart

devices and wearables will remain

high and will drive a significant

share of the overall AH market.

At the same time, businesses are

searching for tech-based ways to

drive innovation and achieve relevant

key performance indicators

(KPIs), such as lowered costs, increased

productivity and improved

safety. Integration is key and IDC

predicts that in the future we will

see strong investments in integrated

technologies such as Apple's AR

glasses set to launch in 2023.

A Human Need

"For as long as I can remember, I

wanted to be in medicine. I thought

about going into surgery, growing

up, but I love science and math,"

says Dustin Tyler, director of the

Human Fusions Institute at Case

Western Reserve University (CWRU)

in Cleveland, Ohio. His path took an

evolutionary twist when he was in

high school in the early 1980s and

purchased an Atari 800XL, one of

the first personal computers. "That

explains why I didn't get married

until I was in my 30s," he quips.

His love of computers, even in their

Working Together

By directly connecting

the human experience to

the Avatar's experience,

the human and the

robotic system become

symbiotically linked.

The human experiences

the world of the robot.

The robot becomes the

extension of the human

and the human intelligence.

We can learn

from both

Turing and

Minsky.

Dustin Tyler

Human Fusions

Institute Case

Western Reserve

University

primitive form, and trying to understand

how to get them to do what

he wanted reconnected him to his

biological interests and the question

of how our brains control our

bodies.

"The brain obviously is fascinating

and the duality between brain and

computer has been very interesting

to me," Tyler says. In the past,

Alan Turing said we created computers

to serve us but then Marvin

Minsky came along and said that

these machines actually do things

like humans. That perception has

led to some people thinking that AI

is replacing the brain, he observes.

source ©: Bunny Island GmbH

"We can learn from both Turing and

Minsky," he concludes.

While happy to quote theoreticians,

Tyler is very much results-oriented.

A project he directed allowed a

student at CWRU to touch, feel and

hold a banana that was 2,300 miles

away at the University of California,

Los Angeles (UCLA). It was more

than just a scientific stunt because

it demonstrated the possibility of

placing a prosthesis somewhere

in the world and via 'neural reality'

someone can literally feel identical

sensations remotely. Of more

immediate consequence, his team

provided the sensation of physical

touch to a prosthesis so an amputee

could safely pick up his granddaughter

or effectively slice a tomato.

The Human Fusions Institute team

is also aiming to win some, or all,

of the Avatar XPrize, a contest

sponsored by Japan's All Nippon

Airways, which is focused on the

development of an avatar system

that will transport a human's sense,

actions and presence to a remote

location in real time, leading to a

more connected world.

Pursuing similar goals is Raviraj

Nataraj at the Stevens Institute of

20
---
source ©: Stevens Institute of Technology

Technology in Hoboken, New Jersey.

His laboratory is creating instrumented

wearables and virtual

reality environments to leverage

sensory feedback and cognitive

factors for training better movement

functions. Clinical solutions

are being developed for people

with neurotraumas, including spinal

cord injury, stroke, traumatic

brain injury and amputation. Restorative

devices of interest include

sensorimotor prostheses and powered

exoskeletons.

Nataraj explains that the challenge

is to command and control prosthetics

more naturally, through biological

signals. Until now that has

been accomplished through muscle

movement but it could also be

done with the brain. "We currently

take measurements at the brain but

more to see how people respond to

the training we are providing," he

says. That effort is especially crucial

for people dealing with severe motor

disabilities, for whom signaling

through muscles is problematic.

"The principles have been established

but now it is about how to do

it better so we can have an actual

impact at the clinical level," says Nataraj.

Cost is also an issue, he admits

because specialised, sophisticated

products typically carry a high price

tag.

Gaming the World

Cost associated with new, experimental

technology has often been

addressed by finding a larger-scale

market to drive prices down. While

serious and critical needs in human

wellness and the military are top

targets for BCI, a surprising level of

interest has also materialised in the

'fun' segments such as gaming.

The dream here is to create total

immersion into a game world

by linking the gamer's cognitive

The principles

have been

established

but now it's

about how to

do it better.

Raviraj Nataraj

Stevens Institute

of Technology

A Step Ahead

Researchers have

created a powered,

individualized orthosis

that can automatically

adapt the level

of response, but their

goal is to eventually

get rid of the robot and

walk normally without

the exoskeleton.

perceptions directly to the virtual

environment and allowing direct

control through thought processes.

This dream, at least, is now close to

fruition. Two years ago, computer

scientists at the Graz Technical University

in Austria showcased versions

of such simple, but popular,

video console games as Pong and

Pacman. Users could control the

games through an array of sensors

attached to a close-fitting cap.

Last April, the team managed to

implant a device containing 1,024

electrodes directly into the motorcortex

of a monkey's brain – the region

of the cerebral cortex involved

in the planning, control and execution

of voluntary movements. The

animal was taught to play Pong

with a joystick and subsequently

learned to control the game by

brainwaves alone.

Gary Yamamoto, CEO of Finch

Technologies, which focuses on

VR and AR technologies, asks, "Today's

human-machine interfaces

are woefully behind new advances

in technology. What is the purpose

of all these new, incredible technologies

if there aren't intuitive and

natural ways for people to interact

with them?"

Finch is looking at how AR and VR

applications can include all current

human-machine interfaces (HMIs),

including BCI, computer vision,

voice solutions, inertial measurement

units (IMU) for finger and

hand tracking, eye tracking

source ©: Stevens Institute of Technology

21
---
Smart Business Title Story: Augmented Humanity

source ©: Finch Technologies Ltd

Pointing the Way

The FinchRing is a new kind of wearable

that enables hands-free gesture control

for AV and VR mixed reality.

source ©: Finch Technologies Ltd

and more. Finch's fusion integrates

third-party technologies with its

own products to move HMI experiences

to the next level and accelerate

the realisation of the Metaverse.

"If we don't do enough to evolve

human-machine interfaces with

this technology, I fear they may

never reach their full mass-market

potential," Yamamoto warns. Despite

this, he maintains the company

believes that "sooner than

most expect" we will see a basic

BCI, fused with more conventional

inputs, deliver a broader and more

immersive sensory VR/AR user experience.

Sooner than

most expect,

we will see

a basic BCI.

Gary Yamamoto

Finch Technologies

Technology

will help

humans

elevate their

skills.

Andrea Minonne

IDC Augmented

Humanity Launchpad

source ©: IDC UK Blog

Most significantly in the case of

Musk, the ambition comes with

real misgivings about the growing

power of artificial intelligence and

machine learning and its potential

to at least sideline, if not in fact conquer,

humans. His Neuralink company,

which is working to develop

what it calls a brain-machine interface,

is about levelling that playing

field and giving humans abilities

that will help them compete better

on a planet with billions of connected

things, a growing number

of which are also intelligent.

If anyone is looking for another

reason to pay attention, they can

adopt the IDC view, articulated by

Andrea Minonne, senior research

analyst and co-lead of the Augmented

Humanity Launchpad at

the firm's UK offices: "Augmented

humanity is the advocate of cultural

change across the commercial

and consumer segments," he says.

"Promoting an AH-oriented culture

and complementing human skills

with technology will help humans

elevate their skills, automate business

processes or domestic chores,

unlock new capabilities, bring disruption,

promote workforce transformation,

and enable humanised

customer experiences."

Could much the same be said for

BCI itself?

Navigating the Metaverse

Human-machine interfaces

(HMIs) could empower users to

compete with technology in an

interconnected world.

What's the Point?

While Finch focuses on fun and the

researchers at CWRU and at Stevens

Institute are keen on restoring capabilities

to those with disabilities,

other visionaries, such as billionaire

Musk, are aiming even higher and

have suggested a future in which

our thoughts and desires are also

communicable and actionable

through technology.

22
---
RENESAS WINNING COMBINATIONS

Combine to Design Faster

The unbeatable combination of Renesas + Dialog delivers comprehensive reference

design solutions from our system architects and FAEs.

These compelling product combinations are starting points to accelerate

designs and get to market faster.

Visit renesas.com/win for all the details on 250+ solutions

to jumpstart your next design today

© 2022 Renesas Electronics America Inc. (REA). All rights reserved. All trademarks are the property of their respective owners.
---
Smart Business Metaverse

Metaverse

No Time for

Fun and Games

For years, the great virtual reality (VR) breakthrough has been expected

but it looks as though it didn't even happen during the pandemic – at least,

not in the private sector. But the technology is becoming

a great success within many industrial companies.

n By Rainer Claaßen

24
---
Whether it's Sony PlayStation

VR, Google Glass

or cardboard mounts

that can turn any

smartphone into a virtual reality (VR)

machine, none of these products has

brought the promised commercial

breakthrough. In fact, some products

appear to have stalled completely.

Though one might conclude from

this that the high hopes many had

in these technologies have been

dashed, it isn't necessarily so, because

new technologies often reach

the mainstream in unexpected ways.

The pandemic has wrought a change

and VR is finding new applications in

business. No longer restricted to a

few lighthouse projects from huge

companies, the technology has become

more versatile, less expensive

and much easier to access and many

companies have started using VR

and will expand its uses in the years

to come.

In a virtual reality simulation, users

move around in an artificial world,

largely disconnected from reality,

with the help of technical tools. The

immersion is most convincing when

VR headsets are used. They are not

absolutely necessary, because a lot

of content can also be played back

on a smartphone or tablet. These

viewers become a window into an

artificial world. Virtual reality differs

from augmented reality (AR) where

additional information or media is

blended with a real-world, camerasourced

image.

Artificial Worlds

There are two basic ways in which VR

experiences can be produced: by developing

a virtual world in software

from scratch or photographically.

Programming an environment can

be time consuming and expensive

but taking photos and videos that

capture an all-round view offers a

quicker and easier solution. Cameras

like the Ricoh Theta or the Insta 360

are available for just a few hundred

euros, deliver surprisingly good

quality and are almost as easy to operate

as conventional cameras.

A typical application scenario is in in-

source ©: De:central Days

Playing it Serious

It's no secret that many professional soccer players

are also keen users of game consoles. They are

using VR technology to get better training and many

premier league clubs are choosing tools from sports

technology company Rezzil.

Rezzil's system allows professional players to hone

different skills, especially headers. Heading a ball is

a health risk, so it is often avoided in training. Being

dustrial workplaces where complex

processes need to be permanently

in operation. Until now, they have

usually been shut down, or run at

reduced speed, to train new employees.

The time spent on this familiarisation

can be drastically reduced

with the help of VR.

Companies can

now create VR

applications very

quickly without

the need for

external support.

Sara Boss

Head of Sales at VRdirect

able to practice without any danger gives teams a

big advantage on match day.

In addition, with full-body tracking and methods to

analyse cognitive characteristics, like scanning, decision

making and pressure coping, the technology

helps to improve their general gameplay. It can also

be useful in injury rehabilitation when training on the

field is not possible.

Virtual Training

VR technology can help

professional soccer

players hone their skills,

for instance headers,

without risk of injury.

Sara Boss, head of sales at VRdirect,

explains, "Without having to spend

a large budget on it, companies can

now create VR applications themselves

very quickly and without the

need for external support. This option

is often used for training purposes

in particular."

The background for the experience

is a video or photo shot from the

perspective of an employee at the

workspace. A trainee can use this to

get an overview of the entire environment

without having to actually

enter the workplace.

"The ability to give people an authentic

impression of a workplace

without much effort is already enormously

helpful. This effect is further

enhanced by the inclusion of additional

media content," says Boss.

VRDirect offers a platform through

which companies can access the

virtual infrastructure. Any file

25

source ©: Rezzil, Google LLC
---
Smart Business Metaverse

photo ©: Amazon.com

photo ©: BNP Paribas

Meta What?

It seems like everybody is

talking about the metaverse as

the next big thing that's going

to revolutionise our online lives.

But everyone seems to have

their own idea of what the

metaverse is.

The term originated in the

cyberpunk novel Snow Crash

by Neal Stephenson in 1992. In

it, everyone in the world shares

an 'imaginary place' made

available to the public over a

worldwide fiber-optic network

and projected through virtual

reality goggles.

Online communities have existed since at least the mid-1980s but the

metaverse could bring a whole new dimension. Imagine it as being a

virtual world which incorporates augmented reality, virtual reality, 3D

holographic avatars, video and other media. As the metaverse expands,

it will offer a hyper-real alternative world in which people coexist.

Fans of the metaverse envision its users working, playing and staying

connected with friends through everything from online concerts and

conferences to virtual trips around the world.

Interest in pure digital ownership – and the technology that proponents

believe can ensure the security of persistent virtual experiences – has

spiked dramatically, with non-fungible tokens (NFTs) and cryptocurrencies

making the headlines. Virtual productivity platforms are growing,

too, with Facebook and Microsoft announcing new ways to collaborate

online. Nike is even preparing to sell virtual sneakers and has filed

patents to this effect.

In a recent interview with Time magazine, John Egan, CEO of L'Atelier

BNP Paribas, said, "This metaverse

concept gives us the opportunity

to create any universe

that we've ever imagined."

For now, spending any part of

a workday in the metaverse still

seems like a far-off dream for

most of the global workforce,

with many remaining unconvinced.

For them, the memories

John Egan

CEO of L'Atelier BNP Paribas of the first virtual world, Second

Life, may still be too fresh.

Second Life is a real-time, immersive social space for people to interact

through anonymous avatars. Launched by Linden Labs in 1999, in its

heyday it boasted a currency of its own, Linden Dollars, and largely

financed itself through the sale of rentals for virtual properties and the

income from premium memberships. In 2013, the system had around

36 million registered user accounts but a series of scandals, including

the rape of virtual children, caused user numbers to plummet and

Second Life is now often derisively referred to as the "avatar graveyard".

26

that can be included in a PowerPoint

presentation can also be integrated

into the VR environment. For example,

graphics or videos can be used

to clearly show the necessary work

steps. Artificial worlds can also be

generated by importing computeraided

design (CAD) plans instead

of real-world images. Rather than

redrawing the 3D environment, the

relevant data is often available from

the original manufacturers and architects.

Thanks to standardised

interfaces, more companies are finding

it easier to go down this route.

Choose Your Reality

Until recently, high-performance

computers connected to playback

devices were needed to display vivid

VR experiences. Now, several manu-

Windows to the

Virtual World

Several manufacturers

offer standalone

products through

which VR experiences

can be played

back with excellent

quality.

facturers offer standalone products

through which VR experiences can

be played back with excellent quality.

Besides the Oculus headset from

Facebook, HTC's Vive and Pico's visor

are particularly worth mentioning

here. All of them offer technically

mature and well-equipped devices

for just a few hundred euros – and

there are specially tailored packages

for companies.

Companies are benefiting from VR in

a variety of ways. Automotive giant

BMW, for example, used the technology

to let customers participate in a

Virtual Showrooms

Automakers are using VR to

allow customers to participate

in live events without leaving

their homes or offices.

source ©: Actualités télécoms et high-tech, Amazon.de, Pico Interactive

source ©: BMW AG, BMW M GmbH
---
joint event at the BMW i Motorsport

Virtual Garage Experience. Regardless

of pandemic constraints, attendance

through the use of Pico VR

headsets deeply impressed the virtual

delegates.

VR has also enabled telecom company

Orange Polska to train over

1,000 employees. The average learning

time decreased from four hours

to 45 minutes and effectiveness

increased. Almost 70 percent of the

trainees now think that traditional

teaching should be replaced by VR

training in the future.

Shortly before Mark Zuckerberg announced

a bright future for VR and

renamed his company Meta, Facebook's

consumer-market Oculus

headsets also expanded into the

business arena. Its Horizon Workrooms

app has been designed to let

people work together in the same

virtual room from anywhere in the

world.

One particularly impressive use case

comes from BSH Hausgeräte, a joint

home appliance and digital services

venture between Bosch, Siemens

and Neff, which has integrated

We can now

experience the

use of tools with

colleagues from

different factories

virtually.

Juan Luis Cihuelo

BSH coordinator

source ©: BSH Hausgeräte GmbH

Zuckerberg is betting big on virtual reality

To the Metaverse

and Beyond n By Eric Doyle

Mark Zuckerberg plans to help

build the 'metaverse', an ambitious

three-dimensional world that will

merge real life with a virtual reality

existence in an unlimited universe

of playgrounds. He predicts that the

metaverse will supplant the internet

with the bold promise that "you're

going to be able to do almost anything

you can imagine".

As CEO of the company, he announced

last October that Facebook,

the umbrella company that includes

the social media giant alongside

Instagram and WhatsApp, will be

renamed Meta to underscore the

importance of the initiative. During

the presentation, he outlined some

of the experiences that users will be

able to enjoy: competing against holograms

of Olympic athletes or going

to virtual concerts with your friends.

In the business world, there will be

mixed-reality meetings where some

participants are physically present

while others beam in from the metaverse

as avatars, cartoon-like images

of themselves.

You're going to

be able to do

almost everything

you can

imagine.

Mark Zuckerberg

CEO of Meta/Facebook

source ©: Facebook / Mark Zuckerberg

The metaverse is no more than a

concept at the moment and potential

partners like Meta, Microsoft,

Apple and Nvidia have yet to discuss

plumbing issues, such as technical

standards and, further down the

line, how much compute power will

be required and its environmental

impact. There are also moral issues

to be considered in the light of the

recent Facebook Papers revelations

about the company's apparent reluctance

to take action against bullying

and misinformation on its current

platform.

It may be some time before the metaverse

virtually becomes a reality. In

the meantime, the press is likely to

be overpopulated with articles discussing

its possibilities and benefits,

its limitations and negative impacts.

That it will happen in some form or

other is beyond question because the

3D virtual world is too attractive and a

future reality akin to USS Enterprise's

Holodeck in Star Trek is beguiling.

27
---
Smart Business Metaverse

Interview

source ©: Advantech Service-IoT GmbH

Intuitive Experience

An interview with June Hsieh, senior

B2B sales manager at HTC Vive,

about the impact of VR in business

environments.

VR makes

training larger

groups during

the pandemic

much easier.

June Hsieh

HTC Vive

Do you have the impression that

VR technology in companies received

a boost from the pandemic?

Companies like VW have been using

VR in training since 2016. In an

environment where production

processes are constantly being optimised,

it is extremely difficult to

teach employees new procedures

under pandemic conditions. Training

larger groups is, after all, hardly

possible in the company. VR applications

make this much easier. In

our case, the significant increase in

sales of the goggles already shows

that companies are using the technology

intensively.

Are there any areas where VR

works particularly well?

Many customers use VR technology

for training and to familiarise

new employees – but there's also a

lot happening in the planning area.

Service providers such as Halocline

make it easier for companies that

have no previous experience in this

area to get started.

Isn't learning to use headsets and

the programming process very

time-consuming both for companies

and employees?

Over time, the application has become

quite intuitive. Of course, you

need some time to get used to the

VR experience but those who get

into it quickly, soon get to grips

with it. Producing VR content has

also become much easier lately.

Many newcomers are surprised at

how easy integration has become.

virtual reality as a commonly used

tool throughout its factories. VR has

allowed BSH to reduce the time and

costs for developing new production

lines by accelerating the engineering

processes.

"Finding ourselves in the same virtual

room with suppliers, colleagues

and the production machines, we

are able to review and release new

designs, " explains Juan Luis Cihuelo,

BSH coordinator in the Zaragoza

plant in Spain.

Staying Healthy

During lockdown, the technology

also helped to safeguard the health

of staff while keeping production

lines running. "We could experience

the material supply and the use of

tools with colleagues from different

factories virtually," he adds. This

large utilisation of VR tools required

less effort than previous projects.

"In the past, we were focused on

highly sophisticated and expensive

IT tools for digital factory planning

and the specialists required to use

these tools, like VR Caves," says Ralf

Just Another Day

at the Office

VR will become part

of everyday life in the

business environment

much sooner than

in private life, some

experts predict.

Nagel, product owner for the Industry

4.0 digital factory at BSH. A Cave,

which stands for a Cave Automatic

Virtual Environment, is an immersive

VR environment where projectors

are directed at between three and

six of the walls of a room-sized cube.

"However, to be successful in digitalisation,"

he continues, "it is necessary

to focus on the people, the

cultural change and the scalability

of the solutions. For us, this means

that every engineer worldwide can

use VR technology for planning and

engineering in daily work and benefit

from its integration into our digital

factory backbone and the global

digital collaboration."

There is an increasing number of

indicators that VR technologies will

become part of everyday life in the

business environment more quickly

than in private life. It makes work

easier, saves money and creates new

opportunities for collaboration. It

also helps people across continents

to work together more efficiently

and more quickly.

source ©: Meta

28
---
E-Mobility

think again about

vehicle ownership

The wholesale electrification of

transportation systems will be a

key element of ongoing efforts

to reduce carbon emissions and

tackle the climate change challenges that

our society is now facing. It will also be

pivotal in addressing the air pollution issues

that are currently being experienced in densely

populated urban areas.

Electric vehicle (EV) sales have reached new

heights over the course of the last 18 months, with

EU data showing that they now represent approximately

11% of all new car registrations. It is clear that

the numbers are going to increase still further in the

coming years, with the EU's target for EVs to constitute

well over half of vehicle registrations in member

states by the end of this decade. Likewise, major investment

in rail networks has resulted in a migration

away from diesel-based trains to ones that rely on

electrical propulsion - with clear environmental and

public health benefits consequently being derived.

The deployment of extensive charging stations is

essential if continued uptake of EVs is going to be

encouraged - and this will be an integral part of

many of the smart city projects that are currently

being planned across Europe. Much of the earlier

equipment that had initially been used is now in the

process of being replaced by higher voltage rapid

chargers. These will offer greater convenience to

vehicle drivers, as the recharge times supported are

cut from several hours to less than 30 minutes, closer

to the length of a fuel-pump visit. At the same time,

high-power wallbox charging units are starting to

be installed within the residential environment.

Raising the voltage levels of EV powertrains will be

another important step in driving more widespread

EVs are the

fastest growing

subsegment in

the automotive

IC market.

Gilles Beltran

President Avnet Silica

adoption of these vehicles. This will

mean that efficiency figures can be

boosted and their overall weight reduced.

The key benefit of all this will

be that far longer distances may be

covered between recharges, giving the

public greater confidence that buying an

EV is the right decision.

The EV era may also lead to established views

on vehicle ownership, which have remained the

same for over a century, being re-evaluated. Instead

of simply buying cars, mobility-as-a-service business

models might start to be explored. Connection of

EVs to the electrical distribution network will also

present homeowners with financial incentives to

participate in grid-balancing activities.

This large-scale transport electrification is bringing

unprecedented demands for semiconductor components.

EVs are the fastest growing subsegment

in the automotive IC market, increasing by approximately

68 percent during 2021 with a further 25 percent

growth expected in 2022 * . EV powertrains and

rail infrastructure will require access to advanced

semiconductor technology, including the latest

wide bandgap discretes. As well as state-of-the-art

power devices, commercial fast charging stations

will mandate next generation data connectivity and

superior security solutions. Robust and responsive

supply chains must therefore be in place, so as to

ensure that shipment schedules can be maintained.

The engineering team at Avnet Silica has a deep

understanding of the dynamics involved in transport

electrification and their logistical implications.

This means that our operations are fully prepared to

ramp up in procurement activity that is on the horizon.

* Avnet TAM analysis

29
---
Smart Business IoT & Regulation

IoT & Regulation

The Future of IoT

The Internet of Things (IoT) is poised

to disrupt and transform many

industries. While IoT is still in its

infancy, businesses are already

experiencing improved operational

efficiencies, productivity growth,

cost reductions and new revenue

generation opportunities. These

gains are likely to increase and scale

across the economy as IoT technological

maturity and adoption increaes.

n By Gordon Feller*

Emerging technologies, such as

IoT, can take ten or more years

to reach market saturation

from incubation. The US federal

government stimulates this journey

through targeted investments

in research and development (R&D)

and technology transfer as part of its

Lab-to-Market process. In 2020, the

US government invested $140 billion

in a broad range of federally-funded

R&D programmes, including emerging

technologies. Approximately

$50 billion of this total was directed

towards nearly 300 government

owned, government operated laboratories

across the country. Some of

these investments will likely yield

extraordinary, long‐term, economic

impacts when they are transferred

to and used by industry.

IoT is now ranked as strategically

important by each of the major

US federal agencies that focus on

increasing competitiveness, economic

prosperity, and national

security.

For IoT to realise its potential and

achieve these benefits, a robust

and secure technology infrastructure

is required. This requires addressing

two fundamental questions

to ensure that resources are

effectively allocated:

• Where are the technology infrastructure

gaps that prevent IoT

technologies from being more

widely adopted?

• Where should the US federal

government be directing resources

and investments to

close these gaps?

30

*Gordon Feller has been reporting on emerging tech trends for over 40 years. He served as Global Fellow at the Smithsonian Institution

and founded the non-profit Meeting of the Minds. He's been awarded several fellowships, including the Abe Fellowship.
---
NIST Steps Up

The National Institute of Standards

and Technology (NIST) is a nonregulatory

agency within the US

Department of Commerce. Its role

is to promote technology innovation,

competitiveness and the

commercialisation of federallysponsored

research across all government

agencies. NIST is central

to the Lab-to-Market efforts, serving

as the coordinator of the President's

Management Agenda Cross

Agency Priority Goal 14 (Lab-to-

Market) and co-chairing a National

Science and Technology Council

(NSTC).

"Given the strategic importance of

IoT, and in support of the Lab-to-

Market initiative, NIST felt that it

needed to better understand the

source ©: National Science Foundation

NIST wants to

better understand

the current

state of IoT

research efforts.

Sethuraman

Panchanathan

Director of National Science

Foundation

current state of IoT research efforts,"

says Sethuraman Panchanathan,

Director of National Science

Foundation and co-chair of NTSC's

Committee on Science and Technology

Enterprise. To answer the

two fundamental questions, he

says, NIST has funded a research

grant aimed at four key goals:

• To better understand the current

state of IoT research efforts.

• To assess the top technology infrastructure

gaps.

• To quantify the benefits of closing

those gaps.

• To identify where future federal

research investments should be

made, whether it be in targeted

research investments, stimulating

private sector investment

incentives, or other methods.

This new in-depth analysis is already

helping NIST to address

some of the pressing IoT-related

challenges by becoming better

informed about the necessary

31
---
Smart Business IoT & Regulation

steps, future programmes, and the

smart initiatives and investments

which can support long-term economic

outcomes.

A California-based company,

Strategy of Things, was awarded

the NIST grant to conduct this research

study. The research team

is examining IoT opportunities in

ten key industries, which together

represent a significant portion of

the US economy:

Agriculture

Construction

Energy/Utilities

Financial Services

Healthcare

Manufacturing

Retail

Public Sector

• Telecommunications

Transport

Benson Chan, a senior partner

at Strategy of Things, serves on

the team of experts, assisted by a

network of partners from government

and the private sector, to ensure

that the research project truly

assists key leaders.

The government

wants to work

on gaps in the

technology

infrastructure.

Benson Chan

senior partner at

Strategy of Things

Step by Step to IoT

Initial findings from NIST

predict that the evolution

of IoT will occur in

four distinct phases,

each building on the

infrastructure, capabilities,

solution maturity

and market adoption of

the previous one.

Chan argues that "IoT technologies

bring enormous disruptive

and beneficial impacts to national

security, economic prosperity,

human safety and well-being.

But a number of technology infrastructure

barriers stand in the

way". Because of this, he concludes

that "while a number of

established and start-up companies

are developing IoT solutions,

the federal government

source ©: Benson Chan / Private Photo

wants to work on the technology

infrastructure gaps that industry

is looking at. These include those

that are not yet market ready, as

well as those that no one company

has the interest or resources

to develop."

IoT's Development Phases

While the research is ongoing and

won't be completed until early

2022, initial findings predict that

the evolution of IoT will occur

in four distinct phases (see Figure

One). Each successive stage

builds on the infrastructure, capabilities,

solution maturity and

market adoption of the previous

one.

Today's best-of-breed IoT applications

are largely point solutions

that address operational

inefficiencies and productivity.

As underlying technologies mature

and as customer acceptance

grows, future IoT applications are

becoming increasingly more sophisticated.

They are being tightly

integrated with operations and

The IoT Journey: Operational Efficiency

Full Autonomy

Sensorization

Connected Devices

Vendor Ecosystems

Sensor / Actuator Densif ication

Massively connected devices and system of systems

Industry and extended ecosystems

Analytics / Machine Learning

Artificial Intelligence

Ambient Intelligence

Ubiquitous connectivity and computing

New Business and Operation Models

Policies and regulations

Secure and Private

Trusted

Ethical

source ©: Strategy of Things

32
---
The IoT Journey: Operational Efficiency

Full Autonomy

Edge Devices and Gateways – Processing capability, power efficiency, power management

Distributed architectures – edge, mobile edge, cloud; interoperable system of systems

Artifical and ambient Intelligence – autonomous intelligence, distributed collaborative

intelligence

Trust Architectures and Models (security, privacy, distributed ledger technology)

Communications and networks at scale

(stability, availability, reliability, context and date aware, etc.)

Data Models, Marketplaces, Ecosystems

Ethical algorithms and governance

Interoperability and standards

source ©: Strategy of Things

information technology systems,

and with each other. In short,

these future IoT applications will

become part of a larger, automated

system of systems. The

emerging solutions are focused

on enabling fully-automated operations

across industry ecosystems

and they promise to yield

transformative benefits that can

only be envisioned today.

The drivers of IoT evolution do

differ at each stage of the evolutionary

process. For instance, today's

IoT applications use a small

number of sensors. The data collected

from these sensors is aggregated

and analysed largely

through machine learning. IoT

vendors expand the functionality

and utility of their solutions by

building and operating their own

ecosystems to create an end-toend

system.

IoT evolution is being driven by

technological advancements, interoperability

across industries,

government policies and regulations,

and scale. Ten sensors in a

factory today will soon become

tens or hundreds of thousands.

In these upcoming systems of

systems, machine learning will be

replaced by ambient intelligence,

where all devices can interact with

each other autonomously and intelligently.

With this integration,

cybersecurity evolves to a broader

concept of trust which encompasses

not only the integrity of

the data, the connections and the

devices but also the decisions, the

reliability and availability, and the

equity of the outcomes.

To facilitate the future state of IoT,

the research has identified some

potential areas of technological

research investment (see Figure

Two). These were identified based

on a study of the IoT accelerators

shown in Figure One. While there

is some research on these topics

today, it is largely done independently

in a few areas. A broader

and more coordinated research

agenda is required to accelerate

the maturity and adoption of IoT

within the US.

Where to Invest?

To enable the future

state of IoT, research

from NIST has highlighted

a number of

potential key areas

for future technology

research investment.

IoT is a disruptive and transformational

emerging technology. For it to

realise its full potential, governments

must understand the substantial

economic, strategic and national security

implications of IoT better. The

significance of IoT's development is

too important to be left to organic

evolution or to chance alone. The

US federal government, through

its R&D investments and policy development,

needs to play a critical

role in accelerating the maturity and

adoption of IoT. The wide-ranging

study process, as convened by NIST

and as implemented by Strategy of

Things, is already helping to bring

key stakeholders together.

Next Steps

The next stage of this effort is being

focused on offering a portfolio

of opportunities for action. These

moves can not only be taken by

any one of a myriad of government

agencies but also by a growing

network of committed technology

partners: private companies, universities,

foundations, associations.

33
---
Smart Business Interview: Lou Lutostanski

source ©: Avnet Silica

Why should someone look to a

distributor like Avnet for information

about IoT?

Throughout our history, Avnet has

been the provider of enabling technologies

for OEMs of electronic

devices. Supporting the Internet

of Things is a natural progression

of our business, and we are positioned

to support this transformation

of delivering insights through

connected devices. We recognise

that our OEM customers who build

"The Things" in "IoT" (the Internet

of Things") will face significant skill

and resource challenges as market

demands are requiring them to add

cloud-based features and connected

experiences to their traditional

products. IoT implementations are

complex and span many different

disciplines that require a significant

number of software skills that were

not needed in the past. Recognising

this gap, Avnet has invested

significant resources in acquiring

and developing IoT Software capabilities

that can help our OEM

customers create these connected

experiences using the principles of

We're trying

to build

security

options into

IoTConnect,

so implementing

the

desired level

of security is

as easy as

checking a

box to order

fries with

your burger.

Lou Lutostanski

Vice President for IoT

at Avnet

IoT. We are prepared to support IoT,

and over the past three years, we

have built a solid practice and added

over 700 IoT and Cloud software

developers to an already significant

number of hardware engineers.

And we will continue to evolve so

that we maintain our position as a

significant technology enablement

partner to our customers.

Seems to me that every time

someone does a new IoT project

they reinvent the wheel. Is that really

necessary?

No, it is not. While there will always

be some level of customisation in

bespoke IoT applications, many

companies continue to spend the

majority of their time and money

building and maintaining their

own IoT platform using open

source or Hyperscale Cloud IoT

Services. This significantly extends

their time to market and robs them

of the resources that would be

better spent on providing differentiated

value in the way of their

applications. It also creates significant

overhead to maintain the IoT

platform, which in the end, their

customers will pay for.

Other companies hire system integrators

to build a custom IoT platform.

Again, it delays time to market,

incurs great expense, and locks

them to one company (the SI) who

they will be reliant on for the lifetime

of the application as their IoT

platform must be maintained into

perpetuity.

Spending time building or having

someone else build an IoT platform

for companies that create value

through applications and IoT implementations,

is a waste of time and

money. And it adds zero value to

their end customer.

This is the number one reason why

IoT is not scaling, and in turn, not

reaching the forecast in connections

predicted several years ago.

Talking of ecosystems, you once

criticised what you called 'ecosystem

mass confusion'. How should

customers go about selecting an

ecosystem?

Ask yourself, what would be the

state of the mobile phone industry

34
---
Interview

Making

'Things' Easier

The world of IoT is changing fast and the number

of vendors and solutions are legion. Finding the right

supplier can be tricky, says Lou Lutostanski,

vice president for the Internet of Things at Avnet.

He was named IoT Leader of the Year at Industrial IoT

World in 2019. Lutostanski talked with Smart Industry

editor Tim Cole about the future of IoT.

n By Tim Cole

potential return on their investment.

And in the case of IoT, the

higher the potential ROI, the richer

the applications, AI algorithms, and

hardware purpose built for the solution.

The bottom line is, customers today

should look for an ecosystem that

can invest the most in research and

development and yield the optimal

features because they integrate

into an IoT platform that is based

on HyperScale Cloud IoT Services

that can be used horizontally across

many or all IoT solutions. In this

way, the application that they buy

will not require them to bear a part

of the substantial additional cost

of maintaining the platform. That

cost will be born by the thousands

and tens of thousands of customers

that buy various applications built

on that IoT platform. Additionally,

it will prevent lock-in of one or several

vendors and give them the

if there were hundreds of operating

systems rather than the few

available today. What would be

the quality and usefulness of user

applications if every manufacturer

wrote their own operating system?

Fortunately, this industry gravitated

towards just two OS providers,

which has enabled a massive

ecosystem supporting developers

and markets for applications.

In comparison, ecosystems for IoT

developers and users are not at

this level of maturity, and there is

a lot of confusion around identifying

the ecosystem that is going to

provide the solid foundation for

this industry.

IoT ecosystems form around IoT

platforms. These platforms provide

the rules and structure for the

various partners to integrate their

products and services in a manner

that is compatible with all other

partners required for a successful

IoT implementation.

Partners who add value within any

ecosystem are attracted by the

popularity of a platform. The fewer

platforms available, the higher the

Build & Deploy

IoTConnect Platform is a smart

IoT platform that

helps boost efficiency,

manage assets and

adopt innovation.

source ©: Avnet

BACnet

IoT Portal

Dashboards

Rule Engine

Analytics on

Gateway

CoAP

Command Execution

SMS

SDK

MQTTS

Protocol

Alerts &

Notification

Push Notification

HTTPS

Email

Data

Engineering

Conection

Bridge

SAP HANA

WS

SAP BI

Machine Learning

Data Streaming

Data Analysis

Salesforce

ERP

AMQP

CAN bus

35
---
Smart Business Interview: Lou Lutostanski

Getting Started

maximum number of vendor choices

for their IoT implementation.

Tell me more about Avnet IoTConnect

which seems to be an interesting

approach.

Avnet's IoTConnect is an IoT platform

built on Microsoft Azure microservices.

Our microservices architecture

enables us to adapt to

the evolving needs of our users and

developers, and we view Microsoft

as one of two hyperscale cloud providers

who can support Avnet for

the long term. We believe alternative

platform architectures built on

open-source technologies are too

complex to maintain and become

stagnant shortly after their release.

But building from the established

Microsoft Azure ecosystem has provided

a solid foundation.

Based on our deep and long-term

relationships with our semiconductor

suppliers and OEM customers

and our growing capabilities

in cloud, IoT, AI, security, and application

software, we believe our

IoTConnect Platform can serve as

an enabler to allow for simple, fast,

and secure IoT implementations.

And if we are successful in getting

IoTConnect adoption as one of the

two or three standard Horizontal

IoT Platforms, then the scale that

the industry has been expecting

and is now demanding can become

a reality.

It would have been much easier

for Avnet to help our customers

with their IoT implementations,

It's Official!

The W3C has declared

the WoT Architecture

and the WoT

Thing Description to

be official recommendations

for the

standardisation of IoT

applications.

if there were already one or two

established platforms out there.

But there were not. And as such,

the complexity and risk associated

with IoT discouraged our customers

from pursuing strategies that could

create substantial growth in device

counts that would have in turn fueled

growth for our business. The

lack of an established IoT platform

also forced us to help customers

create hardware solutions with

limited use as they were bespoke

to only the IoT platform they were

designed for.

source ©: Avnet

Azure Sphere

development kits

provide everything

you need to begin

prototyping and

developing Azure

Sphere applications.

Sounds like IoTConnect is offering

a type of Plug and Play for IoT.

Plug and Play is a term that I first

heard about in the PC industry.

It applied to PC peripherals that

could plug directly into a PC without

the requirement of the user

being forced to run software programmes

to install drivers.

Plug and Play in the IoT world is

exponentially more complex. The

number of things, software elements,

and connectivity methods

source ©: W3C

36
---
used to create IoT solutions are infinite.

So creating rules for how these

things interact with each other in

the way of the platform, and having

the software and hardware skills

to assist those connections, is what

makes Avnet the ideal entity to bring

the physical and virtual worlds, the

OT and IT worlds, together.

We believe that Avnet will succeed

while other companies, some much

bigger than Avnet, have failed because

they did not have a deep understanding

of all the parts of IoT.

People with device or connectivity

solutions did not understand the

cloud and above. And the cloud

people lacked the deep embedded

device experience to create a scalable

means for rapidly onboarding

an infinite number of "Things".

source ©: Informa PLC, Jeremy Coward

You advise bringing order to IoT.

What do you mean by that?

It means developing software rules

that allow companies with many

different types of hardware and

software products and services to

participate in successful IoT implementations,

without having to

understand the complexities of all

the technologies required to produce

them. IoTConnect defines

those software rules and provides

a mechanism to manage those

devices, integrate third party software,

and integrate applications

and AI in a manner that delivers

simple, fast, and secure IoT implementations.

It allows OEMs to deliver

rich features and user experiences

around their products and the

opportunity to create new services

to deliver revenue beyond just the

physical hardware.

Are IoT solution providers really

addressing the security problem

in an adequate fashion?

The majority are not. Security is extremely

complex. And with many

companies building their own IoT

platforms or paying someone to

build it for them, budgets are usually

blown before the complexities

of security can be addressed.

I would make two comments about

IoT security.

• People who are serious about IoT

will never deploy at scale without

some level of security. The financial

liabilities and the potential

damage to their brand are just

too significant.

• For those that deploy without security

by design that get hacked,

the only fix is to start over. (Rip &

Replace).

Avnet has built varying levels of

securities into IoTConnect. And we

are working with third party security

and identity providers to integrate

their IP into IoTConnect to facilitate

the deployment of security

after the fact. So one can preclude

security through small or test deployments

and implement security

at a later date. Avnet's goal through

IoTConnect is making adding security

to your IoT implantation as easy

as adding fries to your burger order.

How do you scale IoT?

The industry needs to limit the

number of IoT platforms to less

than a handful. This will attract

partners and create a vast and vibrant

ecosystem. Companies need

stop building, or paying someone

to build their own IoT platforms

and build their applications and

Expert Opinion

Lou Lutostanski, Vice

President of IoT at

Avnet, was named

IIoT Leader of the

Year at Industrial IoT

World 2019.

product experiences around one or

two that have wide adoption in the

industry such as the WoT Standard

released by the W3C. Customers

will never accept that they will have

to maintain an equal number of IoT

platforms to the number of applications

that they deploy.

How does the COVID pandemic

accelerate IoT?

I think there are two answers to that

question. One is that most people

are working from home now and

we're finding they appear to be

much more efficient. As such, they

have much more time to think long

term regarding applying IoT technology

in their products or services.

The other thing is that there's a

whole new generation of applications

that have been spawned

for contact tracing, prescreening,

medical monitoring, which have an

urgency about them coupled with

an extreme requirement for action.

This has created a whole new application

category, if you will, built to

deal with the challenges presented

by the Covid pandemic. So, I think

these two factors have accelerated

the deployment of IoT implementations.

37
---
Smart Business Six Hurdles

Six Hurdles

Why IoT

Projects Fail

The number of businesses aiming to leverage IoT solutions is high but so

is the failure rate. Network giant Cisco estimates that 74 percent

of projects fail and the probable cause is a failure to understand

the top obstacles and challenges that often derail IoT deployments.

n By Bryan Witkowski

38

038-041 Why IoT Projects Fail-JC.indd 38 26.04.22 13:10
---
Increased

Complexity

Increased

Complexity

The explosion in the use of

connected devices has created

a rising need for organisations

to harness data

from them, which, in turn, is driving

businesses to ramp up their

IoT digitisation efforts. Market and

consumer data specialist Statista

reckons there are approximately

21.5 billion interconnected devices

in the world and many businesses

– 94 percent, according to IOT

Signals, a report from the Hypothesis

Group and Microsoft – see

this growth as an opportunity to

analyse data and generate insights

that reduce operational costs, enable

better decision-making and

drive innovation.

Here are some of the most common

hurdles blocking the track to

successful adoption of IoT projects.

Increased complexity – There

can be many challenges around

interoperability between networks,

gateways and devices. A

multi-vendor environment can

include compatibility issues between

different vendors' products

and systems, especially when

The challenges

may seem

overwhelming,

but there are

many options

available.

Bryan Witkowski

Head of Strategic Planning

and co-founder of MachineQ

source ©: MachineQ

39

038-041 Why IoT Projects Fail-JC.indd 39 26.04.22 13:10
---
Smart Business Six Hurdles

Number of Internet of Things (IoT)

connected devices worldwide from 2019 to 2030, by use case *

30,000

20,000

10,000

7,741

8,738.8

Connected Vehicles

Smart Grit

Consumer Internet & Media Devices

Others

16,436.6

14,759.9

13,146.3

11,570.2

10,065.1

18,148.9

19,908.4

21,721.2

23,570

25,444.5

source ©: Statista

0

2019 2020 * 2021 * 2022 * 2023 * 2024 * 2025 * 2026 * 2027 * 2028 * 2029 * 2030 *

Additional Information: Worldwide; 2019 to 2020

* in millions

some use proprietary technology

that is not based on industry standards.

For example, differences in

authentication and identification

methods may cause access issues

and the use of different protocols

can limit the ability of devices and

systems to 'talk to each other' and

share information. There are also

challenges related to complexity

of deployment, especially where

there is no access to IT support and

the installation is typically done by

skilled workers who are not technically

savvy. An example of this

would be plumbers doing a water

meter installation.

Limitations to Scale – As IoT

networks grow, some of the challenges

above become even more

pronounced because of additional

devices and systems. As a result,

What are They Doing?

The single largest use

case in terms of number

of Internet of Things

(IoT) connected devices

is consumer internet

and media devices,

accounting for a third

of all devices worldwide

in 2030. The other two

largest use cases are

smart grid (e.g. smart

meters) and connected

vehicles.

the solutions created in one context

may not work well in another,

which could delay or stop an enterprise

IoT project.

Talent Shortages – Similar to the

current IT talent shortage, there is

a lack of available IoT experts to fill

needed positions. This can affect

a range of industries, such as food

services and hospitality, that are

looking to embrace IoT. According

to research from Inmarsat, 46

percent of organisations stated

that skills shortages are the most

significant barrier to their deployments.

A lack of qualified, skilled

talent can affect the ability to roll

out new deployments or have the

proper quality controls in place to

take IoT from the proof-of-concept

(POC) phase to full production.

Security Vulnerabilities – While

IoT devices are great at doing what

they are designed and built for,

they typically have limited computing

resources, which means

they often lack built-in security

features – or they are connected

to the internal IT infrastructure,

which poses additional risks to security.

The resultant expansion of the attack

surface and opportunities for

cybercriminals often stems from

the fact that many organisations

don't see IoT devices as a highsecurity

threat, so they are not as

diligent with passwords or encryption.

In addition, IoT devices often

don't receive security patches as

quickly as other mainstream devices,

such as laptops and smartphones.

All of this can lead to more

IoT-related cyberattacks, as in the

40

038-041 Why IoT Projects Fail-JC.indd 40 26.04.22 13:10
---
case of a supplier of IoT cameras

that discovered a software vulnerability

which exposed a range of

industrial devices to potential cyberattack.

Limited reach – Many industries

that want to use IoT solutions face

the challenges of remote sites located

in far-reaching geographies

and areas that are hard to reach.

For example, an oil rig in the middle

of the ocean or a pipeline that

stretches for hundreds of miles

across the countryside can make

it difficult to get consistent, reliable

connectivity to support the

transfer of data from numerous

sensors out to the cloud or to endapplications.

Power Consumption – Using hundreds

or thousands of sensors also

creates a concern that can impact

cost – battery life. It's important to

explore how long a battery will last

in an IoT device because the time

and cost of replacement might be

just as expensive as the original

deployment.

As a result, this can have a significant

impact on the total cost of

ownership (TCO) of the project

– sometimes sufficient to affect

overall cost-feasibility. This TCO

issue can leave an organisation

stuck in the POC phase, unable to

move on to production.

While these challenges may seem

overwhelming, there are many

Challenges to using IoT more

Still in Progress

Complexity/Technical

Security

Complexity/Technical

Lack of Budget/Staff

Complexity/Technical

Lack of Budget/Staff

Lack of Knowledge

Security

Compliance

Lack of Knowledge

Complexity/Technical

Lack of Knowledge

Leadership/Team Challenges

Security

Haven't Found Right Solution

options available for enterprises.

Technologies such as low-power,

wide-area networks (LPWANs) can

provide the simplicity, scale, reach,

security and power needed to take

many IoT projects from concept

(POC) to reality (full production

deployment).

Still implementing our current solutions

Too complex to implement because of technology demands

Security risk isn't worth it

Want to work out challenges before adding/using IoT more

Don't have human resources to implement & manage

Too complex to implement because of business transformation needed

Don't have budget

Not enough training/guidance on how to deploy

Concerned about consumer privacy

Too many compliance/regulatory challenges

Lack technical knowledge

Too long to implement

Don't know enough

No buy - in from senior leadership

Unwilling to store data on public cloud

No solution that meets our needs

Where IoT Breaks Down

A third of companies are still

implementing their current

solution; 27 percent say the

technological demands are

prohibitive; and another 27

percent feel the security risk

simply isn't worth it.

Low Power

Consumption

One of the key competitive

advantages of

LoRaWan technology

is the energy efficiency

of the equipment.

29%

27%

27%

26%

25%

24%

23%

22%

22%

21%

21%

20%

20%

19%

18%

17%

Vendors Share the Same

Environment

The LoRaWAN industry standards,

for example, mean that different

vendors' products can offer compatibility

to allow them to easily

exist in the same environment.

Finally, the automated nature of

these solutions allows organisations

to free up employees' time to

focus on activities that positively

impact sales and customer service.

By having a better awareness and

understanding of these key challenges,

enterprises can confidently

take the important first step towards

solving them and making

large-scale IoT deployments a reality.

source ©: Hypothesis Group, Microsoft

LoRaWan Differentiators & Benefits

Public and

Private

Deployment

Options

Firmware

Updates

Over-the-Air

Geolocation

Bi-Directional

Security

10+ Year

Battery Life

Coverage in

Rural and

Non-Cellular

Area

Deep

Penetration

(Concrete,

Ground, Steel)

source ©: BrightTALK

41

038-041 Why IoT Projects Fail-JC.indd 41 26.04.22 13:10
---
Smart Business Industrial IoT

42
---
Industrial IoT

How to Eat

the IIoT Elephant

Learn, through two useful examples, how to start simple and

move to more complex Industrial IoT implementations.

n By Göran Appelquist*

Moving to Industrial IoT

can be a challenge.

Through working on

many customer projects

over a number of years at

Crosser, we have learnt that a

key success factor is to start with

small projects that are quick and

easy to implement before gradually

building up to the more advanced

and complex use cases.

That is, always eat the elephant

in pieces, don't try to swallow it

whole.

In most cases it is possible to find

small and simple projects that are

good starting points requiring

a low effort to implement while

returning value quickly. With the

right tools it is easy to start simple

and then add more advanced features

over time.

Simple Beginnings

Here are some simple but useful

projects, showing how they can

be implemented with Crosser's

Edge Streaming Analytics. The

How to get There

From Here

Data mismatch is a

common problem in

IoT. Therefore, data

transformation and

harmonisation play a

major role.

Crosser system provides a large

library of pre-made building

blocks (modules) that implement

common functionalities for these

types of use cases. By using these

modules, it is easy to get started

by combining modules into applications

using a graphical drag

and drop editor. With the interactive

debugging capabilities, each

application can be verified before

installing them for continuous

operation on Crosser Nodes that

have been installed near the

source ©: Crosser Technologies

*Göran Appelquist is CTO at Crosser, an IIoT specialist based in Sweden and in Munich, Germany.

43
---
Smart Business Industrial IoT

systems with which they will interact.

source ©: Crosser Technologies

System Availability

Monitoring system availability is

a very common requirement. This

kind of application can be created

by starting with a time trigger

that will fire the application

once every minute, or whatever

time period makes sense. A call is

made to the system to be monitored,

for example a programmable

logic controller (PLC) or a representational

state transfer (REST)

endpoint. If the request fails, a

notification is sent to someone

using a text messaging service.

Here a Modbus PLC is being

polled every minute and, if no

response is detected, text messages

will be sent to the managers'

mobile phones using the

Twilio messaging service. This is,

of course, a very basic application

but, if failures are not expected

too often, it could still be useful.

The same concept can be used

with any system that accepts an

external request. For example, if

an HTTP endpoint has to be monitored,

the Modbus module can

easily be replaced with an HTTP

request module.

When the monitor is up and running,

ways to improve it can be

considered. One obvious problem

is that a message will be triggered

every minute if the PLC stays in an

unresponsive state – which could

Always eat the

elephant in

pieces - don't

try to swallow it

whole!

Göran Appelquist

Crosser

be quite annoying. It's easily fixed

just by adding a Report By Exception

module so that a message is

sent only when the PLC initially

becomes unresponsive.

If the PLC is a bit shaky, flipping

back and forth between online

and offline, the monitor may once

again send more messages than

necessary. Another easy fix is to

add a Throttle module to make

sure only one message is sent per

hour (or whatever duration is suitable).

Finally, it might be desirable to

get availability statistics captured

over a long timespan. Here, the

Time Counter module can be

used to take the same input as

before to provide a summary of

the times spent in each state over

a specified period. The results can

be sent as an uptime report once

per day.

The new generation

integration platform

allows you to integrate

any device or machine

data and any data

source with smart

workflows, events and

triggers in real time.

The project started with something

really simple, but still

useful, and then it was gradually

improved to finally arrive at

something that now has more

functionality. The development

team can decide how much further

to take it and at what pace.

Integrity Checking

Data integrity is a broad concept

with many possible applications,

such as checking that values are

within reasonable limits, counters

are constantly incremented, or

that data is updated at a certain

rate.

The latter case will be used here,

checking that sensor data is updated

at the expected rate. For

this example, a subscription must

be set up against an open platform

communications unified

architecture (OPC-UA) server that

source ©: Crosser Technologies

44
---
Guidelines

The examples given share some characteristics

that can serve as general

guidelines when trying to identify other

projects that are good starting points

for edge analytics:

•

Find use cases that are add-ons

to the existing operation, that is,

ensure that neither the input nor the

output systems rely on the operation

of the business critical application

to which they are attached.

•

Find uses that add value when they

work but won't have a major negative

impact if they don't.

•

For the first implementation, try

to scale down the problem to an

absolute minimum, while still adding

value (minimum viable product).

Then incrementally add features until

the final goal has been reached.

•

Build an application that solves

the problem when everything

works normally, known as a 'happy

path' implementation. Then add

additional logic later to cover situations

where things don't work as

expected.

will then push back changes in

values and these results will be

checked every second by using a

Timeout module.

The Timeout module has to be

set to check there are no changes

within periods of 70 seconds rather

than 60 seconds, chosen to offer

a margin for small deviations

in update frequency. This module

can monitor any number of sensors

and, as soon as one of them

fails to deliver data in time, it will

indicate which sensor has failed.

In this project, the application will

make an HTTP request when a sensor

fails, maybe calling on the enterprise

resource planning (ERP) or

manufacturing execution systems

(MES) to trigger further actions.

With this very simple flow, thousands

of sensors can be monitored

as long as they have the

same expected data rate. If the

Getting There

Build integration

flows with the Flow

Studio using a

library of modules

and connectors.

Add data mapping,

data transformation,

triggers

and events to your

flows with ease.

sensors, or groups of sensors,

have different data rates, multiple

Timeout modules can be added

with differing timeout settings

using a filter on each to allow the

relevant sensors to be selected:

These two simple but realistic use

cases are good starting points for

introducing edge streaming analytics.

It's possible to find many

alternative but equally simple examples

within any organisation.

source ©: Crosser Technologies

45
---
Smart Communications Trucking & IoT

Trucking & IoT

Delivering

a Revolution

Artificial intelligence, advanced robotics and the Internet of Things

are poised to spark a revolution in the automobile industry.

Automated cars have grabbed the headlines in recent years but

most analysts, quite reasonably, believe

that freight trucks will be the first fully-automated

vehicles in regular use on the roads.

n By Tim Cole*

46

*Tim Cole is editor of Smart Industry.
---
The trucking industry, and the

logistics that keep it running,

has become fundamental to

the success of supply chains,

both nationally and internationally.

Without those supply chains running

smoothly, allowing for just-intime

orders and millions of successful

daily deliveries, industries of all

types would grind to a halt.

The Brexit situation, with Great

Britain withdrawing from the European

Union, is a perfect example

of the kind of chaos a broken supply

chain can create. In the fall of

2021, cars and trucks were lining up

in front of empty pumps at UK gas

stations, and supermarket shelves

remained barren, all for the lack

of truckers. A Road Haulage Association

(RHA) survey of its members

estimates there is now a shortage

of more than 100,000 qualified drivers

in the UK. That number includes

thousands of drivers from European

Union (EU) member states who were

previously living and working in the

UK. Issues such as this highlight the

importance of the trucking industry.

Time is of the Essence

Yet geopolitical issues such as this

are far from the only challenges

currently facing freight and haulage,

with market demands shifting

quickly and shipments growing accordingly.

In America, a report by

the Federal Motor Carrier Safety

Administration (FMCSA) said there

were approximately 493,730 trucking

companies in the US alone. Even

today, most of the small business

owners in the US are truckers. So,

as this industry grows, it becomes

necessary to track several statistics

in real-time. Factors like the load on

the trucks, time required for loading

and unloading of goods, traffic

on the travel routes, or tracking the

vehicles in real-time are important

to the fleet managers and truck

owners of the businesses.

These issues have put trucking

front and centre in the eyes of those

seeking industry disruption, resulting

in seismic changes to the way

trucking works. As with so many

The driver

situation is

about as bad

as I've ever

seen it in my

career.

Help Wanted

A Road Haulage

Association (RHA)

survey estimates

there is now a

shortage of more

than 100,000

qualified drivers in

the UK alone.

Eric Fuller

CEO of U.S. Xpress

other key industries in transition, it's

the Internet of Things (IoT), AI, and

robotics that are leading the way

and providing truly remarkable solutions

to ever-growing problems.

IoT has connected sensors, electronic

monitors, actuators, GPS receivers,

RFID systems, beacons, and

so on, with a network of physical

devices, appliances, vehicles, and

other items for data collection and

communication. In transportation

and trucking, it has provided several

promising solutions to develop

powerful new applications and systems.

When an AI-driven, long-haul

industry is in place, it's not difficult

to imagine the rest of the automotive

industry catching up.

IoT-based solutions are transforming

the trucking industry in unbelievable

ways. They assure better

transparency, higher operational efficiency

and enhanced security – ultimately

increasing profit margins.

Time taken to fill last HGV driver vacancy

1-2 weeks

2-4 weeks

4-6 weeks

6-8 weeks

8+ weeks

0% 10% 20% 30%

"Not applicable" not shown

source ©: Road Haulage Association source ©: Scenic Roots

47
---
Smart Communications Trucking & IoT

source ©: Intel Corporation

Trucks, which have sensors connected,

travel via different routes and, at

various location transmission hubs,

collect and send data to the decisionmakers

for the insights that help in

gaining better results.

Here's a closer look at ways in which

IoT and AI technology is transforming

the trucking industry and how

the industry will benefit from justin-time

trucking and logistics.

Keeping Track of

Truckers

Electronic Logging

Devices, or ELDs, are

now mandatory for

commercial drivers

who are required to

prepare hours-ofservice

(HOS) records

of duty status,

further increasing

pressure on trucking

companies who

need to hire more

drivers to comply.

Loads of Problems

Data produced by

hundreds of sensors

on commercial trucks

is fused together in

real-time to get meaningful

information that

optimises safety, fuel

economy, and maintenance

of the vehicle.

Intelligent Data Driving Performance

Feb16, 2016 - Dec 18, 2017

Phase 1

Completed

Dec 18, 2017 - Dec 16, 2019

Phase 2

After Dec 16, 2019

Phase 3

A Phased Approach

As the ELD rule is implemented,

motor carriers will be allowed

time to transition to full

adoption of ELDs. This table

illustrates which recording

methods are acceptable during

each phase implementation.

ever, as the robot systems become

more skilled on their routes, a future

of completely driverless fleets

of trucks is easily foreseeable.

Fuel, insurance and drivers' wages

are obviously the trucking industry's

key expenses. By tracking the

locations, driving habits and speed

of the trucks in a fleet, expenses can

be managed more successfully and

efficiently. A combination of Big

Data, AI, and IoT devices will make

Awareness and Transition Phase

During this time, carriers and drivers subject to the rule could

prepare to comply and voluntarily use ELDs.

Carriers and drivers subject to the rule could use any of

the following for records of duty status (RODS):

Paper logs | Logging software | AOBRDs

ELDs that are self-certified and registered with FMCSA

Phased-In Compliance Phase

The two-year period from the Compliance Date to the

Full Compliance Phase. Carriers and drivers subject to

the rule can use:

AOBRDs installed and in-use prior to December 18, 2017

ELDs that are self-certified and registered with FMCSA

Full Compliance Phase

All drivers and carriers subject to the rule must use

self-certified ELDs that are registered with FMCSA.

ELD

AOBRD

Logging

Software

Paper

Phase 1

Phase 2 Phase 3

Drivers and carriers exempt from the ELD rule may continue to

use any of these methods of record keeping to log their HOS date.

source ©: FMCSA

Safety First

The best argument for introducing

automated vehicles and AI-driven

trucks is the fact that they are safer

for everyone. Long-distance routes

that demand long hours of high

intensity focus and alertness are

dangerous for both the truck driver

and other travelers. Reliable and accurate

AI systems help reduce the

risk of accidents, while reducing the

pressure on the drivers themselves.

The trucking industry is in the midst

of a hiring crisis. "The driver situation

is about as bad as I've ever seen

in my career," Eric Fuller, the CEO of

U.S. Xpress, told Yahoo Finance.

It's a hard job, and fewer people are

attracted to it. At the same time,

demand for haulage is growing by

leaps and bounds. More autonomous

trucks wouldn't merely increase

staff safety, they'd also help

resolve capacity issues. Currently,

autonomous trucks still require

human drivers in the cockpit. Howthis

happen more easily and accurately

than ever before and will only

require giving each driver an Electronic

Logging Device (ELD) as part

of their smartphone setup.

In 2015, Saia LTL Freight, a reputed

trucking company in America, installed

sensors in their trucks for

tracking fuel consumption, maintenance

needs and other performance

metrics. This raised the fuel

efficiency of the company by 6 percent

saving millions of dollars.

IoT technology already plays a key

role when it comes to overseeing

the performance of factory equipment

in the manufacturing industry,

highlighting when parts need

replacing and keeping an eye on

the smooth running of key components.

There's no reason why

the same IoT data and technology

couldn't be applied to the trucking

industry by installing sensors to anticipate

issues before they arise or

when vehicles need servicing.

This is a particularly attractive concept

for trucking-business owners

and investors. Most of these companies

can run up mountainous annual

repair bills, as high as $15,000

48
---
per vehicle plus another $4,000 for

tires. Many of the issues that arise

could be spotted earlier using IoT

technology. Cast in this light, smart

trucks would save an immense

amount of money while creating

safer, more efficient fleets at the

same time.

This aspect of AI, called predictive

maintenance, allows problems to

be addressed before they become

severe (and more expensive), generating

both peace of mind and

a better ROI in the process. It's no

wonder that the vast majority of

trucking business owners firmly believe

that IoT technology is fundamental

to their future success.

Staying Fresh

Sensitive cargo, such as plants and

flowers or time-sensitive perishable

goods, have long been a source of

headaches for the entire industry.

IoT technology can automatically

adjust variables like temperature

and humidity in order to ensure

optimal conditions for such cargo.

Furthermore, it can help drivers

select the best routes, taking into

account road conditions, construction

zones and accidents to ensure

a timely and well-preserved delivery,

both of which are critical for

consistently happy customers.

In the home package delivery industry

(UPS and FedEx), the ability

to track individual items has already

led to increased customer satisfaction.

AI and IoT advancements will

allow this same functionality to be

applied to commercial trucking.

This industry, as much as any, can

use all the trust it can find in order to

future proof it for decades to come.

Last-mile deliveries and just-in-time

services are on the increase, which

means that every second makes a

difference in logistic success rates.

Robots working alongside personnel

in warehouses or working independently

and fully automated,

have already made significant improvements

in efficiency and timesaving

procedures.

Speedier loading and unloading

times allow trucks to complete

more orders in a day. We're already

seeing the latest robotics technologies

implemented in warehouses

run by companies, such as FedEx,

with impressive results. Automation

in the warehouse is another

way to mitigate issues caused by

worker shortages and offers another

key investment area that could

save the industry millions.

An example of IoT-based solutions

for the trucking industry is App-

Weigh. It is a specially designed

mobile app which uses Bluetoothenabled

weight sensors to measure

the load on air suspension trucks

and trailers throughout shipment.

The truck weight is directly sent to

the drivers on their smartphones

to keep them informed and ensure

their trucks and goods are safely

and legally loaded to their destination.

This app can be useful to

individual truck owners as well as

Weighing In

AppWeigh is a Bluetooth

weight sensor

and app for air suspension

trucks and

trailers that displays

truck weight on a

smartphone to help

truckers load safely

and legally.

transportation and trucking companies

as they alert the drivers and

managers when the weight in the

vehicle crosses the permissible limit

and enables them to take immediate

action.

Endless Potential

There's no questioning the fact that

robotics, IoT and AI have already

enabled, and will continue to facilitate,

disruption in the trucking

industry, helping business owners

save time and money, while staying

on top of a rapidly changing and

often unpredictable sector. Datadriven

and tech-centric developments

have been the catalysts for

the digital transformation currently

underway within trucking. From all

indications, it appears the industry

will act as a bellwether for the

future of automated vehicles and

logistics.

While many of the technological advances

predicted for the trucking industry

remain in their earliest stages,

it's clear that the business of trucking

has responded positively and is

quick to adopt the latest IoT developments.

With the potential to

source ©: SKT Technologies Inc.

49
---
Smart Communications Trucking & IoT

become a bonafide, high-tech sector,

the trucking industry is breaking

new technological ground.

Drivers need to follow strict government

regulations. To comply

with the Electronic Logging Device

(ELD) mandate, all trucks must be

equipped with electric devices in

their trucks to track their working

hours and activities. Legally, drivers

can't drive for more than 10 hours

a day, requiring them to log working

hours. With the adoption of IoT,

trucking companies can easily comply

with this law.

Is This What the Future

Looks Like?

Resembling the helmet of

a Star Wars stormtrooper,

a driverless electric truck

recently began daily

freight deliveries on a

public road in Sweden,

in what developer Einride

and logistics customer DB

Schenker described as a

world first.

troubleshooting without having

to carry well-thumbed, dog-eared

manuals.

Reactions to such advances are

mixed. While up to 65 percent of

transport executives hail automation

and IoT-driven trucking as

nothing short of a renaissance for

the industry, there are legitimate

concerns. There is a real risk of job

losses – a common fear whenever AI

is mentioned. There are also security

concerns regarding the onboard

networks of autonomous trucks

being hacked by cybercriminals,

though advances in anonymity networks

have mitigated those risks.

Yet even staunch critics admit that

the benefits of IoT and AI in trucking

outweigh the mostly theoretical

drawbacks. IoT is a secure, reliable

and cost-effective way to boost the

bottom line of trucking businesses.

The revolution will roll on.

Not a Sound

Scientists at the University

of Michigan

have demonstrated

how sound waves

can be used to

detect and prevent

malicious acoustic

interference with

autonomous truck

systems.

Faster, Faster!

IoT-linked trucks also help the drivers

to do their jobs faster and with

enhanced safety, thus putting

an end to the seemingly endless

queues at gas stations around the

world and speeding up delivery of

food and other essentials. IoT saves

the drivers from paperwork by electronically

updating the fleet managers

about delivery timings, loading

weights and other operational

data. Drivers can also be informed

in advance about diversions, offduty

hours, traffic timings, bad

weather and other relevant information.

When trouble strikes, they

can also get assistance regarding

source ©: University of Michigan

50
---
That's why you need storage built to

capture it right where it's generated

Western Digital is a leader in storage solutions designed and tested to stand up to demanding

IoT and industrial applications. These durable storage devices in a range of capacities are built

for extreme temperatures and environments, and make remote monitoring a breeze.

Embedded

Removable

SSD PCIe

SSD SATA III

Learn more at www.westerndigital.com

Western Digital, the Western Digital logo, and iNAND are registered trademarks or trademarks of Western Digital Corporation or its affiliates in the U.S. and/or other countries.

microSD is a trademark or registered trademark of SD-3C, LLC in the United States and/or other countries. All other marks are the property of their respective owners. As used

for storage capacity, 1 gigabyte (GB) = one billion bytes, and 1 terabyte (TB) = one trillion bytes. Total accessible capacity varies depending on operating environment. Product

specifications subject to change without notice. Pictures shown may vary from actual products. © 2022 Western Digital Corporation or its affiliates. All rights reserved.
---
Smart Business Network Transformation

Network Transformation

Taking Security

to the Edge

52

The ongoing digitisation of the workplace and the rise of the distributed

workforce is forcing companies to redefine the security of their IT infrastructure.

Secure Access Service Edge, or SASE, is a holistic security architecture

combining both network and security services in a software-defined cloud

architecture which may provide the answer to these challenges.

n By Sebastian Ganschow
---
for branch offices that were connected

directly to the data center,

where internal applications were

hosted and Internet traffic could

be filtered. But with working from

home becoming an option for

many employees, apps and data

need to be dispersed across locations.

IT teams face the challenge of

providing secure, authorised access

while maintaining quality of experience

across any device and location.

Network Security Meets

Security at the Edge

The Secure Access Service Edge, or

SASE model is becoming increasingly

important for many large organisations.

Already, 24 percent of

enterprises plan to develop strategies

to implement the SASE approach

outlined by Gartner, a consultancy,

by 2024 at the latest.

SASE is a cloud-centric architecture

that represents a convergence

of software-defined wide

area networking (SD-WAN) and

high security in a strategic edgeto-cloud

service that adds neither

hardware cost nor complexity. In

other words, SASE describes an

architecture that delivers network

services and security functions

as cloud services where they are

needed: On end devices and at the

SASE

facilitates a

better

response

to internal

and external

changes.

Sebastian Ganschow

is Director Cybersecurity

Solutions at NTT Ltd.

The End of Point

Solutions

SASE combines

the functions of

network and security

point solutions in a

unified, global cloudnative

service, with

a profound impact

on several IT areas

at once.

edge, where a permanent connection

to networks is not possible or

even necessary.

Although each company is taking

a different path, a strategic SASE

vision includes both a fundamental

shift in access controls to where

they are needed - the end user and

the cloud edge – and the search

for less complexity. Convergence

of security functions in an efficient

as-a-service model are a good way

to achieve these goals.

In addition, SASE can focus on

supporting business agility to respond

to all internal and external

changes, while at the same time

simplifying deployment, management,

and enforcement of

source ©: IDG Business Media GmbH

SD-WAN

Carrier

Network Security

Large enterprises still operate

huge data centres. These

contain not only local SaaS

(Software-as-a-Service) applications,

but also network components

such as firewalls, load

balancers, intrusion detection and

prevention systems, routers and

switches. Just a few years ago, it

was common to design networks

WAN

Optimization

Bandwidth

Aggregation

Networking

Vendors

Network as a

Service

Network

CDN

SASE

Security

DNS

CASB

Cloud SWG

ZTNA/VPN

WAAPaaS

FWaaS

RBI

source ©: Inseya AG

53
---
Smart Business Network Transformation

a range of professionals - network

engineers, application developers

and security specialists. For some

organisations, this means requiring

a common working language between

IT and security departments

for the very first time.

In addition, organisations need to

include strategic stakeholders such

as human resources, access mansource

©: Musarubra US LLC

policies across the board. SASE as

a "secure-by-design" interface for

network and cybersecurity aims at

breaking down silos in order to deliver

seamless, scalable, and secure

Internet and cloud access anytime,

anywhere.

Adopting SASE requires a convergence

of skills and capabilities and a

new level of collaboration between

The Quickest Route

to SASE

Decision makers seek a

faster, more efficient high

road to cloud and network

transformation without compromising

security. The need

for speed and scalability is

crucial, but corners cannot

be cut when it comes to

maintaining data and threat

protection.

Centralised Management

with less Complexity

Many organisations begin their

SASE journey by introducing a centralised

way to manage policy creation

and monitoring. In the next

step, they implement advanced security

services from the data centre

to each cloud required by the site,

user or IoT device. By combining

multiple security capabilities into

a single cloud-native service, CIOs

and CISOs can build greater centralised

management capability with

less complexity. Thus, SASE effects

more than just technology conver-

agement and compliance officers

in the conversation. Only then can

they define advanced policies for

data loss prevention (DLP), cloud

access security brokers (CASBs) and

zero trust network access.

A SASE approach requires the integration

of multiple security and IT

services from an organisation's first

line of defense, to a DNS layer, to a

secure web gateway for zero trust

that enables deeper inspection, to a

cloud firewall that protects web and

non-web traffic.

Expectations

Multicloud Networking

LEO Satellite Systems

Software-Defined Cloud Interconnect

Kubernetes Networking (CNI)

AIOps Platforms

Network Observability

Enhanced Internet

Wi-Fi 7

eBPF

Private 5G

FACs (SmartNICs)

SASE

NVMe-oF

5G

400 Gbps Ethernet

NaaS

SD-Branch

Network Automation

Open Networking

Service Mesh

IPv6

Wi-Fi 6

SD-WAN

Microsegmentation

New New Path Forward

SASE includes the ability to

be delivered to enterprises as

a managed cloud service, as

well as to shift away from a

traditional box-heavy branch

(i.e., next-generation firewall,

branch routers, etc.) to a thin

branch (with SD-WAN) and a

heavy cloud model.

NDN

6G

Intent-Based Networking

NFV

ZTNA

SDN

source ©: Inseya AG

54

Innovation

Trigger

Peak of Infated

Expectations

Time

Trough of

Disillusionment

Plateau will be reached: 10 yrs. Obsolete before plateau

Slope of

Enlightenment

Plateau of

Productivity

As of July 2021
---
Traditional Hub-and-Spoke Architecture

Services

Apps

Fast, but Just not

Fast Enough

Conventional

hub-and-spoke

architecture cannot

keep pace with the

escalating demands

of edge-centric

computing.

Internet

B r a n c h

B r a n c h

B r a n c h

Headquarters

D e d i c a t e d B r o a d b a n d

B r a n c h

B r a n c h

B r a n c h

source ©: Infoblox

gence – it's where business value is

created and protected.

Simplification and security are the

two big drivers for network modernisation.

One of the key benefits

of this new approach is centralised

network monitoring and management.

Regardless of data centre

or network perimeter monitoring,

convergence lowers costs and increases

cross-tier visibility in hybrid

environments.

A common framework for analysing

users, applications, and data

provides a comprehensive understanding

of all issues and allows

for faster resolution. The unified

interface provides far more detailed

and consistent analysis and

reporting, ensuring more expeditious

decision making and efficient

performance management.

SASE builds on the connectivity

benefits of SD-WAN and includes

optimised MPLS, Internet, and

hybrid connectivity, as well as an

integrated security system. It simplifies

branch office networking by

replacing the multitude of network

devices found in many enterprises

with a simple system that provides

access to a wide range of services.

This approach significantly reduces

the time and effort required

for configuration monitoring and

troubleshooting of network and

Getting the Work

Done Faster

Cutting the time

needed to configure,

monitor and troubleshoot

network security

functions is a great

benefit.

security functions. Finally, new

applications or services can be

deployed much faster. This is not

just another argument for automation,

but rather a leap forward in

speedy, granular policy definition

to meet rapidly changing business

needs.

55
---
Smart sensors for

the next automation age

The Automation age describes

an epoch when machines

began to perform

complex tasks with little to

no human interactions. Today we

are experiencing a new type of automation

enabled by the proliferation

systems composed of interconnected,

miniaturized objects and

systems able to sense, process and

take actions. The number of such

devices is growing exponentially

and with increasingly complex functionality,

requiring more powerful

cloud infrastructure. This creates

a need to distribute intelligence,

such as AI processing, throughout

the system. This enables local smart

controls, while helping protect user

privacy and lowering overall system

power consumption.

Combining edge processing with

cloud connectivity brings flexibility

to system design and enables op-
---
Advertorial

timal balance between offline and

online capabilities. Advanced smart

sensors bring intelligent processing

to the point closest to the data

generation by incorporating this

processing capability into the sensor

itself.

One approach to achieve this is to

equip the sensor with a Machine

Learning Core (MLC) using a Finite

State Machine (FSM) and advanced

digital functions. Instead of using

a microcontroller to process data,

the MLC can run a decision tree, an

inductive algorithm at a fraction of

the power consumption. As a result,

the system can recognize specific

activities or events by observing

movements or state changes and

inferring from predefined patterns.

This approach brings challenges

for system design, particularly in

terms of processing power, packaging,

and power consumption. A

clear challenge for sensor makers

is to add AI processing capabilities

without disrupting their proven solution

for low noise, low power, and

high accuracy - and also without

changing the package form factor.

Keeping the same package as existing

sensors offers system designers

flexibility on sensor selection without

changing board design.

ST has introduced a range of smart

sensors that tackle these challenges

starting with the LSM6DSOX

launched in 2019. These sensors

have a Machine Learning Core incorporated

into the sensor itself with

LSM6DSV16X

and FSM and configurable decision

trees. Our latest products continue

to improve key parameters for

developers such as performanceper-watt

ratio. An example is the

LSM6DSV16X, the newest member

of our family of inertial MEMS with

a machine learning core, launched

earlier this year and available from

mid 2022 .

The LSM6DSV16X also introduces a

new feature called Qvar to the LSM6

family of devices. Engineers only

need to connect two electrodes to

measure variations in quasi-electrostatic

potential and change two

registers to enable the feature. Qvar

opens the door to new applications,

such as people counting. Instead of

using an LED and photodiode, engineers

can place electrodes on walls

and measure if someone walks near

them. The LSM6DSV16X remains

pin-to-pin compatible with the other

members of the LSM6DS family.
---
Smart Business EV Charging

EV Charging

Current Trends

The electric vehicle industry is on its way to market maturity but there are still

twists in the road for stakeholders and customers. From accessibility

and standardisation issues to a lack of convenient and secure payment methods

at charging stations, unresolved issues could still throw a spoke in the wheel

of electric vehicles, leaving full adoption out of reach.

n By Mark McCoy

58
---
Electric vehicles (EVs) are

cool. They offer a smooth

ride and they're good for

the environment. For many,

the attraction of EV ownership is

also financial. For example, a 2020

survey by smart charging solutions

provider NewMotion, due to be renamed

Shell Recharge Solutions,

found that 61 percent of EV drivers

were motivated to switch to save

money. If so, what's keeping them

from widespread adoption?

"The most common issues we see

centre around accessibility and

availability," says Sjors Martens,

the commercial director of chargepoint

data provider Eco-Movement.

"Charging points that are

private or closed are a nuisance! In

fact, 36 percent of charge points

we receive have either restricted

accessibility or are private. Without

intervention from a company

like ours, they'd be displayed on a

map without any warning."

As if the automotive industry

didn't have enough problems already

with eMobility, such as secure

payment methods, concerns

about carbon emissions and urban

pollution are driving the manufacturers

to introduce hybrid and fully

electric powertrains. This work is

being aided by steadily improving

battery and motor technology but

is being held back by the 'chicken

and egg' problem of charging the

new vehicles.

To ensure that EVs have the same

freedom to roam as today's fossilfuel

cars, a few challenges need to

be addressed. Experts agree that

charging has to become faster, the

world's network of petrol stations

has to be upgraded with electriccharging

facilities, and standalone

charging stations will be necessary

to compensate for the EV's relatively

limited range.

The obvious answer is to align

all charging points on data standards,

providing EV drivers with a

consistent experience no matter

where they are. But, as Martens explains,

that's easier said than done:

"Charge point operators are often

source ©: Eco-Movement

too busy focusing on exponential

growth to work on data and standards.

Furthermore, the type of

charging points, definitions and

regulations are vastly different

across Europe alone, which makes

it difficult to align perspectives."

Local conditions also dictate if

private charging points can be installed,

for example, having a private

parking space at your home

is the norm in Belgium but it's still

the exception in next-door Netherlands.

Even so, resistance to EVs seems to

defy logic. Even a simple back-ofthe-envelope

calculation suggests

that filling your tank with petrol is

Charging

points that

are private

or closed are

a nuisance!

Sjors Martens

Eco-Movement

A Winning Team

Dutch ESS provider Alfen

teamed up with fuel vendor

Shell to deploy a 350kWh

battery storage system at a

forecourt in Zaltbommel, the

Netherlands, offering gridbalancing

services.

like connecting your car to a 5MW

energy source. By contrast, Tesla

announced in March 2019 that

its V3 Superchargers will deliver

energy at rates of up to 250kW, although

it will take a liquid-cooled

charging cable to make it possible.

EV charging obviously has a way

to go before it can catch up with

internal combustion engines in

terms of convenience and practical

reliability. It will take a combination

of high voltages, high

currents and sophisticated power

conversion, filtering and charge

management systems to close

the gap. This, in turn, will demand

the deployment of some pretty

sophisticated connectors, cables,

relays, conversion electronics and

passives to ensure the same kind

of fast, safe energy top-up offered

by today's petrol stations.

Charging Network Growth

So how close are we to a nationwide

charging network that drivers

can rely on when they need it,

rather than having to hopscotch

between charging stations? Tesla

claimed it had more than 12,000

Superchargers in North America,

Europe and Asia at the end of 2021.

This would cover more than 99

source ©: Alfen N.V.

59
---
Smart Business EV Charging

The EV market Protocols

percent of the US population and

the company expects to achieve

similar distribution in Europe by

the end of this year. Tesla also

claims that it recently achieved

coverage of more than 90 percent

of the Chinese population.

Building charging networks looks

like it will be big business. A report

from Markets and Markets foresees

that EV charging stations will

grow from $3.22 billion in 2017 to

$30.41 billion by 2023, an annual

growth rate of 41.8 percent. The

report offers a number of justifications

for its forecast, including

subsidy programmes for purchasing

EVs in various countries, and a

US government initiative to develop

48 charging networks that will

together cover about 25,000 miles

(40,000 kilometres) of US highways

across 35 states. This initiative led

28 states, utilities, charging firms

and electric vehicle companies,

including GM, BMW and Nissan, to

start working together.

AC or DC?

These raw numbers appear encouraging

for potential EV drivers

but mask the fact that there is still

a lot of variety in charging methods,

the infrastructure available

to support them and, therefore,

TSO

System Operator

• eclearing.net

• Gireve

• Hubjet

Common Cause

The evRoaming4EU consortium

is a partnership project

aimed at ensuring that

any EV driver will be able

to charge at any charging

station in the EU. Its goal

is to address and resolve

functional, technical,

legal, and fiscal obstacles

that exist today between

different countries within

the European Union and

create a mature European

market for EV charging.

infrastructure.

Hub

Roaming

Platform

DSO

Grid Operator

Sustaiable Home /

Smart Home

A Growing Market

The EV charger market

in Europe alone reached

1.7 million in 2020,

says IHS, and further

explosive growth is to be

expected over the next

few years.

OCPI (Hub)

OCHP

OICP

eMIP

OSCP

MSP

Service

Provider

OCPI (P2P)

Adm

CPO

Tech

CPO

their usability to the average user.

One big issue has the potential to

reignite the legendary War of the

Currents between Thomas Edison

and George Westinghouse in

the late 1880s and early 1890s.

Edison's arc lamp street lighting

system ran on low-voltage direct

current (DC), while Westinghouse

championed the rival alternating

current (AC) power distribution

network, which ultimately

triumphed – but not before the

two engineers-turned-entrepreneurs

threw mud at each other,

with Edison even going so far as

to equate Westinghouse and his

system with the electric chair.

The real difference between the

two charging strategies is where

EV driver

OCPP

ISO 15118

Charging Point

Open ADR/

IEC 61850

Energiy Supplier

the necessary transformation is

done. Electric grids deliver AC

which needs to be rectified to the

appropriate DC charging voltage

with the help of technology built

into the car itself. DC charging

stations, on the other hand, use

larger, more efficient and bettercooled

rectification circuitry than

would be possible in a vehicle.

Many predict that, over time, AC

charging stations will do their

own rectification but the jury is

still out.

In addition to charging power,

the decision to use either AC or

DC charging also depends on

the capital costs of rectification

and who will pay: the operators

of the DC charging networks or

source ©: Netherlands Enterprise Agency

Global Cumulative Charging Station Deployments (2014 – 2020)

source ©: IHS Automotive

60

14

12

10

8

6

4

2

0

2011 2012 2013 2014 2015 2016 2017 2018 2019 2020
---
the owners of e-vehicles charged

with AC. Some charging standards

also allow bi-directional

energy flow, so a distributed network

of charging vehicles can

act as both an energy sink and a

source to stabilise the energy grid

– which could lead to regulatory

support in some regions.

While some automobile vendors

like Tesla are trying to control their

customer base by installing proprietary

chargers and connectors,

others like BMW, Mercedes-Benz

maker Daimler, Ford and the Volkswagen

Group, which includes

Audi and Porsche, are all backing

a multi-vendor, multi-technology

standard known as the Combined

Charging System (CCS).

As has been seen multiple times

in other technology evolutions,

the perceived benefits of lock-in

are slowly giving way to standardisation

efforts, as EV customers

begin to demand ubiquitous

charging facilities and weigh their

availability more highly in their

buying decisions. This is leading

to a shake-out in the market

for EV charging. Nissan and Mitsubishi

have backed CHAdeMO

(Charge de Move), which allows

bi-directional charging. China,

the world's largest EV market, is

establishing GB/T (which means

it's a favored Chinese regulation)

as its charging standard.

There is obviously still a lot of

room for component manufacturers

to innovate. For example,

if rectification in the vehicle becomes

more efficient, this will

have a direct impact on the utility

of an e-vehicle by enabling faster

charging with AC power. Even the

design of the plug will be a critical

factor in the speed of charging

and all this will help increase the

practical range of an electric vehicle

(see boxout).

Of course, all of these innovations

will have to comply with

national and international standards,

many of which are still being

developed and agreed. As EVs

move ahead to replace fossil-fuel

vehicles, the race for EV market

dominance will almost certainly

be fast and furious.

Interview

How close are we to a nationwide

charging network or maybe

even to a Europe-wide charging

network?

With ISO 15118, we actually have

a pretty good world-wide stansource

©: Thomas Wagner

We need a

faster rollout.

Thomas Wagner

Of in-tech, a pioneer

smart charging company

based in Bavaria

dard, except for China and Japan

which choose to go their own

way. Most companies are working

together because they know

that's where the future of electromobility

lies, namely in vehicle to

grid and sectoral coupling of energy

and mobility.

Is the energy sector ready?

I think the energy sector needs

to talk more with the mobility

sector, and vice versa. We need

a faster rollout. It's important

that everyone profits: the manufacturers,

the operators, the end

users, and, of course, both the

charging business and the energy

sector.

What are the biggest priorities

in radically expanding electricvehicle

(EV) charging infrastructure

We need much higher numbers

of charging stations and we need

them much faster as electric vehicle

sales are gaining speed. So I'm

mainly talking about high power

charging parks and also AC charging

at home and at work.

What role will governments play?

After all, many legal standards

and regulations aren't even fully

developed yet.

Right, national politics has to

support international standards

and international business cases

because EV will be a truly global

market.

61
---
Smart Lifestyle Urban Renewal

Urban Renewal

The

Smartest

City

In 2000, Barcelona's council created 22@ Barcelona

as an urban transformation project with the aim of turning a rundown

industrial area called Poblenou into a new innovation district.

Today, the neighborhood is buzzing with creative startups,

research centres and international businesses and is regularly touted

as an example of urban, economic and social renewal.

62
---
The Poblenou district of Barcelona

long reflected the wider

malaise of Barcelona. Once

a thriving industrial district

in the 19th Century, it gradually became

the ideal canvas for spraycanwielding

graffitists. Between 1970

and 1990, some 1,300 firms closed,

leaving the area littered with abandoned

buildings: a decaying postindustrial

landscape.

Barcelona's city council seized the

opportunity offered by the 1992

Olympics to refresh the city. A modern

infrastructure, revamped neighborhoods,

greener parks and a new

two-kilometre sandy beach opened

the city up to the Mediterranean Sea.

The revitalisation made Barcelona a

tourist must-visit destination again.

And Poblenou? It, too, is awakening

from its long sleep to become a

torch bearer for urban renewal.

Much of Poblenou's renaissance has

been built on IoT systems. Starting in

2012, the city deployed responsive

technologies across public transport,

parking, street lighting and

waste management systems as part

of a Smart City Barcelona plan.

Transitioning to a more energyefficient

LED lighting system has

led to cost savings. Sensors in lampposts

identify when pedestrians are

near and dim automatically if the

streets are empty to save energy.

The lampposts form part of a WiFi

source ©: El País

network, too, providing consistent,

city-wide, free connectivity anytime,

anywhere. The network is also integrated

into Sentilo, a system of over

19,500 smart meter sensors that receive

data on weather, pollution and

noise. IoT devices also monitor rain,

humidity and soil moisture in city

gardens. Using the data, gardeners

can remotely programme electrovalves

to deliver any irrigation needed.

This has resulted in savings of approximately

€500,000 per year.

For cars, embedded sensors in parking

bays identify if they are occupied.

Drivers are guided to available

spaces through ApparkB, an app

that allows online payment for parking.

This has reduced congestion

and emissions.

The innovations continue with

smart pneumatic waste bins that

Home to the Future

Ten universities, nine

R&D and technology

transfer centres, and a

spaceship tower,

the 142 m high Torre

Glòries, Barcelona's

new signature skyscraper.

City in the City

The Interface Building,

headquarters of the

Telecommunications

Market Commission,

contains over 42,000

sqm of office space.

reduce odors and new interactive

bus stops, powered by solar panels,

offer USB charging stations and updates

on bus arrivals.

The Knowledge

Neighbourhood

In 2000, €200 million was earmarked

to foster the Barcelona technology

industry. Twenty-two acres of Poblenou

was to be recast as an innovation

district and its name change

said it all. Formerly called 22a (Industrial),

it became 22@ – tagging

it as a digital testing ground. Visit

the district today and any fresh graffiti

will be by renowned local artists,

commissioned by one of the design,

energy, media or scientific research

companies that call 22@ home.

The triangle formed between the

seafront, Avinguda Diagonal and

Ciutadella Park is a hotbed of innovation.

Five universities and academic

institutions have a presence,

and co-working spaces, incubators

and startups abound.

Famous brands present include Amazon,

HP, T-Systems, Ricoh, Schneider

Electrics and Vice Media. Sergio

Ruiz, CEO of the Signaturit Group,

an electronic signature software

company, says the decision to open

in Poblenou was easily made.

"You can really breathe innovation

and technology here," he explains.

"22@ is a hub that allows us to connect

with other technology companies

and promote innovation. This

allows the development of new opportunities

in our business. It is the

ideal ecosystem for synergies."

source ©: patrizia.ag

63

source ©: Innovation Academy e.V.
---
Smart Lifestyle Urban Renewal

It is estimated that 4,500 new companies

have come to Poblenou

since 2000. Of these, 47 percent

are startups, and 31 percent are

technology or knowledge-based

companies. Before Covid-19 struck,

around 56,000 tech talents had

been attracted to the area and the

total number of jobs created was

estimated at 150,000.

Old Charm, New Tech

Poblenou is far from a business district

where the lights go out at night.

The redevelopment was not intended

to run slipshod over existing residents

but to make 22@ an appealing

place to live. This included developing

4,000 units of subsidised housing,

creating new green areas, remaking

streets and providing facilities for the

public, such as schools and community

centres.

For this, the support of the real estate

sector was critical. If educated professionals,

tech-savvy workers and other

creatives were to be attracted, they

needed office and living spaces. By

2011, there were 139 plans submitted

for urban redevelopment, 84 from

the private sector.

"What caught our eye was not just

the basic economics and demographics,

it was also that people want

to live there, that the universities are

Cool Quarter

With Poblenou,

Barcelona has succeeded

in rebranding

itself as a city

for business, talent

and innovation.

More Than Green

The 22@Barcelona

project transforms two

hundred hectares of

industrial land of Poblenou

into an innovation

hub. An estimated

4,500 new companies

have come to Poblenou

since 2000. Of these,

47 percent are startups.

expanding, and that 22@ is increasingly

regarded as a smart city," says

Eduardo de Roda, country manager

for Patrizia, an international asset

management company focusing on

innovation technology in the real estate

industry.

On behalf of clients, Patrizia has invested

in five office and residential

buildings. Two are redevelopments

of old industrial space and the goal

is to create sustainable buildings, reflecting

the changing local environment.

"Although 22@ is one of the largest

urban regeneration areas in Europe,

there is still a major shortage of Grade

A office stock. We aim to address that

demand," says de Roda.

Walk the streets of Poblenou and you

find a lively scene, half bohemian

and half cybernetic. La Rambla del

Poblenou, the promenade that cuts

through the district to the sea, has

been revitalised with top-notch restaurants,

microbreweries and shops.

In the backstreets alternative art galleries,

advertising agencies, architect

firms, dance companies and designer

showrooms burnish the reputation

of Poblenou as Barcelona's cool new

barrio. It is certainly an eclectic mix.

source ©: Parametric Places: Data Making + Public Space

64
---
source ©: Patrizia AG

Modernista constructions like the

tubular Torre Glòries and the Design

Museum of Barcelona loom large –

but there has been considerable effort

to preserve the heritage.

Cisco invested $30 million in developing

a co-innovation centre, focused

on the Internet of Everything (IoE),

in a former textile factory. An artistic

colony occupies the Palo Alto Market

area, and the Pompeu Fabra University's

Communication Campus and

From old to new

The former industrial

slum of Poblenou has

been transformed

into the throbbing

heart of a new city by

a mix of careful conservation

and striking

modernisation.

the Fundació Vila Casa Museum are

housed in renovated textile factories.

November 2020 marked the twentieth

anniversary of the 22@ urban

planning project and provided an

opportunity to reassess its direction.

The council plans to open the district

to green companies and more

space was earmarked for 9,300 rental

homes – but this looks like it will be

increased to around 15,800 residential

apartments.

"It is the mix of uses that we like about

22@," explains de Roda. "How the office

and living spaces are revitalising

the quarter to create a new, dynamic

and compelling lifestyle. That's the

attraction for the creative classes and

will ensure they will continue to be

drawn to the area."

Interview

Solutions by the People, for the People

How is Barcelona approaching

IoT?

Barcelona is transforming itself into

a true smart city. The areas they have

focused on – environmental monitoring,

parking, waste disposal and smart

lighting – provide them with a solid

platform for continuing to develop in

the future. Importantly, they have put

all this in place not for the sake of the

technology but because it provides

solutions for the needs of people.

What are the main challenges?

First – scale. With a project like this,

you only benefit when you cover a

large area. This can pose problems

because of the physical environment

or the 'not in my backyard' attitudes.

Barcelona has overcome this by effectively

scaling proven technology from

its Urban Lab out over the wider city.

Any others?

There are issues concerning retrofitting

the urban landscape to handle

new technology. For example, providing

power to the parking place

sensors. There is also security. A parking

app helps cut down on pollution

and congestion but it also marks

where the car and owner will be for

the next few hours, so security is an

issue.

There are some pretty nifty

gadgets installed around here. Is

theft a big problem?

With such innovative products, tampering

happens more often than you

might think. Safeguards have to be

put in place to protect the devices.

What's the payback?

There are two: cost savings and the

ability to influence behavior. Thanks

to IoT, Barcelona has reduced congestion

and lowered car emissions,

water and energy costs. It has also

brought significant economic development.

The quality of life for

residents, workers and visitors has

Thanks to IoT,

Barcelona

has reduced

congestion and

lowered car

emissions,

water and

energy costs.

Giulio Spinelli

EMEA Smart City

Business Development

Manager and technology

specialist for timing and

sensing at Avnet Silica,

lives and works in Milan

also improved. Also, collecting data

can help government agencies place

infrastructure where it's needed in a

far more focused manner. When that

data is also made available to the

public in effective formats, it can encourage

behavioral changes. People

can see it is far quicker to take a bike

than a car for a short trip, or to leave

a trip until later when the pollution

will not be as bad.

source ©: Facebook

65
---
Smart Lifestyle IoT and Fighting Forest Fires

IoT and Fighting Forest Fires

Internet of

Trees

66
---
An hour can make all the difference. In an hour you can weed the

garden, mow the lawn, plant a tree. In that same hour,

as gardeners who make compost may know to their cost,

a smouldering pile of biomass can easily burst into flames.

When this happens in a forest, it can start a fire that

ravages thousands of square kilometres and costs hundreds

of millions of dollars to control.

n By Mark McCoy

Being able to discover forest

fires early is an increasingly

urgent issue. According

to Cal Fire, California's

firefighting agency, nine of California's

20 largest fires to date

have occurred since 2020. California's

Dixie fire, which began in

mid-July 2021, grew to consume

almost 4,000 square kilometres of

forest by the end of September.

According to the New York Times,

authorities spent more than $610

million over those three months

to bring it under control. There

have been similarly extreme fires

over the past five years in places

as far afield as Australia, Greece,

and Portugal. And it's a growing

issue: the map below shows just

how much of the planet's surface

Fires are a

growing Issue

A map of global

vulnerability

to wildfires.

is now extremely vulnerable to

wildfires.

The ability to find and suppress

forest fires before they take hold is

therefore of immense value, but it's

a hard problem to solve given how

large forests can be, the lack of infrastructure

within them, and the

challenge of sensing the earliest

stages of a fire before it bursts into

flames. A Berlin-based startup has

decided to be up for the challenge

and is addressing it by developing

advanced sensing nodes and highly

distributed networking technology.

Although Dryad's initial focus

is to detect fires, it expects that its

system will also be able to monitor

other aspects of forestry, such

as soil moisture, tree growth, sap

flow, and even illegal logging.

source ©: Dryad Networks

67
---
Smart Lifestyle IoT and Fighting Forest Fires

The same technology should also

enable air and water quality monitoring

over large areas.

A Network of Networks

Dryad's Silvanet is made up of five

major components: three pieces

of hardware, a proprietary RF networking

technology that extends

the reach of the LoRaWAN protocol,

and a cloud analytics and

alerting platform. The whole system

has been designed to overcome

the overarching constraints

of the lack of power and connectivity

in forests.

Dryad's Silvanet

Wildfire Sensor

is designed to

operate for up

to 15 years from

onboard solar

cells.

source ©: Cision

The Silvanet Wildfire

Sensor

The sensing node for Silvanet is a

solar-powered device that uses a

sensor to measure temperature,

humidity, and air pressure, as well

as the concentrations of gases including

hydrogen, carbon monoxide,

carbon dioxide and volatile

organic compounds at sensitivities

of parts per million. A lowpower

microcontroller, which integrates

support for the LoRaWAN

protocol, runs algorithms based

on machine-learning (ML) strategies

to process sensor data to reduce

the energy burden of communicating

it in raw form over the

LoRaWAN RF network.

The Wildfire Sensor is designed

to run for up to 15 years without

maintenance or a battery, which

avoids introducing potentially

flammable materials such as lithium

into the forest.

Silvanet is

de signed to overcome

the constraints

of the lack

of power and connectivity

in forests.

Carsten Brinkschulte

Dryad Networks

The Silvanet Mesh Gateway

The Silvanet Mesh Gateway uses

a LoRa concentrator chipset to

implement the low-power, low

data-rate LoRaWAN protocol,

which is used to communicate

with the Silvanet Wildfire Sensors

and with third-party sensors that

properly implement the standard.

LoRaWANs usually have a star architecture,

in which each end-node

device, such as the Wildfire Sensor,

has a direct relationship with the

LoRaWAN gateway and through

it to the internet. Although this

approach is simple and widely

implemented, it limits the reach

of LoRaWAN networks to a circle

whose radius is defined by the RF

range from node to gateway. This,

in turn, limits how far a LoRaWAN

network can reach into a forest and

hence its utility for early fire detection

over large areas.

Dryad's key innovation is to extend

the LoRaWAN with proprietary

technology that links the

gateways to each other to form

a mesh of star networks, which

together can reach much more

deeply into a forest. The Silvanet

Mesh Gateways are also solarpowered

and designed to be

mounted on trees at about three

metres above the ground.

Carsten Brinkschulte, CEO of Dryad,

said: "The mesh is the magic

of what we're doing. Standard

LoRaWAN has a star network architecture

so you can buy dozens

of LoRa gateways, but they

all have one problem. They all

need to be connected directly

to the internet. We place a mesh

gateway every three kilometres

which extends the coverage of

the LoRaWAN network deep into

the forest. Then we have a pro-

source ©: Dryad Networks

68
---
prietary protocol to connect from

mesh gateway to mesh gateway."

The Silvanet Border

Gateway

Silvanet WildFire Sensors and Silvanet

Mesh Gateways together

can create an extensive 'Internet

of Trees' among themselves, but

they need a Silvanet Border Gateway

to reach the wider internet.

The Silvanet Border Gateway is designed

to be placed at the edge of

the forest, perhaps in a visitor's car

park or nearby building, to link the

mesh network to the wider internet

and then on to the Silvanet Cloud

Platform. Each Border Gateway can

act as a LoRa gateway, using the

LoRa concentrator chipset. It can

also implement 4G connectivity

using the LTE-M standard and fall

back to 2G and GPRS protocols if

necessary. For even more remote

deployments, the Silvanet Border

Gateway can connect to the internet

using the SWARM satellite network.

The Border Gateway can be powered

by solar cells, if necessary,

although there is also support for

wired power and Ethernet connectivity

if that is available at the

border site.

The Silvanet Cloud Platform

The sensor nodes, mesh networks

and gateways are designed to

bring pre-processed data from

throughout the forest to the

Silvanet Cloud Platform, which

provides a complete solution for

wildfire detection and monitoring

the health and growth of the

forest. The Silvanet application

groups sensor devices and gateways

either by geographical area,

or by characteristics. Details related

to each sensor, especially their

fire status, are shown on a map.

source ©: Dryad Networks

The Silvanet Mesh

Gateway

connects multiple

LoRa star networks

into a daisy-chain

with greater reach.

The Engineering Challenge

Dryad has an experienced team

of founders with a wide variety of

relevant skills but implementing

Silvanet is still a challenge. Along

with the hardware, it includes firmware

development for energy-constrained

data analytics, support for

over-the-air updates, IoT security,

implementing the LoRaWAN and

ensuring standards compliance,

creating the proprietary links between

Mesh Gateways, integrating

multiple forms of RF connectivity

in the Border Gateways, and the

cloud platform and analytics. All

this must be achieved in equipment

working at low power, with

solar panels that are often in shade,

in the difficult RF environment of a

forest, and with the ruggedness to

ensure long operating lifetimes.

And, especially for the Wildfire Sensors,

it must be done at the lowest

possible cost to enable wide deployment.

Brinkschulte says: "If you want to

put something else on the list, RF

communications in the forest is

challenging because every tree is

an obstruction full of water that

absorbs radio waves."

There are other challenges with

the RF implementation. Both

69
---
Smart Lifestyle IoT and Fighting Forest Fires

the LoRaWAN and the 4G radios

in the Border Gateways must be

on all the time because they must

be ready to accept data from the

Wildfire nodes or inbound messages

from the cloud. If 4G LTE-M

connectivity is unavailable, falling

back to 2G protocols also boosts

power consumption.

"A key challenge for us is the ultralow

power design of the sensor

Whispering Forests

The Silvanet Border

Gateway brokers

communication

between the mesh of

LoRa networks and

the internet.

hardware," says Brinkschulte. "We

need to work in an environment

where we have very little energy

input, yet we have to do something

complex. We need to scan for gas

compositions and run ML software,

it needs to work reliably, and we

need to detect fires very quickly.

These are contradicting goals, and

so one challenge is to select the

right ultra-low power components.

"At the same time, price is key

because we will need to put hundreds

of thousands if not millions

of Wildfire Sensors in a forest for

the system to work, and the price

of each component at that scale

determines the system cost. We

can't choose a component that

performs extremely well but

pushes the Bill of Material up by

five euro and kills the product."

source ©: Dryad Networks

Partnering for

Market Insights

Dryad has worked with Avnet

Silica to explore its options for

components that can meet these

tough challenges.

For example, the initial design

uses a single- and dual-core microcontroller

which offers ultra-low

power operation and integrates

LoRa radio, while having the performance

to analyse sensor data

with enough sophistication to detect

wildfires early, without creating

false positives.

"We have to do that in the sensor

because we do not have enough

bandwidth to transmit all of the

sensor data to the analytics in the

cloud," according to Brinkschulte.

"We really appreciate the competent

discussions we're having

with Avnet Silica. They are bringing

a lot of ideas and proposals for

components which may optimise

the performance of the system."

Dryad is already looking at potential

optimisations of the hardware

designs with even lower power

and even lower costs, "and that's

a constant discussion that we're

having on which chipsets to use.

We need to have it at really low

cost and ultra-low power because

if you halve the power consumption

of the device you can halve

the size of the solar panel and

energy storage, which are key

price-driving factors of the sensor

node", Brinkschulte notes.

Dryad is using super-capacitors to

store energy from the solar cells,

rather than introducing potentially

toxic and flammable rechargeable

batteries into the forest.

70
---
The network architecture of Silvanet

source ©: Dryad Networks

"If you can reduce power consumption

you can reduce the

capacity of the super-capacitors,

which would also drive down the

price. Super-capacitors are not yet

commoditised, and so selecting

the right components is definitely

something where Avnet Silica has

the competency to advise us on selecting

which may perform better,

have better availability, or a better

price."

Dryad's use of the parts is also a

little unconventional in that supercapacitors

are more widely used

to provide enough energy to enable

systems that have suddenly

lost mains power to do an orderly

shutdown.

"There's lots of specific things that

we need to do to charge the super-capacitors

from the solar cell,

so we need charging circuits that

actually do that and that is a bit

more challenging because it's not

the standard way of doing things,"

Brinkschulte adds.

Avnet Silica is also helping Dryad

understand current supply constraints

for various parts, caused

by supply-chain issues ranging

source ©: Avnet Silica

from the pandemic through to

factory fires. It has been trying to

ensure that Dryad chooses components

that will be available in

enough volume to allow it to roll

out Wildfire Sensors and Gateways

in volume.

"When you move to your go-tomarket

strategy and try to roll

out your network and the quantity

goes up, you need to have the

microcontrollers and other parts

delivered on time," says Ingo Seehagen,

senior field application engineer

at Avnet Silica.

From Tree

to Tree

The network

architecture of

Silvanet

When you roll

out your network,

you need

to have your

parts delivered

on time.

Ingo Seehagen

Senior field application

engineer at Avnet Silica

Dryad's Vision

According to Brinkschulte, wildfire

sensing is just the first application

of the Dryad networking technology.

"This is a generic IoT communications

infrastructure for the forest.

There are tons of applications that

forestry can benefit from once our

infrastructure is in place. Soil moisture

is one of them, tree growth,

sap flow, anti-logging alerts using

sound detection, and emergency

communication for forest workers."

Forestry equipment maker Stihl is

one of Dryad's backers. "We create

an IoT network infrastructure that

digitises the forestry industry, and

I guess that's of strategic interest

to them," says Brinkschulte.

The deal also gives Dryad access to

Stihl's electronics manufacturing

services, and all the tacit knowledge

and expertise it has in making

rugged electronics for use in

challenging environments.

"That is an advantage for us because

if the mothership uses them,

and the baby uses it as well, that

means they give us good attention."

71
---
Smart Lifestyle Mobile Services

72
---
Mobile Services

Taking 5G

to the Max

The pandemic has increased business and

user reliance on mobile services and paved the way for 5G.

But why is it still so difficult to predict

how useful 5G will be?

n By Tom Leddo*

The return on

investment

of 5G for the

operators is

by no means

certain.

Timotheus Höttges

CEO of Deutsche Telekom

Smart cities, self-driving vehicles

and advanced robotics

are just the tip of the iceberg:

there's no doubt that

5G will radically change the world.

As far back as 2017, Timotheus

Höttges, the CEO of Deutsche

Telekom, gave an estimate for a

nationwide 5G network in Europe,

saying that the costs could amount

to €300 billion to €500 billion - for

a product whose "return on investment"

for the operators was by no

means certain. Which responsible

businessman would invest such

sums without knowing if and how

such an investment might pay off?

The world is a different place

today than it was before the

COVID-19 lockdowns. Our dependence

on wireless services

has increased dramatically, as has

the demand for more speed and

bandwidth. It would be negligent

to believe that mobile data

traffic will decrease again as the

vaccines roll out and the world

returns to "normalcy." Slow networks

have simply become unacceptable.

All operators are working

flat out to provide users with

better, faster networks. In many

ways, the pandemic has been the

catalyst to accelerate 5G infrastructure

and deployment.

Short-term Impact

Because it is an application-based

technology, we won't know the

full benefits of 5G until it is

source ©: Deutsche Telekom AG

*Tom Leddo is Chief Strategy Officer of MD7, a mobile infrastructure solutions company based in San Diego. 73
---
Smart Lifestyle Mobile Services

7.6

The 5G Readiness Index 2021: Europe is Falling behind

6.1

5.8 5.6 5.6 5.3 5.1 5.0 5.0 4.9 4.7 4.7 4.6

4.3 4.1 4.0 4.0 3.9 3.7

source ©: Deutsche Telekom source ©: Kearney analysis

United States

South Korea

Norway

Japan

Singapore

Switzerland

Beamforming

New aktive antenna technology brings better reception and higher data rates

Passive antenna

Active antenna

Reception evenin

outlying areas

thanks to adjusted

beam signal.

Signals radiate

evenly in all

directions

Signal weaker at

the edge

Individually

controllable signals

can be targeted

Signal is just as strong in

the peripheral area as in the center

Client only uses

telephone, requiring

less bandwidth

Finland

Italy

Unready in Europe

The 5G Readiness Index

reveals that Europe is

falling behind. But 5G

isn't just an upgrade, but

a paragym shift that will

unleash innovation and

new business ideas leaving

latecomers playing

catch-up.

Adjustable

transmitting

power

Perfect coverage

for every single customer

(maximum cell throughput)

China

Netherlands

Sweden

Australia

Denmark

France

tions will not disappear when

the next generation of mobile is

implemented. Rather, they will experience

a performance boost under

5G, such as faster downloads,

improved streaming and gaming,

or more reliable video conferencing.

Mobile operators which can

take advantage of this difference

Horizontal and vertical

antennaadjustment increases

coverageespecially in urban areas

withhighrise buildings.

Signal is only

transmitted

when needed

Client streams video

at high data rates.

Signal is adjusted as

necessary

Germany

Spain

United Kingdom

Austria

Belgium

"here," which will take another

five to ten years. Until then, we

see two types of near-term impact:

How existing applications

work on 5G networks and how 5G

impacts the economy even as it is

being deployed.

Even though 5G is applicationbased,

today's mobile applicawill

definitely be among the winners

of the development.

The other angle from which to

look at the short-term impact of

5G, is the benefit to the economy.

According to a study conducted

for the U.S. by the Boston Consulting

Group, 5G will contribute

between $400 billion and $500

billion to the gross domestic

product there and create up to

one million new jobs by 2030.

Even if these figures already seem

impressive: The economic impact

of a new mobile network has already

been underestimated at

least once. Studies at the beginning

of 4G deployment, for example,

assumed that investment

in 4G networks in the U.S. would

contribute about $73 billion to

$151 billion to GDP from 2012

to 2016 and create 371,000 to

771,000 new jobs. By 2016, however,

4G contributed nearly $445

To Beam or not to Beam?

Instead of emitting a mobile

signal in a circular pattern,

which then becomes weaker

and weaker at the edges, as

has been the case in the past,

beamforming allows 5G signals

to be targeted in the form of

elongated lobes. This means

that the transmission power can

be adjusted as needed.

74
---
The 5G Economy

will go through three phases,

says the Boston Consulting

Group. Robust 5G networks

will serve as the backbone

of future economic growth.

Rising 5G penetration rates

will enable transformation in

existing applications. Phase

three will bring benefits to

citizens and businesses

including higher productivity,

lower costs, and better health

and safety.

Broad

benefits

5G -enabled

use cases

5G will be the Foundation for Tomorrow's Economy

A robust 5G network will bring significant direct benefits:

• More data, more devices, and increased speed

• A better network experience for US citizens and businesses

source ©: Boston Consulting Group

billion to GDP. Over the course

of the "4G decade," more than 20

million jobs were created in the

U.S. alone.

In this sense, the true impact of

5G is likely to be much higher

than we are currently outlining.

A Look at the Potential

While the near-term impact of 5G is

quantifiable in terms of application

performance and GDP growth, it

still does not take into account the

broader effect of the 5G ecosystem.

For 5G to truly take hold, the

industry must demonstrate the

technology's "business case." Why

else would investment continue to

flow into the sector? How to develop

use cases for 5G without using

5G? It's the ultimate chicken-andegg

scenario. So which comes first,

the technology or the application?

With 4G, it was the technology.

Application versus network was

never an issue with 4G because

4G was content-driven. Consumers

wanted faster speeds to

stream movies, go online and

generally use mobile Internet.

However, while 4G was a big step

Fixed Wireless

Access

Leveraging the improved speed and

performance of 5G to offer broadband

to homes and businesses

Robust

5G network

The Different Rationales for Deploying 5G

Enhanced

Mobile

Broadband

Offering a better and more unique

user experience-often including

tailored content and services

Near term

forward for the way mobile users

consume content, the technology

didn't break through until

the emergence of certain applications.

Through them, developers

learned what the technology

could do and products and services

emerged, such as Uber, that

used 4G to transmit data and locations

- and changed our lives.

With 5G, it's very different. Unlike

4G, 5G lacks a fundamental network

for developers to even begin

developing applications. That's

because we don't yet know what

5G can really do. We also don't

know how applications will use

the near-zero latency and IoT capabilities.

As a result, it's impossible

to assess the true impact of 5G.

Network Cost

Optimization

Meeting network traffic demands in

a more cost-effective manner than

building new cell sites

The business case depends on multiple factors, including market needs, technology options, the existing

(and expected) competitive landscape, marketing strategies, and tailored content

Who Will Lead in 5G?

By the end of the 2G era,

spectrum-related regulations

increased licensing

costs and delayed investment

in 3G in Europe, so

Japan dominated and

was well-positioned to

lead the 4G economy,

too. During both the 2G

and 3G eras, the US was

slow to roll out networks.

However, US regulators

made important policy

decisions, and by 2015,

over 50 percent of adults

in both the US and Japan

had 4G subscriptions—a

higher percentage than in

most European countries.

It remains to be seen who

will lead the 5G revolution.

New Use Cases

Moving beyond core connectivity with

newusecases(verticalor horizontal)

and business models (mostly B2B and

B2B2C)

Long term

5G-enabled use cases are key to building the 5G economy:

• Extreme mobile broadband

• Fixed wireless access

• Massive loT (consumer wearables, logistics and tracking)

• Mission-critical loT (e-health, connected vehicles)

Broad societal benefits will include:

• Improved productivity

• Improved cost competitiveness for US companies

• Improved health and safety

The theoretical possibilities are

endless. At its core, 5G is about real-time

connectivity and connecting

everything to everything – the

basic promise of IoT, after all.

Once the first business model is

established that leverages the capabilities

of 5G, the ROI will likely

be greater than anyone is predicting

today. Just as Uber created a

ride-sharing market that would

have been impossible without 4G,

companies that listen wisely to

their customers can find the next

big niche with the help of 5G.

The Next Big Thing

Each new generation of technology

has brought improvements

with faster and more reliable connections.

Since the introduction of

4G/LTE, mobile has changed the

way people work, live, get around,

or spend their leisure time. But

where those advances were already

astronomical, 5G will far

eclipse them. No one can predict

what the future will bring, but the

limitless potential of 5G is beyond

question. All that remains to be

seen is how, when, and by whom

this technology's enormous potential

will be fully realised.

source ©: Boston Consulting Group

75
---
Smart Lifestyle Interview: Chetan Khona

I bet these last few months have

been an exciting time to work for

Xilinx.

Yeah, Tim, it sure is. Recently,

we've doubled down on our

products geared for my segment

of the market: industrial vision,

healthcare and sciences. And, if

you haven't noticed, we've announced

about five years' worth

of products for industrial and

healthcare IoT edge applications

in the past few months.

Interview

The World

is Shrinking

Computer chips are more powerful and versatile than ever

and they're getting smaller every day. A company making

this happen is Xilinx, based in San Jose, California,

and it is one from just a handful of innovators shaping

the future of semiconductors. The inventor of the field

programmable gate array (FPGA) has just been acquired

by microprocessor giant AMD for the staggering sum

of $35 billion. Smart Industry sat down with

Chetan Khona, Director, Industrial, Vision,

Healthcare & Sciences at AMD.

n By Tim Cole *

source ©: TIM Global Media BV

So, you already have your work cut

out for you for the next five years.

Yes, absolutely. We just announced

our cost-optimised portfolio

at 16 nanometers, our Artix

UltraScale+ in our extensions towards

Zynq UltraScale+ devices

that are amazingly popular in industrial

healthcare IoT systems. In

April of this year, we introduced

our Kria system-on-modules that

enable developers to programme

and differentiate their designs at

the software level, without requiring

FPGA programming experience.

Then, in June of this year,

we announced our Versal AI edge

products for people who don't

really know what FPGAs are. It's

an Adaptive Compute Acceleration

Platform (ACAP) for real-time

systems in automated driving,

predictive factory and healthcare

systems, multi-mission payloads

in aerospace and defense, and a

breadth of other applications.

Could you explain what role they

play in the development of IoT systems?

Sure, adaptive system-on-a-chip,

or SoC FPGA for short, is what our

Zynq and Zynq UltraScale+, and

now our Versal AI edge devices

offer: processing at the IoT edge,

right at the analog digital boundary.

They enable scalability from

low to mid to high-end systems

but also allow you to keep running

software on a consistent

Arm processing subsystem. In addition,

they have customised acceleration

blocks for a variety of

76

*Tim Cole is editor of Smart Industry.
---
applications ranging from things

like electric drive to patient monitors

and security cameras, all with

the same device. We call this 'platform

design' and platforms are

critical to industrial and healthcare

IoT design.

What is FPGA DNA?

When we say FPGA DNA, we are

referring to the fact that, even

though we have systems-onchips,

what separates ours from

traditional SoCs supplied by other

semiconductor manufacturers

is that, in addition the usual set

of status-quo features, we also

offer fabric FPGAs to go along

with them. In the past, you've often

seen a processor sitting next

to an FPGA, now you essentially

are getting the functions of both

devices in one because we've

brought the FPGA and the processor

together under one hood.

You mentioned platforms. Why are

they critical in situations like this?

Xilinx has identified a few key

pieces that are used in virtually all

industrial and healthcare IoT systems;

things like functional safety,

cybersecurity, connectivity, control,

vision, mixed criticality, embedded

software and edge AI. These are

pieces that are used in almost all

new industrial and healthcare IoT

designs. If you have to start designing

from scratch every time, you

might have a product out by the

end of the decade, so good luck to

you! But the platform concept helps

you to be more efficient by re-using

blocks and leveraging your investment.

When you mix the scalability

of Xilinx SoCs with this platform in

concept, you get what a lot of our

customers would feel is a winning

combination.

The semiconductor world is moving

quickly to things like miniaturisation,

lower power, lightweight

or even entirely wireless. What can

Xilinx bring to the table here?

You're so right! I mean, no one out

there is selling products that are

bigger, slower or require more

power. The world in all aspects of

life is moving to smaller, lighter,

wireless and battery power. In the

short term, there is this concept

of compute density that we're

really focused on. As more and

more processing is moving to

the extreme edge, to the analog/

digital boundary, compute density

increasingly becomes a bigger

deal. That's something we've

tapped into with InFO packaging

in the cost-optimised portfolio

extensions that we have just announced.

Tell us something about integrated

fan out. What is it and why should

customers be interested?

I wouldn't recommend your readers

try this at home but if you

were to crack open your mobile

phone – and maybe you have

one, you know, with a fruit logo

on it – you'll see examples of InFO

packaging in action. Integrated

fan out eliminates the substrate

that acts as the interconnect between

the dye and the balls that

connect up to the printed circuit

board. What this means is that

you're getting the most compute

density per square millimetre of

any embedded processor on the

planet without reducing IO count.

Typically speaking, you're going

to see 60 percent smaller size, 70

percent lower height, with zero

IO loss. Having that kind of computational

horsepower in something

smaller than the size of your

fingernail is an absolute game

changer for many industries.

You know, that sounds like the end

of the road for chip miniaturisation,

doesn't it? How can you possibly

get any smaller?

Well, this is independent from the

natural scaling that takes place,

right? Even though Moore's Law

has slowed down slightly over

time, that doesn't mean that geometries

aren't still shrinking.

Right now, our 16 nanometer

products are probably main-

Just because

Moore's Law

has slowed

down slightly

doesn't mean

geometries

aren't still

shrinking.

Chetan Khona

AMD

stream for many applications, but

we've announced products, many

of which are already entering into

full-ramp production, that work

at seven nanometers, and the

world is shrinking even more.

If the dye shrinks even further,

the InFO packaging will have to

shrink along with it.

You were personally involved in

the Xilinx solution approach. What

is your primary focus and what are

your core vertical markets?

At Xilinx, we have eight markets

that we're really focused on,

namely wired and wireless communication,

data centres, automotive,

aerospace and defense,

test and measurement, audiovideo

broadcast, consumer

electronics, and then my market

which is industrial vision, healthcare

and sciences which makes

up almost 40 percent of the total

number of customers Xilinx has

out there.

You are partnering with Avnet

Silica, the sponsors of this magazine

and the corresponding podcast,

We Talk IoT, in which you've

already appeared. What is Avnet's

role in your go-to-market process?

As we touched on when you

asked about the ecosystem, we're

fortunate to have partners, and in

this case Avnet Silica, as a close

cooperative partner with whom

we can generate clear value for

customers on a daily basis. They

do the distribution and financial

services, support and upfront

architectural advisement for customers'

design services, from the

chip to the board to connectivity

to the cloud. They do the training

and events that draw a lot

of people, whether in person or,

these days especially, online but

most importantly for us, they're a

trusted partner that our customers

think of first and can count

on even in such uncertain times.

I would say they are the key player

in my own business go-to-market

process.

77
---
Smart Solution Data Marketplaces

Data Marketplaces

Old Data for

Sale

Do you know what your data is worth? Many private

companies and public sector organisations could be sitting on

piles of money they could use for other purposes– but where can

they go to buy, sell or exchange this 'used' data? Data exchanges

are an exciting new frontier in the realm of Big Data.

n By Stian Overdahl

78
---
Data exchanges, or data

marketplaces, could potentially

unlock new revenue

streams for companies,

as well as lowering the cost of engaging

in data-intensive activities,

such as training machine-learning

algorithms. Aside from exchanges,

white label solutions for large corporates

and their suppliers are another

promising development.

Any company can estimate the

value of its data by calculating the

cost of collecting it, its value to an

internal commercial project, and

its quality and longevity (will it

have value in five years' time?). In

the era of data exchanges, these

figures take on a new cogency

as companies sell data sets, give

them to trusted partners or acquire

new data sets.

Establishing a value for data on a

public marketplace could bring

big benefits to companies. For

example, a project generating a

significant amount of data could

defray some of its costs by selling

it, while a project where collection

costs are significant could be done

more cheaply by buying-in data.

Sheridan Johns, head of ecosystem

at Ocean Protocol, a blockchain-based

data exchange, says,

"People understand that data is

valuable, and people are building

valuable companies using data,

but what are people going to

pay for data? Putting data on our

marketplace, allowing data to be

Data

Provider

Compute

Provider

of digital and emerging technology

at professional services firm EY.

Buyers of raw data often find that

suppliers collect and aggregate

data in different ways and formats.

A company that wants to

provide a weather service, for example,

can run into difficulties as

it must obtain data from various

measuring sites.

It's likely that a weather station

run by a professional organisation,

like an airport, would collect

data more frequently, whereas

others, such as a community organisation,

would sample less frequently.

In addition, the various

measurers may calibrate their sensors

differently. Maintenance can

also be a factor – for example, one

supplier may experience more

downtime or it may decide to

upgrade its software, making the

data fragmented or unreadable.

There are also questions about

whether a company can build a

product with a competitive advantage

by relying on third-party data

sources, or does it need to build its

own sensing infrastructure?

"In 99 percent of cases, you will

recognise that the competipriced

in real time using dynamic

pricing features and automatic

market makers, enables an individual

or organisation to publish

a certain dataset and determine

exactly what its value is."

Johns believes that within ten

years it's going to be commonplace

for large organisations to be

either buyers or sellers of data using

online data marketplaces. This

potential growth will result from

the growing need for data, especially

for artificial intelligence.

Increased demand and a growing

awareness of the importance of

data also makes companies more

likely to share externally, notes Didier

Navez, senior vice president of

strategy and alliances at Dawex, a

data exchange. "In the context of

training AI, it seems like the market

is evolving and maturing, and

companies are really willing to

share data. Clearly data exchanges

help in that process because they

provide a structured environment

where exchange of data is secure

and compliant," he says.

There are still several flies in the

ointment, especially in the domain

of IoT: quality of data, privacy

and commercial sensitivities.

"When it comes to monetisation

of IoT data, people think it should

be easy. Unfortunately, there are

a couple of huge issues and this

concept very quickly becomes

very complicated," says Aleksander

Poniewierski, global head

Decentralized Data Market Protocol and Network of AI Data / Servies

Storage

Provider

Analytics

People understand

that data

is valuable, but

what are they

going to pay?

Sheridan Johns

Ocean Protocol

Further

Processing

source ©: New Work SE

source ©: Asia Crypto Today

Algorithm

f(x)

Curation

Building a Data Ecosystem

Through the help of decentralised service

agreements and access controls powered

by virtual machines, Ocean allows users

to access, monetise, and even curate data

management services that they will need

for their businesses.

79
---
Smart Solution Data Marketplaces

tive advantage comes from building

your own data infrastructure,

rather than sourcing [externally],"

says Poniewierski. If a company

creates a business that relies on

external data sources, then competitors

might easily surpass it, he

notes.

Putting Data to Good Use

Exchange operators embrace a

range of different models, ranging

from fully open data marketplaces,

through restricted marketplaces

or corporate internal data sharing

platforms, to data brokers that will

search for a data set on request.

There is also the split between private

and public sectors. For example,

several public sector organisations

have a mandate to share data

sets and a marketplace is one way

to make these more readily available.

One such project, Gaia-X in

Europe, envisages a marketplace

to improve artificial intelligence

product development, including a

"protected data room for development

and test data in order to continuously

improve the AI applications

and adapt them to customer

needs".

Long-running fears about personal

data privacy means there is now

the potential for forming decentralised

autonomous organisations

80

The advantage

comes from

building your

own data infrastructure.

Aleksander Poniewierski

Global head of digital

and emerging technology

at EY

Purchasing Platform

Smart Contracts by

Databroker DAO is a

platform for listing,

verifying, aggregating,

enhancing and

reselling data through

a simple and intuitive

user interface.

(DAOs) where individuals could

share their own anonymised data

with others.

"What we're seeing emerging on

the consumer front is the idea of

data unions, or data DAOs, where

individuals are encouraged to pool

their data into one larger data set.

Then, when that data set is used

by the third party, the rewards are

distributed to all of the individuals

who helped to make it," says Johns.

source ©:EY / Ernst & Young Global Limited

White-label solutions target organisations

where commercial sensitivity,

privacy and other concerns

are top of mind. These allow data

sets to be shared securely between

business units within the organisation

or with trusted supply-chain

partners.

In the enterprise segment, the advantages

of sharing data may outweigh

commercial sensitivities. In

the German automotive industry,

companies – including Mercedes-

Benz, BMW and Volkswagen – are

exploring the potential benefits

of a data exchange programme.

The goal is an open, scalable network

for sharing cross-company,

standardised information. As a

technology partner, Ocean Protocol

describes the basic concept as

showing how competitive companies

can benefit mutually by sharing

data rather than building separate,

proprietary, siloed services for

themselves.

Financial opportunities will depend

on the value companies

see in the data they obtain on exchanges,

and what they're willing

to spend. In turn, that depends on

how the data can improve business

outcomes – and its quality.

source ©: Medium
---
Interview

Circular Reasoning

What is Dawex?

Dawex helps facilitate the circulation

of data among various stakeholders.

We are developing data

exchange platforms that can be

used by many different types of

organisations, whether private or

public.

Why are data exchanges important?

As you know, the world is seeing

an explosion in data being created.

IoT is part of the reason but,

even though the supply of data is

incredibly high – activities such

as training a machine learning algorithm

requires huge amounts

of data – demand is increasing a

lot, more than a single organisation

can typically supply. Organisations

need to look to external

sources. Of course, you have open

data, you can scrape the web and

do things like that but very often

the most important data are residing

at other organisations – accessing

that can be challenging,

at least legally.

So that's where data exchanges

come in?

They connect the data suppliers

with the data acquirers and help

them engage. That requires trust.

Elements that can create trust

include being able to carry out a

data transaction in a secure and

regulatory compliant environment

– something you can typically

embed in a data exchange

platform.

Can I buy used data like I buy a

used car? Does it belong to me?

Data owners must consider

whether they are ready to make

their data available to others and,

if so, on which terms and conditions,

and at what price. Typically,

data is licensed. Instead of buying

the data outright, the buyer

purchases a license which allow

them to use it under certain

terms and conditions. There are

also many regulations governing

data sales – not just private data,

but any kind of data. We know of

more than 120 pieces of regulation

globally and our anticipation

is that the data economy is going

to be regulated as heavily as the

financial markets – if not more so.

What are the technical requirements?

The actual sharing and transferring

of data can happen in many

ways: simple, file-based exchange

or API-based; it can be a one-time

transaction versus subscription

or ongoing. With a subscription

the user obtains access to data

Data owners

must always

know who they

are dealing

with, who is

using the data,

and how it will

be used.

Didier Navez

Dawex

source ©: Dawex Systems

for a certain period, with the data

updated on a regular basis according

to the agreement. The

challenge and opportunity for

the data exchange provider is to

be able to keep track of, and cope

with, all these use cases and scenarios.

At Dawex, we manage all

these issues, whether it's a hedge

fund making a one-off acquisition

of a data set to test an algorithm,

or on-going projects, for example

in the agricultural sector and in

the agri-foods industry.

In September 2021, you joined

a consortium of partners from

the aerospace industry to create

what you call the Space Data

Marketplace. What is the rationale

behind that?

This project is focused on satellite

data. Currently, the domain

is quite siloed. There are multiple

sources where you can get

these data now but it's neither

very streamlined nor efficient. We

want to create a one-stop shop

for all types of satellite data for

all kinds of use cases and initiatives.

For example, we have companies

developing solutions for

analysing infrastructure using AI

or looking at applications such

as rail or waterways or managing

crops and vegetation.

What's the difference between

open exchanges and closed

white-label ecosystems, and

how do you see this playing out?

A modern data exchange environment

should push for transparency,

so the data owner will always

know who they are dealing with,

who is using the data and how

it will be used. That's a very important

principle for augmenting

the trust that corporates have for

making their own data available

to others and, for example, avoiding

the chance that a competitor

would be able to access sensitive

data they shouldn't have.

81
---
Smart Solution Machine Vision

Machine Vision

How to See

the World

Machines aren't just becoming smarter every day –

they are also developing the ability to see the world around them.

In fact, artificial eyes can penetrate to greater depths and

pick out much more detail than our weaker human eyes can

ever hope to see. And yes, they can see in the dark, too.

For IoT applications, this could be a real eye-opener.

n By John Koon

82
---
Light detection and ranging

(Lidar) is a remote sensing

method that uses pulsed laser

light to measure ranges

(variable distances). Similar to its

close cousins, radar using radio

waves and sonar emitting sound

waves under water, Lidar uses laser

light to accurately measure ranges

(distances) – something that is critical

for many sectors and industrial

processes.

Theoretically, measurement can be

performed using other technologies,

but Lidar has multiple advantages

over them. For example, it has

a higher resolution than radar and

a wider range than camera sensors

and can even perform in the dark.

Furthermore, Lidar produces 3D

data and can detect and differentiate

objects. As a result, it can be used

to track objects, detect physical protrusions

and survey landscapes.

Measuring carbon dioxide, sulfur

dioxide and methane in the air or

water can also be achieved with

Lidar, making it ideal for things like

geographical surveys, autonomous

driving, industrial applications and

logistics.

source ©: NOAA

The Face of the Earth

Geographical surveys are not just

for mapping mineral and water

resources, they have been used to

map zones prone to earthquakes,

tsunamis, landslides, flooding and

volcanic activity to deal with potential

disasters. In addition, coastlines

need to be surveyed for effective

management and planning for

navigational, environmental and

homeland security purposes.

As global warming raises sea levels

and causes extreme weather events

like enormous floods and droughts,

high-resolution geographical surveys

will be crucial for monitoring

the effects of global warming, such

as coastline erosion. This information

can help governments to devise

coping strategies, such as safe

and responsible land use and emergency

preparedness, to protect civilian

lives and marine wildlife.

The National Oceanic and Atmospheric

Administration (NOAA), an

agency primarily responsible for

mapping US shorelines, sought to

increase the efficiency and reduce

the subjectivity of older technologies,

such as tide coordinated aerial

photography. Data collection in intertidal

zones was also poor because

these areas are too shallow for

survey vessels to approach safely.

NOAA now uses airplanes and helicopters

equipped with two types of

Lidar: topographic and bathymetric.

Topographic Lidar typically uses a

near-infrared laser to map the land,

while bathymetric Lidar uses waterpenetrating

green light to measure

seafloor and riverbed elevations.

Lidar is helping

us understand

sea-level rises

and coastal

flooding/inundation

impacts,

and marine life

habitat mapping.

Stephen White

NOAA

National Ocean Service

Monitoring

the Warming

A view looking northeast

from Virginia Key

shows the topobathymetric

surface of the

intertidal zone near

Fisher Island. This

image was created

from the LiDAR bare

earth model colored

by elevation.

The two images can be combined to

produce a single 'topobathymetric'

image of the coastal area.

Driving Force

How do we make sure autonomous

cars and trucks pay proper attention

and avoid disasters in near

darkness, pouring rain, heavy snow

or on a winding road?

Lidar's high speed and accuracy enable

distant object detection on a

moving vehicle, even in low light.

This makes it a powerful technology

for advanced driver-assistance

systems (ADAS) in drones and vehicles.

It performs less well in heavy

rain and snow or in fog but work is

in progress to find ways to improve

its reliability in all but the worst conditions.

Earlier Lidar technologies were

typically used in applications with

a high tolerance for failure. In contrast,

the bar is much higher for

safety, accuracy, and reliability

when using it in autonomous vehicles.

Products need to be designed

from scratch to meet the 3D sensing

requirements of automotive active

safety systems, ADAS implementations

and autonomous vehicles. In

addition, solutions must be small

and unobtrusive which is a challenge

for Lidar.

83

source ©: NOAA
---
Smart Solution Machine Vision

Aerial Mapping

YellowScan uses

a mix of dronemounted

passive

and active laser

sensors to create

3D maps for mining,

civil engineering,

forestry, environmental

research,

and archeology.

Passive Sensor

Active Sensor

source ©: MicroVision

source ©: YellowScan

The scan rates and angles of the

sensor need to be dynamically controlled

and limiting the number of

sensors used helps to decrease overall

cost. It also minimises the amount

of high-resolution data that must be

collected and analysed on an often

fast-moving and sporadically accelerating

and decelerating vehicle.

Vehicles need to

see further out

and understand

more about

what they see,

such as which

objects are

moving and

where are they

heading.

Jari Honkanen

MicroVision

The latest high-resolution 3D systems,

such as MicroVision's Long

Range Automotive Lidar, meet stringent

3D sensing requirements. They

are compact and non-intrusive,

with fast frame rates and can characterise

an environment more accurately

with a higher level of information

analysis. These features enable

vehicles to respond more rapidly to

obstacles and avoid them.

Making Things Work

Industrial applications for Lidar include

things like manufacturing

and robotics automation. Systems,

such as Baraja's Spectrum-Scan, are

being deployed in mining vehicles

to map locations and visualise environments.

It can also help improve

worker safety in mines and caves.

Mines are often located in remote

areas and underground, where

pockets of lethal gases tend to accumulate.

Methane is explosive, carbon

dioxide and carbon monoxide

are lethal to humans at high concentrations,

and hydrogen sulfide

is poisonous and highly flammable.

Therefore, using laser light to detect

gas pockets allows miners to deal

with them promptly, keeping them

safe and making their time in the

mine more efficient.

Just as Lidars image the 3D topography

of the environment for

autonomous vehicles, they can be

used above ground to detect unwanted

gas concentrations during

gas mapping. For example, a methane

leak can be detected by pointing

a laser beam of a specific color

Loggerhead Lighthouse

This image is a topobathymetric

point cloud colorised

by intensity. This image was

captured during a survey of

the Dry Tortugas, and is the

lighthouse on Loggerhead Key.

source ©: NOAA

84
---
An Eye on the Road

source ©: Bridger Photonics

Scientists have approached the challenges

of determining range, angleand

velocity in two ways: using radio waves

and using laser light. Lidar, radar and

sonar each have their benefits and

deficiencies in autonomous vehicles.

Google's spin-off company Waymo and

Aurora, which took over Uber's ill-fated

project, both use Lidar but have radar

for support in foggy, rainy or snowy

conditions to assist Lidar's less-reliable

results in extreme weather. Tesla uses

ultrasonic sonar to map the environment

and a front-facing radar.

A Sentry in the Sky

At least 2 percent of gas

resources is wasted through

leaks of methane. A drone-based

laser-based Remote Methane

Leak Detector (RMLD) by Physical

Sciences might solve the problem.

at the suspected location or along

a survey line. Some of the laser

light is absorbed by the target gas

and the rest bounces back as a diffused

beam. The Lidar receives the

reflected beam, measures the light

absorption and calculates the density

of the leaking methane.

This process generates geo-specific

images of gas plumes that can be

combined with satellite and other

data to create a map illustrating the

leak's extent and location. The GPS

coordinates of the map can quickly

direct a maintenance crew to the

leak. So far, ExxonMobil and SoCal-

Gas have used Lidar gas-mapping

technology to detect leaks.

source ©: Baraja

What Will the Future Bring?

In all cases, high-definition cameras

supplement and complement the

other systems to add visual context.

The color cameras also provide the

ability to monitor traffic lights and

read road signs, which is beyond

the other three sensors. This is useful

where emergency signs have

been put out by emergency services

or for roadworks that may not be

mapped on satnav systems.

Lidar sensors are being developed

that are even more miniaturised

and lighter so they can be used for

unmanned aerial systems, such as

drones performing geographical

surveys. Meanwhile, reducing costs,

increasing reliability and enhancing

data resolution will be common

goals for the next generation.

We are also likely to see further democratisation

of Lidar applications.

For example, the low-performance

3D Lidars appearing in smartphones

are likely to be replaced by

ones with higher resolution and

processing. In short, Lidar will be

more compact, more capable and

lower cost.

Lidar systems

can accurately

map and visualise

surrounding

hazardous environments

increasing

safety

and efficiency.

Jim Kane

Baraja Industries

■ Radar

Radio detection and ranging, coupled

with hi-res cameras, is an approved way

for providing machines with 'sight'. In

1886, German physicist Heinrich Hertz

demonstrated that radio waves are reflected

by metallic objects. British scientists,

spurred on by the militarization of

Germany, used this property to develop

radio-based detection and ranging in

1935. Independently, Germany, the USA

and Russia also developed radar systems

in the following year or two. These

systems were all designed to detect

huge hunks of metal at sea or in the air

and in the years since then refinements

have been made to finesse the detection

capabilities to include all manner of

objects, including humans.

■ Lidar

In 1960 the invention of laser technology

created a flurry of research

activity to find uses for the powerful

light beams. In 1961, a US scientist

named Malcom Stitch, who worked

for the Hughes Aircraft Corporation,

introduced the first functional Lidar

system but it wasn't until the arrival of a

commercially available global positioning

system (GPS) using satellites and

inertial measurement units (IMUs) in

the late 1980s that accurate positional

data became available.Lidar's reach is

constantly increasing. Currently, Aeva,

based in Silicon Valley, is selling its 4D

Lidar system on-a-chip which has a

range of 500m.

85
---
Column Bernd Schöne

Liquid Software

Wetware Revisited

There was a time when 'wetware' was a

geek word for the part of the body

that computer scientists use to

gather and modify their thoughts.

But jargon moves on and the new

buzzword is 'liquid software', which

stands for a system that can be updated

and modified at any time without

interrupting its flow. So, it isn't all that

different from wetware, is it?

Agreeing on a definition for the new

buzzword, on the other hand, is tricky. If

you ask me, it simply represents a cautious

step forward, albeit in the right general direction,

with many more to follow.

Software for IoT has very specific requirements. The

market is fast-moving, unit volumes are high, and

prices are manageable. The need to transfer large

amounts of data across device and network boundaries

is essential – as is the distribution of updates.

Without software that is up-to-date, seamless interaction

between sensors (acquiring data), data centres

(crunching data), decision-makers (evaluating

data) and actuators (controlling data) is impossible

– and, without it, so is IoT. It comes as no surprise that

the concept of 'liquid' has caused quite a flurry since

its introduction to IT in 2014, even though, or maybe

because, no one can say precisely what it is.

The water analogy helps us understand what it is

everybody's talking about – and why they're so excited.

Just as water will always find its way to a river

Dams and dikes

are barriers

that keep water –

and data – from

flowing freely.

Bernd Schöne

is a veteran German Internet

journalist and an expert on

cybersecurity

and the sea, data and applications should be

able to flow steadily and independently to

where they are needed throughout the

IoT network. The latest software versions

running individual IoT components

should autonomously go with

the flow, with error corrections and

new features being automatically

patched-in on the way.

This is not a new concept. The internet

itself, and the World Wide Web, have

been connecting computer systems for

years, and 'patch days' are as old as the

first servers. Before now, automatic updates

were always instigated by specific applications,

such as a browser or an email programme.

Everything else required actions by the user. That's

about to change. In the future, streams of data, applications

and updates will find their own way to

their destinations without a single click of a mouse.

So far so good but experience has taught us that

where liquid flows are concerned, dikes and weirs

are essential to the successful co-existence of water

and people. No one knows this better than the

inhabitants of Europe, who were hit by horrendous

flooding in 2021. The Dutch know better than most

how to handle water: After a devastating storm

surge in 1953, they sealed off the entire country from

the North Sea within 30 years.

Weirs and dikes are barriers that keep water – and

data – from flowing freely and out of control. In IT,

86
---
malware and substandard sets of data play the role

of storm surges and floods. They must be contained.

Even today, there are already such barriers in place in

many companies but these 'dikes' are usually there

for economic reasons. Apple and Google, both pioneers

of the liquid software idea, with products like

Apple's Handoff (Continuity) service and Android's

Lollipop, are fighting doggedly for market share –

but the days of data monopolies are over.

Keeping your users locked up within the walls of

your own company network is the direct opposite

of liquid software. It takes away the key advantages

for the user and puts the whole idea of liquidity in

danger.

In my opinion, IoT dams and weirs should not be

built by stock market analysts and CEOs, but by CTOs.

There should be a coherent technical need for barriers

to minimise security issues. Sandboxing of unknown

data is one way to minimise risks but clear requirements

for structure and security checks for incoming

updates and new applications would also help.

Technically, this is no longer a problem for machine

tools whose AI intelligence always assumes a defect

is imminent, based on conspicuous fluctuations in

measured parameters. These predictive systems can

not only inform service departments, without being

told to do so, but can also automatically determine

the availability of spare parts and the maintenance

personnel waiting in the background. Edge systems

can then autonomously calculate the team's arrival

time and determine when things will be running

smoothly once again. All this without the maintenance

or security teams needing to pick up the

phone or for an employee to send an email to alert

them.

The IT support world is full of data: information about

traffic flow, the number of service vehicles on standby,

the location and condition of necessary spare or

replacement parts. All we need to do is unlock this

treasure trove of information and let the data flow.

When that happens, we'll be amazed to find what opportunities

we've been missing just because phone

providers, internet service providers, equipment

manufacturers and operators, service companies,

and application distributors have been jealously

protecting their sinecures instead of networking in a

purposeful way.

Today, service technicians have to identify themselves

to the gatekeeper, even though their IDs may

have been established long ago and the exact time

of their visits would already have been noted in all

the company's IT systems. Unfortunately, gatekeepers

don't know any of this. Too bad!

Of course, nobody should jump blindly into the flow.

As always, prudence and precautions are necessary.

New management tools, like 'scrum' software which

helps teams to learn from shared experiences, will

make IT security easier to achieve – there's still no

substitute for the human brain if we want to take IoT

to the next level. In the end, it means that someone

has to accept responsibility for any system. But as for

the software? Just let it flow.

87
---
Smart Solutions Smart Sensors

Smart Sensors

Smart Eyes for IoT

Technicians have been reluctant to

use cameras for IoT because they were

considered too expensive. That is now

history. Today, CMOS sensors with

respectable resolution cost only a

few dollars and chips that deliver

high-definition images are available

for a little more. Thanks to AI, new

integrated image signal processors

(ISPs) are taking the strain off transmission

networks and edge computing.

88

n By Bernd Schöne

Cameras provide lots of data

and the more data, the better

they are. Unfortunately,

that clogs up the communications

channels. In addition, the

images have to be prepared and

processed which puts a strain on the

computers in the system. Often, the

normal TV frame rate of around 25

frames per second is not enough, either.

Manufacturing machines operate

so fast that surveillance cameras

have to deliver 60 or more images

per second. Thanks to data reduction,

the H.265 transmission format

shrinks the amount of data and thus

enables wireless operation – but

H.265 is computationally expensive,

which is a shortcoming for batterypowered

devices.

CMOS chips also have peculiarities.

Most sensors produce a certain

basic noise level, even in absolute

darkness. These chips also inevitably

contain a few defective pixels.

No problem – there are correction

programmes for that. In addition,

the distances between camera and

object are often small in IoT applications.

Also, no problem – that's what

wide-angle lenses are for, though

they do tend to distort and suffer

from vignette shadowing around

the edges.

If the image analysis determines

whether labels on a bottle are correctly

positioned, for example, image

errors can confuse and deceive

the analysis programme. Here, too,

there are proven remedies. However,

correction programmes put a

strain on the camera CPUs because

the correction is best done before

the image has been compressed in

order to achieve optimum results.

This, in turn, puts further strain on

the communications channels.

Usually, in cheaper systems, the

black-and-white image of the sensor

has to be transformed into a color

image. For this purpose, the mosaiclike

pattern of color filters over the
---
Qoitech

Fighting Power Hunger

source ©: Qoitech AB, Elektor Verlag GmbH

camera sensor has to be back-calculated,

so to speak, in order to obtain

red/green/blue color separations

(demosaicing). This also costs computing

power.

A new generation of image signal

processors (ISPs) now offers developers

a solution to these problems.

ISPs operate in the immediate vicinity

of the camera module and handle

all the pre-processing of the images.

They are calibrated to the chip and

its optics and transform the raw data

into images that can be easily processed

further.

In reality, no one is interested in

the camera images, only the results

count – thumbs up or thumbs

down. In the labeling example, the

operator wants to know if the label

is positioned correctly: is it crooked

or, in the case of pharmaceuticals, is

it stuck together in such a way that

it's no longer legible? When cleaning

bottles, no one is interested in

the 100,000 bottles that have been

cleaned well but only in those that

need to be cleaned again or belong

in the waste because they have a

crack.

Today, AI can take over these relatively

simple tasks and the new ISPs

also have a neural network on board

that runs an AI programme for image

analysis. In this way, the engineers

can let them make their own

decisions without the need for cloud

support or data flow gymnastics.

Most IoT devices are battery powered but

designers want to know how power consumption

will fare over time. Finnish startup Qoitech

has launched the Otii Arc, an inexpensive 'little

helper' that makes it possible to precisely

track current, voltage and power consumption

before a device is deployed.

All batteries react the same way to load – the

voltage output plummets. Unlike a flashlight,

an IoT sensor does not load the battery evenly.

Sometimes the sensor is 'asleep' and consumes

no energy, sometimes it sends data and

consumption skyrockets for a short time. Decisive

for the load profile is the software, which

may or may not be cleverly written, and the

environment, especially the temperature. The

Otii Arc measuring device connects directly

to the sensor and a laptop. It acts as a power

Fraunhofer

How to Bee a Sensor

What does a bee need to survive? Dramatically

declining populations spurred the German

government to have special sensors developed.

In response, researchers at Fraunhofer

source ©: Micro-Sensys GmbH

source and determines the load profile over

the operating time until the dreaded 'brownout'

as the battery empties.

Qoitech's device allows small development

offices to carry out their own measurements

and tests at a high technical level. The target

groups also include software developers because

the more cleverly the software manages

the energy reserves, the longer the sensor

battery will last. Programmers can now conveniently

and quickly determine the success of

their efforts without having to rely on lab tests

from engineering firms.

Determining battery runtimes is not the easiest

of tasks. Within a few months of the launch,

Qoitech received a number of requests and

suggestions from users, which it rapidly incorporated

in a software update.

IZM created ultralight wireless sensors that can

be attached to a bee's back, turning the insect

into a flying IoT sensor. The RFID chip transmits

important flight data as well as temperature

and brightness to a base station. The system,

which weighs only ten milligrams, is powered

by a specially developed ultra-light battery

which receives its energy from a microscopic

solar module.

In the medium term, the Sens4Bee project,

based at Fraunhofer's Helmholtz Centre for

Environmental Research (UFZ) is to become a

tool for all interested beekeepers. The aim is to

clarify the relationship between bee mortality

and the application of pesticides.

89
---
Smart Solutions Smart Companies

Smart

Companies

Robotics Research

Automated Rapid Transit

A growing list of IoT innovations

have been developed and

deployed by companies which

are using IoT to solve real-world

problems in transport. Robotics

Research's AutoDrive advanced

driver assistant system (ADAS)

is one of these potentially revolutionary

approaches to IoT. It is

'platform agnostic' – meaning

that it can be used to retrofit

vehicles of all sizes, from small,

portable robots to large trucks

and buses. The system provides

vehicles with autonomous driving

functionality on surfaces

ranging from urban-improved

roads to off-road terrain, while

also collecting and analysing

data to enhance the driving experience.

Robotic Research has deployed

Society of Automotive Engineers

(SAE) Level-Four automation

where self-driving is supported

only in limited spatial

areas (geofenced) or under special

circumstances. Outside of

these situations, the vehicle will

safely abort the trip by slowing

down and parking the vehicle

if the driver does not retake

control. The AutoDrive technology

is currently operating in 30

states in the US and on four continents.

Recently, the company has

helped the Connecticut Department

of Transportation to make

source ©: New Flyer

Electric Commute

Flyer Xcelsior Charge

heavy-duty transit buses

are operating on the

CTfastrak corridor, a

dedicated nine-mile

(14.5 km) stretch for exclusive

use by CTtransit

buses.

advancements in automated

public transit thanks to a new

programme funded by the US

Department of Transportation.

Through the department's Integrated

Mobility Innovation (IMI)

initiative, Robotic Research's

proprietary AutoDrive system

is enabling the automation of

heavy-duty transit buses for

passenger service deployment.

This will be a first for mass

transportation systems in North

America.

Three automated New Flyer

Xcelsior Charge heavy-duty

transit buses are operating on

the CTfastrak corridor, a dedicated

nine-mile (14.5 km) stretch

for exclusive use by CTtransit

buses. The 40-foot, electric buses

will offer a zero-emission operation

running between New

Britain and downtown Hartford,

the capital of Connecticut.

As the first automated Bus Rapid

Transit line put into public service

in North America, the CTtransit

initiative also marks the

first application of automated

precision docking to optimise

platform gaps. This, and other

automated technology to improve

access, ensures boarding

is compliant with the Americans

with Disabilities Act (1990)

which prohibits discrimination

based on disability, while increasing

accessibility for all passengers.

90
---
source ©: Space&Matter, Isabel Nabuurs Fotografie

Space&Matter

Launching A Floating

Neighbourhood

Climate change may force some

city dwellers to take to the water.

At least, that is the thinking at architects

Space&Matter, founded

in 2009 by Sascha Glasl, Tjeerd

Haccou and Marthijn Pool. United

by the desire to improve the world

for their children and all future

generations, their journey began

with Water voor Wonen (Water for

Living), a floating neighbourhood

in the low-lying Dutch polder region.

"Since urban areas struggle with

high density, we should make better

use of the space on the water,"

says Haccou. Co-founder Glasl

adds, "We want to set the example

and show how living on water can

be a great and better alternative

for people and our planet."

Their signature project, which

began almost a decade ago but

was only completed in the summer

of 2021, is called Schoonschip

– literally 'clean ship' in Dutch.

Space&Matter says it was originally

a "circular neighbourhood

which was initiated and developed

by a group of enthusiasts with a

shared dream: to build a sustainable,

close-knit community on the

water". The group approached the

architecture firm to help design

the urban plan, plotting the boardwalks

and smart jetty that unite

the inspired community.

The project houses more than 100

people in 46 sustainable homes

across 30 water plots. The area

was designed to be mainly selfsufficient,

with a minimal impact

on nature while adapting to the

rising water.

Schoonschip also uses clean

energy sources, using solar

Sascha Glasl

is passionate about strategic

design, innovative

concepts and democratic

development processes

Tjeerd Haccou

likes using online and offline

tools to bring together and

empower communities

Marthijn Pool

is excited about researchbased

projects that explore

new urban concepts

panels and heat pumps to provide

heating, and the architects

plan to convert wastewater

from toilets and showers into

energy. All buildings also have

a green roof – part vegetation

and geared to rainwater collection.

C40 Cities Climate Leadership

Group, a collaboration between

the mayors of 97 cities worldwide,

agree that climate change

may force many to choose to

live on the water. It estimates

that some 800 million people

and 570 cities could be at risk

by 2050 if sea levels rise by half

a metre, as forecasted by some

experts. C40 Cities – which represents

a twelfth of the global

population and a quarter of its

economy – believes that the

floating neighbourhood in Amsterdam,

Netherlands, shows

one way to cope.

"Living on the water offers a

great solution for places where

climate change and a rise in sea

levels are a looming hazard,"

says Glasl. "It not only protects

people against nature, it also

protects nature itself."

91
---
Smart Lifestyle One More Thing

And now:

One More Thing

For more than a year, the team at Smart Industry, the IoT Business

Magazine, has been hosting a monthly series of podcasts

called We Talk IoT. These consist of interviews with experts in the

various areas of IoT who have something

really important to say,

n By Tim Cole

92
---
The podcast covers a wide

range of topics ranging from

IoT infrastructure to autonomous

vehicles, artificial intelligence,

predictive analysis and

cybersecurity. It is sponsored by

Microsoft Azure and features on

Spotify, Apple Podcasts and Sound-

Cloud to reach an average audience

of 5,000 to 6,000 listeners per

month. We encourage our interview

guests to link to the podcast from

their own websites and social media

platforms to boost overall listenership.

If you would like to hear it, you

can find it through our homepage at

www.smart-industry.net/podcast.

Every issue of We Talk IoT concludes

with a short editorial item of interest

which we call One More Thing. As of

now, the editors will get to choose

their favourite installments to share

here at the end of our print edition.

Foresolution

Where's the Loo? IoT

Flushes It Out

One of the most challenging jobs for

IoT technologies is real-time tracking

of goods and assets at remote locations,

even when they lack a power

source. Portable toilets are a good

example. They're usually tucked

away well out of sight (and smell)

and sometimes the only way to find

them is to send out a search party.

Foresolutions, a UK technology

company, thinks it's found a better

way to locate and check the status

of such hard-to-find assets as porta

Mobile Expandable

Wellbeing Unit

Compacting to a 4ft

(1.2 m) cube, the

MEWU fits onto a

standard rail trolley or

trailer anywhere on

track for deployment

at the point of work.

The Daily

Travel Puzzle

At Heathrow, as in

any major airport,

hundreds of companies

work together

to make travel

safe and smooth.

Increasinly, they

rely on IoT to coordinate

thousands of

routine tasks, from

toilete to air traffic

control.

potties, construction tools and airtraffic

equipment, just to name a

few. The company is providing battery-powered

IoT devices along with

its own software for managing nonpowered

items in outdoor working

environments.

These often include seats of ease, euphemistically

called Mobile Expandable

Wellbeing Units, or MEWUs

(pronounced 'mews'). These are typically

bright orange, interconnecting

boxes placed at railway or building

construction sites. They contain

removable wastewater tanks and

compartments for additional

source ©: Selectequip source ©: Twitter / Heathrow Airport Limited

93
---
Smart Lifestyle One More Thing

source ©: Digital Matter

Live Long and

Prosper!

Ultra-rugged longlife

battery-powered

GPS devices like this

one from Digicore

offer up to seven

years of asset tracking,

theft recovery,

and more.

IoT data

keeps units

sanitised

and wellmaintained.

Tom Ross

Foresolutions

safety equipment such as defibrillators

and first-aid gear. The units cost

lots of money and are mostly left to

fend for themselves out somewhere

in the boondocks.

Thanks to battery-powered sensors

and wireless connectivity, Foresolutions

helps railroads and construction

companies keep track of their

units, tell whether they are being

used and when to call in maintenance.

In addition, the company

has deployed several thousand IoT

devices at Heathrow Airport to keep

track of various non-motorised assets

– tools, steps, tugs and other

equipment – in order to help management

understand their utilisation

and to locate equipment when

needed.

Throughout the past year, Foresolutions

has been partnering with Australia's

Digital Matter, which makes

battery-powered sensors that leverage

wireless networks – including

LTE, GSM, WiFi and Bluetooth – to

forward data to the cloud, no matter

where the sensor is deployed.

On the mobile toilets, the company

is using Digital Matter's Oyster 2 sensor

devices, powered by three AA

batteries, to update companies with

the information they need to manage

the units.

Traditionally, this type of data cannot

be accessed without a human

visiting the station. Foresolutions'

system can detect not only the GPS

location but also such conditions as

the opening and closing of doors,

vibration, temperature and humidity

changes, as well as water, ice

and other outdoor conditions. Any

changes in location or sensor readings,

such as tilting or moving, are

forwarded to the headquarters so

those in charge of the stations can

tell if they are being moved. After all,

these units cost a lot of money and

theft is not unknown.

IoT data also helps to ensure that the

units are sanitised and well-maintained,

says Tom Ross, Foresolutions'

managing director. He has plans to

expand his solutions beyond mobile

loos, as they're called in the UK, to

include such markets as farms, factories,

hospitals and shopping centres

or even amusement parks.

source ©: Foresolutions

source ©: Foresolutions

IoT Everywhere

IoT solutions in facility management can

fullfil multipile roles at once, for instance

building & structure monitoring, temperature,

air quality, presence, occupancy,

energy, noise, door opening, weather and

environmental conditions, people tracking,

safe distancing, as well as security & access

control and CCTV.

94
---
source ©: Marine Science Institute, UC Santa Barbara, Salesforce.com, San Diego State University

SharkEye

AI Drones Track and

Protect Great White Sharks

Academics from the University of

California and San Diego State have

teamed up with AI researchers from

Salesforce to create software that

can spot sharks swimming around

popular beach sites.

SharkEye, as the system is called,

uses drones to spot sharks from

above. The unmanned flying vehicles

follow pre-programmed paths

at a height of around 120 feet (36.5

metres) to cover large areas of the

ocean without disturbing marine

life. The goal of SharkEye is eventually

to produce automated 'shark reports'

for beachgoers to help them

assess levels of risk.

The researchers hope this application

of AI can help keep beaches

safer, encourage a more informed

public and help people learn how

to share the waves with wildlife. Perhaps,

most importantly, the system

could help protect the gradually improving

populations of great white

sharks, top predators that are a

healthy part of the California ocean

ecosystem, says Doug McCauley, director

of the Benioff Ocean Initiative

and a professor at the University of

California Santa Barbara.

Salesforce AI is using its proprietary

Einstein Vision algorithm – ordinarily

used for visual search, brand

detection and product identification

– to process drone video and

recognise the unique attributes

of sharks, thereby identifying

them without the need for physical

tagging. This information will

then be shared with local officials

and beachside communities, so,

without ever touching the water,

SharkEye can make sure it's safe for

the rest of us to hop in!

Shark Alarm!

The dashboard created

for the SharkEye project

at Santa Barbara's Parado

Beach is meant to openly

share data insights on

sharks collected from dronebased

arial surveys as well

as acoustic detections. Both

are shown on a current-day

and a seven-day rolling

average.The latter provide

a clearer picture of trends

in abundance compared

to expected variation in

daily peaks and dips in shark

activity. Absence of shark

sightings or acoustic signals

are not an indicator that

no sharks are present - in

California's costal waters,

they almost always are.

The goal here

is to reduce

the number

of traffic

accidents.

Ivan Ndip

Fraunhofer Institute

for Reliability

and Microintegration

(IZM) in Berlin

Fraunhofer

Many Still Wait for 5G –

but 6G is Just

Around the Corner

Most smartphone owners are still

waiting for 5G to appear but the telco

industry is already gearing up for the

next step. The starting pistol for this

next generation of mobile communications,

6G, has already been fired.

"With 6G, we have the ambitious

goal of achieving data rates of terabits

per second and a latency of

about 100 microseconds – that's 50

times the data rate and one-tenth

the latency of 5G," says Ivan Ndip,

an expert on antennas and radio frequency

systems at the Fraunhofer

Institute for Reliability and Microintegration

(IZM) in Berlin.

Ndip uses autonomous driving to

explain the difference. The goal here,

he says, is to reduce the number of

accidents. 5G has a maximum data

rate of about 20 gigabits per second

– nowhere near enough to communicate

a car's position to other road

users in real time, much less to measure

distances and scan through 360

degrees at the same time.

The self-driving car needs to be

able to look far into the distance

while also focusing on close-up

things. For this, autonomous vehicles

require sensors that combine

both radar and cameras, and need

to be able to collect enormous

amounts of data and share them

simultaneously. According to Ndip,

Fraunhofer IZM is currently developing

such sensors.

source ©: Fraunhofer Institute for Reliability and Microintegration IZM

95
---
Smart Lifestyle One More Thing

source ©: Khachi

The car must also react instantly to

unforeseen circumstances, so, in addition

to very high data rates, the

sensors must exhibit extremely low

latency. Ndip says, 5G just doesn't

cut it. He adds that 5G is still missing

a couple of critical components

as well as the network intelligence

necessary to handle true hands-off

autonomous driving.

"That's why we need 6G," the scientist

maintains. Although 6G will not

be operational until at least 2030,

Ndip believes that governments

and telcos need to start investing in

the new technology now.

Hardware still needs to be developed

for mobile communications

above 100 GHz but, for most manufacturers,

this is terra incognita as

they have never worked with frequencies

like these before. Typically,

researchers and developers need a

ten-year head start for this kind of

mammoth project, Ndip says. Setting

the necessary specifications

and standards alone will take at

least five years, he believes.

Fraunhofer recently opened its 6G

Innovation Campus in Cottbus – the

so-called iCampus – where it plans

to do research into new networking

and sensor technologies, together

with the local university and two separate

Leibnitz Institutes. The future of

mobile communications, it seems,

just can't happen fast enough.

Smart Dessous

Myant's new Skiin brand

textiles monitor their

owner's vital functions

and sleeping habits

and can even wake up

sleepy drivers before

they doze off at the

wheel.

Myant

A New 'Brief'

in Health Monitoring

Underwear is getting a lot smarter

these days. Myant, an innovator in

wearables, has developed a smart

pair of briefs that could potentially

transform healthcare.

Biometric sensors woven into the

fabric of the underwear can measure

things like sleep quality, activity,

stress levels, temperature and

heart condition, to provide some of

the most reliable and effective ways

to detect and prevent health issues,

the company claims.

The Skiin brand fabric sends data

to a corresponding app and onwards

to the cloud platform which

analyses the data to provide guidance

on lifestyle changes and the

information can, with permission,

be shared with healthcare providers.

Underwear is a good choice for

a smart garment because it makes

consistent, close contact with the

body – a must-have for continuous

skin sensors.

Myant's underwear innovation fits

into the larger trend of e-textiles

and smart clothing, powered by

artificial intelligence and tiny semiconductor

technology. Scientists

are attempting to replace clunky

ECGs and health monitoring devices,

like watches and chest straps,

with comfortable smart garments.

Healthcare providers and developers

believe advances like these will

increase compliance and lead to

better health outcomes.

Smart garments will probably be

able to do much more for us. Sensors

can now be embedded directly

into textiles – similar to weaving additional

yarn into an existing piece

of fabric – or by applying sensors

to the top of the fabric. Either way,

the use cases for e-textiles go far beyond

health monitoring. Smart garments

can to do things like:

• diagnose comfort levels of amputees

by monitoring their interaction

with their artificial limb.

• assess patterns in athletes' performances

and deliver small electric

shocks to underperforming

muscles.

• wake up sleepy drivers on the

road before accidents occur, using

built-in fatigue monitoring.

• connect to smart home systems

to do things like changing the

thermostat when your body is

cold (or hot).

The latest report by research firm

IDTechE predicts that smart textiles

will be worth over $1.4 billion by

2030. The number of potential applications

and markets for e-textiles

is vast, including military and space,

automotive, haptic suits for virtual

reality, sports and fitness, and assistive

clothing.

source ©: Skiin

96
---
Kerlink

Windmills Push Spread of

Public IoT Services

Like many others along the Netherlands

North Sea coast, the Port of

Moerdijk has a large wind farm. The

farm was installed in 2020 and is

operated by Vattenfall, a European

green energy specialist. The wind

farm supplies 27 megawatts of

clean energy to more than 27,000

households.

But officials soon realised the turbine

towers could serve an additional

purpose by hosting an IoT

network to provide key sensor data

to the bustling port 120 metres below.

IoT networking company Kerlink

was commissioned to create the

gateways for the LoRaWAN project.

The Kerlink Wirnet iStation receives

sensor data and information from

within a radius of 25 kilometres and

securely transfers it to users of the

energy-efficient IoT network. This

includes monitoring air quality,

CO2 emissions, water levels and detecting

whether bridges and gates

around the port are open or closed,

source ©: Kerlink

which helps move traffic more efficiently

while reducing emissions.

In addition, the industrial-grade

IoT network will be available at low

cost for organisations near the port

in shipping, rail and other industries

as well as to municipalities,

government agencies and individuals.

Aurélien Seugnet, Kerlink's business

developer, is happy with the

results so far. "The wind industry

The wind

industry could

be crucial to

builidng the

public Internet

of Things.

Smart Station

The Kerlink Wirnet

iStation receives

sensor data and

information from

within a radius of

25 km and can

monitor air quality

in addition.

Aurélien Seugnet

Kerlink

could become a crucial building

block in the public Internet of

Things," he believes. "We usually

use high buildings and pylons [as

mounting points]," he added – so

why not use turbine towers?

The height of the towers means

the signal is stronger and can reach

further. Besides which, piggybacking

on a wind generator does away

with the constant need to change

batteries.

source ©: CCM Benchmark Group

source ©: Storm

97
---
Column Gerd Leonhard

The Future

Looks Great!

Are you excited about the future or are

you worried? Are you expecting good

things or more misery? These days, it seems

like all around us, the future is getting bleaker

and bleaker. Netflix and Hollywood are telling us about

dystopian scenarios. The news is showing more reels

of climate change disasters, economic issues, clueless

CEOs and politicians. And of course, in the end, the robots

will take our jobs, and then they're going to harvest

our bodies for energy.

But despite all of that noise, I am here to tell you that the

future is better than we think. I believe that human ingenuity,

our science and technology can and will solve

most of our long-standing problems. I also believe that

human kindness and the ability to collaborate will prevail.

But we're running out of time because the future is

arriving faster than we think. Actually, the future is already

here, we just haven't paid enough attention.

Whether it's enhancing humans, designing chimeras or

robots going to war: What will happen during the next

ten years will sweep away most of our notions about

gradual progress and upend our views about how technological

innovation usually and maybe even inadvertently

furthers the common good.

In my speeches, I have recently started talking about

what I call "the good future" – a utopia (or better yet,

a protopia) as opposed to a dystopia. As hard as it may

be for all of us to agree on what a "good" future would

look like, we must submit to the hard work of creating

such a definition. Because, if we don't reach some kind

of consensus, there may be no future at all – at least not

for us humans. One thing we know for certain is that

the Good Future is not likely to come about with good

Gerd Leonhard

is the founder of

The Futures Agency (TFA)

and author

of the bestseller

Technology vs Humanity.

He is based in Zurich

Technology is

morally neutral

until we use it.

William Gibson

old-fashioned "greed capitalism", and neither

will it be ushered in by technology. Rather, it will

be a question of ethics and values – and the policies

we craft from them.

Now is the time to think about and act on "civilising"

– maybe a better word would be "rehumanising" our

technology. Yes, this will mean regulating (but not

strangulating) the global tech giants, because in this

age of advanced exponential change, today's amazing

breakthroughs may well turn out to be major problems

not too far down the road.

It's time to stop asking "what will the future bring" – it

can, quite literally, bring almost anything we can imagine.

Instead, we need to ask: "what kind of future do we

want?

It is a basic truth that technology can serve opposite

purposes, good or bad. And as William Gibson famously

said, it remains morally neutral until we use it.

"Too much of a good thing" describes this conundrum

very well: something quite useful can quickly become

something deeply harmful and corrosive to society –

as recently evidenced with social media, which suffers

from excessive monetisation obsession and utter lack

of accountability.

We are at a fork in the road: The future is our choice,

by action or by inaction. And time is of the essence. We

have at most ten short years to debate, agree on and

implement new, global (or at least territorial) frameworks

and rules as far as governing exponential technologies

are concerned.

Call me an optimist or a utopian, but I am convinced

that we can still define and shape a "good future" for all

of mankind – as well as for our planet.

98
---
We Talk IoT,

the Smart Industry Podcast

Welcome to We talk IoT, a regular series of podcasts

from the editors of Smart Industry – the IoT

Business Magazine. Our podcast keeps you up to

date on the most important developments in the

world of IoT, IIoT, Artificial Intelligence and Cognitive

Computing. Listen to leading industry experts,

business professionals and experienced journalists

as they discuss some of today's hottest tech topics

and how they can help boost your bottom line.

You can listen to the first episode right here on

smart-industry.net. Or you can follow We talk

IoT, the Smart Industry podcast on the following

streaming providers to always get the latest

episodes:

Go to Spotify

Go to Apple Music

Go to Soundcloud

This podcast is brought to you by Avnet Silica in

cooperation with Microsoft.

powered by
---
Let our wide portfolio help

you meet your analog needs

Innovative products for reliable,

accurate, high-efficiency designs

Operational Amplifiers

• High voltage

• Precision and high accuracy

• Dual high bandwidth

Power Operational Amplifiers

• High output current

• Low drop and high gain

Current sense amplifiers

• Uni- and bi-directional

• Integrated, robust, and safe

For more information visit www.st.com/opamp