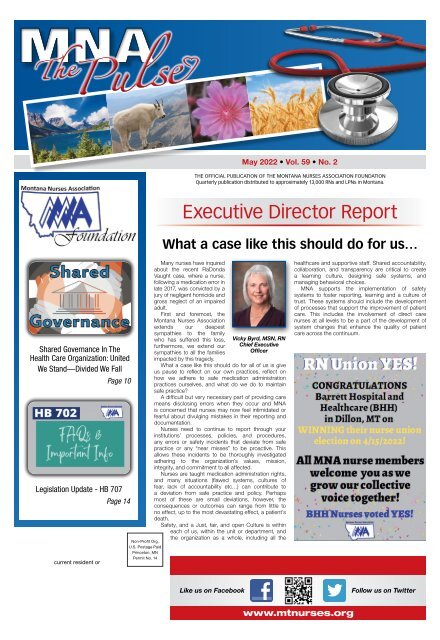 You also want an ePaper? Increase the reach of your titles
YUMPU automatically turns print PDFs into web optimized ePapers that Google loves.
May 2022 • Vol. 59 • No. 2

THE OFFICIAL PUBLICATION OF THE MONTANA NURSES ASSOCIATION FOUNDATION

Quarterly publication distributed to approximately 13,000 RNs and LPNs in Montana.

Executive Director Report

What a case like this should do for us…

Shared Governance In The

Health Care Organization: United

We Stand—Divided We Fall

current resident or

Page 10

Legislation Update - HB 707

Page 14

Non-Profit Org.

U.S. Postage Paid

Princeton, MN

Permit No. 14

Many nurses have inquired

about the recent RaDonda

Vaught case, where a nurse,

following a medication error in

late 2017, was convicted by a

jury of negligent homicide and

gross neglect of an impaired

adult.

First and foremost, the

Montana Nurses Association

extends our deepest

sympathies to the family

who has suffered this loss,

furthermore, we extend our

sympathies to all the families

impacted by this tragedy.

Vicky Byrd, MSN, RN

Chief Executive

Officer

What a case like this should do for all of us is give

us pause to reflect on our own practices, reflect on

how we adhere to safe medication administration

practices ourselves, and what do we do to maintain

safe practice?

A difficult but very necessary part of providing care

means disclosing errors when they occur and MNA

is concerned that nurses may now feel intimidated or

fearful about divulging mistakes in their reporting and

documentation.

Nurses need to continue to report through your

institutions' processes, policies, and procedures,

any errors or safety incidents that deviate from safe

practice or any "near misses" to be proactive. This

allows these incidents to be thoroughly investigated

adhering to the organization's values, mission,

integrity, and commitment to all affected.

Nurses are taught medication administration rights,

and many situations (flawed systems, cultures of

fear, lack of accountability etc…) can contribute to

a deviation from safe practice and policy. Perhaps

most of these are small deviations, however, the

consequences or outcomes can range from little to

no effect, up to the most devastating effect, a patient's

death.

Safety, and a Just, fair, and open Culture is within

each of us, within the unit or department, and

the organization as a whole, including all the

healthcare and supportive staff. Shared accountability,

collaboration, and transparency are critical to create

a learning culture, designing safe systems, and

managing behavioral choices.

MNA supports the implementation of safety

systems to foster reporting, learning and a culture of

trust. These systems should include the development

of processes that support the improvement of patient

care. This includes the involvement of direct care

nurses at all levels to be a part of the development of

system changes that enhance the quality of patient

care across the continuum.

Like us on Facebook

Follow us on Twitter

www.mtnurses.org
---
Page 2 Montana Nurses Association Pulse May, June, July 2022

PUBLISHER INFORMATION

& AD RATES

Circulation 18,000. Provided to every registered

nurse, licensed practical nurse, nursing student

and nurse-related employer in Montana. The

Pulse is published quarterly each February, May,

August and November by Arthur L. Davis Publishing

Agency, Inc. for Montana Nurses Association, 20 Old

Montana State Highway, Montana City, MT 59634,

a constituent member of the American Nurses

Association.

For advertising rates and information, please

contact Arthur L. Davis Publishing Agency, Inc.,

517 Washington Street, PO Box 216, Cedar Falls,

Iowa 50613, (800) 626-4081, sales@aldpub.com.

MNA and the Arthur L. Davis Publishing Agency,

Inc. reserve the right to reject any advertisement.

Responsibility for errors in advertising is limited to

corrections in the next issue or refund of price of

advertisement.

Acceptance of advertising does not imply

endorsement or approval by the Montana Nurses

Association of products advertised, the advertisers,

or the claims made. Rejection of an advertisement

does not imply a product offered for advertising

is without merit, or that the manufacturer lacks

integrity, or that this association disapproves of

the product or its use. MNA and the Arthur L. Davis

Publishing Agency, Inc. shall not be held liable for

any consequences resulting from purchase or use

of an advertiser's product. Articles appearing in this

publication express the opinions of the authors; they

do not necessarily reflect views of the staff, board, or

membership of MNA or those of the national or local

associations.

WRITER'S GUIDELINES:

MNA welcomes the submission of articles and

editorials related to nursing or about Montana nurses

for publication in The PULSE. Please limit word size

between 500 – 1000 words and provide resources

and references. MNA has the Right to accept, edit or

reject proposed material. Please send articles to:

jennifer@mtnurses.org

If you wish to no longer receive

The Pulse please contact Monique:

mheddens@aldpub.com

If your address has changed please

contact Montana Board of Nursing

at: www.nurse.mt.gov

PULSE SUBMISSIONS

We are gathering articles that are relevant

and appealing to YOU as a nurse. What

is happening in your world today? Is there

information we can provide that would be

helpful to you? The Pulse is YOUR publication,

and we want to present you with content that

pertains to your interests.

Please submit your ideas and

suggestions to Jennifer.

Jennifer@mtnurses.org

Enjoy a user friendly layout and access to more

information, including membership material,

labor resources, Independent Study Library,

a new Career Center for Job Seekers &

Employers, and more downloadable information.

Please visit

MNA's constantly updated website!

www.mtnurses.org

CONTACT MNA

Montana Nurses Association

20 Old Montana State Highway, Clancy, MT 59634

Phone (406) 442-6710 | Fax (406) 442-1841

Email: info@mtnurses.org | Website: www.mtnurses.org

Office Hours: 7:30 a.m.-4:00 p.m. | Monday through Friday

VOICE OF NURSES IN MONTANA

MNA is a non-profit, membership organization that advocates for nurse

competency, scope of practice, patient safety, continuing education, and

improved healthcare delivery and access. MNA members serve on the

following Councils and other committees to achieve our mission:

• Council on Practice & Government Affairs (CPGA)

• Council on Economic & General Welfare (E&GW)

• Council on Professional Development (CPD)

• Council on Advanced Practice (CAP)

MISSION STATEMENT

The Montana Nurses Association promotes professional nursing practice,

standards and education; represents professional nurses; and provides

nursing leadership in promoting high quality health care.

PROFESSIONAL DEVELOPMENT

Montana Nurses Association is accredited with distinction as an approver

of nursing continuing professional development by the American Nurses

Credentialing Center's Commission on Accreditation.

Montana Nurses Association is accredited with distinction as a provider

of nursing continuing professional development by the American Nurses

Credentialing Center's Commission on Accreditation.

MNA Staff

Vicky Byrd, MSN, RN, Chief Executive Officer

Kristi Anderson, MN, RN, NPD-BC, CNL

Kelly Hunt, MN, RN, CNL, Director of Professional Development

Jennifer Hamilton, Professional Development Associate

Megan Hamilton, MSN, RN CFRN, NR-P, Nurse Planner & Professional

Development Generalist

Robin Haux, BS, Labor Program Director

Amy Hauschild, BSN, RN, Labor Representative

Leslie Shepherd, BSN,RN, Labor Representative

Emily Peterson, Labor Representative

Makenna Sellers, Labor Organizer

Jill Hindoien, BS, Chief Financial Officer

Position

Board of Directors President

Board of Directors Vice President

Board of Directors Secretary

Board of Directors Treasurer

Board of Directors Member at Large

Board of Directors CPGA

Board of Directors PD

Board of Directors CAP

Board of Directors EGW

MNA Board of Directors

Name

Anna Svendson Ammons, BSN, RN, PCCN

Rachel Clark, BSN, RN

Melissa Anderson, BSN, RN

Audrey Dee, RN

VACANT

Deborah Kalarchik, MSN, BSN, RN

Deborah Lee, BSN, RN-BC, CCRP

Deanna Babb, APRN, FNP-BC, FAANP

Brandi Breth, BSN, RN-BC

Council on Practice & Government Affairs (CPGA)

Lucy Ednie, BA, MBA, ASN, RN-BC Charlotte Skinner, BSN, RN-C

Loni Conley, BSN, RN

Melissa Anderson, BSN, RN

Paul Lee, CCRN

Council on Professional Development (PD)

Joe Poole, BSN, RN, CHSE

Brenda Donaldson, BA, RN, CAPA

Gwyn Palchak, BSN, RN-BC, ACM Janet Smith, MN, MSHS, RN

Rachel Huleatt-Baer, MN, RN, CNL, OCN, Sally (Lisa) Sluder, DNP, APRN,

Charlotte Skinner, BSN, RN-C AGACNP-BC

Stephanie Corder, RN, ND, CHCP

Council on Advanced Practice (CAP)

Chairperson-CAP

Margaret Hammersla, BSN, MS, PhD,

ANP-BC

Chairperson Elect-CAP

Secretary-CAP

Ann Galloway, PhD, FNP-C

Member at Large-CAP

Sally (Lisa) Sluder, DNP, APRN,

AGACNP-BC

Member at Large-CAP

Deven Robinson, MSN, FNP, PMHNP

Council on Economic & General Welfare (E&GW)

Delayne Stahl, RN, OCN

Adrianne Harrison, RN

Stacey Sheehan, BSN, RN

Robin Foley, BSN, RN CEN

Questions about your nursing license?

Contact Montana Board of Nursing at: www.nurse.mt.gov
---
May, June, July 2022 Montana Nurses Association Pulse Page 3

Membership reminders….

Please check your membership status.

If you fall into any of the below categories, you could qualify for the

'Professional Reduced Rate' $38.65/month. Your rate will not automatically

change. You must let us know.

• You are a new graduate. You must apply within the first six months

after receiving your initial RN licensure and this rate is good for one

year.

• You are an RN in a full-time study program working towards a higher

degree. You will need to provide proof of enrollment and you could

receive this rate for up to three years.

• You are an RN 65+ year of age who is licensed and working. You

could receive this rate for the remainder of your employment.

• If you are a retired RN and are no longer working or hold an RN

licensure you could be eligible for the retired rate of $13.07/month.

If you are working in a collective bargaining position and move into a

non-collective bargaining position, please contact the Montana Nurses

Association to let us know. Your membership dues will continue to be paid

until you authorize them to be discontinued. Please remember, only you

can cancel your membership and membership payments.

To provide MNA with information on your status or to receive

additional information on MNA membership please e-mail Jill Hindoien at

jill@mtnurses.org.

CONGRATULATIONS TO THE FOLLOWING NURSES WHO HAVE

TAKEN ADVANTAGE OF THE SUCCESS PAYS OFFERING BY ANCC

TO MNA MEMBERS!

1. Sarah S Levea, RN-BC-Cardiac/Vascular Nursing

2. Linda Phillips, RN-BC-Medical Surgical Nursing

New Member Benefit: MNA now offers certification

through ANCC's Success Pays ® Program

> Reduced fee for MNA Members to obtain initial certification

or recertify

> No cost if you don't pass the exam; you can also take the

exam a second time at no cost

> Pay only when you pass!

> Identify your specialty practice area

How Success Pays ® Works

> Visit nursingworld.org/our-certifications/ to:

• Make sure you're eligible to sit for the exam

• Look at the test blueprint and test preparation materials

• Make the decision to move forward

> Visit www.mtnurses.org and click on Success Pays ® option

to the left and sign up for the program!

> MNA will contact you regarding how to get the benefit.

Visit nursingALD.com today!

Search job listings

in all 50 states, and filter by location and credentials.

Browse our online database

of articles and content.

Find events

for nursing professionals in your area.

Your always-on resource for

nursing jobs, research, and events.
---
Page 4 Montana Nurses Association Pulse May, June, July 2022

Fair Contracts Take a Village

In March, I was grateful for the opportunity to join the

members of one of our locals for their contract negotiation

sessions. While the process is ongoing and many topics

are still being discussed at the bargaining table, one thing

impressed me from the onset: the union nurses embody the

principles we teach for effective collective bargaining and

collaborative decision-making. The entire bargaining team

is engaged, committed, respectful, and persistent. They are

welcoming to other local unit nurses outside the bargaining

team as well. Non-bargaining team nurses play a role in the

negotiations process by becoming observers. This large

amount of participation in the process fills me with pride and

gratitude. The constructive energy in the room is palpable.

One nurse mentioned, "I don't think people realize how much

Labor Reports and News

Makenna Sellers

Labor Organizer

you can contribute to the contract as an observer. My ideas are valued on an equal

playing field with the bargaining team and with other observers as we work to find

creative solutions. The process isn't always easy, but it is absolutely worth it."

When nurses come together collectively for shared goals, it is a reminder that

we become part of something bigger than ourselves when we're part of our union.

Sometimes, that foundational truth about our work can get lost in the hustle and

bustle of zoom meetings, busy lives, full schedules, and seemingly insurmountable

workloads. It is important to remember that our collective goals transcend the scope

of the individual. It is my hope that we see and experience this reminder not only at the

bargaining table, but also each day that we strive together for the best nursing practice

we can offer in the great state of Montana.

If your local unit is interested in having observers present at contract negotiations,

start that conversation by emailing makenna@mtnurses.org.

Congratulations Gabert Clinic Nurses!

The Gabert Clinic Nurses and the MNA Local #21

President and Glendive Medical Center have completed

negotiations and the additional contract language specific

to the clinic nurses has been ratified by the membership!

On October 18, 2021, after a unanimous election, the

National Labor Relations Board NLRB certified the Gabert

Clinic Nurses as being included in MNA Local #21. The

parties then engaged in bargaining over the "effects" of

adding the clinic nurses to the contract. They reached an

agreement during their seventh bargaining session and

were assisted by one of the mediators from the Federal

Mediation and Conciliation Service FMCS.

Previously, the contract did not include the clinic nurses

though it covered the other staff nurses at the hospital. It

is not unusual to have multiple groups of nurses working in

Amy Hauschild,

BSN, RN, Labor

Representative

different areas of a facility covered by the same agreement. Since these negotiations

only covered the effects of adding the clinic nurses, the original expiration date of the

contract remained the same, November 31, 2023.

The Benefits of Your

Pre-Bargaining Survey

As our contract negotiations for 2022 are underway,

your MNA Labor staff begins the task of early negotiation

preparation. One of our favorite tools is a "Pre-Bargaining

Survey" which allows your representatives to get their

finger on the pulse of the local unit as a whole. It allows

for each nurse within a bargaining unit to provide input into

the items a negotiating team will present at the bargaining

table. It provides EVERY nurse the opportunity to provide

input, and that input is greatly beneficial at the bargaining

table.

How do we create the survey? A Pre-Bargaining

survey is created out of pre-bargaining discussions with a

local unit. As your labor representatives begin bargaining

discussions, they listen for the issues the nurses raise

and create survey questions that allow us to gather

Robin Haux, BS

Labor Program

Director

more detailed information on how the majority of the local feels, and what the

best direction to take at negotiations may be. Additionally, we review the existing

contract and create questions that give the nurses the ability to rank issues by

level of importance. We also offer an area that allows for open comments on most

questions. The most important part of creating a survey is input from the nurses.

We encourage every nurse to participate in the creation, drafting, and participation

of the survey. Additionally, peer-to-peer discussions are the best way to encourage

your co-workers to participate.

Why is a pre-bargaining survey important? There are many benefits to a prebargaining

survey. First, as mentioned above, it allows for the MNA labor staff

to gather a more complete picture of the direction the local unit wants to take at

their negotiations and again, provide every nurse the opportunity to have their

thoughts and ideas heard. Any opportunity for your labor representatives and

negotiating team to use phrases such as: "all the nurses feel…" or "90% percent

of the nurses want …" helps your team make a better argument at the table. We

cannot underscore enough the importance of each nurse taking a few minutes to

participate in their survey. A low survey participation rate reduces the effectiveness

of the survey at the table.

When your local unit has upcoming negotiations, remember the importance of

the Pre-Bargaining Survey! Ask your labor representative to help your local develop

the survey and each of you encourage all the nurses to participate! Participation is

crucial towards the effectiveness!

Weingarten Rights

If this discussion could in any way lead to my being

disciplined or terminated, or affect my personal

working conditions, I respectfully request that my

Union/Unit Representative or Nurse Advocate be

present at this meeting.

Until my representative arrives, I choose not to

participate in this discussion

When Your Employer Notifies You of a Meeting...

*Immediately ask your Supervisor/Manager/Director:

• "What is the purpose of the meeting?"

• "Is the meeting investigatory?"

• "Will I be asked questions which may possibly lead to discipline?"

• "Will I be asked questions which require me to defend my conduct?"

If the meeting is investigatory or answers may

lead to discipline:

_ #1 – Respectfully inform your employer you are invoking

your Weingarten Rights & will need to have your Union/Unit

Representative or Nurse Advocate present during questioning.

_ #2 – Quickly arrange for your Union/Unit Representative or

Nurses Advocate to attend the meeting.
---
May, June, July 2022 Montana Nurses Association Pulse Page 5

Labor Reports and News

Grievance Part 4: What's next?

While the goal of the

grievance process is to find

a resolution at the earliest

possible step, there are

occasions where a resolution

is not found during those first

steps in the process.

Every contract is slightly

different regarding how to

advance a grievance once

you've reached the end of the

internal process. The most

common language that I have

seen allows for two options to

move the grievance forward,

mediation and/or arbitration.

Leslie Shepherd,

BSN, RN, Labor

Representative

Mediation is a process that utilizes a neutral thirdparty

mediator to assist the parties in reaching an

agreed upon resolution. The Federation of Mediation

and Conciliation Services (FMCS) is a very commonly

used agency that provides free mediation services

for grievance mediation and mediated contract

negotiations. During mediation, both parties have the

ability to directly influence what the resolution looks

like. The mediator's role is not to pass judgement or

determine who is right or wrong in the matter. The

mediator's role is to help facilitate both parties to

reach an agreement. It is imperative that both parties

agree to mediate a grievance, because true mediation

does not work without the willing participation of both

parties.

Arbitration is a process where a third-party arbitrator

hears the case, presented by each of the parties. This is

similar to what you might expect in a court case. Each

party gets to present their case and call witnesses. The

arbitrator, who is typically determined mutually by the

parties, hears the case, and makes a binding decision

on the outcome of the grievance. The arbitrator will

typically consider the case and the resolution listed on

the grievance form into consideration when determining

how a grievance shall be resolved. This process does

not require both parties to agree to participate like

mediation because it is the arbitrator making the final

decision regardless of the opinion of either party.

Some contracts will allow for a grievance to

attempt to be resolved through mediation in an effort

to avoid taking the grievance to arbitration, which is

more costly in the end to both parties. This is solely

dependent on the language in your contract. Typically,

if the parties agree to attempt mediation first, the

timeline to allow for arbitration is put on hold until

mediation is concluded. If a resolution is not found

through mediation, the grievant has the opportunity to

advance to arbitration.

At MNA, arbitration is not guaranteed for every

grievance. Firstly because of the contract language,

some contracts only allow for certain grievances

to advance all the way to arbitration. Secondly

because MNA utilizes an Arbitration Review Panel to

determine if the association will advance a grievance

to arbitration. The arbitration review panel consists

of elected nurse members of the Economic &

General Welfare committee (EGW), the MNA Labor

Program Director, and MNA's labor attorney. The

panel hears the grievance presented by the labor

representative who has been working with the

grievant and local union. Then, based on the facts

presented, the panel decides if the grievance will

advance. If the panel decides to not advance the

grievance, the grievant may appeal this decision for

additional review.

Either way, the goal of a grievance is always to find

a resolution. Ideally this happens at Step 1, however

the process outlined in your contract creates a

pathway for grievances to be resolved at whatever

level necessary. If you ever have questions about a

potential grievance or contract violation, I encourage

you to consult your contract and reach out to your

union leaders and/or MNA Labor Representative.

Consider a Tax-Deductible

Donation to:

Montana Nurses

Association

Foundation – (MNAF)

➢ Donations to the MNAF foundation

are 100% tax deductible.

➢ MNAF mission statement: "The

Montana Nurses Association

Foundation (MNAF) is the charitable

and philanthropic branch of the

Montana Nurses Association (MNA),

with a mission to preserve the

history of nursing in Montana and

contribute, support and empower the

professional nurse in Montana."

➢ The purposes for which the

Corporation is organized are as

follows:

"(a) charitable; (b) educational; (c) to

accept healthcare/nursing research

and educational grants; (d) to provide

continuing educational grants to

licensed registered nurses; and (e)

to award scholarships to qualifying

persons."
---
Page 6 Montana Nurses Association Pulse May, June, July 2022

2021-2022 MNA Government Relations Platform-

Approved 10/8/21

Montana Nurses' Association (MNA) is the nonprofit professional association

representing the voice of nearly 18,000 Registered Nurses (RNs) in Montana

including more than 1,000 licensed as Advanced Practice Registered Nurses

(APRNs). MNA is the recognized professional organization, which lobbies for

nursing practice issues to protect the practice of professional nurses and also

protect the public in all areas of health care.

MNA is the recognized leader and advocate for the professional nurse in

Montana.

MNA Mission Statement: The Montana Nurses Association promotes

professional nursing practice, standards and education; represents professional

nurses; and provides nursing leadership in promoting high quality health care.

1. Improve the quality of nursing practice by:

a. Providing educational and professional development opportunities that

contribute to improving practice competency and quality of patient care.

b. Identifying and pursuing funding opportunities to assist in providing

continuing nursing education and nursing continuing professional

development.

c. Identifying and pursuing funding sources that support research/projects

to develop evidence based and innovative nursing practice.

d. Promoting national certification of Registered Nurses.

e. Active representation on local, state and national advisory committees/

boards.

f. Supporting the regulatory authority of and collaborating with the

Montana Board of Nursing (BON) on nursing practice and regulatory

issues.

g. Encouraging transparency and promoting communication from the

Montana Board of Nursing regarding relationship with NCSBN (National

Council of State Boards of Nursing) and votes/legislation/regulatory

policy changes affecting regulation of registered nurses.

h. Providing input into the implementation and enforcement of NCSBN

Nurse Licensure Compact (NLC).

i. Opposing the NCSBN APRN Nurse Licensure Compact legislation.

2. Protect the economic and general welfare of nurses by:

a. Actively engaging in legislation and campaigns that positively contribute

to the economic and general welfare of RNs.

b. Ensuring the right of RNs to engage in collective bargaining in Montana.

c. Opposing any "Right to Work" (anti-collective bargaining, anti-labor)

legislation to uphold the "Blue Eyed Nurse" bill from 1967, authored by

the late Mary Munger, RN, and former MNA member.

d. Addressing workplace environment issues including violence against

healthcare workers, safe staffing, infectious disease, and patient safety.

e. Advocating for legislation prohibiting mandatory overtime.

d. Mandate third party reimbursements directly to RNs from public and

private payers.

e. Remove barriers (financial, governmental, regulatory, and/or institutional)

that deny access to appropriate/qualified health care providers and

approved medical standard of care treatments.

f. Advocate for legislation that is transparent and bipartisan and support

policies that can achieve evidence based real healthcare reform.

g. Promote community and world health by collaborating with other health

professionals to promote health diplomacy and reduce health disparities.

4. Protect human rights by developing and/or supporting public policies which:

a. Promote access to appropriate health services.

b. Preserve individual rights to privacy.

c. Promote, debate and have consideration of ethical dilemmas in health

care

d. Protect nurses, healthcare employees, and the patient (MT community)

from public health emergencies.

5. Protect the environmental health of individuals and communities through:

a. Acknowledging, supporting and addressing environmental impacts on

the health of Montanans.

b. Actively engaging with national organizational affiliates in addressing

environmental health issues in our nation.

c. Supporting and promoting the work, data, and evidence from our public

health nurses.

6. Protecting and promoting the future of healthcare and nursing practice

through:

a. Actively engaging in legislation that supports professional scope

of nursing practice to the fullest extent of the nurses' education,

professional development, and training.

b. Actively promoting programs and efforts that encourage professional

development and educational progression of professional nursing

practice at local, state, and national levels.

c. Representation on boards, committees and advisory groups which

influence the future of the nursing profession and the future of our state

and national healthcare system.

d. Engaging with healthcare partners and associations to work

collaboratively to ensure healthcare as a right for all American

populations.

e. Actively support science and evidence based data to drive strong

investment in safe quality public health programs at state and national

levels.

3. Improve access to quality, cost effective health care by developing and/or

supporting public policies which:

a. Identify the nurse's primary commitment is to the patient, whether an

individual, family, group, community, or population.

b. Respond to the needs of the unserved and underserved populations by

promoting access to health care and healthcare coverage.

c. Identify or develop alternative health care delivery systems that are costeffective

and provide quality health care.

Montana's Healthcare Mutual Aid System (MHMAS) is the Emergency System for the

Advance Registration of medical professionals and non-medical responders for the state of

Montana. MHMAS is a secure, web-based online registration system used to register, verify,

and credential volunteers before a major disaster or public health emergency occurs.

Registration is open to health and medical professionals, as well as non-medical volunteers

who would like the opportunity to volunteer to respond to "all-hazards" incidents. Your

involvement as a responder will help ensure that people affected by a disaster will receive the

public health and medical care they need. You will be able to update this information at any

time as changes occur. If approved, you will receive notification of your acceptance into the

system. You will from time to time receive notifications for upcoming educational and training

opportunities.

Please remember that "volunteer" truly means volunteer. You can choose, at any time,

to decline any request that you may receive for your deployment. Even though you are

volunteering your time, a majority of the deployment requests will be paid positions. The pay

for each deployment varies and will be announced at the time of the request.

Thank you for your interest in lending your skills and expertise to assist Montana during an

emergency.

If you would like more information or to register, please visit our web page:

https://dphhs.mt.gov/publichealth/PHEP/mhmas
---
May, June, July 2022 Montana Nurses Association Pulse Page 7

Professional Development Department

Nurse and Health Care Worker Well-Being – Additional Resources

There are two new resources to support nurse and

healthcare worker well-being:

1. The National Academy of Medicine Action Collaborative

on Clinician Well-Being and Resilience recently

provided tools for health care workers and leaders to

address burnout and improve well-being. The Resource

Compendium for Health Care Worker Well-Being

provides resources including six essential elements:

a. Advance Organizational Commitment-Organizational

commitment involves visible actions and investments

to show that a systematic approach to well-being is

being undertaken.

b. Strengthen Leadership Behaviors-Executive leaders

drive key decisions on managing staff and resources,

and health care workers can champion healthy

environments for their care teams and their patients.

Kristi Anderson,

MN, RN, NPD-BC, CNL

Director of Professional

Development

c. Conduct Workplace Assessment-Assessment is essential to understanding

the extent and severity of burnout, and the well-being of the members of any

workforce.

d. Examine Policies and Practices-Health care workers may experience moral

distress when the policies and practices of their organization conflict with their

professional commitment to patient care and ability to do their work. A resilient

organization will periodically reassess its policies and practices and eliminate

those that are no longer relevant or no longer required.

e. Enhance Workplace Efficiency-Workplace efficiency embodies practices that are

geared toward facilitating and streamlining staff duties while maintaining clinical

excellence.

f. Cultivate a Culture of Connection and Support-An organization can best support

its health care workforce by giving people the ability to do their jobs and then

allowing them to return safely home with time and emotional energy to engage in

their personal lives with their family, friends, and community.

2. The National Academy of Medicine highlights the factors impacting nurse well-being

while integrating interventions from employers, nursing education, nurse leaders,

licensing boards, and nursing organizations. The Future of Nursing 2020-2030:

Montana Nurses Association

Approved Providers

MNA thanks all of the Approved Provider Units we work with for their

commitment to advancing and promoting quality nursing practice through

continuing nursing education.

Alaska Native Tribal Health Consortium

Anchorage, AK

Alaska Nurses Association

Anchorage, AK

Alzheimer's Resource of Alaska

Anchorage, AK

Bartlett Regional Hospital

Juneau, AK

Benefis Healthcare Systems

Great Falls, MT

Billings Clinic

Billings, MT

Boise State School of Nursing

Boise, ID

Bozeman Health

Bozeman, MT

Cardea Services

Seattle, WA

Caring for Hawai'i Neonates

Honolulu, HI

Central Montana Medical Center

Lewistown, MT

Central Peninsula General Hospital

Soldatna, AK

Community Medical Center

Missoula, MT

Confluence Health

East Wenatchee, WA

Evergreen Health

Kirkland, WA

Foundation Health Partners

Fairbanks, AK

Kootenai Health

Coeur d'Alene, ID

Logan Health

Kalispell, MT

With Distinction

With Distinction

Midland Memorial Hospital

Midland, TX

Montana Health Network

Miles City, MT

Montana VA Health Care System

Helena, MT

Mountain Pacific Quality Health

Helena, MT

Logan Health

Whitefish, MT

With Distinction

Office of Professional Nursing Development-

University of Florida

Gainesville, FL

Pacific Lutheran University

Tacoma, WA

Planned Parenthood of the Great Northwest

and the Hawaiian Islands

Seattle, WA

Providence Alaska Learning Institute

Anchorage, AK

South Dakota Nurses Association

Pierre, SD

South Peninsula Hospital

Homer, AK

St. Luke's Health System

Boise, ID

St. Peter's Health

Helena, MT

St. Vincent Healthcare

Billings, MT

UF Health Shands Hospital

Gainesville, FL

Western State Hospital

Lakewood, WA

With Distinction

With Distinction

Wisconsin Nurses Association

Madison, WI

With Distinction

Supporting Nurse Well-being–Resource & Social Media Toolkit aids in facilitation of

discussions that affect the health and well-being of nurses including:

a. Factors impacting nurse well-being

b. Opportunities to reduce burnout and improve nurse well-being

c. Provide additional evidence-based resources

In addition to these new resources, there are several other educational opportunities

that continue to support nurses:

• CNEbyMNA-Resiliency, Wellness, and Self-Care Resources: https://courses.

cnebymna.com/courses

• ANA: Covid-19 Self-Care Package for Nurses: https://www.nursingworld.org/

continuing-education/anas-covid-19-self-care-package-for-nurses/

• Association for Nursing Professional Development-COVID-19 Resources: https://

www.anpd.org/page/covid-19-resources

These important resources provide additional information including toolkits,

instruments, courses, articles, and more. Education remains key in incorporating the

resources to promote well-being. Nurses continue to play an important role in influencing

areas that reduce burnout and advance clinician well-being and resiliency.

References:

National Academy of Medine (2021). Resource Compendium for Health Care Worker Well-Being.

Retrieved from: https://nam.edu/compendium-of-key-resources-for-improving-clinician-

well-being/?utm_source=National+Academy+of+Medicine&utm_campaign=00754e22bc-

Top+10+Perps_COPY_01&utm_medium=email&utm_term=0_b8ba6f1aa1-

00754e22bc-151171322

National Academy of Medine (2022). The Future of Nursing 2020-2030: Supporting Nurse Wellbeing--Resource

& Social Media Toolkit. Retrieved from: https://nam.edu/publications/thefuture-of-nursing-2020-2030/nurse-well-being-resource/

Welcome Director of

Professional Development!

The MNA staff team is pleased to welcome Kelly Hunt,

MN, RN, CNL, who is transitioning to the role of Director

of Professional Development. Kelly Hunt started full time

with MNA on March 28th. Her responsibilities will include

accountability for the operation of the ANCC-accredited

approver and provider units to support professional

development and quality of nursing practice.

Kelly comes to us from her most recent position as

Clinical Care Manager, Population Health, St. Peter's Health

Medical Group in Helena, MT Prior to that role, she worked

in a variety of clinical settings in inpatient and outpatient

areas including staff education. She has a master's degree

in nursing from Montana State University in Bozeman, MT.

Kristi will be working closely with Kelly over the next several

weeks to facilitate a smooth transition.

Kelly's email is kelly@mtnurses.org

Kelly Hunt, MN, RN, CNL

Director of Professional

Development
---
Page 8 Montana Nurses Association Pulse May, June, July 2022

ANA Excerpts
---
May, June, July 2022 Montana Nurses Association Pulse Page 9

APRN Corner

Happy Spring! Thanks to

the more than 80+ NPs that

attended the 15th annual MNA

APRN Spring Conference

via remote learning (Zoom).

And of course, the incredible

speakers, as every year I am

just amazed at the quality and

incredible knowledge of our

speakers and their willingness

to share their expertise. The

majority of attendees indicated

they would like to continue

the remote, off-site format,

Keven Comer

MN, APRN, FNP-BC

stating that convenience with work/life balance and

ability to log back in and listen to sessions that were

missed. We will continue the remote format for 2023. The

ability to get speakers from all over the country without

worrying about travel and time expenditures for was a

large contributing factor as well. If you would like to be

involved as a member of the planning committee, please

reach out megan@mtnurses.org. We meet about once a

month via zoom. If you would like to be a speaker, please

contact Megan as well.

The 2021 Montana Legislature enacted Senate Bill

374, signed by the governor Gianforte, May 2021. SB 374

allows the Montana Board of Pharmacy to implement

a new 'dispenser registration' regarding dispensing of

drugs by medical practitioners.

This law will allow the board of pharmacy to

better regulate medications that are not dispensed

by a pharmacy or through a pharmaceutical drug

sample program.

The new Medical Practitioner Dispenser application

through the Board of Pharmacy will be available for

medical practitioners who want to dispense prescription

medications directly to their own patients from their

medical office or practice location in Montana, with the

intent that patients take medications home and NOT

have a prescription filled at a pharmacy. Physicians,

Dentists, Optometrists, Podiatrists, Physician

Assistants, and Advanced Practice Registered Nurses

(APRN) with Prescriptive Authority are eligible to apply.

You must be located in Montana. See 37-2-101(7), MCA,

for more information.

The Board of Pharmacy has more recent information

on this posted here: https://urldefense.proofpoint.com/

v2/url?u=https-3A__boards.bsd.dli.mt.gov_pharmacy_&

d=DwIGaQ&c=euGZstcaTDllvimEN8b7jXrwqOf-v5A_Cd

pgnVfiiMM&r=RLj0I2pITY78uf119sL4bMIfAQv4hcRudK

W1Z9bI7cM&m=vw4ZnEjiFbmAZyhKADIAi-EIMeqZMKQ

LcEb2plUmuRA&s=H9nADLbPpLW8I6VFps6E8TgND_

dQjOgh46DCmSMGWA8&e=

This registration is NOT related to or needed for the

following:

• Writing prescriptions for medications, including

controlled substances, or related prescriptive

authority license or renewal requirements

• The Montana Prescription Drug Registry (MPDR)

program and related mandatory registration and

use requirements

• Providing drug samples to patients In-office

administration of medications to patients

• Inpatient practice locations

• Emergency services and related dispensing

managed through a pharmacy

• Occasional dispensing of medications by a

medical practitioner but not as a usual course of

doing business

Please read the eligibility questions below for the

application to see if you qualify:

1 - Is your medical office or practice location

physically located in the State of Montana?

If NO– You do not need to apply. You must have a

physical dispensing location in the State of Montana to

qualify for this license.

2 - Do you only write prescriptions for your patients

to be filled at a pharmacy?

If YES – You do not need to apply. This registration

is not needed for providing prescriptions to be filled at

a pharmacy.

3 - Do you only provide drug samples to your

patients from your practice location and/or is your

dispensing limited to providing drug samples?

If YES– You do not need to apply. This registration

is not needed for providing drug samples directly to

your patients.

4 - Do you plan to dispense prescription

medications directly to your patients from your medical

office or practice location and NOT have the patient fill

a prescription at a pharmacy?

If NO - You do not need to apply. This registration

is intended only for medical practitioners who

dispense from their practice locations.

Statutes and Rules

Registrants must comply with dispensing authority

requirements outlined in statute and rule:

- Statute: 37-2-104(1)-(7), MCA, Dispensing Of

Drugs By Medical Practitioners – Registration –

Exceptions.

- Rules: ARM 24.174.1801, 1802, and 1803, Medical

Practitioner Dispensing, issued by the Montana

Board of Pharmacy regarding qualifications,

dispenser requirements, and recordkeeping

requirements.

I hope you are all feeling a bit of a reprieve from the

past two years – stay healthy and happy. When we take

care of ourselves, we are better able to care for our

patients.

Reach out if you have any questions or comments.

Thank you. keven.comer@gmail.com

*NEW MEMBER BENEFIT*

FOR APRN's

If you are an APRN, membership to Montana

Nurses Association (MNA) includes three professional

memberships for one low membership rate.

o MNA – Montana Nurses Association

o ANA – American Nurses Association

o AANP – American Association of Nurse Practitioners

If you are currently an MNA member who is also an

APRN, please e-mail Jill at jill@mtnurses.org so she can

sign you up for your AANP membership or if you have

any questions.

Everyone Deserves A Job They Love!!

Let Us Help Today,

Call 406.228.9541

Prairie Travelers is recruiting Traveling

Healthcare Staff in Montana,

North & South Dakota

• Registered Nurses (Hospital, ER, ICU, OB and LTC)

• Licensed Practical Nurses

• Certified Medication Aides

• Certified Nurse Aides

• Full-Time and Part-Time

Prairie Traveler's Commitment

to our Staff

• Excellent Wages • Health Care Benefits

• Travel Reimbursement • Annual Bonus

• Paid Lodging

• Zero Assignment

• Flexible Work Schedules Cancellations

• 24/7 Staff Support • Varied Work Settings

APPLY TODAY 406.228.9541

Prairie Travelers Recruitment Department

130 3rd Street South, Suite 2 • Glasgow, MT 59230

For an application or more information, visit

www.prairietravelers.com
---
Page 10 Montana Nurses Association Pulse May, June, July 2022

State Wide Nursing News

Shared Governance In The Health Care Organization:

United We Stand—Divided We Fall

United We Stand –

Divided We Fall is one of

the most used phrases to

promote unity and strength!

The words encourage and

inspire, and being alone

is harder and encourages

failure. From Greek history,

in the 6th century BC, we are

introduced to two of Aesop's

fables—The Bundle of Sticks

and the Four Oxen and the

Lion. My favorite—the lion

pursued the oxen without

success in overtaking an ox.

Carolyn Taylor

Ed.D, MN, RN

But then, when the pack of oxen dispersed and went

their own way—well, you guessed it—the lion caught his

ox! United We Stand—Divided We Fall has also been

heard in the Liberty Song by John Dickinson (1768) and

George Pope Morris's words in 1853. It all supports that

we are more likely to succeed when we work together—

UNITY IS STRENGTH!

DEFINITION OF SHARED GOVERNANCE

The definition of a healthcare organization's shared

governance program involves the ongoing experience

of unified sharing of council/group members to

improve quality healthcare.

PROCESS OF SHARED GOVERNANCE

Quality healthcare processes are established

through shared governance. The process involves

sharing ideas, concerns, and recommendations for

improving healthcare processes.

Shared governance is a process used universally

in many endeavors, from marriages to the most

magnificent and complicated businesses and

educational efforts. It is a significant part of leadership/

administration for the survival of the fittest. For example,

the Stanford Health Care and Magnet Recognition

Award processes were developed by the American

Nurses Credentialing Center (ANCC). Both systems

(Stanford Health Care and Magnet Recognition Award)

are known for their extensive shared governance

culture, including collaboration and teamwork.

NOW HIRING RN's & LPN's

Full- Time positions, Competitive Salary,

Retirement, Great Benefits

To discuss our current opportunities

call (406)843-4201 or

email hr@madisoncountymt.gov.

Visit us at

www.madisoncountymt.gov

THE ORGANIZATION'S BASIC LEADER/

ADMINISTRATOR SHARED GOVERNANCE

STANDARDS

No one claims that sharing and unity in an

organization are easy, and it is somewhat difficult,

as many health care professionals have strong

personalities and opinions. However, the effort to

communicate collectively on behalf of every patient/

resident or the organization has its rewards!

Shared governance councils/groups have

documented standards to measure expected and

competent outcomes.

The standards include:

- Council/Group Title – The representing of a

general category of concern–Identified as a

council, group, or committee.

- Philosophy – The belief system related to the

need–Paragraph starting with, "We believe."

- Goals – The ultimate and intended end-point(s)

to be attained – Each goal starts with a Bloom's

Taxonomy action verb related to the cognitive,

psychomotor, or affective domain.

- Purpose/Mission – The intended "good" to

be accomplished—Each purpose or mission

statement starting with the word "To."

- Objectives – The success incremental "markers"

along the way to the ultimate end-points or goal(s)–

Each objective starts with an action verb.

- Policies – The "rules" of the council keep

entropy (the movement of all universal things

and happenings toward randomness and

deterioration) under control.

ADMINISTRATIVE EXPECTATIONS RELATED TO

SHARED GOVERNANCE (Random placement of

expectations as to order of importance.)

* Knows the difference between leadership and

management. Leadership involves others in the

problem-solving process, and management tells

others what to do. The use of shared governance

in an organization is LEADERSHIP.

* Knows the concept of entropy and how this

natural universal movement toward deterioration

and change can alter councils/groups' intended

Share Your Clinical Excellence and

be a Part of Montana Health

Network's Professional Team!

• Flexible Scheduling

• Lucrative Salary

• Travel Reimbursement

• Varied Shifts or short/long contracts

• Housing while on travel assignment

• Bonuses – End of year and end of

extended contracts, if qualified

NEED EXTRA INCOME?

• Health Insurance

• 401 (k) Plan

• Professional Liability Insurance and

Worker's Compensation

• $100,000 Accident Insurance

Now recruiting Clinical Professionals

for Full time, Part time, and Per diem

• RN • CNA

• LPN • Radiology Tech

Apply online at: www.montanahealthnetwork.com

or contact David Perry, RN - Staff Coordinator/Director of Nursing Services

406-852-6361 or 406-228-8044 | contact@montanahealthnetwork.com

standards (the expectations by which a council's/

group's success is measured).

* Determines, documents, and updates overall/

all standards related to the entire organization–

philosophy, goals/mission, purpose, objectives,

policies, shared governance recommendations,

and organizational job descriptions according

to Benjamin Bloom's Taxonomy. It provides

the basis of all council/group expectations as

an extension of the healthcare organization's

supportive endeavors.

* Determines, documents and updates shared

governance standards of councils/groups,

involves healthcare employees by name and title,

and assigned counsel/group leader.

* Understands that shared governance councils/

groups are developed and assigned to meet

an organization's specific and unique needs

according to their stated standards.

* Incorporates and maintains shared governance

principles into the everyday employee activities of

a healthcare corporation.

* Performs (or at least reviews) all organizational

employee and council/group member evaluations

related to their job descriptions.

* Understands the potential good, problems,

challenges, and concerns related to implementing

and maintaining shared governance.

* Performs to be legally accountable for

organizational and council/group standards.

* Knows where the "BUCK STOPS"—It stops

with the leader/administrator and the LAW! The

organization's job descriptions' expectations and

maintenance, council/group job descriptions,

and associated job description evaluations

will help prevent litigation, and it is evidence of

leadership prowess.

BENEFITS OF SHARED GOVERNANCE

There is no question that professional health care

staff's involvement improves patient/resident healthcare

outcomes and safety. It encourages professional health

care employee partnership, equity, accountability, and

ownership of results. Leaders/Administrators claim

that it optimizes efficiency and potential for meeting

the organization's established standards. There is an

improvement in the retention of nurses. Teamwork also

is improved through council/group "rounding" (bedside

conferencing) on patient/resident care areas.

Determination of significant patient/resident health

care decisions is accomplished by health care and

administrative councils/groups. Because of involvement

for the good of patients/residents and the healthcare

environment in which healthcare occurs, employees

become positively energized. There is shared energy

as staff see and feel the evidence of making a positive

difference due to their involvement.

Using the Rule of Three provides an uneven number

on every council/group to determine major decisions.

There is no magic in the number three. However, a

majority determination of a varying number of council

members democratically determines the best options

for an organization and patient/residential health

promotion. Suppose there must be/needs to be an

even number of health care providers on a council,

thereby an uneven number of council members making

a council decision. In that case, there is a possibility of a

voting tie, and the uninvolved leader/administrator of the

organization breaks the tie. Therefore, there is always a

final council/group decision. The benefits of a majority

decision positively impact the desire to have shared

governance decisions. It determines professional

practice and strategic plans through multiple and

collaborative efforts.

With the guidance and determination of the astute

health care leader/administrator who understands the

legal and ethical implications of shared governance,

positive healthcare administration and application

escalates. Leader/administrative support says that

professional input is valued.
---
May, June, July 2022 Montana Nurses Association Pulse Page 11

State Wide Nursing News

Leaders/administrators can change the complex health

care world for the better. Who else would recognize that

entropy (universal automatic deterioration of everything in

the universe) occurs without positive administrative and

watchful collaborative leadership? The strength, ability,

and fortitude to "tie" the sharing of healthcare shared

governance into a consistent working and ongoing

healthcare endeavor truly belongs to the health care

leader/administrator. Such effort makes the organization

an integrative system that is something to behold! And—

the benefits are covertly too many to identify!

This concept applies – To know the good/benefits

of shared governance, we have experienced the notso-good

(no shared governance – like to understand

light, you must also know dark. )

EXAMPLES OF POSSIBLE COUNCILS/GROUPS

REPRESENTING SHARED GOVERNANCE

1. NURSING CARE COUNCIL (NCC) – (Building

and Implementing a Nursing Care Plan)

PHILOSOPHY: We believe that every

patient/resident deserves a unique/

individualized nursing care plan that results

from professional nursing health care input.

GOAL/MISSION/PURPOSE: Determine and

review individualized nursing care plans

that meet each patient/resident's unique

healthcare needs.

OBJECTIVE: To meet regularly or as needed

as professional nurses to identify and support

nursing behaviors that enhance nursing health

care for individual patients/residents.

A Nursing Patient Care Council/group is

responsible for the professional sharing, review,

adjustments, implementation, and coordination of

individual patient/resident health care plans. Selected

health care standards for particular patients/residents

become the documented patient's/resident's care

plan, nursing diagnosis, realistic healthcare goals, and

intended nursing interventions to meet the healthcare

goals.

Let us not forget the human variable that says

every patient's goals and needs (due to individual

uniqueness) are somewhat different. Thereby, we have

a basic guideline (standard of care) to commence with

patients/residents' treatment. Yet, as a council/group

commissioned to determine professional health care,

we do so humanely and individually. It means that the

ultimate patient care council's/group's responsibility is

to determine individual care plans according to proven

standards of care. It also enhances the care plan

to include a more individualized plan representing a

patient's uniqueness and several additional healthcare

disciplines that help reach patient/resident healthcare

goals.

*Members are professional nurses.

2. SHARED MULTI-DISCIPLINARY COUNCIL

(SMC) – (Building and Implementing an

Interdisciplinary Care Plan)

PHILOSOPHY: We believe that every patient/

resident deserves a unique/individualized care

plan with an interdisciplinary health care input

outcome.

GOAL/MISSION/PURPOSE: Determine and

review individualized interdisciplinary care

plan that meets each patient/resident's unique

healthcare needs.

OBJECTIVE: To meet regularly or as

needed as multidisciplinary healthcare

providers to identify and support the specific

interdisciplinary health care needs of individual

patients/residents.

A Shared Multi-Disciplinary Council is responsible

for assessing, implementing, and maintaining

current practice standards related to appropriate

interdisciplinary care plans. The council supports

and enhances the vision and identifies strategic and

individualized care plans set forth by professional

nurses. Suppose the SMC identifies a professional

concern or a needed individualized multidisciplinary

health care in addition to the nursing care plan. In that

case, a representative of this council meets with the

NCC to clarify or adjust the care plan.

*Interdisciplinary healthcare members are a

combination of nurses, physicians, and multidisciplinary

health care specialists.

3. COORDINATING COUNCIL (CC) – (Patient/

Resident Safety and Quality Check)

PHILOSOPHY: We believe that every patient/

resident deserves a unique/individualized care

plan with medical oversite.

GOAL/MISSION/PURPOSE: Determine and

review individualized care plans for correct

medical protocols that meet each patient/

resident's healthcare needs.

OBJECTIVE: To meet regularly or as needed

as medical healthcare providers to identify,

support, and medically monitor the specific

interdisciplinary health care needs of

individual patients/residents.

Shared Governance continued on page 12
---
Page 12 Montana Nurses Association Pulse May, June, July 2022

State Wide Nursing News

Shared Governance continued from page 11

A Coordinating Council monitors other councils/groups and unsolved medical

issues within or between councils. Care plans are strategically reviewed from a

medical perspective for efficacy. Documentation is checked to ensure that care

plans are implemented and appropriately documented. Council members are

considered a necessary resource for understanding potential medical (positive

or negative) effects and unresolved issues regarding implementation and varied

disciplinary practice(s) as stated on the care plan developed by the NCC and SMC.

*Members are medical staff.

4. RESEARCH AND INNOVATION COUNCIL (RIC) – (Research and

Application of Identified Patient Care Research)

PHILOSOPHY: We believe that every patient/resident deserves the use

of the most current and researched quality healthcare evidence.

GOAL/MISSION/PURPOSE: Review relevant literature and apply the

researched findings to individual care plans for patients/residents' most

effective healthcare management of patients/residents.

OBJECTIVE: To meet regularly or as needed as multidisciplinary

healthcare providers to review research findings for appropriate

recommendations and applications to individual patients/residents' care

plans.

A Research and Innovation Council is responsible for researching evidencebased

healthcare practices. It helps to assure current and effective healthcare

practices. Communication with other councils/groups provides researched and

updated information to all healthcare disciplines to ensure safety and quality care

decisions. It assures that healthcare practice is evidenced-based using quality

healthcare practice.

*Members are healthcare-supportive disciplines, such as nurses, physicians,

and multidisciplinary healthcare specialists.

5. EXECUTIVE COUNCIL (EC) – (Leadership Recommendations and

Coordination for Organizational Behaviors, Educational Services,

Lectures, and On-Hand Practice of Healthcare Providers.)

PHILOSOPHY: We believe that leadership is enhanced by sharing

creative administrative ideas. Education/services/lectures/on-hand

practice of health care providers increases professional healthcare

competence.

GOAL/MISSION/PURPOSE: Contribute to the healthcare organization's

positive administrative efforts and functions.

OBJECTIVE: To meet regularly or as needed as a multidisciplinary

healthcare team to identify potential new and supportive administrative

happenings to support or improve the healthcare organization.

Conducts problem-solving groups with follow-up meetings/forums to assure

continued compliance or appropriate modifications of group decisions. Decisions

require leader/administrative approval before implementation.

*Members are "second-line" leaders, at least one member from all shared

governance councils, and the organizational leader/administrator.

6. CLINICAL EDUCATION COUNCIL (CEC)–Collaborative recommendations

between a nursing education program and a clinical facility used for

clinical nursing education)

PHILOSOPHY: We believe that nursing education and clinical nursing

practice are mutually enhanced by collaboration between nursing

education programs and clinical healthcare facilities. It encourages

the nursing practice expertise of the nurse preceptor and effectively

teaches student nurses. Student nurses are more inclined to be

employed in a healthcare facility where they receive a preceptor nursing

experience.

GOAL/MISSION/PURPOSE: Contribute to nursing students' clinical

practice as collaborative healthcare educators and clinical nursing

providers.

OBJECTIVE: To meet regularly or as needed as a multidisciplinary

healthcare team to determine educational opportunities and

requirements that support nursing education and ultimately retain

graduating nurses to work in the associated healthcare organization.

Nursing faculty often assign student nurses to clinical nurses employed in a

specific healthcare area. There, at times, is no criteria established for being the

nurse preceptor. Careful selection of a practicing nurse preceptor for a nursing

student provides the nursing role model immolated by the student nurse. It

is important to require the nurse preceptor to review techniques expected to

supervise or demonstrate to nursing students. There is a correct carry-over of

principles from the classroom to the clinical setting. Positive reinforcement (reward)

is given to approved nurse preceptors by wearing a name tag with the school's

name and name, indicating they are currently a "Student Nurse Preceptor" for the

day. Preceptor identification establishes nursing prowess on a nurse's resume. A

plaque on the hall wall with the engraved names of clinical nurses who meet the

preceptor criteria is recognized and increases the nurse preceptor's professional

image. This positive reinforcement increases more positive nursing outcomes!

Nursing students who receive quality nurse preceptor support are more inclined

to apply for employment at the same clinical area post-graduation—decreasing the

possible need for so many "traveling nurses."

*Members are nursing faculty who teach clinical nursing skills at the academic

level and nursing healthcare administrator(s) of a clinical healthcare facility used by

nursing students for direct patient/resident application of clinical skills.

PERSONALIZATION OF SELF-GOVERNANCE

NOW—With all the previous examples of the possible use of shared governance

councils/groups– let us be "real." Think carefully and creatively about how your

healthcare staff/team can share knowledge and experiences to better the

healthcare organization and the patients/residents.

What has been presented in this document might not mean what your

organization needs as you pursue your shared governance quest. You might

want to have committees instead of counsels/groups—even though they can

mean the same. Make up your own council/group/committee titles, standards,

and participants that best suit you and your administrative needs. Perhaps

selected organizational or academic members could determine each council/

group/committee's labels and standards. You will benefit by using your personally

designed shared governance counsels/groups as a powerful means of collecting

previously unspoken and changing healthcare information. Then, you will truly

understand the meaning of TOGETHER WE STAND!

RECOMMENDED READING

- Shared Governance (concepts available online)

- Entropy by this author

- Job Descriptions by this author

- Benjamin Bloom's Taxonomy (concepts of the domains cognitive,

psychomotor, and affective (attitude) in the document on Job Descriptions by

this author and variations of the concepts online)

- Magnet Hospital Journey (access online)

- Stanford Health Care (access online)

Leadershippoweronline.com
---
May, June, July 2022 Montana Nurses Association Pulse Page 13

State Wide Nursing News

CI-121 Basic Analysis – Montana Nurses Association - March 31, 2022

What is it? CI-121 is a ballot initiative that puts

sideboards on residential property taxes and property

tax valuations via a constitutional amendment to

the Montana State Constitution. Constitutional

amendments are a very serious endeavor, and nearly

impossible to remove. The consequences of any

change to the constitution could have a ripple effect

for years thereafter. The limitations via CI-121, if

passed, would be as follows:

• In 2024, the residential property assessed values

would revert back to 2019 valuations.

• The Dept of Revenue's ability to increase

property valuations from year to year would be

capped 2% or the rate of inflation, whichever is

less.

• Residential property taxes would always be

capped at 1% the value of the property. The

current residential property tax rate in Montana

is around 1.35%, but residential tax rates will

range depending on how much money the

county and municipal governments need in

order to function from place to place. Some

counties also have imposed more mill levies

than others, so a hard and fast rule is difficult to

calculate.

The result? CI-121 would result in less money in our

local communities for essential services. With a smaller

pot of money to work with, state and local governments

will either 1) cut budgets and essential services or 2) get

the money to fill in their budgets using other tax revenue

sources. Revenue for things like schools and teachers,

roads, city government, public health, emergency

services, etc would either have to be cut, or the money

would have to come from somewhere else. CI-121 could

result in $100 million to $265 million in lost state and local

revenue. The state could also lose ~ $30 million per year

in revenue according to the Montana Budget and Policy

Center.

How would this affect the public health nurses

of MNA? – Montana, as a whole, may have less funding

to recruit and retain public health nurses and nurses

employed by public institutions. The ballot initiative would

also have detrimental effects to our union brothers and

sisters in other publicly funded professions.

What's the process? Proponents of CI-121 have to

gather 60,359 signatures in support of the ballot initiative

by 06-17-2022 in order for the initiative to be eligible for

a vote in the November election. We must DECLINE

TO SIGN CI-121 to keep this bad policy with unknown

repercussions out of Montana.

Proponents of the initiative:

• Al Olszewski (R), former legislator, former gubernatorial

candidate, and now congressional candidate

• Troy Downing (R), State Auditor

• Matt Monforton, a Bozeman attorney

• Rep. Matt Regier (R)

• Rep. Brad Tschida (R)

• Sen. Brad Molnar (R)

• Rep. Derek Skees (R)

• Joe Dooling (R)

Opponents of the initiative:

• Montana Bankers Association

• Montana Chamber of Commerce

• Montana Farm Bureau

• Montana Federation of Public Employees

• Montana AFL-CIO

• Montana Association of Counties

• Montana Association of REALTORS

• Montana Budget and Policy Center

• Montana Farmers Union

• Montana Human Rights Network

• Montana Infrastructure Coalition

• Montana League of Cities and Towns

• Montana Quality Education Coalition

• Montana Rural Education Association

• Montana Women Vote

• Montana Nurses Association

• Sen. Jill Cohenour (D)

• Sen. Greg Hertz (R)

OPEN RN POSITIONS

Excellent Wages/Benefits

401k with 8% State Match/Deferred Pension

Relocation Reimbursement

Apply at: statecareers.mt.gov

MMHNCC | 800 Casino Creek Dr. | Lewistown MT 59457

At McKenzie-Willamette Medical Center,

we take caring for people very personally.

Join our MWMC family today in the

beautiful Pacific NW!

We have RN positions available in our

Operating Room and Cath Lab.

The Cath, Hybrid, EP, and Operating Rooms are more than just

procedural areas at MWMC. While collaboratively working

to promote operational efficiency, fiscal responsibility, and

purposeful change, we strive to empower each individual with the

tools necessary to foster learning and growth while enhancing

patient, staff, and physician satisfaction.

Sign-on bonuses up to $5,000 available!

Explore our Nursing Opportunities:

https://mckwebcareers.com/

NOW HIRING

RN's & LPN's

Full- Time positions, Competitive

Salary, 403b, Great Benefits.

We offer sign-on and retention bonus

and relocation assistance.

To discuss our current opportunities

call (406) 683-3021 or email

careers@barretthospital.org.

Visit us at WWW.BARRETTHOSPITAL.ORG

APPLY TODAY!
---
Page 14 Montana Nurses Association Pulse May, June, July 2022

Cancer Control Program Update

Did you know??

• Colorectal cancer incidence is increasing among younger Montanans (aged 44

and under) even while rates are decreasing among adults aged 65 or older.

• Five types of cancer (liver, stomach, kidney, lung, and colorectal cancer) account

for the higher cancer incidence and mortality seen among American Indian

Montanans.

• Prostate cancer incidence has increased among Montana men since 2014 and the

rate in Montana is significantly higher than in the U.S. overall.

Learn more about the cancer incidence and mortality trends in Montana in the

Montana Central Tumor Registry Annual Report covering diagnosis years 2015 to 2019.

If you have questions or comments about the report or any other cancer statistic contact

cancer epidemiologist, Heather Zimmerman, 406-444-2732 or hzimmerman@mt.gov

Does this legislation only apply to vaccination status regarding the

vaccines for COVID-19?

• No. HB 702 applies to all vaccines (example: MMR & DPT) and is not limited

to COVID-19 vaccines.

Can a health care facility require all employees, patients, visitors, or other

persons on their premises to wear a mask?

• YES! Nothing in HB 702 prohibits a health care facility from requiring

everyone to wear masks, including employees, patients, visitors, and other

persons on their premises regardless of vaccination status, as long as there is

a provision for accommodations for persons based on sincerely held religious

beliefs or medical disability.

*************************

1. What factors lead MNA make the decision the join in with other parties

(MMA, Etc) and intervene on the HB702 lawsuit?

***Many factors contributed to the MNA involvement with HB702***

o Legislative/Governmental Relations platform-approved by House of

Delegates yearly at annual Convention

o Executive board-MNA Board of Directors

o Survey members

o MNA member feedback

o Code of Ethics for Nurses

o Resolutions-voted on by House of Delegates

o Scientific evidenced-based data

o Legal advice

• Historically, the Montana Nurses Association (MNA) has strongly supported

immunizations to protect the public from highly communicable and deadly

diseases such as measles, mumps, diphtheria, pertussis, and influenza,

moreover, has supported appropriate evidenced-based vaccination policies

for registered nurses and health care workers.

• Under certain circumstances, MNA understands the need for mandatory

vaccines as a job requirement (with sincere religious/medical exemptions

noted) especially due to the several recent and significant measles outbreaks

in the United States, as well as the global pandemic of COVID-19.

• Vaccination requirements for employment as a professional nurse are

not new to nurses. MNA strongly recommends that registered nurses be

vaccinated against COVID-19, especially now with FDA approval.

• See MNA position statement regarding vaccinations Sept. 27th, post FDA

approval of Covid vaccine under advocacy tab at www.mtnurses.org.

• The misunderstanding and disconnect with HB702 is that it is not just about

the COVID vaccine, it far exceeds COVID and applies to ALL vaccines.

• MNA continues to advocate for a safe working environment for all nurses,

healthcare workers and ultimately, our patients. Montana Nurses and healthcare

workers are already REQUIRED, as employment conditions, to receive other FDA

approved vaccines and annual testing, such as Measles, Mumps, Rubella (MMR),

hepatitis, and yearly Tuberculosis screening , etc to keep themselves, their patients,

and others safe. HB702 interferes with these long standing vaccine requirements.

Elevate Your Critical Care Nursing Career

Local Montana flight company looking for an addition to a fast paced

emergency and critical care flight crew.

MMT upholds NAAMTA accreditation for excellence in medical transport

The flight nurse provides broad and comprehensive care to patients from all

populations

Active Montana RN license with a minimum of 3 years (5 preferred) of recent

critical care or emergency room experience with current certifications

Competitive pay in the 95th percentile for flight nurse positions across the

PNW with scheduled shifts of 24 or 12 hours

MMT strives to be on the leading edge of transport medicine, fostering a workplace

family built on meaningful work, involvement, and growth.

To apply for consideration go to our website

Montana Medical Transport | Transportation Service |

Helena, MT or call 406-457-8205.

2. Does MNA support a COVID vaccine mandate??

• MNA advocates for and supports a safe work environment and fair workplace

policies surrounding the implementation of any employer vaccine mandate as

part of their job requirements. Many healthcare facilities have mandated flu

vaccines, especially since H1N1 outbreak, and MNA nurses are at the table to

assist with policies that define exemptions and ensure appropriate protective

measures and Personal Protective Equipment (PPE) are available to keep

unvaccinated nurses, healthcare workers, and patients safe.

• MNA supports a fair process surrounding mandatory vaccines, moreover, in

facilities with collective bargaining agreements, nurses have bargained over

fair policies (which include exemptions noted in our position statement and

resolution-www.ntnurses.org/advocacy) and will continue to do so for COVID

and other FDA approved vaccines that may arise.

• See MNA position statement regarding vaccinations Sept. 27th, post FDA

approval of COVID vaccine under advocacy tab at www.mtnurses.org.

MCDC provides in-patient addiction treatment, including withdrawal

management, for substance use disorders and treatment for cooccurring

mental health disease. MCDC is a 48 bed facility, serving

individuals 18 years and older. The nursing staff work alongside an

interdisciplinary team to provide quality patient care. Must possess

a current Montana or Compact Nursing License.

Positions available are a Full-time Registered Nurse (Sunday,

Monday, Tuesday 7p-7a) and Part time LPN (Saturday and

Sunday 7p-7a). Shift differential for nights and weekends.

Log on to: www.mt.gov

State Government Jobs State Job Listing
---
May, June, July 2022 Montana Nurses Association Pulse Page 15

MEMBERSHIP

MATTERS!

Montana Nurses Association would like to

invite you to join us today!

BENEFITS INCLUDE:

• EMPOWERING RNs TO USE THEIR

VOICES IN THE WORKPLACE

• IMPROVING PATIENT CARE

• HAVING INPUT REGARDING

WAGES & BENEFITS

• CONTINUING EDUCATION OPPORTUNITIES

• LEGISLATIVE REPRESENTATION

Call or email today

jill@mtnurses.org

(406) 442-6710

Applications also available on

our website.

mtnurses.org

Has your contact

information changed?

New name? New address?

New phone number?

New email address?

To update your contact information,

please email or call

Montana Nurses Association:

jill@mtnurses.org or 406-442-6710

8" Ads

OPEN

10" Ads

OPEN

12" Ads

OPEN