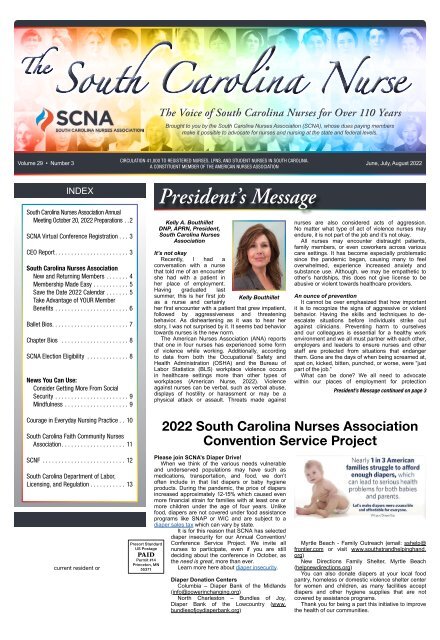 The South Carolina Nurse - June 2022
Create successful ePaper yourself
Turn your PDF publications into a flip-book with our unique Google optimized e-Paper software.
WWW.SCNURSES.ORG The South Carolina Nurse – June, July, August 2022 PAGE 1

The

South Carolina Nurse

The Voice of South Carolina Nurses for Over 110 Years

Brought to you by the South Carolina Nurses Association (SCNA), whose dues paying members

make it possible to advocate for nurses and nursing at the state and federal levels.

CIRCULATION 41,000 TO REGISTERED NURSES, LPNS, AND STUDENT NURSES IN SOUTH CAROLINA.

Volume 29 • Number 3 June, July, August 2022

A CONSTITUENT MEMBER OF THE AMERICAN NURSES ASSOCIATION

INDEX

President's Message

South Carolina Nurses Association Annual

Meeting October 20, 2022 Preparations.. 2

SCNA Virtual Conference Registration....3

CEO Report........................3

South Carolina Nurses Association

New and Returning Members........4

Membership Made Easy............5

Save the Date 2022 Calendar........5

Take Advantage of YOUR Member

Benefits........................6

Ballet Bios. . . . . . . . . . . . . . . . . . . . . . . . 7

Chapter Bios ......................8

SCNA Election Eligibility ..............8

News You Can Use:

Consider Getting More From Social

Security........................9

Mindfulness.....................9

Kelly A. Bouthillet

DNP, APRN, President,

South Carolina Nurses

Association

It's not okay

Recently, I had a

conversation with a nurse

that told me of an encounter

she had with a patient in

her place of employment.

Having graduated last

summer, this is her first job Kelly Bouthillet

as a nurse and certainly

her first encounter with a patient that grew impatient,

followed by aggressiveness and threatening

behavior. As disheartening as it was to hear her

story, I was not surprised by it. It seems bad behavior

towards nurses is the new norm.

The American Nurses Association (ANA) reports

that one in four nurses has experienced some form

of violence while working. Additionally, according

to data from both the Occupational Safety and

Health Administration (OSHA) and the Bureau of

Labor Statistics (BLS) workplace violence occurs

in healthcare settings more than other types of

workplaces (American Nurse, 2022). Violence

against nurses can be verbal, such as verbal abuse,

displays of hostility or harassment or may be a

physical attack or assault. Threats made against

nurses are also considered acts of aggression.

No matter what type of act of violence nurses may

endure, it is not part of the job and it's not okay.

All nurses may encounter distraught patients,

family members, or even coworkers across various

care settings. It has become especially problematic

since the pandemic began, causing many to feel

overwhelmed, experience increased anxiety and

substance use. Although, we may be empathetic to

other's hardships, this does not give license to be

abusive or violent towards healthcare providers.

An ounce of prevention

It cannot be over emphasized that how important

it is to recognize the signs of aggressive or violent

behavior. Having the skills and techniques to deescalate

situations before individuals strike out

against clinicians. Preventing harm to ourselves

and our colleagues is essential for a healthy work

environment and we all must partner with each other,

employers and leaders to ensure nurses and other

staff are protected from situations that endanger

them. Gone are the days of when being screamed at,

spat on, kicked, bitten, punched, or worse, were "just

part of the job."

What can be done? We all need to advocate

within our places of employment for protection

President's Message continued on page 3

Courage in Everyday Nursing Practice... 10

South Carolina Faith Community Nurses

Association..................... 11

2022 South Carolina Nurses Association

Convention Service Project

SCNF........................... 12

South Carolina Department of Labor,

Licensing, and Regulation............ 13

current resident or

Presort Standard

US Postage

PAID

Permit #14

Princeton, MN

55371

Please join SCNA's Diaper Drive!

When we think of the various needs vulnerable

and underserved populations may have such as

medications, transportation, and food, we don't

often include in that list diapers or baby hygiene

products. During the pandemic, the price of diapers

increased approximately 12-15% which caused even

more financial strain for families with at least one or

more children under the age of four years. Unlike

food, diapers are not covered under food assistance

programs like SNAP or WIC and are subject to a

diaper sales tax which can vary by state.

It is for this reason that SCNA has selected

diaper insecurity for our Annual Convention/

Conference Service Project. We invite all

nurses to participate, even if you are still

deciding about the conference in October, as

the need is great, more than ever.

Learn more here about diaper insecurity.

Diaper Donation Centers

Columbia – Diaper Bank of the Midlands

(info@powerinchanging.org)

North Charleston – Bundles of Joy,

Diaper Bank of the Lowcountry (www.

bundlesofjoydiaperbank.org)

Myrtle Beach - Family Outreach (email: sshelp@

frontier.com or visit www.southstrandhelpinghand.

org)

New Directions Family Shelter, Myrtle Beach

(helpnewdirections.org)

You can also donate diapers at your local food

pantry, homeless or domestic violence shelter center

for women and children, as many facilities accept

diapers and other hygiene supplies that are not

covered by assistance programs.

Thank you for being a part this initiative to improve

the health of our communities.
---
PAGE 2 June, July, August 2022 – The South Carolina Nurse WWW.SCNURSES.ORG

South Carolina Nurses Association

Annual Meeting October 20, 2022

Preparations

Resolution Committee Report / Bylaws Committee Report / Nomination Committee Report

Annual Meeting Update

The Virtual Annual Meeting of SCNA SCNA's

will be called to order at 6:40PM October 20th. All

members are welcome and encouraged to attend

by registering on-line. There is no cost to attend the

Annual Meeting. Actions of the Annual Meeting will

include the annual reports to the membership of the

Board of Directors of SCNA and the announcement

of the 2022 election results. All SCNA/ANA and

SCNA-Only members who meet the qualification to

vote and are in attendance at the Annual Meeting

may vote during that meeting. There is no proxy

voting. The qualification is membership in SCNA/

ANA or SCNA-Only as of October 19, 2022, and

continue to hold membership after that date.

Resolutions

The official call for Resolutions was made in

January issue of the SC Nurse. Resolutions must

have been received by May 1, 2022. To date not

one has been received. There is a process for

the presentation of Resolutions during the Annual

Meeting. This process includes any Resolutions not

previously forwarded to SCNA. The full explanation

of the process may be found in the Standing Rules

in the Annual Book of Reports. The Annual Book of

Reports will be posted to the SCNA website no later

than October 13, 2022. Digital copies of The Annual

Book of Report will be provided to members of

SCNA.

Proposed Bylaw Changes

To date no suggestions received.

Report of the SCNA Nomination Committee

This article represents the initial report of the

Nomination Committee for the 2022 election. In

Care and

Concern

To the family of Archie

Timothy Brown at his death

May 27, 2022

BUILD YOUR

CAREER AT

NHC

NHC Healthcare – Anderson is

NOW HIRING!

RNs and LPNs

Contact:

Donna Robinson, DON

1501 East Greenville St. Anderson, SC 29622

www.nhcanderson.com

keeping with the SCNA Election Policy write-ins will

be permitted for a member whose name does not

appear on the ballot by writing in the name of that

member ONLY if the member being written-in is a

member in good standing and has consented to

serve if elected. The consent to serve must be filed

before the election opens. The election will open

September 26, 2022 and close October 7, 2022.

Each candidate was invited to submit biographical

information, a statement as to why they are running

for a particular office, and a picture.

The statements appear as received by the SCNA

prior to publication of this issue of the SC Nurse.

The SCNA Nominating Committee has called for the

member suggestions for the 2022 elections.

In 2022, members will elect:

Full (SCNA/ANA) & SCNA Only Election

President-Elect*

Director Seat 1

Director Seat 2

SCNA Nomination Committee* (5 people)

Full (SCNA/ANA) Election

Representatives to the ANA Membership

Assembly (three people - President*, President-

Elect*, and Delegate*)

Alternates* for Representatives to the ANA

Membership Assembly

*Must be Full SCNA/ANA Member

SCNA Chapters will also hold elections for:

Chair

Member At Large (two people)

Each term is for two years

Virtual SCNA

Annual Meeting –

October 20th, 2022

The SCNA shall hold an annual meeting of the

membership at such time and place as shall be

determined by the Board of Directors. All members

of SCNA who are in good standing are eligible to

attend this meeting and to vote on all matters coming

before the meeting. The Annual Meeting is open to

all members of SCNA.

SCNA's Annual Meeting for 2022 will be called to

order at 6:40PM October 20th

Join us for

the NALPN 71st annual Conference

to be held in Myrtle Beach, SC from

October 16-19th at the Landmark Resort

LPN/LVN Empowered to Succeed!

Before July 31st Early bird special $350.

https://nalpn.org/

2022 Board of Directors

President – Kelly Bouthillet

President-Elect – Angela Dykes

Secretary/Treasurer – Cindy Merrow

Commission Chair –

Public Policy/Legislation – Kelly Willenberg

Commission Chair – Professional Advocacy

and Development – Sherry James

Director, Seat 1 – Jada Quinn

Director, Seat 2 – Rhona Williams

APRN Chapter Chair (Ex-Officio) – Nakita Barnes

Nurse Educator Chapter Chair

(Ex-Officio) – Lynne Hutchinson

Psychiatric-Mental Health Chapter Chair

(Ex-Officio) – Kim Gilmore

Women and Children's Health Chapter Chair

(Ex-Officio) – Jennifer Bell Woodley

SNA-SC President (Ex-Officio) – Reagan Cohn

SCNF President (Ex-Officio) – Deborah Hopla

CEO and Lobbyist – Judith Curfman Thompson

Executive Assistant – Rosie Robinson

The South Carolina Nurse (ISSN 1046-7394) is

published quarterly every March, June, September,

December and by the South Carolina Nurses Association,

a constituent member of the American Nurses

Association, 1301 Gervais Street, Suite 802, Columbia,

SC 29201, (803) 252-4781, website: www.scnurses.org.

Subscription fees: Members $2 per year included in dues

as a membership benefit, Institutional subscriptions, $40

per year. Single copies $10.

Readers: Send address changes to South Carolina

Nurses Association, 1301 Gervais Street, Suite 802,

Columbia, SC 29201.

For advertising rates and information, please contact

Arthur L. Davis Publishing Agency, Inc., PO Box

216, Cedar Falls, Iowa 50613, (800) 626-4081,

sales@aldpub.com. SCNA and the Arthur L. Davis

Publishing Agency, Inc. reserve the right to reject any

advertisement. Responsibility for errors in advertising is

limited to corrections in the next issue or refund of price

of advertisement.

Acceptance of advertising does not imply endorsement

or approval by the South Carolina Nurses Association

of products advertised, the advertisers, or the claims

made. Rejection of an advertisement does not imply a

product offered for advertising is without merit, or that

the manufacturer lacks integrity, or that this association

disapproves of the product or its use. SCNA and

the Arthur L. Davis Publishing Agency, Inc. shall not

be held liable for any consequences resulting from

purchase or use of an advertiser's product. Articles

appearing in this publication express the opinions of

the authors; they do not necessarily reflect views of the

staff, board, or membership of SCNA or those of the

national or local associations.

South Carolina Nurse Copy Submission Guidelines:

All SCNA members are encouraged to submit material

for publication that is of interest to nurses. The South

Carolina Nurse also welcomes unsolicited manuscripts

written by members. Article submission is preferred in

MS Word format and may be up to 1000 words. When

sending pictures, please be certain to label them

clearly since the editors have no way of knowing who

persons in the photos might be. Preferred submission

is by email to Rosie@scnurses.org. Please do not

embed photos in Word files, but use jpg files. All

articles submitted are subject to editing by the SC

Nurse editorial staff.

South Carolina Nurse Editorial Staff:

Judith Curfman Thompson, Executive Editor

Rosie Robinson, Assistant Editor
---
WWW.SCNURSES.ORG The South Carolina Nurse – June, July, August 2022 PAGE 3

Registration is Open

CEO Column

Judith Curfman

Thompson, CEO

https://www.scnurses.org/event/2022SCNAStateConvention

Convention Registration Fees Include

- All Convention Content Live and On Demand

- Up to 45 CNE hours over the course of three

days

- Access to virtual exhibitors

- Access to Practice Forum & Networking

Opportunities

- On Demand Access until December 31, 2022

Convention Purpose: to provide updated

information across the practice spectrum of

registered nurses and advanced practice nurses.

State, regional, and nationally recognized

speakers will be presenting topics relevant to all.

The Convention will provide Continuing Nursing

Education. The content is designed to meet the

needs of registered nurses and advanced practice

nurses practicing in SC. If Continuing Nursing

Education is your chosen form of meeting the South

Carolina Nurse Practice Act requirements, Chapter

33, Section 40-33-40, Continuing Competency for

your biannual license or for your certification on the

national level, this convention will be acceptable for

those purposes.

Schedule At A Glance

not currently available

Registration Fees

Before September 22 September 22-October 19

SCNA Member (SCNA/ANA and SCNA Only) $275.00 $375.00

Non SCNA Member $375.00 $475.00

Virtual attendees of the Convention are

eligible to attend all content from the three-day

event; either in live format or on demand format.

The number of hours that have pharmacology and

controlled substance content will vary depending on

the breakout sessions attended. You must attend a

session/breakout in its entirety and complete a CNE

evaluation form to receive contact hours.

SCNA is an Approved Provider of continuing

nursing education by the North Carolina

Nurses Association, an accredited approver by

the American Nurses Credentialing Center's

Commission on Accreditation.

Handouts:

Convention materials and handouts will be made

available to registered virtual attendees preceding

the event and after the event for a limited time on

the virtual event platform. You will be able to view

and print the slides/handouts free from this source.

Physical printed handouts will not be provided by

SCNA.

The Second quarter

of this year has certainly

hurried along. It, as always,

is a time of preparations

for a variety of activities of

SCNA.

My deepest thanks to the

Nominations Committee as

they prepare for the next

elections of SCNA. This

was also a time of reporting

the great work of the

Continuing Education Committee to The American

Nurses Credentialling Center. SCNA is truly fortunate

to have such great volunteer leaders who carry out

the work needed to accomplish these important parts

of SCNA's activities.

Preparations for the ANA Membership Assembly

have been completed and SCNA will have a

good representation at the up-coming meeting in

Washington, DC.

Preparations for the 2022 SCNA State Virtual

Convention are coming together and the Virtual

Annual Meeting of SCNA will also again be held

virtually at 6:40 PM on October 20-22.

It continues to be a time of learning and working

hard to be certain that the organizational work of

SCNA continues to be done in a timely manner.

SCNA will be represented at the ANA Membership

Assembly in Washington, DC in June of this year.

Slowly, but surely we are inching back to "life as we

have known it."

ONWARD!

A personal note: I shall be retiring from SCNA

at the end of June. It has been an honor and a

wonderful time-1985-to 2022-times surely does fly!

SO…on to the next part of life! Trust you are all

well and enjoying a good summer!

My very best to all your family!

Judith C. Thompson

CEO

South Carolina Nurses Association

Judith Curfman

Thompson

President's Message continued from page 1

and solutions. We also need to advocate for the

Workplace Violence Prevention for Health Care

and Social Service Workers Act (H.R. 1195) which

was passed by the House in 2021 but has yet to be

passed by the Senate. This legislation would require

employers to protect healthcare providers from

violence as well as retaliation from clinicians that

report such events. Your support for this legislation

is vital - you can learn more on how to advocate at

rnaction.org

To learn more on innovative ways to prevent and

manage workplace violence, there are a couple

articles addressing this challenging problem in the

April 2022 issue of American Nurse.

Whether we are just starting our careers or are

"seasoned," violent and aggressive behavior towards

nurses and other healthcare clinicians has no place.

It is one of the drivers of increased stress and nurses

considering leaving the field. We must first take

action to protect ourselves when in those situations,

but more importantly, take action to demand that

Congress pass H.R. 1195 and that more is done to

keep nurses safe everywhere that patient care is

delivered.

Lesson learned

Fortunately for the nurse that experienced

the threatening and aggressive situation from a

disgruntled patient, she was unharmed, and the

patient eventually left. Despite trying to de-escalate

the situation, he continued to be extremely disruptive

and verbally abusive before leaving. She shared with

me, how it made her feel and what she would do

differently if in that situation again. It is unfortunate

that barely a year into her career, she has already

experienced this hazardous side of nursing.

ANA and SCNA advocate for ending and reporting

abuse against nurses.

Tell us what you are experiencing. Contact us –

we want to hear from you!

Also don't forget to follow us on social media!

Facebook: https://www.facebook.com/SCNurses/

Twitter: @scnurses

Instagram: @sc_nurses_assoc

Email: karashinnp@gmail.com

Greenville County Schools, Greenville, SC

is hiring School Nurses.

Excellent schedule and benefits

Please apply on-line at:

https://www.greenville.k12.sc.us/Employment/main.asp?titleid=classified

Website: Greenville.k12.sc.us
---
PAGE 4 June, July, August 2022 – The South Carolina Nurse WWW.SCNURSES.ORG

South Carolina Nurses Association

New and Reinstated SCNA/ANA Members

February 14, 2022 – May 15, 2022

* indicated SCNA-Only Membership

Emily Atchley

Mount Pleasant SC

Sheila Belton-Gaymon

Columbia SC

Emily Benton

Myrtle Beach SC

Leonel Bersamina

Goose Creek SC

Christopher Broome

Anderson SC

Archie Brown

Latta SC

Deborah Camak

Hodges SC

Amanda Catoe

Ridgeway SC

Erin Cilino

Myrtle Beach SC

Jalessa Cole

Summerville SC

Laura Creighton

Summerville SC

Anfel Crews

Columbia SC

Margarita Cross

Easley SC

Tiffany Daley

Bluffton SC

Christina Deal

Union SC

Aaron Dean

Chester SC

Andrea Dick

Aiken SC

Elizabeth Dickerson

West Columbia SC

Megan Dixon

Saluda SC

Delores Donald

Conway SC

Mary Downs

Spartanburg SC

Sharon Drummond

Melancon

Simpsonville SC

Janet Duff

Columbia SC

Barbara Elkins

Myrtle Beach SC

Arlisa Epps

Marion SC

Gina Evans

Inman SC

Donna Foster

Florence SC

Melissa Gandy

Winnsboro SC

Brandi Giles

Greenville SC

Melissa Goodman

Clinton SC

Jonathan Green

Spartanburg SC

Pia Green

Columbia SC

Dee Anne Griffin

Gilbert SC

Nikimi Hamilton

Rock Hill SC

Erin Hanson

Bluffton SC

Julie Harling

Duncan SC

Marisette Hasan

Columbia SC

Anna Henderson

Greenville SC

Katherine Henderson*

Union SC

Marianne Holmes

Walterboro SC

Deborah Hopla

Florence SC

Dawn Hudgins

Lexington SC

Roger Hudson-Dobbs

Gray Court SC

Kristin Huffman

Aiken SC

Edrian Jackson

Orangeburg SC

Tracie Jacobs

Hartsville SC

Elizabeth Johnson

Mount Croghan SC

Monica Johnson

Hopkins SC

Keisha Johnson-

Roseboro

Blythewood SC

Monique Jones

Chesnee SC

Lori Juarez

Fort Mill SC

Bryan Kennedy

Simpsonville SC

Karen Kinard

Columbia SC

Emma Kohm

Myrtle Beach SC

Kimbery Kolarik

Taylors SC

Haley LaFrancis

Greenwood SC

Julie Linger

Hanahan SC

Dawn MacAdams

Columbia SC

Ruth Malone

Daniel Island SC

Nina Marjanovic

Taylors SC

Crystal Martin

Cayce SC

Bethany Marvin

Irmo SC

Angela Maume

Surfside Beach SC

Veleka Mayfield

Chester SC

Rebekah Mayson

Goddard

Gaston SC

Mary McClean

Summerville SC

Kendra Mew

Taylors SC

Kelly Miller

Jefferson SC

Pamela Miller

Lyman SC

Marcella Mitchell

Dillon SC

Summer Mitchell

Daniel Island SC

Joseph Morse

Columbia SC

Hillary Murray

Fort Mill SC

Abdoul Ndiaye

Columbia SC

Lisa Norton

Rock Hill SC

Kaylan Ogden

Lexington SC

Megan O'neill

Columbia SC

Diana Osorio*

Charleston SC

Kathaleen Osterritter

Summerville SC

Jessica Paci

Liberty SC

Leah Parkins

Union SC

Nicollette Pauksta

Spartanburg SC

Jennifer Paulson

Simpsonville SC

Susan Petrin

Elgin SC

Dionne Phillips

Indian Land SC

Keila Pilgrim

Pickens SC

Fatima Rahim

Spartanburg SC

Andrea Raines

Anderson SC

Michael Rawl

Lexington SC

Elizabeth Santana

Spartanburg SC

Stephanie Sargent

Charleston SC

Ondria Sawyer

Florence SC

Natalie Schwab

Myrtle Beach SC

William Sharp

Lexington SC

Emily Shearer

Turbeville SC

Greg Sieverding

Dubuque IA

Debra Sims

Columbia SC

Cassandra Smith

Murrells Inlet SC

Dolores Smith

Eutawville SC

Laura Smith

Belton SC

Emily Strano

Charleston SC

MEMBER GET A MEMBER

REWARD$!

WANTED: Members of SCNA who will

recruit new members to SCNA

REWARD: A check for $25.00 for each

Full SCNA/ANA member OR SCNA Only

member. Not valid for any reduced price

memberships

HOW TO COLLECT YOUR REWARDS: Be

sure that your new recruit knows to join on

line and to put your name in the "referred by"

section of the application. It couldn't be easier!

Doreen Stubbs

Camden SC

Noelle Suggs

Boiling Springs SC

Kimberly Talbott

Elgin SC

Susan Taylor

Summerville SC

Terri Teramano*

Six Mile SC

Tamara Till

Orangeburg SC

Carol Trnavsky

Fort Mill SC

Robin Ward

West Columbia SC

Tanna Warrin

Lancaster SC

Tameka Wharton

Graniteville SC

Robyn White

Greer SC

Anna Wiegner

Blythewood SC

Rolanda Williams

Legette

Columbia SC

Cynthia Winston

Irmo SC

Jennifer Zanelli

Myrtle Beach SC

HOW MANY REWARDS MAY A MEMBER

COLLECT: There is NO repeat NO limit to

the number of reward checks of $25.00 that

current members can earn. Start today and

enjoy your rewards!

Slogan/phrase/Save the Date/Etc

American Renal Associates

Join the dialysis provider where patient care comes first.

Opportunities for new or experienced RN's throughout

South Carolina.

Fax resume to Brittany Winter

at efax 978-232-0876
---
WWW.SCNURSES.ORG The South Carolina Nurse – June, July, August 2022 PAGE 5

South Carolina Nurses Association

Membership Made Easy

Everything you need to know is on line

http://www.nursingworld.org/joinana.aspx

JUNE

3RD AND 4TH QUARTER

24 New Nurse Planner Orientation Session

JULY

5

9

SC Nurse Mini Issue July 2022 Issue Copy

Due

Psychiatric Mental Health Chapter Meeting

10:00 AM

22 1pm-4pm: SCNA Board Meeting

AUGUST

1 SCNA Annual Book of Report Materials Due

2

10

SC Nurse Mini Issue August 2022 Issue

Copy Due

for programs October 1st or later CE

Approver Committee

Submission Deadline Date

13 APRN Chapter Meeting 10:00AM

15

SCNA Board Members and Committee

Chair Annual Reports Due

SEPTEMBER

23

Last Day to File Consent to Participate for

write in candidates.

26 Election Notice Emailed to Members

26 Election opens at midnight

30 New Nurse Planner Orientation Session

OCTOBER

4

SC Nurse Mini Issue October 2022 Issue:

Copy Due

7 Election closes at midnight

Full SCNA/ANA

Membership Dues:

$283.00 annually or

$24.09 monthly

• Full time employed

• Part time employed

SCNA State-Only Membership:

$187.00 annually or $16.08 monthly

Reduced SCNA/ANA Membership Dues:

$141.50 annually or $12.29 monthly

• RNs not employed

• RNs in full time study until graduation

• Graduates of basic nursing programs for a

first year of membership within 6 months

following graduation;

• RNs 66 years of age or older who are not

earning more than social security allows

without a loss of social security payments

Special SCNA/ANA

Membership Dues:

$70.75 annually or $6.40

monthly

• 66 years of age or over and

not employed;

• Totally disabled

• Past NSNA/SNA-SC

Members for a first year of

membership if membership

is initiated within 6 months of

licensure

ANA-Only Membership

$191.00 annually or $16.42 monthly

As a member of SCNA there are several options available to you to enhance your

membership experience. SCNA has Chapters that are open to members of SCNA. You are

welcome to join any of the chapters listed, think about creating others, or simply enjoy your

state membership in SCNA. For more information about SCNA Chapters go to http://www.

scnurses.org/?SCNAChapters

Submission Date

There are currently four practice based Chapters:

-APRN Chapter -Psychiatric-Mental Health Chapter

-Women and Children's Health Chapter -Nurse Educator Chapter

Sign up for chapter membership by going to

https://scnurses.site-ym.com/?page=ConsentParticpateChC

Application due by August 10, 2022

2022 Calendar for CEAC Submissions

Application due by November 9, 2022

Date of program date or expiration date

For Program dates October 1st or later

For Program dates January 1st or later

For a complete list of Approved Three Year Providers and Approved Individual Activities

please visit our Continuing Nursing Education page on www.scnurses.org. You will also

find all the information you need to know about how the SCNA CNE process works.

10 Officers notified of election results

19 SCNA Board Meeting 6:30 pm

20-

22

20

20

SCNA Convention

Annual Meeting of SCNA Membership

6:40 pm

SCNA Board Meeting immediately after

Annual Meeting of SCNA Membership

adjourns

NOVEMBER

1

7

9

SC Nurse Mini Issue November 2022 Issue:

Copy Due

SC Nurse December – February 2023

Issue: Copy Due

CE Approver Committee submission

deadline date for programs February 1st or

later

18 Election challenge deadline

DECEMBER

16

SCNA Board Meeting December 16, 2022,

1pm-4pm

JANUARY

1 New elected members take office

CEAC Annual

Reporting to ANCC

The SCNA CE Approver Committee (CEAC) is

pleased to share the findings of our ANCC Annual

Report. This report contains statistical data on the

CE programs approved by SCNA for the calendar

year 2021.

Approved Provider Units

1579 programs presented in 2021

7852.42 hours awarded in 2021

20272 nurses attended SCNA Approved Provider

programs in 2021

Approved Individual Activities

135.25 hours approved by SCNA in 2021

778 nurses attended the SCNA Approved

Individual programs in 2021

Slogan/phrase/Save the Date/Etc

To access electronic copies of

The South Carolina Nurse, please visit

http://www.NursingALD.com/publications
---
PAGE 6 June, July, August 2022 – The South Carolina Nurse WWW.SCNURSES.ORG

Take Advantage of YOUR Member Benefits

SCNA Benefits

Additional

SCNA/ANA Benefits

SCNA Nursing Flash and Legislative Updates –

Members gain access to informative SCNA Nursing Flash

including timely updates during the legislative session,

national news & policy updates and vital information for all

nurses.

Member Discounts on SCNA Convention and Event

Registration – SCNA members receive special discounts

on all SCNA events. Discounts available as well for ANA

Events.

Free quarterly SCNA newspaper The South Carolina

Nurse and eight monthly mini electronic issues of The

South Carolina Nurse.

New leadership opportunities – Get involved

with SCNA. Statewide recognition and professional

development. Become a chapter member, participate in

a task force or committee and run for elected office for a

chapter or SCNA BOD.

Connect with Leaders in the nursing profession –

SCNA/ANA members will find numerous opportunities

to connect with peers through special events, chapter

involvement, the SCNA website, and other services.

SCNA Chapters – Get involved with SCNA at the

chapter level and you will have the opportunity to connect

with nursing professionals who have the same interest/

specialty as you!

Dedicated professional staff & lobbyist – By

joining SCNA, you will gain access to a staff of dedicated

professionals and skilled lobbyist, who advocate for you at

the state and federal level.

The Great South Advisory Group is the approved

retirement income planning firm to the South Carolina

Nurses Association. As a benefit of membership

in the SCNA, you can receive your personalized

Retirement Income Analysis report for no charge.

Simply call to schedule your complimentary appointment

at 803.223.7001. Visit their website at www.

greatsouthadvisorygroup.com.

Snazzy Travel Receive exclusive access to Snazzy

Traveler, America's Fastest Growing Travel Company.

As a valued supporter you are receiving FREE access

to Snazzy Traveler for a whole year! Snazzy Traveler is

an exclusive members only travel website valued at $99

with rates on Hotels, Rental Cars, Luxury Cruises and

Activities up to 75% off online retail prices. Visit www.

snazzytraveler.com/SCNA and enter Promo Code:

SCNATravel

Exclusive Discounts For Over 500 Orlando Area

Lodging and Attractions Contact SCNA to request

discount code http://www.orlandoemployeediscounts.com/

member-login/

Long Term Care Insurance is increasingly the choice of

ANA Members seeking to protect their hard-earned assets

from the high cost of long-term services along with the

resulting financial spend-down and potential loss of selfreliance.

Final Expense Insurance, also known as Burial or

Funeral Insurance, is a type of whole life insurance

designed for those over 40 years of age, to cover funeral

expenses and existing bills when you pass.

Through ANA's partnership with Anchor Health

Administrators (AHA), members receive specialized

advocate services for these much-needed protections.

AHA is a company that, for almost 30 years, has

specialized in working with Nurses/Spouses to provide

the best personal solutions for their planning needs. For

more information on Long Term Care, or Final Expense

coverage and to receive a free, no obligation consultation

with a licensed advocate https://www.anchorltc.com/

ANA's collaboration with Prudential provides exclusive

insurance plans for ANA Members. Term Life Insurance

can help protect your loved ones in the event you pass

away – and your coverage stays in place even if your

health or employer changes. AD&D protects you from an

accident that results in death or dismemberment. Both

products offer competitive and affordable rates for ANA

members with quick and simple access – applying takes

about 10 minutes and you can get coverage in as little

as 30 days! Products may not be available in all states.

https://ana.memberenroll.com/index.php

SCNA Career Center – The South Carolina Nurses

Association Career Center is the premier venue for

starting / developing your nursing career. Upload a resume

to advertise your nursing qualifications to interested

employers. Local employers post nursing opportunities

for qualified nursing professionals, and proactively seek

candidates in the resume bank. Join the SCNA community

and create your career center account today! http://nurses.

sc.associationcareernetwork.com/Common/HomePage.

aspx

The SCNA Career Center has added a Career

Planning Portal With Career Insights you can dig deeper

to understand more about your chosen path within the

nursing profession. Take the first step in creating your

career path to your dream job. https://jobs.scnurses.

org/careerinsights/

Gain insights and knowledge on:

• Career Descriptions

• Salary Range

• Occupational outlooks

• Activities performed in each role

• Comparison of employment statistics using local,

state and nationwide averages

• Related occupations

• "Day in the life" videos and more!

South Carolina Nurses Association

(SCNA) Visa Signature card

Visit www.commercebank.com/scna for details on how

you can help support the SCNA.

Travel discounts are the #1 requested benefit

program from ANA members. ANA has partnered with

BookingCommunity to offer members hotel room rates

that are discounted up to 70% -- lower rates than you will

find at any online travel or hotel website. ANA members

get access to amazing deals that are not available to the

public, at over 800,000 participating Hotels and Resorts

Worldwide. Plan a trip and watch the savings grow – it

pays to be an ANA member!

Nurses need to protect themselves and their career

by maintaining Professional Liability Insurance, a.k.a.

Medical Malpractice Insurance. Do not assume your

employer's liability insurance will cover you when a lawsuit

or complaint is filed. Nurses Service Organization (NSO)

has a 45+ year history of defending nursing professionals

from allegations of medical malpractice and licensing

complaints. With over 500,000 nursing professionals

insured and 60+ professional nursing association partners,

they are the premier administrator of nurses' malpractice

insurance in the U.S.

Farmers Insurance ChoiceTM compare and save

hundreds on auto, home, and renter's insurance. Visit

www.scnurses.org for more information.

It is critical for nurses to be active and fit, both for their

physical and mental well-being. ANA members now have

access to the Active & Fit DirectTM Fitness Membership

program to help. For only $25 a month (plus enrollment

fees and applicable taxes), ANA members can join one of

11,000+ fitness centers in Active & Fit Direct's Standard

network (including brands like Gold's Gym, LA Fitness,

YMCA, SNAP Fitness, and Curves). In addition, the Active

& Fit Direct program includes access to over 4,000+ digital

workout videos for those who prefer to exercise at home,

requires no long-term contracts, and offers healthy lifestyle

one-on-one coaching. Plus, the Active&Fit Direct program

just added over 5,000+ Exercise Studios and Fitness

Centers in their new Premium network (including brands

like Club Pilates, Pure Barre, Cyclebar and YogaSix),

where ANA members can save 10-30% on membership.

This offer is not open to the general public, but ANA

members can enroll their spouse (or Domestic Partner).

The Active&Fit Direct program allows you to see the

participating centers in your area before you join. Also,

all ANA members can view 200 online workout videos for

free just by registering on the website. Find out why the

Active&Fit Direct program has 96% overall satisfaction!

The LARGEST Discount on initial ANCC

Certification – SCNA/ANA members save $$$ on initial

certification.

The LARGEST available discount on ANCC

recertification – $$$ for SCNA/ANA members.

The ONLY discount on ANCC Review/Resource

Manuals – SCNA/ANA members only.

Journals & Publications

American Nurse

Online Journal of Issues in Nursing (OJIN)

The American Nurse

ANA Nursing Knowledge Center Free Webinars &

CE opportunities – SCNA/ANA members can access

frequent educational webinar offerings from ANA at no

cost to the members.

ANA SmartBrief – SCNA/ANA members receive

ANA's SmartBrief electronic newsletter via email on a

weekly basis. SmartBrief provides members with up-todate

nursing news and information in a convenient format.

Members may self-nominate to participate in ANA

task forces as they arise for issues of interest and

concern to nursing.
---
WWW.SCNURSES.ORG The South Carolina Nurse – June, July, August 2022 PAGE 7

Ballot Bios

President-Elect

Elect One

No Nomination

Director Seat 1

Elect One

Rebecca Preast of

Elloree, SC

Place of Employment: The

Regional Medical Center of

Orangeburg and Calhoun

Counties

Current Title: RN

Applications Analyst

Statement of why you

are running for Office: I

would like to contribute to

the profession of Nursing

because it has been a

Rebecca Preast blessing to me. What better

way to give back than to partner with others involved

with SCNA that have a passion to see our profession

grow and be the best that it can be.

Maritza Kirkpatrick

Maritza Kirkpatrick of

Hollywood, SC

Place of Employment:

Interim Healthcare Hospice

Current Title: Director of

Healthcare Services

Statement of why you are

running for Office: My love

for serving SCNA; the current

and potential members that

will be our future for SCNA.

I would love to increase

membership and showcase

the good that SCNA does.

Gregory Pittman of

Myrtle Beach, SC

Place of Employment: HCA

Healthcare - South Atlantic

Division

Current Title: Division

Associate Vice President of

Academic Affairs

Statement of why you are

running for Office: Hello! I

am Gregory Pittman, Division

AVP of Academic Affairs

for HCA Healthcare, South

Gregory Pittman

Atlantic Division. In my role, I

provide division nursing leadership, strategic support,

and partnership to promote coordinated efforts

around the recruitment and retention of nursing

staff while strengthening academic alliances. As a

nurse with 15+ years of experience, my passion for

nursing continues to grow and the desire to support

our frontline nurses across the state is a priority.

As we identify a new normal, my goal is to provide

all levels of support to our nurses. As a member of

the Continuing Education Approver Unit, I am able

to identify best practices and support the need

for issuing contact hours to programs that provide

evidence-based education to nurses. If selected as a

Board Member, I will assist with the development and

implementation of the strategic plan and support our

nurses across our nation and state, while supporting

the best evidence-based practices for our nurses.

With my experience and strong leadership support,

I am confident I will be a great asset to the board

of directors. Last, with my determination, desire,

education, and dedication, I will execute my duties as

a member of the board and represent our nurses to

the fullest.

If elected, I will work for YOU to make a

DIFFERENCE!

Director Seat 2

Elect One

Rhona Williams of Myrtle

Beach, SC

Place of Employment: HCA,

Grand Strand Medical Center

Current Title: BSN, RN,

Current SCNA Director Seat

2

Statement of why you are

running for Office: I am

running for a second term

as Director 2, to continue

to support the goals of the

SCNA and its members. As

Rhona Williams

Director 2, my focus will be

on growing the membership of the SCNA and helping

to support its chapters in growing their memberships

as well. I believe that our participation in this

association is our collective voice and can create

positive change for the nurses of South Carolina.

SCNA Nomination Committee

Elect Five

Candidate with most votes becomes

Chair of Committee

Bridget Enos

Shara Rhodes

Bridget Enos

of North Charleston, SC

Place of Employment:

Optum HouseCalls

Current Title: Family Nurse

Practitioner

Statement of why you are

running for Office: I am

interested in giving back

to my local professional

organizations to help grow the

impact of APRNs within the

state of SC as well as scope

of practice within the state.

Shara Rhodes

of Myrtle Beach , SC

Place of Employment: HCA

Healthcare

Current Title: Director,

Clinical Programs

Statement of why you

are running for Office:

What an honor to be

considered for the SCNA

Nominations Committee!

I have appreciated the

opportunity to serve in an

interim capacity with the

committee and look forward to becoming a formal

member in the next election term. In my role as

Division Director of Clinical Programs, I have the

pleasure of interacting with nurses across many

diverse communities and practice areas who have

experience that sets them apart from others. In

the Nominations Committee, I look forward to

showcasing those experiences and bringing quality

candidates forward to represent our members in key

positions within the SCNA leadership. I have also

served on the Rewards and Recognition Committee

for the Association for Nursing Professional as

RPP is a confidential referral and monitoring program for licensed

healthcare professionals experiencing a problem with substance use,

depression, anxiety, or job-related burnout, boundary

issues, or any other mental health related condition or disorder

which has the potential to interfere with, or impede, the ability to

safely and effectively treat patients.

Toll-free 24-hour helpline 1-877-349-2094

www.scrpp.org

member and chair, revising the awards criteria and

standardizing review practices to ensure alignment

to the association. As an experienced clinician

and professional development specialist, it is my

passion to mentor potential new members and

leaders within the membership. Perhaps one of my

greatest distinctions is the opportunity to serve as

the Accredited Approver Program Director for our

SCNA Continuing Education Approver Committee.

In this role I have provided operational leadership

for the ANCC-accredited approver unit, and

continue the legacy set forth by my predecessors

in ensuring the highest quality nursing continuing

professional development opportunities are available

to the nurses of South Carolina. As a member

of the Nominations Committee I would serve the

membership by supporting great communication with

and regarding candidates, as well as collaborating

with my other committee members in ongoing

environmental scanning of needs for the association.

I am tirelessly committed to the advancement of the

state affiliate and dedicated to the nurses of South

Carolina. It would be my great honor to serve as part

of the Nominations Committee for a new term!

Robin Cooper

Robin Cooper

of Florence, SC

Place of Employment:

Williamsburg Regional

Hospital

Current Title: Chief Nursing

Officer

Statement of why you are

running for Office: I am a

new member of the SCNA,

less than a year. I have a

great love for nursing and

want to serve to help the

betterment of nurses. It is

also a great working relationship when talking with

others who serve on the committee. Sharing great

ideas and becoming an advocate for all nurses.

Theresa Chandler

of Blythewood , SC

Place of Employment:

Columbia VA Medical Center

Current Title: Nurse

Practitioner

Statement of why you

are running for Office: I

am passionate about the

profession of nursing. I have

been a member of the SCNA

for a number of years. I

Theresa Chandler

currently serve as the chair of

the Nominations Committee.

I look forward to continued serve to the association

in nominating the leaders of the future.

SCNA Represenative to

ANA Membership Assembly*

Candidate with most votes becomes Rep. Other

Candidates become Alternates based on number of

votes

No Nominations

*To be elected by Full SCNA/ANA Members
---
PAGE 8 June, July, August 2022 – The South Carolina Nurse WWW.SCNURSES.ORG

Chapter Bios

Advanced Practice Registered Nurse

Chapter

Chapter Chair

Elect One

Nakita Barnes

of Blythewood, SC

Place of Employment:

University of South Carolina

Current Title: Assistant

Professor

Statement of why you are

running for Office: I am

running for the chairperson

of the APRN chapter to be

able to continue to advocate

for and bring awareness to

Nakita Barnes

the importance of the work

done by nurse practitioner

in South Carolina. As the state starts to come out

of the COVID-19 pandemic and resume our "new

normal" way of life, we need to continue to work on

increasing the scope of practice and reduce barriers

to our practice that has been shown to ensure quality

healthcare.

Advanced Practice Registered Nurse

Chapter

Chapter Member At Large

Elect Two

Dwayne Alleyne

of Columbia, SC

Place of Employment:

University of South Carolina

College of Nursing

Current Title: Clinical

Assistant Professor

Statement of why you are

running for Office: I like to

be active within the nursing

profession. Especially when

it comes to showing the

worth of Nurse Practitioners

Dwayne Alleyne throughout South Carolina. I

think SCNA will give me the voice I need to continue

to advocate for this profession.

Bridget Enos

Bridget Enos

of North Charleston, SC

Place of Employment:

United Health Care -

HouseCalls

Current Title: Family Nurse

Practitioner

Statement of why you are

running for Office: I am

interested in being more

involved with the organization

and advocacy for/of APRNs

within the state of South

Carolina.

Visit nursingALD.com today!

Search job listings

in all 50 states, and filter by location and credentials.

Browse our online database of articles and content.

Find events for nursing professionals in your area.

Your always-on resource for nursing jobs, research, and events.

Eboni Harris

Eboni Harris

of Columbia, SC

Place of Employment:

University of South Carolina

Current Title: Ph.D, APRN,

FNP-BC, CNE

Statement of why you are

running for Office: After

serving for a brief period as

Member- At- Large for the

APRN Chapter to fill a vacant

slot, I would like to continue

to serve to help address

concerns of APRN in our state.

Nurse Educator Chapter

Chapter Chair

Elect One

No Nominations

Nurse Educator Chapter

Chapter Member At Large

Elect Two

No Nominations

Psychiatric / Mental Health Chapter

Chapter Chair

Elect One

Jacquelin Hyman

of Irmo, SC

Place of Employment:

SCDC

Current Title: PMHNP/

APRN

Statement of why you are

running for Office: I am

running to increase mental

health awareness and to

provide opportunities to

improve treatment.

Jacquelin Hyman

Psychiatric / Mental Health Chapter

Chapter Member At Large

Elect Two

Lucinda Easler

of Ninety Six, SC

Place of Employment:

Prisma Health

Current Title: Director,

Behavioral Care Services

Administration

Statement of why you are

running for Office: I have

been extremely fortunate

during my career and have

had opportunities to work

with patients and families

Lucinda Easler across the behavioral health

continuum. As the needs

have grown among our patients and families, so has

my passion for those served. This office will provide

me the opportunity to give back and contribute

something to our future practicing psychiatric-mental

health nurses.

Women and Children's Health Chapter

Jennifer Bell

Chapter Chair

Elect One

Jennifer Bell

of Aiken, SC

Place of Employment:

Veteran's Affairs Medical

Center

Current Title: Women's

Health Clinical Coordinator

Statement of why you are

running for Office: I am

seeking office again as the

Women and Children's Chapter Chair because I am

passionate about Women's Health. Women face a

number of healthcare disparities, perhaps the most

glaring is the rate at which Women die in the United

States during childbirth. I want to be able to be a

catalyst to bring health equity to our Women and

Children sub-population. SCNA is a forum where

this can be done. I am also appreciative of the efforts

put forth by SCNA and the Women and Children's

chapter in the past to keep the healthcare of this

population relevant and I would enjoy the opportunity

to serve again.

Women and Children's Health Chapter

Chapter Membner At Large

Elect Two

Bridget Holder

of Charleston, SC

Place of Employment:

Summerville Medical Center

Current Title: Manager of

Quality

Statement of why you are

running for Office: I am

running for this office again

to continue serving our

communities and advance

our practice in Women's and

Children's Health. In order to

Bridget Holder make a difference, I want to

be bold and continue to be a part of the solution.

SCNA Election

Eligibility

Information

For this election that is strictly for officers of SCNA

all members of SCNA/ANA or SCNA Only will be

eligible to vote for all offices for which they qualify

according to information below.

In order to vote in the 2022 SCNA Election you

must be a current member as of June 30, 2022 and

meet the membership requirements for licensure

found in the current SCNA and ANA Bylaws. The

June 30th date was established based in the election

beginning September 26, 2022. The election

process of SCNA requires each eligible voter to

be a member in good standing at least two (2) full

months from the 1st of the month prior to the month

the election is held. (Example: Election begins

September 21, 2022 therefore two (2) full months

from the 1st of the month is July 1st.)

A list of current members, as of June 30, 2022, will

be published on the SCNA website prior to the first

day of balloting. It is up to the individual members

to validate the information and to contact the SCNA

staff during regular business hours (as stated on the

website) prior to voting if the member believes that

he/she was omitted from the voting list in error so

that a correction can be made. Any SCNA members

in good standing may present evidence that there is

an error in the list of current members prior to the

voting and up to the closing of the election. Failure

to notify SCNA of an error in the voting list prior to

the closing of the vote is considered a waiver of the

member's right to challenge the voting list or the

election. Failure to notify SCNA that the member is

not on the voting list prior to the closing of the vote

is considered a waiver of the individual's right to

challenge the voting list or the election.

Each eligible member will receive an email

with all needed information for logging on

to the election system. If you do not have

an email address contact SCNA to make

arrangements for instructions on how to

vote to be made available to you.
---
WWW.SCNURSES.ORG The South Carolina Nurse – June, July, August 2022 PAGE 9

News You Can Use

Consider Getting More From Social Security!

E. H. "Chip" Stanley, Jr

If you could receive a monthly income of over 75%

more each month, would you take it? Let me state that

another way. As an example, if you could choose to

receive each month for the rest of your life $1,160,

$1,657, or $2,054, what amount would you choose?

Would it surprise you to know that most people take

less? What am I talking about? The average monthly

Social Security benefit in 2022 is $1,657. If a person's

full retirement age is 67 (those born in 1960 or later)

and they claim at age 70, they get 24% more than

claiming at their full retirement age or $2,054 (8%

more each year). According to the Social Security

Administration only 5% of men and 7% of women wait

until age 70. More importantly, if a person claims at

age 70 instead of claiming at age 62 (in general, the

earliest age to claim), the monthly benefit will be more

than 75% higher, for the rest of their lives.

So why do many people take less? In some cases,

it's because they need the money. In some cases, it's

because they think Social Security will run out of money.

In my opinion, in many cases, it's because they are not

sure of or do not know the rules. In the first case, if they

need the money, they need the money. Understandable.

Sherry Buie James, DNP,

RN, CNE

According to Mineo

(2018) of the Harvard

Gazette, eight in ten

Americans are at risk

of developing chronic

disorders such as heart

disease, hypertension, and

stroke because of stress.

Stress prevents them from

relaxing their minds and bodies. As nurses continue

to focus on self-care, being intentional about their

thoughts can help decrease their stress levels. Over

the years, mindfulness has become a buzzword

used in many self-care forums and has proven to be

an effective practice. Mindfulness can bring peace

and relaxation when one is stressed, anxious, or

depressed and can even help with pain (Psychology

Today, 2022; Mineo, 2018). Studies have even shown

mindfulness improves attention and memory (Mineo,

Social Security has stated that unless Congress

changes the rules on how Social Security is funded,

all benefits will be reduced by about 20-25% by 2033

(11 years from now). So if you take early and get less,

you will get less than the less you get if benefits are

reduced. That doesn't make sense to me. Everyone

who works and pays into Social Security, will continue

to pay into Social Security until they retire. Because of

that, the money won't run out. But it may be reduced, if

Congress does not act. Social Security is a sacred cow

to the American public and I cannot imagine a member

of Congress voting to do away or act to reduce benefits.

In the many presentations I have given over the

years regarding the claiming of Social Security

benefits, no one wants their benefits reduced. In fact,

when I ask the audience if they would be willing to

pay 1% more from their paycheck to keep benefits at

the current levels, all vote yes. If I ask about a 2%

increase, I get the same reaction.

By the way, in most years, Social Security adds a

cost-of-living adjustment, so the monthly amount is

adjusted upwards each January. Again, if you take later,

the cost-of-living adjustment increases your benefit by

that percentage. If you wait, you get more. Period.

Do you know what your benefit is at full retirement

age will be? Would you like to know? If so, please

Mindfulness

2018). Nurses would benefit from adding this practice

to their self-care toolkit.

The Mayo Clinic (2020) defines mindfulness as

"a type of meditation in which one focuses on how

they are feeling in the moment without interpreting

or judging what is sensed or felt." Another description

of mindfulness is the process of awareness and

acceptance of one's thoughts, emotions, and senses

(smells or sounds) at a given time without focusing on

the past or future (Psychology Today, 2022). Accepting

what one is feeling or thinking without judging these

emotions as right or wrong can be liberating.

Being mindful doesn't require a person to clear

their mind or push away negative thoughts. It

encourages the nurse to be aware of what they

are experiencing. Setting aside time to reflect

on one's inner being should be done daily. One

recommendation is to begin practicing mindfulness

before getting out of bed for about six months until it

becomes a natural process (Mayo Clinic, 2020).

Simple steps of mindfulness include lying or sitting

quietly while taking deep breaths and intentionally

go to the Social Security

website, www.socialsecurity.

gov/mystatement. You will

be asked your name, Social

Security number, date of

birth and other questions

in order to get log-in

information. If you have

frozen your credit score with

Experian, you will have to

first unfreeze it in order to

get log-in credentials. That's

because the financial questions asked are based on

the information that Experian has. After you get your

log-in information, you may re-freeze your Experian

credit score. Your report will show you the benefits

you will receive (in general), But if you log-in look

at your benefit amount if you wait? It's worth your

consideration.

Chip Stanley is a Senior Vice President and Financial

Advisor at Janney Montgomery Scott LLC in Columbia,

S.C. He also is a Chartered Retirement Planning

Counselor®, Accredited Investment Fiduciary®, and a

Certified Wealth Strategist®. He works with clients to help

establish and manage a Retirement Income Plan. He may

be reached at 803-223-7008 or cstanley@janney.com

identifying one's inner-most thoughts and

surroundings. If mindfulness is done before getting

out of bed, one might notice an array of thoughts,

emotions, and sensations such as:

• The warmth and comfort of being under the

covers; or the feeling of fatigue

• The quietness of the morning; or a noise

disturbing the silence

• The smell of coffee brewing (for those who set

their coffee maker before going to bed)

• The light entering a window; or the darkness

surrounding the room

• The thought of happiness, sadness, or dread

Individuals who prefer practicing mindfulness

during a daily walk might think of how their body feels

as it moves, as well as the following:

• The smell of magnolias, dogwood, or jasmine

• The sensation of the rising sun; or the brisk

cool air on their face

Mindfulness continued on page 12

SC Department of Mental Health

NOW HIRING - STATEWIDE OPPORTUNITIES

DMH is hiring RNs, LPNs, and Nurse Managers!

Join our Team Today!

Apply now by scanning the QR Code or

Call 833-DMH-HIRE (833-364-4473)
---
PAGE 10 June, July, August 2022 – The South Carolina Nurse WWW.SCNURSES.ORG

Courage in Everyday Nursing Practice

Carol Dobos PhD, RN-BC, NEA-BC

Reprinted with permission from Arizona Nurse, July 2021 issue

Courage is an important attribute in life and in your nursing practice. As Helen

Keller said,

"Security is mostly a superstition. It does not exist in nature nor do the children

of men as a whole experience it. Avoiding danger is no safer in the long run than

outright exposure. Life is either a daring adventure, or nothing."

Nursing is a noble profession that is not for the faint of heart. Opportunities to

choose courageous acts present themselves on a regular basis because risk is

everywhere. You can attempt to minimize the risks by playing it safe. However,

there are risks to yourself, your colleagues, your profession, and those you serve

when you don't take risks in showing up, speaking up, or practicing according to

the highest standards of evidence-based practice.

Choosing to practice courageously, consistent with your personal and

professional values, will cause some discomfort, bumps, and bruises to you and

your career. It will also bring professional and personal fulfillment, strengthen the

profession, and improve patient outcomes. You will know that you are making a

difference in your daily practice and throughout your nursing career.

One way to cultivate courageous behavior is through personal risk-taking

(PRT), but first you need to understand the nature of risk and its related concept,

positive deviance.

What is Risk?

Risk is defined as the possibility of losing something of value, which could be

physical, psychological, or economic. Common risks include falling out of favor

with others in authority, losing support, or damaging essential relationships. Any

of these events could lead to losing status or influence at work, or even losing

one's position or employment.

A related concept called "positive deviance" refers to an intentional act of

breaking the rules to serve the greater good. Positive deviance is intentional and

honorable behavior that departs or differs from an established norm. It contains

elements of innovation, creativity, adaptability, or a combination thereof; and it

involves risk for the nurse.

For most nurses, whether a particular action is right or wrong will often be

judged by others in charge of rules enforcement. The decision to engage in

positive deviance, however, lies entirely with the nurse.

Personal Risk-Taking

PRT is behavior that is consciously and freely chosen among available

alternatives, some of which are known to incur less risk than the chosen action.

It is supported by the strength and belief of personal convictions. Courageous

action upholds principles. Calculated inaction due to fear leaves one powerless,

with values compromised.

Success story

When residents were not interacting appropriately with pediatric patients,

risking psychological harm, I discussed this with the chief and arranged

education. I advised our team that in identifying this issue, relationships might

become strained, but we had an obligation to our patients to address this

problem. I often used the mantra "I am doing the right thing for the right reason"

stating it over and over in my head to help me stay the course and follow

through with my convictions. As feared, the residents and even an attending

physician demonstrated passive aggressive behavior towards us. The care of

the children did improve, however, and we knew we had made the right call.

Nurses promote courageous action by sharing courageous behavior, also

called hero stories. This can be done formally and informally, verbally and in

writing, one on one or in groups, during staff meetings, during change of shift

report, or rounds. We create a culture based on what we talk about, what we

value, and what we support and reward. Sometimes we stand alone, and

sometimes we influence others to follow our lead and take their own personal

risks. In one study, risk taking was found to be one of the key elements in

attaining expert nursing practice, which supports effective and quality-based

healthcare outcomes. Risk taking also was found to enhance clinical and

professional development.

Rather than sitting on the sidelines and hurling judgment or advice at others (for

example, "Someone needs to do something about this."), we must dare to show up

and let ourselves be seen, which can result in change. (See Success story.)

We pay a price when we shut down and disengage, failing to take action. I have

heard nurses talk about "staying under the radar." In doing so they pay a dear price.

Their talents, wisdom, knowledge, and values are not being shared to positively

influence care and support the development of new nurse graduates and other

colleagues through courageous role modeling. Vulnerability occurs in sharing an

unpopular opinion, standing up for oneself or others such as a colleague who is

being bullied, being accountable, asking for help, trying something new, admitting

uncertainty, and asking for forgiveness. When courage and fear meet, it often feels

awkward and scary; however, "being all in" is to be alive. To act in alignment with

your values is key to personal and professional happiness.

PRT and Promoting Patient Safety

Failing to take risks and practice courageously can lead to threats to patient

safety. Focusing on my obligation to "First do no harm," I made the decision not to

deploy a transport team until all the team members demonstrated competency. I

was transparent in discussing my concern and contingency plan to send another

team with my medical and administrative colleagues. I was told that this was a

"career-limiting move." I simply stated, "I have to be able to sleep at night."

In another organization, I disagreed with a plan to move critically ill patients

multiple times to accommodate unit renovation. I identified an alternative that

required only one move. Although my plan was successfully implemented,

my action caused me to fall out of favor with the administrator and eventually

resulted in my having to move on to another position. In both instances, I

had to put my patients first because when I became a member of the nursing

profession, I made a promise to protect them.

Why We May Not Take Personal Risks

Understanding scarcity is key to understanding why nurses may not take

justified risks. The three components of scarcity are shame, comparison, and

disengagement.

Shame is the fear of ridicule and belittling often used to control people and

to keep them in line. Shame-based cultures are very unhealthy for nurses and

patients. The killer of innovation is shame. In these cultures, covert or sometimes

overt messages are common, such as to dare not, you're not good enough,

who do you think you are, don't you dare get too big for your britches." Shame

becomes fear, fear leads to risk aversion, and risk aversion kills innovation

and can lead to unsafe patient care. Shame is the intensely painful feeling or

experience of believing that we are flawed and therefore unworthy of belonging.

Shame makes us feel unworthy of connection. Resilience to shame occurs when

recognizing and speaking openly about shame, practicing critical awareness,

and reaching out to others.

Healthy competition can be beneficial, but constant overt or covert comparing

and ranking suffocates creativity and risk taking. If nurses are held to one narrow

standard, they may not question the relevance of a course of action to a specific

situation and embrace evidence- based practice.

Disengagement occurs when people are afraid to take risks and try new

things. Too often it is easier to stay quiet than to share stories, experiences,

and ideas. It is important to do what is right, not what is easy. The best way

through a difficult situation is to address the situation directly with honesty and

integrity, sharing your story and asking for what you need. An excellent resource

for nurses is the book Crucial Conversations. Often what we fear does not

happen, but even if it does, we have retained our self-respect and commitment to

professional values.

Courageous Practice

I hope you choose to practice courageously, doing the right things for the right

reasons. As Theodore Roosevelt said,

SC Department of Disabilities & Special Needs – Whitten Regional Center

Laurens County, Clinton, SC

Hiring Full-Time and Part-Time

RNs and LPNs, all shifts

Sign-On bonus for FTE candidates

State benefits, including health and dental insurance, retirement and

savings plan options, paid holidays, and paid vacation and sick leave.

"Assisting people with disabilities and their families in South Carolina"

Apply online:

https://www.governmentjobs.com/careers/sc/ddsn

"Far better it is to dare mighty things, to win glorious triumphs, even though

checkered by failure, than to take rank with those poor spirits who neither enjoy

much nor suffer much, because they live in the gray twilight that knows not

victory nor defeat."

Selected references

Dobos C. Defining risk from the perspective of nurses in clinical roles. J Adv Nur.

1992;17:1303-9.

Dobos C. Understanding personal risk taking among staff nurses: critical information for

nurse executives. J Nurs Adm. 1997;27(1):1-2.

Gary JC, Exploring the concept and use of positive deviance in nursing. Am J Nurs.

2013;113(8):26-34. Haag-Heitman B. The development of expert performance

in nursing. J Nurses Staff Dev. 2008;24(5):203-11.

Brown B. Daring Greatly: How the Courage to be Vulnerable Transforms the Way We

Live, Love, Parent, and Lead. Gotham Books; 2012.

Patterson K, Grenny J, McMillan R, et al. Crucial Conversations: Tools for Talking When

Stakes are High, 2nd ed. New York, NY: McGraw-Hill; 2011.

Carol Dobos lives in Phoenix Arizona and is the past-president of the Arizona

Association for Nursing Professional Development, a state affiliate of the

Association for Nursing Professional Development.
---
WWW.SCNURSES.ORG The South Carolina Nurse – June, July, August 2022 PAGE 11

South Carolina Faith Community Nurses Association

Plan to join us for our Annual Conference on

August 5, 2022 that will be held in person and with

a virtual option. Details are outlined below. Data

shows that one in five children have been adversely

affected by the pandemic creating mental wellness

issues. This conference will focus on how we can

assist our children to navigate the future with faith

and hope.

The South Carolina

Faith Community

Nurses Association

2022 Annual

Conference

Moving Forward in

Faith and Hope:

Bringing Light to

Mental and Spiritual

Wellness

Friday August 5, 2022

8:30a-1p

Lexington Presbyterian Church

246 Barr Rd, Lexington, SC 29072

In person and virtual attendance options available

Purpose: Faith community leaders are often the

first point of contact when individuals and families

face mental and spiritual health issues or traumatic

events. In fact, in times of crisis, many will turn to

trusted leaders in their faith communities before

they turn to mental health professionals. These

Faith community leaders include pastors, ministry

heads, faith community nurses and health ministers.

When leaders know how to respond, they become

significant assets to the overall health care system.

About Contact Hours

Four Contact hours applied for through AnMed

Health who is approved as a provider of nursing

continuing professional development by the South

Carolina Nurses Association, an accredited approver

by the American Nurses Credentialing Center's

Commission on Accreditation. Approval valid to 2-11-

23.

Speakers and Topics include:

1) Kerri Roberts

Assistant Director of Music at Northeast

Presbyterian Church

Ms. Roberts will be providing an opening

devotion

2) Dr Paul Bishop MA, LPC, LPC/S

Director of Bridges of Hope, First Baptist

Church of Lexington

Dr. Bishop will speak on the state of mental

and spiritual wellness in the church related to

the impact of Covid and the stigma of mental

health issues in the church.

3) Kaitlyn Hunter

NAMI Regional Program Coordinator for the

Midlands West

Ms. Hunter will speak on breaking the silence

of mental health issues for children and teens.

4) Stephanie McGuire

SC Thrive Chief Training Officer

Ms. McGuire will speak on behavioral health of

children 0-5 years old.

5) Dr Kate Chapelle PhD, APRN, CPNP-PC

U of SC College of Nursing

Dr Chapelle will speak on the ACE program for

identification of at risk children.

6) Marisette Hasan BSN, RN, President and CEO

of The Carolinas Center and Chair of the SC

Carolina Coalition for the Seriously Ill

Mrs. Hasan will speak on the latest update

regarding advance directives and advanced

care planning resources including new

resources related to pediatrics.

TO REGISTER:

1) Complete information at the following link

https://docs.google.com/forms/d/

e/1FAIpQLSdl_r8NBKHDNuK-Y2tCdq

Vo604X5laNtAtRKRSIPYuz6LwOqA/

viewform?vc=0&c=0&w=1&flr=0

2) To pay for the conference click on the Pay

Pal button below or send a check made out to

SCFCNA and mail to Susan Outen, 154 Black

River Rd, Camden, SC 29020.

Upcoming SCFCNA Meetings:

Please join us for our quarterly meetings that are

currently meeting in person at Irmo Baptist Church

in Columbia. Each meeting provides an educational

component as well as networking opportunities.

Next meetings:

July 12, 2022 and October 11, 2022.

Please visit our website for details (www.scfcna.com).
---
PAGE 12 June, July, August 2022 – The South Carolina Nurse WWW.SCNURSES.ORG

SCNF

Dr. Deborah L. Hopla,

DNP, APRN-BC, FAANP, FAAN

Jason R. Thrift, MS, RN, CHSE

Graduation! As you read this edition graduation has

happened for many aspiring students. The culmination

of a journey, that began with the hope and promise to

care for others and join the nursing workforce, either

as a beside nurse or an advance practice nurse. The

journey feels overwhelming sometimes but earning a

degree is only the beginning of a nurse's journey in the

nursing profession. May is not only a time for graduation,

but a time to celebrate nurses everywhere. May is Nurses Month, which also

incorporates Nurses Week and International Nurses Day, commemorating the

birthday of the pioneer of the modern nursing profession, Florence Nightingale.

Whether you're graduating or continuing in the profession, this time of year is all

about the nurse. This year continues as "The Year of the Nurse!"

Graduation is truly only the beginning. Following rigorous study as nursing

students and graduate students, this group begins preparing for specific board

examinations to help initiation licensure, thus allowing the licensed nurse to

provide the care they so fervently dreamed of pursuing. Dreams are a big part

of the reason for pursuing a nursing degree. Think about what led you to wanting

to become a nurse. Perhaps the dream was to care for others. Perhaps it was a

belief you could help create an environment of compassion and understanding

where all can work together for the common good. Whatever the dream was that

led you to a nursing degree, there are many others out there longing to fulfill that

same dream for their lives. The passion and desire are present, but sometimes a

little help is needed.

The South Carolina Nurses Foundation (SCNF) wants to bring those dreams

to life. South Carolina needs nurses and nurses need scholarships. Scholarship

opportunities happen through SCNF, allowing those with the passion to pursue

a nursing degree the chance to make the dream a reality. It is costly to become a

nurse. It can take anywhere from two to four years to become a registered nurse

and an additional two to three years to become a master's prepared advanced

practice nurse. To achieve a Doctor of Nursing Practice (DNP) or Doctor of Nursing

Philosophy (PhD) can mean an additional oned to six years of education. So, as you

celebrate new beginnings this time of year with a multitude of graduations, this also

is a great time to give back and support someone else's desire to fulfill their dream.

This can be done many ways: the donate button on the SCNF Facebook account, a

license plate initiative showing the world you are a nurse. The company "Just Cause

Scrubs" that gives 50% of the profits made to the person's charity of choice (please

choose SCNF). Midlands Gives Day continues even beyond May 3rd and is another

way to raise funds. SCNF is a 501 C3 organization so donations are tax deductible.

SCNF is working hard to help nurses, but this cannot be done without you! Donate

today and help someone else's dreams come true!

SCNA Welcomes the SC

DHEC as an Organizational

Affiliate Member.

SHOW YOUR NURSING PRIDE!!!

SUPPORT NURSING SCHOLARSHIPS!!!

GET A LICENSE PLATE!!

The Nurses Care Specialty License Plate Initiative was created in 2002 to provide

an opportunity for nurses and the supporters of nursing to make a contribution to

the profession and to increase the public's awareness of the contribution of nurses.

"Nurses Care" specialty license plates are available from the Department of

Motor Vehicles. The proceeds are used to fund both graduate and undergraduate

scholarships. Please go to this website to purchase your "Nurses Care" license

plate: http://www.scdmvonline.com/Vehicle-Owners/License-Plates/Plate-Gallery

Mindfulness continued from page 9

• The sound of cars passing; or the birds chirping

• The sight of colorful leaves, flowers, and the blue sky

• The feeling of inner peace and clarity; or the feeling of pain.

Focusing on the here and now can quiet life's storms and inner turmoil. The key to

mindfulness is not obsessing about what happened yesterday or what could happen

in the future but being present and experiencing the moment without judgment.

Resources on mindfulness can be found in written and virtual formats. It's up

to each nurse to find what works best for them to remain resilient during difficult

times in the workplace or with life in general. If or when self-care measures fail

to help with stress, the nurse should seek assistance from professionals through

Employee Assistance Programs, private health care providers, counseling

services, or the Department of Mental Health. What matters most is that

everyone focuses on the essential things in life and being well to enjoy them.

Mindful.org (2022). What is mindfulness. Retrieved from https://www.mindful.org/what-ismindfulness/

Mayo Clinic (2022). Mindfulness exercises. Retrieved from https://www.mayoclinic.

org/healthy-lifestyle/consumer-health/in-depth/mindfulness-exercises/art-

20046356

Psychology Today (2022). Mindfulness. Retrieved from https://www.psychologytoday.

com/us/basics/mindfulness

Mineo, L. (2018, Apr 17). With mindfulness, life's in the moment. Harvard Gazette.

Retrieved from https://news.harvard.edu/gazette/story/2018/04/less-stressclearer-thoughts-with-mindfulness-meditation/
---
WWW.SCNURSES.ORG The South Carolina Nurse – June, July, August 2022 PAGE 13

South Carolina Board of Nursing

JUNE 2022 / JULY 2022 / AUGUST 2022

110 Centerview Dr. • Columbia, SC • 29210 • P.O. Box 12367 • Columbia, SC 29211-2367

Phone: 803-896-4550 • NURSEBOARD@LLR.SC.GOV • Fax: 803-896-4515 • http://www.llr.state.sc.us/pol/nursing/

South Carolina Department of Labor, Licensing and Regulation

MISSION OF THE BOARD OF NURSING

The mission of the State Board of Nursing for South

Carolina is the protection of public health, safety, and

welfare by assuring safe and competent practice of

nursing.

This mission is accomplished by assuring safe initial

practice as well as continuing competency in the practice

of nursing and by promoting nursing excellence in the

areas of education and practice. The Board licenses

qualified individuals as licensed practical nurses,

registered nurses or advanced practice registered

nurses. Complaints against nurses are investigated and

disciplinary action taken when necessary. Schools of

nursing are surveyed and approved to ensure quality

education for future nurses.

NURSE LICENSURE RENEWAL 2022-2024

All licenses that were not renewed by midnight on

April 30, 2022, have now lapsed. After May 31st, you will

need to submit a reinstatement application and complete

an updated Criminal Background Check if you choose to

have an active license in SC.

COMPETENCY REQUIREMENTS FOR LICENSURE

AND RENEWALS

RN and LPNs: Demonstration of competency for

licensure and biennial renewal of an active license

requires documented evidence of at least ONE of the

following requirements during the licensure period/

preceding two years:

1. completion of 30 contact hours from a continuing

education provider recognized by the Board; OR

2. maintenance of certification or re-certification by a

national certifying body recognized by the Board; OR

3. completion of an academic program of study in

nursing or a related field recognized by the Board; OR

4. verification of competency and the number of hours

practiced as evidenced by employer certification on a

form approved by the Board.

The Board will accept continuing education contact

hours approved by the providers/ organizations at this

address: https://llr.sc.gov/nurse/Pdf/Competency_Req_

Criteria_6-2019.pdf.

APRNs: For renewal of prescriptive authority,

20 contact hours of continuing education in

pharmacotherapeutics related to the certification

SCBOD continued on page 14
---
PAGE 14 June, July, August 2022 – The South Carolina Nurse WWW.SCNURSES.ORG

South Carolina Department of Labor, Licensing and Regulation

SCBOD continued from page 13

specialty of NPs, CNMs, or CNS' must be obtained within the last two years. For

an NP, CNM, or CNS with controlled substance prescriptive authority, two of the

20 hours must be related to prescribing controlled substances.

The Board will accept Prescriptive Authority continuing education contact hours

approved by the providers/organizations at this address: https://llr.sc.gov/nurse/PDF/

Board_Approved_Listing_for_Pharmacotherapeutics_Education.pdf.

Below are links found on the Board's website that you may find helpful:

APRN Prescriptive Authority Online Application Instructions: https://llr.sc.gov/nurse/

pdf/Prescriptive_Authority_App_Elec_Inst.pdf

Pharmacotherapeutics Education Required for Rx Application: https://llr.sc.gov/nurse/

PStatements/PharmacotherapeuticsEducationRequiredforRxApplication.pdf

Board-Approved Listing for Pharmacotherapeutics Education: https://llr.sc.gov/

nurse/PDF/Board_Approved_Listing_for_Pharmacotherapeutics_Education.pdf

Required Documents; Certificate of attendance that includes:

1. Name of licensee

2. Title of educational activity

3. Date of activity

4. Approving provider/organization name, course number and address

5. Number of pharmacology contact hours awarded

Please visit the Board's website at https://llr.sc.gov/nurse/ to review the complete

South Carolina Nurse Practice Act, Chapter 33 Section 40-33-34 for more details on

renewal and competency requirements.

Nursing CE Tracking System https://cebroker.com/sc/account/basic/ CE Broker is

the official CE tracking system of the South Carolina Board of Nursing. All CEs offered

on this site are approved by the Board. You may activate a free basic account that will

allow you to: search approved CE courses, self-report your hours, and track course

history.

NURSE LICENSURE COMPACT (NLC)

At present, there are a number of non-compact states trying to pass legislation

to join the NLC. We are also waiting to hear a date for the Virgin Islands, Ohio and

Pennsylvania to fully implement the LPN/RN compact. Thus far, only 3 states have

passed the APRN compact legislation, North Dakota, Delaware and Utah. Once 7 states

pass this legislation, the APRN compact can go in to effect.

For additional information on the Nurse Licensure Compact, go to www.ncsbn.org/

compacts.htm.

PRACTICE PEARLS

1) Practitioners should review all paperwork submitted to the Board of Nursing

by third-party entities. Failure to do so may result in disciplinary action, as the

licensee is responsible for licensure compliance (Rx authority, collaborating

physicians, national certifications, etc.).

2) Please reference the APRN FAQs on the Board's website for guidance on

developing written practice agreements (www.llr.sc.gov/nurse).

3) Effective November 1, 2022: APRNs with lapsed national certifications will need

to complete a reinstatement application, as well as an Rx authority application.

Your APRN license will be inactive until all statutory requirements are met. Please

follow the instructions below: "How Can I Check a License" to validate the

expiration date.

4) Licensee Lookup will display "Practice Limitations: No physician on file" for

APRNs without a designated physician on file with the SC Board of Nursing.

BOARD OF NURSING COMMITTEES

The Advanced Practice Committee has 1 opening:

Pediatric Nurse Practitioner

The Advisory Committee on Nursing Education have two openings:

Bachelor of Science RN Program

Bachelor of Science RN Program

The Nursing Practice and Standards Committee has one opening for a new position

(recently approved by the Board):

Forensic Nurse

If you are interested in applying, please complete a nomination form located at www.

llr.sc.gov/nurse, under The Board, and a work committee will review and forward a

recommendation for Board approval.

HOW CAN I CHECK A LICENSE?

To check a nursing license, you may utilize one or all of the following options:

(A) South Carolina Licensee Lookup – Go to LICENSEE LOOKUP on the Board of

Nursing's webpage (www.llr.sc.gov/nurse). It is recommended that only the first and

last name of the nurse be entered. This site will provide the nurse's name, city/state,

license number/type, date issued/expiration, license status, and whether the license

is multi-state or single-state.

(B) Nursys Quick Confirm – Go to www.nursys.com and click on Quick Confirm,

following the instructions as outlined. This site will provide the nurse's name, state of

licensure, license type/number, license status, expiration date and discipline status

if noted. At this time, the only states NOT fully participating in Quick Confirm are

California, Michigan, and Pennsylvania. Go to www.nursys.com as additional states/

territories may be added.

(C) Other states – Most states have licensee lookup/licensure verification on their

websites. Links to other boards of nursing can be found at www.ncsbn.org.

(D) You can check for discipline against a South Carolina nursing license on the Board's

website www.llr.sc.gov/nurse under BOARD ORDERS.

NURSYS.COM (E-NOTIFY)

Nursys e-Notify® delivers real-time notifications about nurse licensure status

including multi-state and single-state changes within the enhanced Nurse Licensure

Compact. Additionally, expirations, renewals and disciplinary actions are delivered to

your inbox automatically.

Nursys is the only national database for verification of nurse licensure, discipline,

and practice privileges for RNs and LPNs provided directly by participating boards of

nursing (BONs) and designated by them to be primary source equivalent.

Once you have registered your organization and provided nurse data, you'll

automatically be notified of nurse licensure expirations, upcoming renewals and

disciplinary actions from your state and others. It's free of charge, provided as a patient

safety initiative by U.S. BONs and the NCSBN.

Learn more, watch a video demo, or enroll for this free service at www.nursys.com.

HAVE YOU MOVED?

Section 40-33-38(C) of the South Carolina Code of Laws (Nurse Practice Act)

requires that all licensees notify the Board in writing within 15 days of any address

change. In order to not miss important time-sensitive information, such as an audit

notice, legislative updates or other licensure information, be sure to notify the Board

immediately whenever you change addresses. You may change your address on the

Board of Nursing's website (www.llr.sc.gov/nurse). Choose "Change of Address via

Online Portal" under QUICK LINKS.

NOTE: Changing your address with the South Carolina Nurses Association (SCNA)

does not change your address on your licensing records with the South Carolina Board

of Nursing.

HOW TO CHANGE YOUR PRIMARY STATE OF RESIDENCE

In accordance with §40-33-1350 of the S.C. Code of Laws, Compact rules and

regulations require each nurse to declare in writing his/her primary state of residence

upon initial application and renewal of the nursing license.

If at the time of licensure, the primary state of residence was listed as a non-compact

state (example: WA, OR, NV, CA, NY, etc.) and/or the prospective licensee has not

obtained a SC driver's license, an active single-state license in South Carolina was

issued. If the primary state of residence later changes to South Carolina, a multi-state

license may be obtained by submitting a Declaration of Primary State of Residence

(PSOR) form available on the Board of Nursing's website (www.llr.sc.gov/nurse) under

LICENSURE, "Applications and Forms, under Miscellaneous Forms."

The completed PSOR form should be sent to NurseBoard@llr.sc.gov with one of

the following items as evidence of South Carolina residency: 1) South Carolina driver's

license with a home address; 2) South Carolina Voter Registration card displaying a

home address; 3) Federal income tax return declaring the primary state of residence

as South Carolina; 4) A federal W-2 form declaring SC as the primary state of residence

or 5) Military Form # 2058 - state of legal residence certificate. The Compact primary

residence rule does not apply to military nurses or nurses in the federal government,

unless they are working outside of their military or government position.

HAVE YOU CHANGED YOUR EMAIL ADDRESS?

It is important to ensure that you receive information sent out via e-mail and for

renewal of licensure. To change your email address, please email NurseBoard@llr.sc.gov

with the full name on your license, your license number, your current email and your

new email address. You may also change your email address on the Board of Nursing's

website (www.llr.sc.gov/nurse). Choose "Change of Address via Online Portal" under

QUICK LINKS.
---
WWW.SCNURSES.ORG The South Carolina Nurse – June, July, August 2022 PAGE 15

South Carolina Department of Labor, Licensing and Regulation

CHANGING YOUR NAME ON YOUR NURSING

LICENSE

1. If you have had a legal name change, submit your

written request, along with a copy of the legal

document(s) (example: copy of marriage certificate,

divorce decree, court order, etc.) and photo ID to

LLR-Board of Nursing, PO Box 12367, Columbia, SC

29211 or you can send the request and documents

by email to NurseBoard@llr.sc.gov. Please indicate in

your request whether you will use your middle name

or maiden name for your middle initial or if you wish to

hyphenate your name. Your request will be processed

in the order received and updated on the website

within 24 hours of the change.

2. You may verify that your name change request

has been processed on LICENSEE LOOKUP on

the Board's website (www.llr.sc.gov/nurse). Refer

to Section 40-33-36(B) of the Nurse Practice Act

regarding statutory requirements for your name on

your license. You may view the Nurse Practice Act –

Chapter 33 under LAWS/RULES/POLICIES on the

Board's website.

CE BROKER: CONTINUING EDUCATION TRACKING /

REPOSITORY

Create Your CE Broker Account Today! CE Broker

is the official CE tracking system for the South Carolina

Board of Nursing. The Board has provided you with a free

Basic Account, so you'll have helpful CE tracking tools

right at your fingertips.

Free Access to CE Broker Within the free Basic

Account, you will have access to your Course History and

CE Compliance Status. This lists all of the courses which

have been reported thus far and indicates whether or

not you have satisfied your renewal requirements. From

here, you may easily find and report any CE that might be

missing. CE Broker is 100% free to use, and you will never

have to pay to access all of the necessary tools to renew

your license!

Comprehensive Course Search One of the best free

tools CE Broker provides is the Course Search. You can

easily find every course needed to successfully complete

your license renewal, with just a few clicks! After you

are finished with each course, educational providers will

report the credits directly into CE Broker for you - but you

should always retain a copy of the certificates for your

records. To find courses, visit courses.cebroker.com/

search/sc and select your profession.

BOARD MEMBERS

Sallie Beth Todd, MSN, RN, Congressional District 4,

Board Chair

Samuel H. McNutt, MHSA, CRNA, Congressional District

5 – Board Vice Chair

Robert Wolff, Ph.D., Public Member, Secretary

Kelli Garber, MSN, APRN, PPCNP-BC, Congressional

District 1

Rebecca Morrison, MSN, APRN, FNP-BC, Congressional

District 2

W. Kay Swisher, MSN, RN, Congressional District 3

Jonella Davis, MBA, BSN, RN, NEA-BC, Congressional

District 7

Tamara Day, LPN

Lindsey Mitcham, Public Member

Vacant, (1) Registered Nurse, Congressional District 6

Vacant, (1) Licensed Practical Nurse At-Large

BOARD VACANCIES

There currently are two vacancies on the South

Carolina Board of Nursing. Members serve terms of four

years and until their successors are appointed. Board

members are appointed by the Governor with the advice

and consent of the Senate.

Pursuant to Section 40-33-10(A) of the Nurse Practice

Act, when appointing members to the Board of Nursing,

the Governor will give consideration to include a diverse

representation of principal areas of nursing not limited

to hospital, acute care, advanced practice, community

health and nursing education. Registered nurse and

licensed practical nurse members must be licensed

in South Carolina, must be employed in nursing, must

have at least three years of practice in their respective

professions immediately preceding their appointment and

must reside in the district they represent. If you are not

sure of your congressional district, you may check your

district at scvotes.org.

There is one vacancy on the Board of Nursing for a

Registered Nurse representative from Congressional

District 6, and one vacancy for a Licensed Practical Nurse

from the state at large. No Board member may serve as

an officer of a professional organization.

An individual, group, or association may nominate

qualified persons and submit written requests to the

Governor's Office for consideration and appointment

to the South Carolina State Board of Nursing. If you or

someone you know is interested in one of these vacant

positions, a letter of request, along with a resume or

curriculum vitae, should be submitted to: Director of

Boards and Commissions, Governor Henry McMaster,

1100 Gervais Street, Columbia, SC 29201.

Vacancies: [See Section 40-33-10(A) of the Nurse

Practice Act for prerequisites and requirements] The

Nurse Practice Act can be found on the Board of Nursing

website at www.llr.sc.gov/nurse under the Laws/Rules/

Policies tab.

SC STATE BOARD OF NURSING CONTACT

INFORMATION:

Main Telephone Line (803) 896-4550

Fax Line (803) 896-4515

General Email

NurseBoard@llr.sc.gov

Website

www.llr.sc.gov/nurse

The Board of Nursing is located at Synergy Business

Park, Kingstree Building, 110 Centerview Drive, Suite

202, Columbia, SC 29210. Directions to the office can be

found at the bottom of the page on the Board's website -

www.llr.sc.gov/nurse. The Board's mailing address is LLR

- Office of Board Services - SC State Board of Nursing,

Post Office Box 12367, Columbia, SC 29211-1329.

Regular Board business hours are 8:30 a.m. to 5 p.m.,

Monday through Friday. Offices are closed for holidays

designated by the state.

Board of Nursing Administration

Carol A. Moody, MAS, RN, NEA-BC, Administrator

OFFICE OF INVESTIGATIONS AND ENFORCEMENT

Main Telephone Line (803) 896-4470

VISIT THE BOARD OF NURSING WEBSITE:

We recommend all nurses licensed by or working

in South Carolina visit the website (www.llr.sc.gov/

nurse) often as information important to the practice of

nursing is updated regularly. The State Board of Nursing

website contains the Nurse Practice Act (Chapter

33 – Laws Governing Nursing in South Carolina),

Regulations (Chapter 91), Compact Information, Advisory

Opinions, Position Statements, Licensure Applications,

Competency Requirements/Criteria, Application Status,

Licensee Lookup, Disciplinary Actions, and other helpful

information. The Nurse Practice Act, Regulations,

Advisory Opinions and Position Statements are

located under the LAWS/RULES/POLICIES tab (and

you can also find the AOs, Position Statements, Joint

AOs, etc. under the PRACTICE & STANDARDS tab).

Competency Requirements/Criteria, which includes

continuing education contact hours, are located under

the EDUCATION tab. You will also find the Board meeting

calendar, agendas, minutes, Board member names and

the areas they represent under the BOARD tab.

Board of Nursing Meeting Calendar for 2022

Board and Committee meeting agendas are posted on

the Board's website at least 24 hours prior to meeting.

Board of Nursing Meeting July 28 – 29, 2022

September 22 – 23, 2022

November 17 – 18, 2022

Advanced Practice Committee August 5, 2022

November 4, 2022

Advisory Committee June 21, 2022

on Nursing Education August 16, 2022

October 18, 2022

December 8, 2022

Nursing Practice & July 14, 2022

Standards Committee October 13, 2022

2021/2022 State Holidays

Independence Day July 4, 2022

Labor Day September 5, 2022

Veteran's Day November 11, 2022

Thanksgiving November 24 – 25, 2022

Christmas (Observance) December 23, 26 – 27, 2022

Share Your Purpose,

While Being a Part of Ours.

LPN: Part-time Weekend and Baylor positions available!

Benefits:

• Recruiting and retention bonus

• Tuition reimbursement

• Matching 401(k)

• Paid time off

Apply on our website: www.stillhopes.org/careers | 803-223-6187
---
It's the people that make quality happen

CarolinaEast Health System is dedicated to high quality and compassionate

care across the Coastal Carolina region. We are a 350 bed, full-service

facility housing a complete compliment of inpatient and outpatient services with

the latest technology. From our region's coastal culture and neighborhood

environment to your advancement opportunities, you can achieve both the

lifestyle and career goals you seek. Come for your career, stay for the people

you will serve and the relationships you will develop. We are looking for nurses

specializing in:

• Cath Lab

• Clinical Decision and Observation Unit

• Clinical Nurse Manager

• Critical Care

• Emergency Department

• Nephrology

• Neurology

• Oncology

• Operating Room

• Orthopedics

• Rehab

• Surgical Care Unit

Up to $10,000 sign on bonus for qualified positions

Relocation up to $5,000 for qualified candidates

Points of Pride at CarolinaEast!

• No furloughed or laid off

employees in our 59 years of

operation

• Comprehensive benefits

package

• Yearly raises for qualified

employees

• Pension for qualified employees

• Multi-facility specialty

services

• Leading edge technology

• Work/life balance

• Culture of Excellence

• Award Winning Care

• Affiliate of UNC Health

To learn more about our opportunities or to apply, visit

jobs.carolinaeasthealth.com/nursing