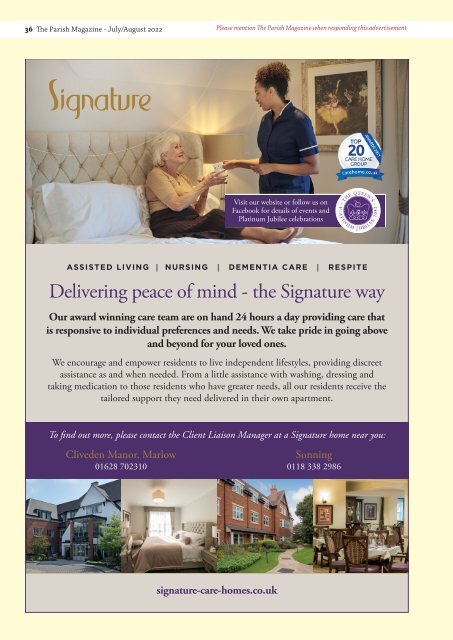 The Parish Magazine July August 2022
Serving the communities of Charvil, Sonning and Sonning Eye since 1869
Serving the communities of Charvil, Sonning and Sonning Eye since 1869
SHOW MORE
SHOW LESS
Do you know the secret to free website traffic?
Use this trick to increase the number of new potential customers.
36 The Parish Magazine - July/August 2022 Please mention The Parish Magazine when responding this advertisement

Visit our website or follow us on

Facebook for details of events and

Platinum Jubilee celebrations

ASSISTED LIVING | NURSING | DEMENTIA CARE | RESPITE

Delivering peace of mind - the Signature way

Our award winning care team are on hand 24 hours a day providing care that

is responsive to individual preferences and needs. We take pride in going above

and beyond for your loved ones.

We encourage and empower residents to live independent lifestyles, providing discreet

assistance as and when needed. From a little assistance with washing, dressing and

taking medication to those residents who have greater needs, all our residents receive the

tailored support they need delivered in their own apartment.

To find out more, please contact the Client Liaison Manager at a Signature home near you:

Cliveden Manor, Marlow

01628 702310

Sonning

0118 338 2986

signature-care-homes.co.uk