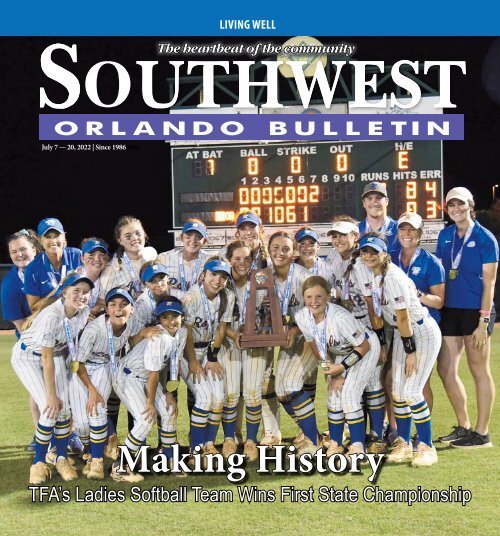 070722_SWB DIGITAL EDITION
You also want an ePaper? Increase the reach of your titles
YUMPU automatically turns print PDFs into web optimized ePapers that Google loves.
The heartbeat of the community

O

ORLANDO BULLETIN

June July 716 — 20, July 2022 6, 2022 | Since | Since 1986 1986

LIVING WELL

Making History

TFA's Ladies Softball Team Wins First State Championship
---
LOOKING FOR THAT PERFECT

PAIR OF EYEGLASSES?

WE HAVE THEM FROM TOP LUXURY BRANDS!
---
TABLE OF CONTENTS

SOUTHWEST SPORTS ........................................................................ 4

www.SouthwestOrlandoBulletin.com x July 7 — 20, 2022 x 3

SPORTS SPOTLIGHT ........................................................................... 5

Making History

IN YOUR NEIGHBORHOOD ............................................................... 6

SOUTHWEST SOCIAL SEEN.................................................................8

West Orange Chamber of Commerce's 50th Anniversary

SOUTHWEST STAYCATIONS................................................................9

LIVING WELL ................................................................................... 13

What Women Need to Know About Stroke Risks

Managing and Minimizing Stress

Behavioral Tips for Older Adults

COMMUNITY BULLETIN BOARD ....................................................... 18

SOUTHWEST SERVICE DIRECTORY ................................................... 18

PRESIDENT & PUBLISHER

Rick V. Martin

CREATE YOUR

FUTURE

International Baccalaureate Diploma & Certificate Program

Collaborations with MIT, The Juilliard School, and UNICEF

100% College Acceptance & Enrollment Rate

Differentiated Curriculum for PreK-3 to Grade 12

Award winning Fine Arts programs

Over 21 Athletic programs for Grade 6 - 12

SCHEDULE A TOUR TODAY!

(407) 905-7737 info@windermereprep.com windermereprep.com

July 7, 2022

Volume XXXVI, No. 17

P.O. Box 851

Windermere, FL 34786

407-351-1573

www.southwestorlandobulletin.com

The Southwest Orlando Bulletin is published semimonthly by

Cornerstone Publishing & Multi-Media LLC. No material may be reproduced

without written permission. Subscriptions are available in the U.S. and Puerto

Rico for $25.56 per year and in Canada for $31.80 per year. For foreign

surface mailing, add $20 per year.

Neither the publishers nor the advertisers are responsible or liable for

typographical errors, misinformation, misprints, etc., unintentionally contained

herein. All letters received become the property of Cornerstone Publishing &

Multi-Media LLC and may be reproduced and edited without consent.

©2022/Cornerstone Publishing & Multi-Media LLC

VICE PRESIDENT

Yvette Martin

MANAGING EDITOR

Lisa Sagers

lisa@kearneypublishing.com

ASSISTANT EDITOR

Lauren Salinero

lauren@kearneypublishing.com

CIRCULATION

Robert Barlow

MARKETING CONSULTANTS

Madeline DeVito

407-351-1573, option 1

mdevito@kearneypublishing.com

Michelle Oakes

321-277-3467

michelle

@cornerstonepublishinggroup.com

Shrubs ● Palm Trees ● Mulch ● Perennials

Citrus Trees ● Decorative Rock ● Annuals ● Topiaries

Flagstone ● Groundcovers ● Pottery ● Boulders

WE SELL SOD

Sod sold by the piece, half pallet and pallet

St. Augustine Floratam - St. Augustine Palmetto – Zoysia – Bahia

WE DELIVER

Call for availability and pricing
---
4 x July 7 — 20, 2022 x www.SouthwestOrlandoBulletin.com

More than 350 human walkers and

their furry companions showed their

support of Harbor House of Central

Florida at the 11th annual Paws for

Peace Walk. Many displayed their

artistic side by dressing for this year's

theme, "The Art of Barking and

Meowing." Harbor House raised

more than $80,000 to keep pets and

their people safe from abuse.

Everyone in attendance enjoyed

the walk and visiting with vendors,

but the dogs had even more fun.

They got to bob for tennis balls, go

on a scavenger hunt, and chase a

dog lure then cool off with homemade

Chilly Paws Frozen Treats and

custom doggie cocktails at the Bow

Wow Bar.

Harbor House thanks all of its volunteers

who made this event possible,

especially co-chairs Donatella and

Ted Maines of Ted Maines Interiors,

as well as the planning committee for

their hard work. Much appreciation

to all of the "spokespets" and their

people who lent their voices (and faces)

to raising awareness of domestic

violence and keeping pets and owners

together.

Orlando Area Rowing

Society's boys and girls teams each

placed third in the 2022 Florida

State Rowing Scholastic Rowing

Association Sweep Championship.

Out of 38 teams, OARS also secured

third place in team overall points.

For more information, visit www.

oarsrowing.com.

SOUTHWEST SPORTS

compiled by Lauren Salinero

Rotary Club of Lake Buena Vista past President and Area 3 Gov. Greg Gorski

(center) congratulates the winning foursome of the 2022 Charity Golf Challenge — (l. to r.)

Dean Pallotta, Jon Roudabush, Eddie Delvecchio and Gene Pallotta.

The Rotary Club of Lake

Buena Vista Foundation held its

2022 Charity Golf Challenge at

Celebration Golf Club. More than

120 golfers and 25 volunteers participated

in a day of fun, fellowship and

funding. The morning began with hot

Krispy Kreme doughnuts and other

breakfast items, followed by Chickfil-A

sandwiches on the course, and

a hot Italian meal at the clubhouse

once the golf rounds ended. There

were contests; a raffle; and more

than 80 silent auction items, including

a week's stay in Las Vegas, to bid on.

This year's winning foursome

was Team Roudabush, consisting

of Eddie Delvecchio, Dean

Pallotta, Gene Pallotta and

Jon Roudabush, who will hold

the trophy for a year. The golf challenge

was made possible by its

generous co-sponsors, major donors,

registered golfers, Rotarians

and Celebration Golf Club leadership.

This year's record participation

and contributions raised more than

$28,000.

Hundreds of participants composing

dozens of teams ran, skipped,

jogged and strolled their way

Orlando Area Rowing Society boys and girls teams have an impressive showing at the 2022 Florida State Rowing Scholastic Rowing

Association Sweep Championship.

through the inaugural School

Spirit Run, powered by Delta

Dental, at SeaWorld Orlando. The

3-mile course gave participants the

opportunity to enjoy the sights and

sounds of everything SeaWorld has

to offer. There were even surprise

guests and lots of entertainment

along the way.

Participants received race T-shirts

and fun-themed finisher medals in

addition to discounted admission to

the park for the day. Proceeds benefited

the Foundation for Orange

County Public Schools.

For more information, visit www.

foundationforocps.org.

The 2022 Special Olympics

USA Games, held at Exploria

Stadium, kicked off with an opening

ceremony that included a live performance

from Grammy award-winning

artist Sara Bareilles, a parade of

5,500 athletes and coaches from all

50 states and the Caribbean, and

the lighting of the custom-made cauldron

by the Special Olympics Flame

of Hope. The weeklong USA Games,

which are hosted every four years,

showcased 19 Olympic-style team

and individual sports and 30 events.

The day prior to the start of the

games, the running of the Flame of

Hope, flanked by 60 special-needs

athletes, took place at the annual

Make 'm Smile party. Celebrating

the 20th anniversary of Nathaniel's

Hope, the 2022 party was held

around downtown Orlando's Lake

Eola Park and included live stage

performances by special-needs kids

and local personalities, special promotions

for VIP kids and their families,

free admission to The Crayola

Experience for VIPs, and more. For

more information about Nathaniel's

Hope, visit www.nathanielshope.org

Although we try to ensure that all information

presented above is the most current, correct and

dependable available, we do rely on others for

the source of our news. Therefore, the Southwest

Orlando Bulletin and Cornerstone Publishing &

Multi-Media LLC cannot be held responsible for the

validity of the information presented here, nor does

mentioning it constitute an endorsement. Sports information

is welcome and may be mailed to P.O.

Box 851, Windermere, FL 34786; or emailed to

Lauren@kearneypublishing.com. ª
---
www.SouthwestOrlandoBulletin.com x July 7 — 20, 2022 x 5

SPORTS SPOTLIGHT

Making History

TFA's Ladies Softball Team Wins First State Championship

31

The Lady

Royals varsity

softball team

wins the state

championship.

The First Academy 2021-

22 Royals varsity softball team

capped off a 23-6 season by

winning the Florida High School

Athletic Association (FHSAA) Class

2A State Championship, defeating

Jacksonville's University Christian 8-2

at Legends Way Softball Complex in

Clermont.

In her sixth season as Royals head

coach, Kaley Gangelhoff led the

team to the title game, defeating

Evangelical Christian 3-0. Hannah

Harper, a Class of 2022 left-handed

pitcher, played all seven innings

in the championship series game and

finished the championship with a line

of 7IP, 5K's 3BB and 8H. She subsequently

was named the 2022 FACA

2A District 11 Player of the Year.

Camille Mackedon, also part of

the Class of 2022, and rising junior

Alexis Zerquera led the Royals

from the plate as each player went

2-for-4 with 3 RBI's, including a threerun

home run from Zerquera in the

bottom of the fifth inning, the first in

her varsity career.

The championship win was the

team's first state title in school history.

Along the path to its 23-6 season,

TFA defeated Orlando Christian

Preparatory School 4-0 for the Class

2A District 7 Championship and

Mount Dora Christian Academy

4-0 for the Class 2A Region 2

Championship.

The Royals graduated two seniors

this season, including Harper, who

will go on to pitch at the University

of West Florida, and shortstop

Mackedon, who had the game-winning

catch in the title game. Both girls

made the FACA all-state team along

with 2021-22 junior second baseman

Mollie Duling, 2021-22 sophomore

catcher Molly Sheridan,

and first baseman Zerquera. Harper,

Mackedon, Duling, Sheridan and

2021-22 sophomore flex player

Grace Grant were also named to

the FACA all-academic team.

The Softball State Championship is

not the only gold the Royals earned

this year. Earlier this spring, Class of

2022 senior Will Richards took

home the FHSAA state title in track

and field for the boys long jump

with a jump of 6.92 meters (22 feet,

8.5 inches). The softball title win

also comes exactly one year after

the Royals baseball team captured

the Class 3A state championship in

2021.

The entire TFA family extends its

congratulations to the Lady Royals

for its hard work both on and off the

field! ª

Thank You

to

AnnVarkeyRealtor@gmail.com

7232 Sand Lake Rd #103 Orlando Fl 32819

all my friends and neighbors for voting me

a Best of Southwest Realtor for the 7th year in a row!

eXp Realty Orlando

Visit our site today to:

• Ask About Our Perfect Home Finder Program;

• Find Out the True Value of Your Home In Today's HOT Market;

• Use the Mortgage Calculator to prepare for monthly expenses;

• Request a Free Buyer or Seller's Guide;

• Learn about the Rent-to-Own Program;

• Stay current with local real estate trends;

• And so much more
---
6 x July 7 — 20, 2022 x www.SouthwestOrlandoBulletin.com

n Bay Hill

Richard West of Bay Hill serves as

faculty at the National Family Law Trial

Institute for one week.

Bay Hill resident Richard West

recently served as faculty of the

National Family Law Trial Institute,

the preeminent litigation skills course

dedicated exclusively to family law.

A past president of the Florida chapter

of the American Academy of

Matrimonial Lawyers, Richard also

participated in judging a mock trial

presented by the students.

n Windermere

Eduarda Giusti of Windermere,

along with five other group members,

participated in Georgia Southwestern

State University's fourth

annual Undergraduate Research

Symposium with her poster presentation,

"Fall Prevention — What

Factors Predict a Hospital's Success

in Preventing Patient Falls." The event

included student research about a

variety of topics such as politics and

national policy, water quality, psychology

and issues in nursing. More

than 40 students participated in the

symposium: nine presented their research

in an oral presentation, 32

displayed their work on posters, and

two served as moderators for the

oral presentations.

IN YOURNEIGHBORHOOD

n Winter Garden

Keshara Cowans of Winter Garden

is elected as one of Orange County Bar

Association's first all-female set of officers.

For the first time in the Orange

County Bar Association's 89-year

history, four female officers were

elected to serve for the June 2022–

May 2023 term through unopposed

nomination. Among them, Keshara

Cowans of Winter Garden will

serve as secretary. Keshara is staff

attorney for the Office of Legal

Services for Orange County Public

Schools. Her primary practice areas

include employment discrimination

and Title IX compliance. She also

serves as the legal adviser for the

OCPS district police. Keshara received

her Juris Doctor degree from

Florida State University.

n Et Al

compiled by Lauren Salinero

West Orange Chamber of

Commerce ambassadors celebrated

the 10-year anniversary of

Charles Schwab in Windermere.

WOCC builds partnerships, strong

businesses and commitment to the

community by serving as the leading

business advocate in Central Florida,

facilitating opportunity to nearly

1,000 member businesses. For more

information about WOCC, call

407-656-1304 or visit wochamber.

com. For more information about the

services offered at Charles Schwab,

visit www.schwab.com/windermere.

Kudos to the following Southwestarea

residents on their recent

graduations:

• Kimberly Breton of Winter

Garden graduated from the

University of the Cumberlands with

a Master of Arts in clinical mental

health counseling.

• College of the Holy Cross

Southwest-area graduates included

Finley Cassidy of Windermere

and Johnna Shamley of

MetroWest, who graduated cum

laude.

• Julianna Coipel of Winter

Garden graduated with a Master

of Arts in special education from

Sam Houston State University.

• Deshaye Davis of Ocoee

graduated from Troy University.

• Ruby Dennemeyer of

Winter Garden graduated from

Washburn University with a Juris

Doctor in law.

(L. to r.) West Orange Chamber of Commerce ambassadors Jo Barsh, Michael LaPorte and Cyndi Gustafson; Charles Schwab

office manager Wendy Wytiaz; Schwab financial consultants Marina Troyan, Stephen Wytiaz and Drew Hoppen; Schwab branch

leader Michael Wytiaz; and WOCC ambassadors Bruce Young, Joan Bailey and Tom Rutherford celebrate Schwab's Windermere

office's 10-year anniversary.
---
• The University of Alabama

graduates included Winter

Garden residents Tory Elliott,

Bachelor of Arts in communication

and information sciences; Anna

Gay, Bachelor of Science in human

environmental sciences; Raconda

Hibbard, Master of Science in nursing;

Southwest Orlando residents

Meagan Kim, Master of Science;

Jacqueline Mitchell, Bachelor

of Science in human environmental

sciences; Windermere residents

Nathan Kohl, Bachelor of Science

in commerce and business administration;

Maddison Loos, Master

of Arts; Ocoee resident Lauren

Townsend, Bachelor of Science

in commerce and business administration;

and MetroWest resident

Sarah White, Bachelor of Science

in nursing.

• Caleb Enright of Winter

Garden graduated from Berry

College with a Bachelor of Science

in creative technologies.

• Eduarda Giusti of

Windermere graduated summa

cum laude from Georgia

Southwestern State University with a

Bachelor of Science in nursing.

• Windermere resident Jessica

Goldner graduated magna cum

laude from the University of Vermont

with a Bachelor of Science in animal

sciences.

• Winter Garden residents

Nicholas Gore and Aaron

Stephenson graduated from Bob

Jones University with a Bachelor of

Science in ministry and leadership

and an Associate of Science in media

technology, respectively.

• Anna Grinnals of Windermere

graduated from James

Madison University with a bachelor's

degree in communication studies.

• Windermere resident Anne

Hastings graduated from the

University of Mount Union.

• Campbellsville University graduates

included Dipten Patel of

Winter Garden and Vikram

Lohit Tutupalli of Dr. Phillips.

• Winter Garden resident

Catherine Miller graduated

cum laude from DeSales University

with a Bachelor of Arts in political

science.

• University of Mississippi graduates

included Andrea Nieto of

Windermere, Master of Science

in integrated marketing communication;

Amanda Nikhazy of

Windermere, Master of Arts in

journalism; and Oscar Thomas

of Southwest Orlando, Bachelor of

Science in exercise science.

• Sebastian Oetterer of

MetroWest graduated from Saint

Michael's College with a Bachelor

of Arts in political science.

• Yazmin Rosario of Gotha

graduated from Hinds Community

College.

• Kimberly Tracchio of

Winter Garden graduated from

the University of Scranton with a

Bachelor of Science in accounting.

• Celebration resident Jenna

Weber graduated from Atlantic

Cape Community College with an

Associate in Applied Science in hospitality

management.

Omicron Delta Kappa, the

National Leadership Honor Society,

recently welcomed 1,971 new initiates

from 78 universities. Students

initiated into the society must be

sophomores, juniors, seniors or graduate/professional

students in the

top 35% of their class; demonstrate

leadership experience in at least one

of the five pillars; and embrace the

ODK ideals. Fewer than 5% of students

on a campus are invited to join

each year. Among those initiated this

year were University of South Florida

students Madison Arsenault

and Danielle Colon-Carreras

of Winter Garden, Samford

University student Neal Harris of

Windermere, and University of

Miami student Priyanka Khushal

of Southwest Orlando.

Although we try to ensure that all information

presented above is the most current,

correct and dependable available, we do

rely on others for the source of our news.

Therefore, the Southwest Orlando Bulletin

and Cornerstone Publishing & Multi-Media

LLC cannot be held responsible for the validity

of the information presented here, nor does

mentioning it constitute an endorsement. In Your

Neighborhood news is welcome and may be

mailed to P.O. Box 851, Windermere, FL 34786;

or emailed to Lauren@kearneypublishing.com.

www.SouthwestOrlandoBulletin.com x July 7 — 20, 2022 x 7

Rotary Club of Dr. Phillips President Terry Taggart (left) awards Nancy Asche

(center) a Star Award and Rotarian of the month. They are joined by Lori McCord,

membership chair.

Lori McCord (left), Rotary Club of Dr. Phillips membership chair, and Terry

Taggart (second from left), club president, congratulate new members (l. to r.) Steve

Ferguson, Kathy McCord and Heather Mosier. ª

Nurse Practitioners:

Esther Pelissier, ARPN-BC

Irene Gan, PMHNP

Raykha Crag-Chaderton, PMHNP-BC

Rachael Pittala, ARPN-BC

Therapists:

Michael Kellogg, LMHC, ATR-BC

Randie Morillo, LCSW, ACSW

Amy Singleton, LMHC

Brooke Parker, LMHC

Cristal Daniel, LMHC

Rachael Pittala

Esther Pelissier
---
8 x July 7 — 20, 2022 x www.SouthwestOrlandoBulletin.com

Southwest Social

SEEN

West Orange Chamber of Commerce celebrated

its 50th anniversary during a Business After Hours.

Festivities included food, drinks and lots of fun. The

event was attended by chamber and board members

as well as community members and leaders.

▲ (L. to r.) Empire Finish System's Iliana Jones, West

Orange Chamber of Commerce Board President

J.T. McWalters of the Orlando Magic, Hardee's Tim

Haberkamp and Oakland Mayor Kathy Stark.

▲ (L. to r.) Vitality Bowls' Harold Gattereau, West Orange Chamber of

Commerce Board President J.T. McWalters of the Orlando Magic, WOCC

President/CEO Stina D'Uva, Pammie's Sammies' Pam Thomas, Orange

County School Board member Pamela Gould, Universal Orlando's John

McReynolds, and past WOCC Board Chairman Russ Salerno.

▲ (L. to r.) Friends of Lake Apopka's Joe Dunn,

Foundation for a Healthier West Orange's Tracy

Swanson, Orlando Health Horizon West Hospital's

Brian Wetzel, and Vitality Bowls' Harold Gattereau.

▲ West Orange Chamber of Commerce member

Julie Young (left) of Edward Jones — Bruce Young and

past Board Chair Debbie Clements of Go Travel Inc.

▲ West Orange Chamber of

Commerce members (l. to r.) Vitality

Bowls' Harold Gattereau, Ocoee

Mayor Rusty Johnson, Marilyn

Johnson and past WOCC Board

Chairman Russ Salerno.

▲ West Orange Chamber of Commerce

members (l. to r.) Computer Business

Consultants' Haaris Khan, Prime Lending's

Jim Zeitschel, and Jacqueline Neal.

▲ West Orange Chamber of Commerce

members Connor Kelley, D.C., (left) of Greater

Orlando Chiropractic and Wellness and Shelley

Bradford of Matthew's Hope Ministries.

▲ West Orange Chamber of

Commerce members (l. to r.) Chelsea

Emery and Cheyenne of Dog Training

Elite and David Manchon of the

Epilepsy Association of Central Florida.

▲ (L. to r.) Orange County School Board member

Pamela Gould, State Farm's Jo Barsh, University

of Central Florida's Kim Hardy, Reed Nissan's Paul

McNamara, Valley Bank's Lynetta Tipton Steed,

and (front) Universal Orlando's John McReynolds.

▲ West Orange Chamber of Commerce members

(l. to r.) Alison Kerestes of Kerestes Law Firm, Thomas

Sheldon of Any Lab Test Now, and David Tran, D.C.,

of Tran Chiropractic.

Photos courtesy of Cannonfire Photography
---
www.SouthwestOrlandoBulletin.com x July 7 — 20, 2022 x 9

With world-class experiences

and entertainment right

here, Southwest Orlando residents

don't need to travel far

to experience great getaways.

Whether it is a vacation-worthy

dining experience, luxury hotel

or fun excursion, the following

ideas are guaranteed to allow

residents to unwind without going

very far.

House of Blues

Featuring a beautiful music hall

and soul to spare, House of Blues

is Orlando's rock- and blues-themed

venue and restaurant with Southern

dishes such as po' boys and jambalaya,

plus live music! Opened

in 1997, the famous water tower,

which founder Isaac Tigrett spotted

on a train ride through the Midwest,

stands more than 100 feet tall and

CONTINUED ON PAGE 11

TO30%

FLORIDA RESIDENTS

SAVE UP

THE BEST

STAYCATION

EVER!

©DISNEY

• Luxurious Accommodations

• Delicious Restaurants

• 5 Sparkling Pools

• Walk to 2 Disney® World

Theme Parks

• Exclusive Disney® Resort

Benefits

SwanDolphin.com
---
10 x July 7 — 20, 2022 x www.SouthwestOrlandoBulletin.com
---
CONTINUED FROM PAGE 9

is a recognizable landmark at the

Downtown Disney promenade. For

more information, call 407-934-

2583 or visit www.houseofblues.

com/orlando.

Sunset Walk

Sunset Walk, Central Florida's

most exciting, all-in-one resort

destination, adds so much more to

the vacation lifestyle experience.

The location boasts grand places to

stay or own, all surrounded by the

Promenade, Margaritaville

Resort Orlando and Island

H2O Water Park, offering an

endless choice of dining, entertainment

and shopping experiences,

including daily and nightly live musical

performances, Studio Movie

CONTINUED ON PAGE 12

www.SouthwestOrlandoBulletin.com x July 7 — 20, 2022 x 11

Guillermo J. Nazario, D.C.
---
12 x July 7 — 20, 2022 x www.SouthwestOrlandoBulletin.com

CONTINUED FROM PAGE 11

Grill Dine-In Theater, and much

more. For more information, visit

sunsetwalk.com.

The Walt Disney

World Swan Reserve

In the heart of the Walt Disney

World Resort, the award-winning

Walt Disney World Swan and

Dolphin Resort is your gateway

to the greatest theme parks and attractions.

Enjoy its 22 world-class

restaurants and lounges, sophisticated

guest rooms with Westin

Heavenly beds, the Balineseinspired

Mandara Spa, six pools,

three health clubs, nearby golf

and many special Disney benefits.

Florida residents always receive

discounts! Visit www.swandolphin.

com for more information. ª

Offering MOH's and

Superficial Radiation Therapy

Appointments are now available

407-566-1616
---
Living Well x July 2022 x 1

Living Well

Southwest OrlanDo

Volume 3, Issue 4 — July 2022

Managing and

MiniMizing StreSS

What WoMen need

to KnoW about

StroKe riSKS

behavioral tipS

for older adultS

A Product of the

Southwest Orlando Bulletin
---
2 x July 2022 x Living Well

It may not be widely known that

women face unique risk factors for

stroke throughout their lifetimes.

Things like pregnancy, preeclampsia

and chronic stress can increase the

risk for high blood pressure, a leading

cause of stroke.

Cardiovascular disease, including

stroke, is the leading cause of

death among women, according to

the Centers for Disease Control and

Prevention, and 1 in 5 women will

have a stroke. However, a large majority

of strokes can be prevented.

Caring for yourself by understanding

your risk factors can help reduce

your risk for stroke and provide a

better quality of life. Start managing

your stroke risk with these tips from

the American Stroke Association,

a division of the American Heart

Association:

Monitor Your Blood Pressure

The first step you can take in reducing

your risk for stroke is knowing

your blood pressure and keeping it

in a healthy range. High blood pressure

is the No. 1 preventable cause

of stroke, according to the American

Heart Association.

The best way to know your blood

pressure is to have it measured at

401 Main Street, Suite A, Windermere, FL

Windermere Center for

DENTISTRY

Emilia Godoy-Rapport, D.M.D.

Always Friendly & Gentle

Cosmetic and family dentistry

www.windermeresmiles.com

(407) 909-1097

What Women Need to

Know About Stroke Risks

Speak with your doctor about keeping your blood pressure in a healthy range to prevent

stroke.

least once per year by a health care

professional and regularly monitor

it at home then discuss the numbers

with a doctor. For most people, a

normal blood pressure should be

120/80 mm HG or less.

In addition to properly monitoring

blood pressure, maintaining a

healthy weight, being physically active,

eating healthfully and reducing

or eliminating alcohol and tobacco

usage can help control blood pressure.

If you do develop high blood

pressure, work with a health care

professional on a plan to help

manage it.

Plan for Pregnancy

In the United States, high blood

pressure during pregnancy is becoming

more common; and medical

conditions, including preeclampsia,

gestational diabetes and blood clots

during pregnancy, all increase stroke

risk during and immediately following

a pregnancy

Managing conditions like high

blood pressure before getting pregnant

helps keep you and your baby

healthy during pregnancy and beyond.

In addition, your health during

and immediately after a pregnancy

can shape the lifelong health of you

and your child. If you're planning to

become pregnant or are currently

pregnant, it's important to regularly

monitor your blood pressure.

Take Care of Your Mental Health

Some stress is unavoidable,

but constant stress is not healthy.

Chronic or constant stress may lead

to high blood pressure and other

unhealthy behavior choices, which

can increase the risk for stroke.

Based on findings in the Stress

in America 2020 survey conducted

by the American Psychological

Association, the top sources of

stress are money, work, family responsibilities

and health concerns.

Managing your stress and blood

pressure can improve your overall

health and well-being. Reclaim control

of your schedule and build in

time to invest in your health. Find 10

minutes every day to do something

for you, like listening to music, meditating

or going for a walk.

Learn the Warning Signs

A stroke can happen to anyone

at any point in life. Immediate treatment

may help minimize the longterm

effects of a stroke and even

prevent death. Learn how to spot a

stroke F.A.S.T:

• Face drooping. Does one side

of the face droop or is it numb? Ask

the person to smile. Is the person's

smile uneven?

• Arm weakness. Is one arm

weak or numb? Ask the person to

raise both arms. Does one arm drift

downward?

• Speech difficulty. Is speech

slurred? Is the person unable to

speak or hard to understand? Ask

the person to repeat a simple sentence

like, "The sky is blue."

• Time to call 911. If someone

shows any of these symptoms, even

if the symptoms go away, call 911

and get to a hospital immediately.

Check the time, so you'll know when

the first symptoms appeared.

Talk to your doctor about ways to

improve your well-being and help

prevent stroke. Find more wellness

tips at stroke.org.

Source: American Stroke Association

(Family Features) ª
---
Living Well x July 2022 x 3

Managing and Minimizing Stress

Regular exercise, like taking a yoga class, helps reduce occasional stress.

Americans experience varying

levels of stress for a wide variety of

reasons, and many struggle to find

healthy ways to manage. Minimizing

occasional stress is important as it

can affect overall health and wellbeing.

Stress can feel overwhelming

at times, but setting aside time to

unwind each day to focus on your

physical and mental health can help

you manage those feelings. To better

manage occasional feelings of

stress, consider incorporating the following

into your daily routine:

• Prioritize exercise. Research has

found that exercise in any form can

help reduce occasional stress and

provide a natural distraction from

other thoughts and worries. Taking

30 minutes a day to focus on movement,

whether going for a walk,

taking a yoga class, or practicing

high-intensity training, can support

moods and help manage stress. Just

don't forget to hydrate!

• Safeguard sleep. Sleep is important

for your overall well-being. A

survey conducted by the American

Psychological Association found that

many adults report their stress increases

when the length and quality

of sleep decreases. To help you fall

asleep and stay asleep, try limiting

or turning off distracting devices like

CONTINUED ON PAGE 4

Michael J. Tortorella, MD

Obstetrics & Gynecology

Board Certified

Pregnancy

Family Planning

Menstrual Disorders

Menopause

Second Opinion for Surgery

In-Office Ultrasounds

In-Office Surgery

Minimally Invasive

Surgery

Sterilization

(407) 363-1003 Michaeljtortorellamd.com

7300 Sandlake Commons Blvd.

Suite 320, Medplex A

next to Dr. P. Phillips Hospital

Listed in Best Doctors

in Orlando Magazine
---
4 x July 2022 x Living Well

DIANA HUSSAIN, M.D.

7345 W. Sand Lake Rd., Ste 301

321-204-8237

www.flwellnessmd.com

Now open in a new location and accepting new

patients.

Dr. Hussain is a Mayo Clinic-trained and double

board-certified Medical Doctor specializing in

Regenerative Medicine with the latest technology in

high-quality Platelet Rich Plasma (PRP) and

image-guided injections for painful conditions such

as arthritis, chronic injuries, as well as hair

restoration and aesthetics.

Dr. Hussain has more than 15 years of experience

in evaluation and non-opioid treatment of painful

disorders with joint and spinal injections, under

X-ray and ultrasound guidance; Botox® injections

for Migraines and other conditions; as well as

performing specialized tests for muscle and nerve

problems (electrodiagnostic studies).

Dr. Hussain is fluent in Spanish.

You should seek a consultation if you have a

condition that causes pain and limits your function

or if you had a recent injury or motor vehicle

accident, even if you are feeling fine. You have 14

days to get medical attention after a motor vehicle

accident or your insurance may deny your claim.

CONTINUED FROM PAGE 3

the TV, computer or cellphone before

bed and getting into bed earlier

to encourage achieving a full eight

hours of rest. With these changes,

the quality of sleep should improve,

leaving you feeling happier, more

refreshed and better able to accomplish

tasks on your to-do list.

• Appease stress with passion.

A study published in The Annals

of Behavioral Medicine found that

finding a passion to pursue not only

reduces stress levels but also contributes

to greater happiness overall.

Finding passion in a hobby or activity

you love is a form of self-care

and can make life feel a little less

heavy. Setting aside time each day

to focus on projects like decorating,

painting, joining a book club,

or whatever inspires you can offer a

sense of excitement and something

to look forward to. It can even be

an opportunity to reset your overall

outlook and mood. Acting on something

you are truly passionate about

is sure to keep stress levels at bay, so

don't hesitate to start a new project

today.

• Wellness support with botanicals.

According to a poll by the

American Psychological Association,

more than one-half of Americans

experience feelings of stress during

their days. Managing stress

is important to our overall health

and immune system, so choosing

products that support both of those

aspects of wellness is equally important.

With a dietary supplement like

Emergen-C Ashwagandha, you can

reduce occasional feelings of stress

and support your immune system.

For more information, visit www.

emergenc.com.

Focusing on how we can reduce

occasional stress and finding ways

to manage it on an ongoing basis

offers a variety of wellness benefits.

Simple everyday changes such as

being active, getting a good night's

sleep, actively participating in passion

projects, and incorporating a

daily supplement that supports the

immune system are habits that can

all add up to support well-being.
---
Older adults experiencing a behavioral

health issue such as anxiety

or depression may be embarrassed

and think they simply need to "pull

themselves up by their bootstraps,"

but helping them seek help can empower

them to live their best lives,

according to experts.

Behavioral Tips for Older Adults

Dealing with a behavioral health

issue? These self-care tips can help:

• Find a provider. "Cognitive disorders

such as dementia and mood

disorders often look the same,"

nap throughout the day can disrupt

healthy sleep cycles and limit rapid

eye movement (REM) sleep, potentially

contributing to behavioral

health issues.

• Exercise. Even moderate exercise

can improve mental and physical

health. The Physical Activity

Guidelines for Americans describes

benefits such as improvements in

brain health, better cognitive function,

and reduced risk of anxiety

and mood disorders. People who

exercise also tend to sleep better.

Having trouble getting started?

Some Medicare Advantage plans

include a fitness benefit, which can

pay for a gym membership or provide

at-home fitness tools.

• Head outside. Being outside has

numerous benefits, including vitamin

D absorption needed for cognitive

health. Additionally, research has

shown that chemicals released from

trees can stimulate brain functions.

Don't forget the sunscreen though,

Living Well x July 2022 x 5

as skin cancer is most common in

people older than 65.

• Buddy up. Papa, available

through some Cigna Medicare

Advantage plans, connects older

adults and their families with Papa

Pals for companionship and support.

Papa Pals can provide transportation,

help with everyday tasks

— or simply be a friend, doing activities

like watching movies or playing

games.

• Parent a pet. Caring for pets

generates positive emotions and

can reduce anxiety. Just petting a

dog has been shown to lower levels

of the stress hormone cortisol, and

pets provide a bond that can elevate

two feel-good brain chemicals

— oxytocin and dopamine. Dogs

also encourage people to exercise

outdoors.

"Behavioral health issues can be

complex and confusing to navigate,

but taking positive actions can be

empowering," Dr. Evans-Mitchell

said. "It's never too late to make a

new start."

(StatePoint) ª

Owning a pet can reduce stress and increase oxytocin and dopamine in the brain.

"Everyone is different, but there

are tools for better health, including

therapy, medication and self-care,"

said Dr. Lindsay Evans-Mitchell,

medical director of behavioral

health for Cigna Medicare

Advantage.

Behavioral health disorders affect

1 in 5 adults older than age 55.

Older men have the highest suicide

rate of any age group or gender.

Among men who are 75-older, the

suicide rate is 40.2 per 100,000 —

almost triple the overall rate.

The most common behavioral

health disorder in older adults is

dementia, and its incidence is growing

as the baby boomer generation

ages. Experts project that more than

9 million Americans age 65-older

will have dementia by 2030. An xiety

disorders and mood disorders are

also common among older people.

Dr. Evans-Mitchell said. "Only a

trained professional can make an

accurate diagnosis."

For help finding a provider, reach

out to your primary care physician

or health plan such as Medicare or

Medicare Advantage. Also consider

virtual therapy. It's easy to schedule

and offers the convenience of seeing

a therapist without leaving home.

• Nurture yourself. Good nutrition

feeds the body and mind. If you have

questions about nutrition for older

adults, consult your physician or a

registered dietitian. Additionally,

drink water throughout the day.

"Dehydration can worsen cognitive

issues," Dr. Evans-Mitchell said.

• Sleep well. Like all adults, older

people need seven to nine hours of

sleep nightly. Dr. Evans-Mitchell noted

that older people's tendency to

go to bed early, wake up early and

EXTERIOR HOME CLEANING

AND SPECIALTY

COATING SERVICES

PRESSURE WASHING

DECORATIVE SCORED CONCRETE

PAVER SEALING

POOL DECK COATING

321-947-2541

Imperial Outdoor Living, LLC

Facebook.com/imperialoutdoorliving
---
18 x July 7 — 20, 2022 x www.SouthwestOrlandoBulletin.com

n Charity/Fundraiser

Ongoing — Donations Needed

Harbor House of Central Florida seeks the following donations

to ensure that children living in the emergency shelter

or attending Camp Hope Florida have a good summer: twin

sheet sets (new), twin mattress covers, new pillows, new

towels, sunscreen (SPF 50), water shoes (kid sizes 5-10),

lice kits, hair nets, s'mores supplies, ice pops (unfrozen),

duffle bags or small suitcases, first aid kits, flashlights with

batteries, bug bite cream, juice boxes and pouches, body

wash, individually packaged kid snacks (sweet and salty),

aloe vera, gloves, shampoo and conditioner, lanyards, bug

spray, Lysol wipes and combs. Drop off donations at 708 E.

Colonial Drive, Suite 202, Orlando. Time: Monday-Friday

from 9 a.m.-4 p.m. For more information, visit 407-605-

3718 or email jmccartnery@harborhousefl.com.

n Events/Performances

Through July 31 — Leaf Scavenger

Hunts

Harry P. Leu Gardens, 1920 N. Forest Ave., Orlando,

hosts leaf scavenger hunts for all ages, during which participants

find 20 distinct leaves placed in different areas of

the garden. Children may dress in their favorite explorer or

detective costumes, and maps are given out to help with

the hunt. Cost: $15, adults; $10, children 4-17. For more

information, call 407-246-2620 or visit leugardens.org.

July & August — Live Performances

House of Blues Orlando, 1490 E. Buena Vista Drive, Lake

Buena Vista, hosts several live performances on select

dates in July and August. Events include Absolute Queen,

Blackberry Smoke, In the End Tribute to Linkin Park, Sleeping

With Sirens, Dance Gavin Dance, The Molly Ringwalds,

Army Rave, Departure Tribute to Journey, and others. Times

and ticket prices vary. For more information, call 407-934-

2583 or visit www.houseofblues.com/orlando.

July 28 — 2022 Hob Nob & Straw Poll

West Orange Chamber of Commerce's 2022 Hob Nob &

Straw Poll takes place at Ocoee Lakeshore Event Center,

125 N. Lakeshore Drive, Ocoee. All tickets include dinner,

two drink tickets and a vote in the straw poll. Time:

COMMUNITY BULLETIN BOARD

5-7:30 p.m. Cost: $36. One dollar from each ticket sold is

donated to the West Orange Foundation. All reservations

and cancellations must be made by July 22. No-shows

are charged. For more information, visit wochamber.com/

event/hob-nob-straw-poll.

July 29 — 2022 Political Hob Nob

Dezerland Park Orlando, 5250 International Drive,

Orlando, hosts the Hispanic Chamber of Commerce of

Metro Orlando's 2022 Political Hob Nob. Time: 5-8 p.m.

Sponsorships are available. For more information, visit

hispanicvotecfl.com/about-political-hob-nob.

n Miscellaneous

July 28 & Aug. 25 — MetroWest Food

Truck Connections

MetroWest Golf Club, 2100 S. Hiawassee Road, Orlando,

hosts MetroWest Food Truck Connections, including food,

fun and music. Social-distancing guidelines are observed.

Time: the fourth Thursday of every month from 5:30-9 p.m.

For more information, visit www.metrowestcommunity.com.

n Networking/Clubs

Ongoing — Members Wanted

The West Orange Women seeks females of all ages to

join its group for fun, friendship and philanthropy. Annual

dues are $20. For more information, call Mary Borgan,

407-929-3030; or visit www.westorangewomen.com.

July 12, 19 & 26 — Virtual

Toastmasters Meetings

Windermere Toastmasters Club No. 4662754 holds

Zoom meetings. Attendees learn to develop their oral

communication and leadership skills in a supportive

and positive learning environment. Time: Tuesdays from

7-8:30 p.m. For more information or to request online

Zoom meeting details, visit www.4662754.toastmaster

sclubs.org and click "Contact Us."

July 14, 21 & 28 — Virtual

Toastmasters Meetings

compiled by Lisa Sagers

The Vista Toastmasters Club holds Zoom meetings. Time:

Thursdays from 7-8:30 p.m. For more information, email

vistatoastmasters.zoom@gmail.com or visit www.vistatoast

masters.org.

n Support Groups

Ongoing — Hope For Hurting Parents

Support Group Meetings

The Parish Life Center at Holy Family Catholic Church, 5125

S. Apopka-Vineland Road, Orlando, hosts Hope for Hurting

Parents support group meetings for parents, grandparents,

aunts, uncles, etc., who have children of any age who struggle

with mental health issues, self-harm, eating disorders, substance

abuse, gender confusion, suicidal thoughts and more.

Time: first and third Monday of each month from 6-8 p.m.

For more information, email Beth Denhof, bethdenhof@msn.

com, or call her at 407-399-5872; or email Kelly Muscaro,

kkmuscaro@aol.com, or call her at 407-963-5277. For more

information, including resources and book recommendations,

visit www.hopeforhurtingparents.com.

July 12 & 26 — Mental Health Support

Group Meetings

Building C at St. Luke's United Methodist Church, 4851 S.

Apopka-Vineland Road, Orlando, hosts free individual and

family support group meetings for individuals affected by

mental illness. Individuals meet in Room C-206, and families

meet in the Founder's Hall. The 90-minute meeting is peer-led

and helps participants connect with each other, learn from

each other's experiences, share coping strategies and offer

each other encouragement and understanding. Time: the

second and fourth Tuesday of each month at 6:30 p.m. For

more information, call 407-253-1900, email information@

namigo.org or visit www.namigo.org.

July 12 & Aug. 9 — Virtual Support

Group Meeting For Caregivers

The Alzheimer's & Dementia Resource Center sponsors a

free support group meeting for caregivers in the Suite 281

Conference Room (next to the south elevators on the second

floor) at Health Central Hospital, 10000 W. Colonial

Drive, Ocoee. Time: second Tuesday of each month at 6

p.m. For more information, call 407-843-1910 or visit

www.adrccares.org.

July 19, Aug. 2 & 16 — Virtual Teen

Grief Support Group Meetings

The Cornerstone Hospice Bereavement Team holds virtual teen

grief support group meetings for teens 12-17 struggling with

the loss of a loved one or feeling anxious, upset or confused

because of the pandemic. Groups are free and open to the

public. Registration is required. Time: first and third Tuesday of

each month from 5-6 p.m. For more information or to register,

call 866-742-6655 or visit www.cornerstonehospice.org.

Aug. 7 — GriefShare: Loss Of A Spouse/

Partner Zoom Program

St. Luke's United Methodist Church hosts an online, onetime,

support program called GriefShare: Loss of a Spouse/

Partner. Anyone who is grieving the loss of a spouse/partner,

no matter how long ago the loss occurred, is welcome to

participate. The program is free; however, registration is

required. Time: 2-4 p.m. To RSVP, visit st.lukes.org/grief

sharespouse. For more information, call 407-876-4991,

ext. 262; or email care@st.lukes.org.

Aug. 17 & Aug. 18 — GriefShare: Zoom

Support Group Meetings Begin

St. Luke's United Methodist Church's GriefShare Support

Group online meetings begin. The Zoom meetings are held

weekly for 14 weeks. Time: Wednesday from 10 a.m.-noon

or Thursday from 6:30-8:30 p.m. To register, visit st.lukes.

org/griefshare. For more information, call 407-876-4991,

ext. 262; or visit care@st.lukes.org.

Contributions to Community Bulletin Board are

welcome. Please send information six weeks

before the event to P.O. Box 851, Windermere,

FL 34787; call 407-351-1573, option 5; or email

Lisa@kearneypublishing.com. ª

Seniors Way, Inc.

Companion / Homemaker Services

407-340-4120

carmen@seniorswayinc.com

Locally Owned & Operated

License number 236778

Free in Home Consultation
---
AT SUNSET WALK

ENTERTAINMENT Live Music

Dancing MOVIES

SHOPPING

ArcAdes

OVER 2 DOZEN UNIQUE RESTAURANTS & SHOPS

CAR SHOWS

3251 Margaritaville Blvd. | Kissimmee, FL 34747

SunsetWalk.com

Dining

ARTISAN MARKET

crafts
---
P.O. Box 851

Windermere, FL 34786