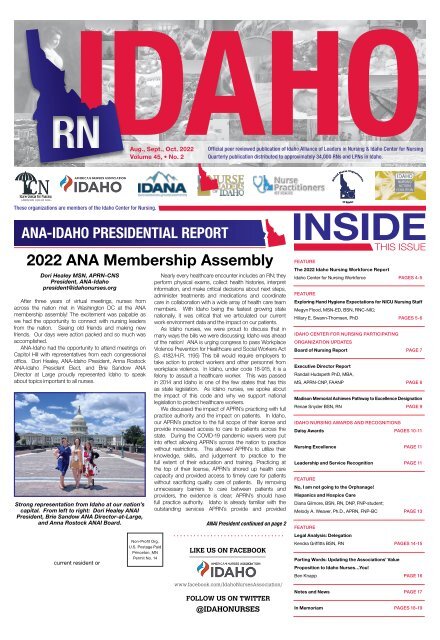 Create successful ePaper yourself
Turn your PDF publications into a flip-book with our unique Google optimized e-Paper software.
IDAHO

Aug., Sept., Oct. 2022

Volume 45, • No. 2

Official peer reviewed publication of Idaho Alliance of Leaders in Nursing & Idaho Center for Nursing

Quarterly publication distributed to approximately 34,000 RNs and LPNs in Idaho.

These organizations are members of the Idaho Center for Nursing.

ANA-IDAHO PRESIDENTIAL REPORT

2022 ANA Membership Assembly

Dori Healey MSN, APRN-CNS

President, ANA-Idaho

president@idahonurses.org

After three years of virtual meetings, nurses from

across the nation met in Washington DC at the ANA

membership assembly! The excitement was palpable as

we had the opportunity to connect with nursing leaders

from the nation. Seeing old friends and making new

friends. Our days were action packed and so much was

accomplished.

ANA-Idaho had the opportunity to attend meetings on

Capitol Hill with representatives from each congressional

office. Dori Healey, ANA-Idaho President, Anna Rostock

ANA-Idaho President Elect, and Brie Sandow ANA

Director at Large proudly represented Idaho to speak

about topics important to all nurses.

Strong representation from Idaho at our nation's

capital. From left to right: Dori Healey ANAI

President, Brie Sandow ANA Director-at-Large,

and Anna Rostock ANAI Board.

current resident or

Non-Profit Org.

U.S. Postage Paid

Princeton, MN

Permit No. 14

Nearly every healthcare encounter includes an RN; they

perform physical exams, collect health histories, interpret

information, and make critical decisions about next steps,

administer treatments and medications and coordinate

care in collaboration with a wide array of health care team

members. With Idaho being the fastest growing state

nationally, it was critical that we articulated our current

work environment data and the impact on our patients.

As Idaho nurses, we were proud to discuss that in

many ways the bills we were discussing; Idaho was ahead

of the nation! ANA is urging congress to pass Workplace

Violence Prevention for Healthcare and Social Workers Act

(S. 4182/H.R. 1195) This bill would require employers to

take action to protect workers and other personnel from

workplace violence. In Idaho, under code 18-915, it is a

felony to assault a healthcare worker. This was passed

in 2014 and Idaho is one of the few states that has this

as state legislation. As Idaho nurses, we spoke about

the impact of this code and why we support national

legislation to protect healthcare workers.

We discussed the impact of APRN's practicing with full

practice authority and the impact on patients. In Idaho,

our APRN's practice to the full scope of their license and

provide increased access to care to patients across the

state. During the COVID-19 pandemic wavers were put

into effect allowing APRN's across the nation to practice

without restrictions. This allowed APRN's to utilize their

knowledge, skills, and judgement to practice to the

full extent of their education and training. Practicing at

the top of their license, APRN's shored up health care

capacity and provided access to timely care for patients

without sacrificing quality care of patients. By removing

unnecessary barriers to care between patients and

providers, the evidence is clear; APRN's should have

full practice authority. Idaho is already familiar with the

outstanding services APRN's provide and provided

ANAI President continued on page 2

LIKE US ON FACEBOOK

www.facebook.com/IdahoNursesAssociation/

FOLLOW US ON TWITTER

@IDAHONURSES

INSIDE

THIS ISSUE

FEATURE

The 2022 Idaho Nursing Workforce Report

Idaho Center for Nursing Workforce PAGES 4-5

FEATURE

Exploring Hand Hygiene Expectations for NICU Nursing Staff

Megyn Flood, MSN-ED, BSN, RNC-NIC;

Hillary E. Swann-Thomsen, PhD PAGES 5-6

IDAHO CENTER FOR NURSING PARTICIPATING

ORGANIZATION UPDATES

Board of Nursing Report PAGE 7

Executive Director Report

Randall Hudspeth PhD, MBA,

MS, APRN-CNP, FAANP PAGE 8

Madison Memorial Achieves Pathway to Excellence Designation

Renae Snyder BSN, RN PAGE 9

IDAHO NURSING AWARDS AND RECOGNITIONS

Daisy Awards PAGES 10-11

Nursing Excellence PAGE 11

Leadership and Service Recognition PAGE 11

FEATURE

No, I am not going to the Orphanage!

Hispanics and Hospice Care

Diana Gilmore, BSN, RN, DNP, FNP-student;

Melody A. Weaver, Ph.D., APRN, FNP-BC PAGE 13

FEATURE

Legal Analysis: Delegation

Kendra Griffitts BSN, RN PAGES 14-15

Parting Words: Updating the Associations' Value

Proposition to Idaho Nurses…You!

Ben Knapp PAGE 16

Notes and News PAGE 17

In Memoriam PAGES 18-19
---
Page 2 • RN Idaho August, September, October 2022

ANAI President continued from page 1

Brie Sandow, Dori Healey and Anna Rostock with

Senator Jim Risch.

historical context with our legislators to support removing

burdensome barriers for all APRN's across the nation.

The last thing we discussed on Capitol Hill was

removing barriers to and improving access to care for

Seniors (S. 3018/ H.R 3173) This bill would improve

the prior authorization process and protect patients

from unnecessary delays in care by streamlining and

standardizing prior authorization under the Medicare

Advantage program. This bill has bi-partisan support

and discussion was very positive. The overwhelming

consensus is seniors deserve care in a timely manner and

this bill would provide improve care.

We will continue to work with our congressman and

their staff to stay up to date with these important topics.

We are committed to advocate for our nurses as well as

patients throughout Idaho.

SAVE

THE DATES

American Nurses Association Idaho &

Nurse Leaders of Idaho

LEAP (Learning for Education,

Administration & Practice)

November 2-3 | Grove Hotel, Boise

Call for Abstracts due Friday, Sept 23

Nurse Recognition Dinner Event

Tuesday, November 2 | Grove Hotel Ballroom,

Boise

Idaho Association of Nurse Anesthetists

AANA Annual Congress

August 12-16 | Chicago, IL

IDANA Fall Conference

September 9-11 | The Grove Hotel – Boise

Register at: Idaho Association of Nurse

Anesthetists - Events (idahoana.org)

Later in the week, we met with leaders from across the

nation and ANA leadership to review critical issues and

create statements regarding nurse staffing, verbal abuse

and workplace violence, impact of climate change on

health, and racial reckoning.

After robust debate and conversation, it was

determined that the COVID-19 pandemic has exacerbated

long-standing nurse staffing issues, the Assembly

considered changes to existing ANA policy related to

nurse-to-patient ratios. Participants stressed the need for

enforceable staffing standards and shared their successes

and challenges in implementing various models.

Nursing School Friends meet: Pam Cipriano,

President of the International Council of Nurses

and former ANA-President with Randy Hudspeth.

Assembly representatives approved a recommendation

that ANA supports safe patient standards including

ratios that are acuity and setting specific as per

nursing assessment and enforceable, and that ANA

will engage with the constituent and state nurse

associations to develop further details regarding

standards, implementation, and enforcement. Assembly

representatives also called on ANA to collaborate with

organizational affiliates to begin to develop evidencebased

staffing standards for all nursing disciplines for

publication.

Assembly representatives called on ANA to engage key

stakeholders to identify, develop and advance strategies

resulting in a comprehensive culture of safety and zerotolerance

approach to verbal abuse and violence in all care

settings, advance workplace violence prevention priorities

in nursing practice and public policy, and advocate for

better data collection to inform policy development.

To help address the public health crisis caused by

climate change, Assembly representatives approved

the recommendation that ANA and individual member

division include climate crisis and its consequential

impact on human and population health as an essential

component of their policy platform. Voting representatives

also endorsed that ANA revise and establish as an

official position the 2008 House of Delegates Statement

on Global Climate Change and Human Health. Finally,

the representatives called on ANA to promote nursing

knowledge on the relationship between climate change

and human and population health.

Finally, the voting representatives of the Assembly

unanimously voted "yes" for the association to embark

on a racial reckoning journey and adopted ANA's Racial

Reckoning Statement. The multi-phase journey will

begin with release of the statement and supporting

communications later this summer.

=

IDAHO

RN Idaho is published by

Idaho Center for Nursing

6126 West State St., Suite 406

Boise, ID 83703

Direct Dial: 208-367-1171

Email: rnidaho@idahonurses.org

Website: www.idahonurses.nursingnetwork.com

RN Idaho is peer reviewed and published by the

Idaho Center for Nursing. RN Idaho is distributed

to every Registered Nurse and Licensed Practical

Nurse licensed in Idaho, state legislators, employer

executives, and Idaho schools of nursing. The total

quarterly circulation is over 34,000. RN Idaho is

published quarterly every February, May, August,

and November.

Editor:

Sara F. Hawkins, PhD, RN, CPPS

Editor Emerita:

Barbara McNeil, PhD, RN-BC

Executive Director:

Randall Hudspeth, PhD, MBA, MS, APRN-CNP,

FAANP

Editorial Board:

Michelle Anderson, DNP, APRN, FNP-BC, FAANP

Sandra Evans, MAEd, RN

Pamela Gehrke, EdD, RN

Beverly Kloepfer, MSN, RN, NP-C

Karen Neill, PhD, RN, SANE-A, PF-IAFN

Gus Powell, MSN, CRNA

Katie Roberts, MSN, RN

Laura J. Tivis, PhD, CCRP

RN Idaho welcomes comments, suggestions,

and contributions. Articles, editorials and other

submissions may be sent directly to the Idaho

Center for Nursing office via mail or e-mail. Visit our

website for information on submission guidelines.

For advertising rates and information, please contact

Arthur L. Davis Publishing Agency, Inc., PO Box

216, Cedar Falls, Iowa 50613, (800) 626-4081,

sales@aldpub.com. ICN and the Arthur L. Davis

Publishing Agency, Inc. reserve the right to reject any

advertisement. Responsibility for errors in advertising

is limited to corrections in the next issue or refund of

price of advertisement.

Acceptance of advertising does not imply endorsement

or approval by the Idaho Center for Nursing or by any

professional nursing organization that is affiliated with

the Idaho Center for Nursing, of products advertised,

the advertisers, or the claims made. Rejection of an

advertisement does not imply a product offered for

advertising is without merit, or that the manufacturer

lacks integrity, or that these associations disapproved

of the product or its use. The affiliated nursing

organizations and the Arthur L. Davis Publishing

Agency, Inc. shall not be held liable for any

consequences resulting from purchase or use of

an advertiser's product. Articles appearing in

this publication express the opinions of the

authors. They do not necessarily reflect

views of the staff, board or membership

of affiliated nursing organizations,

or those of the national or local

associations.

Nurse Practitioners of Idaho

AANP National Fall Conference

Sept 15-18 | Anaheim, CA

Register at 2022 AANP Fall Conference

Annual Fall Conference

October 6-7 | Boise Center on Grove

Register at: NPI Annual Fall Conference 2022 |

The Nurse Practitioners of Idaho | ENP Network

Idaho Board of Nursing

2022 Meeting Dates

- August 11, 2022

- November 3, 2022 ANAI President continued on page 3

JOIN ANA IDAHO TODAY

WE NEED YOU!

Membership application

http://nursingworld.org/joinana.aspx
---
August, September, October 2022 RN Idaho • Page 3

ANAI President continued from page 2

At the end, ANA-Idaho was part of the election process for the new ANA officers

and were honored to be there to witness the election process and hear the candidates

speak. Incredible candidates for all positions and ANA will be well be well represented

moving forward. Interesting fact, our newly elected national President Jennifer Mensik-

Kennedy was a nurse in Idaho and worked at St. Luke's Health System!

As you can see, this was a very fulfilling week filled with a lot of meaningful work.

Dori and Anna will continue to be engaged with committees and be a voice for Idaho

as we move forward and develop solutions. As always, your voice is welcomed. We

look forward to hearing from you.

Dori Healey and Anna Rostock with Jennifer Kennedy, newly elected

ANA-President and former St. Luke's RN

NLI PRESIDENTIAL REPORT

Welcome Dr. Kevin McEwan,

DNP, RN, NEA-B, New President

to Nurse Leaders of Idaho

Dr. Kevin McEwan,

DNP, RN, NEA-B

As the newly asserted President to Nurse Leaders of

Idaho I feel what most of us have felt as new leaders. Most

first time or frontline nurse leadership openings come

through circumstantial invitation or thrust into an open

position out of convenience. Most are not truly ready or

prepared. These opportunities however or whenever they

come in our nursing journey are great opportunities to learn

and grow.

I've had many opportunities in nursing leadership that

have prepared me to lead in hospitals and ambulatory care

settings. Leading in a statewide professional organization

that represents leaders from academia, regulation, all levels

of practice and policy advocates is a big role. But, one

I am honored to set into. I am fortunate to have amazing

colleagues on our Board of Directors representing all regional areas of our state

and professional practice settings. We are also supported by Dr. Randy Hudspeth

who is extraordinary in his ability to support our state organizations.

We cannot advocate for nurses, nursing and our unique position in healthcare

without the support of many. I feel that there is nothing we cannot accomplish,

improve or transform as nurses when we work in unity. I also believe that all nurses

are leaders and need our support and representation regardless of title or position.

Nurses lead. It is what we do with patient care teams, classrooms, community

settings or halls of legislation. It requires a professional position that is fact and

evident based, a pen, microphone, opportunities to act and then the courage to

represent.

I am privileged to represent each of you nurse leaders and supporters of

nursing. Through our work of listening, engaging and understanding, I hope to

establish our professional positions and work to see that those positions gain

the attention and support of individuals of influence. We have a lot to do for our

profession, patients, students and communities, so let's get to work!
---
Your Dream

Find

Job Now!

Nursing

Page 4 • RN Idaho August, September, October 2022

FEATURE

The 2022 Idaho Nursing Workforce Report is Released

The biennial Idaho Nursing Workforce Report

was released June 15. It confirmed what many

in healthcare already knew, but some additional

issues were identified. This report is published every

other year in the even years following the odd year

RN and APRN license renewals. The Idaho Center

for Nursing does the research and generates the

report as a part of its nursing workforce monitoring

program.

Based on the nursing supply database for

March 15, 2022, there are 23,735 RN licensed in

Idaho. Removing APRNs and RNs with out of state

addresses, there are 18,650 RNs available to work.

Of that total, 1,250 report that they are not working

and not seeking work, resulting in 17,400 nurses

available. There are 3,836 LPNs with Idaho licenses

and 3,177 of them reside in Idaho. Of LPNs, 210 are

not employed and not seeking employment, yielding

2022 Total Idaho Licensed Nurses by Category Including

Nurses that Reside in Surrounding States and Counites

Resident Location LPN RN

APRN-

CNP

APRN-

CRNA

APRN-

CNM

APRN-

CNS

Idaho Residents 3,177 18,650 1,707 450 71 39

Military 1 18 2 0 0 0

Washington Total ** 109 1,985 255 50 0 5

Washington Border Counties

(included in Washington total)

66

Spokane - 829

Whitman - 106

Clarkston - 206

Oregon** 43 671 56 16 0 0

Oregon Malheur Co.

(included in Oregon total)

20 121

Nevada** 11 173 21 1 0 0

Utah** 0 21 127 16 0 2

Wyoming** 0 7 14 3 0 0

Montana** 1 23 22 9 0 0

All Other States 494 2,166 715 51 4 4

Foreign 0 21 0 0 0 0

Total Licensed 3,836 23,735 2,919 596 75 50

* RN license numbers do not include APRNs, even though they hold RN licenses.

a 2,967-employment potential. The following chart

details nursing numbers.

Nurse employment information from the Bureau

of Labor Statistics shows that 93% of all nurses

are currently working either full or part-time, which

is comparable to 63% on average for all other

professions having qualified and licensed members

of their professions. This means that the potential

employee recruitment pool is smaller than other

professions and poses greater recruitment and

staffing issues.

Geographic distribution continues to be an

important issue in Idaho. In 2018 it was identified

that 6,495 RNs lived in rural areas of Idaho. In 2020

that number had further reduced and in 2022 only

4,558 RNs live in rural Idaho. This is a loss of 1,921

RNs from rural communities. The greatest number

of RNs report employment in Boise, Meridian or

** Border states with Idaho. Washington has the most residents working in Idaho, commonly in Lewiston,

Moscow and Coeur d'Alene.

Nampa representing 48.4% of all RNs. Although,

compared to 2020, Boise has 110 fewer RNs

working.

How many RNs does Idaho need? There is a

national statistic to determine need. In the United

States it is 10.6 RNs per 1,000 population. Idaho

has a growing population (Dec 2021 reported as

18,620,123) that is the result of adults moving into

Idaho from other states, compared to some other

states, like Utah, that has a population increase

due to birth rate. This older population in-migration

adds an increased demand on the healthcare

system, and a further demand has been added

because many of these new citizens bring one or

more elderly parents to Idaho within 18 months of

their own re-location. Using census numbers alone,

Idaho has a deficit of 1,119 RNs.

In addition to the need calculation based

on census, the need number from expected

retirements must also be calculated. For RNs there

are 3,464 age 56-65 years and 1,731 are 65 years

or older and they can be expected to retire at the

regular retirement age of 66, thus beginning within

a year. This represents 28% of the RN workforce.

For LPNs, there are 679 who are 56-65 years

and 306 greater than age 65 years, representing

31% of the LPN workforce. This will further

add to the significant shortage of LPNs that is

exacerbated because this group has not historically

been a mobile workforce that relocates for a job.

Today, most LPNs have the same address and zip

code that they have had in previous years of the

report.

2022 RN ratio per 1,000 Population

Idaho actual

Idaho Target

based on

census

Deficit number

RNs

2022 Idaho

projected

population

(reported

Dec 21)

1,860,123

2022

Number

RNs

RNs Per

1000

population

18,650 9.97

19,769

1,119

10.6

national

standard

Nursing education outputs of new graduate

nurses in Idaho has remained stagnant for more

than 20 years at 775-825 annual graduates. The

state needs more than 1,000 annual graduates to

meet current needs. There are two basic problems

that prevent an increase in student numbers,

and they have been presented to the Idaho State

Board of Education and to Idaho Legislators

multiple times without any action. First, to increase

the number of students we need to increase

the number of nursing faculty. This can only be

accomplished by paying nurse faculty salaries

that compete with the private sector, and as long

as the private sector-namely hospitals-pays more,

and usually significantly more, then they will get the

nurses. This concept seems to evade those who
---
August, September, October 2022 RN Idaho • Page 5

have control over funding. To assist with increasing

the number of students, hospitals and schools

have implemented some mitigation strategies.

Hospitals, for their part, have attempted to enter

into relationships with schools whereby qualified

hospital nursing staff can be relieved of clinical

duties to teach students in the facility. Schools

have implemented some admission preferences to

Idaho residents who will add to the Idaho nursing

workforce versus admitting out of state students.

Second, the number of clinical sites in Idaho is

limited and needs to be increased. It is difficult in

a small rural state to have clinical sites that can

accommodate only one or two students because

that requires a faculty compared to one faculty

covering 10 students in a hospital.

Because of faculty and clinical site limitations,

bringing additional education programs into Idaho

to educate nurses is oftentimes considered to

be a quick fix, but it is problematic. History, over

the past 20 years, demonstrates that when new

programs open in Idaho, they compete for current

clinical faculty and often times hire nurses away

from state schools or hospitals. They also compete

for the existing clinical sites. The end result has

been more schools, more competition for faculty,

more competition for clinical sites and no more

graduates than we have ever had.

Another component of the workforce report is

the information that nurses reported voluntarily.

The ICN used a SurveyMonkey tool to query

nurses. The access was marketed using the weekly

Nursing Flash for eight weeks. For RNs, out of

18,650 potential responses we received 7,128,

representing a 38% response rate. Results were

similar to previous surveys with two predominant

exceptions. Only 41% of RNs reported that they

currently worked in a hospital. This is consistent

with national trends which show a decrease of RN

hospital employment from the 64% in 2010. There

was an unexpected response to the question, "If

you are unemployed or seeking to change your

nursing job, what employment sector would you

choose?" Only 14% of nurses said they would

consider a hospital as among their top three

choices. This is a significant red flag for Idaho

hospitals.

Other issues were also identified. Affordable

housing in Ada and Canyon counties is a barrier

for nurses to relocate because the salaries are not

supportive of higher rents or purchase prices, and

this is coupled with the limitations on schools and

daycare for their children.

In summary, the take-away findings from the

2022 Idaho Nursing Workforce Report are that

we have a significant current nursing shortage of

both RNs and LPNs and there is no evidence that

this will change in the near future. Barriers that

would facilitate an increase in students and thus

more new graduates continue unresolved. The

most often identified barriers are non-competitive

nursing faculty salaries and limited clinical sites.

Two main issues are driving the demand for

nurses. They are Idaho's fast-growing census

of older adults who experience more healthcare

needs than younger people, and an aging

incumbent nurse workforce that represents 30%

of Idaho nurses and who are within a few years of

retirement.

Idaho cannot rely on an in-migration of

nurses from other states to meet the staffing

requirements. We may recruit some, but we will

not recruit anywhere near our statewide need of

more than 1,100 vacancies today. Our surrounding

states all have significant nurse shortages also,

and most pay more money than Idaho and do not

have as tight of a housing market. Idaho policy

makers must work with nurse leaders and other

stakeholders to address how Idaho can fix this

problem with a grow our own nurse strategy that is

adequately funded.

The Idaho Center for Nursing will continue to

share this data and to engage policy makers as a

means to affect change. The full report is available

on the ICN website at: Idaho biennial Nursing

Workforce Report-June 2022 | Idaho Center for

Nursing | Nursing Network

FEATURE

Exploring Hand Hygiene Expectations

for NICU Nursing Staff

Megyn Flood, MSN-ED, BSN, RNC-NIC1, Hillary

E. Swann-Thomsen, PhD2

¹St. Luke's Health System Neonatal Intensive

Care Unit, Nampa, ID 83687

2

St. Luke's Health System Applied Research

Division, Boise, ID 83712

Nurses in the NICU provide life-saving care to

one of the youngest and most vulnerable of patient

populations. These infants are often at increased risk

of infections, particularly antibiotic-resistant infections,

because of their underdeveloped immune systems,

closeness to other ill infants, necessity of invasive

procedures such as intravenous catheter placement,

and increased contact with NICU staff who may

inadvertently carry pathogens between patients

(Sekar, 2010; Collins, Weitkamp, & Wynn, 2008; Lam,

2004;). Infections in the NICU can result in poor clinical

and non-clinical outcomes for both the infants and

their families (Różańska, 2015; Cotten, 2016; Tzialla

et al., 2012; Roque, Lasiuk, Radünz, & Hegadoren,

2017; Beck, 2003; Lakshmanan et al., 2017). The wellbeing

of these vulnerable infants relies on lowering

the occurrence rate and spread of infection in the

NICU. A key to infection prevention is proper hand

hygiene practices, but compliance among healthcare

providers is problematically low. In addition, there

is inconsistency and variability in hospital policies

regarding hand hygiene expectations for staff and

visitors, including patient families. We found through

an informal examination of several children's hospital

websites within the United States that policy and

guidelines for hand hygiene ranged from a 30-second

wash to a two-minute surgical scrub, and in fact, one

hospital did not indicate any set time for hand washing.

Boise

Dean Bigelow

Robert Botkin

Andrea Campbell

Gloria Chavier

Debbie Demint

Ashley Duvall

Rosemary Gold

Brett Gustafson

Mary Kaye Jenks

Sara Palma

Ruth See

Buhl

Ashley Taylor

Caldwell

Laura Killion

Jenny Selby

Coeur D'Alene

Rachel Pottenger

Driggs

Susan Clarke

Eagle

John Carr

Filer

Stephaney Osburne

Firth

Maeleigh Dye

Garden City

Reilly Christenson

Grangeville

Margretta Fortin

Hailey

Shelly Abell

Idaho Falls

Elizabeth Breidenbaugh

Marianne Nelson

Benjamin Pixton

Alice Teasdale

Juliaetta

Suzie Wright

Kendrick

Lindsay Schmidt

Kimberly

Nadine Eaton

Jeanine Stefani

Kuna

Elizabeth Furlong

Amanda Franks

Phil Okuyama

There is limited research to offer an evidencebased

approach to hand hygiene policy for NICU staff

and visitors. This lack of clarity allows for variation in

the understanding of expectations and practices

within the NICU which can result in inconsistent

hand hygiene methods for staff and can also lead to

nursing staff providing ambiguous and capricious

recommendations to NICU families. All of this can

increase the risk of negative outcomes for these

susceptible infants. The purpose of this study was to

evaluate the knowledge and understanding among

NICU nurses to identify inconsistencies in hand

hygiene expectations within the NICU setting.

Methods and Results

RNs providing care to NICU patients in a multisite

health system in Idaho were recruited to complete

an anonymous survey about their knowledge and

understanding of NICU hand hygiene policy. All

respondents provided an acknowledgement of

consent prior to completing the survey. A total of 63

NICU RNs responded to the survey, however, 21

respondents either did not complete the survey or

were ineligible and were excluded from analyses. The

findings for the remaining respondents (N=42) are

described here. Respondents were asked questions

about their employment length, location, and their

understanding of expectations for hand hygiene for

both nursing staff and parents. All study procedures

were reviewed and approved by the organization's

Institutional Review Board.

Lewiston

Margaret Klemp

McCall

Tim Dorsey

Meridian

Dawn Swick

Moscow

Stephanie Voss

Nampa

Abigail Frakes

Alivia Miller

Christina Remaly

Naples

Marie Atkins

Pingree

Teiah Truman

Exploring Hand Hygiene continued on page 6

ANA Idaho Welcomes New & Returning Members

Apr-Jun, 2022

Pocatello

Megan Burnham

Kathy Musetti

Post Falls

Carrie McLaughlin

Preston

Terin Sessions

Rathdrum

Amber Whitehead

Rexburg

Melisa Robinson

Sagle

Yvonne Moran

Salmon

Sarah White

Star

Jana Murphy
---
Page 6 • RN Idaho August, September, October 2022

Exploring Hand Hygiene continued from page 5

Most RNs (n=31) were employed at one of the three NICU campuses within the

health system. Half of the respondents had worked in the NICU for five years of

more (n=21), 40% for two to four years (n=17), and 10% for a year or less (n=4).

Among the RNs, we found four themes describing their understanding of hand

hygiene policy for both NICU nursing staff: when hand hygiene occurred, the limb

coverage included, how hand hygiene should occur, and duration of hand hygiene.

Most RNs reported that hand hygiene should occur when entering the NICU

(n=40), entering and exiting patient areas (n=31), and after patient care (n=32). Only

five RNs listed that hand hygiene should occur as part of the CDC's five moments

of hand hygiene—nor did the majority of respondents list these as separate points

of hand hygiene. Half of respondents shared that hand hygiene should occur

any time hands were soiled (n=21) and before patient care (n=23). Responses

also included between patient care (n=14), after touching personal belongings

(n=11), and after doffing gloves (n=17). Most respondents listed hands as the limb

coverage for hand hygiene practices (n=24) with 29% of respondents should

include up the elbows (n=12). Importantly, 17% of respondents did not include

what limb coverage should be included in hand hygiene practices for nursing staff.

We also found that the majority RN respondents (n=31) did not include a specific

cleanser in their response (i.e., hand sanitizer or soap). However, 34 respondents

did include that RNs should scrub their hands (or other indicated limb coverage),

suggesting that the implied cleanser would be soap versus hand sanitizer. Out of

the 42 respondents, most stated that hand hygiene should last for two minutes

(n=31) however the remaining respondents (n=11) did not include a duration in their

response.

The same themes were identified for RN understanding of hand hygiene

expectations for parents and families of NICU patients—when hand hygiene

occurred, limb coverage included, how hand hygiene occurred, and duration

of hand hygiene. Similar to RN hand hygiene policy, many participants indicated

that parents should practice hand hygiene when entering the NICU (n=32).

Respondents also included hand hygiene before (n=25) and after (n=31) patient

care, which included activities such as diaper changes, feeding or touching their

infant. Interestingly, respondents included that parents/families should clean their

cell phones regularly (n=10). Again, the majority of respondents did not include

what limb coverage should be included as part of hand hygiene (n=20) with only

16 respondents stating that hands should be included in hand hygiene practices

and seven stating up to elbows for limb coverage. Similarly, we also found that

To access electronic copies

of RN Idaho, please visit

http://www.NursingALD.com/

publications

respondents did not specify what type of cleanser should be used by parents and

families with only 11 respondents including the type of cleanser (soap and water,

n=2; sanitizer, n=9). The majority of respondents included that the duration should

be for two minutes (n=24), however, 16 respondents did not include a duration.

Discussion

This study provides insight into the current understanding of hand hygiene

expectations within the NICU setting while lacking a clearly written policy. Overall,

the themes and patterns identified in RN knowledge and expectations were

consistently identified by NICU RNs for NICU staff as well as patient visitors

with some notable differences. Increased clarity in expectations may increase

compliance, which contributes to overall better infection prevention. Additionally,

further clarity for both staff and visitors regarding the routine cleaning of personal

belongings, (particularly cell phones) to prevent these items from becoming

vectors for infections would be advantageous. Despite recommendations on hand

hygiene guidelines from both the CDC and the WHO, there remain substantial

variations in NICU hand hygiene policies across the United States. When caring

for at-risk populations, it is important to use clear, consistent, and evidencebased

approaches to guide our bedside procedures. For NICU infants, this means

ensuring that we dutifully comply with consistent hand hygiene practices. These

expectations should be clearly outlined in health system policy rather than relying

on our tribal knowledge. These results represent an opportunity for us to develop

consistent messaging for NICU RNs and families. It is the recommendation of

the authors that there be a universally adopted and explicitly stated expectation

regarding hand hygiene in the NICU setting applicable to NICU staff as well as

visitors throughout each health care system in which a NICU operates.

Acknowledgements

The authors wish to acknowledge the support of the Institute of Translational

Health Sciences (Grant Support UL1 TR002319, KL2 TR002317, and TL1

TR002318 from NCATS/NIH). The authors would also like to thank Kelly Graff

for her contributions to study design and data analysis and Laura Tivis for her

contributions to study design and review of previous manuscript drafts.

Declaration of Conflicting Interests: The authors have no financial

disclosures or competing interests to declare.

References

Collins, A., Weitkamp, J. H., & Wynn, J. L. (2018). Why are preterm newborns at increased

risk of infection?. Archives of Disease in Childhood-Fetal and Neonatal Edition, 103(4),

F391-F394. https://doi.org/10.1136/archdischild-2017-313595

Cotten, C. M. (2016). Adverse consequences of neonatal antibiotic exposure. Current

Opinion in Pediatrics, 28(2), 141. https://doi.org/10.1097/MOP.0000000000000338

Lakshmanan, A., Agni, M., Lieu, T., Fleegler, E., Kipke, M., Friedlich, P. S., ... & Belfort, M.

B. (2017). The impact of preterm birth< 37 weeks on parents and families: a crosssectional

study in the 2 years after discharge from the neonatal intensive care unit.

Health and Quality of Life Outcomes, 15(1), 1-13. https://doi.org/10.1186/s12955-017-

0602-3

Lam, B. C., Lee, J., & Lau, Y. L. (2004). Hand hygiene practices in a neonatal intensive care

unit: a multimodal intervention and impact on nosocomial infection. Pediatrics, 114(5),

e565-e571. https://doi.org/10.1542/peds.2004-1107

Roque, A. T. F., Lasiuk, G. C., Radünz, V., & Hegadoren, K. (2017). Scoping review of the

mental health of parents of infants in the NICU. Journal of Obstetric, Gynecologic &

Neonatal Nursing, 46(4), 576-587. https://doi.org/10.1016/j.jogn.2017.02.005

Różańska, A., Wójkowska-Mach, J., Adamski, P., Borszewska-Kornacka, M., Gulczyńska,

E., Nowiczewski, M., ... & Bulanda, M. (2015). Infections and risk-adjusted length of

stay and hospital mortality in Polish Neonatology Intensive Care Units. International

Journal of Infectious Diseases, 35, 87-92. https://doi.org/10.1016/j.ijid.2015.04.017

Sekar, K. C. (2010). Iatrogenic complications in the neonatal intensive care unit. Journal of

Perinatology, 30(1), S51-S56. https://doi.org/10.1038/jp.2010.102

Tzialla, C., Borghesi, A., Perotti, G. F., Garofoli, F., Manzoni, P., & Stronati, M. (2012). Use and

misuse of antibiotics in the neonatal intensive care unit. The Journal of Maternal-Fetal

& Neonatal Medicine, 25(sup4), 27-29. https://doi.org/10.3109/14767058.2012.714987

Corresponding Author Contact Information:

Hillary E. Swann-Thomsen, PhD

Applied Research Division, St. Luke's Health System

701 E. Morrison Knudsen Drive, Boise, ID 83712, US

swannthoh@slhs.org

Idaho Sound Beginnings

Early Hearing Detection &

Intervention (EHDI)

Babies can't tell us they can't hear,

but hearing problems can be detected

in the first months of life.

The reason to screen is to intervene!

For more information, please call

Idaho Sound Beginnings at (208) 334-0829 or

at www.IdahoSoundBeginnings.dhw.idaho.gov
---
August, September, October 2022 RN Idaho • Page 7

BOARD OF NURSING REPORT

Zero Based Regulation and the Impact on the Board of Nursing

Zero Based Regulation (ZBR) was the first executive order of 2020 signed by

Governor Little on January 16th. The order details a process by which every state

agency will undertake a systematic review of its rules chapters. While aligned

to the Licensure Freedom Act and Red Tape Reduction Act, ZBR differs in that

it begins from a "zero base" point. In other words, it is a complete repeal and

replace of the current rules chapter. The process requires the use and publication

of a prospective analysis that evaluates the legal authority of each rule, the

legislative intent of it, and compares Idaho's approach to that of neighboring states,

Alaska and South Dakota among other elements. The goal of the ZBR process

is to ensure the rules in place have both the legal authority and provide the "right

touch" of regulation to protect the public.

The Idaho Board of Nursing is currently undertaking the ZBR process. Of the

major health professions, the current rule chapter of the Board of Nursing contains

forty-one pages. Medicine, by comparison, has only eleven pages and pharmacy

has twenty-three pages. Due to the length of the rule chapter a systematic

approach is being utilized to divide the rule chapter into four portions. One of the

four portions is brought before the board at the beginning of each meeting. The

strategy for rules review for nursing is to scrutinize a portion of the rules chapter

for discussion at each meeting. The board will then discuss each topic, review

evidence, and analyze prospective analysis information. The board will provide

staff with direction and in turn staff will wordsmith in between each meeting. This

process will extend through the summer and into the fall in preparation for the 2023

legislative session.

The Board first reviewed continuing education then nursing education. The

continuing education discussion centered around whether it should by continued

for RN's and LPN's. For nursing education, the implementation of national

accreditation requirement for nursing education programs was contemplated.

Next the board reviewed the definitions sections, licensure requirements and

finally discipline. Each definition was reviewed from the perspectives of its use

in rule, duplication in statute, and if the word is universally understood. Licensure

requirements were reviewed for alignment with the Nurse Practice Act as well as

the Occupational Licensure Reform Act. Of particular interest is the use of nurse

apprentices, student nurses, and unlicensed assistive personnel in this section.

Discipline rules were analyzed for duplication within statute and whether the rule

was aligned with the Administrative Procedure Act. The remaining sections will be

reviewed by the board at upcoming meetings.

The ZBR process requires boards and agencies to actively collaborate with

stakeholders. Currently, the board is seeking input through formal hearings as

well as open public board meetings. Interested groups of stakeholders may also

request informal hearing opportunities with board staff to discuss the rule changes

the board is considering. The public hearing dates are July 11, July 20 and Aug 10,

2022. The upcoming board meetings are scheduled for Aug 11 and November 3,

2022. If unable to attend a hearing or board meeting written comments are being

accepted at this time. If interested in reviewing proposed rule changes, a copy can

be found on the DOPL website and will be posted along with the agenda for each

of the publicly noticed meetings. We hope all will carefully consider the changes

and provide their thoughts and perspectives to the board over the coming weeks.

On a separate note, the Board of Nursing has moved.

The new location is on the

State of Idaho - Chinden Campus. The address is

11341 W. Chinden, Boise, ID 83713.
---
Page 8 • RN Idaho August, September, October 2022

EXECUTIVE DIRECTOR REPORT

Idaho Center for Nursing Celebrates Five Years…Will We Sustain It?

Randall Hudspeth PhD, MBA, MS, APRN-CNP, FAANP

Executive Director, Idaho Center for Nursing

randhuds@msn.com

In August the Idaho Center for Nursing (ICN) will mark

five years since it evolved from the former Idaho Alliance

of Leaders in Nursing. The focus of ICN's work is to

elevate the status of nursing in Idaho through increased

public awareness and interactions, to leverage nurses and

nursing causes to better the healthcare of all Idahoans,

to provide a framework to sustain the many and varied

nursing organizations in Idaho, and to impact public policy

for the betterment of healthcare in general and for nurses.

The background of the ICN is based on the

consolidation in 2003 of the former Idaho Organization

of Nurse Executives (IONE) and the Idaho Commission Randall Hudspeth

on Nursing and Nursing Education that was formed by

Governor Robert Smylie in the 1960's to address how a more connected nursing

education system in Idaho could help solve the nursing shortage of the time. These

two small groups felt that by affiliating they could better impact nursing in Idaho.

The initial work of the IALN was the management of grants using money allocated

by the Dept of Health and Welfare from excess Medicaid upper payment limit

funds. Those monies were distributed to nursing projects that impacted quality of

care mostly in critical access hospitals across Idaho. That money ceased in 2009.

At about the same time, the laws governing what tax-exempt organizations

could do changed. It became necessary for membership organizations that

utilized lobbying activities for their causes to form a different tax-exempt status.

Thus the 501c3 IALN became different than the newly formed Nurse Leaders of

Idaho that was a 501c6 organization. IALN had limited funding and no members.

Under then executive director Margaret Henbest, a Robert Wood Johnson

Foundation grant was secured that focused on implementing the Institute

of Medicine Future of Nursing recommendations (IOM, 2010). That brought

a large amount of money to IALN that was used over five years to implement

many programs in Idaho that we benefit from to this day. By the time that the

RWJF grant funds terminated not all of the goals had been achieved, although

of the 29 states that received the grants, Idaho was the leader in successful

implementation. To maintain the momentum, the Idaho Board of Nursing agreed

to be a five-year sponsor for 2017 through 2022.

What were the successful outcomes from this investment? A national

goal was to achieve an 80% BSN nursing workforce by 2025. In 2013 Idaho

was at 57%. Today we are at 78.9% BSN because the associations worked

together to support and sustain effective articulation agreements, supported

RN to BSN through degree completion and concurrent enrollment programs.

Idaho is the national leader. RN IDAHO is a nationally recognized peer revied

publication that goes to every Idaho nurse without a charge. The same is true

with the weekly Nursing Flash update. The Idaho Nurses Fund has sponsored

scholarships for nursing students and graduate project funding. Practice

barriers for APRNs have been removed and a big success was global signature

legislation that NPI facilitated.

Looking to the future and evaluating the issues that Idaho based membership

nursing organizations were having at the time in terms of member sustainability,

costs of running an organization and that many organizations had the same

members and many of the same goals, the IALN re-focused its work to nursing

organization sustainability and how to impact public policy through nursing that

would better the healthcare of Idahoans. Wanting to re-focus on nursing beyond

only those nurses who were in leadership roles, the decision to rename the

organization was taken and the Idaho Center for Nursing evolved.

In 2018, the American Nurses Association of Idaho decided to bring the physical

operations of the former Idaho Nurses Association (INA) back to the state. Solely

because of the cost to maintain a nursing membership organization, the INA had

opted to use an organizational management company, first in Georgia and later the

Arizona Nurses Association. But membership had increased, and they were able to

fund an Idaho return. But they needed a home. This prompted the ICN to develop

an entire program on member organization management as one of its business

operational activities.

Today many Idaho nursing professional organizations are affiliated with the ICN.

As an affiliated organization they can choose what services that are offered by ICN

they want to utilize with the understanding that each organization pays the cost of

the service on a proportional basis, without any cost escalation for any profits by

the ICN. ICN offers (1) a physical office, (2) secretarial support, (3) telephone and

message services, (3) mail management, (4) financial management in terms of bill

pay, bookkeeping, audit, tax filing, CPA services, (5) liability insurances for directors

and officers, (6) event management and event insurance, (6) website management,

(7) communication opportunities through RN IDAHO and the weekly Nursing Flash,

(8) Executive Director support, (9) advocacy and lobby services, (10) paid programs

such as SurveyMonkey and Zoom, (11) a learning management system for ondemand

continuing education (CE) from the organizations, as well as (12) providing

any program supports that an organization might need and the ICN has a potential

to assist with.

Each of the nursing organizations that have affiliated with ICN and that have

used the services that are offered have benefitted. Organizational operational costs

have been reduced as much as two-thirds in most cases. This has positioned the

organizations to be sustainable and solvent. However, this benefit has not been

easily recognized or appreciated by the general nursing population. Organizations

run on membership dues, and membership is a problem in Idaho just as it is in

every state. Out of 18,650 licensed RNs who are Idaho residents, only around

2,500 are engaged with a professional association as a dues paying member.

All organizations probably need to focus on a better answer to the question

asked by most nurses, "What do I get out of membership?" Here is what I know

specifically. In 2021 more than 1,000 nurses used the CE offering to meet their

license renewal requirements. All Nurse Practitioners benefitted from the efforts of

Nurse Practitioners of Idaho at the legislature to get a Medicaid Reimbursement

Rate increase for NPs, even though all 1,707 Idaho NPs will benefit, only 228

actually are members of the association that supported and funded getting this

bill passed. Each year the associations work to protect the current law that makes

workplace violence against nurses a felony in Idaho. The is continually challenged

by disability rights groups. We lobby for better funding to nursing education

programs because we know that funding faculty is a primary need to increase

enrollments and to address the nursing shortage. The associations are the "go-to"

nurse groups for public policy makers, the governor's office, legislators, and other

associations the feel nursing input is important to be heard. These efforts continue

to evidence that the vast majority of nurses reap benefits that result from the efforts

and dues paid by the minority.

Without a doubt the nursing professional groups in Idaho have greatly

benefitted from the Idaho Center for Nursing. But its sustainability, like

the sustainability of all membership organizations, depends on the nurses

themselves and their willingness to join and pay dues in their own organizations.

I encourage each of you to seriously evaluate your professional engagement and

to strongly consider joining the Idaho professional association that best reflects

your career, and for staff nurses that is membership in the American Nurses

Association of Idaho.
---
August, September, October 2022 RN Idaho • Page 9

Madison Memorial's Journey to Pathway Designation

Renae Snyder BSN, RN

Three years ago, March 2019, my husband and I

moved to eastern Idaho, where I began my new job

as Director of Perioperative Services for Madison

Memorial Hospital and Surgery Center, in Rexburg,

ID. Little did I know at the time that within seven

months I'd be serving as the chair of the hospital's

newly-created Pathway to Excellence (PTE)

Committee.

When the invitation came out asking for volunteers

to participate in the Pathway to Excellence

committee, there was some hesitation. So, I did

some research on PTE to get a better understanding Renae Snyder

as to what it stood for and what kind of commitment

would be involved. I learned that the PTE designation is nurse-focused and

evidence-based for a positive practice environment. I happily replied to the

request as a volunteer for the committee.

In September 2019 the PTE committee met for our initial meeting; our

commitment to our PTE journey had begun. The magnitude of this project

became clear, as did the need for increased committee structure. The PTE

committee needed to identify a chair, co-chair, and lead for each standard

along with direct-care nurse volunteers to participate with each standard.

With the structure in place, our first order of business was to perform a gap

analysis to help identify our strengths and weaknesses.

With our gap analysis completed, we reviewed our assessments and

initially focused on our areas of improvement. We met monthly after that,

brainstorming and charting our progress, building on our positives, mapping

out the necessary changes, and planning our strategy. Not only did our

performance have to match the PTE requirements; we also had to supply

verifiable evidence that we were, in fact, actually meeting them. Little did

we know, 4 months into our journey towards PTE, we would be met with

the challenges of Covid-19. However, we chose to move forward, working

towards providing staff a place of safety, wellness, leadership, quality,

shared decision-making and professional development as a testament to

the pathway framework. Looking back, it was the right decision.

Our theme, based in part on our physical proximity to Grand Teton

National Park, was mountaineering. The goal of achieving PTE designation

was likened to arriving at the summit of the highest peak. With the deadline

for submission quickly approaching, our PTE team approved the final

documents; we had reached the summit. We gathered the committee in

celebration as we formally submitted our documents on November 1st, 2021.

I felt a sense of relief. All the hard work that our committee members did in

gathering information, reading and re-reading standards, and scrutinizing the

materials for weaknesses, inaccuracies or mistakes, was over.

After our submission was reviewed by three PTE appraisers, we were

asked to provide additional information on seven of the 58 elements of

performance (EOP's). We met again with the team leads and nurses to

address the needed updates, and resubmitted the documents within one

week. Once our documents with the updates were approved, our nursing

staff participated in an anonymous survey, validating our submission

documents. Greater than 50% of the respondent had positive responses to

each survey statements and greater than 75% had favorable responses to

21 of the 28 statements.

On April 18th, 2022 we once again gathered in celebration as we were

informed that the survey results exceeded the Pathway requirement and we

became the first organization in Idaho to achieve the Pathway to Excellence

designation.

Corresponding Author:

Renae Snyder, BSN, RN

Director of Perioperative Services

Madison Memorial Hospital

450 E. Main St.

Rexburg, ID 83440
---
Page 10 • RN Idaho August, September, October 2022

IDAHO NURSING

AWARDS AND

RECOGNITIONS

RN Idaho recognizes nurses who make significant contributions to the advancement of nursing from the

bedside to the boardroom. We are extremely proud of Idaho Nurses and congratulate you for the positive

effect you have on patient and professional outcomes!

DAISY AWARD RECIPIENTS

Amy Buckley

West Valley Medical Center

Caldwell

A special #DaisyAward this #NursesWeek. A patient,

Katie, nominated her nurse, Amy, to receive the award

after a difficult delivery. "You often hear how nurses are

superheroes but she's much more than that to me. She

was my advocate, my comforter, my supporter."

Katie says Amy was there for her and her husband

during a very difficult delivery and even came to check

on them the next day on her day off. "She was so

patient and loving."

"She is someone who has impacted my life for the

better in many ways...we were truly blessed with the

best and it's something we will never forget."

Sara Moody

West Valley Medical Center

Caldwell

At McKenzie-Willamette Medical Center,

we take caring for people very personally.

Join our MWMC family today in the

beautiful Pacific NW!

We have RN positions available in our

Operating Room and Cath Lab.

The Cath, Hybrid, EP, and Operating Rooms are more than just

procedural areas at MWMC. While collaboratively working

to promote operational efficiency, fiscal responsibility, and

purposeful change, we strive to empower each individual with the

tools necessary to foster learning and growth while enhancing

patient, staff, and physician satisfaction.

Sign-on bonuses up to $20,000 available!

Explore our Nursing Opportunities:

https://mckwebcareers.com/

Congrats to Sara, another #DaisyAward recipient.

Sara is a nurse with our Case Management team.

She recently made sure a patient and their family felt

supported during a very difficult time.

"Sara's actions were above and beyond and really

brought some light to a sad and unexpected situation."

Thank you, Sara for all you did for this family and for all

that you do day in and day out for every family that you

come in contact with.

Denise Mariner

Eastern Idaho Regional Medical Center

Idaho Falls

She is the heart and soul

of this department. There

are so many different

situations where she has

made an impact on

patients being treated for

cancer. She goes way

out of her way to help our

patients during one of the

hardest times of their

lives. She takes time to

talk with people and gets

to work with her. I have

yet to meet a patient who does not love her. She

has a magnetic personality. She is always so

happy and cheerful. She is one of the hardest

working people I have ever come across in the 17

years I have been a nurse. I have heard multiple

patients say how much they love her and are so

grateful for her help. Being treated for cancer is

one of the scariest times in a person's life. She

supports people in their lowest of times and is their

cheerleader when they need it. She is the epitome

of an extraordinary nurse. She deserves the Daisy

Award for her kindness, strength and compassion.

She is one of a kind and I am so lucky to be able to

with her. - Courtney Kelsch, RN

She is the most caring nurse for me since my

cancer began in 2011. She listens to any problems

and is such a happy and friendly person. - Patient

nomination

This one time I went to see the doctor and his

nurse came to talk to me. I was feeling really

down and depressed and sick. She took the

time to encourage me, uplift me and pray with

me. She showed me extra care, compassion and

understanding. Thank you. - Patient nomination

She is always smiling and very comforting

to see. She always makes sure my client

understands why she is there and what is going

on all the time. All in all, she is a real true gem. -

Caregiver nomination

Vanessa Telford

Eastern Idaho Regional Medical Center

Idaho Falls

I was moved from the ED

to the PCU because after

being treated for COVID

with regimen, my heart

went into Afib and my

heart rate went to 175.

They could not get it

down so I was admitted

to the PCU where I was

assigned to her.

Right from the start

I knew I was in good

hands. She got me

settled in and explained to me about the care I was to

be given in detail, how exactly they planned to address

my heart issues and continue COVID treatment.

All evening and night long I never felt alone. She

was right here when I needed her with her soft and

gentle mannerism.

During the night she came in and needed to put in

a second IV. I told her that I am an extremely hard

stick and I was scared. I remember how slowly,

carefully and gently she stroked both my arms. To my

amazement and joy she inserted the IV on the first try.

Unheard of.

When done and she was about to leave, I told her

I was beginning to lose hope. She came to the other

side of my bed to encourage me not to do that. She

assured me that I was going to be alright. Her calming

voice and her warmth of personality touched my heart

and gave me the reassurance I needed. I needed her.

She needs to be acknowledged.

Thank you and God Bless you.

Leigh Short

Eastern Idaho Regional Medical Center

Idaho Falls

When I had my labor

scare, Leigh was my

nurse and gave amazing

care when I told her that

at 17 years old, I wanted a

natural birth. She was one

of the first to support it

and make me feel my

decision wasn't wrong

and even told me she

would give me birthing

classes.

I almost switched

hospitals until that day, when she proved that I would

get amazing support and care where I was. When it

came time to have my baby, I went through with the

natural birth and was very happy with the decision.

She wasn't just a nurse, but an inspirational support.

Audrey Krahn

St. Joseph's Regional Medical Center

Lewiston
---
August, September, October 2022 RN Idaho • Page 11

Audrey is always willing to

help wherever and

whenever she's needed

and does so with a smile

on her face. While covering

a shift for an ill coworker,

Audrey was in the right

place at the right time for a

patient who needed her,

and this patient wanted to

recognize her for the role

she had in his care at St.

Joe's.

The patient wrote that he was scared and anxious,

but with Audrey's specific step-by-step explanations,

encouragement and comfort, he was able to be more

at ease, trusting that she would ensure he received

great care. And, he is truly grateful, sharing that he will

not soon forget her name nor her competence and the

way he felt genuinely cared for. He added, "I did quite

a bit of praying that God would watch over me during

this. He sent Audrey."

Audrey is a shining example of the difference nurses

make in the lives of patients. Thanks, Audrey, for

taking such great care of our patients, and doing so

with compassion and kindness.

Kassie Wilson

St. Luke's Hospital

Nampa

Kassie cared for me

when I delivered triplets in

October and two were in

the Nampa NICU. Two

weeks postpartum, I

developed pre-eclampsia

and was admitted myself

on magnesium. My

husband was at home

taking care of our two

toddlers and the other

newborn triplet, so I was

alone in the hospital.

Kassie was caring for my babies in the NICU and went

above and beyond to take me back and forth to the

NICU and include me in cares. She advocated for me

to be able to come visit, even while on mag, and took

responsibility for watching over me while in the NICU.

She always let me know what was going on with the

babies and even would call me at home to update me

on little things about the babies after I went home. She

coordinated cares for me to participate in and just took

outstanding care of our two NICU babies.

Viktoriya Vorozhko

St. Luke's Hospital

Nampa

I arrived in the maternity

ward the late morning of

Tuesday 5 April 2022. I

had given birth via

c-section in the main O.R.

due to placenta previa and

placenta previa conditions.

I also underwent a

hysterectomy as a result.

From the moment we

arrived in the maternity

ward, Viktoriya came right

in and introduced herself.

She has a very welcoming and genuine personality.

Because of the extent of my surgery, I was laid up and

felt useless, which I'm not used to. Viktoriya assisted in

everything I or my baby needed and if I wanted to do it

on my own, she was right there to help. She also truly

loves her job, and it shows. The care she showed

my baby was amazing. She also took the time to give

me a refresher on infant CPR. I am a radar technician in

the U.S. Air Force, so we get certified in CPR every

couple of years. However, we don't cover children and

infant in detail for obvious reasons. She took the time to

give me a refresher on how to help my baby if she

needs it. I can't say enough good things about how she

treated us during our stay.

Tauna Egan

Madison Memorial Hospital

Rexburg

Today I watched Tauna

comfort and quietly hug

the wife of a patient who

had passed away in the

ER. She didn't say a

word. Her embrace said it

all! As someone who

struggles with hugs/

human contact, I could

feel the love and strength

that she was giving this

heartbroken wife. Tauna is

an amazing nurse! She is

tough as nails with the heart of an angel! When I grow

up, I want to be just like Nurse Tauna!!! In an

environment where kindness is oftentimes viewed as a

weakness, I am honored to have witnessed such love

and kindness being shown. This is what TRUE nursing

entails! I am grateful to have worked with Tauna!

NURSING EXCELLENCE

Eastern Idaho Regional Medical Center

Idaho Falls

Sharee Poole, HCA Healthcare Excellence in Nursing,

Compassionate Care Award. Given to a nurse who

demonstrates exceptional nursing knowledge and expert

skills and consistently applies both with compassion and

integrity so that the quality of the care experience and the

care outcomes are improved for patients.

"Sharee is an exceptional

nurse and beautiful human

being. She is ALWAYS

willing to lend a hand to

anyone in need of help.

Her patients adore her and

find her care to be

compassionate,

professional and proficient.

She displays integrity and

is always advocating for

her patients…. She has

changed patient's lives,

coworker's lives, and my life. She is an exceptional

example of excellence."

"Sharee is a beacon of knowledge, calmness

in the storm, and caring nature. Staff refer to her

as Mama Bear, including staff in other units. The

patients always give her the highest praise and

she goes out of her way to provide them with

exceptional care."

"Sharee Poole deserves to be recognized for

excellence in nursing because she is the heart of EIRMC."

"She is an exceptional nurse, charge nurse, mentor

and peer. We are so grateful she works with us."

Kristi Caldera, HCA Healthcare Excellence in Nursing,

Professional Mentoring Award. Given to a nurse who

advances nursing practice in any clinical setting or

nursing specialty by guiding or supporting career

development for individuals or groups of nurses, or by

advancing evidence-based nursing knowledge.

"Kristi unifies our two

departments, promoting

education and collaboration.

Our nurses are included in

critical care education

classes, sitting beside ICU

nurses. Before Kristi took

over the fourth floor as

director, the morale was low

and staffing was sparse.

The work her team put in

grew our floor where

people want to work here,

new grads ask to start on our floor. We carried some of

the heaviest load during Covid, yet remain one of the best

staffed floors in the hospital."

"Her years of critical care experience have made her

an asset in so many ways. She quite literally helps every

manager of every department. We all look up to her!

She understands all the ins and outs of every program,

meeting, and dynamic that we face as leaders here at

EIRMC. She is the mentor of mentors and she does it all

with complete humility. She is not afraid to jump in and

help on any unit at a moment's notice."

"EIRMC has had a turnover in nursing administration,

and Kristi stepped up to be an informal leader in this

space. She essentially kept the wheels on the bus for all

the managers and directors. Kristi was the unsung hero

in the background keeping the positive "we can do this"

energy going when we were all feeling defeated. Kristi

showed what real leaders do when the cards are down…

work harder, be more positive, be more supportive and

lead from the front."

LEADERSHIP AND

SERVICE RECOGNITION

Former St. Luke's Nurse

is elected President of

the American Nurses

Association. On Saturday,

June 11, The American

Nurses Association (ANA)

Membership Assembly

elected Jennifer Mensik

Kennedy, PhD, MBA, RN,

NEA-BC, FAAN, currently of

the Oregon Nurses

Association, as the

association's next president

to represent the interests of the nation's more than 4.3

million registered nurses. Mensik has more than 25 years

of nursing experience in a variety of settings ranging from

rural critical access hospitals and home health to hospital

administration, and academia.

She has served as President of the Arizona Nurses

Association and 2nd Vice President and Treasurer of

ANA. During the mid-2010's she was a nurse at St.

Luke's, Boise. The term of service for her and all other

newly elected leaders will begin January 1, 2023.

Dori Healey, MSN, MBA,

APRN-CNS, the current

president of ANA-Idaho,

successfully won the May

Idaho Primary election as a

Republican candidate for

Idaho State Legislature

House Seat 15B. The only

other healthcare

professional that will be on

the November ballot is a

chiropractor. If she is

elected, she will be the only

nurse in the Idaho Legislature. The only physician in the

Legislature retired and did not seek re-election, and the

only current nurse, Senator Mary Souza of Coeur d'Alene

was not successful in her primary run for Secretary of

State, and will not be returning to the Senate.
---
August, September, October 2022 RN Idaho • Page 13

FEATURE

No, I am not going to the Orphanage! Hispanics and Hospice Care

Diana Gilmore, BSN, RN, DNP, FNP-Student

Melody A. Weaver, Ph.D., APRN, FNP-BC

Providing hospice care

at the end of life (EOL)

to Hispanics has many

challenging barriers due to

underlying cultural traditions.

However, the cultural

characteristics of Hispanics,

such as minimizing suffering

and being family-oriented, are

consistent with hospice (Rising

et al., 2019). An example of a

cultural trait directly affecting Diana Gilmore

EOL care is found within the

translation of hospice terminology into Spanish. For

example, the word hospice, which is frequently translated

into Spanish as "hospicio," is understood to mean an

orphanage or a place for poor people (National Hospice

and Palliative Care Organization [NHPCO], 2016), p. 20).

Therefore, awareness of appropriate EOL language,

culture, and family responsibilities are essential when

working with the Hispanic community.

Cultural competence involves awareness of

conscious and unconscious personal biases,

improving attitudes towards other cultures, gaining

knowledge, and developing skills to provide culturally

congruent health care (North Carolina State University

[NCSU], 2021). While familiarizing with Hispanics and

hospice workers of Eastern and Southern Idaho, it

was apparent that an educational tool was needed

to supply hospice providers with the knowledge and

skills to deliver hospice care to Hispanics, ultimately

improving self-reported cultural confidence. A video

and an associated web page were made available

to the local community as resources to help expand

attitudes regarding Hispanic culture and address

the importance of using terminology that makes

sense to Hispanic hospice users and potential

users. Additionally, the resources presented spiritual

nuances, the role of the family unit, and gender roles in

the care of Hispanic patients at the end of life. Finally,

it was hoped that the video and web page would help

hospice providers offer Hispanics access to hospice

resources, ultimately achieving hospice equity and

equality.

Methods

Since the project was part of a quasi-experimental

doctoral program involving human subjects, ethical

approval from the Institutional Review Board at Idaho

State University (study number IRB-FY2021-247:

Hispanic Cultural Sensitivity for Hospice Clinicians:

An Education Module) was obtained in June 2021.

After approval, different hospice agencies (private

hospice providers) located in Eastern and Southern

Idaho were approached to access their clinical staff.

Data collection occurred from June to September 202.

After affirming informed consent, the hospice workers

completed four steps.

First, the participants answered demographic

questions establishing ages, educational experiences,

cultural background, and more. Second, a pre-test

was conducted to understand the hospice workers'

previous awareness and understanding of the

Hispanic culture. Third, after the pre-test, participants

watched an educational video developed specifically

for this project. The fourth and final component was

a post-test and access to the webpage. The pre-and

post-test, taken from the Clinical Cultural Competence

Questionnaire (Like & Fulcomer, 2001), asked about

self-reported cultural competence and awareness.

The video and webpage developed for the project

used evidence-based literature, providing definitions of

culturally appropriate Hispanic terminology, common

rituals of death and dying, and Hispanic culture

material.

Results

The participating agencies' regions provided care

for 19% of the population of Idaho, 12% of whom are

Hispanic. Originally 57 people participated in the study.

Forty-one people completed all four steps. 85% of the

responses came from urban Idaho agencies that also

serve rural and remote areas of the region. The sample

comprised 71% female participants with an average age

of 45. Participants represented all hospice roles, with the

majority being registered nurses (29%), followed by social

workers (17%), with 66% of the sample having a bachelor's

or graduate degree. The average hospice experience of

the participants was five years, and 44% of participants

spoke more than one language.

After the participants watched the video and took

the post-test, there was an improvement of 16% in the

knowledge of Hispanic culture, beliefs, and rituals. The

participants' self-reported skills at gathering information

and providing culturally appropriate care increased

by 18%, and their self-reported comfort at navigating

language barriers and interpreting Hispanic expression of

loss increased by 8%. The participants' attitudes about

receiving training in Hispanic culture increased by 7%.

These results point to the effectiveness of the resources

given to enrich the cultural competence and awareness of

the hospice workers who could provide care to Hispanic

patients and to the need to increase this type of training for

all environments that have the potential to interact with the

Hispanic population in the process of death and dying.

Implications for Practice

This research found the terminology and cultural

dynamics that make Hispanics unique when approaching

death. As identified earlier, familiar hospice terminology

within the English language has a very different meaning

in Spanish. It becomes imperative to recognize and

avoid these terms such as hospice and hospicio aiding

Hispanics in the transition to hospice care. Furthermore,

Costa-Muniz et al. (2020) agree that becoming familiar with

the compassion, familism, secrecy, spirituality, fatalism,

and resistance to talking about death found within this

community will build a partnership between patients,

families, and hospice providers, developing trust and

improving patient health outcomes. In addition, providing

a service that makes sense to the patient, their family,

and caregivers is essential. Adding a Spanish-speaking

hospice worker can be an intervention to improve hospice

service even if that worker is wholly fluent (NHPCO, 2009,

p. 6).

Conclusion

In summary, access to and use of the educational

video and webpage increased hospice providers' cultural

competence and awareness. These two resources have

the potential to meet the Hispanic population's culturally

competent hospice care needs and close the end-oflife

disparity this population experiences. To facilitate

decreasing the gap between this community and hospice,

Ask about our sign-on bonus!

the authors would like to provide the

video and webpage as resources to

all interested; find them at: https://sites.

google.com/view/hispanic-culturalsensitivity/home

References

Costas-Muniz, R., Garduno-Ortega, O., Torres-Blasco, N.,

Castro-Figueroa, E., & Gany, F. (2020). "Maintaining

hope:" challenges in counseling Latino patients with

advanced cancer. Journal of Psychosocial Oncology

Research and Practice, 2(3), e028. https://journals.lww.

com/jporp/Fulltext/2020/10000/_Maintaining_hope___

challenges_in_counseling.8.aspx

Fischer, S. M., Kline, D. M., Min, S. J., Okuyama-Sasaki, S. &

Fink, R. M. (2018). Effect of Apoyo con Cariño (Support

with Caring): trial of a patient navigator intervention to

improve palliative care outcomes for Latino adults with

advanced cancer: A randomized clinical trial. Journal

of the American Medical Association Oncology, 4(12),

1736-1741. https://www.ncbi.nlm.nih.gov/pmc/articles/

PMC6440710/Henderson, S., Horne, M.,

Henderson, S., Horne, M., Hills, R., & Kendall, E. (2018). Cultural

competence in healthcare in the community: A concept

analysis. Health and Social Care in the Community, 26(4),

590-603. https://doi.org/10.1111/hsc.12556

Like, E. C., & Fulcomer, M. (2001). Clinical Cultural Competency

Questionnaire (CCCQ). Center for Healthy Families and

Cultural Diversity, Department of Family Medicine and

Community Health, Rutgers Roberts Wood Johnson

Medical School. Aetna Foundation Funded Cultural

Competence/Quality Improvement Study. http://rwjms.

rutgers.edu/departments_institutes/family_medicine/

chfcd/grants_projects/documents/Pretraining.pdf

National Hospice and Palliative Care Organization. (2009).

Hospice and palliative care. Retrieved from https://www.

nhpco.org/education/tools-and-resources/diversity/

latino_outreach_guide/

North Carolina State University. (2021). Cultural competence

toolkit. https://diversity.ncsu.edu/cultural-competencetoolkit/

Rising, M. L., Hassouneh, D. S., Lutz, K. F., Berry, P., & Lee, C.

S. (2019). Hispanic hospice utilization: Integrative review

and meta-analysis. Journal of Health Care for the Poor

and Underserved, 30, 468-494. https://doi.org/10.1353/

hpu.2019.0042

Vespa, J., Medina, L., & Armstrong, D. M. (2018). Demographic

turning points for the United States: Population

projections for 2020 to 2060. U.S. Department of

Commerce. Retrieved from https://www.census.gov/

content/dam/Census/library/publications/2020/demo/

p25-1144.pdf

Corresponding Author:

Diana Gilmore, Idaho State University, Pocatello, ID

dianagilmore@isu.edu
---
Page 14 • RN Idaho August, September, October 2022

FEATURE

Legal Analysis: Delegation

Kendra Griffitts BSN, RN

Gonzaga University

One health care delivery issue relevant to advance practice nursing roles is

delegation. The principles of delegation are the same between registered nurses

and advanced practice providers, which is concerning from a legal perspective.

The blanket definition of delegation, directing another person to perform nursing

tasks and activities, ignores the unique responsibilities of each member in the

medical team (National Council of State Boards of Nursing & American Nurses

Association, n.d.). Although clear distinction of delegation among members of the

medical team is necessary, that is not the focus of this paper. The purpose of this

paper is to recognize and define the five rights of delegation that are lacking in the

Idaho Administrative Code IDAPA 23.01.01.

Delegation

Delegation has been identified as one of the most necessary and complex

nursing skills, both in a clinical and leadership setting (Hancock, 2017). In a clinical

setting, delegation requires authority and accountability. In a leadership setting,

delegation allows for collaborative care and shared decision-making. Additional

studies have revealed that delegation, when done appropriately, is psychologically

empowering to employees (Zhang et al., 2017). To contrast, ineffective delegation

has been proven to result in poor patient outcomes, negatively impacting: (1) quality

measures, (2) patient satisfaction, and (3) institutional reimbursement (Bittner &

Gravlin, 2009).

In Idaho state, delegation is defined as a licensed nurse assigning tasks to be

performed by others (Idaho State Board of Nursing, 2019). The National Council

of State Boards of Nursing and American Nurses Association (2019) further

elaborates on delegation, requiring the employer to create policies and procedures

to outline what tasks can be delegated, and what tasks cannot be delegated.

The Idaho Administrative Code (2019), IDAPA 23.01.01 states the following

legislation regarding delegation.

Deciding to Delegate. When delegating nursing care, the licensed nurse

retains accountability for the delegated acts and consequences of delegation.

Before delegating any task, the nurse shall:

a. Determine the acts to be delegated are not expressly prohibited by the Nurse

Practice Act or Board rules and that the activities are consistent with job

descriptions or policies of the practice setting.

b. Assess the client's status and health care needs prior to delegation, taking

into consideration the complexity of assessments, monitoring required, and

the degree of physiological or psychological instability.

c. Exercise professional judgement to determine the safety of the delegated

activities, to whom the acts may be delegated, and the potential for harm.

d. Consider the nature of the act, the complexity of the care needed, the degree

of critical thinking required and the predictability of the outcome of the act to

be performed.

e. Consider the impact of the timeliness of care, continuity of care, and the level

of interaction required with the patient and family.

f. Consider the type of technology employed in providing care and the knowledge

and skills required to effectively use technology, including relevant infection control

and safety issues.

g. Determine that the person to whom the act is being delegated has documented

education or training to perform the activity and is currently competent to perform

the act.

h. Provide the appropriate instruction to perform the act.

Monitoring the Delegation.

a. Evaluate the patient's response and the outcome of the delegated act and take

such further action as necessary.

b. Determine the degree of supervision required and evaluate whether the activity

is completed in a manner that meets acceptable outcomes. The degree of

supervision shall be based upon the health status and stability of the patient, the

complexity of the care and the knowledge and competence of the individual to

whom the activity is delegated.

The statutory language is clear but could be more explicit in the five rights of

delegation, which are: (1) right task, (2) right circumstance, (3) right person, (4) right

supervision, and (5) right direction and communication (Barrow & Sharma, 2021).

The variance of delegation policies among health care organizations creates gaps in

state laws. Because of the ethical and legal constraints that can arise from delegation,

the American Nurses Association (ANA) created the five rights of delegation as a

framework to help nurses safely delegate. The inadequate definition of the five rights of

delegation in IDAPA 23.01.01 allows health care organizations to implement the five

rights of delegation at their own discretion, instead of meeting a state standard. The

gap between organizational policy and state law has the potential to put patients and

providers at risk, both ethically and legally. For example, the misunderstanding of the five

rights of delegation may result in failure to supervise and inappropriate delegation. In a

court of law such errors are judged against state standards of professional practice, with

organizational policies holding insignificant value. If organizations want to protect their

providers and patients, their policies must match state standards.

Formal Analysis of the Law

Delegation is complex. It begins with healthcare administration who are responsible

for: (1) identifying nursing tasks that can be delegated, to whom, and under what

circumstances, (2) developing delegation procedures and policies, (3) regularly evaluating

delegation processes, and (4) promoting a positive culture and workplace environment

(National Council of State Boards of Nursing & American Nurses Association, 2019).

The responsibility of delegation then falls upon the nurse, who is responsible for: (1)

determining patient needs, (2) when to delegate, (3) ensuring the availability to delegate,

(4) evaluating outcomes, and (5) maintaining accountability for the delegated responsibility.

Lastly, the delegatee must: (1) accept delegated activities based on their level of

competency, (2) maintain competence for the delegated responsibility, and (3) maintain

accountability for delegated activity. Because the process of delegation is multifaceted,

the American Nurses Association created the five rights of delegation to use as a mental

checklist for nurses to identify critical elements in the delegation process that may

otherwise be overlooked (National Council of State Boards of Nursing, 1997).

Strengths and Weakness of Existing Language

Strengths in the current language of Idaho's state law of delegation is that it promotes

nurse independence by allowing the nurse to critically evaluate what tasks to delegate

and to whom to delegate to within the policies and procedures of the organization. IDAPA

23.01.01 identifies the need to consider the complexity of the patient, family involvement,

continuity of care, educational level and required training of the delegatee, and the

outcome of the delegated tasks. All of which are crucial elements in delegation.

Weakness of the existing language is the lack of identifying and explicitly defining each

of the five rules of delegation. Some, including right person and right task, are loosely

included in Idaho law, but a clear definition of each is not.

Proposed Language

Proposed language to include in IDAPA 23.01.01 on the inclusion and expansion of the

five rights of delegation is as follows:

When delegating the nurse should consider the five rights of delegation.

a. Right task. Including, what tasks are legally appropriate to delegate per Idaho

state law? Can I delegate these tasks based upon my organizations policies and

procedures?

b. Right circumstance. Is the appropriate equipment and resources available to

perform this task? Is the environment favorable for delegation of this task?

c. Right person. Does the potential delegatee have the necessary education, training,

and experience to complete delegated tasks safely? Is the potential delegatee

competent to complete the delegated tasks without direct supervision? What

problems has the potential delegatee encountered in the past while performing this

task (Barrow & Sharma, 2021)?

d. Right supervision. Is the appropriate supervision of the delegated task feasible?

After tasks completion, the delegatee must report to the nurse and provide

feedback. Additionally, the nurse must evaluate the outcome of the task with the

patient.
---
August, September, October 2022 RN Idaho • Page 15

e. Right direction and communication. The delegator must communicate tasks

expectations clearly and directly, including a deadline for task completion.

Stakeholders

Stakeholders involved in delegation include: (1) patients, (2) nurses, (3) nurse

educators, (4) administrators, (5) researchers, (6) physicians, (7) governments,

including legislative bodies and regulators, (8) professional associations, and

(9) accrediting agencies (Ballard, 2003). Delegation has become a necessity in

healthcare due to fiscal constraints, staff shortages, and an increase in patient

complexity. Studies have shown, that when done correctly, delegation improves

patient outcomes while bridging the gaps in healthcare mentioned above (Barrow &

Sharma, 2021). All stakeholders would benefit from correctly performed delegation.

Barriers to Change

Barriers to change include: (1) poor partnerships, among staff members

and organizational leadership, (2) unhealthy attitudes, and (3) a lack of a sense

of a team (Cipriano, 2010). To summarize, a barrier to change is the lack of

empowerment from organizations. Empowerment and delegation have been

considered one in the same. Both allow leaders to be more productive and

effective while encouraging them to engage with and further develop their

teams. Studies echo this claim by identifying empowerment as a predictor of

organizational commitment to staff, associating it with: (1) decreased burnout, (2)

staff working to the fullest extent of their education and training, and (3) improved

patient outcomes (Hancock, 2017). Gottlieb et al. (2021) found leadership integral

in promoting environments where nurses felt empowered to be autonomous

and exercise their own agency, resulting in improved safety and quality of care

to patients and their families. Additionally, organizational empowerment is highly

correlated with psychological empowerment, a preventative factor in employee

burnout (Amor et al., 2021).

Action Plan for Change

Before proposing the addition of the five rights of delegation to IDAPA 23.01.01,

a review of delegation in healthcare organizations should be conducted statewide.

A survey would be distributed throughout hospitals in Idaho state examining: (1)

current attitudes towards delegation, (2) current barriers in delegation, and (3) the

efficiency of delegation among organizations. If improvement is required and the

proposed language is considered beneficial to improve delegation in healthcare,

it will be added to IDAPA 23.01.01. Following its addition to IDAPA 23.01.01.,

healthcare organizations will be required to implement these changes within their

Joining Your Professional Organization

"The rising tide raises all ships…" Engaging with your professional organization

has many benefits for both you and the profession as a whole. No one is expected to join

every organization but choose the one that best meets your professional needs and join

it. Membership is important and it sustains the organizations which in turn benefits every

professional nurse and helps promote and benefit the profession as a whole.

Joining is easy! It can be accomplished on the organization website. Visit the website

HOME PAGE of the association you want to support and follow the instructions how to join. All of

the nursing organizations listed below participate in the Idaho Center for Nursing.

organization. Doing so will require organizations to educate all staff members on

the changes to this law, with an added emphasis among providers, nurses, and

unlicensed health care providers (UAPs). Delegation should then be reexamined six

months after implementing these changes.

Conclusion

The purpose of this paper was to recognize the lack of identifying and defining

the five rights of delegation in the Idaho Administrative Code IDAPA 23.01.01. The

best practice answer in response to this gap is to: (1) review and assess the current

understanding and success of delegation statewide, (2) evaluate the necessity of

the proposed language to be added to state law, (3) if deemed necessary, add the

proposed language to state law and require organizations to edit current policies

and procedures on delegation to meet these standards, (4) educate staff members

on the five rights of delegation as described in IDAPA 23.01.01., and (5) reevaluate

the effectiveness of delegation six months after enhancements to delegation

have been put into practice. Strategies to enact this new legislation include

organizational surveys, assessments on current benefits and barriers of delegation,

and annual educational courses on delegation for members of the healthcare team.

Declaration of Conflicting Interests

Author has no conflict of interest to disclose.

References

Amor, A. M., Xanthopoulou, D., Calvo, N., & Vasquez J. P. A. (2021). Structural

empowerment, psychological empowerment, and work engagement: A crosscountry

study. European Management Journal, (39)6, 779-789. https://doi.

org/10.1016/j.emj.2021.01.005

Ballard, K. (2003). Patient safety: A shared responsibility. Online Journal of Issues in

Nursing, 8(3). https://ojin.nursingworld.org/MainMenuCategories/ANAMarketplace/

ANAPeriodicals/OJIN/TableofContents/Volume82003/No3Sept2003/

PatientSafety.html#:~:text=These%20stakeholders%20include%3A%20society%20

in,professional%20associations%3B%20and%20accrediting%20agencies.

Barrow, J. M. Sharma, S. (2021). Five rights of nursing delegation. StatPearls. https://www.

ncbi.nlm.nih.gov/books/NBK519519

Bittner, N.P. & Gravlin, G. (2009). Critical thinking, delegation, and missed care in nursing

practice. The Journal of Nursing Administration, 39(3), 142-146. doi: 10.1097/

NNA.0b013e31819894b7

Cipriano, P. (2010). Overview and summary: delegation dilemmas: standards for skills and

practice. The Online Journal of Issues in Nursing, 15(2). https://doi.org.10/3912/OJIN.

Vol15No02ManOS

Gottlieb, L. N., Gottlieb, B., & Bitzas, V. (2021). Creating empowering conditions for nurses

with workplace autonomy and agency: How healthcare leaders could be guided by

strengths-based nursing and healthcare leadership (SBNH-L). Journal of Healthcare

Leadership, 13, 169-181. https://doi.org/10.2147/JHL.S221141`

Hancock, K. (2017). Empowerment and delegation: Two vital skills every nurse leader

needs. Cleveland Clinic. https://consultqd.clevelandclinic.org/empowermentdelegation-two-vital-skills-every-nurse-leader-needs/

Idaho Board of Nursing. (2019). Rules of Idaho board of nursing. https://adminrules.idaho.

gov/rules/2019%20Archive%20C2/23/230101.pdf

National Council of State Boards of Nursing. (1997). The Five Rights of Delegation. https://

www.cde.state.co.us/sites/default/files/documents/healthandwellness/download/

school%20nurse/five%20rights%20of%20delegation.pdf

National Council of State Boards of Nursing & American Nurses Association. (n.d.) Joint

statement on delegation. https://www.ncsbn.org/Delegation_joint_statement_

NCSBN-ANA.pdf

National Council of State Boards of Nursing & American Nurses Association. (2019).

National guidelines for nursing delegation. https://www.ncsbn.org/NGND-

PosPaper_06.pdf

Zhang, X., Qian, J., Wang, B., Jin, Z., Wang, J., & Wang, Y. (2017). Leaders' behaviors

matter: The role of delegation in promoting employees' feedback-seeking behavior.

Frontiers in Psychology, 8, 920. https://doi.org/10.3389/fpsyg.2017.00920

RNs:

idahonurses.nursingnetwork.com/

Nurse Practitioners:

npidaho.enpnetwork.com/

CRNAs:

idahoana.org/

Nurse Leaders of Idaho:

nurseleadersidaho.nursingnetwork.com/
---
Page 16 • RN Idaho August, September, October 2022

PARTING WORDS

Updating the Associations' Value Proposition to Idaho Nurses…You!

Ben Knapp

Idaho Center for Nursing

The nursing associations are focusing on

refreshing and repositioning the value propositions,

which are those items that are most impactful to

members. For Idaho nurses we have established an

updated proposition as well as new key messaging

with supporting details that you will see over the

coming weeks and months on the association

websites, social media, the weekly Nursing Flash,

and RN Idaho.

The value proposition defines a forward-looking

position to build over time. The key messaging

and supporting details provide avenues to look

back and reflect on the organizational legacy, yet

it also positions the organizations to look ahead at

creating opportunities to increase their membership

and engagement. Together, these will serve as the

foundation for the Associations' public communication.

ANA-Idaho is the partner to staff nurses in

professional elevation and evolution. It believes

all nurses are critical partners in the value and

importance of nursing for all Idaho communities.

With an unwavering focus, the association has the

privilege of providing a suite of centralized resources

to help all Idaho nurses elevate their professional

experience, advance the profession, and define and

drive the evolution of nursing practice in Idaho.

Associations are helpful and have expert

association leadership teams ready to assist you at

a moment's notice. They focus on complementing,

not competing, with the collaborative community to

achieve positive and progressive change. They offer

knowledgeable nursing experts to field questions and

solve problems quickly. They also provide continuing

education, peer reviewed articles, white papers, and

professional conferences to enrich a nurse's practice.

The associations are trusted, local professionals

fueled by passion and expertise to advance nursing

throughout Idaho. Their legacy is focused on

charting the elevation and evolution of the nursing

in Idaho. With advocacy, nurse associations can

improve more lives, businesses, practices, and

communities through issue identification and

representation. As a community, they reinforce

nursing power through networking opportunities,

membership, and engagement.

The associations are connected through

relationships with healthcare industry partners to

advance nursing throughout Idaho. They specialize

in, and are dedicated to, nursing for all career

stages: student, entry into practice, mid-stage

to late-stage careers, and retirement. They have

centralized resources, news, and information when,

where, and how you need it. They are committed to

doing association work to provide resources to help

you do yours as efficiently as possible.

Positioning and messaging are about what

associations would like to be known for in the minds

of their key stakeholders. It articulates what work

will be achieved and fulfilled, speaks from a unified

viewpoint, and aligns words with actions taking

place across Idaho's many nursing organizations.

This work is not a tagline or a creative theme; it is

not a magical solution to solve all nursing problems,

nor is it a strategy to do so, though it has influenced

the development of an updated marketing plan.

Most importantly, it has been curated with nurses as

the center of focus.

This type of value proposition and framework

reinforces the importance of expanding the

association's social media presence to meet you

where you already are. We need your help and

your expertise to make and keep the social media

experience relevant and contemporary.

So, here is a proposition for you.

Help nurses from across Idaho to elevate the

legacy of the change makers who came before

us and focus our energies on the community of

innovators we are today and will remain long into

the future. If you have not already, follow the nursing

associations on Facebook and Instagram. Add your

voice to the conversation through likes, comments,

and shares. Respond to, interact with, and engage

your peers on a neutral platform that will empower

and unify all nurses.

Ultimately, YOU are the key to success, the

strength and power of the profession, and the

future, as we elevate and evolve the associations

by contributing value to the communities we serve.

Join the association that represents your clinical

interest and help to change the conversation,

challenge the status quo, and embrace who we are

as professional innovators to obtain more seats at

the table and define the profession's impact.
---
August, September, October 2022 RN Idaho • Page 17

NOTES & NEWS

Dr. Randy Hudspeth, Executive Director for the Idaho Center for Nursing

graciously lent Saint Joseph Regional Medical Center (SJRMC) nurses and

nursing students from Lewis and Clark State College his guidance and

wisdom during this year's Nurses' Week celebration. SJRMC's nurses are

unquestionably hard-working, compassionate, and devoted to our community

and deserving of praise and recognition during this special week. Randy's

discussion provided an opportunity to reflect on a deeper appreciation for the

history of the profession and the advancements that have been made.

LPN license renewal is in progress and needs to be completed by August

31. A component of license renewal is the documentation of continued

competency. One method of that is obtaining 15 hours of continuing

education, which is available at: icn - CE Catalog (ce21.com). This program will

meet 100% of LPN CE needs.

Nurse Practitioners in Idaho are celebrating 50 years of legal

recognition in 2022. In 1972 Idaho became the first state in the U.S. to

recognize NP in statute and to begin issuing licenses to practice.

Idaho Nursing Flash is sent by email every Tuesday to Idaho nurses. It

contains links to the most read nursing articles nationally as well as Idaho,

and includes regional and state information that is pertinent to Idaho nurses.

The email comes from the ANA-Idaho in the same manner that RN IDAHO is

emailed. Nurses are asked to review their junk or spam mail folders if they

are not receiving this weekly update. Set the link to your recognized and safe

emails to receive the regular weekly mailing without it going to trash or junk

folders.

Nursing Association Staffing Change was announced. Karin Iuliano

retired after 15 years with the IALN, NLI, ANA-I and NPI as the Director of

Operations. Job realignments were made and Ben Knapp was hired to fill the

newly created position of Manager of Operations & Programs.

LEAP Conference Call for Abstracts: The 2022 annual LEAP

Conference (Learning in Education, Administration and Practice) will be held at

the Gove Hotel, Boise, Tuesday and Wednesday, November 2-3. The Abstract

from is available on both the Nurse Leaders of Idaho and ANA-Idaho websites,

and are due by Friday, September 23. Completion instructions are on the

forms available at: LEAP 2022 "Creating a Collaborative Culture" CALL FOR

ABSTRACTS | ANA-Idaho | Nursing Network

The team at Saint Joseph Regional Medical Center with Dr. Randy Hudspeth

for Nurses' Week 2022.
---
Page 18 • RN Idaho August, September, October 2022

RN Idaho is pleased to honor Registered Nurses and Licensed Practical Nurses, who served the profession and are now deceased. The names are also

submitted annually for inclusion in the Idaho section of the nursing memorial of the American Nurses Association. A nursing school graduation photograph is

included when available. Inclusion dates are 12 March through 10 June, 2022.

Anderson, Shirley Butcher,

1951-2022, Meridian. Shirley

graduated nursing school as

an LPN and later devoted her

life to raising her children.

Ashby, Billie Jo, 1953-2022,

Burley. Billie attended schools

in Burley, graduating from Burley

High School in 1971. She then

served 10 years in the U.S. Air

Force before she attended ISU,

where she graduated from the

Nursing Program in 1985.

Ballou, Mary C., 1921-2022,

Buhl. Mary graduated high

school and went on to become a

RN in 1942. During the war she

served as a nurse and would

also go on to nurse in Twin Falls

County Hospital as well as UMC

in Las Vegas, Nevada.

Barrus, Yvonne, 1925-2022,

Malad. Yvonne enjoyed a

career in nursing. She attended

nursing school in Ogden, Utah,

and practiced nursing in

Malad, ID, Dallas, TX, San

Diego, CA, and Idaho Falls, ID.

Barton, Doris Arlene, 1930-

2022, Ontario. Doris went to

nursing school at St Luke's in

Boise, Idaho. She was on a

three-year program where she

received credit for a fourth year

by working at the hospital

when she was not attending

classes. She graduated in 1952 as an RN from

that program. Soon after Doris went to work for

Holy Rosary Hospital, working two graveyard

shifts a week so she could help care for her

children. She worked for many years as an OB-

GYN nurse. She loved her job and it suited her

hard-working nature.

Bloxham, Peggy, 1929-2022,

Twin Falls. Peggy trained and

graduated as a Licensed

Practical Nurse at Sacred

Heart Hospital in Idaho Falls.

Upon graduation she moved to

the Magic Valley working at

Magic Valley Regional Medical

Center until retirement.

Brown-Barnes, Donya Mae,

1939-2022, Jerome. Donya

attended nursing school in

Boise, Idaho; inspired by her

fervent love for people.

Carey, LuDean Hulse, 1933-2022,

LuDean took nursing training at

Bingham Memorial Hospital,

receiving her certification LPN in

1959, and Psych Tech certification

at San Jose, California. She worked

in the nursing field for more than 30

years.

Carpenter, Iris Baugh, 1932-2022,

Meridian. After high school, Iris

attended nursing school. Iris worked

as a nurse for over 27 years for

many doctors in New Plymouth and

Boise and made many friends

among her coworkers.

Dallas, Mary Frances, 1927-2022,

Boise. Mary went to Oregon State

College for two years, after which

she attended Oregon Medical

School for three years, graduating in

1951 with her BSN. Mary went back

to school at the University of Idaho,

graduating in 1983 with a master of

Education. Mary was a nurse at St. Benedict's

Hospital in Jerome, Idaho from 1971 to 1975. She

taught in the Licensed Practical Nursing program at

Boise State from 1975 until her retirement. Mary was

recognized for her dedication, service, and significant

impact on BSU and the students she taught by being

recognized as an emeritus professor.

Eden, Alicia Constance, 1934-

2022, Gooding. Alicia went to St.

Alphonsus School of Nursing in

Boise, Idaho and graduated as a

registered nurse in 1955. Most of

her career was in the Magic Valley

area. She did home dialysis for

many years and was one of the first

RNs to open the new, and only, dialysis center at St.

Benedicts Hospital in Jerome in 1985.

Frances Baker, Joan, 1932-2022,

Filer. Joan went to the Rhode Island

Hospital School of Nursing, where

she earned her associate degree

and became a registered nurse in

1953. While living in Nampa, Joan

worked at several extended care

facilities. She loved her patients and

loved working with the elderly. She brought joy to so

many of her residents every day.

Gorgonzola, Audrey Beth Lehman,

1935-2022, Meridian. Audrey

received her R.N. diploma at Bethel

Deaconess Hospital School of

Nursing in Newton, KS. She went

on to earn a Bachelor of Science

degree in Nursing Education from

Florida State University, and a

Master of Science degree from University of Delaware.

Audrey started her nursing career in American Falls,

ID. She went on to work at Veterans Administration

Hospitals in New York City; Albuquerque, NM;

Wilmington, DE; Minneapolis, MN; Omaha, NE and

retired from her nursing career while working on Long

Island, NY.

Hall-Matlock, Linda Louise, 1958-2022,

Caldwell. In 1986, Linda pursued one of her

many passions in life, and became a Licensed

Practical Nurse.

Hardiman, Donna Morene,

1935-2022, Meridian. Donna

grew up in Meridian. She then

graduated from the Saint

Alphonsus Hospital School of

Nursing in August 1956. Donna

would begin her nursing

career, starting as an

emergency room nurse, but later specializing in

maternity/OB nursing.

Howe, Susan Carol, 1945-

2022, Bonners Ferry. After

graduating from Bonners Ferry

High School in 1963, Susan

took nurses training for a year

while living at the Nurse's

Cottage for the Community

Hospital. She enjoyed taking

care of others working as an LPN for doctors,

hospitals, and convalescent homes.

Jorgensen, Ellen, 1932-2022,

Idaho Falls. From an early age

Ellen wanted to be a nurse.

Although it took many years,

she realized her dream later in

life. She first volunteered with

the Rigby Quick Response

Team. In 1980, she started

working at Riverview Hospital as a technician. In

1983, she started studying at Vo Tech and got

her LPN a year later. She worked part-time at

Riverview Hospital and also part-time at a

doctors' practice. The doctors encouraged her to

go back to school and become a registered

nurse. She went to school in the morning and

worked in the evening. She graduated from Rick's

College in 1992.

Keyt, Esther Pauline, 1929-

2022, Meridian. Of Esther's

many accomplishments,

passing the State board to

become a Licensed Practical

Nurse was one of which she

was most proud.

King, Sally Irene Saling, 1936-

2022, Ammon. Sally went to

BYU to study Nursing. She

moved several times between

Utah and Idaho while working

as a nurse. When they moved

the second time to Teton

Valley, Idaho, she became an

Idaho Public Health Nurse, with her office in

Driggs, Idaho.

Langer, Debra, 1955-2022,

Nampa. After graduation from

high school in Council she

attended Boise State University

School of Nursing. Some of her

greatest memories were the

years spent as a nurse at Holy

Rosary Hospital in Ontario and
---
August, September, October 2022 RN Idaho • Page 19

at Weiser Memorial Hospital. She absolutely

loved taking care of patients and being at

bedside. She shared her compassion and sense

of humor with patients and treated them all with

empathy. She developed long-life friends with

nurses and taught many. She is the mother of

ANA-Idaho current president, Dori Healey.

Leydet, Jean, 1922-2022,

Mountain Home. Jean

attended nursing school at St.

Anthony's in Pocatello. Jean

met her husband while in

nursing school and they were

married in 1942 and moved to

Mountain Home.

Long, Heather Dale, 1941-

2022, Idaho Falls. Heather

graduated from Idaho Falls

High School in the class of

1959 and then attended

Licensed Practical Nursing

School at Sacred Heart

Hospital in Idaho Falls and

graduated Valedictorian of her class in 1961.

Nishizaki Abo, Shizue, 1923-

2022, Burley. Shizue

graduated from Glenns Ferry

High School in 1941, and

enrolled in the nursing program

at Saint Alphonsus Hospital in

Boise graduating in 1944. She

did post graduate work in

Obstetrics at Mayarot Hospital in Jersey City, NJ.

She was a supervisor of Obstetrics in Los

Angeles after graduation and spent later years

working at Cassia Memorial Hospital, retiring in

1982, for a total of 40 years in the nursing career.

Pomeroy, Carol Jean, 1929-

2022, Bonners Ferry. Carol

graduated with an RN from

Sacred Heart School of Nursing

in 1949, where she was vice

president of her class. She went

to work as a registered nurse at

the Veterans Hospital in Boise.

Powell, Barbara Jean, 1935-2022,

Chubbuck. Barbara received her

Nursing degree from St. Luke's

Hospital School of Practical Nursing

in February 1960. She began her

career at Bannock Memorial

Hospital in April 1965 working in

pediatrics, nursery, and NICU.

Barbara retired after 30 plus years form BMH.

Smith, Kellie Jo, 1960-2022, Twin Falls. After

attaining her nursing degree in 1982, Kellie worked

at the Twin Falls, Idaho Clinic for a few years before

taking her skills on the road. She traveled the far

reaches of the country from Maine to Alaska, providing

exceptional care and friendship along the way.

Smith, Nina, 1934-2022, Ammon.

Nina completed nurses training at

Ashton Memorial Hospital and

became a Licensed Practical Nurse

in 1953.

Sollender, Barbara, 1935-2022,

Rexburg. Barbara was a volunteer

EMT and a home health nurse for

the Department of Health and

Welfare.

Stone, Ann, 1939-2020,

Emmett. She entered the Los

Angeles County Hospital School of

Nursing in 1959 and graduated

three years later. A friend from

nursing school recalled, "A loss for

everyone that knew and loved her.

My memories of her in Nursing

School are of her ability to make everyone laugh and

feel good and important." After graduation she

immediately began her RN career as charge nurse to

LA County Hospitals. Later, she worked as

receptionist, nurse and bookkeeper in a Ketchum

Medical Clinic. She also worked with the American

Red Cross Bloodmobile for seven years and was cochairwoman

for two years. As an RN she did

Community Home Health Care and was certified

as a Red Cross Nurse in 1992. She moved to

Emmett to work in the newly formed

government Community Health Clinic for a short

time. Ann and her husband were both accepted

to go on a mission to Mozambique, where a

Nursing School was part of the mission function.

Ann was censured for her classes being too

noisy and having too much fun; Nursing School

was supposed to be serious.

VanOrden, Michelle, 1972-

2022, Blackfoot. Michelle

attended ISU where she

graduated top of her class with

a Bachelors degree as a

registered nurse. She worked

as a nurse for 12 years and in

2016, she began working with

the new moms and babies at Portneuf Medical

Center. She loved this job where she worked until

her medical condition prohibited her from

working.

Wanner, Joyce, 1934-2022,

Preston. Joyce graduated from

Weber State University and

completed her degree in

nursing while raising her

children. She was an excellent

nurse and retired after 35 years

of working in pediatrics.

Wilson, Joyce Blair, 1948-

2022, Sandpoint. Joyce

earned a Bachelor of Nursing

in 1974. She began her

professional career as an

intensive care nurse at St.

Joseph's hospital in Omaha,

before returning to Creighton

University to earn her master's degree and

Nurse Practitioner License in 2003 (at the age

of 55). In 2007 she began practicing as a nurse

practitioner in Sandpoint, specializing in

diabetes care. She reconnected with old

friends and met new ones, providing an

incredible and much-needed service to the

community.

SEASON TWO: PERINATAL SUBSTANCE USE DISORDER

SOMETHING

FOR THE PAIN

PROJECT ECHO - IDAHO

PODCAST

New episodes now available for free CE/CME/CEUs!

Featuring lectures presented by Idaho's leading maternal fetal medicine

and addiction treatment experts on treating pregnant patients with cooccurring

substance use disorders.

uidaho.edu/echo-podcast

This project was supported by Grant No.15PBJA-21-GG-04557-COAP awarded by the Bureau of Justice Assistance. The Bureau

of Justice Assistance is a component of the Department of Justice's Office of Justice Programs, which also includes the Bureau of

Justice Statistics, the National Institute of Justice, the Office of Juvenile Justice and Delinquency Prevention, the Office for Victims

of Crime, and the SMART Office. Points of view or opinions in this document are those of the author and do not necessarily represent

the official position or policies of the U.S. Department of Justice.