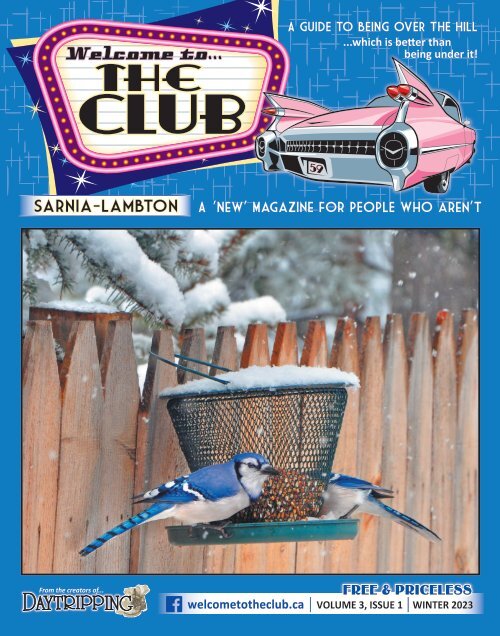 Welcome to The Club Winter 2023
A Magazine for 55+ Like No Other! Welcome to The Club features timeless articles and anecdotes including many from the archives of Daytripping Magazine. It's online at www.welcometotheclub.ca and is also distributed free in Sarnia-Lambton, Ontario.
A Magazine for 55+ Like No Other!
Welcome to The Club features timeless articles and anecdotes including many from the archives of Daytripping Magazine. It's online at www.welcometotheclub.ca and is also distributed free in Sarnia-Lambton, Ontario.
SHOW MORE
SHOW LESS
You also want an ePaper? Increase the reach of your titles
YUMPU automatically turns print PDFs into web optimized ePapers that Google loves.
Welcome to ...

THE

A GUIDE TO BEING OVER THE HILL

...which is better than

being under it!

CLUB

Sarnia-Lambton

A ''New' Magazine for PEOPLE who aren't

From the creators of...

welcometotheclub.ca

FREE & PRICELESS

VOLUME 3, ISSUE 1 WINTER 2023
---
Welcome to ...

THE Club

Happy New Year and Welcome to our Winter 2023 issue!

Welcome to ...

winter 2023

P A G E

2

Our bottom borders this time are "Where Were You When?" conversation starters.
---
This FREE magazine is distributed in most of Sarnia-Lambton.

Welcome to ...

THE Club

Toes are Tapping

by

I sat down for a chat recently with

Rick Powell. You may know the name

because he's been a singer, guitar

player and entertainer in this area for

many years. We'd never met before but

I wanted to pick his brain about playing

music at retirement residences and he

wanted to share his experience. Like

Rick, I play guitar and had been asked

to play at Albany Retirement Village in

Petrolia and was looking for any tips.

I mentioned to him that it seems I've

been playing many of the same songs

for the same people for 40 years now,

and we're not getting any younger, so

I'm planning for the inevitable future.

Rick is from Sarnia originally and

has moved back after spending many

years in Grand Bend where he owned

several restaurants such as Coconuts

and Sandals. Chances are that you've

been somewhere and he's been on the

stage during his many years in North

Lambton or maybe at the old Seaway

Tavern or Robbie B's in the Lambton

Mall, but both of those have been gone

for many years.

These days he's quite comfortable

playing the retirement home circuit

and has found it to

be a very rewarding

experience. "I've

been a musician all

my life and what

an eye opener

it's been," Rick

explained. "I had

no idea how many

places and how

many people just

like you and I are

in them, and during

the pandemic they

were locked in

Rick Powell

there so I started

applying to play. You have to play a

couple to see what they're looking

to hear but they really enjoy it. I play

some crazy tunes like the Bonanza and

Mark Moran,

Publisher

Pink Panther themes and challenge

them to guess what they are." He

also has backing tracks that he can

use to fill out the sound and is often

joined by other musicians such as the

talented keyboardist Ben Sitek or Doug

Springstead, who has been a staple of

the country music scene for decades.

Rick was offering advice to me all

the while and went on to explain that

there are undoubtedly going to be

residents with a variety of limitations

depending on the venue but added,

"Some may not be able to talk, but

just watch their feet!" To see their feet

start tapping is clearly a reward for

Rick and he explained that he leaves

each gig feeling really good. "Music

is the key for people with dementia,"

and he can see that he's reaching

them in a way nothing else can. "I get

choked up, I'm giving them some good

entertainment."

We talked a lot about the conditions

during the lockdowns, that neither of

us could truly imagine, and he had high

praise for the staff at the residences.

"Bless the hearts of the people who

work in these homes," he said. "They

deserve medals."

We bring this

magazine to all

the retirement

communities in

the area so say

hello to Rick if you

see him or maybe

ask the staff about

bringing him in to

entertain. I went

on to play my first

gig at Albany Street

and wholeheartedly

agree with Rick that

it was a rewarding

experience, the crowd was very

appreciative and were singing along,

and it spoke volumes when a few toes

started tapping.

OPENING REMARKS

Three friends from the local church congregation were

asked "When you're in your casket, and friends and

congregation members are mourning over you,

what would you like to say?"

Artie said, "I would like them to say... I was a wonderful

husband, a fine spiritual leader, and a great family man."

Eugene commented, "I would like them to say...

I was a wonderful teacher and servant of God who made

a huge difference in people's lives."

Don said, "I'd like them to say... Look, he's moving!"

Welcome to ...

THE

CLUB

The Club Features

You'll find

current and

nostalgic

articles

throughout

The Club.

Events 7

Discount List 15

Community Resources 19

Giving List (Volunteering) 22

Word Search 14

Postcards from the Past 28

Trivia 34

Recipes 5&7

Crossword 25

Harvey Bryant, Jeanette e e Paddon, Sierra ra

Hart Photography,

ogra

h

#Local, Nancy Millman, Pat Taylor, John Gardiner, C. W. Tiffin,

in,

Adina Haas, as, Maryleah ah Otto, Nadine Wark, John Caroll, l,

Gord

Lane, Mike Keenan, n,

Kenneth neth

Lapointe, i

Sipkens Nurseries,

ries

Kelly-Lynn Musico, Chris Treftlin, Betty ty

Popelier, Joanne

vanDam, am

Gloria Austin, Jan Hollingsworth li

orth

Garrett, rett

Les

Goldhawk, Rob Turnbull, Egremont Remembers e

Facebook page,

Lambton Shores Nature Trails, Glen C. Phillips, lips

Lyn Tremblay,

Ruth Simpson, and all the Recipe contributors.

tors

rs.

Mark a k Moran o a - Publisher, b i e Ad Salesa Carrie Ann Timm - Associate Publisher

Carla MacGregor - Advertising Sales

Rhonda Long - Advertising Sales

Angela Lyon - Graphics & Editing

Carla Mejia - Graphic Design

From the

publishers of

DAYTRIPPING

ING

MAGAZINE

VOLUME 3,

ISSUE 1

winter 2023

YOUR CONTRIBUTORS

CLUB STAFF

P.O. Box 430 • Brights Grove, ON •N0N 1C0

519-491-1676 • info@welcometotheclub.ca

www.welcometotheclub.ca

SUBSCRIBE!

To receive eive

The Club in the

mail for $20/year (4 issues),

s)

give us a call to discuss payment.

t

You can also view each issue online -

just ask to be added to our email notification tion

list.

t

Welcome to The Club is published four times annually by Moran Advertising, Brights Grove, Ontario. The publisher reserves

the right to reject, discontinue or omit any advertisment without notice or penalty to either party. No portion of this

publication can be reproduced in whole or in part without the permission of Moran Advertising. The content of this

publication does not necessarily represent the opinions of the publisher. The content of this publication has not been deemed

by the publisher to be correct and accurate. The advertiser agrees that the publisher shall not be liable for damages arising

directly or indirectly from errors occuring in this publication beyond the amount paid for the space actually occupied by that

portion of the advertisment in which the error occurred, whether such error is due to the negligence of its servants or

otherwise, and there shall be no liablity for non insertion of any advertisment beyond the amount paid for such advertisment.

Use of Material: submitted articles, letters, and other works or materials may be used, published, distributed and stored by

Moran Advertising, Welcome To The Club, and Daytripping Magazine, in whole or in part, in print or by any other means.

winter 2023 Some won't apply to you and others you won't remember, but some will take you back. P A G E 3
---
Welcome to ...

THE Club

By Les Goldhawk, Wyoming (thanks to Egremont Road Remembers for the photos)

You must be 55 or over to read this magazine.

Memories of a (Warwick Village) Childhood in the late 1960's

I grew up in a small community in

Lambton County of about 150 people.

The residents referred to it as "The

Village." For those who are not familiar

with this reference, it is Warwick Village

which is within Warwick Township.

Thus the designation that you resided in

"The Village."

When I grew up as a small boy in the

60's "The Village" had establishments

like Newman's General Store,

Wilkinson's Clothing Store, Frayne's

Gas Station along with a couple other

Gas stations and Garages. We had home

Purity dairy milk delivery. This was all

before the 402 was put in so all the

traffic to/from Sarnia and London came

through Warwick Village via #7 Highway.

(Warwick Village started as a stage coach

stop many, many years ago). The Bridge

at Bear Creek on #7 highway still has the

rounded cement sides which we would

walk/run up to the top and sit down to

watch the traffic go by. The transport

truck tops would be about level with

the height that we were sitting and they

would create a nice breeze on a hot day.

It was a good spot for sitting and having

a bottle of pop while the cars and trucks

drove by. We didn't have a lot of money,

but at the time we really didn't know

any better. And we always had food on

the table and clothes to wear. Some of

the clothes that I wore were hand me

downs, but having a mother who was

a wonderful seamstress who could fix

holes in the knees of my pants or in

the elbows of my shirts, we always had

clothes on our back. We would get a

new shirt and pants to start school every

year. You were required to change from

the good school clothes into

your old clothes after school

before you could go out to

play.

During the time I was

growing up in The Village

there was a small grouping of

boys in and around my age

and we would get together

to play various games. The

boys included in this group

were Danny, Randy, Peter,

Rick, Billy, Tom, Phillip, David,

myself and my younger brother Vern. So

to have any type of game at all we would

need to have everyone come out. (Of

course without social media, computers,

cell phones and only three channels that

barely came in on the aerial TV there

wasn't as many options back then).

Winter sports included pickup games

of hockey on the flats—that was in the

low lying area beside Bear Creek which

runs through Warwick Village, on the

south side of the road as you drive over

the bridge at Bear Creek. This flat area

would flood and freeze creating a great

spot to have shinny games. The spot was

approximately 1/2 mile from our house

(and no it wasn't uphill both

ways) But you would carry

your skates tied together over

one shoulder, a hockey stick

over the other shoulder and

you would take turns carrying

the shovel to be able clear

the snow off the ice. There

were old tree stumps down in

this flat area that made great

seats to put your skates on.

Once your skates were on you

would take turns shovelling

the ice. Someone would have

already started to shovel with their

boots on and then be relieved by those

who put their skates on. It was quicker

to clear the ice with skates on. Once the

ice was clear, someone's boots would be

used for goal posts at either end of the

cleared area and it was Game On. We

played for hours. There was quite a few

Stanley Cups won and lost there on that

cleared piece of ice. When we became

thirsty we would use the butt end of our

stick to punch a hole through a spot in

the ice that wouldn't be as thick and

have a drink of the water (my mother

frowned on that and gave us a lecture

on the water not being clean). All of the

group mentioned above are still here

today so either the water wasn't too bad

or we built up strong immune systems.

Once the game was done and you were

expected home for supper SOON, we

would take our skates off and put our

COLD boots back on. Feet that were

cold already (even with a double layer

of woolen socks) became even colder.

We would walk that 1/2 mile back

home with our skates and stick over our

shoulders with feet hurting every step

of the way. Once home, we would take

our boots off and place our double layer,

woolen-socked feet on the oven end of

the kitchen wood stove. The feeling of

our feet warming up both hurting and

feeling good was a feeling you don't

forget. But the next day you would do it

all over again.

In the summer months we would

play baseball. If we got everyone out we

would play "Scrub." Two to three players

up to bat at any one time and everyone

else playing in the fielding positions. The

pitcher would lob balls into the batter

and if they got on base the other two had

to get him home. If a player grounded

out they had to take their place in the

field. The pitcher would rotate into one

of the batter's spots. The first baseman

would rotate to the pitcher's position,

the right side of the infield would rotate

to the first base position etc. If a batter

flew out to a fielder then the batter and

the fielder swapped places. This would

all take place in my grandmother's back

yard and overlapped into a couple of

Welcome to ... winter 2023

other yards. In my grandmother's back

yard there was an apple tree that kept

us nourished and quite regularly if not

more than regular!! Grandma also had

a hand pump on the water well which

was close enough to keep us hydrated.

There was a porcelain/tin cup that hung

on a small chain at the pump that we

all would use (of course you would rinse

it off first so you didn't get "kooties"

hahaha!).

Back at this time in the late 60's

there wasn't any Conservation

Area/campground. But there was a

"swimming hole" which was just part

of Bear Creek located back in behind

Fraynes Gas Station which now would

be under the manmade lake that is part

of the campground. Hot summer days

had the group go back to the "swimming

hole" to get cooled off. Once again my

mother frowned on that and gave us a

lecture on the water not being clean and

we could catch things.

Some of the memories I have are

from incidences that happened when

we were playing hide and go seek, tag

or playing war. One of the memories I

have is of one time in a hide and seek

game one of the boys had to use our

next door neighbour's outhouse (outside

toilet). While the rest of the group was

playing, all of a sudden the boy using

the outhouse came bursting out of the

door with his pants down around his

ankles screaming his head off. We found

out that there was a bees nest under the

seat of the outhouse and he had received

a few stings on a tender area.

Another time was when we were

playing an intense game of war and a

couple of us came around the corner

of our house at the same time a boy on

the opposing team was coming around

the corner from the other direction. It

startled him so much when we hollered

that we had him... he messed his pants.

It may have also been on the same day

when we had been playing baseball

earlier and eating the green apples. I'm

not sure. I do know he had to ride his

bike all the way home standing up.

These are just a small portion of the

memories I have from growing up in

The Village.

When most people drive through

Warwick Village they don't see what

I see… I see a childhood that had fun

times with good friends.

P A G E

4

(January 28, 1986) The Challenger Shuttle broke apart 73 seconds into it's flight.
---
We're all getting older, we may as well laugh about it!

Welcome to ...

THE Club

Recipes

Send Us

Your Recipes!

e c es

New Year, New Adventures

in Sarnia-Lambton

We'll be bringing you recipes from Club contributors

& from local fundraising cookbooks we've collected

over the last quarter of a century. You're welcome

to send your own recipes, or on behalf of an

organizaon that has a new cookbook, & we can

help promote those cookbooks for free.

These recipes are taken from the 3rd Edion of

"From Our House to Yours" Cookbook by

St. Joseph's Hospice Sarnia Lambton.

Call 519-337-0537 for your copy.

Holiday y Inn Express

x

Point tE

Edward

Twin w

n

Pines P Orchards

c

rds

Thedford

dord

Two Water rB

Brewing

Corunna

na

Sausage & Hash Brown

Balls

1 lb. hot sausage (uncooked)

1 - 8 oz. pkg. cream cheese,

soened

1½ c. Bisquick

Preheat oven to 400˚F.

Mix all ingredients unl well combined. (I use my mixer with the dough

hook aachment.) Roll into 1-1/2 inch balls. Place on rimmmed baking

sheet. Bake for 18 to 22 minutes or unl brown.

Notes: Sausage balls may be frozen uncooked. If baking frozen, add a few

minutes to the baking me.

Tanya's Sweet Potato Chili

1.5 lb. ground turkey

1 medium yellow onion, diced

2 cloves garlic, finely chopped

1 each red and yellow pepper,

diced

2 medium sweet potatoes, peeled

and diced into 1-inch chunks

1 - 15 oz. can tomato sauce

Banana Cake

1 c. buer

1½ c. white sugar

3 eggs

1 c. mashed bananas

2½ c. pastry flour

1½ c. shredded Cheddar cheese

½ - 30 to 32 oz. pkg. frozen

shredded hash brown

potatoes (about 4 c.)

1 tsp. salt

3 tsp. baking powder

½ tsp. baking soda

½ c. sour cream

By: Tracy Hyde

By: Marlene Henry

1 can stewed or diced tomatoes

½ small can tomato paste

1 small can green chilies

Salt and pepper

1½ tsp. chili powder

2 tsp. paprika

4 tsp. cumin

Dash oregano

Brown turkey, remove from pan and drain. Sauté garlic and onion for 2 to

3 minutes. Add peppers and sweet potatoes. Season with salt to taste,

pepper, chili powder, paprika, cumin and oregano, then sauté about 5 to 6

minutes. Add ground turkey and balance of ingredients to pot. The longer

it simmers the beer the flavour.

By: Marilyn Palmer

Separate eggs. Beat the egg yolks and set aside. Beat the egg whites unl

so peaks form. Set aside unl the last.

Mix buer, white sugar, beaten egg yolks, bananas, flour, salt, baking

powder, baking soda and sour cream. Mix well and then fold in the beaten

egg whites at the end. Bake in a 13 x 9 inch pan for 30 minutes at 350°F.

Send Your Recipes to info@welcometotheclub.ca

Make the most osto

of

2023 23 by discovering g new and xciting

ing

entertainment,

Tin Fiddler - Sarnia

WWW.ONTBLUECOAST.COM

T.COM

VULNERABLE PERSONS REGISTRY

Do you know someone living with dementia?

3 out of 5 people living

with dementia will go

missing at some point, a

frightening experience,

and a dangerous one.

That's why the Alzheimer

Society of Sarnia-Lambton

is partnering with The

Sarnia Police Services and

OPP to provide an

opportunity for individuals living with dementia to be registered as someone

at risk of going missing. Critical information collected provides searchers with

quick access to key information to assist in locating the individual and

returning them home safely.

Registration

is easy!

weekend eken

end

adventure.

e.

Let's all do our part to help individuals with

dementia live safely in our community.

Simply call Alzheimer Society Sarnia-Lambton

at 519 332 4444 to learn how.

winter 2023 (November 9 & 10, 1989) The Berlin Wall came tumbling down. P A G E 5
---
Welcome to ...

THE Club

Feel free to send in photos showcasing Sarnia-Lambton.

Welcome to ...

winter 2023

The Wawanosh Wetlands

Conservation Area is one of four

conservation areas in the region

with upgraded trails and facilities

thanks to an Ontario Trillium

Foundation grant of $246,500.

I was honoured to accept a

tobacco tie from Nancy Roy

during Sarnia's Orange Shirt Day

Gathering, part of the National

Day of Truth and Reconciliation.

Through a partnership with

various levels of government,

more and more homes in

Sarnia-Lambton have access

to reliable high-speed

internet service.

After years of planning and

development, it's great to see

the Bluewater Health Helipad

providing critical emergency

service in our community.

BOB BAILEY

MPP – Sarnia-Lambton

Building A Better Sarnia-Lambton

Welcome to 2023, loyal Club readers. As we turn the page on

2022, I'd like to wish you and your family a healthy and

prosperous year ahead.

Although there remains a great deal of uncertainty related to

the economy, ongoing health concerns, housing shortages,

and many other issues, the Government of Ontario continues

to work hard to help us weather the storm.

Late in 2022, the province presented its Fall Economic

Statement, detailing how it was taking action during these

times of economic upheaval and global inflation. The plan

focuses on building the economy, while keeping costs down

for seniors, families and businesses.

These measures include helping to manage costs for

Ontario's lowest-income seniors by doubling the Guaranteed

Annual Income System (GAINS) payment for 2023, providing

tax relief for small businesses, making changes to the Ontario

Disability Support Program, investing in skilled trades, and

extending the current cuts to gas tax and fuel tax rates.

Ultimately, as we navigate these uncertain times, the Ontario

Government will continue to provide the public support

programs we all rely on, especially for those of us who are 55+.

Just a reminder that, although winter is upon us, there is still

so much to do around Sarnia-Lambton, so please take the

time to discover all the great events and activities happening

every day.

In closing, I'd like to wish all The Club's readers the very best

for 2023. Whatever your plans and aspirations, I truly hope that

you and your family enjoy a happy, healthy year.

The Petrolia Scarecrow

Festival is always a popular

fall event in the Hard Oil

Town. See if you can spot the

non-scarecrow in the crowd!

CONSTITUENCY OFFICE

805 Christina St. North, Suite 102

Point Edward, ON N7V 1X6

It was wonderful to have the

Brigden Fair back in full

swing this year – and great

to see so many people

enjoying this longstanding

Thanksgiving tradition.

Contact Bob Bailey

Tel.: 519-337-0051

Fax: 519-337-3246

The Parliamentary Assistant

to the Minister of

Agriculture joined me for a

visit with local farmers at

Parkland Farms on

Confederation Line.

A $24.2 million investment by the

province was recognized during the

ground blessing for the new

Gregory A. Hogan Elementary

School in Sarnia.

E-mail: bob.baileyco@pc.ola.org

Website: bobbaileympp.com

P A G E

6

(February 9, 1964) The Beatles played the Ed Sullivan Show for the first time.
---
Most articles in here have been written by people like you.

Some experts tell us that beans are the perfect food!

Beans are one of those perfect foods... inexpensive

and packed with nutrients. They are a high source

of both soluble and insoluble fibre as well as a source of

B vitamins, calcium, iron, phosphorus, folate, potassium

and zinc. In addition, beans are low in fat and they are the richest source of

vegetable protein available.

So, maybe you've called them "the musical fruit" and you didn't eat them. Well,

you can take some of the wind out of beans by eating them more often. As your body

adapts, the gas will be reduced.

To reduce gas, start with soaking. Soak beans overnight (do not add salt) or use

this Quick-Soak Method: Cover beans with water; bring to a boil. Remove from heat,

cover and allow to stand for 1 to 2 hours. Drain.

Rootin' Tootin' "Secret Ingredient"

Baked Beans

Just plain baked beans arealways always welcomed at any gathering, but these beans

have been lifted to heavenly heights with the addition of just one ingredient RUM!

Cooked beans freeze well, or if you have a small family, it's easy to cut the recipe

in half. THIS DISH REQUIRES LONG, SLOW COOKING ...

THE ALCOHOL IN THE RUM WILL EVAPORATE, LEAVING ITS FLAVOUR ONLY.

THAT MEANS THIS "COWBOY BEAN" RECIPE IS FAMILY-FRIENDLY!

9 cans (14 oz. each) baked beans

or about 16 c. home-cooked (2 1/2 lbs. dried beans)

1 1/2 cups brown sugar or 3/4 c. molasses

1 large onion, diced

1/2 lb. bacon or salt pork, cut in small pieces

1 cup ketchup or chili sauce

2 tbsp. Worcestershire sauce

2 tbsp. dry mustard

1/2 cup RUM…the Secret Ingredient

Sauté bacon or salt pork in frying pan; add onion (cook, but do not brown).

Mix all ingredients together in a large bean pot or roasting pan. Bake at 325

degrees F, cover for 2 hours. Remove cover and bake an additional 2 hours.

Cooking in Crockpot: Prepare as above, cook on HIGH for 1 hour, then cook

on LOW for 6 to 8 hours. Makes about 25 servings of 3/4 c. each. Approximately

260 cals, 3 g fat, 10 g protein, 41 g carbs, 520 mg. sodium, and a whopping

12 g dietary fibre per serving.

Note: My crockpot holds only 6 cans. I still use the quantities of the other

ingredients as above. This recipe always gets 'rave reviews'.

A Few Basics About Beans...

• Always use clean, clear water for soaking beans and change it frequently.

• Salt inhibits the absorption of water through the beans' skins. Do not add

it to the soaking or cooking water unless the beans are already tender.

• To cook soaked beans: Cover drained beans with cold water. Bring to boil

and simmer.

• Simmer beans at a moderate temperature rather than boiling them.

• Make certain that the beans remain moistened throughout the cooking

time by replacing any evaporated water.

• Toss cooked beans into salads, stir-fries, soups, casseroles, prepared baked

beans or purée into a dip or spread.

• Cooked beans freeze well.

• Between 7 and 11 quarts of gas enter or are formed in the large intestine

daily. While it may sometimes seem like more, only about 1/2 quart of gas is

actually expelled each day. The rest is absorbed into the body.

• Dried beans can be stored for one year. The older the beans, the longer they

take to cook. Buy them at a store with rapid turnover.

• Most beans more than double in volume after they are soaked and cooked.

One pound (2 cups) of dry beans yields 5 to 6 cups cooked beans.

• Acidic foods, such as lemons and tomato juice, toughen bean skins, so add

only to fully cooked beans.

Welcome to ...

Upcoming

EVENTS

WEEKLY EVENTS

THE Club

Welcome to ...

THE

CLUB

Events are listed FREEf

for

non-profit groups (space perming).

DATES SUBJECT TO CHANGE.

Please check ahead if possible.

daily ongoing Weekly adult activities at Strangway Centre, Sarnia sarnia.ca/play 519-332-0656

Mon ongoing Open Play Adult Pickleball, Watford warwicktownship.ca

Mon thru March Adult Lunch Time Skate, Petrolia www.town.petrolia.on.ca

Mon thru March Adult Skate, Forest www.lambtonshores.ca

Mon thru March Adult Skate, Thedford www.lambtonshores.ca

Mon ongoing Forever Fit with LEO, Wyoming Legion, 9:30am www.leohelps.ca

Tues thru March Adult Skating, Watford www.warwicktownship.ca

Tues thru March Adult Skate, Thedford www.lambtonshores.ca

Tues ongoing Euchre Night, Wyoming Legion, 7pm www.facebook.com

Wed starts Jan 18 Boosting Balance & Bone Health, WLCHC, Sarnia www.nlchc.com

Wed ongoing Forever Fit with LEO, Wyoming Legion, 9:30am www.leohelps.ca

Wed ongoing LEO Diners Club, Strangway (1st Wed monthly) www.leohelps.ca

Wed ongoing LEO Diners Club, Corunna (3rd Wed monthly) www.leohelps.ca

Wed ongoing Meat Bingo, Wyoming Lions Club (1st Wed monthly) www.facebook.com

Thurs thru March Adult Lunch Time Skate, Petrolia www.town.petrolia.on.ca

Thurs ongoing Optimists Meat Raffle, Skeeter Barlow's, Brights Grove www.facebook.com

Thurs ongoing Petrolia Optimists Club Meat Raffles, Crabby Joe's www.facebook.com

Thurs ongoing Peer Social Club, Alvinston (2nd Thursday) www.leohelps.ca

Thurs thru March Adult Skate, Thedford www.lambtonshores.ca

Thurs thru March Adult Skate, Forest www.lambtonshores.ca

Sat ongoing Meat Raffle, Wyoming Legion www.facebook.com

Sat ongoing Meat Raffle, Forest Legion www.forestlegion.ca

EXHIBITS

ongoing online Nnigiiwemin/We are going home exhibit (virtual) www.heritagemuseum.ca

ongoing online Lambton Agricultural Hall of Fame (virtual) www.heritagemuseum.ca

ongoing online Lambton at War (virtual) www.heritagemuseum.ca

ongoing online Shine: Spotlight on Women of Lambton www.heritagemuseum.ca

ongoing online The Farmerettes (virtual) www.heritagemuseum.ca

Jan 7 – Feb 18 David Rapaich & John Iacobelli www.galleryinthegrove.com

March 4 – April 22 Call Out for Colour! – A Juried Exhibition www.galleryinthegrove.com

JANUARY 2023

8 Corunna Cribbage Tournament, Legion Branch 447 www.facebook.com

10 online Lambton Annual Meeting 2023 www.lambton.ogs.on.ca

15 Sarnia Bach to the Beatles at Lawrence House 2:30 pm, $15pp www.lawrencehouse.ca

21 Sarnia Robbie Burns Night, Legion Branch 62 www.sarnialegion.com

25-29 Sarnia Clue on Stage at Imperial Theatre www.imperialtheatre.net

28 Sarnia Noelle's Gift Gala at the Dante Club www.noellesgift.ca

FEBRUARY 2023

2 Sarnia Miraculum: Sleight of Mind www.imperialtheatre.net

11 Brigden LCDS Valentine Charity Auction www.lcdspetrolia.ca

15 Sarnia Kim Mitchell in concert www.imperialtheatre.net

17 Sarnia Classic Albums Live: Billy Joel - The Stranger www.imperialtheatre.net

18 - 20 Sarnia Bluewater Anglers ice Fishing Derby www.bluewateranglers.com

23 - 25 Sarnia St. Patrick's High School presents "Grease" www.imperialtheatre.net

25 Petrolia Mudmen in Concert, Victoria Hall www.mudmen.ca

MARCH 2023

3 Sarnia The Irish Rovers in concert www.imperialtheatre.net

8 Sarnia The Jim Gelcer/Paul Hoffert Trio ft George Koller www.imperialtheatre.net

8-10 Petrolia LCCVI Theatre Dept. presents "Clue" www.thevpp.ca

18 - 19 Point Edward Bluewater Anglers: Hatchery Open House www.bluewateranglers.com

24 Sarnia Classic Albums Live: U2 - Joshua Tree www.imperialtheatre.net

31-Apr2 Sarnia Home Show www.sarnhomesshow.com

SEND US YOUR EVENTS NOW

for FREE TEXT LISTING

Include locaon, date, name of

event, and website or phone #.

Send to:

info@welcometotheclub.ca

Welcome to ...

THE

CLUB

winter 2023 (August 21, 2011) An F-3 tornado devastated Goderich, Ontario. P A G E 7
---
Welcome to ...

THE Club

Thank you for continuing to shop locally!

Welcome to ...

winter 2023

Welcoming

New Patients

SARNIA PHARMACY

Corunna Pharmasave

• Pharmacist available 24/7 for our paents

• FREE Delivery • FREE Compliance Packs

• $2.00 Co-Pay waived on elegible ODB Prescripons

• 10% discount on otc items every Tuesday & Friday

Open Monday-Friday 9-6, Saturday 9-2, Sunday Closed SARNIA: 206 Maxwell Street • 519-337-3215

MEDICATION MANAGEMENT • AWARENESS • COMPLIANCE CORUNNA: 409 Lyndoch Street • 519-862-2020

940 MURPHY ROAD

Sarnia • 519-542-1491

Here at Napoli Pizza

we're not just a food

business, we're a

family business. Our

specialty is homemade

pizza, pasta and so

much more.

We are dedicated to

providing you with

only the highest

quality ingredients. We make our food the old

fashioned way. With classic Italian dishes, we

offer our customers a warm atmosphere filled

with the same friendly faces and aromas of

freshly made dough, sizzling pizza and delicious

fresh pasta. Whether you're dining in or

ordering out, we've made your food with the

same quality & care we would make for our own

family, so that you can enjoy it with yours!

Flower

Meanings

Carnations: symbolic of love and

fascination.

Gerbera Daisies: symbolic of

beauty and innocence.

Iris: symbolizes faith, hope and

wisdom.

Orchids: represents rare and

delicate beauty.

Peruvian Lilies: symbolizes

friendship and devotion.

Roses: the definite symbol for

love and appreciation.

Stargazer Lilies: symbolize

innocence and purity, honor and

aspiration.

Sunflowers: symbolic of warmth

and adoration and a sign of

longevity.

Tulips: represents grace and

elegance.

I recently read an editorial in a farm

publication in which the writer discussed

safety concerns surrounding those in

the industry who continued operating

machinery and being involved in the day

to day tasks of farming into their 70's

and 80's. Sometimes it is the only option,

other than selling out and disposing of

the results of a lifetime of hard work.

Sometimes it is an unwillingness to

let go, giving the next generations the

opportunity to learn from their own set of

mistakes. Being raised on a farm which

was operated by and which supported

two generations, I fully understood the

writer's message.

Or, maybe it is all in the mind. Up

until a few years ago I had always flipped

past articles, advertisements and pieces

of advice directed at "Seniors," offering

pre-arranged funerals, lifts for stairways,

step-in bathtubs, and travel opportunities

with just enough fun to be an adventure

but not too strenuous. However, the wheel

of life keeps turning and it only has one

direction to go (like an airplane in flight).

Reminiscing about those good old days,

recalling adventures of a carefree youth

and "tut-tutting" about how things used

to be and comparing an earlier time with

current times are part of the process.

Age is Only

a State of Mind

By Nancy Millman, Sparta

from Daytripping

November-December 2013

However, with all the changes and with

the speed that things are continuing to

change, sometimes that produces stress

and anxiety instead of having the desired

calming effect.

My grandmother, who lived past 90,

was a remarkable woman. Her life was

not an easy one but she was always

cheerful and appreciative. I remember

hearing her say once that sometimes

just a new dish cloth brightened up her

kitchen. I didn't know then what she

meant, but I do now. During a Carol

Burnett show years ago, when Carol

was decked out in her cockeyed wig and

mis-buttoned house dress and struggling

with the self-motivation of a wheel chair,

she said, "If I had known that I would live

this long, I would have taken better care

of myself." At the time that was hilarious.

It is not so funny now.

Maintaining a sense of humour, eating

right, keeping fit and active become

more important as the time moves on.

A common practice is to write notes as

a reminder of things to do or places to

go but sometimes why it was to be done

or what was to be done upon arrival is

forgotten. Did you ever laugh at yourself

after opening the door of the microwave

oven while searching for the pitcher

of milk in the refrigerator? Solitary

conversations are common and may

not be informative, but help to relieve

frustration, and even provide confidence

when working at a difficult task. "You can

do it. Try harder!" "YES. I did it!" It takes

much longer to get things done but that

does not matter because the enjoyment

is in the doing.

By the time we have reached the socalled

golden years the struggle and

stress of raising a family is behind us.

It is too late to worry about how they

turned out because now they are on

their own. We enjoy the honour of

being grandparents and can develop

special relationships with those young

people which sometimes affords the

opportunity to make up for some of

the shortcomings made when raising

their parents. At this time along our

life journey, if we planned it right, we

enjoy financial independence. We have

the freedom of time; time to enjoy our

home and our family; time to enjoy

companionship with friends and peers;

time to volunteer, support a useful cause,

help a neighbour. There has never been

a better time in life to travel, to attend

concerts and the theatre, to eat out or to

just relax with a good book. Shopping is

much more fun because of the seniors'

discounts. It is very certain that clothing

or furniture purchased will not wear out

before the end of its usefulness.

When a very old gentleman was asked

how old he was, he replied, "Let's just

say that I no longer buy green bananas!"

Each day is a gift, no matter what age you

are experiencing. We can either embrace

it or we can endure it. We can follow the

path which is available to us or we can

struggle down a trail of obstacles and

barriers. Every individual has that choice.

P A G E

8

(Aug 14, 2003) Much of Ontario & northern US experienced the Northeast Blackout.
---
Life is short. Smile while you still have teeth.

Welcome to ...

THE Club

My Winter Life

Like the four seasons, life is

continually changing... from the joyful,

innocent, carefree, spring of our youth,

on to the summer of full blossoming,

experimenting and making decisions

that will ultimately lead us to the

individuals we were meant to be.

Autumn fills us with an abundant harvest

of fulfillment, and a slowing of pace as

we prepare to reap the rewards of our

past efforts. They have all passed me by

too quickly, and entering the winter of

my life, I ponder how I will describe it,

for cold, barren and pale, initially come

to mind.

But there is, of course, much more

vocabulary characterizing this frosty

season.

We venture outdoors and turn our

faces upward as we see and anticipate

the first sparkling snowflakes. Silently

falling to the ground, layer upon layer,

they will soon remind us, by blanketing

the ground, we are safe beneath the

duvet of white.

The forest creatures of the land

lie peacefully slumbering, sated and

comfortable in the knowledge that a

reawakening and new beginning will be

their reward. We take note of the hardy

birds and animals, determined to thrive

throughout the harsh and bitter cold.

We are awestruck by their resilience.

The cold, crispness of the season

challenges us to bundle up, step

outdoors, take a deep breath and inhale

the pristine air. It is both reinvigorating

By Betty Popelier, Sarnia

and reenergizing.

In contrast, we can cozy up to the

fireplace, with a warm cup of tea or

a hot toddy and enjoy the peace and

comfort of our own protective fort. Old,

cherished memories are reminisced

during the long, serene nights.

The silence and stillness within

those four stark walls, may at times

feel suffocating, but throwing open the

window dressings, we see with wizened

eyes, the world awaits, and is just a step

away.

"Tis the season to be jolly." The most

wonderous holiday takes place amid

these coldest of months, warming our

hearts, minds and souls. The spectacle

of colourful decorations sprouting here,

there, and everywhere, lightens our

spirits. The laughter, joy and sparkle of

wonderment in the eyes of children as

they unwrap long anticipated wishes,

brings a smile to our face. The true spirit

of this glorious day, the birth of a blessed

baby, and its meaning, makes us take

pause and grants hope for the future.

So, what does the winter of my

life mean to me? Feeling serene and

comfortable in my surroundings,

resilient because of all I have endured,

thankful for the blessings I have

received, at peace with the person I

have become. So, while my hair is a little

whiter, my face a bit paler, my bones

a bit stiffer... my heart still beats, and I

am reenergized, looking forward, with

anticipation for what is yet to come.

Do you want to reach

our age 55+ readers?

advertise

in the club

Call 519-491-1676

info@welcometotheclub.ca

Sexy. Sassy. Spectacular.

For a good time,

call Lola's Lounge!

!

Downtown at 110 CHRISTINA ST.

SARNIA 519.336.8088

Brain Teaser

Eye Test

Count every " F "

in the following text:

FINISHED FILES ARE THE RE

SULT OF YEARS OF SCIENTI

FIC STUDY COMBINED WITH

THE EXPERIENCE OF YEARS.

HOW MANY 'F's?

...Count them again.

(WRONG, THERE ARE 6!)

winter 2023 (August 31, 1997) Princess Diana was killed in a car crash in Paris at age 36. P A G E 9
---
Welcome to ...

During the waning years of the

depression in a small south eastern

Idaho community, I used to stop by

Brother Miller's roadside stand for farmfresh

produce as the season made it

available. Food and money were still

extremely scarce and bartering was used,

extensively.

One particular day Brother Miller was

bagging some early potatoes for me. I

noticed a small boy, delicate of bone

and feature, ragged but clean, hungrily

apprising a basket of freshly picked green

peas. I paid for my potatoes but was also

drawn to the display of fresh green peas. I

am a pushover for creamed peas and new

potatoes. Pondering the peas, I couldn't

help overhearing the conversation

between Brother Miller and the ragged

boy next to me.

"Hello Barry, how are you today?"

"Hello, Mr. Miller. Fine, thank ya. Just

admiring them peas, sure look good."

"They are good, Barry. How's your Ma?"

"Fine. Getting' stronger all of the time."

"Good. Anything I can help you with?"

"No, Sir. Just admiring them peas."

"Would you like to take some home?"

"No, Sir. Got nothing' to pay for 'em

with."

"Well, what have you to trade me for

some of those peas?"

"All I've got is my prize marble here."

"Is that right? Let me see it."

THE Club

E-Mail

The E-Mail

IN-BOX

Send the good stuff to info@welcometotheclub.ca

The Red Marble

"Here 'tis. She's a dandy."

"I can see that. Hmmmm,

only thing is this one is

blue and I sort of go for

red. Do you have a red

one like this at home?"

"Not exactly .... but,

almost."

"Tell you what. Take this sack of peas

home with you and next trip this way let

me look at that red marble."

"Sure will. Thanks, Mr. Miller."

Mrs. Miller, who had been standing

nearby, came over to help me. With a

smile she said: "There are two other boys

like him in our community, all three are

in very poor circumstances. Jim just loves

to bargain with them for peas, apples,

tomatoes or whatever. When they come

back with their red marbles, and they

always do, he decides he doesn't like red

after all and he sends them home with a

bag of produce for a green marble or an

orange one, perhaps."

I left the stand, smiling to myself,

impressed with this man. A short time

later I moved to Utah but I never forgot

the story of this man, the boys and their

bartering. Several years went by each

more rapid than the previous one.

Just recently I had occasion to visit some

old friends in that Idaho community and

while I was there I learned that Brother

Miller had died.

Don't let old age get you down - it's too hard to get back up!

They were having his viewing that

evening and knowing my friends wanted

to go, I agreed to accompany them.

Upon our arrival at the mortuary we

fell into line to meet the relatives of the

deceased and to offer whatever words

of comfort we could. Ahead of us in

line were three young men. One was

in an army uniform and the other two

wore nice haircuts, dark suits and white

shirts... very professional looking.

They approached Mrs. Miller,

standing smiling and

composed, by her husband's

casket. Each of the young men

hugged her, kissed her on the

cheek, spoke briefly with her and

moved on to the casket. Her misty

light blue eyes followed them as, one by

one, each young man stopped briefly

and placed his own warm hand over the

cold pale hand in the casket. Each left the

mortuary, awkwardly, wiping his eyes.

Our turn came to meet Mrs. Miller. I

told her who I was and mentioned the

story she had told me about the marbles.

Eyes glistening she took my hand and

led me to the casket. "Those three young

men, that just left, were the boys I told

you about. They just told me how they

appreciated the things Jim "traded"

them. Now, at last, when Jim could not

change his mind about color or size...

they came to pay their debt. We've never

had a great deal of the wealth of this

world," she confided, "but, right now,

Jim would consider himself the richest

man in Idaho."

With loving gentleness she lifted

the lifeless fingers of her deceased

husband. Resting underneath were three,

magnificently shiny, red marbles.

Moral: We will not be remembered by

our words, but by our kind deeds.

Canning Time

By Joanne vanDam, Lucknow

from Daytripping July-Aug 2020

The cucumbers are dilled.

The chili is chilled.

The canning is done for the season.

By the stove I have toiled.

The jars have been boiled.

Good food from the garden's the reason.

It's a comforting feeling,

When I hear the jars sealing,

And each jar is filled to the top.

That sound makes me smile.

Says, it's all been worthwhile.

When I hear all those sealer lids POP.

All that peeling and chopping,

And constant brow mopping.

Hard work is all part of the bargain.

There's no time to be bored,

And I thank the Dear Lord,

For each blessing that comes from our

garden.

'Cause when winter comes calling,

And the north winds are squalling,

And we suffer from lack of the sun.

There'll be no lack of food,

To darken our mood.

'Cause in August, the canning

was done.

Welcome to ... winter 2023

Established in 2010, Shine at Home serves seniors who wish

to live in full independence. Since our earliest beginnings we

have learned that with just a little help, people can remain

in their homes for many years safe and free in the

knowledge that a dedicated team is there for them.

Seniors' Home Independence Network

Life is Better When

You're Home

Seniors live at home -

independently,

comfortably & happily.

It doesn't matter how old you are, life is always better

when you're home. There's a deep comfort that comes

from being in familiar surroundings, sleeping in your own

bed, and living under a roof that belongs to you.

Housekeeping

Companionship

and Care

Call today and find out

how Shine at Home

can help you:

519-336-9898

"All the staff go out of their

way to make life easier for our

Mom when we aren't able to

be there everyday! We

definitely recommend Shine at

Home to others looking for

excellent care for their elderly

parents"

Heather – Daughter of Client

"The lady who does my

housekeeping is so nice and

efficient and always fits in

special requests"

Ruth Ann - Client

shineathome.com

P A G E

10

Where were you when you had your first kiss?
---
Maybe we should stop it with the elderly jokes. They're getting old.

Welcome to ...

THE Club

GIFTWARE & UNIQUE HOME DÉCOR

SHOWCASING MANY LOCAL ARTISANS

Home of Just-A-Nuff Antiques

We want your

photos, stories

& anecdotes

showcasing

Sarnia-Lambton!

Welcome to ...

THE

CLUB

TUESDAY-FRIDAY 10-5 • SATURDAY 10-2

850 Colborne Street @ Exmouth Street

Northgate Plaza, Sarnia • 519-336-3838

Send them to

info@welcometotheclub.ca

We also welcome your ideas,

comments or questions.

Photo credit:

Phil Collins

(for real)

My Lefthanded, Backwards,

Upsidedown Life & Assorted Short Stories

By John Gardiner

My first serious encounter with the

opposite sex also happened around

this time. I was at a dance in Walkerton

and the first time I saw her, my heart

melted. She was, to me, the most

gorgeous creature I'd ever seen. So I

did something really out of character. I

asked her to dance, while at the same

time, Glen and a couple of my other

buddies zoned in on her friends. Her

name was Kathy and she was from a

small town called Teeswater. I spent

the rest of the night with her – at least

until the dance was over and her ride

was leaving for home – because that's

the way it worked in those days….

when you said you spent the night with

someone, it wasn't the actual night, it

was only until the girl went home and

you got a kiss good night if you were

lucky.

I was totally and completely smitten

with this girl….I could not get her off

my mind in the days and weeks that

followed. However, the fact she lived in

Teeswater, which was likely 40 minutes

from Hanover by car, was a huge obstacle

in those days. We were too young to

drive and long-distance telephone

calling was hugely expensive and only

usually done in extreme circumstances.

So, it was pretty tough maintaining a

long-distance relationship. Still, there

was hitchhiking and we did lots of that

in that other time. We hitchhiked all

over the place, even to Kitchener and

Toronto, so Teeswater wasn't that bad.

And I went every chance I got and the

The following is an excerpt from "My Lefthanded,

Backwards, Upsidedown Life & Assorted Short Stories"

by Wallaceburg writer John Gardiner, who grew up and

came of age in Hanover, Ontario during the 1950's and

1960's. In this memoir, Gardiner tells the story of his

growing-up years with a series of colourful anecdotes

about the way life used to be. More of the writer's work is

available at www.johngardinerstories.com or by contacting

the author at gardiner@kent.net.

My First Great Love

girl seemed most receptive and it was a

happy time in my life.

One way I used to get to see her was

by catching a ride with my cousin's

boyfriend when he drove her from

Hanover back to nursing school in

Wingham on Sunday nights. He had

to pass right through Teeswater to get

her back, so I would catch a ride to see

my sweetheart. It was weird snuggling

on her couch watching TV while her

parents stayed in the kitchen making

sure everything was good with their

daughter. I remember my ride didn't

come until later than usual one night,

and her Dad appeared in his red long

johns to make sure things were okay…..

Likely the greatest adventure I had

with her was our appearance on the

CKNX after school dance show called

"Uptight". These types of dance shows

were popular back in the Sixties and

they were sort of spin offs of shows like

American Bandstand and Soul Train

that were big news on TV. And so CKNX

had a local version of its own and the

various high schools in the area were

invited to come on different weeks,

and, as might be expected, Hanover's

turn came. Now, CKNX was located

in Wingham and if you remember,

Wingham is close to Teeswater. I

wouldn't normally even consider

going on a dance show because I don't

actually do much dancing unless under

extreme duress or hopelessly in love –

and this time it was the latter. But there

was an obvious chance to get together

with the girl of my dreams if things

could be worked out.

Well, the long and the short of it

was that my friends from school and

I snuck the Teeswater girls onto the

show and this likely wouldn't have

been a problem, except for my own

moral depravity. I latched onto my

Teeswater sweetheart like you did in

those days to slow dance and that's

what we did - we slow-danced through

the entire show and it was one of the

most truly delicious times in my life. I

can still remember to this day how she

seemed to fit exactly into the contours

of my body and I remember thinking

that I never wanted the time to end

– one of those special times which

I'm sure we all have. And, finally, the

show ended and we parted company,

she to her home and me to mine. All

seemed amazingly excellent with the

world. Until the morning after the show

aired, and I got a call to Principal R.A.

Crawford's office where I was indeed

accused of moral depravity and setting

a poor moral example for a student

from Hanover High. It was good with

me, though. Very good, indeed.

Now, I don't know if the TV show

had anything to do with it or not, but it

was shortly after this that she dumped

me. She didn't really tell me she was

dumping me the traditional way – she

showed up at one of the dances in

Walkerton on the arm of a football jock

– big guy – school jacket. I got a final

chance to talk to her sometime later

and she told me I just wasn't right for

her. I had long hair, played in a band,

drank, smoked, did drugs. She wasn't

interested in any of that stuff…it sort

of frightened her. I didn't even try to

discuss the matter with her….if she

didn't like any of that stuff, we were

clearly on different wavelengths…sort

of different planets. That stuff was me.

So, it ended. She went on to become

a dentist and she married a guy who

became a neurosurgeon. If she'd stayed

with me, I'm not sure she'd have had

the same type of life. I hope she's happy

and I'm thankful to her for sharing even

a small moment of her life with me…..

Send your

EVENTS

Text Only

Listings

s

are FREE

Include town, date, name of the event,

website/phone e/ph

number.

info@welcometotheclub.ca

Display Space Is Also Available

You've wanted

one of these for

40 Years!

Yes

you

can!

Taylor Guitar

814CE

430 Exmouth Street, Sarnia

519-344-7740

pickersalley.com

winter 2023 (July 21, 1969) Neil Armstrong became the first person to step on the moon. P A G E 11
---
Welcome to ...

THE Club

Thank you, to all the advertisers you see throughout the magazine.

Welcome to ...

winter 2023

sarnia realty Inc., Brokerage*

*Indepentently owned and operated

STEPHANIE MURRAY

Sales Representave

Cell: 519-383-5185

Office: 519-542-9999

movewithsteph@gmail.com

WONDER – what the real estate market is up to?

WONDER – what your house is worth?

WONDER – is this a good time to buy?

Stop wondering and call us!

sarnia realty Inc., Brokerage*

*Indepentently owned and operated

LAURIE LAURIN ABR, SRS

Sales Representave

Cell: 519-328-7251

Office: 519-542-9999

laurie.l@bell.net • laurielaurin.com

Affordable Rates • All Work Guaranteed • 25 Years Experience

GENERATION PAINT COMPANY

Interior & Exterior Painting and Makeovers

All types

of

painting,

feature walls,

wallpaper

15% Seniors

DISCOUNT

Call Mark 519-330-4424 or email 1863989ontarioinc@gmail.com

Priceless

Things

Author Unknown

nown

Life holds so many priceless things

The falling rain—the wind that sings

Each star on a high—a big full moon

And sunbeams dancing in your room

The river as it rushes on

A sunset when day is gone

No wealth can buy a mountain tall

These priceless things belong to all

An autumn tree lends beauty rare

With leaves piled deep most everywhere.

As nature wears a glowing smile

to make each day a day worthwhile

Ships Away

By Gloria Austin, St. Thomas

from Daytripping Nov-Dec 2011

Could anything be quite as dear

As laughing children that we hear

When the German prisoners first

came to our place they had guards,

with guns too. I saw them.

It was about the first part of the

1940's and a prisoner of war camp

was built in Fingal. That was only a few

miles from our home and my father

had found out that many of the

prisoners were sent

out to work on

the surrounding

farms, so he

thought since

he needed men

to work in his

ship yard he would

see if he could hire a

few. And he did. Even at

that time, I knew they would only send

men who spoke English.

I lived in a large house with my

grandmother in Port Stanley at the

time. My grandpa had died a year

before and my mother asked if I would

go to stay with her for a time. Of

course at the age of fourteen it seemed

wonderful - a new school, new friends

and my own room. That isn't exactly

the way it worked. My gram and I slept

in the same room but it was okay.

At first, as I've mentioned, the

prisoners had guards with guns. Pretty

soon the guards were gone and it was

arranged for the Germans to board at

my gramma's. It seems money was

tight and she was assured by someone

that they were not dangerous, and it

was a very large house. So they moved

in. Their names were Hans, Arnold

and Hanson. We never learned if that

was first or last names.

When supper was over (yes, they

ate with us) they would make ships

in bottles. The fishermen would give

them large empty liquor bottles and

they then created replicas

of the ships. Everyone

loved the

work they

did on the

bottles - art

really.

I watched Hans create

one of these. It took a

long time. The wood had

to be carved then painted to

match the real thing. Every piece was

attached with string flattened out, put

through the mouth of the bottle and

when it was placed just right a string or

strings were pulled and the ship stood

up. What a thrill that was to see.

We never discussed the war, but

they did talk about their families. It

seemed to me they were just like the

other people we knew. I went to school

every day on the train and came back

just in time for supper. We all arrived

home about the same time. The men

from work and I from St.Thomas High

School, except one day they weren't

there. Grandma just said they had

to leave. They were being sent back

home to Germany. I felt a bit sad.

All these years later I wonder if any

of those ships are still around.

The gift of friendship that is ours

The miracle of growing flowers

Each magic moment—treasured time

These priceless gifts are yours and mine.

Owen R. Wyrzykowski

Owen R. Wyrzykowski

519-336-6118

6118

WYRZYKOWSKI & ROBB

Barristers and Solicitors

Whether you are buying or selling real estate,

or need to update your estate planning,

we provide personal service to help you

through the legal process.

orw@wrlawoffice.ca

722 Lite Street, Point Edward

• Real Estate Purchases & Sales

• Mortgages & Credit Lines

• Wills & Powers of Aorney

• Estate Planning & Administraon

30 Years Experience

P A G E

12

(Feb 28, 2010) Sidney Crosby scored the Golden Goal at the 2010 Vancouver Olympics.
---
As you may have guessed by now, it's for people 55+

I speak my mind

because

it hurts to

bite my tongue.

Kern

water

1804 London Line, Sarnia

519-542-4211

kernwater.com

Mon–Fri 9 am–6 pm • Sat 8 am–2 pm

U-Fill

Water

Delivery

Service

Reverse

Osmosis

and Alkaline

Welcome to ...

THE Club

Tax Season is Coming!

Rely on Certified Professional

Bookkeeper

Jacqueline Waybrant

to help you out

this year.

CALL

519-312-8560

As a physiotherapist working in the

community, I am often asked to help

support those directly and indirectly

affected by dementia. While we have

no control over dementia risk factors

such as genetics and age, recent

research does indicate that there are

several lifestyle things we can do to

help support our brain health as we age.

The research suggests six key lifestyle

factors can influence not only longevity,

but also our brain health. Who knew?

So, what are the Six Pillars of brain

health and longevity?

Exercise

Mental Stimulation

Social Activity • Nutrition

Stress • Sleep

Exercise: Most of us know the

importance of exercise for our physical

and mental health, but did you know

that exercise benefits our physical brain

as well? Exercise improves blood flow

to the brain, therefore boosting the

supply of oxygen and nutrients to the

brain and it also boosts neuroplasticity

(helps build new brain cells and form/

reorganize cells). Although there does

need to be more research on the optimal

exercise "prescription" to maximize

benefits for our brain health, we do

know that 150 minutes of moderate

to vigorous exercise a week each week

My ability

to remember

song lyrics

from the 60s

far exceeds

my ability

to remember

why I walked

into the

kitchen.

Lifestyle and Brain Health

By Kelly-Lynn Musico, Brights Grove • Registered Physiotherapist, Registered Yoga Teacher

is recommended. A brisk paced walk,

going for a bike ride, gardening, or

even cleaning our house are all ways to

increase activity to boost our brains.

Do what you love and let's just keep

moving.

Mental Stimulation: Exercising

our minds is just as important as

exercising our bodies. Challenging

our brain with novel activities and

new ways of doing things help to

build new brain cells and strengthen

those connections between them.

So, do whatever you enjoy that

keeps your mind active whether its

reading, playing games, doing a puzzle,

or something else that requires your

focus. Engage your mind.

Social Activity: Social engagement

can be a predictor of overall well-being

throughout life. When we have a vibrant,

LONDON ROAD PHARMACY

Locally Owned and Operated

Make Ideal Protein Your

New Year's Resolution

Medically Supervised

Weight Loss Program

Diet • Personal Coaching

Weekly Weigh-ins

Call Tammy for Details!

Weekly Blister Packs Available!

www.londonroadpharmacy.com

SENIOR'S

DAY

Every Thursday

20% OFF!

Tammy Maure

1249 London Rd

519-491-6778

* Every surface & product is sprayed with disinfectant fog daily for your safety!

positive social life, we tend to feel less

stressed and maybe have increased

opportunities to exercise our bodies

and minds with friends that support

us. No need to be a social butterfly, it's

the quality of relationships that matter

more than the quantity. Hello friends!

Nutrition: Our brains require a

constant supply of vitamins, minerals,

essential fat, and amino acids to

function. According to research, a hearthealthy

diet such as the Mediterranean-

DASH diet, doubles as a brain-healthy

diet. While it may not always be easy

to make huge changes to our eating

habits, even a small shift can help. So

maybe eliminate some processed foods

and add a little more whole grains, leafy

greens, fruits, and nuts to your diet,

which can have brain health benefits.

Time to make a delicious journey toward

improved brain health.

Stress Management: While stress is

a normal part of everyday life, stress

that happens frequently, or becomes

chronic, can take a toll on our brain

health. How does stress affect brain

health? When we are stressed for

prolonged periods of time, the hormonal

and vascular changes can result in

increased blood pressure, higher sugar

levels, and inflammation—all of which

are associated with dementia. There

are so many effective ways to manage

our stress such as deep breathing,

meditation, exercise and talk therapy...

even with our friends. Find what works

for you to cope with your stress. Love

my yoga!

Sleep: Not getting enough good

quality seep on a regular basis can

leave us feeling tired and irritable and

can impact our brain health. According

to some researchers, they found

increased grey matter volume

in the brains of those who

had between six and eight

hours each night. More grey

matter volume is a good

thing, as it tends to shrink

with age. Yikes! Good thing

I like to get eight hours of

sleep. Phew! Establishing a

nighttime routine can be key

to a good night's sleep. So, leave the

exercising to the daytime and avoid

the internet and TV to at least an hour

before bedtime. Nighttime routine can

be key.

So, are these six factors going to

prevent dementia? Not likely, but some

of the factors could "push back" the

onset of cognitive decline. Dementia

develops over a long period of time so

the earlier in life we start to make some

of these changes it could potentially

benefit our brain health and longevity.

Move Better. Feel Better. Live Better.

winter 2023 (August 16, 1977) Elvis Presley, the King of Rock n Roll, died at age 42. P A G E 13
---
Welcome to ...

Mainframe

THE Club

• Canvas Stretching

• Jersey Frames

• Needlework Stretching

• Frame Repairs

• Glass Replacement

Visit Sarnia's Best Lile

Family Shoe Store Today!

565 Murphy Rd • 519-383-0588 • shoeboxsarnia.ca

QUALITY PICTURE FRAMING

Sarnia's

choice

for

over

40 years

• Object Framing such

as War Medals and

Sports Memorabilia

(the list is endless)

• Plak-it also available

1249 London Rd, Sarnia • 519-383-7114 In Teppermans's Plaza

Get Organized WORD SEARCH

A New Year's resolution

is something that goes

in one Year and out

the other.

As reported by

Lambton Elderly Outreach (LEO)

began in 1970 with a group of

community members operating a

Meals on Wheels service. Over 50 years

later, LEO has increased its services

and supports to include adults over

60 and adults with disabilities. "As an

organization, we are committed to

community support services that enable

people to live in their homes longer and

with dignity and independence," says

Paula Reaume-Zimmer, CEO Lambton

Elderly Outreach, "We also really value

our volunteer and social engagement

opportunities; making sure people are

connected and not socially isolated."

LEO offers many services including

transportation, Meals on Wheels,

Friendly Visiting, a Retirement Home

Support Program, crisis intervention,

and home support services which

includes personal support workers,

home helpers and respite. "Having a

meal delivered to your home can make

all the difference following a surgery or

if you are finding yourself on your own,"

Amy Weiler, Community Engagement

Specialist says. Services like Meals on

Wheels or transportation allows clients

to have homecooked meals delivered

to their door or ride to their doctor's

appointments or social engagements.

The United Way provides funding for

those two programs which provide

subsidies to low-income qualifying

clients.

Sarnia-Lambton's population is older

than the provincial average by five

per-cent, so LEO sees a demand and

growing need for the community to

come together and offer services for

the aging demographic. LEO is also

the lead agency of Age-Friendly Sarnia-

Do you remember being 19? Neither do we!

You can't buy

Happiness

but you can

BUY

LOCAL!

www.hashtaglocal.com

Lambton Elderly Outreach

Lambton, an initiative that works with

community partners to increase access

and awareness of all the social supports

and community programming. As a

part of Sarnia-Lambton Health Team,

LEO along with 35 partners in the

community are working on improving

the health care system by making it

easier for people to access what they

need.

Social programming is a key part

of what LEO offers. Their programs

include a Diner's Club, a Peer Social

and Wellness Club, and Forever FIT

exercise classes to name a few. These

programs offer LEO clients a way to

stay connected to their peers and the

local community. "We want to increase

well being while giving our clients the

opportunity to engage and connect with

their community," explains Amy.

LEO's programs and services are

made possible by a dedicated volunteer

base that help create meaningful impact

in the community. Friendly Visiting,

Meals on Wheels, and Adopt-a-Driveway

are key programs where volunteers give

their time to implement LEO services

and support clients. "Volunteering offers

vital help to organizations like LEO, but

also has many benefits for volunteers,

such as connecting with the community,

learning new skills or applying areas

of expertise, and can reduce stress

and increase self-esteem," explains

Amy. LEO is seeking new volunteers

for their growing list of programs.

"Whether it's for one-off programming,

or ongoing services, we have volunteer

opportunities for every schedule,"

says Amy. Those interested in getting

involved should visit the LEO website at

lambtonelderlyoutreach.com.

Welcome to ...

winter 2023

Photo Credit:

Sierra Hart Photography

Find these words hidden vertically, horizontally, diagonally and backwards.

P A G E

14

(January 1, 2000) The Y2K scare ends with the dawn of the new millennium.
---
Putting the "old" back in "Damn, you're old!"

Welcome to ...

The DISCOUNT LIST

A list i of o local discountsi

s or offers that a t

benefit n

efi t

people ple e over e acertain a a i

age.

PLEASE LET US KNOW OF ANY THAT ARE MISSING!

Welcome to ...

THE Club

THE

DISCOUNT

LIST

Sponsored By:

TOWN

BUSINESS

SPECIAL OFFER

AGE+

CONTACT

BRIGHTS GROVE Shoppers Drug Mart 20% OFF Thursdays 65+ 519-869-4224

CORUNNA Corunna Pharmasave 10% OFF Tuesdays & Fridays 65+ 519-862-2020

Shoppers Drug Mart 20% OFF Thursdays 65+ 519-862-1451

Corunna Foodland 2% OFF Wednesdays 60+ 519-862-5213

FOREST CDS Pharmacy 15% OFF Wednesdays 60+ 519-786-2104

Forest Naturals & Home Health 15% OFF Wednesdays 65+ 226-520-0054

Forest Pharmasave 10% OFF Every day 55+ 519-786-5161

Williamson Farms Country Store Various Wednesdays 55+ 226-520-0144

PETROLIA Bargain Shop 20-30% 1st Wednesday of month 60+ 519-882-0057

Country Yarns 15% OFF See ad in The Club all ages 519-882-8740

Gramma's Candy Store 5% OFF Tuesdays 60+ 519-882-1212

Gray's Floral Market 50% OFF Fresh & Premade all ages 519- 882-1330

Saturdays 2-4pm only

Heidi's Your Independent Grocer 10% OFF Tuesdays 60+ 519-882-2211

Hogan Pharmacy 20% OFF Wednesdays 60+ 519-882-1840

M&M Meats 10% OFF Tuesdays 60+ 519-882-4316

McDonald's 20% OFF* Coffee/Tea daily 55+ 519-882-3678

PT EDWARD Twin Bridge Lighting 15% OFF Mondays 55+ 519-344-3535

SARNIA Bulk Barn 10% OFF Wednesdays 65+ 519-542-6668

Custom Plumbing 10% OFF Every day 65+ 519-337-1545

Generation Paint Company 15% OFF Every day 65+ 519-330-4424

Giant Tiger 10% OFF Ist Monday of month 65+ 519-336-0831

Goodwill 25% OFF 2nd Monday of month 55+ 519-541-9273

London Road Pharmacy 20% OFF Thursdays 60+ 519-491-6778

M&M Meats 10% OFF Tuesdays 60+ 519-542-8398

McDonald's 20% OFF* Coffee/Tea daily 55+ 519-336-7096

Michaels 10% OFF Every day 60+ 519-542-3200

Mission Thrift Store 20% OFF Last Thursday of month 65+ 519-337-1614

Don's Home Renovations 10% OFF See ad in The Club all ages 226-343-2265

OMG Poutine 15% OFF Tuesdays 60+ 519-491-5563

Petsmart 10% OFF Grooming on Tuesdays 65+ 519-542-2822

Peavey Mart 20% OFF Last Tuesday of month 55+ 519-542-4091

Pet Valu 10% OFF Last Thursday of month 60+ 519-541-0468

Rexall Pharmacy 20% OFF Tuesdays 55+ 519-332-5575

Russell Street Home Hardware 20% OFF See ad in The Club 60+ 519-383-0688

Salvation Army Thrift Store 25% OFF 1st Wednesday of month 60+ 519-344-3781

Sarnia Pharmacy 10% OFF Tuesdays and Fridays 65+ 519-337-3215

Shoppers Drug Mart 20% OFF Thursdays 65+ 519-337-3727

Value Village 30% OFF Tuesdays 60+ 519-541-0153

STRATHROY M&M Meats 10% OFF Tuesdays 60+ 519-245-6355

McDonald's 20% OFF* Coffee/Tea daily 55+ 519-245-3821

WYOMING SunCoast Natural Health 15% OFF Every day 65+ 226-307-0694

Wyoming Tree Service 10% OFF Every day 65+ 519-845-0847

Call 519-491-1676 or email info@welcometotheclub.ca to add one!

Please remember: e

r: These discounts are for reference. eren

en

They may change & may not

apply ply to specific c items. Stores are not obligated to adhere to what we've printed.

You may also need to ask in order to get the discount. t Thanks for understanding.

ndin

Get It

Done Right

The First

Time

JOBS BIG OR SMALL:

• Faucet Installation

• Leak Repairs

• Clogged Drains

• Camera Inspection

• Toilet Replacement

& Installation

• Sump Pump

• Frozen Pipes

• Sewer & Waterline

Replacement

Ask for your

Seniors Discount

Family i

l

Owned e d

& Operated

p and a d Proudly Serving

Lambton b

t n County u Since 1991

345 Ontario Street, Unit B

SARNIA • 519-337-1545

CustomPlumbingSarnia.com

Give us a call with

your plumbing questions

or for a free estimate!

winter 2023 (May 25, 1993) Wayne Gretzky was not penalized for high sticking Doug Gilmour. P A G E 15
---
Welcome to ...

As reported by

THE Club

www.hashtaglocal.com

Sarnia Home Hardware

Laughter is the best medicine - here's to your health.

van Goozen Music

DAYTIME LESSONS

For yourself, your kids

or grandkids!

Welcome to ...

winter 2023

When Bill Lamarche

was the sporting goods

and seasonal manager at

a large retailer in London,

he began dreaming

about opening his own

business. In 1989, he and

his wife Alice purchased

Sarnia Home Hardware.

In 2001, they moved to

their current location, 120

Russell Street, and since

then the business hasn't

stopped growing. After

over 30 years of service,

Bill and Alice have stepped

back and their daughter,

Laura Lamarche, has taken over as store

manager.

Sarnia Home Hardware sells a full

selection of home improvement supplies

from plumbing to hand tools. They also

sell housewares, giftware, seasonal items,

and lawn and garden supplies. "On any

given day, staff are mixing paint, helping

in electrical, and merchandising a new

housewares display. It's never boring

here. We are always learning both from

each other and our customers," shares

Laura.

The Beauti-Tone paint centre is a

particularly busy spot in the store. Paint

Manager Carolyn Robinson has been

helping people find the perfect paint

and supplies for six years. "During the

height of the pandemic we would be

mixing 50-60 cans of paint a day. Today,

people want assistance and knowledge.

No one wants to do the wrong thing or

do it twice. And after a conversation with

Carolyn our customers don't have to,"

Laura explains. Home Hardware makes

its own paint, Beauti-Tone, right here in

Canada.

James Hamilton, the hardware

manager has also made a name for

himself. "James is a destination for

people. You can't find someone who's

better at giving service than him,"

Laura says. James is another long-term

employee of Home Hardware, and has

been at Russell Street for almost 12

years. "So many of our employees have

been with us for years. I think that's a

testament not only to the store but to

our customers." The great team at Home

Hardware creates a good atmosphere for

customers and employees. "When you

give people a little bit of creative freedom

you'll be amazed at what they can do."

Located in Sarnia's southend, staff at

Home Hardware are beginning to see

an emerging demographic of young

homeowners in the area looking to fix up

their new-to-them homes. "People are

buying homes in the south end of Sarnia

again, and they want to do the work in

their homes properly. Our staff are a

reliable source of information for them,

because service remains the cornerstone

of what we do here," Laura says.

While paint and hardware are two

staples people often think of when

it comes to Home Hardware, at this

location customers can find a whole lot

more. "There is a lot of merchandise in

this store. Don't let the size fool you,

you can come to get duct tape and

leave with a scarf," Laura shares with

a laugh. Home Hardware stores are

independently owned, making each

store unique. "Our store has become a

houseware and giftware destination.

There are so many places in town to get

building materials and tools, we've taken

our store in a different direction." With

everything from decor to clothing, or

kitchen and tool gadgets, there is bound

to be something for even the hardest

person to shop for on your holiday list.

"People come to our store for unique

gifts or things people need. Whether

it's gifty or completely practical, there is

something for everybody."

When it comes to the future of Home

Hardware, Laura and her team will

continue to prioritize top-rate service.

"We love what we do, and if we can

continue to maintain this kind of

relationship with our community, and

each other, that sounds like a great future

to me," Laura says. As the store continues

to grow its merchandise sector, there are

a few areas Laura dreams of improving.

"I would love to see more local brands

and Canadian brands on our shelves. We

love to support local every way we can,

and this is the natural next step."

Home Hardware's guiding ethic is

that community and the common good

is simply good business and this can

be seen in all aspects of Sarnia Home

Hardware. "We are a neighbourhood

hardware store. We know our customers,

and they know us. They have come to

trust us for our knowledge and great

customer service," shares Laura. "Many

of our customers stop in just to chat.

Every day I come to work and I'm with

friends."

Photo Credit: Sierra Hart Photography

FOOT ORTHOTICS

SLIPPERS, SHOES, BOOTS, SANDALS

STORE & STUDIO • 519-344-2319

115 Mitton Street South, Sarnia

Julie Munday, Certified Pedorthist

www.soledecisions.com

30+ YEARS

EXPERIENCE!

For help with comfort,

support, circulation,

ASK ABOUT IN-HOME SERVICE fatigue and balance.

303 Davis St, Sarnia • 888-971-6345 Essential Business - Onsite Lab

SCOTTISH

Russell Street

Family Owned

and Operated

Since 1989.

A penny saved is a penny gained.

A day to come seems longer

than a year that's gone.

He that teaches himself

has a fool for a master.

A rich man's wooing need

seldom be a long one.

Better to be alone than in bad company.

When one door sticks, another one opens.

Whisky may not cure the common cold,

but it fails more agreeably than most other things.

Egotism is an alphabet of one letter.

He that lives upon hope has a slim diet.

Fools make feasts and wise men eat them,

the wise make jests and fools repeat them.

SAVE 20%

O ff 1 regular priced

item with this coupon.

(some exclusions apply)

(For Seniors 60+)

120 Russell Street North, Sarnia • 519-383-0688

P A G E

16

(Nov 22, 1963) American President John F Kennedy was assassinated in Dallas.
---
It's the advertising that makes this magazine possible, and free!

Welcome to ...

THE Club

Nike is a firm that assists athletes

with exercise footwear and clothing.

The

Their motto: "Just do it." If you just

Retirement

do it, it might set you back $200 for

running shoes and another $200 for

Coach © by Mike Keenan clothing. Amazing when you consider

http://theretirementcoach.libsyn.com/ that Greek Olympians competed in the

nude.

An unfortunate consequence of

exercise is perspiration or sweat. I

Should Seniors recommend "no sweat" for seniors.

Especially in winter. Sweating

Engage

dramatically increases your exercise

budget with the addition of myriad

Listen in to Mike's Exercise?

podcasts (humour, travel and poetry) at: antiperspirants The Retirement Coach: that contain aluminum

http://theretirementcoach.libsyn.com/ His book, 'Don't Ever salts. Quit That - a Journal alone of (aluminum Coping salts) should

with What Crisis do & the Nourishing following Spirit,' professions is available in have print & electronic discourage format exercise. at Amazon:

in https://amzn.to/2KBdPWQ

common: mortician (in more genial

terms, funeral director), pathologist,

gravedigger, mourner-greeter, makeup

artist, hospice aide, floral designer,

obituary writer, embalmer, crematorium

technician, coroner, monument engraver

and/or manufacturer, cardiac surgeon,

paramedic and stretcher-bearer?

They follow a theme, don't you think?

If you guessed exercise, then you are

correct. When seniors engage in vigorous

exercise, these occupations are soon to

follow.

In the old days before 1956 when T.V.

remotes were invented, people didn't

have to exercise. Their physical lifestyle

was sufficiently demanding. They didn't

have to pay $1450 annually for a gym

membership with complimentary towels.

Surely, you have listened ad nauseum

to your grandparents' astonishing tales

of rigorous exertion, walking miles and

miles to school before metric conversion,

(which make the distances seem longer)

but dropping out in grade six to help with

demanding chores around the home.

I have a University degree in Physical

Education. I know what I'm talking

about. There are two types of exercise—

A dangerous modern intervention

involves machines that actually perform

work for you. You can ski, row, climb

and such, but the cool thing about

these mechanical items is that you can

simultaneously watch T.V. It's a win-win

scenario while you ride the machines.

Some people rant and rave about a

particular form of exercise such as Pilates,

which was not named after Pontius

Pilate and certainly does not involve

carrying a cross. I tried yoga, which is

composed of asanas or poses, popular

with extroverts. After a while, I became

quite proficient posing as an eucalyptus

tree, but nevertheless, as a precaution, I

arrived at class with a shoehorn and a

bottle of extra virgin olive oil.

If sufficiently motivated with adequate

discretionary funds, one might hire a

fitness coach who will shame one into

paying him or her progressively larger

sums of money merely to watch one

exercise.

My favourite form of exercise is

gardening. Down on my knees, I love to

till the earth, which, after all, is where

I'm soon going to end up, but I guess I

should conclude on a more positive note

aerobic and anaerobic. Aerobic is by mentioning that exercise is often

performed while wearing Spandex, linked with good sex. However, I must

sometimes accented by a sweat band;

all other forms are anaerobic. Spandex

is an anagram of the word "expands."

This does not auger well for appearance,

so aerobic exercise should be avoided.

The other danger is that chemicals called

endorphins invade blood vessels and

warn seniors that your partner will not

respond well in the bedroom if you have

to first perform 15 minutes of stretching

warmups. And calling it "foreplay" will

lead to disastrous results.

Listen to Mike's podcasts (humour,

travel and poetry) at: The Retirement

cause a beatific look on your face, which Coach: http://theretirementcoach.libsyn.

makes it seem that you are content to

expire. I could mention other disturbing

items like lactic acid, but there is no need

to flaunt my extensive knowledge.

com/ His book, 'Don't Ever Quit - a Journal

of Coping with Crisis & Nourishing Spirit,'

is available in print & electronic format at

Amazon: https://amzn.to/2KBdPWQ

Stop In & See The Difference An Independent,

Locally Owned Business Can Offer!

• Fashionable designer frames

at compeve prices

• Durable, high quality brands

• Personal aenon to your vision needs

• Honest opinion on your frame fit & style

• Value brands available to fit your budget

• Offer direct billing to most vision plans

... A Frankly Optical Experience!

Great

Selection

of

Fashionable

Everyday

Eyewear!

Beth Kolthoff

With Beth's 30 years of

experience she is dedicated

to helping you find

just the right pair

from her great selecon

of eyewear including

sunglasses & contact lenses!

Walk in or book a one on one appointment time!

147 N. Mion St., Sarnia • 519-337-4060 • TheEyeGuySarnia.com

winter 2023 (October 24, 1992) The Toronto Blue jays won their first Baseball World Series. P A G E 17
---
Welcome to ...

THE Club

This magazine comes with a free, built-in, old fashioned fly swatter!

HOME HANDYMAN!

Reasonable Prices

FREE ESTIMATES

Decks, Sheds, Repairs...

(Excludes plumbing/electrical)

YOU NAME IT,

I'll get it done for you.

10% OFF with mention of this ad

Phrase Origins

Refers to everything being considered, on the

whole. Originates from 16th century when the

word large meant a ship was sailing with the

wind at its back, and by meant the opposite. So

if a ship was sailing in any or all directions,

regardless of the wind, it was sailing by & large.

By and Large

30 YEARS

EXPERIENCE

Call Don at

226-343-2265

Welcome to ...

winter 2023

After the Tornado - Charles Mackenzie & Co.

144-46 North Front Street, Sarnia - July 13, 1879

SARNIA

Auto Centre

and more reputable brands.

Be prepared with

Winter Tires and

winterize your vehicle.

24 HOUR EMERGENCY TIRE SERVICE

519-383-1000

1341 4 Plank a k

Road, a ,

Sarnia

a a

Wallaceburg ac b

g

Location: c

i

on:

JACK'S J

A S TIRE

T

I E

7966 6

McCleary c

e

y Line • 519-627-3335

9

-333

335

35

GET YOUR

VEHICLE

WINTER

ROAD

READY!

SARNIA

Auto Centre

www.tirecraft.comw.ti i

c f

Around 10:00 on the morning of Friday, July 11, 1879, the distant skies

to the southwest of Sarnia filled with ominous purple-black clouds. The only

relief to the approaching darkness was a massive lightning shower.

By 11:00 am it was apparent to Sarnians that a tornado was about to

hit their town. Understandably, they scurried to find shelter. Fifteen long

minutes later, the natural fury had passed, leaving in its trail a scene of

utter chaos. Countless window panes were smashed. Roofs and chimneys

had been strewn about. The most spectacular damage occurred along Front

Street a few doors north of Cromwell. The entire roof of Robert and James

Mackenzie's furniture warehouse on the west side of he street had been

sucked up by the fierce winds and slammed against Charles Mackenzie's

hardware store on the east side.

If any irony could be found in the storm's destruction, it was that the

Mackenzies were all brothers. The twister also wreaked havoc in Point

Edward, Ontario and Port Huron, Michigan.

In addition, its associated winds flattened

two-thirds of the oil derricks in Petrolia

and caused minor damage in Wyoming.

Miraculously, the tornado claimed no

human lives, although it seriously injured

a few individuals.

Courtesy of Glen C. Phillips -

Lambton: An Illustrated History of the County ©1999

P A G E

18

(November 18, 2016) Donald Trump was elected President of the United States.
---
Many of the articles are from the archives of Daytripping Magazine.

Welcome to ...

THE Club

Thank you for all your support in 2022.

Wishing you all the best in 2023...

EACH OFFICE INDEPENDENTLYOWNED AND OPERATED

English is Hard

1. Since there is no time like the present, he thought it was

time to present the present.

2. The bandage is wound around the wound.

3. The farm was used to produce produce.

4. The dump was so full that it had to refuse more refuse.

5. We must polish the Polish furniture.

6. He could lead if he would get the lead out.

7. The soldier decided to desert his dessert

in the desert.

8. A bass was painted on the head

of the bass drum.

9. When shot at, the dove dove

into the bushes.

10. I did not object to the object.

11. The insurance was invalid for

the invalid.

12. There was a row among the

oarsman about how to row.

13. They were too close to the

door to close it.

COMMUNITY RESOURCES FOR AGES 55+

(From the booklet "A Seniors' GuideTo Sarnia-Lambton")

a Resource booklet available through Age-Friendly Sarnia-Lambton

by calling 519-845-1353 or visiting www.agefriendlysarnialambton.ca

RESOURCE NAME SERVICES OFFERED PHONE WEB/EMAIL

211 Mental Health Support, Food Services, Financial Assistance 211 211oncovid19.ca

Age-Friendly Sarnia Lambton List of Supports & Services 519-332-0527 agefriendlysarnialambton.ca

Bayshore Home Care Solutions Assistance with Housekeeping, Errands & Meal Prep 519-383-6979 bayshore.ca

Canadian Red Cross Grocery Pickup & Transportation Services 519-332-6380 redcross.ca

Care-A-Van Door-to-Door Public Transportation - lift equipped vehicles 519-336-3789

Habitat for Humanity Low-Cost Home Reno Services 519-339-7957 habitatsarnia.org

Heart to Home Meals Pre-Made Frozen Meal Delivery to 60+ 877-404-4246 hearttohomemeals.ca

Instacart Delivery from several local stores 888-246-7822 instacart.ca

Lambton Elderly Outreach Home & Yard Maintenance, Meals, Various Resources 800-265-0203 lambtonelderlyoutreach.org

Lambton Public Health Individual, Agency and Cargiver help 226-254-8222 lambtonpublichealth.ca

Neighbourlink Household Chores, Transportation, Shopping, Companionship 519-336-5465 neighbourlinksarnia.org

Sarnia Blessings Free Meals for Seniors & Vulnerable People 519-402-9093 sarniablessings@outlook.com

Shine at Home Transportation, 24 hr Housekeeping, Shopping, Meal Prep 519-336-9898 shineathome.com

Strangway Community Centre Recreational, Social & Educational Programs & Activities 519-332-0656 strangway@sarnia.ca

Victorian Order of Nurses (VON) Dementia Programs, Home Nursing, Respite, Much More 519-542-2310 von.ca/en/site/sarnia

winter 2023 (December 8, 1980) John Lennon was assassinated in New York at age 40. P A G E 19
---
Welcome to ...

THE Club

We're living life to the fullest (until about 9 pm).

Welcome to ...

winter 2023

Mysterious

MATHEMATICS

1. Multiply the number of your brothers by 2

(if you have no brothers, multiply by 0)

2. Add 3

3. Multiply by 5

4. Add the number of your sisters

(if you have no sisters, add 0)

5. Multiply by 10

6. Add the number of living grandparents

(if you have no living grandparents, add 0)

3. Subtract 150

AND the Answer is:

(Remember zero is a number)

number of brothers =

number of sisters =

number of living grandparents =

Come In

& Eat

With Us!

For over 20 years,

we have had the

pleasure of serving you,

our family & friends.

Here at Big Fish,

you are a part of

our family & we can't

wait to share a drink,

our love of food

od

& laughs with you.

See you soon,

on,

Alex, Stacey & Gus

For Lunch, Dinner or a Special Occasion

Make Reservaons at Sarnia's Finest

1717 LONDON LINE, SARNIA I 519-542-5553

BIGFISHLOUNGE.COM

Back in the 50's and 60's,

we could count on winter

starting around November

and ending in March. That

was before the ozone and

the climate changes that are

prevalent today. There was

plenty of snow for all those

months and consistently

cold temperatures, providing

a winter wonderland for us

kids to enjoy. Many times after an ice

storm, we skated on the roads or even

in ditches as well as natural ponds

scattered in open fields.

Our good friends and neighbours, the

Murray family, had one of those natural

ponds in the field next door to them.

Roy and his sons would regularly flood

it, turning it into one sensational skating

surface. They set up floodlights and a

radio so we would be all set for hours

of skating enjoyment. The Top 40 could

be heard all over the neighborhood.

We were even allowed to go into their

garage to lace up our skates, where it

was not so cold.

Kids would come from far and wide

both day and night to 'Murray's Pond.'

Games of tag and hockey would be

played, along with barrel-jumping for

the daring and crack-the-whip for the

brave, with the kid at the end of the line

taking a flying leap into a snowbank.

The laughter and screaming could be

heard for blocks and if you had any

doubts about where to find the rink,

you just had to follow the sounds. I can

remember so well rushing home from

school, both in elementary and high

school, quickly doing homework and

gobbling down supper, then hitting the

ice as soon as possible. Fortunately,

my house was just across the field so it

wasn't far to go.

The highlight of the winter skating,

it seemed, was after Christmas when

we would gather up all the discarded

Christmas trees in the neighborhood and

make a huge bonfire. The goal would be

to go from house to house, dragging as

519-627-0719

70 Duke Street

info@wallaceburgretirementresidence.com

www.wallaceburgretirementresidence.com

Mario Moscone, Sales Representative

Murray's Pond

By Nadine Wark, Sarnia

from Daytripping Nov-Dec 2014

many as we possibly could from

the curbs to Murray's Pond. Thankfully,

the bonfire took place in the open field

and the firemen never had to be called,

although there were some fairly high

flames against the evening sky.

Another favourite winter activity in

Corunna was tobogganing and there

were several gullies to choose from, with

all kinds of twists and turns. Actually,

looking back, it was a little dangerous,

but at that time all of us had youth on

our side and were invincible. Making

snowmen, snow angels, and snow forts

was another favourite pastime and we

spent hours perfecting our crafts. But

just like in the story, once the sun came

out, Frosty was history along with our

forts.

I really do not recall ever getting a

'snow day' in elementary school, but

certainly remember walking to school

in a blizzard. To my recollection, the

schools never closed and our mothers

never suggested we stay home. They

just packed our lunches, bundled us up

so that only our eyes showed and saw

us out the door. Those who travelled by

bus usually made it as well, sometimes

a little later than normal.

A fact about childhood is that most

of us are so busy being kids that it isn't

until we are adults that we think back

and realize how someone impacted

our lives. When I remember all the fun

times skating on Murray's Pond, I reflect

on our neighbor Roy Murray and all his

efforts and good deeds, not only with

the rink, but all year long to make our

growing up years special in many ways.

P A G E

20

(Dec 14, 2010) Military helicopters rescued stranded motorists in snowstorm near Sarnia.
---
You're welcome to send in articles to help build this magazine.

In a previous article I wrote about

eliminating social isolation for

seniors and in the last article listed

the benefits of motion and exercise.

Well, this article solves both of those

challenges, and much more. Let's call

it a two-for-one.

I want to tell a story about Kay, and

what happened to her once she got

a new puppy. Kay is a friend and a

senior. We have known each other a

long time and she has been adopted

as an honorary grandmother into

my family. We have been with Kay

through the challenges of life, both

hers and ours. As a widower Kay has

been able to maintain independence

in her apartment with little concerns,

however Kay is lonely.

What happened next is amazing.

Through some unforeseen

circumstances, Kay got a little puppy.

She named him Micky – a Yorkie/Shih

Tzu cross, a Shorkie I think they call

this breed. A sweet bundle of fun is

he. Some looked with distain. What is

a senior doing with a puppy anyway?

How can she care for a little puppy?

Bad questions, for when you see how

wonderful they have been for each

other, well the distain should change

By Chris Treftlin, Shine at Home, Sarnia

Welcome to ...

A Path to Wellness—Making the Case

for Seniors to Have Pets

to amazement.

Think about it.

Micky needs walks.

Micky needs to go

outside to do his

business. Micky

needs to play with

his toys. Micky needs

to get treats for being

so gosh-darn cute.

Micky needs his belly

rubbed just like every

other self-respecting

doggie does. And

after a long day

Micky needs to lay beside Kay and

have a nap. Truth be told he has lots

of naps. So does Kay.

You see, Micky has needs and Kay

is ready to exceed those needs.

What does Kay get in return? In a

word... purpose. Here is another word:

companionship. And unconditional

love—that's two

words. Just seeing

if you were paying

attention. This little

ten-pound bundle

of energy and fun

does all of that and

just wants the same

in return and Kay is

ready to be the pet

owner Micky needs.

It is kind of amazing

that Micky does all of

that. Well, he does, I

witnessed it. I have

seen Kay cut a visit short because she

needs to get home to attend to Micky.

My wife tells a good story that

demonstrates the unconditional

love as demonstrated by man's best

friend. As she puts it, if you put your

husband and your dog in the trunk of

the car and drove a hundred miles,

THE Club

when you stop and let them out,

which one is going to be happy to see

you? (Publisher's note... don't actually

do this.)

The physical and mental health

benefits are clear, and here are some:

added movement and physical activity.

In fact, the simple act of stroking

your pet reduces the stress inducing

hormone cortisol and increases the

feel-good hormone oxytocin. Think

about that—just the act of petting

Micky helps Kay reduce stress and

increase a feeling of wellness.

On the practical side, it is worth

stating that Micky is a small breed

of dog. Perfect for Kay. No one is

suggesting that Kay get a Great Dane,

nor would that be appropriate. This

little guy, full of personality and love

is just what the doctor ordered for

my friend and it is a joy to see the

wonderful impact Micky has had on

Kay. I am reminded of a prayer I read

recently and it struck a chord with

me. It goes like this:

"God, help me be the person my dog

thinks I am."

Kay has been given a gift, and those

people that love her have been given

one, too. Thank-you, Micky!

Plus

Get Your

Very Own

Deals

by Email

Weekly!

winter 2023 (July 29, 1981) The Royal Wedding of Prince Charles and Lady Diana Spencer. P A G E 21
---
Welcome to ...

THE Club

Welcome to ...

The Giving List

o

Lend a hand to a local organization... see list below for ideas.

Many of us s have e time e to

give, consider n d

being i

a

volunteer! Here's a list of

opportunities po

ies to give back

to our community.

muni

Welcome to ... winter 2023

Call 519-491-1676 or email info@welcometotheclub.ca to add an organization to our list.

These listings ings

are for reference eren

ence

only. Please contact the organization i

on for details.

ORGANIZATION

O

R

A

I

Z

A

AT

IO

ON

VOLUNTEER V

O

U

N

T

E

ER

RO

OPPORTUNITY

P

PO

OR

T

U

N

I

TY

CONTACT

Sarnia Lambton Rebound Program & Special Event Volunteers, Cinderella Project Volunteer Committee 519-344-2841 ext. 101

Victorian Order of Nurses Visitor, Footcare Clinic Assistant, Bingo Volunteer, Adult Day Program 519-542-2310 ext. 4267

LC Long-Term Care Living Various opportunities from Coffee Program to organist/pianist to dining companions lambtoncares.ca/volunteer

Lambton Elderly Outreach Reception, Transportation, Friendly Visiting, Meals on Wheels, Diner's Club, Forever Fitness 519-845-1353

Alzheimer Society of SL Program, Event and Bingo Volunteers 519-332-4444

Habitat for Humanity Handyman Assistant, ReStore: Sales Floor Support, Cashier 519-339-7957

St. Joseph's Hospice S-L Residence Reception, Volunteers for Kitchen, Grocery Shopping, Direct Support, and more 519-337-0537 stjosephshospice.ca

Literacy Lambton Volunteer opportunities in the Adult or Family Literacy Programs, Special Events, and more literacylambton.org/volunteer/

Noelle's Gift to Children Bingo & Event Volunteers: online registration at www.noellesgift.ca under volunteer tab www.noellesgift.ca

Bluewater Health

ORGANIZATION

Sarnia & District Humane

Society

DONATIONS

Several volunteer opportunities. Needed items: non-clumping cat litter, horse bedding pellets,

towels and small fleece blankets, and more. Visit website for full list.

CONTACT

www.sarniahumanesociety.com

River City Vineyard Donation of food, extra clothing, valuables, and small household items to foodbank and shelter 519-383-8463(VINE)

Petrolia Food Bank Monetary and food donations to food bank (please check expiry dates) 519-882-3950

Inn of the Good Shepherd

Women's Interval Home

Patient Experience Companions, Help Program, Information Desk Attendants, Oncology,

Mealtime Assistants, Mammography

Needed items: Clothing, linens & bedding, small kitchen appliances, dishes & cutlery, cereal,

school snacks, juice boxes, sugar, coffee. Volunteer opportunities available.

New unused items only will be accepted to shelter: hygiene items, clothing, gift cards, etc.

Please email kyla@womensintervalhome.com to schedule a time for item drop off.

519-464-4400 ext. 5406

519-344-1746

www.womensintervalhome.com

Think Gourmet... Feel like you're in Paris at Sarnia's Hidden Gem!

Amazing Flavour!

We're Not Fast Food

Breakfast

Lunch

Dinner

Any Time!

Alll Made In-House with Fresh Ingredients!

• Slow Roasted Meats

• Locally Sourced Fruits & Vegetables

• Homemade Sauces, Aiolis, Jams & Seasonings

SENIORS

60+

15% OFF

Tuesdays

260 Indian Rd S, Sarnia • 519-491-5563 • omgpoutine.com

Follow Us On Facebook For Specials, Trials, Taste Tests, Contests & More!

Now Licensed Under AGCO

P A G E

22

(May 8, 1945) Victory in Europe Day - Allies accepted Germany's unconditional surrender.
---
I'd write something better here... but I forgot to!

The sun came out,

And the snowman cried.

His tears ran down

On every side.

His tears ran down

'Til the spot was cleared

He cried so hard

That he disappeared.

Welcome to ...

THE Club

(Margaret Hillert - from 'January Thaw')

New Year,

New View

Sure, sure, all good intentions,

will it all make a difference?

Courtesy of Sipkens Nurseries

We all like to think that a New

Year's resolution will change things.

Permanently.

Now that we are officially on the

upswing of longer and brighter days it

seems easier to be optimistic for the

year to come. It is always a good idea

to take a few minutes to reflect on the

year past and hope for the year coming.

This time of reflection really does help

us ground ourselves after the busyness

of the holidays, and many extra family

gatherings.

So, this January, consider changing

your view. Out with that tree dropping its

needles, and in with some new vibes. As

the Christmas decorations are put away,

look to change your view inside your

home. (Maybe you do need to do some

organizing as all the advertisements

suggest with storage boxes and bins

and organizers), but you should most

definitely change your view.

We all can feel a little trapped indoors

by the weather we receive in the coldest

months of the yea. This year give

yourself a new view. With that space

you gained putting decorations away,

add a new plant or two or three to your

indoor environment.

Changing your view with some new

plants, whether they are cheery with

flowers, or bright lush foliage, and

having something new to look at tends

to give many benefits. The power of

plants in your house has been well

studied by NASA for air purifying and

humidifying abilities. Aside from better

breathing, the beauty and presence

of plants definitely creates a more

tranquil environment, lowering stress,

promoting healing and giving your

emotions and mental health a boost.

We all have, somewhere inside us,

a desire to feel needed and to care for

others. When we have time to slow

down and reflect, that feeling can

increase as we focus less on our self

and more on others. In those times you

just can't be with friends and family,

caring for plants can fill that need.

When you need something positive to

talk about, your plants are an excellent

topic of conversation that leaves you

filled (did you catch that pun?) instead

of begrudging the 'news.'

Now that you have another few good

reasons to buy a new houseplant, treat

yourself or a friend to some new Plant

Joy and feel the difference plants can

make.

Winter Gardening Checklist:

❏ Collect new indoor plants.

❏ Give a friend or family member a

new plant

❏ Make up a new reason to shop for

plants

❏ Tend your indoor plants by more

carefully watering and tidying after

the darkest days of the year

❏ Put out food for our wild birds

❏ Enjoy the beauty of the season

surrounding us

❏ Plan for spring gardening

❏ Start seedlings for your garden

indoors or source seeds for your

garden from your favourite garden

centre.

❏ Plan large outdoor projects by

seeking the advice of a professional

landscape designer

❏ Take those resolutions and start on

them one day at a time.

2713 Old Lakeshore Road, Brights Grove

519-869-2794 • skeeterbarlows.com

A Year Round Garden Centre, Gi Gi Shop p & Bouque!

Bouque!

Extraordinary Selecon

and All Your Gardening

& Birding Supplies!

Just s East of Sarnia i

on Cty Rd 22

Take Exit 15 off Hwy 402

USA

PRIME RIB

WEEKENDS

OPEN Monday to Saturday

Lake Huron

Sarnia

MAY YOU LIVE

TO BE SO OLD

THAT YOUR DRIVING

SCARES PEOPLE.

22

Bright's

Grove

From

26

London

401

From

Wallaceburg

TUESDAY

WING NIGHT

N

SIPKENS

NURSERIES

Join us by the Lake!

• Authentic Hickory Smoked Ribs

• Genuine Broasted Chicken

• Seafood, Sandwiches, Wraps

Reserve for panoramic views

of Lake Huron from our patio!

• Take Out • Lakeside parks & benches nearby

East of SARNIA

519-542-8353

FOLLOW US!

To find (and post) current events

& community information, please

follow our Facebook page.

Welcome to ...

THE Club

NIGHTLY

SPECIALS

(Rd. d

22)

Proud Member of...

winter 2023 Where were you when you first drove a car?

P A G E 23
---
Welcome to ...

THE Club

"Big or Small, JohnnyRemax

Sells T hem All"

John A. McCharles, Broker

Re/Max Sarnia Realty Inc. Brokerage

519-383-4812

johnnyremax@bellnet.ca

This FREE Magazine is made possible by the

companies you see adversing in these pages.

Please consider them when making your

purchasing decisions, and please let them

know that you saw their ad in...

Welcome to...

THE

THECLUB

We'd like to hear your honest opinions on how you like this magazine.

is a Funny Thing

Do you realize that the only time in our lives when

we like to get old is when we're kids? If you're less

than 10 years old, you're so excited about aging

that you think in fractions. "How old are you?" "I'm four

and a half." You're never 36 and a half... but you're four and a half going on five!

That's the key. You get into your teens, now they can't hold you back. You jump

to the next number. "How old are you?" "I'm gonna be 16." You could be 12, but

you're gonna be 16. And then the greatest day of your life happens: you

become 19. Even the words sound like a ceremony - you 'become' 19. "YES!"

But then you turn 30. Ouch! What happened there? Makes you sound like bad

milk. He 'turned,' so we had to throw him out. There's no fun now. What's

wrong? What's changed? You 'become' 19, you 'turn' 30, then you're 'pushing'

40. Stay over there... it's all slipping away... Then you 'reach' 50 and 'make it to'

60. You didn't think you'd make it!

So you become 19, you turn 30, you're pushing 40, you reach 50, you make it

to 60... then you build up so much speed you hit 70! And after that its a day by

day thing. From there you hit Wednesday, then Thursday. You get into your 80's

you hit lunchtime. You turn 4:30. My grandmother won't even buy green

bananas. (It's an investment you know, and maybe a bad one.) And it doesn't

end there. Into the 90's you start going backwards. "I was just 92."

Finally a strange thing happens: If you make it over 100, you become a little

kid again and say, "I'm 100 and a half."

Welcome to ... winter 2023

Promote your

business or

events in ...

Welcome to ...

THE

CLUB

TOP 10 1973

Country Songs

1 Charlie Rich The Most Beautiful Girl

2 Jim Staffordz Spiders and Snakes

3 Charlie Rich Behind Closed Doors

4 Marie Osmond Paper Roses

5 Conway Twitty You've Never Been This Far Before

6 Peters & Lee Welcome Home

7 Merle Haggard If We Make It Through December

8 Jeanne Pruett Satin Sheets

9 Tom T. Hall I Love

10 Anne Murray A Love Song

Billboard Hits

1 Dobie Gray Drift Away

2 Paul McCartney My Love

3 Marvin Gaye Let's Get It On

4 Ringo Starr You're Sixteen

5 Stevie Wonder Superstition

6 Elton John Daniel

7 Al Green Call Me (Come Back Home)

8 Carly Simon You're So Vain

9 The Rolling Stones Angie

10 Gladys Knight & The Pips

Midnight Train to Georgia

Source:

billboard.com

Source: playback.fm

Movies

The Exorcist

The Sting

(Oscar for Best Picture)

American Graffiti

Papillon

The Way We Were

Magnum Force

Live and Let Die

Robin Hood

Paper Moon

Serpico

Source: the-numbers.com

THANK YOU to all the wonderful, local businesses

that have made this free magazine possible!

Mark Moran 519-491-1676

info@welcometotheclub.ca

Carla MacGregor 519-464-3230

carla@welcometotheclub.ca

For Lambton Shores area advertising, contact Rhonda Long

519-657-1869 • rhonda@welcometotheclub.ca

P A G E

24

(April 4, 1968) Martin Luther King was assassinated in Memphis.
---
Contact us any time by email - info@welcometotheclub.ca

THE CLUB Winter 2023

CROSSWORD

Welcome to ...

THE Club

WHERE THERE IS SOMETHING FOR EVERYONE OF ALL AGES!

595 MURPHY ROAD, SARNIA • 519-337-1614

missionthriftstore.com/store/sarnia

The

A sister and brother are talking to each other when the little

boy gets up and walks over to his Grandpa and says

"Grandpa, make a frog noise." The Grandpa says NO.

The little boy goes on "Please Grandpa, please make a frog

noise." The Grandpa says "No, now go play."

So the little girl goes to her Grandpa and says

"Grandpa, make a frog noise." The Grandpa says "I just told

your brother no and I'm telling you NO." The little girl says

"Please, please Grandpa, make a frog noise."

The Grandpa says, "Why do you want me to make a frog

noise?" The little girl replied "Because Mommy said

when you croak, we can go to Disney World!"

ACROSS

Looking for

PRIVATE IN-HOME

PHYSIOTHERAPY?

Mobility Works Physio Yoga

will come to you!

Balance Training,

Funconal Strength.

Falls Prevenon, and more!

DOWN PUZZLE SOLUTION ON PAGE 27

MOBILITY WORKS

phy s i o

y oga

MOVE. FEEL. LIVE.

Book IN-HOME

Physiotherapy or Private Yoga

at: www.mwphysioyoga.com

Covered under most

Extended Health Benefits.

Kelly-Lynn

Musico

REGISTERED

PHYSIOTHERAPIST

REGISTERED

YOGA TEACHER

Contact Kelly-Lynn at 519.312.6122

or mwphysioyoga@outlook.com

winter 2023 (April 13, 1997) Tiger Woods won his first major golf tournament - The 61st Masters. P A G E 25
---
Welcome to ...

More Daisies

I came across this old clipping that

my mother Marion Jane LaPointe

had clipped out of a newspaper when

she was 70, eight years before she

passed away. I always thought she felt

wonderful about her life up to that

point so it sort of surprised me, and it

shows you never quite know everything

about somebody. Author unknown &

originally untitled, so I've given it one.

If I had my life to live over, I'd

dare to make more mistakes next

time. I'd relax, I'd limber up, I would

be sillier than I've been this trip. I

would take fewer things seriously,

take more chances, take more trips.

I'd climb more mountains, and swim

more rivers.

I would eat more ice cream and

less beans. I would, perhaps, have

more actual troubles, but I'd have

fewer imaginary ones. You see,

I'm one of those people who lived

seriously, sanely, hour after hour,

day after day. Oh, I've had my

moments, and if I had it to do over

THE Club

Sent in by Kenneth Lapointe, Windsor

From Daytripping Summer 2007

again, I'd have more of them... In

fact, I'd try to have nothing else, just

moments, one after another, instead

of living so many years ahead of

each day.

I've been one of those people

who never goes anywhere without

a thermometer, hot water bottle,

rain coat and a parachute. If I had

to do it again, I would travel lighter

this trip. If I had my life to live over,

I would start going barefoot earlier

in the spring, and stay that way later

into fall. I would go to more dances,

I would ride more merry-go-rounds,

I would pick more daisies.

A new magazine for people who aren't (new that is!)

On Helping

A Friend

Restore An

Old Cupboard

by Gord Lane | 1919-2008

from Daytripping

Nov-Dec 2013

Of yesterdays, a sunny day

I helped you work, we scraped away

So many coats of time and paint

To find beneath, quite old and quaint

A cupboard.

Those that it served so long ago

Just what would it be like to know

Their way of life?

A kitchen cupboard old and fine

The top and bottom flat design

From trees their men felled at the time.

The iron clasp upon the door

Was dated One Eight Seven Four

And now we're working to restore

That cupboard made of pine.

A type most kitchens used to know,

That women cherished long ago;

The glass doors of the upper half

Displayed the early pattern glass

Possessions brought by sea and land

So far by those who fought and planned,

Together toiled and cleared the land.

If you could talk, what would you say,

Of time, of life, of yesterday,

Of former owners passed away?

Before you put your things inside

Reflect through time with humble pride

To when the cupboard was brand new

A slender woman just like you

When she arranged her glassware there

With thoughtful tender loving care

She did what you're about to do.

Welcome to ...

winter 2023

WE MAKE

Beautiful Smiles

50

CELEBRATING YEARS

OF MAKING DENTURES!

As a way of giving back to our community this year,

we are donating a portion of every denture we make

to the United Way of Sarnia Lambton.

~ Are you unhappy with the way

your Dentures make you look or feel?

~ Are your Dentures loose? ~ Sore spots?

~ Not eating the foods you love?

~ Are they over five years old?

WE ARE HERE TO HELP YOU!

Digital

(photographic)

impressions now

available

Since 1972, our family has made thousands of dentures for our patients.

Ask your dentist to refer you to us or call yourself for your free consultation.

We are adhering to strict Covid guidelines to keep you safe.

Call to book your free consultation.

519-336-6580

1200 Lambton Mall Road, Sarnia

www.feigedentureclinics.com

P A G E

26

(Dec. 26, 2004) Indian Ocean earthquake and tsunami killed 227,898 people.
---
Your next issue will come out around the middle of March 2023.

Welcome to ...

TAKE HOME!

THE Club

Interior and Exterior Fixtures

• Desk, Table & Floor Lamps

• Chandeliers, Prints & More!

AMAZING AZ

North t

American e a

& IndianI d

BREAKFAST DAILY 8am a

to 1pm

at a t

Sitara a a Point i t Edward

• BUTTER CHICKEN • NAAN BREAD

• CHICKEN TIKKA MASALA • KORMA

•

BIRYANI • SAMOSA • SEEKH KABAB

B

• PANEER TIKKA • VINDALOO

• CHICKEN TIKKA SIZZLER

• TANDOORI CHICKEN • LAMB CURRIES

DINE IN • TAKE OUT • DELIVERY

Private Party Room, On-site Cooking & Catering with Sitara Food Truck

#1 RATED

RESTAURANT

on TRIPADVISOR IS R

for

the last 10 YEARS!

Rated among the

TOP 10% WORLD WIDE

YEAR 2020 & 2021

21

on TRIPADVISOR!

ISOR

721 LITE ST., POINT EDWARD • 519-491-5606 WWW.SITARASARNIA.COM

"Your Feet Will Be In Good Hands"

Contact Julie Today!

Are your feet f sore r

and a n

d

keeping i

you o

from

r m

doing i the things that t you u love?

Cerfied Cerfied Master t

Pedicurist ist - Julie Coulombe

ombe

will give you the best experience and the

professional aenon your feet need!

ADVANCED FOOTCARE

Diabecs, Ingrowns, Corns, Fungus

and other common foot problems

519-344-1071 • Julie@athomespa.ca

At Home Spa @ Mara Surgical Clinic

704 Mara St. Point Edward, Unit 106

Serving

Sarnia

Since 2006

Fresh Made Comfort Food

A tradition since 1992!

105 MICHIGAN AVENUE

PT. EDWARD • 519-344-2855

FEBRUARY 21, 2023

Also known as Shrove Tuesday,

Pancake Day, Fat Tuesday... Paczki

Day has become popular in many

cities across Canada. It's the

busiest day of the year for many

bakeries. Paczkis (pronounced

pooch-key or poonch-key) were

originally made for the practical

purpose of using up the eggs and

lard which would not be

consumed during the fast of the

Lenten season. Since each Paczki

has a whopping 1000 calories and

20 grams of fat, they're

considered the last-minute binge

of sweets before Ash Wednesday.

It's really only an extra large

dough ball, rich in egg yolks and

deep fried in fat. The traditional

filling is prunes; but they can be

found filled with custard,

strawberry, raspberry, etc; and to

add to the calorie count, they're

topped with a sugar glaze.

Remembering the Smells from Mom's Kitchen

116 Michigan Ave

POINT EDWARD

(519) 344-3535

Mon-Fri 9am-5pm

www.twinbridgelighng.com

Puzzle

Solution

For The Club Winter 2023

CROSSWORD on page 25

by Lyn Tremblay, Simcoe

from Daytripping May-June 2007

A big black cast iron stove with white

porcelain trim held a prominent place

in the farm kitchen of my childhood. In

the morning my sisters and I awoke to

the clang of its lids being lifted and the

thump of wood being dumped into its

box. Before school we dressed near its

warmth, while a pot of porridge bubbled

on the stovetop. Mom kept the black top

shining with an old rag dabbed in lard.

The stove's open oven door warmed

our cold feet when we came in from

tobogganing and later its heat sent steam

rising from our wet mittens. A reservoir

at the back held a supply of hot water.

The inside of the warming closet wasn't

needed much and held an interesting

collection of old flat irons, used before

my memory. The top of it was a resting

place for my mom's bread pans.

A few times a week, flour would be

sprinkled out on the kitchen counter

and her fingers would roll and knead

dough into rectangular loaves. Placed

in bread pans and covered with a white

cotton tea towel, the yeast would rise the

dough into white clouds ready to be put

into the oven, usually just a little while

before we arrived home from school.

The smell of fresh-baked bread

greeted us as we stepped

through the front door and

we rushed to get thick slabs

of warm bread with butter

melting into its softness.

My mother's recipes

came from her head or

were handed down from

grandmothers, aunts or country

neighbours, people whose

culinary talents did not

lean towards the exotic or

gourmet, instead the dishes were simple

and wholesome. Back then there was

no concern about fat content, sugar or

carbohydrates. We needed hearty foods

that filled the bellies of hungry men at

mid-day dinners and held them over

until supper. Our meat and eggs came

from the barnyard, our vegetables from

the garden, apples from our orchards

and berries from along the fence rows.

When I moved away from home and

married, my mother handed over a

whole collection of her favourite recipes,

all written in her beautiful penmanship

on the blue lines of an old Hilroy

schoolbook.

When my body and mind crave

comfort, I reach for that little

book. Listed on each page

are the needed ingredients

and instructions on how to

prepare the dish, but there

are other small notes

attached to some that

take me on a wonderful

trip down memory

lane. I make potato

cakes, molded with my

hands and rolled in soda

cracker crumbs and remember a tiny

lady who lived down the road who used

to give us butterscotch peppermints -

"Mrs. Waltons recipe," the note says.

The book contains hints of something

else that I recall. While my mother

had to cook, she really loved to bake,

especially for a dad who had a sweettooth.

Mouth-watering chocolate cake is

"Aunt Marie's" recipe and my favourite

peanut butter cookies came from "Aunt

Mary Hartin." Under 'Rolls and Bread,'

a scribble says, "Nora Crego's recipe

- really good." A pumpkin pie recipe

came from "Isobel Austin," my public

school principal. A 'Hard time Pie Crust'

recipe says, "Grandma Hutchison's

- This is the one I use all the time,

Mom." (A half pound of Tenderflake

lard is the secret to this recipe! I

now opt for the frozen shells from

my local supermarket. Sorry Mom.)

The corners are turned down on the

pages that contain familiar Christmas

recipes. There are peanut butter squares,

coconut kisses, two fudge recipes, one

for shortbread cookies, and another for

honey cookies.

When my mom passed away and we

were cleaning out the drawers of her

kitchen cupboards, I picked up a recipe

book, its cover and binding long gone,

bound with an elastic band. In it I could

easily find some of the recipes she had

copied into the pages of my Hilroy

Exercise Book.

The worn pages of recipes for sugared

doughnuts and butter tarts are spattered

with traces of batter from a long time

ago. I find comfort in knowing that she

touched these pages and, while as a

child I doubt I showed my appreciation,

I now cherish the thought that she took

the time to make those things that today

stir such rich memories.

winter 2023 (Feb 1, 2003) Shuttle Columbia disintegrated on re-entry to Earth's atmosphere. P A G E 27
---
Welcome to ...

THE Club

Growing old is inevitable, but growing up is optional!

Welcome to ...

winter 2023

POSTCARDS of

SARNIA-LAMBTON

PETROLIA POSTCARDS from the Bradshaw Postcard Collecon

F. Filia & Associates Ltd.

2-565 Murphy Road, Sarnia

519-332-5400 I franco_filia@cooperators.ca

Franco Filia

Advisor/Owner

Sponsored o o By:

B y

Downtown Petrolia

Fairbank House, Petrolia

Front Street East, Petrolia

Gillespie Mansion, Petrolia

G.T.A. Staon, Petrolea

Main Street, Petrolia

Centre Street looking North, Petrolea

Post Office, Iroquois Hotel, Petrolia

Roman Catholic Church, Petrolea

My husband has always looked

forward with mounting glee to visits

from our three-year-old granddaughter

Lisa. At the sight of this chubby, cherubcheeked

moppet with the Shirley

Temple curls, GanGan (her name for my

dearly beloved) goes all mushy, hauling

her up on his lap, mooing and cooing

and extracting yet another chocolate

kiss from his pocket to offer his 'little

princess'.

One of the highlights of every visit has

always been 'going out with GanGan.'

This usually means he takes her to one of

his favorite haunts, such as Home Depot

or Canadian Tire, while I do the boring

stuff like pushing a shopping cart up

and down the aisles of the supermarket

desperately trying to find at least one

thing this baby gourmet will deign to

sample.

On one such outing, I was duly

Any Pot In A Storm

by Maryleah Otto, St. Thomas • From Daytripping March-April 2003

dumped off at the A&P while GanGan

and Lisa drove to the far end of the

parking lot to be closer to, yes, I knew

it, Home Depot. An hour later, I was

standing impatiently outside the store,

my buggy overflowing with revolting

boxes of sugar-coated cereal, a washtub

of pink ice cream, three kinds of cookies

all guaranteed to increase the income of

Lisa's dentist considerably and a slab of

salami for which I'd discovered the kid

had a passion.

Finally, they showed up. My sweet

man loaded the food into the trunk of

the car and off we went. We hadn't gone

more than a couple of blocks when it

occurred to me that no one was saying

anything. "Anything wrong?" I asked

innocently. Long pause. Then Lisa turned

and scowled at me. "GanGan scolded

me," she whined, the tears starting to

roll down those angelic cheeks.

I knew enough to keep out of it, at least

until my dear boy and I were alone, but

that night, in the safety of our bedroom,

I asked, "What happened at the mall to

upset Lisa?" To my surprise, my husband

had begun to laugh, great belly shaking

laughter that was infectious.

Well, it seems that while he was

moseying around in the endless caverns

of Home Depot, he lost her. He'd been

rummaging through some bins of

hardware, probably for a lot longer than

he realized, and when he turned around,

Lisa had vanished. Cold with fear, he

raced up and down the aisles, calling her

name. He ran to the manager's office,

insisting the police be called. He roared

around the aisles again, calling "Lisa,

Lisa, Lisa." And then, at the end of Aisle

32, Plumbing and Electrical, he spotted

her. She was sitting on a pale blue china

toilet bowl, her pants down around her

ankles, calmly doing her business in

full view of and totally oblivious to the

amusement of passing customers.

By this time, I was nearly out of

control myself. "And you scolded her?" I

asked, choking with laughter. "Not then.

Not until she broke away from me at the

checkout and ran back yelling, "GanGan,

I forgot to flush!"

Epilogue: Lisa has forgiven GanGan

and still loves him to distraction. GanGan

now shops at Canadian Tire.

P A G E

28

(Nov 4, 2008) Barack Obama was elected the first black President of the USA.
---
If your business offers anything to people 55+, you can advertise too!

Frances'

Helpful

Hints

1) Did you know that lowly

petroleum jelly can be used to

remove white water marks

from furniture if the stain is not

too deeply embedded? Rub the

stain with a heavy application

of petroleum jelly and leave

this on for at least 12 hours.

Buff it off. You may have to use

persistence and repeat the

process but it works.

Welcome to ...

THE Club

2) Never heat water (alone) in

the microwave oven because it

can explode upon removal

from the oven. Apparently, it

builds up energy which

causes the explosion. If you

must heat water this way, you

should place something in the

cup or container to diffuse the

energy. A wooden stir stick

works the best.

3) To clean the glass of a

wood burning stove door...

wait til it is cool to the touch.

Make a paste of baking soda &

warm water. Apply it to the

glass with a small cloth folded

into a cleaning pad size. Dip

the pad in warm water and

ring out the dripping water

but leave it wet. Rub it in the

baking soda paste and apply

to the glass. Keep doing this

until the glass is covered. Start

rubbing in one corner and

wipe off with paper towel.

Repeat until the whole glass

has been rubbed clean.

Remove the residue with clear

water and cloth. Dry with

paper towels or newspaper.

Touching up with window

cleaner should result in

sparkling clean glass. Don't

forget, when removing the

ashes, place them in a metal

can outside away from

buildings and wood surfaces.

Leave them in the can until

thoroughly cool with no live

coals, before disposing.

Guess

I Who?

am a comic actor/talk show host

born in New York on November 28,

1962. I worked as a bartender and

busboy prior to getting my start in

stand-up comedy. I spent many

years hosting a satirical news show

on a popular television cable station.

I am an actor born in Wales on

December 31, 1937. I was encouraged

by actor Richard Burton to pursue

acting at age 15. Although I have

appeared in countless films, I am best

known for my portrayal of an ingenious

serial killer, which earned me an Oscar.

I am a singer born in

Massachusetts on December

22, 1993. Before I made it big

as a singer, I wrote songs for

top artists after moving to

Nashville. I won my first

Billboard Music Award in 2015.

Answer: Meghan Trainor

Answer: Anthony Hopkins

Answer: Jon Stewart

winter 2023 (June 28, 1981) Humanitarian, athlete and cancer research activist Terry Fox died. P A G E 29
---
Welcome to ...

THE Club

Don't put this down! You'll have to bend over to pick it back up!

Everything for

your Kning,

Established in 1978,

Crocheng,

Lambton Pharmacy continues to

Cross Stch &

Needlepoint provide caring, professional pharmacy

Country Yarns Needs!

services to residents of the beautiful

- Menon this ad for a 15% discount - town of Petrolia and Lambton County.

2776 LaSalle Line, PETROLIA • 519-882-8740

(BETWEEN MANDAUMIN & WATERWORKS)

Wed.10-5 • Thurs.10-6 • Fri.10-5 • Sat. 10-3

www.country-yarns.com

Ideas...

Welcome to ...

4130 Glenview

Women's

Rd,

Interval

Unit 2, Petrolia

Home

THE Club

Neighbourlink

519-882-0650

River City Vineyard

We donate $25 for each reprinted

Victim Services

Daytripping Magazine article.

Danielle

CCMF

Edgar, B.Sc., PharmD

$2650 donated since Jan. 2021

Pharmacist

Habitat

THIS ISSUE'S RECIPIENT is...

Hospice Monday–Friday 9–6

Lambton Wildlife Inc.

Humane Saturday Society 9–12

Inn of the Good Shepherd

Lawrence House

By Pat Taylor, Hamilton

Retirement Bruce & Charlie

from Daytripping Nov-Dec 2005

Pathways

SODA

Growing up in the fifties & sixties Bruce was our Rolls Royce. Bruce

Village I considered us to be an average commanded respect! He was silver

Noelle's Gift

family. We started our hum-drum with chrome fixtures, stood 4 feet tall

Mike Weir Foundation days basically with the same routine and was square in stature, twice the

Downtown Gallery Retirement in the Grove

Living everyday. Each morning we could size of Charlie. Bruce stood in our

in a Quaint VPP

Victorian Town

hear my father tenderly saying to my dining room, amongst all our finer

Theatre Sarnia

mother, "Ma, time to get up." Then we quality objects. Two feet away from

Lambton Young Theatre Players would hear her shuffle down the steps. Bruce, sitting on top of the china

Next came the sound of cranking, then cabinet, was my mother's seven piece

Bluewater Trails

Call to Book a Tour: the sound of dirt falling, there was a ceramic horse collection and right

Strangway Centre

chance a naughty word might have under the collection were my mother's

various 423 city Albany options Street followed, yesterdays newspaper being good dishes, which we never used

various trails Petrolia, ON crunched, hard coal being dumped - they were for show only. And if

from a bucket, and we knew in ten

www.albanyretirementvillage.com

Halkovich Outdoor Learning Centre

you converted your attention to your

519-882-3157

Parents for Parks

minutes Charlie would be on fire. left you'd spot my mothers pride

Charlie was our cast iron pot belly and joy, her 11 piece porcelain dog

Petrolia Discovery

Enjoy Friends | Enjoy Independence | Enjoy Life stove, jet black in color with

collection. And right below

matching stream line stove

them was my fathers pride

pipe. Charlie's main duty

and joy, his collection of Mr.

Lambton Shores Nature Trails

THE WALK

was to keep the kitchen,

Beam, Mr. Walker and Mr.

donation by Petrolia's e-transfer to pantry, and bathroom warm.

Smirnoff. Yes, Bruce was

lsntlindaa@gmail.com Luxury Charlie also had extra jobs,

certainly an uptown stove;

(separate Downtown

note for security answer) he was to keep the kettle

he was the power of the

warm, make toast, and

house. Not only did Bruce

OF DOWNTOWN PETROLIA Development dry clothes. My mother

have to keep all three

would start yelling for us to

bedrooms warm, he also

get up, and most times you

had the extra responsibility

would here one of us say,

of the dining room and

"Is Charlie going?" My

living room. One of

exhausted mother never

Bruce's tentacle arms

got credit for doing all the

was in our bedroom so

trudge work, Charlie was

at night we would favour

the hero. Many a time I

Bruce, but come morning

The Walk is Petrolia's only luxury

can remember coming

we belonged to Charlie.

in from the freezing

One fall day

apartment project in the downtown

cold because back

after a mind boggling

core. Within walking distance to the

then, when it snowed, it w a s d a y of school I can remember

grocery store, hospital, pharmacies and

always a blizzard and snow was a coming home to find Charlie and

more, the location is ideal for adopting

treacherous three feet high, and we as Bruce had been sent to stove heaven.

Petrolia's trendy downtown lifestyle. 519-882-3157

children walked where we were going. In their places were empty spaces.

We would hurry over to Charlie, and However, downstairs was a brand new

get our snow covered mittens dried, sky blue furnace that ate smelly oil.

warm our red hands and cheeks and This was a dream come true for my

the odd backside got warm too. mother. No more icy cold mornings,

There were times I can remember no heavy ashes to be lugged to the

sitting in the warm and toasty kitchen garbage cans... just a flick of her wrist

with my dear mother, just the two of and heat was at her command. We

us, not saying anything... just eating a were the last family on the street to

www.albanyretirementvillage.com/the-walk

slice of her delicious home made apple convert to a furnace - my father was a

pie, feeling totally warm and content. coal man.

Welcome to ... winter 2023

LEO

Forest Kineto Theatre

Heritage St. Clair

Sarnia Blessings

Canatara Log Cabin Restoration

Sarnia-Lambton Rebound

Lambton Shores Nature Trails

nuSarnia Foundation

Lambton Wildlife Inc.

P A G E

30

(Aug 9, 1988) Wayne Gretzky was traded from the Edmonton Oilers to the LA Kings.
---
Please tell our advertisers that you saw their ad in this magazine!

SARNIA

519-337-3713

OIL SPRINGS

519-834-2833

"Big or Small, JohnnyRemax

Sells T hem All"

Welcome to ...

THE Club

• AUTO • HOME • FARM

• TENANTS • COMMERCIAL

1-800-265-7506 • www.cam-ron.ca

John A. McCharles, Broker

Re/Max Sarnia Realty Inc. Brokerage

519-383-4812

johnnyremax@bellnet.ca

395 FLETCHER ST. • PETROLIA

226-738-0665 • WWW.BLACKGOLD.BEER

HOGAN

P•H•A•R•M•A•C•Y

Full Service Pharmacy

Full Service Cosmetic Department

Full Service Home Health Care Dept.

Wednesday is Senior's Day ~ 20% OFF* for Customers 60+

Beautiful Gift Shop

There are almost 1300 Ontario Heritage Trust Plaques - over 350 in SW Ontario.

• Fresh Produce

• Fresh Meat

• Party Trays

• Bakery

• Deli

• Bulk Food

• Seasonal

Merchandise

• Flower

Market

Every Tuesday is SENIORS DISCOUNT DAY

10% OFF for age 60 and over (must tell cashier)

Doesn't apply to tobacco, lottery or gift cards

Use our easy

ONLINE

SHOPPING

SERVICE

www.yourindependentgrocer.ca

We'll bring your groceries to your car!

4136 Petrolia Line,

Petrolia • 519-882-2211

www.yourindependentgrocer.ca

• Wedding • Birthday

• Baby • Home Decor

4177 Petrolia Line, Petrolia • (519) 882-1840 Mon-Fri 9-6, Sat 9-6, Sun10-5

A Passing Of Time

We had moved up to this farm north

east of Thamesvillle early that fall, from

the city of Chatham. I liked it here on the

farm for many reasons, the quiet and

open spaces for one thing. The livestock

for another, especially the horses which

sometimes my father would let me

ride as he drove them up from the field

when work was done for the day. I was

five years old at the time.

The house was small, but even so I

had my own bedroom at the front of

the house, with a nice bright window

in it which overlooked the road. I had

my own bed of course, and lots of warm

blankets upon it, blankets that my

grandmother had handmade to keep

me warm and comfy at night now that

winter had arrived. Like most kids, I also

hated to get up in the mornings, leaving

my warm bed for a kitchen that was

just beginning to warm up. I

remember one morning

waking up to the sound

of sleigh bells, or so it

seemed. With Christmas

coming, Santa and his

reindeer were constantly

on my mind and so

I jumped out of bed and ran to the

window! Outside the ground was white

with snow, lots of snow which had fallen

during the night making the land look

so clean and white. What I saw was a

team of bay-coloured horses pulling a

sleigh, which I would later learn was a

set of bobsleighs. The sounds of sleigh

bells were from the bells fastened to

their back bands on the harness. Steam

rose from their nostrils rising into the

*SOME EXCLUSIONS MAY APPLY, PLEASE SEE STORE FOR DETAILS

By C. W. Tiffin, Chatham

from Daytripping Nov-Dec 2015

frosty air as I watched the driver stop

them by pulling on the reigns. Two other

men were riding on the bobsleighs and

they jumped off and started towards

our house with shovels in their hands. I

looked over and at that moment saw my

dad with a shovel in hand clearing our

driveway. The two men began to shovel

out the driveway heading towards him.

Shortly thereafter, the driveway was

cleared and then all three of them began

to clear a large snowdrift blocking the

road. I watched until they finished and

then the two men, along with my father,

climbed upon the bobsleighs and away

they went headed towards town.

I quickly dressed and headed for the

kitchen where my mother smiled and

greeted me. "So you're up sleepy head.

Your porridge is all ready, nice and hot.

Go wash your hands and sit

down at the table."

"Where did Dad go with

those men?" I asked.

She sat down at the

table with me, still smiling

for she was happy here

on the farm. "Your dad has

gone with the neighbours clearing the

road all the way to town. He should be

back about dinner time."

That was a long time ago now, but

I still remember it. It is a far cry from

today when snowplows work through

the night clearing highways and side

roads for the traffic. Life in the country

has changed greatly since those

early days, when almost everything

was done both with horsepower and

manpower.

winter 2023 (Dec 7, 1941) Surprise attack by Japan on Pearl Harbour drew the US into WWII. P A G E 31
---
Welcome to ...

It was 2003 when we got my Lil'

Darlin' Cookie. She was part Border

Collie, part Spaniel mix. She was a

delight from the beginning. We got her

for my elderly father who had been

struggling with his health in his 80s. We

thought it would spark him up.

We went to the animal shelter to see

the dogs they had. At the time they only

had large ones and we were looking for

a medium sized dog. They took my

mother's name and phone number.

Then we waited for the phone call. The

animal shelter called back a week later

and said they had a dog that they felt

might be suitable. We went over to look

at the dog they called about and there

she was, a beautiful black and white

dog. She couldn't keep her eyes off my

father. Oh, she looked at my mother

and I, but she only had eyes for my

dad. We walked around looking at the

THE Club

My Lil' Darlin'

other dogs and back we went to look at

her. Again, her eyes were on my dad.

Dad said he wanted her and thus our

life began with Cookie.

Sadly, my father passed away in

2006, but she was a good companion

for my mother until I moved back

in 2007 to stay with her.

Cookie and I became good

friends. She loved car rides

and often accompanied me

to Sarnia, where we sat under

the Bluewater Bridge, had a

picnic on the St. Clair River at

Sombra, a car ride to Harrow,

walks on the beach at Erieau,

spent time at Mitchell's Bay

and, of course, numerous

Thanks for all the kind words you've sent to us, and to our advertisers.

By Ruth Simpson, Chatham

from Daytripping May-June 2018

rides around town. She was a welltravelled

puppy. Always eager to go;

herding us because we were not

moving fast enough.

She always laid by my chair when I

was reading and beside the bed while

I was sleeping. She had her funny

ways. One time I was sitting in

my chair reading and feeling

like I was being watched, only

to see her sitting in front of me

with a grin on her face and wagging

her tail. Laughing, I asked her what

she wanted. I didn't get an answer,

but I figured she wanted me to

know she was there.

The past year has been a hard

one. Cookie got to the point

where she had difficulty walking. There

were also issues with her kidneys.

Eventually, she couldn't use her back

legs. She loved her walks so I would

pick her up and put her on an old

comforter in a garden wagon so she

could get out with her doggie friend

for her outing. People smiled when we

were out. Some stopped their vehicles

and told me it was great I was doing

this act of kindness.

The day came that she was getting

worse and stopped eating. The time

had come that all pet owners dread. We

had her sent to be with my dad where

there was no more sickness or pain,

where she could romp around like a

new dog.

It is always a hard decision to part

with your best friend. She was my Lil'

Darlin', my baby girl. Rest in peace,

Cookie.

Welcome to ... winter 2023

In Wales, wooden love spoons were

carved and given as gifts on February 14th.

Hearts, keys and keyholes were favorite

decorations on the spoons. The decoration

meant, "You unlock my heart!"

In the Middle Ages, young men and women

drew names from a bowl to see who their valentines would

be. They would wear these names on their sleeves for one

week. To wear your heart on your sleeve now means that it

is easy for other people to know how you are feeling.

Some people used to believe that if a woman saw a robin

flying overhead on Valentine's Day, it meant she would

marry a sailor. If she saw a sparrow, she would marry

a poor man and be very happy. If she saw a goldfinch, she

would marry a millionaire.

In some countries, a young woman may receive a gift of clothing from

a young man. If she keeps the gift, it means she will marry him.

Valentine

Customs & Superstitions

A love seat is a wide chair. It was

first made to seat one woman

and her wide dress. Later, the

love seat or courting seat had two

sections, often in an S-shape. In

this way, a couple could sit

together — but not too closely!

On Valentine's Day, think of five or six names of people you

might marry, As you twist the stem of an apple, recite the

names until the stem comes off. You will marry the

person whose name you were saying at the time.

Some believe that on Valentine's Day, you should

pick a dandelion that has gone to seed, take a deep

breath and blow the seeds into the wind. Count the

seeds that remain on the stem. That is the number of

children you will have. Others think you should cut an

apple in half and count how many seeds are inside to tell you

how many children you will have.

P A G E

32

(Jan 27, 1980) "The Canadian Caper" - Six American diplomats escaped from Iran.
---
60 might be the new 40, but 9 pm is the new midnight.

WYOMING'S

HEALTH FOOD

STORE & REFILLERY

15% OFF

Every Day for

Seniors (65+)

647 Broadway Street, Wyoming

226-307-0694 • suncoastnaturalhealth.ca

Growing

A Greener

Community,

One Tree

At A Time

SENIORS 10% OFF (65+)

Contact Us: 519-845-0847

info@wyomingtreeservice.ca

Frosty's Little Girl

The rain was gently falling on the

piles of January snow. It was going up

to 11 degrees Celcius today! Earlier

in the day, I noticed a couple of tall

robust snowmen in front yards, one

complete with a long-handled broom.

I wished we had built one when the

good packing snow had fallen freshly

and abundantly yesterday. Today, we

had rain. Well, maybe

after the next snowfall,

we'll build our own

snowman, I thought.

It was midafternoon.

The schoolbus was

bringing my seven-yearold

daughter home. I

waited for her, as the

bus roared off. She

was taking her time,

walking to our house. I

could see her, a powderblue-coated

figure,

happily walking atop

the remaining hills of

snow. I returned to my

frying pan to flip the

egg noodles and ham. I went to the

door several times to check on her

Welcome to ...

by Adina Haas, Lasalle

from Daytripping Jan-Feb 2006

whereabouts. Eventually, her backpack

containing her books, lunchbag, extra

mitts and her snowpants, ended up

inside the front door on the mat.

But, my daughter remained outside,

crunching boot-holes in the snow.

At my next check, a surprise

awaited me. She was putting the

finishing touches on a little snowman. I

exclaimed when I saw it!

She looked pleased and

cried, "It's for you, mom.

It's Frosty's daughter,

see? I gave her hair, and

flowers in her hair from

the bushes, and stones

for buttons and branches

for arms and a smile. All

she needs is a carrot for

a nose." I gladly got her

a baby carrot, slipped on

my clogs and my jacket

to go and meet my little

snowgirl. "You know

mom, she's only here

for a little while. Then

she'll go back to Frosty."

I hope the little snowgirl will still be

there at bus time tomorrow.

THE Club

FARM FRESH ARTISAN GOAT CHEESE

GLUTEN FREE • LOW LACTOSE

SPECIALTY FOODS AS WELL

569 BROADWAY ST, WYOMING • 519-845-1613

The

Wisdom of...

You've got a lot riding on those tires!

You can trust

Wyoming Tirecraft

for personal

small town service.

Thomas Jefferson

I'm a great believer in luck, and I find the harder I work the

more I have of it.

The man who reads nothing at all is better educated than the

man who reads nothing but newspapers.

We in America do not have government by the majority. We

have government by the majority who participate.

No government ought to be without censors and where the

press is free, no one ever will.

The spirit of this country is totally adverse to a large military

force.

Determine never to be idle. No person will have occasion to

complain of the want of time who never loses any. It is

wonderful how much may be done if we are always doing.

Do you want to know who you are? Don't ask. Act! Action

will delineate and define you.

Honesty is the first chapter in the book of wisdom.

In matters of style, swim with the current; in matters of

principle, stand like a rock.

Never put off till tomorrow what you can do today.

Wyoming

Auto Centre

ALL MAJOR BRANDS

Cars, Trucks, Performance

Specializing in Farm

AUTO SERVICE

We can also do repairs,

oil changes, brakes, batteries,

seasonal maintenance

and much more

It's worth

the trip

to Wyoming!

547 Ontario Street, Wyoming • 519-845-0813 • tirecraft.com

winter 2023 (February 11th, 1990) Nelson Mandela was released from prison after 27 years. P A G E 33
---
Welcome to ...

THE Club

We don't have any real news. Sometimes, no news really is good news.

Welcome to ...

winter 2023

623 Broadway St., Wyoming • 519-845-9915 • VillageFireplaceShop.com

Driving

TRIVIA

Selected

After Hours

questions from

Annual Trivia Night

"The Daytripper" has a team entered every year, but we have yet to win.

Answers Below

1. What is the southern-most capital in the world?

a] Wellington, New Zealand b] Canberra, Australia

c] Santiago, Chile d] Pretoria, South Africa

2. Who designed the famous Sagrada Familia church in Barcelona?

3. On The Rolling Stones 1972 song 'All Down the Line' Mick Taylor's

slide guitar accurately mimics what?

a] A train whistle b] A human voice

c] A harmonica d] A motorcycle

4. What country in South America was named after a Venezuelan

military and political leader who helped South American countries

gain independence from the Spanish Empire?

5. Which part of the human body can expand to 20 times its normal

size?

a] Pupil b] Anus c] Kidney d] Stomach

6. Which of the following is not one of the Hogwart's houses:

a] Godric Gryffindor b] Salazar Slytherin

c] Newton Noumenon d] Rowena Ravenclaw

e] Helga Hufflepuff

7. Born Eric Marlon Bishop, what actor starred in Ray, Django

Unchained, and The Amazing Spider Man 2 using this more

famously known name?

8. If you drove in a straight line from Moscow to Madrid, how many

countries would you drive in all together?

9. What number lies between 15 & 6 on a dartboard?

a] 16 b] 18 c] 10

10. Which was the first European country to give women the vote?

a] Austria b] Finland c] Denmark d] Greenland

11. What does A.M. stand for on radios?

12. Which country is the 2nd largest producer of cocoa beans after Ivory

Coast?

a] Indonesia b] Ecuador c] Brazil d] Ghana

ANSWERS:

1. Wellington, New Zealnd; 2. Gaudi; 3. A harmonica; 4. Bolivia, after Simon de

Bolivar; 5. Stomach 0.5 to 5 litres; 6. Newton Noumenon; 7. Jamie Foxx; 8. Eight

(Russia, Belarus, Poland, Czech Republic, Germany, Switzerland, France and Spain);

9. 10; 10.Finland (1906); 11. Amplitude Modulation; 12. Ghana

Do you live in the

BOONIES?

The CLUB is

available at all

Lambton County

libraries

(while they last)!

Books

Whatever the season,

reading takes precedence

over many things in my life.

During the winter, on cold

blustery days and evenings,

I curl up with a new book,

and as my imagination

soars it is easy to forget

the storm outside. On

hot summer days, I

sit in the shade of my

giant maple, and with a

favourite beverage close by, start a

fresh chapter in an ongoing book,

while occasionally glancing up to

admire my surroundings. Some books

are so difficult to put down that I

sometimes find myself putting off a

task, or reading late into the night in

order to finish the story. I may never

have to make the purchase of a new

television, as it is so seldom on!

Books attract me like a magnet and I

keep discovering new authors I adore,

which has me reading all their other

books. I cannot go by a bookstore

without stopping, and am always

on the lookout for used booksellers

where I may acquire a rare or unusual

book at a low price. The local library

is a great place for a long visit on a

rainy day. My appetite for reading

has no boundaries, and I enjoy fiction

and non-fiction alike. It is difficult to

stay away from murder-mysteries and

horror filled books even while they

are scaring the daylights out of me. I

weep over a romantic or tragic story,

and laugh aloud at a humorous one.

• Manicures • Pedicures • Waxing

• Cosmetic Injections (Botox & Fillers)

• Electrolysis

a getaway from the everyday

635 Broadway Street

WYOMING

226-307-0772

By Jeanette Paddon, St. Thomas

from Daytripping March-April 2014

I have travelled the world

many times, and learned

so much from different

cultures—simply by

reading. In my bedroom

is a bookcase crammed

with "keepers" that I

go through occasionally

when it is overflowing,

to sadly part with a few

so I can make room for

more. Appointments

are a good excuse to read a few

chapters in my book as I wait for

my turn. Whenever and wherever I

see someone reading, I cannot resist

glancing at the book cover, and have

often gotten into a conversation with

a stranger about the story. On my

travels, I exchange a book I have just

finished reading for another from

someone else, and thus often discover

a new author I would not have thought

to read otherwise.

I seldom leave a book unfinished,

hoping the story will improve.

However, I may change that habit, as

I recently read an article that said no

matter how avid a reader one may be,

he or she would at best only read a

few thousand books in their lifetime.

Meanwhile, thousands more are

published each year, many of which I

will want to read. Therefore, from now

on I will not feel badly putting aside a

book that does not hold my attention,

in favour of a great one, since I

consider reading as nourishment for

my soul.

MARLEY PHARMACY

600 0Y Years of fS Service i to oWyo

Wyoming o &Th The Surrounding S o un

i Community!

C i

!

"Where Good Friends Meet!"

Physician Consults

available through our

VIRTUAL

WALK-IN CLINIC

Call us for details

• Compounding Service

• Rapid COVID Tesng

607 Broadway Street, Wyoming 519-845-3341

P A G E

34

(June 8, 1972) Photo of "Napalm Girl" Phan Thi Kim Phuc showed horrors of Vietnam War.
---
You're not getting older, you're just becoming a classic!

Welcome to ...

THE Club

Green County Ebikes

and

Mobility Scooters

New • Used

Parts • Sales • Service

Financing Available

Ebike &

Mobility Scooter

Batteries

Also Sundays in Grand Bend

at Pinery Antique Flea Market

638 Broadway Street, Wyoming • 519.333.8313 • www.greencountyebikes.com

TUES. TO FRI.

9AM - 5PM

663 Broadway Street

Wyoming, ON N0N 1T0

519-845-3212

beth@bethhackettins.ca

Great Local Service

AUTO • HOME • FARM • INSURANCE

Match the Beverage

to the Slogan!

By Jodi Edwards Wright,

Chatham

1) 7-Up (1973)

2) Corona

3) Pepsi Max (1993)

4) Coca-Cola (1929)

5) Nabob Coffee

6) Pepsi

7) Red Rose Tea

8) Labatt Blue

9) Folger's Coffee

10) Miller Lite

11) Ocean Spray Juices

12) Sprite

13) Tropicana Juices

14) Maxwell House Coffee

A) The Choice of a New Generation

B) Obey Your Thirst

C) Crave the wave.

D) Only in Canada you say? Pity!

E) Tastes great, less filling!

F) Good to the last drop!

G) The pause that refreshes!

H) The Un-Cola

I) All of the taste, 1/3 of the calories!

J) If I wanted water, I would have asked for water??

K) Better beans. Better coffee.

L) If it tasted any fresher, it would still be on the tree!

M) The best part of wakin' up…

N) Miles away from ordinary

ANSWERS: 1H, 2N, 3I, 4G, 5K, 6A, 7D, 8J, 9M, 10E, 11C, 12B, 13L, 14F

winter 2023 (July 1, 1967) Canada became one century old.

P A G E 35
---
Welcome to ...

THE Club

If this brings back good memories, send us some of your own.

Welcome to ...

winter 2023

PICK YOUR OWN • Strawberries • Raspberries

• Apples • Pears • Pumpkins (in season)

4622 London Line, Reeces Corners • 519-845-3482

PRODUCE FRESH FROM OUR FIELDS

FARM STORE with fresh produce,

bakery items, preserves, maple syrup,

honey & more. Stop by soon!

www.zekveldgardenmarket.ca

OPEN MON-SAT

Children Welcome

Grandkids are F UNNY

I didn't know if my granddaughter had learned her

colours yet, so I decided to test her. I would point out

something and ask what colour it was. She would tell

me, and she was always correct. But it was fun for me, so

I continued. At last she headed for the door, saying

sagely, "Grandma, I think you should try to figure out

some of these yourself!"

Your Local

& Lake

Inspired

Artisan

Shop!

Apparel that Gives Back

Glass Fusing Workshop

30+ Canadian Makers

Bathroom

& Kitchen

Showroom

519-845-3726

www.PlymptonPlumbing.com • 4401 London Line, Wyoming

Hello to The Club for a

second time.

I just wish to record

the fact that I owe The

Club a great big thank

you—it helped me solve

a problem that I have

had since 2017. During

that bad time after

my wife had died, my

daughter and I decided

to empty my attic and

discovered the source

of my problem…

an old broken down

Grundig reel to reel tape

recorder from the 1950s,

accompanied by the handbook

and accessories and a plastic

see through box containing

approximately 40-45 reel to reel

tapes. The tape recorder was broken

down to the extent that a specialist in

the UK classed it as beyond repair.

The recorder was left to us by an

uncle who has long since died, and he

had a hobby of taping mostly classical

music concerts usually played by the

BBC (British Broadcasting Corp.) and

left them on the tapes.

Unknown to me, a notebook keeping

records of what was on the tapes had

slipped down to the bottom of the box

3811 Lakeshore Road • Camlachie • 519-328-2217

Visit website for current hours & info! www.lakelifestudio.com

The Holy Grail of Music

and, on reading

through the book,

I saw an entry in

his writing saying:

April 1968, "Now

Thank We All Our

God" sung by

my wife Sylvia,

at the age of 34.

I remembered we

had been visiting at

the time and she sang

as he had a recording

of the same hymn. In 1968

that recording got lost in the

mists of time and after losing my

wife in 2017, I wanted a copy of it.

An extensive search for somebody

in England able to do the job proved

fruitless, and I wanted to make contact

with an individual rather than send it

away to a company at this point. After

several more months I read an article

("Memories") in the Winter 2021 edition

of The Club submitted by Steve Hartwell

who lives in St Catharines.

It so happens that my wife has a

cousin who lives with his wife in St

Catharines, so on a visit to this cousin

By John Carroll, Petrolia

I made contact with Steve who said,

"Come along and I'll have a go." I

took him up on his offer and brought

along two other reels with me for

investigation.

Within 24 hours he contacted me

and said, "I hope you are ready for this"

and sat me down. I think the sound on

the equipment was slightly louder than

usual, and for the first time after 53

years I heard my young wife sing "Now

Thank We All Our God." I could hardly

stem the tears.

We chatted for a while, he gave me a

CD and memory stick and said, "I found

other voices and music on the tapes so

come back tomorrow and have a talk."

We took the CD back to the cousins'

house and found four more songs/

hymns by my wife and astonishingly

five songs by my daughter at age 7-8

years old. She was with me at the time

and said, "I recognize that song, it was

the first song that my teacher Madame

Tonks taught me!"

Now just to deviate for a while, my

wife from an early age attended her local

Methodist church and from the age of

15 attended voice training and carried

on through our meeting, marrying and

having our first baby, a girl. And so life

carried on until at a very young age our

daughter also received voice training.

Inevitably music became one of

their main interests: music festivals,

weddings as soloists, their duets were

something to be heard.

There are still some questions that

can not be answered, such as when and

where the songs were recorded, except

for the first one in 1968. But thanks to

modern technology I know I can still

hear my wife and daughter sing in a

matter of seconds through my phone or

iPad and it gives me great pleasure.

In addition I succeeded this year in

having CDs manufactured on behalf

of my wife's church in England, in the

effort to raise some funds towards a

new roof.

So my thanks again to The Club

without whom I would not have

discovered Steve Hartwell who worked

his magic for me and my family in 2021.

Publisher's Note: We love happy

stories like this one and are so glad you

made this connection. This is a good

reason to hang on to those back copies of

Welcome to The Club! However, you can

find Steve Hartwell's's article (Memories)

that is mentiond here online at www.

welcometotheclub.ca/club-archives/

P A G E

36

(June 2, 1953) The Coronation of Queen Elizabeth II occured at Westminster Abbey.
---
Let's grow old together. You go first.

Theodor Seuss Geisel (1904-1991) was

an American author, political cartoonist,

poet, animator, book publisher, and

artist, best known for authoring more

than 60 children's books under the pen

name Doctor Seuss.

QUOTES

Welcome to ...

THE Club

CAROLYN R L N MOSIER

BscP.T. MCPA

Registered

ered

ed

Physiotherapist

ist

Forest Physiotherapy

and Rehabilitation

10 Watt Street, et

Forest • 519-786-3336

36

foresttravelservice.com 519-786-2319

Read. Travel.

Read. Ask.

Read. Learn.

Read. Connect.

Read.

It's not about what it is,

it's about what it can become.

You have brains in your head.

You have feet in your shoes...

You can steer yourself any direction you choose.

Look at me now! It's fun to have fun but you have to know how.

The people that mind don't matter,

You're never too old,

and the people that matter don't mind.

too wacky, too wild,

to pick up a book and read to a child.

Think left and think right and think low and think high...

Oh the things you can think up if only you try!

It's better to know how to learn than to know.

Oh, the things you can find

if you don't stay behind!

Just go. Go. Go!

I don't care how.

You can go by foot.

You can go by cow.

My trouble was I had a mind

You are you,

but I couldn't make it up!

that is truer than true.

There is no one alive who is youer than you.

In the 1920's the electrical wiring

for homes was done using the 'knobs

and tubes' method. I inherited some of

those. Also at that time the soldering of

tin was done with a roll of lead and acid

in a green bottle. I inherited those. Then

of course there were the dozens and

dozens of early 1900's hand tools of all

shapes and sizes. Some for applications

I still can't fathom. But, I inherited

those.

What do you do with three burnt

out 1/4 h.p. motors? And two badly

scratched magnifying glasses? The

wood plane badly scored on the under

face, by hard work no doubt, or the

blow torch with it's tank cap missing.

Granted the large wooden

tool chest with the lock (no

key) is still fine and no doubt

has an early turn of the

20th century look about it. I

inherited that too, and came

close to a hernia moving it.

But, I have resigned

myself to the glass jars as

being my true inheritance.

Three generations are now

represented by those glass

We're here to help you

make travelling easier.

18 King Street West, Forest

ESTABLISHED

IN 1977

My Inheritance is in a Glass Jar

by Harvey Bryant, Brantford From Daytripping May-June 2005

jars. One holds three unique bolts used

by my grandfather in his trade as ship's

rigger in the late 1800's in a Montreal

ship repair yard. Do I know just exactly

where or how they are used? No... but,

I inherited them. There are hundreds

of wood screws (and even some twoof-a-kind)

in my inherited glass jars.

Nails (many even straight) of all lengths

and sizes. I'm really proud of my bolt

collection. Hundreds, short, long, thin,

fat and some even have matching nuts.

My inheritance has been built up

over a century by three men who were

pack rats of the first order and all their

lives believed... "don't throw that out...

it may come in handy some day." A

grandfather, an electrician

father, and a carpenter

father-in-law have blessed

me with the varied collection

of out-dated, worn-out and

"handy" inheritance that is

second to none.

Ah! But the best is yet

to come... my son doesn't

know it but I have added to

my inheritance and it's ready

for him too.

An Old Fashioned Country Store with a Modern Twist!

• Collecbles & Giware • Kids secon

• Fudge • Maple Buer Tarts & Baking

• Williamson Farms Beef & Local Pork, Cider,

Cheese & Maple Syrup • Gi Baskets

Wednesday is

SENIORS DAY!

Numerous Savings for 55 & over

Shop Online www.williamsonfarmsmarket.com

Curbside Pickup is always available • Ask us about delivery!

14 King St. W., FOREST • 226-520-0144

January through March - Open Tuesday to Friday 10am-6pm • Saturday 10-5

winter 2023 The final episodes of M.A.S.H. (Feb. 28, 1983) and Cheers (May 20, 1993). P A G E 37
---
Welcome to ...

THE Club

Putting the Grey in Great!

Welcome to ...

winter 2023

Stop & shop in Forest, Ontario!

Check out our downtown - browse our shops,

enoy a meal at one of our fantastic restaurants or

take in a movie at the historic Kineto Theatre!

Make a day of it in Forest!

Keep up to date with event & shopping information

on our website, Facebook & Instagram!

Get Active With Your

Grandkids – Take a Hike!

By Mary Lou Tasko, Lambton Shores Nature Trails • www.lsntblazers.com

Hiking is a healthy activity that's

easily accessible in Lambton

Shores where there

are trails to suit all

ages and abilities.

At a time when

parents may be very

busy and children

may be distracted

by technology,

grandparents can

play an important

role in helping

kids be active and engaged in the

natural environment. Hiking provides

the opportunity to share an experience,

have some good conversation and, most

likely, strengthen your relationship with

your grandchildren.

Taking kids, especially younger ones,

on a hike may offer some challenges;

however, with the right planning

and attitude, you can create special

memories. You don't need to be a

naturalist or botanist to capitalize on all

sorts of teaching moments—you have

the wisdom of age and experience to

offer!

For more information about hiking

with children, visit John McKinney's

website: www.thetrailmaster.com/tips/

grandparents-take-a-hike-with-yourgrandchildren/

Lambton Shores Nature Trails has

recently introduced a new youth badge

program which may help you get started

with this shared activity.

You may be aware from previous

editions of Welcome to The Club that

Lambton Shores Nature

Trails (LSNT) is a local

volunteer organization

that is working to build

a local network of userfriendly

nature trails.

In addition to

maintaining trails

in Lambton Shores

and vicinity, LSNT

undertakes projects

to improve accessibility, protect

environmentally sensitive areas and

beautify public spaces. We also promote

trail use by publishing maps, brochures

and sponsoring badge programs.

LSNT's newest badge program, the

Youth Nature Challenge, aims to engage

young hikers during every season of

the year. Our winter

season officially started

December 1st, but

hikers can join during

any season going

forward.

The YNC challenges

young hikers to earn

four badges: winter,

spring, summer and

fall by participating for

a full year. It's a great

way to spend some

time with your children,

grandchildren, nieces,

nephews etc., and

encourage them

to learn about our

"Gems of Nature" in

Lambton Shores and

vicinity.

Do you

want

copies

of...

They're T

FREE

for people 55+!

Welcome to ...

THE

CLUB

The New Year

How can you

participate with the

kids in your life?

LSNT has selected four different

challenge trails, one for each season:

• The Winter Challenge runs from

December 1 to February 28/29.

• The Spring Challenge runs from

March 1 to May 31.

• The Summer Challenge runs from

June 1 to August 31.

• The Fall Challenge runs from

September 1 to November 30.

You will need a YNC brochure; they are

available for download on our website

(LSNTBlazers.com), at the trail heads

for any trail that LSNT maintains, and

at local libraries and most community

centres.

Use the clue in the brochure to figure

out which of the LSNT trails you need

to hike sometime during the season.

For a group,

apartment

building,

or meeting?

Call 519-491-1676 or email

info@welcometotheclub.ca

We are standing on the threshold,

We are in the open door,

We are treading on the border land

We have never trod before.

Another year is opening, another year is gone,

We have passed the darkness of the night,

We're in the early morn.

We have left the fields behind us

O'er which we scattered seed;

We have passed into the future

Which none of us can read.

We hasten to fresh labor -

To thrash and reap and sow,

Then bid the new year welcome and

Let the old year go!

Along the way,

you'll find a signpost

with a puzzle (a

scrambled word)

that hikers need to

solve. Unscramble

the letters and

record the word in

the brochure. After

the hike, your young companion needs

to draw a picture that matches the

puzzle solution in their brochure (or on

a separate piece of paper).

How do the kids get their badges?

Once they have completed all four

hikes, solved the puzzles and drawn the

relevant pictures, hikers can mail their

brochure to:

Mary Lou Tasko

10158 Meadowlily Crescent

Grand Bend, ON N0M 1T0

Be sure to include the name and

home address (on the front of the

brochure). We will mail the badge set to

the successful hiker.

Don't forget that kids can start

the Youth Nature Challenge at any

point during the year. Our website

LSNTBlazers.com has complete details

and downloadable brochures, as well

as information about the trails LSNT

maintains and the work we do in the

community.

Rally the kids in your life and head

out to the trails! And please, share

comments and pictures with us at

info@LSNTBlazers.com.

Publisher's Note: Take advantage of one

of the many winter activities in Lambton

County including the many hiking trails.

It's an entirely different experience in the

snow!

P A G E

38

(Sept 24, 1988) Ben Johnson became the fastest man in the world at Seoul Olympics.
---
Thanks again - keep this copy or pass it on to a friend please.

Welcome to ...

THE Club

winter 2023 (October 1, 1975) Muhammad Ali vs. Joe Frazier III - The "Thrilla in Manila." P A G E 39
---
VOLUNTEER WITH

"It feels so good to help

people. So get out there and

feel good!" - Simon Sinek

FOREVER FIT

FOREVER FIT

Every Monday & Wednesday Morning

9:30am – 10:30am

Wyoming Legion 493 Erie St

Register at the Class

Bring Running Shoes & Water

Questions: 519-845-1353 ext. 301

dcroxford@lambtonelderlyoutreach.org

Diner's Club!

Social Time. Hot Meal. Informative Presentation.

1st Wednesday of the Month

Brunch at The Strangway

3rd Wednesday of the Month

Lunch at Wellings of Corunna

$

15

Please register to attend: 519-845-1353 ext. 301

dcroxford@lambtonelderlyoutreach.org

WE ARE HIRING!

Working at LEO Means:

PEER SOCIAL

CLUB

2nd Thursday of Each Month

10am - 12pm

Alvinston Estates, Alvinston

Socialize over

healthy snacks and activities!

Please register: 519-845-1353 ext. 301

dcroxford@lambtonelderlyoutreach.org

• Directly supporting your community and the people who live in it

• Connected work environment

• Opportunities for growth

Apply

Now!

View all opportunities at: www.lambtonelderlyoutreach.org/join-our-team

Making Access to Community Supports & Health Services Easier!

Expanded local services & supports listings

New community navigator option

Inclusive of all ages & stages

Community

Navigators listen

and help find local

resources and

supports based

Find. Specific supports you need.

Search.

on the needs

☎Talk. Call to speak with a Community Navigator. of the caller.

www.agefriendlysarnialambton.ca 519-336-3000

Looking for a meaningful way

to connect to our community?

We could use

your help

in a variety

of client

support

areas and

program

development

at LEO!

Volunteer for:

• Board of Directors

• Friendly Visiting

• Bingo Helpers

• Meals on Wheels

• Transportation

• Diner's Club

• Forever Fit

• Administration

TO GET INVOLVED: 519-845-1353

volunteer@leohelps.ca

lambtonelderlyoutreach.org

How We Can

Help You Live

at Home

Transportation

Non-Urgent Stretcher Van

Meals on Wheels

Home Maintenance

Personal Care

Home Help

Care Giver Respite Support

Crisis Intervention

Housing Support

The Peer Program

Friendly Visiting

Diners Club

LEO Scored 98% Exemplary Standing

for providing Quality Services

Funded in part by the United Way of Sarnia-Lambton

and Jackpot City, Sarnia

Lambton Elderly Outreach • 1-800-265-0203 • www.lambtonelderlyoutreach.org