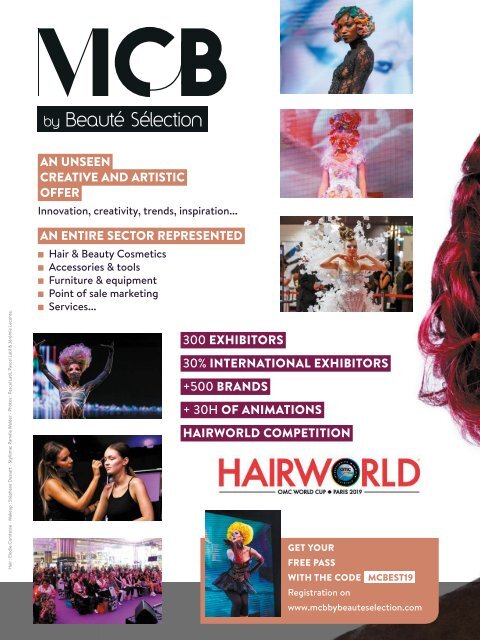 Estetica Magazine ITALIA (4/2019)
Estetica Magazine è la rivista leader mondiale nella modacapelli. Fondata in Italia nel 1946 e pubblicato oggi in oltre 60 paesi in tutto il mondo, è il punto di riferimento globale per i parrucchieri e per tutti i professionisti nel campo dell'hair-beauty. Tecnica, moda, formazione e tendenze sono al centro di ogni uscita di Estetica Magazine. Tutte le informazioni sulla rivista, nella versione stampata o digitale, sono disponibili a partire dal sito www.esteticanetwork.com.
AN UNSEEN

CREATIVE AND ARTISTIC

OFFER

Innovation, creativity, trends, inspiration...

Hair : Elodie Comtesse - Makeup : Stéphane Dussart - Stylisme: Paméla Walder - Photos : Pascal Latil, Pascal Latil & Jérémie Leconte.

AN ENTIRE SECTOR REPRESENTED

■ Hair & Beauty Cosmetics

■ Accessories & tools

■ Furniture & equipment

■ Point of sale marketing

■ Services...

300 EXHIBITORS

30% INTERNATIONAL EXHIBITORS

+500 BRANDS

+ 30H OF ANIMATIONS

HAIRWORLD COMPETITION

GET YOUR

FREE PASS

WITH THE CODE MCBEST19

Registration on

www.mcbbybeauteselection.com

*
More magazines by this user