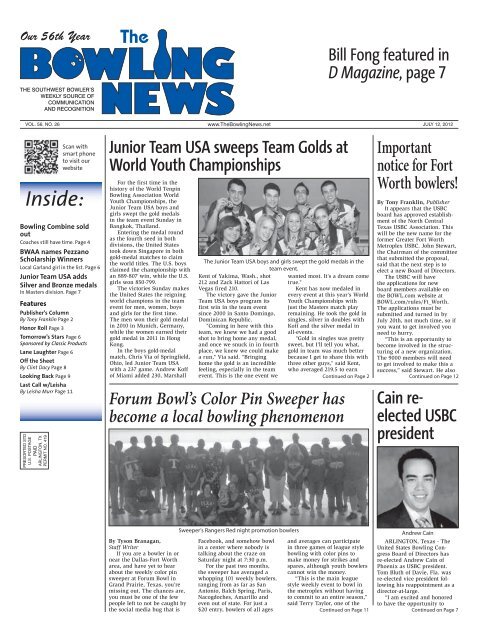 July 12 - The Bowling News
July 12 - The Bowling News
July 12 - The Bowling News
SHOW MORE
SHOW LESS
Create successful ePaper yourself
Turn your PDF publications into a flip-book with our unique Google optimized e-Paper software.
Our 56th Year

VOL. 56, NO. 26 www.TheBowlingNews.net JULY 12, 2012

Inside:

Bowling Combine sold

out

Coaches still have time. Page 4

BWAA names Pezzano

Scholarship Winners

Local Garland girl in the list. Page 6

Junior Team USA adds

Silver and Bronze medals

In Masters division. Page 7

Features

Publisher's Column

By Tony Franklin Page 2

Honor Roll Page 3

Tomorrow's Stars Page 6

Sponsored by Classic Products

Lane Laughter Page 6

Off the Sheet

By Clint Dacy Page 8

Looking Back Page 9

Last Call w/Leisha

By Leisha Murr Page 11

PRESORTED STD

U.S. POSTAGE

PAID

ARLINGTON, TX

PERMIT NO. 419

Scan with

smart phone

to visit our

website

Junior Team USA sweeps Team Golds at

World Youth Championships

For the first time in the

history of the World Tenpin

Bowling Association World

Youth Championships, the

Junior Team USA boys and

girls swept the gold medals

in the team event Sunday in

Bangkok, Thailand.

Entering the medal round

as the fourth seed in both

divisions, the United States

took down Singapore in both

gold-medal matches to claim

the world titles. The U.S. boys

claimed the championship with

an 889-807 win, while the U.S.

girls won 850-799.

The victories Sunday makes

the United States the reigning

world champions in the team

event for men, women, boys

and girls for the first time.

The men won their gold medal

in 2010 in Munich, Germany,

while the women earned their

gold medal in 2011 in Hong

Kong.

In the boys gold-medal

match, Chris Via of Springfield,

Ohio, led Junior Team USA

with a 237 game. Andrew Koff

of Miami added 230, Marshall

By Tyson Branagan,

Staff Writer

If you are a bowler in or

near the Dallas-Fort Worth

area, and have yet to hear

about the weekly color pin

sweeper at Forum Bowl in

Grand Prairie, Texas, you're

missing out. The chances are,

you must be one of the few

people left to not be caught by

the social media bug that is

The Junior Team USA boys and girls swept the gold medals in the

team event.

Kent of Yakima, Wash., shot

212 and Zack Hattori of Las

Vegas fired 210.

The victory gave the Junior

Team USA boys program its

first win in the team event

since 2000 in Santo Domingo,

Dominican Republic.

"Coming in here with this

team, we knew we had a good

shot to bring home any medal,

and once we snuck in in fourth

place, we knew we could make

a run," Via said. "Bringing

home the gold is an incredible

feeling, especially in the team

event. This is the one event we

Facebook, and somehow bowl

in a center where nobody is

talking about the craze on

Saturday night at 7:30 p.m.

For the past two months,

the sweeper has averaged a

whopping 101 weekly bowlers,

ranging from as far as San

Antonio, Balch Spring, Paris,

Nacogdoches, Amarillo and

even out of state. For just a

$20 entry, bowlers of all ages

wanted most. It's a dream come

true."

Kent has now medaled in

every event at this year's World

Youth Championships with

just the Masters match play

remaining. He took the gold in

singles, silver in doubles with

Koff and the silver medal in

all-events.

"Gold in singles was pretty

sweet, but I'll tell you what,

gold in team was much better

because I get to share this with

three other guys," said Kent,

who averaged 219.5 to earn

Forum Bowl's Color Pin Sweeper has

become a local bowling phenomenon

Sweeper's Rangers Red night promotion bowlers

Bill Fong featured in

D Magazine, page 7

and averages can participate

in three games of league style

bowling with color pins to

make money for strikes and

spares, although youth bowlers

cannot win the money.

"This is the main league

style weekly event to bowl in

the metroplex without having

to commit to an entire season,"

said Terry Taylor, one of the

Continued on Page 11

Important

notice for Fort

Worth bowlers!

By Tony Franklin, Publisher

It appears that the USBC

board has approved establishment

of the North Central

Texas USBC Association. This

will be the new name for the

former Greater Fort Worth

Metroplex USBC. John Stewart,

the Chairman of the committee

that submitted the proposal,

said that the next step is to

elect a new Board of Directors.

The USBC will have

the applications for new

board members available on

the BOWL.com website at

BOWL.com/rules/Ft_Worth.

The applications must be

submitted and turned in by

July 20th, not much time, so if

you want to get involved you

need to hurry.

"This is an opportunity to

become involved in the structuring

of a new organization.

The 9000 members will need

to get involved to make this a

success," said Stewart. He also

Continued on Page 2 Continued on Page 12

Cain reelected

USBC

president

Andrew Cain

ARLINGTON, Texas - The

United States Bowling Congress

Board of Directors has

re-elected Andrew Cain of

Phoenix as USBC president.

Tom Bluth of Davie, Fla. was

re-elected vice president following

his reappointment as a

director-at-large.

"I am excited and honored

to have the opportunity to

Continued on Page 7
---
Page 2 | Thursday, July 12, 2012 | THE BOWLING NEWS

Random Thoughts

USBC Open Championships:

Sean Swanson shot the 19 th

perfect game of the tournament

last week en route to a 782

series in Doubles. He bowled

with former Dallasite, Sean

Quinn now of Guntwon, Miss

to shot 1457 and take over

fourth place. Swanson finished

with 2100 in All-events and

moved into ninth place. He's

been battling some health

issues of late, so it's great to

see him have a good time on

the lanes.

3-3-3-3-3-3

Speaking of health issues,

I would like for all of you out

there to say some prayers for

our good friend Mark "Prime

Time" Grimes. Mark has

battled kidney disease for most

of his adult life and has already

had one kidney transplant

courtesy of his mother, Lana.

PT had a bad reaction to

some medication and was

rushed to the hospital. Luckily

his parents were at his house

that day so that they could

respond quickly and get him

the care he needs.

PT is back home now it

appears back to normal, but he

is always battling. Please keep

George, Lana, Steve, and his

wife Arlene in your thoughts

so that Mark can make a full

recovery.

3-3-3-3-3-3

BUY - SELL

AMF - BRUNSWICK EQUIPMENT - COMPLETE PACKAGES

WORLD'S LARGEST NEW - USED SPARE PARTS INVENTORY

ALL AMF BUMPER PARTS: XS QBUMP, DURABOWL AND GEN II IN STOCK

Tucker Bowling Equipment Co.

609 N.E. 3rd St.

Tulia, Texas 79088

Call (806) 995-4018

Fax (806) 995-4767

Tony Franklin, Publisher

So what did you think of the

BPAA Women's US Open finals

on ESPN2 last week?

I loved it, thought it was

a great show, and visually

stunning. From a bowling

standpoint, I'm still a supporter

of the challenging condition.

It was just really interesting

to watch a bowling match

with a lot at stake, and I don't

know who is going to win

each match because they all

went down to the wire. The

ladies had to employ some

real strategy, not just trying to

figure out which ball is going

to get them 250.

Kelly Kulick's strategy was

trying to get her hand right

up the back of the ball so that

she could control the roll. It

worked well, and she was the

only one that made a drastic

change, but she also had the

benefit of watching the other

finalists in the prior games. It

was good to be the top-seed, it

actually DID give an advantage

this time, like it should.

Bottom line, the ladies

showed themselves to be

great competitors, and they

did bowling proud. Now the

question is how we're going to

get the challenge in the game

full-time. And I mean really

challenging, like the finals of

the Women's US Open.

Bowling Parts, Inc.

P.O. Box 801

Tulia, Texas 79088

Call (806) 995-3635

email: daryl@tuckerbowling.com

www.tuckerbowling.com

Mailing Address: P.O. Box 1642, Colleyville, TX 76034-1642

Delivery Address: 4133 Heartstone Dr, Grapevine, TX 76051

Offi ce: 817-267-8686 • Fax: 817-267-1813 • Cell: 817-368-7960

Website: www.thebowlingnews.net • Email: bowlingnews@sbcglobal.net

JOE GENNARO (972-978-8687) . . . . . . . . . . . . . . . . . . . . . . . . . . . . . EDITOR EMERITUS

TONY FRANKLIN (Tony@TheBowlingNews.net) . . . . . . . . . . . . .OWNER/PUBLISHER

GENIE FRANKLIN (Genie@TheBowlingNews.net) . . . . . . . . . . .OWNER/PUBLISHER

BILL HAZLETT (Bill@TheBowlingNews.net) . . . . . . . . . . . . . . . . .MANAGING EDITOR

JIM WOODRUFF (jim@discountplasticbags.com) . . . . . . . . . . . . . FEATURE EDITOR

EMIL WILLIAMS JR. (emil@thebowlingnews.net ). . . . . . . . . . . . . . . . STAFF WRITER

TYSON BRANAGAN (t.branagan@yahoo.com) . . . . . . . . . . . . . . . . . . STAFF WRITER

BREANNE EOFF (breanne@TheBowlingNews.net) . . . . . . . . . . . . . . . STAFF WRITER

CLINT DACY (Clint@TheBowlingNews.net) . . . . . . . . . . . . . . . . . . . . . . . . COLUMNIST

SUSIE MINSHEW (strikeability@gmail.com) . . . . . . . . . . . . . . . . . . . . . . . . COLUMNIST

LEISHA MURR (leisha@TheBowlingNews.net) . . . . . . . . . . . . . . . . . . . . . COLUMNIST

BUBBA FLINT (fl intsworld@aol.com) . . . . . . . . . . . . . . . . . . . . . . . . . . . . . CARTOONIST

CONTRIBUTING FEATURE WRITERS

John Jowdy • Chuck Pezzano • Don Wright

Note: Opinions expressed by our independent columnists and feature writers are

their own and do not necessarily refl ect the views of The Bowling News.

Subscription rates: $65 a year in advance. Check or money orders should be addressed to

THE BOWLING NEWS.

© 2012

Th e Bowling News

FOUNDED AND PUBLISHED BY JOE GENNARO FROM 1956-2009

In response to the "Dust

Bowl" article and the comment

about the US Open being held in

the most "Un-manageable" area,

one of our readers had this to

say:

The AMF Bowling World

Cup was held in 1997, in Cairo,

in the desert, overlooking the

Sphinx and Pyramids of Giza.

See attached photo. We experienced

similar problems with

wind and sand, but cleaned

and oiled the lanes after

EVERY game, as well as dusted

the approaches whenever possible

(TV breaks). Obviously

the equipment back then may

not have been as aggressive as

it is today.

Here are the Women's final

scores, not bad considering the

elements:

Semi-Final Match:

Ji Soon Lee – Korea - 203

Shalin Zulfkifi – Malaysia

- 190

Final Match

JUNIOR TEAM USA

Continued from Page 1

the silver in all-events, which

was decided Saturday. "We are

going to remember this our

entire lives, especially climbing

from fourth."

The Junior Team USA girls,

who won the team gold for the

first time since 2004 in Guam,

were led in the gold-medal

match by Jessica Earnest of

Vandalia, Ill., with 217. Amanda

Greene of Romney, W.Va.,

shot 215, Danielle McEwan of

Stony Point, N.Y., had 212 and

Kelsey Muther of Topeka, Kan.,

fired 206.

"I think even just being

picked to represent Junior

Team USA here was a big

accomplishment," Earnest said.

"We went out and we won

team gold and that was our

goal from the beginning of the

week. And we came out and

did it together."

In the semifinals, both U.S.

teams had to take down the top

seeds in their opening matches.

The Junior Team USA girls

defeated two-time defending

champions Korea, 924-846,

while the boys took down

Sweden, 860-822

The action at the World

Youth Championships now

shifts to the Masters match

play, which features the top

24 boys and top 24 girls in the

all-events standings. All four

Junior Team USA girls made

the cut, while Kent and Via

advanced on the boys side.

For more information on the

2012 World Youth Championships,

visit WorldYouth2012.

com.

Su-Fen Tseng – Chinese

Taipei – 236

Ji Soon Lee - 225

Note: Su-fen Tseng from Taipei

was a "helicopter" bowler;

the Korean bowler and Malaysian

bowler were "power" hook

At AMF DeSoto

Lewis levels 715,

Washington wraps up 602

Les Lewis racked up a rousing

228-239-248 = 715 Pushovers

series to take top honors for the

week at AMF DeSoto Lanes.

Arlette Washington, Lewis'

league mate, led the ladies with

a smooth 198-189-215 = 602 set

HONOR ROLL

Videll Kelly 183-461, Mary

Brathwaite 189-485, Marilyn Briscoe

164-431, James Bridges 238-625, Jan

Dixon 205-506, Steven Jackson, Jr.

COME OUT FOR ANOTHER

Production

UFO

EIGHT GAME

SCRATCH SINGLES

MARATHON

SPORT SHOT

Entry Fee : $80 per person

PAY OUTS BASED ON 40 ENTRIES

1st Place $780

2nd Place $600

3rd Place $400

4th Place $200

5th Place $150

6th Place $100

Side Pot Action available

At $5 per Bracket And

$10 per person for Scratch High Pot

players. All right handed.

Cliff Adair, Sr. Product

Manager for QuibicaAMF

(At the time Cliff was the

Technical Director and Co-

Tournament Director for the

World Cup)

240-579, Betty Cacciapaglia 175-494,

Collin Battles 267-682.

Stacey Williams 211-588, Chuck

Mooney 257-679, Cynthia Fagan

202-561, Bud Price 232-651, Lori Knox

200-518, Terry Middlebrooks 204-551,

Katherine Sunday 171-463.

SENIORS

Robert Shelton 226-652, Kathy Lee

199-488, Don Moore 213-563, Billie

Bradley 189-479.

Saturday July 14

Bowling Starts at 12:30 PM

Check-In is 11:30 AM

Come Check It Out:

Contact:

Jeff Tucker, Tournament Director

(214) 577-5548 or jltuck@swbell.net

AMF DeSoto Lanes

121 Northgate Dr., Desoto, TX 75115

972-780-8090
---
Men

Larry Hatton, AMF Lewisville Lanes ..................... 826

Robert Jones, AMF Showplace Euless Lanes ..... 814

Craig Boyle, AMF Showplace Garland Lanes ...... 796

Robert Eidenier, Plano Super Bowl....................... 771

Michael Burrell, USA Bowl ................................... 759

Kevin Roberts, Cityview Lanes.............................. 753

Ricky Roberts, Cowtown Bowling Palace ............. 752

Ted Pritts, Strikz ..................................................... 745

Les Drake, AMF Richardson Lanes ...................... 741

John Mock, Sr., Rowlett Bowl-a-Rama .................. 739

Willie Jackson, Jr., Brunswick Westcreek Lanes . 739

Roy Jackson, Sr., AMF Spare Time Lanes ........... 728

Kevin Boykin, Red Bird Lanes ............................... 720

Les Lewis, AMF DeSoto Lanes .............................. 715

Travis Lansdowne, Brunswick Zone Watauga ...... 710

Derek Ray, AMF Irving Lanes ................................ 667

Women

Miki Jo Parish, Cowtown Bowling Palace ............ 726

Tonjah Castro, AMF Showplace Garland Lanes ... 684

Patty Ellington, Plano Super Bowl ........................ 670

Gloria Llagas, Brunswick Westcreek Lanes ......... 667

Heather Robb, AMF Lewisville Lanes ................... 665

Jacki Archer, Cityview Lanes ................................ 661

Belinda Chambers, AMF Showplace Euless ........ 652

Jennifer Hayes, AMF Richardson Lanes .............. 647

Susan Charlton, USA Bowl .................................... 626

Sandra Goodrum, AMF Spare Time Lanes ........... 618

Tina Wright, Brunswick Zone Watauga ................. 614

Arlette Washington, AMF DeSoto Lanes .............. 602

Lisa Wasson, Strikz ................................................ 597

Rita Becker, Red Bird Lanes ................................. 561

Judy Dillabough, Red Bird Lanes ......................... 561

Susan Lee, Rowlett Bowl-a-Rama ......................... 552

Hilary Spencer, AMF Irving Lanes ......................... 509

At USA Bowl

Burrell pockets 759,

Charlton logs 626

Michael Burrell racked up

rousing 247-255-257 = 759 West

Stars league session to earn the

top spot on the honor roll last

week at USA Bowl.

Susan Charlton booked a

banner 213-223-190 = 626 TNL

Ladies set to earn fem scoring

laurels.

HONOR ROLL

Steve Osterman 176-497, Kaye

Cameron 133-367, Randall Buda 248-

714, Vanessa Brown 204-555, Steve Kerr

258-700, Maggie Jo Hipskind 173-424,

Randall Buda (4 games) 254-887.

Debby Oulicky (4 games) 180-657,

Mike Meier 174-464, Lisa Do 140-401,

Zaneta Jones 230-623, Chris Namkoong

275-677, Ronnie Willets 224-601, Dondi

Rhone 169-456, Lisa Rubin 163-469.

Mark Knize (2 games) 177-340, Ines

Mersch (2 games) 154-307, Brad Ellis

234-647, Tiffany Simmons 181-469,

Greg Charlton 223-628, Pat Sheetz

194-535, Rich Soundress 221-626.

Joeleen Brown 206-524, Rob Webb

239-656, Dana Short 189-539, Gilbert

Rogers 241-652, Aricia Grant 153-432,

Matt Boyd 289-712.

At Cityview Lanes

Roberts levels 753,

Archer nails 661

Kevin Roberts' first-rate 278-

206-269 = 753 Mo's Matchpoint

session ended as the number-one

set of the week at Cityview Lanes.

Jacki Archer led the ladies

honor roll with a masterful 246-

203-212 = 661 Billie & Les High

Pot outing.

HONOR ROLL

John Heiliger 246-682, Deidra

Vannocker 171-493, Alan Cole 288-689,

Cherie Deleon 247-610, Dane Ellinger

244-658, Dennis Vineyard 215-622,

Linda Madewell 179-486, Christ

Blakeman 266-616.

Audra Wallace 165-430, Ron Boroff

258-720, Denise Jones 220-615, Nick

Mahon 220-627, Pat Sharp 203-526, Tim

Miller 257-605, Isela Frazee 157-409,

Jack Simpson 244-646.

Chris Hummel (4 games) 235-859,

Audrey Wallace (4 games) 234-734.

SENIORS

John Stewart 247-683, Cathy

McSwain 172-490, Monty Bowers 279-

750, Billie Thomas 184-503.

Larry Hatton

This week's high male is

Larry Hatton with 279-269-279

for an 826 series in the Monday

Men's league at AMF Lewisville.

Larry is an Applications

Engineer that builds the test

systems for semi-conductors

and has been in that field for

30 years.

What is your high series?

That's it! This is my first 800

How many 300's have you

bowled? One which I shot last

year.

Thoughts on your big night?

It was awesome, every time I

hit the pocket it struck. I didn't

realize I had the 800 until a

friend told me in the tenth that

I didn't even need a strike. I've

made a small change over the

summer that has really helped

my accuracy. I'm getting more

spin on the ball, and it has

also helped my spare shooting.

I don't think I have missed a

ten-pin all summer.

What ball did you throw? A

Storm 2 Fast

Who drills your balls? The

Bowling Shop at Lewisville.

What is your all-time favorite

bowling ball? Well I guess it has

to be this one.

What is your all-time high

average? 212 last year, but I

am averaging about 240 in the

summer league.

How long have you been

bowling? I started when I was

kid bowling in youth leagues.

I took a long layoff, but then

started bowling with my wife,

Cathy, about 15 years ago. I

have been on the Denton USBC

association Board and was the

chairman for lane inspections.

So I have been pretty involved

with the sport.

Who is your favorite pro

bowler? Chris Barnes, we

always participate in their

JDRF event.

Most memorable bowling moment?

That would be the 300 I

had last year. On the last shot I

pulled it and it went Brooklyn,

but it's a great feeling to have

every one watching. My son,

Travis almost had a 300 before

me, but shot 297 and I didn't

want him to beat me to it. My

daughter Stacie is also an avid

bowler.

What lessons has the game

taught you? I like bowling for

the camaraderie, we always

take it seriously, but we have a

great time doing it.

THE BOWLING NEWS | Thursday, July 12, 2012 | Page 3

P.O. Box 1642, Colleyville, TX 76034

Phone 817-267-8686

Fax 817-267-1813

JULY & AUGUST SPECIAL!

Senior

Bowlers

Mondays, Wednesdays

& Thursdays

11 AM to 3 PM

$1.00

per person per game

Must be 50 years or older.

214-358-1382 Fax: 214-358-4056

10920 Composite Drive, Dallas, TX 75220

Visit us on the Web at www.USABowlInDallas.com

Team Entry Fee:

$250.00

2 nd Annual

DFW

First Place Team

Based on 40 teams

This is a non-sanctioned handicap tournament open to all bowlers

except PBA exempt bowlers. Teams bowl 3 games Saturday and 3

games Sunday. Team Average Cap: 1000

For more information, full rules and entry forms, contact

the front desk or the Tournament Director:

Charlie Natal

www.itabowling.com

512-738-7287

Email: cnatal@centurytel.net

The "New"

817-346-0444

We are always

looking for human

interest story

ideas—let us know

Cityviewlanes.net Fax: 817-346-7208

Squad Times:

Saturday: 1 PM

Sunday: 11 AM
---
Page 4 | Thursday, July 12, 2012 | THE BOWLING NEWS

Bowling Combine sold out;

coaches still have time to register

ARLINGTON — The opportunity

to have their skills

evaluated at a state-of-the-art

training facility and to meet

with college coaches drew

a sellout group of studentathletes

to the Bowling Combine

for College Prospects last

summer.

The program's successful

debut resulted in more than

200 student-athletes submitting

applications for the 2012 Bowling

Combine, which will be

held Aug. 7-11 at the International

Training and Research

Center in Arlington. While

capacity was expanded this

year, constraints will allow just

more than 100 athletes to take

part in the Bowling Combine.

"The response was almost

overwhelming and we would

have liked to take everyone

who applied," Team USA

head coach Rod Ross said.

"The college coaches who

attend can expect to watch

Robert Eidenier fired a chart

topping 279-247-245 = 771

Thursday Classic Trio series to

and meet a talented group of

student-athletes."

Forty-eight girls were

selected to participate in this

year's Bowling Combine. The

girls' field has a 193 bowling

average and a 3.7 grade-point

average. The 60 participants in

the boys' field have a collective

212 bowling average and a 3.26

grade-point average.

While there will be some

overlap, the squads will be split

between boys and girls. The girls'

will be evaluated Aug. 7-9 and

the boys' squad will be Aug. 8-10.

Though the participants

have been determined, college

coaches wanting to attend the

Bowling Combine still can

register by going to BOWL.

com/combine and clicking on

the Register Now tab. Each

coach will receive an objective

evaluation of all participants

and will have the opportunity

for one-on-one contact with

prospective student-athletes.

At Plano Super Bowl

Eidenier smashes 771,

Ellington captures 670

Brodeur and Darvas add 300's

earn top billing on the honor roll

for the week at Plano Super Bowl.

Patty Ellington won the

KIDS BOWL FREE THIS SUMMER

Sign up now at

KidsBowlFree.com/SuperBowltx

9 PIN NO TAP

DOUBLES

TOURNAMENT

Saturday July 28

Squads at 10 AM / Noon / 2 PM / 4 PM

$50 Entry Fee (per doubles team)

1st Place $800 Guaranteed

Based on 50 Entries

$700 Based on 40 Entries

$600 Based on 30 Entries

"Roll 900" Pot @ $1125

Scratch Singles Challenge $15 entry

Women's Handicap Singles Battle $10 entry

Tournament directors: Mel Camody & Larry Berneburg

Coaches also will receive contact

information for all studentathletes

who applied for the

Bowling Combine. The cost for

coaches to attend is $50.

The Bowling Combine program

was developed to allow

young bowlers to be evaluated

using objective standards and

to give college coaches a

chance to analyze the potential

fit of the student-athletes for

their programs. The Team USA

coaching staff evaluates the

bowlers at the ITRC, the official

training center of Team USA,

using state-of-the-art ball motion

technology, video analysis

and more.

Bowlers receive a Recruiting

Kit that has video shots, bowler

variables measured, and a

detailed report of personal data

collected during the Bowling

Combine.

Go to BOWL.com/combine

for complete information about

the Bowling Combine.

high-set contest for the ladies

with a powerful 245-210-215 =

670 Las Vegas Doubles set.

Ryan Brodeur and Larry

Darvas shared high-game

honors as each recorded awardwinning

12-baggers.

HONOR ROLL

Jeff Newman 198-531, Tammy Sinn

144-408, Larry Hoover 266-746, Arvese

McGraw 222-568, Chris Bloyed 275-726,

Melba July 201-568, Bill Ferguson

269-759, Loree Clark 192-543.

Clayton Colby 267-688, Cara Zbylut

225-549, Ron Wolf 256-709, Linda

Davidson 201-549, Chris Rador 286-744,

Jackie Fisher 233-646, Owen Crannell

237-694, Kay Pingsterhaus 201-548.

Lee Gramly 265-626, Mark Plagens

244-622, Diane Mueller 216-541,

Beverly Goff 188-512, Les Burnham

279-768, Tony Lovinelli 255-697, Buck

Butgereit 235-609, Phyllis Haynes

177-478.

Mark Plagens 268-690, Breanna

Kindrick 198-572, Roland Martsolf

255-667, Diane Wallentine 229-561,

Penny Pederson 259-645, Lynette

Most 199-573, George Vaughn 232-656,

Jeanette Morris 212-536.

Kevin Hiam 246-668, Reina

Davidson 257-669, Debby Oulicky 236-

653, Billy Rogers (4 games) 279-1045,

Geoff Young 252-733, Terry Maynard

279-702, Janelle Westbrook 213-587.

Patrick Adams 256-682, Theresa

McLaren 169-493.

At AMF Spare Time

Jackson, Sr. corrals 728,

Goodrum lists 618

Roy Jackson, Sr. won the

high-set contest last week at

AMF Spare Time Lanes with a

super solid 257-279-192 = 728

STL Businessmen's series.

Sandra Goodrum, from the Mates

& Dates group, paced the ladies with

a smooth 192-201-225 = 618 session.

HONOR ROLL

At Cowtown Bowling Palace

Roberts crushes 752,

Parish handles 726

Ricky Roberts claimed highseries

honors for the week at

Cowtown Bowling Palace with a

power-packed 248-279-225 = 752 4

Ft. Worth Classic Trio production.

Miki Jo Parish, Robert's league

mate, paced the ladies with an

outstanding 226-254-246 = 726 set.

HONOR ROLL

Randy Cross, Sr. 268-748, Katie

Tallant 234-656, Duane Skinner

227-665, Michael Johnson 215-641,

Matt Allen 270-698, Katie Tallant

209-517, Tony Edwards 244-685, Mary

Hernandez 193-531.

Bobby Shaw 248-664, Alma Gauna

189, Frank Stone 256-748, Johnny

Gutkowski 266-666, Dee Munsell 233-664,

Frankie Mata 257-672, Brittney Rodriguez

182-499, Gustavo Leon, Jr. 225-609.

Coy Hart 223-638, Cheryl Berube

171-486, Vincent Pang 276-699, Jamie

Hines 269-706, Bill Brewer 658, Katie

Tallant 247-663, Frankie Mata 233,

Bill McCormick 246-651, Ann

Pennington 189, Ed Lansford 246,

Roberta Stanfield 510, Eduardo Murillo

265, Alesia Pickett 243, Robert Jones 701,

Thornton Head 268, Becky Hall 199-389.

Bobby Costabile 492, Thomas

Mendonca 257-686, Alesia Pickett 192,

Gayle Brice 535, Ricky Reese 238-680,

Cassie Reese 237-574.

Amy Hart 596, Bobby Shaw 236-619,

Pam Candler 215.

Ricky Roberts (4 games) 964, Miki

Jo Parish (4 games) 939, Daniel Hughes

(4 games) 279-1002, David Bates (4

games) 259-958, Mike Patton (4 games)

277-909, Michael Johnson 258.

John Cantu 257-713, Jackie Rivis

150-412, Jesse Negrete 248-673,

Jennifer Lawson 424, Joe Allcock 660,

Colton Berry 245-641, Rene Miller

187-541, David Pruitt 245-702, Wendy

Wittenberg 200-488.

Chris Crum 235, Cristina Conder 189-

531, Mike Moore 656, Tyler Sims 258-707.

SENIORS

Ken Knowles 254-713, Karen Holder

209-581, John Stewart 278-664, Diane

Fleck 200-573, Johnny Zaskoda 268-

683, Wanda Eads 194-529, Ken Knowles

265-641, Margie Neuville 199, John

Stewart 259-676, Karen Holder 199-538,

John Hunt 255-653, Karen Wittenberg

512, Larrie Boyett 187.

For more

Lessons from

information

contact Chris

Johnson or

Jamie Brooks

817-624-2151

the best

Paul Fleming

817-938-7739

4333 River Oaks Blvd., Fort Worth, TX 76114
---
THE BOWLING NEWS | Thursday, July 12, 2012 | Page 5

join an amf summer league today.

have a blast meeting new people and kicking up the competition with friends!

with leagues for all ages and skill levels, there's fun for everyone!

SUMMER LEAGUES

FORMING NOW FOR:

YOUTH

ADULT

SENIOR

amf.com

AMF DeSoto Lanes 121 Northgate Drive, DeSoto, TX 75115 Ph: 972-780-8090

AMF Hurst Lanes 720 West Pipeline Road, Hurst, TX 76053 Ph: 817-282-6754

AMF Irving Lanes 3450 Willow Creek Drive, Irving, TX 75061 Ph: 972-790-8201

AMF Lewisville Lanes 1398 West Main St., Lewisville, TX 75067 Ph: 972-436-6575

AMF Richardson Lanes 2101 N. Central Expwy., Richardson, TX 75080 Ph: 972-231-2695

AMF Showplace Lanes Euless 1901 W. Airport Frwy., Euless, TX 76040 Ph: 817-540-0303

AMF Showplace Lanes Garland 1950 Marketplace Dr., Garland, TX 75041 Ph: 972-613-8100

AMF Spare Time Lanes 3149 S. Cooper St., Arlington, TX 76015 Ph: 817-465-4997
---
Page 6 | Thursday, July 12, 2012 | THE BOWLING NEWS

Sponsored by

Boys

Andrew Williams, Plano Super Bowl .................... 702

Clayton Heinhold, Brunswick Zone Watauga ....... 700

Mathew Cranfi ll, Cowtown Bowling Palace .......... 673

Dakota Boyette, AMF Showplace Garland Lanes 643

David Harris, AMF Richardson Lanes ................... 619

Kamari Wine, Brunswick Westcreek Lanes .......... 597

Jeremy Petosa, Cityview Lanes ............................ 573

Austin Ellis, USA Bowl ........................................... 564

Ryan Yablonsky, Strikz ........................................... 535

Omar Morales, AMF Lewisville Lanes .................. 505

Kevin Lewis, AMF DeSoto Lanes .......................... 401

Will McCallum, Rowlett Bowl-a-Rama ................... 357

Chase Kuehnhold, Red Bird Lanes ....................... 288

Chris Gupton, AMF Irving Lanes ........................... 260

Girls

Alexis Burton, AMF Showplace Garland Lanes ... 705

Lindsay Paredes, Plano Super Bowl ..................... 646

Deidra Juetten, AMF Showplace Euless Lanes ... 640

Jaden Takayseu, AMF Lewisville Lanes ............... 615

Shyanne Johnson, Cowtown Bowling Palace ...... 612

Cynthia Bradford, Strikz ........................................ 585

Gabby Castro, Brunswick Westcreek Lanes ........ 539

Jordan Tucker, Brunswick Zone Watauga ............ 532

Thelma Watson, Cityview Lanes ........................... 453

Victoria Hylton, AMF Irving Lanes......................... 381

Karina Rosas, USA Bowl ....................................... 374

Samantha Hesler, AMF Richardson Lanes ........... 366

Bailee Dixon, AMF DeSoto Lanes ......................... 359

Madison Smith, Rowlett Bowl-a-Rama.................. 300

Amanda Eans, Red Bird Lanes ............................. 224

Fort Worth USBC Youth Results

Clayton Heinhold topped the

Fort Worth-area USBC Youth

bowling last week with a rousing

290/700 Peterson Point series at

Brunswick Zone Watauga.

Deidra Juetten led the girls

with a fine 222/640 Wonders set

at AMF Showplace Euless Lanes.

At Brunswick Westcreek Lanes

– Kamari Wine 250-597, Gabby

Castro 212-539, Stanton Avery 222-561,

Katelynn George 198-538, Jared Nichols

247-584, Brianna Avery 166-461, Jared

Nichols 172-491, Katelynn George 192-

501, Chandler Mayfield 204-509, Katie

Hamlin 141-368, Tra McKinney 78-214,

Laci Moore 165-372, Teddy Nelson

152-348, Marisa Zapata 148-343, Dylan

Cilloniz 136-393, Jaron Villanueva

173-447, Casey Tibbs 173-400, Chance

Moore 177-503, Austin Laster 178-442.

At Brunswick Zone Watauga

– Jordan Tucker 206-532, Hayden Norman

359, Gloriann Lewis 249, Travis

Kerbaugh 417, Bayleigh Padron 482,

Mason Graves 589, Haley Giannola 326.

At Cityview Lanes – Adam Sears

201-542, Thelma Watson 169-453,

Jeremy Petosa 217-573, Caitlyn Wallace

110-287, Tanner Bankston 211-504, Kim

Sharp 118-331, David Becker 144-359,

Buddy Dooley 142-349, Connor (4

games) 130-464, Tanner Bankston

(4 games) 160-566, Jeremy Petosa

(4 games) 199-629, Steven Morris (4

games) 140-449, Brandon (4 games)

145-531.

At Cowtown Bowling Palace –

Mathew Cranfill 261-673, Shyanne

Johnson 246-534, Kieth Thomas

241-650, Nadia Stone 210-499, Adam

Beasley 212-586, Danyella Houhstine

188, Jake Swift 107-310, Ro'Nae

Medearis 179-417, Markeith Striver

87, Genesys Striver 88, Randy Cross

Jr, 238-655, Shyanne Johnson 217-612,

Zachery Moore 227-583.

Dallas USBC

Youth Scores

Alexis Burton led the Dallasarea

USBC Youth bowling last

week with an outstanding 243-

258-204 = 705 Youth/Adult series

at AMF Showplace Garland

Lanes.

Andrew Williams headed the

guys with a super solid 244/702

Showstoppers set at Plano Super

Bowl.

At AMF DeSoto Lanes – Kevin

Lewis 159-401, Bailee Dixon 147-359,

Caleb Reed 114-286, Alexis Johnson

86-254..

At AMF Irving Lanes – Chris

Gupton 94-260, Victoria Hylton 138-381,

Jacob Onidi 72-183, Isabellia Ruiz

104-266.

At AMF Lewisville Lanes – Gannon

Takayseu 169-453, Madison Braswell

115-286, Omar Morales 211-505, Jaden

Takayseu 214-615.

At AMF Richardson Lanes – David

Harris 258-619, Samantha Hesler 145-

366, Nathan Velte (2 games) 88-173,

Tabitha Allen (2 games) 86-144, Bryce

Klapper 206-610, Madisyn Murphy

118-334.

At AMF Showplace Garland Lanes

– Dakota Boyette 244-643.

At Plano Super Bowl – Kevin Blake

237-646, Lindsay Paredes 234-646,

Aidan Hudson 144-394, Katelynn

Elliston 98-273, Jaxon Baron 179-481,

Moriah Leraas 149-361, C J Johnson

190-543, Kaitlyn Walston 170, Deron

Garrett 223-500, Paige Wells 160-

446, Austin Cooper 169-433, Jaxon

Varon 167-465, Hailey Keister 154-431,

Talisen Baron 194-476, Christie Draper

184-505, Kevin Blake 237-646, Shana

Geerdes 211-554, Anthony Simonsen

(4 games) 245-865, Shana Geerdes (4

games) 239-721, Ben Walk (4 games)

219-786, Melanie Crawford (4 games)

196-684, Rick Pierce (2 games) 88-174,

Abby Garza (2 games) 87-167.

At Red Bird Lanes – Chase

Kuehnhold 154-288, Amanda Eans

129-224, Matthew Ruiz 126-234, Lola

Rodriguez 100-177.

At Rowlett Bow-a-Rama – Karsyn

Martin (2 games) 100-197, Christina

Luttrell (2 games) 89-160, Brandon

Ingram 94-277, Madison Johnson

68-189, Shaun Green 113-271, Madison

Smith 108-300, Will McCallum 135-357,

Preethi Fernandez 92-234.

At Strikz – Ryan Yablonsky 189-535,

Cynthia Bradford 214-585.

At USA Bowl – Austin Ellis 218-564,

Karina Rosas 143-374, Austin Teel 217-

524, Briana Bland 108-297, Jesus Torres

90-226, Deionte Simmons 191-480,

April Mendez 122-329, Juliand Bland,

Jr. 119-329, Xiomara Nunez 149-361,

Jason Wolf 155-406, Jonathan Mendiola

219-519, Christian Amador 118-324.

BWAA names Pezzano

Scholarship winners

2012 List Spans USA Map

ARLINGTON — The

Bowling Writers Association

of America (BWAA) has

awarded college scholarships

to three great student bowlers.

Stephanie Sims, Garland,

Texas was named first place

winner and will receive $1,500;

Blair Blumensheid, Columbus,

Ohio, second place and $1,000;

and Samantha Chong, San

Jose, California will get $500

for third place. The award is

named in honor of BWAA,

United States Bowling Congress

and Professional Bowlers Association

Hall of Fame journalist

Chuck Pezzano of Clifton, NJ.

In addition to the scholarships,

each winner receives a oneyear

complimentary membership

in the BWAA.

Sims graduated from Fair

Hills School this year, number

2 in her graduating class, and

is headed for Stephen F. Austin

University in the fall where she

will study Hospitality Administration,

and be a member of the

Lumberjack's Varsity Bowling

Team. Her goal is to be an

event planner after college.

Sims credits bowling and

other sports for bringing her

back from her father's passing

while she was in middle

school. "I just stopped caring

for almost two years and just

went through the motions; but

finally, I decided that I was

going to have to pick myself

up and start moving on. In

high school, I made friends,

got involved in sports, and

completely surprised myself

when I ended up 3rd in my

class my freshman year. Who

knew I was brilliant?!" she

said. "I learned that through

Lane Laughter

determination and a strong

heart, you can come back from

anything."

Blumensheid says that a

losing experience taught her a

valuable lesson in 2009. After

a losing effort in a sectional

tournament where she was

favored to advance, she was

consoled by her coach. "I

realized at that moment that

anything that hurt that badly

meant something to me," she

said. "Every failure is a learning

opportunity. That day made

my life what it is today and I'm

eternally thankful. Learning

from failure and discovering

your passion are two lessons I

try to teach every girl I coach."

Blair is a senior at Ohio

State University majoring in

Strategic Communications. She

is planning a career in Public

Relations. She volunteers as

a coach at Westerville High

School.

Chong, at 4'-11" tall, realized

early on that she would have to

match physical strength with

hard work, practice and determination;

and her confidence

soared when she finished second

in an international event at

age 14. "It proved to me I could

hold my own against older

and bigger girls with practice

and self-confidence," she said.

Samantha also has confidence

in the classroom, where her

grade point average is 4.4.

She also excels at tennis and

volunteers at her church. In the

fall, she will attend New York

University majoring in Psychology,

with minors in Linguistics

and Economics.

"The Pezzano committee is
---
U.S. Finishes with two more medals

at World Youth Championships

Chris Via of Springfield,

Ohio, and Marshall Kent of

Yakima, Wash., won silver and

bronze medals, respectively,

on Tuesday in the Masters

competition as the 2012 World

Tenpin Bowling Association

World Youth Championships in

Bangkok, Thailand, came to a

close.

Via was the fourth qualifier

for the medal round of

the competition's last event

but took out top seed Sam

Cooley of Australia, 246-180,

in the semifinals. In the other

semifinal, Kent fell to Daniel

Fransson of Sweden, 242-202,

to earn the bronze medal along

with Cooley.

In a close title match, Via

needed to strike twice to start

the final frame. He made the

first strike, but left a 7 pin on

his second shot, and Fransson

struck to post a 206-198 victory

and claim the gold medal.

Via had started the day in

seventh place, but in the final

five games of the seven-game

block he posted games of 264,

244, 209, 233 and 254 to earn

the last spot in the medal

round.

"I knew I could make a

run, and put some pretty good

games together to make a run

into fourth," Via said. "In the

gold medal match, I had a good

look but just made a few errant

shots that cost me quite a few

pins. And he made the shot

when he needed to."

Kent, who led qualifying

after the first day, slowed

down slightly on Tuesday but

still took the second spot in

qualifying.

"The second day was kind

of rough but still made the

cut to the medal round," Kent

said. "Fransson just had a

phenomenal look and I was

just grinding. I can't complain;

overall it was a great week."

For Kent, the bronze medal

in Masters made him the first

bowler to claim a medal in

each event at a World Youth

Championships. Kent's five

medals – gold in singles and

team, silver in doubles and

All Events, bronze in Masters

– was the most dominating

performance by a U.S. bowler

in the competition since Kelly

Kulick won two golds and two

silvers at the 2000 event in the

Dominican Republic.

In the Masters finals for the

girls, Korea's Hwang Yeon-Ju

won her third gold by topping

Malaysia's Jacqueline Sijore,

226-215, in the title match. In

the semifinals, Hwang had

defeated Malaysia's Dayang

Khairuniza, 223-181, while

Sijore topped Bernice Lim of

Singapore, 228-171.

By taking two medals in

Masters, Junior Team USA led

all boys' teams with six total

medals – two gold, three silver,

one bronze. Fransson's victory

gave Sweden four total medals.

"To come out here with all

the great competition and to

be the best team and win the

most medals on tough patterns

is pretty special," said Andrew

Koff of Miami, who teamed

with Kent for the silver in

doubles. "To be the first U.S.

team to ever do that, with all

the great professional bowlers

that have come through the

Junior Team USA program, is

pretty amazing."

Overall, Junior Team USA's

seven medals was second

Korea's eight medals in the

championships. For the first

Bill Fong

featured in

D Magazine

Bill Fong and his famous

899 series shot in January 2010

are featured

in the July

edition of D

Magazine. It's

touted as "the

most amazing

bowling story

ever" and is a

very interesting

read. They took some great

pictures of Bill and covered all

of the emotions of the evening,

along with what's happened

in his life since that magical

evening.

Here is a link to check out

the story:

http://www.dmagazine.

com/Home/D_Magazine/2012/

July/The_Most_Amazing_

Bowling_Story_Ever_Bill_Fong.

aspx

You can

also scan this

QR code with

your smartphone

to be

taken directly

to the website.

At AMF Irving Lanes

Ray downs

667

Derek Ray's solid 226-225-216

= 667 Odds & Ends series led the

honor roll for the week at AMF

Irving Lanes.

Hilary Spencer's, Ray's league

mate, smooth 175-142-192 = 509

series paced the bowlers.

HONOR ROLL

Michael Cash 233-652, Louise

Feuerbacher 179-465, Durwood

Andrews 232-643, Louise Umsted 485,

Stanley Henderson 208-527, Janice

Andrews 177, Emilio Guzman 202-537.

JoAnn Garcia 165-467, Darwyn

Green 193-529, Ashley Payton 161,

Tessie Wells 459, Brad Brewer 244,

Cindy Guidry 166-461, John Sawyer

654.

time in the history of the World

Tenpin Bowling Association

World Youth Championships,

the Junior Team USA boys and

girls swept the gold medals in

the team event.

For more information on the

2012 World Youth Championships,

visit WorldYouth2012.

com.

CAIN RE-ELECTED

Continued from Page 1

continue as president of USBC,"

Cain said. "USBC needs to

bring forward a clear, illustrated

plan for growth and my

goal is to inspire our delegates

and associations to support

the organization once we fully

develop the elements of that

plan."

Cain has served on the

USBC Board of Directors since

2007 and has worked on many

key committees including

Legal and Legislative, Finance,

and Equipment Specifications.

Cain, who owns a small wholesale

business, graduated from

Arizona State with a degree in

justice studies.

A bowler since age 6, Cain

rolled his first 300 game at

age 12, was a member of Team

USA in 2002, 2003 and 2005

and was a member of Junior

Team USA in 2001. He has

won nearly a dozen medals in

international competition, and

most recently was a member

of the Team All-Events champions

at the 2011 USBC Open

Championships.

"I heard a clear message at

convention that our member

delegates want to be engaged

and informed about USBC's

plans and specific needs," Cain

said. "USBC needs to grow

and needs to be bold while

reengaging with the grassroots

of our membership. I value

our history and am eager to

work toward helping bridge the

generation gap so we can more

effectively bring new bowlers

into our sport."

Bluth is an attorney and

certified public accountant. He

earned a bachelor's degree in

business administration as well

as advanced degrees in law

(J.D. and LL.M.) from Washington

University in St. Louis.

The board also reappointed

Perry Daniels of Carrollton,

Texas, as a director-at-large.

Daniels is a member of The

National Bowling Association

and has held TNBA leadership

positions such as local senate

president, member of the Constitution

Committee, Southern

regional tournament director,

national president, national

king, national life member and

marketing director.

Dan Patterson of Phoenix

will join the board Aug. 1 as

a new athlete representative.

Patterson was elected to fill

the position currently held by

Vernon Peterson. Patterson is

a three-time member of Team

USA. He won the 2006 U.S.

Amateur Championship and

was part of the gold-medal

winning team at the 2006

Men's World Championships.

THE BOWLING NEWS | Thursday, July 12, 2012 | Page 7

BWAA NAMES

Continued from Page 6

thrilled with this year's winners,

as we believe the winning

trio is a prime example of the

quality and character of today's

young bowlers, writers and

SUMMER BLAST

YOUTH/ADULT

Tournament

High Game

& Series

Sidepots

July 28th & 29th

Entry Fee: $50 per Team

Brackets will be available

Squad Times

Sat. July 28th 2:00 - 4:00

Sun. July 29th: 10:00 - 12:00 - Finals

$5 from every entry will go toward the Linda Quayle

Scholarship Tournament held in October.

Entry Deadline: July 27th.

Additional entries will be accepted if space permits.

Entries after July 27th will be charged an extra $10.00.

For more information, contact Debbie Galler.

(210) 289-9073 or dgaller@satx.rr.com

Check-in at 6:30 PM

Saturday Nights at 7:30 PM

$20 Entry Fee

Entry includes: Mystery Score, King/Queen Ticket, 1st Game Strike Pot

King/Queen Tickets

If your ticket is drawn choose to strike or spare. If you win, you will receive $1 for each strike in the 2nd game.

1st/2nd/3rd Game Strike Pot Tickets Bring in a New Bowler

160 & under average bowlers need 9 pins Receive $5.00 in

or better. 161 & over average bowlers must strike. Strike Pot Tickets for 3 games

NEW

BOWLERS

WELCOME

USBC

Certified

BRUNSWICK THOUSAND OAKS

4330 Thousand Oaks Blvd San Antonio, TX 78217

210-654-0031

Brackets: $5.00 (handicap, scratch, ladies)

Doubles: $6.00 - High Pot: $5.00

Birthday Bowlers:

Come out and bowl on your birthday,

receive $5.00 in Strike Pot Tickets for each game.

students," said BWAA Pezzano

Scholarship Committee Chair

Joan Romeo, adding, "a special

thank you goes out to Mary

Lynly, Maggie Christina and

Tyrone Rodriquez."

Scholarships

Awarded

CALL TO RESERVE YOUR SPOT TODAY!

NEW OPTION:

Double Value Strike

Pot Tickets instead

of cash.

2001 S. Great

Southwest Parkway

Grand Prairie, Texas 75051

972-641-4406 or 972-647-2275
---
Page 8 | Thursday, July 12, 2012 | THE BOWLING NEWS

The Fourth of July used to

be one of my favorite holidays,

but I have noticed a downward

trend in my anticipation and

participation in the day.

Now the meaning of the

holiday is not lost on me, but

I'm merely speaking of the

festivities surrounding it. In

my opinion I think it started a

few years ago when everyone

decided to shoot fireworks off

on the weekend simply because

the fourth was on a weekday.

Fireworks are the primary

thing we do to celebrate the

fourth of July so by shooting

them off on the Saturday

before, kind of cheapens it for

me. Also when they would

shoot them off on the fourth

you always knew when the

show was going to take place.

Now I have no idea when or

where I can catch a fireworks

show.

Another thing I cannot

understand is, no matter how

many stories I see on the news

or personally witness, I cannot

understand why people

still shoot fireworks off in

neighborhoods.

Every day when driving

around I see some charred area

of land that is scorched by a

wild fire. It cannot be shocking

news to anyone that Texas

in July has dry grass and it's

dangerous to do anything with

Coming in July!

Bank & Credit Union Employees…grab 3 co-workers for a fun league.

Starts July 9th @ 7 PM!

Competitive Men's Trio League…starts July 11th @ 9 PM

Coming in September!

fire around grass. Yet every

year the city sends out flyers

and posts signs stating that it's

a $500 to $2000 fine to shoot

off fireworks in the city limit.

But every year I see people

shooting them right over other

people's house. Can you imagine

the guilt you would feel if

you caught someone's house on

fire and ruined their lives?

Maybe part of my concern

stems from a roman candle

that tipped over when I was a

kid and caused me to fall into a

fetal position for a solid five to

ten seconds dodging fire balls.

That may sound funny, but

I'm certain that I was not the

intended target of the roman

candle so my point is that they

don't always go where you

want them to go. Although my

stance may be an unpopular

one with many people I still

believe that if you want to

shoot off fireworks then you

should do it where it is legal

and you can't do any harm.

After watching the television

show for the Women's U.S.

Open I must admit that the

conditions were even worse

than I had anticipated. I was

first and foremost shocked at

the fact that nobody slipped

and fell on the approach. I'm

sure that the approach conditions

were treacherous, but the

fact that everyone was able to

Ladies…time to do something just for YOU, grab two friends & come

spend the morning catching up with friends while you bowl!

Couples league…Take your sweetie out for a monthly night of bowling.

Call for details for all the new leagues!

www.facebook.com/

rowlettbowlarama

5021 Lakeview Parkway

Rowlett, TX 75088

972-475-7080

www.rowlettbowlarama.com

stay on their feet and behind

the foul line sliding on literal

dirt was pretty darn impressive.

Must be the shoes huh

Brett?

Although it was not intended

to happen I did think that

the dust on the lane provided

a pretty cool view of the lane

break down for the fans watching

at home. Every time the

ball was thrown it would make

a line on the lane showing you

the exact path of the ball. I

don't know exactly how, but if

someone could come up with

some colored oil or something

that would emulate that visual

to the audience without ruining

the lane pattern that would

certainly make the product

on television much more

entertaining to watch. Just a

thought!

Finally, I wanted to discuss

the Dallas Mavericks. I trust

Mark Cuban to the end of the

moon, but right now I am not

sure what he is thinking.

I was okay with giving this

year up and working towards

rebuilding, but it appears that

the Mavs have put all their

eggs in one basket and that

basket just signed in Brooklyn.

Immediately the abandon ship

siren sounded as within a

couple of days of Deron Williams

signing with Brooklyn

we lost Jason Kidd and Jason

Terry. The free agent pool is

pretty slim at the moment so

you can only imagine that

the Mavs are going to try and

make a run at Dwight Howard.

Unfortunately that is not

until next summer so there

is not going to be a lot to

look forward to this year

other than plenty of discounted

ticket packages. For Dirk's

sake I hope Cuban can put

together one more run for the

big German before he hangs up

the high tops, and hopefully

that would be here in Dallas

rather than trading him to a

contender.

At Rowlett

Bowl-a-Rama

Mock, Sr.

pockets 739

John Mock, Sr. rounded up the

top score of the week at Rowlett

Bowl-a-Rama after pounding out

a noteworthy 256-257-226 = 739

Thursday Funfours series.

Susan Lee paced the ladies

with a fine 230-166-156 = 552

Sunday Funday set.

HONOR ROLL

Larry Lee 234-636, Wade Martin

210-584, Carol Hess 191-489, Anthony

Lavery-Spahr 254-704, Michelle O'Neill

180-511, Debbie Armstrong 186-496.

SENIORS

Ray Lanham (2 games) 184-329,

Shirley Large (2 games) 206-348,

Joseph Tripodi 191-561, Louise Garner

199-523, Bill Clay (no tap) 288-724,

Shirley Lingenfelter (no tap) 189-486.

At AMF Showplace Euless Lanes

Jones red hot with 814,

Chambers hammers 652

McFarland 801, Frye and Lucas add 300's

Robert Jones rocketed to the

top of the honor roll last week

at AMF Showplace Euless Lanes

with a power-packed 279-245-290

= 814 One Grand showing.

Dale McFarland followed close

behind Jones with an awardwinning

801 series in Matchpoint

Mixed league play.

Belinda Chambers, from the

Matchpoint Mixed group, fronted

distaff scoring with a top-flight

224-226-222 = 652 set.

Bret Frye and Jay Lucas

shared high-game honors as

each registered award-winning

At Brunswick Zone Watauga

Lansdowne hammers 710,

Wright slams 614

Travis Lansdowne collected

high-series honors for the week at

Brunswick Zone Watauga with a

high-powered 710 series in High

Points action.

Tina Wright won high-set

honors for the ladies with a

rip-roaring 256/614 Denim &

Duds set.

HONOR ROLL

Dustin Brock 289, Leon Aragon 659,

Ginnette Patzer 522, Bryan Ayers 648,

12-baggers.

HONOR ROLL

Troy Dix 279-736, Michael April

279-714, Dale McFarland 278, Michael

April 245-708, Thomas Mendonca

264-692, Art Kveck 269-681, Elmer

Howard 258-678, Doug Smith 247-670.

Jay Lucas 654, Carol Johnson 200-

587, Teresa Fuller 196-559, Linda Sacks

202-551, Rhonda Highberger 198-546,

Shirley Acosta 223-541, Courtney

Hopkins 221-517, Jackie Ruiz 222-514.

Kim Blue 191-509, Terri Homme

182-506, Sue Kozarevich 166-454,

Rhonda Francis 176-444.

Michelle Maddox 492, Bryan Ayers 662,

Paul Brandt 691, Terri Stroud 546, Rick

Merola 642, Jane Smith 471.

Chris Hibbitts (4 games) 895,

Kymberli Shinault (4 games) 626, Lisa

Head 493, Fred Gonzales 696, Kerry

Rusk 576, Trena Todd 553, Michael

Bond 665, Amanda Miller 387

SENIORS

Greg Asikis 594, Juanita Bradley

456, A Z Zamorano 642, Sue Condotta

563.

Bowl Your

Head Off

Sunday through Thursday

9 PM to Close

$2.29 + tax per Game per Person

$1.00 Each Shoe Rental, Small

Popcorn, Hot Dog and Small Soda

plus Draft Beer Specials!

Watauga

7301 Rufe Snow Drive, Watauga, TX 76148

817-485-2695
---
10 YEARS AGO

Greg White led the honor roll with 815 at AMF Irving…Will

Briggs shot 812 at AMF Showplace Garland…Rodney Black was

high at DC Cityview with 785…Terry Taylor with 748 at Forum…

Andrea Fleming led the ladies with 704 at BRC Watauga, way

to go Flem, husband Paul could only a manage a 300 game…

Amy Brown shot 693 at Forum…Hot Nikki Greer, was rolling at

AMF Jupiter with 689…Bobby Guanlao wins NABI tourn at AMF

Irving…Leanne Barrette wins PWBA event in Syracuse…Tony

Franklin crushes Wes Malott at the SW Region PBA event in

Texarkana to win his 9th regional title. The last one I bowled in,

at least I smacked Wes around on the way out the door…Karleen

Reynolds wins the WIBC National Championship Division I All-

Events title…Youth bowler Cody Jones shoots 721 at DC Cityview.

20 YEARS AGO

Steve Sturgin led the honor roll with 803 at Triangle-

Richardson…Tony Edwards shot 794 at Jupiter…Brad Hunter

a 299/765 at Watauga…Tony Thayer with 742 at Blazer…Jean

Myers led the ladies with 688 at DC West…Sammy Ragland shot

665 at Red Bird…Mae Warden was high at Forum with 661…

Kirby Allen and Diana Davenport win LPBT Mixed Doubles at

Thousand Oaks in San Antonio. Debby Berry and I finished

third, I sure do miss bowling with Debbye, and I wonder what

ever happened to Kirby, grew up bowling Juniors with him…

Nate Griffin a little 745 at Showplace-Euless…Mike Miller beats

Ron Williams for PBA Wichita Open title.

30 YEARS AGO

Scott Boultinghouse led the honor roll with 799 at Buckner…

John Brashears shot 759 at Jupiter…Shannon Starnes was high

at Meadowbrook with 753…William Hunter with 702 at Red

Bird…Cathy Johnson led the ladies with 697 at All Star West…

Jo Ann White shot 667 at Red Bird…Selina Jenkins shot 616 at

Alpine…Bobby Meadows returned to the Metroplex to manage

All Star Lanes Fort Worth…Junior bowler Brad Davidson shot

300/751 at Alpine…Steve Ray a 727 at Hart…Tom Sharp wins

BBA at Big Town and $1000…Bo Burton and Sam Zurich win

PBA Doubles in Las Vegas, at the Showboat, another place I

miss…Donna Adamek repeats as Doubles champ at the 63rd

WIBC National Championships.

At AMF Lewisville

Hatton chalks up 826,

Robb rips 665

Larry Hatton pocketed a

potent 278-269-279 = 826

Monday Men's series to head

the leader boards for the week

at AMF Lewisville Lanes.

Heather Robb fronted the

ladies with a top-notch 193-234-

238 = 665 Rising Stars set.

HONOR ROLL

Jack Sprague 212-604, Donna

Hoagson 201-564, Marlin Brantley

268-700, Loren Tenczar 236-639,

Rodrick Whitfield 194-504, Maggie

Lucas 211-543, Ace Darby 237-660,

Trish Hicks 226-589.

Kevin Cobb 279-746, Jennifer

Curl 233-627, Lenny Smith 177-456,

Brenda Davis 169-371, Erick Grant

234-649, Donna Wynkoop 221-576,

Wayne Maxwell 221-597, Jeanne

Burns 168-476.

John Huggins 222-579, Barbara

McKeown 173-493, Lee McDonald,

Sr. 268-719, Justin Adair 227-656,

Jessie Brown 198-549, Ronald

Reynolds 244-683, Denise Spilman

223-586, Ted Bennett 279-683.

Angela Yantes 168-470, Chad

Fisher 215-611, Stephanie Ellis 235-

540, Curt Weber 255-599, Donna

Wynkoop 235-639.

At Brunswick Westcreek

Jackson, Jr. belts 739,

Llagas rolls 667

Willie Jackson, Jr. took top

honors last week at Brunswick

Westcreek Lanes with a robust

259-277-203 = 739 Beat the

House series.

Gloria Llagas led the ladies

with a sterling 257-216-194 = 667

Wednesday Warm Up set.

HONOR ROLL

Ron Coggins 264-715, Leritha Pride

219-621, Helen Knox (9 pin, no tap) 231,

Lisa Arnold (9 pin, no tap) 231, Jane

Roten (9 pin, no tap) 219, Chester Jones

2789-718, Dolores Howard 236-607.

Calvin Thomas 279, Nita Stein

210-600, Sam Orange 742, Don Slack

265, Susan Seward 174, Monty Bowers

248-684, Vella Edwards 234-586, Willie

Jackson, Sr. 266, Richard Crossland

266.

At AMF Richardson

Drake collars 741,

Hayes packs 647

Les Drake posted a notable

269-239-233 = 741 XXXX Rated

series to head the leader boards

for the week at AMF Richardson

Lanes.

Jennifer Hayes fronted the

ladies with a tidy 198-216-233 =

647 set in Classic Trios action.

HONOR ROLL

Tom Pease 243-637, Debbie Whitson

150-429, Bill North 222-565, Emily

Ryan 163-462, Brandy Smith 257-634,

Tim Besherse 256-644, Teresia Mabry

212-507, P J Angell 255-693, Casi

Carriker 182-456. Guadalupe Munoz

225-588, Carolyn Burk 159-424, James

Roach 242-635, Teresia Mabry 209-548,

Bill Borgsteadt 267-684, Judy Hinman

201-534, Chris Castro 248-648, Tammy

McFarland 210-597.

At Strikz

Pritts inks

745

FRISCO – Ted Pritts led highset

chase last week at Strikz with

an estimable 266-267-212 = 745

Trio League showing.

Lisa Wasson, Pritt's league

mate, headed the ladies leader

board with robust 181-191-225 =

597 showing.

HONOR ROLL

Joe Rener 234-651, Debbie Colby

248-589, Mark Cohn 268-678, Cathy

Eberly 191-526, Ron Shive 236-607,

Melaine Covington 142-414, Steve

Krupa 245-701, Heather Gesino 202-573,

Tam Wasson 233-617. Chuck Hopkins

258-665, Clayton Colby 265-676, Rick

Irvine 278-729, Tin Gesino 279-698,

Tony Franklin 258-742, Dewayne

Smith 214-618, Cathy Eberly 225-559,

Nick Camp 234-596, Blanche Bowles

177-481. Chris Marino 251-630, Rick

Irvine 256-692, Joe Jeanjaques 255-617.

Darryl Rogers 264-736, Steven

Johnston 236, Jana Bural 182-486,

William Bollinger 633, Brian Boase 262-

730, Jamey Coggins 245-649, George

Calloway 247-703, Barbara Avery 231,

Naomi Gutierrez 231. Nigra Burnett

636, Steven Gaudet 266-608, Teresa

Tibbs 257-566, Chester Jones 256-710,

Terri Trefger (9 pin, no tap) 268-760,

Jeff Hamlin 206-577, Sonja Nichols

177-485, Luther Mayfield, Jr. 160-426.

Teresa Tibbs 178-475, Edgar Allen

229-650, Luther Mayfield III 191-504,

Garry McKinney 222-586, Steve

Fontenot 208-569, George Helfrich

245-565, Kimer Laster 180-524, Danny

Castro 191-529.

Joe White 191-549, Jared Gaudet

267-574, Jeremy Villanueva 196-521,

Steven Gaudet 223-596.

THE BOWLING NEWS | Thursday, July 12, 2012 | Page 9

Richard Gordon 277-740, Charles Goff

League Start Date Day Time Format

Monday

Mixerz

Tuesday

Trio

Lousy

Bowlerz

June 4th Monday 6:30 PM 4 Person Mixed

League

May 29th Tuesday 8:00 PM 3 Person Mixed

Competitive

League

May 30th Wednesday 6:30 PM 4 Person Mixed

League

Strikerz June 7th Thursday 6:30 PM 4 Person Mixed

League

Pizza/Beer

and Fun

June 7th Thursday 9:00 PM 4 Person Mixed

League

Pin Pusherz June 7th Thursday 9:00 PM 2 Person Mixed

League (4 games)

Youth June 2nd Saturday 9:00 AM Ages 4-21 Youth

League

Youth Classic June 3rd Sunday 7:00 PM Ages 12-21

Competitive Youth

League

KIDS BOWL FREE THIS SUMMER

Sign up now at

KidsBowlFree.com/Strikz

240-650, Lou Goff 212-531, Tommy Pease

231-612, Erin DeGray-Kutz 205-487, Sean

Pierce 256-673, Amber Zerbe 139-371,

Bill North 179-522, Barb Guillotte 185-

473. Joel Hughes 222-630, Emily Ryan

179-523, Scott Gesino 267-659, Teresia

Mabry 231-572, Luke Hickey 193-561,

Trina Glezman 140-388, Herb Frison

276-720, Audrey Shelton 184-480.

972-668-5263

8789 Lebanon Road,

Frisco, TX 75034

www.strikz.com

ALL AGES. ALL SKILL LEVELS. ALL GOOD TIMES.

JOIN AS A SINGLE, COUPLE OR COMPLETE TEAM

League Start Date # Per #

Type League Name Day & Time Team Wks.

Adult High Pot W/A Twist Thursday June 7th, 7:00 PM 3 12

Adult Friday Mixed Classic Friday June 15th, 7:00 PM 4 11

Adult Sunday Mix Practice Sunday June 3rd, 6:30 PM 4 12

Adult/Youth Y/A Scholarship Monday June 4th, 6:30 PM 4 12

Adult Happy Hour Tuesday June 5th, 6:30 PM 4 12

Adult Scratch Trios Tuesday June 5th, 6:30 PM 3 12

Adult Lousy Bowlers Tuesday May 29th, 8:45 PM 2 14

Adult Wednesday Warmup Wednesday May 16th, 9:30 AM 3 15

Adult Beat the House Wednesday June 6th, 6:15 PM 4 12

Ladies Bowlerettes No Tap Thursday May 31st, 9:00 AM 2 12

Seniors Baby Boomers Thursday May 10th, 1:00 PM 3 15

Seniors Happy Rollers Tuesday May 8th, 1:00 PM 3 15

Juniors Little Rascals Saturday June 2nd 9:30 AM 2 12

Juniors BFF Club Saturday June 9th 12:00 PM 3 10

Juniors Jr. King of the Hill Wednesday June 13th 11:00 AM 1 11

Juniors BFF Club Wednesday June 20th 12:30 PM 2 10

SPACE IS LIMITED—REGISTER TODAY!

Brunswick

Westcreek Lanes

3025 Altamesa Blvd., Fort Worth, TX 76133

817-294-0501
---
Page 10 | Thursday, July 12, 2012 | THE BOWLING NEWS

BOWLER FRIENDLY PRO SHOPS & OTHER SERVICES

PRO SHOP

1114 S. Main

Duncanville, Texas

Phone 972-298-7143

Jeff Cathey, Manager

JAMES ASKINS

Owner

MAURY NEWMAN

MATT HOYT

BRETT BOLEJACK

INSIDE AMF SHOWPLACE LANES

1901 W. Airport Freeway

Euless, TX 76040

(817) 571-1174

JORDAN VANOVER

INSIDE STATE LANES

5707 State Street

Saginaw, MI 48603

(989) 799-8050

Giving You The

Power To Perform

Susie Minshew

USOC Bowling

Coach of the Year

(800) 346-3648

FAX 817-783-6010

strikeability@gmail.com

www.strikeability.com

RON WILLIAMS

Owner / Operator

PBA Member

OTIS PILLOW

BALLS BAGS SHOES

AMF HURST LANES

720 W. PIPELINE RD.

HURST, TX 76053

817-282-2401

www.pillowproshop.com

otis@pillowproshop.com

billy@pillowproshop.com

HOURS: Monday–Friday 1–9, Saturday 1–7

Billy DeCicco

817-875-6488

Inside AMF Arlington Lanes

1801 East Lamar Blvd.

Arlington, TX 76006

Working Hard

for Your Success

YOUR NEIGHBORHOOD PRO SHOP

INSIDE ROWLETT BOWL-A-RAMA

DARREN KRAVITZ

5021 Lakeview Parkway

Rowlett, TX 75088

(972) 475-7080

INSIDE UNIVERSITY LANES

GEOFF MARTIN

1212 E. University Drive

Denton, TX 76209

(940) 808-1622

Lessons Available

INSIDE CITY VIEW LANES

6601 Oakmont Blvd., Fort Worth, TX 76132

817-263-1935 Fax: 817-370-1831

Kirk Wright

469-867-2770

Inside AMF Irving Lanes

3450 Willow Creek Dr.

Irving, TX 75061

INSIDE PLANO SUPER BOWL

2521 Avenue K

Plano, TX 75074

(972) 881-0242

Fastrack Pro Shop

Located Inside Allen Bowl

1011 S. Greenville Ave

Allen, Texas 75002

Phone: 214-509-9274

E-mail: coachkg58@yahoo.com

www.fastrackproshop.com

Chad Newman - Owner

chad@chadsbowlingshop.com

Lessons available by appointment

Carolyn Dorin-Ballard & Del Ballard, Owners

Derrick Lott Xeno Garcia

Brian English Rudy Garcia Jr.

Located inside

Brunswick Zone Watauga

7301 Rufe Snow

Watauga, Tx 76148

Phone: 817-485-2695

Kurt Gengelbach, Owner

Member, Professional Bowlers Association

Member, Storm and Turbo Advisory Staffs

Private Instructions Available

"Old School" Service Always Available

(Located inside AMF Richardson Lanes)

2101 N. Central Expressway

Richardson, TX 75080

972.231.2695

Located inside

Brunswick Westcreek Lanes

3025 Altamesa Blvd.

Fort Worth, TX 76133

Phone: 817-294-0501
---
By Leisha Murr

After traveling with bowling

equipment all week, I feel like

I need a real vacation. When

flying with bowling balls, I

usually try to pack everything

into a carry-on bag so that I

can check both bowling bags.

Thank goodness we still have

Southwest Airlines for bowling

equipment where you can

check two bags free of charge. I

hate having to make a connection

to get anywhere out of

Dallas, but in my opinion, it is

much better than all the baggage

fees from other airlines.

If I was paying for my bowling

balls to fly with me, I'd much

rather use bowling ball express

and ship them instead of going

through all the hassles and

lines at the airport with the

bags.

This trip, I was gone too

many days to get everything

I needed into a carry-on size

bag. I checked my clothes and

one bowling bag, and I carried

on a tote with my favorite ball,

my spare ball, and my bowling

shoes. Even though I hate lugging

balls through the airports,

it is also a good idea because

if something happened with

my luggage, I would still be

able to bowl when I needed to.

Flights get delayed or canceled,

passengers get re-routed, and

sometimes the luggage doesn't

make it until the next day.

This happened to one of the

girls bowling with our group,

so I guess carrying on a tote

is probably always a good idea

even though it is a chore.

I've been through airport security

many, many times over

the last ten or so years with

BOWLER FRIENDLY

PRO SHOPS & SERVICES

(inside AMF DeSoto Lanes & AMF Spare Time Lanes)

UpYourAlley

Andrew Lowy

Russell Corwin

Cody Carlton

uyaproshop@yahoo.com

AMF Spare Time Lanes

3149 S. Cooper

Arlington, TX 76015

817-465-4997

THIS SPACE

FOR RENT

bowling balls and never had

any problems. I know others

have said certain airports have

refused their bowling balls

through the TSA checkpoint,

but I haven't really ever had

anyone question them. They

always just do a quick swab in

the bag with the wand and put

it in the machine to test and

I'm on my way to the gate. I'm

so used to the routine that I

announce, "bag check," before

they even get through the

scanner.

This trip, on the way home

from Vegas, the TSA officer

was very thorough and by the

book. After complaining about

how heavy my bag was, he

informed me I was not allowed

to touch anything while he

did his search. "O-K." He took

out both bowling balls and

rubbed a cotton swab in the

holes and all the way around

both one by one and put it into

the machine. It made me think

how dirty they probably are

and that the machine might

just go off for the amount of

germs. Yikes!

I figured that was it, but

then he went to the shoe

compartment and started

unloading all of that pocket.

My bowling shoes are not new,

so I don't usually let them

air-out in public. He unzipped

the pouch with all of my turbo

switch-grip thumbs and then

went into the case that has

all of my tape and scissors

in there. The 4 inch scissors

were fine, but I had forgotten

that I had the small flat pocket

knife or Swiss-army knife with

scissors that I had gotten from

AMF Desoto Lanes

121 Northgate Dr.

DeSoto, TX 75115

972-780-8090

the Greater Fort Worth Bowling

Association as an award in

there. I mean, I know that little

one inch blade (which I'm sure

was duller than the scissors)

could really do some damage.

He offered that I could go

check it with my luggage, or I

can go mail it to myself, and

three times I told him he could

just throw it away before he

finally packed everything else

back in my bag. He then informed

me that it was "policy"

to run the bag back through

the scanner as he struggled to

carry the balls back to the conveyer

belt. This was the first

time the tote had ever been

re-scanned and I just laughed

as I waited. He must be new to

the TSA or on probation.

I didn't think anything

about losing the award because

I knew I'd get another one

sometime, and then I remembered.

There is no more

GFWMBA. I'm sure I will get

another award, but it will

no longer be the Fort Worth

Bowling Association at all. I

did, however, see some good

news this week. The USBC has

approved the establishment of

the North Central Texas USBC

Association which will replace

the GFWMBA and service the

Fort Worth, Arlington, HEB,

and other surrounding area

bowlers as before.

Anyone in the area interested

in getting involved

and serving on this new

association's board of directors

is encouraged to apply. Applications

for the North Central

Texas USBC Association board

are due July 20, and are supposed

to be posted on the web

at bowl.com/rules/ft_worth.

You can also contact the former

FWBA office 817-336-2555 for

more info on how to apply.

If you don't like how things

were done in the past, here is

your chance with a fresh start

to get in there and help make

changes for the future.

THE BOWLING NEWS | Thursday, July 12, 2012 | Page 11

FORUM BOWL'S COLOR

Continued from Page 1

sweeper directors. "Bowlers

can pick and choose their

weeks to show up, and come

and be a part of all the fun."

Each game, there are several

different ways bowlers can win

money, from at least eight $25

strike pots tickets drawn each

game, a special ladies strike

pot, and a mystery score drawn

after the first game which has

been over $300 for quite some

time. To go along with that,

there are brackets of all styles

for all bowlers, from scratch,

handicap, doubles, ladies and

185 and under average, as

well as at least eight mega pot

tickets at the end of the night,

in which bowlers must strike

on three different lanes to win

$200.

"One of the best parts

about the Forum Sweep is the

great atmosphere with all the

bowlers, as well as the lanes

themselves," said Taylor, who

bowls weekly. "It is still old

wood lanes, so the transition

is still very true for the house

condition, which keeps scores

in check, meaning anyone

can make some money on any

given week."

One of the best new additions

to the sweeper has been

the Forum Bowl's Color Pin

Sweeper Facebook page, where

Taylor, along with wife Tina,

and now weekly supporter

Tammy Crawford come up

with weekly promotions for

the bowlers, giving them many

more chances to win money.

Some of the recent promotions

included Rangers Red Night,

Independence Day to show

your country colors, Camo

Night to support our troops,

and even a $1 hot dog night,

all giving away free strike pot

tickets to those participating.

"Our best promo yet was

our 10 year anniversary night,

in which bowlers wore black

for the occasion, and the first

person to bring Tina a black

rose got a free entry that

week," Taylor said. "It was

amazing just how many roses

Bowl Your

Head Off

Sundays & Wednesdays

9 PM to Close

$1.69 + tax per Game per Person

$3.79 Shoe Rental

2200 San Jacinto Blvd

Denton, TX 76205

940-383-3515

were brought, but the very first

was delivered to our porch at

6 a.m. that morning by Josh

Skittles Mittl. People loved it!"

The best promotion has yet

to come, however, as Taylor

just announced this week plans

for a free sweeper night to all

readers of The Bowling News.

On August 18th, Forum Bowl

has joined with Houghton

Insurance Agency, operated by

Tina and her mom, the Bracket

B Sherry Houghton, to give all

bowlers who have insurance

through the agency a free entry

into that week's sweeper. In

addition, any bowler who does

not have insurance with them,

can call by August 17th and get

a quote, and also receive a free

entry, regardless if they take

new insurance or not.

"We are always looking for

ways to give away money as

well as save people money on

the night, and now possibly

even save them money on

insurance as well," Taylor said

of the promo.

"The choice of sport for

Houghton Insurance is definitely

bowling," added Houghton.

"And for many of the biggest

bowlers in the area, we are the

choice of insurance."

The sweeper crew includes

the Taylors and Houghton, as

well as Melissa George, Courtney

Sanders, Woody Woodrow,

Jeff Sapp and a few others, it is

as much about the fun for them

as it is for the bowlers.

"I love being able to see all

the bowlers and friends weekly

and hang out with them," Tina

said. "This is work without

work, and I get to meet so

many new people, which is the

best part."

So if you have yet to come

out and experience the Forum

Sweeper, or it has been a

while, now is a great time to

stop back in and be a part of

everything. With the generally

slow summer months averaging

over 100 bowlers, who

knows what the fall will bring,

especially on August 18th.

"Come join me in the crazy

fun," said Crawford. "I love me

some Forum Sweep long time!"
---
Page 12 | Thursday, July 12, 2012 | THE BOWLING NEWS

IMPORTANT NOTICE

Continued from Page 1

mentioned that no one will be

excluded, yet they are starting

from scratch with no previous

members having any say in the

election of officials.

The new association will be

smaller with only seven board

members, but they plan to lean

heavily on volunteerism based

around the house members

as they will be the face of the

organization.

As for the numerous assets

from the previous Fort Worth

association, there will be a

meeting on July 14th to decide

what to do with those. The Fort

Worth Bowling association is

still operating as a corporation

since the charter was

revoked by the USBC, with

James Askins still being the

President.

Kevin Boykin claimed highseries

honors for the week at Red

Bird Lanes with a rip-roaring

257-205-258 = 720 Red Bird Mix

outing.

Rita Becker and Judy

Dillabough, from the Career Girls

group, shared high-series honors

to lead the lady bowlers as each

rolled a lofty 561 set. Becker

rolled games of 200-171-190

while Dillabough downed lines

of 174-208-179.

But new times are here for

the area bowlers, "it's a great

feeling, and the one thing that

the Fort Worth bowlers were

hoping for and we are grateful

that the organization was reestablished.

So far, Fort Worth

is the only association that has

been approved to re-constitute

under another name out of all

Craig Boyle won the battle for

top billing with a powerful 220-

300-276=796 numbers in Salty

Dogs action at AMF Showplace

Garland Lanes.

At Red Bird Lanes

Boykin tosses 720 series

HONOR ROLL

Lauren Daniel 189-533, Chance

Cathey 234-665, Roland Bernal 257-586,

Daniel Winstead 200-566, Rebecca

Salinas 159-406, John Faerber 210-556,

Deanna Hoffman 215-551.

Dwight Moore 248-686, Kendall

Jackson 234-628, Vernon Underwood

224-585, Jimmie Parrish 163-461, Ray

McClellan 225-589, Rita Becker 190-

539, Stephanie Moore 201-556, Vernon

Johnson 222-607.

Mary Anderson 168-470, Dorothy

Perry 170-470, Rich Carlson 256-636,

Lauren Daniel 227-522, Judy Ronquillo

152-408, Cindi Wilson 179-495.

MONEY SHOT$ COLOR PIN BOWLING

$TRIKE POT$ $UPER $TRIKE POT$

Weekly drop in, not a league!

Bowl 3 games in our FUN format.

FRIDAY NIGHTS

AT 7:30 PM

Only $20.00 per person

(Pre-paid reservations accepted til 5 PM Fridays)

4 per lane

We Pay On All Splits Converted With A Color Pin

Super Pot pays out 1/2 to 1st time sweeper bowlers

COME ON OUT TO RED BIRD LANES

Family owned and Independently operated for 38 years

1114 S. Main

Duncanville

972-298-7143

fax: 972-709-5677

redbirdlanes@sbcglobal.net

of the associations that lost

their charter," Stewart added.

Fort Worth bowlers, get out

there and apply for the Board

of Director positions, this is

your chance to be involved in

real change for the sport you

love.

Bowl.com/rules/Ft_Worth

At AMF Showplace Garland

Boyle polishes off 300/796,

Castro collars 684

Tonjah Castro, from the

T.G.I.F. group, led the ladies with

a highly commendable 223-234-

227 = 684 set.

HONOR ROLL

Tommy Wing 277-700, Bertha

Sanchez 205-558, J D Venable 213-

598, Jo Venable 189-521, Joe Garrison

231-614, Kathy Hopkins 205-589, John

Stelting 269-733, Will Briggs 267-769.

Tonjah Castro 228-657, Tony

Salazar 223-631, Wanda Lambie

176-501, Bob Petersen 268-768, Kevin

Carbo, Jr. 289-785, Brooke Rice 223-607,

Henry Arriaga 145-410, Judy Terracina

152-352.

Chris Castro 237-692, Tony Walton

268-752, Kendra Lee 223-626, Mike

Ashley 268-702, Linda Chambers 222-

615, James Morrison 247-579, Brenda

Blair 192-476.

DBTDFW.COM

Upcoming TOURNAMENT

5 MEMBER MIXED TEAM

BOWLING TOURNAMENT

SATURDAY & SUNDAY

JULY 14 & 15

GUARANTEED $4,125

Saturday & Sunday Squad Times 9:00 AM & 1:30 PM

Squad 1 bowls Saturday at 9 AM and again on Sunday at 1:30 PM

Squad 2 bowls Saturday at 1:30 PM and again on Sunday at 9 AM

Check-In 30 minutes prior to Squad Time

Format: 3 Games Across 6 Lanes Each Day.

REGISTER NOW!

ENTRY FEE

$350.00 PREPAID (48 hours before tournament start)

$100.00 non-refundable deposit due to hold team spot; balance due in cash day of

tournament. Cashier Checks or Money Orders only! Make payable to Duane Bates,

PO Box 543153, Grand Prairie, TX 75054-3153.

$400.00 WALK-IN (Cash only less than 48 hours before tournament start)

TEAMS

Bowlers must present USBC card and driver license at check-in.

Each team must have five (5) players; either three (3) men and two (2) women or

two (2) men and three (3) women.

Each team will bowl three (3) games across 6 lanes on Saturday and three (3)

games across 6 lanes on Sunday.

Saturday lane assignments will be drawn as each team checks in. Sunday

assignments will be drawn 30 minutes prior to squad time.

PAYOUT

Total Payout of $4,125 (for 15 teams).

If there are 10 entries, we will pay $2,425.00 [1st place], $1,200 [2nd], and $500 [3rd

place] for a total of $4,125.00.

We pay 1 in 5 entries. If we have 40 teams, we will pay out $11,000.00 and 8 places.

Save a spot in your fall league calendar!

Showplace Garland

High Rollers

Big Money League

Starting in the Fall League season

Tuesdays at 7:30 PM

5-Member Teams (any combo, 1080 Cap)

League Fee: $25.00

You don't have to have a female on the team, but there will be a 1080

cap on team average. Anything over 1080 will be minus pins.

We will have Big Board Brackets to earn entries into the High Roller or

TAT Tournaments in Las Vegas, Regular Brackets and Women's Brackets.

Bonus money for 1st and 2nd place teams in each third and a spot in

the roll-off at end of season. 2 Wild cards for the end of season roll-off

for more bonus money. Guaranteed $1000 a man or more to winning

team. We will vote on point system at the start of league.

Contact Charles Soules at AMF Garland

Lanes for more information and to sign up.

AMF Showplace Garland Lanes

1950 Marketplace Dr., Garland, TX 75041

972-613-8100

AMF GARLAND LANES

(SHOWPLACE)

1950 Marketplace DR.

Garland, TX 75041

Visit www.dbtdfw.com

for complete rules and

to print entry form.

You can bowl both squads

if you change out 2

bowlers. (At least 1 male

and 1 female).

Call Duane Bates,

Tournament Director, at

817.805.0124 or

email: dbt02@att.net

with any questions.