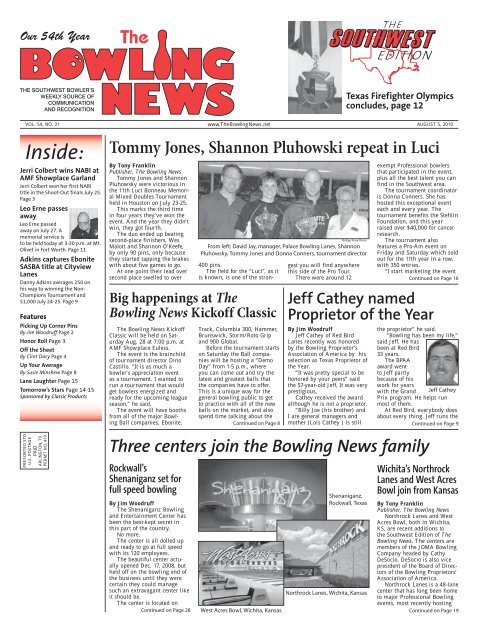 Inside: - The Bowling News
Inside: - The Bowling News
Inside: - The Bowling News
SHOW MORE
SHOW LESS
Create successful ePaper yourself
Turn your PDF publications into a flip-book with our unique Google optimized e-Paper software.
Our 54th Year

VOL. 54, NO. 31 www.TheBowlingNews.net AUGUST 5, 2010

Inside:

Jerri Colbert wins NABI at

AMF Showplace Garland

Jerri Colbert won her first NABI

title in the Shoot-Out finals July 25.

Page 3

Leo Erne passes

away

Leo Erne passed

away on July 27. A

memorial service is

to be held today at 3:30 p.m. at Mt.

Olivet in Fort Worth. Page 11

Adkins captures Ebonite

SASBA title at Cityview

Lanes

Danny Adkins averages 250 on

his way to winning the Non-

Champions Tournament and

$1,000 July 24-25. Page 9

Features

Picking Up Corner Pins

By Jim Woodruff Page 2

Honor Roll Page 3

Off the Sheet

By Clint Dacy Page 4

Up Your Average

By Susie Minshew Page 8

Lane Laughter Page 15

Tomorrow's Stars Page 14-15

Sponsored by Classic Products

PRESORTED STD

U.S. POSTAGE

PAID

ARLINGTON, TX

PERMIT NO. 419

Tommy Jones, Shannon Pluhowski repeat in Luci

By Tony Franklin

Publisher, The Bowling News

Tommy Jones and Shannon

Pluhowsky were victorious in

the 11th Luci Bonneau Memorial

Mixed Doubles Tournament

held in Houston on July 23-25.

This marks the third time

in four years they've won the

event. And the year they didn't

win, they got fourth.

The duo ended up beating

second-place finishers, Wes

Malott and Shannon O'Keefe,

by only 90 pins, only because

they started tapping the brakes

with about five games to go.

At one point their lead over

second place swelled to over

Three centers join the Bowling News family

Rockwall's

Shenaniganz set for

full speed bowling

By Jim Woodruff

The Shenaniganz Bowling

and Entertainment Center has

been the best-kept secret in

this part of the country.

No more.

The center is all dolled up

and ready to go at full speed

with its 120 employees.

The beautiful center actually

opened Dec. 17, 2008, but

held off on the bowling end of

the business until they were

certain they could manage

such an extravagant center like

it should be.

The center is located on

400 pins.

The field for the "Luci", as it

is known, is one of the stron-

Big happenings at The

Bowling News Kickoff Classic

The Bowling News Kickoff

Classic will be held on Saturday

Aug. 28 at 7:00 p.m. at

AMF Showplace Euless.

The event is the brainchild

of tournament director Dino

Castillo. "It is as much a

bowler's appreciation event

as a tournament. I wanted to

run a tournament that would

get bowlers energized and

ready for the upcoming league

season," he said.

The event will have booths

from all of the major Bowling

Ball companies, Ebonite,

From left: David Jay, manager, Palace Bowling Lanes, Shannon

Pluhowsky, Tommy Jones and Donna Conners, tournament director

Track, Columbia 300, Hammer,

Brunswick, Storm/Roto Grip

and 900 Global.

Before the tournament starts

on Saturday the Ball companies

will be hosting a "Demo

Day" from 1-5 p.m., where

you can come out and try the

latest and greatest balls that

the companies have to offer.

This is a unique way for the

general bowling public to get

to practice with all of the new

balls on the market, and also

spend time talking about the

Continued on Page 8

Phillipp Perry Photo

gest you will find anywhere

this side of the Pro Tour.

There were around 12

By Jim Woodruff

Jeff Cathey of Red Bird

Lanes recently was honored

by the Bowling Proprietor's

Association of America by his

selection as Texas Proprietor of

the Year.

"It was pretty special to be

honored by your peers" said

the 57-year-old Jeff, It was very

prestigious.

Cathey received the award

although he is not a proprietor.

"Billy Joe (his brother) and

I are general managers and

mother (Lois Cathey ) is still

Shenaniganz,

Rockwall, Texas

Northrock Lanes, Wichita, Kansas

Texas Firefighter Olympics

concludes, page 12

exempt Professional bowlers

that participated in the event,

plus all the best talent you can

find in the Southwest area.

The tournament coordinator

is Donna Conners. She has

hosted this exceptional event

each and every year. The

tournament benefits the Stehlin

Foundation, and this year

raised over $40,000 for cancer

research.

The tournament also

features a Pro-Am event on

Friday and Saturday which sold

out for the 11th year in a row,

with 350 entries.

"I start marketing the event

Continued on Page 16

Jeff Cathey named

Proprietor of the Year

the proprietor" he said.

"Bowling has been my life,"

said Jeff. He has

been at Red Bird

33 years.

The BPAA

award went

to Jeff partly

because of his

work for years

with the Grand

Jeff Cathey

Prix program. He helps run

most of them.

At Red Bird, everybody does

about every thing. Jeff runs the

Continued on Page 9

Wichita's Northrock

Lanes and West Acres

Bowl join from Kansas

By Tony Franklin

Publisher, The Bowling News

Northrock Lanes and West

Acres Bowl, both in Wichita,

KS, are recent additions to

the Southwest Edition of The

Bowling News. The centers are

members of the JOMA Bowling

Company headed by Cathy

DeSocio. DeSocio is also vice

president of the Board of Directors

of the Bowling Proprietors'

Association of America.

Northrock Lanes is a 48-lane

center that has long been home

to major Professional Bowling

events, most recently hosting

Continued on Page 28 West Acres Bowl, Wichita, Kansas

Continued on Page 19
---
Page 2 | Thursday, August 5, 2010 | THE BOWLING NEWS

BUY - - - SELL

AMF - BRUNSWICK EQUIPMENT - COMPLETE PACKAGE

WORLD'S LARGEST NEW-USED SPARE PARTS INVENTORY

Danny or Daryl Tucker

Tucker Bowling Equipment Co. Bowling Parts, Inc.

609 N.E. 3rd St. P.O. Box 801

Tulia, Texas 79088 Tulia, Texas 79088

Call (806) 995-4018 Call (806) 995-3635

Fax (806) 995-4767 Email: bpitx@texasonline.net

Website: www.bowlingpartsandequipment.com

Mailing Address: P.O. Box 1642, Colleyville, TX 76034-1642

Delivery Address: 4133 Heartstone Dr, Grapevine, TX 76051

Phone 817-267-8686 • Fax: 817-267-1813

Cell: 817-368-7960 • Email: bowlingnews@sbcglobal.net

© 2010

Th e Bowling News

By JIM WOODRUFF

Oh, for the good old days

when you could really get

excited about the PBA Tour

getting ready for the kickoff.

I loved it. You knew when

and where it was going to

be. And you knew where you

wanted to be on Saturday

afternoons. That would be

with Chris, Bo and the boys.

Now the World Series of

Bowling is going to start

before too long. And, if I

understand it all, it will

kick off with a number of

those beloved tape-delayed

tournaments which aren't too

exciting when you know the

winner before it starts.

I would like to work out a

way to see the shows and not

know the winners. But that

ain't going to happen.

What makes it extra

discouraging is that we have

so many great bowlers around

here like Chris Barnes, Mike

Scroggins and Wes Malott

that we really want to see.

One or two of them usually is

in contention.

I'm sure the PBA is aware

of its woes and is doing the

best it can.

So I suppose I should stop

complaining so much and do

the best I can. But I will be

anxious for them to get down

to the live-TV shows. We were

spoiled too much for too long.

* * *

Connie Cotton, one of this

area's most popular folks

who had a heart attack a few

months ago, is still recuperating,

but has had a few

problems.

Like the doctors are having

a little trouble getting the

medicine regulated.

And her back has gone out

and she can't bowl. That's

really hard for her to take.

* * *

We are going to have

ourselves a really good

tournament this month.

It will be the Fort Worth-

Dallas NABI Open.

The winner will take home

$8,000 with 300 entries.

NABI's Tina Taylor said it

looks like it's going to be a

huge success.

JOE GENNARO (972-978-8687) . . . . . . . . . . . . . . . . . . . . . . . . . . . . . EDITOR EMERITUS

TONY FRANKLIN (Tony@TheBowlingNews.net) . . . . . . . . . . . . .OWNER/PUBLISHER

GENIE FRANKLIN (Genie@TheBowlingNews.net) . . . . . . . . . . .OWNER/PUBLISHER

BILL HAZLETT (Bill@TheBowlingNews.net) . . . . . . . . . . . . . . . . .MANAGING EDITOR

CAROL HAZLETT (Carol@TheBowlingNews.net) . . . . . . . . . . . .MANAGING EDITOR

JIM WOODRUFF (Bigdjim25@aol.com) . . . . . . . . . . . . . . . . . . . . . . . FEATURE EDITOR

TYSON BRANAGAN (t.branagan@yahoo.com) . . . . . . . . . . . . . . . . . . STAFF WRITER

JAMES CRUZ JR. (jcruz0502@aol.com) . . . . . . . . . . . . . . . . . . . . . . . . . . STAFF WRITER

CLINT DACY (Clint@TheBowlingNews.net) . . . . . . . . . . . . . . . . . . . . . . . . COLUMNIST

SUSIE MINSHEW (strikeability@gmail.com) . . . . . . . . . . . . . . . . . . . . . . . . COLUMNIST

BUBBA FLINT (fl intsworld@aol.com) . . . . . . . . . . . . . . . . . . . . . . . . . . . . . CARTOONIST

CONTRIBUTING FEATURE WRITERS

John Jowdy • Chuck Pezzano

Note: Opinions expressed by our independent columnists and feature writers are

their own and do not necessarily refl ect the views of The Bowling News.

Subscription rates: $65 a year in advance. Check or money orders should be addressed to

THE BOWLING NEWS.

FOUNDED AND PUBLISHED BY JOE GENNARO FROM 1956-2009
---
MEN

Rob Hendrix, AMF Showplace Euless .................. 832

Jordan Roths, West Acres Bowl ........................... 813

Jake McKewin, Plano ............................................. 810

Ron Byrd, Green Acres Bowl ................................ 807

Chris Castro, AMF Showplace Garland ................ 803

Don Simmons, Eastridge ....................................... 801

Daniel Hughes, Cowtown ...................................... 794

Don Richey, Terrell ................................................. 792

Dennis Brown, Tenpins & More ............................. 785

Josh Maxson, Killeen Bowlerama ......................... 785

Donny Snider, Fiesta Lanes ................................... 783

Philip Meadors, Mel's Lone Star Lanes ................ 781

Jonathan Bolejack, Brunswick Zone Watauga ..... 774

Robert Grigsby, AMF Spare Time ......................... 774

Joe Brock, BRC Thousand Oaks .......................... 773

Phil Rudnick, AMF Richardson ............................. 773

Mike Moscato, Brunswick Westcreek ................... 762

Ed Hellon, Hallmark ............................................... 752

Bam Pride, AMF DeSoto ........................................ 746

Tony Hodge, Forum ................................................ 738

Paul Lindner, Interstate .......................................... 724

Randall Buda, USA Bowl ....................................... 723

Stephen Ewing, Big Spring Bowl-a-Rama ............ 716

Mel Richards, Red Bird .......................................... 714

Bart Wells, Rowlett Bowl-a-Rama.......................... 714

Art Luna, Bandera Super Bowl .............................. 704

Casey Powell, All Star Bowl .................................. 699

Roy Istre, Corsicana Super Bowl .......................... 682

Bob Goekler, Fast Lanes........................................ 671

Curtis Beal, Lake Country ..................................... 665

James Piotrowski, Shenaniganz ........................... 623

Hank Hankins, Cleburne Pin Center ..................... 587

WOMEN

Tonjah Castro, AMF Showplace Garland .............. 784

Brenda Wiegert, Hallmark ..................................... 744

Tina Jensen-Long, West Acres Bowl .................... 728

Crystal Carvajal, Fiesta Lanes ............................... 720

Dana Miller-Mackie, Tenpins & More .................... 711

Melissa Tice, Cowtown .......................................... 710

Jamey Coggins, Brunswick Westcreek ................ 702

Lindsey Walker, AMF Showplace Euless .............. 695

Susan Charlton, USA Bowl .................................... 693

Jean Maxson, Killeen Bowlerama ......................... 687

Arvese McGraw, Plano ........................................... 666

Rebecca Lovorn, Mel's Lone Star Lanes .............. 663

Michelle Stewart, BRC Thousand Oaks ................ 654

Sandy Dooley, Brunswick Zone Watauga ............. 650

Lori Rougely, AMF Richardson ............................. 649

Karen Hoyle, Forum ............................................... 648

Linda Cantwell, Fast Lanes ................................... 640

Monica Villarreal, Rowlett Bowl-a-Rama ............... 628

Christy Antle, All Star Bowl ................................... 625

Janice Gonzales, Big Spring Bowl-a-Rama .......... 614

Tanya Baker, Green Acres Bowl ............................ 612

Sabrina Toler, Green Acres Bowl .......................... 612

Debbie Perez, Bandera Super Bowl ...................... 612

Maria Joyner, AMF Spare Time ............................. 611

Karen Van Slycke, Terrell ....................................... 609

Wendy Kent, AMF DeSoto ..................................... 606

Deborah Hodge, Red Bird ..................................... 592

Becky Lee, Cleburne Pin Center ........................... 565

Mindy Ventura, Interstate ....................................... 556

Lynn Zainhofsky, Corsicana Super Bowl .............. 541

Carol Dziatlik, Shenaniganz .................................. 534

Janice Naumann, Lake Country ............................ 518

Audrey Ryder, Eastridge ........................................ 505

PBA players participate in

Jeff Gordon charity event

PBA Hall of Famers Parker

Bohn III and Mike Aulby were

participants in the annual

Jeff Gordon celebrity bowling

fund-raiser at Western Bowl in

Indianapolis on July 22 as part

of NASCAR's Brickyard 400

week.

The annual event, which

raised more than $300,000,

benefits the Jeff Gordon Pediatric

Cancer Research Fund at

Riley Hospital for Children in

Indianapolis.

Gordon, Sam Hornish Jr.

and Sara Fisher were among

the race car drivers who

attended.

Tonya Castro

This week's high woman is

Tonya Castro with a 236-279-

269 for a 784 series at AMF

Showplace Garland Lanes.

Tonya works for AT&T as a

proofer. She proofreads all of

the ads that go into the phone

book. Her daughter Megan also

bowls, but not the year-round

schedule that Tonya follows.

What is your high series?

796, and that was a few years

ago in a doubles tournament

with Daniel Adams.

How many 300's have you

bowled? I have bowled three.

Thoughts on your big night?

I was relaxed and had a new

ball drilled a few weeks ago

and bowled really well. I was

really comfortable and it was

my night.

What ball did you throw?

The Track 505T. I have been

using more Track balls lately

and they have really been

working well for me.

Who drills your balls? My

husband, Chris, even though

he's a Storm Staff member he

still drills the Track balls for

me.

What is your all-time favorite

bowling ball? I have been

through so many, but I would

have to say my first Track ball.

The 920T, I shot a 300 with it.

What is your average in the

Wednesday NASCAR league?

211.

What is your all-time high

average? This is my high. It has

been going up every year.

How long have you been

bowling? About 37 years. My

parents and whole family

bowled in a league at Buckner

Bowl and I started when I was

10. It just took off from there.

Who is your favorite pro

bowler? Dick Weber, he had

a good personality, great

sportsmanship and was really

cool. Very down to earth, and a

great attitude.

Most memorable bowling

moment? My first 300. I didn't

even know I was shooting that,

until the last ball. Each time it

just gets more exciting.

Tonya's tip of the week: My

husband Chris has been so

supportive of my bowling and

wants to help me get better. I

am so appreciative of that. He

taught me that, right before I

throw the shot to think about

keeping my feet slow, stay under

the ball and follow though.

It has helped me out quite a lot.

Rob Hendrix

We were unable to contact

Rob Hendrix, this week's high

man. Rob posted a 268-268-296

= 832 series in the Full House

league at AMF Showplace

Euless. We will try to get his

spotlight for next week.

THE BOWLING NEWS | Thursday, August 5, 2010 | Page 3

Team Payoff:

1. $3,000.00

2. 1,750.00

3. 900.00

4. 750.00

5. 600.00

6. 500.00

7. 350.00

8. 250.00

LABOR DAY

Mixed Team

Challenge

September 4-5, 2010

First Place Team

$3,000

Based on 58 teams

Optional Sweeper Saturday Night

This is a non-sanctioned handicap tournament open to all bowlers except PBA exempt bowlers.

Teams bowl 3 games Saturday and 3 games Sunday. Team Average Cap: 1000

For more information, full rules and entry forms, contact the front desk at USA Bowl

or the Tournament Director:

Charlie Natal

512-738-7287

www.itabowling.com

Email: cnatal@centurytel.net

214-358-1382 Fax: 214-358-4056

10920 Composite Drive, Dallas, TX 75220

Visit us on the Web at www.USABowlInDallas.com

(...or any other toe)

$5,000.00 for 10 teams

$10,000.00 for 20 Teams

Tuesday Nights in the Fall at 9:00 PM

5 Member Teams

Handicap 90% Team Handicap from 1100

Entering Average based on 2009-2010 Book Average

$100.00 Franchise Fee Per Team

36 Week League

3 – 12 Week Blocks

Top 2 Teams Each Block Advance To Playoffs

Paid Block Winners

Added Money Paid To Playoff Teams

The "New"

817-346-0444

Cityviewlanes.net Fax: 817-346-7208

Kickoff the

League Season!

Team Entry Fee:

$250.00

Squad Times:

Saturday: 1 PM

Sunday: 11:00 AM
---
Page 4 | Thursday, August 5, 2010 | THE BOWLING NEWS

I know the readers of The

Bowling News are bowling

lovers, but I am sure that some

of you are also rodeo fans.

I recently went to my

nephew Cutter's house in

Oklahoma to celebrate his fifth

birthday. My brother-in-law

is a champion team roper and

my sister-in-law is a champion

barrel racer.

Like my bowling tournaments

they too travel around to

different cities and participate

in rodeos.

Although Cutter is only

five he is already a champion

dummy roper. Instead of roping

an actual steer, kids rope a

dummy steer from different

distances.

A month ago he won a 6

and under roping competition

to win his first buckle. He has

also had his picture in the

Super Looper magazine and

newspaper multiple times.

The key to his success is that

unlike most kids his age, he

practices by roping goats.

At their house they have

a pen and a make shift chute

where he can rope the goats

just like he would a steer. The

goats are more difficult to rope,

so by practicing with them

makes roping steers much

easier.

In December he will be

roping in the National Finals

Rodeo in Las Vegas and on the

way to the RPI I will be bowling

in Reno, we are hoping to

get a chance to watch him.

And for all you ladies who

love your cowboys you are

going to have to get in line for

this one because he already

has a girlfriend. It seems that

a young lady by the name of

Miranda Lambert, is a neighbor

of theirs and she has claimed

him as her boyfriend. Better

luck next time ladies.

We are not far from the

beginning of football season,

but there is already some exciting

controversy brewing.

The Cincinnati Bengals,

who already have the over the

top Chad Ochocinco, have now

gone out and added the most

controversial player in the NFL,

Terrell Owens to their wide

receiving corps.

Now if we take these two

outrageously talented and entertaining

receivers we should

see some major fireworks this

year. How well will they enjoy

playing together? Will they

argue who is the better of the

two?

By the end of the season I

suspect that Owens will be on

his best behavior, as he does

with any new team, but the

work ethic of these two may

lead to Carson Palmer putting

up some unbelievable numbers

this year.

I really think this may work

out for Cincinnati and I think

they may make a serious run at

the AFC title.

The Rangers continue to be

red hot and as of today they

hold an eight and a half game

lead over the Oakland A's and a

nine game lead of the Angels.

With Cliff Lee on board the

pitching staff is now loaded

and we all know that the

infield is one of the best in

baseball. The outfield is great

too, so the question is, where

are the weak links on this

team. The only answers that

I can come up with are the

depth at the infield position

and the Texas heat.

Obviously there is nothing

to do about the Texas heat,

other than put up a giant shade

over the stadium, but there is

something they can do about

the depth.

With Ian Kinsler injured the

Rangers have traded with the

Marlins and the Nationals to

acquire another first baseman

and another second baseman.

Although I like the gutsy

moves the Rangers are making,

I am also worried about

playing with the chemistry the

team already has. Chemistry is

so important in baseball, so I

hope it doesn't change the one

constant that this team has

been successful with.

The truth is that if they

can handle this upcoming

nine-game stretch against their

entire division then I think

we are looking at the division

champs who will have a

chance to bring DFW our first

MLB championship.

This week's what is in

Daceman's DVD player is "Hot

Tub Time Machine" starring

John Cusack.

The story is about a group of

guys trying to relive the glory

days by returning to their most

memorable weekend as kids.

The good times they remember

are not all they thought they

were, and the lure of being able

to change the past leads them

to make stupid decisions. The

movie was very funny throughout,

but the language was very

strong, so keep the kiddies

away from this one. I give this

a three out of four stars for the

excellent writing and casting of

this movie.

2010 PBA

SENIOR

SCHEDULE

Aug. 9-12

PBA Senior Lake County Indiana

Open

Olympia Lanes, Hammond, IN

Aug. 14-17

PBA Senior Decatur Open

Spare Time Lanes, Decatur, IL

Aug. 21-24

PBA Senior Jackson Open

Airport Lanes, Jackson, MI

At Plano Super Bowl

McKewin crushes 299/810,

McGraw chalks up 666

Hiam 802, Holt 804, Evanto 300

Jake McKewin's booming

strike-filled 299-234-277 = 810

Thursday Classic Trio outing

topped the scoring parade for the

week at Plano Super Bowl.

Following close behind McKewin,

were Lance Holts' 279-257-

268 = 804 Pepsi Classic set and

Kevin Hiam's 279-290-233 = 802

Friday Funsters series.

Tom Evanto took high-game

honors with an award-winning

12-bagger, while McKewin's 299

solo took runner-up kudos.

Arvese McGraw was the

top lady for the week with a

rip-roaring 233-230-203 = 666

Sportsmans Trio session.

PLANO HIGHS

Bill Kissentaner 246-688, Debby

Oulicky 241-634, Leon Jones 290-781,

Dawn Kapper 214-626, Chris Geno 225-

661, Cathy Powell 176-456, Ron West

238-687, Susan Breedlove 202-564.

Steve Frazzetto 235-735, Tom

Evanto 300-701, Kay Pingsterhaus

181-516, Rich Souddress 268-771, Dawn

Samaniego 182-496, Cliff True (PBA

Experience) 246-622, Melissa Carrillo

(PBA Experience) 203-603.

Michelle VanGilder 232-602, Brenda

Buchanan 188-554, Jim Marcom 278-

683, Ansel Goldgar 269-675, Buck

Butgereit 267-646, Glenna Young

163-457, Fredrick Menifee 276-725,

Kelly Murray 244-656.

Russell Knight 259-708, Lisa

Garza 230-662, Daniel Arriola 248-

697, Whitney Williams 197-552, Gene

FULL TIME SALES!

Whitaker 238-645, Kathy Molski

187-538, Barbara Jernigan 203-533, Jon

Henderson 189-543.

Jill Dietz 188-457, Mark Grimes (4

games) 257-985, Karleen Reynolds (4

games) 241-852, Dave Verrelli 264-778,

Tanya Harrison 225-595, Cindy Mann

226-609, George Vaughn 239-649, Janie

Garcia 202-575, Jimmy Land 275-733,

Jan Land 183-495.

It's time

to be

thinking

about Fall

Leagues

Call your

local center now

to sign up

Are you looking for a Full Time Sales

Position with "fl exible" hours?

Then send your resume today to jay@alleycatsbowl.com. The

successful candidate will have the energy and enthusiasm to

sell family fun and entertainment to families, schools, churches,

companies, groups and organizations. Alley Cats is looking

for someone who enjoys variety in selling methods. A typical

work week may include in-bound/out-bound telephone selling,

direct selling in the Alley Cats sales offi ce, or community-based

networking and outside selling.

If you are connected in the community, desire a full time

position that is fl exible, and don't mind having fun while you

work, then this is the job you are looking for. Call us today!

Please visit our website www.alleycatsbowl.com to check out

Arlington's #1 Family Entertainment Center!

Kids Bowl Free Program

Sign up at www.KidsBowlFree.com/ACE

2008 West

Pleasant Ridge Dr.

Arlington, TX 76015

www.alleycatsbowl.com
---
THE BOWLING NEWS | Thursday, August 5, 2010 | Page 5

Classic Trios

At AMF Richardson

Begins Monday, September 13

7:45 meeting / 8:45 p.m. bowl

3 member teams any combination

AMF Richardson is partnering with Dino Castillo's "The Bowling

Shop" to offer bowlers a competitive league with a large prize fund.

There will be Scratch & Handicap brackets along with

High Pots each week.

A King of the Hill and pot games will follow league play.

Also, as members of this league, bowlers will have the

opportunity to participate in a weekly 2 hour free practice

session (at specifi ed times) as well as additionally receive

2 more free game passes for practice each week.

Bowlers will also have 9 chances to qualify for AMF's $600,000 National

tournament. National fi nalists will receive an all expenses paid trip to

Las Vegas for the national fi nals. This is a guaranteed prize fund

that paid out over $600,000 last year.

$75/team franchise fee

Weekly fees: $25 per bowler ($17 goes straight to prize fund)

League bowls 36 weeks

Call Dennis or Kitty to sign up at 972-231-2695

Or email: richardsonlanes@amf.com

AMF RICHARDSON LANES

2101 N. Central Expressway

Richardson, TX 75080

972-231-2695
---
Page 6 | Thursday, August 5, 2010 | THE BOWLING NEWS

P.O. Box 1642, Colleyville, TX 76034

Phone 817-267-8686

Fax 817-267-1813

Mr. Bill's Color Pin Sweeper

Every Saturday Night 7:30 PM

Check-in at 6:30 PM

$20 Sweeper entry fee

Mystery Score - 1st Game Strike Pot

King and Queen Tickets • Mega-Shots Every Night

Crazy Eights after Sweeper

$5.00 entry fee - up to two re-entries

Strike pot tickets every game

COME JOIN THE FUN!

All split

conversions pay

money

We are always

looking for human

interest story

ideas—let us know

Handicap

90% of 220

Ladies four-bagger pays $5.00 once a night.

Men's fi ve-bagger pays $5.00 once a night.

Will also pay out men's and women's high series

each night - scratch/handicap

Handicap-Scratch-Ladies Brackets $5.00 each

Cross-Over Doubles $1.00 per person

Mr. Bill 817-557-0749 Cell: 817-925-3892

2001 S. Great

Southwest Parkway

Grand Prairie, Texas 75051

972-641-4406 or 972-647-2275

RENT-A-LANE

SPECIALS

SUNDAYS

9AM-11AM $18.00 PER HOUR

11AM-1 PM $20.00 PER HOUR

TUESDAYS

9AM-5PM $18.00 PER HOUR

INDIVIDUAL & COUPLES LEAGUE SPOTS

STILL AVAILABLE

ASK ABOUT OUR KIDS BIRTHDAY PARTIES

Family owned and Independently operated for 37 years

1114 S. Main

Duncanville

972-298-7143

fax: 972-709-5677

redbirdlanes@sbcglobal.net

U.S. boys take team

silver medal at World

Youth Championships

HELSINKI, FINLAND — The

United States boys settled

for the silver medal in team

event July 31 after a high-scoring

battle with Korea a the

2010 World Tenpin Bowling

Association World Youth

Championships.

Junior Team USA fired a

game of 860 in the gold-medal

match, but it wasn't enough

as the Koreans got ahead and

never relinquished the lead in

shooting 892 at Tali Bowl. The

Korean girls also won the team

gold medal.

Craig Hanson led a balanced

effort from the Americans with

a 226 game and was followed

by Jake Peters (222), Devin

Bidwell (211) and all-events

gold medalist Andrew Koff

(201). The Koreans were led

Hodge hurls 738 series at

Forum, Hoyle crafts 648

Brose bags 300 game

Tony Hodge pocketed a topdrawer

246-258-234 = 738 series

in Twilight action to head the

honor roll for the week at Forum

Bowl.

Ben Brose's award-winning

12-bagger earned high-game

honors.

Karen Hoyle, from the Friday

Doubles group, posted a tip-top

203-265-180 = 648 set to lead the

lady bowlers.

Now Interviewing

Qualified

Candidates for:

Manager,

Front Counter, GSX

Mechanic, Bartender,

Lane Server, Game

Technician

Previous Experience

Required

send resume to

c.lande@

rowlettbowlarama.com

or apply in person.

Rowlett Bowlarama

5021 Lakeview Pkwy

Rowlett, TX 75088

(972) 475-7080

by Ju-Young Kim with 237,

while Hae-Sol Hong shot 235,

Jong-Woo Park had 221 and

Seung-Hyeon Shin had 199.

"There's a little disappointment,

but you can never be

unhappy when you bowl well,

and all four guys bowled really

well today," Peters said. "We

feel we bowled the best we

could, and they bowled better.

You can't do anything about

that."

In the semifinals, the United

States took down top seed Estonia

with ease, 942-786. Peters

led the high-scoring effort with

a 279 game. Bidwell shot 227,

Koff had 220 and Hanson fired

216. Korea knocked out Australia

in the other semifinal,

812-755.

Korea's girls team won the

FORUM HIGHS

Homer Dudley (no-tap) 280-717,

Pam Stewart (no-tap) 222-661, Sang

Nguyen (no-tap, 4 games) 296-1051,

Kim Castro (no-tap, 4 games) 263-931,

Pete Lopez 254-671.

Sandi Chappell 178-471, Ana Fraley

192-471, Brian Castro 225-544, Emily

Montgomery 242-612, Eric Edwards

247-689, Dena Buffington 213-542,

James Parsons 213-564, Monica Holford

129-348, Harry Craig 236-655.

Pam Griffin 198-515, Roger Bowling

(4 games) 267-956, Karen Hoyle

(4 games) 236-809, Brian Castro

221-613, Debbie Rawlinson 195-539,

Marcella Mills 212-515, Joseph Canales

267-671.

Kristal Canales 215-561, Chris

Osornio 244-685, Eva Lopez 182-499,

John Mendiola 696, Jeremy Allen

247-664, Lynell Cummings 201-542,

Mario Parraza 266-679, Melissa George

215-609.

At Red Bird

Richards

records 714

Mel Richards' stellar 217-209-

288 = 714 series in 39'ers action

led the scoring race for the week

at Red Bird Lanes.

Deborah Hodge, from the

Match Point Trio group, paced the

Duncanville ladies with a lofty

200-210-182 = 592 set.

RED BIRD HIGHS

Brittany Barrett 180-495, Lauren

Daniel 212-584, Rob Billman 231-670,

Deanna Hoffman 192-545, Rob Billman

237-612, Jon C. Edmonds 231-606.

Rob Billman 208-610, Arthur Stangl

222-439, Denise Chambon 210-530,

Carlos Jimenez 204-587, Erica Ramsey

168-455, Lois Gibson 181-532.

Larry Martin 224-655, Bradley

Robinson 238-695, Denise Chambon

176-484, Frank Bell 221-619, Kawanna

Mathis 211-566, Maizie Baker 167-478,

Lois Gibson 177-491.

At USA Bowl

Buda belts 723,

Charlton charts 693

Randall Buda compiled a rollicking

220-258-245 = 723 OLBA

series to lead the scoring race for

the week at USA Bowl.

Susan Charlton registered a

sizzling 244-237-212 = 693 TNL

Ladies set to front fem scoring.

USA BOWL HIGHS

Chris Jones 205-560, Connie Holmes

237-621, Matthew Boyd 256-655,

Jennifer Cure 255-622, Jim Mathey

title with an 839-785 victory over

Korea. The Koreans advanced to

the gold-medal match by ousting

England, 816-756, while Singapore

topped Malaysia, 860-769.

In Masters match play

action, which began after

the team semifinals and

finals Saturday afternoon, the

United States' four players were

eliminated prior to the medal

rounds.

Koff advanced to the quarterfinals,

but fell to Ju-Young,

3-2, in the best-of-five games

format. After taking a 2-1 lead,

Koff dropped the final two

games 219-210 and 221-196.

Junior Team USA's Jenn

Boisselle also made it to the

quarterfinals, where she lost to

Korea's Moon-Jeong Kim, 3-1.

Boisselle took the first game

242-224 but then lost 176-141,

234-225 and 243-192.

In the Round of 16, Koff

defeated England's Richard

Teece, 3-1, while Peters fell

to Finland's Samu Valaranta,

3-1. Christine Bator lost to

Moon-Jeong, 3-2, while Boisselle

defeated Hayley White of

England, 3-2.

164-458, Susan Ellis 182-513, Dondi

Rhone 193-514, Steve Kerr 221-630.

Fayrene Rozell 165-450, Burdette

Graham 236-630, Sung Lee 249-690,

Arli Wilkes 238-656, Catherine

Ludwick 186-454, Donny Davis (PBA

Experience, 4 games) 226-793.

Mindy Jordan (PBA Experiene, 4

game) 185-629, Stee Cain 245-675,

Donna Bigelow 184-488, Chad Brown

246-717, Susan Charlton 200-565.
---
Colbert wins first NABI title

at AMF Showplace Garland

Jerri Colbert earned her first

NABI title after eight years as

a member, with her victory in

the tournament held at AMF

Showplace Garland July 25.

In the Shoot-Out Finals,

Colbert rolled games of 227 in

game one, 204 in game two

and 203 for the victory in game

three.

Colbert collected $1,034

($600, plus $434 from the

Progressive Pot) as the winner.

Sharon Millsap took second

place with a 196 final game.

Millsap earned $517 ($300,

plus $217 from the Progressive

Pot).

Richard Bird and Ronnie

Allen finished third and fourth,

respectively, with games of 195

and 183 and won $186 ($150,

plus $36 from the Progressive

Pot) each.

The top 17 bowlers made it

to the Shoot-Out Finals.

Eliminated after game

two were Sam Pusateri, Kam

Mostowfi, Tina Garcia, Garry

Myers, Frankie Garza. They

each received $116.

Bowlers eliminated after

Jerri Colbert

game one each collected $85.

They were: Onil Llagas, David

Gardner, David Bush, Ron

Ducote, Larry Batts, Virgie

Wright-Johns, Charles Millsap

and April Jackson.

High Qualifier (no-tap)

David Bush, $18, Frankie

Garza, $5, Kam Mostowfi.

High Pot Winners

Frankie Garza, $40; Larry

Batts, $25; Eddie Rogers, Sharon

Millsap, $15; Ronnie Allen,

David Johnson, $12; Torris

Jackson, David Bush, Donna

Heishman, $10.

The one-day NABI tournament

had 87 entries and had a

total payout of $4,614.

IMPORTANT METROPLEX PHONE NUMBERS

Dallas USBC Bowling Association ................. 972-644-7746

Dallas USBC Women's Bowling Association .. 972-274-4433

Dallas USBC Youth Association ..................... 972-475-5457

Denton County USBC Association ................. 972-360-6890

Greater Fort Worth USBC Association. Inc. .... 817-336-2555

5021 Lakeview Parkway, Rowlett, TX 75088

972-475-7080

www.rowlettbowlarama.com

At AMF Richardson

Rudnick notches 300/773,

Rougely decks 649

Phil Rudnick won high-game

and series honors for the week

At Rowlett Bowl-a-Rama

Wells produces 714,

Villarreal lands 628

Wycough nabs 299 game

ROWLETT — Bart Wells crafted

a top-drawer 245-255-214 =

714 Wednesday Mixers series to

head the honor roll for the week

at Rowlett Bowl-a-Rama.

Terry Wycough's 299 solo

claimed high-game honors.

Monica Villarreal, from the

Friday Night Live group, fronted

fem scoring with a stately 197-

228-203 = 628 set.

OTHER HIGHS

Terry Wycough 299-678, Susan

August 5-8, 2010

Hosted by AMF Euless

1901 W. Airport Freeway, Euless, TX 76040

This event is for members of NABI who've

qualified with 8 Tournaments and 30 games in 2010

"Warm Up "Sweeper"

Thursday, Aug. 5 @ 6:00 pm

$500.00 1st Place - 3 Game Sweeper

$40.00 Entry Fee

3 games across 6 lanes, Score Only

Marathon Entries:

Bowl as many squads as you want for one

price. $480.00. The marathon will count as 4

entries. (see full rules for details) As the

projected prize fund states, if you make the Semi

Finals you will cash for $240, double the regular

entry fee. You can cash twice, once in Round 1 and

once in Round 2. We will only sell 40 Marathon

entries. These will be on a first come, first serve

basis. NO EXCEPTIONS ON ANY DEADLINES.

Marathons include Optionals.

Entry Fee:

On Site Entry $140

Re-Entries $120

Optionals $20.00

**Marathon Entry $480

Projected Prize List

Based on 300 Entries

1st $8,000. 19-22 $340.

2nd $4,000. 23-25 $320.

3-4 $2,000. 26-28 $300.

5-8 $1,000. 29-31 $280.

9-16 $500. 32-35 $260.

17-18 $360. 36-42 $240.

THE BOWLING NEWS | Thursday, August 5, 2010 | Page 7

at AMF Richardson by firing a

top-notch 300-225-248 = 773 TBS

Lee 234-606, Killer Stidom 192-512,

Chuck Vickers 265-690, Brandy Ramsey

186-461, Jose Garcia 257-627, Tammy

Klomps 244-535, Roy Alexander 254-

655, Robert Ford 256-683, Susan Lee

210-583.

SENIORS

Bill Hutchinson 179-350, Nancy

Heltzel 147-294, Jim Ritchie 211-591,

Shirley Large 207-525, Lonnie Caddell

(no-tap) 279-656, Karen Dyer (no-tap)

236-572.

Every Squad:

$10 Side Pots:

High Game for

games 1-2-3

Mystery Score,

High Qualifier.

NABI OF DFW

OPEN

$8,000.00 1ST PLACE

August 5-6-7-8

Thursday— Friday— Saturday— Sunday

Squad Times:

Trios session.

Lori Rougely, Rudnick's

leaguemate, led the ladies' scoring

contest with a laudatory

196-195-258 = 649 set.

LEAGUE LEADERS

Chad Newman 248-711, Ryan

Darley 267-731, Tony Hughes 268-728,

Dennis Kuhn 276-738, JP Tijerina 269-

716, Bryan Ellis 258-744, Jim Mahoney

265-727, Hector Macedo 243-608.

Sharon Beall 181-477, Chuck Kelley

247-642, Barb Wygren 186-513, Ryan

Theroux 263-651, Melissa Killebrew

208-569, Leon Jones 235-652, Vanessa

Brown 204-582, Phil Renner 201-570.

Marge Carnes 137-385, Leon Jones

210-590, Vanessa Brown 203-565, Dave

Villegas 184-546, Jeanne Doty 171-444,

Matt Seidler 279-661, Dee Wolford 158-

434, Curtis Stewart 236-664, Danyelle

Becker 214-561.

Gerry Hoch 245-603, Mindi Sue

Stemblitz 180-477, Leif Kertis 243-690,

Ramona Thompson 213-613, Bob Robinson

233-601, Joeleen Brown 194-553,

Curtis Stewart 239-580, Corey Jackson

242-631, Tonya Dickey 184-511.

Round One:

Thursday:

**Warm Up Sweeper - Thursday @ 6:00pm

Daily Cut Squad A - 7:30 pm Thurs. 8/5

Squad B - 9:00 pm Thurs. 8/5

Friday:

**Champion Challenge - 6:00 pm 8/6

Daily Cut Squad C - 7:30 pm Fri. 8/6

Squad D - 9:00 pm Fri. 8/6

Saturday:

Separate Cut Squad E - 12:00 pm Sat. 8/7

**Round One Semi Finals @ 1:30 pm

Round Two:

Daily Cut Squad F - 4:00 pm Sat. 8/7 *Re-Oil Lanes

Squad G - 5:30 pm Sat. 8/7

Sunday:

Daily Cut Squad H - 12:00 pm Sun. 8/8

Squad I - 1:30 pm Sun. 8/8

Squad J - 3:00 pm Sun. 8/8

Round Two Semi Finals 4:30 pm - Top 16 @ 6:30 pm

Top 16 immediately following Round 2 Semi Finals

"CROSSOVER DOUBLES" $500.00 1st PLACE

$10 PER BOWLER ($20 PER TEAM)

Partner up with fellow member's on the same squad,

and use your combined handicap singles score

"Champions Challenge" Friday 8/6

$500.00 - Winner takes all

Free to NABI DFW members that have won a tournament

from 7/15/09 - 7/15/10. You must have a paid entry into the NABI of

DFW Open to bowl this event. Other past NABI Champions may enter

for a $40 fee. Everyone will bowl 3 games , then the Top 2 bowlers will

bowl a 1 game match to determine the winner.
---
Page 8 | Thursday, August 5, 2010 | THE BOWLING NEWS

Those Pesky Single

Pin 'Clusters'

Part II

This month we'll continue

talking about single pin spares,

what causes them, and how to

not to leave them so often.

The 6 Pin

A 6 pin is usually the

result of a high hit. The ball

hits too much of the 3 sending

it straight back, rather

than sideways into the 6. An

adjustment that causes the

ball to hit less of the 3 pin is

appropriate – more speed, less

hand, change equipment, move

inside. You have lots of choices.

The 7 Pin

There are often two ways to

leave some single pin spares.

A 'stone' 7 (one of those 'the

breeze should have knocked

it over' shots), is caused by

a high hit. The headpin goes

straight back and its impact

with the 2 causes that pin to

rebound off the kickback plate

to take the 4 but not the 7.

A 'slow' 7, like the slow 4

we talked about recently, is a

light hit. The headpin is hit

too thinly, sending it in front

of the 2. The 2 falls backward,

nicking the right edge of the 4,

which is sent weakly into the

channel rather than into the 7.

The 8 Pin

This is usually the result of

a shot that either causes the 5

to fly over the 8 or drives the 5

straight back. In other words,

the ball hits the pocket but

doesn't deflect properly. It is

too strong for those poor weak

pins. You can change the angle

of entry into the pocket by

changing your rotation, going

to a less aggressive coverstock,

speeding up, or moving inside.

Again, lots of choices.

There is also a slow 8,

which is usually accompanied

by a very late falling 10 pin

(almost an 8-10 split). This ball

has hit weakly, deflecting too

much. Make your get-the-ballinto-the-pocket-higher

moves

and you'll be fine.

The 9 Pin

Since the ball is supposed

to take the 9 pin and it didn't,

where did the ball go? Unless

you're throwing a very light

ball, it was left of the 9. This

can be a frequent occurrence

with the strong coverstocks

and drilling patterns of today's

game. The ball drives too

strongly through the pocket,

leaving the deck so far left of

the 9, it misses the pin entirely.

You could move left, change

hand positions, reduce your

speed, or change to a less

aggressive coverstock and/or

layout.

The 10 Pin

You must know which kind

of 10 pin (ringing or weak) you

are leaving in order to make

the proper adjustment. A weak

10 occurs because you hit too

much of the 3 pin and too little

of the headpin. This changes

how the 3 hits the 6 and causes

the 6 to go in front of the 10. It

lands in the channel without

enough speed to rebound

into the 10. The 6 can also

go in front of the 10, hit the

kickback, and then go behind

the 10, leaving it standing.

Either way is a weak 10. The

adjustment for this is usually a

one board move to the outside.

Although there are other

adjustments you could make,

this is the most common.

A ringing 10 is a shot where

the 6 pin whips around the

base or neck of the 10 pin.

Sometimes ringing 10 pins are

a matter of speed – usually too

much. Back off a bit. You could

also move back on the approach.

If you need to change

your angle, do the usual

things: move inside, change

equipment, etc.

Ringing 10's are part of the

game. Paying attention to the

scoring pace is very important

here. You don't want to move

off a 10 pin and wind up giving

up the pocket. Walter Ray has

more money and more titles

than anyone on the planet

because of all the 10 pins he

leaves. He NEVER gives up the

pocket. Neither should you.

Well, there you have the

whys of those single pin

clusters. Standing pins are your

friend. They clearly tell you

what move to make to be sure

they're not standing up there

next time.

Visit Susie at www.strikeability.com.

BIG HAPPENINGS

Continued from Page 1

sport with industry leaders.

But that's not all. There's

a tournament to participate

in as well. The Bowling News

Kickoff Classic is a mixed team

event that will feature a $4,000

first-place prize based on a full

field of 52 teams.

It's a handicap event that

also has a maximum team

average of 1075, and only one

PBA member is allowed on

each team.

There are several ways to

cash in the event, with scratch

and handicap brackets along

with crossover doubles.

Make sure to reserve your

spot with Dino Castillo now,

you don't want to get shut out

from the 1st Annual Kickoff

Classic.

Entry forms are available at

all bowling centers and more

information can be found on

the advertisement on page 16.

Korea ends World Youth

Championships with two

Masters golds

HELSINKI, FILAND — Korea

capped off a dominating

tournament by winning the

boys and girls gold medals in

Masters match play Aug. 1 as

the 2010 World Tenpin Bowling

Association World Youth

Championships came to a close.

Korea's Yeon-Ju Kim defeated

Colombia's Laura Fonnegra,

3-2, in the best-of-five games

girls championship match,

while Ju-Young Kim defeated

countryman Seung-Hyeon

Shin, 3-1, in the boys final to

give Korea the gold and silver.

In the girls final, Yeon-Ju

dropped the first two games to

Fonnegra, 222-186 and 256-182,

before coming back to win

the last three games 234-206,

216-200 and 268-246.

Ju-Young lost the first game

in the boys championship

At AMF Showplace Garland

C. Castro red hot with 300/803,

T. Castro smashes 784

C. Castro adds 299 game

Chris Castro and wife, Tonjah

Castro, headed the scoring

parade for the week at AMF

Showplace Garland.

Chris fired a dual award-winning

239-300-264 = 803 series in

Tuesday Men's Trio III action to

top the charts. Chris then added

a 299 solo in the TGIF group.

Tonjah dominated the ladies

high-set race with a thundering

236-279-269 = 784 Wednesday

Nascar set.

LEAGUE LEADERS

Robert Justis Jr. 266-689,

Tonjah Castro 245-632, Willie

Conner 267-643, Tori Hilz 213-

581, JB Roark 223-603, Rita Williams

170-495, Kathy Hopkins

213-574.

Josh Porter 264-683, Kathy

Hopkins 225-575, Mark Almon

220-610, Carmen Houser 150-426,

Danny Loller 214-554, Nelle Reed

181-445, Linda Rankin 185-523,

Ed Dooley 230-621.

Jean Mitchell 168-479, Mark

Berry 238-671, Norman Kunkle

256-699, Shannon Fisher 197-541,

Tony Plant Sr. 232-605, Brittanie

Stephens 116-319, Mike Bressler

267-731, Kevin Carbo Jr. 246-718,

Erin McCarty 226-675.

Jeff Wilson 267-758, Chris

Castro 299-732, Tonjah Castro

253-694, Robert Blassingill

247-711, Pam Thomas 224-552,

Riley Chambers 223-598, Angel

Chambers 188-534, Joe Servin

255-706, Angela Ashley 238-606,

Kevin Boykin 245-669, Terri

Ryree 182-489.

At AMF DeSoto

Pride uncorks 746,

Kent sees 606

Bam Pride's robust 258-233-

255 = 746 Pushovers session

won the battle for top billing on

the honor roll last week at AMF

DeSoto.

Wendy Kent posted a classy

188-224-194 = 606 Tuesday

Nights set to lead the ladies.

OTHER HIGHS

Stanley Lawton 233-667, Joyce

Thurman 180-509, Levon Douglas

258-717, Victor Minor 268-698, Russell

match, 224-211, but took the

title by winning the next three

games, 194-187, 247-221 and

245-215.

To have a shot at the

gold medal, Fonnegra swept

Moon-Jeong Kim of Korea,

3-0, while Yeon-Ju took down

Carmen Haandrikman of the

Netherlands, 3-2. In the boys

semifinals, Ju-Young defeated

Korean Jong-Woo Park, 3-2,

while Seung-Hyeon knocked

off Latvia's Daniels Vezis, 3-2.

The semifinals losers shared

the bronze medals.

The Masters medals brought

the Korean's medal tally to 13.

They won six gold medals, two

silver and five bronze.

After winning just two

medals in each of the past

two World Youth Champion-

Continued on Page 10

Corwin 243-707, Bettye Haynes 201-561,

Calvin Bailey 267-661.

Lori Knoy 200-502, Dennis Williams

241-603, Lucy Chism 167-478,

Mike Miller 267-702, Drenda Sneed

206-532, James Bridges 245-696,

Lindsey Brayhall 129-316.

SENIORS

Roger Strand 235-619, Billie Bradley

162-468, Paul Allee 275-586, Jeanne

Hay 195-484, Fred Sommese 212-574,

Billie Bradley 166-439.
---
BVL recognizes top

proprietor contributions

Five bowling proprietors and

one local Bowling Proprietors'

Association left Bowl Expo

in Las Vegas recently, each

with their second consecutive

Bowlers to Veterans Link

(BVL) award, recognizing their

outstanding support for the

BVL cause during the 2008-

2009 league season.

These same award winners

also took home identical

honors for their donations

during the previous 2007-2008

season.

"We are deeply indebted to

these proprietors for leading

the way for BVL," commented

BVL Board Chair Darlene

Baker. "It was just three years

ago when we called on America's

bowling centers to join

with our league bowlers to take

on the BVL effort. They have

responded enthusiastically."

Maple Family Lanes,

Brooklyn, NY, led the centeroriented

contributions for the

season with a total of $6,000.

Proprietor John LaSpina

has six centers in the New

York City Metropolitan Area.

Thunderbird Lanes followed

very closely with $5,974.50 in

donations. Thunderbird has

three centers in the Philadelphia

area that coordinated a

BVL fund-raiser in conjunction

At Brunswick Westcreek

Moscato drums up 762,

Coggins drills 702

Mike Moscato held the hot

hand last week at Brunswick

Westcreek Lanes with a noteworthy

279-215-268 = 762 High Pot

With A Twist series.

Jamey Coggins led the gals

with a outstanding 255-213-234

= 702 Wednesday Warm Up

set.

OTHER HIGH SCORES

Dave Rider 275-731, April Shelton

245-693, Chad Vendeville 279-726,

Kecia Andries 258-668, Joey Howery

278-718, Nell Ray 236-632, John

Holtzapple 258-701, Kevin McKeehan

282.

Ron Mills 689, Darlene Diaz 141-

386, Brett Thomas 563, Terri Trefger

265, Barbara Avery 212-561, Greg Avery

249-700, Steve Harris 268, Marsha

McCullough 175, William Bollinger

with National Bowling Week.

The third largest contribution

was from the Leslie Goldberg

Charity Fund for $5,000. Goldberg

is the president of Bowl

America, which has 19 centers

along the East Coast. Operating

five centers in Illinois, The Don

Carter Lanes Group donated

$3,519.50 to the BVL during

last year's season. Proprietor

John Sommer conducted a "Heroes

in Our Midst" campaign

saluting veterans and active

duty military in each of those

communities.

A special award was

presented to Bowland Centers,

with six centers in Southwest

Florida. Proprietors Pat and

Lisa Ciniello worked alongside

their area USBC association to

support the leagues' efforts.

This affiliation helped Southwest

Florida USBC donate more

than $11,000 to BVL during the

2008-2009 league season.

Another fruitful relationship

resulted in a $2,215.98 contribution

to the BVL: The Chicagoland

Bowling Proprietors

Association was recognized as

the fifth highest contributor

as part of that association's

annual "Beat the Champs"

contest. BVL was named one of

the charities for that event.

195-546, Michelle Bollinger 143.

Adolphus Akanni 263, Cliff Horne

257-594, Kenneth Leach 676, Carol

Neubauer 568, April Shelton 268-681,

John Holtzapple 710, Kim Patrick

124-370, Scott Thistle 580, Ron Mills

218-602, Dolores Howard 201-518.

Lee Grampp 186-477, Bethany

Conard 160-431, Darius Fields 201,

Shelly McGlothlin 180, James Cuff

242-615, April Shelton 518, Brice

Bohannon 122, Cindy Davis 185, Coty

Carter 697, William Bollinger 249-543,

Julie Daniel 169-414.

Matt Sanchez 201, William Bollinger

204-549, Lupe Flores 240, Ken

Garber 209-549, Nick Garcia 245-627,

Chuck Cox 227-643, Jeff Hamlin 215-

535, Daniel Burnett 235-596, Jonathan

Redfield 248-644, Luther Mayfield Jr.

157-444.

2010 PBA SENIOR SCHEDULE

Aug. 9-12

PBA Senior Lake County Indiana

Open

Olympia Lanes, Hammond, IN

Aug. 14-17

PBA Senior Decatur Open

Spare Time Lanes, Decatur, IL

Aug. 21-24

PBA Senior Jackson Open

Airport Lanes, Jackson, MI

JEFF CATHEY

Continued from Page 1

pro shop and has for years.

Billy Joe gave the PBA

tour a whirl years ago.

"He is the best bowler and

also the best electrician," said

Jeff.

Jeff, as everybody else in

the business, is aware of the

decreasing number of league

bowlers.

He doesn't think youth

bowling is in such bad condition,

and he points out that

senior bowling is doing well.

But he feels the game is

losing customers in between

those groups,

What needs to be done?

"Just keep working," he

said. "Keep looking."

Cathey was asked what he

would do if he had more room

at Red Bird. He said he had

enough lanes right now.

There is one thing he would

really like to see, and that is

for the proprietors to work

together more.

"We don't ever do that any

more, "he said.

THE BOWLING NEWS | Thursday, August 5, 2010 | Page 9

2nd Annual DON HAUK MEMORIAL TOURNAMENT

BRACKETS

September 12th, 2010 @ 10:00am

(Practice at 9:45 am)

SPONSORED BY HOLIDAY BOWL - Lawton, OK

BENEFITTING THE AMERICAN CANCER SOCIETY

Host Hotel - Fairfield Inn (behind Cracker Barrell on Gore & I-44)

OPEN TO MEN/WOMEN - USBC MEMBERS AND NON-EXEMPT PBA MEMBERS

HANDICAP 80% OF 210 AVERAGE

Max Handicap 45 pins per game

(Total prize fund paid on a 1:5 ratio)

1st Place GUARANTEED

$1,500.00

KEGLERS

CASH

League Day of Meeting # Per # of

Name

ADULT LEAGUES

Week Date Time Team Weeks Cost Type

Alcon* Mon. 9/13/10 6:30 PM 4 34 $13 Mixed

Classic High Pot* Mon. 9/13/10 7:00 PM 5 35 $18 Mixed

Happy Hour Tues. 9/7/10 6:30 PM 4 36 $14 Any

Tuesday Tune-Up Tues. 9/7/10 9:00 PM 3 36 $13 Any

Lousy Bowlers Tues. 9/7/10 9:00 PM 2 18 $12 Any

Wed. Warm-Up Wed. 9/1/10 9:30 AM 3 35 $12 Any

Beat the House Wed. 9/1/10 6:45 PM 4 36 $13 Any

Texas Highway* Thurs. 9/9/10 6:30 PM 4 35 $13 Mixed

High Pot w/a Twist* Thurs. 9/9/10 7:00 PM 4 35 $18 Mixed

Kings and Queens Thurs. 9/2/10 9:00 PM 3 35 $13 Mixed

Friday Mixed Friday 9/10/10 7:00 PM 4 36 $15 Mixed

Friday Nite Owls Friday 9/10/10 1:00 AM 3 18 $13 Any

Big Red Sat. 9/11/10 7:10 PM 4 34 $14 Mixed

Longhorn Sunday 9/12/10 5:30 PM 4 35 $13 Any

Sunday Practice Sunday 9/12/10 6:30 PM 4 36 $15 Mixed

BOWL AND GET STUFF

Brunswick Football

LADIES ONLY

Wed. 09/22/10 9:00 PM 3 -- 9.99 Mixed

Westcreek Women Wed. 09/8/10 9:30 AM 4 -- 10.00 Ladies

Bowlerettes Thurs. 09/2/10 9:30 AM 3 -- 10.00 Ladies

SEASONED CITIZENS

Happy Rollers Tues. 09/7/10 1:00 PM 3 -- 10.00 Mixed

Baby Boomers

YOUTH/ADULT

Thurs. 09/9/10 1:00 PM 3 -- 10.00 Mixed

Scholarship League Sat. 09/11/10 3:00 PM 4 -- 12.00 Y/A

Family Cosmic Wii Game Sat. 09/18/10 12:30 PM 2 -- 14.99 Y/A

YOUTH

All Star Bumpers Sat. 09/11/10 10:00 AM 3 -- 8.00/10.00 Youth

All Star Juniors (9-20) Sat. 09/11/10 10:00 AM 3 -- 8.00/10.00 Youth

Cosmic Wii Game League Sat. 09/18/10 12:30 PM 3 -- 9.99 Youth

Brunswick

Westcreek Lanes

3025 Altamesa Blvd., Fort Worth, TX 76133

817-294-0501

(Based on 50 entries)

CALCUTTA STARTS 8:30 A.M.

BIG BOARDS

HIGH GAME

POTS

(Bowling will start following calcutta with lane assignments)

LOCATION: Holiday Bowl, 3140 NW Cache Rd., Lawton, Oklahoma 73505 (580) 353-4471

ENTRY FEE: $125.00 Lineage $ 27.00

Prize Fund $ 65.00

Donation to American Cancer Society - $30.00

Expense Fee $ 3.00

FORMAT: 9 games across 18 lanes moving one pair to the right after each game.

Cut to top 5 for stair-step finals.

In case of a tie a ninth-tenth frame roll-off to determine position.

TOURNAMENT DIRECTORS: Steven & Roseann Hauk (940) 696-2048 (940) 631-9952 (cell)

Rick Jimenez / Renee Johnson (580) 353-4471
---
Page 10 | Thursday, August 5, 2010 | THE BOWLING NEWS

10 YEARS AGO

Pete Moore, long-time editor of The Bowling News and a good

friend of many bowlers, passed away at 80…Christi Daniels had

an 811 in State…Joe Lopez took the EBT stop at DC East…James

Hiam rolled a 725 at Plano SB…Billy Joe Cathey fired a 733 at

Red Bird…Randy Shewmake led the charge at Watauga with a

739…Don Richey was going strong with a 300/791 at Showplace

Garland…Rand McMicken had an 836 at AMF Lewisville.

20 YEARS AGO

On BJ's All-American men's team were Amleto Monacelli,

Chris Warren, Tony Westlake, Brian Voss and Jim Pencak. Included

on the women's team were Nikki Gianulius, Kim Terrell,

Lisa Wagner, Leanne Barrette and Robin Romeo…Chuck Mooney

fired a 717 at Hart…Marvin Miller took the Cash at Forum…Jim

Ensminger sailed to a 759 at Ridglea.

30 YEARS AGO

Jim Hutton soared to an 801 at Forum…Charlie Creech hit

801 at Hart…Ryall Jones carved a 759 at Circle…Wes Campbell

rolled a 770 at DC East…Bill Kovaks led the Expressway bunch

with a 631…Jack Whitmer rolled a 716 at /Wedgwood.

EBONITE SASBA TOUR

2010 SCHEDULE

Aug. 7-8 Diamond Lanes (Over 60/Over 50/Guest Trio) Odessa, TX

Aug. 21-22 300 Bowl (Singles) Conroe, TX

Aug. 28-29 All Star Lanes (Singles) Shreveport, LA

Sept. 4-5 Holiday Lanes (Labor Day Blowout) Oklahoma City, OK

Sept. 18-19 All Star Lanes (Member/Guest Doubles) Shreveport, LA

Sept. 25-26** Cowtown Bowling Palace, (Over 70/Over 60 Dbls.) Fort Worth, TX

Oct. 2-3** AMF Showplace Euless (Annual Championship) Euless, TX

Oct. 16-17 Oil Bowl (Member/Guest Doubles) Longview, TX

Nov. 6-7 Plano Super Bowl (4-man Team) Plano, TX

Nov. 13-14 Del Mar Lanes (Singles) Houston, TX

Dec. 4-5 Cityview (Age Bracket Tourney) Fort Worth, TX

Dec. 18-19 Plano Super Bowl (Annual Team) Plano, TX

** Changed location or correction

Bowl Your

Head Off

Sunday through Thursday

9 PM to Close

$2.29 + tax per Game per Person

$1.00 Each Shoe Rental, Small

Popcorn, Hot Dog and Small Soda

plus Draft Beer Specials!

Watauga

7301 Rufe Snow Drive, Watauga, TX 76148

817-485-2695

Hamilton takes silver in

girls singles at World

Youth Chamionshps

HELSINKI, FINLAND

— Junior Team USA's Brittni

Hamilton of Webster, N.Y.,

earned the silver medal in girls

singles July 25 in the opening

event at the 2010 World Tenpin

Bowling Association World

Youth Championships.

Hamilton's silver-medal

finish was the highest in any

event at the World Youth

Championships for the Junior

Team USA girls since 2004. The

three-time Junior Team USA

member lost in the gold-medal

match to Korea's Yeon-Ju Kim,

192-155.

Yeon-Ju raced out to a

commanding lead in the match,

taking a 65-pin advantage after

six frames and rolled to the

title with ease at Tali Bowl.

"I had a couple of shots

early that I thought were good

that just didn't react like I

thought they would and it cost

me," Hamilton said. "I kind of

got lost in the beginning of the

match, but I'm not disappointed

at all. I know that medaling at

all is a big accomplishment."

Hamilton advanced to the

semifinals with a thrilling

overtime victory against top

seed Carmen Haandrikman of

the Netherlands. Haandrikman

needed just seven pins on her

final shot to eliminate Hamil-

At AMF Showplace Euless

Hendrix scorches 832,

Walker rocks 298/695

Warms bags 299/820

Rob Hendrix dominated scoring

for the week at AMF Showplace

Euless with his award-winning

268-268-296 = 832 Full

House league session.

Kelly Warms took high-game

honors and finished close behind

Hendrix with his own USBC

299/820 Matchpoint Mixed honor

score.

Lindsey Walker, Warms'

leaguemate, rounded up the top

score for the ladies with a rousing

At Brunswick Zone Watauga

Bolejack nails down 774,

Dooley plasters 650

Paradise aces 300 game

Jonathan Bolejack racked up a

rollicking 774 series in Thursday

Mixed action to take top billing

on the honor roll for the week at

Brunswick Zone Watauga.

Josh Paradise nailed down

high-game honors with an awardwinning

perfecto.

Sandy Dooley, from the Mix It

Up group, rolled a sterling 650 set

to lead the lady bowlers.

LEAGUE LEADERS

Kathy Gaca 247, Gary Anderson

729, Kathy Gaca 572, Jim Litton 722,

Tina Wright 543, Tommy Winchester

ton but got six and the two tied

188-188. In the ninth and 10th

frame roll-off, Hamilton was

perfect and won 60-40 to move

on.

In the other semifinal, Yeon-

Ju advanced with a 214-204

victory against Latvia's Diana

Zavjalova.

Haandrikman and Zavjalova

shared the bronze medal.

675, Lisa Groschup 495.

Allen Zimmerman 728, Donna

Estrada 615, Jay Contreras 565, Ricky

Carr 686, Linda Taggart 572, Coralla

Dillard 495, Ken Fridley 640, Kerry

Rusk 535.

Tom Crawford (PBA Experience,

4 games) 862, Kitty Bullington (PBA

Experience, 4 games) 707, Joe Grace

690, Margaret Hull 513, Ross Dicapo

669, Julie McHugh 606.

SENIORS

Bob Rossini 598, Brenda Jessup 498,

Tom Martin 691, Cathy Holland 587.

MAKE YOUR AD STAND OUT!

Spot and Full Color is available

Call us for

more

information.

817-267-8686

Our 54th Year

The four players in the

semifinals led a field of 107

girls after six games of qualifying.

Hamilton finished tied for

third in qualifying with 1,320,

an average of 220, but was the

fourth seed for the semifinals

by virtue of Zavjalova having

a higher final game of

qualifying.

Junior Team USA's Kristie

Petravich finished seventh with

1,273, Jenn Boisselle was 11th

at 1,265 and Christine Bator

was 34th with 1,195.

"I think today sets the tone

and gives us a good start to the

tournament," Hamilton said.

"This fuels everyone on the

team and gets them pumped up

for the rest of the week."

298-202-195 = 695 set. Her 298

game took runner-up kudos.

LEAGUE LEADERS

George Carlson 277-727, Eddie

Thomas 279-716, Keith Davis 701,

Kirk Eady 268-698, Jim Hollinsworth

258-654, Mando Rodriguez 231-630.

Wynn Johnson 224-584, Mike

Santangelo 198-542, Jim Yoo 180-491,

Dorothea Wilson 236-682, Lisa Steele

255-662, Jackie Ruis 237-640, Miki Jo

Parish 230-607.

Anna Jutson 211-583, Lori Smith

208-563, Jo Russell 190-548, Carol

Sturgill 175-497, Annjie Barton 164-

451, Barbara Lanius 133-360.

SENIORS

Morris McPeters 216-597, Hoss

Morgan 213-596, Alma Miles 171-443,

Rhonda Riese 155-429.

KOREA

Continued from Page 8

ships, the United States came

away with five total medals in

Helsinki.

The Americans earned

gold medals in boys doubles

(Andrew Koff and Craig

Hanson) and boys all-events

(Koff), while also taking silver

medals in boys doubles (Devin

Bidwell and Jake Peters), boys

team and girls singles (Brittni

Hamilton).

A field of 46 countries

competed in the World Youth

Championships for medals in

five events - singles, doubles,

team, all-events and Masters

match-play. Visit BOWL.com

for complete coverage of the

event.
---
Adkins wins first

Ebonite SASBA title at

Cityview Lanes

Danny Adkins won the tiebreaker

to take the last spot in

the finals. And, after averaging

250, he took over the lead with

one game to go, winning seven

of eight matches.

Adkins went on to win the

Non-Champions tournament at

Cityview Lanes July 24-25 and

the $1,000 first-place prize.

Seventy-four year old Albert

Leo Erne passes away

Leo Erne

Long-time area bowler, Leo

Erne, 78, passed away July 27.

Erne was a member of the

USBC and worked for James

Askins, running the Strike

Zone Pro Shop at Cowtown

Bowling Palace in River Oaks.

Waites led from game one

through game six and finished

in second-place. Waites collected

$800.

Leon Aragon ended in third

for $700, while Mike Lynch

took fourth and $600.

Mark Saale rounded out the

top five, winning $550.

Other finalists included: 6.

James Dougherty $500, 7. Clar-

He previously worked for Otis

Pillow in his pro shop.

He retired from Lockheed

Martin in the early 1990s

where he was a machinist.

Erne was preceded in death

by his wife of 30 years, Marie.

Survivors are: daughters,

Audrey Wood and husband,

Lawton, OK, and Velann

Duarte; son, David McLeod;

stepdaughters, Lois A. Hulsey,

Billie Jean Hammack and husband,

Jeffrey, Venita Dill and

husband, Jack, and Danielle

Sharpe-McFarland; sister, Lucille

Forgie; 24 grandchildren

and four great-grandchildren.

A memorial service in being

held Monday, Aug. 2 at 3:30

p.m. at Mount Olivet Funeral

Home.

At Cowtown Bowling Palace

Hughes rounds up 794,

Tice topples 710

Daniel Hughes' exceptional

257-279-258 = 794 Ladies &

Gents session topped the charts

for the week at Cowtown Bowling

Palace.

Melissa Tice led the ladies

with a sky-high 296/710 Wednesday

Winners set.

COWTOWN HIGHS

Michael Williams 258-596, Alice

Cain 180-513, Duane Skinner 234-655,

Andrea Espinoza 185, Amanda Treece

182-481, Charles Cortes 249-638,

Tiffany Buttrill 156, Chris Morgan

246-660.

Ryan Burns 226, Rahcel Cantu

480, Leon Aragon 279-735, Sal Grieco

255-746, Jim Lucas 252, Chris Holliday

735, William Brewer 722, Steve Baker

274, Chris Morgan 255-684, Amy Hart

228-616.

Jeremy Cozart 257-678, Pam

Candler 217-620, Joe LeCroy (4 games)

279-1026, Blane Adkins (4 games) 279-

926, Lydia Mills 237-597, Paul Parker

(4 games) 279-962, Amy Hart 225-615,

Laurie Brewer 208.

Mark Kirkland 227-612, Melody

Hook 180, Ronnie Medearis 214-620,

Brian Wallace 276-708, Jamie Hines

224-614, David Pruitt 256-707, Amy

Hart 223-610, Brian Cope 268-660.

SENIORS

John Ferrell 257, Jewell Elliott

202, John Hunt 233-608, Diane Fleck

143-491, Jerry Densmore 593, Johnnie

Palmeiro 514, John Ferrell 214-606,

Betty Odom 203-548, Norman Huitt

211-562, Millie Griggs 204-522.

It's time

to be thinking

about Fall

Leagues

Call your local center

now to sign up

ence McQueen, $450, 8. Leon

Schon, $400; 9. Greg Benefield,

$380; 10. Jesse Casteneda,

$360; 11. Sam Magill, $340;

12. Mike Garcia $320; 13. Steve

Hart, $300; 14. Roy Chesbro,

$270; 15. Darrell Coats, $270;

16. Steve Sherrell, $250; 17.

Bill Ferguson, $240; 18. Russ

Caples, $230; 19. Dick Pfeil,

$225; 20. Jerry Eddy, $220.

Coats, Casteneda, Roger

Parish and Sal Grieco all fired

perfectos. Multiple 299s were

rolled.

Other cashers were: 21.

Rob Pohlman, $200; 22. Bert

Morrison, $197; 23. Dorin

White, $194; 24. Levon West,

$192; 25. Gordon Stuntz, $190;

26. Robert Dunaway, $189; 27.

Bruce Michaelson, $188; 28.

Tim Miller, $187; 29. Warren

Blankenship, $186; 30. Boyce

Lewis, $185.

High Super Senior (non-cash)

Don Cote, Mac McCloughan,

Fred Van Haasen, George

Barnes, Mike Monticue, Roger

Parish, Victor Norton, $180

each.

High Sunday Block (non-cash)

Troy Schanne, $150; Clint

Austin, $120.

THE BOWLING NEWS | Thursday, August 5, 2010 | Page 11

SUNDAY AUGUST 15

Check-In 12:30, Bowl 1 PM

Bowl 8 games across 16 lanes

$ 750 1st Place

(Based on 30 entries)

2010 EBONITE

SASBA TOUR

Cityview Lanes, Ft. Worth, TX

July 24-25, 2010

BOWLERS EARNINGS

1 Daniel Adkins $1,000.00

2 Albert Waites (SS) $800.00

3 Leon Aragon (SS) $700.00

4 Mike Lynch (SS) $600.00

5 Mark Saale $550.00

6 James Dougherty $500.00

7 Clarence McQueen $450.00

8 Leon Schon (SS) $400.00

9 Greg Benefield $380.00

10 Jesse Casteneda $360.00

11 Sam Magill (SS) $340.00

12 Mike Garcia $320.00

13 Steve Hart (SS) $300.00

14 Roy Chesbro (SS) $270.00

15 Darrell Coats $270.00

16 Steve Sherrell $250.00

$80 Entry Fee

Prize fund

returned 100%

$100 for High Non-cashing Senior

BRACKETS & HIGH POTS AVAILABLE

For more information contact Tony Schronce or Jamie Brooks

817-624-2151

4333 River Oaks Blvd., Fort Worth, TX 76114
---
Page 12 | Thursday, August 5, 2010 | THE BOWLING NEWS

28th Texas Firefighter

Olympics concludes with

bowling medals awarded

By Tyson Branagan

Staff Writer

On July 18-23, firefighters

from all over the state converged

on Lewisville for the

28th annual Texas Firefighter

Olympics.

The three days of competition

was held at AMF Lewisville

Lanes.

Bowling, which has been on

the Olympic schedule each of

3rd Annual

Mixed Seniors Challenge

Presented by LakePlex Lanes

August 22-23

HANDICAP OPEN TOURNAMENT

50 Years and Older, 4-person Team, Doubles and Singles

(Call for full rules and more information)

$500 GUARANTEED FOR FIRST PLACE TEAM,

$250 FIRST PLACE DOUBLES and,

$125 FIRST PLACE SINGLES!

(Based on 20 entries)

USBC Certifi ed Handicap 90% of 220

Entry Fee: $20 Per Event (Team $20, Doubles $20,

Brackets &

High Pots

Singles $20, Total $60)

games began.

The next morning, the

actual competition began

with a near full house of 160

competing in singles over five

different divisions, separated

by averages.

All bowlers bowled three

scratch games, then each

division cut to a top five for a

stepladder finals to determine

medal winners later in the day

Participants in the Texas Firefighter Olympics.

the 28 years, was directed by

retired firefighter Moe Macias

out of San Antonio, who is the

fourth director of the bowling

competition.

Bowlers competed for gold,

silver and bronze medals in

three separate events, team,

singles and doubles. In addition,

medals were also awarded

in each division for the nine

game all-events totals.

The festivities kicked off on

Sunday evening the 18th with

Scotch doubles for athletes

wishing to get in a little fun

competition before the real

after a lunch break and the

doubles competition. It also

consisting of three games and a

cut to a stepladder finals.

The third and final day of

bowling competition consisted

of the team event, comprised

of five members, also separated

into five average divisions.

After three games of team

by all 32 teams in attendance,

each division was cut to the top

four for the stepladder finals to

determine the medal winners.

The tournament is about

more than just firefighters

coming together to bowl

OPTIONAL SIDE EVENTS: All

Events ($5.00 entry)

WALK-INS

WELCOMED

Lakeplex Lanes

Where Family fun Is Fun and Affordable!

321 Veterans Lane -Seven Points, TX.

903-432-4094

against one another for medals.

The event was about the

gathering of friends statewide

who have shared a profession,

current and retired, and being

able to step away for a few days

from the stresses that their

careers entail.

"It's a once a year family

reunion for us," said Macias on

the event. "We are a very close

knit brotherhood/sisterhood."

For the bowlers and their

families, the once-a-year event

is all about getting together,

sharing stories of the past

year and about their lives in

general, and just having a great

time and enjoying some good,

clean competition.

"It's about the competing,

the camaraderie, and time

together," added Macias. "It's

great because in our profession,

you could be here today, gone

tomorrow."

In all, 60 medals were

awarded to the bowlers over

the two-plus days of competition,

with some standout

multi medalists headlining the

winners.

Randy Cockrell of Houston

was the big winner in division

A, medaling in all four events,

including gold in team and

singles, and bronze in doubles

and all-events.

Event director Macias took

home three silver medals in

team, doubles and all-events.

Cockrell's teammate Lee

Lorts of Houston also was a

two-time medalist with gold in

team and all-events.

In division B, Mike Faulkenberry

of Dallas also medaled

in all four events, with gold in

doubles, singles, and all-events,

and a bronze in team.

Trey Frazier of Fort Worth

took home three medals, with

silver medals in team and

all-events, and a gold medal

in the division C doubles with

teammate Scott Cole.

Division C was headlined by

a few different bowlers during

the competition. Jerome Gibson

of Fort Worth won three medals,

with gold in all-events, and

bronze medals in doubles and

team.

Kerry Thomas of Plano, who

bowls multiple leagues at AMF

Lewisville, also won three

medals, taking home silver in

singles, doubles and all-events.

Chuck Sawers of San Antonio

also medaled three times,

with bronze in team, singles

and doubles.

Joe Crowder and Trey Clifton

were the big winners and

divisions D and E, respectively,

taking home four medals each.

Crowder won team and allevent's

gold, and singles and

England takes boys

singles gold at World

Youth Championships

HELSINKI, FINLAND

— Adam Cairns of England

snuck into the semifinals as the

fourth seed and went on to win

the boys singles gold medal

July 26 at the 2010 World

Tenpin Bowling Association

World Youth Championships.

Cairns defeated Australia's

Sam Cooley, 210-139, to claim

the title at Tali Bowl. For the

United States, Andrew Koff of

Miami was the high finisher,

taking ninth place.

In the championship match,

Cairns raced out to an early

lead and never looked back to

give England its seventh gold

medal in the 11th World Youth

At AMF Spare Time

Grigsby garners 774,

Joyner jams 611

Robert Grigsby locked up the

top score of the week at AMF

Spare Time Lanes with a powerpacked

280-256-238 = 774 STL

VIP's series.

Maria Joyner led the ladies

with a stately 187-168-256 = 611

Sundowners set.

HONOR ROLL

Reese Howard 179, Gayle Brice

Championships.

Cairns advanced to the goldmedal

match by defeating top

seed Jong-Woo Park of Korea,

246-214.

Cooley knocked off Canadian

Francois Lavoie, 211-158,

in the other semifinal.

After six games of qualifying,

Cairns was tied for fourth

place with Christian Birlinger

of Germany at 1,343 and

advanced to the semifinals by

virtue of a 233-159 edge in the

final game of qualifying. Jong-

Woo led qualifying with 1,447,

an average of 241.2, but settled

for a bronze medal along with

Lavoie.

453, Roy Jackson Sr. 238, Kara Congi

214-550, Deon Carson Sr. 605, Greg Coy

278-686, Chrissy Partin 188, Stephanie

Sgro 492.

Leroy Willis Jr. 255-686, Katie

Burman 164, Linda Harrell 425, Robert

Grigsby 288, Bob Costabile 709, James

Wilson 258, Ron Edwards 716, Pete

Martinez 194-540, Brenda Edwards

117-317.

doubles silver medals. Clifton

won singles and all-events

gold, and team and doubles

bronze.

Skyler Ainesworth, Clifton's

Fort Worth teammate, rounded

out some of the big winners,

with bronze medals in team,

singles and all-events.

It was another highly successful

year for the competitors

of the Texas Firefighter Olympics

in the bowling events.

The city of Lewisville and

AMF Lewisville, in particular,

played a big role in making

that possible.

"Things were great because

of the city of Lewisville. There

was so much for everyone

and their families to do," said

Macias. "Smaller cities are

tough because there is little to

do outside of the competition

venues."

"The bowling center was

great," Macias added. "Jeremiah,

general manager, and

his staff did a fantastic job and

took great care of us."

The 29th Texas Firefighter

Olympics is set to be held in

July 17-22, 2011 in Round

Rock, and firefighters statewide

will get another chance to get

together for some good fun

competition and a new chance

at bragging rights.

For the United States,

Andrew Koff shot 1,308, an

average of 218, and settled

for a top-10 finish in his first

appearance at the World Youth

Championships. The 18-yearold

opened with games of 203,

220 and 182 before hitting his

stride and finishing with 248,

220 and 235.

"I started the first couple

games really fast because

this is a big tournament and

I wanted to do my best; I lost

sight of things," Koff said. "The

last three games, I calmed

down and felt like I threw it

really well.

I'm looking forward to the

remaining games we have in

the tournament."

Craig Hanson finished 14th

for the United States with

1,296. Devin Bidwell was 77th

with 1,148, and Jacob Peters

took 78th with 1,145.

Syimir Abdul Razak of

Malaysia had the tournament's

first 300 game in the final

game of his qualifying block.

Razak finished in 48th place

with 1,216.

"The quickest

and best way to

reach people in

bowling–"

P.O. Box 1642, Colleyville, TX 76034

Phone 817-267-8686

Fax 817-267-1813
---
THE BOWLING NEWS | Thursday, August 5, 2010 | Page 13
---
Page 14 | Thursday, August 5, 2010 | THE BOWLING NEWS

Sponsored by

Southwest-Area USBC Youth Scores

Cooper Buchholz headed

the Southwest-area USBC youth

bowling last week with an

thundering 299-223-255 = 777

Adult/Youth Pizza A youth session

at West Acres Bowl.

Morgan Kuckelman, Buchholz'

leaguemate, paced the girls

with a thundering 258-223-255

= 726 JOMA Youth Scratch

Travel set.

Other Southwest-area

scores:

At Bandera Super Bowl, San

Antonio — Justin Molina 245-686,

Heather McCann 234-577.

At Killeen Bowlerama, Killeen

— Steven Smith 213-538, Molly Maxson

210-525, Alyssa Smith 103-268, Remington

Smith 177-477, Erika Schaffer

111-289, Dustin Gatliff 213-596, Ariana

Charles 205-519, Kyle Brown 245-562,

Kristi Connell 183-517.

At Interstate, Round Rock — Zach

Simon 235-531, Alex Sumruld 212-

660, Jackson Drawbaugh 207-528,

Tatum Holder 215-499, Charlie Buxton

178-527, Rachel Wise 171-433, Lyle

Thompson 127-362, Naihla Temple

135-398, Raymond Thompson 137-357,

Caitlin Hall 123-317.

At Mel's Lone Star Lanes, Georgetown

— Heath Fletcher 232-569,

Samantha Borst 184-444, Chad Barner

246-624, Paige Beeney 24-533, Derek

guajardo 110-310, Kira Hamman 130-

344, Dylan Staton 234-557, Samantha

Borst 198-500, Nathan Stafford 112-220,

Jaelle Hamman 99-151, Heather Mc-

Cann 234-577.

At Hallmark, Killeen — Angel

Morales 234-632, Rechanalee Lockett

201-549, James Foulkes 235-639, Ashley

Shannon 193, Rechanale Lockett 525,

Angel Morales 213-542, Rechanale

Lockett 187-544, Jacob Newell 197,

James Foulkes 525, Kaneysha Black

222-603.

At Tenpins & More, Rio Rancho,

NM — Meghan Upton 158-379, Jacob

Wright 243-574, Matthew Helmick

237-589, Ryan Scheer 256-718.

At Fiesta, New Braunfels — Marshal

Morrison 269-689, Denise Herfurth

209, Jake Herman 266-702, Courtney

Morgan 206-602, Phillip Williams

237-559, Beth Rock 201, Devon Rust

257-619, Megan Knetsch 169, Phillip

Williams 220-529, Rhanessa Roberts

165, Matty Martinez 158, A.J. Sherinian

195, Emily Foster 208, Brad Edwards

220, Samantha Lewis 218.

At All Star Bowl, Ennis — Dylan

Macon 225-569, Lauren Newman

169-444, A.J. Slovak 92-239, Caitlyn

Chapman 107-303, Austin Midkiff

189-502, Joshua Brickey 106-277, Todd

Smith 193-512, Jeff Baum 179-454,

Joshua Heady 178-498.

At Corsicana Super Bowl, Corsicana

— PeyPey Pruett 383, Mathew

Crawford 343, Jacob 118-310, Maria

76-164.

At Big Spring Bowl-a-Rama, Big

Spring — Cole Schroyer 204-446,

Richie Ewing 237, Kenneth Harris

227.

At West Acres Bowl, Wichita, KS

— Leela Yahya 236-651, Taylor Kenneford

194-503, Kacey Collins 145-408,

Preston Seiler 123-344, Alyssa Tucker

124-341, Jamel Gunther 220-577, Anna

Bohr 214-528, Luke Ewertz 153-428,

Hannah Jurgesen 101-279, Austin

Robichaux 214-584, Abbie Roth 116-

318, Tyler Newman 267-698, Brandon

Kraus 248-527, Abbey Jacobs 144-417,

Patrick Dimitt 236-629, Cheyenne Esser

165-443, Dallas Bishop 96-191, Logan

Talbot 175-296, Jennifer Lyle 138-231,

Grayson Graham 130-234, Courtney

Clayton 66-111, Braden Master 66-131,

Crystal Hendrix 70-117, Jack Barnes 92-

178, Sawyer Fabr 99, Grace Gibbs 101,

Joey Bergeson 81, Hannah Soderstrom

73, Chance Miller 93, Olivia Barnes 80,

A.J. Nowak (4 games) 257-940, Leela

Yahya 196.

Dallas USBC Youth Scores

Matthew Korn headed the Dallas-area

USBC youth bowling last

week with a big 279-206-194 =

679 Showstoppers series at Plano

Super Bowl.

Brianne Hansen, Korn's

leaguemate, paced the girls

with a superb 220-221-205 =

646 set.

Other Dallas-area scores:

At Plano — Spencer Brandon 115-

325, Jasmine Cintora 44-118, Junior

Cruz 142-411, Jonathan Schneider

171-483, Katie Thompson 104-299,

Parker Daniels 118-332, Emmy Epperly

84-211, Alec Selinsky 237-582, Ashley

Hansen 221-573, Kevin Blake 256-677,

Alex Schmieg 210-605, James Payne

193-467, Hailey Keister 134-328, Trevor

Hilving 184-480, Christie Draper 140-

399, Jimbo Land 240-382, Jennifer

Sims 204-542, Nikki Franda 189-502,

Shana Geerdes 177-499, Hunter Harty

216-598, Jennifer Sims 190-491, Jayden

It's time to be

thinking about

Fall Leagues

Call or check with your local center now to sign up

Norman 111-315, Kaylea Norman

169-412, (Sport, 4 games – Allister

Rutledge 203-682, Melanie Crawford

149-555, Ryan Schmieg 204-686, Jessie

McCusker 203-732, Shaun Belcher 226-

766, Houston Granger 233-808).

At USA Bowl — Mike Loreing

215-478, Kim Feltis 157-409, Bill

Shirley 162-466, Linda Foote 145-336,

Fred Cobb 141-378, Mary Jo Wilmoth

131-366, Mark Garibay 200-572, Mikala

Kewns 210-520, Joe Garibay 178-518,

Nina Castillo 105-238, Daniel Castillo

125-303, Sara Griffin 73-236.

At Red Bird — Clayton Dickerson

219-572, Makensie Martin 212-555,

Raul Bautista 59, Damon Green 154-

406, Susan Bush 95-270, Christopher

McCaleb 188-496, Zach Bechdol

189-496, Stephan McCaleb 181-455,

Kendall Jackson 193-496, David Green

192-321, Matthew Ruiz 113-194, Lola

Rodriguez 98-188.

At AMF Showplace Garland

— Dakota Boyette 236-634, Darian

Moore 177-475, Mikayla Trammell

96-189, Martin Montes 199-536, Chelsea

Bell 160-431.

At Rowlett Bowl-a-Rama — Colton

Enable 113-206, Ashley Eickelman

93-168, Zach Plagens 126-363, Madison

Fowlkes 97-245, William Plagens 193-

497, Toniya Smith 102-218.

BOYS

Cooper Buchholz, West Acres Bowl ..................... 777

Zac Melman, AMF Showplace Euless ................... 721

Ryan Scheer, Tenpins & More ............................... 718

Jake Herman, Fiesta Lanes ................................... 702

Justin Molina, Bandera Super Bowl ..................... 686

Matthew Korn, Plano .............................................. 679

Justin Blankenship, Brunswick Zone Watauga .... 652

James Foulkes, Hallmark ...................................... 639

Dakota Boyette, AMF Showplace Garland ........... 634

Chad Barner, Mel's Lone Star Lanes .................... 624

Dustin Gatliff, Killeen Bowlerama ......................... 596

Chandler Kitsch, Cowtown .................................... 589

Cooper Cox, Brunswick Westcreek ...................... 587

Clayton Dickerson, Red Bird ................................. 572

Marc Garibay, USA Bowl........................................ 572

Dylan Macon, All Star Bowl ................................... 569

Zach Simon, Interstate ........................................... 531

William Plagens, Rowlett Bowl-a-Rama ................ 497

Cole Schroyer, Big Spring Bowl-a-Rama .............. 446

PeyPey Pruett, Corsicana Super Bowl ................. 383

GIRLS

Morgan Kuckelman, West Acres Bowl .................. 726

Brianne Hansen, Plano .......................................... 646

Kaneysha Black, Hallmark ..................................... 603

Courtney Morgan, Fiesta Lanes ............................ 602

Kristina Hill, AMF Showplace Euless .................... 590

Megan Bentham, Brunswick Zone Watauga ......... 589

Katie Tallant, Cowtown........................................... 585

Heather McCann, Bandera Super Bowl ................ 577

Makensie Martin, Red Bird .................................... 555

Alex Sumruld, Interstate ........................................ 550

Paige Beeney, Mel's Lone Star Lanes .................. 533

Molly Maxson, Killeen Bowlerama ........................ 525

Mikala Kewns, USA Bowl ....................................... 520

Katelyn George, Brunswick Westcreek ................ 499

Darian Moore, AMF Showplace Garland .............. 475

Lauren Newman, All Star Bowl .............................. 444

Meghan Upton, Tenpins & More ............................ 379

Madison Fowlkes, Rowlett Bowl-a-Rama ............. 245

YOUTH TOURNAMENT SCHEDULE

Aug. 7-8 — Grand Prix State Finals, Mel's Lone Star Lanes, Georgetown

If you have upcoming youth tournaments you would like listed

on the schedule, contact The Bowling News at 817-267-8686, fax:

(817-267-1813) or email: bowlingnews@sbcglobal.net.

Fort Worth USBC Youth Results

Zac Melman led the Fort

Worth-area USBC youth bowling

last week with a booming

278/721 Final Destination series

at AMF Showplace Euless.

Kristina Hill, Melman's

leaguemate, paced the ladies with

a tidy 229/590 PBA set.

Other Fort Worth-area

scores:

At Cowtown — Roddy Douthit

102-198, A.J. McFarland 166-445, Katie

Tallant 202-560, Daniel Allen 162,

Zachary Moore 159, Matt Cranfill 212-

549, Anthony Gann 560, Justin Lindsey

243-515, Katie Tallant 208-577, Jeremy

Petosa 201-548, Olivia Lindsey 170-451,

Andrew Tesar 134, Chandler Kitsch

212-589, Katie Tallant 225/585.

At AMF Showplace Euless — Major

Whisenton Jr. 207-552, Alex Scotch

180-463, Caleb Palmer 127-341, Deidra

Juetten 246-586, Destiny Velez 193-560,

Jessica Joplin 104-267.

At Brunswick Westcreek — Lee

Garcia 104-303, Rachel Garber 91-220,

Jay Garcia 159-402, Gabe Conover

149, Aveion Walker 101, Deion Lewis

146, Becky tharp 136, Katie Davis 140,

Alex Grogan 193-514, Katie Hamlin

126-350, Kamari Wine 178-431, Keith

Searle 149-383, Wesley Searle 180-480,

Thomas Manning 174-457, Daniel

Jones 150-401, Chris Jones 206-508,

Courtney Cotton 140-438, Chandler

Mayfield 126-371.

At Brunswick Zone Watauga

— John C. Roberts 358, Bayleigh

Padron 365, Jeff Bayer 555, Claudia

Roberts 422, Justin Blankenship 652,

Megan Bentham 589, J. Wayne Holt

440, Claudia Roberts 464, Micah

McCracken 640, Kyra Zink 426, Justin

Blankenship (4 games) 728, Megan

Bentham (4 games) 652.
---
Hattori and O'Brien win Teen Masters

high school division titles

RENO, NV — Zack Hattori

of Las Vegas and Morgan

O'Brien of Lomira, WI, won

the high school boys and girls

titles in the 14th annual Teen

Masters at the National Bowling

Stadium July 29.

Hattori won a $4,000

scholarship as high school

boys winner while McKenzie

Eaton of Wyoming, MI, earned

$2,000 as runner-up. O'Brien

won a $3,000 scholarship and

Kaylee Magazine of Clearwater,

FL, $1,500 as high school girls

champion and runner-up,

respectively.

Hattori, who will be a senior

at Silverado High School in Las

Vegas this fall, defeated Eaton,

4-2 (167-197, 236-216, 208-204,

209-187, 229-248, 234-203) in

the best-of-seven-game championship

match.

"I had a good line but the

first game I wasn't executing

really well," said Hattori, in his

fourth Teen Masters. "It was

hard for me to double because I

couldn't get the left lane down

(long pattern.) I switched balls

and got in more so that's when

I started making good shots

and it started to come together.

"I didn't know much about

McKenzie coming into this

week but we were rooting for

each other in the championship

match and I just happened to

come out on top."

O'Brien, who will be a

senior at St. Marys Springs

high school this fall, took

advantage of an open frame by

Magazine in the 10th frame

of game seven to win the girls

championship match, 4-3 (187-

211, 158-193, 169-163, 221-180,

216-186, 193-194, 181-175).

O'Brien had a spare and strike

in the 10th to clinch the final

game.

"She had me in the first

two games," said O'Brien in

her third Teen Masters. "After

that, I made an adjustment and

a ball change and that made a

big difference. I also saw how

she was playing and I decided

to adjust to use her line.

"My coaches told me to not

focus on beating my opponent

but beating the pins so that's

what I did but my heart was

still beating out of my chest."

In the 14-under division, 14year-old

Greg Young of Viera,

FL, captured the boys title with

a 3-1 victory (202-194, 200-

219, 226-203, 188-184) in the

best-of-five-game championship

match over Jeffrey Juarez of

East Meadow, NY, to win a

$1,200 scholarship. Juarez won

$1,000.

"I did not want to go into

game five," said Young, bowling

in his first Teen Masters.

" I was struggling on the

long pattern and the ball was

checking up. I had some nerves

and was glad to win it in game

four."

In the girls 14-under title

match, 13-year-old Ashley

Dunn of Palmdale, CA, defeated

Chevelle Holstein of Sparks,

NV, 3-1 (191-171, 224-158,

135-199, 195-146) for a $1,000

scholarship. Holstein won $700

for second place.

"I'm very excited," Dunn

said. I got more confident as

the week went on and that

helped me. In the last match I

had to switch my ball on the

long pattern and move left on

the short pattern and those

moves got me to the pocket and

get more carry."

In addition to competing

for scholarship prizes, Teen

Masters champions O'Brien

and Hattori will join Danielle

McEwan, Rockland, NY, and

Mike Fujita, El Sobrante, CA,

from the Collegiate Masters in

receiving invitations to bowl

alongside the best bowlers

in the world in the 2010 PBA

World Series of Bowling, Oct.

24-Nov. 6, at South Point Bowling

Center in Las Vegas.

The Teen Masters was

created by Gary Beck, founder

of Killer B Promotions, in 1997

and has provided young bowlers

with more than $1 million

in scholarships over a span of

14 years.

Southwest-area Youth

Boys: Jimmy Ewell, Austin,

Lance Ragland, Sunnyvale,

eliminated Round of 8. Taylor

Coggins, Burleson. eliminated

Round of 16.

Girls: Tara Lopez, Plano,

eliminated Round of 8. Melanie

Crawford, Allen, Kimi Davidson,

Azle, eliminated Round

of 16.

Junior Team USA wins gold, silver in Boys

Doubles at World Youth Championships

HELSINKI, FINLAND — The

United States boys doubles

teams earned the gold and

silver medals July 28 at the

2010 World Tenpin Bowling

Association World Youth

Championships.

Junior Team USA's Craig

Hanson and Andrew Koff won

the gold medal by defeating

teammates Devin Bidwell and

Jake Peters, 428-426, in the

championship match at Tali

Bowl. Hanson shot 227 and

Koff had 201, while Bidwell

shot 222 and Peters fired 204.

The United States is the only

country in the history of the

event to win both the gold and

silver in the same year. It last

happened in 1988 in Manila,

Philippines, when the event

was known as the International

Youth Championships.

"It was really relaxing, and

we were just having fun out

there doing our best," Koff said.

"We got both medals, that's

what we were out here for."

In the gold-medal match,

Bidwell and Peters looked like

they would be on their way to

the title, leading by more than

50 pins at the halfway point.

But Hanson finished with six

consecutive strikes and then

Koff doubled in the 10th to give

them the gold.

"We never let ourselves get

out of it mentally," Hanson

said. "We talked to each other

and said that we needed to

have a strong last half, make a

good ball change, make good

shots and hopefully that would

get us the gold."

Even though they were

bowling their teammates,

Bidwell said both doubles

teams wanted to come out on

top.

"Of course we wanted to

win as a team, but it was still

a doubles event, so we wanted

to win it just as bad as they

did," Bidwell said. "It's really

cool to have both teams on

top, though, and this gives us

momentum heading into the

team event."

In the semifinals, Hanson

shot 182 and Koff had 198 as

they took down top seed Korea,

380-363. Ju-Young Kim shot

185, while Seung-Hyeon Shin

had 178 for Korea.

Bidwell fired 194, while

Peters had 192 as they knocked

off Malaysia, 386-343. Aris

Ardilla had 174, and Syimir

Razak shot 169 for Malaysia.

We are

always

looking

for human

interest story

ideas—let us

know

P.O. Box 1642, Colleyville, TX 76034

Phone 817-267-8686

Fax 817-267-1813

THE BOWLING NEWS | Thursday, August 5, 2010 | Page 15

Sponsored by

Bowling Novelties at

bowlinggift.com

Columbians take girls

doubles gold at World

Youth Championships

HELSINKI, FINLAND — A

pair of Colombian bowlers

who compete collegiately in

the United States won the girls

doubles gold medal Tuesday at

the 2010 World Tenpin Bowling

Association World Youth

Championships.

Colombia's Laura Fonnegra

and Maria Jose Rodriguez

teamed up to defeat Singapore's

Daphne Tan and New Hui Fen,

481-473, to claim the top spot

at Tali Bowl. The high finishers

for Junior Team USA were Jenn

Boisselle and Kristie Petravich,

who took 11th.

In the gold-medal match,

Fonnegra, who bowls for

Lindenwood, shot 259 and

Rodriguez, who competes for

Maryland Eastern Shore, shot

222. Fen had 237, while Tan

shot 236 for Singapore.

"This means a lot, like a

dream coming true, seriously,"

Rodriguez said. "When you

come to the World Championships,

you want to win and

making it real is unbelievable.

I can't explain it."

In the semifinals, the Colombians

defeated Singapore's

second team of Shayna Ng and

Wichita State bowler Jazreel

Lane Laughter

Tan, 412-392. The other Singaporean

team took out Korea's

Yeon-Ju Kim and Moon-Jeong

Kim, 456-414. The semifinals

losers shared the bronze medal.

For Junior Team USA,

Petravich and Boisselle shot

2,459, an average of 204.9, and

missed making the semifinals

by 96 pins. Petravich shot

1,275, while Boisselle contributed

1,184.

The other U.S. pairing of

Christine Bator and Brittni

Hamilton finished in 13th place

with 2,440. Bator paced the

duo with 1,289, while Hamilton

shot 1,162.

In all-events, Latvia's Diana

Zavjalova leads with 2,656,

an average of 221.3, with six

games of team event remaining.

Moon-Jeong is second at

2,651. Petravich is the highest

player for Junior Team USA in

seventh place with 2,548.

The top 16 players after

18 games advance to Masters

match play based on their

all-events totals.

Hamilton sits in 14th place

with 2,482, and Bator is 16th

with 2,473. Boisselle sits in

20th place with 2,449.
---
Page 16 | Thursday, August 5, 2010 | THE BOWLING NEWS

JONES, PLUHOWSKI

Continued from Page 1

nine months out, plus I feel

that the amount you pay to

bowl the pro-am is affordable

by all. There are so many

prizes that you can win while

you bowl, we added several

great new sponsors this year,

and of course all of the great

pros that come bowl, all of

these factors are the key to

success," Conners said.

One of the really interesting

traditions is that Donna never

posts the roster for the tournament

until the Friday before.

"It's a little game I play that

adds a level of excitement. You

don't know who's bowling

until you show up, I normally

start getting texts and emails

about three weeks out wanting

to know who's bowling," she

said.

Another treat for the bowlers

is that every year they give

away two flat screen TV's via a

free raffle to a male and female

participant. Now how many

tournaments have you seen do

that?

The tournament director is

Jim Welch, who is paid with a

12-pack of Diet Dr Pepper. Phil

Perry runs the brackets and is

paid with Crown and cigars.

He must be the higher priced

talent.

"The tournament is not

about the money. The money

is big but the pride of winning

is bigger. It's not an easy

tournament to win. The lanes

are challenging and the field is

strong, but that's exactly why

we had 82 entries this year,"

said Conners.

"He's fun to bowl with, it's

a friendly competition we have

so it stays light-hearted. I don't

ever beat him, but it's ok," said

Pluhowsky of partner Tommy

Photos from the Luci

Bonneau Memorial

Jones.

"She makes the lane condition

fair for all skill levels,

because everyone comes out

to bowl for this great cause.

Donna does a great job for this

event," Jones said of Conners.

The Jones-Pluhowsky duo

dominated basically from the

first game of qualifying and

never relinquished the lead.

"Tommy really bowled great

throughout the tournament,

and when we hit the bad pairs

I think we grinded better

than some of the others," said

Pluhowsky.

The tandem won $7,000 for

AMF Showplace Euless

7:00 PM

Saturday, August 28th

first, plus another $4,000 for

the Calcutta.

Rounding out the top 12

were Sean Rash-Liz Johnson,

third; David Haynes-Carol Norman,

fourth; defending champions

Parker Bohn III-Carolyn

Dorin-Ballard, fifth; Chris

"Real Deal" Johnson-Stefanie

Nation, sixth; Michael Fagan-

Emily Maier, seventh; Greg

Black Jr.-Brinda Burks, eighth;

Charlie Mills-Kristi Krol,

ninth; Brett "Masters Champ"

Wolfe-Genie "Bowling News

Owner" Franklin, 10th; Chris

Barnes-Lynda Barnes, 11th;

Jack Zuniga-Jessica Hirschman,

12th.

Photos courtesy of Phillipp Perry
---
Do You Remember?

THE BOWLING NEWS | Thursday, August 5, 2010 | Page 17
---
Page 18 | Thursday, August 5, 2010 | THE BOWLING NEWS

BOWLER FRIENDLY PRO SHOPS & OTHER SERVICES

JAMES ASKINS

Owner

LEO ERNE

JORDAN VANOVER

MATT HOYT

BRETT BOLEJACK

INSIDE AMF SHOWPLACE LANES

1901 W. Airport Freeway

Euless, TX 76040

(817) 571-1174

INSIDE COWTOWN LANES

4333 River Oaks Blvd.

Fort Worth, TX 76114

CITYVIEW

LANES

6601 Oakmont Blvd.

Fort Worth, TX 76132

RON WILLIAMS

Owner / Operator

PBA Member

HOURS: Monday–Friday 1–9, Saturday 1–7

Two Locations

AMF SPARETIME

LANES

3149 S. Cooper

Arlington, TX 76015

Fastrack Pro Shop

Located Inside Allen Bowl

1011 S. Greenville Ave

Allen, Texas 75002

Phone: 214-509-9274

E-mail: coachkg58@yahoo.com

www.fastrackproshop.com

Kurt Gengelbach, Owner

Member, Professional Bowlers Association

Member, Storm and Turbo Advisory Staffs

Private Instructions Available

"Old School" Service Always Available

Coach's Eye International

WILLIAM E. "BILL" LISH

(817) 624-2151

817-263-1935

Fax: 817-370-1831

817-419-3236

5000 Main Street, Suite 138

The Colony, TX 75056

972.624.5263

coachlish334@yahoo.com

Plan to win or wait to fail

INSIDE ROWLETT BOWL-A-RAMA

YOUR NEIGHBORHOOD

PRO SHOP

GEOFF MARTIN

pro shop manager

5021 Lakeview Parkway

Rowlett, TX 75088-411

(972) 475-7080

Working Hard

for Your Success

PRO SHOP

1114 S. Main

Duncanville, Texas

Phone 972-298-7143

Jeff Cathey, Manager

Susie Minshew

USA Bowling

Coach of the Year

(800) 346-3648

FAX 817-783-6010

strikeability@gmail.com

www.strikeability.com

Giving You The Power To Perform

8216 Dot Hudson Road, Alvarado, Texas 76009

OTIS PILLOW

BALLS BAGS SHOES

AMF HURST LANES

720 W. PIPELINE RD.

HURST, TX 76053

817-282-2401

www.pillowproshop.com

otis@pillowproshop.com

billy@pillowproshop.com

Pro-Staff providing all your bowling equipment needs!

PEOPLE'S PRO SHOP

–

Inside

2521 Avenue K, Plano TX 75074

972-881-0242

Carolyn Dorin-Ballard & Del Ballard, Owners

Brett Cooper Maury Newman

Derrick Lott Chad Veneville

Located inside

Brunswick Zone Watauga

7301 Rufe Snow

Watauga, Tx 76148

Phone: 817-485-2695

Largest Bowling Service Provider In The DFW Area

www.thebowlingshops.com

NEW

LOCATION!

Lessons available by appointment

AMF Lewisville

Manager

Tyson Branagan

972-436-6575

Dino Castillo

Owner

Located inside

Brunswick Zone Denton

2200 San Jacinto Blvd.

Denton, TX 76205

Phone: 940-383-3515

AMF Showplace Garland

Manager

Chris Castro

972-613-8100

AMF Richardson

Manager

Chad Newman

972-231-2695
---
PIN POINTS

TO PONDER

By CHUCK PEZZANO

How do writers get their

stories?

You can attend specifically

scheduled press conferences

for special announcements or

you can pursue a one-on-one

interview. You can talk to the

stars after they shoot in tournament

play in a press room

setting or catch a running star

going to or going away from

a competition. You can use

the phone or any other type of

communication. You can be

polite or be a pest.

But with all the ways, one

of the most unique developed

over the years at the Firestone

Tournament of Champions,

and the man most responsible

was one of the most respected

reporters of bowling in the

history of the sport, a writer

we lost on July 4, Dick Evans.

Evans was the pied piper of

setting up breakfast, lunch and

dinner gatherings wherever

there was a bowling gathering,

meeting, tournament, convention,

exhibition, presentation

and just plain socializing.

At the early Tournament of

Champions happenings, Evans

would get himself, me and

John Jowdy to meet at unheard

of early hours for breakfast,

long prior to the rolling of

the first ball of that day's

tournament action. Then Joe

Lyou, Red Burnham and Steve

Cruchon joined the crowd.

Pretty soon Bud Fisher became

a regular sand the one table we

had reserved became two and

BOWLER FRIENDLY

PRO SHOPS & SERVICES

Carry More

Pro Shop

Located inside Strikz Family Entertainment Center

three and finally a separate

banquet alcove was set up for

the breakfast press boys.

We welcomed bowlers in

the tournament and soon Dick

Weber and Johnny Petraglia

became regulars and Champ

Husted, dad of young star Dave

Husted. Representatives of the

sponsors, manufacturers and

officials of all integers of the

sport found their way to the

breakfast free-for-alls and no

subject was taboo.

Everyone there was relaxed,

maybe too much, and many a

quote that shouldn't have been

uttered made the next day's

paper or next week's bowling

publication or next month's

bowling magazine.

It was a hotbed of quips,

quotes, insults, inside stuff and

writers, competitors, sponsors,

industry representatives and

a lot of uninvited cousins and

uncles joined the crowd and

found it a show better than any

Broadway hit.

It wasn't nasty or didn't

reveal every sad or forgettable

experiences but many

an attendee found some of

his choice material common

knowledge one way or another.

Over the years, more

than 100 of history's greatest

bowlers attended breakfast by

Evans, Dutch treat. The most

highly attended tournament by

the media probably saw more

than 200 writers, broadcasters

and historians taking in one

or all of the breakfast aggrega-

Mike Gumpert

Owner

www.carrymoreproshop.com

214-9234823

8789 Lebanon Road

Frisco, TX 75034

THIS SPACE

FOR RENT

At West Acres Bowl

Roths blisters 813,

Jensen-Long sizzles at 728

Colvin nails 300, Buchholz bags 299

WICHITA, KS — Jordan Roths

rounded up the top score of

the month at West Acres Bowl

with a strike-filled 275-279-259

= 813 Bowler's Tour league

production.

David Colvin earned highgame

accolades with an awardwinning

12-bagger, while youth

bowler Cooper Buchholz claimed

runner-up kudos with a 299

solo.

Tina Jensen-Long posted a

sky-high 213-236-279 = 728

Adult/Youth Pizza B set to front

distaff scoring.

WEST ACRES HIGHS

Kelly Bonta 279-759, James Hall

280-752, Holly Hall 234-636, Lamont

tions that inspired new and

old friendships and brought to

light many an idea or opinion

that otherwise might have been

lost.

It reached the stage where

some 50 persons were part of

the crowd every day.

To this day I have never

met anyone who was a part of

the gang who didn't look back

with fondness, some feeling of

maybe I talked too much and a

lot of tinged encounters.

Dick Evans was the father

of many major innovations in

bowling and the ins and outs

of bowling journalism. The

breakfast club didn't win him

any awards, but the long-term

impact won him the thanks for

the memory awards from too

many to mention.

WICHITA'S NORTHROCK

Continued from Page 1

the Red, White, and Blue

PBA tournament and the PBA

World Championship TV Round

earlier this year. The Northrock

general manager is Mike Light.

West Acres Bowl is a 36lane

center that boast's one of

the largest, if not the largest,

youth programs in Kansas.

The general manager is Ray

Baty and the youth director is

Teresa Roth.

Be sure to check the next

SW Edition of The Bowling

News to read a profile on each

center.

THE BOWLING NEWS | Thursday, August 5, 2010 | Page 19

Triplett Sr. 227-451, Lynn Weber 202-

358, Ray Baty 246-478, Sherry Baty

205-349, Teresa Roths 254-674.

Than Tyree 279-749, Rita Depler

199-530, Tom Sprankle 204-587, Sue

FALL

LEAGUES

NOW

FORMING!

KANSAS

Jackson 162-462, Justin Showalter

(no-tap) 300-830, Nathalie White 264-

655, Betty Patterson 539, Brett Achey

162-311, Kelly Roll 158-303.

David Colvin 300-767, Kristi Lubush

245-675, Robert Herrick 2778-690,

Amanda Hansen 235-610, Steve Davis

255-711, Kari Highfill 196-538, Marie

Shobe 198-538, Andrew Lowe 280-785,

Sandi Davis 278-664.

SENIORS

Dean Gilbert 258-645, Karen Gilbert

215-507, Ray Simpson 225-667, Bonnie

Gregory 208-568, Dave Taylor 192-510,

Judy Sinn 195-562, Ray Simpson 246-

685, Peggy Warrender 181-509.

Specializing in helping make your game better.

If you want to bowl like the rest, learn from

one of the best Rick Steelsmith.

Call for an appointment.

749 N. Ridge Road, Wichita, KS 67212

316-722-5211

Northrock Adult Fall Leagues 2010

DAY

MONDAY

TIME # MEET START LEAGUE TYPE

LADS & LASSIES 9:30 A.M. 4 AUG. 23 SENIOR MIXED

HOMEMAKERS 12:30 P.M. 4 AUG. 30 AUG. 30 LADIES HANDICAP

BOB SHELTON MEMORIAL 6:00 P.M. 5 AUG. 2 AUG. 16 MENS HANDICAP

NORTHROCK INDUSTRIAL 6:00 P.M. 4 AUG. 16 AUG. 16 MIXED HANDICAP

LEARN TO BOWL 6:00 P.M. 1 SEPT. 13 SEPT. 13 MIXED HANDICAP

ADULT / YOUTH PIZZA 6:00 P.M. 2 AUG. 30 AUG. 30 ADULT-YOUTH

BALL, BAG & SHOES

TUESDAY

8:30 P.M. 3 AUG. 30 AUG. 30 MIXED HANDICAP

LEARN TO BOWL 10:00 A.M. 1 SEPT. 14 SEPT. 14 MIXED HANDICAP

LADY GOLFERS 12:30 P.M. 5 NOV. 2 NOV. 2 LADIES HANDICAP

SHRINERS 6:00 P.M. 4 SEPT. 7 MENS HANDICAP

TAG A LONGS 6:00 P.M. 4 AUG. 24 AUG. 31 LADIES HANDICAP

NORTHROCK FALL MIXERS 6:00 P.M. 4 AUG. 24 AUG. 24 MIXED HANDICAP

METRO MIXED 6:30 P.M. 3 AUG. 31 SEPT. 7 MIXED HANDICAP

GOOD LIFE (CAPTAINS L6) 8:30 P.M. 4 AUG. 24 AUG. 24 MIXED HANDICAP

BUD SELECT 3

WEDNESDAY

8:30 P.M. 3 AUG. 14 AUG. 24 MIXED SCRATCH

ART BOGGS 1:00 P.M. 4 AUG. 25 SENIOR MIXED

NORTHROCK EXPRESS 6:00 P.M. 5 AUG. 11 AUG. 18 MEN HANDICAP

NORTHROCK MIXERS 6:00 P.M. 4 AUG 18 AUG. 18 MIXED HANDICAP

BALL, BAG & SHOES 6:00 P.M. 4 AUG. 25 AUG. 25 MIXED HANDICAP

WEDNESDAY NITE MIXED 8:30 P.M. 3 AUG. 18 AUG. 18 MIXED HANDICAP

TRACKIN DA ACTION

THURSDAY

8:30 P.M. 1 AUG. 18 AUG. 18 MIXED HANDICAP

THURSDAY NITE MIXERS 6:00 P.M. 4 AUG. 26 SEPT. 2 MIXED HANDICAP

COUNTRYSIDE CHRISTIAN 6:30 P.M. 4 SEPT. 2 SEPT. 9 MIXED HANDICAP

THURSDAY NITE MENS 6:30 P.M. 5 AUG. 12 AUG. 19 MIXED HANDICAP

PENNY PINCHER 8:30 P.M. 3 SEPT. 2 SEPT. 2 MIXED HANDICAP

TRACKIN DA ACTION

FRIDAY

8:30 P.M. 1 SEPT. 2 SEPT. 2 MIXED HANDICAP

DEAL OR NO DEAL 12:00 P.M. 1 YEAR ROUND MIXED HANDICAP

FRIDAY NITE MIXED 6:30 P.M. 4 AUG. 27 AUG. 27 MIXED HANDICAP

RCRC 6:30 P.M. 4 NOV. 5 NOV. 5 MIXED HANDICAP

COLOR PIN MAGIC

SUNDAY

6:30 P.M. 4 AUG. 27 AUG. 27 MIXED HANDICAP

TWILIGHT MIXERS 5:00 P.M. 4 AUG. 15 AUG. 15 MIXED HANDICAP

DIRT TRACK 6:00 P.M. 4 NOV. 7 NOV. 7 MIXED HANDICAP

ADULT / YOUTH 7:30 P.M. 2 SEPT. 12 SEPT. 12 ADULT-YOUTH

Northrock Lanes

3232 N. Rock Road, Wichita, KS 67226

www.northrocklanes.com 316-636-5444
---
Page 20 | Thursday, August 5, 2010 | THE BOWLING NEWS

WEST TEXAS

At Eastridge

Simmons smashes 300/801

AMARILLO — Don Simmons'

dual award-winning 232-300-269

= 801 Men's Night Out session

dominated the scoring for the

month at Eastridge Lanes.

Audrey Ryder rolled a fine

202-161-142 = 505 Oasis Mixed

set to pace the ladies.

Diamond Lanes

Where Family Fun Begins

Come visit The Pink Elephant, our NEW

full-service Bar and Lounge, check out our Snack

Bar and meet our friendly staff.

ALL DAY

OPEN TO CLOSE

$1.25 Game - $1.25 Shoes

2208 East 8th Street

Odessa, TX 79761

432-580-4386

OTHER SCORES

James Winningham 256-647, Tony

Treiber 204-588, Fatman Williams

235-577, Lindi Murphy 180-479, Mike

Scroggins 259-746, Tony Treiber 236-

609, Dinh Ho 279-686, Scott Savant

279-738, Tony Treiber 254-684.

Men's

Night Out

League

$15 per week

4 Men per Team

Mondays at 7:30 PM

Starts August 23rd

$2000 Added Money to the

Prize Fund

5405 Amarillo Blvd. East, Amarillo, Texas 79107

806-383-9531

Three perfect generations

Amarillo family shoots certified 300s, spanning almost two decades

AMARILLO — Dustin

Bowerman put the feather in

the families cap in June after

rolling his first certified 300

game at Eastridge Lanes in

Amarillo.

Bowerman, the youngest of

the family to roll a perfecto,

shot his first 800 (813) series in

December.

Don Mansel, Bowerman's

granddad, got the ball rolling

in the first generation with two

300 games (1981/ 1991).

Then Don's daughter, Diane

Bowerman Dobbins, kept it

going with hers in 1995.

Along came her brother

Donald Duane Mansel in 2001

rolling his 300.

All of the Mansel family has

worked in the bowling industry

for many years in the Amarillo

area.

The perfect games probably

Some of the stops on our

West Texas Road Trip in July.

It's time

to be

thinking

about Fall

Leagues

Call your

local center now

to sign up

From left, Don Mansel, Dustin Bowerman, Diane Bowerman Dobbins

and Donald Duane Mansel.

won't stop with just those four.

Sydney, Dustin's sister, was one

of the most accomplished high

school bowlers in the Pan-

THE ALL NEW

806-352-2737

5120 Canyon Dr. Amarillo, TX 79109

60 Lanes Pro Shop Restaurant Bar

TEEN TIME

$20.00 Non-Refundable

deposit required.

Reserve your lanes today!

Call Sharon or Randy.

handle and could soon shoot

her first perfect game.

Package Includes:

2 Hours of Bowling

Use of House Shoes

Large Pizza

Large Coke per person

16 Inch Cookie from

Snowhite Bakery

$10.00 worth of Game

Tokens (for Birthday Honoree)

$14.95 plus tax per person

(minimum of 10 bowlers)
---
Tribolet makes big debut

in adult leagues

SAN ANGELO — Former

youth bowler Travis Tribolet

made a big splash in the adult

league on July 5.

Tribolet had games of 248,

300 and 248 for his first perfect

game and his highest series

ever, a 706.

Tribolet is consistently averaging

200-plus in two leagues.

He is an avid bowler and hopes

to turn pro someday.

Reno to host USBC Open and

Women's Championships in

2013 and 2014

For the first time in history,

the United States Bowling Congress

will bring the USBC Open

and Women's Championships

to the same city simultaneously

when Reno, NV, hosts both

events in 2013 and 2014.

Plans call for the Open

Championships to be held

in the National Bowling

Stadium, while the Women's

Championships will take place

in a custom-built arena inside

the Reno-Sparks Convention

Center. USBC will install

dozens of lanes and the largest

indoor mobile scoreboard in

the world at the convention

center continuing the spectacular

feel bowlers expect. The

convention-center setting first

was introduced to the Women's

Championships at the 2010

event in El Paso.

"Hosting USBC's two largest

championships in the same

city will create great new

opportunities and experiences

for our bowlers," USBC execu-

tive director Stu Upson said.

"We want families to have

the option of traveling to the

national tournaments together,

but we also respect the need

to preserve the tradition of

separate tournaments."

USBC plans to develop

additional events that will

coincide with the two main

tournaments in Reno. These

new events will potentially

involve mixed teams and youth

entry options. The lanes of the

Women's Championships arena

will remain in the Reno-Sparks

Convention Center between the

2013 and 2014 tournaments,

saving construction resources

and allowing for greater

flexibility in scheduling new

events.

USBC received bids from

several cities interested in

hosting the Open and Women's

Championships.

The 2013 Open Championships

already was scheduled

to be at the National Bowling

Every Monday & Thursday Night is

College Night

@ Stadium Lanes

Unlimited Bowling for only $6 per person

10 PM to 12 AM

Come check out our newly revamped

sound system and light show

2105 Knickerbocker Rd.

San Angelo, Texas 76904

325-651-2695

Fax: 325-224-3052

At Big Spring Bowl-a-Rama

Ewing smothers 716,

Gonzales nets 614

BIG SPRING — Stephen Ewing

fired a hefty 258/716 Summer

Mixed Trio series to head scoring

for the month at Big Spring

Bowl-a-Rama.

Janice Gonzales, Ewing's

leaguemate, paced the ladies with

a sturdy 230-194-190 = 614 set.

Stadium, allowing Reno to provide

a natural fit for bringing

both events to the same city by

offering two arena settings for

a multi-year agreement. Now

there will be greater opportunities

for couples who might only

be able to afford one bowling

trip a year to travel together

and both have events to enjoy.

"Reno is a fantastic family

destination and our aim is to

develop a reason for every type

of bowler to visit there in 2013

and 2014," Upson said. "Our

partners in Reno have a great

track record of creating a firstclass

experience for bowlers

and they have done it again by

committing to a second championship

venue."

Historically, Reno has

proven to be a popular destination

for tournament bowlers.

The Open Championships has

averaged more than 80,000

bowlers, while the Women's

Championships has averaged

more than 60,000 bowlers in

Reno host years since 1995.

"We're just tickled to have

these two prestigious bowling

tournaments in the biggest

little city," Reno Mayor Bob

Cashell said. "I just know

they'll love visiting Reno and

competing at the National

Bowling Stadium – it's the

only facility of its kind in the

world."

Looking ahead to 2013,

USBC plans to investigate

new ideas for the Open and

Women's Championships,

including potential adjustments

of incentive programs, lane

conditions, squad schedules,

price structure and entry

process. Hosting two major

events in one city should allow

for improved staffing and better

customer service. The focus

will be on providing the best

possible experience for bowlers

in Reno and attracting more

participants to USBC's national

tournaments.

USBC Championships Schedule

2011 USBC Open Championships

- Reno, NV

2011 USBC Women's Championships

– Syracuse, NY

2012 USBC Open Championships

– Baton Rouge, LA

2012 USBC Women's Championships

– Reno, NV

2013 & 2014 USBC Open

& Women's Championships-

Reno, NV

THE BOWLING NEWS | Thursday, August 5, 2010 | Page 21

WEST TEXAS & ARKANSAS

HONOR ROLL

Ron Midkiff 257-603, Samuel

Gonzales 256, Jared Ringener 247-611,

Philip Ringener 637, Buck Grigg 238,

John Dodd 237-643, Janice Gonzales

207, Diana Dodd 203.

Cassie Gibson 225-573, Bernie

CASINO

BOWLING

Starting Again

September 11th at 7 PM

3318 E. I-20 S. Service Road

John and Diana Dodd, Owners and Certifi ed Coaches

432-267-7484 — Fax: 432-267-1644

Snack Bar 432-267-7485

Marquee Lanes

Formerly

Sealy 211-553, Stephen Ewing 224-651,

Stephen Ewing 245-652, Jimmy Berry

205, Wes Zebreski 215, John Dodd

209, Betty Clarke 206, Junior Barber

205-586.

Kristina Chang 197-506, Ron

Midkiff 231-596, Janice Gonzales

211-515, John Dodd 219-616, Buck

Grigg 212-542, Philip Ringener 256-

600, Stephen Ewing 202-584, Eddie

Gonzales Jr. 224-607.

Jared Ringener 239-667, Greg Clarke

206-525, Diana Dodd 209-505, John

Dodd 221-590, Jeannie Ellis 149-372,

Claude Fryar 205-559, Blake Lance

192-539, Cindy Ganaway 180-510.

Josh and Reggie invite you to

come in and see all the changes

we've made.

New monitors, new pins, new

carpet, new masking units, just

to name a few. Stop by and

check us out!

267 Highway 425N Monticello, AR 71655

870-367-5393

GOOD CLEAN FUN IN A

FAMILY ATMOSPHERE
---
Page 22 | Thursday, August 5, 2010 | THE BOWLING NEWS

OKLAHOMA & NEW MEXICO

Bowling Update from

Tenpins & More

By Steve Mackie

Rio Ranch, NM

Bob Dillman of Albuquerque

won his third scratch

series bowling title at Tenpins

& More from the largest field

assembled in the last three

years.

Dillman averaged over 233

in winning five of six matches,

including the championship

over Scott Savant of Amarillo,

224-210 for the $1,050 first

prize.

Along the way, he beat

Paul Carper of Rio Rancho,

246-215, Joe Merrick of Corrales,

257-245, J. D .Nance

FAST LANES

9th Annual Shoot-Out

3 Sports - 1 Tournament

Sunday September 19th

Three separate sports, one exciting tournament in 1 day.

18 hole 2-man scramble golf tournament with a 8 AM start.

3 games of 9-Pin No-Tap Scratch Doubles bowling

tournament at Fast Lanes starting at 2 PM.

Followed by a double elimination pool tournament.

2-man teams with an entry fee of $120 per team

To sign up or questions call 918-473-3278 and ask for

Dustin, Zane or Mike.

Deadline for sign up: September 17th

107 Paul Carr Dr., Checotah OK 74426

918-473-3278

It's on again this August!

Bowling's answer to your economic woes!

7th annual

NEW MEXICO

OPEN

presented by the New Mexico Sports Authority

August 18-22, 2010

1st place is a RECORD $6,500

Total prize money over $30,000

Paid down to 48th place

Sunday Consolation Tournament for non-cashers

Entry fee - still only $195

makes this THE BEST VALUE

tournament in the Southwest

1416 Deborah Road SE

Rio Rancho, NM 87124

505-892-7117

www.tenpins-more.com

of Albuquerque, 227-214 and

Savant, 214-212, before losing

to Savant 256-233 to set up the

final match.

Dillman started the last

game with five strikes and led

the Texan by 46 pins after six

frames, before a closing threebagger

from Savant closed the

gap to 14 pins.

There were a number of

classic matches in the event,

in which the entire 16-person

roster averaged a series record

223 over 62 games.

Highlights included: Nance

beat Carl Chavez of Albuquerque,

258-242, Savant over

Joey Faulkner of Albuquerque,

269-234, Brian Hare of Santa

Fe eliminated Chavez, 261-222,

Kevin Richardson beat fellow

Albuquerquean Brian Skidmore,

240-228, Savant survived

a squeaker over top seed,

Shane Martin of Amarillo, 225-

224, likewise Faulkner from

Hare, 246-245 and Faulkner

over Nance, 258-257.

In high game action, prizewinners

were Dillman 258,

223, Hare 246, 279, Carper 248,

236, 234, Cang Tran 254, 242,

Savant 266, 236, Jim Cook 244,

232, John Lund 258, Merrick

258, Jason Ward 255, Nance

244, 268, Devin Way 246, Dennis

Helmick 224, Martin 245,

256, 256, Pete Sheridan 247

and Adrienne Miller 241.

Final Results:

1. Bob Dillman, Albuquerque;

2. Scott Savant Amarillo;

3. Joey Faulkner, Albuquerque;

4. Shane Martin Amarillo; 5. J.

D. Nance, Albuquerque; 6. Rick

Sevier, Albuquerque; 7. Dana

Mackie, Rio Rancho; 8. Kevin

Richardson, Albuquerque;

9. Brian Hare, Santa Fe; 10

.Manny Garcia, Belen; 11. Joe

Merrick, Corrales; 12. Danny

Carbajal, Las Cruces; 13. Brian

Skidmore, Albuquerque; 14.

Carl Chavez, Albuquerque; 15.

Cang Tran, Amarillo; 16. Paul

Carper, Rio Rancho.

"Entries for the New

Mexico Open at Tenpins &

More from August 18-22 are

running well above those at

the same date the past two

years," according to tournament

director, Steve Mackie.

"We had 67 entries by July

26, 29 over last year and 33

over 2008," said Mackie, who is

predicting more than 120 will

take part in this year's seventh

edition of the tournament."

"Right now, we have entries

from 10 states, including

first-timers, Washington, South

Dakota and Connecticut, as

well as returning bowlers from

Arizona, Colorado, Texas,

Kansas, Illinois, California and

across New Mexico," he said.

Notables thus far include

defending champion, Chris

Klerk, former 24-time women's

tour winner, Tish Johnson,

Team USA members, Andrew

Cain and Bryanna Caldwell,

one of the sport's few 900

series players, Jeff Campbell,

Wichita State University

At Tenpins & More

Brown blisters 785,

Miller-Mackie packs 711

RIO RANCHO, NM — Dennis

Brown fired a chart-topping 259-

289-237 = 785 Monday Doubles

series to take top honors on the

honor roll for the month at Tenpins

& More.

Dana Miller-Mackie, Brown's

leaguemate, led the ladies with a

hefty 219-227-265 = 711 set.

LEAGUE LEADERS

Jimmy Tillery 249-635, Connie

Scheer 203-488, Wayne Luco 253-681,

Jodi King 245-588, Ruben Muller

256-670, Janice Lemon 177-435, Sal

Esquibel 150-385.

Dorothy Lucero 118-296, Jeff Jones

collegiate bowling stand-outs,

Josh Blanchard, Derek Hartnell,

Kevin Andes and Kevin

Santer and 2002 ABC Masters

champion, Brett Wolfe.

This means the accompanying

Pro-Am on August 18-20,

will also display plenty of

talent as local league bowlers

258-671, Stephanie Merrell 189-504,

Josh Herschman 255-594, Mariah

Martinez 180-481, Dominic Huerta

212-547, Kristy Gustafson 166-439, Jess

Gagliardi 278-645.

Hannah Stedman 254-637, Clay

Stephens 255-604, Christy Gray 178-

466, Dennis Helmick 279-732, Dana

Mackie 223-593, Loren Crites 244-605,

Charlotte Hutchinson 179-447.

Ron Michel 280-636, Donna Dowd

235-622, Ken Goode 247-649, Melissa

Dearing 219-547, Dan Brenning 288-727,

Dana Mackie 248-680, Levi Woolsey

256-706, Diane Wemple 233-625.

At Fast Lanes

Goekler garners 671,

Cantwell collects 640

CHECOTAH, OK — Bob

Goekler led the scoring parade

for the month at Fast Lanes with

a high-flying 236-235-200 = 671

Checotah Senior series.

Linda Cantwell, Goekler's

leaguemate, paced the ladies

with a free-wheeling 173-237-230

= 640 set.

HONOR ROLL

Terry Burke 275-660, Dee Whitmus

213, Teresa Burroughs 573.

pair with three different pros

for more than an estimated

$2,000 in prize-money.

Entry forms can be turned

in at Tenpins & More.

Last weekend marked

the start of National Bowling

Week, which opened with a

Continued on Page 25

Heritage Lanes

Oklahoma City, OK - Phone (405) 755-7575

www.kidsbowlfree.com/heritage
---
At All Star Bowl

Powell produces 699,

Antle taps 625

ENNIS — Casey Powell won

the high-set contest last week

at All Star Bowl as he tossed

top-notch 286-212-201 = 699

numbers in PBA Experience

league play.

Christy Antle's solid 225-180-

220 = 625 Pairs N Spares outing

led the ladies' race.

HONOR LIST

Tommie Jenkins 245-591, Margie

Jenkins 171-489, Randy Childress

220-604, Terry Pefuhl 202-563, Christy

At BRC Thousand Oaks

Brock strokes 773,

Stewart snags 654

SAN ANTONIO — Joe Brock

outdistanced the competition

last week at BRC Thousand Oaks

with an admirable 269-257-247

= 773 Thursday Ultra Classic

league session.

Michelle Stewart, from the

Ultra Classic group, paced the

ladies with a powerful 245-196-

213 = 654 set.

OTHER HIGH SCORES

Cliff Varner 279-619, Pamela Harper

Antle 210-582, Brian Mundie 276-614,

Brandi Strain 194-542.

Tom Findlay 195-515, Margie

Jenkins 185-471, Tim Riojas 225-610,

Anthony Porter 252-604, Dylan Macon

225-569, Lauren Newman 169-444,

Casey Powell 236-665, Dena Brickey

178-470.

SENIORS

Tom Findlay 225-607, Jacquie Rice

173-395, Harold Rice 150-428, Neon

Langston 152-413, Frank La Scala Sr.

201-526.

176-480, Rich Richardson 246-678,

Ryan Gauthier 279-666, Janette Nevels

204-529, Matt Cabanski 257-709, Stan

McClain 279-746, Rogina Anthony

215-547, Sheila Berg 202-555.

SENIORS

Joe Mardon 232-595, Anna Robison

169-472, Sophie Sorrells 182-457.

League Day of Meeting Start # Per # of

Name

ADULT LEAGUES

Week Date Date Team Weeks Cost Type

SMOLLECK Thurs. 08/26/10 09/02/10 4 31 9.50 Ladies

EARLY MIXED Thurs. 08/19/10 08/26/10 5 36 16.00 Mixed

MILLER FUN TIME Fri. 09/03/10 09/03/10 4 35 18.00 Mixed

GOODTIME ROLLERS Fri. 08/27/10 09/10/10 4 34 14.00 Mixed

PRACTICE Sun. 09/12/10 09/12/10 4 15 12.00 Mixed

THE BELIEVERS Mon. 09/13/10 09/13/10 4 33 10.00 Mixed

NOT SO HOLY ROLLERS Mon. 08/30/10 09/13/10 5 35 15.00 Mixed

HIGH ROLLERS Tues. 08/17/10 08/24/10 5 36 15.00 Mixed

ALAMO CRANE Wed. 08/18/10 08/25/10 4 35 11.00 Mixed

1000 RENEGADES Wed. 08/25/10 08/25/10 5 36 15.00 Mixed

ARMADILLOS

SENIOR LEAGUES

Wed. 08/18/10 08/25/10 5 36 20.00 Mixed

MONDAY SENIOR MIXED Mon. 09/13/10 09/13/10 4 36 9.00 Mixed

WONDER WHY'S Tues. 09/07/10 09/07/10 4 36 7.00 Ladies

CLUB 55'ERS Tues. 09/07/10 09/07/10 4 34 8.00 Mixed

STARS & STRIKES Wed. 09/01/10 09/01/10 4 36 8.00 Mixed

THURS. SENIOR MIXED Thur.

YOUTH/ADULT

09/09/10 09/09/10 4 34 8.00 Mixed

BIG-N-LIL Sun. 09/12/10 09/12/10 4 18 9.00 Y/A

FOOTBALL LEAGUE Sun. 09/19/10 09/19/10 3 18 10.00/13.00 Y/A

WII BOWLING CLUB

YOUTH LEAGUES

Sun. 09/12/10 09/12/10 2 12 10.00 Y/A

PEE WEES Sat. 09/11/10 09/11/10 1 13 8.00 Youth

DIVISION I Sat. 09/11/10 09/11/10 4 13 10.00 Youth

DIVISION II Sat. 09/11/10 09/11/10 4 13 10.00 Youth

HOMESCHOOL

ALL STAR

Mon. 09/13/10 09/13/10 1 15 6.00 Youth

SCHOLARSHIP Mon. 08/16/10 08/16/10 1 18 14.00 Youth

BRUNSWICK THOUSAND OAKS

4330 Thousand Oaks Blvd • San Antonio, TX 78217

210-654-0031

At Lake Country

Beal books

665 series

MARBLE FALLS — Curtis

Beal booked a banner 254/665

Summer Merchants series to head

the honor roll last week at Lake

Country Lanes.

Janice Naumann, from the

Summer Lady Bluebonnet group,

paced the gals with a nice

186/518 set.

OTHER HIGHS

Wayne Curd 225-623, Barb McCrae

112, Ryan Perry 298, Ron Rushing

234-631, Tami Mortinka 178, Shanell

Sheppard 478, Barbara Rambo 204-

47, Wayne Curd (4 games) 227-812,

Rebecca DeShea 185, Stephanie Garcia

(4 games) 656.

SENIORS

Tommy Fergeson 216, Jan Grape

156-401, Jim Myers 529.

www.itabowling.com

Team Payoff:

1. $3,000.00

2. 1,500.00

3. 1,000.00

4. 750.00

5. 600.00

6. 500.00

7. 400.00

8. 350.00

9. 300.00

10. 250.00

THE BOWLING NEWS | Thursday, August 5, 2010 | Page 23

NORTH & SOUTH TEXAS

At Bandera Super Bowl

Luna lands 704,

Perez packs 612

SAN ANTONIO — Art Luna

headed the leader boards last

week at Bandera Super Bowl by

logging laudable 268/704 numbers

in Saturday Morning Trio

- Summer league action.

Debbie Perez earned fem scoring

honors with a tidy 222/612

Misfits - Summer set.

HONOR ROLL

Rich Rabidas 245-626, Diana Soria

30th Annual

Los latinos de san marcos

Mixed

Team Classic

August 21-22, 2010

First Place Team

$3,000.00

Based on 56 teams

213-549, Ken Bunanan 257-536, Tish

Sikes 204-517, Margaret Couch 177-478,

Jason Ortega 261-636, Gabe Musquiz

203-495.

Terri Lynn Kasper 167-384, A.C.

Jones 226-641, Leslie Hochhalter 165-

464, Josh Jackson (no-tap) 300-781,

Kristin Grooms (no-tap) 278-609.

SENIORS

Cray Lester (no-tap) 266-705, Amy

Olsen (no-tap) 231-630.

At Corsicana Super Bowl

Slovak nabs 715 series

CORSICANA — Jason Slovak

won the battle for top billing with

outstanding 715 numbers in The

Retards circuit play.

Lynn Zainhofsky, paced the

ladies with a TIDY 193-161-187

= 541 Summer Double Trouble

set.

OTHER SCORES

Roy Istre 682, Martha Watkins

465, Danny McCarter 590, Joan Slovak

446, Paula 460, Danny McCarter 667,

Bill 640, Jared B. 113, Matthew 111,

Stephanie M. 118, Sheila T. 111, Lynn

Zainhofsky 476, Andy 133-380, Denise

125-337, Lisa Opry 203-517, Lisa Opry

517, Roy Istre 563, Toni Currington

428, Joan Slovak 405, Danny McCarter

702.

Team Entry Fee:

$250.00

Squad Times:

Saturday: 1:00 PM

Sunday: 11:00 AM

This is a non-sanctioned handicap tournament open to all bowlers except PBA exempt bowlers.

Teams bowl 3 games Saturday and 3 games Sunday.

Team Average Cap: 1000. Team format: 4:1 or 3:2 Combination

For more information, full rules and entry forms, contact the front desk at Bandera Super Bowl or

the Tournament Director: Charlie Natal at 512-738-7287 or Email: cnatal@centurytel.net

210-523-1716

6700 Huebner Road, San Antonio, TX 78238
---
Page 24 | Thursday, August 5, 2010 | THE BOWLING NEWS

ALL STAR BOWL

RATES AND SPECIALS

$3.95 per Game per Person

$3.00 Shoes Per Person

$24.95 1 Hour Rent-A-Lane

(Per lane, up to 6 people, shoes included)

WEEKDAYS BEFORE 5 PM & SUNDAYS ALL DAY

$2.25 per Game per Person

$2.25 Shoes per Person

ALL STAR BOWL SPECIALS

Mondays 5 PM-Close

$1.25 per Game per Person

Wednesdays 5 PM-Close

$10 per Lane per Hour & $3 Shoes per Person

Thursdays 9 AM-Close

$1 per Game per Person

972-875-1558 www.allstarbowlennis.com

Saturday Nights

5:00pm-8:00pm

2 Hours Bowling

Shoe Rental Include up to 6 People

1 – 20" Pizza (Choice of Toppings)

All for the Very Low Price of

$41.00 per lane

For Info: 830-693-4311

2303 W. Ennis Ave. Ennis, TX 75119

Hilltop Super Bowl

2010 West Business 287, Waxahachie, TX 75165

(972) 935-9705

For our League and Senior bowlers,

$1.50 per game, anytime!

2801 W. 7th Ave., Corsicana, TX 75110

www.corsicanasuperbowl.com corsicanasuperbowl@att.net

903-874-3746

SUPER BOWL ENTERTAINMENT, LLC

All Star Bowl, 2303 W. Ennis Avenue, Ennis, TX 75119 | Phone: (972) 875-1558

Bandera Super Bowl, 6700 Huebner Road, San Antonio, TX 78238 | Phone: (210) 523-1716

Corsicana Super Bowl, 2801 West 7th Avenue, Corsicana, TX 75110 | Phone: (903) 874-3746

Hilltop Super Bowl, 2010 West Business 287, Waxahachie, TX 75165 | Phone: (972) 935-9705

Lake Country Lanes, 112 North Ridge Road/Highway 281 North, Marble Falls, TX 78654 | Phone: (830) 693-4311

Plano Super Bowl, 2521 Avenue K, Plano, TX 75074 | Phone: (972) 881-0242

FALL LEAGUES NOW FORMING!

BLACK LIGHT

BOWLING

Friday & Saturday Nights

From 10 PM to 1 AM

blacklight special!

$39.95 plus tax per lane. Up to six people, shoes included. This

one price is good from 10 PM to 1 AM. 3 Hours for 40 bucks!

Mondays - .92 cent games ALL DAY, shoes $2.50

Wednesday - $8.00 UNLIMITED BOWLING,

shoes and tax included

Thursday - Kids Day 1 hour of bowling, a hotdog

or corndog and small drink $5.00

Friday - $10.00 UNLIMITED BOWLING, shoes

and tax included

Sunday - Family Pack 2 hrs of bowling for four,

2 PM-6 PM, 1 large pizza and pitcher of soda

for only $25.00

*We now have NEW ADULT SHOES*
---
Tuesday Night Double Trouble

league at Corsicana Super Bowl

The Tuesday Night Double Trouble league at Corsicana Super Bowl. (Front row, from left) Martha Watkins,

Lisa Opry, Emil Slovak, Karin Roberts, Don Gibson, David Zenk, Alvin Evans. (Standing, from left) Nanette

Nicholson, Dori Joffree, Woody Washington, Zerita Thomas, Carla Donaldson, Holli Gibson, Joan Warner,

Cindi Rogers, Nick Gonzalas. (Back row, from left) Kevin Stephens, Stan Roberts, Carroll Romell, Timothy

Redic, Danny McCarter, Joe Ingle, Lynn Zainhofsky, Roy Istre, Dan Grier, Mike Flanagan, JR Pentacost. Not

pictured: Lili Grier, Floyd Thomas and Deak Smith.

"The quickest

and best way

to reach people

in bowling–"

P.O. Box 1642, Colleyville, TX 76034

Phone 817-267-8686

Fax 817-267-1813

NOW ACCEPTING $100 TEAM FRANCHISE FEES FOR THE

2010-2011

TERRELL MEN'S

CLASSIC LEAGUE

WEDNESDAYS @ 7:00 PM – BEGINS 9/8/10

TEAM SPOTS AVAILABLE

One of the few remaining all Men's leagues in the metroplex

Total Prize Fund Payout:

08-09 - Approximately $38,000 - 09-10 - Approximately $45,000

10-11 -Approximately $??????

FALL LEAGUES NOW FORMING!

TERRELL BOWLING CENTER

ONLY 15 MILES EAST OF MESQUITE ON HWY. 80

2500 W. MOORE, TERRELL, TX 75160

(972) 524-0820

Richey racks up 792 at

Terrell, Van Slyce cards 609

TERRELL — Don Richey led

the month's scoring contest at

Terrell Bowling Center with a

high-powered 256-268-268 =

792 Terrell Classic Trios league

showing.

Karen Van Slycke's solid 192-

183-234 = 609 Tuesday Night

Mixed set fronted fem scoring.

TERRELL HIGHS

Chad Cook 256-619, Donna Mathis

185-522, Scott Babb 244-678, Teresa

Conn 222-590, Eric Lee 237-601, Lori

Courtney 189-523, Cody Mollenhauer

256-708.

Ricky Bambico Jr. 266-671, Gayle

Hatch 211-535, J.L. Morse 246-659,

Candy Brackey 233-557, Lou Goff

190-549, Kevin Boykin 256-748,

Patty Ellington 216-585, Doyle Hatcher

237-623.

Elaine Brumbaugh 190-547, Josh

Orr 258-739, Lori Cook 214-542,

Brandon Wyer 248-611, Renie Hatcher

198-568, Matt Quarrington 266-745, Jett

Hendricks 225-629, Jerry G. Flowers

279-705.

BOWLING UPDATE

Continued from Page 22

Family Fun Day and League

Officer's Luncheon and tournament

July 31. There are events

and specials available each day,

culminating on the weekend

of August 7-8 with National

Bowling Day and the summer

9-pin No-Tap finals.

League sign-ups for

the new fall season are also

underway. Tenpins & More will

be calling over 1,500 people on

their listing as well as mailing

almost 1,000 invite letters to

fill 25 scheduled leagues that

start as early as August 16 and

as late as September 13.

Calendar:

Sun. Aug 1: New Mexico

Open Sweeper at 9.30 a.m.

Mon. Aug 2: Color Pin

Double Cash Win night at 8.30

p.m.

Wed. Aug 4: Qualifying

closes for Summer 9-pin No-Tap

tournament.

THE BOWLING NEWS | Thursday, August 5, 2010 | Page 25

NORTH & EAST TEXAS

World Famous

MID CITY LANES

ROCK 'N' BOWL

New Orleans

REMEMBER!

There is only one

ROCK 'N' BOWL ®

Rock 'n Bowl is a federally registered service mark belonging to Mid

City Lanes and Sports Palace, Inc. in New Orleans, Louisiana. It is

against the law to infringe in anyway on this service mark.

Inquiries on such use should be referred to our trademark attorney,

Rick Stanley at 504-523-1580.

MID CITY LANES

3016 S. Carrollton Avenue New Orleans, LA 70118

504-482-3133

2010-2011 FALL LEAGUE SCHEDULE

MONDAY:

7:00 PM MONDAY MADNESS - Any 2/2 combo league. Starts & Meeting 8/30

FOOTBALL WIDOWS - Ladies league. 4 members, Starts & Meeting 8/30

TUESDAY:

1:30 PM SENIOR THREESOME - Any 3 combo. 50+ years old.

7:00 PM TUESDAY COMMERCIAL - Any 4 combo, our most prestigious league!

WEDNESDAY:

12:30 AM RECYCLED TEENAGERS - Seniors 50+ years old, 2/2 combo

7:00 PM WEDNESDAY WARRIORS - Any 4 combo, made up of professionals - Great for

networking. Starts 9/1

7:00 PM WEDNESDAY MEN'S SCRATCH - 4 member, 750 team maximum, $100 added per

team, brackets, $ Side Pots. $1 pot games to follow.

THURSDAY:

1:30 PM AFTERNOON DELIGHT - Two-some (any 2) social and fun for singles. Nice way to

meet other singles.

7:00 PM GUTTER DUSTERS - 2 men and 2 women! Fun league. Meeting 8/26

FRIDAY:

1:30 PM 9-PIN NO-TAP FUNDAY - Color pins, Money, Snacks & Fun!!!

7:00 PM CEDAR CREEK LAKERS 4 member combo. One our oldest and best leagues. Meeting

8/27

7:00 PM FRIDAY FUNSTERS - Short season (17 weeks) Trio, any 3

SATURDAY:

9:30 AM SATURDAY MADNESS YOUTH - Ages 4 to 21. Handicapped by divisions. Lots of fun

& new friends.

SUNDAY:

3:00 PM SUNDAY YOUTH/ADULT - One youth and one adult. A chance for families to bowl

together! Kids get a ball and bag at end of league. Starts 9/12

6:30 PM SUNDAY FUNNIES - Ball and Bag league. Any 4 combo. Everyone gets a new ball &

Bag.

Lakeplex Lanes

Where Family fun Is Fun and Affordable!

321 Veterans Lane -Seven Points, TX.

903-432-4094
---
Page 26 | Thursday, August 5, 2010 | THE BOWLING NEWS

EAST & CENTRAL TEXAS

At Green Acres

Byrd soars to 300/807,

Baker, Toler tie at 612

Byrd, Yonke add 300 games

TYLER — Ron Byrd rocked

the Green Acres Bowl last month

with a formidable 259-300-248

= 807 Thursday Night Open

series.

Open

Mon.-Thursday

8:30 AM-11 PM

Friday-Sat.

8:30 AM - 1 AM

Sunday

10 AM - Midnight

We Offer: Video

Games, Birthday

Party Packages,

Rent-A-Lane

(including Glow-

In-The-Dark on

Sunday Nights),

After Hours Lock-

Ins,

2311 ESE LOOP 323 TYLER, TEXAS 75701

(903) 561-2911 www.greenacresbowl.com

The 14th Annual

KILLEEN OPEN

SW Region PBA Tournament

August 20-22, 2010

3 Pro Ams This Year

Friday, Aug. 20 at 6:30 p.m. & 8:45 p.m.

Saturday, Aug. 21 at 7:30 p.m.

$50 Entry Fee ($40 if paid by Aug. 8)

$35 Youth Entry Fee ($25 if paid by Aug. 8)

5 QUALIFYING TOURNAMENTS to earn spots

All at

7:00 PM

Green

Acres

Bowl

Now a

Non-Smoking

Family

Entertainment

Center

Visit us at:

to bowl AGAINST the Pros

OPEN TO MEN AND WOMEN

June 5, June 19 July 3, July 17, & August 7

One Block South of the Stan Schlueter Loop Exit in Killeen

254-690-4949

Byrd and Mark Yonke shared

high-game accolades as both

recorded award-winning 12baggers.

Byrd posted a second

perfecto on July 1.

and a variety of

leagues, Discount

Days, Group Rates,

Schools, Daycares,

or Church Groups

Discounts, Bumper

Lanes Available

Upon Request,

Snack Bar, Pro-

Shop, and Don't

Forget Karaoke

Night Every Friday

Night at The 11th

Frame Club (For

Unicard Members

Only)

Web Site: www.hallmarklanes.com

FAX: 254-690-4964 E-Mail: bowling@hallmarklanes.com

Tanya Baker and Sabrina

Toler tied for the top spot on the

honor roll as both registered a

612 set.

Baker, Byrd's leaguemate,

posted games of 188-179-245,

while Toler rolled 189-189-234

lines in Friday Night Mixed

league play.

GREEN ACRES HIGHS

Ron Byrd 258-713, Jodie Melton 195,

Jo Westlake 542, Chris Dial 268-678,

Ann Blocker 204, Linda Tufts 507, Mark

Yonke 278-777.

Lydia Concepcion 233, Ron Byrd

278, Christy Hedge 605, Gary Milner

289-740, Sue Dyess 223-602, Shane

Brown 296, Todd Turner 705.

2009-10

PBA REGIONAL

SCHEDULE

August 20-22

PBA Southwest Region Killeen

Open, Killeen, TX

August 27-29

PBA Southwest Region Greenville

Open, Greenville, TX

September 4-6

PBA Southwest Region Carol

'Stormin' Norman Pro Shop U

Can Bowl 2 Del Mar Lanes Open,

Houston, TX

September 17-19

PBA Southwest Region Young &

Pratt Austin Open, Austin, TX

September 24-26

PBA Southwest Region Fort Smith

Open, Fort Smith, AR

September 24-26

PBA Southwest Region Fort Smith

Senior Open, Fort Smith, AR

October 1-3

PBA Southwest Region Denver

Challenge (Non-champions event),

Lakewood, CO

October 1-3

PBA Southwest Region Denver

Senior Open, Lakewood, CO

It's time

to be

thinking

about Fall

Leagues

Call your

local center now

to sign up

At Killeen Bowlerama

Josh Maxson snares 785,

Jean Maxson shoots 687

KILLEEN — Josh Maxson

rolled a hard-hitting 269/785

Rebels series to take top billing

on the honor roll for the month

at Killeen Bowlerama.

Jean Maxson, from the Mixed

Masters group, led the ladies with

a sizeable 687 set.

OTHER HIGHS

Jackie Harris 269-681, Gigi Garrett

KILLEEN

BOWLERAMA

www.killeenbowlerama.com

DOLLAR NIGHTS!!!

Monday, Wednesday, Thursday

9 PM–12 AM

$1.25 per game (+tax) per person

$1.00 Hot Dogs

$1.00 Draft Beer/$5.00 pitchers

No Reservations Accepted

For Friendly Service, A Super-Clean Facility and

BOWLING AT ITS BEST!

KILLEEN

BOWLERAMA

545, Joann Biels 199, Josh Maxson 256-

660, Sandi Charles 619, Jean Maxson

220, Win Cockrell 279-749, Michelle

Orr 265-611, Lesha Smith 548.

Anna Pinson 206, Jason Stockton

671, Darline Bryant 216-598, Jeff

Schieber 254, Will Palumbo 259-711,

Kate Fico 218-508, Ray Cote 279-771,

Win Cockrell 279, Amanda Greenlaw

278.

At Hallmark Lanes

Hellon hammers 752,

Wiegert handles 744

KILLEEN — Ed Hellon pocketed

prime 279/752 numbers in

Friday Duos action to head the

leader boards for the month at

Hallmark Lanes.

Brenda Wiegert dominated

scoring for the ladies with a

blue-ribbon 259/744 Guys &

Dolls set.

HALLMARK HIGHS

Gus Garcia 264-664, Polly Norton

223-619, Matt McMillin 258-672, Esther

Navarro 225-634, Keith Desmarais

(no-tap) 796, Emily Berger (no-tap)

769, Lonnie Willardson 276-743, Karin

Ciesiolka 578.

Ivy Jefferson 246-610, Josh Smith

278-702, Roger Perry 259-727, Josh

Herrick 277-685, Lonnie Willardson

(no-tap) 842, Ivy Jefferson 608, Belva

Haney 276, Lonnie Willardson 278,

Pete Schirripa 721, Christi Schirripa

231-636.

James Fletcher 217-637, Patti Williams

540, Bob Hines 254-699, Polly

Norton 546, Matt McMillin 267-661,

Maria Dittmer 219-613, Sandy Monterde

(no-tap) 300-799, James Worley

729, Jackie Wheelbarger 238-658.

Bryce Ellison 257-673, Christine

Scott 231-547, Bob Hines 246-686, Ray

Miles 277-728, Wanda Clark 228-634,

Pete Schirripa 279, Joshua Smith

744, Christi Schirripa 630, Jackie

Wheelbarger 255-641.

254-699-5222

922 N. 38th Street

KILLEEN, TEXAS 76543

bowling@hot.rr.com
---
At Mel's Lone Star Lanes

Meadors blasts 299/781,

Lovorn wheels 663

GEORGETOWN — Philip

Meadors collected high-game

and series honors last month

at Mel's Lone Star Lanes with a

power-packed 260-299-222 = 781

Thursday Thunder series.

Rebecca Lovorn, Meadors'

leaguemate, rolled an impressive

247-217-199 = 663 set to front

distaff scoring.

LEAGUE LEADERS

Jeff Banks 247-708, Anne Marie

Pellar 236-590, Butch Patton 289-743,

Ann Keyes 204-585, Rick Glaab (PBA

Experience, 4 games) 258-872.

Pam Lawrence (PBA Experience, 4

games) 254-817, Doug Bryant 278-775,

Teresa Petteys 180-514, Jim Walker

255-626, Jackie Thomas 179-464.

Sam Cominsky (PBA Experience,

4 games) 235-877, Cassondra Shivers

(PBA Experience, 4 games) 194-717,

Freddie Camp 253-683, Dana Trigo

191-501.

SENIORS

Buddy Yaeger 258-691, Jeanniett

Chicky 202-559, John McCormick

256-658, Ginny Gauthier 191-508.

At Fiesta Lanes

Snider snags 783,

Carvajal claims 720

Howell nails 300 game

NEW BRAUNFELS — Donny

Snider, from the Strikemasters

group, pocketed power-laden 258-

257-268 = 783 numbers en route

to earning high-set honors for the

month at Fiesta Lanes.

John Howell's award-winning

12-bagger claimed high-game

honors.

Crystal Carvajal, Snider's

leaguemate, held the hot hand

for the ladies with a tip-top 227-

215-278 = 720 session.

FIESTA HIGHS

Ethan Kraft 219-590, Jenny Tibbitts

225-518, Melissa Clark 186, Harvey

Soell 204-550, Sheila Berg 268-694,

Derrick Berg 278-751, Joe Nesnidal

237-612.

Linda Morris 214-593, Bill Huber

246-Myrissa Morrison 248-665, Elena

Weber 203-519, Corinne Gaudio 201-

534, Jimmy Olson 275-751.

Karissa T. 190, Ethan Kraft 233-627,

Bernadette F. 210-570, Kelly Rock 189,

Chris Doepke 246-679, Gordon West

259, Kenny Nash 216.

Fiesta Lanes

1202 Huisache, New Braunfels, TX 78130

830-625-6263

www.fi estabowlinglanes.com

At Interstate

Lindner

delivers 724

ROUND ROCK — Paul Lindner

posted a robust 248-241-235 =

724 Classic Trio series to head

the leader boards last week at

Interstate Lanes.

Mindy Ventura rolled a nice

202-184-170 = 556 Just For Fun

set to lead the lady bowlers.

INTERSTATE HIGHS

A. Salehesthehar 202-549, Kitty

Connolly 128-361, Glenn Legge 188-

455, Michelle Fillman 122-347, Ron

Gillis 275-706, Ann Quinn 186-522,

Mark Quinn 214-589, Debby Curcoe

183-481, Clinton Reed 251-643.

Ann Shivers 204-550, Bobby Harmel

240-588, Thelma Garza 200-522, Philip

Meadors 247-676, Jan Alderman 193-

513, R.J. Little 224-650, Ann Quinn

159-450, Dan Woda 188-516, Dana Scott

138-337, Joe Ramon 178-511.

Celena Adkins 125-329, J. Wayne

Hall 259-691, Annette Thompson

212-494, Stan Temple 228-633, Susan

Black 154-419, Sean Clark 207-559,

Amiee LaFrance 168-419, Naz Melyas

172-455, Amiee Tolerton 131-349.

Summer

Trio

Tournament

Saturday, August 28th

Entry Fee:

$120.00 ($40 per person) 28 team entries

per squad (84 maximum number of teams).

Entries can be sent to Mel's Lanes.

Squad Times:

10 AM, 12:30 PM or 3 PM

(Check in 30 minutes prior to squad start time)

1 st – $1050

2 nd – $960

3 rd – $840

4 th – $720

5 th – $630

6 th – $570

Payout with 84 Entries

7 th – $510

8 th – $450

9 th – $390

10 th – $360

11 th – $300

12 th – $270

THE BOWLING NEWS | Thursday, August 5, 2010 | Page 27

13 th – $240

14 th – $210

15 th – $195

16 th – $180

17 th – $165

18 th – $150

CENTRAL TEXAS

Kickoff the

League Season!

3101 N. IH 35

Round Rock, TX 78664

(Exit 256 N.)

512-255-8826 (Lanes)

512-255-8619 (Fax)

www.interstatelanes.net

1010 N. Austin Ave.

Georgetown, TX 78626

512-930-2200

www.melslonestarlanes.com

Call Mel or Doug and sign up today!

Format

1. This is a handicap tournament.

2. Teams combined averages can not exceed 620. Handicap will be

based on 80% of the combined team average. (Example if bowler A's

average is 212; bowler B's average is 188 and bowler C's average

is 173. The teams average is 573 and handicap per game would 37

pins.)

3. The team can be any combination of men and/or women.

4. Bowlers can bowl all three squads, but must bowl on different teams

each squad (Bowlers can cash more than once).

5. Each squad, teams will bowl three games. Total pin fall after all

three squads have been completed will determine placing for the

tournament. Prize fund will be returned 100%.

6. No current exempt PBA members will be allowed to bowl.

Handicaps

1. Highest 2009-10 yearbook (must be at least 36 games).

2. If Mel's tournament average is higher by 10 pins, bowler will use

that average. Or if no yearbook average bowler may use Mel's

tournament average if more than 21 games.

3. Highest 2008-09 yearbook (must be at least 48 games).

4. If no yearbook bowler will use 210 average.

5. Tournament Director reserves the right to re-rate or reject any

bowler's average prior to bowling. All decisions by the tournament

director (Jeff Banks) will be fi nal. Any protest must be made prior to

payout of the tournaments prize fund.

To contact me about questions or info, jeffbanks@ac-c.net

or (512) 869-9438.

Sidepots

Scratch and Handicap Brackets as well as Team and Individual

high game pots will be available.
---
Page 28 | Thursday, August 5, 2010 | THE BOWLING NEWS

Cleburne Pin Center

Hankins and Lee lead

scoring race

CLEBURNE — Hank Hankins

and Becky Lee led the scoring

race for the month at Cleburne

Pin Center.

Senior bowler Hankins rolled

a strong 208/587 set in Golden

Oldies, while Lee posted a classy

196-565 Casino II set to pace the

ladies.

OTHER HIGHS

Joey Hyde (no-tap) 275-688,

Tina Lancaster (no-tap) 182-488,

Richard Diggs (no-tap) 253-202, Wendy

Landtroop (no-tap) 185-517.

Robert Spurlock (no-tap) 277-697,

ROCKWALL'S SHENANIGANZ

Continued from Page 1

Highway 30, just past exit 68

on the right.

The center is family-owned

in a huge way. It is owned by

Dr. Thomas Ripp and his six

children. Dr. Ripp has offices

in Rockwall, Greenville and

McKinney. He is an eye, ear

and throat specialist.

"Dad always taught us the

value of working for yourself,"

said Parker Coddington, a son

and spokesman for the family.

A couple of dining hot spots

in the facility are named after

family members.

The center has not had

Wendy Landtroop (no-tap) 227-522, Lee

Chaney (no-tap) 253-650, Kathy Butler

(no-tap) 194-503, Steve Underwood

212-512.

Larry Luck 212-559, Kathy M. 176-

502, Becky Lee 165-470, Randal Lee

211-562, Randal Lee 212-543, Rachel

Garcia 180-414, Larry Luck 210-555,

Tina Lancaster 196-477.

SENIORS

Bill Barber 193-485, Lou Stanley

156-421, Robert Spurlock 190-524, Sarah

Chapman 200-400, Bill Barber 178-471,

Chang Ketcham 155-377, Lou Stanldy

161-453, Shirley Johnson 161-369.

any sanctioned bowling but

the owners have been pleased

with some of the non-sanctioned

bowling it has had,

Coddington said he saw

enough to make him believe

the bowlers are ready. Coddington

said Rockwall citizens have

been very supportive.

The owners picked Rockwall

for the center because they

found there was a shortage

of family entertainment in

Rockwall.

The center has 24 lanes, and

all sorts of games, including

a mechanical bull and indoor

At Shenaniganz

Piotrowski

posts 623

ROCKWALL — James

Piotrowski's solid 212-189-222

= 623 Eazy Rollers series

led scoring for the week at

Shenaniganz.

Carol Dziatlik, Piotrowski's

leaguemate, paced the ladies with

a nice 168-241-125 = 534 set.

HONOR LIST

Sam Connell 256-546, Carol

Dziatlik 177-426.

⌧ ⌧ ⌧

go-karts.

It also includes:

Restaurants;

Rozie's grill

A sports bar

A two-story laser tag

And many more.

"Things look good," Coddington

said.

But they could always look

better," he said.

"Bowlers will always be our

top attraction."

He said bowling takes

up about 20 percent of the

building's 75,000 square feet.

The Bowling News welcomes

the center and will be

hoping the good times roll on.

Pin Center Bowl has something for everyone!

Beginner • Intermediate • Advanced

Adults • Children • Adults & Children

Big Money • Trophies • Trips • Farmville

Make New Friends and Have FUN with Old Friends!

JOIN A LEAGUE TODAY!

2010-2011 Fall / Winter League Schedule

Sanctioned

LEAGUES

starting this Fall!

Go to

Shenaniganz.

com

for more info

Eastbound I-30 Service Road and Hwy 205• Rockwall

972-722-1133 • Shenaniganz.com

If you haven't been

here for a while,

come on over. We're

looking good!

Stacie Parrish

Proprietor

The "Slaughter Daughter"

For the month of August, Get ready

for next season, Show the front

counter your USBC Sanction card

and practice for only $1 per game.

Our lanes will

be resurfaced in

August!

112 Williams Ave.

Cleburne, TX 76033

817-641-4441

www.pincenterbowl.com