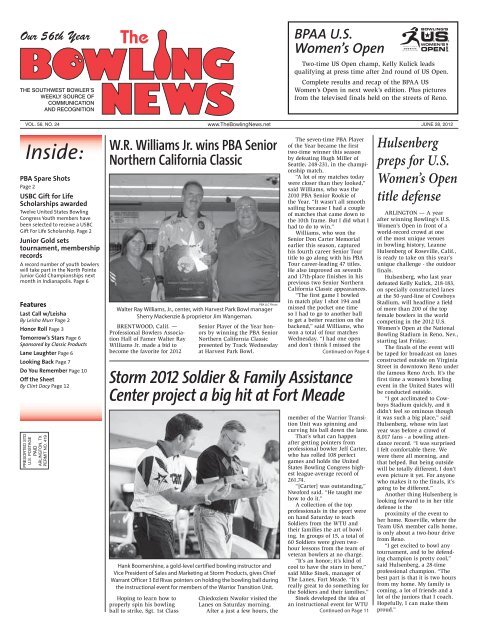 June 28 - The Bowling News
June 28 - The Bowling News
June 28 - The Bowling News
SHOW MORE
SHOW LESS
Create successful ePaper yourself
Turn your PDF publications into a flip-book with our unique Google optimized e-Paper software.
Our 56th Year

VOL. 56, NO. 24 www.TheBowlingNews.net JUNE 28, 2012

Inside:

PBA Spare Shots

Page 2

USBC Gift for Life

Scholarships awarded

Twelve United States Bowling

Congress Youth members have

been selected to receive a USBC

Gift For Life Scholarship. Page 2

Junior Gold sets

tournament, membership

records

A record number of youth bowlers

will take part in the North Pointe

Junior Gold Championships next

month in Indianapolis. Page 6

Features

Last Call w/Leisha

By Leisha Murr Page 2

Honor Roll Page 3

Tomorrow's Stars Page 6

Sponsored by Classic Products

Lane Laughter Page 6

Looking Back Page 7

Do You Remember Page 10

Off the Sheet

By Clint Dacy Page 12

PRESORTED STD

U.S. POSTAGE

PAID

ARLINGTON, TX

PERMIT NO. 419

W.R. Williams Jr. wins PBA Senior

Northern California Classic

PBA LLC Photo

Walter Ray Williams, Jr., center, with Harvest Park Bowl manager

Sherry Mackenzie & proprietor Jim Wangeman.

BRENTWOOD, Calif. —

Professional Bowlers Association

Hall of Famer Walter Ray

Williams Jr. made a bid to

become the favorite for 2012

Hoping to learn how to

properly spin his bowling

ball to strike, Sgt. 1st Class

Senior Player of the Year honors

by winning the PBA Senior

Northern California Classic

presented by Track Wednesday

at Harvest Park Bowl.

Chiedoziem Nwofor visited the

Lanes on Saturday morning.

After a just a few hours, the

BPAA U.S.

Women's Open

Two-time US Open champ, Kelly Kulick leads

qualifying at press time after 2nd round of US Open.

Complete results and recap of the BPAA US

Women's Open in next week's edition. Plus pictures

from the televised finals held on the streets of Reno.

The seven-time PBA Player

of the Year became the first

two-time winner this season

by defeating Hugh Miller of

Seattle, 248-231, in the championship

match.

"A lot of my matches today

were closer than they looked,"

said Williams, who was the

2010 PBA Senior Rookie of

the Year. "It wasn't all smooth

sailing because I had a couple

of matches that came down to

the 10th frame. But I did what I

had to do to win."

Williams, who won the

Senior Don Carter Memorial

earlier this season, captured

his fourth career Senior Tour

title to go along with his PBA

Tour career-leading 47 titles.

He also improved on seventh

and 17th-place finishes in his

previous two Senior Northern

California Classic appearances.

"The first game I bowled

in match play I shot 194 and

missed the pocket one time

so I had to go to another ball

to get a better reaction on the

backend," said Williams, who

won a total of four matches

Wednesday. "I had one open

and don't think I missed the

Continued on Page 4

Storm 2012 Soldier & Family Assistance

Center project a big hit at Fort Meade

Hank Boomershine, a gold-level certified bowling instructor and

Vice President of Sales and Marketing at Storm Products, gives Chief

Warrant Officer 3 Ed Rivas pointers on holding the bowling ball during

the instructional event for members of the Warrior Transition Unit.

member of the Warrior Transition

Unit was spinning and

curving his ball down the lane.

That's what can happen

after getting pointers from

professional bowler Jeff Carter,

who has rolled 108 perfect

games and holds the United

States Bowling Congress highest

league-average record of

261.74.

"[Carter] was outstanding,"

Nwoford said. "He taught me

how to do it."

A collection of the top

professionals in the sport were

on hand Saturday to teach

Soldiers from the WTU and

their families the art of bowling.

In groups of 15, a total of

60 Soldiers were given twohour

lessons from the team of

veteran bowlers at no charge.

"It's an honor; it's kind of

cool to have the stars in here,"

said Mike Sinek, manager of

The Lanes, Fort Meade. "It's

really great to do something for

the Soldiers and their families."

Sinek developed the idea of

an instructional event for WTU

Continued on Page 11

Hulsenberg

preps for U.S.

Women's Open

title defense

ARLINGTON — A year

after winning Bowling's U.S.

Women's Open in front of a

world-record crowd at one

of the most unique venues

in bowling history, Leanne

Hulsenberg of Roseville, Calif.,

is ready to take on this year's

unique challenge - the outdoor

finals.

Hulsenberg, who last year

defeated Kelly Kulick, 218-183,

on specially constructed lanes

at the 50-yard-line of Cowboys

Stadium, will headline a field

of more than 200 of the top

female bowlers in the world

competing in the 2012 U.S.

Women's Open at the National

Bowling Stadium in Reno, Nev.,

starting last Friday.

The finals of the event will

be taped for broadcast on lanes

constructed outside on Virginia

Street in downtown Reno under

the famous Reno Arch. It's the

first time a women's bowling

event in the United States will

be conducted outside.

"I got acclimated to Cowboys

Stadium quickly, and it

didn't feel so ominous though

it was such a big place," said

Hulsenberg, whose win last

year was before a crowd of

8,017 fans - a bowling attendance

record. "I was surprised

I felt comfortable there. We

were there all morning, and

that helped. But being outside

will be totally different, I don't

even picture it yet. For anyone

who makes it to the finals, it's

going to be different."

Another thing Hulsenberg is

looking forward to in her title

defense is the

proximity of the event to

her home. Roseville, where the

Team USA member calls home,

is only about a two-hour drive

from Reno.

"I get excited to bowl any

tournament, and to be defending

champion is pretty cool,"

said Hulsenberg, a 28-time

professional champion. "The

best part is that it is two hours

from my home. My family is

coming, a lot of friends and a

lot of the juniors that I coach.

Hopefully, I can make them

proud."
---
Page 2 | Thursday, June 28, 2012 | THE BOWLING NEWS

By Leisha Murr

This week I've been busy

making all of my flight and

hotel reservations for the Scentsy

convention I will be attending

at the end of next month. I've

been trying to get organized and

make sure I have everything

taken care of because I have a

busy couple of weeks coming

up and don't want to have to

worry about anything. We bowl

women's state tournament this

weekend and then on Tuesday

I leave for Reno to bowl the

Women's Championships.

I like bowling tournaments

towards the end of the event

because you know going in what

the scores are like and what

you'll need to shoot to take over

the lead. We are bowling the last

weekend for state, and I think

nationals has less than two

weeks left after we bowl. This

week, most of the women in the

Diamond and scratch division

are bowling because they are in

Reno for the Women's US Open

which started today and ends on

Wednesday. You can watch live

on bowl.com this week and the

outdoor finals under the Reno

arch will air July 3rd on ESPN.

So after all of the ladies I call

the "Superstars" bowl this week

in Reno, we should know who

is going to win in the scratch

standings for sure and most

likely the Diamond division

BUY - SELL

AMF - BRUNSWICK EQUIPMENT - COMPLETE PACKAGES

WORLD'S LARGEST NEW - USED SPARE PARTS INVENTORY

ALL AMF BUMPER PARTS: XS QBUMP, DURABOWL AND GEN II IN STOCK

Tucker Bowling Equipment Co.

609 N.E. 3rd St.

Tulia, Texas 79088

Call (806) 995-4018

Fax (806) 995-4767

as well. There is still a chance

someone or team (hopefully

from our group) could take the

lead in the Diamond division

because it includes 100%

handicap of 220 per person. It

would be amazing to come out

on top at the biggest women's

event we have.

After I bowl in Reno, I'm

going to stop off in Vegas for a

few days before I come home.

You'd think I could get my

gambling fix in the time I'm in

Reno, but I really just don't like

it there. I haven't found a casino

I enjoy gambling in or even

pit bosses that were friendly.

Plus, the hotels on the strip in

Vegas are so much nicer than

anything you can find in Reno.

I'm excited to get to stay in one

of the hotels on the strip that I

haven't been in before this trip.

There are so many great choices.

I've stayed at Treasure Island,

Caesars, Bally's, Bellagio, Palms,

Mandalay Bay, Luxor, and

unfortunately the Excalibur. On

day I hope I can say I've stayed

in them all!

I typically don't get to stay on

the strip when I'm in Las Vegas

because we are usually there for

a bowling tournament and stay

at the host casino. The ones I

have stayed at are the Orleans,

Gold Coast, South Point, Sam's

Town, Texas Station, and Sunset

Bowling Parts, Inc.

P.O. Box 801

Tulia, Texas 79088

Call (806) 995-3635

email: daryl@tuckerbowling.com

www.tuckerbowling.com

Mailing Address: P.O. Box 1642, Colleyville, TX 76034-1642

Delivery Address: 4133 Heartstone Dr, Grapevine, TX 76051

Offi ce: 817-267-8686 • Fax: 817-267-1813 • Cell: 817-368-7960

Website: www.thebowlingnews.net • Email: bowlingnews@sbcglobal.net

JOE GENNARO (972-978-8687) . . . . . . . . . . . . . . . . . . . . . . . . . . . . . EDITOR EMERITUS

TONY FRANKLIN (Tony@TheBowlingNews.net) . . . . . . . . . . . . .OWNER/PUBLISHER

GENIE FRANKLIN (Genie@TheBowlingNews.net) . . . . . . . . . . .OWNER/PUBLISHER

BILL HAZLETT (Bill@TheBowlingNews.net) . . . . . . . . . . . . . . . . .MANAGING EDITOR

JIM WOODRUFF (jim@discountplasticbags.com) . . . . . . . . . . . . . FEATURE EDITOR

EMIL WILLIAMS JR. (emil@thebowlingnews.net ). . . . . . . . . . . . . . . . STAFF WRITER

TYSON BRANAGAN (t.branagan@yahoo.com) . . . . . . . . . . . . . . . . . . STAFF WRITER

BREANNE EOFF (breanne@TheBowlingNews.net) . . . . . . . . . . . . . . . STAFF WRITER

CLINT DACY (Clint@TheBowlingNews.net) . . . . . . . . . . . . . . . . . . . . . . . . COLUMNIST

SUSIE MINSHEW (strikeability@gmail.com) . . . . . . . . . . . . . . . . . . . . . . . . COLUMNIST

LEISHA MURR (leisha@TheBowlingNews.net) . . . . . . . . . . . . . . . . . . . . . COLUMNIST

BUBBA FLINT (fl intsworld@aol.com) . . . . . . . . . . . . . . . . . . . . . . . . . . . . . CARTOONIST

CONTRIBUTING FEATURE WRITERS

John Jowdy • Chuck Pezzano • Don Wright

Note: Opinions expressed by our independent columnists and feature writers are

their own and do not necessarily refl ect the views of The Bowling News.

Subscription rates: $65 a year in advance. Check or money orders should be addressed to

THE BOWLING NEWS.

© 2012

Th e Bowling News

FOUNDED AND PUBLISHED BY JOE GENNARO FROM 1956-2009

Station. All of the bowling centers

in Vegas are inside casinos

off the strip. There is even a

Lucky Strikes inside the Rio.

Can you imagine having to drag

bowling balls through a casino

each week to get to league to

bowl? I'm sure bowling league

each week ends up costing the

bowlers more than just the

league fees depending on how

many slot machines are between

the lanes and the car.

Anyway, I guess I gambled

more than normal on my last

bowling trip because I got a

call from a casino host this

afternoon wanting to offer me a

room and some food credits to

come back. So, staying off of the

strip does have its advantages;

you don't have to be a highroller

to get comps at the smaller

properties.

Last week I mentioned I had

started reading the Shades of

Grey series. Well, I'm now half

way finished with the third and

final book. The books probably

need to be an NC-17 rating, not

just R. It has definitely been an

education into, we will say, an

alternative lifestyle of intimate

relations. But as the books go

on, you begin to understand and

feel for the controlling man and

why he is the way he is. There

is some great banter between

the couple and I can't wait to

see how it all ends. Warning:

These books are definitely NOT

for the modest reader, you might

be shocked or even appalled that

I've enjoyed reading them.

DBTDFW.COM

Upcoming TOURNAMENT

5 MEMBER MIXED TEAM

BOWLING TOURNAMENT

SATURDAY & SUNDAY

JULY 14 & 15

GUARANTEED $4,125

Saturday & Sunday Squad Times 9:00 AM & 1:30 PM

Squad 1 bowls Saturday at 9 AM and again on Sunday at 1:30 PM

Squad 2 bowls Saturday at 1:30 PM and again on Sunday at 9 AM

Check-In 30 minutes prior to Squad Time

Format: 3 Games Across 6 Lanes Each Day.

REGISTER NOW!

USBC awards 12 Gift

For Life Scholarships

ARLINGTON, Texas - Twelve

United States Bowling Congress

Youth members have been

selected to receive a USBC Gift

For Life Scholarship.

The USBC Gift For Life

Scholarship annually is awarded

to USBC Youth members

who are in high school, have a

minimum grade-point average

of 2.0 (on a 4.0 scale), and

have demonstrated financial

need. Each recipient receives

a $1,000 scholarship managed

through the SMART program.

The recipients for 2012 are:

Justice April, Columbia, S.C.

Audra DiGangi, Manitou

Beach, Mich.

Tessa Friason, Vancouver,

Wash.

Jacob Garris, Greensburg, Pa.

Ariana Goldsby, Prattville,

Ala.

Tammy Knapp, Greeneville,

Tenn.

David Rodriguez II, Jackson,

Mich.

Erin Shortell, Pearl River,

N.Y.

Stephanie Sims, Garland,

Texas

Riley Smith, Kenosha, Wis.

Arianna Toth, Niles, Ohio

Jamel Wheeler-Burton, New

York, N.Y.

"The USBC Gift For Life

ENTRY FEE

$350.00 PREPAID (48 hours before tournament start)

$100.00 non-refundable deposit due to hold team spot; balance due in cash day of

tournament. Cashier Checks or Money Orders only! Make payable to Duane Bates,

PO Box 543153, Grand Prairie, TX 75054-3153.

$400.00 WALK-IN (Cash only less than 48 hours before tournament start)

TEAMS

Bowlers must present USBC card and driver license at check-in.

Each team must have five (5) players; either three (3) men and two (2) women or

two (2) men and three (3) women.

Each team will bowl three (3) games across 6 lanes on Saturday and three (3)

games across 6 lanes on Sunday.

Saturday lane assignments will be drawn as each team checks in. Sunday

assignments will be drawn 30 minutes prior to squad time.

PAYOUT

Total Payout of $4,125 (for 15 teams).

If there are 10 entries, we will pay $2,425.00 [1st place], $1,200 [2nd], and $500 [3rd

place] for a total of $4,125.00.

We pay 1 in 5 entries. If we have 40 teams, we will pay out $11,000.00 and 8 places.

Scholarship program, and the

other scholarship programs of

USBC, are in place to help deserving

students in the bowling

community," USBC Executive

Director Stu Upson said. "We

hope the scholarships will help

them as they take the next step

in their educations."

Each year, 12 Gift For Life

scholarships are awarded to

USBC Youth members in need

of financial help to obtain a

college education. In honor of

the September 11th heroes, at

least two of the scholarships

awarded each year are reserved

for the children of fire department,

police or emergency

rescue personnel. This year,

those awards went to Garris,

Knapp and Shortell.

Go to BOWL.com/scholarships

to learn more about

scholarship opportunities for

youth bowlers.

AMF GARLAND LANES

(SHOWPLACE)

1950 Marketplace DR.

Garland, TX 75041

Visit www.dbtdfw.com

for complete rules and

to print entry form.

You can bowl both squads

if you change out 2

bowlers. (At least 1 male

and 1 female).

Call Duane Bates,

Tournament Director, at

817.805.0124 or

email: dbt02@att.net

with any questions.
---
Men

Geoff Martin, Plano Super Bowl ........................... 836

Mike Ewert, AMF Showplace Euless Lanes ......... 764

Paul Henderson, Forum Bowl................................ 760

Randall Buda, USA Bowl ....................................... 757

Kevin Cobb, AMF Lewisville Lanes ....................... 752

Tony Franklin, Strikz ............................................... 751

Dennis Vineyard, Cityview Lanes .......................... 748

Tom Clark, Brunswick Westcreek Lanes .............. 747

Chris Johnson, Cowtown Bowling Palace ............ 734

Chris Lopez, AMF DeSoto Lanes .......................... 734

Matt Seidler, AMF Richardson Lanes.................... 731

Rich Carlson, Red Bird Lanes ............................... 705

Glenn Jackson, Brunswick Zone Watauga ........... 700

Joe Laehr, AMF Hurst Lanes ................................. 649

Larry Lee, Rowlett Bowl-a-Rama ........................... 622

Women

Katie Tallant, Cowtown Bowling Palace ................ 707

Diana Jessie, Forum Bowl ..................................... 706

Pearl Tucker, Brunswick Westcreek Lanes ........... 676

Lauren Daniel, Red Bird Lanes ............................. 667

Cindy Mann, Plano Super Bowl ............................ 666

Karleen Reynolds, Strikz ....................................... 664

Lisa Steele, AMF Showplace Euless Lanes ......... 641

Denise Jones, Cityview Lanes .............................. 637

Elynn Boss, AMF Richardson Lanes .................... 636

Kathy Foote, Brunswick Zone Watauga ................ 633

Amy Fretz, AMF Lewisville Lanes ......................... 599

Melody Richie-Foster, USA Bowl........................... 599

Lisa Powell, AMF DeSoto Lanes ........................... 592

Louise Garner, Rowlett Bowl-a-Rama ................... 566

Linda Neal, AMF Hurst Lanes ................................ 536

At Cityview Lanes

Vineyard wraps up

748, Jones hits 637

Dennis Vineyard chalked up

hefty 234-246-258 = 748 marks

in New Beginnings action to head

the leader boards for the week at

Cityview Lanes.

Denise Jones, from Billie &

Les High Pot group, paced the

ladies with a lofty 226-200-211

= 637 set.

HONOR ROLL

Kevin Roberts 256-720, Amy

Langham 213-621, Frankie Brazos

226-664, Fae Hogan 212-567, Denis

Muilenberg 257-705, Sharon Eliot

186-555, John Hartsel 268-724, Lisa

Ray 217-599.

Dane Ellinger 233-661, Karen

Steele 191-522, Bob Foster 223-588,

Jackie Simpson 173-481, Carl Jordan

(4 games) 210-749, Jacki Archer (4

games) 202-675.

SENIORS

John Stewart 263-682, Cathy

McSwain 213-557, Terry Lindsey 234-

660, Billie Thomas 193-528.

At USA Bowl

Buda compiles 757

Randall Buda racked up a

rousing 268-242-247 = 757 OLBA

session to earn the top spot on the

honor roll last week at USA Bowl.

Melody Richie-Foster booked

an outstanding 213-173-213 =

599 West Stars set to pace the

ladies.

HONOR ROLL

Matt Boyd 245-722, Wendell Myers

245-683, Susan Charlton 243-579,

Carolyn Large 201-559, Keith Owen

277-690, Michelle Carr 188-497, Chris

Blackwell (2 games) 157-290.

Kathy Bean (2 games) 175-312, B J

Antes (2 games) 145-285, Pam Murad

(2 games) 130-228, James Fugitt (4

games) 224-865, Mindy McNeal (4

games) 244-702, Jack Soria (4 games)

213-793.

Faith Nealon (4 games) 190-635,

J D Underwood 221-640, Heidi Lowe

150-432, John DeCaapua 236-638,

Marty Barlow 153-424, Sung Lee

267-710, Ester Jones 204-544, Steve

Kerr 275-696.

Ronnie Willets 187-511, Chuck Jolly

179-490, Van Eggers 190-489.

PBA Spare

Shots:

EDWARDS' SENIOR MASTERS

VICTORY THROWS PBA

SENIOR PLAYER OF YEAR

RACE INTO THREE-WAY TIE

Mike Edwards' 701-691

victory over Hugh Miller to

lock up his first PBA Senior

Tour title – and first major – in

the USBC Senior Masters on

June 15 at South Point Bowling

Center in Las Vegas threw both

the PBA Senior Tour Player of

the Year and Rookie of the Year

races into a tizzy heading into

the final three events of the

2012 season.

Edwards, who turned 50

in December, ran the table in

the Senior Masters, posting a

7-0 record in the three-game,

double-elimination match play

event in becoming the first

Native American to win a PBA

Senior Tour title. The victory

came a week after Edwards

finished third in the Etonic

PBA Senior U.S. Open in his

debut as a senior player, and

18 years after winning his only

PBA Tour title in the 1994 PBA

IOF Bowling for Miracles Open

in Toronto, Ontario.

The win also earned

Edwards 24 points in the PBA

Senior Player of the Year race.

Combined with the eight points

he earned for his third-place

finish in the Senior U.S. Open,

he now has 32 points and he's

tied for No. 1 on that list with

PBA Hall of Famer Walter Ray

Williams Jr. and fellow Senior

Tour "rookie" Amleto Monacelli,

who mirrored Edwards'

finishes in the season's two

senior majors: Monacelli won

the Senior U.S. Open and

finished third in the Senior

Masters for his 32 points.

Trailing Williams, Monacelli

and Edwards in the POY points

chase are rookies Bob Learn Jr.

(18 points) and Lennie Boresch

Jr. (16), PBA Hall of Famer

Johnny Petraglia (16), and Ron

Profitt and Miller (12 each).

Petraglia is currently sidelined,

recovering from shoulder

surgery.

For the final three Senior

Tour tournaments (Brentwood,

Calif., June 17-20; Hammond,

Ind., Aug. 6-9, and Decatur, Ill.,

Aug. 11-14), 16 Player of the

Year points will be awarded to

the winners, eight points for

second place, four for third and

two for fourth.

Senior Tour Rookie of the

Year will be elected by PBA

members and the bowling

media. In addition to Edwards

and Monacelli, Boresch and

Learn are also first-year title

winners.

FREE "XTRA FRAME ON

YOUTUBE" SHOWS SET FOR

BOWL EXPO WEEK

PBA's Xtra Frame crew

(Mike J. Laneside, Mike

Jakubowski, and The Bowling

Guy, Jason Thomas) will be

on-site at International Bowl

Expo in Reno, Nev., next

week to develop a series of

interviews and features that

THE BOWLING NEWS | Thursday, June 28, 2012 | Page 3

will be available online at no

cost, starting June 27, on the

PBA YouTube Channel. Use

this link (http://www.youtube.

com/user/PBAProBowlersAssn)

to subscribe to the PBA's free

YouTube programming.

REGIONAL ROUNDUP: JUREK

WINS PBA CENTRAL REGION

Tuesday & Wednesday

10 AM until 10 PM

$2.00 per person, per game

$2.00 rental shoes

214-358-1382 Fax: 214-358-4056

10920 Composite Drive, Dallas, TX 75220

Visit us on the Web at www.USABowlInDallas.com

Practice - Practice - Practice

Due to the Texas State Women's Tournament we are

moving the practice days to:

Mondays & Tuesdays

After 4 PM

The Open (Baton Rouge) and

Women's (Reno) National

Championships

(We have lanes conditioned with the lane

pattern of each of these tournaments)

$2.00 per game

Practice - Practice - Practice

Give Yourself the Competitive Edge !!!

Due to hosting the Texas State Women's Tournament,

April 28 thru June 24, please call for lane availability!

The "New"

817-346-0444

CHEETAH OPEN

Jack Jurek of Lackawanna,

N.Y., locked up a paid entry

into the 2012 PBA World Series

of Bowling Sunday when he

defeated Chris Loschetter of

Avon, Ohio, by 220 pins to win

the PBA Central Region J.D.

Continued on Page 6

JULY 3rd

& 4th

SPECIAL

Cityviewlanes.net Fax: 817-346-7208
---
Page 4 | Thursday, June 28, 2012 | THE BOWLING NEWS

W.R. WILLIAMS JR.

Continued from Page 1

pocket maybe two or three

times all day. I'm just glad I

didn't waste all my strikes in

qualifying."

Miller was trying to become

League Start Date Day Time Format

Monday

Mixerz

Tuesday

Trio

Lousy

Bowlerz

June 4th Monday 6:30 PM 4 Person Mixed

League

May 29th Tuesday 8:00 PM 3 Person Mixed

Competitive

League

May 30th Wednesday 6:30 PM 4 Person Mixed

League

Strikerz June 7th Thursday 6:30 PM 4 Person Mixed

League

Pizza/Beer

and Fun

June 7th Thursday 9:00 PM 4 Person Mixed

League

Pin Pusherz June 7th Thursday 9:00 PM 2 Person Mixed

League (4 games)

Youth June 2nd Saturday 9:00 AM Ages 4-21 Youth

League

Youth Classic June 3rd Sunday 7:00 PM Ages 12-21

Competitive Youth

League

KIDS BOWL FREE THIS SUMMER

Sign up now at

KidsBowlFree.com/Strikz

Coming in July!

Bank & Credit Union Employees…grab 3 co-workers for a fun league.

Starts July 9th @ 7 PM!

Competitive Men's Trio League…starts July 11th @ 9 PM

Coming in September!

the seventh different winner

of the season and was coming

off a fifth-place finish in the

Etonic PBA Senior U.S. Open

and second-place finish in last

week's United States Bowling

Congress Senior Masters.

In the semifinals, Williams

972-668-5263

8789 Lebanon Road,

Frisco, TX 75034

www.strikz.com

Ladies…time to do something just for YOU, grab two friends & come

spend the morning catching up with friends while you bowl!

Couples league…Take your sweetie out for a monthly night of bowling.

Call for details for all the new leagues!

www.facebook.com/

rowlettbowlarama

5021 Lakeview Parkway

Rowlett, TX 75088

972-475-7080

www.rowlettbowlarama.com

defeated Mike Dias of Lafayette,

Colo., 259-228 and Miller

defeated Hall of Famer Wayne

Webb of Columbus, Ohio,

216-205, to advance to the title

match.

The 2012 PBA Senior Tour

season takes a six-week break

before it resumes with the

PBA Senior South Shore Open

presented by DV8 at Olympia

Lanes in Hammond, Ind., Aug.

6-9, and the season-ending PBA

Senior Decatur Open presented

by Brunswick Aug. 11-14 at

Spare Time Lanes in Decatur,

Ill.

PBA SENIOR NORTHERN

CALIFORNIA CLASSIC

PRESENTED BY TRACK

Harvest Park Bowl, Brentwood, Calif.

Final Results

a-amateur

Championship Match

Walter Ray Williams Jr., Ocala, Fla. ($8,000) def.

Hugh Miller, Seattle

($4,500), 248-231.

Semifinal Round (losers earn $2,600)

W.R. Williams def. Mike Dias, Lafayette, Colo.,

259-228.

Miller def. Wayne Webb, Columbus, Ohio,

216-205.

Round of 8 (best of three games, losers

eliminated, $1,600 each)

W.R. Williams def. Ross Packard, San Jose,

Calif., 2-0.

Dias def. a-Mark McCreary, Livermore, Calif.,

2-0.

Miller def. Ted Staikoff, Black Hawk, S.D., 2-0.

Webb def. Lennie Boresch, Jr., Kenosha, Wis.,

2-0.

Round of 16 (best of five games, losers

eliminated, $1,300 each)

W.R. Williams def. a-Dick Baker, Henderson,

Nev., 3-1.

Packard def. Chris Keane, New City, N.Y., 3-1.

Dias def. Dale Traber, Cedarburg, Wis., 3-1.

Miller def. Barry Gurney, West Hills, Calif., 3-0.

Staikoff def. Kevin Croucher, Grants Pass, Ore.,

3-1.

Webb def. Paul McCordic, Sugar Land, Texas,

3-1.

McCreary def. Todd Kjell, Roscoe, Ill., 3-2.

Boresch def. a-Sam Carter, BenLomond, Calif.,

3-0.

Round of 24 (best of five games, losers

eliminated, $1,100 each)

D. Baker def. Bill Nichols, Roseville, Calif., 3-0.

Packard def. Harry Sullins, Chesterfield Twp.,

Mich., 3-2.

Dias def. Tom Baker, King, N.C., 3-1.

Gurney def. Tom Carter, Rockford, Ill., 3-1.

Staikoff def. Ron Mohr, Eagle River, Alaska, 3-1.

McCordic def. Ricky Beck, Box Elder, S.D., 3-1.

Boresch def. Randy Shewmake, Fort Worth,

Texas, 3-1.

Kjell def. Ron Winger, Las Vegas, 3-2.

At Rowlett

Bowl-a-Rama

Lee lights

up 622

Larry Lee led scoring for the

week at Rowlett Bowl-a-Rama

with a power-packed 187-213-222

= 622 Sunday Funday series.

Louise Garner led the ladies

with a solid 170-193-203 = 566

Rolling Rocks Seniors set.

HONOR ROLL

Magen Hathaway 169-503, Mike

Ballew 194-527, Caroline Richards

200-492, Larry Lee 248-575, Belinda

Ramirez 190-504.

SENIORS

Ray Lanham (2 games) 125-230,

Myra Lovell (2 games) 181-331, Jim Bob

Steinhoff 192-497 Louise Garner 203-

566, Rodney Savoie (no tap) 279-743,

Margaret Thompson (no tap) 204-493.

At Brunswick Westcreek

Clark topples 747,

Tucker notches 676

Tom Clark chalked up

estimable 244-248-255 = 747

numbers in Beat The House

action to head the honor roll for

the week at Brunswick Westcreek

Lanes.

Pearl Tucker, from the High

Pot with a Twist league, posted

a rip-roaring 206-225-245 = 676

set to lead the lady bowlers.

HONOR ROLL

Richard Crossland, Sr. 269, Gloria

Llagas 221-604, Taylor Coggins 664,

Kimer Laster 238-686, Teresa Tibbs

187-496, Danny Castro 206-573, Sonja

Nichols 166-475, Emanuel Rangel

212-526.

Jeff Hamlin 214-613, Garry

McKinney 225-528, Jeremy Villanueva

141-394, Luther Mayfield, Jr. 178-437,

Luther Mayfield III 224-570, Steven

Gaudet 238-608, Jared Gaudet 171-478.

Steve Fontenot 193-570, George

Helfrich 191-527, Joe White 140-

392, Marcus Pugh 237-700, Jamey

Coggins 211-613, Ron Coggins 247-

691, Cassandra Norris 248, Justin

McGlothlin 247-611.

Jimmy Gardner 245-651, Leo

Stanley 613, Jerry Orta 278-700, Andrea

Collins 221-614, Jared Gaudet 265, Kim

Permenter 199-518, Jullian Rimmer

614, Randy Seward 247, Ranndee

Drake 194.

Chris Davis 206, Lavecda Colston

136, Ron Mills 267, Dolores Howard

233-591, Kevin Bankston 279, Jerimi

Thomas 279, Willie Jackson 279,

Vernon Smith, Jr. 279, Marshall

McNeese 279.

Barbara Avery 215-586, Jonathan

Redfield 722, Chester Jones 268-705.

At Strikz

Franklin unloads 751,

Reynolds fires 664

FRISCO – Tony Franklin led the

high-set chase last week at Strikz

with a power-packed 239-223-289

= 751 Trio League session.

Karleen Reynolds, also

from the Trio League group,

dominated the ladies with a

blue-ribbon 232-218-214 = 664

production.

HONOR ROLL

Joe Jiminez 248-648, Cathy Eberly

169-485, Ron Shive 237-609, Melanie

Covington 184-467, Tim Gesino 268-

722, Heather Gesino 221-643, Ted Pritts

269-698, Lisa Wasson 236-621, Steve

Krupa 235-644.

Jim Reynen 238-657, Debbie Colby

193-525, Rick Irvine 229-644, Cathy

Eberly 205-518, Chris Marino 237-634,

Illya Chern 266-620.

ALL AGES. ALL SKILL LEVELS. ALL GOOD TIMES.

JOIN AS A SINGLE, COUPLE OR COMPLETE TEAM

League Start Date # Per #

Type League Name Day & Time Team Wks.

Adult High Pot W/A Twist Thursday June 7th, 7:00 PM 3 12

Adult Friday Mixed Classic Friday June 15th, 7:00 PM 4 11

Adult Sunday Mix Practice Sunday June 3rd, 6:30 PM 4 12

Adult/Youth Y/A Scholarship Monday June 4th, 6:30 PM 4 12

Adult Happy Hour Tuesday June 5th, 6:30 PM 4 12

Adult Scratch Trios Tuesday June 5th, 6:30 PM 3 12

Adult Lousy Bowlers Tuesday May 29th, 8:45 PM 2 14

Adult Wednesday Warmup Wednesday May 16th, 9:30 AM 3 15

Adult Beat the House Wednesday June 6th, 6:15 PM 4 12

Ladies Bowlerettes No Tap Thursday May 31st, 9:00 AM 2 12

Seniors Baby Boomers Thursday May 10th, 1:00 PM 3 15

Seniors Happy Rollers Tuesday May 8th, 1:00 PM 3 15

Juniors Little Rascals Saturday June 2nd 9:30 AM 2 12

Juniors BFF Club Saturday June 9th 12:00 PM 3 10

Juniors Jr. King of the Hill Wednesday June 13th 11:00 AM 1 11

Juniors BFF Club Wednesday June 20th 12:30 PM 2 10

SPACE IS LIMITED—REGISTER TODAY!

Brunswick

Westcreek Lanes

3025 Altamesa Blvd., Fort Worth, TX 76133

817-294-0501
---
THE BOWLING NEWS | Thursday, June 28, 2012 | Page 5

join an amf summer league today.

have a blast meeting new people and kicking up the competition with friends!

with leagues for all ages and skill levels, there's fun for everyone!

SUMMER LEAGUES

FORMING NOW FOR:

YOUTH

ADULT

SENIOR

amf.com

AMF Arlington Lanes 1801 E. Lamar Blvd., Arlington, TX 76006 Ph: 817-276-9898

AMF DeSoto Lanes 121 Northgate Drive, DeSoto, TX 75115 Ph: 972-780-8090

AMF Hurst Lanes 720 West Pipeline Road, Hurst, TX 76053 Ph: 817-282-6754

AMF Irving Lanes 3450 Willow Creek Drive, Irving, TX 75061 Ph: 972-790-8201

AMF Lewisville Lanes 1398 West Main St., Lewisville, TX 75067 Ph: 972-436-6575

AMF Richardson Lanes 2101 N. Central Expwy., Richardson, TX 75080 Ph: 972-231-2695

AMF Showplace Lanes Euless 1901 W. Airport Frwy., Euless, TX 76040 Ph: 817-540-0303

AMF Showplace Lanes Garland 1950 Marketplace Dr., Garland, TX 75041 Ph: 972-613-8100

AMF Spare Time Lanes 3149 S. Cooper St., Arlington, TX 76015 Ph: 817-465-4997
---
Page 6 | Thursday, June 28, 2012 | THE BOWLING NEWS

Sponsored by

Boys

Troy Berneburg, Plano Super Bowl ...................... 748

Connor Strehlow, Brunswick Zone Watauga ........ 654

Keith Thomas, Brunswick Westcreek Lanes ........ 653

D'Ontae Rhone, AMF Showplace Euless Lanes .. 651

Ryan Yablonsky, Strikz ........................................... 585

Carl Jackson, Forum Bowl .................................... 572

Tyler Stevens, Red Bird Lanes .............................. 467

Jah'Kobe Wright, AMF DeSoto Lanes ................... 414

Girls

Deidra Juetten, AMF Showplace Euless Lanes ... 583

Christie Draper, Plano Super Bowl ....................... 562

Katelynn George, Brunswick Westcreek Lanes ... 550

Bayleigh Padron, Brunswick Zone Watauga ........ 547

Kimmi Klein, Strikz ................................................. 518

Kristin Hilker, Forum Bowl ..................................... 499

Kaylee Hancock, Red Bird Lanes ......................... 460

Bailee Dixon, AMF DeSoto Lanes ......................... 361

Fort Worth USBC Youth Results

Connor Strehlow topped the

Fort Worth-area USBC Youth

bowling last week with a hardhitting

259/654 Tuesday Home

School series at Brunswick Zone

Watauga.

Deidra Juetten led the girls

with an impressive 206/583

Wonders set at AMF Showplace

Euless Lanes.

At AMF Showplace Euless Lanes

– D'Ontae Rhone 258-651, Zach Ballas

215-564, Ben Cohen 206-520, Lane

Thompson 152-411, Thomas Phanmaha

164-381, Bailey Whisman 248-551,

Taryn Gray 252-514, Kiley Knittle

147-378, Kaylee Huggins 53-116.

At Brunswick Westcreek Lanes

– Keith Thomas 235-653, Katelynn

George 229-550, Dylan Cilloniz

189-443, Laci Moore 120-327, Jaron

Villanueva 143-363, Alexis Laster

141-418, Tra McKinney 85-208, Marisa

Zapata 90-252, Austin Laster 169-455,

Morgan Hastings 107-300, Chance

Moore 210-538, Gabby Castro 189-474,

Dallas USBC Youth Scores

Troy Berneburg headed the

Dallas-area USBC Youth bowling

last week with a powerful

268-265-215 = 748 Showstoppers

series at Plano Super Bowl.

Christie Draper, Berneburg's

league mate, paced the girls with

a sparkling 175-203-184 = 562 set.

At AMF DeSoto Lanes – Jah'Kobe

Wright 162-414, Bailee Dixon 142-361.

At Plano Super Bowl – Aidan Hud-

Kamari Wine 229-624, Katie Hamlin

144-417, Chandler Mayfield 173-474,

Casey Tibbs 147-379, Jared Nichols

207-593, Teddy Nelson 106-311, Jared

Nichols 198-494, Brianna Avery 189-

539, Stanton Avery 201-585.

At Brunswick Zone Watauga –

Bailey Padron 547, Rebekkah Jones

188-500, Hayden Norman 303, Paige

Rath 271, Travis Kerbaugh 414, Connor

Strehlow 620, Megan Bentham 503.

At Cityview Lanes – Steven

Williams (4 games) 138-472, Tanner

Bankston (4 games) 146-519, Connor

Hair (4 games) 126-446, Brandon

Franklin (4 games) 158-502, Matthew

Becker (4 games) 154-512.

At Forum Bowl – Carl Jackson 211-

572, Kristin Hilker 190-499, Kade Pirtle

84-161, Ananiah Williams 88-144, Dane

Wehr 87-160, Raya Fernandez 73-133,

Adan Ruiz 188-523, Amaya Boles 164-

456, Jason Merideth II 89-244, Samantha

Kuilan 140-332, Mitchel Neville 212-571,

David Carter 190-527, Katelynn Correll

170-432, Kristin Hilker 157-467.

son 165-389, Katelyn Elliston 125-334,

Jaxon Baron 165-433, Moriah Leraas

162-425, Deron Garrett 178-451, Reece

Loughmiller 159-470, Kimmi Klein

201-479, Paige Wells 163-454, Trey

Bevels 169-388, Jason Mandell 131-370,

Natalie McLaren 76-209, Sean McLaren

163-471, Will Plagens 212-558, Drew

Claus (4 games) 211-710, Christina

Hansen (4 games) 185-630, Ben Walk

(4 games) 192-707, Melanie Crawford (4

PBA SPARE SHOTS

Continued from Page 3

Producing, Inc./Triway Lanes

Cheetah Open presented by

Hammer at Triway Lanes in

Wooster, Ohio.

Jurek finished with a 9-3

match play record and a total

of 5,164 pins for 20 games,

including match play bonus

pins, to win the second of four

PBA Central Region "animal

pattern" championships.

The title was Jurek's 13th in

PBA Regional competition.

He also earned $3,500 along

with his berth in the World

Series of Bowling, Nov. 2-11

at South Point Bowling Center

in Las Vegas, as an entry into

the optional animal pattern

championship series.

Jim Pratt of Glendale, Ariz.,

defeated PJ Haggerty of Roseville,

Calif., 212-201, to win

the joint PBA West/Northwest

Region Scorpion Open presented

by Columbia 300 at Double

Decker Lanes in Rohnert Park,

Calif., Sunday.

Pratt took home his third

regional title and $2,000, but

Haggerty claimed the World

Series entry as the highest

finisher among those who paid

the optional animal pattern

championship entry fee. The

tournament was the second in

a series of four animal pattern

events hosted by the West

Region.

In the PBA East Region,

Danny Wiseman of Baltimore

defeated Tommy Dakouvanos

of Belford, N.J., 267-200, to

win his 11th regional title

and second in a row in the

Howell Lanes Open presented

by Brunswick in Howell, N.J.,

Sunday. Wiseman's win came

on the heels of his victory in

the Dominick DiCicco Memorial

presented by Ebonite a

week earlier at Brunswick Zone

in Turnersville, N.J.

In the PBA South Region,

Continued on Page 9

games) 182-626, Luke Henke (2 games)

90-177, Ava Flores (2 games) 93-174.

At Red Bird Lanes – Tyler Stevens

186-467, Kaylee Hancock 167-460,

Taylor McCaleb 117-302, Cheyenne

Hancock 132-339, Benny Ulibarn 117-

222, Kaylen Speaks 146-273.

At Strikz – Klayton Colgrove

188-531, Jayme Brooks 122-309, Ryan

Yablonsky 225-585, Drew Claus 201-

562, Kimmi Klein 191-518.

Junior Gold sets tournament,

membership records

ARLINGTON —- A record

number of youth bowlers will

take part in the North Pointe

Junior Gold Championships

next month in Indianapolis,

and the United States Bowling

Congress Junior Gold program

already has established a

membership record for the

2011-12 season.

The 2012 North Pointe

Junior Gold Championships

presented by Brunswick has

sold 2,088 spots, shattering the

previous record of 1,980 set in

2009, also in Indianapolis. It is

a 14-percent increase over last

year's mark of 1,821 entries.

The USBC Junior Gold

program has more than 4,000

members for the first time in

the program's 15-year history,

a 12-percent increase over last

season's total, also a record.

The North Pointe Junior

Gold Championships was created

by combining the Bowling

Proprietors' of America North

Pointe High School Championships

and the USBC Junior

Gold Championships into one

national singles championship

event with four divisions - U20

boys, U20 girls, U15 boys, U15

girls.

Chad Murphy, International

Bowling Campus Managing

Director of Youth Development,

said while the change

was dramatic, it allowed for a

scholarship pool of $250,000

and opened the field to more

youth bowlers. More than 300

participants for this year's

North Pointe Junior Gold

Championships qualified in the

new U15 division.

"The folks who were passionate

about both events have

Lane Laughter

supported this new event in

an unbelievable way," Murphy

said. "Our goal is to create

lifelong bowlers and, because

of their support, a larger group

of kids will benefit. In Indianapolis

this summer, we'll get

to celebrate this success when

we crown four champions and

build the foundation for Junior

Team USA. It has been exciting

and fun to see it all come

together."

This season, 507 centers

held 836 qualifiers, up from the

337 centers that held qualifiers

last season. Murphy said the

support of tournament coordinators

throughout the country

also was a key factor to the

record-setting numbers.

"Their dedication and belief

in what we are doing, along

with the work of the IBC Youth

Development team and the

support of North Pointe Insurance

and Brunswick, has only

strengthened the Junior Gold

program," Murphy said. The

first Junior Gold tournament,

then called the USA Junior

Gold National Bowling Championships,

was held in 1998 at

the National Bowling Stadium

in Reno, Nev., and drew 538

participants.

The 2012 North Pointe

Junior Gold Championships

will be held July 14-20 at

Woodland Bowl, Western Bowl

and Expo Bowl in Indianapolis.

In addition to the $250,000

scholarship pool, participants

also will be vying for spots on

Junior Team USA.

Go to BOWL.com/juniorgold

to learn more about the tournament

and the Junior Gold

program.
---
10 YEARS AGO

Will Briggs led the honor roll with 800 at Showplace-Garland…

Shorty Johnson was high at AMF Irving with 788…Rob Billman

shot 782 at Red Bird…Tam Wasson got tapped going for 800

and finished with 782…Lisa Wasson led the ladies with 726 at

Allen…June Shaw shot 715 at DC Cityview…Beth Standlee was

high at Watauga with 703…Tammy Gregory with 685 at AMF

Richardson…Cara Honeychurch defeats Kim Terrell at PWBA

Greater Harrisburg Open for first title of the year. She has to be

separated at birth from Nicole Kidman, even sounds like her…

Wes Malott wins the PBA Regional Players Championship in

Las Vegas. This is the tournament where he became a star, he

crushed everybody…Les Shirwindt shoots 842 in the Doubles

event at the ABC tournament, the second highest series ever at

the time…Aric Alcaraz a 300 at DC West…Former UTA bowling

star Travis Pirotte ties the knot(that's a direct quote)…Lee Fields

wins NABI at AMF Showplace Euless…Last Call Leisha finishes

second at the EBT tournament, wins a Storm ball and gets THIS

picture in the paper!! How is this even newsworthy, what were

we thinking back then! But she does look hot.

20 YEARS AGO

Custer Redman led the honor roll with 773 at DC FW…David

Ellis with 769 at DC SW…Brian Poppenberg led the way at

Jupiter with 769…David Garber shot 725 at Showplace-Euless…

Traci Amorella led the ladies with 745 at DC SW…Elynn Cooper

with 712 at Triangle-Richardson…Carol Buchanan was high

at Westcreek with 708…Kat Rios a 605 at DC West…Parker

Bohn III wins his sixth PBA title at the El Paso Open…Frank

Bolton wins $1000 for Bowlers Tour title at Blazer…Youth John

Williams shot 670 at Big Town and Tom McCormack shot 635

at Showplace-Euless.

30 YEARS AGO

John Beachum led the honor roll with 797 at Red Bird…John

Brashers shot 774 at Jupiter…Alvin Davis with 772 at Buckner…

Billy Baccus rolled 679 at Big Town…Yo Yo Larsen led the ladies

with 681 at Meadowbrook…Sammye Ragland was high at Red

Bird with 638…Donna Carr had 636 at Circle…Scotty Bruce wins

TTBA at Hurst…Brad Davidson and Val Goss win Texas Junior

Master & Junior Queens titles at Richland Bowl…Ricky Kay

wins BBA title at Berry and $1000, love the picture…Truman

Baker wins Jupiter Senior title…Steve Cook wins the Kessler

PBA Open title…Juniors Alton Isham and Brad Dav shoot honor

scores at Alpine Lanes.

At AMF DeSoto

Lopez

scores 734

Chris Lopez won the high-set

contest last week at AMF DeSoto

Lanes as he tossed top-notch

266-212-256 = 734 numbers in

Pushovers league play.

Lisa Powell, also from the

Pushovers group, led the ladies

with a tidy 189-183-220 = 592 set

HONOR ROLL

James Bridges 232-582, Betty

Cacciapaglia 201-479, Curtis Johnson

240-610, Jackie Wyatt 225-589, Bradley

Robinson 241-714, Arlette Washington

212-554, Carver Adams 223-617, Kathy

Sirovica 181-483. Jeff Tucker 202-541,

Annette Bell 189-558, Charles Bruton

255-623, Renee Moore-Reed 192-488,

Collin Battles 259-689, Vee Avery

215-559, Stanley Williams 234-605,

Rynda Giles 171-484.

SENIORS

Roger Strand 215-626, Dorothy

Perry 194-563, Robert Dehner 213-540,

Jeanne Ham 168-475.

At AMF Lewisville

Cobb on top

with 752

Davenport 300

Kevin Cobb nailed down

high-set honors last week at

AMF Lewisville Lanes with a

free-wheeling 182-255-259 = 752

JB Trio series.

Amy Fretz paced the ladies

with a strong 180-190-229 = 599

Rising Stars set.

Chuck Davenport earned

high-game accolades with an

award-winning 12-bagger.

HONOR ROLL

Darrin Kupper 246-637, Sabina

DeBord 211-590, Heather Robb 221-597,

Wayne Maxwell 220-586, Jeanne Burns

190-497, Buddy Baker 256-722, Ross

Mathews 237-636, Jessie Brown 210-504.

Chuck Davenport 738, Teresa

Brown 206-565, Jim Young 268-716,

Kathy Harbor 220-517, Mark Rowland

245-642, Donna Wynkoop 183-486.

THE BOWLING NEWS | Thursday, June 28, 2012 | Page 7

At Red Bird Lanes

Carlson claims 705,

Daniel hurls 667

Rich Carlson earned highseries

honors with a 215-233-257

= 705 series in Sunday Night

Mixed action to head the honor

roll for the week at Red Bird

Lanes.

Lauren Daniel posted a fine

226-223-218 = 667 Career Girls

set to pace the ladies.

HONOR ROLL

Jimmie Parrish 201-549, Billy

Cathey 275-702, Rick Peterson 243-679,

Alex Galeti 203-550, Joanne Adams

161-464, Kevin Boykin 236-650, Dwight

MONEY SHOT$ COLOR PIN BOWLING

$TRIKE POT$ $UPER $TRIKE POT$

Weekly drop in, not a league!

Bowl 3 games in our FUN format.

FRIDAY NIGHTS

AT 7:30 PM

Only $20.00 per person

(Pre-paid reservations accepted til 5 PM Fridays)

4 per lane

We Pay On All Splits Converted With A Color Pin

Super Pot pays out 1/2 to 1st time sweeper bowlers

COME ON OUT TO RED BIRD LANES

Family owned and Independently operated for 38 years

Starts Wednesday, June 20th at 9 PM

3 people per team, 3 games per week, $9 per person, per week,

9 week season.

2200 San Jacinto Blvd

Denton, TX 76205

Moore 234-592, Dick Wilson 181-500.

Jimmie Parrish 214-512, Russell

Arms 234-594, Len Cline 217-594, Karen

Strang 203-490, Rick Peterson 236-661,

Stephanie Moore 177-468, Jesse Molina

214-581, Dorothy Perry 170-509.

Lauren Daniel 233-574, Anita Knox

171-436, Cindi Wilson 192-457.

1114 S. Main

Duncanville

972-298-7143

fax: 972-709-5677

redbirdlanes@sbcglobal.net

Call

940-383-3515
---
Page 8 | Thursday, June 28, 2012 | THE BOWLING NEWS

BOWLER FRIENDLY PRO SHOPS & OTHER SERVICES

PRO SHOP

1114 S. Main

Duncanville, Texas

Phone 972-298-7143

Jeff Cathey, Manager

JAMES ASKINS

Owner

MAURY NEWMAN

MATT HOYT

BRETT BOLEJACK

INSIDE AMF SHOWPLACE LANES

1901 W. Airport Freeway

Euless, TX 76040

(817) 571-1174

JORDAN VANOVER

INSIDE STATE LANES

5707 State Street

Saginaw, MI 48603

(989) 799-8050

Giving You The

Power To Perform

Susie Minshew

USOC Bowling

Coach of the Year

(800) 346-3648

FAX 817-783-6010

strikeability@gmail.com

www.strikeability.com

RON WILLIAMS

Owner / Operator

PBA Member

OTIS PILLOW

BALLS BAGS SHOES

AMF HURST LANES

720 W. PIPELINE RD.

HURST, TX 76053

817-282-2401

www.pillowproshop.com

otis@pillowproshop.com

billy@pillowproshop.com

HOURS: Monday–Friday 1–9, Saturday 1–7

Billy DeCicco

817-875-6488

Inside AMF Arlington Lanes

1801 East Lamar Blvd.

Arlington, TX 76006

Working Hard

for Your Success

YOUR NEIGHBORHOOD PRO SHOP

INSIDE ROWLETT BOWL-A-RAMA

DARREN KRAVITZ

5021 Lakeview Parkway

Rowlett, TX 75088

(972) 475-7080

INSIDE UNIVERSITY LANES

GEOFF MARTIN

1212 E. University Drive

Denton, TX 76209

(940) 808-1622

Lessons Available

INSIDE CITY VIEW LANES

6601 Oakmont Blvd., Fort Worth, TX 76132

817-263-1935 Fax: 817-370-1831

Kirk Wright

469-867-2770

Inside AMF Irving Lanes

3450 Willow Creek Dr.

Irving, TX 75061

INSIDE PLANO SUPER BOWL

2521 Avenue K

Plano, TX 75074

(972) 881-0242

Fastrack Pro Shop

Located Inside Allen Bowl

1011 S. Greenville Ave

Allen, Texas 75002

Phone: 214-509-9274

E-mail: coachkg58@yahoo.com

www.fastrackproshop.com

Chad Newman - Owner

chad@chadsbowlingshop.com

Lessons available by appointment

Carolyn Dorin-Ballard & Del Ballard, Owners

Derrick Lott Xeno Garcia

Brian English Rudy Garcia Jr.

Located inside

Brunswick Zone Watauga

7301 Rufe Snow

Watauga, Tx 76148

Phone: 817-485-2695

Kurt Gengelbach, Owner

Member, Professional Bowlers Association

Member, Storm and Turbo Advisory Staffs

Private Instructions Available

"Old School" Service Always Available

(Located inside AMF Richardson Lanes)

2101 N. Central Expressway

Richardson, TX 75080

972.231.2695

Located inside

Brunswick Westcreek Lanes

3025 Altamesa Blvd.

Fort Worth, TX 76133

Phone: 817-294-0501
---
PBA SPARE SHOTS

Continued from Page 6

Rhino Page of Dade City, Fla.,

defeated amateur Brian Huther

of Tampa, 221-177, to win his

fourth regional title in the

inaugural Reality Check Classic

at Brunswick Harbour Lanes

Sunday. Page earned $3,200

and added another perfect

game to his PBA resume.

Heading toward the Fourth

of July, several "animal pattern"

championships are on the

schedule across the country.

Over the June 22-24 weekend,

the PBA Midwest Region will

host the Oak Forest Bowl

Chameleon Open presented by

American Family Insurance in

Oak Forest, Ill.; and the PBA

Northwest Region will host the

West/Northwest Secoma Lanes

Scorpion Open in Federal Way,

Wash. The West/Northwest

event also will include the

Secoma Lanes Senior Open,

and the PBA East Region

will host a senior event, the

Glassboro Bowl Senior Open in

Glassboro, N.J.

Over the June 29-July 1

weekend, the PBA East Region

will conduct the Homefield

Bowl Viper Open in Yonkers,

N.Y., and the PBA Midwest

will host the Fox Bowl Open

sponsored by Allstate Insurance

in Wheaton, Ill.

QUICK NOTES:

Former University of Nebraska

collegiate All-American,

Team USA member and 2008

QubicaAMF World Cup champion

Derek Eoff has joined the

PBA and will make his debut

in the PBA Midwest Region's

Oak Forest Bowl Chameleon

Open in Oak Forest, Ill.,

this weekend. Eoff, a former

United States Bowling Congress

employee in Arlington, Texas,

has re-located to Madison, Wis.

BOWLER FRIENDLY

PRO SHOPS & SERVICES

(inside AMF DeSoto Lanes & AMF Spare Time Lanes)

UpYourAlley

Andrew Lowy

Russell Corwin

Cody Carlton

uyaproshop@yahoo.com

AMF Spare Time Lanes

3149 S. Cooper

Arlington, TX 76015

817-465-4997

THIS SPACE

FOR RENT

At AMF Richardson

Seidler snares 731,

Boss bags 636

Matt Seidler won the highset

contest last week at AMF

Richardson Lanes by pocketing

potent 217-289-225 = 731

numbers in Super Sports action.

Elynn Boss led the ladies with

a high-flying 223-235-278 = 636

Mixed Feelings outing.

HONOR ROLL

Bill North 226-590, Emily Ryan

184-497, Jim Stephens 242-702, Anona

Porter 214-603, John Smiser 233-664,

Teresia Mabry 150-443, P J Angell

245-652, Linda Wise 177-491, Mike

Chris Johnson crushed

the competition last week at

Cowtown Bowling Palace with a

power-packed 245-225-264 = 734

Ft Worth Classic Trio production.

Katie Tallant's hard-hitting

214-236-257 = 707 Monday

Mixers set fronted distaff scoring.

HONOR ROLL

Randy Cross, Sr. 266-684, Michael

Johnson 245-725, Katie Tallant 245-596,

Brian Lindsey 214, Tony Edwards

253-701, Matt Allen 236-667, Genni

Barnes 206, Jesse Negrete 265, Rachel

Cantu 527.

Bob Brewer 258-708, Leon Aragon

683, Rudy Garcia, Sr. 257-665, Irvin

Thomas 243, James Stone 245-687,

Dorina Hart 203-510, Teo Hernandez

236-676, Bob Stone 235, Frankie Mata

657.

William Brewer 225-658, Luann

Satchell 212-531, Frankie Mata 213-622,

Amy Hart 210-583, Ronnie Martin 588,

Andrea Espinoza 200, Travis Young

AMF Desoto Lanes

121 Northgate Dr.

DeSoto, TX 75115

972-780-8090

Boss 213-570.

Mike Crouch 265-689, Barb Wygren

211-539, Chad Newman 253-687,

Kim Wilson 179-481, Shawn Dotson

279-716, Bev Richardson 236-673, Bill

Skrabanek 211-595, Lou Goff 173-486.

Dru Esquivel 257-617, Andrea

Bottorff 177-445, Sean Pierce 246-613,

Amber Zerbe 187-451, Vandy Krouch

254-624, Tabitha Bogard 166-470, Linda

Eller 169-481, Alex Rivera 238-628.

Mary Gesino 200-544, Luke Hickey

194-484, Sharnel Murrey 165-391, Matt

Powell 226-618, Penny Powell 171-476.

At Cowtown Bowling Palace

Johnson crushes 734,

Tallant handles 707

217, Teo Hernandez (4 games) 289-932.

Michael Patton (4 games) 279-865,

Miki Jo Parrish (4 games) 237-889,

Pat Currie (4 games) 279-927, Vernon

Smith, Jr. (4 games) 267-966, Daniel

Hughes (4 games) 266-967.

Ricky Roberts (4 games) 257-946,

Jesse Negrete 232-640, Michael

Williams 233-632, Henry Miazgiewicz

256-721, Rene Miller 222-576, Michael

Vasquez 245, Wendy Whittenberg

202-548.

Michael Johnson 243-631, Rebecca

Jewell 198, Tyler Sims 619.

SENIORS

Charlie Pope 228-643, Wanda Eads

206-527, Johnny Zaskoda 637, Diane

Fleck 193-535, John Hunt 226, Emily

Arnold 194-519, John Stewart 246-641,

Betty Odom 189, Joe Baker 603.

Karen Wittenberg 187-508, Carl

Seward 215-588, Karyn Draper 181,

John Willis 632.

THE BOWLING NEWS | Thursday, June 28, 2012 | Page 9

At Brunswick Zone Watauga

Jackson smothers 700,

Foote belts 633

Glenn Jackson won the battle

for top billing last week at

Brunswick Zone Watauga with

a red hot 700 High Points series.

Kathy Foote heated up the

lanes for the ladies with a hefty

633 Denim & Duds set.

HONOR ROLL

Brian Skala 267-636, Cathy Holland

255-623, John Collins 613, Debbie

Williams 566, Bryan Ayers 668, Keith

Haines 638, Angela Dison 539, Rick

Merola 582, Kristen Rogers 453.

Chris Hibbitts (4 games) 889, Amy

Brown (4 games) 691, Lisa Head 493,

Jason Hardee 635, Kerry Rusk 571, Lisa

Gehrig 545, Tim Laird 680, Shirley

Biddlecome 446.

SENIORS

Gary Jackson 629, Joan Dale 522,

Larry Brunk 627, Ginnette Patzer 529.

Bowl Your

Head Off

Sunday through Thursday

9 PM to Close

$2.29 + tax per Game per Person

$1.00 Each Shoe Rental, Small

Popcorn, Hot Dog and Small Soda

plus Draft Beer Specials!

Watauga

7301 Rufe Snow Drive, Watauga, TX 76148

817-485-2695
---
Page 10 | Thursday, June 28, 2012 | THE BOWLING NEWS

Do You Remember?
---
STORM 2012 SOLDIER

Continued from Page 1

members after seeing the success

of the Soldier and Family

Assistance Center therapeutic

bowling program held every

Tuesday at the Lanes.

"It gets them out here with

their families; it gives them another

activity that they can do,"

SFAC director Mark Stoessel

said of the sport's therapeutic

benefits. "It can help them heal

and get their mind off their

injuries."

The original idea of bowling

helping soldiers began with

bowling writer Jim Goodwin

emailing some bowling friends

how golf had run a similar

event. Storm President Dave

Symes expressed his support

and encouraged his marketing

team to develop a plan. Storm

Marketing Director Roger

Noordhoek and Sinek went to

work.

Sinek and members of the

SFAC began planning for the

unique event.

"This has never been done

Staff Sgt. Tina Oden of the Warrior Transition Unit looks for a strike

at the Lanes during an instructional event taught by professional

bowlers Saturday afternoon. Storm Products, a manufacturer of

bowling equipment, brought in top-level instructors to teach the

wounded warriors. Photo by Nate Pesce

in the bowling industry," Sinek

said. "It's been done with golf,

but never with bowling."

"I know after talking to

everyone who participated this

was a very moving experience,

and one that I believe nobody

will forget," said Noordhoek.

While the company

participates in many charity

events, Storm's Vice President

of Operations Corbet Austin

said the company jumped

at the opportunity to work

with the wounded warriors.

Coaches traveled from all over

the country, including Utah,

Georgia, Illinois and Florida, to

participate.

"We want to help, we want

to give back," Austin said. "You

don't get to share your appreciation

enough with the military,

I think. ... Just talking to some

of them and some of the stories

they have, it's like 'Wow. You

guys have been through some

really tough things.'

"And here they are, they

have a smile on their face.

They're dedicated, and they

serve our country to keep us

safe. If we can give back a little

bit just to show them a tiny bit

of appreciation, which is not

much compared to what they

have to go through, hey, we're

in."

The event staff featured

Randy Pederson, a member of

the PBA Hall of Fame with 13

PBA titles who is now an ESPN

analyst; Hank Boomershine,

a USBC Gold Level certified

coach; and several Storm team

members, including USBC Hall

of Famer Bob Hart, Jeff Carter,

Dale Niemela, Mike Luongo,

Mickey Luongo, Louie Wemett,

Jeff Baker and Chris Johnson.

"These are the TV guys

coming out to teach you how

to bowl," said Sgt. 1st Class

Denny Phillips of the WTU.

"These are professionals. That's

big."

Through video cameras and

one-on-one instruction, coaches

worked with members of the

WTU and their families on

crafting their bowling skills.

For a few members such as

Phillips, Saturday was their

first attempt at bowling.

"I wanted to learn," Phillips

said. "I just decided to come

Geoff Martin was front and

center at Plano Super Bowl last

week as he dominated scoring

with a thundering 300-257-279

= 836 Double Uppers session.

He finished his 4 game session

with a 1069.

Cindy Mann headed the ladies

scoring parade with a blue-ribbon

226-213-227 = 666 Friday Funsters

series.

Tam Wasson shared highgame

honors with Martin as

each recorded award-winning

12-baggers. Ronnie Rhodes took

runner-up honors with a near

perfect 298 single.

HONOR ROLL

Craig Hatzmann 238-698, Michelle

Mandell 147-396, Raul Fierro 231-556,

Tammy Sinn 151-408, Don Derrick

245-680, Leona Luttrell 212-512,

Mark Plagens 257-730, Sybil Williams

out and give it a try, and I

wound up liking it. I really like

it."

In addition to lessons, each

member of the WTU was given

custom bowling balls and bags

from Storm and shoes from

Dexter.

Phillips, who had only

previously visited the bowling

alley to pick up some french

fries, went from not knowing

what bowling shoes were to

owning a pair.

Nwofor said he's ditching

the bowling alley's balls for his

new, custom tie-dyed one.

Both Phillips and Nwofor

said they appreciated Storm

for bringing the top-level

instructors.

"I don't know much about

bowling and I never really

heard of Storm, but they put

on a show like this — this

is unheard of," Phillips said.

"This is a once-in-a-lifetime

kind of thing."

At AMF Hurst Lanes

Laehr

snares 649

Joe Laehr locked up the top

spot on the honor roll last week

at AMF Hurst Lanes with a

noteworthy 256-203-190 = 649

Livewire's Sr's outing.

Linda Neal paced the ladies

with a nice 188/536 Wild Bunch

Sr. set.

HONOR ROLL

Scott Brasher (2 games) 241-443,

Mary Yager (2 games) 166-323, Tony

Dinh (2 games) 264-480, Shannon

White (2 games) 199-353, Dwight

Carpenter 186-452, Debbie Vohar

169-415, Sandy Robertson 190-473.

Joe Laehr 238-607, Steven Lynn (4

games) 242-761, Teresa Alcorta (4

games) 159-509.

At Plano Super Bowl

Martin smashes 300/836,

Mann plasters 666

Wasson 300, Rhodes 298

196-571.

Bill Ferguson 268-751, Loree Clark

182-502, Russell Knight 258-676, Diane

Wallentine 182-542, Tom Hay 268-715,

Eva Rhodes 213-574, Jay McGath 276-

734, Whitney Williams 197-525.

Jeremy Braden 226-597, Kay

Pingsterhaus 254-617, Kevin Hiam

221-605, Kelly McEvoy 225-581,

Linda Davidson 201-533, Tam Wasson

788, Bill Kissentaner 269-719, Buck

Butgereit 214-549.

Carolyn Robson 145-406, Bo

Honrobie 247-685, Diane Wallentine

224-635, Cathy Sposito 235-640, Penny

Pederson 245-579, John Precourt, Sr.

258-726, Louise Laceky 214-540, Kevin

Hiam 256-706.

Greg Staton 269-712, Cindy McBride

240-651, Tammy McFarland (4 games)

235-782, Ronnie Rhodes 745, Lynette

Most 218-626, Curt Haag 234-648,

Barbara Jernigan 197-534.

THE BOWLING NEWS | Thursday, June 28, 2012 | Page 11

P.O. Box 1642, Colleyville, TX 76034

Phone 817-267-8686

Fax 817-267-1813

TZone

FRIDAY NIGHTS

Do you want to get in the zone?

Get a TZone bowling ball!

League starts on

June 22nd @ 7:00 PM

4 member teams

$15.00 per person per week for 10 weeks

Get a TZone bowling ball & Pizza Party

at the end of the season

For more information contact Calvin or Felicia

Always Smoke-Free Fun!

BIG FUN! Small Commitment!

BRUNSWICK THOUSAND OAKS

4330 Thousand Oaks Blvd San Antonio, TX 78217

210-654-0031

SUNDAYS

$1.50 per game, 8 AM to 1 PM

$2.50 per game, 9 PM to 12 AM

MONDAYS

$2.50 per game, 8 AM to 2 PM

$10 per lane/hour, 9 PM to 12 AM

OVERNIGHT

$10 per lane/hour

or $2.00 per game

M-Th Mid-8 AM, F-Sun 1 AM-8 AM

"The quickest

and best way to

reach people in

bowling–"

KIDS BOWL FREE THIS SUMMER

Sign up now at

KidsBowlFree.com/SuperBowltx
---
Page 12 | Thursday, June 28, 2012 | THE BOWLING NEWS

Oh to be a teenager again!

My daughter recently turned 14

(I know I can't believe it either)

and it's really funny to see the

evolution of a child turning

into an adult.

The other day she had a

couple of friends spend the

night and they stayed up till

2 am singing karaoke. Consequently

I stayed up till 2 AM

tossing and turning until they

finished singing karaoke, but

I digress. The next day I came

walking through the kitchen

and they are calmly sitting

around the breakfast table

drinking glasses of Orange

Crush.

I literally had to do a double

take because it looked like

three adults sitting there drinking

coffee in the morning and

discussing current events or

the day's activities. The comical

part of the situation was

that it was 3 PM and they had

just woken up, so it really was

like their morning cup of soda.

Oh to be a teenager again!

There are a lot of really

good uses for Facebook these

days. From communicating a

bowling tournament to simply

keeping up with long lost

friends and relatives, Facebook

has become so popular that

you can reach a large amount

of people about anything.

What Facebook is not good

for is counseling. It seems

every day I read a post about

someone's personal troubles

about their life, job, or something

else that not all 500

people who you are friends

with need to know about. I

know it may be therapeutic at

the time to voice your pain,

but before you post something

think about what you would

think if someone else wrote

it. After all Facebook isn't The

Jerry Springer Show.

Obviously I'm being slightly

hypocritical because I basically

do the same thing in this

article in The Bowling News

every week, but at least I get

paid for it!

Normally when a sporting

season comes to an end and

a champion is crowned I will

watch the conclusion and celebration

of the team's victory

even if I don't care for them.

Watching the New York

Giants celebrate is painful for a

Cowboy fan, but you can still

get some good feelings from

watching it. However, I did not

feel this way about the Miami

Heat winning the NBA Championship

last week.

I'm sure a small part of it

was that they beat my second

favorite team, but it was more

about not wanting to see

everything that's wrong with

professional sports (the Miami

Heat) become successful, and

potentially become the model

of how to win a title.

Unfortunately I think the

Dallas Mavericks are looking at

it the same way and are trying

to build themselves up with

a couple of huge free agent

signings so they can have their

big three.

I miss the days of drafting a

player and knowing that player

will be on a team for the next

ten years. Now they sign a

three year deal and if it's not a

good location they are simply

serving time in that city until

they can become a free agent

and move. The players take the

blame for their lack of loyalty,

but being a Pittsburgh Pirate or

Milwaukee Buck is not going

to get you on Sports Center

and into the public eye, which

ultimately lands you money.

It's funny how it always seems

to come back to money!

Now that the NBA Season is

over I thought I would briefly

review the red hot Dacetronamous'

picks for the 2011-12

Paul Henderson's first-rate

258-255-247 = 760 Fast Lane Trio

session ended as the number-one

set of the week at Forum Bowl.

Diana Jessie, Henderson's

league mate, fronted distaff

scoring with an outstanding

183-224-299 = 706 set. She then

finished her 4 game set with a

nice 952 series.

HONOR ROLL

Robair Ross (9 pin) 278-811, Dottie

Robbins (9 pin) 266-701, Duane Bates

(4 games, no tap) 300-1095, Jeanette

Manzano (4 games, no tap) 267-967,

Clifton Carrington 206-582, Annie

NBA Season.

Out of five things that

Dacestronamous thought would

happen forty percent came

true. I picked that Dwight

Howard would stay with the

Orlando Magic (and regret

every second of it). I am not

sure about the second part, but

the first part was true.

I also picked the LA Clippers

to make the playoffs and win

a game. They even went on

and won a series before getting

swept by San Antonio in the

second round. I am going to

take a half credit for picking

the OKC Thunder to win the

NBA Finals over the Chicago

Bulls. The Thunder at least got

to the finals, but Derrick Rose's

injury basically gave the Heat a

cakewalk to the finals.

Where I missed the biggest

was I thought that San Antonio

would be terrible and forced

to rebuild, however they went

the opposite direction and were

the best team in basketball and

went deep into the playoffs.

Finally I predicted that after

not winning for a second year

in a row that the Heat would

trade Chris Bosh and blow

up the "Big Three", but since

they won I don't think that is

going to happen now. I would

call that fifty percent correct

in predictions. Now if I can

consistently pick sixty percent

winners I'm moving to Vegas!

At AMF Showplace Euless Lanes

Ewert rounds up 764,

Steele garners 641

Mike Ewert racked up a

rousing 284/764 Two Mixed Up

league session to earn the top

spot on the honor roll last week

at AMF Showplace Euless Lanes.

Lisa Steele compiled a

thundering 248/641 Monday

Mixed series to lead the ladies'

high-set race.

HONOR ROLL

Bryan Bowlin 258-741, Robert

Trombley 290-735, Josh Tinsman 259-

735, Scott Young 268-729, Michael April

246-700, Curtis Engel 244-664, Paul

Mach 224-632, Dave Belgarde 234-620.

Jim Lucas 227-617, Chris Drake

209-524, Demetrya Wilson 234-637,

Carol Johnson 214-632, Anna Jutson

222-607, Linda Sacks 222-570, Jo

Russell 188-502, Terri Homme 186-495,

Rhonda Highberger 177-476. Phyllis

Norgaard 192-462, Rica Velasquez 163-

446, Denise Wheeler 149-387, Donna

Gwin 219-626, Priscilla Dinh 212-605,

Carol Johnson 224, Anna Jutson 220,

Shirley Acosta 219.

At Forum Bowl

Henderson drills 760,

Jessie fires 299/706

Carrington 171-495.

Eric Cedillo 256-651, Silvia

Hernandez 157-458, Hung Nguyen

258-663, Donna Pulice 192-567, Jake

Gordon 218-637, Monica Sager 191-540,

Jeffrey Kyser 243-601, Anna Kyser

139-410.

Brian Bobbitt (4 games) 277-969,

John Powell 231-653, Karen Hoyle

214-595, Norm Patterson 259-689,

Feuane Vongkham 235-667, Justin

Boggio268-686, Fran Gonzalez 209-610.

Brad Sampson 248-692, Teresa

Norris 200-589, Jeremy Allen 218-589,

Patty Roane 179-498.

P.O. Box 1642, Colleyville, TX 76034

Phone 817-267-8686

Fax 817-267-1813

Call today for more information

Leagues for All ages!

972-641-4406 or 972-647-2275

Save a spot in your fall league calendar!

Showplace Garland

High Rollers

Big Money League

Starting in the Fall League season

Tuesdays at 7:30 PM

5-Member Teams (any combo, 1080 Cap)

League Fee: $25.00

You don't have to have a female on the team, but there will be a 1080

cap on team average. Anything over 1080 will be minus pins.

We will have Big Board Brackets to earn entries into the High Roller or

TAT Tournaments in Las Vegas, Regular Brackets and Women's Brackets.

Bonus money for 1st and 2nd place teams in each third and a spot in

the roll-off at end of season. 2 Wild cards for the end of season roll-off

for more bonus money. Guaranteed $1000 a man or more to winning

team. We will vote on point system at the start of league.

Contact Charles Soules at AMF Garland

Lanes for more information and to sign up.

We are always

looking for human

interest story

ideas—let us know

2001 S. Great

Southwest Parkway

Grand Prairie, Texas 75051

AMF Showplace Garland Lanes

1950 Marketplace Dr., Garland, TX 75041

972-613-8100