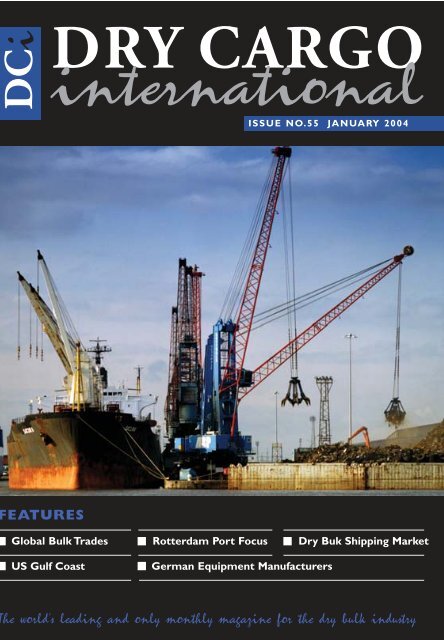 'G' force grabs attention - Gottwald Port Technology
'G' force grabs attention - Gottwald Port Technology
'G' force grabs attention - Gottwald Port Technology
SHOW MORE
SHOW LESS
Create successful ePaper yourself
Turn your PDF publications into a flip-book with our unique Google optimized e-Paper software.
DCi

FEATURES

Global Bulk Trades

US Gulf Coast

DRY CARGO

international

ISSUE NO.55 JANUARY 2004

Rotterdam Port Focus Dry Buk Shipping Market

German Equipment Manufacturers

The world's leading and only monthly magazine for the dry bulk industry
---
ENGINEERING & EQUIPMENT

DCi

JANUARY

2004

2

Gottwald's

HMK 330 EG

handles a

broad

spectrum of

bulk materials,

including

fertilizers,

minerals and

grain. Peak

loads of

1,000tph have

been reached.

Gottwald 'G' force grabs attention

Gottwald Port Technology (GPT) has had another good

year for mobile harbour crane deliveries in 2003.The

company sold a total of 64 cranes during the year, which

has been achieved despite a weakening dollar.

If 2003 has been remarkable for the company: it is

because four-rope grabs have 'bitten a significant chunk'

out of the higher-capacity bulk handling equipment

market.

Whilst the market for grab handling gantries in

Europe remains slow, mobile harbour crane deliveries to

the UK ( Immingham), Spain (Gijon and Santander),

France (La Rochelle and Bordeaux) for example have

proved that even though the overall market for mobile

harbour cranes is not growing, GPT can be satisfied with

the result.

The four-rope variant — referred to by Gottwald as

its 'G type' — represented 26% of total mobile harbour

sales in 2002. At the beginning of December last year,

the percentage had risen to 37%! GPT recommends

four-rope grabs if bulk handling exceeds 80% of crane

duties. For operations up to 60% bulk handling, a

two-rope grab system is sufficient.
---
BIGGEST EVER (AGAIN)

Few examples serve to

illustrate this better than

the recent delivery of

another HMK 360 EG

unit to Antwerp Bulk

Terminal (ABT), which is

a member of the

Sea-Invest Group and an

operator of five bulk

terminals in the Port of

Antwerp.

The HMK 360 EG

mobile harbour crane is

the largest four-rope

grab mobile unit from

Gottwald and it will be

operated at quay 206.

The unit will discharge

coal and other bulk

materials with a capacity

of more than 1,500tph,

according to Joachim

Kröll, GPT's

representative for

Belgium and the Netherlands.

The new unit is also the ninety-ninth crane to be

delivered to Belgium by Gottwald.

Antwerp alone operates more than 80 Gottwald

mobile harbour cranes. However, this also includes

machines used for handling containers and general cargo.

Whilst ABT now has two HMK 360 EGs, the first of

this type was delivered to CBM in Ghent where it is

mainly used for handling coal, coke but also other bulk

commodities. CBM is also part of the Sea-Invest Group.

Eddy Haerens, technical director of the Sea-Invest

Group said:"The HMK 360 EG will certainly help us

improve our productivity." The new crane has a lifting

capacity of 50 tonnes at 40 metres and, as already

reported in the November 2003 issue of Dry Cargo

International (see p38), the machine can be used for

board-to-board operations.

One other factor seems to have determined

Sea-Invest' choice. GPT runs a service station for mobile

harbour cranes at quay 83 in the Port of Antwerp. "This

station, with its broad spectrum of services, guarantees

that ABT receives immediate response when technical

support is required", Haerens adds. This service centre

employs 15 technicians and offers a wide range of

services including technical support, assembly of cranes

and 24-hour call out.

GPT provides a comprehensive range of

diesel-electric mobile harbour cranes. The HMK 360 E

and HMK 360 EG were mainly developed to meet the

requirements of Antwerp and Ghent port operators,

but are also in demand by other customers around the

globe.

Earlier this year, Gottwald sold its first two ever

four-rope grab units to Latin America, one to Rocha Top

the other to Luxus Graneis as reported on p32 of the

June issue of Dry Cargo International. The HMK 330 EG

commissioned in January 2003 handles a broad

spectrum of bulk materials, including fertilizers, minerals

and grain. Peak loads of 1,000tph have been reached,

according to GPT.

As mentioned earlier,ABP Immingham has purchased

nine mobile harbour cranes in recent years, including

three HMK 280 EG units which are used for coal

handling at Humber International Terminal 1. Following

its initial success with these machines,ABP (Associated

British Ports) ordered six HMK 260 EG cranes. The first

batch was delivered in 2002. Five of the six cranes are

now fully operational and are used for handling different

bulk materials such as scrap, fertilizers, animal feed,

biomasse and ferro-alloys. The sixth HMK 260 EG crane

will be commissioned early the new year.

HSK VARIANT

Rail-mounted portal cranes are another speciality of

GPT. Since its launch in 1998 at IC Rail Marine Terminal

(USA), the company has sold a total of 17 HSK types

worldwide, ten of which were sold during 2003. With

the exception of a two-rope unit sold to Sidmar in

Ghent, all HSK are four-rope grab units. Several

machines have been deployed in Russia. Tuapse and

Novorossijsk now have four each and Vladivostok has

one. The iron ore terminal at Quinhuangdao in China

has two and Bordeaux also has two units.

Generally speaking, HSKs are used for quays fitted

with rails but which are too narrow for normal rubbertyred

units. All Russian units have the same rail gauge of

10.5 metres, says GPT. The Russian machines have in

common is that they are fitted with both a diesel

generator and cable drum. The exception is the unit

deployed in Vladivostok. This machine relies on external

power supply only.

In total, the company has sold more than 850 mobile

harbour cranes. The company currently has a workforce

of around 650 employees in Düsseldorf and the turnover

for the financial year 2002/2003 (ending 30 September)

is €183 million.

The iron ore

terminal at

Quinhuangdao

in China has

two Gottwald

HSK 360 EGs.

ENGINEERING & EQUIPMENT

DCi

JANUARY

2004

3
---
Up to 1,500 tonnes per hour

With over 850 cranes already sold,

Gottwald Port Technology stands

unchallenged as the heavy-weight

champion in the field of stateof-the-art

Mobile Harbour Cranes –

which also makes us the most reliable

weight-lifter in professional bulk

handling. Gottwald's four-rope grab

cranes are a force to be reckoned

with when it comes to bulk handling.

With capacities of up to 1,500

tonnes an hour, these gentle giants

www.gottwald.com

move coal, ores, agribulk, gravel or

scrap rapidly and cost-effectively.

Bulk-handlers such as ABT, CBM,

ABP Immingham, Port Autonome de

Bordeaux and Port of Qinhuangdao

make full use of these performance

levels on a daily basis.

If you want to move more in professional

bulk handling, it's time to

make a move in our direction. Contact

Gottwald Port Technology.

Gottwald Port Technology GmbH • Postfach 18 03 43 • 40570 Düsseldorf, Germany

Phone: +49 211 7102-0 • Fax: +49 211 7102-3651 • e-mail: info@gottwald.com • www.gottwald.com