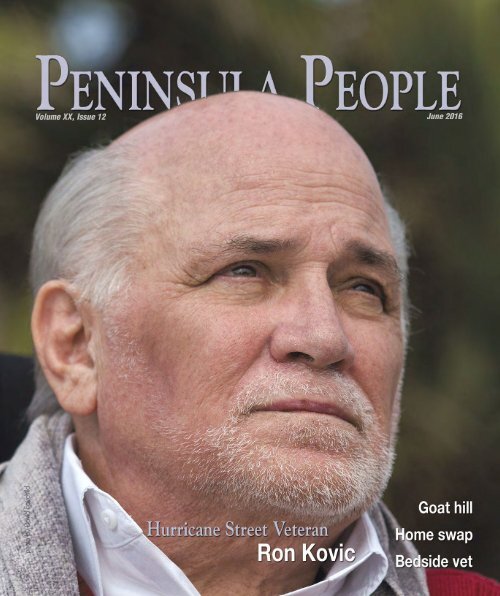 Peninsula People June 2016
You also want an ePaper? Increase the reach of your titles
YUMPU automatically turns print PDFs into web optimized ePapers that Google loves.
photo by David Fairchild
---
June 2016 • Peninsula People 3
---
Casa Alegria in Hollywood Riviera

505 Calle de Arboles, Redondo Beach

5 Bedroom, 4 Bath Home

3,370 Square Feet, 6,358 Square Foot Lot

Built in 2009

Features 4 Fireplaces in an Open Floor Plan, and complete Barbeque area.

Offered at $2,275,000

310-418-7906 Office
---
June 2016 • Peninsula People 5
---
Volume XX, Issue 12

June 2016

PENINSULA PEOPLE

P A L O S V E R D E S P E N I N S U L A M O N T H L Y

ON THE COVER

Photo by David Fairchild

Table photo by Brad Jacobson

'Born on the Fourth of July" author Ron

Kovic at his Hollywood Riviera home.

PROFILES

34 Portuguese bender

by Stephanie Cartozian Rolling Hills Country Day

School owner Gary Stokoe describes building his new home,

without an architect, as "playing with the house, kind

of like a pallette on canvas."

42 Eye of the hurricane

by Paul Teetor

Author Ron Kovic follows

up on his best selling war memoir with an equally searing post

war memoir "Hurricane Street."

48

Vet on wheels

by Esther Kang

Dr. Paula Aycock brings

a farm town style veterinarian service to her hometown.

62 Shakespeare in the park

by Bondo Wyszpolski Shakespeare by the Sea

celebrates its 19th season with the familiar "Othello" and the

long and unfamiliar "Cymbeline" at Hesse Park.

68 Goat hill

by Stephanie Cartozian The Palos Verdes Land

Conservancy brings in 280 "Fire Grazer" goats to both protect

against fires and nourish the native habitat

HIGHLIGHTS

12 Assisteen Recognition Ball

16 Las Niñas de Las Madrecitas Fashion Show

20 AAUW-PVP recognition luncheon

22 Las Candalistas "World of Flavor"

26 Assistance League Walk the Walk

32 Classical Underground

46 PV Art Center Wearable Art

50 Malaga Cove Art Fair

65 Temple Beth El's new home

DEPARTMENTS

52 Peninsula calendar

58 Around and about

67 Home services

CONTRIBUTORS

Stephanie Cartozian is Peninsula People's associate publisher.

David Fairchild is a freelance photographer and frequent contributor

to Peninsula People

Esther Kang is a frequent contributor to Peninsula People.

Paul Teetor is a frequent contributor to Peninsula People.

Bondo Wyszpolski is the Arts & Entertainment editor or Easy

Reader newspaper and a frequent contributor to Peninsula People.

STAFF

EDITOR

Kevin Cody

PUBLISHER

Mary Jane Schoenheider

ASSOCIATE PUBLISHERS

Richard Budman

Stephanie Cartozian

DISPLAY SALES

Adrienne Slaughter,

Tamar Gillotti, Amy Berg,

Shelley Crawford

CLASSIFIEDS

Teri Marin

ADVERTISING

DIRECTOR

Richard Budman

ADVERTISING

COORDINATOR

Teri Marin

GRAPHIC DESIGNER

Tim Teebken

FRONT DESK

Judy Rae

DIRECTOR OF

DIGITAL MEDIA

Jared Thompson

CONTACT

MAILING ADDRESS

P.O. Box 745

Hermosa Beach, CA

90254

PHONE

(310) 372-4611

FAX

(424) 212-6780

WEBSITE

www.easyreadernews.com

EDITORIAL

PenPeople@

easyreadernews.com

ADVERTISING

(310) 372-4611

displayads@

easyreadernews.com

Please see the Classified Ad

Section for info.

FICTITIOUS NAME

STATEMENTS (DBA'S)

can be filed at the

office during regular

business hours.

(310) 372-4611

Peninsula People is a supplemental

publication of Easy

Reader, 2200 Pacific Cst. Hwy.

#101., PO Box 745, Hermosa Beach,

CA. 90254-0427.

SUBSCRIPTIONS

Yearly domestic mail subscriptions

to Peninsula People are $40, foreign

$90 payable in advance. The

entire contents of Peninsula People

are copyrighted 2016 by

Peninsula People, Inc.

6 Peninsula People • June 2016
---
2004 Van Karajan Dr., Rancho Palos Verdes

4 bedrooms | 3 bathrooms | 2348 Sq. ft.

OFFERED $990,000

2014 Delasonde Dr., Rancho Palos Verdes

4 bedrooms | 2 bathrooms | 1746 Sq. ft.

OFFERED $825,000

JERRYANDLAURA.COM

Over 600 Homes Sold and Counting

Ranked #1 in Palos Verdes by Zillow!

(310) 480-3601

7212 Berry Hill Dr., Rancho Palos Verdes

5 Bedrooms । 3 Bathrooms । 3095 Sq.ft.

OFFERED $1,899,000

4005 Dauntless Dr., Rancho Palos Verdes

3 bedrooms | 2 bathrooms | 1800 Sq. ft.

OFFERED $1,275,000
---
June 2016 • Peninsula People 11
---
S P O T L I G H T O N T H E H I L L

The Class of 2016 Assistance League of San Pedro-South Bay Assisteens Recognition Ball Honorees are: Front, L to R: Katie Shewfelt, Serena Tramm, Amanda Lee, Christine

O'Connell, Cheyenne Newallis and back, L to R: Jessica Hay, Neeki Rizi, Vanja Bantencourt, Stephanie Grant, Ada Day, Emma Tsuneishi and Victoria Marquez.

51st Annual Assistance League of San Pedro-South Bay

Assisteens Recognition Ball

The 51st Annual Assistance League of San Pedro-South Bay Assisteens

Recognition Ball for the Class of 2016 was held March 5, the night

all honorees and their families had been looking forward to for 5 years.

It did not disappoint. In fact, it went far beyond any expectations. How

could it not. The Ball was held at the magnificent and legendary Millennium

Biltmore Hotel, which is fitting considering the Assisteens themselves

are legendary. Twelve senior honorees from a variety of South Bay

community high schools: Palos Verdes Peninsula High, Palos Verdes

High, Mary Star, San Pedro High and South High, were honored for their

incredible contribution of more than 10,095 hours. This number will continue

to increase as the honorees continue volunteering throughout the

community. A few of the organizations that so appreciate the Assisteens

continuous help over the years are, but not limited to: Kaiser Permanente,

Camp Escapades, Press Friends, Torrance Memorial Medical Center,

the Assistance League Gift Shop, Operation School Bell, San Pedro

Boys and Girls Club, Pediatric Therapy Network, Ride to Fly, Norris Theatre

for the Performing Arts, Cabrillo Marine Aquarium, Long Beach

Aquarium, Los Angeles Museum of Science, and Providence Little Company

of Mary Medical Center. Assisteens also volunteer for many individual

needs throughout the South Bay, i.e. horse shows, 10K runs, as

well as many others. During the Ball each honoree's biography was read

as she was spotlighted in an individual balcony. An individual rose was

given to each honoree's mother, as well as other honored female guests.

Assistance League Medallions were presented to the honorees by their

mothers. The Assisteens danced a waltz with their escorts which was followed

by a traditional waltz performed with their fathers to John Mayer's

song "Daughters". Assisteens is accepting girls and, new this year, boys

in grades 7 through 12, for the opportunity to volunteer and learn at one

of the oldest and most prestigious national organizations. If interested in

being part of the Assisteens legacy contact Gina Van Boxtel, Membership

Advisor at gvanboxtel@gmail.com.

12 Peninsula People • June 2016
---
June 2016 • Peninsula People 13
---
Fine Homes and Luxury Properties

NEW

LISTING

EXCEPTIONAL

PROPERTY

SEA BREEZE

RANCHO PALOS VERDES

4 Bedrooms, 3.5 Bathrooms, 3,643 sq ft Home, 16,487 sq ft Lot

1-Story Updated Mansion with New Wood Floor & Paint.

Large Master Suite, Gourmet Kitchen, Garden Backyard, Great Condition

OFFERED AT $2,295,000

www.56SeaBreeze.com

paseo la cresta

PALOS VERDES estates

7 Bedrooms, 11 Bathrooms, 10,400 sq ft Home, 42,412 sq ft Lot

Magnificent Gated Estate offering a Unique Combination of Luxury and Comfort

Sweeping Ocean, Bay and Treetop views. Exquisite Finishes and Fine Appointments Throughout

OFFERED AT $9,750,000

www.1414PaseoLaCresta.com

BEAUTIFULLY

REMODELED

CLOSE TO

SCHOOL

Via Asturias

PALOS VERDES estates

5 Bedrooms, 4.5 Bathrooms, 5,249 sq ft Home, 15,190 sq ft Lot

Ocean View Estate in Upper Lunada Bay. Remodeled in 2004

Huge Master Suite, Top of the Line Kitchen, Many Luxurious Features

OFFERED AT $3,690,000

www.ViaAsturias.com

Thorley Road

PALOS VERDES estates

5 Bedrooms, 4 Bathrooms, 5,241 sq ft Home, 15,307 sq ft Lot

Gated 1990 Custom Built Manor in sought after Lower Lunada Bay

Luxury Interiors, Great Curb Appeal, Walking Distance to School

OFFERED AT $3,680,000 $3,480,000

www.2116Thorley.com

#1 Real Estate Team 2010 - 2015, RE/MAX Estate Properties

Stephen Haw/Team Leader

何 精 益

310.503.9886

Skh8828@gmail.com

Kim Hall

Serving the South Bay

310.721.7526

KimHallHomes@gmail.com

Cristina Go

Short Sale Specialist

310.971.0404

gocristinago@gmail.com

Lauren Yoon

로렌 윤

310.619.4989

laurenyoon17@gmail.com
---
Fine Homes and Luxury Properties

NEWLY

REMODELED

NEW

LISTING

CENTRALLY

LOCATED

VIA OLIVERA

PALOS VERDES ESTATES

4 Bedrooms, 3 Bathrooms, 2,828 sq ft Home, 6,580 sq ft Lot

$380,000 Worth of New Remodeling. Upper Lunada Bay Area

Ocean View, Trendy Home Features, Brand New Kitchen & Bathrooms

OFFERED AT $1,895,000

www.2653ViaOlivera.com

North IRENA

REDONDO BEACH

3 Bedrooms, 2.5 Bathrooms, 1,625 sq ft Town Home

Located on a Quiet Street in the Heart of Redondo Beach

Direct Garage Access, New Carpet, 3 Balconies & Patio

OFFERED AT $765,000

www.721NorthIrena.com

SILVER SPUR ROAD

ROLLING HILLS ESTATES

2 Bedroom, 3 Bathrooms, approx. 2,268 sq ft Town Home

Luxurious Town Home in the Heart of Peninsula Center

Live/Work Residence, Versatile Floor Plan.

OFFERED AT $899,000

SHOWCASE

PROPERTY

BIG

VIEWS

LARGE

FLAT LOT

CREST ROAD

RANCHO PALOS VERDES

5 Bedrooms, 6.5 Bathrooms, 8,533 sq ft Home, Guest House

PANORAMIC VIEW of Queen's Necklace & Downtown LA

Architectural Masterpiece, Luxury Features, Beautiful Landscape

OFFERED AT $4,288,000

www.LuxuryPVhome.com

PALOS VERDES DRIVE WEST

PALOS VERDES ESTATES

3+ Bedrooms, 2 Bathrooms, 2,611 sq ft Home, 6,888 sq ft Lot

Beautiful Coastline and Queen's Necklace Views from both levels

Open Floor Plan with Windows Galore. Big Backyard.

OFFERED AT $1,799,000

www.353PVDW.com

LAUREL DRIVE

RANCHO PALOS VERDES

1.21 Acre Gated Vacant Lot has Large, Flat Building Pad

Panoramic Catalina, Ocean & Endless Sunset Views!

Private & Secluded Location in Lunada Pointe. Rare Find Opportunity

OFFERED AT $3,500,000

Local Experts with International Connections to get YOUR Properties SOLD

Natsuko Fujii

藤 井 奈 都 子

310.941.2468

nfujii10@gmail.com

Alicia Enrique

Real Estate Specialist

310.720.4852

aliciahomes1@gmail.com

Dede Hsu

郝 蒂 蒂

310.722.9222

dedehsu@gmail.com

Rod Yoon

롸드 윤

213.663.8888

RodYoon@gmail.com
---
S P O T L I G H T O N T H E H I L L

Las Niñas de Las Madrecitas

Annual Fashion Show

Las Madrecitas, an auxiliary of the Charitable

Children's Guild of the Orthopædic Institute

for Children (OIC), hosted its annual fashion show

on Saturday, April 23 at Terranea Resort in Rancho

Palos Verdes to benefit OIC and honor its 2016 Las

Niñas Senior class for their community service.

With the theme Un Jour aux Champs-Élysées, the

event featured fashions from Cason Couture,

Roark, Friar Tux Shop with make-up by Smashbox

Cosmetics and hair by Hollywood Dolls Beauty

Salon,as well as a shopping boutique.

The 2016 Las Niñas honorees included Makena

Agilpay, Annika Aguirre, Dominique Augello,

Olivia Bastasch, Alexandra Hill, Julia Hitzel,

Sophia Khoury, Jade Lactaoen, Bailey Lekavich,

Brooke Littman, Madison McAuley, Alissa Messenger,

Claire Mihm, Rachel Mills, Jordan Munsell,

Paige Pennington, Shanaya Pudumjee, Hadeel

Saab, Isabella Sanders, Nicole Shearin, Mariah

Watts, and Jessica White.

Las Niñas and Las Madrecitas raise money from

other fundraising initiatives throughout the year,

including the annual fall fundraiser, holiday luncheon,

raffle ticket sales and See's Candy sales. Las

Niñas members donate their time throughout the

local community and have the unique opportunity

to volunteer at OIC where they can gain experience

working with orthopaedic patients and health

care professionals. Each member of the Las Niñas

senior class has contributed between 320-650

hours of volunteer service throughout their high

school careers.Las Niñas and Las Madrecitas membership

is open to mothers and daughters interested

in the aims and purposes of the organization.

For more information about membership, please

contact Becca Davis at

tomandbecca@hotmail.com.

1

1. Paige Pennington.

2. From left, Isabella Sanders, Alissa

Messenger and Jordan Munsell.

3. Left to Right, Fashion Show Co-Chair

Leilani Emnace, Fashion Show Co-Chair

2

3

4

Lisa Navarro, Las Madrecitas President

Jean Zwarg, Fashion Show Co-Chair Dee

Scott.

4. Fashion show models Pictured left to

right: Shanaya Pudumjee, Nicole Shearin,

Madison McAuley, Jessica White.

Simply Tiles Design Center

Fine Ceramics, Natural Stone, Hardwoods, Cabinetry, Faucetry.

Kitchen & Bathrooms Specialist.

3968 Pacific Coast Hwy., Torrance • (310) 373-7781 • www.simplytiles.com

License #904876

16 Peninsula People • June 2016
---
LILY LIANG PRESENTS:
---
PALOS VERDES' FINEST HOMES & ESTATES FOR OVER 30 YEARS!
---
S P O T L I G H T O N T H E H I L L

AAUW-PVP

Recognition Luncheon

The AAUW Palos Verdes Peninsula Branch Recognition Luncheon was held recently

to honor members who have done outstanding work in forwarding the mission of

AAUW. Among the honorees were Denise DeVenuto, Eileen Edelson, and Kay Odgers.

Elayne Nahman, AAUW/PVP Council Chair, led the meeting and Cordelia Hwang, Funds

Chair presented the awards.

AAUW advances equity for women and girls through advocacy, education, philanthropy

and research. The PVP Branch has branch-funded projects to enhance educational

opportunities for girls in the fourth grade (Exploring Science); and in the eighth grade

(Tech Trek) and for university women to attend a national leadership conference.

For information about AAUW activities and membership, please go to the AAUW/PVP

website, http://palosverdes-ca.aauw.net

PHOTOS BY DENISE DEVENUTO

1. Denise DeVenuto and

Cordelia Hwang.

2. Kay Odgers and Leann

Roque.

3. Eileen Edelson and

Cordelia Hwang.

4. Leann Roque, Kay

Odgers, Cordelia Hwang and

Elayne Nahman.

5. Muriel Blatt and Mary

Watson.

6. Susan Grimshaw and

Elayne Nahman.

7. Shirley Borks, Sheila

Dicksen, Leann Roque and

Kay Odgers.

8. Bonnie Durling and Eunice

McConaughy.

1

2 3

4 5

6 7

8

20 Peninsula People • June 2016
---
Get Your

Free Copy of our Book

Six Secrets to

Successful Remodeling

Online at VisitCustomDesign.com/FreeOffer

or by calling 310.815.4815

Complimentary Remodeling Seminar Schedule Posted on
---
S P O T L I G H T O N T H E H I L L

Las Candalistas

Spring Event

Las Candalistas celebrated their 48th

Spring Event Fundraiser on April 28th

at the beautiful Catalina View Garden in

Rancho Palos Verdes. "A World of Flavor"

was an epicurean adventure celebrating

food, spices, and shopping! Chef

Bernard Ibarra from Terranea lead the

Culinary Speaker series along with Sous

Chef, Chef Jonathon De La Cruz, with his

talk intertwining spices, cultures, and flavor.

Nepali Chef Pramila Dugel demonstrated

Nepalese recipes, Rex Ito of Prime

Time Seafood shared the latest secrets of

Seafood Preparation. Guests enjoyed Las

Candalistas catered lunch, Catalina View

Wines, shopping the Las Candalistas Marketplace,

Artisan Boutique, an extended

Silent Auction, and the incredible ocean

and vineyard view. Guests had a chance

to win a Costa Rica Trip for Two arranged

by the Travel Store in Malaga Cove. Proceeds

benefit Pediatric Therapy Network,

TrinityKids Care Hospice and Community's

Child.

1

2

3 4 5

6 7

1. Event Committee

Karen Stockbridge,

Irene Almeida, Debbie

Sampson and Tracey

Peffer.

2. Chef Bernard

Ibarra and Sous Chef,

Chef Jonathon De La

Cruz from Terranea

Resort.

3. Nanci Browning

Hodge, Sachie Olson,

Sue Elliott

4. Chef and Author

Pramila Dugel.

5. Janie Woodburn

and Janie Hasselman

set the scene.

6. Janie

DiBenedetto, Hollidae

Brown, and Anne St.

Cyr.

7. Longtime Las

Candalistas, Judy

Hessick and Monica

Mortensen.

8. Members L to R:

Judy Armstrong,

Shelley Pogorelsky,

Donna LaMont, Polly

Goodman, Susan

Haas, Nancy Bruce,

Monica Mortensen.

9. Marylyn Hoffman,

Diane Stone, Freddie

Benson, Elaine Trutanich.

10. Opportunity

Drawing Winner Janie

Woodburn, with

Nanci Browning

Hodge.

8

9 10

22 Peninsula People • June 2016
---
24 Peninsula People • June 2016
---
June 2016 • Peninsula People 25
---
S P O T L I G H T O N T H E H I L L

Assistance League of

San Pedro-South Bay

Annual Walk the Walk

The Assistance League of San Pedro-South

Bay held their 2nd annual Walk the Walk

on April 17. It was a beautiful San Pedro sunny

day at the Harbor for walkers. The walkers

wearing their "Walk the Walk" T-shirts were

treated to music by D.J. Teddy Johnson. For

those that needed a snack the Richeeze Grilled

Cheese food truck offered great food including

their popular grilled cheese sandwich with

bacon. The walk started at the Maritime Museum

and continued to the Cruise line terminal.

Walkers stopped to enjoy the dancing

fountains or rested on benches to take in the

beautiful harbor and passing ships. The proceeds

from this event will benefit their service

programs for the community. The Assistance

League of San Pedro-South Bay is an all-volunteer

non-profit organization that serves the

needs of children and families. The Assistance

League of San Pedro-South Bay is celebrating

its 80th year of serving the community.

1. Mr & Mrs Tom Tobin of San Pedro.

2. Gayle Merrick and her dog.

1

3. Happy participants.

4. Mr. and Mrs. Ron Tyler of Rancho Palos Verdes.

2

3 4

26 Peninsula People • June 2016
---
Chris Adlam

310.493.7216

www.chrisadlam.com

Casa Felicia. Landmark Palos Verdes Estate. 65,500 square foot, bluff-top

parcel. If privacy is the ultimate luxury. $12,500,000
---
Situated on a large, corner lot in Palos Verdes Estates, this home features over 5400

square feet and 6 bedrooms. Beautiful pool, spa and ocean views. $3,299,000

Chris Adlam

310.493.7216

www.chrisadlam.com

Cape Cod in lower Lunada Bay. Almost 3900 square feet with 4 bedrooms, pool, spa

and a pool house! Enjoy beautiful ocean views and sunsets!!! $2,250,000
---
Charming 3 bedroom home in the best of lower Malaga Cove! Huge panoramic, Queen's

Necklace and coastal views. Feel the ocean breezes and live within a block of the beach!

Chris Adlam

310.493.7216

www.chrisadlam.com

Just completed in Palos Verdes Estates. Over 2700 square feet and 4 bedrooms, this home is

perfection inside and out. Large, flat backyard and beautiful open living spaces. $2,199,000
---
S P O T L I G H T O N T H E H I L L

Classical Underground

Alexey Steele presents Music and

Art Series

Art and music lovers gathered for an invitation

only event to hear famed Lithuanian

cellist David Geringas perform along with

other world renowned cellists and violinists.

Hosted by Alexey Steele and Olga Vlasova in

their Carson gallery workshop, they showcase

esteemed musicians from around the world in

an intimate, ambient and artful setting. David

Leffel was the featured painter of the evening.

On display was his portraiture as a preview to

his retrospective exhibition currently at the

Frederick R. Weisman Museum of Art through

August 7, 2016. "Leffel's powerful realism

arises from his commitment to understanding

and capturing the flow of light. He does not

paint things, but light falling and flowing over

objects. By treating light as a vital force, he

gives his paintings the feeling that they are infused

with life", said Michael Zakian, Director

of the Weisman Museum. The music was

baroque and contemporary and transported

guests to a Vienna concert hall.

1

3 4

2

PHOTOS BY

STEPHANIE CARTOZIAN & KEVIN CODY

1. Tracie England, Bob

Mennig and Catherine

Bach.

2. Adam Coleman, Tim

and Emily Vaughan.

3. Olga Vlasova, David

Geringas, Alexey Steele

and Tatjana Geringas.

4. Hosts Alexey Steele

and Olga Vlasova.

5. Host Alexey Steele

and Dr. Robert Hamilton.

6. Host Alexey Steele,

City of Carson Mayor Albert

Robles, Richard

Rand and Sherry Brooks.

7. Theme In Art We

Trust.

8. Venue Alexey Steele's

art gallery and workshop.

9. Laszlo Mezo, Evgeny

Tonkha and David

Geringas.

10. Evgeny Tonkha and

David Geringas.

11. Mia Barcia-

Colombo.

5

7

8

6

9 10

11

32 Peninsula People • June 2016
---
This Burmese temple bell has carved elephants and mahouts in the yolk and hangs above the front door.

How and why Gary Stokoe created his own home

by Stephanie Cartozian

in a world defined by parameters, if you will, and hard

edges," says homeowner Gary Stokoe, inspired him to design a

"Living

home that eludes restriction and embraces open outdoor space.

Situated on a lot frequented by hawks, racoons and other wildlife, with

views that extend to Catalina Island, this home on Portuguese Bend was

designed with the natural environment in mind. Stokoe designed the house

without the assistance of an architect, something he likens to "playing with

the house, kind of like a pallette on canvas."

Stokoe, owner of the well-respected Rolling Hills Country Day School,

purchased what was then a '50s style ranch house in 1994. He then set out

to make it unconventionally his.

"I did not have a set of plans," he says. "It was designed day after day

from living in the house."

His ample use of cedar, the exposed beams visible throughout the home's

exterior, and the 250 pound Burmese temple bell that hangs over the front

door harmonize well within the artful Portuguese Bend gated community.

The home's ubiquitous accoutrements are essentially unreplicatable due

to the special circumstances by which it was built. A large, unattached treehouse

contains the master bedroom featuring expansive hickory floors and

a slate bathroom that would rival that of any fine spa resort. The treehouse

is separate from the main house, situated between two aged peppertrees

with ocean views and verdant landscaping all around. Stokoe said that some

of the hotels he has visited in Puerto Rico and Hawaii had outdoor showers

and he created this master bathroom shower to likewise be open to the environment.

When the glass enclosure is opened, it imparts the feeling of

being outside. An eclectic bathroom mirror was a find from Santa Monica

that used copper from old beer vats with a six inch wide frame around it.

The excess slate from being handcut was utilized as a splash and baseboards

in other parts of the house including the main bathroom. This home was

created to be one with the environment and there was little material wasted

in its construction.

Outside the treehouse — literally outdoors, by the south side patio —

sits a clawfoot bathtub sunken inside Palos Verdes stone. Stokoe explains

matter of factly that it was insulated with a "can of foam, hooked up to a

water heater and there you go. When it drains, it waters the yard."

This little respite embodies the home's mission to create an island in what

can sometimes feel like a frenetic sea. A wood piece situated over the top

of the tub shields it from the outside elements and integrates the structure

34 Peninsula People • June 2016
---
The south side patio has a fireplace, lounge chair and sunken claw

foot bathtub that drains to water the plants.

The main house bathroom with warm woods and natural stone.

with the outdoors.

With over 3,000 square feet of living space, four bedrooms and four bathrooms,

Stokoe's home combines Southwestern influence with Arts and

Crafts style, the latter being an artistic movement in the late 19th century

which emphasized a return to skilled craftsmanship and attention to the

decorative arts as a response to the mass production of the Industrial Revolution.

Authentic hand-cut 140-year-old oak floors, which came from a retired

cotton mill, grace the floors. Copious use of stone in the home's

interiors are consistent with Southwestern style. Palos Verdes stone is also

used throughout the home. One of the showers in the main house has a

custom designed, handcut Palos Verdes stone bench; the shower also doubles

as a steam room and streams in music.

"I like adding to the experience of the simple things, like showering,"

Stokoe says.

The large chef's kitchen also follows Stokoe's practical and fundamental

design hallmarks. The primary tasks in a home kitchen are carried out between

the cooktop, the sink and the refrigerator; a "kitchen work triangle"

is thus comprised of these three points and the imaginary lines between

them. When these three elements are in close proximity, the concept is that

the kitchen will be most efficient to use and therefore will cut down considerably

on wasted steps. Although not invented by Stokoe himself, it is a

design style dating back to the 1940s that is pleasing to the eye with the

added benefit of more efficient preparation and cooking times. The

kitchen's an open floor plan opens up to an outdoor dining patio with an

additional outdoor kitchen. The bucolic outdoor surroundings are showcased

throughout this home's interior and exterior.

In 1956, a 260-acre landslide occurred in Rancho Palos Verdes, triggered

by road work from Los Angeles County road crews who were extending

Crenshaw Boulevard through Portuguese Bend to Palos Verdes Drive West.

The landslide consequently caused a water line to break, resulting in significant

land movement. Due to these events, the city of Rancho Palos

Verdes had a longstanding moratorium on building in the Portuguese Bend

area and maintained an arm's length distance from oversight on remodels

and renovations, according to Stokoe.

These unique circumstances permitted Stokoe to have the flexibility to

build the home that he envisioned for the property. Many homes, he says,

have to compromise beauty in order to fit city needs.

"I'm not an artist," he says. "This was my creative outlet. It was a calming

piece to my day. I wanted to design a home that everyday I was coming

home to a retreat that had all the amenities of a hotel." PEN

The chef's kitchen triangle layout minimizes steps.

The treehouse houses the master bedroom and bathroom in a

spa-like ambience.
---
36 Peninsula People • June 2016
---
June 2016 • Peninsula People 37
---
BRAND NEW CONSTRUCTION

"Behind The Gates"

The first NEW house on the market in years in the exclusive gated city of Rolling Hills. The epitome of luxury living on over 2 usable acres with covered

outdoor stone patio with fireplace and outdoor flat screen hookups, enormous driveway, plenty of room for horses to roam and to plant your dream orchard.

Cathedral ceilings greet you in the entry and formal living room with fireplace. The open feeling continues through the formal dining room and huge center

island kitchen that open to the large family room. Outdoor terrace with fireplace overlooks the sparkling saltwater pool and spa. Natural light throughout,

quality designer finishes, massive five car garage and tons of additional parking. Located on a quiet cul- de-sac street with city lights view. Ten minutes to the

beach and 30 minutes to downtown L.A. Rolling Hills is a completely private city with lighted tennis courts, walking trails, riding rings and three guard gated

entrances. Privacy, security,clean air and no traffic! $5,595,000

June 2016 • Peninsula People 39
---
3609 PASEO DEL CAMPO, PALOS VERDES ESTATES

4 BED | 2 BATH | 2,015 SQ FT | LOT SIZE 10,498 | OFFERED AT $2,095,000

If location is everything, you've just found one of the best. Located on the highly desirable tree-lined street of Paseo Del Campo in Palos Verdes Estates, directly across from the 11th hole of Palos

Verdes Golf and Tennis Clubs. This single story 4 bedroom, 2 bath Spanish Ranch style home truly exudes Southern California indoor/outdoor lifestyle at its best. Upon entry you are welcomed

through the split Dutch doors into the very large landscaped courtyard with an old-world fountain as its centerpiece. Entertaining your friends and family in this beautiful private setting is a

pleasure.

Watch the golfers from your kitchen as they play by while preparing meals. Enjoy a quiet dinner by the fireplace in the dining area and then retire into the bright living room with vaulted ceilings

adorned by hand scraped beams and a wall of glass overlooking the courtyard. The peaceful master bedroom retreat has vaulted beamed ceilings with garden views to the courtyard. The master

bath incorporates a separate frameless shower dressed in Emperador dark marble and jacuzzi style tub to give a spa like feel.

Two bedrooms look out onto the flat grassy enclosed backyard. The Fourth bedroom can be used as an office/ bonus room. This coveted neighborhood allows for an active lifestyle of golf, tennis,

cycling, with walking/hiking trails, and the beach just a few minutes away. Close to shopping, restaurants, and entertainment and the highly rated Palos Verdes Unified School District.

FOR MORE INFORMATION, VISIT 3609PASEODELCAMPO.COM
---
KITCHEN AND BATH REMODELING

ONE COMPANY DOES IT ALL

"Get the Job Done Right, the First Time"

20-50%

OFF

CABINETS

MSRP

Open During

Expansion

Serving the

South Bay for

24 years

Contractors license #783339

• Design • New Cabinets • Cabinet Refacing • Granite & Quartz Countertops • Showers

• Electrical • Tub Installation • Plumbing • Lighting • Construction

SOUTH BAY DESIGN CENTER

HOME REMODELING COMPANY

310-539-6800

2413 Pacific Coast Hwy #207, Lomita, CA 90717

SouthBayDesignCenter.com

Mon-Fri 10am-6pm Sat. 11am-4pm

After hour appointments available.

ATRIUM DESIGN CENTER

C O M I N G S O O N

RETAIL SPACE AVAILABLE FOR REMODELING TRADE COMPANIES

For additional information call 310-539-6800 or visit AtriumDesignCenter.com

June 2016 • Peninsula People 41
---
Eye of the HURRICANE

Ron Kovic left one war to fight another, this time for something he believed in.

The "Born on the Fourth of July" author's new book, "Hurricane Street,"

tells the tale of the Vietnam veterans' anti-war movement

by Paul Teetor

When he can't sleep late at night or needs

a caregiver's help to get out of bed in

the morning, Ron Kovic has a mantra

that keeps him going forward: dignity over despair.

It's a reminder of how the Hollywood Riviera

resident wants to live his life.

It also helped inspire him to write his first

book, the timeless anti-war classic "Born on the

Fourth of July." That powerful 1976 memoir told

the story of his All-American childhood in Long

Island, New York, where he and his friends

played war games imitating the heroic battles

their fathers had fought in World War II. It told

how they thrilled to the John Wayne war films

they saw every Saturday at the local movie theatre.

And it told how the war games, where they

"killed" hundreds of Japanese and Germans, and

the war films starring a guy who never served in

the military all contributed to the patriotic fever

that led him to enlist in the Marines after graduating

from high school in 1964.

But the raw, beating heart of the book was his

description of the harrowing physical, psychological

and institutional trauma he suffered in Vietnam

– and later back in the U.S. — after a North

Vietnamese bullet severed his spinal cord on January

20, 1968. It left him, at age 21, a paraplegic

destined to live the rest of his life in a wheelchair.

His graphic narrative of the bullet entering his

body, of being carried off the battlefield by men

who were strangers to him, and of the appalling

conditions and under-trained, neglectful staff in

the string of hospitals he was sent to were equal

parts shocking, revolting and revelatory to an

American public that was increasingly turning

against the war.

Late in the book he finds a measure of redemption

as an activist member of the Vietnam Veterans

Against the War. It gave him a cause and a

reason to go on living that helped him overcome

the why-me? feelings that destroyed many other

severely wounded vets.

"I saw pictures in the Santa Monica newspaper

of veterans throwing their medals away," he recalled.

"I was very moved by that. We had a small

group of veterans in the LA area that merged

with the larger group called Vietnam Veterans

against the War."

Secretary of State John Kerry, who famously

asked Congress "How do you ask a man to be the

last man to die in Vietnam? How do you ask a

man to be the last man to die for a mistake?" was

part of that group of veterans throwing their

PHOTOS BY DAVID FAIRCHILD

medals away.

"John Kerry has shown a great deal of moral

courage," Kovic said. "He learned from that war.

He's not repeating the same mistake over and

over again."

In addition to purging some of his own inner

demons and calling the public's attention to a war

he considered a tragic mistake with tragic consequences,

Kovic had a more personal motivation

for writing his first book.

"I wanted my parents to know that I was more

than a victim in the war," he said in a recent interview.

"I wanted to take what happened to me

and turn it into something positive. It's very rewarding

to know that you can take something

like that and turn it into art, into a book and ultimately

into a film."

Twelve years after "Born on the Fourth of July"

hit the best-seller lists, director Oliver Stone and

actor Tom Cruise turned it into an award-winning

film that opened America's eyes — in a way that

a mere book never could in these times — to the

brutal consequences of war and the often inadequate

care that its wounded veterans received. It

was a case study of the power of film to draw an

42 Peninsula People • June 2016
---
audience in by entertaining them

and then use the images flickering on

the screen to educate them about important

social issues – a subtle, subliminal

process that is becoming

rarer and rarer as Hollywood concentrates

on popcorn films built

around comic book super heroes.

Kovic, unlike many people whose

life story has been adapted to film,

has nothing but good things to say

about the film and nothing but great

memories of making it. He was a cowriter,

along with his fellow Vietnam

vet Stone, of the screenplay that won

a Golden Globe award. It was

awarded on January 20, 1990, exactly

22 years after he was shot and

wounded.

"Every January 20 I raise it over

my head to remind myself that something

good happened on that day as

well as something very bad," he said.

The film was also nominated for

eight Academy awards and won two,

including Best Director for Stone.

"Oliver did a fantastic job of keeping

the integrity of the story intact,"

he said. "And Tom Cruise brought

real depth to the role, something I

wasn't sure he could do before we

started filming."

Little known fact: "Born on the

Fourth of July," with Martin Bregman

producing and Al Pacino in the

Ron Kovic role, was only a few days

away from starting principal photography

in 1978 when the financing

fell through. But Stone, who was the

original screenwriter, promised

Kovic that if he ever became a real

player in Hollywood, he would revive

the project. And after he directed

the block-busters "Platoon"

and "Wall Street" in the mid-1980s,

Stone had enough Hollywood juice

to find the financing to make "Born

on the Fourth of July."

"He kept his promise, without my

ever reminding him of the promise,"

Kovic said. "And he made a film that

has stood the test of time as an important

document of the Vietnam

War."

Now, 40 years after his first book

was published, Kovic's mantra of

dignity over despair helped him

write his newest book, "Hurricane

Street," which will be released on

his 70th birthday, July 4. Kovic will

read from "Hurricane Street"

Wednesday, July 6, at 7 p.m. at the

Manhattan Beach Library at 1320

Highland Avenue. He will also discuss

"Born on the Fourth of July" and

how the two books are connected,

how they are two parts of one man's

ongoing, never-ending story of war,

remembrance and redemption.

After being so outspoken about the

Ron Kovic helps Tom Cruise on the set of "Born on the Fourth of July." Kovic was impressed

with the actor's dedication to learning his role by spending hours in a wheelchair.

Photo courtesy of Ron Kovic

Ron Kovic (with flag) at a 1972 anti-Vietnam War protest. Photo courtesy of Ron Kovic

Vietnam War for more than 40 years,

Kovic knows that he is a controversial

guy, even among some of his fellow

Vietnam vets. He is a leader on

one side of a divisive debate that still

rages more than four decades after

the last Americans were air-lifted out

of Saigon.

Former Manhattan Beach Mayor

Bob Holmes is one of those Vietnam

vets who does not agree with Kovic's

strong stand against the war. He says

he made a conscious choice not to

read "Born on the Fourth of July" nor

watch the film when it came out.

"People like Ron who strongly opposed

the war draw a mixed reaction

from those who served in the war,

and I don't think it's a surprise to

Ron that opinion of him in the veterans'

community is very mixed,"

Holmes said. "Some may feel there's

an element of disloyalty in what he

says. But I know there are plenty of

others who agree with him that we

wasted our time there."

Regardless of where veterans stand

on the debate over the righteousness

of the war, Holmes says, there are

two things they can all agree on.

"I think all of us agree that the U.S.

government has not properly taken

care of those who served their country,"

he said. "And second, that regardless

of how I feel about Ron and

his activism, I respect his service to

our country, I respect that he has suffered

greatly, and God bless him."

For his part, Kovic said he feels the

same about veterans who feel differently

than he does about the war.

"We are all brothers, and all one

family," he said. "I have great respect

for all those who traveled 13,000

miles to serve our country. How

much more can a citizen give than

that? I honor my fellow vets."

"Hurricane Street" is taken from

the name of the Marina del Rey

street Kovic lived on in the mid-

1970s and tells the riveting, long-forgotten

tale of how he and several

other disabled veterans in wheelchairs

traveled from the Long Beach

Veterans Administration Hospital to

Los Angeles, where they occupied

Senator Alan Cranston's office in

1974. They protested the poor treatment

in the VA Hospitals. They also

demanded better treatment and a

face-to-face meeting with the head of

the VA, Donald Johnson. To show

they were serious they staged a sit-in

that turned into a 17-day hunger

strike and attracted first local and

then national media attention.

Johnson came to LA to the building

Ron Kovic cont. on page 44

June 2016 • Peninsula People 43
---
Ron Kovic cont. from page 43

that housed Cranston's office on

the 13th floor, but he refused to

meet with the veterans unless they

came to the VA office on the seventh

floor of the same building.

Kovic, aware that many of the men

had physical problems that limited

their movement, problems that

were getting worse the longer they

were away from the VA Hospital,

was just as adamant that Johnson

should take the 30-second elevator

ride to Cranston's office to meet

with them. Neither side budged, so

Johnson went back to Washington.

But the media uproar was so loud

that President Richard Nixon, already

dealing with the final, fatal

months of the Watergate scandal,

ordered Johnson back to LA,

where he finally met with the vets

on their captured turf.

Johnson resigned several months

later and the first of many VA reforms

were begun. Even today,

however, there are still plenty of

complaints about VA care and

Kovic insists the VA still has a long

way to go. He notes with a mixture

of sadness and anger that 22 military

veterans commit suicide every

day.

"A whole new generation of veterans

is coming back from Iraq

and Afghanistan with the same

problems we had," he said. "It's

unconscionable, a national outrage,

that the VA is not prepared to care

for them properly. These are men

and women in severe emotional

crisis."

The poignant subtext of the

"Hurricane Street" story is how this

small band of brave, desperate

men, who had fought so hard for

their country only to feel betrayed

once their bodies were broken and

they were no longer useful to the

war machine, were now so broken

spiritually that they were unable to

remain united after their protest

was successful. The vets' physical

and mental problems were so severe

that the group fractured into

factions under the growing internal

and external pressures bearing

down on them and ultimately disbanded

just a few months after the

hunger strike.

And after it was all over and

Johnson was gone and the VA had

pledged to make reforms, most of

them died within a few years from

causes directly linked to their traumatic

injuries or indirectly through

drug and alcohol abuse and suicide.

Kovic, unlike so many of his

wounded comrades who couldn't

find a reason to go on living or a

lifestyle that worked for them,

went on to a long career of social

activism embracing multiple

causes, from the environment to

human rights to the anti-nuclear

movement.

But in "Hurricane Street" he returns

to his original anti-war cause.

"I wrote it so that people would

never forget what happened during

those two and a half weeks. I

want people to see the consequences

of what war does to

human beings," he said during a

long, wide-ranging interview at the

Yellow Vase Café in Hollywood

Riviera. "How absurd it was that

severely wounded veterans who

had given three quarters of their

bodies were forced to go on a

hunger strike in a senator's office

because they weren't being properly

cared for by the wealthiest

country in the world."

As he approaches his 70th birthday,

Kovic has mellowed considerably

from the angry, embittered

young man he wrote about in

"Born on the Fourth of July."

"I now realize that we all need to

listen to each other, whether we

agree or not," he said. "We can't

just scream at each other and expect

to solve our problems."

He knows he has been lucky to

out-live most of his wounded

brothers who joined him in the sitin

and hunger strike. Now he has

the perspective to see the big picture

of his life story as he enters his

eighth decade on this earth.

"I'm grateful just to be alive," he

said. "I'm thankful for every day."

Part of what makes him so grateful

to be alive is his girlfriend of

nine years, TerriAnn Ferren, a Torrance

resident who handles marketing

and public relations for the

Torrance Cultural Arts Center.

"I dedicated 'Hurricane Street' to

her," he said quietly. "She is very

special and has become the anchor

in my life."

Their meeting and courtship is a

classic case of serendipity.

After moving to Redondo Beach

about 12 years ago, Kovic had become

friendly with Bill Sharman,

the basketball Hall of Famer – as

both a Boston Celtics player and a

Los Angeles Lakers coach — and

his wife Joyce. They also lived in

Redondo Beach. She had lost a

brother in the Vietnam War, a loss

that affected her deeply. After

watching "Born on the Fourth of

July" she reached out to Kovic.

"She called me, and we got together

and talked about a lot of

things," he said. "I soon became

close friends with her and Bill."

44 Peninsula People • June 2016
---
OPEN

SUN 1-4

Tom Cruise, Ron Kovic, and director Oliver Stone celebrate a sweep of the top awards

at the 1990 Golden Globes. Photo courtesy of Ron Kovic

A few years later they invited him

to a dinner party at their home

where he met Ferren.

"I had heard about Ron from

Joyce and Bill but I had never met

him," Ferren recalled. "When I saw

him over by the pool I introduced

myself. I had never read his book or

seen the movie, but we just started

talking and talked and talked and

talked. Right from the start it was so

easy to be with him."

Even at that first meeting she noticed

what an evolved man he was,

so unlike the bitter young man lashing

out at the world as described in

his first book.

"He was sincere and very gracious

and very interested in others,"

Ferren said. "Other people would

come up to him and he would go

out of his way to make them comfortable.

He is a kind, generous, bighearted

man. I feel blessed to know

him."

Attracting a great girlfriend: another

benefit of choosing dignity

over despair.

Contact: teetor.paul@gmail.com

Follow: @paulteetor. PEN

PANORAMIC VIEWS WITH HUGE LOT

PLUS SEPARATE GUEST HOUSE

4105 Palos Verdes Dr East (Not on Main Road)

Classic Mediterranean home built in 2006 with UNBELIEVABLE VIEWS of

Harbor, Vincent Thomas Bridge and Ocean. Huge property of 173,229 sq.

ft. with the possibility of subdividing into 2 or more building sites. Open

floor plan with Italian and Spanish marble in Living Areas and soaring wood

beam ceilings throughout the home. Gourmet kitchen with extensive use of

marble and granite and loads of storage and prep sink. This home is SPE-

CIAL and a treat to see!! The combination of marble, granite,

travertine, wood and Venetian plastered walls is

amazing!! Privacy is accomplished through its beautiful

location high above the road, yet close to views!!

Call for Private Showing

PHYLLIS WEITZMAN 310-413-5150

Call Phyllis for All Your Real Estate Needs

June 2016 • Peninsula People 45
---
S P O T L I G H T O N T H E H I L L

Palos Verdes Art Center

Signature Spring Fantasy Fashion Show

PHOTOS BY TONY LABRUNO

The Artist's Studio spring Signature Fashion Show was held

at the Palos Verdes Art Center atrium on Saturday afternoon

May 7. This alluring event is held twice yearly, in May and in

November, and includes an elegant champagne luncheon, fashion

show and boutique. The event put on display original fashions

and jewelry designed by local artists students students.

Steve Stein and Wesley Williamson acted as runway escorts and

the Lindy Hop Stop Dancers provided entertainment throughout

the afternoon.

1. Palos Verdes Art Center executive director

of Palos Verdes Art Center Joe Baker

and artist and curator Gabrielle.

2. Artist Don and Mary Louise Crocker.

3. Jewelry artists Jill Kollmann, Vicki

Williams, Lyn-Rae Ashley, unidentified,

Joyce Carol Watanabe, Pamela Harris and

Frances Wang.

4. Guests and models Christi Mendoza,

Shievon Cammon, Dr. Cherilyn Lee, Isis

Beck, Glenda Holt and Karlynn Cammon.

5-9. Spring Fantasy Fashion models.

1

2 3

4 5

6

7

8

9

46 Peninsula People • June 2016
---
4222 Dauntless Dr., Rancho Palos Verdes

4 bedrooms | 3 bathrooms | 2465 Sq.ft.

OFFERED

$1,599,000

JERRYANDLAURA.COM

Over 600 Homes Sold and Counting

Ranked #1 in Palos Verdes by Zillow!

(310) 480-3601

6419 Via De Anzar, Rancho Palos Verdes

4 bedrooms | 3 bathrooms | 2934 Sq.ft.

OFFERED

$1,199,000
---
P E N I N S U L A P E O P L E | P E T S

Dr. Paula Aycock in her

mother's Palos Verdes

home with the family cat.

Photo by Esther Kang

Vet on wheels

Instead of pets arriving at the hospital in crates,

Paula Aycock brings the hospital to the pets

by Esther Kang

The first necropsy Dr. Paula Aycock ever

witnessed happened when she was a little

girl. She and her parents had taken her sick

bunny to the local vet, but it was too late. The

doctor let her sit in and watch as he dissected the

bunny's corpse to determine its cause of death.

"It didn't scare me — I was fascinated," said Aycock,

who grew up in Lunada Bay and graduated

from Peninsula High in 1997. "I wanted to see

what was inside the bunny."

As a little girl, she was surrounded by animals:

bunnies, dogs, cats, chickens, ducks all shared

space in the backyard under her family's care.

She was the de facto family vet, observing her animals

with her toy orthoscope and practicing surgeries

on her stuffed animals.

"My uncle was a neurosurgeon, so holiday dinners

were all about his surgeries and medicine,"

she remembered. "And I liked it. I liked the puzzle

of medicine and the mystery of it all."

Today, Aycock is the face of Dr. Paula's Mobile

Veterinary Service, a mobile house call practice

that launched at the beginning of this year and

serves the Peninsula, as well as San Pedro, the

beach cities, Long Beach, Torrance and surrounding

areas.

Her 23-foot truck, which includes equipment

for X-rays, blood work, dentals and minor surgeries,

is the hospital that she brings to people's

homes. This fills the gap for those pet owners or

animals who can't travel because of age or disability

or time commitments. Plus, treating the

animal in its own home gives her more information

about the patient while often putting him or

her at ease.

"A patient is not his disease," Aycock said. "You

have to understand the whole picture — the nutrition,

the environment, their lifestyle. You really

can't get that in a clinic. But in a house call you

actually can see their environment. You can see

what they're feeling."

After high school, Aycock earned her bachelor's

degree in Animal Science from University

of Arizona and, subsequently, her master's in

agricultural education. She was part of the charter

class at Western University of Health Sciences

in Pomona, where she earned a degree in veterinary

medicine.

But even before she received her degree,

serendipity found her a way to return to Arizona

to practice animal medicine. She was at the San

Francisco airport flying back from Los Molinos,

California, where she was doing her fourth-year

reproduction rotation, when she and a gentleman

in cowboy boots began making small talk. When

she told him that she was a veterinary student

48 Peninsula People • June 2016
---
Southern California's Newest Marina

Spectacular Fireworks Show

July 4th

Dr. Paula Aycock's 23-foot truck is a hospital on wheels. Photo courtesy of

Paula Aycock

about to graduate, he started elbowing his wife, who turned out to be a

veterinarian in Sierra Vista, Arizona. As it turned out, her small-town practice

was looking to hire.

"Pretty much I came down for the interview, and they said, you're going

to fit in great, and we're going to hook you up with a Realtor to show you

around Sierra Vista," Aycock recalled. "This was before I took my nationals."

For the following six years, Aycock was part of a three-doctor veterinarian

practice, the only one in the small desert town to do house calls. The

closest emergency center was an hour and a half away, so the three doctors

treated all kinds of emergencies. The local radio station announced her arrival,

and she made regular appearances in local schools and gave talks to

community groups.

"I was a true small town doctor," she said. "I was on call on the weekends

and during holidays, late at night treating rattlesnake bites, heartworms…

.all the Arizona kind of things."

In town, she also made a name for herself by being willing to work with

larger animals. Running blood work on goats, treating pot belly pigs for

arthritis, neutering a baby goat on the surgical table — anything was fair

game for Aycock.

"We didn't treat them like farm animals. We treated them like they were

people's pets, which they were," she said. "They were backyard pets."

In 2013, Aycock and her family returned to her hometown of PV to tend

to her sick grandfather. She started working at All Pets Vet Hospital, but

she found herself missing the house calls and the hands-on nature of her

previous clinic. She preferred the "crazy days" — double booked appointments

and emergencies, rather than the lull of an institutional practice.

When she left for maternity leave, she began thinking.

"I thought about how much I missed the house call aspect of practicing

in Arizona," she said. "I liked to be in people's homes and the one-on-one

relationships. And how animals are different in their own homes. They're

calmer. They don't have to go into the crate and into the scary car. And

because I still have this hometown vet feel, I wanted to come back to my

own hometown to the people who knew me and my children."

Aycock lives in Rolling Hills with her husband, three daughters, three

dogs and cat.

"Your profession is dealing with people because on the other end of the

leash is an owner," she said. "I made it a big part of my job to not only examine

the animal and fix them but also educate their owners. No matter

the condition of an animal, if it was neglected or ignored, it's usually because

the owner didn't know any better. I always take that stance. My

clients just need to be educated and the more I'm helping the animals the

more I can educate its owner." PEN

Shortest

Run to

Catalina!

Marina Amenities

• SLIPS from 28' to 130'

• Dry Storage w/Crane Launching

• Ice Machines & Laundry

• Pumpout - Public & In-Slip

• New Restrooms w/Showers • Ample FREE Parking

Guest Slips Available

Marina (310) 514-4985 • Dry Storage (310) 521-0200

Cabrillowaymarina@westrec.com • cabrillodb@aol.com

www.westrec.com/marina/cabrillo-way-marina

2293 Miner St., San Pedro, CA 90731

NOW

OPEN!

J. QUINN CONSTRUCTION, INC.

Custom Concrete & Masonry

• Pools, Spas, Fountains

and Waterfeatures

• Firepits and Fireplaces

• Outdoor Cook Centers

• Stone and Tile Patios

• Interlocking Pavers

• Retaining Walls

• Driveways

(310) 325-6790

www.quinnpools.com

License B, C-8, C-53 #775677

June 2016 • Peninsula People 49
---
S P O T L I G H T O N T H E H I L L

Malaga Cove Art Fair

Art in The Plaza

Saturday April 23rd marked the first weekend edition of this year's Malaga Cove Lawn Art

Shows, where art lovers, collectors and artists come to meet and mingle every spring in a

family friendly environment. One weekend a month, from April through September, over 30

talented artists from the seven art groups affiliated with Palos Verdes Art Center: Artists Open

Group, Pacific Arts Group, Paletteers, Palos Verdes Painters, Peninsula Artists, Photographic and

Digital Artists, and Third Dimension, gather on the lawn in Malaga Cove Plaza. Sometimes the

same artist will work in several different mediums such as Christina Centofante who is pictured

with both an oil painting and a paper maje piece made from rice paper.

The Plaza is located at the entrance to the City of Palos Verdes Estates on scenic Palos Verdes

Drive West between Via Chico and Via Corta. There is plenty of free parking and good food at

nearby restaurants; the Plaza is known for its elegant marble Neptune Fountain surrounded by

impressive Renaissance-style architecture.

PHOTOS BY STEPHANIE CARTOZIAN

1. Artist Christina

Centofante and her pet

portraits.

2. Val Simon's Artwork.

3. Artist and Woodturner

Richard Gould.

4. Artist Christina

Centofante.

5. Artist Inge Widmann.

6. Artist David Wolfram.

7. Meet artist Bernard

Fallon.

8. Artist Val Simon.

9. Artist Lindy Bossler.

1

2 3

4 5

6

7

8

9

50 Peninsula People • June 2016
---
Timeless

Michel Medawar at his store in 1956.

Centuries ago when the world's finest clockmakers were

hard at work, their aim was to create a mechanical marvel

that operates continuously and last forever. Imagine

a hand made complex mechanism with hundreds of interworking

parts designed to keep perfect time. Your clock is a work of

art and your job is to keep this timeless treasure healthy for the

next generation.

Your clock reminds you of its presence every time you wind

it and if its accuracy is not what it used to be, or its chimes are

not as strong rythmic, or maybe it just stops. That means it's

talking to you and telling you that its endless life is in jeopardy.

It is imperative to maintain and service your clock regularly.

Oil gets old and dry forcing the train of gears to work twice as

hard to accomplish their goal. This results in damage that drastically

shortens the life of a fine timepiece.

Michel Medawar has been extending the lives of timepieces

for over fifty years as his father did fifty years before. He is the

inventor of the first talking clock in the world. He is a graduate

from Patek Philippe in Geneva, Switzerland, The Theod Wagner

clock Co. in Wiesbaden, Germany, and the Howard Miller

Clock Co. in Zeeland, Michigan. Call him so that he may come

to your home and offer you a free estimate for servicing your

clock. Or bring your wall or mantel clock to our store to see our

showroom and receive the same

complementary diagnosis.

Open 10:00 am - 6:00 pm Tuesday - Saturday

810C Silver Spur Road • Rolling Hills Estates • CA 90274

Call 310.544.0052

June 2016 • Peninsula People 51
---
South Bay's Largest Retailer

of Stationery Products

Wedding Invitations ● Personal Notes ● Business Letterhead

Envelopes ● Boxed Notes ● Holiday Cards

● Graphic Services

"GREAT GIFTS FOR GREAT PEOPLE"

● Root and Trapp Candles

● Huge Selection of Olukai Footwear

● Graduation Gifts

Nantucket Crossing

867 Silver Spur Road (next to Bristol Farms), Rolling Hills Estates

310.377.7201

www.nantucketcrossing.com

Whatever happened to…

Bonina Mavar

"I fell and my family realized I could no longer live alone. I moved into Harbor

Terrace and everyone was so welcoming and friendly. The staff really listens to

me and cares about how I am doing. Plus, they are overseeing my medication,

so I don't worry about whether I took it.

I love not making my bed, not cleaning my house, not cooking, not doing dishes

or yard work. This is my home and I would not want to be anywhere else."

Bonina Mavar

Resident of Harbor Terrace

A Full-Service Retirement Community • Independent Apartments

Assisting Living Services • Delicious Chef-Prepared Meals

Housekeeping & Linen Services • Daily Recreation & Social Programs

435 W. 8th St., San Pedro

wwwHarborTerraceRetirement.com

(310) 547-0090

eventcalendar

CALENDAR OF COMMUNITY EVENTS

Compiled by Mary Jane Schoenheider

You can email your event to our address: penpeople@easyreadernews.com

All submissions must be sent by the 10th of each month prior to event taking place.

Friday, July 1

Movie night at the Garden

Kick off your 4th of July weekend at the Botanic Garden! Bring your date or

group of friends as you unwind on the Upper Meadow with some pre-show

music, drinks from the bar and snacks from the food trucks, and sing-along to

Pitch Perfect under the stars. (Additional fee for food and drinks.) Additional

parking will be available at Promenade on the Peninsula (550 Deep Valley

Dr, Rolling Hills Estates) with complimentary shuttle service running from 5:30

to 10:30 p.m. No registration required. Gates open at 6 p.m.; event runs

from 8-10 p.m. Free for Garden members (Please RSVP); Non-members: $5

per person VIP Pass: Additional $10 (Members & Non-members) includes

parking, early access to bar and food trucks, movie snacks and VIP seating.

Ages 21+ only. 26300 Crenshaw Blvd.,

Palos Verdes Peninsula. (310) 544-1948.

Othello

Shakespeare by the Sea presents the gripping thriller where gossip turns

friendships rancid and rumor brutally murders innocence. 8-10 p.m. Point Fermin

Park, 807 Paseo del Mar, San Pedro. ShakespearebytheSea.org for more

info.

Saturday, July 2

Glass Garden

Over 30 new glass art installations by Walker & Bowes will be on display

through October 31 in the South Coast Botanic Garden. Walk the garden,

and hunt for these magical art displays. A select group of artworks will be

sold on August 20 and 21 and October 8 and 9. 26300 Crenshaw Blvd.,

Palos Verdes Peninsula. (310) 544-1948.

Cymbeline

Shakespeare by the Sea presents the epic romantic tale filled with magical

potions, dastardly villains, ghosts, gods and lost prince. 8-10 p.m. Point Fermin

Park, 807 Paseo del Mar, San Pedro. ShakespearebytheSea.org for more

info.

Monday, July 4

Palos Verdes Independance Day Celebration

The 55th annual Palos Verdes Independence Day Celebration will be held on

the grounds of the historic Malaga Cove School at 300 Paseo del Mar, Palos

Verdes estates at 9:30 a.m. Featured speaker and recipient of the 2016 Kenneth

T. Norris Jr. Heritage of Freedom Award is Nicola Bridges, founder of

Capability Ranch in Ramona, California. The ranch provides a place where

children with special needs can enjoy the outdoors and activities not available

elsewhere in the community. Van Dine Award honoree is PVE resident Mary

Curtin for her active role in a variety of groups including Special Children's

League, LA Phil and PVE Cares. This family-friendly day includes an apple

pie contest, face-painting, a magic show, patriotic children's bike parade,

civic awards and picnics. The event is free and open to the public.

RPV Independence concert

The Palos Verdes Symphonic Band performs at Rancho Palos Verdes City Hall

11 a.m. to 1 p.m. 30940 Hawthorne Blvd., RPV. pvsband.org for more info.

Thursday, July 7

The Clean House

Written by Sarah Ruhl, directed by James Rice at the Little Fish Theatre. A the

52 Peninsula People • June 2016
---
eventcalendar

atrical and wildly funny play with a whimsical and poignant look at class,

comedy and the true nature of love. Finalist 2005 Pulitzer Prize in Drama.

Runs tonight, and Fridays and Saturdays through July 17 at 8 p.m.; Sundays

July 10 and 17 at 2 p.m. Tickets $27, seniors $25; prix fixe dinner at Whale

and Ale and the show $45. 777 Centre St., San Pedro. For reservations call

310-512-6030 or text 424-226-6030. Or go to LittleFishTheatre.org.

Sunday, July 10

Picnic and Pops

Join the Peninsula Symphonic Winds for their annual Picnic and Pops concert

5 p.m. in the courtyard at Palos Verdes High School. Bring a picnic and blanket

or lawn chair, sit under the trees, and enjoy Travelin' Trumpets, Bohemian

Rhapsody, An American in Paris, and other pop favorites. Admission is free.

600 Cloyden Road, Palos Verdes Estates. For more information, see

www.pswinds.org.

Shakespeare by the Sea

Cymbeline, an epic romantic tale filled with magical potions, dastardly villains,

ghosts, gods and lost prince. 7-9 p.m. Hesse Park, 29301 Hawthorne Blvd.,

RPV. ShakespearebytheSea.org for more info.

Monday, July 11

Palos Verdes Gem and Mineral Society

Meet and Greet at 6:30 p.m., program at 7 p.m. in Community Room of Palos

Verdes Main Library, 701 Deep Valley Dr., RHE. Park on roof as program

goes past the closing hours of the library. "Geology of Palos Verdes and the

Portuguese Bend Landslide" will be presented by Dr. Marge Crandall. Everyone

is welcome. Free. Call 310-373-2696 for more information.

4203 Spencer St., Torrance, CA 90503

(310)214-5049 • www.pevelers.com

Appointment Recommended

Showroom Hours: Monday Thru Friday 10-5

Closed Saturday and Sunday

License #381992

• Serving the South

Bay for over 35 years

• Full Service Contractor

• Complete Installation

• New Construction

• Remodeling

• Second Floors

• Additions

• Cabinets

Visit Our

Kitchen &

Bath

Showroom

June 2016 • Peninsula People 53
---
eventcalendar

LIZ SNYDER

Suzy Zimmerman, Agent

Insurance Lic#: OF71296

4010 Palos Verdes Dr N, Suite

103

Rolling Hills Estates, CA 90274

Bus: 310-377-9531

www.zimziminsurance.com

4325 VIA FRASCATI, RANCHO PALOS VERDES

Located in the "Red Tile Roof District" of Rancho Palos Verdes!

Fabulous Spanish Style 3 bedroom, 2 bath,

2100+ SQ FT, home is an entertainer's dream!

Gourmet Chef's kitchen with premium

appliances, hardwood floors, spectacular

views, multiple fireplaces, vaulted ceilings,

just to name a few! Must See!!

Offered at $ 1,400,000

(310) 339-5301 | Keller Williams Realty | Email: lizsnyder@kw.com | CalBRE#01800973

That's when you can count on

State Farm®.

I know life doesn't come with a schedule.

That's why at State Farm you can always

count on me for whatever you need –

24/7, 365.

GET TO A BETTER STATE.

CALL ME TODAY.

1101198.1 State Farm, Home Office, Bloomington, IL

Camp Curtain Call

The Palos Verdes Performing Arts Conservatory is taking registration for

"Space Pirates," the second of three Camp Curtain Call sessions for children

ages 6 – 11. The two-week session, July 11-22 offers a fun-filled musical theatre

experience, introducing singing, acting and dancing in a friendly environment.

All camps conclude with a performance for family and friends in

the Norris Theatre. Camp hours are 9 a.m. to 1 p.m., with drop-offs beginning

at 8:30 a.m. After-camp care is available until 5 p.m. for an additional fee.

Tuition for each session is $550. Camp Curtain Call is held at the 7,000

square-foot PVPA Conservatory located at 27525 Norris Center Drive in

Rolling Hills Estates, on the lower level of Peninsula Center. For more information,

or to register, visit www.PalosVerdesPerformingArts.com/education or

call 310-544-0403, ext. 303.

Friday, July 15

Surfwriters Seminar

Every four years, Surfwriters, a local writing group on the Palos Verdes Peninsula,

organizes an all-day Writing Seminar. This year's event will be held July

30 from 10 a.m.-4 p.m., at the Malaga Cove Library Gallery. Deadline for

a reservation is July 15. The focus of the seminar will be Self-Publishing. Speakers

are: Sean Kenney - of Star Trek renown and now memoir author and photographer;

Christopher Lynch - One Eyed Jack series author; Mathieu Cailler

- educator and short story author of Loss Angeles; Beth Whittenbury - lawyer

and author of a self-publishing guide focused on CreateSpace; Vickey Kall -

author of well-researched fiction and non-fiction books. Cost is $50 per person

including a light buffet lunch. Contact Marilyn Litvak, Surfwriters President, at

310-378-8098, if you are interested.

Legally Blonde

The Palos Verdes Performing Arts Conservatory will present the musical comedy

"Legally Blonde" through July 24 at the Norris Theatre. Based upon the

hit movie starring Reese Witherspoon, the show follows perky, and seemingly

not-so-bright, sorority girl Elle Woods to go where no Delta Nu has gone before

- Harvard Law School. Show times for the student-cast production are

7:30 p.m. on Fridays and Saturdays and 2 p.m. Sundays, as well as a 2 p.m.

show on July 23. Tickets are $15 for youth ages 17 and under and adult tickets

range from $22 - $28. For more information or to purchase tickets, call

310-544-0403 or visit www.norriscenter.com. 27570 Norris Center Drive in

Rolling Hills Estates.

Saturday, July 16

Los Serenos Walk

through Ocean Trails

Enjoy a bluff-top walk through the

Ocean Trails Reserve at 3 p.m. with

the Los Serenos docents. Enjoy the

vistas and summer blooming habitat.

Walk level easy. Free, everyone

welcome. Meet at the trail-system

entrance at La Rotonda Drive at Twin

Harbors View Drive, near the San

Pedro border, in Rancho Palos

Verdes. For more info call 310-377-

5370, or go to www.LosSerenos.org

or www.facebook.com/LosSerenos.

Sunday, July 17

Beauty of Nature film

The Way (2010 ) will be screened 4

p.m. at the Olguin Auditorium of the

54 Peninsula People • June 2016
---
HAPPY HOUR TUES-FRI 4-7PM

We reimburse UBER & LYFT up to $10

SPECIAL

SUMMER MENU

Your Choice Of Sand Dab,

Pork Tenderloin, Pasta

Primavera & Tuna Salad

(includes soup & salad)

Complimen tary Dinner

JOIN US AT

HAPPY HOUR!

TUES - FRI 4 - 7PM

CHOICES INCLUDE $6 PATE,

ESCARGOT, SMOKED SALMON

& $5 HOUSE WINE BY GLASS &

$20 BOTTLE.

Buy 1 Dinner and 2 Drinks, Receive Free Dinner

($17 Max Value. Dine in only. One per table. Not Valid with other offers or holidays. Expires 7/31/16)

$17 $17

320 Tejon Place Palos Verdes Estates (310) 378-0267

www.LaRiveGauchePV.com

SPECIAL MENU 4-COURSE DINNER $25.95

Dine & Enjoy Our Lunch & Dinner Specials!

"PV Grill is a hidden gem for assured

cooking and personal service in

peaceful surroundings."

Richard Foss/ Peninsula People May 2016

JOIN US FOR SUNSET SUPPERS!

Tues-Sun 4pm-6pm Only $14.95

2325 Palos Verdes Drive West , Palos Verde Estates, CA (310) 750-6877

TORRANCE

www.fridarestaurant.com

SUNDAY MARIACHI BRUNCH

10 am - 3 pm • Adults $ 29.95 • Kids (5-12) $18.95

Mimosas, House Margaritas, Sangria and Draft Beer only $5

Del Amo Fashion Center • 21438 Hawthorne Blvd. • Torrance • (310) 371-0666

June 2016 • Peninsula People 55
---
V ilicich

Watch & Clock

eventcalendar

Cabrillo Marine Aquarium. When his son dies while hiking the Camino de

Santiago pilgrimage, a grieving father flies to France to claim the remains.

Looking for insightshe decides to complete the 500-mile trek. Presented by the

Palos Verdes Land Conservancy. Following the film, Conservancy volunteer

Peter Shaw will share remarks about his experiences walking the Camino.

3720 Stephen M White Drive, San Pedro. Tickets $10. Pvplc.org.

Celebrate Chefs

The Associates of the Palos Verdes Art Center /Beverly G. Alpay Center for

Arts Education, announces its annual Celebrate Chefs and Cellars event, from

4-7 p.m. Proceeds benefit the Palos Verdes Art Center. This event brings together

the very best food, wine, spirits and craft beer - all in one exceptional

place with beautiful views of the California coastline and Catalina. Treat yourself

to an afternoon of tasting and sipping among the 16 restaurants and a

dozen wines, spirits and beer venues. Tickets are limited so to order tickets by

phone, or for more information, call Sharon Holman, 310-375-6917 (also

holmsha@aol.com). The cost is $125 per person. Amex, Visa, Master Card

or personal checks payable to the Associates of the PVAC will be accepted.

Neighborhood Church Summer Concert Series

The Neighborhood Church is pleased to announce the return of its seaside

summer concert series Summer Sunday Sounds! Join them at 5:30 p.m. as

Eric Rigler and Dirk Freymuth offer a special program of Celtic music. Drawing

from haunting Irish melodies, barn-burning jigs and reels, and themes from

Eric's film and television work, the duo produce a hearing-is-believing sonic

experience. BYO Picnic on the seaside terrace begins at 5:30 p.m., show

from 6:30-8 p.m. All are welcome; no tickets or reservations required! 415

Paseo del Mar, Palos Verdes Estates. (310) 378-9353.

Pops Concert

Presented by the Palos Verdes Symphonic Band. Picnic beginning at 5:30

p.m., concert 6 -8 p.m. This concert will feature vocalists Lisa Eden, soprano,

and Jahmaul Bakare, tenor. Bring a blanket and/or beach chairs and a picnic,

and enjoy the music of the band on the Upper Meadow. No registration required.

Tickets $10. South Coast Botanic Garden, 26300 Crenshaw Blvd,

Palos Verdes Peninsula. Pvsband.org or southcoastbotanicgarden.org for more

info.

Wednesday, July 20

Palos Verdes Library District

Presents Alvaro Roble: Artworks July 20 - August 15. Opening Reception July

24, 5-7 p.m. Originally from Lima, Peru, Alvaro Roble grew up on the westside

Established 1947

(310) 833-6891

714 South Weymouth Avenue, San Pedro, CA 90732

We Buy Watches!

Not affiliated with Rolex USA

56 Peninsula People • June 2016
---
eventcalendar

of Los Angeles. The '80s and '90s were a violent time for a young Latino man

in LA and Alvaro used art to turn his life around. Growing up in west LA also

exposed Alvaro to many different cultures. He draws his inspirations from graffiti

and the Pop Art of the 1980s. His vibrant colors and bold line work perfectly

capture his past and influences. Peninsula Center Library, 701 Silver

Spur Rd., Rolling Hills Estates. Questions? Please contact Ketzie Diaz at

kdiaz@pvld.org or 310-377-9584 ext. 230.

Sunday, July 24

Garden Concert Series

St Luke's Presbyterian Church's second concert of the 2016 free Garden

Concert Series features The Tristram Duncan Organ Trio, featuring Tristram

Duncan (organ), Shane Savala (guitar) and Eric Hagstrom (drums), performing

jazz from 5 to 7 p.m. On Sunday, August 28 there will be Quarteto Nuevo.

Come early to picnic in the lovely garden with light dessert and coffee hosted

by St. Luke's. 26825 Rolling Hills Road, Rolling Hills Estates, CA 90274. For

more information call 310-377-2825 M-F, 9 a.m. - 1 p.m.

www.stlukespres.com.

Wednesday, July 27

Mac Users Group Meeting

Lomita VFW Hall, 1865 Lomita Blvd, 6:30 PM, Beginners Q & A; 8:00 PM,

presentation/ demonstration on Backing Up Your Mac. 310-644-3315, email:

info@sbamug.com Admission is free. All Mac/iPad/iPhone users and potential

users are welcome.

Othello

Shakespeare by the Sea presents the gripping thriller where gossip turns friendships

rancid. 7-9 p.m. Green Hills Memorial Park, 27501 S. Western Ave.,

RPV. ShakespearebytheSea.org for more info.

Saturday, July 30

Man on Mars

Have you ever asked "Why do we want to go to Mars?", and perhaps more

importantly, "Are we ready to go to Mars?". These and other questions will

be answered by Paul Yun, a NASA and Jet Propulsion Laboratory Solar System

Ambassador in a program at the Palos Verdes Library at 2 p.m. The Mars

Mission, a very hot topic in the space world and with the general public, will

be explained by Paul in an accessible, educational and exciting manner, sure

to engage young and old alike. Learn how the Pathfinder landed on Mars in

1997 and how the Curiosity Rover operates on the red planet. This interactive

lecture, demonstration and Q&A session will educate and delight all ages.

For more information, visit the Palos Verdes Library District Web page at

www.pvld.org or call 310-377-9584 X601. For more information call 310-

377-9584, ext. 452 or check the library's website at www.pvld.org. PEN

William J. Wickwire, M.D.

Certified, American

Board of Dermatology

Neal M. Ammar, M.D.

Certified, American

Board of Dermatology

DERMATOLOGY & SKIN SURGERY

BEACH CITIES DERMATOLOGY

M E D I C A L C E N T E R

Say Goodbye to Stubborn Fat....

Two Coolscuplting Devices to Treat Two Areas at Once!

Specialists in Skin Cancer Detection

• Skin Cancer • Mole Removal & Mohs Surgery

• Reconstructive Facial Surgery and Scar Revision

• Acne & Accutane Treatment

• Warts, Rashes and Cysts • Leg Vein Sclerotherapy

• Hair Loss & Propecia • Restylane, Radiesse, Perlane,

Juvederm & Sculptra • Botox and Dysport Injections

• Age Spots & Sun Damage • Laser Surgery

• Microdermabrasion • Glycolic and Chemical Peels

• Ultraviolet B & PUVA • Pediatric Dermatology

310-798-1515

www.beachcitiesderm.com

Redondo Beach —

520 N. Prospect Ave., Suite 302

Palos Verdes —

827 Deep Valley Drive, Suite 101

Buy One, Get One

FREE

South Bay's

best equipped

Dermatology

Center!

All PPOs Accepted

Evening & Sat.

Appts. Available

Vinyl Windows

Replacement and New Construction

BUY ONLINE

AND SAVE BIG $$$

WWW.1STWINDOWS.COM

VINYL, ALUMINUM, WOODCLAD

Lowest Prices Up Front • No Games

Show Room 562-494-9069

CONTRACTOR REFERRAL • Fax 562-494-2069

June 2016 • Peninsula People 57
---
around&about

Bank Grand Re-Opening

n Farmers & Merchants Bank (F&M), one of the strongest commercial and retail

banks in California for over 100 years, announced the Grand Re-Opening of its

Rolling Hills Estates Office following a branch transformation project. The completion

of the Rolling Hills Estates renovation marks the first of a series of ventures F&M

has planned to expand its presence in the South Bay. The bank has already scheduled

to break ground on a new Redondo Beach Office later this year and hopes

to implement the open layout in other offices."The Rolling Hills Estates location has

a dedicated staff of on-site decision makers to help provide our clients with a

trusted brand of handshake service that is consistent from branch-to-branch," said

Daniel Walker, Chairman of the Board and CEO of F&M. "South Bay residents

can expect the same level of expert service, customizable solutions, and strong

values, that have been in place at Farmers & Merchants Bank for over one hundred

years."

AAUW-PVP Recognition Luncheon

n The AAUW Palos Verdes Peninsula Branch Recognition Luncheon was held

recently to honor members who have done outstanding work in forwarding the

mission of AAUW. Among the honorees were Denise DeVenuto, Eileen Edelson,

and Kay Odgers. Elayne Nahman, AAUW/PVP Council Chair, led the meeting

and Cordelia Hwang, Funds Chair presented the awards.

AAUW advances equity for women and girls through advocacy, education, philanthropy

and research. The PVP Branch has branch-funded projects to enhance

educational opportunities for girls in the fourth grade (Exploring Science); and in

the eighth grade (Tech Trek) and for university women to attend a national leadership

conference.

For information about AAUW activities and membership, please go to the

AAUW/PVP website, http://palosverdes-ca.aauw.net/ .

58 Peninsula People • June 2016
---
around&about

2017 Palos Verdes Concours d'Elegance

n The Board of Directors of the Palos Verdes Concours d'Elegance has decided

not to hold a Concours in 2016. However, planning is underway for a Concours

that is scheduled to be held in fall 2017. Specific details about the Concours are

currently being developed. The Board's goal is to provide an event that is sophisticated

and elegant, with the very best automobiles, making it one of the country's

premier Concours events.

Malaga Cove Homeowners Association

n The Malaga Cove Homeowners Association is proud to announce the completion

of its neighborhood beautification project in upper Malaga Cove. A 7200

square foot triangular piece of Palos Verdes Estates parkland at the intersection of

Via Ramon and Via Pinale has been transformed with the addition of over 250

drought-tolerant plants that will provide visual interest throughout the seasons. Local

natural materials such as Palos Verdes stone and wood chips were repurposed

and used on this site for practical design and aesthetic effects. Neighbors will

now be able to safely walk through this central piece of community parkland rather

than being forced to walk along the narrow and busy streets, while enjoying the

new beautiful plants and existing trees.

Although the project was initiated and led by the Malaga Cove Homeowners

Association and its Project Chair Tricia Rapaport, it could have never succeeded

without the financial and hands-on volunteer efforts of the Young Professionals Network

of the Palos Verdes Peninsula Association of Realtors. Other essential funding

was provided by the Palos Verdes Homes Association as well as 21 individual

Malaga Cove households. Additionally, resident Mark Paullin donated and delivered

Palos Verdes stone to the site. Critical support also came from the City of

PVE, who provided rock material and wood chips required by the landscape plan,

and who will maintain the site going forward. Ric Dykzuel Landscape Designer

and Bennett Landscaping were hired to design and prepare the site and procure

and deliver the native and other drought-tolerant plants. Hands-on Volunteers were

Valerie Beranek, Tricia Rapaport, Edward Barrios, Christy Carrillo, Robert Dixon,

Jane Felland, Cheryl Kohr, Marla Virgin, Ryan Crabtree, Jill Shoemaker, Sep

Ebrahimi and Norma Fernandez. Sunscreen was provided by Dr. Cynthia Lazzaro

of Good Dermatology in Torrance.

List of Financial Contributors- Young Professionals Network/Palos Verdes Peninsula

Association of Realtors, Palos Verdes Homes Association, Malaga Cove Homeowners

Association, Phil and Marilouise Huff, Jane Felland and Michael Varon,

Linda Elliott and Ray Johnson, Deborah Eppolito, Vanessa and Tim Roettger, Susan

and Bob Chang, Jimi Andersen, Mark and Michelle Towns, Richard and Marcie

May, Kelly and Ken Miller, Roseann DeLuca, Pauline and Al Rosen, John and Janice

Cartwright, Mark Paullin, Kirchofer Family, Bill Karg, Pauline and Brian Harris,

Patricia and Larry Murphy, Philip and Lynn Solomita, George Edwards and Jill

Shoemaker and Valerie Gorsuch.

Save $40

on Latisse*

310-325-6500

June 2016 • Peninsula People 59
---
around&about

Peninsula Committee Children's Hospital

n The 27th annual Seahorse Classic was held Monday, April 25 at Palos Verdes

Golf Club. This charity golf tournament is hosted by the Peninsula Committee Children's

Hospital (PCCH) a nonprofit organization founded in 1957 by a group of

women from the South Bay. Proceeds from the tournament is directed toward the

Associates Rehabilitation Center Caregiver Wing and the Associates Sarcoma

Program Chair at Children's Hospital Los Angeles. The day's activities included

golf, lunch, dinner, silent and live auctions and raffle. Special events include, the

Helicopter Ball Drop, Longest Drive, Hole-in-One Opportunities and more. PEN

The Peninsula Committee Children's Hospital recently selected its 2016

Board of Officers. They are (From Left to Right) Noelle Giuliano, Patty

Ochi, Carol Rowe, Heidi Sampson, Karen Miller, Kate Cocke - Horse

Show Chairman, Val Kelly - President, Patty Lantz, Karen Govenar, Carey

Romer, Hilary Waxler, and Meredith Edwards (not pictured).

MATTUCCI

Plumbing • Heating • Cooling

Since 1990 • License # 770059, C-36 C-34 C-42 C-20 A Vote!

SUMMER SPECIALS

$ 9 8 0

Residential Water Heater

40 gal. installed! ($1080 - 50 gal. also available)

Includes hot & cold water supply lines

Expires July 31, 2016

$ 7 5

Rooter Service - Main Line

Must have clean-out access. Some restrictions may apply.

Expires July 31, 2016

Thank You

For Your

D E P E N D A B L E • P R O F E S S I O N A L • A F F O R D A B L E

2013

w w w . m a t t u c c i p l u m b i n g . c o m

FULL SERVICE PLUMBING, HEATING AND COOLING

SEWER VIDEO INSPECTION

ROOTER SERVICE

COPPER REPIPES

F R E E

E S T I M A T E S

M e n t i o n t h i s a d w h e n

s e t t i n g u p a p p o i n t m e n t .

3 1 0 . 5 4 3 . 2 0 0 1

ON CALL

24 HOURS

7 DAYS

60 Peninsula People • June 2016
---
around&about

CONCRETE - For the Drought-Conscious

The winners for the annual Portuguese Bend National Horse Show poster

contest were announced at the May PVPUSD school board meeting by

members of Peninsula Committee Children's Hospital. The contest is open

to art students at all high schools on the peninsula. This year's winners are

students at Palos Verdes High School and Palos Verdes Peninsula High

School. First through fifth place winners all received cash prizes ranging

from $100 up to $500 for the winner. In addition, $1500 was donated

to Children's Hospital Los Angeles in the name of our first place winner,

Kristyna Lukacova, and $1500 was donated to the 1st place winner's

school, Palos Verdes High School, and their art program. This is the first

year a photograph received the top honor. Peninsula Committee Children's

Hospital members Lisa and Chuck Noski sponsored this year's Poster Contest.

] u

t

• Stamping

• Driveways

• Pool Decks

• Arificial Turf

• Patios

• Stonework

• Pavers

• Foundations

LIABILITY INSURED • WORKERS COMPENSATION

Casey Lindahl - Founder & President of Lindahl Concrete Construction, Inc.

310-326-6626

Call for Showroom address

Call for estimate

LindahlConcrete.com

Lic.#531387

Peninsula Committee

Children's Hospital

introduced their new

members for 2016

at their regular meeting

on February 9.

(From left to right )

Alyson McFerson,

Shari Moore, Kathy

Johnson, Lisa Van

Nortwick, and

Shana Kish.

Ribbon Cutting and Grand Opening Party

July 14 - 4-6 pm

Sara Balough Interior Design

Consigning Fine Furniture, Antiques and Artwork

1260 Cabrillo Avenue, Torrance CA 90501 424.558.3768

sarabaloughdesigns.com

June 2016 • Peninsula People 61
---
P E N I N S U L A P E O P L E | A R T S

Lots

Good Guys, Bad Guys, and

of Swordplay

SBTS opens with "Cymbeline," followed by "Othello"

by Bondo Wyszpolski

gen)," says Brown, "who is accused

of cheating on her husband (Posthumus),

and her husband tries to have

her murdered. Due to all sorts of

other circumstances, that doesn't

happen. She lives, they're reunited

at the end, and everything ends happily.

Which is kind of like the same

but opposite of what happens in

'Othello,' where Desdemona is accused

of cheating on Othello and he

falls for it, and then he kills her at

the end."

"Cymbeline" is Shakespeare's third

longest play (behind "Hamlet" and

"Coriolanus"), clocking in at three

hours. Brown and company have

shaved off some of the secondary

and tertiary plotlines, those ornamental

tentacles that seem to be a

staple of so much Elizabethan theater.

The turmoil at the head of the

story begins when the princess,

DAVID FAIRCHILD PHOTOGRAPHY

"Its Like You're There All Over Again"

310-316-5547 WWW.DAVIDFAIRCHILDSTUDIO.COM

Rehearsals last weekend for "Cymbeline," which opens tonight. L-r, Swordsmen

Iyan Evans in green, Ryan Knight, and across from them Christopher

Dietrick. Photo courtesy Shakespeare by the Sea

Imogen, marries a man from a lower

station after having been promised in

wedlock by Cymbeline, her father, to

his new Queen's son Cloten. That's

a bad move in presidential circles,

and Posthumus is banished. Imogen

soon goes off on a long journey of

her own.This will include waking up

beside a headless body that she assumes

is her husband. There's also a

battle going on between the Brits and

the Romans, with new characters

emerging (e.g., Guiderius and Arviragus,

Cymbeline's sons, who disappeared

20 years earlier) and old

characters changing sides under one

pretext or another. Perhaps scorecards

were handed out at the Globe

Every summer, the Shakespeare

by the Sea acting

troupe loads up the wagons,

saddles the horses, and takes a pair

of the Bard's plays on the road,

touring for six weeks throughout

the Southland. The company is embarking

on its 19th season, this

time with "Cymbeline" and "Othello."

While "Othello" isn't so uncommon

(on the operatic stage

Plácido Domingo has often sung

Verdi's adaptation at the Music

Center), the same can't be said

about "Cymbeline," one of Shakespeare's

lesser-known works.

Cylan Brown, who's directing

"Cymbeline," attempts to shed

some light on the story, with a little

help from Stacy Snider as King

Cymbeline's daughter, Imogen, and

Bryson (BJ) Allman as Cloten, the

Queen's son.

"It's a play about a woman (Imowhen

the play first premiered.

"It's kind of a highlight reel of

Shakespeare's shows and characters,"

Snider says. "Like in "'Romeo and

Juliet,' there's a poison that you think

kills you," Brown says, "but it actually

just makes you fall asleep for a day.

And just like in 'As You Like It," there

is a girl who dresses up as a boy."

The public's unfamiliarity with the

play, and the actors' unfamiliarity with

it as well, allowed the company to explore

their roles, and to not feel beholden

to how they may have been

played before.

"In the last century," Brown says,

"Imogen was a really hot character

and all the ingenues wanted to play

her: Forget Juliet, I gotta be Imogen.

And it's interesting because she can go

a couple of different ways. She can be

really weepy and sad, (but) something

that Stacy and I have been working on

is making her a stronger, more deliberate

character."

"A lot of female characters get

played as damsels-in-distress and they

have to be rescued," Snider adds, "and

that's not something Imogen does.

She's strong and she's going to go after

what she needs to take care of. People

try to pull the wool over her and she

can see through it.

Cymbeline will be performed at 8

p.m. performances Thursday, Friday, and

Saturday, June 30, July 2 and 8, in Point

Fermin Park, 807 Paseo del Mar, San

Pedro. It'll continue at Hesse Park in

Rancho Palos Verdes on July 10, Valley

Park in Hermosa Beach on July 14, and

then numerous other locations ranging

from Woodland Hills to Pasadena and

Aliso Viejo. The closing performance is

on August 20, back at Point Fermin.

Othello will be performed in tandem

with Cymbeline, often on alternative

nights. Free; donations appreciated. For

details and dates, call (310) 217-7596 or

go to shakespearebythesea.org/locations.

For a more expanded preview of

Shakespeare by the Sea's summer program

go to EasyReaderNews.com. PEN

62 Peninsula People • June 2016
---
FEE ONLY FINANCIAL PLANNER

• Are you in or approaching retirement?

• Do you want to stop worrying about your

investment portfolio?

• Do you lose sleep wondering if you may

outlive your nest egg?

• Do you want to know if you are on the

right path financially?

• Do you want to take control of your

finances?

• Do you feel you need a second opinion on

your portfolio?

If you answered "yes" to any or all of the

above questions, you may need to contact

me, to provide you with a personal financial

plan designed to help you take control

of your finances, reduce anxiety and ultimately

achieve your financial goals. There

is no cost or obligation for the initial meeting,

as it is an opportunity for you to learn

more about me, and for me to determine

if I can help you achieve your financial

goals and objectives.

As a fee-only financial planner I will be

compensated solely by my clients, I do not

accept commissions, referral fees, or

compensation from other sources, and I am committed to acting in

your best interest.

Abbas A. Heydari, CFP®

Certified Financial Planner

and Registered Investment Advisor

Providing Financial Services

in Torrance since 1986

21515 Hawthorne Blvd., Suite 1020

Torrance, CA 90503

E-mail: aahfp@Yahoo.com

Web: www.aaheydari.com

Phone: (310)792-2090

June 2016 • Peninsula People 63
---
LINDA CAVETTE

Realtor BRE#01294739

(310) 544-8455

LKCavette@aol.com

www.LindaCavette.com

Coldwell Banker Palos Verdes and Beach Cities

"Life is a Journey measured and

remembered by the Homes in which we live"

JUST SOLD $2,475,000 WITH MULTIPLE OFFERS

2825 Via Neve,

Palos Verdes Estates

Across the nation, the most popular house style, it is said by proof

of sales and survey, is the Craftsman Style, followed by the Cape

Cod. This lovely "fixer" is a true Cape Cod and sold in 8 days with 9

multiple offers. 3500 sq. ft., 4 bedrooms and a large office with

closet, 4 bathrooms, and a pool/spa on a 1/3 acre flat lot. This

prime property is one house off Paseo Del Mar in Lunada Bay, but

no view. Lovely neighbors. This beauty needs updates though, but

what a buy! Everyone is happy with this sale.

PALOS VERDES PENTHOUSE CONDOS LISTED AT $335,000

28121 Highridge Road Condo 412

Rancho Palos Verdes

This sweet condo is in Escrow but back-up offers are welcome, just

in case. One bedroom and one bathroom, and with a balcony, security

building, one garage space and storage, very private location.

My client's mother lived here happily for years, close to her

daughter in PVE. So perfect for so many seeking a safe, manageable

small place to call home or a second home. There are leasing

restrictions though. Just call for information.

64 Peninsula People • June 2016
---
65-72_PP 1-8 6/30/16 8:31 AM Page 65

Experience a new level of excellence in luxury real estate.

• 700 Local Agents • Luxury Residential • Commercial Investment Division

Palos Verdes Estates | Rolling Hills Estates | Rancho Palos Verdes | Torrance

Redondo Beach | Manhattan Beach | Hermosa Beach | El Segundo | San Pedro

Marina Del Rey | Venice | Santa Monica | Beverly Hills | West LA/Westwood

310.378.9494 • RealEstateLosAngeles.com
---
65-72_PP 1-8 6/30/16 8:31 AM Page 66

S P O T L I G H T O N T H E H I L L

Temple Beth El

Celebrates renovation, nine decades in San Pedro

Over 250 people celebrated the renovation of Temple Beth El on Friday

evening June 3. Rabbi Charles Briskin, Cantor Ilan Davidson,

Beth El President Marc Kaiser and building campaign chairperson

George Mayer led the ceremony.

The congregation also celebrated its 94 years in San Pedro, 60 of those

years at the current 7th Street location. Los Angeles City Controller Ron

Galperin, City Councilman Joe Buscaino, California State Senator

Isadore Hall III and 44th District Congressional Representative Janice

Hahn were among the guests. The following evening the community continued

the celebration in the renovated Beit Midrash, a combination library,

chapel and adult study space.

PHOTOS BY BOYS AND GIRLS CLUB

1. Avery Zinner, Nancy Zinner, Marc

Victor and David Udewitz.

2. Andrew Kauffman, Marc Victor,

Robert Fenton, Cantor Ilan Davidson

and Rob Kautz.

3. Cantor Ilan Davidson, Reverend

Nathan Hoff, Rabbi Charles Briskin

and Reverend Dr. Sunny Kang.

4. State Senator Isadore Hall, Los

Angeles City Councilman Joe Buscaino,

Los Angeles City Controller

Ron Galperin, 44th District Representative

Janice Hahn, Dr. Malin

Dollinger, George Mayer, Rabbi

Charles Briskin and Cantor Ilan Davidson.

Photo by John Antolos

5. Lori Juarez, Barbara Mayer,

George Mayer and Sophia Juarez.

6. Wendy Waterman, Bea Schneider,

Seymour Waterman, David Udewitz

and Marla Schwartz.

1

2

3 4

5

6

66 Peninsula People • June 2016
---
65-72_PP 1-8 6/30/16 8:31 AM Page 67

Classifieds Your Local Expert Community 424-269-2830

CONCRETE CONSTRUCTION ELECTRICAL GARDENING PAINTING ROOFING

QUIXTAR

Concrete & Masonry

Residential & Commercial

310-534-9970

Lic. #935981 C8 C29

CONSTRUCTION

Call us to Discuss the

ENDLESS POSSIBILITES

Extreme

Hillside Specialist

Foundation Repair Experts

Grading & Drainage

Retaining Walls,

Fences & Decks

310-212-1234

www.LambConBuilds.com

Lic. #906371

G

ANNOUNCEMENTS

Reserve

D

Remodeling

Design

Kitchens

Bathrooms

Room Additions

New Construction

CONSTRUCTION

your space in

the next

Call direct 424-269-2830

Pub Date: July 30

Deadline: July 15

s

Your Ad Here

62,000 Readers

424-269-2830

magazine

Charles Clarke

Local Owner/General Contractor

Ph: (310) 791-4150

Cell: (310) 293-9796

Fax (310) 791-0452

"Since 1990" Lic. No. 810499

LYNCH

ELECTRIC &

General

Building

Contractors

• Residential

Troubleshooting

• Remodel Specialist

Scott K. Lynch

P.V. Native

Licensed & Insured

Cell

310-930-9421

Office & Fax

310-325-1292

www.LynchElectric.us

Lic 701001

GARAGE DOORS

classifieds

424-269-2830

PLUMBING

MATTUCCI

FULL SERVICE PLUMBING • COPPER REPIPES

SEWER VIDEO INSPECTION • HEATING

DRAIN & SEWER SERVICE • COOLING

TRENCHLESS SEWER REPLACEMENT

HANDYMAN

Handyman

Services…

Fix It Right the

First Time

We like small jobs

/ Free estimates

What we do…

Plumbing,

Electrical, Drywall,

Painting & more.

Valente Marin

310-748-8249

Unlic.

MUSIC LESSONS

Vocal Technician

Piano Teacher

Vocalist

Jeannine McDaniel

Rancho Palos Verdes

20 year experience

All Ages

310-544-0879

310-292-6341

Jeannine_mcdaniel2001@yahoo.com

PLUMBING • HEATING • COOLING

DEPENDABLE • PROFESSIONAL • AFFORDABLE

ON CALL

24 HOURS

7 DAYS

FREE ESTIMATES

310.543.2001

CALIFORNIA

Lic. #770059

C-36 C-20 A

2013

BEAR BROTHERS

PAINTING

Quality Workmanship

Interior • Exterior

• Pressure Washing

• Decks

Free Estimates

375-1966

Lic #614749

PLASTERING

Patch Master

Plastering

Patch Plastering

Interior • Exterior

• Venetian Plastering

• Ceiling Removal

• Drywall Work

• Acoustic

Ceiling Removal

• Water & Fire Restoration

310-370-5589

Lic. # 687076 • C35-B1

PLUMBING

Thank You South Bay for

50 Years of Patronage!

Residential • Commercial • Industrial

Plumbing 24/7 • Heating

Air Conditioning

pfplumbing.net

800-354-2705 • 310-831-0737

TILE

Tile Reroof and

repair specialist

310-847-7663

Family owned

business since 1978

Lic 831351

POOLS & SPAS

POOLS • SPAS

HARDSCAPES

New Construction

& Remodeling

Excellent References

Horusicky Construction

310-544-9384

www.Horusicky.com

Credit cards accepted

Lic #309844, Bonded, Insured

SOLAR ENERGY

Your Ad Here

62,000 Readers

424-269-2830

Simply Tiles Design Center

Fine Ceramics, Natural Stone, Hardwoods, Cabinetry, Faucetry.

Kitchen & Bathrooms Specialist.

3968 Pacific Coast Hwy., Torrance • (310) 373-7781 • www.simplytiles.com

License #904876

June 2016 • Peninsula People 67
---
65-72_PP 1-8 6/30/16 8:31 AM Page 68

P E N I N S U L A P E O P L E | L I F E S T Y L E

by Stephanie Cartozian

Aherd of 280 Fire Grazer goats spent five days in late May

clearing fennel and other non-native plants from land managed

by the Palos Verdes Land Conservancy.

"The goats are our most popular weeders because they make

very little noise and leave no trash behind," said Palos Verdes

Peninsula Land Conservancy executive director Andrea Vona. The

goats have been helping the Conservancy clear brush from its

lands since 1992. This was the first year the goats have been

funded by an "adopt a goat" program.

The goats grazed in Lunada Canyon on the 59-acre Agua

Amarga Reserve. Lunada Canyon, once prime land for development,

was donated to the Conservancy in 1992 by the E. K. Zuckerman

family, creating the Conservancy's first protected natural

area. The reserve was expanded in 2005 when the City of Rancho

Palos Verdes donated Agua Amarga Canyon to the Conservancy.

Fire Grazer goats was founded by Mark and Penelope Choi.

In 2012, the couple moved from Torrance to 80 acres of

land in Mariposa County, where they created a farmstead

with almost 300 goats, pigs, geese, ducks, cats

and orchards.

"I went from being a city slicker to a farm boy

Peninsula fire eaters

Keeping the hill safe

Photos by Brent Alex

in less than one year," son Michael Choi said. Choi now manages

the farm. "It was a different way of thinking and a different way

of living. I was spoon fed this whole country living thing. With

the goats it was a twenty-four hours a day, seven days a week

job."

The Chois soon recognized that their goats could clear in a single

day what takes a landscaping crew two or three days. The

goats favorite feed was fennel, star thistle, grass and mustard.

These pose significant fire hazards for cities, especially during

droughts. When introduced to sandy or clay soils (which are

prevalent in Palos Verdes), their droppings provide natural fertilizer

that replenishes the top soil.

"There is something humanizing about the goats," Michael Choi

said. "You can learn a little something about human nature by

watching them. Goats have friends that they hang out with.

They rely on one another. They prefer to be together

rather than alone."

Choi views his goats as part of the environmental

movement.

The goats will return to Palos

Verdes next spring. PEN
---
65-72_PP 1-8 6/30/16 8:31 AM Page 69

Kathy Christie.

Della Crochetiere

and Noel Park.

Bruce and Liz Zuckerman.

Virginia Cicoria.

Sue and

Steve Soldoff.

June 2016 • Peninsula People 69
---
65-72_PP 1-8 6/30/16 8:31 AM Page 70
---
65-72_PP 1-8 6/30/16 8:31 AM Page 71
---
65-72_PP 1-8 6/30/16 8:31 AM Page 72

Shopping, dining and entertainment, we've got it all!

APPAREL & ACCESSORIES

Friar Tux Shop . . . . . . . . . . . . . . . . . . (310) 534-4700

Styles of Hawaii. . . . . . . . . . . . . . . . . (310) 326-2151

Tilly's . . . . . . . . . . . . . . . . . . . . . . . . . (310) 534-1642

BEAUTY

European Wax Center . . . . . . . . . . . . (310) 325-2929

Fancy Nails . . . . . . . . . . . . . . . . . . . . (310) 326-7980

Pia Hair Salon . . . . . . . . . . . . . . . . . (310) 326-0815

Rolling Hills Beauty Bar. . . . . . . . . . (310) 530-3844

Strands Design Lab, LLC . . . . . . . . . (310) 539-8434

Victor Anthony's Hair Studio . . . . . . (310) 326-2338

Vogue Beauty Studio. . . . . . . . . . . . . (310) 530-5900

Waterside Beauty . . . . . . . . . . . . . . . (310) 534-4242

BOOKS/CARDS/GIFTS/

EDUCATIONAL MATERIALS

The Gift Korner. . . . . . . . . . . . . . . . . (310) 539-5011

The Tutoring Center . . . . . . . . . . . . . (310) 530-5377

DRY CLEANING

Beltone Cleaners . . . . . . . . . . . . . . . (310) 325-2511

ENTERTAINMENT

AMC Theater Rolling Hills 20 . . . . . (888) 262-4386

FINANCIAL/BUSINESS SERVICES

Chase Bank . . . . . . . . . . . . . . . . . . . (310) 257-1997

The Postal Mart. . . . . . . . . . . . . . . . . (310) 325-6777

South Bay Credit Union . . . . . . . . . . (310) 374-3436

GROCERY/SPECIALTY FOODS

Baskin Robbins . . . . . . . . . . . . . . . . . (310) 530-6812

BevMo! . . . . . . . . . . . . . . . . . . . . . . . (310) 257-0034

Cups's Frozen Yogurt . . . . . . . . . . . . (310) 534-2625

Nijiya Japanese Market . . . . . . . . . . (310) 534-3000

Omaha Steaks . . . . . . . . . . . . . . . . . (310) 539-3831

Peet's Coffee & Tea . . . . . . . . . . . . . . (310) 626-8008

Starbucks. . . . . . . . . . . . . . . . . . . . . . (310) 534-4835

Trader Joe's . . . . . . . . . . . . . . . . . . . . (310) 326-9520

Treat Tea & Ice. . . . . . . . . . . . . . . . . . (310) 326 9888

Whole Foods Market . . . . . . . . . . . . (310) 257-8700

Yogurt Lounge . . . . . . . . . . . . . . . . . . (310) 230-5505

HEALTH & FITNESS

Arthur Murray Dance Studio . . . . . . (310) 977-0987

Great Earth Vitamins. . . . . . . . . . . . . (310) 534-8494

My Fit Foods . . . . . . . . . . . . . . . . . . . (310) 257-9175

PV Massage . . . . . . . . . . . . . . . . . . . (310) 530-9093

24 Hour Fitness Center . . . . . . . . . . (310) 534-5100

Weight Watchers . . . . . . . . . . . . . . . (800) 651-6000

HOME FURNISHINGS

Bed, Bath & Beyond . . . . . . . . . . . . (310) 325-0432

Hitachiya. . . . . . . . . . . . . . . . . . . . . . (310) 534-3136

INSTRUCTIONAL SERVICES

Budding Artists . . . . . . . . . . . . . . . . . (310) 326-9764

Color Me Mine. . . . . . . . . . . . . . . . . (310) 325-9968

JEWELRY

Modern Jewelry Mart . . . . . . . . . . . . (310) 517-0308

MEDICAL/DENTAL SERVICES

Dr. Mylena Jl, D.D.S, Inc.. . . . . . . . . (310) 326-4691

Dr. M.G. Monzon, D.D.S. . . . . . . . . (310) 891-3303

Dr. Nolan Ng, Optometrist . . . . . . . (310) 326-2881

Olive Chiropractic . . . . . . . . . . . . . . (310) 539-2285

South Bay Pain Docs . . . . . . . . . . . . (310) 626-8037

Torrance Family Urgent

Care Center of South Bay . . . . . . . . . (310) 997-1796

PET & GROOMING

Grooming Wonders . . . . . . . . . . . . . (310) 534-1130

Pet's Plus . . . . . . . . . . . . . . . . . . . . . . (310) 539-5700

Wild Birds Unlimited . . . . . . . . . . . . (310) 326-2473

REAL ESTATE

J A Realty . . . . . . . . . . . . . . . . . . . . . (310) 539-2430

Person Realty . . . . . . . . . . . . . . . . . . (310) 325-8700

RESTAURANTS

Blaze Pizza . . . . . . . . . . . . . . . . . . . . (310) 325-9500

California Pizza Kitchen. . . . . . . . . . (310) 539-5410

Daphne's Greek Café. . . . . . . . . . . . (310) 257-1861

Fanoos Persian Restaurant . . . . . . . . (310) 530-4316

Fish Bonz Grill . . . . . . . . . . . . . . . . . (310) 325-2669

Hakata Yamaya . . . . . . . . . . . . . . . . . (310) 257-1800

IcCho Japanese Restaurant. . . . . . . . (310) 325-7273

Ichimi An . . . . . . . . . . . . . . . . . . . . . (310) 784-0551

Islands Restaurant. . . . . . . . . . . . . . . (310) 530-5383

Joey's Smokin' B.B.Q . . . . . . . . . . . . (310) 257-1324

Kabab Curry of India . . . . . . . . . . . . (310) 539-0171

Little Sheep Mongolian Hot Pot . . . . (310) 517-9605

Mashawi Lebanese Grill . . . . . . . . . . (310) 325-3545

Mrs. A Vietnamese Pho . . . . . . . . . . (310) 541-1227

Nice Cafe . . . . . . . . . . . . . . . . . . . . . (310) 539-0323

Rubio's . . . . . . . . . . . . . . . . . . . . . . . (310) 891-1811

Ryo Zan Paku . . . . . . . . . . . . . . . . . . (310) 530-8720

Sushi Boy . . . . . . . . . . . . . . . . . . . . . (310) 534-4013

Veggie Grill . . . . . . . . . . . . . . . . . . . . (310) 325-6689

Northeast Corner of Crenshaw & Pacific Coast Highway in Torrance

For Information Call (310) 534-0411

A LA CAZE DEVELOPMENT COMPANY PROJECT

72 Peninsula People • June 2016