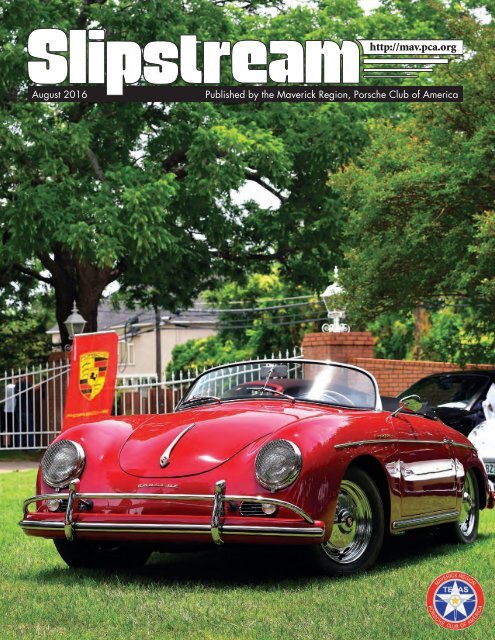 Slipstream - August 2016
The monthly newsletter of the Maverick Region of the Porsche Club of America
The monthly newsletter of the Maverick Region of the Porsche Club of America
SHOW MORE
SHOW LESS
You also want an ePaper? Increase the reach of your titles
YUMPU automatically turns print PDFs into web optimized ePapers that Google loves.
http://mav.pca.org

August 2016

Published by the Maverick Region, Porsche Club of America

Upcoming Events

• Father's Day Picnic

• Sunday Drive

• Rally School

Past Events

• Wild Wildflowers

• May at Mayo's

• Results

June 2007 - Published by the Maverick Region

Porsche Club of America
---
©2016 Porsche Cars North America, Inc. Porsche recommends seat belt usage and observance of all traffic laws at all times. 2017 Boxster S acceleration 0-60 mph in 4.0 seconds with optional PDK and Sport Chrono Package.

Effortless shifting.

Of both gears and priorities.

Suddenly, every obligation feels optional. It's a feeling accredited to the addicting nature of the new 718

Boxster S. Its mid-engine layout, nearly perfectly balanced, sends it fearlessly into the curves. And its 0-60

sprint of 4.0 seconds makes it no slouch on the straights, either. It thrives on a strict diet of curvy

pavement, and with a new turbocharged flat-four engine, finds itself more equipped than ever to feast on all

the fun that lies ahead. Porsche. There is no substitute.

The new 718 Boxster S.

Porsche Plano

5924 W. Plano Parkway

Plano TX 75093

(214)-576-1911

www.plano.porschedealer.com
---
http://mav.pca.org

Volume 54, Issue 8, August 2016

Find event updates at http://mav.pca.org, follow our Twitter feed at https://twitter.com/MaverickPCA

and join our Facebook Group at http://www.facebook.com/groups/mavpca/

Departments

Zone 5 Presidents..........................................1

Shifting Gears (President's Column).............2

Maverick of the Month.................................2

List of Officers and Board Chairs.................4

New Mavericks and Anniversaries................9

Unclassifieds...............................................34

Advertiser Index..........................................34

Around the Bend (Editor's Column)...........36

Features

Film Noir Department...................................6

Trivia.............................................................7

Destination Restoration............................... 10

COTA Driver Education..............................16

Travelog......................................................28

Upcoming Events

August Board Meeting..................................7

Maverick Lunch Series.................................7

Italian CarFest.............................................11

Lone Star Le Mans......................................14

Autocross Schedule.....................................20

August Monthly Social...............................23

Past Event Recaps

Autos in the Park.........................................12

Porsche Parade............................................18

June Social: Silver Fox................................22

August

Sun Mon Tue Wed Thu Fri Sat

1 2 3 4 5 6

7 8 9 10 11 12 13

14 15 16 17 18 19 20

21 22 23 24 25 26 27

28 29 30 31

Day August

3 Board Meeting

9 Lewisville Lunch

14 Autocross 6: LSP

18 Mav Social: Embassy Suites, Frisco

25 Richardson/Southlake Lunches

Day October

2 Autocross 8: LSP

5 Board Meeting

11 Lewisville Lunch

15 Saturday Drive: Rancho Sereno

20 Mav Social: Love&War in Texas

22-23 DE: MSR

27 Richardson/Southlake Lunches

29 Halloween Rally: TBD

30 Autocross 9: BHS

Driving Event Venues

BHS Burleson High School, Burleson

COTA Circuit of the Americas, Austin

ECR Eagles Canyon Raceway, Slidell

LSP Lone Star Park, Grand Prairie

MSR MotorSport Ranch, Cresson

MW Mineral Wells Airport, Mineral Wells

September

Sun Mon Tue Wed Thu Fri Sat

1 2 3

4 5 6 7 8 9 10

11 12 13 14 15 16 17

18 19 20 21 22 23 24

25 26 27 28 29 30

Day September

4 Autocross 7: LSP

7 Board Meeting

13 Lewisville Lunch

15 Mav Social: Arthur's, Addison

18 Time Trial 2: MSR

22 Richardson/Southlake Lunches

24 Saturday Drive: MSR

24-25 DE: MSR

Day November

2 Board Meeting

5 Holiday Gala: NYLO Irving

8 Lewisville Lunch

12-13 DE: MSR

13 Autocross 10: LSP

17 Mav Social: TBD

24 Richardson/Southlake Lunches

On the Cover: Mike Harling's

class winning 1956 Porsche 356

Speedster at the 2016 Autos in

the Park Car Show

Photo by Andrew Barber

Slipstream (USPS 666-650) is published monthly by the Maverick Region, Porsche Club of America, 155 Jellico

Southlake, TX 76092. Subscription price is $24.00 per year. Periodical postage is paid at Fort Worth, TX.

POSTMASTER: Send address changes to Hiram Saunders, Slipstream, 155 Jellico, Southlake, TX 76092.

Opinions expressed herein are not necessarily endorsed by the Club's membership or officers. Contributions will be

printed on a space available basis. Chartered regions of PCA may reproduce items from this issue provided the author/

artist and Slipstream are credited. Slipstream is printed by Ussery Printing Company in Irving, Texas.

ARK-LA-TEX

Ken Chandler

bad968@bellsouth.net,

COASTAL BEND

Bryan Kerrick

bksailspadre@

sbcglobal.net

2016 PCA Zone 5 Presidents and Zone Representative

LONE STAR

Michael Globe

president@lsrpca.com

MARDI GRAS

Scott Spradley

OZARK

Jim Woolly

jim.carol_NOSPAM@

sbcglobal.net

WHISKEY BAY

Mike Hamza

mikehamza944@

gmail.com

CIMARRON

Rod Nordstrom

rnordstr50@gmail.com

HILL COUNTRY

Tracey Gross

president@hcrpca.org

LONGHORN

Charles Bush

president@longhornpca.org

MAVERICK

Jim Falgout

president@mavpca.org

WAR BONNET

Randal Goodman

WHITE RIVER

Leonard Zechiedrich

whiteriverregionpca@

gmail.com

ZONE 5 REP

Lynn Friedman

zone5rep@pca.org

www.zone5.pca.org

1
---
Shifting Gears: Fall Activities are Around the Corner

By Jim Falgout, Region President

irst gear: Well, we are in the midst of the

F

warm North Texas summer, and as a result

our club activities are limited. We do still

have social events and an autocross which

is run by Equipe Rapide at Lone Star Park. Hopefully

you have been able to enjoy your Porsche in other ways.

2nd Gear: What is exciting to us are all the new

members. I frequently see emails and Facebook postings

about or from new members. It is great to see the

responses from current members welcoming them to

the club. I want to encourage all new members to attend

any of our events including our monthly board

meeting, which is held at the Hackberry Creek Country

Club on the first Wednesday of the month. We have

dinner at 6:30 pm, with the meeting starting at 7:00

pm. If you want to have dinner, we will pay for your first

one but you need to email social@mavpca.org to RSVP

and then you'll be contacted to select from the menu.

3rd Gear: Activities will pick up in September, as you

can see on the calendar on page 1. In addition to the

social events and autocross, we will also have a Time

Trial at MotorSport Ranch (MSR), a Saturday Drive

to MSR, and a Drivers' Education (DE) at MSR. If

you have been thinking about participating in a Drivers'

Education but are hesitant, then I would strongly

recommend that you do the Saturday Drive to Motor-

Sport Ranch. You will learn about the activity and get

to drive on the course in a controlled series of laps. I

participated in a drive to MSR and learned that DEs

are not intimidating or dangerous or detrimental to my

Porsche, and eventually enjoyed participating in a few

of these events.

4th Gear: As I have requested previously, we have

had a social event in the past in the November/December

time frame, formerly known as Founders' Day, and

we are encouraging any suggestions that would make it

an event you would like to attend. So please send any

suggestions to me (president@mavpca.org) or our social

chairpersons (social@mavpca.org).

5th Gear: I will always encourage you to help make

your club the best club in PCA. If there is an activity that

you enjoy, think of how you could assist us to make it

one that others would enjoy. Also I encourage all chairpersons

to seek an assistant that possibly could succeed

them. That person could be you. Please contact Jim

Gallegos at volunteers@mavpca.org.

SAUL FRAIRE, Chef-Proprietor

1235 William D. Tate Ave

Grapevine, TX 76051

817-329-6995

6th Gear: MAV OF THE MONTH. I know I have said

this before, but it never ceases to amaze me how the

talent we have in our club volunteers to help improve

it. One of your fellow members came up with the idea

of putting digital picture frames in the offices of

Porsche dealers, which show a series of slides about our

club. We can control the pictures that are displayed

remotely. He has succeeded in placing one in Autobahn

Porsche and one in Park Place Porsche and has

requests for more. Our Mav of the Month is Bill Orr.

Thanks, Bill, for having great ideas and following up

with the implementation. Keep up the good work!

YOUR CLUB NEEDS YOU!

Volunteer . . . you will be glad you did.

2 August
---
Like a Personal Trainer for your Porsche!

• Expert maintenance and repair services • Track day preparation

• Performance and appearance upgrades from GMG, Manthey, FVD and more

• Superior customer service and free loaner cars • PCA discounts

• Show quality detailing services • Comprehensive service from air-cooled to 991

We Also Buy, Sell and Consign Quality Pre-owned Porsches

3236 Skylane Drive, Dallas, Texas 75006

214-269-1570 • www.racperformance.com

PCA Special - Oil Change $199 00

Plus Sales Tax

Oil change with Mobil 1 for 996/986/997/987/991/981. Offer includes complimentary car wash and vacuum.

3
---
2016 Maverick Region Board - Officers and Chairs

President

Jim Falgout

president@mavpca.org

Jim joined Maverick Region in August,

2008. He drives a 2003 996, which is

the third Porsche he has owned. Jim

enjoys attending Maverick Region

social and driving events.

Autocross Chair

Mark Schnoerr

ax@mavpca.org

Club Race Co-Chair

Pat Heptig

214-649-7907

cr@mavpca.org

DE Chair

ChrisTabor

817-371-4888

de@mavpca.org

Vice President

David Robertson

C 617-797-0516

vp@mavpca.org

David fell in love with the Porsche

911 when, as a child, he would have

his parents stop by the old Forest Lane

Porsche in Dallas so he could dream of

someday owning one. He bought his

first Porsche 911 in 2011. He and his

wife Tracy enjoy being active members

in the Maverick Region.

Time Trial Chair,

(AX/TT Rules)

Travis Howard

214-616-6152

tt@mavpca.org

Club Race Co-Chair

Joel Nannis

cr@mavpca.org

DE Chief Driving Instr.

John Sandusky

817-777-0421

cdi@mavpca.org

Secretary

Wendy Shoffit

C 972-977-9821

secretary@mavpca.org

Wendy and husband James joined

Maverick Region in 1997, when

their daughter was only 9 months

old. Jasmine is now 18. They own 3

Porsches including a 1978 911SC as

a dedicated racecar, which she enjoys

autocrossing. Her daily driver is a 2016

Cayman GT4.

TT Registrar, AX/TT

Schools, Swap Meets

Robyn Howard

214-991-0873

drivingschools@mavpca.org

Club Race/DE Registrar

Slipstream Event Ads

Wendy Shoffit

crreg@mavpca.org

deregistrar@mavpca.org

DE Equipment Mgr.

Hunter Allen

deequip@mavpca.org

Treasurer

Richard Solomon

C 903-530-8281

treasurer@mavpca.org

Richard joined Maverick Region in

2012 when he fulfilled a 30+ year

dream to own his first (of many) 911,

a 2009 Silver Carrera! Although fairly

new to the club, he is excited about

being more involved and meeting more

Porsche fanatics!

Charity Chair

Chris Hamilton

hope@mavpca.org

Concours Chair

Andy Kay

817-948-8538

concours@mavpca.org

DE Sponsorship

Daren Kirbo

254-396-2973

desponsorship@mavpca.org

Email List Moderator

James Shoffit

972-786-6246

mrpca-owner@

yahoogroups.com

Email List Moderator

Brian Scudder

mrpca-owner@

yahoogroups.com

Email List Moderator

Matt Platts

mrpca-owner@

yahoogroups.com

Goodie Store

Chris Flaugh

214-288-5300

goodiestore@mavpca.org

Histographer, Tenured

Charlie Davis

historian@mavpca.org

Membership Chair,

Past President

John Hamilton

817-907-7823

membership@mavpca.org

Monthly Social Chair

Stephanie Ho

hh@mavpca.org

Online Calendar

Brendan Eagan

calendar@mavpca.org

Rally Co-Chair

Don Sebert

214-613-6900

rally@mavpca.org

Rally Co-Chair

George Luxbacher

rally@mavpca.org

Safety Chair

Joe McGlohen

safety@mavpca.org

Slipstream Advertising

Cindy Bliss

469-307-2856

ads@mavpca.org

Slipstream Editor

Jim Hirsch

972-740-7377

editor@mavpca.org

Slipstream Article Ed.

Carey Spreen

817-422-3480

editor@mavpca.org

Slipstream Wrangler,

Public Relations

Brenda Dranow

pr@mavpca.org

Slipstream Mailing

Andy Mears

214-394-5857

mailing@mavpca.org

Slipstream Printing

Fran Ussery

972--438-8344 (W)

817-481-8342 (H)

printing@mavpca.org

Social Co-Chair

Tracy Robertson

817-944-5490

social@mavpca.org

Social Co-Chair

Phyllis Gallegos

214-695-3376

social@mavpca.org

Sunday Drive Chair

Tom Martin

tours@mavpca.org

Tech Sessions Chair

Ed Mullenix

972-417-0997

techcorner@mavpca.org

Trivia Chair

Jerry DeFeo

972-240-5800

trivia@mavpca.org

Volunteers Chair

Jim Gallegos

214-697-0792

volunteers@mavpca.org

Web Site Chair

Denny Payne

webmaster@

mavpca.org

Please contact any of these club event chairs with your questions!

4 August
---
5
---
Film Noir Department: The Case of the Missing Tail Light

By Hammer

he Big Heat enveloped

T

the Metroplex like a wet

blanket over a coal fire.

The mercury hadn't

touched 100° yet, but it

was hot enough for the cicadas to

be wearing sunscreen. Lance Armstrong

tested positive for Snapple.

I even saw a squirrel carrying his

nuts with a potholder. You get the

picture. It was hot.

It was just before midnight. I

was sidling into my local joint after

a long day of beatin' feet when a

hand I could have sat in came out

of the dimness and took hold of my

shoulder and squashed it to a pulp.

Then the hand moved me through

the doors and casually lifted me up

a step. The large face looked at me.

A deep soft voice said to me, quietly:

"What are you, a cop?"

"No, I'm your fairy godmother." I

stammered.

"Private dick, huh? What's your

name?"

"Hammer, what's yours?"

"They call me Moose." It didn't take

a genius to get the analogy.

The big meat hook let me down

slowly. He lit half of a cigar and

threw the match on the floor, where

a lot of company was waiting for it.

His voice said bitterly:

"I need you to find my Velma. Last

time I saw her, she said she was taking

my new 911 in to get the right tail light

fixed. That was eight months ago. I ain't

seen or heard from her since."

"Eight months is a long time not to

hear." I confided. "Maybe she just got

up and left."

The big hand came out again,

but this time I was prepared.

"Look pal, I get fifty bucks a day plus

expenses. I'll find your Velma . . . and

your 911, and maybe get your tail light

fixed in the process."

The big hand stopped.

For some pathetic reason, I empathized

with the big lug. The last

time I trusted a dame was in Paris in

1940. She said she was going out to

get a bottle of wine. Two hours later,

the Germans marched into France.

"So how do I get a hold of you when I

find her?" I asked.

6 August

Not a flinch. The big man peeled

off a couple of C-notes; handed

them to me and then disappeared

into the dark night.

Somehow I had a feeling that

he'd have no trouble finding me.

When, and if, I found his Velma.

Or his 911. With or without the tail

light fixed.

I snooped around for a while

but was getting nowhere fast when

I decided to check out the local

Porsche dealership. The building itself

wasn't much. It was smaller than

Buckingham Palace and probably

had fewer windows than the Chrysler

building.

I sparred with the guy behind the

parts counter for a couple of minutes,

but it was like trying to open

a sardine can after you broke off

the metal lip. There was something

about Benjamin Franklin's picture

that loosened him up.

"Yeah, we hear that all the time.

People think that one of their tail lights

is 'out', but it really isn't. The light they

think is 'out' doesn't exist."

"What do you mean, it doesn't exist?"

"It's just not there. There's an extra

tail lamp located in the light cluster on

the left side of the car that is known as

a rear 'fog tail lamp'. It's a European

thing; mandated by law even. But there

is no such lamp on the right side. So

Porsche owners think that one of their

tail lights is 'out' when they switch on all

the lights."

"So why is there a 'fog tail lamp' at

all?"

"Listen friend, when you're screaming

down the Autobahn in the fog, the left

rear fog tail lamp lets approaching drivers

know your position from a distance.

So you don't get smacked from behind.

And so you know where to pass someone

in front of you. Kapish?"

Suddenly, it all made sense to

me, like a slap in the face, or the

slug from a .45. Velma knew all

along that the tail light didn't exist.

She absconded with the big man's

Porsche for her own means; probably

sold it for fast cash on Craigslist.

I didn't have the heart, or the

constitution, to tell the big man

what I discovered, so I laid low for

a couple of days, hoping something

would develop. Then one day, while

chomping down some Egg Foo Yung

at a local Chinese joint, SHE walked

in. There was no mistaking her.

Wearing a dress that was too tight a

year ago, Velma stood before me.

"Hey doll, there's a guy the size of a

beer truck lookin' for you, and his new

911." I paused to gauge her reaction.

"I took his 911 to a Porsche dealer,

honest I did. The mechanics there said

it's possible to run a jumper wire from

the left socket to the right socket and then

install another bulb, so both would illuminate.

But they wouldn't do the modification

because it was against Porsche

company policy. So I panicked and ran. I

can't go back to Moose now with only one

rear fog lamp lit. He's on the lam, and if

he ever gets stopped by some flatfoot for

having a rear light out, he's headin' for

the slammer for sure!"

"Can you help us out?" She stared

at me with large doe eyes that

looked like pools of Aqua Velva, except

without the smell.

"I get fifty……."

"Yeah, yeah, I know. You get fifty

bucks a day plus expenses. At least you're

cheaper than the dealer."

I strolled outside to where the

Porsche was parked and turned on

the lights. She was right. With the

one rear fog light lit, the Porsche

stuck out like spats at an Iowa picnic.

I lifted the engine lid and removed

the carpet covering the light

cluster, then calmly removed the

rear fog bulb from its socket. Problem

solved. As long as Moose and

Velma didn't drive the Autobahn on

a foggy day.

I took the two hundred Moose

gave me plus the fifty bucks she

slipped me and donated it all to a

local charity: the barkeep at my local

joint. He's registered as a 501(c)(3)

organization. Go figure. I drank all

night for free, and then took his sister

home. Right then, life was good.

Many thanks and apologies to Raymond

Chandler, David Goodman, and

Neil Simon. Astute readers will recognize

the homages.
---
JUNE TRIVIA

It's Easy to Play!

Play here for fun and find the answers below

OR

Play for prizes on the web at http://mav.pca.org, with

the answers and winners to be posted here after each

month's contest has closed. Thanks to Jerry DeFeo for

putting this and the Web Trivia together.

The Winner for this month is,

TOM MARTIN

getting 4 of 5 correct.

Tom, please contact Kirk at Zim's

to claim your $25 Gift Certificate.

Thanks to all for playing!

1. The first street-going Porsche to be turbocharged came out in

1976. It had a 3.0-liter engine and was known as the 930 or

Turbo Carrera. How many were made for the US?

a. 356 b. 530 c. 789 d. 930

Source: Porsche 911 Red Book, p 53

2. There was also a 3.0-liter non-turbo 930/02, badged as the

Carrera 3.0, that produced 200 HP. How much HP did the Turbo

have?

a. 250 b. 260 c. 275 d. 290

Source: Porsche 911 Red Book, pp 50, 54

3. What was the Turbo's compression ratio?

a. 6.5 b. 7.2 c. 7.8 d. 8.1

Source: Porsche 911 Red Book, p 50

4. Which was NOT an optional interior that year?

a. McIntosh Blue/Black b. MacLaughlan Red c. Black Watch

Green d. MacKenzie Brown/Beige

Source: Porsche 911 Red Book, p 52

5. Twenty years later Porsche built a racing version of the famous

930 Turbo, known then as a GT2. The regular Turbo used an

M64/60 engine, but the GT2 used an M64/60R engine with two

HP configurations. The road legal version had 430 HP. How

much HP did the full race version have?

a. 460 b. 470 c. 480 d. 490

Source: Porsche 911 Red Book, p 128

Answers: 1) b 2) b 3) a 4) a 5) c

7
---
We Buy, Sell & Trade the World's Finest Timepieces

Authorized Dealer for major brands including:

Patek Philippe • Rolex • Bell & Ross • Blancpain • Corum

F.P. Journe • Girard Perregaux • Jaeger LeCoultre • Tudor

Visit deBoulle.com to view our extensive collection of pre-owned timepieces.

MAVERICK PCA RACER

8 August

6821 Preston Rd., Dallas, Texas 75205 214.522.2400 deBoulle.com
---
Welcome Our New Mavericks!

By John Hamilton, Region Membership Chair

Francisco Armstrong

Forney

2007 911 Carrera S

William Beard

Trophy Club

2013 Panamera S

Rhonda Borgne

Dallas

2008 Cayman

Preston Cheng

Dallas

2015 911 Carrera 4

Wes Hall

Fort Worth

1970 911T

Ryan Kidwell (Courtney)

Dallas

2012 911 Carrera S

Mike Lang

Plano

2006 911 Carrera Cabriolet

Lynn Larson

Dallas

2015 Macan Turbo

Rowdy Pajares

Dallas

2005 911 Carrera S

Landon Stogner

Lewisville

2010 911 Carrera Cabriolet

Robert Strzinek

North Richland Hills

2011 911 Carrera S

Joseph Takahashi

Dallas

2016 Cayman S

If you have any changes that

you would like to make to the

MRPCA membership guide,

contact John Hamilton at

membership@mavpca.org

Maverick Membership Totals

Members ~ 1,690

Affiliate Members ~ 884

Total Membership ~ 2,574

Transfers In

Paul Foster

Dallas

Transfer From: (PST)

2010 911 GT3

Greg & Jeri Pitoniak

Dallas

Transfer From: (PST)

1986 944

Grey Cole

Allen

2008 Cayenne GTS

Kim Gillespie

Carrollton

2009 911 Carrera

Terry Hall

Highland Village

2013 911 Carrera Cabriolet

Josh Madisetty

Dallas

2016 911 Carrera S

Tim McCarthy

Dallas

2005 Boxster

Patrick Moebel

Dallas

2013 911 Carrera S Cabriolet

Say hello to your fellow

Porsche drivers!

Flashing your high beams at fellow Porsche

drivers is a time-honored tradition . . .

Keep the flash alive!

Anniversaries: August

** 45 Years **

James Giffin (Max)

Southlake

25 Years

Andy Mears (Kelly)

Corinth

20 Years

David Reynoldson (Kathy) Round Rock

Jay Walker (Stephanie)

Argyle

10 Years

Luke Edson

Dallas

Todd Imwold (Karen)

Coppell

Ned Muse (Margaret)

Pittsburg

Michael Redenbaugh (Linda) Flower Mound

Robert Waddell (Lady)

Arlington

John Ward (Kathy)

Dallas

5 Years

Chris Andras (Kelly)

Maurice Efune (Wyona)

Bernd Fitzau (Valerie)

Erik Gunnerson

Charlie Lacy

Mike Robinson (Carole)

Plano

Dallas

McKinney

Dallas

McKinney

Fort Worth

9
---
Destination Restoration: Just a little Wiggle

By Ash Seidl-Staley

Photos Courtesy of the Author

ome cars are just quirky. Some cars have

S

sticking door handles, squeaky window

rollers, and what seems like a mind of their

own. My 1987 944 embodies this categorization.

It is a little tricky getting the driver's side door

open, the window regulator makes weird noises going

up and down, and sometimes she just doesn't want to

start! Thankfully most of the issues on my 944 are cosmetic,

or at most, not mechanically essential. It could

definitely use a fresh coat of paint, metal repair, and

interior work, but to be honest, none of that really matters,

as long as I can drive it.

Lately, the 944 has started to act up in the mornings.

On days where I don't have to pick up Hans from

daycare, I look forward to taking one of the Porsches to

work and school. As always, on these days in particular,

the 944 decides she has other plans. She refuses to start.

Last week I lent my daily beater, a Suzuki Vitara,

to my sister, as her car was in the shop. I hopped into

the 944 early the next morning expecting it to start, as

she had done two days prior, but I should have known

not to expect any guarantees from a classic Porsche.

I turned the key and heard both the starter and fuel

pump kick on, but the car didn't fire up. As always I

tried the key a few more times, but to no avail. Not

wanting to be late I had Jenny take me to work, as the

914 is bone dry and awaiting a valve job. I spent the

entire day at work wondering why the 944 didn't fire.

Was it a sensor again? The dizzy? A fuse? Or did the

dew-filled air infiltrate my contact points? When I got

home later that day I immediately went out to the car

and attempted another start. Unfortunately I was not

able to chalk up the occurrence to perspiring contact

points.

At this time the

hood came up and I

started checking all

the usual suspects.

The flywheel sensor

was plugged in, my

spark plug wires were

connected properly,

distributor was in its

proper place, and all

cables looked good.

Now that I was sufficiently

flabbergasted

by the conundrum

before me, I popped

open the car's fuse/

control unit, located

Table of relay and fuse functions;

note relay G-2 is also

ignition related

near the window cowl, and started checking the relays

and fuses. All the fuses checked out, just as I thought

they would, but what about the relays? I have yet to

replace any of the relays, and it is unknown whether

or not the previous owner did either. According to the

nicely placed diagram/table on the fuse box lid, the

G-14 relay is the ignition relay, so, naturally I inspected

this one first.

Taking a trick

out of my Grandpa's

old playbook,

I merely wiggled

the relay to see

that is was seated

properly and

then stood back

in deep thought.

Somehow the

thought occurred

to me to attempt

another start. I always

attempt starts

after adjusting anything,

so I know

that what I just

adjusted was the

culprit keeping Author pointing to G-14

ignition relay fuse

the car from starting.

I didn't think

that just wiggling the relay would produce a result, but

as always the 944 surprised me. She fired right up!

Now this might seem weird, but if you really think

about it, quick -- almost magical -- fixes occur all the

time. We all know of at least one story, event, or experience

where a mechanic friend or family member

merely touches the car, or one of its components, and

the car starts working again. In this moment I was

"That Guy!" On a more realistic level, this quick fix is

just that, a quick fix. The issue is more than likely going

to pop up again, and who knows if the wiggle method

will work next time. Because of this reality, I decided to

pull the relay and clean its prongs with a wire brush. In

addition to the cleaning I also ordered an extra relay

from Pelican Parts.

Quick fixes work on the fly, but it is important to

address the real issue head on when time is available. I

am thankful I figured this quirk out, but as we all know

there will be many others . . . . Wrench on Mavs!

10 August
---
Italian CarFest: Unique Car Display in September

By Richard Cross, Maverick Member and 1964 356 Owner

Photo Courtesy of the Author

averick members always enjoy looking for

M

new destinations for a weekend drive. If it

turns out that the destination also includes

an opporunity to view unique cars, it's even

better! So, here is an opportunity for your September

calendar.

Bob Dezzany, Chairman of Italian CarFest, announced

that the 13th annual Italian CarFest will take

place on September 10 at Nash Farm in Grapevine,

Texas, from 10 am to 4 pm. This will be our 8th year at

Nash Farm, a 160-year-old beautiful 4+ acre property

in downtown Grapevine. Spectators get free admission!

ICF is one of the best all-Italian car shows in the

Southwest and features 75 to 80 magnificent Italian

machines each year. We always enjoy a wonderful turnout

of Alfa Romeos, and 2016 will be no exception!

In addition, a group of Lamborghini owners formed

Lamborghini Club Dallas last year, and we are celebrating

their first anniversary with a beautiful display of 12

of their cars.

Join us for an exciting day of "show and tell" as Italian

car owners proudly show their cars and two-wheelers

for all to enjoy.

Registration is now open at

https://tickets.grapevineticketline.com/

event/ItalianCarFestRegistration2016.

For all the show details, please visit

http://italiancarfest.org/index.htm.

2014 Best of Show

1967 Alfa Romeo Giulia GT 1300 Junior

Alloy body race car

11
---
Judged a Success: Autos in the Park 2016

By Bill Orr

Photos by Andrew Barber and Bill Orr

The Porsche area at Autos In The Park 2016 (Photo: Andrew Barber)

Photo: Andrew Barber

he 11th Annual Autos

T

in the Park car show

took place on Sunday,

June 12 at the Cooper

Aerobics Center in Dallas. This was

a week later than originally scheduled

due to weather concerns, but

that did not diminish the quality of

the automobiles that showed up.

From classic Corvettes to vintage

Jaguars and modern day exotics,

Autos in the Park had something

for everyone.

The event is put on by longtime

Porsche owner and PCA member

Jack Griffin, and it benefits the

Texas Scottish Rite Hospital and

The Cooper Institute. There were

175 registered cars from various

car clubs and individuals, including

the Maverick Region of the Porsche

Club of America, the Corvette Club

of North Texas, the Ferrari Club of

Dallas, the Italian Car Club of the

Southwest, the Lamborghini Club

of Dallas, the Rolls Royce Club of

North Texas, the Austin Healey

Club, and Micro Cars. Maverick Region

had the largest turnout, with

45 registered cars on display.

Photo: Andrew Barber

Bill Orr has created an online

Autos in the Park 2016 photo

album. To view it, please visit

http://bit.ly/autos2016

or use the QR code below to

access the Flickr album on your

phone or other mobile device.

12 August

This Porsche is a well-traveled example (Photo: Andrew Barber)
---
Pictured from left to right: Wayne Corley, Rob Wallace, Victor Verissimo, Rob Adams, Chuck Lawson,

Jason Bourque, Umesh Oza, Larry Brownell, Mike Harling, Frank Briggs, Michael Mann, Charles White, Ajai Cadambi,

Mark Palmer, Michael Baynton, Susan Froehlich, Andrew Barber, Chris Sorrells [not pictured: Mark Hanna] (Photo: Bill Orr)

As we have in years past, Maverick Region hosts

a car show within a car show, and this year Porsches

were judged in 10 divisions. This was our first attempt

at a timed, judged event. The judges were local PCA

members, and judged areas were Interior, Exterior, and

Storage. Two medals were awarded to each class. Here

are the winners from each division:

Division 1: 356 All Years

Mike Harling and Chuck Lawson

Division 2: 914-4 and 914-6

Rob Wallace and Mark Hanna

Division 3: 911 and 912 (1965-1973)

Umesh Oza and Larry Brownell

Division 4: 911 and 912 (1974-1989)

Charles White and Wayne Corley

Division 5: 994 and 993 (1989-1998)

Michael Mann and Frank Briggs

Division 6: 996 and 997 (1999-2012)

Victor Verissimo and Ajai Cadambi

Ajai Cadambi's class winning 2008 Porsche 911 GT3RS

(Photo: Andrew Barber)

Division 7: 991 (2012-on)

Jason Bourque and Chris Sorrels

Division 8: 924,944,968 and 928 (1977-1995)

Rob Adams and Brad Simmons

Division 9: Boxster and Cayman (1997-2012)

Michael Baynton and Susan Froehlich

Division 10: Boxster and Cayman (2013-on)

Mark Palmer and Andrew Barber

Andrew Barber's award-winning 2016 Porsche Cayman GT4.

(Photo: Andrew Barber)

The awards for the Autos in the Park main event

were divided into two categories: Pre-1980 and Post-

1980. There were awards for 1st, 2nd and 3rd place

and classed by country of manufacture. Here are the

winners from Germany. They were all Porsches!

Pre-1980

1st Mike Harling 1956 356 Speedster

2nd Chuck Lawson 1958 356 Speedster

3rd Zane Moore 1977 911S

Post-1980

1st Jim Mango

2015 911 Turbo

2nd Bob Aines

2008 911 GT3

3rd Rob Adams 1994 968

We would like to thank Park Place Porsche for providing

lunch and a new 2017 Miami Blue Porsche 911

Carrera 4S to have on display at the event.

13
---
Calling All Maverick Race Fans!

The Lone Star Le Mans event offers

you the opportunity to experience

two premier sports car series:

the global FIA World Endurance

Championship (WEC) and the North

American-based IMSA WeatherTech

SportsCar Championship.

This year's races will take place September 15th-17th.

PCA is very excited to announce the return of

Porscheplatz with new and improved benefits as a part

of the program! The new Porscheplatz hospitality tent will

be located in the Grand Plaza near Turn 19 with paved

parking available in lot A! Spaces are limited and will go

quickly now that we are less than 2 months away.

Join hundreds of your fellow

PCA members in the Porsche

Car Corral. More details and

the direct link to purchase your

3-day tickets can be found at

http://bit.ly/MavCOTA.

Parts or Service, We Deliver Excellence.

Over 300,000 parts in stock.

Expert service and repair.

Parts and Service for: Porsche, Mercedes-Benz, BMW, Mini, and Smart Car.

817-267-4451

Visit us online at:

1-800-356-2964

www.allzim.com

zimips@allzim.com

1804 Reliance Pkwy. Bedford, TX 76021 M-F 8am to 5:30pm

Zims Autotechnik is not affiliated with Porsche AG or PCNA Registered Trademark of Dr. Ing h.c.F. Porsche A.G.

14 August
---
15
---
COTA Driver Education: Everything Else Is . . . Just Waiting

By Ed Reynolds

Photos Courtesy of the Author

id-engine with a sequential gearbox and

M

paddle shifters on the steering wheel.

Those may be the only things my 2014 Cayman

S has in common with a Formula 1 car,

but nonetheless, I'm having my own personal fantasy

as I'm "just waiting" to enter the paddock at Circuit

of the Americas (COTA) in Austin, the current site of

the U.S. Grand Prix. Finally, I get my credentials at the

checkpoint and drive through the tunnel entering an

area that is impossible to access during a Formula 1

race – unless you are an A-lister or have a net worth

with as many zeros as the national debt.

After participating in 12 DEs at MotorSport Ranch

(MSR) and Eagles Canyon Raceway, and being an avid

F1 fan for 20-plus years, I am looking forward to the

experience of driving a true Formula 1 circuit. This is a

real bucket-list item for me; an opportunity to not only

be inside of the fence, not just cruise or tour the track,

but an opportunity to attack it at speed.

I have planned on attending the Advanced Solo DE

at COTA for nearly a year, and have spent countless

hours studying the track layout and watching in-car

videos to learn the driving line. When my first session

on Friday morning arrives, I elect to get in line for a

"lead-follow" group where an instructor would lead

a line of cars to demonstrate the proper way to drive

the circuit. This exercise is a slow run by design, but

after one lap, I find that I was "just waiting" to go much

much faster! As soon as I see a passing signal entering

the front straight, I mash the throttle and take off. The

sun is still low in the sky as I fly down the front straight

past the massive but empty grandstands, up the steep

hill into a blind hairpin like I've seen so many times on

TV. This is awesome.

The Circuit of the Americas track shown in full with elevation

changes. Studying this in advance was helpful

16 August

I take it easy as I carve through the first set of challenging

switchbacks and other early corners. When I

come to the long back straight, no other cars are near

me and I go full power. Approaching the end of this

straight, I hear the PDK upshift to fifth gear, and I say

to myself "holy crap, this is fast." And then I hear a faint

voice in the back of my head. It sounds like Rafael Serralta,

my first DE instructor: "Just remember: nothing

bad happens when you brake too early!" So I hit the

brakes at the 300-meter marker and nearly come to a

dead stop well before I can even see the corner. I have

a laugh at myself, and get back on the gas to finish the

straight. I'll gradually move my braking point to about

160 meters over the rest of the weekend. That's what

Driver Education events are about: learning, but learning

safely, and in a controlled manner.

DEs are not just about high speed, although the

author took advantage of that long back straight

In driver meetings at MotorSport Ranch, DE Chair

Chris Tabor made a point about MSR being a great

track for learning with its varied corners and configurations.

In Chris' words, "if you can drive MSR, you can

pretty much drive any circuit in America." I found this

to be true, with many of the corners at COTA being

similar in nature to those at MSR. The skills and cornering

techniques that I learned at MSR allowed me to

learn COTA in just five laps. MSR really is a great track

to learn high performance driving.

But DEs are not just about high speed. People that

haven't driven on a racing circuit will almost always ask

the same question: "How fast did you go?" I tell them,

"Well I hit 141 mph on the back straight" and they say

something like "wow, that's fast." What they should ask

is "how quick did you go?" That question covers the

driving skill aspect of how quickly you can get through

a corner while carrying speed and momentum.

Hitting 140+ on the back straight may sound really

exciting, and it does get your attention. But when the

track is clear, I find myself at full throttle for 20 seconds
---
with not much to do until that 150 meter marker. Basically

it was straight-line acceleration, and I am "just

waiting" for that marker, then brake hard, get the proper

turn-in, power through the apex, and feel the lateral

forces as the car rushes forward out of the turn. The

real fun is in the turns, but we Porsche owners know

that, don't we?

car" – a total connection. For me, the experience of

taking a Porsche to its limit is simply pure elation and

satisfaction. The marketing folks are right: "there is no

substitute."

A car from a marque with a racing heritage should

really be experienced at a true racing circuit. I'll echo

past articles in encouraging new and current members

to try one of the upcoming DEs. There are events

planned for September and October at MSR. With the

amount of focus on safety and education, there is a

near-zero chance that you or your car will experience

any mishap. Rather, you have a 100 percent chance of

having a blast and truly experiencing the performance

that is engineered into your Porsche. So come on out

and meet some great people.

For Porsche drivers, this is where the fun is

For PCA, the first priority in any DE is safety, always!

And honestly, I was concerned that there would be 55-

60 cars in a run group at COTA, since I think MSR is

crowded when we have 30 cars on the 3.1-mile course.

COTA would be up to 60 cars on a 3.4-mile circuit! But

there were no issues at all, as everyone was prompt in

signaling for passes and very courteous. I heard that

there were some "trains" on the first day, but my experience

was that a line of cars usually sorted itself out

within half a lap.

At every PCA DE I have found this friendly and cooperative

spirit among the participants and have made

many new friends. At COTA it was just as good. The

atmosphere and energy level among all of the PCA

members was fantastic. Everyone was buzzing around

like a seven-year-old on Christmas morning, sharing

their experiences, swapping stories, and sharing what

they learned.

When I participate in a DE, I set goals for myself,

which can range from braking and cornering skills to

visual skills in seeing farther around the track. But I

usually reserve one of my last sessions to "just drive." I

hit the track and drive at 8/10ths, not trying anything

new, just using what I know. Clearing my mind of all

the "remember this, do that," the experience becomes

organic. Since I'm not trying anything new, everything

is smooth and in control. Then magic happens and I

instinctively drive faster to the point where I'm driving

flat out at 10/10ths without even thinking about

it. In other sports it's called "being in the zone"; to me

it feels like I'm flying the car rather than driving it. I

can only describe it as a feeling of "being one with the

The author in a rare moment alone with his

Cayman on the Formula 1 COTA track

For me, driving the Formula 1 circuit at COTA was a

once-in-a-lifetime experience. Wait, that's not right; I

have to go back! And while I am looking forward to the

upcoming events at MSR, I'm already "just waiting" for

the 2017 Advanced DE at COTA.

Editor's note: the next Maverick Region DE is coming up in

September. Look for more information in the September issue of

Slipstream and online.

17
---
Mavericks in Vermont: 2016 Porsche Parade

By Carey Spreen

Photos courtesy of the Parade Staff

ne of the many nice

O

things about living in

North Texas is that one

can drive to any location

in the Lower 48 in three days or

less. OK, if you want to drive from

here to Olympic National Park in

Washington, you'll be on the road

for about 33 hours, which is three

11-hour days plus rest stops, but my

point is that you could get there in

half a week if you had a good reason

to do it.

By comparison, Jay Peak Resort,

a remote ski area in northeastern

Vermont, is "only" about 1800

miles from North Texas, or three

9-1/2 hour days, again, if you had

a good reason to do it. Believe it

or not, over 30 Maverick Region

members thought that attending

the Porsche Parade at Jay Peak was

a good enough reason to make that

drive, myself included. If you have

attended a Parade, you probably

don't need more justification; if

you haven't attended one, perhaps

knowing that these folks chose to

spend at least three days driving

each way, plus a full week at the

Parade, might convince you to try

one sometime. As it so happens –

hint, hint – the 2018 Parade will be

at the Tan-Tar-A Resort in Osage

Beach, Missouri, a mere 500 or so

miles away, and you have two years

to plan for it. But I digress -- this

story is about the 2016 Parade.

As you may know, the Porsche

Parade is PCA's annual national

18 August

convention, held in a different

part of North America each year

(and yes, there has been a Parade

in Canada). The event runs seven

days and contains four traditional

competitive Porsche-related events,

as well as several more events that

are less Porsche-centered but just

as competitive. But the competition

is not the main reason to go;

many entrants don't compete at all.

There are driving tours, banquets,

an art show, goodie store, hospitality,

technical seminars, driving

tours, a golf tournament, wine and

beer tastings, RC car races (for

kids of all ages), and did I mention

driving tours? So if you are not the

competitive type, there is still a lot

to keep you and your Porsche busy.

However, much of the Maverick

contingent did turn out to be of

the competitive variety. As I mentioned,

there are four traditional

competitive events: the Concours

d'Elegance, the Time-Speed-Distance

(TSD) Rally, the Autocross,

and the Technical Quiz. Maverick

Region had competitors in each of

these events, as well as in the Gimmick

Rally.

The Concours is a car show

in which a group of experienced

judges examine the cars for cleanliness

and originality. There is also

often a display of historic Porsches,

and this year was no exception.

Normally, Maverick Region has

several entrants in the Concours,

but this year we had only one: Mark

Roberts. Mark represented us very

well, though, with a first place in

Mark Robert's 2016 Boxster S

class PP10S (Street Preparation,

2013-on Boxster/Cayman) with his

2016 Boxster S. Mark drove his car

2100 miles and then spent 14 hours

preparing it for the Concours. Class

PP10S is very competitive, and this

was Mark's first Parade! Congratulations

Mark!

Don and Carey at the TSD Rally

As anyone who has entered a

Rally can attest, a TSD Rally is not

a race. It is a competition based on

precision timing and navigation.

Each car, which must contain a

driver and navigator, is given a set

of instructions that give them as

little information as possible as to

where to go and when to get there.

There are usually several Mavericks

in the TSD rally, but this year there

was just one team: Don Breithaupt

(driver) and yours truly (navigator).

But again, Don and I represented

Maverick Region pretty well,

taking third place in Class R04 (Unequipped

Plus) and 11th overall in

Don's Boxster.

Much less stressful than the TSD

Rally is the Gimmick Rally, in which

time, speed, and distance are not

nearly as important as finding certain

signs and landmarks along the

way. There are two Gimmick Rally

classes: one for cars containing two

participants, and one for cars with

more than two participants. Mavericks

participated in the former

class, with Bob and Linda Knight

taking home a ninth place trophy.
---
Also competing (and actually finishing,

which is no mean feat itself)

were John and Chris Hamilton,

Mark Roberts and Renee Rentzel,

and Ralph and Barbara Kauffman.

Included in this event was a Selfie

contest, in which Bob and Linda

took third place for their self-portrait

in front of the Kissing Bridge.

What a cute couple!

Bob and Linda Knight captured a

winning selfie at the Kissing Bridge

The Parade Autocross takes

place over two days because of the

number of drivers entered. This

year it was held on the runway of

a local airport, and proved to be

trickier than it looked, with many

drivers getting lost on the course

for at least one of their three runs,

and even a few drivers never actually

getting in a clean run. Unfortunately,

Day 1 was wet and cold for

most of the drivers, with a sunny

respite for the final run group in

the afternoon. Day 2 proved much

nicer, with a cool day and a dry

course.

Five Mavericks participated in

the Autocross, and almost all took

home trophies. Fred and Denny

ran on Day 1 on a wet course,

hence the difference in best times

from the other drivers, who ran on

Day 2.

Fred Stubbs' 2011 Boxster Spyder

Denny Payne's 2016 Cayman GTS

Ed Mayo and Julia Underwood shared

driving duties in Ed's 1972 911S

Carey Spreen's 1982 911SC

As a side note, a 918 Spyder actually

ran in the autocross, which is

a first. How did it compare to the

other, mere mortal Porsches? Alas,

we'll never know, because the driver

got off course (DNF'd) all three

runs and did not receive an official

time.

Parade Autocross Results

Class Driver Car Best Time Place

S09M Fred Stubbs 2011 Boxster Spyder 51.101 1

S09M Denny Payne 2016 Cayman GTS 51.404 2

P06M Ed Mayo 1972 911S 46.671 1

P06L Julia Underwood 1972 911S 52.766 2

P07M Carey Spreen 1982 911SC 44.114 1

The Tech Quiz is a combination

of historical and technical trivia

questions, consisting of 50 general

questions about Porsches and their

history, as well as 25 more modelspecific

questions, with the model

depending on which quiz the

entrant elected to take. This year,

the only Maverick to take the Tech

Quiz was your obedient servant,

who garnered a first in class Q06M

(914) and third overall.

PCA also awards Zone and

Regional websites, and our own

Wendy Shoffit took third place for

the Zone 5 website, for which she is

webmaster. Unfortunately, Wendy

and James were unable to compete

in autocross this year (see James'

article about WHY on page 28).

We also had an Art Show entry

from Julia Underwood, who won

first place in the Artisan Crafts

Textiles/Quilts/Needlework category

for a quilted hanging of her

Porsche. Congratulations Julia!

Quilted hanging of her Porsche

by Julia Underwood

You can view photo galleries and

all results on the Parade website,

http://2016parade.pca.org.

The 2017 Parade is set for Spokane,

Washington, another threeday

drive from here, but you can

bet that Maverick Region will be

there. We hope you will be too!

19
---
20 August
---
The Art of Paint Protection

After Installation

A virtually invisible urethane film

professionally applied to high-impact areas

of your vehicle to protect your paint job from

stone chips, sand, road debris and bug acids.

During Installation

Owner Installed

Highest Quality Guaranteed

2530 Tarpley Road, Suite 100

Carrollton, TX 75006

21
---
Maverick Monthly Social: Silver Fox in Grapevine

Photos by Stephanie Ho, Region Monthly Social Chair and George Luxbacher

What a terrific evening with Porsche friends!

Thanks to Silver Fox and Saul Fraire (Proprietor) for exceptional

hospitality and delicious complimentary appetizers!

Our phenomenal photographer,

George Luxbacher!

PCA Monthly Social Chair

Stephanie Ho welcoming new

member Landon Strogner

(joined in June 2016)

Stephanie welcoming

Robert Quattrochi to our

PCA Maverick Region

Plan to join

us in August!

Guess which one in this picture has a new Ferrari!?!

Traitor, but we all love you anyway, Tom!

Women drivers with Porsches! Watch out!

22 August
---
Asking our Porsche Technician, Keith Jones, all the intricate

details of our love (the Porsches)!

Jon Hamel with his beautiful wife

(Happy Birthday to Saundra!)

23
---
24 August
---
ANNUAL SERVICE SPECIAL

Brake fluid flush $125

includes one liter of Motul RBF600

"Get the most out of your braking system with this essential regular maintenance"

We are the automotive experts who service your car

with personal attentiveness and care.

2520 Tarpley Rd, Suite 100

Carrollton, Texas 75006

972-418-1996

innovativeautosportstx@gmail.com

25
---
esults

THAT MOVE YOU

When all HAIL breaks loose...

Roofing Solutions

By Darren Houk

A+ Rated

(817) 692-8496

MICHAEL PICOLO | 972-365-7370

MichaelPicolo@Ebby.com

www.RoofingSolutionsHOUK.com

www.roofingsolutionshouk.com

817.692.8496

Showroom by Appointment

5500 Meandering Rd

Ft. Worth, 76114

Since 1971

Providing personalized service

on all Porsche automobiles.

• Complete servicing and repairs

on all air or water cooled models

• In-house machine shop

• M96/M97 reconditioning

• Performance and track mods

2530 Tarpley Road • Suite 700

Carrollton, Texas 75006

(972) 417-0997

26 August
---
27
---
Travelog: James, Wendy, and Jasmine's Excellent Adventure

By James Shoffit

Photos Courtesy of the Shoffits

n Wednesday, June 15,

O

we had the Cayenne

loaded and got rolling

before 7 am. We made

great progress through Memphis,

but then just past Jackson, TN, the

Cayenne started "dropping out."

The fuel delivery seemed impaired

for three-second increments. It

would shut down all power, then,

after three seconds, resume. It did

this about once every couple of

minutes for almost 100 miles. After

the outside temperature dropped

from 95 to 75 it stopped happening,

but we decided to have the error

codes checked on the computer

at the dealership in Nashville to

determine what was causing it, how

serious it was, and what needed to

be done.

I called the Nashville area PCA

Region president (Mike Moody,

Musik-Stadt Region) and he was

very helpful trying to find us someone

who could read error codes

at 7 pm at night. None could be

found, but he even called us back

several times to make sure things

were getting taken care of.

We got to Porsche of Nashville at

7 am the next morning (Thursday,

June 16) and Nick went right to

work diagnosing the problem, finding

a fault on the high pressure fuel

pump internal valve. He replaced

that valve, but then had another issue

with the crank position sensor.

He cleaned that, and then still had

a few other stalling issues, but they

went away, and Nick knew we were

in a rush, so we buttoned it up,

paid the bill, and went on our way,

hitting the road around noon.

Two hundred trouble-free miles

ensued, but then the same problem

started happening again. It is

hilarious now in hindsight that we

decided to NOT stop in Bowling

Green, KY to see the Corvette Museum

and new race track because

28 August

we wanted to get to Jay Peak Vermont

and didn't have time. We had no idea

of the delays that would befall us.

Cincinnati Porsche dealer showroom

The problem got worse and

worse over the next 70 miles. The

nearest Porsche dealership was in

downtown Cincinnati, and we were

rolling through in rush hour, in a

car that would be cruising along

at 50 mph and then suddenly die,

completely, and roll to a stop. This

was frustrating and terrifying, as

cars around us swerved to miss us,

honking at our idiocy. We limped at

barely 15 mph into Porsche of the

Village in Cincinnati. Service was

closed, but they got us scheduled

for the next morning to be looked

at. Unfortunately, we still had 900

miles to traverse on Friday, since

our hotel reservation in Jay Peak

started Friday night! No time for

nonsense!

We even considered purchasing

a newer Cayenne. Or Macan. Heck,

we even looked at a Volvo (not seriously).

Nothing seemed like the

best option, so we locked up the

Cayenne on the dealership front

parking lot, packed to the gills, and

Uber-ed to the airport to rent a car.

We looked up rental prices on

vehicles -- Suburbans, trucks, anything

but a minivan. I would rather

walk to Parade than show up in a

minivan! There was a crossover

Dodge Journey that we walked

past on the way to the Hertz office,

and we priced it at $423 a week on

our phones. But I went to the desk

to see what else they had, and if I

could get a better last-minute price.

They told me they didn't have ANY

minivans or crossovers at all, and

so I asked about the Dodge Journey

I had just seen, and they said it

wasn't available, and even if it was,

the price would be $800 a week,

nearly double.

So, while standing at the desk,

fuming, I booked that exact car

using my phone, and showed the

counter agent the confirmation

number. She acknowledged the

$423 price and handed me the keys,

we told them we would see them in

two weeks, and we got in our Journey

and left. After a few minutes of

lackluster driving, a question occurred

to me, so I Googled "Dodge

Journey horsepower." Google said

"no results found." I kid. It has dozens

of horsepower. Dozens!

The rental with "dozens of horsepower"

We got on I-71 to head back to

the Porsche dealership. It was now

7:30pm, and we hoped to transfer

all our belongings from our Cayenne,

parked in the front lot, to

the Journey, which looked like it

just might have enough space for it.

Still on the way to the dealer,

we saw a plume of smoke on the

horizon. "Looks like something

caught on fire," we commented.

Traffic was beginning to build a bit,

but Google assured us there was

only about a mile to get past the

incident, so instead of exiting the

highway, we stayed on, to just slowly

roll through it. Only we didn't roll.
---
We stopped. For over 2.5 hours

we didn't move an inch. A car had

hit a semi, which caught fire, and

spilled hazardous materials all over

the highway, which required days/

weeks/months of cleanup. Finally

after 2.5 hours of sitting there, the

police helped reverse the flow of

traffic, and we were able to go get

dinner (hadn't eaten since lunchtime

near Nashville). The only

place open was McDonalds. And I

spilled mustard on my pants. And

we were exhausted. And we still

had to unpack everything out of

the Cayenne and pack it into the

Journey, which we completed about

11:30 pm.

A truck fire closed the highway

So we determined to just get

to the other side of Cincinnati,

and booked a room in Blue Ash

for the night. It was about nearing

midnight, and this was one of the

worst travel days we had ever experienced.

Then for some reason we decided

to try one last-ditch effort to turn

the day around. So we Googled "ice

cream near me," knowing full well

nothing would be open. But something

WAS open. It was called Rhino's

Frozen Yogurt and Soft Serve

in Blue Ash, Ohio. It was open 24

hours. Yay! But it was located in a

Froyo to end a forgettable day

Mount Washington - then and now

gas station. What? Boo! But we got

there, and it was the best damned

froyo place we had experienced!

Clean, fresh, AMAZING choice of

flavors and toppings, and they had

coolers for the toppings that needed

it and lids that kept everything

fresh. We devoured our delicious

treat and went to bed, very glad the

day was behind us.

The next day we drove up

through Cleveland, and had lunch

in Conneaut, OH, at a Subway overlooking

Lake Erie. A quick jaunt

through Pennsylvania on highway

90, up to Syracuse, then north

through Watertown, paralleling

the St. Lawrence River, arriving at

Jay Peak before 10 pm. In a Dodge

Journey.

Porsche Parade 2016 Jay Peak

was great, but this story is about the

travels, not Parade itself.

While there, we took the tram

to the top of Jay Peak and stood on

the concrete summit marker and

took pictures.

So we left Sunday morning, June

26, heading for Mount Washington

in New Hampshire. Back in the

early '90s, Wendy and I and a few

friends drove much of this same

itinerary, knocking interesting

things off our checklists and picking

up all the states in the Northeast.

This was way before Jasmine

was born, so we wanted to show Jasmine

all the cool stuff. We did NOT

bother to show her the Longest

Covered Bridge in the world, near

Hartland, New Brunswick. We also

skipped the largest tidal whirlpool

in the Western Hemisphere (Bay of

Fundy). Both were . . . lackluster.

But back to Mount Washington.

Maverick member Denny Payne

and I bought tickets for the Cog

Railway to the top. We met there

just before 11 to get a quick snack.

Now the last time we went to the

top of Mount Washington, it was 80

degrees at the bottom and 45 degrees

at the top, with 10ft visibility,

massive cloud cover, and wind blowing

a steady 30-50 mph. INSANE

conditions. We warned Jasmine

that she would be entering Hell on

earth. The most extreme weather

on the planet. The ONLY place to

record 231 mph wind speeds with

humans checking the instrumentation.

So the cog train (VERY COOL,

BY THE WAY) stops at the top, and

. . . it is 60 degrees. Sunny. Clear.

They told us you could see Jay

Peak, which was 120 miles away, if

you knew which direction to look.

We didn't even need jackets. DIS-

APPOINTING. But this time we

climbed up to the summit (20 feet

away), shopping and museuming

for a while, then took the cog train

back down. (VERY COOL, BY THE

WAY). We ate lunch at the train station,

after which Denny went his

way and we went ours.

Denny

and James

"leaning"

on the way

up in the

cog train

29
---
Jasmine has a friend from art

school, Chad, who happens to live

in Maine, about an hour from Acadia

National Park, which was on

our must-see list. We had reservations

for the Bar Harbor Inn right

on Mount Desert Isle, and we had

enough time to try and arrange

a visit. Wendy and I had become

good friends with Chad's mom

during our many visits to Savannah

for our kids and their college adventures.

They agreed to meet us at

a little town in between called Ellsworth,

and this time we finally got

to meet Chad's dad, Jimmy, who is

a real life Maine lobster fisherman.

I am a huge fan of Deadliest Catch,

and love hearing about fishing and

boats and how all that works; so different

from my software development

life. Jimmy and I had a great

time at dinner while he told me all

about his industry and his boat and

what it takes to succeed in the lobster

business.

Chad and Jasmine had fun

catching up on the three weeks

they hadn't seen each other, and

Wendy and Becky caught up on

their perspective of the school and

how the next few years might go.

We finished up with ice cream (of

course) and got to our room before

11 pm.

We left the curtains open so we

could watch the sun rise, and were

glad we did. You can't get much

further east in the continental US

than Bar Harbor, Maine, and we

woke up with twilight just after 4 am.

We watched it fully rise (did a time

lapse shot on Wendy's iPhone) and

just listened to the birds and lobster

boats setting traps until about 5 am.

Then we closed the blinds and got

some more sleep!

Off to Acadia National Park,

one of our favorite places! We went

to Thunder Hole, which was not

very dramatic or deadly on this day

-- the tide was coming in, but the

seas were calm. We drove to the

top of Cadillac Mountain, and then

James and Wendy on

Cadillac Mountain

hiked the rest

of the way to

the summit.

Third mountaintop

in a

week! We had

great views of

Bar Harbor,

and everything

else

East of the

Mississippi.

We ate lunch

at the Jordan Pond House, and the

service was slow, but the food was

great (everything had blueberries)

and the weather was amazing. No

regrets.

Then we piled in the car, heading

to Boston. We arrived at the Omni

Parker House Hotel in downtown

Boston, right on the Freedom Trail,

around 10 pm. The Parker House

is the longest continually operating

hotel in the USA. It also was where

the Boston Cream Pie originated,

and where the Parker House Rolls

were invented. So of course, we had

to have both of those.

The next day we got on a tour

bus and started exploring Boston,

hopping off at Faneuil Hall / Quincy

Marketplace, and were amazed

at all the dining options. We took

pictures at one of the THREE

"Cheers" bars in Boston (from

the TV show). Jasmine was mainly

looking for stuff she recognized

from Fallout 4 (video game based

in past-future apocalyptic Boston).

We of course had to have some pastries

from Mike's in Boston, which

were pretty tasty.

We left Wednesday morning and

headed towards Cincinnati, touring

through Providence to pick

up Rhode Island and then Connecticut

after that. Took I-80 across

Pennsylvania for the first time.

Since we got a late start, we only

made it to Ashland, OH (700 mile

day - below par).

Thursday morning we decided

to call Porsche of the Village again

to make SURE the Cayenne was going

to be repaired when we came

to pick it up around 10 am; we had

a LONG drive back to Dallas ahead

of us. We were glad to hear they

had determined what the problem

was. We were glad to hear they had

ordered the correct parts. We were

not glad to hear the parts wouldn't

arrive until the following Tuesday.

Not glad at all. We brought our

displeasure to their attention in

the nicest possible manner and

they were able to get the parts at

around 11 am, and they targeted 3

pm for us driving out of the dealership.

They loaned us a Macan so we

could try that out and tour the city

a bit.

So we unpacked everything from

the Dodge Journey into the service

manager's office. We should have

taken pictures of the avalanche of

luggage there. And then we drove

our borrowed Macan and our rented

Dodge Journey to the airport to

return it. We said our goodbyes to

the Journey, while listening to Journey

and reflecting on our Journey

in the Journey, finally heading out

in the Macan. Jasmine didn't mind

the back seat at all since it had its

own climate control - something

missing in our Cayenne.

We had a great time across the

river at the Levee in Newport, KY,

and tried Tom and Chee for the

first time. Google it. Then go there.

You will NOT regret it!

Finally we got back to the dealership,

and it was taking a bit longer

than expected, but at 4:15 we

started loading it up, paid the bill

(FAR less than we expected for all

they did), and started driving.

The Cayenne ran great without

any further issues. We did have to

stop one more night in Jackson,

TN. We stopped to visit another of

Jasmine's friends for a few hours

while we were driving through Arkansas.

And we made it back home,

safe and sound, around 5:30 pm on

Friday, July 1.

30 August
---
NO WORRIES!

So Your Part is NLA!

• Rebuild, Restore or Totally Recreate

to OEM Quality

• We Manufacture Custom Pieces for

Modified or Racecars.

• We Work With Most Materials

• We Specialize in Accurate Replication of Parts

R A N D A L L

RKT

K A R A

T E C H N I Q U E S

901 TERMINAL ROAD • SUITE 400 • FORT WORTH, TEXAS 76106

817-624-1322

Porsche/Ferrari/Exotic

Service/Tuning/Restoration

30 Years of Service

Specializing in all years and models

of Porsche exclusively for more than

30 years.

The only certified installer for the "IMS Solution"

in Texas and surrounding states!

Complete and Meticulous Maintenance and Repair

Tuning and Diagnostics (Carbs, MFI, CIS, OBD I & II)

Custom Engine and Transmission Rebuilds

Competition Car Preparation (Track or Autocross)

1521 Baccarac Ct, Euless, TX 76040

817 540 4939

www.mayoperformance.com

email: mike@mayoperformance.com

31
---
32 August
---
33
---
Unclassifieds

Unclassifieds are available free to Maverick Region members and are $5 for all others (contact editor@mavpca for payment details). Please limit size to no more than 6 lines. Ads will run for 3

issues, after which they will be removed unless you request that they be run for an additional 3 issues. E-mail your ad to classifieds@mavpca.org by the 10th of the month to have your ad run in the

following month's Slipstream. Be sure to include year, make, model, color, mileage, and asking price, as well as a contact name, phone number and/or email address. All parts will be advertised

on our website. Check your ad for accuracy the first time it runs. Contact the editor to have your ad pulled sooner. Due to space constraints, photos may or may not be included. No dealers please!

For Sale: 1981 911 Euro SC race car. Has track

records at Hallett and Eagles Canyon. 2 sets of 15"

Buckley Wheels, Buckley race headers. Recent

transmission overhaul/major tune up. No wrecks or

rust. Lives at MSR Cresson. $30,000 or best offer.

Trailer also available. Contact Myron Krupp at

gt3krupp@att.net or 682-888-3804. (08)

For Sale: Aluminum deck KwikLoad tilt trailer.

Custom tire rack/toolbox, holds up to 8 wheels, 4 gas

jugs, & a bicycle. 2 spare tire/hubs. Remote control

winch. 2 in. deck lockable storage boxes. Est. weight

1950#. Would cost $7,850 to build a similar trailer

today. For sale for $4,000. Contact Rocky Johnson at

rocky.judy2@gmail.com or 972-816-1769. (08)

For Sale: 2007 Toyota Tundra Double Cab SR5.

5.7 V8, 6 speed AT, 2WD, TRD off-road, 10k factory

trailering package, Roll-n-Lock bed cover w/2 keys,

back up camera...more. Asking $15k. 109k miles.

Perfect tow vehicle. Original Owner, Non-smoker,

Everything works, Excellent truck. All maintenance

current w/receipts. Maverick PCA member/instructor.

Text for details & pics. Contact David Linder at

lindnersmu@att.net or 214-773-4491. (08)

For Sale: 2006 Porsche Carrera. Beautiful Seal

Gray Metallic, 28250 Miles, fully serviced at 20183

miles at Roger Beasley Porsche, Sunteck clear bra on

hood, bumper and lights, new Michelin Pilot Sport

tires. Installed Options: Bi-Xenon Headlamps, leather

sport seats, heated front seats, rear window wiper,

Sport Chrono Package Plus, Bose Sound Package,

exterior matching console and Porsche Crest in

Headrest. $39,500. Contact Steven at 817-874-8399

or srcbmw@sbcglobal.net. (08)

Reward: $ 500.00 REWARD FOR INFORMATION

LEADING TO RETURN of my 1968 Porsche 912.

YIN 12801841, removed from Wes Hildreth's shop

in Plano. Car was originally burgundy, repainted red,

and then white. Original set of Fuchs ("S") wheels

with engine removed. Contact: Charles Armstrong at

charmstrongjr@sbcglobal.net or 214-987-1400. (08)

For Sale: 2011 Porsche 997.2S. White with black

leather interior. Naturally aspirated with direct

injection! 21500 miles, manual transmission,

ventilated seats. Remainder of warranty until 04/17.

All maintenance completed, like new. Stunning car!

Includes window sticker and Porsche COA. Asking

$62,000. Contact Jack Krielen at krielenj@gmail.com

or 817-307-9447. (07)

For Sale: Mercedes-Benz 2013 C250 Coupe.

Palladium silver with ash grey leather interior. 1.8liter

Turbocharged direct injection. 7 speed automatic

transmission. Aluminum trim, sport suspension, AMG

6 Twin spoke wheels. Loaded with options. MSRP

$46,200 when purchased at Park Place, Grapevine on

10/13. All MB service up to date. Remaining MB full

warranty until 05/17. Asking $23,000. Contact Jack

Krielen at krielenj@gmail.com or 817-307-9447. (07)

For Sale: 2007 Cayman S. Black/black. Streetable

track car, 6 speed, 36K, 20K on engine, new paint and

clear bra, great interior, all the performance mods,

faster than stock Cayman R. See link for full details...

http://panjo.com/l/286240. Asking $43,000. Wheels

and trailer also available. Contact Leif at leifp@

yahoo.com or 817-681-3038. (07)

For Sale: 1973 Porsche 914 2.0. White with black

interior. Purchased new at Forest Lane Porsche Audi

with extra 2.0 engine and working air-conditioning. I

have the original window sticker and owners manual.

Owned vehicle since 2004. Receipts from 2004

available. Optioned with factory front and rear sway

bars. $10,000. Contact James at jarclay@swbell.net or

214-538-5407. (07)

For Sale: 2001 Porsche Carrera. Black on Black,

89K miles. New engine with less than 5K miles,

IPD Plenum, new clutch, new front rotors, Cayman

R Brake Pads, GT3 Control Arms, H&R Springs and

Sway Bars, Turbo Twist and OZ Allegeritta Rims, GT3

Seats and Heated Leather Seats. Always serviced at

Porsche of Plano by lead tech only. Always garaged.

Flawless car. $27,500. Contact Kevin Kim at

kevinkim89@me.com or 214-693-5699. (07)

For Sale: 2014 Cayman S. Guards red, black interior,

red belts. 9000 miles, PDK. Never seen rain or snow,

always garaged. Never tracked. Bose Surround, Sports

Seats Plus, Sport Exhaust, 20" Carrera S wheels,

Sirius XM, Bi-Xenon headlights with PDLS, PASM,

Sport Design steering wheel with paddles, and power

folding mirrors. Full service history available, still

under factory warranty. $62,000 Contact Tim Orton at

817-437-6148 or timorton@att.net. (07)

For Sale: 2015 911 Carrera S. Black exterior, Black

interior, 5,700 miles, one owner car. Original MSRP

$114,875, PDK, 20" Carrera S Wheels, Steering wheel

heating, Smoking Package, Bi-Xenon Headlights

including Porsche Dynamic Light System (PDLS),

Sport Chrono Package, Slide/Tilt Sunroof, Power

Sport Seats (14-way), Premium Package Plus, Bose

Audio, Tint, Non-Smoker, Clean Carfax, $89,990.

Contact: taylor@insmg.com. (06)

For Sale: Open trailer. 18' steel bed, F & R tie

downs, locking tire rack and fuel jug rack, swing

away fender for driver's door, tool box and ramps.

Dual axle, electric brakes. $1950, with winch $2300.

Contact Lee Wilkins at lwilkins44@yahoo.com or

972-503-8825. (06)

For Sale: 1999 Porsche 996. 153,xxx miles. Freshly

professionally rebuilt engine, 50k on new dealer

installed transmission. New Michelin Pilot Super

sport tires all around, new Sachs clutch, LN IMS

bearing, new oil separator, water pump, brake pads,

window regulators. Current Texas state inspection.

Factory Aero kit. Contact Chris Amond at amondc@

verizon.net or 817-896-5825. (06)

Slipstream Advertiser Index

34 August

These advertisers support our Maverick Region – Tell them you saw their ad in Slipstream!

Ascot Diamonds (972) 991-0001 Page 25

Autobahn Motorcar Group (800) 433-5602 B.C.

Competition Motorsport (844) 438-7244 Page 36

deBoulle Diamond & Jewelry (800) 454-4367 Page 8

DFW Garage Design (972) 416-4545 Page 24

DFWRE Services (817) 807-2053 Page 14

Ebby Halliday – Michael Picolo (972) 365-7370 Page 26

Falgout & Associates, P. C. (972) 669-2370 Page 20

Fifth Gear Motorsports (972) 317-4005 Page 21

Garages of Texas (214) 435-4898 Page 5

Innovative Autosports (972) 418-1996 Page 25

Invisibra (214) 704-9299 Page 21

Louden Motorcar Services (972) 241-6326 I.B.C.

Marvelous Home Makeovers (214) 458-1932 Page 32

Mayo Performance (817) 540-4939 Page 31

Mullenix Motorsport (972) 417-0997 Page 26

Advertising annual rates - 1/4 page: $425; 1/2 page: $850;

Full page: $1700. For more information contact ads@mavpca.org

Mustard Racing (817) 366-1678 Page 35

Nine-Eleven Automotive (972) 243-4911 Page 23

OCD'tailers (817) 948-8538 Page 35

Park Place Porsche (800) 553-3196 Pages 15, 27

The Phoenix Insurance (214) 253-0570 Page 20

Porsche Plano (214) 576-1911 I.F.C.

RAC Performance (214) 269-1571 Page 3

RetroAir (972) 960-6899 Page 31

RKT Techniques (817) 624-1322 Page 31

Roofing Solutions by Darren Houk (817) 692-8496 Page 26

Silver Fox (817) 329-6995 Page 2

Stuart's Paint and Body (214) 221-6999 Page 33

The UPS Store (972) 420-1250 Page 35

Ussery Printing (972) 438-8344 Page 35

Victory Motorcars (713) 783-6555 Page 11

Zims Autotechnik (817) 267-4451 Page 14
---
PRINTER OF SLIPSTREAM SINCE 1982

German Car

Service & Maintenance

by Appointment

Specializing in:

817-366-1678

DasZauberwerk@ix.netcom.com

35
---
Around the Bend...

By Jim Hirsch, Managing Editor

o, I've been thinking a bit about change

S

during this past month. It could be that getting

off of the main highways while on these

last two road trips totaling over 5,500 miles

has made me fully realize how much our small towns

and rural areas have changed in the past 60 years.

Abandoned storefronts, main streets and even sections

of highway reminded me again and again that

times have changed. Certainly the travel expectations

of today's drivers have changed and are perhaps the

cause of us routing around these small towns to save 10

minutes of drive time over that section of road.

It's easy to reminisce about the "good old days" and

bemoan these types of changes in our road trip adventures.

And then I read the Shoffit Travelog on page 28

of this issue and realize that adventures can still be had

on these great roads of ours if we have the time to take

the less-traveled way.

The only constant in our lives is change, so this

quote from Dr. Ferdinand Porsche helped put things

in perspective as I was writing this.

Change is easy.

Improvement is

far more difficult.

Ferdinand Porsche

That leads me to inform you, "Constant

Readers" (as Stephen King would say), of a change

in one of the features I've been promoting in

Slipstream since January.

Maverick Photos of the Month was meant to be an ongoing

opportunity for Mav members to submit photographs

and share them with our readers without

having to write articles. We've had good participation

over the months, but I've realized that my highlighting

a particular focus area each month was too confining

for those members who like to take photos "in the moment"

without wondering if they fit that month's focus.

So, Photos of the Month is no longer a monthly feature.

To follow in Ferdi's way of thinking, coming soon

is a change, and hopefully an improvement, to our effort

to include photos from members in each issue of

Slipstream, as well as online in easy to access albums.

Bill Orr is the driving force behind this effort and we

should all be the lucky recipients of having access to

more member photos than ever before.

Page 12 in this issue previews what we can expect

in the future. Articles will continue to include as many

photos as possible with the space we have, while URLs

and QR codes will take you to online albums with dozens

of additional photos.

Bill has chosen to use Flickr as our online respository.

Those members who currently have Flickr accounts

can join the group Bill has created and even submit

photos already. If you are interested, visit

https://www.flickr.com/groups/maverickpca/.

The September issue of Slipstream will include a full

description of the Porsche of the Month process to get

your photos published online.

Hang in there Mavericks. While we are still in the

throes of summer heat, looking ahead to our

events calendar shows a big increase in the

number of member driving events coming up .

That must mean cooler weather for us, right?

That change would be a big improvement!

36 August
---
SLIPSTREAM Advertiser Since 1978

WHY YOU SHOULD TRUST YOUR

PORSCHE TO LOUDEN MOTORCARS

• Award winning service for 35+ years

• Rated "Best in Dallas" a record 3 times

• Rated "Best in Texas"

• Rated "Top 10 Shops in U.S."

• Rated "Best in the West" by the Robert Bosch Corporation

• A Better Business Bureau accredited business for 3 decades with an A+ rating

• The first ASE "Blue Seal of Excellence" business in Dallas

• Racing background at Daytona, Sebring, and Riverside

• Master Certified Technicians

• Bosch Authorized Service Center

• Air conditioned shop for technician efficiency and comfort

• We do not sell cars, thus we must survive on our 35+ year service reputation

See what our customers are saying about us at:

LoudenMotorCars.com

Theresa@LoudenMotorcars.com

11454 Reeder Road

Dallas, Texas 75229

(972) 241-6326
---
Hiram Saunders, Slipstream

155 Jellico

Southlake, TX 76092

Periodical Postage

Paid at Fort Worth, TX