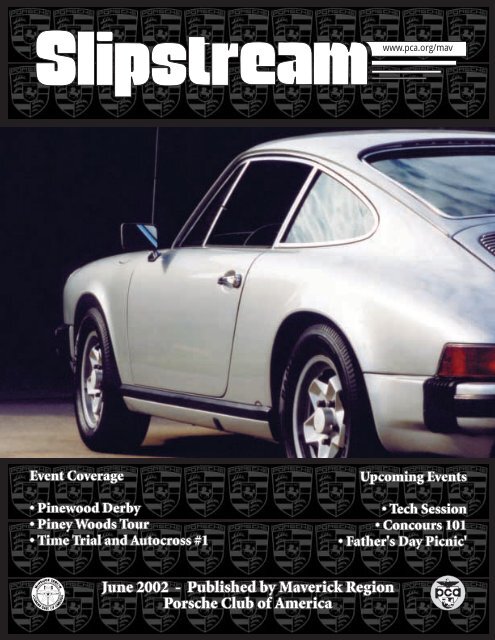 Slipstream - June 2002
The monthly newsletter of the Maverick Region of the Porsche Club of America
The monthly newsletter of the Maverick Region of the Porsche Club of America
SHOW MORE
SHOW LESS
Create successful ePaper yourself
Turn your PDF publications into a flip-book with our unique Google optimized e-Paper software.
www.pca.org/mav
---
THE MOST PORSCHE KNOWLEDGE

THIS SIDE OF THE BLACK FOREST.

Our Porsche Master Technicians don't have to know all the back

roads of Germany to know our way around every Porsche born there.

For unparalleled service from uncompromising Porsche experts,

turn to The Porsche Store. You might say, we speak the language.

Visit us at 5930 W. Plano Parkway, just East of the North Dallas Tollway. Phone 214.576.1911

www.theporschestore.com
---
www.pca.org/mav

Volume 40, June 2002, Issue 6

Departments

Zone 5 Presidents ..........................................................1

List of Officers/Board Chairs .......................................4

Prez Says..........................................................................5

Because I Said So (Editor's)..........................................6

Maverick Minutes..........................................................6

New Wheels..................................................................27

Anniversaries................................................................27

Unclassifieds.................................................................28

Advertiser Index...........................................................28

Upcoming Events

Calendar of Events..........................................................1

Happy Hour at Saltgrass................................................2

Board Meeting ................................................................2

Porsche Lunches .............................................................3

Concours 101 ..................................................................3

Father's Day Picnic .........................................................3

Tech Session at Park Place .............................................6

DE at MotorSport Ranch Application.........................7

Time Trial #3 and Autocross #3..................................21

Retreat Weekend...........................................................23

Past Event Recaps

Pinewood Derby and Concours...................................9

Happy Hour at Speed Zone........................................13

Time Trial #1 and Autocross #1..................................14

Park Place Tech Session ...............................................19

Piney Woods, Pretty Flowers, Picnics, & Porsches...20

Clark Gardens Tour......................................................23

Miscellaneous

Trivia Quiz.......................................................................2

Autocrossing as Marriage Therapy...............................9

Boxster Boulevard - Boxster Lore...............................10

915 Transmission Shifting Problem...........................25

Win a 2002 Boxster S!..................................................25

Day June - Events

1 Park Place Tech Session

5 Board Meeting

8-9 Lone Star DE @ TWS

15 Concours 101

16 Father's Day Picnic

18 Plano and Bedford Lunches

20 Happy Hour

22-23 DE @ MotorSport Ranch

25 Addison Lunch

29-30 Time Trial #3 & Autocross #3

Day July - Events

9 Board Meeting

13-14 Time Trial #4 & Autocross #4

16 Plano and Bedford Lunches

18 Happy Hour

28-8/3 Porsche Parade in Boise

30 Addison Lunch

Photography

Bob Bianconi,

Wendy Shoffit,

Lanean Hughes,

Dennis Chamberlain, Mark Gluck,

Bill Dugan, Kevin Hardison,

Bill Campbell, and Mike Mead

Cover Photo

John and Kim Castro's "Silver Sled." Ask him

for the story behind it! You won't regret it.

Photo by John Castro

Day August - Events

7 Board Meeting

15 Happy Hour

17 Post Parade Dinner Social

20 Plano and Bedford Lunches

24-25 Retreat

27 Addison Lunch

Day September - Events

4 Board Meeting

7-8 Lone Star DE @ TWS

14 Autocross @5 (local)

17 Plano and Bedford Lunches

19 Happy Hour

21-22 DE @ Motorsport Ranch

24 Addison Lunch

Slipstream (USPS 666-650) is published monthly by the Maverick Region Porsche Club of America, 2973 Timbercreek Trail, Ft.

Worth, TX 76118. Subscription price is $24.00 per year. Periodical postage is paid at Ft. Worth, Texas.

Postmaster: Send address changes to Jan Mayo, Slipstream, 2973 Timbercreek Trail, Ft. Worth, Texas 76118.

Opinions expressed herein are not necessarily endorsed by the Club's membership or officers. Contributions will be printed on a

space available basis. Chartered regions of PCA may reproduce items from this issue provided the author/artist and Slipstream

are credited. Slipstream is printed by Ussery Printing Company in Irving, Texas.

2002 Porsche Club Zone 5 Presidents

ARK-LA-TEX

Bob Kelley (Shirley)

h- 318-635-2617

bkelley968@aol.com

COASTAL BEND

Peter Kendig (Cindy)

h-361-853-5350

peter@carczar.nu

LONE STAR

Stan Wenger (Janelle)

h- 713-467-0453

Stan.R.Wenger@conoco.com

MARDI GRAS

Brad Bradford (Sandra)

h- 504-835-7874

sandrahh@pipeline.com

OZARK

Bud Thurman (Phyllis)

h- 501-666-7486

arsailor@aristotle.net

WAR BONNET

Steele Ford (Genie)

h- 405-954-5203

blusteele@yahoo.com

ZONE 5 REP

Jan Mayo (Ed)

h- 817-595-4651

jlmayo@celanese.com

CIMARRON

John McDermott (Erin)

h- 918-747-6840

johnanderin2@home.com

HILL COUNTRY

Dan Germain

h- 512-426-8695

dang@mip.com

LONGHORN

Ron McAtee (Phyllis)

h- 210-654-6639

roncarrera88@aol.com

MAVERICK

James Shoffit (Wendy)

h-972-506-7449

james@shoffit.com

OZARK MOUNTAIN

Leslie Morse (Margee)

h- 501-530-1537

therainmeister@netscape.net

WHISKEY BAY

James Broussard (Melinda)

h- 225-216-9556

jfbroussard@email.com

1
---
2

June 20

Saltgrass Steak House

560 West LBJ Freeway

At 635 and MacArthur

972-373-9944
---
Concours 101

The Art of Caring for

Your Porsche

June 15, 10:30-2:00

Space Limited

RSVP to Jimmy Carter

214-330-6609

emartal@aol.com

Sponsored by:

The Porsche Store

5930 W. Plano Parkway, just East of

the N. Dallas Tollway

214-576-1911

3
---
2002 Maverick Region - Board, Officers & Chairs

Maverick Region President

James Shoffit

W - (972) 506-7449

H - (972) 506-7449

president@mavpca.org

1112 Santa Fe Trail

Irving, TX 75063

A member since 1997, James has also been

co-editor of Slipstream and the Timing &

Scoring chair of AX. 2001 PCA Family of

the Year. He owns a '90 911 C4 Cab and a '78

911 SC.

Vice-President

Eric Erz

H - (972) 396-2900

vicepresident@mavpca.org

122 Estelle Lane

Lucas, TX 75002

Eric has been a member since 1997. He is

active in many types of events. He currently

owns a '72 911E targa, and a '87 Turbo Look

targa.

Secretary

Andy Mears

W - (214) 360-9221

H - (940) 321-8683

secretary@mavpca.org

1512 Shadow Crest Dr.

Corinth, TX 76210

Andy has been heavily involved with the

mailing and distribution of Slipstream for

several years. He now hopes to attend more

driving events since he has completed his

911 Coupe project.

Treasurer

Bob Knight

W - (214) 461-1426

H - (214) 349-1108

treasurer@mavpca.org

9047 Oakpath

Dallas, TX 75243

A member since 1986, Bob has previously

held the offices of President and Vice

President, edited Slipstream, and has won

the Selcer Memorial award. He owns a 2000

Boxster S.

Driving Events - Chair

Keith Olcha

W - (817) 706-7678

H - (817) 251-6865

OLCHA@aol.com

711 Manchester Court

Southlake, TX 76092

Keith has been a regular at all driving events

and has recently been heavily involved in our

Driver's Education program.

Logistics & Support - Chair

Joe McGlohen

W - (817) 366-1678

H - (817) 861-2792

retread@ix.netcom.com

704 Bowen Court

Arlington, TX 76012

Joe has been involved in virtually every type of

event that the Maverick Region holds.

Joe was the 2001 Selcer Memorial award winner.

He owns a 912 and a 914 2.0 liter.

Communication - Chair

Wendy Shoffit

H - (972) 506-7449

wendy@shoffit.com

1112 Santa Fe Trail

Irving, TX 75063

A member since 1997, Wendy is the editor

of Slipstream and has won the Selcer

Memorial Award. 2001 Porsche Club Family

of the Year. She owns a '90 911 C4 Cab and

a '78 911 SC.

Activities - Chair

Teri Davis

H - (940) 682-4719

chuxter@rennlist.com

P.O. Box 213

Weatherford, TX 76086

Teri is a past Slipstream Editor and the

current Rally Chair. She has also been a

major force behind Round Up and the

recent Rally Schools.

Autocross

Cody Sears

W - (214) 357-7000.

H - (817) 540-1076

ax@mavpca.org

Safety

Joe McGlohen

W - (817) 366-1678

H - (817) 861-2792

retread@ix.netcom.com

Managing Newsletter Editor

Wendy Shoffit

H - (972) 506-7449

editor@mavpca.org

Goodie Store

Dee & John Lersch

W - (214) 697-3291

DeeLersch@compuserve.com

Time Trials

Bill Dugan

H - (817) 265-0704 (
---
Prez Says

by James Shoffit, Maverick Region President

The driving season is well underway, and now

Autocross 2 and Time Trial 2 are behind us.

The minor suspension adjustments seemed

to have improved the car's handling (or at least my

ability to handle the car). But a more amazing

improvement was out at Motorsport Ranch on

May 18th and 19th.

Since it is an out-of-region event – it was

hosted by Hill Country Region – there was far less stress on the

Mavericks in attendance. Most of us could just enjoy the event! The

weekend was started off right with Joe McGlohen's Trackside BBQ

and his Suburban trying to block the cold wind. Delicious food, good

company, and so many new people to meet – I was having a blast!

I hadn't done a DE in over a year – I was a bit afraid that I might

have forgotten everything I had learned before. I still remembered the

track very well (sometimes to put myself asleep at night, I drive laps

at MSR in my head – of course I don't tell instructors that – they get

nervous!). But, I wasn't sure I was going to be able to put all my

driving skills to good use. I haven't missed a Maverick Autocross in

about 3 years, so I knew a lot about car control – but DE tests more

than just ability to get fast times – it tests your smoothness.

Jim Buckley was elected to be my instructor – and he immediately

helped me get more speed coming through Horseshoe – a difficult

off-camber left-hander. Then we started working on the entrance

to Rattlesnake. On my second attempt at that maneuver, I unfortunately

braked far later but used my same turn-in motion. The front

of the car was loaded, and the rear end was light – who can guess

where I ended up ? That's right, over the curb and in the rocks. My

autocross skills kept me from going off sideways, but only the hand of

God could have kept me on the track with my errant approach!

Jim suggested I ride with him and that clarified what I needed to

do for that corner, though it took dozens of laps to overcome my

timidity and take it at speed. Further discussions with other instructors

and long-time club racers help solidify a few other points, but a

ride with Bryan Henderson changed my approach to nearly every

corner of the track – he finally convinced me that smooth is fast! I

knew it in my mind, but I could never get it to work for me before. If

you fully load your suspension and are smooth about it, there is less

rebounding, and you can take the corner faster than you though

possible. Now I can't wait for my next track sessions to see what

million other things I have left to learn!

Many thanks to all the Hill Country, Maverick and Lone Star

instructors and workers who made the event possible. I know I

certainly got my money's worth.

But for those of us who enjoy other fluids in addition to gasoline,

there is a monthly Happy Hour – the next one is June 20th at the

Saltgrass near my home – I sure don't want to miss that one! (That

also happens to be Jasmine's favorite restaurant right now – she has

good taste!)

And for those of us (ok, I don't fit into this group YET) who take

immaculate care of their cars – or those that want to learn how – there

will be a Concours 101 hosted by The Porsche Store. (The Porsche

Store also sponsored our Club Race – THANKS!)

There is also a tech session for 968s and 944s at Park Place Porsche

on June 1st – if you own one of these cars, you should probably attend

to learn all you can. Park Place is also sponsoring the June Drivers

Education event at Motorsport Ranch on the 23rd and 24th.

We are truly blessed to have these sponsors who do so much in

support of our club – we all benefit from this relationship!

The month ends up with another Autocross and Time Trial –

this will be the first event with the new suspension settings AND the

Toyo tires. I will give a full report next month. (I know you just can't

wait to hear the results!)

We also have the usual Porsche Lunches in Plano (June 18th)

and Addison (June 25th) at Good Eats. We are also planning to start

a Bedford lunch as well on the 18th at the Good Eats on 183.

So, come on out, and join the fun!

RESTORATION SERVICES

& COLLISION REPAIR

3151 Skylane, Suite104 • Carrollton (Dallas), Texas • 972.733.4807

5
---
Announcing

Hands-On

Service Clinics

for Porsche

Club Members.

Where: Park Place Porsche.

When: June 1, 2002

Why: An opportunity to see firsthand

service being performed on Porsche

models. Also get the opportunity to ask

questions of Porsche Master Technicians.

Who: Porsche Club Members

R.S.V.P.: Space is limited, so stop by or

call the Porsche Service Department to

reserve your spot today—214.525.5400.

©2002 Park Place Porsche

4101 Oak Lawn Ave. • Dallas, TX 75219 • 214.525.5400

www.parkplacetexas.com AOL KEYWORD: PARK PLACE

6
---
Driver Education At MotorSport Ranch

June 22-23, 2002

Sponsored by:

Postmark Date: May 10, 2002

Maverick Region PCA invites you to our PCA

Driver Education event at Motorsport Ranch,

www.motorsportranch.com , located in Cresson,

Texas on highway 377, 15 miles southwest of Fort

Worth. Novices encouraged and will be provided

comprehensive instruction. All cars must be inspected

for track worthiness (tech) prior to the event. Tech

locations, dates, and forms, along with further information

will be sent with your acceptance package but

also look for new DE information on the Maverick

Region web site www.pca.org/mav/DE. Rule change

from PCA National: All Cabriolets (but not Boxsters)

made before 1999 must have an after market roll-bar

installed to drive in this event at all. Targas okay. All

Boxsters and 1999-on cabs okay as-is with factory

rollover protection. Convertible tops for all cars must

be in the UP position to drive unless driver uses

Cost: $195 per driver

PCA/SCCA approved arm restraints. Non-Porsches

will be evaluated for factory-rollover protection and all

the above rules shall apply.

Acceptance priority will be: Maverick Region

members and all instructors, other PCA members,

other Porsche drivers, and other cars, in that order, all

based upon postmark date within assigned run group.

Expect to have a response (In/Out/Waiting List)

approximately three weeks before the event date.

Event registration will open with May 10th postmark

dates. No postage meters, please. The cost is $195 each,

payable to Maverick Region PCA. Applications without

payment cannot be processed. Sorry, due to limited

availability we are unable to issue refunds once you

are accepted. One Application and check Per Entrant,

please, even if sharing car.

Mail Application with check to:

Bill Dawson, Registrar

1041 Nottingham Drive

Cedar Hill, TX. 75104

972-291-8817 before 9:30 pm

billdawson@worldnet.att.net

General Information:

Keith Olcha

817-706-7678

OLCHA@aol.com

Instructor Information:

Bryan Henderson

2416 BedfordCircle

Bedford, TX 76022

817-354-6045

BDHender@Home.com

Tech Information:

John Sandusky

817-777-0421

John.C.Sandusky@

LMCO.com

Entrant:

Sharing Car With:

Address: City: St: Zip:

Phone: Day ( ) Eve. ( ) e-mail:

Do You Prefer Contact By: US MAIL / E-MAIL Driver's Lic #: State:

PCA Region: PCA # Helmet type: M95 / SA95 / M00 / SA00

Year Make Model Color Cabriolet

Yes No

DE Experience- #days/date Organizing Club Track Run Group Car #

CAR

If NO, explain any driving experience and rate yourself below:

(use back of sheet as necessary)

Total Beginner / Novice / Intermediate / Advanced /Team Williams F1 Test-Driver

Instructor Assigned to Team # ( ) If over booked, do you want on the waiting list? YES NO

Car#( ) Second Choice( ) Third ( ) Signed:

** Attend Friday evening Barbeque? No Yes

If Yes, please add $10.00 per person incl entrant

7
---
Because I Said So

by Wendy Shoffit, Editor

Another issue of Slipstream has come and

gone. This one was particularly a challenge

because while I was working on it,

I was also working on my duties for the TMS

Club Race. For this year's event I served as

registrar for the race and for the DE as well as

doing the program, certificates, etc. etc. As much

work as that is/was, it doesn't cover everything.

We had a great committee this year, led by chairman Glen Gatlin.

Everyone had their part to play and they did it. I believe, though,

everyone would agree that Lanean Hughes was the glue that held

everything together. I don't know how she was able to do as much

as she did (and still find time to sleep at night). Thanks to everyone

for doing what it took to put on a great event. Next month's

issue will cover the Club Race in a lot more detail.

Also in the next issue will be the Autocross and Time Trial #2

information. I really wanted to try to include it in this issue

(because of the current timing), but it was already too full.

Besides, our next AX/TT event won't be until the end of June (too

late for the July issue) and I'm trying to shoot for one set of

results per issue. Of course, that probably didn't make much

sense to anyone and I'm too tired to figure out how.

Aaaaanyway…This month was not just a lot of work for me.

I've had a lot of fun at our events. I wish I could go to even more,

but without a cloning device…I'm stuck picking only one at

a time. James, Jasmine, and I went to the Pinewood Derby

concours. Believe it or not, our '78 911 SC actually received a vote

for favorite car. It was shocking, I know! I guess whoever voted for

it had to have bad eyesight and missed all the paint chips. Not

only that, our '90 C4 Cab was chosen by one of the derby winners

as the one he wanted a ride in! I enjoyed driving him around the

parking lot. There were some "complaints" about tire squeal from

spectators, but, hey, I was on street tires-they squeal! Seriously,

though, we enjoyed the event and appreciated all the other people

who came out. If we can get the Girl Scouts to have a Pinewood

Derby, I'll sign Jasmine up. Otherwise, no scouts for her…I don't

need any more Thin Mint cookies.

Another event that Jasmine and I went to was the Clark

Gardens tour. Mimi and Geneva Spreen joined us and the girls

had a ball! It was a very nice day and the gardens were gorgeous.

I've never seen a black swan before, but they seemed to have quite

a few of them. I was really impressed with the size of the place. I

never knew how large and fabulous it was. I would really recommend

everyone get out there at least once! Maybe we can get a

group together Saturday afternoon after one of the time trials in

Mineral Wells…

I've been hearing a lot of great things about the tours. Ted

Glover is doing a great job. Maybe one of these days we can make

one of the single day tours and get into the swing of things. I look

forward to that day!

I hope to see you at an event soon…maybe it'll even be a

tour! :)

Maverick Minutes

by Andy Mears, Secretary

Meeting opened at 7:06. First up was

the Club Race report by Keith Olcha

and Lanean Hughes. With 50 Club

Racers and 60 Drivers' Education participants

signed up and great support from the race

sponsors there is lots of excitement. There will

also be a casual show and shine concours at this

Club Race. So, even if you are not participating

in the race, make plans to come out and

support this Maverick Region event.

Teri Davis reported on the progress of Porsche Parade

2004. The parade committee is being finalized and site selection

is underway. In addition, Teri reported on the planning

efforts for this year's Retreat (a.k.a. Round-Up). The location

will be at "The Cliffs" on Possum Kingdom Lake the weekend

of August 23,24,25. For information on room reservations

contact Teri (contact info is on the MR Board info page 4).

Concours chair, Jimmy Carter, gave an update on the

plans for the Concours 101 event that will be at The Porsche

Store on June 15. This is the event to attend if you have ever

wanted to learn about concours or how to prepare your car for

judging. Contact Jimmy (see page 4) to find out more information

or to reserve your spot for this event.

Bill Dugan reported on the successful Time Trial #1 and

Autocross #1 events that had 45 participants and turned a

small profit in spite of the bad weather.

The meeting was brought to close at 8:20. Remember to

check the schedule in Slipstream and especially on the web for

events as well as any last minute changes.

Maverick Region PCA Board

Meetings are held once a month.

The meetings are open to all PCA members and

your suggestions and opinions are welcome.

And there's free food!

8
---
Autocrossing as Marriage Therapy?

By Kelly Binek

Well, this weekend I participated in my first official Time Trial

and Autocross. What a fantastic time!! At first I was apprehensive,

even though I wasn't in their class, Fran, Wendy, and

Lisa were somewhat intimidating. The apprehension alone can give you

a migraine. But to my relief, I had a great time, learned a little more

about the car, and tried really, really hard to beat their times. Maybe next

time, ladies.

Everyone seemed to get along and shared friendly banter back

and forth. I notice quite a bit between Wendy and James. I hope to

antagonize Darwin one of these days with a win.

I had no idea that racing could be so fun. Let me take you back

19 years or so. That's when I fell in love with a Car Fanatic (Porsche's

to be more precise). He took an extreme amount of care with his cars.

We couldn't drink in them, eat in them, touch the paint. Jeez!!

...ifwe got the car,I would lose

my husband forever . . .

We traveled quite a bit, back and forth to California. Imagine no

drinks, no snacks, no crayons, no pencils or pens, nothing. We would

stop and eat at a restaurant, no wait, back then with three kids we

packed lunches, had to stop at a rest area and try to take as little time as

possible and feed three kids. It all worked out and the cars stayed clean.

As our children grew we were more and more serious about buying

a Porsche. After all we deserved it. Here in the metroplex the rat

race can really wear you down and we wanted an outlet. Now I really

didn't resist, but knew that if we got the car I would lose my husband

forever. I was right. Every night he was out in the garage just staring

at it I think (my mother-in-law calls it the little red rattle trap, and my

mother calls it his girlfriend) But it made him feel good about going

to work, and that made me happy.

When we started becoming active in the racing arena, it was at a

point in our life where our children were older, didn't need mom and

dad to take them where they wanted to go, they had their license and

could pretty much go where ever they wanted. Darwin and I found

ourselves having to become friends again. He changed and I changed

and we found ourselves sometimes struggling to make conversation.

He wanted to talk about cars, but really couldn't get too technical with

me and I wanted to shop and spend money. To him that was okay if

it was on the car, and believe it or not, I wasn't going for it. That wasn't

working. We agreed that we would each take an active part in each

others interests. Mine was movies and shopping and his was, what

else, driving.

Since we started driving together we have a lot to talk about.

Over time I have learned quite a bit about the car. Darwin can get

technical and I find myself very interested while he explains mechanical

and technical aspects of the car in detail. By listening I learn the

car. When we walked the course Sunday morning, we both had input

on the course and how a corner should be taken, or whether to brake

or not. Then after our laps, we each compared notes. What did or

didn't work, how it can be done faster, discussed where there were

tight corners, open corners, where to brake, handling the slalom, no

braking in the chicane, no brakes in the big box. All kinds of stuff.

Teamwork!!

I look forward to the next event. I know I can do better. That last

time around the course I found that I am not holding on for dear life

anymore, I'm thinking and processing the course and hitting my

mark. Watch out, Ladies!

Email: mayos@imagin.net or

FAX at (817) 267-4939

• ENGINE AND TRANSMISSION SERVICE

• SUSPENSION AND ALIGNMENT SPECIALISTS

• TIRE SPECIALISTS –

O.E.M.

DOT COMPETITION

RACING SLICKS

• SPECIALISTS IN EARLY PORSCHE FUEL

INJECTION SYSTEMS

9
---
Photo by Bob Bianconi

Boxster Boulevard-Boxster Lore

By Bob Bianconi

Boxster Lore: The "Red Clip" and "The Chop"

The "Red Clip"

The infamous Boxster "red clip," is kind of like snipe hunting

or maybe cow-tipping. At first you're not really sure a

snipe exists or that you can tip-a-cow, but later you know

all too well that you have been the victim of a prank. Unlike the

American snipe or a cow you can push-over, the mysterious red

clip really does exist. What is it you ask? Well, it's a u-shaped clip,

or more specifically Porsche part number: 986.504.986.00

The infamous red clip.

lever usually seats on the windshield frame (here a picture is

worth a thousand words…). Since there is no lever when using

the humps, the clip depresses the alarm switch found in the

windshield frame cavity. This makes the alarm think that the

motion sensors should be armed. The motion sensors do not

normally work when the convertible top is retracted.

So if you don't have the speedster humps, who cares about

the red clip? Well, it can actually be useful. If you wanted to leave

the top down and have the motion sensors continue to work, you

could use the red clip. That way, if someone was to reach inside,

the motion sensors would activate the alarm. A word of caution:

things that flap in the breeze might activate the alarm.

The "Chop"

Want to prevent an ugly crease in the middle of your

plastic rearview window? Well, then, do 'The Chop." At

least that's what a lot of Boxster owners say. As the top

folds down, a permanent crease can form in the plastic window

and scratches in the plastic are also possible. I understand that

this is particularly acute in cold weather.

You can avoid the crease by helping the window fold; it just

takes an extra step. Lower your top about half way, exit the car

The red clip does actually serve a purpose: I believe it is supplied

with the speedster hump option (correct me if I'm wrong

all you Boxster experts). It's used to prevent damage to the top if

the convertible top button is accidentally pushed with the humps

in place.

The red clip is also used to fake the car alarm into thinking

that the convertible top is in the up position and that the motion

sensors should be working - those two black oval shapes above

the mirror. It is placed in the 'cavity' where the convertible top

Photo by Bob Bianconi

Photo by Bob Bianconi

The clip installed in place.

The chop.

and then push the fold into a nice smooth crease. Finish lowering

the top. Some folks even throw a soft towel or pillow into the

crease as the top lowers to prevent scratches.

There are some companies that sell products for this purpose.(eg,

986Solutions: http://64.225.94.154/ShopSite/page22.html)

As for me, I like the convenience of lowering the top without

getting out of the car (hmmm, lazy?). Neither my '98 nor the '02

show any signs of the crease but it has been well documented on the

Boxster Bulletin Board (www.986board.com/board/986board.htm).

If a crease develops, leaving the car in the sun will help to soften the

plastic window, I'm told. In this case, an ounce of prevention might

be in order…

10
---
Pinewood Derby

by Jimmy Carter and T. Smith

From the bottom of my heart, I would like to thank all of those

who brought their cars out to the Pinewood derby race at the

Northeast Mall. The Weather was perfect – overcast and 75 degrees.

Of course the Porsche owner's were beaming and the cars were

gleaming. We had 2 spec race cars and 16 Porsches - 911s, 944s, a 914,

a 968, and the big daddy 928. The kids LOVED them. The winners of

the derby were also treated to a ride in the Porsche of their choice.

What a thrill that was for the kids, as well!

...the big daddy 928 . . .

From Scoutmaster, T. SMITH:

The derby race was a great success. We had 140 racers. I expect

that number to increase next year as word spreads. And it will!

Everyone involved had a lot of fun. When I contacted the young

man's mother who won the R/C car, they could not wait for me to

deliver the car. They drove down that day and picked it up. His smile

was so big you could count all his teeth. Next year will be even more

fun. I see great things in our future. Those of you that were not able

to attend, due to short notice and other events, missed out on some

of the most creative and unusual designs a Cubs mind can produce.

Photo by Wendy Shoffit

Photo by Wendy Shoffit

The kids really enjoyed being able to sit in some of the cars.

There were a few different models to oogle over.

Photo by Wendy Shoffit

One of the Scout Masters about to start the race.

For those of you that were there, Jimmy and I would like your input

on way's to improve the race. I have us down already for Saturday,

April 19th of next year. I have requested the center of the mall. One

idea I have for next year is to contact everyone's favorite law enforcement

agency, the DPS, and see if they can bring in some cars or trucks

for display. Thanks again!

• Increased Horsepower

• Lower Temperatures

• Superior Protection

• Longer Oil Life

• API Certified

Photo by Lanean Hughes

Look closely and you'll see a gorgeous Pinewood 911!

the performance oil that outperforms

Top racers and performance shops know that Royal

Purple Motor Oil will give them a performance

advantage-and now you can enjoy the same benefits!

Royal Purple allows your engine to run with less

friction, producing more horsepower and offering

superior protection. Royal Purple is the choice of

champions; try it today and Feel the Performance!

Military Distribution:

North Texas Lubricants

1-800-364-3025

www.royalpurple.com

11
---
12
---
Happy Hour At Speed Zone

By Bob Jones

Happy Hour Crew: Dennis Chamberlain,

Dee Lersch, and Mark Gluck

Even though we have been PCA

members for over a year, this

was the first Maverick function

we have attended. Living in East

Texas, we had a couple of club

options. Having attended a nice sit

down dinner with a neighboring

club, we thought we would visit the

club in the town in which I grew up.

When I read in the April Slipstream that this get together was

scheduled on the 18th, I decided to include this in a business trip

to Austin on the following day.

Since Jan and I live about 125 miles to the east, we gave ourselves

3 hours for the trip which included navigating Dallas at 5

p.m. Who would have known the HOV lanes actually work; 2

hours at 60-70 mph and we were sitting at a table at SpeedZone at

5:30 p.m. We saw a couple of late model cars in the parking lot

when we came in. We knew no one. I told my wife this was not a

problem because I could spot Porsche folks when they came in.

...just no explaining country people ...

When two couples walked in just before 6 p.m., I declared

them "straight liners". Sure enough, they walked over to the slingshot

dragster just below us and set up shop. I was feeling rather

erudite if not judgmental when I thought I recognized my first

"Porsche folk", and I confirmed my opinion when I spotted the

PCA patch on Lanean Hughes' sweater. After I introduced my child

bride and myself she joined us, followed shortly by a guy named

Rocky. We became fast friends (when a lady from home saw us, she

thought we must be lifetime friends). There's just no explaining

country people. We told her we had never seen these people before.

It was like that the rest of the night. About 40 members turned out.

After a couple of Shiners I agreed to Dennis Chamberlain's

request to write this article. To prepare (I always analyze things to

death), I did a review of the literature, including a rereading of the

Photo by Dennis Chamberlain

Photo by Dennis Chamberlain

last six months of Slipstream "Happy Hours". I learned a number

of things from this; there are actually "sit down" dinners at these

things, Porsche folks eat fine hors d'oeuvres and the like, 944 owners

can get testy about their cars, some members have a problem

with a no-shirt, no-shoes, no service policy, and new guys (and

gals) are asked to write these things.

It's too late to make a long story short, but this gathering, characterized

by mobile, stream-of-consciousness conversations; topics

discussed as totally diverse as front or rear engines, water or air

cooled, went on a couple of hours. As the group vacated the bar for

the racetrack, Jan and I got on the road toward Austin. We quickly

agreed this was a group we would enjoy seeing again.

Rocky Johnson & Lanean Hughes with

Bob & Jan Jones from Pittsburg TX

New Member Dennis Poquiz

Photo by Mark Gluck

Photo by Dennis Chamberlain

Mike Oakes trying out one of the cars. Does it fit?

New Members Rick & Bonnie Randall

13
---
Autocross # 1 - Mineral Wells

By Dean Yamada

Joel Nannis powering through the cones in John Garcia's race car.

Photo by Kevin Hardison

Avariety of Porsches representing at least 30 years of Porsche

history gathered in Mineral Wells on Sunday, April 14, 2002

for the first Maverick Region Autocross Event of the season.

The clouds appeared droopy in the morning, but the rain stayed

away for a rather pleasant Sunday driving experience. Nearly 80

cars enjoyed a course that became progressively faster as you

combined confidence with patience.

A yellow Formula/Indy kart took top time of day followed by

the black 914 "Cockroach" of Mayo Performance, while a

Corvette Z06 took top honors for fastest "street driven car".

Comparing the morning and afternoon session times, most

drivers improved considerably in the afternoon after gaining

confidence in which parts of the course were deceptively fast and

which were impatiently slow.

After a 10 yard drag style launch to a quick right hander,

staying tight to the course kept you away from the tail-happy

gravel outside of "the driving line." A fast 5 cone slalom led to a

series of boxed offsets that seemed to be just wide enough for

Cody Sears getting a little lift in "Cockroach"

your car. Many drivers quickly learned that these boxed offsets

were much faster than they appeared as the flash of brake lights

in the morning disappeared for most drivers in the afternoon -

however a very tight 90 degree left hander caught at least every

car with a "cone hit" as the exhausted corner 3 workers had to

bear witness to the cone carnage! This was definitely one area

of the course where you won or lost the race. The precise drivers

squeezed through with just inches to spare on each side

while the impatient ran through a wall of little cones. This was

a critical section of the course that commanded precise braking

and turning.

Photo by Kevin Hardison

Following the 90 degree left hander was a beautiful right

hand sweeper that ended into a quick braking left turn to another

slalom. As you completed this slalom you entered a cleverly

disguised 1 cone slalom box - in my opinion, the second critical

area of the course. The patient and confident drivers briskly pivoted

around the interior of the box, while the too cautious

...drivers squeezed through

with just inches to spare...

entered too slow and exited too slow. The impatient again met a

wall of little cones.

A couple of 180 turns rounded out the finish in what averaged

to be a 70+ second course. The well organized Maverick

Region staff kept things in smooth order to allow 4 morning runs

and 5 afternoon runs, including a lunch break and the event was

still over by 4:30pm.

Overall, pleasant Sunday weather allowed everyone to have

an absolute blast testing their car's handling characteristics on

dry pavement on a controlled course, while safely gaining important

and invaluable "seat time" to prepare for the daily commutes

with the "other" DFW drivers we face on the road.

While you don't have to own a Porsche to autocross with the

Maverick Region Porsche Club, their sincere welcomes and kind

gestures make you want to become an official member at every

event. The diverse collection of "Other - German, American,

Japanese" cars continue to generate participant revenue for what

is recognized as a club who puts on excellent driving events that

many will want to attend/spectate, but everyone will want to join.

Dean Yamada taking on the boxes.

14
---
Photo by Kevin Hardison

Photo by Bill Dugan

Photo by Bill Dugan

Photo by Kevin Hardison

Noby Takahashi setting up for the final turns.

Kevin Hardison trying to get rid of those old tires

Time Trial - Top 10 Autocross - Top 10

Mayo, Ed 65.552

Steele, Mark 68.203

Chen, Kevin 68.51

Fleischer, Mike 68.929

Williams, Mitch 70.963

Shoffit, James 71.127

Name Withheld 71.273

Machala, Chuck 71.331

Hardison, Kevin 73.889

Takahashi, Noby 74.467

Garcia, John 67.071

Nannis, Joel 69.288

Mayo, Ed 70.815

Hollinsworth, Jim 70.951

Sears, Cody 71.889

Abdalla, George 73.63

Yamada, Dean 74.594

Steele, Mark 74.798

Wagner, Jon 75.002

Stafford, Bill 75.108

Lisa Steele trying out the new suspension

Nancy Dugan perfecting her apexes.

Autocross #1 Results

Class Car # Name Car Time Plc Pts.

Class 2

26 Bailey, Ron Blue 914 82.800 1 9

Class 2L

16 Ussery, Fran Silver 914 76.223 1 9

108 Dugan, Nancy Red 914 Red 83.709 2 7

Class 3

666 Easley, Jay Blue 944 83.841 1 9

Class S3

70 Pepper, Lee White 944 88.414 1 9

Class 3L

137 Zaruba, Anastasia Blue 944 96.447 1 9

Class 4

332 Baker, David White 911 T 76.283 1 9

102 Erz, Eric Brown 911E 80.780 2 7

Class 5

911 Stafford, Bill Brown 911 SC 75.108 1 9

64 Shoffit, James Black 911 SC 76.217 2 7

501 Mears, Patrick Blue 911 S 80.668 3 5

50 Mears, Andy Blue 911 S 80.968 4 4

Class S5

40 Fleming, Jerry Silver 911SC 81.206 1 9

Class 5L

89 Shoffit, Wendy Black 911 SC 77.214 1 9

Class 6

34 Todd, Richard White 944 Turbo 77.465 1 9

161 Randall, Rick Black 911 Carerra 77.914 2 7

Class S6

311 Machala, Chuck Silver Boxster 75.960 1 9

76 Miller, Bill Black 911 Coupe 79.295 2 7

176 Miller, Grant Black 911 Coupe 81.865 3 5

337 Campbell, Bill Red Boxster 83.308 4 4

Class 7

257 Takahashi, Noby Silver Boxster S 76.304 1 9

Class S7

262 Gluck, Mark Gray Boxster S 77.928 1 9

619 Johnson, Rocky Silver Boxster S 80.904 2 7

Class S7L

720 Kavanaugh, Susanna Black Boxster S 85.169 1 9

Class 8

80 Abdalla, George Black 993 C2 73.630 1 9

99 Steele, Mark Red 993 74.798 2 7

Class 8L

9 Steele, Lisa Red 993 79.349 1 9

Class 10

111 Hardison, Kevin Blue 914 76.900 1 9

Class 13

242 Shaffer, Darron Green Boxster S 78.883 1 9

140 Binek, Darwin Red 911 Carrera 81.939 2 7

Class 13L

104 Binek, Kelly Red 911 Carrera 84.503 1 9

Class 15

5 Mayo, Ed Black 914 70.815 1 9

1 Sears, Cody Black 914 71.889 2 7

Class OA

171 Hollinsworth, Jim Black Corvette 70.951 1

88 Yamada, Dean Black Firebird 74.594 2

36 Wagner, Jon White Camaro SS 75.002 3

350 Wells, Corey Silver Corvette 75.684 4

Class OG

67 Garcia, John Yellow Atlantic 67.071 1

6 Nannis, Joel Yellow Atlantic 69.288 2

Class OJ

61 Esmond, Greg Blue S2000 75.538 1

20 Rierson, David Silver S2000 76.001 2

75 Peebles, Iain Green Miata 76.513 3

15 Johnson, Marc Green Miata 79.471 4

17 Wilson, Jerry White Civic 82.816 5

682 Ng, David White Prelude 84.554 6

74 Garner, Gabby White WRX 84.608 7

Class DD

750 Graidage, Colin Red 911 Targa 82.363

110 Bellinghausen, Mike Red 930 85.304

15
---
Specializing in

mechanical

repair, Maintenance,

4-wheel alignment,

and complete

German automobile

body repair.

A.S.E. certified

Master

A.S.A.

Glasurit certified

1118 S. Airport Circle, #120

Euless, Texas 76040

Metro (817) 540-0712

Member Automobile Service Association

16
---
Time Trial #1 Results (* Indicates run after rain)

Class Car # Name Car Time Plc Pts.

Class 2

48 Dugan, Bill Red 914 78.035 1 9

23 Bailey, Ron Blue 914 78.979 2 7

Class 2L

108 Dugan, Nancy Red 914 84.126 1 9

Class 3

87 Platts, Matt Red 924S 86.583* 1 9

666 Easley, Jay Blue 944 87.128 2 7

Class 3L

137 Zaruba, Anastasia Blue 944 100.726* 1 9

Class 4

21 Halla, John Tangerine 911E 75.596 1 9

102 Erz, Eric Brown 911E 77.860 2 7

332 Baker, David White 911 T 84.885 3 5

Class 5

64 Shoffit, James Black 911 SC 71.127 1 9

50 Mears, Andy Blue 911 S 75.072 2 7

Class 5L

89 Shoffit, Wendy Black 911 SC 84.965* 1 9

Class 6

62 Boone, Rick Maroon 944 Turbo 76.476 1 9

161 Randall, Rick Black 911 Carerra 82.352* 2 7

58 Gage, Dan Red 944 Turbo 83.749* 3 5

Class S6

311 Machala, Chuck Silver Boxster 71.331 1 9

76 Miller, Bill Black 911 Coupe 75.380 2 7

510 Chadwick, Jim Silver Boxster 77.987 3 5

337 Campbell, Bill Red Boxster no time 4 4

Class 7

257 Takahashi, Noby Silver Boxster S 74.467* 1 9

32 Lang, Tom Silver Boxster S 79.316* 2 7

Class S7

619 Johnson, Rocky Silver Boxster S 82.158* 1 9

Class S7L

720 Kavanaugh, Susanna Black Boxster S 87.999* 1 9

Class 8

99 Steele, Mark Red 993 68.203 1 9

98 Chen, Kevin Silver 993 68.510 2 7

Class 8L

9 Steele, Lisa Red 993 84.115* 1 9

Class 10

111 Hardison, Kevin Blue 914 73.889 1 9

Class 13

140 Binek, Darwin Red 911 Carrera 77.898 1 9

242 Shaffer, Darron Grn Boxster S 90.498* 2 7

Class 13L

104 Binek, Kelly Red 911 Carrera 78.184 1 9

Class 15

5 Mayo, Ed Black 914 65.552 1 9

1 Sears, Cody Black 914 84.311* 2 7

Class OA

81 Fleischer, Mike Red Corvette Z06 68.929 1

1222 Vail, Jason Gold Sunfire 84.611 2

24 Parker, Kevin Wht Mustang Cobra 86.816* 3

Class OG

57 Name Withheld Red M Coupe 71.273 1

166 Ingram, Don Red Corrado 83.796* 2

Class OJ

186 Williams, Mitch Red 240Z 70.963 1

196 Hawkins, Ken Brown 280ZX 75.050 2

74 Garner, Gabby White WRX 81.480* 3

17 Wilson, Jerry White Civic 85.509* 4

Class DD

750 Graidage, Colin Red 911 Targa 86.755*

110 Bellinghausen, Mike Red 930 87.926*

Top Time Of Day Men : Mayo, Ed Class 15 Time 65.552

Top Time Of Day Ladies : Binek, Kelly Class 13L Time 78.184

Photo by Kevin Hardison

Photo by Bill Campbell

Photo by Kevin Hardison

Photo by Bill Campbell

On Saturday morning, the storm came rolling in.

Matt Platts helping dry the course out for everyone else.

The wind nearly blew Bill Miller away!

Bill Campbell finding the course in the rain.

17
---
Doesn't your Porsche deserve a new set of numbers?

Doug Molny

PRINTER OF SLIPSTREAM SINCE 1982

Motorsport Ranch

Hill Country Driver's Education

High resolution 8" x 10" digital photos start at $15.00.

Poster print sizes up to 36" x 48"!!!

Custom magnetic car numbers start at $75.00.

graymousergraphics.com

Soon photos from every Porsche Club driving event will be available for

viewing at our new website. Check us out after each event

to see pictures of your car on track.

For a print of your car in action . . . call us at 214-957-8193 or email us at:

kevin@usseryp.com

Gray

Mouser

Graphics

Layout • Design • Hats • Shirts

Banners • Posters • Calendars

Track Photography • Car Numbers

Digital Photo Editing

Kevin Hardison

Irving, Texas • (214) 957-8193

USSERY PRINTING

3402 CENTURY CIRCLE IRVING, TEXAS 75062

972-438-8344

FAX 972-721-1847

18
---
Park Place April Tech Session - Suspension Upgrade

By Robert Van Buskirk

Photo by Mike Mead

For the month of April Park Place Porsche selected a 993

C2S to demonstrate a suspension upgrade to our club

members. When Maverick members arrived we were

treated to breakfast, Porsche logo merchandise, and a very interesting

explanation of what they intended to demonstrate to

include a discussion of the available options. There was very

broad member interest in this session and as a consequence a

large group attended. Pictures are compliments of Mike Mead.

Initially, a suspension upgrade sounds like a very straightforward

process. However, the available options are very complicated

when you take into consideration the cause and effect issues

related to any adjustment on a Porsche. Additionally, everyone

has an opinion as to what the best set up is. As a consequence we

chose to stay with Porsche parts and installed the "030" option

with "ROW - rest of world" enhancements. I wanted to improve

the cornering performance of the car but was unwilling for a

"harsh" ride in this daily driver.

The professional lifts allowed everyone to get a close up view.

The car was prepped Friday afternoon so that there would no

delay Saturday morning. Jimmy Hays and Jeff Lee provided a

running commentary of what was being done and why. Both suspensions

were presented side by side so we could see the difference.

Additionally, many questions were answered as relates to other

member cars and what could be done to enhance their suspension.

Photo by Mike Mead

Mark Steele getting some hands on experience.

Among the many lessons we learned was the impact adjustments

have on the performance of the car relative to each corner.

Jeff got the car on the rack later in the morning to illustrate

the effect of adjustments and tracking. A lengthy discussion

centered around setting the correct weight on all four corners.

The suspension work and questions took longer then expected so

Park Place brought lunch in and we worked until mid afternoon.

The corner weight balancing was finished at a later date.

...the car is much more predictable

and aggressive . .

Briefly, the performance change of the car is quite amazing.

I am not an aggressive driver but I must say the car is much more

predictable and aggressive in the corners. Everything feels much

more stable and balanced. I am completely pleased with the work

Jimmy Hays, Jeff Lee, and their team members did in installing

this "030 ROW" upgrade and recommend you contact them

directly regarding any questions you have.

Photo by Mike Mead

Photo by Mike Mead

The entire process was explained and demonstrated step by step.

Ready for it's wheels and a road test.

19
---
Piney Woods, Pretty Flowers, Picnic, and Porsches

By Ted Glover

Photo by Bob Bianconi

No rain. Not a single drop of rain came from the partly

cloudy sky. Being a Maverick Region Porsche Club

tour, we are used to a little rain so we can test our skills

on curving rain-slicked country roads. However, this day the

only protection from the weather that was needed was sunblock-99.

Twenty-one cars gathered at the starting point to hear the

"Rules of the Road" from the tourmeister, after which everybody

was quizzed to be certain none of these rules would be

violated as we guided our babies around the curves and

through the woods. As usual, the group was made up of

experienced tourers and first-timers. It is always a pleasure to

have the first-timers on a tour because they can see how excited

and full of anticipation the experienced tourers are. This day

they will be able to drive their Porsches as they were intended.

. . . a case of oil to put into her sieve

of an engine. . .

Bob and JoAnn Bianconi not only brought along other

Boxster drivers from Tyler, but he also arranged for a fellow

Boxster driver to meet us at Loves Lookout – on his bicycle! I'm

not even sure if it was a Porsche bicycle. Tinker brought her

pretty yellow 911 (a.k.a. Exxon Valdez) and a case of oil to put

into her sieve of an engine every time we stopped. The smoke

screen was very "James Bond," if I might add. Chris Smith

brought her son, Craig, and her beautiful white and dark blue

cabriolet, with an immaculate white interior. How do you keep

it so clean, Chris? Michelle Hartsell was by herself because her

husband was at a Drivers' Education event. See, you can come

by yourself and have a good time! Dan Griffith arrived in a

beautiful red turbo-look 911 driven by his friend, Ron. When

asked why he didn't drive his Targa, his response was, "The top

leaks." Dan, never believe the weatherman!

After the "Rules of the Road" quiz, the group took off and

drove nothing but the best that east Texas has to offer. We had

curves, many of them. We had hills, many of them. We even had

Tinker Edwards and Brenda Chamberlain.

Photo by Bob Bianconi

Photo by Bob Bianconi

The lineup was as beautiful as the scenery.

curves and hills together. There were flowers everywhere. Name

a color and we saw it. We couldn't name half of what we saw,

but it was all beautiful…especially the purple things.

Arriving at Love's Lookout, we all unloaded gourmet

lunches to be enjoyed on the grass overlooking the 50 mile

vista. However, one couple did not have a picnic lunch. It seems

that Carl Moore was so busy cleaning the paint off his car that

he neglected to tell Judith she needed to bring a lunch. Not to

Deeper into the piney woods.

worry, though, because Mimi Grant drove a BMW wagon and

in the back were two huge ice chests full to the brim with food

and drink. I think she thought that since she no longer has her

1972 911T and drove a BMW, she was supposed to feed the

whole club.

After lunch, the group drove by the site of the Killough

Massacre, which is the site of the largest Indian atrocity in

east Texas. But, as the group drove by this pyramid-shaped

monument, they heard "the rest of the story."

The last stop of the tour was in Athens for a dessert break

at the New York Texas Cheesecake Bakery. We did not go

through New York, Texas on this tour, but we will in an

upcoming tour. After the cheesecake, we headed back to

Dallas with full stomachs, content for having great roads and

great weather.

20
---
Saturday, June 29 Sunday, June 30

21
---
1033 N. Henderson St.

Fort Worth, TX

(817) 877–1772

Forgeline • Brembo • Eibach • Sparco • Borla • Hoosier • MOMO • Red Line • OMP • Teamtech • Fuel Safe

German Engineering With Southern Hospitality.

Personal Service.

At Nine-Eleven, we've built a reputation for understanding our customers' needs —

quality service, convenient location, state-of-the-art diagnostics, and personalized service

that is unmatched in the Metroplex. When you trust your car to us, you will have the

peace of mind that it will be serviced correctly the first time. Every time.

Access.

We strongly believe in access to those who will actually work on your car. Our

technicians are available in person, by phone, and even by pager if you have questions

or need timely information about your car.

Facility.

Our clean shop, well-stocked parts department, and comfortable waiting room ensure

that you and your car will get the kind of service you deserve. Maintained tools and

equipment. Clean cars. We are meticulous about details.

Parts.

Our parts department is also second to none. Our knowledgeable staff will assist you in

finding that necessary part or after-market option you require. We are an authorized dealer

for high-performance Recaro seating, Yokohama Tires, Bilstein Shocks, Bosch, and many

others. This ensures that whether you are a casual driver or an enthusiast who needs race

prep assistance, Nine-Eleven has the experience and knowledge to keep your car running

at peak performance.

Newkirk

Crown Rd.

Cindy Lane

IXXI

Royal Lane

Joe Field Rd.

Emerald

I-35

Nine-Eleven Enterprises, Inc.

Service, Accessories & Parts for BMW,

Mercedes & Porsche

2120 Cindy Lane, Dallas, Texas 75229

972-241-2002 www.nine-eleven.com

Convenience.

We are conveniently located near the intersection of Stemmons and LBJ Freeways

in Dallas. We offer emergency towing service 24 hours a day and have arranged

for special rental car rates with area rental agencies. Come by for a visit between

7:30 a.m. and 5:00 p.m. Monday-Friday, or call for a service appointment.

22
---
Clark Gardens Tour

By Bob Bianconi and Wendy Shoffit

Sunday April 28 turned out to be a picture-perfect day to drive

to Cool, Texas. A bunch of Maverick Boxsters left the Mid-

Cities area and drove out past Weatherford to Mineral Wells

where we found an oasis of flowers, ponds and wonderful treeshaded

walking paths – all at Clark Gardens.

The Mavericks were there to support our favorite charity, the

Hope Shelter. The Boxster group consisted of Dave Mize, Garry and

Paula Chandler, Tom and Annette Snodgrass (with friends) and

Bob and Jo-Ann Bianconi. We were joined there by Charlie and Teri

Davis, Wendy and Jasmine Shoffit and Mimi and Geneva Spreen.

. . . hundreds of species of flowers. . .

Photo by Bob Bianconi

Charlie Davis, Teri Davis, Bob Bianconi, Jo-Ann Bianconi,

Paula Chandler, Garry Chandler, and Dave Mize

Near the pond was a beautiful gazebo (one of several) where

they served refreshments for everyone - fancy little cookies and

punch. Jasmine and Geneva really needed the punch after running

non-stop for nearly an hour. Part of their excitement was that they

had cleverly avoided the area marked with the sign "Bee Island."

As an added bonus for the participants at the gazebo, they had

a talented musician entertaining the group with his guitar and songs.

If you get the chance, this is a wonderful place to enjoy hundreds

of species of flowers, sit by the pond and watch the geese and

gaze at the waterfalls. And, of course, it's a nice little drive to Cool.

Photo by Bob Bianconi

The Boxsters

23
---
214-965-6102 or 1-800-527-5746

100 Crescent Court, Suite 600, Dallas, TX 75201.

24
---
915 Transmission Shifting Problem

Reprinted from Upfixin der Porsche, Volume 11

A Technical Question Answered

Irecently bought the 911 of my dreams, 911SC, and it is a perfect car

except for one disturbing situation. It is very balky shifting into first

gear and between first and second gears. It does not matter whether

the car is cold or warmed up.

The previous owner had installed a short shift modification to

the linkage and it felt like that was the problem or part of it, so I had

the original shift linkage reinstalled which required a new shift lever.

Still, the shifting is difficult, often to the point that I've felt I would

bend the lever trying to force the transmission into gear.

. . . shifting the Porsche transmissions

is an acquired skill. . .

The transmission was diagnosed as needing first and second gear

synchronizers replaced, which I had done last month, but the balky

shifting has not changed. I have had two different Porsche mechanics

whom I trust and admire tell me that this shifting difficulty is typical

for all 911SCs and that there is nothing that can be done. Please tell

me that isn't so!

I had resolved to work with it and adapt, but for nearly a month

now it seems beyond acceptability, and I have had some interesting

moments trying to get into gear in traffic. Both my 1972 911T coupe

and 1976 911S Targa were very smooth and easy to shift, and I cannot

believe that there is nothing that can be done. Has the wrong linkage

been installed? Has the transmission been put together improperly?

Bruce Anderson: Since you have already owned two cars with

this same transmission, you should actually know as much about how

the cars should shift as your mechanics do. Your 911SC transmission

should shift as well as either of your earlier cars with the 915 transmission

and probably better than your 1972 because of the changed

shift linkage. I would still suggest that you try driving another 911SC

to see what they normally shift like. Make sure that you have a

problem and not just a perceived problem. You might also want to let

someone else with a lot of experience with these particular cars drive

your car. I have always felt that the 915 transmission is a little balky;

perhaps this is your problem. I've never been particularly fond of the

915 transmission used in 911s from 1972 through 1986 because of

this. I drove a friend's 1980 911SC a few months ago, however, and

marveled at how nice his car shifted.

The problem that you mention, the difficulty engaging first gear

when at a stop, is really a common characteristic of the Porsche servo

synchro transmissions. The best way to deal with this is to first go into

one of the other gears and then back to first gear.

One other thing. You mentioned that you had changed the

synchronizers for first and second gear. I have noticed that it will

sometimes take a few thousand miles for the new synchronizers to

break in and shift normally. When we had our shop, this was always a

problem for us when we returned a car with a rebuilt transmission to

one of our customers. The transmission would seem to shift stiffly

and our customers would complain. They break in gradually, so

drivers probably don't really notice the change; they do break in and

shift right again.

You have had two cars with Porsche 915 transmissions before so

this should not be your problem, but shifting the Porsche transmissions

is an acquired skill. The Porsche servo synchronizer used in

these transmissions worked very well in the smaller transmissions

used in the 356 and smaller 911s, but when it grew large enough to

cope with the added power of the larger 911, 930 and 928 engines,

they became more and more balky. Shifting any of the Porsche transmissions

which use the servo synchronizers has to be a very deliberate

process. You shift out of a gear and then pause ever so slightly in

neutral and then ease it into the next gear. The procedure needs to be

followed for both upshifts and downshifts. You just cannot force or

rush the Porsche synchros. If you force the shifts you will damage the

synchros and the operating sleeve and the transmission will require

an overhaul.

Porsche finally rectified this shortcoming by changing the transmission

design in 1987 to what they call the G-50 transmission which

uses Borg Warner cone-type design synchronizers like those used in

American performance cars and most other cars in the world. I really

like the G-50 transmission and the way it shifts, but a lot of Porsche

mechanics still prefer the old 915 transmission like the one used in

your 911SC.

If you understand the shortcomings of the Porsche transmission,

you will probably be able to make your Porsche transmission last

indefinitely even with a short shifter installed. One other thing that I

recommend for these transmissions is the use of Swepco 201 gear oil;

you can actually feel the difference in the way that the transmissions

shift after changing to Swepco.

25
---
Complete Collision Repair

Featuring the latest Shark & Hunter Equipment.

We work closely with your insurance company on all repairs.

• Track Alignments and Suspension Setups

• Your convenient Drivers Education

inspection location for

North Dallas

26

Steve Watkins in the Streetwerks 944 S2 at Motorsport Ranch.

5401 I-35 • Corinth, Texas 76205 • 940-270-8000 • Fax 940-270-8001 • www.streetwerks.com
---
New Wheels

If you have any changes that you would like to make to the

MRPCA membership guide, call Joel Nannis at (972) 722-2735

by Joel Nannis, Membership Chair

Neal Bribbs & James Lewis

310 Red Baron Drive

Rhome, TX 76078

1976 912E

Rosie & Roger Brown

305 Belle Circle

Aledo, TX 76008

2000 986

Robert Chris

6516 Briarmead Drive

Dallas, TX 75254

2002 986

James Cook & Lucinda Small

5813 Cardigan Drive

Plano, TX 75093

2002 911

Dean Dejean

5514 Stanford

Dallas, TX 75209

1985 911

David Draper

4607 Timberglen Road #2532

Dallas, TX 75287

2002 911

Toby & Diane Gerber

17539 Oak Mount Place

Dallas, TX 75287

2002 996

Bryan Hamric & Shorty Bridgefarmer

1516 N Cheyenne Drive

Richardson, TX 75080

2002 996 C2

Randall Johnson

1112 Stone Creek Drive

Mansfield, TX 76063

1993 968

Ryan & Nels Johnson

1160 Hidden Ridge Drive #2318

Irving, TX 75038

1971 911

Joey Kennard & Sylvia Sency

804 Combine Road

Seagoville, TX 75159

1972 911

Richard & Susan Kimsey

5932 Orchard Park Drive

Frisco, TX 75034

1997 911

Richard & Terry Macias

4005 Foxtail Lane

Plano, TX 75024

1990 911

Douglas & Vicki Maxcy

4166 County Road 411

McKinney, TX 75071

1975 914

David Mock

1911 Queens Court East

Arlington, TX 76014

1985 944

Mick Nguyen & Hanh Le

8906 Greenville Avenue

Dallas, TX 75243

2001 911

Rick & Bonnie Randall

4990 Wolf Creek Trail

Flower Mound, TX 75028

1984 911

Allan Rhodes

3308 Straight Trail

Plano, TX 75023

1998 986

Charles Slaton

5629 Meaders Lane

Dallas, TX 75229

2000 996

Chris & Craig Smith

7507 Malabar Lane

Dallas, TX 75230

1990 911

Tim & Carol Takacs

7216 Family Farm

Plano, TX 75024

2002 996

Simon Todd

217 Ridge View Lane

Trophy Club, TX 76262

1995 968

Brian & Jim Bailey

4128 Buena Vista Street

Dallas, TX 75204

1989 944

Henry & Melissa Gaudens

1313 Camberley Court

Keller, TX 76248

1970 911

Jerry & William Hubbard

1429 El Campo

Dallas, TX 75218

1976 912 E

Dennis Poquiz & RJ Deguzman

1316 Lyra Lane

Arlington, TX 76013

2000 986

Eric Murphy

5312 Mariners Drive

Plano, TX 75093

1996 993

Welcome,

New Members!

M

Anniversaries

5 Years

Anthony & Stephanie O'Connel .............Richardson

Richard & Nancy Rome ....................................Irving

Charles & Carla Smith..............................Fort Worth

10 Years

Ibrahim & Hermin Kuzu ...............................Garland

20 Years

Elain Boze & Linda Brown ........................Carrollton

Michael & Regina Gade .............................Colleyville

Happy y Anniversar

ersary!

27
---
Unclassifieds

Unclassifieds are available free to Maverick Region Members and are $5 to all others (Payment to MR-PCA must accompany ad). Please limit size to no more than 6 lines.Ads

will run for 3 issues. Call 972-506-7449 or e-mail ad to unclassifieds@mavpca.org by the 10th to have your ad run the following month. Be certain to include a contact name and

phone number. Check your ad for accuracy the first time it runs. Contact the editor to have your ad pulled sooner. Photo inclusion based on space constraints.

1988 928 S4 classic combo of guards red and tan leather with 66K. A nine inside,

outside and under the hood. Up to date service and maintenance at Louden

Motorcars. Owned by two long time porsche owners/enthusiasts. This is your chance

to set yourself apart from the normal porsche pack, going 180 mph the whole way. A

steal @ $19k Contact Toner @ 972-965-1780. Only serious inquiries please. (1)

2001 Porsche 911 C-4 Cab Metallic silver, gray top, gray leather, 6 spd, mtr sound pkg,

xenons, technic group, wheel and headrest crests, CD, heated sport seats, 5500 miles,

almost no rain (garaged and pampered). sticker $92k. Sale $81k. 972.816.0604 (cell),

or JTP83@aol.com. Robert Pierce. (1)

1998 Boxster Metallic Silver/Porsche Red Interior, 31,000 miles. Perfect condition,

new tires. $31,900.00. Michael Rhodes (903) 785-4088 H (903) 785-0701 W. (1)

WANTED - Good condition black vinyl driver's front seat for 1984 944. Contact Mark

Johnson by email at MarkJson@aol.com (1)

1997 Suburban LT all power, leather, cruise factory tint, luggage rack, seats 8, am/fm

CD/cassette, tow vehicle w/electric trailer brake, rear ac, heavy duty cooler, 72k

miles, black/beige, well maintained $12,995. Dennis Johnson 817/429-2911 or

atlasinc@airmail.net. (1)

1985 Carrera 19,000 miles. Pristine is an understatement. Guards red, grey

interior...also, my brand new Porsche bicycle. Jack Griffin 214-739-2600 (1)

1984 911 Carrera Targa Red. 108K miles, new tires, new brakes, new Bilstein shocks,

new oil return lines, no oil leaks. The vehicle is tight, runs strong w/clean CARFAX

history. W (817) 212-2501 or H (817) 745-9433 kirkslaughter@ev1.net. $13,900. (1)

Trailer 20 ft dove tail, double axel, 4 wheel electric brakes, black, diamond plate deck.

$1500 or best offer. Eric (W) 972 995-1546 (H)972 396-2900. (1)

1976 912E Guards Red/tan interior,131Kmiles(motor completely rebuildt at 98K-no

leaks)16 inch Fuchs,Panasonic stereo,new battery,new master cylinder and brake

lines,just serviced(trans,valves,clutch).Good shape.Great way to get into the

sport.Asking $6500 OBO Please leave a message at (972) 615-4902. (1)

1995 911 GT2 Factory Race Car for Sale by original owner. All factory options and

upgrades. Better than new condition. $350K invested. Sacrifice to good home for

$100K. Details and Photos on www.lineguide.com/911gt2/ Tel: (386) 788-0780

E-mail: spencerlane@mindspring.com (1)

1986 Carrera Coupe 2nd owner since 1990. Metallic brown/brown leather sport

seats, all power and options, whale tail, performance chip, shock tower stabilizer,

sheep skins, cover, dash and speaker carpets, exhaust system, 2-piece bra, mirror

covers. Excellent fit and finish, perfect interior. 115K. 16" painted wheels w/crests.

All maintenence records; rljones911@aol.com or call ((903) 856-6274. Pics:

http://members.aol.com/rljones911/myhomepage/porsche.htm $17,500 (2)

Factory 17" Cup Wheels (1997 993) Switching over to 18" Turbo Twists. Set of 17"

factory "Cup" wheels off of my 1997 993. They are mounted with Potenzas that are

about half worn. Scuffs and chips here and there (from the previous owner). Colored

crest center caps are slightly faded. Price is negotiable. Brent Spinks 903.581.5678 /

903.839.3563 bspinks@tyler.net (2)

1993 968 Cabriolet, Horizon Blue/White Interior/New Navy Top, Tiptronic, 89k

miles, leather interior, 968 Wheels, Crests, Eclisps CD, Power top, Full power options,

Dual power seats, New Tires and brakes, Complete books and records, Dallas car.

This car is very clean and not been wrecked or repainted. $22,950, Kevin Mixon

972-424-2706 Plano Texas. (2)

914 Steel Wheels, 5 original 914 steel wheels, complete with cheap radial tires $95, one

set of lug nuts for same $20, one set of 4 original 914 chrome trim rings for steel

wheels $35, one 914 console with slightly torn vinyl cover $10. Need to clean out

garage for another car. Steve Hensley (972)686-7384 (home), (972)733-2894 (work),

(214) 458-9757 (cell) (2)

1986 911 Carrera Cabriolet Iris Blue Metallic/Navy Blue Interior/New Top, 5 speed,

82k miles, Full leather interior, Factory short throw and sport shocks, 16" bright

Fuchs, Crests, K40, JVC CD, Full power options (except top), Dual power seats,

Complete books and records, Dallas car. This car is nearly perfect and in original

condition including paint. $23,950, Kevin Mixon 972-424-2706 Plano Texas (2)

1985 1/2 944. Red/ray. 5-spd, sunroof, pwr seat, leather, BlaupunktAM/FM/Cst

Player. garaged, ca cover, nice Pirelli ires. approx. 30K Mi. $8,000. 1986 Mazda B2000

Truck w/Camper shell. 5-spd, good engine, tires, transmission, differential, &

interior. Approx 147K mi. $2600. Don (817) 536-5817. (2)

Slipstream Advertiser Index

Autoscope (972) 867-7467 Page 12

Bobby Archer's Motorsports (817) 877-1772 Page 22

Dallas Auto Sports (214) 320-2228 Page 21

Eurowerks (972) 733-4907 Page 5

German Technologies (817) 540-0712 Page 16

Glen Gatlin, Jr. (214) 965-6102 Page 24

Gray Mouser Graphics (214) 957-8193 Page 18

Louden Motorcar (214) 241-6326 I.B.C.

Jerry DeFeo Designs (972) 240-5800 Page 16

Mayo Performance (817) 540-4939 Page 9

Mean Green Travel (940) 243-3788 Page 26

Comp T/A 255/40ZR17 Tire. Has 60% to 75% tread left. Picture and contact

information at http://users.ev1.net/~guymoore/mavpca/. Cheap! (2)

1987 924S Same model as on the cover of Feb. Panorama magazine, (944 engine and

trans). Strong motor and transmission, clean body and interior, 72000 miles. Would

make an excellent race car. Blown clutch. Asking $2200. lonnie@perma-tune.com or

call (972)442-6774 (2)

1998 993 Carrera S Coupe. Guards Red, Cashmere Beige/Black partial leather, Turbo

ll Aerokit, Guards Red instrument dials. 24,3xx miles, 30K mile serviced, garaged,

original. Pictures and more info on the web at: home.earthlink.net/~jalmml. Asking

$63,500. Jim Lynch, 800-217-8718. (2)

1988 Carrera 911 Very nice car. New items, Potenza S-02 tires, B & B Stainless Exhaust,

New Clutch, New Bra , New 992 leather steering wheel. Car has electric seats, windows,

door locks, sunroof, AM/FM/ CD player, and cruse control. All numbers match. Car is

silver with a purple tint (Diamond Blue Metalic) with burgundy interior. Price $20,000.

Call Pat Arlington- 817-469-7821, or e-mail prarlington@aol.com (2)

1997 Carrera Coupe, Blue Turquoise/Cashmere supple leather, 6 spd, ABD w/LSD,

Hi-Fi sound, CD changer, full power seats, alum package, rear wiper, computer, only

4700 miles, garaged and covered, no smoke, rain, or racing, Park Place Porsche serviced,

all records inc/ window sticker. A stunning, beautiful car. Concours quality. $59.9K.

Contact Maury @ 972 412-8604 (2)

1987 930 Steel Slantnose Turbo. 39,000mi, alpine white with red interior in excellent

condition. 930s steering wheel, white gauges, numerous engine and suspension

upgrades.Interior is near perfect, dash is perfect,exterior is dent free-spoiler has some

stone chips.This car is very fast.It has no mechanical issues whatsoever. A/C, sunroof,

ETC,everything works.New front rotors and near new Bridgestone SO3s. 37,999 call or

email Gerry 8176859158 krupps4@attbi.net (2)

Wanted: (For 2.2L 911S); heat exchangers, with or without sheetmetal, Any Fuel

Injection parts, S heads, S cams or complete S engine, any condition. Jim Buckley at

817-237-9577 or email jbuckley@direcpc.com(3)

1990 911 C2 Cabriolet, Black/Black Top/Tan Interior, 5 speed, 116K miles, new Top

and covers (car, boot, and cockpit), new Alpine stereo w/6 disc changer & 200W amp,

Stainless Steel B&B Tri-Flo exhaust system w/dual 4" Oval Tips, Teardrop mirrors,

Extra Wing, Garaged, Professionally Maintained, Paint and Body Perfect, $30K, Call

972.754.5345 or email khaven@dfwidc.com. (3)

1996 911/993 cab -speed yellow,black leather and black top. Six speed; 18in. hollow

spoke turbo wheels w/ Bridgestone SO2's. Premier stero w/ cd. Full electric seats.

40,000 miles and excellent condition. Al Stickley, 940-241-1181 or stick 2@flash.net

$55,000.00 (3)

1986 911 Carrera Coupe. Meteor grey metallic/Burgundy leather interior.

33,900miles. 2nd owner since 1996. Sunroof, cruise, 16"forged alloys. ALL factory

equipment/manuals plus Momo steering wheel, full sheepskin seat covers, Statesman

mats, cover, bra, and more. $26,000 firm. Gary Sprott. 817-421-5844. E-mail

realm101@aol.com. (3)

1991 911 Carrera 2 Targa #WPOBB2964MS440531,grand prix white/black lea, 5-spd,

only 16,500 mi, AC, pwr windows, seats, mirrors, alarm, cruise, dual airbags,

AM/FM/CD, bra, garaged, covered, $37,500. Rick Burleigh, 408 Driftwood Ct., Azle,

TX 76020. 817/237-2766. burlerott@dellepro.com. (3)

Factory Fuchs Wheels Set of absolutely mint condition 7 & 8 X 15". Factory finish

black centers. $800.00 for the set. Contact Larry at 972-729-6649 (days), 972-495-7828

(eves), or larry.brownell@wcom.com(3)

1986 911 Carrera Coupe, White/Black leather, whale tail, power windows, power

locks, power sport seats, power mirrors, cruise control, air conditioning, sun roof,

Alpine 3-CD in-dash stereo, bra, cover, Dunlop Sport 8000 tires, white spoke/polished

rim wheels, short throw shift, less than 2500 miles on new clutch and synchros,

new battery, garaged, 91,071 miles, $22,000. Reduced to $19,900. Bruce Roberts

(972) 527-6910, (972) 205-7515, or bkr@att.net (3)

1987 911 Carrera Targa. Silver/Black. Calif. car,concours potential, near perfect, 17"

Kinesis polished 3pc. Cup wheels w/painted crests, Potenza S-02's, leather sports

seats, CD, alarm, fully loaded. All records, no smoke or rain, meticulously maintained

and serviced. Gorgeous car. 116,000 mi., $26,500. Don Crusius, 214-724-0831,

csirace@cs.com. (3)

These advertisers support the Maverick Region . . . the Mavericks support these advertisers!

Metro Volkswagen (972) 659-9999 Page 18

911 Enterprises (972) 241-2002 Page 22

Park Place Porsche (214) 559-4222 Page 6

PartsHeaven (800) 767-7250 Page 16

Royal Purple (800) 364-3025 Page 11

The Porsche Store (214) 576-1911 I.F.C.

Soundwerk (817) 281-9381 Page 26

Ussery Printing (972) 438-8344 Page 18

Watkins Streetworks (940) 270-8000 Page 26

Zim's Autotechnik (817) 267-4451 B.C.

For ad rates and for more information contact Graham Lane at (817) 421-0141 (work)

28
---
Jan Mayo, Slipstream

2973 Timbercreek Trail

Ft. Worth, TX 76118

Periodical Postage

Paid at Ft.Worth, TX