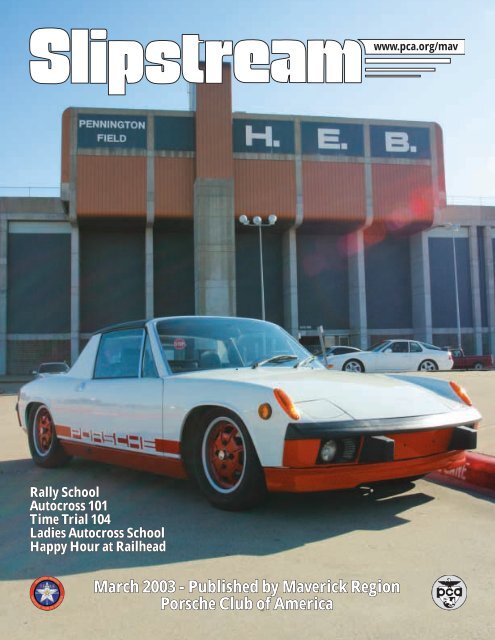 Slipstream - March 2003
The monthly newsletter of the Maverick Region of the Porsche Club of America
The monthly newsletter of the Maverick Region of the Porsche Club of America
SHOW MORE
SHOW LESS
Do you know the secret to free website traffic?
Use this trick to increase the number of new potential customers.
www.pca.org/mav

Rally School

Autocross 101

Time Trial 104

Ladies Autocross School

Happy Hour at Railhead

March 2003 - Published by Maverick Region

Porsche Club of America
---
"

THE PORSCHE OF PORSCHE DEALERSHIPS "

~ Porsche Cars North America

DID YOU HEAR WHAT PORSCHE CARS OF NORTH AMERICA CALLED US — PERFECT.

ALL OF US AT BOARDWALK PORSCHE ARE PROUD TO EARN THIS YEAR'S PORSCHE PERFECT SERVICE AWARD.

Visit us at 5930 W. Plano Parkway, just East of the North Dallas Tollway.

Phone 214.576.1911 www.boardwalk-porsche.com
---
www.pca.org/mav

Volume 43, March 2003, Issue 3

Departments

Zone 5 Presidents ..........................................................1

List of Officers/Board Chairs .......................................4

Road Ramblings (President's Column)......................5

Curves Ahead (Editor's Column)...............................8

Maverick Minutes..........................................................8

New Wheels..................................................................27

Anniversaries................................................................27

Unclassifieds.................................................................28

Advertiser Index...........................................................28

Upcoming Events

Calendar of Events..........................................................1

Happy Hour at Saltgrass Steakhouse...........................2

Porsche Lunches .............................................................2

Happy Hour ....................................................................2

Time Trial #1 and Autocross #1....................................3

Board Meeting ................................................................5

Hill Country Tour ........................................................11

Palestine Dogwood Trail Tour ....................................11

TMS Club Race & Drivers Education........................21

Past Event Recaps

Happy Hour at Railhead ...............................................9

Ladies Autocross School ........................................14-15

Christmas at Hope Shelter ..........................................17

Autocross 101..........................................................18-19

Time Trial 104...............................................................23

Rally School.............................................................24-25

Miscellaneous

Trivia Contest..................................................................7

Carrera GT Unveiled....................................................13

Day March - Events

1 Swap Meet

1 Dinner Social

2 National Judges Seminar (Denver)

4 Board Meeting

8 Autocross 102 (MW)

9 Time Trial 103 (MW)

18 Plano & Bedford Lunches

20 Happy Hour

21-23 Lone Star Club Race @ TWS

23 Dogwood Trail (Palestine) Tour

25 Plano Lunch

29-30 Time Trial #1 & Autocross #1 (MW)

Day April - Events

5 Rally

8 Board Meeting

11-13 Hill Country Tour

13 Autocross #2 (TMS)

15 Plano & Bedford Lunches

Photography

Kevin Hardison,

Matt Platts, James Shoffit,

Wendy Shoffit, Dennis Chamberlain,

Lanean Hughes

Cover Photo by Matt Platts

A 1974 Limited Edition 914 2.0 liter

owned by Luis Pajares. Photo taken at

the Pennington Field during the

Intro to Autocrossing school.

Day April - Events (cont.)

17 Happy Hour

26 Time Trial #2 (MW)

26-27 LSR Drivers Education (TWS)

27 Whitesboro/Centerville Tour

29 Addison Lunch

Day May - Events

4 Autocross #3 (Penn)

6 Board Meeting

10 May at Mayo's

15 Happy Hour

17-18 HCR Deivers Education (MSR)

20 Plano & Bedford Lunches

24-26 Maverick Club Race (TMS)

27 Addison Lunch

Day June - Events

3 Board Meeting

7 Time Trial #3 (MW)

7-8 Jefferson Tour

7-8 LSR Drivers Education (TWS)

8 Autocross #3 (MW)

12 Happy Hour

15 Father's Day Picnic

21-22 Mav Drivers Education (MSR)

22-28 Parade - Tampa, Florida

*Dates subject to change*

Convertible 1957 weather

PORSCHE SPEEDSTER

is finally here!

Get out

there and

enjoy it!

Slipstream (USPS 666-650) is published monthly by the Maverick Region Porsche Club of America, 2973 Timbercreek Trail, Ft.

Worth, TX 76118. Subscription price is $24.00 per year. Periodical postage is paid at Ft. Worth, Texas.

Postmaster: Send address changes to Jan Mayo, Slipstream, 2973 Timbercreek Trail, Ft. Worth, Texas 76118.

Opinions expressed herein are not necessarily endorsed by the Club's membership or officers. Contributions will be printed on a

space available basis. Chartered regions of PCA may reproduce items from this issue provided the author/artist and Slipstream

are credited. Slipstream is printed by Ussery Printing Company in Irving, Texas.

2002 Porsche Club Zone 5 Presidents

ARK-LA-TEX

Bob Kelley (Shirley)

h- 318-635-2617

bkelley968@aol.com

COASTAL BEND

Peter Kendig (Cindy)

h-361-853-5350

peter@carczar.nu

LONE STAR

Stan Wenger (Janelle)

h- 713-467-0453

Stan.R.Wenger@conoco.com

MARDI GRAS

Brad Bradford (Sandra)

h- 504-835-7874

sandrahh@pipeline.com

OZARK

Bud Thurman (Phyllis)

h- 501-666-7486

arsailor@aristotle.net

WAR BONNET

Mike Lindsey

mlindsey21@cox.net

ZONE 5 REP

B rooke Van Horne

tvdrug@flash.net

CIMARRON

Dick Dobson

dickdobson@webzone.net

HILL COUNTRY

Weston Dillard (Caren C)

h-512-423-8327

westondillard@austin.rr.com

LONGHORN

Ron McAtee (Phyllis)

h- 210-654-6639

roncarrera88@aol.com

MAVERICK

Keith Olcha

h- 817-251-6865

olcha@aol.com

OZARK MOUNTAIN

Leslie Morse (Margee)

h- 501-530-1537

therainmeister@netscape.net

WHISKEY BAY

Ray Quick

mercuray1@yahoo.com

1
---
March 20

Saltgrass Steak House

560 West 635, Irving (Valley Ranch), 75063

at MacArthur & LBJ

972-373-9944

Tuesday, March 18 @ 11:30AM

Good Eats at Collin Creek Mall in Plano

Tuesday, March 18 @ 11:30AM

Good Eats at Hwy 183 & Bedford Road in Bedford

Tuesday, March 25 @ 11:30AM

TGI Fridays on Beltline at the Tollway in Addison

2
---
3
---
2003 Maverick Region - Board, Officers & Chairs

Maverick Region President

Keith Olcha

W - (817) 706-7678

H - (817) 251-6865

olcha@aol.com

711 Manchester Court

Southlake, TX 76092

Keith has been a regular at all of our driving

events and has recently been heavily involved

in the planning of our Driver's Education

program. Keith has also started driving his 911

in PCA Club Races.

Vice-President

Noby Takahashi

W - 972-761-4311

H - 214-327-8911

vp@mavpca.org

9201 Garland Road, #115A

Dallas, TX 75218

Noby has been a member since 2000. He is an

active participant in many Maverick driving

events and has helped out with the Autocross

schools. He drives a 2001 Boxster S.

Secretary

Mimi Spreen

H - 972-420-9953

secretary@mavpca.org

709 Reno Street

Lewisville, TX 75077

Mimi has been a PCA member since 1989,

including being actively involved in 2 other

regions. She served with husband, Carey,

as Vice President for 2 years. She drives a

1970 914-6.

Treasurer

Bob Knight

W - (214) 461-1426

H - (214) 349-1108

treasurer@mavpca.org

9047 Oakpath

Dallas, TX 75243

A member since 1986, Bob has previously

held the offices of President and Vice

President, edited Slipstream, and has won

the Selcer Memorial award. He owns a 2000

Boxster S.

Driving Events - Chair

John Sandusky

W - (817) 777-0421

john.c.sandusky@lmco.com

John has been a member since 1986. He has

become increasingly involved in Drivers'

Education events over the past few years. He

drives a track prepared 1990 964 C2.

Logistics & Support - Chair

Joe McGlohen

W - (817) 366-1678

H - (817) 861-2792

retread@ix.netcom.com

704 Bowen Court

Arlington, TX 76012

Joe has been involved in virtually every type of

event that the Maverick Region holds.

Joe was the 2001 Selcer Memorial award winner.

He owns a 912 and a 914 2.0 liter.

Communication - Chair

Wendy Shoffit

H - (972) 506-7449

wendy@shoffit.com

1112 Santa Fe Trail

Irving, TX 75063

A member since 1997, Wendy is the editor

of Slipstream and has won the Selcer

Memorial Award. 2001 Porsche Club Family

of the Year. She owns a '90 911 C4 Cab and

a '78 911 SC.

Activities - Chair

Teri Davis

H - (940) 682-4719

chuxter@rennlist.com

P.O. Box 213

Weatherford, TX 76086

Teri is a past Slipstream Editor and the

current Rally Chair. She has also been a

major force behind Round Up and the

recent Rally Schools.

Autocross

Cody Sears

W - (214) 357-7000.

H - (817) 540-1076

ax@mavpca.org

Driving Rules

Bill Dugan

H - (817) 265-0704 (
---
Road Ramblings

by Keith Olcha, Maverick Region President

Last month I mentioned how much I look

forward to February as the start of the

racing season. It begins for me with

the Daytona 24 hour Sports Car Race.

Congratulations to Kevin Buckler and his Racers

Group team for an overall win this year in the

#66 Porsche GT3RS. I began buying parts

through the mail seven years ago from Kevin

when he and his wife Debra were the whole

company. Kevin walked me through many an installation talking

to me on my cordless phone while I was leaning over the car.

Kevin still club races with PCA and is a regular guy.

Of course, a GT class car never should have won Daytona

in the first place. It was only because of problems with many

of the cars in the brand-new Daytona Prototype class that

attrition allowed a lower-category car to win first place overall.

We'll see how Grand-Am does this year. I still don't think there

is enough fan and sponsor interest in three sports car organizations-

SCCA, Grand-Am, and American Le Mans. We'll see…

So what have I done so far starting in February? I attended

Autocross 101 – an introduction to autocrossing, and Karen

attended the ladies-only autocross school the day before at

Pennington field. She loved it. I've only driven my Boxster on

the street for the past three months and I forgot where the

steering wheel was pointed a few times when the car was sliding.

By the time you read this we will have completed our first track

event, the Drivers Education at MotorSport Ranch. So what is

going on in March? A full calendar, of course, as the weather

improves.

you can enjoy working on your own car with your hands and do

a better job than most paid-services is good old-fashioned

washing, waxing, and interior cleaning. It can be time-consuming

but there is nothing like a clean Porsche in-and-out! There are

various websites such as www.carcareonline.com that will tell

you about techniques, and sell you the cleaning products.

Another thing is an oil and filter change, and/or changing the

pollen or particle filters on the newer cars. Again, this is about

50% of the total scheduled maintenance on a daily driver over

time. There are people who also think routine brake services

such as pad replacements and fluid flushing are too complicated

for the novice. It's easier than you think, and in just a couple

of years can save you enough money to spend more on other

fun car-related stuff. There will be opportunities over the year

to attend tech-clinics designed to demonstrate the things you

can work on yourself on your Porsche.

Finally, next month I'm going put on paper, a frequent

dream of pretending what I would acquire (money being no

object) if I had to fill a 15-stall warehouse collection of

Porsches. Racecars, road cars, and special editions- you name

it. All these cars should be drivable. While I might not put

much mileage on them, they are theoretically able to run as

intended with reasonable notice. Factory mechanics on call!

Why don't you all think about it also and email me with your

favorite road and race Porsches. You don't have to list 15. I'll

take everyone's favorites and compile a weighted list of our

readership's 15, and my 15. Feel free to add your comments. I

bet your list will be more interesting than mine!

...I forgot where the steering wheel was pointed

a few times when the car was sliding...

There is one more set of autocross and time-trial schools,

on March 8-9 this time being held at Mineral Wells, and the

first regular timed-event autocross and time-trial weekend of

the year will also be out at Mineral Wells at the end of March.

Time trials are on Saturday, and autocrosses are on Sunday.

The schools are low-pressure, instructive, and fun. Our first

dinner social is March 1 as well as our first tour of the year

along the Dogwood Trail to Palestine on March 23rd. Please

look over the calendar on the first page for the rest of the

month's activities.

March 15 marks the long-awaited and much-ballyhooed

introduction of the Cayenne Sport Utility Vehicle. I don't know

about you, but feel as if this thing has been written about,

talked about, and sneak-previewed for ten years already. And

just when a gallon of gas is almost as expensive as a gallon of

milk. I guess timing is everything. I read that every Cayenne

they will produce for the next 18 months is spoken for.

Hopefully our area dealers will have some unveiling parties, etc.

I think the Cayenne and the Hummer H2 compete for the most

exotic medium-duty tow vehicle.

I have often heard people talk at our socials about what

services they can or cannot do on their Porsches as far as owner

maintenance is concerned. Many people think if you can't

perform a tune-up then you might as well not work on the car

at all. I'm not sure about that. One of the biggest areas where

5
---
What would you do with

1000 hours of your time?

We trained our technicians.

www.parkplacetexas.com

AOL Keyword: Park Place

©2002 Park Place Porsche

6
---
Email: mayos@imagin.net or

FAX at (817) 267-4939

• ENGINE AND TRANSMISSION SERVICE

• SUSPENSION AND ALIGNMENT SPECIALISTS

• TIRE SPECIALISTS –

O.E.M.

DOT COMPETITION

RACING SLICKS

• SPECIALISTS IN EARLY PORSCHE FUEL

INJECTION SYSTEMS

7
---
Curves Ahead

by Matt Platts, Editor

We have had another interesting February

here in Texas. I can't think of any other

place where you can have 70 degree

top-down weather within a week of getting 2

inches of sleet that totally shuts down a metroplex

of over 3 million people, then right back to

pleasant sunny days just as quickly! One can only

wish for nice weather on our event weekends, but

that just wasn't the case for our Ladies Autocross School and

Autocross 101 at Pennington Field a few weekends ago. There

wasn't any precipitation, but the temperatures did nothing but drop

for the entire weekend. The temperature was somewhere around 30

degrees with a wind chill in the teens for the Sunday morning

driver's meeting! It didn't seem to matter though, all participants

and workers had a great time.

Cold weather and all, the driving season is officially under way.

February was chock-full of teaching and learning, and there's still

ground to be covered. Make sure to examine the calendar closely,

you don't want to miss a Drivers Education, Club Race, Autocross,

Time Trial, Rally, or Tour because you failed to plan appropriately.

Don't forget that all of the DEs in our area fill up quickly. If you

would like to get in, you must follow the entry rules to the letter.

We are also quickly approaching the 2002 Tampa Parade in

Maverick Minutes

by Mimi Spreen

The February board meeting was held on Tuesday February 4th at

Lanean Hughes' abode. Joe McGlohen provided barbeque for

dinner. In attendance were Lanean, Wendy Shoffit, Mimi Spreen,

Keith Olcha, Michael Wingfield, Mark Steele, Matt Platts, Noby

Takahashi, Joe McGlohen, Teri and Charlie Davis, Mike Brodigan, Cody

Sears and Bob Knight. The meeting started at 7:05 with Keith's "Round

the Room" reports.

Mike Brodigan advised that advertising was going well. We've

added 2 ads and dropped 1, collected some back fees and plan on

selling more 1/4 and 1/2 page ads because of the ease of handling and

the higher revenue. Matt Platts stated that the February Slipstream is

at press and should be mailed out in the next few days.

Teri reported that the rally school was good, although it lost a

small amount of money. Teri can forward the class materials to

anyone who didn't go to the school. Parade for Dummies which was

held at The Prairie House in Carrollton was well attended, even

though we had our first SNOW of the year.

Noby is planning on requesting insurance for the upcoming

events. Mark Steele said TT104 had 25 attendees, which gave

everyone plenty of runs. Wendy actually drove Mitch's Miata and beat

Bob Benson AND Jan Mayo!! (Oops, should I not have said that ;-)

Lanean said that the New Member Party was very well attended,

the beautiful weather helped that I'm sure. I want to take a moment

to thank Lanean for taking over my part of putting this party

together at the last minute. My 100 year old grandmother passed

away and I was in Shreveport for her funeral. Thanks again, Lanean.

June. If you haven't made your plans already, there may still be a few

available spots, so act quickly! You should also consider renewing

your PCA membership early if possible. Imagine the disappointment

if you were trying to get into a DE only to find out that your

membership had lapsed and you had to scurry to renew before the

event. You can renew early online at the www.pca.org website.

Once again this month, you will have the pleasure of reading

articles written by our region's members. The different points

of view expressed

by these talented

writers is colorful and

creative, you can

really get a feel for

being at the event

right along with

them. In fact, why

don't you attend the

next event with them?

Imagine how much

fun you could have!

Look for me at

your next event, I'd

love to say "hi".

A reminder of our 2003 "sleet attack"

Photo by Drew Campbell

Lanean also said that the February Happy Hour is at Sherlock's

Pub. The April 13 Bus lot for AX will have bathrooms and concessions.

It will also have bleachers. Due to an IRL conflict at TMS, we

can't have the October 12 date, so the alternative is Oct 25 and 26.

Sponsor checks for club race have been received.

Wendy brought up an addition to the event calendar for July 12

from 11-1 PM at the McKinney Library. It will be an informal

concours for kids ranging in age from 12-18. Motion made and

passed to add this to the calendar.

Joe mentioned that 9 radios need to be replaced for a total of

approximately $2300.00 which included carrying boxes. It was decided

that we could wait until after the Feb DE to make the expenditure,

since we would not need the radios until after that event anyway.

Cody requested volunteer workers and instructors for the

upcoming driving schools. Volunteers are needed for the Ladies AX

on 2/15, AX101 on 2/16 as well as the Mineral Wells event on March

8 & 9. Contact Cody if you are available and would like to help.

Last, but not least, the truck! Charlie informed us of a truck that

he has found. He actually drove it and said there were some things

that would need to be fixed, but overall it looked ok. He checked into

insurance coverage. A motion was made to buy the truck for

$2000.00. The motion was seconded and approved.

Meeting was adjourned at 9:10 pm.

8
---
Photo by Dennis Chamberlain

Happy Hour at Railhead

by Claire Athy

Happy Hour Crew: Dennis Chamberlain, Tinker

Edwards, and Mark Gluck

One of our most fun and unexpected

Christmas gifts this year

was given to us by two of our

children - a membership to the Porsche

Club of America. We received lots of

PCA materials in the mail, including

"Slipstream". We looked them all over

and observed that it seemed the

Regional Mavericks Club had a large

number of active members who did a

variety of exciting and fun things. Then Dennis Chamberlain called

and invited us to the Happy Hour at The Railhead on January 16,

2003 to get acquainted with some of the members and to hear more

about the various events that the club had to offer. During the phone

Gregg and Claire Athy

Photo by Dennis Chamberlain

discussion, Dennis and my husband, Gregg, had a discussion about

DE, which was the event in which Gregg was most interested.

Since the Railhead was relatively close we decided to go to find

out what it was all about. Despite being a bitterly cold night there

was a good turnout for the get together, we enjoyed the drinks, the

food, and good conversation. The big barbeque sandwiches were

delicious, and the french-fries smothered with grilled onions were

most unique.

John and Marlo Pulliam

We had an opportunity to meet quite a few Porsche owners

and hear about the specific activities and events they each enjoyed.

Since the Goodie Store was open and doing a good business, we

ordered our name badges from John, Dee, and Demi Lersch. We

did discover that most of the members with whom we spoke had

belonged to the PCA for quite a few years and it was obvious while

listening to them that their enthusiasm for their cars and the club

had not diminished.

I can't begin to remember the names of all those that we

met, but in addition to Dennis and the Lersch's, we had the

opportunity to talk with Jay Easley and Anastasia Zaruba, Debbie

Lage, Joe Rode, Annette Nolte, Mike Brodigan, Keith Olcha, and

Tinker Edwards. They all made us feel welcome.

Living in Fort Worth we probably won't make it to all the

Happy Hours in Dallas but we'll try to make as many as we can.

We're also looking forward to doing some of the tours and other

scheduled events. According to Dennis, the March 20 happy hour

returns to the Saltgrass Steakhouse in Irving, at 635 and

MacArthur.

It was an enjoyable Happy Hour and we thank all of you for

your hospitality.

Photo by Dennis Chamberlain

Annette Nolte and Joe Rode

9
---
10
---
• Increased Horsepower

• Lower Temperatures

• Superior Protection

• Longer Oil Life

• API Certified

the performance oil that outperforms

Top racers and performance shops know that Royal

Purple Motor Oil will give them a performance

advantage-and now you can enjoy the same benefits!

Royal Purple allows your engine to run with less

friction, producing more horsepower and offering

superior protection. Royal Purple is the choice of

champions; try it today and Feel the Performance!

Military Distribution:

North Texas Lubricants

1-800-364-3025

www.royalpurple.com

11
---
Specializing in

mechanical

repair, Maintenance,

4-wheel alignment,

and complete

German automobile

body repair.

A.S.E. certified

Master

A.S.A.

Glasurit certified

1118 S. Airport Circle, #120

Euless, Texas 76040

Metro (817) 540-0712

Member Automobile Service Association

12
---
Carrera GT Unveiled in Geneva

by PCNA

ATLANTA, FEBRUARY 4, 2003 --- Stuttgart, Germany-based Dr.

Ing. h.c. F. Porsche AG will unveil its V10-powered Carrera GT highperformance

roadster in March at the Geneva International Motor Show.

With more than 600 horsepower and racing-inspired technology,

Porsche's top-of-the-line sports car delivers pure performance.

The Carrera GT has a pure racing engine. Its 10-cylinder powerplant

with dry-sump lubrication is based on Porsche's 5.5-liter V10 naturally

aspirated engine developed especially for racing. For production,

technicians at the Development Center in Weissach, Germany, have

increased the displacement to 5.7 liters. Maximum output is 612

horsepower (DIN*) at 8,000 rpm, with peak torque rated at 437 poundfeet.

The Carrera GT has a top test-track speed of 205 miles per hour

(330 k/h) and accelerates from zero to 62 mph (100 km/h) in 3.9 seconds.

Its specially developed six-speed manual gearbox allows it to go from zero

to 124 mph (200 km/h) in 9.9 seconds.

Porsche developed a new construction concept for road and racing

vehicles. The Carrera GT's monocoque and entire sub-frame are made

of carbon-fiber-reinforced plastic (CFRP), and Porsche has applied to

patent this technology. Carbon is the only material that, after complex

processing, can meet the requirements needed to combine top-class

driving performance and driving dynamics with minimum weight at

maximum rigidity.

With attainable speeds of more than 186 mph (300 km/h),

aerodynamics plays a crucial role. To achieve as high output co-efficients

Photo Provided by PCNA

as possible (so-called "downforce"), the Carrera GT has an underbody

geometry that can only be found in similar form in pure racing sports cars.

The underbody is completely cased in carbon fiber and provides an

additional suction effect thanks to its rear diffusor and flow channels.

The Carrera GT also features the Porsche Ceramic Composite Brake

(PCCB) system. Porsche has supplied this component since 2001 and is

the first manufacturer to include it in a mass-produced vehicle (the 911

Carrera GT2). A global innovation - the PCCC (Porsche Ceramic

Composite Clutch) - transmits power to the drivetrain.

The first Carrera GT models produced at the Porsche plant in

Leipzig, Germany, will be delivered to customers at the end of 2003.

28" x 35" Garage Posters!

PRINTER OF SLIPSTREAM SINCE 1982

Go to www.graymousergraphics.com

As seen at the Founders Day Banquet! Starting at $50.00!

Email kevin@graymousergraphics.com for more info.

Gray

Mouser

Graphics

Layout • Design • Hats • Shirts

Banners • Posters • Calendars

Track Photography • Car Numbers

Digital Photo Editing

Kevin Hardison

Irving, Texas • (214) 957-8193

USSERY PRINTING

3402 CENTURY CIRCLE IRVING, TEXAS 75062

972-438-8344

FAX 972-721-1847

13
---
Ladies Autocross School

by Alicia Reich

Have you ever washed your car at 5:30 AM? I did, in

preparation for my first Autocross School, held on Feb

15 at Pennington Field in Bedford. I am not an early

bird by definition, so this took significant commitment on my

part to finally fall out of bed. My Dad told me that the car had

to sparkle like a gem or it would not pass Tech Inspection. Of

course, I didn't really believe that bluff, but I'm a wee bit of a

neat freak and I just had the urge to make my car shine. With

one exception, everyone else at the autocross school had also

washed their car at 5:30 AM, because they were all clean despite

significant recent rain!

And what beauuutifuuuul cars they were! The Boxsters

are neat, and the 911's are cool, but my heart was won over by

the new Mini. What a cute car! My snazzy ride is a 1990

BMW 525i (Dad calls it "my daily driver"), which clocks at just

under 100,000 miles. Dad bought it for Mom when it was

three years old, and we've taken good care of it since, and it is

now most definitely "mine".

...My dad told me that the car had to sparkle like

a gem or it would not pass tech inspection...

I am a junior at Ursuline Academy and started driving to

school a year ago, six months after I earned my license. It took

a while for Dad to acknowledge that I was a safe driver and

grant me the freedom of the road in my own car. Although I

have driven a go-cart on a number of occasions and definitely

enjoyed it, I had never participated in a driving competition

before.

Like everyone, I went onto the track as a passenger in

itially as my instructor zipped round the skid pad. While she

was cranking the gas, little old me was mashed against the

passenger door, heavy helmet jammed up against the glass.

Photo by Matt Platts

After the first ride, I gulped and feebly told my instructor

that I have had "minor" encounters with motion sickness

throughout my life. Amazingly, when I took the drivers seat

and slowly passed the first few cones, I found that I had left the

motion sickness behind in the passenger seat!

My instructor, Lisa, specified that the counterclockwise

rotation should feel easier than running clockwise, but I found

my best results when circling clockwise. After my third run

clockwise, the facilitator at my station told me I was driving

with only three wheels on the ground! I was shocked and

started apologizing, but he laughed at my reaction and said a

"three-wheeley" was a good thing. And it sure felt awesome,

too!

Alicia Reich tests the cornering limits of her 525i

After lunch, our group rotated to the slalom and braking

exercises. Out of all the simulations, I found the braking to

be exceptionally helpful. Lisa instructed me to calculate the

braking distance of my car, and then apply that information to

determine a braking point for each corner. This was excellent

information and I find myself applying it constantly to my

driving habit on the road only a week later.

Photo by Matt Platts

A wide variety of cars turned out

Photo Matt Platts

The driver's meeting was quite brisk!

Photo by Matt Platts

Photo Matt Platts

Bob Benson sends the next student on-course

Photo Matt Platts

Photo Matt Platts

14
---
Twice during the day I encountered the members of a

girl's soccer team in the restroom. The first time, one of the

girls asked if I was a professional race car driver. I immediately

giggled and said, "No, just having some fun." But when I

encountered more of the same team later in the day, I surprisingly

responded with a proud "yup" before I even realized I

opened my mouth. Could this be a subconscious recognition

of my goal in life? The girls responded, "that's so cool," and

as I walked out of the restroom waving bye to my new friends,

I sighed giddily after my first encounter with fan adulation.

I sure am glad the PCA and Maverick Region decided to

let the younger crowd learn a bit about car control in an

autocross setting. It was pure fun packed with good information

(thanks, Lisa and School Crew!). I am planning to run the

entire autocross series, so hope to see you there! Does anybody

Photo by Matt Platts

have a g-Analyst or Geez Cube that I can borrow or buy? I plan

to write a report for my Physics Class using it once I find one (no

kidding!).

Photo by Matt Platts

Photo Matt Platts

Photo Matt Platts

Photo by Kevin Hardison

Photo Kevin Hardison

Photo Kevin Hardison

Photo by Kevin Hardison

Photo Kevin Hardison

Photo Kevin Hardison

Photo by Matt Platts

Photo Matt Platts

Photo Matt Platts

15
---
1033 N. Henderson St.

Fort Worth, TX

(817) 877–1772

Forgeline • Brembo • Eibach • Sparco • Borla • Hoosier • MOMO • Red Line • OMP • Teamtech • Fuel Safe

German Engineering With Southern Hospitality.

Personal Service.

At Nine-Eleven, we've built a reputation for understanding our customers' needs —

quality service, convenient location, state-of-the-art diagnostics, and personalized service

that is unmatched in the Metroplex. When you trust your car to us, you will have the

peace of mind that it will be serviced correctly the first time. Every time.

Access.

We strongly believe in access to those who will actually work on your car. Our

technicians are available in person, by phone, and even by pager if you have questions

or need timely information about your car.

Facility.

Our clean shop, well-stocked parts department, and comfortable waiting room ensure

that you and your car will get the kind of service you deserve. Maintained tools and

equipment. Clean cars. We are meticulous about details.

Parts.

Our parts department is also second to none. Our knowledgeable staff will assist you in

finding that necessary part or after-market option you require. We are an authorized dealer

for high-performance Recaro seating, Yokohama Tires, Bilstein Shocks, Bosch, and many

others. This ensures that whether you are a casual driver or an enthusiast who needs race

prep assistance, Nine-Eleven has the experience and knowledge to keep your car running

at peak performance.

Newkirk

Crown Rd.

Cindy Lane

IXXI

Royal Lane

Joe Field Rd.

Emerald

I-35

Nine-Eleven Enterprises, Inc.

Service, Accessories & Parts for BMW,

Mercedes & Porsche

2120 Cindy Lane, Dallas, Texas 75229

972-241-2002 www.nine-eleven.com

Convenience.

We are conveniently located near the intersection of Stemmons and LBJ Freeways

in Dallas. We offer emergency towing service 24 hours a day and have arranged

for special rental car rates with area rental agencies. Come by for a visit between

7:30 a.m. and 5:00 p.m. Monday-Friday, or call for a service appointment.

16
---
Christmas at Hope Shelter

By Lanean Hughes & Wendy Shoffit

Once again this year, the Maverick Region was able to help

out at the Hope Shelter during the 2002 Christmas season.

Many members contributed gifts, stuffed animals, stockings,

and stocking stuffers. Several deliveries were made during the

month of December, all gifts were well received and enjoyed by

everyone at the shelter.

Dorothee Thielisch's hand-made stockings were great, they

were so big that some of the children could almost fit inside

them! If you attended the holiday party at the Leibel's house, you

probably helped to contribute to the the huge pile of stuffed

animals and toys under (and around) the Christmas tree. Can

you believe that all of that plush was squeezed into Lanean's 944

Turbo for the trip out to the shelter? We joked that if Lanean got

pulled over while driving home that night, that she would surely

be able to talk herself out of that situation. What police officer

could resist all those cute bears staring out of the back window?

Here are some photographs to help us remember the season

and maybe even start thinking about what we will be doing to

help this worthy cause throughout 2003.

Photo by Wendy Shoffit

Photo by Lanean Hughes

Just look at all the great gifts!

Helpers sorting through the stuffing

Photo by Wendy Shoffit

Photo by Wendy Shoffit

Maverick members pose for a group picture

Photo by Wendy Shoffit

You could almost step right inside...

Lanean finds a new friend

17
---
Autocross 101

By Bob Lewis

This past fall I purchased a Porsche. After the sale I was told

that PCA organized great events. I was told that they provided

an opportunity to exercise the car and your abilities. Some

events were held at high speed race tracks. My eyes glazed over in

anticipation. I later found a Slipstream and discovered where and how

to join. After receiving my first Slipstream I saw an announcement for

a DE event. I applied. There was a new member welcoming party

which I attended. There I was encouraged to attend Autocross events

to learn some of the potential of my car. After all, the car has too much

speed to test it's limits among the civilians on urban streets.

When I enrolled in Intro Autocross 101 I thought that this

venue might be classroom only. As it turned out a classroom might

have been a welcome break from the weather, but that's another

story. The morning was filled with exercises for the car and driver.

My group started with braking. Next we went to a counterclockwise

skid pad. Then we went on to a clockwise skid pad. Lastly, we had 3

slaloms with different cone placements. These were comprised of a

constant distance between cones, an increasing, and decreasing

distances between cones.

We were assigned an instructor for the entire day. This

instructor was with us each time we drove the car. What a great

method to learn. At each exercise he drove first and explained the

good, bad, and ugly of the strategy of that exercise. Then we got to

drive and discovered the ugly, bad and sometimes the good of our

maneuvers.

Photo by Matt Platts

We had a drivers meeting that outlined the morning activities

and previewed the afternoon. My first exercise was the braking one.

I launched the car at full throttle. At something past 7,000 RPM in

second I hit the brakes. The car stopped short by a couple of feet

Bob Lewis getting the "feel" for his new C4S

from the target line. The next times I slowed somewhat, but each

time was beyond the target line by a few feet. The car stopped in

much less distance and time than I expected.

18
---
The next two exercises were on the skid pads. We learned that the

car would take a different radius with only a modulation of

the throttle. I held the steering wheel in one position and was able to

change the line of the car using just the throttle. Later in the day I was

a corner worker at a skid pad and was able to see the other cars doing

this very thing. Having both experiences was very educational.

...At something past 7,000 RPM in

second I hit the brakes...

Next were the three slaloms. My instruction, Jason, showed how

to blip the throttle at strategic places to bring the rear end around

the cones. They were telling us that the best line is a straight one

with only minor amounts of steering wheel action. I was to feel the

handling action thru my seat. I either need more practice or thinner

pants. I could conceptualize the throttle steering but didn't seem to

reduce it to practice very well. I need more practice with this

skill. It should be pretty easy but would be tailored to your car's

performance.

We broke for lunch. The event leadership arranged the cones

into an autocross track. We had a drivers meeting. They showed us

how this track layout was an extension of the very exercises we had

practiced in the morning. They added a 360 degree hairpin which I

never did do as well as had hoped. My times decreased except for the

last time where I think I reverted to my instincts not the teaching.

Knowing our times was great instant gratification.

It was an awakening to see an automatic heavy Corvette have

the fastest times among the students. The he and she drivers of this

car were able to accelerate between the sections of the track and

brake with their left foot. I did not practice that. He and his wife

were experienced autocross participants according to my instructor.

The Miatas displayed a great deal of balance and turned in good

times also. Horsepower was not a much of a requirement for this

track design. You needed great handling, knowledge of your car's

potential, and the skill to unleash it.

The weather was cold and very windy this Sunday. The wind

chill factor must have been well below freezing. There were twenty

or so Maverick Region volunteers out in this miserable weather

helping us newbies learn the ropes. These people must be fanatical

and dedicated. They seem to be my kind of people. When I commit

to something it takes an awful lot of bad things for me not to show

up. All of the students owe a debt of gratitude to those organizing

this event. My instructor did not drive a sport type of car to the

track. I offered to let him drive mine during the fun runs, but he

declined. After two days his face was wind burned, he was cold, and

only wanted a hot bath at home.

I had a great time. Thanks again to those that worked at this

event.

Photo by Matt Platts

Photo Matt Platts

Photo Matt Platts

Photo by Matt Platts

Photo Matt Platts

Photo Matt Platts

Photo by Matt Platts

Photo Matt Platts

Photo Matt Platts

19
---
Complete Collision Repair

Featuring the latest Shark & Hunter Equipment.

We work closely with your insurance company on all repairs.

• Track Alignments and Suspension Setups

• Your convenient Drivers Education

inspection location for

North Dallas

20

Steve Watkins in the Streetwerks 944 S2 at Motorsport Ranch.

5401 I-35 • Corinth, Texas 76205 • 940-270-8000 • Fax 940-270-8001 • www.streetwerks.com
---
21
---
Spyder

Race at TMS!

Maverick Region Autocross #2

April 13th, 2003

1955

PORSCHE SPYDER

Come autocross with us at our new

location in the TMS parking lot.

For more details contact Wendy Shoffit

(972) 506-7449 or email her at

wendy@shoffit.com.

Register online at www.pca.org/mav

22
---
Photo by Wendy Shoffit

Time Trial 104

by James Shoffit

It was early on a Saturday morning when we arrived. Wendy and

I had spent the night at the new Best Western in Mineral Wells

(four thumbs up, by the way!), and quickly noticed the cars were

all covered in a thick frost. The drive to the MineralRing saw the

temperature dip 30...29...28...27...26... where it stopped and started

moving back up. The sun was soon up, and the clear day without

wind slowly warmed us as we unloaded the car, set up timing,

trailer, and course.

Charlie Davis was taking a few spins in John Garcia's

Formula Atlantic race car to see if his size-12 body would fit in

the size-5 car. Someone yelled "hey, the space shuttle should be

passing over!"

Eyes turned upward, we saw the streak – air molecules

turned to plasma by the extreme force of an object flying 12,000

...they both complained about their instructors

and having students that just wouldn't listen...

miles per hour reentering our atmosphere 40 miles up. Then

something seemed to fall off. Then another something, and then

another. Soon the main streak split into two, and we heard a loud

boom. We hoped that this was normal reentry process, but the

radio soon confirmed nagging doubts.

The time trial school went on, though it was somewhat

delayed in the confusion. Once underway, students and

instructors alike were treated to a year's worth of time trials

all compressed into a single day for one low, low price.

The day started with everyone working on Course 1.

Students and instructors were paired up, hopped in a car with the

instructor driving, and were treated to 3 slow(er) laps each,

Photo by Wendy Shoffit

Photo by Wendy Shoffit

who was the student and who was the instructor. They both

complained about their instructors and about having students

that just wouldn't listen.

Chuck & Noby disagreeing about the line

Bill Miller learned the most valuable lesson – never bring

really old tires to ANY event and try to drive on them. His spins

resulted in at least 3 new nicknames : calls of "Spin Miller","Thrill

Miller", and "Tractor Bill" followed him around all day.

(I won't mention the times that Wendy and I ended up kneedeep

in weeds – or John Garcia nearly lost a wheel)

David Pang gives his aero kit a workout

Many thanks go to the organizers and contributors – Kevin

Hardison, Cody Sears, and Wendy Shoffit, to name a few.

Let's hope we do this one again next year – it was the best

value I have seen!

Ben Hartsell crosses the finish line

followed by two more sets of 3 hot laps. Then the driver became

the passenger in the former passenger's car and again did a set of

3 slower laps, followed by 2 sets of 3 laps. Then worker changes,

rinse, and repeat.

Then we set up course 2 and each entrant had 2 sets of 3 hot

laps both as a driver and a passenger. Then the same was repeated

for course 3. The day was finished off with a shootout for top

time of day (which can't be published since this was a school).

The newest people to time trials received instruction from

the most experienced drivers, while those closer together in skill

were often placed together. Chuck and Noby are still fighting over

Photo by Wendy Shoffit

Mike Bellinghausen puts his turbo brakes to good use

23
---
Rally School

by Russell McLellan

From the passenger seat, my partner's eyes darted back and forth

between the surrounding landscape and a set of directions that

slightly resembled Egyptian Hieroglyphics as he tried to find the

next turn. I watched the speedometer for any movement off 25, and

tried to estimate how much faster I should go to compensate for the

last Stop sign.

Why were two people so concentrated on driving 25 mph which

should be so easy for one of the best performance cars in the world?

We were competing in our first T-S-D (Time-Speed-Distance) Rally.

We, along with about 20 other people, had spent the morning

attending Maverick Region's Rally School. We learned how to read a

tulip diagram, understand "all" the rules, e.g. what is a "rally road,

and what is not. Most importantly for that day's competition, what

was "protection". Which turned out to be a concept that would trip

up many cars during the afternoon, including ours?

We learned that the key to a T-S-D rally was to have the closest

Driving a Porsche at 25 MPH. It Can be

Tough... Really!

time to the "perfect" time calculated in advance by the Rally master.

That time would be measured at a series of checkpoints on course,

and we would not know the location of those checkpoints. If we got

off course we would not only add time as we found our way back, but

we might actually miss a checkpoint. It seems that good Rally Master

could, and would, put traps along the course that would allow us to

continue on what appeared to be the course, but in fact wasn't.

Photo by Matt Platts

We also found out why a Rally master was that diabolical.

Besides making the course more challenging for us, they and their

team, had invested about 150 hours and driven about 1000 miles to

create our 50 plus mile course.

So what was all this about? What's a rally? Why are they so

challenging, and maybe most importantly, why were we all doing this?

A classroom full of enthusiastic students

I had heard about road rallies ever since my fascination with

sports cars had begun many years ago. I never really understood what

was involved, let alone why so many people, both amateurs and professionals,

were involved in rallies around the world. Maverick

Region gave me the opportunity to get the scoop a few Saturdays ago!

Teri Davis from the Maverick Region had assembled a great

team of people to take our class through everything we needed know

24
---
to compete in a Rally. We learned there are several different types of

rallies. Routed rallies like the Time-Speed-Distance type that we're

going to do that afternoon, and Gimmick routed rallies. Gimmick

rallies which might be a scavenger hunt, Hare and Hounds where the

hare (The leader) leaves markers along the course and the hounds

(the competitors) have to follow the route; and Poker Runs where

instead of a time slip at each checkpoint you get a "card". Finally

Performance Rallies that include SCCA national ProRallies and

divisional ClubRallies. These are done on blocked roads and are run

like Routed Rallies.

Then we were on the course. A course that required both of us

to totally concentrate on our respective jobs. His as navigator, which

I quickly learned I was totally dependent, and mine as driver, on

which he was totally dependent. A great part of rallying is that it truly

is a partnership and a shared competition. We found out later in the

Photo by Matt Platts

Teri Davis & Carey Spreen clarify with a diagram

After a great morning of cramming our heads full of an amazing

amount of information we were off to the roads around Texas Motor

Speedway for some practice runs before the afternoon's actual

rally. We practiced how we would communicate directions, share

decisions, and generally tried to figure out together how we were

going to end up finishing with a respectable, and hopefully winning,

time.

Apparently Mark & Lisa had enough time to stop for refreshments...

day that we managed to finish in the middle of the group, but more

importantly had learned a lot and had met, and spent a wonderful

day with, a group of terrific people.

Would we do it again? Absolutely! In fact a few emails have

been exchanged "plotting" our next event, and beginning to develop

our strategy. We had a chance to discover a new and curiously very

Photo by Matt Platts

Photo by Matt Platts

Clay & Betty Perrine accept their 1st place award

challenging way to enjoy our cars, and share that experience with

someone, in a very controlled, but also very competitive way.

Some people drove the family van, while others were their in their

"daily driver". It's definitely something that should be added to

"must try" list.

Short Rally Final Scores

Betty & Clay Perrine 221 1st place

Dave & Jean Frick 259 2nd place

John and Elizabeth Chamberlain 261 3rd place

Jim Sidler and John Leto 282

Russ McClellan and Matt Platts 306

Jim & Marjy Chadwick 326

Keith Olcha & Charlie Davis 358

Mark & Lisa Steele 366

Scott & Stanley Ripley 378

Jesse & Sheri Hill

25
---
Gateway Racing, the exclusive Toyo Tire High-Performance

Distributor for the Southwest Region, is pleased to announce

it's recent relocation to the North Dallas area.

Dale Gates • 469-621-2591

Carrollton, Tx 75006

racing@thegatewaygroup.com

www.gatewayracing.us

We have opened a Race-shop in Carrollton, Texas and are

offering Racecar Rentals for DE Events, Performance Services,

Maintenance and Track-Side Support for DE and Club-Races.

Stop by and visit the Gateway Racing Team at the upcoming

club races at TWS and TMS. In addition, look for us at your

next Driver Education event.

With the expectation of continued lower interest rates in the years ahead, you have to turn to the stock market if

you hope to achieve above-average returns. But doing it right means not looking for the fast buck or the quick kill.

It means building wealth steadily and patiently over a period of years by holding the shares of high-quality growth

companies. And giving them time to work for you. Let us help you reach your goals.

214-965-6102 or 1-800-527-5746

100 Crescent Court, Suite 600, Dallas, TX 75201.

26
---
New Wheels

If you have any changes that you would like to make to the

MRPCA membership guide, call Joel Nannis at 817-329-1600

by Joel Nannis, Membership Chair

Duaine & Susan Appleton

814 Clearlake Drive

Allen, TX 75002

1973 914

Danny Cupp

2619 Rosewood Drive

Mesquite, TX 75100

1982 928

Nirmal Jayaseelan

7233 Paldao Drive

Dallas, TX 75240

2002 996 C4S

John Soules

3509 Woods Blvd

Tyler, TX 75707

2003 996

Bruce & Sue Bartl

14232 Marsh Lane #454

Addison, TX 75001

2001 986 S

Bill Davidson & Tom Plichta

2016 Justin Road #300

Lewisville, TX 75077

1977 911 S

Dean Kennedy

5400 LBJ Freeway

Dallas, TX 75240

2002 996

Mike & Maria Stafford

2059 Sienna Trail

Lewisville, TX 75067

1982 911

Raymond Burch III

6501 A Hickock Drive

Fort Worth, TX 76116

1984 911

Walter Burkett

1805 Scouts Vista #321

Arlington, TX 76006

1999 996 Cab

Michael & Shelly Caolo

3524 N Versailles Avenue

Dallas, TX 75209

1996 911

Eric Cline

5141 Boca Raton

Dallas, TX 75229

2000 996

David & Jean Frick

4120 Audras Way E 3117

Fort Worth, TX 76116

2003 986

Charlie & Natalie Garcia

9821 Queenswood Lane

Dallas, TX 75238

1985 911 Carrera

John & Magee Grundman

6230 Silver Creek Azle Road

Azle, TX 76020

2002 986

Rick & Jana Hale

5900 Diamond Oaks Court

Fort Worth, TX 76117

1979 930

Robert & Clara Lewis

300 Sewell Court

Irving, TX 75038

2002 996 C4S

Andy Macaluso

6624 Myrtle Beach Drive

Plano, TX 75093

1984 930

Bill & Paula Mcbride

10711 Ferguson Road #102

Dallas, TX 75228

1965 356 C

Oliver & Patrick Mcgonigle

2217 Ivan Street #1118

Dallas, TX 75201

2002 996 Cab

Patrick & Susan Sullivan

5812 Hilton Street

Plano, TX 75093

1993 911

Buddy Wainwright

206 James Drive

Heath, TX 75032

2002 986

Julie & Derald Walker

1600 Central Drive #180

Bedford, TX 76022

2001 986

Dale & Pamela Gates

14860 Montfort Drive #205

Dallas, TX 75252

1988 944

Transferred From Lone Star

Trent Conrad

3553 Wheeler Street

Dallas, TX 75209

2003 996

Simmie Cooper

6513 Sudbury Road

Plano, TX 75024

2002 996 C2

Mark & Diane Howell

6009 Louisville Drive

Frisco, TX 75035

2000 986

Thomas & Kristen Hyatt

7601 Churchill Way #314

Dallas, TX 75251

1986 930

Robert Prince III

5708 Mcshann Road

Dallas, TX 75230

2002 996

Paul & Patricia Smyth

1312 Alexandra Court

Colleyville, TX 76034

2002 996 Cab

Emmett Murphy

4747 Hidden Lane

Fort Worth, TX 76017

1986 911

Transferred From Monterey Bay

Sean & Janet Rackley

2415 Lake Point Drive

Keller, TX 76248

1996 993

Transferred From Orange Coast

Anniversaries

5 Years

Gates, Dale (Pamela) ........................................Dallas

Hunse, Tom (Denise) .......................................Dallas

Keens, David (Arianne)..............................Arlington

10 Years

Hensley, Steven .................................................Dallas

15 Years

Stahl, John W. (Victoria) ..................................Plano

Poor, John G. (Melody) ............................Oro Valley

Becker, Karl B. (Elaine).....................................Aledo

20 Years

Sullivan, Patrick (Barbara) ........................Granbury

Berdis, Joey (Heidi)....................................Mckinney

27
---
Unclassifieds

Unclassifieds are available free to Maverick Region Members and are $5 to all others (contact Matt Platts for payment details). Please limit size to no more than 6 lines.Ads will

run for 3 issues. Email Matt Platts at unclassifieds@mavpca.org or call 817-919-1253 (email preferred) by the 10th to have your ad run the following month. Be certain to include

a contact name and phone number. Check your ad for accuracy the first time it runs. Contact the editor to have your ad pulled sooner. Photo inclusion based on space constraints.

1984 928S Guards red/tan leather, auto, fully loaded, no dents or scratches, very tight body,

non-smoker, bought new in NM. and driven in west Texas. Always garaged. 83K $9,500 Don

Johnson (817) 654-4649, djohnson8809@sbcglobal.yahoo.com. (1)

1988 Carrera 911 Targa Grand Prix white, black leather int, 5-sp, pristine condition inside

and out, whale tail, front spoiler, chrome fuchs, lowered to Euro specs, short shift, euro

headlights with H5 bulbs, believed "chipped" by prior owner, new in-dash CD, Cerwin-Vega

speakers, amp, C-V subwoofers, garaged, runs great, excellent daily driver/light

competition; 60,000 mile service, Mobil 1, cold A/C, tight Targa top, 71,000 miles, $23,000.

Contact Randy at 214-417-7900 or rgrasso@bigplanet.com for photos. (1)

1978 911SC White/Brown leather, 82,000 miles. PW, AC, Power mirrors, Sunroof. $10,000

Ask for Steve (214) 536-0329. (1)

Hand Painted Center Caps Fuchs/cookie cutter & phone dial/flat/carrera/late model 5 & 7

spoke center caps for sale - $150/set + $6 shipping. The crests are handpainted in authentic

Porsche colors to match the hood crest. I can also handpaint your existing center caps

for $100 + $6 return shipping. Samples at http://cars.desertworld.com/ctrcaps.html. Steve

Rosenzweig 510.701.8998 or steven_rosenzweig@yahoo.com (1)

Parting out 1976 and 1985 Porsche 930 Turbos I prefer you e-mail requests to

a930guy2@swbell.net attn: Brian 214 352-3019 (1)

Wanted 1996 - 1998 Carerra 2 or 2S with Tiptronic Transmission Private party seeks from

original or 2nd owner. Very stock Coupe or Cabriolet in Exc Condition. Car should have all

original paint and svc records. Please contact Howard at: hkkimbro@nationwide.net (1)

1998 986 Boxster 5-speed 2.5L-6 Black. grey leather, black top, chromed alloys, chromed

large single exhaust, Bridgestone aggressive treaded Potenza R17 radials, cabin wind

deflector, mats, 68,000 miles. $27,500 Call Cliff Mathews 214-762-6784 (1)

2000 911 Carrera 9,700 miles, 6-speed, one owner, always garaged with tender loving care,

Guards Red, full black leather interior, 18" turbo alloy wheels, CD player, hi-fi sound

system, Porsche stability management and tuned suspension. Richard Voreis at

214-361-1919 or rdvoreis@mindspring.com (1)

Brey-Krause harness guide bar (Model R-1010) and camera mount (Model R-9010) for '74

and newer 911. Guide bar sells new for $259 (will take $175) and camera mount for $139

(will take $85). Both in perfect condition. Set of perfect Fikse FM-10 wheels just purchased

from Wheel Enhancement in rare jewel finish (18"x10" rear, 18"x8" front) for 993/996 retail

for $3600. Will take $2500 wheels only, or $3500 with fresh Michelin Pilot Sport Cup tires

(1 DE event). Buyer pays shipping on all items. Steve 214-219-1350 x21. (1)

1997 Mustang Sally needs a new home. Mustang GT, V8, 5 sp, 4.6 L, 84K miles. Flowmaster

mufflers, tinted windows, red with gray cloth. Dealer/Mayo maintained, with records. You

know it's been well loved, $8,500. Jan Mayo 972-443-3916w or 817-595-4651h. (2)

1984 944 Champagne/Brown, new air, timing belt, all maintenance records, 2 new tires,

runs great, approx 235,000mi (odo broke), ready for autocross/TT now, $4,000 firm; set of

gold BBS 15" wheels $300; Elaine 972-991-7715. (2)

1999 Mercedes Benz SL 500 Sport Immaculate Black/Black, Sport version with two tops.

Very low miles (19,500) and one owner. This non-smoker vehicle has power seats, tilt wheel,

zenon lights, heated seats, cassette/CD player, all the basic options without a phone. It has

been garaged and waxed often. Just replaced four tires, is detailed, and under manufacturer's

warranty. New $92,000. Asking $46,000 firm. Can be reached at dbielefeld@earthlink.net

or 214-739-3001. (2)

1995 993 Carrera Cabriolet Polar Silver/Grey with Black top. 6-speed and all available

factory options with 17" relatively new Pirelli P-zeros. 38k miles $44,800, nearly perfect

condition, contact Mark Nesselroad at 972.571.3375. (2)

1999 Boxster Stuttgart built. Guards red/black; 5-spd; factory hardtop, sport tech pkg, CD,

amp, & 6-spkr stereo; alarm; wind deflector. Cover; floor mats; Mag bra; no winters; one

owner. 33,000 miles. $35,000. Call Bill (817) 297-3752. (2)

1974 911 Carrera Grand prix white/black graphics. Parchment/black interior. All numbers

match. Very low miles. Polished 7" & 8" Fuchs with white centers. Blaupunkt. 22mm F & R

sway bars. Turbo tie-rods. Mono-ball front suspension pickups. Drilled rotors. SSI headers.

Slipstream Advertiser Index

Autoscope (972) 867-7467 Page 10

Boardwalk Porsche (214) 576-1911 I.F.C.

Bobby Archer's Motorsports (817) 877-1772 Page 16

Dallas Auto Sports (214) 320-2228 Page 20

Dallas Euro Cars (972) 243-4911 Page 24

European Parts Network (866) 799-3984 Page 18

Gateway Racing 469-621-2591 Page 26

German Technologies (817) 540-0712 Page 12

Glen Gatlin, Jr. (214) 965-6102 Page 26

Gray Mouser Graphics (214) 957-8193 Page 13

Louden Motorcar (214) 241-6326 I.B.C.

Jerry DeFeo Designs (972) 240-5800 Page 12

The Man's Shop (817) 265-1116 B.C.

Monty muffler.Lowered. Car is immaculate inside and out driver. I have all parts to make

100% stock for the purist. Price $19,500. Contact Gary Lambert at 972-991-2422 (W) or

817-453-9873 (H) or gklamb@aol.com. (2)

1973 Silver 914 2.0 Drew has moved away from home and we have too many cars around

the house, his 914 needs a new home. Runs great and looks great. The interior needs a

little loving care. Air Conditioned with new compressor. Tires are new with Fuchs wheels.

Fuel injected, 2 roofs, CD player AM/FM radio, $5000 Contact Bill or Drew Campbell

972.329.1504. email: boxsterbill@attbi.com. (2)

Rare RS/RSR cars Euro-spec RS, RSR, and ClubSports available for immediate import and

DOT/EPA registration. 1992 964RS (#WPOZZZ96ZNS490500), Guards red, 24k, factory

Recaro's, dyno shows 272hp, top condition, $49,900. 1995 993RS

(#WPOZZZ99ZTS390125), Guards red, 55k, factory Recaro's, 3.8 liter/300hp, dual airbags,

18" Speedline RS rims, showroom condition, $59,900. 1993 964RSR

(#WPOZZZ96ZMS409079) GT2 Uniball susp., racing ABS, fresh rebuilt 3.8liter/6-speed

gearbox, $62,000. Two 1992 964RS ClubSports (silver, yellow) only 140 ever made, prices

range from $42K to $60K. All prices exclude shipping. More details & pic's at www.pca.org

(The Mart). I own 993RS and 964RSCS myself. Steve (214) 693-3276. (2)

1995 911 Carrera (993) Coupe # WP0AA2995SS323045. White/burgundy lea, 6-spd, 17"

wheels crests, new tires, 6 CD changer, bra, garaged, full set workshop manuals & records,

not raced, accident free, 43,000 mi. Asking $41,000. Contact James: 214-707-1083 or

jbielak@augustmail.com (2)

2002 911 Turbo from Long Center raffle in Austin for sale. Car has X50 performance

package, 6 speed, Navigation system and leather package. Car has total of 95 miles on it and

is currently in storage. MSRP $145,000. Asking $120,000. Serious inquires only at

purdomt@yahoo.com. (2)

1990 911 C2 Cabriolet Black with Tan Interior, 5 speed, 120K miles, Professionally

Maintained, Garaged, Many new and custom features (have original parts also), passed

emissions 01/2003, new Alpine Stereo w/6 disc changer & 200W Amp, B&B Tri-Flo headers

& muffler (dual output for performance, loud but tunable), new Leather, Almost Perfect,

asking $28K, Call Kent Haven @ 972.754.5345 or email khaven@dfwidc.com. (2)

1986 911 Carrera Cabriolet Iris blue metallic/navy blue interior/new top, 5 speed, 82k

miles, full leather interior, factory short throw and sport shocks, 16" bright fuchs, crests,

K40, JVC CD, full power options (except top), dual power seats, complete books and

records, Dallas car. This car is nearly perfect and in original condition including paint.

$23,950, Kevin Mixon 972-424-2706 Plano Texas. (3)

Seats from 91 C2 Carrera Black/leather/power, like new/5000mi. Will fit 74-98. $1200.

Camber Truss, will fit 69-89 911. $75. Rick Burleigh at 817-237-2766 or

burlerott@dellepro.com. (3)

1990 Mercedes 300CE Pampered non-smoker with records. 104K Miles. A fantastic road

car! 17" AMG Wheels & 217hp to move you smoothly down the road and a $3,000 Becker

sound system to heighten your driving experience. Power driver & passenger seats(with

memory),power steering, power windows w/ 1 touch down function & telescoping steering.

Paint and interior in excellent condition. Always hand washed and waxed often. Car has

been hard wired for a Valentine 1 radar locator, however it does not include the unit itself.

With proper care, this one will take you well past 200K miles! $12,900. Email me at

nhl_27@yahoo.com for pictures or call me at (214) 850-4555. (3)

1990 944S2 Cabriolet Triple black, 122K Miles. Always garaged, non-smoker. Service

performed by Porsche and all Porsche parts. New 17" Boxster wheels, 2 yr. old top in great

condition, and a $3,500 sound system (Boston pro speakers, Becker unit and 6 disc changer

with sub). Car wired for a Valentine 1 radar locator (V1 not incl). Full set of records and

pictures to e-mail you. Why spend $45K on a Boxster when you can enjoy this and save

thousands! $15,500. Email nhl_27@yahoo.com for pictures or call (214)850-4555. (3)

1995 Suburban 1500 LT 5.7L V-8, 103,000 mi, Light Autumn/tan, automatic, leather, front & rear A/C,

power steering, windows, and locks, tilt, cruise, premium AM/FM cassette, third seat, roof rack, privacy

glass, running boards, alloy wheels, towing package including oil and transmission cooler, four new BFG

tires, excellent condition, great tow vehicle. $9,990. Bill Dawson 972-291-8817 (3)

These advertisers support the Maverick Region . . . the Mavericks support these advertisers!

Mayo Performance (817) 540-4939 Page 7

Mean Green Travel (940) 565-8111 Page 9

Metro Volkswagen (972) 659-9999 Page 22

911 Enterprises (972) 241-2002 Page 16

Park Place Porsche (214) 559-4222 Page 6

PartsHeaven (800) 767-7250 Page 12

Pithy Productions (512) 914-3826 Page 25

Royal Purple (800) 364-3025 Page 11

Soundwerk (817) 281-9381 Page 18

Ussery Printing (972) 438-8344 Page 13

Watkins Streetwerks (940) 270-8000 Page 20

Zim's Autotechnik (817) 267-4451 B.C.

For ad rates and for more information contact Mike Brodigan at (817) 488-8520

28
---
Slipstream Advertiser

for 25 years!

Louden Motorcar Services has been

servicing fine European motorcars in

Dallas since 1977. From the moment you

drive in, it is apparent that quality is our

number one priority. From the comfortable

waiting room to the well-kept workshop,

Louden Motorcars exhibits professionalism.

We've been winning awards for the

quality of our service for years. Louden

has been rated "Best in Dallas" twice by

D Magazine, "Best in Texas," "Top Ten in

the U.S." and "Best in the West" by the

Robert Bosch Corporation (worldwide

leader in fuel injection and electronics).

And we'd like the opportunity to show

you why.

11454 Reeder Road

Dallas, Texas 75229

(972) 241-6326

www.loudenmotorcars.com
---
Jan Mayo, Slipstream

2973 Timbercreek Trail

Ft. Worth, TX 76118

Periodical Postage

Paid at Ft.Worth, TX

Fine Men s Clothing From:

Hickey-Freeman

Tommy Bahama

Zanella

Bobby Jones

St. Croix

Your Personal Clothier In

Downtown Arlington

2002 Maverick Member

100 S. West & Main

Downtown Arlington

Convenient Private Parking

Telephone: 817-265-1116

Mon - Sat 9-6 • Thursday till 7:30

www.themansshop.com