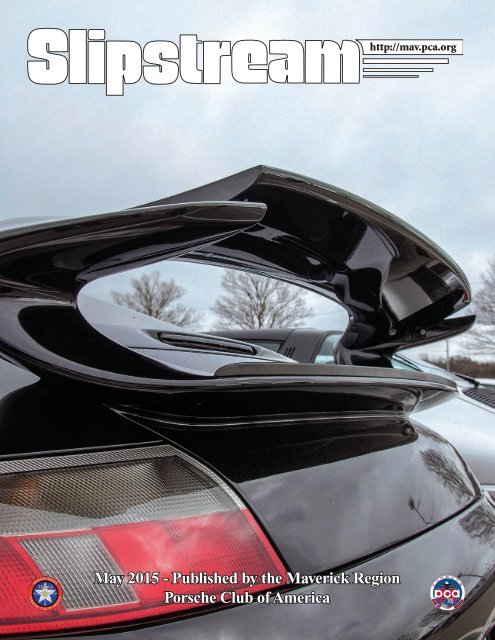 Slipstream - May 2015
The monthly newsletter of the Maverick Region of the Porsche Club of America
The monthly newsletter of the Maverick Region of the Porsche Club of America
SHOW MORE
SHOW LESS
Create successful ePaper yourself
Turn your PDF publications into a flip-book with our unique Google optimized e-Paper software.
Upcoming Events

• Father's Day Picnic

• Sunday Drive

• Rally School

Past Events

• Wild Wildflowers

• May at Mayo's

• Results

May 2015 Published by the Maverick Region

June 2007 -

Porsche Published

Club by

of the

America

Maverick Region

Porsche Club of America
---
Gear up.

Over the decades, Porsche race cars have been responsible for writing motor sports

history. The Porsche Driver's Selection is the perfect choice for anyone who would like

to bring a part of this fascinating world into their everyday life. From the fun computer

mouse in the shape of a racing car, to the office coffee mug or the luxurious watch,

you will find the perfect gift for a good friend or for yourself among the varied

Porsche motor sports merchandise collection.

Porsche Motorsports Selection.

Present this coupon at Porsche Plano to receive

15% off

of Porsche Motorsports Selection items.
---
http://mav.pca.org

Go Online for the latest updates on events at http://mav.pca.org

Visit us on Facebook at http://www.facebook.com/groups/mavpca/

Departments

Zone 5 Presidents..........................................1

Shifting Gears (President's Column).............2

Maverick of the Month.................................2

List of Officers and Board Chairs.................4

Around the Bend (Editor's Column).............5

Maverick Minutes.........................................6

New Mavericks and Anniversaries..............31

Advertiser Index..........................................32

Unclassifieds...............................................32

Volume 53, Issue 5, May 2015

May

Sun Mon Tue Wed Thu Fri Sat

1 2

3 4 5 6 7 8 9

10 11 12 13 14 15 16

17 18 19 20 21 22 23

24 25 26 27 28 29 30

June

Sun Mon Tue Wed Thu Fri Sat

1 2 3 4 5 6

7 8 9 10 11 12 13

14 15 16 17 18 19 20

21 22 23 24 25 26 27

28 29 30

Features

Trivia.............................................................7

". . . it's the people".......................................8

Tech Corner...................................................9

Autocross Series..........................................12

Bob Benson Remembrance.........................16

Upcoming Events

Drivers' Education 4: MSR................................ 5

April Board Meeting.....................................7

Autocross 4: MW........................................13

May Maverick Social: Lavendou................27

Saturday Drive............................................27

Maverick Lunch Series...............................30

Past Event Recaps

Autocross Events 2 and 3............................12

Maverick Tech Session................................22

April Sunday Drive.....................................23

Maverick Social: Uncle Julio's....................26

31

Day May

2 May at Mayo's

6 Board Meeting

8-10 PCA Club Race/DE, COTA

12 Lewisville Lunch

21 Mav Social: Lavendou, Plano

23-24 Drivers' Education 4: MSR

28 Richardson/Southlake Lunches

30 Autocross Novice School: MW

30 Saturday Drive: Rancho Sereno

31 Autocross 4: MW

Day July

14 Lewisville Lunch

16 Mav Social: Bruno's, Irving

23 Richardson/Southlake Lunches

26 Autocross 6: LSP

Driving Event Venues

COTA Circuit of the Americas, Austin

ECR Eagles Canyon Raceway, Slidell

LSP Lone Star Park, Arlington

MMS Mesquite Memorial Stadium, Mesquite

MSR MotorSport Ranch, Cresson

MW Mineral Wells Airport, Mineral Wells

Day June

3 Board Meeting

7 Concours: Autos in the Park

9 Lewisville Lunch

18 Mav Social: Love and War, Grapevine

21-27 60th Porsche Parade, French Lick, IN

25 Richardson/Southlake Lunches

28 Autocross 5: MW

Day August

5 Board Meeting

11 Lewisville Lunch

16 Autocross 7: LSP

20 Mav Social: TBD

27 Richardson/Southlake Lunches

On the Cover: The gray skies

and rainy weather have persisted

this spring, but our members still

get out and drive their Porsches!

Photo by George Luxbacher

Slipstream (USPS 666-650) is published monthly by the Maverick Region, Porsche Club of America, 155 Jellico

Southlake, TX 76092. Subscription price is $24.00 per year. Periodical postage is paid at Fort Worth, TX. Postmaster:

Send address changes to Hiram Saunders, Slipstream, 155 Jellico, Southlake, TX 76092.

Opinions expressed herein are not necessarily endorsed by the Club's membership or officers. Contributions will be

printed on a space available basis. Chartered regions of PCA may reproduce items from this issue provided the author/

artist and Slipstream are credited. Slipstream is printed by Ussery Printing Company in Irving, Texas.

ARK-LA-TEX

Kirk Bristol

kbristol911@gmail.com

COASTAL BEND

Bryan Kerrick

2015 PCA Zone 5 Presidents and Zone Representative

LONE STAR

Michael Globe

president@lsrpca.com

MARDI GRAS

Rick Payton

rpayton35@aol.com

OZARK

John Bullen

johnc8551@yahoo.com

WHISKEY BAY

Henry Carter

hjcarterod@gmail.com

CIMARRON

Randy Kaplin

rwkaplin@swbell.net

HILL COUNTRY

Robert Price

president@hcrpca.org

LONGHORN

Jack Merrell

president@longhornpca.org

MAVERICK

Jim Falgout

president@mavpca.org

WAR BONNET

Grady Buckhalter

grady.buckhalter@

gmail.com

WHITE RIVER

Leonard Zechiedrich

whiteriverregionpca@

gmail.com

ZONE 5 REP

Lynn Friedman

zone5rep@pca.org

1
---
Shifting Gears: Your Club Wants You!

By Jim Falgout, Region President

As of March 31, 2015, the Maverick

Region of PCA had 1,554

primary members and 844 supplementary

members for a total membership

of 2,398. I receive emails from

the National office of PCA every time

we have a new member sign up, and I

have had several such emails since that

date. That was a new record for Primary members. That

is great news!

Our challenge is to help each and every one of you

get the most enjoyment out of your club that you can.

We are in one of our most active seasons; the other is

in the fall. Our outdoor events are curtailed during the

summer because of the infamous heat. There are several

events this month and June, including track, street

driving, and social, for you to enjoy your Porsche and

the other folks who appreciate the brand as much as

you do. As we often say, "It's not just the cars, it's the

people."

One of those people who contributed significantly

to the success of our Drivers' Education events passed

away recently. It was quite unexpected. You will read

more about it later and in other sections of this publication.

The reason I bring it up is that this event made us

keenly aware that all of our chairpersons, who do a tremendous

job making our club what it is, need assistants.

They need assistants who are developing, so that one day

they can take over the activity. So yes, more than ever, I

am appealing for you to get involved with

your club. Find an activity that you really

enjoy and see how you can help make it

enjoyable for your fellow club members.

You will have so much more enjoyment

when you do so. Yes YOUR CLUB WANTS

YOU . . . to get involved.

Shifting gears on you, I want to discuss the Drivers'

Education program that your club operates. If you

enjoy driving your Porsche fast, but do not want to endanger

yourself and others, or risk

getting expensive tickets from the

speed enforcement folks, we have

a great program for you: DE. Your

initial event and every event thereafter,

begins with a classroom training

session. There are several such

sessions after that. We have a great

group of instructors who ride with

you during all of your sessions until

you are qualified to drive alone (i.e.,

Solo). In fact, the first session, they

will gently drive your car to gauge its

capabilities. You can also request to

ride with your instructor in his/her

SAUL FRAIRE, Chef-Proprietor

1235 William D. Tate Ave

Grapevine, TX 76051

817-329-6995

car to see how they do it. (That was one of the most

advantageous things I did at my first DE.)

One concern folks have is consumables, like brakes

and tires. If you only run one or two DEs a year, you

probably will not have much issue with these. If you do

more events, you will go through tires and brakes at a

higher rate, but it will be worth it. So consider it, and

if it sounds good, get registered, get a tech inspection

(most dealers and shops do it for free), and come on

out.

Mav of the Month

As I mentioned previously, we had a member pass away

recently. Bob Benson was the Safety Chair for our Drivers'

Education events. He was responsible for making

sure the track was safe before every event. He arranged

for all the corner workers for all DEs.

He made several other contributions

to the activities of your club as you

will read elsewhere. I was going to

name him Mav of the Month after

the spring session of DEs, but due to

his untimely death, I am naming him

Mav of the Month now. The gift card

for Silver Fox was sent to Patricia

Benson, his widow. Bob, we appreciate

everything you have done for

your club and our members, and we

will miss you.

2 May
---
Like a Personal Trainer for your Porsche!

• Expert maintenance and repair services • Track day preparation

• Performance and appearance upgrades from GMG, Manthey, FVD and more

• Superior customer service and free loaner cars • PCA discounts

• Show quality detailing services • Spec 996 and Spec Boxster Race Cars

We Also Buy, Sell and Consign Quality Pre-owned Porsches

3236 Skylane Drive, Dallas, Texas 75006

214-269-1570 • www.racperformance.com

PCA Special

Precision Alignment

$149 00

Plus Sales Tax

Ride Height Adjustment and Corner Balancing Available at Extra Cost. Call for Estimate.

Offer Includes Complimentary Car Wash and Vacuum.

3
---
President

Jim Falgout

president@mavpca.org

Jim joined Maverick Region in August,

2008. He drives a 2003 996, which is

the third Porsche he has owned. Jim

enjoys attending Maverick Region

social and driving events.

POSITION CHAIRPERSON

AX Chair Wesley Lincoln

TT Chair Travis Howard

TT Registrar Robyn Howard

AX/TT Rules Travis Howard

AX/TT Schools Robyn Howard

Charity Chair Chris Hamilton

Club Race Co-Chairs Jim Buckley

Pat Heptig

Joel Nannis

Club Race Registrar Wendy Shoffit

Concours Chair Andy Kay

DE Chair Chris Tabor

DE Chief Drvng Instr. John Sandusky

DE Equip. Mgr. Wesley Lincoln

DE Registrar Wendy Shoffit

DE Safety

DE Sponsorship Daren Kirbo

Email List Moderator

Goodie Store Pat Friend

Histographer, Tenured Charlie Davis

Membership Susan and Tom

Froehlich

Monthly Socials Stephanie Ho

Member Welcome Chair Stephanie Ho

On-line Calendar Brendan Eagan

Past President John Hamilton

Public Relations Linda Bambina

Rally Co-Chairs Don Sebert

George Luxbacher

Slipstream

Advertising Pat Friend

Editors Carey Spreen

Jim Hirsch

Event Ad Design Jasmine Shoffit

Mailing & Tech. Andy Mears

Printing Fran Ussery

Content Wrangler Linda Bambina

Mentor Wendy Shoffit

Social Chair Tracy Robertson

Sunday Drives Tom Martin

Neill Flood

Swap Meets Robyn Howard

Tech Sessions Ed Mullenix

Trivia Chair Jerry DeFeo

Website

Denny Payne

4 May

Vice President

Gareth Maurice

C 817-821-2940

vp@mavpca.org

Gareth still remembers the cover of

the car magazine that drew him into a

lifetime of loving cars. He spent many

afternoons riding his bike as a young

kid to the local newsstand to buy and

read everything he could. He now

owns a Midnight Blue 911S and enjoys

driving it in wonderful Texas!

Linda Bambina

214-616-1936

pr@mavpca.org

Jim Buckley

cr@mavpca.org

Charlie Davis

chuxter@1derful.info

Jerry DeFeo

972-240-5800

trivia@mavpca.org

Brendan Eagan

calendar@mavpca.org

Neill Flood

tours@mavpca.org

rally@mavpca.org

Pat Friend

214-616-2477

ads@mavpca.org

goodiestore@mavpca.org

Susan & Tom Froehlich

membership@mavpca.org

Chris Hamilton

hope@mavpca.org

John Hamilton

817-907-7823

jhamil3@msn.com

Pat Heptig

214-649-7907

cr@mavpca.org

Secretary

Wendy Shoffit

C 972-977-9821

secretary@mavpca.org

Wendy and husband James joined

Maverick Region in 1997, when their

daughter was only 9 months old.

Jasmine is now 17. They own 3 Porsches

including a 1978 911SC as a dedicated

racecar, which she enjoys autocrossing.

Her daily driver is a 2000 Boxster.

She also serves as the PCA National

Newsletter Chair.

Jim Hirsch

972-740-7377

editor@mavpca.org

Stephanie Ho

hh@mavpca.org

Robyn Howard

214-991-0873

drivingschools@mavpca.org

Travis Howard

214-616-6152

tt@mavpca.org

Andy Kay

817-948-8538

concours@mavpca.org

Daren Kirbo

254-396-2973

daren@huckabee-inc.com

Wesley Lincoln

940-597-7152

ax@mavpca.org

George Luxbacher

rally@mavpca.org

Tom Martin

tours@mavpca.org

Andy Mears

214-394-5857

andy@mavpca.org

Ed Mullenix

972-417-0997

techcorner@mavpca.org

Please help us to keep growing!

Treasurer

Richard Solomon

C 903-530-8281

treasurer@mavpca.org

Richard joined Maverick Region in

2012 when he fulfilled a 30+ year

dream to own his first (of many) 911,

a 2009 Silver Carrera! Although fairly

new to the club, he is excited about

being more involved and meeting more

Porsche fanatics!

Joel Nannis

cr@mavpca.org

Denny Payne

webmaster@mavpca.org

Your Name Here!

Tracy Robertson

817-944-5490

social@mavpca.org

John Sandusky

817-777-0421

john.c.sandusky@lmco.com

Don Sebert

214-613-6900

rally@mavpca.org

James Shoffit

972-786-6246

james@shoffit.com

Wendy Shoffit

972-977-9821

crreg@mavpca.org

deregistrar@mavpca.org

Carey Spreen

817-422-3480

editor@mavpca.org

Chris Tabor

817-371-4888

de@mavpca.org

Fran Ussery

W-972-438-8344

H-817-481-8342

fran@usseryprinting.com
---
Around the Bend...

By Jim Hirsch, Managing Editor

Moving into the editor's chair

for Slipstream would be an

intimidating task for anyone,

unless, of course, you have the previous

editor standing with you like I do.

Carey Spreen has helped shepherd this

award winning magazine for the past

three years and continues to perform

an important role even in his "retirement".

He is the chief grammar and spelling enforcer!

Not only that, as I enter into just my second year as

a member of the Maverick Region, Carey serves as my

historian – he knows so many members that if we need

a photo, some missing information, or even how to contact

another member – Carey has all of the answers!

So, what can you expect from me as the day-to-day

editor of Slipstream? Certainly no big change since this

formula has proven to be so successful. But there is a

reason I chose "Around the Bend" for my column

heading each month.

As you drive your Porsche, you always want to

be aware of what's ahead, not what is passing by

or what you've already passed. This is essential to

great driving, whether on a road course or an autocross,

and especially on the highway and in town. As you've

heard from your track instructor many times, "You don't

steer the car with your hands, you steer with your eyes."

If you continue steering with your eyes, you'll make the

minor adjustments necessary to correct the car's path,

which becomes paramount if you're off-road and a tree

or tire wall is looming in your path! Hmmm, just talking

about driving makes me want to read this issue and look

for our Autocross results and upcoming Gimmick Rally,

DE, AX, and Saturday Drive events!

I'll use that philosophy for all issues of Slipstream as

well. I'll look "around the bend" to what is coming on

the club horizon and make sure our members have a

chance to read about it here each month. To be even

more timely, I'll post regularly to our club Facebook

group at https://www.facebook.com/groups/mavpca/

and provide daily updates to remind you of club

and other Porsche events and news via our Twitter

feed at https://twitter.com/MaverickPCA

and hashtag of #mavpca. Read on to see what's

"around the bend" in this month's issue!

Sponsored By:

Sept. 26-27 Motorsport Ranch 3.1

Oct. 24-25 Eagles Canyon

Nov. 14-15 Motorsport Ranch 1.7

Mark your calendars 30 days in advance!

5
---
Gimme a Minute: April Board Meeting

By Wendy Shoffit, Region Secretary April 1, 2015

President

Jim Falgout

began the

meeting promptly

at 7:00pm. He

reported on the

passing of Bob Benson.

Bob has been

named as Maverick

of the Month posthumously.

Jim encouraged every

Event Chair to work with someone

who could replace them if something

went wrong. He proposed that

the July board meeting be cancelled,

which was approved.

Secretary Wendy Shoffit told everyone

that her family was finally

taking the trip to Germany they won

in 2013, but will be back in time for

the April Drivers' Education Event,

which has 75 students signed up.

We expect more to sign up the week

leading up to the event. We are also

discussing ways to improve interest

in DE. Registration is open (register.

pca.org) for the Club Race and DE

at COTA May 8-10. Visitors are also

welcome.

Online versions of Slipstream contain

links for advertisers. Readers

can click the ads and it will take

them to the advertiser's website.

We get reports of the number of

click-throughs, providing an added

value to advertisers. Every two years

we publish a printed membership

directory, which will be printed

this year. Jim Hirsch will help lead

that charge. Members can opt out,

if they choose, but must request to

do so. Details later. Lastly, the board

voted to donate $100 to the Hope

House in honor of Bob Benson and

Charles Machala, father of DE instructors

Chuck and Tim Machala.

Autocross Chair Wes Lincoln reported

that there have been three

autocrosses this year. They've been

well attended, except for PCA members.

He wants to encourage PCAers

to get out there! He proposed having

an autocross event at the end

of a rally or tour, maybe to Mineral

Wells. The next event will be an

Autocross School Saturday, May 30

in MW. Students of the school get

free entry to the following day's

Autocross, which will be a "mirrorcross"

event, with two mirror-image

courses being run for a total time.

Concours Chair Andy Kay has a detailing

demo scheduled for April 25

at Jack's Garage. Saturday, May 2 is

May at Mayo's, which will include a

People's Choice Concours. Sunday,

June 7 is Autos in the Park, which

will be a judged event. He continues

to have great concours medals

and will purchase several "Best of"

awards for May at Mayo's. He has

also been getting great kits from

Griot's Garage to give away at various

events. He will also be writing

feature articles for Slipstream.

Treasurer Richard Solomon has

been getting training from our past

Treasurer, but still has a learning

curve. We received a nice subsidy

check from National, which will help

future events. We have a strong financial

position, with over $109k in

the bank currently. Some Slipstream

advertisers still have an outstanding

balance, but sponsorships are current.

He suggested members could

go to Houston for the Concours of

Texas event April 24-25, featuring

vintage Porsches this year.

Social Chair Tracy Robertson has

everything set for May at Mayo's, including

the popular On the Border

catering.

PR Chair Linda Bambina praised

Jim Hirsch for jumping in and doing

a great job with Slipstream. He is on

top of everything. She encouraged

photographers in the club to submit

VERTICAL shots for possible use as

Slipstream covers. She is also looking

for additional names of people

to feature in her "It's the People"

series.

Slipstream Layout Editor Jim Hirsch

reported that the issues currently

have plenty of content, which is

great. Unfortunately, this causes

some articles to be delayed. He requests

that when people submit photos

of people, please include names.

He thanked Carey Spreen for continuing

to do the "heavy lifting." Jim

has the Twitter account fully functional,

providing announcements

for upcoming events to followers.

Slipstream Content Editor Carey

Spreen noted that he and Jim have

separated the job into layout versus

content. They increased printing

to 1,750 copies/month. We have

been sending issues to non-renewed

members for months, which we will

now review. He will work with Membership

Co-Chairs to contact nonrenewals

before they stop getting

Slipstream. He also mentioned that

online classified ads are way out of

date. We will work with webmaster

Denny Payne towards a solution.

Rallymaster Don Sebert is putting

on a Gimmick Rally on Saturday,

April 25. George Luxbacher has

agreed to step up to be Rally Co-

Chair with Don, allowing Neill

Flood to focus on Sunday Drives.

The April rally will end at the Frisco

Historic Museum, which now contains

the exhibits from the old Age

of Steam Railroad Museum at Fair

Park. Attendees will enjoy a tour of

the museum and possibly dinner at

Babe's Chicken. He will have prizes

for the top three finishers.

"Calendar Boy" Brendan Eagan

has been making improvements to

online calendar items, including

pictures and hyperlinks.

Tech Session Chair Ed Mullenix

had a great event March 21 showing

entrants how to do a DE pre-tech inspection.

Will work to plan a "Tops

and Dogs" event for convertible top

care sometime, probably in July.

Sunday Drive Co-Chairs Neill

Flood and Tom Martin reported the

first drive of the year had 42 cars,

despite bad weather. They had great

feedback. April 18 was the next one,

through the Ennis-area bluebonnets,

with a group photo opportunity.

Saturday, May 30 will be a drive

to Rancho Sereno in Whitesboro,

which includes great newly-paved

Farm to Market roads. They need

RSVPs for that one by Saturday, May

23 because it will be catered.

Travis Howard held an Autocross

Awards Banquet on Feb. 21. Thanks

to Linda for her help arranging everything.

Great attendance.

Guest Daniel Amado is a new DE

instructor and wants to encourage

more DE students. He is working

with the DE team.

Guest Bob Kramer recently has

gotten involved in DEs and suggested

we improve communication

to potential entrants. We offer tons

of instruction for not much money,

compared to others out there, plus

6 May
---
it's a lot of fun! Suggested posting videos via YouTube

to get more information out there.

Guest Gabriel Chacin is a new member and is enjoying

the club and Slipstream.

Membership Co-Chairs Tom and Susan Froehlich reported

a new all-time high of 1,554 primary members

and 2,398 total (tied for best overall). Stephanie Ho offered

to help contact non-renewals to improve membership

retention.

DE Chair Chris Tabor said that event entries have

been lower than expected this year. He is working on

improvements, including getting better messages out

to potential "newbies." Many promotions last year increased

attendance in higher run groups, which is

good. He will write an article advertising DEs. Tom F.

suggested we add links to existing videos to our website

instead of having to create our own. More single day

events were suggested as being popular.

Monthly Social Chair Stephanie Ho said the Hilton

Garden Inn event was very popular, with over 85 attendees.

The hotel was generous with discounts and will

welcome us back. The May event at Lavendou will also

feature great discounts and a cocktail party. Stephanie

needs RSVPs, if possible, and encourages people to

show up if they say they are coming. Dress is not casual.

She thanks Porsche Plano for providing calendars and

auto show tickets as giveaways. She's working with local

restaurants who do NOT have a minimum overall order

or per person cost.

Meeting was adjourned.

February/March TRIVIA

It's Easy to Play!

Play here for fun and education

and find the answers below

OR

Play for prizes on the web at http://mav.pca.org, with

the answers and winners to be posted here after each

month's contest has closed. Thanks to Jerry DeFeo for

putting this and the Web Trivia together.

Congratulations to this month's winner,

CYRIL REIF,

getting all 5 correct. Also getting ALL 5 Correct were

Pierce Hooper and Victor Verissimo. The winner was

chosen by random drawing. Cyril, please contact Kirk at

Zim's to claim your $25 Gift Certificate.

Thanks to all for playing!

1. Just recently on the Internet there was a special

presentation on Porsche New Vehicle Customization

Program. What is that Program officially called?

a. Porsche Customs b. Porsche Exclusive c. Porsche

Individuations d. Porsche-Your Way

Source: http://goo.gl/WgmgqI

2. Who heads up this Section of Porsche?

a. Hilda Piech b. Barbara Boeckenhoff c. Kurt Pohl

d. Hans Grimmnerhoff

Source: http://goo.gl/WgmgqI

3. This example car was painted Viper Green with

Black and Gray Interior, and had a number of Custom

Features. Which of the following was NOT a Feature

on this car?

a. Clear Taillight Lenses b. Color Matching Seat Belts

c. Yellow Gauge Faces d. Illuminated Door Sills

Source: http://goo.gl/WgmgqI

4. There is a phrase located in the Door Sill that reads

"911% Fahrspaß". What does that mean in English?

a. 911's Best Sportscar b. 911% Driving Fun c. 911

Custom Turbo d. 911's Sports Wonder

Source: http://goo.gl/WgmgqI

5. On the Engine Deck Lid, what was beneath the

PORSCHE identification?

a. turbo b. 911 c. 911 turbo d. "911% Fahrspaß"

Source: http://goo.gl/WgmgqI

Answers: 1) b 2) b 3) b 4) b 5) b

7
---
" . . . it's the people": James Shoffit—Major Maverick Contributor

As Told to Linda Bambina by James Shoffit

Note from

Linda:

James is

amazing. He wrote

his own interview!

Plus he is a rare

bird: so easy to talk

to, learn from, and

laugh with. He has a Maverick Corealways

trying something new and sharing

what works!

My Dad was in oil exploration so

we moved all the time – 10 schools

by 5th grade. (I was never social until

I met Wendy.) I loved math as a

kid and was "who's-who" for Math

in both middle and high school. I

was a self-taught programmer in 6th

grade when I had to write all my own

games for a computer my dad and I

put together. I also went to regional

competitions for Rubik's Cube solving,

to round out the nerd picture.

My dad always had Volkswagens and

talked about Porsches all the time.

Always wanted to put a Porsche engine

in whatever VW we had at the

time. My dad and I rebuilt the engine

in the '66 VW he bought new

just before I was born, and that was

the car I drove through high school.

We also dropped the engine many

times to replace the clutches I would

burn out. Learned all types of car

stuff from my dad.

While at college as a computer science

major (surprise, surprise), got

a job running NTSU's computers

and in 1989 met Wendy on THEnet

(precursor to the internet). She was

at A&M and I was at NTSU, and

we met in an online forum where I

helped her transfer some computer

programs from one system to another

in College Station. She asked

how she could repay me, and I suggested

lunch. Three months later, I

proposed. I was a Senior (5th year)

and she was a Freshman. Married

the next year.

8 May

We wanted to wait to have a kid

until: 1) we could afford it, 2) we

had plenty of time, and 3) we had

a house. We bought a house in our

sixth year of marriage, and realized

the first two were never going to

happen, so we had Jasmine. Which

meant a baby seat. Which wouldn't

fit in the back of my Mitsubishi

3000GT. We loved watching autocrossing,

and wanted to try it out, so

car shopping was going to be fun!

Viper, NSX, both out (too small,

no back seat). Went to a Porsche

dealership and had to scoot the seat

CLOSER to reach the pedals. Finally

a car built for me! I didn't want to

buy a 911 since I had wanted one

since I was a kid. I had enjoyed that

dream for so long, I didn't know

what I would dream of if it came

true. (Later I found out you always

want one more Porsche than you

have.) So Wendy talked me into

buying our first Porsche – a 1990 C4

Cabriolet. And we autocrossed the

wheels off that car for years.

Our first PCA meeting was the New

Member Party 1998. I went looking

for the autocrossers and found

them! That was an integral part of

our lives for many years. The second

Porsche we still have – 1978 911 that

I bought to be an autocrosser/club

racer is still in use for that purpose

at a number of events every year.

I was President of Maverick Region

from 2001 to 2002. Then I turned

the reins over to Keith Olcha so I

could focus on Parade 2004, for

which we had won the bid. I spent

the next two years developing the

software for Autocross scoring and

Tech Quiz scoring. They still use

a variant of the Tech Quiz scoring

software I developed at Parade.

Parade 2004 in Fort Worth saw me

oversee all the scoring, collecting

the data, presenting it to Mark Shevitz,

the Emcee, and putting it on

Photo courtesy of Linda Bambina

the website. I continue to do this, as

well as all banquet presentations, for

Parade every year.

I was also President again for two

more years (2008 - 2009). I also did

our local autocross timing and scoring

from 2000 through 2009. I won

the Selcer Award in 2010, and was

the Zone 5 Rep from 2009 to 2012,

which is THE best job in PCA. Very

busy, but a ridiculous amount of

fun. During this time I assisted Bryan

Henderson with setting up the

Circuit of the Americas club race,

which is a joint effort by Maverick

Region, Hill Country (Austin area),

and Lone Star (Houston area) regions

of PCA.

James and "Ebony"

I started club racing in 2004 and

2005 and couldn't afford to do it the

way I wanted. In 2010 my business

was growing and so I was able to

start it up again and raced TWS,

ECR, and Hallett. In 2011 I added

Heartland Park to the schedule, and

in 2012 I picked up Sebring, Watkins

Glen, and Road America. In

2013 I added NOLA and COTA to

the list. The year 2014 saw us visiting

colleges, and 2015 will have us getting

Jasmine sent off to college, so

maybe no new tracks this year. But

we do want to do a west coast tour

soon with Laguna Seca being the

crown jewel out west. High Plains

needs to make the list someday, as

does Mid Ohio, and VIR. All in good

time!
---
Tech Corner: The Good, the Bad, and the Ugly!

By Ed Mullenix, Tech Chair

Something that we Porsche owners

might take for granted is how

desirable a Porsche is. For those

whose checkbook allows them to enjoy

the latest offerings, I am absolutely envious!

Until I get much better at picking

lottery numbers, I will be among

the many who seek out a nice used

Porsche. The problem, it seems, is what constitutes a

"nice" pre-owned Porsche.

Understanding that some degree of compromise is in

order, how does one make the distinction between a car

that meets our criteria and be reliable, and one that has

the potential to be the proverbial financial and emotional

"black hole"? The market for used Porsches is

quite strong, so even high-mileage older cars command

premium prices. The late Bruce Anderson devoted a

section in several of his books describing what to look

for when contemplating purchasing a used Porsche.

Bruce's subjects were mostly air-cooled 911s, but many

of the items to inspect translate to the newer watercooled

cars as well.

Body rust damage from driving in areas that use a lot

of road salt in the winter can be a huge and expensive

problem. We are fortunate here in the southwest, because

rarely do we see road salt (yes, TXDOT has started

using salt!). There are few inexpensive parts on a

Porsche, so the mechanical condition of the drive train

is extremely important.

When an older air-cooled engine was nearing the end

of its service life, it would start to smoke. Any Porsche

since 1978 came with a catalytic convertor on the exhaust.

You will not see exhaust oil smoke coming from

a warmed-up Porsche equipped with a convertor. I had

two 996 cars brought to my shop with oil consumption

complaints. I removed the spark plugs in order to perform

a cylinder leakage test. The oil ash deposited on

the plugs hinted that the cylinder leakage results would

not be good. They were not. A sound engine will exhibit

no more than 5%-10% leakage. Porsche allows up to

20% but at that value, it is pretty much worn out and

burning a quart of oil in less than 200 miles.

The owners of both of the 996s mentioned had purchased

their cars less than 2000 miles earlier. One had

found their treasure on "EBAY" and the other from the

used car lot of a local new car dealership. Neither came

with any warranty. Upon removal and disassembly of

the engines, I discovered that both had been severely

overheated. Without adequate cooling, the aluminum

pistons expand to the point that they become larger in

diameter than the cylinder. The result is a "galled" cylinder

(large deep scratches) and ruined pistons.

The engines of both of the 996s had been repaired

by the previous owners. Rather than a proper (and unfortunately

expensive) repair, the previous owners had

the engines "patched" well enough to unload them on

someone. The cylinders were honed to flatten out some

of the scratches and new piston rings installed. The

engines actually ran quite well in spite of their compromised

condition. The oil consumption was the tip-off

that things were not well. Neither owner had their car

checked out prior to their purchase.

I routinely get requests from folks wanting a pre-purchase

inspection of a car they are considering. I have

upset a bunch of used car lots here in town. I do NOT

sell cars, I service and repair cars. I can, with a clear

conscience, state that I try to be objective about the condition

of any car that I inspect, but I do not have x-ray

vision, nor can I predict the future. Many of the shops

that advertise in Slipstream share that same philosophy.

Imagine paying market price for a '99 996, which is

around $18k, and a couple of months later, drop another

$8k-$10k into an engine repair. To be fair, the

used car lot that sold one of the cars took it in on trade

for a new car. The car ran well and had good paint and

interior. They got "taken" but did not suffer any pain

once they sold it.

I prefer to buy cars from private sellers (local, not

EBAY!). Usually, the seller has owned the car for some

time and has records of the maintenance. Used car lots

usually do not provide the service history compiled by

the previous owner, even if the previous owner provided

it. Ponder the following: There is no such thing as too

much profit! The car lot does not want you to know

what they paid the previous owner for his car. Service

records usually contain names, phone numbers, etc, so

no, you won't be getting any of those.

Used car lots find a lot of their cars at the local wholesale

auctions. If a car was not marketable at a dealership,

it gets sent to the auction. I have seen a lot of scary

offerings come from the auction. Probably the best

used Porsches come as "Certified Pre-Owned" from the

local Porsche dealers. The CPO program is limited to

cars that have recently exceeded the original factory

warranty period.

Wherever you find your dream Porsche, be it a private

seller or a used car lot, I cannot over emphasize the importance

of having it checked out

BEFORE you buy it. If it comes from

a lot, and sans any maintenance records,

consider purchasing an aftermarket

used car warranty. They are

really expensive but not near so as a

catastrophic engine or transmission

failure.

9
---
We Buy, Sell & Trade the World's Finest Timepieces

Authorized Dealer for major brands including:

Patek Philippe • Rolex • Bell & Ross • Blancpain • Corum

F.P. Journe • Girard Perregaux • Jaeger LeCoultre • Tudor

Visit deBoulle.com to view our extensive collection of pre-owned timepieces.

MAVERICK PCA RACER

10 May

6821 Preston Rd., Dallas, Texas 75205 214.522.2400 deBoulle.com
---
©2014 Porsche Cars North America, Inc. Porsche recommends seat belt usage and observance of all traffic laws at all times.

Some artists paint canvases.

Others sculpt marble.

Ours service Porsches.

At Park Place Porsche, we elevate automotive service to an art form. Our Master-Certified

technicians and advisers work exclusively on Porsche vehicles, from the Boxster to the 918,

giving them unmatched focus and passion. We offer an on-site Porsche body shop as well

as one of the only Porsche-Certified body shops in the Dallas–Fort Worth area—Park Place

BodyWerks—providing you with comprehensive service, all in one place. And you'll enjoy

exceptional Park Place amenities, like complimentary Porsche loaner cars and hand car

washes. It's everything you need to keep your automotive masterpiece running flawlessly.

Park Place Porsche

6113 Lemmon Avenue

Dallas, TX 75209

214.525.5400

park-place.porschedealer.com

11
---
Autocross Series: Wanna Autocross for Free? Keep Reading!

By Wesley Lincoln, Region Autocross Chair

For two Sundays in succession in

March, the Maverick Region and

Equipe Rapide joined together to

put on back-to-back exciting Autocross

Events at Lone Star Park in Grand Prairie.

The parking lot at Lone Star Park

is a perfect place to watch and enjoy

DFW's premier autocross participants.

For anyone who has the slightest urge

to participate, this is the group to join.

I want to send out a huge thanks to all the Porsche

Enthusiasts for their support of these events. Both days

were a huge success, and the action was non-stop for

seven hours. Special thanks to Sigrid Schnoerr for organizing

the workers.

Because I believe you'll enjoy it if you try it, here is a

special offer. On Saturday, May 30, we will be offering

an Autocross School at the famed MineralRing. You can

spend a day learning the (turn) ins and (turn) outs of

one of the safest ways to enjoy a Porsche. The spacious

venue at the Mineral Wells Airport was once home to

one of the country's most advanced helicopter training

centers for the Vietnam Conflict. Now it plays host to

Autocross and Time Trial events for many of the car

clubs in the North Texas Area. This place is BIG, SAFE,

FUN, and MEMORABLE.

But back to the point: the Autocross School is the perfect

way to learn how to autocross, and you will receive

a full day of instruction for the low cost of $40. But it

gets better. Every Autocross School participant will be

able to run the autocross event on Sunday, May 31 FOR

FREE. But wait, there's more: The autocross will not be

the same event it usually is. It will be THE MOST EX-

CITING AUTOCROSS EVENT OF THE YEAR!!!!!!

This event will be a Mirrorcross. This format begins

with a 1/8-mile drag race that uses "Christmas Tree"

lights for the start, just like "Big Daddy" Don Garlits.

You will start next to another competitor, accelerate to

the end of the drag strip, then turn away from each

other into mirror-image autocross courses. As soon as

you are finished, you will line up and go again -- on the

opposite side. Twice the number of competitors running

at once equals twice the number of runs. SIMPLY

FANTASTIC. Please don't miss it. See you at the course!

Results for Event 2 followed by Event 3 are below.

12 May
---
www.fifthgear.biz

Performance

• Track Set-up

• Exhaust Upgrades

• Performance Alignments

• Suspension Modifications

• Performance Maintenance

Maintenance & Repair

• 100+ Years of Technician Experience

• 11,000 sq Feet of the Top Technology

• Comfortable Waiting Area with WIFI

• Fully Air Conditioned Shop

• Green Building, Eco Friendly

Sales

• Trade your old Porsche

in for a newer model!

• Consignment Sales

• Accessories

Specializing in: Porsche • We service all models

Set up an

appointment today! 1975 Archer Way • Lewisville TX, 75077 • 972-317-4005 1 mile West of I-35 behind Sonic!

13
---
The Art of Paint Protection

After Installation

A virtually invisible urethane film

professionally applied to high-impact areas

of your vehicle to protect your paint job from

stone chips, sand, road debris and bug acids.

During Installation

Owner Installed

Highest Quality Guaranteed

2530 Tarpley Road, Suite 100

Carrollton, TX 75006

14 May
---
Experience Your Porsche in a New Way!

By driving on a real North Texas racetrack

Eagles Canyon Raceway is the beautiful culmination of years worth of

research, planning & design into the rolling hills of North Texas near DFW.

Eagles Canyon Raceway features 2.55 miles, 4 straights over 1,300 feet long, 11

turns, and 340 feet of overall elevation change. Eagles Canyon is a true driver's

track, and is planned to host all classes of events from the top level racing series

to club racing and private HPDE days.

We are proud to receive PCA events including Club Racing and look forward to

each and every event!

With an EC Membership you can enjoy driving on a track that is quickly

becoming history in the making. We offer all that you need including a

challenging track, high octane fuel & a grill for lunch. Join us by signing up at

www.eaglescanyon.com or call for information at 940-466-9775.

940-466-9775

www.eaglescanyon.com

Parts or Service, We Deliver Excellence.

Over 300,000 parts in stock.

Expert service and repair.

Parts and Service for: Porsche, Mercedes-Benz, BMW, Mini, and Smart Car.

817-267-4451

Visit us online at:

1-800-356-2964

www.allzim.com

zimips@allzim.com

1804 Reliance Pkwy. Bedford, TX 76021 M-F 8am to 5:30pm

Zims Autotechnik is not affiliated with Porsche AG or PCNA Registered Trademark of Dr. Ing h.c.F. Porsche A.G.

15
---
John Robert (Bob) Benson: Born February 4, 1950; Died March 13, 2015

By Joe McGlohen and Patricia Benson

You may not have known that Bob

was :

• Also known as "J. Bob" and "Devious

Bob" the Rallyemaster

• A student and teacher of science

• A musician

• A composer

• A physicist

• An astronomer

• A computer wizard of the highest

order

• A motorsports enthusiast to the

extreme

• And above all a good son and a

good person

I first met Bob in 1981. He was one

of four extremely talented computer

wizards working for ARCO

Oil and Gas. Together, they could

accomplish the very difficult and

deliver it tomorrow, or the impossible

next week, or at the latest, by

the week after. They were not quite

housebroken, so ARCO decided

they needed someone to change the

newspapers on their office floors a

couple of time a week, and also document

their "miraculous creations."

So I became their Tech Writer.

Bob caught in

a rare moment

of surprise

16 May

My first initiation

to his

razor wit was

when I stepped

into the doorway

to his office

and said

"May I ask you

a question?" Of

course he replied

"You just

did!" I learned

right then to be a lot more precise

in my conversations with Bob.

A year or so later I got trapped into

writing a rallye for MR/PCA, and

Bob, with a friend of his, agreed

to cold run the rallye. He became

fascinated with that aspect of motorsport,

and wrote many rallies

for MR/PCA, with and without my

help, from the mid-1980s through

the early 1990s, when interest in

the sport finally died for the second

time.

Bob enjoyed the motorsports and

the mathematics aspects of Rallye.

The Benson brothers: Bob and Paul

at Hallett Motor Racing Circuit

He was a staff member on the Great

American Race antique car rallye,

and its smaller regional offshoots

like One Lap of Texas. He loved Pro

Eurostyle off-road rallying. I fact, he

loved rallye so much that his Yahoo

handle was "Transitzone" on many

Yahoo Groups.

One memorable rallye moment

came when we were working on a

rallye route that went south from

Slidell, very near where Eagles Canyon

Raceway is today. We were in my

little red 914. He was in the right

seat taking notes. It had been a very

wet spring. We came around a bend

and there was this shiny ribbon of

water and moss about four or five

feet wide snaking across the road in

the middle of the "S". I tried to neutral

the car to no avail, and in the

blink of an eye, all you could see out

Photos courtesy of Patricia Benson

of the front, back, and sides of the

car was white tire smoke. The car

quickly came to rest, driver's right

in a bar ditch, with the nose and tail

in the top mud and the wheels off

the ground. Bob looked over at me

and asked "Are you done?" I truly

believe he had ice water in his veins.

We investigated and found that

a culvert across the bar ditch had

become clogged with trash, and the

water flowing off of a well fertilized

farmer's field jumped onto the road

and the algae (or moss) grew abundantly.

A farmer with a tractor rescued

us, and we didn't tell anyone

for several years, especially not the

wives, for fear of losing our kitchen

passes.

Maverick Region did a few track

events in the mid-1980s at the old

Green Valley Raceway track north

of Fort Worth, but when it closed we

were locally trackless. Bob started

attending Drivers' Education events

and instructed for Maverick, Hill

Country, and Lone Star Regions,

and soon began working corners

for SCCA and PCA track events, He

worked several Houston Grand Prix

Pro races and had worked every Formula

1 and professional race ever

held at Circuit of the Americas. He

was a station chief at the most recent

Formula 1 event.

Bob and Sybil at Texas

World Speedway
---
Bob and Gary Long doing their

non-work (napping) on a corner

I had the pleasure of working with

Bob professionally in a variety of

roles from 1981 to 1991, and again

in 2001-2002. I worked with him

in motorsports and other hobbies

from 1981 onward. He was ironclad

reliable. If he made a commitment,

he delivered. If you were a project or

program manager and he had skin

in the game, you need not worry.

His status reports were accurate, and

if there were problems, you heard

about them in a timely fashion, and

usually with a recommended solution.

No one could ask for better. In

his roles in motorsport the same was

true. He always delivered.

I believe that in the professional

world he was most proud of being

the head of Data Security at the

Superconducting Supercollider. He

loved science, and he truly believed

that the Supercollider Program

would be the foundation for mankind's

first interstellar travel.

Travis and Bob at the track always

looking to help members as needed

He was also an avid photographer.

His nephew Paul harvested a small

portion of his photography for the

slide show we had running at his celebration

of life. It contained almost

2600 pictures. There are more, but

they were "offline," and time constraints

prevented including them.

Last NRI: On 2015-03-13 at TWS

Pre-Grid, end Transitzone of 23,779

days.

- Joe McGlohen

With joyous salute – to Bob – my

favorite Space Cadet in the most

wonderful sense!

Bob and Pat, circa 1988

I know our friends will remember

that I used to say, with much exasperation

and gesticulation in the

direction of the sky, that he was living

out there somewhere on planet

Zeus. Well, there is not such a planet,

but he really did live there. He

was absolutely under the spell of the

larger universe – far beyond what

his camera lens could reach. And I

loved him for it, and sometimes in

spite of it.

His best job ever was with the Supercollider

– which, as Joe reminded

me, he thought would be an answer

for interstellar travel. I remember

how excited he was about getting

the job there – how he took a group

of friends on a tour around the facility,

how happy to be there – so close

to a dream – he was.

Follower of Isaac Asimov and Ray

Bradbury – he introduced me to the

worlds of Science Fiction – so much

of which is not fiction now. The

Martian Chronicles is pure magic –

if you have not read them, try them

out.

I had never looked through a telescope

until I met him – and we spent

hours, mostly in the cold because

cold nights were the clearest, at Astronomy

labs, stopping the police

cars to get them to turn their lights

off before they ruined everyone's

night vision.

"The Planets" by Holst was in his

music collection, and now in the

possession of one of his nephews.

His screen saver was the latest intergalactic

images from NASA, from

Voyager and other missions.

Carl Sagan closed his book, the

"Pale Blue Dot" with this:

"It has been said that astronomy is a

humbling and character-building experience.

There is perhaps no better demonstration

of the folly of human conceits

than this distant image of our tiny world.

To me, it underscores our responsibility to

deal more kindly with one another, and

to preserve and cherish the pale blue dot,

the only home we've ever known."

Don't let this picture fool

you. Bob always knew where

he wanted to end up

Now our friend is enjoying a view

we do not have – looking at us –

from the universe.

- Patricia Benson

Pat and family thank everyone for

their kind support and stories about

Bob. More photos can be viewed

at http://tinyurl.com/nfmpgsd.

17
---
YOU BUILT

THE CLUB.

WE BUILT THE

CLUBHOUSE.

Introducing Garages of Texas, a community of first-class, affordable, completely customizable garage suites.

Here, you don't rent space. You buy it. Giving you complete financial control and the power to make it your own

with unlimited customization options. So, stop fighting for space in your family garage. Upgrade to a garage suite

and move your motorhome, boat or show cars to the showroom they deserve.

Contact our sales team at 214.435.4898 or jgriffin@GaragesOfTexas.com for more information.

www.GaragesofTexas.com • Facebook.com/GaragesofTexas

Located at W. Plano Pkwy. & W. Park Blvd., in Plano, Texas

18 May
---
19
---
20 May
---
Certified Master Technician

General Maintenance

Performance Upgrades

Suspension Modifications

Alignments (Track and Street)

Track Preparation

Tech Sheet Inspections

Custom Built Spec996s and SPBs

Custom Fabrication

2520 Tarpley Rd, Suite 100

Carrollton, Texas 75006

972-418-1996

innovativeautosportstx@gmail.com

21
---
Maverick Tech Session: DE Pre-Tech Inspection

By Mr. Goodwrench

Photos by the Author

Ed Mullenix was kind enough to

open up his shop on Saturday

morning, March 21, to fellow

Maverick members for a workshop to

detail what is involved in the mandatory

Tech Inspection required to participate

in a PCA High Performance

Driver Education event.

About a dozen Mavericks entered the lobby of Mullenix

Motorsports and were greeted by Ed's lovely wife

Donna, who graciously supplied us with a Continental

style breakfast of doughnuts, bagels and cream cheeses,

and jugs of fresh hot coffee.

were parked; one an organ donor, the other a temporarily

suspended project car. I really hate to see those

things suffer!

Ed checking the half shafts on Carey Spreen's 911SC.

"Any breakfast that's free is a good breakfast!"

Shortly afterwards, we were all ushered into the inner

sanctum. Ed's shop doesn't look like the plush factory

emporiums run by the big players, or the sterile

precision works of the bigger specialty shops. No, Ed's

shop reminds me of the small cottage industry shops

I encountered while in England; the original Van Diemen

works and the Scholar engine plant come to mind.

And the Cooper F1 and Tyrell F1 teams were birthed in

shops just like this.

It harkens back to a time was gas when 29¢ a gallon,

a time when mechanics actually repaired a car rather

than just replaced parts, when they knew how to adjust

a set of points or valves; when a garage owner kept a

live air hose snaked through a bay door for people who

might need to air up their tires in the middle of the

night. The only things missing were an old time Coke

cooler loaded up with 5¢ Dr. Peppers, and a cat. Good

stuff.

On the lifts sat a 930 Turbo and a 997 Carrera awaiting

an engine. A 912 restoration shell with fresh Mexico

Blue paintwork rested in a corner. Against the wall, a

996 that had seen better days lay forlornly. In another

corner, a 914 project car. Out back, two stagnant 944s;

I also spotted a bead blaster, and a brand new flow

bench, still in its packing crate, ready to complement

the in-house machine shop.

PCA requires that Tech Inspections be conducted by

approved shops, which are normally done gratis. Selfconducted

inspection is not recognized by the club.

Ed went through a typical inspection, not only to show

what is involved in a proper inspection, but also so that

drivers could conduct their own personal inspection

AFTER a DE and possibly avoid some trouble spots.

The demonstration started with the braking system,

arguably the most important system of your Porsche,

outside of steering. I have never heard of a steering failure

in a Porsche, so brakes make it to the top of the list.

After all, if your brakes fail, it isn't the speed that can

hurt you. It's not being able to stop that does.

Ed showed us a pair of rotors, effectively wasted after a

DE, and advised on how to determine if there is enough

brake pad left to withstand the rigors of a DE. Depending

on the pad and the aggressiveness of a driver's

braking, over 40% of the brake pad's materials can be

consumed.

All the bullet points of an inspection were covered,

some more thoroughly than others, as several of them

require minimal effort.

The session ended with a discussion about battery

maintenance and the delicate, but simple, intricacies of

a water-cooled Porsche's cooling system.

I'm sure that everyone who attended took away something

from this workshop; I certainly did. Thanks Ed

and Donna!

22 May
---
Sunday Drive: "Wings Over Dallas" – Cavanaugh Flight Museum

As transcribed by Jim Phelps, Impossible Mission Force

"Good morning, Mr. Phelps.

"Recent intelligence from our operatives

in North Texas suggests that

a small group of dissidents, cleverly

disguised as Porsche aficionados, is

conducting covert operations in the

small towns and hamlets surrounding

the Dallas Fort Worth Metroplex. They

seem to be hell-bent on altering the American way of

life as we know it today.

Sunday Drive Co-Chairs Tom Martin and

Neill Flood give the members their final instructions.

"Even the cars they drive – Porsches -- are made in Germany,

and as we all know, this is totally un-American.

On top of that, this group has been known to drink German

beer, wear Italian driving shoes, eat Mexican food,

and display foreign flags, license plates, and European

stickers.

"Our reconnaissance shows they may be heading to a

secret location where foreign war aircraft is hangared.

Two MiG sightings

have already been

reported, as well

as an original WWI

Fokker Dr.1, as flown

by Herr von Richthofen,

the infamous

'The Red Baron.'

"You know how it is,

Jim. It all starts with

just one Fokker, then

there's another one,

and yet another one;

then the next thing

you know, those little

Fokkers are all over

the place, threatening

our very existence!

Photos by George Luxbacher

BJ Harvey with

David Cavazos and Jules

"Your mission, Jim,

should you decide to accept it, is to infiltrate this rogue

group, determine their final objective, and sway their

beliefs back to Truth, Justice, and the American Way -

just like Superman would, although he's on vacation at

the Fortress of Solitude with no cell phone reception

way out there. And for the sake of everything we hold

dear, Jim, do it in a Corvette!

Even with a gray, chilly start to the day, Porsches

of all models and colors brought their owners out.

John Harvey in his C4S enjoying one of the

many beautiful roads on this drive.

"As always, should you or any member of your IM Force

be caught or killed, or God forbid, stray to the 'Porsche

side,' the Secretary will disavow any knowledge of your

actions.

"This message will self-destruct in five seconds.

"Good luck, Jim."

23
---
For hassle free information on

any property in the DFW area,

call 972.365.7370

When all HAIL breaks loose...

Roofing Solutions

By Darren Houk

A+ Rated

(817) 692-8496

Michael Picolo

www.realestatecarguy.com

michaelpicolo@ebby.com

www.RoofingSolutionsHOUK.com

www.roofingsolutionshouk.com

817.692.8496

Showroom by Appointment

5500 Meandering Rd

Ft. Worth, 76114

Since 1971

Providing personalized service

on all Porsche automobiles.

• Complete servicing and repairs

on all air or water cooled models

• In-house machine shop

• M96/M97 reconditioning

• Performance and track mods

2530 Tarpley Road • Suite 700

Carrollton, Texas 75006

(972) 417-0997

24 May
---
ParkPlace.com

Body repair experts as

HIGH-PERFORMANCE

as your Porsche.

Trust your Porsche to Park Place Bodywerks. It's the only Porsche-certified dealer collision

center in the Metroplex. Where you'll find factory-trained technicians, working in modern facilities

with state-of-the-art equipment. And the same award-winning level of service you'd expect from the

area's premier dealership for Porsche and other exceptional vehicles. Don't settle for anything less

than true Porsche expertise—schedule your Bodywerks appointment at bodyshop.parkplace.com.

Bodywerks is certified to service:

v

PARK PLACE BODYWERKS FORT WORTH | 5760 Bryant Irvin Rd. | 817.263.3965

PARK PLACE BODYWERKS DALLAS | 3316 Atwell St. | 214.443.8250

PARK PLACE BODYWERKS GRAPEVINE | 1300 Texan Trail | 817.310.7685

25
---
Maverick Monthly Social: Uncle Julio's

By Stephanie Ho

Almost70 fun loving Porsche

Mavericks socializing before dinner

It is the people

that makes our

club so special,

not just our

Porsche(s)!

Our March Monthly

Social was held

at Uncle Julio's

in far north Dallas. Even with the

possibility of rain all day, about 70

Porsche friends with their handsome

Porsches attended the event

and we had SUCH a terrific time!

About two dozen of our fun and

Porsche-loving attendees were winners

of our gift drawings! We had a

blast!!!

Come and join our Monthly Social

Porsche events and be part of our

Porsche social family. We have different

themes for each of our

Monthly Socials. For our upcoming

May 21 event, you are cordially invited

to the best country French

cuisine at the Lavendou Bistro in

Plano. Maverick Region members

will even receive a 25% discount for

this event. Our cocktail party starts

at 6:00pm with complimentary hors

d'oeuvres being served. An RSVP to

hh@mavpca.org is preferred, but

drop-ins are always welcome too.

See you soon!

Photos courtesy of the Author

John Harvey and new member

Walter Otstott both had

winning tickets

Dennis Fisher and Don Sebert

also won Porsche calendars

M.L. Speer

(calendar winner),

and BJ Harvey

New member and

winner Mary Beago

David Temming

with his winning

car show ticket

Susan and

Brendan Eagan

Melanie and

Dean Harden

Jim Mango, Monthly Social Chair

Stephanie Ho with special guest

Mark Laurenzi (highly recommended

sales consultant) from Porsche Plano,

who provided gifts for our members

New members Miguel

and Amy Castro

New members Brian and

Melissa Martin

26 May
---
Julia Klein and

Jack Griffin

Kate and Larry Keen

David Price, Amanda Newman, new member

Gordon Ip, Mark Hanna, Gabe and Chris Sorrells

Specializing in all years and models of

Porsche exclusively for more than 30 years

Complete and Meticulous Maintenance and Repair

Tuning and Diagnostics (Carbs, MFI, CIS, OBD I & II)

Custom Engine and Transmission Rebuilds

Competition Car Preparation (Track or Autocross)

1521 Baccarac Ct Euless, TX 76040

817 540 4939

www.mayoperformance.com

email: Mayos@imagin.net

27
---
28 May
---
Lewisville

490 Oakbend Drive

(35E - North of Round Grove Rd.)

Lewisville, Texas 75067

972-459-6919

Plano

3500 Preston Road

(at Parker)

Plano, Texas 75093

972-769-0093

Colleyville

6407 Colleyville Blvd.

(Highway 26)

Colleyville, Texas 76034

817-421-2414

Allen

111 Central Expressway North

(Inside Stacy Furniture Center)

Allen, Texas 75013

214-547-8144

Grapevine

1900 S. Main Street

(Inside Stacy Furniture Center)

Grapevine, TX 76051

817-328-0200

29
---
PRINTER OF SLIPSTREAM SINCE 1982

2700 B West Pioneer PkWy

(125 feet s. of Pioneer, on the W. side of Corzine st.)

Arlington, texAs 76013

817-366-1678

30 May
---
New Mavericks

By Susan and Tom Froehlich, Membership Co-Chairs

Robbie Barton

Cedar Hill

2003 Carrera

Jerry Beck

Crowley

1974 914

George Ehrhardt

McKinney

2015 Cayman GTS

Esmail Elwazir

Dallas

2009 Carrera

John Engstrom

Plano

2015 Macan S

Joe Ferrell

Granbury

2009 Carrera

Kimberly Fields

Irving

2008 Boxster S

Douglas Gibbs

Lewisville

1999 Carrera

Steve Hsu

Plano

2014 Carrera S

Sean Hughes

North Richland Hills

1985 944

Gordon Ip

Richardson

2015 GT 3 and 2015 Macan S

Anniversaries: May

25 Years

Klaus Koch (Lee)

Ralph Taeuber (Diane)

Gail Gerkey

Eric Schorn (Amy)

20 Years

15 Years

Jason Brodigan (Misty Poynter)

Jeffrey Tucker (Melissa)

John Leto (Gary Drake)

Mike Brodigan (Judy)

Cody Leser (Linden)

Sharlene Jenner

Dallas

2011 Carrera S

Chris Jenner

Dallas

2006 Cayenne Turbo S

Mike Karns

Dallas

2015 GT 3

Robert Kendrick

Frisco

1999 Carrera

Michael Klouda

Tyler

1997 Carrera Cabriolet

Steven Kramer

Heath

2012 Carrera S

Tony Lisotta

Frisco

2005 Carrera

Alexander Mackenzie

Desoto

2007 Carrera S

Ryan McCuller

Dallas

2014 Carrera S and

2015 Macan S

Greg Miller

Richardson

2015 Carrera GTS

Mark Morales

McKinney

2009 Carrera 4S

Colleyville

Stephenville

Dallas

Dallas

McKinney

Dallas

Plano

Grapevine

Little Elm

Dennis Moser

Dallas

2013 Carrera S

Patrick Mulry

Dallas

2003 Carrera Cabriolet

Walter Otstott

Dallas

2014 Cayman S

Mark Patkunas

Highland Village

2015 Panamera GTS

Arun Pimpalapure

The Colony

2014 Carrera

Thad Prugh

Fort Worth

1989 944 S2

Jeff Rackley

Flower Mound

2008 Cayman

Frank Raso

Cleburne

2001 Carrera

Brad Robertson

Fort Worth

2015 Carrera S

Alan Simmons

Arlington

1988 944 S

Say hello to your fellow

Porsche drivers!

Flashing your high beams at fellow Porsche

drivers is a time-honored tradition . . .

keep the flash alive!

10 Years

Clinton Hall (Pam Heston)

Larry Mozdzyn (Kyle)

Corey Harbold (M.E.)

Chuck Cole (Valerie)

Denise Etcheson (Victor Sanchez)

5 Years

Becky Freeman

Larry Pettit (Patti)

Charles Jacobus

Paul Lazzara (Sheila)

William Tongier (David)

Juha Lappalainen

If you have any changes that

you would like to make to the

MRPCA membership guide,

contact the Froehlichs at

membership@mavpca.org

Maverick Membership Totals

Members ~ 1,554

Affiliate Members ~ 844

Total Membership ~ 2,398

Joseph Sircely

Frisco

2007 Carrera S

Minar Thongkhamsouk

Allen

2007 Carrera 4

Robert Wai

Colleyville

1976 911 Turbo

Scott Watson

Fort Worth

2008 Cayenne GTS

Howard Yao

Coppell

2015 GT 3

Michael Zimmermann

Allen

2013 Boxster S

Transfers In

Louis Cook

Bullard

2005 Cayenne Turbo

Craig Hutton

Dallas

2007 Cayman

Dustin Marks

McKinney

2009 Carrera S

Fort Worth

Garland

Flint

Maypearl

Fort Worth

Colleyville

Dallas

Mansfield

Flower Mound

Dallas

Coppell

31
---
Unclassifieds

Unclassifieds are available free to Maverick Region members and are $5 for all others (contact editor@mavpca for payment details). Please limit size to no more than 6 lines. Ads will run for 3

issues, after which they will be removed unless you request that they be run for an additional 3 issues. E-mail your ad to classifieds@mavpca.org by the 10th of the month to have your ad run in the

following month's Slipstream. Be sure to include year, make, model, color, mileage, and asking price, as well as a contact name, phone number and/or email address. All parts will be advertised

on our website. Check your ad for accuracy the first time it runs. Contact the editor to have your ad pulled sooner. Due to space constraints, photos may or may not be included. No dealers please!

For Sale: 2008 911 C4S, Macadamia brown exterior/

brown interior, 20 K miles, excellent condition, 6

speed MT, sport exhaust, clear bra on front bumper,

hood, fenders, and mirrors. Located in Paris, Tx. Price:

$59,500. Contact Jay at 903-517-6743 or jkguest29@

gmail.com (05)

For Sale: 1997 Caterham Super Seven, Ex CVAR

race car - street legal! Rebuilt Ford 1700cc sprint cross

flow motor, dual 40mm Weber carbs, dry sump, MSD

ignition w. rev limiter, approx. 135 to 150hp, approx

350 street miles. Fresh oil change. Quaife ltd. slip rear

end, coil over shocks w/adjustable springs, disc brakes

front, drums rear. FIA roll bar, new quick release

Momo steering wheel, 4 point seat belts, racing fuel

cell (needs new bladder). Including tonneau cover,

top, side curtains, spare new aluminum hood, spare

wheels, etc. Removable windshield wiper (for State

inspection). 9500 miles. 3/15 inspection, Texas title

as 1967 Lotus. Track day, autocross, or just for fun

outings. Asking $14,750. Email Ralf at vintageracers.

tx@gmail.com (05)

For Sale: 1986 944, White/burgundy, all original

unrestored, telephone dial wheels. Updated clutch,

belts, water pump, radiator and brakes. Second owner

and have all documents. 114,000 miles, $5000.

Contact Taylor at 817-688-7161 or trice366@aol.com

(05)

For Sale: 2000 911 Carrera Convertible, Black ext/

black int, 6-speed manual, very clean. CD Changer

wind screen and spare tire. 2nd owner; 1st owner close

friend so car has a complete history. Always wellmaintained

and covered in the garage. 84,000 miles.

Excellent condition. $21,000. Plano, TX. Contact

Allen Liebnick, 214-366-7027 (cell) (05)

For sale: 2001 Carrera, 64,000 miles, second owner,

black exterior, interior and wheels. 6 speed, sun

roof, CD player, bumper/hood bra, upgraded control

arms. Extra set of wheels. Good Michelins. Great

inexpensive car for daily use or DE. $23,000. Contact

Bud @ 214-202-3390. (05)

For Sale: Antique Texas License Plates: I have 2

Sets from 1971; STB-366 & STB-367 and 2 Sets from

1973; GCL-584 & LXC-696. Each Set of TWO Plates

(front & rear) are Used, but in very good shape. $100

per Set, OBO. Make your Classic Porsche just a bit

nicer and let all see what a Classic Machine you have.

Jerry at 972-897-5800 or jerrydef@flash.net (05)

For Sale: 1992 911 (964) Turbo, Black ext./Tan int.

103,830 mi., Odometer recently repaired. All records

with recent engine service. Engine and turbo are both

very strong, excellent driver with showroom looks.

Good Pilot Sport tires. Cold A/C. Superb condition

inside and out. Mostly stock with some minor

modifications. Very well cared for. Looks great, drives

great. 30+ pictures. $89,000. Call or email for more

info: 972-317-4005 or bhayes@fifthgear.biz (04)

For Sale: 2011 Porsche Carrera GTS, Black

exterior/Black interior. Texas car. In perfect shape in

and out. Owner does not smoke & has had no pets in

this car. Clear bra on front bumper, hood, fenders and

side mirrors. This is a rare non-Alcantara full leather

interior GTS. PDK transmission, center lock wheels,

sport chrono, sports steering wheel, PASM, Bose,

nav & lots more ! Dealer serviced. Porsche extended

warranty to 4/7/2017. 24,000 miles. $74,900. Contact

Ronald Santos, 214-674-7212 (04)

For Sale: 1983 928S Track Car, Owner since

1990. Engine is stock, 5 speed, lsd, MSDS headers,

Eibach springs, Bilstein shocks, 928 International

front swaybar, Devek radiator. Recaro SPG seats,

Brey-Krause seatback brace, 5 point harnesses, kill

switch, roll cage by RaceFab in Rusk Texas, BBS and

Forgeline 8x16 wheels.Asking $5,000. Contact Brian

Scudder, 972-548-0380 or brian.scudder@sbcglobal.

net (04)

For Sale: 2011 Featherlite Model 3110 20'

aluminum open car trailer, Only 1975 lbs empty

and ideal to tow with SUV. Rock shield, lockable

tool chest, aluminum ramps in lockable storage

underneath, removable fenders for easy car door exit,

new spare wheel, plenty of space for extra wheels.

Used 6 times, pristine condition. Current list price

$9,500 w/o shield, tool box, or spare wheel. Asking

$6750. Email Ralf, vintageracers.tx@gmail.com (04)

For Sale: 1988 944 Turbo S, 1 of 64 imported in

Maraschino Cherry. Very nice Original Turbo S, not

concours condition, but 8+. Original paint, weakest

part. Complete "tuned-up" by ZIMS this 2015 (and

maintained/ask for details). 78,000 +/- original miles.

All stock except exhaust modifications by Lindsey

Racing; 3" exhaust, waste gate, wide-band O2,

adjustable boost control (12–21 psi), silicon hoses, +/-

310 hp at rear wheels. Non stock stereo. Tires great.

Asking $25,000, taking offers. Contact Hugh Kelly,

972-937-1061 (04)

Slipstream Advertiser Index

32 May

For Sale: 2000 Porsche C-4 Cabriolet, Just returned

from Flat 6 Renovations, completely gone through.

Machined heads; oil cooler; Timing chains; lifters;

water pump; plugs; OEM clutch; IMS Dual Row

Bearing-retro; OEM starter. Also just prior rear main

bearings at Park Place; new pads and Michelins up

front. Becker audio AM/FM/CD/AUX/Phone system.

3rd Owner-Clean carfax-never tracked. 109,450 miles,

200 miles since major work. All documentation/

Video/graphs of recent dyno available. This car is now

better than new. $22,500.00. Contact Chris Blackman,

214-458-1747 or chrisblackman108@gmail.com (04)

For Sale: 1985 911 Targa, 85,000 miles, Black

exterior, tan leather interior. Third owner, family car

since 1991. Beautiful vehicle, impeccable condition

and meticulously cared for. Garaged for life. Re-built

engine, re-furbished Targa top, new Toyo tires, most

maintenance records. Aftermarket: Computer chip and

fuel indicator system, Momo racing steering wheel,

custom gauges, gear shifter knob, brake pedals, decklid

brake light. New in-dash stereo with Radio/CD/

Bluetooth/iPhone and new security system. $30,000.

Email Paul at umasspaulc@hotmail.com (03)

For Sale: 1987 924S race car, Races in PCA

Club Race 944 SP1, NASA 944 Spec, and SCCA.

Car was built in 2013 and only raced once at ECR

2013 PCA Club race. The entire car has been gone

through and rebuilt or replaced; essentially a new

car. Only 12 hours on $5000 engine rebuild by

Lyndsey Racing in 2013; invoice available. Many

suspension, body, and safety mods. $9500. Located

in Dallas. Photos here: https://www.flickr.com/

photos/29278265@N04/sets/72157649365034519/

Call Mark Steele at 214-356-2005. (03)

For Sale: 2010 GT3, Carrara White, 22k miles.

Factory Options and Additional Modifications; too

many to list here. Overall, the car is in very good cond.

DME shows Range 1 and NONE in Range 2-6. Books,

records, 2 keys etc. $112,500. Located in DALLAS.

Email Mike at Mikehlee69@hotmail.com (03)

These advertisers support Maverick Region – Tell them you saw their ad in Slipstream!

Ascot Diamonds (972) 991-0001 Page 14

Autobahn Motorcar Group (800) 433-5602 B.C.

deBoulle Diamond & Jewelry (800) 454-4367 Page 10

DFW Garage Design (972) 416-4545 Page 20

Eagles Canyon Raceway (940) 466-9775 Page 15

Ebby Halliday – Michael Picolo (972) 365-7370 Page 24

Falgout & Associates, P. C. (972) 669-2370 Page 21

Fifth Gear Motorsports (972) 317-4005 Page 13

Garages of Texas (214) 435-4898 Page 18

Goodie Store http://mav.pca.org Page 32

Hoosier Tires Direct .com (515) 203-3503 Page 28

Innovative Autosports (972) 418-1996 Page 21

Invisibra (214) 704-9299 Page 14

Louden Motorcar Services (972) 241-6326 I.B.C.

Mayo Performance (817) 540-4939 Page 27

Mullenix Motorsport (972) 417-0997 Page 24

For advertising rates and information contact

Pat Friend at ads@mavpca.org

Mustard Racing (817) 366-1678 Page 30

Park Place Porsche (800) 553-3196 Pages 11, 25

The Phoenix Insurance (214) 253-0570 Page 28

Porsche Plano (214) 576-1911 I.F.C.

RAC Performance (214) 269-1571 Page 3

RetroAir (972) 960-6899 Page 28

Roofing Solutions by Darren Houk (817) 692-8496 Page 24

Silver Fox (817) 329-6995 Page 2

Sorted Out Organizing Services (713) 724-9543 Page 28

Stuart's Paint and Body (214) 221-6999 Page 19

Tomato Werks Detailing (956) 453-5515 Page 30

The UPS Store (972) 420-1250 Page 21

Ussery Printing (972) 438-8344 Page 30

Yard Art MyYardArt.com Page 29

Zims Autotechnik (817) 267-4451 Page 15
---
SLIPSTREAM Advertiser Since 1978

WHY YOU SHOULD TRUST YOUR

PORSCHE TO LOUDEN MOTORCARS

• Award winning service for 35+ years

• Rated "Best in Dallas" a record 3 times

• Rated "Best in Texas"

• Rated "Top 10 Shops in U.S."

• Rated "Best in the West" by the Robert Bosch Corporation

• A Better Business Bureau accredited business for 3 decades with an A+ rating

• The first ASE "Blue Seal of Excellence" business in Dallas

• Racing background at Daytona, Sebring, and Riverside

• Master Certified Technicians

• Bosch Authorized Service Center

• Air conditioned shop for technician efficiency and comfort

• We do not sell cars, thus we must survive on our 35+ year service reputation

See what our customers are saying about us at:

LoudenMotorCars.com

Theresa@LoudenMotorcars.com

11454 Reeder Road

Dallas, Texas 75229

(972) 241-6326
---
Hiram Saunders, Slipstream

155 Jellico

Southlake, TX 76092

Periodical Postage

Paid at Fort Worth, TX