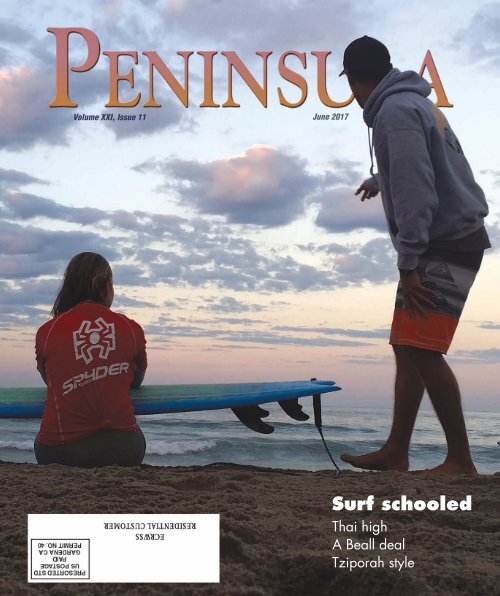 Peninsula People June 2017
You also want an ePaper? Increase the reach of your titles
YUMPU automatically turns print PDFs into web optimized ePapers that Google loves.
Volume XXI, Issue 11

Surf schooled

Thai high

A Beall deal

Tziporah style
---
June 2017 • Peninsula 3
---
"Home is everything."

It's where you come back to after a long day and

can finally relax and be with your family.

Your home is that place you've dreamed of ever

since you were a child.

It's not easy to find that perfect home.

We are here to help make that dream a reality.

Mike Levine

Mike@levine-homes.com

BRE License # 01928630

CSLB License # B985034

Anita Kapilla

Anita@levine-homes.com

BRE License # 02007684

Real Estate & Construction

310.796.9088

Rolling Hills Estates

• Built in 2016

• 3,700 Square Feet

• 4 Bedrooms & 4-1/2 Baths

• Stunning Pastoral Views

• Water Filtration System

$2,699,000

LEVINE-HOMES.COM
---
PENINSULA

Volume XXI, Issue 11

June 2017

P A L O S V E R D E S P E N I N S U L A M O N T H L Y

ON THE COVER

Peninsula High

surf team rider

Isabel Frandsen

and coach Brian

Helmrich.

PROFILES

28

32

38

62

66

Heavy starRo Movin'

by Esther Kang Shinya Mizoguchi abandoned music when

he moved from Tokyo to Rancho Palos Verdes in search of a

quieter life. Now, he's nominated for a Grammy. In appreciation

of his new hometown, StarRo, as he is known professionally,

served as DJ at last month's Peninsula Education Foundation

gala.

Schooled in the sea

by Ed Solt The Peninsula High surf team finds life lessons,

including self discipline, in early morning practices.

High style comes to the Hill

by Bondo Wyszpolski Tziporah Salamon discusses dressing

as an art and the difference between style and fashion at

the Palos Verdes Art Center.

The Beall deal

by Stephanie Cartozian A 1930s,Tuscan-inspired home

designed by Long Beach City Hall architect H.H. Lochridge is

reimagined by former Peninsula architect Edward Carson

Beall.

HIGHLIGHTS

16 LA Biomed honors researchers

20 Peninsula Ed Foundation Ibiza en Blanco

24 Blazevich/Coldwell Banker, tennis

indoors and out

50 Peninsula Committee Children's Hospital

honors sponsors

54 Sunday by the Sea for TrinityCare

56 Palos Verdes Breakfast Club 75th Anniversary

DEPARTMENTS

43 Kids summer camps

47 Peninsula calendar

70 Around and about

73 Home services

Photo by Steve Frandsen

High on Thai

by Richard Foss Servings and service elevate the spirits at

Tantawan Thai.

STAFF

EDITOR

Mark McDermott

PUBLISHER

Stephanie Cartozian

PUBLISHER EMERITUS

Mary Jane Schoenheider

ASSOCIATE PUBLISHER

Richard Budman

DISPLAY SALES

Tamar Gillotti, Amy Berg,

Shelley Crawford,

Lee Moran

CLASSIFIEDS

Teri Marin

ADVERTISING

DIRECTOR

Richard Budman

ADVERTISING

COORDINATOR

Teri Marin

GRAPHIC DESIGNER

Tim Teebken

FRONT DESK

Judy Rae

DIRECTOR OF

DIGITAL MEDIA

Daniel Sofer (Hermosawave.net)

CONTACT

MAILING ADDRESS

P.O. Box 745

Hermosa Beach, CA

90254-0745

PHONE

(310) 372-4611

FAX

(424) 212-6780

WEBSITE

www.easyreadernews.com

EDITORIAL

PenPeople@

easyreadernews.com

ADVERTISING

(310) 372-4611

displayads@

easyreadernews.com

Please see the Classified Ad

Section for info.

FICTITIOUS NAME

STATEMENTS (DBA'S)

can be filed at the

office during regular

business hours.

(310) 372-4611

Peninsula is a supplemental

publication of Easy Reader, 2200

Pacific Cst. Hwy. #101, PO Box 427,

Hermosa Beach, CA. 90254-0427.

SUBSCRIPTIONS

Yearly domestic mail subscriptions

to Peninsula are $80, foreign $100

payable in advance. The entire

contents of Peninsula are copyrighted

2017 by Peninsula People,

Inc.

8 Peninsula • June 2017
---
10 Peninsula • June 2017
---
Thursday

June 8th @ 6 pm

Gaining Space in

Your Home

Saturday

June 10th @ 10 am

Architectural Design

& Remodeling
---
June 2017 • Peninsula 15
---
S P O T L I G H T O N T H E H I L L

LA BioMed Gala

Spirit of Innovation

The Los Angeles Biomedical Research Institute (LA BioMed) held its

annual fundraising gala on May 4 at the Vibiana in downtown Los

Angeles. "Spirit of Innovation" honored three LA BioMed investigators

who have pushed the envelope of cutting edge research to come up with

groundbreaking innovations in therapies, treatments and medical devices.

Honored were Drs. Richard Casaburi, Ruey-Kang Chang and

Michael Yeaman. Over 400 supporters enjoyed the warm outdoor

weather and a superb culinary experience created by Chef Neal Fraser

of the neighboring Redbird restaurant. LA BioMed is one of the nation's

largest independent not-for-profit research institutes. It is located on the

campus of the Harbor-UCLA Medical Center.

1. Melanie and Richard Lundquist.

2. Drs. Bett Eng and Scott Filler.

3. Honoree Dr. Michael Yeaman and

Pamela Yeaman.

4. Dr. Peter Barrett and LA BioMed

Legend Dr. Gildon Beall.

5. Mary Graff and Virginia Bleier.

PHOTOS BY WANT PHOTOGRAPHY

6. Marion Paulson, Drs. Hamid

Bakhsheshi, Christina Wang, Ronald

Swerdloff and Iraj Khalkhali.

7. Dr. Webb Castor, Jane McNeil, Evi

Meyer and Jess Morton.

8. Drs. Mark Munekata and Kouichi

Tanaka, Grace Tanaka and Arlene

Block.

9. Fred Christie.

10. Craig and Judy Leach.

11. Honorees Dr. Richard Casaburi,

Dr. Ruey-Kang Chang and Dr. Michael

Yeaman.

12. Assemblyman Sebastian Ridley-

Thomas with Avid Khorram and Dr.

Omid Khorram.

13. LA BioMed CEO Dr. David Meyer,

Melanie Lundquist and LA BioMed VP

for Business Development Dr. Keith

Hoffman.

1

2 3 4

5 6

7

8

9

10

11 12 13

16 Peninsula • June 2017
---
S P O T L I G H T O N T H E H I L L

PHOTOS BY TONY LABRUNO

Peninsula Education Foundation

Ibiza en Blanco

Over 500 guests attended the Peninsula Education Foundation's Ibiza

en Blanco-themed, Main Event fundraiser at Terranea Resort on

May 13. Nearly everyone dressed in white. The raffle prize was a new

Lexus from Toyota and a weekend with a Maserati were among the auction

items. The banquet room transported guests to the festive island

off Spain for an evening of cocktails, dinner and dancing. Main Event

sponsors included Cox Cable, Del Amo Fashion Center and KPMG. Proceeds

benefit local schools.

1. Kristin Curren, Michelle Fullerton,

Shari Shigenaga and Matthew Rener.

2. Matthew Rener, Tracy Underwood,

National Manager of Social Innovation

at Toyota Motor Sales and Michelle

Fullerton.

3. Beth White and Julie Trell.

4. Jordan Llo, Matthew Giuliano and

Sabrina Davoudzadeh.

5. Frank and Becky Gallo.

6. Brock MacDonald, Sage Vetterlein,

Taylor Saw and Niki Walker.

7. Halley Samacore, Jenna Parker,

Emily Barenson and Claudia Crivello.

8. John and Jennifer Messerli.

9. Micah and Jennifer Farrell,

Salvatrice and Brent Kuykendall.

10. Kristen Leone, Kristin Borden

and Catherine Lucas.

11. The venue outside at Terranea

Resort.

12. Beata and Sassan Farjami,

Kamiar Hashemy and Nazanin Nazeri.

1

2 3

4 5 6

7

8

9

10

11 12

20 Peninsula • June 2017
---
June 2017 • Peninsula 21
---
LILY LIANG PRESENTS:

10,000+ sq ft.
---
PALOS VERDES' FINEST HOMES & ESTATES FOR OVER 30 YEARS!

QUEEN'S

NECKLACE VIEWS

SUPER

VALUE

NEW

LISTING

$1,988,000

550 Silver Spur Rd. Suite 240, Rolling Hills Estates, CA 90275
---
S P O T L I G H T O N T H E H I L L

An Evening of Global Luxury

Presented by Coldwell Banker

Coldwell Banker toasted the launch of their Global Luxury program

on April 29 at Hacienda de la Paz, a 51,000 square foot mansion in

Rolling Hills. John Z. Blazevich and Alexandra McLeod hosted champagne

bars by Veuve Clicquot, showcased luxury cars by Maserati South

Bay, and shared beauty products from Cle de Peau and spa services by

Burke Williams. Real estate influencers were indulged with bubbly,

bites, mini-massages and competed with professional tennis matches

on the iconic property's neoclassical indoor and outdoor red clay courts.

For more information visit www.haciendadelapaz.com.

PHOTOS BY STEVE BROWN AND WAYNE WINTERSTEIN

1. Hosts John Z.

Blazevich and Alexandra

McLeod.

2. Veuve Clicquot

Champagne bars with

view.

3. Fresh vegetables and

fruits grace the bar for

specialty drinks.

4. Charcuterie and

cheese station by

Distinctive Catering.

5. Spa services and gift

bags by Burke Williams.

6. VIP Coldwell Banker

Chief Marketing Officer

Sean Blankenship and

Chief Marketing Officer

and VP of Luxury Craig

Hogan.

7. Joe Breckner, Steve

Katz, Steve Heravi and

Steve Shrager.

8. Christophe Choo and

CB So Cal Regional VP

Joe Mamone.

9. Coldwell Banker

President Greater LA,

Robert Foster and

Patricia St. James.

10. Annie Ho, Sophia

Rice, Nicki Lim and Jane

Angel.

11. Linda Semon,

Janet and Steve Manavi.

12. Amanda Sharng,

Bret Matsumoto, Patrick

Adams, Casie Wooten,

former pro Paulo Hexsel

and Dean Dellovade.

13. Luxury cars by

Rusnak Maserati South

Bay.

1

2 3 4

5 6

7

8

9

10

11 12 13

24 Peninsula • June 2017
---
June 2017 • Peninsula 25
---
Fine Homes and Luxury Properties

PRICE

REDUCED

PANORAMIC

VIEW

EASTVALE ROAD

PALOS VERDES PENINSULA

4 Bedrooms, 3 Bathrooms, 3,050 sq ft Home, 27,060 sq ft Lot

Beautiful Shangri-La Setting in Palos Verdes, Single Story

Home with Ocean and City Lights View, Pool, Guest House

OFFERED AT $1,699,000

EASTVALE ROAD

PALOS VERDES PENINSULA

3 Bedrooms + Office, 2 Bathrooms, 2,296 sq ft Home, 20,459 sq ft Lot

Panoramic City Lights Views from Malibu to Long Beach, One Story House

Sitting on Top of the Hill, Cathedral Ceilings, Hardwood Floor, New Roof

OFFERED AT $1,495,000

www.27681Eastvale.com

S. REDONDO

BEACH

JEWEL

OCEAN

VIEW

CHARMER

SOUTH IRENA AVE

REDONDO BEACH

5 Bedrooms, 4 Bathrooms, 5,317 sq ft Home, 9,476 sq ft Lot

Lofty Mansion on a Large Corner Lot, Built in 2003, Large Kitchen

Huge Master Suite, Main Floor Bedroom, Center of Activities in South Redondo Beach

OFFERED AT $2,599,000

www.425SouthIrena.com

VIA OLIVERA

PALOS VERDES ESTATES

4 Bedrooms, 3.5 Bathrooms, 3,562 sq ft Home, 6,660 sq ft Lot

Updated European style Home with Ocean & Sunset Views

New Chef's Kitchen & Spa Style Bathroom, 2 BRM Suites, Large Courtyard

OFFERED AT $2,250,000

www.2540ViaOlivera.com

#1 Real Estate Team 2010 - 2016, 6 Years in a Row, RE/MAX Estate Properties

Stephen Haw/Team Leader

何 精 益

310.503.9886

skh8828@gmail.com

Kim Hall

Serving the South Bay

310.721.7526

KimHallHomes@gmail.com

Cristina Go

AREAA SB Founding President

310.971.0404

gocristinago@gmail.com

Lauren Yoon

로렌 윤

310.619.4989

laurenyoon17@gmail.com
---
Fine Homes and Luxury Properties

UNOBSTRUCTED

270 ° VIEW

LUXURY

CUSTOM

MANSION

CROWNVIEW

RANCHO PALOS VERDES

7 Bedroom Suites, 8.5 Bathrooms, 7,587 sq ft Home, 34,950 sq ft Lot,

Breathtaking Unobstructed View from Ocean to Harbor, Custom Built Contemporary

Mansion on Top of Hill with Private Gated Driveway, $600,000 of Remodeling in 2015

PALO VISTA

RANCHO PALOS VERDES

6 Bedrooms Suites, 10 Bathrooms, 12,841 sq ft Home, 65,413 sq ft Lot

Gated Luxury Mansion with Ocean, Catalina & Trump Golf Course Views

2-Story Master Suite, Indoor Pool & Spa, Many Exquisite Features

OFFERED AT $4,250,000

www.3323Crownview.com

IN ESCROW

IN ESCROW

OFFERED AT $4,950,000

IN ESCROW

CREST ROAD

RANCHO PALOS VERDES

5 Bedrooms, 6.5 Bathrooms, Guest House, 8,533 sq ft Home

PANORAMIC VIEW of Queen's Necklace & Downtown LA

Architectural Masterpiece, Luxury Features, Beautiful Landscape

OFFERED AT $3,995,000

www.LuxuryPVhome.com

AVENIDA CELESTIAL

RANCHO PALOS VERDES

4 Bedrooms, 3.5 Bathrooms, 2,818 sq ft Home, 12,110 sq ft Lot

Unique & Extraordinary Design on a Very Quiet Cul-De-Sac

Ocean View, Beautiful Backyard with a Bonus Artist Studio

OFFERED AT $1,895,000

www.30032AvenidaCelestial.com

YUKON AVE

TORRANCE

3 Bedrooms, 2.5 Bathrooms, 1,739 sq ft Detached Town Home

Brand New Kitchen, New Bathrooms, New Wood Floor &

New Paint. High Ceilings, Den, Direct Garage Access

OFFERED AT $655,000

www.17206Yukon.com

Local Experts with International Connections to get YOUR Properties SOLD

Natsuko Fujii

藤 井 奈 都 子

310.941.2468

nfujii10@gmail.com

Alicia Enrique

Real Estate Specialist

310.720.4852

aliciahomes1@gmail.com

Dede Hsu

郝 蒂 蒂

310.722.9222

dedehsu@gmail.com

Rod Yoon

롸드 윤

213.663.8888

RodYoon@gmail.com
---
STARRO

MOVIN

TO

THE

top

Rancho Palos Verdes electronic artist and

producer starRo earns a Grammy nod just

five years after abandoning music

by Esther Kang

Shinya "Straight Arrow" Mizoguchi, better known as starRo, is rising up the musical

ranks with his heartfelt concoctions of soul, R&B, jazz and electronica. In five years'

time, the Tokyo-native multi-instrumentalist has gone from an unknown bedroom producer

with a day job as a project manager for a Torrance tech company to becoming the

first Japanese electronic artist to be nominated for a Grammy. Touring internationally and

shooting commercials for Beats by Dre are some of the itinerary items that comprise his

new normal.

Still, the 41-year-old father of three stays grounded. Mizoguchi, who with his family has

lived in Rancho Palos Verdes for five years, recently DJ'ed at the Palos Verdes Education

Foundation's annual fundraiser, where one of the main auction items was a private party

with Mizoguchi as the DJ. His two sons are first and fifth graders at Point Vicente Elementary

School; his daughter is a preschooler at St. Peter's by the Sea.

Until about a month ago, Mizoguchi, who last fall released his first full-length album

Monday, was working out of his home studio. Now with a new ground zero in LA's arts

district, he finds himself appreciating the peaceful nature of Palos Verdes.

"The school system is obviously the biggest thing, but I find myself really enjoying life

here now," Mizoguchi said. "When you play at the club and go back late at night tired, the

next morning you wake up and see a completely different nature explosion. That's really

cool. I really enjoy this contrast of life right now."

Raised in Tokyo, Mizoguchi grew up in a musical environment, inundated with jazz

records and the sounds of his father, a "semi-professional" jazz pianist, performing at home.

Shinya "Straight Arrow" Mizoguchi, better known as starRo in the music world. Photo by Sean Garrison

At 7, Mizoguchi began taking piano lessons — by his own

volition, not his parents', he noted — but by middle

school, he had lost interest in classical music. With leanings

toward top 40, rock and dance music, he began

teaching himself other instruments and formed a band

with friends from school. They mostly covered their favorite

rock bands, from Japan and abroad.

When they began composing original music, Mizoguchi

took it upon himself to make a demo for the band. That

was his first exposure to creating music on a computer,

he said.

"I pretty much played every part — bass, drums, guitar

and a little vocal — and that was the beginning of my

track making," he said. "I realized I enjoyed making the

demo more than being in a band, so I started being more

of a producer. I did that for a while, just as a hobby and

maybe to show some of my friends."

For many years, he worked brutal hours as a manager

at a tech company, which left little time for a life outside

of work. About 10 years ago, he and his wife decided to

leave Tokyo's workaholic culture in search of a more balanced

life. After a weeklong visit to LA, they knew they

had found their new home.

"It seemed like this is a chill, laid-back place, and people

seemed to enjoy their lives more," Mizoguchi said.

"We didn't really expect anything; we basically just tried

to change our lifestyle."

Mizoguchi had no intention of pursuing a music career

28 Peninsula • June 2017
---
in LA, he said. He was unfamiliar with the music

scene and had sold all his gear back in Tokyo. For

three to four years, he worked his job at a tech company

in Torrance, striving to build a new foundation

for him and his family. Not knowing a single person

in the new city, he never went out to explore the clubbing

or live music scene, he said.

"We pretty much started from ground zero," he said.

"Music was not even a priority back then."

It wasn't until a friend from Tokyo came to visit that

Mizoguchi had a proper night out. His friend, curious

about LA's clubbing scene, urged him to find a spot

for them, so he went online and discovered Low End

Theory, LA's seminal weekly event featuring up-andcoming

beat makers. As a big fan of A Tribe Called

Quest, Mizoguchi said he had initially thought it

would be a hip hop event (Low End Theory is the name

of the hip hop group's most famous album). His life,

he said confidently, changed for good that night.

"It was experimental and also mind-blowing," he

said. "Mind-blowing in the way that I'd never heard

any music like that, and I'd never seen a producer, a

trackmaker like myself, get on the stage under a spotlight

… Usually to me, the artist has always been like

the singer or rapper, but there I realized that even producers

can be an artist."

Newly inspired, Mizoguchi began producing music

again and sharing his tracks with the burgeoning online

community of Soundcloud. There, he made hundreds

of new friends — fellow beatmakers and

producers — and began accruing tens of thousands of

plays with his fresh take on soul-based electronica and

tasteful remixes. In 2013, he was discovered and

signed by Soulection, the famous LA-based online

radio station and label for inventive producers such as

himself. The rest, he said, is history. Tours, festivals

and numerous musical collaborations have followed.

He has since performed at Low End

Theory three times, marking a full circle.

"That was my dream, my original

dream," he said.

Last year, he was approached to remix

an a cappella song called "Heavy Star

Movin" by The Silver Lake Chorus. Having

heard that many producers gave up on

the difficult endeavor, Mizoguchi said he

gave it his full effort. To his surprise, his beautiful

remix garnered him a Grammy nomination

this past February. His stardom has since

been in full swing, particularly in his home

country of Japan.

"I didn't realize that it was such a big deal

in Japan," he said. "So it's kind of strange to

see myself in major newspapers in Japan. A

lot of my old friends didn't even know I had

quit my day job and was making music."

Today, Mizoguchi is regularly on the

road, performing across the U.S. and

abroad. He returns to Tokyo to perform

once a month and has no plans to slow

down anytime soon, he said. His next

album is due out in the fall. PEN

Rancho Palos

Verdes resident

starRo. Photo by

Caitlin Harroun

June 2017 • Peninsula 29
---
June 2017 • Peninsula 31
---
The Peninsula High School surf team. Photo by PSS Imaging, Inc.

An emerging generation of talented young surfers is riding high on Peninsula High's surf team

by Ed Solt

John "Doc" Ball founded the Palos Verdes Surf Club in 1935, laying

the foundation for the surfing lifestyle and making Palos

Verdes a hotbed for surf culture. Ball documented early California

surf history in his book,"California Lifestyle," published in

1946. His photos beautifully capture the easygoing lifestyle of the

burgeoning surf scene, prewar surfers enjoying Waikiki-esque

waves, oftentimes sharing waves.

More recently, even as the Palos Verdes has attracted unwanted

national attention for surf localism, a less noted undercurrent has

emerged — a new generation tapped into the stoke of Ball's original

surf gang, a stoke that's leading these young surfers to do great

things in all areas of their lives.

Peninsula High's surf team is an original member of the South

Bay Scholastic Surfing Association (formerly known as the South

Bay High School Surf League), founded 25 years ago. Notable

alumni include Holly Beck, a professional surfer who paved the way

for women surfers in the 2000s; Chris Del Moro, who found success

as a professional lifestyle surfer (sans contests) and eco-friendly entrepreneur;

former professional longboarder and local restaurateur

Chris Bredesen; his brother, big wave rider and LA County Lifeguard

Scotty Bredesen; and professional surfer Alex Gray.

Gray found a place in Hawaii's notoriously difficult North Shore

line-ups, charging mountainous waves while performing small wave

acrobatics, all the while showing a keen understanding of the inner

limits of a tube. In addition to his surfing accolades (he's been fea-

Isabel Frandsen. Photo by Steve Frandsen

32 Peninsula • June 2017
---
Colin Macleod slashes back in a local South Boardriders Club Surf Contest. Photo by Steve Gaffney (SteveGaffney.com)

tured on surf magazine covers and in surf movies for almost 20 years),

Gray's entertaining personality has made him a spokesman for the sport.

He's hosted numerous surfing events, including the prestigious Surfer Magazine

"Surfer Poll" awards.

In the midst of his jet-setter, surf lifestyle (one that's taken him to far

flung places such as Alaska's outer islands), Gray makes time to work with

his former surf team.

"I'm always so excited watching the surf team kids compete," Gray wrote

in an email from Fiji. "Whether they win or lose, it's great seeing them

face their nerves and fearful emotions through surfing. We all go through

so many life moments as teenagers. It's a time when many emotions are

foreign and hard to understand. That's where surfing really shines. It can

be a vessel of self-confidence, helping you to achieve things you never

dreamed of."

Peninsula freshmen Colin Macleod has only been surfing for two years,

but he's rapidly progressing on his Dennis Jarvis-shaped Spyder surfboards.

Junior Isabel Frandsen has perfected a distinctive style on her Chris Ruddy

Surfboards noserider and 5-foot-5 mini shred sled. Senior Cole Yoshida is

a multi-discipline surfer, shredding with either a Lost, Pyzel, or Roberts

under his feet. On the longer end of the spectrum, he perches on the nose

on either his Kris Hall-shaped Flower Surfboard or his Swift, shaped by

the late Don Swift.

"I first met Alex at a rally he was leading for a PV Skate Park at City

Hall," Frandsen said. "I was so stoked to meet my first pro surfer." (Gray

was instrumental in establishing PV's first skatepark — in a community

where skateboarding had been banned since the '70s).

These kids do not possess one ounce of the slacker-stoney-stereotype of

Sean Penn's character "Spicoli," from the early '80s teen comedy "Fast

Times at Ridgemont High." To be a part of the surf team one must possess

commitment.

"Surf class begins at sunrise. Having the discipline to be up at dark and

in the cold, equipment ready, with a good attitude is something the coach

expects," Gray said. "The surf team allows for a positive, healthy outlet. I

want to pass on the fun of surfing and its benefits to help guide you through

life. For some it's competitive, and for others it's a hobby. Either way, we

are lucky as surfers to have the ocean as our teacher. I hope each student

allows surfing to be a teacher for all aspects in life."

Macleod is known as the most surf-fevered of the bunch, winning his

team's "Most Dedicated Surfer" award.

"It's all about getting in the water every day and having fun," he said.

"Even if it's onshore and small, make the best of the situation. It's part of

my daily routine. It wakes me up for school."

Macleod has perfect school attendance. For Yoshida, the discipline

needed for surf team is applied to other sports, particularly his golf game.

He'll be heading to University of Hawai'i at Manoa on a golfing scholarship.

"Waking up early to go surf and catch a few waves in the morning has

influenced my golf greatly because it has trained me to get up every morning

before six, and it's helped when you have an early tee time and you

have to get there even earlier to warm up," Yoshida said. "It just makes it

a lot easier because it feels like second nature. It even helps if you have a

later tee time because waking up early gives you time to have a proper diet

for a full day of golf and it gives you time to get a little more warmed up

before even getting to the course."

For Frandsen, surf team is just a part of her morning routine, something

that defines her as a person. She's up at 5:15 a.m. and out the door to attend

a 5:45 a.m. daily seminar at her church. After church, she returns

home to wake up her younger sister to get her ready for her church semi-

June 2017 • Peninsula 33
---
Brielle Anderson, Ada Frandsen, Isabel Frandsen of the Peninsula High Surf team,

along with friend Kierra Fedio. Photo by Steve Gaffney (SteveGaffney.com)

nar at 6:30 a.m.

"My sister needs a little more sleep," she said, with a laugh. "I have a

real structured morning. I also make sure I have on a good watch. From

6:45 a.m. until 8 a.m., I'm surfing. It's my morning reflection and meditation

time."

As Gray noted, surfing is a guiding light that helps some kids navigate

the turbulent waters of adolescence.

"Being a part of the surf team gave me a sense of purpose," Gray said. "I

dealt with a lot during high school. I can say I was lost at times on the

early path of life. But the surf team was always there for me. It was something

that made me strive to be a better student and surfer. I really enjoyed

the feeling of pride for our team that we collectively instilled and acted

upon together."

In addition to pushing each other out in the water, the team prides itself

on killing it in school. The team possesses

one of the highest collective team GPAs of

all Peninsula's sport teams. Macleod considers

homework a breeze compared to "jumping

into the chill of morning surf." Yoshida

is not affected by "senioritis." For his last semester,

AP Psychology, Marine Biology Honors

Calculus, and English 4 fill his schedule.

Frandsen is planning to attend BYU Hawaii.

"Surfing has taught me to push beyond

your comfort zone, to paddle out and go

big," she said. "When it came to choosing

classes, I took harder subjects — they have

become my favorite classes. As my coaches

Bryan Hemlrich, Bill Macleod, and Alex say,

'Always look two seconds ahead on a wave.'

It's another aspect of surfing I apply to life."

She also volunteers with organizations

such as Walk on Water, which provides

ocean therapy for special needs children.

"My first time as an instructor, I took a kid

out for his first time on a surfboard and he

pearled hard after I pushed him into a

wave," she said. "When he came up, he was

frowning, about to cry, then began laughing.

I knew from there I wanted to get into occupational

therapy, helping young kids with

special needs. Much like ocean therapy is to

a special needs child, I want to make the

world a little better with one little push."

34

In his senior year, Gray was named "Athlete of the Year." It was the first

time the award went to a surfer.

"That award is something I hold high in my surfing accomplishments.

As the captain of the team, I truly felt a responsibility to do all I could to

get our team to the top. Some of my dearest memories are with my brother

surfing early mornings," Gray said (Gray lost his brother at the age of 21).

"He would drive me to each practice. I got to hang out with the older guys

who were my heroes because I was with my brother. Having him to push

me in the surf was the most influential aspect I had. I still find myself

thanking him for those moments."

With three years to go, Macleod is just generally stoked to be on the

team.

"Banquets, contests, meets — it's all fun," he said. "I've been on club

soccer teams; everybody is in pursuit of individual glory. In surf team, it's

all about the team — which is weird because field sports are considered

team sports and surfing is an individual sport, yet we're all supportive. My

goal is to improve and be able to compete with South, Palos Verdes High,

and Costa."

Yoshida considers competing in the state competitions at Oceanside his

fondest surf team memory.

"I spent a few days down there with Coach and some of my close friends

on the team," he said. "It was a great opportunity to surf against a very

competitive field of surfers."

You can find Frandsen continually sharing stoke. She's on the hunt for

new recruits and recently organized a booth for an eighth grade open

house.

"We spread out surf photos all across a table from the fun times from

surf team this year," she said. "There were lots of kids interested, and parents

— some of the parents were like 'I want to join the surf team.'"

"I've never cared too much about someone's surf ability," Gray said. "I'm

more concerned with how they represent the sport, the community, and

themselves. Their great attitudes are a direct reflection on the coaches and

parents. It's easy to see how passionate they are, and very fun watching it

shine while they compete on the team. At the end of the day, it's about

having fun and helping others along the way as a team. The kids are doing

a great job representing that." PEN

The very versatile Cole Yoshida hanging five at the 2015 Hermosa Beach

Hotdogger Championships. Photo by Brad Jacobson
---
Chris Adlam

310.493.7216

www.chrisadlam.com

Stunning one-level Oceanfront Estates home with over 4500 square feet and panoramic ocean views from most

rooms! Situated on a large 21,000 square foot lot, this home epitomizes the California lifestyle! $4,475,000
---
Charming Cape Cod, 5 bedroom home in Palos Verdes Estates. Situated on a quiet cul-de-sac with a

wonderful backyard with spa, patios and grass. $1,699,000

Chris Adlam

310.493.7216

www.chrisadlam.com

Spacious one level, Rolling Hills Estates home with over 3,000 square feet. Open floor plan, large backyard

with pool and putting green! Great retro vibe too! $1,750,000
---
Spectacular Palos Verdes Estates 5 bedroom home. Beautiful ocean and pastoral views. Over 4200 square feet with a

wonderful, open floor plan. Private courtyard, 3-car garage and more! $2,599,000

Chris Adlam

310.493.7216

www.chrisadlam.com

Gorgeous Tennis Estate in Palos Verdes Estates with stunning ocean and coastline views. Over 6200 square feet, 5

bedrooms, pool, spa, wine cellar and more! (furniture may be included) 4,899,000
---
y Bondo Wyszpolski

We won't charge you, but by the time you're done reading this article

you'll be on your way to becoming the best-dressed person

on your block, and maybe in all of the South Bay, who knows.

Last month New York-based Tziporah Salamon presented a two-hour

show and tell at the Palos Verdes Art Center about her newly-released

book, "The Art of Dressing," subtitled "Ageless, Timeless, Original Style."

The key word here, I think, is style, and although the book contains 150

color photographs "style" remains an intangible. Even so, with enough

learning and exposure we'll know it when we see it.

"It's the image that leaves an indelible mark on the viewer, forever," Salamon

writes. "It requires discipline, study, and attention… Style does not

just happen; it needs to be cultivated, chiseled, refined."

I dress, therefore I am

People Salamon encounters often ask what she does, and while at the

beginning she might have replied that she was a hostess, a cashier, a salesgirl,

and so forth, she soon discovered the proper response: "I dress."

"When I am assembling an outfit, "she writes, "I think of the total look…

Dressing is an artistic endeavor with you as the painter, your body as the

canvas, the various components of your outfit as the paints, and your eyes

as the brush." Or, as she tells me over the telephone from New York: "I

don't have to invite you to my studio to show you my paintings. You get to

see my paintings every day on my body."

Know your body and its proportions, height, width, etc., and thus which

colors and what shapes work best with it, she advised. Within your budget,

of course, invest in staples, but remember it's quality over quantity. Choose

the classic over the trendy because

fashion is here and gone

Tziporah Salamon

and the

"The Art of Dressing"

at the PV Art Center

but style endures. Lastly, don't

underestimate the importance of

a good seamstress and tailor.

"No matter what," Salamon

writes, "always dress as well as

you can, and in a becoming and

thought-out outfit."

Repairing a broken heart

How a person gets to where

they are from where they started

can often be circuitous or labyrinthine. Both words apply to Tziporah Salamon,

the child of Hungarian Jews who survived the Holocaust and relocated

to Israel in the early 1950s. Papa was a tailor and mama a dressmaker.

Despite empty pockets, despite dusty roads and few amenities, people

dressed well, even elegantly (in style, Salamon says, "Budapest was considered

a rival to Paris"). If there was poverty, there was also a solid sense

of community. Besides, much more than in most places, they were all in

this together.

Her father's tailoring shop was Salamon's "Magic kingdom," until 1959,

when she was nine, and the family moved from Israel to Brooklyn. Culture

shock hardly describes it: Salamon's first impression of New York was that

the sun never shone there. Figuratively, it wouldn't shine until many years

later. At the age of 12, she changed her name to "Lynn" because no one

had ever heard of "Tziporah" ( a Biblical Hebrew name; "tzippor" means

bird) and naturally the "Tz" threw everyone off.

For all that, Salamon was a bright young lady, and she enrolled at the

University of Buffalo. However, she decided to spend her junior year overseas,

back in Israel. A decade had passed, but embedded in her mind was

a picture of Israel as (in my words) a cross between the Emerald City of

Oz and one of those magical paintings by Marc Chagall.

"I told my parents I was going back to study," she says over the phone,

"but I told all my friends that I wasn't going to come back, that I was hoping

to meet an Israeli and settle down and marry and raise my kids there.

"What happened was," she continues, "everything I hated about America

in 1959 when we moved here was now in Israel. The first thing my relatives

wanted to do was show me the skyscrapers and the supermarkets."

"We were no longer dancing in the streets," she says. "We were now

dancing in discotheques.

"The first time my heart was broken [was when] we left Israel and came

to America. America was the enemy when we got here. And now [I've

gone] back to Israel to live happily ever after and America is now in Israel.

The wound of the nine-year-old girl opened up all over again. I was just

devastated. There was no home."

Back in the U.S., Salamon graduated with a degree in English literature,

attended UC Santa Barbara, where she earned a Masters in Education, and

then headed up to Berkeley to pursue a Ph.D. in psychology, with the goal

of becoming a therapist. In the eleventh hour, however, she decided to

move back to New York, hoping for a career in fashion. A photo of Nancy

Cunard (think of the shipping line) convinced her to cut her hair, and she

immersed herself in the world of designer Coco Chanel, "Vogue" editorin-chief

Diana Vreeland, and others. She embarked upon a string of jobs

and at the same time asked herself what precisely she was hoping to become.

A stylist? No. A designer? No. A buyer? No. A fashion consultant?

Well, that was a possibility. While working as a hat- and coat-check girl at

a new restaurant she started wearing a different hat for each day (currently,

she has about 300).

Serious, and fun

Not a hard and fast rule, I imagine, but for the most part Salamon seems

to dress from the top down. She first selects a hat ("Hats are the exclamation

point. The perfect finishing touch to any outfit."), and then, in roughly

this order, a blouse, pants, earrings, shoes, handbag, shawl, coat. She em-

S

Tziporah Salamon. Photos by Bondo WyszpolskiF

38 Peninsula • June 2017
---
tyle

tays,

ashion

ades

phasizes good, and comfortable shoes; suggests mixing costly jewelry with

costume jewelry, and advises that one should "always wear earrings as they

frame the face." An outfit can produce a different effect by merely changing

the buttons. Her choice of bright red lipstick is certainly a strong accent,

although I did notice that fingernail polish makes only an occasional appearance.

At the PV Art Center, Salamon presented a chronological walk-through

of how she's dressed over the years, and how it's changed as she's gone

from her 30s to her 40s, her 50s and now 60s. "What I want to wear now,"

she tells me, "is very different than what I wanted to wear in my 30s. I

talk about the evolution of a woman aging as well, and its impact upon us

and our choices."

She points out that the key chapter in "The Art of Dressing" is called

"The Keeper of the Cloth." It explains, within a religious context to some

degree, why she does what she does: "I take the role of dressing, and my

being a dresser, very seriously… I really do see it as a calling."

Number one, though, she dresses well to bring delight to herself. But

there's more to it than that, of course:

"I think what I do is I give women permission to dress again, to play in

their closets," Salamon says. "I give them permission, I free them, and I

entice them to do it. They look at me and they say, 'Wait a minute, you're

having such fun with clothes. I want it too; I want to have fun with clothes.'

If that's what I've done, and in my way leave the world a more beautiful

place in the way we dress, then I've done my job."

The Palos Verdes Art Center is located at 5504 W. Crestridge Road, Rancho

Palos Verdes. To learn about future events phone (310) 541-2479 or go

to pvartcenter.org. PEN

June 2017 • Peninsula People 39
---
FEE ONLY FINANCIAL PLANNER

• Are you in or approaching retirement?

• Do you want to stop worrying about your

investment portfolio?

• Do you lose sleep wondering if you may

outlive your nest egg?

• Do you want to know if you are on the

right path financially?

• Do you want to take control of your

finances?

• Do you feel you need a second opinion on

your portfolio?

If you answered "yes" to any or all of the

above questions, you may need to contact

me, to provide you with a personal financial

plan designed to help you take control

of your finances, reduce anxiety and ultimately

achieve your financial goals. There

is no cost or obligation for the initial meeting,

as it is an opportunity for you to learn

more about me, and for me to determine

if I can help you achieve your financial

goals and objectives.

As a fee-only financial planner I will be

compensated solely by my clients, I do not

accept commissions, referral fees, or

compensation from other sources, and I am committed to acting in

your best interest.

Abbas A. Heydari, CFP®

Certified Financial Planner

and Registered Investment Advisor

Providing Financial Services

in Torrance since 1986

21515 Hawthorne Blvd., Suite 1020

Torrance, CA 90503

E-mail: aahfp@Yahoo.com

Web: www.aaheydari.com

Phone: (310)792-2090

40 Peninsula People • June 2017
---
ickedler.com

85 LAUREL DRIVE RANCHO PALOS VERDES $5,499,000

1821 VIA ESTUDILLO

PALOS VERDES ESTATES

$1,999,000

38 ENCANTO

ROLLING HILLS ESTATES

$6500 PER MONTH LEASE

7206 CREST RD

RANCHO PALOS VERDES

$1,849,000

2532 VIA ANACAPA

PALOS VERDES ESTATES

$1,549,000

55 ENCANTO

ROLLING HILLS ESTATES

$1,699,000

100 TERRANEA WAY #32-401

RANCHO PALOS VERDES

$2,350,000

RICK EDLER

RICK@VISTASIR.COM

310.872.4333

CALBRE#01113145

KITTY EDLER

KITTY@VISTASIR.COM

310.283.8790

CALBRE#00800837
---
summercamps

uCAMPS & SCHOOLS FOR SUMMER FUN

Palos Verdes Art Center

June 19-23 and June 26 - 30

Ages 5 - 7 years

w Students enhance reading and writing skills while awakening their imagination

by creating illustrated books and paper sculptures. Students engage in interactive

activities led by local musicians, visits by professional artists, and dance.

Ages 8 +

w Students explore the exciting urban art scene through music and painting. Students

will build functional musical instruments decorated with their own LA inspired

art. Students engage with peers, professional musicians and local artists.

5504 W. Crestridge Rd. Rancho Palos Verdes.

(310) 541-2479 pvartcenter.org

BeachSports

Begins June 19

w BeachSports Surf & Beach Camps is celebrating its 22nd year! Created by LA

County Lifeguards to provide beach and ocean safety education to local and visiting

boys and girls, BeachSports programs start at age 4. Participants will leave

camp with the ability to safely and confidently enjoy the beach and ocean. Four

camps are offered: Surf Camp, Beach Camp, Beach Volleyball Camp, and Intro

to Junior Lifeguard Program. With safety in mind, our camps are located at these

Lifeguard Tower locations: Manhattan Beach 14th Street; Hermosa Beach 15th

Street; Redondo Beach, Ave. I.

Online registration available at BeachSports.org or

Call (310) 372-2202.

City of Rolling Hills Estates

Begins June 12

w Rolling Hills Estates has several summer programs available for all ages from

sports to equestrian activities. Locations include Ernie Howlett Park, RHE; Peter

Weber Equestrian Center, RHE; Peninsula High School, RHE; and Los Verdes Golf

Course, RPV.

RollingHillsEstatesCA.gov

June 2017 • Peninsula 43
---
summercamps

uCAMPS & SCHOOLS FOR SUMMER FUN

Flight School Gymnastics

Begins June 19

w Flight School Gymnastics is committed to giving children the opportunity to experience

the joy and benefits of gymnastics. Programs are designed to help children

develop from beginning gymnastics through competitive team. Academy

offers a wide range of options starting with parent and me, beginning, intermediate

and advanced classes. Teams includes Compulsories Junior Olympic Pre-Team,

Compulsories Junior Olympic levels 1-5, and Optionals Junior Olympic levels 6-

10. Many team members have held numerous State, Regional, and National titles.

Flight School is a place where students and team members can thrive and

develop to their maximum potential.

503 Van Ness Ave, Torrance (424) 558-8171

flightschoolgymnastics.com

Palos Verdes Performing Arts Conservatory

June 19-30, July 10-21 and July 24- Aug. 4

w Palos Verdes Performing Arts Conservatory will offer exciting theatre camps for

kids of all ages and levels. Camp Curtain Call, which introduces musical theatre

to elementary school-aged children has three fun-filled sessions: "Madagascar: A

Musical Adventure" (June 19); "Wizards in Training" (July 10); and "Once Upon

a Time" (July 24). The Summer Master Class Series will take intermediate to advanced

performer ages 10-18, to the next level with acting and dance workshops.

palosverdesperformingarts.com/education

(310) 544-0403, ext. 303

44 Peninsula • June 2017
---
PCH Skate Camps

Begins June 12

w Learn to skateboard or take your

skills to the next level! Beginner to intermediate

level instruction covering the

basics to the more advanced flips,

grinds, vert skating and more. Ramps,

rails and fun boxes are positioned differently

each day. Safety is the number

one priority so all campers must wear

full pads. Private skate instruction also

available. PCH Skate runs in association

with BeachSports.org.

PCHSkateCamps.com

(310) 372-2202

Pediatric Therapy Network

Aug. 7-11 and Aug. 14-18

w Pediatric Therapy Network hosts

Camp Escapades, an innovative day

camp for 5-14 year olds with developmental

concerns, and their siblings.

Staffed with PTN's occupational, physical

or speech therapists. Activities include

fine motor development,

cooking, sensory experiences, sports,

music, yoga, water play, dance and

special events. 9:30 a.m. – 3:30

p.m. at Rolling Hills Country Day

School.

PediatricTherapyNetwork.org

(310) 328-0276

June 2017 • Peninsula 45
---
summercamps

uCAMPS & SCHOOLS FOR SUMMER FUN

TELES PROPERTIES

310.483.3998

K Y L E @ K Y L E D A N I E L S R E A L E S TAT E . C O M

W W W . K Y L E D A N I E L S R E A L E S TAT E . C O M

Residential Sales and Investments

Peninsula Montessori School

Begins June 19

w Experience the Montessori Method of education. Peninsula Montessori welcomes

the opportunity to share its beautiful environment where your child will participate

in a hands-on educational approach to learning. Based on self-direction and cooperation

activities, children develop a strong self-image as well as academic and

social competence. Curriculum includes programs designed to stimulate the development

while having fun – both indoors and out: Sports of All Sorts, Treasure

Hunt, Kid's Cooking, Science Experiment Extravaganza, Woodworker, and Art,

Art and More Art.

31100 Hawthorne Blvd.

Rancho Palos Verdes

Peninsulamontessori.com

(310) 544-3099

MATTUCCI

Plumbing

Since 1990 • License # 770059, C-36 C-34 C-42

D E P E N D A B L E • P R O F E S S I O N A L • A F F O R D A B L E

w w w . m a t t u c c i p l u m b i n g . c o m

SPRING SPECIALS

$ 9 8 0

Residential Water Heater

40 gal. installed! ($1080 - 50 gal. also available)

Includes hot & cold water supply lines

Expires June 30, 2017

FULL SERVICE PLUMBING

SEWER VIDEO INSPECTION

ROOTER SERVICE

COPPER REPIPES

$ 7 5

Rooter Service - Main Line

Must have clean-out access. Some restrictions may apply.

Expires June 30, 2017

F R E E

E S T I M A T E S

M e n t i o n t h i s a d w h e n

s e t t i n g u p a p p o i n t m e n t .

3 1 0 . 5 4 3 . 2 0 0 1

Thank You

For Your

Vote!

2013

ON CALL

24 HOURS

7 DAYS

Peninsula School of

Performing Arts

Begins June 19

w PSPA has been providing quality

dance training since 1985. Dancers

of all ages and experience are welcome.

Ballet, Jazz, Tap, Hip-Hop, Pre-

Ballet, Mommy & me, Lyrical &

Contemporary classes are offered.

Dancers have the opportunity to perform

in major productions each year

including: The Nutcracker, May Ballet

Recital and a June Show. Competition

and YAGP teams also offered. Each

year students are accepted into prestigious

dance programs, take honors in

dance competitions, and many

choose careers as professional

dancers and teachers.

pspadance.com

Rolling Hills Country

Day School

Begins June 26

w Summer fun with academic and

camp programs for grades K-8! A traditional

6-week summer school, Experium

Science camps, and fun

academic enrichment programs are offered.

Activities include swimming, arts

& crafts, cooking, dance, sports, imagination

& creation, and themes and

shows. Art Camp, Swim Camp, private

swim lessons, and extended day

care are available. Request a

brochure online or call for information.

Melissa Sandoval, (310) 377-4848,

ext. 7051, msandoval@rhcds.com.

rhcds.com

PEN

46 Peninsula • June 2017
---
eventcalendar

CALENDAR OF COMMUNITY EVENTS

Compiled by Teri Marin

You can email your event to our address: penpeople@easyreadernews.com

All submissions must be sent by the 10th of each month prior to event taking place.

Sunday, May 28

Family Picnic Day, more

Included with Garden admission. Picnic location is on the Lower Meadow. In

spring, the Garden is at its showiest! Visit Guest Services or the Gift Shop for

additional information about the perennials and annuals in bloom for your

self-guided tour and enjoy your visit. 9 a.m. - 5 p.m. South Coast Botanic

Garden, 26300 Crenshaw Blvd., Palos Verdes Peninsula.

South Coast Bonsai Association Meeting

The South Coast Bonsai Association meets the fourth Sunday of the month

(except December) at South Coast Botanic Garden, 10 a.m. - noon. No registration

required. Meetings are open to the public. For additional information

contact Ken Ueda at (310) 987-6345. 26300 Crenshaw Blvd., Palos Verdes

Peninsula.

Wednesday, May 31

Mac Users Group Meeting

The South Bay Apple Mac Users, a group of over 100 Mac, iPad, iPhone

and Apple Watch aficionados, has been around for almost 30 years. Free

monthly meetings begin at 6:30 p.m. for beginners; Q & A at 8 p.m., with a

presentation on a subject of interest to all Mac users. All Mac/iPad/iPhone

users and potential users are welcome. Lomita VFW Hall, 1865 Lomita Blvd.,

Lomita. See sbamug.com, 310-644-3315, info@sbamug.com.

Free Consultation

Call Today

www.celibre.com

June 2017 • Peninsula 47
---
S P O T L I G H T O N T H E H I L L

Palos Verdes High School

Runway Couture

Project Runway Fashion Club at Palos Verdes High School held its 10th

annual fashion show and raised $17,000 for the Make-A-Wish Foundation,

Greater Los Angeles. The funds will help grant the wishes of children

diagnosed with life-threatening medical conditions. This year's theme was

"Walking on Sunshine." Models were from PVHS, all three middle schools

and Lunada Bay Elementary School. The fashions were from South Bay boutiques,

including the online rental clothing store, The Stylist L.A. New this

year was the addition of dogs modeling fashions from Tail Trends pet accessories.

Two South Bay high schoolers shared stories of their wishes being

granted and how it helped them recover from illness. This year's presidents

were Nikki Walker and Perrie Kaminskas.

PHOTOS PROVIDED BY MARISSA TREVETT

1. Nikki Walker, Adam Enomoto and

Perrie Kaminskas.

2. Lauren Brill.

3. Nicole Halverson.

4. Regan Berger.

5. Taylor Stahel and Brittany Montiel.

1

2 3 4

5

NOW

OPEN

48 Peninsula • June 2017
---
eventcalendar

Saturday, June 3

Family Hike

First Saturday Family Hike at George F Canyon. Bring your family and join a

PV Land Conservancy naturalist to discover habitat, wildlife and more on an

easy hike up the canyon with amazing views of the city. 9 a.m. Free. All ages

welcome. 27305 Palos Verdes Dr. E, Rolling Hills Estates. For more information,

contact (310) 547-0862 or RSVP at: pvplc.org, Events & Activities.

Outdoor Volunteer Day

Help beautify native demonstration garden and surrounding habitat. 9 a.m.

– noon. At White Point Nature Preserve, 1600 W. Paseo Del Mar, San Pedro.

Sign up at pvplc.volunteerhub.com.

Dave Widow & The Line Up

With his unique style of fingerpicking and bluesy vocals, Dave Widow combines

elements of R&B, funk, soul and rock. Nominated for "Best Musical

Group in 2012" by the LA Music Awards and recognized in 2013 by The

Blues Foundation, Widow and his Line Up of session all-stars deliver a soulful

helping of guitar-driven blues. Opener Bernie Pearl is one of the most highly

respected blues musician in Los Angeles. 8 p.m. Tickets $20-$30; $50-$55

with Dining in Town package. Grand Annex, 434 W. 6th St., San Pedro. For

tickets go to: grandvision.org or call (310) 833-4813.

310.539.6685 310.884.1870

310.326.9528

866.BEYOND.5

310.997.1900

www.cflu.org

©

310.530.5443

Thursday, June 8

Needlepoint

Needle Artists by the Sea, chapter of the American Needlepoint Guild will

hold its monthly meeting 10 a.m. at Ports O'Call Restaurant. The program is

the second part of a year-long project, designer Sue Reed's IT'S NOT THE

USUAL. 1200 Nagoya Way, San Pedro. (424) 224-9254 for further information.

310.534.9560

310.539.2993

CUT * COLOR * STYLE

310.539.2191 310.326.3354

310.530.4888 310.534.0220

Friday, June 9

Special Events

Nature & Me Storytime: Stories, Songs, Rhythm and Rhymes at George F

Canyon Nature Center. Share the joy of reading with your children and introduce

them to the beauty of our natural surroundings. Geared for 2-5 years.

9:30 - 10 a.m. 27305 Palos Verdes Dr. E, Rolling Hills Estates, For reservations

visit pvplc.org.

310.530.3079

310.517.0324

310.326.4477

310.530.0566

New Smiles Dentistry

Stephen P. Tassone, DDS

310.791.2041

310.517.9366

310.326.8530 310.530.3268

310.539.3526

TORRANCE

TOWNE BEAUTY

CENTER

310.325.2960 310.891.2237

310.539.1808

Suzy Zimmerman, Agent

Insurance Lic#: OF71296

4010 Palos Verdes Dr N, Suite

103

Rolling Hills Estates, CA 90274

Bus: 310-377-9531

www.zimziminsurance.com

That's when you can count on

State Farm®.

I know life doesn't come with a schedule.

That's why at State Farm you can always

count on me for whatever you need –

24/7, 365.

GET TO A BETTER STATE.

CALL ME TODAY.

310.530.8411

WineShoppe

310.539.1055

Northwest Corner of

Crenshaw Blvd. & Pacific Coast Hwy. in Torrance

~ For Information, Call 310.534.0411

1101198.1 State Farm, Home Office, Bloomington, IL

A LA CAZE DEVELOPMENT COMPANY PROJECT

June 2017 • Peninsula 49
---
S P O T L I G H T O N T H E H I L L

Peninsula Committee

Children's Hospital

Celebrating Sponsors

Peninsula Committee Children's Hospital recently held its 28th annual

Seahorse Classic Sponsor Party at the home of Carol and John

Miguelez in Palos Verdes Estates. While enjoying the breathtaking ocean

views, major donors to this year's Seahorse Classic Golf Tournament

enjoyed wine and a Japanese feast catered by Ace sushi. Proceeds from

the Seahorse Classic benefit the Associates Sarcoma Program at Children's

Hospital Los Angeles.

PHOTOS BY STEPHANIE CARTOZIAN

1. Noelle Giuliano and Flora Fairchild.

2. Don Tuffli, Anne Farrell and Betty

Davidson.

3. Tim Romer, Dave Farrell, Craig

Knickerbocker, John Whitcombe.

4. Carol Miguelez, Ken and Patty

Ochi.

5. Wally and Terry Durham.

6. Dan Boever, Chuck Miller and

Mark Pfeil.

7. Carole and David Rowe.

8. Richard and Karen Govenar.

9. Living succulent wall at hosts'

home.

10. Suzie Stiassni, Diana Pfeil and

Betsy Miller.

11. View from the Miguelez

residence.

12. Dawn Knickerbocker, Kim

Whitcombe and Karen Miller.

1

2 3

4 5 6

7

8

9

10

11 12

50 Peninsula • June 2017
---
eventcalendar

Full Moon Hike

Explore nocturnal sights with an expert naturalist under a full moon at the

George F Canyon Nature Preserve with the Palos Verdes Peninsula Land Conservancy.

Must be age 9 and up. $12 per person. George F Canyon, 27305

Palos Verdes Dr. E, Rolling Hills Estates. Reservations required at pvplc.org,

Events & Activities.

Saturday, June 10

Guided Nature Walk

Explore a 15-acre restoration site with cactus wren and gnatcatcher habitat

with beautiful views of Catalina Island with the Palos Verdes Peninsula Land

Conservancy. This is a moderate to strenuous walk. 9 a.m. Free and open to

the public. Alta Vicente Reserve, 30940 Hawthorne Blvd., Palos Verdes. For

more information, contact (310) 541-7613 or sign up at

pvplc.org/_events/NatureWalkRSVP.asp.

Docent Training

George F Canyon Docent training. This charming nature center needs docent

assistance to staff the center during open hours and to help with special events.

9 a.m. – noon. 27305 Palos Verdes Dr. E, Rolling Hills Estates. Sign up at

pvplc.volunteerhub.com

Outdoor Volunteer Day

At Portuguese Bend Reserve, Rancho Palos Verdes, 9 a.m. – noon. Help restore

important wildlife habitat while looking out at a beautiful view. Sign up

at pvplc.volunteerhub.com.

Stories, Songs and More

Share the joy of storytelling with your children and introduce them to the

Southern California's Newest Marina

Guest Slips Available!

Marina Amenities

• SLIPS from 28' to 130'

• Dry Storage w/Crane Launching

• New Restrooms w/Showers

• Ice Machines & Laundry

• Pumpout - Public & In-Slip

• Ample FREE Parking

Shortest

Run to

Catalina!

Marina (310) 514-4985 • Dry Storage (310) 521-0200

Cabrillowaymarina@westrec.com • cabrillodb@aol.com

www.westrec.com/marina/cabrillo-way-marina

2293 Miner St., San Pedro, CA 90731

NOW

OPEN!

June 2017 • Peninsula 51
---
DAVID FAIRCHILD PHOTOGRAPHY

"Its Like You're There All Over Again"

310-316-5547 WWW.DAVIDFAIRCHILDSTUDIO.COM

Rolling Hills Estates (NE corner of Crenshaw & PV Drive North). For more ineventcalendar

beauty of the natural surroundings with retired Children's Librarian Carla Sedlacek

for stories and activities featuring nature themes, exciting props and

songs. 10 a.m. Free. White Point Nature Education Center, 1600 W. Paseo

del Mar in San Pedro. RSVP at: pvplc.org, Events & Activities.

Music of Babes

Ty Greenstein and Ingrid Elizabeth of Mouths of Babes are no strangers to the

contemporary folk music scene. For years, their respective bands Girlyman

and Coyote Grace captivated thousands of loyal fans as they toured with the

likes of the Indigo Girls and Dar Williams. Now, as Mouths of Babes, Ty and

Ingrid have distilled the songwriting, humor, and musicianship of their previous

groups into a new duo. 8 p.m. Tickets $20-$30; $50-$55 with Dining in Town

package. Grand Annex, 434 W. 6th St., San Pedro. For tickets go to: grandvision.org

or call (310) 833-4813.

Sunday, June 11

Surfwriters Playwrights

Surfwriters, a Peninsula writing group, will again present a readers theater

production of short plays. Enjoy plays written by Surfwriters and a few of their

favorite playwrights. Free and open to the public. 2 p.m. Peninsula Center Library

Community Room, 701 Silver Spur Rd, Rolling Hills Estates. For more

information: mltrvlarng@hotmail.com.

Second Sundays at Two

Pianist Robert Thies won the Gold Medal at the Second International Prokofiev

Competition in St. Petersburg, Russia, and has since performed concertos with

leading orchestras worldwide. Admission is free; donations appreciated. 2

p.m. sharp! Rolling Hills United Methodist Church, 26438 Crenshaw Blvd.,

formation call (310) 316-5574.

RHUMC.org.

Cactus, Succulent Society

Gary Duke's program "Bolivia - Part

1" shows Bolivian altiplano via La

Paz, Cochabamba, Sucre, Potosi,

Carmago to Tarija where he photographed

more than 50 species of

cactus and succulents, including rare

ones and unique aerial videos as

well as other scenic views of the Bolivian

Andes and Bolivian culture.

Come at 1 p.m. to buy plants, meet

other cactophiles, and have refreshments.

Program is at 1:30 p.m.

South Coast Botanic Garden,

26300 Crenshaw Blvd., Palos

Verdes Peninsula. For more information

visit southcoastcss.org.

Borscht comedy

Back to the Catskills, a tribute to the

"Borscht Belt", presented by Senior

Comedy Afternoons. 2 p.m. Call or

buy your tickets online, (714) 914-

2565, seniorcomedyafternoons.

com. Tickets $35 advance sales and

$40 cash sales at the door. At the

Clark Building, 861 Valley Dr., Hermosa

Beach.

Los Cancioneros Chorale

Under the direction of Artistic Director

Allan Robert Petker, Los Cancioneros

Master Chorale presents

"East Meets West", 7 p.m. Torrance

52 Peninsula • June 2017
---
eventcalendar

Armstrong Theater. Concert begins

with "world music" selections by

Brian Tate, representing different

styles of music from around the

globe then skips over to Argentina

for a Mass of Two Worlds, with captivating

melodies and Latin rhythms,

by Ariel Quintana. The final work,

Touch, composed by LCMC conductor

Allan Robert Petker, features the

chorale and chamber orchestra and

is based on the paintings of Chinese

artist, He Qi, which will be displayed

in multimedia as the piece is

performed. General admission is

$25; students $15; parking is free.

LCMC offers a Buy-One-Get-One if

you are attending the concert for the

first time! Please purchase tickets in

advance from a Los Cancioneros

member or by contacting De Giebler

by phone or by email. (310) 779-

3072 djgiebler@specialletters.net.

LCMasterChorale.com. The Armstrong

Theater is located at 3330

Civic Center Dr., Torrance.

Monday, June 12

PVPUSD Summer Camps

The PVPUSD Kids' Corner and Teen

Robert T. Downs, Sharon A. Bryan* ** + ++, Christopher M. Moore* ** + ++, Rebecca L.T. Schroff** + ++, Jan T. Inoue*

* Certified Family Law Specialist by the State Bar of California Board of Legal Specialization;

** Certified Trusts & Estates Specialist by the State Bar of California Board of Legal Specialization;

+ Chosen to 2016 Super Lawyers; ++ Chosen to 2015, 2016 and 2017 editions of Best Lawyers of America ©

Honored by our peers for our professional excellence,

Moore, Bryan, Schroff & Inoue LLP

2016 Super Lawyers

Certified Family Law and Trusts & Estates Specialists

Complex Property • Custody • Support Issues

Personal Service • Exceptional Results

Cost Effective • Timely Resolutions

(310) 540-8855

21515 Hawthorne Blvd, Suite 490, Torrance

www.mbsllp.com | mail@mbsllp.com

June 2017 • Peninsula 53
---
S P O T L I G H T O N T H E H I L L

Providence TrinityCare

Sunday by the Sea

The 26th annual Providence TrinityCare's Gourmet Tasting

Gala was hosted April 30 at the bluff top home of Julian and

Carolyn Elliott, overlooking Lunada Bay. The exquisite cuisine

was prepared by local chefs and served with fine wines of every

varietal, and craft beers. Among the many vendors were Mama

Terano's Cafe, Plates Restaurant and the Admiral Risty. This

year's tent for the several hundred guests was the largest ever.

Proceeds benefitted the Providence TrinityCare Foundation.

1. Terry Neff, Marlene and Chuck Smyth

and Jenni Brooks.

2. Mike and Dena Maloney, Chris and

Valerie Adlam and Andrea Sala.

3. Dave Cort and Carol Armitage.

4. Alan Tran, Tony Yeh and Jay Outsen.

5. Will and Linda Gassett, John and Alicia

Maniatakis.

6. Jacqueline Glass, Jamie Born, Pat

and Hank Edelstein.

7. Tim Roderick and Jill Gaston.

8. Rick Murphy and Dan Gruen.

9. Nancy Jurecki and Jim Sala.

10. Venue at Julian and Carolyn Elliott's

private villa.

PHOTOS BY STEPHANIE CARTOZIAN

1

2 3

4 5

6 7

8

9 10

54 Peninsula • June 2017
---
eventcalendar

Scene programs energize families with an exciting summer of friends and fun!

Children entering grades TK-5 have a choice of the Kids' Corner Summer Day

Camp at Rancho del Mar High School, 38 Crest Rd W, or Before/After Summer

School Care at select elementary schools. Intermediate students entering

grades 6-8 can join friends at the Ridgecrest Teen Scene After Summer School

Program. No residency requirements. Programs run through August 18. For

more information on a fun and enriching summer experience, visit

pvpusd.net/pvkids or contact the business office, (310) 541-7626.

Wednesday, June 14

The Palos Verdes Woman's Club

Scholarship recipients will be introduced and the philanthropy recipients announced

at this monthly meeting. Noon. Rolling Hills Country Club, 27000

Palos Verdes Drive East. For information and reservations call Beverly Teresinski

at (310) 378-1349.

Bell Ringers

The Wesley Youth Bell Ringers will perform a free concert at St. Peter's by the

Sea, 7:30 p.m. The concert will be the fifth concert on the choir's 52nd annual

concert tour, and will feature 15 teenaged ringers playing more than 150

handbells and handchimes. They have performed at the US Capitol, Cathedral

of the Pines National Monument, Mt. Rushmore, George Washington Masonic

Memorial, Disneyland and Disneyworld. All are welcome! 6410 Palos Verdes

Dr. South, Rancho Palos Verdes. More info at StPetersPres.org.

Thursday, June 15

Rose Society

South Coast Rose Society June meeting. Social hour begins at 7:30 a.m.

Highest Quality at a Fair Price

TOP 100 REALTORS IN THE UNITED STATES

Berkshire Hathaway HomeServices California Properties

(310) 528-7480

WWW.31990EMERALDVIEWDR.COM | RANCHO PALOS VERDES | $4,998,000

1425VIAZUMAYA.COM | PALOS VERDES ESTATES | $3,200,000

WWW.6073VIASONOMA.COM | RANCHO PALOS VERDES | $2,388,000

] u

t

• Stamping

• Driveways

• Pool Decks

• BBQ/Firepits

• Patios

• Stonework

• Pavers

• Foundations

LIABILITY INSURED • WORKERS COMPENSATION

Casey Lindahl - Founder & President of Lindahl Concrete Construction, Inc.

310-326-6626 LindahlConcrete.com

Lic.#531387

Showroom Available

WWW.5MIDDLERIDGE.COM | ROLLING HILLS | $2,399,000

STDYER@AOL.COM | SUZANNEDYER.COM | CALBRE 01054310

June 2017 • Peninsula 55
---
S P O T L I G H T O N T H E H I L L

PV Breakfast Club

Provenance joins friendship

Over 250 members and guests of the Palos Verdes Breakfast Club

celebrated the club's 75th anniversary last month. The Club dates

back to the early years of WWII when neighbors volunteering in Civil

Defense gathered along the beaches and cliffs to give early warning of

enemy attacks. The club's mission statement includes "no politics or

causes, just neighborly fun and frolic." The Breakfast Club meets on the

first and third Saturdays of every month at the Palos Verdes Golf Club.

Meeting includes a breakfast buffet, music and speakers — some famous,

others infamous, including best-selling authors, professional athletes

and war heroes. For more information visit pvbcweb.com.

1. Mike Miller, Bruce Dalrymple,

Charlie Peterson and James Morino.

2. Capt. Harry Peck, 96, the club's

oldest member and Marion Somers.

3. Kathy Melton, Gloria Mangano and

Eve Higgins.

4. Eve and Rick Higgins.

5. Elaine and James Bruce.

6. Thomas and Joan Connaghan.

7. Virginia Butler and Les Fishman.

PHOTOS BY TONY LABRUNO

8. Norm and Patricia Eagle.

9. John and Cynthia Bartlett, Alicia

and Kenny Kao.

10. Sandra and Craig Caryl.

11. Ram and Mani Nadella, Cindy

and Sam Pheng.

12. Andrew Meinzer and Lynn Reger.

13. Charlie and Joanne Peterson,

Mary Engle, James and Diana Morino.

1

2 3

4 5 6

7

8

9

10

11 12 13

56 Peninsula • June 2017
---
eventcalendar

Speaker will be Jack Engberg of GroPower which has been making humusbased

soil conditioners since 1966 and will share which fertilizers work best

during the hot summer months. Savings will be offered to members and friends

who participate in SCRS's group order with Mr. Engberg at the meeting. Additionally,

free fertilizer samples will be distributed to attendees. Admission:

Members: free; adults: $9; senior & students: $6; children (5-12) $4. For more

information, please see them on Facebook or southcoastbotanicgarden.org.

26300 Crenshaw Boulevard, Palos Verdes Peninsula.

Saturday, June 17

Docent Training

White Point Docent Training at White Point Nature Education Center. 9 a.m.

– noon. Help run the White Point Nature Education Center. From school programs

to plant sales, assistance is needed running a variety of fun events.

1600 W. Paseo Del Mar, San Pedro. Sign up at pvplc.volunteerhub.com.

Sunday, June 18

Pen Symphony, Knox winner

For Concert IV of their 50th Season, Maestro Gary Berkson and the Peninsula

Symphony Association are excited to present Nicholas Mariscal, winner of

the Edith Knox Competition. Nicholas will join the Peninsula Symphony filling

the concert hall with Samuel Barber's exquisite Concerto for Cello in A minor,

Opus 22. Doors open at 6 p.m. At 6:15 p.m., a pre-concert lecture by Maestro

Berkson (for members only), and 7 p.m. the concert. The concert and parking

are free. The venue is Redondo Union High School Auditorium, 631

Vincent Street in Redondo Beach (PCH at Diamond). For further information,

please call the Symphony Office at 310/544-0320, e-mail us at music.pensym@verizon.net,

or visit Pensym.org.

Wednesday, June 21

Birding

Enjoy birding with Wild Birds Unlimited at White Point Nature Preserve. Explore

the birds making a home in the restored habitat at this beautiful preserve.

Binoculars supplied for beginners. The program is free. All ages welcome.

8:30 a.m. 1600 W. Paseo Del Mar, San Pedro. RSVP at: pvplc.org, Events &

Activities.

Affinity luncheon honors

Three prominent community members:

Jean Adelsman, Ann Buxton

and Joyce Kochanowski will be honored

for their exemplary volunteerism

and contributions to the

community at a luncheon hosted by

the Affinity Group of the Volunteer

Center. Proceeds will benefit the Volunteer

Center's Operation Teddy

Bear program. Noon. Tickets to the

luncheon cost $75 per person. At

the Palos Verdes Golf Club, 3301

Via Campesina, Palos Verdes Estates.

For more information about the

event, interested guests should call

De De Hicks at (310) 377-4930.

Saturday, June 24

Local Paleo History

Austin Hendy talks about fossils and

mollusks. Discover more about the

variety of life in the habitats and

TRUSTS, WILLS, PROBATE

Family Law Mediation

After practicing law in the

Manhattan and Hermosa Beach area for

over 28 years I'm pleased to announce the

relocation of my offices to Palos Verdes.

Please call for a free consultation.

MARGARET A. JONES

Attorney At Law

655 Deep Valley Drive, Suite 125

Rolling Hills Estates, CA 90274

(310) 544-2255

Majoneslaw.com

June 2017 • Peninsula People 57
---
"Mr. Australia"

New Zealand and Fiji Too!

Your So. Bay Expert for Amazing, Customized,

Independent Travel Packages "Down-under."

For a conference or appointment:

Rick Stone, "Mr. Australia"

310-793-6013

mraustralia@verizon.net

www.MrAustralia.net

Proudly Affiliated with

Beach Travel, Hermosa Beach

Vinyl Windows

Replacement and New Construction

BUY ONLINE

AND SAVE BIG $$$

WWW.1STWINDOWS.COM

VINYL, ALUMINUM, WOODCLAD

Lowest Prices Up Front • No Games

Show Room 562-494-9069

CONTRACTOR REFERRAL • Fax 562-494-2069

58 Peninsula • June 2017
---
eventcalendar

ecosystems around us. Free. 11 a.m. White Point Nature Education Center &

Preserve, 1600 W. Paseo Del Mar, San Pedro. RSVP to: pvplc.org: Events &

Activities/Whitepoint Presentations or (310) 541-7613.

Guided Nature Walk

Visit White Point Nature Preserve and attend a naturalist-guided hike. Enjoy

coastal views and learn more about the plants, animals, restoration area and

more! Meet at the information kiosk between parking lot and Nature Center.

9 a.m. 1600 W. Paseo del Mar, San Pedro. For more information call (310)

541-7613 or RSVP at: pvplc.org, Events & Activities.

Outdoor Volunteer Day

Help restore a unique canyon habitat, home to many threatened and endangered

wildlife species. 9 a.m. – noon. At Alta Vicente Reserve, 30940

Hawthorne Blvd., Rancho Palos Verdes. Sign up at pvplc.volunteerhub.com.

Native Plant Sale

At White Point Nature Preserve, noon – 2 p.m. Plants sold on first-come, firstserve

basis. White Point Nature Preserve located at 1600 W. Paseo del Mar,

San Pedro. For more information call (310) 541-7613 or pvplc.org.

Sunday, June 25

Wellness in the Garden

Join Cancer Support Community Redondo Beach as it celebrates 30 years of

providing free support programs for cancer patients and their loved ones. Reserve

your seat at this extraordinary garden party that will amaze and delight

food and wine enthusiasts or anyone who appreciates an opportunity for a

great culinary experience. Leisurely stroll through the garden while sampling

delectable cuisine and beverages from some of the finest South Bay restaurants,

wineries and breweries. Bid on the many valuable live and silent auction

items offered at the event: fabulous trips, health and beauty, entertainment and

sports items, and much more. Visit the Wine Vault—a special setting devoted

to wine aficionados. Guests can enjoy sipping on exquisite wines while perusing

silent auction items that include tasting packages from high-end vintners

among other fabulous items tailored to the wine lover. Its 21st annual Celebrate

Wellness food and beverage tasting event, hosted and sponsored by the South

Coast Botanic Garden, takes place 3 - 7 p.m. Proceeds will benefit the more

than 200 free programs per month offered by Cancer Support Community

Redondo Beach. Tickets are $150 per person (guests must be 21 and older),

and can be purchased online by visiting CelebrateWellness.org or by calling

(310) 376-3550. 26300 Crenshaw Boulevard, Palos Verdes Peninsula.

June 2017 • Peninsula 59
---
eventcalendar

Seaside Concert

Free family-friendly concert hosted by the Neighborhood Church, features Italian-born

songwriter Elena Degl'Innocenti, an award-winning songwriter recognized

at the LA Music Awards, UK Songwriting Contest, and much more.

Blessed with a three-octave soprano voice, her vast repertoire mixes her Italian

roots with Jazz and Latin influences. BYO picnic begins at 6 p.m. Concert at

7 p.m. No tickets or reservations required. 415 Paseo del Mar, Palos Verdes

Estates.

Tuesday, June 27

Documentary "Being Mortal"

To address the importance of planning ahead and talking with family members

about end-of-life decisions, Torrance Memorial Medical Center and Caring

House host a free screening of the PBS "Frontline" documentary "Being Mortal."

The film investigates the practice of caring for the dying and explores the

relationships between patients and their doctors. Following the screening, a

panel of end-of-life care experts and Celia Rothman, as a representative community

member, will explore the movie's themes and encourage further discussion

with audience members. Free. 6:30 to 8:30 p.m. Torrance Memorial

Richard B. Hoffman Health Conference Center, 3330 Lomita Blvd., Torrance.

Seating is limited and RSVP is recommended for the event. Please call (310)

517-4711 or visit TorranceMemorial.com/BeingMortal for more information.

Wednesday, June 28

Birding

With Wild Birds Unlimited at George F Canyon presented by the Palos Verdes

Peninsula Land Conservancy, 8:30 a.m. Explore the birds in nesting season

making a home in the canyon. The program is free and all ages welcome.

27305 Palos Verdes Drive East, Rolling Hills Estates. RSVP at: pvplc.org, Events

& Activities.

Sunday, July 16

Fundraiser to Benefit the PVAC

Celebrate Chefs & Cellars, an afternoon in the vineyard, is a fundraiser to

benefit the Palos Verdes Art Center. This is a 21+ only event. Restaurants, wine

tasting, and art. 4-7 p.m. $125 per ticket. Reservations limited. Catalina View

Gardens, 6001 Palos Verdes Drive South, Rancho Palos Verde. Call or email

Sharon Holman (310) 375-6917 or holmsha@aol.com. Celebratechefs.com.

PEN

William J. Wickwire, M.D.

Certified, American

Board of Dermatology

Neal M. Ammar, M.D.

Certified, American

Board of Dermatology

DERMATOLOGY & SKIN SURGERY

BEACH CITIES DERMATOLOGY

M E D I C A L C E N T E R

Say Goodbye to Stubborn Fat....

• Skin Cancer • Mole Removal & Mohs Surgery

• Reconstructive Facial Surgery and Scar Revision

• Acne & Accutane Treatment

• Warts, Rashes and Cysts • Leg Vein Sclerotherapy

• Hair Loss & Propecia • Restylane, Radiesse, Perlane,

Juvederm & Sculptra • Botox and Dysport Injections

• Age Spots & Sun Damage • Laser Surgery

• Microdermabrasion • Glycolic and Chemical Peels

• Ultraviolet B & PUVA • Pediatric Dermatology

310-798-1515

www.beachcitiesderm.com

Redondo Beach —

520 N. Prospect Ave., Suite 302

Palos Verdes —

827 Deep Valley Drive, Suite 101

Buy One, Get One

FREE

Two Coolscuplting Devices to Treat Two Areas at Once!

Specialists in Skin Cancer Detection

South Bay's

best equipped

Dermatology

Center!

All PPOs Accepted

Evening & Sat.

Appts. Available

V ilicich

Watch & Clock

Established 1947

Celebrating

Our

70 th

Anniversary!

(310) 833-6891

714 S. Weymouth Avenue

San Pedro, CA 90732

Not affiliated with Rolex USA

June 2017 • Peninsula 61
---
High

on

Thai

Tantawan Thai crabcakes are mildly seasoned and served with noodles stir-fried with onions and a dipping sauce of mild red curry. Photos by Brad Jacobson (Civic-

Couch.com)

Tantawan Thai's servings and server lift spirits

by Richard Foss

Idon't always comment about the restaurant service, even though that

has a lot to do with the quality of the dining experience. Once in awhile,

though, it makes or breaks a meal, and that just happened at Tantawan

Thai, a restaurant located in a shopping center near the corner of Silver

Spur.

I was meeting family members for dinner, and one had just had a bad

day at work. Wait, did I say bad? I mean stupendously awful, the kind of

day that can leave you sullen, irritable, and looking for someone to vent

at. Thai food hadn't been her first choice for the evening, and as she waited

for a menu to be delivered she was an explosion looking to happen.

The person who delivered that menu was a sunny character named Carlos,

who handled a snappish customer with deft diplomacy and wit. When

we asked his opinion of one item that seemed fairly plain, he responded,

"That's very healthy. You should get something else." After a few such comments,

the person who was having a bad day was living in the moment

and enjoying the repartee. It was a case of the irresistible charm meeting

the immovable grouch, and it was the grouch that melted.

All this bonhomie would have led to disappointment if the food that Carlos

was recommending hadn't been up to par, but we were in a good mood

as we awaited our appetizers while sipping a Chainier "1749" Sauvignon

Blanc. Though New Zealand has become famous for this varietal in the

last few years, the French entrants like this one from Bordeaux are worth

exploring. The climate in France is warmer, the soil limestone based rather

than volcanic, even the aging method different, and French Sauvignon

Blancs are more subtle without the pungent grassy overtones. The New

Zealanders are usually suggested with spicy Asian cuisines because the

tropical fruitiness stands up well to spice and vinegar, but we found this

enjoyable both as a sipping wine and with the food. They sell it for only

$20 per bottle, which is a very good price.

Our starters were eggrolls, dumplings called ka-nohm-jeeb, and an order

of crabcakes that were served with a side salad. The dumplings were a

Thai version of Chinese shu mai, ground chicken and shrimp with shiitake

mushroom and water chestnuts steamed inside a thin crepe-like noodle.

Though Thailand doesn't share a land border with China there has been

trade for centuries, and the culinary influence was clear here, with none

of the heat and ginger that characterizes most Thai food. A thick soy-based

spice sauce was served with it and that added flavor without ratcheting

the heat very high, but these were just fine without it.

I did want a little more zip with the eggrolls, which were a bit on the

bland side and served with a sweet chili sauce. When asked Carlos provided

a trio of sauces with different balances of vinegar and chili. One of

these had chopped red and green peppers in a tart vinegar and was so assertive

that I momentarily lost my ability to speak when I got too much of

it. I kept applying it because it was delicious, but did so more moderately.

The crabcakes were a winner, too, the two large discs of seafood mildly

seasoned and served with some noodles stir-fried with onions and a dipping

sauce of mild red curry. The exterior had the uniform crispness that

suggested it had been egg-dipped before deep frying, which isn't how I

usually like crabcakes, but it worked and that's what matters. The red

curry dip was fragrant rather than hot according to the spice wimp at the

table, but we had asked for things to be mild and now know we can give

them a bit more latitude with the seasoning.

We continued with a "tiger salad" which contained no actual large felines,

but was composed of a mix of grilled beef, scallion, onion, lemongrass,

and mint leaves over a bed of green salad. Salads like this aren't

really Thai because lettuce as we know it doesn't grow there, but this 1960s

invention by a Thai chef in Los Angeles has gone global. As well it should,

62 Peninsula • June 2017
---
ecause the combination of spice

and garlic in the meat with a vinegary,

slightly peppery dressing is a

winner.

Our final items were barbecue

garlic pork over vegetables, shrimp

pad Thai, and chicken with spicy

chili and basil. If I had it to do all

over again I might have ordered

something other than the garlic

pork because it was similar to the

garlic beef that had been on the

salad, and I would have liked to try

a wider range of flavors from this

kitchen. The different setting with

cooked vegetables and a side sauce

lent sufficient variety that we

weren't bored, but I'd still suggest

getting one or the other.

The shrimp pad Thai was standard

but well crafted, the shrimp

briefly grilled rather than steamed

and the vegetables in good balance

with the noodles, peanuts, and

sauce. It wasn't highly spiced and

as far as I can tell shouldn't be –

it's a gentle savory item that is a

delight when done traditionally.

The chicken with chili and basil

was more assertive even though

we had ordered it medium in deference

to the two-heat-averse people

at the table. When made mild

it accents the pungency of Thai

Tantawan Thai manager Miu Sauls

basil, which has a concentrated

herbal flavor that is very different

from the Italian variant. The basil

was accented by chili in the mild

version, but if we had asked them

to kick the seasoning up a few

notches it would have been the

other way around. Either way, it's

an enjoyable dish and one I would

recommend here.

We were offered the choice of

regular jasmine rice, coconut rice,

or brown rice with each entrée,

and we got one of each. My suggestion

is to do the same, because

the different flavors in each add

shadings to the curries and sauces.

Dinner for four with a bottle of

wine and a beer ran $133 and we

took home enough for a nice lunch

the next day. It was a fair price for

a fine meal in pleasant surroundings,

a showcase for a meal with

character and a server who is one.

Tantawan Thai cuisine is at 871

Silver Spur in Rolling Hills. Open

daily 11:30 a.m. -- 2:30 p.m. and 4

p.m. – 9 p.m., parking lot, wheelchair

access good. Vegetarian and

vegan items available, but ask about

use of fish sauces. Beer and wine

served, no outside wine. No website,

phone 310-544-0265. PEN

June 2017 • Peninsula 63
---
around&about

Asia America Symphony (AAS) Guild Spring Tea

n The "Tea by the Sea" was held at the private home of an Asia America Symphony

Guild members in Palos Verdes Estates on May 11. The Guild supports the

Asia America Youth Symphony, directed by David Benoit. Nearly 100 guests enjoyed

tea and finger sandwiches and an array of desserts prepared by members.

Youth Symphony members performed for guests , including Marcus Chang on

the violin and Kai Nakkim on the clarinet.

Elizabeth

Morinaka, Susan

Toy Stern, Lisa

Nakkim, Margaret

Shimada, Karen

Bronson, Lisa

Malone, Leslie Low

and Kay Inose.

Las Comadres Light Blue Group

Los Compadres Class of 2017 (seated left to right) Kasey Katayama,

Katherine Kelliny, Camille Masuda, Jillian Ambler, Julianna Yonis, and

Hope Maruyama. (Standing, left to right) Megan Webb, Jennifer Simonell,

Olivia Azzopardi, Cassidy Cushman, Nicole Takeda, Maxine

Lee, Morgan Rivera. Photo by Kathi Wolfrum

n The Las Comadres Light Blue Group Class of 2017 held their recognition

dinner on Sunday, March 5 at Ports O'Call in San Pedro. Las Comadres is a

member of the Student Service Advisory Council of Palos Verdes. Over the past

four years, the group of 13 girls from Peninsula and Palos Verdes high schools volunteered

more than 2,500 hours for Children's Hospital Los Angeles, Ronald Mc-

Donald House, PVP Land Conservancy, Heal the Bay, Cabrillo Marine Museum,

Friendship Circle and local elementary schools.

Around & About cont. on page 70

64 Peninsula • June 2017
---
June 2017 • Peninsula People 65
---
This meticulous Italian styled veranda is lush and private and runs along the side of the house facing the pool and spa area. Photos by Dan Mullin

HOME SWEET TUSCANY

After starting a family in Japan, the Chapmans returned to Palos Verdes and rebuilt a masterpiece

by Stephanie Cartozian

Larry and Jodie Chapman

never expected that they

would be building a life together

after a blind date set up by

a mutual church friend over 30

years ago.

Larry was late to the performance

of "Pirates of Penzance,"

which was to be their meeting

place for the evening. It was a

show staged at the St. Peter's Episcopal

Church in San Pedro, where

Jodie volunteered as a youth

leader.

"It was the worst production of

Designed in part by Edward Carson Beall, the Chapmans' Tuscan villa sits

just off of the Palos Verdes Golf Course in the Valmonte neighborhood.

'Pirates of Penzance,' ever," Larry

said.

Jodie was not particularly impressed

with his tardiness. Yet the

two somehow managed to enjoy

the evening together. Following

their courtship, they married on

August 27, 1983, and relocated

soon after to Tokyo to take advantage

of a professional opportunity.

Larry, an electrical engineer, had

joined Hughes Electronics in 1980.

His work in Japan was the result of

a joint venture between Hughes

Electronics and two other companies.

The companies were researching

the technology

66 Peninsula • June 2017
---
This inviting pool area was a favorite spot when the Chapman children were growing up, replete with a water slide.

surrounding direct broadcast satellites at the

time, which eventually became DirecTV. Larry

was one of DirecTV's original Chief Operating

Officers, in charge of the company's Latin

America division.

The Chapmans' first child, Alexis, was born

in Japan and spent her first four years there. She

was an anomaly in Eastern Asia.

"People couldn't get over her looks," Jodie remembered.

"They would bring over gifts just to

be afforded the opportunity to see her up close

and were fascinated by her non-Asian appearance.

It was quite an experience for her to undergo

all the extraordinary attention and

popularity bestowed upon her at such an early

age."

The family thoroughly enjoyed living in

Tokyo and brought Japanese style, along with a

sense of adventure, to the homestead they'd

eventually establish in Palos Verdes. The family's

sojourn to Japan ended in 1989 and they

moved back to the States and settled in San

Pedro in time for the arrival of their second

child, Wesley that same year. Jodie, a Palos

Verdes High School alumna, had never anticipated

moving back to her hometown to raise a

family as a full time mother.

But the family became smitten with a house

in the Valmonte neighborhood of Palos Verdes

Estates. They purchased it in 1996.

"We saw the potential here to really make it

our own," Jodie said. "I had a book of ideas and

I would go through it excitedly searching for

the just the right place to [apply] our future

home ideas."

And what a playground this home proved to

be for architectural detail, ingenuity and luxury.

Originally built in 1938 and designed and engineered

by H. H. Lochridge — the same architect

who designed the City Hall building in

The water slide leads to a sparkling pool and spa area

with artificial grass and a courtyard lined with trellises

filled with spring's abundant flowers.

Long Beach — this Tuscan-style refuge

served as the foundation for the family's

future ideal home. In 1997, they hired the

prominent Torrance-based architect, Edward

Carson Beall, to engage in an ambitious

remodel.

"It was a two year endeavor," Larry said.

"We covered lots of ground."

He recalled how the couple saw an advertisement

for vintage flooring that took

them out to Vista, California, one of many

uniquely sourced materials for the home's

reimagining.

"The wood plank reclaimed flooring is

eucalyptus sourced from a Tasmanian

sheep shearing factory," Larry said. "We

had it hand-scraped, and even though it

was glued down flooring, it still retains the

original nail holes from its past life."

The family went to great lengths to stay

true to the home's character. The stairwell

by the entrance is the original from the

1930s. It's made of magnesite, a type of oldworld

style poured cement comprised of a

mixture of calcined magnesite, magnesium

chloride and various fillers including wood

flour or sawdust.

"There were five layers of paint masking

the magnesite," Larry said, noting it was

all removed to expose the stairwell's natural

egg-shell color composition. Larry recalled

that when they went to build the

back staircase during the remodel, they

could only find one purveyor of this material,

Rizo's, in Los Angeles.

The house sits high above the street,

meeting its towering eucalyptus trees eyeto-eye.

The steps leading up to the front

door are winding and alluring, with the floral

and herbaceous scents of nature wafting

June 2017 • Peninsula 67
---
Timeless

Larry and Jodie Chapman enjoying the veranda with the Sebastion and

Sola. Photo by Tony LaBruno

Centuries ago when the world's finest clockmakers were

hard at work, their aim was to create a mechanical marvel

that operates continuously and last forever. Imagine

a hand made complex mechanism of inter-working parts designed

to keep time accurately. Your clock is a work of art and

your job is to keep this timeless treasure healthy for the next

generation.

Your clock reminds you of its presence every time you wind

it. If the accuracy of the clock is not what it used to be, or the

chimes are not as strong or rhythmic, or maybe it just stops;

that means your clock is talking to you and telling you that its

endless life is in jeopardy.

It is imperative to maintain and service your clock regularly.

Oil gets old and dry forcing the train of gears to work twice as

hard to accomplish their goal. This results in damage that drastically

shortens the life of a fine timepiece.

Michel Medawar has been extending the lives of timepieces

for over Sixty years as his father did Sixty years before. He is

the inventor of the first talking clock in the world. He is a graduate

from Patek Philippe in Geneva, Switzerland, The Theod

Wagner Clock Co. in Wiesbaden, Germany, and the Howard

Miller Clock Co. in Zeeland, Michigan. Call him so that he may

come to your home and offer you a free estimate for servicing

your clock. Or bring your wall or mantel clock to our store to

see our showroom and receive the same complementary diagnosis.

as one ascends. The front door, from Arte de Mexico, is heavily built with

hand-carved paneling originally towering 12 feet tall. The door had to be

taken down a few feet to fit the frame, so the extra panels were crafted

and embedded into a wood lattice succulent planter outside creatively concealing

waste bins.

When the front door opens you are greeted by the Chapmans and their

friendly small schnauzers, Sebastian and Sola. Your second vision is of the

inviting kitchen, designed partly by Cooper Pacific Kitchens in Los Angeles.

The kitchen cleverly features Old World accessories. The Sub-Zero refrigerator

boasts an Arte de Mexico set of ornate handles. A "secret" staircase

takes you underground to a well-equipped butler's pantry, replete with a

second refrigerator and other useful appointments, including ample storage

cabinetry and workspace countertops. The breakfast area sits by a large

bay window overlooking lush greenery outside. A front deck, visible just

outside the window, offers an expansive view that includes the Palos

Verdes Golf Course, venerable trees and bounding greenery and flowers.

The home has three distinctive fireplaces. The living room, off the kitchen,

has an old world finish, hand-done by well-known South Bay artisan Barbara

Van Groningen in a textured deep merlot hue. Van Groningen's

artistry is ubiquitous throughout the home, including fleur de lys painted

into the beams, whimsical fairies painted on the floors in the children's

bathroom and copper etchings of Tuscan villages she freehanded in the

laundryroom. Some Asian influence can also be discerned in the largely

The daughter's whimsical bathroom has a decorative handpainted fairy on

the floor by the basin and Barbara Von Groningen, artisan, styled the flanking

cabinetry to match the sink basin's greenery motif.

We are located at 810C Silver Spur Rd., in Rolling Hills Estates, Ca.

90274. Or call us at (310) 544-0052

Open 10:00 am - 6:00 pm Tuesday - Saturday

810C Silver Spur Road • Rolling Hills Estates • CA 90274

Call 310.544.0052

68 Peninsula • June 2017
---
Tuscan residence, such as the

Japanese Tansu step cabinet in

their son's room.

Wesley resides in Australia now.

"Since he wasn't born internationally

like his sister, he went international

later!" Jodie said.

All the bedrooms are upstairs in

this approximately 3,355 square

foot home that even has a "quilting

room" upstairs, with a sewing machine

and a window seat overlooking

the pool and gardens.

"This room is my refuge and

sanctuary," Jodie said. "It's away, at

the end of the house, and offers me

creative time to work on projects

that I love."

Each of the five bathrooms is

carefully thought out, with unique

accents fitting for the home. Wesley

loved dolphins, so a dolphin

motif is displayed in his shower

tiles. Each of the bathroom shower

drains throughout the house has a

different, uniquely designed brass

grating of Japanese fish or flowers

or other nature motifs. Even the

pool and spa are comprised of pebble-tech

flooring, and the pool slide

has a stone facade; gargoyles flank

Living room with views of the verdant outdoors and vintage eucalyptus flooring

throughout is a nod to the home's seamless melding with nature.

the slide with half-animal, halfhuman

features, acting as downspouts

clearing water from the slide

wall. Such features, throughout the

home and its grounds, are both

practical and decorative.

After the couple finished their

home's two year remodel, Jodie

said they were inspired to find

other projects they could share.

"I was trying to find out what else

we could do together next," Jodie

said. "Some couples garden together,

bike together or even work

together."

Jodie's father, who was a navigator

in the military, instilled in her a

love of flying at an early age. So

Jodie obtained her pilot's license in

2001 and two years later she convinced

Larry to do the same. They

purchased a Cirrus plane that has

two batteries, two alternators, two

GPS's, four seats, and its own parachute.

"I feel very safe in this plane,"

Jodie said.

The plane is housed at the Torrance

Airport but will soon be flying

north. The Chapmans have

decided to make a move to Placerville

to be closer to their new

granddaughter, Juniper, who just

turned one. The Chapmans are

once again embarking on a new adventure,

together. PEN

The handcarved front door from

Arte de Mexico is of substantially

thick wood and makes a

grand entrance.

June 2017 • Peninsula 69
---
New PV Orchard's Paint a Pot

n The new Orchards in Palos Verdes hosted a free Paint a Pot event on Saturday

afternoon May 13 in anticipation of Mother's Day. Children painted a terracotta

pot for their mothers and planted a

flower inside their new creation.

Assisteens Recognition Ball

around&about

Chris Tabellerio and OSH

manager Cyndy Lippert.

Photos by Stephanie Cartozian

Kids at the table painting

their Mother's Day creations.

Peninsula School of Performing Arts

Presents La Bayadere ballet at the Norris

n Students of the Peninsula School of

Performing Arts (PSPA), directed by

owner Tita Boulger, performed "La

Bayadere" at the Norris Theatre La

Bayadere on May 12, 13 and 14. La

Bayadere means The Temple Dancer

and was originally staged in four acts

and seven scenes by the French choreographer

Marius Petipa, to music by Ludwig

Minkus. The ballet premiered in

1877. The story takes place in India

and connects the romantic and classical

Lauren Hunter.

Photo by Stephanie Cartozian

eras of ballet. The ballerinas wear

shorter classical tutus and move in very

romantic and flowing manners.

Assistance League Walk

n Assistance League supporters Walked the Walk on April 23. It started at the

Maritime Museum in San Pedro and concluded at the Dancing Waters, in front of

the Cruise ship terminal. Nearly 100 walkers enjoyed views of the U.S.S. Iowa

and cruise ships to raise funds to help underprivileged. Lisa Lehman won the prize

for most miles.

Nadia Innab, Eileen Potter, Miranda Kim, Nicole Suppelsa, Isabella

Manestar and Nicole Rogalski. Photo by Nathan Worden, Worden Photography

n The 52nd Annual Assisteens Recognition Ball was held at the Millennium Biltmore

Hotel's Crystal ballroom. Senior graduates danced a traditional waltz with

their fathers to Tchaikovsky's classic "Sleeping Beauty." Each honoree spotlighted

in a white gown, stood on a balcony while her high school accomplishments were

read. The honorees contributed more than 4,500 hours to more than 17 South

Bay nonprofit organizations. This year's graduating class comes from Palos Verdes

Peninsula High School, Palos Verdes High School, and Bishop Montgomery High

School.

Happy 90th Birthday, Jea Baran

n The Trojan League of South Bay (TLSB) celebrated the 90th birthday of Founding

Member and Past President Jea Baran at the Valmonte Room at the Canterbury

Residence in Rancho Palos Verdes. The Trojan League of South Bay awards merit

scholarships to current USC students from the South Bay. The group also connects

South Bay USC alumni with one another.

Pam Sattler, Rita

Stratton and Gwen

Slater. Photo by

Andrew Wyman

(Seated) Nancy Jacobsmeyer, John Baran, Jea Baran, Joan Spaeter and

Sigrid Allman. (Standing) Al Spaeter, Lori Carlson, Kerry Olson, Patti

Johnson, L'Cena Rice, Mary Beeson, Suzanne Krapf, Ginny Wood,

Alice Remp, Nancy Lovell, Patti Josi, Julie Haynes and Beth Petak Aaron.

Photo courtesy of TLSB

70 Peninsula • June 2017
---
Red Day helps Seniors

n Keller Williams closed its doors May 11 for its annual Red Day. Keller William

Palos Verdes Realtor Cheryl Friedman spearheaded the effort with Palos Verdes

Estates Police Community Relations Officer Marcelle Herrera and Orchard Supply

Hardware Assistant Manager Dave Taylor. The group cleaned up the yards of

seven elderly residents.

PV Seniors receive donation

n The Palos Verdes Peninsula Association of Realtors

(PVPAR) presented $1,000 to the Peninsula

Seniors for their Capital Campaign. The donation

was made at the seniors' monthly breakfast

meeting at the Los Verdes Country Club. Real Estate

Attorney Steven Spierer addressed the nearly

100 in

a t t e n -

dance. Margie Beierschmitt

and Bill Ruth.

around&about

REAL ESTATE LOANS LOW RATES - FAST CLOSING

• Jumbo Loan To $10 Million

• Conventional Loans with only 1% Down (WHY RENT?)

• FHA up to $636,150

• 5+ Unit Financing

• Construction Loans

• Good Credit/Bad Credit

MILLENNIUM REAL ESTATE SERVICES

(BRE: 01275204/MLO: 1153348)

JACKIE COLLINS, Broker

800-653-1022

www.webmortgagefunder.com

609 Deep Valley Drive, Suite 200, Rolling Hills Estates, CA 90274

Keller Williams Red Day workers George Rosenkranz, Cheryl Friedman,

Dave Taylor, Palos Verdes Estates Officer Marcelle Herrera and

Norma from PVE CARES.

Eagle Scout Brian Hom

n Students at Palos Verdes Intermediate School have a new garden to lunch in

thanks to Eagle Scout Brian Hom of Palos Verdes High School. As his Eagle Scout

project, he landscaped what was a patch of weeds into a memorial garden for

recently passed teachers and students. An area was set aside for the school's garden

club to plant fruits and vegetables.

• Serving the South

Bay for over 35 years

• Full Service Contractor

• Complete Installation

• New Construction

• Remodeling

• Second Floors

• Additions

• Cabinets

Visit Our

Kitchen &

Bath

Showroom

4203 Spencer St., Torrance, CA 90503

(310)214-5049 • www.pevelers.com

Appointment Recommended

Showroom Hours: Monday Thru Friday 10-5

Closed Saturday and Sunday

License #381992

June 2017 • Peninsula 71
---
72 Peninsula People • June 2017
---
Classifieds 424-269-2830

ELECTRICAL

PLASTERING

ROOFING

Classifieds 424-269-2830

QUIXTAR

Concrete & Masonry

Residential & Commercial

310-534-9970

G

CONCRETE

Lic. #935981 C8 C29

classifieds

424-269-2830

D

Remodeling

Design

Kitchens

Bathrooms

Room Additions

New Construction

Reserve

your space in the

next

Pub Date: June 24

Deadline:

June 9

Call direct

s

(424)

CONSTRUCTION

269-2830

Charles Clarke

Local Owner/General Contractor

Ph: (310) 791-4150

Cell: (310) 293-9796

Fax (310) 791-0452

"Since 1990" Lic. No. 810499

CONSTRUCTION

Call us to Discuss the

ENDLESS POSSIBILITES

Extreme

Hillside Specialist

Foundation Repair Experts

Grading & Drainage

Retaining Walls,

Fences & Decks

310-212-1234

www.LambConBuilds.com

Lic. #906371

LYNCH

ELECTRIC &

General

Building

Contractors

• Residential

Troubleshooting

• Remodel Specialist

Scott K. Lynch

P.V. Native

Licensed & Insured

Cell

310-930-9421

Office & Fax

310-325-1292

www.LynchElectric.us

Lic 701001

GARAGE DOORS

HANDYMAN

Handyman

Services…

Fix It Right the

First Time

We like small jobs

/ Free estimates

What we do…

Plumbing,

Electrical, Drywall,

Painting & more.

Valente Marin

310-748-8249

Unlic.

MUSIC LESSONS

Vocal Technician

Piano Teacher

Vocalist

Jeannine McDaniel

Rancho Palos Verdes

20 year experience

All Ages

310-544-0879

310-292-6341

Jeannine_mcdaniel2001@yahoo.com

Patch Master

Plastering

Patch Plastering

Interior • Exterior

• Venetian Plastering

• Ceiling Removal

• Drywall Work

• Acoustic

Ceiling Removal

• Water & Fire Restoration

310-370-5589

Lic. # 687076 • C35-B1

PLUMBING

Thank You South Bay for

50 Years of Patronage!

Residential • Commercial • Industrial

Plumbing 24/7 • Heating

Air Conditioning

pfplumbing.net

800-354-2705 • 310-831-0737

POOLS & SPAS

POOLS • SPAS

HARDSCAPES

New Construction

& Remodeling

Excellent References

Horusicky Construction

310-544-9384

www.Horusicky.com

Credit cards accepted

Lic #309844, Bonded, Insured

PLUMBING

MATTUCCI

PLUMBING • HEATING • COOLING

DEPENDABLE • PROFESSIONAL • AFFORDABLE

FULL SERVICE PLUMBING • COPPER REPIPES

SEWER VIDEO INSPECTION • HEATING

DRAIN & SEWER SERVICE • COOLING

TRENCHLESS SEWER REPLACEMENT

Tile Reroof and

repair specialist

310-847-7663

Family owned

business since 1978

Lic 831351

SOLAR ENERGY

classifieds

424-269-2830

ON CALL

24 HOURS

7 DAYS

FREE ESTIMATES

310.543.2001

CALIFORNIA

Lic. #770059

C-36 C-20 A

2013

June 2017 • Peninsula 73