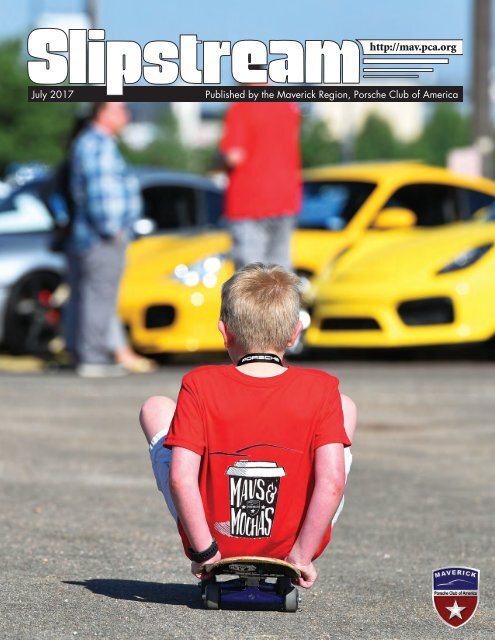 Slipstream - July 2017
The monthly newsletter of the Maverick Region of the Porsche Club of America
The monthly newsletter of the Maverick Region of the Porsche Club of America
SHOW MORE
SHOW LESS
Create successful ePaper yourself
Turn your PDF publications into a flip-book with our unique Google optimized e-Paper software.
http://mav.pca.org

July 2017

Published by the Maverick Region, Porsche Club of America

Upcoming Events

• Father's Day Picnic

• Sunday Drive

• Rally School

Past Events

• Wild Wildflowers

• May at Mayo's

• Results

June 2007 - Published by the Maverick Region

Porsche Club of America
---
©2017 Porsche Cars North America, Inc. Porsche recommends seat belt usage and observance of all traffic laws at all times.

The heirs to over 60 years of a racing legacy.

Divided equally.

The form varies. But the racing bloodlines, the undying dedication to pure sports car performance, the marriage of power and

efficiency embodied in the Porsche principles, do not. And that truth is revealed in that moment you turn the key. Discover it for

yourself with a test drive. Porsche. There is no substitute.

Experience every form of Porsche performance.

Porsche Plano

5924 W. Plano Parkway

Plano, Texas 75093

Tel. (214)576-1911

www.plano.porschedealer.com

©2017 Porsche Cars North America, Inc. Porsche recommends seat belt usage and observance of all traffic laws at all times.
---
http://mav.pca.org

Volume 55, Issue 7, July 2017

Find event updates at http://mav.pca.org, follow on Instagram at http://instagram.com/MaverickPCA

and join our Facebook Group at http://www.facebook.com/groups/mavpca/

Features

Kruder's Cars & Conversation........................................ 12

Insuring Your Porsche.................................................... 14

Fiesta New Mexico........................................................ 15

Not Your Average Garage Queen.................................. 18

Tub Club On the Move................................................... 19

Autocross #4 Recap...................................................... 19

Tech Session Preview: Porsche Engine Tuning................... 20

Porsche of the Month..................................................... 21

Porsche Trivia................................................................ 21

June Mavs & Mochas Retrospective................................. 23

Detailing Tips: Surface Prep Mitts................................... 25

Five Speed Chatter........................................................ 28

PCA Zone 5 Meeting Notes............................................ 31

Upcoming Events

Board Meetings............................................................... 7

PCA Logo License Plate Purchase...................................... 7

July Social: Hilton Garden Inn........................................16

Maverick Lunch Series...................................................16

Poker Rally...................................................................16

Tech Session @ Growler Motor Labs................................16

SUV Off-Road Adventure...............................................17

Autocross Schedule.......................................................17

Mavs & Mochas............................................................17

Departments

Sprockets (President's Column)......................................... 2

Maverick of the Month..................................................... 2

Officers and Board Chairs............................................... 4

Zone 5 Presidents............................................................4

Maverick Minutes............................................................ 6

New Mavericks and Anniversaries.................................... 9

Unclassifieds................................................................. 34

Advertiser Index............................................................ 34

Around the Bend (Editor's Column)................................. 36

Slipstream (USPS 666-650) is published monthly by the Maverick Region, Porsche Club of America, 155 Jellico

Southlake, TX 76092. Subscription price is $24.00 per year. Periodical postage is paid at Fort Worth, TX.

POSTMASTER: Send address changes to Hiram Saunders, Slipstream, 155 Jellico, Southlake, TX 76092.

See more details and check for event updates via

the QR code here or our online calendar at

http://mav.pca.org/go/calendar

No Board Meeting in July

Plano area lunch (each Monday).........3, 10, 17, 24, 31

PCA Parade 2017 in Spokane, WA........................... 9-15

Lewisville area lunch............................................. (Tue) 11

Mavs & Mochas: Stonebriar Community Church..... (Sat) 15

Mav Social: Hilton Garden Inn..............................(Thu) 20

Poker Rally.......................................................... (Sat) 22

Richardson and Southlake area lunches.................(Thu) 27

Tech Session: Growler Motor Labs.........................(Thu) 27

Autocross #6 at Mesquite High School...................(Sun) 30

Board Meeting..................................................... (Wed) 2

Plano area lunch (each Monday)................ 7, 14, 21, 28

Lewisville area lunch................................................(Tue) 8

Mavs & Mochas: Montgomery Plaza, Fort Worth.... (Sat) 12

Mav Social: TBD...................................................(Thu) 17

Autocross #7 at Lone Star Park..............................(Sun) 20

Richardson and Southlake area lunches.................(Thu) 24

Region President David Robertson

and his wife Tracy, our club Social

Chair, noted that our recent

Mavs & Mochas event was easy to

find thanks to the new feather flag

marking the parking entrance.

Photo by Andrew Barber

Event Dates

July

August

On the Cover

"Raise your children well" includes attending

family-friendly Maverick Region events. This is

Brady, the 8-year old son of Landon Stogner,

perfecting his future autocross skills.

Photo by Andrew Barber

Opinions expressed herein are not necessarily endorsed by the Club's membership or officers. Contributions will be

printed on a space available basis. Chartered regions of PCA may reproduce items from this issue provided the author/

artist and Slipstream are credited. Slipstream is printed by Ussery Printing Company in Irving, Texas.

1
---
Sprockets: Who Will Be First?

By David Robertson, Region President

f I had any pull with the local dealerships

I

I would love to have my name on the list

for one of the new 911 GT3's that will begin

delivery soon. Although I am sure that the

subject would be very politely and skillfully changed

if I asked for an allocation of one of these cars, many

of our club members have gotten themselves onto the

Porsche "nice" list over the years and will be receiving

these new GT3's in the coming months.

I mention this because the great thing about our

club is that as soon as our members start getting these

cars you will see them at our events and you can get up

close to experience them. You may not be able to drift

a new GT3 around the track but you will find that the

owners will be more than happy to show them off to

you and answer questions you might have. This is true

of all the great Porsches from rare classics to the newest

limited production models and everything in between.

Mavs and Mochas has become one of the best ways

to simply enjoy looking at a big variety of Porsches and

share yours as well. We usually have over 100 Porsches

show up, and at our last event in June there was a larger

variety of years, models, and I dare say condition, than

I have ever seen! I really enjoy walking around and

speaking to the owners about their cars. There is always

a great story behind each car, no matter how classic or

new the model is! I always learn something new and

meet lots of new people at every Maverick event I attend.

Between social events, driving opportunities and

track time, there are way too many Maverick Region

events each month to cover here so check out the calendar

at mav.pca.org and subscribe to our many social

media networks to stay informed.

One item that I am looking forward to seeing very

soon at our events and out on the road are the PCA

specialty license plates that are now available for preorder.

I can tell you that these

are selling fast! You can order a

You can now

order your

PCA logo

license plates

at http://

mav.pca.org/

go/plate

random selection of letters and

numbers or get a custom plate.

I have already seen some of the

confirmed custom orders and

they are going to be good! Who

will be the first to show up with

one at an event? You can put in

your preorder at http://mav.

pca.org/go/plate. Once we

get to 200 preorders they start

going out and it looks like that

will be soon!

SAUL FRAIRE, Chef-Proprietor

1235 William D. Tate Ave

Grapevine, TX 76051

817-329-6995

If you haven't been to one of our events recently

take a look at the Maverick Region calendar and join

us. We would love to meet you!

MAV OF THE MONTH: Kurt Scaggs

Our Mav of the Month is a relatively recent volunteer,

but a passionate and longtime Porsche owner. Kurt

Scaggs saw a request for assistance in creating our event

ads in an issue of Slipstream last year and decided to

offer his time and talent. Fortunately for our region,

Kurt does graphic design work professionally, so his

"real" work fits in beautifully with our club needs.

Thank you, Kurt, and we appreciate seeing your eyecatching

designs both in Slipstream and online!

Kurt with son Wilson

2 July
---
3
---
2017 Maverick Region Board - Officers and Chairs

President

David Robertson

617-797-0516

president@mavpca.org

Autocross Chair

Mark Schnoerr

ax@mavpca.org

Club Race Co-Chair

Pat Heptig

214-649-7907

cr@mavpca.org

Vice President

Jim Falgout

vp@mavpca.org

Time Trial Chair,

(AX/TT Rules)

Travis Howard

214-616-6152

tt@mavpca.org

Club Race Co-Chair

Joel Nannis

cr@mavpca.org

Secretary

Wendy Shoffit

972-977-9821

secretary@mavpca.org

TT Registrar, AX/TT

Schools, Swap Meets

Robyn Howard

214-991-0873

drivingschools@mavpca.org

Club Race/DE Registrar

Wendy Shoffit

crreg@mavpca.org

deregistrar@mavpca.org

Treasurer

Richard Solomon

903-530-8281

treasurer@mavpca.org

Charity Chair

Chris Hamilton

hope@mavpca.org

Concours Chair

Andy Kay

817-948-8538

concours@mavpca.org

DE Chair

ChrisTabor

817-371-4888

de@mavpca.org

DE Chief Driving Instr.

John Sandusky

817-777-0421

cdi@mavpca.org

DE Equipment Mgr.

Hunter Allen

deequip@mavpca.org

DE Hospitality

Rose Gohlke

de@mavpca.org

DE Sponsorship

Daren Kirbo

254-396-2973

desponsorship@mavpca.org

Email List Moderator

Brian Scudder

mrpca-owner@

yahoogroups.com

Email List Moderator

Matt Platts

mrpca-owner@

yahoogroups.com

Goodie Store

Chris Flaugh

214-288-5300

goodiestore@mavpca.org

Histographer, Tenured

Charlie Davis

historian@mavpca.org

Membership Chair,

Past President

John Hamilton

817-907-7823

membership@mavpca.org

Monthly Social Chair

Stephanie Ho

hh@mavpca.org

Online Calendar

Karl Poulsen

calendar@mavpca.org

PCA Tours Co-Chair,

Social Media

Bill Orr

tours@mavpca.org

PCA Tours Co-Chair

Mark Pitarresi

817-715-7156

tours@mavpca.org

Rally Co-Chair

Don Sebert

214-613-6900

rally@mavpca.org

Rally Co-Chair

George Luxbacher

rally@mavpca.org

Safety Co-Chair

Wayne Elliott

safety@mavpca.org

Safety Co-Chair

Bob Kramer

safety@mavpca.org

Slipstream Advertising,

Coffee Meets

Bill Kruder

214-497-0711

ads@mavpca.org

Slipstream Event

Ad Design

Kurt Scaggs

eventads@mavpca.org

Slipstream Editor

Jim Hirsch

972-740-7377

editor@mavpca.org

Slipstream Content Ed.

Carey Spreen

817-422-3480

editor@mavpca.org

Slipstream Mailing

Andy Mears

214-394-5857

mailing@mavpca.org

Slipstream Printing

Fran Ussery

972--438-8344 (W)

817-481-8342 (H)

printing@mavpca.org

Social Chair

Tracy Robertson

817-944-5490

social@mavpca.org

Tech Sessions Chair

Nikolaus Klemmer

469-531-5314

techcorner@mavpca.org

Trivia Chair

Jerry DeFeo

972-240-5800

trivia@mavpca.org

Volunteers Chair

Jim Gallegos

214-697-0792

volunteers@mavpca.org

Web Site Chair

James Shoffit

972-786-6246

webmaster@mavpca.org

ARK-LA-TEX

Ken Chandler

bad968@bellsouth.net,

COASTAL BEND

Bryan Kerrick

bksailspadre@

sbcglobal.net

2017 PCA Zone 5 Presidents and Zone Representative

LONE STAR

Steve Bukoski

president@lsrpca.com

MARDI GRAS

Scott Spradley

swsprad@bellsouth.net

OZARK

Jim Woolly

jim.carol_NOSPAM@

sbcglobal.net

WHISKEY BAY

Mike Hamza

mikehamza944@

gmail.com

CIMARRON

Joy Jones

presidentcmr@gmail.

com

HILL COUNTRY

Tracey Gross

president@hcrpca.org

LONGHORN

Charles Bush

president@longhornpca.org

MAVERICK

David Robertson

president@mavpca.org

WAR BONNET

Randal Goodman

drtoys42@aol.com

WHITE RIVER

Leonard Zechiedrich

whiteriverregionpca@

gmail.com

ZONE 5 REP

Jon Jones

zone5rep@pca.org

www.zone5.pca.org

4 July
---
5
---
Gimme a Minute: June Board Meeting Minutes

By Wendy Shoffit, Region Secretary June 7, 2017

resident David Robertson

began the meet-

P

ing at 7:00 pm. It's the

last one until after the

Porsche Parade. Since we won't have

the July meeting, we needed to have

a nominating committee for next

year's slate of officers. Bill Kruder

volunteered to chair with the help

of James Shoffit and Jim Hirsch.

Reporting for the treasurer, we have

about $151K in the bank, plus $6K in

Paypal for a total of around $157K.

We were fortunate to net $18K from

the COTA Club Race in March.

Bill Orr said the movie night

(June 16) might be postponed again

because of another rain possibility.

Karl Poulsen made a motion that

we cancel the date and revisit it in

the fall when the prices at the theater

will go down again. Bill Kruder

seconded. The motion passed with

12 votes in favor and 3 opposing.

Refunds will be offered. Orr also

reported that the PCA license plate

design has been approved by Tx-

DOT. He will promote the pre-sale

and once we reach 200, it will go

into full production.

Social Chair Tracy Robertson

reported that Debi Gibson is volunteering

to help with the socials.

She was a significant help at May at

Mayo's and will be an asset to our

Annual Celebration event, set for

November 4. She has been getting

ideas from others including a kids'

movie event and something at Lone

Star Park with its huge parking lot.

Tour Co-Chair Mark Pitaressi said

that the Fortunata Winery Tour was

good, but we only had about half

the normal amount of cars because

of the rain forecast. We had 54 cars

and 93 people who enjoyed a dry

event. The next tour is in September

to the DE at MotorSport Ranch.

We will again collect gift cards for

charity laps.

6 July

Goodie Store Chair Chris Flaugh

showed examples of license plate

frames to go with the new PCA

plates. After some discussion, Jim

Hirsch made a motion to produce

two versions of the frame (quantity

250 and 200) to have in the goodie

store. Tracy Robertson seconded

and the motion was passed. The

plan is to provide them free for the

first 200 purchases of the specialty

license plates. A full plan will come

later. Chris also said that new logo

and Mavs & Mochas stickers are

on the way. There was a discussion

about having Zone 5 stickers produced,

but that was tabled for another

time.

Slipstream Editor Jim Hirsch reported

for Membership Chair John

Hamilton that we are up 22 for this

past month, to 2,587 total members.

Overall this year, including transfers

in, we have 165 new people to Maverick

Region. Regarding Slipstream,

he said that upcoming travel plans

mean he must move up his normal

August issue deadline to June 27

from the normal deadline of July

10 so he has time to produce the

bulk of it before leaving town. As

a reminder to all, he encouraged

submitted photos to be in portrait

mode for cover possibilities.

Advertising Chair Bill Kruder

said that the price increase initiated

to produce the full color version

of Slipstream went very well. There

were only a few grumbles and a few

changes, including our Inside Front

Cover slot, which he will be shopping

out. The Mavs & Mochas meets are

going well and have sites scheduled

through December. Every other

month has alternated between East

and West locations. Matt Wilson will

be assisting one in the Fort Worth

area. Bill is working on several

special anniversary car feature displays,

as this year has several model

milestones. The Phoenix Insurance

sponsored a special feather flag to

help improve our event visibility.

Tech Session Chair Nikolaus

Klemmer has our first event set for

Growler Motor Labs in Plano (formerly

Cobb Tuning). It will involve

an engine tune and dyno day. The

date is set for Thursday, July 27 and

will be limited to 50 people.

Autocross Chair Mark Schnoerr

said that June 11 is the next event, at

which our Zone Rep Jon Jones will

be attending. He said that the last

event, the mirror-cross at Mineral

Wells, was great fun, and our own Ed

Mayo performed excellently. There

are currently autocross events every

weekend with various clubs.

Webmaster James Shoffit said

that all is going well. He posted the

social media policy on Facebook and

most people have followed it. Only a

few have been removed because of

repeated violations.

Secretary Wendy Shoffit reported

for Jeff Sebert, who is working with

Carey Spreen and Don Sebert (and

the Shoffits) on an off-road event.

After visiting the Northwest OHV

Park in Bridgeport, they decided

to choose September 30 to host

one for our region. More details to

come. Wendy also noted that a small

group of Mavericks attended Fiesta

New Mexico and had a fun time. See

the article for details and results.

David Robertson finished up the

meeting by announcing that Kurt

Scaggs is the Maverick of the Month

for his splendid work on Slipstream

ads!

The meeting was adjourned at

8:28 pm.
---
ANNUAL SERVICE SPECIAL

Brake fluid flush $125

includes one liter of Motul RBF600

"Get the most out of your braking system with this essential regular maintenance"

We are the automotive experts who service your car

with personal attentiveness and care.

2520 Tarpley Rd, Suite 100

Carrollton, Texas 75006

972-418-1996

innovativeautosportstx@gmail.com

7
---
your baby deserves

it's own room.

Introducing Garages of Texas, a community of first-class, affordable, completely customizable garage suites. Here, you don't rent a

space. You buy it. Giving you complete financial control and power to make it your own with unlimited customization options. So, stop fighting

for space in your family garage. Upgrade to a garage suite and move your show cars, motorhome or boat to the showroom they deserve.

Contact our sales team at 888.988.8049 or sales@GaragesOfTexas.com for more information.

ALLEN • CARROLLTON • DALLAS • FRISCO • PLANO • ROANOKE COMING SOON: AUSTIN • HOUSTON • SAN ANTONIO

GaragesOfTexas.com • Facebook.com/GaragesOfTexas

8 July
---
Welcome Our New Mavericks!

By John Hamilton, Region Membership Chair

Patrick Arnzen

Richardson

2016 911 GT3 RS

Rodney Brown

Trophy Club

1999 Boxster

Blake Buchanan

Fate

2000 911 Carrera Cabriolet

Brian Burdorf (Holly Grance)

Dallas

2007 911 Turbo

Greg Buseman

The Colony

2003 911 Carrera

Arvin Jay Cando

Plano

2000 Boxster

Daniel Chow

Frisco

2017 911 Turbo S Cabriolet

Darryl Conley

Rockwall

2016 911 Carrera

John Duessel

Dallas

2016 911 Carrera S Cabriolet

Steve Dumas (Ashley)

Irving

1984 944

Tim Elliott

Heath

2016 Cayman GT4

Gary Garmon

Dallas

1961 356

Ben Hur Gomez

Dallas

2014 911 Turbo

George Judkins

Crowley

2014 Cayman

Joseph Kan

Frisco

2007 911 GT3

Tammy Kling

Flower Mound

2012 Panamera

Lori Lindsey

Dallas

2015 Cayman S

Bryan Marshall

Mansfield

2013 Boxster

Ryan Mayo

Dallas

2002 Boxster S

Tom Monson

Highland Village

2017 718 Boxster

Emenjo Obinwa

Richardson

2006 Boxster S

Robert Owens (Dawn)

Southlake

1996 911 Targa

Scott Owens

Dallas

2006 Cayman S

Paul Ozmer

Lantana

2010 911 Carrera 4S Cabriolet

Paul Rudd

Flower Mound

2014 Boxster

Nicholas Scalisi

Watauga

2004 Boxster S

Todd Seach

Heath

2014 911 Carrera

Adam Smith

Roanoke

2016 911 Turbo S Cabriolet

Brent Staley

Highland Village

2014 Cayenne GTS

Tanya Steele

Dallas

2015 Cayman S

If you have any changes that

you would like to make to the

MRPCA membership guide,

contact John Hamilton at

membership@mavpca.org

Maverick Membership Totals

Members ~ 1,724

Affiliate Members ~ 863

Total Membership ~ 2,587

Robert Taylor

Plano

2006 Boxster S

Michael Thomas (Willisa)

Granbury

2013 Boxster

Ken Topolinsky

Dallas

2009 911 Carrera 4S

Tommy Vieth

Frisco

1999 Boxster

Brandon Waldeck

Dallas

2010 Panamera 4S

Transfers In

Robert Eshleman

Big Lake, TX

Transfer From: LHN

2003 911 Carrera 4S

Warren Hoffman (Dyan)

Dallas

Transfer From: GPX

1994 928 GTS (two!)

Anniversaries: July

** 30 Years **

Richard Diller (Carole)

Killeen

Mark Gohlke (Rose)

Van Alstyne

Russell Stover (Sara)

Flower Mound

25 Years

Steven Gurley (Griffin)

Ada, OK

Kim Lackey (Pam)

Weatherford

20 Years

Steven Cole (Judy)

Dallas

Michael Richardson (Betty Feir) Texarkana

Chuck Schreiber (Michelle) Plano

15 Years

Doug Bridges

Plano

Garret Chambers (Amy Mills) Dallas

Edward Joyce

Dallas

Buck Maxey

Dallas

10 Years

Jim Apger (Deborah)

Steve Krysil (Nichole)

Loren Rapoport

Charles White (Regina)

5 Years

Mark Alford

Richard Darlow (Christine Smith)

James Delaney

Richard Dyess

Glenn Gilkey (Nancy)

Marino Gonzalez (Laura Luhrs)

Greg Jeffries (Rebecca)

Philip Perser (Barbara)

Donnie Toler (Jana Rogers)

McKinney

Aubrey

Richardson

Highland Village

Fort Worth

Dallas

Allen

Fort Worth

Keller

Southlake

Prosper

Garland

Reno

9
---
The Art of Paint Protection

After Installation

A virtually invisible urethane film

professionally applied to high-impact areas

of your vehicle to protect your paint job from

stone chips, sand, road debris and bug acids.

During Installation

Owner Installed

Highest Quality Guaranteed

2530 Tarpley Road, Suite 100

Carrollton, TX 75006

10 July
---
Like a Personal Trainer for your Porsche!

• Expert maintenance and repair services • Track day preparation

• Performance and appearance upgrades from GMG, Manthey, FVD and more

• Superior customer service and free loaner cars • PCA discounts

• Show quality detailing services • Comprehensive service from air-cooled to 991

We Also Buy, Sell and Consign Quality Pre-owned Porsches

3236 Skylane Drive, Dallas, Texas 75006

214-269-1570 • www.racperformance.com

PCA Special - Oil Change $199 00

Plus Sales Tax

Oil change with Mobil 1 for 996/986/997/987/991/981. Offer includes complimentary car wash and vacuum.

11
---
Kruder's Cars & Conversations

By Bill Kruder, Region Advertising Chair

Photos courtesy of the Author

hen I was looking for

W

this month's interviewee

I decided it was time

that I talked to a woman

with a passion for Porsche. I have

talked to guys, couples, but not interviewed

a woman to date. Let me

start by saying up front: until this

interview we had never met, much

less said hello. However, reading

Slipstream since 1995, I guess you

could say I met her in print having

read her articles over the years.

I'll give you the opportunity to

as well. So here is the next in my

series of "conversations"…

Linda Bambina, member since

1981 and happy co-driver

2015 Carrera and

1962 356 Karmann coupe

(minus the top now)

Bill Kruder: Well let's start with

where you are from. I presume not Dallas?

Linda Bambina: What? You can

tell I'm not from here (laughing)?

Actually, I'm from Midland. My dad

was in the oil business and in the

60s there were three things there:

cattle, cotton, and oil. After college

I ended up out near Palm Springs

for a couple years then ended up

moving to Dallas.

BK: And where did you go to college?

LB: I didn't stray too far. I went

to Texas Tech which is only about

two hours north of Midland.

BK: What did you major in?

LB: I was a Secondary Education

major.

BK: And what did you teach?

LB: I taught Special Education

for ten years, then moved into the

Gifted program, taught Texas history

for some fourteen years, then

became a noisy librarian and eventually

retired after 39 years.

BK: So tell me how you and your

husband Alan met?

12 July

LB: Alan had moved here from

outside Buffalo, NY and we were

both teachers at R.L. Turner High

School in Carrollton. I was teaching

Special Education and we both

were assigned the same lunch period.

After about a year or so of

lunches we started dating.

BK: That's a long time before you

ever had a first date.

LB: Well let's just say life is

complicated; when we did have

our first date, I was in charge of a

Sock Hop and managed to rope

Alan into helping me, no surprise

there (laughing). Well, after the

Sock Hop, Alan asked me to stop

for a drink. We went to a brandnew

place called The Wild Turkey,

then to Don Carter Bowling Lanes

to meet up with his roommate, followed

by a stop at his house before

I said "I need to go home" at 4 am!

BK: Wow that's some first date! And

how long after did you guys get married?

LB: It was like three weeks later:

we were engaged, and got married

in July 1980, the hottest summer

on record. We had 42 days in a row

over 100 degrees which still stands

today, I think.

BK: Let's talk cars now. What were

you driving then? Alan?

LB: Talk about polar extremes

in cars, I was driving a Ford Pinto,

yes a Pinto (laughing); Alan was

driving a '75 911 S in Grand Prix

White. Loves white Porsches.

BK: And what was your first car?

LB: Hard to believe but it was a

1927 Model T, and no I'm not that

old. Got my license at 15 and drove

it all over Midland and later, Lubbock.

BK: So when did you first drive a

Porsche?

LB: It was Alan's '75 911 S. We

went over to this big parking lot in

North Dallas and he bravely taught

me to drive it.

BK: So tell me about when you became

active in the club?

LB: Well Alan had belonged to

the Niagara Region before moving

here in 1978, and I joined in 1981.

We had met Joan and Barry Gibbs

who owned IXXI Enterprises at the

time. Joan was president in '83 and

she needed someone to be the Advertising

Chair. I said "yes" and that

led to many years and positions over

the next 14 years. (Interesting side

note: we have had only two women

presidents: Joan was the first in

1983 and Fran Ussery in 1984.)

BK: So was Alan also active in the

club?

LB: He was in activities but I was

the one who was involved with the

board and kind of pulled Alan in. It

wasn't until 1986 that Alan became

President and he did that for two

terms, staying on through the 1987

DFW Parade which was such a busy

time.

BK: And what other positions have

you held?

LB: Let's see, I was Ad Chair,

Secretary, and Co-Vice President

with Alan back when we had fullblown

monthly dinner meetings

with programs.

BK: I know you have done a lot more

than just hold positions. Tell me about

Autocross and Mineral Wells?

LB: Well we had Autocrosses in

parking lots but light poles became

an issue (smiling). In 1986, one

of our members discovered there

was an old airfield in Mineral Wells

that we could use. Let me tell you

it was more field than an airfield.

So a group of us with our yard

tools in hand started clearing out a

"course"; we originally cleared only

what we would be driving on.

BK: I'm told you have been active at

the national level too with the Porsche

Parade?

LB: The first Parade for which I

had an active role (I was the Reg-
---
istrar) was in 1987 right here in Dallas. It was held at

the DFW Airport hotel (called the Amfac then). We garaged

our cars there and used Bear Creek Golf Course

for the car show and Concours. But what was interesting

about this Parade was that, up till then, all scoring

was done by hand and on paper. With the urging of

Charlie Davis, we used computers for the first time.

We had our hiccups but it changed forever how things

would be done and the Mavericks are to thank for that.

In 1997 I was part of the planning committee for

the San Antonio Parade. That was an interesting one

too, as the Longhorn Region was down to nothing,

and Coastal Bend (Corpus Christi) and Maverick were

asked to step in. We would drive down once a month

for meetings then head right back to get to work. To

make this one more interesting we added my silly but

fun "Costume Concours" in which you dressed up your

car and yourself on a personal theme.

The third Parade for which I was a staff member was

in 2004 in Fort Worth. My good friend Jan (Mayo) Michel

was the Parade Chair, and I was the Entertainment

Chair, which is a position they invented for just me.

BK: That was actually my first Parade to attend. How did

that one go?

LB: Well being in Cow Town, we of course went with

that theme. Every Parade has a Volunteer Party. Hans-

Peter Porsche was attending and I managed to talk him

into helping us. Several of us dressed up as famous

Country Personalities; Peter was dressed as Roy Rogers,

I was Dale Evans, and we sang "Happy Trails to You" to

about 500 volunteers at that party.

BK: So how many Parades have you attended?

LB: Think I have been to about 28.

BK: Now I have to ask about this infamous vest.

LB: Well that came about after attending the 1993

Parade in Cincinnati. They had this table-decorating

contest, and our

table thought we

should step up

the game and

each make fancy

Porsche Crest

T-shirts to wear.

Well some time

later I decided to

get more use out

of the crest I had

made: I bought

a pair of K-mart

black jeans and cut

a vest out of them

and sewed the

crest from the T-

shirt on the back.

BK: Let's fast forward to 2012 and the Mav's 50th Anniversary.

I understand you had your input there.

LB: I did, I did. I decided we should have a "Family

Portrait" of sorts. I wanted to get 50 cars, one of each

year represented since Maverick had existed -- but not

just anyone's car. They HAD to have been active on the

board. Somehow with lots of help I managed to track

them all down in about seven months.

BK: And there was one other thing that we are using today.

LB: YES, I'm thrilled to hear about the tag line Maverick

is using today. Mavs had been using "It's not just

the cars, it's the people" since '86 when Alan used it

in his President's column in Slipstream. Much more recently,

in talking with Fran Ussery, she came up with . . .

"Driving Friendships"

13
---
Insuring your Porsche: Part 1 – Classic Porsches

By Justin Husman

Photo by Jim Hirsch

orsches are some of the most beautiful performance

machines built, and they occupy

P

an interesting position in the automotive

world. They are the exotic car you can drive

every day comfortably, they are the daily driver car that

you can track comfortably, and they are the collector

car that you can buy at a dealership without an invitation.

As such, they can be tricky to insure correctly, and

all insurance isn't necessarily correct. This is the first

in a three part series about insuring your Porsche, and

today's topic is insuring your classic Porsche.

14 July

Classic car insurance is different than insuring a

daily driver. Classic polices are written on an "agreed

value" basis, which is different than most insurance.

When you purchase a policy for your everyday car, at

the time of loss the car will be valued at actual cash value

– whatever they are selling for today. As we all know,

classic Porsches are not listed in bluebook, and it seems

that their values go up every year. With an agreed value

policy, you are able to set the value of your car before

you purchase the policy, so you know exactly what you

will be paid at the time of loss. This results in a "no

negotiation" claims process, painless and simple.

Classic agreed value policies do have some stipulations,

which vary from company to company. All of

them require the car to be garaged, and most require

limited driving. A lot of people think that means that

you are only allowed to go to shows and parades, but in

reality, it means staying within your mileage plan ( generally

somewhere between 1,200 – 3,500 miles a year).

You must also have a daily driver automobile for each

driver in the household.

Right now, I know some of you are saying, "But my

Porsche isn't 25 years old, so how does this apply to me?

Thanks for wasting my time, insurance man." In order

to qualify for an agreed value classic type policy, the car

must be either 25 years old, or have some collector interest.

Two-door Porsches are almost always considered collectible

cars, especially if they are presented to a classic

insurance company by an agent who specializes in

this type of policy. Not every classic company will write

more modern Porsches, but there are some that will.

Having a good agent who knows the classic market is

the best way to get classic agreed value coverage.

The real question most people have about insurance

is how much it will cost. The beauty of a classic

agreed value policy is that they are very inexpensive;

for example, a 1979 911 SC valued at $30,000 would

cost approximately $300 a year. For more modern cars,

it's a little more expensive, but not by much -- $30,000

coverage on a 2009 Boxster would cost approximately

$398 for the year. As long as all the underlying usage

and garaging requirements are met, classic insurance

is cheap and very worthwhile.

In part 2, I will discuss how to best cover your daily

driver Porsche, especially if it is modified or is of high

value.

Editor's Note: Justin Husman is the owner of The Phoenix

Insurance. His agency specializes in exotic, classic, and custom

car insurance. Justin has been in the insurance industry

for 15 years.
---
Fiesta New Mexico: 50th Anniversary of the Roadrunner Region

By Wendy Shoffit

Photos by Jim Hirsch

fter many years of wanting

to go, James and I

A

attended our very first

Fiesta New Mexico this

year. The event was a real hoot and

the Santa Fe area was amazing, but

what we really noticed were the

people! A small group of Mavericks

attended, most of whom we knew,

but some of whom we have just now

became acquainted with and really

enjoyed their company. The group

of Mavericks attending included

the two of us, Mark and Monda

Hanna, Young and Lynn Slack,

Bob Aines, Uday Nandam, along

with Jim and Sharon Hirsch. Kevin

Creed was also registered, but his

Porsche ended up out of commission

a week before the event.

Sharon, Lynn, and Wendy

Surprisingly to us, two Mavs

(Mark Hanna and Tom Leavitt)

are former Presidents of the Roadrunner

Region! We also got to see

former Mavs who were now living

in the Santa Fe area (Jan and Joe

Michel and Steve Fallon). But the

real surprise to us was how welcoming

everyone else was, and how easy

it was to make new friends there!

Never being ones to shy away from

meeting new people, James and I

found ourselves easily gravitating

to a few locals and had a wonderful

time. James wants to visit one

couple from Los Alamos on our

way to Parade this year, partly because

they have goats and an attack

llama! Ask him about that one.

Pecos Pueblo was one of dozens of

fascinating sites visited

We saw some amazing scenery

on the tours, got to know more

about Santa Fe on the rally we participated

in, enjoyed a beautiful

car show on the square, and had

an awesome time competing in

the autocross. We both took home

2nd Place trophies, just behind a

couple in another white GT4 with

sticky tires. We were proud of our

placement and had fun doing it!

Watch out, Parade! This year we're

bringing the GT4 and are coming

to play.

The Shoffits - always fast in the

autocross events

Santa Fe Plaza served as the car show

location for perusing our Porsches

Hopefully our members won't

shy away from attending other regional

or national events. The people

have always made us feel welcome

no matter where we go! This

is a phenomenal way to see new

places and things AND have an instant

connection with people while

doing it. So, consider Fiesta New

Mexico or PCA Palooza or Treffen

or even Parade for your next vacation.

You won't regret the experience!

Uday Nandam preparing to leave on

one of the drive routes

15
---
16 July

Upcoming Maverick Region Events
---
Upcoming Maverick Region Events

17
---
These Are Not Your Average Garage Queens!

By Bob Molyneux

Photos courtesy of the Author

o the names Peerless,

D

Locomobile, Stanley, or

Stevens Duryea mean

anything to you? Well,

to a small group of automobile

aficionados, these are not just old

car names, they are the chariots for

great adventures!

The rare Peerless

Early last June, I was in northern

Minnesota when the Red Rock Car

Club came through the area. The

club was in the middle of its Summer

Rendezvous, a 2,000 mile,

three-week trek from Eau Clare,

Wisconsin to International Falls,

Minnesota and back. A total of 23

cars started the tour, and when I

saw them halfway through their

journey, only one car had dropped

out.

To be eligible to join the club, a

car has to have been built no later

than 1914. There were many different

makes in the tour, including a

Fiat, Model T's, Stanley Steamers,

Rolls-Royces, and more. These

older cars come with challenges

that the newer cars don't present.

This tour is totally self-supported,

The Stanley and Stevens Duryea

so when something

goes

wrong out on

the road, each

driver needs

to be able to

perform the

required maintenance

on his

own. For example,

one of

the cars needed

a magneto

change on the

way to International

Falls.

Even over a hundred years old, the Roll Royce is still stately

The steam cars have their own

miles an hour down the road," said

issues -- they have to stop every

the driver of a 1911 Rolls-Royce.

40 or 50 miles for water. The drivers

say they get the funniest looks

He said slipping behind the wheel

of a 105-year-old car helps slow the

when they are caught getting water

pace of life. "You are generally on

out of a home-owner's hose. This

secondary roads, traveling at 45 to

also adds to the adventure because

50 miles an hour. You can go down

these water breaks invariably lead

the same road that you have gone

to interesting conversations with

down every day in your modern car

complete strangers.

and see things that would just go by

you."

The driver of a 1914 Fiat said he

had been involved in antique cars

since 1962 when he and a former

coworker bought their first car. He

has been doing it ever since. He

said something that also resonates

with the Porsche club members.

"It's all about the people – friends

within the hobby. Also, these cars

bring out the nicest people. If we

Anne Molyneux checking out the have a problem, the people who

Stanley and the controls needed to happen to be there will do anything

drive the steamer. And you thought they can to help us."

Porsche controls were complicated! So, the next time you look at

Some of these cars are really

your beloved Porsche that has been

world travelers. On this tour, the

sitting in the garage for too long,

cars came from across the nation,

think about the members of the

including Florida, New Hampshire,

Red Rock car club and their overand

Illinois. One car had been to

100-year-old cars that they get out

seven countries and another to

and exercise on a regular basis!

nine.

Editor's Note: this is based on an

The participants all said that the

article by Laurel Beager, Editor of The

joy of these cars is the slow pace of

International Falls Journal

the driving. "You are not going 70

18 July
---
356s On the Move: The Tub Club Goes to Fredericksburg

By Barbara Madsen

Photo courtesy of the Author

t was a three-day jaunt,

I

which was organized

by Jim Usher. We drove

along meandering

roads blanketed by wildflowers on

each side. Winter had shed its dreary

cloak, and the entire countryside

had burst forth with all the enthusiasm

of renewed growth that spring

brings. It had just rained, and the

fresh green of the new leaves was

accented by brilliant splashes of

every color in the rainbow. It was

a breathtaking sight! These fragile

beauties of nature flanked every

road we drove on that weekend. It

was as if each flower was trying its

best to outdo all of the neighboring

flowers in its intensity of color and

beauty!

We spent Saturday driving along

Texas country roads, which wandered

through small towns whose

buildings demonstrated the character

and tradition of communities

established many years ago. We

stopped at the Old Timer General

Store & Gas Station, a business located

just outside Medina, which

provided the local population with

the items they needed. It seemed to

me to be a perfect example of an

old country store. A visit to this part

of Texas is never complete without

a stop at the Laurel Tree, a fabulous

French restaurant tucked away

in hills surrounding Utopia.

We stayed at the Hangar Hotel

during our visit to the Hill Country.

Although hotels are usually fairly

unremarkable, this one was very

unique. The hotel building was

made to look like a WWII military

hangar, and it was located at the airport

in Fredericksburg. The interior

of the hotel was also reflective

of the military during the WWII

era, and the front desk set the tone

for the rest of the hotel with various

forms of 1940's memorabilia:

a manual typewriter, an antique

PBX, pictures of WWII planes, and

black and white pictures of people

who were young in a day gone by.

There was a C-47 Skytrain in front

of the hotel as well to complete the

picture.

Tub Club at the Laurel Tree

Thank you, Jim, for a fabulously

colorful spring drive along Texas

country roads! We all had a great

time!

Autocross 4: MirrorCross at the MineralRing

By Mark Schnoerr, Region Autocross Chair

n Sunday, May 28 (Memorial Day weekend),

O

our partner Equipe Rapide held another

MirrorCross-format event at the huge Mineral

Wells Airport site. This is a dual-course

format incorporating a drag-race style Christmas tree

start, recording reaction time to the green light, 60-

foot acceleration time, and very similar but opposite

left and right courses. Displaced or downed cones

added two seconds, and only the best times from each

Photo courtesy of the Author

side were added together to determine winners in each

class. The holiday weekend and many other motorsports

activities to choose from still attracted 83 entries

to this event.

Ed Mayo brought his beautiful early 911S and

showed everyone how great those cars are. He was

the fastest Porsche, won class P4, and ended up in the

overall event top 20 Performance Indexed (PAX) event

payout as well. Nice job Ed!

Events 5 and 6 are scheduled for June 11 and July 30

respectively. These will be standard single-course format

events. The next MirrorCross event will be at Mineral

Wells again on September 10. The full PCA/ER

Autocross schedule is posted on page 17 and at www.

autocross.com.

May 28 Autocross #4 Results

Marissa Moore approaching the starting line with a coach

PCA 3

Total Time Diff.

1T Mike Syler Porsche 911S Red 110.291

PCA 4

1T Edward Mayo Porsche 911S Blue/Orange 105.570

2 Julia Underwood Porsche 911S Blue/Orange 126.216 20.646

3 Marissa Moore Porsche 914 127.432 1.216

PCA 7

1T Doug Edney Porsche 996 Black 116.900

19
---
Tech Session: Growler Motor Labs

By Nikolaus Klemmer, Region Tech Sessions Chair

'm happy to let our Maverick Region members

know that I've begun the process of

I

scheduling tech sessions after an extended

hiatus of these types of events. I'm still new

to this Tech Session Chair role, but am making good

progress with getting to know our sponsors and the

tech needs of our members.

The first session I've been able to schedule will be

hosted at Growler Motor Labs (former Cobb Tuning).

They are located at 1200 Placid Ave. #550, Plano, TX

75074. The session will be held on Thursday, July 27,

from 6:30pm – 8:30pm and the topic is Porsche Engine

Tuning and Dyno Opportunities.

So, this tech session will focus on what is involved

with modern engine tuning and a practical demonstration

of the obtained results. The session will run in two

parallel tracks and attendees can observe the process

for both. In one, the Growler staff will explain the

process of engine tuning and will perform a live tune

using the Cobb Accessport device.We are looking for

an interested member to have this done on their car.

This member will need the Accessport device (which

can be purchased from Growler at a discount especially

for this event), and the tune will be done as part of the

event for free!

In the other track, Growler will make their 4-wheel

dyno available for member cars. Members should mention

during sign-in that they want their cars dyno'ed.

Depending on the number of cars wanting to have this

done and the time restriction during the event, not all

cars may be able to get a run. The final selection as to

which cars get chosen lies with the host.

I am told that the Macan (S/GTS/Turbo) models

respond particularly well to the tune. Other cars that

work with the Accessport are:

• 981 Boxster, Caymans & 991 Carreras (need to

confirm the GT4)

• 987.2 Boxster, Cayman

• 996 Turbo

• 997.1 Turbo & GT2 & GT3/GT3RS

• 997.2 Turbo & GT3/GT3RS

• 991 Turbo & GT2

To learn more about this tech session and register,

visit our web site at http://mav.pca.org/go/Tech.

20 July
---
Porsche of the Month

Selected by Bill Orr

For instruction on how to submit your Porsche photos in the

POTM contest go to: http://mav.pca.org/photos/POTM/

Porsche Macan, Cayman, Boxster & 911; "Sunset in the Neighborhood"; Photo by Michael Durovick

MAY TRIVIA

It's Easy to Play!

Play here for fun and find the answers below

OR

Play for prizes on the web at http://mav.pca.org.

Thanks to Jerry DeFeo for putting this together.

The Winner for this month is

TOM MARTIN

getting all 5 of 5 Correct.

Congratulations Tom.

Thanks to all that played this month,

and we will see you next month.

Tom, please contact Kirk at Zim's

to claim your $25 Gift Certificate.

Thanks to all for playing!

1. The first start for Porsche at the 24 Hours of Le Mans

resulted in a win. A 356SL won the 1100cc class in ______.

a. 1949 b. 1950 c. 1951 d. 1952

Source: 2/2014 Christophorus-366, p 23

2. The first Le Mans race was run in 1923, and Porsche holds

the record for the most cars of a single marque to have raced

there. At the time of this article that number was ________.

a. 479 b. 606 c. 812 d. 952

Source: 2/2014 Christophorus-366, p 23

3. What was the very last year for the famous Le Mans-style

start, in which the drivers ran across the track, jumped into

their cars, started their engines, and began the race?

a. 1969 b. 1970 c. 1971 d. 1972

Source: 2/2014 Christophorus-366, p 23

4. After that, they went to a standing start for ________ years

before switching to the flying start.

a. 1 b. 2 c. 3 d. 4

Source: 2/2014 Christophorus-366, p 23

5. Due to adding a few chicanes over the years, the record of

156.47 mph may stand forever as the fastest average speed.

It was set by a Porsche 962C factory car in ______.

a. 1985 b. 1986 c. 1989 d. 1991

Source: 2/2014 Christophorus-366, p 22

Answers: 1) c 2) c 3) a 4) a 5) a

21
---
NO WORRIES!

So Your Part is NLA!

• Rebuild, Restore or Totally Recreate

to OEM Quality

• We Manufacture Custom Pieces for

Modified or Racecars.

• We Work With Most Materials

• We Specialize in Accurate Replication of Parts

R A N D A L L

RKT

K A R A

T E C H N I Q U E S

901 TERMINAL ROAD • SUITE 400 • FORT WORTH, TEXAS 76106

817-624-1322

Porsche/Ferrari/Exotic

Service/Tuning/Restoration

30 Years of Service

Specializing in all years and models

of Porsche exclusively for more than

30 years.

The only certified installer for the "IMS Solution"

in Texas and surrounding states!

Complete and Meticulous Maintenance and Repair

Tuning and Diagnostics (Carbs, MFI, CIS, OBD I & II)

Custom Engine and Transmission Rebuilds

Competition Car Preparation (Track or Autocross)

1521 Baccarac Ct, Euless, TX 76040

817 540 4939

www.mayoperformance.com

email: mike@mayoperformance.com

22 July
---
May Mavs & Mochas: Las Colinas Village

By Bill Kruder and Debi Gibson, Region Coffee Meet Co-Chairs, Photos by Andrew Barber

o I'm not sure if there

S

is a better way to start

your Saturday -- coffee

and donuts with nearly

100 Porches isn't a bad thing. This

month we headed back west a bit

to Starbucks in Las Colinas Village.

Did I say donuts? What started

out as a couple of us just bringing a

couple dozen for the early birds has

turned into 7-8 dozen donuts that

just about made it till 10:00, as Debi

hand-delivered the last few.

Once again, over 100 Porsche cars joined in this monthly event

So next month, July 15, please

join us at Stonebriar Community

Church in Frisco where we will be

featuring the 40th Anniversary of

the 928: Driving Friendships.

Donuts - tradition for the early arrivals

And did I mention the 100 cars?

We had nearly every model represented

minus the 914, so you "teeners"

need to come out. We had two

exceptional slant noses, a couple

356s, a couple vintage Targas, a 968,

a few very nice 928s, and a new 718

Cayman in that stunning Graphite

Blue color. When you think about

it we had 54 years' worth of cars

there. Where or when else do you

get to see a collection of cars of

these varying vintages?

Jimmy "jimmyg" Gallegos; let's just

say that we did not disappoint.

And lastly we flew the Mavs &

Mochas feather flag for the first

time, thanks to the generosity of

Justin Husman's Phoenix Insurance

group.

Bill and Debi with the new M&M flag

We also started our quarterly

charity effort which was a can drive

for Good Samaritan headed up by

Maverick Region members filled the parking area with conversation

23
---
©2017 Porsche Cars North America, Inc. Porsche recommends seat belt usage and observance of all traffic laws at all times.

More of the Porsche services you want from

the Porsche-certified technicians you trust.

Park Place now provides an even wider range of in-house services and options to make

your Porsche its best. You get everything from tint and clear bra installation for all Porsche

models to headlight restoration and wheel repair, performed by certified Porsche technicians.

You also get the convenience of the only Metroplex dealership with an on-site Porsche-certified

body shop and exceptional amenities—like complimentary Porsche loaner cars and hand car

washes. So supercharge your service at Park Place Porsche today.

24 July

Park Place Porsche

6113 Lemmon Avenue

Dallas, TX 75209

214.525.5400

park-place.porschedealer.com
---
Detailing Tips: Clay Bar vs Surface Prep Mitt

By Tony "Concorso"

Images courtesy of the Author

n the course of daily

I

business I get a variety

of car care questions

about the best ways to

go about washing, drying, and general

prep for waxing, sealing or the

latest in coating applications.

This month's tip is based on

the car already being washed and

dried properly, and being ready

to remove more deeply embedded

matter.

One of the universal steps in

paint surface prep is claying. This

process removes embedded debris

and particulate from the paint surface,

leaving a smooth, clean result

ready for further treatment.

Traditionally, we've always used

clay bars to remove those contaminants,

but it's proved to be a bit

of a mess. You're always having to

re-knead the clay so you can have a

clean section, and if you drop the

bar, forget it; you'll have to toss it

and buy another.

In recent years, advancements in

the technology brought us the surface

prep (clay) mitt as an alternative

to traditional clay bar use.

One primary difference is that

clay comes in a jar and the mitt is

worn like a glove.

Quite a number of manufacturers

offer claying products of both

types and are of generally good

quality. Brands such as Eagle One,

Nanoskin, Griots, and Chemical

Guys are all widely available.

Surface prep mitts are widely available

To use clay, the product needs

to be hand warmed and softened.

It's important to note that using

cold hard clay can mar the paint

significantly. Press the clay out in

a pad fashion in your palm. Now,

using your favorite instant detailer,

spray the painted surface liberally,

as well as the clay in your hand, and

begin cleaning, using a short backand-forth

motion with little or no

pressure.

Wipe clean with a clean microfiber

towel. Repeat the process until

complete.

Surface prep (clay) mitts make the

claying process go much more

quickly with good quality results

The new clay mitts are a little

easier to use and cover much more

surface in the same time. Simply

put the mitt on your hand, spray

the painted surface and the mitt

with instant detailer, and start

cleaning. A quick note: clay mitts

come in fine, medium, and coarse

varieties. Fine and medium have

been very effective for me and

are typically what you would use

for normal surface contaminants.

The mitt offers protection for your

hand as well. Cleaning around trim

and other sharp parts of the car can

make for a painful experience with

clay if you're not careful.

Now for the distinguishing advantages

and disadvantages. Clay

is roughly $20 for a 16 to 20 ounce

jar. A clay mitt runs about $45.

A jar of clay can do five to ten

cars, depending on how contaminated

the paint is. A mitt can do

20 to 30 cars, again, depending on

condition of the paint.

I've found clay for as low as

$10.00 on special discounts and

mitts for $15.00. The point is to

keep an eye out so you can save a

little money. Most all of the auto

parts stores have some variety of

clay in stock. Mitts can be a little

tougher to find, but are generally

available, especially online.

Again, a huge distinction between

the two is during the claying

process, should you happen to

drop the clay on the floor, you're

done with that portion of clay. You

must throw it away or risk further

marring of the paint with the debris

picked up from the floor. It

happens all the time.

Clay mitts however, are forgiving.

Drop the mitt, no problem.

Simply wash the mitt with a little

soap and water, rinse, and you're

back to work.

In the final analysis, both products

have their merits, but the

speed of application and cleanability

of the clay mitt make it my current

choice for daily work.

A quick side bar for consideration

in all aspects of cleaning your

car: safety. I recommend wearing

gloves, either nitrile or latex, as

well as eye protection. Though

most products are environmentally-friendly,

that does not mean they

won't dry out your skin or burn like

the devil, should they get in your

eyes -- believe me.

I hope you find this discussion

of clay bars versus clay mitts useful.

Should any of you have further

questions regarding

any aspect of detailing,

please feel free to

reach out and I'll try

to help.

25
---
26 July
---
We Buy, Sell & Trade the World's Finest Timepieces

Authorized Dealer for major brands including:

Patek Philippe • Rolex • Bell & Ross • Blancpain • Corum

F.P. Journe • Girard Perregaux • Jaeger LeCoultre • Tudor

Visit deBoulle.com to view our extensive collection of pre-owned timepieces.

MAVERICK PCA RACER

6821 Preston Rd., Dallas, Texas 75205 214.522.2400 deBoulle.com

27
---
Five Speed Chatter: Is it a Battle or a Commute? (Part 1)

By Ash Seidl-Staley

Images courtesy of the Author

ince my wife and I have

S

moved to the quiet little

town of Forney, the time

we spend commuting to

and from work has grown exponentially. Technically,

Jenny's commute has doubled. She went from spending

around twenty-five minutes driving through Plano

and on the President George Bush Turnpike to fifty

minutes driving on three separate highways from the

opposite end of the Metroplex. Before sympathy for

Jenny starts rolling in, you must know that my commute

has increased by a factor of eight! Given that I

had it coming -- I have been spoiled living in Plano for

the past six years. On any given day, it would take me

seven minutes to get to work, nine if there was traffic

or if I were to hit the solitary traffic light in my path.

Now, my commute, if I'm lucky that is, is fifty minutes.

But for a matter of simplicity, let's just call the running

average an hour.

Now that I spend a heck of a lot more

time on Texas' roadways, highways, and

tollways, I have finally come to realize just

how busy and overcrowded the Dallas/Fort

Worth area really is. I mean, can we get more

lanes on Highway 80, please? How about an extension

for the George Bush Turnpike that crosses Lake Ray

Hubbard and goes into Heath? Doesn't

anyone realize that hopping off the highway

only to get back on two exits down is

part of the reason why there is congestion

in the first place? I think about questions

like these, as well as many others, as I travel

through Forney, Sunnyvale, Mesquite,

Garland, Rowlett, Richardson, and Plano.

Yes, you read that right, I travel through seven cities to

get to and from work each and every day. I can switch

my route some by swapping Sunnyvale and Mesquite

for Rockwall and Heath, but by doing that I'm really

just giving up highway speeds for a 45 mph speed limit

on a two lane road that may or may not have a tractor

on it. To be honest, most days it's not the duration of

the drive that gets to me; it's the terrible driving of the

people I am forced to share the roadways with! I mean,

really, is this a commute or a full on battle royale?

During the past few months both my patience and

my sanity have been tested by a cornucopia of crappy

driving. I will be taking the time this month, as well as

next month, to discuss some these occurrences, and to

describe some of the things I've noticed about DFW's

drivers. I'm sure that we all deal with some of these on

a daily basis, so discussing them here might prove to

be therapeutic, right? I sure hope so; those of us with

terrible commutes could use some relief every now and

then. Most of the terms and concepts I use to describe

these horrible driving habits will be familiar to you, but

I am sure that there are some that you might not have

seen, read, or heard since your last driving exam with

the Department of Motor Vehicles.

Let's start things off with a simple one: The Tailgater.

We all know about the drivers that pop up out of

nowhere in the rearview mirror. Usually, you miss them

coming up into your car's sacred spaces because they

can't seem to stay in one lane for very long and instead,

weave in and out of traffic for miles and miles. But once

they are behind you, tailgaters cannot help but make

their presence known. They honk their horns, flail

their hands about, and scream "get the (expletive) out

of the way" while listening to something obnoxious on

KISS-FM. Tailgaters constantly accelerate and brake,

basically pump-faking your back bumper, which in turn

makes you nervous, a little frustrated, and a whole lot

of angry. Now I don't know about you, but there have

been numerous times where I will be apprehensively

going 47 in a 40, and still have a SUV crowding my back

end! Like, seriously, how is 7 mph over the speed limit

not fast enough? For some I guess it is not.

The Texas Driver's handbook offers up the term

Velocitation Effect in an attempt to justify the speed

demon inside all tailgaters, but I'm not convinced.

The velocitation effect is the effect that traveling at a

constant high rate of speed has on a driver that makes

the driver feel like any reduction in speed is way too

slow. As a result, the driver fails to slow down enough to

safely drive on a city's roads. I think tailgaters are more

inclined to just be unsavory reprobates than velocity

addicts, but what do I know? What I do know is how to

make tailgaters even more aggravated than they already

are, which is by brake-checking them, and/or purposefully

decelerating to the actual speed limit while making

sure that there is a car next to you doing the same.

I tell you what -- there is nothing better than blocking

a tailgater for a few blocks, watching him swerve out of

multiple lanes trying to get around, see him finally get

out from behind the blockade and speed off, only to be

pulled over by the Rowlett police department for going

56 in a 40!

Stay tuned for part two of this article next month, in

which we will be discussing wolf packs, drivers that

swerve, the problems with cruise control, and, thanks

to Governor Abbot, Texas's newest laws as they relate to

texting and driving. Until then, stay safe during battle

and as always . . . Wrench on Mavs!

28 July
---
Parts or Service, We Deliver Excellence.

Over 300,000 parts in stock.

Expert service and repair.

Parts and Service for: Porsche, Mercedes-Benz, BMW, Mini, and Smart Car.

817-267-4451

Visit us online at:

1-800-356-2964

www.allzim.com

zimips@allzim.com

1804 Reliance Pkwy. Bedford, TX 76021 M-F 8am to 5:30pm

Zims Autotechnik is not affiliated with Porsche AG or PCNA Registered Trademark of Dr. Ing h.c.F. Porsche A.G.

Top motorsports brands...

...at the lowest prices in the nation!

competitionmotorsport.com

844 . 438 . 7244

29
---
30 July
---
Inside Look: PCA Zone 5 Presidents' Meeting

By Carey Spreen

he Porsche Club of America is made up of

T

over 140 individual Regions in the US and

Canada. Those Regions are grouped into

13 Zones. Zone 5 covers all of Arkansas and

Louisiana, all of Oklahoma except the Panhandle, and

the eastern two-thirds of Texas. You can find a map

showing the boundaries of the 12 Regions on the Zone

5 website: www.zone5.pca.org. You can also find a lot of

other useful information on that website, and I encourage

you to visit it early and often!

Each PCA Zone has regular meetings of the Region

Presidents. The most recent Presidents' Meeting in

February was held in Grapevine, with Zone 5 Representative

Jon Jones (from Cimarron Region) running

the meeting.

PCNA perspective

The first presenter was Steve Krysil, Regional Manager

for Porsche Cars North America (and Maverick

Region member), who always has lots of facts and

figures for us, and didn't disappoint this time. Two of

those interesting facts were that 72% of all Porsches

sold in the US last year had four doors, and 64% were

SUVs. Whether you are a fan of the non-sports-car

Porsches or not, it is clear that these models are what

allows Porsche to keep making those sports cars and

supercars that are so near and dear to us. Steve noted

that, contrary to rumor, Porsche will continue to offer

a manual transmission in its GT cars. Demand from us

has shown Porsche AG that there are still, and will continue

to be, buyers for the stick-shift for years to come.

Steve touched on the all-electric Mission E, which is

still about three years from production, but will be able

to recharge to 80% capacity in less than 30 minutes.

Additionally, upcoming high-performance Porsches of

the sporting variety will top 500 hp, and don't be surprised

to see a non-turbo 718 GTS model as well.

He reported that the Porsche Experience Centers

in Atlanta and Carson, CA are doing well. For a threefigure

entry fee you can experience 90 minutes in just

about any current Porsche model in a variety of settings,

including off-road, complete with driving coach.

From the President

Next up was PCA National President Caren Cooper,

who hails from Hill Country Region (and a few others

for good measure!). Caren described the Vision 2020

program, which establishes a goal of 100,000 primary

PCA members (i.e., households) from the current

total of about 77,000 by the end of the year 2020. To

reach that goal, the club intends to increase PCA brand

awareness by demonstrating available member benefits

and improving member services without increasing the

workload on our volunteer base. PCA wants to be the

number one independent source for all things Porsche,

and to make it clear that PCA membership is the most

important option you can buy for your Porsche. PCA

brings you into an entire community, even a lifestyle

experience. Additionally, PCA is keenly aware of the

potential of social media as well, and is beefing up its

presence on Facebook, Twitter, and Instagram.

There are currently 678 Porsche clubs worldwide,

and all are owned and run by Porsche AG -- except

PCA. This unique independence is very important to

PCA and will continue to be maintained.

Caren identified these future areas of improvement:

• Developing programs to involve owners of

Porsche four-door models

• Streamlining the procedure for dealers to purchase

and provide PCA memberships to new buyers

• Improving the PCA Test Drive 6-month program

(formerly known as Quest) to allow prospective

owners to experience what PCA membership provides

• Formalize multi-generational memberships

(membership option for children of PCA members)

In closing, Caren shared with us that PCA has an

operating budget of about $9 million per year, with approximately

5,000 events per year, 2,000 of those being

"moving car" events that require insurance notification.

Ken Laborde, PCA National Insurance and Risk

Management Chair, discussed this at length, which you

can read about in the May 2017 issue of Slipstream.

Other PCA business

Jon wrapped up the day by recommending

RegionFocus magazine as a good resource for those

who are new to running Regional events and activities.

It contains hints and suggestions for attracting and

retaining new members – something that all Regions

struggle with from time to time.

Another handy resource is the Region Procedures

Manual (RPM), which is available both online and in

print form. The RPM contains information about Club

resources, subsidies, event promotion, communication,

social media, crisis management, national awards,

minimum safety standards, and Porsche Clubs worldwide.

A great way to keep up with Zone 5 news and

events is by following the Zone 5 Facebook page.

As the day wrapped up, Jon presented certificates

for Regional anniversaries, one of which was to Maverick

Region on its 55th anniversary.

In summary, a lot of useful information gets exchanged

at these meetings, which is why Maverick Region

always tries to have someone in attendance representing

you!

31
---
Since 1971

Providing personalized service

on all Porsche automobiles.

• Complete servicing and repairs

on all air or water cooled models

• In-house machine shop

• M96/M97 reconditioning

• Performance and track mods

2530 Tarpley Road • Suite 700

Carrollton, Texas 75006

(972) 417-0997

results

THAT MOVE YOU

MICHAEL PICOLO | 972-365-7370

MichaelPicolo@Ebby.com

32 July
---
Body repair experts as

HIGH-PERFORMANCE

as your Porsche.

Trust your Porsche to Park Place Bodywerks. It's the only Porsche-certified dealer collision

center in the Metroplex. Where you'll find factory-trained technicians, working in modern facilities

with state-of-the-art equipment. And the same award-winning level of service you'd expect from the

area's premier dealership for Porsche and other exceptional vehicles. Don't settle for anything less

than true Porsche expertise—schedule your Bodywerks appointment at bodyshop.parkplace.com.

PARK PLACE BODYWERKS

Dallas | Fort Worth | Grapevine | ParkPlace.com

v

33
---
Unclassifieds

Unclassifieds are available free to Maverick Region members and are $5 for all others (contact editor@mavpca for payment details). Please limit size to no more than 6 lines. Ads will run for 3

issues, after which they will be removed unless you request that they be run for an additional 3 issues. E-mail your ad to classifieds@mavpca.org by the 10th of the month to have your ad run in the

following month's Slipstream. Be sure to include year, make, model, color, mileage, and asking price, as well as a contact name, phone number and/or email address. All parts will be advertised

on our website. Check your ad for accuracy the first time it runs. Contact the editor to have your ad pulled sooner. Due to space constraints, photos may or may not be included. No dealers please!

For Sale: 2011 Porsche GT3. Carrara White / Black

Alcantara. Never tracked, no smoke. White gauges,

red seat belts, and more. 20,700 miles. Retired bank

CEO owned and meticulously maintained. Offered to

sell at $112,900. Contact Michael Rhodes at sparky.

rhodes@hotmail.com or 903-495-1362. (07)

For Sale: 1987 Porsche 924S. Red ext, black int,

more than 180,000 mi (exact mileage unknown),

5-spd manual. Needs replacement engine but

mechanically sound otherwise. 7J x 15 "Phone Dial"

wheels, lowered about 1/2 inch, 200-lb front springs,

short-shifter, K&N air filter. Working A/C, stereo. Car

was a daily driver through April 2017. Items replaced

in last 18 months that can be re-used with replacement

engine if desired: timing belt and tensioner roller,

balance shaft belt, water pump, radiator, fuel pump,

engine control unit, crankshaft position sensor, oxygen

sensor, muffler (no catalytic converter).Owned by

PCA members since 1998, with maint records. With

some work will make a great street or track car.

Asking $1400 obo; buyer must arrange transportation.

Contact Carey at cspreen3000@gmail.com or Sue at

scrimm182@yahoo.com. (07)

For Sale: 2001 Porsche Carrera. Silver with Black

interior. Includes the aero package and 18-inch wheels

options, aftermarket Alpine tuner and CD player, new

battery. There are a few door dings and the right rear

bumper could use buffing or a new clear coat. Owned

for 5.5 years and it has not been tracked or driven

hard. 57k miles. $19,000. Contact Chris Cook at

ccook.txag@gmail.com or 972-741-5629. (07)

For Sale: 2015 Cayman GTS. White with Black

leather/Alcantara interior and red deviated stitching.

Black satin wheels, PDK, Adaptive Sport Seats Plus

18-way Memory Package, remote keyless entry, K-40

RL360I built-in radar detector. Always garaged. 2,450

miles. Asking price $ 78,500.00. Contact James at

jameszollo@me.com or 214-577-6570. (07)

For Sale: 1984 944. Light Bronze Metallic exterior

with Brown interior. 71k miles, excellent condition,

well maintained, no deferred maintenance. Original

paint and interior. 3rd owner, bought in CO 3 1/2 years

ago. Maintenance receipts back to 1st oil change,

much recent work including the usual 944 items.

Needs nothing, everything works, no leaks. Many

more pictures available. $6700. The car is in Katy, TX

and I am a LSR-PCA member. Contact Peter Allen at

pha_19831@hotmail.com or 832-846-0641. (06)

For Sale: 2015 Boxster S. Dark Blue Metallic

exterior with Agate Grey/Pebble Grey interior. 34K

miles. Options include: Premium Package, PDK, 19"

BBS CH-R wheels on MPSS, roll bars in exterior

color, PDLS, Power Steering +, Multifunction

steering wheel, Leather package, 14-way power sport

seats, Infotainment package with BOSE audio, center

console trim painted, rubber floor mats, tint, clear

side markers. New front brakes with CPO Warranty

until Jan 2021 or 100K. In very good condition

w/ all maintenance up to date. $52,981. Contact at

MIKEHLEE69@hotmail.com or 917-613-0426. (05)

For Sale: 1974 Porsche 914 2.0 Ltd. Edition. Light

Ivory/Black/Black. Original owner, purchased new

09/74. Body straight, never bent. 90% original paint.

Set up for DE. Blueprinted and balanced "killer"

fuel injected engine by Ed Mayo. Race seats and

harnesses (also have originals). Remote oil cooler.

Polished Fuchs wheels with Bridgestone street tires

plus Mahle track wheels with NEW Hoosier R1's. All

records. Many extras. $25,000. Contact Bill Dawson

at boxsterbill@sbcglobal.net or 214-415-1102 (05)

For Sale: 2000 Porsche 911 C4 Millennium Edition.

A chance to own the most attainable, one year only,

limited production 911. #4 of 911 built worldwide,

less than 300 brought to U.S. ChromaFlair violet

exterior, with natural brown leather and Dark Burr

Maple trim interior. Paint appears black, hunter green,

brown or deep violet depending on the light. Every

available option including full leather interior: seats,

dash, shifter, hand brake, center console, even the A, B

and C pillars. 6-speed manual with factory short shift

and factory sport suspension. New Porsche battery,

plugs and ignition coils. 98K miles with less than

5,000 miles on $24K engine rebuild. Replaced IMS,

rear main seal, A/C compressor, clutch, water pump,

shocks, struts, and more. A/C blows cold. No oil leaks.

$23,999. Contact Shane Altman at saltmancreative@

gmail.com or 214-564-3790 (05)

For Sale: 2007 Porsche Cayman S. Black exterior

with black interior. Full track car with lots of

modifications. Race intake, exhaust, light weight

flywheel, short shift, racing clutch, Moton shocks,

GT3 fully adjustable suspension setup, bolt in roll

cage, Trackmate system, Custom graphics, Fikse

wheels, racing brake pads and rotors. Always garaged.

$35,000. Extra set of Fikse wheels with lightly

used Hoosier tires added for $1500. Contact Brian

Krajcirovic at briankraj@gmail.com or 817-729-

1007. (04)

For Sale: 2011 Cayenne. Automatic, leather seats,

heated and cooled seats, satellite radio, nav, and more.

All scheduled maintenance completed with all service

records available. Excellent condition. Looks & drives

great. 91,500 mostly highway miles. $24,500.00.

Contact Jose Barrios at jwbarrios@yahoo.com or

504-982-1525. (04)

Slipstream Advertiser Index

34 July

These advertisers support our Maverick Region – Tell them you saw their ad in Slipstream!

Autobahn Motorcar Group (800) 433-5602 B.C.

Autoscope (972) 867-7467 Page 20

AVUSA (972) 292-7334 Page 29

Competition Motorsport (844) 438-7244 Page 29

Concorso Detailing (214) 299-8031 Page 13

deBoulle Diamond & Jewelry (800) 454-4367 Page 27

DFW Garage Design (972) 416-4545 Page 3

Ebby Halliday – Michael Picolo (972) 365-7370 Page 32

Falgout & Associates, P. C. (972) 669-2370 Page 22

Fifth Gear Motorsports (972) 317-4005 Page 36

Garages of Texas (214) 435-4898 Page 8

Innovative Autosports (972) 418-1996 Page 7

Invisibra (214) 704-9299 Page 10

Louden Motorcar Services (972) 241-6326 I.B.C.

Marvelous Home Makeovers (214) 458-1932 Page 26

Mayo Performance (817) 540-4939 Page 22

Mullenix Motorsport (972) 417-0997 Page 32

Advertising rates available upon request.

For more information contact Bill Kruder at ads@mavpca.org

Mustard Racing (817) 366-1678 Page 35

Nine-Eleven Automotive (972) 243-4911 Page 30

OCD'tailers (817) 948-8538 Page 10

Park Place Porsche (800) 553-3196 Pages 24, 33

The Phoenix Insurance (214) 253-0570 Page 14

Porsche Plano (214) 576-1911 I.F.C.

RAC Performance (214) 269-1571 Page 11

RetroAir (877) 775-9295 Page 35

RKT Techniques (817) 624-1322 Page 22

Roofing Solutions by Darren Houk (817) 692-8496 Page 35

Send My Parcels (972) 906-2906 Page 32

Silver Fox (817) 329-6995 Page 2

Stuart's Paint and Body (214) 221-6999 Page 5

Ussery Printing (972) 438-8344 Page 35

Victory Motorcars (713) 783-6555 Page 30

Zims Autotechnik (817) 267-4451 Page 29
---
PRINTER OF SLIPSTREAM SINCE 1982

When all HAIL breaks loose...

Roofing Solutions

By Darren Houk

A+ Rated

(817) 692-8496

German Car

Service & Maintenance

by Appointment

Specializing in:

817-366-1678

DasZauberwerk@ix.netcom.com

www.RoofingSolutionsHOUK.com

www.roofingsolutionshouk.com

817.692.8496

Showroom by Appointment

5500 Meandering Rd

Ft. Worth, 76114

35
---
Around the Bend...

By Jim Hirsch, Managing Editor

orsche Pilgerschaft (Pilgrimage) season is

P

definitely upon us. Whether your Porsche

is a Roadster, Cabriolet, Targa, Coupe, or

4-door model, the long days of summer provide

many opportunities to exercise your fine example

of German engineering.

Maverick members love to drive their Porsche vehicles

and end up enjoying a wide array of road trip

adventures throughout the year. Highlights of those

often make their way into Slipstream articles and are

some of the most-read and commented on features of

our club newsletter. Sharon and I are trying to be good

examples of this by leaving on July 1 for a 25-day, 6,000

mile exercise regimen for our 2014 Boxster S.

Along the way, Maverick members have noted many

accessories that help make these road trips more enjoyable

and a bit easier on your Porsche. Since many

road trips often involve some walking/hiking

to interesting locations along the way, some

members have opted to replace their carpeted

floormats with an easier to clean rubber mat.

Again, the most popular (and best looking)

option is the Porsche-branded mats. These are

available from your local Porsche dealer or online at

suncoastparts.com (remember to use your 10% PCA

member discount to save a few dollars).

Closer to home, the Maverick Region is hosting

some exciting activities for you to consider joining this

month. Our monthly Mavs & Mochas is in Frisco on

July 15 and our monthly Social is in Richardson on July

22. Our first tech session in quite some time will be on

July 27 at Growler Motor Labs in Plano.

With a focus on driving, our Poker Rally is scheduled

for July 22 with an Autocross on the calendar for

July 30 in Mesquite.

Finally, as you read this, 33 of your fellow Maverick

members (including Sharon and I) are likely on the

road traveling to the PCA Parade in Spokane, WA. As

the miles stack up for these Mavs, I hope each of you

are also getting many "smiles per mile" throughout the

month of July.

I encourage you to Carpe Viam with your

Porsche as often as you can this summer. And

remember to share your road adventures via an

article and photo submission to me at editor@

mavpca.org.

36 July
---
Hiram Saunders, Slipstream

155 Jellico

Southlake, TX 76092

Periodical Postage

Paid at Fort Worth, TX