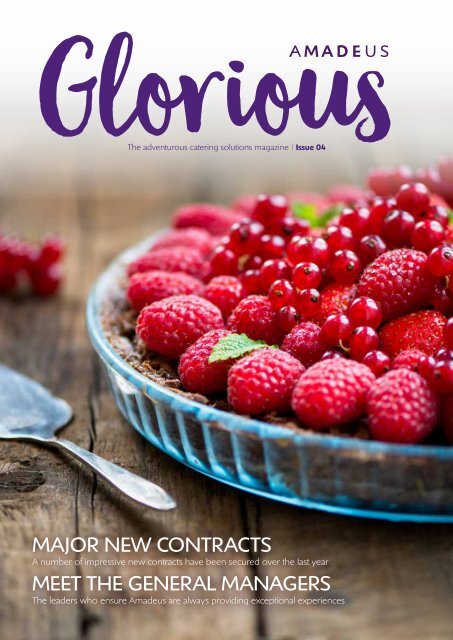 Amadeus Glorious Magazine Issue 04
Do you know the secret to free website traffic?
Use this trick to increase the number of new potential customers.
Glorious

The adventurous catering solutions magazine | Issue 04

MAJOR NEW CONTRACTS

A number of impressive new contracts have been secured over the last year

MEET THE GENERAL MANAGERS

The leaders who ensure Amadeus are always providing exceptional experiences
---
Kitchen Solutions

Catering Solutions Available to Hire or Purchase

01

02

03

01

02

03

04

Temporary Kitchens for hire

● Ideal for use during refurbishments,

emergencies and events

● Hire from a few days to many years

● Wide range of sizes and configurations

● Coldrooms, dry stores and dish wash units

also available

KitchenPods

● Permanent modular kitchen buildings

● Wooden clad, brick slip, coloured or vinyl

wrap finish

● Choose catering equipment to suit your

requirements

● Range of sizes and bespoke options

available

Food Cubes

● Modular food servery kiosks

● Use to serve a range of hot and cold drinks

and snacks

● Wide range of external finishes and

branding options

● Ease pressure on existing catering outlets

Space Station

● Self-contained modular servery unit

● Your choice of catering equipment

● Locks away securely when not in use

● Use to set up a café facility anywhere

04

Contact us to find

about our NEW

Podules - A mix and

match catering solution

T: 01242 663000 E: postbox@pkl.co.uk W: www.pkl.co.uk
---
Welcome

•

The summer months are jam-packed for Amadeus with events up and down the

country keeping the team on their toes and a new mobilisation calling for all hands on deck

It's been a busy few months for Amadeus

with a packed season of events across our

arena, exhibition, conference and meeting

venues keeping the team on their toes. At the

Barclaycard Arena we've seen record F&B figures

at a recent sports event while the NEC team are

mixing it up with a new pop-up cocktail offer

for exhibiting clients – read all about it in our

innovation news section.

Our External Events team are flat

out catering for events up and down

the country as they experience their

busiest months of the year. No team

could be more committed than them

and I can't wait to hear how visitors at

events such as Ricoh Women's British

Open and AAM Scottish Open rated

the food and hospitality.

Following our recent

mobilisation at two visitor

attractions in the Midlands we

have just finished mobilising

the newly branded East of

England Arena and Events

Centre in Peterborough.

On page 10 we speak to

Chairman of the venue,

Richard Tate, who explains

why he felt Amadeus

was the right partner

for them.

Our new contracts in Belfast also continue to

thrive with quality products from the region's

best suppliers on offer – read all about this in

our feature of the showcase event at Belfast

Waterfront.

I'm proud to say all the hard work the team

has put in over the past year is paying off and

today, we are celebrating the company's strongest

trading results in our 40-year history.

And yet we can't rest on our laurels

– as we approach the second half

of the year, we are already busy

preparing for the Christmas season.

Get an insight into the fantastic themed

Christmas parties Amadeus caters for

at both the NEC and ICC, and how

we tailor our festive offering at the

external venues we operate in,

on page 17. And with over

50,000 covers to serve,

it's never too soon to

start working on one

of the most exciting

and challenging tasks

of the year!

KEVIN WATSON,

MANAGING

DIRECTOR,

AMADEUS

Ellie Rance

Editor

info@amadeusfood.co.uk

0121 767 3329

amadeusfood.co.uk

Follow us...

@amadeusfood

This magazine has been produced in

conjunction with EP

EP

4 Lombard Street, London EC3V 9HD

020 7933 8760

epmagazine.co.uk

Ben Butler Managing Editor

Advertising Ben Butler

ben.butler@epmagazine.co.uk • 020 7933 8763

Design Domino 4 Limited

andrew@domino4.co.uk • 01932 988677

domino4.co.uk

Print Pensord

01495 223721 • pensord.co.uk

AMADEUSFOOD.CO.UK 3
---
IN THIS ISSUE READ ALL ABOUT IT

Contents

Issue 04

Glorious

The adventurous catering solutions magazine | Issue 04

Hot

topic

MAJOR NEW CONTRACTS

A number of impressive new contracts have been secured over the last year

MEET THE GENERAL MANAGERS

The leaders who ensure Amadeus are always providing exceptional experiences

© ANNA DENISOVA | 123RF.COM

REGULARS

06

43

Food innovations

All the latest news, awards and

records from the Amadeus team

Calendar of events

Your guide to what's taking place

during summer and autumn 2017

FEATURES

10

14

Major new contract

Amadeus have secured the

impressive East of England

Arena and Events Centre

in Peterborough

Belfast and beyond

Amadeus showcases Belfast's

17

food heritage through its menus

4 GLORIOUS
---
READ ALL ABOUT IT IN THIS ISSUE

10

24

14

17

24

30

50

Christmas with Amadeus

The countdown to Christmas

has already begun and for the

Amadeus team, the next few

months will be extremely busy

with seasonal bookings

What I'm loving this season

Glorious speaks to David

Siddall, Executive Chef at

Barclaycard Arena

Meet the General Managers

The leaders who ensure

Amadeus are always providing

exceptional experiences

Made my day

Glorious speaks to Alison Smith,

Catering Operations Manager at

the iconic and busy Library

of Birmingham

AMADEUSFOOD.CO.UK 5
---
NEWS FOOD INNOVATIONS

On stand cocktails

Our new services in partnership with Zest Mixology

© BOROJOINT | WWW.123RF.COM

The services of Zest Mixology, the UK's

leading provider of pop-up bars and cocktail

solutions, have been engaged to further

bolster our exhibitor hospitality service.

At the National Exhibition Centre

(NEC) in Birmingham exhibitors are now

able to book bespoke pop-up bar and

cocktail services. The venue welcomes

2.4 million visitors and over 39,000 exhibiting

companies to over 500 events every year.

The new offer is being provided by Zest

Mixology and is part of our 'Served to You'

package. Launched in 2014, 'Served to You'

is an on stand catering hospitality service that

"

We're excited to be an

extension of the Amadeus team

and look forward to providing

exhibitors with our pop-up

bars and cocktail services.

"

Murdo MacLeod,

Managing Director, Zest Mixology

delivers food and drink directly to clients for

them to serve to those visiting their stand.

The service also offers drinks and canapes

for exhibitor drinks receptions.

Zest Mixology, which has a head office in

Leeds and warehouse operations in Leeds

and Luton, was formed by entrepreneur

Murdo MacLeod in 2011 with a vision to

become the 'go to' supplier for pop up

cocktail bar services for business events

throughout the UK & Europe.

To date, Zest Mixology has provided their

events services to more than 2,500 events,

serving over a million guests for brands

such as Nokia, BMW, EE, Lloyds TSB, First

Direct, Barclays and others.

The firm has experienced double digit

growth for five consecutive years and

recently opened a second warehouse

operation in Luton, after securing a scaleup

loan of £80,000, which will enable the

business to better service clients in the

Midlands and the South of England.

Commenting on the new partnership

with Amadeus, Managing Director, Murdo

MacLeod, said: "We're delighted to be

working in partnership with Amadeus

and providing cocktail services as part of

"

Clients exhibiting at the

NEC want to spend maximum

time on their stand engaging

visitors with their product

or service, which is why we

designed our on stand catering

hospitality service.

"

Paul Bate,

General Manager, Amadeus, NEC

their hospitality catering packages at the

NEC. We're excited to be an extension of

the Amadeus team and look forward to

providing exhibitors with our pop-up bars

and cocktail services."

Paul Bate, General Manager for Amadeus

at the NEC, said: "Clients exhibiting at the

NEC want to spend maximum time on

their stand engaging visitors with their

product or service, which is why we

designed our on stand catering hospitality

service to make their time spent at the

venue as easy as possible.

"We found that many of our clients were

requesting bar and cocktail services on their

exhibitor stands – something we could not

offer previously. We are extremely pleased

to welcome Zest Mixology on board as our

cocktail service provider for our 'Served to

You' hospitality package and have every

confidence it will be a huge success with

our clientele."

6 GLORIOUS
---
Bacon

FOOD INNOVATIONS NEWS

Prestigious award

win

COOKING UP A RECORD

BREAKING YEAR

Annie Monnox

Winners at Cost Sector Catering Awards 2017

Well done to the team! We are thrilled to

have scooped the 'Event/Stadia/Arena

Award' at the Cost Sector Catering Awards.

At a ceremony which celebrates excellence

across the foodservice and catering

industry, the award was presented to

Annie Monnox, Catering General Manager

of the Genting Arena, in recognition of the

team's achievements.

As the driving force behind the venue's

catering success, Annie has proved to be

an inspiration to her team. Since joining

Amadeus, part of the NEC Group, in 2012

Annie has transformed the team at the

Arena into a more dynamic operation,

boosting morale and improving

performance. Under her leadership they

continue to consistently deliver strong

retail sales and fine dining excellence in

a challenging environment where visitor

numbers and customer profiles differ at

each event.

Among other successes, the catering

team delivered record-breaking results at

Noel Gallagher's High Flying Birds concert

in April last year with revenue exceeding

£159K. More recently, the team saw F&B

sales soar at Black Sabbath's final ever

concert at the Genting Arena, with revenue

exceeding £255K across two dates.

Annie said: "This award is testament

to the hard work of the team behind

the scenes who are striving to make the

customer experience at the Genting Arena

the best it can be.

"But we cannot rest on our laurels – we

need to constantly grow and adapt. We

are looking at further investment over the

coming year, particularly in our hospitality

areas and we will be looking to improve

the customer experience through even

quicker speed of service and the quality of

our food. We are only as good as our last

event and recently our events have been

outstanding so we have a lot to live up to."

Kevin Watson, Managing Director at

Amadeus, said: "Winning this prestigious

award further cements Amadeus'

reputation as a leader in the catering sector.

Our hand-picked team are key to our

success as one the UK's leading caterers

and Annie very much leads from the front

with passion, drive and with extensive

knowledge of the industry.

"Under Annie's direction the team have

consistently exceeded their targets, a

trend which is only set to continue with a

number of new technology advancements

and improvements in customer service

planned for next year."

"

We are only as good

as our last event and

recently our events have

been outstanding so we

have a lot to live up to.

"

Annie Monnox,

General Manager, Amadeus, Genting Arena

We're absolutely delighted to announce

we have seen a 20% increase in revenue

from 2015/16 and 44% growth in EBITDA.

Both at our home and external venues we

have seen great success. At the National

Exhibition Centre (NEC) EBITDA increased by

nearly a third (29%) and over a quarter (26%)

at the International Convention Centre (ICC).

Over the last year (2016/17) we have

secured a record amount of new contracts

totalling over £30m, including the East of

England Arena and Event Centre, Delapré

Abbey Preservation Trust and Compton

Verney art gallery.

We also won two major contracts in

Northern Ireland to provide catering and

hospitality services for Belfast Waterfront and

sister venue Ulster Hall and a further four

visitor attractions including Belfast Zoo, Belfast

Castle, Malone House and the Stables coffee

shop in Sir Thomas and Lady Dixon Park.

These achievements add to our last five

years of success, which has seen revenues

grow from £25m to £42.2m and profit

by 223% under Managing Director Kevin

Watson's leadership.

Kevin, who has led an ambitious growth

strategy since taking on the directorship

in 2012, said: "This is an exciting time for

Amadeus as we continue to expand at pace

and is testament to the unique and brilliant

team we have.

"Investments in new technology to

improve the customer service across our

venues and extensive staff training and

development has played a key role in the

company's growing success. We are set to

expand further in the coming year with an

exciting pipeline on the horizon."

Afternoon tea

- Sandwich Selection -

Roast Chicken

with wild rocket

East Coast Prawns bound

in a lemon mayonnaise

Local free range egg and watercress

with cracked black pepper

Fivemiletown Cheddar

with a farmers chutney

- Cakes -

Millionaires Slice

Lemon drizzle cake

Mini Scones, fruit and plain

served with clotted cream and local strawberry jam

Freshly Brewed Tea

- BREAKFAST MENU -

Ulster Fry breakfast

McWhinneys pork sausage

Hash brown

Free range egg

Baked beans

Mushrooms

Fresh tomatoes

Fried Soda bread

Vegetarian breakfast

Vegetarian sausage

Free range egg

Hash brown

Baked beans

Portobe lo mushroom

Fresh tomatoes

Fried Soda bread

Two Item Breakfast on Soda

Choose from either bacon or sausage,

and then one item from the fo lowing,

Bu ton mushrooms, fried egg or gri led tomato

Additional Items

This is for one additional item from the breakfast range

Toast/butter and Jam

Bloomer - brown and white

2 slices of bread, farmers jam and butter

Croissants with Farmers jam

Danish Pastries

Handmade muffins

Lemon & white chocolate

Triple chocolate

Lady Dixon park in south Belfast is one of our most popular parks.

it is home to the city of belfast internationalRose garden,

AMADEUSFOOD.CO.UK 7
---
NEWS FOOD INNOVATIONS

GIVING BACK

Delivering over £5m

revenue in banqueting

Success at the ICC and the Vox in only 12 months

We are proud to announce that Annie

Monnox, our Catering General Manager

of the Genting Arena, has been awarded

the title of 'Best Business Advisor' at the

Young Enterprise Awards for Birmingham

and Solihull.

The Young Enterprise Company

Programme provides young people (aged

15–19 years old) with the opportunity to

set up and run their own real company

while they are still at school or college. Each

company is guided through the experience

by a volunteer adviser from a local business.

For the last two years Annie has been

a business adviser for St. Martin's School

based in Solihull, helping school children

throughout the project as they form a

company and then design and retail a

product. At the Birmingham and Solihull

finals, where students presented their

companies and products, Annie was awarded

the 'Best Business Advisor' award for the

excellent guidance she provided to those

at St. Martin's School.

Annie said: "I decided to become a

business advisor for Young Enterprise as

I wanted to give something back to the

schools. I didn't have a great experience at

school and I wanted to show children if I

can get to where I am today, so could they."

For more information on the

scheme please visit the website:

https://www.young-enterprise.org.uk

The International Convention Centre

(ICC) and the Vox Conference Centre are

celebrating a successful 12 months

having delivered over 230 banqueting

events for 71,500 delegates, resulting in

a combined revenue in excess of £5m

across both venues.

Sales Director of the ICC and the Vox,

James Elston, said, "Stand Alone Banqueting

is very important to our venues. It not

only helps to keep our venues busy in the

evenings and over weekends, but it also

plays a vital role in the local economy. With

tens of thousands of delegates visiting our

venues annually for banquets, this only

has a positive impact on the surrounding

hotels, bars and restaurants in the city

centre where the ICC is based and on the

NEC campus where the Vox is part of the

integrated leisure complex, Resorts World."

"The banqueting space we offer is also

vitally important to a growing number

of charity events that we host on annual

basis. We are able to bring together a

large amount of people in the same

room for their events enabling them to

raise phenomenal amounts of money for

extremely good causes."

Always striving to provide an

unparalleled dining experience, £140k

has recently been invested in a new

range of table top light equipment setting

the catering offer apart from the typical

conference and banqueting environment.

The new tableware, including crockery

based around free flowing, organic

concepts, drives a new style of food

presentation which is designed to enhance

the fresh, great tasting food, provided by

Amadeus at both venues.

8 GLORIOUS
---
FOOD INNOVATIONS NEWS

ON THE SHORTLIST

We are extremely proud that

Amadeus' Managing Director Kevin

Watson was shortlisted for the

Foodservice Caterer of the Year Award

at the Cateys 2017.

Although he was just pipped to the

post this is a fantastic achievement

for Kevin who was recognised for

his outstanding contribution to the

success of Amadeus over the past five

years. Since their inception in 1984,

The Cateys have cast a spotlight on

the industry's highest flyers, strongest

performers and hottest brands. Over

more than a quarter of a century, they

have become a byword for quality,

class and achievement; the awards that

everybody wants to win. No wonder

then that the industry refers to them as

its Oscars Night!

In other news, Amadeus Catering

Manager for the Mobile Catering

Division at the NEC, Teresa Gohail, was

a finalist for the recent ACE Robyns

Awards. The exciting awards, organised

by the Association of Catering

Excellence, are aimed at showcasing

young talent in the world of contract

catering. We congratulate Teresa and

are immensely proud of her for having

demonstrated the commitment needed

to get onto the shortlist.

© SCANRAIL | 123RF.COM

F&B Bullseye

Record sales of food and

beverage at the Betway Premier League Darts

We have scored a 'bullseye' by delivering

record food and beverage sales at the

popular darts tournament held at the

Barclaycard Arena in Birmingham.

Final figures show revenue reached

over £119,000 at the popular event which

saw the world's top darts stars return to

the 15,800 capacity Arena for round 13 of

the 2017 tournament. With over 32,500

individual items sold, F&B sales increased by

10% in comparison to the 2016 tournament,

also held at the Barclaycard Arena.

Increased speed of sale across the venue

and a bespoke product offering tailored

to the visitor profile are credited with the

surge in spend – Amstel was the most

popular product on sale with over 6,000

pints pulled during the evening.

Nick Cole, Amadeus General Manager

at the Barclaycard Arena, said: "The

Barclaycard Arena has a varied and

diverse event programme so customer

numbers and profiles differ for each

and every event. After each event we

analyse customer purchasing patterns

to understand what F&B products were

popular helping us to make informed

decisions that benefit the customer

experience at future events.

"After catering for the darts tournament

for over 10 years, we knew what worked

well and what we needed to change –

for example, the popularity of beer at

the 2016 event led us to employ mobile

'beer bugs' in addition to our static bars

this year to ensure we met increased

customer demand."

The venue's hospitality business, Amplify,

also catered for nearly 300 covers as part

of its 'Freestyle' VIP package comprising

of complimentary drinks vouchers and a

two-course dining experience.

Sally Walder, Amplify General Manager

added: "Birmingham is known as the curry

capital of the UK, so we wanted to treat

our guests to some traditional flavours of

the region. Starters of lamb and vegetable

samosas, spinach pakora and onion

bhaji were served, followed by various

curry options including paneer saag and

jeera spiced cod tail, to set off what was a

fantastic evening of darts."

AMADEUSFOOD.CO.UK 9
---
NEW VENUES NEW HORIZONS

AMADEUS SECURES

FIRST MAJOR CONTRACT

in the East of England

•

Amadeus have secured a number of impressive new contracts over the last year – the most

recent to join the portfolio is the East of England Arena and Events Centre in Peterborough. To

find out more about the recent £4.4m contract win, Glorious speaks to Marc Frankl, Food and

Beverage Director at Amadeus and Richard Tate, Chairman of the venue.

The new £4.4m contract for East of England

Arena and Events Centre includes running all

hospitality catering at the venue – everything

from weddings and banqueting to corporate

events. The three-year contract will see

Amadeus provide catering services across the

venue's newly refurbished conference centre,

state of the art arena and exhibition centre.

Amadeus' rapidly expanding external

catering portfolio forms part of the ambitious

growth strategy led by Managing Director

Kevin Watson. At the time of the win, he

said, "This contract was a perfect fit for us.

Amadeus are experts in conference and

exhibition catering, constantly innovating and

changing our offering based on delegate or

visitor profile. We also understand the art of

arena catering – the importance of speed of

sale without compromising on quality.

"We bring four decades of experience

to our new partnership with the venue.

In this way, our world-class hospitality will

contribute to the status of the venue as a

whole, underpinning the benefits offered to

event organisers."

Based in Peterborough, The East of

England Arena and Events Centre is the

gateway to the strong and growing East of

England. Chairman Richard Tate tells Glorious

more about the new relationship.

"Amadeus's unrivalled expertise in arena

and event hospitality and their commitment to

develop our business was the most attractive

part of the relationship. We felt we would work

well together. Having Amadeus on board as

our hospitality partner is part of our investment

in infrastructure and services to attract and

support event organisers. With them on

board our hospitality offering is continuously

benchmarked to international standards.

"Hospitality and catering are fundamentally

important to the experience and enjoyment

10 GLORIOUS
---
of everyone visiting us, however it is the food

that makes the difference. We want every

visitor to feel there is something prepared

specially for them.

"The venue is owned by the East of England

Agricultural Society, a charity concerned

with the promotion of agriculture and the

countryside. Amadeus are keen to support

local farmers which not only benefits the

rural economy, but it has a direct impact on the

seasonality, quality and taste of the food served.

"We have already received impressive

feedback. Many people have congratulated us

on the results of our investment overall and

especially the impact Amadeus have made on

the restaurants and hospitality offering. They

like the presentation of both facilities and food

and they say 'it tastes delicious'.

"Now we must continue to grow the

business. We are going all out to make event

organisers aware of the Eastern economy

and the benefits of the East of England Arena

and Event Centre in competing within it.

Our relationship with Amadeus puts our

hospitality offering at the top of the league

so we look forward to attracting more events

with increasing visitor numbers who will

enjoy their foodie experience."

The multi-purpose venue offers 9,000m 2

of indoor spaces within a 250 acre green

site. With bespoke event packages and

excellent transport links, up to 100,000

visitors can enjoy the high standards of

hospitality within an ever-changing calendar

AMADEUSFOOD.CO.UK 11
---
CONSISTENCY

HIGH QUALITY OF STAFF

Staff quality was rated

8.7/10 in the most recent

satisfaction survey.

Add a staff member to

your tribe with one click

and they will be given

priority on all of your

future jobs.

RELIABLE SERVICE

Your dedicated account

manager is always just a

phone call or email away!

To find out how

TempTribe can help you

provide excellent service to your guests

visit temptribe.co.uk or

email hello@temptribe.co.uk

12 GLORIOUS
---
NEW VENUES NEW HORIZONS

of events. Marc Frankl speaks to Glorious

about the new relationship.

"Local sourcing is a strong commitment

for all the venues we work in and the East

of England Arena and Events Centre is no

different. We are helping local businesses to

grow and develop, plus putting something

back into the economy by letting local

suppliers showcase their fantastic products

in an established venue which will help

to raise their profile. It's also great from an

environmental point of view because we are

reducing the number of food miles and the

food is as fresh as possible.

"One of our local suppliers is Marybelle,

where we get our cream from. They

produce fresh, delicious dairy products

from a pedigree herd. The award-winning

producers can trace this herd back to two

cows and supply a number of farm shops

in the East of England. We are also using

Colston Bassett Blue Cheese, the home

of traditional Stilton and Shropshire Blue

cheeses. They have been making cheeses for

over one hundred years. They only use milk

from local farms – all within 1.5 miles of the

dairy in the Vale of Belvoir.

"We are also using cheeses from Mrs

Temple's Cheese in Wells-Next-The-Sea. Their

cheeses are made at Copys Green Farm at

Wighton using milk from the Chalk Farm herd

of Holstein Friesians and the Copys Green

herd of Swiss Brown cows. The handmade

cheeses were developed to offer a Norfolk

cheeseboard. Their goat's cheese is from

Norfolk Mardler – which means to Mardle;

from the Norfolk dialect meaning 'to gossip

or chat'. This is a waxed, eight week matured

goat cheese which is deliciously creamy – this

cheese melts particularly well and a whole

Norfolk Mardler weighs approximately 1.2kg!

"You may have noticed we are passionate

about the local cheeses! But this is just a

handful of the great locally sourced products

customers will find at the venue. We also

source our leaves from Cambridgeshire

growers and this is everything from baby leaf

to iceberg and cos to kale. The asparagus we

use comes from Ashby Asparagus in Oundle

and fresh berries are from Lutton Farm nearby.

"We have real strength when it comes

to procurement and for many it is a difficult

game to play. However much of it is about

relationship management and we have

years of experience with this. It's about

understanding local producers and the issues

and pressure they face and working with

them to overcome these. We help achieve a

route to market for them and we represent a

low risk company to work with that provides

a large opportunity to sometimes very small

suppliers. Our suppliers are also supported in

areas such as food safety, forecasting, logistics

and planning – this really helps them reach

the very best standards as possible.

"Engaging with the local community is so

important when mobilising a new venue –

we talk to those locally at the beginning of the

process and ask for their continued feedback.

In this way, our menus reflect the spirit of

the area and the location the venue is in. We

design our menus to be affordable to those

visiting each venue, with loyalty schemes and

offers to provide added value. The East of

England Arena and Events Centre is owned

"

i"

menus every year in collaboration with our

You may have noticed

we are passionate about the

local cheeses! But this is just a

handful of the great locally

sourced products customers

will find at the Arena.

by the East of England Agricultural Society, a

registered charity that's been long-dedicated

to delivering local food from local suppliers –

a sentiment we fully support.

"By tailoring our food and beverage

offer for each venue, in terms of regional

produce, we ensure those visiting enjoy the

quality and choice. Therefore we are really

driven by the customer demographic and

visitor profile. It's important to monitor this

throughout the year and so we use in depth

reporting tools to provide an insight. This

research allows us to update and refresh our

executive head chefs."

AMADEUSFOOD.CO.UK 13
---
NEW VENUES NEW HORIZONS

Belfast

AND BEYOND

•

Amadeus showcases Belfast's food heritage through its menus

Last year Amadeus won a £16m contract

over five years with Belfast Waterfront and

Ulster Hall in Northern Ireland to exclusively

supply catering for its packed conference

and events schedule. Here, Glorious takes a

look at the recent showcase event at Belfast

Waterfront that Amadeus catered for.

The conference was a brilliant showcase

of Belfast to the world. The corporate

familiarisation trip was organised by Belfast

Waterfront in partnership with Tourism

Northern Ireland and other key city

providers. International event planners and

trade press, gathered to experience at

first-hand the best the city had to offer

business travellers.

On the day, the morning session, aptly

titled 'Evolve or Die', kicked off with ground

breaking business thinkers Dr Deep Parekh

and Polo Looser discussing the key tools

today's businesses need to manage change.

And with digital technology having a

massive impact upon all industries, Mary

Ann Pierce, founder and CEO of MAP Digital

showcased how event planners can adopt

these new technologies to enhance the

delegate experience.

In keeping with the theme of change,

delegates took a tour of the new Belfast, a

city that has greatly benefited by continuous

investment to successfully evolve into one

of Europe's trendiest city destinations for

business travel.

The tours covered Titanic Belfast, the

World's Leading Tourist Attraction and

Belfast's political and historical sites, including

the infamous Crumlin Road Gaol.

Catherine Toolan, Managing Director of

Belfast Waterfront and Ulster Hall Ltd, said:

"We have a great offering, but there is only

one way to truly experience the best of

Belfast and that is to visit it. Today local and

international event planners and international

trade press got the opportunity to

explore our city's attractions, sample our

culinary excellence, enjoy our famous Belfast

hospitality and see how easy it is to travel

to our shores. Foremost they will see how

Belfast Waterfront's 7,000m 2 conference

facility will help cement the city's position as

a leading business destination, by enabling

Belfast to attract more international and

national conferences."

Naomi Waite, Tourism NI Director of

Marketing commented: "Overseas tourism to

Northern Ireland is worth over half a billion

pounds to the local economy and

our ambition is to grow exports to over

£1 billion by 2025. Today's event has

helped to position Northern Ireland at the

forefront of the minds of event planners and

international trade press, showcasing our

region as a must see destination for business

and leisure."

Guests returned to Belfast Waterfront

in the evening for a pre St. Patrick's Day

14 GLORIOUS
---
NEW VENUES NEW HORIZONS

"

i"

"

entertainment. I have such

Comments received

following the showcase':

Just a note to say very many

thanks for a most enjoyable

evening at the showcase

at Belfast Waterfront.

It was lovely to enjoy the new

addition to Belfast providing

Craic Agus Ceol to the local

industry, and those from

much further afield, and

I am sure all who were in

attendance were suitably

impressed with the best that

Belfast has to offer.

"We were totally blown

away by the fabulous evening

at the Waterfront ."

It was all perfect from

the fabulous venue and

the superb hospitality and

confidence for our event

with you and a great sense

of pride, I can't wait for

my associates to see what

Belfast has to offer, they will

be so impressed and their

standards are very high!

celebration, where a spectacular line up of

entertainment and performances by local

artists awaited as well as a feast of delicious

locally-sourced food.

The unique event was a fantastic

opportunity for the venue and city –

Amadeus had to ensure visitors left being

wowed by all aspects of the hospitality

experience. Catering included a VIP breakfast

buffet and a themed lunch for 100 guests as

well as an interactive seafood themed drinks

reception and gala dinner for 300 people.

The menu was designed to promote

and showcase the provenance and quality

of suppliers from the local area, while also

highlighting Amadeus' VIP Luxury Packages

that are now available to book.

The event was an overwhelming success,

generating bookings and extremely positive

feedback.

"Well done to all

concerned and thanks for

your hospitality ."

AMADEUSFOOD.CO.UK 15
---
CELEBRATING THE FESTIVE SEASON CHRISTMAS

Christmas with

•

The countdown to Christmas has already begun and for the

Amadeus team, the next few months will be extremely busy with

seasonal bookings. With a host of options and themes,

Amadeus can provide the perfect catering offer to celebrate the

season. Glorious goes behind the scenes for an insight into how

to hold the best party and the secrets to success.

Every year Amadeus caters for thousands

of people at the NEC and ICC's Christmas

party events. Ian Taylor, Venues Sales

Director at the NEC, gives his expert opinion

on what makes a festive event stand out

from the pack.

"When it comes to Christmas parties,

event bookers and guests are more focused

than ever in securing value for money, and

this can apply at every level of ticket price.

We offer packages at the NEC and ICC in

partnership with Vivid Experience and JD

Parties respectively and whilst both venues sit

towards the premium end of the Christmas

Party market, our partners ensure guests

have a high quality experience across each

element of the party.

Vivid Experience runs Christmas Party

World at the NEC which in 2016 delivered

32,000 covers in just three weeks, so the coordination

and operational aspects are very

important when welcoming up to 2,000

guests each night. The Vivid Experience team

does a great job in managing the overall

experience and feel good factor that's crucial

to a great night.

At the ICC, JD Parties believe that location,

theme and what is included in the package

can influence decisions on perceived

value. JD Parties welcomed over 8,000

covers at the ICC in 2016 across a range of

dates to increase availability and convenience

for guests.

When people are looking at Christmas

parties, location is so important. We have

great partners at two easily accessible

venues in Birmingham, which is why our

offerings are so popular. Organisers will

have a lot of different options, so word of

mouth and the reputation of the venue

can help their decision making. Our parties

are very popular not only because of the

location convenience but the level of service

they deliver.

My top tips for event organisers looking

to select a venue for their Christmas party is:

get booked up early.

You might not want to think about

Christmas when you have just enjoyed a

summer holiday, but this means you are

more likely to get your preferred date. Even

now some of the peak Friday and Saturdays

in December are already sold out having

been booked in the spring.

Also, do your homework. Ask to speak to

previous party clients and take time to make

a venue site visit. We are proud of what we

offer with Vivid Experience and JD Parties so

we will always happily give the organiser any

information they need."

© SUKIBLUE | 123RF.COM

AMADEUSFOOD.CO.UK 17
---
CHRISTMAS CELEBRATING THE FESTIVE SEASON

Christmas with Amadeus

VIVID EXPERIENCE CHRISTMAS

PARTIES AT THE NEC

•

Lorna Hendey, Live Events Catering Operations Manager at the NEC

talks to Glorious about the electric Christmas parties at the venue

What was the theme last year?

"Africa was the overarching theme at the NEC

for our Christmas parties last year. We had

32,000 covers through the doors and the

atmosphere on each night really was brilliant.

The opening night is simply electric. All the

team get really excited working it, and due to

us having mostly the same staff for most of

the run, there is a real team feeling between

us by the end. And that's saying something,

considering there is nearly 150 front of house

staff on each day!"

How does Amadeus offer something

different?

"Our high quality dinners. This isn't always the

case at Christmas parties and this, combined

with speedy service, really leaves guests

blown away. We receive brilliant feedback

with many saying how they can't believe we

can get all the food out so hot. It's a really

interactive experience and we use glow

sticks to direct our team to the correct tables.

Some guests really like this and try and steal

them away!

Are there any challenges?

"In hospitality there is always the challenge

of ensuring there is enough staff, especially

as everywhere in Birmingham is busy at the

same time. However our team spirit is strong

and we always complete a great job together.

Other challenges include ensuring all the

food is delivered to hall at the correct time as

we use multiple kitchens across the venue.

Our experience always helps here but we

must be prepared and ready."

What's happening this year?

"The theme is Manhattan and guests can

expect delicious canapes such as mac 'n'

cheese in Japanese breadcrumb. For the

starter they may pick trio of salmon or

smoked dill and beetroot, for the main,

roasted chicken breast filled with a chorizo

and turkey stuffing and chocolate truffle

tart to finish the delicious meal. We hope

to beat the number of covers we had last

year and people can still book by visiting:

www.birminghamchristmasparties.com"

How does the food and beverage make

the party stand out?

"We ensure that every single guest that

comes to a Christmas party has the same

high quality experience, and we aim to

deliver the same high quality food as we do

for any dinner that we deliver throughout

the year."

18 GLORIOUS
---
CELEBRATING THE FESTIVE SEASON CHRISTMAS

Richard Longhill, Managing Director of Vivid Experiences,

shares his thoughts with Glorious

What are the priorities these days for

Christmas parties?

"Guests are more focused than ever in securing

value for money, and this can apply at every

level of ticket price. Sitting at the premium end

of the Christmas party market, we have had to

ensure every element of the event justifies the

higher ticket price. At the same time we are

not trying to compete with a Michelin starred

restaurant or a Westend theatre. We offer

guests a complete experience at Christmas

Party World where the organiser, be that

the office junior or the CEO, should expect

a high standard across each element of the

party. So it's difficult to narrow down one

ingredient as being more or less important

– it's that overall experience and feel good

factor that's crucial to a great night.

Are there common mistakes when

organising parties at this time of year?

"I get asked this question a lot and ultimately

it comes down to securing the right venue –

one that is suitable for you and your guests.

When you're looking around at different

Christmas Party options you'll be considering

a whole range of different criteria – budget,

location, the style of party, the menu and you'll

most likely have lots of different opinions

from friends or colleagues! My advice would

be to ask around – word of mouth and the

reputation of a venue is a good way to ensure

you're not going to be left red-faced."

Any tips for event organisers?

"Get in early. Some of the peak mixed party

nights – Fridays and Saturdays – are already

sold out at the top venues. In the exclusive

party sector we'd tend to be speaking to

clients during the early part of the year with

a view to contracting them by early spring.

Any later than that and desirable corporate

nights – Wednesdays and Thursdays – tend

to be taken. And again, do your homework.

Ask to see videos and pictures, speak to

previous party clients and take time to make

that site visit – if a venue is proud of what

they do they'll be happy to give you all the

information you need."

Last year guests at the NEC were treated

to a delicious menu devised by Amadeus

in conjunction with Vivid Experiences.

Starter

Homemade roasted and spiced

butternut squash soup topped with

toasted pumpkin seeds

main

Seared breast of chicken with a

festive turkey stuffing, potato fondant,

wilted greens, roasted parsnips and

pigs in blankets

dESSERT

Raspberry macaroon, chocolate orange

brownie, caramel crème brûlée

AMADEUSFOOD.CO.UK 19
---
CHRISTMAS CELEBRATING THE FESTIVE SEASON

Christmas with Amadeus

JD CHRISTMAS

PARTIES AT ICC

•

Kay Silvester, Food and Beverage Manager at the

ICC talks to Glorious about parties at the venue and

the exciting Alpine Ball theme this year.

What was the theme last year?

"1920s – The Speakeasy Ball with a menu that

was tailored to what we know works well for

a variety of clients and palates at Christmas

time. In total we had 6,800 covers for

Christmas parties. It was a great atmosphere

and guests really matched the theme with

their style. Men were in Peaky Blinders suits

and flat caps and ladies were in flapper

dresses, garters and feather headwear."

How does Amadeus offer something

different?

"I believe we have a more superior style

with a great tasting three choice menu. Guests

can pre-order what they would like from

three choices for starters, mains and dessert."

What's happening this year?

"We're really excited by our Alpine Ball this

year. We're enhancing the dining experience

with a fourth course option of cheese, so

we're providing more for great value. The

menu has a real Christmas wintery feel.

Guests can expect a starter of Pulled ham

hock & sweet mustard terrine, pork crackling

popcorn, vegetable pickles, sweet sherry

vinaigrette, Roast chicken supreme, coleslaw

potato rosti, ginger creamed spinach, honey

glazed parsnip, cranberry compote, and

tarragon jus as a main and for dessert an

amazing selection of sharing shots: dark

chocolate mousse and cherry profiterole,

lemon meringue pie, plum trifle and

raspberry snap."

How does the food and beverage make

the party stand out?

"This year we're aiming for 8,000 covers and

will continue to ensure we provide great

food, great service, happy guests enjoying

themselves and of course fab management!

For a lot of our guests it's the main Christmas

party of the season and have saved hard all

year to attend, so we always aim to please

them with a fab Christmas meal. They also

partake in the party games and overall have

a great time. We also ensure we cater for

everyone's needs and tailor the catering for

all allergies and intolerances."

What trends are you witnessing at

Christmas parties?

"Some guests come to enjoy the meal and

others come to party so for us we always

have to balance the experience. We want

everyone to leave with a memorable dining

experience and comment to friends and

colleagues what great food and service

they had at the ICC. We do this by providing

great activities and entertainment and with

our chefs produce high quality tasting and

presented dishes."

Last year guests at the ICC were treated

to a delicious menu devised by Amadeus

in conjunction with JD Parties.

Starter

Tandoori roast salmon fillet, cardamom

cream spinach, crisp angel hair noodles,

exotic fruit salsa

main

Sweet potato and butternut squash

dauphinoise, halloumi spring roll,

spinach preserved artichoke heart,

red pesto dressing

dESSERT

Apple and blackberry crumble

tartlet, mulled berry compote, vanilla

seed cream

20 GLORIOUS
---
CELEBRATING THE FESTIVE SEASON CHRISTMAS

Andrew Gentles, Managing

Director at JD Parties shares his

thoughts with Glorious.

Christmas with Amadeus

EXTERNAL VENUES

•

Amadeus cater at a number of external venues which are ideal for

Christmas parties and make for a special celebration. Glorious speaks

to the Amadeus External Events team to find out more.

What are the priorities these days for

Christmas parties?

"The initial stage in the process of

selecting a venue is location, this is

not only determined by where the

business is based but often on where

the employees reside. The theme can

differentiate from one venue to another

but the decision is ultimately based on

perceived value of what is included

in the package: arrival drink, menu,

entertainment. The theme can also help

the guests in their choice of outfit and

assist in creating a vision of the evening,

our guests are encouraged to dress up

to the occasion."

Are there common mistakes when

organising parties at this time of year?

"Organisers forgetting themselves when

making their booking – this happens

more than you would think. As well as

not booking early enough to secure a

preferred date. We also notice that trying

to please both the boss and colleagues

can often result in some disagreements."

Any tips for event organisers?

Organisers sometimes forget location

and it's important to know what event

format you would like – what the night

includes. Ensure you have budgeted for

the night adequately.

Which venues does Amadeus provide

Christmas catering for?

"We provide magical and memorable

Christmas events throughout all of the

fourteen unique venues we cater at. An

important factor that influenced our planning

process this year was appreciating the

differences between each venue. With the

mind set of 'no one size fits all', our chefs

created a number of festive menus – from

fine dining at the historic Stoneleigh Abbey,

to festive nibbles and fizz at The National Sea

Life Centre, we have it covered.

Is Christmas catering available for

other locations?

"Throughout the years, we have noticed an

increasing trend in organisers wanting to

hold events in unusual and obscure 'venues'.

From carparks to offices, we have catered to

them all. This year, we want to emphasise our

enthusiasm and ability to provide Christmas

catering solutions to any event space. With

our award-winning chefs, event managers

and waiting staff in tow; Amadeus will be on

hand throughout the festive period to deliver

our delicious Christmas menu to any event."

Do any Christmas events from the

past stand out?

"Over the years we have seen some

spectacular Christmas displays in our venues.

It's no secret that the historic Coventry

Cathedral is the perfect set up for those

looking to impress their guests. With

towering ceilings and spectacular gothic

features, this venue goes hand in hand

with our Premium Festive Menu. With new

venues like the beautiful Compton Verney

joining our portfolio this year, 2017 has been

an exciting time to develop and experience

differing Christmas event concepts."

How are menus tailored for each venue?

"We appreciate more than anyone that

the idea of a standard turkey dinner can

be slightly uninspiring when organising an

amazing Christmas party. A great example

of our 'no one-size fits all' mantra is last

year's Christmas Grotto event, held at the

stunning Stoneleigh Abbey. With a client

brief of 'against the norm', our chefs created

festive bowl food concepts for a social,

yet substantial alternative to a three course

Christmas dinner."

How can dining support overall experience?

"A phrase that we continually relate to is;

'people will always remember the food'. It is

widely known that catering can either make

or break an event. With food at the forefront

of most people's minds throughout the

Christmas period, it's important to get it right.

With this in mind, our team works closely

with our chefs and venues to ensure our

festive offer is dynamic and delicious."

FOR FURTHER INFORMATION

ON ANY OF OUR VENUES

OR CHRISTMAS MENU PACKS,

PLEASE CONTACT THE AMADEUS

EXTERNAL EVENTS TEAM ON:

SALES@AMADEUSFOOD.CO.UK

OR 0121 767 3329.

AMADEUSFOOD.CO.UK 21
---
22 GLORIOUS
---
A newly designed Multi-Deck Structure

Style Re-imagined

0121 748 3377

info@contemporaryeventstructures.co.uk

www.contemporaryeventstructures.co.uk

AMADEUSFOOD.CO.UK 23
---
DEVELOPING TALENT MEET OUR CHEFS

What I'm loving

this season

•

David Siddall is the Executive Chef at Barclaycard Arena, the world class music and

entertainment venue that provides a best-in-class customer experience. Relatively new to the

team, David has looked after the Arena's catering for two years and strives to keep his dishes

simple and consistent. The knowledgeable chef is proud to always use the very best seasonal

ingredients and at this time of year loves nothing more than garden peas, British summer berries

and fresh strawberries. Glorious speaks to the chef who loves what he does.

David has vast experience having worked for

large caterers, in hotels and under some of

the biggest names in the chef world. He has

modelled his high personal standards from

his years of work and strives to always have

consistency with everything that comes

out of his kitchen. The down-to-earth chef

approaches each day with the ultimate aim

of achieving the very best with ingredients

that are fresh and in season. His journey to

where he is today is not an unusual one in

the hospitality industry but it is inspiring and

passionate story.

"It all began with a bad experience at a

retailer who specialises in cars and bikes.

I went there for an interview for my

work experience whilst at school.

The interview was poor and took

place on the shop floor. Even at

a young age I knew this wasn't

professional and instead found

an alternative experience at

a local steakhouse. This is

where my love of catering

started and I have never

looked back."

At the age of 15 David

worked part-time on the

pot-wash, a vital but

underappreciated

cornerstone of

hospitality.

"This was back when you could work late into

the evening on a school night. I soon moved

onto starters and sweets, then the grill and I

enjoyed every minute." Having completed

a three year course at Birmingham College

of Food, specialising in catering butchery

and larder preparation in his last year, David

joined Midland Hotel as a Commis chef.

On his return to the UK, David joined a two

Rosette restaurant in London and also helped

on a hotel opening. All of these experiences

have prepared David for the quality he would

eventually bring to Amadeus.

"I have cooked for Michel Roux

Senior and Gordon Ramsey

using their recipes for

their respective book

launches and have

worked round the

country providing

live demonstrations.

Cooking for these

chefs in the upper

echelons of the

culinary world

was a privilege

but also nerve

wracking

experience.

I remember

a time when I

had to present

24 GLORIOUS
---
MEET OUR CHEFS DEVELOPING TALENT

the sauces for Michel Roux Snr's cookbook.

Luckily, he enjoyed them! Following this I

gained experience working at large venues

and events including the Millennium Stadium

in Cardiff and the Ryder Cup in Ireland. I went

on to become Executive Chef at Aubrey

Allen and looked after all food aspects of the

company's outside catering."

All of these experiences have provided

David with the passion, skill, leadership

and creativity needed for any successful

Executive Chef.

"Amadeus is my first Executive Chef role at

a foodservice company so the challenge for

me at the beginning was to understand all of

the policies and processes. It has taught me

to always think ahead and this is invaluable

for a busy chef brigade and busy kitchen.

Being spontaneous will always be needed,

as things do change, but having to deliver a

consistent offer means planning is required.

We do this with skill and look at the creativity,

seasonality, menu development and the

customer. From a John Legend concert to a

Ricky Gervais stand-up show, we have a food

offer which suits the crowd."

David's team includes a Head Chef, Deputy

Chef and two regular chefs who together

all look after the food offers in the indoor

sporting and entertainment venue in

Birmingham. "We're a good team and get

on really well. We know each other very

I remember a time when I had to present

the sauces for Michel Roux Snr's cookbook.

Luckily, he enjoyed them!

David Siddall

Executive Head Chef, Amadeus

AMADEUSFOOD.CO.UK 25
---
DEVELOPING TALENT MEET OUR CHEFS

well and constantly communicate so there

is never any bitterness. We're also all over

40 years old so that may help too! There

is a real sense of unity and my Head Chef

and Deputy Chef have been here for over

20 years combined. Their knowledge and

knowhow has been essential for me as I got

to know the business. "

Today David always maintains the excellent

food and beverage offer at Amadeus and

keeping consistency is always the main

objective. "I've been trained a certain way

which means my personal standards are

very high. I keep it simple and use the food

that's in season to produce delicious menus

that the customers will enjoy. It is this honest

approach that shows David's authenticity.

As leader in the kitchen at the Barclaycard

Arena, David says he's also very privileged

and thankful for his team who provide him

with inspiration. "They have helped me, being

a sort of newbie compared to their years

here. In return I hope I inspire them by always

asking for their input and making sure they

feel valued and supported."

Consistency is always an invaluable trait for

catering on larger scales as David explains.

"From the first customer through the door

to the 500th the food offer has to be exactly

the same. As a chef you never stop learning

and experiencing new things, so I'm always

looking at trends, the menus and our offer.

However without stability and a consistent

offer, none of the other stuff really matters. It

is all about the customer experience and for

one of the busiest, large-scale indoor venues

in the world, this is essential."

"During my time at Amadeus a number

of great events stand out such as The Davis

Cup and the British Veterinary Association.

We have looked after and catered for some

of the best and biggest events in the country.

I am privileged when a client comes back

with great feedback, wants to rebook and

increases their numbers for the next one.

It shows we have gone beyond what they

expected and they can't wait to return."

At home David looks after 95 per cent of

the cooking and uses his extensive travels to

influence the dishes. From traditional British

to Japanese, India and Korean, David enjoys

new trends and keeps a close eye on various

markets. "In Birmingham we have witnessed

a rise in Korean food which I would have

"

I've been trained a

certain way which means

my personal standards are

very high. I keep it simple

and use the food that's

in season to produce

delicious menus that the

customers will enjoy .

26 GLORIOUS
---
AWARD WINNING GIN FROM THE SILENT POOL IN SURREY

Now available at Majestic and Waitrose stores nationwide.

www.silentpooldistillers.com
---
DEVELOPING TALENT MEET OUR CHEFS

INGREDIENTS (SERVES THREE)

3 bone rack of lamb (French trimmed

to one bone)

500ml lamb stock

100g butter

5 x asparagus spears

75g broad beans (peeled)

150g carrots (new season)

1 x banana shallot (finely diced)

100ml white wine

30g black olives (chopped)

1 x large Desiree potato

1 x sprig of rosemary

Salt and pepper

METHOD

Pre-heat the oven to 190˚C and peel the

potato and shape into a round puck.

Place 300ml of lamb stock into a

cooking dish and add three quarters

of the potato and the rosemary. Place

30 grams of butter on top of the rest of

the potato, cover with foil and cook in

the oven for 20 minutes. Once done

thought is linked to the high student numbers

coming to the city and because it's so healthy."

David is also very proud that his freezer only

contains a couple of items, "I like to keep things

fresh, all we have in there are peas, bread,

chips and fish fingers! I'm a strong believer that

cooking healthy meals at home can help make

a positive impact on the obesity crisis we have

been observing in the country. My worry for

society is the reliance on 'ping' meals which

parents give to their children; I understand they

are busy and tired from work but a microwave

meal is not good for the future."

David is a rounded family man and

modestly enjoys what he does and is

passionate about providing a quality food

offer. The experienced chef is also clearly

aware that how society eats is going to

impact on the future customer in the country.

With this knowledge he'll ensure a healthy

quality offer is always provided.

The Barclaycard Arena is a top choice

for music stars and has hosted the likes of

Justin Bieber, One Direction and Madonna.

In addition, it welcomes a variety of family

entertainment events from Disney On Ice to

Strictly Come Dancing.

Visitors to the Arena can expect a vast

food offer that has been created to suit the

demographic who are attending. David

explains how they keep it simple which so

many people enjoy, "There is nothing better

than a simple meal full of goodness – rack

of individual lamb, butchered by my team,

buttered fondant potato and purple sprouting.

Strong in season flavours are always a winner.

I don't like to complicate it and cook what

people can relate to. A menu that people can

understand, such as my seasonal lamb recipe

– a delicious home cooked meal."

TO FIND OUT ABOUT CATERING

OR THE UPCOMING EVENTS AT

THE BARCLAYCARD ARENA VISIT

BARCLAYCARDARENA.CO.UK

28 GLORIOUS
---
One bone rack of

NEW SEASON LAMB

The flavour of lamb really develops as the year moves on. Pair with Evesham asparagus,

broad beans, buttered rosemary fondant Desiree, carrot puree and black olive sauce.

remove the foil and carry on cooking

until golden brown on the top and soft

underneath.

Peel and cut carrots into one inch length

pieces, add 20 grams of butter,

salt and a splash of water and cover in foil.

Cook in the oven for around 30 to 40

minutes until the carrots are soft. When

finished bleed the carrots until smooth.

Peel asparagus and blanch in salted water for

three minutes.

Seal the lamb rack in pan until golden all

over and place in the oven for 12 minutes

– this'll come out medium rare so cook for

longer if preferred. Once the lamb is done,

remove from the oven and allow to rest.

In the same pan that the lamb was cooked

in, drain the fat and add the wine and shallots.

Allow to reduce by two thirds, then add

100ml lamb stock and reduce again by half.

Remove from the heat and stir in 10 grams of

butter, pass this through a fine sieve and add

chopped black olives.

Plate the dish and you're ready to go.

AMADEUSFOOD.CO.UK 29
---
THE TEAM MEET THE MANAGERS

Meet the team

Glorious speaks to Amadeus' General Managers across the

business to find out how their job roles differ

•

2017 marks five years of leadership for Kevin Watson as Managing Director

of Amadeus. During this time the business has achieved an incredible amount

and competitors are now keeping a keen eye on the growing, successful

company. It would be nothing without its passionate team of General Managers –

here we take a look at each of their respective parts of the business.

A WORD FROM KEVIN

"When I became Managing Director in 2012, I took

the opportunity to remodel the business from the

top down, handpicking an entirely new management

team who shared my vision to make Amadeus a

£50m business.

"The strategy was simple: to achieve more

transactions and increase spend per head across the

NEC Group's home venues.

"How did we set about doing this? Over five years,

we have invested £3.8m in technology designed to

enhance the customer experience across the Group

and put us ahead of our competitors. Since 2012 we

have also overhauled the F&B offering across the Group

spending £2.5m on refurbishments and developing

new retail focused dining concepts.

"An innovative staff training programme has helped

to further transform the customer experience across

the Group: 'Service that Sells' moves from a service

to sales-led culture by training staff to learn what a

customer wants and to make recommendations to aid

the decision-making process. The scheme is paying

dividends with increased spend per head delivering

7% year on year growth, and customer service ratings

across Group venues exceeding 80%.

"Looking beyond our core NEC Group venues, I

also saw the potential to significantly grow our external

venue and events business – over the last few years this

side of the business has grown exponentially.

"Five years on, Amadeus has grown from a £25m

– £42m business and I'm proud to say that this year

represents the strongest in Amadeus' 40-year history."

30 GLORIOUS
---
MEET THE MANAGERS THE TEAM

PAUL BATE, GENERAL

MANAGER FOR AMADEUS

AT THE NEC

talks about the challenges of catering for

2.4 million visitors each year

The NEC hosts over 500 events every year

and welcomes 2.4million visitors annually.

With each show – from the popular public

events such as Crufts to the four-day Spring

Fair trade show that takes over every hall in

the venue – comes a different profile, which

in turn creates varying demands for what the

customer wants to eat.

Paul has driven growth of £1m profit

(+27%) in the last financial year. This is largely

down to a number of new concepts he has

spearheaded as General Manager.

Paul oversaw a £1.4m refurbishment of the

food 'pods' in halls 1, 3 and 4 and introduced

The Edge concept with four different food

offerings – EvViva (Italian), Butcher and

Grill (American), The Oak Kitchen (British)

and MADE Café (grab and go). The Edge is

currently delivering growth of 14% spend per

transaction and will be rolled out across all

exhibition halls by 2020.

Paul has also developed a range of mobile

concepts following extensive research. The

mobile catering units are perfect for catering

for massive spikes in exhibition attendance and

this allows the team to be flexible, providing

bespoke catering solutions to each individual

show that matches the visitor profile.

The six pop up concepts in operation are:

l Puor – healthy eating dishes using

"superfoods" that support the body's ability to

function at its optimum capacity

l MADE – grab and go, featuring deli

sandwiches and a range of scrumptious

desserts made fresh daily

l The Big Cheese – a much loved classic

combination of toasted bread and melted

cheese with a modern twist on flavours and

cooking methods

l Burrito Cantina – authentic flavours of

Mexico, served in a Burrito, naked or with

tortilla chips

l Carnivore Club – prime joints, marinated for

a minimum of 48 hours before being cooked

and glazed 'slow n' low' style

l Taco Fusion – An eclectic range of flavours,

cooking styles and ingredients served in a

Mexican inspired wrap

Paul said: "The biggest improvement during

my time here is the change in approach.

In the last 18 months, we have invested in

two Starbucks, three Edge Restaurants with

another four to launch this summer and six

new mobile concept kits. This is an investment

close to £4.5 million, something I don't believe

the venue would have seen before Amadeus.

"On a busy show day we can have multiple

events on site, on these dates I will block out

© SM PHOTOGRAPHY

time in my diary to tour the catering areas

within these events spending time with the

Key Account Team, Operational Managers,

Senior Chefs and our Service Partners. This

ensures I view any challenges first hand and

can work with my team in overcoming them.

"I can't wait to see the customer reaction

to the new mobile concepts. As we continue

to improve the experience I see the NEC

constantly developing in numbers and style of

events. It is an exciting time and I can only see

positive growth in the live events sector."

AMADEUSFOOD.CO.UK 31
---
THE TEAM MEET THE MANAGERS

CRAIG HANCOX,

GENERAL MANAGER FOR

AMADEUS AT THE ICC

tells Glorious how new projects are making

the difference at the venue

Quality food in a conference setting is one

of the key talking points when it comes to

the ICC and sets the venue apart from its

competitors. It offers different levels of food

– silver, gold and platinum – and can host

meetings, conferences for up to 8,000 or

banquets for up to 900.

General Manager Craig Hancox has driven

growth of £0.6m (+22.5%) for Amadeus

at the ICC in the last financial year due to

a greater focus on conference catering

conversion and banqueting.

The team has looked to differentiate its offer

by a number of different projects including:

l Food for the Brain accreditation – The ICC

became the first conference centre in the UK

to gain accreditation from Food for the Brain

– an educational charity which promotes

the importance of nutrition in mental health

and well-being. The accreditation recognises

that the ICC and Amadeus has achieved

high standards of nutritional excellence

and its menus support mental well-being

concentration and performance.

l New tableware – has been introduced

based around free flowing, organic concepts

and drives a new style of food presentation

for the ICC which is designed to enhance the

fresh, great tasting food. It moves from the

standard white china to a range of various

shapes, colours and sizes and is cutting edge

in a large scale banqueting environment

where everything is usually uniformed.

l Starbucks extensive refurbishment – the

Starbucks store at the ICC has increased

customer seating from 79 to 137 covers

and an additional coffee bar has increased

serving capacity by 50%. The design includes

improved working areas for visiting delegates

and an area to accommodate larger group

meetings and support a number of local

community clubs that meet at the ICC

regularly. To further improve customer service

at the store, table service is also available, so

customers never have to leave their seat.

Craig explains how Amadeus has grown

since he started 12 years ago, "The last six years

have really seen the most dramatic change,

with technology now being prominent in the

way we run our businesses. In the early days

with Amadeus there were many manual time

consuming processes preventing caterers

from working with customers to deliver great

food and service, the development of core

systems has allowed us the time to innovate

and improve our services over recent years

and become more customer focused."

"I have an amazing team around me

at the ICC and I'm privileged to be the

General Manager at such a great venue. My

day-to-day activities switch between sales,

innovation, compliance and cost control.

The day usually begins with a conversation

with Simon Hellier, our Executive Chef – he

starts around 6am most days, so he always

has plenty to say when we catch up in the

morning! I like to walk around the venue

and catering locations at least once each day,

spending time with our chefs and front of

house management team ensuring we meet

the standards we expect of ourselves."

Following these projects Craig is looking

forward to exciting future developments. "I

believe our speed of growth will increase as

we consolidate our achievements, giving us

the capacity to move onto an even bigger

platform. We'll also keep our strong client

relationships to ensure longevity and win

many new contracts.

"My personal view for the future is a large

focus on healthy eating and maximising

energy levels and mental ability through eating

the correct foods. British farming will thrive

and our food content will need to be heavily

influenced by these factors. Diners' knowledge

of food will continue to develop resulting in

the invention of new cooking techniques for

largescale banqueting, we will become more

adventurous in food production ensuring the

thrill of eating out remains."

32 GLORIOUS
---
Photo Experiences & Creative Events

Photobooth 2.0 / Selfiebox / Polabox / Live Events

www.flashmat.co.uk / contact@flashmat.co.uk
---
W www.furnitureonthemove.co.uk

E info@furnitureonthemove.co.uk

T 0845 459 9875

Photo courtesy of Adobe Summit

Designed and managed by Taylor Bennett Partners

▶ Flat rated delivery any

time of day or night

▶ Full installation service

▶ Unique pieces in fantastic condition

▶ New catalogue, showreel and

price list available now
---
MEET THE MANAGERS THE TEAM

EMMA PATTIE, GENERAL

MANAGER FOR AMADEUS AT

THE VOX CONFERENCE CENTRE

talks about her highlights working for the business

The ICC's sister venue, the Vox, has

experienced a phenomenal two years of

growth since opening in 2015. Like the ICC,

its catering is second to none, and the team is

adept at catering for up to 900 delegates and

guests on any one day. Last year, banqueting

was a huge success for the Vox, and together

with the ICC, they have delivered over 230

banqueting events for 71,500 delegates,

resulting in a combined revenue in excess of

£5m across both venues. Here, Glorious talks

to Emma about her recipe to success.

What are the biggest improvements you

have seen during your time at Amadeus?

"When I started at the Vox everything felt

fresh with it being such a new venue to

the portfolio. A new team and lots of new

clients. Every day was a learning day as we

developed our standards and operating

styles and bonded as a team. The changes

and improvements that were being

implemented throughout became our norm

as we weren't comparing to how things had

worked or operated previously. We were

benefitting from the changes without really

knowing the challenges some of our teams

had faced previously. I love the fact that I

work for a forward thinking company with

constant improvement plans or innovative

ideas being raised and worked on."

What does your day-to-day consist of?

"I can honestly say I don't have a consistent

day to day routine as we have some fantastic,

diverse events on in the venue that ensure

our days are never the same. There is

however the same point of focus through

my day – the people, whether that is my

team, our colleagues in the events team and

technical teams and of course our customers

and clients. I can be operational managing

dinners for up to 850, drinks receptions and

parties for up to 1,600 or looking after our

executive board for 16 in one of our fantastic

boardrooms. On quieter operational days

we hold a huge volume of client menu

tastings and planning meetings."

What is the biggest strategy that you

have implemented as GM?

"At the Vox we really strive to exceed our

customers' expectations and create a unique

experience for our guests. The aim is that

they enjoy something they firstly wouldn't

expect and secondly will make them talk

about us and return to the venue. I am very

lucky to have Executive Head Chef Aaron

Johnson working with me and together we

ensure our clients requirements come to life.

I believe this strategy makes us stand apart

from our competitors and improves our

retention as our customers feel valued."

What does the future of Amadeus look

like to you?

"Bigger and better! Amadeus has a huge

focus on growing its portfolio and the quality

of its staff. My aim is to position the Vox as

the best of its kind in the UK. I would love to

be part of a mobilisation team – providing

training, support and showcasing Amadeus

to its new staff and clients."

What is the best event you've worked

on at Amadeus?

"The largest and possibly the highest profile

event that we have held at the Vox was the

BBC Sports Personality of the Year pre-show

red carpet event and post-show party. The

planning and logistics for the event coupled

with the Genting Arena were vast and went

on for months prior to the event. The event

was a huge success and the team worked

fantastically together to deliver a very

memorable experience for all involved."

AMADEUSFOOD.CO.UK 35
---
THE TEAM MEET THE MANAGERS

ANNIE MONNOX,

GENERAL MANAGER FOR

AMADEUS AT THE

GENTING ARENA

talks about how the team gets their great results

Welcoming the world's best comedians,

sportspeople, singers, dancers and

everything in between, the Genting Arena

can host intimate academy events for 5,300

people, or hold almost triple that number for

the world's superstars with the total capacity

of 15,700.

Annie explains how they look after 100

shows per year and over 900,000 people,

"We have dark days where no event is being

held and we report and plan for future events.

Then there are the event days which consists

of making sure we deliver the very best

experience and there's also lots of walking!

Amadeus has grown in confidence and belief.

I realise that's a little cheesy but we are now

competing with larger catering companies

and winning contracts. We have the right

people in place to ensure we can drive the

business forward."

Annie describes some of the previous

successful strategies: "In 2014 we introduced

'beer bugs' – we now have 16 and they

have driven in excess of £200,000 with

minimal staffing costs. Another was the

Stowford Press Bar – this was originally four

food and beverage concessions and we

struggled to maximise revenue from them.

In 2016 we placed a bar counter in front of

the concessions to make one large bar and

introduced fast pour.

Since October 2016 this has generated

an additional £160,000 in revenue based

on comparable events. Contactless is a

growing trend with more people using this

to make payments. At Take That, May 2017

we launched our first contactless bar to great

results. We increased the speed of transaction

which resulted in doubling our transaction in

1

/2 hour compared to other bars, this meant

we increased revenue."

36 GLORIOUS
---
MEET THE MANAGERS THE TEAM

NICK COLE, GENERAL

MANAGER FOR AMADEUS AT

THE BARCLAYCARD ARENA

tells Glorious how the team tailor their catering

offer to different visitor profiles

The Barclaycard Arena is one of the

busiest, large-scale indoor sporting and

entertainment venues in the world and

accommodates everything from music,

sport and comedy, to family entertainment

and live theatre. Each year, the venue hosts

over 100 events and welcomes over half

a million visitors through its doors. As a

multi-purpose venue, it is extremely flexible

and the Arena's capacity can range from a

maximum of 15,800 down to 2,464 for more

intimate events.

Nick explains the focus for him and his

team, "We are focused and great at thinking

outside the box and always looking at clever

ways of increasing revenue, while ensuring

cost savings. We always ensure a smooth

and effective service is delivered and exceed

customer expectations."

"Our team understands each event has a

different personality and timings are also a

massive influence on the planning and final

revenue for the catering team. Amadeus

use direct and third party feedback from

customers and feed this into a database

of historic events for the same artist or

genre of music to enable the team to

make informed decisions that benefit the

customer experience."

The team are very focused on what the

customer wants and the retail food areas have

been developed following customer insight

and feedback which highlighted the lack

of brand concepts. A diverse food market

offering a range of flavours including English

(Great British Fish and Chips), Italian (Neo

Pizza), Middle Eastern (Theo's Street Food) and

premium burgers among others have now

been introduced at the Arena.

In addition, a number of adaptable kiosks for

pop-up trading outlets are also used including:

l Champagne bar

l MADE – handcrafted café

l Beer bugs

l Hotdog stands

"Hospitality at

the Arenas is run through

Amplify and the food

is provided by Amadeus.

There are three levels of

hospitality – Freestyle,

Club and Air."

AMADEUSFOOD.CO.UK 37
---
THE TEAM MEET THE MANAGERS

CATHY SCHOFIELD,

GENERAL MANAGER FOR

AMADEUS' REGIONAL VENUES

tells Glorious how Amadeus brings food and

beverage to life across its external portfolio

Steadily expanding the external business

since 2012, Amadeus secured a record

amount of contracts over the last year. Here,

Glorious talks to Cathy Schofield, General

Manager of Regional Venues, about how

Amadeus brings food and beverage to life at

its external venues with retail catering offers.

Why has Amadeus been so successful

in this market?

"Clients are increasingly choosing Amadeus

due to our bespoke approach which aims

to become 'one team with the client', our

sustainable sourcing policies and our ability

to capture a venue's personality through food

and beverage. This is illustrated by our venues

which includes Dudley Zoo and the Library of

Birmingham and others. We understand that

price is one of the main complaints visitors

make at attractions so concentrate on creating

branded and unique food concepts aimed at

making food and beverage part of the visitor

experience and enhance perceptions of value."

Can you tell us about a really successful

mobilisation?

"At Cadbury World a 'factory in the garden'

concept restaurant was created which draws

upon the chocolatier's rich history. The team

drives the menu development with chocolate

inspired options. Last year, £140,000 was

spent extending the café area and improving

the F&B offering in order to account for an

increasing amount of visitors wanting to use

the facility. Profit has increased by a third (33%)

over three years since Amadeus took on the

contract as it continues to look at customer

insight and develop its offer – for example, the

development of the Cadbury Cabin – a pop

up outside catering vendor that offers guests

another choice of F&B venue, especially

during the summer months."

What new contracts are you working on?

"Two of our newest venues to manage

are Delapré Abbey Preservation Trust and

Compton Verney Art Gallery both launched

this year. The Conservatory Café at Delapré

reflects the venue's 900-year history and

personality through its food and beverage.

The restaurant setting and menu reflects the

rich heritage, whilst also offering quality and

value for money. We also support the regional

economy through our choice of suppliers.

Similarly, The Compton Kitchen draws

inspiration from the 18th Century country

mansion and artistic masterpieces found

within the building. The team has also recently

mobilised a catering contract at the newly

named East of England Arena and Events

Centre in Peterborough to run all hospitality

and catering at the venue. The contract was

won due to the reputation of Amadeus as

experts in exhibition and arena catering and

the ability to change the food and beverage

offering based on delegate or visitor profile."

© 2013 JOHN CLEARY PHOTOGRAPHY

38 GLORIOUS
---
EASY

CHEF

by

JOHNSONS

STALBRIDGE

LINEN SERVICES

Hiring perfect chef wear is

as easy as

3, 2, 1...

3

2

1

0

Three great ranges of chef uniforms

Two weeks maximum wait for your order

One month notice if you change your mind

No additional costs

Now that's a fresh approach to linen hire!

CALL OUR EXPERT TEAM FOR A NO-OBLIGATION QUOTE:

t. 0800 093 9933

WWW.STALBRIDGE-LINEN.COM

AMADEUSFOOD.CO.UK 39
---
THE TEAM MEET THE MANAGERS

MATTHEW LAIRD, GENERAL

MANAGER FOR AMADEUS AT

BELFAST WATERFRONT AND

ULSTER HALL

talks about the food trends that are inspiring

his team

The importance of incorporating and creating

strong links with local communities is an

essential cornerstone as Amadeus establishes

its offer in the city of Belfast. Offering quality

products from local Belfast suppliers allow

the team's menus to constantly evolve.

Matthew Laird, sums up the team's

excitement, "It's a fantastic time for Amadeus

in Northern Ireland. The days of the 'safe'

food option at events are long over.

Tastes have become more sophisticated

and delegates expect a gastronomical

experience. With the rise of the 'foodie' and

the celebration of Northern Ireland Food

and Drink in 2016 – there is a lot on offer to

push the food journey at an event. Belfast is

fast becoming the perfect business tourism

destination for conferences and exhibitions

and there are many new hotels being built to

accommodate demand."

In addition to hosting world-class

conferences, Belfast Waterfront is home to

the best in live entertainment. Many of the

world's biggest acts (U2, Robbie Williams,

Sting), all-time music greats (Chuck Berry,

B.B. King), an array of pop sensations

(Westlife, One Direction) and a plethora

of world acclaimed opera legends (Dame

Kiri Te Kanawa, Katherine Jenkins) have all

taken centre stage at the Waterfront. The

Ulster Hall, an iconic music venue, has also

been at the forefront of Belfast's culture,

arts and entertainment for over 150 years.

Matthew's day-to-day involves everything

from managing catering requirements for

conferences and exhibitions, to setting up

and overseeing gala dinners for up to 1,000

people or ensuring the retail offering is set

up for auditorium shows for up to 2,200

people. "It is the variety of this and being able

to deliver successful events that I truly love

and enjoy."

"Our food focus is on provenance. This,

along with our expertise in exhibition,

conference, banqueting, event and retail

catering which features in these two contracts

– our desire to integrate catering with

technology solutions is what made Amadeus'

pitch stand out from the crowd. Events range

from a retail offering for the World Irish Dance

Championships that lasted a week and saw

12,000 people through the doors to catering

for Routes Europe and feeding the 1,000

delegates a fork buffet in the auditorium."

40 GLORIOUS
---
MEET THE MANAGERS THE TEAM

BEN CAMPBELL, GENERAL

MANAGER FOR AMADEUS AT

BELFAST CASTLE, BELFAST ZOO,

THE STABLES COFFEE SHOP

AND MALONE HOUSE

tells Glorious what his typical day entails

The second major win for Amadeus in

Northern Ireland sees Ben and his team

manage the catering for a number of

Belfast's most popular visitor attractions.

In particular, Belfast Zoo is one of Northern

Ireland's oldest and most popular visitor

attractions with the 55-acre site home to

116 species. Here, Glorious talks to Ben

about his recipe to success.

What does your day-to-day consist of?

My day begins at 7am touring my venues

one by one and setting daily objectives.

Around 10am I'll catch up on emails before

heading off to client meetings at various

venues. Every day at 5pm I also catch up with

all the managers at each venue location to

talk through any issues and look ahead to

the following days. On event nights, I'll be on

hand to make sure everything is delivered

to plan.

What is the biggest strategy that you

have implemented as GM?

In the short time I've been here, I have

looked to change the management structure

and reporting lines in order to allow

each venue's catering operation to run as

smoothly as possible. I have also moved to

a central production kitchen model based

out of Belfast Castle serving all of the events

business which has had a dramatic effect on

resource and efficiency.

What does the future of Amadeus look

like to you?

Looking to the future, I hope to grow our

event and retail sales by 60% across all the

four venues.

What is the best event you've worked

on at Amadeus?

One of the biggest events we have on

our radar this summer is Rose Week –

a celebration of the spectacular rose

garden at Sir Thomas and Lady Dixon Park

in July. Amadeus provides retail and

hospitality catering, which requires detailed

planning to ensure that we execute this to

the highest standard.

AMADEUSFOOD.CO.UK 41
---
THE TEAM MEET THE MANAGERS

SAM BATES, GENERAL

MANAGER FOR AMADEUS'

EXTERNAL EVENTS TEAM

tells Glorious about her varied and demanding

role that sees her travel all over the UK

Sam's role is to oversee Amadeus' external

events portfolio. This can range from

'greenfield' events where catering facilities

have to be set up from scratch, one off

standalone events for clients or conference,

banqueting and wedding catering for the

many different venues Amadeus works with.

The events team have worked on

everything from marquee weddings to large

corporate events and some of the world's

best sporting events over the last year. What's

more, the team has also more than doubled its

revenue in the last financial year.

Sam has focused solely on the events side

of the business since managing Amadeus'

catering operation at Olympic Park North

in 2012.

In 2016, Amadeus' standalone events team

went overseas for the first time,

delivering an event for JCB at trade fair Bauma

in Munich. Three of the Amadeus team visited

the local area first to find the best wholesale

supermarkets and investigated popular

German dishes and products to understanding

the food culture of Munich and Bavaria.

At Bauma 2016, Amadeus demonstrated that

they can provide delicious catering on grand

scales abroad and the future now brings

with it more opportunities to cater at various

international locations.

Sam said: "Many great events stand out

for me. We look after major sporting events,

weddings at beautiful Stoneleigh Abbey and

also for clients such as JCB. Whether we're

catering for the general public at a live event or

for a fine dining banquet for Heads of State, we

ensure a tailored, quality solution is provided

for each and every client.

"Our main aim is our guests have a great

experience. Sometimes the events we cater

for are almost white-label under our clients

but we always ensure the catering is of a great

standard. This is slightly different to say the NEC

where everyone knows we are the caterer, for

some of the external events the guests may

not always be aware. With our experience we

do truly know how to provide a great event.

Our commitment is clear whether it's for a

wedding or a golf tournament. It's important

to make sure we look after everyone from

the hospitality suites to the marshal rest areas.

Everyone's there for a reason and we always

have to make sure we provide them with the

best experience."

42 GLORIOUS
---
AMADEUS CALENDAR OF EVENTS

CALENDAR OF EVENTS • PUBLIC AND TRADE

The comprehensive guide to the upcoming shows and events this season

14•10

J. Cole

14•10

Legends Live

25•10

Emeli Sandé

18•11

Royal Blood

21•11

James Blunt

www.thenec.co.uk

www.barclaycardarena.co.uk

www.gentingarena.co.uk

CALENDAR OF

EVENTS

AUG

UNTIL23AUG

l DINOSAURS IN THE WILD, NEC

3

l CÉLINE DION,

BARCLAYCARD ARENA

6–8

l MODA UK, NEC

10–13

l THE FESTIVAL OF QUILTS, NEC

12–13

l PAW PATROL LIVE!,

BARCLAYCARD ARENA

18

l MIRANDA LAMBERT,

BARCLAYCARD ARENA

20

l TOY COLLECTORS FAIR, NEC

OSA IMAGES

Legendary music icon Céline Dion returns to the UK and Europe for the first time in over

eight years, including her triumphant return to Birmingham on 3rd August!

l 3 AUGUST

Celine Dion,

Barclaycard Arena

25–28

l INSOMNIA61 –

UK'S BIGGEST

GAMING

FESTIVAL, NEC

26

l OPEN MIC UK

BIRMINGHAM MUSIC

COMPETITION, NEC

SEPT

2–6

l AUTUMN FAIR

2017, NEC

l 18 AUGUST

Miranda Lambert,

Barclaycard Arena

AMADEUSFOOD.CO.UK 43
---
NATIONWIDE

TEMPORARY

STAFF

SERIOUS STAFFING SOLUTIONS

Stand out from the crowd

with a first class service

Hospitality staff, exhibition staff, event riggers,

event managers, waiting staff

envisagepromotions.co.uk

@envisagepromote
---
AMADEUS CALENDAR OF EVENTS

CALENDAR OF EVENTS • PUBLIC AND TRADE

The comprehensive guide to the upcoming shows and events this season

SEPT

9

l NOORAN SISTERS,

BARCLAYCARD

ARENA

11–13

l GLEE, NEC

12–13

l AVEX

INTERNATIONAL

2017, NEC

12–13

l CHANNEL LIVE,

NEC

12–14

l RWM, NEC

16

l DA-BANGG WITH

SALMAN KHAN,

BARCLAYCARD

ARENA

16–17

l THE BIRMINGHAM

CRUISE SHOW, NEC

20

l JOHN LEGEND,

BARCLAYCARD

ARENA

20–21

l THE EMERGENCY

SERVICES SHOW

2017, NEC

22–24

l A PLACE IN THE

SUN LIVE, NEC

22–24

l THE CYCLE

SHOW, NEC

23

l G-DRAGON,

GENTING ARENA

24

l BIRMINGHAM

VELO, BARCLAYCARD

ARENA

26–28

l INTERPLAS 2017,

NEC

l 20 SEPTEMBER

John Legend,

Barclaycard Arena

l 9 OCTOBER

Lady Antebellum,

Barclaycard Arena

Formed in Nashville, Tennessee in 2006, the group have had more than 18 million album sales worldwide

and are seven-time GRAMMY award winners.

The sisters, Jyoti and Sultana are without a doubt the most amazing

and exciting act to come out of Panjab in recent years. With their full

live band they bring a night of exquisite Sufi/Qawali/Fusion music.

l 9 SEPTEMBER

Nooran Sisters,

Barclaycard Arena

Acclaimed, multi-platinum selling, Oscar, Golden Globe, and 10x Grammy Award winning singer/

songwriter John Legend, will be hitting the Barclaycard Arena on 20 September with his biggest tour yet –

'Darkness and Light'!

AMADEUSFOOD.CO.UK 45
---
CALENDAR OF EVENTS AMADEUS

l 4–8 OCTOBER

Horse of the Year

Show, NEC and

Genting Arena

Multi-platinum-selling artist J. Cole will be hitting the road with his "4 Your Eyez Only" Tour, stopping at the

Barclaycard Arena on 14 October.

26–27

l MICRO NANO MEMS, NEC

26–27

l SENSORS & INSTRUMENTATION, NEC

26–28

l TCT SHOW – ACCELERATING

3D TECHNOLOGIES, NEC

26–28

l PPMA SHOW 2017, NEC

29SEPT–1OCT

l THE NATIONAL WEDDING SHOW, NEC

30

l THE AUSTRALIAN PINK FLOYD SHOW 2017,

BARCLAYCARD ARENA

l 14 OCTOBER

J. Cole,

Genting Arena

OCT

3–4

l FLEET

MANAGEMENT

LIVE 2017, NEC

3–5

l SOLAR & STORAGE

LIVE 2017, NEC

4–5

l RECRUITMENT

AGENCY EXPO,

NEC

4–5

l COACH &

BUS UK, NEC

4–5

l TYREXPO UK

& GARAGEXPO

UK 2017, NEC

4–8

l HORSE OF

THE YEAR SHOW,

NEC AND

GENTING ARENA

Birmingham welcomes back the world's biggest girl group Little Mix to the Genting Arena, with their brand new Glory Days Tour!

l 13 OCTOBER

Little Mix, Genting Arena

7

l I LOVE THE 90'S,

BARCLAYCARD

ARENA

8–9

l TRADE DAYS, NEC

9

l LADY

ANTEBELLUM,

BARCLAYCARD

ARENA

10–11

l CARE SHOW, NEC

10–12

l UK CONSTRUCTION

WEEK, NEC

11–15

l GRAND DESIGNS

LIVE BIRMINGHAM,

NEC

12

l GROUP LEISURE &

TRAVEL SHOW, NEC

46 GLORIOUS
---
AMADEUS CALENDAR OF EVENTS

CALENDAR OF EVENTS • PUBLIC AND TRADE

The comprehensive guide to the upcoming shows and events this season

Celebrate the most memorable Disney tales with all your favourite characters in Disney On Ice presents

Passport to Adventure.

l 18–29 OCTOBER

Disney on Ice presents Passport to Adventure, Barclaycard Arena

l 14 OCTOBER

Legends Live, Genting Arena

12

l LADY GAGA,

GENTING ARENA

12

l IMPRACTICAL

JOKERS 'WHERE'S

LARRY?' TOUR,

BARCLAYCARD

ARENA

13

l LITTLE MIX,

GENTING ARENA

13

l NEIL DIAMOND,

BARCLAYCARD

ARENA

14

l LEGENDS LIVE,

GENTING ARENA

14

l J. COLE,

BARCLAYCARD

ARENA

15

l LADY GAGA,

BARCLAYCARD ARENA

15

l NEIL DIAMOND,

GENTING ARENA

17–22

l THE MOTORHOME

AND CARAVAN

SHOW 2017, NEC

17–18

l THE WORLD

OF LEARNING

CONFERENCE &

EXHIBITION, NEC

18–29

l DISNEY ON ICE

PRESENTS PASSPORT

TO ADVENTURE,

BARCLAYCARD ARENA

19–21

l BDIA DENTAL

SHOWCASE 2017, NEC

l 25 OCTOBER

Emeli Sandé, Genting Arena

The Legends Live arena tour 2017, features Suzi Quatro, David Essex, The Osmonds and Hot Chocolate.

This show is not to be missed when it heads to the Genting Arena this October!

Emeli Sandé heads to Birmingham's Genting Arena in October

2017. The tour in support of Emeli's hugely acclaimed second studio

album "Long Live The Angels" is not one to be missed.

AMADEUSFOOD.CO.UK 47
---
CALENDAR OF EVENTS AMADEUS

The Vaper Expo is Europe's biggest and best vape event attracting exhibitors and visitors worldwide.

l 30 OCTOBER

Metallica,

Genting Arena

l 27–29 OCTOBER

The Vaper Expo, NEC

l 7 NOVEMBER

WWE Live, Barclaycard Arena

The unique brand of action packed entertainment is returning to the Barclaycard Arena in November 2017.

Fans will be able to see all their favourite WWE Superstars live in action all under one roof.

OCT

21–22

l DIVE 2017, NEC

22–23

l BPM PRO 2017 –

SOUND + LIGHTING,

DJ + STUDIO EVENT,

GENTING ARENA

25

l EMELI SANDÉ,

GENTING ARENA

26–29

l BRICKLIVE

BIRMINGHAM, NEC

27–29

l THE VAPER

EXPO, NEC

28–29

l HELLOWORLD,

GENTING ARENA

30

l METALLICA,

GENTING ARENA

31OCT–

3NOV

l IPEX 2017, NEC

NOV

1–2

l SALTEX, NEC

1–2

l ADVANCED

ENGINEERING

2017, NEC

2–5

l STITCHING, SEWING

& HOBBYCRAFTS, NEC

2–5

l SIMPLY

CHRISTMAS … THE

CRAFTY CHRISTMAS

SHOWCAKE

INTERNATIONAL, NEC

3–5

l CAKE

INTERNATIONAL, NEC

3–4

l NATIONAL

GRADUATE

RECRUITMENT

EXHIBITION, NEC

3–5

l MIND BODY

SPIRIT WELLBEING

FESTIVAL, NEC

4

l JAMIROQUAI,

BARCLAYCARD ARENA

6–7

l THE KILLERS,

GENTING ARENA

7

l WWE LIVE,

BARCLAYCARD ARENA

8–9

l HIGHWAYS UK, NEC

9

l AUTOMOTIVE

MANAGEMENT

LIVE, NEC

48 GLORIOUS
---
AMADEUS CALENDAR OF EVENTS

CALENDAR OF EVENTS • PUBLIC AND TRADE

The comprehensive guide to the upcoming shows and events this season

With the release of their eagerly anticipated second album 'How Did We Get So Dark?', Royal Blood have

announced their biggest headline tour to date.

It has been an extraordinary six months for James Arthur. After

returning with his single Say You Won't Let Go, James has gone onto

achieve multiple #1s, a Platinum selling album, sold out tours and

two BRIT's Nominations. Now he embarks on his first arena tour.

10–12

l JOHN BISHOP,

BARCLAYCARD

ARENA

10–12

l LANCASTER

INSURANCE CLASSIC

MOTOR SHOW, NEC

11

l FREE RADIO

LIVE 2017,

GENTING ARENA

13

l BLONDIE,

BARCLAYCARD

ARENA

14

l ALICE COOPER,

BARCLAYCARD ARENA

16

l TLC, BARCLAYCARD

ARENA

16–18

l THE SKILLS

SHOW, NEC

16–19

l FESTIVE GIFT

FAIR, NEC

17–18

l LITTLE MIX,

GENTING ARENA

17

l DEEP PURPLE,

BARCLAYCARD

ARENA

18

l ROYAL BLOOD,

BARCLAYCARD

ARENA

l 29 NOVEMBER

Stone Sour, Barclaycard Arena

l 18 NOVEMBER

Royal Blood, Barclaycard Arena

18–19

l MCM BIRMINGHAM

COMIC CON, NEC

18–26

l MOTORCYCLE LIVE

2017, NEC

19

l DEPECHE MODE,

BARCLAYCARD

ARENA

21

l JAMES BLUNT,

BARCLAYCARD

ARENA

22–23

l OCCUPATIONAL

THERAPY SHOW,

NEC

23

l BANANARAMA,

BARCLAYCARD

ARENA

23–26

l BBC GOOD

FOOD SHOW,

NEC

24

l ENTER SHIKARI,

BARCLAYCARD

ARENA

Heavy metal's Stone Sour have announced a major UK tour this winter, and will be hitting the Barclaycard

Arena 29 November, with support from The Pretty Reckless.

l 25 NOVEMBER

James Arthur, Genting Arena

25–26

l WARLEY,

NATIONAL

MODEL RAILWAY

EXHIBITION, NEC

25

l JAMES ARTHUR,

GENTING ARENA

25–26

l THE 2017

BIRMINGHAM

INTERNATIONAL

TATTOO,

BARCLAYCARD ARENA

27

l ELVIS IN CONCERT,

GENTING ARENA

29

l STONE SOUR,

BARCLAYCARD

ARENA

30

l QUEEN +

ADAM LAMBERT,

BARCLAYCARD

ARENA

LISTINGS CORRECT

AT TIME OF GOING

TO PRINT.

AMADEUSFOOD.CO.UK 49
---
TEAM WORK CATERING OPERATIONS

MADEmy day

Glorious speaks to Alison Smith, Catering Operations Manager

at the iconic and busy Library of Birmingham.

What do you enjoy most about your role?

I manage a team of ten at the Library and

really enjoy creating a great team within a

happy venue. With reports and feedback the

team can see what they can achieve and I

take great pride in being known as a leading

venue due to our customer service skills and

compliance results.

What are the biggest improvements you

have seen at the Library of Birmingham?

During my time at the Library I have seen an

improvement in compliance training which

makes the team feel more confident in their

role within the Library and Amadeus. The

access and ease to complete these courses

enables the team to learn without it feeling

like a chore. Amadeus also have several other

initiatives which really help the team come

together and we all feel part of the whole

Amadeus family, even as a regional venue.

What draws customers to the iconic location?

Many visitors come to view the architecture

and the terraces and often students attending

classes at Brasshouse Language School

visit as we are based in the same building.

We are looking forward to 2018 where the

new family friendly park area is due to be

finished in Centenary square. This will bring

many even more visitors to our venue.

How to do you measure success?

We measure success through the customer

feedback we receive. We are delighted to

have been awarded the highest mystery

shopper score within Amadeus. Positive

feedback and the high scoring results from

the visit really energise all of us to always

ensure we offer the very best service.

How does Amadeus ensure regional

venues feel a part of the family?

Many of us have worked at other locations

where the catering is run by Amadeus.

Before moving here I was based at the

ICC and since moving I always felt part of

the whole Amadeus team. Our venue has

constant communication with the wider team

and this ensures we are synced. We are a

regional venue but part of a strong overall

team culture.

We are delighted to

have been awarded the

highest mystery shopper

score with Amadeus

50 GLORIOUS
---
Welcome to the Wonderful World

of Lick Me I'm Delicious

Incredible installations to make your event awesome.

We can create any flavour, any colour, we can cater for

100 - 2000 people at corporate events, private events, weddings,

pop-ups and parties on the moon.

bookings@lickmeimdelicious.com

020 3637 1206

AMADEUSFOOD.CO.UK 51
---
FIREWORK

DISPLAYS

LIGHTING UP THE SKIES AT ANY EVENT

OFFERING A COMPLETE, PROFESSIONAL FIREWORKS SERVICE

Flashpoint Fireworks is an established firework company based near Guildford.

We are an award winning firework display company who provide displays nationwide

for councils, companies, concerts, weddings, parties and the general public.

Visit our website or give one of our friendly staff a call for a full quotation.

www.flashpoint-fireworks.co.uk

01483 417475