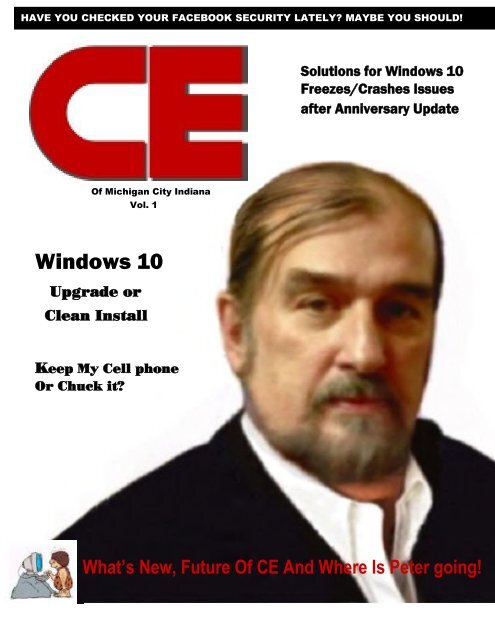 CE 1st edition Magazine
Easy to read 'Computer-how-to' with out an engineering degree!
Easy to read 'Computer-how-to' with out an engineering degree!
SHOW MORE
SHOW LESS
You also want an ePaper? Increase the reach of your titles
YUMPU automatically turns print PDFs into web optimized ePapers that Google loves.
HAVE YOU CHECKED YOUR FACEBOOK SECURITY LATELY? MAYBE YOU SHOULD!

Solutions for Windows 10

Freezes/Crashes Issues

after Anniversary Update

Of Michigan City Indiana

Vol. 1

Windows 10

Upgrade or

Clean Install

Keep My Cell phone

Or Chuck it?

What's New, Future Of CE And Where Is Peter going!
---
Thanks to all who contributed to CE

Magazine. Have an article you would like

contribute? You can mail it to:

CE, P.O. Box 8619

Michigan City In 46360

Or E-Mail it to

computerease@juno.com

CE Magazine is part of OtherSide Ministries © all rights

reserved

Founder & Chief Editor

Peter Nadal

Editor

Pamela Kennoy

Art & Design

Peter Nadal

In our First Issue Vol. 1

5 Hey Pete! On this issue "How to

reset Windows 7 login password.

8 Windows 10 Up grade or Clean

install is a question that gets

asked a lot and the answer is…

11 Biz Cards board!! Hey its free

12 Keep My Cell Phone or Chuck it?

Now you will have a alternative to that

question!

14 Secret Scroll Tip

15 Peter Nadal Creator of CE Magazine

A Chat with the Man himself by

Rodrigo Esperanza

18 Set up public Wi-Fi at you business

By Eric Geier Contributing Writer, PCWorld

22 Facebook Security is a discussion that

is been talk about by every Facebook

user.

25 Solutions for Windows 10

freezes/Crashes Issues after Anniversary

Update

28 You're online and you get this

Front Cover

Peter Nadal Founder of CE

Magazine and designed by him.

Bottom left corner is the original

Computer-Ease logo ©

2
---
From Peter's Desktop

Welcome to CE 1'st Online

Magazine. This has been in the

works for some time before it got

announced in CE's Facebook and it

took a little longer then anticipated.

CE has been growing steadily

especially this last yr and it was time

to take it to the next level. When CE

(Computer-Ease) started our original

logo was born (figure below).

The idea of the logo

was to promote the

simplicity and ease

of operating your

computer and leaving the worries to

us. Two years ago we changed the

logo to a laptop with our web page

on the screen, but, he still pops in

and out on our Facebook page, our

Facebook page address is;

https://www.facebook.com/Computerease89/

This magazine will be geared for the

average guy or gal who just want to

know how to do this or that with out

complicated tech talk. We lined up

some very knowledgeable people

who can talk in layman's terms and

they write the same way. Down the

road we will have comment sections,

how to manipulate pictures, how to

do general basic repair and much

more. If your new to CE some of the

articles we are digging out you will

like it and even say ―Now, why

didn't I think about that!‖ that's the

hope to say the least!

You can write to us at:

computerease@juno.com

For comments, suggestions or even if

you have a how to. As soon as we get

things organized we will have a ―For

Sale Classified‖ for anything

computer related, this is being

planned out and as soon we get it

ironed out we will let you know via

our Facebook site. So, my fellow

readers thank you for reading CE

Magazine and following us on

Facebook ©.

Later!

Peter Nadal

3
---
We will never forget!

Simper Fi!

To all veterans we thank you for your service

4
---
How do you do that!

Ever wonder how fancy fonts are done or how a photo can be

manipulated or how about restoring a log in password to Windows 7.

What ever you questioned is, sorry no hacking how do's, I will answer

it or show you.

On this 1 st issue you will learn how to reset Windows 7 password

Resetting Your Forgotten Windows Password

Boot off the Windows disk (if you don't have one, you can make one) and select the ―Repair

your computer‖ option from the lower left-hand corner.

Follow through until you get to the option to open the Command Prompt, which you'll want to

select.

5
---
First you'll want to type in the following command to backup the original sticky keys file:

copy c:\windows\system32\sethc.exe c:\

Then you'll copy the command prompt executable (cmd.exe) over top of the sticky keys

executable:

copy c:\windows\system32\cmd.exe c:\windows\system32\sethc.exe

Now you can reboot the PC.

Resetting the Password

Once you get to the login screen, hit the Shift key 5 times, and you'll see an administrator

mode command prompt.

6
---
Now to reset the password—just type the following command, replacing the username and

password with the combination you want:

net user geek MyNewPassword

That's all there is to it. Now you can login.

Of course, you'll probably want to put the original sethc.exe file back, which you can do by

rebooting into the installation CD, opening the command prompt, and copying the c:\sethc.exe file

back to c:\windows\system32\sethc.exe.

This is the method I use, thanks to https://www.howtogeek.com

7
---
I must get 10 to 15 questions a month on windows 10, is it good? How well will it work on my 4

yr old computer? Should I up grade? And so on!

So, I spend 5 days working on windows 10 and the test machine is my 5 yr old Toshiba Satellite

laptop with windows 7 home. This laptop permanently sits on a cooler and used for hunting for

those hard-to-find-software-not-made-anymore! So, the hard drive was removed and a old 80

gig hard drive with Windows 7 installed for testing.

First the hack way!

After laying my hands on a 64 & 32 bit Windows 10 disks, I used the 64 bit first and the install

was straight forward windows (ala windows 8.1), nothing spectacular. After the set up and no

key installed I was welcome to the log in screen then desktop, from turn on to desktop was 40

seconds.

Now for the hacks;

A: Tried the top 6 key hacks and guess what, a flop!! Don't Waste time trying to hack it, buy a

key from Microsoft ®

B: Needless to say I got the OS polluted with spam ware and a mess load of useless games, but,

that's okay, all part of the bench test!

C: At this stage Windows 10 with its new Windows Defender ® did an admirable job fighting

the infestation. But, after a few Days it was time for a wipe out hard drive and install Windows

10 Pro 32 Bit. Why you ask? A 32 bit OS works great and fast in a 64 bit Computer.

A honest and proper install!

A: It's been my experience with infested hard drives that many times they have to be replaced

because of the viruses. But, again Windows 10 surprised me by wiping and reformatting the

hard drive with out a problem. In less then 35 sec, approximately 25 minute install, I was

on desktop.

8
---
B: Now, there are some minor adjustments and small hacks on the registries to get

some of the Windows 7 effects that are hiding in Windows 10.

Check the Pictures below

9
---
So, final opinion Two Thumbs up for the full install, but, a big word of advice do not

upgrade from windows 7 to 10 in plain English "IT SUCKS"

10
---
Send your biz card in pdf to computerease@juno.com or mail to Computer-Ease, Po BOX 8619

Michigan City In 46360

11
---
Editor's note: This article was written in October 2015, since then cell phone technology has taken a giant leap, but, the

tips in this article still the same, an up date is at the bottom of this article.

If you are all ways on the go whether it is traveling sales, in the service business or any

profession that keeps more on the road then behind the desk. Then you know the importance of

always been able to connect to the internet and that's were the new generation cell phones with

3G or 4G technology come to play. But, lets say that hard times has falling on you (financially

that is) were your business has slowed down or the company you work for has cut back hours and

your phone is shut off all because of the economy, now what? Don't despair, if that phone you

have has wifi built in it then I got a solution for you. Now;

1 st thing is to get pay- as- go phone or plan, example; Boost Mobile, Verizon, AT&T to name a

few. That new state of the art phone may not be able to go on one of the plans which mean ―New

Phone‖. Don't get all upset! You're still going to use that phone!

2 nd Let's say you decide with Boost Mobile, go with one of their $50 to $70 phones. Pay only for

the hours you're going to use, for example; On my slow or dead time I'll pay $10 which last me

sometimes up to 2 months, but, when traffic starts picking up I'll pay more if I have too.

Note: I'm not sure if Boost Mobile still has this feature, do check, I drop this feature year an half ago.

3 rd Now that fancy phone that is turned off becomes a fantastic PDA! On your daily travels

around town use your wifi manager and find hotspots. For those of you who don't know what

hotspots are, there areas were you can find unsecured internet connections. Keep a list and even,

it helps, mark them on a map.

4 th Clear out all the apps that you don't need anymore, keep the ones that you will use when

connected to the internet or to your home computer.

My brother when he up graded his phone, he gave me his Omni sch-i910 Window phone. I use it

as a PDA to keep my excels files of customers, move small utilities between my PDA and

customers computers. Do security sweeps of wireless routers and access points for customer's

peace of mind. Keep all my appointments, when in a hotspot I'll use Goggle maps to locate my

position and get directions to my next appointment. I ran an upgrade on the phone to unlock the

GPS so I can use it on Goggle maps, it's a time saver. So you ask, ―How much will I save?‖ well

you work out the math. What you are saving you can pass that on to your customers, which you

12
---
keep your prices low, customers are happy and your competition, well, not so happy with

you. It's all about survival baby, trim the fat, get as lean as you can get with you business.

Here are apps that are installed on my PDA;

1: Microsoft Mobile Office … Came with the phone, a must have if yours dose not have it.

2: Adobe Reader ….. Convert your must used information, invoices to pdf

3: cleanRAM …. Great app to keep ram clean

4: Palringo …. Chat app to log onto AIM, Facebook to name a few, it beats using phone minutes.

5: Goggle maps …. This is there mobile version and it will use GPS if your phone has it

6: Omarket …. If you have a Window phone great place for free apps

7: QuickMark … I love this app! Reads gr codes great!

8: Youtube …. Why not! For that pause between service calls

9: Wifi Remote Access … This is a must app! It sinks your phone to customers computer's web

browser via their wireless network.

and finally upgrade you micro sd card to at least 2 gig, mine is 512 meg, but, the Omnia has 8 gig

memory chip.

____________________________________________________________________

UPDATE!!! All You Need Is Free Wifi!!

From Left to right, the Omni by Samsung, Sprint

LG LS670 and IPhone 4s, none of these phones are

activated. The Sprint LQ I used it when I went on

vacation and made phone calls and text back home,

HOW?? you asked, I use now Text Free by Pinger.

You are given a phone number, now here is the

catch, you can call out but you can't receive calls

only texts and you can buy minutes or watch some

videos.

Here is there address;

https://textfree.us/#/welcome

The IPhone 4s is used as a juke box and selfies when friends show up at my bar, ―El Caribe‖, in

my rec room. Oh, the Omni stays in my desk draw just incase!

My Alcatel cell for as much it comes with I still installed Text Free and some other goodies just

incase! Hey, Free is always good!!

Stay Frugal My Friend

13
---
Secret Tip Scroll

You're on the computer and something

comes up that you can't leave on or online,

Example: bank statement, do this…

1: On the top of your keyboard you have a

Print Scrn/SysRg Key (some say Print

Screen), go ahead and press it

2: X out of whatever program or internet

browser you're on.

3: Go to Start button down at left side and

click on Paint (if not there click on

programs)

4: At the top left side you will see a clip

board that says Paste, now you have in front

of you what you were reading or working on,

example: Balancing your check book with

the bank!

14
---
A Chat with the Man himself

Peter Nadal Creator of CE Magazine

By Rodrigo Esperanza

Rodrigo Esperanza is one of our writers/reporters at large

I met Peter seven yrs ago when he came to my home to fix my computer and was

impressed with his wit and humor, but most of all his extraordinary knowledge of

fixing computers, needless to say we became good friends and he was my computer

tech. Some months ago we met for some coffee and he told me about CE Magazine

and asked me if I would like to be a writer/reporter at large, well, I said ―Oh Yeah!!‖

by the way I cleaned that statement up!

In our brain storming I told him ―we need to do an interview‖ so the readers can get a

good view of him, he said yes, two weeks later we sat down at El Caribe bar (his recroom

bar) with some raisin sherry, got comfortable and this is what transpired.

Rodrigo;

Pete, Thank you for taking the time to sit down with me, by the way, this is good

Sherry

Peter;

Your welcome Rodrigo, I'm honored and I'm glad you like the Sherry

Rodrigo;

Without going into a life history, how did you get involved in the computer world?

Peter;

In 1974 (somewhere in that yr), while in the Navy, when computerized microfiche

was introduced on aircraft carriers for the repair of the planes & helicopters. Being in

AIMD (Aircraft Intermediate Mainteince Dept) it made life a whole lot easier versus

going thru mountains of books and that is when the bug bit me, COMPUTERS. Once

I left the Navy in 1977 a number of yrs later I bought a Kaypro CP/M (Control

Processor for Microcomputers). Now, if you have seen Microsoft basic you are

looking at CP/M, by the way, that's where Microsoft came from, but, that's another

story.LOL!

15
---
Rodrigo;

LOL!! I agree another story for another time! Wow, I did not know you were a vet,

thank you for your service, please continue.

Peter;

Well, it's something I kept quiet about. So, I was so hooked that when the

Commodore 64 came out in 1982 I had to buy one (in 1985) the package, Monitor,

computer, floppy disk drive, printer and I became immersed in the world of hacking.

Rodrigo;

Talking about Old School! LOL

Peter;

OKAY IM OLD, LOL! Eventually I upgraded to the Commodore 128, which by the

way I still have. I'm still in love with it and yes its slow, 2 MHz.

Diane ( my deceased wife), it was her idea for me to get in to the computer repair

business.

Rodrigo;

I remember my deepest condolences. So, she was the women behind the man!! As

the saying goes ―Behind every man is a good woman‖

Peter;

Thank you Rodrigo, Oh yeah, she is the one who pushed me in to this racket and I

have loved it ever since, to her memory!

Rodrigo;

We raised our glasses and toasted to her memory. Go on Pete

Peter;

I did the repair for other people who bought and sold computers as a hobby. So,

Computer-Ease was born and it has been the best decision I ever made.

Rodrigo;

So, let's talk a little about what is new!

Peter;

Okay, my mobile service is my newest service even though it's a few years old. I

closed my shop and I bring the shop to my customers and because of that I can keep

my prices low or very competitive with my competition.

Rodrigo;

That was what impressed me the most, the technician coming to my home to fix my

computer while I'm still my pajamas!

16
---
Peter;

Yep! And may I say loud!! LOL

Rodrigo;

Lol!! Go on

Peter;

Another new feature is remote computer fixing for some of my clients that are too far

to travel to, like Germany, California, North Carolina to mention a few. I'm always

staying on top on what's new in Operating systems like Linux, Windows, Android

and its getting very competitive in that arena. The new thing now is showing

customers how to link their cell phone with their computers to up load and download

pictures, contacts, pdf files and such. Cell phones have become the new netbook!

Rodrigo;

And finally, The Future of CE!

Peter;

My plan for CE, God willing, is to get it to the point of a fleet of Computer techs

(vets being the 1 st choice) where they operate out of their home with a company

minivan. As for CE Magazine is to take it from the virtual world to publication that's

the plan, however, I'm keeping it floating because one never knows where exactly

the road of destiny is going to take you.

My Final Thoughts

We had one more cup of sherry, a few more laughs we shook hands and I left. As I

sat behind my computer that night typing my notes and listening to my tape

recording, I have to say I was humbled by Pete, by the way his full name is Ramon

Peter Nadal, what possesses people like him in their middle to late 60's to start

something new and run with it. I'm humbled and awed.

Rodrigo Esperanza

17
---
How to set up public Wi-Fi at your business

Offering wireless Internet access for guests can open new doors for your business.

For a cafe or restaurant, customers are more likely to stay longer, purchase more

items, and return knowing they can use a Wi-Fi connection. For motels and hotels,

Wi-Fi is one of travelers' deciding factors when selecting where to stay. Offering

guest wireless access from an otherwise private office can be beneficial too, as it

provides outside associates, contractors, and other visitors with a reliable Internet

connection.

Although mobile carriers have covered much of the nation's more-populated areas

with wireless 4G Internet access, Wi-Fi connections can provide faster speeds and

usually aren't subject to usage limits. Plus Wi-Fi can be offered where 4G access

isn't available—as well as for laptops, tablets, and other mobile devices that

aren't4G- equipped.

Protecting your private network

The simplest way you might think to offer public or guest Wi-Fi access is to let

people on an existing Wi-Fi network used by the business, but this isn't secure.

Allowing outsiders on the private network could open your company up to hacking

and data theft.

[ Further reading: How the new age of antivirus software will protect your PC ]

18
---
Private wireless networks should be encrypted with WPA2-Personal security, at

least, to keep others from connecting and eavesdropping on your network traffic.

Businesses with more than a handful of Wi-Fi users should consider using WPA2-

Enterprise security, requiring a RADIUS server or service, to better secure and

manage Wi-Fi access. For more on that, here are 8 Wi-Fi security tips to protect your

small business.

Using existing equipment

Businesses with existing private Wi-Fi network might be able

to offer public or guest access safely without purchasing

additional hardware. Some consumer and small-office wireless

routers offer a guest access feature. When guest access is

enabled, users will see another network name (known as an

SSID) in the list of available networks on their Wi-Fi devices, and its access will be

separated from the main network.

Business-class routers and access points (APs) typically offer multiple SSID and

virtual LAN (VLAN) features. When these features are set up properly, multiple

wireless network names (SSIDs) can be broadcasted with varying levels of security,

one of which could be a guest network safely segregated from your private network.

Using hotspot equipment for better features

19
---
Purchasing or setting up wireless hardware specifically designed for offering Wi-Fi

hotspot access provides some useful features that most traditional routers and APs

lack. For instance, for legal purposes you may want to require users to accept Terms

of Service (ToS) before accessing the Internet. When shopping around for hotspot

equipment, this feature is called a captive portal. You may also want to impose time

and bandwidth limits, or even charge for the Wi-Fi access. For features like these

you'll likely have to purchase or set up additional hardware specifically designed for

Wi-Fi hotspots.

Private and guest Wi-Fi networks

If you're a do-it-yourselfer, you could upgrade a

Linksys or other compatible wireless router with

free third-party firmware, which replaces the

router's software to add additional features. The

CoovaAP firmware includes a captive portal to

require end users to accept ToS. It can also

require that they log in via either self-registration

or with access codes you create. CoovaAP's firmware also offers traffic shaping

controls that let you limit bandwidth for guests.

The DD-WRT firmware offers many general Wi-Fi features and customizations in

addition to hotspot features. It includes a simple integrated captive portal and

supports third-party servers and services for more complex hotspot setups.

However, keep in mind that neither the CoovaAP nor DD-WRT firmware offers an

easy way to segregate access to your private network. So, unless you're comfortable

making customizations, you'd probably need to connect the router to a separate

Internet connection, or to a guest VLAN if your existing equipment supports it.

Open MeshOpen Mesh access points

If you want more of a quick, plug-andplay

hotspot setup, consider

purchasing the Fonera Simpl router

from Fon. It offers simultaneous

private and public Wi-Fi signals, so

it's best to replace it with any existing

router you have. On the public signal,

visitors are given one hour of daily Wi-Fi access. After that, revenue from additional

time visitors purchase is split 50/50 between your company and Fon. However, users

20
---
must sign up and log in with Fon in order to access the Internet. This could help

increase the safety of your hotspot, but it can annoy visitors wanting quick, free

access.

To offer public or private Wi-Fi access over a larger area that a single wireless router

doesn't cover, one economical option is Open Mesh. It's designed to provide both

private and public wireless access easily, with hotspot features including a captive

portal and speed limits. Plus, it uses the wireless mesh technique, which means that

not all the wireless APs have to be wired back to the router or switch, making

installation easier.

Another option is to purchase and use a hotspot gateway, basically a router

specifically designed for offering hotspot access. These generally include the most

hotspot features and functionality, and are especially useful for large deployments

like at large hotels or venues. There are many vendors to choose from, including

ZyXEL,Intellinet, 4ipnet, and Handlink.

Taking the final steps

Remember, always ensure that your private network is kept

separate from any public networks, and encrypted with

WPA2 security. If you want to offer simple public access,

check if your current wireless router or access points (APs) have a guest feature, or

that they support multiple SSIDs and VLANs for business-class products.

If you're up to the tech challenge, you could upgrade a compatible wireless router

with third-party firmware to get hotspot features. If not, consider getting the Fon

router. To cover a larger area, look into Open Mesh. If you'd like all the bells and

whistles, shop for a hotspot gateway.

Whatever hotspot setup your company adopts, it's a good idea to enable content

filtering, as you probably don't want visitors surfing inappropriate websites. Some

routers and hotspot setups offer a content filter. If yours does not, you can enable

the OpenDNS cloud security service on any router or hotspot gateway.

Original article can be seen at;

https://www.pcworld.com/article/2031443/how-to-set-up-public-wi-fi-at-your-business.html

Thank You PcWorld

21
---
By Nomar Shaw, contributing writer/CE Magazine

These days security in Facebook is the big talk, so, we are going to show you some

basic proven methods that will increase the security of your Facebook!

Security 1: Password

Your password is the main frontal defense, now, many of you use weak and

predictable password like ―mary1957, babygirl 2001, 1989me and so on. A hard

password is one that has numbers, letters and symbols example #@*myDio08$%~>‖

a password like that makes it extremely hard in cracking.

Security 2: lock the Back door

On Facebook go to the down arrow by the question

mark and scroll down to settings and click on it, on

next pop up window.

Go down to settings and click on it, on the next

windows on the left hand side select (under General)

Security and Log…

22
---
Then Scroll down to ―Setting Up Extra Security‖ and click on Use two-factor

authentication;

Now, what this does every time you log in you will get a notification with a code, to

be honest, this feature on my desktop is turned off, but, on my service laptop its

turned on and my Windows 7 (and above) has a very hard password (like the

example above in security 1). Go through the security features turn on or off what

will work for you.

Security 2: Our Email

The same step in security 1 applies to your email and make sure your antivirus email

scan feature is turned on so no virus will infiltrate to your computer and browser.

23
---
Anything that you get that claims to be from Facebook take care on opening it

especially if you don't know the person, Facebook from time to time will send you a

status report.

Security 2: Friends invite

Scrutinize who you become friends with as you don't know who he/she are friends

with. On the setting it gives you all the features you need to tighten up your

Facebook security and especially check your Cell Phone!!

Don't blow off your security issues when it comes to Facebook and emails. If you are

not sure then contact your local computer tech, he will be more then happy to set you

up!

Later Gator!!

24
---
Solutions for Windows 10

Freezes/Crashes Issues after Anniversary

Update

By David Sem

The Anniversary Update can be one of the most expected updates for Windows

10; however, unfortunately, it came with many stability problems for users. If

you're facing the Windows 10 PC crashing or freezing problems after installing

the Anniversary Update, it's advised to try all workarounds from this article. If

you get any additional queries, be sure to contact the Windows 10 customer

support experts for the resolution.

Though the Anniversary Update is a necessary part of the Windows 10 operating

system, it also comes with various problems, such as system freezes and crashes after

installation. Many users have reported that their PCs boots usually into Windows 10

after installing updates, with everything functioning properly for 20 seconds.

Subsequently, the mouse freezes and an error message appears stating that the

‗Windows is not responding.' Aside from freezing, users also face the Windows 10

crashing issue along with Blue Screen errors. Fortunately, there are a few possible

workarounds that you can refer before contacting the Windows 10 support phone

number for help.

Fix 1 – Enter Safe Mode

On the occasion of Windows 10 crash, and freeze issues, one way to avoid that

happening is to run Safe Mode. It can be the best to find the correct reason of

problems and work efficiently without any problems. To enter Safe Mode, here's the

process:

1. Reboot your computer in the boot sequence to start the Automatic Repairing

procedure.

2. Select the ‗Troubleshoot,' and then the ‗Advanced' options, followed by the

‗Startup' settings. Click the ‗Restart' option.

25
---
3. Once your Computer reboots, select Safe Mode with networking option by

pressing the right key.

Fix 2 – Try updating again using Anniversary Update ISO files

One of the resolutions you can try is to download the Build 1607 ISO file and try to

install Anniversary Update with that ISO file. Before trying, always return to the

previous build or else the procedure won't run. To download ISO files, check that

you have a blank USB or DVD drive and Media Creation Tool. After creating the

bootable USB flash drive, place the CD into your PC, run the setup.exe file and

install the Windows 10 Anniversary Update.

Fix 3 - Install C++ Redistributable Package and .NET Framework 3.5

It is possible that both Windows 10 crashing and freezing problems can be resolved

by installing the .NET Framework 3.5 and C++ Redistributable Packages. Windows

10 and various third-party programs depend on these components to work, so make

sure to download them via the developer's site. It could be the best approach to fix

these issues efficiently.

Fix 4 – Run the SFC /scan now check

If you're facing Windows 10 freezes or crashes after the Anniversary Update

installation, you might require performing a SFC scan, which is intended to ensure

about the update and repair any corrupted files. Check these steps to do a SFC scan:

1. Press Windows + X keys to launch Power User menu. Choose Command Prompt

from the list.

2. Once it appears, input the SFC /scan now and press the ‗Enter' key. Wait till the

scan is finished.

Using this scan tool, you can fix different computer issues, including hardware

failure, malware, and file loss.

Fix 5 – Turn off Secure Boot from BIOS

Disabling the Secure Boot via BIOS, it's possible to repair the issue. To do so, type

BIOS, find Secure Boot tool and make it to disabled. For additional details how to

enter the BIOS and disable Secure Boot, check the motherboard user manual steps.

Fix 6 – Turn off AppXsvc from Registry Editor

26
---
Turning off AppXsvc in Registry Editor solves both crashing and freezing problems.

To do so, use Safe Mode and check this process:

1. Press Windows + R keys, type regedit, and press Enter.

2. Once Registry Editor appears, find the

HKEY_LOCAL_MACHINESYSTEMControlSet001 ServicesAppXsvc key in the

left corner. Navigate to the Start DWORD on the right side and double-click it.

3. Save the Value data to 4 and then click OK. Exit Registry Editor and reboot your

PC.

Fix 7 – Roll back to the previous Update

If computer freezes and crashes still exist, you should try to go back to the earlier

Windows 10 update. You can revert to the previous build via the Settings app or the

advanced startup. If you are unaware about how to roll back to the previous build,

it's suggested to check the Microsoft website to find necessary steps to uninstall

Windows 10 Anniversary Update and revert to the previous build.

Fix 8 – Contact Windows 10 Support

This problem can be annoying because it encounters whenever Windows 10 starts

and remains even after performing a Clean Boot to the PC. The Windows 10

crashing and freezing issues almost make your computer unusable. If you're still

facing problems on your computer or simply wish to eradicate them for the future,

call on the Windows 10 customer service number to get instant support for solving

the PC problems.

Article Source: Free Articles from ArticlesFactory.com

ABOUT THE AUTHOR

David Sem is a tech specialist who has his expertise on Windows 10. After years of

experience, he is now sharing his knowledge through the articles to provide guidance

to the users. His article throws lights on different aspects of Windows devices while

ensuring the readers with quick troubleshooting steps, especially in case, if they get

stuck in the middle of the process.

27
---
You're online and you get this

YOU GOT A VIRUS!

CLICK HERE TO FIX THIS PROBLEM

It's a SCAM! A lot of web sites get paid by x company to display this link and the

moment you do, it puts a virus in your computer. Then you have to pay for the

program in order to get rid of the virus, this is probably the most unethical practice

on the internet! Do not believe everything you see from pop up ads, your antivirus

program on your computer will catch any virus trying to creep in. Also, do not install

more then one antivirus program in your computer and the reason is they can

cancel each other out. Stick to one of the following;

1:Bullgard - This a by far (in my opinion) one the best anti-everything

program you can get. Try their free 6 months version and

if you like it you can purchase the key from the company

without un-installing it!

2: AVAST - Excellent, it's free version works great!

Consumes very little resources

3: Norton - Excellent, but, very resource hungry

4: McAfee - Same as above

5: Spybot - Good all around program, does the job.

These are my top five, why Norton and McAfee are at the bottom of the list you

ask? Though excellent programs, they are to resource hungry and if you have an

older computer they will slow it down, besides there are too many bullets out there

with their names on it. Bullgard (http://www.bullguard.com/) package protects you

28
---
from everything that will sneak in your computer. It is a little hard to setup if you're

a novice, but, not that much. AVAST (https://www.avast.com/en-us/index ) we put

it on all the computers we refurbish and service, the free version works excellent,

will not slow your computer down and if you want to buy the full version it will only

cost you $49.99. Spybot ( http://www.safer-networking.org/en/index.html) has

been around for a long time and does a pretty good job on protecting your

computer.

If your computer is not running right or you suspect a corruption in the operating

system then do a "System Restore". Go to "Start - all programs - accessories -

system tools - system restore" Follow the prompts, select a date you want to

restore to (oh! 2 or 4 days ago at least) and just follow the prompts.

A program to buy and install is "REGVAC" (http://www.regvac.com/regvac.htm) it's

simply the bomb! Yes! It's that good!

Run defrag on your hard drive (at least once every quarter). Go to "Start - all

programs - accessories - system tools - Disk Defragmenter" Select the analyze

button and follow its recommendations.

One good little program to have is Cleanup

(http://www.stevengould.org/index.php?option=com_content&task=view&id=15&I

temid=69)

A lot of our customers call it "the flushing program" for the flushing sound, this lil

jewel is a must have, just click the link above or copy and paste!!

Well, I hope this helps you on how to do some preventative maintenance in your

computer, if you have a question please email us and we will gladly respond back,

remember there is no such thing as a stupid question, especially when it comes to

computers!

Article by Peter Nadal

29
---
Computer Magazine From The Past!

30
---
This space reserved

for the Nanomites 128

project, stay tuned.

This may take a while!

31
---
Commodore 128

From Commodore Electronics

1977

Special note;

Still after 40 yrs she still fires up, we will be digging out from

deeeeeeeepppppp storage some of the best software used on

this computer by the boss and show it.

Thank for reading CE Magazine

Chow For Now

Nanomites!

32