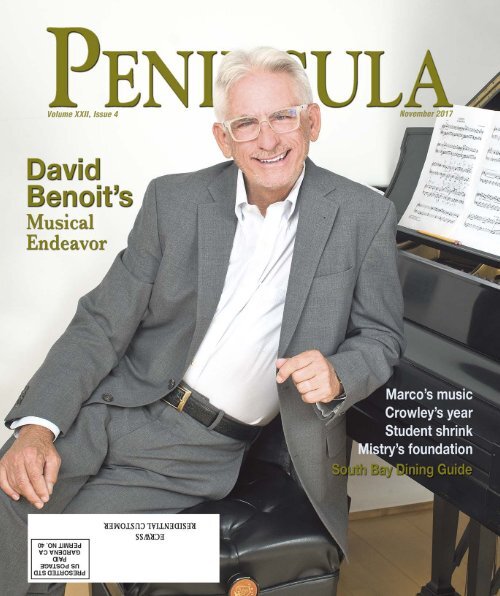 Peninsula People Nov 2017
You also want an ePaper? Increase the reach of your titles
YUMPU automatically turns print PDFs into web optimized ePapers that Google loves.
November 2017 • Peninsula 3
---
6 Peninsula • November 2017
---
Thinking of Remodeling?

Get Inspired To Transform Your Home

Free Architectural Design

& Remodeling Seminar

At this informative Seminar you will:

• Learn how you can improve the functionality of your home

• Meet award winning designers and product experts

• Discover the latest trends

Join us on

Saturday

November 4 th

at 10:00 am

R e s e r v e Yo u r S e a t s
---
61st Annual

Neighborhood Church

Yule Parlor

Tea by the Sea

The 61st Annual Neighborhood Church Yule Parlor Tea

by the Sea will once again open the holiday

season on:

Friday, December 1 and Saturday December 2,

10:00 a.m. to 3:00 p.m.

Neighborhood Church is located on the bluffs of Malaga

Cove at 415 Paseo del Mar, Palos Verdes Estates. We will

begin the celebration by viewing the original treasured hand

painted ceilings and walls of the Mediterranean architectural

estate and art work of the historic Haggerty home built in

1927. The home was purchased and converted to the Neighborhood

Church in 1952.

High Tea will be served with live holiday music.

Event is enhanced with three delightful shops. Vintage

with antiques and memorabilia for sale, Bake Shop with

homemade pastries and candies wrapped for gift giving

through the holidays, and the Yule Shop with homemade

arts and crafts made by loving hands.

Checks are to be made out to Women's Fellowship for $25.

Mail to: Neighborhood Church, 415 Paseo Del Mar, Palos

Verdes Estates, C.A. 90274. $30 day of event.

Your ticket will be held for pick up at the door. Proceeds

distributed to local charities.

PENINSULA

Volume XXII, Issue 4

November 2017

P A L O S V E R D E S P E N I N S U L A M O N T H L Y

ON THE COVER

Photo by David Fairchild

Pianist, composer and

conductor David Benoit will

conduct his "Journey of the

Endeavour" at the California

Science Center, where the space

shuttle Endeavour resides.

PROFILES

22 Ed Foundation foundation

by David Mendez Two-term Ed Foundation President Roma

Mistry helped restructure the organization to serve future

generations..

28 Benoit looks up

by Bondo Wyszpolski Over the past five decades, David

Benoit has cast a wide net in the musical world as a performer,

composer, conductor and KJazz DJ. Now he's focusing on work

that is less ephemeral and more enduring.

38 A life of passing passions

by Maneesha Prakash For most of his 22 years, Marco

Vignale has suffered from a progressively debilitating gene

mutation, a condition so rare that it is known to be shared by

just one other person in the United States. It hasn't stopped

him from living a full life.

48 Schoeben's students

by Robb Fulcher By the end of the school year one fifth of

the Palos Verdes School District's 11,500 students will visit

campus therapists through a new program created by therapist

and entrepreneur Liz Schoeben.

58 Born to serve

by Robb Fulcher Faith driven volunteer Jackie Crowley has

been helping the less fortunate for nearly five decades. Now

she will be the focus of attention when the Palos Verdes Peninsula

Chamber of Commerce recognizes her as the 2017 Citizen

of the Year.

76 Sea Change at Chez Melange

by Richard Foss Chez Melange chef Robert Bell and partner

Michael Franks abandon their restaurant's name and menu in

order to continue their tradition of culinary adventures.

HIGHLIGHTS

10 60th Annual Portuguese Bend Horse Show

14 Act II Shop 'til you drop

18 Torrance Police Foundation on the Hill

34 PTN Halloween Ball at The Depot

44 Friends of the Library at Villa Narcissa

52 Palos Verdes Concours takes to the air

DEPARTMENTS

60 Peninsula calendar

74 Around and about

78 South Bay Dining Guide

85 Home services

STAFF

EDITOR

Mark McDermott

PUBLISHER

Stephanie Cartozian

PUBLISHER EMERITUS

Mary Jane Schoenheider

ASSOCIATE PUBLISHER

Richard Budman

DISPLAY SALES

Tamar Gillotti,

Amy Berg

CLASSIFIEDS

Teri Marin

ADVERTISING

DIRECTOR

Richard Budman

ADVERTISING

COORDINATOR

Teri Marin

GRAPHIC DESIGNER

Tim Teebken

FRONT DESK

Judy Rae

DIRECTOR OF

DIGITAL MEDIA

Daniel Sofer (Hermosawave.net)

CONTACT

MAILING ADDRESS

P.O. Box 745

Hermosa Beach, CA

90254-0745

PHONE

(310) 372-4611

FAX

(424) 212-6780

WEBSITE

www.easyreadernews.com

EDITORIAL

PenPeople@

easyreadernews.com

ADVERTISING

(310) 372-4611

displayads@

easyreadernews.com

Please see the Classified Ad

Section for info.

FICTITIOUS NAME

STATEMENTS (DBA'S)

can be filed at the

office during regular

business hours.

(310) 372-4611

Peninsula is a supplemental

publication of Easy Reader, 2200

Pacific Cst. Hwy. #101, PO Box 427,

Hermosa Beach, CA. 90254-0427.

SUBSCRIPTIONS

Yearly domestic mail subscriptions

to Peninsula are $80, foreign $100

payable in advance. The entire

contents of Peninsula are copyrighted

2017 by Peninsula People,

Inc.

8 Peninsula • November 2017
---
S P O T L I G H T O N T H E H I L L

Portuguese Bend Horse Show

Raises funds for Children

Peninsula Committee Children's Hospital held their main fundraiser

on September 8 -- 10 at Ernie Howlett Park in Rolling Hills Estates.

This was the 60th year of the Portuguese Bend National Horse Show

benefiting Children's Hospital Los Angeles (CHLA). This year's proceeds

will provide support for the CHLA Associates Endowed Chair for

the Chief of the Children's Orthopaedic Center, as well as The Associates

Endowment for Liver and Intestinal Research. The theme for this

year's horse show was "Stirrup Hope – the Story of our Lives." In addition

to the three day horse show, the weekend featured a children's carnival,

food booths, a boutique, a Saturday Night BBQ dinner and special

events, varying from miniature therapy horses to the Long Beach

Mounted Police.

1. Joe Leimbach, Jeff MacLean, Darren

Del Conte and Scott Stuckman.

2. Megan Moore, Diane Moore, Lisa

Noski and Andrea Sala.

3. Doug and Gwynne Shaw.

4. Kathy and Kirk Johnson, Marnie

and Dan Gruen, Holly and Jeff Gardner.

5. Jay and Valerie Crawford.

6. Doug Van Riper, Steve Mitchell,

Jan Van Riper and Karen Mitchell.

7. Larry Clark, Noelle Giuliano and

PHOTOS BY FLORA FAIRCHILD

Anne Clark.

8. Michael, Diana and Lizzy Grannis.

9. Long Beach Mounted Police

10. Dave Rowe, Dave Farrell, Carole

Rowe and Anne Farrell.

11. Lisa Van Nortwick, Shari Moore

and Jenny Litchfield.

12. Jim Witte, John Whitcombe,

Craig Knickerbocker, Flora Fairchild

and David Wendorff.

13. Charlie Stuckman.

1

2 3

4 5 6

7

8

9

10

11 12 13

10 Peninsula • November 2017
---
S P O T L I G H T O N T H E H I L L

ACT II Supports Theatre

Holiday Fundraising Boutique

ACT II was founded in September of 1984 as a support organization

for the Palos Verdes Performing Arts. This year their "Shop till you

Drop" lunch included gourmet food stations and a boutique featuring

clothing, purses and jewelry. The women of ACT II have raised over

$450,000 through their annual Variety Show and Spring Fashion Show.

The members meet monthly from September through June to plan the

shows and to enjoy numerous theatre-related programs. "It used to be

us knocking on all these production and musical artists' doors asking

them to come perform here. Now they are calling us," Julie Moe-

Reynolds said. This year the boutique was in the Harlyne J. Norris Pavilion

and presented dozens of purveyors, including The Pottery Barn, to

help ring in the holidays.

1. Halloween Boutique.

PHOTOS BY STEPHANIE CARTOZIAN

2. Julie Moe-Reynolds, Pam Barrett-

Hill, Jim Hill and Abby Douglass.

3. De De Hicks, Deena Gribben and

Meredith Grenier.

4. Judy Dinh and Georgia Ellingson.

5. Arline Grotz, Nancy Budde, Donna

Day, Adrienne Ang, Pam Barrett-Hill,

Joyce Kochanowski and Mary Graff.

6. Maryann Ayres, Donna Day and

Carolyn Harrington.

7. Pam Barrett-Hill and Lorraine

Kasse.

8. Melinda Grotz.

1

2 3

4 5

6

7

8

14 Peninsula • November 2017
---
S P O T L I G H T O N T H E H I L L

Palos Verdes Community

Supports Torrance Police Foundation

Ann and David Buxton opened up their Palos Verdes Tuscan style estate

to host a fundraiser for the Torrance Police Foundation. The

organization's mission statement is to "stand behind those who wear

the badge" by appealing to the community to support public safety projects.

The grants issued by the Torrance Police Foundation (TPF) to the

police department fund projects that typically are not covered by the

police department budget. Among the guests were Torrance Mayor Pat

Furey and members of the police department. A drone demonstration

was presented by Torrance Police Office Matthew Slawson. To learn

more visit www.TorrancePoliceFoundation.org.

1. Hosts Ann and David Buxton.

2. Marylyn and Chuck Klaus.

3. Officer Matthew Slawson, Jerry

and Gabriela Rocha.

4. Board member and founder Jack

Messerlian and Mayor Pat Furey.

5. Donna and Councilmember Geoff

Rizzo.

6. Councilmember Mike Griffiths and

Cecilia Geronimo.

7. Board chair Hank Parker and

Captain Jon Megeff.

PHOTOS BY STEPHANIE CARTOZIAN

8. Elisabeth Swardstrom and Emmett

Miller.

9. Officer Matthew Slawson demonstrates

the drone donated by the

Torrance Police Foundation.

10. Diamond Level Sponsor Tim

Rogers and Mayor Pat Furey.

11. Diamond Level Sponsor Tim

Rogers with Kristen Matsuda and

former Police Chief Mark Matsuda.

12. Captain Jon Megeff and Board

Member and Platinum Level Sponsor

David Buxton.

2 3

1 4

5 6

7

8

9

10

11 12

18 Peninsula • November 2017
---
Chris Adlam

310.493.7216

chrisadlam.com

Gated estate with approximately 270 feet of bluff top frontage! With unobstructed ocean

and coastline views, this Palos Verdes Estates home has over 7500 square feet, 5 bedrooms,

a 2 room Master Suite, office, wine room, 6 car garage and more! $9,500,000
---
Chris Adlam

310.493.7216

chrisadlam.com

Brand new masterpiece in Palos Verdes Estates. Stunning, contemporary 4 bedroom home with panoramic ocean

views, spectacular infinity pool, spa, elevator and more! $3,995,000
---
Chris Adlam

310.493.7216

chrisadlam.com

Spectacular 6 bedroom, custom built home with panoramic ocean, coastline and Catalina views!

Over 7600 square feet, wine cellar, 4 car garage and more! $6,998,000
---
22 Peninsula • November 2017
---
Ed

foundation

Roma Mistry put the

Peninsula Education Foundation

on a solid footing

during her two term

presidency

by David Mendez

Despite her two-term presidency of the Peninsula Education Foundation's

Board of Trustees, Roma Mistry doesn't think what she's

done merits much consideration, compared to the community of

volunteers that she lives among

"I've lived on the hill for 22 years…people seem to be involved in so

many wonderful organizations, giving back to the community," Mistry said.

"I don't think what I've done is anything unique beyond what other people

have given back."

But during her two years as PEF's President, Mistry saw two consecutive

executive directors move on in quick succession, and helped stabilize the

foundation to continue its mission of supporting the Palos Verdes Peninsula

Unified School District.

"We have a great community, principals and teachers who care, and volunteers

who come together to keep our schools successful," Mistry said.

"We're ensuring our kids have the tools they need to be successful."

The former child welfare attorney for Los Angeles County has lived on

the hill with her husband Sameer since 1995. The two met when they were

working on their postgraduate studies; Roma was at Pepperdine Law

School, while Sameer was studying medicine at USC.

They first moved to the South Bay after they were married, when he accepted

a residency at Harbor-UCLA Medical Center, and lived in Redondo

Beach.

"We would drive around, and I had never heard of PV before," Mistry

said. "I remember thinking it would be awesome if we could live there,

and as a young couple, the timing was right — we saved and bought a

house before we had kids."

The two, she recalls, were the youngest on their block when they moved

in. Roma was 27, Sameer was 30. They fell in love with their new neighborhood.

"We were young, no kids, working hard, and we knew we wanted to live

there, where the schools were great," Mistry said.

Former two-term Education Foundation president Roma Mistry.

Photo by David Fairchild

November 2017 • Peninsula 23
---
Their son Dilan was born four years later; their daughter Shefali three

years after him.

When their children were ready to go to school, their parents decided to

send them to public school, rather than take advantage of any nearby private

options.

"It's about being part of your local community; I went to LA Unified

schools," Mistry said. "I think public schools have a lot to offer, especially

in the community we're in. It's a no brainer."

Mistry started her support for the Peninsula Education Foundation as a

donor. She was still practicing law at the time, while volunteering at her

child's school.

"Eventually, I became aware of the funding issues, and how our schools

are funded," Mistry said.

In terms of per-pupil funding, the Palos Verdes Peninsula School District

is among the lowest-funded school districts in the state. The bulk of its

budget comes from the state's Local Control Funding Formula. As of the

2015-16 school year, PVPUSD receives $7,579 per student. By comparison,

the statewide average for all unified school districts is $8,954 per student.

"When we started donating, my kids were really young; I don't think I

fully grasped the scope of disproportionality in funding for schools," Mistry

said. "From that point, I started paying more attention to what PEF was

funding, and it grew from there."

Music programs nationwide have become expendable in many situations

as belts have tightened for schools. However, PEF has named funding music

programs among its top priorities.

"That caught my eye; my son participated in music in elementary school

and got his first taste of playing an instrument," Mistry said. "It was a selfesteem

boost for him and it spurred an interest going forward and continuing

his musical education. That was a big selling point for me."

As she continued looking into PEF, Mistry appreciated that its board of

trustees was a cross-section of the community. Its members ranged from

volunteers to professionals, and parents at each level of schooling and across

the peninsula community.

"It offered a vantage point from being an elementary school parent to

what lies ahead, and what we have to look forward to; plus, it gave a look

at what the Ed Foundation does beyond elementary school," Mistry said.

Mistry joined the PEF Board of Trustees in 2011, shortly after she stepped

away from her legal career. In 2014, she was elected board president.

Mistry is reticent about giving herself much credit, instead deferring to

the Board of Trustees, as well as PEF Executive Director Christine Byrne,

and the organization's staff and volunteers.

"[Byrne] goes in and is there every day…the PEF office staff is the hardest

working group I've worked with. They're a well-oiled machine, making

sure things run smoothly, contacting companies and seeking partnerships,"

Mistry said. "The buck stops with them."

Mistry's challenge, she said, was beyond strictly fundraising. Under her

leadership, PEF underwent a review of its bylaws, wrote a strategic plan,

and put in place a new employee handbook.

"Those things don't sound sexy or important, but they're important for

governance," Mistry said. "For an organization to be successful, it has to be

guided."

Of course, PEF continued its fundraising endeavors. In 2015 and 2016,

the organization donated $6.76 million to PVPUSD, with the bulk of contributions

coming from PV families. Donors will be thanked and honored

at the organization's upcoming Food and Wine Fest on Nov. 16. That night,

winners of the Chuck Miller Teacher Grant will be honored. Teacher

awardees will receive up to $1,500 to bolster their classroom budgets.

Last year Mistry left the board in the hands of co-presidents Matthew

Rener and Michelle Fullerton, though she's still volunteering. Her son recently

graduated from Palos Verdes High School, and is on to Chapman

University, while her daughter is in her second year at Peninsula High.

"It's nice to be in a position where my family and I have been able to

benefit from the groundwork that's been laid for us," Mistry said. "I love

when people's kids have graduated, and that we're ensuring the success

and longevity of the schools and local community...PEF supports students

from the moment they start in kindergarten, and it's there at every level.

We've been able to make sure that continues so that future generations can

benefit, too." PEN

24 Peninsula • November 2017
---
PALOS VERDES ESTATES LIFESTYLE AT ITS BEST!

Spectacular lot in PVE with resort-like grounds. Custom Colonial architecture design exudes elegance and charm. 5BR + Library, 7

Baths, 6,258 square feet, 29,653 SF lot size. Ocean and coastline view.

1409VIAARCO.COM $4,995,000

WENDY SUN

BROKER ASSOCIATE

310.544.7301

WWW.WENDYSUN.COM

BRE# 01729186

RE/MAX ESTATE PROPERTIES

SMASHING QUEEN'S NECKLACE VIEW IN PALOS VERDES ESTATES

LET THE VIEW SPEAK FOR ITSELF! Panoramic queen's necklace view from Santa Monica, downtown LA,

PV Golf Course to Long Beach. GATED PROPERTY, 6BR, 6.5baths, 9884 SF living area, 48,353 lot size.

North-South facing TENNIS COURT. An aesthetic balance of comfort and design is found in every room of this house.

702VIALACUESTA.COM $8,999,000
---
Rising above his

musical horizon

David Benoit takes a poolside break at his Palos Verdes Estates home. Photo by David Fairchild.

On the launching pad with David Benoit

by Bondo Wyszpolski

Jazz artist David Benoit and the California Science Center are rarely mentioned

in the same sentence, but that's beginning to happen more often

these days thanks to the space shuttle Endeavour. So far, so strange, so

let's explain.

On Sunday, November 5, the Manhattan Beach native and Palos Verdes

Estate resident will conduct the Asia America Youth Symphony in the

Samuel Oschin Pavilion, at the Science Center in Exposition Park, where

the Endeavour is on view. The orchestra will tantalize the audience with

the theme from "Star Wars" and soon thereafter fill the hall with Benoit's

spirited "Journey of the Endeavour."

The composition is largely ebullient and celebratory and just over fiveand-a-half

minutes in length. Benoit premiered in 2013 at the James Armstrong

Theatre in Torrance. At that concert, footage of the shuttle was

projected behind the orchestra, a former astronaut was one hand to lend

gravity to the occasion, and among the people sitting in the audience was

an executive from the California Science Center.

"She said we must do this at the Endeavour," Benoit says from the kitchen

table at his home in Palos Verdes Estates. "So we talked about it for a couple

of years and finally they pulled the trigger and said, 'We're going to do it,'

so here it is."

After the piece is performed, the audience will turn their heads and marvel

at the long-distance voyager itself, imposing and radiant.

Benoit explains how the "Journey of the Endeavour" came about.

"I try once a year to do an artist residency in Villa Montalvo (in Saratoga,

near San Jose), where I can take a couple of weeks and write something

fresh. The idea is not to write anything commercial. I was looking for some

inspiration and I saw this video of the Endeavour when it went through the

streets of L.A." Because of its size, its route from LAX to Exposition Park

had to be carefully choreographed, reminiscent of LACMA's plan for "Levitated

Mass."

The 184-foot long Endeavour was named after Captain Cook's HMS Endeavour.

"I saw it almost like a ballet," Benoit continues. "I saw it as an orchestral

piece.

"I edited the video so that you see it take off and then you see it land."

The mood shifts as it wends its way across Manchester Avenue, north along

Crenshaw Boulevard, and east again on Martin Luther King Boulevard.

"And then finally, when it finds its home in the garage I kind of slowed the

music down. It was a little sad in a way, a little remorseful, but it was like,

well, that journey's over, here's the new one, and now he's in the museum."

Known for now, known for later

In 1982, the late Timothy Purpus wrote a cover feature for Easy Reader

about David Benoit as he was first achieving success as a professional jazz

musician. In the 35 years since, Benoit has released over two dozen albums,

including four this year. Foremost, perhaps, is his "Music of Montalvo" CD,

a crowd-funded effort recorded with the West European Symphony Orchestra

that highlights "Bikeride" (with the All-American Boys Choir) and "Napa

Crossroads Overture," a catchy number co-written with David Pack, (formerly

of Ambrosia). The centerpiece of the CD belongs to the Endeavour.

The other new releases include the commercially-tilted "So Nice," with

Marc Antoine; an all-solo piano CD called "The Steinway Sessions," and a

holiday record with Dave Koz ("That's more his CD, but I did the orchestral

arrangements and conducted, and played piano on it, too.").

That would be a bumper crop year for any artist, on top of which Benoit

is a morning DJ for radio station 88.1 KJazz. It's a weekday show, 8 a.m. to

12 noon, but because of traveling and other commitments Benoit is often

able to record several upcoming programs at a time. He's also hosting a Saturday

show from 10 to noon, this one focused on piano players. He has a

free hand with Saturday's selections, but not so much with those aired dur-

28 Peninsula • November 2017
---
ing the week.

Perhaps you're thinking, hey,

that's great, Benoit's really on a roll

and he must be a happy camper.

Well, yes and no.

In some circles, Benoit is regarded

as a purveyor of smooth jazz

(or "easy listening"), a label he abhors.

"You get typecast," he admits.

"Okay, everybody knows me for

writing the pretty melodies." And,

yes, they are pretty, and often

charming.

Clearly, there's an audience for it;

Benoit might be living under the

freeway if there weren't. But

"smooth jazz" isn't the only thing he

hopes to be remembered for, and

that's one reason why "Journey of

the Endeavour" is a vital piece. He

would like to find other projects

that take him out of his comfort

zone and, like the shuttle itself, into

new frontiers.

"I'm always looking for new

things to write about," he says. "Part

of the problem, well, the good and

the bad news, is it's been an unusually

busy year for me commercially,

which is good. The 'bad' thing is

that when you have a year like that

there's so little time to do the other,"

meaning of course the non-commercial.

"I need to get back to that

creative space.

"That's what's important as an

artist. We have our stuff to do to

earn money and keep the bills paid,

but the 'Journey of the Endeavour'

is an example of something that has

no connections with making

money, it's just, hey, here's some

art; art's important." He points to

"Kobe," written years ago in response

to the earthquake that damaged

the city of the same name, and

to the fairly recent "Bikeride," as

more complex works that needed

time to be thought out and developed.

Benoit was 29 when Timothy

Purpus interviewed him, and he's

64 now. That's still young, or young

enough, for a strong second-half

showing. Sure, Schubert and

Mozart died when they were just

kids, but Verdi, Sibelius, and

Richard Strauss all lived productively

deep into their 80s. As Saul

Bellow once told Herbert Gold,

"Don't count any writer out while

he's still alive." Sometimes one's

greatest adversary isn't old age so

much as it's the unwillingness to

risk failure.

At the moment, Benoit's legacy is

in his jazz compositions, the soundtrack

to "The Peanuts Movie," and

so on, but will this work endure?

With the exception of a few tunes

("Kei's Song," "Freedom at Midnight,"

"Drive Time," etc.) will he

be remembered and played a generation

or two hence? Nobody

knows for sure, and one can't even

guess whether his earlier classical

pieces will survive, but chances

could be greater that posterity

awaits him in the field of classical

or rather orchestral music. If he

persists in this genre...

He may not have cut his teeth at

a prestigious music academy, but

Benoit has the tools and the knowhow.

He's been the music director

and chief conductor of the Asia

America Youth Symphony for a

dozen years, and has played or conducted

in numerous venues, including

Disney Hall where he led a

performance of Beethoven's "Ninth

Symphony."

In short, Benoit says, referring

back to "Kobe" and "Journey of the

Endeavour," "Something I want to

do more and more [are works] like

these, expressing myself in a way

where I'm not encumbered by commercial

restrictions."

Pushing at old boundaries

And thus the question, can he

transcend that by which he's been

primarily known? Danny Elfman,

who tumbled into the new wave

music scene with Oingo Boingo,

has become a world-class composer

of soundtracks. Others, from Paul

McCartney to Joe Jackson, have

made the leap into writing symphonic

music, and Benoit himself

mentions Frank Zappa, whose

records like "Hot Rats" and

"Weasels Ripped My Flesh" belie

the fact that he was an accomplished

composer on a much

grander scale.

"People in the symphony world

and classical world are discovering

Frank Zappa," Benoit says. "He was

a serious composer. But he's been

dead now, how many years (almost

25), and people are just starting to

figure it out."

Benoit wonders aloud if he's running

out of time, and in a sense we

all are, and especially those of us

who harbor unrealized artistic ambitions.

"One of my dreams would be to

take a year off," Benoit says, "which

I've never done, and it's been pretty

much just doing gigs since I was 18.

And all of a sudden I'm 64 years

old, and still doing gigs." It isn't that

he doesn't enjoy performing, it's

just that a lengthy retreat, a sabbatical,

or what have you, would be a

rejuvenating balm and, need it be

said, could possibly give him the

November 2017 • Peninsula 29
---
eathing room required for a

larger-scaled work, one on which,

who knows, he might even stake

his reputation.

Looking ahead to potential opportunities

is important, he says,

"and continuing to be really creative,

because I feel like I'm doing

some of my best work now as I've

gotten older and a little smarter

about things. When you're young

you think you know it all, then you

realize the adage 'the more you

know the more you realize you

don't know.' Yup, that's true," and

he laughs.

In the meantime, Benoit has his

work cut out for him locally. This

includes a dinner concert on Sunday,

Nov. 12, at the Palos Verdes

Golf Club. Proceeds from the

event, with tickets at $125, benefit

the Asia America Symphony Association.

"I'll do a few of my signature

tunes," he says. "We'll probably do

a couple things that people know

me for. I want it to be a fun, loose

event where maybe we'll jam on

an Eddie Harris tune and then Herbie

Hancock, and maybe (throw in)

a few cover tunes. Everyone's

gonna get a chance to stretch out

and jam a little bit." In addition to

David Benoit introduces Manhattan Beach resident and Space Shuttle Endeavour

Astronaut Dr. Garrett Reisman at the premiere of "Journey of the Endeavour"

at the James Armstrong Theatre in Torrance in 2013. Benoit conducted the Asia

American Youth Orchestra wearing an Endeavour flight suit. Photo by Kevin Cody

Benoit on piano, the lineup is likely

to consist of guitarist Pat Kelley,

drummers Clayton Cameron and

Brad Harner, bassist Ken Wild, and

saxophonist Michael Paulo. "Plus

I'll have a couple of my young

members from the orchestra performing

so they'll have a chance to

be featured as well," the latter musicians

being 14-year-old Vinnie

Aguas on drums and 17-year-old

Colton Russell on bass.

As for the Asia America Youth

Symphony, the 2018 season has yet

to be announced, but one of the

highlights (if not the highlight, for

those involved) takes place in June

when 30 members of the orchestra

will travel to Seoul, South Korea, to

perform. This is actually a reciprocal

concert: in February of this year

some 30 South Korean musicians

came to the States and were guests

of the Asia America Symphony.

On this side of the Pacific, however,

the AAYS will host its alumni

concert, on April 20: "We've had

the orchestra for 15 years now,"

Benoit says. "In those years we've

had a lot of students who have

gone on to be very successful in

music, so we're asking them to

come back." In other words, if you

or someone you know performed

with the group during those years,

dust off your oboe or viola and get

ready for the big reunion.

For the moment, though, all eyes

are glued to the space shuttle and

David Benoit's "Journey of the Endeavour"

concert, which is also the

fall fundraiser of the Los Angeles

Philharmonic's Peninsula Committee

(our local LA Phil Affiliates).

The performance takes place from

7 to 10 p.m. on Sunday, Nov. 5, in

the Samuel Oschin Pavilion at the

California Science Center, 700 Exposition

Park Drive, Los Angeles.

Tickets, $150. Hors d'oeuvres,

desserts, fine wine and coffee to be

served. For information and tickets,

go to pclaphil.org. PEN

30 Peninsula • November 2017
---
Seeing the Space Shuttle Endeavour transported from Los Angeles International Airport to the California Science Center in 2012 inspired David Benoit to write

"Journey of the Endeavour." Photo by John Post

November 2017 • Peninsula 31
---
550 Silver Spur Rd. Suite 240, Rolling Hills Estates, CA 90275
---
S P O T L I G H T O N T H E H I L L

Eat, drink and be scary!

PTN Halloween Ball

The Pediatric Therapy Network hosted their 22nd Spooktacular Halloween Ball

to benefit the children with developmental and medical issues. Junior ambassador

Daniel Lowe, 12, told attendees about the challenges he's learned to overcome

through PTN. One of the highlights he says of being involved with PTN was

meeting Lakers coach Luke Walton, and learning to address large crowds. The

RamFunkshus rocked the huge, tented event next to Chef Michael Shafer's Depot

restaurant. One of the auction highlights was a dinner prepared by Chef Shafer

at the raffle winner's home. Other auction items included a luxury suite for 12

people at the Staples Center to watch the Clippers or Kings and 2 VIP Forum

passes to see Jay-Z along with a limousine ride to and from the Forum. According

to PTN, one in six children born in the U.S. has a developmental disability. For

more information visit pediatrictherapynetwork.org

1. Chef Michael Shafer.

2. Charlene Nishimura and Sylvia

Luna.

3. Daniel, Tom and Melody Lowe

and Stacey and Ryan Harris.

4. Cher and Bret Carroll.

PHOTOS BY STEPHANIE CARTOZIAN

5. Paul and Lydia Ho, Jan and

David Lim.

6. Craig and Mary Rose Kalem,

Lynn and Vincent Macnguyen.

7. Armando and Isabel

Fernandez.

8. Wayne and Nori Dempsey.

9. Amanda Wynn and Andy

Stockton.

10. Tim and Andrea Thompson

and Paige Asawa.

1

2 3 4

5 6

7

8 9

10

34 Peninsula • November 2017
---
5 REATA LANE | ROLLING HILLS

3 BEDROOMS | 2.5 BATHROOMS | 2257 SQFT | LOT SIZE: 53990

Rolling Hills Tranquility

Enjoy the pastoral ambiance of this traditional ranch style home in the gated, guarded community of Rolling Hills. The immaculately

maintained home offers both hillside and city views that serve to create an enjoyable living environment. This home

boasts a 2,257 square foot floor plan with 3 bedrooms that includes a master suite, 2.5 bathrooms, formal dining room, spacious

family room with fireplace and a conveniently laid out kitchen with newer appliances. The interior is accented in wood paneling,

high beamed ceilings and hardwood floors. The 53,990 square foot parcel is situated on a private cul-de-sac street and is highlighted

with a pool plus spa, brick patio and a lower level barn with turn out area. A truly great opportunity! Welcome home

to that "wonderful country feel".

Priced at $1,995,000

GAYLEPROBST

Re/Max Estate Properties

310-977-9711

CalBRE# 01137236

KEVINMOEN

Re/Max Estate Properties

310-466-4656

CalBRE# 0104808
---
"Attention all Golfers and Tennis players!!

ROLLING HILLS ESTATES

New home on private cul-de-sac street.

Next door to: Rolling Hills Country Club

and Kramer Tennis Club

5 BR, 5 Baths, Over 4,600 sq.ft home

36,000+ sq.ft lot Fully custom,

smart home, Zoned for Horses

Offered at $2,749,000

Brok Butcher

Broker/ Owner

310.710.6387

Brok@brokbutcher.com

1707 Via El Prado, 201

Redondo Beach, CA. 90277

BRE#01880217
---
Marco's

music

Marco Vignale and Emily Jordan on their way to the Peninsula High prom in 2013. Photos courtesy of the family

A rare gene mutation takes away a young man's physical abilities, but not his passions

by Maneesha Prakash

On October 27, 2016, my son Marco was admitted to Torrance Memorial

Intensive Care Unit, complaining of shortness of breath, and

extreme stomach pain. We assumed this was another inflammatory

episode of his chronic condition that would be resolved with bed rest and

proper nutrition in a few days, at most. Marco did not return home, or see

the world beyond the walls of a hospital, for over three months.

Marco suffers from a very rare, rapidly progressing, life-threatening type

of Muscular Dystrophy known as BAG3 MFM6 myopathy. This condition

is caused by a spontaneous mutation in a single gene – parents and family

do not carry it. No treatment exists. All known subjects with the disease

have died in their teens or twenties.

Marco, now 22, is confined to a wheelchair and needs a breathing machine.

Alexander Zah, a 14-year old Massachusetts boy, is the only other

person in the U.S. known to have the same unlucky strike mutation. Both

boys have lived with no treatment, no hope, and the knowledge that their

condition is so rare that there is little incentive for medical research to be

conducted on their behalf.

We moved to Rancho Palos Verdes in 2003 when Marco was 8 years old,

with his two older sisters. He attended Soleado Elementary School and was

your average All-American Boy, with an average dislike of math, and an

above average love of soccer. He spent most of his free time kicking a soccer

ball against the garage door of his Longhill Drive home. As soon as he was

old enough he began playing AYSO soccer.

He was the slowest player on the field, which was not a surprise. When

Marco was a toddler he had a difficult time sitting on the floor or crossing

his legs. He would fall off playground swingsets because he didn't grip the

ropes tightly enough. Neurological tests showed that Marco was missing

some key nerve reflexes, but doctors were at a loss as to why. Nevertheless,

Marco enjoyed playing AYSO, which is open to all kids, regardless of ability.

In 2006, his team, the Strikers, won the championship cup, which sent him

to a heaven of happiness.

Marco continued playing soccer at Ridgecrest Middle School, but with

more and more difficulty. P.E. required running around the field, which

was excruciatingly difficult. The UCLA Pediatric Neurology Clinic conducted

multiple tests, but could not diagnose the problem. He attended

summer soccer camps, and though he could not run much, he was praised

by his coaches for his technique. He hoped to try out for the Peninsula High

soccer team. But by the end of the summer of 2008, he was forced to accept

the reality that he could not keep up with the physical requirements of the

game. Instead, he became a living encyclopedia of FIFA and soccer World

Cups, dating back to 1930. He hoped to become a game commentator, until

he discovered those jobs go exclusively to former players.

He looked for another passion and found music. After trying drums and

guitars, he settled on bass guitar. He joined a jazz band through the Harbor

College outreach partnership. The group played at El Camino over the holiday

season. He immersed himself in music theory and composition. Music

filled his head and his home.

But, as with soccer, Marco's body could not keep up with the physical

demands of his new passion. As his disease progressed he began to lose coordination

in his extremities. His fingers, once deft at pressing chords, lost

their strength, making it difficult to learn new and challenging pieces. After

advancing within just a few years from novice to accomplished bassist, he

had to move on, once again.

Marco transferred to Rancho del Mar in 2011, which offers individualized

instruction to Peninsula students. A shorter work day and a different approach

to learning helped him tremendously. He became an A student

(though still not in math). He drove a car with hand controls. But a diagnosis

still eluded the UCLA neurologists.

In 2012, Marco transferred back to Peninsula High and began dating a

beautiful young woman named Emily. By then, his health had declined to

the point that he could no longer walk, and was confined to a wheelchair.

Marco cont. on page 40

38 Peninsula • November 2017
---
Marco's first passion was soccer.

$75 Off

Radiesse Injections*

Marco's second passion was music.

*1.5 mL Syringe, Expires 10/31/17

November 2017 • Peninsula 39
---
Marco cont. from page 38

He went with Emily to the 2013 prom in his wheelchair.

Finally, in early 2012, the UCLA team reached a diagnosis. Marco tested positive

for the recently discovered and usually fatal mutation known as BAG3 MFM6

myopathy. Our family was on the verge of despair.

Then, out of the blue, I received calls from two individuals who gave us hope.

The first was from Dr. Monte Willis, of the University of North Carolina. He

was doing basic research on a heart condition known as cardiomyopathy, which

results from a gene mutation similar to the mutation responsible for Marco's condition.

The second call was from Laura Zah, of Massachusetts, mother of 14-year-old

Alexander. She had seen a slide presentation about Marco that I had posted on

YouTube.

Our families began talking to medical researchers, among them, an expert in

gene therapy from Harvard University who is studying genetic mutations. We are

now in negotiations to help commence a research project on their mutation.

There are no government funds for research on such a rare disease, and no

pharmaceutical company will invest in the necessary research for a disease with

so few sufferers.

To raise money to fund research, our families have established the non profit

Alexander's Way Research Fund at Alexandersway.org and a GoFundMe campaign

at GoFundMe.com/genecure.

Last month marks one year since Marco's urgent admittance to Torrance Memorial

Hospital. Since then, his condition has stabilized and he is living his life to

the fullest. Soccer matches are on the sports channels and he has begun to compose

digital music, which does not require the muscular dexterity required of conventional

composing. Emily, has been by his side throughout his ordeal.

Since the beginning of the human race, rare and deadly genetic diseases have

left children like Marco and Alexander without hope. Now, for the first time in

human history, we are developing the technical tools that in a not too distant future

may eradicate these diseases from the face of the Earth. It is our duty to do

all we can to save Marco, Alexander, and future generations of children. PEN

Marco Vignale and friends on his 22nd birthday. Photos courtesy of the

family

40 Peninsula • November 2017
---
MAGNIFICENT HOME ON 2 ACRES

BUGGY WHIP DRIVE • ROLLING HILLS

Queen's Necklace View from All Bedrooms

• 5 bedrooms, 5.5 baths

• 5,000 (approx.) sq ft

• Circular Driveway

• Queen's Necklace view from all bedrooms!

• Pool/BBQ

• Wide Street for guest parking

• Guest house

• Cul-de-sac street with Hix Riding Ring

• Entertainment house

• Barn/Corral/Wash area

• Mostly flat lot, no canyon,

no ugly overhead power lines

26922 EASTVALE ROAD, PALOS VERDES

All Construction Approved by Los Angeles County Public Works Dept.

• Remodeled 3 bedrooms, 2.5 baths

• 2255 (approx.) sq ft home

• 28,500 sq ft lot

• Best school district (PVUSD)

• Solar lighting/Sewer system

• Pastoral view

$4,995,500 $1,650,000

• Circular driveway

• 3 stall barn with tack & hay room

• Huge family room overlooking barn

• Horse riding ring, access to all trails

• Near Fwys, shops, medical & beach

42 Peninsula • November 2017
---
Highest Quality at a Fair Price

• Stamping

• Driveways

• Pool Decks

• BBQ/Firepits

• Patios

• Stonework

• Pavers

• Foundations

LIABILITY INSURED • WORKERS COMPENSATION

Casey Lindahl - Founder & President of Lindahl Concrete Construction, Inc.

] u

t

310-326-6626 LindahlConcrete.com

Lic.#531387

Showroom Available

November 2017 • Peninsula 43
---
S P O T L I G H T O N T H E H I L L

Roaring '20s Elegance

Friends of the Library

Intermittent lightning lit up the fall sky on September 10, but there was

no raining on this fete hosted by the Villa Narcissa and Friends of the

Library. This was an enchanted evening with costumed Roaring Twenties

attire amidst a backdrop of Palos Verdes glamour and steeped in rich history.

The Vanderlip family was present including Narcissa and her sister,

Katrina Vanderlip who flew in from New York and auctioned off one of

her original watercolors of the Villa Narcissa to benefit the Friends of

the Library. More than 200 guests donated close to $50,000 to support library

programs and services. Notable sponsors included Continental Development

Corporation, the Jacqueline Glass Family, Malaga Bank and

Premier Bank of Palos Verdes.

PHOTOS BY STEPHANIE CARTOZIAN

1. Loretta Patterson and Brian Cole.

2. Bob and Sharron Parke, Pam

Barrett-Hill and Jim Hill and Cathie

DeFrees.

3. J.D. Dickinson and Pamela

Marton-Dickinson.

4. Russell and Viola Iungerich.

5. The venue at Villa Narcissa.

6. Patricia Tierney, Evalyn Prather and

Cindy Miller.

7. Special Thank You for the

Sponsors.

8. Brij and Donna Punj and Mike

Randall.

9. The Kaleidoscope Trio serenaded.

10. Mark Johnson, Donald Pooler

and Jim Munroe.

11. David and Judy Adishian.

12. Lee and Bob Boyles.

13. Kay Magee, Sondra Behrens,

Dana Graham and Lianne LaReine.

14. De De Hicks.

15. Virginia Butler and Les Fishman.

16. Narcissa Vanderlip.

17. Katrina Vanderlip auctioning off

her original watercolor of the Villa

Narcissa.

1

2

3 4

5

6

7

44 Peninsula • November 2017
---
8 9

10

11 12

13

14 15 16 17

Via Pacheco, PVE

JoAnn DeFlon

SRES, Palos Verdes Specialist

310.508.3581 call/text

joann.deflon@VistaSIR.com

Esplanade, RB

CalBre #01943409

Call me about

your current home or

to find your next one.

Every resource that is available to me and Vista Sotheby's International

Realty will be utilized to present your home in an Extraordinary

and Targeted Manner.

JUST SOLD

JUST SOLD

JUST SOLD

Esplanade, RB

Each office is independently

Owned and operated

William J. Wickwire, M.D.

Certified, American

Board of Dermatology

Neal M. Ammar, M.D.

Certified, American

Board of Dermatology

DERMATOLOGY & SKIN SURGERY

BEACH CITIES DERMATOLOGY

M E D I C A L C E N T E R

Say Goodbye to Stubborn Fat....

Two Coolscuplting Devices to Treat Two Areas at Once!

Specialists in Skin Cancer Detection

• Skin Cancer • Mole Removal & Mohs Surgery

• Reconstructive Facial Surgery and Scar Revision

• Acne & Accutane Treatment

• Warts, Rashes and Cysts • Leg Vein Sclerotherapy

• Hair Loss & Propecia • Restylane, Radiesse, Perlane,

Juvederm & Sculptra • Botox and Dysport Injections

• Age Spots & Sun Damage • Laser Surgery

• Microdermabrasion • Glycolic and Chemical Peels

• Ultraviolet B & PUVA • Pediatric Dermatology

310-798-1515

www.beachcitiesderm.com

Redondo Beach —

520 N. Prospect Ave., Suite 302

Palos Verdes —

827 Deep Valley Drive, Suite 101

Buy One, Get One

FREE

South Bay's

best equipped

Dermatology

Center!

All PPOs Accepted

Evening & Sat.

Appts. Available

November 2017 • Peninsula 45
---
Student safety valve

Student safety valve

Linsey Gotanda Ed.D, Emiko Chapman M.Ed., Liz Schoeben MFTi, Nancy De La Rosa MFT. Photos by Brad Jacobson (CivicCouch.com)

Liz Schoeben's therapists help school students deal with increasing pressures

by Robb Fulcher

Liz Schoeben is using a rare combination of

therapeutic and entrepreneurial acumen to

help students on the Peninsula avoid, or

overcome, the increasing pressures of school life.

Through her nonprofit organization CASSY

(Counseling and Support Services for Youth)

Southern California, Schoeben is making trained

therapists available to Palos Verdes Peninsula

school students. She established a similar program

in Northern California.

Through the year, one in five of the district's

11,500 students will visit a CASSY therapist, and

the bulk of the student body will receive classroom

presentations from CASSY.

Schoeben said the school partnership is a welcome

reality in a nation where 80 percent of

young people with mental health concerns are

not getting help.

Business beginnings

Schoeben began her professional career with

Wells Fargo, selling services to small businesses,

when she discovered that she "loved hearing people's

stories." She began tutoring kids in difficult

straits – kids who might have a father behind

bars and an overworked mother.

In her late 20s, she left Wells Fargo and returned

to school for a master's degree in marriage,

family and child therapy. Then, for the next

dozen years she worked as a school-based therapist

in Northern California.

A systematized approach

Along the way, she realized that she could

make a greater difference for a greater number

of kids by forming an agency to direct counseling

efforts in the schools.

She and colleague Liz Llamas co-founded

CASSY Bay Area in 2009. They hired trained

therapists, marking an immediate upgrade from

school-based systems that use graduate students

who are unpaid and less trained.

CASSY became a thriving concern, thanks to

Schoeben's gifts as a counselor, coupled with her

flair as an entrepreneur who can conceive, develop

and administer a nonprofit organization.

"People usually have one brain or the other,"

she said. "It's hard to find a therapist who wants

to run an agency."

Schoeben worked to build CASSY from the

ground up, reading a "For Dummies" book about

starting a nonprofit.

She said her husband Rob Schoeben, then a

marketing vice president at Apple, provided expertise

and connections that helped CASSY start

its life with a professional website and logo design,

pro bono legal help, and a "polished look"

right out of the gate.

In six years CASSY grew into a $3 million-ayear

operation, serving more than 40 schools. Its

success with students was confirmed with stateof-the-industry

metrics. Last year, Schoeben left

to seek a new horizon.

"I'm an entrepreneur," she said. "At that point

it was a really well run agency."

To the Hill

Schoeben was speaking on a panel at a mental

health symposium in Sacramento when she met

officials from the Palos Verdes Peninsula Unified

School District.

"They wanted me to do CASSY down here,"

she said.

Her experience up north spared her some

growing pains with the new CASSY. In the Bay

Area, she juggled the administrative and clinical

functions, and worked in the schools.

"That was way too much. I learned I can't do

everything."

This time, Schoeben hired a part-time clinical

48 Peninsula • November 2017
---
director to manage the counselors, and partnered with The Giving Back

Fund, a nationwide organization that takes care of accounting, payroll taxes

and other similar functions for nonprofits. And once again, Schoeben's

husband helped out.

"All this allowed us to start up the agency in less than a month," she said.

Student issues

In the high schools, a CASSY counselor occupies an office in the administration

building, and is seen as "just another support" for the students.

"What we've found over the years is that [other students] have no problem

with it. It's like, 'Oh, you're seeing her too, cool!' They're referring

their friends," Schoeben said.

"There's a lot of social work kind of stuff," she said. "It's not a long, yearafter-year,

lie-on-the-couch-and-talk kind of thing. We help them function

happily in school."

Crisis intervention and treatment is also an important part of the work.

"A crisis is in the eye of the student," said Schoeben. For instance, a student

might say, "I broke up with my boyfriend, and he's in my second period

class," prompting the counselor to talk the student through the

situation, sort out her concerns, and return to functioning comfortably in

the classroom.

"This could also be a kid, or another student or staff member, saying he

plans to kill himself, and he has the means, and he has a plan, and he's

getting ready to carry it out," Schoeben said.

In such a case, an eminently suicidal student might be hospitalized for

evaluation, with the cooperation of parents, and stabilized before returning

home. Then CASSY counselors help the student transition back to school.

CASSY counselors also help students cope if death strikes a student or

teacher, and help with issues of drug and alcohol abuse, or inappropriate

sexual behavior. They refer students for more intensive therapy for issues

such as eating disorders or suicidal planning.

Nationally, one in eight young people is clinically depressed, 26 percent

of high school girls have been victimized by physical or sexual abuse, including

date rape. A host of other issues, less serious and less chronic, still

can interfere with a student's happy adjustment to their environment.

Although crisis counseling is sometimes needed for younger children,

much of the work with them is done in classroom presentations on social

skills and friend-making.

"We're exposing almost every student to some level of emotional learning,"

Schoeben said.

Universal forces

Data collected on the issues raised by students show a universality of

experience, from affluent school districts to economically disadvantaged

ones, such as the East Palo Alto schools served by CASSY Bay Area.

"Every high school has the same issues – anxiety and depression symptoms,

communication with parents, the stress and anxiety of wanting to

get everything done, wanting to please everyone."

Schoeben said the pitfalls facing kids have not changed fundamentally

since she attended high school in the '80s, but some things have changed,

such as the ubiquity of texting and social media.

"We don't turn off as well now," she said. "We used to hang up the phone

and go to sleep, or if my sister was on the phone, I couldn't talk to my

friend, and I'd just go to bed. Now they can text all night, and are exposed

to the drama, and it's hard to get a break. It doesn't go away."

On social media kids – and adults – have difficulty interpreting the tone

of online comments, and can be tempted into too-impulsive online communication.

"Their brains are still growing, until they're about 25, and so they're

more impulsive, it's harder to slow down and make good decisions."

Money matters

The school district covers 80 percent of CASSY's funding, and Schoeben,

the former business banking salesperson, must fundraise the rest, which

totals about $45,000.

CASSY's effectiveness is measured through feedback from kids, parents

and school staff, and by the Children's Global Assessment Scale, commonly

called C-GAS, which evaluates the level of functioning, and severity

of mental illness, in children and adolescents.

CASSY Southern California's first round of evaluative data will be com-

4203 Spencer St., Torrance, CA 90503

(310)214-5049 • www.pevelers.com

Appointment Recommended

Showroom Hours: Monday Thru Friday 10-5

Closed Saturday and Sunday

License #381992

• Serving the South

Bay for over 35 years

• Full Service Contractor

• Complete Installation

• New Construction

• Remodeling

• Second Floors

• Additions

• Cabinets

Visit Our

Kitchen &

Bath

Showroom

November 2017 • Peninsula People 49
---
piled at the end of the school year.

"We assume it will parallel

[CASSY Bay Area], where 90 percent

of the students we see get better,

based on the C-GAS scale,"

Schoeben said.

The school district had been

seeking ways to better address students'

social and emotional needs

for a couple of years, said Kimberly

Fricker, assistant superintendent

for educational services.

Conversations with students and

parent groups had underscored the

need to help high school kids cope

with the pressures of complex academic

schedules and the increasingly

competitive effort to get into

desirable colleges and universities,

she said.

The district hopes that addressing

the social and emotional needs

of younger students will help give

them the resiliency they can call

upon later, to handle the greater

stresses that high school can bring.

"I'm very excited and enthusiastic

about this partnership with

CASSY," Fricker said.

Looking ahead, Schoeben wants

to expand CASSY.

"It's important to have the district

buy-in. We would like to grow

district by district." Growing

Liz Schoeben MFT, founder and executive director of CASSY, Southern California.

would help costs low and allow for

better employee training, Schoeben

said.

Funding can be secured for counseling

in financially disadvantaged

school districts through grants, and

through Title IX of the federal civil

rights law.

"East Palo Alto is a very underserved

community. Ninety percent

of students get free and reducedcost

lunch. But sometimes these districts

are easier to fund. It's hard to

write a grant for a community that

has a lot of wealth," Schoeben said.

In her limited spare time,

Schoeben relaxes by kickboxing,

and she volunteers four hours a

week with crisistextline.org, a free,

24-hour crisis counseling text line.

Rob works as a consultant for startups

and fledgling businesses. The

Schoebens live in Manhattan Beach,

and have three sons, ages 19, 21 and

23, all born the same week in June.

For more information visit Cassysocal.org.

PEN

50 Peninsula People • November 2017
---
The historic D-Day Doll Douglas C-53 Skytrooper that dropped paratroopers into combat during WWII. Photos by Tony LaBruno

by Randy Angel

The 24th edition of the Palos Verdes Concours d'Elegance had a different

look this year. Instead of a Peninsula golf course, the venue

was Zamperini Airfield in Torrance, at the Robinson Helicopter Company's

facility. The new venue enabled the concours to include historic

aircraft alongside the dozens of vintage automobiles. The theme was "Elegance

and Speed," a reflection of this year's marquee cars, Packard and

Porsche.

Other cars fitting the "speed" theme were South Bay icon Vic Edelbrock

Sr.'s 1932 Ford, his record-winning V8-60 Sprint Car, a 1964 Ford Fairlane

427 "Thunderbolt" drag racer, one of only 100 ever produced, and David

G. Adishian's 1961 Chrysler 300, one of the first muscle cars. The car was

known as the "Banker's Hotrod" because of its luxury interior and 396

horsepower cross ram Wedge V-8.

Another highlight of the show was the Italian-built Pagani, exhibited by

Christopher Pagani. The Pagani is the world's most expensive production

car.

The historic aircraft included a Douglas C-53 Skytrooper and a North

American P-51 Mustang D. During the Normandy invasion, the Douglas

C-53 dropped members of the 101st Airborne, behind enemy lines before

the first wave of soldiers hit the beach.

The masters of ceremonies were Dave Kunz and Ed Justice, Jr. Kunz has

been the Eyewitness News Automotive Specialist at ABC7 since 2001. Justice

comes from a family of automobile enthusiasts and has been heard on

radio programs Road & Track, Car and Driver and Motor Trend, in addition

to appearing on MSNBC.

Concours Chairman Ray Johnson said the new venue proved to be pop-

Superformance President Lance Stander.

The Torrance Tiger Squadron.

52 Peninsula • November 2017
---
Al Cellier, of Palos Verdes, with his 1962 red Corvette. Ed and Mort Bauchman, of Rancho Palos Verdes, with their 1964 Porsche 356 C.

Stearman 1942 aircraft N2S3 owned by Frank Mauro of Torrance.

ular.

"We have received very positive feedback from the exhibitors, sponsors,

and attendees," Johnson said. "Robinson Helicopter, the Airport Commission

and the City of Torrance were very supportive of the show and helped

make the new venue a success and we would like to hold the show there

again next year."

Rolling Hills residents Tom and Carrie Lieb, who have participated in the

event for many years, were two-time winners for the second time. They

took first place in the Hot Rods, Golden Era (1930-1960) class with their

1929 Ford Roadster and in the Brass/Antiques through 1924 category with

a 1923 Wills St. Claire Roadster. The Wills St. Claire won the Vintage Class

at Pebble Beach in 2001.

"It feels great to get a double win," Tom Lieb said. "The '29 roadster was

prepared by my grandson Connor. He spent about 20 hours detailing the

car. I bought the car in 1959 but sold the engine for college tuition in 1961.

Mark Guggenheim, of Palos Verdes, with his 1958 Porsche

Speedster.

I put it back together in late 2009 and took it and the Wills to the Grand

National Roadster show in 2010 and won best roadster. I drive both cars

regularly which is a lot of fun."

Darren Moore, of Rancho Palos Verdes, took two second-places with his

1922 Stutz Bearcat (Brass/Antiques through 1924) and his 1932 Packard

Twin Six 905 Coupe Roadster (Open Classic Packard, 1925-1948). He was

also presented the Chairman's Award for his P51D Mustang Airplane.

Moore has seven cars and six airplanes in his collection but it was the

first time he has exhibited his cars.

"I'm not a car show person, but since the Concours was presented at Torrance

Airport where my collection is, I couldn't refuse" Moore said. "I have

displayed and flown my aircraft at airshows before, but I no longer participate

in those events. I haven't acquired the vehicles as an investment, only

because I like them."

Moore purchased the P51D Mustang in 2011 after completing a training

Robert Knee, of Los Angeles, with his 1928 Mercedes-Benz 630K Murphy

Town Car.

Lianne Graham, of Palos Verdes, with her 1932 Chrysler Imperial CH Convertible

Sedan.

November 2017 • Peninsula 53
---
The scene at The Louis Zamperini Airfield venue.

The $2.4 million Italian Pagani.

Darren Moore( left), is presented the

Chairman's Award by Ray Johnson

for his P51D Mustang airplane.

Photo courtesy of PV Concours d'Elegance

Christopher Pagani whose father manufactures the Pagani automobile. Photo by

Stephanie Cartozian

course in the aircraft with Stallion 51, the only school in the country that

offers this course.

"Soon after I completed the course, a man down in Florida had just completed

a six year restoration of his Mustang and decided to sell it," Moore

added. "I flew it home a few weeks later. I tell everyone that I'm just the

"Caretaker" of it. It's American history and I'll pass it on to someone who

loves it just as much as I do."

Peninsula residents placed first and second in the Post-War European Elegance

through 1976 class. Jay and Bonnie McDonald, of Palos Verdes Estates,

took top honors with their 1956 Mercedes-Benz 300SL while Hiram

Bond and Paul Marcelino, of Rancho Palos Verdes, were runner-up with a

1963 Rolls-Royce CT100.

Tom and Shannon Hartman, of Rancho Palos Verdes, placed second in

the Open American Classics, 1925-1948 class with their 1932 Lincoln

Model 248 K LeBaron Convertible Roadster

Local third-place finishers included John Marian, of Rancho Palos Verdes,

with a 1965 Porsche 911 (Porsche 900, 1965-1990) and Palos Verdes Estates'

George Johnson with a 1929 Packard 626 5-Passenger Sedan (Closed Classic

FEE ONLY FINANCIAL PLANNER

• Are you in or approaching retirement?

• Do you want to stop worrying about your

investment portfolio?

• Do you lose sleep wondering if you may

outlive your nest egg?

• Do you want to know if you are on the

right path financially?

• Do you want to take control of your

finances?

• Do you feel you need a second opinion on

your portfolio?

If you answered "yes" to any or all of the

above questions, you may need to contact

me, to provide you with a personal financial

plan designed to help you take control

of your finances, reduce anxiety and ultimately

achieve your financial goals. There

is no cost or obligation for the initial meeting,

as it is an opportunity for you to learn

more about me, and for me to determine

if I can help you achieve your financial

goals and objectives.

As a fee-only financial planner I will be

compensated solely by my clients, I do not

accept commissions, referral fees, or

compensation from other sources, and I am committed to acting in

your best interest.

Abbas A. Heydari, CFP®

Certified Financial Planner

and Registered Investment Advisor.

Providing Financial Services

in Torrance since 1986

21515 Hawthorne Blvd., Suite 1020

Torrance, CA 90503

E-mail: aahfp@Yahoo.com

Web: www.aaheydari.com

Phone: (310)792-2090

54 Peninsula • November 2017
---
Aaron and Valerie Weiss, of San Marino, won Best of Show with their 1936

Mercedes-Benz 290 Cabriolet A. Photo courtesy of PV Concours d'Elegance

David G. Adishian with his 1961 Chrysler 300, one of the first muscle cars.

Only 1,281 were made. The car was known as the "Banker's Hotrod" because

of its luxury interior and 396 horsepower cross ram Wedge V-8. Photo by Jake

Caumeran

Packard, 1925-1948)

The Eric P. Allen Memorial award for Most Elegant was presented to

Earl Rubenstein, of El Segundo for his 1935 Packard 1204, Dual Cowl

Phaeton.

Best of Show honors went to Aaron and Valerie Weiss, of San Marino,

for their 1936 Mercedes-Benz 290 Cabriolet A.

Proceeds from the Palos Verdes Concours d'Elegance benefit the Boys

and Girls Clubs of the Los Angeles Harbor and a new charity, the Western

Museum of Flight. PEN

The award winning P51D Mustang was purchased in 2011 by Darren Moore

of Rancho Palos Verdes. Photo courtesy of PV Concours d'Elegance

Open House Sat & Sun 1-4pm

Resort Living in your own home

27339 Eastvale Road, Palos Verdes Peninsula

• Spectacular home

• Built in 2003

• 5 Bedrooms | 2.5 Baths | 3200 SQ FT

• Master suite with Beverly Hills Housewives Closet and

featuring a full wall of retractable windows and doors

• Almost half acre, private grassy yard, waterfall, 2 spas,

saltwater pool

• Impressive panoramic views

• Spacious living room with fireplace, views, dining,

billiards

• Hardwood floors in all of the family rooms

• Built-in BBQ, with fridge, ice maker, wine fridge,

cooking station with sink

• Gated private entry with large 2-car garage with

driveway for 5 more cars

Offered at $2,550,000

November 2017 • Peninsula 55
---
56 Peninsula • November 2017
---
Service first

Citizen of the Year

Jackie Crowley

finds happiness in

making others happy

by Robb Fulcher

Jackie Crowley has been giving of herself for more decades

than she will reveal, visiting kids recovering from surgery

in an orthopedic hospital, lugging supply-filled backpacks

to disadvantaged schools, and sitting on the boards of Palos

Verdes Performing Arts and the Peninsula Symphony Association.

If you ask her why, she might have to think for a moment.

Service has become second nature, to the extent that she sometimes

must remind herself to turn her attention to her other career,

real estate. Still, her answer is clear and simple: her work

is animated by faith and gratitude.

In recognition of her volunteer spirit, Crowley has been

named Citizen of the Year by the Palos Verdes Peninsula Chamber

of Commerce, which will officially bestow the honor at an

annual dinner Nov. 1.

Service in faith

In an interview, Crowley spoke of her church, Rolling Hills

Covenant, and its mission to "lead people to Christ." She believes

that in addition to that Christian mission, people are

given individualized missions to be useful to each other.

"It probably sounds corny, but the good Lord has been very

good to me. Life has been very good to me," she said.

Of course, she volunteers at the church too, taking care of

"leapers," kids 18 to 24 months old, in the nursery, once a

month during the 9:30 service.

"We have peepers, creepers and leapers. I have the leapers,"

she said.

The morning of the interview, she had been on hand for the

"Shop 'Til You Drop" fundraiser, with food and retail vendors,

to support Palos Verdes Performing Arts, which brings highly

regarded stage, musical and ballet performances to the Norris

Theatre, and oversees a student Conservatory and a multi-use

pavilion.

The next day would see her in San Diego where, in her role

as a state director for the California Association of Realtors, she

would help ride herd on one of the association's three yearly

conferences.

Much of her current volunteer work involves structure and

organization. On the Performing Arts board, for instance, she

helps make decisions about which theater productions should

be brought in, with a bottom-line focus that they must be affordable.

The board also oversees a variety of uses of the Harlyne

J. Norris Pavilion, and keeps track of Performing Arts

support groups such as Bravo!, Chorusliners, and Act II, which

put on "Shop 'Til You Drop."

Jackie Crowley in front of a wall lined with local service awards. Photo by Tony LaBruno

Crowley also solicits advertising for a program book that sits on the laps of Norris

Theatre patrons.

Depression child

Crowley was born during the Great Depression, in a hospital along Lake Erie. She

used to call her birthplace Cleveland, until she found out that, technically, she was

born in the eastern suburb of Euclid.

"I was sort of surprised," she said. "I had always said Cleveland, Ohio."

In the rough and tumble of a desperate economy, her father worked for Ford Motor

58 Peninsula • November 2017
---
Co. until that job went away. He operated his own auto dealership for a

time. Then he caught on with the government, in a job that called for frequent

relocations. The family lived in West Virginia, North Carolina,

Louisiana, Rhode Island, Pennsylvania and Ohio, with mom timing the

moves to take place between the school years.

"My mother was smart enough to have us move in the summertime,"

Crowley said.

Crowley's father had fond recollections of California, where he was located

while he was in the service, so the family came out west. Crowley

attended Inglewood High School, where she served as editor-in-chief of

the yearbook.

"In those days you were raised to grow up, get an education, get married

and raise a family," she said. "That was expected of a young lady, so that's

the way it went."

Crowley has two children, Steven Lee Pinkney and Susan Leann Mc-

Crae.

"I'd have to say life has been very, very good to me," Crowley said.

By the time she and her family moved to the Peninsula, she was selling

homes. In 1972 she opened Rancho Verdes Realty, at Palos Verdes Drive

North and Crenshaw Boulevard. She signed on with RE/MAX in 1982 and

has been with the agency ever since, as a real estate broker and vice president

for estate properties.

TRUSTS, WILLS, PROBATE

After practicing law in the

Manhattan and Hermosa Beach area for

over 28 years I'm pleased to announce the

relocation of my offices to Palos Verdes.

Please call for a free consultation.

MARGARET A. JONES

Attorney At Law

655 Deep Valley Drive, Suite 125

Rolling Hills Estates, CA 90274

(310) 544-2255

Majoneslaw.com

Toothbrushes and teddy bears

Her extensive volunteer service began in the early 1970s, when she went

into the orthopedic hospital in Los Angeles, performing duties including

working in the gift shop and visiting children in the recovery room following

surgery.

"We could go into the recovery room and then see the parents. It gives

them a wonderful feeling, that communication, to know that somebody

saw their loved one. It was wonderful."

Crowley did that recovery room work for about 20 years, "as long as they

had that job."

Also among Crowley's volunteering favorites is the Affinity Group,

which she has chaired for five years, for the Volunteer Center South Bay.

The centerpiece of the effort is Operation Teddy Bear, which prepares and

delivers backpacks stuffed with supplies like books, crayons and toothbrushes

– topped off with a teddy bear – to school kids in underprivileged

areas.

"We're known as the teddy bear support group," she said.

Several hundreds of the backpacks have been delivered to date.

V ilicich

Watch & Clock

Established 1947

Celebrating

Our

70 th

Anniversary!

(310) 833-6891

Service in work

Crowley sees her real estate career as another form of service, with the

benefit of a paycheck.

"I love selling real estate. You help people make one of the biggest decisions

they make in life…It's a very important step," she said.

"Some people I've sold houses to, they're still in the same house 50 years

later," Crowley said.

"I've been in real estate for over 50 years – I wouldn't want to say how

many more," she added with a laugh.

Crowley lives in Rancho Palos Verdes, and fills her limited spare time

with physical activity including bowling, golf, swimming and ballroom

dance classes.

"I love to dance," she said. "When you're dancing, you don't know that

you're exercising, but you're exercising."

To be happy, she must be of service.

"I belong to Rotary Club of Palos Verdes Sunset, and the Rotary motto is

also my life motto: 'Service Above Self,'" Crowley said. "Happiness for me

is anything I can do that makes someone else happy."

"I don't want people to think I'm a Pollyanna, but I definitely see the

glass as half full. I can't see it half empty."

Jackie Crowley will be honored as the Palos Verdes Peninsula Chamber

of Commerce 2017 Citizen of the Year at the chamber's annual gala 5:30

p.m., Wednesday, Nov. 1 at Terranea Resort. In addition, Walk With Sally

will be named Nonprofit Organization of the Year, and Vistas For Children

will be named Community Service Organization of the Year. Tickets are

$150. For information see palosverdeschamber.com or call 310-377-8111.

PEN

714 S. Weymouth Avenue

San Pedro, CA 90732

Not affiliated with Rolex USA

November 2017 • Peninsula People 59
---
60 Peninsula • November 2017
---
eventcalendar

CALENDAR OF COMMUNITY EVENTS

Compiled by Teri Marin

You can email your event to our address: penpeople@easyreadernews.com

All submissions must be sent by the 10th of each month prior to event taking place.

Ongoing

Native Plant Nursery Volunteer Days

n Nurture seedlings and help shrubs grow for habitat restoration projects.

RSVP 48 hours in advance. Fridays and Saturdays, 9 a.m. - noon. Sign up at

pvplc.volunteerhub.com

Rapid Response Team

n Work alongside Conservancy staff protecting wildlife habitat by closing

unauthorized trails. Task include trail maintenance, building fences and installing

signage. Work at various locations around the Preserve. Directions to

sites emailed upon sign up. No experience needed. 15 and up. Visit volunteerhub.com

Nature on the Big Screen

n Birders take note! The PVP Land Conservancy is compiling photos for

slideshow showcasing your bird photographs for November 19 to be shown

on the "big screen" at the Warner Grand Theatre. If you have bird photos

that you would like to be included, please email up to 3 images to:

photo@pvplc.org. Please make sure they are in large format, at least 240 dpi

and 1920 x 1200 pixels. Include your name, location of the photo and

species of bird, if known.

n Are you a student who loves filming videos? You too can be featured on

the big screen. Please send a 1- 2 minute video about what you love about

nature, how nature impacts your life or what nature taught you. Send your

.mov or .mp4 file tophoto@pvplc.org. Include your name and year in school.

Sunday, October 29

Water music

n Season opener of the Peninsula Symphony. Pre-concert lecture by Maestro

Berkson (members only) at 6:15 p.m., concert begins at 7 p.m. The doors

open at 6 p.m. Concert opens with Felix Mendelssohn's Calm Sea and Prosperous

Voyage, Opus 27. Aleksandr Glazunov's majestic Das Meer (The

Sea), Opus 28, follows. After intermission, the concert hall is transformed to

a fairy tale lake in Anatole Liadov's The Enchanted Lake, Opus 62. The concert

ends with Leonard Bernstein's haunting On the Waterfront. Concert and

parking are free. Redondo Union High School Auditorium, 631 Vincent Street

November 2017 • Peninsula 61
---
Together, let us …

Pray for all who carry burdens.

Worship the Christ whose love

overcomes the darkness.

Light candles of peace, courage, love,

hope, faith, remembrance and

thanksgiving.

The Service

of Reflection

and Thanksgiving

Wednesday

November 15, 2017

7:00 pm (new time)

The Sanctuary

St. Peter's by the Sea

6410 Palos Verdes Drive South

Rancho Palos Verdes, CA 90275

StPetersPres.org

Sponsored by the Stephen Ministry,

Deacons and Caring Ministries

DAVID FAIRCHILD PHOTOGRAPHY

Sunday, Nov. 5

Musical Endeavour

n "Journey of the Endeavour," by

Grammy nominated Peninsula composer

David Benoit, will be performed

at the Peninsula Committee

Los Angeles Philharmonic (PCLAP)

fall fundraiser at the California Science

Center Samuel Oschin Pavilion.

Benoit will conduct the Asia

America Youth Symphony. "Journey

of the Endeavour" will be accompanied

by NASA footage of the space

shuttle's journey to its permanent

home in Los Angeles. 7-10 p.m.

$150 at pclaphil.org. 700 Exposition

Park Dr., Los Angeles.

Jacob Miller and the

Bridge City Crooners

n The Palos Verdes Performing

Arts' Cabaret Jazz series opens with

one of the finest roots-oriented vineventcalendar

in Redondo Beach (PCH at Diamond). For further information, please call the

Symphony Office at 310-544-0320, e-mail music.pensym@verizon.net, or

visit Pensym.org.

Friday, November 3

Full Moon Hike

n Sponsored by the PVP Land Conservancy. Explore nocturnal sights with an

expert naturalist under a full moon at the George F Canyon Nature Preserve,

27305 Palos Verdes Dr. E., Rolling Hills. Must be age 9 and up. $12 per person.

RSVP required at www.pvplc.org, Events & Activities.

A show of Ponies

n With classic touches of Fleetwood Mac and The Eagles, The Show Ponies

deliver a sassy blend of indie-folk, bluegrass, old-time country and American

roots-rock. 8 p.m. $20 to $42, available at www.grandannex.org or (310)

833-4813 Mon-Fri 9 to 5. The Grand Annex, 434 W 6th St., San Pedro.

Saturday, November 4

Outdoor Volunteer Day

n At Native Plant Nursery, 9 a.m. – noon. Nurture seedlings and grow shrubs

for habitat restoration projects all around the Peninsula. Reservations required

by Wednesday, November 1. Sign up at www.pvplc.volunteerhub.com.

Family hike

n First Saturday Family Hike at George F Canyon. 9 a.m. Bring your family

and join a naturalist guide to discover habitat, wildlife and more on an easy

hike up the canyon with amazing views of the city. Free. All ages welcome.

27305 Palos Verdes Dr. E., Rolling Hills. For more information, contact (310)

547-0862 or RSVP at: www.pvplc.org, Events & Activities.

Fortunate Son

n Fortunate Son delivers the spirit

and grit of Creedence Clearwater

Revival and John Fogerty. 8 p.m.

$20 to $42, available at www.grandannex.org

or (310) 833-4813

Mon-Fri 9 to 5. The Grand Annex,

434 W 6th St., San Pedro.

"Its Like You're There All Over Again"

310-316-5547 WWW.DAVIDFAIRCHILDSTUDIO.COM

62 Peninsula • November 2017
---
tage-style jazz bands on the West Coast. Jacob Miller and the Bridge City

Crooners have taken the hot jazz of the '20s and '30s and combined it with

country blues, western swing, and ragtime to create an irresistible sound. 7:30

p.m. Tickets are $80, which includes reserved table seating, gourmet supper,

no-host bar, dance floor, and two music sets. Harlyne J. Norris Pavilion, 501

Indian Peak Road in Rolling Hills Estates. For more information, or tickets, call

(310) 544-0403 or go to palosverdesperformingarts.com.

Thursday, November 9

Personalized (genomic) medicine

n Modern genetic technology now allows the complete sequencing of an individual's

entire "genome", all 3 billion DNA base pairs. In this presentation,

learn about current and future applications of genomics in improving the diagnosis,

the prognosis and therapy, and even prevention of disease, the concept

of personalized medicine. Noon to 1:30 p.m. Lunch provided.

Attendance is limited to Friends, members and one-time guests. LA BioMed

1st Floor Conference Room, 1124 W. Carson St., Torrance. To become a

member, sign up at labiomed.org/friends or contact the Development Office

at (310) 222-4240 or development@labiomed.org.

Friday, November 10

Outlandish Raya

n Shimmering blues soul vocalist most recognized as the voice of the opening

credits of the Outlander series and for the shimmering vocals featured throughout

the sci-fi hit Battlestar Galactica. 8 p.m. $20 to $42, available at

www.grandannex.org or (310) 833-4813 Mon-Fri 9 to 5. The Grand Annex,

434 W 6th St., San Pedro.

Saturday, November 11

Holiday Boutique & Food Court

n Little Sisters of the Poor Auditorium, 2100 S. Western Ave., San Pedro,

8:30 a.m - 5 p.m. Grand Raffle tickets $5 each, (310) 548-0625.

Guided walk

n Celebrate Veteran's Day viewing a former gun emplacement and learn

about the military history of the area from the Palos Verdes Peninsula Land

Conservancy. 9 a.m. Don't miss the Nature Education Center with activities

for the whole family. This is a moderate

walk. Free and open to the

public. White Point Nature Preserve,

1600 W. Paseo Del Mar, San

Pedro. For more information, contact

(310) 541-7613 ext. 201 or sign up

at www.pvplc.org/_events/Nature-

WalkRSVP.asp.

Outdoor Volunteer Day

n Help beautify the native demonstration

garden and surrounding

habitat. 9 a.m. – noon. Sign up at

www.pvplc.volunteerhub.com.

White Point Nature Preserve,1600

W. Paseo Del Mar, San Pedro.

Stories, songs and more

n Share the joy of storytelling with

your children and introduce them to

the beauty of the natural surroundings.

Your family will enjoy spending

time with retired Children's Librarian

Carla Sedlacek for stories and activities

featuring nature themes, exciting

eventcalendar

MATTUCCI

Plumbing

Since 1990 • License # 770059, C-36 C-34 C-42

D E P E N D A B L E • P R O F E S S I O N A L • A F F O R D A B L E

w w w . m a t t u c c i p l u m b i n g . c o m

FALL SPECIALS

$ 9 8 0

Residential Water Heater

40 gal. installed! ($1080 - 50 gal. also available)

Includes hot & cold water supply lines

Expires December 31, 2017

Suzy Zimmerman, Agent

Insurance Lic#: OF71296

4010 Palos Verdes Dr N, Suite

FULL SERVICE PLUMBING

SEWER VIDEO INSPECTION

ROOTER SERVICE

COPPER REPIPES

$ 7 5

Rooter Service - Main Line

Must have clean-out access. Some restrictions may apply.

Expires December 31, 2017

F R E E

E S T I M A T E S

M e n t i o n t h i s a d w h e n

s e t t i n g u p a p p o i n t m e n t .

3 1 0 . 5 4 3 . 2 0 0 1

That's when you can count on

State Farm®.

I know life doesn't come with a schedule.

That's why at State Farm you can always

count on me for whatever you need –

24/7, 365.

GET TO A BETTER STATE.

CALL ME TODAY.

Thank You

For Your

Vote!

ON CALL

24 HOURS

7 DAYS

November 2017 • Peninsula 63

103

Rolling Hills Estates, CA 90274

Bus: 310-377-9531

www.zimziminsurance.com

1101198.1 State Farm, Home Office, Bloomington, IL

2013
---
64 Peninsula • November 2017
---
props and songs. 10 a.m. Free. RSVP at:

www.pvplc.org. White Point Nature Preserve,1600

W. Paseo Del Mar, San Pedro.

The Company Men

n Featuring stellar performers from Broadway and

national touring companies of "Hairspray," "The

Lion King," "Jesus Christ Superstar" and "Camelot,"

The Company Men uniquely interweave Top 40 hits

with re-imagined classics by blending songs by

artists including Sam Smith, The Four Tops, Michael

Jackson, Katy Perry, Adele, The Temptations, Billy

Joel, Prince, Meghan Trainor, Bruno Mars, Michael

Bublé and more. 8 p.m. Tickets $70-$75; $10 discount

for youths. To purchase tickets, call the box

office at (310) 544-0403 or go to palosverdesperformingarts.com.

The Norris Theatre, 27570 Norris

Center Drive in Rolling Hills Estates.

Sunday, November 12

TMMC "Light Up a Life"

n Torrance Memorial Hospice will host its annual

"Light Up a Life" tree lighting ceremony and

fundraiser 4 to 6 p.m. at Torrance Memorial Medical

Center's Hoffman Health Conference Center.

Hosted in honor of National Hospice and Palliative

Care Month, the event provides the community an

opportunity to celebrate and honor a loved one's

life. The evening will include a reading of names,

performances by the Los Cancioneros Master

eventcalendar

Chorale and the Palos Verdes Peninsula High

School Symphonic Orchestra. Individuals can illuminate

a light on the holiday tree by making a donation

of any amount. All contributions support the

hospital's Hospice and Bereavement Programs and

assist those who cannot afford care. For information

or to RSVP, call 310-517-4694 or visit www.TorranceMemorial.org/Hospice.

Second Sundays At Two

n Los Angeles Chamber Orchestra Principal Cellist

Andrew Shulman and renowned Italian pianist and

Colburn Conservatory faculty Fabio Bidini perform.

2 p.m. sharp! Free admission, donations appreciated.

Rolling Hills United Methodist Church, 26438

Crenshaw Blvd., Rolling Hills Estates.

www.RHUMC.org.

Chamber Orchestra, Waarts and all

n Chamber Orchestra of the South Bay, the resident

classical orchestra of the Palos Verdes Performing

Arts Center, continues its 2017-18 season with

featured soloist, award-winning violinist and Curtison-Tour

artist Stephen Waarts. Under the direction

of Frances Steiner, the program will open with

Gluck's Overture to Orfeo et Euridice followed by

Prokofiev's Violin Concerto No. 2 in g minor, Op.

63 featuring Mr. Waarts. Following intermission

Mozart's wonderful Symphony No. 41 in C Major,

KV 551 "Jupiter". There will be a Preview Talk by

Stephen Richards starting at 6:45 p.m. Concert begins

at

7:30. Single

tickets

are $63 (inc

l u d e s

PVPA facility

fee) and

will be

available

through the

Norris Theatre

Box

O f f i c e , Violinist Stephen Waarts.

(310) 544-

0403, ext.

221 or online at

www.palosverdesperformingarts.com. Further information

on COSB and its future concerts can be

found by visiting www.mycosb.org. Norris Theatre,

27570 Norris Center Dr., Rolling Hills Estates.

Monday, November 13

'Jester's Mom' talk

n Barbara Saltzman, president of the nonprofit

Jester & Pharley Phund, will talk about "Why The

Jester Jingles" at Lunada Bay Elementary School auditorium,

520 Paseo Lunado, Palos Verdes Estates,

at 6:30 p.m. Free to local residents. Lunada Bay

Cub Scout Pack 276 is partnering with the Phund

November 2017 • Peninsula 65
---
Prompt Professional Discreet

Spectacular Pool homes for the entertaining Family……call us!

Kathy Siegel & Michele Swift Chodos

www.PalosVerdesAgents.com

310 729.0913 • 310 897.6488

CalBRE 01877303 / 00890714
---
to bring smiles to children with cancer during the

holiday season. For every copy of "The Jester" sold

by Lunada Bay Cub Scouts, The Phund will donate

another to a hospitalized child. For information,

please contact The Jester & Pharley Phund at 310-

544-4733 or email thejester13@cox.net.

Wednesday, November 15

Service of reflection and thanks

n Take a moment for reflection as the holiday season

begins anew. Light candles of peace, courage,

love, hope, faith, remembrance and thanksgiving.

7 p.m. The Sanctuary St. Peter's by the Sea, 6410

Palos Verdes Dr. S., Rancho Palos Verdes.

Wild birding unlimited

n Explore the birds making a home in the restored

habitat at the beautiful White Point Nature Preserve.

8:30 a.m. Binoculars supplied for beginners. Free.

All ages welcome. 1600 W. Paseo del Mar, San

Pedro. RSVP at: www.pvplc.org, Events & Activities.

Friday, November 17

An Affair to Remember

n Special Children's League, luncheon and holiday

boutique, 10 a.m - 2 p.m. Palos Verdes Golf

Club, 3301 Via Campesina, Palos Verdes Estates.

Tickets Kristina Mermelstein, kmermel@cox.net.

Saturday, November 18

Running funning

n Palos Verdes Half Marathon, 5K and 10K races.

7 a.m. Pelican Cove Park, 31300 Palos Verdes Dr.

S., Rancho Palos Verdes. www.laceuprunningseries.com.

Outdoor Volunteer Day

n Help restore this unique canyon habitat home

to many threatened and endangered wildlife

species. 9 a.m. – noon. Alta Vicente Reserve,

30940 Hawthorne Blvd., Rancho Palos Verdes.

Sign up at http://pvplc.volunteerhub.com.

Art2Go2 premiers

n Art enthusiasts and the general community welcome

the second annual Art2Go event, a dynamic

concept for enjoying and buying art. Every wall of

Destination:Art will be filled with over 300 original

paintings of all styles and media created by the 22

studio and gallery artists, as well as the 60 associate

artists. Framers with special prices frames will

be on site. 3-7 p.m. Destination:Art Studios &

Gallery, 1815 W. 213th Street, Torrance. 310-742-

3192.

El Rayo-X

n Master guitarist and string player, David Lindley

pioneered the infusion of Americana and roots-rock

with world music then went on to work with some

eventcalendar

of the biggest names in '60s and '70s rock, including

Jackson Browne, Warren Zevon, Linda Ronstadt,

David Crosby, Bruce Springsteen and many

more. 8 p.m. $20 to $42, available at www.grandannex.org

or (310) 833-4813 Mon-Fri 9 to 5.

Grand Annex, 434 W. 6th St., San Pedro.

Sunday, November 19

Kids Club

n Families can dig their way into the past with

South Coast Botanic Garden's Kids Club. Learn

about the Garden's transformation from an underwater

wonder, to an open pit mine, to a trash

dump, and into a beautiful botanic garden. Hunt

for marine fossils in a simulated dig pit, build your

own landfill model, get dirty with soil testing, and

start your own flower seedling. 1 - 4 p.m. Free with

membership or general garden admission. RSVP

highly encouraged. 26300 Crenshaw Blvd., Palos

Verdes Peninsula. Southcoastboatnicgarden.org.

Beauty of Nature Series

n This is the final film of the PVP Land Conservancy's

series with a documentary, The Central Park

Effect, that transports the viewer to the dazzling, hidden

world of America's most famous city park. 4:30

p.m. Tickets $10 online at pvplc.org. Youth 18 and

under free. Warner Grand Theatre, 478 W. 6th St.,

San Pedro.

November 2017 • Peninsula People 67
---
eventcalendar

Wednesday, November 22

Birding with Wild Birds Unlimited

n Explore the birds in nesting season making a home in the George F

Canyon. 8:30 a.m. The program is free and all ages welcome. Presented by

the Palos Verdes Peninsula Land Conservancy 27305 Palos Verdes Drive East,

Rolling Hills Estates. RSVP at: www.pvplc.org, Events & Activities.

Saturday, November 25

Guided Nature Walk

n Visit White Point Nature Preserve and attend a naturalist-guided hike. Enjoy

coastal views and learn more about the plants, animals, restoration area and

more! 9 a.m. Meet at the information kiosk between parking lot and Nature

Center. White Point Nature Preserve, 1600 W. Paseo del Mar, San Pedro.

For more information call (310) 541-7613 or RSVP at: www.pvplc.org, Events

& Activities.

Native Plant Sale

n Plants sold on first-come, first-serve basis. Noon-2 p.m. White Point Nature

Preserve, 1600 W. Paseo del Mar, San Pedro. For more information call (310)

541-7613.

Sunday, November 26

Starbright Holiday Boutique & Music

n A festive benefit to support the Asia America Symphony Association &

Guild, Youth Symphony education programs and concerts will be held at a

magnificent oceanfront home from 11 a.m. to 3 p.m. Youth musicians and

professional artists perform. Music director David Benoit, renowned pianist.

Unique vendors include inspiring author Deborah Paul, Renko Original Fashions,

Nozomi (jewelry created from Japan's tsunami) and more. Reservations

(a must) for lunch. Contact AASA (310) 377-8977 or Marlene Okada (310)

594-6510 for more information.

Monday, November 27

ACT II auditions

n Act II, a support group for Palos Verdes Performing Arts, is looking for talented

performers to sing in the upcoming annual variety show to be held

March 9-10, 2018. Auditions for "Broadway to Hollywood" will be held at

the Harlyne J. Norris Pavilion, and appointments for both solos and groups

are being taken for times between 5:30 to 10 p.m. Participants should choose

music from a popular Broadway or Hollywood songs to tie in with this year's

theme. Accompanist will be available. All proceeds benefit PVPA. For more

information or to make an appointment, call co-producer Arline Grotz at (310)

377-7746. Norris Pavilion, 501 Indian Peak Road in Rolling Hills Estates.

Vinyl Windows

Replacement and New Construction

BUY ONLINE

AND SAVE BIG $$$

WWW.1STWINDOWS.COM

"Mr. Australia"

New Zealand and Fiji Too!

Your local expert for amazing, personalized

South Pacific travel packages

PVE resident • 16 years experience

100% "A" rating on Angie's List

Rick Stone, "Mr. Australia"

310-793-6013

mraustralia@verizon.net

www.MrAustralia.net

VINYL, ALUMINUM, WOODCLAD

Lowest Prices Up Front • No Games

Show Room 562-494-9069

CONTRACTOR REFERRAL • Fax 562-494-2069

REAL ESTATE LOANS LOW RATES - FAST CLOSING

• Jumbo Loan To $10 Million

• Conventional Loans with only 1% Down (WHY RENT?)

• FHA up to $636,150

• 5+ Unit Financing

• Construction Loans

• Good Credit/Bad Credit

MILLENNIUM REAL ESTATE SERVICES

(BRE: 01275204/MLO: 1153348)

JACKIE COLLINS, Broker

800-653-1022

www.webmortgagefunder.com

609 Deep Valley Drive, Suite 200, Rolling Hills Estates, CA 90274

November 2017 • Peninsula 69
---
70 Peninsula • November 2017
---
Tuesday, November 28

TMMC Holiday Festival

n Torrance Memorial Medical Center hosts its annual

Holiday Festival fundraiser, through Dec. 3.

More than 36 themed, decorated trees, live entertainment,

the South Bay's largest holiday boutique,

opportunity drawing, children's activities and food

court; $5 general admission. General Public Hours:

today: 1:30-3:30 p.m.; Wednesday, Nov. 29,

Thursday, Nov. 30 and Saturday, Dec. 2, 10 a.m.

– 9 p.m.; Sunday, Dec. 3, 10 a.m. – 4 p.m. Senior

Days: (free for seniors and those with limited mobility)

Wednesday, Nov. 29 and Thursday, Nov. 30,

10 a.m. to 2 p.m. Community Service Group

Night: ($2 admission to nonprofit and community

service group members) Thursday, Nov. 30, 4 to 9

p.m. In the white tent at Skypark and Medical Center

drives, Torrance. (310) 517- 4606 or www.TorranceMemorial.org/holidayfestival

for more

information.

Friday, December 1

Yule Parlor

n Welcome the holiday season with the Neighborhood

Church's annual event featuring the formal delectable

Yule Tea by the Sea, accompanied by the

popular shops of vintage antiques and memorabilia,

bake shop with homemade pastries and candies

wrapped for gift giving, and the Yule crafts and

homemade arts created by loving hands. View the

treasured hand painted ceilings and walls of the

Mediterranean architecture, and treasured art work

of the Church. 10 a.m. - 3 p.m., Saturday and Sunday.

$25 each guest for one day; $30 if purchased

the day of event. Send your check to: Yule Parlor

Neighborhood Church, 415 Paseo del Mar, Palos

Verdes Estates. Ticket will be held for pick up at the

door.

Nutcracker sweets

n Start your holiday season with the annual production

of "The Nutcracker", presented by Peninsula

School of Performing Arts. A beautiful blend of

professionals, pre-professionals, adults and young

dancers come together to delight audiences of all

ages with this rich rendition of the classical ballet.

World renowned performer Alexander Kalinin, as

Herr Drosselmeier, weaves an enchanted story

through the dreams of a young girl, Clara, and her

Nutcracker. Her travels take her to the Battle of the

Nutcracker and the Mouse King then to the Land of

Snow, and on to the Kingdom of the Sweets, where

Clara is greeted by the ever so beautiful Sugar Plum

Fairy and her court. Music by Tchaikovsky and choreography

by Tita Boulger, Vera Ninkovic, Marina

eventcalendar

Kalinina and Alexander Kalinin. A treat for the entire

family. Friday at 7 p.m., Saturday at 2 p.m & 7

p.m. and Sunday at 2 p.m. Tickets are $35 for

adults and $25 for Children 17 and under. For tickets

contact the Norris Theater Box Office at 310-

544-0403. palosverdesperformingarts.com.

Saturday, December 2

Victorian Christmas celebration

n The Banning Museum will kick off the holiday

season with its annual Victorian Christmas Weekend

Celebration. The Museum grounds are transformed

into a Christmas Festival featuring Victorian

period entertainment, walk-thru tours of the decorated

Banning Mansion, blacksmith demonstrations,

refreshments, family holiday crafts, a bake sale,

local food vendors, handmade crafts by area artisans,

and jolly ol' St. Nick himself will pose for photos

with the little ones in an historic carriage. One

of the highlights of the festivities is a horse-drawn

trolley ride to the Drum Barracks Civil War Museum

in Wilmington. 11 a.m. to 4 p.m., Saturday and

Sunday. Banning Museum, 401 East "M" Street,

Wilmington. For more details contact Friends of

Banning Museum at (310) 548-2005 or www.thebanningmuseum.org.

PEN

November 2017 • Peninsula 71
---
Clint Wilson, Teresa Klinkner, Kent Burton, Brad N. Baker, Christine Daniels, Albro Lundy, Evan Koch

Baker, Burton & Lundy, P.C.

Giant-killing law firm still growing after all these years

Baker, Burton & Lundy, the local law firm with a nationwide

reputation and billions of dollars won for its clients,

continues to expand both its practice and its physical

presence in the heart of Hermosa.

The giant-killing firm has won more than $4 billion in verdicts

and settlements, and the attorneys have argued twice before

the U.S. Supreme Court and won an affirmative verdict from

the California Supreme Court.

Never content to stand still, BBL has been growing its

probate and employment law divisions, while energetically

maintaining its core practices that include business, real estate,

personal injury, elder abuse and estate planning.

To house the expanding practice, the 41-year-old firm is making

its third expansion along Hermosa's iconic Pier Avenue,

adding new offices and a "lifeguard tower-esque" roof deck

to its storefront.

Partner Brad N. Baker, who heads up estate planning,

probate, trust administration and trust litigation for the firm,

works to bring peace of mind to clients by putting their affairs

in order which allows clients to protect and care for their loved

ones who truly appreciate Brad's attention to detail and forethought

dedicated to a comprehensive Estate Plan.

In addition to his legal work, Baker serves as vice chair of the

nonprofit Healthcare and Elder Law Programs Corporation

(H.E.L.P.), which provides information, education and

counseling on elder care, law, finances and consumer

protection.

BBL Partner Kent Burton heads up real estate and business

transaction law, while partner Albro Lundy heads the firm's

litigation efforts.

BBL is recognized far beyond Hermosa's cozy confines for

high-profile wins, including a multibillion-dollar settlement for

California consumers in a complex, multi-state case

concerning natural gas prices and the energy crisis of 2000 and

2001.

BBL also has spent hundreds of thousands of dollars to

battle cases that protected people maimed in preventable

accidents or exploited by those in positions of power, with no

profit to the firm.

The firm's associates include:

Trial lawyer Evan Koch, who for three years running has been

named one of Super Lawyers' "Rising Stars," placing him

among the top 2.5 % of Southern California attorneys under

age 40;

Real estate and business transactions attorney Teresa

Klinkner, who has earned the highest Martindale-Hubbell

rating from her peers;

Business and real estate transactions attorney Clint Wilson,

praised by colleagues and clients for his competitive zeal and

his ability to harness the fine details of cases that others might

overlook;

Estate planning attorney Christine Daniels who is bilingual

(Spanish) and is known for embracing the challenge of

creating individualized estate plans for clients;

Steven J. Dawson, a labor and employment law and

litigation attorney, with nearly three decades of experience

representing corporations and public agencies in matters including

labor, employment, construction and property

disputes.

BAKER, BURTON & LUNDY | 515 Pier Avenue, Hermosa Beach | (310) 376-9893 | info@bakerburtonlundy.com

SPONSORED CONTENT

72 Peninsula • November 2017
---
around&about

Silver Spur Garden Club honors Red Onion

Author children's book

Inspired by Misty Copeland

n Peninsula resident Debra Paul has published

her first children's book. The title, "The

Ballad of Baby Rain," is a nickname for

local ballerina Misty Copeland, whom Paul

wrote about when she was a newspaper

reporter. The story tells in rhyme the story of

a woodsman in medieval times, who

chances upon a young ballerina in the

countryside. With the handsome woodsman

as her manager, Baby Rain travels the

world performing for kings and queens.

"The Ballad of Baby Rain" is available at

orders@Xlibris.com or by emailing the author

at DeborahPaul16@cox.net.

Red Onion owner Jeff Earle with members of the Silver Spur Garden Club (left to right) Yu-Hsin Kreitzman, Joan

Friedman, Diane Camarata, Pat Fitzpatrick, Elizabeth Burns, Philo Chhabria, Maureen McGowan, Faye

Strumpf, and Pauletta Bryson. Photo provided by Lorraine Kasse

n The Silver Spur Garden Club recently awarded its Commercial Landscape Award to the Red Onion Restaurant the

for its drought resistant gardens. Third generation owner Jeff Earl said the restaurant's recipes trace back to his greatgrandmother

Catalina Castillo, who was born in Sonora, Mexico, and his great-grandfather, Guillermo Spiva, who

was a blacksmith in Tombstone, Arizona. Catalina operated a café that cooked meals for local miners.

Schlichter & Shonack, LLP

DECORATED ATTORNEY JAMIE KEETON PROTECTS SOUTH BAY

RESIDENTS FROM LEGAL BLINDSIDES

When legal difficulties threaten the livelihood and security

of affluent South Bay residents, they can turn to decorated

attorney Jamie Keeton, who has saved clients

millions of dollars, and won more than $13 million in judgements

and settlements.

When such troubles strike, "Jamie is the go-to person," law

partner Kurt Schlichter said, pointing to her recognition by the

Super Lawyers rating service four years running. "She's the

lawyer you want to nail down before the other guy does."

The attorneys at Schlichter & Shonack, LLP, aggressively represent

clients from individuals to Fortune 500 companies, up and

down the state and federal court systems. All the while, they remain

dedicated to giving their clients individual attention, and

keeping their costs low.

Keeton says the legal troubles that blindside affluent people

can come from unexpected sources such as neighbors, ex-business

partners, ex-spouses or domestic employees.

She represents plaintiffs and defendants in personal injury and

general civil litigation, handling cases from assault and battery

at high-profile Orange County nightclubs to multimillion dollar

real estate litigation,

including construction

defect cases.

Keeton handles all

phases of trials and

mediations, and is

backed by seven

other accomplished

lawyers in a powerhouse

firm that is serendipitously local.

"We're not a big Century City firm, or a big downtown firm.

You won't have to wait an hour and a half to meet with us for

five minutes," she said.

"We'll hold your hand at 10 o'clock at night because you're

in litigation, and it's scary. Everything you've worked for could

be at risk," Keeton said. "Big corporations rely on us, but you can

get us on the phone at night."

"You'll have our cell phone numbers, and you'll run into us at

Trader Joe's," Schlichter said.

SPONSORED CONTENT

Schlichter & Shonack, LLP | 2381 Rosecrans Ave., Suite 326 | El Segundo | 310-643-0111 | firm@sandsattorneys.com

November 2017 • Peninsula 73
---
Assistance League hosts back to school shopping

Art2Go second annual art sale

around&about

Dana School students and volunteers who participated in the the Assistance

League back to school shopping program (left to right) Andrew

Lozano, Edward Ruiz, Griselda Salgado, Valeria Belanzo, Romeshia

Banks, Destiny Alari, Daniela Alari and Helen Sandoval. Photo by Sharon

Cole

n The Assistance League San Pedro-South Bay hosted their shopping program

for middle school students identified as being in financial need. Participating middle

schools included Rudecinda Sepulveda Dodson in Rancho Palos Verdes and

Richard Dana Middle School in San Pedro. Over 300 students had an opportunity

to spend $100 on school apparel. The Assistance League is a national nonprofit

organization. To learn more about the Assistance League San Pedro-South Bay

contact Michele at (310) 832-8355, ext. 221.

Tony Sr. celebrates 90th birthday

n Tony Arminio Sr. recently celebrated his 90th birthday with a large family

gathering at the Palos Verdes Golf Club. Family traveled from all over the United

States and as far away as Japan to wish him well. Arminio has been a Palos

Verdes Estates resident since 1969 when he moved here with his wife Anita and

their six children, all of whom attended Palos Verdes High School. Tony enjoyed

a 50 year career in executive sales management for Electrolux. He is an Emeritus

Trustee of the Providence Little Company of Mary Foundation Board and a member

of both the Palos Verdes Golf Club and the Palos Verdes Breakfast Club, where

he is well known for his mentorship and storytelling skills.

Clouds, an original oil on canvas by Jean Comings of Rancho Palos

Verdes will be exhibited at the Art2Go sale.

n Art enthusiasts and the general community are welcome to attend the second

annual Art2Go event. Doors open at 3 p.m. Saturday, November 18 at Destination

Art Studios and Gallery, 1815 W. 213rd Street in Torrance. Over 300 original

paintings will be exhibited, in all styles and media created by 22 studio and

gallery artists, as well as 60 associate artists. Art2Go endeavors to increase

awareness of art as essential to the flourishing of the human spirit. Destination Art

is a non-profit art studio and gallery cooperative in Downtown Torrance dedicated

to public education in fine art.

Scary garden party at Orchard Supply Hardware

Stephanie Sanders and Chris Tabellario show ways to scare off garden

pests. Photo by Stephanie Cartozian

Tony Arminio is surrounded by his family members (left to right, back row)

Mark Arminio, Tony Arminio Jr., Rosanne Farnum, Anita O'Hara, Maria

Arminio and (front row) Caroline Somers.

n Palos Verdes' new Orchard Supply Hardware store presented "Fright Weekend"

on October 13-15 for the little ghouls on the peninsula. Among the many

activities were "Frank's Friends Craft," where kids learned to make a spider from

a terracotta pot and then add spindly legs and googly eyes. Pumpkin carving

demos and spooky scavenger hunts were led by store staff. PEN

74 Peninsula • November 2017
---
From Our Family to Yours…

Family Owned and Operated…

Over 60 Years of the

Largest Finest Seafood

Selection on the West Coast

Live Crab, Lobster, Shellfish, Urchin - Fresh Fish - Poké - Ceviche

Smoked Fish - Cajun Shrimp - Oyster Bar with over 20 Varieties - Craft Beer on Tap

Steamed - Grilled - Fried

Dine in at our Casual Outdoor Ocean-View Patio or Take Out

EXPERIENCE THE FLAVORS OF FRESH SEAFOOD!

100-130 International Boardwalk Redondo Beach

www.qualityseafood.net (310) 374-2382

November 2017 • Peninsula People 75
---
Sea Change

for THE better

Sea Change co-owners Michael and Lisa Franks with chef Reilly Quillan. Photo by Brad Jacobson (CivicCouch.com)

Chez Melange stays ahead of the curve with a new name and a new focus

by Richard Foss

There was a time when restaurants fit into

categories, serving only the French, German,

Mexican, Italian, American coffee

shop, or whatever else was their specialty. California

cuisine blew up that expectation, creating

eclectic cuisine as its own category. Suddenly you

had to scan the menu carefully and weigh unanticipated

flavor combinations in your head. The

small plate revolution followed closely, so that

not only the flavors but the whole rhythm of the

meal was freeform. It was exciting to some people,

intimidating to others, and confusing to most

until we got the hang of it.

The first establishment in the South Bay to

wholeheartedly embrace this culinary revolution

was Chez Melange, and owners Michael Franks

and Robert Bell kept things edgy for decades.

After they moved to their current location, the

front room of the restaurant became Bouzy, a gastropub

with a more stable menu, but in the main

dining room culinary exploration reigned. A few

items were perennials, but all else was as variable

as the seasons and the whims of chef Robert Bell.

It was therefore a surprise when this most daring

of restaurants announced that the main dining

room would have a new name and a new

focus. It is now Sea Change, and most of the

menu is based on things that lived underwater.

It's a smart move. While many restaurants offer

eclectic cuisine there isn't another restaurant in

this nightlife-intensive neighborhood that specializes

in seafood.

The interior of Sea Change has been freshened,

the room transformed from a dark and clubby

cave to a brighter and altogether more appealing

space. It's amazing how a simple repainting and

new upholstery changed the feel of the place,

which is now much more welcoming.

The new menu is recognizably a product of the

same aesthetic that created Chez Melange, with

multicultural and whimsical elements. You can

get kung pao lobster and Thai-style curried

Hawaiian ono, but also Southern shrimp and grits

or a hangtown fry, an oyster and bacon omelet

invented during the Gold Rush. On our first visit

our party included a pescaphobe eater who focused

on the short list of Chez Melange classics

and was reassured to find there were things she

could eat as well.

We asked our server to suggest starters and

were served Boston clam chowder, an avocado

stuffed with shrimp, clam and corn fritters, a

"Japanese" salad that included seaweed, Persian

cucumber, and pine nuts, and a starter of grilled

octopus. Though we hadn't planned it that way,

it was a tasting of seafood fads of over 200 years.

76 Peninsula • November 2017
---
Chowder was popular in Colonial days, fritters in the 1880s, shrimp stuffed

avocados were big in the 1920s, Japanese-American salads hit in the '70s,

and grilled octopus went big at the end of the '90s. Had we wanted to chart

the development of the American palate with regard to seafood, we could

hardly have done better.

Boston is noted for chowder that includes salt pork and has a light broth

that includes cream and butter. They also add a bit more pepper and herbs

than other regions, and this one hit that mark on all counts. The clams

were tender, the flavors integrated so that no one stood out from the others.

The clam and corn fritters here have a more Southern flair – think hush

puppies with some chopped clam mixed in and a creole remoulade sauce

on the side.

Avocados stuffed with shrimp are a delight that has mysteriously gone

out of fashion. The flavor balance is simple, two things that are rich and

luscious with a little housemade French dressing to add interest.

The octopus derives from a different tradition, where brighter and more

complex Spanish and Mediterranean French flavors play together. Grilled

octopus tentacle tastes the same about everywhere, smoky mild seafood

with a distinctive slightly chewy texture, but the right accompaniments

can enhance the enjoyment. The mix of butter beans and celery stewed

with potato and black garlic and accompanying dabs of black olive pesto

provided a succession of clean, simple flavors to pair with the grilled tentacle.

The little plate with a lot of flavors was a reminder of why tapas

caught on and octopus went from bait to entrée.

The salad was close to the standard Japanese mix of lettuce, seaweed,

and scallion with ginger miso dressing, but with a few extra touches. The

pine nuts and crumbled nori added a bit of umami and texture, and the

slightly peppery cress was an interesting substitute for the radish that

would usually fill that niche.

For mains we got petrale sole with couscous, kung pao lobster, chicken

schnitzel, and steak frites. The schnitzel and steak proved that the people

in this kitchen didn't forget anything about cooking meat when the focus

changed to fish. Our non-seafood eater and her husband tore through both

so fast that I barely managed to steal a few bites. The schnitzel came with

a blueberry-port sauce that I recommend be served on the side – it's good

but sweet for some palates. As fine as that butter-fried schnitzel is, the

gruyere cheese and rye bread pudding outshines it – it was invented here

but encapsulates Northern European flavors.

The sole was sautéed with what was described as a falafel crust, which

made me expect a thick chickpea batter with fish inside. That wasn't quite

what was going on, because the point was to show how the Middle Eastern

seasonings that are usually used in falafel go with seafood. It works, too –

– the delicate fish was heavily dusted with cumin, coriander, parsley, and

other flavors I couldn't quite identify. A dollop of yogurt over the fish and

mild, fragrant couscous underneath made it a satisfying meal.

The one item that didn't quite work for me was the kung pao lobster,

and it wasn't for the usual reason. The red chili heat and bell pepper often

overwhelm everything else, but were muted in this version. That left the

soy, sesame, and other mild elements in the forefront, and though those

are perfectly good flavors they aren't what I associate with kung pao.

The wine list here has always had many selections that go well with

seafood, and we asked our server to select some for us to sample. Our

server offered tastes of a Vermentino and a Quady Rhone-style blend from

Oregon, while the carnivores in our midst shared a Paoletti Piccolo Napa

blends in the Bordeaux style. The cocktails are on point too. If you enjoy

a good Manhattan you should try the "Summer in the Hamptons," a variation

that uses a spicy rye and lavender bitters to deliver complex herbal

and floral notes.

That cocktail was the only after-dinner item we had despite some tempting

options because we had binged on the starters. There weren't any

seafood items on the dessert list, and the seafood was what I had come to

try. On departure, our impression was unanimously favorable. Sea Change

is delivering a revitalized experience in a more dynamic space. They're

serving a little of everything and a lot of seafood. It's a good next chapter

for the people who wrote the book on modern dining in our area.

Sea Change at Chez Melange is at 1611 S. Catalina in Redondo. Open

daily 4 p.m. – 9:30 p.m., Sunday brunch 11 a.m. – 2 p.m. Valet parking weekends,

lot, or street. Full bar, corkage $15, some vegetarian/vegan items. Reservations

recommended. (310) 540-1222. ChezMelange.com. PEN

The Landmark

Pictured above Michel Medawar restores the historical

tower clock at Malaga Cove School back to its original

working condition. By hand, he repairs the damaged

numbers, hands and the mechanism retaining its

authenticity.

Your clock has a complex mechanism of inter-working

parts designed to keep time accurately, and it is your job to

keep this timeless treasure healthy for the next generation.

Your clock reminds you of its presence every time you

wind it and if its accuracy is not what it used to be, or its

chimes are not as strong rhythmic, or maybe it just stops.

That means it's talking to you and telling you that its

endless life is in jeopardy.

It is imperative to maintain and service your clock

regularly. Oil gets old and dry forcing the train of gears to

work twice as hard to accomplish their goal. This results in

damage that drastically shortens the life of a fine timepiece.

Michel Medawar has been extending the lives of

timepieces for over fifty years as his father did fifty years before.

He is the inventor of the first talking clock in the

world. He is a graduate from Patek Philippe in Geneva,

Switzerland, The Theod Wagner clock Co. in Wiesbaden,

Germany, and the Howard Miller Clock Co. in Zeeland,

Michigan. Call him so that he may come to your home and

offer you a free estimate for servicing your clock. Or bring

your wall or mantel clock to our store to see our showroom

and receive the same complementary diagnosis.

We are located at 810C Silver Spur Rd., in Rolling Hills Estates, Ca.

90274. Or call us at (310) 544-0052

Open 10:00 am - 6:00 pm Tuesday - Saturday

810C Silver Spur Road • Rolling Hills Estates • CA 90274

Call 310.544.0052

November 2017 • Peninsula 77
---
78 Peninsula • November 2017
---
S O U T H B AY

DININGGUIDE

1

EL SEGUNDO

Deluca Trattoria

225 Richmond St.

(310) 640-7600

delucapasta.com

2

HERMOSA BEACH

Hennessey's

8 Pier Avenue

(310) 372-5759

hennesseystavern.com

3

MANHATTAN BEACH

Hennessey's

313 Manhattan Beach Blvd.

(310) 546-4813

hennesseystavern.com

1

2

4

RANCHO PALOS VERDES

Poke Me

31234 Palos Verdes Dr. #A,

(424) 327-2172

Pokeme.net

5

3 4

Best of The Beach 2017 Winner

Best Eclectic, American Contemporary

Daily Breeze "2015 South Bay's Favorite"

American Restaurant & Bar

" Best New Restaurant"- Richard Foss of Easy Reader

Favorite Soul Food of 2015- Daily Breeze( yeah, we were surprised

too)

5

REDONDO BEACH

Baleen Kitchen

The Portofino Inn

260 Portofino Way

(310) 372-1202

Hotelportofino.com

Hey! We like to party, especially with YOU! Call us for your next

Occasion. We've got a Banquet Room perfect for any celebration

Call 310-378-8119 for details

November 2017 • Peninsula 79
---
S O U T H B AY

DININGGUIDE

6

REDONDO BEACH

Barney's Beanery

100 Fisherman's Wharf

(424) 275-4820

barneysbeanery.com

9

Quality Seafood

130 International Boardwalk

(310) 374-2382

Qualityseafood.net

7

8

Hennessey's

1712 S. Catalina Avenue

(310) 540-8443

Hennesseystavern.com

HT Grill

1701 S. Catalina Avenue

(310) 791-4849

htgrill.com

10

11

Riviera Mexican Grill

1615 S. Pacific Coast Hwy.

(310) 540-2501

facebook.com/RivMex/

Ws China Bistro

1410 S. Pacific Coast Hwy.

(310) 792-1600

wschinabistro.com

6

7

8 9

10

11

80 Peninsula • November 2017
---
12

13

S O U T H B AY

DININGGUIDE

ROLLING HILLS ESTATES

Plates - An American Bistro

550 Deep Valley Dr. #145

(310) 541-9500

platesrgi.com

TORRANCE

Alpine Village Restaurant

833 West Torrance Blvd.

Torrance, CA 90502

310-323-3954

alpinevillagecenter.com

14

15

Hey 19 Public House

4525 Calle Mayor

(310) 378-8119

Hey19publichouse.com

Truxton's American Bistro

24530 Hawthorne Blvd.

(310) 373-8790

truxtonsamericanbistro.com

12

13

14

Barney's Beanery

Here at Barney's we've got our full newspaper-sized menu available as well as 40 beers

on draft. Daily and weekend specials and a great Happy Hour Mon - Fri, 4pm to 7pm.

ALL DAY Happy Hour on Monday! We offer free wifi and always have the TV's tuned

to numerous sporting events, in case you want to settle in for a long lunch or dinner.

Either way, we are here for you so come on in and enjoy!

100 Fisherman's Wharf, Suite H, on the Redondo Beach Pier.

(424) 275-4820 www.barneysbeanery.com

15

November 2017 • Peninsula 81
---
Welcome to the Riviera Mexican Grill

Just the place for people who think life's a little bit better splashed with salsa. When you pull up a chair

here, we want you to know that our food will always be fresh and good. This is the one place where the sun

shines and the surf's up every day of the year! So, eat drink and be mello, amigos, you're in the Riviera!

Mon.-Thurs.11:00am - 9:00pm, Fri.and Sat.11:00am - 10:00p.m. Sun.10:00am - 9:00pm

1615 S. Pacific Coast Hwy., Redondo Beach (310)540-2501

82 Peninsula • November 2017
---
German traditional cuisine,

contemporary American fare,

award-winning artisanal sausages,

20 taps of European & craft beers.

Happy Hour

Live Entertainment

Weinerschnitzel

Pan-fried Pork Cutlet

ALPINEVILLAGECENTER.COM

The Alpine Village Restaurant

833 West Torrance Blvd.

Torrance, CA 90502

310-323-3954

Closed Monday & Tuesday

November 2017 • Peninsula People 83
---
ickedler.com

4032 VIA PICAPOSTE PALOS VERDES ESTATES, CA 90274

$1,799,000

4008 VIA NIVEL PALOS VERDES ESTATES, CA 90274

$1,829,000

3602 GREVE DRIVE RANCHO PALOS VERDES CA 90275

$1,399,000

85 LAUREL DRIVE RANCHO PALOS VERDES, CA 90275

$5,249,000

RICK EDLER

RICK@VISTASIR.COM

310.872.4333

CALBRE#01113145

KITTY EDLER

KITTY@VISTASIR.COM

310.283.8790

CALBRE#00800837
---
Classifieds 424-269-2830

ELECTRICAL

MUSIC LESSONS

POOLS & SPAS

FOR SALE

Prime for VRBO, Home + Office or Retirement in the city of

Mount Shasta, California. 3 Bedroom, 2 bath, 2,482 sq. ft. on 1/4

acre. Renovations in 2003 included electrical, drywall, plumbing,

flooring, windows, roofing and heating. Garden includes fruit trees,

raised vegetable and flower beds, an arbor for outdoor dining.

Asking $294,000

Please contact

Sandra Haugen

at Elite Real Estate Group

(530) 859-2907 • dnshaugen@hotmail.com

Classifieds 424-269-2830

LYNCH

ELECTRIC &

General

Building

Contractors

• Residential

Troubleshooting

• Remodel Specialist

Scott K. Lynch

P.V. Native

Licensed & Insured

Cell

310-930-9421

Office & Fax

310-325-1292

www.LynchElectric.us

Lic 701001

FLOORING

Vocal Technician

Piano Teacher

Vocalist

Jeannine McDaniel

Rancho Palos Verdes

20 year experience

All Ages

310-544-0879

310-292-6341

Jeannine_mcdaniel2001@yahoo.com

PLASTERING

Patch Master

Plastering

Patch Plastering

Interior • Exterior

• Venetian Plastering

• Ceiling Removal

• Drywall Work

• Acoustic

Ceiling Removal

• Water & Fire Restoration

310-370-5589

Lic. # 687076 • C35-B1

POOLS • SPAS

HARDSCAPES

New Construction

& Remodeling

Excellent References

Horusicky Construction

310-544-9384

www.Horusicky.com

Credit cards accepted

Lic #309844, Bonded, Insured

ROOFING

QUIXTAR

Concrete & Masonry

Residential & Commercial

310-534-9970

G

CONCRETE

Lic. #935981 C8 C29

classifieds

424-269-2830

D

Remodeling

Design

Kitchens

Bathrooms

Room Additions

New Construction

Reserve

your space in the

next

CONSTRUCTION

Pub Date: Nov 18

Deadline:

Nov 3

Call direct

s

(424)

269-2830

Charles Clarke

Local Owner/General Contractor

Ph: (310) 791-4150

Cell: (310) 293-9796

Fax (310) 791-0452

"Since 1990" Lic. No. 810499

CONSTRUCTION

Call us to Discuss the

ENDLESS POSSIBILITES

Extreme

Hillside Specialist

Foundation Repair Experts

Grading & Drainage

Retaining Walls,

Fences & Decks

310-212-1234

www.LambConBuilds.com

Lic. #906371

GARAGE DOORS

HANDYMAN

Handyman

Services…

Fix It Right the

First Time

We like small jobs

/ Free estimates

What we do…

Plumbing,

Electrical, Drywall,

Painting & more.

Valente Marin

310-748-8249

Unlic.

PLUMBING

Thank You South Bay for

50 Years of Patronage!

Residential • Commercial • Industrial

Plumbing 24/7 • Heating

Air Conditioning

pfplumbing.net

800-354-2705 • 310-831-0737

PLUMBING

MATTUCCI

PLUMBING • HEATING • COOLING

DEPENDABLE • PROFESSIONAL • AFFORDABLE

FULL SERVICE PLUMBING • COPPER REPIPES

SEWER VIDEO INSPECTION • HEATING

DRAIN & SEWER SERVICE • COOLING

TRENCHLESS SEWER REPLACEMENT

Tile Reroof and

repair specialist

310-847-7663

Family owned

business since 1978

Lic 831351

ON CALL

24 HOURS

7 DAYS

FREE ESTIMATES

310.543.2001

CALIFORNIA

Lic. #770059

C-36 C-20 A

2013

November 2017 • Peninsula 85