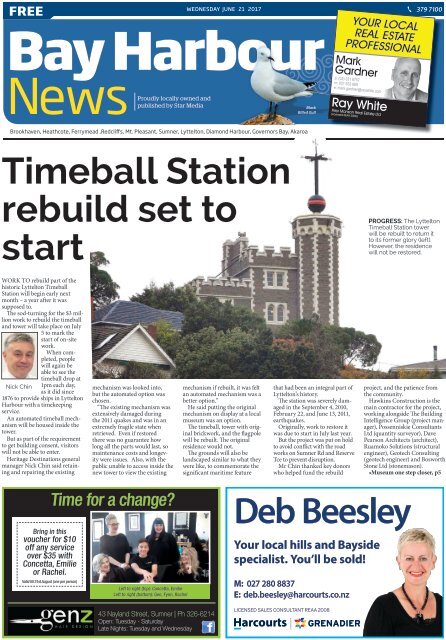 Bay Harbour: June 21, 2017
Do you know the secret to free website traffic?
Use this trick to increase the number of new potential customers.
FREE

Wednesday june 21 2017 379 7100

Bay Harbour

News

Proudly locally owned and

published by Star Media

Black

Billed Gull

YOUR LOCAL

REAL ESTATE

PROFESSIONAL

Mark

Gardner

p: (03) 331 6757

m: 021 633 669

e: mark.gardner@raywhite.com

Prier Manson Real Estate Ltd

(Licensed REAA 2008)

Brookhaven, Heathcote, Ferrymead ,Redcliffs, Mt. Pleasant, Sumner, Lyttelton, Diamond Harbour, Governors Bay, Akaroa

Timeball Station

rebuild set to

start

PROGRESS: The Lyttelton

Timeball Station tower

will be rebuilt to return it

to its former glory (left).

However, the residence

will not be restored. ​

WORK TO rebuild part of the

historic Lyttelton Timeball

Station will begin early next

month – a year after it was

supposed to.

The sod-turning for the $3 million

work to rebuild the timeball

and tower will take place on July

5 to mark the

start of on-site

work.

When completed,

people

will again be

able to see the

Nick Chin

timeball drop at

1pm each day,

as it did since

1876 to provide ships in Lyttelton

Harbour with a timekeeping

service.

An automated timeball mechanism

will be housed inside the

tower.

But as part of the requirement

to get building consent, visitors

will not be able to enter.

Heritage Destinations general

manager Nick Chin said retaining

and repairing the existing

mechanism was looked into,

but the automated option was

chosen.

"The existing mechanism was

extensively damaged during

the 2011 quakes and was in an

extremely fragile state when

retrieved. Even if restored

there was no guarantee how

long all the parts would last, so

maintenance costs and longevity

were issues. Also, with the

public unable to access inside the

new tower to view the existing

mechanism if rebuilt, it was felt

an automated mechanism was a

better option."

He said putting the original

mechanism on display at a local

museum was an option.

The timeball, tower with original

brickwork, and the flagpole

will be rebuilt. The original

residence would not.

The grounds will also be

landscaped similar to what they

were like, to commemorate the

significant maritime feature

that had been an integral part of

Lyttelton's history.

The station was severely damaged

in the September 4, 2010,

February 22, and June 13, 2011,

earthquakes.

Originally, work to restore it

was due to start in July last year.

But the project was put on hold

to avoid conflict with the road

works on Sumner Rd and Reserve

Tce to prevent disruption.

Mr Chin thanked key donors

who helped fund the rebuild

project, and the patience from

the community.

Hawkins Construction is the

main contractor for the project,

working alongside The Building

Intelligence Group (project manager),

Possenniskie Consultants

Ltd (quantity surveyor), Dave

Pearson Architects (architect),

Ruamoko Solutions (structural

engineer), Geotech Consulting

(geotech engineer) and Bosworth

Stone Ltd (stonemason).

•Museum one step closer, p5

Bring in this

voucher for $10

off any service

over $35 with

Concetta, Emilie

or Rachel.

Valid till 31st August (one per person)

Time for a change?

Left to right (top): Concetta, Emilie

Left to right (bottom): Gen, Fynn, Rachel

43 Nayland Street, Sumner | Ph 326-6214

Open: Tuesday - Saturday

Late Nights: Tuesday and Wednesday

Deb Beesley

Your local hills and Bayside

specialist. You'll be sold!

M: 027 280 8837

E: deb.beesley@harcourts.co.nz

LICENSED SALES CONSULTANT REAA 2008

GRENADIER
---
PAGE 2 BAY HARBOUR Latest Christchurch news at www. .kiwi

Wednesday June 21 2017

FROM

THE

EDITOR'S

DESK

GREAT NEWS on the front page

today – work on the timeball and

tower is about to start.

The Lyttelton Timeball Station

has been a Canterbury icon since

1876 and, while the living quarters

of the building won't be rebuilt, it's

still a step forward.

With cruise ships coming back

to Lyttelton, now is the time to get

things moving in the port.

Apart from London St, downtown

Lyttelton, if I can describe it

as that, is an eyesore.

I took some overseas visitors to

Diamond Harbour recently. They

zipped across the harbour on the

ferry for a look around Lyttelton.

They didn't stay too long. The

wharf where they berthed was

uninviting and something desperately

needs to be done to the quake

damaged buildings.

So good to see the timeball

progress.

– Barry Clarke

Inside

17

Sumner win in spite of the odds SPORT

News....................................3-10

Local Views........ 13 & 15

Theatre/Arts.......................18

Sport...........................17, 20

Real Estate...........................23

Community Events...25

Trades & Business.......29

GET IN TOUCH

General Enquiries Ph 379-7100

Classified Advertising Ph 379-1100

The Christchurch Star Company Ltd. PO box 1467 - Christchurch

starmedia.kiwi

NEWS

Caitlin Miles

Ph: 364 7442

caitlin.miles@starmedia.kiwi

ADVERTISING

Javier Balcazar

Ph: 982 9308

javier.balcazar@starmedia.kiwi

ADVERTISING

Rob Davison

Ph: 021 225 8584

rob.davison@starmedia.kiwi

Masters

HOLLYWOOD 3

28 Marriner St,

Sumner

Phone:

03 326 6102

www.hollywoodcinema.co.nz

Thursday 22 June - Wednesday 28 June

THIS BEAUTIFUL FANTASTIC (PG) Coarse language

THU/FRI/TUE/WED: 1.00pm, 6.00pm, 8.00pm

SAT: 4.00pm, 6.00pm, 8.00pm SUN: 4.oopm, 6.00pm

MON: 1.00pm, 4.00pm, 6.00pm

CARS 3 (G)

SAT/SUN: 2.00pm

CHURCHILL (PG) Coarse language

THU/FRI/TUE/WED: 6.00pm, 8.15pm

SAT: 4.00pm, 6.00pm, 8.15pm SUN/MON: 4.00pm, 6.00pm

Exhibition on Screen:

THE CURIOUS WORLD OF HIERONYMUS BOSCH

THU/FRI/MON/TUE/WED: 1.00pm SAT/SUN: 2.00pm

THE TIME OF THEIR LIVES (M) Nudity, drug use and offensive language

THU/FRI/TUE/WED: 1.00pm, 6.00pm

SAT/SUN: 4.00pm MON: 1.00pm

MY COUSIN RACHEL (PG) Violence and coarse language

THU/FRI/TUE/WED: 8.00pm

SAT: 6.00pm, 8:00pm SUN: 6.00pm MON: 4.00pm, 6.00pm

DESPICABLE ME 3 (PG) Violence

SAT: 2.00pm

STATE OF THE ART HIGH DEFINITION, LICENSED BAR

WELL,

THIS IS VERY

EXCITING.

A SHOE STORE

IN FERRYMEAD

FABULOUS!

SHOES

SHOP 5, 1027 FERRY ROAD (KITE LANE - CASUAL & COUNTRY COMPLEX), CHRISTCHURCH

w w w . i l o v e w i n k . c o . n z I 03 928 1690
---
Wednesday June 21 2017

Latest Christchurch news at www.

.kiwi

BAY HARBOUR

PAGE 3

News

Will anything be done?

Dyson thinks

council will sit

on its hands

PORT HILLS MP Ruth Dyson

is worried nothing will be done

about the St Andrews Hill Rd

intersection.

More than 600 public submissions

were made on the controversial

intersection after months

of debate over its layout.

But Ms Dyson

(left) believes city

council staff will

recommend the

Linwood-Central-

Heathcote Community

Board just

receives information

from the recent community

consultation, with no compulsion

to act.

She makes her comments in her

regular column in Bay Harbour

News today (page 13).

The city council received 640

submissions about the potential

changes to the intersection, which

offered the public three options to

choose from.

Now city council staff will present

the community board a report

on the options and details of the

submissions before it makes a

decision on what will be done to

improve the intersection.

Option one proposed to leave

the intersection, option two

would see new traffic signals on

St Andrews Hill Rd and new

pre-signals on Bridle Path Rd and

option three is to ban right turns

from Bridal Path Rd onto Main

Rd.

The third option was the

least popular at the time of the

consultation as it would make

it difficult for people living in

Heathcote to get to Redcliffs and

Sumner.

Ms Dyson said she was frustrated

by the lack of options available

for people to comment on and

is worried nothing will now be

done.

This is the second time the city

council has carried out public

consultation on the intersection

layout. When the Ferrymead

OPTIONS: 640

submissions

were made

on the

controversial

St Andrews Hill

Rd intersection.

bridge was reconstructed the

city council proposed the layout

which is currently in place.

However, nearby residents

were sceptical of it and had safety

concerns.

The community raised its

concerns with the community

board, which then prompted the

city council into looking at other

options for the intersection.

The city council carried out

public consultation at the start of

the year.

In Brief

LIGHTS FESTIVAL

The Lyttelton Harbour

Festival of Lights celebrations

started yesterday. Throughout

the week there will be plenty

of light installations to look

at around the town centre

before the street party on

Friday night. The street

party begins at 6.30pm and

will involve a parade and

various performances from

groups and artists before

the fireworks display at

8pm. London St, between

Canterbury and Oxford Sts,

will be closed from noon

on Friday. At 2pm, another

section of London St from

Dublin St will be closed along

with Canterbury St from

Norwich Quay to Winchester

St. The roads are planned to

reopen on Saturday at about

1am. For more information,

go to http://www.lyttelton.net.

nz/festivals/festival-of-lights​

DECISION ON BACHES

The city council will decide

tomorrow if it should establish

a working party to investigate

and make a recommendation

on whether baches should be

allowed to continue to remain

on city council land at Taylors

Mistake, Boulder Bay and

Maori Garden.
---
PAGE 4 BAY HARBOUR Latest Christchurch news at www. .kiwi

Wednesday June 21 2017

News

Repairs begin to bring

historic hall back to life

A 120-YEAR-OLD community

hall is finally getting some

much needed repairs and

upgrades.

The historic Allandale Community

Hall near Teddington

was badly damaged in the February

22, 2011, earthquake.

A major $500,000 repair

project has now started and

the aim is to have the hall back

in the community's hands by

summer.

Allandale Reserve management

committee chairman

Stuart Bould said the facility

had been a central point for

the community for many years

and, once repaired, it would

continue to draw people back to

the area for recreation.

"When it was shaken apart

we could see it wasn't water

tight, so a few of us went down

and propped it up and did as

best we could," Mr Bould said.

City council project manager

Michael Sheffield said the hall

had been a hub for more than

120 years.

Mr Sheffield said the community

had been heavily involved

in the planning process for the

repairs.

"We've been through a great

process with the wider com-

REPAIRS: The historic

Allandale Community Hall

is being repaired, with work

expected to be finished by

October.

munity, reviewing the repairs

with them and looking at what

will best meet their needs in the

future," Mr Sheffield said.

He said the building was

"very badly damaged" to the

point that the roof was collapsing

and it wasn't safe to walk

inside.

The repaired hall will feature

new doors on to a deck on the

north side of the building, a

new kitchen, accessible toilets,

new wiring and light fittings

and a complete paint inside and

out.

Mr Sheffield said a builder

from Governors Bay had been

successful in the tender process

and work had already started

on the project.

The repair works are expected

to be completed by early

October.

Have your say on the

future of Heathcote

• By Caitlin Miles

DO YOU want a skate park,

changing shed or playground

upgraded in your area?

Now is the time to have your

say as the city council asks for

input on what is important to

people living in the Heathcote

Ward.

The city council is asking for

input from the community about

what they think is important and

what they want to see in their

local area.

The Linwood-Central-

Heathcote Community Board's

plans need to be updated because

of new members and the area

the community board covers has

changed.

Along with the Heathcote

Ward, the Linwood and Central

wards are also being consulted

on.

The community board plans

are documents that help it

prioritise work in the community

over the next few years.

A survey has been produced to

ask people what they currently

like about where they live,

what they enjoy doing in their

BROKEN: Have your say on the repair of Ferrymead's Cob

Cottage.

community and what else they

would like to be able to do in the

area.

The feedback document also

has a list of projects planned for

the area over the next three years.

It gives people the chance to list

their six top priorities or add

an alternative project if it is not

mentioned.

Pre-planned projects include

repairs to Cobb Cottage,

installing Maori story boards,

signage and art, and a bays area

skate facility.

Consultation on the plans will

be open until Sunday.

There are several workshops

planned for the community at

various locations.

Visit https://ccc.govt.nz/

the-council/consultationsand-submissions/haveyoursay/

show/46 to give your feedback.

Gourmet meats

in your hood

• Fresh meats – all free range

• Smallgoods made on site

• Gluten free sausages

• Cuisine Artisan Award Winner 2017

• Cheeses and deli items

Share, like and

make a comment

on our Facebook

page to go into

the draw to WIN a

$50.00 voucher

303 Colombo Street

(opp Funky Pumpkin)

Telephone: 03 337 2929

www.eurogourmetmeats.co.nz

Visit our new website: www.min.nz

From bare land to luxury abodes

min sarginson

is the ideal coastal realtor

COASTAL REAL ESTATE SPECIALISTS

We'll help you live the dream.

Min Sarginson Real Estate Ltd. specialises in homes, sections and

rental properties in the spectacular Lyttelton Harbour bays, and

coastal suburbs of Christchurch, New Zealand.

We'll make it so easy for you. All our sales consultants live in the

area – we can give you valuable insights into life in our thriving

coastal communities.

This is an exciting time; of promise, optimism, and opportunities

never anticipated pre-quakes. Beachfront, or hillside with

grandstand views, find the property of your dreams:

Lyttelton | Diamond Harbour | Governors Bay | Cass Bay

Charteris Bay | Church Bay | Purau Bay | Port Levy | Northshore

Southshore | New Brighton | Heathcote | Sumner | Redcliffs

Scarborough | Mount Pleasant | Clifton

Call Min Sarginson Real Estate Ltd. for free, no-obligation advice. Lyttelton: 03 329 4161, lyttelton@min.nz or Church Bay: 03 328 7273, churchbay@min.nz
---
Wednesday June 21 2017

Latest Christchurch news at www.

.kiwi

BAY HARBOUR

PAGE 5

News

Plan to gift land to museum

• By Caitlin Miles

IT'S BEEN six years since

Lyttelton had a museum and

now it's another step closer

to making a return to the

community.

The city council is proposing

to gift the land at 33-35 London

St to the Lyttelton Historical

Museum Society to rebuild a

museum.

The society's building on

Gladstone Quay was demolished

after it suffered damage in the

September 4, 2010, and February

22, 2011, earthquakes.

Since then, the society moved

more than 8000 items from the

museum into storage at the Air

Force Museum of New Zealand.

The society has spent years

looking for a new site to rebuild

on, finally deciding the site of

the previous Lyttelton Service

Centre on London St would be

the best place.

The service centre was also

damaged and demolished following

the 2011 earthquake and

the site has been empty ever

since.

The city council has no plans

to rebuild on the land.

The society has requested the

city council gift the land to give

them more financial certainty

FUTURE: Lyttelton Historical Museum Society chairman Peter Rough at the site where the new

museum is proposed to be built.

as they raise capital for a new

building and for ongoing operational

costs.

Leasing the land would slow

down the society's ability to

raise the money needed for a

new building.

The London St land is valued

at $220,000.

If the land is gifted and the

museum closes for any reason,

the land will be reverted back to

the city council.

The society needs to raise

roughly $6 million for the

construction of the building and

already has plans in place to do

so.

It also intends to have a commercial

tenant within the building

to generate extra income to

help with operational costs.

It hoped the museum will be

open by 2020.

•Consultation on the

proposal is open until

the end of the month. To

make a submission on the

proposed gifting of land, go

to https://ccc.govt.nz/thecouncil/consultations-andsubmissions/haveyoursay/

show/39

In Brief

REDCLIFFS SCHOOL LAND

SWAP FEEDBACK CLOSING

Feedback on the proposed land

swap, which involves moving

Redcliffs School to Redcliffs Park,

closes on Monday. The plan is to

exchange ownership of Redcliffs

Park for the school site. The

swap has been proposed by the

Ministry of Education, which

wants to exchange the school site

it owns in Main Rd for the city

council-owned Redcliffs Park

on Beachville Rd. Under the

proposal, there would be a new

park on the current school site

and the school would be built on

the current Redcliffs Park. Go to

https://ccc.govt.nz/the-council/

consultations-and-submissions/

haveyoursay/show/33 to make a

submission.

MAJOR HORNBROOK RD

CLOSED TEMPORARILY

A section of Major Hornbrook

Rd, Mt Pleasant, will be closed

while ultra-fast broadband is

installed. The section from

Madeley Rd and Rockview Pl

off Major Hornbrook Rd will be

closed while trenches are dug

for broadband installation. Both

sections of roads will be closed

from the start of July and the

work is expected to be completed

in August. A bus stop will be

affected, and there will be a

temporary lack of parking.

Join us

Do first aid . Volunteer . Fundraise . Shop . Donate

redcross.org.nz 0800 RED CROSS
---
PAGE 6 BAY HARBOUR Latest Christchurch news at www. .kiwi

Wednesday June 21 2017

News

Changing attitudes lower the number

• By Bridget Rutherford

DRINK DRIVING charges have

almost halved in Canterbury

over the past decade – a shift

police say is down to changed

attitudes.

The latest drink driving figures

show the number of people

charged for driving under the influence

of alcohol in Canterbury

was 1658 last year, compared

with 2543 in 2007.

Of those, 1604 were convicted

last year. There were 2433 convictions

in 2007.

Nationally, the number has

dropped from 27,328 a decade

ago, compared with 16,304 in

2016.

Canterbury

road policing

manager

Inspector Al

Stewart (left)

said police were

encouraged by

the downward

trend.

"The trauma and grief caused

by an alcohol-related serious

crash is massive, so less people

affected by alcohol on our roads

make them safer for all road

users and reduces harm in our

communities."

He said changing public

POPULAR: Valley Inn Tavern owner Dean Calvert pours a glass

of low alcohol DB Export beer. PHOTO: MARTIN HUNTER

attitudes to drink driving was

the reason for the decline. It

was not seen as acceptable any

more, he said.

Inspector Stewart said police

had made strategic efforts targeting

alcohol harm, especially on

the roads.

"This has been supported by

the lower drink driving limits

which have encouraged people

to think about their drinking

behaviour and plan to make it

home safely."

The breath-alcohol limit was

lowered from 400mcg/L to

250mcg/L in December, 2014.

But the limit that triggered

prosecution at court was

400mcg/L.

The latest stats did not include

the number of people given an

infringement notice for driving

over the 250mcg/L limit since it

changed.

But in 2014, the number of

people charged in Canterbury

was 2235, before dropping to

1852 in 2015 and again in 2016.

Bars and pubs have noticed

people are more aware of what

they were drinking, with many

patrons now choosing light beers

and wines.

Valley Inn Tavern owner Dean

Calvert said since the new limit

was introduced in 2014, they had

noticed patrons were buying a lot

more food and snacks to go with

their drink.

"People are eating before they

drive."

BY THE NUMBERS

Number of drink driving

charges in Canterbury in the

last five years:

2012: 2900

2013: 2472

2014: 2235

2015: 1852

2016: 1658

Number of convictions in

Canterbury in the last five

years:

2012: 2795

2013: 2392

2014: 2187

2015: 1796

2016: 1604

The sale of lower alcohol beer

had also been on the rise, he

said.

"There's definitely a lot more

people drinking the Monteith's

Mid Strength Ale."

They had a courtesy van for 14

years and it had always been very

well used, he said.

Sullivans Irish Bar owner

Mark Sullivan said they had

a wide range of non-alcoholic

beverages, as well as low alcohol

beer and alcohol-reduced wine.

They also sold an Edenvale

non-alcoholic wine, he said.

"There definitely has been a

shift to no-alcohol products."

EVERY DAY 11.30AM TO 2.30PM

LUNCH AT WINNIES

PASTA OF THE DAY $14

SALAD OF THE DAY $14

Call your GP team 24/7 for health advice.

If it's after-hours a nurse is available to give free health advice.

MINNIE WINNIE $12

MEDIUM TRADITIONAL PIZZA $15

SMALL GOURMET PIZZA $14

2 WATERMAN PL. PH (03) 376 4900 | WWW.WINNIEBAGOES.CO.NZ

NEW LOCATION

13b Parkhouse Rd, CHRISTCHURCH

T005 - Back to wall NOW $289

VWB7514W NOW $349

More sizes available

12

9

6

3

XSB1290 1200x900 Shower NOW $779

NVS7514F NOW $499

More sizes available

Open 7 Days Mon-Fri 9am - 5.30pm | Sat 9.30am - 4pm | Sun 10am-3pm

0800 MILLEN | www.millen.co.nz | 03 348 8678
---
Wednesday June 21 2017

Latest Christchurch news at www.

.kiwi

BAY HARBOUR

PAGE 7

of drink drivers

He said they had seen an increase

in people buying food, and staff

monitored their patrons closely

and encouraged them to eat.

Sullivans manager Subhadra

Marshall said: "People are more

aware of what they're drinking."

The statistics showed in

Christchurch, 1562 appeared in

the district court charged with

drink driving last year. It was

2080 in 2007.

In comparison, last year 78

people appeared in the Ashburton

District Court charged

with drink driving, and 170 in

Timaru.

In 2007, people aged 19-yearsold

and under had the most

convictions for drink driving in

Christchurch with 473.

But last year, the number of

under-19s convicted had dropped

to 154, and the 20-24-year-old

bracket was the highest with 323

convictions.

That was followed by the 25-29

age bracket with 274.

Inspector Stewart said police

and communities could not be

complacent.

People needed to continue to

have "hard conversations" with

family members, whatever their

age, if they were putting themselves

and others at risk by drink

driving, he said.

"Police will continue to enforce

alcohol-related offending at a high

level to reduce the trauma and

family harm that results from it."

FOCUS: Canterbury road

policing manager Inspector

Al Stewart says police have

been targeting alcohol harm

in general, and especially on

the roads.

NEW

NORMAL:

More drivers

are drinking

low alcohol

beer and

non-alcohol

wines.

While the number of

people charged with drink

driving in Canterbury has

almost halved in the last

10 years – changing public

attitude has not deterred

others

•A 38-year-old woman

was caught drink driving

more than four times the

legal limit with her two

young children in Rolleston.

Melanie Susan Trebilco

pleaded guilty to a charge

of driving with excess

blood alcohol after being

caught at a random stop on

Tennyson St on December

9. Her alcohol level was

1157mcg/L. Police said she

refused to let officers escort

her three and

nine-year-old children, as

the car did not have car

seats. She was disqualified

from driving for eight

months, and fined $1000 in

January.

•On the same day,

another Rolleston mother

recorded a reading of

696mcg/L when stopped

in Faringdon subdivision

with her four-year-old child

in the car. The 35-year-old

was pulled over after failing

to stop at a stop sign.

•Well-known race car

driver and businessman

Paul Kelly was caught by

police doing a burnout

in a classic car outside

a Christmas party while

under the influence. The

47-year-old had been

drinking for the day on

December 16 and blew

853mcg/L. He was

disqualified from driving for

six months and fined $600.

• Sarah Jane Arrow was

on a zero-alcohol licence

when she got behind the

wheel after drinking last

year. The 45-year-old was

driving along Main Rd,

four times the legal limit,

and failed to take a bend,

crashing into pedestrian

Ben Appleton. He flew

2m onto the rocks below,

suffering two broken legs,

and a fractured skull and

spine. In September Arrow

was sentenced to twoand-a-half

years in prison

and was banned from

driving for the rest of her

life. She was ordered to pay

$2500 in reparation to Mr

Appleton. It was her fourth

conviction for drink driving.

HEAT PUMP

SALE NOW ON!

Amazin' WINTER Specials!!

• We will offer you the best quality brands and

option of heat pump for your home/business

• Providing Heat Pump solutions for over 15 years to Cantabrians

• We personally guarantee all our products & installs for 5 years

(providing annual maintenance has been completed)

Phone us today for your free consultation & quote

41A SHAKESPEARE RD, WALTHAM

PHONE 03 366 0525

www.enviromaster.co.nz

"A local team for local people"

CHCH FANZONE

ALL BLACKS v THE BRITISH & IRISH LIONS

THIS SATURDAY

POPLAR STREET FROM 5PM

BE THERE. BE HEARD.

ccc.govt.nz/chchhostcity
---
PAGE 8 BAY HARBOUR Latest Christchurch news at www. .kiwi

Wednesday June 21 2017

News

Governors Bay

abduction

case lead

• By Andrew King

POLICE HAVE a good line of

inquiry into identifying a man

who tried to abduct a young girl

in Governors Bay on Thursday.

Detective Senior Sergeant Mark

Worner said police have reviewed

CCTV footage from the area

which has given them an idea of

who they are looking for.

The girl fought off a man who

tried to abduct her in the Governors

Bay Hotel car park at about

4.20pm.

The incident involved a man described

as European, in a red car,

possibly a sedan. The girl's mother

told Bay Harbour News her

daughter fled her attacker.

Governors Bay School board

of trustees chairwoman Amanda

Derry said they spoke to the family

on Thursday and are supporting

them.

"The person responsible should

come forward and get the help

they need before we come and

knock on their door, which will

happen," Detective Senior Sergeant

Worner said.

Anyone with information can

phone 363 7400. Information can

also be provided anonymously

through Crimestoppers on 0800

555 111.

• By Caitlin Miles

CLIFF FACES in Akaroa are

being monitored by city council

staff after residents expressed

concern over their condition.

They alerted

members of the

Banks Peninsula

Community

Board to their

concerns over the

state of the cliffs

on Beach Rd behind

the Akaroa

Fire Station and

opposite the Akaroa Lighthouse.

The condition of the seawall has

also been called into question.

However, city streets maintenance

manager ​Mark Pinner,

said the slopes behind the

lighthouse have been checked by

the city council on "a number of

occasions.

Community board chairwoman

Christine Wilson said,

in her personal opinion, concern

about rockfall is something to

take seriously.

WARY: The cliff

face behind

the Akaroa Fire

Station (below)

and opposite

the lighthouse,

both on Beach

Rd are monitored

and repaired as

needed.

Worry over condition of cliff faces

Christine

Wilson

"Since the earthquakes when

rockfall concerns are raised it is

important to get them fixed as

quick as possible, it can be quite

concerning," she said

Mr Pinner said loess faces are

"fairly resilient" but they are

prone to natural weathering and

waterlog from rainfall and they

are "maintained as needed."

He said the city council is

aware of the erosion of the seawall

near the fire station.

"It is currently being

monitored. Council's structural

engineers are inspecting and

monitoring the wall, more so

after large tidal events, and preparing

designs for remediation,"

Mr Pinner said.

What's being done

about Canterbury's

water quality?

Look a little deeper at the

action being taken to improve

our precious water.

This year, there are new requirements on farmers

to limit the effects of farming on water quality.

The majority of farmers are already doing the

right thing, but more needs to be done to truly

improve our precious water.

We are working with farmers so that they know

exactly what they need to do. It will take time

for these improvements to have an effect on our

water quality and quantity, but we're off to a

good start.

Look a little deeper at

www.canterburywater.org.nz
---
Wednesday June 21 2017

Latest Christchurch news at www.

.kiwi

BAY HARBOUR

PAGE 9

manufacturers clearance

5000 metres

of slightly imperfect stock to clear

Brookhaven $69.90 Brookhaven $69.90 Brookhaven $69.90 Brookhaven $69.90 Calisto $35

Berber Vouge $60 Riviera 1st grade $75 Canyon Ridge $69.90 Capricorn $60 York Street $79.90

Horizon Sea Fog $85 Madison $65 Carters Ville $79.90 Riviera $75 Bayside Twist $79.90

Ashwood $69.90 Columbia $79.90 Ashwood $69.90 Action $60 Brookhaven $60

Action Pampas $60 Alpacco Rig $69.90 Aquarius Town $35 Ashwood $69.90 Canyon Ridge $69.90

Call for our mobile showroom

to visit your home

312 Wilsons Road North, Waltham Phone 366 0070

www.carpetkingdom.co.nz | Mon - Fri 8am - 5pm | Sat 10am -1pm

Q Card Finance Now Available

FREE no obligation measure & quote (conditions apply.)
---
PAGE 10 BAY HARBOUR Latest Christchurch news at www. .kiwi

Wednesday June 21 2017

News

NEW!

Pascall

Confectionery

150g-240g

$

2 49

ea

ON SET: Filming for Human Traces was carried out in the Catlins and Bank

Peninsula.

Love Apples Eve Loose

Product of New Zealand$

2

Meadow Fresh Cheese

1kg Mild, Edam & Colby

Just Juice Fruit

Juice 2.8 Litre

$

$

9 99 4 79 ea

ea

$

2 99 ea Tegel Chicken

$

10 99

Nuggets, Bites or

Steaks 800g-1kg ea

Stoneleigh

Quality Bakers

Nature's Fresh Bread

700g

$

9 99

99 Fresh NZ Beef

kg Corned Silverside kg

Peninsula ideal

setting for movie

BANKS Peninsula played

an important part in

setting the scene of a new

movie.​

Pyschological thriller

Human Traces was filmed

in two locations in the

South Island – Banks Peninsula

and the Catlins.

Human Traces stars Sophie

Henderson and Mark

Mitchinson as a husband

and wife scientist team sent

to rid a Subantarctic island

of pests. When a mysterious

young man arrives at

the remote research station,

he threatens the couple's

relationship in a hostile

wilderness, 750km south of

New Zealand.

Christchurch-raised director

and writer Nic Gorman

said Banks Peninsula

was chosen for its volcanic

rocks and features.

"Our fictional location is

loosely based on Campbell

Island. I was researching its

geography and the upper

RELATIONSHIP: Mark Mitchinson and Sophie

Henderson in a scene from the movie.

slopes of Campbell Island

reminded me of Banks

Peninsula with its tussock

spurs, volcanic rocks and

sharp outcrops. We amalgamated

this location with

the rugged and dramatic

coastline of the Catlins to

create our island on the

screen," Mr Gorman said.

The movie was filmed

over 25 days.

Human Traces will be the

centrepiece presentation

of the Christchurch New

Zealand International Film

Festival programme, with

the world premiere on August

4 at the Isaac Theatre

Royal.

The full NZIFF

programme for

Christchurch will be

available online from 7pm

on July 10.

The festival screens for

two-and-half weeks from

August 3 to 20.

Heineken 12 Pack

330ml Bottles

www.foursquare.co.nz

750ml (excludes

Latitude, Wild Valley

& Rapaura Series)

$

22 99 $

12 99 ea

pk

facebook.com/FourSquareNZ

Specials available South Island only from Monday 19th June until Sunday 25th June 2017

or while stocks last. Wine and beer available at stores with an off licence. Wine and beer

purchases restricted to persons aged 18 years old and over.

oFten quoted as

"the best thai in ChRistChuRCh"

Amazing authentic Thai food will also turn you into a

Green Chilli Thai restaurant advocate.

big oFFeR Wednesday sPeCial!

3-course banquet deal! only $22pp

Home Delivery, Takeaway available, BYO,

Vegetarian Friendly

GREEN CHILLI THAI

RestauRant

1/596 Ferry Road

Woolston, Christchurch

greenchilli@windowslive.com

Phone: 03 384 9993 or 03 381 2855

Classic Styles by Triumph

Non Wired

Non Wired

Professional Free Bra Fittings

Kiss of

Cotton

12-18B, 12-20C,

12-20D, 12-18DD

(colour - fresh powder)

Poesie Firm

Support

12-18B, 12-20C,

12-22D, 12-24DD

(colour - fresh powder)

ACCESS TV FOR NZ

SKY CHANNEL 083

Thursday 7.30pm

Shop 48 Barrington, Barrington Street

Phone 03 337 6609

www.lingerieonbarrington.co.nz
---
Wednesday June 21 2017

Latest Christchurch news at www.

.kiwi

BAY HARBOUR

PAGE 11

Sunbeam

Kettle & Toaster Package

Express 1.4L KE

1600 kettle.

114450

Cool touch

toaster.

280742

SnAP

dEAl

$

59 97

PAck

GET IT BEFORE IT'S GONE!

nEW PrOduct

Whirlpool

$

18 98

$

19 98

Maze

Compost Caddy

7L Compost caddy with

20 x compostable liners.

300876

Award

Toilet Brush & Toilet

Roll Holder Set

Stainless steel.

156285

25L Microwave

Oven

700W 5 function

crisp n grill.

Black or white.

295445/6

Was $599 Was $1399

Stream

Shower Slide Set

Suitable for all pressures.

Includes wall elbow and

soap dish.

158212

EXcluSIVE

kelvinator

380L Stainless Steel

Fridge Freezer

H: 1720mm, W: 703mm, D: 647mm.

246309

$

399 $

999

EXcluSIVE

nouveau

E-Line Round Shower

900x900mm white. Corner

waste, flat wall only.

158996

$

119

$

799

*TERMS & CONDITIONS APPLY

KITCHEN &

BATHROOM EXPO

NOW ON

Come meet our friendly team

for expert advice and

appointments.

VIcky - 03 962 0709 EdEl - 03 962 0709

Ferrymead

1005 Ferry Road, Phone: 366 6306

Opening Hours: Monday–Friday: 7:00am–7pm

Saturday, Sunday and Public Holidays: 8:00am–6:00pm

Offers available at Mitre10 Mega Ferrymead only, until the 28th of June, while stocks last.

mitre10mega.co.nz

If you find a lower price on an identical stocked

product locally we will beat it by 15%.

find us mitre10.co.nz

If you find the same product cheaper from another Mitre 10 store or Mitre 10 website we'll match that price. Excludes trade

and special quotes, stock liquidations and commercial quantities. The in-store price may be lower than that advertised.
---
PAGE 12 BAY HARBOUR Latest Christchurch news at www. .kiwi

Wednesday June 21 2017
---
Wednesday June 21 2017

Latest Christchurch news at www.

.kiwi

BAY HARBOUR

PAGE 13

Your Local Views

Pirate's Corner

Labour MP

Ruth Dyson

writes about

her frustration

over the city

council's

consultation

process on the

St Andrews Hill/Bridle

Path Rd intersection

Democracy in action or

democracy in-action?

I received recently the

response from the city council

following the consultation about

the St Andrews Hill/Bridle Path

Rd intersection.

The consultation was triggered

by concern from local residents

about the inability to safely

access and exit the intersection

and the safety issues for cars and

cyclists turning left onto Bridle

Path Rd and straight across the

bottom of St Andrews Hill.

This has been an issue of concern

from the time of the original

design of the post-quake

intersection and has continued

to be a safety worry. So it's not

surprising that about 600 people

put in a submission during the

consultation round – a very

large number of contributions

about a single intersection.

I was frustrated during this

consultation because the options

presented seemed limited. And

now my frustration is growing

because it looks like city council

staff are going to recommend

the Linwood-Central-Heathcote

Community Board just receives

the information. There is no

suggestion that anything is actually

done as a result.

Many of the people who put

in a submission have told me

that they are really puzzled by

this process. Eighteen months

ago, there was a public meeting

about this and a report prepared

for city council. The community

board then rejected the "do

nothing" option and started

listening to the community.

The most preferred of the

three options is to install traffic

lights just out of the intersection

on Bridle Path Rd. This is quite

an expensive option but it was

still the most popular – not

because it was the best of all options,

but because it was the best

of the three presented for people

who wanted improvements.

I hope our community board

takes action but perhaps some

other alternatives could now

be trialled. Change the phasing

of the green lights to allow

better traffic flow. Put the 'no

go' area right across the road to

allow traffic to get onto Bridle

Path Rd. And put a mirror in

so we can see round the corner.

Whatever you do, please do

something.

•Soap Box, page 15

CONFUSING:

Motorists

have reported

trouble

turning right

and long

queues at the

St Andrews

Hill/Bridle

Path Rd

intersection.

Action needed to fix intersection

Careful you don't

catch hypothermia

• By Gary Manch, navigational

safety officer, Lyttleton

AS I sit at my desk writing this,

I look out the window and see

a large southerly bearing down

on us, bringing with it the usual

lousy weather.

So I will be spending the

day completing long overdue

administration, a task that I am

sure we all love to hate. However,

better to stay warm and dry than

go out in the wet and cold when

it's not necessary.

If you have decided to let the

administration build up even

more and go out on your boat in

this kind of weather, you need to

consider not only the factors we

have discussed over the past year

about boating safety, but also

your own personal safety when

it comes to putting yourself,

passengers or crew at risk of

hypothermia.

Hypothermia is reduced body

temperature. That happens when

a body dissipates more heat

than it absorbs and can include

symptoms such as shivering,

which may stop the hypothermia

progressing (shivering is actually

a good sign that a person's

heat regulation systems are still

active); slow, shallow breathing;

confusion and memory loss;

drowsiness or exhaustion; slurred

or mumbled speech; a slow,

weak pulse; and possible loss of

co-ordination, fumbling hands

and/or stumbling steps. None

of which is a pretty picture on

board a boat or anywhere else for

that matter.

In severe hypothermia, a person

may be unconscious without

obvious signs of breathing or a

pulse.

So given the scary list of

symptoms – how do you prevent

hypothermia?

Clearly, staying inside a warm

house or office is a good idea.

However, I am sure that this is

not what you want to hear, especially

you hardy types out there

who enjoy being out and about in

all weathers.

If you are going out, first assess

the weather and conditions before

you set off. If the weather is

likely to be wet and cold, dress

accordingly. Sometimes it is best

to have several layers of warm

clothing under the waterproofs

so you can always remove a layer

if the weather changes and gets

warm. If this sounds like advice

your mother would give – she's

right. You should always listen to

your mother (and me).

Cold rain and wind are major

factors, so stay out of both if possible.

To treat hypothermia – get

the person out of the weather or

water into a sheltered place as fast

as possible.

Phone 111 and seek medical

assistance immediately.

Remove any wet clothing and

warm the person's body core/

trunk up slowly using dry clothing,

blankets or whatever you can

find.

Give warm liquids and try to

maintain the warmth until medical

assistance arrives.

The bottom line is as always – if

in doubt, don't go out. If you do,

be aware of the risks and ensure

you are ready for any eventuality.

Take care out there.

House of Travel

Ferrymead

Come in & see us for all your

2017 and 2018 travel plans.

Early birds on sale now! Guided Holidays,

River Cruising, Cruising and more.

Talk to one of our experienced team

members today and plan that holiday

you've always dreamed of.

NEW

CONCEPT

STORE

OPEN

NOW

The best holidays are created together.

987 FERRY ROAD, FERRYMEAD VILLAGE I 03 3764 022 I FERRYMEAD@HOT.CO.NZ
---
PAGE 14 BAY HARBOUR Latest Christchurch news at www. .kiwi

Wednesday June 21 2017

Market Comment

The market has been bubbling along. May was a near record month for us at Ray White Ferrymead

and Lyttelton. Despite what some pundits may say we've found the market to be buoyant and strong.

However, what has become more apparent in recent times is to ensure all sellers understand the

importance of supplying all relevant information about their property. This is increasingly important when

it comes to a prospective purchaser being able to obtain insurance cover. Some insurers seem to be

taking a tougher stance on evidence of repair work and it is up to sellers to provide this information prior

to going to the market. Trust me, it will save a whole lot of time and anguish by providing the information

earlier rather than later! So if you are thinking of selling make sure you have all the information available on

the current status of your property, EQC work, repairs and exactly what is covered by insurance.

Nancy Vincent Parr

Operations Manager

Dan Newburgh

022 657 1497

Elise Chappell -

Joining our Team

Elise has spent the past 2 years working

behind the scenes both as a personal

assistant to one of our top agents, and as

a marketing administrator. She has recently

completed her real estate license and

we warmly welcome her to our close knit

Ferrymead team knowing she will bring a

meticulous, organised, and modern service

to our bay and seaside customers.

Greenwood Farm Sections Now Available

The Trustees of Greenwood Farm on Richmond Hill have just released their latest

stage of this popular and well-designed subdivision. 32 stunning sites are being

offered by Deadline Sale, closing on June 28th. It is literally a case of "first up, best

addressed!" With gentle contours and spectacular views up and down the coastline

we anticipate demand will be high and recommend interested parties follow the signs

and have a look around as soon as possible. Or, better still, register your interest at our

office to be sure you don't miss the section of your choice! Contact Eleanor Corston.

Eddie Spry

021 1565 884

Marie Malone

0274 898 349

Angela Harden

Listings Administrator

Eleanor Corston

027 435 2415

Top Sales for May

Mark Gardner

021 633 669

Anna Loader

027 272 7128

Daisy Foldesi

021 328 059

Elise Chappell

027 226 4413

Paula and Simon Standeven

"What people are

saying about us"

Matt Clayton

021 2233 998

"The house was just a bit small for what we

are looking for, but I must say that the real

estate agents were amazing. We went to a

few open homes that day and by far they

are the best agents we came across, so

lovely and full of information, they took the

time to actually talk to us more than just the

house specs, as we are first home buyers

they even gave us a brokers business

card and a flyer about a seminar. I'm very

impressed with them and Ray White."

Katelyn June 2017

Jan Edlin

027 433 8025

Patricia Van der bent

027 296 1408

Bronny Clifford

021 272 7718

Matt Clayton

021 2233 998

Eddie Spry

021 1565 884

Bev Prout

027 495 9586

Simon Standeven

0274 304 691

Paula Standeven

027 547 2852

21 Humphreys Drive, Ferrymead and 47b London Street, Lyttelton

Phone (03) 3844 179

rwferrymead.co.nz /RayWhiteFerrymead

Prier Manson Real Estate Ltd Licensed (REAA 2008)
---
Wednesday June 21 2017

Latest Christchurch news at www.

.kiwi

BAY HARBOUR

PAGE 15

Your Local Views

Life should be celebrated

S Av O U R t h E

Linwood-

Central-Heathcote

Community Board

member Darrell

Latham talks

about recognising

community service

Recently the Linwood-

Central-Heathcote Community

Board presented

the 2017 Community

Service Awards. I had the

honour on behalf of the

board of addressing recipients.

The following are

abridged comments from

my address.

Collectively as a group

you are community champions.

However, individually

you are champions of

your community.

As a community we

need to celebrate achievement

because life should

not only be lived it should

be celebrated. The more

you acknowledge achievement

then the more there

is in life to celebrate.

A report released this

week showed that while

A BRANCH OF

Michael Toomey

mft@younghunter.co.nz

Proudly providing

legal advice to

the community

for 25 years

Graeme

Dingle

volunteers numbers have

not reduced, the hours that

those same volunteers are

able to commit to community

projects has dropped.

People live busy lives and

for a variety of reasons it

is becoming harder for

people to find the time for

community projects.

All the more reason to

acknowledge your contribution

and to say thank

you.

Just recently, the Queen's

Birthday Honours awards

were announced. Amongst

the recipients to receive a

knighthood was Graeme

Dingle a mountaineer and

outdoor education worker

extraordinaire.

It was during a traverse

that Jill Tremaine gave

him advice that he has

carried with him ever

since. She said to him that

life is a cup to be filled not

drained. Furthermore,

she told him that he was

actually a selfish person.

''You're boring because

you are obsessed and you

won't fill your cup until

you do things that are

good for other people," she

said.

That was a huge lesson

he said. I went out and

borrowed a truckload

of money and set up a

charity. The Sir Edmund

Hillary Outdoor Pursuit

Centre.

The motto of the story

is to say to you as community

champions, thank

you for being selfless and

not selfish and, for doing

things that are good for

other people. In doing so

your cup is full!

Collectively we should

all aspire to be the protectors

and nurturers of our

next generation.

Your work serves as an

inspirations to others.

Still Pedalling!

Trevor Crowe's been involved with cars for a

while. You can benefit from his experience at...

Subaru Specialists

Full Workshop services

WOF's | Service Checks | Wheel

Alignment | Brakes | Clutches | Tyres etc

Great range of Subarus & other

makes from $5,000 - $35,000

View at www.crowesport.co.nz

At m O S P h E R E

For an iconic shopping experience & the best

selection of street food the city has to offer

f OOd COURt

Dose Sushi

The Burger Joint

Dimitri's Greek Kebabs

American Delight

Berry Healthy

Base Woodfired Pizza

Fritzweiners

Maree's Lebanese Kebabs

Pure Pulp

Tiki Taco

A Mouse Called Bean

Wild Bites

Noodle Monk

Gaslight Taverna

Freyburgs Fish and Chips

Cosy Cafe

Paradise Dumplings

J Bings

Herba Gourmet

Coq au Van

REtA il

Cosmic

Hunters and Collectors

Hapa

TradeAid

Stencil

NZ Post / Kiwibank

Simply New Zealand

The General Store

Metromart

Meccano

Untouched World

Champions of the World

Barkers

O P E n n O w

ShOP tO win

Win lunch for 4 people at Black Estate Vineyard,

flying there and back with Christchurch

Helicopters, piloted by Richie McCaw

Enter in store or online www.containermall.kiwi

SECURE YOUR SPACE tO d AY

Limited retail spaces

available 0800 00 11 78

Michelle Rossiter

mjr@younghunter.co.nz

P. 384-5350

www.younghunter.co.nz

518 Moorhouse Ave (East end)

Phone 379 7615 or

email: service@crowesport.co.nz

Open frOm 10am daily

cashel street (Bridge Of rememBrance end)
---
PAGE 16 BAY HARBOUR Latest Christchurch news at www. .kiwi

Wednesday June 21 2017

Linwood

College

PERSONALISED

PATHWAYS

TO SUCCESS

2018 Student Leaders: 1st Row: Vai Mariner, Crystal Mehlhopt, Jenna Hollis, Leeah Mullany, Sarah Moana Wooff-Smyth

2nd Row: Eden Pettigrew, Adonai Schwenke, Anaru Gray, Cole Barrie

3rd Row: Havana Aaifou, Thomas McHutchison, Sapana Kharal, William Paulden, Sean Robertson-Wright, Makayla Austin

Enrolling now for 2018

Message from the Principal

Kia ora koutou.

Talofa. Kia Orana.

Malo e lelei. Bula.

Fakaalofaatu.

Namaste and

Kumusta.

Greetings to our

Community.

As this page

shows, the life

of a secondary

school is busy and

varied. Linwood

College nurtures personal excellence by

providing diverse opportunities to meet

individual needs, opportunities that support

a personalised learning pathway.

This pathway is now opening out to our

partner schools. Linwood College is

running a cycle of eight-week enrichment

programmes for Year 6-8 learners in the

May Music Month

schools in our communities, Linwood-

Woolston and the Bays. The programme is

very well regarded by the young learners

themselves and their schools. Debating was

the first topic which culminated in a lively

debate held at Sumner School. The present

programme is Mathematics and is proving

equally valued.

Many people are keen to learn more

about Linwood College. To this end, I am

holding regular evening appointments for

families keen to know more and to meet me

personally. Please phone the school office,

phone 9820100, to book in a time.

Nga mihi nui to our community as the

positive activity of the year continues. I am

always keen to meet people if any member

of the community wishes to talk to me about

anything. My door is open.

Richard Edmundson - Tumuaki-Principal

Samoan Speech Competition Success

To start winter off with a bang on 1st June,

students from Linwood College pitted

themselves against other talented Samoan

speakers from Christchurch schools, as part

of the annual Samoan Speech Competition.

Held at Hillmorton High School, the event

was opened by Leumu Gali, St Thomas of

Canterbury College's Samoan Language

teacher. This year's topic was: 'Maau i ofaga,

Maua'a lou faasinomaga' ('Keep your identity

alive to thrive').

With more than 100 students competing,

Linwood College's Gloria Sua won first place

in the Year 11 section with Tala Leupolu

(Year 12) achieving third place. Two Year 13s

achieved placings wtih Vai Mariner getting

second place and Janet Tuiloma, third.

It was Janice Tuiloma's first competition.

She and her twin Janet signed up so that

they could make their families proud.

Another participant, Havana described how

she and others shook with nerves as they

prepared to present their speeches.

The Nationals which will take place in

August 2017 here in Christchurch.

Samoan Language Week Celebrated

To celebrate Samoan Language

Week, in the first week of June

students at Linwood College

arranged a number of activities,

including a lunch for staff.

Students also performed a

number of dances, engaging staff

in a traditional dance.

Chess Tournament Winners

A crowd of Eastgate Library visitors

settled in for double treat – tasty delicacies

provided by the library staff accompanied

by a peppering of performances by

Linwood College students as part of the

recent 'May Music Month'.

A funky, hip-hop number by Filipino

students and a Bollywood dance followed

the Year 7 students' drama which kicked off

the evening. The school band performed

many melodious pieces.

Surrounded by vibrant colours and sound,

the audience clapped along to the smooth

reggae tones of Tyrone TePoono as he

crooned Six60's Don't Forget Your Roots.

Adonai Schwenke's thunderous tones

reverberated Tennesse Whiskey's lyrics

throughout Eastgate to a cheering crowd.

With a dabble of jazz, a smoky solo by Piper

Stewart, a splash of drumming by Luke

Barry, one Samoan dance later - onlookers

were bursting full from the smorgasbord of

the evening's cultural flavours.

Organisers stated that the event had been

inspired by Linwood College's 'Festival of

Nations' held back in March and hope that

this enchanting evening may become an

annual event to showcase local talent.

Students from Year 7 and 8 performing at Eastgate

Library during May Music Month

As the nine o'clock bell tolled, the Linwood

College hall was abuzz with the humming

of table-top timers as students of all ages

from across Christchurch competed. This

gathering was for the annual Chess Power

Interschools Tournament, held on the 22

May.

Seven Linwood College students vied

against students from nine local schools,

achieving twenty-three wins in total. As a

result Linwood College secured first place

in the tournament.

Senior students Marvin Brimon, Joshua

Galang and Ly Jefferson Brimon as well as

Ivo Craeig Baguingey (Year 8) achieved the

four top placings throughout the day.

Marvin Brimon came out on top, winning

six matches and has been invited to

compete in the National Championship

to be held in Hamilton in October.

Congratulations to you all!

Queen's Birthday Honour for Maths Teacher

Alan Parris with his 1929 Plymouth Four.

Photo by Gilbert Wealleans

Competition winner Marvin Brimon (Year 13)

Retired Teacher Alan Parris was made a

Member of the Order of New Zealand in the

Queen's Birthday Honours list for Services to

Mathematics after teaching Mathematics at

Linwood College for more than 40 years.

Mr Parris represented New Zealand locally

and internationally in a number of initiatives.

For the full article, please refer to:

www.star.kiwi/2017/06/queens-birthdayhonour-for-maths-teacher/

Linwood College • Phone: 982-0100 • Email: office@linwoodcollege.school.nz • www.linwoodcollege.school.nz
---
Wednesday June 21 2017

Latest Christchurch news at www.

.kiwi

BAY HARBOUR

PAGE 17

SPORTS

Sumner win in spite of player shortage

• By Gordon Findlater

SUMNER PULLED one out of

the bag to complete a remarkable

comeback from 0-26 to defeat

Marist Albion 28-26 and record

their sixth straight victory.

However, Sumner coach

Martin Dodgson described

Saturday's early events as a

comedy of errors and, for some,

getting onto the pitch was half

the battle.

Sumner came into the game

with just a two-man reserve

bench with Dylan Nel, Marshall

Suckling and Poasa Waqanibau

all absent due to selection in

Canterbury's starting 15 for

tonight's Ranfurly Shield defence

against Wanganui.

The situation was made

worse when second-five Teariki

Matenga dislocated his shoulder

during the pre-match warm up,

reducing Sumner to a one-man

bench.

That forced the team to move

winger Zach Kibirige into the

midfield.

Things have a funny way of

working out.

Regular second-five Archie

McBride was meant to be absent

from the game, nursing a recent

rib injury. However, just minutes

before the game, he showed up to

watch with his daughter.

"He saw what was happening

and he looked at me and said

should I grab my kit from the

WINNER: Nik Cumming (left) took his season points tally to 114 with the match winning conversion. Zach Kibirige was the man of

the moment as Sumner scored 28 unanswered points in a miraculous comeback against Marist Albion. PHOTO: ROZELLE MAY

car," said Dodgson.

"He then turned to his

daughter and explained that he's

going to have to play."

Sumner now had their twoman

bench restored and were

hopeful of that growing with

their division 2 team rushing

to Edgar MacIntosh Park fresh

from a five-point loss at Lincoln

University.

The team that ran onto the

field looked absent in the first

half as Marist Albion dominated

the early exchanges to pile on 26

unanswered points.

"We needed some rice bubbles,

there was no snap, crackle and

pop," said Dodgson.

Kibirige put Sumner on the

board as the half-time whistle

sounded when he crashed over

the line to reduce the gap to 19 at

the break.

"A few coarse words were had

at half-time," said Dodgson.

Marist Albion were reduced to

14 men early in the second-half.

Sumner made the most of the

numbers and Kibirige combined

with his midfield partner Will

Sakura to score his second try.

After being restored to

their full complement, Marist

Albional almost immediately

lost a second player to the sin-bin

when lock Paul Garner was sent

packing by referee James Munro.

This one again created extra

space for Sumner and Kibirige

looked to be enjoying his

makeshift role in the midfield

by completing his hat-trick in

emphatic fashion.

After receiving the ball on his

own 22m line, he shrugged off

half the Marist Albion team in

an 80m runaway try.

The comeback was completed

with just two minutes left on the

clock.

A free-kick was awarded to

Sumner from a 5m scrum and

quick-thinking No 8 Martene

Downes took the tap and caught

the Marist Albion defence

napping to score 10m to the left

of the posts and even the score.

It was then down to first-five

Nik Cumming who took his

points tally for the season to 114

as he calmly slotted the winning

kick.

The game was the opening

match in section two of the

metro competition. Sumner

travel to Shirley at the weekend.

Bays in fight for title

CONTENDERS: Michael Forshaw turns with the ball in Western's

half during Bays 4-1 on Saturday.

FERRYMEAD BAYS continued

their race for the Mainland

Premier League with a 4-1

win over Western AFC on

Saturday.

They look set to continue a

two-way fight with Cashmere

Technical for this year's league.

They are currently two points

behind Cashmere but have a

game in hand.

Bays came out firing at Ferrymead

Park, recording all four

of their goals in the opening

half hour.

Seb Schacht opened the scoring

after eight minutes. Shawn

O'Brien, who had transferred

from Coastal midweek, then

doubled the lead with Geoff

MacIntyre adding a third minutes

later.

Andreas Wilson completed

the scoring for Bays with just

his second ever Mainland Premier

League goal, courtesy of

the penalty spot.

Western's lone goal came

early in the second half when

Mo Khalifa found the back of

the net.

Bays and Western will meet

at Ferrymead Park again on

Saturday, this time in the English

Cup knockout competition.

•More sport, page 20

The Village Inn

41B Nayland Street,

Sumner

326 – 6973

Tuesday — Sunday

NOW

SHOWING

All Lions fixtures on

our TWO big screens

the

lions
---
PAGE 18 BAY HARBOUR Latest Christchurch news at www. .kiwi

Wednesday June 21 2017

Theatre/Arts

Tickets on

sale NOW!

Masked actor grew up in Sumner

• By Georgia O'Connor-Harding

USING FACIAL expressions to

express a story is normally an

actor's lifeline for executing a

great stage performance.

But not for Andrew Ford, 34,

who has delved into mastering

the art of deception and disguise

in a show featuring predominantly

masked

characters.

Auckland-based

Ford, who grew

up in Sumner,

will set foot on

the Isaac Theatre

Andrew

Ford

Royal stage as a

bombastic villain

in a comedy about

love, death and preserves.

He said the show has been a

challenge because he has had to

emphases his body movements

and voice, rather than rely on the

simplicity of facial expressions.

"It is great because it gives you

permission to give really big,

larger than life performances,

which I enjoy doing," the former

Hagley Theatre Company student

said.

As part of Indian Ink Theatre

Company's 20th anniversary national

tour, Ford has been cast as

George Reaper in the company's

award-winning play, The Pickle

COMEDY: Andrew Ford as George Reaper and Vanessa Kumar playing Anmachy in The Pickle

King.

King. He describes his character

as over-the-top, flamboyant and

in love with the sound of his own

voice.

Ford has had a colourful career

since he graduated from Auckland's

Unitec in 2008.

Five times Ford has performed

in Christchurch's Anthony

Harper Summer Theatre show

and was recently in this year's

performance of Robin Hood.

Shortland St fans may have

seen Ford make a guest appearance

on the soap as an "insensitive

doctor".

He said things happen very

quickly behind the scenes and

actors need to be at the top of

their game.

Although a comedy, The Pickle

King tells the story of a blind

receptionist working at a crumbling

hotel in Wellington who

believes she is cursed as everyone

she loves dies.

In spite of the curse, she falls

in love with a another hotel

employee and at the same time

a mysterious new guest (Ford)

checks into the hotel who she

believes to be the Grim Reaper.

"For me, the main message

about the show, and it may

be corny, is about having the

courage to love someone . . . she

feels cursed but still falls in love,"

Ford said.

As part of Indian Ink's

anniversary celebrations, the

original performance of The

Pickle King about 15 years

ago has been changed from a

heterosexual to a same sex love

story.

Ford said very little of the

script needed to be adapted and

it was nice to see audiences were

accepting of the gender change

in the show.

The show also touches on

immigration and the difficulty

many face when they move to

a new country and find their

qualifications mean nothing.

•The Pickle King will run

at the Isaac Theatre Royal

from today until Saturday.

To book tickets go to http://

isaactheatreroyal.co.nz

•Free mask workshops

will also be run by Indian Ink

Theatre Company. For more

information, go to https://

indianink.co.nz

Saturday 8 – Saturday 22 July 2017

Tickets on

sale NOW!

Want to Shift to a new career?

We can make it happen.

CDC estimates ICT employment in Canterbury

will grow 2500 additional jobs by 2025

Scholarships

available

APPly noW!

Combine your existing degree and life experience with

innovative learning to prepare for a career in the booming Tech

sector. Shift, Signal's 9 month industry focused programme

starts July 24, is open to graduates of any discipline, with

limited scholarship opportunities still available.

Choose from the Software development stream or the

Development Allied stream to focus on other areas such

as testing, user experience or technical writing.

For more info go to

@KidsFestNZ or kidsfest.co.nz

Be part of one of NZ's fastest

growing sectors with fantastic

employment opportunities.

SIGNAL is powered by:

P 0800 990 024

E info@signal.ac.nz

W www.signal.ac.nz/shift
---
Wednesday June 21 2017

Latest Christchurch news at www.

.kiwi

BAY HARBOUR

PAGE 19

SAVE $8,000

cnr Montreal & St Asaph Streets, Christchurch

www.christchurchmitsubishi.co.nz

Sales, Service & Parts: 03 379 0588

NEW ASX XLS AWD Diesel now only $33,990 +ORC

Get a little style, a little attitude, the most desirable warranty and a whole lot more with

the powerful yet fuel effiecent ASX XLS AWD Diesel. See for yourself at Christchurch

Mitsubishi. Call 03 379 0588 or visit ChristchurchMitsubishi.co.nz to take a test drive.

*Price listed is for ASX XLS AWD 2.3L Diesel RRP is $41,990+ORC. Price excludes On Road Costs which includes WoF, Registration and a full tank of fuel.

Offer available while stocks last. Visit mmnz.co.nz for full Diamond Advantage terms & conditions.

100% UNIQUE. 0% INTEREST.

For a limited time you can get behind the wheel of these unmistakable MINI models with 0% interest and just 3 payments. *

MINI HATCH

MINI CLUBMAN

Iconic design, with three or five doors and plenty of customisable details to make your MINI an individual.

Highly crafted design with distinct split rear doors, offering ample space and room to move.

Book a test drive at Christchurch MINI Garage today.

INTEREST NOW

(Deposit)

0% ($250 Establishment Fee)

1

/ 1 2018

3 / 1 2019

3 (Month 12) / 3

(Month 24)

CHRISTCHURCH MINI GARAGE.

30 Manchester Street. Christchurch. 03 363 7240.

MINI.CO.NZ

*Offer includes an establishment fee of $250 and recommended on-road vehicle costs. Offer excludes MINI John Cooper Works Clubman. BMW Financial Services New Zealand Ltd terms, conditions and standard

lending criteria apply. Offer expires June 30th 2017.
---
PAGE 20 BAY HARBOUR Latest Christchurch news at www. .kiwi

Wednesday June 21 2017

SPORTS

TEAM PLAYER: Lili Ovendale helped her school finish third in

the six-person team event.

www.dcis.co.nz

FREE

installation*

We'll keep you warm this winter.

Fully rated heating right down to -15°C...guaranteed.

$3,299

SALE

HIGH WALL HEAT PUMP

FH50 6.0kW

*Conditions apply

Back-to-back basic installation

Book your FREE in-home quote TODAY!

0800 324 678

A NUMBER of Sumner runners

competed at the national

secondary school cross-country

championships at the weekend.

Perfect conditions greeted the

runners on Saturday and Sunday

at the old Ascot golf course.

The event showcased New

Zealand's top secondary school

cross-country competitors, with

fields averaging more than 100

runners per event.

The Sumner club had five

athletes representing their high

schools, including Sam Clark,

OVER: Amalie

Clarke (above

left) and Jade

Majendie cross

the last hurdle.

Oscar Kane uses

a one handed

technique to cross

the hurdle. Charlie

Bailey crosses the

last hurdle on his

way to a race win.

Sumner club members out in

force at cross-country champs

Shirley Boys' High School,

Lili Ovendale, Christchurch

Girls' High School, John Wells,

Christ's College, and Jess and

Meg Fahey, Marian College.

Sumner's top performer was

Lili who came third in the sixperson

team event, fourth in the

three-person team event and 34 th

overall.

In conjunction with the nationals

was an invitational nonchampionship

race for primary

school-aged pupils over two laps

of a 1km course. In this event,

are you considering selling

before winter arrives?

The weather may be cooling but the property market in the seaside

suburbs certainly isn't!

Find out what your home could be worth to eager buyers actively

trying to find their next home with a free property appraisal. I look

forward to guiding you through your options for selling and advising

on latest marketing ideas available.

for this professional advice and

more call chris Moores today.

chris Moores

Harcourts Grenadier Ferrymead

1020 Ferry Road

P: 03 384 7950 | M: 027 588 4440

E: chris.moores@harcourts.co.nz

GRENADIER

Licensed Sales Consultant REAA 2008

overall line honours went to

Sumner's Charlie Bailey who ran

a very tactical race, which saw

him take the lead in the second

lap and win by a comfortable

margin.

He was followed closely by

Maddie Sharpe, Mitchell Kane,

Lucy Wheeler, Brooklyn Aitken,

and Abi Scott-Douglas.

Many of the pupils who ran

will also compete today at

Halswell Quarry in the Canterbury

primary school cross-country

championships.

FLOORING

SHOWROOM 3/954 FeRRy ROad | CHRISTCHURCH | Tel. 03 943 2001 | WWW .gReenFlOORIng.CO .nz

QUICKSTEP – LOC – ELKA – PERGO – TORLYS

LET US HELP

YOU SAVE $$$

ON FLOORING

• TIMBER • TILE • CORK

• LAMINATE • LEATHER

laRge SeleCTIOn

FRee MeaSURe &

QUOTe

TRAdInG hOURS:

Tuesday to Thursday 8:30am to 5:30pm,

Friday 8:30am to 5:00pm, Saturday 9:30am

to 1:00pm, Sunday & Monday closed.
---
Wednesday June 21 2017

Latest Christchurch news at www.

.kiwi

BAY HARBOUR

PAGE 21

Hurry in for amazing

savings!

FOR A LIMITED TIME

Riley 3 Plus 2 Seater

save

$400

The Riley Lounge suite will add the perfect modern touch to your home.

Contemporary style, comfort and quality, all at an amazing value.

was $1898

$1498

now only

save

$1380

save

$200

150cm Table

+ 6 Chairs

Carson 7 Piece Dining Set was $959

A Scandinavian-inspired range with a modern

now only

mood and represents extremely good value.

$759

save

$50

Alabama Corner Suite (Grade B)

This unique modern design gives you the flexibility to set up your

lounge any way you like. Great selection of fabrics.

Toscana

7 Piece Dining Set

The Toscana collection was

designed to create a minimalistic

environment of casual yet stylish

formality. Inspired by rolling hills

and olive groves just north of

Florence in the Tuscany area.

Made from FSC certified

reclaimed solid wood.

was $2199

now only

$1879

Memphis

4 Piece Package

A contemporary look featuring a

straight line profile finished with

silver metal handles.

was $1399

now only

$1179

save

$220

save

$320

200cm Table + 6 Chairs

Cnr Blenheim & Curletts Rds, Christchurch. Ph: 03 343 3204

View our collections online: targetfurniture.co.nz

was $3379

$1999

now only

Offers and product prices advertised here expire 03/07/17.

Sale excludes Manchester and accessories.

Dimensions:

W2082xD1605xH1370mm

Geo Queen Bed

The Geo bed is geometric style at

its finest with an intricately patterned

headboard and footboard. Available in black or white, this

Queen Bed will be the statement piece of your Bedroom!

Jamie Bunk Bed

save

$100

was $599

An ideal way to save on space in your kid's bedroom. This

stylish bunk can be set up as shown or converted into two

single beds and is available in either white or black.

was $349

now only

$299

now only

$499

500 DAYS

NO PAYMENTS

AND NO INTEREST *

*Minimum purchase $499. Finance offer expires 24th July 2017.

Lending criteria, $50 Annual Account Fee, Establishment Fees,

terms and conditions apply. See below for terms & conditions.

*No Payments and No Interest for 500 Days ("Payment Holiday") is available on Q Card Flexi Payment Plans for in-store purchases only until offer ends 24th July 2017. Minimum spend $499.

Annual Account Fee of $50 applies. New Q Cardholder fees - $55 Establishment and ($3 PPSR - Q Card only. Existing Q Cardholder fee - $35 Advance. Q Card Standard Interest Rate,

currently 25.25% p.a. applies to any outstanding balance at end of Payment Holiday. Payment Holiday period may vary depending on Cardholder's payment cycle dates. Q Card lending

criteria, fees, terms and conditions apply. Rate and fees correct as at date of publication, subject to change.
---
PAGE 22 BAY HARBOUR Latest Christchurch news at www. .kiwi

Wednesday June 21 2017

How To -

Kumara Fries

See SuperValue.co.nz

19 th June to 25 th June 2017

$

11 99

kg

Fresh NZ Skinless Chicken Breast Fillets

great deal

$

3 99

kg

Chilean Red Seedless Grapes

great deal

$

5 99

ea

Mainland Mild/Colby/Edam Cheese 500g

Fresh NZ Plain/Crumbed Beef Schnitzel

Seedless Easy Peel Mandarins

Coke/Sprite/Fanta/Lift/L&P 1.5L

$

14 99

kg

$

3 99

kg

$

2 49

ea

$

3 99

ea

great deal

$

3 99

ea

$

5 00

pk

Freya's Bread 750g

(Excludes Lower Carb)

Keri Fruit Drink/Juice

2.4-3L

Nescafé Coffee

Sachets 10 Pack

$

17 99

pk

Speight's Gold Medal Ale/Summit

12 x 330ml Bottles

$

9 99

ea

$

1 69

ea

Bluebird Original/Thick/Thinly Cut Chips

140/150g

Jacob's Creek

Sparkling/Old Coach

Road 750ml

(Excludes Reserve)

svbhn2106

Owned & operated

by locals

SuperValue Lyttelton: 17 London Street, Lyttelton. Phone 328 7368. Open 7am–9pm, 7 days.

SuperValue Sumner: 3 Village Mall, Sumner. Phone 326 5688. Open 7am–9pm, 7 days.

While stocks last at SuperValue Lyttelton and Sumner only.

We reserve the right to limit quantities. Trade not supplied. For inspiration visit SuperValue.co.nz |

Please drink

responsibly
---
Wednesday June 21 2017

Latest Christchurch news at www.

REAL ESTATE

Mt Pleasant, Peaceful, Private, Perfect!

12 Cannon Hill Crescent, Mount Pleasant

Price On Application

4 bedrooms | 1 bathroom | 2 living rooms | 1 car-garage | Listing # SMT10140

A picture is worth a thousand words.

Superbly positioned with views boasting a

wide variety of scenery. The ever changing

tides the sparkling lights over Canterbury

and sunshine to relax with at the end of a

busy day.

This gorgeous 181m2 home sprawled

across 1009m2 represents an enticing

opportunity for one lucky family to establish

themselves in an ever-popular pocket of Mt

Pleasant while lapping up the micro climate

conditions.

This house features three levels with four

double bedrooms. The scenic living room

with cosy heat pump will keep you toasty

warm while enjoying the views. With a total

of three cosy heat pumps to keep the whole

house toasty warm you and your family are

well catered for during the cooler months.

The kitchen/dining area is a highlyfunctional

space complemented by a new

kitchen a real treat for the chef of the family.

Indoor/outdoor flow ensures you'll spend

plenty of time on the sun-soaked deck,

gardens and flat lawn areas at the top of the

section. Drive on access to garage and off

street parking.

Bonus of Mt Pleasant primary school

and the bus stop within walking distance

and a short drive to the Sumner precinct.

Outdoor enthusiasts can take advantage

of the multitude of walking, running and

mountain biking trails on offer in this unique

part of Christchurch, and the proximity to

two of Christchurch's leading surf beaches.

The Ferrymead shopping precinct is located

at the base of Mt Pleasant a short walk.

Don't miss your opportunity to be the

lucky new owner of this unique home.

Marketed by Smart Real Estate

Debra Hakaraia

Phone 0275 620 420, 03 384 8600

www.smartrealestate.co.nz

Licensed Agent Reaa 2008

.kiwi

BAY HARBOUR

PAGE 23

Nobull Gas & Plumbing

on the

PLACEMAKERS

PRIZE WHEEL

27 CHANCES TO WIN

OVER 3 DAYS!*
---
PAGE 24 BAY HARBOUR Latest Christchurch news at www. .kiwi

Wednesday June 21 2017

4WD DEALS!

SAVE $3000

$17,999

SAVE $2000 $11,999 SAVE $2000

$25,999

SAVE $1000

$19,999

2004 Audi S4 Avant V8 Wagon

Fantastic wagon, like a A4 but with lots of extras,

4.2 litre V8 auto, AWD, heated leather seats, all

electrics, cruise, alloys.

2005 Audi Allroad 2.7 Bi Turbo

4WD, tiptronic auto, leather seats, parking

sensors, traction control, climate a/c, cruise, all

electrics, adjustable suspension, only 80,066kms.

2006 Audi Allroad 3.2 Quattro

4WD, height adjustable suspension,

reversing camera, sunroof, all electrics,

alloys, cruise, only 64,450kms!

2006 Audi A6 Avant 3.2 Quattro Wagon

4WD, all electrics, heated leather seats front and

rear, parking sensors, sunroof, alloys, Bose sound

system, only 81,000kms!

SAVE $1000

$37,999

SAVE $1000

$19,999

SAVE $2000

$22,999

SAVE $4000

$18,999

2007 Audi Q7 4.2 FSi Quattro SUV

4WD, 4200cc tiptronic auto, all electrics, leather

seats, 7 seater, reversing camera and parking

sensors, Fantastic value with only 51,250kms!

2008 Audi A3 2.0 TFSi Quattro S-Line

4WD, tiptronic auto, leather seats, reversing

camera, auto dimming mirror, ESP and

paddle shift, all electrics, only 59,120kms!

2008 Audi Allroad 3.2 Quattro Wagon

4WD, all electrics, heated leather seats front & rear

seats, reversing camera, alloys, height adjustable

suspension, bose sound system.

2005 BMW X3 3.0 4WD

3000cc auto, 4WD, climate air cond,

all electrics, leather seats, parking sensors,

sunroof, alarm, only 76,895kms.

SAVE $6000

$13,950

SAVE $1000

$36,999

SAVE $2000

$6,999

SAVE $2000

$24,999

2006 BMW X3 Si Sportpac 4WD

2500cc, Steptronic Auto, ABS Brakes, Alarm,

Air Bags, Climate A/C, Parking Sensors,

backing camera.

2007 BMW X5 4.8 SEi Sport Pack

4WD, 4.8 litre V8 auto, twin sunroofs, heads up

display, Nav & TV, full leather seats, parking

sensors, reversing camera, only 50,900kms.

2002 Jaguar X-Type 3.0 V6 AWD

Just traded, AWD, 2960cc, auto, leather seats,

all electrics, parking sensors, remote locking,

climate air cond, stunning vehicle.

2006 Lexus RX 3.2 4WD

Fantastic Lexus hybrid mid sized SUV,

full leather, sun roof, cruise, climate a/c, alloys,

all electrics, parking sensors, only 75,110kms!

SAVE $2000

$11,999

SAVE $2000

$24,999

SAVE $1000

$17,999

SAVE $3000

$15,999

2006 Nissan Murano 2WD 250 XL

2500cc auto, alloys, electric mirrors/windows,

central locking, driving lights, reversing camera,

only 74,000kms, extremely tidy.

2006 Porsche Cayenne 3.2 V6 4WD

Excellent example, 3.2 V6 auto with paddle shift,

full leather interior, heated seats, tiptronic rocker

switches, alloys, all electrics, cruise, only 76,000kms.

2008 Toyota Rav 4 Sport Ltd

4WD, 2400cc auto, all electrics, climate air cond,

reversing camera, alloys, traction control, loads of

space and popular family SUV.

2005 Volkswagen Touareg 3.2 V6

4WD, auto, heated full leather seats,

parking sensors, cruise, alloys, dual climate

A/C, all electrics.

SAVE $4000

$19,999

SAVE $3000

$16,999

SAVE $3000

$15,999

SAVE $1000

$29,999

2009 Volkswagen CC Passat 4Motion 4WD

3600cc Tiptronic Auto, DSG Gearbox, ABS

Brakes, Air Bags, Air Cond, Alloys, All Electrics,

GPS/Sat Nav, Parking Sensors, Immobiliser, EFI.

2009 Volkswagen Tiguan 4WD 2.0 Turbo

4WD, 2000cc auto, NZ radio with camera and Sat

Nav, climate air cond, remote locking, alloys, towbar.

Get in quick before this well spec'd vehicle goes!

2004 Volvo XC90 T6 7 SEATER

4WD, 3000cc tiptronic, all electrics, leather seats,

reverse camera, climate air cond, cruise, alloys,

7 seater, only 77,000kms!

2010 Volvo XC60 T6 3.0 Turbo

3000cc auto, leather seats, electric memory seats,

reversing and side cameras, smart key entry

and start, climate air cond, cruise, alloys.

Inch Quality European

Over 60 vehicles in stock – see our website for our full range!

www.inchqualityeuropean.co.nz

541 Moorhouse Ave, Christchurch | 03 3799529 | 0274366076

AH Jason 0211255856 | Sharon Shine 0272709954 | Email: devininch@gmail.com
---
Wednesday June 21 2017

Latest Christchurch news at www.

.kiwi

BAY HARBOUR

PAGE 25

Use it or Lose it

Wednesday 9am-9.50am

This class is for the over 50s

and is a gentle exercise class

suitable for those wanting to improve

their strength, balance and

mobility. Have fun in a friendly

atmosphere, meet new people

and get active and fit at the same

time. First class is half price.

Redcliffs Bowling Club, James

St, Redcliffs. $5

Running Club

Thursday, 6pm-7pm

Get active and have fun running

with like-minded people

at the Kathmandu and Salomon

event. There are various professional

coaches to help improve

your running style and encourage

you. It will also give you a

chance to learn to run on different

terrains.

Mt Vernon Valley track car

park. Free entry

Create 'n' Connect Art and

Craft Group

Thursday, 9.30am-noon

If you're crafty or want to start

getting crafty go along to this

group. Take your own project

or go with ideas for a new one.

Others in the group are there to

offer help or advice. Meet new

like minded creative people and

learn new skills. pass on your

tips and pick some up from other

people at the group. This event

aims to help with your projects

and meet new people. Phone

Beth on 022 678 1252 for more

information.

St Andrews Anglican Church,

148 Main Rd, Redcliffs. $3

Let's Not Argue

Thursday to Saturday June 24

Let's Not Argue is the story

of every relationship told

with movement and words.

It depicts the best, the worst

and the funniest parts of the

everyday interactions between

husband and wife, including

the ever-changing gender roles

and relationship dynamics.

Let's Not Argue acknowledges

the parts of relationships that

make us human. But it's not

too serious … and it's not for

kids. Directed by Mike Friend,

founder of the Lyttelton Arts

Factory (formerly Loons

Theatre), and choreographed

by United Kingdom-based Neil

Fisher, who is internationally

renowned for his work, the

show features Christchurch's

well-known married couple

David Ladderman and Lizzie

Tollemache.

Lyttelton Arts Theatre, Lyttelton

Primary School. Tickets

from $25

Babytimes

Friday, 10.30am-11am

This event allows for parents

and caregivers to interact with

each other while letting the

babies learn. At these sessions,

babies learn through language,

Email caitlin.miles@starmedia.kiwi

by 5pm each Wednesday

rhymes, songs, stories and play.

The babies learn together and

build connections with each

other.

Lyttelton Library, 18 Canterbury

St. Free entry

Storytimes

Tuesday, 11am-11.30am

Encourage reading in your

preschoolers.Storytimes have

interactive programmes which

include stories, songs, rhymes

and play. Have children meet

each other and build friendships

at this event while learning

more. Pick up some library

books to read to them at

home.

Lyttelton Library, 18 Canterbury

St. Free entry

Markets:

The weekly markets have

many different attractions and

delicious treats on offer. From

fresh produce to freshly baked

bread, cheeses and free range

eggs. Find some healthy food

options and sip on a coffee while

taking a wander around any of

the markets happening in the

area at the weekend.

Lyttelton Farmers Market:

Every Saturday, 10am-1pm,

London St

MUSICAL: If you're looking to engage your baby or preschooler

in music go along to Mainly Music every Friday

morning for a series of 30min sessions. The first starts at

9.30am and the last finishes at 11.45am. This event runs during

term school times. The sessions allow for children, parents

and caregivers to meet one another and interact with others

around the Sumner, Redcliffs and Mt Pleasant area. Mainly

Music is a fun and educational music and movement session

followed by morning tea and a social and play time. The first

session is free, $4 per session after that. Phone Hazel on

384 1965 or 021 077 1264 for more information. St Andrews

Church, 148 Main Rd, Redcliffs ​

​Akaroa Farmers Market:

Saturday, 9.30am - 1pm, Madeira

car park

Mt Pleasant Farmers Market:

Saturday, 9.30am-12.30pm, 3

McCormacks Bay Rd

3 Garlands Road, Woolston

DeluxeCinemas.co.nz

Christchurch's Premium Cinema Experience

Phone Bookings | Free Parking | Cafe/Licensed Bar

03 389 5360 Online Bookings | Cinema Club | Hot Nuts/ Cheeses

tHe tIMe OF tHeIr lIveS Joan Collins, Pauline Collins

Wed: 12:00pm (Senior Sneaks) thu: 10:00am, 2:00pm

fri: 10:00am, 2:00pm, 6:10pm sat: 10:00am, 1:50pm, 8:00pm

sun: 10:40am, 1:00pm, 5:15pm mon, tue: 10:00am, 2:00pm, 6:10pm

CHurCHIll Brian Cox, Miranda Richardson

Wed: 10:15am, 2:05pm, 4:20pm, 6:10pm thur: 10:10am, 2:20pm, 6:10pm

fri: 10:10am, 2:20pm, 6:20pm sat: 10:00am, 2:20pm, 6:20pm

sun: 10:30am, 2:30pm, 4:30pm mon, tue: 10:10am, 2:20pm, 6:20pm

peCKING OrDer ChCh Poultry, Bantam And Pigeon Club

Wed: 12:15pm, 6:20pm thur: 12:10pm, 4:20pm, 8:35pm

fri: 12:10pm, 4:20pm, 8:20pm sat: 12:00pm, 4:20pm, 6:10pm

sun: 3:25pm, 6:30pm, 8:20pm mon, tue: 12:10pm, 4:20pm, 8:20pm

MClareN Pioneer, Leader, Father, Champion

Wed: 10:00am, 2:20pm thu: 12:20pm, 4:20pm, 8:10pm

fri: 12:20pm, 4:20pm, 8:30pm sat: 12:20pm, 4:10pm, 8:20pm

sun: 12:30pm, 7:35pm mon, tue: 12:10pm, 4:20pm, 8:20pm

vICerOy'S HOuSe (Final Today)

Wed: 4:05pm

COMING SOON

JuNe 29th Monsieur Chocolat

July 6th Polina

July 20th Dunkirk

July 20th Paris Can Wait

SpeCIal eveNtS/retrO

GreMlINS July 14th 12:30pm

2001: a SpaCe ODySSey August 27th 5:45pm

WIlly WONKa aND tHe CHOCOlate

FaCtOry October 13th 12:30pm

the time of their lives M Nudity, Drug Use & Offensive Language churchill PG Coarse Language

pecking order PG Coarse Language mclaren G viceroy's house M Content May Disturb

neW: serving free morning tea enjoy a free tea, coffee & a freshly Baked Biscuit With

every morning shoW

Cafe OPEN from 11am

Whitford's Restaurant

NEW WINTER MENU

TAB & Gaming

Function Facilities

NEW

WINTER

MENU

HOUSIE

Tue, Thur Sat

SATURDAY

JACKPOT

UP TO $80

SHUTTLE

Tue - Sat

phone

0508 966 5786

WHAT'S ON

Open 7 Days from 5.30pm

ENTERTAINMENT

LINO 7.30PM SATURDAY

Whitford's Bar

LIONS v ALL BLACKS

SATURDAY, Sports Bar

WEDNESDAYS

RETRO ROAST

LUNCH

12PM-1.30PM

$10 Members / $12 Non

SHOW HOME

OPEN

Monday to Friday

10am - 2pm

Come in and find out about

our mid-year special

Rolleston's only ReGIsteReD

RetIReMent vIllaGe

WOODCROFT ESTATE OFFERS YOU:

• 78 villas with Club rooms/ Pavilion and a bowling green

• 2-3 bedroom villas with single or double garage

• Live on site Manager 24/7

• Own your own village

• Emergency call system in each villa

• 100% capital gain plus no retention fees

FOR MORE INFORMATION:

Call Corinne on 021 821 683 or 03 421 7796

Email: sales@woodcroftestate.co.nz

34 kEnDOn DRivE, ROLLESTOn

www.manorgroup.co.nz
---
PAGE 26 BAY HARBOUR Latest Christchurch news at www. .kiwi

Wednesday June 21 2017

YOUR LOCAL TRADES & PROfESSiOnAL

SERviCE bUSinESSES

Appears every

month in

Support theSe locAl buSineSSeS

You'll be amazed at what a multi-purpose

room your garage becomes when you add

carpet and it only costs around $35m 2 .

Part of the Protecta Coatings Group

We only use New Zealand made,

100% UV resistant specialised carpet.

We also paint garage and workshop floors.

www.protectafloorings.co.nz

Call now 021 488 025

Retaining Wall

When considering a retaining wall,

Solveig Construction can advise the

best solution based on the structural

requirements and aesthetic needs.

The main function of retaining wall

systems is to create a strong wall

structure to contain and stabilise soil

and rock behind the wall system to

stop erosion on steep and sloped

landscapes.

The other advantage is for their decorative appeal that will transform any landscape setting

to look attractive and create visual interest. Retaining walls can be constructed from various

building materials such as, concrete blocks, natural stone blocks, bricks, poured in concrete

and timber.

Before choosing the look of the wall you want on your property, you must seek professional

advice. With our expertise and knowledge, Solveig Construction can suggest the best type

of wall design and the most suitable material appropriate to your needs.

Contact Dougall Patchett to discuss options for your retaining wall design.

Phone 027 431 5289.

Parklands Drive – Concrete block and timber walls with steps

As the house is at the bottom of a sloping section, the homeowner required clear access

around the front of the home. The solution is a concrete block retaining wall topped by a

landscaped terrace edged with a small timber wall. Steps allow access from the lawn to the

front entry.

We Build Great

Retaining

Walls

All types, all sizes

Gabion, Pole, Concrete,

Wood, Block

SOLVEIG

CONSTRUCTION

Call 027 431 5289

Monday-Friday 8 to 5

Level 1, 20 Bealey Ave, Merivale

Ph: 03 943 1950 M: 021 937 949

E: craig@craigroberts.co.nz

I will be available on the Peninsula one day

a week and can travel to see you or meet in

Little River, please phone for an appointment

Landscape

and Garden

Services

If you need help getting your

garden back in order after

repairs, need any type of

landscape construction work

or garden restoration.

Phone 021 272 0303

ADVERTISE HERE!

Get your business

profile and

services noticed

by potential

customers in

your area!

To advertise in this monthly

feature phone 3797 100

Published every Wednesday

FOR ALL yOUR PLUMBINg

NEEDS INCLUDINg:

• NEW BUILDS

• ALTERATIONS

• MAINTENANCE

& REPAIRS

Call Sam today 027 327 1835

sam@smlplumbing.nz

Lyttelton Physiotherapy

A friendly team of 4 experienced physiotherapists

• Back and neck problems

• Sports physiotherapy

• Post operative rehabilitation

• Work related injuries

• Gym Based programs, small gym on-site

• Injury prevention

• Elderly care

• Acupuncture and dry needling

• Massage and myofascial release

Physiotherapists

Heather Bushaway, Andrew Abakhan,

Leila Shahtahmasebi, Richard Hopkins

ACC ENDORSED PROVIDER | NO DR's REFERRAL NECESSARY

LYTTELTON HEALTH CENTRE

18 Oxford St, Lyttelton

Hours: Monday–Friday 8am – 7pm

Phone: 03 3288111 Fax: 03 3288901

Email: lytteltonphysio@gmail.com

Qualified Nail Technician in the heart of the bay!

Owned and operated by Sean

Alexandra the salon is a private haven

for relaxation dedicated to boutique

style hand, feet and nail services. If

you're sick of being treated like 'just

a number' or being on the receiving

end of a over zealous, damaging and

hurried manicure service then you've

come to the right place because Sean

endeavors to make your experience

safe, relaxing, enjoyable and an

indulgence! As well as beautiful

looking nails, a priority for Sean is to

ensure hygienic services that do not

hurt or damage your natural nails.

LOCO LOCAL: Are you a local?

GET A CRAZY $15 OFF YOUR FIRST

APPOINTMENT!! CALL NOW

021 024 97351. BOOK ONLINE

www.seanalexandra.wixsite.com/

nails/book-online.

Join me on Facebook!

SCHOOL FORMAL BALL SPECIALS

Match your nails to your outfit, have a piece of

your fabric sculptured onto your nails or go crazy

with glitter and bling, the options are endless!!!

Give me a call to find out how we can design a

beautiful set of nails to compliment your outfit for

your ball!

Any girl can look amazing in a stunning dress

BUT it's her nails that make the statement!

• Gel Polish Manicure Incl. Feature nail $35

• NAIL BITER MAKE-OVER incl. Polish and

Acrylic nail enhancements $50

• Acrylic Nail Extensions with Gel Polish $50

• REFER A FRIEND and you'll both receive

a further 10% OFF!!!

• REFER 3 FRIENDS = Get 20% OFF next

appointment!

• REFER 4 FRIENDS = YOU'LL GET

75% OFF, they each get 10% OFF!!!

Nails by Sean Alexandra

Beautiful hands, feet and nails start now!

Qualified and professionally trained Nail

Technician. Expert nail care advice, quality

products and services and trending nail art options

including full service manicures and pedicures,

hard gel and acrylic nail enhancements and

custom nail art.

Sean Alexandra - Governors Bay

Ph 021 024 97351 email seanalexandra1@gmail.com

www.seanalexandra.wixsite.com/nails
---
Wednesday June 21 2017

Latest Christchurch news at www.

.kiwi

BAY HARBOUR

PAGE 27

Classifieds Contact us today Phone our local team 03 379 1100

Classic Cars & Motorcycles

ASHLEY'S

TOW TAXI

fOr SAfE, dAmAgE frEE

cAr TrAnSpOrTATIOn

"SpEcIAL cArE fOr

SpEcIAL cArS"

0800 TOWTAXI

0800 8698294

Computer

Services

VIRUS REMOVAL AND

PC HEATH CHECK

$50.00

With free pick and delivery

within 10km of Redcliffs.

Phone Paul on 021495577.

Microsoft Certified Pro

with 25 years experience

Computers

ALL

YOUR

COMPUTER

WORRIES SOLVED!

*$30.00 off your first

service with this coupon!*

No problem too big or

small from home PC's to

business networks. PC

slow? An end to Viruses,

Spyware, and Clogged

Systems. Safe secure

hassle-free computing.

Lost files recovered.

Microsoft Certified,

MCSE, MCP+l. 30 years

experience. Call Andrew

Buxton this week on 326-

6740 or 027 435-7596

for $30.00 off* Custom

Computers Christchurch

Gardening

& Supplies

Landscape

and Garden

Services

If you need help

getting your garden

back in order after

repairs, need any

type of landscape

construction work or

garden restoration.

Ph 021 272 0303

Gardening

& Supplies

GARDENER

Need your home or

commercial garden tidied

up or renovated or require

long term assistance.

Phone Ruth 326-6663 or

021 272-0303

Holiday

Accommodation

SUMNER Holiday

Accom 027 600 6076

www.kotaresumner.nz

Holiday

Accommodation

QUEENSLAND SUN-

SHINE COAST AUSTRA-

LIA Resort, Ocean Views,

Balconies, Self Contained,

1 or 2 B/R Ensuite,

Heated Pool, Spa, Sauna,

Free Internet, Shops,

Restaurants, Tennis, Surf

Club & Patrolled Beach,

Public Transport at door.

Ask for our SEASONAL

SPECIALS. Phone 61 7

544-35011 Email: reception@mandolin.com.au

www.mandolin.com.au

• Quiet rural setting

• Modern purpose built facility

• AsureQuality approved

• Caring qualified staff

• Inspections welcome

69 Avoca Valley Road, Heathcote.

Ph. (03) 3844028 Email. info@avocacats.co.nz

www.avocacats.co.nz

Tuition

YOGA for Seniors

Mondays 11am at Yoga &

Qigong School of Sumner,

42 Nayland St. Promotion

$25 for 5 times , call Maja

027 4210 424

Trades & Services

CARPET & Vinyl

lAying

Repairs, uplifting,relaying,

restretching,email

jflattery@xtra.co.nz,

ph 0800 003 181

or 027 2407416

COnCRETE

Pets and Supplies

Trades & Services

kitchen renovation

Kitchen looking tired?

Revitalize with new colour at a

fraction of replacement cost

• Alterations & Hardware available

• Laminated Kitchens no problem

• 'On Site' finishing available

• Over 20 years experience

• Free Quotes with no obligation

• All Joinery & Furniture repair & Spraycoatings

PABLO'S PAINTWORKS

27 Birmingham Drive, Middleton

03 338 6280 | 021 541 323

pablospaints@xtra.co.nz

www.pablospaintworks.co.nz

RE-ROOFING

QUALITY ROOFING AT THE

BEST PRICE AROUND

Protect your home with a new Colorsteel roof.

Call for a friendly, FREE assessment and quote.

• Roofing

• Spouting and Downpipe

• Safety rails

• Licensed Building

Practitioner

Ph: 347 9045 or 021 165 1682

Email: Robinsonroofing99@gmail.com

Trades & Services

ElECTRiCiAn

JMP Electrical.

Experienced & registered..

Expert in all home

electrical repairs &

maintence.Call James 027

4401715

FEnCing

Urban & Rural Fencing

Retaining walls,

excavation, landscaping,

decks. Contact Geoff 027

231 9463 grjarvis@xtra.

co.nz

glASS & glAZing

Double glazing/retro fits,

all glass repairs, cat &

dog doors, showers &

mirrors, also splashbacks.

Local fully qualified

tradesman. For all your

glass & glazing needs,

contact Diamond Glass &

Glazing for a free measure

& quote, ph 027 539 9776,

email diamondglass@xtra.

co.nz

PAinTing SERViCES

Decopave Ltd,

Canterbury owned &

operated for over 10

years, competitive rates,

full excavation, coloured,

exposed, stamped, call

Paul 027 322 6119

EARTHWORKS

EXCAVATiOn

SERVICES 3.5 tonne Mature,

digger & truck. Geoff conscientious

Jarvis 027 231 9463 experienced,

informcontracting@gmail.

com

reliable,

&

reasonable

rates, no job too small!,

call Ron 027 434-1400

PAinTER/PlASTERER

Experienced tradesman,

quality work, free quotes,

ph Simon 027 389-1351 or

03 328-7280

PAinTER AVAilAblE

RAPID RESPONSE,

quality work guaranteed,

interior/exterior,

roofs, spraypainting,

waterblasting, ph Graeme

for a free quote, 027 318

2614

PlASTERing

INTERIOR, no job too

big or too small, specialise

in repair work & new

houses, free quotes given,

over 20 yrs plasterering

experience, ph 027 221-

4066 or 384-2574

Situations Vacant

Cleaner

Pre School

SUMNER

10 hours

per week

Mon - Fri

between

5pm and 10pm

Please contact:

Ideal Property

Services

Ph 343 5963

or email

office@

idealps.co.nz

Trades & Services

Plumbing Drainage

Plumbing & Drainage

PLUMBING & DRAINAGE

Local business for all

plumbing MTPD and drainage

Call Local Morgan business work. - 0223758506 for all

plumbing and drainage

Morgan Thomas Plumbing & Drainage Ltd

Local business for all plumbing and

drainage work.

Freework.

Free Quotes

Quotes

Free Quotes

New SkyVac

Gutter Cleaning Machine

New SkyVac

Trades & Services

ROOFing

Qualified & Licenced

Practitioner. Re-Roof &

Repairs, all types. Member

New Zealand Roofing

Association. Over 35 years

experience. Phone John

027 432-3822 or 351-9147

email johnmill@ihug.

co.nz

TilER/PlASTERER

available for your

bathroom & kitchen

renovations or that small

job you have been putting

off. Experienced local

tradesman. Please phone

Greg 0275 316 799

TREES big OR SMAll

tree removal, trimming,

stump grinding, shelterbelt

clean up, section clearing,

rubbish removals,

excavation work, ph Trees

Big or Small, for a free

quote, 021 061 4783

TyPing/

SECRETARiAl

SERViCES

Available for preparing

reports, agendas, minutes,

PowerPoint presentations,

CV preparation and

general documentation.

Please phone Michelle on

027-227-8305.

VHS ViDEO TAPES

& all camera tapes

converted to DVD, video

taping special occasions,

www.grahamsvideo.co.nz

ph 03 338-1655

WinDOW ClEAning

"Your Windows are the

eyes of your Home", for

a free no obligation quote,

call Greg Brown, Crystal

Clear Window Cleaning

ph 384-2661 or 027 616-

Trades & Services 0331 Local Resident

Revolutionary Gutter cleaning system.

No job too big or too small!

Gutter Cleaning Machine

Revolutionary Gutter cleaning system.

MORGAN THOMAS PLUMBING & DRAINAGE LTD

No job

Calltoo Morgan

big0223758506

or too small!

MORGAN Visit our THOMAS website PLUMBING - www.mtpd.co.nz

& DRAINAGE LTD

Email Call-Morgan morgan@mtpd.co.nz

0223758506

Visit our website - www.mtpd.co.nz

Public Notices

Do you know

where your

nearest

CIVIL DEFENCE

sector post is?

Ring your local

council to find out.

Situations Vacant

Vacancies

Mt Pleasant Memorial Community Centre

& Residents' Association

Mt Pleasant Memorial Community Centre & Residents' Association

(MPMCCRA) has recently opened their new, award winning,

community centre and is now seeking to fill two part time roles to

support the efficient operation of the facility and promote activities

within the community with the assistance of the existing Centre

Administrator.

We are looking for professional, experienced, enthusiastic and

motivated individuals interested in being contracted for these roles.

▷ Community Centre Manager

To manage the facility and supervise coordination of community

activities for the Association. This is a part time position of

15 to 20 hours a week.

Responsibilities will include (but not limited to):

• Operational management of the Community Centre.

• Facility management.

• Supporting the treasurer with financial management.

• Marketing and promotion.

• Maintaining excellent communication with our community.

• Supporting activities of the Association.

You will have:

• Experience in community facility management and coordinating

facility hirers.

• Understanding of community development and community issues.

• Excellent relationship management skills.

• Experience in writing funding applications.

• Experience in marketing and promotion.

• Knowledge of Health and Safety requirements for a community

facility

• Excellent written and oral communication skills.

▷ Community Development Co-ordinator

To support the committee with co-ordination of a range of

social, cultural and recreational activities to keep the community

connected. This is a part time position of 10 to 15 hours a week.

Responsibilities will include (but not limited to):

• Coordination of community development events.

• Management of the weekly Farmer's Market.

• Applications for funding.

• Communication with residents.

• Community representation.

You will have:

• Experience in community development and an understanding of

community issues.

• Proven experience in event co-ordination.

• Excellent relationship management skills.

• Experience in writing funding applications.

• Excellent written and oral communication skills.

Job descriptions for both roles can be obtained by contacting the

MPMCCRA President, Kate Rawlings at katerawlings@xtra.co.nz or

phone 027 2900814.

Applications for both roles close Tuesday 4 July 2017.

ADVERTISE YOUR

BUSINESS HERE

Phone for further details

(03) 379 1100
---
PAGE 28 BAY HARBOUR Latest Christchurch news at www. .kiwi

Wednesday June 21 2017

get your

game on

Whether you've got people over for the big game, planning a

big roast, or simply warming yourself up by the fire - make

sure you score a deal on your favourite brews!

CHILLED!

BILLY

MAVERICK

& COLA

12 x 250ml

Cans, 7%

HOT DEAL!

$

19 99

celebrate

the win!

JOHNNIE

WALKER RED

1 Litre

HOT DEAL!

$

36 99

Salute the team with our

whisky winner specials.

JOHNNIE

WALKER BLACK

700ml

HOT DEAL!

$

44 99

keep up the good vibes!

Don't get caught short! When the team is round to

watch the big game, make sure the fridge is always

fully stocked with our super sporting deals!

under $20

limited edition

STEINLAGER

CLASSIC

24 x 330ml Bottles

HOT DEAL!

$ 37 99 $

19 99

$ 1999

LION ICE

15 x 330ml Cans

STEINLAGER

BLACK CANS

12 x 330ml Cans

130+ STORES NATIONWIDE, 100% LOCALLY OWNED & OPERATED

Amberley | Ashburton | Barrington | Belfast | Blenheim Road | Brighton | Brougham | Burnside | Colombo Street

Eastgate | East Street | Edgeware | Elmwood | Ferrymead | Halswell | Hanmer Springs | Hillmorton | Hornby | Ilam | Kaiapoi

Leeston | Lincoln | Lyttelton | Pages Road | Papanui | Parklands | Rangiora | Seaside | Shirley | Woodend | Woolston

superliquor.co.nz | 0800 SUPERL (0800 787 375)

Offers end close of trade 2nd July 2017, while stocks last. Available at participating stores only. Varietals may vary by store. Limits may apply.

Trade not supplied. Terms and conditions may apply. Available 19th June - 2nd July 2017 inclusive. Please see www.superliquor.co.nz for details.

SUP0369_C7_CHCH
---
A Star Media Event

JUNE 30 - JULY 2, HORNCASTLE ARENA

10am - 5pm, adults $8 - under 12's free

Win Retrofit Double-glazing,

value of 10K+ *T's and C's apply

WIN

a winter getaway

adventure

Valid for up to 4 people with this coupon only.

Attend this year's FREE Build Right

Seminars and enjoy a free coffee.

SATURDAY SUNDAY

Win! A $500 Resene voucher

Valid for up to 4 people with this coupon only.
---
Exhibitors Directory

Site map in your Home & Leisure Programme

Stand

Company Name

Website

C1-C4 Armstrong Motor Group armstrongmotorgroup.com

C5 Stratton Bathrooms strattonbathrooms.com

C6 Eenergy eenergy.co.nz

C7 Graphic Glass grapghicglass.biz

1 With This Ring Bridal Show bridalshow.dashtickets.co.nz

2-4 Star Media star.kiwi

5 Oderings oderings.co.nz

6,8 Professionals Real Estate professionals.co.nz

7,9 Woll Cookware showtv.co.nz

10 Ideal Building Canterbury idealbuilding.co.nz

12 Veito Heater branddevelopers.co.nz

13 Harrisons Curtains & Blinds harrisonscurtains.co.nz

14 Turbo Scrub branddevelopers.co.nz

15,17 Harrisons Energy Solutions harrisonsenergy.co.nz

16 Wright Spa Pools wsp.co.nz

18 EnviroMaster Ltd enviromaster.co.nz

19 Outerspace Landscapes outerspacelandscapes.co.nz

20 Fidget Spinner cuddlebuddies.co.nz

21-22 Platinum Homes platinumhomes.co.nz

23 UPVC Windows & Doors upvcwindows.co.nz

24 The Crowded House thecrowdedhouse.co.nz

25 Happy Spine happyspine.co.nz

26 Tumeric Powder showtv.co.nz

27 Milestone Homes milestonehomes.co.nz

28,30 Your Sparky leds4u.co.nz

29 Dream Home Curtains dreamhomecurtains.co.nz

31 Fry Air showtv.co.nz

33 Flatstacks showtv.co.nz

32, 34 Air Con New Zealand airconnz.co.nz

35,37 Xteriorscapes xteriorscapes.co.nz

36 Zenteq zenteq.co.nz

38,40 Heatsmart Central heatsmart.co.nz

39,41 Whitehouse Builders whitehousebuilders.co.nz

42 Morepork morepork.nz

43 Air Roaster branddevelopers.co.nz

44 Suntrenz Skylights suntrenz.co.nz

45,47,48,49 Living House NZ livinghouse.co.nz

46 Insulmax Insulation insulmax.co.nz

50 Automated Technologies automatedtechnologies.co.nz

51 Durasteel durasteel.co.nz

52,54 Edoma NZ edoma.co.nz

53,55 Sunshine Solar sunshinesolar.co.nz

56 Transforma Ladder branddevelopers.co.nz

57-58 GJ Gardner Homes gjgardner.co.nz

59 Kleva Cut Knives cuddlebuddies.co.nz

60 KS Lighting kslighting.co.nz

61 The Heath shuzi.co.nz

62 Eric James & Associates emcjames.co.nz

63 WindowWow showtv.co.nz

67,68,70,71 Harvey Norman Bedding harveynorman.co.nz

64-66 Central Heating New Zealand centralheating.co.nz

69 My Eco myeco.co.nz

72,73 Kitchen Studio kitchenstudio.co.nz

74 Sharp Asphalt sharpasphalt.co.nz

75 YMCA Christchurch ymcachch.co.nz

76 Citrus Magic citrusbasedcleaner.co.nz

77-78 Venluree venluree.co.nz

79 Bambillo Toppers branddevelopers.co.nz

81,83,84 Edwards & Hardy Roofing edwardsandhardyroofing.co.nz

82 Fig Landscapes Figlandscapes.co.nz

85-87 BuildRight Homes buildrighthomes.co.nz

88-94 Bedworld bedworld.co.nz

95 Surafce Solutions surfacesolutions.co.nz

96 NZHL nzhomeloans.co.nz

Stand

Company Name

Website

97 Readylawn readylawn.co.nz

98-99 DVS dvs.co.nz

100-102 Austin Bluewater austinbluewater.co.nz

103-104 Enable Services enable.co.nz

101 Chopper cuddlebuddies.co.nz

105 Strategic Homes strategichomes.co.nz

106-109 Resene resene.co.nz

110 Millen Christchurch millen.co.nz

112 A1 Konjac Sponge cuddlebuddies.co.nz

113-114 On Cue oncue.net.nz

115-117 Plus 2WP showshop.co.nz

116 Logan Smythe & Associates logansmythe.co.nz

118 Polar Energi polarenergi.co.nz

119 David Reid Homes davidreidhomes.co.nz

120 McKenzie & Willis Flooring Mckenzieandwillis.co.nz

121 VDS Design estervdsande@gmail.com

123 BellaRoc Stone & Tiles bellaroc.co.nz

125 Infrared Panels NZ infraredpanels.co.nz

126 McKenzie & Willis Bedding Mckenzieandwillis.co.nz

127 Sincock, Till & Setz Audiology staudiology.co.nz

129 Property Investors Club propertyclub.co.nz

133 IPG Paintball ipgnz.co.nz

134 Natural Pest Control urbaadv@xtra.co.nz

135 Showerdome showerdome.co.nz

136 Duzz-all beeswax duzz-allbeeswax.co.nz

137 Unovent South unovent.co.nz

138 TC Groundworks tcgw.co.nz

139 Redrock hats redrockhats.co.nz

142-144 Rest area with Summerset summerset.co.nz

145 Power fit gym branddevelopers.co.nz

146 Ark Financial Group arkfg.co.nz

147-150 The Glass Room theglassroom.co.nz

151-156 The Carpet Mill carpetmill.co.nz

157 Treble Glaze trebleglaze.co.nz

158-159 Hororata Highland Games hororata.org.nz

160 Springfree Trampolines springfreetrampoline.co.nz

162 Canterbury Insulation canterburyinsulation.co.nz

163,165 Hometech hometech.co.nz

164,166,168 Carpet Plus carpetplus.co.nz

170 ANZ Bank anz.co.nz

172 Window Innovation windowinnovation.co.nz

174 Canterbury Continuous Spouting continious.co.nz

176-178 Morgan + Stone morganstone.co.nz

181-183 Simply Wardrobes simplywardrobes.co.nz

184,189 Bambillo Beds branddevelopers.co.nz

185 Dream Doors Christchurch dreamdoors.co.nz

186 Waste Co. wasteco.co.nz

187-188 Condensation Control condensation.co.nz

191,193 Venus Flooring venusflooring.co.nz

195-197 Target Furniture targetfurniture.co.nz

192,194,206,208 HRV safe Windows hrv.co.nz

198-202 4 Seasons Home & Leisure 4seasons.co.nz

203 IBS www.ibs.co.nz

204 Air Hawk branddevelopers.co.nz

210 X-Golf Avonhead xgolfavonhead.co.nz

205, 207 Thermatech thermatech.co.nz

209, 211 Agility BuildingSolutions agbs.co.nz

212-213 Icycle electric icycleeletric.co.nz

214 Beam by Electrolux Central Vacuums beam.co.nz

215-218 Dreamwool Beds dreamwool.co.nz

226-231 Boat, Motorhome and Caravan Show classicevents.co.nz

220-224 Pool Land poolland.co.nz

217-227 The Playhouse Challenge birthrightchch.org.nz tpa.org.nz

Main Entrance Generator Place

generatorplace.co.nz

Main Entrance Mobile skips4u

mobileskips4u.co.nz

JUNE 30 - JULY 2 HORNCASTLE ARENA

10am - 5pm, adults $8 - under 12's free