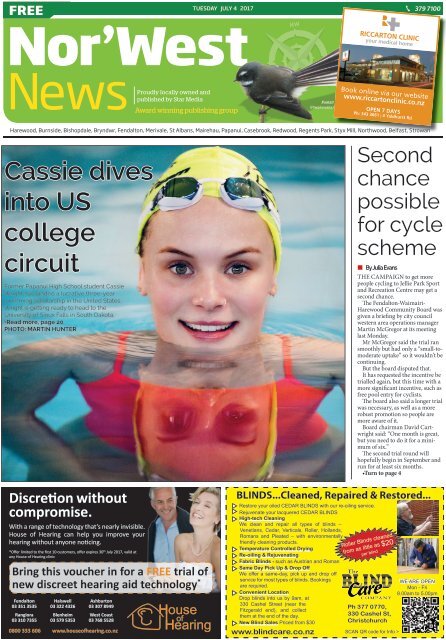 Nor'West News: July 04, 2017
You also want an ePaper? Increase the reach of your titles
YUMPU automatically turns print PDFs into web optimized ePapers that Google loves.
FREE

TUESDAY jULY 4 2017 379 7100

Proudly locally owned and

published by Star Media

Award winning publishing group

Fantail

(Piwakawaka)

Book online via our website

www.riccartonclinic.co.nz

OPEN 7 DAYS

Ph: 343 3661 | 4 Yaldhurst Rd

Harewood, Burnside, Bishopdale, Bryndwr, Fendalton, Merivale, St Albans, Mairehau, Papanui, Casebrook, Redwood, Regents Park, Styx Mill, Northwood, Belfast, Strowan

Cassie dives

into US

college

circuit

Former Papanui High School student Cassie

Wright has landed a lucrative three-year

swimming scholarship in the United States.

Wright is getting ready to head to the

University of Sioux Falls in South Dakota,

•Read more, page 20

PHOTO: MARTIN HUNTER

Second

chance

possible

for cycle

scheme

• By Julia Evans

THE CAMPAIGN to get more

people cycling to Jellie Park Sport

and Recreation Centre may get a

second chance.

The Fendalton-Waimairi-

Harewood Community Board was

given a briefing by city council

western area operations manager

Martin McGregor at its meeting

last Monday.

Mr McGregor said the trial ran

smoothly but had only a "small-tomoderate

uptake" so it wouldn't be

continuing.

But the board disputed that.

It has requested the incentive be

trialled again, but this time with a

more significant incentive, such as

free pool entry for cyclists.

The board also said a longer trial

was necessary, as well as a more

robust promotion so people are

more aware of it.

Board chairman David Cartwright

said: "One month is great,

but you need to do it for a minimum

of six."

The second trial round will

hopefully begin in September and

run for at least six months.

•Turn to page 4

House

of

Hearing

BLINDS...Cleaned, Repaired & Restored...

Restore your oiled CEDAR BLINDS with our re-oiling service.

Rejuvenate your lacquered CEDAR BLINDS

High-tech Cleaning

We clean and repair all types of blinds –

Venetians, Cedar, Verticals, Roller, Hollands,

Romans and Pleated – with environmentally

friendly cleaning products.

Temperature Controlled Drying

Re-oiling & Rejuvenating

Fabric Blinds - such as Austrian and Roman

Same Day Pick Up & Drop Off

We offer a same-day, pick up and drop off

service for most types of blinds. Bookings

are required.

Convenient Location

Drop blinds into us by 9am, at

330 Cashel Street (near the

Fitzgerald end), and collect

them at the end of the day.

New Blind Sales Priced from $30

Roller Blinds cleaned

from as little as $20

per blind

Ph 377 0770,

330 Cashel St,

Christchurch

www.blindcare.co.nz SCAN QR code for Info >

WE ARE OPEN

Mon - Fri

8.00am to 5.00pm
---
2

Latest Christchurch news at www. .kiwi

Tuesday July 4 2017

Inside

FROM

THE

EDITOR'S

DESK

GOOD TO see the Fendalton-

Waimairi-Harewood

Community Board has forced

a rethink of the city council's

decision to abandon the cycle to

Jellie Park scheme (see page 1).

Last week we reported the

incentivised scheme had been

aborted and would not be

implemented at other recreation

centres aorund the city.

Odd at a time when the city

council is spending squillions on

cycleways.

So full marks to the community

board for putting its foot

down with the city council.

The board has requested there

be a more significant incentive,

such as free pool entry for

cyclists.

The board also said a longer

trial was necessary, as well as a

more robust promotion so people

are become more aware of it.

The outcome will be known

fairly soon. – Barry Clarke

Wearing wigs for a good cause SCHOOLS 12

NOR'WEST NEWS

News....................................3-10

Your Local Views......6,7

Schools...........................12-14

Hello Neighbour........16

Sport..................................17-20

Food................................... 21

Community Events......22

Senior Living.................23

GET IN TOUCH

General Inquiries Ph 379-7100

Classified Advertising Ph 379-1100

The Christchurch Star Company Ltd. PO box 1467 - Christchurch

starmedia.kiwi

Elmwood

NEWS

Julia Evans

Ph: 021 914 742

julia.evans@starmedia.kiwi

ADVERTISING

Monique Maynard

Ph: 364 7474

monique.maynard@starmedia.kiwi

Have You thought about

solar power

for your Home or Business?

winter

special

SUPER LIQUOR

ELMWOOD

Now open!

X

winter special

2kw system fully installed for just $5,990 *

check our website for more details

With the ever increasing costs of power bills, by installing SOLAR PANELS you have

created the most efficient and cost effective way to save.

FREE NO OBLIGATION QUOTE WITH OUR CONSULTANT CALL US ON 0800 900 055

You've got nothing to lose

except your sky high power bills!

• 15 fresh craft beers

on tap

• Great range of wines

& premium spirits

• Knowledgeable team

to help you out!

PH 0800 900 055

or 021 920 777

www.nzsolarsolutions.co.nz

SUPER LIQUOR ELMWOOD

1 NORMANS RD, STROWAN

P: 03 355 1170 E: slelmwood@xtra.co.nz
---
NOR'WEST NEWS Latest Christchurch news at www. .kiwi

Tuesday July 4 2017 3

News

Red light sting helps school

• By Julia Evans

TWENTY TICKETS were

given out by police during

a sting at the intersection of

Cranford and Berwick Sts in

a bid to stop red light-runners

near St Albans School.

While three tickets were issued

for cell phone usage, out of

date road user charges and not

wearing a seatbelt, the other 17

were for traffic light offences.

It comes after Rachel Donaldson,

a mother from St Albans

School, launched a campaign

against red lightrunners

at the

intersection.

Mrs Donaldson

said

the amount of

tickets given out

Rachel

Donaldson

highlighted how

bad the problem

really was.

"There was no

advanced warning, it just proves

that this is a daily occurrence,"

she said.

Mrs Donaldson said she

hoped if people knew the intersection

was regularly targeted

by police, driver behaviour

might change.

She has also put signs at the

DANGER: Police dished out 20 tickets in one hour of

monitoring this intersection at Cranford and Berwick Sts. ​

intersection of Cranford and

Berwick Sts which said: "Don't

be that driver to kill a child",

"Slow down", and "St Albans

children matter".

But Mrs Donaldson said she

now wants to keep the pressure

on the Papanui-Innes Community

Board to make some

practical changes.

Board chairwoman Ali Jones

raised the issue with police

and they were patrolling the

intersection the very next

morning.

"Board members Emma

Norrish and Jo Byrne met with

a concerned mum who brought

the issue to our attention and

I contacted the Papanui police

straight away," Ms Jones said.

The board is now looking

into getting a barrier to protect

children standing at the

intersection.

"We don't want to lose the

momentum we've got going,"

Ms Jones said.

The board will work with

police to have regular stings at

the intersection during peak

hours and a red light camera in

the area.

But the issue isn't only a

problem in St Albans.

Ms Jones recently attended

a meeting at Shirley Primary

School with city council staff,

the school's deputy principals

and police to address the same

issue on Shirley Rd.

The community board is

continuing to address the traffic

issues in its ward – with new

signage expected in Shirley

within weeks.

In Brief

DANGEROUS DRIVING

Downer and the city council have

been made aware of dangerous

driving at the intersection of

Guild St and Slater St with reports

of some drivers ignoring the

road signs that are in place. The

changes in traffic are in place

while the Hills Rd culvert is being

built. Slater St is blocked and

there will be no right turn into

Guild St from Slater St in a bid to

stop the dangerous driving.

BOWLING CLUB UPGRADE

The Fendalton Bowling Club has

received $3000 to go towards

upgrading gutters and access

paths. The club, based in Makora

St, Fendalton, needs the upgrade

so it can be a contender to host

national and international

events. The Fendalton-Waimairi-

Harewood Community Board

approved the funding at its last

meeting.

SWIM CLUB MONEY

The St Albans Amateur

Swimming Life-Saving Club

Inc has been using the Shirley

Intermediate School Pool for a

number of years. It has received

$2500 of funding from the

Papanui-Innes Community Board

to continue to pay for the pool's

hire. The club is run entirely by

volunteers and fees are kept to a

minimum.

Helping us,

Helps tHe

community

Drop off or buy

3 family stores in your community

30 Main North Rd,

Ph 352 4581

520 Cranford St,

Ph 352 0515

50 Charles St, Kaiapoi

Ph 03 903 0017

BUILD WITH

CONFIDENCE

• Renovations • Extensions

• New Homes • Fit outs

Call us today: T 323 5771

www.buildrighthomes.co.nz

774 Main North Road, Belfast

WE HAVE

MOVED

Papanui Medical Centre

is located at the former After Hours premises

while we rebuild at our existing site

Hours: Monday - Wednesday 8am-5.30pm

Thursday (late night) 8am-6.30pm • Friday 8am-5.30pm

COLOMBO ST

BEALEY AVE

SALISBURY ST

MANCHESTER ST

CNR BEALEY AVE &

COLOMBO ST

Ph. 352-9053 | www.pmc.co.nz
---
4 Tuesday July 4 2017

Latest Christchurch news at www. .kiwi

LAwyERS

News

NOR'WEST NEWS

We have over 40 years' experience

to assist you with…

• Buying and Selling Houses and

Commercial Property

• Wills, Trusts and Estate matters

• All issues facing you

and your business;

• Employment Law

matters;

• Traffic matters;

• Advice regarding

Retirement Villages

• General Legal Advice on all matters

Call John, Brendan or Andrew today

03 366 8996

Email. lawyers@mclegal.co.nz

Airport Business Park

92 Russley Road, Christchurch 8042

PREPARE FOR

DEGREE-LEVEL

STUDY

in health or science

If you'd like to study a degree or diploma in health or science

but you don't meet the entry requirements, we can help. With

the New Zealand Certificate in Study and Career Preparation Level

4 – now available in Timaru - you can gain the entry requirements

you need to start a qualification in nursing, midwifery, medical

imaging or applied science in just six months.

PEDAL: The Fendalton-Waimairi-Harewood Community Board member Bridget

Williams wants to see more bicycles in these stands. ​

Scheme could get second chance

•From page 1

One month did not

measure a trend, Mr Cartwright

said.

"We don't want a dot, we

need a line across several

months and then we can

find out trends," Mr Cartwright

said.

The initial trial in

February meant if you

cycled to Jellie Park five

times, you received free

pool entry and a bottle

of water. There were 117

visits by cyclists in the

month, which was deemed

a success by Mr Cartwright

as well as board member

and chairwoman of the

Jellie Park Bike Initiative

Project committee Bridget

Williams.

It was intended the

scheme would be rolled out

across all city council sport

and recreation centres,

such as Pioneer and Graham

Condon.

"We need to think about

how we publicise it like

notices in the car park and

where you lock your bike

up that says thank you for

cycling, have you heard

about our new incentive,"

Mr Cartwright said.

Ms Williams said it

would just take more time

for the public profile to

build.

"I don't see any harm in

it continuing, people just

need a wee bit of a carrot

. . . good things take time,"

Ms Williams said. The

second trial will have to be

approved by the city council

before it goes ahead in

September.

•Letters, page 6

Bakery

factory shop

(seconds available)

Apply now, start July.

ara.ac.nz

KNOWLEDGE AT WORK

CHRISTCHURCH | ASHBURTON | TIMARU | OAMARU | ONLINE

238 Port Hills Road,Heathcote

corner of Port Hills and Chapmans Rds

our shop hours

Monday to Saturday 8am - 6pm

Sunday 9am - 4pm

SOLD

SOLD
---
NOR'WEST NEWS Latest Christchurch news at www. .kiwi

Tuesday July 4 2017 5

News

Scheme progress eases flood worries

RESIDENTS IN the Flockton

area will sleep easier next time

they hear rain pelting against

their roofs.

Key parts of the Dudley Creek

flood mitigation scheme have

now been completed.

Last week saw the final part of

the 800m bypass installed that

will take stormwater from Petrie

St to the Avon River.

More than 500 properties

now have increased flood

protection to restore Flockton

and surrounding areas to preearthquake

levels of flood risk.

The bypass is one of the

biggest in the country and has

been built by laying about 500

box-shaped concrete pipes

end-to-end.

The pipes weigh between four

and five tonne each and measure

4m x 2m.

Most of the time, the bypass

will be dry. It is only designed

to be used when there is heavy

rain and a risk of Dudley Creek

overflowing.

"Now, if we have a heavy

rainfall, we'll be able to divert

over 8 cu m of flood water every

second from Dudley Creek to

the Avon River," said city council

land drainage manager Keith

Davison.

"This, combined with all the

other aspects of the scheme

we've been working on over the

last few years, means we can now

reassure hundreds of households

that their flood risk has been

significantly reduced."

There is still work to be done

on other aspects of the flood

remediation scheme, including

the Hills Rd culvert, Shirley

Stream widening and road

renewal in the area.

"While we are thrilled that

WATER: Floodprone

homes

in the Flockton

Basin, like those

in Harrison St, St

Albans, will benefit

from the Dudley

Creek flood

mitigation scheme.

PHOTO: GEOFF

SLOAN

we've met our target deadline to

significantly reduce flood risk,

we are very conscious that until

we're finished all the works,

there will still be disruption and

inconvenience for people in these

areas," Mr Davison said.

New dog park

an option for

old gravel pit

• By Julia Evans

A DOG park or green space could

replace an empty gravel pit in

Harewood.

The 4127 sq m section at 22

Waimakariri Rd is owned by the

city council.

But it no longer serves any practical

purpose.

During a review of all surplus

city council properties, the

Fendalton-Waimairi-Harewood

Community Board decided the

gravel pit was worth keeping and

developing for public use.

The other option would be to

dispose of it from city council

ownership.

But the board decided the better

option was to retain it and look at

turning it from a gravel pit into a

green space, dog park or similar

public amenity.

It would be an asset to that part

of Harewood, which is particularly

industrial.

City council staff are investigating

the viability of the green space

ideas and will get the board a

report within six months. It will

then make a decision whether to

go ahead and take that to the city

council.

WoW! Haven't Heard

tHat one for years!

We design your jewelery unique

to your style and personality.

We offer a resize and redesign service.

Merivale Mall | ChristChurCh

Phone 356 2377

"A tiny hearing aid that outperforms

normal hearing in challenging

listening environments" *

• Reduces listening effort throughout your day, less

stress & fatigue.

• Understand speech in difficult listening situations,

eg. Restaurants.

• German engineered hearing aid, easy to operate.

Call today to book an appointment for a

Free hearing check & hearing aid demo

Merivale Hearing Clinic

24b Church Lane.

Call now: 356 2324

Greg Foote, Audiologist MNZAS

Consultations by Appointment only

Completely

disappears

*Clinically proven
---
6 Tuesday July 4 2017

Latest Christchurch news at www. .kiwi

Your Local Views

Common sense over car parks prevails

NOR'WEST NEWS

Readers respond to the

article in the Nor'West

News regarding the city

council's decision to cut

an incentive programme

that encourages people

to cycle to Jellie Park

Recreation and Sport

Centre

Fendalton city councillor

Jamie Gough writes

about the common sense

approach used by his

community board

On June 20, Nor'West News

reported on the Fendalton-Waimairi-Harewood

Community

Board's decision to quash the

removal of car parks outside the

Holmwood Rd shops.

The headline read – Businesses

influence decision to keep car

parks.

That was fair, however, I'd suggest

the headline could have read

– Reality influences decision to

keep car parks.

The plan and staff recommendation

was well-intentioned –

Installation of a pedestrian island

on Holmwood Rd and minor

works resulting in the removal of

six car parks from in front of the

block of shops.

Like any decision, there are

pros and cons.

In this instance my view, the

MEETING: (Left to right) – The Cook Shop owner Elizabeth Fry with David Cartwright, Jamie

Gough and Gerry Brownlee.

PHOTO: GEOFF SLOAN

board's view, and overwhelmingly

the local community's

view, was that the cons would far

outweigh any pros.

Gerry Brownlee, as local MP,

David Cartwright, as community

board chairman and I met with

the Holmwood Rd business operators

who were horrified by the

proposal.

No one wants safety compromised,

however, the "safety

enhancement" was suggested to

particularly assist road-crossing

Rangi Ruru Girls' School students.

This was somewhat baffling,

given Rangi Ruru is on Rossall St

– they cross at that street, which

already has a pedestrian island.

Further to this, the lifeblood

of these local businesses is the

convenient on-street parking, so

affecting their viability for a solution

to a non-existent problem

seemed dubious at best.

Parking is already atrocious

here.

I'd suggest if it went ahead

you'd be creating an additional,

yet irrelevant, crossing path to

a block of vacant shops, as they

would probably go out of business.

The local community engaged

with local democracy and the reality

of the situation won the day.

Sometimes major overhauls

occur to ensure common sense

prevails but sometimes it's deciding

to do nothing that proves to

be the best decision.

Jillian Nuth – Our traffic

is downright dangerous. It's a

great idea but with my experience

as a pedestrian walking

everywhere, there's just no way I

would cycle around this city.

Anna Henderson – I didn't

know about this, would have

done it. Maybe publicise more?

Akio Asakura – Idealist

idiots. People buy cars to be

comfortable in their own space

– music, heater etc. Oh, we

should ride bicycles. No, people

who want to use trains, buses

and bicycles will. However, most

people drive cars.

Sarah Lashbrooke – I

never knew about it either unfortunately.

It sounds great.

Bronwyn Hendry – Maybe

the real question is – can people

who might use the pool afford

cycles? A bit of demographic

research may be indicated here.

Judy Fanning – Who knew?

Sadly, I missed the promo.
---
NOR'WEST NEWS Latest Christchurch news at www. .kiwi

Tuesday July 4 2017 7

FLAME FILES

Rescuing animals

all part of the job

• By Mark Thomas – specialist fire

investigator

I'M NOT sure what got into the

pets of Halswell last week but

over just two days our crews

were called to three animal

rescues in the suburb.

First a dog chased a rabbit

underneath a childcare centre –

and stayed there.

It was retrieved. Second, a

horse was stuck down a bank at

Kennedy's Bush. With local help

and a vet on-site it was winched

up.

Finally, an old fashioned catup-a-tree

event in Arkwright Pl

shows no record of just what was

done in the radio message log.

It might still be there. But I

doubt it.

To complete this animal report

a mama duck from Bromley,

who is a bit out of season with

her troop of ducklings, fell into

a drain only to be rescued by the

good lads of the Woolston Fire

Station.

A bit early in the year you'd

think. I hope they all survive.

There were fires of course.

BICYCLE: Chairwoman of the Jellie Park Bike Initiative Project

Bridget Williams tried to increase cycling to the centre.

PHOTO: ANDREW KING ​

Tegan Osborne – The amount

of times myself or my partner

has nearly been hit because

drivers aren't looking where

they're pulling out with those

cycle lanes down St Asaph St

is crazy. It's just too dangerous

because drivers and pedestrians

aren't looking for cyclists. I feel

safer on a road without cycle

lanes. But people just need to

watch where they're going the

lanes are a good thing because

it makes things somewhat easy,

it's just the idiots who need

glasses.

Gavin Simon – Its winter.

Not a good time to cycle unless

you are especially dedicated.

Wait for summer for the cycle

usage numbers to increase.

Kylie Mills – I cycle, but it's

cold I understand why it's not

used a lot yet.

Readers respond to the

news a new date has been

set for the Trafford St, Harewood

liquor store hearing

Wendy Somerville – Keep

up the fight people – it is just so

unnecessary to have yet another

corner bottle shop. It would be

less than 1km along the road

to a supermarket and a major

franchised bottle shop, so why

another one so close. It just

makes it easier for under age kids

to access alcohol and lowers the

tone of the wee group of shops.

The District Licencing Authority

needs to listen to what people

want – which is no.

Heather Wilkins – New

Zealand has enough of a problem

with alcohol and, certainly, we

do not need any more of these

stores. Why isn't the public listened

to when these applications

are made, as we are the ones who

live by them.

Marina Garthwaite – Too

many liquor outlets already. No

need for any more. Alcohol is

causing so many problems in our

community already.

A very elderly lady wielding a

walking stick actively prevented

neighbours evacuating her from

her home in Sockburn after a

kitchen fire on June 24.

Consequently, she was treated

for smoke inhalation at the

scene.

Someone in Redwood used a

toaster as a cigarette lighter by

lying it on its side on June 23.

Not too surprisingly the

toaster caught fire.

There's a thousand ways your

house can catch fire.

But there are many hundreds

of thousands of houses.

Most will never burn.

A bit of common sense makes

it much less likely.

Just how common that common

sense is, I sometimes

wonder.

NICKY WAGNER

MP FOR CHRISTCHURCH CENTRAL

FREE DENTURE CHECK

A

E

P

W

103 Salisbury Street

Central Christchurch

PO Box 21359

Christchurch 8143

chch.office@parliament.govt.nz

(03) 365 8297

www.nickywagner.co.nz

Launch Date:

7th - 9th July

Chch Boat, Motor & Caravan Show

Horncastle Arena

6 Brynley St, Hornby | Ph 349 5050

Open Mon-Fri 9am-5pm, Sat 10am-12noon

HamiltonJet NZ

20 Lunns Rd, Christchurch

Ph: 03 962 0505

Email: john.connelly@hamjet.co.nz

www.hamiltonjetnz.co.nz

Funded by the Parliamentary Service and authorised

by Nicky Wagner, 103 Salisbury Street, Christchurch

HAIRCUTS FROM ONLY

NO BOOKINGS

$16

NO COLOUR

www.sharingshed.co.nz

▪ Fully qualified

hairdressers

▪ Family friendly

▪ Great value

▪ Convenient

Northlands Mall

Phone 352 3877

Mon-Wed ...............9am-6pm

Thurs-Fri .................9am-9pm

Saturday ..................9am-6pm

Sunday .....................10am-6pm
---
8 Tuesday July 4 2017

Latest Christchurch news at www. .kiwi

News

Let us

entertain you.

DON'T MISS OUR

NOR'WEST NEWS

20kmustwinwednesday.co.nz

Terms and conditions apply.

See website for further details.

WEDNESDAY

CASH DRAW

8PM - 10PM

FREE ENTRY

HOST RESPONSIBILITY LIMITS APPLY

PLAY SAFE DRINK SAFE

SOCIAL: Jenny Stokes, owner of Merivale Retirement Village presents Jim

Magee, CEO of Nurse Maude a cheque for $20,000. ​

Village raises $20k

• By Julia Evans

THE MERIVALE Retirement Village

has raised money for the Nurse Maude

Hospice.

The final donation has been tallied with

the rest home raising $20,000 for the

hospice.

The money was raised through a gala

night and a charity auction lead by Mark

McGoldrick with live performances by

cast members from an Evening of Rodger

and Hammerstein Classics.

Staff also collected donations when

they ran in the City2Surf while pushing a

hospital bed.

The Browns Rd retirement village has a

philosophy of creating a social conscience

and is always looking for opportunities to

give back to the community.
---
NOR'WEST NEWS Latest Christchurch news at www. .kiwi

Tuesday July 4 2017 9

manufacturers clearance

5000 metres

of slightly imperfect stock to clear

LIMITED STOCK

LIMITED STOCK

SOLD

Brookhaven $69.90 Brookhaven $69.90 Brookhaven $69.90 Brookhaven $69.90 Calisto $35

Berber Vouge $60 Riviera 1st grade $75 Canyon Ridge $69.90 Capricorn $60 York Street $79.90

SOLD

Horizon Sea Fog $85 Madison $65 Carters Ville $79.90 Riviera $75 Bayside Twist $79.90

LIMITED STOCK

LIMITED STOCK

3 COLOURS

Ashwood $69.90 Columbia $79.90 Ashwood $69.90 Action $60 Brookhaven $60

LIMITED STOCK

Action Pampas $60 Alpacco Rig $69.90 Aquarius Town $35 Ashwood $69.90 Canyon Ridge $69.90

Call for our mobile showroom

to visit your home

312 Wilsons Road North, Waltham Phone 366 0070

www.carpetkingdom.co.nz | Mon - Fri 8am - 5pm | Sat 10am -1pm

Q Card Finance Now Available

FREE no obligation measure & quote (conditions apply.)
---
10 Tuesday July 4 2017

Latest Christchurch news at www. .kiwi

News

NOR'WEST NEWS

PRISTINE: St Andrew's has been at the Rangi Ruru site for 30 years.

School takes ownership

of historic church

AN ICONIC wooden chapel is now owned

by Rangi Ruru Girls' School.

Before being purchased by the school,

St Andrew's Presbyterian Church was

owned by the St Andrew's Presbyterian

Church Parish and Church Property

Trust.

St Andrew's is a Category 1 heritage

building and was moved to the school site

in 1986 thanks to a generous donation

from a parent.

It reopened in 1987 after being cut into

sections and moved from the intersection

of Tuam St and Oxford Tce.

The church recently celebrated 30 years

at the Rangi Ruru site.

HISTORY:

The church

being

assembled in

March 1987.

SHOP & WIN

FOR YOUR LOCAL PRIMARY

SCHOOL AT THE PALMS!

3 reasons

to see us today

• Fast & friendly service

• All dentures made

on site

• Doesn't cost an arm

and a leg

HealtHy Heat

& eat meals

delivered to your door

Convenient, Healthy,

Fresh Meals.

Simple to Store,

Heat and Eat.

Pick Up or

Delivered Weekly.

YUSS!

REGISTER

YOUR RECEIPTS

AT THE CUSTOMER

SERVICE DESK

FROM JUNE 12 -JULY 7

call 322 4004

TexT 027 537 0567

230 BarringTon sT

www.denturesouth.co.nz

9 Raycroft St, Opawa

P. 03 420 0722

orders@eatl8r.co.nz

www.eatl8r.co.nz

The perfecT gifT for

every occasion

Corner Marshland &

New Brighton Rd, Shirley

thepalms.co.nz

myschoolrules.co.nz

$1 =1 POINT

TPS30305

• Weddings & Anniversaries

• Christenings & New Borns

• Birthdays & 21st Gifts

• Mythical & Inspirational

• NZ Souvenirs

• Model Cars

• Greeting Cards

• Kama Perfume Oils

• Range Of Incense

Bishopdale giftware

Bishopdale Mall

ph: 359 2505
---
NOR'WEST NEWS Latest Christchurch news at www. .kiwi

Tuesday July 4 2017 11

'NTA' a hidden gem at McLeans Island

At McLeans Island, you will find an educational institute providing land based courses, supported by commercial enterprises

offering its students work experience. The public can also experience visitor attractions including horse trekking and a farm park.

Agriculture

People interested in farming

can study a New Zealand

Certificate in Agriculture.

The academy's agricultural

courses cover the dairy industry

where job availability is

high, sheep, beef and arable

farming.

Animal Care

A Certificate in Animal Care, level 3 is the first step towards a qualification

and employment in the animal care industry. This certificate is ideal for

people wishing to continue with further study in vet nursing or who want

to work in a kennel, cattery or pet shop.

Students learn about all domestic and rural animals, utilising the Arion

Farm Park to complete practical components of the course, where they

take responsibility for the day-to-day care of the farm park's animals.

Students learn about: livestock

handling, feeding, welfare

and reproduction; safe

work practices; land sustainability

and soil management; weed control and pest identification; pasture

management; farm fencing, farm technology, vehicles and machinery; and

more.

The practical skills required for working in agriculture are emphasised with

considerable hands-on time spent, on the Academy's training farm and

commercial farms.

The National Trade Academy has numerous contacts in the industry

with their own recruitment consultant responsible for work placement

opportunities.

NTA also offers the New Zealand Certificate in Animal Technology, 'Rural

Animal Technician' strand at level 5, for graduates aiming to work as Rural

Animal Technicians for rural veterinarian practices.

Arion Farm Education Park

The Arion Farm Park is open to

visitors where you can see, touch

and feed a variety of farm animals,

and also hosts children's parties and

pony rides. The park is open 7 days,

10am-3pm, www.arionfarmpark.co.nz

Arion Horse Trekking

Arion Horse Trekking through the

West Melton Forest is ideal for

corporate team building, Christmas

parties, family fun days, or a group

of friends; available as a 1-2 hour

or half day option. Horse treks or

lead rein walks are also available for

birthday parties.

Book now on: 021 467 618.

Equine

Popular courses at the National Trade Academy

are the New Zealand Certificate in Equine

Skills, levels 2, 3 and 4.

Students gain hands-on work experience on

a day-to-day basis with over 35 horses stabled

at the multi-purpose 'Arion Riding Centre'.

Subjects covered include: horse care and

handling; stable management; conformation

and health; feeding and pasture management;

lunging; riding; and more.

Each course provides a pathway to further study and is the next step towards

employment in areas such as: stable or stud assistants; saddleries;

riding centres; stable management or working in tourism ventures like

horse trekking.

Arion Riding Centre

ENROLLING NOW

Based at NTA is the Arion Riding Centre, providing riding instruction and

lessons in horsemanship to all age groups, from beginners to more established

riders. With a dressage and show jumping arena, cross country

schooling area, and affiliation to the Pony Club Association, the Centre is

a top class facility for a range of disciplines. Riding lessons are available 6

days per week. See www.nta.co.nz/arion.

Horticulture

A wide range of opportunities are

available in horticulture – specialising

in nursery, production, orchard work,

viticulture, landscaping and more.

NTA students can study towards a

New Zealand Certificate in Horticulture

at levels 2 or 3, with the option to

specialise in industry strands, learning

in a practical manner which includes

working in the Academy's commercial

nursery.

890 McLeans Island Rd McLeans Island, Chch

Ph (03) 360 2192 • www.nta.co.nz

Courses are available as full-time or part-time options, suitable for: school

leavers as a pre-employment course; people in the workforce who wish

to up-skill; those looking for a career change; lifestyle block owners who

want to learn how to utilise their land; or people interested in gardening.

Commercial nursery

NTA's wholesale nursery is open to for public viewing and purchase of

plants from the new café at the Arion Farm Park (opening in spring).

We are here

McLeans Island Rd

Ultimate

Paintball

Orana

Wildlife

Park
---
12 Tuesday July 4 2017

Latest Christchurch news at www. .kiwi

NOR'WEST NEWS

SCHOOLS

Wig day at Cotswold for

Child Cancer Foundation

PUPILS FROM Cotswold

School donned their wigs

to raise money for a very

worthy cause.

The school raised

$632.40 during the recent

Wig Wednesday to raise

money for the Child

Cancer Foundation, which

provides personalised

support for children

diagnosed with cancer and

their families.

Every week, more than

three children in New

Zealand are diagnosed

CRAZY HAIR: Rooms 25

and 20 (right) had fun

for a good cause on Wig

Wednesday.

with cancer.

The Child Cancer

Foundation receives no

direct funding from the

Government, so relies

on the generosity of the

public and events like Wig

Wednesday.

DRESS UP: Maya Powell, Lucy Jackson and Poppy Galvin (top left), with

Oliver Bradley, Quinn Hay, and Liam Dalley.

KEEP YOUR BODY MOVING WIThOUT PAIN

Panadol OSTEO

96 Caplets GOhealthy

Fish Oil 1500mg

uP to

8hrs

relieF

our

Price$13.99

First Rung on the Ladder

2/324 Ferry Road, Waltham, | Listing Number: BE192831

2 1 1 1

Your agent, Your home, Your future

LICENSED SALES CONSULTANT REAA 2008

ODOURLESS

210 Capsules

only

$19.90

$235,000

Start your ownership climb with this well-situated unit located close to the

city and all amenities.

This is an ideal opportunity for an investor or first home buyer.

Clean & tidy you can simply move in new tenants or yourself straight away.

Good open plan living space leads to a private sheltered courtyard to enjoy

when summer comes again.

The bathroom is spacious and the bedrooms are a good size as well.

Priced to sell, so don't delay, call me now.

Open Homes Saturday 8 and Sunday 9 July 2:30 p.m. - 3:00 p.m

P 027 777 0411

Cactus Cars Ltd

Quality vehicles under $10,000

with zero deposit options

Putting people before dollars

• 12 month full

mechanical

warranty

• New WOF, rego

and serviced

• Full tank of gas

Cactus Cars Ltd

165 Williams Street, Kaiapoi

Ph: 03 327 2961

www.cactuscars.co.nz

Mon-Fri 8.30am - 5pm

Sat 9am - 1pm

NZ MADE

GOhealthy

Glucosamine

1-A-DAY

60 Capsules

only

$19.99

Voltaren

Barrington Pharmacy

Next to CouplaNds, 256 BarriNgtoN st Ph 332 3156

140 Colombo Street, Beckenham

Phone 03 943 1639

www.themohairstore.co.nz

OSTEO GEL

12 Hourly

Apply once every 12hrs

our

Price $39.99

10% discount

everyday

using

Shop online

with the in

store special

prices!

Discount code:

Goat

themohairstore

*excludes PrescriPtions & sale stock
---
NOR'WEST NEWS Latest Christchurch news at www. .kiwi

Tuesday July 4 2017 13

College band in quest to

make rock contest final

• By Julia Evans

RUN77 – a band made up of

five aspiring musical talents

from Christ's College – has

won the regional final of the

Smokefree Rockquest.

The band consists of two

brothers – George and Angus

Murray, as well as Angus

Mossman, Henry Phelps and

Robbie Rolleston.

"We went mental," said

guitarist and lead singer, year

12 student Angus Mossman.

According to Angus, in spite

of some "questionable dance

moves and fist pumps", their

many hours rehearsing paid

off.

The band practised

tirelessly in the lead up to the

regional final. They would

be at school from 7am every

day to rehearse, focusing on

musicianship as well as stage

presence.

The national finals are on

September 2.

But the national finalists

won't be announced until the

end of July when the judges

will select eight bands from the

30 regional winners across the

country.

Rock band tutor Nolan

Hungerford said doing well

in a band doesn't happen

TALENT: Run77's performance at the Aurora Centre,

Burnside, won them the regional section of the competition.

PHOTO: SMOKEFREE ROCKQUEST

by accident. "Before the boys

video their original songs on

Thursday, they will have put

in 30 or 40 hours work," Mr

Hungerford said.

The boys are currently

juggling practice with internal

assessments and two are

also in the school production –

Singin' in the Rain.

"If you want good results,

you have to put in the proper

work," Mr Hungerford

said.

"Being in a band is learning

about everything from how to

plug in your guitar, how to hold

an audience, how to do a gig,

as well as all the ins and outs of

the music world."

School play

pours with

acting talent

ISAAC THEATRE ROYAL CHRISTCHURCH

25th July- 10am, 12pm & 3pm 26th july - 10am & 12pm

BOOK: 0800 TICKETEK www.isaactheatreroyal.co.nz

PRESENTED BY:

Singin' in the Rain was made famous

by Gene Kelly and Debbie Reynolds

– but last week the 1952 film was

given a new lease of life on stage. St

Margaret's College and Christ's College

students – including (above) Annalida

Jaeger, Mandy Manson, Sophie

McLean Tom Vincent, Grace Mitchell,

and (left) Nina Hogg and Hugo Beale

– teamed up to take on the classic. A

dedicated company of more than 100

students joined forces to bring energy

and vitality to the stage.

Retirement living and care

Information Presentation

Monday 10 July, 2pm

Ngaio Marsh Retirement Village

We warmly invite you to come along to our information

presentation to hear about the retirement living and

care options available.

Hear from resident Helen Grofski about her experience

of life at Ngaio Marsh, and we'll also cover care

options, fees, and your subsidy entitlements.

Afternoon tea will be provided.

To RSVP or for more

information please phone

Anna or Marie on 354 6608

Limited seats available

95 Grants Road, Papanui

6937
---
14 Tuesday July 4 2017

Latest Christchurch news at www. .kiwi

NOR'WEST NEWS

Burnside High takes

on Disney classic

• By Julia Evans

FOUR MONTHS of preparation

will come to fruition when

Burnside High School performs

its musical production of the

Disney classic, Beauty and the

Beast.

Performances start next

month but if you drive past the

school now you might notice

a container sitting outside the

Aurora Centre.

Inside is the secret to the production

– the original set used in

the 2006 Showbiz production of

Beauty and the Beast.

With a cast of more than 70

students, head of Arts Faculty

Gavin Hurley and arts consultant

Ravil Atlas were mulling over

which musical to produce this

year.

Their thoughts went to the

talent available and what kind

of production they could afford

to do.

But they'd heard a rumour the

sets were sitting somewhere in a

container on a farm in Darfield.

"We knew we had the perfect

cast available for Beauty and the

Beast but we also understood

that it was a Disney show and

needed the requisite wow-factor

of a production," said Mr Atlas.

Mr Hurley went to see if the

rumours were true and after a

SCHOOLS

visit to Darfield, the sets were

indeed discovered sitting in a

container.

Arrangements were made to

get the sets back to the school

and the costumes were located

in the North Island, so the show

was booked and practice began.

Both the sets and costumes

were made by Showbiz in

conjunction with Peter Jackson's

WETA Workshop.

"I saw the National Academy

of Singing and Dramatic Art use

them to great effect a few years

ago in Ashburton and I knew if

we could get the sets and cos-

REHEARSAL:

Sophie

Gilmore who

plays Belle

and Sam Burt

who plays

Beast. ​

tumes we could

put on a great show," Mr Atlas

said.

The student orchestra will be

led by Chris Petch, head of the

music department, with the

direction falling to Mr Atlas, a

former Broadway performer, now

conductor and stage director.

Beauty and the Beast will be

held on July 20, 21, 22, 27, and 28

starting at 7pm.

Matinees are available on July

23 and 29 starting 2pm.

Tickets can be purchased

through the school reception or

by phoning 358 8383.

THUMBS UP: Rangi Ruru Girls' School's national chamber

music semi-finalists.

Musicians score well

A TRIO of chamber music

groups from Rangi Ruru Girls'

School have done well in the

prestigious NZCT National

Chamber Music Competition.

Buda and the Pests made up

of students, Isabella Gregory,

Jessie Anderson, Valerie Xiang

and Holly Evans won the South

Island regional final of the contest

last Saturday at The Piano in

Armagh St.

They, along with other finalists

The French Connection made

up of students Sarah Lawrence,

Rachel McSweeney and Victoria

Park and Amadeus Emily Davey,

Lucy Costelloe, Victoria Park,

Rebecca Harris and Anna Bruce

have all been selected for the

national semi-finals.

Only five groups from

Christchurch will head to Wellington

in August for the semifinal

and finals with three of

those coming from Rangi Ruru.

The girls will go up against another

nine groups from around

New Zealand that have been

selected.

Six will turn to 12 and will

progress through to the final.

In addition, Resolutions has

won a place as one of 24 choirs

(one of four from Christchurch)

in the NZCF Big Sing National

Finale, to be held in Auckland

from August 24 to 26.

Director of music at Rangi

Ruru, Janet Kingsbury, said

the school continues to punch

well above its weight in music

competitions and events around

the country.

"With a huge representation

of 13 girls in the New Zealand

Secondary Schools' Symphony

orchestra, representation in the

NZSO National Youth Orchestra

and New Zealand Secondary

Student's Choir, internships and

masterclasses with recognised

and talented musicians, our music

scholars continue to proudly

showcase the quite phenomenal

skills at Rangi," she said.

Wouldn't you

rather be in demand

around the world?

STUDY FOOD & HOSPITALITY

The tourism and hospitality sectors are experiencing huge growth globally and

individuals with practical skills in these areas are in very high demand. Our chef, tourism,

bar management and café and barista programmes will ensure you're work-ready for the

many outstanding career opportunities that exist worldwide in these booming sectors.

Short courses, certificates, diplomas and degree programmes available now.

Starting soon:

• Chef training

• Licence controller qualification (LQC)

• Café/Barista

• Bar and Restaurant

• Tourism and hospitality management

Apply now, start July.

ara.ac.nz

KNOWLEDGE AT WORK

CHRISTCHURCH | ASHBURTON | TIMARU | OAMARU | ONLINE
---
NOR'WEST NEWS Latest Christchurch news at www. .kiwi

Tuesday July 4 2017 15

NORTHLANDS

huge stock

clearance

starts

today

all stock reduced

Excludes all agency product, stamps, gift cards and vouchers

Only at Paper Plus Northlands

PaPer Plus NOrTHlaNDs Mall | PH 352 5185
---
16 Tuesday [Edition datE] July 4 2017

Latest Christchurch news at www. .kiwi

2

NOR'WEST NEWS

Neighbour

Hello

Flexible booking hours give families

greater choice

For busy working parents with young children, a local childcare centre that offers

flexibility can make all the difference when they are juggling work schedules and

caring for their family. That's where the privately run First Learners centres come

to the fore.

Owned and operated by Linda Broekman,

who trained as a kindergarten teacher and has

decades of experience across the early learning

environment, the three First Learners centres

in Shirley, Mairehau and Rangiora cater for all

families' needs.

"We are very flexible with our booking

hours," says Linda. "We don't have set

sessions, so parents and caregivers can leave

their children in our care on any day or days

and for any length of time that suits them."

The centres cater for children from birth

to six years and are staffed by qualified and

experienced teachers, with a low child to staff

ratio.

"Our philosophy focuses on the needs of

each individual child, and we cater for their

differing developmental needs with separate

sections according to age groups," Linda

explains.

First Learners offers a free play environment

as well as some structured time according

to age, ensuring that the children are kept

engaged, stimulated and challenged while

at the same time having fun and developing

their social skills, creativity and confidence.

The play areas are spacious and well

equipped, with the children free to access

both indoor and outdoor areas. By allowing

them to make choices about where they want

to be and what activities they want to get

involved in, the staff encourage the children

to explore and be curious and creative.

The centres offer the government subsidised

20 free hours, and these are "absolutely free,

with no extra charges", Linda says.

And when children are enrolled at any of

the First Leaners centres, the first four weeks

are offered free, with certain conditions.

Details of these can be found on their website,

www.firstlearners.co.nz.

Linda and her staff have an open door

policy, so parents and caregivers are welcome

to call in at any time to inspect the centres and

chat about their child's needs.

The centres are open Monday to Friday

from 7am to 6pm (Rangiora 7.15am-

6pm). For more information visit www.

firstlearners.co.nz or call Linda on

(03) 313 1242.

Quality Childcare

• Flexible booking hours

• Now open 7am to 6pm

• Large outdoor area

• Friendly and welcoming

with open door policy.

First 4 weeks

FREE

Phone: 385 8311 | 262 Westminister St, Mairehau

mairehau@firstlearners.co.nz | www.firstlearners.co.nz

WINTER SERVICE

SPECIAL

"IF IT DOESN'T START - IT WON'T CUT!"

for Rotary Mowers

$100 & Electric Reel Mowers

$195 for Petrol Reel Mowers

$60 for Hand Mowers

FREE PICK UP & DELIVERY IN

CHRISTCHURCH UNTIL 31ST JULY 2017

eDGEWARE

MOWERS & CHAINSAWS

237 Westminster St, Christchurch

Ph. 03 366-3924

www.edgewaremowers.co.nz

Reach your local

community with us

To promote your business

and for your free marketing

plan contact:

Monique

Maynard

P. 364 7474

monique.maynard@starmedia.kiwi

THE

ORIGINAL

GHD STYLE

ICON

uSuALLY $280

NOW $240

bE IN quICk ,

LImITED OffER

Ph: 03 355 2125

Unit 2, 159 Cranford St, St Albans
---
NOR'WEST NEWS Latest Christchurch news at www. .kiwi

Tuesday July 4 2017 17

National pride at stake

for student runner

SPORTS

St Bede's get

• By Andrew King

THE PRIDE of running for her

country will help combat the

butterflies in her stomach when

Harriet Bush lines up for her first

international cross-country race

in August.

The St Margaret's student has

been selected for the 12-strong

New Zealand secondary schools

cross-country team who will

compete in Hobart from August

12-14.

"The sheer excitement of

representing my country in a

sport that I am truly passionate

about fills me with such joy and

pride," she said.

She said the bigger field she will

be competing in will be daunting

but exciting.

"Obviously, I cannot wait

to get out there and race. The

international experience I will

gain from racing the Australians

will really help me in the future,"

she said.

"Also travelling as a team

creates life-long memories and

friendships that I will treasure

forever."

She said without the help of her

coach, she wouldn't be where she

is today.

"I am so thankful for my coach

Maria Hassan who has helped get

me into the position I am," she

said.

School director of sport

Helen Belcher said they are

"extremely proud" of her success

and her selection is well deserved.

"Harriet is currently our school

cross-country captain and cohead

of sport," she said

"She is a stunning ambassador

for the school."

PROUD: St Margaret's student Harriet Bush has been selected

for the 12-strong New Zealand secondary schools cross

country team who will compete in Hobart from August 12-14.

PHOTO: ST MARGARET'S COLLEGE ​

vital win ahead

of challenging

UC rounds

• By Andrew King

ST BEDE'S College secured just

their third win of the season

on Saturday when they beat

Mid-Canterbury Combined

38-17 in round 10 of the UC

Championship.

They ran in six tries, giving

them a much-needed win before

they turn their attention towards

two competition powerhouses in

rounds 11 and 12.

On Saturday, they will head

south to take on a rampaging

Timaru Boys' High who are

now top of the table after a 90-0

smashing of cross-town rivals

Roncalli Combined.

Then they will have to back up

against Christchurch Boys' High

who, after having a bye in round

10, have dropped to second position.

St Bede's coach Gerry Davidson

said both games will test the

skills of his team.

"Timaru has been going well.

We have had some excellent

games over the past 16 years

with them. They will be tough,"

he said.

In between the games will be

the school holiday break before

round 12 on July 22.

"Then we have CBHS who

are a traditional rival and very

tough to beat," Davidson said.

In other games, St Andrew's

moved into fifth position on

the table after a 40-12 win over

Waimea Combined.

They will want to keep up

their winning ways when they

take on Burnside on Saturday.

Burnside will want to get off

the donut and grab their first

win of the competition.

Finally, CBHS will take on

Rangiora who are feeling good

after beating St Thomas' 19-15

on Saturday.

Points table

1. Timaru, 40pts; 2. CBHS,

39pts; 3. Christ's, 39pts;

4. Nelson, 35pts; 5. St

Andrew's, 32pts; 6. Rangiora,

31pts; 7. Waimea, 25pts; 8.

Marlborough, 24pts; 9. St

Thomas, 23pts; 10. Shirley,

20pts; 11. Lincoln, 20pts;

12. St Bede's, 16pts; 13.

Mid-Canterbury, 6pts; 14.

Roncalli, 1pts; 15. Burnside,

0pts

•Under-18 Crusaders, page 19
---
18

Latest Christchurch news at www. .kiwi

Tuesday July 4 2017

NOR'WEST NEWS

raNGiora • Northwood • st martiNs • tower juNctioN • BishoPdaLe • raNGiora • Northwood

Northwood • st martiNs • tower juNctioN • BishoPdaLe • raNGiora • Northwood • st martiNs • tower juNctioN • BishoPdaLe •

THE

BOOK

BIGEVENT

30 %

off

BOOKS

STOREWIDE

PLuS GET THESE

HOT DEALS

INSTORE!

PICTuRE BOOKS

RRP $64.99

$

44 .99

ANNABEL LANGBEIN

ESSENTIAL

Follow us on

Facebook:

READ MORE

FOR LESS

NEW RELEASES AT HOT PRICES!

RRP $29.99

$

20 .99

JAKE BAILEY

WHAT CANCER

TAuGHT ME

PAPERBACKS

$3.99

EACH

50 %

RRP $24.99

$

17 .49

off

GREETING CARDS

DAVID WALLIAMS

WORLD'S WORST

CHILDREN 2

RRP $22.99

$

16 .09

BE QuICK!

ONLY uNTIL

SuNDAY 9 JuLY

JAY ASHER

13 REASONS

WHY

$4.99

EACH

@papertreestores

@papertreestores

RRP $36.99

$

25 .89

LEE CHILD

NO MIDDLE

NAME

tower junction, off Clarence St, Riccarton | Bishopdale, 31 Bishopdale Court, Bishopdale | rangiora, 206 High Street, Rangiora

Northwood supa centre, Main North Road, Belfast | st martins shopping centre, Wilsons Road, St Martins

• st martiNs • tower juNctioN • BishoPdaLe • raNGiora • Northwood • st martiNs • tower juNctioN • BishoPdaLe • raNGiora
---
NOR'WEST NEWS 19

Burnside in new territory

• By Andrew King

BURNSIDE HIGH will defend

the Connetics Shield tomorrow

night after winning it for the

first time last week.

Cold conditions could not

dampen the spirits of the team

dubbed the 'beasts' as they celebrated

their 3-1 win over Lincoln

High at the Christchurch

Football Centre, where all league

games are played this year.

Coach David Williams said

the game was played in great

spirit. "The boys were very

happy to end up with their

hands on the shield at the fulltime

whistle," he said.

It is the third time the shield,

considered the Ranfurly Shield

of high school football, has

changed hands this season.

In an ironic twist, Middleton,

which held it at the start of the

season, will have a chance to get

BURNSIDE HIGH'S Tsubasa

Nisbet and St Margaret's

Charlotte Whittaker have been

selected in the New Zealand

under-18 women's basketball

squad.

They have both been included

in the 12-strong team to compete

at the under-17 FIBA Oceania

Championships in Guam from

Sunday to July 15.

Nisbet said it was a goal of hers

to wear the national colours ever

GREAT VICTORY: Burnside High celebrated winning the

Connetics Shield for the first time. PHOTO: BURNSIDE HIGH

it back when they play Burnside

at 5.45pm.

With the win over Lincoln

High, Burnside moved into

fourth position on the table, giving

them a good shot at qualifying

for nationals.

In the other games, St Bede's

College found their groove

beating Christ's College 6-0. St

Bede's now turn their attention

since she started playing.

"This will be a great chance

to see how we compare with the

other countries in Oceania, especially

Australia. I am thankful

for the opportunity and for my

parents constant support over

the years," she said.

Burnside and Canterbury

Wildcats coach Lori Ives

McDaniel said Nisbet's hard

work has really paid off.

"She will be a great addition to

to Lincoln, who will be hurting

after the loss to Burnside. That

game will be played at 7.30pm.

Top of the table St Andrew's,

who have qualified for the national

tournament in Napier in

September, will play Rangiora at

5.45pm.

Papanui High will look to

back up their 1-0 victory over

Rangiora High when they play

the New Zealand under-18 team,

not just for her on-court court

skills, but also for her maturity

and leadership skills," she said.

SPORTS

Cashmere High at 4pm tomorrow.

Cashmere suffered a loss to

St Thomas last week and will be

looking to get back in the top

four. Finally, Christchurch Boys'

High will play Christ's at 7.30pm

after suffering a 3-0 loss to Riccarton

High last week.

Points table

1. St Andrew's, 18pts; 2. St

Thomas, 18pts; 3. Lincoln,

17pts; 4. Burnside, 17pts; 5.

Cashmere, 16pts; 6. Shirley,

13pts; 7. St Bede's, 13pts; 8.

CBHS, 12pts; 9. Riccarton,

11pts; 10. Middleton, 8pts; 11.

Papanui, 6pts; 12. Christ's, 4

pts; 13. Rangiora, 3pts.

Nisbet and Whittaker picked in national women's age group squad

WE SERVICE

WHAT WE SELL

Latest Christchurch news at www.

GREAT SKILLS: Tsubasa

Nisbet will look to bring

her on-court skills to the

FIBA under-17 Oceania

Championships in July.

PHOTO: BURNSIDE HIGH

SCHOOL

Discover this

unique Emporium

.kiwi

NEW LOCATION ADVERT.pdf 1 1/05/2014 11:51:35 a.m.

Tuesday July 4 2017

North-west

dominates

under-18

Crusaders team

• By Andrew King

VISIT OUR NEW LOCATION LOCATION

A HUGE portion of the

players selected in the

Crusaders under-18 development

squad have been picked from

north-west schools.

A 55-man team was named on

Wednesday with 21 of them coming

from Christchurch Boys' High,

St Andrew's and St Bede's colleges.

Eight players were also selected

in the wider training squad, with

six of them from north-west

schools, including one from Burnside

High.

St Andrew's will host the players

in a training camp from Sunday to

Wednesday before a squad of 25 is

selected to travel to Wellington to

play the under-18 Hurricanes. The

match will be a curtain-raiser for

the Hurricanes v Crusaders on July

15. CBHS have 15 players in the

squad, as well as another two in the

wider training side, including last

minute hero Alex Harford.

Harford has come off the bench

in the last two UC Championship

games for CBHS and kicked the

winning points late in the game.

St Andrew's have five students

in the squad and two in the wider

group. Reuben Cotter was the only

St Bede's player picked.

For a full list of the players,

visit www.crusaders.co.nz/

news/1125-players-selected-forcrusaders-region-junior-knightsdevelopment-camp

430 ST ASAPH STREET!

RECOVER YOUR LOVED FURNITURE

No job too big or small

"the best oil that

money can buy"

WAYNE HILL CARS

313 LINCOLN RD

ADDINGTON CHRISTCHURCH

Ph. (03) 338 3255 E. hillcars@es.co.nz

Metal art - gifts - hoMewares

water features - pottery

Mirrors - candles

wall hangings & More

722 Marshland Road, Top end Styx

Open 7 Days

Ph: 03 323 9781

www.hitchingpost.co.nz

Hours of Business: 7am-4.30pm Mon-Thurs

Fri 8am to midday

or by appointment with Keith 027 566 3909

Still able to offer

you the finest top

quality new furniture

Visit us online

www.qualityfurniture.co.nz

P. 371 7500

QUALITY FURNITURE SPECIALISTS

RE - UPHOLSTERY SPECIALISTS KEITH HARTSHORNE 0275 663 909
---
20

Tuesday July 4 2017

Latest Christchurch news at www. .kiwi

NOR'WEST NEWS

Backstroke specialist US-bound

www.gardener.kiwi

100%

Shop online

with the in

store special

prices!

Discount code:

Goat

themohairstore

140 Colombo Street, Beckenham

Phone 03 943 1639

www.themohairstore.co.nz

The magazine for

gardeners who

like To geT Their

hands dirTy

• By Sarla Donovan

A FORMER Papanui High

School student has landed a

lucrative three-year swimming

scholarship in the United

States.

After finishing school last

year, Cassie Wright decided to

take a gap year to focus on her

swimming.

Now she's off to the

University of Sioux Falls in

South Dakota, where she'll

have the opportunity to train

and compete with some of

the best swimmers in the

world.

The 19-year-old backstroke

specialist found out in mid-

April and had a week to

accept.

After being so focused on

gaining a scholarship, when it

came to the crunch, it turned

out to be a tougher decision

than she thought.

"The idea of not seeing my

family for nine months at a

time made it hard but I knew

I'd regret it if I didn't go."

She'll be starting in semester

two, on January 2, and is

hoping her family can come

over with her to see where

she'll be living for the next

three years.

"It would be a lot easier if

they went to see exactly where

I am. It looks cool; they have

a big waterfall in the middle

of town. It's a bit bigger than

Christchurch but they get all

seasons (like us)."

Swim training will ramp

up from the normal 14

hours she does each week

with the QE II Swim School,

which has trained out of the

Christ's College pool since the

earthquakes.

"I'm looking forward to

training at higher levels. The

SPORTS

United States have so many

great swimmers, people like

Michael Phelps. It's just insane

how much faster they are. It'll

give me the opportunity to

train and compete at a much

higher level because they

take swimming much more

seriously; it's huge over there."

The scholarship will pay for

tuition, accommodation and

food, but there's other costs

OPPORTUNITY:

Cassie Wright

will head off to

a United States

university on

a three-year

scholarship.

like travel and insurance,

which her parents will need to

help out with.

Her mother Janette Wright,

an administrator with the

QE II Swim School, said she

was in the process of working

everything out at the

moment, including the

logistics of travelling over

with her daughter to settle her

in.

tickets on sale n w

Home, Sea & Between

JoSH BaSHford

The imagery in Josh Bashford's new body of work was inspired by last summer's

early morning and late evening fishing adventures. Adventures such as heading

40km offshore to fish for Groper off Banks Peninsula, or ducking down to

Birdlings Flat for a relaxing evening surf casting on the beach, fishing the Rakaia

River or Hurunui river mouth early morning for the elusive Chinook salmon.

These places are of great significance for Josh Bashford. They provide him with

not only a harvest of fresh kai for friends and family, but also the visual material

for his art making.

This visual material is sometimes captured on

a GoPro camera, but more often it's caught by

simply being physically present in these very

special places. It's the way a bird may move

through the air, a sudden glimpse of a fish

breaching, or the excitement of hundreds of birds

and kahawai chasing after small bait fish along

the beach. All this strong imagery settles itself

in Josh's mind and has allowed him to produce

this new body of limited edition woodcut prints

on canvas.

Josh's latest exhibition named 'Home, Sea &

Between' takes place at Little River Gallery from

July 8th until August 2nd.
---
NOR'WEST NEWS Latest Christchurch news at www. .kiwi

Tuesday July 4 2017 21

GREAT food

BROUGHT TO YOU BY...

Your fresh food people

CHICKEN IN CIDER WITH

APPLES

Ingredients

500g chicken

1 to taste Salt & freshly ground

pepper

2 Tbsp Butter

2 Tbsp Olive oil

3 sprigs Tarragon

1 Onion

3 Apples

2 cups Apple cider

Directions

Preheat the oven to 180 deg C.

Wipe the chicken completely dry

inside and out with paper towels.

Season the chicken with salt

and pepper and a little chopped

tarragon.

Melt the butter in the oil in a

large cast-iron casserole dish on

the stove top and gently brown

the chicken on all sides.

Remove to a plate while you

cook the onion (chopped) in the

juices left behind in the pan.

Add the remaining tarragon

with the apples (cored and quartered)

and stir, allowing them to

brown slightly. Pour in the cider

and return the chicken to the

pan.

Allow the cider to come to a

gentle boil, cover the dish and

place in the oven to simmer for

an hour.

Check occasionally, basting the

chicken with the juices.

To serve, place the pieces on a

heated platter. Allow the apples

and juices to boil to reduce if

there's too much liquid.

Season to taste, pour over the

chicken and serve. Accompany

with carrots and fennel cooked

in cider.

ROCKET, PEAR, WALNUT

AND BLUE CHEESE SALAD

Ingredients

2 tsp Honey

⅓ cup Extra virgin olive oil

1 Tbsp White wine vinegar

1-2 Pears large

3 cups Rocket leaves

100g Blue cheese

¾ cup Walnuts, lightly toasted

Directions

Mix honey, extra-virgin olive

oil and white wine vinegar.

Remove cores from the pears

and slice thinly, leaving skin on.

Place pears in a bowl and pour

over the dressing.

Combine rocket leaves, crumbled

blue cheese and walnuts on

a serving platter. Scatter salad

with ripe pears, drizzle over extra

dressing and serve.

HEARTY CARROT AND

GINGER SOUP

Ingredients

1 packet Vegetable soup mix

9 cups Hot water

1 piece Ginger, approx 5cm,

peeled and thinly sliced

500g Carrots, coarsely shredded

Directions

Place the soup mix in a large

saucepan and add the water and

ginger. Bring to the boil and simmer

for 45min. Add the carrot

and continue cooking for 30min

until the soup mix and carrot are

tender.

Serve topped with a little

freshly shredded carrot.

Export Grade Southern

Rose Apples ..................... 1 . 99

KG

Extra Large

Angelys Pears ............... 2 . 99

KG

Carrots 1kg ...................... 1 . 79

BAG

Loose Red Yams ............. 3 . 99

KG

Breakfast and BBQ

Mushrooms 250g ............ 3 . 99

PACK

Whole Lamb Legs ......... 10 . 99

KG

Beef Cross Cut

Blade Steak .................... 12 . 99

KG

Chicken Tenderloins .. 11 . 99

KG

All our fresh meat is 100% NZ FARMED.

specials VAlid 3rd july - 9th juLY 2017. ONLY AVAILABLE AT

RAEWARD FRESH HAREWOOD RD, TOWER JUNCTION & MARSHLAND RD

At

Handcrafted saUsages,

made instore!

● FLavours for

all occasions

● Great for a quick

& tasty meal

● Check us out in store

for a great range of

handcrafted sausages

harewood rd Mon–Fri 7.00am–6.30pm Sat–Sun 8.00am–6pm

Tower junction Mon–Fri 8.00am–6.30pm Sat–Sun 8.30am–6pm

MARSHLAND RD Mon–Sun 8.00am–6:00pm

WWW.

.CO.NZ
---
2

[Edition datE]

Tuesday July 4 2017

22

Latest Christchurch news at www. .kiwi

SENIOR LIVING

NOR'WEST NEWS

Email julia.evans@starmedia.kiwi

by 5pm each Wednesday

Take a trip with

Third Aged Tours

GOOD LISTENERS: The idea behind Reading to Dogs is to provide a relaxed,

non-threatening atmosphere, enabling children to practice their reading skills

and develop a love of reading. The dogs belong to the city council animal

management team and have all been trained and tested for health, safety and

temperament. The dogs listen attentively and do not laugh, judge or criticise.

Library staff and a dog handler are present to help facilitate the sessions,

which are each 15min. Free entry. Wednesday, 3.30-4.30pm, Shirley Library, 36

Marshland Rd. ​

St Albans Exercise

Today, 9.15-10.15am

These classes are designed

for people living

with long-term health

conditions. Classes generally

occur weekly but won't

happen on public holidays

and also school holiday

periods. Phone 0800 663

463 to register.

Free entry, Foundation of

the Blind, 96 Bristol St.

Scrabble Group

Tuesday, 9.45am-noon

Go along and play

scrabble with the friendly

weekly group. Exercise

your brain and have fun.

Gold coin donation.

Sundbye House, 100 Farrington

Ave

Scrabble Club

Wednesday, 11am-noon

Go along to scrabble

club. There's no obligation,

just go along whenever you

can and join the friendly

group. All materials are

supplied.

Free entry, Shirley Library,

36 Marshland Rd.

Fendalton Library Book

Discussion Group

Wednesday, 11am-noon

For those who love

reading and want to share

in discussion with other

friendly book lovers. Held

on every second Wednesday

of the month at 11am.

Places are limited so phone

or email 941 7923 to find

out more information.

Fendalton Library, 4 Jeffreys

Rd.

Science Snippets in the

Library

Wednesday, 3.30-4.30pm

Science Alive! presents

a free after school science

programme. They have

fun science activities and

new interesting topics each

week. Qualified educators

lead children through

interactive activities to

stimulate interest in science.

No booking required.

Suitable for children aged 5

to 10, caregiver required.

Free entry, Shirley Library,

36 Marshland Rd.

Go Well Group – Play

Rummikub

Thursday, 1-3pm

Go along to Fendalton

Library and play

Rummikub. It is an exciting,

interactive strategy game

that will test your wits.

Free entry, Fendalton

Library, 4 Jeffreys Rd.

Card Club

Friday, 1.30-3.30pm

This weekly card club

meets every Friday, just go

along and join in the fun.

Free entry, Shirley Library,

36 Marshland Rd.

KidsFest – Storytimes

Monday, 10.30-11am

Explore the world

through stories. Go along

dressed as your favourite

storybook character and

enjoy the costumes, stories,

rhymes and songs.

Free entry, Redwood Library,

339 Main North Rd.

Activity Zone After

School Club

Monday, 3.30-4.30pm

Have fun at the new

Shirley Library after school

club. There will be technology,

games, crafts, books,

and most of all – fun.

Suitable for ages six to 10.

Bookings not required,

however, space is limited.

Caregivers will need to remain

in the library during

the session.

Free entry, Shirley Library,

36 Marshland Rd

CREATE: Go along to the Pay it Forward store to join tutor and sailboat lover

Kirstee who will show you how to make driftwood and fabric sailboat bunting

for your bedroom. You can use theirs or take along your own fabrics to make

gorgeous and unique sailboat bunting to match the decor of your room. No

caregivers necessary but please pick-up and drop-off children promptly.

For children aged eight to 13, $5 per child. Phone 355 6522 ext 113 for more

information. Saturday, 1.30-3.30pm at the Pay it Forward Designer Co-op, 49

Nancy Ave, Mairehau.

Taking people aged over 50

on trips around New Zealand

and the world for nearly

20 years has earned Third

Age Tours a brag book that

Director Brenda Corby-Yarrall

says "businesses would give

their eye teeth for.''

Taking small groups of

10 – 24 people means I can

operate the tour in a relaxed,

companionable manner. We

have an absolute blast when

we're away. It's all about having

fun.

Most of my trips are run

annually because they're so

popular, but I'm always adding

new destinations - like Sicily,

South Italy & Vatican + Cuba,

as people ask for them.'

Brenda checks out all accommodation

before booking it, and ensures the party

spends at least a few nights at each place.

"That way you don't feel like you're living

out of a suitcase.''

Many clients now have made over

20 tours with us, one has completed a

whopping 27 tours.

My clients tell me they keep coming back

because of the size of the groups and our

Third Age

Tours EST 1999

Small Group Tours for

the over 50s

Domestic and

International

Great Prices!

England/Wales & Yorkshire Dales

24 August - 23 September 2017

Enchanting Ireland & Scotland

31 May - 27 June 2018

curiosities of cuba

30 April - 26 May 2018

Treasures of Turkey 11 May - 04 June 2018

2017

Full

captivating croatia, Slovenia

montenegro & Venice

15 June - 9 July 2018

2017

Full

4 PlAcES

lEFT

Vietnam & cambodia

4 - 26 October 2018

Beautiful norfolk Island

22 - 29 October 2017

Sicily, rome & Southern Italy

29 Sept - 24 Oct 2017

South Island Tours

Glorious Autumn in Arrowtown

17 - 22 April 2018

catlins/Stewart Island

8 - 16 February 2018

White herons, Glaciers & Alpine

loop Tour

28 January - 2 February 2018

PluS oThEr DESTInATIonS!

For a FrEE InFormATIon

PAck contact Brenda

Third Age Tours

Ph 03 379 3799 or 03 312 7050

Freephone: 0800 927 725

sunshineone@xtra.co.nz | thirdagetours.co.nz

relaxed manner. My motto is 'There are no

strangers, only friends waiting to meet.'

We gather together for breakfast at

8.30am which sets us up for the day and

everybody thinks is a very civilised hour.

I organise incredible trips at incredible

prices. Look around, you can't find better

for all we include.

For more information, phone

03 379 3799 or 03 312 7050 or email her

on sunshineone@xtra.co.nz

Would you like

to promote your

Business?

For local features

please contact

Bev Stanger

03 364 7407

bev.stanger@starmedia.kiwi
---
[Edition datE]

NOR'WEST NEWS Latest Christchurch news at www. .kiwi

Tuesday July 4 2017 23 3

SENIOR LIVING

Supporting your bowel and digestive

function helps prevent disease

It is most important to keep the

whole digestive and elimination

systems of the body working efficiently.

Otherwise toxins that have not been

eliminated set the stage for disease.

Many diseases have been linked with

micro-organisms (virus) or a bacterial

component. Generally these microorganisms

or bacteria can only survive

due to the fact that the environment

they are in is suitable for their survival.

Non eliminated toxins are probably

one of the main causative factors for

their survival. We know that when the

digestive system and bowel function

are poor we have many more health

problems. These include arthritis, digestive

problems like reflux and stomach pain,

bladder infections, chronic skin conditions

such as eczema, psoriasis and rashes, poor

eyesight, pain and inflammation, tumors

and a weakened immune system just to

name a few.

Nature's Sunshine LBS II contains a

highly effective blend of natural herbs to

support the whole digestive system and it

is especially effective at cleansing the lower

bowel and intestinal tract. It is commonly

used for arthritis, constipation, diarrhea,

digestive problems, dry stool, fever, colds

and influenza, flatulence, gallstones, gout,

skin conditions like eczema and psoriasis,

urinary infections, liver dysfunction,

Candida, weakened immune function and

for people who want to keep their health as

good as possible.

The herbs in LBS II help stimulate the

production of digestive fluids and bile

for efficient digestion. This alone may

help prevent many diseases as a properly

working digestive system will itself

neutralise many disease causing organisms

before they have a chance to cause any

problems. LBS II also stimulates peristaltic

action of the colon effectively cleansing

the colon of any accumulated build-ups of

waste material. It also relaxes abdominal

cramping and spasms, enhances liver

function, purifies the blood, neutralizes

acidic conditions, helps destroy intestinal

parasites and worms, and fights infection.

Keeping your digestive system and

bowels functioning efficiently is definitely

an important step in obtaining and

maintaining good long term health.

LBS II and further information is

available from the Natural Health

Advisers at Marshall's Health & Natural

Therapy, 110 Seaview Road, New

Brighton, Phone: 388-5757. We are

Always Happy to Help!

Osteoporosis is a serious condition

...but research shows it can be reversed!

Osteoporosis is not taken as a serious

condition by most people! Most people

don't realise they have osteoporosis until

a fracture happens, as there are usually

no signs or symptoms. Fractures can

commonly be debilitating with chronic

pain and can lead to early mortality.

Fractures kill more women than all

gynaecological cancers put together and

one in six women taken to hospital with

a hip fracture, will not come out alive and

men fare even worse. Around one in three

women and one in twelve men are affected

with osteoporosis.

The most common osteoporotic fractures

are of the wrist, spine, shoulder and hip.

Vertebral collapse is a compression fracture

and causes back pain often with shooting

pains due to compression of the nerves.

Multiple vertebral fractures lead to a

stooped posture, loss of height and chronic

pain with reduced mobility. Hip fractures,

in particular, usually require prompt

surgery, as there is a serious risk associated

with it of deep vein thrombosis and

pulmonary embolism leading to increased

mortality.

Osteoporosis literally means "bones with

holes". It occurs when bones lose minerals

such as calcium more quickly than the

body can replace them. Although calcium

is essential for bone health other minerals

like magnesium, zinc and trace minerals

like silica, boron, manganese, copper are

essential also. Vitamin's D3 and K2 have

been shown to be essential in a bone

support program.

A less well known mineral strontium,

that is naturally found in your bones

has been researched and found in

four landmark studies to actually

reverse bone loss when sufficient other

nutrients are present. One study of 1,649

postmenopausal women with osteoporosis

who had had at least one fracture were

divided into two groups. Both groups

took vitamin D and calcium supplements.

One group were also given 680mg/day

of strontium. After the three year study

the strontium group showed an unheard

of average bone growth of 8.1%. This

study shows that osteoporosis can not

only be halted but may even be reversed

and without the side effects of common

osteoporosis drugs.

Further information on how to

support your bone density and overall

health is available from the natural

health specialists at Marshall's Health

& Natural Therapy, 110 Seaview Road,

New Brighton, Phone: 388-5757. We are

Always Happy to Help!

BREAKTHROUGH AGAINST OSTEOPOROSIS

Osteoporosis, the weakening of the bone is a serious health threat

that often leads to severe pain, fractures & early mortality. Research

has found the bones can be re-mineralised & strengthened when

the required nutrients are present. Minerals calcium, magnesium &

vitamins D3 & K2 are essential but are not enough in many cases.

A missing link appears to be the mineral strontium.

Research shows strontium to positively affect bone density.

- Supports strong healthy bones, teeth & nails

- Is a naturally occurring mineral often lacking in the

modern diet

- Found in healthy bones & teeth but lacking in people

with osteoporosis

Super Price

Swanson's Premium

Strontium Citrate

(Provides the clinical

strength Strontium as

used in research)

60 capsules only

$32.90

MAIL ORDER AVAILABLE

Bringing You the Best in Natural Health!

MARSHALLS HEALTH & NATURAL THERAPY

CONSULTING - PRESCRIBING - DISPENSING - MANUFACTURING - MEDICAL HERBALISTS

110 SEAVIEW RD, NEW BRIGHTON • PH 03 388 5757 • Email: enquiry@marshallshealthshop.co.nz

- WE ARE ALWAYS HAPPY TO HELP! -

121 Skyhawk Road

THE JOYS OF HOME OWNERSHIP #43

FIXING A

LEAKY ROOF

Wouldn't you rather go sailing? Let us

take care of the roof at your new home at

McKenzie Lifestyle Village in Geraldine.

Contact David Connolly on 0800 84 55 24.

M E M B E R O F R V A

Help prevent Disease By supporting

HealtHy Bowel & Digestive Function

A poorly functioning bowel & digestive system can lead to a toxic environment

in the body that sets the stage for disease. Nature's Sunshine LBS II contains

& all natural herbal blend that has been proven highly effective at supporting

the elimination & digestion system function.

NATURE'S SUNSHINE LBS II SUPPORTS:

- Healthy bowel function (No Constipation) - Cleansing the urinary tract

- Bowel & colon cleansing

of infection

- Digestion & assimilation of nutrients - Neutralizing acidic conditions

- Enhanced liver function

- Destroying intestinal parasites

- Purification of the blood

& worms

- Eczema & psoriasis relief

- Fighting infection

- Enhanced immune function

- Keeping the body healthy

Bringing You the Best in Natural Health!

Super Price

100 capsules only

$29.90

save $4.70

200 capsules only

$54.90

save $14.30

MAIL ORDER

AVAILABLE

MARSHALLS HEALTH & NATURAL THERAPY

CONSULTING - PRESCRIBING - DISPENSING - MANUFACTURING - MEDICAL HERBALISTS

110 SEAVIEW RD, NEW BRIGHTON • PH 03 388 5757 • Email: enquiry@marshallshealthshop.co.nz

- WE ARE ALWAYS HAPPY TO HELP! -
---
24 Tuesday July 4 2017

Latest Christchurch news at www. .kiwi

NOR'WEST NEWS

3rd - 9th July 2017

$

6 99

kg

Corned Silverside

Chilean Red

Seedless

Grapes

$

3 99

kg

Tip Top Better For You/

Supersoft/Goodness

Grains Bread 700g

2

for

Signature Range

Mild/Colby/Edam

Cheese 1kg

$

5 00

$

9 00

each

$

5 99

kg

Fresh Tegel NZ Chicken Drumsticks

$

2 99

kg

Loose Jazz Apples

$

3 90

each

Keri Premium Juice 2.4L/Original Juice/Drink 3L/

Uncle Tobys Oat Quick Sachets 340-350g

$

17 99

pack

DB Draught/Export Gold/Citrus/Tui

12 x 330ml Bottles/Cans

$

8 99

each

Shingle Peak 750ml

(Excludes Pinot Noir/Reserve)

3

for

$

5 00

Arnott's Shapes 120-190g

FreshChoice Merivale

189 Papanui Road, Christchurch.

Open 7am – 9pm, 7 days.

FreshChoice.co.nz FreshChoiceNZ 355 4432

FreshChoice Merivale

While stocks last at FreshChoice Merivale only. We reserve the right to limit quantities. Trade not supplied.

Owned and

operated

by locals

fcno0407
---
NOR'WEST 2 [Edition NEWS datE] Latest Christchurch news at www. .kiwi

Tuesday July 4 2017 25

HOME & HEATING

Choosing the right heat

pump for your home

Whether it be a new build, or a retrofit,

most homes include at least one heat pump,

if not a whole heating solution. They can

provide cheap, clean heat and are much more

convenient than a log burner as you just need

to press a button. But how do you decide

what is best? Choosing the right sized heat

pump is key to ensuring optimum comfort

levels. Every situation varies and it is therefore

important to get professional advice from heat

pump experts.

The range varies from wall mounted high

walls, floor mounted systems, multi systems,

ceiling cassettes, right through to ducted

central heating systems allowing you to have a

very discreet way of heating your whole home

to a constant temperature throughout.

Firstly, you must select a heat pump that

is suitable for the size of the space you wish

to heat. Usually a site visit is the best way to

ascertain this. Not only is the size of the area

taken into consideration but also, insulation,

building orientation, windows and ceiling

space. There are a wide range of heat pumps

available with different heating outputs so it

is important to select the correct size for your

requirements that will handle the job but not

be unnecessarily overpowered.

Secondly, the location of your heat pump

is also extremely important. The cheapest

installation is a back to back where the outdoor

unit is positioned directly behind the indoor

unit however this is not necessarily always

the best option. It is vital that the indoor

unit is positioned in a place that will not be

constantly blowing on you. Also important, is

the location of the outdoor unit. Most people

do not want their outdoor unit sitting directly

in their outdoor entertaining area or right

outside their bedroom window.

Choose a brand you can trust. Many brands

have come and gone over the years but there

are a number of manufacturers who provide

reputable and reliable products. All brands

vary in their energy efficiency, quietness of

systems and price, so it depends on your

application as to which will be most suitable.

Major brands such as Panasonic, Fujitsu,

Mitsubishi, Daikin, Toshiba and Hitachi are

all reliable brands backed up by good technical

after sales service.

Ensure your heat pump is installed by an

accredited installer. This will not only ensure

correct installation of your heat pump, but

also validate the manufacturers warranty.

Other things to consider when choosing a

heat pump are time clocks, ease of use of the

remote controllers, air filtration and also wifi

capabilities.

Heating is a major investment in your home

and it is vital to get the right advice.

Enviro Master Ltd specialise in the supply,

installation and servicing of all major brands

of heat pumps. Our salesmen are engineers

ensuring you get quality, unbiased advice as

to which system will suit your application

the best. Enviro Master Ltd offer a free, no

obligation quote and will come to your home

to see what is required. Visit our website at

www.enviromaster.co.nz.

The facts about

home ventilation

Balanced Pressure vs Positive Pressure

Under the New Zealand Building Code,

all buildings, including residential, need to

be suitably ventilated, either with opening

windows or forced ventilation. Clause G4.1

states: "The objective of this provision is

to safeguard people from illness or loss of

amenity due to lack of fresh air." There are

many benefits to forced, or mechanical,

ventilation over opening windows, including

warmth, security, reduction of outside noises

and reduction of condensation.

Traditional domestic ventilation systems

are 'positive pressure'. They bring air in from

outside via the roof space and force the stale air

out through gaps around windows and doors.

The incoming air from these

systems has to be heated or

cooled to keep the house warm

in winter or cool in summer.

The Smooth-Air HEX390 is

a 'balanced pressure' system. It

extracts air from the house and

at the same time brings in fresh

air. These two streams of air

pass through a heat exchanger,

which warms incoming air in

winter and cools in summer if

air conditioning is being used.

This means that up to 80% of

the energy which would be

wasted using a traditional positive pressure

system is recovered, resulting in significant

energy savings and therefore lower heating or

cooling costs.

Until recently, balanced pressure ventilation

systems have been considerably more

expensive than traditional positive pressure

systems. However, with Smooth-Air's unique

manufacturing capabilities, a HEX390

balanced pressure system can be installed for

a similar price as a traditional positive pressure

system.

Contact Smooth-Air on 0800 SMOOTH

(0800 766 684), or visit www.smooth-air.

co.nz or www.home-ventilation.co.nz

• We will offer you the best quality brands and

option of heat pump for your home/business

• Providing Heat Pump solutions for over 15 years to Cantabrians

• We personally guarantee all our products & installs for 5 years

(providing annual maintenance has been completed)

Phone us today for your free consultation & quote

For existing homes with

wooden floor construction

• Stop Mould & Mildew

• Reduce Heating Bills

• Cost Effective Permanent

Solution To Rising Damp

• Free Consultation / Quotes

HEAT PUMP

SALE NOW ON!

Amazin' WINTER Specials!!

41A SHAKESPEARE RD, WALTHAM

PHONE 03 366 0525

www.enviromaster.co.nz

"A local team for local people"

AttAck Rising DAmP

...at the source

Remove

bathroom smells

and steam!

Remote extraction fans

Ventilation Equipment

Suppliers to trade and retail

● Domestic

● Commercial

● Industrial

Wall or ceiling

mounted fans

Smooth-Air has a wide range

of ventilation equipment to

bring fresh air into your home

STOP RISING DAMP TODAY www.foamcrete.org

Free Phone: 0508 362626 Main Office: (03) 3764608 Fax: (03) 3764603

L

0800 SMOOTH (0800 766 684)

www.smooth-air.co.nz

sales@smooth-air.co.nz

264 Annex Road, Riccarton

Christchurch 8024, NZ

Ph +64 3 343 6184

Mon - Fri 7.30am - 5pm
---
26 Tuesday July 4 2017

Latest Christchurch news at www. .kiwi

NOR'WEST NEWS

Bridalshow

save the date

Sun 27th Aug

10am to 3pm

air Force Museum

45 Harvard Ave

Wigram, Chch

Tickets: $20.00

A Star Media Event
---
NOR'WEST 2 [Edition NEWS datE]

Latest Christchurch news at www. .kiwi

Tuesday July 4 2017 27

HEALTH & BEAUTY

St. Albans

Dental Centre

Meet our caring team

We know going to the dentist can

create anxiety and concern. Matter of

fact, going to the dentist is one of the

three most stressful situations in life; after

public speaking and taxes. Our team at St.

Albans Dental Centre understands those

feelings of concern and puts you and your

family first every step of the way.

The team at St. Albans Dental Centre

are not just top of the dental industry

skilled professionals, their team considers

you an extended part of their family, and

shows that through their caring, gentle

manner during every visit. Your dental

team members are easy to talk with about

any concern as their goal is to develop

a long-term, relationship to last

through your dental journey.

At St. Albans Dental Centre they

offer the total dental experience,

so that whatever you need can be

completed under one roof.

Preventative Dentistry

Cosmetic & General Dentistry

Periodontal Gum Care

Oral Hygiene

Dental Exams

Fissure Sealants

Hygiene Appointments

Schedule your appointment today with

St. Albans Dental Centre either online at

www.stalbansdentalcentre.co.nz or call

03 355 9380.

Team Members:

Dr. Peter Platts is a general dentist

who has been at the centre since 1986

with a special interest in sedation

dentistry, painless wisdom tooth

removal, "Cerec" (one visit) crowns,

cosmetic and preventative dentistry. He

measures his success when he sees his

long-term patients coming in with a well

maintained, healthy and aesthetically

pleasing smile even into the later stages of

their life.

The dentists from St Albans Dental Centre, left to right: Peter

Platts, Sarah Norton, Alice Olds, Kristine Bettle and Andrew Paul

Dr Alice Olds likes to work with her

patients to develop treatment plans that

ensure their ongoing oral health. She

applies a gentle, informative approach

to the many different treatments she

provides. Patients feel confident and at

ease under Alice's skilled care.

Dr Sarah Norton is a gentle dentist

with a genuine concern for her patients

and their oral health. She enjoys all

areas of general dentistry and has a

special interest in root canal therapy

and dental crowns.

Dr Kristine Bettle really enjoys

working with anxious patients using

sedation techniques. Her interests also

lie in Cerec Crown work and wisdom

teeth removal. Her relaxed, friendly

and caring nature will make you feel

instantly at ease.

Dr Andrew Paul is enthusiastic

about good quality dentistry, and really

enjoys bringing the latest up to date

technology to life within dentistry. He

likes working with his patients to find the

best treatment option for them, offering

simple to advanced options which can

achieve a great result and a fantastic

smile. He loves working with his highly

skilled team who all bring their different

strengths to the Dentistry team at St

Albans, knowing that together they offer

a solid foundation for all aspects of dental

care.

Call St. Albans Dental Centre at

355 9380, follow them on Facebook or

simply schedule an appointment online

at www.stalbansdentalcentre.co.nz.

Your smile never looked so good!

'CEREC' & cosmetic dentistry

Wisdom tooth removal

Painless, high quality dentistry

Sedation dentistry

Experienced, conscientious team

Experienced hygienists

OPEN SATURDAYS

355 9380

144 Cranford Street

www.stalbansdentalcentre.co.nz

This unique powerful

treatment provides

you with pain relief

in seconds

Acupuncture

without needles

• Relieves all kinds of body pain

• Boosts your energy

• Improves sleep and mood

• Relieves asthma and hay fever

• Combat addiction (sugar, cigarettes,

alcohol and drugs)

• Reduce blood pressure

TRY IT NOW - First treatment is free

FOR A lIMITed TIMe ONlY

Dr Lan's Reflexology Network

Melrose Building

108 Sawyers Arms Road, Christchurch

Phone: (03) 323 4168 or 027 231 8388

Bishopdale Clinic

13a Bishopdale Court, Ph 360 3606

City Clinic

12 Hereford Street, Ph 961 0236

Wigram Skies Clinic

67 Skyhawk Road, Ph 322 9400

Call us today Ph 360 3606

Back & neck pain

Sprains and strains

Functional training studio

Biomechanical assessments

Headaches and migraines clinic

Work injuries & gym rehab

Pre and post surgery rehab

musclepeople.co.nz

style

noun

elegance and sophistication.

synonyms: flair, grace, poise,

polish, suaveness, urbanity,

chic, finesse, taste, class,

comfort, luxury, affluence,

wealth, opulence, lavishness.

Magazine & TV | sTyle.kiwi
---
28 Tuesday July 4 2017

Latest Christchurch news at www. .kiwi

REAL ESTATE

Perfect starter in a prime location

1/60 Innes Road, Merivale - Unit B also available for sale

Auction: Thursday, 20 July 2017 Unless Sold Prior

2 bedrooms | 1 bathroom | 1 living room | 1 car-garage | 1 carport | Listing # PI47693

NOR'WEST NEWS

Classifieds Contact us today Phone our local team 03 379 1100

Buy 1 Unit Or Both!! A perfect starter

or investment, this townhouse ticks all the

boxes for great buying. Solidly built with

permanent materials for easy maintenance,

pitched ceilings and large windows ensure a

sense of space and great natural light. Set on

a rear section in a blue-chip location, you'll

have all the convenience of easy access to

Merivale and the CBD, while enjoying a

quiet and very private setting.

A northwest aspect ensures plenty of

sunshine in the spacious living room, which

flows to an inviting kitchen – updated to

create a practical workspace. Two generous

double bedrooms both have access to the

garden and share an updated bathroom.

Outside, a single garage, carport and

additional parking are further benefits.

Zoned for Elmwood School, St Albans

School, Heaton and Boys' High, and just an

8-minute walk to St Andrew's. Presented in

comfortable and tidy condition, there is still

opportunity to add value if desired. Don't

miss this chance to get into an exceptional

location. Contact us today.

For a private viewing phone Cameron

Bailey on 352 6166 or mobile 0275 557

079 or Harrison Hopman on 027 340 5076

of Harcourts Gold Papanui (Licensed

Agent REAA 2008)

Trades & Services

Trades & Services

Trades & Services

Trades & Services

concrete & paving

DRIVEWAYS

EXTERIOR PLASTERING

junk

• Driveways

• Earthquake repairs

• New Home Specialists

• Patios & Paths

Exposed Aggregate

Stamped Concrete Plain

Concrete Resurfacing

Things we offer...

Competitive/affordable pricing

Attention to detail

Professional service

free quotes/insurance scopes

Quality

Workmanship

at Competitive Pricing

Free Quotes

Why go to the Dump?

Junkman comes to you!

Items too big for the

rubbish bin?

Or too heavy for you

to move?

Junkman comes

to you & takes

it away

FROM $

65 *

*Prices vary depending on items and volume – minimum charge $65

tel: 0508 873 7483

email: sales@affordableconcrete.co.nz

www.affordableconcrete.co.nz

Cell 0278 145 848

www.drivecrete.co.nz

Aynsley Frewer

M: 027 201 1296

E: aynsleyfrewer@xtra.co.nz

PO Box 20534 Bishopdale

0800 586 5626

www.junkman.co.nz

office@junkman.co.nz

kitchen renovation

Kitchen looking tired?

Revitalize with new colour at a

fraction of replacement cost

• Alterations & Hardware available

• Laminated Kitchens no problem

• 'On Site' finishing available

• Over 20 years experience

• Free Quotes with no obligation

• All Joinery & Furniture repair & Spraycoatings

PABLO'S PAINTWORKS

27 Birmingham Drive, Middleton

03 338 6280 | 021 541 323

pablospaints@xtra.co.nz

www.pablospaintworks.co.nz

MAINTENANCE

Doctor

Fixit

• Carpentry • Repairs &

Maintenance

• Doors & Windows

• Fencing

• Painting & Plastering

• Tiling

• Outdoor Maintenance

• Renovations

• Decks & Pergolas

Norm McRae

027 222 3060 | 03 312 0082

www.doctorfixit.nz

PAINTING

EQC REPAIRS

TAKE THE STRESS

OUT OF YOUR

REPAIRS!

We can make it happen

WE ARE A

ONE STOP SHOP

WINNING

National Awards

from NZ Master Painters, sponsored by DULUX

36 Years in business now offering

Fixing, Stopping, Painting, Wallpapering

• Piling • Electrical • Plumbing • Flooring

• Painting • Roofing • Plasterboard • Wallpapering

Gary: 021 329 881

Cam: 021 329 200

Office: 03 338 9886

E. office@gkfyfeltd.co.nz

PAINTER

Michael Kelly Painters

Locally owned and

operated family

business.

25+ years Experience

• Painting • Wallpapering

• Interior • Exterior

Free Quotes

Phone

Michael 0212 649 492

michaelkellypainter@hotmail.co.nz
---
NOR'WEST NEWS Latest Christchurch news at www. .kiwi

Tuesday July 4 2017 29

Trees and Power Lines

The responsibilities of tree owners and Orion under the

Electricity (Hazards from Trees) Regulations 2003

Orion New Zealand owns and operates the electricity distribution network in central

Canterbury between the Waimakariri and Rakaia rivers and from the Canterbury coast

to Arthur's Pass. Trees touching power lines account for 10-20% of all unplanned power

outages on our network. If you see a tree touching a power line, or any other hazardous

tree condition, please contact us immediately on 03 363 9898 or 0800 363 9898.

This advertisement provides a general notice of the Electricity (Hazards from Trees)

Regulations 2003 and the dangers of trees near power lines. More detail on these issues

can be found on our website www.oriongroup.co.nz or by phoning us on 03 363 9898.

The Electricity (Hazards from Trees) Regulations 2003

The regulations set out the responsibilities of electricity line companies and tree owners.

The purpose of the regulations is to protect the safety of the public and help to ensure a

secure supply of electricity. The regulations:

• define safe separation distances between trees and power lines

• specifies who is responsible for ensuring clearances are maintained

• places potential liability on the tree owner if any damage or accident occurs due to

trees touching power lines. (Note that the word "trees" includes all types of vegetation,

including shrubs, hedges and climbing vines.)

What are the dangers?

Trees near power lines need to be trimmed or removed for the following reasons:

• children like to climb trees and when trees are close to power lines there is a risk of

serious injury or death

• in severe weather conditions, vegetation can become electrically "live" and may

electrocute anyone or anything that touches it

• while a tree may not touch a power line in fine weather, branches can bend or break in

wind or snow storms, causing serious damage and possibly prolonged power outages

• in dry conditions, electrical sparking caused by branches or windblown debris on lines

may cause fires.

Minimum distances required between trees and power lines

The minimum distances that must be maintained between trees and power lines, defined in

the regulations, are outlined in the diagram to the right. A common sense approach, by tree

owners trimming trees early, will generally prevent trees touching power lines.

To maintain a safe distance from power lines some trees require cutting or trimming

more frequently than other trees, but if it is determined that cutting or trimming cannot

satisfactorily meet the requirement then removing the tree is recommended. Other

situations may require trees to be felled because they are at a distance that is considered

to be a hazard due to falling during storms or being diseased.

Orion's tree management programme

Orion's tree management programme is largely governed by the Electricity (Hazards from

Trees) Regulations 2003. Our programme involves education, monitoring and the cut/trim

or removal of trees that threaten to come into contact with power lines. Through this

programme we work with tree owners to minimise the risk of their trees touching power lines.

We currently undertake periodic cutting or trimming of vegetation within the notice zone.

The intent of this cutting or trimming is to support safety and reduce the risk of power

outages. This periodic cutting or trimming by us does not remove the tree owner's

responsibilities and in the case of fast growing species may not be sufficient to ensure

that trees remain outside of the growth limit zone. You will be notified prior to any periodic

trimming being carried out and the work will be completed by arborists carrying Orion

identification.

If Orion becomes aware of a tree which is within the 'Notice zone' (see Tree "A" in the diagram

below) then we are required to issue the tree owner with a Hazard Warning notice. For trees

within the 'Growth limit zone' (see Tree "B" in the diagram below) we are required to issue the

tree owner with a Cut or Trim notice.

What is a hazard warning notice?

If a tree is within the "Notice zone" (see Tree "A" in the diagram), we are required to issue a

hazard warning notice to the tree owner.

Tree "A"

Notice

zone

Growth

limit

zone

Tree "B"

Power line Notice zone Growth limit zone

66kV (high voltage) 5.0 metres 4.0 metres

33kV (high voltage) 3.5 metres 2.5 metres

11kV (high voltage) 2.6 metres 1.6 metres

400V/230V (low voltage) 1.5 metres 0.5 metres

Note:

V = Volts; kV = kilo Volts ie 1,000 Volts

1) These distances are from the power line, not the power pole

2) These distances are a minimum and apply in all conditions including high wind or snow

3) In most instances the power lines that go to a house or building are low voltage power

lines. Power lines that go down a street may be low or high voltage.

Trimming trees near power lines

Trimming trees near power lines can be extremely hazardous and the dangers should not

be underestimated. Contact with a power line can cause:

• injury or death to yourself, family or passers by

• injury or death to livestock

• damage to property and other trees

• damage to electrical appliances

• damage to power supply facilities

• damage to third parties.

We recognise that the public is not always experienced in tree trimming, so we are happy

to advise you on this. We can arrange for trees near power lines to be trimmed at your

cost. If, however, you prefer to arrange your own tree trimming, we recommend you hire

professionals with the necessary expertise and safety procedures to competently carry out

this work.

If you or someone working for you intends to work within 4 metres of power lines, a close

approach consent is required from Orion before you start. As a tree owner you may be liable

for any damage caused by carrying out trimming or felling of trees.

A hazard warning notice alerts the tree owner that the tree has encroached the notice zone

and that if it encroaches the "Growth limit zone" (see Tree "B" in the diagram) a cut or trim

notice may be immediately given to the tree owner (see above).

The growth limit zone is the area around a power line which trees must not encroach even

in windy or snow conditions. The notice zone is a distance one metre beyond the growth

limit zone.

What is a cut or trim notice?

If we become aware that a tree has encroached on the "Growth limit zone", we will give

notice in writing to the tree owner that the tree must be cut or timed to maintain the

distances prescribed in the regulations, and the timeframes for action.

If no action is taken Orion may then trim the tree and seek to recover costs.

Who pays for the cut or trim?

Orion is responsible for the first cut of trees near power lines, where the first cut is on a

property basis, not owner basis. We have already met this obligation by completing a first cut

of vegetation on all our lines.

The tree owner will need to organise and pay for any subsequent and future cuts or trims.

We are happy to provide tree owners with a list of approved arborists who can carry out this

work, and also advise the best solution given the circumstances.

What fines can be imposed?

A tree owner commits an offence where a cut or trim notice is given, and without reasonable

excuse, the tree owner fails to have the tree cut or trimmed and/or fails to advise us of the

time and location of the cut or trim.

A person who commits such an offence is liable on summary conviction to a fine not

exceeding $10,000. If the offence continues, that person is also liable for a further fine of

not more than $500 for every day or part day during which the offence continues.

Contact us if in any doubt about your tree

We aim to work with tree owners to ensure safety is maintained and power outages are

minimised. We will actively work with tree owners to see trees are trimmed or cut before

regulatory powers are applied. However, as we wish to ensure the safety and security of the

public, we will use the regulations where necessary.

Please contact us or an approved Orion tree trimming contractor to help with your trees,

or to discuss your options.

ORION NEW ZEALAND LIMITED

565 Wairakei Road, Christchurch 8053

PO Box 13896, Christchurch 8141

Phone +64 3 363 9898

info@oriongroup.co.nz

oriongroup.co.nz

Orion New Zealand Limited owns and operates the electricity distribution network

in central Canterbury between the Waimakariri and Rakaia rivers.
---
30

Latest Christchurch news at www. .kiwi

Tuesday July 4 2017

NOR'WEST NEWS

Classifieds Contact us today Phone our local team 03 379 1100

Computers

ALL

YOUR

COMPUTER

WORRIES SOLVED!

*$30.00 off your first

service with this coupon!*

No problem too big or

small from home PC's to

business networks. PC

slow? An end to Viruses,

Spyware, and Clogged

Systems. Safe secure

hassle-free computing.

Lost files recovered.

Microsoft Certified,

MCSE, MCP+l. 30 years

experience. Call Andrew

Buxton this week on 326-

6740 or 027 435-7596

for $30.00 off* Custom

Computers Christchurch

Curtains

www.curtainfabric-outlet.com

Fashion Designs & Colours

Discontinued Designs

End of Lines Bargain Prices

Call at Our Shop

CURTAIN FABRIC OUTLET

71 Hawdon St Sydenham

Ph 366-5026

Gardening

& Supplies

A GARDEN OR

LANDSCAPING TIDY

UP? Shrub, hedge &

tree pruning, Lawns,

Gardening, consistently

reliable general property

upkeep, Dip. Hort. 10

yrs experience, One off

tidy ups or on-going

service. Nick's Property

Maintenance. Keeping

your garden beautiful.

Free Quote. Ph. 942-4440

Holiday

Accommodation

QUEENSLAND SUN-

SHINE COAST AUSTRA-

LIA Resort, Ocean Views,

Balconies, Self Contained,

1 or 2 B/R Ensuite,

Heated Pool, Spa, Sauna,

Free Internet, Shops,

Restaurants, Tennis, Surf

Club & Patrolled Beach,

Public Transport at door.

Ask for our SEASONAL

SPECIALS. Phone 61 7

544-35011 Email: reception@mandolin.com.au

www.mandolin.com.au

Lost & Found

MISSING

12 / 6 / 17

$500 REWARD!

foR SAfE REtuRN

'Si'

Black & Tan

Miniature

Pinscher Dog

027 923 5844

ADD SOME

Due to lack of

sightings, Si

may have been

picked up by

someone who

decided to

keep him

COLOUR

TO YOUR ADVERT!

ACUPUNCTURE

H R I S T C H U R C H

CUPUNCTURE

C E N T R E

Health & Beauty

Personals

JUST RETIRED.

Man would like to find a

silly and naughty firm slim

older lady to talk about old

times, and how it used to

be.Maybe try and rekindle

passion lost over the years.

Want to die with a smile on

my dial. 3583634

LOOKING for a lady to

share my nice lifestyle

with. No tats, no smokers,

emaill alanjamieson@xtra.

co.nz

SINGLE LAD.

With time on hands seeks

a firm fit friendly feminine

feline for company,

laughter, squeals of joy

and TV time.

027 659 4425

SUCCESSFUL

GENTLEMAN. Mildly

athletic 180cm and 95kg

handsome and motivated

living on own, Fendalton

area, seeks a stylish,

sophisticated and well

preserved slim lady

who might enjoy my

company, my jokes,my

warmth, my personality,

for company. Love to hear

from you

Age 40 plus, Euro or

Asian. Write to me.

Brad, P.O.Box 1919

,Christchurch A photo

would be appreciated.

C H R I S T C H U R C H

ACUPUNCTURE

C E N T R E

Patrick Guo MB (China)

Registered acupuncture specialist

ACC treatment provider

25 years experience

Specialising in injuries, muscular

problems and pain relief

440 Papanui Rd (end of Blighs Rd), Chch

Ph: 03 3542398 | Email: patguo@gmail.com

www.chchacupuncture.co.nz

Trades & Services

PAINTING &

WALLPAPERING

• Satisfaction

guaranteed

• Over 30 years

experience

• Reliable &

honest

Please call

Ray Martin Ltd

021 770 551

or 359 5520

r.martin@globe.net.nz

• Replacement/new roofing

• Colour Steel gutter & fascia

• Flue & log burner installs

• Skytube/light installs

• Earthquake repairs

Licence Building

Practitioner LBP

Member of the Roofing

Association

DCM ROOFING LTD

The Roofing Specialists

PHONE IAIN

027 445 5597

iain@dcmroofing.co.nz

HOUSE

CLEARING

Are you

moving house

or trying to

downsize?

Call All Clear

Canterbury. We work

with you to recycle,

sell and dispose of

unwanted items.

Ph: 03 260 0934

or 021 078 4553

raewynlcooke@gmail.com

www.allclearcanterbury.co.nz

EQC CASH SETTLEMENT

We will re-scope your property to ensure

you have been paid in full to cover all

your repair costs.

None of the properties that we have

re-scoped so far has been paid the

correct amount to repair their damage.

EXAMPLES

Trades & Services

GLAZING

Stephen Thom

Glazing 2012 Ltd.

(Under New Management)

• Mirrors

• New Glazing

• Pet Door

Specialists

• Frameless

Showers

• Splashbacks

WE CAN DO YOUR

WORK NOW

ALL BROKEN

WINDOWS

Phone Cushla

03 352 6225

or 027 352 6225

•Yaldhurst Road Initially $3,800 after our

re-scope payment received $46,320

•Wairakei Road Initially $7,575 after our

re-scope payment received $38,182

•Prossers Road Initially $19,827 after our

re-scope payment received $60,273

•Kaplan Avenue Initially $859 after our

re-scope payment received $34,931

•Liverton Crescent Initially $11,000 after our

re-scope payment received $29,842

•Dalkeith Street Initially $5,000 after our

re-scope payment received $8,945

• We have re-scoped 50 properties who have been under

paid for their repairs.

• Have your initial repairs failed?

• Did you receive your full entitlement?

• Do not pay your excess until all repairs are completed.

• General under payments are: Asbestos testing and

exterior lead paint, peeling wallpaper, cracking in exterior

plaster not repaired correctly.

For re-scoping and all earthquake repairs

including painting and redecorating.

Enquire now Phone 021-667-444

9155874AA

Trades & Services

CARPET & VInYL

LAYIng

Repairs, uplifting,relaying,

restretching,email

jflattery@xtra.co.nz,

ph 0800 003 181

or 027 2407416

ELECTRICIAn

REgISTERED

for all electrical

installations & repairs Ph

03 322 4209 or 021 026

73375

HAnDYMAn

No job too big or small.

Good rates. Call 020 410

67205

PAInTER

Available, All aspects in

painting. Very competitive

in roofs and fences. Please

call 027 241-7471 or 335-

0265

PLASTERER

Gib Stopping, Small

job specialty. 30 + years

experience. Ring 0800

387-369

PLUMBER

For prompt service for all

BEST BATHROOMS

full renovation specialists,

LBP, repairs &

maintenance ph 03 387-

0770 or 027 245-5226

BRICKLAYER

George Lockyer. Over plumbing maintenance,

35 years bricklaying repairs and alterations.

experience. UK trained. Phone Michael 364 7080

Licensed Building or 027 438 3943

Practitioner number PLUMBER

BP105608. Insurance A Top Plumbing job

work. EQC repairs. completed at a fair price,

Heritage brickwork and prompt service, all work

stonework a speciality. No guaranteed, Ph Brian 960-

job too small. Governors 7673 or 021 112-3492

Bay. Home 329-9344, PLUMBER

Cell 027 684 4046, email

georgelockyer@xtra.co.nz

ALF

PLUMBING

THORPE

Certifying

Plumber for all types of

BUILDER

plumbing, maintenance,

For all building work spouting, alterations etc.

but specialist in bathroom Phone 352-7402 or 0274-

renovations, 30 yrs 350-231

experience, with service ROOFIng

and integrity. Free Quotes. Qualified & Licenced

Ph Lachlan 383-1723 or

Practitioner. Re-Roof &

0274 367-067.

Repairs, all types. Member

BUILDER

New Zealand Roofing

LICENSED, available for

all aspects of building.

Please call 027 241-7471

Association. Over 35 years

experience. Phone John

027 432-3822 or 351-9147

or 335-0265

****************

email

co.nz

johnmill@ihug.

Trades & Services

SHOE REPAIRS

Belfast engraving.Shoe

repairs,key cutting &

engraving.(10 yrs exp)683

Main North Rd

ph 027 3113423

SPOUTIng CLEAnIng

Spouting Unblocked,

Cleaned Out and Flushed

Out. Also Full Handyman

Services Available. Call

Trevor 332 8949 or 021

043-2034

STOnEMASOn

BRICK&BLOCKLAYER,

Earthquake Repairs, Grind

Out & Repoint, River/

Oamaru stone, Schist,

Volcanic Rock, Paving,

all Alterations new & old,

Quality Workmanship,

visit www.featureworks.

co.nz or ph 027 601-3145

TILER/CARPEnTER

35 years exp, no job

too small. Ph Ross 027

4311440.

TREES BIg OR SMALL

tree removal, trimming,

stump grinding, shelterbelt

clean up, section clearing,

rubbish removals,

excavation work, ph Trees

Big or Small, for a free

quote, 021 061 4783

TREE WORK

Hedge trimming, stump

grinding, rubbish removed,

small job specialty Ph

Andrew 03 322-8341 or

027 435-8759

T.V. SERVICE CEnTRE

Repairs, tvs, microwaves,

stereos, DVD. Aerial

installations and kitsets,

480 Moorhouse Ave, ph 03

379 1400

UPHOLSTERER

Dining Chairs, Lounge

suites, Caravan Squabs

etc. recovered. Free

Quotes. Phone Graeme

383-1448

VHS VIDEO TAPES

& all camera tapes

converted to DVD, video

taping special occasions,

www.grahamsvideo.co.nz

ph 03 338-1655

WATERBLASTIng

Quick service, great rates

Call Bret 02041067205

WInDOW CLEAnIng

Average 3 bdrm house

inside or out $40. Both

$70. Phone Trevor 344-

2170

ADVERTISING

TELEPHONE SALES

PART-TIME

• Part-time 8-10 hours per week.

Days of work are flexible.

• Hourly rate plus commission.

• Earn extra dollars.

Star Media is looking for a talented &

determined person to work 8-10 hours

per week.

The role will be to contact a wide variety of

businesses offering a range of advertising

options across our newspaper titles.

The person we are seeking should be

self motivated, reliable, have a

good telephone manner

& enjoy talking with

people.

You must be highly organised

& be able to work independently.

Sales tools, training & an excellent

remuneration package will be

available to the successful applicant.

Our offices are at 359 Lincoln

Road near Hagley Park.

Wanted To Buy

AAA Buying goods

quality furniture,

Beds, Stoves, Washing

machines, Fridge Freezers.

Same day service. Selwyn

Dealers. Phone 980 5812

or 027 313 8156

TOOLS Garden,

garage, woodworking,

mechanical, engineering,

sawbenches, lathes, cash

buyer, ph 355-2045

Public Notices

Situations Vacant

QUALIFIED MECHANIC

Motivated and reliable Full Time

Mechanic wanted to join our small but

friendly organised team.

Must be Trade Cert qualified and WOF

certification, full NZDL required.

Competitive wage with good

opportunity and the possibility of

future shareholding for successful

applicant.

We service all makes and models and

carry out a full range of automotive

services. Good diagnostic and time

management skills a must.

Please email CV to simon@

rollestondieselandpetrols.co.nz

or phone Simon on 027 272 9213

Situations Vacant

Public Notices

Do you know

where your

nearest

CIVIL DEFENCE

sector post is?

Ring your local

council to find out.

Send your CV to

Classified Manager

Mike Fulham

mike@starmedia.kiwi
---
NOR'WEST NEWS Latest Christchurch news at www. .kiwi

Tuesday July 4 2017 31

What's On

Entertainment

To advertise, contact

Jo Fuller

03 364 7425

jo.fuller@starmedia.kiwi

A West Coast welcome in the heart of

Redwood, beautifully refurbished and

something for all the family.

TRY OUR WONDERFUL MENU & DAILY SPECIALS

JOIN

A CLUB BY

THE SEA!

Daniels Road | Phone 352 8355

coasterstavern.co.nz

www.newbrightonclub.co.nz

'Famous for their roasts!'

RESTAURANT & CAFÉ

We are open from 6.30am

Seniors SPECIAL

2 courses Soup/Roast or Roast/Dessert

Special available lunch only. Monday - Saturday 12pm - 2.30pm

$20

MID-WINTER

XMAS FUNCTIONS

WE HAVE THE VENUE.

EXCELLENT CATERING. PLENTY OF

PARKING. ENQUIRE NOW!

ClubBISTRO

Open Tuesday to Saturday

12pm-2pm and from 5pm

Midweek $10

SPECIAL ROAST

Available Tuesday,

Wednesday, & Thursday

TUESDAYS & THURSDAYS

Members Lucky Card Draw

FUNCTION ROOMS

SHUTTLE RUNNING

Tues, Thurs, Fri & Sat

TAB POD

GAMING ROOM

PIERVIEW

Restaurant

202 Marine Parade | Ph 388-9416

Members, guests and affiliates welcome

Quality

a la carte

with a view!

Open from 5.30pm

FRIDAY, SATURDAY & SUNDAY

OPEN FOR SUNDAY 3 COURSE

SUNDAY BRUNCH DINNER SPECIAL

$25

By the Seaside!

10.30am-2pm

SUNDAY BUFFET

THIS Sunday 30th July

ALL YOU CAN EAT

$25 BOOK NOW!

Family Friendly

Kid's 2 course special

$10

Treat the Kids

this school holidays!

The

RACECOURSE HOTEL

& Motorlodge

118 Racecourse Rd, Sockburn,

Christchurch. Ph 03 342 7150

www.racecoursehotel.co.nz

H ORNBY

WORKINGMEN'S

CLUB

«WHAT'S ON«

FRIDAY 7 JULY, 7PM

JO'S KARAOKE

SATURDAY 8 JULY

4.30PM BARROSS

8PM DRAMA QUEENS

SUNDAY 9 JULY, 1PM

FAMILY DAY

Neville Barrie entertains

Bouncy Castle, Lollies, Face Painting, Balloons

Chalmers

Restaurant

Mid Winter Buffet

SUNDAY 2nd & SUNDAY 9th JULY

NEVILLE BARRIE

entertains

BOOKINGS ESSENTIAL

349 9026

$30

PER

PERSON

«COMING UP«

SATURDAY 22 JULY, 8PM

TICKETS $20 AT CLUB OFFICE

SATURDAY 29 JULY, 7.30PM

RETRO ROCKIN'

Anthony Easterbrook-Carter

& BACKPACK present

Three decades of rock's best

known hits spanning the greater

rock era of the 1950's through to

the 1970's featuring a mini set of

ROY ORBISON

TICKETS $20 AT CLUB OFFICE. DOOR SALES $25

Hornby WMC | ph 03 349 9026 | 17 Carmen Road | Hornby

www.hornbyworkingmensclub.co.nz | Members, guests & affiliates welcome

Lunch & Dinner

All you can eat, 7 days

Bookings Essential

PH 386 0088

fb.com/GardenHotelRestaurant

www.gardenhotel.co.nz

HAPPY HOUR

5PM - 7PM DAILY

OUR CABINET ITEMS ARE HOMEMADE

CREATED FRESH ON SITE DAILY

$12

LUNCH

SPECIALS

COFFEE

HAPPY

H O U R

Live Music:

6PM.FRI.7 JULY

2PM-4PM

DAILY

MON: ROAST MEAL

TUE: FISH & CHIPS

WED: FISH BURGER

THU: ROAST MEAL

SAT: FISH & CHIPS

$3.50

Offer available for a limited time

and includes tea, hot chocolate

AVAILABLE

FROM

11.30AM-2PM

FOR A

LIMITED TIME

Sima

PHONE 385 8880 FIND US ON FACEBOOK fb.com/GBCCHCH

THE GARDEN HOTEL COMPLEX | 110 MARSHLAND RD

www.gardenhotel.co.nz | phone 385 3132
---
32 Tuesday July 4 2017

Latest Christchurch news at www. .kiwi

NOR'WEST NEWS

OUR BIGGEST

EVER BIRTHDAY

SALE

San Pedro Queen, King

BALANCE CONTOUR RANGE

OUR

BEST BED

PRICES

STOREWIDE

NOW

or Super King

only $2299

AMAZING

VALUE

NZ'S

BEST

BED

BRANDS

HUGE

RANGE

Soft, Medium or Firm

Queen size only $1299

SANCTUARY RANGE

STOREWIDE

SAVINGS

CHIROPRACTIC RANGE

BEDS IN NEW ZEALAND

SINCE 1935

Made by Kiwis for Kiwis.

21ST

BIRTHDAY

SUPER

DEALS

10 YEAR WARRANTY

Quality you can trust...

we guarantee it!

BEDS IN NEW ZEALAND

SINCE 1935

Made by Kiwis for Kiwis.

10 YEAR WARRANTY

Quality you can trust...

we guarantee it!

BEDS IN NEW ZEALAND

SINCE 1935

Made by Kiwis for Kiwis.

10 YEAR WARRANTY

Quality you can trust...

we guarantee it!

Twilight Queen

Size Only $999

GREAT

PRICE

7 Day Money Back Comfort Guarantee on Queen and King Beds

CNR MOORHOUSE AVENUE & MONTREAL STREET

NEXT TO FARMERS. PHONE: 365 0132