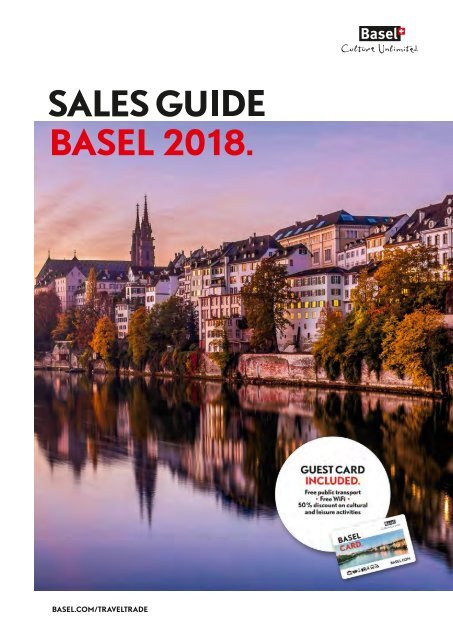 Create successful ePaper yourself
Turn your PDF publications into a flip-book with our unique Google optimized e-Paper software.
BASEL.COM/TRAVELTRADE
---
CONTENTS.

3 Basel: within quick and easy reach

9 Sights to see & places to go

10 Art & culture

11 Shopping

13 Restaurants

14 Hotels

16 Event highlights

17 Exhibition highlights

18 Event calendar

20 Christmas in Basel

21 Activities in Basel

24 Experience Basel in 24 hours

26 Basel and its region

30 Basel and Switzerland

32 Incoming Services

33 Useful tips

35 Contact details
---
Basel: within quick and easy reach / 3

BASEL: WITHIN QUICK

AND EASY REACH.

Travelling to Basel is easy. Many international airlines fly to EuroAirport, which is located only 15 minutes

from the city centre. Along with Zurich Airport, EuroAirport provides connections to all European airports

and to over 200 international destinations. Situated at the heart of Europe, Basel is a central transport

hub. The three railway stations – the Swiss Railway Station SBB, the French Railway Station and the

German Railway Station – do not only provide excellent connections within Europe, but are also all located

right in the city centre.

EuroAirport Basel-Mulhouse-Freiburg

• shuttle bus to city centre: every 7 minutes

• transfer time to city centre: 15 minutes

• www.euroairport.com

Warsaw

POLAND

Zurich Airport

• direct train connections to Basel

• train connections to Basel with one change every half-hour

• transfer time: approx. one hour

• www.flughafen-zuerich.ch

Frankfurt Airport

• direct train connections to Basel

• transfer time: approx. three hours

• www.frankfurt-airport.de

Marseille

Barcelona

Travelling Distance Travelling time Travelling time

from by plane by train

Amsterdam 740 km 1 h 25 min 6 h 45 min

Barcelona 1034 km 1 h 50 min 10 h 00 min

R

Berlin 867 km 1 h 35 min 8 h 15 min

i

h

e

n

e s

o r

t

GERMANY

Bern 98 km no direct flight 1 h 00 min

Brussels 565 km 1 h 10 min 6 h 00 min

Frankfurt 328 km 45 min 3 h 00 min

Geneva 251 km no direct flight 2 h 45 min

V

s

o

e s

g

FRANCE

B

c

l a

k

F

45 min.

30 min.

15 min.

60 min.

London 920 km 1 h 30 min 7 h 05 min

Madrid 1637 km 2 h 20 min 13 h 30 min

Zurich

Milan 339 km no direct flight 4 h 05 min

Munich 392 km 1 h 00 min 5 h 10 min

Paris 570 km 1 h 00 min 3 h 00 min

SWITZERLAND

Lucerne

Rome 925 km 1 h 30 min 8 h 00 min

Vienna 824 km 1 h 40 min 9 h 00 min

T h

e

A l

p s

Zurich 85 km no direct flight 55 min
---
Frankfurt

BASEL

The Grand Tour of Switzerland combines

the highlights of Switzerland in one single journey.

MySwitzerland.com/grandtour

0 20 40 80 km

0 10 20 40 miles
---
Basel: within quick and easy reach/ 5

Flight connections to Basel

EUROAIRPORT BASEL-MULHOUSE-FREIBURG

An ideal location with good connections guaranteed

Direct flights connect Europe, the Middle East, Africa, Canada, Latin

America and Russia to EuroAirport Basel-Mulhouse-Freiburg,

which is located only 15 minutes from Basel city centre. EuroAirport

can be reached from all countries worldwide via the intercontinental

hubs (Amsterdam, Brussels, Frankfurt, Istanbul, London, Munich,

Vienna and Paris). Thanks to its unique location, EuroAirport is constantly

expanding its network of routes and, as the best-developed

airport in the Upper Rhine region, provides the gateway to Switzerland,

South Germany and Eastern France.

Fast transfers

It is easy to find your way around EuroAirport which provides excellent

customer service. Passengers swiftly reach the baggage reclaim area.

Thanks to the airport's convenient location, Basel city centre and the

Swiss Railway Station SBB are just 15 minutes away by shuttle bus

(very frequent connections), taxi or car.

Further information about EuroAirport and tourism packages is

available at:

EuroAirport Basel-Mulhouse-Freiburg

Marketing Department

PO Box 142

CH-4030 Basel

Phone +41 (0)61 325 31 11

Fax +41 (0)61 325 25 66

marketing@euroairport.com

www.euroairport.com

EuroAirport for passengers, tour operators and airlines

EuroAirport's modern infrastructure offers passengers a wide range

of eating and shopping options. Counters and office space are available

to tour operators, ensuring optimum customer care at arrival

and departure. EuroAirport offers airlines a well-organised and efficient

infrastructure. The economic cost structure and the ideal transport

connections make EuroAirport an attractive gateway to the Basel

region, other areas of Switzerland and central Europe for

passengers, tour operators and airlines alike. EuroAirport is a stop on

the SBB rail network, which means that it is possible to buy train

tickets from the airport to all SBB destinations in Switzerland. These

also include the shuttle bus to the main railway station.
---
Cruise ship at St. Johann boat terminal

Tram in Basel

Swiss Railway Station SBB
---
B

Basel: within quick and easy reach / 7

International rail connections

Basel boasts direct ICE, IC, EC and TGV train connections from

Germany, Austria, France, Italy and the Benelux countries, which

arrive in the city around the clock, day and night.

Buses

Basel is located at the crossroads of the European motorway network.

Car parks are conveniently located and most hotels also offer

parking facilities. There are several coach parks. A tax sticker (to be

purchased) entitles to the use of Swiss motorways.

Park & Ride

If you only have one day to spend in Basel and are arriving by car, the

City Park & Ride offer is ideal for you. Obtain a ticket before you leave

the car park, use trams and buses during your stay and pay when you

collect your car. Benefit from one hour of free parking and an attractive

rate for public transport. The offer is available in the following car

parks: City, Storchen, Steinen, Elisabethen and St. Jakob.

BaselCard – the free guest card

From 1 January 2018, every hotel guest in Basel will receive this card

when checking in. The guest card entitles you to free use of local

public transport and you receive an access code for the city's own

WiFi network. You will also benefit from a 50 % discount on numerous

cultural and leisure attractions such as Basel Zoo, the museums, the

sightseeing bus, and much more.

Public transport

The extensive public transport system will take you quickly and punctually

to wherever you wish to go, including locations in nearby Germany

and France.

• modern, fast, comfortable and safe

• most public transport facilities offer easy access

for the disabled

• frequency: every 5 to 15 minutes

• Mon to Thu & Sun 05 – 00 h, Fri & Sat 05 – 01 h

River cruises

Cruises on the Rhine that depart from or arrive in Basel are steadily

gaining in popularity. St. Johann boat terminal, with its state-of-theart

power and water supply, is just a 10-minute walk from the city

centre. www.port-of-switzerland.ch

Terminals for cruise ships

• St. Johann

• Klybeckquai

• Dreiländereck

Klybeckquai

SAINT-LOUIS (F)

1

Basel –

France

EuroAirport

Mulhouse

Schlachthofbrücke

Neudorfstrasse

2

Basel –

Kannenfeld

Neudorfstrasse

ALLSCHWIL

A35

Schlachthofbrücke

Neuweilerstr.

Burgfelderstr.

2

Basel –

Kannenfeld

Luzernerring

Wasgenring Morgartenring

Luzernerring

BINNINGEN

0 250 500m

Quelle: Geodaten Kanton Basel-Stadt

www.gva.bs.ch | 24. Juli 2017

Tourist Information

Motorway exit

Motorway access

Burgfelderstrasse

Iselin

Allschwilerstrasse

Wanderstrasse

Laupenring

Gotthelf

Luzernerring-Br.

Flughafenstrasse

Bus parking

Brennerstrasse

9x I max. 15h

N

1:21000

Schlachthofstr.

Luzernerring

Kannenfeldstrasse Spalenring

Ahornstrasse

Neubadstrasse

Bachletten

Holeestrasse

Elsässerstrasse

HUNINGUE (F)

Bus stop

Elsässerrheinweg

3x I max. 90min.

Missionsstrasse

Bundesstr.

Bus stop

Petersgraben

3x I max. 30min.

Steinenring

A.-Böcklin-Str.

Bus parking

19t

Erdbeergraben

10x I max. 15h I max. 19t

Hauptstrasse

Hüningerstr.

Zoo

Basel

Dorenbachviadukt

Baslerstrasse

3

Basel –

St. Johann

Voltastr.

Elsässerstr.

St. Johann

Klingelbergstr.

Schützenmattstr.

Spitalstr.

Schanzenstr.

Schützengr.

Terminal

Kabinenschifffahrt

St.

Johann

Bus stop

Kohlenberg

3x I max. 30min.

Viaduktstrasse

Vorstadt

Rheinweg

Binningerstr.

Margarethenstr.

Bus stop

Meret-Oppenheim-Strasse

5x I max. 30min.

Klybeck

Bus parking

Uferstrasse

3x I max. 12h

Bus stop

Uferstrasse

2x I max. 60min.

Gärtnertsr. Klybeckstrasse

Mittlere

Brücke

Bus stop

Steinenberg

3x I max. 30min.

Rathaus

Kaserne

Freie Strasse

3

Basela

sel

SBB/SNCFB

B/

SNCF

Mauerstr.

Matthäus

Bus stop

Schwarzwaldallee

5x I max. 30min.

Bus stop

Base asel

Bad.

Bahnhof DB

Mattenstrasse Rosental

3x I max. 30min.

Hirzbrunnen

3

Bus stop

Wettsteinallee

Basel –

Riehenring

Wettstein

2

2x I max. 30min.

Wettsteinallee

Basel –

Riehenstrasse Bad. Bahnhof

Riehenstrasse

BASEL

St.Alban-

Marktplatz

Barfüsserplatz

Feldbergstrasse

Münster

strasse

St.Johanns-

St.Johanns-

Heuwaageviadukt

Aeschengraben

Gundeldingen

Deutschland

1a PEZA

2

Karlsruhe

Basel –

Rheinhafen

1

Neuhausstrasse

Basel –

Hochbergerstrasse

Kleinhüningen

1

Hochbergerstrasse

Wiese

Freiburgerbrücke

Riehenring

1

1

Basel –

Kleinhüningen

Basel –

Freiburgerbrücke

Kleinhüningen

Riehenring

Wiesenkreisel

Graben

Bus stop

Dufourstrasse

3x I max. 30min.

St.Jakobs-Str.

Nauenstrasse

Hochstrasse

Riehenring

Kunstmuseum

St.Alban-Anl.

Bus stop

Gartenstrasse

9x I max. 30min.

Münchensteinerstr.

Messe Basel

Kannenfeldpark

Schützenmattpark

Riehen-

Riehenring

Wettsteinstr.

Grenzacherstrasse

Rhein

5

Basel – City

Grosspeter

Grosspeterstr.

Münchensteinerstrasse

Reinacherstrasse

Schwarzwaldallee

Wettsteinallee

Wettstein

St. Alban

Wolf

St.Jakobs-Str.

Breite

Zürcherstrasse

Friedhof

Wolf-Gottesacker

Fasanenstrasse

2

4

Basel – Breite

Zürcherstrasse

Grenzacherstrasse

Gellertstrasse

Riehenstrasse

Zürcherstrasse

Brüglingerstrasse

Bäumlihofstrasse

3

Basel –

Wettstein

Grenzacherstrasse

St. Jakob

Richtung LU

Hauptstrasse

6

Basel –

St. Jakob

St. Jakob

St.Jakobs-Strasse

St. Jakobshalle

Aeussere Baselstrasse

Grenzacherstrasse

Bus parking

Bäumlihofstrasse

5x I max. 15h

Rheinfelderstrasse

Stadion

St. Jakob-Park

Muttenz

BIRSFELDEN

H18 / Jura

2

Muttenz

Birsfelden

RIEHEN

6

Hagnau

Birsfelden

A2/E25/E35/E60

Friedhof

am Hörnli

Voltastrasse

Dreirosenbrücke

Voltastrasse

Johanniterbrücke

Wettsteinbrücke

GRENZACH-

WYHLEN (D)

MUTTENZ

Delémont

Zürich, Bern

Luzern

Bus parking in Basel
---
Landmarks & attractions
---
SIGHTS TO SEE

& PLACES TO GO.

The Cathedral (Münster)

Together with Mittlere Brücke, the Cathedral is the foremost landmark

of Basel. With its red sandstone walls, colourful roof tiles and

twin spires, no other building adorns the cityscape of Basel like the

Cathedral.

Pfalz

The platform high above the Rhine behind the Cathedral provides a

stunning view over the Old Town, far into the tri-border area and as

far as the Vosges mountains in France.

Town Hall (Rathaus)

The market square (Marktplatz) is dominated by the magnificent

Town Hall, the seat of Basel's government. The council rooms, the

picturesque courtyard, the romantic arcades and the impressive

tower are particularly worth visiting.

Market square (Marktplatz)

Six days a week, fresh vegetables, fruit and flowers are sold at

Marktplatz. Set against the backdrop of the historic Old Town, this

market is a colourful event where delicious food of all kinds can be

sampled.

Mittlere Brücke

Mittlere Brücke is one of the oldest crossing points along the Rhine

between Lake Constance and the North Sea. Located at the centre of

the bridge is Käppelijoch (chapel arch), where executions were carried

out during the Middle Ages.

Tri-border Point (Dreiländereck)

A pinnacle at the Rhine harbour marks the meeting point between

Switzerland, Germany and France. This is also the area where ships

depart for the North Sea and is therefore an important hub for the

supply of raw materials to Switzerland.

Old Town

The Old Town of Basel is one of the best-preserved and most beautiful

historical centres in Europe. The way buildings from the 15 th century

and those by modern, internationally renowned architects complement

each other to form an urban landscape that is both intriguing,

harmonious and unparallelled.

Roche Tower

Roche's "Building 1" can rightly be labelled Basel's cutting edge landmark

as it is the tallest building in Switzerland and visible well beyond

the city boundaries. Measuring 178 metres in height, the building

designed by architects Herzog & de Meuron was completed in 2015

and houses the Head Office of the pharmaceutical company.

Tinguely Fountain

The famous fountain by Jean Tinguely is situated where the stage of

the former city theatre was. With his playful machine sculptures made

from scrap metal from the old stage mechanism, the Swiss artist created

an iconic landmark in the city.

Sights to see & places to go / 9

Basel exhibition centre (Messe Basel)

One of the more recent architectural highlights in Basel is the event

hall at Messe Basel with the partial development of Messeplatz (exhibition

square). The architectural and urban focus of the complex

designed by Herzog & de Meuron is the City Lounge. This covered,

public space not only marks the entrance to the exhibition, but also

functions as a meeting place for locals and visitors alike.

Spalentor

Spalentor is the most impressive of the three remaining city gates

from the city's extensive fortifications of 1400 and is regarded as one

of the most beautiful city gates in Switzerland.

St. Alban-Tal

St. Alban-Tal is a district of the city full of romance and historic buildings.

Located between the Rhine and city centre, it is characterised by its

narrow alleys and waterways and is also known as the Little Venice of

Basel.

St. Jakob-Park stadium

St. Jakob-Park is Switzerland's largest football stadium and home

ground of FC Basel. It is important in both architectural and sporting

terms. Built by local architects Herzog & de Meuron and opened in

2001, it encompasses a shopping centre and old people's home as

well as the football arena with over 38,000 seats. For the star architects,

it was excellent preparation for similar projects such as the

Allianz Arena in Munich and Beijing's National Stadium.

Rhine promenade

Basel's lifeline is the best place to relax. The Rhine promenade is the

most popular jogging route in the city and is also the first choice for

people out for a stroll or for lovers to linger.

The four Rhine ferries

Cross the Rhine as people did 150 years ago: ring the bell at the

quay, give the ferryman a sign, and get on the ferries powered only by

the natural current of the Rhine.

Messeturm

At 105 metres, the Basel Trade Fair Tower is one of the tallest buildings

in Switzerland. Enjoy the sunset from Bar Rouge on the 31 st floor, the

highest bar in the city.

Zoo

Basel Zoo is popular for outings and well worth a visit at any time of

the year. In the summer months the park is an ideal place for a stroll

in the open air. In the winter months, the various indoor animal compounds

guarantee up-close and personal encounters with a wide variety

of animals.

Rhybadhysli (bath houses)

If you wish to swim in the Rhine, you can go to a "Rhybadhysli" – the

locals' name for the bath houses on the banks of the river. One is

near Johanniterbrücke, the other in the Breite district. In the Rhybadhysli

you can relax on the sun decks and experience a perfect

holiday atmosphere.
---
10 / Art & culture

© Schweiz Tourismus

Fondation Beyeler 1

ART &

CULTURE.

Nearly 40 museums with world-renowned exhibitions – this is unique in Switzerland and top class by international

standards. Each with a different focus, the museums offer something for every taste.

Fondation Beyeler 1

From Cézanne and van Gogh to Klee, Miró, Warhol and Rothko – one

of the most renowned private collections in the world encompassing

major works from the classical modern period can be viewed at

Fondation Beyeler. The splendid museum in Riehen near Basel is designed

by star architect Renzo Piano. www.fondationbeyeler.ch

Kunstmuseum Basel

Kunstmuseum Basel is one of the oldest public art collections in the

world. The museum owns the world's largest collection of works by

the Holbein family and other important works of art from the Renaissance

period, including Cranach, Grünewald and Konrad Witz.

www.kunstmuseumbasel.ch

Museum Tinguely

This museum is dedicated to the work of the acclaimed Swiss iron

sculptor and master of kinetic art Jean Tinguely (1925 – 1991). The

permanent exhibition in the museum building designed by Mario Botta

displays machine sculptures, moveable reliefs and sketches from all

of the artist's creative periods. www.tinguely.ch

Historisches Museum Basel

The museum with its three buildings is considered to be the most

significant cultural and historical museum on the Upper Rhine. The

Basel Minster Treasure and fragments of the Basel Dance of Death

in Barfüsserkirche are some of the city's exceptional must-sees.

www.hmb.ch

Vitra Design Museum

Located in a building designed by Californian architect Frank Gehry,

this museum is one of the leading museums of industrial furniture

design and architecture. www.design-museum.de

Open-air art

Whether you are walking through the alleys of the Old Town or just

sitting on a park bench – art is everywhere in Basel. Serra, Borofsky,

Rodin and Niki de Saint Phalle are just some of the artists whose

works you will find outdoors.

Basel Theatre

The Basel Theatre is Switzerland's largest three-section theatre and

performs a wide range of opera, drama and ballet. It has three main

venues – the large stage, the small stage and Schauspielhaus (drama

house). www.theaterbasel.ch

Classical music

Basel orchestras may well have performed where you live, as both the

Basel Symphony Orchestra and the Basel Chamber Orchestra have

long since won the hearts of international audiences.

www.sinfonieorchesterbasel.ch, www.kammerorchesterbasel.ch

Kaserne Basel

Kaserne Basel is the largest centre in Northwest Switzerland for contemporary

theatre, dance, performances and innovative popular music.

www.kaserne-basel.ch
---
SHOPPING.

Shopping / 11

Basel specialities

Läckerli, a type of gingerbread with candied peel, is Basel's bestknown

speciality. However, the range of other sweet delicacies made

by the Läckerli Huus does not make choosing easy!

www.laeckerli-huus.ch

Freie Strasse

Basel's famous shopping street is located in the heart of the city.

With a variety of shops, it is an inviting place to go on a long shopping

spree. You will find everything here, from famous brands to small boutiques

and large department stores. www.proinnerstadt.ch

Spalenberg 1

The boutiques on Spalenberg have their own charm and special customers.

For example, the long-standing traditional Christmas shop of

Johann Wanner sells its wares to the Vatican, the White House and

Queen Elizabeth II. Or boutique "Erfolg": The Basel-based label has

been producing sophisticated shirts and knitwear – made in Switzerland

– since 1993. www.spalenberg.com

Markets

Looking for something special not necessarily new – you may well

find it on the flea market at Petersplatz, held every Saturday morning.

During the week, fresh regional produce and other goods are sold at

Marktplatz. www.marketing.bs.ch/messen-maerkte

Swiss Chocolate

Swiss chocolate enjoys an excellent reputation throughout the world.

And you can find outstanding chocolatiers in Basel who practice their

craft with passion and great expertise. At Beschle, Schiesser or Bachmann,

for example, you can find hand-made chocolate specialities

of the highest quality. www.beschle.ch, www.confiserie- schiesser.ch,

www.confiserie-bachmann.ch

Watches and Jewellery

In spring each year, thousands of watch and jewellery aficionados

flock to Basel to view the latest trends at Baselworld. However, you

can find extraordinary watches and jewellery in Basel all the year

round. Internationally renowned companies such as Bucherer and

Gübelin, and also Basel businesses such as Mezger and Spinnler

+ Schweizer offer a selection that leaves nothing to be desired.

www.bucherer.com, www.gubelin.com, www.mezger classics.ch,

www.spinnler-schweizer.ch

Shopping malls

Stücki mall provides a modern shopping experience near the city centre.

Large shops and smaller boutiques offer a range of goods that is

unique in the region. Alternatively visit the shopping mall at St. Jakob-

Park, directly adjacent to the St. Jakob-Park sports stadium.

www.stuecki-shopping.ch, www.st-jakob-park.com

Christmas market

Basel's beautiful Christmas market with its very special charm is

situa ted at the heart of the historic Old Town at Barfüsserplatz and

Münsterplatz. At both locations traders and artisans from the Basel

region and elsewhere in Switzerland sell their goods and demonstrate

their skills. www.baslerweihnacht.ch

Museum shops

Anyone looking for an attractive present or a souvenir on a Sunday is

sure to find something in the Basel museum shops. Those in Basel's

Papiermühle, Museum der Kulturen Basel, Fondation Beyeler, Kunstmuseum

Basel and Spielzeug Welten Museum Basel come highly

recommended. www.papiermuseum.ch, www.mkb.ch, www.fondationbeyeler.ch,

www.kunstmuseumbasel.ch, www.swmb.museum

Shopping at Spalenberg 1
---
DINING.

Basel whets the appetite with a host of delicious cuisines. Its cosmopolitan

outlook and close relations with the neighbouring areas

of Alsace in France and Baden in Germany are undoubtedly among

the main reasons why the city in the tri-border region is able to

please even the most discerning palate. Living as they do at the

meeting point of three countries, the people of Basel have a great

deal of savoir-vivre. Good food and drink are as important to them as

are art and culture. Basel is the centre of a region with a unique concentration

of first-class restaurants and is no longer an insider's tip

for gourmets. The Cheval Blanc restaurant by Peter Knogl, for example,

is one of only two restaurants in Switzerland to be awarded

three Michelin stars.

In Basel you can treat yourself to delicious sweets and pastries in old

established cafés and equally enjoy tasty tapas in fashionable bars.

In summer, you can dine al fresco in one of Basel's many boulevard

cafés and garden restaurants. And traditional hospitality abounds:

whether in historical inns or guild halls, beer halls or wine taverns,

you will see that enjoyment is a high priority everywhere in Basel.

Acqua 1

© Hotel Les Trois Rois

Cheval Blanc 2
---
RESTAURANTS.

Restaurants / 13

Traditional and typically Swiss food*

Internet

Fischerstube 100 20 – 60 www.restaurant-fischerstube.ch

Kornhaus 50 50 www.kornhaus-basel.ch

Kuuhl – Elsas Alpchuchi 111 — www.kuuhl.ch

Löwenzorn 130 130 www.loewenzorn.ch

Safran Zunft 100 280 / 60 / 40 / 20 www.safran-zunft.ch

Schlüsselzunft 100 130 www.schluesselzunft.ch

Schnabel 90 50 www.restaurant-schnabel.ch

Walliserkanne 120 60 www.walliserkanne-basel.ch

Zum Braunen Mutz 200 — www.braunermutz.ch

Zum Gifthüttli 100 60 www.gifthuettli.ch

Vegetarian and organic delicacies*

Internet

Aladin (halal available) 60 – 70 — www.aladinbasel.ch

Cantina Don Camillo 60 — www.cantina-doncamillo.ch

Markthalle Basel 650 800 / 250 / 100 / 30 www.altemarkthalle.ch

So'up 100 — www.so-up.ch

Tibits 175 / 130 — www.tibits.ch

Places to be*

Internet

1777 – Kulinarische Werkstatt 80 100 www.1777.ch

Acqua 1 65 / 80 — www.acquabasilea.ch

Atlantis 70 30 – 300 www.atlan-tis.ch

Krafft 95 / 115 30 / 70 www.krafftbasel.ch

Kunsthalle 300 240 www.restaurant-kunsthalle.ch

Noohn 250 — www.noohn.ch

Rhyschänzli 80 — www.rhyschaenzli.ch

Volkshaus Basel 100 400 www.volkshaus-basel.ch

Haute cuisine*

Internet

Bel Etage (Hotel Der Teufelhof Basel) 70 80 www.teufelhof.com

Cheval Blanc (Hotel Les Trois Rois) 2 35 — www.lestroisrois.com

Chez Donati 120 — www.lestroisrois.com

Gasthof zum Goldenen Sternen 85 80 / 70 / 30 / 20 www.sternen-basel.ch

Les Quatre Saisons 60 — www.lesquatresaisons.ch

Schloss Bottmingen 50 10 – 300 www.weiherschloss.ch

Stucki 80 150 www.stuckibasel.ch

Asian food*

Internet

Bajwa Palace Indien Restaurant 50 — www.indien-bajwa-palace.com

Indian Tandoori Palace 60 — www.indiantandooripalace.ch

Johann by Jay 50 30 www.jaysindianfood.com

Lokami 140 140 / 200 www.lokami.ch

Namamen Japanese Ramenbar 40 — www.namamen.ch

Sukhothai 70 30 www.thairestaurant.ch

Xiao Lu's 40 — www.xiaolus.ch

Zum Goldenen Drachen 150 — www.goldenerdrachen.ch

Nightlife*

Internet

Bar Rouge — 350 www.barrouge.ch

Campari Bar 75 120 www.restaurant-kunsthalle.ch

Das_Viertel 50 — www.dasviertel.ch

Des Arts 110 30 – 110 www.desarts.ch

Grenzwert 50 80 www.grenzwert.ch

Kaserne Basel — 1700 www.kaserne-basel.ch

Soho 50 / 60 50 – 60 www.sohobasel.ch

* A selection of restaurants Restaurant seating capacity Hall for (no. of persons)
---
HOTELS.

Hotels in Basel* Rooms è L Internet

***** S Grand Hotel Les Trois Rois 1 101 yes 8 www.lestroisrois.com

***** Mövenpick 264 yes 20 opening 2019/2020

**** S Swissôtel Le Plaza Basel 238 yes 10 www.swissotel.com/basel

**** Basel 72 yes 2 www.hotel-basel.ch

**** Dorint An der Messe Basel 171 yes 5 www.dorint.com/basel

**** Euler 66 yes 4 www.hoteleuler.ch

**** Hotel D 48 — — www.hoteld.ch

**** GAIA Hotel 86 — 3 www.gaiahotel.ch

**** Hyperion Hotel Basel 224 yes 8 www.h-hotels.com/basel

**** Merian am Rhein 63 yes 5 www.hotelmerianbasel.ch

**** Metropol 46 — — www.metropol-basel.ch

**** Nomad 65 yes 3 www.nomad.ch

**** Novotel Basel City 145 yes 7 www.novotel.com

**** Pullman Basel Europe 141 yes 6 www.pullman-basel-europe.com

**** Radisson Blu 206 yes 8 www.radissonblu.com/hotel-basel

**** Spalentor 40 — 1 www.hotelspalentor.ch

**** The Passage 53 — 1 www.thepassage.ch

**** Victoria 107 yes 6 www.hotelvictoriabasel.ch

*** S Airport Hotel Basel 167 — 3 www.airporthotelbasel.com

*** S Der Teufelhof Basel 33 yes 8 www.teufelhof.com

*** S Krafft Basel 60 yes o. req. www.krafftbasel.ch

*** S Schweizerhof 82 — 1 www.schweizerhof-basel.ch

*** S Stücki 144 yes 6 www.hotel-stuecki.ch

*** S Wettstein 73 — 1 www.hotelwettstein.ch

*** Aparthotel Adagio Basel City 76 — — www.adagio-city.com

*** Balade 24 yes — www.hotel-balade.ch

*** Basilisk 53 yes — www.hotel-basilisk.ch

*** Bildungszentrum 21 73 — 6 www.bz21.ch

*** City Inn 30 yes 4 www.cityinn.ch

*** Das Breite Hotel 36 — — www.dasbreitehotel.ch

*** Du Commerce 62 — o. req. www.ducommerce.ch

*** East West 44 yes 1 www.east-west-hotel.ch

*** Ibis Styles 186 — — www.ibis.com

*** Rochat 50 yes 2 www.hotelrochat.ch

*** Steinenschanze 53 — — www.steinenschanze.ch

** Ibis Basel Bahnhof 112 — — www.ibis.com

** Motel One 2 143 — — www.motel-one.com

* S Ibis Budget Basel City 194 — — www.ibis.com

YMCA Hostel Basel 44 — — www.ymcahostelbasel.ch

Youth Hostel Basel 3 66 yes 1 www.youthhostel.ch/basel

Hotels in the Basel region* Rooms è L Internet

**** S Steigenberger Hotel Stadt Lörrach 178 yes 10–13 www.hotel-stadt-loerrach.de

**** Bad Schauenburg 34 yes 5 www.badschauenburg.ch

**** Courtyard by Marriott Basel 175 yes 6 www.courtyardbasel.ch

**** Mövenpick Hotel Egerkingen 137 yes 21 www.moevenpick-hotels.com/egerkingen

*** S Bad Bubendorf 53 yes 8 www.badbubendorf.ch

*** Im Schlosspark 23 yes 6 www.schlossbinningen.ch

*** Schützen Rheinfelden 26 yes 5 www.hotelschuetzen.ch

* Ibis Budget Pratteln 94 — — www.ibis.com

* A selection of hotels è Restaurant open to public L Seminar and banquet rooms
---
Hotels / 15

Grand Hotel Les Trois Rois 1

© Motel One

Motel One Basel 2

Youth Hostel Basel 3
---
16 / Event highlights

Swiss Indoors Basel 1

EVENT

HIGHLIGHTS.

Basel Carnival

19 Feb – 21 Feb 2018, 11 Mar – 13 Mar 2019

At 4 am sharp on Monday after Ash Wednesday, the lights in the

whole city are switched off and Basel Carnival begins with the traditional

parade, the Morgenstreich. The city is turned on its head during

the following three days. www.fasnachts-comite.ch

Baselworld

22 Mar – 27 Mar 2018, March 2019

About 100,000 visitors from the specialist retail and wholesale trade

make their way to Basel from all over the world to discover the current

trends and view the latest creations in the watch and jewellery

sectors. www.baselworld.com

Fantasy Basel

10 May – 12 May 2018, 03 May – 05 May 2019

Fantasy Basel is the festival for movie, game, comic and cosplay

fans. For three days creative doers, shakers, makers and consumers

gather to celebrate the fascination of creativity and fantasy in the

actual and virtual worlds. www.fantasybasel.ch

Art Basel

14 June – 17 June 2018, 13 June – 16 June 2019

Art Basel is undisputedly considered the most renowned fair of the

international art scene. Over 300 carefully selected exhibitors from

galleries all over the world turn the fairground into a temporary cutting-edge

museum. www.artbasel.com

Basel Tattoo

18 Jul – 28 Jul 2018, 10 Jul – 20 Jul 2019

Basel Tattoo is held against the backdrop of the historic Basel barracks

during the summer. Audiences are delighted by bagpipes, brass

instruments and traditional dance. www.baseltattoo.ch

Baloise Session

19 Oct – 06 Nov 2018, 18 Oct – 06 Nov 2019

Since 1986, this festival has showcased big names from the international

music scene in small locations with an intimate nightclub atmosphere.

Some of the most famous artists of pop, soul, rock, Latin,

blues, R&B and contemporary jazz perform at this festival.

www.baloisesession.ch

Swiss Indoors Basel – ATP World Tour 500 1

20 Oct – 28 Oct 2018, 19 Oct – 27 Oct 2019

One of the most important indoor tournaments in the world, Swiss

Indoors Basel is undoubtedly the most significant event in the Swiss

sporting calendar. World-class player Roger Federer has a special relationship

with his home tournament and tries to be there whenever

possible. www.swissindoorsbasel.ch

Basel Autumn Fair

27 Oct – 11 Nov 2018, 26 Oct – 10 Nov 2019

The Basel Autumn Fair is an experience for young and old. The many

rides, the culinary variety and colourful market on Petersplatz have

something to offer each and every visitor.

www.basel.ch/herbstmesse

Christmas market

22 Nov – 23 Dec 2018, 28 Nov – 23 Dec 2019

The highly attractive Christmas market is held at the heart of the city

centre, nestled into the historic Old Town. Traders and artisans from

the region and all over Switzerland offer their wares at brightly lit

booths and chalets. www.baslerweihnacht.ch
---
Exhibition highlights / 17

Ferdinand Hodler, Das mutige Weib, 1886

Kunstmuseum Basel – mit Bei trägen des Frei willigen

Museumsvereins und zahlreicher Kunstfreunde erworben

Photo: Martin P. Bühler

Basel Short Stories. From Erasmus to Iris von Roten, Kunstmuseum Basel 1

EXHIBITION

HIGHLIGHTS.

Georg Baselitz

21 Jan – 29 Apr 2018, Fondation Beyeler

To mark Georg Baselitz's 80 th birthday, Fondation Beyeler is devoting

an extensive exhibition to him. A focused retrospective will bring together

many of the most significant paintings and sculptures he has

created over the past six decades.

Basel Short Stories. From Erasmus to Iris von Roten 1

10 Feb – 21 May 2018, Kunstmuseum Basel

Private events and those that impacted world history, illustrious personages

and those forgotten from Basel's history are reflected

through the lens of the holdings of the Kunstmuseum. The show highlights

famous and not-so-famous people whose biographies are

linked to Basel, from Erasmus to Iris von Roten.

Bruce Nauman: Disappearing Acts

17 Mar – 26 Aug 2018, Schaulager

Schaulager is dedicating a comprehensive retrospective to Bruce

Nauman, one of the most influential artists of our time. Developed

in collaboration with MoMA, New York, the exhibition encompasses

drawings, sculptures, photographs, videos and installations from all

periods of the American artist's career.

Night Fever – A Design History of Club Culture

17 Mar – 09 Sept 2018, Vitra Design Museum

Night Fever presents the design history of clubs from the 1960s to

the present and takes the visitor on a fascinating journey, through a

world of glamour and subculture. Featuring interiors, fashion, film

and performance, the exhibition also comprises a series of light and

sound installations.

Mediaeval Worlds of Faith

23 Mar 2018 – 17 Nov 2019,

Historisches Museum Basel – Barfüsserkirche

Showcased here are mediaeval works of art from churches in Switzerland

and along the Upper Rhine. The impressive sculptures attesting

to the veneration of saints are a reminder of how society was pervaded

by the Christian faith and the church and of the influence they

have retained to this day.

Bacon-Giacometti

29 Apr – 02 Sept 2018, Fondation Beyeler

This ambitious exhibition is the first to study in depth the parallel,

creative careers of two of the 20 th century's most influential artists:

Alberto Giacometti and Francis Bacon.

The Cult of the Black Madonna

09 June – 22 Oct 2018, Kunstmuseum Basel

Theaster Gates understands himself as a collector of collections and

archives. His particular interest lies in forgotten objects, images, and

themes. At the Kunstmuseum, Gates will investigate the cult of the

Black Virgin through interventions carefully attuned to the specific

exhibition spaces.

Balthus

02 Sept 2018 – 13 Jan 2019, Fondation Beyeler

One of the last great masters of the 20 th century, Balthus (1908 – 2001)

also emerges as one of its most idiosyncratic and controversial artists.

This retrospective brings together key paintings from every phase of

the legendary painter's career and reflects on his refined, at times

provocative images.

Picasso 2019

Feb – May 2019, Fondation Beyeler

Fondation Beyeler is staging an extensive exhibition devoted to Picasso.
---
EVENT CALENDAR.

January

Longines CSI Basel 11.01. – 14.01.2018

International world-class jumping tournament 10.01. – 13.01.2019

Basel Museum Night 19.01.2018

Into the late night Basel museums open their 18.01.2019

doors with an extraordinary programme

Vogel Gryff 20.01.2018

Large traditional celebration in Kleinbasel 26.01.2019

February

Basel Carnival 1 19.02. – 21.02.2018

The city goes crazy on the "three most 11.03. – 13.03.2019

beautiful days" of Basel's inhabitants

March

BScene – Basel Club Festival 02.03. – 03.03.2018

Northwestern Switzerland's largest March 2019

club festival

Yonex Swiss Open 20.02. – 25.02.2018

International badminton tournament 12.03. – 17.03.2019

with world-class players

Baselworld 22.03. – 27.03.2018

The international watch and jewellery fair March 2019

April

Blues Festival Basel 10.04. – 15.04.2018

Blues festival with international musicians 09.04. – 14.04.2019

International Jazzfestival Basel 12.04. – 09.05.2018

International jazz festival 20.04. – 10.05.2019

with world-class musicians

Muba 20.04. – 29.04.2018

Major trade and fun fair spring 2019

Bricklive 20.04. – 29.04.2018

The biggest show for LEGO ® fans

May

Blickfang Basel 04.05. – 06.05.2018

Enjoy the creations of famous designers and 26.04. – 28.04.2019

promising young talents

European Festival of Youth Choirs Basel 09.05. – 13.05.2018

Fantasy Basel 10.05. – 12.05.2018

Festival for film, games, comics, 03.05. – 05.05.2019

manga, anime and cosplay

Young Stage 11.05. – 15.05.2018

World's best young professional artists May 2019

compete at the international circus festival

June

Circus Knie 08.06. – 20.06.2018

Switzerland's largest circus on a visit to Basel June 2019

Art Basel 2 14.06. – 17.06.2018

Major international art fair 13.06. – 16.06.2019

Summerblues Basel 29.06.2018

Kleinbasel blues festival 28.06.2019

July

Basel Tattoo 3 18.07. – 28.07.2018

Open air show with outstanding 10.07. – 20.07.2019

formations from all over the world

Im Fluss 4 24.07. – 11.08.2018

Raft on the Rhine with various concerts 22.07. – 10.08.2019

Swiss National Day Celebration on the Rhine 31.07.2018

Public festival in the city centre with fireworks 31.07.2019

August

Allianz Cinema 02.08. – 26.08.2018

Large open-air cinema on Münsterplatz July / August 2019

Open Air Basel 09.08. – 11.08.2018

Dance in the sun, relax on the grass 08.08. – 10.08.2019

and enjoy international top stars

Basel Rhine Swimming 14.08.2018

Big Rhine swimming event 13.08.2019

Em Bebbi sy Jazz 17.08.2018

Basel jazz festival in the Old Town 16.08.2019

BWF Badminton World Championships 19.08. – 25.08.2019

Augusta Raurica Roman Festival 25.08. – 26.08.2018

Experience the everyday life of the 24.08. – 25.08.2019

ancient Romans

Theaterfestival Basel 29.08. – 09.09.2018

International theatre festival on various stages

September

Grand Basel 03.09. – 09.09.2018

An exclusive event for automotive September 2019

masterpieces in the high-end sector

IWB Basel Marathon 23.09.2018

Race through Basel's historic Old Town 22.09.2019

October

Baloise Session 19.10. – 06.11.2018

Music festival with international stars 18.10. – 06.11.2019

Swiss Indoors Basel – ATP World Tour 500 20.10. – 28.10.2018

World's best tennis 19.10. – 27.10.2019

Basel Autumn Fair 5 27.10. – 11.11.2018

The oldest and largest funfair in Switzerland 26.10. – 10.11.2019

November

Palazzo Colombino 23.11.2018 – 20.01.2019

Prize-winning artists and culinary delights Nov 2019 – Jan 2020

in the out-of-the-ordinary theatre

Basel City Run 24.11.2018

Basels traditional running event 30.11.2019

Christmas market 6 22.11. – 23.12.2018

The unique feel of Christmastime in Basel 28.11. – 23.12.2019

December

Fireworks on the Rhine 31.12.2018

Public festival 31.12.2019

All dates are subject to change.
---
Event calendar / 19

Basel Carnival 1

Art Basel 2

© Basel Tattoo

Basel Tattoo 3

Im Fluss 4

Basel Autumn Fair 5

Christmas market 6
---
20 / Christmas in Basel

Christmas market on Münsterplatz1

CHRISTMAS IN BASEL.

The Basel Christmas market is considered one of the prettiest and largest in Switzerland and is well worth

a visit every year. During the run-up to Christmas, many events and spectacular special exhibitions in the

city's museums further enrich its cultural scene.

Christmas market 1

In the heart of the historic Old Town at Barfüsserplatz and Münsterplatz

– the most beautiful squares in Basel – lies the beautiful Christmas

market with a very special charm of its own. At around 180 booths,

traders and crafts people from the Basel region and all over Switzerland

offer their goods and give a demonstration of their skills. Culinary

delights also await, with hot chocolate, glühwein, tasty waffles,

Basler Läckerli biscuits and the ever-popular grilled sausages.

Christmas fairy-tale forest

Young visitors can enjoy a whole host of activites in the Christmas

fairy-tale forest at Münsterplatz. They can dip, pour and decorate

candles, make torches, forge metal objects, decorate gingerbread,

bake cookies, eat campfire bread and drink hot chocolate, ride on the

kiddies' train and much more besides.

Basel Wish Book

For over 20 years, the traditional Basel Wish Book has been placed in

the courtyard of the Town Hall for both local residents and visitors

from around the world so they can write their wishes. Over the entire

Christmas period and into the new year visitors can fill the book with

their private thoughts, wish-lists for Santa Claus and hopes for peace,

love and good health.

Johann Wanner and the magic of Christmas

In the heart of Basel you will find the Johann Wanner Christmas Shop.

Its customers include the royal family of Monaco and the White House.

The Johann Wanner Christmas Shop offers a magnificent range of

Christmas trimmings and ornaments – all year round! Today, Johann

Wanner is the market leader in hand-blown and hand-painted Christmas

decorations. He has played a significant role in preserving this

old artisanal art form. The shop is open every day, including Sunday.

A wealth of events

At Christmas, Basel abounds with events. Beside established highlights,

there are also many smaller, extraordinary events. Theater

Basel for example opens a new door on its literary- musical Advent

calendar every day. The Toy Worlds Museum Basel and Museum der

Kulturen both host Christmas exhibitions, and the Basel Puppet Theatre's

programme includes special Christmas performances for

adults and children in the run-up to Christmas.

Guided Christmas tour in Basel

The Christmas city tour not only provides the best views of the Christmas

lights, trees and angels adorning the city's streets, it also gives

a valuable insight into the history, customs and traditions of Christmastime

in Basel. Every year, Basel Tourism offers four dates on Saturdays

in November and December and the public tours can be individually

booked for groups.

www.baslerweihnacht.ch
---
Activities in Basel / 21

Basel Zoo 1

ACTIVITIES IN BASEL.

ACTIVITIES FOR INDIVIDUALS

Public guided tour of the Old Town

Come along and discover Basel's historic city centre, hidden corners

and fascinating past. This tour offers a memorable overview of the history

of Basel as well as comprehensive information on the city's

sights. Available May to October daily, November to April on Saturdays.

www.basel.com/guidedtours

Participants: individuals

Duration: 2 hours

Price: CHF 20*

BaselCityTour – the sightseeing bus in Basel

The 90-minute tour takes you past Spalentor, Kunstmuseum Basel,

Museum Tinguely, the Roche tower, Messe Basel and the tri-border

point. Hop on or off at any of the 20 or so stops and explore the

highlights in the city centre's pedestrian precinct.

www.baselcitytour.ch

Participants: individuals and groups

Duration: individual

Price: 2 hour roundtrip CHF 20*

Rheinuferweg St. Johann

The promenade between Dreirosenbrücke and Dreiländerbrücke

links three countries and three cultures, and embodies the cosmopolitan

nature of Basel. The path is an invitation to stroll and cycle

along the Rhine, complemented by the Three Countries Poetry Trail.

On 24 plaques, you can read poems in the dialects of Basel, Alsace

and the Baden region.

Participants: individuals

Duration: individual

Price: free of charge

ACTIVITIES FOR INDIVIDUALS AND GROUPS

Basel Zoo 1

Enjoy a day in the jungle without leaving the city. Basel Zoo, affectionately

known as the "Zolli" to locals, opened to the public in 1874 and

is currently home to around 600 species on an area of 11 hectares.

www.zoobasel.ch

Participants: individuals and groups

Duration: individual

Price: CHF 21*

City Treasure Hunt

Are you looking for a team-building experience? Or would you like to

explore the hidden corners, alleys and special features of Basel's Old

Town? The treasure hunt is an ideal opportunity to get to know these

ancient districts. www.basel.com

Participants: individuals and groups

Duration: from 1 to 8 hours

Price: from CHF 20*

Shop with a local

A local Basel resident takes you on a shopping spree through the city,

where you can discover bijou boutiques, large department stores or

designer shops, depending on your mood and taste. www.basel.com

Participants: individuals and small groups

Duration: individual

Price: CHF 15*

Vintage tram tour

Settle down for an unforgettable hour discovering Basel's 2000-year

history. The vintage tram dating back to the 1920s will allow you to

savour the city's wonderful sights. www.basel.com/guidedtours

Participants: individuals and groups

Duration: 1 or 2 hours

Price: CHF 28*
---
Swimming in the Rhine 1

Make your own paper in a mediaeval paper mill

In an authentic setting within the walls of a fascinating mediaeval

mill, visitors learn about many things, from handmade paper to finished

books. Try out age-old crafts for yourself and experience

history with all your senses. www.papiermuseum.ch

Participants: individuals and groups

Duration: individual

Price: CHF 15*

Lunch Boat

Enjoy lunch on board whilst the city scenery gently passes by. The

kitchen crew will pamper you with their quality daily set menus and

stylish à la carte dishes. www.bpg.ch

Participants: individuals and groups

Duration: approx. 75 minutes

Season: April – October

Price: CHF 19* plus lunch à la carte

Boat trips

From April to October the Basler Personenschifffahrt company offers

regular cruises on the Rhine. Enjoy a trip through the locks at Birsfelden

on the way to Rheinfelden or discover the city and region on a

harbour cruise taking you up the tri-border point. www.bpg.com

Participants: individuals and groups

Duration: individual

Price: from CHF 6*

Novartis Campus

Discover this place of innovation and research. Visitors are led around

the Campus by expert Novartis guides and they can view the novel

working environment with its state-of-the-art office and laboratory

facilities from outside. Find out about the rationale and ideas behind

the redesigning of the company's headquarters.

www.basel.com/guidedtours

Participants: individuals and groups

Duration: 2 hours

Price: CHF 22*

Rehberger "24 stops" trail

This walking and cycling trail between Fondation Beyeler and Vitra

Campus links two countries, two cultural institutions and countless

stories. Guided by its "24 stops" which are 24 waymarkers created

by artist Tobias Rehberger, the visitor can explore a uniquely diverse

natural and cultural landscape. www.basel.com/rehberger-weg

Participants: individuals and groups

Duration: individual

Price: free of charge

Swimming in the Rhine 1

The Rhine is the lifeblood of the city and on warm summer evenings

you can see lots of people swimming in the river. Take a dip in the cool

waters and, with your "Wickelfisch" (a watertight bathing bag), float or

swim down the river and through the historic Old Town.

www.rheinschwimmen.ch

Participants: individuals and groups

Duration: individual

Swimming season: June – September

Price: free of charge
---
Activities in Basel / 23

Guided tour by electric buggy 2

Stories of Basel's Old Town by electric buggy 2

The accessible tour of the Old Town. Are you not quite as mobile as

you'd like to be? No problem. "Happy Scooter", an easy-to-use electric

buggy, helps you discover the heart of Basel without tiring your

feet out. Take a seat and follow one of Basel Tourism's trained guides.

On this popular city tour you'll see 15 th century buildings as well as

works by contemporary, internationally renowned architects.

www.basel.com/guidedtours

Participants: 1 – 6

Duration: 2 hours

Price: from CHF 120*

ACTIVITIES FOR GROUPS

Bake your own Läckerli

The "Läckerli", a traditional type of gingerbread cookie, is probably

Basel's best-known speciality. Under expert guidance participants

can test their baking skills – a fun workshop to promote team spirit.

And the results can be sampled afterwards too. www.basel.com

Participants: groups up to 30

Duration: 1 or 2 hours

Price: from CHF 55*

Taxi on the Rhine

Basel can be ideally explored from the water. For example by

"Rhytaxi" with its very special tours: it will take you from A to Z, on

city and harbour tours or offer longer tours to and from Rheinfelden,

Mulhouse or Breisach. www.rheintaxi.ch, www.rhyschiffli.ch

Participants: up to 12

Duration: individual

Price: from CHF 80*/100* per way

Beschle Chocolatier – make your own chocolate

There is no other speciality more closely associated with Switzerland

than chocolate. A visit to this famous Basel chocolatier gives you

unique insight into the manufacturing, processing and refining of

chocolate, followed of course by some tasting. Afterwards, you can

put your newly-gained knowledge into practice and create your own

variety of chocolate. www.basel.com

Participants: groups up to 40

Duration: 1 or 2 hours

Price: from CHF 80*

Xoco Tour Basel

On this tour through Basel's charming Old Town, you will see some of

the cities' most irresistible sweet spots, including traditional confectionaries,

artisan chocolatiers and other interesting chocolatey sites.

You will learn about Swiss chocolate history, get a glimpse of a choco -

late factory and taste several specialities. The tour will be topped off

by a connoisseur tasting session, where you'll get to know the process

of chocolate making and how to taste chocolate.

www.xocotour.ch

Participants: 4 – 20 (smaller or larger groups on request)

Duration: 2.5 hours

Price: from CHF 95*

Visit of a typical microbrewery

During your visit you can learn all about the production process of

the famous local beer and the history of the brewery. After the visit,

indulge in a glass or two of the beer brewed on the premises.

www.basel.com

Participants: groups

Duration: up to 2 hours

Price: from CHF 10*

* Price per person
---
EXPERIENCE BASEL

IN 24 HOURS.

You only have one day to experience our city? Don't miss the following activities to gain a first impression.

Or do you have 48 hours to spend in Basel? If so, please contact us, we are happy to recommend

some more highlights.

10.00 am

Visit Kunstmuseum Basel

Kunstmuseum Basel is one of the most renowned museums of

its type internationally and houses the world's oldest public art

collection. Its world-famous collection currently consists of

around 4,000 paintings, sculptures, installations and videos,

plus 300,000 drawings and prints spanning seven centuries.

Its first major extension opened in 1980 in the form of the Museum

für Gegenwartskunst, one of the world's first museums

for contemporary art. And since April 2016, Kunstmuseum Basel

has consisted of three buildings – opposite the main building

there is now a new extension which features special exhibitions

and collections.

© Julian Salinas

www.kunstmuseumbasel.ch

Kunstmuseum Basel

12.00 noon

Ferry ride

Cross the Rhine in style and comfort on one of the four ferries

that connect Kleinbasel with Grossbasel. Between Basel's

five bridges across the Rhine you will find the city's four ferries,

"Wilde Maa", "Leu", "Vogel Gryff" and "Ueli", on which

you can cross the Rhine without engine power, using only

the natural power of the river's current. Not only tourists

are thrilled by this mode of transport, Basel locals also love

using their ferries.

www.faehri.ch

Ferry ride

01.00 pm

Lunch at Kunsthalle restaurant

Very possibly Basel's most typical restaurant. For an informal

get-together the locals meet in the "brown part" or in

the spacious garden under the chestnut trees, whereas they

dine in the more elegant white part if they have something to

celebrate.

www.restaurant-kunsthalle.ch

Kunsthalle restaurant
---
Experience Basel in 24 hours / 25

02.30 pm

Basel Cathedral and guided tour

of the Old Town

Visit Basel's Cathedral, the landmark of our city. This former

Episcopal Church was built between the 12 th and the 15 th centuries

in romanesque and gothic style. From the lookout platform,

known as the "Pfalz", you can enjoy a spectacular view

overlooking the Rhine. And if you'd like to see more sights we

recommend taking one of our public tours of the Old Town. On

our tour we'll tell you facts and anecdotes about Basel and the

background to its development while passing historic buildings

such as the Town Hall.

www.baslermuenster.ch

Basel Cathedral

04.30 pm

Shopping in the small boutiques

on Spalenberg

The Spalenberg district in the Old Town with its historic alleyways

and beautifully decorated houses is packed with seductive

boutiques and shops selling innovative labels and original

gifts. While shopping, enjoy an intimate experience of Basel's

rich history.

www.spalenberg.com

Shopping in the small boutiques on Spalenberg

06.30 pm

Drinks at the Bar Rouge

The Messeturm (trade fair tower) by Morger & Degelo and the

adjacent exhibition centre aren't just an architectural attraction.

On the 31 st floor, high above the roofs of Basel, you'll find the

highest bar in Basel. Bar Rouge is an event location which is a

bar, a lounge and a nightclub all in one. Enjoy the spectacular

view over Basel and excellent cocktails.

www.barrouge.ch

Bar Rouge
---
BASEL

AND ITS REGION.

Basel is situated at the heart of Europe, on both banks of the Rhine. The city is the centre of the idyllic

tri-border region of France, Germany and Switzerland – lying between the Swiss Jura, Germany's Black

Forest and the Vosges in Alsace. This special location makes Basel the ideal starting point for a European

travelling adventure. The Schengen visa regulations make travelling from one country to another

simple and pleasant.

SWITZERLAND

Basel Country

Basel Country, our neighbouring canton, offers unspoiled nature, magnificent

landscapes and limitless recreational possibilities – all easily

accessible both by public transport and car. From the Rhine to the

Jura mountains, visitors to the region will find many less known and

exciting areas, waiting to be discovered. An absolute must for all

lovers of hiking and biking.

Travelling time: half-day trip

Forest rope park Wasserfallen

You can follow a number of different trails in the rope park and put your

sense of balance, skill and courage to the test. You'll be instructed and

supervised by trained guides, and there are different levels of difficulty

to suit your requirements. Unforgettable experiences and adventures in

the wilderness for families, groups, teams and individuals.

Travelling time by car and gondola: 50 minutes

Travelling time by public transport: 1 hour

Arlesheim – Dornach

The cathedral with its impressive forecourt is the landmark of Arlesheim

and a wonderful place to listen to the magical sounds of organ

music. Following your visit to the cathedral, you can walk to Arlesheim

Ermi tage (hermitage), the oldest English landscaped garden

in Switzerland, where you will be enchanted by the idyllic scenery and

the many ponds and grottos. Don't miss the opportunity to visit the

Goetheanum in Dornach, an architecturally interesting building and

the centre of the worldwide Anthroposophical Society.

Travelling time by car or tram: 25 minutes

Jura mountains

An impressive landscape of mountains and valleys awaits you only an

hour from Basel by car. In the Jura mountains, you will find many inviting

places of historical interest, including the small mediaeval town of

St. Ursanne with its imposing abbey, monastery and the Fondation

Bellelay, where you can discover the secret of the manufacture of the

famous Tête-de-Moine cheese.

Travelling time: one-day trip

Wasserfallen in Reigoldswil

Treat yourself to a couple of hours of peace and relaxation combined

with a lot of fun in Reigoldswil near Basel, which you can reach by

train and bus in just 50 minutes. Feel like you are flying over the

magnificent landscape of the northeastern Jura in north-western

Switzerland's only cablecar and enjoy the unspoiled nature. Following

a hearty lunch in one of the mountain restaurants, a relaxing or an

exciting experience awaits you: adventurous visitors can venture a

ride down to the valley on a rented scooter, while those who like

hiking can enjoy the wonderful Jura mountains.

Travelling time by car: 40 minutes

Travelling time by public transport: 50 minutes

Farm experience

Head for adventure and romance, and spend the night sleeping on

straw alongside horse paddocks on a typical Basel region farm. Enjoy

a top-class farm experience in the beautiful local countryside.

Travelling time: individual

Trip up the Rhine to the Roman settlement of Augusta Raurica

Spend two hours experiencing the region from the water, heading

up the Rhine to Kaiseraugst. Following a short walk, you reach the

Roman settlement of Augusta Raurica, where you have the chance

to view the ancient sites and the Roman museum either on your

own or with a guide. Afterwards, you return to Basel by bus.

Travelling time by boat: 2 hours

Travelling time by bus: 20 minutes

Museum of Music Automatons, Seewen

The Museum of Music Automatons in Seewen, Canton Solothurn, is a

federal museum that is home to one of the world's largest collections

of Swiss music boxes, disc music boxes and musical watches and

jewellery. Added to this are many orchestrions, to whose music our

grandparents and great grandparents once danced; also fairground,

dance and barrel organs, juke boxes, automatons and the mighty

self-playing Britannic organ from the sister ship of the Titanic. A onehour

guided tour around the three themed rooms at this tuneful museum

allows visitors to discover the fascinating world of mechanical

music auto matons live – bringing together precision technology and

the magic of nostalgic melodies. The museum with its restaurant is

set in the beautiful Jura countryside, and a visit can be ideally combined

with a nature excursion.

Travelling time by car: 30 minutes

Travelling time by public transport: 45 minutes

www.upperrhinevalley.com
---
Basel and its region / 27

Upper Rhine Valley
---
GERMANY

Black Forest tour 1

Once you are in Basel, you must not miss the chance to visit the

Black Forest. This trip will take you via Lörrach and Schopfheim

through the Wehra Valley to St. Blasien, a charming little village with

an impressive skyline dominated by the third-largest church dome

in Europe. Following a guided tour of the cathedral and monastery,

enjoy your lunch and a stroll through the village. Afterwards, travel on

to Titisee, enjoying marvellous vistas of the magical Black Forest during

the trip along Schluchsee. As you return to Basel, a detour to the

spa resort of St. Peter with its lively culture will be an unforgettable

addition to the day.

Travelling time: one-day trip

Freiburg im Breisgau

Visit the nearby capital of the Black Forest, which you can reach in

less than an hour by bus and rail. Discover the Gothic Münster (cathedral)

and magnificent baroque buildings, and wander through the

alleys of the Old Town with their little streams and mosaics made of

pebbles from the Rhine, which tell the proud history of the former

imperial city.

Travelling time by train: 40 minutes

Travelling time by car: 1 hour

Europa-Park 2

Located in the neighbouring region of South Baden, this pleasure

park full of excitement attracts visitors: over 100 fabulous attractions

and international shows guarantee lots of fun on the rides and

unforgettable moments. Experience real exhilaration – only around

one hour away from Basel.

Travelling time by car: 75 minutes

Travelling time by public transport: 1.5 hours

Kandertal railway

This historic steam train takes families, hikers and cyclists on a thrilling

excursion. The 45-minute journey takes you back in time – from

Haltingen through the charming Kandertal valley to the small pottery

town of Kandern. Kandertal railway is one of the few railways in Germany

that still operates simply as a museum train. It gets by with no

technical security; the conductor rings his bell and blows his whistle

at each level crossing, just like in the good old days. So it is no surprise

that Kandertal railway has been nicknamed "Bimmelbahn"

(dinky train).

Travelling time by train: 20 minutes

Travelling time by car: 15 minutes

Season: May to October

FRANCE

Mulhouse

It is well worth visiting the historical city centre with the Place de la

Réunion and its brightly painted facades, which reflect the charm of

the Alsatian way of life. Visit one of the many museums with their

world- famous collections. The "Cité de l'Automobile" museum for

example has the largest collection of automobiles in the world on

display. Or enjoy the delicious regional cuisine in one of the typical

local restaurants.

Travelling time by train: 30 minutes

Travelling time by car: 40 minutes

Colmar 3

The beautiful Old Town of Colmar with its famous quarter is an appealing

place to spend some time. Enjoy specialities from Alsace in

one of the many typical regional restaurants or discover the renowned

Isenheim Altarpiece at Unterlinden Museum, a must for all

lovers of culture.

Travelling time by train: 45 minutes

Travelling time by car: 1 hour

Strasbourg

Without a doubt Strasbourg is one of Europe's great cities that you

simply have to know and love. Every part of this city has its own

identity closely linked to its history and inhabitants. The Old Town is

located on an island in the river Ill and has been classified as a World

Heritage site by UNESCO.

Travelling time by train: 80 minutes

Travelling time by car: 1.5 hours

Castles

Alsace is Europe's richest region in terms of concentration of feudal

castles. Indeed, the region has over 400 castle ruins. The Haut-Koenigsbourg

was completely refurbished and is one of the most frequently

visited castles in France.

Travelling time: half-day trip

Alsace tours

Explore the Alsace by taking a trip along the French wine route, which

stretches over 170 kilometres through Alsace. You will discover small

mediaeval villages at the foot of the Vosges mountains on this wonderful

trip along hilly vineyards. Visit one of the traditional wine cellars

and learn about the Alsatian wines during a guided tour followed

by tasting. Let yourself fall under the spell of the Alsatian way of life.

Travelling time: one-day trip
---
Basel and its region / 29

© TI Schluchsee

Schluchsee 1

© Europa-Park

Europa-Park 2

Colmar 3
---
BASEL

AND SWITZERLAND.

Basel is a central transport hub for both Europe and Switzerland and the ideal starting point from which

to discover tourist highlights.

Swiss Cities: Bern and Lucerne 1

Experience the two cities of Bern and Lucerne. A coach will take you

from Basel to Bern. Discover the Old Town, a UNESCO World Heritage

Site, with its fountains, towers, arcades and more. Afterwards

travel on to Lucerne, which you can also explore during a guided tour

before returning to Basel.

Travelling time: one-day trip

Verkehrshaus Lucerne: The Swiss Museum of Transportation

The Swiss Museum of Transportation is Switzerland's most popular

museum. On an exhibition area of 20,000 square meters it showcases

the development of transport and mobility as well as communication

methods through a variety of interactive exhibits. Other attractions

which are unique in Switzerland include the IMAX film theatre, planetarium,

Swissarena and Hans Erni Museum.

Travelling time by train: 80 minutes

Pilatus

Mount Pilatus, the distinctive landmark of Lucerne, invites you to take

an unforgettable "Golden Trip". This unique round trip offers rides by

boat, the steepest cogwheel railway in the world, as well as gondola

and aerial cableway. The breathtaking view over the Alps is magnificent

and the international cuisine in the restaurants outstanding.

Travelling time: one-day trip

Aletsch Arena 2

Discover a unique rugged landscape whose unspoiled character

makes it very special. The three excursion and holiday destinations

Riederalp, Bettmeralp and Fiesch-Eggishorn are situated alongside

the 23 km-long Aletsch Glacier, the greatest ice flow in the Alps and

the heart of the Swiss Alps' Jungfrau-Aletsch UNESCO World Heritage

Site. In summer, the car-free Aletsch Arena offers 317 km of hiking

trails, fixedropes, mountain bike routes, paragliding and the highest-altitude

9-hole golf course in Europe. In the winter months, cablecars

and ski lifts carry visitors to over 100 km of slopes – with snow

guaranteed – winter hiking trails, snowshoe trails and cross-country

skiing trails in the midst of an idyllic, natural landscape.

Travelling time: one or two-day trip

The Rhine Falls 3

The Rhine Falls is one of Europe's three largest waterfalls, measuring

150 metres across. The churning waters thunder into the depths below,

yet in the very middle stands a defiant rock. Visitors can take a

boat trip and climb onto the rock, experiencing this natural wonder

up close.

Travelling time: one-day trip

Ballenberg – Swiss open-air museum

The open air museum in Ballenberg comprises historic buildings

complete with kitchens, bed-chambers and living rooms and shows

what life used to be like in the Swiss countryside in years gone by.

The exhibits in Ballenberg museum are brought to life by craftspersons

and farmers who go about their work using traditional tools and

showcasing native livestock.

Travelling time: one-day trip

Interlaken and Jungfraujoch

Interlaken in the Bernese Oberland lies at the heart of the magnificent

Jungfrau mountain region. It affords views of the world-famous Eiger,

Mönch and Jungfrau mountains. Jungfraujoch is the climax of any trip

to Switzerland. Europe's highest-altitude station is located at 3,454

metres above sea level. Visitors can enjoy an Alpine wonderland of

ice, snow and rock and admire the view from the platform, on the

Aletsch Glacier or in the ice palace. The train ride to Jungfraujoch,

through the Eiger and Mönch, is an experience in itself. Visitors can

enjoy the magnificent view at the Eismeer and Eigerwand stops along

the way.

Travelling time: one or two-day trip
---
Basel and Switzerland / 31

© Lucerne Tourism

Lucerne 1

© swiss-image.ch / Roland Gerth

Aletsch Glacier 2

© swiss-image.ch / Beat Mueller

The Rhine Falls 3
---
32 / Incoming Services

BASEL TOURISM –

YOUR DMC IN BASEL.

Check out the services of Basel Tourism for travel agencies and tour operators. Basel Tourism Incoming

and Convention Bureau is a professional partner which supports you in organising your programmes

and events in Basel. Key services include the organisation of your accommodation requirements, planning

and management of social programmes and arranging the right congress infrastructure, conference

hotel or the perfect restaurant for dinner in Basel and the surrounding areas.

Hotel reservation

• Allows you to book accommodation 365 days of the year

• Reservation and administration of a selection of rooms in various

hotel categories

• Processing of reservation queries (via internet, telephone or fax)

within 48 hours

• Dispatch of reservation confirmations to event participants and processing

of reservation change requests

• Best price guarantee for many hotels

Events and group trips

• Arranging special conditions and prices for a group of rooms and

compiling an appropriate offer

• Administration of block bookings and processing of reservation

enquiries; dispatch of booking confirmations within 48 hours

• Support in the selection and reservation of suitable locations for

lunches and dinners

• Planning and organisation of sightseeing programmes, excursions

and guided tours

• Organisation of all types of transfers

• Supply and delivery of free brochures on Basel

• Supply of pictures and texts

Events

• Creation of an online congress registration platform for participants

• Reporting on the status of registrations and interface for transfer of

participant data to event organiser's database

• Collection of registration fees by Basel Tourism

• Printing of event badges for participants

• Operation of a registration desk at the event

• Congress hosts / hostesses with experience of managing event

rooms, registration and information desk staff, entrance staff etc.

• Operation of a Welcome Desk at EuroAirport Basel-Mulhouse-

Freiburg

• Operation of a tourist information desk at your event

Further services

• Invitations for site inspections and fam trips

• Special packages for FIT and groups

• Organisation of attractive team building events

Your benefit

For successful referrals of its own products (city tours, City Treasure

Hunt etc.) Basel Tourism pays a commission of 10 %.

"

JCI EUROPEAN CONFERENCE BASEL 24. – 27.05.2017. BASEL TOURISM HELPED US IMMENSELY IN

DRAWING UP OUR DOCUMENTS DURING THE APPLICATION PHASE, AND ALSO IN PROMOTING OUR

CANDIDATURE. BASEL TOURISM WAS A KEY PARTNER FOR THE SUCCESSFUL REALISATION OF OUR

EVENT, AND WE ARE EXTREMELY SATISFIED WITH OUR WORKING RELATIONSHIP.

"

Jacqueline Saladin, President of the Board and Conference Director

"

SEMINARS IN PATHOLOGY 09. – 10.06.2017. BASEL TOURISM DID A SUPERB

JOB OF SUPPORTING US PROFESSIONALLY AND WITH A MINIMUM OF

ADMINISTRATIVE BOTHER. WE WOULD BE DELIGHTED TO AVAIL OF THEIR

SERVICES AGAIN IN FUTURE YEARS.

"

Prof. Katharina Glatz, Chief Physician Basel University Hospital, Pathology

"

THE ISDH 2016 FROM 23 – 25 JUNE WAS A SUPERB CONFERENCE. BASEL TOURISM PROVIDED

EXCELLENT SERVICE BEFORE, DURING AND AFTER THE CONFERENCE, DISPLAYED

A SERVICE-ORIENTED AND RELIABLE APPROACH AND IMPLEMENTED OUR WISHES VERY FLEXIBLY.

"

Cornelia Jäggi, Central President, Swiss Dental Hygienists
---
USEFUL

TIPS.

Useful tips / 33

FOR YOUR STAY IN BASEL

Population of the canton of Basel-Stadt

Approx. 198,000

Language

German

Currency

Swiss francs, CHF

Exchange rate: EUR 1,00 = approx. CHF 1.14 / GBP 1.00 = approx.

CHF 1.50 / USD 1.00 = approx. CHF 0.95

Climate

Basel has a central European continental climate and is one of the

warmest regions in Switzerland. It enjoys an above-average number of

sunny days. The average temperatures over the past 30 years are:

spring, 10.9 °C; summer, 18.9 °C; autumn, 10.8 °C; winter, 2.4 °C.

BaselCard – the free guest card

From 1 January 2018, every hotel guest in Basel will receive this card

when checking in. The guest card entitles you to free use of local

public transport and you receive an access code for the city's own

WiFi network. You will also benefit from a 50 % discount on numerous

cultural and leisure attractions such as Basel Zoo, the museums, the

sightseeing bus, and much more. Your reservation confirmation entitles

you to use public transport from EuroAirport or from the Basel

rail stations to the hotel on the day of arrival.

www.basel.com/baselcard

Travel Trade Information

Get information on the services of Basel Tourism for travel agencies

and tour operators. www.basel.com/traveltrade

Photo gallery

Basel Tourism provides photographs free of charge for inclusion in

tourist publications. www.basel.com/photo

1. Direct link photo gallery

2. Event listing: "Photo gallery for inclusion in tourist publications"

3. Password: pics4Basel

FOR YOUR STAY IN SWITZERLAND

Entering Switzerland

You must present a valid passport or identity card. Import regulations

for Switzerland are available at www.ezv.admin.ch

Swiss Travel Pass for rail passengers

The Swiss Travel Pass covers Switzerland's entire public transport

system. It aims to make access to public transport easier for visitors

from all over the world. The Swiss Travel Pass allows you to enjoy unrestricted

free travel in the entire network by rail, coach or boat. To

see the full offer, visit www.swisstravelsystem.com or www.sbb.ch

Swiss Travel Passes can also be purchased at the Tourist & Hotel Information

of Basel Tourism located in the Swiss Railway Station SBB.

Public holidays

Offices and shops are closed on the following public holidays, with

the exception of shops in railways and airports.

• 1 January: New Year's Day

• 2 January: Berchtoldstag (selected cantons)

• Carnival Monday and Wednesday afternoon (Basel only)

• Good Friday

• Easter including Easter Monday

• 1 May: Labour Day (selected cantons)

• Ascension Day

• Whit Sunday and Monday

• 1 August: Swiss National Day

• 25 December: Christmas Day

• 26 December: Boxing Day
---
Source: Geodata of Canton Basel-Stadt, 5 September 2017
---
CONTACT

DETAILS.

Contact details / 35

Basel Tourism

Aeschenvorstadt 36

CH-4010 Basel

Phone +41 (0)61 268 68 68

Fax +41 (0)61 268 68 70

info@basel.com

www.basel.com

Incoming & Convention Bureau

Phone +41 (0)61 268 68 58

Fax +41 (0)61 268 68 70

incoming@basel.com

Guided Tours

Phone +41 (0)61 268 68 32

Fax +41 (0)61 268 68 75

guidedtours@basel.com

Tourist Information

In the Stadtcasino at Barfüsserplatz

Steinenberg 14

CH-4010 Basel

Opening hours:

Monday to Friday 9 am – 6.30 pm

Saturday 9 am – 5 pm

Sunday and public holidays 10 am – 3 pm

Tourist Information

Swiss Railway Station SBB

CH-4010 Basel

Natascha Martin

Sales Manager Leisure

direct +41 (0)61 268 68 85

natascha.martin@basel.com

Melanie Kolofrat

Sales Manager Leisure

direct +41 (0)61 268 68 22

melanie.kolofrat@basel.com

Stefan Bonsels

Sales Manager Convention Bureau

direct +41 (0)61 268 68 20

stefan.bonsels@basel.com

Ramona Debus

Sales Manager Convention Bureau

direct +41 (0)61 268 68 60

ramona.debus@basel.com

Opening hours:

Monday to Friday 8 am – 6 pm

Saturday 9 am – 5 pm

Sunday and public holidays 9 am – 3 pm

Further information

www.basel.com/traveltrade

www.museenbasel.ch

www.basel.ch

www.upperrhinevalley.com

PERFORMANCE

Basel Tourism has been awarded

the stage III quality seal and the

ISO certificate for Swiss Tourism.

baseltourism

baselswitzerland

baseltourism

baseltourism

neutral

Druckerei

Credits

Edition: 2018

Cover picture: Nicolas Glauser

Print: bc medien ag

01-13-522785

myclimate.org

baseltourismus

baseltourismus

#lovebasel