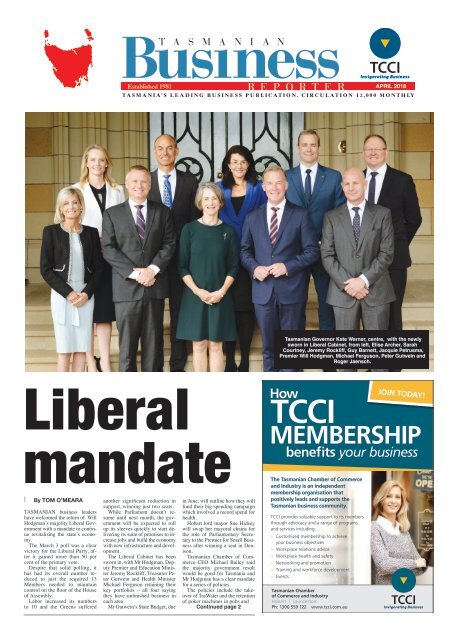 Tasmanian Business Reporter April 2018
This month, you'll read how Tasmanian business leaders have welcomed the re-elected Liberal Government's mandate to continue revitalising the state's economy. You'll also find details about a $3 million research grant for the Australian Maritime College, St.LukesHealth taking home a prestigious customer satisfaction award and Tasmania's Defence Advocate being bestowed with the US Military's highest honour for a non-US citizen.
This month, you'll read how Tasmanian business leaders have welcomed the re-elected Liberal Government's mandate to continue revitalising the state's economy.

You'll also find details about a $3 million research grant for the Australian Maritime College, St.LukesHealth taking home a prestigious customer satisfaction award and Tasmania's Defence Advocate being bestowed with the US Military's highest honour for a non-US citizen.
SHOW MORE
SHOW LESS
You also want an ePaper? Increase the reach of your titles
YUMPU automatically turns print PDFs into web optimized ePapers that Google loves.
APRIL 2018

T A S M A N I A' S L E A D I N G B U S I N E S S P U B L I C A T I O N . C I R C U L A T I O N 1 2 , 0 0 0 M O N T H LY

Tasmanian Governor Kate Warner, centre, with the newly

sworn in Liberal Cabinet, from left, Elise Archer, Sarah

Courtney, Jeremy Rockliff, Guy Barnett, Jacquie Petrusma,

Premier Will Hodgman, Michael Ferguson, Peter Gutwein and

Roger Jaensch.

Liberal

mandate

By TOM O'MEARA

TASMANIAN business leaders

have welcomed the return of Will

Hodgman's majority Liberal Government

with a mandate to continue

revitalising the state's economy.

The March 3 poll was a clear

victory for the Liberal Party, after

it gained more than 50 per

cent of the primary vote.

Despite that solid polling, it

has had its overall number reduced

to just the required 13

Members needed to maintain

control on the floor of the House

of Assembly.

Labor increased its numbers

to 10 and the Greens suffered

another significant reduction in

support, winning just two seats.

While Parliament doesn't resume

until next month, the government

will be expected to roll

up its sleeves quickly to start delivering

its suite of promises to increase

jobs and build the economy

with new infrastructure and development.

The Liberal Cabinet has been

sworn in, with Mr Hodgman, Deputy

Premier and Education Minister

Jeremy Rockliff, Treasurer Peter

Gutwein and Health Minister

Michael Ferguson retaining their

key portfolios – all four saying

they have unfinished business in

each area.

Mr Gutwein's State Budget, due

in June, will outline how they will

fund their big-spending campaign

which involved a record spend for

health.

Hobart lord mayor Sue Hickey

will swap her mayoral chains for

the role of Parliamentary Secretary

to the Premier for Small Business

after winning a seat in Denison.

Tasmanian Chamber of Commerce

CEO Michael Bailey said

the majority government result

would be good for Tasmania and

Mr Hodgman has a clear mandate

for a series of policies.

The policies include the takeover

of TasWater and the retention

of poker machines in pubs and

Continued page 2

How

TCCI

MEMBERSHIP

benefits your business

The Tasmanian Chamber of Commerce

and Industry is an independent

membership organisation that

positively leads and supports the

Tasmanian business community.

TCCI provides valuable support to its members

through advocacy and a range of programs

and services including:

> Customised membership to achieve

your business objectives

> Workplace relations advice

> Workplace health and safety

> Networking and promotion

> Training and workforce development

> Events

Tasmanian Chamber

of Commerce and Industry

Hobart | Launceston

Ph: 1300 559 122 www.tcci.com.au

JOIN TODAY!
---
2 Tasmanian Business Reporter - APRIL 2018

NEWS

Award for St.Lukes

Tassie health

insurer leads

THE prestigious 2017

Roy Morgan Customer

Satisfaction Award for

Private Health Insurer of

the Year has been won by

St.Lukes Health.

It's the second year in

a row that the Launceston-based

not-for-profit

organisation has won the

award.

St.LukesHealth CEO

Paul Lupo said after introducing

a range of new

initiatives, it was a huge

vote of confidence in

the hard work and dedication

of the board and

St.LukesHealth staff.

"To support the

health and wellbeing

of our members in the

last 12 months alone,

St.LukesHealth has implemented

a new postnatal

service for northern

Tasmanian mothers, introduced

an online medical

health record system,

St.LukesHealth CEO

Paul Lupo

and taken the lead in

rolling out HICAPS GO

to provide greater transparency

for our customers

around out of pocket

costs," Mr Lupo said.

"As the first to adopt

the HICAPS GO mobile

app in Tasmania, we

are providing a simpler

and easier way to find

and book appointments

with health practitioners

and manage healthcare,

while also greatly improving

our member's

experience.

"We hope this preventative

approach will

ultimately improve our

member's long-term

health outcomes, assist

them to navigate the

health care system, as

well as demonstrate the

real value of health insurance.

"Introducing the HI-

CAPS GO app also

means that our members

will be the first to have

access to a digital membership

card and keep us

aligned with our member's

growing demand

for online services."

St.LukesHealth has

more than 30,000 policies

covering over

62,000 people Australia-wide.

e dition

T A S M A N I A' S L E A D I N G B U S I N E S S P U B L I C A T I O N . C I R C U L A T I O N 1 2 , 0 0 0 M O N T H LY

Tasmanian Business Reporter can now be delivered directly to your inbox. With our 30,000-strong monthly print

readership, our new up-to-date digital distribution will keep Tasmanians abreast of the all latest in local business

news. From this month we will distribute electronic editions of the Tasmanian Business Reporter as we go to print.

To confirm your copy sign up to our mailing list via

tbreditorial@fontpr.com.au

Tasmania's business newspaper is published monthly by the

Tasmanian Chamber of Commerce and Industry. It is distributed

to businesses in Tasmania as well as key decision-makers.

Circulation: 12,000

Defence links earn US gong

TASMANIA'S Defence

Advocate has been

awarded the US Military's

highest honour for

a non-US citizen, the Legion

of Merit.

Rear Admiral (Rtd)

Steve Gilmore AM, CSC,

was presented the Degree

of Officer award by

Acting US Ambassador

(Charge d'Affaires, a.i.)

James Carouso in a ceremony

at the US Embassy

in Canberra.

The Legion of Merit

recognises "exception-

Libs claim clear mandate

From page 1

clubs, rather than Labor's

policy of restricting poker

machines to the state's

two Casinos in Hobart

and Launceston.

"Clearly these two

policies were high on the

agenda before the election

was called and were

out there for the voters

to make their decision

which supported the Liberal

Party," Mr Bailey

said.

"It will be interesting

to see if the Legislative

Council listens to the will

ally meritorious conduct

in the performance of

outstanding services and

achievements" and is

conferred jointly by the

Director of the US Defense

Intelligence Agency

and the US Secretary

of Defense.

Gilmore was honoured

for his service as Head

Australian Defence Staff

and Australian Defence

Attache at the Australian

Embassy in Washington

DC from January 2014 to

2017, following a distin-

of Tasmania's people - I

and thousands of Tasmanians

will be very disappointing

if they vote

against such policies.

"It became very obvious

last year when the

Legislative Council's Select

Committee on Tas-

Water's ownership was

taking evidence from the

community that the result

would be negative.

"I'm a strong supporter

of the independent

Legislative Council and

its role as a house of review.

I believe that a Labor

bloc, if it does exist

as the Treasurer suggests,

would be against the intention

this important

house."

Tasmania's economic

revival, and confidence

among business owners,

had been highlighted

regularly interstate and

the result was lauded as

a reward for competent

leadership.

The Australian Financial

Review praised the

outcome as "good news".

"When Will Hodgman

became Premier in 2014,

Steve Gilmore,

right, receives

the Legion of

Merit Degree of

Officer award

from acting

US Ambassador

(Charge

d'Affaires, a.i.)

James Carouso

in Canberra.

guished 40-year military

career with the Royal

Australian Navy.

During his time in

Washington Rear Admiral

Gilmore oversaw all

Australian Defence interactions

with the US

including oversight of

Defence Capability and

Sustainment Group's

embassy-led activities,

managing more than 400

active foreign military

sales contracts with the

US involving expenditure

of around $15 million

each day. Gilmore

was appointed Tasmanian

Defence Advocate

in August 2017 in a bid

to improve Tasmania's

reputation and capacity

across the manufacturing

sector, in particular

defence supply contracts

such as the confirmation

that Burnie sheet metal

manufacturing firm Direct

Edge will partner

in delivering the next

stage of the Land 400 armoured

vehicles for the

Australian Army.

Tasmania was being

squeezed by the mining

boom: its primary export

and tourism-dependent

economy was struggling

with the high dollar.

"Mr Hodgman successfully

managed the

post-boom adjustment,

attracted more investment

– including from

China – got state finances

under control, and

dropped the state's jobless

rate from the Commonwealth's

highest to

its second lowest," the

AFR said.

Managing Editor: Tom O'Meara

0418 135 822

Editor: Becher Townshend

0418 370 661

Advertising and Special Projects

Gil Sellars 0448 901 361

gil@thetrustedmediaco.com

Editorial & Advertising

TBReditorial@fontpr.com.au

www.tasmanianbusinessreporter.com.au

Publisher:

Tasmanian Chamber of Commerce and Industry

309 Liverpool St, Hobart, TAS 7000

Ph: 6236 3600 Fax: 6231 1278 admin@tcci.com.au

TFGA House, 194-196 Cimitiere St, Launceston TAS 7250

Ph: 6331 1144 laun@tcci.com.au

Production:

aldridge.media

Ph: 0431 241 775

aldridge.media@iinet.net.au

Printer: Mercury

Level 1, 2 Salamanca Square, Hobart, 7000
---
TASMANIA'S LEADING BUSINESS PUBLICATION. CIRCULATION 17,000 MONTHLY

Tasmanian Business Reporter - APRIL 2018 3

NEWS

AMC joins US research leaders

THE Australian Maritime

College at the University of

Tasmania has been awarded

$3 million to conduct research

with leading US universities

on improving Australia's naval

capability.

Defence Industry Minister

Christopher Pyne announced

that AMC would join seven

leading US universities in

hydrodynamics research for

the three-year project, which is

funded through the Multidisciplinary

University Research

Initiative administered by the

US Department of Defense.

The researchers will study

the physics of cavitation, where

vapour bubbles form in the water

flowing over a surface, such

as a hull or propeller, and then

collapse, to better understand

how it affects the performance

of naval vessels.

Research aims to improve the

design of ship and submarine

propellers and hull shapes.

AMC Interim Principal,

Professor Nataliya Nikolova

said the experiments would be

conducted in the Cavitation

Research Laboratory – the only

one of its kind in Australia

and one of a handful of such

Basslink heads to court

THE battle over who is

to blame for the $100

million Basslink cable

failure that plunged

Tasmania into an energy

crisis is heading to

court.

Energy Minister Guy

Barnett has written

to Basslink Proprietary

Limited threatening legal

action unless compensation

is forthcoming,

saying a dispute

has arisen under the

Basslink Operations

Agreement.

Basslink will defend

the allegation, as both

parties stand by differing

reports into what

caused the outage.

"Basslink understands

that the State's

allegations stem from

the (international en-

experimental laboratories in the

world.

"AMC is home to some of

the most sophisticated research

facilities in the world that allow

us to do some of the best

maritime-related research in

the world," Professor Nikolova

said.

"The facilities are recognised

internationally as being among

the most advanced for their size

and quality, and have played

an important role in a number

of national and international

research collaborations.

"This grant supports the

successful research partnership

between the university, the

Defence Science and Technology

Group and the US Office

of Naval Research, and will

enhance collaborations in ship

and submarine research with

colleagues from some of the

most internationally respected

universities in the US."

The US universities include

the Massachusetts Institute of

Technology, Johns Hopkins

University, California Institute

of Technology, University of

California, University of Minnesota,

University of Iowa and

the University of Michigan.

Research fellow Luka Barbaca, left, with Cavitation Research Laboratory Research Leader Professor Paul Brandner.

gineering consultancy)

DNV GL reports commissioned

by the lawyers

for Hydro Tasmania,"

Basslink said in a

statement.

"As Basslink has

previously noted, DNV

GL did not conduct any

testing of the Basslink

interconnector's cable

and their reports

were solely based on

theoretical modelling.

"Basslink stands by the

independent investigation

that was undertaken

by Cable Consulting

International, who

concluded the actual

root cause of the cable

failure in December

2015 as "cause unknown".

Mr Barnett said the

Tasmanian Government

never accepted

CCI's finding.

"The expert reports

into the cable failure

delivered in December

2017 indicate that

BPL had operated the

cable in a manner that

allowed it to exceed

its temperature design

limits during a number

of periods in its service

life," Mr Barnett said.

Picture: Scott Gelston/AMC.

"The State has undertaken

a careful

analysis of its legal position.

The State takes the

view that the actual capability

of the Basslink

facilities and the way

in which the Basslink

cable has been operated

may constitute a

breach of the State's

rights under the BOA."

Steven Dietrich

New

boss

leads

TasRail

TASRAIL has appointed Steven

Dietrich as Chief Executive

Officer.

Mr Dietrich, who joined

TasRail in June 2010 as the

Chief Financial Officer and

Company Secretary, has almost

three decades of handson

management experience

in logistics and infrastructure

with publicly- listed and stateowned

companies, including

BOOM Logistics, Pacific

National, Toll Shipping and

CHEP.

Mr Dietrich said he looked

forward to leading the TasRail

team and business during an

unprecedented chapter in Tasmania's

150-year rail history.

"The State and Federal

Governments are investing

more than $324 million into

Tasmania's rail network to negate

decades of infrastructure

spending neglect to ensure

TasRail can deliver freight in

a timely, safe and competitive

manner on behalf of its highly-valued

customers," Mr Dietrich

said.

TasRail chairwoman Samantha

Hogg said Mr Dietrich

would implement the TasRail

Board's strategic direction to

focus on further growth in the

above rail commercial logistics

business

Ms Hogg also paid tribute

to outgoing CEO Damien

White, who has led TaRail for

the past eight years.

WANTED

Business

movers and

shakers

• Promotions

• Appointments

• Awards

• Celebrating

success

Share the news

with the

Tasmanian

business

community

Send your news

snippets, with a

high quality photo,

to TBReditorial@

fontpr.com.au
---
4 Tasmanian Business Reporter - APRIL 2018

THOUGHT LEADERSHIP

www.tcci.com.au

Lessons from the election

Michael

Bailey

TCCI Chief Executive

THE State Election has

been run and won by

Will Hodgman's Liberal

Government, only the

second time the Liberals

have won back-to-back.

While congratulations

go to the Liberal Party,

it is interesting to ponder

on what happened at the

election and what lessons

we can take from the result.

Whichever way you

look at it, the election

was a confirmation that

the Tasmanian public are

more than comfortable

with how the Hodgman

Government has managed

our state.

There is no doubt that

the last four years have

been a triumph for Tasmania

and a stark change

from the years prior.

What is also clear is

that the Liberals will

have to work hard to deliver

its suite of election

promises. And the TCCI

will be there through the

next four years to hold

them to account.

Treasurer Peter Gutwein's

next Budget will

make for an extremely

interesting examination.

I also want to tip my

hat to Labor Leader Rebecca

White. In four

years' time, she will be

even more formidable -

poised to take the reins

of government should

the Liberals falter.

However, I think that

there are other things

that we can learn from

this result.

• The Tasmanian

Greens must evolve.

I know that this has

been spoken about by

others, including former

Greens leader Peg Putt,

but they are simply not

resonating with the community

as they used to.

It will be interesting to

see if they move closer to

the centre or try to rekindle

the protests to regain

relevance.

Will Hodgman and the Liberals ran a strong campaign and now have a mandate to deliver their

suite of election promises, including the take over of Taswater

• On primary votes,

Labor really didn't dent

the Government much.

Yes they have won

three seats back, perhaps

more admirable with the

retirements of Lara Giddings

and David Llewellyn,

but they will need to

do much more to win in

four years.

Labor faced several

issues through the campaign,

including a difficulty

in articulating a

clear vision for Tasmania.

In my opinion, Labor's

poker machine policy

was an own goal of monumental

proportions. It

was not popular, particularly

in the regions.

I heard this loud and

clear in my travels and I

can only image the heat

that the party must have

been getting. I was not

surprised Federal Labor

Leader Bill Shorten distanced

himself from the

policy.

• The new Liberal

Government has a clear

mandate for a series of

policies, including the

proposed takeover of

TasWater.

It will be interesting

to see if the Legislative

Council respects the will

of the Tasmanian people.

It will be very disappointing

if they vote

against such policies.

I am a strong supporter

of an independent Legislative

Council and believe

that a Labor bloc (if

it does exist as the Treasurer

suggests) would be

against the intention of

this important House.

• As I said before, the

Liberal Government has

made a series of significant

spending commitments.

The TCCI will

hold them to account for

each and every one of

them.

March also saw the

shock passing of former

State politician and

cricketer Tony Benneworth.

Tony drowned,

with his mate Tony

Long, in a boating incident

at Ansons Bay.

I met Tony more than

30 years ago and had

enjoyed his friendship,

counsel, thoughts and

joint passion for Carlton

since.

He was a man with

great passion and enthusiasm

with everything he

did. VALE Tony Benneworth.

5

DAYS

CAN MAKE

ALL THE

DIFFERENCE

Our world-class Company Directors Course will help improve your performance and accelerate your career.

Upcoming dates:

• Monday 21 to Friday 25 May 2018, Hobart

Enrol now t: 03 6242 2200

w: companydirectors.com.au/tas5days

06460-3_18
---
TASMANIA'S LEADING BUSINESS PUBLICATION. CIRCULATION 17,000 MONTHLY

Tasmanian Business Reporter - APRIL 2018 5

THOUGHT LEADERSHIP

www.tcci.com.au

Buoyed by evolution of logistics

Brett

Charlton

Agility Logistics

NEVER before have I seen

such a buoyant time for international

traders in Tasmania.

From a shipping point of

view we have a new Sea

Road vessel and another one

ordered, two new Toll vessels

about to be rolled into the water,

orders for new TT Line

ferries, MSC announcing that

they are swinging their Asian

service into Bell Bay, Maersk

line calling into Bell Bay,

Swires calling into Hobart

and the likes of CMA CGM,

ANL, PIL, OOCL, Hambug

Sud and Cosco all servicing

Tasmania via feeder services.

These are the largest shipping

lines in the world – all

with confidence to invest and

compete their services into

Tasmania. Not bad for a population

of 500,000.

Sustainable? It seems to be

so far.

I recently attended the

opening of the Australian office

for JD.com.

JD.com is the third largest

internet company on the planet

after Google and Apple – I

wonder who reading this has

even heard of JD.com?

It is really interesting to see

the evolution of logistics in

other countries and the world

of e-commerce logistics in

China never ceases to amaze

me.

At a luncheon hosted by

JD.com the president and the

chief technical officer were

discussing how they are missing

out on a percentage of the

market in China due to the

difficulties of delivery.

The number stated was

about 20 million people.

The solution for delivery

to these people off the beaten

track – drones of course.

The thing is, when I consider

the conversation of drones

being used for delivery in

Australia I think in terms of

"that is so far away I won't

get to see it" whereas in China

it is "yep, we have tested

that and it should be up and

running in six months".

The president was talking

of the latest iPhone release.

He spoke of queues of

people waiting outside Apple

shops in the US and Australia

to get their iPhone when the

shop opens.

In Beijing all of the iPhone

Xs were delivered within 45

minutes of the phone being

available – that is at 12.45am

– delivered to the door.

Not only that, the next sentence

was about how they are

looking to reduce the times

even more with automated

delivery vehicles.

Meanwhile, I would encourage

all readers to go to

the Regional Development

Australia (Tasmania) web

site (rdatasmania.org.au) and

download a copy of the Tasmanian

Freight Equalisation

Scheme case study report.

The author Mike Bridley

has written an excellent document

on how the extension to

the TFES for export cargoes

has created opportunities,

Tasmanian

Logistics

Committee

chairman Brett

Charlton, left, Jim

Ertler of Premium

Fresh Tasmania),

Liberal Senator

Richard Colbeck

and chairman of

Regional Development

Australia

- Tasmania, Tom

Black encourage

business to use

the FES.

growth and employment for

Tasmanian businesses.

Please pass on this report

to your staff, friends and colleagues

so that this important

aspect of Tasmania's success

continues to support our

growth.

Making the most of your sale potential

WHAT makes your business

attractive in an open

market?

When a business is

listed for sale, usually on

the many Business for

Sale websites, what aspects

of a standout business

will buyers be looking

for?

Here are five wise tips

that will help you sell

quickly and maximise

the proceeds of sale.

Focus your efforts on

all of these and you will

Dean

Demeyer

Business Broker

BUSINESS

HOBART'S BEST RANGE OF

QUALITY ERGONOMIC FURNITURE

FOR THE HOME AND OFFICE

Your local Liberal

Member for Denison

62 Main Rd, Moonah

We specialise in high quality ergonomic chairs,

alternative seating and electronic sit/stand desks.

Flair Office Furniture has been providing quality, affordable office

furniture to homes and offices throughout the Hobart region

for nearly 15 years. We're a locally-based, family-run business

specialising in all types of products, so why not visit us today to

see our fantastic range?

Please contact me:

Phone 6234 1127

p: 6212 2210

260 Argyle Street,

e: elise@elisearcher.com

m: PO Box North 426, Hobart Moonah, 7009

www.elisearcher.com

www.flairofficefurniture.com.au

BUSINESS

Authorised by Elise Archer, 62 Main Rd, Moonah, 7009

increase your chances • Good profits growing

of success.

in-line or better than

Build an appealing revenue growth;

business.

• High levels of repeat

• Strong revenues customers and a full order

with consistent growth

book;

over the last three years; • The business oper-

2

ADVERTISEMENT

Elise

Archer

YOUR QUICK GUIDE TO SERVICES AND PRODUCTS FOR YOUR BUSINESS

ates without relying on

you.

Provable Profit and

Loss numbers.

• These are highly critical

as they determine the

business value.

• Up-to-date numbers

are essential. Have your

accountant on notice

when you are putting the

business on the market

that last year's P&L is required

before you list.

• Having current reconciled

internal financial

WANTED

Business

movers and

shakers

• Promotions

• Appointments

• Awards

• Celebrating

success

Share the news

with the

Tasmanian

business

community

Send your news

snippets, with a

high quality photo,

to TBReditorial@

fontpr.com.au

To see your business here, call Kerri on 0419 750 267 or email kerri@thetrustedmediaco.com

Your Partner

in Print.

www.footandplaysted.com.au

Now incorporating

THE CRAFT LIVES ON.

reports demonstrates the

business is well run.

Demonstrate the

strength of employee,

customer and supplier

relationships.

• Buyers will be looking

for evidence of sound

relationships. A well-organised

Customer Relationship

Management

(CRM) database with

customer history is very

appealing.

• Formal contracts

with employees are necessary

for continuity.

• Suppliers contracts

and purchasing history

showing any trade discounts

bodes very well.

Ensure the business can

fulfil its sales forecast.

• What proven marketing

activities are in place

to fill the sales pipeline

moving forward?

• Is there a documented

sales process for dealing

with leads generated

by marketing?

• What other steps

have been taken to 'future

proof' the business?

Help instil potential

buyers with confidence.

• You only have one

chance to make a good

first impression. Be prepared

and present the

business in its best possible

condition.

• It is far better to be

prepared for the day a

buyer knocks on your

door than to have an interested

buyer and not be

prepared.
---
6 Tasmanian Business Reporter - APRIL 2018

THOUGHT LEADERSHIP

www.tcci.com.au

Equal playing field for exporters

Sally

Chandler

Tradestart Adviser

REGIONAL Development

Australia, Tasmania recently

released a case studies paper

analysing the effects over the

first 18 months of the Tasmanian

Freight Equalisation

Scheme being opened to exporters.

The four-year extension to

the scheme started on January

1, 2016.

It allowed exporters to

access benefits under the

scheme and compete on equal

terms in international markets

with mainland competitors

and those from other countries.

The analysis by RDA Tasmania

was for January 1,

2016 to June 30, 2017.

The paper was prepared to

provide an understanding of

the benefits of the Australian

Government's commitment

to the extension of the TFES

to cover exports transhipped

through mainland ports and in

particular, the impact the initiative

has had on the Tasmanian

business community.

Author Mike Brindley interviewed

representatives

from 11 businesses across

many diverse sectors, providing

a case study on each business.

The outcomes were very

positive showing improved

confidence in the firm's business

model, new investment

in plant and equipment, additional

development of international

markets, diversification

of a firm's income base,

less reliance on the Australian

domestic market, improved

employment outcomes for

part time and full time workers,

and, innovative product

development and design for

new markets.

The report concluded that

the extension of the TFES

was working well.

The benefits under the extension

are being received

well by Tasmanian exporters

and the extension itself is

achieving its objectives of facilitating

exports and promoting

broader diversification,

Case studies paper author Mike Brindley from Regional Development Australia.

investment and employment.

There are ongoing challenges

however. Awareness of the

TFES among Tasmanian businesses

remains limited including

how these businesses can

The report

concluded that

the extension

of the TFES

was working

well.

successfully make claims for

eligible freight movements.

So my message to exporters

is – where your terms of

sale are ex-Tasmania and your

freight leaves by sea and is

transhipped to an international

market via a mainland port,

ensure you understand the financial

benefits available under

the TFES, your eligibility

to access those benefits, and,

how to make a claim.

The financial assistance received

which allows for lower

pricing may well be the difference

of entering an export

market or not.

For international trade

and investment assistance

contact TradeStart

Adviser, Sally Chandler,

at sally.chandler@tcci.

com.au or phone

1300 559 122.

BE PART OF THE

MULTI-BILLION

DOLLAR

LOGISTICS

INDUSTRY

Whether you are looking to start your career, or upgrade your

skills for career advancement - the Australian Maritime College

can get you there.

Set yourself up for global career opportunities with our Maritime

Business and International Logistics program, preparing you for

a career in senior management.

Study here, work globally.

Apply now: amc.edu.au

CRICOS Provider Code: 00586B

Important role for

a support person

THE performance management

process can

involve many steps for

employers to ensure that

the employee is afforded

procedural fairness and

to reduce the risk of an

unfair dismissal being

made if employment is

terminated.

Employers are generally

aware that they must

not refuse a request that a

support person is present

during any formal management

process.

However, employers

can still be unsure as to

what the role of a support

person is during such

meetings.

A support person is

there to offer emotional

support to the employee

during the process if required.

A support person is

not there to advocate or

speak on the employee's

behalf – regardless

of whether the support

person is the employee's

parent, friend, union representative,

lawyer etc.

The title of the support

person is irrelevant

– their role will remain

the same.

This does not mean

that an employer should

not allow the support

person to speak if they

are of the view that it

Abbey

George

Workplace Relations

would assist the progression

of the meeting.

For example a support

person may be able to assist

in the prompting of

information from a distraught

employee.

Sometimes a support

person's contribution to

the meeting can also be

valuable in assisting the

employer to explore the

issues or reasoning behind

an employee's behaviour,

but this will of

course depend on the circumstances.

Alternatively a support

person may have a negative

impact on the meeting,

for example if they

begin to take on the role

of an advocate.

If this is the case, the

employer can:

• remind the support

person of their role;

• ask whether the employee

would like a

break to discuss any issues

with the support

person;

• let the support person

know that the meeting

will come to an end and

reconvened at another

time if they continue to

disrupt the meeting; and/

or

• ask the support person

to wait outside if

they continue to be particularly

disruptive.

As an employer, you

too can also have a support

person present

during the meeting if you

so wish (such as someone

from the TCCI).

If you are unsure

about the role of a

support person, or

any issues in relation

to the performance

management process

or employment

matters generally

please contact TCCI

by contacting the

Helpline on

1300 765 123 or the

TCCI on

1300 59 122 or

workplacerelations@

tcci.com.au
---
Tasmanian Business Reporter - APRIL 2018 7

THOUGHT LEADERSHIP

Small business our

economic backbone

Sue

Hickey

Parliamentary Secretary for

Small Business

IT IS an absolute pleasure and

an honour to be appointed

Parliamentary Secretary for

Small Business and Parliamentary

Secretary for Urban

Development in the re-elected

Hodgman Liberal Government.

With more than 30 years of

experience in small business,

I understand the unique pressures

facing this vital sector

of the economy.

I will be bringing my personal

understanding and

knowledge to the position

and act as a strong advocate

for Tasmania's small business

community.

In 2012 I received my Masters

of Business and Administration

from the University

of Tasmania and in 2007 was

nominated Telstra Tasmanian

Business Woman of the Year

in recognition of my business

experience.

Tasmania's small business

sector is the backbone

of the state's economy, with

more than 36,000 small businesses

employing more than

110,000.

I want to see Tasmania's

small businesses continue to

flourish and the re-elected

Government has a number of

policies to support small businesses

so they can reach their

full potential.

Following our successful

$5 million pilot scheme to

support trainees and apprentices

in small businesses, we

will provide $2.5 million annually

for a Small Business

Grants for Apprentices and

Trainees Program.

This funding would provide

a grant of up to $5,000 for

each new apprentice or trainee

taken on by a small business

in growth areas, including

building and construction,

tourism and hospitality and

advanced manufacturing.

Feel free to contact me

at sue.hickey@parliament.tas.gov.au

www.tcci.com.au

Trust a fragile asset

By ELIZABETH PROUST

AICD Chairwoman

ORGANISATIONAL culture is essential

to repair the trust divide.

Throughout 2017, successive scandals

in the finance sector, the arts, the not-forprofit

sector, and governments perpetuated

a significant trust decline in the Australian

community.

A spotlight was shone on workplace

culture which has forced directors to consider

what role we have in shaping those

cultures.

The culture of our workplaces has

probably never been under greater scrutiny

than it is today and boards have a

crucial role in shaping, monitoring and

changing our organisational cultures –

across all sectors.

If we, as directors, are not setting and

requiring the cultures that our staff and

the wider community expect, we cannot

hope to repair the trust divide.

A good culture can be a competitive

advantage. Conversely, poor cultures

damage employee and stakeholder outcomes,

and when they result in visible

failures – be they regulatory or ethical –

they erode trust.

In that vein, it is welcome that the

most recent AICD Director Sentiment

Index found that the vast majority of directors

– 92 per cent – are actively trying

to change the culture within their organisation.

But what needs to change?

There is no "one size fits all" approach

to culture.

Boards can play a role in regaining

Elizabeth Proust

trust through improved culture if their

decisions are consistently in line with

three key pillars:

• accountability;

• transparency; and

• ethical behaviour.

The lack of accountability and transparency

in instances of financial or ethical

wrongdoing is undoubtedly a driver

of the trust deficit between Australians

and their institutions.

These may sound like straightforward

principles – yet when stakeholders or

politicians or commentators ask who

is being held to account for failures –

whether it be in corporate Australia or in

the not-for-profit sector, the answer has

too often sounded hollow.

Without greater accountability and

transparency, a culture of ethical behaviour

cannot take hold and there is no

pathway towards regaining community

trust.

In addition to ensuring these values

underpin our decisions, we as directors,

need to model the ethics we want to take

hold in an organisation. If we fail to model

the cultural traits we ask of employees

or volunteers, we can hardly be surprised

when the desired culture fails to appear.

And if we on boards reward success,

we need to hold ourselves accountable

and punish failure.

We must be transparent in doing so

– explaining clearly the reasons why

decisions have or have not been taken,

honestly and fully. The tenets of organisations'

social contract are changing as

the world changes, and directors must engage

with that, rather than dismiss it, if

we are to rebuild trust.

AICD is holding director's

briefings on the Board

and organisational

culture.

• Ulverstone, Tue May 8.

• Launceston, Wed May 9.

• Hobart, Thur May 10.

For more information contact 03

6242 2200.

Know before you go.

The new HICAPS Go app allows you to get a quote

for out-of-pocket costs, before your appointment*.

Pay and claim in an instant, all from your phone.

To find out more visit www.hicaps.com.au/go

or download the app today.

1300 651 988 stlukes.com.au

*Only available for members of participating health funds. ©2018 HICAPS Pty Ltd ABN 11080 688 866. Apple and the Apple logo are trademarks of Apple Inc., registered in the U.S. and other countries. App Store is a service mark of Apple Inc., registered

in the U.S. and other countries. Google Play and the Google Play logo are trademarks of Google Inc. A134199-1017 180102
---
8 Tasmanian Business Reporter - APRIL 2018

THOUGHT LEADERSHIP

www.tcci.com.au

OK to speak up about mental health

Jane

Stanton

President, Chartered Accountants

Australia and New Zealand

RESEARCH by the Australian

Bureau of Statistics estimates

that of the 45 per cent of Australians

who will experience

some form of mental illness

during their lifetime, anxiety

and depression are the most

common.

Less than half of all individuals

suffering a mental illness

will seek help.

These figures will not be

new to most of you, but as

someone who has battled

chronic depression and anxiety

my whole adult life and

in my new role as President of

Chartered Accountants Australia

and New Zealand, I'd like

to focus on how we can equip

professionals, particularly in

small and medium businesses

to support wellbeing in the

workplace.

I'm coming to Tasmania in

May, along with my fellow

board members, and will be

meeting with as many of our

members as I can to discuss

these issues with them.

CAANZ has close to 1000

members in Tasmania, the vast

majority of them in small and

medium businesses.

Most people think that being

an accountant is just about

numbers and compliance but

in reality it is a very small part

of the job.

The client relationship is a

unique one and as a chartered

accountant, you are dealing

with a very personal aspect

of people's lives. Clients are

coming to see you at a time

when they are often under particular

stress and are vulnerable,

often emotional and uncomfortable

at discussing their

affairs in such forensic detail.

A Monash University Business

School study published

last year found that accountants

had higher than average

stress levels and most notable,

women in the 30-34 age group

reported significantly higher

stress levels compared to their

male colleagues.

Many people struggle with

wellbeing but it is perhaps

most endemic in regional and

remote areas, particularly

when a unique event has occurred

such as natural disaster.

Practitioners will be more

often than not also living in

these communities themselves,

and the most compelling

conversation you can ever

have is with someone who is

experiencing the same challenges

you are.

As an employer or team

leader, it's important to not

only ask your colleagues "are

you ok" but identify what signals

to look for in others, be it

colleagues or clients that may

indicate they are struggling.

As an employer or team leader, it's important to not only ask your colleagues "are you ok" but identify what

signals to look for in others.

Part of my journey has been

to accept that my mental health

is something I have to manage

on a constant basis, that I have

limits and need to work within

them.

My biggest professional

challenge has been admitting

that it is ok to suffer a mental

illness.

My mental health doesn't

define me and I've worked out

ways to maximise what I can

do professionally and be the

best version of myself.

It is crucially important that

employers, leaders and employees

be supported in the

workplace, including through

flexible working conditions

where possible as well as

through simple conversations

and offering support and assistance

when someone admits

they are struggling.

CAANZ and Mental Health

First Aid have put together

a resource to help members

manage their own wellbeing,

encourage them to ask colleagues

"are you ok" and educate

them on what signs to

watch for that may indicate

someone is struggling in some

way.

Organisations such as beyondblue,

the Black Dog Institute,

Sane Australia, Mind

Australia, Headspace, Lifeline

and SPEAK UP! Stay ChatTY

do incredible work in providing

assistance and information

to individuals and businesses.

Businesses are team environments

and are most productive

when everyone is

healthy.

It is imperative if Tasmania's

economy is to continue

to grow that this includes

a focus on mental health and

wellbeing.

It is the norm, not the exception

to suffer a mental illness

at some point in your life

and its ok to speak up.

Inspections identify common workplace hazards

BEING able to identify hazards

in the workplace is a key

to ensure that your workers

are safe. The difficulty is to

ensure that the method you

use to identify hazards is user

friendly.

A simple method to ensure

that all hazards are identified

is to divide the worksite into

different aspects of work:

• physical work environment;

• equipment, materials and

substances used;

• work tasks and how they

are performed;

• work design and management.

To determine the hazards in

each work area, the hazards

themselves can be divided

into common hazard areas:

• manual tasks;

• gravity;

• electricity;

• machinery and equipment;

• hazardous chemicals;

• extreme temperatures;

• noise;

• radiation;

• biological; and

• psychosocial hazards.

These common hazards can

Craig

Hortle

Workplace Health & Safety

be identified in the work area

by implementing a workplace

inspection.

Regularly walking around

the workplace and observing

how things are done can

help you predict what could

or might go wrong. Look at

how people actually work,

how plant and equipment

is used, what chemicals are

around and what they are used

for, what safe or unsafe work

practices exist as well as the

general state of housekeeping

You can also consult your

workers. Ask your workers

about any health and safety

problems they have encountered

in doing their work and

any near misses or incidents

that have not been reported.

Worker surveys may also

be undertaken to obtain information

about matters such as

workplace bullying, as well as

muscular aches and pains that

can signal potential hazards.

Finally you may want review

available information

for example, risks relevant to

particular industries and types

of work is available from regulators,

industry associations,

unions, technical specialists

and safety consultants.

Manufacturers and suppliers

can also provide information

about hazards and safety

precautions for specific substances

(safety data sheets),

plant or processes (instruction

manuals). Analyse your

records of health monitoring,

workplace incidents, near

misses, worker complaints,

sick leave and the results of

any inspections and investigations

to identify hazards.

If someone has been hurt

doing a particular task, then

a hazard exists that could hurt

someone else. These incidents

need to be investigated

to find the hazard that caused

the injury or illness.

Identifying hazards helps prevent incidents.

For information on how to achieve this please

contact Craig Hortle or Janelle Whitehouse at

the TCCI on 1300 559 122 or contact safety@

TCCI.com.au
---
Tasmanian Business Reporter - APRIL 2018 9

Portable

Long

Service

leave

discount

pays off

FOCUS ON BUSINESS

Chris Atkins

with Mark

Millhouse,

from Vos

Construction

Employers in the building

and construction

industry who contribute to

a Portable Long Service

Scheme are celebrating,

with more than $1.1 million

flowing back into the

industry

TasBuild has reduced

the contribution required

by employers by 1.8 per

cent of an em-ployee's

ordinary pay rate.

This represents a discount

of at least 28 percent

over the cost to actually

fund the liability.

TasBuild is responsible

for providing long

service benefits to workers

in the construction industry

and ensuring that

both employee entitlements

are protected and

a level playing field for

employers in Tasmania is

maintained.

Employers make payments

into the fund,

which go towards the industry's

employee's long

service entitlements.

When employees

move from one employer

to the next, their entitlements

go with them.

Chief Financial Officer

of Vos Construction &

Joinery Pty Ltd, Adrian

Bott, said that the move

would have a positive

impact on their business,

which currently employs

230 Tasmanians - the majority

of whom have contributions

made into Tas-

Build's Portable Long

Service Fund by Vos.

"This decision will see

up to $20,000 of funds

becoming available each

year to be invested back

into our business which

we can spend on training

and capital equipment,

it's great for our workforce

and the local economy,"

Mr Bott said.

"The Portable Long

Service Scheme managed

by TasBuild is

positive for employers

because it provides an incentive

for good people

to remain in the industry

and when employees

take leave there is no impact

on our cash flow."

"Vos has a strong and

loyal workforce with

many employees qualifying

for long service leave

while working with the

company," he said.

TasBuild CEO Chris

Atkins said the TasBuild

board took the decision

to reduce the required

contribution employers

make after careful management

and long-term

growth of the fund.

"This is the first time

the rate has changed

since 2009, the reduction

in employer contributions

comes off the

back of careful investments

and management

of funds that has seen the

fund grow from $45.6

million in 2009 to $116.5

million to June 2017,

with liabilities growing

from $49.0 million to

$95.1 million in the same

period," he said.

"Our performance has

been improving year on

year for some time now

and we are delighted that

we are able to lower the

costs of doing business

for the industry.

"We see a reduction in

costs for employers as a

positive for them and the

industry. A more profitable

sector will provide

more employment and

training opportunities for

Tasmanian construction

workers."

TasBuild pays out

more than $7.5 million in

entitlements to workers

in the construction industry

annually.

All members of the

construction industry including

employers and

relevant workers are required

to be registered

with TasBuild.

The changes came into

effect from October 1st

2017 and the industry's

employers and employee

are enjoying the flow-on

benefits.
---
10 Tasmanian Business Reporter - APRIL 2018

NEWS APPOINTMENTS and ANNOUNCEMENTS

Patients opt for private treatment

PAUL LUPO

St.LukesHealth CEO

GROWING demand for elective

surgery continues to put a strain on

the performance and perception of

our hospitals, ultimately impacting

on the confidence of the Tasmanian

public health system.

As a not-for-profit health insurance

fund, St.LukesHealth has also

experienced an increase in the number

of members accessing private

hospital services, reflective of national

trends.

We saw an 8.61 per cent rise in

hospital admissions last year, assisting

21,482 members throughout

their hospitalisation process.

It is well documented that even

with their best intentions, Tasmania's

public hospital system has

struggled to keep up with demand

and the waiting lists continue to

frustrate those needing surgery.

Tasmanians confidence in the

overall quality of the state's health

system has declined, however there

is still a belief that better quality of

care is available in the private sector.

Confidence levels are reflected

in the latest IPSOS survey results,

which detailed that those going

through the public health system

had an average waiting time of 89

days for elective surgery, while those

with private health insurance only

waited 25 days.

These national statistics are reflective

of what we are experiencing

here in Tasmania.

Of the 748,000 patients nationwide

admitted to public hospitals,

general surgery (surgery on abdominal

organs, including breast surgery)

accounted for 22 per cent of those

admissions while 15 per cent were

admitted for orthopaedic surgery.

With the challenge of meeting increasing

needs driven by a higher

prevalence in chronic conditions,

The

Launceston

General

Hospital is one

of the state's

public

facilities that

is under

strain.

more needs to be done in the preventative

health space with chronic

conditions like arthritis, asthma,

cancer, pulmonary and cardiovascular

diseases, diabetes and mental

health conditions now commonplace

in society.

In 2017, we assisted members

with procedures related to these

chronic conditions such as gastroenterology

(15 per cent) eye surgery

(8 per cent), cataracts (5 per

cent), chemotherapy (5 per cent)

and psychiatric care (4 per cent).

We also helped our members

with joint investigations, dialysis,

gynaecological and non-cosmetic

plastic surgery.

The newly reinstated State Liberal

Government has announced

that in its first 100 days it will

make health a priority – with plans

for a co-located private hospital in

Launceston to be considered and

an increase in the number of mental

health beds in Hobart.

We look forward to the roll-out

of these plans and seeing what outcomes

the government delivers for

both public and private patients.

Improvements in medical care

have enabled us to live longer

when burdened with illness or

disease, which in turn has placed

strain on an already stretched

health system.

Public or private – no one wants

a health system under strain.

We will continue to advocate

strongly on behalf of members

and the Tasmanian community for

the best possible care regardless of

lifestyle and financial situation.

Boost for MONA's

$300m hotel plan

MONA'S $300 million hotel

expansion plans have been

given a boost, after signing a

memorandum of understanding

with TasWater to deal

with the water body's Cameron

Bay waste site.

"The signing of the MoU

allows our organisations to

combine expertise and create

a solution that is both

fit-for-purpose and delivers

economic benefit to the community,"

TasWater chairman

Miles Hampton said.

"We will look at upgrading

the existing sewage treatment

plant to a standard that

will allow concurrent operation

of the plant and MONA's

redevelopment.

Mona has proposed an extrordinary

development of its

Berriedale site with a fivestar,

172-room hotel featuring

a 53-metre "Gold Gate

Bridge" architectural span

over the water, a 1000-plus

seat theatre and a three-level

library.

Hotel access will be mainly

via the water, on Venice-style

motoscafi ferries.

In contrast to progress

on David Wash's latest development,

plans for Fragrance

Group's controversial

210-metre hotel tower near

the waterfront have been

stalled and another project by

the Singapore-based group

drastically downsized.

After pubic backlash the

Fragrance Group said it had

put the Davey Street development

on hold and its second

hotel proposal, in Collins

Street, has been scaled back

from 94 metres to 50 metres.

MONA's proposed hotel HOMO and, inset, the Frangance Group's stalled 210-metre

waterfront tower.

SOLUTIONS

IN PRINT

your print specialist for over 90 years

6391 8481

Full Off-Set,

Digital and

Wide Format

Capabilities

Binding and

Finishing

Variable Data

and Mailing

sales@paperstat.com.au

www.woolstonprinting.com.au

Warehousing

and Distribution

Online Ordering

and Inventory

Management

Kiwis claim manuka

TASMANIA'S iconic

manuka honey brand remains

threatened by a

group of New Zealand

honey producers trademarking

the words "manuka

honey" in the UK,

says Federal Labor.

The Australian Manuka

Honey Association is

fighting this act and has

sought financial support

through the Commonwealth

Government's

Special Circumstances

Scheme administered

by the Attorney General's

department, Shadow

Minister for Manufacturing

and Science Nick

Champion said.

"If the $165,000 grant

is approved the AMHA

will oppose the New

Zealand trademark," said

Mr Champion, after visiting

Blue Hills in the

state's North West.

"Labor supports the

industry application and

calls upon the Commonwealth

to expedite its

processing," Mr Champion

said.

Braddon Labor MHR

Justine Keay said manuka

honey has been produced

in Tasmania since

1831 and nationally it is

a $250 million industry.

"There is also an irony

that New Zealand

honey producers would

want to claim the manuka

name as their own,

when the species of plant

from which it is produced,

Leptospermum, is

thought to have originated

in Tasmania."

WP - Advert Mar17.indd 1

4/04/2017 1:15:43 PM
---
Tasmanian Business Reporter - APRIL 2018 11

EVENTS NEWS

ABOVE: Graham Lewis of Bentley Workspaces, left, and

Alex Newman of Xsquared Architects.

ABOVE: Daniel Lane of Preston Lane, left, and Jayden Lewis of

Bentley Workspaces.

LEFT: Jeremy

Ferguson, left,

Steve

Lucius and

Sam Haberle

of S. Group

Consulting.

EVENT:

IT'S OUT THERE - Bentley Workspaces

Hobart showroom opening

LOCATION:

Bentley Workspaces Hobart studio

DATE:

Wednesday, March 21, 2018

LEFT:

Jesse

French,

left, and

Kirsten

Fox of

Dock4

Architects.

LEFT:

Richelle

Bethke, left,

and Chris

McShane of

CSIRO Business

and

Infrastructure

Services.
---
PROPERTY MATTERS

Tasmanian Business Reporter - APRIL 2018 12

CBD upgrade lifts retail demand

Scott Newton

Property Matters with

Knight Frank

Rob Dixon, Director - Commercial Sales

and Leasing (North) looks at northern retail

shop vacancies and asks: Are vacancy

levels in Launceston CBD high?

"LAUNCESTON CBD Retail

is in need of a major refurbishment,

due to the extremely

high vacancy in the

city..."

We hear comments like

this frequently from retailers,

shoppers and consultants in

viewing the status of occupancy

of shops in the CBD of

Launceston.

The Launceston CBD is

about to undergo a significant

refurbishment as part of

a transformation of the city

centre, with a number of projects

designed to stimulate activity

within the city centre.

The "City Heart Project"

aims to make central Launceston

the premier business,

retail and lifestyle hub

in Northern Tasmania, with

works soon to commence on

the Brisbane Street Mall, being

the premier strip of retail

shops in the city.

The relocation of the University

of Tasmania Newnham

Campus to the Inveresk

site will create a dynamic and

exciting university precinct.

With these exciting projects

on the go, the economic

landscape is positive with

Tasmania leading the nation

in retail sales growth over the

past 12 months to July 2017.

The figures show the

state's retail sales grew by

5.2% over the period, significantly

higher than the national

average of 3.4%.

So, does Launceston have

a high number of retail vacancies

within the core CBD?

A study by Knight Frank

looked at the retail activi-

Upgrades to Launceston's

CBD will help improve retail

vacancy rates.

ty within a grid bounded by

George, York and Paterson

Streets and Kingsway.

As at December 2017, we

have estimated the vacancy

to be at a level of 3,500sqm

or 6.1% of the area (or 4.5%

excluding the ex-Birchalls

vacancy).

The raw data includes an

area of about 1,000sqm comprising

the ex-Birchalls tenancy,

which is expected to be

occupied upon completion of

the City Heart Project works

proposed for the Brisbane

Street Mall.

The research focused on

each street and identified the

grouping of the retail sectors

across the area.

There has been recent public

comment about the status

of St John Street and the perceived

high level of vacancy

in this precinct. The data

indicated a vacancy level of

approx 11.0% against the city

average of 4.5%.

A number of retail precincts

in the city continue to

remain popular with retailers

and shoppers, with George

Street vacancies falling significantly

in the past 18

months.

Strong demand for vacant

space in George Street has

resulted in vacancies in the

precinct at 4.3% with take-up

going to see this figure continually

fall.

National retailers are certainly

making it very clear to

agents of the size and style

of retail space they are seeking

in order to combine the

"bricks and mortar experience"

with "in store on-line

sales".

They continue striving to

create the shopping experience

to lure shoppers back

into the city.

Launceston CBD retail vacancies

are very manageable,

and continual investment

will see the position strengthen

even further as local tier

retailers return to the market.

PROPERTY VIEW

APRIL 2018

Outline indicative only

For sale by offer

WELL LOCATED 1,000SQM

CLEAR SPAN

1 / 73 Droughty Point Road, Rokeby

Well established industrial area with tenants such as

Viridian, Toxfree, Repco, Eastside Activities Centre.

Subject to short term lease (up to 28 February,

2019) at $6,500 per month gross rent (+GST).

• 1,000sqm (approx) and warehouse/workshop

• Amenities including toilet/shower and

office/lunchroom

• 24m width, 42m length, with 8m minimum height

• 3 phase power, 5 tonne gantry crane

• 10 carpark spaces, 12m wide x 7m high

access

Matthew Wright 0458 290 588

Ian Reed 0419 670 501

View at KnightFrank.com.au/4168016

For sale by expressions of interest

STRATEGIC DEVELOPMENT SITE

553-559 Pass Road, Mornington

Situated adjacent to the rapidly expanding new

homes area of Mornington, approximately 8 km

east of Hobart's CBD., this property is strategically

placed to benefit from future expansion

• Land area of 8.7 ha (approx.) over two titles

with extensive road frontages

• Currently zoned "Rural Living"

• Improved with a 2/3 bedroom residence on

one title plus a building currently utilised as

a veterinary clinic

• The property is being sold with vacant

possession

Richard Steedman 0408 559 046

Scott Newton 0409 186 261

View at KnightFrank.com.au/4153002

SOLD

For sale by expressions of interest

PROMINENT CORNER SITE

153 Macquarie Street, Hobart

Knight Frank is pleased to present to the market

this flexible commercial building in a first class

CBD location.

• Prominent corner site in a core CBD location,

superb exposure to Macquarie

• Street, one of Hobart´s main arterial roads

• Multi tenanted building with good holding

income, flexibility with existing tenants terms

• A good investment opportunity with

development upside (STCA)

• Circa 1910 brick building with attractive facade

• Land area 191sqm (approx)

• Build area: 508sqm (approx)

Matthew Wright 0458 290 588

View at KnightFrank.com.au/4034976

For sale by expressions of interest

RARE FREESTANDING COLES

260 Sandy Bay Road (corner Russell Crescent)

• Secure 10+ year lease plus 10 year option

through December 2038

• Proven trader: Sales constantly above turnover

threshold and growing at an average of 5.44%

pa since 2013

• Significant 2,729sqm store, upgraded in

summer 2017/18 to Coles requirements

• Strategic 4,065sqm corner site with 100

on-site car spaces and seamless integration

to adjoining McDonald's car park

• Net passing income: $728,000 pa (actual

December 2017) / Forecast net income:

$787,000 pa (December 2018)

Matthew Wright 0458 290 588

View at KnightFrank.com.au/4125141

5 Victoria Street, Hobart 41 York Street, Launceston Shop 8, 48-54 Oldaker Street, Devonport

P: 03 6220 6999 P: 03 6333 7888 P: 03 6424 3568