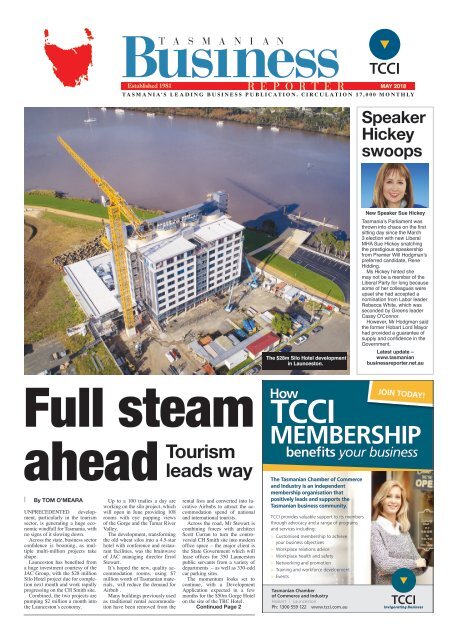 Tasmanian Business Reporter May 2018
Welcome to the May edition of the Tasmanian Business Reporter. What a tumultuous first week back for Tasmanian Parliament. At the time of printing, surprise Speaker Sue Hickey hinted she may not be a member of the Liberal Party for long, leaving Will Hodgman's majority Liberal Government in a state of uncertainty – for the latest update visit www.tasmanianbusinessreporter.net.au. In this month's edition you'll read about unprecedented development and construction generating a huge economic windfall for Tasmania, a successful collaboration to promote jobs in the disability sector and details of AMC's involvement in a multi-billion dollar navy ship building program.
Welcome to the May edition of the Tasmanian Business Reporter.

What a tumultuous first week back for Tasmanian Parliament.

At the time of printing, surprise Speaker Sue Hickey hinted she may not be a member of the Liberal Party for long, leaving Will Hodgman's majority Liberal Government in a state of uncertainty – for the latest update visit www.tasmanianbusinessreporter.net.au.

In this month's edition you'll read about unprecedented development and construction generating a huge economic windfall for Tasmania, a successful collaboration to promote jobs in the disability sector and details of AMC's involvement in a multi-billion dollar navy ship building program.
SHOW MORE
SHOW LESS
You also want an ePaper? Increase the reach of your titles
YUMPU automatically turns print PDFs into web optimized ePapers that Google loves.
MAY 2018

TASMANIA'S LEADING BUSINESS PUBLICATION. CIRCULATION 17,000 MONTHLY

Speaker

Hickey

swoops

The $28m Silo Hotel development

in Launceston.

New Speaker Sue Hickey

Tasmania's Parliament was

thrown into chaos on the first

sitting day since the March

3 election with new Liberal

MHA Sue Hickey snatching

the prestigious speakership

from Premier Will Hodgman's

preferred candidate, Rene

Hidding.

Ms Hickey hinted she

may not be a member of the

Liberal Party for long because

some of her colleagues were

upset she had accepted a

nomination from Labor leader

Rebecca White, which was

seconded by Greens leader

Cassy O'Connor.

However, Mr Hodgman said

the former Hobart Lord Mayor

had provided a guarantee of

supply and confidence in the

Government.

Latest update –

www.tasmanian

businessreporter.net.au

Full steam

ahead

Tourism

leads way

By TOM O'MEARA

UNPRECEDENTED development,

particularly in the tourism

sector, is generating a huge economic

windfall for Tasmania, with

no signs of it slowing down.

Across the state, business sector

confidence is booming, as multiple

multi-million projects take

shape.

Launceston has benefited from

a huge investment courtesy of the

JAC Group, with the $28 million

Silo Hotel project due for completion

next month and work rapidly

progressing on the CH Smith site.

Combined, the two projects are

pumping $2 million a month into

the Launceston's economy.

Up to a 100 tradies a day are

working on the silo project, which

will open in June providing 108

rooms with eye popping views

of the Gorge and the Tamar River

Valley.

The development, transforming

the old wheat silos into a 4.5-star

hotel with conference and restaurant

facilities, was the brainwave

of JAC managing director Errol

Stewart.

It's hoped the new, quality accommodation

rooms, using $7

million worth of Tasmanian materials,

will reduce the demand for

Airbnb .

Many buildings previously used

as traditional rental accommodation

have been removed from the

rental lists and converted into lucrative

Airbnbs to attract the accommodation

spend of national

and international tourists.

Across the road, Mr Stewart is

combining forces with architect

Scott Curran to turn the controversial

CH Smith site into modern

office space – the major client is

the State Government which will

lease offices for 350 Launceston

public servants from a variety of

departments – as well as 330-odd

car parking sites.

The momentum looks set to

continue, with a Development

Application expected in a few

months for the $50m Gorge Hotel

on the site of the TRC Hotel.

Continued Page 2

How

TCCI

MEMBERSHIP

benefits your business

The Tasmanian Chamber of Commerce

and Industry is an independent

membership organisation that

positively leads and supports the

Tasmanian business community.

TCCI provides valuable support to its members

through advocacy and a range of programs

and services including:

> Customised membership to achieve

your business objectives

> Workplace relations advice

> Workplace health and safety

> Networking and promotion

> Training and workforce development

> Events

Tasmanian Chamber

of Commerce and Industry

Hobart | Launceston

Ph: 1300 559 122 www.tcci.com.au

JOIN TODAY!
---
2 Tasmanian Business Reporter - MAY 2018

NEWS

Experience counts

Collaboration

jobs success

A TWO-YEAR collaboration

between the Migrant

Resource Centre

North and StGiles has

been celebrated by some

60 past and present students

of the Jobs in Disability

Program.

Jobs in disability and

aged care are growing

areas of the Tasmanian

economy and identified

in the Ministerial Priorities

for Training and

Workforce Development.

The program, which

allows participants the

opportunity to explore

and experience a work

environment, was made

possible through funding

by the Tasmanian Government

Department of

State Growth as part of

Training and Pathway

Program.

"The project has been

validated by industry and

designed to meet the de-

mands of the disability

sector. It also contributes

significantly to the goals

of the Tasmanian Government's

Population

Growth Strategy, through

the retention of migrants

who are able to engage in

sustainable employment

in the region,'' MRC

chief executive Ella Dixon

said.

"The approach of this

project has been brought

about by an identified

labour shortage (by St

Giles) and finding a

source of supply (MRC

clients) to meet demand.

"This provides the

setting for a successful

program because it is

employer-led and underpinned

by a healthy

working relationship

between St Giles and

MRC,'' she said.

"A highlight of the

Jobs in Disability program

has been to witness

the personal growth of

the participants," Convenor

Nancy Patterson

said.

"Before commencing

the program, most

lacked self-confidence

and felt that English as a

second language would

always be a barrier preventing

them from securing

sustainable employment.

"The supportive learning

environment and

the amazing support received

from all the staff

at St Giles has allowed

participants to identify

their transferrable skills

and to acknowledge that

they do have the personal

attributes and skills

that are required in the

sector," she said.

The program had a

success rate close to 75

per cent.

e dition

T A S M A N I A' S L E A D I N G B U S I N E S S P U B L I C A T I O N . C I R C U L A T I O N 1 2 , 0 0 0 M O N T H LY

Tasmanian Business Reporter can now be delivered directly to your inbox. With our 30,000-strong monthly print

readership, our new up-to-date digital distribution will keep Tasmanians abreast of the all latest in local business

news. From this month we will distribute electronic editions of the Tasmanian Business Reporter as we go to print.

To confirm your copy sign up to our mailing list via

tbreditorial@fontpr.com.au

Tasmania's business newspaper is published monthly by the

Tasmanian Chamber of Commerce and Industry. It is distributed

to businesses in Tasmania as well as key decision-makers.

Circulation: 12,000

Tassie tourism leads way

From Page 1

The 130-room hotel, to

be built on the corner of

Patterson and Margaret

Sts, will be an expansion

of the Chromy Group's

development connecting

to Penny Royal.

The Fragrance Group

has indicated it will expand

the Clarion Hotel in

Launceston with a $50m

expansion – the Hotel

Verge will be located on

the previously owned

car-park in Cimitiere St

with 86 rooms and convention

areas.

Building work is also

expected to start later this

year on the $300 million

development of the University

of Tasmania campus

at Inveresk.

In the state's capital,

10 Murray St is tumbling

down to make way

for a luxury 128-room

hotel on the waterfront to

complete the Parliament

Square development.

The floor-by-floor

demolition of the former

State Government office

Opportunities in maritime

TASMANIA is well

placed to benefit from the

multi-billion dollar navy

ship building program,

the University of Tasmania

says.

UTAS Vice-Chancellor

Professor Rufus

Black said the Australian

Maritime College

was delighted to be announced

as a strategic

partner in the new national

enterprise, the

Naval Shipbuilding Institute,

a a joint venture

between Kellogg Brown

& Root and Huntington

Ingalls Industries, which

will operate the Naval

Shipbuilding College in

Adelaide.

Professor Black said

The much-anticipated Myer re-development in Murray St, Hobart.

AMC looked forward to

working closely with the

Institute – a partnership

he said paved the way for

profound benefits for the

university and the region.

"There will soon be

unprecedented career development

opportunities

in the maritime sector,

particularly in the fields

of maritime engineering

and logistics, as a result

of the Australian Government's

multi-billion

dollar naval shipbuilding

program," Professor

Black said.

"AMC's strong defence

and industry connections,

coupled with

its breadth of offering

in maritime training, ed-

building is on track to be

completed by the end of

June.

Hobart's hive of construction

activity is being

led by the $689 million

redevelopment of the

Royal Hobart Hospital

and the reopening of the

full Myer store site after

flooding interrupted reconstruction

of the building

following fire damage

in 2007.

The university's investment

in the state includes

a $50 million,

450-bed student accommodation

complex in

Melville St, which will

be funded by commercial

partners and is due

to begin by the end of the

year.

ucation, research and

consultancy, means it is

well-positioned to respond

to these growing

demands."

Despite concern from

some quarters that Tasmania

did not feature

more prominently in the

announcement, Professor

Black said AMC's

unique combination of

specialist degree offerings,

leading-edge infrastructure

and teams

of expert academic and

technical staff placed the

institute in good stead to

support the operational

needs of the NSC, wider

industry and government.

AMC Chairman Paul

Other significant projects

in Hobart include the

new H&M clothing store

in Collins Street, while

MONA's $300 million

plans to build HOMO, a

hotel on their Berriedale

site, heads the list of major

commercial construction

projects in the pipeline.

Gregg said the NSC

would not be competing

with the AMC as an additional

educational institution.

Rather, it would be an

industry-led entity, supported

by the education

and training sector, that

will manage the necessary

workforce pipeline

around the nation.

"The NSC will work

with education and

training providers

around the country to

develop programs that

will produce the highly

skilled workers crucial

to delivering on the $90

billion investment in

naval shipbuilding," Mr

Gregg said.

Managing Editor: Tom O'Meara

0418 135 822

Editor: Becher Townshend

0418 370 661

Advertising and Special Projects

Gil Sellars 0448 901 361

gil@thetrustedmediaco.com

Editorial & Advertising

TBReditorial@fontpr.com.au

www.tasmanianbusinessreporter.com.au

Publisher:

Tasmanian Chamber of Commerce and Industry

309 Liverpool St, Hobart, TAS 7000

Ph: 6236 3600 Fax: 6231 1278 admin@tcci.com.au

TFGA House, 194-196 Cimitiere St, Launceston TAS 7250

Ph: 6331 1144 laun@tcci.com.au

Production:

aldridge.media

Ph: 0431 241 775

aldridge.media@iinet.net.au

Printer: Mercury

Level 1, 2 Salamanca Square, Hobart, 7000
---
TASMANIA'S LEADING BUSINESS PUBLICATION. CIRCULATION 17,000 MONTHLY

Tasmanian Business Reporter - MAY 2018 3

NEWS

Safety a shared responsibility

THE most important reasons

for workplace safety are people

getting home safely, just

like the advertisements portray.

And all good Tasmanian

businesses know the importance

of good work, health

and safety practices.

Providing a safe workplace,

with all the required processes,

training and procedures, is

a critical requirement of modern

business.

Because all businesses,

which employ people, however

large or small, develop

major connections with their

staff.

Keeping people safe is the

aim of all Tasmanian industries,

particularly ones that

carry inherent dangers, for example

in mining or construction.

And the best businesses

foster a "partnership" between

staff and management

to ensure that workplace safety

standards are both set and

Michael

Bailey

TCCI Chief Executive

maintained. However, I believe

that the lack of application

of the concept of mutual

responsibility is a major

downfall in the interpretation

of the Work Health and Safety

Act.

Let me give you a real example

… this is not unique,

because we hear similar stories

all too often.

One of our members has

an established, expensive and

compliant WHS system in

their workplace.

They can show that their

system and regular training of

staff fulfils the requirements

under the Act properly and

professionally.

This business had a worker

undertake a maintenance task

in a fashion that was clearly

contrary to their processes

and the training that the staff

member had received.

The staff member was unfortunately

hurt.

The business did the right

thing and reported the incident

to WorkSafe immediately and

undertook an investigation.

It was established that the

worker knew what he was

doing was wrong, that it was

against the training he had received

and against the process

that he had signed.

But the business was still

prosecuted by WorkSafe.

Yes you read right, the business

was fined.

Keeping people safe is the aim of

all Tasmanian industries,

particularly ones that carry

inherent dangers.

How the heck is this fair?

The business has done everything

in their power to provide

a safe workplace.

The worker was in the

wrong and yet the business

was fined.

It raises the question, from

a regulation point of view,

"what was the point in undertaking

the long and expensive

WHS journey in the first

place?"

If the outcome was always

going to be a fine against the

business, why bother?

The reason we bother is that

the vast majority of businesses

and business owners want

to have safe workplaces.

But under the act is the capacity

for the regulator to proceed

against a worker if it is

determined that they were at

fault.

Guess how many times this

has happened in Tasmania ...

has it ever?

You guessed it... not once

(according to the regulator itself).

I recently asked SafeWork

Australia's Maree Boland

(currently undertaking a review

into the Act) how many

times had a worker been prosecuted

rather than a business,

nationally.

She told me that to the best

of her knowledge, in each jurisdiction

around the country,

it had happened only twice for

horrible hazing situations.

I am completely sick of

businesses being held responsible

for every action of their

employees regardless of the

worker's mutual responsibility

at work.

It is time for workers to be

held to account if they do not

follow established, and fairly

trained, processes and procedures.

When a business provides a

complementary WHS system,

proper training and refreshers,

they should be protected

under the act if a worker does

not comply.

The TCCI strongly supports

the WHS principals and

we are striving to ensure that

all workers return home at the

end of the day safe and unhurt.

But it must be clear that the

worker has a role in this aim.

Getting the WH&S

message across –

Craig Hortle, page 6

Distiller heads the right whey

VODKA produced by Tasmania's

Hartshorn Distillery has won

World Vodka of the Year at the

World Vodka Awards in London.

The accolade is a wonderful

achievement for the young

business, which had already

gained two other international

awards this year.

Its Sheep Whey Vodka won

Best Varietal Vodka of Australia

at the World Vodka Awards 2018

for the second time in a row and

its Sheep Whey Gin won gold

at the International Gin Awards

2018.

Hartshorn Distillery is the first

company in the world to craft

spirits from sheep whey - not a

small feat for head distiller Ryan

Hartshorn, pictured, who won

Tasmania's Young Innovator

of the Year in 2017. One of the

smallest distilleries in Australia,

Hartshorn Distillery makes 80

bottle batches of spirits using a

200L glass column still at Birchs

Bay.

Mr Hartshorn said he was

shocked to have won world

acclaim.

"It was always a goal of mine

to win this award however I did

not think it would happen this

quickly," Mr Hartshorn said

"I already have a very busy

year ahead with some great

product ideas and this award

has made it even more so in

a good way. I think I will need

to take up yoga to reduce my

stress levels.

"I am very appreciative of the

award but weirdly my first

thought was not to celebrate

but to begin thinking what my

next steps are with this award

in regards to all other projects I

have in the fire right now."

Mr Hartshorn said all

Hartshorn Distillery sheep whey

spirits were crafted to perfection

and were unfiltered for a

drink that had character and

complexity.

As well as being a world

class distiller, Hartshorn is also

part-owner in the family sheep

cheese business Grandvewe.

To take advantage of the whey

discarded in the cheese making

process, Mr Hartshorn bought

a still and taught himself how to

convert sheep whey into alcohol.

It was not a fast or easy

process, especially when

seeking the right enzyme

needed to break down the whey

proteins.

WANTED

Business

movers and

shakers

• Promotions

• Appointments

• Awards

• Celebrating

success

Share the news

with the

Tasmanian

business

community

Send your news

snippets, with a

high quality photo,

to TBReditorial@

fontpr.com.au
---
4 Tasmanian Business Reporter - MAY 2018

THOUGHT LEADERSHIP

www.tcci.com.au

Importers welcome competition

Brett

Charlton

Agility Logistics

WHILE Tasmanian exporters

have been living in a sweet

spot with the plethora of services

available and competing

ex-Tasmania, coupled with

the assistance of the TFES

extension, our importers have

experienced the opposite with

higher freight rates and limited

space availability – especially

ex-Asia.

Importers would be happy

to know that MSC Line has

recently changed the rotation

of their Capricorn service

with Asia being connected via

Singapore into Bell Bay without

first discharging in Melbourne.

With a weekly service that

calls Singapore, Fremantle,

Adelaide and then Bell Bay

before Melbourne port, the

transshipment costs and additional

lifts that burden importing

companies are negated

somewhat – in some cases

significantly.

While this new service

promises some much needed

competition on the southbound

sector (internationally)

importers should be wary of

the seasonal space restrictions

ex the Asian countries

and while we are seeing some

reduced rate levels at the moment,

there is constant pressure

from all lines to increase

and maintain higher freight

rates particularly for import

cargoes.

We have recently been advised

of a new general rate

increase declaration for May

of US$200 per TEU ex-Asian

ports – whether this is successful

or not is yet to be seen,

however importers should, as

a matter of course, be mindful

of the pressure of space

ex-Asia and the effects this

can have on pricing as well as

timing of shipments (in peak

times, the Capricorn Service

will be in high demand and if

space is not available, the history

of the support of the other

New family leave

rules explained

Abbey

George

Workplace Relations

THE Fair Work Commission

handed down decisions

regarding domestic violence

leave and family friendly

working arrangements on

March 26.

In regards to domestic violence,

the commission has

made a decision to include

model clause into Modern

Awards that provide for domestic

violence leave of five

days to all employees (including

casual employees)

and some important points to

note from the decision are as

follows:

• the leave is to be unpaid;

• the leave will be made

available in full at the commencement

of each 12-month

period (not accruing progressively

during the year like

other leave);

• it won't accrue from year

to year;

• the entitlement won't be

pro-rated, so part-time employees

and casual employees

will also receive the full five

days each year;

• employees won't be required

to take paid leave before

accessing the unpaid

domestic violence leave entitlement;

• the drafting of the model

clause will be concluded in

the coming weeks and will be

circulated for comment with a

further hearing being scheduled

in May; and

• the view was also expressed

by the commission

that "employees should be

able to access paid personal/

carer's leave for the purpose

of taking family and domestic

violence leave".

In regards to family friendly

working arrangements, the

commission has made a decision

to include a model clause

into modern awards that facilitate

flexible working arrangements

in relation to parental

and caring responsibilities as

follows:

• the model clause is intended

to expand the scope of the

requirements for the request

for flexible working arrangements

currently in operation;

• employees (including casuals)

with at least six months

service will become eligible

to request a change in working

arrangements relating to

Transshipment costs and additional lifts that burden importing companies are

negated somewhat with a new route that calls into Bell Bay before Melbourne.

parental or caring responsibilities;

• employers will be required

to meet with employees who

utilize this entitlement in

an attempt to reach genuine

agreement in accommodating

the request before refusing it;

• if an employer does refuse

the request then they must

confirm this in writing and

provide a more comprehensive

explanation than currently

required including details

of any changes agreed to as

well as any other changes that

could be offered to the employee;

and

• the commission is currently

asking for submissions

with a further hearing being

scheduled in May.

The full decisions can be

accessed via the Fair Work

Commission website: www.

fwc.gov.au/ and the summaries

of each decision can be

found here:

Domestic violence - www.

fwc.gov.au/documents/sites/

awardsmodernfouryr/2018fwcfb1691-summary.pdf

Family friendly working

arrangements - www.

fwc.gov.au/documents/sites/

awardsmodernfouryr/2018fwcfb1692-summary.pdf

For more information

contact the TCCI

Helpline on 1300 765 123

or TCCI on 1300 59 122

or workplacerelations@

tcci.com.au

lines will be a consideration).

Cheaper rates are great if

there is space available – absolutely

useless without the

space though.

The subject of coastal shipping

has been discussed recently

with a major shipping

representative body undertaking

a study into the viability

of coastal shipping around

Australia.

The coastal shipping research,

in the context of this

discussion, is the ability for

international shipping lines

to be able to carry domestic

shipments around the coast of

Australia (cabotage).

This discussion generates

mixed feelings from different

camps and there are some

deep emotions that emerge

when talking about this topic

– the Federal Government has

been discussing reform for

WITH the recent state

election now behind

us, it is important to

take stock of where

we are as a state and

continue as a government

to deliver positive

outcomes to support

the Tasmanian

small business sector.

We have a number

of important initiatives

in the small business

space to assist with

business development

and growth, including

grants for small businesses

to take on a

trainee or apprentice.

It is pleasing to note

that our strong support

of the sector is

reflected in the latest

March Quarter

Sensis business sur-

some time, but not much has

changed since cabotage came

to a grinding halt in 2012.

There have been times in

the past, if you care to look,

where I have called for cabotage

to be reinstated (especially

when the reform was

one of the reasons for the

withdraw of our international

AAA service back in the

day), but I have to admit that

I am a little more cautious

these days.

.Consider my first report

of the MSC service via Singapore

into Bell Bay, cheaper

freight rates - but what about

the space – these lines are

monsters and carry the majority

of the freight around

the planet – how can the

commitment be cemented to

Tasmania?

Who is to say that if there is

something shiny somewhere

else they won't simply pull up

stumps and say "so long and

thanks for the fish". (Hitchhikers

Guide reference).

Whereas the likes of Toll,

Searoad and TT Line have a

vested and committed infrastructure

and commitment

to the Bass Strait trade that

works and is indeed being invested

with new vessels.

We need to be careful to

consider all aspects of the debate

(in everything of course).

Small business positive

Business

Matters

By a State

Government

spokesman

...there is

constant

pressure

from all

lines to

increase

and maintain

higher

freight rates

particularly

for import

cargoes.

vey, which notes that

the Tasmanian Government

is the most

popular in the nation

with small and medium

sized businesses

(SMBs).

Tasmania's SMBs

confidence levels are

leading the nation

at +54 index points,

equal with the ACT.

They are also the

most confident about

the direction of the

economy, with the

index sitting at +24

points.

Hobart has the highest

confidence level

of any capital city and

regional confidence is

also above average for

Tasmania.

These positive results

follow on from our

strong performance in

the CommSec State

of the States report

and the recent NAB

Monthly Business Survey,

which reported on

Tasmania's positive

economic direction

and showed business

confidence and conditions

led the nation.

But we won't be

resting on our laurels

– instead we will continue

to implement our

agenda to take Tasmania

to the next level to

create more jobs and

grow the economy.

We will support the

many small business

owners who put much

work into making their

businesses thrive.
---
TASMANIA'S LEADING BUSINESS PUBLICATION. CIRCULATION 17,000 MONTHLY

Tasmanian Business Reporter - MAY 2018 5

THOUGHT LEADERSHIP

www.tcci.com.au

Getting the safety message across

ONE of the more difficult

aspects of ensuring a safe

workplace is getting the message

across to all workers.

In any workplace there

can be a number of barriers

that prevent a clear message

of safety in the workplace,

some of these are:

• size of workplace;

• diversity of culture and

nationalities in the workplace;

• educational standards;

• type of work performed

by the business; and

• structure of the business.

To address these issues

requires a holistic approach

that provides a clear and

understandable approach to

working safely.

This can be achieved by

standardising the format that

information is conveyed.

For example the same format

of safe operating procedure

even if the type of work

may be different.

According to Australian

Craig

Hortle

Workplace Health & Safety

Bureau of Statistics figures

revised in 2008, about 49 per

cent of the state's adult population

aged 15 to 74 do not

have adequate reading and

writing skills.

This may not mean that individuals

are not able read,

but it does mean that when

preparing information that

relates to working safely that

the format it is presented is

considered.

For example when presenting

information in text use

plain english, simple words

that are easily understood.

It may be better to use

more pictorial information to

transfer the message.

If your workplace employs

workers where English is

their second language, this

also needs to be considered.

If there is a large cohort of

a specific nationality it may

pay to have the safety information

translated into that

language.

Also depicting information

in pictures may help.

If there is only one or two

of a particular nationality it

may be beneficial to use a

mentor to help convey WHS

information.

If the workplace is located

over a large area or several

different locations it is

important that information is

It may be better to

use more pictorial

information to

transfer the message

readily available across the

site or sites.

Consistency of message

and the format that information

is conveyed should be

maintained.

For more information

contact Craig Hortle or

Janelle Whitehouse at

the TCCI on 1300 559

122 or contact

safety@TCCI.com.au

The safety message is

the same, whatever the

language.

Now is the best time to buy a business

Dean

Demeyer

Business Broker

THE local economy is

growing as a consequence

of:

• stable government;

• property prices soaring;

• positive business and

consumer confidence;

• unemployment rates

declining, and

• lower interest rates prevailing.

It would be reasonable

to assume the market for

selling businesses is robust.

However, brokers are

reporting sporadic sales.

The likely reason is low

wages growth combined

with high personal debts

limiting household spending.

This leaves small

business revenues and

profits stagnating while

they wait to benefit from

the favourable market conditions.

According to Seek

Commercial, the number

of small businesses for

sale in Tasmania has risen

by more than 11 per cent

over the last 12 months. unemployment rate and

There are plenty of stronger wages growth

business opportunities for over the next year, leading

sale.

to higher consumer

The Reserve Bank is spending.

predicting stability in the If these forecasts are

2

ADVERTISEMENT

Elise

Archer

YOUR QUICK GUIDE TO SERVICES AND PRODUCTS FOR YOUR BUSINESS

BUSINESS

HOBART'S BEST RANGE OF

QUALITY ERGONOMIC FURNITURE

FOR THE HOME AND OFFICE

Your local Liberal

Member for Denison

62 Main Rd, Moonah

We specialise in high quality ergonomic chairs,

alternative seating and electronic sit/stand desks.

Flair Office Furniture has been providing quality, affordable office

furniture to homes and offices throughout the Hobart region

for nearly 15 years. We're a locally-based, family-run business

specialising in all types of products, so why not visit us today to

see our fantastic range?

Please contact me:

Phone 6234 1127

260 Argyle Street,

North Hobart

p: 6212 2210

e: elise@elisearcher.com

m: PO Box 426, Moonah, 7009

www.elisearcher.com

www.flairofficefurniture.com.au

BUSINESS

Authorised by Elise Archer, 62 Main Rd, Moonah, 7009

WANTED

Business

movers and

shakers

• Promotions

• Appointments

• Awards

• Celebrating

success

Share the news

with the

Tasmanian

business

community

Send your news

snippets, with a

high quality photo,

to TBReditorial@

fontpr.com.au

To see your business here, call Kerri on 0419 750 267 or email kerri@thetrustedmediaco.com

realised, there should

be improvements to

turnover and profitability

increases across the

board.

Another positive resulting

from higher

property prices is the

increased access to finance

from banks.

Most business loans

have to be supported by

Your Partner

in Print.

www.footandplaysted.com.au

Now incorporating

THE CRAFT LIVES ON.

available equity (security)

in bricks and mortar.

There is one limiting

factor on access to capital

however, the increasingly

cautious financing

approach of the undersiege

finance industry.

I suggest, employing a

finance broker who can

access funds from other

sources outside the big

four banks at competitive

rates.

So with plenty of businesses

for sale, positive

economic forecasts, predicted

higher profits and

wages growth, and some

improved access to business

capital, I would

suggest now could be a

good time to consider

buying a small business

that is already on the

market.

Remember the sale

price of those businesses

was assessed on historical

profit and loss

reports when different

economic conditions

prevailed.
---
6 Tasmanian Business Reporter - MAY 2018

THOUGHT LEADERSHIP

www.tcci.com.au

Benefits in traders building trust

Sally

Chandler

Tradestart Adviser

TRUSTED Trader is open

to all Australian businesses

whether they are large or

small.

If your business has been

active in the international

supply chain for two years or

more and meets the eligibility

requirements, you can join an

increasing number of Australian

exporters who are accessing

the benefits of Australian

Trusted Trader.

Benefits include:

• faster access to international

markets;

• saving time and money

on customs processes - Priority

Trade Services when requesting

duty drawbacks and

refunds (importers), and advanced

rulings on tariff, valuation

and origin (exporters)

though the National Trade

Advice Centre;

• a dedicated Australian

Border Force account manager

who can provide you with

information and assistance

with customs related issues;

• mutual recognition arrangements

which provide

exporters differentiated treatment

at international borders

with China, New Zealand,

South Korea, Canada and

Hong Kong;

• use of the ATT logo which

is also recognised by international

customs administrations;

• a monthly report on all

goods imported and exported

under the business' ABN;

• a seat at the table for you

to help develop the Australian

Trusted Trader program

and the future of Australian

trade; and

• streamlined processes

to become an Accredited

Sponsor under the Accredited

Temporary Skills Shortage

visa program.

If your business is importing

supplies or equipment,

the benefits increase.

The accreditation process

is free using an online application

form.

An onsite visit of your

premises will be conducted

to review the supply chain

controls that are in place

and it is an opportunity to

work together to identify

any improvements that may

enhance supply chain security.

Benefits for Trusted Traders include faster access to international markets.

After an assessment of

your application and the onsite

validation, your business

may be offered ATT accreditation

where you then

enter into a formal agreement

with the Australian

Border Force.

Additional information

can be accessed at www.

homeaffairs.gov.au/trustedtrader

or by email trustedtrader@abf.gov.au

or

phone 1300 319 024.

For international trade

and investment assistance

contact the TCCI's

TradeStart Adviser,

Sally Chandler, at sally.

chandler@tcci.com.au or

phone 1300 559 122.

BE PART OF THE

MULTI-BILLION

DOLLAR

LOGISTICS

INDUSTRY

Whether you are looking to start your career, or upgrade your

skills for career advancement - the Australian Maritime College

can get you there.

Set yourself up for global career opportunities with our Maritime

Business and International Logistics program, preparing you for

a career in senior management.

Study here, work globally.

Apply now: amc.edu.au

CRICOS Provider Code: 00586B

Inquiry needed on

apprentice pinch

Anita

Dow

Shadow Minister for Employment,

Training and Skills Development

TASMANIA'S lack of apprenticeships

and shortfalls in training

places requires investigation by

a Parliamentary Inquiry.

Some Tasmanian industries

are in real danger of falling short

of workers within only a handful

of years if no new workers are

trained.

Tasmania has lost at least

1,800 apprentices and training

places over the past four years

and we need to understand why

these positions have disappeared

and where the training

dollars have gone.

We are experiencing growth

in areas such as residential and

commercial construction but

serious questions need to be

answered about why apprentice

numbers have not grown at the

same time and in fact have gone

backward.

Tasmanian industries should

be able to take on more apprentices

and trainees, not fewer,

and if we are not providing

training we are in real danger of

reaching a point in the next few

years where there just will not be

enough people to do the job.

Political leaders should be

consulting closely with industry

but it has not happened.

Labor went to the election

with a commitment to grow the

economy and build for the future

through true partnerships with

industry by establishing eight Industry

Advisory Councils across

key sectors including building

and construction, minerals and

energy, advanced manufacturing,

tourism and education.

Labor is calling for a Parliamentary

Inquiry to be established

to look at key concerns

including costs for industry,

wages and training and work

pathways for the future and also

the prescribed numbers of apprentices

and trainees attached

to government projects.

The only way we are going

to establish how our local

industries have been put in a

position where they are struggling

to provide jobs to young

Tasmanians and fill the void in

the workforce is to provide the

opportunity for all stakeholders

- including apprentices - to put

their statements on public record

and then adequately plan

for the future.
---
Tasmanian Business Reporter - MAY 2018 7

FOCUS ON BUSINESS

StLukesHealth members benefit

Paul

Lupo

CEO, StLukesHealth

AFFORDABILITY of private

health insurance for Tasmanians

is always at the forefront

of consideration when setting

premiums at St.LukesHealth.

As a not-for-profit Tasmanian-based

health fund,

we only increase premiums

to cover claim costs. We do

not increase premiums to pay

shareholders or to boost profits.

In the last financial year, we

returned 92 per cent of all premiums

paid back to members

as benefits compared to just

84 per cent by the big three

for-profit funds.

Over the past few years

St.LukesHealth has experienced

substantial uptake of

our Super Extras product in

mainland states as consumers

begin to shop around and look

at better value health insurance

options outside the larger

national funds, particularly

in Victoria and New South

Wales.

Due to this shift in our

membership base, it was unsustainable

for the fund to

continue to offer our Super

Extras product at a single national

price.

In response, we have introduced

pricing based on the

customer's state of residence

which reflects the costs of

providing our product in that

state.

What we have found is that

members in NSW and Victoria

are accessing services

more often and as a result the

overall benefits paid to members

is much higher.

The state-based pricing

model sees NSW members

receiving a 45.05 per cent rate

increase for Super Extras cover

(1.4 per cent of the fund's

policies, 482 policyholders),

while those in Victoria experienced

a 35.03 per cent rise

(1.9 per cent of the fund's policies,

652 policyholders).

The move to state-based

St.LukesHealth membership quality specialist Brittney Carter helps a

member review their cover.

pricing provides our overall

membership with a level of

fairness, and ensures members

are paying a premium

that is aligned to where they

reside and are not subsidising

other markets.

As a result, our Super Extras

policyholders residing

in Tasmania have received

a 4.46 per cent rate increase

since April 1, 2018, equating

to a $3 rise per month for singles

or $6 for families before

the rebate.

To complement our Gap

Free Preventative Dental benefits,

we have also increased

the benefits in the Super Extras

product to ensure our

members now receive better

cover for dental services

like extractions, fillings and

crowns, while eye therapy,

remedial massage and physiotherapy

have also had a benefit

increase.

As a notfor-profit

Tasmanianbased

health

fund ... we do

not increase

premiums to

pay

shareholders

or to boost

profits.

St.LukesHealth is a proud

Tasmanian company and we

take the health and well-being

of our members across the

country seriously.

We strive to offer the best

mix of cover and services to

suit the individual needs of

our members.
---
8 Tasmanian Business Reporter - MAY 2018

NEWS

Young achievers work for change

Liberal MHA and Minister Jacquie Petrusma,

left, presents the Premier's Young Achiever

of the Year award to Angela Crane,

representing Kirby Medcraft.

Madelena Andersen-Ward, right, receives her

award from Elizabeth Daly OAM, Northern

Manager, for Colony 47.

First National Real Estate CEO Ray Ellis,

left, presents Grant Milbourne his award.

ABOVE: Spirit of Tasmania

General Manager,

Retail & Hospitality, Nick

Harriman presents

Tara Howell her award.

LEFT: Madeleine Fasnacht is

presented her award by

Campbell York, General

Manager, Motors Hobart.

ABOVE: Jack Dyson, right, receives his award from

Jeremy Pettet, CEO, TADPAC Print.

LEFT:

Angela Crane,

right, accepts

Kirby Medcraft's

award from

Associate

Professor Karen

Swabey, Dean and

Head of School,

University of

Tasmania Faculty

of Education.

LEFT: Jason Travis,

Regional Development

Manager

TAS, The Coffee

Club congratulates

Stephanie Eslake.

Talk directly to Business Leaders,

Managers and Owners.

Tell your unique story to the​ decision makers​.

No other medium can talk directly to business

like the BUSINESS Reporter can.

PRINT + ONLINE

Imagine 30,000 ​business news​ readers statewideplus

over 5,000 Online subscribers who

get the latest business news that matters to them.

Explore the possibilities.

Ask about the editorial/advertising package

that delivers a direct hit to your market.

Call Gil Sellars on 0448 901 371 to

See how the BUSINESS reporter can build your brand

awareness

TASMANIA'S Young

Achiever of the Year

award winner is helping

other young people aspire

to achieve great results

into the future.

Kirby Medcraft, 29 of

Lutana, is Assistant Principal

at Windermere Primary

School where she

has brought about significant

change, particularly

in regards to family engagement.

She was awarded the

Other winners were:

Heather and Christopher Chong Community

Service & Volunteering Award -

Olivia Fleming, 21 of Rosny Park.

The Coffee Club Arts and Fashion

Award - Stephanie Eslake, 27 of Sandy

Bay.

First National Real Estate Leadership

Award - Grant Milbourne, 28 of Lenah

Valley.

Premier's Young Achiever

of the Year award at a gala

dinner at Wrest Point in

Hobart, attended by hundreds

of people.

Ms Medcraft's was acknowledged

for her K-2

"Counting Bags" takehome

Maths activities,

which had a 100 per cent

involvement from families.

Her "Bedtime Stories"

afternoon saw more than

200 parents attend school

to read with their child.

In her role, Kirby works

closely with early childhood

teachers, mentoring

them and modelling best

practice.

The Spirit of Tasmania

Tourism and Hospitality

Award was won by Tara

Howell, 27 of Launceston.

She founded Blue Derby

Pods Ride – a threeday,

soft-adventure mountain

biking experience at

Derby.

TADPAC Print Service to the Disability

Sector Award - Jack Dyson, 20 of

Rokeby.

St.LukesHealth Healthier Communities

Award - Nadine Ozols, 29 of Bicheno.

Motors Tasmania Sports Award -

Madeleine Fasnacht, 18 of Blackmans

Bay.

Colony 47 Young Indigenous Achievement

Award - Madelena Andersen-Ward,

26 of Margate.

QEW Orchards CEO Alderman

Heather Chong, left, presents Olivia

Fleming with her award.
---
Tasmanian Business Reporter - MAY 2018 9

FOCUS ON BUSINESS

AICD steps

to ensure

cyber safety

Hobart Course:

​Cyber for Directors,

Tuesday

July 24, 2018,

THE Australian Institute of

Company Directors will be

running a cyber safety course

for company directors in Tasmania

later this year.

Organisations need to comply

with the new Notifiable

Data Breaches regulation.

Here are five steps to protect

your data.

Identify

"What are we trying to

protect?" is a key question

for directors when assessing

their preparedness for the data-breach

notification.

"What information do we

have that's likely to cause serious

harm?

"Where is it?" asks Jason

Wilk from Blue Zoo.

"It's not all the information,

just certain bits.

"Until a director knows

where it is, they can't make an

informed decision as to whether

it has been accessed or lost."

Protect

One simple question directors

can ask here is: "If we

know what is likely to cause

serious harm, then what are

we doing about it?"

Detect

This is the step where many

organisations fall down according

to Wilk.

The issue involves how organisations

will know if an

outsider has accessed their

data.

"We assume that alarms

will go off when the bad guys

come in. The reality is – for

most large organisations –

that the time between when

they're attacked and penetrated

and when they find out, is

in the order of months," he

says.

Many directors think about

how to prevent and respond to

breaches but they don't consider

the important middle

step of detecting them.

"How do we know that the

information that would fall

under the act has been disclosed

or lost? Or will we actually

know?" says Wilk.

Technical expertise is required

at this point, so directors

will have to engage audit

or security firms to check

the organisation's monitoring

systems and firewalls.

While large companies are

usually organised, small businesses

and not-for-profits often

don't have the budget to

hire consultants, notes Wilk.

Respond

Fix the problem and stop

more data leaking.

Recover

Recovery is about getting

back to business as usual.

Directors also need to refer

Register:

www.companydirectors.com.au/tas-cyber

Location:

AICD Hobart

Level 4, Hobart

Corporate Centre,

85 Macquarie St,

Hobart

back to the Information Commissioner's

guidance about

notification (oaivc.gov.au).

Some of the specific requirements

remain unclear,

such as how soon a breach

must be notified. Is this done

via letter or email?

And will the organisation

need confirmation that the notification

has been received?

Go to aaic.gov.au for

more information.

CYBER: ARE

YOU READY?

Prepare for the inevitable

In our rapidly changing world, organisations face new cybersecurity threats and opportunities. Our new Cyber for

Directors course enables you to effectively and actively engage as a board in the process of identifying the evolving

threats and risks to your organisation, as well as maximise the opportunities to innovate and grow.

Upcoming dates in Hobart:

Tuesday 24 July 2018

06460-11_18

Book now t: 1300 739 119

w: companydirectors.com.au/cyber
---
10 Tasmanian Business Reporter - MAY 2018

NEWS APPOINTMENTS and ANNOUNCEMENTS

Staff up for challenge

AURORA Energy has

once again joined forces

with TasTAFE to

deliver a suite of customised

qualifications

for its employees.

Sixteen Aurora Energy

employees undertook

the Formal

Qualifications Program,

achieving qualifications

in Certificate

III in Business, Diploma

of Leadership

and Management and

Diploma of Learning

and Management Strategic.

It brings the total

number of employees

over the past two years

to have obtained a nationally

recognised

qualification to 68.

The tailored program

provides direct

benefits to Aurora Energy,

integrating with

its culture, values and

strong customer service

focus.

Aurora Energy CEO Rebecca

Kardos said the energy

retailer remained committed

to supporting its Tasmanian

workforce by providing opportunities

to obtain formal

qualifications together with

maintaining a workplace

that was up-skilled and future-proofed.

"As an organisation in an

EMPLOYERS in the building

and construction industry

making contributions to a

Portable Long Service Fund

are celebrating, with over

$1.1 million flowing back

into the industry.

It follows the announcement

that provider TasBuild

has reduced the contribution

required by employers to 1.8

per cent of an employee's ordinary

pay rate.

This represents a discount

of at least 28 percent over

the cost to actually fund the

Left to right: Aurora Energy Chairman Caryle Demarte, CEO Rebecca Kardos, TasTAFE

CEO Jenny Dodd, far right, with the Certificate III in Business graduates.

liability.TasBuild is responsible

for providing long service

benefits to workers in the

construction industry and ensuring

that both employee entitlements

are protected and

a level playing field for employers

in Tasmania is maintained.

Employers make payments

into the fund, which go towards

the industry's employee's

long service entitlements.

When employees move

from one employer to the

next, their entitlements go

ever-changing industry we

need to ensure we have people

with the capabilities and

mindset to adapt and this is

best achieved by investing in

knowledge, skills and leadership

development across

the business," Mrs Kardos

said.

"To have a workforce

which embraces this challenge

makes it all the more

easier."

TasTAFE CEO Jenny Dodd

said TasTAFE was proud to

continue its long-standing

working relationship with

Aurora Energy to provide tailored

training for its employees.

"Like all TasTAFE courses,

the emphasis of the training

with them. TasBuild CEO

Chris Atkins said the Tas-

Build board took the decision

to reduce the required contribution

employers make after

careful management and

long-term growth of the fund.

"This is the first time the

rate has changed since 2009,

the reduction in employer

contributions comes off the

back of careful investments

and management of funds

that has seen the fund grow

from $45.6 million in 2009

to $116.5 million to June

is practical with learning programs

structured so that they

can be applied back in the

workplace," Ms Dodd said.

"This practical approach

means that Aurora Energy receives

a tangible benefit from

the investment and participants

can clearly see the value

of their training and how it

directly relates to their work."

$1.1m flows back to builders

2017, with liabilities growing

from $49.0 million to

$95.1 million in the same

period," he said.

"Our performance has

been improving year on year

for some time now and we

are delighted that we are

able to lower the costs of

doing business for the industry."

The Tasmanian Business

Reporter incorrwectly stated

that TasBuild was a superannuation

fund in its April

edition.

APPOINTMENTS

Connelly's Cradle Coast passion

THE Cradle Coast Authority has appointed Daryl Connelly as

Industry Development Manager.

Daryl, pictured, joins CCA's Regional Development team on

a part-time basis, while continuing his work as CEO at Switch,

for which he is widely respected for helping new and emerging

Cradle Coast businesses.

"Daryl is passionate about the Cradle Coast and creating opportunities

to help others make

both their businesses and the

region better," Cradle Coast Authority

CEO Brett Smith said.

"At its core, the CCA is about

regional economic development

with small business at the heart

of the Cradle Coast economy, be

it in the manufacturing, tourism,

hospitality or services sector.

"Supporting business to improve

productivity through business-to-business

networks and

bringing new knowledge to the

region via industry experts is

one way the CCA can help to lift the region's prosperity and

wellness."

Mr Connelly boasts diverse work experience across agriculture,

food manufacturing, hospitality and retail.

He was a founding director of Switch Tasmania when it was

established as a volunteer organisation and became its Business

Advisor in 2013.

New state boss at Rabobank

WESTERN Australian woman Kathryn Brown will head up

Rabobank's business in Tasmania.

Ms Brown will be based in Launceston as branch manager

Tasmania, in charge of a including Launceston, Devonport,

Smithton and Hobart.

Announcing the appointment, Rabobank regional manager

for southern Victoria and Tasmania Hamish McAlpin said Ms

Brown brought extensive agri-banking experience and strong

leadership skills to the role.

"With more than two decades of agri-banking experience,

and senior leadership roles within

the bank, Kathy is well positioned

to lead the bank's team

of 15 agri-banking specialists

around the state," Mr McAlpin

said.

"Tasmania is a powerhouse of

Australian agriculture, with the

state's farmers leading the way

with on-farm productivity gains,

water-use efficiency and diversification,

so it was also important

we appointed someone with a

passion for agriculture and food

production – which is shared by

all our Tasmanian team."

Hailing from Western Australia, where she most recently

managed the bank's operations in Albany, Ms Brown has had a

lifelong association with agriculture, Mr McAlpin said.

Ms Brown has also farmed in her own right, running a broadacre

cropping and livestock operation near Albany.

SOLUTIONS

IN PRINT

your print specialist for over 90 years

6391 8481

www.woolstonprinting.com.au

Full Off-Set,

Digital and

Wide Format

Capabilities

Binding and

Finishing

Variable Data

and Mailing

sales@paperstat.com.au

Warehousing

and Distribution

Online Ordering

and Inventory

Management

IN BRIEF

Call for WorkSafe Awards

applications

APPLICATIONS for the 2018 WorkSafe Tasmania

Awards are now open.

Held every two years, the awards are designed to

help reduce workplace fatality, injury and disease

through recognising excellence in work health,

safety and wellbeing.

The awards reinforce the message that safe business

is good business, with less injury and illness

helping improve overall performance and productivity.

In the more than twenty years since the awards'

inception, the number of Tasmanians suffering

work related injuries or illnesses has more than

halved.

Further information and application details can

be found at www.worksafe.tas.gov.au with entries

closing on 3 June 2018.

The awards will be announced during WorkSafe

Month 2018 in October.

WP - Advert Mar17.indd 4

4/04/2017 1:15:54 PM
---
Tasmanian Business Reporter - MAY 2018 11

EVENTS NEWS

ABOVE: Hawthorn Football Club

President Jeff Kennett.

ABOVE: Glenn Chapman, left, and

Ross Martin.

ABOVE: Launceston Mayor Albert van Zetten, left,

and ANZ Banking State General Manager,

Business Banking VIC and TAS Gareth Arbuthnot.

EVENT:

Kennett in Conversation. Presented by

the Launceston Chamber of Commerce,

sponsored by ANZ Banking.

LOCATION:

The Tramsheds, Inveresk, Launceston.

DATE:

Friday, April 27, 2018.

Pictures courtesy of The Examiner

ABOVE: Anthony Carr, left, Les

Warden and Robert Grant.

ABOVE: Joe Hammond and Derani

Power.

LEFT:

Michael

Siggins,

left, Jo

Siggins

and Neil

Grose.

ABOVE:

Ashley Green, Jason Reed and Donna Bain

ABOVE: Matthew Holmes, left, David Pretorius and

Gerard Hextall.

ABOVE: Andrew Wolfe, Philip Bushby and

Richard Trethwie.

ABOVE: ANZ Banking State General Manager,

Business Banking VIC and TAS Gareth Arbuthnot

speaks to guests.
---
PROPERTY MATTERS

Tasmanian Business Reporter - MAY 2018 12

Get ready to ride tourism wave

Scott Newton

Property Matters with

Knight Frank

Knight Frank Tasmania's experienced

specialist consultant for the tourism and

leisure sector, John Blacklow, shares his

views on the future of this market.

MUCH has been written

about our booming tourism

industry in the last two years.

A record 1.28 million people

visited our state in the

year to September 2017, not

including cruise ships.

The number of cruise ships

has increased by 44 per cent

over the previous year, with

130 visiting Tasmanian ports

this season.

Tasmania is not just the

darling of the international

tourism scene, new research

shows the domestic tourism

market is growing faster in

Hobart than any other capital.

It would appear that Tourism

Tasmania's forecast five

years ago that we would exceed

1.5 million visitors by

2020 is vastly understated.

A large number of new hotels

are proposed in both Hobart

and Launceston.

Of the 14 hotels planned

for Hobart, two have opened

for business, two are under

construction, and Development

Approval has been received

for another four.

If all are built, this will add

around 3,000 rooms to Hobart's

accommodation inventory,

from a shortfall of 1,226

rooms by 2020 as predicted

two years ago.

So the question arises – will

the majority of these projects

eventuate and will Hobart go

from an undersupply position

to a large oversupply?

Much will depend on our

tourism boom becoming a

medium- to long-term scenario

rather than just being a

"honeymoon phase".

Our Government and tourism operators must join together to develop new

attractions, such as Launceston's Seaport, so that our state keeps evolving as a

destination hub.

There is no doubt that Tasmania

is now very much a

preferred destination and is

a hot topic of conversation

among travellers.

Obviously we cannot rest

on our laurels and just expect

the visitors to keep coming.

It is widely acknowledged

that MONA started our tourism

boom. Just one unique

attraction kickstarted the industry.

Our Government and tourism

operators must join together

to develop new attractions

so that our state keeps

evolving as a destination

hub.

Let's consider a few new

projects that will push Tasmania

upwards:

1 The new runway extension

at Hobart airport will

open up direct flights to

other Australian cities, and

more importantly the Asian

market.

The Government must

lock in as many destinations

as possible.

2 The kunanyi/Mount

Wellington cable car appears

to have a lot of merit,

as will the cable car at Cradle

Mountain.

3 Macquarie Point is the

jewel in the crown for Hobart.

It is exciting what can be

developed on such a huge

parcel of waterfront land.

The only issue is that it is

taking forever to get off the

ground.

Hobart is crying out for a

large multi-purpose convention

and conference centre.

Such a major facility close

to the CBD would attract a

whole new market.

This should be the centerpiece

of Macquarie Point.

4 Further golf courses are

planned.

We have already seen the

huge popularity of the courses

at Bridport and King Is.

Three more top-class courses

will ensure that golfing visitors

will increase sharply.

5 The proposed developments

at MONA will add another

dimension to this wonderful

asset and prevent it

from becoming stale.

6 Our bushwalking and

trekking destinations are

hugely popular.

The completion of the

Three Capes Track will undoubtedly

bring in more tourists.

These are just some ideas.

Our state is so diversified

with nearly all visitors giving

us the "thumbs up".

More new projects will be

the key to delivering Tasmania

as a long term major tourism

destination.

PROPERTY VIEW

MAY 2018

Subject property

Outline indicative only

Outline indicative only

For sale by expressions of interest

FREEHOLD TAVERN & BUSINESS

Tavern 42 Degrees South (T42), Elizabeth Street

Pier, Hobart

• Arguably the best located hospitality outlet in

Tasmania.

• Hugely popular bar and restaurant.

• Total seating capacity of 200 including deck

licences on both sides.

• Part of a strata title, the only one on the pier in

private hands – very rare real estate!

• Excellent standard, great fit-out – the business

has fantastic ambience and water views.

• Operated under management – owners wish to

retire after 20 years.

John Blacklow 0418 128 735

View at KnightFrank.com.au/4191784

For sale by expressions of interest

GIBSON'S MILL APARTMENTS

17 Morrison Street, Hobart

A historic landmark. In 2010 the building was

converted from offices to 12 luxury apartments plus

two levels of car parks.

• Apartments are under a Management

Agreement with Sullivans Cove Apartments.

Trading history dates back to 2013 and shows

consistent year-on-year revenue growth.

• The property and business can be bought as

either a passive investment with management

in place or alternatively to own and operate.

• Council has recently approved a strata title of the

complex whereby the 12 apartments could be

sold individually.

Scott Newton 0409 186 261

John Blacklow 0418 128 735

View at KnightFrank.com.au/4226056

For sale by expressions of interest

FREEHOLD TOURIST ATTRACTION

13 Bridge Street, Richmond

• The Richmond Maze has been a key tourist

attraction for the southern Tasmanian region

since 1986.

• Richmond is one of the most visited areas in

Tasmania, only 20 minutes from Hobart.

• Considerable time, effort, and money has

been spent by owners. It is well researched

and the projections are very conservative.

• DA approval, commencement of the

development, and feasibility studies – all of

this intellectual property is available to the

purchaser.

John Blacklow 0418 128 735

Ian Reed 0419 670 501

View at KnightFrank.com.au/4191813

For sale by expressions of interest

NEW SEVEN-YEAR LEASE TO TARGET

78 Charles Street, Launceston

'Target' has been the premier discount

department store in the Launceston retail

market and here is your opportunity to secure

this massive retail footprint.

• Launceston CBD site of 3,004sqm (approx.)

with full site coverage and two street

frontages.

• Ground and First Floor retail with lift and

escalator access.

• Dual street frontage adjoining a major multilevel

car park.

Rob Dixon 0408 134 025

David Webster 0419 516 629

View at KnightFrank.com.au/4196466

5 Victoria Street, Hobart 41 York Street, Launceston Shop 8, 48-54 Oldaker Street, Devonport

P: 03 6220 6999 P: 03 6333 7888 P: 03 6424 3568