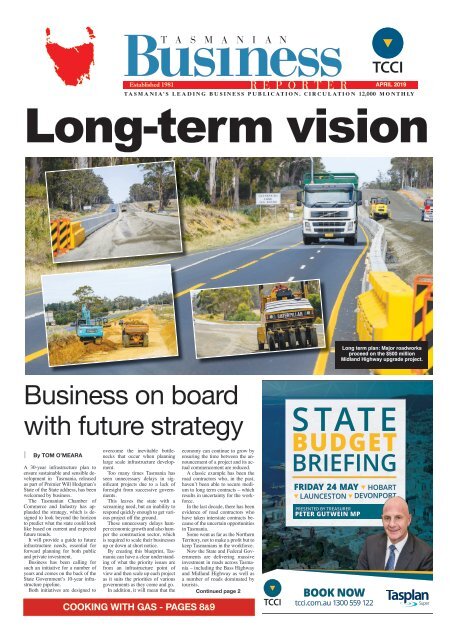 Tasmanian Business Reporter April 2019
Welcome to the April edition of the Tasmanian Business Reporter.   This month you will read about the State Government's 30-year infrastructure plan released as part of Premier Will Hodgman's State of the State address, which promises to ensure sustainable and sensible development in Tasmania and has been welcomed by the state's business community.   You'll also find details about the important role the Tasmanian Gas Pipeline plays in ensuring the state's energy security, a successful Government trade mission to Japan and one of Tasmania's premier historic properties opening its doors for business.
Welcome to the April edition of the Tasmanian Business Reporter.
 
This month you will read about the State Government's 30-year infrastructure plan released as part of Premier Will Hodgman's State of the State address, which promises to ensure sustainable and sensible development in Tasmania and has been welcomed by the state's business community.
 
You'll also find details about the important role the Tasmanian Gas Pipeline plays in ensuring the state's energy security, a successful Government trade mission to Japan and one of Tasmania's premier historic properties opening its doors for business.
SHOW MORE
SHOW LESS
Create successful ePaper yourself
Turn your PDF publications into a flip-book with our unique Google optimized e-Paper software.
APRIL 2019

T A S M A N I A' S L E A D I N G B U S I N E S S P U B L I C A T I O N . C I R C U L A T I O N 12,000 M O N T H LY

Long-term vision

Long term plan: Major roadworks

proceed on the $500 million

Midland Highway upgrade project.

Business on board

with future strategy

By TOM O'MEARA

A 30-year infrastructure plan to

ensure sustainable and sensible development

in Tasmania, released

as part of Premier Will Hodgman's

State of the State address, has been

welcomed by business.

The Tasmanian Chamber of

Commerce and Industry has applauded

the strategy, which is designed

to look beyond the horizon

to predict what the state could look

like based on current and expected

future trends.

It will provide a guide to future

infrastructure needs, essential for

forward planning for both public

and private investment.

Business has been calling for

such an initiative for a number of

years and comes on the back of the

State Government's 10-year infrastructure

pipeline.

Both initiatives are designed to

overcome the inevitable bottlenecks

that occur when planning

large scale infrastructure development.

Too many times Tasmania has

seen unnecessary delays in significant

projects due to a lack of

foresight from successive governments.

This leaves the state with a

screaming need, but an inability to

respond quickly enough to get various

project off the ground.

These unnecessary delays hamper

economic growth and also hamper

the construction sector, which

is required to scale their businesses

up or down at short notice.

By creating this blueprint, Tasmania

can have a clear understanding

of what the priority issues are

from an infrastructure point of

view and then scale up each project

as it suits the priorities of various

governments as they come and go.

In addition, it will mean that the

COOKING WITH GAS - PAGES 8&9

economy can continue to grow by

ensuring the time between the announcement

of a project and its actual

commencement are reduced.

A classic example has been the

road contractors who, in the past,

haven't been able to secure medium

to long term contracts – which

results in uncertainty for the workforce.

In the last decade, there has been

evidence of road contractors who

have taken interstate contracts because

of the uncertain opportunities

in Tasmania.

Some went as far as the Northern

Territory, not to make a profit but to

keep Tasmanians in the workforce.

Now the State and Federal Governments

are delivering massive

investment in roads across Tasmania

– including the Bass Highway

and Midland Highway as well as

a number of roads dominated by

tourists.

Continued page 2

S TAT E

BUDGET

BRIEFING

FRIDAY 24 MAY ▼ HOBART

▼ LAUNCESTON ▼ DEVONPORT

PRESENTED BY TREASURER

PETER GUTWEIN MP

BOOK NOW

tcci.com.au 1300 559 122
---
T A S M A N I A' S L E A D I N G B U S I N E S S P U B L I C A T I O N . C I R C U L A T I O N 12,000 M O N T H LY

2 Tasmanian Business Reporter - APRIL 2019

NEWS

On the road to renewables

Exclusive

pokie deal

to wind up

DELIVERIES of turbine

components are under way as

the $300 million Goldwind

Cattle Hill Wind Farm starts

to take shape.

A $10 million road has

been built into the Central

A gigantic turbine component is transported through northern Tasmania.

Highlands site to allow for

the transport of 528 loads of

components between now

and August

The loads will travel from

the Port of Bell Bay through

Launceston, Campbell

Town, Melton Mowbray and

Bothwell to the project site.

Given the size and

scale of items being

transported, all loads will

be accompanied by pilot

vehicles and in some cases

police escorts.

Cattle Hill Wind Farm

is expected to be fully

operational in late 2019 and

will produce clean energy

to power about 63,500

Tasmanian homes.

THE State Government has

released its policy for gaming

post the expiry of a monopoly

deal with Federal Group in

2023.

The contentious issue was a

key policy differential between

Liberal and Labor at the last

election - with Labor recently

dumping its policy to ban machines

from pubs and clubs.

Treasurer Peter Gutwein

said its new policy would facilitate

a sustainable industry,

supported freedom of choice,

minimised harm and backed

the future of jobs in the industry.

"The Government has recently

written to Federal Group

to advise them of our intention

to end the current exclusivity

arrangements through the

legislation that will be tabled

early next year to give effect

to our policy and put in place a

new framework from June 30,

2023," Mr Gutwein said.

"By ending the current arrangements

through legislation,

rather than by notice under

the Deed, we will ensure

that the industry has the certainty

to continue to invest and

employ until the new gaming

framework is in place for the

industry post 2023."

A Future Gaming project

team was established last year

and is completing a financial

analysis of the current industry

including the impact of various

tax and licence settings on industry

participants.

"This work is complex and

ongoing," Mr Gutwein said.

"The Government will

shortly be engaging with relevant

stakeholders as we deliver

our commitment."

T A S M A N I A' S L E A D I N G B U S I N E S S P U B L I C A T I O N . C I R C U L A T I O N 12,000 M O N T H LY

e dition

Tasmanian Business Reporter can now be delivered directly to your inbox. With our 30,000-strong monthly print

readership, our new up-to-date digital distribution will keep Tasmanians abreast of the all latest in local business

news. From this month we will distribute electronic editions of the Tasmanian Business Reporter as we go to print.

To confirm your copy sign up to our mailing list via

tbreditorial@fontpr.com.au

T A S M A N I A' S L E A D I N G B U S I N E S S P U B L I C A T I O N . C I R C U L A T I O N 12,000 M O N T H LY

Tasmania's business newspaper is published monthly by the

Tasmanian Chamber of Commerce and Industry. It is distributed

to businesses in Tasmania as well as key decision-makers.

Circulation: 12,000

BUSINESS

Managing Editor: Tom 2O'Meara

0418 135 822

Editor: Becher Townshend

0418 370 661

Advertising and Special Projects

Gil Sellars 0448 901 371

gil@thetrustedmediaco.com

HOBART'S Editorial BEST & Advertising RANGE OF

TBReditorial@fontpr.com.au

FOR THE www.tasmanianbusinessreporter.com.au

HOME AND OFFICE

Publisher:

We specialise Tasmanian in high Chamber quality ergonomic of Commerce chairs, and Industry

alternative seating

309 Liverpool

and electronic

St, Hobart,

sit/stand

TAS

desks.

7000

Flair Ph: Office 6236 Furniture 3600 has Fax: been 6231 providing 1278 quality, admin@tcci.com.au

affordable office

furniture to homes and offices throughout the Hobart region

for nearly 15 The years. Old We're Post a locally-based, Office, 68-72 family-run Cameron business St,

specialising in all types of Launceston products, so why TAS not 7250 visit us today to

see our fantastic Ph: range? 6331 1144 laun@tcci.com.au

Production:

Phone 6234 1127

aldridge.media

260 Argyle Street,

Ph: 0431 241 775

North Hobart

aldridge.media@iinet.net.au

Printer: Mercury

www.flairofficefurniture.com.au

Level 1, 2 Salamanca Square, Hobart, 7000

BUSINESS

YOUR QUICK GUIDE TO SERVICES AND PRODUCTS FOR YOUR BUSINESS

QUALITY ERGONOMIC FURNITURE

To see your business here, call Kerri on 0419 750 267 or email kerri@thetrustedmediaco.com

Business backs future plan

From page 1

The state is now fiveyears

into the 10-year

$500 million Midland

Highway upgrade project

with 13 elements costing

$130 million.

This means there is

continued major works

of $370 million and jobs

for hundreds of road

workers and subcontractors.

A welcomed approach

of the State of State is

the focus on ensuring

the growth of Tasmania's

economy is shared across

the state – delivering a

better quality of life for

all Tasmanians.

WANTED

Business

movers and

shakers

• Promotions

• Appointments

• Awards

• Celebrating

success

Share the news

with the

Tasmanian

business

community

Send your news

snippets, with a

high quality photo,

to TBReditorial@

fontpr.com.au

Premier Will Hodgman

– regional focus.

"We must find ways to

ensure all Tasmanians are

feeling the benefits of a

strong economy and that

no one is left behind," Mr

Hodgman said.

"We need to keep our

regions strong and our

regional communities

growing.

"We must continue to

Your Partner

in Print.

www.footandplaysted.com.au

Now incorporating

THE CRAFT LIVES ON.

break down the barriers

to the greatest enabler of

social inclusion – education,

training and the opportunity

of a good job.

"Our Jobs Action

Plan partnership with

the TCCI and TasCOSS,

that identifies barriers to

participation and how

to remove them through

improve access to public

transport, is an existing

example of this approach."

TCCI CEO Michael

Bailey said he was impressed

by the long-term

strategies.

"The frustration of

business has been Government's

inability to

make long-term investment

in Tasmania," Mr

Bailey said.

"Too often decisions

are made on political decisions

simply to ensure

they retain government

at the next election.

"Now we are seeing

examples through State

and Federal Governments

pushing projects

over decades which will

overcome the bumps in

Tasmania's economy and

the sustainability of the

workforce.

"Confidence is strong

in Tasmania and will

remain that way if we

continue these long term

strategies," he said.
---
Tasmanian Business Reporter - APRIL 2019 3

NEWS

Mild season, sunshine

smile on Tassie wines

ANOTHER year of strong

yields is anticipated for

Tasmania's ever growing

wine industry, which is

now worth more than $115

million to the economy

annually.

Harvest is under way

and Wine Tasmania CEO

Sheralee Davies said all

indications were promising.

"We're receiving lots

of positive reports of very

high quality from wine

producers," she said.

"Overall yields are

expected to be generally

in line with the past three

vintages, which would

be an unprecedented four

consecutive years of strong

yields for Tasmania."

Josef Chromy Wines

general manager and chief

winemaker Jeremy Dineen

said a warmer than average

summer and "beautiful

weather" at flowering had

supported solid yields.

"A warm and mostly dry

January, with a couple of

good rain events, has set us

up for a fantastic and early

start to the sparkling wine

harvest.

"This is possibly some of

the best sparkling fruit I've

seen since 2013," he said.

Bush fires experienced in

the south west have created

some worry for grape

growers.

"But an anticipated 95

per cent of Tasmania's

vineyard area has thankfully

experienced no direct smoke

impacts based on advanced

scientific analyses undertaken

to date," Ms Davis said.

Tasmania's average annual

production of wine is about

887,000 dozen – or 10.6

million bottles.

Last year's record vintage

produced about 1.17million

dozen - or 14 million bottles.

There are 160 licensed

wine producers and about

250 vineyards in the state.

SOLUTIONS

IN PRINT

your print specialist for over 90 years

6391 8481

www.woolstonprinting.com.au

Harvest under way at Josef Chromy Wines at Relbia.

Full Off-Set,

Digital and

Wide Format

Capabilities

Binding and

Finishing

Variable Data

and Mailing

sales@paperstat.com.au

Warehousing

and Distribution

Online Ordering

and Inventory

Management

Women's

forum

JOURNALIST Tracey

Spicer will headline a

new initiative to support

female leadership in remote

and rural centres.

The Australian Women's

Leadership Forum,

presented by Women

& Leadership Australia

will be held on April 5 at

the Hotel Grand Chancellor

in Launceston.

The forum will focus

on being a mindful and

resilient leader, building

careers, changing connections

and networking

strategically.

It will also encourage

attendees to be brave,

adaptive and experimental.

Tickets available at

www.wla.edu.au

Picture: CHRIS CRERAR

Japan

trade

boost

THE relationship with Tasmania's

second largest export

market has been boosted with

a successful trade mission to

Japan.

Agriculture, food and forestry

were key themes discussed

during the mission.

A new Memorandum of Understanding

between the Tasmanian

Government and Japan

Agriculture Biei has been

signed to pursue research and

field trials into Japanese vegetable

crops growing in Tasmania.

Premier

Will Hodgman

also met

the Japanese

Minister for

Agriculture,

Fisheries

and Forestry

to promote

Tasmania's

premium

produce and

market access

priorities to

make it easier

for Tasmanian businesses to

export to Japan.

Tasmanian producers took

centre stage at FOODEX,

Asia's largest exhibition of

food and drink products.

Japanese wine industry

leaders were also informed

about premium wines at the

Tasmanian Wine Masterclass.

Japan's National Institute

of Polar Research has been

briefed on the potential for establishing

an office in Hobart,

and enhancing Antarctic and

southern ocean research exchange.

Round-tables

focussing

on Tasmania's primary industries,

forestry and mining

were also held to promote

opportunities for investment,

and to promote our high quality

products for markets in Japan.

Tasmania exported $3.74

billion in goods last year, with

more than 80 per cent sent to

Asian markets.

Japan is now the state's second

largest export market.

"It is vital that we maintain

and enhance our connections

Premier Will Hodgman talks up Tassie

produce in Japan.

with this key market," Mr

Hodgman said.

"The Tasmanian Government

is committed to positioning

our local industries to

be globally competitive, helping

our businesses expand

their presence in markets

around the world and attract

more investment to create

more local jobs.

"We will do this through

our recently released Trade

Strategy, that outlines key actions

to be undertaken as we

work to grow our state's exports

to $15 billion per year

by 2050."

ADVERTISEMENT

Elise

Archer

Your local Liberal

Member for Clark

62 Main Rd, Moonah

Please contact me:

p: 6212 2210

e: elise.archer@dpac.tas.gov.au

m: PO Box 426, Moonah, 7009

www.elisearcher.com

Authorised by Elise Archer, 62 Main Rd, Moonah, 7009

WP - Advert Mar17.indd 1

4/04/2017 1:15:43 PM
---
T A S M A N I A' S L E A D I N G B U S I N E S S P U B L I C A T I O N . C I R C U L A T I O N 12,000 M O N T H LY

4 Tasmanian Business Reporter - APRIL 2019

THOUGHT LEADERSHIP

Long-term plans

impressive move

THE Tasmanian media

has been full of details

on City Deals in the north

and south of our island for

the past year or more.

Obviously, with the

Federal election looming,

both sides of politics

are keen to impress voters

with their long-term

plans for Greater Hobart,

as well as Launceston,

Devonport and the rest of

the North West Coast.

What impresses the

TCCI is the long-term nature

of the strategies, with

Federal funding stepped

out over the coming decade.

At the very least, this

gives statewide business

certainty to invest in

equipment and people.

One could argue that

the Hobart City Deal

omitted several development

opportunities, including

the University

of Tasmania's proposed

STEM Hub and the overall

Macquarie Point project.

Perhaps one of the key

aspects to the City Deals

announced in Hobart,

Launceston and Devonport

is that they bring

together the three levels

of government, making

them work together.

The other major development

is what UTAS has

ultimately planned for

Hobart, Launceston and

Burnie.

There is no doubt that

the Launceston City Deal

will transform the city.

The social impact of

having smart, young people

en masse in the CBD

will be transformative.

Devonport's Living

City program, although

not a City Deal like Hobart

and Launceston, is

a great example of strategic

work by both State

Devonport growth is a great example of strategic planning.

Michael

Bailey

TCCI Chief Executive

and Local Government to

achieve an outcome for

the city that would not

be possible for the city

alone.

Devonport's Living

City will transform

the North-West centre

through the creation of

new retail, business and

waterfront precincts focused

on highlighting

tourism, arts, food and

services.

The Living City will

benefit the entire North

West and is estimated to

generate $250 million in

construction investment

over the next decade and

provide up to 830 on-going

jobs.

The Devonport City

Council has officially

opened Stage 1, a $71.1

million investment in

Devonport, incorporating

the impressive new

multi-purpose civic building,

the Paranaple Centre,

home to a state-of-theart

Library, integrated

customer service centre,

Devonport Online, Council

offices and an 800-seat

conference centre.

The Hobart City Deal

is a 10-year vision between

the Australian and

Tasmanian Governments

and the Clarence, Glenorchy,

Hobart and Kingborough

councils.

The Deal focuses on

enhancing Hobart Airport's

role as a direct

international gateway,

solidifying the city's

world class standing as a

gateway to the Antarctic

and Southern Ocean and

establishing a reliable,

sustainable and cost effective

transport system.

In Launceston, the Australian

and Tasmanian

Governments and City of

Launceston are cooperating

to deliver integrated

investment and practical

actions that build on

Launceston's strengths

and tackle key challenges.

This five-year plan will

maximise Launceston's

potential by focusing on

jobs and skills growth,

business, industry and

population growth and

innovation and industry

engagement.

As well, its other key

focus is a healthy Tamar

Estuary, which has eluded

successive State and local

governments for decades.

The City Deals, coupled

with the university's

urbanisation in Hobart,

Launceston and Burnie

will change the face of

the state.

They are not the silver

bullet to all of our issues,

but they are committing

current and future Federal

and State Governments to

long-term investment in

Tasmania.

www.tcci.com.au

Indonesia agreement

opens market access

Sally

Chandler

Tradestart Adviser

AFTER many rounds of

negotiations which started in

March 2013, the Indonesia-

Australia Comprehensive Economic

Partnership Agreement (IA-CEPA)

was signed in Jakarta by Trade

Tourism and Investment Minister

Senator Simon Birmingham on

March 4.

The agreement will now

go through each country's

administrative process before

coming into force.

For Australia, this includes

tabling the text of the agreement

in parliament and an inquiry by

the Joint Standing Committee on

Treaties.

As both countries have an

election imminent – for Indonesia

an election in April and for Australia

an election in May – there may be

some delay in implementation or

even changes to the Agreement.

The IA-CEPA builds on

commitments under the free trade

agreement both Australia and

Indonesia currently are members

of, the ASEAN Australia-New

Zealand Free Trade Agreement

(AANZFTA).

As the agreement now reads,

more than 99 per cent of Australian

Trade

Minister

Simon

Birmingham

with

Indonesian

Minister for

Trade H.E

Enggartiasto

Lukita, in

Jakarta,

Indonesia.

goods by value will enter Indonesia

free of duty or under significantly

improved preferential arrangements

by 2020.

Gaining import permits to export

to Indonesia has been a significant

issue in the past and under the IA-

CEPA, Indonesia will guarantee

automatic issuance of import

permits for live cattle, frozen beef,

sheep meat, some grain, citrus,

carrots and potatoes.

Outcomes on trade in services

and investment will see improved

market access and increased

certainty with the implementation of

high quality modern rules, including

on digital trade.

Significant services and

investment outcomes include work

training, university education,

mining and related services,

hospitals and in-hospital care, aged

care services, telecommunications,

tourism, professional services,

construction services, energy,

wastewater management, and,

transport.

On entry into force, Australia will

immediately eliminate all remaining

tariffs on imports from Indonesia,

which builds on commitments made

under the AANZFTA.

For international trade and investment assistance contact the TCCI's

TradeStart Adviser, Sally Chandler, at sally.chandler@tcci.com.au or

phone 1300 559 122.

WANTED

Business

movers and

shakers

• Promotions

• Appointments

• Awards

• Celebrating

success

Share the news

with the

Tasmanian

business

community

Send your news

snippets, with a

high quality photo,

to TBReditorial@

fontpr.com.au
---
Tasmanian Business Reporter - APRIL 2019 5

THOUGHT LEADERSHIP

www.tcci.com.au

Gender balance a community issue

THERE is no doubt that

Tasmania, the nation, and

the world is undergoing

a distinct and positive

change when it comes to

the status of women.

While we have come a

long way, it's true to say

that gender inequality

unfortunately still persists

and there is more

work to be done.

Friday March 8 was

International Women's

Day – the theme this year

was #BalanceforBetter,

focusing on what we can

all do to promote a gender-balanced

world.

Gender balance isn't

just a women's issue –

it is a community issue,

a business issue, and an

Jacquie

Petrusma

Minister for Women

educational issue.

As Minister for Women

and a working mother

and grandmother, I know

and have experienced the

difficulties that women

can face in the workplace.

The pressure to find the

perfect balance between

work and family, understanding

the financial implications

of taking time

out of the workplace as a

carer and navigating the

gender pay gap between

men and women.

Last year, I was delighted

to release the Tasmanian

Women's Strategy

2018-2021, which

sets a clear direction for

ongoing action towards

achieving gender equality

in Tasmania, and

builds on initiatives that

recognise the strength

and resilience of women,

girls, men and boys in

advancing gender equality.

We believe that to truly

achieve gender equality,

we need to lead by example.

We want to develop

more women leaders in

our state, and through the

Hodgman Government's

Women on Boards Strategy

and the Gender Diversity

in the Tasmanian

We believe that to truly achieve

gender equality, we need to

lead by example.

State Service initiative,

we are working towards

a target of 50 per cent

female representation

on Tasmanian boards

and committees and 40

per cent representation

of women in senior executive

roles in the Tasmanian

State Service by

2020.

Since the Strategy's

release in 2015, Tasmania

has had the highest

growth in female representation

on government

boards and committees

in the nation, increasing

from 33.8 to 44.23

per cent – an increase of

10.43 per cent, while the

number of female senior

state executives is now

above 39 per cent – a

huge increase of 10 per

cent since we formed

Government.

In other areas we are

also making great strides

- in the past three years,

the gender pay gap has

reduced by almost five

per cent and is the lowest

in the nation at 9.7 per

cent.

But men still take home

on average $137.40 more

per week than Tasmanian

women, so we are committed

to continuing to

reduce this gap.

As the Workplace

Gender Equality Agency

points out, achieving gender

equality is important

for workplaces not only

because it is fair and the

right thing to do, but because

it is also linked to

a country's overall economic

performance.

Additional charges add up

Brett

Charlton

Agility Logistics

I REALLY don't like

writing articles that paint

pictures of negativity –

by nature I am always

looking for the positive

side of things.

But from time to time,

while confronting, it is

important that we take

stock of our surroundings

and consider what challenges

there are in front

of us with the view to be

prepared and aware.

I have just received a

notice from a large shipping

line stating that they

are increasing their documentation

charge for using

their services.

This charge has gone

up $20 for exporters and

$10 for importers per bill

of lading.

There is no commentary

as to why this charge

has increased, just a notice

that says this is what

it will be from a certain

date.

Another line is suspending

one of its services

from China due to

reduced incoming trade

effective in one week.

We should be expect-

ing rolling strikes from

the MUA against DP

World as we go to print

due to a breakdown in

Shipping costs are creeping ever upwards.

enterprise agreement negotiations.

New air security

screening has seen additional

costs and procedures.

I recently observed

and fronted a senate en-

quiry into coastal shipping

– the overwhelming

narrative was that

shippers are constantly

getting hammered by

additional costs and procedures

– bio security issues

and proposed levy

increases, infrastructure

surcharges (this is a particular

depressing one –

an increase from $3.60

per container to $85.30

per container from 2017

to current).

Low sulphur surcharges

are coming in around

Q4 for all shippers (current

estimates are around

US$260.00 per TEU increase

on inbound and

outbound containers.)

There will be a tightening

on demurrage and

detention charges with

increases on penalties on

late returns and a pending

general rate increase

of US$300.00 per TEU

from April 1 ex China,

Hong Kong, Korea and

Taiwan to Australian

ports.

My point here is that

we have great news with

free trade agreements,

additional capacity (especially

across Bass

Strait), excellent trade

missions with great outcomes

and confident exporters

seeking new markets

regularly – but for

some reason (some are

good reasons of course),

there seems to be a constant

barrage of "you

must pay this on top of

what you currently pay"

as the narrative at the

moment – at some point

the additional charges all

add up and the desire to

trade may diminish.

Steps to improve our health system

WITH the Federal election

looming, and health

likely to be a major

talking point, it's vital to

reinforce the importance

of a sustainable and affordable

private health

insurance sector as an essential

part of Australia's

health system.

More than 13 million

Australians rely on private

health insurance,

and close to two thirds of

elective surgery in Australia

is funded through

private health insurance,

lifting a significant burden

off the public health

system.

In any conversation

about health, you cannot

ignore the fact the Private

Health Insurance Rebate

helps to keep premiums

affordable, encourages

Australians to take out

private health cover, and

Paul

Lupo

CEO, StLukesHealth

importantly, eases pressure

on the public health

system.

But that doesn't mean

the system is perfect;

there are always things

we can do to make it better.

Recently, the Mercury

published an opinion

piece by Martyn Goddard,

titled "Shock of

two waiting lists: putting

our public patients last".

In that piece, Mr Goddard

argued that too

many patients are being

treated in our public hospital

system as "private

patients". It might surprise

people, but I agree.

There will always be

some private patients

needing treatment in a

public hospital; however,

the practice of the public

system chasing patients

to use their health insurance

to assist in balancing

their own budgets is

not always in the best interests

of the patient, or

indeed the health system.

Sometimes, privately

insured patients can be

charged out-of-pocket

expenses in the public

system when they are

Cover is a health essential.

already covered under

Medicare as a public patient

for that admission,

effectively paying twice.

It's also important to

remember that everyone

is entitled to treatment

in our public health system,

whether they have

private health insurance

or not.

Reducing this cost

shifting is just one step

in ensuring we have an

accessible and affordable

health care system; and

it is something private

health insurers are advocating

for ahead of this

year's Federal election.

Also on this election

wish list is the need to

further reform prostheses

costs to ensure equal

treatment of patients and

stopping the unnecessary

costs.

Although there has

been some progress

made by the Australian

Government to reduce

the inflated prostheses

cost, current regulations

force health funds to pay

benefits for medical devices

which are two to

five times higher than

the price charged to public

hospitals for the same

device.

This is of importance

to our ageing Tasmanians

with private health

insurance.

Private health insurers

have committed to passing

on, through lower

premiums, every dollar

that is saved through reform

in this space.

The Medicare Benefits

Schedule is immensely

valuable to Australians

but it is also incredibly

expensive.

Last year patients accessed

about 155 million

GP services, costing the

taxpayer $7.8 billion.

The Australian Government

has commissioned

several expert

panels to review each

section of the MBS that

have recommended a

number of changes and

some have already been

implemented and we are

urging the government to

expedite the remainder

so savings can be redirected

to areas of need.

Our world-class health

system works best when

the public and private

systems work together

and complement each

other, minimising waste

and maximising value

for the community.
---
6 Tasmanian Business Reporter - APRIL 2019

THOUGHT LEADERSHIP

Banks value their

broker partners

WE value the relationship

with our network

of brokers and we value

our customers and the

trust that they continue to

place in us.

Banks have long suffered

from bad reputations.

With major catastrophic

financial events

a not-too-distant memory,

it's easy to understand

why.

We are now on the other

side of a banking royal

commission damning

because we've seen how

banks have been putting

profits before people.

In the first round of

hearings, we heard reports

of dodgy dealings,

the existence of liar loans,

and unscrupulous commissions

in the mortgage

broker space.

For Australia's banks,

brokers are a key distribution

channel for their

home loan products.

The latest Mortgage &

Finance Association of

Australia figures show

59.1 per cent of residen-

Paul

Ranson

CEO, Bank of us

tial home loans were settled

by the broker industry

in the 2018 September

quarter.

It's no wonder then,

that broker commissions

came under the scrutiny

of the commission – with

questions being raised

such as: are broker commissions

creating a conflict

between customers'

and brokers' interests and

leading to irresponsible

lending?

Yet, not all banks, and

not all brokers, are created

equal.

When acted upon responsibly,

the broker/

customer/bank relationship

can be a win for all

involved.

But from the outside,

it can be hard to separate

the responsible banks and

brokers from those who

are not.

Is Bank of us any different

from any other bank?

Well, yes, we are. We are

the only Tasmanian customer-owned

bank.We

exist for our customers.

Brokers, too, are bound

by regulation.

Yet, even with these

protections in place, misconduct

has occurred.

It's not surprising then,

that the final royal commission

report recommended

increasing the

regulations that brokers,

as providers of financial

advice, are subject to.

When a broker recommends

a Bank of us home

loan to a customer, it's

our responsibility to make

sure it's the right product

for them.

If it isn't, we work with

our brokers to find one

that is. It's a shared responsibility

that we take

very seriously.

The final royal commission

report recommended

all commissions

be removed and replaced

with upfront fees paid by

the borrower, rather than

the bank.

A month after the report's

release and in the

lead up to an election,

Treasurer Josh Frydenberg

announced a change

in the Government's position

on the future of broker

commissions.

Now brokers, operating

under upfront and

trail commission arrangements,

will be left to operate

as is, with a review to

be held in 2022.

We will continue to

work with our broker

partners to ensure the interests

of their clients and

our customers are always

placed first.

Abbey

George

Workplace Relations

www.tcci.com.au

Warning on warnings

PERFORMANCE management of

staff is important to ensure a business

runs smoothly and client needs

are met but also that both parties

understand what is expected of each

other.

Part of this process is annual

reviews and regular "check ins" as

well as potentially issuing warnings

where applicable.

Warnings are an appropriate

means to identify issues of

underperformance or unsatisfactory

behavior.

Section 387 of the Fair Work

Act 2009 states the criteria for

considering harshness if an employee

is terminated which includes at

387(e): If the dismissal related to

unsatisfactory performance by the

person — whether the person had

been warned about the unsatisfactory

performance before the dismissal.

Accordingly, if there is a dismissal

and the employee makes a claim

warnings will be integral.

There is a common perception that

prior to termination three warnings

must given – not the case.

What will be reasonable

will depend on each particular

circumstance and it is therefore

crucial that you obtain advice when

performance managing employees.

There are different types of

warnings that may be give, not

limited to:

• verbal; written; and final.

But there are some aspects that are

fundamental to include when issuing

warnings and it is very important

that you obtain advice and about the

process and also the drafting of any

documentation.

Warnings should:

• outline the issues and responses;

• refer to any meetings as part of

the process;

• refer to any supporting

documentation such as company

policy and procedures;

• outline the corrective action

required;

• state the intended action if there is

no improvement; and

• refer to types and dates or

any previous warnings or other

disciplinary action.

Contact TCCI on the Helpline on 1300 765 123 or the TCCI on 1300

59 122 or workplacerelations@tcci.com.au

You're our

number 1

Thank you for voting us

Australia's number 1

in customer satisfaction

3 YEARS IN A ROW!*

ROY MORGAN RESEARCH

Customer Satisfaction Awards

Contact us today to join, switch, or have a cover comparison.

We can come to you, just ask us how! It's Easy!

stlukes.com.au 1300 651 988

* #1 Roy Morgan Customer Satisfaction Awards: Private Health Insurer of the Year – 2016, 2017 & 2018. St.LukesHealth ABN 81 009 479 618
---
Tasmanian Business Reporter - APRIL 2019 7

THOUGHT LEADERSHIP

Tourism growth focus

Rebecca

White

Labor Leader

www.tcci.com.au

Body stress

hurts badly

Craig

Hortle

Workplace Health & Safety

TASMANIA'S tourism

industry is a key driver of

our economic prosperity.

I was pleased to welcome

the Federal Shadow

Minister for Tourism

and Infrastructure,

Transport, Cities and

Regional Development

Anthony Albanese, to the

state earlier this month.

Mr Albanese and I took

part in an event hosted

by the Tourism Industry

Council of Tasmania to

discuss the infrastructure

investment needed in our

state to support the sector,

the workforce and

our community.

As Shadow Minister

for Tourism, I am committed

to working with

stakeholders across the

tourism industry to create

more full-time jobs

and ensure that the reputation

Tasmania has as

a must-see destination is

protected and enhanced.

Labor's Tourism, Hospitality,

Festivals, Heritage

and the Arts Industry

Advisory Council,

chaired by Daniel Leesong

from the TICT, is

doing just that by developing

strong, enduring

policy for our state.

Together, we are focused

on the long-term

challenges and opportunities

facing Tasmania's

tourism industry and

workforce, including education

and training.

While he was in the

state, Mr Albanese and

I, along with Labor MPs

and Senators met with

Hobart's four Mayors

to discuss the Liberals'

City Deal.

Federal and Tasmanian

Labor are united

in our commitment to

ensuring southern Tasmania

doesn't keep

missing out.

Labor will continue

Anthony Albanese and Rebecca White, centre, meet tourism industry

representatives Rob Pennicott, left, Liz Frankham, Luke Martin, Mark

Wilsdon, Daniel Leesong and Simon Currant.

to work closely with

councils, industry and

the community to see

Hobart's potential fully

realised.

Mr Albanese assured

mayors that Federal Labor

will not only honour

the elements of any

City Deal in the budget

but will build upon it

under its City Partnerships

program.

This will involve better

consultation with

communities through

local government and

a long-term vision for

Tasmania.

It was meaningful

and important to sit

down with all three

levels of Government

and discuss how we

can work together to

achieve the best outcomes

for our state and

make sure that funding

commitments are well

targeted.

ONE of the major contributors

to serious workers

compensation claims

is body stressing - consistently

about 40 percent

of all claims.

This raises the question

how a workplace

manages the hazard and

risk of manual handling.

Do we:

• hope that it does not

happen;

• employ only people

who look fit enough; or

• manage the hazards

and associated risk with

a process that helps identify

those areas of the

business that may have

this issue.

Obviously, the best

method of addressing

this issue is to perform a

hazard identification and

risk assessment audit of

manual handling activities

in the business.

• Access the code practice

- how to manage

work health and safety

risks. This will help in

identifying the hazards

and risks in the workplace

and provide an ongoing

process.

• Access the code practice

- hazardous manual

tasks. This will help in

identifying the manual

task hazards in the workplace,

provide a risk assessment

strategy and

address some control

measures.

The WHS legislation

provides a guidance

framework to ensure

workplaces provide

a safe environment for

everyone who enters the

workplace.

For more information contact Craig Hortle or

Janelle Whitehouse at the TCCI on 1300 559 122

or safety@TCCI.com.au

A bank that benefits

all of us,

NOT JUST SOME OF US.

It may not be what you were expecting

from a bank, but then we're not like

any other bank.

bankofus.com.au | 1300 306 716

Bank of us is a trading name of B&E Ltd ABN 32 087 652 088

AFSL & Australian Credit Licence 236870

How unexpected.
---
TASMANIAN GAS PIPELINE

TASMANIAN GAS PIPELINE

Community update: April 2019

GAS: A CRITICAL ASSET FOR TASMANIAN ENERGY SECURITY

The Tasmanian Gas Pipeline is proud to

be playing its part in assisting the state

The with Tasmanian its current Gas energy Pipeline needs. is proud

to be playing its part in assisting the

state Commissioned with its energy in 2002, needs. the Tasmanian

Gas Pipeline is the only pipeline

Commissioned in 2002, the

supplying natural gas to Tasmania.

Tasmanian Gas Pipeline is the only

pipeline supplying natural gas to

Fifteen years on and the Tasmanian

Tasmania.

Gas Pipeline is now an integral part of

With Tasmania's Tasmania's economic hydro growth energy and an

water alternative supplies energy dipping source. below the

recommended Prudent Supply Level

for During the first this period time since of supplying this measure gas to

was

Tasmania,

introduced,

we have

the

not

pipeline

experienced

has

a

become even more vital in ensuring

single lost time injury.

the needs of Tasmanians are met.

We are committed to continuing to to

work with industry, Government, government, the

community and energy providers both

both now and now into and the into future. the future.

Lindsay Ward

Lindsay Ward

CEO

CEO

Tasmanian Gas Pipeline

Tasmanian Gas Pipeline

FIFTEEN YEARS OF DELIVERING NATURAL GAS

THE PIPELINE SUPPLIES:

THE TAMAR PIPELINE VALLEY POWER SUPPLIES:

STATIONS

TAMAR GRANGE VALLEY RESOURCES POWER IRON STATION ORE

PROCESSING FACILITY

GRANGE RESOURCES' IRON ORE

PROCESSING BELL BAY ALUMINIUM FACILITY ALUMINIUM SMELTER

BELL BOC BAY LNG PROCESSING ALUMINIUM'S FACILITY ALUMINIUM

SMELTER

SIMPLOT FOOD PROCESSING PLANTS

BOC'S LNG PROCESSING FACILITY

CADBURY CHOCOLATE FACTORIES

SIMPLOT'S FOOD PROCESSING PLANTS

BOAGS AND CASCADE BREWERIES

CADBURY'S CHOCOLATE FACTORIES

NYRSTAR ZINC SMELTER

BOAGS AND CASCADE BREWERIES

ECKA GRANULES ALUMINIUM POWDER

NYRSTAR'S ZINC SMELTER

PRODUCTION PLANT

ECKA GRANULES' ALUMINIUM POWDER

BHP TEMCO MANGANESE ALLOY

PRODUCTION PLANT

PRODUCTION PLANT

BHP TEMCO'S MANGANESE ALLOY

PRODUCTION LAUNCESTON PLANT GENERAL AND NORTH WEST

REGIONAL HOSPITALS

LAUNCESTON GENERAL AND NORTH WEST

REGIONAL TAS ALKALOIDS HOSPITALS OPIUM POPPY PROCESSING PLANT

TAS FONTERRA ALKALOIDS' MILK POWDER, OPIUM POPPY CHEESE AND

PROCESSING BUTTER MANUFACTURING PLANT PLANTS

FONTERRA'S TAS GAS NETWORKS MILK POWDER, FACILITIES CHEESE IN: BELL BAY, AND

BUTTER MANUFACTURING PLANTS, AND

GEORGE TOWN, LAUNCESTON, LONGFORD (TAS),

WESTBURY, BURNIE, HOBART, ULVERSTONE,

TAS GAS NETWORKS FACILITIES IN: BELL BAY

WYNYARD AND DEVONPORT

& GEORGE TOWN, LAUNCESTON, LONGFORD

(TAS), WESTBURY, BURNIE, HOBART,

ULVERSTONE, WYNYARD AND DEVONPORT.

QUICK FACTS

QUICK The Tasmanian FACTS

Gas Pipeline

transports natural gas from Longford

in Victoria, under Bass Strait, to Bell

The Tasmanian Gas Pipeline

Bay in Tasmania supplying gas to both

transports natural gas from

Longford industry in and Victoria, townships under in Bass the state.

Strait, to Bell Bay in Tasmania

supplying gas to both industry

and

The

townships

Tasmanian

in the

Gas

state.

Pipeline (TGP) is

part of a network of underground

The high-pressure pipeline is a critical gas pipes, asset which for

long-term stretches Tasmanian over 20,000km energy and serves

security.

all of Australia's states and territories.

The network brings jobs and

The pipeline is part of a network

of underground

economic growth

high-pressure

to the communities

gas it pipes, passes which through. stretches

over 20,000km and serves

all of Australia's states and

territories. The Tasmanian The network Gas Pipeline brings is

jobs approximately and economic 740km growth long. to the

communities it passes through.

The pipeline transports gas

The pipeline is approximately

740km predominately long. from the

Gippsland Basin.

The pipeline transports gas

predominately from the

Gippsland

Current

Basin.

capacity of 47 PJ/annum.

(47 peta joules per annum – peta is

Current a 1 with capacity 15 zeros of after 47 PJ/annum it.)

(47 peta joules per annum – peta

is a 1 with 15 zeros after it).

The pipeline transports high pressure

natural gas, up to 15,000kPa.

The pipeline transports high

pressure (Approximately natural gas 148 up times to normal

15,000kPa. atmospheric (Approximately

pressure.)

148 times normal atmospheric

pressure).

Temperatures of the gas for operation

Temperatures typically range of the between gas for 0°C and

operation 50°C. Design typically temperature range limits

between 0°C and 50°C. Design

range between -30°C and 200°C.

temperature limits range

between -30°C and 200°C.
---
TASMANIAN GAS PIPELINE

FOCUS ON BUSINESS

Gas keeps

Tassie lights on

The Tasmanian Gas Pipeline is proud to

be playing its part in assisting the state

with its current energy needs.

FIFTEEN YEARS OF DELIVERING NATURAL GAS

THE PIPELINE SUPPLIES:

TAMAR VALLEY POWER STATIONS

Commissioned in 2002, the Tasmanian

GRANGE RESOURCES IRON ORE

Gas Pipeline The Tasmanian is the only Gas pipeline Pipeline makes its way underground PROCESSING through FACILITY the north of the state.

supplying natural gas to Tasmania.

BELL BAY ALUMINIUM ALUMINIUM SMELTER

QUICK FACTS

The Tasmanian Gas Pipeline

transports natural gas from Longford

in Victoria, under Bass Strait, to Bell

Bay in Tasmania supplying gas to both

industry and townships in the state.

The Tasmanian Gas Pipeline (TGP) is

part of a network of underground

high-pressure gas pipes, which

stretches over 20,000km and serves

all of Australia's states and territories.

Fifteen years on and the Tasmanian

The network brings jobs and

WITH Hydro storage levels dropping below

BOC LNG PROCESSING FACILITY

recommended Gas minimums Pipeline across is now Tasmania an integral for part of

Quick economic gas facts growth to the communities

the first time Tasmania's since the 2016 economic energy crisis, growth the and an

it passes through.

SIMPLOT FOOD PROCESSING

Tasmanian Gas Pipeline (TGP) is again playing

• The PLANTS pipeline is some 740 kilometres long and once in

a vital role alternative in the state's energy security. source.

Tasmania transports gas to Bridgewater in the south and

Tasmania experienced significantly lower than

CADBURY CHOCOLATE FACTORIES Port Latta on the North West The Coast. Tasmanian Gas Pipeline is

average rainfalls During in this January, period with some of supplying areas gas to

having their driest January on record.

• Over the last 15 years there approximately has not been 740km one long. single lost

BOAGS AND CASCADE BREWERIES

This dry Tasmania, spell has seen we water have levels not at the experienced a

time injury.

state's hydro single generation lost time plants fall, injury. resulting

in Tasmania's overall energy reserves dipping

NYRSTAR ZINC SMELTER • The Tasmanian Gas Pipeline The pipeline is part transports of a network gas of underground

high-pressure gas pipes, predominately which from stretches the over 20,000

below the Prudent Storage Level, a level set to

ensure the We system's are committed high reliability. to continuing to

ECKA GRANULES ALUMINIUM kilometres.

POWDER

Gippsland Basin.

Energy work storage with levels are industry, down 11 per Government, cent the

PRODUCTION PLANT

compared to the same time last year and to meet

• A 2014 economic study found gas in Tasmania helps

consumer community demand, Tasmania and is energy importing providers three both

generate $1.7 billion in Gross State Product, $848 million in

times as much now energy and into than it the is exporting future. across

BHP TEMCO MANGANESE ALLOY

Current capacity of 47 PJ/annum.

household income and some 11,600 full time equivalent jobs.

the Basslink Interconnector.

PRODUCTION PLANT

(47 peta joules per annum – peta is

TGP Chief Executive Officer Lindsay Ward

• The Tasmanian Gas Pipeline

a 1 with

has

15 zeros

an office

after it.)

in Launceston,

said while falling below the Prudent Storage

TGP CEO Lindsay ensuring a dedicated presence in the state.

Level was not a reason for immediate panic,

LAUNCESTON Ward GENERAL AND NORTH WEST

it did highlight Lindsay the strategic Ward benefit of having

REGIONAL HOSPITALS

alternative base load energy sources in the state Pipeline had also made a significant positive An economic assessment of the benefits

The pipeline

territories.

transports

The pipeline

high

is

pressure

about 740 km long

to ensure CEO energy security.

impact to the local economy TAS through ALKALOIDS enabling OPIUM POPPY of TGP PROCESSING in 2014 highlighted PLANT the direct and natural gas, and transports up to 15,000kPa. gas predominantly from the

"Tasmania Tasmanian relies on a multi-faceted Gas Pipeline energy Tasmanian businesses to be more competitive indirect contribution of the top 11 natural gas Gippsland Basin, with a current capacity of

(Approximately 148 times normal

supply structure to ensure a reliable system in Australian and Asian markets, while also users in Tasmania:

47 peta joules per annum.

which meets state demand," Mr Ward said. giving households and small FONTERRA businesses MILK an POWDER, • $1.7 CHEESE billion AND in Gross State Product, or seven atmospheric In Tasmania, pressure.) the pipeline comes ashore

"Gas is a significant contributor to this system, alternative energy source. BUTTER MANUFACTURING per PLANTS cent of the state's total ($24.4 billion); at Five Mile Bluff, north of Bell Bay and

and the Tasmanian Gas Pipeline is the only "By introducing gas to Tasmania, the state • $848 million in household income which continues further along the Tamar River to the

natural gas supply pipeline connecting Tasmania gained further competition in the energy market represents six per cent of total estimated Temperatures Bell Bay of Meter the Station. gas for operation

TAS GAS NETWORKS FACILITIES IN: BELL BAY,

to the natural gas reserves on the mainland. and over the last 17 or so years of operation, household income ($13.9 billion); and

At Bell Bay, the pressure is reduced and

"The Tamar Valley Power Station (which is our dedicated workforce GEORGE have not experienced

TOWN, LAUNCESTON, • 11,600 LONGFORD full time equivalent (TAS),

typically range between 0°C and

jobs,

becomes the Southern Pipeline Extension,

driven by natural gas delivered by the pipeline) a single lost time injury," WESTBURY, Mr Ward said. BURNIE, HOBART, representing ULVERSTONE, six per cent of the estimated 50°C. Design which continues temperature south limits for about 210

operated near full capacity in early 2019 to The top 20 business users WYNYARD of natural AND gas DEVONPORT employment for Tasmania (198,410). range between kilometres. -30°C and 200°C.

support water levels and keep them above account for about 81 per cent of natural gas use The Tasmanian Gas Pipeline is part of a At Rosevale the Northern Pipeline

Prudent Storage Levels."

Mr Ward said as well as the immeasurable

energy security benefit, the Tasmanian Gas

in Tasmania outside of the Tamar Valley Power

station's consumption, and the top 11 business

users account for 75 per cent of this total usage.

network of underground high-pressure gas

pipes, which stretches over 20,000 kilometres

and serves all of Australia's states and

Extension splits and continues west for

181 kilometres to Port Latta in North West

Tasmania.
---
10 Tasmanian Business Reporter - APRIL 2019

FOCUS ON BUSINESS

A special place for business and community to meet

New role for majestic manor

SITTING majestically alongside the

banks of the South Esk River on the

outskirts of Perth Village, Eskleigh

Estate is familiar to many Tasmanians.

The Italianate mansion and surrounding

English-style gardens have

had many lives in their almost 200-

year history, and this month marks a

new era for the grand old lady of the

Northern Midlands.

For the first time, businesses and

community groups can hire rooms

within the historic house for meetings

and events.

"Eskleigh Estate is one of the premier

historic properties in the Northern

Midlands," Eskleigh Foundation

CEO Dale Luttrell said.

"We want to let as many businesses

and community groups as possible

experience what it's like to meet

and work in such a grand and beautiful

building."

Visitors can choose from five private

rooms, all located in the main

residence, capable of accommodating

small groups up to 30 people.

Each room is magnificently decorated

in the style of a grand old

country home featuring intricate

paint work, marble fireplaces, high

ceilings and large windows with

views to the surrounding gardens

and countryside.

Businesses and community groups can hire rooms in the grand old mansion for meetings and events.

The rooms are named after significant

pieces of Eskleigh history

or are reflective of their location on

the property with each having its

own unique character.

Guests can choose from either

three ground floor rooms or two

first floor rooms with access via the

grand wood carved staircase or lift.

Each room is equipped with audiovisual

equipment, wireless internet,

video conferencing and whiteboards

ensuring everything needed

for a successful meeting or event is

available.

Flexible table and seating configuration

caters to individual needs

and can be pre-booked in advance,

allowing rooms to be setup in the

most suitable way possible for an

event.

Larger groups can take advantage

of multiple room bookings and activities

can extend to the beautiful

terrace and veranda area surrounding

the front of the property, making

Eskleigh Estate perfect for larger

community events, product launches

and corporate gatherings.

The extensive English-style gardens

surrounding the main house

make this property exceptional and

are available for guests to use, providing

unlimited options to make

meetings and events a truly unforgettable

experience.

Launceston city and Launceston

Airport are only minutes away, but

looking to the surrounding gardens

and countryside visitors could be a

million miles away, making it the

perfect location for corporate retreats

and off-sites.

On-site catering facilities are

available and can be tailored for

small and large groups and for specific

events.

Eskleigh Estate's location between

Hobart and Launceston

makes it convenient for both Northern

and Southern Tasmanian visitors

with easy access and free onsite

parking.

Eskleigh Estate is part of Eskleigh

Foundation, a leading supplier

of disability support services in

Tasmania.

Every dollar spent at Eskleigh

Estate goes directly to growing and

supporting the services provided by

Eskleigh Foundation

"When you choose Eskleigh Estate

you're not only choosing a

first-class meeting and events facility,

but you're also helping Eskleigh

Foundation continue its vital

support of Tasmanians living with a

disability," Mr Luttrell said.

"Be one of the first to experience

the grandeur and old-world charm

of this beautiful property."

What: Eskleigh Estate – Function

and Events centre

Where: 16087 Midland Highway,

on the outskirts of Perth Village

Bookings: www.eskleighestate.

com.au or phone (03) 6398 7100.

The perfect location

for your next event.

est. 1947

Eskleigh Estate

function and events centre

Eskleigh Historic

house and gardens.

The perfect location for your next corporate event.

For the first time

ever, Eskleigh

House & Gardens

are available for

corporate and

event hire.

Eskleigh Estate is the perfect backdrop for corporate and community events,

meetings, and team off-sites.

Choose from five private rooms all located in the main residence capable of

accommodating groups up to 30 people, each equipped with audiovisual

equipment, wireless internet, video conferencing, and whiteboards.

Larger groups can take advantage of multiple room bookings and activities can

extend to the extensive English-style gardens surrounding the property.

On-site catering facilities are available and can be tailored for specific events.

Located between Hobart and Launceston makes it convenient for both Northern

and Southern Tasmanian visitors with easy access and free on-site parking.

est. 1947

Eskleigh Estate

function and events centre

Book now at eskleighestate.com.au or phone (03) 6398 7100

Located just outside Perth Village at 16087 Midland Highway

10 minutes from Launceston Airport • 20 minutes outside Launceston • 2 hours from Hobart

@eskleighestate

eskleighestate

Eskleigh Estate is part of Eskleigh

Foundation, a leading supplier of

disability support services to people

living with disabilities in Tasmania.

Every dollar spent at Eskleigh Estate

goes directly to growing and

supporting the services provided

by Eskleigh Foundation.

Help Eskleigh Foundation help others

Donate • Bequeath • Volunteer
---
Tasmanian Business Reporter - APRIL 2019 11

FOCUS ON BUSINESS

Direction post commission

LOUSIE

PETSCHLER,

GAICD,

General Manager

of Advocacy,

AICD

The final report has

underscored the

complex environment in

which directors operate

A LOT has already been

written about the final report

of the banking royal

commission.

It is now time to look

ahead to the steps government,

regulators, financial

services entities,

directors, senior executives

and stakeholder

groups can take to mitigate

the risk of misconduct

recurring in the future.

In Commissioner Ken

Hayne's words, "culture,

governance and remuneration

march together".

The final report has

underscored the complex

environment in which directors

operate.

Acting in the best interests

of a corporation

demands more than a focus

on short-term profit

and shareholder returns.

It is a more complicated

task than choosing

between the interests of

customers and shareholders.

We will see new regulation

in the financial services

industry with the

extension of the Banking

Executive Accountability

Regime to all

APRA-regulated industries

and the co-administration

of the regime between

ASIC and APRA,

as well as revised APRA

prudential standards and

guidance with a focus

on the linkages between

remuneration and non-financial

risks.

ASIC and APRA will

be subject to greater

levels of oversight by a

new, independent body.

Important reforms will

be made in the superannuation

sector, which

also came under scrutiny

by the Productivity Commission.

In its recently released

report on Superannuation:

Assessing Efficiency

and Competitiveness,

the Productivity Commission

acknowledged

that high-quality governance

is integral to a super

system where members

rely on others to

make decisions on their

behalf.

This year has also seen

the release of another important

and wide-ranging

inquiry, the Australian

Law Reform Commis-

sion's report Integrity,

Fairness and Efficiency:

An Inquiry into Class

Action Proceedings and

Third-Party Litigation

Funders.

Significantly, the

ALRC has recommended

the federal government

should commission

a review of the legal and

economic impact of the

operation, enforcement

and effects of continuous

disclosure obligations

contained in the Corporations

Act 2001 (Cth) and

the Australian Securities

and Investments Commission

Act 2001 (Cth).

AICD strongly supports

continuous disclosure

obligations as a vital

component of robust disclosure

and governance

practices to deliver market

integrity and investor

confidence.

However, we have significant

concerns about

the unintended consequences

that have arisen

as a result of the current

regime.

A review would present

an important and

timely opportunity to

consider whether Australia's

continuous disclosure

laws and its interaction

with the class

actions regime are operating

as intended.

In yet more news on

reforms that will impact

corporate Australia,

Treasury is considering

increasing the final reporting

thresholds for

proprietary companies.

Proprietary companies

that meet the

thresholds are required

to prepare and lodge an

audited financial report,

a director's report and

an auditor's report to the

regulator each financial

year.

Treasury has proposed

that the existing thresholds

be doubled to revenue

of $50 million, assets

of $25m and companies

with 100 or more employees

(by satisfying

two of these criteria, an

entity meets the reporting

and audit requirement).

If passed by parliament,

the proposed application

date for the new

thresholds will be 1 July

2019.

In response to member

feedback, AICD has

advocated they be increased

for some time.

OUR MEMBERSHIP

OPENS DOORS

Join more than 43,000 experienced directors and senior leaders by

becoming a member of the Australian Institute of Company Directors.

Membership provides you with exclusive access to our Business Centre

and Member Lounges in Sydney, Melbourne, Canberra, Adelaide, Perth

and Hobart CBDs, member-only events and a range of governance tools

and resources.

Take the next step in your career

t: 1300 739 101 w: companydirectors.com.au/SWT

06460-26_18
---
12 Tasmanian Business Reporter - APRIL 2019

FOCUS ON BUSINESS

Buyers

seek to

use their

skill set

By DEAN

DEMEYER

SELLING a business differs

from selling almost anything

else and no previous lifetime

sales or purchasing experience

can prepare you for it.

The conditions under which

private SME businesses are

sold are quite unique.

Here are a few market place

realities:

• different buyers will pay

different prices for the same

business;

• only the right buyer pays

the right price;

• no one pays more for anything

than they believe its

worth;

• neither the buyer, the seller

or their advisors know what

a business is worth; but all

have an opinion;

• sadly, it's hard to find

competent advice and guidance

when buying a business;

• buyers would rather start

a business of their own than

buy yours; and

• buyers really want "all the

right things to be wrong" and

not a perfect business.

Most of the above points

could have their own article

written about each.

Let me focus however on

the last two points.

The fact is, more people

start new businesses than acquire

an existing one.

However with four out of

five businesses not lasting

more than five years, it would

make more sense to actually

buy an established survivor.

I believe the driver for most

people is independence - doing

their own thing.

That's why, if they buy a

business, they want one that

is not perfect so they can put

their own mark on it.

They want the things

"wrong" with it to match their

competencies and shape and

mould the business into their

own image. A win-win.

The buyer who recognises

the most opportunity will pay

the optimum price.

For example, take a company

that makes great bikes.

The owner is a genius designer

and a perfectionist for

quality.

The business has grown

constantly over the years and

its bikes are widely ridden in

the local area.

The business' strengths are

in manufacturing and design

and they are weak at sales and

marketing.

Reverse this profile and you

will find the perfect buyer

who has sales and marketing

skills.

This buyer will recognise

the opportunity that

is presented to them

and pay a higher

price accordingly.

The decision to

sell a business is

generally motivated

by personal or lifestyle

considerations.

Likewise, the decision

to buy a business

is also a personal

decision and

not solely a financial

one.

Price is an important

concern, but the

buyer's perception of

value is the primary

driver, and that value

is based on their individual

circumstances,

motivations and personal

objectives.

Advisors will be

able to provide assistance

on financial

and legal matters but

are usually totally unaware of

the important personal factors

involved.

Businesses only sell when

personal and financial gains

are in balance.

Uniquely only the seller and

buyer know where that balance

lies.

In reality, the seller, the

buyer, the employees and all

the families will win with the

"right buyer" who will capitalise

on the opportunity the business

represents.

Specialising in confidential sale & purchase

of privately held business

We provide more than just a price appraisal.

Our experience can show you how to:

• Understand how to build VALUE in addition to profits

• Increase WEALTH without increasing your declared profits

• When to cash out so you can cash in

We will demonstrate:

• What your business is worth today and how to make it worth more tomorrow

• Why some businesses sell for big money and others do not

• How to identify & attract the right buyers

Call Dean Demeyer on 0419 382 359 or 6105 0701 for

a FREE, No-Obligation assessment of your business.

FINN BUSINESS SALES

42 Sandy Bay Road, Battery Point TAS 7004

e: dean.demeyer@finnbusinesssales.com.au

www.finnbusinesssales.com.au

Tasmania I Australia I International

Tasmania's Most Trusted Brokers
---
Tasmanian Business Reporter - APRIL 2019 13

FOCUS ON BUSINESS

Education driving revival

By ASSOCIATE

PROFESSOR

ANDREA CARR

Deputy Principal

(Education)

ENTERING our third year,

University College started

2019 with the launch of its

newest course, the Associate

Degree in Applied Health and

Community Support.

We welcomed more than

1200 new and continuing

students across our range of

courses, including Applied

Science, Applied Business,

Applied Design, Applied

Technologies, Agribusiness,

and our Pathway Programs.

Drawing on its social mission,

University College, together

with the University of

Tasmania, is committed to an

education-driven revitalisation

of the state.

We are dedicated to increasing

the number of people participating

in higher education.

Why? The positive impacts

that flow on from greater education

benefit our whole community,

including enhanced

economic performance, productivity,

and employment

rates.

"Attending University College

has rebuilt my confidence,"

explains student Annette

Branch, who is studying

an Associate Degree in Applied

Business

"Myself and my family are

now going to have a much

better future thanks to the associate

degree. I am a living

example of how education

can improve lives."

The delivery of work-ready

graduates is a key outcome of

University College courses.

Informed by industry, Associate

Degrees are distinctively

different in nature – both in

the way we teach and design

the courses.

We take pride in offering

programs that are highly relevant

and linked to local industry.

This is a result of our teaching

staff being well connected

to Tasmanian businesses and

other industry stakeholders.

These industry partnerships

facilitate a shared purpose – a

reciprocity - that leads to mutual

benefit.

University College gives

students authentic, hands-on

experiences that relate to their

Prospective students tour the Inveresk facilities with a University of Tasmania staff

member.

future career, with flexible

online learning options that

support work life balance.

"The new-found awareness

of the industry has given me

a more in-depth understanding

of how my workplace

functions behind the scenes,"

says Associate Degree in

Agribusiness student Taylor

Franklin-Smith. "Completing

my degree part-time doesn't

impact on my full-time work

schedule."

Courses are delivered

across our three campuses

(Hobart, Launceston and

Burnie), allowing easy access

to those living in regional areas

or juggling work commitments.

Our range of Diploma and

Associate Degree courses

provide a tailored professional

education that delivers

both the knowledge and skills

needed to progress from one

job to another, throughout the

course of one's career.

Our connections with Tasmanian

businesses and industry

support relevant learning

experiences and help build future

job prospects across the

state.

Furthermore, these partnerships

have resulted in real "on

the ground support" for our

students.

For example, Blundstone

Australia Pty Ltd and Primary

Health Tasmania offer scholarships

for students studying

Agribusiness and Applied

Health courses.

Students leaving Year 12,

professionals wanting to upskill

or get a formal qualification,

and even those planning

a career change, can all benefit

from an Associate Degree

at University College.

We produce commercially

aware, technically competent

and creative graduates

who are equipped for lifelong

learning - fundamental

skills for workplace success.

Don't hesitate to reach out for

more information. We'd love

to discuss with you how an

Associate Degree may be the

right fit for you or your team.

Applications

now open

for Term 3,

starting

July 22

Study an Associate Degree and

advance your career

Whether you're looking to up-skill, needing a formal qualification to take the next step in your career or trying to

break into a new industry, UC has the right Associate degree for you. Our courses offer full-time and part-time

options, so you can find the right balance between work, life and study.

Your path to progress starts with a single step, visit our website or call 1800 788 244 to find out more

utas.edu.au/college
---
T A S M A N I A' S L E A D I N G B U S I N E S S P U B L I C A T I O N . C I R C U L A T I O N 12,000 M O N T H LY

14 Tasmanian Business Reporter - APRIL 2019

NEWS

Ship-shape scholars

A $67,500 scholarship

program sponsored by

shipping company ANL

Container Line will support

three students undertaking

a Bachelor of

Global Logistics and

Maritime Management at

the Australian Maritime

College.

Titled "Future You

Powered By ANL", the

scholarship provides

$7500 per annum to each

of the three students for

the full three years of their

study.

AMC Principal Professor

Shuhong Chai said the

scholarships would help

nurture the next generation

of logistics talent and

were built on a strong,

long-standing relationship

between the two organisations.

"About 90 per cent of

world trade is moved on

the oceans and developing

a strong, skilled

workforce is essential to

keeping the multi-billion

dollar international logistics

industry afloat," Professor

Chai said.

"This new scholarship

program from ANL Container

Line will provide

three students with the

opportunity to further

their education in this

growing field, allowing

them to immerse them-

AMC Principal Professor Shuhong Chai, left, and ANL Container Line General Manager – Human

Resources/Office Administration Pascale Toussat launch the scholarship program.

selves in their studies and

make the most of personal

and professional development

opportunities.

"AMC engages with

ANL regularly as part of

its industry liaison committee,

and a number of

our graduates have taken

up internships and graduate

positions at their Melbourne

headquarters.

These scholarships

provide the ideal platform

Telstra Businesswoman

winner 'keeping it real'

GLENVIEW Community

Services CEO Lucy

O'Flaherty has been

named Tasmania's Telstra

Businesswoman of

the Year.

Glenview is an aged

care provider of residential,

community, independent

living, day centre

and respite services.

Ms O'Flaherty has

been CEO at Glenview

for nearly eight years

and with aged care undergoing

historic and

complex reforms, she

is active in helping to

create the vision for the

sector now and in future.

to enhance and build on

that career pathway."

ANL's Pascale Toussat

said the business was

a big supporter of talent

development for the industry.

"Shipping and Logistics

are such an important

part of our economy as

an island nation. While

our core business is shipping,

we have broadened

our offer in recent years,

"As a hands-on

learner, the secret to

my success is keeping

it real, never getting

caught up in self-importance

and always

remembering my values,"

she said.

The national awards

will be held in May.

WANTED

Business

movers and

shakers

offering door to door

services and other more

technical solutions to our

customers," she said.

"We want to continue

our evolution and we

know that this is driven

by passion, talented people

and new ideas.''

The scholarship MoU

signing was followed by

the 2019 AMC Careers

Expo, in which students

had the chance to network

with national and multinational

industry leaders

and investigate their

future career options.

Representatives from

prominent Defence, engineering,

logistics and

shipping organisations attended

the two-day event,

which also featured presentations

on industry

graduate programs, resume

writing and interview

skills.

Tasmania's Telstra Businesswoman of the Year

Glenview CEO Lucy O'Flaherty.

IN BRIEF

Work skills funding

THE State Government's Skills Fund program is

open, with $2.9 million available to get more Tasmanians

into work.

Funding is targeted at training programs for priority

industry sectors including tourism and hospitality,

building and construction, advanced manufacturing,

ICT, aged and disability services, agriculture and

aquaculture, and transport and logistics.

The Skills Fund is open to endorsed Registered

Training Organisations and closes on Tuesday April

9, 2019.

Further information, including grant guidelines and

application forms, is available from Skills Tasmania

on 03 6165 6012 or by email to theskillsfund@skills.

tas.gov.au

Health career certificate

IN AN Australian first, Tasmanians will now have

the opportunity to gain an educational qualification

for a career in the health insurance sector through

an innovative partnership between TasTAFE and

St.LukesHealth.

Developed and launched by St.LukesHealth, the

Certificate IV in General Insurance will assist those

wanting to upskill or who seek a career in health insurance.

The qualification will be delivered in-house using

St.LukesHealth trained staff and validated through

TasTAFE, and is expected to be rolled out nationwide.

Tassie vodka whey ahead

TASMANIA'S Hartshorn Distillery has won Best Varietal

Vodka of Australia at the World Vodka Awards

2019 in London for the third year in a row.

Its Sheep Whey Unfiltered Vodka also collected

World's Best Vodka at the World Vodka Awards 2018

and Australian Beverage of the Year at the Food and

Beverage Industry Awards in 2017.

Hartshorn is the only known distillery in the world

to craft its spirits from sheep whey, a byproduct of

cousin company Grandvewe Cheeses.

Cheesemaker chairman

BRUNY Island Cheese Co founder, Nick Haddow,

has been appointed as the inaugural chairman of the

new Brand Tasmania authority.

The entrepreneur, who is a co-presenter on TV series

The Gourmet Farmer, won the Telstra Australian

Business of the Year in 2014.

He previously served on the board of the Brand Tasmania

council and is currently on the board of Wine

Tasmania.

McCain chips in at Smithton

MCCAIN Foods will invest $37 million to upgrade its

Smithton potato plant in North West Tasmania.

The upgrade follows the addition of 17 new permanent

jobs at the potato plant, bringing its workforce

to 95.

A further 60 new jobs will be created during the

construction phase, and $15 million will be injected

into the Tasmanian economy in local trade and labour

contracts.

The upgrades, due to start this month and be complete

by January 2020, will see the site become the

company's primary retail french fry production facility

in Australia and New Zealand.

• Promotions

• Appointments

• Awards

• Celebrating

success

Share the news

with the

Tasmanian

business

community

Send your news

snippets, with a

high quality photo,

to TBReditorial@

fontpr.com.au
---
Tasmanian Business Reporter - APRIL 2019 15

EVENTS

Daniel Richards, left, and Charles von Stieglitz

of Accru Hobart.

Dave Careless, left, Louise Dine and Bill

Summers of Bendigo Bank.

Jason Purdie of UTAS, left, Elise Archer MP

and Damon Wise of News Corp.

What:

TCCI's 95th birthday

celebration

Where:

Hadley's Orient Hotel, Hobart

When:

Tuesday March 5, 2019

Louise Dine of Bendigo Bank, left, Simone Di Domenico of

NAB and Lorelle Taylor from Headspace Hobart/ The Link

Youth Health Service.

Renee Casey of Hotel Grand Chancellor, left, Susan

Parr of TCCI, Kimberley Odges from Hotel Grand

Chancellor and Stacy Joseph of TCCI.

Tom Middleton of the Tasmanian Labor Party, left,

and Umesh Ratnagobal from the City of Hobart.

TCCI's Michael Bailey and Susan Parr.

John Mula of Catholic Education

Tasmania and Natasha Burdon from My

Pathway.
---
16 Tasmanian Business Reporter - APRIL 2019

PROPERTY MATTERS

Industrial sector shining light

Scott Newton

Property Matters with

Knight Frank

THE industrial sector

across Northern Tasmania has

proven to be a shining light as

one of our best performing in

the commercial markets.

Recent transactions and offerings

have highlighted the

strength and confidence in

the industrial sector across

the North.

Paperlinx has recently announced

the sale of the former

Wesley Vale Pulp Mill

site after an extensive marketing

campaign.

The sale price of $1.74m

announced demonstrates an

opportunity for the developer

to re-invigorate new industrial

activity onto this "brownfield

site".

The offering of the Bell

Bay site of the former proposed

Gunns Pulp Mill has

confirmed very strong interest

in a site which offers extensive

infrastructure investment

opportunities.

Arguably one of Tasmania's

premier industrial sites

due to rail, port, road and energy

infrastructure, the site

has attracted considerable interest

from local, national and

international businesses.

State Government investment

in the second interconnector

project across Bass

Strait continues to create interest

in the opportunities

presented by these brownfield

sites.

With any infrastructure development

in the state, investors

in industrial property are

looking for the flow on opportunities

that emanate from

these projects.

Within the greater Launceston

areas, the industrial

sector is experiencing elevated

investor demand for acquisitions

of leased investments,

especially of contemporary,

recently constructed facilities.

Sales of four industrial facilities

during early 2019,

have reflected investor appetite,

which is becoming diffi-

The Bell Bay site of the former proposed Gunns pulp mill is receiving strong investor interest.

cult to fulfil and therefore resulting

in investors accepting

lower yields.

Recent sales are showing

yields ranging from 6.75 per

cent to 7.25 per cent.

Two properties of the four

are situated at Translink Industrial

precinct adjacent to

Launceston Airport, which is

proving an area of growth as it

is central in covering the state

in transportation and logistics.

Statewide Independent

Wholesalers General Manager

David Lanham is currently

overseeing the expansion

of its distribution centre, also

situated at Translink, which

is some 47,000sqm "under

roof" to facilitate its new

temperature-controlled facility

of a further 12,500sqm.

Knight Frank has commenced

marketing of a significant

investment opportunity

at Translink Estate, in

Hudson Fysh Drive, which is

leased to an leading Australia-wide,

tyre wholesaler and

distributor.

The 3000sqm is subject to

a seven-year lease.

A number of recent larger

leasing transactions in

the Devonport region have

shown continued confidence

within the freight and logistics

sector.

A new player in the fresh

milk market has recently secured

a large warehouse in

the Devonport region as a

holding facility for dispatching

milk into the mainland

markets.

Investors for well-let modern,

industrial stock remain

active, with Knight Frank

having about $6.5m in industrial

sales currently under

contract in the North West.

PROPERTY VIEW

APRIL 2019

Outline indicative only

WATERFRONT DEVELOPMENT

LAND - FOR SALE BY EOI

East Tamar Highway, Bell Bay

• Situated 38 km North of Launceston.

• Major capital investment has been made with

site development, internal road and waste water

treatment infrastructure.

• The 892.14 ha* parcel provides a blend of

Industrial and Rural Resource zoning (3 titles)

with a 26 ha* building pad.

• The site offers opportunities for the agricultural,

renewable energy, logistics, minerals or

manufacturing sectors.

• Rental Income from Telco lease.

• Potential deep water port access.

*approx

Rob Dixon 0408 134 025

Charles Black 0409 317 607

ART DECO FREEHOLD INVESTMENT

FOR SALE

345 Elizabeth Street, North Hobart

• High profile 776 sqm* corner building.

• Tenant Nando's is a global giant with over

1,000 restaurants across 35 countries.

• Brand new $600,000 tenant fit-out.

• Current net rent $182,969 pa - 9 years

remaining with 3% reviews.

• Secure supplementary income from two fully

leased apartments.

• In conjunction with Burges Rawson

Melbourne.

*approx

Matthew Wright 0458 290 588

Knight Frank Hobart

Beau Coulter 0413 839 898

Burgess Rawson Melbourne

TILFORDS "1O YEAR LEASEBACK"

FOR SALE BY EOI

35-53 Brisbane Street, Hobart

• Situated in Central Hobart CBD, a terrific

investment and landbank opportunity.

• High exposure outstanding location.

• Significant 9,395 sqm corner site with dual

street frontages.

• Secure 10 year lease back with a commencing

rental of $993.543 net per annum.

• Tenant pays all usual outgoings.

• Leading car dealers of Ford, Honda, Skoda,

Land Rover, Jaguar.

• Lettable Area - 7,651 sqm

*approx

Scott Newton 0409 186 261

Matthew Wright 0458 290 588

DICKENSON'S ARCADE

FOR SALE BY EOI

105-111 Main Road, Moonah

• Moonah landmark investment with a history

of long term tenants.

• Significant high profile corner retail arcade in

the heart of Moonah's commercial precinct

plus extensive rear frontage to large public

surface car park.

• 5 km* north of Hobart's CBD & adjacent to a

Woolworth Supermarket. Current Net Income

$240,008 pa* ex GST.

• 96% leased with rental growth potential.

• Lettable area 1,833 sqm*.

• Site Area 1,437 sqm*.

*approx

Richard Steedman 0408 559 046

Matthew Wright 0458 290 588

5 Victoria Street, Hobart 54 Cameron Street, Launceston 48-54 Oldaker Street, Devonport

P: 03 6220 6999 P: 03 6333 7888 P: 03 6424 3568