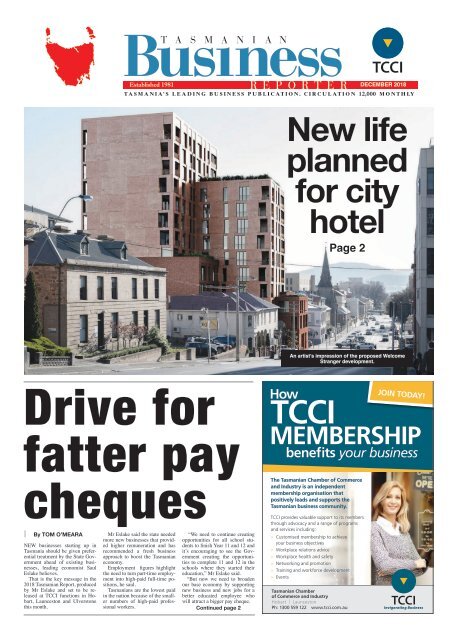 Tasmanian Business Reporter December 2018
Welcome to the December edition of the Tasmanian Business Reporter. In the final edition for the year we bring you an exclusive preview of the 2018 Tasmania Report, with leading economist Saul Eslake calling for the State Government to give preferential treatment to new businesses in order to encourage job creation for better educated and higher paid employees. You will also find details about a $30 million residential redevelopment planned for a Hobart hotel, a $5.5 million research program for the forestry sector and a boost for retailers with the Government considering enhancing the authority of retail staff to inspect customer's bags as they exit a store.
Welcome to the December edition of the Tasmanian Business Reporter.

In the final edition for the year we bring you an exclusive preview of the 2018 Tasmania Report, with leading economist Saul Eslake calling for the State Government to give preferential treatment to new businesses in order to encourage job creation for better educated and higher paid employees.

You will also find details about a $30 million residential redevelopment planned for a Hobart hotel, a $5.5 million research program for the forestry sector and a boost for retailers with the Government considering enhancing the authority of retail staff to inspect customer's bags as they exit a store.
SHOW MORE
SHOW LESS
Create successful ePaper yourself
Turn your PDF publications into a flip-book with our unique Google optimized e-Paper software.
DECEMBER 2018

T A S M A N I A' S L E A D I N G B U S I N E S S P U B L I C A T I O N . C I R C U L A T I O N 12,000 M O N T H LY

New life

planned

for city

hotel

Page 2

An artist's impression of the proposed Welcome

Stranger development.

Drive for

fatter pay

cheques

By TOM O'MEARA

NEW businesses starting up in

Tasmania should be given preferential

treatment by the State Government

ahead of existing businesses,

leading economist Saul

Eslake believes.

That is the key message in the

2018 Tasmanian Report, produced

by Mr Eslake and set to be released

at TCCI functions in Hobart,

Launceston and Ulverstone

this month.

Mr Eslake said the state needed

more new businesses that provided

higher remuneration and has

recommended a fresh business

approach to boost the Tasmanian

economy.

Employment figures highlight

the need to turn part-time employment

into high-paid full-time positions,

he said.

Tasmanians are the lowest paid

in the nation because of the smaller

numbers of high-paid professional

workers.

"We need to continue creating

opportunities for all school students

to finish Year 11 and 12 and

it's encouraging to see the Government

creating the opportunities

to complete 11 and 12 in the

schools where they started their

education," Mr Eslake said.

"But now we need to broaden

our base economy by supporting

new business and new jobs for a

better educated employee who

will attract a bigger pay cheque.

Continued page 2

How

TCCI

MEMBERSHIP

benefits your business

The Tasmanian Chamber of Commerce

and Industry is an independent

membership organisation that

positively leads and supports the

Tasmanian business community.

TCCI provides valuable support to its members

through advocacy and a range of programs

and services including:

> Customised membership to achieve

your business objectives

> Workplace relations advice

> Workplace health and safety

> Networking and promotion

> Training and workforce development

> Events

Tasmanian Chamber

of Commerce and Industry

Hobart | Launceston

Ph: 1300 559 122 www.tcci.com.au

JOIN TODAY!
---
T A S M A N I A' S L E A D I N G B U S I N E S S P U B L I C A T I O N . C I R C U L A T I O N 12,000 M O N T H LY

2 Tasmanian Business Reporter - DECEMBER 2018

NEWS

New life

planned for

city hotel

A $30 million development

will transform the Welcome

Stranger site on the corner of

Hobart's Harrington and Davey

Streets.

The 45m-high plan would

see the hotel replaced by a

new development combining

retail space, inner city living,

and public open space.

The project has been proposed

by Melbourne-based

property development group,

Hexa.

Spokesman Ian Whitehouse

said the traditional pub would

close and its 24 poker machines

removed.

The proposal consists of

two levels of retail space, 61

car spaces underground and

52 apartments.

"Instead of a public bar and

T A S M A N I A' S L E A D I N G B U S I N E S S P U B L I C A T I O N . C I R C U L A T I O N 1 2 , 0 0 0 M O N T H LY

e dition

Tasmanian Business Reporter can now be delivered directly to your inbox. With our 30,000-strong monthly print

readership, our new up-to-date digital distribution will keep Tasmanians abreast of the all latest in local business

news. From this month we will distribute electronic editions of the Tasmanian Business Reporter as we go to print.

To confirm your copy sign up to our mailing list via

tbreditorial@fontpr.com.au

T A S M A N I A' S L E A D I N G B U S I N E S S P U B L I C A T I O N . C I R C U L A T I O N 12,000 M O N T H LY

Tasmania's business newspaper is published monthly by the

Tasmanian Chamber of Commerce and Industry. It is distributed

to businesses in Tasmania as well as key decision-makers.

Circulation: 12,000

BUSINESS

Managing Editor: Tom 2O'Meara

0418 135 822

Editor: Becher Townshend

0418 370 661

Advertising and Special Projects

Gil Sellars 0448 901 371

gil@thetrustedmediaco.com

HOBART'S Editorial BEST & Advertising RANGE OF

TBReditorial@fontpr.com.au

FOR THE www.tasmanianbusinessreporter.com.au

HOME AND OFFICE

Publisher:

We specialise Tasmanian in high Chamber quality ergonomic of Commerce chairs, and Industry

alternative seating

309 Liverpool

and electronic

St, Hobart,

sit/stand

TAS

desks.

7000

Flair Ph: Office 6236 Furniture 3600 has Fax: been 6231 providing 1278 quality, admin@tcci.com.au

affordable office

furniture to homes and offices throughout the Hobart region

for nearly 15 The years. Old We're Post a locally-based, Office, 68-72 family-run Cameron business St,

specialising in all types of Launceston products, so why TAS not 7250 visit us today to

see our fantastic Ph: range? 6331 1144 laun@tcci.com.au

Production:

Phone 6234 1127

aldridge.media

260 Argyle Street,

Ph: 0431 241 775

North Hobart

aldridge.media@iinet.net.au

Printer: Mercury

www.flairofficefurniture.com.au

Level 1, 2 Salamanca Square, Hobart, 7000

BUSINESS

YOUR QUICK GUIDE TO SERVICES AND PRODUCTS FOR YOUR BUSINESS

QUALITY ERGONOMIC FURNITURE

poker machines, it is proposed

that one of the new tenants of

the retail space will be a poker

machine-free wine bar.

"The ground floor will see

a range of retail spaces, including

a café and a boutique

providore and grocer with an

emphasis on local produce.

"Importantly, the development

will open the street level

area up to the public, with

access via Harrington and

Davey Streets to an arcade

and public open space featuring

local Tasmanian art."

Mr Whitehouse said the

development would help address

housing supply in Hobart.

"Hobart's population is

booming.

"The project will help address

housing issues and urban

sprawl.

Master Builders Tasmania

Executive Director Matthew

Pollock said urban infill developments

would become increasingly

important to service

a growing population, to limit

urban sprawl and take some

pressure off infrastructure.

"This $30 million project

would also create around 100

jobs during construction and

on-going jobs in the retail

spaces,'' Mr Whitehouse said.

"It is estimated that the residents

of the apartment will

drive over $3 million of economic

activity in the area each

year as well."

Subject to approvals, construction

is set to commence in

2020.

To see your business here, call Kerri on 0419 750 267 or email kerri@thetrustedmediaco.com

Bag search plan

to thwart thieves

SHOP owners will have the

right to search shoppers'

bags under new rules being

considered by the State Government.

Building and Construction

Minister Sarah Courtney

said the Security and Investigations

Agents Amendment

Bill 2018 fulfilled the Government's

election commitment

to support local businesses

by cracking down on

shoplifting.

"Under current legislation

only security guards have

the authority to search bags,"

she said.

"However, the Bill enables

retail staff to inspect customers'

bags as they exit a store,

so long as these inspections

are carried out in accordance

with the Tasmanian Bag

Check Code of Conduct.

"These amendments will

not only protect the livelihood

of Tasmanian retailers

by helping to prevent shoplifting,

but will also protect

consumers by ensuring that

bag checks are carried out in

an appropriate and regulated

way.

Report focus on low state pays

From page 1

"I'm not attacking

small businesses but it

isn't the lifeline of business

in Tasmania and I

believe that government

should be financially

supporting new business,

not the old.

"I know it's politically

challenging but I argue

that there are too few

businesses paying payroll

tax.

"Spread the tax, lower

the cost and create a

bigger pool of money to

support new businesses

and new well-paid jobs.

Mr Eslake said the

WANTED

Business

movers and

shakers

• Promotions

• Appointments

• Awards

• Celebrating

success

Share the news

with the

Tasmanian

business

community

Send your news

snippets, with a

high quality photo,

to TBReditorial@

fontpr.com.au

Saul Eslake

Your Partner

in Print.

www.footandplaysted.com.au

Now incorporating

"With Christmas fast approaching,

retailers are gearing

up for their busiest time

of year.

"Unfortunately, this is also

a peak period for shoplifting

activity.

"Shoplifting is estimated

to cost Tasmanian retailers

more than $200 million a

year, which greatly affects

business profitability.

"It is not only Tasmanian

THE CRAFT LIVES ON.

Shoplifitng costs retailers millions.

state had gone forward

in the last year and over

the last decade.

"The economy is doing

well but we still have

a long way to go," Mr

Eslake said.

"The state has done

quite well with increased

federal grants

and GST receipts and

the State Government

has managed its finances

extremely well which

has boosted high levels

in business confidence."

"The challenge for the

future is where will the

increased investment

come from to continue

the high costs of health,

education, housing and

infrastructure in the future?"

With health the state's

biggest cost, Mr Eslake

will also dissect new data

about the health status of

Tasmanian aged between

businesses that suffer from

the effects of retail theft – ultimately

the consumer pays

with higher retail prices."

Other Government initiatives

to reduce shoplifting

include increasing police

presence in shopping precincts,

and a no-interest loan

scheme to small businesses

that want to install good

quality, high definition digital

recording CCTV cameras.

25 and 34 and make suggestions

about how we

can keep them out hospitals

that are already

stretched to capacity.

The data is expected

to reveal that they don't

or can't look after their

health.

More than half in the

age group are overweight

or obese which leads to

chronic conditions such

as diabetes, musculoskeletal

conditions and

cardiovascular disease.

The costs of hospitals

and specialists will run

into tens of thousands of

dollars per individual.
---
T A S M A N I A' S L E A D I N G B U S I N E S S P U B L I C A T I O N . C I R C U L A T I O N 12,000 M O N T H LY

Uni communicates info-tech age

Tasmanian Business Reporter - DECEMBER 2018 3

Forest industry wins $5.5m for research

NEWS

Cutting-edge timber projects

THE durability of Tasmanian

timber will be

increased and technology

will be enhanced under

a new $5.5 million

research program for the

forestry sector.

The inaugural round

of projects funded by

the Launceston centre of

the National Institute for

Forest Products Innovation

has been announced.

Assistant Agriculture

and Water Resources

Minister Senator Richard

Colbeck said the projects

would provide economic

returns to Tasmania's

forest industries and the

local economy. "The lessons

learned here will

help lead the way across

Australia," he said.

"Global demand for

timber products is expected

to quadruple by

2050 and the Coalition

Government's National

Forest Industries Plan

will deliver world-class

research and one billion

new trees to meet that

demand."

Recipients in Tasmania

include:

• Private Forestry Tasmania

– optimising machinery

configurations

for profitable harvesting

Global demand for timber products is tipped to

quadruple by 2050.

A PUSH is on to strengthen the

information and communication

technologies sector in the

state's North West, with about

20 people attending a forum in

Burnie to discuss the industry's

prospects.

The University of Tasmania,

in partnership with the

Australian Computer Society

and Cradle Coast Authority,

presented the forum to explore

the role of ICT in shaping the

region's future, with the industry

deemed a crucial enabler.

The event formed part of

Tasmania's inaugural Techstars

Startup Week, a movement

building momentum and

opportunity around entrepreneurship.

James Riggall from the

University's Community,

Partnerships and Regional

Development portfolio, and

Managing Director of Bitlink,

shared insights into projects

the Cradle Coast campus has

been leading in the North-West

to support the development of

ICT literacy.

"The university recognises

the increasing importance of

ICT, and the need to equip fuoperations

of small-scale

plantations.

ture generations with entrepreneurial

skills that ready them

for jobs of the future," Mr

Riggall said.

"This year's North-West

projects have included a SumoBot

competition, exposing

participants to robotics;

Hackerspace workshops that

immersed students in advanced

manufacturing, electronics,

the Internet of Things and

• Sustainable Timber

Tasmania – sensing tech-

nology and digital tools

to support decision-making

in hardwood timber

drying.

• Britton Timbers – increasing

the durability

and other material characteristics

of Tasmanian

hardwoods.

• Neville Smith – developing

a new generation

of Tasmanian

appearance hardwood

products for in-state design

and manufacturing.

• CLTP Panels – developing

laminated structural

elements from fibre-managed

plantation

hardwood.

computer programming concepts

and also the Big Idea

Challenge which empowered

entrants to embrace entrepreneurship

in ICT.

"We are also working with

Mr Colbeck said the

investment would play

a vital role in fostering

collaboration, supporting

cutting edge research,

boosting innovation,

growing jobs and securing

Tasmania's place as

the centre for forest-industry

research.

Dr Tristan

Richards from

the Australian

Computer

Society, left,

Daryl Connelly

of the Cradle

Coast Authority,

James Riggall

from Bitlink and

University of

Tasmania and

Lyndal Bond,

University of

Tasmania

Strategic

Projects

Officer.

Burnie Primary School on a

project that is teaching students

how to program a 'Farmbot'

– a machine that combines traditional

agricultural practices

with modern technology."

Resources Minister

Sarah Courtney said Tasmania

had a proud history

of supporting a sustainable

and well-managed

forestry sector.

"These exciting and

innovative projects will

maximise the economic

value of our forest products,

ensuring sustainable

jobs into the future,''

Ms Courtney said.

"The Tasmanian forest

industry continues to

evolve into a sophisticated,

high-value industry."

The second round of

grants will open soon.

The Australian and

Tasmanian governments

are contributing $1.9

million to the first round

of successful projects –

which is being matched

by $3.6 million of funding

and in-kind contributions

from the forestry

industry and research

agencies.

Nyrstar

pledge

to stay

NYRSTAR has promised to

invest further in its Hobart

smelter after a decision by the

Belgian-based metals company

to drastically reduce staffing

at its Port Pirie operation.

State Growth Minister Peter

Gutwein said he had received

assurances from the CEO and

senior management of Nyrstar

that it was committed to its

Hobart operations, that the

Hobart smelter was sustainable,

and that they planned to

continue to invest in the site.

"This is a very good sign of

their commitment to a longterm

future for the Hobart

smelter," Mr Gutwein said.

"We're aware they are going

through a capital restructure

process globally, but their

clear advice to us is that the

Hobart smelter remains an important

part of their business."

There were fears a possible

closure of the South Australian

operation by the cashstrapped

company would be

an economic tsunami for that

state.

WANTED

Business

movers and

shakers

• Promotions

• Appointments

• Awards

• Celebrating

success

Share the news

with the

Tasmanian

business

community

Send your news

snippets, with a

high quality photo,

to TBReditorial@

fontpr.com.au
---
4 Tasmanian Business Reporter - DECEMBER 2018

THOUGHT LEADERSHIP

www.tcci.com.au

TCCI enjoys excellent year

THE TCCI has enjoyed

an excellent 2017-2018

financial year, but there

was one highlight which

stood out for the entire

state movement of business

chambers.

This was the impact of

our "Vote for Small Business"

campaign targeting

the Braddon by-election.

With the coordinated

efforts of the Burnie,

Devonport and Central

Coast Chambers of

Commerce and support

from the NSW Business

Chamber and Victorian

Chamber of Commerce

and Industry we were

able to command the national

dialogue leading

into this election.

Direct outcomes include

the Federal Minister

for Small Business

being brought back into

Cabinet. The power of

this campaign nationally

was highlighted by

the ABC The Drum program,

stating that business

was not on the agenda

of the by-elections

until the TCCI came out

with the "Vote for Small

Business" campaign.

The other pleasing aspect

is that the Australian

Michael

Bailey

TCCI Chief Executive

Chamber of Commerce

and Industry has now adopted

this bottom up approach

to advocacy.

This is a concrete example

of the TCCI impacting

and modifying

the national debate.

The TCCI's overall financial

result reflects the

hard work by staff and

the ongoing support of

our members.

Our training business

continues to deliver

timely and relevant sessions

across Tasmania,

operating in all regions

of Tasmania with a diverse

range of topics.

The TCCI is extremely

proud of the quality and

flexibility of our training

offering which supports

Tasmanian businesses

with non-accredited and

accredited training.

We continued to provide

much needed work-

place relations support to

our members, whether by

them contacting the free

help-line or dealing directly

with our IR team.

The TCCI's mission in

this area is straightforward:

to ensure all Tasmanian

businesses have

access to this service to

ensure they are suitably

armed with the most recent

and relevant workplace

relations knowledge.

The TCCI events calendar

once again proved

to be the most influential

series of events in the

state.

Not only did we build

on the success of the Tasmania

Report Roadshow,

we also ran the State

Budget Roadshow and

gave the Tasmanian business

community access

to myriad of other experiences,

including access

Regular TCCI events help keep business operators informed.

to the Victorian Minister

for Trade and connections

with the new University

of Tasmania Vice

Chancellor Rufus Black.

Our advocacy efforts

yielded tremendous outcomes

this year.

Our pivotal policy

document, the Tasmania

Report, has quickly

become the most significant

body of work advocating

evidence-based

change in Tasmania.

Tasmania Report author

Saul Eslake deserves

enormous kudos

for building a report

which adds incredible

value to the state. Our

final member event for

the year, the Premier's

Cocktail Party last

month, saw its biggest

audience for many years,

testimony to members'

engagement and I believe

overall business

confidence in Tasmania.

The TCCI

events

calendar

once again

proved to

be the most

influential

series of

events in

the state.

I would also like to

congratulate the TCCI

Board for their contribution

to our organisation

and the state –

particularly our Chair

Susan Parr and the

outgoing Chair of Finance,

Audit and Governance

Paul Arnold.

BIG ON LEARNING,

BIGGER ON EXPERIENCE

STUDY AN ASSOCIATE DEGREE AND

ADVANCE YOUR CAREER.

Working full-time and studying is not an impossible feat, just ask

father of two James Johnston, who is being supported to study an

Associate Degree in Applied Business specialising in Supply Chain

Management.

"My manager can see this as a long-term benefit. I'm hoping this

course will open a few doors for career advancement, but I'd also be

happy with whatever I'm doing in regards to my career.

I encourage anyone to give it a go. You may think you don't have

time to study, but you'd be surprised."

The new two-year associate degrees offered by University College,

are ideal for students who are already working in industry, as they

can be studied full-time or part-time.

To find out more about studying an associate degree or supporting

your staff to undertake study, visit utas.edu.au/college or

phone 1300 363 864.

CRICOS Provider Code (University of Tasmania): 00586B.
---
Tasmanian Business Reporter - DECEMBER 2018 5

THOUGHT LEADERSHIP

www.tcci.com.au

Seasonal challenge looming

Brett

Charlton

Agility Logistics

SORRY to be the bearer

of some bad news before

Christmas but I am afraid

we have some challenges

coming up and those

reading this article need

to be on top of their logistics

game for the next

three to four months.

As most would already

know, the tonnage over

Bass Strait is getting an

injection of confidence

from Toll with two new

vessels being deployed to

the trade, increasing the

capacity of Bass Strait

considerably.

When these vessels arrive

and begin their operations,

Tasmania will be

sitting in a very enviable

position of having ample

capacity for the next 10

years at least (especially

post the Searoad investment

of one vessel and

the advice of a second

vessel pending coupled

with the announcement

of two new TT Line vessels).

That said however,

works at Webb Dock and

Burnie wharf are being

undertaken to accommodate

the increased size of

the vessels and presently

traders are experiencing

capacity issues due to the

ability to carry current

volumes through the reduced

wharf operational

footprint (some say the

capacity is down about

25 per cent presently).

It is suggested this will

ease a little as we get

closer to that mythical

time of year where everything

becomes urgent.

But in January there will

be a need to move operations

from the current

location in Burnie (for

Toll) for a (suggested)

three weeks.

At the time of writing,

there is no firm advice as

to the contingency plan,

but whatever it is will be

disruptive despite careful

and professional planning.

January will be a

The Burnie port is being upgraded.

tough gig for traders and

logistics operators alike

in Tasmania and with a

booming tourism and

agricultural world, this

peak season challenge

should be on the minds

of most (of course, I am

very happy to be wrong

- but suggest to plan for

the worse at this stage).

I sincerely wish all a

January will

be a tough

gig for traders

and logistics

operators in

Tasmania

happy and safe Christmas

with family and

friends and a successful

2019 ahead. Cheers.

Go private and skip ever-growing queue

Paul

Lupo

CEO, StLukesHealth

ACCESS to timely medical

care is an important

part of any efficient

health system and ensures

better health outcomes.

We expect that when

we are sick or need assistance

we can access a

general practitioner in a

short time.

If the condition is serious

or requires further

investigation, we also

expect to be able to see

a specialist within a reasonable

period.

While commentary

and government action

has focused around the

public wait times for

elective surgery, there

is another list which is

cause for concern – the

time it takes to get an

initial specialist appointment

in the public health

system after referral

from your GP.

In Tasmania, public

outpatient clinics triage

medical cases into three

categories:

• urgent – specialist

consultation recommended

within 30 days

of being added to the

outpatient wait list;

• semi-urgent –specialist

consultation recommended

within 90 days;

and

• non-urgent – specialist

consultation recommended

within 365 days.

Recently released figures

from the Tasmanian

Government show

the current wait times in

some areas far exceed the

recommended rates.

For example, some

families in Southern Tasmania

who have a child

with an urgent ear, nose

and throat problem are

forced to wait close to a

year before they can see

a specialist in the public

system.

Adults with ear, nose

and throat conditions on

the semi-urgent list in the

south wait at least 1,124

days, or three years, before

their initial ENT

consultation.

These individuals are

then put on a further wait

list to have their surgery.

It makes the value

proposition of private

health insurance look

very enticing, especially

where younger family

members are concerned

or if people have a condition

that they want fixed

sooner rather than later.

For example, a person

with private health insurance

underwent a non-urgent

urology procedure.

Without private health

insurance, the individual

would have had to wait

747 days to see a specialist

in Northern Tasmania.

With private health insurance,

it took only 10

days from seeing a GP for

the person to see a urologist,

and another three

weeks after that before

they were admitted to

hospital for surgery.

Long wait times are

rare when a person has

private health insurance.

It delivers peace of

mind that health concerns

will be dealt with in a

prompt and timely manner.

Such long wait periods

in the public system exist

due to many reasons.

Tasmania has historically

had problems with

The value of private health

insurance is that it helps

members avoid the queue so

that you can continue to

live a healthy life

recruiting full-time specialists

to regional areas

like Launceston and the

North West Coast.

One speciality this has

occurred in is neurology,

after the region's only

full-time neurologist left

the state after six years at

the LGH.

It meant that people in

Northern Tasmania who

required semi-urgent

treatment were forced

to wait 1,502 days – or

more than four years –

before seeing a specialist.

This then creates dissatisfaction

with the

state's health system and

a worry that an individual's

health may deteriorate

while waiting for a

consultation.

It is pleasing to see the

Tasmanian Government

has alleviated this issue

by appointing a neurosurgeon

to a full-time

role at the LGH, and are

recruiting for a second

specialist. When asking

yourself why you should

have private health insurance

this needs to be considered

– do you want to

wait in discomfort to see

a specialist? The value of

private health insurance

is that it helps members

ADVERTISEMENT

Elise

avoid the queue so that

you can continue to live

a healthy life alongside

your family and friends.

Archer

Liberal Member for Clark

"Wishing you

a safe & happy

Christmas!"

Please contact me:

p: 6212 2210

e: elise.archer@dpac.tas.gov.au

www.elisearcher.com

Authorised by Elise Archer, 62 Main Rd, Moonah, 7009
---
6 Tasmanian Business Reporter - DECEMBER 2018

THOUGHT LEADERSHIP

Customers come first

THE Australian Securities

and Investments Commission

has recently approved a new

Banking Code of Practice.

Did you miss it? Well, it's

not entirely surprising as it

was approved during the hearings

of the royal commission

into misconduct in the banking,

superannuation and financial

services industry and was,

perhaps, lost among the stories

of financial misconduct.

It is ironic it received little

fanfare because the new Australian

Banking Association

Code has been under review

for some time and is part of

the association's attempt to

build trust and confidence in

banks – the very things that

the stories from the royal commission

have been eroding.

Recognition

In a statement about the

new code, ABA CEO Anna

Bligh said the review was recognition

by banks they need

to do better when it comes to

customer service and meeting

community expectations.

I agree the new code has

addressed some of the banks'

failings in the areas of small

business lending, overly complicated

products, and complex

loan terms and conditions,

but not all.

Paul

Ranson

TCCI Vice-Chairman

And I'm not alone. Australian

small business and family

enterprise ombudsman Kate

Carnell has also raised concerns

about the ABA's code,

especially in relation to small

business lending.

What is curious about Ms

Carnell's comments is her call

for the new Banking Code of

Practice to be adopted across

the entire industry – comments

that echo the ABA's

own call for its new code

to be adopted by non-ABA

members.

Most Tasmanians would

be surprised to learn not all

banks are governed by the

ABA code. Yet, the reality is

that the ABA code only applies

to the 24 or so member

banks of the ABA.

So, what are the protections

afforded the customers of the

remaining financial institutions?Well,

if you believe

the Ombudsman and the ABA

CEO, you'd think there were

none.

There are more than 70

financial institutions, identifiable

as customer owned

banks, building societies and

credit unions that are members

of the Customer Owned

Banking Association – of

which Bank of us is one – and

that subscribe to their own

Code of Practice, namely the

Customer Owned Banking

Code of Practice (COBCOP).

We have a long history of

putting customers first and

behaving ethically and COB-

COPoutlines how the sector

delivers on its pledge to always

put the customer first.

Confidence

Our customers already have

confidence in knowing they

are covered by a plain English

commitment to fair and responsible

banking.

Like all good charters, it

needs to be reviewed regularly.

The current COBCOP was

always scheduled for review

early next year prior to the

commencement of the new

ABA code on July 1, 2019.

COBA, as our industry

body, has started the review

process on our behalf. They

have been watching several

related processes in order

to determine its timing and

scope.

These processes include

ASIC's approval of the

BCOP, other government policy

announcements on codes

and of course, the Financial

Services Royal Commission.

Supportive

The royal commission has

uncovered shocking examples

of misconduct in our sector,

in particular by the big four

banks and the approval of the

new ABA Banking Code is a

step in the right direction in

raising banking standards.

COBA has stated that they

will take the ABA's code

into account in its review.I

am supportive of any change

across the financial services

industry that will help build

trust and confidence and improve

consumer protection.

We look forward to making

sure the COBCOP continues

to meet our customers' expectations.

www.tcci.com.au

Live – and learn

Craig

Hortle

Workplace Health & Safety

ONE of the best teachers

in life is experience.

The WHS legislation

requires that a business

needs to ensure the Person

Conducting a Business or

Undertaking has appropriate

processes to receive

and consider information

about work-related incidents,

hazards and risks,

and to respond in a timely

manner. The purpose of

this is to create a work

environment that is able to

investigate incidents or accidents

so that hazards and

risks can be eliminated.

Each workplace should

have a mechanism for

reporting and investing

incidents, accidents and

near misses.

There a number of different

methodologies used

for accident investigation.

What method you may use

needs to identify clearly an

outcome, address the factors

that led up to incident/

accident and what factors

occurred during the incident.

Some investigations

look for factors into the

following areas:

• people – witnesses and

personnel associated with

the incident;

• environment – weather,

workplace and incident

scene;

• equipment – vehicles,

plant, tools, infrastructure;

• procedures – documents,

reports, charts, maps and

• organisation – training,

communication, resources,

organisational culture

and management etc.

This provides for clear

definition of the areas that

factors that contributed

to the event and in what

areas change may need to

occur so the event does

not happen again.

A near miss provides a

"free hit" as an opportunity

for investigation and

the outcomes implemented

to mitigate hazard and

risk in other similar business

areas.

for Customer Satisfaction*

two years in a row!
---
Tasmanian Business Reporter - DECEMBER 2018 7

THOUGHT LEADERSHIP

Trade agreement will

boost market access

Sally

Chandler

Tradestart Adviser

THE regional free trade agreement,

the Trans-Pacific Partnership

will enter into force on December

30 when the first tariff

cut will start.

Australia is the sixth country

to ratify the agreement joining

Canada, Japan, Mexico, New

Zealand and Singapore as part

of the first group of signatories.

The signatories that have not

yet ratified the agreement are

Brunei Darussalam, Chile, Malaysia,

Peru and Vietnam.

On January 1, 2019, the second

tariff cut will take place and

on the January 1, 2020, the third.

It is opportune for the first and

second tariff cuts to occur so

THE fast approach of the New

Year is a time to consider business

goals for 2019 and any

changes to improve efficiency

and the bottom line.

Super administration can cost

a business time and money and

can feel like a minefield, with

government making changes to

obligations and employees often

opting for different super providers.

Tasplan offers a range of free

services to employers to help

make managing super easier with

a team of Employer Relationship

Managers to support HR and

payroll teams.

Employer Relationship Managers

use business intelligence

data to produce reports for employers,

giving them a snapshot

of their current employees who

have accounts with Tasplan and

providing information on how

employees interact with their super.

With this information to hand,

Employer Relationship Managers

are then able to customise

closely together.

The TPP reduces customs tariffs

on a multitude of goods but

also covers trade in services, investment

and the environment.

While Australia already has a

free trade agreement with seven

of the participating countries,

this FTA will bring increased access

for Australian exporters to

Canada and Mexico, improved

access to the Japanese agriculture

market, and improved access

to Malaysia, Peru and Vietnam.

For goods to take advantage

of the TPP they must satisfy the

Rules of Origin. Under the TPP

an exporter will need to provide

services to suit an employee's

lifestyle at every life stage.

Having access to Employer

Relationship Managers gives

peace of mind in terms of meeting

super obligations while ensuring

employees get the most

out of their super.

Employee Relationship Managers

can also assist with everything

from default investments

and insurance, to income protection,

salary sacrifice and after-tax

contributions.

Tasplan offers a range of investment

options to mix and

match, ensuring staff get plenty

of choice without feeling

swamped.

Tasplan Super members can

also choose Tasplan OnTrack®,

For goods to take advantage

of the TPP they must satisfy

the Rules of Origin.

Super New Year's resolution

Tasplan offers a range of

free services to employers

to help make managing

super easier

a lifecycle option that changes

with them over their lives.

Tasplan is a multi-industry

fund, which in practical terms

means employers from any industry

can sign up, with 16,000

organisations around the country

already trusting Tasplan to take

care of their employees' super.

Employer Relationship Managers

can also explain Tasplan's

clearing house system – a free

administrative tool designed to

streamline super payments.

The clearing house meets all

the requirements of employer

super obligations and picks up

errors before payments are processed,

taking the time and stress

out of super administration.

Just one payment is made

a Certificate of Origin but unlike

other FTAs, there is no set template.

There are however nine mandatory

requirements and the absence

of any one of the nine requirements

renders preferential

treatment under the TPP obsolete

so extreme caution must be

taken should an exporter elect

to design their own form rather

than using the normal Certificate

of Australian Origin template.

The TPP does not require direct

shipment but where shipment

is not direct and is through

a country that is not a signatory

to the TPP, the goods must remain

under Customs control in

order to receive the benefits under

the FTA.

The new FTA is exciting for

Australian exporters and the

full outcomes and background

documents can be accessed on

the DFAT website at https://

dfat.gov.au/trade/agreements/

not-yet-in-force/tpp-11/outcomes-documents/Pages/outcomes-documents.aspx

For international trade and

investment assistance

contact TCCI TradeStart

Adviser, Sally Chandler, at

sally.chandler@tcci.com.au

or phone 1300 559 122.

for all employees, regardless of

which super fund they belong to,

making it easier to track and report

payments and saving time.

Tasplan was recently recognised

for improving value

for members when awarded the

SuperRatings Rising Star 2018

Award last month which comes

off the back of taking out the

2017 Roy Morgan Customer Satisfaction

Award for industry super

funds.

Tasplan Employer Relationship

Managers can discuss super

needs over the phone or by email

or they can arrange a workplace

visit to talk to employees in a

way that's easy to understand, so

they feel informed and in control

and not overwhelmed.

For more infomation or to

make an appointment or

workplace visit call 1800 005

166 or visit tasplan.com.au/

employers.

® Registered to Tasplan Pty Ltd ABN 13 009

563 062.The trustee of Tasplan Super (ABN

14 602 032 302) is Tasplan Pty Ltd (ABN 13

009 563 062).

www.tcci.com.au

TCCI offers

many options

Abbey

George

Workplace Relations

WITH the invasion by mainland consultation

firms of Tasmania, businesses are asking themselves

"what option is the best for me?"

As always this is a personal decision for each

business but we thought it timely to remind

business about the Tasmanian Chamber of

Commerce and Industry and our Workplace

Relations and Workplace Health and Safety

services.

The WR team at TCCI can offer you:

• peace of mind with WR and WHS issues –

if you are in doubt pick up the phone or email;

• regular hot topic information sessions on

WR and WHS around the state, free for members

and a nominal fee for non-members;

• education and training which can be customised

to suit your business and staff;

• assistance and advice on legal compliance

such as the Fair Work Act 2009, Modern

Awards and the like;

• assistance with planning, drafting, negotiating,

lodgement, review and interpretation of

Enterprise Agreements;

• workplace investigations such as disciplinary,

grievances etc;

• advice regarding WHS issues such as policies

and procedures (drafting and implementation),

consultation, identifying hazards and the

like;

• Advice regarding WR issues such as rates

of pay, legislative interpretation, performance

management, policies and procedures (drafting

and implementation) and the like;

• assistance with Fair Work Commission matters

– as an employer organisation we are automatically

granted permission to appear in the

Commission whereas other representatives need

to seek permission (and it may not be granted);

• advice from a qualified lawyer at discounted

membership rates; and

• knowledge that if you need us we are only a

phone call, email or car ride away.

Our level of involvement is completely up to

you and we have a large variety of ways that

you can engage our services:

• we have a number of comprehensive membership

levels that you can choose based on

your business needs. All information can be

found on our website or our membership team;

• retainer arrangement – specifics by negotiation;

and

• our Workplace Assured product – this provides

complete peace of mind with a $0 excess

insurance product and a complimentary TCCI

membership.

There isn't a lot in relation to WR and WHS

that we can't assist with so if in doubt ask.

For more information contact the Helpline on

1300 765 123 or the TCCI on 1300 59 122 or

workplacerelations@tcci.com.au

Degree courses offer new way to learn

AT University College,

we pride ourselves on offering

Tasmanians a new

way of learning.

We do this by offering

a range of industry supported

courses that provide

students with the

real-world tools to create

the future they want.

This wouldn't be possible

without the support

of our local industry.

Our new associate de-

LeeWhiteley

University College

Chief Executive

grees have been developed

with research and

engagement with Tasmanian

industry stakeholders

to ensure our

courses are relevant and

our students graduate

work-ready.

Through this engagement,

we have members

of industry actively involved

in the delivery of

our associate degrees.

This allows our students

to learn directly

from those in industry

who may one day be

their employers.

Our workshops are a

great example of how

industry is supporting

our associate degrees by

providing students with a

real-world understanding

of what it is like to work

in industry.

Earlier this year, our

students studying a unit

in quality management

attended a workshop at

Bell Bay Aluminium.

Students gained a

broad experience of major

industrial manufacturing

and a look at quality

management systems.

This workshop had a

focus on quality and continuous

improvement of

products and processes,

which directly related to

the unit the students were

studying.

As such, this hands-on

learning experience gave

our students the opportunity

to understand how

the discipline knowledge

they were learning could

be applied directly in a

real-world work setting.

These workshops are

also relevant to our students

who are already

working in industry, as it

provides them with practical

and relevant study

experiences outside of

their current organisation.

For more information

about our industry

relevant Associate

Degrees, visit our new

website- www.utas.

edu.au/college or call

1300 363 864.
---
Are you with a local,

trusted super fund?

They are.

They're with Tasplan.

1800 005 166 | tasplan.com.au

The trustee of Tasplan Super (ABN 14 602 032 302) is Tasplan Pty Ltd (ABN 13 009 563 062).

AFSL 235391. © 2018 Tasplan Pty Ltd. All rights reserved.
---
Tasmanian Business Reporter - DECEMBER 2018 9

NEWS

Careers built on uni partnerships

THE University of Tasmania's

I-PREP program

has grown from strength

to strength in 2018, with

more than 60 international

students placed in

short-term work experience

placements with

Tasmanian organisations.

Head of Student Leadership,

Career Development

and Employment,

Kristin Warr Pedersen,

said that the I-PREP program

had given the university

the opportunity

to partner with forward

thinking local businesses.

"Our partners are giving

international students

experiences that

allow them to learn

from, and contribute to,

the Tasmanian workforce.

"Students are developing

their employability

skills while learning

about Australian workplace

culture and having

the opportunity to share

their diverse and global

perspectives in a professional

setting," Ms Warr

Pedersen said.

The impact of I-PREP

has also been positive for

participating employers,

I-PREP student intern Syeda Zainab Shah, left, Cricket Tasmania General Manger Corporate Services Zoe Rohrer,

and performance analyst Tim Kendrew.

who have noted the influence

international student

interns have had on

contributing diverse perspectives

and enhancing

cultural competency in

the workplace.

One of those employers,

Cricket Tasmania,

hosted an I-PREP student

for the first time

this year.

General Manager Corporate

Services, Zoe

Rohrer, said the I-PREP

program was instrumental

in bridging the cultural

gap between international

students and the

local community.

"The program was eye

opening for me. I became

aware of the real

barriers that international

students face in breaking

into the local employment

market. Our

intern brought real energy

and diversity to our

workplace which had

wide reaching benefits

and it's given me a fresh

perspective on workplace

diversity issues,"

Ms Rohrer said.

Syeda Zainab Shah, a

Masters of Professional

Accounting student

from Pakistan, completed

her internship with

Cricket Tasmania.

'I really enjoyed my

placement at Cricket

Tasmania. I contributed

to work on the performance

analysis of cricket

players using my data

analytics skills. The experience

has given me

great confidence and I

am positive this program

will enhance my future

employability in Tasmania,"

Ms Shah said.

Employers involved

this year have confirmed

the success of the program

by reaching out to

take additional as well as

paid interns, and volunteered

their time to participate

in panel discussions

about workplace

culture and job application

processes as part of

the education component

of the program.

The I-PREP program

is supported by the Tasmanian

Government

Employers interested

in hosting an I-PREP

intern in 2019 or

learning more about

the program can visit

www.utas.edu.au/students/careers/iprep

or

email Leap.Connect@

utas.edu.au

Thanks to

our 2018

I-PREP

employers

To get your organisation

involved in 2019 or for

more information email

leap.connect@utas.edu.au

Preparing international

students for working life.
---
10 Tasmanian Business Reporter - DECEMBER 2018

APPOINTMENTS and ANNOUNCEMENTS

Impact behind the scenes

BUSINESSES and individuals in

the transport industry have been

recognised at the 2018 TTA Gala

Dinner and Awards Night.

Tasmanian Transport Association

Chairman John de Bruyn

congratulated those recognised for

their outstanding achievements.

Tasmanian Freight Logistics

Committee Chairman Brett Charlton

of Agility Logistics received

the NTI Award for Most Valued

Contribution to the Transport Industry.

"This is recognition of the impact

Brett has had, often working

behind the scenes, to ensure Tasmania

is considered federally in

such decisions around the Tasmanian

Freight Equalisation Scheme

and Coastal Shipping reform, for

the benefit of all sectors of the industry

and the Tasmanian economy"

said Shane Fairhall of insurance

company NTI.

Brett, a Tasmanian Business

Reporter columnist, has represented

Tasmania on international

trade missions to China,

Korea and Japan and is a Board

member of the Australian China

Business Council.

Kerri Connors of Caltas was

awarded the NTI 2018 Professional

Driver of the Year Award

following success in the Australian

round of the Volvo fuel

challenge, where she was the

country's most fuel-efficient

driver before finishing third at

the the global FuelWatch Challenge

in Gothernburg, where

she was the only woman on the

world stage.

Fonterra Farm Milk Cartage

Tasmania was recognised for its

innovative program designed to

increase diversity and create a

strong succession plan for farm

milk cartage tanker driving

roles within their business.

The Gallagher Insurance

2018 Transport Industry Young

Achiever Award was taken out

by Seton Broomhall.

Adam Smith of CJD Equipment

was awarded the BPW

Transpec 2018 Transport Industry

Apprentice of the Year.

Trainer of the Year award

went to Paul Baxter, of Baxter's

Training Australia.

Deputy Premier and Minister

for Infrastructure Jeremy

Rockliff announced a grant

of $22,000 to the Tasmanian

Transport Association to conduct

a program of consultation

leading to a Heavy Vehicle Rest

Area Strategy for Tasmania.

Lawyer adds to awards list

HOBART estate planning

lawyer Kimberley Martin

has been named winner of

the 2018/2019 Global Young

Practitioner of the Year category

at the 13th Annual STEP

Private Client Awards in London.

The awards are held annually

by the Society of Trust and

Estate Practitioners and highlight

excellence among STEP

members and non-members.

STEP is the international

professional body for advisors

who specialise in inheritance

and succession planning.

Its members are private client

solicitors/attorneys, accountants,

barristers, bankers,

trust managers and financial

advisors in various jurisdictions

around the world.

Ms Martin is a director in

Worrall Moss, Martin Lawyers,

a Hobart firm that specialises

in inheritance and

succession planning.

She won the Law Society

of Tasmania's Young Lawyer

Award for 2016 and was

a Telstra Business Women's

Awards Finalist for the Corporate

& Private Award and

the Young Business Woman

Award in 2016.

She is a member of the

state committee for Women

Chiefs of Enterprises International

and Tasmanian Chairman-elect.

NTI Most

Valued

Contribution

Award winner

Brett Charlton,

left, with

Shane

Fairhall

of NTI.

Kimberley

Martin, right,

receives

her award

from Clare

Flanagan,

Head of

Client

Development,

Capital

Generation

Partners.

IN BRIEF

Electorate name

honours Clark

THE southern Tasmanian electorate of

Denison has been renamed Clark to commemorate

one of the fathers of Australian

Federation, Andrew Inglis Clark (1848-

1907).

Clark, the originator of the Hare-Clark

preferential voting system, played a major

role in writing the first draft of the Australian

constitution in 1890, with 88 of his 96

clauses still in the Constitution today.

State Attorney-General and local Member,

Elise Archer, said the name change

was a tribute to one of the founders of our

nation, but was going to take a bit of getting

used to.

The last time there was a change of name

was when Wilmot became Lyons in the

1980s.

New appointment

at TasNetworks

SHAREHOLDERS have approved the

appointment of Dr Julie Beeby as a new

Non-Executive Director of TasNetworks.

Dr Beeby's initial two-year appointment

fills the vacancy after the resignation of

founding director Dr Jane Sargison.

Dr Beeby has more than 25 years' experience

in the resources sector and was

recently a Non-Executive Director of

Powerlink Queensland and was Chairwoman

for the past four years. She is currently

a Non-Executive Director of Whitehaven

Coal and Moreton Bay College.

Labor targets

skills shortage

A SHORTAGE of skilled

workers will hold back

future job growth, the St

ate Opposition says.

Shadow Minister for

Economic and Regional

Development Anita Dow

said Labor was committed

to working with

stakeholders across key

economic sectors to create

more full-time jobs.

"We have established

eight Industry Advisory

Councils to develop

strong economic policy

for our state through

enduring relationships,"

she said.

"A lack of appropriate

industry training courses

is a common theme

expressed by many businesses

we are visiting

around Tasmania and

more needs to be done to

match these skills shortages

with the education

and training opportunities

available locally to

Tasmanians.

"Our IACs will focus

on the longer term challenges

and opportunities

facing Tasmania's economy

and our people, including

education and

training," Ms Dow said.

SOLUTIONS

IN PRINT

your print specialist for over 90 years

Full Off-Set,

Digital and

Wide Format

Capabilities

Binding and

Finishing

Variable Data

and Mailing

Warehousing

and Distribution

Online Ordering

and Inventory

Management

www.tasmanianbusinessreporter.com.au

Talk directly to Business

Leaders, Managers

and Owners

....the decision makers.

Tell your unique story to

the decision makers.

No other medium can talk directly to business like the BUSINESS Reporter can.

30,000 PRINT

READERS

+

5,000 ONLINE

SUBSCRIBERS

Imagine 30,000 business news readers statewide, plus over 5,000 Online

subscribers who get the latest business news that matters to them.

6391 8481

www.woolstonprinting.com.au

sales@paperstat.com.au

EXPLORE THE POSSIBILITIES.

Ask about the editorial/advertising package that

delivers a direct hit to your market.

See how the Tasmanian BUSINESS reporter

can build your brand awareness.

• Call Gil Sellars on 0448 901 371

• gil@thetrustedmediaco.com

WP - Advert Mar17.indd 2

4/04/2017 1:15:46 PM
---
Tasmanian Business Reporter - DECEMBER 2018 11

EVENTS

Bronwyn

Nicolaas-

Ponder, left,

and Cara

Brennan of

Flight

Centre

Business

Travel Direct

Caroline Farquer of Moonah & Glenorchy Business Association,

left, and James Symmons and James

Harrison of St.LukesHealth.

Paul Lupo from St.LukesHealth, left, Tom O'Meara of

Tasmanian Business Reporter and Mel Lukianenko

from St.LukesHealth.

James

Harrison and

Barbara Brown

of

St.LukesHealth

TCCI Board member Paul Ranson, left, Mercury

editor Chris Jones and Ben Targett from the Old

Woolstore & Hadley's Orient Hotel.

Mick Tucker of Break O'Day Council and TCCI

Board member Susan Parr.

Gary McCarthy of Tasmanian Ports Corporation,

left, Ashley Dales of Access Solutions and Steve

Whiteley from Sustainable Timber Tasmania.

TCCI Board member John De Bruyn, left, and Peter

George of Veolia Environmental Services.

Richard Lowrie of Incat, left, Ian Pepper from AustralianSuper

and Gary McCarthy from Tasmanian

Ports Corporation.

What: TCCI Premier's Cocktail Party. Where: Hadley's Orient Hotel, Hobart.

When: Tuesday, November 13, 2018
---
12 Tasmanian Business Reporter - DECEMBER 2018

PROPERTY MATTERS

Potential on sunny East Coast

Scott Newton

Property Matters with

Knight Frank

In this month's editorial, Knight Frank

Tasmania's East Coast team, Adele

Plunkett, Leanne Dann, and Jim Playsted,

review the property market and outlook.

CONFIDENCE in the real

estate market on the East

Coast is certainly on a high

and in line with the Tasmanian

economic boom.

After a great 2017, with

sale numbers equal to the

last peak in 2003, this year

has continued to show similar

traits with record sale

prices being achieved in

many of the coastal towns.

Contract numbers in 2018

are marginally down due to

fewer properties being listed

rather than a lack of enquiry

from prospective purchasers.

This in turn has helped

with sale values appreciating.

This year we have also

received an increase in the

number of enquiries from

investors seeking land for

future development – subdivision,

tourism ventures etc

– which again confirms that

there is confidence in the

East Coast market.

As with other areas in

Tasmania, the Knight Frank

office on the East Coast, has

seen many clients looking

to invest in property that

will provide good returns.

Holiday and permanent

rental properties that have

been listed have certainly

attracted good interest.

Holiday homes that are

managed well are achieving

more than $40,000 per

year.

Knight Frank was privileged

to be involved with

this year's East Coast Tourism

awards and we were

very impressed with the

number of new business

ventures that were nominated.

Award categories included

Accommodation, Visitor

Experience, Food, Wine

and Retail, New Great

Tasmania's East Coast real estate is on a high.

Eastern Driver, Destination

Action Plan Initiative,

Great Eastern Drive Event

of the Year, and 2018 Great

Eastern Driver, with 52 entrants

in all.

The night was well celebrated

at White Sands Resort

with a record of more

than 140 people attending.

All were very excited and

enthusiastic about the current

East Coast business

climate.

During 2017-18, through

Government initiative and

driven by East Coast Tourism,

many of the coastal

townships have now developed

their own Destination

Action Plans.

This process has involved

local input, which

in turn has been developed

into a strategy to help progress

growth in these regional

towns.

The plans are driven by

the citizens and local businesses

and we are now seeing

some positive results

and works beginning to

take place.

The increase in tourist

numbers together with the

more stable economy has

seen several existing businesses

change hands, new

ventures initiated, and existing

commercial premises

upgraded.

Being a key driver, the

promotion of the Tasman

Highway to "The Great

Eastern Drive" has certainly

helped growth in tourism.

There is commitment

from the current government

to put some funding

towards the improvement

of the highway infrastructure

over the next 12

months.

PROPERTY VIEW

DECEMBER 2018

For sale by expressions of interest

FIRST TIME OFFERED

"WAIMEA JETTY" SANDY BAY

• A rare opportunity to purchase the entire 6

licenses for the 'Waimea Jetty'

• One of only two private Jetty's in prestigious

Sandy Bay locale

• Includes private entertaining area, kitchenette,

bathroom and storage facilities, davits and

moorings directly off the Jetty

• Annual licence fee of $5,400 pa; 25 year

Licence Agreement from July 2017

• Further development opportunities (STCA)

• A perfect purchase for your boat and

associated water activities

For sale by expressions of interest

FLEXIBLE SUBURBAN OPPORTUNITY

27 Bristol Road, Claremont

• The property is currently fitted out as a

community centre with various training rooms,

offices, and facilities/amenities

• The building has an area of 910 sqm (approx)

over a single level and was constructed circa

1980 and has an internal clearance in areas of

5.8 metres (approx)

• The site has a total area of 1,905 sqm (approx)

over two titles, with the southern title of

approximately 550 sqm currently undeveloped

• The site is zoned "Local Business"

• Owner occupy, invest or re-development (STCA)

Outline indicative only

SOLD

Matthew Wright 0458 290 588

Hayden Peck 0412 766 395

View at KnightFrank.com.au

For sale by offer

RETAIL OPPORTUNITY LONG WALE

10 Derwent Park Road, Derwent Park

• Fully leased retail complex with a long WALE

of approximately 9 years.

• Strong lease covenants to national tenants

Supercheap Auto, RSEA, Baby Bunting,

and market leading Tasmanian automotive

company Jackson Motor Company (JMC).

• Estimated Net Income (as at 1 November

2018) of $1,127,695 pa + GST.

• The property has an extensive frontage to

Derwent Park Road at approximately 66.69

metres and has a significant site area of

1.758 hectares and is zoned 'Commercial'.

Matthew Wright 0458 290 588

Richard Steedman 0408 559 046

Scott Newton 0409 186 261

Richard Steedman 0408 559 046

Hayden Peck 0412 766 395

View at KnightFrank.com.au/4459555

For Sale by expressions of interest

QUALITY STRATUM OFFICES

152 Macquarie Street, Hobart

• Rare stratum titled office floors available for

sale individually or as one

• Each floor has an area of 266 sqm (approx)

and includes 3 secure car spaces per floor

• Modernised ground floor foyer and lifts

• Vendor to upgrade foyer, kitchenette and

toilet on the respective level

• Level 4 is divided into two tenancies, with

half leased until July 2020 with the balance

currently occupied on a monthly basis

• Level 6 is fully leased until 31 March 2019

• Invest or owner occupy

Richard Steedman 0408 559 046

Hayden Peck 0412 766 395

View at KnightFrank.com.au

5 Victoria Street, Hobart 54 Cameron Street, Launceston Shop 8, 48-54 Oldaker Street, Devonport

P: 03 6220 6999 P: 03 6333 7888 P: 03 6424 3568