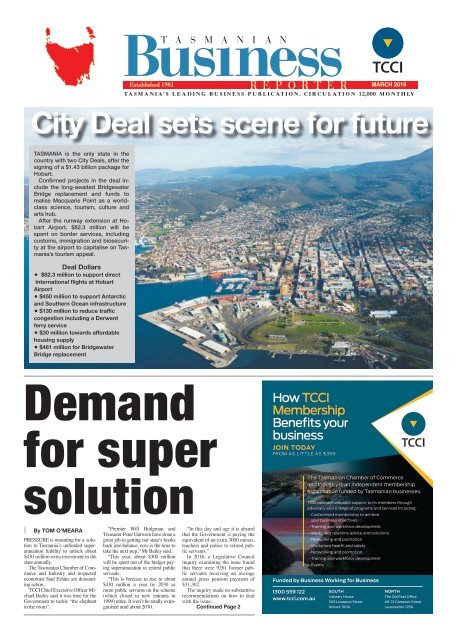 Tasmanian Business Reporter March 2019
Welcome to the March edition of the Tasmanian Business Reporter. This month you will read about fresh demands from the TCCI for Government action to find a solution to Tasmania's unfunded superannuation liability, which is forecast to cost the state about $430 million a year by 2030. You will also find details about the $1.43 billion City Deal for Hobart, St.LukesHealth receiving national recognition for a third year running and a recent study finding attracting and retaining skilled staff remains the greatest challenge for Tasmanian small business owners.
Welcome to the March edition of the Tasmanian Business Reporter.

This month you will read about fresh demands from the TCCI for Government action to find a solution to Tasmania's unfunded superannuation liability, which is forecast to cost the state about $430 million a year by 2030.

You will also find details about the $1.43 billion City Deal for Hobart, St.LukesHealth receiving national recognition for a third year running and a recent study finding attracting and retaining skilled staff remains the greatest challenge for Tasmanian small business owners.

SHOW MORE
SHOW LESS
You also want an ePaper? Increase the reach of your titles
YUMPU automatically turns print PDFs into web optimized ePapers that Google loves.
MARCH 2019

T A S M A N I A' S L E A D I N G B U S I N E S S P U B L I C A T I O N . C I R C U L A T I O N 12,000 M O N T H LY

City Deal sets scene for future

TASMANIA is the only state in the

country with two City Deals, after the

signing of a $1.43 billion package for

Hobart.

Confirmed projects in the deal include

the long-awaited Bridgewater

Bridge replacement and funds to

realise Macquarie Point as a worldclass

science, tourism, culture and

arts hub.

After the runway extension at Hobart

Airport, $82.3 million will be

spent on border services, including

customs, immigration and biosecurity

at the airport to capitalise on Tasmania's

tourism appeal.

Deal Dollars

• $82.3 million to support direct

International flights at Hobart

Airport

• $450 million to support Antarctic

and Southern Ocean infrastructure

• $130 million to reduce traffic

congestion including a Derwent

ferry service

• $30 million towards affordable

housing supply

• $461 million for Bridgewater

Bridge replacement

Demand

for super

solution

By TOM O'MEARA

PRESSURE is mounting for a solution

to Tasmania's unfunded superannuation

liability to unlock about

$430 million extra investment in the

state annually.

The Tasmanian Chamber of Commerce

and Industry and respected

economist Saul Eslake are demanding

action.

TCCI Chief Executive Officer Michael

Bailey said it was time for the

Government to tackle "the elephant

in the room".

"Premier Will Hodgman and

Treasurer Peter Gutwein have done a

great job in getting our state's books

back into balance, now is the time to

take the next step," Mr Bailey said.

"This year, about $300 million

will be spent out of the budget paying

superannuation to retired public

servants.

"This is forecast to rise to about

$430 million a year by 2030 as

more public servants on the scheme

(which closed to new entrants in

1999) retire. It won't be totally extinguished

until about 2070.

"In this day and age it is absurd

that the Government is paying the

equivalent of an extra 3000 nurses,

teachers and police to retired public

servants."

In 2016, a Legislative Council

inquiry examining the issue found

that there were 9261 former public

servants receiving an average

annual gross pension payment of

$31,302.

The inquiry made no substantive

recommendations on how to deal

with the issue.

Continued Page 2

How TCCI

Membership

Benefits your

business

JOIN TODAY

FROM AS LITTLE AS $399

Funded by Business Working for Business

1300 559 122

www.tcci.com.au

The Tasmanian Chamber of Commerce

and Industry is an independent membership

organisation funded by Tasmanian businesses.

TCCI provides valuable support to its members through

advocacy and a range of programs and services including:

• Customised membership to achieve

your business objectives

• Training and workforce development

• Workplace relations advice and solutions

• Networking and promotion

• Workplace health and safety

• Networking and promotion

• Training and workforce development

• Events

SOUTH

Industry House

309 Liverpool Street

Hobart 7000

NORTH

The Old Post Office

68-72 Cameron Street

Launceston 7250
---
T A S M A N I A' S L E A D I N G B U S I N E S S P U B L I C A T I O N . C I R C U L A T I O N 12,000 M O N T H LY

2 Tasmanian Business Reporter - MARCH 2019

NEWS

Tassie contracts let StLukes wins awards trifecta

Local jobs

in the wind

GOLDWIND has appointed

Crisp Bros &

Haywards for a major

tower supply contract for

its $300 million Cattle

Hill Wind Farm.

Twenty per cent of

the tower components

required for the 48 turbines

at the Central Highlands

development will

be manufactured by the

Haywards team in an $8

million deal.

Goldwind Managing

Director John Titchen

said a number of Tasmanian

project partners

were working to make

the construction of the

wind farm possible.

Hazell Bros is undertaking

the full civil and

electrical works for the

project while Gradco is

completing over $10 million

of road upgrades in

T A S M A N I A' S L E A D I N G B U S I N E S S P U B L I C A T I O N . C I R C U L A T I O N 12,000 M O N T H LY

e dition

Tasmanian Business Reporter can now be delivered directly to your inbox. With our 30,000-strong monthly print

readership, our new up-to-date digital distribution will keep Tasmanians abreast of the all latest in local business

news. From this month we will distribute electronic editions of the Tasmanian Business Reporter as we go to print.

To confirm your copy sign up to our mailing list via

tbreditorial@fontpr.com.au

T A S M A N I A' S L E A D I N G B U S I N E S S P U B L I C A T I O N . C I R C U L A T I O N 12,000 M O N T H LY

Tasmania's business newspaper is published monthly by the

Tasmanian Chamber of Commerce and Industry. It is distributed

to businesses in Tasmania as well as key decision-makers.

Circulation: 12,000

BUSINESS

Haywards has won an $8m contract to build

towers for Goldwind.

the region to facilitate the

development.

"Alongside our major

project partners are many

local subcontractors and

suppliers that are critical

to the construction of

the project," Mr Titchen

said.

Haywards has also

been engaged by Hazell

Bros for a $4 million

contract to assist with

the production of tower

foundations for the turbines.

Construction of

Cattle Hill Wind Farm

started in mid-2018 and

is expected to be fully

operational in late 2019.

Progress was temporarily

halted by the Central

Highlands bushfires

in January.

About 120 staff are

back working on site,

with up to 150 expected

during peak construction.

Managing Editor: Tom 2O'Meara

0418 135 822

Editor: Becher Townshend

0418 370 661

Advertising and Special Projects

Gil Sellars 0448 901 371

gil@thetrustedmediaco.com

HOBART'S Editorial BEST & Advertising RANGE OF

TBReditorial@fontpr.com.au

FOR THE www.tasmanianbusinessreporter.com.au

HOME AND OFFICE

Publisher:

We specialise Tasmanian in high Chamber quality ergonomic of Commerce chairs, and Industry

alternative seating

309 Liverpool

and electronic

St, Hobart,

sit/stand

TAS

desks.

7000

Flair Ph: Office 6236 Furniture 3600 has Fax: been 6231 providing 1278 quality, admin@tcci.com.au

affordable office

furniture to homes and offices throughout the Hobart region

for nearly 15 The years. Old We're Post a locally-based, Office, 68-72 family-run Cameron business St,

specialising in all types of Launceston products, so why TAS not 7250 visit us today to

see our fantastic Ph: range? 6331 1144 laun@tcci.com.au

Production:

Phone 6234 1127

aldridge.media

260 Argyle Street,

Ph: 0431 241 775

North Hobart

aldridge.media@iinet.net.au

Printer: Mercury

www.flairofficefurniture.com.au

Level 1, 2 Salamanca Square, Hobart, 7000

BUSINESS

YOUR QUICK GUIDE TO SERVICES AND PRODUCTS FOR YOUR BUSINESS

QUALITY ERGONOMIC FURNITURE

TASMANIA'S

St.LukesHealth has

been named Australia's

number one private

health insurer for

customer satisfaction

at the Roy Morgan

Awards.

It's the third

consecutive year the

not-for-profit health

fund has claimed the

title.

CEO Paul Lupo

said the fund was

committed to its

promise to help

members stay healthy,

get well, live better and

deliver peace of mind.

"We are extremely

humbled that our

members have

acknowledged the

service and products

we deliver as the best

in Australia," Mr Lupo

said.

"Members continue

to invite us to partner

with them in their

health journey, with

membership of the

fund continuing to

To see your business here, call Kerri on 0419 750 267 or email kerri@thetrustedmediaco.com

Demand for super solution

From Page 1

Mr Bailey said that if

a solution was agreed on,

the forecast recurrent expenditure

could be better

invested in infrastructure

and essential services

like health.

As Treasurer in the

Groom Government, former

Premier Tony Rundle

had the foresight to

set up a fund in the 1990s

to cover this cost.

"On Mr Rundle's original

plan, by 2017 this

fund would have funded

the superannuation costs

from outside the budget,"

Mr Bailey said.

"Unfortunately, those

funds were spent by Premiers

David Bartlett and

Lara Giddings during the

Global Financial Crisis,

leaving us in the situation

we are today."

The cost could be par-

WANTED

Business

movers and

shakers

• Promotions

• Appointments

• Awards

• Celebrating

success

Share the news

with the

Tasmanian

business

community

Send your news

snippets, with a

high quality photo,

to TBReditorial@

fontpr.com.au

Head of customer care and delivery Helen Cowley, left, head of brand

and communications Grayson Genders, vice-chair Mel Lukianenko

and communications and member engagement coordinator Rochelle

Galloway.

grow steadily.

"As private health

insurance customers

are increasingly look

tially offset by the sale of

non-key assets, he said.

"In the past, it has been

accepted wisdom that assets

should only be sold

if the money is going to

be reinvested into new,

productive infrastructure,"

Mr Bailey said.

"However, given the

recurrent cost to the budget,

and the 50 year tail,

there is a very good argument

to be made that sale

funds should be set aside

to help offset the cost to

the budget of the superannuation

liability.

"For example, the sale

of non-core assets like

the Motor Accident Insurance

Board wouldn't

cover all of the cost, but

if the proceeds were invested

in a similar way to

the one-off Mersey Hospital

sale funds, the funds

could be drawn down

Your Partner

in Print.

www.footandplaysted.com.au

Now incorporating

THE CRAFT LIVES ON.

around for a better

deal, they are finding

that St.LukesHealth,

as a member-centric,

over a period of, say, 10

years and offset against

the annual super bill.

"This would reduce the

annual drain on the budget

for the next decade."

Mr Bailey said all options

needed researching,

with one more radical

option being legislation

to retrospectively cap entitlements

under the defined

benefit scheme.

"The Government's superannuation

liability is

the biggest threat to the

future prosperity of the

state, it's time a solution

was found and finally acted

upon," Mr Bailey said.

Mr Eslake raised similar

concerns in his 2018

Tasmania Report in December,

saying the issue

was a significant blemish

on Tasmania's strong financial

scorecard.

"For several decades

not-for-profit fund is

proving to be the right

fit for their health care

needs."

the unfunded super liability

will continue to

represent a constraint

on Tasmanian Governments

flexibility and a

source of risk to future

budgets," Mr Eslake

said.

"In particular it means

that present and future

Tasmanian Governments

have less scope

than the governments of

other states and territories

for borrowing even

at the present relatively

low interest rates in order

to fund worthwhile

infrastructure investments."

Tasmania's liability is

the biggest in Australia

and is the reason why

Tasmania doesn't have a

AAA rating, which forces

the state to pay higher

interest rates on borrowings.
---
T A S M A N I A' S L E A D I N G B U S I N E S S P U B L I C A T I O N . C I R C U L A T I O N 12,000 M O N T H LY

Tasmanian Business Reporter - MARCH 2019 3

NEWS

Small businesses face staff challenge

Skilled workers wanted

ATTRACTING and retaining

skilled staff and filling apprentice

and qualified tradespeople

positions remains the greatest

challenge for the state's small

business owners.

That's the key finding of

a new study by Tasmanian

Leaders' Alumni.

Graduates of the leadership

program recently surveyed

more than 130 businesses representing

a variety of sectors

including agriculture, hospitality,

tourism and retail.

A summary of conversations

have been released in a

document titled: What stops

us? Small business: overcoming

obstacles and seizing opportunities.

Businesses reported exciting

opportunities existed in the

growth in tourism numbers to

the state, online sales growth

and leveraging the development

of trusted brands and opportunities

internationally.

The highlight for small

business owners and operators

included forming bonds and

being part of a local community,

flexibility of lifestyle and

family life and creating strong

and real relationships through

the business.

One of the most significant

challenges identified by small

businesses surveyed was

skilled staff and apprentice attraction

and retention.

Building resilience and

wellbeing was deemed important

to guard against the

ups and downs of operating a

small business.

The significance of research

and planning as well

as accessing support outside

the business sector were also

highlighted.

Government assistance for

small business should include

support through finance and

education and incentives to

employ people, respondents

said.

"The aim of this document

is to inform future work supporting

small business in Tasmania

as well as feedback to

the small businesses surveyed

as part of the Thinkbank process,"

general manager Angela

Driver said.

"Thinkbanks are held annually

with a select number

of Tasmanian Leaders alumni

to address a topical issue for

Tasmania and are designed

and conducted to give those

involved practical ideas and

tools to develop their organisations

and more widely the

state."

The report is available on

the Tasmanian Leaders' website.

Silos eatery

judged top

newcomer

Grain of the Silos food director, chef and TV personality

Massimo Mele.

LAUNCESTON'S Grain

of the Silos restaurant

at Peppers Silo Hotel

has won Gault&Millau

Australia's New Restaurant

of the Year award.

Peppers Silo Hotel

General Manager,

Paul Seaman said the

independent award,

presented in Sydney in

early February, recognised

the restaurant team's

ability to create a dining

space and menu unlike

any other.

Grain of the Silos

opened in June 2018 as

part of the $25 million

redevelopment of the old

Kings Wharf silos into a

boutique hotel.

The kitchen is led by

head chef Peter Twitchett

and food director and TV

personality Massimo Mele.

"This award win is

testament to the hard work

and passion that has gone

into creating, sustaining

and growing Grain of the

Silos," Mr Seaman said.

"Our chefs have

met each farmer, each

maker, and each talented

Tasmanian who brings

something extraordinary

to the restaurant's ever

changing list of dishes."

Gault&Millau Australia's

team of qualified

restaurant reviewers

evaluated more than 850

restaurants across all

Australian capital cities

and major regional areas

last year to choose the

best of the best.

WANTED

Business

movers and

shakers

• Promotions

• Appointments

• Awards

• Celebrating

success

Share the news

with the

Tasmanian

business

community

Send your news

snippets, with a

high quality photo,

to TBReditorial@

fontpr.com.au
---
4 Tasmanian Business Reporter - MARCH 2019

THOUGHT LEADERSHIP

www.tcci.com.au

National grid on election agenda

INFRASTRUCTURE

Australia's inclusion of

Tasmania's Marinus interconnector

project on

its list is vital for the

state.

Tasmania is poised –

with proper and immediate

funding from both

the Commonwealth and

State Governments – to

play a significant role in

the national electricity

grid.

The next step is the

feasibility study for

Marinus, through the

Australian Renewable

Energy Agency.

The TCCI will be

chasing this, placing this

project and the issue of

Tasmania's place in the

national grid as a Federal

election issue.

Energy security is becoming

one of the most

important issues for the

whole of Australia.

Last month Adelaide

experienced a record

week of hot weather –

which in turn put enough

pressure on the South

Australian grid to cause

blackouts.

Days later, Victoria experienced

a similar situation

with the heatwave

impacting the grid to the

extent that traffic lights

Michael

Bailey

TCCI Chief Executive

were out and that state's

residents were told not

to use dishwashers, dryers

and other high energy

use appliances.

What is interesting

about this is, as well

as frustrating from the

point of view of earning

revenue for the entire

state, Tasmania had

more than 400 megawatts

of latent energy it

could not transport over

ABOVE: Taraleah is just one power station to be upgraded in the

Battery of the Nation project. LEFT: A second interconnector, Marinus,

is vital for Tasmania's economic future.

Basslink, because the

cable was already at full

capacity.

This is just one example

of why the second

interconnector, Marinus,

is so vital – a second cable

capable of carrying

1200MW.

With Marinus, existing

wind power developments

will double

and even more

crucially, the development

of "pumped

hydro" hinges on the

second interconnector

becoming a reality.

Pumped hydro has the

potential to double the

current Tasmanian generation

capacity.

Over the next 10 to

15 years, Hydro Tasmania

has the opportunity

to rollout the pumped

hydro projects which

could add upwards of

2500MW to the grid.

Names like Lake Margaret,

Lake Rosebery,

Lake Murchison, Lake

Cethana, Lake Rowallan,

Great Lake/yingina and

Lake Echo already hold

great history in energy

generation – but there

could be up to 4800MW

of pumped hydro attached

to them.

Factor in that every

600MW will cost $1.5

million to build, there

could be a $900 million

investment on just one of

the sites.

And with that investment

comes jobs – construction

at the sites, improved transport

infrastructure and engineering

of many and varied

disciplines.

With the overall project

time being over a decade

that means future longterm

jobs for Tasmanians

of all ages.

The TCCI is calling on

both sides of politics to

commit to this critical infrastructure

project.

With development lag

times of development –

for example, a full year of

manufacture in a European

factory to make a cable –

we need the commitment

now.

Tasmania can truly become

"The Battery of the

Nation" and the TCCI

will be fighting for that

outcome.

Directors promise to win back trust

THE resignations of

NAB's chairman and chief

executive in the wake of

the royal commission's

final report is the first acknowledgment

of the

changes expected in corporate

culture to restore

community faith. As dramatic

as they were, the resignations

were not enough

to make the community

believe this change will

happen.

Poor cultural practices

in institutions have be-

ANGUS ARMOUR, AICD

managing director and

chief executive officer

come entrenched over decades.

Commissioner Kenneth

Hayne's report is

an important catalyst for

change, and if our institutions

want to regain public

trust, they must respond

positively. As the peak

organisation focused on

building the capability of

Australia's community of

directors, the people who

must take ultimate responsibility

for corporate

behaviour in this country,

the Australian Institute

of Company Directors

strongly supports positive

change and intends to lead

this process.

While Commissioner

Hayne recognised that

the underlying structure

of our system of boards

and management is sound,

he was critical of the approach

taken in financial

services in three respects:

• a prioritisation of

short-term profit over customer

and stakeholder interests;

• a system of bonuses

and rewards that can

encourage unethical behaviour;

and

• a lack of insight into

corporate culture and

challenge of management.

A recurring theme in

the Hayne report is that

boards and directors need

a significant shift in intensity

in their oversight of

non-financial risk to mitigate

the risk of further

misconduct.

This will require boards

to invest more time and

energy on the key questions

and challenges in

their organisation, without

involving themselves in

the day-to-day management

of the organisation.

While the AICD

strongly endorses Commissioner

Hayne's view

that directors consider the

interests of all stakeholders

when acting in the

best interests of the company,

evidence before the

Commission rightly has

the community questioning

whether this occurs in

practice.

That requires working

with all stakeholders in

the pursuit of long-term

value creation.

Market participants,

including institutional investors,

need to be prepared

to shift their focus

from purely short-term financial

metrics that have,

on occasion, resulted in

perverse outcomes.

• This article first appeared in

The Australian, 18/02/2019.

www.tasmanianbusinessreporter.com.au

Talk directly to Business

Leaders, Managers

and Owners

....the decision makers.

Tell your unique story to

the decision makers.

No other medium can talk directly to business like the BUSINESS Reporter can.

30,000 PRINT

READERS

+

5,000 ONLINE

SUBSCRIBERS

Imagine 30,000 business news readers statewide, plus over 5,000 Online subscribers

who get the latest business news that matters to them.

EXPLORE THE POSSIBILITIES.

Ask about the editorial/advertising package that delivers a direct hit to your market.

See how the Tasmanian BUSINESS reporter can

build your brand awareness.

• Call Gil Sellars on 0448 901 371

• gil@thetrustedmediaco.com
---
Tasmanian Business Reporter - MARCH 2019 5

THOUGHT LEADERSHIP

www.tcci.com.au

Fanfare for future proofing

I FOUND myself standing

an inch taller on

February 17 when the

new Toll vessel – Tasmanian

Achiever II –

was officially named in

Burnie.

A sausage sizzle and

face painting marquee

on the wet deck mixed

with the sounds of a

brass band set the scene

for familiar faces (and

their families) of the Tasmanian

logistics scene

to witness the successful

launch of a bottle of

Tassie bubbles and shatter

into a million pieces

– successfully ticking off

the "good luck" superstition.

Prime Minister Scott

Morrison and Premier

Will Hodgman, along

with mayors, chairmen,

captains and other titles

mixed with all on board

and sang the national anthem

with pride.

It was one of those moments

when the industry

comes together to pay

homage to a moment in

time that showcases just

how important the ship-

Brett

Charlton

Agility Logistics

ping and logistics world

is and how the commitment

to prepare for the

future is being invested

in heavily by those that

cater for the growth in

trade.

Adding about 46 per

cent additional capacity

to the Toll service, there

is no question that these

new vessels (the Tasmanian

Achiever II and the

Victorian Reliance II)

will go a long way to "future

proof" Tasmania.

Coupled with the

Searoad's investment

of last year and another

new vessel to come as

well as the new TT Line

vessels in coming years

the question of capacity

should be a moot issue

for a few years at least

– in fact, if we are complaining

about capacity

in 10 years' time then we

are having a great growth

problem to consider.

Again acknowledging

the great work going into

the securing of the freight

task for Tasmania – over

coffees and whiskies

around the state, the conversation

invariably turns

to pricing.

The costs of Australian

wages (crew and terminal)

along with investment

returns ($172m of

new vessel) will need to

be recovered and constant

increases in costs in fuel

mixed with infrastructure

surcharges etcetera,

will be the narrative by

the commercial arm of

the carriers across Bass

Strait.

However, prices for

airfares drops when there

are spare seats. It will be

an interesting year for Tasmania

and I am confident

whatever the questionable

outstandings are, the bottom

line is that Tasmania

is in a better place with

two shiny new green ships

going across the 369kms

of H2O and salt that is our

natural moat protecting us

from the congested highways

of the big island.

TOP: The new Toll vessel Tasmanian

Achiever II.

ABOVE: PM Scott Morrison visits the

bridge of the vessel during it's naming

function in Buirnie .

Action plan for market access help

THE Australian Government

has launched an

action plan to help primary

producers and other

businesses tackle trade

barriers around market

access, to help them get

their goods into international

markets faster.

Just like we do in Australia,

international governments

have the right

to protect their country's

biosecurity and environment

but excessive protection

and delays without

reason are extremely

frustrating to our exporters.

Non-tariff barriers are

being addressed under

the action plan with the

establishment of a ded-

Sally

Chandler

Tradestart Adviser

icated website - www.

tradebarriers.dfat.gov.au

– with an in-built function

to report trade barriers.

I am very pleased to

advise I have had my first

success using the website.

A client's market access

problem with China,

which had been going on

for many months, was

addressed and fixed. The

client now has market

access for that particular

product which will allow

the export of many millions

of dollars' worth of

the product over the next

few years.

It's a fantastic outcome

which shows the

new plan and website do

work.

Naturally, some issues

will take longer than others

to fix and some may

be very hard to solve.

Australia has 22 Agricultural

Counsellors

employed in selected

countries who work with

those importing countries

to remove technical

barriers to trade.

Our technical experts

and trade officials in both

Australia and offshore

can only work as fast as

the importing country allows

progress to occur,

but the additional assistance

and focus of the action

plan which supports

closer collaboration between

government and

industry is extremely

welcome.

For international trade and investment assistance contact the

TCCI's TradeStart Adviser, Sally Chandler, at sally.chandler@

tcci.com.au or phone 1300 559 122.
---
6 Tasmanian Business Reporter - MARCH 2019

THOUGHT LEADERSHIP

www.tcci.com.au

Our health is worth insuring

Paul

Lupo

CEO, StLukesHealth

IN Australia, we have

come to expect that we

can access health treatment

straight away.

However, sometimes

accessing healthcare

means having to wait for

treatment, especially for

those Australians without

private health insurance.

Each year on April

1, health funds across

Australia release their

new premium rates for

the coming 12 months

and naturally consumers

question whether they

are receiving value for

money through their private

health insurance.

And it is a hard decision

to make. The true

cost of maintaining your

health is not simple to

calculate as you cannot

foresee the need for, and

the potential cost of treatment.

For example, a simple

hip replacement could

cost you $30,000.

In comparison, if you

have comprehensive car

THE end of 2018 and the

start of 2019 saw a number

of legislative changes

in the realm of employment

law, including but

not limited to –

• a further decision

regarding the case of

Workpac Pty Ltd v Skene

[2018] FCAFC 131.

In light of the potential

"double dipping" that

may have resulted from

this case where a casual

employee successfully

argued they were a permanent

employee the

Government has chosen

to step in.

The concern from employers

here was that an

employee could potentially

receive the casual

loading as well as the

benefits of permanent

employment.

The Government says

they will introduce regulations

that make it clear

that this "double dipping"

cannot be claimed.

• From October 1,

2018 all regular casual

employees covered

by Modern Awards will

have the right to request

that their employment

be converted to perma-

insurance and you decide

to change to third-party

insurance you know your

potential loss is limited

to the cost of replacing

your car.

According to Private

Healthcare Australia's

Annual High Claims

2018 Report, private

health insurers paid

more than 17,000 claims

with benefits exceeding

$10,000 for people aged

under 30.

The highest claim for a

private health insurance

member under 30 was for

a 16-year-old male with

gastrointestinal bleeding

with a cost of $221,195.

Despite the high potential

costs of healthcare,

many young Australians

do not see the value in

private health insurance

and live by the belief that

"it won't happen to me".

While wage growth

has stagnated and household

debt is at an all-time

high, the rise of buy-now,

pay-later services is tout-

Be aware of changes

Abbey

George

Workplace Relations

nent employment. This

followed the insertion

of a standard casual conversion

clause into 85

Awards on July 5, 2017.

• On December 12,

2018 the Fair Work

ed as an alternative solution

to those requiring urgent

healthcare.

Buy-now, pay-later

schemes are increasingly

being promoted by some

health providers, particularly

optometrists, dentist

and fertility clinics,

meaning that high-value

purchases – or access to

You can contact TCCI on the Helpline on 1300 765 123 or the TCCI on 1300 59 122 or workplacerelations@tcci.com.au

In 2018, St.LukesHealth paid more than $9 million on preventative dental services.

Amendment (Family

and Domestic Violence

Leave) Act 2018 took effect.

This means that the

Fair Work Act 2009 now

also includes a provision

that employees are entitled

to unpaid family

domestic violence leave

as part of the National

Employment Standards

and applies to all employees

from December

12, 2018.

The amendment follows

on from the introduction

of unpaid domestic

violence leave

into Modern Awards in

August 2018.

As it is now also contained

in the National

Employment Standards

this means that even employees

not covered by

a Modern Award will be

able to access the leave.

• In January 2019 the

Fair Work Amendment

(Repeal of Four Yearly

Reviews and other Measures)

Act 2018 (Amending

Act) revised s 188(2)

of the Fair Work Act

2009 which now allows

the Fair Work Commission

discretion to address

"minor technical or procedural

errors" from preventing

the progress of

an Enterprise Agreement

to approval. Previously

any error at all meant the

Enterprise Agreement

concerned could not be

approved.

• February 2019 saw

the Fair Work Ombudsman

commencing its first

legal action involving

the new "reverse onus of

proof" laws which can

into effect on September

15, 2017 via the Fair

Work Amendment (Protecting

Vulnerable Workers)

Act 2017.

This means that if an

employer does not meet

their record-keeping or

pay slip requirements

and can't give reasonable

justification as to why

this is the case, they will

need to disprove wage

claims made in a Court

(rather than the employee

having to prove an underpayment

took place).

The amendments also

saw an increase in penalties

for "serious contraventions"

of workplace

laws, increased

penalties for breaches of

record-keeping and pay

slip obligations, strengthened

the Fair Work Ombudsman's

powers to

collect evidence in investigations

and introduced

new penalties for giving

the Fair Work Ombudsman

false or misleading

information or hindering

or obstructing Fair Work

Ombudsman investigations

to name a few.

treatment – can be made

instantly.

Private health insurance

provides peace of

mind that when something

does go wrong, you

will be covered and have

access to care in a timely

manner.

There is a growing

concern that young Australians

without private

health insurance risk

becoming trapped in a

cycle of debt to cover

treatment, whether it be

through credit cards, personal

loans or buy-now,

pay-later programs.

Health insurers offer

general treatment cover,

which provides members

Labourers at highest

risk of injury at work

Craig

Hortle

Workplace Health & Safety

THE Safe Work Australia statistics

for 2016 -17 help organisations

understand what the potential of

serious risk is in their occupation

and industry.

According to the information,

some businesses fall victim to more

injuries than others.

Here is a list of the most common

injury-plagued occupations per one

million man hours worked:

• labourer – 16.5 injuries per 1

million man hours worked;

• community and personal

services workers – 11.1;

• machinery operators and drivers

– 10.8;

• agriculture, forestry and fishing

– 9.5;

• construction – 8.1; and

• manufacturing – 8.0.

If your business or industry is

involved in any of these areas it

would be wise to ensure that you

have a robust workplace health and

with benefit for dental

and optical services.

In a growing number

of cases, insurers provide

"gap-free" options

meaning the member is

left with no out-of-pocket

cost.

In 2018, St.LukesHealth

paid more than $9 million

on preventative den-

tal services on its Super

Extras general treatment

product, with 95 per cent

of members having no

out-of-pocket costs associated

with their care.

Consumers are entitled

to ask their dentist, optometrist,

health insurer

or hospital about any extra

money they may have

to pay for treatment.

This is called informed

financial consent and

will ensure that you do

not receive any financial

surprises.

If you have private

health insurance and are

considering the value of

your product when you

receive your rates notice,

I challenge you to think

hard about the value and

security your cover provides.

If you are not receiving

value and don't feel your

level of cover is working

for you, speak to your

health insurer and ensure

you are getting a product

that is suitable for your

lifestyle and financial

needs.

Without it, could you

afford to finance a significant

health event or

afford to be incapacitated

for an extended period

while waiting for

treatment in the public

system?

safety management system in place.

This would include having a

system of performing job tasks

safely.

The types of documentation

needed could include:

• safe operating procedures;

• workplace inspection;

• safety audit;

• safe work method statements;

• hazard and risk identification

procedures; and

• training in job tasks and safety.

The time off for serious injury

claims increased by 32 per cent

and the amount paid out for serious

injury claims increased by 39 per

cent.

This occurred while the

frequency of a serious injury per

million man hours fell by 28 per

cent.

This clearly indicates that the

use of a safe system of work is

imperative.

For more information contact Craig Hortle or Janelle Whitehouse at

the TCCI on 1300 559 122 or safety@TCCI.com.au
---
Tasmanian Business Reporter - MARCH 2019 7

THOUGHT LEADERSHIP

www.tcci.com.au

Super system on the mend

By WAYNE

DAVEY

CEO, Tasplan

Super

OVER the past 12

months there's been a lot

of focus on the country's

$2.7 trillion super industry,

with first a Productivity

Commission report

into the sector, followed

by the Final Report of

the Royal Commission

into Misconduct in the

Banking, Superannuation

and Financial Services,

and most recently

some significant legislative

changes.

The Productivity

Commission investigation

into super efficiency

and competitiveness

in the sector found that

overall, Australia's super

system needs to adapt to

better meet the needs of a

modern workforce and a

growing pool of retirees

who are being harmed

by structural flaws in the

system, particularly the

high rates of unintended

multiple accounts and

underperforming funds.

Worryingly, the report

found about one third of

super accounts (about 10

million) are unintended

multiple accounts which

can erode a typical Australian

worker's balance

by six per cent or

$51,000 by the time they

reach retirement age.

The majority of these

accounts are opened by

default in the early stages

of a person's working life

when they're more likely

to be switching between

jobs or industries.

Perhaps of most concern,

the regressive nature

of these multiple

unintended accounts sees

younger and lower-income

members affected

the most.

Another worrying

trend exposed by the report

is the high instance

of excessive and unwarranted

super fees across

many funds.

While reported fees

have trended down, a raft

of high-fee products remains

entrenched in the

system.

More recently, after almost

a year of hearings

and deliberations, the final

report from the Royal

Commission into Misconduct

in the Banking,

Superannuation and Financial

Services Industry

was released.

Of the 76 separate

recommendations

made by Commissioner

Hayne, a number directly

concerned super.

From a consumer perspective,

some of the key

recommendations relating

to super included:

• banning the hawking

of super and insurance

products;

• that a person should

only have one super

fund;

• banning employer

inducements (to nominate

particular funds as

default funds, or having

employees join a particular

fund);

• ensuring financial

advisers who aren't independent

disclose this

to clients in a prescribed

format;

• banning grandfathered

commissions

which are attached to

some bank and insurance-owned

super funds;

• The overhaul of bosses'

pay so that incentives

are more aligned to

non-financial risk; and

• an overhaul of the

culture of the regulators.

The good news for

consumers is it hasn't

...there's still a lot

more to be done but

it's encouraging that

real progress is being

made.

just been all talk, and no

action.

In early February,

the Federal Parliament

passed new laws which

gives the Australian Tax

Office greater power to

consolidate inactive and

low-balance accounts.

It also bans exit fees

and imposes a three per

cent fee cap on accounts

with $6000 or less.

While the Government

was unsuccessful in their

attempts to make life insurance

opt-in rather than

opt-out for young people

and low-income earners,

inactive super accounts

will no longer be charged

life insurance fees.

As evidenced by both

the Productivity Commission

and the Royal

Commission, there's still

a lot more to be done but

it's encouraging that real

progress is being made in

improving the operation

of Australia's superannuation

system.

OUR MEMBERSHIP

OPENS DOORS

Join more than 43,000 experienced directors and senior leaders by

becoming a member of the Australian Institute of Company Directors.

Membership provides you with exclusive access to our Business Centre

and Member Lounges in Sydney, Melbourne, Canberra, Adelaide, Perth

and Hobart CBDs, member-only events and a range of governance tools

and resources.

Take the next step in your career

t: 1300 739 101 w: companydirectors.com.au/SWT

06460-26_18
---
Are you with a local,

trusted super fund?

They are.

They're with Tasplan.

1800 005 166 | tasplan.com.au

The trustee of Tasplan Super (ABN 14 602 032 302) is Tasplan Pty Ltd (ABN 13 009 563 062).

AFSL 235391. © 2019 Tasplan Pty Ltd. All rights reserved.
---
Tasmanian Business Reporter - MARCH 2019 9

Toll's vote of confidence

NEWS

Jeremy

Rockliff

Infrastructure Minister

THIS month saw the arrival

of Australia's newest and biggest

cargo ship, the 210-metre

Tasmanian Achiever II, at the

Burnie port.

The 20,000-tonne Tasmanian

Achiever II will increase

Toll's Bass Strait carrying capacity

by 40 per cent.

This is a massive increase

in capacity, and together with

Searoad's recent investment

in the SeaRoad Mersey II, this

will allow Tasmanian producers

and businesses to export

more of our highly sought

after products in both the national

and international markets.

This private sector investment

in Bass Strait freight

capacity is also a huge vote

of confidence in the Hodgman

Liberal Government's

management of our economy

and its job-creating, investment-friendly

policy action.

It is no secret Tasmania has

highly sought after products,

from our premium agricultural

produce, to our raw earth

mining exports.

Both these industries support

thousands of jobs, many

of which are located across regional

Tasmania.

Toll's investment will also

ensure that Tasmanian businesses

and communities have

another important link for inward

goods for the continued

operation of their businesses.

Toll Group's investment

recognises the strength of

our economy and export

sector, and the Tasmanian

Achiever II is part of Toll

Group's $311 million investment

in two new ships

and wharf upgrades to Port

of Burnie and Webb Dock in

Melbourne.

Data from the Australian

Bureau of Statistics on International

Merchandise Exports

shows that Tasmanian

exports during the 2018 calendar

year were the highest

Premier Will Hodgman, left, Toll Group Chairman John Mullen, Prime Minister Scott Morrison and Japan Post First

Executive Officer Taneki Ono at the official naming ceremony for the Tasmanian Achiever II on the Burnie wharf.

since ABS records began.

In the year to December

2018 Tasmania exported

more than $3.78 billion in

goods and produce, an increase

of 14.6 per cent compared

to the previous year.

Leading Tasmanian export

sectors were metal and mining

industries, followed by

our world class agricultural

products.

The Hodgman Liberal

Government will continue to

implement initiatives to create

jobs and boost economic

growth in Tasmania.

We have a target to grow

the farm gate value of the

agricultural sector to $10

billion per annum by 2050,

and targeting a 50 per cent

increase in new mining ventures

over five years.

You're our

number 1

That's why you have voted us

Australia's number 1

in customer satisfaction

3 YEARS IN A ROW!*

ROY MORGAN RESEARCH

Customer Satisfaction Awards

Contact us today to join, switch, or have a cover comparison.

We can come to you, just ask us how! It's Easy!

stlukes.com.au 1300 651 988

* #1 Roy Morgan Customer Satisfaction Awards: Private Health Insurer of the Year – 2016, 2017 & 2018. St.LukesHealth ABN 81 009 479 618
---
10 Tasmanian Business Reporter - MARCH 2019

NEWS

Program a boost for

leaders of the future

TWENTY nine of Tasmania's

brightest leaders have celebrated

their completion of the

latest Tasmanian Leaders Program.

Those who finished the

2018 program say they are

now equipped with refined

skills, new knowledge and

increased motivation and are

ready to enact positive change

for Tasmania.

Places in the annual program

are highly sought after

and only granted to participants

demonstrating a high

degree of potential and passion.

Over 11 months last year,

the 2018 participants came

together monthly to explore

challenges and opportunities

for Tasmania in areas

such as community, business,

economics and government

through seminars, case studies,

field trips and retreats.

The program enhances each

participant's leadership capacity

while prompting them

to develop a vision for Tasmania's

future.

"I have felt great privilege

in being selected in a program

that has challenged my

perceptions and given me the

opportunity to become better

educated on issues facing

Tasmania," said graduating

participant, Donna McDermott

- the acting power station

manager at Hydro Tasmania's

Tamar Valley Power Station.

"Throughout the year my

confidence levels have increased

and I have learnt to

extend myself, ask questions

and have conversations to

broaden my awareness and

networks."

Australia Pacific Airports

(Launceston) manager of

planning and development

Ilya Brucksch-Domanski said

the programs had encouraged

greater mindfulness and in-

vigorated his sense of community.

"TLP challenged us to consider

other people's view."

TLP 2020 will be open to

new applicants on June 1,

2019.

For more information visit

www.tasmanianleaders.

org.au.

2018 graduates

Cassie Arnold, pitt&sherry

Leigh Arnold, leigharnold.com

Phil Beeston, S. Group

Ilya Brucksch Domanski, Australian

Pacific Airports (Launceston)

Paris Buttfield-Addison, Secret

Lab Pty. Ltd.

Samuel Cairnduff, Tasmanian

Symphony Orchestra

Anne Carey, TasNetworks

Sarah Coulson, Tasmanian

Health Service

Waqas Durrani, Federation of

Ethnic Communities' Councils

of Australia (FECCA)

Andy Fist, Kooee Snacks

Jenn Heggarty, Tasmanian

Leaders

Alison Hugo, On Your Bike

Tours Launceston

Jason Imms, LIVETILES

Tim Jordan, Degree C

Justin Legg, Lester Franks

David Lenel, pitt&sherry

Chris Love, Big Blue Co Pty

Ltd

Donna McDermott, Hydro

Tasmania

Hannah Moloney, Good Life

Permaculture

Jarred Moore, UTas

Martin Moroni, Private Forests

Tasmania

Kate Owen, Futago

Jess Robbins, Tasmanian Way

Jessie Stanley, Office of the

Coordinator-General

Grace Walsh, Multicultural

Council of Tasmania

Carolyn Watson-Paul, Henry's

Ginger Beer

Ally White, Department of

Education

Insp. Gary Williams, Tasmania

Police

Absent: Sam Halliday, Department

of Health and Human

Services.

Tasmanian Leaders Program 2018 participants celebrate their graduation.

Awards

seeking

women

miners

THE 2019 Tasmanian Women

in Resources Awards have

been officially launched to

recognise exceptional female

talent in Tasmania's resources,

mining and manufacturing

businesses.

The annual awards are hosted

by the Tasmanian Minerals

and Energy Council in conjunction

with the AusIMM

Women in Mining Network

Tasmania and include seven

categories across trades, manufacturing,

non-executive,

engineering and professional

services roles.

Two categories also recognise

the importance of gender

diversity champions and

workplace programs in supporting

women to pursue resource

industry careers.

WIMnet Tasmania chairman

Ted Bradshaw acknowledged

the role of the awards

in strengthening female participation

in non-traditional

industries.

"The Tasmanian awards

are now in their sixth year

and they help to showcase the

ambassadors and role models

that can inspire more women

to consider the attractive career

opportunities available to

them in the mining, manufacturing

and resources sectors,"

he said.

A judging panel will announce

this year's Tasmanian

award category winners at a

ceremony in Hobart on May

30.

Category winners go on to

represent Tasmania in the National

Women in Resources

Awards to be announced in

September.

Selection criteria and entry

information is available

from the TMEC website

at http://tasminerals.com.

au/2019-tasmanian-women-in-resources-awards

Award nominations close

March 31, 2019.

SOLUTIONS

IN PRINT

your print specialist for over 90 years

Full Off-Set,

Digital and

Wide Format

Capabilities

Binding and

Finishing

Variable Data

and Mailing

Warehousing

and Distribution

Online Ordering

and Inventory

Management

www.tasmanianbusinessreporter.com.au

Talk directly to Business

Leaders, Managers

and Owners

....the decision makers.

Tell your unique story to

the decision makers.

No other medium can talk directly to business like the BUSINESS Reporter can.

30,000 PRINT

READERS

+

5,000 ONLINE

SUBSCRIBERS

Imagine 30,000 business news readers statewide, plus over 5,000 Online

subscribers who get the latest business news that matters to them.

6391 8481

sales@paperstat.com.au

www.woolstonprinting.com.au

EXPLORE THE POSSIBILITIES.

Ask about the editorial/advertising package that

delivers a direct hit to your market.

See how the Tasmanian BUSINESS reporter

can build your brand awareness.

• Call Gil Sellars on 0448 901 371

• gil@thetrustedmediaco.com

WP - Advert Mar17.indd 1

4/04/2017 1:15:43 PM
---
Tasmanian Business Reporter - MARCH 2019 11

EVENTS

Richard, left, and Rob Clark of Westerway

Raspberry Farm.

Dr Josie Kelman, Derwent Catchment Project,

left, and Veronica Youd of The Shingles

Riverside Cottage.

Leanne Masters of Hug A Horse, left, and Cally

Lyons of Rathmore.

What:

Derwent Valley

Gazette relaunch

Where:

Star & Garter Hotel,

New Norfolk

When:

Tuesday, February 12

2019

Lyons Liberal candidate Jessica Whelan, left, Jonathon

Heather, office of Jane Howlett MLC, Greg Hudson, Lions

Club of New Norfolk and Anthony Edwards, Cancer

Council/Relay for Life.

Derwent Valley Gazette fishing writer Adam

Rice, left, and Rodney Dunn of the Agrarian

Kitchen.

What:

Strong Australia

Network business

luncheon

Where:

Hotel Grand

Chancellor Hobart

Stephen Cahoon of Sense-T, left, Rod Bender

of Norske Skog and Geoff Atkinson of

AusIndustry.

BUSINESS

2

Phil Hudson from the Business Council of Australia,

left, David Speers from Sky News Australia and

Gemma Daley from the Business Council of

Australia.

When:

Thursday,

February 14,

2019

BUSINESS

YOUR QUICK GUIDE TO SERVICES AND PRODUCTS FOR YOUR BUSINESS

HOBART'S BEST RANGE OF

QUALITY ERGONOMIC FURNITURE

FOR THE HOME AND OFFICE

TCCI CEO Michael Bailey, left, Bob Gordon from

MyState Bank and Mark Wilsdon from MONA.

We specialise in high quality ergonomic chairs,

alternative seating and electronic sit/stand desks.

Flair Office Furniture has been providing quality, affordable office

furniture to homes and offices throughout the Hobart region

for nearly 15 years. We're a locally-based, family-run business

specialising in all types of products, so why not visit us today to

see our fantastic range?

www.flairofficefurniture.com.au

Phone 6234 1127

260 Argyle Street,

North Hobart

To see your business here, call Kerri on 0419 750 267 or email kerri@thetrustedmediaco.com
---
12 Tasmanian Business Reporter - MARCH 2019

PROPERTY MATTERS

Demand for city office space

Scott Newton

Property Matters with

Knight Frank

Knight Frank Hobart's office sales and

leasing specialists Hayden Peck and

Richard Steedman give an update on the

Hobart of the office sector in this month's

feature article.

THE recent release of the

Property Council of Australia's

Office Market Report

2019 provides further evidence

of Hobart's thriving

property market.

Recording a vacancy rate

of only 5.9 per cent ranks it

as the third strongest capital

city office market in the

country, behind Melbourne

(3.2 per cent) and Sydney

(4.1 per cent) with all other

markets significantly weaker

with Canberra 11.0 per cent,

Brisbane 13.0 per cent, Adelaide

14.2 per cent, Darwin

17.2 per cent and Perth 18.5

per cent.

Hobart's CBD office market

vacancy rate of 5.9 per

cent indicates that the market

has tightened considerably in

recent years, down 3 per cent

from 8.9 per cent in 2015 and

is significantly stronger than

the national average of 8.5

per cent.

The A-grade sector is the

tightest, with a vacancy rate

of only 4.9 per cent, B-grade

9.1 per cent, with C- and

D-grade 6.0 per cent and 6.1

per cent respectively.

Hobart's low office vacancy

rate is a function of three

key factors, being minimal

speculative development;

competing property uses and

increased demand.

Historically, new supply

within Hobart's market has

been demand driven, with

new office accommodation

The new Parliament Square is indicative of the development of pre-committed office

accommodation in Hobart.

primarily resulting from

pre-commitment by major

tenants with very little speculative

development.

This is in part due to an

economic rental generally

being required to ensure an

appropriate return to the developer.

Improved economic conditions

has resulted in greater

competition within our market

from competing property

uses, in particular from the

tourism/hotel sector.

This has resulted in an increase

in the underlying land

value of key sites within our

city, rendering some older

office buildings and/or their

sites to have a higher and

better use than offices, such

as visitor, residential or student

accommodation.

As a result, a number of

older office buildings have

been demolished or converted

to alternative uses.

This in effect represents a

replenishing of Hobart's office

market stock.

Strong economic growth

in Tasmania in recent times

has resulted in new demand

for office accommodation

with net absorption, ie increase

in area occupied, recorded

at 1,178sqm for the

year and a total of 6,465sqm

over the past two years.

We have seen a strong increase

in demand from small

businesses new to our market,

with many seeing great

opportunity within our confident

and growing market.

We have also seen new

demand from the education

sector, particularly Registered

Training Organisations

for international students

with a number of organisations

setting up business

in Hobart over the past two

years.

This new education demand

has resulted in associated

services also opening

within the CBD such as immigration

and travel agencies

and other professional

services targeting international

students such as lawyers

and accountants.

With very little new office

market stock, i.e. new buildings,

forecast to come online

in the short to medium term,

and growing demand for Hobart

office accommodation,

this should see a further reduction

in the vacancy rate

which will likely translate

into rental growth.

PROPERTY VIEW

MARCH 2019

HOBART'S STRATEGIC MEGA SITE

103 Melville Street & 159 - 163 Harrington Street, Hobart

For Sale by Expressions of Interest

• Knight Frank has the privilege to

present what will be the largest and

most significant CBD development

site available to the market for the

foreseeable future.

• Situated on the Northern edge of the

CBD only 250 metres from Hobart's

central retail block, this site represents

an opportunity that is truly unique.

• Proposed zoning change will allow for

45m building height*. (STCA).

• 2 year Leaseback from settlement.

• Land area: 1.179 hectares.

• 2 titles.

• Offering includes 3 heritage terraces.

• Existing main structure 6374sqm*.

• Existing Car Spaces: 120*.

* approx

Outline indicative only

Outline indicative only

Scott Newton 0409 186 261

Hayden Peck 0412 766 395

BRIDGEWATER INDUSTRIAL HUB

16 Crooked Billet Drive, Bridgewater

For Sale by Offer

• Single level Industrial building.

• A good lease in place to 2023 with annual fixed

increases and two (2) ten (10) year options.

• Solid building construction, and in an area with

low vacancy and with easy access, the property

presents a quality investment to hold.

• Total land area of approximately 2265 sqm.

• Lettable area of approximately 474 sqm (including

mezzanine).

• Net rental of $48,458.

• Inspections strictly by appointment.

"STRELLEY FARM"

66 Prosser Road, Richmond

For Sale by Private Treaty

• 170ha of arable, irrigated, Coal River Valley

land over 6 titles.

• Access to SEIS Stage 1 and Stage 2 water.

320 megalitres of storage capacity.

• Highly suitable for horticulture, viticulture,

and intensive cropping.

• Zoned Significant Agriculture; Municipality of

Clarence.

• Bordering the historic village of Richmond

• 5 minutes from Hobart Airport, 20 minutes

to Hobart CBD.

• All improvements are in excellent condition.

Ian Reed 0419 670 501

Ian Reed 0419 670 501

Michael Crisp 0438 597 128

5 Victoria Street, Hobart 54 Cameron Street, Launceston Shop 8, 48-54 Oldaker Street, Devonport

P: 03 6220 6999 P: 03 6333 7888 P: 03 6424 3568