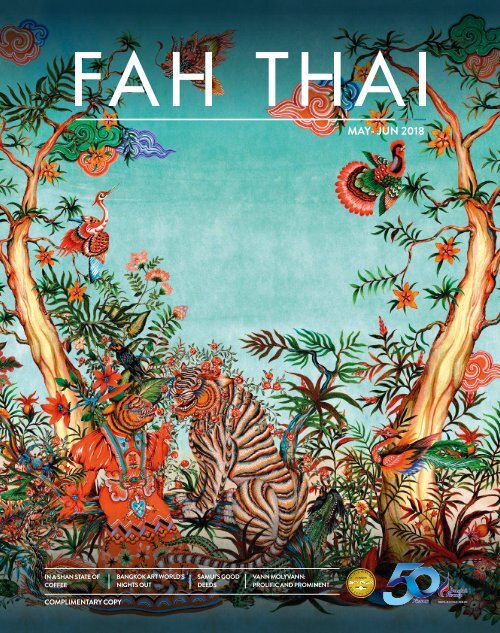 Fah Thai Magazine May June 2018
Read FAH THAI MAGAZINE Online! Fah Thai is the inflight magazine of Bangkok Airways. We also come in a digital format. You can read us at Fahthaimag.com
Read FAH THAI MAGAZINE Online! Fah Thai is the inflight magazine of Bangkok Airways. We also come in a digital format. You can read us at Fahthaimag.com
SHOW MORE
SHOW LESS
You also want an ePaper? Increase the reach of your titles
YUMPU automatically turns print PDFs into web optimized ePapers that Google loves.
MAY- JUN 2018

IN A SHAN STATE OF

COFFEE

BANGKOK ART WORLD'S

NIGHTS OUT

SAMUI'S GOOD

DEEDS

VANN MOLYVANN:

PROLIFIC AND PROMINENT

COMPLIMENTARY COPY
---
OVERTURES

FEATURES

16 WHAT'S UP

Raise your hands up in the air for

Dua Lipa's Asian tour. In Cambodia,

raise your eyes to the sky for the

Rocket Festival, among the many

regional events.

20 YOUTHFUL BEAUTY

Armed with the right rejuvenating

products, keep everyone guessing

your real age. Our beauty experts

share their list.

22 TIED TO STYLE

Polka dots or stripes? There's no

need to get tied up in knots in the

search for the right tie to match the

outfit and the occasion.

24 GIVE CHIANG RAI A TRY

Seek out a gleaming white temple,

climb scenic hills and know more

about the wicked history of the

opium trade in this northern town.

28 TO YOUR HEALTH

Make roselle your drink of choice

as the myriad benefits of this plant

include anti-oxidant and freeradical

properties.

32 DEALS ON WHEELS

Thailand's street carts remain a

reliable source of nourishment and

snacks. With no two carts alike, we

show you the differences.

44 PARADISE

GAINED

Lovers of Samui are not

just visitors but local

residents who make sure it

stays a paradise.

50 ANTHROMORPHIC

TALES

In a commissioned work

for Gucci, a Thai illustrator

takes to flights of fancy

with animal characters.

60 FOR THE LOVE OF

ARCHITECTURE

We seek out Phnom Penh's

heritage architecture and

modernistic buildings

designed by the late

visionary Vann Molyvann.

70 MYANMAR BEAN

TOWN

Pyin Oo Lwin in Myanmar,

while known for its

colonial past, creates

contemporary history as a

coffee-producing area.

78 NIGHTS IN ART

It's an active year in art for

Bangkok as the city preps for

major art shows, including

the debut of two biennales.

Roving photographer Jesper

Haynes is out on the town

capturing the art crowd.

60

Vann

Molyvann's

Legacy of

Landmarks

6

7
---
HAPPENINGS

CORPORATE

A selection of relevant events around Asia.

90 BANGKOK

92 SAMUI

96 KRABI / PHUKET

100 CHIANG MAI /

CHIANG RAI

101 PATTAYA /

KOH CHANG

102 CHINA

104 HONG KONG

106 SINGAPORE

107 KUALA LUMPUR

108 BATTAMBANG /

PHNOM PENH /

SIEM REAP

110 DANANG /

HANOI /

PHU QUOC

112 LUANG

PRABANG /

YANGON

114 MALDIVES /

MUMBAI

118 NEWS

Bangkok Airways announces collaborations

and winners.

127 AIRCRAFT INFO

128 ROUTE MAP

CHECKING OUT

130 YANGON

The city's strong spiritual flow lives

alongside its modern city feel.

This month's cover:

Illustrator

Phannapast

Taychamaythakool

features her

signature work of

whimsical animals

drawn in vivid and

elaborate detail.

78

Bangkok's

Artful

Statements

8
---
MESSAGE FROM THE PRESIDENT

Welcome on board our Bangkok Airways flight.

Currently, the world faces unpredictable weather

conditions – from seasonal changes to severe climate

changes. Because of this, I believe it's crucial for all of

us to make our health a priority. For that reason, we'd

like to introduce and encourage everyone to engage

in sporting activities, such as the "Bangkok Airways

Boutique Series 2018" marathon running series,

held throughout the year of 2018 in seven different

Bangkok Airways destinations. Furthering our health

and sports initiative is our latest cooperation with

Borussia Dortmund, one of the most successful

football clubs in Europe, which allows us to leverage

our branding cooperation and tap into the larger market

in Asia. With this partnership, we see the benefits

of education and the creation of opportunities; so

together with Borussia Dortmund, Bangkok Airways

is planning to organise a special football coaching

programme for our Thai youth. Other collaborations

extend to many educational institutions such as

Bangkok University and Mae Fah Luang University

with the launch of "Bangkok Airways Open House," a

campaign that reaches out to interested youth with

career goals in the hospitality or aviation industry.

Another important milestone for us includes

expanding the airline networking partnership. Recently,

Bangkok Airways announced a codeshare partnership

with three leading airlines, namely EL AL Israel Airlines,

Lao Airlines and Oman Air, to strengthen networks and

provide passengers more convenient and seamless

access to popular travel destinations both in Thailand

and neighbouring countries.

On behalf of Bangkok Airways, I would like to

give sincere thanks to all passengers flying with us.

We truly hope you receive an experience you'll find

impressive and convenient wherever the travel may

be. We are determined to delivering better service,

and ultimately the best, for our passengers again in

the future. Thank you.

ยินดีต้อนรับผู้โดยสารทุกท่านสู่การบริการของ

สายการบินบางกอกแอร์เวย์ส

ช่วงนี้อากาศเปลี่ยนแปลงบ่อย ไม่ว่าจะเป็นผลมา

จากภาวะโลกร้อนหรือเป็นเพราะการเปลี่ยนแปลงตาม

ฤดูกาลก็ตาม ผมคิดว่าการรักษาสุขภาพให้ดีเป็น

สิ่งสำคัญ เราจึงมุ่งส่งเสริมกิจกรรมด้านการกีฬาอย่าง

ต่อเนื่อง เพื่อให้ทุกท่านมีสุขภาพร่างกายที่แข็งแรง อาทิเช่น

การจัดแข่งขันวิ่งมาราธอน "บางกอกแอร์เวย์ส บูทีค ซีรีย์

2018" ที่จัดขึ้นใน 7 จุดหมายปลายทางของสายการบินฯ

ตลอดปี 2561 และล่าสุด ได้มีการประกาศความร่วม

มือเป็นพันธมิตรกับ สโมสรโบรุสเซียดอร์ทมุนด์ หนึ่งใน

สโมสรฟุตบอลที่ประสบความสำเร็จมากที่สุดในยุโรป

นอกจากความร่วมมือทางการตลาดแล้ว เรายังมองเห็น

ถึงความสำคัญของการสร้างโอกาสและสนับสนุน

องค์ความรู้ทางด้านกีฬาให้แก่เยาวชนและผู้ที่สนใจ

ซึ่งถือเป็นหนึ่งในกิจกรรมเพื่อสังคมที่เราให้ความส ำคัญ

ตลอดมา โดยได้จัดกิจกรรมฝึกทักษะกีฬาฟุตบอล

ให้กับเยาวชนร่วมกับทางสโมสรฯ อีกทั้งยังมีโครงการ

"เปิดบ้านสอนน้อง" ที่เปิดโอกาสให้กับเยาวชนที่มี

ความสนใจ และมีเป้าหมายที่จะทำงานในธุรกิจการ

บริการ และการบิน โดยเราได้มีการลงนามบันทึก

ความร่วมมือทางการศึกษาและพัฒนาบุคลากรกับ

หลายสถาบัน อาทิ มหาวิทยาลัยกรุงเทพ มหาวิทยาลัย

แม่ฟ้าหลวง ฯลฯ

อีกหนึ่งก้าวสำคัญของบางกอกแอร์เวย์สคือ

การขยายเครือข่ายพันธมิตรสายการบิน โดยล่าสุด

เราได้มีการลงนามข้อตกลงในการให้บริการเที่ยวบิน

ร่วมกับอีก 3 สายการบินชั้นนำ ได้แก่ สายการบิน

แอล อัล อิสราเอลแอร์ไลน์ ลาวแอร์ไลน์ และ

โอมานแอร์ เพื่อเป็นการสร้างเครือข่ายความร่วมมือ

ทางการบินให้มีความแข็งแกร่งยิ่งขึ้น อีกทั้งยัง

อำนวยความสะดวกให้กับผู้โดยสารในการเดินทาง

เชื่อมต่อไปยังแหล่งท่องเที่ยวที่มีชื่อเสียงทั้งใน

ประเทศไทยและประเทศเพื่อนบ้านอีกด้วย

ผม ในนามของสายการบินบางกอกแอร์เวย์ส

ขอขอบคุณผู้โดยสารทุกท่านที่เดินทางกับเรา และ

หวังเป็นอย่างยิ่งว่าท่านจะได้รับความสะดวกสบาย

และประทับใจในการบริการของเรา เราจะยังคงมุ่งมั่น

พัฒนาการบริการให้ดียิ่งๆ ขึ้นต่อไป ขอบคุณครับ

กัปตัน พุฒิพงศ์ ปราสาททองโอสถ

Captain Puttipong Prasarttong-Osoth

กรรมการผู้อำนวยการใหญ่ | President, Bangkok Airways Public Company Limited

10
---
IS THE

GOLD WINNER

PEARL AWARD

2017

BEST PHOTOGRAPHY

BANGKOK AIRWAYS PUBLIC

COMPANY LIMITED

99 Mu 14, Vibhavadi Rangsit Road,

Chom Phon, Chatuchak, Bangkok

10900, Thailand

www.bangkokair.com

ADVISORY BOARD

Mr. Prote Setsuwan

Vice President - Marketing

Ms. Sumalee Chaitientong

Vice President - Ancillary Revenues

Mr. Kridhakorn Sirabhabhoj

Director - Advertising and Creative

Mr. Benjamin Sirirat

Manager - Branding and Creative

Mrs. Rattanaporn Sa-Nguanjangwong

Business Services - Ancillary Revenues

PUBLISHER

MPMI Group Co., Ltd.

1 Soi Lasalle 23/2,

Bangna, Bangkok 10260, Thailand

Tel. +66 2744 4975

Fax. +66 2744 5271

Managing Director

Chaovanee Ajanant

Email: chaovanee@mpmith.com

EDITORIAL

Email: editorial@fahthaimag.com

Editorial Director Somtawin Chanyawong

Editor-in-Chief Anutra Ungsuprasert

Senior Editor Nawa Acosta Wright

Deputy Editor Sarita Urupongsa

Contributors

Chalotorn Payomyol

Chusri Ngamprasert

Jeremie Schatz

Nawarat A Wright

Nicola Hil

Passakorn Hongthong

Phoowadon Duangmee

Prachi Joshi

Richard Augustin

Ron Emmons

Sarita Urupongsa

Sirin P Wongpanit

Sophia Natasia Powell-Schaffer

Susan Field

Thawat Tangtienchai

Photo Editor Thewin Chanyawong

Contributing Photographers

Jesper Haynes

Kay Choomongkol

Lesley Fisher

Permboon Wongpanit

Ron Emmons

Sang-arun Champawan

Thawat Tangtienchai

Wichit Kongsiangsung

ART

Creative Director JyeShen Koo

Graphic Designer Pongtorn Khaoplag

Contributing Stylist Saranya Ariyakul

Contributing Illustrator Arthit Limpong

PRODUCTION

Colour Separation: Soontorn Film

Printer: WPS (Thailand) Co., Ltd.

ADVERTISING

advertising@fahthaimag.com

Media Manager: Daruni Klaprapchon

Marketing Manager: Reza Bizmark

ADVERTISING HOTLINES

Guitar +669 2270 9528

Bob +668 2446 9192

OVERSEAS ADVERTISING REPRESENTATIVES

AUSTRALIA

THE MEDIA COMPANY

Leanne Richardson

Tel: +612 9909 5800

leanne@themediaco.com.au

CAMBODIA, LAOS,

MYANMAR

Kittikun Adunsirisaward

Tel: +668 9468 2440

kittikun@bangkokair.com

Hathaiwan Chieochankitjakan

Tel: +668 6900 5278

hathaiwan@bangkokair.com

CHINA, HONG KONG,

MACAU, TAIWAN

CHINA MEDIA OPTIONS

CO., LTD.

Rebecca Tsang-Pereira

Tel: +852 2321 9788

rebeccaCMOsupport@gmail.com

FRANCE, GERMANY,

SWITZERLAND

INFOPAC MEDIA HOUSE

Jean Charles Abeille.

Tel: +331 4643 0066

jcabeille@infopac.fr

INDIA, MALDIVES

RMA MEDIA

Faredoon Kuka

Tel: +9122 2925 3735

kuka@rmamedia.com

KOREA

MEDIREP CO.

Soohoon Oh

Tel: +822 734 0786

soohoonoh@medireponline.com

JAPAN

PUBLICITAS JAPAN K.K.

Hiroko Minato

Tel: +8150 8882 3456

hiroko.minato@publicitas.com

MALAYSIA

MPMI SDN BHD

Alvin Tan

Tel: +603 7880 2185

mpmimy@gmail.com

SINGAPORE, INDONESIA

MPMI PTE LTD

S. S. Hoo

Tel: +65 6464 6261

mpmisg@gmail.com

UNITED KINGDOM

MAJOR MEDIA LTD.

David Hammond

Tel: +44(0) 20 8467 8884

david@majormedia.co.uk

USA

THE MULTIMEDIA INC.

Fernando Mariano

Tel: +14 0790 3500

fmar@multimediausa.com

"FAH THAI" is the in-flight magazine of Bangkok Airways Public Company

Limited and is edited and published by MPMI Group Co., Ltd. All articles and

photographs published herein are created by the authors and photographers

at their own discretion and do not necessarily represent the views of the

airline. Bangkok Airways holds no responsibility or liability arising out of the

publication of such articles and photographs.

All information correct at press time. All rights reserved. No part of this

magazine may be reproduced, stored in a retrieval system or transmitted in

any form or by any means without the prior written permission of Bangkok

Airways Public Company Limited and MPMI Group Co., Ltd.

Cover Illustration: Courtesy of Phannapast Taychamaythakool

12
---
ESSENTIAL NOTES TO GUIDE YOUR TRAVELS

Crafting Coffee

As a beloved Thai beverage,

coffee always had its own

artisanal movement. Street

carts keep the tradition alive,

with minimal equipment to

produce that caffeine kick.

NEWS AND EVENTS 16 / BEAUTY AND HEALTH 20 / STYLE 22 / THAILAND TREASURES 24 / A TASTE OF THAILAND 28 /

FRUITFUL FINDS 30 / ARTS & CULTURAL MATTERS 32 / CHECKED IN 36

15
---
OVERTURES

NEWS AND EVENTS

1-8MAY

2018

ASIA

DUA LIPA 'THE SELF-TITLED TOUR'

British songstress Dua Lipa made quite an

impact during her debut performance in Asia

back in 2017. This month, the singer/model

returns to enthral her fans with a solo show

with major performances in several Asian cities

including Hong Kong (1 May), Kuala Lumpur

(3 May), Singapore (4 May), Seoul (6 May) and

Tokyo (8 May).

Dua Lipa's 'The Self-Titled Tour' will see the

artiste perform her hit singles that made her

one of the most exciting and most streamed

British female artist in recent history proven by

her five 2018 Brit Award Nominations.

Dua Lipa exploded on the scene last

year with her hit song, "New Rules", which

topped the charts in the UK. Riding the wave

of popularity, she followed-up with several

popular singles such as "IDGAF", "Scared to

be Lonely" and "Blow Your Mind (Mwah)".

dualipa.com

4-8MAY

2018

LAOS & ISAAN, THAILAND

ROCKETS FOR RAIN

In Laos and the northeastern provinces

of Thailand like Yasothon and Roi Et, no

aerospace engineer is needed to make rockets

fly. Spectators will gather to see the master

creators of rockets, typically monks with skilled

knowledge of gunpowder and a good sense of

motion in space that's more than enough to

send the rockets hurling upwards to the skies.

Now the much-loved rocket festival or

"Boun Bang Fai" returns to the Lao paddy fields

– where home-made rockets will be launched.

For visitors travelling to Laos in May and June,

there's a good chance you may happen upon

the festive and colourful rocket processions.

The festival marks the annual growing

season in Laos, as the monsoon season is

expected in June. Ahead of the ploughing

period, the farmers send up the rockets

skywards to please and remind the God of Rain

to send enough to nourish the paddy fields.

Lao folks leave their routine work a few

days before the launch day. Then led by local

monks, who are counted on for genius rocket

engineering, gunpowder gets put inside a long

pipe before firing them in the empty field.

The smaller rockets are fancier in the way

they shoot up into the heavens while the

large ones don't even look like they're capable

of flight. The higher the rockets go, say the

locals, the more rain will come down. But it's

no guarantee every rocket shoots upward

as the God of Rain may have the last word.

tourismlaos.org, tourismthailand.org

2018

12MAY

HO CHI MINH

RUNNING HAPPY WITH COLOURS

Think of India's Holi festival, a 5k fun run and

dance party mixed into one day for a "messy

weekend" in Ho Chi Minh City, Vietnam. La

Vie Color Me Run is uncompetitive fun, and

a most colourful running race. Runners start

the event in white clothing, but by the end of

it become a kaleidoscope of colours having

run, danced and walked through different

zones where they're pelted with vivid corn

starch-based powders. There will be no hard

feelings of being a loser mingling in the air. The

unclocked run has no winners or prizes, but

runners are showered with coloured powder at

stations along the way. At the 'finish line,' the

runners become party-goers and are rewarded

with a DJ-anchored dance. colormerun.vn,

runsociety.com

MID-MAY

2018

KRABI

CHAO LAY BOAT FESTIVAL

Lanta island in Krabi is the place where you

can observe an ancient sea ritual still carried

out by Urak Lawoi natives of the island. The

Aboriginal Malay people of Urak Lawoi has

been living in the islands of Phuket and Krabi,

and for centuries they have maintained their

lives circling around the seas with open ocean

fishing. It is not then a surprise that they

would carry on colourful rites and celebrations

at the beginning of each year's fishing season.

Loi Ruea (Floating Boats) festival takes place

twice a year during the 13th to 15th day after

the full moon of the sixth month or middle of

May this year. In this elaborate event where

visitors can witness heavily decorated fishing

boats — real ones and models — that fishermen

make especially for this celebration meant to

ward off all the bad spirits that might affect

their fishing efforts and work throughout the

year. These 'floating boats' can also be seen

as a smart solution for fishermen to test the

conditions of the waters. The event brings

back family members that might have moved

further out and here they'll gather, even for a

few days during the celebration, as a way to

catch up and strengthen rare clan ties.

Tourism Authority of Thailand, Krabi,

T: +66 (0) 89 201 7985, tourismthailand.org

26-27 MAY

2018

&

2-3 JUN

2018

SINGAPORE

WATER DRAGONS

The sport of Dragon Boat racing dates back

to ancient China. Today, it is a sporting race

widely practised in Asia and renowned for

instilling teamwork, dedication and team

coordination. Singapore, in owing to its large

Chinese community, will once again celebrate

this grand sport with the Dragon Boat Festival,

which takes place at several venues across the

island nation.

Bedok Reservoir and Kallang River will

host several races in May and June but most

eyes will be fixed on DBS Marina Regatta.

Held against the backdrop of the Gardens

by the Bay, the DBS Marina Regatta, which

is backed by the Singapore Dragon Boat

Association (SDBA), will serve up a carnivallike

atmosphere as teams take to the water

to compete for honour and glory. Marina Bay,

Singapore, sdba.org.sg

1-7JUN

2018

CHIANG MAI

INTAKHIN CITY PILLAR FESTIVAL

Inthakin is a Chiang Mai city pillar believed

to be first erected by King Mangrai when the

city was founded in 1296. The sacred pillar

was moved from its original place at Wat

Inthakin to Wat Chedi Luang in Chiang Mai's

city centre in the 1800s. Each year, Chiang

Mai celebrates the incoming rainy season by

worshipping this sacred monument. After

a period of droughts and dry spells, locals

welcome the lusher climes with colourful

celebrations and major merit-making at the

temple. Wishes for a good year ahead abound

as the rains approach, meaning a bountiful

rice crop and healthy harvest. The best spot

to witness this long-time tradition is at Wat

Chedi Luang where hundreds of people will

attend the event either in a formal procession

or as families and individuals. This Brahman

tradition usually last seven days beginning

with 'Tam Bun Khan Dok' or flower-blessing

rituals to be followed by dancing, music

performance, carnival games and street fairs.

Wat Chedi Luang, Amphur Muang, Chiang Mai,

Tourist Hotline 1672, tatcontactcenter.com/en

16 17
---
OVERTURES

NEWS AND EVENTS

NOW

GUANGZHOU

NEW AIRPORT TERMINAL

Guangzhou's Baiyun International Airport

plans to open its new terminal by May 2018.

At a cost of $2.7 billion US Dollars, the new

terminal supports Guangzhou's goal to rival

Hong Kong as an international air hub and

economic centre in the Guangdong region. The

new terminal is projected to handle around 45

million passengers annually by 2020 and 100

million by 2025. Growth trends suggest that

the airport, now ranked 13th internationally

for airport size, will soon overtake Hong Kong,

currently in the 8th spot. baiyunairport.com,

+86 20 3606 6999

9-11

MAY

2018

HONG KONG

FINE DINING SHOWCASE

Foodies and gourmands will want to pay a

visit to the inaugural Gourmet Asia 2018. Part

tradeshow and exhibition, the event will serve

up a delicious array of high-end speciality food,

drink as well as hospitality equipment. Although

Gourmet Asia's main intention is to deliver a

platform for the F&B industry to show off their

latest ingredients, products and technologies,

the event also provides visitors and culinarians

an opportunity to sample exclusive food

products and items.

One of the main highlights of the event will

be the Gourmet Tasting Restaurant, which will

showcase a mixture of local chefs, talents and

international award winners. The pop-up styled

eatery will serve a speciality menu prepared

exclusively by award-winning talents from the

culinary field for a truly extraordinary gourmet

tasting experience. Hong Kong Convention and

Exhibition Centre, gourmetasia.com

2018

29MAY

CAMBODIA

VISAK BOCHEA DAY

The end of May sees Cambodians and many

people in Southeast Asia celebrating one

of the most important days of the Buddhist

Calendar – Visak Bochea in Khmer or Visakha

Bucha Day in Thai.

Commemorating the birth, enlightenment

and death of Buddha, Visak Bochea Day will

see temples across the country come alive with

candle processions and people offering food,

alms and flowers in order to make merit.

A national holiday, the festivities begin in

the early hours of the morning in temples and

pagodas with prayer as well as the offering

of food and sweets to monks. The grandest

celebration of Visak Bochea Day takes place

in Oudong Mountain, located some 40km

away from Phnom Penh, where a golden urn

containing the relics of Buddha is kept. For visitors,

this celebration offers a unique opportunity to

experience the culture and people of Cambodia

up close. tourismcambodia.com, tourismthailand.org,

Tourist Hotline 1672

18
---
OVERTURES

BEAUTY AND HEALTH

SPOTLIGHT

Tricks and Treats

If there's ever been a moment

or two when you wish to hide

something, go ahead. Make-up

tricks and rejuvenating colours

can bring on a more youthful

look, and our tips below

are yours to learn. All you

beauties out there can use

concealing techniques that

hide evidence of less sleep the

night before.

Here are some new tools

for your makeup kit plus goto

tips when you want that

ageless glow. So yes, turn the

clock back a bit!

STOCKISTS

Benefit

MF Siam Paragon

Tel +66 (0) 2610 7773

Bobbi Brown

GF Zen

Tel +66 (0) 2613 1462

Chanel

MF Siam Paragon

Tel +66 (0) 2610 7685

BOI-ING

HYDRATING

CONCEALER 3.5G

FROM BENEFIT

(900 Baht)

This concealer stick is

infused with vitamin E

and apple seed extract

to keep your skin

hydrated for up to six

hours while leaving a

natural-looking sheer

finish.

GALIFORNIA BRUSH 5.0G FROM

BENEFIT (1,250 Baht)

A sunny, golden pink blush that blends a

bright shade of pink with shimmering gold,

for a sun-kissed glow; complementing all

skin tones.

NAIL POLISH 11ML

FROM BOBBI

BROWN

(650 Baht)

A long-lasting nail

colour with a high-shine

gloss. This polish dries

to a hard finish and

stays put.

LE VERNIS NEON

NAIL COLOUR

13ML FROM

CHANEL (1,050 Baht)

A long-wearing nail

polish bursting with

intense, vibrant colours

and a neon finish. With

its extra fine, ultra

shiny formula, each coat

offers an even, smooth

and lacquered result.

PUNCH POP

LIQUID LIP

COLOUR 7ML

FROM BENEFIT

(800 Baht)

This liquid lip colour

combines vibrant hues

with a shiny finish to

create the perfect blend

for lip colours that pop.

It glides on smoothly and

contains vitamin E that is

known for softening lips.

WORDS PASSAKORN HONGTHONG STYLE SARANYA ARIYAKUL PHOTO SANG-ARUN CHAMPAWAN

Candy Crush

Tired of the usual when it comes to your

everyday makeup? When you have a

strong desire to break the monotony of

dark colours and banish the boredom of an

unexciting pallette of pale faces, be bold

and give these soft and lively colours a try.

VELVET MATTE LIP PENCIL

2.4G FROM NARS

(1,050 Baht)

Every colour virtually works on

everyone. Paired with soft eye

colours, even the darkest or

brightest shade of on your lips

create a striking makeup look

on its own.

MARIMEKKO X CLINIQUE

POP LIP COLOUR +

PRIMER 3.8G FROM

CLINIQUE (850 Baht)

From design house, Marimekko,

vibrant patterns and cheery hues

on offer for a limited time only

and colour stays true,

making your lips feel

moisturised for up to

8 hours.

PURE COLOR ENVY LIP

PALETTE 1.5G/EACH FROM

ESTEE LAUDER (1,900 Baht)

Sculpt your lips with moisturising

colour and transform your look with 6

sweet shades from provocative plum

to powerful pink and subtle rose.

SKIN VEIL BASE DOT CUSHION

SPF 14 PA++ 15G FROM LANEIGE

(1,200 Baht)

The Cushion now comes with

ingredients from the

Waterbank Essence

acting as natural

moisturising agents

that maintains

the optimum

moisture balance in

your skin.

METAL CRUSH EYESHADOW

2.8G FROM KAT VON D (900 Baht)

Glides smoothly across the lids,

saturating them with beautiful

metallic pigments to bring a shock of

metallic colour to your eyes.

MARIMEKKO X

CLINIQUE POP

SPLASH LIP GLOSS

4.3ML FROM

CLINIQUE

(850 Baht)

Smile brightly with

this collection of next

generation glosses

that combine a pop of

colour with a splash of

hydration, providing

exceptional moisturise

for all-day comfort.

PATENT SHINE 10X NAIL

LACQUER VERNIS 11ML FROM

BUTTER LONDON (730 Baht)

The innovative formula is loaded

with ingredients proven to promote

brighter, stronger and healthier nails

for the best-dressed look.

SWEET GLAMOUR

EYESHADOW PALETTE

0.5OZ FROM ZOEVA

(1,109 Baht)

A mix of matte and

shimmering for dreamy

daytime looks. Playful yet

glamorous, this poetic

palette offers a romantic

array of pastel shades as

light as thistledown.

Tips

NAKED SKIN COLOR

CORRECTING FLUID

6.2G FROM URBAN

DECAY (1,200 Baht)

Correct imperfections and

play up your best features

– all without having to lug

around a whole contour kit.

Go easy – If you have dark circles or some

sun spots, dot a tiny bit of concealer on the

inner corners of your eyes or on those spots,

not just random places on your face. The more

skin you can leave alone, the better.

Lighten up – Tinted moisturisers with

luminescent particles or lightweight liquid

foundations are best for lined skin.

Open your eyes – Curling your eyelashes and

adding a little glimmery shadow as a highlighter

are the easiest things you can do to make your eyes

look bigger and best of all, younger-looking.

Warm it up – A neutral rose colour applied

to the lips and the apples of the cheeks flatters

all skin tones and really brightens it up.

Nail it well – This is one of the classic

shades that we could never get enough and

considered to be the best anti-aging colour.

That's the ever-so-popular red! Let the bright

shade take attention away from skin blemishes,

putting the focus instead on your shiny, bright

manicure.

STOCKIST

Sephora 2F Central Embassy, Tel +66 (0) 2160 5817-8

20

21
---
OVERTURES

STYLE

WORDS PASSAKORN HONGTHONG STYLE SARANYA ARIYAKUL PHOTOS SANG-SRUN CHAMPAWAN

Tie It On

The key to looking dapper in men's ties lies in

deliberate choices, like hand selecting a pattern

to complement the outfit. Choosing a tie with

care, especially one that goes with an existing

wardrobe, will be easier in establishing that

sharp-edged, selected look. Prints and polka dots

look livelier and possess a more unique touch

compared to solid colours, yet remain appropriate

for most business occasions.

FOR HIM

POLKA

DOT SILK TIE

WITH WOVEN

TEXTURE FROM

MASSIMO

DUTTI

(2,550 Baht)

STOCKISTS

➋ FLORAL

PRINTS SILK/

COTTON TIE

FROM MASSIMO

DUTTI

(2,550 Baht)

Massimo Dutti

Central World, 1F, Tel +66 (0) 2646 1465

➌ RAINBOW

BIRD PRINTS

SILK TIE FROM

PAUL SMITH

(6,500 Baht)

➍ BLUE OCEAN

PRINTS SILK

TIE FROM PAUL

SMITH

(5,900 Baht)

➎ BEACH

COCONUT

TREE PRINTS

SILK TIE FROM

PAUL SMITH

(6,500 Baht)

Paul Smith

Siam Paragon, MF, Tel +66 (0) 2610 9770-1

FOR HER

WALLET WITH

DURABLE COTTON

CANVAS AND

LEATHER TRIM

FROM MCM

(10,900 Baht)

STOCKISTS

➋ PINK VELVET

HEELS WITH GREY

SATIN AND ROCK-

COLOUR ELAPHE

FROM FENDI

(37,000 Baht)

Fendi

Siam Paragon, MF, Tel +66 (0) 2610 9287

➌ TEEN WITCHES

CHARM WITH

MINK FROM

FENDI

(29,500 Baht)

➍ CAN EYE

METAL OVERSIZE

SUNGLASSES

SQUARE SHAPE

WITH WHITE

STUDS FROM

FENDI (20,300 Baht)

MCM

Emquartier, GF, Tel +66 (0) 2003 6016

➎ CROSSBODY

BAG WITH FINEST

SPANISH LEATHER

AND ICONIC LOCK

FROM MCM

(18,900 Baht)

A Colourful

Touch

Adding a pop of colour can bring on

life and the magic touch to complete

your look. Enhancing colours found

in accessories or the latest heels can

be eye-catching, definitely drawing

attention so you can be fearless in the

pursuit of colour.

22

23
---
OVERTURES

THAILAND TREASURES

Translation Chusri Ngamprasert Photos Courtesy of Tourism Authority of Thailand

Chiang Rai:

The Destination

for All Seasons

Many people tend to

think of Chiang Rai as

a winter haven. In fact,

the northern province of

Chiang Rai is a destination

for all seasons. Here is a

noteworthy list for a trip

that's good all year round.

Witness the unique beauty of Thai

architecture at Wat Rong Khun.

Decorated with silver-coloured-glass,

you'll see the fascinating all-white temple

as designed by a Thai artist. Take time

to see the display of elaborate murals and a

separate art gallery with a showcase of fine

paintings. The temple and the art gallery are

open daily from 8am to 5pm.

If you're someone who loves the active

participation of agro-tourism and adventure

travel, add Singha Park to your itinerary.

Boasting various floras spanning over 8,000

rai (2,300 acres) of land, Singha Park offers

numerous beautiful sceneries and a wide variety

of activities. Enjoy farm tours, biking or get up

close to the animals from the African continent,

such as giraffes, zebras, and Watusi cows.

Venture high up on the mountain of

picturesque Doi Tung, where three must-visit

places include the royal villa, Phra That Doi

Tung and Mae Fah Luang Garden. For the

coffee aficionado, Café Doi Tung is the place

to test the body and aroma of highland

Arabica coffee cultivated in Chiang Rai.

Drop by the Doi Tung Lifestyle Shop, with

their varieties of products, made by ethnic

minorities and people working in the Doi

Tung Development Project. These include

hand-woven products such as apparel,

accessories, and home décor, ceramics and

mulberry paper products.

On the cliff of Phu Chi Fa, the spectacular

views of the valley and sea of mist at sunrise

are mesmerising. Phu Chi Fa Forest Park

is about 1,200–1,628 metres above sea

level, so the weather is mild all year round.

During wintertime, visitors and campers flock

there to enjoy the winter retreat, the sea of

Opposite Page, Left

and Above

The beautiful

all-white creation

of Wat Rong Khun's

exterior and interior

designed by a Thai

artist, Chalermchai

Kositpipat.

Opposite Page,

Bottom Left

Up close with

the animals at

Singha Park

Left

Spectacular flora at

Mae Fah Luang

Garden, Doi Tung

24

25
---
OVERTURES

THAILAND TREASURES

Photo Nophadol Kanbua

clouds at sunrise and the white beauty

of wildflowers (the orchid tree) in full

bloom around the peak of Phu Chi Fa.

A camping ground is available – in town

and very close to the summit.

Chiang Rai's wealth of scenery is

endless. From the vantage point of Sop

Ruak, at the confluence of the Ruak

and the Mekong Rivers, you can see

the Golden Triangle where the borders

of Myanmar, Thailand and Laos meet.

Consider a boat trip, it's an enjoyable way

to appreciate the scenery of the Mekong

River and the infamous Golden Triangle.

Souvenir shops along the walkway

offer up clothing, accessories and other

keepsakes. The Golden Triangle gained

Top

On clear days,

visitors are

rewarded with

spectacular views

of mountains

shrouded in mist.

Bottom Left and Right

At Sop Ruak, you can

see the countries of

Laos and Myanmar

while standing

on the Thailand

side, visible at the

confluence of the

Mekong and

Ruak Rivers.

Tranquil spots

and less populated

areas invite

exploration at the

Golden Triangle area.

notoriety for being an opium-producing

area. Here, you'll learn more about the

opium's history; its origins, the Opium

Wars, as well as see opium smoking kits

and instruments used in the opium trade

from around the world.

Chiang Rai and the rest of Thailand

offer plenty of places to explore. Please

don't let weather be a deterrent. Come

rain or shine; well-prepared travellers will

surely have a blast.

For more information, contact Tourism

Authority of Thailand (TAT) Chiang Rai

Office, Tel: +66 (0) 53 717 433,

+66 (0) 53 744 674-5

26
---
OVERTURES

A TASTE OF THAILAND

Red Positive

When wandering the streets in Thailand, you'll encounter street vendors with

pushcarts of colourful herbal drinks. The bright red roselle juice is sure to be one

of the choices. This drink, with a sweet and sour flavour, is the best option when it

comes to replenishing one's body from thirst and fatigue. Resourceful vendors mix

roselle juice together with the jujube fruit for an even better taste and additional

health benefits.

The traditional Thai herbal drink boasts a great number of healthful advantages,

namely its high content of vitamin C, a natural anti-oxidant known to help with

improving blood quality, an ability to reduce cholesterol levels, as well as lowering the

risk of diabetes. Importantly, a roselle drink contains anthocyanins and polyphenols,

with the former possessing high levels in its anti-oxidant and anti-inflammatory

properties. Studies claim that the anthocyanin levels can stop irregular cancer

cells from expanding. For women, the drink is interesting knowledge as it can fight

against free radicals and slow down the aging process, thanks to the presence of

polyphenols. However, be careful not to drink too many glasses as roselle works a bit

like a laxative!

The whole plant itself can be used for further medicinal purposes,

contributing to greater benefits. The calyx – which forms around the seedpod –

when consumed can reduce fatty deposits in arteries while the young leaves

are favoured by local Thai people as vegetable side dish. The stem also serves as a

utilitarian purpose; it can be turned into fibre to make rope.

Ingredients

• 150g. of roselle

(fresh or dried ones)

• 4 cups of water

• ½tbs, refined salt

• 1 cup of sugar

• Small ice cubes

• Roselle calyxes

(to decorate)

Instructions

WORDS SARITA URUPONGSA

Wash the roselle with water, avoid

removing the calyxes. Put the roselle into

an empty pot.

Pour water in the pot over the plant,

leaving it at a medium flame until it boils.

Lower the heat and continue simmering

for 15 to 20 minutes. The roselle drink,

with its beautiful red colour forming,

is almost ready.

With its lowered temperature on

the stove, add sugar and salt. Continue

simmering the liquid a bit so that the salt

and sugar melts and produces a wellbalanced

flavour.

Once done, filter only the liquid. Keep

the pot partly covered with the lid as you

drain. Set aside the rest of the roselle in a

bowl as it is edible.

Let the drink cool down a bit, add ice

cubes, and top the glass with the calyxes.

28 29
---
OVERTURES

FRUITFUL FINDS

A Gem

Among Fruits

The papaya, with its deep and rich colour,

holds many benefits. Easy enjoyment of its

smooth and butter-like interior just requires

a smooth slice.

WORDS CHUSRI NGAMPRASERT PHOTO KAY CHOOMONGKOL

With its vivid orangeness, a ripe

papaya fruit is a real gem of the

tropics. Even Christopher Columbus

called it the "fruit of the angels".

Served chilled with yoghurt, or a

simple slice and just a squeeze of

lime are some of the best ways to

enjoy its refreshing perks.

Papaya, known as Pawpaw in

Australia and New Zealand, is ubiquitous

in Thailand. Also native to southern

Mexico and Central America, the

Spaniards centuries ago took the papaya

seeds from the coasts beyond Panama

to Manila and then Malacca. Today it is

cultivated throughout the tropics.

Papaya is an excellent source

of vitamin C, folate, potassium, dietary

fibre, vitamins A, E and K and papain,

an enzyme which helps digest

proteins. In the ancient Mayan

civilisation, the people honoured the

papaya tree and called it the "Tree of

Life". The Mayans eat papaya to help

with digestion and use it as a paste to

heal a skin rash or other skin problems.

Hawaiian and Mexican are two

popular varieties of the papaya

fruit. Both are pear-shaped, but

the Hawaiian papaya tends to be

smaller, sweeter and easier to harvest.

Traditionally, papayas are grown from

seeds, so the plants are not always

true to their parents. In Thailand,

the fruits have been evolving, and

the four most popular varieties are

Khaek Dum (green and crisp when

unripe, yet red when ripe), Khaek

Nuan (a hybrid from Khaek Dum,

crunchy when green and sweet

when ripe with an orange-red flesh),

Holland (also known as Red Maladol

from the Mexican variety, crisp

and sweet when ripe) and Sai Nam

Phueng (extremely sweet when ripe

but tends to be mushy).

While many parts of the world

don't consume raw green papaya,

Thais enjoy it as much as when it's

ripe. The famed Som Tam, a salad

made from unripe papaya combines

the primary tastes of the local

cuisine: sour, spicy hot, savoury salty

and subtle sweetness.

Papaya seeds are also edible:

the taste is a cross between mustard

and black peppercorns and can be

grounded like black pepper. In India,

the leaves of the papaya are often

prepared like spinach recipes, and

the papaya leaf extract is used to

fight dengue and malaria. It's not just

the apple a day that keeps the doctor

away – so does a papaya.

30
---
OVERTURES

ARTS & CULTURAL MATTERS

SOM TAM OR PAPAYA SALAD CARTS

Many people can't do without the

ubiquitous som tam or papaya salad

carts. Prepped, sliced and chopped in

a rich display are shredded papaya,

yardlong beans, cherry tomatoes, and

Thai eggplants. They find company

with glass jars containing flavourings of

dried shrimp, peanuts, and palm sugar.

Some carts assemble a minimalist

setup of trays for all the ingredients

with the key tool: a pestle and mortar,

and base flavourings of Thai anchovy

or fish sauce, managing to draw in the

crowds. The spicy papaya salad carts

usually come attached with a barbecue

grill for cooking chicken, catfish, and

cuts of pork. Another essential feature

of this type of cart is a large bucket

where packs of steamed sticky rice

keep warm.

OLD-STYLE COFFEE CARTS

The classic brewing method of traditional Thai coffee begins

with a large kettle of boiling water, cloth filter bags that strain

the brewed liquid, and a metal canister to hold the drink. With

this setup, ground coffee gets pressed into a filter bag attached

Words Sarita Urupongsa

Illustrations Arthit Limpong

It's not a street food

scene in Thailand

without the iconic

presence of food carts!

From the early hours

of dawn to late night,

vendors attach these

wheeled workhorses to

motorbikes or bicycles,

planting themselves

at any convenient

location: sidewalks,

main streets, and small

alleys. When hunger

pangs or cravings hit,

our primer shows you

how to spot the right

set of wheels.

NOODLE CARTS

One thing all noodle carts share in common is the round

pit of a steaming cauldron where sumptuous broths,

stocks and water settle in an eternal rolling boil to

blanch noodles, vegetables, and meats. Usually a clear

glass box sits atop the side of the cart. Here is your

open glass menu, with a bi-level mouth-watering display

inside the box. The upper layer is usually reserved for

assorted proteins, like beef and pork cuts, BBQ meats,

assorted meatballs, fishballs, and wontons. The lower

shelf gathers different noodle types: thin rice vermicelli

BARBECUE CARTS

For office staffers to

construction workers –

skewered snacks serve as

comfort food. Pork, chicken,

giblets, or Northern-style

sausages to grilled bananas

or corn are their best friends

as immediate stomach fillers.

The smoke from the grills is

absorbed by an embedded

exhaust hood, which later

spreads the tantalising smell

further afield.

to wide ones, egg noodles, bean sheet noodles and

even instant noodles within easy reach. Some vendors

take pride in the already rich, flavourful taste of their

broth while other places season for you. Not to worry

though, as every noodle cart comes with its own set of

seasonings and condiments to cater the dish to your

own taste. There's always a seat for you as most places

provide foldable tables and bright plastic chairs for their

customers to enjoy

the vibe of

street-side dining.

HAWKERS

Our special mention includes hawkers on foot who offer

a form of commerce long familiar in Thai society. The

authentic tradition has sellers carrying a woven basket that

perches on both ends of a slim wood plank and balanced

on a shoulder. In the baskets are usually ready-made

snacks which customers can grab easily for easy

consumption on the sidewalk or for takeaway.

Popular items include sticky rice with sweetened

pork or shredded pork, a spicy fermented pork

salad, cooked eggs, steamed peanuts, and

Thai desserts packed in bags or banana leaves

of local delicacies from different parts of the

country. Some hawkers even include handmade

products crafted from local natural materials; such

as wicker and other wood products.

to an aluminium loop with handle. With a firm grip, the vendor

pours boiling water on coffee grounds and waits for it to filter

all the way through. To sweeten the rich, dark coffee – sugar,

condensed milk, and evaporated milk serve as key options

for both hot and iced old school coffee. This type of cart not

only offers the aromatic traditional coffee and tea, but also

other choices such as an iced pink milk for sweet enjoyment or

Nom Yen (sala syrup mixed with condensed milk), or the more

familiar cocoa drink or lime soda. Some vendors have modern

equipment for espresso drinks thereby providing a longer drink

menu. Expect your drink to be served classic style: in plastic

tumblers encased in a bag with a handle for sipping enjoyment

while commuting. At breakfast time, some places even offer

warm toast with butter and sprinkled sugar in addition to coffee.

32

33
---
OVERTURES

ARTS & CULTURAL MATTERS

FRUIT CARTS

On every busy street, fresh fruit

carts are assuredly a common

sight. Easily spotted, thanks to the

bright colours of assorted fruits

neatly sitting on ice blocks, check

out a vendor's knife skills of swift

peel-and-slash. The enticing display

of sliced tropical fruits include a

selection of mango, guava, papaya,

rose apple, pineapple, cantaloupe to

the refreshing coconut. These fruits

reach another level of tastiness with

unique condiments. Fruits get dipped

in regular combinations of salt

and chilli while some carts

offer more sophisticated

dipping options such as a

sweet shrimp paste, sweet

fish sauce, or a salt blend with chilli

and dried plum.

COCONUT ICE CREAM CARTS

Coconut ice cream carts consist strawberry, and vanilla. You

of round or square ice cream know the drill: pick your flavour,

tubs surrounded by colourful choose your vessel and select

and chewy toppings in clear toppings ranging from attap

containers. Customers can fruits, sweetened pumpkins,

choose to have their ice cream corn, jackfruit bits, sticky rice and

served in a cone, cup, bread, or roasted peanuts. Evaporated milk

even in a coconut shell. Apart and chocolate sauce add the rich

from coconut, sellers offer other tastiness to the ice cream as a

flavours such as chocolate, final touch.

ASSORTED SNACK CARTS

This type of cart usually features a sizzling round stove to cook snacks

and Thai pancakes galore. From rolled pancakes with fillings, crispy mini

pancakes, pancakes made of glutinous rice flour and shredded coconut to

Thai crêpes, the list goes on. Some places feature items such as fried dough

balls of sweet potato, banana fritters, or snacks requiring a unique cooking

equipment and stools of coconut rice pancakes or steamed tapioca balls

with pork fillings. All of these snacks are best sellers when urbanites get

hungry and crave a light snack before dinnertime.

34
---
OVERTURES

CHECKED IN: PHUKET

Island

Spotlights

We continue our series with first-hand

accounts on the latest discoveries that

appeal to the senses.

Photos Jeremie Schatz

STAYED: THE NAKA PHUKET

In the ocean of accommodations in

Phuket, there are many fishes in the sea.

They come in all shapes and sizes: from

petite and humble to expansive and

opulent. The Naka Phuket has settled

in nicely to its own niche in the market,

appealing to guests who prefer peace,

privacy and tastefully minimalist design.

Naturally, this exclusive resort has

all of the amenities one would expect –

outstanding service, a pampering spa, wellequipped

gym, Olympic-size infinity pool,

a tantalising international dining menu,

boutique shop, shuttle to nearby Patong,

baby-sitting service, big fluffy pillows and

all the rest. They even provide you with a

complimentary smartphone to use during

Above Left

and Right

Balance: the

minimalist villas

strike a tasteful

equilibrium with

the surrounding

environment.

your stay with free local and international

calls, maps and city guide, and internet.

However, it's the architectural style that

lends to its uniqueness and gives the Naka

Phuket its soul.

At the end of a steep meandering

mountain road, the Naka Phuket's 95 pool

villas don't dominate the landscape, but

instead compliment the topography of

the scooped out, steep beachside valley.

Many of the window-wrapped villas take

advantage of the geography by being

cantilevered out over the hillside. Slide

open the blackout curtains or settle onto

the balcony and you're met with an aweinspiring

feeling of space.

Commanding views

of Patong Bay at the

rooftop bar – an

ideal sunset spot.

Below Left

and Right

Even the room

numbers pay

homage to the

mountainside which

the Naka calls home.

Architect Duangrit

Bunnag's unique

cantilevered design

has led the Naka

to be included as

a member of the

Design Hotel Group.

36
---
OVERTURES

CHECKED IN: PHUKET

Clockwise from Top

The Naka's

glass-wrapped pool

villas offer privacy

while maintaining a

feeling of openness.

The airy Wiwa

Restaurant has

nothing lying

between it and

the beach except

an Olympic-size

infinity pool.

A true hideaway:

so close, yet feels

so far away.

The Meka Sky

Lounge serves up a

delicious view and

a menu to match.

Well-known Thai designer Duangrit

Bunnag threw intricacies out the window.

However, this is not a barren design but

one where the less-is-more approach

found an authentic triumph. The villas are

primarily concrete, steel and glass with a

peppering of wood accents and teak floors

for good measure. A feature that really

resonates is Bunnag's decision to work his

design around established trees thereby

introducing an organic element.

The Naka will have a strong appeal

to those who relish a private hideaway

feel and find solace in luxurious simplicity

without distractions. As General Manager

Sawai Sombat likes to say while gesturing

skyward at night, "some resorts have five

stars, we have thousands."

The Naka Phuket is a member of the

Design Hotel group of properties whose

mission is to "create an unrivalled global

community for design, architecture, culture

and become the definite source of original

hospitality experiences".

1/18, 1/20 Moo 6 Kamala, Kathu,

Phuket 83150

+66 (0) 76 337 999

thenakaphuket.com

Squid ink pasta

with roe and garlic

cream sauce.

38
---
OVERTURES

CHECKED IN: PHUKET

Clockwise from

Above Left

The gambas pil

pil combines fresh

shrimp and ample

garlic in a rich chilli

oil and butter sauce.

Seafood lovers will

rejoice over

the tender, Spanishstyle

grilled octopus.

Stay a while:

Catch's beachfront

pool looks out

over stunning

Bang Tao Beach.

The beach club's

regulars and return

visitors will be

delighted to discover

new menu items

every month.

Although not the

only beach club

in Phuket, Catch

has set the bar for

what a beach club

should be.

TASTED: CATCH BEACH CLUB

Although probably not the first to

import the beach club concept to

Phuket, Catch Beach Club is largely

considered the island's quintessential

elite beach party spot. After enjoying

several luscious years in Surin Beach,

the fashionable club hasn't missed

a beat since moving to their new

expansive Bang Tao Beach location.

Renowned for hosting big-name

contemporary DJs and champagnepopping

glitzy parties, Catch has

another more subdued, yet just as

glamorous side – in the kitchen.

With 20+ years of experience

behind him, Chef Anan has spent

seven of those masterminding the

eclectic menu at Catch. Several new,

thematically-inspired dishes get

concocted every month to keep the

popular club at the culinary cutting edge.

So what medley of Chef Anan's

taste-bud-tingling creations might one

discover? How about grilled Spanishstyle

octopus in a chili and garlic butter

sauce. Not overpoweringly buttery,

with some magical herb mix sprinkled

on top, this fresh mollusc is cooked to

40
---
OVERTURES

CHECKED IN: PHUKET

precise consistency. Coaxing octopus

to just the right texture is a skill that

separates the cooks from the chefs.

Another Spanish tapas-derived

crowd-pleaser is the gambas pil pil.

Although these fresh shrimp are

served bathing in a chilli oil and

butter sauce similar to the octopus,

the pungent flavours are simplified. A

fresh baked baguette from the woodfired

oven soaks up every drop of

garlicky goodness.

The codfish à la nage, however,

has no disguise and is an honest-togoodness

soup. À la nage translates to

"in the swim" referring to the way the

imported Australian cod is poached

alongside vongole (clams) in a savoury

broth. The sweet cherry tomatoes and

tarragon pesto fill out the light flavours

of this afternoon favourite.

Chef Anan's vision led him to tap into

the culinary traditions of coastal Spain

where they have found a home in Phuket.

Where will Chef Anan lead us next?

202/88 Moo 2, Cherngtalay, Thalang,

Phuket T: +66 (0) 65 348 2017,

book@catchbeachclub.com

Left

Chef Anan's

extensive

experience with

Japanese cuisine

shines through in

Catch's sashimi

offerings.

Top, Middle to Right

Any self-respecting

beach club would

serve up a mean

mojito, and Catch is

no exception.

With its tarragon

pesto, sweet cherry

tomatoes, and fresh

clams, the codfish à la

nage makes an ideal

beachside lunch.

Below

Having spent nearly

half his life in the

kitchen, Chef Anan's

experience is reflected

in the well-thought

-out menu.

42
---
SAMUI'S GOOD JOBS

It's easy to visit Koh Samui and have our days in the sun.

But behind the scenes of waving palm trees and beckoning

waters, dedicated locals make their paradise a true haven.

Making Good

on the

Island

Words Susan Field

Photos Lesley Fisher

On the first visit to Koh Samui in

1986, my mother and I arrived by

ferry. I promptly fell in love with this

idyllic island with its azure waters,

soft white sand beaches, gently swaying palm

trees, fantastic food and friendly people.

The love affair continued over

the years and in 2004, I commissioned

my first villa which rented out

successfully for the next ten years,

giving plenty of excuses to spend

more time in Samui. And with each

visit, I became more enchanted!

In 2015, after selling my busy PR

company, it was time to leave the

hustle and bustle of Hong Kong after

thirty fun, hectic years and settle in

Samui. With hourly connections to

Bangkok as well as two direct daily

flights to Hong Kong and Singapore,

it made travelling to other places in

the world very easy.

While still idyllic, Samui has

changed and developed so much.

Those of us who want development

to be more ecologically and ethically

sustainable are doing our part.

Koh Samui has a number of

active organisations that work

tirelessly for the greater good,

care of animals and preservation of

the island.

44

45
---
SAMUI'S GOOD JOBS

Top

This Page

The Samui Elephant

Sanctuary gained

inspiration from

the Save Elephant

Foundation, whose

founder Sangduean

"Lek" Chailert, is

known for being

at the forefront for

elephant welfare

and ethical tourism.

From a previous

life of hard labour,

the elephants now

thrive in a caring

environment.

SAMUI ELEPHANT SANCTUARY

An experience not to be missed is

Samui Elephant Sanctuary which

opened in January this year and

already has five adorable elephants

in residence. Getting up close to the

elephants is a memory you can never

forget! According to the founder

Khun Pao, "Here at the Samui

Sanctuary, we treat our elephants

with the dignity and respect they

deserve. We do not allow riding or

any type of performance; instead we

work with our herd through positive

reinforcement via food! Our tours

follow a very relaxed programme

which starts with an introduction

to our work, followed by feeding

the elephants. Then (it's) a leisurely

stroll through the sanctuary –

accompanied by other elephants!"

There are two tours each day,

from 9am-12pm, 2-5pm.

samuielephantsanctuary.org,

Tel: +66 95 269 8343,

email: info@samuielephantsanctuary.org

SOI DOG FOUNDATION

Founded in Phuket in 2003, Soi

Dog (which means Street Dog)

has an excellent animal welfare

programme, having efficiently spayed

and neutered more than 200,000

dogs since opening its doors. They

also work tirelessly providing

medical treatment, sheltering,

adoption opportunities and

sponsorship of dogs.

Funded entirely by donations,

Soi Dog currently has a mobile

sterilisation unit in Koh Samui

which neuters many dogs and cats

every month. To find out more or to

donate, please visit soidog.org.

SISTERS ON SAMUI (SOS)

Every month, around 50 ladies

gather for an informal lunch at one

of Samui's excellent restaurants.

Aside from a fun social event, SOS

supports local charities and has been

the driving force behind several

important causes.

Its current focus is on raising

funds to renovate the Children's

Ward at the government-run

Nathon Hospital. In addition to

the refurbishment programme,

SOS is looking for sponsors and

donations to provide new pyjamas

for the children and to install bright

new cheerfully coloured curtains.

Details of the work by Sisters on

Samui can be found at facebook.com/

kohsamuicharity.

SAMUI CLEAN & TRASH HERO

And where there are humans, there

is invariably garbage and Samui is

no exception. Visitors and locals

to the island can see an increasing

number of large bins on the beaches

that encourage disposal of trash

responsibly and help keep the

beaches in pristine condition.

Decorated with the message

Respect Our Beaches and bright sea

images, they are the brainchild of

local artist Idania Lucia Reiss, who

creates the captivating artwork

together with other artists. The

bins are then distributed by Brent

Jones, founder of non-profit

organisation, Samui Clean and

Samui Bins.

Samui Clean, together with

another group, Trash Hero,

organises beach cleaning sessions

every Sunday afternoon at 3pm.

They welcome visitors to join

them. Samui Clean accepts

donations, however small, to

finance the bins and the materials

needed for the artwork.

Details can be found on

facebook/samuiclean.

DOING MY PART

Two years ago, I co-founded

Impact Samui with my partners

Rodney Waller (an established,

award-winning developer on the

island), and financial and project

manager David Birchall.

With a clear focus on

responsible development, we do

new building projects and we

also carve a niche through our

restoration of existing, rundown

buildings. Rather than

demolishing them and adding more

development to the island, older

buildings get beautified and new

life breathed into them. Whenever

possible, usable materials get

recycled before donating the

remainder to various causes on

the island – in particular, children

and animals. Sometimes our

company sells such materials

and makes cash donations to

worthwhile causes. With our first

project, Lavaliere, we sold all sorts

of items, and made a donation

towards the redevelopment of the

Children's Ward at Nathon Hospital

on the island.

If you're just visiting,

consider a bit of volunteer or

responsible tourism by visiting

the organisations or sending a

donation. It's what keeps Samui

beautiful.

Top

Above

Respect Our Beaches'

Idiana Lucia Reiss,

an artist who paints

the cans and Brent

Jones of Samui Clean

and Trash Hero

work tirelessly to

keep Samui shores

pristine.

Left

Volunteers for

Trash Hero may

also be non-Samui

residents. Jones says

that many tourists

ask to help with

beach cleaning who

directly contact the

organisation.

46

47
---
SAMUI'S GOOD JOBS

น้ำทะเลสีคราม หาดทรายขาวนุ่ม ใบปาล์ม

พลิ้วไหวตามแรงลม อาหารเลิศรส และ

ผู้คนที่เป็นมิตร ทั้งหมดคือความทรงจำ

ครั้งแรกของฉันที่เกาะสมุยในปี 1986

ฉันเปิดวิลล่าให้เช่าในช่วงสิบปีหลังจากนั้น

เลยพลอยให้ได้มาเยือนที่แห่งนี้บ่อยครั้งขึ้น

จนกระทั่งในปี 2005 ฉันขายบริษัทพีอาร์

หนีความวุ่นวายจากฮ่องกงมาอยู่ที่เกาะสมุย

เต็มตัว จนได้เห็นว่าสมุยเปลี่ยนแปลง

ไปมาก ทว่าเราก็ได้พัฒนาสมุยอย่างยั่งยืน

มารู้จักองค์กรจำนวนมากบนเกาะสมุย

ที่ดำเนินการอย่างไม่เหน็ดเหนื่อยเพื่อสังคม

คอยดูแลสัตว์และอนุรักษ์เกาะแห่งนี้

Samui Elephant Sanctuary

เพิ่งเปิดทำการตั้งแต่เดือนมกราคมที่

ผ่านมา แต่ตอนนี้มีช้างถึงห้าเชือก

เปิดโอกาสให้คุณได้ใกล้ชิดและสัมผัส

ประสบการณ์ที่จะจดจำไปตลอดกาล

คุณเปา ผู้ก่อตั้งกล่าวว่า "เราให้

เกียรติและเคารพช้างอย่างที่ควรจะเป็น

เราไม่อนุญาตให้ขี่ช้างหรือให้ช้างแสดง

ความสามารถใดๆ ตารางกิจกรรมของ

เราไม่เร่งรีบ เริ่มจากให้ข้อมูลเกี่ยวกับ

งานที่เราทำ ต่อด้วยการให้อาหารช้าง

แล้วเดินเล่นทั่วเขตอนุรักษ์แห่งนี้พร้อมกับ

ช้าง มีอาหารกลางวันและอาหารเย็นจัด

ไว้ให้ทุกท่าน

เปิดให้เข้าร่วมกิจกรรมสองรอบต่อวัน

9.00-12.00 น. และ 14.00-17.00 น.

จอง/สอบถามข้อมูลได้ที่เว็บไซต์

samuielephantsanctuary.org,

โทร: +66 (0) 95 269 8343

ที่ใดมีมนุษย์ ที่นั่นมีขยะ สมุยก็เช่นกัน

— อิดาเนีย ลูเซีย ไรส์ และศิลปินอีกหลาย

คนจึงได้คิดสร้างงานศิลปะพร้อมข้อความ

"Samui Clean and Samui Bins"

พร้อมกับถังขยะที่จัดหาโดย เบรนต์ โจนส์

ผู้ก่อตั้งองค์กรไม่แสวงหาผลกำไร

Samui Clean and Samui Bins

กลุ่ม Samui Clean และ Trash

Hero ยังจัดกิจกรรมทำความสะอาด

สมุยทุกวันอาทิตย์ เวลา 13.00 น. เปิด

โอกาสให้ทุกคนเข้าร่วม และรับบริจาค

เพื่อซื้อถังขยะและอุปกรณ์สำหรับงาน

ศิลปะ, facebook.com/samuiclean

มูลนิธิเพื่อสุนัขในซอย (Soi Dog

Foundation) ก่อตั้งในปี 2003 จัด

โครงการดูแลความเป็นอยู่ของสัตว์ และ

ได้ทำหมันสุนัขมากกว่า 200,000 ตั้งแต่

เปิดทำการ เพื่อป้องกันการเกิดใหม่ของ

สุนัขที่ไม่เป็นที่ต้องการ อีกทั้งยังรักษา

ให้ที่พักพิง และดำเนินการขอรับอุปการะ

Sisters on Samui (SOS) สุภาพ

สตรีกว่า 50 ท่านมารวมตัวกันเพื่อทาน

อาหารกลางวันเดือนละครั้ง นอกจากเพื่อ

พบปะสังสรรค์แล้ว SOS ยังสนับสนุน

บน, ขวาล่าง

ชายหาดและธรรมชาติ

บนเกาะสมุยจะสวยงาม

และสะอาดหมดจด

เหมือนเดิมไม่ได้

หากผู้คนละเลยหน้าที่

ซ้ายล่าง

กลุ่มอาสาสมัคร

ทั้งจาก Samui Clean

และ Trash Hero

ร่วมแรงร่วมใจกันจัดการ

ขยะบนเกาะสมุย

งานการกุศลในท้องถิ่น และเป็นแรงขับ

เคลื่อนกิจกรรมสำคัญต่างๆ อีกด้วย

ตอนนี้สมาชิกของกลุ่มมุ่งระดมทุน

เพื่อปรับปรุงแผนกผู้ป่วยเด็ก โรงพยาบาล

หน้าทอน SOS สนับสนุนโครงการก่อสร้าง

และหาผู้สนับสนุนเงินทุนเพื่อซื้อชุดนอน

สำหรับเด็ก และติดตั้งผ้ าม่านสีสันสดใส,

facebook.com/kohsamuicharity

ร่วมช่วยด้วยมือเรา เมื่อสองปีก่อน

ฉันได้ร่วมก่อตั้ง Impact Samui กับ

รอดนีย์ วอลเลอร์ (นักพัฒนามือรางวัลที่

ได้รับการยอมรับอย่างกว้างขวาง) และผู้

จัดการโครงการและการเงิน เดวิด เบอร์ชอล

เราได้ทำโครงการก่อสร้างใหม่ และ

บูรณะอาคารที่ทรุดโทรมเพื่อให้อาคาร

เหล่านั้นกลับมามีชีวิตอีกครั้งหนึ่ง โดยมี

เป้าหมายเพื่อการพัฒนาอย่างมีความ

รับผิดชอบ

เมื่อมีโอกาส เรานำสิ่งของที่ใช้แล้วมา

รีไซเคิล แล้วบริจาคส่วนที่เหลือเพื่อประโยชน์

ของเกาะสมุย บางครั้งบริษัทของเราก็ขาย

วัสดุที่ใช้แล้วเพื่อสมทบทุนกับกิจกรรม

สาธารณะประโยชน์ต่างๆ Lavaliere เป็น

โครงการแรกที่เราขายสิ่งของต่างๆ เพื่อ

บริจาครายได้แก่โครงการปรับปรุงแผนก

ผู้ป่วยเด็ก โรงพยาบาลหน้าทอนเกาะสมุย

หากคุณมีโอกาสมาเยี่ยมเยียนเกาะสมุย

ลองมาเป็นอาสาสมัคร หรือท่องเที่ยว

เชิงอนุรักษ์กับองค์กรเหล่านี้ หรือร่วม

สมทบทุนเพื่อให้สมุยเป็นเกาะสวรรค์ที่

คงความงดงามเช่นนี้ต่อไป

SAMUJANA's name comes from the blend of Koh 'Samui' and the word 'Jana', meaning coral in Moroccan, due to its

stunning hillside location overlooking a coral cove, with private beach access and uninterrupted views of Samui.

Samujana's def inition is very simple – 24 charming villas from 1 to 8 bedrooms, all with oversized private inf inity pools,

modern Thai architecture and breath-taking views, 5-star hotel services and details that make a world of difference –

the perfect place for friends and family to gather and have a great time.

48

Tel: +66 (0) 7742 3465

Email: reservations@samujana.com

www.samujana.com
---
FASHIONED FANTASIES

Haute

Drawings

Words Phoowadon Duangmee

Photos Phannapast Taychamaythakool

for Gucci & Wichit Kongsiangsung

High Fantasy

Infused with a sense of fantasy, urban legends

and popular culture, Thai artist and fashion

designer Phannapast Taychamaythakool has

created a unique collection of illustrations for a

global high house of fashion.

50 51
---
FASHIONED FANTASIES

Last summer, Phannapast left her

creative stamp when Gucci unveiled

their "Le Marché des Merveilles"

jewellery line. The collaboration

with the Italian high fashion brand also

came with a fairytale installation of animal

portraits at their New York Fifth Avenue

and Beverly Hills stores.

In the series of fantastical

portrayals, an elephant appears

in an enormous red hat and blue

dress with floral motifs. Then there

is one of a loved up couple, a dolphin

and a panther, in colourful dresses

with tongues wagging in euphoria.

These animals stand proud and

confident in their finery. Odd

yet magical – the entire set of

illustrations burst at the seams with

floral details and patterns, sending

art and fashion aficionados to

fantasy land where beauty and the

beast manages to find a comfortable

marriage, and wild animals have

access to high fashion or in this case,

Gucci's latest collection.

In the historic neighbourhood of

Bangkok's Chinatown, Phannapast

shows up at Starbucks Wang Burapha

on a sunny afternoon with her

drawing markers and drawing

logbooks for a private interview with

Fah Thai magazine.

Right

An imaginative

rendering of

an unlikely yet

passionate affair

between a dolphin

and black panther

by Phannapast.

Bottom

Armed with

a degree in

fashion design,

the illustrator's

personal expression

is as colourful as

her work.

"I come to Starbucks often to

do some sketching and drawing.

The daylight is about right to do

hand drawing," says the 31-year-old

Thai illustrator.

The up-and-coming artist

appeared in a loose blue shirt,

super long and over blue jeans and

sneakers. Her face stands out with

the distinctive "Beatle moptop"

haircut and a pair of round, supersized

hippy sunglasses – like John

Lennon's look from the 1960s to

70s. A prominent mole – similar

to Cindy Crawford's signature

one – occasionally draws attention

with the people she talks to. Unlike

her vibrant and quirky works,

Phannapast's voice is surprisingly

gentle and conversations are carried

out politely like with most Thai

women, ending every sentence with

the particle 'kha.'

"Your work is oversaturated with

a bright palette – pink, red, blue and

yellow – so vibrant. Do you keep any

black clothing in your wardrobe?"

I asked the young fashion designer

this as many fashion designers wear

all black. Yohji Yamamoto, Vera Wang,

Riccardo Tisci, Karl Lagerfeld – to

name a few.

"No, I don't like black," says

Phannapast. "I keep a few black

pieces, but I don't really put them

on." Behind the pair of large hippy

shades, I could sense some degree

of shyness. After a few sips of hot

Cappuccino, an ice breaker moment

happens. The conversation becomes

more sensational, with voices rising

in a series of higher pitches.

"When I was very young,

I avoided looking at myself in

the mirror," says Phannapast.

"Something wasn't right in there.

The reflection of a schoolboy

in a typical and traditional crewcut

was like a stranger to me, and that

made me feel uncomfortable. There

was conflict and disgrace. I didn't

even glance at my reflection,"

confesses Phannapast, who is male

and dresses as a woman.

Nothing unlocked the conflict

in her mind except art. It built up

self-esteem and brought her out

of a protected shell to eventually

shine. Phannapast studied fashion

design at Chulalongkorn University,

Bangkok, and became a creative

director of the local clothing brand

"Kloset". Being a freelance illustrator,

she posts her work on Instagram

occasionally.

"In my young age when I started

drawing, no one told me such things

about creativity. Form and function

52
---
FASHIONED FANTASIES

Right

The commissioned

work from Gucci

resulted in a set

of illustrations

featuring the

'Wonder Factory'

where gems are

fashioned.

Bottom

In Phannapast's

vision, the factory

is run by all kinds

of fanciful and

endearing creatures

behind 'Le Marché

des Merveilles'

jewels and charms.

were very conventional. Leaves had

to be green, and the branches of

the tree had a certain form," says

Phannapast.

In art school, Phannapast had

access to many artistic concepts,

ideas and inspiration, and found out

that beauty, indeed, has different

faces and forms. She started to take

a hard, long look in the mirror to

find out her talents.

"People have been living in a

conventional world way too long,

and are way too comfortable to

recognise the beauty of being

different," says Phannapast.

"When we find something or

someone unconventional, we keep

asking too many questions. We tend

to think that they are misfits and

alienated. We believe that they need

to be fixed.

"In fact, we don't have to look,

think, feel or act like our peers.

Beauty lies in being different – be

it difference in sexual identity or

appearance." In her work for Gucci,

Phannapast tries to convince people

of this philosophy.

In art school, Phannapast had access to

many artistic concepts, ideas and inspiration

and found out that beauty, indeed, has

different faces and forms.

She also illustrated a book of

imaginative fairy tales written

by a friend, Aracha Cholitgul,

inspired by stories of a personal

past, and brought into an artistic

visualisation. The tales in three

chapters revolve around

a "Wonder Factory"

where animals create

jewellery.

In the first

chapter, "A Present

from the Sky" tells

a tale of the kitten

who wears a mask to

cover up a facial mole.

One day the little cat

decides to take off

the mask when

it learned that beauty and a feelgood

experience do not come from

appearance alone.

The second chapter, "The Very

Big New Friend", Erawan is a large

elephant having a hard time trying

to get a job in the factory.

She is large in size with

legs as large as the oldest

trees in the forest.

Her body is even

bigger than the factory

itself and when her

ears flap, they create a

small whirlwind. After

Erawan has been in

the factory for a while,

she learns that she

is a misfit. Every

54
---
FASHIONED FANTASIES

time the hapless pachyderm tries to

help, everything she touches breaks.

In these stories, both artists create

an unforeseen relationship that

challenges people's attitudes.

In the third chapter, "To Our

Beloved Siranee from the Wonder

Factory", a dolphin has fallen in love

with the stone statue of a panther

who guards the jewellery factory.

These fantastical animal

stories and Phannapast's eccentric

illustrations blend fantasy and very

human emotions, enhancing these

stories on self-identify, conflict,

and love.

"People are too curious about

everything, anything. People ask

too many questions and don't even

bother about what they really need

from the answer – or where the

answer will take them to," says the

artist. "Perhaps they want an answer

to satisfy their curiosity – or simply

keep asking just for fun."

"In 'Wonder Factory', the

animals don't ask why or how

the dolphin could develop such

a romance with a statue – but

they help make magic happen by

appeasing the 'Lioness Goddess.'

For this set of stories, every

chapter ends like a Han Christian

Andersen book. It's so sweet

that you might need a lemon (to

counteract it). The stone statue

of a panther springs to life,

thanks to the Lioness Goddess

who gives him a heart and our

creature takes the dolphin's hand

to a romantic, tantric cloud nine.

Apart from the fantasy story, what

makes eyebrows raise higher is

the eccentric illustrations full of

vibrant colours.

Drawn with great details,

Phannapast's signature touches

are of animals wearing luxurious

clothing and posing as humans.

Influenced by the Chinese shrines

Top

"A Present from

the Sky"

Right

A whimsical

drawing from

the Thai illustrator

has unleashed

creative power.

she often visits and the tribal art

patterns that she is fond of, the

artist creates a mysterious beauty

in these illustrations.

"I like drawing animals and

making them like humans," the

Thai artist puts it. "There is some

degree of animal in a human being.

When we are mad, sometimes we

turn into a wild beast."

56
---
FASHIONED FANTASIES

หน้าร้อนที่ผ่านมา แฟชั่นเฮ้าส์อิตาเลียน

ชั ้นสูงอย่างกุชชี่ ได้เปิดตัวคอลเลกชัน

เครื่องประดับ "Le Marché des Merveilles"

ที่ผสมผสานกลิ่นอายความอัศจรรย์

ตำนาน และป๊อปคัลเจอร์ ออกแบบโดย

ศิลปินและนักออกแบบแฟชั ่นชาวไทย

ปัณพัท เตชเมธากุล

สิงสาราสัตว์นานาชนิด ช้างสวม

หมวกสีแดง ใส่ชุดสีน้ำเงิน ประดับด้วย

ลวดลายแมกไม้ หรือจะเป็นคู่รักปลา

โลมากับเสือดำในชุดสีสันสดใส เปล่ง

ประกายความสุขล้นบนผืนภูษา เป็นงาน

ออกแบบที่แปลกใหม่และมีมนต์ขลัง

นำวงการแฟชั่นเข้าสู่ดินแดนมหัศจรรย์

แห่งใหม่ ความมหัศจรรย์แห่งกุชชี่

ฟ้าไทยมีโอกาสสัมภาษณ์นักวาด

ภาพประกอบสุดชิคผู้นี้ที่ย่านเยาวราช

ด้วยเสียงอันนุ่มนวล ขัดกับการแต่งตัว

ที่โดดเด่นและดึงดูดทุกสายตาที่มองมา

ปัณพัทกล่าวว่า เธอชอบมานั่งวาดรูปที่

สตาร์บัคส์แห่งนี้เพราะแสงที่นี่เหมาะกับ

การสร้างสรรค์งานใหม่

เพราะงานออกแบบของเธอมีสีสัน

ฉูดฉาด เราจึงอดสงสัยไม่ได้ว่า ศิลปินผู้นี้

จะมีเสื้อผ้าสีกลางๆ อย่างสีดำบ้างหรือ

เปล่า...คำตอบคือมีอยู่ไม่กี่ชิ้น มีไว้

อย่างนั ้นแหละ เธอไม่ชอบ และไม่คิดจะ

หยิบขึ้นมาใส่

เธอเล่าให้ฟังอีกว่า ตอนเด็กๆ เธอ

ไม่อยากส่องกระจก ไม่อยากมองเห็น

ภาพตัวเองในชุดนักเรียนตัดผมเกรียน

ขัดกับตัวตนที่อยู่ภายใน แต่ศิลปะนี่แหละ

ที่ทำลายกำแพงหนาที่ปัณพัทก่อขึ้น

รอบตัวเอง แล้วเจิดจรัสขึ ้นมาอีกครั้ง

ด้วยความมั่นใจ

ปัณพัทเรียนจบสาขาออกแบบแฟชั่น

ที่จุฬาลงกรณ์มหาวิทยาลัย ทำงานเป็น

ผู้อำนวยการฝ่ายสร้างสรรค์ให้กับ

แบรนด์เสื้อผ้า Kloset พร้อมกับเป็นนัก

วาดภาพประกอบอิสระ โดยโพสต์งานของ

ตัวเองลงอินสตาแกรมเป็นครั้งคราว

เธอเล่าต่อว่า ศิลปะที่เรียนมานั้น

อยู่ในกรอบที่ไม่เอื้อต่อการคิดสร้างสรรค์

ใบไม้ต้องเป็นสีเขียว กิ่งก้านต้นไม้ต้องเป็น

รูปแบบตามที่เป็น พอคนเห็นอะไรที่แปลกไป

จากเดิมก็ตั ้งคำถาม และคิดไปเองว่า

สิ่งแปลกปลอมนั้นต้องได้รับการแก้ไข

แต่นี่แหละคือความงดงาม ความ

แตกต่างคือความงดงาม อัตลักษณ์ทาง

เพศและการแสดงออกก็เช่นกัน

นักออกแบบมากพรสวรรค์อย่าง

เธอได้ร่วมวาดภาพประกอบนิทาน

"Wonder Factory" ที่เขียนโดย อรช โชลิตกุล

ประกอบด้วยนิทานสามเรื่อง เล่าเรื่องราว

ของสัตว์ที่ร่วมกันสร้างชุดเครื่องประดับขึ้น

บทแรก "A Present from the Sky"

เล่าเรื่องแมวที่ปกปิดใบหน้าเพราะมีไฝ

แมวตัวนั้นตัดสินใจถอดหน้ากากออกแล้ว

พบว่า ความงามและประสบการณ์สุดพิเศษ

ไม่ได้มาจากรูปลักษณ์ภายนอกเท่านั้น

บทที่สอง "The Very Big New Friend"

ช้างชื่อเอราวัณพยายามที่จะเข้าทำงาน

ในโรงงานแห่งหนึ่ง เธอตัวใหญ่มาก

ปัณพัท เตชเมธากุล

ศิลปินนักวาดภาพ

ประกอบและผู้อำนวยการ

ฝ่ายสร้างสรรค์ของ

แบรนด์เสื้อผ้า Kloset

ผลงานซิกเนเจอร์ของ

เธอล้วนได้รับแรง

บันดาลใจจาก

สิงสาราสัตว์ แฟชั่น

กรุยกราย ลวดลายจีน

สุดวิจิตร และเรื่องราว

ที่เสมือนหลุดมาจาก

โลกแฟนตาซี

ใหญ่กว่าโรงงานเสียอีก หลังจากที่

ทำงานได้สักพัก เธอเริ่มตระหนักว่าเธอ

ไม่เหมาะกับโรงงานแห่งนี้ เพราะเมื่อเธอ

แตะอะไร สิ่งนั้นก็พังพินาศไปหมด

และบทที่สาม "To Our Beloved

Siranee from the Wonder Factory"

เป็นเรื่องราวของปลาโลมาผู้หลงรักรูปปั้น

เสือดำที่ทำหน้าที่คุ้มครองโรงงานแห่งนี้

ปัณพัทกล่าวว่า ทุกคนสงสัยทุกเรื่อง

ตั้งคำถามมากเกินไป ทั้งๆ ที่ไม่รู้ว่า

ต้องการอะไรจากคำตอบที่ได้ หลายๆ

ครั้งก็ถามเพื่อความสนุกเท่านั้น

ใน "Wonder Factory" สัตว์แต่ละตัว

ไม่ถามเลยสักคำว่าปลาโลมาตกหลุมรัก

รูปปั้นได้อย่างไร ทุกคนต่างช่วยกัน

อ้อนวอนขอพรจากเทพสิงโตจนท้าย

ที่สุด นิทานก็จบลงด้วยความสุขสมหวัง

ของคู่รักต่างสายพันธุ์

นิทานว่าแปลกแล้ว ภาพประกอบ

ยิ่งแปลกกว่านั้นอีก สีสันสดใส

ฉูดฉาด รายละเอียดของภาพ

ล้ำลึก สะท้อนเอกลักษณ์งานของ

ปัณพัทที่มีสัตว์สวมเสื้อผ้าหรูหรา

ผสมผสานศิลปะจีน และลวดลาย

ชนเผ่า สร้างสรรค์เป็นความงามที่

ลึกลับน่าค้นหา เธอทิ้งท้ายว่า เธอชอบ

วาดภาพสัตว์ให้มีรูปลักษณ์เป็นคน

เพราะมนุษย์ก็มีลักษณะเหมือน

กับสัตว์ บางครั้งยามที่เรา

โกรธ เราก็กลายร่าง

เป็นอสูรกายได้

เฉกเช่นเดียวกัน

A CHINESE GUIDE TO THAILAND

Tai Guo Zhi Nan or Thailand Guide is a

custom-made guidebook designed for Chinese

visitors to Thailand. Packed with insights and

recommendations, the guidebook is a colourful

presentation of Thailand focusing on Bangkok,

Samui and Phuket.

Tai Guo Zhi Nan is curated and edited by some

of the most experienced and talented native

speakers and multi-award magazine designers.

The image-driven contents open with an overview

of Thailand followed by events and festivals,

recommendations to the best places to

Eat, Shop & Play and close with tips tailored for

Chinese visitors. The guidebook is divided into

distinct sections highlighted by bright bold colours

and section openers.

Distributed by Bangkok Airways at airports and

travel agents in China, the guidebook is also

available at select hotels and resorts in Bangkok,

Samui and Phuket and at Bangkok Airways

lounges. The Guidebook also comes in a digital

format via its website taiguoguidebook.com or

scan the QR code on the cover.

Published by MPMI Group Co., Ltd.

Read Me

Scan Me

58
---
KHMER MODERNISM

Phnom Penh's glorious past can

be seen through some of the still

functioning buildings designed

by the late Cambodian architect

Vann Molyvann. If things had gone

according to the original plans

from decades ago, his influential

urban designs would have defined

Cambodia's architectural destiny.

Words Sirin P Wongpanit

Photos Permboon Wongpanit

60

61
---
KHMER MODERNISM

The sun is coming down and the indoor stadium

of the National Sports Complex in Phnom Penh

is the best spot to watch the evening's gorgeous

amber lights. Completed back in 1964, when

Cambodia was pitching to host the Southeast Asian

Peninsular Games, the Olympic Stadium, as it was once

called, possesses clean and crisp lines of aluminium panels

that run in parallel with the main balusters. While the

original function of this fluting façade is to provide the

needed cross-ventilation to the typically stuffy spaces in

this stadium, these breathable walls also create stunning

effervescent screen patterns that play along with the

glimmering sunlight. I was told that the architect Vann

Molyvann based the idea of this building on a mushroom

– with a big core at the centre supporting the entire

cantilevered structure – all symmetrical and with a stark

modernist approach.

Above

The indoor stadium at

the National Sports Complex with its

'breathable' interior.

Below

Shimmering light passes

through the indoor stadium of

the sports complex.

Opposite Page

Top Left

Inspired by a moat, the outdoor

stadium drew its plan from the

ancient Angkor Wat complex.

Top Right

The stadium showcases

a design befitting the Khmer

climate and lifestyles.

Not too long ago on a

dusty tuk-tuk ride in and

about Phnom Penh, I found

myself inadvertently gawking

at the beautiful landmark of

Chaktomuk Conference Hall

on the busy riverside strip,

not too far from the Royal

Palace. Vann Molyvann, as I

learned again, designed this

magnificent Phnom Penh

icon, along with almost a

hundred other public buildings

back in the 1960s that could

have shaped Cambodia into a

stunning metropolis, if not for

the tragic interruption by the

Khmer Rouge that practically

erased everything.

Some people told me I should

not focus on the sad parts of

Cambodia. Phnom Penh as we

now know is a capital in big

transition. Money is flowing in,

with mega-constructions aplenty

everywhere in the city. Snarling

traffic with urban expansions

are a big part of life here. Office

workers and urban dwellers don

to-go gourmet coffee cups as a

daytime accessory. Those who

visited Phnom Penh just decades

ago would never recognise the

city now. Its dust, prominent in

memories, is almost completely

gone. Roads are paved, buildings

are getting higher, megamalls

and condominium complexes are

being built quite rapidly.

Phnom Penh is letting

bygones be bygones. But

then again, there are these

gorgeous buildings of the

1960s – collectively referred

to as 'New Khmer Architecture'

– the ones that constructed

Cambodian's Golden Age, that

took place not too long ago.

At the Institute of Foreign

Languages (IFL), another of

Vann Molyvann's public

building that is still standing

and being used, students are

reading with some of them

engrossed in group studies.

All of them are in oblivion to

the great architect. Out of

personal curiosity, I tried to

quiz some of them, to see

whether they know of my

admired architect. Sadly, none

had heard of his name, except

for one geek whose job was to

keep guard of the library – the

round-shaped 'bibliothèque

– whose iconic avant-garde

design was based on Cambodian

farmers' straw hats.

62 63
---
KHMER MODERNISM

For enthusiasts who love to

scout for awesome buildings, the

IFL buildings are magnificent

examples of how the architect

achieved his own personal

directives. Vann Molyvann was

known for his modern designs

that fit well in the tropical heat.

Small precise structures, raised

platforms, cross-ventilation,

aesthetic "claustra" and "brisesoleil"

screens are heavily

featured. In the middle of the

plaza at the IFL complex is a giant

banyan tree under which you

might want to sit down and soak

in the unique 1960s atmosphere.

But the highlight from Vann

Molyvann's playful mind is in the

main building's staircase. Leading

from the first to the fourth floor,

the simple and open staircases

seamlessly form an infinite

juxtaposition. A flow of pedestrian

traffic going up and down creates

Above, Left and

Right

The shape of a fan

provided design

inspiration for

the Chaktomuk

Conference Hall,

accentuated by

traditional Khmer

elements.

Vann Molyvann

began work on the

conference hall, his

first building, upon

his appointment as

chief architect in

the 1950s.

Vann Molyvann was known for his modern

designs that fit well in the tropical heat.

ever-changing and fluid human

patterns. It is something genius in

my opinion – and you have to be

there to understand it.

The 'Golden Age' of Cambodia

took place between the 1950s to

1960s when the country celebrated

its full independence for the first

time after almost a century as

a French protectorate. The then

King Norodom Sihanouk had a

great vision to wholesomely uplift

his country through education,

arts and culture. Vann Molyvann,

the Kampot province native, was

coming back from his years on

scholarship studying architecture

in Paris. Heavily influenced by

Le Corbusier and the like; he was

appointed the State Architect and

Head of Public Works. Unlike other

prestigious architectural projects

where people would need to pay

to be able to enjoy the building

facilities, Vann Molyvann's

landmarks were all public projects,

hence creating a greater impact

for everyday people. Doing the

research for this architectural trip

to Phnom Penh, we wish we could

have seen the gorgeous 1962 Preah

Suramarit National Theatre – an

icon in the cultural landscape of

Phnom Penh and the host to the

National Conservatory of the Arts.

The building had been torn down in

2008 after a fire severely damaged

its structure.

New Khmer Architecture

in Phnom Penh has become an

WINS BEST PHOTOGRAPHY

AT RENOWNED PEARL AWARDS IN

NEW YORK CITY

WE ARE PROUD TO HAVE RECEIVED A PRESTIGIOUS

GOLD AWARD FOR BEST PHOTOGRAPHY

FROM THE CONTENT COUNCIL, THE PREMIER ORGANISATION BASED

IN NEW YORK REPRESENTING CONTENT MARKETERS GLOBALLY

The winners of the gold, silver and bronze awards were announced on December 7th 2017 in

an awards ceremony in New York City. Find out more winners at

www. thecontentcouncil.org/files/galleries/Pearl_Awards_2017_Winners.pdf

Published by

64

Scan Me
---
KHMER MODERNISM

Above

A flow of pedestrian

traffic going up and

down creates

ever-changing,

fluid human

patterns.

Right

A classroom at the

Institute of Foreign

Language, with

its gradient and

sloped seatings.

Below

The circular pattern

of the library at the

IFL, intimate and

book-reading cosy.

interest among foreign visitors

and professional architects

during the past decades. In 2013,

the Nikkei Asia Prize awarded

Vann Molyvann in the culture

category for his significant social

contribution in Asia. The foreign

recognition helped perpetuate his

remaining works too. The Vann

Molyvann Project, a pro bono

effort of an international team of

architects, architectural students

and researchers, did a great job

archiving the architect's precious

plans and stories. As anyone would

tell you about the modern history

of Cambodia, they are mostly oral.

And Vann Molyvann's records are

pretty much the same.

Then again, one could not

curb the curiosity of the younger

generation. Subdued despite obvious

glories, Vann Molyvann's works

are now drawing attention among

young and aspiring Cambodian

architects and architectural students.

His works are not taught in schools,

yet a lot of people are studying it.

Special projects and architectural

tours of the city provide good

resources for those interested to

learn more about this historical slice

of Phnom Penh.

For me, the students at the IFL

are the lucky ones. They may not

know it, but they are spending

CONGRATULATIONS TO

BLAINE HARRINGTON III

GRAND PRIZE WINNER

FOR HIS PHOTO OF THE ZOJILA PASS,

WORLD IN FOCUS PHOTO COMPETITION

featured this photo in our article,

"Dangerous Beauty"

(May/June 2017 issue)

Exposing the sheer beauty of the Zojila

mountain pass and the risks it poses, the

image is both captivating and dramatic.

Look out for more eye-catching

photography in ,

Bangkok Airways inflight magazine.

Published by MPMI Group Co., Ltd.

FOR ADVERTISEMENT:

Ms. Daruni Klaprapchon (Guitar) Mr. Reza Bizmark (Bob)

087-929-6611

082-446-9192

Guitar@mpmith.com

Reza.bizmark@mpmith.com

Scan Me

66
---
KHMER MODERNISM

Above

Surrounded by

pillars and

protruding rain

gutters, the exterior

of the International

Foreign Institute's

library becomes

a spectacular sight

when it rains.

New Khmer Architecture in Phnom Penh

has become an interest among foreign

visitors and professional architects during

the past decades.

time in one of the greatest buildings

on earth. I sneaked into their

iconic auditorium-style classroom,

taking my time sitting on the

raised platform that from the

outside looks like a giant box on

a pair of lady stilettos. The wall

of the hallway that connects all

these classrooms is a perforated

claustra wall that breathes and

allows sunlight to create beautiful

patterns that change with the

hours of the day.

There are also the active

teams of aunties and uncles

who, in colourful and stretchy

spandex, arrive in droves for

the evening's aerobics on

the raised outdoor arena of

the National Sports Complex.

Even now that the area is

being encroached by mega

construction, the magnificent

allure of the whole place

remains. A landmark of the

great late architect who just

passed away late last year at

the age of 91, this complex as

well is evidence of the glorious

past – still perpetuated

through its actual use by the

people of Phnom Penh.

For more information about Vann Molyvann and the Golden Age of Khmer

Architecture, visit vannmolyvannproject.org. For those interested in the tours

of Khmer Architecture Tours, browse through ka-tours.org.

พระอาทิตย์กำลังจะลับขอบฟ้า คงไม่มีจุด

ชมแสงอาทิตย์อัสดงที่งดงามเทียบเท่า

สนามกีฬาในร่มที่ศูนย์กีฬาแห่งชาติกรุง

พนมเปญอีกแล้ว แสงอาทิตย์ระยิบลอด

ผ่านช่องผนังที่แต่เดิมออกแบบมาเพื่อ

ระบายอากาศ ดังที่สถาปนิก วัน โมลีวาน

ออกแบบและสร้างแล้วเสร็จในปี 1964

ระหว่างที่นั่งรถตุ๊กตุ๊กเลียบฝั่งแม่น้ำ

รอบเมืองพนมเปญ ไม่ไกลจากพระบรม

มหาราชวัง สายตาของคุณไม่อาจพลาด

หอประชุมจักโตมุขแน่นอน ไม่น่าแปลกใจที่

หอประชุมแห่งนี้ก็ออกแบบโดย วัน มาลีวาน

เช่นเดียวกันกับอาคารของรัฐอีกกว่าร้อย

แห่ง กัมพูชาอาจกลายเป็นเมืองหลวงอัน

ตระการตา ถ้าไม่ถูกขัดขวางโดยการ

เคลื่อนไหวของเขมรแดงเสียก่อน

ถึงกระนั้น กัมพูชาก็ยังเป็นเมืองหลวง

ที่กำลังเปลี่ยนผ่านและขยายตัวอย่าง

รวดเร็ว เม็ดเงินไหลบ่าสู่โครงการก่อสร้าง

ขนาดยักษ์ ผู้ที ่เคยมายังเมืองหลวงแห่งนี้

เมื่อไม่กี่สิบปีก่อนคงแปลกใจที่ได้เห็นร้าน

กาแฟสุดฮิป ห้างสรรพสินค้า ตึกสูง

เสียดฟ้า และวิถีชีวิตคนเมืองอย่างเต็ม

รูปแบบ แต่พนมเปญก็ไม่ลืมรักษารากเหง้า

ของตัวเองเอาไว้ด้วยอาคาร "สถาปัตยกรรม

เขมรสมัยใหม่" ที่สร้างในช่วงปี 1960

สถาบันภาษาต่างประเทศ อาคารรูป

วงกลมแบบอาว็อง-การ์ดเป็นอาคารของ

รัฐอีกแห่งหนึ่งที่ปัจจุบันยังใช้ในการเรียน

การสอน แต่ถ้าถามนักเรียนที่นั่นว่ารู้จัก

สถาปนิกผู้ออกแบบอาคารหลังนี้หรือไม่

น้อยคนนักที่รู้จัก วัน โมลีวาน

สำหรับผู้ที่คลั่งไคล้สถาปัตยกรรม

จะไม่ผิดหวังเมื่อได้ยลโฉมอาคารแห่งนี้ซึ่ง

ออกแบบมาให้เหมาะกับภูมิอากาศเขตร้อน

โครงสร้างขนาดเล็ก พื้นยกสูง ระบบระบาย

อากาศแบบไขว้ ผนังฉลุลายงดงาม ตัว

อาคารโอบล้อมต้นไทรที่เติบใหญ่ตรงจุด

ศูนย์กลาง บันไดที่เชื่อมตั้งแต่ชั้น 1ถึงชั้น 4

ไขว้ขนานกัน เผยให้เห็นคลื่นมนุษย์เคลื่อนตัว

ขึ้นลงเป็นสาย

กัมพูชาเจริญก้าวหน้าสูงสุดในยุค

ทองหลังจากประกาศอิสรภาพจาก

ฝรั่งเศส พระบาทสมเด็จพระนโรดม สีหนุ

ทรงพัฒนาประเทศผ่านการศึกษา ศิลปะ

และวัฒนธรรม พระราชทานทุนการศึกษา

แก่ วัน โมลีวาน ให้เรียนสถาปัตยกรรมศาสตร์

ที่กรุงปารีส แล้วกลับมารับตำแหน่ง

สถาปนิกแห่งรัฐ และหัวหน้ากิจการรัฐ

รังสรรค์อาคารทรงเอกลักษณ์ และ

สร้างแรงกระเพื่อมแก่ชีวิตประจำวันของ

ผู้คนกัมพูชาโดยทั่ว

ปัจจุบันสถาปัตยกรรมของ วัน โมลีวาน

เป็นที่รู้จักอย่างกว้างขวางทั้งในและต่าง

ประเทศ คนรุ่นใหม่ให้ความสนใจมากขึ้น

บน

ช่องกำแพงโปร่ง

ที่สถาบันภาษา

ต่างประเทศ

กรุงพนมเปญ

ฝีมือออกแบบของ

วัน โมลีวาน มีลวดลาย

แปลกตา สวยงาม

ยามแสงแดดลอดผ่าน

ล่าง

ห้องเรียนของสถาบัน

ภาษาต่างประเทศ

รูปทรงแปลกตา ได้รับ

การออกแบบมาอย่าง

มีเอกลักษณ์

มีการจัดโปรแกรมเที่ยวชมสถาปัตยกรรม

เพื่อเรียนรู้ประวัติศาสตร์ของกรุงพนมเปญ

อีกด้วย

นักเรียนที่สถาบันภาษาต่างประเทศ

ดูเหมือนจะเป็นกลุ่มคนที่โชคดีที่สุดที่ได้ใช้

เวลาอยู่ในอาคารที่ยิ่งใหญ่ที่สุดแห่งหนึ่ง

ของโลก แสงอาทิตย์ที่ลอดผ่านช่องฉลุ

ยังความงดงามให้แก่ภายในของตัว

อาคารจะเปลี่ยนแปลงแตกต่างออกไป

ตามแต่ละช่วงเวลาของวัน

หากมองไปรอบๆ ศูนย์กีฬาแห่งชาติ

ในปัจจุบัน จะเห็นภาพผู้คนจำนวนมาก

พากันมาออกกำลังกาย คุณลุงคุณป้า

ออกท่าทางเต้นแอโรบิกอย่างสนุกสนาน

ท่ามกลางตึกขนาดมหึมาที่ห้อมล้อมอาคาร

ตระหง่านแห่งนี้อยู่ทุกเมื่อเชื่อวัน จึงเรียก

ได้ว่า อาคารแห่งนี้เป็นตัวแทนความรุ่งเรือง

ด้านสถาปัตยกรรมที่ วัน โมลีวาน ทิ้งไว้

ให้ประชาชนชาวพนมเปญทุกหมู่เหล่าได้

เชยชมอย่างแท้จริง

68 69
---
BURMA BREWS

Colonial

Vestiges y

A former British hill station in

Myanmar provides the ideal setting

for coffee to thrive.

Words & Photos Ron Emmons

70

71
---
BURMA BREWS

When British colonials established Maymyo (literally 'May's

Town', after Colonel May) in the early 20th century, they

were desperate to escape the sweltering heat of Mandalay

in the hot season. At 3,538 feet (just over 1,000 metres)

of elevation, Maymyo offered a cool retreat, and soon the town had a

familiar feel to its new inhabitants, with its clock tower, governor's house

and botanical gardens. These days Maymyo is known as Pyin Oo Lwin,

and though the Brits are long gone, their legacy lingers on and attracts

a steady stream of visitors from Mandalay, just 70km to the west.

Yet alongside these tourist

attractions, Pyin Oo Lwin is

also making a name for itself as

a producer of fine coffee. Several

small plantations in the region

are united under the umbrella

organisation of the Myanmar

Coffee Association, and some

of them, such as Ngu Shwe Lee

Coffee and Lone Star Coffee,

welcome visitors to look around

their estates to see all the

stages in the preparation of this

popular beverage.

I began my exploration of

Pyin Oo Lwin at the former

Governor's House, which is now

on the grounds of the Aureum

Palace Hotel. Being a Brit myself,

I was curious to see how my

compatriots had lived during

the colonial era. As I entered

the grand building, which

was surrounded by manicured

gardens, I stopped in my tracks.

Top Right

Young coffee plants

at the 'butterfly

stage', with just two

leaves.

Bottom Right

Raspberry latte

coffee served at café

in Pyin Oo Lwin,

Myanmar.

Bottom Left

Old photograph of

residents and staff

at the Governor's

House, Maymyo

(now Pyin Oo Lwin),

Myanmar.

Opposite

The Purcell Clock

Tower in the centre

of Pyin Oo Lwin,

erected.

Sitting and standing around the

entrance hall were models of

soldiers and other colonial types

that were so lifelike, I expected

them to step forward and shake

my hand. Once I had got over

this shock, I looked around the

mansion's many rooms, one

of which included an indoor

swimming pool, and imagined

how my compatriots lived at

the time.

My next stop was the

Kandawgyi National Gardens,

which was based on England's

famous Kew Gardens, and I

was instantly impressed by the

meticulous order that had been

established in the midst of a

tropical jungle. Walkways led

through colourful flowerbeds,

past a collection of petrified

wood, along a raised boardwalk

over a swamp, through massive

stands of bamboo, and around

an elevated timber walkway

bordered by massive, tropical

trees. After a couple of hours

meandering round the lakes

and pathways, I felt uplifted by

nature's beauty and eager to see

more of this quirky town.

In the town centre, I smiled

to see the Purcell Tower, a clock

tower that would not have been

out of place in any English town.

Another throwback to the colonial

era were horse-drawn carriages

waiting patiently for passengers

on street corners; they might

have been lifted straight out of

Victorian London. Clearly the

intention of the colonials was one

of stamping their own culture

on the local scene rather than

adapting to Burmese ways. As

I wandered around, I realised

that this place didn't feel like

Myanmar at all, as the faces

were predominantly of people

with Nepali or Indian descent.

72

73
---
BURMA BREWS

Clockwise from

Top Right

Grading beans at

coffee factory.

Local brands of

Myanmar coffee.

Coffee beans

ripening on

the bush.

I presumed that many of those

who worked for the colonials had

stayed on after the Brits had left

and put down roots here. Even in

the town's main market, which

was a riot of noise, colour and

unusual smells, most of the stall

vendors seemed to be Nepali

or Indian.

I settled into a café to reflect

on these rich experiences, and

was delighted to find a fantastic

range of coffees to choose from.

I ordered a latte, and while I was

enjoying it, I got talking to a

man called Samuel. "Do you like

our local coffee?" he asked, and

when I expressed surprise that

the beans came from the area,

he explained that the soil and

climate in the hills around Pyin

Oo Lwin make it ideal for growing

coffee. It turned out that there are

many small coffee plantations in

the region, all of which are part of

the Myanmar Coffee Association

and produce top-grade varieties,

such as S795, which is much

sought after by coffee buyers.

"So how come you know so

much about coffee?" I asked

Samuel. "Well, it just so happens

that I was a manager of one

of the local plantations for a

decade," he answered with a

grin. "Would you like to take a

look around one tomorrow? I'll

be showing a small group around

a couple of plantations and a

processing plant." I jumped at the

opportunity; after all, I had drunk

coffee every day for countless

years without much idea of how

the brew was made.

Samuel picked me up the next

morning and we drove with his

small group a few kilometres out

of town to a coffee estate run by

a friend of his. The welcoming

owner, U Kyaw Sein, immediately

poured us a cup of coffee from

his farm and cracked open some

macadamia nuts to nibble as we

drank. Samuel explained that

the macadamia tree provides

excellent shade, which coffee

bushes need, and the crop of nuts

(around 12 tons a year) provided

valuable extra income.

We hopped into a pick-up

truck and bounced along dirt

tracks that led through the

estate, stopping here and there

for U Kyaw Sein to show off the

waxy-leaved coffee bushes laden

with green berries. He explained

Somehow the experience of watching

the process of coffee production all the

way from seed to cup had given me a new

appreciation of just how much knowledge

and hard work goes into producing the

drink that kick-starts my days.

that with careful maintenance, a

coffee bush can keep producing

beans for up to 80 years, but it

was evident that this is a labourintensive

business. As we drove

around, we passed small groups

of workers pruning the bushes,

weeding the area around them

and adding fertiliser to the earth.

Apart from coffee, which yields

about 15 tons of green beans a

year from around 200 acres, the

estate also grows dragon fruit and

avocados. The avocado is another

tree that doubles as a shade tree

for coffee and brings an extra

source of income.

Samuel then took us to the

Mandalay Coffee Group processing

plant on the outskirts of Pyin

Oo Lwin to see what happens to

the beans once they have been

harvested. I was shocked to see

all kinds of elaborate machinery

used to soak the beans, throw

out the bad ones, take off the

skins and then roast them so that

they are ready for consumption.

In one corner of the processing

plant, a small army of women sat

grading berries one by one, a job

that would drive me mad with its

repetitive nature.

We couldn't leave without

sampling the finished product,

and I smacked my lips as I supped

a cup of S795 Arabica special.

Somehow the experience of

watching the process of coffee

production all the way from

seed to cup had given me a new

appreciation of just how much

knowledge and hard work goes

into producing the drink that

kick-starts my days. I thanked

Samuel for allowing me to see

an aspect of this former colonial

town that I never knew existed,

one that complements a colourful

past with the hope for a bountiful

future. He smiled and presented

me with a small packet of Arabica

to take home as a souvenir, telling

me that it was his pleasure to

share the secrets of his home

town's rich culture with a

stranger from far away.

Clockwise from

Top Left

Burmese worker

roasting coffee

beans.

Ex-coffee

plantation manager

Samuel pointing out

features of healthy

coffee bush.

Coffee beans

being processed at

processing plant,

Pyin Oo Lwin,

Myanmar.

74

75
---
BURMA BREWS

TAKE ME

HOME

Fah Thai is the inflight magazine

of Bangkok Airways. It is YOUR

MAGAZINE. It is distributed with our

compliments on all Bangkok Airways

flights. We hope you enjoy it .

READ

TOO MUCH BAGGAGE?

ONLINE!

แต่เดิม พินอูลวิน เป็นเพียงเมืองเล็กๆ

อากาศเย็นสบาย ที่ทหารอาณานิคม

บริติชมักหนีร้อนมาพักจากเมืองเมเมียว

จากศตวรรษที่ 20 จนถึงบัดนี้ มรดกที่

ตกทอดจากทหารกลุ่มนั้นได้สร้างเสน่ห์

ดึงดูดนักท่องเที่ยวให้มาเยี่ยมชม ไม่ว่าจะ

เป็นหอนาฬิกา บ้านพักเจ้าครองเมือง

สวนพฤกษศาสตร์ หรือบรรยากาศ

สบายๆ ของพินอูลวิน ซึ่งห่างจากมัณฑะเลย์

ของพม่าไปทางตะวันออกเฉียงเหนือเพียง

60 กิโลเมตรเท่านั้น

ไร่กาแฟเล็กๆ ในเมืองนี้ก็มีชื่อเสียง

เลื่องลือไม่แพ้กัน พินอูลวินผลิตเมล็ด

กาแฟชั้นเลิศ อีกทั้งยังเปิดให้นักท่องเที่ยว

ชมไร่กาแฟและสัมผัสกรรมวิธีการผลิต

ต้นแต่ต้นจนจบก่อนจะมาเป็นกาแฟหอมกรุ่น

หนึ่งถ้วยให้เราได้จิบยามเช้า

เราเริ่มทริปที ่บ้านพักอดีตผู้ครอง

เมืองในพินอูลวิน ซึ่งปัจจุบันตั้งอยู่บน

พื้นที่ของโรงแรมออเรียมพาเลซ เราย่าง

ก้าวเข้าไปในอาคารอันโอ่อ่า ประตูทาง

เข้ามีรูปปั้นทหารเหมือนจริง ด้านในมี

ห้องจำนวนมาก หนึ่งในนั้นคือ สระว่ายน้ำ

ในร่ม ในสมัยนั้นชีวิตของผู้ครองอาณานิคม

คงจะสุขสบายมิใช่น้อย

แล้วไปต่อที่สวนพฤกษศาสตร์แห่งชาติ

กันดอว์จี ผู้ที่มายังสวนแห่งนี้ต้องประทับใจ

การจัดวางสถานที่ท่ามกลางป่าฝนเขตร้อน

ทางเดินทอดยาวสู่แปลงดอกไม้หลากสี

ข้ามหนองน้ำเงียบสงบ ทิวไผ่พลิ้วไหวตาม

สายลม และต้นไม้เขตร้อนสูงใหญ่โดยรอบ

ทุกอย่างที่นี่ล้วนเชื้อเชิญให้เราอยากรู้จัก

เมืองเล็กๆ เมืองนี้ยิ่งขึ้นไปอีก

ตัวเมืองพินอูลวินส่งกลิ่นอายอาณานิคม

อย่างชัดเจน หอนาฬิกาแบบอังกฤษตั้ง

ตระหง่านอยู่กลางเมือง มีรถม้าที่เหมือน

เดินทางข้ามเวลามาจากสมัยวิกตอเรีย

ทุกอย่างดูไม่เข้ากันเมื่อเราตระหนักว่า

ตอนนี้เรากำลังอยู่ในเมียนมา แม้แต่ผู้คน

ตามเข็มนาฬิกา

จากซ้ายบน

ทางเดินบนสะพานไม้

สำหรับเยี่ยมชม

ความงดงามใน

สวนพฤกษศาสตร์

แห่งชาติกันดอว์จี

ชาวอินเดียและเนปาล

พากันมาสักการะ

สิ่งศักดิ์สิทธิ์ที่วัดฮินดู

แม่ชีน้อยๆ เทินถาด

บนศีรษะ เดินเรียงเป็นแถว

กลางเมืองพินอูลวิน

รถม้ารอให้

นักท่องเที่ยวจับจอง

เพื่อพาชมรอบเมือง

ที่นี่ก็ดูเหมือนจะเป็นชาวเนปาลหรืออินเดีย

เป็นส่วนใหญ่ คาดว่าบรรพบุรุษของ

ชาวเมืองน่าจะเป็นคนงานที่ชาวอังกฤษพา

มาด้วยในยุคอาณานิคม จากนั้นก็ตั้งรกราก

ที่นี่ แล้วอยู่อาศัยเรื่อยมาจนถึงปัจจุบัน

นั่งพักจิบกาแฟสักเล็กน้อย จากรายการ

กาแฟที่มีให้เลือกสรรหลากหลายรายการ

ทั้งหมดล้วนแล้วแต่ผลิตในชุมชนแห่งนี้

ทั้งสิ้น ชาวเมืองคนหนึ่งเล่าให้ฟังว่า

พินอูลวินมีดินและอากาศเหมาะแก่การ

ปลูกกาแฟ ไร่กาแฟเล็กๆ จำนวนมากเป็น

ส่วนหนึ่งของสมาคมกาแฟแห่งเมียนมา

ซึ่งสามารถผลิตเมล็ดกาแฟคุณภาพสูง

อันเป็นที่ต้องการของตลาด

เราได้พบกับชาวเมืองคนหนึ่งชื่อว่า

ซามูเอล ซึ่งเคยเป็นผู้จัดการไร่กาแฟแห่งหนึ่ง

ที่มีประสบการณ์กว่าสิบปี เขาพาเรามาชม

ไร่กาแฟพร้อมอธิบายว่า ต้นแมคคาเดเมีย

แก้วมังกร และอโวคาโดปลูกไว้ในไร่เพื่อให้

ร่มเงาแก่ต้นกาแฟ ส่วนเมล็ดและผลที่

เก็บเกี่ยวได้ถือเป็นรายได้เสริมอีกทาง

เรานั่งรถกระบะไปตามถนนดิน

ต้นกาแฟใบเงางามเป็นพุ่ม ผลกาแฟเขียว

เต็มต้น เมื่อได้รับการบำรุงและดูแลอย่างดี

ต้นกาแฟเหล่านี้สามารถให้ผลได้ถึง 80 ปี

เลยทีเดียว หากแต่ต้องใช้แรงงานและเวลา

คนงานค้องคอยตัดกิ่ง ถอนวัชพืช และใส่

ปุ๋ยคอกให้กับต้นกาแฟทีละต้นๆ

เมื่อเก็บเกี่ยวมาเรียบร้อยแล้ว เมล็ด

กาแฟจะต้องผ่านกรรมวิธีในโรงงานที่ตั้ง

อยู่นอกเมืองพินอูลวิน เมล็ดกาแฟแต่ละ

เมล็ดนำจะต้องบรรจุเข้าในเครื่องจักร

ขนาดใหญ่เพื่อแช่น้ำ คัดเมล็ดเสียทิ้งไป

ปอกเปลือก แล้วคั่วให้หอมพร้อมชงเป็น

กาแฟในถ้วย แต่ในอีกมุมหนึ่งของโรงงานก็

มีคนงานคอยเลือกและคัดแยกเมล็ดกาแฟ

แยกตามเกรดอย่างถี่ถ้วน...ทีละเมล็ด

ที่ขาดไม่ได้เลยคือขั้นตอนการชิมกาแฟ

อาราบิก้าพิเศษ S795 ประสบการณ์

ความรู้ ความรัก และแรงงานกลั่นออกมา

เป็นน้ำกาแฟแต่ละหยด ให้รสชาติและกลิ่น

หอมเลิศล้ำ เกิดเป็นเครื่องดื่มสำหรับเริ่ม

วันใหม่ที่ทุกคนคุ้นชิน

แล้วเราก็ได้พบอีกด้านหนึ่งของเมือง

พินอูลวินที่เคยเป็นเมืองใต้อาณานิคม

เป็นด้านแห่งความหอมหวานของ

วัฒนธรรมกาแฟ และเป็นความโชคดีที่คน

แปลกหน้าอย่างเราได้มีโอกาสมาพบพาน

We also come in a digital format. You can read us at:

FAHTHAIMAG.COM

And feel free to send us your feedback.

Your voice is our inspiration!

Read more

76
---
GALLERY

It's a constant busy in the

city's indie art world, with

momentum picking up

for an inaugural biennale.

Photographer Jesper Haynes

makes the rounds on the

opening day circuit.

Words & Photos Jesper Haynes

Ifell in love with Bangkok's art scene

back in early 2000, a time when About

Café was an active experimental

gallery, with always something fun going

on. Another place called Gig Groceries

inspired me to make the book GIG, which

is a tribute to Bangkok's indie music and

art world.

The continuing energy and passion of

artistic creations in this city endured. Ten

years later, my first solo show was at No

Space gallery in (nightlife destination) RCA.

At the time it was one of the most fun art

galleries around. Run by musician Bank and

photographer Yoko, this followed with

more of my works exhibited at burgeoning

art spaces such the Space, Soy Sauce Factory,

Speedy Grandma and finally, at Jam factory

last year. So here we are, with an established

Bangkok scene bursting with artistic

expressions that can be avant-garde, offbeat

but always personal.

I have really high hopes for Bangkok

becoming a mini Berlin. It has all the right

ingredients, one of the most important

being low rent and secondly, lots of big

available spaces that could easily be

converted into galleries.

Many poor artists would probably

argue we're not there yet but I do have

a sense the Bangkok [art] world is still

evolving. In the last four or five years,

so many new interesting venues have

appeared, and there are now many areas

where clusters of galleries form small

communities where artists support each

other, a sweetness that is often missing in

bigger markets.

Bangkok's Chinatown has independent

galleries like Cho Why, around the corner

from the original About Café that started it

all back in the 80's.

78

79
---
GALLERY

TOP

Artist Apiwat Banler

often puts himself in

his large paintings: this

is from the exhibition

"Maybe Tomorrow" at

Cho Why Art Space.

Cho Why (on Soi Nana

in Chinatown), run by

David Fernandez and

Victor Hierro, is one of

those really cool spaces,

a converted Chinese shop

house where anything

art-related is encouraged.

BOTTOM

Justin Mills explains his

work to a visitor in his

studio on Soi Nana in

Chinatown.

OPPOSITE TOP

Bangkok-based

Douglas Diaz's exhibit

at Woof Pack Gallery.

The current work

of drawings and

illustrations explore

his personal definition

of "Love."

OPPOSITE, BOTTOM

Looking out from the

entrance to Gallery

Speedy Grandma, a very

hip and cool gallery run

by Lee Anantawat.

80 81
---
GALLERY

RIGHT

Artist Taweewit

Kijtanasoonthorn at

Bangkok Screening

Room, Woofpack Building,

that also champions the

artistic community. He

stands in front of his work,

"Up Side Down Town."

BELOW

Miti Ruangkritya's

installation at WTF Café

& Gallery, "Two men look

out through the same

bars: one sees the mud,

and one the stars".

ABOVE

Alex Face, an influential graffiti artist

whose work is always familiar, even

outside of Thailand. The work is from the

group exhibit, SOS-Souled Out at Bangkok

CityCity Gallery, now one of the leading art

spaces in Bangkok.

BOTTOM LEFT

Street art has enabled a larger community

to connect to public art and acquaint

themselves with the creative process of

an artist.

BOTTOM RIGHT

Kittitorn Kasemkitwatana's

"Impermanence" at Project Room by

Gallery Ver. The gallery is founded by artist

Rirkrit Tiravanija.

82

83
---
GALLERY

ABOVE

Japanese artist Wakabuko puts the last few brush strokes on his

painting at Jam Factory Gallery, another great spot and all around

interesting place to visit along the Chao Phraya river on the

Thonburi side.

BELOW

Graffiti has been part of Bangkok's street scene for many years.

This is on the khlong (canal) next to the Jim Thompson house

near the Ratchathewi BTS station and a nice way to see Bangkok's

waterways.

ABOVE

Jeff Gompertz's space keeps the experimental part of the Bangkok art

world alive, here with a video installation titled "Public RelationS".

BELOW

An incubating project for Young Artists at BACC (Bangkok Art and

Culture Centre). This installation is by Kanich Khajohnsri.

84

85
---
CLOCKWISE, FROM

TOP LEFT

Bangkok CityCity Gallery

is a hip young space

founded in 2015, this is

from the exhibition SOS-

Souled Out Studios.

Artist and curator

Angkrit Ajchariyasophon.

He supports young Thai

artists by introducing

their work at Angkrit

Gallery.

Tew Maneesutham's

To Reminisce, at CASE

Space Revolution,

located on the second

floor of vegan restaurant

Broccoli Revolution, on

Sukhumvit 49.

OPPOSITE PAGE

Works by British artists

Lucas Price and Mau Mau

at Bangkok CityCity

Gallery.

ABOUT THE PHOTOGRAPHER

American/Swedish photographer

Jesper Haynes was born in Edinburgh,

Scotland in 1962. When he was 16

years old, he met Andy Warhol in

Stockholm who encouraged him to

come and live in New York. Once in

the Big Apple, he started working for

Ralph Gibson printing in the darkroom

for five years. Days were spent in the

darkroom and nights at club Area

while living in American film director

and photographer Larry Clark's

apartment on Hudson and Canal –

"I never saw daylight." Jesper has

since established himself as an artist

documenting his unique lifestyle

through photography.

His photographs are part of the

permanent collection at the Museum

of Modern Art in Stockholm, Sweden. He

shares his time between New York (where

he is based), Bangkok, Paris and Tokyo.

86

87
---
KNOW BEFORE YOU GO

Urban farms continue to

proliferate, and in Bangkok

diners now can eat within

plucking distance of their

greens. Inventive dishes

and a farm tour are yours

just a few steps away.

BANGKOK 90 / SAMUI 92 / KRABI & PHUKET 96 / CHIANG MAI & CHIANG RAI 100 / PATTAYA & TRAT 101 /

CHENGDU, CHONGQING & GUANGZHOU 102 / HONG KONG 104 / SINGAPORE 106 / KL 107 / BATTAMBANG, PHNOM PENH & SIEM REAP 108 /

DANANG, HANOI & PHU QUOC 110 / LUANG PRABANG 112 / YANGON 113 / MALDIVES & MUMBAI 114

89
---
HAPPENINGS

THAILAND

BANGKOK

SPOTLIGHT

A Heartfelt Royal

Exhibit

The exquisite Phya Thai Palace

now opens to the public at the

main Phiman Chakri Hall, also the

site of the 'Forever in Our Hearts'

exhibition. Poignant and informative,

it comprises an extensive collection of

the life story of the late and beloved

King Bhumibol Adulyadej. It was

part of the multi-faceted series of

exhibitions of the Royal Cremation

Ceremony last year. Now, those who

missed this invaluable presentation

can visit Phya Thai Palace and walk

through the comprehensive series

packed with information about the

King's lifetime of comprehensive

works and showcase of ancient

Thai traditions.

Phya Thai Palace itself is a very

beautiful historical complex in

architecture and historical value.

Once a personal experimental

farming plot of King Rama V, the

space was later turned into the

palace for King Rama VI. Towards

the end of his reign, King Rama VI

turned his palace into a luxurious

MASTER PIECES

You can find classic pieces from Danish designer Arne Jacobsen to those of German

conceptual artist Ottmar Hörl in this "boutique of timeless objects" at The Object Room,

opening at K Village. Enjoy browsing through a wide array of lifestyle products and

accessories selected for their well-crafted quality and timeless charm from all over the world

hotel. When Thailand went through

the 1932 constitutional changes,

the palace was used by the Bangkok

military medical division and later

became King Mongkut Memorial

Hospital. Phya Thai Palace Conservation

Foundation, Ratchawithi Road, Bangkok,

phyathaipalace.org, +66 (0) 2354 7987,

(0) 2354 7732

RICE AND SHINE

After 35 years in Thai cuisine,

Chef Vichit Mukura has unveiled

his marvellous menu in a more

contemporary setting in the heart of

the bustling street of Ekamai. The

renowned chef aims at crafting what

he has gathered and mastered over

the years into perfect Thai dishes

accompanied by the magic of rice, an

everyday staple, hence the name of

the restaurant Khao (rice in Thai).

SPOTLIGHT

Next Level

Green Dining

Vegetables get their own

gastronomic treatment at

Haoma. The combination

may not seem so out of

the ordinary, but with

executive chef Deepanker

'DK' Khosla's culinary

skills and finesse at Haoma

(pronounced ha-o-ma),

the vegetables excel. Green

produce and local organic

All dishes are wonderfully created

using premium ingredients from Or Tor

Kor, the Chef's favourite market and

venue for high-quality fresh products.

Enlivened with blond wood and natural

light, the space offers traditional à la

carte Thai dishes, along with Chef's

Table options ranging from six, eight, to

ten-course menus. Advanced booking is

highly recommended. 15 Ekamai Soi 10,

khaogroup.com, +66 (0) 2381 2575

ALL THE SAKURA YOU CAN DRINK

Inspired by Japan's Sakura cherry trees, Up & Above Bar is

introducing cocktails and mocktails to celebrate the beauty

of cherry blossoms. The delicately-crafted selection includes

favourites like the floral champagne cocktail Sakura Royale, and a

Sakura Martini which fuses sake, cherry liqueur, and gin together

for a delightful twist. New selections include the Sakura 75, an

alluring combination of champagne, gin, Sakura syrup, and lemon

juice, and the Sakura Oriental Tonic that tweaks the classic

Gin Tonic with a Japanese botanical touch. For mocktails, the

bubbly Simply Sakura is the true manifestation of cherry purée,

yuzu juice, and soda water, while the Blossoms offers a more

adventurous experience with cherry purée, black pepper-infused

syrup, cream and lime juice. Up & Above Bar at The Okura Prestige

Bangkok, Park Ventures Ecoplex, 57 Wireless Road, okurabangkok.

com, +66 (0) 2687 9000

and in Thailand. Originally from Auckland, New Zealand

and founded in 2011, the multi-brand design store

understands the desire to combine cutting-edge

aesthetics with an everyday functional purpose.

K Village, 93, 95 Sukhumvit 26, +66 (0) 2007 0767,

facebook.com/theobjectroom

ingredients create a progressive

dining experience in line with

the restaurant's environmental

approach. Nestled serenely in

the corner of Sukhumvit 31,

the restaurant's two-storey

glasshouse embraces the lush

greenery of the surrounding

area. Complete with its own

organic garden, it perfectly sums up the concept

of an urban farm with the mission to cook only

what they grow and reap. Also, Haoma has

drinks crafted by Bacardi's brand ambassador

mixologist Mitchell Kai Lum. His creations, in line

with Haoma's sustainable approach, feature an

innovative way of interpreting spirits, fruits and

vegetables. 231/3 Sukhumvit Rd, haoma.dk,

+66 (0) 2258 4744

90

91
---
HAPPENINGS

THAILAND

SAMUI

SPOTLIGHT

The Tongsai Bay Exclusive

Adding to Koh Samui's repertoire

of sophisticated dining options

is the newly opened Butler's at

The Tongsai Bay.

With the intention of adding

an exclusive take on dining,

Butler's opens its doors only on

Wednesday and Friday evenings

from 7pm with a maximum of 20

guests per evening. Aiming for an

intimate dining experience, the

overall setting is informal yet cosy.

The tempting menu features

a selection of Pan-Asian and

Mediterranean-inspired dishes

from skilfully-trained Chef Eak,

who attentively curates a menu that changes

weekly yet maintains a consistency and theme.

The intimate setting is one not to be missed for

food lovers visiting the island. Interested guests are

urged to pre-book to enjoy this tantalising dining

experience. 84 Moo 5, Bo Phut, tongsaibay.co.th,

+66 (0) 77 913 750

BRIDGING COFFEE, HIDDEN NATURE

Just hidden in the jungle amongst the rolling hills of

Maenam sits one of Koh Samui's most unique and

new hotspots. Opened just a year ago, Tree Bridge

Coffee is already establishing itself as a 'must see'

on this side of paradise. The attraction begins with

a wooden bridge whose beautiful design leads out

to a tree house café. Exposing jungle and ocean

views, the worthwhile visit becomes an unbeatable

choice for an afternoon trip. Continuing

a short 200 metres from the café and

right into the jungle, patrons will find

themselves toe to toe with a 20-metre

high waterfall and the soothing sounds

of nature. In addition to expanding its

already impressive offerings, Tree House

recently started a 400-metre zip line.

Here's a chance to sail over the top

of a dense Samui jungle after having

sipped a coffee in the treehouse for

great views all around. Maenam Soi 5,

samuitreebridgetour.com/en,

+66 (0) 77 901 175

COCKTAIL X PIZZA

CoCo Tam's, a popular haunt at vibrant

Fisherman's Village in Bophut, is famous

for its oversized cocktails, weekly fire

dance shows on the beach, swing

seats, and chill beach bar vibe. With

the opening of CoCo Tam's x Peppina

this past November, this collaboration

merges expertly-made drinks and

expertly-made pizza. With several

branches in Bangkok already, Peppina's

beach location still means wood-fired

pizza skilfully served up: this time from

a beautiful two-story brick building

expertly decorated for a Bali-esque feel.

A variety of lounging option comes in

the form of CoCo Tam beanbag chairs,

rattan seating, or any number of beachchic

seats. If beautiful views of boats

bobbing on the deep blues of the Gulf

aren't enough, Peppina's game room is

also well stocked with your favourite

board games to help pass the time.

facebook.com/cocotamsxpeppina,

+66 (0) 77 945 269

THE GREAT WATER ESCAPE

For adventure seekers looking to take a break from the

beach but still beat the heat, High Park Samui is the

island's hippest new place to do so. It's hard to resist

spending a day swooshing from the 15-metre-high

water slides while enjoying beats from a live DJ, casual

bites, and perfectly priced drinks. You can switch gears

by going from the intense thrill of the water slides to a

more relaxed dip in High Park's infinity pool overlooking

picturesque Chaweng and the mountains. After all that

high, catch the sun as it goes down, as the sky bursts into

its beautiful array of colours to provide a dreamy scene to

end the day. highparksamui.com, +66 (0) 77 961 484

92
---
HAPPENINGS

THAILAND

SAMUI

SPOTLIGHT

The Island Godfather

of Italian Restaurants

Koh Samui's first introduction

to authentic Italian cuisine

came from the long established

island favourite, Prego

restaurant. Though many

Italian restaurants now grace

the shores of Koh Samui, Prego

holds its place as the best one to

visit for that taste from the old

country. Chef Marco's precise

ability to transport the flavour

of Italy straight to Thailand

draws in long-time islanders as

well as a wealth of new visitors.

Pasta dishes are good choices in

the extensive menu given that it

is hand made with real semolina

flour. Their pizza menu is a

crowd favourite as well, with the

pies themselves done in a wood

fire oven. Located along lively

Chaweng beach road opposite

Amari resort, Prego continues to

offers complex Italian flavours

and a wide selection of drinks in

an unwavering commitment to

quality dining in Samui. Chaweng

Beach Road, prego-samui.com,

+66 (0) 77 300 317

(QUAD)RUPLE THE FUN

What could be a more perfect way to enjoy Samui's exciting terrain

and lush nature by way of a quad bike? The multi-national team at

X-Quad possess sure knowledge of the island's best spots, creating

customised nature trails for holiday-goers to fulfil their adventurous

spirit. Quad bike excursions boast picturesque scenery from Samui's

highest hill, the feel of a real jungle, and a mesmerising hidden

waterfall, with maximum safety provided. No experience is needed,

just the craving for an adrenaline rush and the usual island gear

(swimwear, sunscreen, etc) and all is set for the ride. This one-day trip

of magnificent views, with lunch and beverages, can also be done

as a private tour provided by X-Quad, depending on the season.

Maenam Soi 5, xquad-samui.com, +66 (0) 90 980 5401

IN DEMAND BRUNCH

If you are looking for a leisurely

Sunday brunch, look no further than

Nikki Beach Resort Koh Samui, where

entertainment, luxury, and gastronomy

all fuse into one memorable experience.

Starting from 11am to 4pm, the beach

club's Amazing Sundays Brunch offers a

wide array of gastronomic Western and

Thai cuisine in a gorgeous setting on

Lipa Noi Beach. As the restaurant is one

of the most sought-after brunch spots

thanks to its pleasing cuisine and four

different dining/lounging areas, guests

are recommended to make a reservation

in advance. Also, mark June 24 as they

are hosting the Burning Man-inspired

event "Wild and Free," an expression

of art, love, music, and spirituality.

Combined with entertainment and music,

the free-spirited event will be another

lasting memory complemented by the

spectacular seascape. 96/3 Moo 2,

Lipa Noi, Samui, +66 (0) 77 914 500,

nikkibeach.com

SAMUI'S ITALIAN

Less than a year into its debut, Two Fishes Italian

Restaurant has become the talk of Samui town for its

noteworthy Italian cuisine. Helmed by chef Leandro

Panza with 25 years of experience in the kitchen, the

restaurant uses imported Italian ingredients along

with fresh local produce. Two Fishes offers a sleek,

modernist vibe along with mouth-watering Italian

dishes with highlights such as Black Grouper All'Agro

Dolce – a crispy black grouper fish served in a sweet

and sour sauce with onions – and the classic Vitello

Tonnato, a slow-roasted veal fillet with a tuna and

caper sauce. 79/5 Bophut, 2fishessamui.com

94
---
HAPPENINGS

THAILAND

PHUKET

SPOTLIGHT

Charm of a Restaurant

UNESCO's recognition of

Phuket as a City of Gastronomy

recently spurred increased

interest among the local and

international crowd for the

city's local cuisines, especially

Peranakan food. The latest

addition to an already vibrant

and varied food scene is

'The Charm,' a traditional

restaurant in Phuket Old Town

that features rarely found

homemade Peranakan recipes.

These have been gathered by

the owner's family by watching

and learning over time in

their ancestors' kitchens.

The traditional fusion

cuisine itself has a long

heritage that traces

back to early Chinese

migrants who settled in

Malaysia, Singapore and

Indonesia. Distinctively

influenced and tasty

dishes once exclusively

prepared in the homes

of Phuket natives are now

served to diners to satisfy

inquisitive palates. Gaeng Tu

Mee or Muslim-inspired fish

curry, the unfamiliar delicacy

of Gaeng Plaa Ama (Ama's

style fish curry) requiring a

good quality sesame oil, or the

Hainanese-style pork steak that

used to be a favourite among

Western engineers working

Phuket's mines back in the day;

all are usually hard to find in a

restaurant. Diners should not

miss the signature dessert of

Koi Taa Lam, a Phuket delicacy

of pandanus-infused custard

served in a modern style. Open

Tuesday - Sunday: 11am - 10pm,

93 Deebuk Road, Amphur Muang,

Phuket, +66 (0) 96 998 9244

WORKING THE LAND IN PHUKET

If you're looking for a change from

Phuket's beaches, just a few kilometres

north of Phuket Old Town sits Vanich

Farm where you can learn about the

farming life. Gain insight on how rice is

grown, cook Thai dishes and even get up

close and personal with water buffalos,

the farmer's trusty companion in the rice

paddy. While Vanich farm dedicates a

large part of the land to growing sweet

corn, their rice paddy complete with

tractors and farm animals sets this place

apart from other destinations in Phuket.

Visitors can come in and take a stroll

before retreating to a farm-to-table

meal at Barn Café where recommended

dishes include a Mulberry Salad and of course, corn soup. Those

determined to know more can sign up for packaged tours with

offers of educational experiences, like the hands-on planting of

rice seedlings in the comfortable outfit of a farmer's 'morhom'

shirt, cropped pants and protective straw hat. Workshops on how

to make salted eggs, and how to maintain a worm farm are also

interesting choices. Open daily: 10am - 6pm, 19/540 Rassada Road,

Amphur Muang, Phuket, +66 (0) 98 671 2168, vanichfarm.com

KNOWING MEE

Phuket always has its own local

interpretation of staple foods. An

example is the ubiquitous rice

vermicelli known as 'sen mee' in

other parts of Thailand but in Phuket,

it's known as 'mee hun'. Enjoying this

thinner strand of rice noodle requires

a quick trip to Talad Lor Rong food

court a few kilometres away from

Phuket Town. Expect mee hun noodles

in Phuket to be served with crabmeat

curry or stir-fried and served with pork

rib soup. When ordering mee hun,

this widely-used name brings to mind

that the beloved noodle should be

blanched until perfectly al dente and

served with myriad dishes.

Mee hun is cooked up differently

and also has the novelty of being

called a 'mee Thai.' Although a lesser

known name of the rice noodle, mee

Thai is great for those who love a

meatless dish. The noodle strands

get stir-fried with coconut cream

until fragrant, served with crunchy

beansprouts, julienned cucumber

and chopped chives with super

delicious results. Staple condiments

include toasted dried chillies and

maybe a spoonful of sugar. It's a

great afternoon munch. Talad Lor

Rong is also the place you can find

other indigenous Phuket snacks, such

as their famous spring rolls and rice

pancakes called 'A Pong.' Ranong Road,

Amphur Muang, Phuket, open daily

(except Tuesdays): 11am - 3pm,

+66 (0) 86 814 9772

96
---
HAPPENINGS

THAILAND

KRABI / PHUKET

SPOTLIGHT

Super Bowls

Lion & Shark, a healthful and veganfriendly

hub of food and lifestyle in

scenic Ao Nang is best-known for

their signature tropical smoothie

bowls whose unique superfood tastes

and impressive sizes can easily fill

up one's appetite for the entire

day. The eye-catching bowls are

named after Krabi's scenic beaches,

namely Lanta Bowl (Mango and

Passionfruit), Railay Bowl (Coconut

and Pineapple), Poda Bowl (Peach

and Mango), and Tonsai Bowl

(Spinach and Kiwi). Apart from their

offerings, Lion & Shark cares for

the Krabi environment by arranging

activities for the public to engage

in, such as "Ao Nang Trash Hero",

"No Straw Movement", "A Bucket of

Beach Trash for a Coffee" and much

more. 247/3 Moo 2, Ao Nang, Krabi,

facebook.com/LionandShark,

+66 (0) 87 681 9008

A 24 YEAR LOVE

In a town where the main food culture is mostly

influenced by Chinese and Muslim dishes, Je

t'aime, Phuket's longest-standing Vietnamese

restaurant, has ample reasons to celebrate its

24th anniversary. They're the first restaurant

to break the mould of typical eating out habits

in Phuket by bringing in Vietnamese and Thai

selections to their menu. Their popular dishes

include Naem Nueang, or grilled pork sausages,

whose do-it-yourself wrapped rolls come with

a tray of assorted herbs and vegetables. Also

popular is Chạo Tôm or grilled shrimp wrapped

around a sugar cane eaten with a sweet and

tangy sauce and rice vermicelli. If you're looking

for something warm and hearty, there is always

a good bowl of Bánh Canh, a thicker type of

Vietnamese noodle served with choices of

meats – typically pork spare ribs. Open daily:

11am - 10.30pm, 183/93 Phang Nga Road,

Amphur Muang, +66 (0) 76 219 103,

facebook.com/jetaimevietnamese

LAGUNA PHUKET INTERNATIONAL MARATHON

The 'Laguna Phuket International Marathon' from all over the world. The event offers a

takes place this year from 8 to 10 June at the selection of different races that's open to people

Laguna Phuket resort complex in the Cherngtalay of all ages. Kids can join the 2km run, while

area that's located north of the island. Held for adults can choose from 5km, 10.5km or half

13 consecutive years, the event expects to draw marathon (21km), a marathon relay (42km) and

more than 7,000 runners and enthusiasts full marathon (42km). The races start and finish at

Laguna Phuket. Runners follow the course out of

the resort and head north through local villages,

with pineapple and rubber plantations en route.

The proceeds of this marathon go to the Laguna

Phuket Foundation, established back in 2009, to

support education and social development in the

Phuket area. phuketmarathon.com

PERANAKAN FOR THE DAY

A theme museum where visitors can immerse in the vibrant

lives of Phuket's Peranakan clans, the Peranakan Phuket

Museum showcases the vast and private collection of Phuket

families in colourful portrayal. From depicting their deep roots

in the jewellery trade of Phuket to featuring toy size models

the likes of a traditional Phuket Anglo-Chinese shop house

adorned with fine details – the exhibit illustrates life as it

was back when Phuket was the main mining hub of the Thai

South. Since jewellery plays a big part in the Peranakan tradition

and spans centuries, stories of these

precious objects and their creation see

heavy representation alongside displays

of traditional clothing like the exquisite

kebaya, batik sarong, embroidered

slippers and everyday accessories. The

entrance ticket comes with guided

tours available in English, Chinese,

Korean and German (advance booking

recommended.) A portrait studio and

traditional apparel are also available

for rent. Drop by 'Ya Ya Kitchen', a

restaurant where you can try a Phuket

-style delicious Peranakan meal, or

the lovely Piñana Café for coffee and

sweet treats. Open daily: 9am - 6pm,

124/1 Moo 1, Thepkasattri Road, Tambol

Si Sunthon, Amphur Muang, Phuket,

+66 (0) 76 313 556, (0) 92 224 4574,

peranakanphuketmuseum.com

98
---
HAPPENINGS

THAILAND

CHIANG MAI / CHIANG RAI

THAILAND

PATTAYA / KOH CHANG

SPOTLIGHT

Soy Milk Heaven

With a menu dedicated to soy milk – 'slow coffee'

bar Yellow Crafts Café – opted out of using a high-tech

espresso machine and instead makes each shot by

hand, using the likes of an Aeropress. Expect an

Americano to be done with the hand-drip method,

thereby producing a cup of aromatic coffee per

order. Their cold brew requires an overnight drip

process that slowly extracts the coffee with cold

water. Run by soy milk enthusiasts whose soybeans

are supplied from a trusted farm in Chiang Mai, this

small café serves vegan-friendly caffeine drinks and

more. Their signature 'soy milk coffee' uses their

blend of beans especially selected and roasted to

SAY CHEESE IN CHIANG RAI

The sleepy town of Chiang Rai has

become a food destination of late

with the number of high-profile

chefs and food establishments

drawing visitors from everywhere.

Now it's time for the spotlight to

be on creamy cheeses. Made by

artisan producers Chiang Rai

Cheese, the cheeses

rely on the milk of

cows and goats

from the area

and provided by the Chiang Rai

Dairy Cooperative. The cheese

makers themselves produce

original varieties such as 'Chiang

Rai Cremoso,' and 'Chiang Rai

Blanco' which is a blend of

goat's milk and cow's milk, as

well as 'Chiang Rai Halloumi,'

blue cheeses and much more.

On site is their factory outlet

called 'Baan Cheese' retailing

their cheese selections with

tasting samples. Those looking

for a new place to have a bit of

a cool down can also drop by for

coffee. T: +66 (0) 64 005 2405,

chiangraicheese.com

withstand soy milk's natural

coagulation keeping the drink

smooth; there's also a 'soy

milk chocolate' and a pure

homemade soy milk available

hot or cold and served with

their own soy cookies. Dairy

is also available as an option

and can be found in the many

baked items available, such as

brownies and biscotti. The place

is decked out with cheerful spots

for photo opportunities, hence

it's a hangout for selfie-crazed

teens in the area.

Open daily: 7am - 7pm, Moo Ban

Dao Dung Soi 2, Chiang Mai,

T: +66 (0) 53 278 757

STITCHED ARTS OF BLACK LAHU

Bold and spunky abstracts best describes the stitching patterns and signature

of 'Cha Arnon Phahompok' apparel. Handmade by the Black Lahu people,

find these collections at Cha Arnon café and boutique at Doi Pha Hom Pok

National Park in Amphur Fang. With a modest start of sourcing hand-woven

and sometimes raw cotton from the local villages, café owner Cha Arnon

created designs that the Black Lahu people stitched into life, putting their own

personalities and style into one-of-a-kind fashion in jackets, dresses, shirts, or

a super-sized satchel. 8am - 5pm daily, Pha Hom Pok National Park, Amphur Fang,

Chiang Mai, T: +66 (0) 91 139 5170

SPOTLIGHT

A Special Time at Level 34

If it's a grand night you're after,

consider going high. Special events

can easily happen at the Horizon

Rooftop Restaurant and Bar located

on level 34 of Hilton Pattaya. The

rooftop restaurant and bar is the

only place in town with stunning

panoramic views of the city in

a stylish setting. The restaurant

features both indoor and outdoor

spaces which include private dining

rooms with floor-to-ceiling glass

panels to fully appreciate views of

the city and bay as far as the eye

can see. Signature dishes of Miso

Glazed Snowfish, a 48-Hour Lamb

Shank, followed by a Baked Alaska

dessert round out a fine meal. Their

signature cocktail, Horizon 8 Shot

Tower makes a further impression.

Bookings for that special night are

recommended for the best spot in

the house, guarantee to be a hit

with your loved ones. 333/101 Moo 9

Hilton Pattaya, 34th Floor, Pattaya,

+66 (0) 38 253 000, facebook.com/

Horizonrooftoprestaurantandbar

AWAKEN YOUR SENSE OF ADVENTURE

Koh Chang as an island destination for everyone

means you'll never run out of things to do.

Perhaps you've already chilled at the beach,

gone diving, or have swum in the waterfalls. If a

little more adventure is on the list, there's Tree

Top Adventure Park. Daredevil fun comes in the

form of trying out rope bridges, air bikes, tight

rope walks, Tarzan swings, a flying skateboard

and expansive zip line courses with the

abundance of nature. With a constant eye on

safety, the Park offers packages for both adults

and children at 1,250 baht. Located beside

Bailan Bay in the lush forest, it's the ideal group

excursion with friends or family for a memorable

Koh Chang day. 115 Moo 1, Koh Chang, Trat,

+66 (0) 84 310 7600, treetopadventurepark.com

BIKINIS ON THE RUN

History tells us that bikinis are an ancient

invention first worn by Roman gymnasts. Pattaya

Beach will also see a sporting event in the

two-piece swimsuit at the Central Festival Bikini

Beach Race 2018.

The event plans to bring sexy back in

cheeky fun on 19 May 2018 by encouraging

runners to join and wear their best bikinis to run

for their health and keep fit. All fitness levels are

welcomed to join the race – fees are 700 baht

for the 9km run and 600 baht for 3km. To make

the event more entertaining, special prizes will

be given for best outfit, best body and more.

Summer temperatures are just right to don a

bikini for a fun run. If running's not your thing,

the event is still a spectator-friendly experience.

facebook.com/CentralfestivalBikiniBeachRace

100

101
---
HAPPENINGS

CHINA

CHENGDU / CHONGQING / GUANGZHOU

SPOTLIGHT

Stilt Standing

Complex

JINSHA SITE TREASURES

In 2001, archaeologists discovered remnants of the ancient capital of the

Shu Kingdom that existed 3,000 years ago. In total, the Jinsha site has 6,000

relics, 63 sacrificial areas, 3 burial grounds, and more than 70 building sites.

It also contains the largest concentration of ancient ivory and jade from that

period. Visitors can explore the Site's Exhibition Hall, Relics Hall, Ecological

Garden, and Centre for Cultural Heritage Protection. The Exhibition Hall

has realistic displays on Shu life and compares the Shu Kingdom to the

contemporary Mayan, Mesopotamian, and Ancient Indian civilisations.

Take Metro Line 7 to exit C, Jinsha Site Museum, Chengdu. Open daily 8am-8pm,

May-October. jinshasitemuseum.com

YOUNG ARTISTS EXHIBIT

AT REDTORY

In 2009, the founders of the

Redtory repurposed the Sovietstyle

Yingjingqian Canned Good

Factory and turned it into an art

centre focused on local revitalisation

and artistic innovation. Along with

exploring the factory buildings turned

galleries, visitors can enjoy three large

exhibition halls, working studios,

book and gift shops, and a variety of

restaurants and small coffee shops.

Through May 7, 2018, the Redtory

features Future Life Handbook,

the first exhibition in its Young

Artists Program. Curated by Rachel

Rits-Volloch, the exhibition features

the artwork of six young artists in

residence in Berlin and China.

No. 128, Yuancun Si Heng Rd,

Guangzhou. Open Tuesday-Sunday,

10.30am-9.00pm redtory.com.cn

With unique stilt house

architecture and views

over the intersection of the

Yangtze and Jialing Rivers,

Hongyadong is a scenic spot

to enjoy historic Chongqing.

Converted into a recreational

and cultural attraction,

Hongyadong showcases local

cuisine, folk art, and culture.

A must-see sight is the

impressive 11-story wooden

stilt house that is spectacular

day or night. Sample

delicacies like spicy hot pot,

burning noodles, and fried

silkworm chrysalis before heading

up to the stilt house's top floor

viewing deck that looks out over

the waterfront. Free admission;

open day and night. No. 88, Jiabing

Road, Yuzhong District.

LOTUS HILL VISTAS

Located 12.5 miles southeast of Guangzhou's city

centre, Lotus Hill is a huge park with many points

of interest. It is famously known as the ancient

quarry that supplied stone for the two thousand

year old tomb of the Nan Yue King. King Zhao

Mo ruled from 137 BC to 122 BC over the Nam

Viet Kingdom, an empire that stretched from

South China's Guangdong and Guangxi provinces

to Northern Vietnam. Today, the remaining

stone cliff walls rise up imposingly above thick

forest, tunnels, grottoes, and pools. The park also

contains a large statue of the Goddess of Mercy,

Guan Yin, a nine-story pagoda, and a sprawling

orchard of peach trees. Line 4 to Shiqi, then bus 92

or 93 to the park.

DIM SUM IN THE PARK

Built in 1958, Guangzhou's tranquil Li Wan Lake Park is an oasis of calm in

Guangzhou's historic Lychee Bay. Antique shops along Wenjing Antique Street

are a picturesque place to find hidden treasures.

After a stroll around Li Wan Park and nearby antique shops, consider stopping

at the famous Pan Xi Restaurant for some dim sum. One of China's largest

lakefront restaurants, a dazzling array of dining rooms awaits groups of any size.

Pan Xi, 151 Longjin West Road.

GET LOCAL WITH LOST PLATE

With food tours in Beijing, Xian,

and Chengdu, Lost Plate's goal is to

"change the way foreigners eat in

China by breaking down language

barriers and taking them off the

beaten path to eat where the locals

eat." Tours are small at no more

than 10 people each to give the

group an intimate connection with

their guide. All restaurants are local,

family-run, and in places tourists

would never find on their own.

In Chengdu, guests can choose

from two tours: the 6.30pm

"Evening Food Tour" filled with

street snacks, Sichuan dumplings,

chuan chuan hot pot, and noodles;

or the 4pm "Hotpot, Tea, and Market

Tour" featuring traditional tea and

snacks, a visit to a local market, and

Sichuan hotpot. Both tours end at a

boutique bar for local wine or beer in

a relaxed atmosphere. Tours are allinclusive

with unlimited food, drinks,

guide, and transportation and are

highly rated as one of the top food

tours in China. lostplate.com

VISIT THE CITY OF GHOSTS

Known to locals as the "Ghost City," Fengdu on

Ming Mountain is a treasure trove of Confucian,

Taoist, and Buddhist shrines and temples

spanning two thousands years. Classical Chinese

works like Apotheosis of Heroes, Journey to the

West, and Strange Stories from a Chinese Studio

all mention this eerie place.

According to legend, during the Eastern Han

Dynasty imperial officials Yin Changsheng and

Wang Fangpin came to Fengdu to practise

Taoism and through their study became

immortal. Their names combined to "Yinwang,"

meaning King of Hell, giving rise to Fengdu's

ghostly reputation. Within the park is a route

depicting the Chinese vision of the dead's

transition into the afterlife, including, the Bridge

of Helplessness, the Torturing Pass, and Tianzi

Palace. While walking this route, visitors can

explore intricate depictions of the underworld.

Admission 80RMB; open 9am - 5pm daily.

About two hours from Chongqing, accessible by

Yangtze cruise or by car.

102 103
---
HAPPENINGS

HONG KONG

A SHOWCASE OF PERSIAN ART

The Liang Yi Museum in Hong Kong will be showcasing

prime examples of Persian art, some of which are sourced

from the Ashmolean Museum, the Victoria and Albert

Museum and the David Collection. The showcase titled,

The Blue Road: Mastercrafts from Persia, will be held at

this private museum until 24 June.

The exhibition stands as one of the most dedicated

and comprehensive exhibitions surveying different

aspects of the colour blue in Persian art and history in

Hong Kong. With materials and categories ranging from

glass, ceramic, textiles, painting and manuscripts, this

showcase of carefully selected artefacts illuminates the

significant role of blue in the visual and material culture

of Iran and the impact it made on shaping of other

artistic traditions in Asia and beyond. 181-199 Hollywood

Road, Sheung Wan, liangyimuseum.com

SPOTLIGHT

A Spicy Affair

Asians have always had a penchant for spicy food but

Chilli Fagara has taken that concept up by several

notches. A haven for those with a spicy palate, the

outlet boasts an eclectic modern and traditional

Chinese-inspired décor, and dishes out authentic and

notoriously fiery Sichuan cuisine.

Established in 2005, Chilli Fagara embraces the

Ma La Tang concept for numbing (ma), burning (la)

and neutral (tang) tastes of Sichuan food. Chillies and

peppers are the main ingredients at this restaurant,

which should bode well for diners who require a little

more 'kick' to their dishes.

For those who aren't daring enough, Chilli Fagara

does carry ample delicately flavoured dishes that

won't have you breaking a sweat.

Open daily, 11.30am-3pm; 5-11.30pm, 7 Old Bailey Street,

Soho, Central, chillifagara.com

SPOTLIGHT

A Taste of Britannia

One only needs to venture out to

popular Gough Street in Hong Kong

to savour authentic British cuisine.

Renowned for its style, craftsmanship,

hospitality and charm, Gough's on

Gough has been attracting diners ever

since its doors opened in July 2017.

Offering a menu that revisits

classic British-styled dishes, the

restaurant injects a modern and

sophisticated take on these staple

favourites. Executive Chef Arron

Rhodes has applied his creative

approach and philosophy on the

outlet's menu, utilising only the

freshest of ingredients and best in

season produce.

Gough's on Gough not only boasts

a generously appointed dining room

but a raw bar as well with fresh British

seafood, and a selection of bespoke

crafted cocktails, fine champagnes and

wines for guests to savour. Open daily,

12-2.30pm; 6.30pm till late, 15 Gough

Street, Central, goughsongough.com

PASSION AND OPERA

The Opera Hong Kong will host one

of the world's most beloved operas

this May with the staging of Georges

Bizet's 'Carmen' at the Grand Theatre.

A story of passion, destiny, freedom

and liberty, Carmen tells the timeless

tale of Don José, a soldier who

forsakes his career, honour and family

for a doomed love affair with the

gypsy Carmen.

Combining Spanish passion with

French lyricism, Opera Hong Kong

will inject an air of modernity into

this classic opera with an innovative

nested rotating set design. Bringing

Carmen to life on stage are Jean-

François Borras, Giancarlo Monsalve,

Varduhi Abrahamyan, Marie Karall,

Vittorio Vitelli and Jean-Kristof Bouton,

six versatile and experienced artists

who have performed at leading opera

houses around the globe. 16-20 May,

Grand Theatre, Hong Kong Cultural

Centre, operahongkong.org

104
---
HAPPENINGS

SINGAPORE

MALAYSIA

KUALA LUMPUR

RAMADHAN NIGHT MARKETS

The holy month of Ramadhan from 15 May to

14 June will see numerous streets around Kuala

Lumpur come alive with evening markets selling

signature Buka Puasa (Iftar or breaking of fast)

chows and delicacies. If you're in the capital

city of Kuala Lumpur during the holy month of

Ramadhan, then this would be the best time to

savour some of the best Malaysian street food

and local dishes.

There are many Ramadhan bazaars to choose

from during the month, but ask any KL-ite where

SPOTLIGHT

Moving to the Music

The Ultra Music Festival stands as one

of the world's most highly-anticipated

electronic festivals. For two decades,

UMF has grown to become a global

phenomenon with up to 45 events

held internationally. Singapore

remains one of the stopovers for the

electronic music festival and this

June, the Garden City is set to put on

another epic showcase.

Ultra Singapore, which is now in

its fourth year, will see an eclectic

line-up of DJs take to the stage

throughout the two-day event.

Artists such as Tiesto, Dash Berlin

and Steve Aoki have graced previous

year's events. Expect similar big

name stars to get the crowd rocking

and pumping this year as well.

June 15-16, Ultra Park, 1 Bayfront

Avenue, Singapore, ultrasingapore.com

their favourite go-to places are and Taman Tun,

Kampung Baru and Bangsar will surely be on their

list. All three venues and numerous others provide

the usual array of favourites such as apam balik

(turnover pancake stuffed with crushed peanuts),

bubur lambuk (savoury porridge) and ayam percik

(barbequed chicken).

For sheer variety, Kampung Baru should prove

ideal to whet your appetite, and while you're in

there, stroll around the neighbourhood to get a

slice of the kampung (village) life within a bustling

metropolis. Bazaar Ramadan Kampung, Jalan Raja

Alang, Chow Kit, 50300 Kuala Lumpur, open 3-7pm

SPOTLIGHT

Foodie Hangout

NEOCLASSIC SETTING,

CONTEMPORARY CUISINE

Chef Robert Chan went on a

mission to strip back the fine dining

experience and highlight what

was most important to him – the

food. The result of this ideology is

Tablescape, Singapore's newest and

hottest F&B establishment.

Housed within the luxurious

Grand Park City Hall, Tablescape

is a contemporary restaurant and

bar, focusing on delivering hearty,

comforting favourites that can be

paired with artisanal cocktails, and

extensive premium wine and craft beer.

Desserts are provided off the trolley

with an indulgent array of house-made

sweets. 12-2.30pm and 6-10.30pm

daily, Level 3, 10 Coleman Street,

Grand Park City Hall, parkhotelgroup.

com/en/cityhall/tablescape

HAIL CAESAR!

Fort Canning Park will be transformed

into a stage for the Singapore Repertory

Theatre (SRT) as they present this year's

edition of Shakespeare in the Park. This

year's performance of Julius Caesar will be

directed by London-based theatre director

Guy Unsworth, who has assembled an

impressive cast of talents from the region.

SRT will tap into modern-day

international relations and global current

affairs in order to deliver a contemporary

spin to Shakespeare's renowned political

thriller. With an engaging storyline

presented on a beautiful set under a

blanket of stars, Shakespeare in the Park

- Julius Caesar will surely deliver a theatre

experience like none other. May 2-27,

7.30pm, Fort Canning Park, srt.com.sg/

show/juliuscaesar

The row of shop houses in Plaza

Batai, on Jalan Damansara,

which once housed old

bookshops, florists, coffee

shops and a market, has now

caught a second wind as a hip

and happening neighbourhood

hangout. Food choices here

are abundant and so is the

variety, thanks to inventive

and passionate cooks who took

advantage of the redevelopment

to set up shop here.

Eateries such as Yellow

Brick Road and Beauty and

the Beast live up to their

name with creative and

whimsical creations ranging

from pancakes to burgers and

sandwiches to entice diners.

International cuisine offerings

include Torii, which specialises

in Japanese Yakitori and Sitka,

a modern Asian restaurant and

wine bar and Ekkamai, which

serves contemporary Thai.

The biggest footprint is occupied by Ben's

Independent Grocer, which also houses a small

number of eateries within the supermarket but

regulars however have a soft-spot for Restoran

Shangri-La. The outlet maintains a selection of

food stalls, peddling hawker fare, which adds a

dash of nostalgia for diners who used to frequent

Batai all those years ago. Jalan Batai, Bukit

Damansara, opens daily 7am to 11pm.

106 107
---
HAPPENINGS

CAMBODIA

BATTAMBANG / PHNOM PENH / SIEM REAP

SPOTLIGHT

Classically French

For the past two decades, Topaz

has cooked its way into the hearts

of diners in Cambodia. A landmark

destination for fine French dining,

the restaurant located in the heart

of Phnom Penh celebrates timehonoured

traditions and cutting-edge

gastronomy in a stylish surrounding.

Even the most sophisticated taste

buds will appreciate the extensive

menu available at Topaz, especially

its signature and hearty favourites.

French staples such as Tartare de

Filet De Saumon (Salmon Tartare),

Soupe Élysée Au Truffes (Truffle Soup)

and Entrecote de Boeuf Black Angus

(Grilled Black Angus Ribeye) are just

some of this restaurant's highlights.

Diners are guaranteed a complete

dining experience at Topaz, with the

best ingredients sourced from leading

producers and suppliers, ending with

sublime service. There's also a wellstocked

bar on site, complete with

an extensive and impressive wine

list to complement each meal. Open

daily, 11.30am-2pm; 6pm-10.30pm,

162 Preah Norodom Blvd, Phnom Penh,

topaz-restaurant.com

SPOTLIGHT

Gateway to Khmer Cuisine

You're always spoilt for

choice when it comes to

dining options in Siem

Reap but the Embassy

Restaurant is arguably your

best bet to experiencing

authentic Khmer cuisine

in a fine dining setting.

Kimsan Pol and Kimsan

Sok, better known as the

'Kimsan Twins' are the

creative culinary force

behind this establishment,

which elevates Cambodian

cuisine to new heights.

The restaurant with

its tastefully decorated

dining room and indoor

terraces that overlooks

the King's Road complex

serves an impressive array

of gourmet-styled Khmer

dishes. The twins make it

a point to regularly change

the menu to showcase a

wide variety of flavours so

no visit to the Embassy is

ever the same.

The outlet's 'active

menu' is changed on a

monthly basis and there's

also a seasonal multiplecourse

set menu paired with

matching wines as well.

Open daily 6pm-11pm,

King's Road Angkor Village,

Siem Reap, embassyrestaurant.com

ROYAL PLOUGHING CEREMONY

Every year in May, Cambodians celebrate the

Royal Ploughing Ceremony or 'Bon Chroat Preah

Nongkoal', which signifies the beginning of the

sowing and planting season. One of Cambodia's

most important royal ceremonies, the main

celebration takes place at the park in front of the

National Museum just next to the Royal Palace.

According to tradition the King, or a chosen

representative, will till a plot of land with a plough

pulled by bulls. This customary act signals the

start of the farming season throughout the

country. After three rounds with the plough, the

bulls are allowed to feed on rice, corn, seeds,

grass, water and wine. It is a belief that the foods

the bulls have chosen will ultimately decide a

good harvest for that crop. The Royal Ploughing

Ceremony also sees local men and women

wearing brightly coloured traditional Khmer

costumes to commemorate the event. 3 May,

National Museum, Preah Ang Eng St. (13),

Phnom Penh, Cambodia

A GALLERY OF PORTRAITS

Humanitarian photographer Joseba Etxebarria

has amassed an incredible collection of photos

from his travels around the globe. Now his vast

and impressive collection can be savoured to its

fullest at his very own gallery in Cambodia.

The HUMAN Gallery – Joseba Etxebarria

Photography brings together some of the best

portraits of the photographer has taken. The

gallery located in the city of Battambang, roughly

three hours away by road from Siem Reap, is

situated in a century-old house, which offers a

relaxing environment for visitors to enjoy.

Monday to Friday, 10am-2pm; 4pm-8pm, Street 1.5,

No.49, Battambang, josebaetxebarria.com

108
---
HAPPENINGS

VIETNAM

DANANG / HANOI / PHU QUOC

THE WORLD'S LONGEST CABLE CAR

Phu Quoc has the longest non-stop cable car in the world, as confirmed by the

Guiness Book of Records. For riders, this means a breath-taking scenic journey

over the sea and islands with a 360-degree view on board. The Hon Thom 3S

Gondola Lift, also simply referred to as the Phu Quoc cable car, glides between

Phu Quoc island and the smaller and greener Hon Thom sland. With a debut in

February during Tet (the Vietnamese lunar new year), the Phu Quoc cable car

promises riders a thrill and beauty from high up. With a panorama encompassing

small islands, an emerald-coloured sea and coral reefs during high noon – the 15

minute ride in nearly 8 kilometres will feel barely long enough.

phuquocislandguide.com

THINK PINK

Travel along Danang's long strip of beaches in this evolving coastal city from the

convenience and flexible itinerary of Coco Bus – a hop-on-hop-off sightseeing

bus. Visitors can choose a one-day ticket (250,000 VND/person/route) and

enjoy 29 tour stops that are available along Beach Route – or the generous

choice of 55 stops on the City Route. Passengers can hop on and off on the

bright pink bus along the routes to discover Danang's best attractions and

landmarks in order to sight-see at their own pace, or stay on the bus for the full

duration of the tour. Coco Bus takes passengers to hotspots like the Museum

of Cham Sculpture, the Dragon Bridge, May Ann Beach, Han Market, Danang

Cathedral and Le Duan Shopping Street. +84 236 3954 666, cococitytour.vn

A GO-TO WATERING HOLE

If you're after a well-crafted cocktail or beer and

interesting conversation, Tadioto Bar is one of the

coolest places for a nightcap plus a hangout that

keeps the party going in the Vietnam capital.

While there may be iconic spots like the

Sofitel Metropole Legend Hotel, Opera House,

National Museum of Vietnamese History, and

other establishments in the French Quarter, it

can be said that Tadioto Bar has its own cultural

relevance to make it a destination in its own right.

Nguyen Qui Duc, a Vietnamese-American

journalist and former radio commentator who

relocated to Hanoi, established what is now

the go-to watering hole. Its roots go way back

to 2006 in a former artsy location where local

artists and the creative crowd converged,

staging poetry readings and other artistic

performances.

Like Duc himself, Tadioto has moved

from place to place following the government

shutdown of a street where creative types

used to hang out. People have lost count of how

many times Tadioto relocated before re-planting

itself in the city's French quarter. Duc himself is a

painter and patron of Hanoi's art scene. Tadioto

is a small enough bar to mingle with the local

crowd. Now you can pop in during the day for a

quiet coffee and snack or drop in for a drink at

night and check out what's happening with the

local scene. Open for breakfast, lunch and dinner,

24 Tong Dan Street, Hanoi, +84 24 6680 9124,

facebook.com/tadiototongdan

SPOTLIGHT

Under the Danang Sky

A growing city like Danang is best

seen when you're perched at Sky

36 Bar observing the skyline. As the

name suggests, Sky 36 is Vietnam's

highest rooftop bar with amazing

views over the city. Situated on the

35th and 36th floor of the Novotel

Danang Premier Han River, the bar

fills up nightly with beautiful people.

Swanky interiors showcase curved

booths with glass and suede while

a DJ rocks the tunes. Outside on the

roof deck, it's all about the neon

lights, dancing and the irresistible

glittering views. Drinks at Sky

36 run the gamut from imported

beers to premium spirits, as well

as a selection of wines by the glass.

Cocktails range from classics like a

margarita or mojito to contemporary

ones like 'Death in the Afternoon.'

Try a Vietnamese Sangria with fresh

fruits. Once fuelled up with music

and drinks, views of the Han River

amidst the backdrop of modern

architecture give you a sense of

Danang's future. 6pm to 2am, 36 Bach

Dang Street, Danang, facebook.com/

sky36bar

110
---
HAPPENINGS

LAOS

LUANG PRABANG

MYANMAR

YANGON

SPOTLIGHT

Heritage Luxe

Located in the heart of Luang Prabang,

brand new hotel AVANI+ Luang Prabang

sits within walking distance to the

banks of the Mekong River while being

strategically close to the Royal Palace,

Night Market and beautiful temples.

AVANI+, in a town that's earmarked

as a UNESCO World Heritage Site,

raises the bar on contemporary French

neo-classical architecture. Blending

into the historic neighbourhood, the

French colonial-inspired interiors blend

with modern elegance in its 53 rooms

and suites. An intimate, open-plan feel

with louvre wooden doors open to a

balcony or terrace overlooking either

the pool or a private courtyard. For

guests, AVANI+ offers a stunningly

contemporary property set within the

historic riverside zone, and conceived

for a demanding new breed of traveller.

After a day spent exploring temples

or an adventure boat trip to Kuang

Si Waterfalls or Pak Ou Caves, the

hotel offers a retreat to AVANISPA for

rejuvenation before enjoying a dinner

cruise down the Mekong. Setthathirath

Road, Hua Xieng Village, Luang Prabang,

+856 71 262 333, minorhotels.com/en/

avani/luang-prabang

GOOD MORNING, YANGON

Motivated by fitness, health, and the enjoyment of a morning calm, a mix

of pro and amateur runners recently got together to share their love for the

activity and are encouraging those who happen to be in Yangon join them.

Started by a group of Thai expats, the group meets at 6am near Kandawgyi

Lake. As a bonus, Yangon's many angles get discovered in the early morning

hours while roads are still quiet with a wonderfully agreeable weather.

The 10km route takes the group downtown and over the Pansodan

bridge with the beautiful Yangon Central railway station within view. More

historical and iconic British Colonial buildings mark the route, with

many of them still in use. This running tour also goes past a local

wet market and the large People's Park near

Shwedagon Pagoda, followed by breakfast.

BEST BITE OF PIZZA

Calling themselves Yangon's

homegrown slices, Parami

Pizza serves excellent and

authentic pizza baked in a

wood-fired oven. If your

cravings go beyond that, the

menu of fine Italian dishes

tempt children and adults alike

in a relaxed ambience. Menu

highlights include authentic

Neapolitan pizza, antipasti like

Hokkaido Octopus Carpaccio

using fresh ingredients of

pomelo and citrus-chilli

dressing, homemade Tagliatelle

with Venetian Duck Ragu of

slow braised duck, eggplant,

olives, peppers, and must-have

desserts like the classic Tiramisu

and Nutella Pizzette.

The place is typically busy

in the evening after work

hours with its prime location

on the main road of Parami, so

advanced bookings are ideal to

avoid the wait. Open late until

11pm. 11/C, Corner of Malikha

Road and Parami Road, 7th

Quarter, Mayangone Township,

Yangon, +95 9 261767616,

paramipizza.com

NO MORE FOREIGN FOODS FOR MORNING ALMS

Everyday in the early calm in Luang Prabang, hundreds of monks make their

way through the streets for morning alms. Recently however, throngs of

tourists have disrupted the ritual. In the enthusiastic need to participate,

inappropriate foods have been given. With cameras and smartphones, they

also clamour for 'exotic' photos of monks. Hawkers laden with baskets of

sticky rice bags also run to tourists to sell their wares. Oftentimes a frenzied

atmosphere ensues, and morning alms now sometimes give way to camera

flashes and yelling, with inappropriate food offerings consisting of lollipops

and 'khao larm (sticky rice char-cooked in a bamboo tube.) To return peace

and the true meaning of alms offering, Luang Prabang now puts a ban on

foreign foods. With local tourism authorities providing guidelines, khao larm

is forbidden, including pre-packaged offering sets that get inserted with

imported snacks. The tourism organisation stresses that sticky rice – a staple

food in Laos – sold during morning alms must be of good quality and freshly

steamed. More can be learned at tourismluangprabang.org

112
---
HAPPENINGS

MALDIVES / INDIA

MALDIVES / MUMBAI

SPOTLIGHT

Maldivian

Blue and White

It's not surprising that couples

and seekers of glamorous tropical

getaways have long had the

Maldives at the very top of their

wish lists. Imagine the visual

impact of islands encircled by a

lagoon shimmering with crystal

clear waters and protected by a

reef structure where spectacular

underwater life dwells.

The Maldives prides itself on

26 natural atolls with 1,190 islands

formed in unique and circular

shapes. The word "atoll" comes

from the Dhivehi language,

"atholhu." Ring-shaped reefs

developed after volcanoes

subsided and the sea level rose.

Every resort is on its own island.

One of the biggest groupings

of islands is Baa Atoll, consisting

of 3 separate atolls of 75 islands

and a protected UNESCO biosphere

reserve. Several well-known

5-star resorts operate here.

While most of the Maldives has great

snorkelling and diving, the Baa Atoll offers

outstanding experiences that include

incredible gatherings of manta rays and

whale sharks. On clear days of snorkelling

or diving, you might get lucky in spotting

marine turtles with at least five species out

of seven in the world swimming by: the

green turtle, hawksbill turtle, olive ridley

turtle, loggerhead turtle and leatherback

turtle. Frequently sighted on the atoll are

hawksbill turtles.

The Baa Atoll can be reached by a

domestic flight or seaplane direct to

your island resort. The best time to go

depends on your budget and timing. It's

low season between May and November,

when storms occur but usually won't

disrupt a week-long stay.

DESIGN & DÉCOR

The quaint by-lanes of Kala Ghoda,

Mumbai's cultural precinct, saw another

store opening recently. Translate is

a concept store that celebrates the

traditional handloom weaving and dyeing

style of Pochampally Ikat. The brand

sources directly form regional Ikat artists

and transforms the material into

contemporary, everyday apparel and home

design. Choose tops and tunics in a range

of classy colours, from aubergines and

olives to midnight blue and ruby. Home

décor includes cushion covers, table

runners, bed sheets, and more. Translate,

18 Commerce House, Opp. Kala Ghoda Café,

Fort +917700077338

114

115
---
BANGKOK AIRWAYS NEWS 118 / FLYERBONUS 122 / AIRCRAFT INFO 127 / ROUTE MAP 128

117
---
BANGKOK AIRWAYS NEWS

BANGKOK AIRWAYS

ANNOUNCES COLLABORATION

WITH EXPEDIA GROUP

Bangkok Airways recently

announced a new collaboration

with Expedia group, the world's

largest online travel company, to

add a new distribution channel

and incorporate a marketing

campaign globally. The airline

sees a boost in ticket sales through

various sales channels of Expedia

and its subsidiaries especially in

North America, Europe and

Australasia. Starting today,

passengers can make reservations

for all Bangkok Airways flights

via different Expedia channels

such as www.expedia.com

(locally in Thailand through

www.expedia.co.th,) Expedia's

mobile application on both iOS

and Android or at any Expedia

customer service centres worldwide.

Varong Israsena Na Ayudhya,

Vice President — Sales, Bangkok

Airways Public Company Limited

said, "It's another significant

milestone for Bangkok Airways

to collaborate with the Expedia

group, one of the world's leading

online travel companies. The new

collaboration will enable us to offer

passengers a broader choice of

booking channels via Expedia's

extensive platforms. Bangkok

Airways strives to improve

service provided to our passengers

to enhance their travel experience

as well as emphasise our position as

"Asia's Boutique Airline."

สายการบินบางกอกแอร์เวย์ส โดยนายวรงค์ อิศรเสนา ณ อยุธยา

รองกรรมการผู้อำนวยการใหญ่ฝ่ายขาย ลงนามสัญญาความ

สัมพันธ์ทางธุรกิจกับ บริษัท เอ็กซ์พีเดีย อิงค์ (Expedia Inc.) โดย

นายซานดีป ชาร์มาร์ ผู้อำนวยการฝ่ายคมนาคมและการท่องเที่ยว

เอเชียตะวันออกเฉียงใต้ และอินเดีย เพื่อสนับสนุนการขายและร่วม

ส่งเสริมการตลาด กระตุ้นยอดจำหน่ายบัตรโดยสาร ตลอดจน

เพิ่มความสะดวกสบายในการสำรองบัตรโดยสารให้กับผู้โดยสาร

ของสายการบินฯ ผ่านช่องทางต่างๆ ของเอ็กซ์พีเดีย และกลุ่ม

บริษัทในเครือต่างๆ ที่มีสาขามากมายอยู่ทั่วโลก โดยเฉพาะใน

ภูมิภาคอเมริกาเหนือ ยุโรป และออสตราเลเชีย โดยผู้โดยสารฯ

สามารถทำการสำรองบัตรโดยสารของบางกอกแอร์เวย์สได้ใน

ทุกเส้นทางบินผ่านเว็บไซต์ www.expedia.com โมบายแอพพลิเคชั่น

Expedia บนสมาร์ทโฟนทั้งระบบ iOS และ Android และศูนย์บริการ

ลูกค้าเอ็กซ์พีเดียทั่วโลก ตั้งแต่วันนี้เป็นต้นไป

นายวรงค์ อิศรเสนา ณ อยุธยา รองกรรมการผู้อำนวยการใหญ่

ฝ่ายขาย บางกอกแอร์เวย์ส กล่าวว่า "ความร่วมมือดังกล่าว

ถือเป็นอีกก้าวสำคัญของสายการบินบางกอกแอร์เวย์สในการ

ร่วมมือกับเครือเอ็กซ์พีเดีย ซึ ่งถือเป็นหนึ่งในบริษัทท่องเที่ยว

ออนไลน์ชั้นนำของโลก โดยความร่วมมือในครั้งนี้จะช่วยให้เรา

สามารถเสนอช่องทางในการจองบัตรโดยสารได้หลากหลาย

มากขึ้นผ่านทางแพลตฟอร์มของเอ็กซ์พีเดีย ซึ่งสายการบิน

บางกอกแอร์เวย์สมุ่งมั่นที่จะพัฒนาการบริการของเราให้ดียิ่งขึ้น

เพื่อมอบประสบการณ์พิเศษในทุกการเดินทางดั่งสโลแกน

Asia's Boutique Airline หรือ ความประทับใจแห่งเอเชีย"

A NEW CODESHARE PARTNERSHIP BETWEEN PG AND EL AL

Bangkok Airways and EL AL Israel Airlines (LY) have announced

a new codeshare partnership to strengthen their respective

route networks.

This new codeshare partnership with EL AL Israel

Airlines is yet another important milestone and significant

development in the continued growth of Bangkok

Airways. Passengers can now receive convenient and

seamless access to well-known destinations in Thailand

and neighbouring countries. Moreover, EL AL's passengers

travelling on Bangkok Airways will enjoy the boutique

airline's unparalleled services, in areas such as lounge

access and in-flight meals.

This codeshare agreement will cover 9 routes on

both domestic and international categories. Codeshare

flights operated by Bangkok Airways include roundtrip

routes on Bangkok-Samui, Bangkok-Chiang Rai, Bangkok-

Chiang Mai, Bangkok-Lampang, Bangkok-Trat, Bangkok-

Sukhothai, Bangkok-Danang, Bangkok-Phnom Penh and

Bangkok-Siem Reap.

สายการบินบางกอกแอร์เวย์ส (PG) และ

สายการบินแอล อัล อิสราเอลแอร์ไลน์

(LY) ของประเทศอิสราเอล ประกาศ

ลงนามข้อตกลงในการให้บริการเที่ยวบิน

ร่วม เพื่อสร้างความแข็งแกร่งให้กับ

เส้นทางบินระหว่างสองประเทศ

การลงนามข้อตกลงในการให้

บริการเที่ยวบินร่วมกับสายการบิน

แอล อัล อิสราเอลแอร์ไลน์ ในครั้งนี้

ถือเป็นอีกหนึ่งก้าวสำคัญของ

บางกอกแอร์เวย์สในการสร้างเครือข่าย

พันธมิตรการบินให้มีความแข็งแกร่งยิ่งขึ้น

อีกทั้งยังเป็นการอำนวยความสะดวก

ให้กับผู้โดยสารของแอล อัล อิสราเอล

แอร์ไลน์ ในการเดินทางเชื่อมต่อไปยัง

แหล่งท่องเที่ยวชื่อดังทั้งในประเทศไทยและ

ประเทศเพื่อนบ้าน ซึ่งผู้โดยสารของ

แอล อัล อิสราเอลแอร์ไลน์ จะได้รับ

ความสะดวกสบายและการบริการ

เหนือระดับเมื่อเดินทางกับบางกอก

แอร์เวย์ส ไม่ว่าจะเป็นสิทธิพิเศษในการ

เข้าใช้บริการห้องรับรองผู้โดยสาร

ของบางกอกแอร์เวย์ส และการบริการ

อาหารบนทุกเที่ยวบิน

สำหรับข้อตกลงในการทำเที่ยวบิน

ร่วมในครั้งนี้จะช่วยอำนวยความ

สะดวกให้แก่ผู้โดยสารของแอล อัล

อิสราเอลแอร์ไลน์ ในการเดินทางเชื่อมต่อ

จากกรุงเทพฯ ไปยังเมืองท่องเที่ยวยอด

นิยมทั้งในประเทศไทยและต่างประเทศ

โดยสายการบินบางกอกแอร์เวย์สจะให้

บริการทั้งหมด 9 เส้นทางบิน ได้แก่

กรุงเทพฯ-เกาะสมุย กรุงเทพฯ-เชียงราย

กรุงเทพฯ-เชียงใหม่ กรุงเทพฯ-ลำปาง

กรุงเทพฯ-ตราด กรุงเทพฯ-สุโขทัย

กรุงเทพฯ-ดานัง (เวียดนาม) กรุงเทพฯ-

พนมเปญ (กัมพูชา) และกรุงเทพฯ-

เสียมราฐ (กัมพูชา)

118

119
---
BANGKOK AIRWAYS NEWS

BANGKOK AIRWAYS SIGNS PARTNERSHIP

DEAL WITH BORUSSIA DORTMUND

Bangkok Airways and German football

club Borussia Dortmund recently

announced a partnership deal at Signal

Iduna Park in Dortmund, Germany to

collaborate on branding opportunities

and extend market reach by tapping into

the large Asian market.

Borussia Dortmund is one of Europe's

most successful football clubs with a

traditionally strong fan base in Asia and

the world and Bangkok Airways is proud

to announce itself as a 'regional partner'

of Borussia Dortmund. The collaboration

includes a variety of advertising and

promotional components in co-branding

campaigns in Thailand, other Southeast

Asian countries, China, Hong Kong, India

and Bangladesh thereby enhancing the

airline's brand recognition across the regions.

Bangkok Airways' President,

Mr. Puttipong Prasarttong-Osoth said,

"We are proud and excited to partner

with Borussia Dortmund, who are

eight-time German champions. With

Borussia Dortmund's strong global

brand presence and huge fan base,

we believe it will strengthen Bangkok

Airways' brand image as Asia's Boutique

Airline. This will make the airline better

known across Asia and Europe – our main

customer bases."

"Highlighting this is the BVB Evonik

Football School for children. It is our way of

giving back to the community and part of

our business roadmap for many years. We

will work with our dedicated CSR team to

make this sponsorship activation a tangible

reality," added Mr. Puttipong.

Mr. Carsten Cramer, Chief Marketing

Officer of Borussia Dortmund also stated,

"We are excited to partner with Bangkok

Airways who has strengthened their

award-winning position over the last couple

of years in Asia. Both of us are ambitious

and aspiring brands and are looking forward

to announcing our cooperation across

Bangkok Airways' key markets."

Bangkok Airways, together with Borussia

Dortmund, are also in talks with the Sports

Authority of Thailand (SAT) and the Thai

FA for the possibility of initiating a special

coaching programme that implements

Dortmund's coaching expertise for

Thailand's national youth teams.

สายการบินบางกอกแอร์เวย์ส โดยนายพุฒิพงศ์

ปราสาททองโอสถ กรรมการผู้อำนวยการใหญ่

และสโมสรฟุตบอลโบรุสเซียดอร์ทมุนด์จาก

ประเทศเยอรมนี ประกาศเป็นพันธมิตรร่วมกัน

ณ สนามซิกนัลอิดูนาพาร์ค เมืองดอร์ทมุนด์

ประเทศเยอรมนี ซึ่งเป็นการยกระดับความ

ร่วมมือในการสร้างแบรนด์ของทั้งสองบริษัทฯ

ในการขยายตลาดสู่ระดับสากลมากยิ่งขึ้น

บางกอกแอร์เวย์ส ประกาศร่วมมือเป็น

พันธมิตรกับสโมสรฟุตบอลโบรุสเซียดอร์ทมุนด์

อย่างเป็นทางการ ซึ่งเป็นหนึ่งในสโมสรฟุตบอล

ที่ประสบความสำเร็จมากที่สุดในยุโรป และมี

ฐานแฟนบอลทั้งในทวีปเอเชียและทั่วโลก ส ำหรับ

ความร่วมมือในครั้งนี้มีการร่วมทำโฆษณาและ

ส่งเสริมแคมเปญพิเศษต่างๆ ทั้งในประเทศไทย

ในภูมิภาคเอเชียตะวันออกเฉียงใต้ จีน ฮ่องกง

อินเดีย และบังคลาเทศ ซึ่งถือเป็นการเพิ่มโอกาส

ในการสร้างการจดจำแบรนด์ให้กับสายการบินฯ

ในระดับภูมิภาคมากยิ่งขึ้น

นายพุฒิพงศ์ ปราสาททองโอสถ เผยว่า

"ในโอกาสที่ปีนี้บริษัทฯ ครบรอบ 50 ปี จึงน ำ

แบรนด์ก้าวเข้าสู่สากลโดยการจับมือกับสโมสร

ฟุตบอลโบรุสเซียดอร์ทมุนด์ และถือเป็นความ

ภาคภูมิใจที่ได้ร่วมเป็นพันธมิตรกับทีมฟุตบอล

ที่มีฐานแฟนบอลทั่วโลก รวมทั้งชนะการแข่งขัน

ในลีกเยอรมนีถึง 8 ปีซ้อน เราเชื่อว่าการร่วมมือ

ครั้งนี้จะช่วยตอกย้ำความเป็นเอกลักษณ์

เฉพาะตัวในแบบเอเชียบูทีคแอร์ไลน์ของ

สายการบินฯ และทำให้เป็นที่รู้จักมากยิ่งขึ้น ทั้ง

ในเอเชียและยุโรปซึ่งเป็นฐานลูกค้าหลักของเรา"

"ความพิเศษอีกอย่างก็คือ การมอบโอกาส

ในการฝึกทักษะกีฬาฟุตบอลให้กับเยาวชน

โดยสโมสรฟุตบอลโบรุสเซียดอร์ทมุนด์ ซึ่ง

กิจกรรมเพื่อสังคมถือเป็นส่วนหนึ่งในแผน

ธุรกิจของบางกอกแอร์เวย์สที่เราให้ความ

สำคัญและทำมาอย่างต่อเนื่อง"

นายคาร์สเทน คราเม่อ ประธานเจ้าหน้าที่

การตลาดของสโมสรโบรุสเซียดอร์ทมุนด์

กล่าวว่า "ทางสโมสรรู้สึกตื่นเต้นที่ได้เป็นพันธมิตร

ร่วมกับสายการบินที่แข็งแกร่งและได้รับรางวัล

ต่อเนื่องมากมายอย่างบางกอกแอร์เวย์ส ทั้งสอง

บริษัทฯมีความตั้งใจที่จะน ำเสนอความร่วมมือนี้

เพื่อให้เข้าถึงกลุ่มลูกค้าหลักของสายการบิน

บางกอกแอร์เวย์สมากยิ่งขึ้น"

สายการบินบางกอกแอร์เวย์สร่วมกับ

สโมสรโบรุสเซียดอร์ทมุนด์ อยู่ระหว่างการ

เจรจากับการกีฬาแห่งประเทศไทยและ

สมาคมกีฬาฟุตบอลแห่งประเทศไทยถึง

ความเป็นไปได้สำหรับโครงการพิเศษที่จัดขึ้น

เพื่อพัฒนาทักษะกีฬาฟุตบอลให้กับทีม

ฟุตบอลเยาวชนแห่งประเทศไทยอีกด้วย

"JUNIOR RUNNING CLINIC" ACTIVITY

Bangkok Airways, led by the

Corporate Social Responsibility

Department, organised a "Junior

Running Clinic." This event brought

50 students from Wat Salak Phet

School to join Bangkok Airways'

"Ultra Trail Unseen Koh Chang,"

which was the first of its planned

7 running events in the Boutique

Series 2018 programme. This

activity aims to provide local kids

an opportunity to learn how to

run in a professional race and to

inspire them to see the importance

of exercise.

BANGKOK AIRWAYS

OPEN HOUSE 2018

Bangkok Airways led by Mr. Tortakul

Samakul, Regional Director – Sales,

organised the "Bangkok Airways Open

House" campaign at Bangkok Airways

Operations Center (BAOC), Suvarnabhumi

airport. In addition to that, the airline

also organised a pioneer visitation trip

to Siem Reap, Cambodia during 21-23

February 2018 for professors from

leading universities in Thailand.

The Bangkok Airways Open House

is organised to disseminate knowledge

regarding the operation of Bangkok Airways.

The campaign aims to improve the quality

of learning, increase comprehension skills,

and exchange knowledge.

Bangkok Airways has also added

a further initiative to the running

series, with their "Shoes For Kids"

campaign. It provides the opportunity

for runners to take part, by donating

a pair of shoes to kids living in the

provinces where the running races

take place. Donations are made

simple via www.teelakow.com.

Selected students at 7 destinations

of the Bangkok Airways Boutique

Series 2018 will get a chance to

learn some running techniques

and receive donated running shoes

from registered runners.

สายการบินบางกอกแอร์เวย์ส โดยนายต่อตระกูล

สมากุล ผู้อำนวยการส่วนขาย ประจำประเทศไทย

จัดโครงการ "เปิดบ้านสอนน้อง" ประจำปี 2561 ซึ่งจัด

ต่อเนื่องติดกันมาเป็นปีที่ 3 ณ อาคารทับสุวรรณ

(BAOC) สนามบินสุวรรณภูมิ พร้อมจัดทริปนำร่อง

นำคณะอาจารย์จากมหาวิทยาลัยชื่อดังร่วมเดินทาง

ไปยังเมืองเสียมราฐ ประเทศกัมพูชา เพื่อศึกษาดูงาน

ในส่วนของธุรกิจนำเที่ยว ระหว่างวันที่ 21-23

กุมภาพันธ์ 2561

สายการบินบางกอกแอร์เวย์ส โดยส่วนรับผิดชอบต่อสังคม ได้นำ

คณะเยาวชนจำนวน 50 คน จากโรงเรียนวัดสลักเพชร มาร่วมทำ

กิจกรรม "จูเนียร์ รันนิ่ง คลินิค" ภายใต้โครงการ "รองเท้าผ้าใบให้

น้อง" ในรายการแข่งขันวิ่ง "บางกอกแอร์เวย์ส อัลตร้า เทรล อันซีน

เกาะช้าง" ณ อำเภอเกาะช้าง จังหวัดตราด

กิจกรรม "จูเนียร์ รันนิ่ง คลินิค" เป็นหนึ่งกิจกรรมที่อยู่ภายใต้

โครงการรับผิดชอบต่อสังคมของสายการบินบางกอกแอร์เวย์ส

ที่จัดอบรมให้เยาวชนท้องถิ่นได้เรียนรู้เทคนิคการวิ่งที่ถูกต้องทั้ง

ภาคทฤษฎีและภาคปฏิบัติจากนักวิ่งที่มีประสบการณ์ เพื่อให้สามารถ

นำมาปรับใช้ในการวิ่งหรือการออกกำลังกายด้านอื่นๆ ได้อย่าง

ถูกวิธี โดยคัดเลือกเยาวชนระดับชั้นประถมและมัธยมศึกษาจาก

โรงเรียนที่อยู่รอบพื้นที่เส้นทางวิ่งของรายการแข่งขันวิ่ง "บางกอก

แอร์เวย์ส บูทีค ซีรีย์ 2018"

"บางกอกแอร์เวย์ส บูทีค ซีรีย์ 2018" เป็นรายการแข่งขันวิ่งที่

จัดขึ้นใน 7 จุดหมายปลายทางของสายการบินฯ ตลอดปี 2561

ได้แก่ ตราด กระบี่ เกาะสมุย ลำปาง ภูเก็ต เชียงราย และเชียงใหม่

โดยแบ่งเป็นรายการวิ่งเทรล 1 รายการ วิ่งฮาล์ฟมาราธอน 5

รายการ และรายการวิ่งมาราธอน 1 รายการ ซึ่งกิจกรรม "จูเนียร์

รันนิ่ง คลินิค" จะจัดขึ้นควบคู่ไปกับรายการแข่งขันวิ่งที่จะเกิดขึ้น

ตลอดทั้งปี

โครงการ "เปิดบ้านสอนน้อง" เป็นโครงการของ

สายการบินบางกอกแอร์เวย์ส ที่จัดขึ้นเพื่อเปิด

โอกาสให้อาจารย์และนักศึกษาในสาขาวิชา

อุตสาหกรรมการท่องเที่ยว โรงแรม และสายการบิน

ได้แลกเปลี่ยนความรู้และประสบการณ์ทางสายงาน

ธุรกิจการบินและการท่องเที่ยว และมีโอกาสร่วมเดิน

ทางกับสายการบินบางกอกแอร์เวย์สเพื่อศึกษาดูงาน

จากการปฏิบัติงานนอกสถานที่ อีกทั้งได้รับฟัง

การบรรยายเพื่อเพิ่มความรู้และประสบการณ์อีกด้วย

120

121
---
FLYERBONUS

FLYERBONUS CONGRATULATES ALL THE LUCKY WINNERS

OF 2 FABULOUS CAMPAIGNS

FLYERBONUS WALLET CARD

Feel Unique with Extraordinary Rewards at Your Fingertips

Whether enjoying a vacation

at one of our exotic gems

destination or waiting for

your flight in one of our

customised airports, Bangkok

Airways aims to provide

members with an exclusive,

rewards-focused service.

We've now come closer to

knowing your needs and

preferences with the help of

our new FlyerBonus Wallet

Card technology.

Before your flight, simply

download the FlyerBonus

Wallet Card via flyerbonus.

bangkokair.com and log in.

Click 'Show your Card'

and then save it on your

mobile phone. Now you're

ready to fly! At check-in,

present your FlyerBonus

Wallet Card and experience

our unique member services

and privileges.

Be it a sun, sea, and sand

experience in the Maldives,

a historic junk boat cruise

in Halong Bay, trekking

through the mist-filled

mountains of Chiang Mai

and Chiang Rai or savouring

the local dishes in Thailand's

southern provinces –

reward yourself today with

a few simple taps on your

FlyerBonus Wallet Card.

For more information,

please visit us at

flyerbonus.bangkokair.com

ไม่ว่าจะพักผ่อนริมทะเลอยู่จุดหมาย

ปลายทางที่แสนพิเศษของเราหรือ

รอขึ้นเครื่องสำหรับทริปธุรกิจ

บางกอกแอร์เวย์สมีความเต็มใจที่จะ

เติมเต็มความสุขคุ้มค่าให้กับการ

เดินทางของสมาชิกด้วยคะแนน

สะสมฟลายเออร์โบนัส และด้วย

ความมุ่งมั่นที่จะมอบสิทธิพิเศษที่

แตกต่างอย่างสม่ำเสมอให้เหมาะสม

กับไลฟ์สไตล์ของคุณ เราได้เพิ่ม

ความรวดเร็วและความสะดวกสบาย

ในการสะสมคะแนนและการใช้สิทธิ

ประโยชน์แก่คุณ ผ่าน FlyerBonus

Wallet Card ทางหน้าจอโทรศัพท์มือถือ

ก่อนการเดินทาง เพียงดาวน์โหลด

FlyerBonus Wallet Card ผ่าน

เว็บไซต์ flyerbonus.bangkokair.com

ลงชื่อเข้าระบบสมาชิก คลิกแสดง

บัตรและบันทึกลงบนโทรศัพท์

ของคุณเพื่อใช้แสดงที่เคาน์เตอร์

เช็คอิน เท่านี้คุณก็พร้อมจะเดินทาง

เปิดประสบการณ์ใหม่ๆ ตามความฝัน

ไม่ว่าจะแสงแดด ทะเล และหาดทราย

ที่เกาะมัลดีฟส์ ล่องเรือบนเส้นทาง

ประวัติศาสตร์ฮาลอง เบย์ เดินป่าดู

ทะเลหมอกที่เชียงใหม่ เชียงราย

หรือลิ้มลองแกงใต้ – เริ่มต้นด้วย

FlyerBonus Wallet Card ของคุณ

อัพเดตข่าวสารและอ่านข้อมูล

เพิ่มเติมได้ที่

flyerbonus.bangkokair.com

Mr. Prote Setsuwan, Vice President for Marketing at

Bangkok Airways, accompanied by Mrs. Darunee Debavalya,

Senior Director of Customer Satisfaction and Relationship

Management, recently had the pleasure of drawing

winners for two FlyerBonus Lucky Draws, 3D/2N Luxury

Stay at the Dusit Thani Maldives and the FlyerBonus

New Year Surprise 2018. Winners enjoy premium

accommodations plus a pair of round-trip tickets for

Bangkok and Malé (Maldives) valued at 209,100 THB.

Congratulations to the lucky FlyerBonus Members!

Enrol now to earn FlyerBonus Points and reap the benefits

at flyerbonus.com!

เมื่อเร็วๆ นี้ รายการสะสมคะแนนฟลายเออร์โบนัส โดยนายพรต เสตสุวรรณ

รองกรรมการผู้อำนวยการใหญ่ ฝ่ายการตลาด และนางดรุณี เทพวัลย์

ผู้อำนวยการอาวุโส ส่วนบริหารความพึงพอใจและความสัมพันธ์ลูกค้า จัดพิธี

จับรางวัล และมอบรางวัลบัตรโดยสารชั้นประหยัด ไป-กลับ กรุงเทพ-มาเล่

(มัลดีฟส์) 2 ที่นั่ง พร้อมบัตรที่พัก 3 วัน 2 คืนที่ ดุสิตธานี มัลดีฟส์ พร้อม

อาหารแบบ Full Board สำหรับ 2 ท่าน มูลค่า 209,100 บาท จาก 2

แคมเปญใหญ่ "Fly & Win ชวนบิน 5 ไฟล์ท ลุ้นพักดุสิตธานี มัลดีฟส์" และ

"FlyerBonus New Year Surprise" ขอแสดงความยินดีกับสมาชิกฟลายเออร์

โบนัสผู้โชคดีทุกท่าน

ท่านสามารถสมัครเป็นสมาชิกรายการสะสมคะแนนฟลายเออร์โบนัสเพื่อ

สะสมคะแนนจากการเดินทางและรับสิทธิประโยชน์ต่างๆ ได้ที่เว็บไซต์

flyerbonus.com

122 123
---
BANGKOK AIRWAYS NEWS

AIRCRAFT INFO

BANGKOK AIRWAYS OPERATES FOUR TYPES OF AIRCRAFT

AIRBUS A319

NUMBER OF FLEET : 14

LENGTH : 33.84 m

WINGSPAN : 34.1 m

HEIGHT : 12.17 m

ENGINE : IAE V2500

CRUISING SPEED :

920 km/h

MAX OPERATIONAL ALTITUDE :

39,800 ft

PASSENGER CAPACITY :

12 seats & 108 seats / 144 seats / 138 seats

AIRBUS A320

NUMBER OF FLEET : 9

LENGTH : 37.57 m

WINGSPAN : 34.1 m

HEIGHT : 12.17 m

ENGINE : IAE V2500

CRUISING SPEED :

870 km/h

MAX OPERATIONAL ALTITUDE :

39,800 ft

PASSENGER CAPACITY :

162 seats

•••••

ATR 72-500

NUMBER OF FLEET : 6

LENGTH : 27.17 m

WINGSPAN : 27.06 m

HEIGHT : 7.65 m

ENGINE : 2 x 2,750 hp

Pratt & Whitney

Canada PW127F

CRUISING SPEED :

509 km/h

MAX OPERATIONAL ALTITUDE :

25,000 ft

PASSENGER CAPACITY :

70 seats

ATR 72-600

PG DIRECT SERVICE FROM CHIANG MAI

TO HANOI

On 25 March 2018, Bangkok (Noi Bai International Airport)

Airways Public Company Limited at 12.00 hrs. The inbound flight

led by Mr. Varong Israsena Na Ayudhya, PG996 departs Hanoi (Noi Bai

Vice President – Sales and Mrs. International Airport) at 12.45 hrs

Chanthip Thongkanya, Vice President and arrives Chiang Mai International

– Office of the President, joined in Airport at 14.50 hrs.

the launch of the inaugural flight Hanoi is the third destination

from Chiang Mai to Hanoi. The in Vietnam for the airline, adding

event was held at Noi Bai International to Bangkok Airways' route network

Airport in the capital city of Hanoi, after successful runs on the

with a warm welcome from local Bangkok-Danang and Bangkokauthorities

in Vietnam.

Phu Quoc flight routes launched

Bangkok Airways' new service earlier in May 2016 and October

offers daily flights between Chiang 2017, respectively. Bangkok

Mai and Hanoi with a 70-seater Airways is a full-service regional

ATR72-500/600 aircraft. The airline that provides the best

outbound flight PG995 departs personalised service to passengers,

Chiang Mai International Airport under the slogan of "Asia's

at 09.55 hrs and arrives Hanoi Boutique Airline".

เมื่อวันที่ 25 มีนาคม ที่ผ่านมา สายการบินบางกอกแอร์เวย์ส

นำโดย นายวรงค์ อิศรเสนา ณ อยุธยา รองกรรมการ

ผู้อำนวยการใหญ่ ส่วนขาย และนางจันทร์ทิพย์ ทองกันยา

รองกรรมการผู้อำนวยการใหญ่ สำนักกรรมการผู้อำนวย

การใหญ่ ร่วมเปิดเที่ยวบินปฐมฤกษ์เส้นทางเชียงใหม่-ฮานอย

(ประเทศเวียดนาม) โดยมีเจ้าหน้าที่ของทางเวียดนามให้การ

ต้อนรับอย่างอบอุ่น ณ ท่าอากาศยานนานาชาตินอยไบ

ประเทศเวียดนาม

สายการบินบางกอกแอร์เวย์ส ให้บริการเส้นทางบิน

ตรงระหว่าง เชียงใหม่และฮานอย (เวียดนาม) ทุกวัน วันละ 1

เที่ยวบิน ด้วยเครื่องบินแบบเอทีอาร์ 72-500/600 ขนาด

70 ที่นั่ง โดยเที่ยวบินขาไป PG995 ออกจากเชียงใหม่

(สนามบินนานาชาติเชียงใหม่) เวลา 09:55 น. ถึงฮานอย

(สนามบินนานาชาตินอยไบ) เวลา 12:00 น. และเที่ยวบิน

ขากลับ PG996 ออกจากฮานอย (สนามบินนานาชาติ

นอยไบ) เวลา 12.45 น. ถึงเชียงใหม่ (สนามบินนานาชาติ

เชียงใหม่) เวลา 14:50 น.

เมืองฮานอยถือเป็นเส้นทางบินที่ 3 ในประเทศเวียดนาม

ในเครือข่ายเส้นทางบินของบางกอกแอร์เวย์ส หลังจาก

ประสบความสำเร็จอย่างสูงในเส้นทาง กรุงเทพ-ดานัง ซึ่ง

เปิดให้บริการในปี 2559 และเส้นทางบินกรุงเทพ-เกาะ

ฟู้โกว๊ก ซึ่งเปิดให้บริการในปี 2560

NUMBER OF FLEET : 9 CRUISING SPEED :

LENGTH : 27.166 m

509 km/h

WINGSPAN : 27.050 m MAX OPERATIONAL ALTITUDE :

HEIGHT : 7.72 m

25,000 ft

ENGINE : 2 x 2,750 hp PASSENGER CAPACITY :

Pratt & Whitney

70 seats

Canada PW127M

OUR SCHEDULE FLIGHTS AND FREQUENCY

DOMESTIC FLIGHTS

Bangkok, Koh Samui, Phuket and Chiang Mai :

Numerous flights every day from a variety of destinations

Chiang Mai : 1 flight per day from Phuket ;

1 flight per day from Koh Samui

Chiang Rai : 3 flights per day from Bangkok

Hat Yai :

1 flight per day from Phuket

Koh Chang/Trat : 3 flights per day from Bangkok

Krabi : 3 flights per day from Bangkok ;

1 flight per day from Koh Samui

Lampang : 3 flights per day from Bangkok

Mae Hong Son : 1 flight per day from Chiang Mai

Pattaya : 1 flight per day from Phuket ;

1 flight per day from Koh Samui

Sukhothai : 2 flights per day from Bangkok

INTERNATIONAL FLIGHTS

Chengdu : 4 flights per week from Koh Samui

Chongqing : 3 flights per week from Koh Samui

Danang : 1 flight per day from Bangkok

Guangzhou : 1 flight per day from Koh Samui

Hanoi :

1 flight per day from Chiang Mai

Hong Kong : 2 flights per day from Koh Samui

Kuala Lumpur : 1 flight per day from Koh Samui

Luang Prabang : 2 flights per day from Bangkok

Malé :

1 flight per day from Bangkok

Mandalay : 1 flight per day from Bangkok ;

1 flight per day from Chiang Mai

Mumbai : 1 flight per day from Bangkok

Nay Pyi Taw : 6 flights per week from Bangkok

Phnom Penh : 6 flights per day from Bangkok

Phu Quoc : 4 flights per week from Bangkok

Siem Reap : 5 flights per day from Bangkok

Singapore : 2 flights per day from Koh Samui

Vientiane : 2 flights per day from Bangkok

Yangon : 4 flights per day from Bangkok ;

1 flight per day from Chiang Mai

126

127
---
128 129
---
CHECKING OUT

Modern In Its

Own Way

Myanmar's capital Yangon

moves forward at an even

pace, making sure its

traditions remain intact.

130