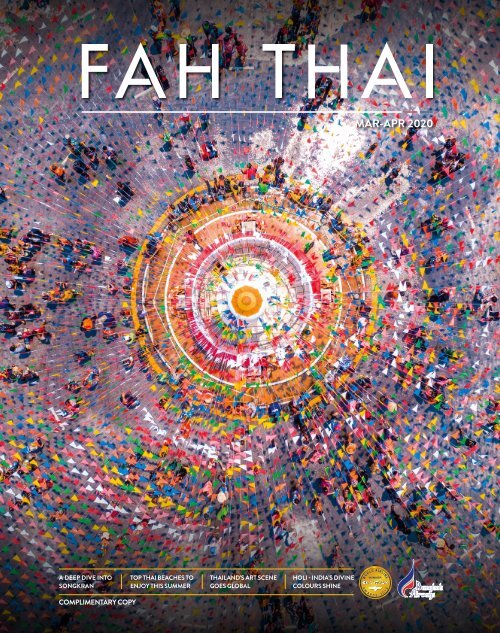 Fah Thai Magazine Mar-Apr 2020
Fah Thai Magazine is an In-Flight Magazine of Bangkok Airways.
Fah Thai Magazine is an In-Flight Magazine of Bangkok Airways.
SHOW MORE
SHOW LESS
You also want an ePaper? Increase the reach of your titles
YUMPU automatically turns print PDFs into web optimized ePapers that Google loves.
MAR-APR 2020

A DEEP DIVE INTO

SONGKRAN

TOP THAI BEACHES TO

ENJOY THIS SUMMER

THAILAND'S ART SCENE

GOES GLOBAL

HOLI - INDIA'S DIVINE

COLOURS SHINE

COMPLIMENTARY COPY
---
MESSAGE FROM THE PRESIDENT

กัปตัน พุฒิพงศ์ ปราสาททองโอสถ

Captain Puttipong Prasarttong-Osoth

กรรมการผู้อำนวยการใหญ่ / President

Bangkok Airways Public Company Limited

Dear Passengers, welcome on board our Bangkok

Airways flight and services.

Time seems to have flown as we're already

entering the third month of 2020. Some of you

may be exhausted from work, while others may be

making travel plans. In this issue, I'd like to encourage

you all to consider sports travel, as it will leave you

feeling uplifted and healthy. I believe travelling and

exercising can complement each other perfectly.

Our airline has launched the "Bangkok Airways

Boutique Series 2020" marathon event for the fourth

consecutive year and I'd like to invite you all to join this

sporting event with us. This year, we have a chance to

work with Dai-Ichi Kikaku (Thailand) Co., Ltd., who has

organised this marathon sequel under the name "Unique

Running", with extraordinary attention to detail and

expertise in designing marathon trails, as evidenced

by their previous success with the Sukhothai Marathon.

"Bangkok Airways Boutique Series 2020"

comprises programmes held in Krabi, Koh Samui,

Lampang, Phang Nga, Chiang Rai and Chiang Mai.

I hope every participant will be impressed with the

atmosphere, uniqueness and beauty of the culture

that can be experienced on each marathon route.

You can find more information on application,

booking and accommodation promotions at www.

facebook.com/BangkokAirways.Run.

It is also our pleasure to announce that Bangkok

Airways has just won the Best Employer Brand

Awards 2020 (Airline & Aviation) from World HRD

Congress, the global human-resource management

institute. This award echoes our vision in supervising

our valued personnel so they can perform to the

best of their abilities. Our organisation's policy

has always aimed to endorse our staff to constantly

acquire knowledge and skills to reach their goals

professionally and competitively in a fast-rising

business world and be able to deliver exceptional

products and services to each and every passenger.

On behalf of Bangkok Airways, I'd like to thank

you all for choosing our airline. We promise to keep

working towards our ultimate ambition of delivering

our best service to your utmost satisfaction.

Thank you.

สวัสดีท่านผู้โดยสารทุกท่าน ขอต้อนรับผู้โดยสาร

ทุกท่านสู่บริการของสายการบินบางกอกแอร์เวย์สครับ

ย่างเข้าสู่เดือนที่สามของปีแล้วนะครับ เวลาผ่านไป

เร็วมาก หลายคนอาจเริ่มเหนื่อยล้าจากการทำงาน

หลายคนเริ่มวางแผนการท่องเที่ยวอีกครั้ง ฉบับนี้ ผมจึง

อยากเชิญชวนผู้โดยสารทุกท่านท่องเที่ยวในเชิงกีฬา

ดูบ้าง เพื่อร่างกายที่แข็งแรงและสดชื่น ผมเชื ่อว่าถ้าเรา

นำเอาการท่องเที ่ยว มารวมกับการออกกำลังกายแล้ว

มันน่าจะเข้ากันได้ดีเลยทีเดียว

เมื่อเร็วๆ นี้ สายการบินบางกอกแอร์เวย์ส ได้แถลง

เปิดตัวรายการแข่งขันวิ่ง "Bangkok Airways Boutique

Series 2020" ซึ่งปีนี้จัดขึ้นติดต่อกันเป็นปีที่ 4 แล้ว

ผมจึงอยากเชิญชวนทุกท่านให้มาร่วมออกกำลังกาย

ด้วยกัน สำหรับการจัดการแข่งขันในปีนี้ เราได้มีโอกาส

ร่วมงานกับบริษัทไดอิจิ-คิคากุ ซึ่งเป็นผู้จัดการแข่งขัน

วิ่งมาราธอนในนาม Unique Running ที่มีความพิถีพิถัน

และเชี่ยวชาญในการออกแบบเส้นทางการวิ่ง และมีผล

งานระดับประเทศ อาทิ Sukhothai Marathon โดย

รายการวิ่ง Bangkok Airways Boutique Series

ในครั้งนี้ จะจัดขึ้นทั้งหมด 6 รายการ ได้แก่ กระบี่ เกาะสมุย

ลำปาง พังงา เชียงราย และเชียงใหม่ ผมหวังว่านักวิ่ง

ทุกท่านจะได้ดื่มด่ำกับบรรยากาศ ความเป็นเอกลักษณ์

และความงดงามทางวิถีชีวิตและวัฒนธรรมของแต่ละ

เส้นทาง ผู้ที่สนใจสามารถติดตามรายละเอียดการสมัคร

การสำรองที่นั่งบัตรโดยสาร และตรวจสอบโปรโมชัน

ห้องพักราคาพิเศษได้ที่ www.facebook.com/

BangkokAirways.Run

นอกจากนี้แล้ว ผมยังมีความยินดีที่จะแจ้งให้ทุก

ท่านทราบว่า สายการบินบางกอกแอร์เวย์สได้รับ

รางวัล Thailand Best Employer Brand Awards

2020 (Airline & Aviation) จากสถาบันด้านการบริหาร

ทรัพยากรบุคคล (World HRD Congress) ซึ่งรางวัลนี้

สะท้อนให้เห็นถึงวิสัยทัศน์ในการดูแลบุคลากรของ

องค์กร โดยที่ผ่านมา บริษัทฯ มีนโยบายที่จะสนับสนุน

และส่งเสริมให้พนักงานเรียนรู้อย่างต่อเนื่อง เพื่อการ

ปฏิบัติงานอย่างมืออาชีพ สามารถรับมือกับการแข่งขัน

ในธุรกิจการบินปัจจุบัน และส่งมอบผลิตภัณฑ์รวมถึง

บริการที่เป็นเลิศสู่ผู้โดยสารทุกท่าน

ในนามของสายการบินบางกอกแอร์เวย์ส ผมขอ

ขอบคุณผู้โดยสารทุกท่านที่เชื่อมั่นในการบริการของเรา

เราจะยังคงพัฒนาการบริการให้ดียิ่งๆ ขึ้นไป เพื่อตอบโจทย์

ความต้องการของผู้โดยสาร โดยจะคำนึงถึงความ

พึงพอใจสูงสุดของท่านเป็นสำคัญ

ขอบคุณครับ

CAPTIVATING LUXURY RESORT

Nestled among stunning beaches and lush coconut groves, with never-ending views of the emerald-green Phang Nga Bay and idyllic landscapes of

the Phuket coastline, The Naka Island, a Luxury Collection Resort & Spa is an exclusive destination for elegant wedding celebrations. From tropical

gardens to the beach lawn, here amidst breathtaking surroundings that define The Naka Island as Phuket's most glamorous and private wedding

venue.

Each one of our timeless wedding packages is impeccably designed down to the very last detail, whether you are planning a grand affair, a

sophisticated cocktail party, a casual beach wedding or a memorable wedding after-party. With gracefully designed venues and the assistance of our

on-site wedding specialists, our resort guarantees a splendid occasion.

THE NAKA ISLAND

A LUXURY COLLECTION RESORT & SPA, PHUKET

32 MOO 5, PAKLOK, THALANG, PHUKET 83110 THAILAND

T 66 76 371 400 | F 66 76 371 401

THELUXURYCOLLECTION.COM/NAKAISLAND

4
---
OVERTURES

FEATURES

14 FUN & FEST

From ballooning to circus plus

local New Year festivals – plan

your trip to the max and enjoy

every moment.

18 WATERPROOF

YOUR WORLD!

Gadgets have wised up to wet

conditions. Check out reviews of

the hottest water-loving tech so

your Songkran and beach holiday

won't be spoilt.

20 ESCAPE TO HUA HIN

Bored of the bustling big city?

Take a ride to the elegant seaside

of this royal favourite.

24 EAT LIKE A THAI

When in Thailand, don't miss

the chance to try Nam Phrik

Platoo. This rich chilli-paste dip

has delighted the taste buds of

generations of Thais.

26 QUEEN OF FRUITS

Of all the fruits in Thailand, only

the tangy-sweet and refreshing

mangosteen has been named

Queen, alongside King Durian.

28 ICE-COLD 'RUBIES'

Popular Thai dessert Thabthim

Krob is renowned for its texture

– soft outside and crunchy inside.

Served with coconut milk and ice

flakes, it keeps bellies cool in

hot weather.

30 INDIA'S BIGGEST STAGE

Take a tour of Mumbai's glittering

cultural treasures – from the

grand Royal Opera House to

Nehru Planetarium.

34 CALM OASES

Whether your next destination is

Bangkok, Samui or Phuket, check

out Fah Thai's choices of tranquil

retreats to recharge the batteries.

42 THE SCENT ARCHITECT

How do you invent colours

for the blind? Scent architect

Chalida Kunalai has used

her sniffing talent to achieve

the impossible.

48 SONGKRAN

REVEALED

Explore the hidden depths

behind Thailand's world-famous

splashing festival on a voyage

through each region's unique

Songkran traditions.

58 ART OF NOW

Contemporary Thai artists are

changing global perceptions

of Thailand at Singapore

Biennale 2020.

68 THAILAND'S

TOP BEACHES

March and April are the sunniest

months in Thailand, so here's

a guide to beaches and islands

basking in summer fun or blessed

with serenity.

58 Thai

Artists'

Journey

76 IN COLOURS

WE TRUST

Sugato Mukherjee and his

photographer friend, Soumya

Bandyopadhyay, share their

multi-coloured vision of India's

explosive Holi Festival.

6

7
---
Linda Cooper

Executive Manager

This is to certify that

is hereby declared the

201

Winner:

This award serves as recognition of sustained commitment to service excellence and

outstanding achievement in the international luxury restaurant industry and hereby

Brandon Lourens

Founder and CEO

Linda Cooper

Executive Manager

This is to certify that

is hereby declared the

201

Winner:

This award serves as recognition of sustained commitment to service excellence and

outstanding achievement in the international luxury restaurant industry and hereby

Brandon Lourens

Founder and CEO

HAPPENINGS

Events and attractions around Asia to mark on

your calendar.

86 BANGKOK 102 PHNOM PENH /

90 SAMUI

SIEM REAP

94 PHUKET 104 YANGON /

98 CHIANG MAI / BÌNH THUẬN /

PATTAYA

KIM THÁI /

99 CHENGDU & MUMBAI /

HONG KONG MALDIVES

100 SINGAPORE /

KUALA LUMPUR

CORPORATE

108 NEWS

Activities, awards and airline updates.

118 ROUTE MAP

120 AIRCRAFT INFO

CHECKING OUT

122 ANDAMAN SEA GARDEN

Dive into the Andaman's turquoise

waters and discover creatures

at play.

This

month's cover:

Celebrate

Songkran 2020

76

In the

Holi Spirit

8
---
MOST

EFFECTIVE IN

TRAVEL AND

LEISURE

BEST USE OF

PHOTOGRAPHY

BEST

PHOTOGRAPHY

BANGKOK AIRWAYS PUBLIC

COMPANY LIMITED

99 Mu 14, Vibhavadi Rangsit Road,

Chom Phon, Chatuchak, Bangkok

10900, Thailand

www.bangkokair.com

ADVISORY BOARD

Mr. Varong Israsena

Vice President - Marketing

Mr. Chulin Kocharoen

Vice President - Sales

Mr. Tortrakul Smakul

Director - Ancillary Product

Mr. Nattapatchra Kunjara

Manager - Ancillary Product

PUBLISHER

MPMI Group Co., Ltd.

1 Soi Lasalle 23 Yaek 2, Bangna Tai,

Bangna, Bangkok 10260, Thailand

Tel. +66 (0) 2744 4975

Fax. +66 (0) 2744 5271

Managing Director

Steven Fong Chookiat Pangviphas

Email: steven@mpmith.com

EDITORIAL

Email: editorial@fahthaimag.com

Editor-in-Chief Anutra Ungsuprasert

Sub Editor Ramona Varma

Deputy Editor Sarita Urupongsa

Contributors

Chalotorn Payomyol

Chusri Ngamprasert

Jeremie Schatz

Khetsirin Pholdhampalit

Marisa Marchitelli

Matthew Camilleri

Nawarat A. Wright

Phoowadon Duangmee

Richard Augustin

Sally Lau

Sophia Natasia Powell-Schaffer

Srinit Suwannasak

Sugato Mukherjee

Suthima T.

Urisara Kowitdamrong

Contributing Photographers

Jeremie Schatz

Kay Choomongkol

Soumya Bandyopadhyay

Sugato Mukherjee

Suwit Kittitien

ART

Creative Director JyeShen Koo

Art Director Pongtorn Khaoplag

Graphic Designer Paranat Leksing

PRODUCTION

Printer Cyberprint Group Co., Ltd.

MANAGEMENT

General Manager Daruni Klaprapchon

Administration Manager Supavadee Salyajivin

Account Officer Benyapa Thongchoonit

Media Manager Niramol Suwandee

Marketing Manager Reza Bizmark

Digital Marketing Manager Nichapat Noraphaiphipaksa

Media Sales & Service Executives Pennapa Krachangkho

Pangchanak Pangviphas

ADVERTISING HOTLINES

advertising@fahthaimag.com

Guitar +66 (0) 87 929 6611

+66 (0) 92 270 9528

OVERSEAS ADVERTISING REPRESENTATIVES

AUSTRALIA

THE MEDIA COMPANY

Leanne Richardson

Tel: +612 9909 5800

leanne@themediaco.com.au

CAMBODIA, LAOS,

MYANMAR

Kittikun Adunsirisaward

Tel: +668 9468 2440

kittikun@bangkokair.com

CHINA, HONG KONG,

MACAU, TAIWAN

CHINA MEDIA OPTIONS

CO., LTD.

Rebecca Tsang-Pereira

Tel: +852 2321 9788

rebeccaCMOsupport@gmail.com

FRANCE, GERMANY,

SWITZERLAND

INFOPAC MEDIA HOUSE

Jean Charles Abeille.

Tel: +331 4643 0066

jcabeille@infopac.fr

INDIA, MALDIVES

RMA MEDIA

Faredoon Kuka

Tel: +9122 2925 3735

kuka@rmamedia.com

KOREA

MEDIREP CO.

Soohoon Oh

Tel: +822 734 0786

soohoonoh@medireponline.com

JAPAN

MR. FUSION

Hiroko Minato

Tel: +813 5495 7355

minato@mrfusion.co.jp

MALAYSIA

MPMI SDN BHD

Alvin Tan

Tel: +603 7880 2185

mpmimy@gmail.com

SINGAPORE, INDONESIA

MPMI PTE LTD

S. S. Hoo

Tel: +65 6464 6261

mpmisg@gmail.com

UNITED KINGDOM

MAJOR MEDIA LTD.

David Hammond

Tel: +44(0) 20 8467 8884

david@majormedia.co.uk

USA

THE MULTIMEDIA INC.

Fernando Mariano

Tel: +14 0790 3500

fmar@multimediausa.com

"FAH THAI" is the in-flight magazine of Bangkok Airways Public Company

Limited and is edited and published by MPMI Group Co., Ltd. All articles and

photographs published herein are created by the authors and photographers

at their own discretion and do not necessarily represent the views of the

airline. Bangkok Airways holds no responsibility or liability arising out of the

publication of such articles and photographs.

All information correct at press time. All rights reserved. No part of this

magazine may be reproduced, stored in a retrieval system or transmitted in

any form or by any means without the prior written permission of Bangkok

Airways Public Company Limited and MPMI Group Co., Ltd.

10
---
ESSENTIAL NOTES TO GUIDE YOUR TRAVELS

Culinary Chemistry

Grilled mackerel, pungent

garlic and shallots are pounded

together with chillies to create

the classic Nam Phrik Platoo, a

dip that can be found on almost

every Thai dinner table.

NEWS & EVENTS 14 / TECH TALK 18 / THAILAND TREASURES 20 / A TASTE OF THAILAND 24 / FRUITFUL FINDS 26 /

JUST DESSERT 28 / ARTS & CULTURAL MATTERS 30 / CHECKED IN 34

13
---
OVERTURES

NEWS AND EVENTS

8 2020

MAR

YANGON

THE RICHEST PAGODA

The dazzling Shwedagon Pagoda on Singuttara

hill is believed to house the world's oldest and

richest Buddhist stupa, encrusted with a priceless

treasure of precious gems and gold.

Every year, on the first full moon of the

month of Tabaung (March), locals climb its

steps to join monks in prayer and earn merit

from walking clockwise around the stupa,

where eight strands of the Buddha's hair are

believed to be enshrined. The devout also

make contributions for the upkeep of the

temple and its monks.

The solemn religious rituals are surrounded

by a fun carnival-like atmosphere, with traditional

drama, dance, music and plenty of stalls selling

delicious street food. Ar Zar Ni Road, Pha Yar

Gyi Ward, Yangon, Myanmar

8-13 2020

MAR

CAMBODIA

STRETCHING TO HISTORY

Renowned Pilates teacher Leslie Logan is

hosting a cultural and fitness experience

in Siem Reap this March and August. The

Pilates and Profitable Pilates five-day

retreats are great for both beginners and

Pilates pros, and include daily workouts,

amazing tours and a three-day all-access

Angkor Temple pass with two guided

tours of the complex. Special classes and

workshops will also be held. March 8-13 and

August 23-28, Angkor Wat, Siem Reap, Cambodia,

cambodiapilatesretreats.com

11 2020

MAR

ASIA

BECOME A BASKET CASE

After nearly a decade, the five-time Grammy

winning band Green Day is returning to Asia

to satisfy fans' thirst with a mega show.

Formed in 1986 in California, Green Day has

sold more than 70 million records worldwide

and boasts 10 billion cumulative audio/visual

streams. Entertainment Weekly calls Green Day,

"the most influential band of their generation",

while Rolling Stone says it has "inspired more

young bands to start than any act this side of

KISS, and that doesn't seem to be changing".

The Green Day Asian 2020 Tour kicks

off in Singapore on March 8 before hitting

Bangkok on March 11, Manila on March 14,

and Taipei on March 17. The boys then move

on to Hong Kong (March 20), Seoul (March

22), Osaka (March 25) and two shows in Tokyo

on March 27 and 28. greenday.com

19-22 2020

MAR

KUALA LUMPUR

TOUCH THE SKY

The Putrajaya International Hot Air

Balloon Fiesta has been lighting

the skies over Malaysia's hub of

government since 2009, becoming

a stage for balloonists from across

the world to showcase their flying machines.

This year, the free event is marking its 11th

edition and promises visitors a carnivalesque

atmosphere with performances, workshops

and displays. Hot air balloon rides are also

available for a price. Monumen Alaf Baru

Putrajaya, Kuala Lumpur, Malaysia,

myballoonfiesta.com

26-30 2020

MAR

CHIANG MAI

RAUCOUS RITE OF PASSAGE

Poy Sang Long, or "Ordaining Beloved Sons" in

the Shan language, is a lively festival in which

boys aged seven to 14 join the monkhood as

novices. The rite of passage cum celebration

starts with monks shaving the boys' heads

and eyebrows and then cleansing them with

holy water. The boys then undergo another

transformation as they don glittering princely

garb and are paraded around local temples

on the shoulders of their male relatives. The

novices then enter monasteries to spend

days, weeks or months learning the monastic

way of life. Visit any Shan temple, be it day

or night, during this period and you are

bound to get lost in a whirlwind of non-stop

celebrations. Wat Pa Pao, Amphoe Muang,

Chiang Mai, Thailand

2 2020

APR

HONG KONG

TEMPEST UNDER A TENT

Cirque du Soleil has pitched up with its latest

fantasy production, Amaluna – loosely based

on Shakespeare's "The Tempest". The story is

told through dramatic acrobatic feats and

death-defying trapeze acts all set to a

thunderous orchestra.

What unfolds on stage is the story of

Queen Prospera, who sets off a storm as she

directs her daughter's coming-of-age ceremony.

Soon after, a group of young men show up and

one of them captures the heart of Prospera's

daughter. The intriguing romance and magical

drama in soaring manoeuvres have thrilled

packed houses in Sacramento, California. Now

it's Hong Kong's turn. Performances start on April 2.

Under the Big Top, Central Harbourfront Event

Space, Hong Kong.

14 15
---
OVERTURES

NEWS AND EVENTS

NOW

LAOS

JUST A CLICK AWAY

The Laos Tourism Board has launched

Discover Laos Today to provide tourists

with up-to-date travel news, as well as

information on off-the-beaten-track

options. The website doesn't just point

young travellers in interesting directions,

it also serves as a resource for its partner

hotels and travel content providers, giving

visitors the chance to book tours and/or

guides for their visit. discoverlaos.today

12-14

APR

2020

PHUKET

BORN TO BE WILD

Each year, the island is shaken by a deep rumble

that gets louder until windows are rattling and

heads are poking out to see what's happening.

Mid-April is the time when motorcyclists roll

into town for the Phuket Bike Week.

Festivities run from April 12-14 on the

Patong beachfront, and again on April 19 and

20 at the Phuket Boat Lagoon. This year's event

should be the biggest yet, with more than 10,000

motorcycles and 50,000 participants from 30

countries. The festival also boasts exhibitions

of custom-made bikes, live music, American

car expo, cowboys and Indians festival, tattoo

contests, beauty competitions and more

motorbikes. Register at phuketbikeweek.com.

80/2 Moo 7 Thepkasatree Rd., Mai Khao,

Thalang, Phuket, Thailand, +66 (0) 76 530 356

13-17

APR

2020

SOUTHEAST ASIA

HAVE A SPLASHING NEW YEAR!

People in Buddhist countries all around

Southeast Asia mark the traditional New Year

more or less the same way – splashing each

other with water! Whether it's Songkran in

Thailand (see Page 48), Thingyan in Myanmar,

Boun Pimai in Laos or Choul Chnam Thmey

in Cambodia, people celebrate with water

battles, music and much dancing. The water

rituals are meant to cleanse the body and

mind of the previous year's bad karma. Many

people also take the opportunity to perform

deeds to make merit, including bathing

Buddha images, praying, offering alms to

monks, paying respect to elders, parents

and teachers, as well as setting free birds,

fish and other creatures. myanmartourism.org,

tourismcambodia.com, tourismthailand.org,

visit-laos.com

Photos Jeremie Schatz

'LINE US'

16
---
OVERTURES

TECH TALK

Adventure on Your Wrist:

AMAZFIT GTS

Adventurous? The Amazfit GTS

could be just what you are looking

for. Protected by a pleasing but

durable metallic design, this

smartwatch features a 1.65-inch

AMOLED display and will happily

plunge down to 50 metres for

up to 10 minutes. Comfortable,

lightweight and slim, it comes with

customisable faces and will track

your performance in swimming and

11 other sports. It has battery power

to last 14 days, eliminating the need

for constant charging.

Price: 4,790 Baht; kingpower.com

Deep-Sea Shooter:

OLYMPUS TG-TRACKER

Tough and compact, the Olympus TG-Tracker will

shoot videos down to depths of 30 metres and is

kitted out with a built-in stabiliser which makes it easy

to use on rainy days. It also boasts a 7.2-megapixel

CMOS image sensor and the ability to record in 4K

resolution at 30 frames per second. An added bonus

is its ultra-wide 204° angle view lens that allows very

creative shots. Add to that innovative sensors like

a compass, GPS, barometer and thermometer and

you have a downright winner. Price: 13,592 Baht;

olympusimaging-th.com

Staring Down the

Barrel of a Water Gun?

Words Richard Augustin

Here are some gadgets you can safely take along for a good

drenching during Songkran.

Tech toys are great. Not just useful tools, they also serve as an extension

of ourselves via chat apps, shared pics and more. Many however have

one major downfall – a drop or two of water can put them out of action

for hours or for good. Fortunately, some brands have woken up to

this weakness and come up with new water-resistant models. So, if

you're in the hunt for tech you can safely use at the beach or during the

splashing fun of Songkran, here's a handful of gadgets that will perform

admirably well in the wettest conditions.

Plug into the Sun:

ADDTOP PORTABLE SOLAR

POWER BANK

Built to resist the unpredictable great

outdoors, this 25000mAh solar charger

from ADDTOP features dual 2.1A

outputs powered by four foldable solar

panels. Its large battery allows you to

charge several devices at the same

time. Best of all, the external battery

pack is waterproof and features dual

USB output ports for simultaneous

charging. It also comes with an autostop

function that protects the device

from over-heating or over-charging. Plus,

there's an emergency LED light in case

you get stuck in the dark.

Price: 1,680 Baht; ubuy.co.th

Pulsing in Time:

JBL PULSE 4 PORTABLE

BLUETOOTH SPEAKER

This portable speaker doesn't just deliver

great sound, it also gives you something

to look at. The dazzling 360-degree LED

light show is perfect for pool parties

or other watery shenanigans, while

the speaker and its IPX7 waterproof

design gives you 12 hours of play on a

single charge. You can customise your

light show through the JBL Connect App

and also use the PartyBoost function

to pair two compatible JBL speakers for

stereo sound. Price: 8,990 Baht;

th.jbl.com

It's Raining Beats:

SONY WI-SP600N WIRELESS

HEADPHONES

Can't do without music even

when the situation gets steamy

or stormy? Then we suggest you

check out Sony's WI-SP600N

Sports Wireless Noise Cancelling

in-ear headphones. Sporting a splashproof

design that shrugs off rain or sweat, the

headphones come with a six-hour battery life thanks to

their built-in rechargeable battery. Offering a secure fit,

the WI-SP600N links seamlessly with your smart device

via Bluetooth and NFC. A built-in microphone enables

hands-free calls as well. Price: 4,990 Baht; sony.co.th

All-Weather Drone:

SWELLPRO SPLASH 3 AUTO

The Swellpro Splash 3 Auto is a very handy gadget for anyone looking to take aerial

shots in the rain or over water. This nifty waterproof drone can land or float in

fresh as well as saltwater and is resistant to corrosion. With durable body armour,

a high propulsion system, as well as a waterproof 4K camera and 2-axis gimbal,

the Swellpro Splash 3 Auto functions impeccably well in rainy or rough weather.

Price: 79,000 Baht; lazada.co.th

Tough Apple Skin

LIFEPROOF FRE IPHONE 11

WATERPROOF CASE

If you've just broken the bank to buy a

new iPhone 11 and want to make sure

it's protected from the elements, get

your hands on a Lifeproof FRE iPhone 11

Waterproof Case. Available for iPhone 11

and iPhone 11 Pro/Pro Max, the cases are

sleek and will defend your phone from a

drop of up to 2 metres and even from snow.

It will also guard your phone under up to 2 metres of water for up to

an hour. Price: 2,590 Baht; vgadz.com/lifeproof

Ready for Anything:

SAMSUNG GALAXY TAB ACTIVE PRO

This rugged device is great for those who need a fully

functional tablet for use in harsh environments. The Samsung

Galaxy Tab Active Pro comes armed with a 10.1-inch display

with LTE, WiFi connectivity, a 13MP rear camera, an 8MP

front camera and a built-in NFC chip, making it an mPOS-ready

device. The toughness come from its long-lasting 7600mAh

battery and durable design, with IP68 certification for water

and dust resistance. Price: 21,125 Baht; samsung.com/th

A Bath Pro:

HUAWEI P30 PRO

Huawei's P30 Pro phone

sports a 6.47-inch display,

Kirin 980 chipset, 8GB RAM

and survival skills in water.

A key feature of the phone

is its IP68 rating, which

means it can function in

up to 1.5 metres of water

for up to 30 minutes. And

its robust form hides impressive functions – the P30 Pro

also snaps great photos thanks to its four camera set-up

and works well in low-light conditions courtesy of Huawei's

patented Night Mode feature. Sealing the deal is its longlasting

4200mAh battery. Price: 24,990 Baht; store.ais.co.th

Take the Plunge:

GARMIN SWIM 2

Built specifically for swimmers,

this GPS smartwatch performs

impressively in the pool or in

open water. It comes equipped

with stroke counter and distance

and speed gauges. It also

has a heart rate monitor and

customisable workout function

for maximum results. Worn as

a watch it will last up to seven

days on a full charge, or 72

hours in pool and in optical

heart rate mode. Price: 9,690

Baht; tsmactive.com

18 19
---
OVERTURES

THAILAND TREASURES

All Aboard for

Hua

Words by Suthima T.

no better place for a quick, quiet

Hin!There's getaway from the bustling capital

Bangkokians looking for a quick escape

tend to head for the nearest seaside

destination, which usually means Hua

Hin. Not only is this little town by the sea

just a few hours drive from the capital,

it also basks in a quiet, classic charm.

Located south of Bangkok in Prachuap

Khiri Khan, Hua Hin offers simple

seaside delights along with a surprisingly

sophisticated leisure and night-time scene.

Here are some of its key attractions:

HUA HIN BEACH

Stretching for some 13 kilometres,

Hua Hin's white sand beach attracts a

constant flow of tourists. But the crowds

rarely get uncomfortably large and their

presence adds vibrancy to a district

that bustles with activity. And thanks to

Hua Hin's popularity, there's plenty of

food, drink and other attractions to be

had. Beachgoers can opt for the simple

pleasure of splashing about in the usually

calm sea, or else pay 300 baht to hop

onto a horse for 20 minutes. The onceexclusive

Hua Hin has served as a holiday

home for the royals since King Rama III,

but now the town welcomes the public

with open arms.

Location: Many local roads connect to

Phetkasem Road, which leads to the beach.

HUA HIN RAILWAY STATION

Retaining its old wood-and-iron facade,

the railway station outshines the town's

other buildings in terms of aesthetic

beauty. Its quaint, East-meets-West

architectural style stands in contrast

to the modern hotels and malls that

now dot Hua Hin's skyline. Built during

the reign of King Rama VI, the brightly

painted wooden buildings – which

include a royal waiting room – are Thai

in concept but retain an air of Victorian

English elegance. You can stop to soak in

the atmosphere at the rail-side café.

Many visitors choose to make the

historic trip by train from Bangkok. It

may be slow, taking four hours or more

instead of two-and-a-half by car, but the

journey south through Thai countryside

is certainly more picturesque.

Location: 157/27 Pokklao Road.

Tel: +66 (0) 32 511 073

Top Left

The statue of King

Taksin, Wat Huay

Mongkol temple.

Top Right

Horse riding on

Hua Hin's

long beach.

Bottom Left

Colourful wooden

fishing boats at the

fisherman's village.

Middle Right

Flags flutter in the

breeze at Sam Phan

Nam floating market.

Bottom Right

Summertime in

Hua Hin.

Clockwise from

Top Left

Hua Hin from the

top of Khao Lom

Muak, Prachuap

Khiri Khan.

Temple of Khao Tao

on the lake.

Old and beautiful

Hua Hin train

station, which is still

in operation.

The exterior of

Hua Hin's famous

train station.

20 21
---
OVERTURES

THAILAND TREASURES

HUA HIN NIGHT MARKET

Spend a few fun hours exploring the

colourful stalls offering all sorts of

souvenirs, clothes and even bedsheets

at very affordable prices. There's also

plenty to snack on at roadside stalls

and seafood restaurants lining the way.

The market is open daily from 6pm until

11pm and beyond.

Location: Where Dechanuchit Road

intersects with Phetkasem Road.

HUA HIN SAM PHAN NAM

FLOATING MARKET

Covering more than 100 rai (16 hectares),

this sprawling market has been fashioned

in the late Rattanakosin (King Rama

VI) style. The vast landscaped grounds

include a huge manmade lake, show

islands, mini train track, more than 200

shops and as many as 40 boat vendors

offering all kinds of food and snacks.

If you're lucky, you may catch a live

performance by Thailand's legendary

Suntaraporn Band – or even be pulled

into a singalong. The market is open

from 9am to 5.30pm, and though entry

is free for Thais, foreigners pay 200 baht.

However, that covers a boat ride through

the market. Visitors can also ride the mini

train for 20 baht each.

Location: 88/8 Moo 13 Nong Hoi-Thap

Tai Road. Tel: +66 (0) 32 900 111

HUAI MONGKOL TEMPLE

Set in a park-like setting, this monastery

boasts the country's largest statue of

Buddhist monk Luang Phor Thuad, who

was said to have had the miraculous power

of turning seawater into fresh water.

Visitors can climb up to the base of the

11.5-metre-tall sculpture and look down

on the stunning landscape of Prachuap

Khiri Khan and, on clear days, even get a

glimpse of the Tanao Sri mountains that

separate Thailand and Myanmar. The

temple is open daily from 5am to 10pm.

Location: Huai Mongkol Road.

For more info:

Hua Hin Municipality's Tourism Division:

Tel: +66 (0) 32 511 047

Clockwise from Top

The statue of Luang

Phor Thuad at Huay

Mongkol temple.

Seafood sizzles

on the grill at the

Night Market.

Handmade souvenirs

sold at the

floating market.

Visitors snap photos at

Sam Phan Nam Floating

Market's entrance.

Enjoying street food

and local products at

the Night Market.

22
---
OVERTURES

A TASTE OF THAILAND

Thai cuisine is strikingly bold, with a unique taste

that both surprises and delights the senses.

Among its abundant recipes passed down

from generation to generation, Nam Phrik or

chilli-paste dip is a favourite choice when hungry

stomachs begin to rumble.

There are many different varieties, but the

classic dish found on many Thai dining tables is

Nam Phrik Platoo, or chilli-paste dip with mackerel.

Generations of Thais have grown up with this

recipe, served with steaming hot rice. Though the

rich, dark red paste is easy and cheap to cook,

A Bold Bowl

of Flavour

most people buy it ready-made from shops and

family-style Thai restaurants.

The secret to a well-crafted Nam Phrik

Platoo is to pound and roast the ingredients to

perfection, which can be measured by the aroma.

Each ingredient, once pounded, releases its own

unique flavour that mingles with its partners to

create the delicious blend of Nam Phrik Platoo.

Begin by roasting Thai garlic, shallots and

red chillies in a pan on low heat until their outer

skin is nicely burned. Peel the garlic and shallots,

then get out every Thai kitchen's must-have – a

Oozing complex flavours,

the simple-looking dip

known as Nam Phrik is a

masterpiece in disguise

pestle and mortar. Pound the roasted ingredients

together until they are well mixed. Add steamed

short mackerel meat (beware of fish bones!) and

crush and blend the mixture together, before

seasoning with fish sauce, lime juice and a

tablespoon or three of boiled water. And voilà!

Your Nam Phrik Platoo is ready to serve!

Elevate your meal to a masterpiece by pairing

the dip with fried short mackerel and steamed

jasmine rice. Thais often tone down the bold

flavour of Nam Phrik by eating it with assorted

vegetables – fresh or boiled. Tada! A perfect meal!

WORDS SARITA URUPONGSA

24
---
OVERTURES

FRUITFUL FINDS

Chilling

with the

Queen of

Fruits

Looking like a purple tennis ball with a funny

green hat, the mangosteen has been crowned a

foodie favourite alongside King Durian

Cherished for its delicious mix of sweet and tangy

flavours, the origins of the mangosteen are unknown

– though the fruit is believed to have first sprouted

in Malaysia or eastern Indonesia. Renowned British

botanist EJH Corner believed the wild fruit was first

domesticated in Thailand or Myanmar.

The spherical fruits are flattened on the top and

bottom with a thick deep purple shell, which is cut

open to reveal a snow-white rosette comprised of

four to eight seeds wrapped in juicy flesh. The seeds

are edible, but some choose to discard them because

they are a bit hard and bitter.

The mangosteen brims with health benefits,

offering eaters a variety of essential minerals, vitamins

and fibre while also being low in calories. It also

contains xanthones, a unique plant compound

with antioxidant properties which are believed to

help maintain healthy blood-sugar levels, reduce

inflammation and even protect eaters from cancer.

Botanists classify mangosteen as asexual – like

most of the fruit found in this region. With no

fertilisation required to reproduce, baby seedlings

remain genetically identical to the mother plant.

According to the Chinese, mangosteen is a highly

effective antidote to the "heat" that comes with

consuming the king of fruits – the spiky durian. So

eating mangosteen is recommended after a durian

feast to balance the yin and yang in the body.

With an aroma and tangy flavour somewhere

between lychee, pineapple, strawberry and peach,

the mangosteen has caught the attention of chefs

and foodies. Toss the white flesh into a salad or

turn it into ice-cream, juice, slushy, mocktail or

cocktail. Or just serve it fresh – nothing beats the

scorching heat better than a cooling mangosteen!

WORDS CHUSRI NGAMPRASERT PHOTO KAY CHOOMONGKOL

26
---
OVERTURES

JUST DESSERT

Gems of

Delight

When the weather

gets hot, chill out with a bowl

of ice-cold 'rubies'

The name of the Thai dessert Thabthim Krob

means "Crunchy Rubies" – describing the

plump gems that burst between your teeth like

pomegranate seeds as you bite down. The Krob

or crunchiness of these small translucent gems

matches beautifully with the sweet refreshing

juice released as you slurp and munch.

Thabthim Krob was one of King Rama V's

favourite desserts and soon became popular

among his subjects. The reason for the dish's

popularity can be put down to its addictive

and unusual texture – soft on the outside, but

crunchy within.

This summertime favourite is made from

water chestnuts, which are first boiled, then

chopped into cubes before being mixed with

food colouring to turn them their signature

reddish pink. The cubes are then bathed in flour

and boiled again in sugar until they are clear,

pinkish beads.

They are served with aromatic coconut

milk, known for its rich, sweet and salty flavour,

slices of jackfruit and crushed ice. The ice soaks

into the coconut milk offering bites of sweet

freshness – a perfect antidote for Thailand's

summer heat.

WORDS SARITA URUPONGSA

28
---
OVERTURES

ARTS & CULTURAL MATTERS

The Treasure Trove of Mumbai

Vibrant, exhilarating, chaotic. Every corner

the son of the Maharaja, commissioned

renowned architect Abha Narain Lambah

to restore the building to its former

grandeur in 2010.

BIG DRAMA IN A SMALL SPACE

Built by Bollywood icon Shashi

Kapoor in memory of his father,

Prithviraj Kapoor, a legend in his

of India's largest city captivates wanderers

with its colourful and bustling human drama.

Presented here are three of its most spellbinding

cultural gems

Ms. Lambah's devotion to her task was

rewarded with the Unesco Asia-Pacific

Award for Cultural Heritage Conservation

and the Opera House's inclusion in the

2012 World Monuments Watch.

own right, Prithvi Theatre opened

its doors to artists and audiences

in 1978. The non-profit theatre

survives on the patronage of

individuals and corporates with a

Words Sarita Urupongsa

Nowadays, India's only surviving

opera house is once again a favourite

shared commitment to cultivating

performing arts in the city.

CULTURAL POWERHOUSE

destination for Mumbai's culture lovers.

Get a taste of this classical powerhouse

Describing itself as "an intimate

space for theatre and performing

When it comes to the jewel in Mumbai's

cultural crown, there's really only one

contender. More than 100 years after

it rose majestically on the skyline, the

Royal Opera House still shines brightest

among the city's arts venues with a

rolling programme of plays, films, music

and dance. In the early 1900s, the city

then known as Bombay was famous

as an artistic melting pot – but the

bubbling sophistication reached boiling

point when a grand European-style

opera house was added to the mix. The

spectacular Baroque edifice with Indian

detailing was the 1908 brainchild of

Clockwise from Top

Old world charm

meets modern

sophistication.

"Antariksha Sanchar",

a critically acclaimed

dance opera inspired

by Indian maths

genius S. Ramanujan.

The grand interior

seats 575 in three tiers.

"Raavan Ki

Ramayan" featuring

actor Puneet Issar.

Director Atul Satya

Koushik's vision of

the Ramayana.

Calcutta entertainer Maurice Bandmann

and coal tycoon Jehangir Framji Karaka.

After being inaugurated by King

George V in 1911, the finishing touches

were added in 1916 – just in time to

catch the wave of silent cinema from

in 1925 but the arrival of "talkies" in the

early '30s attracted huge crowds and saw

Bombay's Baroque beauty rise again.

The Maharaja of Gondal bought the

Opera House in 1952, but by the 1980s

audiences had dwindled due to the rise

of culture by checking out its upcoming

shows at royaloperahouse.in.

Mama Parmanand

Marg, Mumbai, royaloperahouse.in

arts", Prithvi promotes and inspires

theatrical excellence by nurturing its

artists and performers and providing

them with all they need to make their

work stand out. The focus is on

new and challenging plays in Hindi

and English, so check the website

to find out if surtitles are provided.

Theatre is taken seriously at Prithvi,

where staff do their utmost to ensure

the bubble isn't broken by the

ungodly ring of cellphones and that

no tickets are sold after 15 minutes

prior to the show.

Shows are staged at the theatre

from Tuesday to Sunday. 20 Janki

Kutir Juhu Church Road, Mumbai,

prithvitheatre.org, facebook.com/

Clockwise from Top

Prithvi Theatre puts

on plays in Hindi,

English, Marathi

and Gujarati.

Tpot Production's

WOLF (Children's Play).

Prithvi Festival,

one of India's top

annual events

dedicated to theatre.

An intimate

performance at

Prithvi Festival 2019.

Hollywood. By 1917 it was doubling as

of video. The Opera House finally closed

prithvitheatre

a cinema hall, and films were sharing the

its doors in 1993 and sat crumbling for

space with operas. The theatre closed

years. That was until Shri Joytendrasinhji,

30

31
---
OVERTURES

ARTS & CULTURAL MATTERS

VISIT THE ARCHITECT OF INDIA

Clockwise from Top

More than 1,000

different plant

varieties decorate

the Nehru Centre.

Nehru Planetarium

is a centre for the

study of astronomy.

Architect I.M. Kadri

designed the

Nehru Centre

to reflect the essence

of humanity.

The famous name of Jawaharlal Nehru

goes far beyond the narrow realm

of politics in India. Nehru's legacy

is rooted in the country's fight for

independence and the victory of its

first secular government. It was Nehru

who led that government, as India's

first prime minister.

Nehru Centre was conceived in

1972 as a living testament to his life's

work, vision and faith, and it continues

to inspire the new generation with the

spirit of the statesman described as the

architect of India.

The centre is divided into eight

sections, starting with the planetarium,

which was commissioned in March 1977

as a centre for the study of astronomy.

Then came the Discovery of India

permanent exhibition, which captures

the identity of the country in a variety

of media, ranging from architecture and

photographs to audio-visual displays.

This section also hosts workshops that

offer an alternative approach to science.

Other sections include the Culture

Wing, with rotating cultural programmes;

the Art Gallery, which is dedicated to

promoting young talents; and the

horticulture hub which hosts thousands

of rare trees. There's also the auditorium,

library and exhibition space.

Check out nehru-centre.org

for programmes, performances and

exhibitions. Nehru Centre, Dr. Annie Besant

Road, Worli, Mumbai, nehru-centre.org

32
---
OVERTURES

CHECKED IN

Three oases of calm to

repair your careworn

Stress-busting

mind and body

Sanctuaries

Photo by Salarom Spa at Baan Hin Sai, Samui

34 35
---
OVERTURES

CHECKED IN: BANGKOK

STAYED:

HOTEL NIKKO BANGKOK

A few minutes on foot from Thonglor

skytrain station, Hotel Nikko Bangkok

offers travellers warmth and comfort

in elegant interiors. A minimalist design

brings together traditional Thai and

Japanese aesthetics, lending the hotel a

modern yet familiar and welcoming look,

while natural light accentuates the sense

of freedom.

The rooms are compact, functional

and beautifully designed with wide

windows offering panoramic city views.

The glass-walled bathroom complements

the spacious vibe, while toiletries from

Panpuri add a spa-like feel. Most importantly,

the comfortable beds aid sound sleep

as you recharge for another day in the

bustling Big Mango.

Clockwise from Top

Guest rooms have

a minimalist design

with panoramic

views of the

cityscape.

All-day dining

at Oasis.

Start or end your day

with outdoor yoga

by the pool.

Hotel Nikko stands

tall in Soi Thonglor.

An array of

super-fresh seafood

at Oasis.

The hotel boasts plenty of great

dining options. The Hishou restaurant

serves a not-to-be-missed authentic

Japanese breakfast, an Obanzai buffet

for lunch/dinner and a wide selection of

Japanese beverages, including a Bangkok

rarity – Asahi Super Dry Extra Cold at a

sub-zero temperature.

If you're looking for high-quality

international buffet, grab a table at

Oasis with its fresh juice bar. The lobby

lounge Curve 55 also has light meals

and Japanese baked goods, with Mariage

Frères and sweet-smelling Thai flower tea

to sip on. The seasonal afternoon tea set

comes recommended.

WORDS SRINIT SUWANNASAK

PHOTOS COURTESY OF HOTEL NIKKO BANGKOK

Soak away your

aches in a Nikko

Grand Suite bathtub.

The hotel's gym is open 24 hours and

offers fitness classes, too. Yoga lovers get

an outdoor stretching space close to the

pool to kick-start their morning or wind

down from the city hustle.

Hotel Nikko is also great for business

travellers, offering meeting and conference

spaces plus a location in the heart

of the sophisticated restaurant-andleisure

district.

Hotel Nikko Bangkok

27 Soi Sukhumvit 55 (Thonglor), Sukhumvit

Road, Klongtan Nua, Wattana, Bangkok

Tel: +66 (0) 2080 2111

nikkobangkok.com

36
---
OVERTURES

CHECKED IN: PHUKET

Clockwise from Top

Expansive verandas

are caressed by cool

ocean breezes.

Ocean Rock's

mountainside

vantage point

delivers

outstanding views

of Patong Bay.

It's easy to feel at

home right away in

the apartment-like

atmosphere.

Stylish, detailed

and, above all,

comfortable.

STAYED: OCEAN ROCK KALIM

The pool deck at Ocean Rock Kalim offers

a tantalising vista as the Andaman meets

the sky on the far horizon. The skyline of

bustling Patong is visible just down the

coast, but since you're perched high on

the jungled mountainside, you can only

hear the sounds of the forest.

Barely a couple of years old, Ocean

Rock Kalim is a small resort comprised of

just seven serviced apartments and one

villa. The location is ideal, accommodation

spacious and atmosphere peaceful.

Though Patong is nearby, with its

buzzing nightlife and an eclectic bunch of

international visitors, Ocean Rock Kalim

and a few other resorts nearby give you a

chance to escape, avoid sensory overload

and recharge.

A serviced apartment instead of a fullfledged

resort has its benefits. Of course,

you won't find people at your beck-and-call,

but the service is more personal. Your room

is still cleaned every day, and someone

is at hand to offer advice and help plan

excursions. Each apartment is equipped

with a smartphone, so guests can directly

communicate with the general manager or

order food and transport. Staying at Ocean

Rock Kalim is more like staying at a friend's

place instead of being a stranger in a hotel.

The rooms are ultra-modern with

subtle, classic touches. At 173 square

metres, even the smallest unit offers

plenty of room to laze about. The

furniture is eye-catching and comfy,

the fittings of top quality, with ample

storage space and very tasteful décor and

colour combinations – everything you can

possibly need to feel right at home. In fact,

many bookings are for longer stays.

On the roof you will find the infinity

pool and lounge area with a stocked cooler

that works on a help-yourself honour

system, not to mention the barbecue –

good excuses to organise your very own

pool party.

If you're travelling in a group, you

may want to consider the Cube – a

huge, 800sqm villa boasting three

bedrooms with en suite bathrooms,

a 90sqm saltwater pool and a dining

table that can seat 10.

It is advisable to book yourself a

getaway at Ocean Rock Kalim soon,

because it is quickly establishing itself

as a luxurious but affordable hideaway

that is impossible not to fall in love with.

Ocean Rock Kalim

9/4 Phrabaramee Soi 7, Kalim Beach,

Patong, Kathu, Phuket

+66 (0) 94 801 9494

info@oceanrockkalim.com

WORDS & PHOTOS JEREMIE SCHATZ

38
---
OVERTURES

CHECKED IN: SAMUI

TRIED: SALAROM SPA AT

BAAN HIN SAI

Most of us enjoy an occasional pampering

session, and for many visitors to Thailand,

one or more visits to the spa sits high

on their list of must-dos. The kingdom

is rightly famous for its gentle hospitality

and its ancient tradition of massage. The

Thai massage technique is believed to

date back more than 2,500 years and is

rooted in age-old healing philosophies.

If you've never had a Thai massage,

prepare yourself for a different experience:

instead of focusing on specific muscles,

your masseur will pull, stretch, twist, rock

and compress your body in different ways.

Thai massage is available in every nook

and cranny of the country, but if you're

looking for spectacular views and topnotch

service then few places can match

Salarom Spa.

WORDS & PHOTOS JEREMIE SCHATZ

This spa is open to the elements,

located where the mountains meet the

sea at Baan Hin Sai resort. The resort

features small bungalows that dot a

picturesque hillside where boulders are

embraced by the roots of towering trees.

The natural beauty of the surroundings

creates a welcome refuge from the hustle

and bustle of the outside world. All that's

required of guests is to lie back in one of

the open-air salas and listen to the sound

of the waves crashing against the rocks.

The sea breeze is refreshingly cool, but

those who prefer things cooler can also

opt for an airconditioned room.

Though Thai massage is a speciality,

the spa also offers a host of other tantalising

treatments. The oil massage is a favourite,

especially when taken under the tall trees

to the music of chirping birds and crashing

waves, and the sweet aroma of coconut oil

to calm your senses.

Also available are aromatherapy, foot

reflexology and deep-tissue massage, as

well as body scrubs, facial treatments

and more. Check out the packages for

combination treatments, too.

The name Salarom – derived from

the Thai word "sala" for an open-air

pavilion and "rom" which stands for

serenity – nicely captures the blissful

experience awaiting you at this spa.

Salarom Spa at Baan Hin Sai

5/5 Moo 3, Bo Phut, Koh Samui,

Surat Thani, +66 (0) 77 448 519

salaromspa.com

Clockwise from

Top Left

The inviting natural

atmosphere of an

open-air sala.

Be pampered to

the sound of gently

breaking waves.

Salarom can easily

accommodate your

friends and family.

Dream come true: a

seaside spa nestled

among rounded

boulders and luscious

flower gardens.

A spectrum of

treatments is offered,

utilising a variety of

exotic Thai herbs.

40
---
CHALIDA KUNALAI

Sniffing

Success

Words Khetsirin Pholdhampalit

Photos Suwit Kittitien

A scent 'architect', Chalida Kunalai

has designed everything from hotel

ambience to colours for the blind

Chalida Kunalai has been sniffing

out opportunities all her working

life. The professional scent designer

has created pleasant fragrances for

consumer products – like rose-smelling

laundry detergent and green tea-scented

dishwashing liquid – as well as the bad

smells of a gas leak, burning and sour

milk to warn blind people about dangers.

"Our sense of smell is a human instinct and

is closely linked with memory and experience. A

whiff of cologne in a department store can remind

you of an ex-boyfriend who wore the same scent,"

grins Chalida, who has been in the scent business

for 30 years. "Fragrance can also add a layer to your

personal identity, like invisible clothing. That's why

we use the phrase 'wear perfume'. Smell is thus a

powerful and creative form of communication related

to emotion and experience."

Chalida, who looks far younger than her 50 years,

got her first sniff of the scent business three decades

ago when she landed a job as an account executive for

a perfume house. The role taught her plenty about the

art of fragrance.

"A scent designer works closely with a perfumer.

I am the 'architect' who creates plans that are used

to make something, while a perfumer is the engineer

who takes those plans and makes them practical and

usable," says Chalida, who graduated in political

science and mass communication.

After working in the perfume house for 10 years, she

moved on to designing fragrances for Asian consumer

products – a role she has filled for the past 20 years. Her

task is a challenging one: to create scents that can be

infused in goods that will appeal to different lifestyles

and cultures of countries across Asia.

"For instance, Chinese food normally doesn't have

strong flavours, so Chinese people prefer light and natural

odours to strong-smelling scents. On the contrary, we

can't use light, pleasant odours for goods sold in India

because Indians have noses that are familiar with intense

spices. Thai people, meanwhile, like floral and fruity scents

such as lavender and apple," says Chalida, whose nose

was "educated" at courses on perfume she took in France

during which she learned more about sensory perception

and the raw materials of fragrances.

42 43
---
CHALIDA KUNALAI

Top Right & Under

Chalida co-designed

the "Brain Smells"

project to present

visually how smells

have an influence on

the human brain.

Below

Chalida Kunalai

explains her passion

for scents.

Apart from her everyday work

designing fragrances for consumer

products, Chalida loves to experiment

and try new things. She has created

chocolate-scented oil for wine and

edible pepper-smelling oil to flavour

Western dishes for a restaurant and

wine bar.

"Wine and perfume speak

the same language – both have

fruity, spicy and light- or fullbodied

characteristics. Most people

love both wine and chocolate, so

I experimented and combined

them to make a signature drink. It

received a lot of positive feedback

from customers. Meanwhile, some

people like peppery smells but not

spicy tastes. So I realised an edible

pepper-smelling oil that can be

infused in the food could meet

that need," she says.

Chalida also designed the scented

ambience for a luxury hotel, after

being instructed to deliver the key

messages of "sophisticated", "luxury",

"innovative" and "avid traveller".

"Using a set of fragrant oils,

my task is to combine this and that

to discover the right scent that

communicates those key messages

to the hotel's clients. It is similar

to an artist who has to create a

painting from a palette of available

colours," she says.

Her deep knowledge of scent

design also landed Chalida a

place among the speakers at

2015 TEDxBangkok. The forum

for innovative thinkers gave her

opportunities to integrate her

expertise with masters in various

fields – from scientists, tech artists

and therapists to performers,

storytellers and children's

book writers.

In 2016, Chalida collaborated

with brain scientist Assoc. Prof

Yodchanan Wongsawat, from

Mahidol University's Biomedical

Engineering Department, to create

a conceptual art installation titled

"Brain Smells" aimed at visualising

how the brain is stimulated by

various smells.

She designed three scents to

evoke different emotions and

experiences. One scent evoked

nature with an odour of grass,

while the others recalled candy and

the smell of burning. Electrodes

were attached to the heads of

participants and connected up to a

computer. When the prepared scents

were inhaled by participants and

processed in the brain, the computer

recorded the brainwave frequencies

and interpreted them as emotions. It

then assigned a separate colour for

each emotion, drops of which were

directed onto pools of white milk

serving as a liquid canvas.

"Blue was associated with nature

and relaxation [the grass scent],

while yellow represented childhood

memory [candy]. Red reflected an

alert and focused state of mind

[burning]. These colours were realtime

visual representations of the

brain's processing of information.

The results varied, depending

on each subject's memory and

experience of the scent. We aimed

to present, visually, how smells

have an influence on the human

brain – and open up ways this could

be applied in various fields such as

healthcare, education, art and design,"

she explains.

Next, Chalida set out to empower

blind people by handing them the

tools to express themselves through

art. Two years ago she created a

set of scented acrylic colours for

the "Nose Project" in collaboration

with therapist Zign Tancharoen and

Kris Sanguanpiyapand, co-founder

of the Blind Theatre.

"My intention was to create a

set of different scents that evoke

the same feeling as seeing certain

colours. I talked to the art therapist

[Zign] and blind people about the

meaning and the feeling of each

colour. I then designed scents to

signify the five primary colours –

white, black, yellow, blue and red.

"My intention was to create a set of

different scents that evoke the same feeling

as seeing certain colours ... I then designed

scents to signify the five primary colours."

For instance, red represented sun

and power, so I made a spicy smell.

Black was evoked with a stalesmelling

scent," Chalida says. "It

turned out that the blind people

could create impressive artworks

with the help of the scented colours."

Chalida never runs out of ideas

in exploring the power of scents.

Recently, she has been working

with writers of children's books and

partners from the Nose Project to

create a set of scented children's

books to be distributed to schools

for the blind as educational kits.

The set has three volumes

of four books each that come with

bottles of scent that match the

stories. The first volume contains

tales to alert the visually impaired

children about household dangers

like gas leaks and electric shocks.

The odours are designed to match

such hazards. The second volume

deals with air pollution outside

the house, including fumes from

exhaust pipes and cigarette smoke

that they should steer clear of.

"The last volume is all about

adventure and aims to encourage

them to explore the world outside.

I plan to design scents that

evoke snow, waterfalls and the

sea," says Chalida, who hopes to

complete the project in the next

six months.

Top Three

A set of five scented

acrylic colours was

designed for the

"Nose Project" as

a tool for visuallyimpaired

children

to create art.

44 45
---
CHALIDA KUNALAI

บรรยายภาพ

ชลิดาออกแบบชุดสี

อะคริลิกมีกลิ่น 5 สี

สำหรับโครงการ

"The Nose" โดย

ออกแบบกลิ่นให้ความ

รู้สึกเดียวกับเวลาเห็นสี

เพื่อให้เด็กที่พิการทาง

สายตาสามารถ

สร้างสรรค์งานศิลปะได้

ชลิดา คุณาลัย นักออกแบบกลิ่นมืออาชีพ

ที่รังสรรค์ตั้งแต่กลิ่นกุหลาบแต่งกลิ่นผง

ซักฟอก น้ำยาล้างจานกลิ่นชาเขียว หรือ

แม้แต่กลิ่นเหม็นฉุนของแก๊สเพื่อเตือน

อันตรายแก่ผู้พิการทางสายตา

ประสบการณ์อันยาวนานกว่า 30 ปี

ในฐานะนักออกแบบกลิ่นทำให้เธอได้เรียนรู้

ทุกแง่มุมของธุรกิจและศาสตร์แห่งกลิ่น

เธอเปรียบเสมือนสถาปนิกที่ออกแบบแปลน

ให้แก่นักปรุงน้ำหอมผู้เป็นดั่งวิศวกร และ

ทำให้เธอรู้ว่า ประสาทสัมผัสทางจมูก

เชื่อมโยงกลิ่นเข้ากับประสบการณ์และ

ความทรงจำของแต่ละคน น้ำหอมจึงเป็น

เครื่องมือแสดงถึงอัตลักษณ์ เพื่อสื่อถึง

อารมณ์และประสบการณ์ในอีกทางหนึ่ง

หลังจากร่วมงานกับแบรนด์น้ำหอม

มาร่วม 10 ปี ชลิดาก็ได้ย้ายมาทำงาน

ออกแบบกลิ่นหอมสำหรับผลิตภัณฑ์แก่

ผู้บริโภคเอเชียในช่วง 20 ปีหลัง เธอได้

พบกับความท้าทายในการออกแบบกลิ่น

ที่ "เหมาะสม" เพื่อผสมผสานเข้ากับสินค้า

ต่างๆ ตามวิถีชีวิตและวัฒนธรรมของ

คนในชาตินั้นๆ ชาวจีนไม่ชอบอาหารรสจัด

เช่นเดียวกับกลิ่นที่ต้องไม่แรงฉุน ตรงข้าม

กับชาวอินเดียที่ชื่นชอบเครื่องเทศ จึงชอบ

กลิ่นที่อบอวลกว่า ส่วนคนไทยชื่นชอบ

กลิ่นดอกไม้และผลไม้มากกว่ากลิ่นอื่นๆ

ความท้าทายนี้เองที่ทำให้เธอหลงใหล

การทดลองสร้างกลิ่นใหม่ๆ ไม่ว่าจะเป็น

น้ำมันกลิ่นช็อคโกแลตเพื่อผสมในไวน์ และ

น้ำมันกลิ่นพริกไทยเพื่อผสมกับอาหาร

ในร้านอาหารและไวน์บาร์ชื่อดัง จนเป็นที่

ชื่นชอบอย่างมาก

นอกจากนี้ เธอยังได้รับโจทย์ให้

ออกแบบกลิ ่นที่สื่อสาร "ความซับซ้อน"

"ความหรูหรา" "ความแปลกใหม่" และ

"ความหลงใหลในการท่องเที่ยว" สำหรับ

โรงแรมหรู ชลิดา กล่าวว่า เธอเป็นเหมือน

กับศิลปินที่ต้องวาดภาพตามสีสันที่มีอยู่

เพื่อให้เป็นภาพวาดตามที่ลูกค้าปรารถนา

ในปี 2558 เธอได้รับเชิญไปบรรยาย

บนเวที TEDxBangkok ซึ่งเปิดโอกาส

ให้เธอได้แบ่งปันความรู้กับผู้เชี่ยวชาญ

หลากหลายแขนง จนได้มีโอกาสร่วมงาน

กับ ผศ. ดร. ยศชนัน วงศ์สวัสดิ์ จาก

ภาควิชาวิศกรรมชีวเวช มหาวิทยาลัย

มหิดล และ Bit Studio สร้างผลงาน

ศิลปะจัดวางคอนเซ็ปชวล ชื่อ "Brain

Smells" เพื่อแสดงภาพปฏิกิริยาของ

สมองที ่มีต่อกลิ่นต่างๆ

เธอออกแบบกลิ่นธรรมชาติ กลิ่น

ลูกกวาด และกลิ่นไหม้ เมื่อผู้เข้าชม

นิทรรศการได้ดมกลิ่นแต่ละกลิ่น คลื่น

ไฟฟ้าจากสมองจะส่งผ่านอิเล็กโทรด

แปลงความถี่เป็นหยดสีที่มีความเกี่ยว

เนื่องกับอารมณ์ แล้วหยดลงบนอ่าง

น้ำนมสีขาวที่ทำหน้าที่เป็นผืนผ้าแคนวาส

สีที่ได้จะแตกต่างกันออกไปตามความ

รับรู้และประสบการณ์ของผู้ชมศิลปะแต่ละ

คนที่มีต่อกลิ่นนั้นๆ งานศิลปะครั้งนี้ต้องการ

แสดงให้เห็นว่ากลิ่นมีอิทธิพลต่อสมอง

และการแปรความของมนุษย์อย่างไร

ชลิดายังได้ทำงานร่วมกับคุณทราย

ตันเจริญ และคุณกฤษณ์ สงวนปิยะพันธ์

ผู้ก่อตั้ง Blind Theatre ในการสร้างกลิ่นที่

ทำให้เกิดความรู้สึกขึ้นเช่นเดียวกับเมื ่อ

เราเห็นสีสันต่างๆ ช่วยให้ผู้พิการทาง

สายตาสามารถสร้างผลงานศิลปะอันน่า

ประทับใจได้อย่างไม่มีที่สิ้นสุด

นอกจากนี้ เธอยังได้ร่วมผลิตหนังสือ

3 ชุดสำหรับเด็กผู้พิการทางสายตา ซึ่ง

คาดว่าจะแล้วเสร็จในอีกไม่กี่เดือนข้าง

หน้า แต่ละชุดประกอบด้วยหนังสือ 4 เล่ม

มาพร้อมกับขวดบรรจุกลิ่นที่เข้ากับ

เนื้อเรื่องแต่ละเล่ม

ชุดแรกเกี่ยวกับอันตรายภายในบ้าน

เช่น แก๊สรั่ว หรือไฟฟ้าช็อต ชุดที่สอง

เกี่ยวกับมลพิษทางอากาศ เช่น ควันจาก

ท่อไอเสียและควันบุหรี่ เพื่อเตือนให้เด็กๆ

หลีกหนีจากกลิ่นเหล่านี้ ส่วนชุดที่สาม

เกี่ยวกับการผจญภัยในโลกภายนอก

โดยเธอจะออกแบบกลิ่นที่สื่อถึงธรรมชาติ

หิมะ น้ำตก และทะเล ถือเป็นการเปิดโลก

ใบใหม่ให้เด็กๆ เหล่านี้ ผ่านกลิ่น จินตนาการ

และได้เข้าถึงประสบการณ์แปลกใหม่จาก

กลิ่นที่เธอรังสรรค์ขึ้น

46
---
THAI NEW YEAR

Submerge Yourself

Words Suthima T.

-in-

Need a little help navigating

Thai New Year? Check out

our guide to the wildest

water wars plus unique and

gentle traditions

Songkran, or Thai New Year, is

a unique celebration that's rich

in history and tradition. Thais

celebrate the festival by making

merit, visiting temples, giving donations,

cleaning their homes, bathing Buddha

statues, paying homage to their ancestors

and pouring scented water on parents

and the elderly. But the celebrations also

have a wilder side. The belief is that these

acts will wash away the previous year's

bad karma and leave the slate clean for

the new year. This three-day holiday also

-

-

gives families the opportunity to reunite.

Most people know Songkran as the

water festival, when streets are closed

to traffic and they turn into fun-filled

battlegrounds, with everybody, young and

old, splashing each other with water –

buckets of icy cold water in some cases.

For a true experience of Songkran, check

out the guide on the next pages, which

tells you what you need to know about the

festival, how you can be part of it, how

it is celebrated in different parts of the

country, and the best places to go.

48 49
---
THAI NEW YEAR

Central

Songkran in the Central Region

starts on April 13, the day of Maha

Songkran, when the sun enters

Aries, marking the last day of the

year. The following day is called

Wan Nao, or the day the old year

transitions into the new year. April

15 is Wan Thaloeng Suk or New

Year's Day. During these three days,

people host religious ceremonies,

visit temples, make merit and pay

respect to the elderly. This is also

the time when Buddha statues are

bathed with scented water.

Top Left & Below

People and an

elephant have fun

with water.

Right

Buddhists drape a

new yellow robe on

a Buddha statue in

Ayutthaya.

Bottom

People build sand

pagodas in

Nakhon Pathom.

Songkran is inspired by

different mythological stories.

In one, the god Brahma notices

a clever young man who can

understand the language of birds.

Jealous of his intelligence, Brahma

comes down to Earth and poses

him a riddle. If the boy gets the

answer wrong, he loses his head.

But if he gets it right, Brahma will

lose one of his heads. The young

man despairs, but then overhears

a conversation between two birds

who let slip the answer.

Presented with the answer,

Brahma agrees to cut off his own

head, but realises that it will

destroy the Earth if it falls

from Heaven. So he has one of

his daughters carry his head to

Mount Meru, saving humankind

from destruction. This myth is

repeated on Songkran with joyful

processions to temples.

North

According to Lanna tradition, the

festival is called Pee Mai Muang. It

starts on April 13 when people set off

firecrackers to banish bad luck, give

their homes a good spring cleaning, and

wear new clothes. On April 14, people

make an effort to be mindful of their

speech, in the belief that bad words will

bring bad luck. They also spend the

day preparing food and decorating

their homes for the big day – April 15.

On New Year's Day, people visit

temples to make merit for their

ancestors, bathe Buddha statues and

honour their elders by pouring scented

water on their hands and asking for

blessings. They also believe that eating

Larb – a spicy minced meat salad,

the name of which sounds like the

word for luck in Thai – will bring them

good luck. Don't forget to try this dish,

but only if you can take the spicy heat.

Top

People bathe the

Phra Buddha Sihing

statue as it makes

its way around

the old quarters of

Chiang Mai.

Middle Row

Cane baskets are

decorated with tung

or colourful Lanna

flags in Wat Phra

Singh, Chiang Mai.

Novices join the

Songkran fun at Wat

Phra Singh.

Traditional Lanna

dancing at Tha Phae

Gate, Chiang Mai.

Bottom Left

Women put on a

performance of

traditional Lanna

dance at Wat

Phra Singh.

50 51
---
THAI NEW YEAR

Northeast

Northeasterners mark the New Year at exactly 3pm on

the 15th day of the fifth waxing moon in the month

of Boon Song Kran or Boon Duan Ha (the fifth month

in the Lunar calendar). On this day, people gather

in temples to offer alms, make merit, bathe Buddha

statues and sprinkle water on the monks to seek

their blessings. At home, they do the same to get the

blessings of their parents and elders.

Later in the day, people return to temples to

build sand pagodas and decorate them with beautiful

handmade flags, before it's time for water fights and

family gatherings.

Clockwise from

Top Left

The bathing of the

Luang Pho Phra Sai

statue is a key part

of Songkran in

Nong Khai.

A traditional dance

performance

in Nakhon Si

Thammarat during

Songkran.

Children dressed

in Manohra

costumes parade

down the streets of

Hat Yai, Songkhla.

Young boys in

traditional Thai

costume aim

their water guns

at passersby.

Sand pagodas

are decorated with

colourful paper

flags in Udon

Thani, northeastern

Thailand.

South

Southerners have strong and unique traditions when it

comes to Songkran. According to their belief, the Chao

Muang Kao, or the previous year's guardian, leaves

to make way for the new guardian. The first day of

Songkran, April 13, is known as Wan Song Chao Muang

Kao or the day when the departing guardian is bid

farewell. The following day is Wan Wang, or the day

when the guardian is away and there is no protection

from bad luck. On this day, it's important observe the

rules of being truthful and not causing harm. April

15 is Wan Rub Chao Muang, or the day when the new

guardian is welcomed, with children bringing their

parents new clothes and helping them wash their hair

to welcome the new year.

52
---
THAI NEW YEAR

Where to go

Check out our guide to the wildest water battles

plus unique and gentle traditions.

-

Bangkok

It's a blast being in the capital for Songkran, when major streets

like Khao San and Silom are closed to traffic and transformed into

splashing battle zones. Grab a water gun – and also something to

keep your phone dry!

Nong Khai

For a glimpse of Songkran's sacred side, head to this

northern town on the Lao border. People in Nong Khai

celebrate by carrying the century-old Phra Sai Buddha

statue through the streets so locals can pay their

respects and seek blessings by splashing it with water.

Chiang Mai

Songkran in Chiang Mai

is soaked in history and

tradition, highlighted by a

procession bearing the Phra

Buddha Sihing statue across

the city. Visitors can join the

parade and also participate in

water battles across town.

Hat Yai

Songkran celebrations

light up the night in

this southern city,

as revellers join the

midnight parade.

A beauty contest,

traditional dancing

and (of course)

splashing add to the

fun atmosphere.

Nakhon Si Thammarat

The Nang Dan parade is a

reflection of Hindu influences

in the South, especially in

the province of Nakhon Si

Thammarat, where locals

conduct special ceremonies to

welcome the Hindu God Shiva

to Earth. The sacred atmosphere

turns spectacular when young

brahmins clamber onto the

giant swing and reach fearsome

heights as they try to grab bags

of coins hung from a nearby tree.

54
---
THAI NEW YEAR

สงกรานต์เที่ยวไหนดี

-

หนองคาย

ชมขบวนแห่หลวงพ่อพระใสบนคาน

หามไม้ไผ่ พร้อมกับผู้คนที่รอคอย

สาดน้ำสรงพระเพื่อแสดงความ

เคารพและขอพรเพื่อความเป็น

สิริมงคลกับชีวิต

เชียงใหม่

เชียงใหม่ได้รับความนิยมอย่างมากใน

ช่วงสงกรานต์ เพราะมีประเพณีเก่า

แก่สืบทอดต่อกันมา โดยมีขบวนแห่

พระพุทธสิหิงค์รอบเมือง และมีการ

เล่นสาดน้ำรอบคูเมืองอีกด้วย

บน

สาวๆ นุ่งสะไบมาเล่นน้ำ

กันในวันสงกรานต์

ซ้ายล่าง

สมัยก่อนผู้คนนิยมนำ

ดอกไม้มาลอยในน้ำ

หรือใช้ดินสอพองมา

ละลายน้ำ เพื่อประพรม

กันให้เย็นฉ่ำในช่วง

ประเพณีสงกรานต์

ขวาล่าง

ช่วงเทศกาลสงกรานต์

ซึ่งเป็นหน้าร้อน

เป็นฤดูกาลแห่ง

การเล่นว่าวเช่นกัน

สงกรานต์คือเทศกาลทรงเอกลักษณ์

ของไทย เป็นประเพณีที่สืบทอดมาหลาย

ชั่วอายุคน ผู้คนเข้าวัดทำบุญ สรงน้ำพระ

รดน้ำดำหัวผู้ใหญ่เพื่อเป็นสิริมงคล ทั้งยัง

เป็นช่วงเวลาที่สมาชิกในครอบครัวกลับมา

รวมตัวสังสรรค์กันให้หายคิดถึง

ทั่วโลกรู้จักสงกรานต์ว่าเป็นเทศกาล

ที่ผู้คนสาดน้ำใส่กันให้ชื่นใจ แต่ใครจะรู้

ว่าเทศกาลสงกรานต์ในแต่ละภูมิภาคมี

ความแตกต่างกัน เรามาทำความรู้จัก

เพื่อเตรียมตัวรับประสบการณ์ในช่วง

เทศกาลแห่งความสุขนี้กันเลย

ภาคกลาง

เริ่มต้นวันที่ 13 เมษายนของทุกปี เมื่อ

พระอาทิตย์เคลื่อนเข้าสู่จักรราศีเมษ

นับเป็นวันสุดท้ายของปี เรียกว่า วัน

มหาสงกรานต์ เชื่อมเข้าสู่วันที่ 14

เมษายน เรียกว่า วันเนา ตามด้วยวันที่

15 เมษายน เรียกว่า วันเถลิงศก หรือ

วันขึ้นปีใหม่ตามประเพณีไทย

ตำนานเล่าขานว่า ท้าวกบิลพรหม

เสด็จลงจากสรวงสวรรค์เพื ่อมาทดสอบ

ปัญญาของธรรมบาลกุมารโดยมีศีรษะ

เป็นเดิมพัน เมื่อธรรมบาลกุมารสามารถ

ตอบปัญหาได้ ท้าวกบิลพรหมจึงต้อง

ตัดเศียรของตน แต่หากตกลงดิน พื้นดิน

จะลุกเป็นไฟ หากโยนขึ้นฟ้า ฝนจะไม่ตก

ตามฤดูกาล หากทิ้งลงมหาสมุทร น้ำจะ

เหือดแห้ง ธิดาของท้าวกบิลพรหมจึงต้อง

สลับเปลี่ยนนำเศียรของบิดาวนรอบ

เขาพระสุเมรุ เกิดเป็นประเพณีแห่นาง

สงกรานต์นั่นเอง

ภาคเหนือ

ชาวเหนือเฉลิมฉลอง ปีใหม่เมือง หรือ

ปี๋ใหม่เมือง ตามประเพณีล้านนา โดยจุด

ประทัดขับไล่สิ่งชั่วร้าย ทำความสะอาด

บ้านเรือน และสวมเสื้อผ้าชุดใหม่ในวันที่

13 เมษายน ในวันที่ 14 ทุกคนห้ามพูด

คำหยาบคายเพราะเชื่อว่าจะนำมาซึ ่ง

เคราะห์ร้าย นอกจากนี ้ทุกคนจะเตรียม

อาหาร โดยเฉพาะลาบ (ออกเสียงเหมือน

คำว่า "ลาภ") เพื่อเป็นสิริมงคลในการ

เลี้ยงสังสรรค์ช่วงวันที่ 15 เมษายน ซึ่งถือ

เป็นวันขึ้นปีใหม่

ภาคตะวันออกเฉียงเหนือ

บุญสงกรานต์ หรือ บุญเดือนห้า ถือเป็น

ส่วนหนึ่งของการทำบุญประจำเดือนใน

วันขึ้น 15 ค่ำ ชาวอีสานจะทำบุญเลี้ยง

พระ สรงน้ำพระพุทธรูปและพระสงฆ์ และ

รดน้ำดำหัวผู้ใหญ่เพื่อเป็นสิริมงคล

จากนั้นทุกคนจะช่วยกันขนทรายเข้าวัด

ก่อเจดีย์ทราย เพื่อนำเศษดินทรายที่ติด

เท้าออกไปจากวัดตลอดทั้งปีมาคืนวัด

และถวายเป็นพุทธบูชาแด่องค์พระสัมมา

สัมพุทธเจ้า จากนั้นประดับตกแต่งด้วย

ดอกไม้และธงหลากสี ตบท้ายด้วย

สมาชิกในครอบครัวจะรวมตัวกันเพื่อ

เล่นน้ำสงกรานต์

ภาคใต้

คนใต้เชื ่อว่าเทศกาลสงกรานต์ หรือที่

เรียกว่า วันว่าง คือช่วงที่ เจ้าเมืองใหม่

จะมาปกปักษ์รักษาเมืองแทน เจ้าเมืองเก่า

โดยวันที่ 13 เมษายนถือเป็น วันส่งเจ้า

เมืองเก่า โดยทุกคนต้อง 'ว่าง' ไม่ทำงาน

ในวันนี้ และต้อง 'วาง' คือ ไม่ทำร้ายผู้อื่น

ทั้งทางกาย วาจา ใจ และต้องไม่พูดปด

และทำจิตใจให้แจ่มใสตลอดช่วงสามวัน

ของสงกรานต์ ส่วนวันสุดท้าย วันที่ 15

เมษายนเรียกว่า วันรับเจ้าเมือง ผู้คนจะ

สวมเสื้อผ้าอาภรณ์ใหม่ และอาบน้ำสระผม

เพื่อต้อนรับปีที ่จะมาถึง

นครศรีธรรมราช

พิธีแห่นางดานตามความเชื่อของ

ศาสนาพราหมณ์เพื่อรับเสด็จ

พระศิวะสู่โลกมนุษย์ พร้อมกับพิธี

พรามหณ์อย่างการแข่งโล้ชิงช้า

เปรียบเสมือนการอัญเชิญพระศิวะ

ให้ประทับบนเขาพระสุเมรุ ในขณะที่

พญานาคร่วมกันกวนน้ำมหาสมุทร

เพื่อทดสอบความมั่นคงของพื้นปฐพี

ที่พระพรหมสร้างขึ้น

หาดใหญ่

ชมขบวนแห่ยามเที่ยงคืนและการ

ประกวดนางสงกรานต์ พร้อมกับ

การละเล่นหลากหลาย และการรำ

มโนราห์อันเป็นเอกลักษณ์งดงาม

กรุงเทพฯ

อย่าพลาดการเล่นน้ำสงกรานต์ใน

มหานครกรุงเทพฯ ที่ที่ถนนหลาย

สายปิดเพื่อให้เล่นสาดน้ำกันโดย

เฉพาะ ไม่ว่าจะเป็นนถนนข้าวสาร

ย่านนักท่องเที่ยวและย่านธุรกิจสุด

คึกคักบนถนนสีลม

PRIME BEACH TROPICAL LIVING FITNESS DINING LIFESTYLE INVESTMENT

• Award winning design

• Sunrise & sunset and hilltop 360-degree views

• Suites penthouses and private pool villas

• Hotel services with unrivaled amenities

• Stay in chic comfort and experience the best of

Koh Samui complemented by inspired design with

world class amenities

• Positioned to be a premium

Asian island destination

• Limited ownership and investment opportunities

available for the fortunate upon request

T 66(0)83-107-9684 E SALES@ANAMAYASAMUI.COM ANAMAYASAMUI.COM

56
---
ART MOVEMENT

Words Richard Augustin

Photos Courtesy of the Artists,

Singapore Art Museum, Museum MACAN

THAILAND,

BUT NOT AS

WE KNOW IT

Contemporary Thai artists are

unveiling startling new visions of their

country – drawing admiring glances

from a global audience

When the curtain was raised

at the sixth edition of the

Singapore Biennale in

November last year, it signalled

an important milestone for the contemporary

art movement in neighbouring Thailand.

The ongoing Biennale runs until March 22

and features as many as 77 artists and art

collectives from Southeast Asia and around

the world, with Thai artists featuring

prominently and proudly.

58 59
---
ART MOVEMENT

Bottom

The Singapore

Biennale 2019

invites the public to

engage in artistic

exploration.

The Singapore Biennale is

among the largest art exhibitions

in the region, and the strong

presence of Thai artists in this

year's showcase is proof that

contemporary art in the Kingdom

is indeed thriving. "In a country

that lacks art museums, I think

the Biennale boom in 2018

marked a significant turn in

the history of art in Thailand,"

explains Vipash Purichanont,

curator of the Biennale.

"In the last two years we

had the Bangkok Art Biennale,

Bangkok Biennale and the Thailand

Biennale. Artists from different

parts of the country also had

the chance to show their work

in several new international

exhibitions. These platforms gave

Thai artists the chance to exchange

ideas and interact with artists

from other countries, as well as to

showcase their works to local and

international audiences," he adds.

However, contemporary art,

or experimental works created

since the second half of the 20th

century, is still taking baby steps

in Thailand. So despite the growing

interest, says Vipash, the new

biennales may not necessarily be

a leap towards maturity. For that

to happen will require a degree of

perseverance. "I hope that every

new international exhibition from

2018 survives to its second edition

in 2020. We need to see how it

unfolds. Given that Singapore

Biennale 2019 is in its sixth

edition, we were relatively quite

late to the game."

A SHOWCASE OF IDEAS

But as the saying goes, better

late than never, and for that

reason alone, it bodes well for

the Thai art community that

several of its leading figures

have work on show at this year's

Singapore Biennale. Thai artists

Ruangsak Anuwatwimon, Arnont

Nongyao and Paphonsak La-or

are seasoned veterans who are

lending their vision and creativity

to this year's theme of "Every

Step in the Right Direction",

challenging viewers to think

about the future – economically,

ecologically and aesthetically.

Contemporary art, or experimental

works created since the second half

of the 20th century, is still taking

baby steps in Thailand.

Top Left

Ruangsak Anuwatwimon's

'Reincarnations' drawing

in detail

Below

The Singapore Biennale runs

until 22 March 2020 across

11 venues in the city.

Top Centre

Paphonsak La-or

Bottom Left

Ruangsak draws inspiration

from the natural world for his

art installations.

Top Right

A close-up of paintings used

in 'Far From Home'

Bottom Centre

Ruangsak Anuwatwimon

Left

Paphonsak working on his

installation.

Bottom Right

'Reincarnations' examines

species that are now extinct

or endangered.

60 61
---
ART MOVEMENT

"I was both curious and excited

about being given an opportunity

to participate in this exhibition,"

Ruangsak enthuses. The Bangkokbased

artist draws inspiration from

nature and presents these elements

again in Singapore with his piece

titled "Reincarnations", in which

he examines species that are now

extinct or endangered due to the

destruction of their habitat.

Ruangsak believes art is a great

platform to raise issues of concern,

citing the recent Australian bushfires

and the haze that plagues Southeast

Asia every year. "It is my hope that

'Reincarnations' will help show how

fragile nature is and how important

it is for the world to get off its path

of destruction."

Clockwise from

Top Left

Arnont Nongyao's

presentation of

the 'Opera of Kard

(Market)'

'Far From Home'

features vine

flowers made from

leftover paint.

Arnont Nongyao

Bottom Left

Arnont utilises

sound in presenting

his art.

SOUND & POLITICS

Arnont, however, takes an entirely

new approach with his audiovisual

installation. The "Opera of

Kard (Market)" is an immersive

multi-screen installation with 12

channels that play back sounds

and scenes from local markets in

northern Thailand.

"With the 'Opera of Kard', I

wanted to convey the feeling that

I have when I visit my favourite

flea market back home," says the

Chiang Mai-based artist.

"I wanted to project that unique

soundscape, with the sounds

of people, animals and cooking

seemingly coming together like

the music in an opera."

In order to bring the artwork

together, he and his assistant

travelled around for three weeks,

recording sounds and visuals in 12

markets around northern Thailand.

Though he often adopts more

traditional styles of representation,

the artist maintains that he doesn't

separate art forms. "I still enjoy

painting and sculpture, but I feel

sounds and vibrations are the first

elements we are exposed to as

humans. Even before we are born,

we are already listening to our

mother's heartbeat and sounds

from outside her body."

In the case of Paphonsak, his

works often engage with ongoing

social and political conflicts, and

have been displayed at international

expos like the Asia-Pacific Triennial

of Contemporary Art (Brisbane,

2015) and at Palais de Tokyo (France,

2006). At the Singapore Biennale,

the Nonthaburi-born artist is showing

"Far From Home", a piece inspired

by "Kraibaan", a journal written by

King Rama V in 1907.

Fascinated by the photographs

of European landscapes captured

by the monarch, he created 121

landscapes based on photographs

of countries where many Thai and

other Southeast Asian political

refugees reside. Though his work

has been called controversial,

Paphonsak believes that the

art community has grown more

receptive to this theme.

"I have seen and acknowledged

the movement of communities in

the art world in this region towards

this," he explains. "Initially, the

push to address sharp political

and social matters in art was

seen as both difficult and risky,

but eventually we began seeing

more galleries, art institutions

and festivals as well as artists

becoming more open-minded

towards this genre."

62
---
ART MOVEMENT

MAKING WAVES ACROSS

THE REGION

The Singapore Biennale is not the

only place where Thai art is making

a splash. In Indonesia, Chiang Maibased

artist Mit Jai Inn was recently

commissioned by Museum MACAN

in Jakarta to design their Children's

Space. For this task, Mit produced

"Colour in Cave", a vibrant, expressive

space that comes alive with interaction.

Colour in Cave is on display at

MACAN (Modern and Contemporary

Art in Nusantara) museum in

Jakarta until March and the artist

hopes the space will help inspire

young creative minds to explore

and flourish in a stimulating

environment. "It's a real honour

for me to see this project through

as it is about children," explains

Mit Jai Inn.

A seminal figure in the Thai

contemporary art scene, Mit cofounded

the Chiang Mai Social

Installation Project in the early

'90s and the Cartel Art Space in

Bangkok in 2013. He explains that

the Chiang Mai project was created

to show how the practice of art can

be inseparable from our daily lives

and vice versa.

Similarly, the Cartel Art Space

serves as an avenue for local artists

to express themselves without fear

of censorship. "They [the artists]

have no pressure within this space,

so they do not have to worry about

what is right or wrong, what is art,

or if they can sell or not," he says.

"Because ultimately, we need young

artists like we need clean water."

Vipash agrees, saying Thai artists

are playing a major role in shaping

contemporary art in the region.

Top Right

The Singapore

Biennale 2019

presents 150

works across a

wide variety of

mediums, including

performance.

Middle

Museum MACAN's

Children's Art Space

aims to inspire

young creative

minds.

Bottom Left

Mit Jai Inn

Bottom Right

'Colour In Cave'

by Mit Jai Inn is

showing at the

Museum MACAN

until March 2020.

Thai artists are

playing a major

role in shaping

contemporary art

in the region.

However, he wonders whether the

category of Thai contemporary art

should even exist in the first place.

"What kind of artistic practice

is perceived by the art world as Thai

art?" he asks.

"I think at this point in time,

it is more important to highlight

how Thai artists engage with shared

contemporary issues," he adds.

"Those [issues] go beyond national

boundaries. I think in order to be

accepted by the international art

community, we need to speak the

same language of contemporary

art – one that is universal and

appreciated by all."

64
---
ART MOVEMENT

ศิลปินรวม 77 คนจากเอเชียตะวันออก

เฉียงใต้ได้โอกาสอวดผลงานของตัวเอง

ในสิงคโปร์เบียนนาเล่ ครั้งที่ 6 ซึ่งจัดขึ้น

เมื่อเดือนพฤศจิกายนปีที่แล้วจนถึงวันที่

22 มีนาคมปีนี้ ศิลปินส่วนใหญ่มาจาก

ประเทศไทย ตามความเห็นของ วิภาช

ภูริชานนท์ ภัณฑารักษ์ของเทศกาลมองว่า

ความสำเร็จของศิลปินไทยในการแสดง

งานในเทศกาลศิลปะครั้งนี้มีจุดเริ่มต้น

จากความสำเร็จของเทศกาลศิลปะ

ในประเทศไทยเมื่อปี 2561

บางกอกอาร์ตเบียนนาเล่ บางกอก

เบียนนาเล่ และไทยแลนด์เบียนนาเล่ ที่จัด

ขึ้นเมื่อสองปีที่ผ่านมาทำให้ศิลปินจากทั่ว

ประเทศไทยมีเวทีแสดงงานศิลปะให้ผู้คน

ทั้งในและต่างชาติได้ประจักษ์ แต่ผู้ร่วม

ก่อตั้ง Waiting You Curator Lab กล่าว

ว่า แค่การเริ่มต้นที่ดีอาจไม่เพียงพอให้เกิด

การเปลี่ยนแปลงของประวัติศาสตร์ศิลปะ

ในไทย เราได้แต่หวังว่าคลื่นความสนใจใน

งานศิลปะจะกระเพื่อมต่อไปจนทำให้ไทย

แลนด์เบียนนาเล่ครั้งที่ 2 ที่จะจัดขึ้นในปี

2563 ประสบความสำเร็จเหมือนกับ

สิงคโปร์เบียนนาเล่ที่จัดขึ้นครั้งนี้เป็นครั้ง

ที่ 6 แล้ว

ในเทศกาลครั้งนี้ เรืองศักดิ์ อนุวัตรวิมล

อานนท์ นงค์เยาว์ และปพนธ์ศักดิ์ ละออ

คือสามศิลปินไทยผู้แสดงผลงานภายใต้

หัวข้อ "Every Step in the Right Direction"

เรืองศักดิ์ ศิลปินจากกรุงเทพฯ ใช้

แรงบันดาลใจจากธรรมชาติ สร้างผลงาน

ชื่อ "Reincarnations" เพื่อสื่อถึงสิ่งมีชีวิต

ที่สูญพันธุ์เนื่องจากสูญเสียที่อยู่ตาม

ธรรมชาติไป คุณเรืองศักดิ์อยากใช้เวที

แห่งนี้แสดงให้ทุกคนเห็นว่าธรรมชาติ

เปราะบางมากแค่ไหน และถึงเวลาที่เรา

ทุกคนจะออกจากเส้นทางแห่งการทำลาย

ล้างนี้เสียที

งานศิลปะชื่อ 'Opera of Kard' โดย

อานนท์ ศิลปินจากเชียงใหม่ ไม่ได้สื่อผ่าน

ภาพวาดหรือรูปปั้นดังเคย แต่กลับสะท้อน

ความคิดบนหน้าจอพร้อมกับเสียงใน

'กาด' หรือตลาดทางภาคเหนือของไทย

เสียงเซ็งแซ่ของผู้คน เสียงสัตว์ เสียงทำ

อาหาร ในตลาดสอดประสานกันอย่าง

ลงตัวประหนึ่งโอเปร่าอันไพเราะ

งานศิลปะส่วนใหญ่ของปพนธ์ศักดิ์

มักจะเกี่ยวเนื่องกับความขัดแย้งทางสังคม

และการเมือง งานแสดงศิลปะครั้งนี้ก็เช่น

กัน ได้รับแรงบันดาลใจจากพระราชนิพนธ์

"ไกลบ้าน" จนเกิดเป็น 'Far From Home'

ที่แสดงภาพวาดภูมิทัศน์ทวีปยุโรปกว่า

121 ภาพ สถานที่เหล่านี้เป็นที่พักอาศัย

ของชาวไทยและชาวเอเชียตะวันออกเฉียงใต้

ที่ต้องอาศัยนอกบ้านเกิดเนื่องจากเหตุผล

ทางการเมือง ปพนธ์ศักดิ์ ผู้มีถิ่นกำเนิด

ที่จังหวัดนนทบุรี กล่าวว่า การชูประเด็น

ด้านสังคมและการเมืองผ่านงานศิลปะ

เป็นเรื่องค่อนข้างสุ่มเสี่ยง แต่โลกแห่งศิลปะ

ในภูมิภาคนี้ก็เริ่มเปิดรับแนวทางศิลปะที่

สื่อถึงประเด็นเหล่านี้มากขึ้นกว่าเดิม

ไม่ใช่แค่สิงคโปร์เบียนนาเล่เท่านั้น

แต่ศิลปินไทยจากเชียงใหม่อย่าง มิตร

ใจอินทร์ก็ได้รับโอกาสจากพิพิธภัณฑ์

MACAN กรุงจาการ์ต้า ประเทศอินโดนีเซีย

ให้ออกแบบ 'Colour in Cave' ซึ่งเป็น

พื้นที่สีสันสดใสสำหรับเด็ก พื้นที่ศิลปะ

แบบอินเตอร์แอคทีฟนี้จัดแสดงถึงเดือน

มีนาคมนี้ โดยเจ้าของผลงานหวังว่า

พื ้นที่แห่งนี้จะสร้างแรงบันดาลใจให้ศิลปะ

ตามเข็มนาฬิกาจาก

บนซ้าย

งานอินสตอลเลชั่นของ

ศิลปิน มิตร ใจอินทร์

ที่เล่นกับกิจกรรมภายใน

สเปซ

'Colour In Cave'

กิจกรรมให้เด็กๆ ระบาย

สีภายในถ้ำ

จุดนัดพบของ

นิทรรศการ 'Far From

Home' โดยศิลปิน

ปพนธ์ศักดิ์ ละออ

ผลงานชื่อ

"Reincarnations" ของ

เรืองศักดิ์ อนุวัตรวิมล

สื่อถึงสิ่งมีชีวิตที่สูญ

พันธุ์เนื่องจากสูญเสีย

ที่อยู่ตามธรรมชาติ

สามารถบ่มเพาะและเบ่งบานในใจทุกคน

โดยไม่จำกัดอายุ

ในช่วงปี 2530 คุณมิตรได้ร่วมก่อตั้ง

Chiang Mai Social Installation

Project และ Cartel Art Space ที่

กรุงเทพฯ ในปี 2556 เพื่อชี้ให้เห็นว่า

ชีวิตประจำวันและศิลปะเป็นสิ่งที่แยกออก

จากกันไม่ได้ ศิลปินจะได้มีโอกาสสร้างและ

แสดงงานศิลปะของตนเองโดยไม่ต้อง

กังวลว่าถูกหรือผิด โดยไม่ต้องกังวลว่า

จะขายงานได้หรือไม่ เพราะสุดท้ายแล้ว

เราก็ต้องการศิลปินหน้าใหม่ๆ เหมือน

กับที่ชีวิตของเราขาดน้ำไม่ได้

วิภาช เห็นด้วยกับแนวคิดนี้ เขา

กล่าวว่า ถึงเวลาแล้วที่ศิลปินไทยต้อง

ร่วมสร้างผลงานศิลปะร่วมสมัยโดย

ไม่ยึดติดกับเชื้อชาติและพรมแดน เรา

จำเป็นต้องสื่อสารเป็นภาษาเดียวกับงาน

ศิลปะร่วมสมัยเพื่อให้ได้รับการยอมรับ

ในสังคมศิลปะนานาชาติ และสร้างงานที่

ทุกคนสามารถชื่นชมได้อย่างเป็นสากล

66
---
THAILAND'S TOP BEACHES

Words Phoowadon Duangmee

From sunbathing on deserted

powdery sands to dancing under

a fat moon, Thailand has beaches

to suit every holiday dream

Pockets Full of

SUNSHINE

In the blazing heat of summer, nothing beats

the cool salty kiss of a sea breeze and the

lazy swish of waves. Whether you're looking

for tranquillity or a party, shallow waters

or pounding surf, Thailand has a beach for every

taste. Here's our choice of the 10 finest stretches

of sand for your next holiday.

68 69
---
THAILAND'S TOP BEACHES

SUNSET BEACH, LIPE ISLAND, SATUN

Tucked away on the Andaman coastline of Thailand's

far South, Lipe Island seems to have escaped large-scale

development. This island was once a stopover for seagypsies

looking for fresh water and supplies. Nowadays

this small scuba-diving paradise has turned into a chic,

hippie hideaway. If you're interested in diving, head

to Adang Archipelago, where leopard sharks, whales,

dolphins and manta ray sweep through undersea gardens

of colourful corals, rock formations, pinnacles and

boulders. If plunging into the deep isn't your thing, then

the Sunset Beach on the west of the island offers serenity

and white, powdery sands – therapy for bare feet.

Castaway Beach Resort (kohlipe.castaway-resorts.com),

with its stylish rustic design and warm hospitality, is the

best place to kick off those shoes and lay your head.

CHAWENG BEACH, SAMUI ISLAND, SURAT THANI

If slurping rum and Red Bull out of a bucket is not your cup of tea, try

sipping champagne from the comfort of a daybed in Chaweng. A strong

all-rounder packed with leisure options, this is an excellent beach to

soak up the sun and spend the night partying. There's something for

everyone – from long golden sands under swaying palms with yearround

warm waters, to fine dining and fun nightlife. Hard Rock Café,

ARKbar Beach Resort, Cha Cha Moon Club and other bars and restaurants

line the 6-kilometre promenade from one end of the beach to the other.

KATA NOI, PHUKET

Framed by rocky outcrops draped with lush

greenery, this small but striking bay of Kata Noi is

classier than other parts of Phuket. It comes with

a cafe scene and several hip places to stay but has

maintained a laid-back wellness vibe with none

of the seediness of Patong Beach. Kata Noi draws

hedonists and travellers looking to sunbathe, stretch

in style at one of the yoga studios, enjoy top-notch

spa treatments or indulge in fine food. Its whitegold

beach is sandwiched between lush palms and

warm waters. Waves can get high, promising surfers

plenty of thrills.

KOH NANG YUAN,

SURAT THANI

Located between the islands

of Koh Samui and Koh Tao,

Koh Nang Yuan in the Gulf

of Thailand is actually three

islets joined by strips of white

sand. Nang Yuan is blessed

with brilliant marine life, coral

reefs, pure white sands and

gentle waves. It offers plenty

of options for snorkelling or

just splashing around in the

sun. The short hike up the hill

is well worth it for the breathtaking

view of the island, the

ocean and beyond. Nang Yuan

is ideal for a day trip since

accommodation on the islets

is scarce. Travellers usually

stop over when they're island

hopping from Koh Samui or

Koh Tao.

70

71
---
THAILAND'S TOP BEACHES

KOH KOOD, TRAT

Hiding away on Thailand's far eastern frontier,

Kood is a contender for Thailand's most beautiful

island. There are more coconut palms than

buildings, and life moves at a slow pace, with

islanders making their living from fishing or

coconut and rubber plantations. Koh Kood is

noted for its super-soft sands and the stunningly

undisturbed Ao Kluay Beach, which ticks all the

boxes for a tropical paradise – warm turquoise

waters, white powdery sands, a quiet air of privacy

and gorgeous sunrise and sunset.

PATTAYA BEACH, CHON BURI

Sydney has Bondi. Rio has Copacabana and Ipanema. Chon Buri – a seaside

province in Thailand's East – has Pattaya. The seaside town is world-famous

for its urban lifestyle and eye-popping sensory experiences. Built around the

crescent-shaped bay on the coast of the Gulf of Thailand, Pattaya is often

dismissed as a party town. Now, however, the city has reinvented itself as

a family-friendly destination with a museum, zip-lining adventure and water

park. It's also gaining popularity with visitors seeking a tropical beach holiday

with city comforts such as good food and excellent coffee. When night falls,

a multitude of bars and clubs ratchet up the music. The choices are endless,

from chill-out restaurants to thumping house and disco. Competition comes

from the spectacular KAAN Show and Alcazar Cabaret, not to mention the

private party scene all along the crescent beach.

KOH PHA NGAN, SURAT THANI

The first two of three supermoons this year will be on March 9 and April 8,

and what better way to enjoy the lunar giants than by dancing the night away

on Haad Rin or Sunset Beach. Located to the east of Samui island, Koh Pha

Ngan draws thousands of young revellers, hippies and backpackers to its Full

Moon parties. Apart from revels in the silvery rays, Haad Rin Beach's strip of

golden sand is also perfect for chilling out, greeting the sun with salutations

and sipping healthy smoothies for breakfast. But when the moon climbs high,

the beat grows louder, and smoothies are swapped for rum and Red Bull. A

perfect reason to dance like there's no tomorrow.

KOH YAO NOI, PHANG NGA

This little island in the Andaman is about an hour's speedboat ride from

Phuket. As rustic as it is unique, Koh Yao Noi is one of the least developed

beach havens in Thailand, which makes it perfect for a romantic

hideaway. Watch the sun rise while cuddling with your sweetheart

on a hammock for two as turquoise waves lap at the shore. If

you're looking for adventure, try kayaking through the maze of

mangrove tunnels.

KOH ROK, TRANG

A long, thin stretch of brilliant white sand and crystalclear

waters make Koh Rok one of the finest islands

off the Andaman coast. Getting there on a boat from

Phuket, Krabi or Lanta Island – and leaving your

comfort zone – is part of the adventure. Covered in

tropical jungle, Koh Rok is home to pristine beaches

and magical marine life. Grab a snorkel or choose

to play Robison Crusoe once the day-trippers leave.

There's nowhere to sleep other than in a tent with a

sleeping mat. Out in the wilds, nature is king – and

ruling this island are the spectacular sunrise and

sunsets on the Andaman horizon.

KOH KRADAN, TRANG

With tourists flooding Thailand's beaches, finding a

peaceful spot under the sun can seem like "mission

impossible". However, Koh Kradan off Trang province

in the Andaman should satisfy your inner Tom Cruise.

This small piece of paradise with soft powdery sands and

excellent snorkelling sites is an ideal destination. During

low tide, you can even walk out from the quiet beach to

the reef. A solid choice for accommodation is one of the

cosy beachfront cottages offered by Reef Resort Kradan

Island (ReefResortKradan.com).

72 73
---
THAILAND'S TOP BEACHES

หน้าร้อนแบบนี้ จะมีอะไรดีไปกว่าลมเย็น

เอื่อย ทะเล และเสียงคลื่นซัดหาดทราย

ขาวตรงหน้า ไม่ว่าความสงบหรือปาร์ตี้

สุดเหวี่ยงจะเป็นสิ่งที่คุณถวิลหา ประเทศ

ไทยล้วนมีให้คุณเลือกได้ครบจบในที่เดียว

ฟ้าไทยพาคุณไปพักผ่อนริมทะเล 10 แห่ง

ที่รับประกันความประทับใจมิรู้ลืม

หาดเฉวง, เกาะสมุย, สุราษฎร์ธานี

หากคุณคิดว่าฟูลมูนปาร์ตี้ดูฮาร์ดคอร์สุด

เหวี่ยงเกินไป ลองเปลี่ยนมาจิบแชมเปญ

อย่างสบายอารมณ์บนเดย์เบดดู อยากจะ

อาบแดดหรือปาร์ตี้บนหาดเฉวงยามค่ำคืน

ก็ดีงามไม่แพ้กัน ชิมอาหารเลิศรส พร้อม

กับเครื่องดื่มชื่นใจยามค่ ำคืนได้ที่ ฮาร์ดร็อค

คาเฟ่ อาร์คบาร์บีชรีสอร์ต ชาช่ามูนบีชคลับ

หรือจะเป็นบาร์และร้านอาหารอื่นๆ อีก

มากมายตลอดแนวหาดเฉวง

หาดซันเซ็ต, เกาะหลีเป๊ะ, สตูล

เกาะหลีเป๊ะหลบอยู่ในซอกหลืบของฝั่ง

ทะเลอันดามัน จึงรอดพ้นการพัฒนาเพื่อ

เป็นแหล่งท่องเที่ยวขนาดใหญ่ได้ ในอดีต

เกาะแห่งนี้เคยเป็นจุดพักเรือเพื่อเติมเสบียง

ก่อนเดินทางต่อ ปัจจุบันได้เปลี่ยนเป็น

แหล่งดำน้ำลึก พบกับฉลามเสือดาว วาฬ

โลมา และกระเบนราหู แหวกว่ายในน้ำ

ทะเลสีฟ้าและปะการังสีสันสดใส หรือจะ

เดินพักผ่อนที่หาดซันเซ็ต บนชายหาด

ละเอียดสีขาวอันเงียบสงบ แล้วนอนพัก

ยามค่ำคืนที่ แคสอะเวย์บีชรีสอร์ต

(kohlipe.castaway-resorts.com)

หาดกะตะน้อย, ภูเก็ต

หาดกะตะน้อยห้อมล้อมไปด้วยธรรมชาติ

มีคาเฟ่และที่พักสุดฮิป ไม่คลาคล่ำไปด้วย

ผู้คนเหมือนกับหาดป่าตองอันโด่งดัง

จึงทำให้นักท่องเที่ยวที่ชื่นชอบการเที่ยว

ทะเลแบบเต็มไปด้วยกิจกรรมหลากหลาย

พากันมาพักผ่อนที่ชายหาดแห่งนี้ ที่หาด

กะตะน้อย คุณสามารถผ่อนคลายด้วย

การนอนอาบแดด เล่นโยคะ ทำสปา

ทรีตเม้นต์ และลิ้มลองอาหารเลิศรส

หรือจะโต้คลื่นก็ตื่นเต้นไม่แพ้กัน

เกาะนางยวน, สุราษฎร์ธานี

เกาะนางยวนตั้งอยู่ในอ่าวไทย เป็นจุด

เชื่อมระหว่างเกาะสมุยกับเกาะเต่า มีแนว

ปะการังให้ดำน้ำดูความงดงามของสิ่งมี

ชีวิตใต้ท้องทะเล เดินเล่นบนชายหาดขาว

หรือจะปีนเขาเพื่อขึ้นไปชมทิวทัศน์จาก

จุดสูงสุดของเกาะพร้อมวิวมหาสมุทร

กว้างไกล

หาดพัทยา, ชลบุรี

พัทยาคือที ่ที่คุณจะได้สัมผัสไลฟ์สไตล์

แบบเมืองอันโด่งดังระดับโลก ทั้งยังเป็น

เมืองที่เหมาะกับการท่องเที่ยวแบบครอบครัว

อีกด้วย มีพิพิธภัณฑ์และสวนน้ำ เหมาะ

สำหรับผู้ที่แสวงหาการพักผ่อนบนชายหาด

สวยพร้อมกับสิ่งอำนวยความสะดวก

ครบครัน หรือจะเปลี่ยนบรรยากาศไปนั่ง

ดื่มและฟังเพลงครึ้มๆ แล้วตื่นตาตื่นใจกับ

คานโชว์ อัลคาซ่าร์ คาบาเร่ต์ ทิฟฟานีโชว์

และปาร์ตี้ส่วนตัวตลอดทั้งแนวชายหาด

เกาะกูด, ตราด

เกาะกูดเป็นเกาะที่เก่าแก่และงดงามที่สุด

แห่งหนึ่งซึ่งตั้งอยู่ทางภาคตะวันออกของ

ประเทศไทย ชีวิตบนเกาะกูดดำเนินไป

อย่างเชื่องช้า ชาวเกาะทำอาชีพประมงและ

ปลูกต้นยางพารา ห้ามพลาดหาดอ่าว

กล้วยอันเลื่องชื่อว่ามีทรายขาวละเอียด

พร้อมกับน้ำทะเลสีฟ้าใส อากาศอัน

บริสุทธิ์ และวิวพระอาทิตย์สุดประทับใจ

เกาะรอก, ตรัง

น้ำสวย ทะเลใส หาดทรายขาว ทำให้เกาะ

บน

การแข่งขันสมุยรีกัตต้า

ซึ่งจัดขึ้นประจำทุกปีใน

เดือนพฤษภาคม

สามารถชมได้จาก

หาดเฉวง

ล่าง

หาดซันเซ็ตบนเกาะ

หลีเป๊ะ เป็นที่ชื่นชอบ

ของคนรักทะเลสวย

รอกยืนหนึ่งในชายหาดทอดยาวที่สวย

ที่สุดของทะเลอันดามันไทย แค่การเดิน

ทางมาเกาะรอกก็ตื่นตาตื่นใจแล้ว โดย

สามารถขึ้นเรือได้หลายแห่ง จากเกาะ

ลันตา กระบี่ หรือภูเก็ต เลือกได้ตาม

แผนการท่องเที่ยว ส่วนที่พักก็มีให้เลือก

หลากหลายตามใจปรารถนา ไม่ว่าจะกาง

เต๊นท์หรือจะพักรีสอร์ตหรู มาพร้อมวิว

พระอาทิตย์ขึ้นและตกกลางทะเลอันดามัน

สวยงามสุดบรรยาย

เกาะพะงัน, สุราษฎร์ธานี

ซูเปอร์มูนสองครั้งแรกในสามครั้งของปี

2563 จะเห็นได้เด่นชัดที่สุดที่หาดริ้น และ

หาดซันไรส์ บนเกาะพะงัน ในวันที่ 9

มีนาคม และ 8 เมษายน เกาะพะงันซึ่งตั้ง

อยู่ทางทิศตะวันออกของเกาะสมุย ดึงดูด

นักท่องเที่ยวกว่า 30,000 คนให้เต้นและ

สนุกไปกับเสียงเพลงในฟูลมูนปาร์ตี้ก่อน

พระจันทร์เต็มดวง หาดริ้นเหมาะสำหรับ

การดื่มด่ำกับความเงียบสงบ พอพระจันทร์

เต็มดวง จากสมูธตี้เพื่อสุขภาพ จะเปลี่ยน

เป็นเครื่องดื่มแอลกอฮอล์ผสมเร้ดบูลทันที

นักท่องเที่ยวสายปาร์ตี้ห้ามพลาดเด็ดขาด

เกาะยาวน้อย, พังงา

นั่งสปีดโบ๊ตจากภูเก็ตเพียงหนึ่งชั่วโมงก็จะ

มาถึงเกาะยาวน้อย หนึ่งในเกาะที่มีแสงสี

น้อยที่สุดในประเทศไทย เหมาะสำหรับ

การใช้เวลาอ้อยอิ่งสุดโรแมนติกกับคู่รัก

บนเปลยวน ชมพระอาทิตย์ตกดินพร้อม

กับสีสันที่ค่อยๆ เปลี่ยนไปที่เส้นขอบฟ้า

ไม่มีที่ไหนจะอบอวลไปด้วยบรรยากาศ

แห่งความรักกว่านี้อีกแล้ว หรือหากชื่นชอบ

การผจญภัย ก็สามารถพายเรือคายัคผ่าน

เขาวงกตป่าชายเลนได้อย่างหนำใจเลย

เกาะกระดาน, ตรัง

เมื่อวันหยุดมาถึง จะหาหาดทรายที่

เงียบสงบในไทยเห็นทีจะยากจนเกือบเป็น

ไปไม่ได้ ยกเว้นที่เกาะกระดาน จังหวัดตรัง

หาดสวรรค์บนดินที่ทุกคนตามหา

กิจกรรมดีๆ มีให้เลือกมากมาย อาทิ ดำน้ำ

ดูปะการัง นอนชิลบนเปลยวน หรือรอ

ให้น้ำทะเลลง แล้วเดินไปตามแนวโขดหิน

แล้วพักผ่อนยามค่ำคืนที่รีสอร์ตติด

ชายหาด อย่าง รีฟรีสอร์ต เกาะกระดาน

(ReefResortKradan.com) เพื่อเติมพลัง

ก่อนลุยต่อในวันรุ่งขึ้น

74
---
GALLERY

Words Sugato Mukherjee

Photos Sugato Mukherjee & Soumya Bandyopadhyay

TRUE

Colours

SHINING

THROUGH

The vast and vibrant diversity of

India reaches high tide on one day

of the year – welcome to Holi!

In the temple towns of Mathura and

Vrindavan, a few hours from Delhi, the

festival of Holi is celebrated over several

days, when dusty streets are suddenly

drenched in bright colours.

76

77
---
GALLERY

Holi, or the Indian festival of colours, celebrates

the arrival of spring and the blossoming of

love. The day brims with joy, as people drench

one another with coloured water and daub coloured

powder on each other's faces, all to much boisterous

laughter. Carried away by the raucous fun, even

strangers become friends.

This festival is deeply imbued with Indian philosophy

and mythology, with the vibrant colours and exuberance

signifying the victory of good over evil. Holi is a pan-

Indian affair, but the celebrations reach a crescendo

in the northern and eastern regions.

Dusty north Indian towns like Mathura and

Vrindavan metamorphose into polychromatic

fairylands, their narrow streets splashed in every

hue and filled with people dancing to a frenzy. On

the other hand, in the east Indian city of Kolkata,

the day is celebrated with melodious music and

dance, though the fun is no less intense.

The festival of Holi is steeped in tales of the love

between the Hindu God Krishna and Radha, a day

when temples dedicated to them come alive with

devotional hymns, religious rites and dance. In the

remote northeastern town of Manipur, which has a

huge number of Krishna devotees, tales of their love

are told through melodious performances and subtle

rites, while in Mathura and Vrindavan the same story

is portrayed with a lot more vibrancy and energy.

In more ways than one, the festival of Holi

celebrates the diversity of India.

FAR LEFT

Steeped in tradition

and folklore, Holi is

marked with exuberant

fervour at Mathura

and Vrindavan.

ABOVE

In the university town

of Shantiniketan near

Kolkata, residents usher

in the spring with song

and dance.

FAR LEFT BOTTOM

In Kolkata, people dress

up in spring colours and

splash each other with

coloured water.

LEFT BOTTOM

The spring festival,

known as Dol Utsav in

Kolkata, has become a

cherished part of the

city's cultural calendar.

BELOW

Residents in the

northeastern town of

Manipur mark Holi with

traditional dance.

78

79
---
GALLERY

ABOVE

Children dress up in

traditional costumes

accessorised with flowers.

BELOW

Holi processions are held

everywhere in India.

RIGHT

Two men pelt visitors with

coloured powder at a temple

in Kanpur, north India.

80

81
---
GALLERY

CLOCKWISE FROM FAR LEFT

Every hue used in Holi has its own

significance. Red stands for love and

fertility, blue depicts Krishna and

green is for new beginnings.

While the rest of India celebrates Holi

to the tune of hymns or Bollywood hits,

in Shantiniketan the festival is marked

with songs of Rabindranath Tagore.

The hues of palash, a flower that

blooms this time of the year, adorn

women during the festival.

Holi transcends all barriers,

when even the elderly are soaked

in joyous spirit.

Temple courtyards come alive with

devotional dances.

ABOUT THE PHOTOGRAPHERS

The work of Sugato Mukherjee, a

photographer and writer based in Kolkata,

has appeared in National Geographic

Traveller, Al Jazeera and Travel+Leisure,

among others. When he is not working on

personal documentary projects, Sugato

writes about exotic travel destinations. His

work on sulphur mining in East Java won

a Unesco award. sugatomukherjee.com

Soumya Bandyopadhyay is a street

photographer from Kolkata. He

loves apturing scenes of people, his

lens weaving intricate stories of

the constant change and different

shades of their lives. Though

by profession he is a computer

engineer, his photos have graced

exhibitions in India and overseas.

82

83
---
DOUBLE AWARDS

for

KNOW BEFORE YOU GO

MAGAZINE!

FAH THAI is honoured to receive the prestigious PEARL AWARDS

for the second year in a row that was given out in New York City.

This time, it's a double win!

Organised by the CONTENT COUNCIL, the influential PEARL

AWARDS celebrates and honours the best in content marketing

from around the world.

FAH THAI was awarded:

> THE SILVER AWARD FOR BEST USE OF PHOTOGRAPHY

> THE BRONZE AWARD FOR MOST EFFECTIVE IN TRAVEL

AND LEISURE

We thank all our readers and sponsors for the unwavering support

of FAH THAI.

We commit ourselves to continuing improvement of our content to

inform and entertain our readers.

For more information, please visit: thecontentcouncil.org/pearl-awards

FAH THAI is published by MPMI GROUP CO., LTD.

for Bangkok Airways Public Company Limited.

Art Island

For the exhibition "They Do Not

Understand Each Other", Hong

Kong's Tai Kwun Centre for Heritage

and Arts brings together collections

from Osaka's National Museum of

Art, the Singapore Art Museum and

elsewhere. The exhibition at this

prison-turned-museum zeroes in on

the work of Tsubasa Kato, who seeks

to understand what both divides and

joins us. It runs until May 17.

นิตยสารฟ้าไทยคว้าสองรางวัลซ้อน!

นิตยสารฟ้าไทย มีความภูมิใจที่ได้รับรางวัลอันทรงเกียรติจาก

เพิร์ลอวอร์ด (Pearl Awards) ในนครนิวยอร์ก

ติดต่อกันเป็นปีที่สอง และครั้งนี้เป็นการคว้ารางวัลถึงสองรางวัลซ้อน

รางวัล เพิร์ลอวอร์ด จัดโดย คอนเทนท์เคาน์ซิล (Content Council) เพื่อประกาศ

ยกย่องความเป็นเลิศแก่วงการสื่อสารเพื่อการตลาดจากทั่วโลก

นิตยสารฟ้าไทย ได้รับรางวัล

> เหรียญเงิน ประเภท BEST USE OF PHOTOGRAPHY

> เหรียญทองแดง ประเภท MOST EFFECTIVE IN TRAVEL AND LEISURE

ขอขอบพระคุณผู้อ่านและสปอนเซอร์ทุกท่านที่ให้การสนับสนุน นิตยสารฟ้าไทย เสมอมา

นิตยสารฟ้าไทย และทีมงานมุ่งมั่นที่จะพัฒนาผลงานให้มีคุณภาพในระดับสากล

สาหรับผู้อ่านของเราต่อไป

อ่านข้อมูลเพิ่มเติมได้ที่ thecontentcouncil.org/pearl-awards

นิตยสารฟ้าไทย จัดพิมพ์โดย MPMI GROUP CO., LTD.

เพื่อสายการบินบางกอกแอร์เวย์ส

BANGKOK 86 / SAMUI 90 / PHUKET 94 / CHIANG MAI & PATTAYA 98 / CHENGDU & HONG KONG 99 /

SINGAPORE & KUALA LUMPUR 100 / PHNOM PENH & SIEM REAP 102 / YANGON, BÌNH THUẬN, KIM THÁI, MALDIVES & MUMBAI 104

85
---
HAPPENINGS

THAILAND

BANGKOK

SPOTLIGHT

Taste of the

Rising Sun

The Salon du Japonisant

has hidden its presence

well on busy Sukhumvit

39, but cocktail-lovers who

make the discovery are

immediately transfixed by

its gigantic wooden shelves

with an impressive array of

imported liqueurs poised to

be transformed into brilliant

concoctions. Head bartender

Kei Sawada plays his cards

well, with fantastic ideas

distilled from behind-thecounter

experience in Osaka,

Okinawa and

Australia. Try the

all-time favourite

Smoke Rosemary – a

smoky G&T fuelled by

Japanese gin and elderflower

tonic laced with smoked

rosemary and spices. Or the

Oriental Jewellery, a warm,

spicy blend of coffee-flavoured

rum and cinnamon. Open

Monday-Saturday 7pm-1am,

36/5 Phromsri 1, Sukhumvit 39,

facebook.com/Japonisant,

+66 (0) 92 294 4457

GET HEALTHY, GET FRESH!

Dressed, Thailand's healthy fast-food chain, has reinvented

itself as "getfresh" – though its signature fresh and healthy

food remains unchanged. Famed for its wide variety of

high-quality, delicious food at reasonable prices, customers

can also rest assured that getfresh obtains its ingredients

from sustainable sources, including its own

organic farm in Pranburi. Diners can

either opt for the chef's delicious

dishes or design their own meal

from the organic produce

on offer. Open 10am-10pm

daily, G/F Samyan Mitrtown,

944 Rama IV Rd., getfresh.

co.th, facebook.com/

getfreshth

JAPANESE PAMPERING

Tucked away in a tranquil corner of

Sukhumvit 49, Kashikiri Onsen and Spa

is the only private spa in Thailand that

offers traditional Japanese pampering

to clients seeking to escape the

hustle of city life. The spa delivers

personalised treatments using mineral

essences from Japan's finest hot

springs. Go for the thoroughly sensual

Kashikiri Shiatsu Technique for a

soothing head-to-toe massage, or the

Tea to Heaven treatment combining

private onsen or Japanese bath with

green tea body scrub and classic

Jurlique facial. Open daily 10am-10pm,

84 Sukhumvit 49, +66 (0) 2258 7902,

kashikirionsenandspa.com

86
---
HAPPENINGS

THAILAND

BANGKOK

SPOTLIGHT

Welcome to

the Fairy Tale

Myth and magic infuse the

flavours at Mocking Tales, an

enchanting hangout in Thong

Lor serving themed desserts,

aromatic coffee, premium food

and crafted cocktails. Rest your

lips on "Guinevere", coffee

topped with delightfully soft

meringues, before tackling

"The Mighty God's Beast", a

burger topped with Mocking

Tales' signature sauce. And

no quest is complete without

conquering the "Inferno

Mountain", tantalising peaks

of homemade ice cream topped

with a chocolate cone and red

sauce for volcano effect. Open

daily 11am-1am, 4/F J Avenue

Rooftop, Thonglor 15, Sukhumvit 55

Rd., facebook.com/mockingtales,

+66 (0) 83 386 6992

METAL DOESN'T GET HEAVIER

After a long wait, Thailand's metal fans

have been rewarded with a visit from

Kawaiicore superstars Babymetal, who

will be rocking Bangkok for the first time

as part of their Metal Galaxy World Tour.

Formed in 2010, the Japanese Kawaii

metal band have since soared in the US

Billboard charts and become the first

Japanese band to win awards from big

UK music magazines. They can also boast

of being the first band from Japan to

headline at Wembley Stadium. March 22, GMM Live House,

8th floor, CentralWorld. Tickets available at livenation.co.th.

OLD TOWN CHARM

Bangkok's Chinatown is famous

for its street food, but its other

distinctive charm lies in the

neighbourhood's vintage houses.

And nowhere displays the old-world

elegance better than Baan2459

Heritage Boutique Hotel. Once the

Vadanyakul Family's homestead,

the house dates back to 1916

– or 2459 in the Thai calendar,

hence the hotel's name. It features

four room types named after the

numbers 2, 4, 5, 9, with each

decorated to evoke a unique mood

and tone. Baan2459 also caters to

caffeine lovers at Chata Specialty

Coffee, a glass conservatory where

quality beans from the best sources

are brewed to accompany delicious

bakery products. 98 Phat Sai Rd.,

Samphanthawong, baan2459.com,

+66 (0) 82 393 2459

CHEERS TO TREATS

Pastry lovers will be delighted to

hear that Mocha & Muffin has finally

reopened. The old-world charm of this

Bangkok favourite is back with a fresh

look and an exciting menu brimming

with fresh cakes, pastries and breads

that have quickly attracted a

loyal clientele. The restaurant

also offers savoury options

like rotisserie chicken, soup

and build-your-own salad, not to

mention ice creams and milkshakes.

For a quick pick-me-up, you can opt for single-origin

coffee and cold-pressed juice, or while away the

afternoon with artisanal beer or wine. 1/F Anantara Siam

Bangkok Hotel 155 Ratchadamri Rd., +66 (0) 2126 8866,

siam-bangkok.anantara.com

THE MAD, THE BOLD AND THE DELICIOUS!

In apocalyptic mood this year, the lashings of sauce and salt. Give in

organisers of Mad Face Food Week to the culinary madness crafted by

have asked their culinary contributors leaders of Bangkok's food scene as you

to come up with their "last meal soak up delicious views of the Chao

on earth". Greasy heart-stoppers Phraya River. March 13-15, Entry fee

and sweet tooth-killers will vie for of 100 baht covers one drink, Sermsuk

visitors' attention with delicious Warehouse (between Charoen Nakhon

deep-fried concoctions. Expect 13 & 15), madfacefoodweek.com

88
---
HAPPENINGS

THAILAND

SAMUI

MIDNIGHT RUN FOR A CAUSE

Just occasionally, holiday fun can blend perfectly with a

good cause. Take the Koh Samui Midnight Run, which lights

up the night every March. The fun kicks off on the stroke of

midnight, when participants can run either 5 or 10 kilometres

through the streets of bustling Chaweng. With proceeds

going to Koh Samui's School for Autistic Children and the

Green Project, the run is healthy for society as well as the

body. Professionally organised by the Thai Hotel Association

and Tourism Association of Koh Samui, the 2020 run will be

the biggest so far with an estimated 2,000 runners on the

start line, promising fun for both participants and spectators.

Registration is free. March 22, midnight, Reggae Pub Chaweng

Lake, Chaweng, +66 (0) 77 430 345, samuimidnightrun.com

PLANTS GONE GOURMET

With a myriad of restaurants, resorts

and retreats promising rest and

revitalisation, Koh Samui is

becoming popular among the

health-conscious crowd.

And to help meet the

growing demand for healthy

eating options, Kapuhala has

opened a 100% plant-based

restaurant, Halapua. Executive

chef Gregory Hill has made it his personal quest to show that

plant-based food can be just as flavourful and nutritious as its

animal-based counterpart. Hill's expertly crafted menu presents

contemporary cuisine fused with classic French favourites,

enjoyed in the lovely lush surroundings

of Chaweng Noi. Looking for a bed for

the night? Kapuhala has everything from

a tented villa to a room in a farmhouse

with sea view. Open daily, 104/86 Moo 3,

Chaweng Noi, +66 (0) 77 950 608,

kapuhalasamui.com

SPOTLIGHT

A Foodie's Dream Come True

The delicious flavours of Thai

dishes are a major draw for

tourists, and cooking classes are

often high on the list of their

must-do activities. InFusion

Cooking Classes and Food

Tours launched three years ago

and has since become a top

choice for visitors. Personalised

cooking classes come with an

option bound to please even the

most adventurous gourmets – a

local food tour. Several different

cooking classes are available,

but the half-day lesson along

with local market tour has

proved the most popular. Guests

get to choose three dishes out of

a list of 180 before being taken

to a local market to purchase

their ingredients and experience

everyday life in Thailand. Then

it's back to the school to get

their hands dirty. Advance

booking is a must. Open Monday

to Saturday, 7.30am-2.30pm

and 5pm-7.30pm, 149 Moo 1,

Soi Khao Phra, Cabana House,

Bophut, +66 (0) 93 784 8976,

infusioncookingclassessamui.com

COFFEE FLAVOURED ADVENTURE

Hidden in the forested hills

of Maenam sits one of Koh

Samui's hidden gems. Tree

Bridge Coffee is a café in a

tree house offering stunning

views of the jungle and the

ocean. A mere 200 metres

further into the jungle, visitors

find themselves in front of a

20-metre high waterfall and

engulfed in the soothing sounds

of nature. Apart from coffee

up a tree and a magnificent

waterfall, the café also

offers a 400-metre zipline,

giving visitors the chance

to fly through the canopy

of the dense forest. This is

one stop that should

not be missed.

Open daily,

Maenam Soi 5,

Maenam, +66 (0)

77 901 175,

facebook.com/

Tree-Bridge-Coffee

90
---
HAPPENINGS

THAILAND

SAMUI

SPOTLIGHT

Fun

on the

Farm

This may be the year that the

island's farms catch tourists'

eye, with innovative venues

such as the WeGreen Farm

Samui's first Culture Park,

Vegetable Farm, and Restaurant

catapulting to the forefront of

hotspots. Visitors get to enjoy

delicious meals made with

farm-grown produce while

also learning about traditional

farming and cooking practices.

WeGreen blends the agricultural

past with the tourist-friendly

present to offer guests an

opportunity for learning,

growing and entertainment all

in one. +66 (0) 77 485 044-5,

wegreensamui.com

SUNSET SPIKED COCKTAILS

A fiery end to the day makes any holiday

sublime, and The Sunset on Bangrak

beach is an idyllic location for just such

an experience. As the name suggests,

the chic bar and restaurant comes alive

just as the sun's last rays die. Located

near Samui's beloved Big Buddha

and among some of the island's most

popular venues, The Sunset offers a

modern, cosy setting to kick back and

enjoy stunning views while dining on

Thai and European fare washed down

with innovative cocktails like Tom

Kha Martini and Tom Yum Margarita.

Advance booking recommended. Open

Sunday to Friday, 12pm-10pm, 14/1 Moo 5,

Bangrak, Bophut, +66 (0) 12 487 875,

thesunsetsamui.com

CAKE ON THE BEACH

Over the past 10 years, the invitingly homey Lolamui Café

has been serving up some of the best cakes and desserts on

the island. Delicious options range from a slice of coconut

cake, banoffee pie or dark beer Horlicks cake, all washed down

with a cup of steaming hot coffee in a beautiful home-like

setting on Lamai Beach. Probably explains why the tables are

usually full. Open Sunday to Tuesday, 11am-5pm, 127/184

Moo3, Lamai, +66 (0) 77 601 607, facebook.com/lolamuicafe

RINGSIDE SPECTACLE

Founded more than two decades ago,

Chaweng Stadium is the place on Samui

to enjoy the ancient martial art of Muay

Thai. Though the combat sport is deeply

rooted in Thai culture, fighters come

from across the world to compete in

the heart of popular Chaweng Beach.

Each week brings a card of six fights and

participants can be children or adults,

men or women. The beautiful Wai Khru

warm-up dance gives spectators a closer

look at Thai culture, while tunes spun

by the resident DJ between fights keep

guests entertained and amped up. Book

in advance to guarantee a spot. Open

Tuesday and Friday at 9pm, 166/16

Moo 2, Soi Stadium Club, Chaweng Beach

Road, Chaweng, +66 (0) 77 300 514,

chawengstadium.com

Photos Justin Shin (@shotbyshin)

92
---
HAPPENINGS

THAILAND

PHUKET

VIEW OF THE BAY

Though this spot isn't exactly in Phuket, it's certainly worth travelling a little

for the mind-blowing views.

After an easy 30-kilometre drive over the Sarasin Bridge, travellers can

park their vehicle and hop on a 4x4 truck for a crawl up the steep hill. At the

peak, you find the Samet Nangchi viewpoint, which offers an unobstructed

panorama of Phang Nga Bay, dotted with sheer karst limestone cliffs jutting

from the water at crazy angles and standing tall like sentinels. Though the spot

boasts breath-taking views any time of the day, it's worth getting there at sunrise

or sunset to see the sky awash with orange, yellow and blue.

16 Soi Rommani, Talat Yai, A. Mueang, Phuket, +66 (0) 76 510 888

If Anantara Layan's spectacular

location, five-star pampering

and lustrous reputation aren't

enough to woo you, then maybe

its newest restaurant will.

"Age" takes diners on

a culinary odyssey with

exquisite cuts of meat and

tasty locally caught seafood

paired with fine wines. If it's

a spectacular Phuket sunset

you're after, you'll find that

the restaurant's terrace offers

a panoramic view, along with

an extensive menu of classic

and contemporary cocktails

made from a vast variety of

ingredients. 168 Moo 6, Layan

Beach Soi 4, Cherngtalay, Thalang,

+66 (0) 76 317 200

SPOTLIGHT

Age-lessly

the Best

STREET PARTY

Looking for a party?

Get yourself down to Bangla

Road in Patong, which never

disappoints.

In broad daylight, it's just

another thoroughfare, but at night

barriers against cars go up and

inhibitions go down.

The 350-metre long street

is packed with bars, pubs and

nightclubs of all varieties, ranging

from simple watering holes to glitzy

nightclubs sporting internationally

known music acts on their marquee.

There are also the usual street

hawkers peddling everything from

tin toys to stuff that's likely illegal.

The street is great for a

wander with the family or for

settling down with a drink for an

entertaining night.

94
---
HAPPENINGS

THAILAND

PHUKET

FOR SEAFOOD, SEE GYPSIES

Thailand's chao ley or sea gypsies normally spend fair-weather

months at sea fishing, before coming ashore for the rainy

season and bartering their catch for other necessities.

Though Rawai's sea gypsy population has become more

land-based of late, they are still skilled fishermen and host

an impressive seafood market. Their village can be found

near Rawai Pier, where you will see stalls offering fresh –

and often live – seafood. Pick what tickles your fancy and

head to one of the restaurants across the street to have it

cooked. Mook Manee Restaurant is a top favourite with fast

service, good prices and fantastic flavours. Rawai, Amphoe

Mueang, Phuket, +66 (0) 81 719 4880

SPOTLIGHT

Wok is Cooking?

Though relatively new on the Thai cooking school scene, the

BrassWok Thai Cooking Studio is already making a name for itself.

Foodies can book a regular 3-hour class or organise a private

lesson for you and your entourage. Chef Pui has an array of options

to choose from, including roasted eggplant salad and moo hong

or Phuket's signature stewed pork, not to mention a variety of

appetisers and desserts.

Another bonus is that BrassWok has posted many of the recipes

on its website, brasswok.com, so you can try them out at home.

149/12 Moo 4, Sri Soonthorn, Thalang, Phuket, +66 (0) 87 620 837,

brasswok.com

RESETTING TO HEAL

Work hard and play hard is the modern mantra, but sometimes

we need something softer to recharge the power bank. Atsumi

Healing has just the answer.

Based in south Phuket for more than 16 years, Atsumi

sets the perfect scene for transformation with its all-inclusive

packages for full fasting, alternative juice cleansing, signature

raw cleanse, emotional cleanse, and active cleanse. Patrons

will have a detox specialist at hand to answer all questions and

offer guidance from start to finish.

This is certainly the place to go to if you're looking to

improve your digestion, get clearer skin, improved sex drive,

better sleep or boosted concentration. 34/18 Soi King Pattana 4,

Saiyuan Road, Rawai, Amphoe Mueang, Phuket, +66 (0) 94

615 1653

Photos by Jeremie Schatz

FEELINGS OF KINDNESS

If the name sounds familiar, it's

probably because you've seen it in

Bangkok's Chatuchak Market. Founded

in 1996, the Lemongrass House

specialises in boutique spa and body

care products that are free of sulphates,

parabens and have never been tested

on animals. Now the brand has evolved

into a global presence, with retail

outlets in 12 countries and distribution

in another 18. All their products are

still made by hand at their flagship

store in Phuket and are available in five

locations in Thailand, four of which are

in Phuket. 10/2 Moo 1, Cherngtalay,

Thalang, Phuket, +66 (0) 76 325 501

96 97
---
HAPPENINGS

THAILAND CHIANG MAI / PATTAYA

CHINA CHENGDU / HONG KONG

STEP BACK IN TIME

Seeking something a little more

authentic than the beach or

entertainment venues in Pattaya?

Then head to the Chak Ngaew

Old Chinese Market. Located

within the district's 100-year-old

Chinese village of no more than

300 households, the community

transforms into a charming market

every Saturday. Apart from culinary

delicacies, shoppers will also find

traditional souvenirs and décor

items. The vintage setting also

offers Instagram addicts plenty

of opportunities for the perfect

selfie. The market is open every

Saturday from 3 to 9pm. facebook.

com/ChakngaewCommunity9

Stepping into Chiang Mai's fabulously

restored Kiti Panit General Store,

visitors find themselves transported

back to the 1800s. Built as a general

store 130 years ago by Chinese

immigrants, the property was owned

by the same family for five generations

but fell into grave disrepair after

standing empty for 70 years. Awardwinning

Bangkok restaurateurs

came to the rescue and painstakingly

restored Kiti Panit to its original glory,

with local artisans and craftsmen

rebuilding everything from floors and

ceilings to staircases and wall panels.

SPOTLIGHT

Marinated

in History

WHO TAKES THE CROWN?

Pattaya hosts the pinnacle in extravagant beauty pageants on March 7,

as the world's most gorgeous transgender women quest to be crowned

Miss International Queen® 2020 at Tiffany's Show Pattaya. Last year's

Queen, Jazell Barbie Royale from the US, will be on hand to place the tiara

on her successor. Witness this spectacle for yourself by booking a ticket

at tiffany.cloudapp.net or on Thai Ticket Major. VIP seats go for 3,800 baht.

facebook.com/MissInternationalQueen, missinternationalqueen.com

Images by Willy Thuan

THE ART OF UNDERSTANDING

The swirling seas of cultural and

national exchange have swept into

the Tai Kwun Centre for Heritage and

Arts, where "They Do Not Understand

Each Other" is showing until May 17.

The group exhibition is headlined

by Japanese contemporary artist

Tsubasa Kato and a collaborator from

Korea. Despite not being able to

understand each other's language they

find a connection through humorous

miscommunication, finally achieving

their goal of erecting a sign on a small

island set in the vastness of a sea that

separates them.

Also showcased are collections

from Osaka's National Museum of Art

and the Singapore Art Museum. Along

with Kato, other notable artists in the

exhibition include Saori Akutagawa,

Agnes Arellano, Felix Gonzales-Torres

and Wit Pimkanchanapong.

The show is curated by Yuka

Uematsu and June Ya. taikwun.hk

SPOTLIGHT

Midnight Feast

Long famed for its pandas and

cultural landmarks, Chengdu

in Sichuan province has now

added sizzling nightlife to the

mix. Stalls offering delicious

fare steeped in spicy Sichuan

flavours make Yemaozi or Night

Owls Market a destination all

of itself.

Foodies will have enough

dishes to keep them drooling

all night long. A vast array

of noodle dishes jostle for

space with barbecued meat

skewers and local specialities

like rabbit's head, which is

simmered for hours in a broth

infused with fragrant spices

to wake up the senses. There's

also seafood – including lipsmacking

oysters served with

bold Sichuan spices.

Wash down the famous

Sichuan blend of oil, chilli,

cumin and salt with icecold

beer. Open daily from

6am-10pm. No.1, West Street

Xinchengshi Plaza, Qingyang

district, Chengdu

They refurbished the place

as a restaurant, offering seating

both indoors and out, as well as

a menu stuffed with staples from

the Thailand's North and clever

twists on Chiang Mai's rich and

venerable cuisine. Unmissable are

the delectable wild boar curry and

fermented tea leaf salad, while its

Thai barbecue chicken, marinated

with crushed dry herbs to form a

delectable charred crust, is arguably

the best in town. Open 11.30am-

11pm daily, 19-23 Tha

Phae Road, Chiang

Mai, facebook.

com/kitipanit

98 99
---
HAPPENINGS

SINGAPORE / MALAYSIA

SINGAPORE / KUALA LUMPUR

SPOTLIGHT

Tree For All

Singapore's answer to Central

Park now has more than just

flowers and trees to feast your

eyes on. The new observation

deck at Gardens by the Bay

offers rare unobstructed views

of the cityscape. The 50-metre

tall Supertree Observatory,

which opened to the public in

December, features a lower airconditioned

deck topped by an

open-air circular rooftop where

views of the Marina Bay area

unfurl into the distance. The

lower deck also boasts a café

and outdoor walkway with video

panels providing information on

the effects of climate change.

Tickets range from S$5 to

S$14 per person. Open 9am-

9pm, 18 Marina Gardens Drive,

Singapore, gardensbythebay.com.sg

IN THE HEART OF THE CITY

Located in the middle of the prime shopping district, Ji Hotel

Orchard makes an ideal base for visitors. Opened in September,

the new property on Orchard Road hosts 81 rooms, a 24-hour

Fitness Corner and round-the-clock, self-service launderette.

Adding to the convenience is the nearby Dhoby Ghaut MRT

Station. Also within walking distance are Fort Canning Park and

the National Museum. Ji Hotel Orchard Singapore, 11 Penang

Lane, Singapore; +65 6771 1121; citadines.com/en/singapore/

singapore/ji-hotel-orchard-singapore.html

HISTORY AT HAND

The Malaysian Chinese Museum brims

with all you need to know about the

history, culture and heritage of Chinese

Malaysians. Opened just over a year

ago, this treasure trove located on

the outskirts of the city reveals the

legacy, struggles and sacrifices made

by the country's Chinese migrants.

The museum houses 15 galleries with

over 1,000 artefacts and documents

sourced from around the region, each

shedding light on the progress of the

community and its role in building

the nation. Admission is 5 ringgit for

students, 20 ringgit for adults. Open

daily, 9.30am-5pm, Wisma Huazong, Lot

15285, Lebuhraya Sungai Besi, facebook.

com/pg/MalaysianChineseMuseum

100 101
---
HAPPENINGS

CAMBODIA

PHNOM PENH / SIEM REAP

DREAMY DETOXIFICATION

Renowned for its tranquil location minutes

away from Angkor Wat, the Navutu Dreams

Resort is considered one of Siem Reap's

top destinations for wellness and yoga.

Winner of the Asean Green Hotel

award, the eco-friendly resort features

28 luxury rooms, organic gardens, three

swimming pools, two yoga shalas, spa

and healing rooms, fitness centre and a

farm-to-table restaurant called Niam Niam.

With a unique wellness menu that

uses only local produce, Niam Niam

Inspired by old family recipes

passed down from generation

to generation, Chef Kethana

set out to recreate true

Cambodian flavours at her new

restaurant. The Sugar Palm is

now considered a rare oasis of

authentic Khmer food. Phnom

Penh and Siem Reap have two

outlets each, serving up dishes

of traditional comfort food

that have been drooled over

by celebrity chefs like Gordon

Ramsay and Luke Nguyen.

Open 11am to 3pm; 6pm to

10pm; Mondays to Saturdays;

No 13, Street 178, Phnom Penh,

Cambodia; Street 27, Siem Reap,

Cambodia; thesugarpalm.com

SPOTLIGHT

Comfortingly

Cambodian

offers delectably authentic Cambodian

favourites, western cuisine as well as

a three-course cooking class complete

with a trip to the market alongside a

resident chef.

Repair to Navutu Dreams Resort

and Wellness Retreat if you're looking

to detoxify mind and body with yoga

sessions, healing treatments and Kansa

wand massage to name a few. Navutu

Road, Siem Reap, Cambodia, +855 (0) 63

964 864, navutudreams.com

COLONIAL CHARM

Once the French governor's residence,

the FCC Angkor has been transformed

into a colonial-style hotel boasting 80

rooms and suites under the Avani

Hotels & Resort flag. Luxury plus

traditional Cambodian hospitality

come with two outdoor saltwater

pools and the rejuvenating Visaya Spa.

Dining options include the Mansion

restaurant and Scribe, a contemporary

take on a colonial-era bar. Pokambor

Ave., next to the Royal Residence, Siem

Reap, Cambodia, avanihotels.com/

angkor-siem-reap

CELEBRATING A NEW START

The three-day Chol Chnam Thmey

or Khmer New Year marks the end

of the harvest season – but it's also

an occasion for merriment, prayers,

offerings for good luck and taking

time out to remember the ancestors.

On the third day, locals wrap up the

celebrations by seeking forgiveness for

mistakes made over the previous year.

April 14-16, across Cambodia.

102 103
---
HAPPENINGS

MYANMAR YANGON VIETNAM, INDIA, MALDIVES

BÌNH THUẬN / KIM THÁI / MUMBAI / MALDIVES

SPOTLIGHT

High-Concept

Dining

Established in a stunning 1927

heritage building formerly the

New Law Courts, Rosewood

Yangon offers 205 spacious

guestrooms, suites as well as the

one- and two-bedroom Rosewood

Residences. Graced with high

ceilings and abundant natural

light, most rooms also have patios

or balconies where guests can take

in views of the majestic Yangon

River or beautifully manicured

gardens. Contemporary Burmese

touches inside blend seamlessly

with the historic facade.

The dining venues showcase

culinary creativity with a

focus on local produce via the

hotel's Partners in Provenance

programme. The vibrant NOVA

European Brasserie features an

open kitchen and huge skylight

for dining in natural light.

Seasonal vegetables and herbs

are sourced directly from farms

in Shan state while seafood

arrives fresh from the Andaman.

The CourtRoom Bar comes

with heritage décor and a large

whisky selection, fine collection

of wines as well as meticulously

crafted cocktails. The adjoining

Judge's Chamber, where judges

once deliberated, offers premium

cigars in restored period elegance.

14 Strand Road, Kyauktada

Township, Yangon, Myanmar,

+95 1 2307 900, rosewoodhotels.

com/en/yangon

SPOTLIGHT

Dedicated to the Goddess

Every year, the Phu Giay Festival commemorates Lieu Hanh – the

mother goddess of Vietnamese folk religion – with processions to the

Phu Giay Pagoda in Kim Thái, 80 kilometres east of Hanoi. Devotees

dressed in traditional costumes carry bamboo poles with colourful

decorations in honour of the goddess. The temple also hosts traditional

games such as wrestling, as well as performances like lion dances

and folk dancing. March 26 to April 1, Kim Thái, Vietnam.

BEACH VIBES

Returning for a fourth year,

the Vibe Nation Beach

Fest serves up three days

of heart-pumping music,

food and art at the Hodota

Resort and Boating Centre,

a mere two hours from Ho

Chi Minh City. This edition

offers an intriguing line-up

of home-grown artists, DJs

and musicians. Vibe Nation

offers a chance to escape the

holiday routine and discover

new artists and music, backed

by an idyllic setting of sun,

sea and surf. April 17-19,

vibenationbeachfest.com

DREAMS OF JAVA

Right next door to French eatery Le Bis-

Tro-Ke, the Mountaineer café is marked

by its 3D logo of a Mae Ya Ahka ethnic

woman, representing Shan State where

the coffee is sourced.

Stepping through the door, visitors

are hit by the pungent-sweet aroma of

beans slowly roasting in the Giesen coffee

roaster near the entrance. Then come

the gentle sounds of the Eagles wafting

towards you from the sound system. A

perfect setting for caffeine addicts.

Specialities include the hot-drip coffee

Yellow Bourbon (4,500 kyat), served in a

glass beaker with sugary biscuits.

Also on offer is a delectable variety

of cakes and pastries. The carrot cake or

blueberry cheesecake go beautifully with

a hot cup of java. Open daily, 8.30am-7.30pm,

No.42C, Yaw Min Gyi Street, Dagon Township,

Yangon, +95 9 953 521336

RIDING THE LONGEST WAVES

Though it's getting cold in the southern hemisphere, the

surf's rising in the clear waters of the Maldives. Get your

surf boards ready because there are plenty of camps

to show you how to ride the waves, especially in Malé,

where the central and southern atolls offer the best

surfing opportunities matched with spectacular views.

Experienced surfers say Maldivian waves offer the

longest rides with the highest number of pointbreaks,

corners and pockets. Since most flights to Malé arrive

late at night, find yourself somewhere nice to stay for

the first night before joining a surf charter or seaplane

the following morning.

Tourists are encouraged to bring their own equipment

as most boards on hire are snapped up by the locals.

surfatoll.com/maldives-waves

SPOTLIGHT

Wrapped in Rainbows

The Indian festival of Holi

splashes over the country to mark

the end of winter on the first full

moon of March. Revellers light

large bonfires on the night before

Holi in a symbolic burning of all

things evil to celebrate the defeat

of the demon Holika Dahan.

Holi, which falls on March 10

this year, then brings an orgy of

splashing with coloured water

during the day and feasting on

delicacies in the evening. Each part

of the country has its own unique

Holi traditions. Modern Mumbai

marks the day with music festivals

and rain-dance parties such as

Colour Splash, RangDe Holi,

Rangeen Run, the Holi Tandav

and Holi Party 20-20 In Resort.

104 105
---
BANGKOK AIRWAYS NEWS 108 / ROUTE MAP 118 / AIRCRAFT INFO 120

107
---
BANGKOK AIRWAYS NEWS

BANGKOK AIRWAYS PARTNERS WITH BANGKOK TRAVEL CLUB

(BTC) TO LAUNCH 2020 TRAVEL CAMPAIGNS

Bangkok Airways PCL. led by Mr. Chulin

Kocharoen, Vice President of Sales and Mr.

Varong Israsena Na Ayudhya, Vice President of

Marketing together with Bangkok Travel Club

Limited led by Ms. Chonlada Chevathakorn,

Managing Director held a joint press conference

for "Bangkok Airways X Bangkok Travel Club

Travel Campaign 2020". This campaign aims

to offer wonderful travel programmes and

amazing packages for travellers seeking new

perspectives. The press conference was held

at the grand ballroom of the Movenpick BDMS

Wellness Resort, Bangkok.

Mr. Varong Israsena Na Ayudhya, Vice

President – Marketing of Bangkok Airways, said:

"This year, we plan to implement proactive

marketing strategies in Thailand and in the

broader Indochina region, especially those

markets in the CLMV countries (Cambodia, Laos,

Myanmar, Vietnam), as they show promising

growth in terms of economics. Travel demand in

these countries is also on the rise for both leisure

and business. Currently, Bangkok Airways

operates more than 50 flights per day between

Bangkok (Suvarnabhumi) and important cities in

CLMV. This is seen as one of our strong points

in the market. Last year, we launched a few travel

packages to boost air travel between Thailand

and CLMV countries, such as the Beach Times

Package, which offers through-fare tickets for

travellers who wish to travel from their city of

origin in CLMV via Bangkok and then onwards

to popular beach destinations in Thailand or the

Maldives. The ASEAN Cross Country Package is

another campaign that offers passengers from

CLMV countries to travel within the region on

Bangkok Airways flights. We have also partnered

up with the Thailand Convention and Exhibition

Bureau (TCEB) to promote the 'Fly, Meet, Shop'

campaign, drawing MICE groups from CLMV to

hold meetings and incentive travel in Thailand

for a third year running.

"In Thailand, we will use integrated strategies

to help elevate Bangkok Airways' brand positioning.

We will continue exercising our Sports & Tourism

Marketing activities in order to create and

strengthen our brand awareness via connections

for running enthusiasts, such as the Bangkok

Airways Boutique Series – a marathon event

that will cover six destinations in Thailand. This

is the fourth edition of the event. In addition,

we support our partners such as the Tourism

Authority of Thailand, in organising sports- and

tourism-related events to help promote tourism

in the capital and secondary cities during the

low season.

"We believe that working with various

partners who have expertise in their respective

fields will help enhance Bangkok Airways'

competitiveness in the market. This partnership

with Bangkok Travel Club (BTC) is seen as

another strategy to help us better compete

with our rivals," Mr. Varong added. Mr. Chulin

Kocharoen, Vice President – Sales of Bangkok

Airways, said, "This year, Bangkok Airways will

focus on selling tickets via four main channels,

namely, Direct Channels (API connect and B2B

Platform); Travel Agencies & Interline (Online

and Offline); Ticketing Offices (City and Airport

Offices, and Call Centre); and the Bangkok

Airways website and Mobile Application.

Moreover, we have completely transformed

ourselves to become a fully digitally integrated

airline. Last year, we developed our digital

system and connected with online travel

agencies (OTAs) to become more visible in

potential markets across the world."

"As we aim to add more value to our tickets

as well as offer our passengers new products,

we, together with the Bangkok Travel Club

(BTC), have come up with a campaign that will

offer our clients two amazing products: 'The Miracle

Indochina Tour Programme' and 'Fly Boutique,

Stay Unique Travel Package'. Our aim is to not

only promote destinations that Bangkok Airways

flies to, but to also emphasise the positioning

of both brands as premium operators," Mr.

Chulin added.

Ms. Chonlada Chevathakorn, Managing

Director of Bangkok Travel Club (BTC), said:

"Bangkok Travel Club is another business under

Bangkok Airways' umbrella, offering specialty

tours to a number of destinations serviced by

the airline. BTC also provides general air-ticketing

and hotel reservation services under the slogan

'Your Travel Stylist'.

"This partnership with Bangkok Airways

emphasises the fact that we are experts in

Indochina travel. 'The Miracle Indochina' campaign

will be presented in four different dimensions,

namely local cuisine, beautiful attractions,

unique activities and local history. Honourable

speaker Ajarn Poo Jittakorn Bussaba, one of the

most sought-after storytellers in Thailand, will

present the history behind 11 magical destinations,

namely Mandalay (Myanmar), Luang Prabang

(Laos), Yangon (Myanmar), Siem Reap (Cambodia),

Danang-Hue-Hoi An (Vietnam), Mumbai (India)

and Phuket, Lampang, Sukhothai, Chiang Mai

and Chiang Rai in Thailand.

"Prices for the 'Miracle Indochina' start

from just 28,900 baht per person for overseas

destinations and 20,000 baht for domestic

destinations. The prices include almost everything

you could ever wish for, namely air tickets,

accommodation, local transportation, meals,

tour guides and fees to tourist attractions.

"The 'Fly Boutique – Stay Unique' package

includes air tickets, 3Days/2Nights accommodation

in a 4-5-star hotel and airport transfers. This

package will be presented under two themes:

'Let's go to the beach', which will cover Samui,

Phuket, Krabi and Trat; and "I love the mountains",

which will include Chiang Mai, Chiang Rai,

Lampang and Sukhothai.

"In addition, Bangkok Airways' FlyerBonus

members will receive further privileges, including

an instant 3,000 baht discount when purchasing

any package, plus they can redeem 4,000 points

for a 500 baht discount and receive additional

500 FlyerBonus points."

Those interested in purchasing, please contact

Bangkok Travel Club at +66 (0) 2111 2299 from

Monday to Friday, 8am-6pm.

or email: info@bangkoktravelclub.co.th

สายการบินบางกอกแอร์เวย์ส โดยนายจุลิน กอเจริญ

รองกรรมการผู้อำนวยการใหญ่ ฝ่ายขาย และนายวรงค์

อิศรเสนา ณ อยุธยา รองกรรมการผู้อำนวยการใหญ่

ฝ่ายการตลาด ร่วมกับ บริษัท บางกอกแทรเวลคลับ จำกัด

(BTC) โดยนางสาวชลลดา ชีวรรถกร กรรมการผู้จัดการ

จัดงานแถลงข่าวเปิดตัวแคมเปญท่องเที่ยวประจำปี 2020

นำเสนอโปรแกรมท่องเที่ยวรูปแบบใหม่ที่มีเอกลักษณ์และ

แพ็กเกจบัตรโดยสารเครื่องบินพร้อมที่พักและรถรับ-ส่ง

สนามบิน เพื่อตอบสนองความต้องการของนักท่องเที่ยวยุค

ใหม่ที่ต้องการความแตกต่างในการเดินทาง โดยงานแถลง

ข่าวจัดขึ้น ณ ห้องแกรนด์บอลรูม โรงแรม เมอเวนพิค บีดี

เอ็มเอส เวลเนส รีสอร์ท กรุงเทพฯ

นายวรงค์ อิศรเสนา ณ อยุธยา รองกรรมการผู้อำนวย

การใหญ่ ฝ่ายการตลาด สายการบินบางกอกแอร์เวย์ส

กล่าวว่า" ในปีนี้บริษัทฯ จะมีการทำตลาดเชิงรุกทั้งตลาด

ภายในประเทศและตลาดในภูมิภาคอินโดจีน โดยเฉพาะ

ตลาดในกลุ่มซีแอลเอ็มวี คือ กัมพูชา ลาว เมียนมา และ

เวียดนาม ซึ่งถือว่าเป็นกลุ่มตลาดที่มีอัตราการเติบโตของ

เศรษฐกิจที่ดีรวมทั ้งมีอัตราการเดินทางที่สูงขึ้น ไม่ว่าจะ

เป็นการเดินทางเพื่อการท่องเที่ยวหรือการเดินทางเพื่อ

ธุรกิจ โดยบริษัทฯ มีจุดแข็งจากการที่มีเที่ยวบินตรงระหว่าง

กรุงเทพฯ (สุวรรณภูมิ) และกลุ่มประเทศเหล่านี้วันละกว่า

50 เที่ยวบิน สามารถเชื่อมต่อไปยังเส้นทางบินภายใน

ประเทศและระหว่างประเทศต่างๆ ของบริษัทฯ ได้ จากปีที่

ผ่านมาบริษัทฯ ได้ทำการตลาดเชิงรุกในกลุ่มประเทศเหล่านี้

มากขึ้น ไม่ว่าจะเป็นการออกแพ็กเกจท่องเที่ยวเพื่อกระตุ้น

ให้เกิดการเดินทางของนักท่องเที่ยวจากกลุ่มประเทศเหล่านี้

อาทิ แพ็กเกจ Beach Times ซึ ่งเป็นแพ็กเกจที่ออกแบบมา

สำหรับนักท่องเที่ยวจากกลุ่มประเทศซีแอลเอ็มวีที่ต้องการ

เดินทางไปยังแหล่งท่องเที่ยวทางทะเลของประเทศไทย (สมุย

ภูเก็ต กระบี่ ตราด) หรือมัลดีฟส์ แพ็กเกจ ASEAN Cross

Country ที่ออกแบบมารองรับการเดินทางข้ามประเทศใน

ภูมิภาคฯ โดยใช้สุวรรณภูมิเป็นจุดเชื่อมต่อการเดินทาง

นอกจากนี้ ยังรวมไปถึงการจับมือร่วมเป็นพันธมิตรกับ

สำนักงานส่งเสริมการจัดประชุมและนิทรรศการ (TCEB) ใน

การออกแคมเปญ Fly and Meet เพื่อดึงนักเดินทางกลุ่มไมซ์

(MICE) จากกลุ่มประเทศซีแอลเอ็มวี ให้เดินทางมายังจัด

ประชุมสัมมนาในประเทศไทย โดยในปีนี้ แคมเปญดังกล่าว

ยังคงมีความต่อเนื่องโดยใช้ชื่อว่า 'Fly, Meet, Shop'"

"สำหรับตลาดในประเทศไทย บริษัทฯ ยังคงเน้นการ

ทำการตลาดผ่านกิจกรรมเชิงกีฬาเพื่อการท่องเที่ยว

(Sports & Tourism Marketing) เพื่อสนับสนุนการสร้าง

แบรนด์ให้เป็นที่จดจำ รวมไปถึงเพื่อส่งเสริมการท่องเที่ยวใน

เส้นทางบินของสายการบินฯ โดยไฮไลท์ส่วนหนึ่งของกิจกรรม

เชิงกีฬาเพื่อการท่องเที่ยวในปีนี้ ได้แก่ กิจกรรมบางกอก

แอร์เวย์สบูทีคซีรีส์ (Bangkok Airways Boutique Series

2020) รายการแข่งขันวิ่งฮาล์ฟมาราธอนใน 6 เส้นทางบิน

ของสายการบินฯ ซึ่งจัดต่อเนื่องเป็นปีที่ 4 นอกจากนี้ บริษัทฯ

ยังให้ความร่วมมือกับภาครัฐและเอกชนในการจัดกิจกรรม

ส่งเสริมการตลาดต่างๆ ในแหล่งท่องเที่ยวที่เป็นเมืองหลัก

และเมืองรองของประเทศไทย เพื่อกระตุ้นให้เกิดการเดินทาง

ท่องเที่ยวในช่วงนอกฤดูกาลท่องเที่ยวอีกด้วย ทั้งนี้ บริษัทฯ

หวังเป็นอย่างยิ่งว่าการจับมือกับบางกอกแทรเวลคลับ (BTC)

จะช่วยเพิ่มความสามารถในการแข่งขันให้กับบริษัทฯ ทั้งใน

ตลาดในประเทศไทยและตลาดในกลุ่มประเทศซีแอลเอ็มวี

เพราะบางกอกแทรเวลคลับ ถือเป็นบริษัทนำเที่ยวที่มีความ

เชี่ยวชาญในการจัดโปรแกรมทัวร์และแพ็กเกจท่องเที่ยวที่มี

เอกลักษณ์ในแหล่งท่องเที่ยวต่างๆ ที ่สำคัญทั้งในประเทศและ

ภูมิภาคฯ" นายวรงค์ กล่าวเสริม

นายจุลิน กอเจริญ รองกรรมการผู้อ ำนวยการใหญ่ ฝ่ายขาย

สายการบินบางกอกแอร์เวย์ส กล่าวว่า "ในปีนี้ สายการบินฯ

จะเน้นการขายบัตรโดยสารผ่าน 4 ช่องทางหลัก ได้แก่ 1. การขาย

แบบช่องทางตรงผ่านตัวแทนจำหน่ายออนไลน์ 2. การขายผ่าน

ตัวแทนจำหน่ายทั่วไป 3. การขายผ่านสำนักงานขายบัตรโดยสาร

(สำนักงานขายบัตรโดยสารในเมือง/สนามบิน และ Call Centre)

4. การขายผ่านเว็บไซต์ของสายการบินฯ ที่ www.bangkokair

.com เน้นโมบายแอพพลิเคชั่น นอกจากนี้ สายการบินฯ ยัง

มุ่งเน้นการเพิ่มประสิทธิภาพการขายบัตรโดยสารผ่านระบบ

ออนไลน์มากขึ้น โดยที่ผ่านมา สายการบินฯ ได้พัฒนาระบบ

การขายให้สามารถรองรับการเชื่อมต่อกับแพลตฟอร์มการ

ขายแบบดิจิทัล เพื่อสร้างโอกาสทางการขายผ่านตัวแทน

จำหน่ายออนไลน์"

"สำหรับความร่วมมือกับบางกอกแทรเวลคลับในการ

ออกแคมเปญท่องเที่ยวปี 2020 ในครั้งนี้ เนื่องจากเราต้องการ

เพิ่มมูลค่าให้กับบัตรโดยสารและนำเสนอผลิตภัณฑ์ใหม่ๆ ให้

แก่ผู้โดยสารของบางกอกแอร์เวย์ส โดยเราเล็งเห็นว่านอกจาก

บางกอกแทรเวลคลับจะมีความเชี่ยวชาญในจัดทัวร์แล้ว ยังมี

ความบูทีคในการออกแบบโปรแกรมนำเที่ยวและแพ็กเกจทัวร์

อีกด้วย ทั้งนี้ความร่วมมือดังกล่าว นอกจากจะเป็นการ

โปรโมทเส้นทางบินของสายการบินฯ ทั้งในประเทศและในภูมิ

ภาคฯ แล้วยังเป็นการตอกย้ำภาพลักษณ์ความเป็นแบรนด์

ระดับพรีเมี่ยมของทั้งบางกอกแอร์เวย์สและบางกอกแทรเวล

คลับอีกด้วย โดยแคมเปญท่องเที่ยวดังกล่าวจะถูกนำเสนอ

ใน 2 รูปแบบคือ โปรแกรมท่องเที่ยว Miracle Indochina

ซึ่งเป็นทัวร์แบบเอ็กซ์คลูซีฟสำหรับกลุ่มลูกค้าแบบหมู่คณะ

เดินทางสู่เส้นทางแห่งอารยธรรม 11 เส้นทาง ทั้งในประเทศไทย

และประเทศในภูมิภาคอินโดจีน/เอเชีย ตลอดปี 2563 และ

แพ็กเกจท่องเที่ยว "Fly Boutique Stay Unique" ซึ่งเป็น

แพ็กเกจบัตรโดยสารเครื่องบินพร้อมที่พักระดับ 4-5 ดาว

(3 วัน 2 คืน) และรถรับ-ส่ง สนามบินในราคาพิเศษสำหรับ

กลุ่มลูกค้าที่ต้องการเดินทางท่องเที่ยวด้วยตัวเอง (F.I.T)"

นายจุลิน กล่าวเสริม

นางสาวชลลดา ชีวรรถกร กรรมการผู้จัดการ บางกอก

แทรเวลคลับ กล่าวว่า "บริษัท บางกอก แทรเวล คลับ จำกัด

เป็นหนึ่งในบริษัทในเครือของสายการบินบางกอกแอร์เวย์ส

ซึ่งจำหน่ายบัตรโดยสารของสายการบินอื่นทั่วโลก และให้

บริการด้านการจัดทัวร์ในรูปแบบเอ็กซ์คลูซีฟ เราเชี่ยวชาญ

ในด้านการจัดแพ็กเกจท่องเที่ยวที่ตอบสนองความต้องการ

ของลูกค้าทุกกลุ่มภายใต้คอนเซ็ปต์ "Your Travel Stylist"

"ความร่วมมือกับทางบางกอกแอร์เวย์สในการสรรค์

สร้างแคมเปญท่องเที่ยวในครั้งนี้ ถือเป็นการตอกย้ำถึง

ความเป็นผู้เชี่ยวชาญด้านการนำเที่ยวในภูมิภาคอินโดจีน

ของเรา โปรแกรมทัวร์ "Miracle Indochina – เปิดประตู

กาลเวลา ร่วมค้นพบประวัติศาสตร์มุมใหม่" จะถูกนำเสนอ

ใน 4 เรื่องราว ได้แก่ อาหาร สถานที่ กิจกรรม และวิทยากร

อาจารย์ปู จิตกร บุษบา (นักเล่าประวัติศาสตร์กิตติมศักดิ์)

ซึ่งเราจะนำผู้ร่วมเดินทางทุกท่าน เดินทางไปค้นพบมุมใหม่ๆ

ใน 11 เส้นทางสุดบูทีค ได้แก่ มัณฑะเลย์ (เมียนมา) ตามรอย

ตำนานโยเดียที่จากไป เดินทางเดือนกุมภาพันธ์ หลวงพระบาง

(ลาว) ปริศนาต้นไม้แห่งชีวิต ความว่างอันเป็นอนันต์ เดินทาง

เดือน มีนาคม ภูเก็ต ตำนานเส้นทางจังซีลอน สู่ศิลปะชิโน

โปรตุกีส เดินทางเดือน เมษายน ย่างกุ้ง (เมียนมา) ตามรอย

เจ้านางศุภยลัต ราชินีองค์สุดท้ายแห่งราชวงศ์อลองพญา

เดินทางเดือนพฤษภาคม ลำปาง อาณาจักรแห่งพระธาตุเจดีย์

เดินทางเดือนมิถุนายน เชียงราย ต้นทางพระแก้วมรกตจาก

ล้านนาสู่สยาม เดินทางเดือน กรกฎาคม เชียงใหม่ บันทึก

ลับความรักแห่งล้านนา (พระราชชายาเจ้าดารารัศมี, มะเมียะ,

พันธุรัต) เดินทางเดือนสิงหาคม สุโขทัย ตามรอยรัชกาลที่ 6

สู่เมืองพระร่วง เดินทางเดือนกันยายน เสียมราฐ (กัมพูชา)

แกะรอยพระเจ้าชัยวรมัน ชะลอสวรรค์สู่พื้นพิภพ เดินทาง

เดือนตุลาคม ดานัง-เว้-ฮอยอัน (เวียดนาม) ตามหาอาณาจักร

"จาม" ที่สาบสูญ เดินทางเดือน พฤศจิกายน และมุมไบ (อินเดีย)

ถอดรหัสพุทธศิลป์ ในดินแดนชมพูทวีป เดินทางเดือนธันวาคม

โดยราคาเริ่มต้นของโปรแกรม Miracle Indochina จะอยู่ที่

28,900 บาทต่อท่าน สำหรับเส้นทางต่างประเทศ และราคา

เริ่มต้นที่ 20,000 บาทต่อท่าน สำหรับเส้นทางภายในประเทศ"

"นอกจากนี้ สมาชิกฟลายเออร์โบนัสของสายการบิน

บางกอกแอร์เวย์ส ยังจะได้รับสิทธิพิเศษเพิ่มเติม ได้แก่ สิทธิ

พิเศษที่ 1 ผู้เดินทางซึ่งเป็นสมาชิกฟลายเออร์โบนัสไม่ว่าจะ

เป็นระดับ Priority หรือ Premier จะได้รับส่วนลดในการซื้อ

แพ็กเกจ 3,000 บาท สิทธิพิเศษที่ 2 สามารถใช้คะแนน

ฟลายเออร์โบนัส 4,000 คะแนน แลกรับคูปองส่วนลด

ในการซื้อแพ็คเกจมูลค่า 500 บาท และสิทธิพิเศษที่ 3 รับ

คะแนนฟลายเออร์โบนัสเพิ่ม 500 คะแนน เมื่อร่วมเดินทาง

ตามแพ็กเกจ" นางสาวชลลดา กล่าวเสริม

ผู้ที่สนใจสามารถติดต่อศูนย์บริการข้อมูลลูกค้า

บางกอกแทรเวลครับ (BTC) หมายเลข 0 2111 2299

ระหว่างวันจันทร์ - วันศุกร์ เวลาทำการ 8.00 -18.00 น.

หรืออีเมล info@bangkoktravelclub.co.th

108 109
---
BANGKOK AIRWAYS NEWS

BANGKOK AIRWAYS WINS THAILAND

BEST EMPLOYER BRAND AWARDS 2020

Bangkok Airways Public Company Limited, led by its President

Mr. Puttipong Prasarttong-Osoth, received the Thailand Best

Employer Brand Awards 2020 (Airline & Aviation) from the

World HRD Congress.

Mr. Puttipong said: "We are honoured to be recognised and

given this prestigious award. At Bangkok Airways, we strive to

support and develop each and every individual employee to be

the best at what they do. We also encourage our employees

to be ready for changes, especially when there is such high

competition in the aviation industry today. The company also

supports our people in learning and excelling with our various

services to deliver the highest service quality to our passengers."

Bangkok Airways was awarded this honour for its ability to

seamlessly translate and turn its company vision into action in

its HR strategy, cultivate competencies for the future and enable

the entire organisation to be "future ready" with employee

benefits and engagement. Bangkok Airways has also aimed to

always give equal opportunities to women leaders.

เมื่อเร็วๆ นี้ สายการบินบางกอกแอร์เวย์ส โดยนายพุฒิพงศ์ ปราสาททองโอสถ

กรรมการผู้อำนวยการใหญ่ รับรางวัล Thailand Best Employer Brand

Awards 2020 (Airline & Aviation) จากสถาบันด้านการบริหารทรัพยากร

บุคคล (World HRD Congress)

นายพุฒิพงศ์ ปราสาททองโอสถ กรรมการผู้อำนวยการใหญ่ สายการบิน

บางกอกแอร์เวย์ส กล่าวว่า "บริษัทฯ รู้สึกยินดีเป็นอย่างยิ่งที่ได้รับรางวัลอัน

ทรงเกียรตินี้ ผมและผู้บริหารทุกคนมุ่งมั่นส่งเสริมและพัฒนาการเรียนรู้ในการ

ทำงานของพนักงาน ด้วยการเสริมสร้างการเรียนรู้จากการลงมือปฏิบัติใน

กิจกรรมงานเพื่อให้เกิดการเรียนรู้ในการท ำงานอย่างมืออาชีพ พร้อมรับกับการ

เปลี่ยนแปลงและการแข่งขันในอุตสาหกรรมการบิน สร้างความแตกต่างในการบริการ

อย่างสร้างสรรค์ เพื่อส่งมอบผลิตภัณฑ์และบริการที่เป็นเลิศต่อลูกค้าของเรา"

ทั้งนี้ รางวัล Thailand Best Employer Brand Awards ถูกมอบให้กับ

บริษัทชั้นนำของประเทศไทยที่แสดงให้เห็นถึงภาพลักษณ์ของสายงาน

ทรัพยากรบุคคลที่สามารถนำวิสัยทัศน์ขององค์กรมาแปลงเป็นกลยุทธ์ใน

การบริหารงานทรัพยากรบุคคลได้อย่างมีประสิทธิภาพ มีความใส่ใจในคุณค่า

ของทรัพยากรบุคคล และมีการสนับสนุนการเรียนรู้ของพนักงานในองค์กร

อย่างสม่ำเสมอ รวมถึงการให้โอกาสและส่งเสริมให้ผู้หญิงมีบทบาทในการ

เป็นผู้นำในองค์กร

110
---
BANGKOK AIRWAYS NEWS

BANGKOK AIRWAYS

CELEBRATES THAILAND'S

NATIONAL CHILDREN'S

DAY 2020 BY GIVING ITS

CARTOON MASCOTS "SKY"

TO 100 LUCKY CHILDREN

Bangkok Airways Public Company Limited led by

Ms. Busanun Adipat, Deputy Manager – Ground

(first from right), recently organised Thailand's

National Children's Day activity during which 100

pieces of the cartoon mascot "Sky" were given

away to lucky children passengers (under 12)

departing from Suvarnabhumi Airport. The activity

was held at the Bangkok Airways check-in counters

on the fourth floor of the passenger terminal in

Suvarnabhumi Airport.

เมื่อเร็วๆ นี้ สายการบินบางกอกแอร์เวย์ส

โดยนางสาวบุษนันท์ อดิพัฒน์ รองผู้จัดการ

ส่วนบริการผู้โดยสารภาคพื้นดิน จัด

กิจกรรมวันเด็กแห่งชาติ ประจำปี 2563

มอบตุ๊กตามาสคอต "น้องสกาย" จำนวน

100 ตัว เป็นของขวัญให้กับผู้โดยสาร

เด็ก (อายุไม่เกิน 12 ปี) ที่เดินทางกับ

สายการบินบางกอกแอร์เวย์ส ออกจาก

ท่าอากาศยานสุวรรณภูมิในวันเด็กแห่งชาติ

ที่ผ่านมา เพื่อส่งมอบความสุขให้กับเด็กๆ

และสร้างความประทับใจในการเดินทาง

ให้กับผู้โดยสารตามสโลแกน "Asia's

Boutique Airline หรือ ความประทับใจ

แห่งเอเชีย ณ บริเวณเคาน์เตอร์เช็คอิน

สายการบินบางกอกแอร์เวย์ส อาคาร

ผู้โดยสารชั้น 4 ท่าอากาศยานสุวรรณภูมิ

LUCKY DRAW WINNERS FOR "BANGKOK AIRWAYS

CUSTOMER SATISFACTION SURVEY 2/2019"

Bangkok Airways Public Company

Limited, led by Mr. Varong Israsena

Na Ayudhya, Vice President –

Marketing (second from left),

together with Mrs. Waewta

Chaiyapol, Director – Customer

Relations and Experience

Management (second from right),

recently organised the drawing of

six lucky winners for its Customer

Satisfaction Survey 2/2019 at

Bangkok Airways' Head Office.

For more details of the winners

and prizes, please visit esurvey.

bangkokair.com.

เมื่อเร็วๆ นี้ สายการบินบางกอกแอร์เวย์ส

โดย นายวรงค์ อิศรเสนา ณ อยุธยา

รองกรรมการผู้อำนวยการใหญ่

ฝ่ายการตลาด (ที่ 2 จากซ้าย) และ

นางแววตา ชัยพล ผู้อำนวยการแผนก

บริหารลูกค้าสัมพันธ์และประสบการณ์

ลูกค้า (ที่ 2 จากขวา) จับรางวัลผู้โชคดี

จำนวน 6 ท่าน จากการสำรวจความ

พึงพอใจของผู้โดยสารของสายการบินฯ

ครั้งที่ 2 ประจำปี 2562 ณ สำนักงานใหญ่

สายการบินบางกอกแอร์เวย์ส ถนน

วิภาวดีรังสิต

ทั้งนี้ ผู้โดยสารสามารถตรวจสอบผล

การจับรางวัลได้ที่ esurvey.

bangkokair.com

112
---
BANGKOK AIRWAYS NEWS

BANGKOK

AIRWAYS

ORGANISES 4TH

"SEASON OF

GIVING – CSR

ACTIVITY" IN

MAE HONG SON

Bangkok Airways Public Company

Limited, led by Mrs. Ariya

Prasarttong-Osoth, Board of Directors,

together with the airline's executives

including Mrs. Chanthip Thongkanya,

Vice President – Office of the

President, Ms. Amornrat Kongsawat,

Vice President – Network and Fleet

Management, and Mr. Varong Israsena

Na Ayudhya, Vice President –

Marketing, recently organised the

4th "Season of Giving – CSR

Activity" at which they handed

out 300 blankets for students at

the Tham Nam Lod Wildlife and

Nature Education Centre. They also

handed out items such as clothes,

books and toys to members of

the local community living in the

remote area of Mae Hong Son.

The activity was held at

Tham Nam Lod Wildlife and Nature

Education Centre and attended

by Mr. Nikorn Kaewmora, the

centre's chief.

The 4th "Season of Giving –

CSR Activity" was held as part of

the airline's ongoing Corporate

Social Responsibility (CSR) Campaign

called "Community of Love" which

has been held every year between

December and February since 2016.

The aim of the activity is to support

local communities in remote areas.

This year, Bangkok Airways

donated 300 blankets in good

condition that were used on board

to Tham Nam Lod Wildlife and

Nature Education Centre for students

visiting the centre for educational

purposes. In addition to that, the

airline' executives and volunteers

helped paint the fences at Baan

Tham Lod School.

As part of its core mission,

in 2020 Bangkok Airways strives

to continue providing support

and being involved in CSR

projects under the concept

"BLUE HEART – A Love to Share"

that focuses on "Community of

Love", which aims to support and

help build stronger, sustainable

communities, and "Love Earth

Save Earth", which aims to boost

awareness of natural resources

and environment conservation.

เมื่อเร็วๆ นี้ สายการบินบางกอกแอร์เวย์ส โดยส่วนรับผิดชอบ

ต่อสังคม (CSR) นำโดยนางอาริญา ปราสาททองโอสถ กรรมการ

บริษัทฯ พร้อมคณะผู้บริหาร ได้แก่ นางจันทร์ทิพย์ ทองกันยา

รองกรรมการผู้อำนวยการใหญ่ สำนักกรรมการผู้อำนวยการใหญ่

นางสาวอมรรัตน์ คงสวัสดิ์ รองกรรมการผู้อำนวยการใหญ่

ฝ่ายบริหารเครือข่ายเส้นทางบินและวางแผนฝูงบิน และ นายวรงค์

อิศรเสนา ณ อยุธยา รองกรรมการผู้อำนวยการใหญ่ ฝ่ายการตลาด

จัดกิจกรรม "Season of Giving" ครั้งที ่ 4 มอบผ้าห่มจำนวน

300 ผืนให้แก่ศูนย์ศึกษาธรรมชาติและสัตว์ป่าถ้ำน้ำลอด พร้อมทั้ง

มอบสิ่งของบริจาคให้แก่ชุมชนและนักเรียนจากโรงเรียนในพื ้นที่

ห่างไกลในจังหวัดแม่ฮ่องสอน ณ ศูนย์ศึกษาธรรมชาติและ

สัตว์ป่าถ้ำน้ำลอด จังหวัดแม่ฮ่องสอนโดยมี นายนิกร แก้วโมรา

หัวหน้าศูนย์ฯ ร่วมเป็นเกียรติในงาน

กิจกรรม Season of Giving เป็นกิจกรรมภายใต้โครงการ

"Community of Love" ของส่วนรับผิดชอบต่อสังคมและสิ่งแวดล้อม

ขององค์กร (CSR) ที่จัดขึ้นในช่วงเดือนธันวาคม-กุมภาพันธ์ของ

ทุกปี นับตั้งแต่ปี 2559 เป็นต้นมา โดยมีวัตถุประสงค์เพื่อสนับสนุน

และช่วยเหลือชุมชนในพื้นที่ห่างไกล ในปีนี้บริษัทฯ ได้ส่งมอบผ้าห่ม

กันหนาวจำนวน 300 ผืน ซึ่งเป็นผ้าห่มสภาพดีที่เคยให้บริการแก่

ผู้โดยสารของสายการบินฯ ให้แก่ศูนย์ศึกษาธรรมชาติและสัตว์ป่า

ถ้ำน้ำลอด เพื่อเป็นประโยชน์ให้กับนักเรียนที่มาเข้าค่ายเรียนรู้เรื่อง

ธรรมชาติและสัตว์ป่าที่ศูนย์ฯ นอกจากนี้ยังมี เสื้อผ้า หนังสือเรียน

ของเล่นเด็ก ที่พนักงานบริษัทฯ ได้ร่วมกันบริจาคให้กับชุมชนและ

โรงเรียนในละแวกศูนย์ศึกษาฯ จำนวน 3 โรงเรียน ได้แก่ โรงเรียน

บ้านถ้ำลอด โรงเรียนบ้านเมืองแพม โรงเรียนบ้านห้วยแห้ง นอกเหนือ

จากการบริจาคสิ่งของทางคณะผู้บริหารและพนักงานจิตอาสายัง

ได้ร่วมกันทาสีรั้วโรงเรียนบ้านถ้ำลอดอีกด้วย

ในปี 2563 บริษัทฯ ยังคงมุ่งมั่นพัฒนาโครงการและกิจกรรมต่างๆ

ด้านความรับผิดชอบต่อสังคม (CSR) อย่างต่อเนื่อง ภายใต้แนวคิด

"BLUE HEART – A Love to Share" โดยส่วนรับผิดชอบต่อสังคม

ดำเนินงานด้านสังคมและสิ่งแวดล้อม โดยแบ่งเป็น 2 โครงการหลัก

ได้แก่ โครงการสานพลังรัก สู่ชุมชนที่ยั่งยืน (Community of Love)

และ โครงการรักษ์โลก ดูแลโลก (Love Earth Save Earth) ซึ่งถือเป็น

พันธกิจหลักควบคู่ไปกับการดำเนินธุรกิจเพื่อให้การดำเนินงาน

ด้านความรับผิดชอบต่อสังคมและสิ่งแวดล้อมของบริษัทฯ มี

ประสิทธิภาพและมีการพัฒนาอย่างยั่งยืน

114
---
BANGKOK AIRWAYS NEWS

BANGKOK AIRWAYS ANNOUNCES NEW PARTNERSHIP

WITH AXA INSURANCE OFFERING "PROTECTIVE WING" –

WORRY-FREE TRAVEL FOR ITS PASSENGERS

Bangkok Airways Public Co., Ltd. has recently partnered with

AXA Insurance to offer "Protective Wing", travel insurance

to help protect Bangkok Airways passengers in unforeseen

circumstances that may disrupt their travel plans.

Mr. Chulin Kocharoen, Vice President – Sales of Bangkok

Airways, says: "This new partnership with AXA Insurance will not

only help enhance the travelling experience of Bangkok Airways'

passengers, but will also allow our passengers to purchase this

travel insurance with ease. Passengers can purchase Protective

Wing travel insurance when they process their booking or

purchase it after booking their flights via www.bangkokair.com."

Passengers can now travel with peace of mind thanks to

Bangkok Airways' Protective Wing assurance plans, which

offer comprehensive coverage. Bangkok Airways' passengers

who hold the insurance will get both outpatient (OPD) and

inpatient (IPD) coverage, and will not be required to pay in

advance for medical treatment at more than 39,000 hospitals

and clinics worldwide. AXA also provides emergency medical

assistance, interpreter referral and a 24-7 AXA Hotline Service

worldwide. In addition to full air-fare refund protection in case

of flight cancellation, where the terms and conditions are subject

to company policy, passengers will also be fully compensated

for any loss or damage to their baggage and personal effects,

including sports equipment and musical instruments, subject

to terms and conditions based on the company's policy, of

up to 20,000 baht per insurance policy.

To purchase Protective Wing travel insurance, visit www.

bangkokair.com or call 0 2305 8457 for more information.

เมื่อเร็วๆ นี้ บริษัท การบินกรุงเทพ จำกัด (มหาชน) หรือสายการบิน

บางกอกแอร์เวย์ส โดยนายจุลิน กอเจริญ รองกรรมการผู้อำนวยการใหญ่

ฝ่ายขาย (ที่ 3 จากขวา) จับมือแอกซ่าประกันภัย โดยนางสาวหทัยนันท์

เกียรติเฟื่องฟู ผู้อำนวยการบริหาร สายงานกลยุทธ์องค์กร บริษัท แอกซ่า

ประกันภัย จำกัด (มหาชน) (ที่ 3 จากซ้าย) นำเสนอประกันภัยการเดินทาง

ที่คัดสรรพิเศษให้กับผู้โดยสารของบางกอกแอร์เวย์สโดยเฉพาะ ภายใต้

ประกันภัย Protective Wing ซึ่งครอบคลุมการเดินทางทั้งในประเทศและ

ต่างประเทศ เพื่อให้ผู้โดยสารสามารถเดินทางได้อย่างอุ่นใจ

นายจุลิน กอเจริญ รองกรรมการผู้อำนวยการใหญ่ ฝ่ายขาย สายการบิน

บางกอกแอร์เวย์ส กล่าวว่า "ความร่วมมือกับแอกซ่าประกันภัยในครั้งนี้

นอกจากจะช่วยยกระดับประสบการณ์การเดินทางให้ผู้โดยสารแล้ว ยังช่วย

อำนวยความสะดวกให้แก่ผู้โดยสารในการซื้อประกันภัยการเดินทาง โดย

สามารถเลือกซื้อประกันภัยการเดินทางระหว่างจองบัตรโดยสารเครื่องบิน

หรือสามารถซื้อเพิ่มเติมภายหลังได้อย่างสะดวกมากขึ้นผ่านเว็บไซต์ของ

บางกอกแอร์เวย์สที่ www.bangkokair.com"

แผนการประกันภัยการเดินทางของแอกซ่าตอบโจทย์ทุกความต้องการ

ในการท่องเที่ยวในทุกทริปได้อย่างมั่นใจ ครอบคลุมทั้งค่ารักษาพยาบาล

ผู้ป่วยนอก (OPD) และผู้ป่วยใน (IPD) อีกทั้งมีสถานพยาบาลในเครือ

ที่ผู้ประกันตนไม่ต้องสำรองจ่ายล่วงหน้ามากกว่า 39,000 แห่งทั่วโลก

มีบริการช่วยเหลือฉุกเฉินทางการแพทย์ พร้อมผู้ช่วยแปลภาษา เมื่อเดิน

ทางไปยังต่างแดน และสายด่วนแอกซ่าที่สามารถติดต่อขอความช่วยเหลือ

ได้ทุกวันตลอด 24 ชั่วโมงจากทั่วโลก นอกจากนี้ ผู้โดยสารจะได้เงินชดเชย

ค่าโดยสารเต็มจำนวนกรณีโดนยกเลิกเที่ยวบิน และจะได้รับความคุ้มครอง

สัมภาระส่วนตัว รวมถึงอุปกรณ์กีฬาและเครื่องดนตรี ในมูลค่าสูงสุดถึง

20,000 บาทต่อกรมธรรม์ ซึ่งแตกต่างจากแผนทั่วไปที่คุ้มครองสูงสุด

เพียง 5,000 บาทต่อสัมภาระหนึ่งชิ ้น

ผู้โดยสารที่สนใจสามารถดูข้อมูลเพิ่มเติมของประกันภัยการเดินทาง

Protective Wing ที่บริการโดยแอกซ่าได้ที่ www.bangkokair.com

116
---
118 119
---
AIRCRAFT INFO

AIRBUS A319

NUMBER OF FLEET : 16

LENGTH : 33.84 m

WINGSPAN : 34.1 m

HEIGHT : 12.17 m

ENGINE : IAE V2500

CRUISING SPEED :

920 km/h

MAX OPERATIONAL ALTITUDE :

39,800 ft

PASSENGER CAPACITY :

12 seats & 108 seats / 144 seats / 138 seats

BANGKOK AIRWAYS OPERATES FOUR TYPES OF AIRCRAFT

TAKE ME

HOME

READ

Fah Thai is the inflight magazine

of Bangkok Airways. It is YOUR

MAGAZINE. It is distributed with our

compliments on all Bangkok Airways

flights. We hope you enjoy it.

TOO MUCH BAGGAGE?

ONLINE!

AIRBUS A320

NUMBER OF FLEET : 9

LENGTH : 37.57 m

WINGSPAN : 34.1 m

HEIGHT : 12.17 m

ENGINE : IAE V2500

CRUISING SPEED :

870 km/h

MAX OPERATIONAL ALTITUDE :

39,800 ft

PASSENGER CAPACITY :

162 seats

•••••

We also come in a digital format. You can read us at:

FAHTHAIMAG.COM

And feel free to send us your feedback.

Your voice is our inspiration!

ATR 72-500

NUMBER OF FLEET : 2

LENGTH : 27.17 m

WINGSPAN : 27.06 m

HEIGHT : 7.65 m

ENGINE : 2 x 2,750 hp

Pratt & Whitney

Canada PW127F

CRUISING SPEED :

509 km/h

MAX OPERATIONAL ALTITUDE :

25,000 ft

PASSENGER CAPACITY :

70 seats

Read more

ATR 72-600

NUMBER OF FLEET : 13

LENGTH : 27.166 m

WINGSPAN : 27.050 m

HEIGHT : 7.72 m

ENGINE : 2 x 2,750 hp

Pratt & Whitney

Canada PW127M

CRUISING SPEED :

509 km/h

MAX OPERATIONAL ALTITUDE :

25,000 ft

PASSENGER CAPACITY :

70 seats

OUR SCHEDULE FLIGHTS AND FREQUENCY

DOMESTIC FLIGHTS

Bangkok, Koh Samui, Phuket and Chiang Mai :

Numerous flights every day from a variety of destinations

Chiang Mai : 1 flight per day from Koh Samui

Chiang Rai : 3 flights per day from Bangkok

Hat Yai :

1 flight per day from Phuket

Koh Chang/Trat : 3 flights per day from Bangkok (As from March 29, 2020 onwards)

Krabi : 3 flights per day from Bangkok ;

1 flight per day from Koh Samui ; (As from March 29, 2020 onwards)

1 flight per day from Chiang Mai

Lampang : 3 flights per day from Bangkok

Mae Hong Son : 1 flight per day from Chiang Mai (As from March 29, 2020 onwards)

Pattaya : 1 flight per day from Phuket ;

1 flight per day from Koh Samui (As from March 29, 2020 onwards)

Sukhothai : 2 flights per day from Bangkok (As from March 29, 2020 onwards)

INTERNATIONAL FLIGHTS

Chongqing : 1 flight per week from Koh Samui

Chengdu : 2 flights per week from Koh Samui

Da Nang : 2 flights per day from Bangkok

Hong Kong : 2 flights per day from Koh Samui

Kuala Lumpur : 1 flight per day from Koh Samui

Luang Prabang : 2 flights per day from Bangkok ;

3 flights per week from Chiang Mai

Malé :

11 flights per week from Bangkok (As from April 07, 2020 onwards)

Mandalay : 11 flights per week from Bangkok ; (As from March 29, 2020 onwards)

4 flights per week from Chiang Mai

Mumbai : 1 flight per day from Bangkok

Nay Pyi Taw : 6 flights per week from Bangkok

Nha Trang : 4 flights per week from Bangkok

Phnom Penh : 6 flights per day from Bangkok

Phu Quoc : 2 flights per day from Bangkok

Siem Reap : 5 flights per day from Bangkok

Singapore : 2 flights per day from Koh Samui

Vientiane : 2 flights per day from Bangkok

Yangon : 4 flights per day from Bangkok ;

4 flights per week from Chiang Mai

MOST

EFFECTIVE IN

TRAVEL AND

LEISURE

BEST USE OF

PHOTOGRAPHY

BEST

PHOTOGRAPHY

120
---
CHECKING OUT

In Perfect

Harmony

The bond between sea

anemones and porcelain

crabs is a captivating thing

to witness – the former

a home and the latter

its housekeeper. In this

picture, a porcelain crab

is camouflaging itself in

the anemone's polyp-like

tentacles while cleaning

the place by filter-feeding.

If you're visiting the

Andaman Sea, and are

lucky enough, you could

be rewarded with the

beautiful sight of these

little creatures!

122