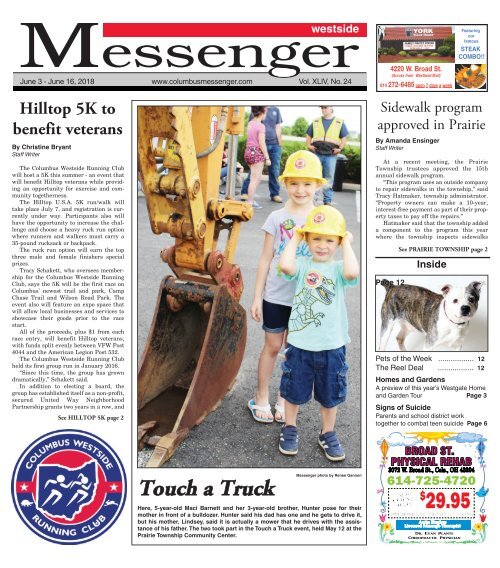 Westside Messenger - June 3rd 2018
Westside Messenger Volume 44 Number 24- June 3rd, 2018
Westside Messenger Volume 44 Number 24- June 3rd, 2018
SHOW MORE
SHOW LESS
You also want an ePaper? Increase the reach of your titles
YUMPU automatically turns print PDFs into web optimized ePapers that Google loves.
westside

June 3 - June 16, 2018 www.columbusmessenger.com Vol. XLIV, No. 24

4220 W. Broad St.

(Across from Westland Mall)

614 272-6485 open 7 days a week

Featuring

our

famous

STEAK

COMBO!!

Hilltop 5K to

benefit veterans

By Christine Bryant

Staff Writer

The Columbus Westside Running Club

will host a 5K this summer - an event that

will benefit Hilltop veterans while providing

an opportunity for exercise and community

togetherness.

The Hilltop U.S.A. 5K run/walk will

take place July 7, and registration is currently

under way. Participants also will

have the opportunity to increase the challenge

and choose a heavy ruck run option

where runners and walkers must carry a

35-pound rucksack or backpack.

The ruck run option will earn the top

three male and female finishers special

prizes.

Tracy Schakett, who oversees membership

for the Columbus Westside Running

Club, says the 5K will be the first race on

Columbus' newest trail and park, Camp

Chase Trail and Wilson Road Park. The

event also will feature an expo space that

will allow local businesses and services to

showcase their goods prior to the race

start.

All of the proceeds, plus $1 from each

race entry, will benefit Hilltop veterans,

with funds split evenly between VFW Post

4044 and the American Legion Post 532.

The Columbus Westside Running Club

held its first group run in January 2016.

"Since this time, the group has grown

dramatically," Schakett said.

In addition to electing a board, the

group has established itself as a non-profit,

secured United Way Neighborhood

Partnership grants two years in a row, and

See HILLTOP 5K page 2

Sidewalk program

approved in Prairie

By Amanda Ensinger

Staff Writer

At a recent meeting, the Prairie

Township trustees approved the 15th

annual sidewalk program.

"This program uses an outside company

to repair sidewalks in the township," said

Tracy Hatmaker, township administrator.

"Property owners can make a 10-year,

interest-free payment as part of their property

taxes to pay off the repairs."

Hatmaker said that the township added

a component to the program this year

where the township inspects sidewalks

Page 12

See PRAIRIE TOWNSHIP page 2

Inside

Pets of the Week ................. 12

The Reel Deal ................. 12

Homes and Gardens

A preview of this year's Westgate Home

and Garden Tour Page 3

Signs of Suicide

Parents and school district work

together to combat teen suicide Page 6

Touch a Truck

Messenger photo by Renee Gannon

Here, 5-year-old Maci Barnett and her 3-year-old brother, Hunter pose for their

mother in front of a bulldozer. Hunter said his dad has one and he gets to drive it,

but his mother, Lindsey, said it is actually a mower that he drives with the assistance

of his father. The two took part in the Touch a Truck event, held May 12 at the

Prairie Township Community Center.

BROAD ST.

PHYSICAL REHAB

3072 W. Broad St., Cols., OH 43204

614-725-4720

NEW

CLIENTS

ONLY

$

29.95

ONE HOUR MASSAGE (Reg. $60.00)

Anita Hughes

Licensed Massage Therapist

Dr. Evan Plante

Chiropractic Physician
---
PAGE 2 - WESTSIDE MESSENGER - June 3, 2018

Immunizations in Prairie Twp.

Franklin County Public Health will

offer adult and child immunizations on

June 21 at the Prairie Township Fire

Department, located at 123 Inah Ave. Most

major insurances are accepted. A sliding

fee scale is available for those with no

insurance. To schedule an appointment,

call (614) 525-3719 or visit

www.myfcph.org.

SUMMER BLAST!

ELVIS

featuring

Mike Albert

and the Big E Band

Saturday

June 9, 2018

VILLA MILANO

1630 Schrock Rd.

Dinner/Show Tickets $ 49.00

Tables of 10 Available

Tickets by Phone: 614-792-3135

Still Good Seats Available

Visa • Mastercard • Discover

NOREFUNDS

Just Enrolling K-8

Ask about our early entrance kindergarten program

Tuition is FREE!

ENROLLING NOW for 2018-2019 school year!

Hurry, spots fill up quickly!

community events

Farmers Market in Westgate

The Westgate Farmers Market opens

for its third season starting June 2. The

market is held the first and third Saturday

of each month from June through October

on the lawn of the Westgate Lodge, 2925

West Broad St. from 9 a.m. to 1 p.m.

HILLTOP 5K

Continued from page 1

received support from Ohio State

University Sports Medicine and Columbus

Running Company. The group also is an

established training group with Capital

City Half Marathon.

The group also has taken a role in

improving the westside, hosting trash

cleanups along Camp Chase Trail.

"This is performed the fourth Saturday

of the month and since inception, 622.5 volunteer

hours have been logged," Schakett

said. "We have removed 423 bags of trash

and 26 tires, and 14 carts have been collected."

Cost to participate in the 5K is $25 if

Join the Columbus

Westside Running Club

The Columbus Westside Running Club

meets at 6:30 p.m. every Tuesday at

Westgate Park's enclosed shelter house for

a self-paced run. The group will start meeting

at 8 a.m. June 3 at the Hilltop YMCA

for summer and fall race training. Coaches

PRAIRIE TOWNSHIP

Continued from page 1

and has the residents repair sidewalks

deemed dangerous.

"All parts of the township are included

in this program and if residents want to

report a sidewalk they can call the road

department and they will inspect it," said

Stephen Kennedy, township trustee.

Hatmaker said that the township has

been focused on asking for mandatory

improvements on the oldest sidewalks in

the township first, but added if they

receive a complaint, they will review the

sidewalk to see if improvements need to be

made.

"There are rules and guidelines for what

needs to be repaired," Kennedy added.

"Just because a neighbor complains,

doesn't mean the sidewalk has to be

repaired. It just will be inspected sooner

than it would have been."

This year the township has allocated

$100,000 for the program and plans to

begin repairing sidewalks this summer.

The board also approved several payments

to enhance security of township

assets, including the township hall and the

new Galloway Road Sports Complex.

The board approved spending over

$14,200 to upgrade the township hall security

and fire alarm system.

"We would like to have motion detectors

www.columbusmessenger.com

CC Memorial Service

The Hilltop Historical Society will host

the 123rd annual Camp Chase Confederate

Cemetery Memorial Service at 3 p.m. June

10 at 2900 Sullivant Ave. in Columbus. For

additional information, visit hilltopusa.tripod.com.

registered before July 6 and $30 on race

day. Included in the registration fee are a

finisher medal and race shirt.

The 5K will take place along the Camp

Chase Trail, starting at Hague Avenue,

running west to Wilson Road Park and

back to Hague Avenue. North Sylvan will

be closed at the Camp Chase Trail

Crossing from 8:30 to 10 a.m.

The course will remain open for 1 hour

and 30 minutes, making it friendly for

advanced or novice runners and walkers,

Schakett said.

To register or for more information, go

to hilltopusa5k.com.

create training schedule for 5K, 10K, halfmarathon

and marathon distances. Pacers

are provided for all speeds, and hydration

stations are set up along the route. Joining

the group is free.

For more information, visit

facebook.com/ColumbusWestsideRunning

Club.

and key pads with fobs for the township

hall, so we can more properly monitor who

is accessing the building," Hatmaker said.

"Our fire system also is not up to code and

needs to be upgraded."

Hatmaker said these changes will also

allow Grove City dispatchers to monitor

the building should any issues arise, something

they currently cannot do.

Additionally, the board approved spending

approximately $23,173 on splicing the

township's fiber optic network to allow Wi-

Fi at the Galloway Road Sports Complex.

"This Wi-Fi access will allow us to have

cameras and phone service at the concession

stand," said James Gant, director of

the community center. "Previously we were

told we could have Wi-Fi out there and

then found out we needed to do this in

order to have it."

Gant also gave an update on when the

complex would open.

"Realistically it will open next spring,"

he said. "We were hoping for this fall, but

because we had a wet spring we haven't

been able to get heavy equipment on the

field for grading. Once the grading is complete,

the seeding will be done, and it takes

year for the grass to grow."

Officials are hoping the facility can be

used regularly by summer or fall of 2019.
---
www.columbusmessenger.com

Community Focus

June 3, 2018 - WESTSIDE MESSENGER - PAGE 3

club meeting

Young at Heart club

You are invited to join the Young at Heart seniors' group for

fun and activities. The group meets every Thursday from 10:30

a.m. to 2 p.m. at Central Baptist Church, 1955 Frank Road. Call

Norma at 308-5998 for more information.

1941 Oakwood Ave - Open Sundays 1- 4

Photo courtesy of Alan Jazak

This is one garden that will be on display at the eighth annual Westgate Home and Garden Tour.

Homes and Gardens on display in Westgate

Fresh produce at Central Baptist

Free, fresh fruit and vegetables will be distributed

on June 9, to qualified, low-income Franklin County

residents. The fresh produce will be available at

Central Baptist Church, 1955 Frank Road, beginning

at 11:30 a.m. To assist in registration, please bring a

photo ID and your current address in Franklin

County. You are asked to also bring heavy-duty bags,

boxes or carts to carry the bulk produce home. For

community events

The 2018 Westgate Home and Garden Tour is

June 9.

The tour, in its eighth year, embodies the spirit of

the Westgate Neighbors Association and the growing

focus on building a more connected community by

supporting resident-inspired initiatives like the

Westgate Farmers Market, Friends of Westgate

Park, Westgate Food Trucks Line Up, the Columbus

Westside Running Club, and Westgate Brews.

"This is the day we invite all of central Ohio to

visit our 'it's no secret anymore' west Columbus

neighborhood. The up-close and personal tour is

timely for inquiring Columbus-residents, as many

new residents are discovering our character-rich,

affordable housing stock. They will immediately see

why we call Westgate unexpected," said tour co-chair

Becca Rohner.

Rohner said this is not your average home and

garden tour.

"Be prepared to marvel at the creativity of our

homeowners and pick up affordable, relatable decorating

ideas for your abode," she said.

The 2018 tour will reveal some of Westgate's

unexpected appeal, including a 1928 Colonial

Revival home that has been lovingly restored; backyard

retreats with multiple water features, a garden

with antique roses —some dating back to the 1500s,

and even a putting green.

Balancing modern technology with architectural

integrity is another example of what makes homes in

Westgate so unique and desirable. But there is still

no shortage of fireplaces, original built in cabinetry,

porch swings, and hardwood floors you'd expect to

find a neighborhood where homes were built to last.

A portion of the proceeds from the tour fund the

Westgate Neighborhood Scholarship. The scholarship,

now in its fourth year, was established as an

extension of the group's mission to help Westgate

thrive as it recognizes students who demonstrate

strong leadership skills and a commitment to community

service.

This year's tours includes ten stops. It runs on

Saturday, June 9, from 2 to 6 p.m. Registration is at

The Westgate Lodge, 2925 West Broad Street.

Advance tickets are $12 and available online at

www.westgateneighbors.org and at the following

locations: Haldeman Cleaners (3115 West Broad

Street), Gypsy Soul Antiques (11 N. Westmoor). On

the day of the tour, tickets are $15 and can be purchased

at the registration tent.

more information, contact the church at 614-279-3115

or www.centralbaptistcolumbus.org.

Produce drive

The Resurrection Evangelical Lutheran Church

will host a fresh produce give-away from 10 a.m. to 1

p.m. the second Saturday of each month at 3500 Main

St. in Hilliard. The church also operates a food pantry

on Mondays from 6 to 6:45 p.m. For more information,

call the church office at 614-876-7926.

3 Houses from Reeb Ave. and a block from Marion Rd. Nice area of homes.

This ranch has it all, expanded to 1152 sq. ft. 3 bedroom, 2 Full baths,

Basement rec room w/fireplace, large deck plus patio/hot tub, "3 car size

garage" 720 sq. ft. Driveway runs from street to alley. Great for contractors.

Secure 8' privacy fenced in yard. Call to see any time, need your in-put.

Larry E. Alban

Realty

(614) 274-2002 (614) 744-3502

PROTECTING YOU

SINCE 1972

Malek &

Malek

ATTORNEYS AT LAW

WORK INJURIES

WORKERS'

COMPENSATION

SAFETY VIOLATIONS

WRONGFUL DEATH

PERSONAL INJURY

AUTO/TRUCK

CRASHES

DOG BITE INJURY

Douglas, Ed, Jim

and Kip Malek

Ben Churchhill

"Hablamos Español"

FREE Initial Consultation

www.maleklawfirm.com

614-444-7440

1227 S. High St., Columbus, OH 43206
---
PAGE 4 - WESTSIDE MESSENGER - June 3, 2018

By Sandi Latimer

Staff Writer

The city of Columbus, looking to the

future and how to plan for growth, has

developed some planning policies that were

shared at the latest meeting of the

Westland Area Commission.

Commission zoning chair Mike McKay

distributed information about Columbus

Citywide Planning Policies at the May

meeting that can be used as a guide for the

next generation of development. Part of

this project, known as C2P2, will be updating

each area's land use plan. An area plan

is a document that tells how an area will be

developed. Such a plan for the Westland

Area hasn't been updated in many years.

This project will allow every area of the

city the opportunity to have consistent, upto-date

policies and design guidelines.

The focus group Insight2050 anticipates

central Ohio will have as many as one million

more residents by 2050 with Columbus

seeing the biggest share. This plan, according

to the city, has been designed to guide

By Amanda Ensinger

Staff Writer

SUPPORT

your

Community Paper

Through advertising, community newspapers like the

Messenger have always been FREE papers. In these

tough economic times we are asking you the reader to

help offset the current decline in advertising revenue by

participating in a voluntary payment program*.

To those who have already participated -

We Thank You.

For those who would like to, below is a form

you can mail with your payment.

*This is not a subscription.

.Name:

Address:

3500 Sullivant Ave., Columbus, OH 43204

1 year ($9) 2 year ($18)

Eastside Westside Southwest

Southeast

Franklin Township first responders were recognized for helping

a fellow officer.

Township police officers responded to a call for backup on May

12 when Franklin County Sheriff's deputies came upon gunfire

after attempting a traffic stop and the suspect fled.

"When our guys came on the scene, they didn't know a gunfight

was going on," said Franklin Township Police Chief Byron Smith.

"They did an excellent job."

The trustees approved a resolution recognizing the officers for

their valor. The board also recognized the township's medics who

rushed one Franklin County deputy to the

hospital for non-life-threatening injuries.

The suspect was killed by police on the

scene.

"I commend all of you for your leadership

and management of your department,"

said Aryeh Alex, township trustee. "You

don't come to work expecting to do this, but

everyone stepped up and did an incredible

job."

The police and fire department also gave

and focus growth in a way that will support

economic competitiveness, improve resident's

quality of life, and provide environmental

benefits throughout the city.

The first step is to educate the community

about the project and get each area to

go along with it. Currently the city has

more than 40 neighborhood and area plans

that cover more than 90 percent of the city.

Under this project, the area plans or

land use plans will be updated beginning in

2020. This is a project the city expects will

take five years. The Westland Area covers

both the city and the township.

Also at the meeting, public health and

safety chair Nancy Day-Achauer asked for

volunteers to help out at the produce giveaways

in the area. She said volunteers are

www.columbusmessenger.com

Government Focus

City plans for future growth on the Westside

BIRTHDAY • ENGAGEMENT • WEDDING • ANNIVERSARY

• GRADUATION • RETIREMENT

IN MEMORIUM • ARMED FORCES

Say it with an announcement ad in

the Messenger and spread the word.

You can download the appropriate form from

our Web site or stop by our office

Monday-Thursday, 8:30 a.m.-5 p.m.

Friday, 8:30 a.m.-2 p.m.

City/State/Zip

Columbus Messenger

3500 Sullivant Ave.

614-272-5422

www.columbusmessenger.com

columbus

needed early to help get the produce off the

truck, to bag the produce and then help

carry it to the vehicles.

Normally a produce give-away is staged

the third Saturday of the month, but with

the approach of summer, the project will be

moving out to the many festivals, she said,

and volunteers will also be needed at those

times.

Petitions were also circulated for those

seeking re-election this year - Marian

Hymer, Tena Thompson, Adam Slane and

Dave Van Order. Their petitions with signatures

of 25 registered voters are to be

turned in by the next commission meeting

June 20. Seats held by Ashley Hoye and

Denise Southward are up for re-appointment

this year.

Emergency crews recognized in Franklin Twp.

Free meal at Hoge Memorial

There will be a free hot meal served at Hoge

Memorial Presbyterian Church, 2930 W. Broad St.,

from 5 to 6 p.m. every Saturday. For more information,

contact the church at 276-5433 or visit www.hogepresby.org.

Breakfast to benefit Special Olympics

The Westgate Masonic Lodge #623 is preparing

breakfasts once a month to benefit the Special

Olympics. The public is invited to have breakfast the

second Saturday of each month. Adults pay $6, children

age 3 and above pay $3 while children under 3 eat

free. Serving is from 9 a.m. to noon.

Free meal at Lamb of God

The Church of the Lamb of God will host a free community

meal from 11 a.m. to 2 p.m. the fourth

updates on programs they are working on to enhance the community.

First police officials announced that they plan to install a

drug disposal box at the township office on Frank Road. Residents

can drop off expired or unused drugs.

Fire officials announced a new program to donate cribs to residents

in need.

"We have an increase in SIDS (Sudden Infant Death

Syndrome) in this community and people are not putting their

kids in cribs," said Chas Adams, assistant fire chief for Franklin

Township. "Due to the income level in this region, people cannot

afford cribs and kids aren't safe."

Township medics plan to pass out cribs as they respond to

emergency calls and see that homes don't have them. Adams said

the crib give-away is at no cost to the township.

The police department is also considering adding traffic cameras

to high traffic areas in the township. Among these locations

could be Frank Road.

"We are still in the exploratory phases, but the biggest complaints

we get are traffic and drugs," Smith said. "We are trying to

address both by looking at high traffic areas that have the most

accidents. Nothing as been decided yet, we are still talking with

our attorney and seeing if this is something we want to do. We also

need to see if it will help the problem."

community events

Saturday of each month at 272 Fernhill Ave. in

Columbus. For additional information, call 614-706-

4945.

Free meals at Gladden House

The Gladden Community House will participate in

the summer food service program 12 to 2 p.m. Monday

through Friday from June 4 through Aug. 17 at 183

Hawkes Ave. in Columbus. Meals will be provided to

all children without charge. For more information,

visit www.gladdenhouse.org.

Wellness and foot care for senior citizens

LifeCare Alliance provides a nurse at the Prairie

Township Community Center every Thursday to provide

free footcare and other wellness services. To

schedule an appointment or for more information, contact

the nurse at 740-360-4132.
---
www.columbusmessenger.com

June 3, 2018 - WESTSIDE MESSENGER - PAGE 5

Residents ask for more police protection in Prairie

By Amanda Ensinger

Staff Writer

Residents are hoping for more protection from the

Franklin County Sheriff's Office. At a recent Prairie

Township trustee meeting, residents asked for bike patrol

this summer throughout the township.

According to the sheriff's department, while they are

hoping to have a bike patrol this summer, they first need

more officers to sign up. Officials say two officers must ride

together at a time to patrol the region via bike. Currently,

the sheriff's office is trying to secure more officers for the

bike patrol before they can start this program.

However, residents did get some good news in the form

of reducing speeding in the region. The trustees approved

replacing a speed trailer that was struck last summer with

a new one. Costing approximately $8,850, the township

would only be responsible for $1,000 of the replacement

cost.

In other news, the board discussed equipment improvements

to the community center. Prairie Township

Community Center Director James Gant asked the board

to approve a new Upper Cycle and a Zero Runner for

approximately $14,000

"The Zero Runner received positive feedback from the

community center members who have used it," Gant said.

"The Upper Cycle will help with the physical therapy

Doctor's Hospital is performing at the center."

Gant also asked the trustees to approve an athletic field

policy in preparation for the opening of the Galloway Road

Sports Complex. The new complex will have a variety of

multi-use baseball and soccer fields open to the public.

"As this park sets to open in a year or so, we thought it

made sense to have a policy in place," Gant said. "We plan

to have several partnerships and feel we need to create a

field usage policy, as well as fees for improper use."

Trustee Stephen Kennedy said that the policy would be

similar to other rules neighboring community have.

"Our policy is geared after a couple other policies

around town," he said.

Officials plan to release the full policy on the township's

website in the near future.

The trustees also approved spending $20,000 on

a grant for home improvements as part of the

Rebuilding Together project. The township, along with

AEP and Franklin County, each will contribute $20,000 to

the project.

Focusing on home repairs to 15 to 20 properties in the

Little Farms neighborhood, the national group will be

doing repairs to low to moderate income seniors to make

their home safer. Some of the improvements will include

roof repairs, HVAC, floor repairs and removing tripping

hazards.

The non-profit will be covering the majority of the

expenses of the project.

The township plans to contribute an additional $30,000

to the project to help with exterior home improvements,

including repaving driveways, repainting, landscaping and

other cosmetic improvements that can add value to the

home.

Officials hope this will be the first of many projects with

the group and hope organizers will consider improvements

the Lincoln Village neighborhood next.

"Think Safe, Feel Safe, Be Safe"

10% OFF

ALL

SERVICES

Serving Greater Columbus Since 1986

Bus: 614-870-1088

Cell: 614-783-2707

Fax: 614-870-1198

andyatalertalarmsinc@yahoo.com

Andy Andrews II

President

40 Years Experience

Security Systems

Computer/Network Wiring

Camera/Video Systems

3528 Sullivant Ave., Columbus, Ohio 43204

614-725-3505

Open Monday thru Sunday 10 A.M.-10 P.M.

Closed on Wednesday

Taco Tuesday

$

1.00

Tacos All Day

Messenger photo by Amanda Ensinger

Remembering the fallen

Navy Veteran Paul Webb plays the bugle at Galloway Cemetery during a Memorial Day dedication ceremony.

Webb played as the American Legion Post #164 Honor Guard and Veterans of Foreign Wars #8198 recognized

those who made the ultimate sacrifice for our freedom.

Burrito Thursday

$

4.00

Bring this AD and receive an additional 10% off

your dine-in purchase. $15 minimum order.
---
PAGE 6 - WESTSIDE MESSENGER - June 3, 2018

In Education

www.columbusmessenger.com

Suicide prevention discussed in school district

By Dedra Cordle

Staff Writer

For years, June Brown stood on one side

of an imaginary doorway, unaware of the

signs of depression and suicide that can

exist in the young mind. Then one day, she

was hurtled through the opening when her

then 10-year-old son tried to take his life.

She likened the aftermath of being in a

vortex filled with anger, grief, disbelief and

immense guilt.

"How could I not know he was going

through this?" said Brown, a Grove City

resident whose name was been changed to

protect the identity of her child.

She began to think back to moments of

their daily lives for clues. Did he say anything

was wrong? Did he lose interest in

his activities? Was he being bullied? Did I

JEFFREY P. COMPTON

ATTORNEY AT LAW

General Practice

Personal Injury • Domestic

Probate • Wills

Powers of Attorney

Healthcare Documents

FREE CONSULT & PARKING

875-7233 Fax: 875-7207

3894 Broadway • Grove City

www.jeffreypcompton.com

email:jcompton@jeffreypcompton.com

not pay enough attention? Are there signs I

missed?

She went to his school and requested to

speak with his teachers. She asked if he

gave any indication that he was struggling

in the classroom.

"They told me he gave them no indication

that he was struggling," said Brown.

"He maintained his 'A' and 'B' grades

throughout; a near model student."

She asked the clinical professionals at

Nationwide Children's Hospital where her

son was being treated for advice. Upon

their recommendations, she started learning

anything and everything about the

signs of suicide. She began to share her

knowledge with friends who also have children.

"It is so vitally important that every parent

know what changes to look out for," she

said.

Brown said it was equally important to

talk to them about it, even at a very young

age.

"We educate our children about drugs

and alcohol and sex, but rarely do we talk

to them about anxiety, depression and suicide."

As a part of her continuing mission to

not only learn more about the topic, but to

give support to parents going through the

same situation, she attended a Signs of

Suicide Forum on May 16 at Grove City

High School. There, Brown was one of

approximately 40 adults in attendance to

hear from a representative with

Nationwide Children's Hospital offering

advice and tips about behavioral changes

in their children.

Melanie Fluellen, a clinical counselor

who works at the Center for Suicide

Prevention and Research, said one thing to

know about depression and suicide in children

is that it can manifest itself differently

in each child.

"There are typical signs of depression

and suicide but what one warning sign

might be in one child could be different

from another," she explained.

She said that is why it is so important

that parents take note of their children,

their activities and their behaviors and

compare changes they have noticed

throughout the days, weeks, months and

years.

"You know your child better than anyone

else," she said. "If something seems different

to you about them, then it probably

is different."

She said she often hears from parents

who ask about the moodiness of pre-teens

and teens.

"They ask, 'Well, isn't that just them

being teenagers?'" she said. "Well, some of

it is, but is it a change from their typical

behavior?"

She recommended that parents communicate

with their children, ask questions

and share aspects of their lives with their

children as well.

"Be open with them," said Fluellen.

She added that it was important not to

judge their responses.

"If you tell your children they can ask or

tell you anything, you have to be ready for

what answer or response you might

receive."

As for common signs of depression,

Fluellen said they are feeling sad or irritable

more often than not; sleeping or eating

less than usual; lack of interest in things

that once brought pleasure; withdrawing

from others; participating in reckless

behavior; engaging in self-injurious behavior;

performing poorly in school; physical

symptoms such as headaches or stomachaches;

and increasing use of alcohol or

drugs.

As for some warning signs of suicide,

Fluellen said they are talking to others or

posting on social media about wanting to

die or feeling like a burden; gathering medication,

sharp objects or firearms; expressing

unbearable emotional pain; giving

away prized possessions; suddenly becoming

calm or cheerful after a long period of

depression.

Fluellen said if any child presents these

behaviors, it is time to seek medical help.

"Suicide is preventable," she said.

"Intervention is the key."

The Signs of Suicide Forum for parents

was presented through a collaborative program

from Nationwide Children's Hospital

and the South-Western City Schools

District.

Earlier this year, a pilot program was

initiated at four schools in the district —

Norton and Jackson Middle Schools and

Central Crossing and Franklin Heights

High Schools — where professionals at

Nationwide Children's provide instruction

to staff and students so they are capable of

recognizing the signs of suicide and depression

in themselves and others. They do this

by teaching the ACT message where they

acknowledge there is a serious concern,

show the person they care and tell a trusted

adult.

April Weese, one of the district's curriculum

coordinators, said during the forum

that they plan to have the Signs of Suicide

program at two additional schools next

year and possibly more throughout the

upcoming years.

As for Brown, she said that she feels

that this program is and will be instrumental

but knows that there are "a ways to go"

with educating staff, students and parents

about depression and suicide.

"It's a start, but we cannot move quickly

enough."

For more information about the signs of

suicide and depression, visit the Center for

Suicide Prevention and Research web site

at www.nationwidechildrens.org/suicideprevention.

To locate mental health

providers who address depression in children

and adolescents in your community

visit www.ptophelp.org. For youths with

questions or under crisis, contact the

Franklin County Crisis Hotline at 614-722-

1800; or text 4HOPE to 741-741 for crisis

text support.

National honors

Free Vacation Bible School!

Ages 3-12

Come meet new friends, experience

surprising adventures & incredible music!

June 11th - 14th

6:30 p.m.-9:00 pm

Westgate United Methodist Church

61 S. Powell Avenue, Cols., OH 43204

For info Call 614-274-4271

Kristin Tully, a member of Westland

High School's class of 2018, received a

scholarship from the Mil-Vets

Educational Foundation, a non-profit

organization supporting the military,

veterans and their families in central

Ohio. The scholarship is specifically for

graduating JROTC cadets. Tully is a

four-year JROTC member, served as

corps commander, and received three

national awards, including recognition

as a Top Performer (top 2 percent of

cadets) during Westland's inspection.

Here, Tully is pictured with Col. Jim

Pfaff.
---
www.columbusmessenger.com

June 3, 2018 - WESTSIDE MESSENGER - PAGE 7

CLASSIFIED ADS

Deadlines: Southeast and West editions, Wednesdays at 5 p.m., • East, Southwest, Madison editions, Tuesdays at 5 p.m.

All editions by phone, Tuesdays at 5 p.m. • Service Directory, Tuesdays at 5 p.m. • Main Street Mailbox, Tuesdays at 5 p.m.

xPublic Notice

xInformation

xAuction

PRAIRIE TOWNSHIP

BOARD OF ZONING APPEALS

PUBLIC HEARING NOTIFICATION

June 12, 2018 at 7:00 p.m. at the Prairie

Township Hall, 23 Maple Drive, Cols., OH 43228

Variance Application No. 622-VA-18 – 24 South Grener Ave, Columbus, Ohio 43228.

The nature of this application seeks: to grant a Variance from the provisions of Section

1809 #1, #2 and #3; to allow the applicant to raise a portion of the roof and install a

wall sign containing more than one logo, and not utilize individual channel letters or an

awning as the Resolution requires in the West Broad Street Corridor Overlay District.

Variance Application No. 623-VA-18 – Parcel No. 240-002350 Fernhill Ave, Columbus,

Ohio 43228. The nature of this application seeks: to grant a Variance from the

provisions of Section 930 Table 2-Dimensional Requirements; to allow the applicant to

construct a new single family home closer to the front and rear setbacks than the Resolution

requires.

Variance Application No. 624-VA-18 – 110 Pasadena Ave, Columbus, Ohio 43228.

The nature of this application seeks: to grant a Variance from the provisions of Section

930 Table 2-Dimensional Requirements; to allow the applicant to construct a new single

family home with less floor area than the Resolution requires.

Variance Application No. 626-VA-18 – 168 Fernhill Ave, Columbus, Ohio 43228. The

nature of this application seeks: to grant a Variance from the provisions of Section 930

Table 2-Dimensional Requirements; to allow the applicant to construct a new single

family home closer to the front and rear setbacks than the Resolution requires.

Appeal Application No. 130-AP-18 – 951 Military Dr, Galloway, Ohio 43119. Requests

a review of a decision made by the Prairie Township Zoning Field Inspector in a violation

letter dated February 16, 2018 which states the property owner was in violation of

Sections 300, 320, 350, 351, 568 #2, 920, and 1015 of the Prairie Township Zoning

Resolution; disputing that the applicant is operating a Home Occupation and parking a

commercial vehicle in an R-6 Zoning District.

Public Notice

xInformation

To Our Gift Card Winner

For May 2018

ELAINE BENNETT

From

The Columbus Messenger

Newspapers

Information

See...

You Looked!

Newspaper

Ads Catch

The Eye!

Call

272-5422

For Info. &

Pricing

JUNE GIVEAWAY

Place a prepaid classified line ad in our paper

during the month of JUNE and be registered

to win a $50 Gift Card from

The Columbus Messenger

Newspapers.

All ads received by mail, in person, e-mail or

phone will be included in the drawing.

Drawing will be held June 27, 2018

and the winner will be notified and published

in our July 1st, 2018 issue .

GOOD LUCK TO EVERYONE!!!!

Information

INFORMATION

Summer's Coming!

Get a New Hair Style

to Keep You Cool!

Call Marilyn Weaver

For An Appt.

For a New Haircut/Style

614-277-1921

Indulgence Hair Salon

3387 McDowell Rd.

Grove City

ASSOCIATION ADS

DISH TV $59.99 For 190

Channels. $14.95 High

Speed Internet. Free Installation,

Smart HD DVR

Included. Free Voice Remote.

Some restrictions

apply. Call 1-855-837-

9146

CARS/TRUCKS WANT-

ED!!! All Makes/Models

2002-2018! Any Condition.

Running or Not.

Competitive Offer! Free

Towing! We're Nationwide!

Call Now: 1-888-

368-1016

A PLACE FOR MOM. The

nation's largest senior living

referral service. Contact

our trusted, local experts

today! Our service is

FREE/no obligation. CALL

1-844-722-7993

LOTS & ACREAGE

FARM ESTATE SALE!

10 acres - $26,900. Cooperstown

Lake Region, 3

hrs NY City! 21 tracts

avail. in all. 5 to 50 acres.

June 2nd & 3rd. Terms.

888-431-7214 NewYork

LandandLakes.com

VIAGRA & CIALIS! 60

pills for $99. 100 pills for

$150 FREE shipping.

Money back guaranteed!

1-800-503-7846

ASSOCIATION ADS

READER

ADVISORY

The National Trade Association

we belong to has

purchased the following

classifieds. Determining

the value of their service

or product is advised by

this publication. In order

to avoid misunderstandings,

some advertisers do

not offer "employment"

but rather supply the

readers with manuals, directories

and other materials

designed to help

their clients establish mail

order selling and other

businesses at home. Under

NO circumstance

should you send any

money in advance or give

the client your checking,

license ID or credit card

numbers. Also beware of

ads that claim to guarantee

loans regardless of

credit and note that if a

credit repair company

does business only over

the phone it's illegal to request

any money before

delivering its service. All

funds are based in US

dollars. Toll Free numbers

may or may not

reach Canada. Please

check with the Better

Business Bureau 614-

486-6336 or the Ohio Attorney

General's Consumer

Protection Section

614-466-4986 for more

information on the company

you are seeking to

do business with.

AUCTION

Sat., June 9, 2018 @ 9:00 AM

Secur-it Personal Storage

435 Georgesville Rd.

Columbus, OH 43228 • 614-276-4352

*Must have valid Picture ID present*

Terms of sale will be cash and credit card only. The sale is of abandoned &

liquidated units. Some of the items include: Bikes, baby bed, wagon, air

compressors, car ramp & jack, tools, shop vacs, furniture, washer & dryer, baby

bassinet, snow blower, refrigerator, treadmill, fishing poles & misc. household items.

1) Joshua T. Rader, 5118 Wallaston Ct., Columbus, OH 43228

2) Phillip J. Robbins, 3570 Farmhurst Ln., Columbus, OH 43204

3) Ralph E. Wilkins, 6588 Gay Rd., Grove City, OH 43123

4) Tammy L. Hiel, 451 Josephine Ave., Columbus, OH 43229

5) Julio F. Sambula, 3285 Sullivant Ave., Apt. C, Columbus, OH 43204

6) Ricky A. Kennison, 5392 Wesliegh Run Dr., Columbus, OH 43228

7) John A. Board, 378 S. Wheatland Ave., Columbus, OH 43204

8) Kacey M. Lutton, 665 S. Eureka Ave., Columbus, OH 43204

9) Danielle D. Halko, 383 Postle Blvd., Columbus, OH 43228

10) Vernice Baiden, P.O. Box 43, Galloway, OH 43119

11) Atif H. Musa, 1690 W. Mound St., Columbus, OH 43223

12) Lucilla Cramer, 1690 Van Pelts, Columbus, OH 43220

13) Manuel R. Santiago, 1226 Redbud Dr., Columbus, OH 43228

14) Jeanette E. Andrix, 682 Joyful St., Columbus, OH 43204

15) Sean S. O'Brien, 917 Chestershire Ave., Columbus, OH 43204

16) Carlton B. Rollie, 1388 S. Ohio Ave., Columbus, OH 43206

17) Laura J. Dillon, 846 E. Kenworth Rd., Columbus, OH 43224

Attention: Auctioneers

YOUR AD CAN REACH

Over 135,000 Households Every Week

TARGET the area around your auction location by a

dvertising in any of our FIVE newspapers:

EASTSIDE • WESTSIDE • SOUTHWEST • SOUTHEAST • MADISON

Try The MESSENGER NEWSPAPERS--

you may be surprised at the response you get!!

Call Kathy, Classified Sales Respresentative

614-272-5422 or Fax 614-272-0684

Auction
---
PAGE 8 - WESTSIDE MESSENGER - June 3, 2018

www.columbusmessenger.com

CLASSIFIED ADS

Deadlines: Southeast and West editions, Wednesdays at 5 p.m., • East, Southwest, Madison editions, Tuesdays at 5 p.m.

All editions by phone, Tuesdays at 5 p.m. • Service Directory, Tuesdays at 5 p.m. • Main Street Mailbox, Tuesdays at 5 p.m.

xEmployment

3 X 5

TARG

3 X 5

NOW HIRING for 2018-2019 School Year!

WE NEED DRIVERS

No CDL Required

Posions are PT, working 20‐24 hrs per week

We offer dayme shis, no nights/weekends & have paid

training. Company vehicle provided for use during working

hours. Individuals must be able to pass a background check,

a pre-employment physical/drug screen, have no DUI's and

have less than 4 points on their OH license.

For more informaon, please contact Vanessa at

614‐679‐7280 or email vfrazier@tristar‐cols.com

To learn more about Tristar, please visit our website at

www.tristarcolumbus.com

tristar

TRANSPORTATION CO.

WANTED

SW CITY SCHOOLS

SCHOOL BUS DRIVERS

The South-Western City School

District is currently hiring drivers

$16.55/HR

Available positions are for substitute drivers that

can develop into "Regular" positions with benefits.

Interested individuals should submit an application

on our website at swcsd.us. Follow the

employment link. Applicants should have an

excellent driving record and must submit to drug,

alcohol, and background screening. A high

school diploma or equivalent is required. EOE

ASSOCIATION ADS

Lung Cancer? And Age

60+? You And Your

Family May Be Entitled

To Significant Cash

Award. Call 866-428-

1639 for Information. No

Risk. No Money Out Of

Pocket.

CAPITAL CLASSIC CARS

Buying All European &

Classic Cars. ANY Condition.

ANY Location. Porsche,

Mercedes Jaguar &

More! Top Dollar PAID.

CapitalClassicCars.com 1-

571-282-5153, steve@

capitalclassiccars.com

Earthlink High Speed Internet.

As Low As

$14.95/month (for the

first 3 months.) Reliable

High Speed Fiber Optic

Technology. Stream Videos,

Music and More!

Call Earthlink Today 1-

855-520-7938

ASSOCIATION ADS

DISH Network - Satellite

Television Services. Now

Over 190 channels for

ONLY $49.99/mo! HBO-

FREE for one year,

FREE Installation, FREE

Streaming, FREE HD.

Add Internet for $14.95 a

month. 1-800-219-1271

Cross Country Moving,

Long distance Moving

Company, out of state

move $799 Long Distance

Movers. Get Free

quote on your Long distance

move 1-800-511-

2181

Local New Construction

Plumbing Contractor

seeking experienced

Rough & Finish Plumbers.

Please visit our website for more information

and to apply on line at:

http://plumbingsolutionscolumbus.com/employment/

or call, 614.235.6007

ASSOCIATION ADS

Were you an INDUSTRIAL

or CONSTRUCTION

TRADESMAN and recently

diagnosed with LUNG

CANCER? You and your

family may be entitled to a

SIGNIFICANT CASH

AWARD. Call 1-844-522-

0818 for your risk free consultation.

Employment

ASSOCIATION ADS

LOTS & ACREAGE

ABUTS STATE LAND!

20 acres - $44,900.

Beaver pond. Cooperstown

Lake Region, 3 hrs

NY City! 21 tracts avail. in

all. 5 to 50 acres. June

2nd & 3rd. Terms. 888-

495-8733 NewYork LandandLakes.com

Business to Business

SIZZLING SUMMER

SPECIAL! ADVERTISE

YOUR BUSINESS

in over 3 Million homes in

the Mid-Atlantic States of

Pennsylvania, Ohio, New

York, New Jersey, Delaware,

Maryland, West Virginia,

Virginia and Washington

DC in publications

like this one and many

more. Visit macnet

online.com or call 800-

450-6631 for more details.

Were you an INDUSTRIAL

TRADESMAN (machinist/

boilermaker/pipefitter etc)

and recently diagnosed

with LUNG CANCER? You

may be entitled to a SIG-

NIFICANT CASH AWARD.

Risk free consultation!

877-781-1769

NOW HIRING!

Local High Volume Pharmacy

Immediate 2nd shift positions available

for Pharmacy Clerks and Technnicians.

Looking for energetic associates

in a fast pace environment.

NEW Starting rate: $10.95 to $13.15 per hour

Shift differential $.50 an hour

Please apply at: jobs.kroger.com

Use Zip Code 43217

Must be 18 years of age & have high school diploma or GED.

Call 614-333-5012 for more details.

JOB

FAIR

OR OPEN

INTERVIEWS?

CALL KATHY

TO ADVERTISE

272-5422
---
www.columbusmessenger.com

June 3, 2018 - WESTSIDE MESSENGER - PAGE 9

xEmployment

WE ARE LOOKING

FOR SOME GREAT

PEOPLE!

A Career Perfect for the Outdoorsman?

Enjoy Working Outdoors?

Enjoy Working on a Great Team?

Have an Interest in Science?

If YES, You May Have A Future Managing

Freshwater Ecosystems

Send resume or apply in person at:

3455 Centerpoint Drive, Grove City OH 43123

8am-5pm Monday-Friday

614-506-4166 info@aquadocinc.com

*Competitive Wages & Benefits*

*Variety of Full-time Positions Available*

*Clean Driving Record a Must - EOE*

WANTED

Servers • Retail • Cooks

You Can Work 29+ Hrs. Based on

Your Availability & Performance

Immediate Full/Part-time Openings

• Weekly Pay

• Paid Training

• No Tip Sharing

• Paid Vacation

We Offer:

• Employee Meal Discount

• Position/Salary Advancement Plan

• Discount Purchase Plan

4210 Marlane Drive, Grove City, OH

614-871-1444

ASSOCIATION ADS

Wants to purchase minerals

and other oil and gas

interests. Send details to

P.O. Box 13557, Denver,

CO. 80201

COMPUTER & HOSPI-

TALITY TRAINING

PROGRAM! Train at

home to become a Help

Desk or Hospitality Professional!

Call CTI for

details about ONLINE

Training! 1-833-766-

4511 AskCTI.com

HughesNet Satellite Internet?

25 mbps starting at

$49.99 / mo! FAST download

speeds. WiFi built in!

FREE Standard Installation

for lease customers!

Limited Time, Call 1-800-

610-4790.

ASSOCIATION ADS

ADVERTISE to 10 Million

Homes across the USA!

Place your ad in over 140

community newspapers,

with circulation totaling

over 10 million homes.

Contact Independent Free

Papers of America IFPA at

danielleburnett-ifpa@

live.com or visit our website

cadnetads.com for

more information.

IRS TAX DEBTS? 10K+?

Tired of the calls? We

can HELP! $500 free

consultation! We can

STOP the garnishments!

FREE Consultation Call

Today 1-855-900-5594

ASSOCIATION ADS

GENERIC VIAGRA and

CIALIS! 100 Pills $99.00

FREE Shipping! 100%

guaranteed. 24/7 CALL

NOW! 888-889-5515

DIRECTV SELECT

PACKAGE! Over 150

Channels, ONLY $35/

month (for 12 mos.) Order

Now! Get a $100

AT&T Visa Rewards Gift

Card (some restrictions

apply) CALL 1-855-781-

1565

Spectrum Triple Play!

TV, Internet & Voice for

$29.99 ea. 60 MB per

second speed. No contract

or commitment.

More Channels. Faster

Internet. Unlimited Voice.

Call 1-855-652-9304

IMPORTANT

NOTICE

The following states: CA,

CT, FL, IA, IL, IN, KY,

LA, MD, ME, MI, MN,

NE, NC, NH, OH, OK,

SC, SD, TX, VT and WA

requires seller of certain

business opportunities to

register with each state

before selling. Call to

verify lawful registration

before you buy.

LOTS & ACREAGE

HARDWOOD FOREST!

50 acres - $89,900.

Abuts State Land, brook.

Cooperstown Lake Region.

3 hrs NY City! 21

tracts avail. in all. 5 to 50

acres. June 2nd & 3rd.

Terms. 888-816-2354

NewYorkLandandLakes.

com

ASSOCIATION ADS

Call Empire Today® to

schedule a FREE inhome

estimate on Carpeting

& Flooring. Call

Today! 1-800-508-2824

IRS TAX DEBTS? 10K+?

Tired of the calls? We

can HELP! $500 free

consultation! We can

STOP the garnishments!

FREE Consultation Call

Today 1-855-823-4189

HOME SERVICES

Dealing with water damage

requires immediate

action. Local professionals

that respond immediately.

Nationwide and 24/7. No

mold calls. Call today! 1-

800-730-9790

LOTS & ACREAGE

WOODED GETAWAY!

5 acres - $19,900.

Cooperstown Lake Region.

3 hrs NY City! 21

tracts avail. in all. 5 to 50

acres. June 2nd & 3rd.

Terms. 888-738-6994

NewYorkLandandLakes.

com

ASSOCIATION ADS

CARS/TRUCKS WANT-

ED!!! All Makes/Models

2002-2018! Any Condition.

Running or Not. Top $$$

Paid! Free Towing! We're

Nationwide! Call Now: 1-

888-985-1806

Building Materials

Metal Roofing & Siding

for houses, barns, sheds.

Close outs, returns, seconds,

overruns, etc. Starting

at $.33 SQ FT. Slate

RoadSupply.com 717-

445-5222

INCOME TAX

SP Payroll &

Tax Services

Tax Preparation

Starts at $55. Trucker

& 1099 Services

Call Stacey at

614-203-5134

For Appt. 6/24 W/SW

Employment

IMAGINE SCHOOLS

NOW HIRING

CERTIFIED TEACHERS

Imagine Primary - 4656 Heaton Rd., Columbus, OH 43229

Imagine Great Western - 310 North Wilson Rd., Columbus, OH 43204

Imagine Groveport - 4485 S. Hamilton Rd., Groveport, OH 43125

Imagine Harrisburg Pike - 680 Harrisburg Pike, Columbus, OH 43223

Imagine Sullivant - 3435 Sullivant Ave., Columbus, OH 43204

Resumes can be sent to:

jennifer.keller@imagineschools.org

CHILD CARE

OFFERED

Depend. Quality Child care

in loving hm. Exp. Mom, n-

smkr, hot meals, sncks,

playroom, fncd yd. Reas.

rates. Laurie at 853-2472

HELP WANTED

Home Health Aides

$13.00/hr. after 90 days

$15.00/hr. Premium Shifts

Must be passionate about

helping the elderly. 1 yr. of

experience working for an

employer in a caregiver

6/24 A&M

role is required.

To apply, please visit

v-angels/galloway/employment

BE YOUR OWN BOSS!

INDEPENDENT

CONTRACTORS

WANTED

If you have a reliable car and would like to

earn extra money, then why not deliver?

• Deliver 1 or 2 days a week

• Flexible delivery hours

• Work close to home - often in or

near your neighborhood

CONTACT US

1-888-837-4342

www.thebag.com

• Deliver 7 days a week

• Delivery before dawn

• Work close to home - often in or

near your neighborhood

CONTACT US

614-461-8585

www.dispatch.com/delivery
---
PAGE 10 - WESTSIDE MESSENGER - June 3, 2018

xPreschool/Daycare

www.columbusmessenger.com

xFocus on Rentals

Apple Run

Apartments

Studio, 1 & 2 Bedroom

Franklinton Area

2350 Apple Ridge Drive

Columbus, OH 43223

(614) 279-5840

www.applerunapts.com

WEDGEWOOD

VILLAGE

1, 2, and 3 BR Apts.

Rent Based on Income.

Call 614-272-2800 or visit us

at 777 Wedgewood Dr.

DD/TTY 1-800-567-5857

EQUAL HOUSING OPPORTUNITIES

Get A Head Start

on Fall Enrollment!

ADVERTISE Your

Preschool/Daycare

in the Messenger

Call KATHY at

The Columbus Messenger

614-272-5422

Preschool/Daycare

xCome & Get It!

COME AND GET IT

Deadlines are Tuesdays by 5 pm.

Call For Publication Schedule 614-272-5422

Need to Get Rid of Something Fast - Advertise It Here For FREE!

FREE Garden Straw for gardens or bedding. Call for appointment for pickup.

Circle S Farms, 9015 London-Groveport Road, Grove City, 43123

Grove City - 614-878-7980

Twin size foam rubber mattress and one dozen pint-sizes canning jars.

BK- Lincoln Village, Columbus - 614-878-6926

Vintage Steamer Truck with drawers & pull out hanger rack. Last voyage 1939

DJ - Canal Winchester - 614-560-1293 Leave msg. for return call

Come and Get It! is a bi-weekly column that offers readers an opportunity to pass

along surplus building materials, furniture, electronic equipment, crafts, supplies,

appliances, plants or household goods to anybody who will come and get them - as

long as they're FREE. NO PETS! Just send us a brief note describing what you want

to get rid of, along with your name, address and phone number. Nonprofit

organizations are welcome to submit requests for donations of items. Send

information to The Columbus Messenger, Attention: Come and Get It, 3500

Sullivant Ave., Columbus, OH43204. Deadline is Tuesdays by 5 pm for following

Mondays publication. Messenger Newspapers is not responsible for any

complications that may occur. Please contact us when items are gone. 272-5422

HELP WANTED

LABORERS & DRIVERS

for service company.

Please apply 10-5

4210 Groveport Rd.

Grove City Property

Mgmt. Company

needs full/part time

Maintenance Person

Plumbing or Electric

skills helpful

614-439-3983

DATED SALES

FREE

Garage Sale

Signs

When You Stop By

Our Office At:

3500 Sullivant Ave.

And Place Your

DATED SALE AD

YARD SALE June 9th &

10th, 9:00am-5:00 pm.

Holly Hill area Ardath Ct.

Fishing tackle, some tools

2 snow blowers, furniture,

clothes, a variey of things!

ATTENTION:

APARTMENT MANAGERS

Advertise Your

Apartment

Community

In Our Papers!

CALL KATHY TODAY

And Ask About Our

Rental Ad Special!

614-272-5422

DATED SALES

Annual Church

GARAGE SALE

Sat., June 9, 9am to 2pm

Lots of furn., baby items

& clothing, lots of variety.

Food & drink available

for purchase.

Trinity Assembly of God

1112 Demorest Road

Any questions, please

call (614-276-5090

Annual Indoor Yard Sale

Glenwood UMW -

Fellowship Hall

June 9th, 9am-3pm

Corner Hague/Valleyview

Clothes, Hshld Goods,

Food, Bake Sale

Supports UMW Charities

HARDESTY HEIGHTS

off Nortom Rd.

Annual Carport Sale

Sat., June 9th, 9a-3p

Hot Dogs at Party House

SETON WEST APARTMENTS

3999 CLIME ROAD, COLUMBUS, OH 43228

We are a Senior Housing Community...you must be 62 or better.

Rent is based on your income. We offer spacious 1 bedroom apartments

which include: utilities, refrigerator, range, central air, carpet, EMS monitor

pull cords & a limited access building entry system. Seton West is professionally

managed and has 24 hour emergency maintenance services.

Our residents enjoy: a community room for playing cards, potlucks, bingo

or visiting with neighbors. We have two laundry rooms & game room,

library, outdoor patios and an elevator for your convenience.

APPLICATIONS AVAILABLE IN OUR FRONT LOBBY OR CALL

614-274-8550 OR TTY-800-750-0750 FOR AN APPOINTMENT.

STOP!

ADVERTISE

In The Messenger

To Get Great Results!

CALL FOR PRICES

272-5422

PETS

Professional Pet Grooming

by Darlene Romans

18 yrs exp. 308-9649

Boarding • Grooming

• Pups For Sale

Zoofari-Debcha Kennels

875-1599

WANT TO BUY

We Buy Junk Cars &

Trucks. Highest Prices

Paid. 614-395-8775

We Buy Cars & Trucks

$300-$3000.614-308-2626

WANTS TO Purchase

minerals and other oil &

gas interests. Send details

to: P.O. Box 13557,

Denver, CO 80201

Rentals

FREE CABLE/WIFI

WEST-LINCOLN VILLAGE S.

1 BD FLATS FROM $515 - $525

1 BD FLATS W/BALCONY FROM $575

2 BD FLATS W/BALCONY FROM $655

2 BD FLATS W/FULL BSMT FROM $785

CARPET, APPLIANCES, A/C, GAS, HEAT,

IN HOUSE LAUNDRY OR WASHER/DRYER HOOKUPS

SECURITY CAMERAS & LIGHTING

MOVE-IN SPECIAL IF QUALIFIED

TUES.-FRI. NOON-6PM, SAT. 10AM-4PM

(614) 870-7717

NO PETS

WANT TO BUY

CASH FOR CARS

614-276-2597

$ Cash At Your Door $

for junk or unwanted cars

(Free Tow). Call

614-444-RIDE (7433)

ANTIQUES

WANTED

Victrolas, Watches,

Clocks, Bookcases

Antiques, Furn.

Jeff 614-262-0676

or 614-783-2629

MISCELLANEOUS

FOR SALE

Hoover vacuum cleaners

& sweepers: Light - $20;

large & slightly heavier

w/hose - $40. Work like

new. 614-465-7763

COMMERCIAL

PROPERTY

Property for sale west.

Good income. 614-638-

5647

RENTALS

HOUSE FOR RENT

Lincoln Village South

3 bedroom, 1 1/2 bath,

1 1/2 car garage. Nice

family home. Contact

614-738-3125, 614-774-

9298 for more info.

Hardesty Village - Eakin

Rd. 3 bdrm condo with 1

full and 2 1/2 baths, fin

fam rm, 2 car covered

carport. $700/mo + dep.

614-370-1448

Eakin-1 Br Apt, crpt, appls.

No Pets 614-560-3050

VACATION RENTALS

Englewood, Florida

Palm Manor Resort

Within minutes of white

sand Gulf beaches,

world famous Tarpon

fishing, golf courses, restaurants/shopping,

Bush

Gardens. 2 BR 2 BA

condos with all ammenities,

weekly/monthly, visit

www.palmmanor.com

or call 1-800-848-8141
---
www.columbusmessenger.com

June 3, 2018 - WESTSIDE MESSENGER - PAGE 11

xClassified Services

INFORMATION

Look To The

Professionals

In Our

Service Directory

For

Quality

Service

That Is

OUT

OF

THIS

WORLD!

AIR CONDITIONING

AIR CONDITIONING

Complete System

Clean & Check

$49.95

AUTO SERVICE

Summer's Coming!

MIDLAND AUTO

BLACKTOP

6-24 A

Free Electronic Leak Testing

All Makes • All Models

42 Yrs. Exp. • Senior Discount

614-351-9025

614-351-9005

APPLIANCE REPAIR

Washer, Dryer, Stove &

Refrig. Repair 875-7588

AC EVAC DYE &

RECHARGE - $85.00

& all other auto serv. needs!

614-278-9458/778-3864

A Rating-BBB - 46 yrs.

American & Foreign Cars

BLACKTOP SEALING

Driveways & Parking Lots

614-875-6971

SANTIAGO'S

Sealcoating & Services LLC

Quality Materials Used

FULLY INSURED

Driveway Seal ( by broom)

Hot Fill Crack, Asphalt Repair

Call or text for Free Est.

614-649-1200

CARPET CLEANING

Dirt Busters Tile/Floor-Any

3 Rms - $44.95. Pet odor

treatment. 614-805-1084

CARPET WORK

CARPET REPAIR WORK

& INSTALLATION

614-444-5799

CLEANING

Cleaning Your Home

with Love & Passion

Detailed & Dependable

~ 614-271-8799 ~

Cleaning, 20 yrs. exp.

Call Judy 614-946-2443

Holly's Halos

Accepting New Clients

2 Hours - $40-$50

Bonded-Ins. 614-426-3624

CONCRETE

ALL-CITY CUSTOM

CONCRETE

All Types Concrete Work

New or Tear Out-Replace

36 Yrs Exp.

(614) 207-5430

Owner Is On The Job!

Buckeye Cement

Contractors

Specializing In

Tearout & Replacing

Concrete of Any Type

Licensed • Bonded • Insured

36th Year in Business

614-539-5640

EDDIE MOORE

CONSTRUCTION

Quality Concrete Work

Lt. Hauling & Room Add.,

Block Work & Excavation

Stamp Patios,

Bsmt. Wall Restoration

36 Yrs Exp - Lic & Ins.

Free Ests. 614-871-3834

AJ's Concrete,

Masonry

Good Work - Fair Prices

Block Foundations

Driveways • Sidewalks

Epoxy/Overlay Floors

Bonded-Ins. • Free Ests.

Now Accepting Credit Cards

614-419-9932

GALLION

CUSTOM CONCRETE LLC

Specializing in Custom Colors &

Custom Designs of Concrete.

Including Remove & Replace

40 yrs exp & Free Est.

Licensed & Insured

Reputation Built

On Quality

Ronnie

614-875-8364

See Us On Facebook

www.gallioncustom

concrete.com

ONLY

$50.00

For This Ad In Our

West & Southwest

For Info Call

272-5422

6/24 W/SW

6/24 A

6-24 W/SW

ELECTRICAL

HAHN'S ELECTRIC

Affordable, Quality

Work For 31 Yrs.

614-237-3524

Cell 614-517-9699

Licensed • Bonded • Insured

Free Estimates • Lic. # 20240

FENCING

S & F Parcel Fencing

We do all Types of Fencing

as well as repairs.

Free Estimates

7 days a week

for your convenience.

614-379-5710

EAZY FENCE

Chain Link - Wood

No Job Too Big or Small

All Repairs ~ Free Est.

Insured. 614-670-2292

Green's Fence

Early Spring Specials!

We Do All Types Of

Fencing, Also Repairs.

No Job Too Big or Small.

614-395-5209

GUTTERS

Low Price-Great Service

5 & 6" Seamless gutters,

covers, siding, gutter clng.

Bill 614-306-4541

HAULING

DEAN'S HAULING

614-276-1958

BIG KEN'S

HAULING

Light/Heavy Hauling

Container Rentals

Will load it up & haul it

away. On call 7 days a wk.

Very Competitive Prices

614-542-7600

Hauling - Low Cost. Also

Clean-outs. 614-377-8053

Garage Clean-outs. Appl.

removal. 614-377-8053

ROD'S HAULING &

Yard Waste Removal

614-726-0015

Osurf23@sbcglobal.net

HOME

IMPROVEMENTS

SINCE 1973

Phil Bolon Contr.

Windows & Siding

Decks, Kitchens, Baths

Room Additions,

Flooring, Roofing

Bsmt Waterproofing

Deal With Small Non-Pressure Co.

45 Yrs. Exp. - Refs. Avail.

5-27

Lic.-Bond-Ins.

A/M

Free Est. - Financing Avail.

Member BBB Of Cent. OH

O.C.I.E.B. ID #24273

614-419-3977

or 614-863-9912

6-24 A

6/24 s/sw/m

6-24 W/ M

HOME

IMPROVEMENTS

LG

REMODELING

Interior & Exterior

Full Service Remodeling

• Bathrooms • Kitchens

• Tile • Drywall • Flooring

• Roofing • Siding • Etc.

NO JOB TO SMALL

A+ BBB Rating

A+ Angie's List

Lic. • Bonded • Insured

614-488-8377

www.lgroofingcolumbus@gmail.com

Quality is our #1 Priority

HELMS' CONTRACTING

Call For FREE ESTIMATES

New Kitchens & Baths

New Replacement Windows

Basement Remodels

Room Additions • Roofs

More than 25 Years Experience

Licensed • Insured • Bonded

Bill Helms 614-296-0850

or 614-801-1801 6-24

W/SW

C&JHandyman

Services LLC

Minor Plumbing &

Electric

Install Hot Water Tanks,

Dishwashers & Disposals

Also Fencing &

Interior/Exterior Painting

Free Est. ~ 18 Yrs. Exp.

Accepting Visa/MC

614-284-2100

HOME

MAINTENANCE

Retired Finishing Carpenter

for all your extra home

repairs. over 40 yrs. exp.

Sonny 614-325-1910

Handyman Service

Call Robert, 614-205-5409

CandC

See The Difference

Handyman Service

Minor Plumbing & Electric

Install Hot Water Tanks,

Dishwashers & Disposals

Also Fencing &

Interior/Exterior Painting

No Job Too Big or Too

Small - We Do It All

Accepting Visa/MC

614-377-6562

Roof & Chimney

Maintenance

6-24

A

All types masonry work -

Brick, tuckpointing, cultured

stone, caulking,

chemical cleaning, power

washing, Gutter cleaning.

614-364-6668 lv msg

5-27 A&M

6-24 A

LANDSCAPING

WE PULL WEEDS!

No job too big or too small.

We offer a full range of

landscape services

Fast • Affordable • Reliable

Call Dustin for a

FREE Estimate today!

614-357-7847

Brushhogging,

Finish Mowing,

Lot Prep. 614-214-8492

LAWN CARE

LET US MAINTAIN

YOUR LAWN & GARDEN

FOR YOU

Summer, Spring,

Winter or Fall

WE DO IT ALL!!!!

Lawn Cuts, Edging,

Trees & Shrubs, Garden,

Mulching, Hauling,

Garden Pond &

Home Maint.

Free Ests. Low Rates

$20 & Up

Kevin - 614-905-3117

Old Man

Mower Service

OFFERS:

Lawn Mowing &

Mower Blade Sharpening

Senior Disc. - Reas. Rates

614-282-5176

Ask for Ed

6/24

Complete Lawn Service

Mulching & Fertilization

Plant/Flower Installation

Free Estimates - Call

Patrick 614-301-3575

SOWER'S LAWN CARE

Mowing-trimming-mulching

Free est. 614-397-0566

Lawn Mowing-35 yrs exp

Weekly cuts $22 & up.

Good ref. Free est. 10%

Sr. Disc. 614-738-9623

THE LAWN BARBER

Cut & Trim

Starting at $22.50 + up

614-935-1466

MOVING

A Complete

Moving

Reasonable, Reliable

No Job Too Small

PUCO #150692-HG

Free Estimate

614-878-1179

Aaron Allen Moving

Local Moving Since 1956

Bonded & Insured

614-299-6683, 263-0649

Celebrating 60 yrs in business

PAINTING

A Job Well Done Again

A lic. general contractor.

Some skilled services

incl: painting, stucco,

repair, carpentry, exterior

drainage & home maint.

Call Today! 614-235-1819

Painting - Int./Ext.

Power Wash-Gutters Clnd

Free Est. - 25 Yrs Exp.

Call Dave 614-270-2369

God Bless

Classified Services

W/SW

6/24 A&M

6/24 w/sw/m

PEST

CONTROL

TERMITE & PEST CONTROL

3093 W. Broad St., Cols.

614-878-0246

BED BUGS?

Starting At $ 295

Pest Control • Rodents • Roaches • Termites

Monthly & Quarterly Services

Great Price!! Licensed & Insured

Visit Us

"Do It Yourself Pest Control".

FREE INSPECTION

PAINTING

LeVay Painting Co.

Interior & Exterior painting,

Wall Repair,

Wallpaper Removal &

Powerwashing.

Zach

614-886-8926

PEST CONTROL

Anthony Pest Control

Eliminate Your Pest For

Less $$. 614-600-8841

PHOTOGRAPHY

ALEX CENCI

PHOTOGRAPHY

Senior Pictures

Family Portraits

Professional Head Shots

and more!

Call or email me

for more information.

614-572-6473

alex.cenci7@gmail.com

PLASTERING

Plaster & Stucco

NEW AND

REPAIR

Established 1917

Geo. F. Neff & Co.

274-5629

6/10

A&M

PEST

CONTROL

PLUMBING

ALL IN ONE

PLUMBING LLC

"One Call Does It All"

$25 OFF LABOR

With This Ad

614-801-1508

All Major Credit Cards Accepted

All About Drains & Plumb.

Will snake any sm drain

$115 + tax. 614-778-2584

POWER WASHING

MRS. POWERWASH

Any house wash $149 + tax

Single deck $69 + tax

2 Tier deck $99 + tax

Best Wash In Town

Over 45,000 Washes

Ashley, 614-771-3892

HOUSEWASH

Vet/Sr Disc. Call Today!!

614-586-3417

ROOFING

Robinson roofing & repairs

30 yrs. exp. Lifetime Cols.

resident. Lic./bonded/Ins.

Reas rates. Member of

BBB. Dennis Robinson

614-330-3087, 732-3100

APICTURE

SEWING MACHINE

REPAIR

REPAIR all makes 24 hr.

service. Clean, oil, adjust

in your home. $39.95 all

work gtd. 614-890-5296

TOP SOIL

Alexander Hauling

Driveways topped w/new

limestone. We also deliver

Topsoil - comtil - sandmulch.

Specializing in

residential. 614-491-5460

Bobcat Services Avail.

TREE SERVICES

Arch

Tree Service

• Tree Removal

• Stump Removal

• Trimming • Pruning

Free Estimates

Fully Insured

614-736-5252

Brewer & Sons Tree Service

• Tree Removal

• Tree Trimming 6/10

A&M

• Stump Grinding

• Bucket Truck Services

Best Prices • Same Day Service

614-878-2568

TROTT

TREE & LANDSCAPE

Tree Trimming

& Removal

Also Stump Removal

Free Est. - Fully Ins.

BURNS TREE SERVICE

Trimming, Removal &

Stump Grinding.

Joe's Tree & Yard Work

Trim, thin, shape bushes,

hedges, stump grinding,

hauling. 614-598-6247

IS WORTH

1,000 WORDS

For Display Advertising

Rates in the Columbus

Messenger, Call Jon.

272-5422

Call 614-235-3791

Cell 614-738-0682

614-584-2164

INFORMATION INFORMATION INFORMATION

Advertising. It really works.

6/24

A

6/24

A

6-24 A
---
PAGE 12 - WESTSIDE MESSENGER - June 3, 2018

In Entertainment

'Solo' undeserving of solo film

www.columbusmessenger.com

The behind-the-scenes production of

"Solo: A Star Wars Story" was troubled, to

say the least. When filming began early

last year, Phil Lord and Christopher Miller

were at the helm but they were abruptly

fired several months later due to 'creative

differences.' In Hollywood speak, that

means the studios were unhappy with

what they had seen on the dailies, started

to panic, and then let go of the people they

felt were ultimately responsible. This

action sparked a frantic search for an experienced

director capable of righting a sinking

ship. They found one in Ron Howard.

Shortly after Howard was hired, the

production began extensive reshoots and,

WESTGATE

BAPTIST CHURCH

4234 Clime Road North

Columbus, OH 43228

614-279-6395

9:30 AM Sunday School

10:45 AM Worship Services

6:30 PM Sunday Evening

7:00 PM Wednesday Bible Study

Be a Part of Our

Local Worship Guide

westside

Our upcoming Worship Guide is geared toward celebrating faith and helping

readers connect with religious resources in our community. Make sure these

readers know how you can help with a presence in this very special section

distributed to more than 22,000 households in the Southwest area.

Contact us today to secure your spot in our Worship Guide.

614.272.5422 • kathy@columbusmessenger.com

all told, the studio spent upwards of $300

million to bring a stand-alone film that

there was little demand for to life.

Typically, it does not bode well for

movies when the behind-the-scenes production

are immensely troubled, as this

one was: There is always this monster in

Frankenstein effect where you can tell

where the pieces were shoddily parsed

together. Remarkably, "Solo: A Star Wars

Story" does not come across as a monster

mish-mash movie but it's not great either.

At least it's cohesive from beginning to end,

and that is a true credit to its director.

Now that those kudos are out of the

way, it's time to talk about some of the lingering

issues with Solo. This film, for all of

its good intentions, was not a necessary one

and it never sheds that stench of being a

blatant cash grab by Lucasfilm. To put it

simply, Han Solo did not require an origin

story — some characters are best left with a

little mystery — and it was set up for failure

from the start when the studios thought

any young actor today could be as magnetic

of a presence as Harrison Ford. While

Alden Ehrenreich tries his best, his portrayal

still falls short of being truly good,

just like the rest of the movie.

In Solo, it recounts the early life of the

loveable scoundrel with Han (Ehrenreich)

liberating a vial of hyperfuel from a group

of criminals. The intention is to use that

precious resource to buy his and childhood

sweetheart Qi'ra's (Emilia Clarke) freedom

so they can purchase a ship and travel

across the galaxy.

As Han's plans are apt to do, they go a

bit not as planned and he is separated from

Qi'ra. He vows to do whatever it takes to

come back for her.

Years later, Han is kicked out of the

Imperial Navy and demoted to an infantryman.

While fighting for the Empire, he

comes across a group of thieves led by

Tobias Beckett (Woody Harrelson) and

makes his pitch. Naturally, Beckett hates

him on sight and orders that he be killed

for desertion. While in the fighting pits, he

meets a Wookie named Chewbacca (Joonas

Suotamo) and his most lasting friendship is

formed.

Pet Corner

Pets of the week

Eliana came to the

rescue group with a

litter of three kittens.

They're weaned now

and this beautiful

Abyssinian mix is

now ready for retirement

from motherhood.

Eliana is a real sweetheart. She is 1-

year-old, spayed, microchipped, FL/FIV negative

and up to date on vaccines. Eliana is up

for adoption through Colony Cats.

FYI: www.colonycats.org

The Reel Deal

Dedra Cordle

Had the movie

just been about their

adventures, perhaps

it would be a better,

more engaging

movie; After all,

Han and Chewie

together is the best.

But it instead shifts to this band of thieves

and their mission to steal a shipment of

coaxium for a major crime syndicate. It

does, however, end with the fabled Kessel

Run.

As an origin story, Solo does not truly

work because, as stated before, it's not a

necessary one. As a heist film, however, it

does work and the action that takes place

during the coaxium grab on the planet

Kessel is some of the best action sequences

in the Star Wars cinematic universe. It's

humorous, tightly shot and lots of fun to

watch. Unfortunately, those descriptors

cannot be said for the entirety of Solo. It

starts slow, chugs along and then finally

picks up steam near the end when you're

less invested, and I never thought I could

say that about a film starring the character

of Han Solo. Grade: C

Dedra Cordle is a Messenger staff writer

and columnist.

These furry friends are available

for adoption at local rescues and

shelters

Charles is a sweet

boy. This 7-year-old

mixed breed can be a

little timid at first and

will need some time

to get to know you

before he opens up.

Once he feels more comfortable he will be at

your side seeking love and attention. Adopt

Charles from the Franklin County Dog

Shelter.

FYI: 614-525-3647 or www.franklincountydogs.com

Pearl is a domestic

shorthaired white

and gray male. He

was living on the

streets with his best

buddy and brother,

Maestro when he

was rescued. He's neutered, vaccinated,

microchipped, and tested FIV/FLV negative

and ready for a home of his own.

FYI: www.colonycats.org

Kate is such a cutie

pie. This 3-year-old is

very curious and

social. She is happiest

when she is by

your side and getting

all your love. She

seems to do well with

other dogs. Come meet sweet Kate today at

the Franklin County Dog Shelter.

FYI: 614-525-3647 or www.franklincountydogs.com