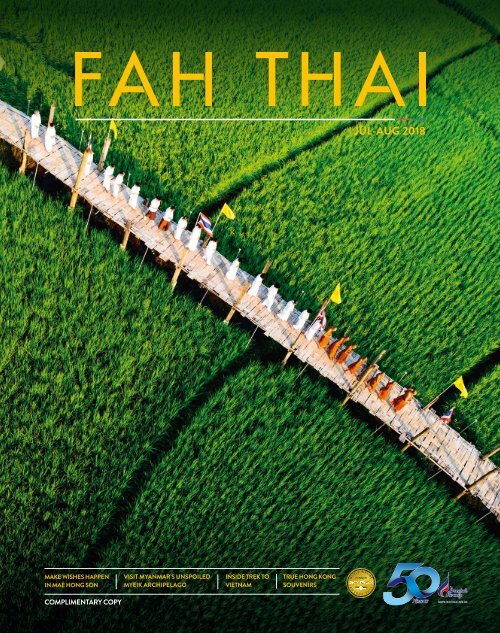 Fah Thai Magazine Jul-Aug 2018
Read FAH THAI MAGAZINE Online! Fah Thai is the inflight magazine of Bangkok Airways. We also come in a digital format. You can read us at Fahthaimag.com
Read FAH THAI MAGAZINE Online! Fah Thai is the inflight magazine of Bangkok Airways. We also come in a digital format. You can read us at Fahthaimag.com
SHOW MORE
SHOW LESS
You also want an ePaper? Increase the reach of your titles
YUMPU automatically turns print PDFs into web optimized ePapers that Google loves.
JUL-AUG 2018

MAKE WISHES HAPPEN

IN MAE HONG SON

VISIT MYANMAR'S UNSPOILED

MYEIK ARCHIPELAGO

INSIDE TREK TO

VIETNAM

TRUE HONG KONG

SOUVENIRS

COMPLIMENTARY COPY
---
LONG LIVE THE KING

In Celebration of the Auspicious Occasion of

HIS MAJESTY

KING MAHA VAJIRALONGKORN

BODINDRADEBAYAVARANGKUN'S

66 TH BIRTHDAY

On 28th July 2018

From the Executives and Staff of Bangkok Airways Public Company Limited

and Fah Thai Magazine
---
OVERTURES

FEATURES

HAPPENINGS

CORPORATE

18 REGIONAL MEMO

Check out the timely reminder to

run a scenic marathon sponsored

by Bangkok Airways or dash for

the nearest ticket to Celine Dion's

concert and other creative

performances in Asia.

24 FACE OF GLASS

Skin that's smooth and shiny is all

the rage for faces. Our primer tells

you how to have the same effect

in the glass skin trend.

26 RAIN GEARED

Conquer the rainy season with

the right tools to keep you dry

and still be fabulous — from the

right makeup for her and the best

sartorial combination for him.

28 MAE HONG SON

GRACE

Misty mountains and lush vistas

beckon visitors to Mae Hong Son,

along with a visit to the longest

bamboo bridge in Thailand.

32 HAIL TO BAEL

This woody fruit looks deceptively

mild in appearance but is a major

thirst quencher. Try its refreshing

qualities with our easy recipe.

36 THE REAL DEAL

Experience the authentic side to

Thai culture as we wok and walk

you through surprising spots.

This month's cover:

Mae Hong Son's Bridge of Wishes

44 RETAIL REDESIGN

Hong Kong designers set the

standards for traditional Hong

Kong iconic souvenirs.

52 LOCATION SHOOT

A Thai director sees her travels

unwittingly played out and

reflected in her many films.

58 GOING THE DISTANCE

The delightful finds that make

Chiang Mai and Hanoi an ideal

getaway combination.

68 LESS HECTIC IN THE

MYEIK ISLANDS

Our writer responds to the

siren call to detox from a

tech-ridden daily life at the

unspoilt reaches of the

Myanmar archipelago.

78 VIETNAM

FUND-RAISER

Adventurous photographers

capture wondrous and rarely

visited areas on their ride for

charity in Vietnam.

Bookmark our roundup of on goings around

Asia, come rain or shine.

88 BANGKOK

92 SAMUI

96 PHUKET /

KRABI

100 CHIANG MAI /

CHIANG RAI

101 PATTAYA

102 CHENGDU /

CHONGQING /

GUANGZHOU

104 HONG KONG

106 SINGAPORE

107 KUALA

LUMPUR

108 PHNOM

PENH /

SIEM REAP

110 DANANG /

HANOI /

PHU QUOC

112 YANGON

114 VIENTIANE

115 MALDIVES /

MUMBAI

118 NEWS

Bangkok Airways'

collaborations

and winners.

122 FLYERBONUS

126 ROUTE MAP

128 AIRCRAFT INFO

CHECKING

OUT

130 Hong Kong's

Trail to Adventure

78

Around

the Bend

in Vietnam

10

11
---
MESSAGE FROM THE PRESIDENT

Greetings and welcome on board Bangkok Airways.

Time flies and already, we enter the second

half of this year. I'm proud to say our airline never

stopped the pursuit to reach our many missions

and all our staff and involved parties stay

determined to serve passengers to the best of

their ability, especially when it comes to safety.

Bangkok Airways became the first airline

in Thailand to receive the New Air Operation

Certificate, in accordance to International Civil

Aviation Organization (ICAO) standards in

February last year, and our airline recently was

licensed the Dangerous Goods Carrier Permission

from the Civil Aviation Authority of Thailand

(CAAT). Furthermore, on 9 April 2018, we

earned the ISO 9001:2015 certification for

Quality Management Systems within the first

half of this fiscal year, which guarantees that

our airline has met and has committed to quality

in all aspects of its operations. For over 15 years,

we have met all the requirements of the

international auditor and also have implemented

our system in order to gradually achieve every

ISO transition.

One of our core missions is to focus on

Corporate Social Responsibility, or CSR, which

we have been implementing throughout the

years. We intend to build stronger communities

around our 3 airports through different concepts.

Examples include career support, learning

opportunities for the youth, healthcare, caring

for the environment and rehabilitation education

for everyone in various neighbourhoods. These,

we believe, will benefit both the communities

and our airline and together, we can continue

sustainable growth.

On behalf of Bangkok Airways, I'd like to thank

you for always trusting and choosing us. I wish

you enjoyment of our services on the aircraft.

Thank you.

สวัสดีครับผู้โดยสารทุกท่าน ผมขอต้อนรับทุกท่านสู่การ

บริการของสายการบินบางกอกแอร์เวย์ส

ไม่ทันไรเราก็ร่วมเดินทางผ่านกันมาครึ่งปีแล้วนะครับ

สำหรับสายการบินบางกอกแอร์เวย์สเอง เราก็ยังคงมุ่งมั่น

ตั้งใจพัฒนากันอย่างไม่หยุดยั้ง ตามพันธกิจของเรา โดย

เรามุ่งมั่นที่จะให้บริการโดยคำนึงถึงความปลอดภัยสูงสุด

ไม่ว่าจะเป็นส่วนของผู้โดยสาร พนักงานผู้ปฏิบัติหน้าที่

รวมถึงผู้ที่เกี่ยวข้องในกิจกรรมการปฏิบัติการบินในทุกๆ

เที่ยวบิน และเมื่อไม่นานมานี้ สายการบินบางกอกแอร์เวย์ส

ได้รับใบอนุญาตในการขนส่งสินค้าอันตราย (Dangerous

Goods Carrier Permission) จากสำนักงานการบิน

พลเรือนแห่งประเทศไทย ซึ่งนับเป็นสายการบินแรกที่ได้รับ

การรับรอง หลังจากที่เราได้รับใบรับรองผู้ดำเนินการ

เดินอากาศใหม่ตามมาตรฐานของ ICAO เมื่อ 27 กุมภาพันธ์

ปีที่ผ่านมา และอีกหนึ่งมาตรฐานเพื่อเพิ่มระดับความ

เชื่อมั่นให้กับผู้ใช้บริการทุกท่านของสายการบินฯ คือ

เมื่อวันที่ 9 เมษายนที่ผ่านมา ทางเราได้รับการรับรอง

มาตรฐานระบบบริหารคุณภาพ ISO 9001:2015 ใน

ระดับครอบคลุมทุกกิจกรรมการปฏิบัติงานในทุกสถานี

การบิน ซึ่งตลอดระยะเวลากว่า 15 ปีที่ผ่านมา สายการบินฯ

สามารถผ่านการตรวจประเมินจากผู้ตรวจประเมินระดับ

สากลและยังคงไว้ซึ่งการได้รับการรับรองมาตรฐานดังกล่าว

โดยเราได้ทำการปรับโอนมาตรฐานให้ทันสมัยในทุกๆ ครั้ง

ที่มีการเปลี่ยนแปลงมาอย่างต่อเนื่อง และภายในครึ่งปีแรกนี้

เราสามารถผ่านมาตรฐานเพื่อปรับโอนเข้าสู่มาตรฐาน ISO

9001:2015 เป็นที่เรียบร้อยแล้ว

อีกหนึ่งพันธกิจ นอกจากความปลอดภัย คือ การรับ

ผิดชอบต่อสังคม หรือ CSR ซึ่งบริษัทฯ มีการด ำเนินการมา

อย่างต่อเนื่อง โดยมีวัตถุประสงค์เพื่อการสร้างชุมชนให้

เข้มแข็ง เริ่มจากชุมชนรอบสนามบินทั้ง 3 แห่งของบริษัทฯ ผ่าน

แนวคิดต่างๆ เช่น การส่งเสริมสร้างอาชีพให้คนในชุมชน

การให้เยาวชนในชุมชนได้รับโอกาสทางการศึกษา การดูแล

ด้านสุขภาพอนามัย หรือแม้แต่การให้ความรู้กับชุมชนในการ

ดูแลและฟื้นฟูสิ่งแวดล้อม โดยมีความคาดหวังว่าสายการบินฯ

กับชุมชนจะเกื้อกูลและเติบโตไปด้วยกันอย่างยั่งยืน

ในนามของสายการบินบางกอกแอร์เวย์ส ผมขอขอบคุณ

ผู้โดยสารทุกท่านที่ไว้วางใจ และใช้บริการสายการบิน

บางกอกแอร์เวย์สมาโดยตลอด ผมหวังว่าจะท่านจะได้รับ

ความสะดวกสบายกับการบริการของเรา

ขอบคุณครับ

กัปตัน พุฒิพงศ์ ปราสาททองโอสถ

Captain Puttipong Prasarttong-Osoth

กรรมการผู้อำนวยการใหญ่ | President, Bangkok Airways Public Company Limited

12
---
IS THE

GOLD WINNER

PEARL AWARD

2017

BEST PHOTOGRAPHY

BANGKOK AIRWAYS PUBLIC

COMPANY LIMITED

99 Mu 14, Vibhavadi Rangsit Road,

Chom Phon, Chatuchak, Bangkok

10900, Thailand

www.bangkokair.com

ADVISORY BOARD

Mr. Prote Setsuwan

Vice President - Marketing

Ms. Sumalee Chaitientong

Vice President - Ancillary Revenues

Mr. Kridhakorn Sirabhabhoj

Director - Advertising and Creative

Mr. Benjamin Sirirat

Manager - Branding and Creative

Mrs. Rattanaporn Sa-Nguanjangwong

Business Services - Ancillary Revenues

PUBLISHER

MPMI Group Co., Ltd.

1 Soi Lasalle 23/2,

Bangna, Bangkok 10260, Thailand

Tel. +66 2744 4975

Fax. +66 2744 5271

Managing Director

Chaovanee Ajanant

Email: chaovanee@mpmith.com

EDITORIAL

Email: editorial@fahthaimag.com

Editorial Director Somtawin Chanyawong

Editor-in-Chief Anutra Ungsuprasert

Senior Editor Nawa Acosta Wright

Deputy Editor Sarita Urupongsa

Contributors

Chalotorn Payomyol

Chusri Ngamprasert

Jeremie Schatz

MC Lai

Nawarat A Wright

Nicola Hil

Passakorn Hongthong

Phoowadon Duangmee

Prachi Joshi

Richard Augustin

Ron Emmons

Sarita Urupongsa

Sirin P Wongpanit

Sophia Natasia Powell-Schaffer

Srinit Suwannasak

Thawat Tangtienchai

Photo Editor Thewin Chanyawong

Contributing Photographers

Anutra Ungsuprasert

Chatta Phoyen

Chris Lusher

Dolnapa Ram-Indra

Kay Choomongkol

Morgan Ommer

Santipong Choocharoen

Trong Tung

Wichit Kongsiangsung

ART

Creative Director JyeShen Koo

Graphic Designer Pongtorn Khaoplag

Contributing Stylist Saranya Ariyakul

Contributing Illustrator Arthit Limpong

PRODUCTION

Colour Separation: Soontorn Film

Printer: WPS (Thailand) Co., Ltd.

ADVERTISING

advertising@fahthaimag.com

Media Manager: Daruni Klaprapchon

Marketing Manager: Reza Bizmark

Digital Marketing Manager: Nichapat Noraphaiphipaksa

ADVERTISING HOTLINES

Guitar +669 2270 9528

Bob +668 2446 9192

OVERSEAS ADVERTISING REPRESENTATIVES

AUSTRALIA

THE MEDIA COMPANY

Leanne Richardson

Tel: +612 9909 5800

leanne@themediaco.com.au

CAMBODIA, LAOS,

MYANMAR

Kittikun Adunsirisaward

Tel: +668 9468 2440

kittikun@bangkokair.com

Hathaiwan Chieochankitjakan

Tel: +668 6900 5278

hathaiwan@bangkokair.com

CHINA, HONG KONG,

MACAU, TAIWAN

CHINA MEDIA OPTIONS

CO., LTD.

Rebecca Tsang-Pereira

Tel: +852 2321 9788

rebeccaCMOsupport@gmail.com

FRANCE, GERMANY,

SWITZERLAND

INFOPAC MEDIA HOUSE

Jean Charles Abeille.

Tel: +331 4643 0066

jcabeille@infopac.fr

INDIA, MALDIVES

RMA MEDIA

Faredoon Kuka

Tel: +9122 2925 3735

kuka@rmamedia.com

KOREA

MEDIREP CO.

Soohoon Oh

Tel: +822 734 0786

soohoonoh@medireponline.com

JAPAN

PUBLICITAS JAPAN K.K.

Hiroko Minato

Tel: +8150 8882 3456

hiroko.minato@publicitas.com

MALAYSIA

MPMI SDN BHD

Alvin Tan

Tel: +603 7880 2185

mpmimy@gmail.com

SINGAPORE, INDONESIA

MPMI PTE LTD

S. S. Hoo

Tel: +65 6464 6261

mpmisg@gmail.com

UNITED KINGDOM

MAJOR MEDIA LTD.

David Hammond

Tel: +44(0) 20 8467 8884

david@majormedia.co.uk

USA

THE MULTIMEDIA INC.

Fernando Mariano

Tel: +14 0790 3500

fmar@multimediausa.com

"FAH THAI" is the in-flight magazine of Bangkok Airways Public Company

Limited and is edited and published by MPMI Group Co., Ltd. All articles and

photographs published herein are created by the authors and photographers

at their own discretion and do not necessarily represent the views of the

airline. Bangkok Airways holds no responsibility or liability arising out of the

publication of such articles and photographs.

All information correct at press time. All rights reserved. No part of this

magazine may be reproduced, stored in a retrieval system or transmitted in

any form or by any means without the prior written permission of Bangkok

Airways Public Company Limited and MPMI Group Co., Ltd.

Cover Photography: Courtesy of Tourism Authority of Thailand

14
---
ESSENTIAL NOTES TO GUIDE YOUR TRAVELS

Blue Magnificence

It's just you and the big blue

yonder at this ultimate resort.

NEWS AND EVENTS 18 / BEAUTY AND HEALTH 24 / STYLE 26 / THAILAND TREASURES 28 / A TASTE OF THAILAND 32 /

FRUITFUL FINDS 34 / ARTS & CULTURAL MATTERS 36 / CHECKED IN 40

17
---
OVERTURES

NEWS AND EVENTS

NOW

-30 2018

SEP

5AUG

2018

PHUKET

OPEN NOW: BANGKOK AIRWAYS

PHUKET HALF MARATHON

The Bangkok Airways Phuket Half Marathon

2018 will be held in Phuket on 5 August. With

the scenic backdrop of the island that's partly

a mountainous rain forest in the Andaman Sea,

the race will be held right in the Phuket Old

Town. The routes you'll be running encounter

Sino-Portuguese architecture which reflected

the European influence on the island since the

16th century.

Runners who travel with Bangkok Airways

also get special deals. With just a boarding

pass, special room rates are yours for the

taking from Novotel Phuket Phokeethra and

Ibis Styles Hotel Phuket. Both properties are

a mere 5 minutes away from the event venue.

Booking period, today-1 August 2018,

Period of stay, 1-10 August 2018.

Novotel Phuket Phokeethra +66 (0) 76 397 777,

Ibis Styles Phuket City +66 (0) 76 397 777

BANGKOK

BIENNIAL GALORE

With Thailand's three major art festivals

coming up later this year, you could be

forgiven for confusing them with one another.

The Bangkok Biennial, running from July 1

through September 30, is a contemporary

art event modelling itself on similar biennales

around the world. Taking a more bottoms-up

approach, the anonymous groups of organisers

believe it is worth exploring an alternative

way to the expected 'top-down' curator/

director model, which can achieve a broader,

more inclusive and more diverse programme.

The other two unrelated art shows are the

Bangkok Art Biennale (Oct 19, 2018 - Feb 3,

2019) and Thailand Biennale taking place in

Krabi (Nov 2, 2018 - Feb 28, 2019).

The Bangkok Biennial, which is the first

biennial contemporary art event taking place

in Thailand, has recruited a line-up of 150

local and international artists, whose work

will exhibit across 69 venues or "pavilions"

both in and outside of Bangkok. It will include

many of Bangkok's underground art spaces as

well as those in Chiang Mai, Khon Kaen and

other provinces — all self-organised, managed

and curated as the festival aims to foster

divergent ideas.

The opening will take place on the evening of

1 July, and there will also be a 2-day symposium

held at The Jim Thompson House on August

11th and 12th entitled "Biennialization,

Biennialization, Biennialization: The Bangkok

Syndrome," which delves into the nature and

rationale of biennial events in a regional and

international context. bangkokbiennial.com

2018

NOW-12AUG

HONG KONG

ORIENTAL ART FORM

Chinese opera is considered one of the oldest

forms of performance art in the world today.

With its long history and influences from

various Chinese cultures, the art form draws

in audiences with its unique charm, richness

and beauty.

The Chinese Opera Festival aims to

further promote the art form to audiences

in Hong Kong with a series of performances

delivered by top virtuosi and maestros in the

field. Since its inception in 2010, the festival

has told diverse and impressive stories with

the help of some of the world's best Chinese

troupes and performers.

This year's edition will promise the same

colourful programme, which will include

regional genres including Peking, Kunqu, Yue,

Diaoqiang, Pingdiao, Puxian and Xiqin opera

as well as Cantonese opera. Various venues

across Hong Kong, cof.gov.hk/2018

Photo Denise Truscell

3-4 &

23 JUL

2018

SINGAPORE & BANGKOK

HER HEART WILL GO ON

Fans of Canadian singer Celine Dion will want

to head down to the Lion City as she performs

at the Marina Bay Sands on 3-4 July. The

multi-Grammy and Academy Award winner will

perform in Singapore for the first time ever as

part of her World Tour. Those who plan to visit

the capital of Thailand will also be delighted as

she will perform at the Impact Arena on 23 July.

The opportunity to catch The Celine Dion

Live 2018 tour will be too good to miss.

Considered as one of most iconic singers in

pop music, Dion has sold almost 250 million

albums during her 30-year career and is

famous for her hits 'That's The Way It Is' and

'My Heart Will Go On'. marinabaysands.com,

thaiticketmajor.com

5-22JUL

2018

SINGAPORE

CELEBRATING LOCAL ARTS

Since 2006, the Singapore Theatre Festival

has championed its local arts industry by

providing a platform for artists and playwrights

to showcase their talent. Presented by W!LD

RICE, the biennial festival this year will allow

theatre fans to catch original productions and

to also engage in conversations

about theatre.

With an emphasis on

promoting home grown

talent, the Singapore

Theatre Festival has

thus far produced 33

productions, including

19 world premieres.

Now in its sixth edition,

this year's event will run

throughout July with a

total of eight original

plays as well as several

additional supplementary

events, including art talks

and forums. This year's

edition will be held at the

LASALLE College of the

Arts, on McNally Street.

singaporetheatrefestival.com

27-28

JUL

2018

THAILAND

ASARNHA BUCHA &

BUDDHIST LENT DAY

Asarnha Bucha Day marks the day when the

Lord Buddha delivered his first sermon known

as "Dhammachakkappawattanasutta" which he

preached to five ascetics at Benares in India

over 2,500 years ago. As a result, all of them

attained enlightenment and were ordained by

the Buddha as the first ever Buddhist monks.

Asarnha Bucha falls on the full moon day

of the eighth lunar month of the calendar year,

generally in July. Buddhists perform a variety

of religious activities at temples — mainly

merit-making ceremonies such as offering

food and alms to monks, listening to sermons

and practising meditation in order to purify

the mind.

This day also marks the beginning of

Buddhist Lent or Khao Phansa, a threemonth

period when monks retreat into their

monasteries to escape the monsoon rains

and study Buddhist teachings. It is a time of

making merit and candlelight processions, or

wian thian in Thai, held at temples throughout

the country.

Asarnha Bucha Day is Thailand's public

holiday and everyone should note it is illegal

to buy and sell alcohol on this day.

tourismthailand.org

18 19
---
OVERTURES

NEWS AND EVENTS

62018 JUL

-12 2018

AUG

HONG KONG

FAMILY FRIENDLY

The International Arts Carnival 2018 will

once again deliver a fun-filled arts programme

designed to inspire children and entertain

audiences from all walks of life. One of

the largest family arts festivals in Hong

Kong, this year's carnival will include an

array of shows and performances including

ballet, electroluminescent and multi-media

traditional Chinese puppetry, as well as

interactive concerts.

Considered one of the highlights of the

summer season, this year's International

Arts Carnival will see a number of visiting

international art groups and talented local

artists perform during the one-month long

festival. But it won't just be performance

art on show as this year's programme

will also include extension activities such

as workshops, exhibition and outreach

programmes. Various venues across Hong Kong,

hkiac.gov.hk/2018

AUG 2018

BANGKOK

TASTES OF THE WORLD

The Central Group has declared that August

will be a month 'full of tastes.' Beginning with

"Tastes of the World at Central Bangkok", the

event marks one of the largest food festivals

ever held in the country, showcasing the true

flavours of local Thai and international dishes.

Aiming for full deliciousness, the event shines

the spotlight on charming Thai towns with a

rich culinary past to be held at CentralWorld.

The many appealing and original recipes from

every region of Thailand will be served in the

heart of Bangkok — at CentralWorld, Central

Chidlom and Central Embassy.

Central Tastes of the World @ Central

Bangkok will be the event that brings out

Thailand's unmatched potential for food

and dining. While maintaining a strong

culinary identity in Thai food at international

standards, also reinforced will be Thailand's

place as one of the world's best food

destinations. List it or miss it! facebook.com/

centralbangkok, instagram.com/centralbangkok

2018

12AUG

DANANG

RACE-CATION IN DANANG

Love the thought of running while on vacation?

Indulge in this possibility with the Manulife

Danang International Marathon that takes place

in mid August in this coastal city in Vietnam.

The race offers 4 different distance

runs; a Full Marathon (42km), Half Marathon

(21km), 10km and the beginner-friendly

distance of 5km. The marathon is known

for its spectacular seaside route. The race

starts at 4.30am when the city still sleeps,

so all runners can experience Danang in an

extremely unique way. Those attending the

21km and 42km will run through the city

and pass by 5 of the most iconic bridges of

the city. As runners approach the finish line,

expect to be bathed in a warming sunrise over

the beach in this atmospheric event.

Your quest for endurance will be fulfilled

by one of the most magnificent marathon

courses in Southeast Asia, plus there's plenty

of fun activities, delicious seafood and a

unique culture to round out an awesome

vacation. Register now until 27 July to be part of

this race-cation at rundanang.com.

20
---
11
---
OVERTURES

BEAUTY AND HEALTH

WORDS PASSAKORN HONGTHONG STYLE SARANYA ARIYAKUL PHOTO SANTIPONG CHOOCHAROEN

THE GREEN TEA

SEED SERUM

80ML FROM

INNISFREE

(1,000 Baht)

A moisturising

serum with organic

Jeju green tea and

green tea seeds that

hydrate your skin

from deep within.

FRESH CALMING

TONER 250ML

FROM LANEIGE

(1,050 Baht)

With hydrating

properties to soothe

skin and restore

balance, leaving a

refreshing feel.

LE PARFUM IN WHITE

EAU DE PARFUM

SPRAY 30ML FROM

ELIE SAAB (2,300 Baht)

A sophisticated floral

fragrance that creates a

lasting impression. The

fragrance imagines a

woman's emotional journey

— from her bridal gown to all

of the memorable moments

created whilst wearing white.

ACTIVE WATER SKIN TONER

180ML FROM LANEIGE

HOMME (950 Baht)

The lightly-textured toner smoothens

skin texture, soothes the skin, and

provides refreshing moisture.

SPOTLIGHT

As Clear As 'Glass'

The Korean beauty regimen

known as the glass skin trend is

all about cleansing and layering

lightweight and hydrating skin

care products. The result?

Glowing, dewy skin. With skin

that's clear and with a transparent

effect like glass means no make

up is necessary. To try the glass

skin trend yourself, here are the

perfect products.

TREATMENT LOTION

97% NATURALLY

DERIVED

INGREDIENTS 125ML

FROM THREE

(2,600 Baht)

Comfortably tightens and

softens the skin while

filling it with moisture and

a fresh, clean scent.

STOCKISTS

Elie Saab

MF Siam Paragon

Tel: +66 (0) 2610 7741

Innisfree

Centerpoint of

Siam Square

Tel: +66 (0) 2623 4162

Laneige

MF Siam Paragon

Tel: +66 (0) 2610 7740

Three

MF Siam Paragon

Tel: +66 (0) 2610 7725

MF Central Ladprao

Tel: +66 (0) 62 541 1026

Through

The Rain

NATURAL RADIANT LONGWEAR

FOUNDATION 30ML FROM NARS

(1,950 Baht)

Makeup shouldn't cover your skin, it

should enhance your natural beauty,

not mask it. A lightweight, natural,

fade-resistant coverage, features fullpowered

radiance to smooth the look.

PERFECT RENEW CREAM 50ML

FROM LANEIGE (2,300 Baht)

A cream moisturiser that fortifies the

skin barrier and leaves your skin filled

with vitality. They provide nourishment

that keeps skin healthy for a long time.

With the rainy season upon us, you might want to

take a look at fabulous makeup techniques that

won't wash away. Heavy downpours can ruin a

perfect face, but with the products listed here,

makeup stays on despite the showers.

ALL ABOUT EYES 15ML

FROM CLINIQUE

(1,500 Baht)

Refreshes and brightens

your eye area —

recommended for use

morning and night, both

under the eyes and on lids.

HI-FI SHINE ULTRA

CUSHION LIP GLOSS

7ML FROM URBAN

DECAY (950 Baht)

An ultra-shiny lip gloss

that glides on cushionysoft

and provides longlasting

wear that's

comfortable, not tacky

and finally, a gloss that

is sexy and comfy at the

same time.

ALL DAY ANTI

POLLUTION

DEFENSOR

40ML FROM

LANEIGE

(1,300 Baht)

Makes your skin

clean and clear and

strengthens the

skin barrier every

morning. Puts your

skin in lock mode

from fine dust

pollutants.

TRIPLE ACTION

CLEANSING &

HYDRATING

WATER 50ML

FROM SEPHORA

COLLECTION (230 Baht)

A quick-acting, no-rinse

cleansing water that

removes makeup and

moisturises your skin.

PATENT SHINE 10X

NAIL LACQUER

VERNIS 11ML FROM

BUTTER LONDON

(730 Baht)

The innovative formula is

loaded with ingredients

proven to promote

brighter, stronger and

healthier nails for your

best-dressed nail yet.

MERMAID SKIN

HYALURONIC

H2O SERUM

50ML FROM

TARTE (1,500 Baht)

This powerful

serum gives

your skin intense

moisture without

feeling greasy,

heavy, or sticky for

plump, dewy skin.

PURE COLOR LOVE

COOLED CHROME

LIPSTICK 3.5G FROM

ESTEE LAUDER (950 Baht)

Pure Color Love is packed

with a super-fruit cocktail of

Pomegranate, Mango and Açai

power oils. Make your lips feel

smooth, soft and moisturised.

MICROSMOOTH SCULPTING

8G FROM SEPHORA

COLLECTION (590 Baht)

This three-in-one formula is made

of ultra-light, micronised pigments

that effortlessly blend to enhance

your skin tone and give you a

flawless, no-makeup look and feel.

Tips

HERE ARE MAKEUP

PRODUCTS FOR THE RAINY

SEASON THAT CAN TRULY

BRIGHTEN CLOUDY DAYS.

Tinted Moisturiser –

Some of the best arsenal for

damp days comes down to

just a tinted moisturiser –

apply a really thin coat and

it will last a lot longer than

foundation.

Cream Brush – Powder

blush is great in cooler, crisp

air. But when it's raining, you

want something that shows

and stays on. Luckily, cream

blush should do that for you.

High Quality Lipstick –

What you should take into

consideration is investing

in high quality lipstick – its

staying power really works

wonders.

Primer – Makeup primer

can be a lifesaver and can

really make sure that your

makeup stays in place.

STOCKIST

Sephora

1F Siam Center

Tel: +66 (0) 2658 1616

2F Central Embassy

Tel: +66 (0) 2160 5817

24

25
---
OVERTURES

STYLE

WORDS PASSAKORN HONGTHONG STYLE SARANYA ARIYAKUL PHOTOS SANTIPONG CHOOCHAROEN

It's Raining, Man!

When gloomy, dark clouds threaten a full

day of rain, really consider your outfit for

the day that lies ahead. Since weather

dictates your ensemble, wearing your

favourite suede shoes will end in a soaked

disaster or leave you tiptoeing around,

fearful of the slightest drop. We've got you

covered with some items on how to prepare

for those unexpected downpours.

FOR HIM

MULTICOLOUR

FLAT SNEAKERS

FROM

CHRISTIAN

LOUBOUTIN

(35,500 Baht)

STOCKISTS

Christian Louboutin

GF Central Embassy

Tel: +66 (0) 2160 5814

PRINTED

NYLON AND

LEATHER

HANDLE

UMBRELLA

FROM PRADA

(17,500 Baht)

MCM

MF Siam Paragon

Tel: +66 (0) 2610 9800

1F Central Embassy

TECHNICAL

PRINTED FABRIC

WITH LEATHER

HANDLE TOTE

FROM PRADA

(45,500 Baht)

ROBOTER

SERIES LEATHER

WITH STUDS

WALLET FROM

MCM (9,900 Baht)

Tel: +66 (0) 2160 5744

GF Emquartier

Tel: +66 (0) 2003 6016

GRAFITTI

BOAT FLAT

SNEAKERS FROM

CHRISTIAN

LOUBOUTIN

(39,400 Baht)

Prada

MF Siam Paragon

Tel: +66 (0) 2610 9800

MF Central Embassy

Tel: +66 (0) 2160 5744

FOR HER

RED PATENT

LEATHER PEEP-

TOES FROM

CHRISTIAN

LOUBOUTIN

(32,200 Baht)

STOCKISTS

Christian Louboutin

GF Central Embassy

Tel: +66 (0) 2160 5814

ICONIC

GRAFFITI PRINTED

LEATHER WALLET

FROM CHRISTIAN

LOUBOUTIN

(29,500 Baht)

MCM

MF Siam Paragon

Tel: +66 (0) 2610 9800

1F Central Embassy

ELEKTRA

PRINTED LEATHER

BAG WITH STUDS

FROM PRADA

(87,500 Baht)

FLORAL RABBIT

TRIFOLD LEATHER

WALLET FROM

MCM (10,900 Baht)

Tel: +66 (0) 2160 5744

GF Emquartier

Tel: +66 (0) 2003 6016

MULTICOLOUR

CALFSKIN RABBIT

KEY RING FROM

MCM (7,900 Baht)

Prada

MF Siam Paragon

Tel: +66 (0) 2610 9800

MF Central Embassy

Tel: +66 (0) 2160 5744

Comics Play

Comic prints make a return to

consumer fashion with a reinterpretation

of animated classics

ranging from the 1930s and 1960s

that feature female mega stars.

Familiar characters from comic

pages get elevated into chic style

for everyday use.

26

27
---
OVERTURES

THAILAND TREASURES

Relaxing Charm

of Mae Hong Son

Tucked away in the northern part of Thailand,

Mae Hong Son offers numerous attractions for

any time of the year. A sanctuary for the body

and soul, Mae Hong Son is proud of its abundant

forests, mesmerising highlands enveloped in

mist and fascinating cultures.

The temple of Wat Phra That

Doi Kong Mu, also known as

Wat Plai Doi, is the heart and

soul of Mae Hong Son. With

two beautiful white-washed

pagodas with gilded parasols

and panoramic views of the

town of Mae Hong Son, the

Buddhist temple has been

sacred ground to locals for

a century.

Take a photographic shot

with the longest bamboo

bridge in Thailand. Su Tong Pe

Bridge is two metres wide,

and 500 metres long. The

villagers built the bridge

stretching over rice paddies

and the Mae Sa Nga River to

pave a path for the monks

and novices to take morning

alms. Travellers may take the

opportunity to give alms on

the bridge around 6.30 to

7.30am in the morning.

Su Tong Pe means "fulfilled

wish" in the Tai Yai language,

so it is believed that if you

make a wish in the middle of

the bridge, it will come true.

Fall in love with the charm

of the Yunnanese people at

Ban Mae Aw, also known as

Ban Rak Thai, the last village

before reaching the Thai-

Myanmar border. Famous for

Ching Ching tea and Oolong

tea cultivation, Ban Rak Thai is

a place to enjoy locally brewed

tea, and delectable Yunnanese

cuisine. Another highlight is

the Chinese Clay House, built

This Page

Lee Wine Lak Thai

Resort, situated

in the Oolong tea

plantation near

Ban Rak Thai

village.

Right

Su Tong Pe Bridge,

the longest bamboo

bridge in Thailand.

from clay and rice straw, and

painted in mustard yellow

with green and red Chinese

patterns on the architraves.

Visitors could experience

the fantastic hot springs

black mud from Phu Klon,

one of the three black mud

resources in the world. Phu

Klon is well known for its

health and beauty enhancing

amenities using natural

mud from the hot springs

which is rich in minerals

Photo Surapol Supawattanakul

Translation Chusri Ngamprasert Photos Courtesy of Tourism Authority of Thailand

28

29
---
OVERTURES

THAILAND TREASURES

Clockwise from

Top Left

Engaging in

Buddhist rituals at

Wat Pa Tham Wua.

Travellers enjoy

facial mud masks at

Phu Klon.

Practising Dharma at

Wat Pa Tham Wua is

open to all, including

foreign visitors.

Below

An aerial view of

Mae Hong Son city.

aiding in skin care and blood circulation.

Spa services like hot spring baths, a foot

onsen soak, Thai massage, oil massage,

a facial mud mask and a body mud

wrap are available. Facial mud masks

smoothens and rejuvenates facial skin

while body mud wraps stimulate blood

circulation and restore the physical

balance. Varieties of beauty and

healthcare products from natural black

mud and hot springs mineral water are

also available.

Delve into deep relaxation and

calmness at Wat Pa Tham Wua

Sunyataram or Wat Tham Wua Forest

Monastery, one of the top five

monasteries in the world. Tham Wua

Forest Monastery is a place where

more than 2,000 practitioners from

140 countries worldwide have come

to learn Buddhist Dharma and practise

meditation. Capturing green nature and a

serene landscape, Wat Tham Wua is one

of the most tranquil monastic havens.

Though English and Thai are the primary

languages used to teach Dharma, other

languages like German, Chinese, Japanese

and French are also available. Wat Tham

Wua is a place not to be missed for those

who need to practise meditation.

With various tourist destinations

and activities to explore all year

round, Mae Hong Son is one place

where lovely weather and fascinating

culture intertwine.

For more information, call the Tourist

Information hotline at 1672.

30
---
OVERTURES

A TASTE OF THAILAND

To Cure a Thirst

In Hinduism, the bael or wood apple tree

is considered sacred and belongs to the

god Shiva. In Thailand, this symbolic tree

represents Chai Nat Province and has

always been planted in Thai households

since the old days, due to its medicinal

properties and nutritional benefits. Every

part of the bael tree can be turned into

something useful — its young leaves for

instance, can be enjoyed as a salad. Its

outer layer, roots, and trunk can be used

for curing a cold as well.

The bael fruit is actually the most

significant part. Green when raw, the

fruit turns yellow and produces a distinct

aroma once ripe. Its soft flesh comes

with a delicious sweet flavour, which is

a refreshing option for imbibing. Apart

from enjoying the fruit's freshness, it can

be turned into dessert, like that of a bael

fruit cake.

Its ripe fruits meanwhile can be

further sweetened and enjoyed with an

easy recipe. Just mix sugar and water

together and heat them until the sugar

dissolves. Then add sliced, ripe bael fruit

and continue to stir until the pieces

become cooked. Ripe bael fruits, once

cut and dried or baked, star as the main

ingredient of a beneficial bael drink.

The drink can be enjoyed either

hot or cold. Those who fall in love with

the scent of a bael fruit will love it even

more as hot tea, since the aroma

intensifies with heat. Iced bael juice also

is a top choice for summer, for thanks

to the fruit's nature, it can quench thirst

and reduce sweating.

Ingredients

• 6 pieces of sliced dry bael fruit

• 8 cups of water

• ¾ cup of sugar

• Small ice cubes

• 1 piece of dry bael fruit to decorate

Instructions

Clean the dry bael fruit pieces

with water.

Separately add water into a pot on

medium heat. When the water boils, add

the bael fruit pieces, keeping them in a full

boil for 4-5 minutes.

Lower the heat, then continue to

simmer until the water turns darker and

the bael fruit pieces soften and take on

a lighter colour.

Once the juice mixture happens, add

sugar and continue to boil for a little while

until the sugar dissolves.

Turn off the heat and filter only the

liquid. The rest of the bael fruit can be kept

in the refrigerator for next time.

Leave it to cool down for a while. Add

ice cubes and decorate the glass with the

dry bael fruit slice.

TIPS

Before boiling the bael

fruit, grill or stir-fry the

fruit in low heat. This will

give a more intensified

aroma to add depth to

its flavour.

WORDS SARITA URUPONGSA

32 33
---
OVERTURES

FRUITFUL FINDS

WORDS CHUSRI NGAMPRASERT PHOTO KAY CHOOMONGKOL

A Tropical

Apple

Feel the tropical cool when you bite

into a fresh slice of a guava fruit, whose

crunch of pristine white flesh provides

a healthful snack easily found all year

round in Thailand. The guava recently

was dubbed "the ultimate superfood,"

that's rich with an incredible source

of vitamin C, lycopene, vitamin A,

potassium, and fibre. Luckily, it's also

low in calories.

Aside from being a great snack

when eaten raw, guavas can also

be used in cooking and baking. Its

leaves, seeds, and even skin can

also be eaten or used medicinally.

Guava is commonly grown in

tropical regions throughout the

world. The fruit may be round,

oblong, or pear-shaped. When

ripe, a guava possesses a strong,

sweet smell. The interior flesh may

be white, pink, or red with a core

of small, edible seeds.

Originating from Central

and South America, guavas are

primarily self-germinating. While

humans have played a significant

role in its journey of cultivation,

birds and animals have also

scattered about guava seeds while

moving around.

In the old days, Thailand was

abundant with pink guavas. As

many guava trees grew from the

seeds found in bird droppings,

Thais referred to this pink-fleshed

guava as farang khi nok, "bird

dropping guava". The fruit of this

variety is smaller, with a softer pink

flesh and a floral smell when ripe,

making it ideal for juices and jam.

The popular varieties with a

white interior are Gim-ju (crisp

and sweet with fewer seeds),

Vietnamese (big and sweet with

many seeds), Glom Salee (crunchy,

sweet and sour) and Paen See

Thong (crisp and sweet with fewer

seeds). Fruits of these new varieties

are generally the size of a softball

with a green-coloured skin that can

range from a bumpy to smooth

exterior. The flesh is white with pale

yellow seeds and tends to be less

moist than the pink guavas. It tastes

best when it is beginning to ripen,

with its skin starting to turn yellow.

When ripe, the fruit is soft and the

pulp inside is sweet.

To add a spicy kick to the

fruit, Thais dip it into a Prik Gluea

(a condiment with a salt, sugar and

chilli blend), but for people with

tame taste buds, the sweet and

sour zing of a salted plum powder

dip can serve as an eye-opener on

a sleepy afternoon.

34
---
OVERTURES

ARTS & CULTURAL MATTERS

Lure of

the Local

Words Jeremie Schatz, Sarita Urupongsa Photos Jeremie Schatz, Dolnapa Ram-Indra

PHUKET

Siow Jung Sin

A bowl of sandalwood is kept burning out

front at all times. Stepping through the

fragrant veil of smoke, you realise you've

stumbled across something special. It's

one part dimly-lit antique shop, one part

hustling restaurant, but it's much more

than the sum of its parts. With no sign

and an unassuming façade, Siow Jung Sin

need not rely on glitz and glam to lure

in customers. This humble Phuket Town

favourite has a loyal following whose

stomachs and senses lead them back.

Despite the random décor of antique

mining lanterns, table tops displaying old

cassette tapes and dangling birds' nests

creating a sense of timelessness, they first

fired up their woks only six years ago.

A labour of love for Bank and

Ingo Siyangsanaw, they are a constant

presence with Bank working his magic

over the fire and Ing liaising between

guests and staff. The steaming dishes

slide onto the table astonishingly fast

while the ever-moving staff literally run

to fetch customers' requests.

Want a nearby and authentic experience

that can also be part of your beach vacation?

For a well-rounded trip, enjoying natural

scenery to tasting the culinary feat of a local

wok offers a lasting connection to a place.

Don't expect phad thai or green

curry on this menu — Siow Jung Sin

churns out the fused flavours of Chinese

and Thai cooking traditions. Case-inpoint

is the signature dish, super teen

gai, with extra-tender stewed chicken's

feet in a thick, searing red sweet and

spicy broth. The finest fried rice you've

ever had comes out of their open-air

kitchen along with rarely found flavours

like fermented soy bean and chilli paste

(phad tao hoo yee) and pan-fried young

coconut shoots with fresh shrimp (goong

phad yod maphrao). "Our food is not

very good, but it comes from the heart.

It's heart food," says Bank modestly.

However, the full tables of content diners

beg to differ.

What comes from the wok is only

part of the equation. With a third

generation recipe, Bank produces

homemade spiced rice whiskey (ya dong).

The smooth, sweet brew is aged with

fresh herbs for two and a half months.

It's meant to drink before eating, but

typically continues throughout the meal

and into the night. Bank has colloquially

named it "the swan that never meets the

target," the meaning of which is open

to interpretation.

If you have an empty stomach and

are on the prowl for a uniquely authentic

Phuket experience, find your way to Siow

Jung Sin. Siow Jung Sin, Wirat Hong Yok

Rd, Tambon Talat Nuea, Amphur Muang,

Phuket, Phuket

KRABI

Wat Tham Suea

Travellers looking to nurture their inner adventurer

will want lace up their walking shoes and explore

Wat Tham Suea, also referred to as the Tiger

Cave Temple.

Nestled in the shadow of a towering

limestone peak on the edge of a verdant valley

10km outside Krabi Town, this temple complex

attracts a diverse group of visitors. Established

in 1975 by Buddhist monks, there are several

versions of an origin story including tiger paw

prints being discovered on the cave wall, an

enormous tiger residing in the cave, and most

plausible, a healthy population of tigers roaming

the surrounding jungle.

Although named for the limestone cave, the

leading attraction is undoubtedly the mountaintop

Buddha and Chedi (Stupa). To reach the summit

one must climb a precipitous staircase of 1,260

steps. Although mostly shaded, it is quite strenuous

and an early start is recommended. A comfortable

pair of shoes and a generous supply of drinking

water are mandatory. You are unlikely to be alone

as troops of monkeys loiter around the steps and

bathe in the cistern at the top. Beware of your

unattached belongings as daring, naughty monkeys

just might want to rid you of them. However, it's

all worth it as those who brave the primates and

muscle through the arduous ascent are rewarded

with a jaw-dropping 360-degree view of the

surrounding landscape.

After a much-deserved rest and descent

from the mountain, be sure to locate the other

staircase further back in the complex which leads

over a small ridge and into an isolated, jungle-filled

area where the resident monks live. A trail leads

past a sprawling altar, along the foot of a cliff

where the monks' humble abodes perch in

indentations in the rock. It continues in a loop

through a prehistoric-feeling jungle.

One can easily spend the better part of a day

at Wat Tham Suea climbing the mountain, hanging

out with monkeys, and exploring all of the temples.

Who said you have to be lazy on vacation!

36

37
---
OVERTURES

ARTS & CULTURAL MATTERS

TRAT

Ban Nam Chiao

A few kilometres away from central Trat

and you'll be breathing in the salty breezes

at the eastward fishing village of "Ban Nam

Chiao" while marvelling at the spreading

rays of the sunset from a bridge.

Ban Nam Chiao is some lush

seaside community rich in mangrove

forests, whose natural placement of

trees contribute strong water currents

during the rainy season, thus earning

the name Khlong Nam Chiao (strong

current canal). Embraced by the canal

and sea, the community enjoys a green

area of around 2,000 rai (close to 8

acres), with a scenic landscape that's

reason enough to visit. Thanks to this

natural abundance, most residents of

Ban Nam Chiao take up fishery, grow

fruit orchards and engage in other

trades for sustainable livelihoods.

Here's a place to see skilled weavers

nimbly create farming hats, with a

welcoming community that offers a

demonstration and workshop for visitors

to see how a "Nam Chiao Ngob," or the

farmer's hat gets crafted from local nipa

palm leaves found all over the area. To

participate or simply watch the hats get

made, booking ahead is recommended.

The hat itself is a skill requiring expertise

in practically every step — from picking

the nipa palm leaves, to shaping the

crown or head, right up to determining

the colour. Nowadays, a great number of

the elderly village folks still make them

by hand. Homestay businesses receive

a supply, whereas the rest are sent to

stores in town so here's a chance to buy

from the original source.

Visitors who stop by during the

first weekend of every month from late

morning to late afternoon can enjoy

Tong Chom (Must See) Market from

Ban Nam Chiao at the riverside path.

Enjoy a stroll and taste local halal food,

included snacks like 'khao greab ya na'

(sweet and salty prawns with crispy rice),

and consider local produce and unique

souvenirs to bring back. The place also

offers alternative activities such as

witnessing a 'Dikir Hulu' performance,

getting photographed in a Muslim attire,

or just kayaking on its welcoming waters.

Also make a stop at Ban Ta Ong

(Moo 3, Nam Chiao Municipality),

known as the district's main shop for

local produce from the people of Laem

Ngop. The shop offers at least five

styles of the local farmer's hat and the

best souvenirs come in several shapes,

from a fun turtle to a military one. For a

unique style, try the Somdet on for size.

The hat has been graciously named by

the Thai Princess Mother, HRH Princess

Srinagarindra. Each hat features different

brim details with creativity from the

deft fingers of the local craftspeople

using the nipa palm leaves. Ban Ta Ong

still preserves this ancient tradition of

coating hats with rubber oil, an essential

material that strengthens the hat for

longer wear. Nam Chiao Community, Nam

Chiao Sub-District, Laem Ngop District, Trat

38
---
OVERTURES

CHECKED IN: SAMUI

STAYED: ANANTARA BOPHUT

When life gives you lemons, you make

lemonade, but when life lands you at the

Anantara Bophut Koh Samui, you consider

yourself lucky. This absolute gem of a

beachfront resort is relatively small at only

106 rooms but what it may lack in room

numbers, it easily makes up for in style and

quality of experience.

Embraced within verdant gardens and

monumental trees, the Anantara Bophut

boasts a modern-contemporary design

mingled with classic Thai details — and this

property certainly isn't lacking details. The

grounds are adorned with classic Oriental

art, lotus-filled pools, "sala" pavilions for

chilling, and even an organic garden

complete with beehives.

Right

The resort's

fountains and

gardens take on a

magical quality at

night.

Below Left and

Right

Classic Thai

elements blend

with contemporary

styling throughout

the resort.

Samui's Extravagant Pleasures

Here's an offering of the best places to plan a Samui trip around, from the ultimate accommodation

to exclusive culinary meals. Words and Photos Jeremie Schatz

Left

Southern Thai

architecture

greets guests in

a design that's

elegant and family

friendly.

Bottom

Happy hour cocktails

or drinks at other

hours come expertly

done by the hotel's

mixologist.

The rooms boast far too many

amenities to mention, but picture fresh

beetroot/carrot/apple juice waiting for

you in the room along with a spread

of fresh fruit and the heavenly scent

of aromatherapy oils emanating from a

burner. Ample storage for extended stays,

flip flops and slippers, yoga mat, shoe

shine service, steam iron, stocked wine

cooler and liquor cabinet, natural soaps,

coffee (not instant) and tea, wine glasses

and whiskey tumblers gives you an idea of

what is waiting in your room. And you are

unlikely to overlook the bed sheet-sized

towels and bed sheets literally 10 feet

wide (I checked). A huge bathtub and rain

shower will rinse off the salt and sand

after a visit to the beach which you can't

be any closer to without getting wet.

Cool ocean breezes can be enjoyed

on the balcony found just outside of every

room. No one will judge you for relaxing

by the huge beachside infinity pool all day,

but if you're feeling frisky, or have kids that

are, a stroll around the sprawling resort

will reveal all sorts of activities to enjoy

such as a tennis court, spa, gym, table

tennis, foosball table, cooking classes,

yoga, and plenty more. Fisherman's

Village is just a short jaunt down the

beach walk where you can sample local

culinary delicacies and handicrafts.

What you'll find at the Anantara is a

well-kept, well-managed beachside resort

in an unbeatable location with character

and charm.

Anantara Bophut Koh Samui Resort

99/9 Bophut Bay, Tambon Bophut,

Koh Samui, Surat Thani

+66 (0) 77 428 300

40
---
OVERTURES

CHECKED IN: SAMUI

TASTED: JAHN RESTAURANT

AT CONRAD

Although Koh Samui has an ever

increasing variety of culinary options,

foodies and discerning dining aficionados

will be hard-pressed to find one to match

Jahn at Conrad Koh Samui.

There's a buzz around Jahn and

for good reason. From the unimpeded

eye-popping view atop the restaurant's

commanding perch on the mountainside,

to the elegant candle-lit romance factor,

and the avant-garde Thai-fusion creations,

a unique and indulgent gastronomic

experience is born.

What you discover when you finally

pry your gaze away from the view (book

your table before sunset) is a menu full of

reworked Thai classics and international

fare swirling with Thai flavours. Although

still recognisable as their traditional

counterparts, these visionary recipes have

attained a new polished level of opulence.

The menu offers several intriguing

options from seared duck curry to lobster/

scallop/prawn phad thai to red curry lamb,

but perhaps what best quenches curiosity

are the two set menus: Tasting of Jahn and

Journey of Jahn.

The Tasting of Jahn was recommended

and what a tasting it is! You are led down

a winding path filled with a vast variety of

flavours and textures around every bend.

Starting with betel leaf enveloping pomelo,

prawn, roasted coconut and a sweet and

sour tamarind sauce, the tart and tangy

flavours leave you anticipating what

surprises might come next.

The ubiquitous tom yum goong

has an entirely new interpretation being

freshly brewed right on your table. A light

fish stock is poured through a strainer

containing the herbs and spices and a

dazzling red broth emerges. Adorned with

a grilled prawn, fresh shallots, and petite

fragrant mushrooms, the presentation is

as beautiful as the taste is gentle and rich.

Clockwise from Top

The chef's creativity

is evident in this

example: sweet

potato tart with

apple compote,

passion fruit coulis

and guava sorbet.

The ever-popular

'tom yum goong'

gets a new spin

with broth at the

table.

Jahn's elegant

presentations will

delight dining

connoisseurs.

Following a rosella sorbet palate

cleanser, the main course of massaman

Wagyu beef is rolled out. The slab of

tenderloin is sprinkled with hefty crystals of

salt and seared with a sizzling iron. Served

over new potatoes, crispy fried red onions,

and heavenly morel mushrooms, a drizzling

of the massaman curry sauce served on the

side unifies this masterpiece.

A meal at Jahn isn't complete without

sampling the rarest coffee on earth from

the Black Ivory Coffee Company. This

incredibly smooth and unique blend

inherits these characteristics when the

raw beans are eaten by elephants. Their

digestive enzymes break down proteins

in the beans thereby reducing bitterness

resulting in a velvety, polished brew.

If the question is where to succumb

to your craving for an elegant dining

experience in a premier location, Jahn is

the answer.

Conrad Koh Samui

49/8-9 Moo 4, Hillcrest Road, Taling-Ngam,

Koh Samui, Surat Thani

+66 (0) 77 915888

42
---
CONTEMPORARY KEEPSAKES

Words MC Lai

ong

ong

eritage

Raise your shopping game when it comes

to souvenirs in Hong Kong. Here,

Fah Thai rounds up an indispensable list

of the island's unique mementos

depicting iconic places and objects

that are truly Hong Kong.

Inspiring pieces by talented and local designers capture

a piece of the city's history in cool designs and fun

objects. Rather than a keychain or a t-shirt there as you

explore Kowloon, Stanley market and the abundance of

souvenir gift shops around Cat Street; how about some dim

sum salt and pepper shakers for a friend? Those tote bags in

the ubiquitous red, white, blue pattern seen in markets for

years? They are reborn in a contemporary style.

44

45
---
CONTEMPORARY KEEPSAKES

It would be better to remember the

good times you had in Hong Kong

with new and trendy keepsakes

from locally established designers

already recognised internationally.

When visiting the island, make

it a point to check out popular

destinations like 2squared or PMQ

(pmq.org.hk), an ideal one-stop

shopping complex for lifestyle and

boutique items.

In 2009, the site became a hub

for design and creative industries.

You'll find around 100 design and

creative retail shops in what used

to be former residential quarters

for the police, now converted into a

retail destination.

A veritable temple of Hong

Kong-themed merchandise is

Goods of Desire — G.O.D. for those

in the know (god.com.hk). In the

local dialect, the name means

'to live better' as it phonetically

resembles the characters, 'G.O.D.'

Done with pride and humour, their

designs reflect symbolic icons

uniquely found on the island and

turned into practical everyday

items. Grab a pair of slippers, oven

mitts and practical home items

with motifs of favourite spots in

Hong Kong. Fun items include

flip-flops and umbrellas to key

chains with familiar retro designs.

Clockwise from Right

Cuddly animals

and popular mascots

like the lion and

panda serve as

models for coin

purses.

Hong Kong cool tees

with myriad local

quotes.

Sturdy tote bags

depicting everyday

Hong Kong scenes.

Graffiti wall by

Hong Kong-based

graffiti artist, Alex

Croft, was inspired

by Goods of Desire

signature print.

Opposite

Goods of Desire store

at PMQ complex

Douglas Young co-founded

G.O.D. with Benjamin Lau in 1996,

in a bid to promote a Hong Kong

brand he said is "both forwardlooking

and proud of its cultural

origins." Many shops already

promoting local designers look to

his work as being representative

of Hong Kong iconic designs. Tea

towels with the Good Morning

motif make ideal choices as these

quintessential hand towels have

been around for decades and still

MAN KWONG STREET

INTERNATIONAL

FINANCE CENTRE

IN-TOWN CHECK-IN

G.O.D. STORES

EXCHANGE

SQUARE

MAN PO STREET

Last minute souvenirs can now be

grabbed at the Airport Express line city

check-in near IFC in Central.

found in supermarkets on the

island. Tote bags cheekily declare

allegiance to being a Hong Konger

while easy, everyday bag essentials

like coin persons in shape of a

Hong Kong mailbox would delight

any gift recipient. While this

popular shop is on site at PMQ,

other locations are scattered

around Hong Kong.

At Kapok (ka-pok.com),

named after the tropical tree and

founded by Frenchman Arnault

Castel, the lifestyle shop acts

as the perfect curator for the

gathering of exceptional local

46

47
---
CONTEMPORARY KEEPSAKES

Top, Clockwise

Modern graphic

prints showcase a

traditional favourite

like dim sum.

Kapok puts retail

focus on local

designers around

Hong Kong.

Gifts for hip

recipients include

Japanese washi tape

and eye-catching

umbrellas.

brands. Arnault started a series

of collaborations with various

Hong Kong designers for the PMQ

project, gathering the best of

local designers.

Among some of the local

talents include Tania Mills. Based

locally, Mills was already known

as a relevant illustrator for media

publications and together with

Kapok's launched a new series

of products with the theme of

'I Love Hong Kong." Kapok also

has ditto ditto — (dittoditto.net)

letterpress postcards of Hong

Kong landmarks illustrated and

handmade by p.s. chan. Her

washi tape designs of Victoria

Harbour can spark thoughts of

many DIY projects.

Meanwhile, Glue dedicates their

retail items to glass mugs with

bat motifs and chrysanthemum

flowers, popular symbols artfully

depicted on mobile phone cases

and covers. Tote bags give a shoutout

to popular Hong Kong streets.

High quality souvenir t-shirts

Offering Hong Kong

designers a chance to

establish themselves,

Design Gallery provides

a retail platform

while promoting

Hong Kong as a

regional creative hub.

make references to Chinese

historical scenes in light-hearted

and carefree designs.

A full-range of Hong Kong

souvenir items can be found at

shops belonging to the Hong

Kong Trade Development Council

who brought on the retail venue

the HKTDC Design Gallery, with

practical designed goods. Their

line-up includes designer Alan

Chan, also known as the "father

of red-white-blue" for using the

familiar fabric to create everyday

STAR STREET

KAPOK

MOON STREET

SUN STREET

ST FRANCIS YARD

Kapok's location in Wanchai

has other hip shops and eateries

to complete the Hong Kong

experience.

objects. The shops sell totes, small

purses and wallets made from the

pattern. While his many works

are in permanent collections at

local and international museums,

Stanley created the brand "rwb330"

in partnership with the New Life

Psychiatric Rehabilitation

Association to depict Hong Kong's

positive spirit of fortitude,

adaptability and industriousness.

So shop to your heart's content

and know that with every keepsake

is a memory of Hong Kong.

48
---
CONTEMPORARY KEEPSAKES

หากคุณกำลังมองหาของฝากติดไม้ติดมือ

กลับบ้านขณะเดินเที ่ยวย่านเกาลูน สแตนลีย์

มาร์เก็ต หรือแคทสตรีท และของที่ว่าต้องมี

ดีไซน์เก๋ไม่ซ้ำใคร อีกทั้งยังต้องมีกลิ่นอาย

ประวัติศาสตร์ ฟ้าไทยขอนำเสนอร้านของที่

ระลึกที่จะเก็บเอาความทรงจำของฮ่องกงไว้

กับคุณและผู้ได้รับตราบนานเท่านาน

เยี่ยมชมงานออกแบบโดยชาวฮ่องกงที่

มีชื่อเสียงระดับโลกได้ที่ 2squared หรือ

PMQ (pmq.org.hk) ที่มีทุกอย่างครบจบในที่

เดียวได้เลย สถานที ่แห่งนี้เปลี่ยนโฉมจากย่าน

ที่พักของตำรวจในปี 2552 มาเป็นแหล่งรวม

ร้านจำหน่ายงานออกแบบสร้างสรรค์กว่า

100 ร้านให้คุณได้เลือก

สินค้าจาก Goods of Desire หรือ

G.O.D. ก็มีเอกลักษณ์ไม่แพ้กัน (god.com.hk)

ด้วยการผสมผสานงานออกแบบที่ได้รับ

แรงบันดาลใจจากสัญลักษณ์สำคัญของ

ฮ่องกงกับของใช้ในชีวิตประจำวันได้อย่าง

เหมาะเจาะ สินค้าทุกชิ้นสร้างมาจากความ

ภาคภูมิใจและอารมณ์ขันอย่างแท้จริง

G.O.D. ก่อตั้งในปี 2539 นับเป็นแบรนด์ที่

ภูมิอกภูมิใจกับการพัฒนารากเหง้าวัฒนธรรม

ฮ่องกง ร้านค้ามากมายชื่นชมและยกย่องงาน

ออกแบบของ G.O.D. ให้เป็นตัวแทนของฮ่องกง

ไม่ว่าจะเป็นผ้าเช็ดจานที่วางขายมานานนับ

หลายทศวรรษ กระเป๋าสะพายข้างที่ชาวฮ่องกง

นิยมใช้ กระเป๋าใส่เหรียญรูปทรงตู้ไปรษณีย์

คุณสามารถหาซื้อสินค้าเหล่านี้ได้ที่เว็บไซต์

PMQ และร้านค้าทั่วไปในฮ่องกง

อย่าลืมแวะ Kapok (ka-pok.com) ร้านค้า

ไลฟ์สไตล์ที่รวบรวมแบรนด์โดดเด่นในประเทศ

มากมายเข้าไว้ด้วยกัน Kapok สร้างสรรค์

สินค้าร่วมกับนักออกแบบมือฉมังในโปรเจ็คต์

PMQ เช่น นักวาดภาพประกอบ Tania Mills ที่

ร่วมกับ Kapok เพื่อออกแบบสินค้าซีรีส์ "I Love

Hong Kong" นอกจากนี้ Kapok ยังมี ditto

ditto โปสการ์ดพิมพ์อักษรรูปสถานที่สำคัญใน

ฮ่องกงที่วาดและทำมือโดย p.s. chan

อีกหนึ่งร้านที่เต็มไปด้วยของเก๋มองเพลิน

คือร้าน Glue สินค้าที่น่าสนใจได้แก่ ถ้วยกาแฟ

ลายค้างคาวและดอกเก๊กฮวย เคสมือถือ

ลวดลายต่างๆ กระเป๋าสะพายข้างเพิ่มจุดเด่น

ด้วยภาพถนนสายสำคัญในฮ่องกง และเสื้อยืด

พิมพ์ลายสถาปัตยกรรมจีนคุณภาพดี

อีกตัวเลือกสุดสร้างสรรค์ HKTDC

Design Gallery จัดแสดงสินค้าที่ออกแบบ

โดยนักออกแบบชื่อดังมากมาย โดยเฉพาะ

แบรนด์ "rwb330" ที่ Stanley ร่วมมือกับ

New Life Psychiatric Rehabilitation

Association เพื่อสะท้อนความแข็งแกร่ง

การปรับตัว และความเป็นอุตสาหกรรม

ของฮ่องกงให้เด่นชัด

ตามเข็มนาฬิกา

จากขวาบน

เสื้อยืดคอกลม หมวก

กระเป๋า รองเท้า ดีไซน์เก๋

จาก Kapok สาขา Sun

Street

ชุดรองจาน 4 ชิ้นมีชื่อ

สถานที่สำคัญๆ ของ

ฮ่องกงเป็นภาษาอังกฤษ

และจีนจาก G.O.D.

มีความเก๋ไก๋สดใส

สไตล์เรโทร

ดิสเพลย์หน้าร้าน

G.O.D. หรือ Goods

of Desire ที่ผสม

เอกลักษณ์ของฮ่องกง

และดีไซน์สมัยใหม่ได้

อย่างน่าสนใจ

ถุงผ้าพิมพ์ลายและ

ของขวัญของฝากรูปทรง

กาน้ำชาทำจากพลาสติก

สีเขียว ก็เป็นตัวเลือกที่

น่าจับจอง

50
---
ANOCHA SUWICHAKORNPONG

Words Srinit Suwannasak

Photos Wichit Kongsiangsung

Constant

Film

With the success of her movies, filmmaker

Anocha Suwichakornpong explains how

personal travel largely defines and blends

seamlessly into her film settings.

Although Anocha

Suwichakornpong

does not consider

herself an

experienced traveller,

traces of her journeys have

influenced her personality

and her works, often

in unconscious ways.

The up-and-coming,

award-winning Thai film

maker says her cinematic

portrayal of Thailand

incorporates the many

voices and perspectives

she gained while studying

and travelling in Europe,

America, and Asia.

Anocha started her journey

with her short film Graceland

(2006), the first Thai film selected

for Cinéfondation, Cannes Film

Festival. Her first feature-length

film The Mundane History (2009)

premiered at Busan International

Festival, subsequently winning the

Tiger Award at the International

Film Festival Rotterdam (2010).

And her latest work, By the Time it

Gets Dark, has gained international

recognition after its premiere at the

Locarno Festival.

Anocha's stories of journeys

are not only about going from one

film festival to another, but it's

about gaining different voices at

several stages in her life — from

her hometown, Chon Buri, to

Eastbourne, Dorking, London,

New York, and Bangkok.

This Page

With family in

a ryokan hotel in

Kinosaki

Bottom

Nan, a province

known for its

natural beauty, is

the main location in

the film By the Time

It Gets Dark.

"Travelling works on me in the

way that forces me to see different

perspectives because it makes me

meet a lot of different people. It

helps unlock us from being trapped

in certain norms and values. For

example, we might have believed

that Thai rice is the best in the

world but when I met a friend from

Ecuador, she told me that Thai rice

is 'good.' Actually in Ecuador, they

eat a different kind of rice and Thai

rice is not preferable. Chilli varieties

that we think only exists in Thailand

can be found in other countries too.

These seemingly small things taught

me about differences and not to be a

nationalist," Anocha explained.

Such perspectives led to images

of Thailand in Anocha's films

portrayed with different voices. "The

subject of my films is Thailand,"

Anocha explained on why she left

New York after graduating from

Columbia University. "As big cities,

New York and Bangkok have

something in common, but at the

same time they're very different.

In New York, you can do anything

and nobody cares, while in Bangkok

people seem to be interested in other

people. But I chose Bangkok because

the stories I want to tell are here."

Back in the early 90s, Anocha

travelled alone for the first time

to Eastbourne, a small town in the

UK. "I'm not sure if it can be called

travelling alone because it's with a

group of Thai students who went

for summer school. Anyway, it's the

first time that I didn't travel with my

family," Anocha recalled. However,

this trip seemed to be just a prelude

of her journey. A big change came

to the 8th grade girl was when her

parents sent her to a boarding school

in Dorking. "It's a countryside that's

very quiet. There's nothing there

except a small shop that is also a

post office. If we want something

we have to go to this shop, but if we

want more we had to go to London.

Luckily, it's not far."

Despite living in a small town

like Dorking, it's the starting point

of her Europe exploration when

she went backpacking with her two

older sisters. "It's before the EU, so

it's not as easy as these days. And

because we were still very young,

so we had to be very careful about

budget and be very selective about

the things we did. I think this is the

big difference of travelling when

you were young and when you are a

grownup. Travelling when you were

young is more like an adventure.

We took the train and stayed in the

youth hostels which we've never

experienced before. One night we

stayed in a youth hostel in Paris that

had four beds. While the three of us

were sleeping, a person came in the

middle of the night for the bed." I

was quite surprised because I thought

that the whole room was ours."

52 53
---
ANOCHA SUWICHAKORNPONG

Right

Sculptures

in Mexico

Bottom

Sakura trees

bloom at Yoyogi

Park, Japan

Although Anocha spent many

years of her life in Europe and

America, there are many places in Asia

that Anocha describes as "her place".

"I've just gone to Krabi recently.

I prefer Krabi to Phuket as it's not

so busy and better for chilling. And

my favourite thing to do in Krabi is

to kayak. There is a cave where we

have to kayak to see. It's kinda fun."

While Krabi is the destination for her

favourite activity like kayaking, a quiet

place like Pua district in Nan province

is her sanctuary, and which became

the main location of her latest film

By the Time It Gets Dark. "The owner

of the place came from Bangkok to

create a mushroom farm with a house

(in the film) as a homestay. There

is a coffee shop downstairs. When

I first wrote the script for this film,

the setting is on an island, it's just

my imagined island. But when I went

there, I decided to change it. I was

impressed by its landscape, the light,

the colour of the place. The scenery

of each season is different: it's very

green during the rainy season and its

colour changes again in the winter.

And during the day, we can walk into

the forest."

In addition to searching locations

for her own films, Anocha tries to

experience places in classic films.

She went to Hiroshima to find the

place where director Alain Resnais

shot Hiroshima, Mon Amour.

After shooting the film, the

farm's owner moved to live there

permanently but Anocha still keeps

that place in her mind and went back

to Nan from time to time. "I want to

screen my film in Nan one day. It's

a lovely and quiet small town where

you can see people riding a bicycle.

And there are many nice shops,

restaurants and museums. A dessert

shop called "Pa Nim" (Auntie Nim)

is one of my favourites."

In addition to searching locations

for her own films, Anocha tries to

experience places in classic films.

She went to Hiroshima to find the

place where director Alain Resnais

shot Hiroshima, Mon Amour. "I

tried to find the hotel that was in the

film. I asked so many people but still

couldn't find it. I heard that it was

changed to a convention centre. And in

the film H Story which is an homage

to Hiroshima, Mon Amour, there is a

scene where Béatrice Dalle walks in

an arcade. I tried to find that too and

I found a long arcade. I'm not sure

if it's the same one as in the film.

While I was walking there, it was

after a baseball match. So, there were

baseball fans all over the place, which

was an impressive scene."

Anocha found that Taiwan is

the country that speaks to her and

mirrors her own personality. "People

there are not too flashy or attentiongrabbing.

I like the people, the town,

the mountains. The last time I went

there, I drove to a mountain which

is about 3,000 metres and passed

through some 10 tunnels. It's the

first time that I drove there. Before

that I took the train and I think that

the public transport system in Taipei

is good and it's cheaper than in

Bangkok. And most of the museums

are free. I went to an art exhibition

where the entry fee costs only 50

Taiwanese dollars. It's very cheap for

a good show. And there is a bookstore

that opens 24 hours. The food is also

good." For Anocha, Taiwan was not

love at first sight, but in subsequent

trips she fell further for the country.

"The first time I went there was for

the film festival. So, I just went to a

night market and didn't see much

of the town. But the second time, I

went there with my family. We went

to filmmaker Tsai Ming-Liang's café

that my mum likes but she didn't

have any idea about Tsai Ming-Liang.

She just liked the place. But now it's

already closed."

With many different scenes

from the different locations of

her life, Anocha found herself

to be an observer at the edge of

everywhere. "I think that I can

blend in everywhere I live but at the

same time, I don't have any sense of

belonging anywhere. I never thought

about living anywhere for the long

term. Travelling affects me in the

sense that I won't stay at the same

place. So, in my work, I won't repeat

myself. It's really important to keep

challenging myself and do something

I've never done before. It's a kind of

adventure. This is the reason why

By the Time It Gets Dark is much

different from Mundane History."

54
---
ANOCHA SUWICHAKORNPONG

ตามเข็มนาฬิกา

จากบน

ด้วยความที่เป็นนักเรียน

ศิลปะ ตารางการเดิน

ทางของอโนชาจึงต้อง

ผนวกงานศิลป์เข้าไป

ด้วยเสมอ เธอมุ่งหน้าไป

ยังเอดินเบอระเพียงเพื่อ

ไปยลโฉมเก้าอี้

Mackintosh และไปชม

งานศิลป์ที่มหาวิทยาลัย

ศิลปะแห่งเมืองกลาสโกว์

ไต้หวันเป็นประเทศที่

สะท้อนตัวตนของ

ผู้กำกับผู้นี้ได้อย่างดี

เธอชื่นชอบทั้งผู้คนที ่นั่น

ทั้งตัวเมืองและขุนเขาที่

รายล้อม

กระบี่เป็นอีกจังหวัด

ที่อโนชาชอบ

เธอมักจะพายเรือ

คายัคไปชมถ้ำต่างๆ

ล่าง

ผู้กำกับ

มากความสามารถที่

หลงใหลการเดินทาง

อโนชา สุวิชากรพงศ์ เข้าสู่เส้นทางสาย

ภาพยนตร์จาก Graceland (2006) หนังสั้น

สัญชาติไทยเรื่องแรกที่ได้รับคัดเลือกให้

ฉายใน Cinéfondation เทศกาลภาพยนตร์

เมืองคานส์ และภาพยนตร์เรื่องแรกของ

เธอ The Mundane History (2009) ก็ได้

รับเลือกให้ฉายในเทศกาลภาพยนตร์

นานาชาติเมืองปูซาน แต่การเดินทางของเธอ

ไม่ได้เกี่ยวเนื่องกับภาพยนตร์เท่านั้น

เธอยังเดินทางไปทั่วโลก จากชลบุรี

บ้านเกิดของเธอ ไปยังอีสต์บอร์น ดอร์กกิ้ง

ลอนดอน นิวยอร์ก และกรุงเทพฯ

ประสบการณ์จากการเดินทางของ

อโนชาสะท้อนผ่านบุคลิกและงานของเธอ

อย่างเห็นได้ชัด เธอเล่าว่าการท่องเที่ยว

เปิดมุมมองใหม่ เพราะได้เจอผู้คนหลาก

หลาย ปลดโซ่ตรวนที่ล่ามเราไว้กับขนบและ

ค่านิยมบางอย่าง เช่น เราเชื่อว่าข้าวไทย

คือที่สุดของที่สุด แต่คนเอกวาดอร์กลับ

ชื่นชอบข้าวชนิดอื่นมากกว่าข้าวไทย

สิ่งเล็กๆ อย่างนี้แหละที่ทำให้ความเป็น

ชาตินิยมของเธอลดลงไป

ภาพความเป็นไทยของอโนชาสะท้อน

ผ่านหลากหลายเสียงในภาพยนตร์ของเธอ

เธอตัดสินใจย้ายออกจากกรุงนิวยอร์ก

หลังจบการศึกษาจากมหาวิทยาลัย

โคลัมเบีย แล้วกลับมาอยู่ที่กรุงเทพ

เพราะเรื่องราวที่อโนชาต้องการจะเล่าใน

ภาพยนตร์ของเธออยู่ที่นี่ ในทรรศนะของ

เธอนิวยอร์กกับกรุงเทพเป็นเมืองหลวง

เหมือนกันก็จริง แต่ก็แตกต่างกันมาก

ไม่มีคนสนใจว่าคุณทำอะไรที่นิวยอร์ก

แต่ถ้าเป็นกรุงเทพ นั่นคนละเรื่อง

ช่วงปี พ.ศ. 2542 อโนชาออกเดินทาง

โดยที่ไม่ได้ไปกับครอบครัวเป็นครั้งแรก

เธอไปที่เมืองอีสต์บอร์น สหราชอาณาจักร

จากนั้นครอบครัวของเธอก็ส่งเธอไป

เรียนโรงเรียนประจำในเมืองดอร์กกิ้ง

เมืองแสนสงบที่แทบไม่มีอะไรเลย ดีหน่อย

ที่อยู่ไม่ไกลจากลอนดอนนัก

แม้ว่าจะอยู่ในเมืองเล็กๆ แต่นี่คือ

จุดเริ่มต้นของการแบกเป้ท่องเที่ยวทั่ว

ยุโรปของอโนชากับพี่สาวอีกสองคน

การท่องเที่ยวสำหรับช่วงชีวิตที่เพิ่ง

แย้มบานเปรียบเสมือนการผจญภัย

เป็นประสบการณ์ใหม่ที่ไม่เคยพบเจอ

ที่ไหนมาก่อน

แต่ถึงอย่างไร เอเชียก็ยังเป็นบ้านของ

เธอเสมอ เธอชอบกระบี่มากกว่าภูเก็ต

เพราะสงบกว่า หรือจะเป็นอำเภอปัว

จังหวัดน่านที่เป็นสถานที่ถ่ายทำหลักของ

ภาพยนตร์เรื่อง By the Time It Gets

Dark เธอเล่าอีกว่าเจ้าของบ้านมาจาก

กรุงเทพเพื่อทำฟาร์มเห็ด ตอนแรกเธอ

สร้างฉากหลักเป็นเกาะในจินตนาการของ

เธอ แต่พอได้มาเห็นอำเภอปัว ได้พบเห็น

ภูมิประเทศที่แตกต่างกันไปตามฤดูกาล

ความคิดนั้นก็เปลี่ยนไปทันที หลังจากที่

ถ่ายภาพยนตร์เสร็จ เธอฝันว่าอยากจะ

ฉายภาพยนตร์เรื่องนี้ที่จังหวัดน่าน

สักครั้งให้ได้

อโนชาหลงใหลในสถานที่ถ่ายหนัง

มาก เธอถึงขั้นตามหาโรงแรมที่เป็น

สถานที่ถ่ายทำเรื่อง Hiroshima, Mon

Amour แต่ก็ต้องผิดหวังเมื่อได้ยินมา

ว่าโรงแรมนั้นเปลี่ยนเป็นสถานที่จัด

ประชุมไปเสียแล้ว หรือจะเป็นอาร์เคดใน

ภาพยนตร์เรื่อง H Story ที่สร้างขึ้นเพื่อ

อุทิศแด่ Hiroshima, Mon Amour เธอ

เจอสถานที่ที่คล้ายกัน แต่ไม่มั ่นใจว่า

ใช่หรือเปล่า

จากการเดินทางไปรอบโลก อโนชา

พบว่าไต้หวันเป็นประเทศที่ตอบโจทย์และ

สะท้อนความเป็นตัวเธอได้ดีที่สุด เธอคิด

ว่าผู้คนที่นี่ไม่หวือหวาวุ่นวายมากนัก มี

ภูเขาสวยงามจนเธอถึงกับเคยได้ขับรถไต่

เขาสูงกว่า 3,000 เมตร ลอดอุโมงค์กว่า

10 แห่ง นอกจากนี้การขนส่งสาธารณะที่

ไทเปยังดีกว่าและถูกกว่าที่กรุงเทพมาก

พิพิธภัณฑ์ส่วนใหญ่ไม่เก็บค่าเข้าชม มี

ร้านหนังสือที ่เปิด 24 ชั่วโมง อาหารก็

อร่อย ไต้หวันทำให้อโนชาตกหลุมรักมาก

ขึ้นทุกครั้งที่เธอไปเยือน

ในหลายฉากหลายตอนที่แตกต่างกัน

ไปตามแต่ละช่วงชีวิตของอโนชา เธอได้ค้น

พบว่าตัวเองคือผู้สังเกตการณ์ในทุกที่ที่

เธอไป เธอเข้ากับสถานที่ที่เธอใช้ชีวิตได้ดี

แต่เธอไม่ได้รู้สึกว่าตัวเองเป็นเจ้าของที่แห่ง

นั้น ไม่เคยคิดว่าต้องอยู่ระยะยาว ไม่ยึด

ติดอยู่ที่เดิมๆ ไม่ต่างจากงานของเธอที่จะ

ไม่ทำอะไรซ้ำๆ เพื่อท้าทายตัวเองอยู่เสมอ

นี่เองเป็นเหตุผลที่ By the Time It Gets

Dark และ Mundane History แตกต่าง

กันอย่างสิ้นเชิง

56
---
NORTH TO NORTH

Fah Thai recently hopped on a route that flies from

Chiang Mai, Thailand to Hanoi, Vietnam. With

the ease of a short flight, two countries in 5 days

seemed easy to say hello to the familiar sights and

to f ind some 'wow' to new experiences.

Words Nawarat Acosta Photos Anutra Ungsuprasert

58 59
---
NORTH TO NORTH

The capital city of

Hanoi in Vietnam

is but a skip and

a hop from Chiang

Mai, the former Lanna

kingdom. While no two

northern capitals can be

alike, the commonality lies

in their rich history, culture

and the food, oh the food.

The objective was to see how much

can be done with two good stops,

with their wealth in historical

nostalgia and local culinaria. Choosing

accommodations near the iconic

landmark of Wat Gate, which sits on

the east bank of the Ping River and

across from Chiang Mai's city centre

made getting around simpler, with

the airport within reach.

Given the sporadic to heavy

downpours that visit during the

rainy season, renting a car is a

good strategy and simply requires

a driver's license for a set of wheels

offered by the plethora of car

rentals at the Chiang Mai airport.

Beyond the usually frequented

city spots, having a car meant

stress-free exploration of areas

like the Mae Rim district. With

the relatively small size of the

airport, a car gets delivered

and just as quickly, you zoom

towards the main airport exit.

With Google Maps serving as a

trusty companion, just be on the

lookout for U-turns that show

up unexpectedly. It is about 15

minutes back to the airport for the

car dropoff before your flight.

The immediate destination

was the Mae Rim area,

close to the airport and a

happening neighbourhood

with a strong enterprising

spirit, dotted by the crop

of creative bakeries,

restaurants and coffee

shops that stray from

any predictable recipes.

The first stop was "Steak

of the Day," with Chef

Rewat Srilachai at the

helm. His bistro is a local

favourite with faithful diners

who know that anything the

former Four Seasons executive chef

produces is exquisitely fresh

and inventive but stays true to

authentic flavours.

With a casual neighbourhood

vibe and the amiable personality of

the chef, dishes that come out, like

a salad of Chiang Mai crisp greens

accentuated with the sharp goodness

of a real tomato is sublime in a light

dressing and sheer freshness. It

may be an unassuming spot but

Top, Clockwise

Also with "Steak

of the Day" are

delectable scallops

seared with a

balanced crust

and morels; a juicy

steak lives up to

the chef's reputation

– medium rare and

done right; wrapped

in cheese upon cheese.

Bottom Left and

Right

A perfect Baked

Alaska with

Pineapple Compote;

Chef Rewat and his

cheerful wife show

what's for dessert.

the dishes are award-worthy in

taste and presentation and even

better, quite affordable.

And his Steak of the Day,

usually a tomahawk comes up

cooked in the best possibly way.

His pork chops with a softened

cheese layer is decadent, and

addictively tasty. The yellowtail

or Hamachi is seared with the

skin still crisp, while desserts

like a Baked Alaska top off the

experience. He also has Rimm

Phi Romm Thai restaurant across

the street that caters more to a

local cuisine. facebook.com/steak.

steakoftheday

As if that wasn't enough,

another great meal came in the

form of Bombay Hut Chef Chang

who lived in Mumbai for 10 years.

A beckoning goddess in wall

art takes you through a cobblestoned

path into a house decorated

with Chef Chang's detailed and

decorative finds, all Indianthemed

in cosy displays. Already,

he's busy prepping the meal

and timing its mouth-watering

delivery and diners can see him

walking about the kitchen and

colourful décor. His table settings

possess charm with carefully

chosen tableware and a creative

food presentation. A three-course

meal should cost no more than 550

baht or 280 for lunch. With its full

on Indian theme, the food retains

its authentic base with a touch

of local Chiang Mai ingredients

bursting with personality, just like

the chef himself. With Bombay

Hut's popularity, reservations are

a must. Don Kaeo, Mae Rim District,

Chiang Mai, +66 90 252 0563.

In a one-man culinary show, Chef Chang

uses masterful skills with Indian influences

like kebab skewers with a Thai dipping

sauce whose unified flavours get served in a

Indo-boho chic atmosphere.

MAE RIM CERAMIC

As you drive along Mae Rim

road, try not to blink in order to

not miss the wonderland of Mae

Rim Ceramic and a throwback

to another era reminiscent of

the mid-century trend. The

compound is worth visiting for

their display of handmade tiles

and stoneware pottery of table

items and decorative pieces. It's a

unique place where you can special

order tiles for that dream home or

stop by to add to your tableware

collection. Among some of their

notable projects include the grand

sweep of tiled roof at the former

Siam Inter-Continental Hotel in

Bangkok and now the City Hall in

Busan, Korea. 165 Moo 8, Don Kaeo,

Mae Rim District, Chiang Mai

Above, Left and

Right

All dishes shine

with their Indian

influence at

Bombay Hut.

Middle

Stoneware pottery

and household

objects are regular

offerings at

Mae Rim Ceramic

60 61
---
NORTH TO NORTH

ONWARDS TO HANOI, "ỐI GIỜI ƠI"

It loosely translates as "oh my god"

but that's how you feel with every

bite and sight encountered. Look

past the curtain of chaotic streets

where man and vehicle seem to

share the same lane and you'll find

countless delights that go beyond

Hanoi expectations.

However, when in Hanoi, there

has to be pho. Yes, the queue needs

to be joined at places like Pho Thinh

to taste for sautéed beef atop a

steaming bowl of a non-traditional

yet Hanoi classic. But nothing beats

the experience of apartment pho at

Miss Minh. Apparently, Miss Minh

had been serving to loyal customers

for decades but had to vacate her

sidewalk spot. Not wanting to go

elsewhere for their pho cravings,

those in the know have been showing

up at her doorstep for their regular

bowl. Thus in her living room

surrounded by a collection of blue

and white ceramics and a corner

daybed — you slurp the clearest

broth, rightly balanced by onions

and scallions in a bowl of true

Hanoi pho. Pho Hang Trong, 8 Trong

Hoan Kiem

For a dash of caffeine, in one

of the many mysterious alleyways,

follow signs for Hoi An Café, with

excellent drip coffees and Vietnamese

coffees that offer a more superior,

taste of fresh roasted beans. It's

the design of the place in a former

duplex apartment and balcony views

of the Old Quarter that showcase the

charm of Hanoi.

While countless lists and

blogs offer tips on where to eat,

Top, Left and Right

Miss Minh serves a

genuine Hanoi pho

in her home to

faithful customers.

Pho Cuon or pho

rolls - made of pho

noodle sheets that

wrap choice slices of

beef and herbs.

Bottom

The mosaic wall,

the longest in the

world, depicts

various scenes of

Vietnamese culture.

Left

Nom bo and banh

bot loc rolls.

but sans list, the eating is still

excellent at most spots. Why

on any sidewalk, you can down

a vast array of molluscs, like

snails in herbal dipping sauces

of a quality found in high-end

restaurant, except you're on

plastic stools and makeshift

tables. An auntie sets up shop

where she steams rice crêpes

and hands it over to you à la

minute, hot and delicious. Most

things are served with a sheer

extravagance of herbs piled high

and a vinegar and fish sauce

dip. During peak time, tables

get shared and you're sure to

be taught the right way to eat

something. To enhance flavours,

use the condiments and season

until you strike the right balance.

62
---
NORTH TO NORTH

To further maximise the food

experience, consider joining a food

tour. We were lucky to have met

Thanh, a determined guide from

maiafoodandtravel.com who took

us to the Truc Bach neighbourhood

to have fresh pho rolls with duck,

steamed rice pancakes with pork

and mushrooms and strands of

pickled papaya. They're fusion, she

states, although they're made by

veteran aunties who continuously

play with available ingredients.

Congee with clams makes you

cry in wonder while Vietnamese

beefsteak meal with a thick

generous slab of paté and French

fries set you back USD $5. Nearby

dessert places with coconut ice

cream and a caramel flan at a mere

Above

A boat ride through

picturesque Tam

Coc in Ninh Binh

province

Middle,

Left to Right

A Hanoi specialty

of noodles in gravy;

Hanoi's egg coffee

is a major trend

among coffee drinks.

Below Left

Boats in a row

await passengers in

Ninh Binh where a

majority of rowers

are women.

US 30 cents leaves us flabbergasted.

And in final hospitality, we try the

famous egg coffee. Thanh describes

it as drinking 'tiramisu,' and when

put that way, definitely is a pleasantly

palatable experience.

For added cultural sights, the

Hanoi Train Street in Dien Ben

Phu street offers the excitement

of scheduled trains whizzing

by on tracks smack dab in the

middle of a narrow lane. It's a busy

neighbourhood, but nonchalant

residents are used to its daily

appearance that's within inches

away from their doorstep. Nearby

is an area known for its nightly

street food, and the tempting call

of chicken congee served with fried

crullers. Again, the dusting of white

pepper and generous sprinkling

of herbs like perilla and scallions

give the dish a depth of flavour like

nowhere else. Cafés nearby like Xofa

and Vui showcase a more modern

Hanoi for drinks and just chilling.

For a daytrip, a car can be hired

for US $120 for nearly a full day

to Ninh Binh, In just under two

hours on a modern highway, see

karst formations that jut out of

spectacular and still waterways.

Female rowers who use their

feet to 'row your boat' offer another

experience not found in too many

places. Hanoi is used by many as a

gateway to other places like Halong

Bay, but if you decide to just hang

out, there are still many amazing

that make you go "oi giời oi."

64
---
NORTH TO NORTH

ฮานอยกับเชียงใหม่ช่างเหมือนกันเสียนี่

กระไร ทั้งประวัติศาสตร์อันยาวนาน

วัฒนธรรมอันล้ำค่า และอาหารอันโอชะ

แค่พูดถึง ต่อมน้ำลายก็ทำงานหนักเสียแล้ว

เราเลือกที่พักย่านวัดเกต ทางฝั่งตะวัน

ออกของของแม่น้ำปิง ใกล้ใจกลางเมืองและ

ไม่ห่างจากสนามบินนัก สำหรับหน้าฝนเช่น

นี้ เช่ารถยนต์ขับดูจะเหมาะสมที่สุด เราจึง

ถือโอกาสขับไปเที่ยวและชิมของดีแถว

อำเภอแม่ริมกัน

บรรยากาศเย็นชื่นใจท่ามกลางไร่นา

เขียวขจี มีร้านรวงสวยแปลกตา เราหยุด

กันที่ร้าน Steak of the Day กับเมนู

อาหารที่อดีตเอ็กเซ็คคิวทีฟเชฟจากโฟร์

ซีซั่นส์อย่างเชฟเรย์ หรือ เรวัตน์ ศรีลาชัย

รับรองว่าสดใหม่และมีรสชาติเอกลักษณ์

เราขอแนะนำสลัดผักใบเขียวน่าทาน มะเขือเทศ

หวานกรอบ ราดน้ำสลัดน้ำใส ทั้งสดใหม่

และสดชื่น แถมราคาไม่แพง พอร์คช็อป

พร้อมกับชีสนุ่มๆ ก็อร่อยจนหยุดไม่ได้ ต่อ

ด้วยปลาฮามาจิเผาไฟอ่อนให้หนังกรอบ

คุณจะหาประสบการณ์แบบนี้จากที่อื่น

ไม่ได้แน่นอน

ร้านอาหารร้านเดียวไม่เคยพอ มื้อค่ำ

แวะไปที่ Bombay Hut ตำรับเชฟช้างที่เคย

ใช้ชีวิตในมุมไบกว่า 10 ปี ขณะที่เดินผ่าน

สวนเข้าไปในตัวร้าน กลิ่นหอมของแกง

กะหรี่และเครื่องเทศก็พุ่งเข้ามาเตะปลาย

จมูก Bombay Hut เสิร์ฟอาหารนานาชาติ

แต่โดดเด่นด้วยรสชาติสไตล์อินเดีย

พร้อมดื่มด่ำไปกับความงามของส่าหรี

และของตกแต่งกลิ่นอายอินเดียขนานแท้

(ดอนแก้ว อำเภอแม่ริม เชียงใหม่)

ขอเตือนตรงนี้เลยว่าขณะขับรถต่อ

ไป ห้ามกะพริบตาเด็ดขาด ไม่อย่างนั้น

คุณจะพลาดแม่ริมเซรามิค

แหล่งงานกระเบื้องทำมือ

เครื่องปั้นดินเผา จานชาม และ

ของตกแต่งบ้านมากมาย ที่คุณ

สามารถสั่งทำของชิ้นพิเศษได้

พร้อมการันตีคุณภาพจากผล

งานหลังคากระเบื้องของอดีต

โรงแรมสยามอินเตอร์คอน

ติเนนตัล และซิตี้ฮอลล์ในเมืองปูซาน

เกาหลีใต้ (165 หมู่ 8 ดอนแก้ว เชียงใหม่)

จากเชียงใหม่ เราบินต่อมาที่ฮานอยใน

เวลาเพียงสองชั่วโมง เมื่อมองข้ามความ

วุ่นวายบนท้องถนน คุณจะเห็นร้านเฝอที่มี

คนต่อแถวรอยาวเหยียดอย่างร้าน Pho

Thinh ที่ปรุงเฝอหน้าเนื้อแบบฮานอย

ดั้งเดิมแต่เต็มไปด้วยความแหวกแนว หรือ

จะเป็นร้าน Miss Minh ที่ถึงแม้จะเลิกขาย

เฝอริมทางเท้าแล้ว ลูกค้าขาประจำก็ยังเข้า

มาในบ้านของเธอเพื่อนั่งรับประทานเฝอ

รสเยี่ยมได้เหมือนเดิม คงไม่ต้องบอกก็รู้ว่า

นี่คือเฝอต้นตำรับอย่างแท้จริง

นอกจากร้านอาหารเหล่านี้แล้ว

อาหารริมทางก็ล้ำเลิศไม่แพ้กัน มีตั้งแต่

หอยแมลงภู่คุณภาพคับฝา ข้าวเกรียบ

ปากหม้อทำสดๆ ร้อนๆ เสิร์ฟพร้อมกับ

สมุนไพรนานาชนิด ร้านเหล่านี้ต่างจาก

ร้านอาหารหรูเพียงแค่เป็นโต๊ะเตี้ยข้างถนน

และลูกค้าต้องนั่งบนเก้าอี้พลาสติกเล็กๆ

เท่านั้นเอง

เราโชคดีที่ได้ร่วมฟู้ดทัวร์ โดยมีไกด์

Thanh จาก maiafoodandtravel.com

เป็นผู้นำทาง เริ่มตั้งแต่เฝอม้วนไส้เป็ด ข้าว

เกรียบปากหม้อไส้หมู เห็ด และมะละกอ

โจ๊กหอยลาย และเฟรนช์ฟรายส์ แล้วล้าง

ปากด้วยไอศกรีมกะทิ คาราเมลคัสตาร์ด

และที่ขาดไม่ได้คือกาแฟไข่ หรือที่ไกด์ของ

เราบอกว่าเหมือนทิรามิสุนั่นแหละ

ตามเข็มนาฬิกา

จากซ้ายบน

นั่งเรือชมถ้ำเหนือน้ำสุด

อลังการที่ Tam Coc

จังหวัด Ninh Binh

เพียงไม่ถึงสองชั่วโมง

จากฮานอย

ทางรถไฟเลื่องชื่อผ่า

กลางเมืองฮานอยตรง

ถนนเดียนเบียนฟู

เต็มไปด้วยวิถีชีวิต

ทั้งร้านกาแฟ แหล่งพบปะ

พูดคุยของคนท้องถิ่น

บ้านเรือน และร้าน

ขายของทำมือสุดชิค

แม่ค้ากับพาหนะคู่ใจขาย

ผลไม้ไปทุกที่ในฮานอย

ฟิวชั่นฟู้ดสไตล์

เวียดนาม สลัด

เนื้อเค็ม หรือ

"ก๋อยบ่อ" กับ

ผักแนม

นานาชนิด

ต่อด้วยการเที่ยวรับประทานอาหาร

ยามค่ำคืนในย่านที่อยู่ใกล้กับ Hanoi

Train Street ห้ามพลาดโจ๊กไก่ที่กินกับ

ปาท่องโก๋ ใส่พริกไทยนิด เติมผักลงไป

หน่อย อร่อยจนโลกไม่ลืม ปิดท้ายกันที่

Xofa และ Vui Café ด้วยเครื่องดื่มสุดชิล

คุณยังสามารถเลือกเที่ยวแบบวัน

เดย์ทริปโดยเช่ารถขับไปยัง Ninh Binh

เพื่อชมถ้ำหินปูนสุดตระการตา ขณะล่องเรือ

ไปตามแม่น้ำโดยมีสาวสวยแจวเรือให้

หรือจะไปฮาลองเบย์ก็สวยไม่แพ้กัน แต่ถ้า

เลือกที่จะอยู่แค่ในฮานอยก็ไม่ใช่เรื่องผิด

เพราะแค่ในฮานอยก็ทำให้คุณร้องว่า

"พระเจ้าจอร์จ มันยอดมาก" แบบนาทีต่อ

นาทีได้เลยทีเดียว

66
---
UNTOUCHED MYEIK

Unplugged

Paradise

Need an e-tox? Then head for one of

Asia's last unspoiled destinations —

the Myeik Archipelago in Myanmar.

Words & Photos Ron Emmons

68

69
---
UNTOUCHED MYEIK

My phone and laptop were

beginning to control my life,

and I was badly in need of an

e-tox. I couldn't bear to throw

these gadgets away, so I decided to go far,

far away; somewhere without Wi-Fi or 3G;

somewhere I could escape from the virtual

world and reconnect with nature.

Allowing myself one last

online indulgence to search

for my spot, I signed up with

Moby Dick Tours for a cruise

through the Myeik (aka Mergui)

Archipelago, located in the

Andaman Sea off the southern

coast of Myanmar.

The indicators were good:

over 800 tropical islands, some

no bigger than a house and others

several kilometres long and wide;

most of them uninhabited; no

ferries connecting them, and

definitely no Wi-Fi.

The trip began in Kawthaung,

Myanmar's southernmost

town, where I boarded the Sea

Gypsy — a homely looking, yellow

and green-painted vessel with

simple accommodation for 10

people, a communal sitting and

eating area, a sundeck and a

perpetually smiling crew. My

companions for the voyage

were a bunch of like-minded

travellers from the USA, the UK,

Ireland, Belgium, Switzerland,

Germany and Thailand.

Right

A Burmese-style

pagoda beside the

dock in Kawthaung,

a town in the country's

southern tip.

Bottom

The Mergui

Archipelago

consists of hundreds

of islands with

corals reefs and

unspoilt beaches.

Opposite Page,

Clockwise

A Moken man

repairing his

dugout canoe

while his wife

looks on; kids pose

for the camera.

One of the many

enticing, deserted

islands of the Myeik

Archipelago, seen

from the sundeck of

the Sea Gipsy.

Our tour guide, JoJo, briefed

us on our activities for the next

five days. These included exploring

the islands and beaches, swimming,

sunbathing, snorkelling, kayaking

and stand-up paddleboarding

(SUP), visiting a Moken (sea

nomad) village, meeting local

fishermen, eating delicious food

and getting to know each other.

JoJo handed each of us a map

of the area, and I smiled to see

the names of some islands,

such as Hastings Island, Lord

Loughborough Island and Great

Swinton Island, which I presumed

were named by ship captains in the

era of British rule over Burma.

I had read that the region was

once a hotbed of pirates, but I

hoped we would complete our

cruise without seeing a ship with

a Jolly Roger flag of skull and

bones bearing down on us.

Within a couple of hours

heading northwest into the

archipelago, we had lost sight

of the mainland and were

surrounded by islands that

were covered in dense forest

and ringed by rocky shorelines,

sandy beaches and coral reefs.

Soon the Sea Gypsy dropped

anchor and JoJo whisked us

to a deserted beach in a small

dinghy. We scrambled up a steep

incline to enjoy a panoramic

view of the archipelago, but we

didn't stay there long. Suddenly

everything went dark and the

heavens opened; rain came

teeming down, thunder cracked

and lightning split the sky. By

the time we got back to the boat

we were all soaked, despite not

yet having had a swim in the sea.

Our voyage took place at the

turn of the dry to rainy season,

and stormy weather became a

regular feature of the next few

days. While in some ways this

was disappointing, the storms

brought with them a silver lining

in the form of dramatic skies

that made for memorable photos.

I would find myself composing

an image with bright sunlight

shining on the Sea Gypsy or on

70 71
---
UNTOUCHED MYEIK

one of our group paddleboarding

over limpid waters, with a

contrasting backdrop of dark,

brooding clouds.

As we chugged around the

archipelago, we often spotted

dolphins breaking the surface

near our boat, and eagles and

kites gliding on air currents

high above us. With its relative

lack of human activity, the

archipelago is a haven for

many rare creatures, such as

dugongs, dusky langurs and

plain-pouched hornbills. We

Above, Left and

Right

A fisherman with

oil-covered hands

repairing a boat

engine in the shelter

of a bay.

Below

The Sea Gipsy makes

a comfortable,

floating base from

which to explore the

Myeik Archipelago.

As we chugged around the archipelago,

we often spotted dolphins breaking the

surface near our boat, and eagles and

kites gliding on air currents high above us.

didn't see any of these, but one

day I was taking shots of yet

another idyllic, deserted beach

when someone shouted "Oh,

look at the monkeys!" I swung

my camera round to see that the

'monkeys' were in fact a family

of oriental small-clawed otters

scampering down the beach to

the sea. Apparently, they are

different to other otters in that

they spend most of their time

on land, and catch their prey

with their paws rather than with

their mouths.

Though the islands are

largely devoid of any human

footprint, one saddening sight

was the pollution on several

beaches. Plastic bottles, torn

fishing nets and lumps of

Styrofoam marked the high-tide

line, posing a grave danger to

the many endangered species

that inhabit the archipelago.

Coral reefs are also under

threat, not only from rising sea

temperatures, but also from

carelessly dropped boat anchors

and tourists taking souvenirs

of their trip, though I was glad

that JoJo warned us against this

last activity. Unfortunately, due

to the stormy weather, visibility

on the reefs was poor so we

couldn't fully appreciate their

beauty at the time of our trip.

At present, only a few resorts

exist in the entire archipelago,

each of which professes to be

eco-friendly and to keep human

impact to a minimum. However,

several other luxury resorts are

currently under construction on

previously uninhabited islands,

and hopefully they will take a

similarly sensitive approach to

this fragile wonderland.

72
---
UNTOUCHED MYEIK

Clockwise from Top

A local woman

carries seafood

that's been

left out to dry;

Taung Bao Bo

— where coral

reefs still enjoy

relative tranquility;

Kayaking trips

are part of the

excursions

organised by

expeditionsin

photography.com

and David Van

Driessche,

who organises

the tours.

The only permanent inhabitants

of the archipelago are the Moken,

an Austronesian people who number

just a couple of thousand. In the

past they would spend nine months

of the year moving around the

islands, free diving for food

from their dugout canoes, then

sheltering on land during the

monsoon season. These days they

live most of the time on land, and

we visited one of their villages on

Nyaung Wee Island.

We found them friendly and

welcoming, and we were able to

watch them repairing their canoes

and thatching huts while their

children played on the beach. One

of the local Moken women told us

that they are trying to hold on to

their traditional lifestyle despite

intermarriage and modernisation,

but she was doubtful whether

they would be successful.

We also visited a group of

Myanmar fisherfolk who spend

most of their life at sea, fishing

for squid at night. They offered

us beers and bags of squid and

kept up a constant jovial banter,

while one of them was dismantling

a boat engine, his hands black

with grease, and a young boy showed

off his mobile phone loaded

with games.

However, the highlight of the

whole trip for me was on the last

day, when we went ashore on

Taung Lao Bo Island to find some

maroon and beige rocks that

made a striking contrast to the

pale turquoise waters of the bay.

While others in the group were

kayaking and paddleboarding,

I waded through the shallows

with my camera, delighted by the

swirling, natural patterns in the

wave-worn rocks.

We had such a good time

in the Myeik Archipelago that

most of us completely forgot

about our phones. That is, until

one of our group shouted "I've

got a signal!" as the Sea Gypsy

approached the mainland at the

end of our tour. After five days

of socialising, suddenly everyone

went silent, their eyes glued to

a screen, as they checked long

lists of emails, sent messages to

friends and made arrangements

for onward travel. I have to

confess that I was as bad as

everyone else — totally addicted

to the virtual world — until the

sky flared into a jaw-dropping

sunset, a fitting end to our

unplugged sojourn in paradise.

74
---
UNTOUCHED MYEIK

เมื่อมือถือและคอมพิวเตอร์เข้ามาครอบงำ

ชีวิตเรามากเกินไป ทางออกเดียวคือ

หนีไปให้ไกล ไปยังที่ที่ปราศจากโลก

ออนไลน์เพื่อหล่อหลอมเป็นหนึ ่งเดียว

กับธรรมชาติอีกครั้ง และคงไม่มีที่ไหน

เหมาะไปกว่าหมู่เกาะมะริดในทะเลอันดามัน

ทางตอนใต้ของประเทศเมียนมาร์

ทริปของเราเริ่มที่เกาะสอง ใต้สุดของ

เมียนมาร์ เราขึ้นเรือที่มีที่พักส ำหรับ 10 คน

พร้อมกับนักเดินทางจากฝั่งอเมริกา

ยุโรป และรวมถึงคนไทยด้วย โจโจ้ ไกด์

นำเที่ยวของเราแนะนำกิจกรรมที่จะเกิด

ขึ้นในอีก 5 วันหลังจากนี้ ทั้งเที่ยวเกาะ

ว่ายน้ำ อาบแดด ดำน้ำ พายเรือคายัก

ทำความรู้จักหมู่บ้านชาวมอแกน และพา

ชิมอาหารเลิศรส

หลังออกเดินทางเพียงไม่กี่ชั่วโมง

แผ่นดินก็หายไปจากสายตา กลายเป็น

เกาะแก่งที่ปกคลุมไปด้วยป่าเขียวขจี ภูเขา

เลียบชายฝั่ง หาดทรายละเอียด และ

ปะการังงดงาม เมื ่อเรือ Sea Gypsy

ทอดสมอ โจโจ้พาเราลงเรือเล็กเพื่อมุ่งหน้า

ไปยังชายหาดเวิ้งว้าง เราค่อยๆ ปีนเขา

สูงชันเพื่อชมทิวทัศน์ที่ทอดยาวสุดลูกหู

ลูกตาของหมู่เกาะมะริด ทันใดนั้น ท้องฟ้า

ก็มืดทึม ฝนกระหน่ำลงมาอย่างหนัก

เรากลับขึ้นเรือเนื้อตัวเปียกโชกขณะเดียว

กับที่ฟ้าร้องกึกก้อง

ช่วงเข้าหน้ามรสุม ฝนฟ้าคะนองเป็น

เรื่องปกติ ซึ่งแม้จะน่าผิดหวังอยู่บ้าง

แต่ไม่นานแสงอาทิตย์สีทองที่งดงามจน

แทบลืมหายใจก็ส่องทาบทาก้อนเมฆ

เหมาะแก่การถ่ายภาพท่ามกลางแสงแดดจ้า

ตามเข็มนาฬิกา

จากบน

หนึ่งในเกาะแก่งที่สวยงาม

ของหมู่เกาะมะริด

ตัวนากพากันเริงร่าอยู่

บนชายหาด

โขดหินรูปทรงสีสัน

สวยงามแปลกตา

ตามธรรมชาติ

หรือพายเรือเล็กท่ามกลางน้ำนิ่งสงบ

โดยมีฉากหลังเป็นเมฆสีเข้มก็งดงาม

ไม่แพ้กัน ระหว่างแวะตามเกาะแก่งทั้งหลาย

เราเห็นโลมากระโดดขึ้นพ้นน้ำ และนก

อินทรีย์โผบิน หมู่เกาะมะริดเป็นถิ่นอาศัย

ของสัตว์หายากอีกหลายชนิดอย่าง พะยูน

ค่างแว่น และนกเงือกกรามช้างปากเรียบ

เพื่อนนักท่องเที่ยวที่ไปด้วยกันตะโกนขึ้น

มาด้วยความตื่นเต้นเมื่อเห็น "ลิง" บน

ชายหาด ซึ่งแท้จริงแล้วคือตัวนากเล็บสั้น

ที่พากันวิ่งโลดลงทะเล

แม้ว่าจะไม่มีคนอยู่บนเกาะ แต่เราก็ยัง

เห็นขวดพลาสติก ซากอวน และโฟมที่พัด

มาตามเกลียวคลื่น ปะการังถูกทำลาย

ทั้งจากอุณหภูมิที่สูงขึ้น การทิ้งสมอเรือ

อย่างไม่ระมัดระวัง และนักท่องเที่ยวที่เก็บ

ปะการังติดไม้ติดมือกลับบ้าน

ปัจจุบันมีรีสอร์ตเพียงไม่กี่แห่งอยู่บน

หมู่เกาะมะริด รีสอร์ตทุกแห่งเป็นมิตรต่อ

ระบบนิเวศ พยายามลดผลกระทบจาก

มนุษย์ให้น้อยที่สุด ขณะที่เรามาเยี่ยมเยือน

หมู่เกาะแห่งนี้ กำลังมีการก่อสร้างรีสอร์ต

หรูขึ้นหลายแห่ง เราได้แต่หวังว่ารีสอร์ต

เหล่านี้จะใส่ใจสิ่งแวดล้อมอย่างที่ควรจะเป็น

ผู้อยู่อาศัยเพียงกลุ่มเดียวบนเกาะ

มะริดคือชนเผ่ามอแกน แต่ก่อนชาวมอแกน

ใช้ชีวิตเก้าเดือนเดินทางจากเกาะหนึ่งไป

อีกเกาะหนึ่ง ส่วนอีกสามเดือนที่เหลือจะ

อยู่บนแผ่นดินเนื่องจากอากาศแปรปรวน

ในช่วงมรสุม ชาวมอแกนบนเกาะฮาวิ

ต้อนรับพวกเราอย่างอบอุ่น เราได้เห็น

ชาวมอแกนซ่อมเรือแคนู มุงหลังคา

กระท่อม และเด็กๆ วิ่งเล่นบนชายหาด

ชาวมอแกนเล่าให้ฟังว่า พวกเขาพยายาม

อย่างหนักเพื่อรักษาวัฒนธรรมของตัวเอง

เอาไว้ท่ามกลางสภาพสังคมที่แปรเปลี่ยน

จากนั้นเราก็ได้พบปะกับชาวประมงที่ใช้

ชีวิตส่วนใหญ่ในท้องทะเล ร่วมกันดื่ม

เบียร์ ตกหมึก ซ่อมเรือ ดูโทรศัพท์มือถือ

ของชาวประมงตัวน้อยที่ดาวน์โหลดเกม

ไว้เต็มเครื่อง

ไฮไลต์สุดแสนประทับใจอยู่ที่วันสุดท้าย

เป็นความงดงามแปลกตาที่คงไม่มีวัน

ลืมเลือน เมื่อได้มีโอกาสชมความงาม

ของหินสีน้ำตาลแดงและหินสีน้ำตาล

อ่อนตัดกับน้ำทะเลสีน้ำเงินอมเขียวบน

เกาะ Taung Lao Bo

ห้าวันที่ผ่านไปบนหมู่เกาะมะริดช่าง

เป็นช่วงเวลาแสนสุข จนกระทั่งมีใครสักคน

ตะโกนขึ้นมาว่า "มีสัญญาณแล้ว" ทุกคน

กลับไปก้มหน้ามองหน้าจอ เช็คอีเมลและ

ข้อความที่คนทางไกลส่งมา ไม่มีใครพูด

คุยกันอีกแล้ว เราทุกคนยังคงเสพติดโลก

ออนไลน์เหมือนเคย กระทั่งท้องฟ้าสว่าง

ผลัดเปลี่ยนเป็นท้องฟ้ายามอาทิตย์อัสดง

งดงามจนทุกคนอ้าปากค้าง นับเป็นการ

จบทริปแบบไม่ต้องพึ่งอินเตอร์เน็ตได้

สมบูรณ์แบบอย่างแท้จริง

ทริคเพื่อทริป

ช่วงที่เหมาะสม: ตุลาคม-เมษายน

ติดต่อ: Moby Dick Tours

(islandsafarimergui.com)

การเดินทาง: ทัวร์ออกเดินทางจากเกาะ

สองในเมียนมาร์ สามารถนั่งเครื่องบินไป

จากย่างกุ้ง หรือนั่งเรือหางยาวจาก

ระนองได้

ค่าใช้จ่ายอื่นๆ: วีซ่าอิเล็กทรอนิกส์ 50$

ค่าเข้าหมู่เกาะมะริด 100$

76
---
GALLERY

Goodwill Riding

Through the

Unforeseen

For charity's sake and for the exhilaration of traversing through stunning

landscape, a group of photographers based around Asia jumped on their

mopeds for a motorcycle ride of a lifetime around Vietnam.

Words & Photos Morgan Ommer, Chris Lusher and Trong Tung

A floating fish farm

in the Central Highlands

in Vietnam.

78

79
---
GALLERY

CLOCKWISE, FROM TOP

"In the North, we drank a lot of rice wine with the Dao and Hmong

people. The Dao people taught us how to do cheers when you drink.

You say 'Humbidou, you drink, you shake hands, then you wait 2

seconds… and start again."

"In Central Vietnam, we where almost blown away by Typhoon Wutip.

In Danang, we caught up with Hoang Anh, Miss Vietnam Earth runner

up 2012 and did a fashion shoot with her in a nice resort with some

Scottish firewater."

Harvesting Rice.

OPPOSITE PAGE

"The next day we met a bunch of kids playing amazing football, the

way it should be played, as a team and for fun."

80 81
---
GALLERY

OPPOSITE

Vietnamese Khmer people train for a long boat

tournament sponsored by the Ong Khmer Pagoda,

Ca Mau province.

TOP

A Hmong woman.

BOTTOM

Giang Sau P and his family in an joint effort to

preserve the traditional house in a Hmong village,

Ha Giang province.

82

83
---
GALLERY

OPPOSITE TOP

In An Giang province —

raising fish on rafts on the

Mekong River.

OPPOSITE BOTTOM

School kids caught in

a downpour, Thua Thien

Hue province

TOP

Tour boat operators line up in

wait for customers.

RIGHT

Hung Yen primary school

students pose for a group

picture in front of the the

village communal house.

ABOUT THE PHOTOGRAPHERS

Chris Lusher, a photographer from

the UK, is based in Hong Kong.

Chris has two young daughters

and a really nice car back home.

Trong Tung, is a photographer

from Hanoi. He also has a daughter.

Tung loves to play with lighting

equipment, and has too much

energy putting the rest of the

photographers to shame. Morgan

Ommer, photographer and German

national, is now based in Ho Chi

Minh City. He just likes riding

small bikes and eating absolutely

anything. They make up the Noi

Pictures agency, www.noipictures.com.

84

85
---
KNOW BEFORE YOU GO

Resort Style

At the ultra-modern

Como Point Yamu,

the humble Thai

crepe 'khanom

bueang' enjoys a

lavish upgrade.

BANGKOK 88 / SAMUI 92 / PHUKET 96 / CHIANG MAI & CHIANG RAI 100 / PATTAYA 101 /

CHENGDU, CHONGQING & GUANGZHOU 102 / HONG KONG 104 / SINGAPORE 106 / KL 107 / PHNOM PENH & SIEM REAP 108 /

DANANG, HANOI & PHU QUOC 110 / YANGON 112 / VIENTIANE 114 / MALDIVES & MUMBAI 115

87
---
HAPPENINGS

THAILAND

BANGKOK

SPOTLIGHT

Sense and Scents of Wellbeing

One of Thailand's wellness sanctuary,

Divana, takes the lead for its pampering

spa products that are wonderfully

scented and luxurious. To take sensory

relaxation to another level, the

boutique spa has combined the

virtues of Scent, Organic, Lifestyle,

and Culture by unveiling the Divana

Signature Café. An inviting floral

arch greets guests on the 2nd floor of

Central World's Atrium Zone, leading

into the Divana Signature Café wafting

with the brand's signature aromatic

scent. Once seated, you can already

apply hand cream made available

to everyone with the signature scent.

Such pampered hands can look

through and choose from the Café's

sumptuous menus of fusion Thai

and Western desserts and light

grub. A highlight is the Instagramworthy

Afternoon Tea Set which

perfectly marries aesthetics along

with the full engagement of the

senses. CentralWorld, 999/9 Rama I Rd.,

facebook.com/divanasignaturecafe,

+66 (0) 2252 2614-5

UP AND ABOVE

Bangkok is the one destination where a person never tires of

her rooftop bars. ABar and ABar Rooftop, both located on the

37th floor of the newly-revamped Marriott Marquis Queen's

Park, offers an interesting addition to downtown Bangkok

with a spectacular view of Benjasiri Park and the city skyline.

The bar's design plays with the concept

of contrasting qualities, such as dark

and light as seen from the décor inside

the 1930s-inspired ABar while a lighter,

shimmering ambience

sets apart the ABar

Rooftop.

Guests are invited to savour the dark

spirits at ABar where an extensive

selection of whiskey, dark rum, cognac

as well as Prohibition Era cocktails

are promised, or dive into the neverending

parade of gin at ABar Rooftop

where one of the largest gin selections

are kept. Bangkok Marriott Marquis

Queen's Park 199 Sukhumvit 22,

bangkokmarriottmarquisqueenspark.com,

+66 (0) 2059 5999

88
---
HAPPENINGS

THAILAND

BANGKOK

SPOTLIGHT

Pioneering Pacific Northwestern Cuisine

UNLEASH THE DRAGON

After a major facelift, the former Western-styled dining

venue Iron Chef Table is excitedly reborn as Iron Chef

Dragon where delicious modern Chinese food with an

Asian twist emerges from the culinary magic of Chef

Thanarak Chuto. The food, whose concept of modern

cuisine gets created from the finest ingredients with

authentic flavours, is illustrated through a unique

presentation, all at a reasonable price. Diners can

expect to whet their appetite with a variety of dishes

once heard in stories of ancient Chinese culinary dishes

such as Emperor Crispy Egg Noodles with Abalone, Sea

Cucumber, Fish Maw, Shrimp and Shiitake served with

a signature consommé, or a more contemporary touch

like a premium dim sum platter which consists of

excellent bite-size treats. Iron Chef Dragon also offers

an interesting wine list and wonderfully-crafted

mocktails and cocktails highlighted by the pumping Fire

Breathing Dragon that mixes herbal tea, green table,

apple cider, and lime juice topped with baked crispy pork..

Thonglor 11, Sukhumvit 55, facebook.com/ironchefdragon,

+66 (0) 81 819 6262

BAKED FROM THE LAND

Landhaus Bakery, a popularly-known

breadmaker and café successfully

established its six branches in Austria

and recently debuted its first Asian

location in the Ari neighbourhood around

late April. Within just a short period,

Landhaus Bakery has become one of the

go-to spots for those wanting artisanal

bread at reasonable prices. This bakery

with its rustic chic vibe offers specialty

baked goods with Austrian authenticity

in both recipes and techniques as seen

from the gigantic wood-fire Gragger

oven exclusively designed for its

Bangkok outlet. Daily baking of bread

varieties start at 1am with changes

in their menu with enticing additions

available on a weekly basis. At Landhaus

Bakery, just a slice of bread with a simple

spread of Austrian honey or jam is the best

way to savour the flavours and ambience

of the space. Better yet, enjoy a glass

of fine Austrian wine. The place is also

known for a wide selection of brioche and

Breakfast Set as well. 18 Phahonyothin 5,

facebook.com/Landhausbakery,

+66 (0) 81 902 9183

A first glance, the newly-opened

Ocken restaurant on South Sathorn

Road in Bangkok does not unveil the

exact type of cuisine this place has

to offer. But if you are familiar with

the cuisine of the American Pacific

Northwest, you will see a strong

influence coming from that part of

the world. Rich soils and oceans of

seafood sustain their philosophy

of simple cooking techniques and

the freshest flavours. Signalling the

latest brainchild from the creators

of food establishments Roast, Roots

and The Commons, Ocken serves

eclectic dishes inspired by the

founder's memories and journeys.

The dishes that have been tried

so far have been flavourful, intense

in taste with masterful manoeuvring.

The launch menu has the scrumptious

Mini Cuban (small finger sandwiches

with jalapeño and cured ham) and

the refreshing 'Ocken Salad' where

creamy burrata contrasts with the

sharpness of kiwi and rosemary.

Octopus — another signature

dish — is brined to tenderise, then

grilled and ladled with bacon fat

for service.

The in-house drinking water, as

mundane as the item is, serves as the

restaurant's attempt to reduce plastic

waste. The twice-filtered still and

sparkling waters, available and freeflow

at Bt60 per person, are light,

smooth and really does enhance the

whole meal. 1st Floor, Bhiraj Tower

Sathorn, South Sathorn Road (BTS:

Surasak, parking on site), Daily (closed

Mondays): 18.00 – midnight,

+66 (0) 82 091 6174, ockenbkk.com

WHERE STREET AND KICKS MEET

What happens when a love of street

style and passion for rare and unique

sneakers meet? The result is atmos

Bangkok. From its beginning in Tokyo

in 2000, atmos Bangkok will be the

sneaker boutique's fourth country where

they set up shop and and a first in

Southeast Asia. Located on the 2nd floor

of Central World's Beacon Zone, the

place is more than just a general sneaker

store. Excitingly for sneaker heads, it

features special items and exclusive

collaborations with major brands of kicks

from around the world such as Nike,

Adidas, ASICS, Puma, etc. CentralWorld,

999/9 Rama I Rd., atmos-bangkok.com

90
---
HAPPENINGS

THAILAND

SAMUI

SPOTLIGHT

Dining Unlike

Any Other

UPCYCLING THINKING

Patrons of this place will have a 'Think' about

the impact they have on the environment, as

THINK & Retro Café employs recycled furnishings

throughout their space. The recycled theme

integrates itself into all aspects of the venue

as the restaurant area and rooms are all made

from recycled shipping containers. Located

on beautiful Lipa Noi beach on Samui's west

coast, THINK & Retro Café has a quiet and

tranquil feeling that allows guests some time for

introspection while looking out at the calm seas

and enjoying a delicious meal. With a large menu

offering both Thai and Western dishes as well

as delectable desserts and cocktails, THINK has

something to suit everyone's taste. facebook.com/

samuirestaurant, +66 (0) 77 423 951

For the past three years, one

restaurant has held a top spot as

an island favourite among visitors

– The Thai Experience. What

sets this venue apart from the

plethora of dining options on the

island are the charismatic hosts

who guide their guests through

delicious twists on classic Thai

dishes, cocktail making, and

RESORTING TO NATURE AND MUSIC

A scenic drive along Koh Samui's west coast will bring

you upon bamboo and mud structures appropriately

named The Mud. Twenty-three mud clay and bamboo

villas offer lodging with great sunset views and a beautiful

outdoor pool located right on a dreamy beach front.

The Mud aims to give those who visit a view into the

past with its almost primal design inspiration and

a look into Thai history and

culture. The restaurant can

accommodate up to 21 guests

per night and advanced booking

is required. With pick up and

drop off services included in

the evening's festivities, diners

can enjoy free-flow cocktails all

evening. The Thai Experience

is the perfect way to immerse

yourself in culture, to meet fellow

travellers, and enjoy a unique

menu. 132 Moo 4, Tambon Maret,

Amphur Ban Lamai, facebook.com/

thethaiexp, +66 (0) 84 667 8711

its emphasis on true Thai culture.

Though the Mud is known for its inviting

accommodations, it has made a reputation

for itself on the island paradise as a place

for live music which takes place in their

restaurant each night. Additionally, on

every last Friday of the month, The Mud

holds a jam session in their restaurant

and amphitheatre area which draws in

musicians from near and far.

facebook.com/The-Mud-555751337909656,

+66 (0) 77 960 172-3, +66 (0) 81 959 5155

92
---
HAPPENINGS

THAILAND

SAMUI

SAMUI'S AMAZING

FAMILY BEACH CLUB

SPOTLIGHT

Sporting Heaven on Chaweng

Water lovers and adventure

seekers in Thailand, look no

further than Samui Boat Panmas

located on lively Chaweng

Beach. White sand and clear

blue waters pair perfectly with

Samui Boat Panmas' many

offerings including jet skiing,

wakeboarding, flyboarding,

parasailing, towable floats,

banana boats and doughnuts,

water-skiing and more. Solo

travellers, groups, or families

can enjoy a day of fun out on the

water. You have the option of

creating your own schedule and

ROCK CLIMBING ADVENTURES

Rock & Ropes Koh Samui

past year and half on the island,

offers a safe and fun way for Rock & Ropes has become a

visitors to experience the thrill favourite stop for thrill seekers.

of climbing or conquering their The climbing venue is located

fears in an idyllic and beautiful on the face of a beautiful rock

setting. Rock & Ropes' offerings with breath-taking ocean views.

include rock climbing tours as Its convenient position between

well as abseiling/rappelling and popular Chaweng and Lamai

guided courses. With bookings Beach make it easily accessible

needed in advance, visitors are from the main tourism areas.

encouraged to get a group of Rock climbing and rappelling are

two or more to join a day of fun open to children and adults alike.

and adventure no matter the facebook.com/Rockclimbsamui,

weather conditions. Over the +66 (0) 61 230 0767

Photos by Chatta Phoyen

programme of the day to best suit your tastes for

thrills. Day trips visiting the surrounding islands are

also available. Whatever the choice, a day with Samui

Boat Panmas is guaranteed to be full of fun and

sunshine. samuiboatpanmas.com, +66 (0) 89 750 2200

Come Play!

MAENAM

AIRPORT

BOPHUT

A CAFÉ MOST VISITED

The Road Less Travelled café may be one of the newest

additions to Koh Samui's repertoire of lovely cafés, but what

sets it apart is its dedication to organic and ethically-sourced

ingredients used for their homemade-style of food and

beverages. Love and care go into everything the RLT does

and that is evident upon first glance at the colourful and

cosy décor. The café has a way of transporting its customer

to what may feel like a trendy Thonglor locale in Bangkok, or

possibly a quaint Scottish café. Given the juxtaposition of the

elegant café and its Thai beachy surroundings, guests cannot

help but be drawn to the venue in Nathon's old village. The

beauty of the venue may be what draws guests in, but the

delicious health food, the handmade chocolate and desserts,

and wide array of coffees and cocktails are what keeps people

coming back for more. facebook.com/The-Road-Less-Travelled-

Samui-2362963547261252, +66 (0) 61 196 9882

BOPHUT HILLS BEAUTY

What started off as a well-kept secret

for locals has now become a must-see

for long time islanders and tourists

alike. Gecko Samui, hidden high in the

Bophut Hills, is a great place to spend

an afternoon lounging, swimming,

drinking cocktails, and soaking in the

breath-taking views from high up.

With a chic, white and airy lounging

area overlooking an infinity pool

situated above lush palm trees, Gecko

ticks all the boxes on your paradise

check list. Offering a mixture of strong

cocktails, Western favourites, and

delicious Thai fare, Gecko boasts not

only a beautiful scenic backdrop but

also a wonderful menu. Those who

venture up in the hills will not be left

disappointed after a day spent at this

trendy and in-demand spot.

facebook.com/Gecko-Samui-39269995686,

+66 (0) 81 737 3507

ECO-ARTISAN MARKET

One of the islands most celebrated 'green' initiatives is the Samui Green

Market which takes place every six weeks. Started by the Samui Mala

group, the market aims to celebrate local artisans and creators who

supply a variety of products such as locally-made cheeses, chocolate,

vegetarian and vegan foods, handicrafts and more. All vendors are

required to 'ditch the plastic' and find alternative ways to package

products. The environmentally-conscious market is run solely by caring

volunteers and supports programmes such as Trash Hero, Samui Bin

Projects, and various other community causes. With their welcoming

feel, the Green Market makes for a lovely Sunday afternoon spent

enjoying local products and immersing in Samui's green community.

Upcoming green market dates are July 15th at Elysia Boutique Resort

and August 26th at Six Senses. samuimala.org

Photos by Kevin Nowak

All Are Welcome...

Free sunbed & use of towel

Beach Volleyball everyday

Beach Bar / Swim-Up Pool Bar

Happy Hour 4-7pm. everyday

Children's Activities

Table Tennis & Pool Table

Beach Front Restaurant & Bars

www.shivasamui.com

NEXT TO

AQUARIUM & TIGER ZOO

FREE WATER SPORTS

Kayaks, Paddleboards, Snorkelling

Shiva Samui, Koh Samui Hua Thanon, Samui, Thailand

Phone: +66 077 332 980

Email: beachclub@shivasamui.com

4170

LAMAI

CHAWENG

94
---
HAPPENINGS

THAILAND

PHUKET

SPOTLIGHT

Dine in Indian Influence

One of the most exciting resorts

in Phuket, Keemala, launched

its brand in the woodlands

setting, a wonderland with

accommodations that made

the best use of Kamala Bay's

lush tropical garden. Amidst

their 38 pool villas and cottages

is their Mala Restaurant that

serves guests all day deliciousness

inspired by local Phuket

Peranakan cuisine. What makes

this place special is the fact that

they have a full Indian menu for

all meals — from breakfast to

lunch and dinner. The explanation

is that the Indian influence

serves as the root of Malay

food, hence a part of Phuket

Peranakan culture.

Mala serves breakfast from

6am until 11.15am, making it

perhaps the longest breakfast

on the island. Their à la carte

and buffet menus offer up

Indian choices such as masala

dosa (Indian crêpe with lentils

and vegetable sambar and

coconut chutney), Medu vada

(south Indian doughnut) and

Idli (rice and lentil cake) to

be washed off with a masala tea. Lunch and dinner

feature a full Indian menu with favourites such as

butter chicken, vegetable samosa, tandoori and tikka.

10/88 Moo 6, Nakasud Road, Kamala, Amphur Kathu,

Phuket, +66 (0) 76 358 777, keemala.com

NATIVE MODERNITY

We all know that Phuket has more beaches than farms, but Pru

Jampa organic farm in the northeast of Thailand's largest island

sources fresh produce for chefs for farm-to-table dining.

Pru — the word that Phuket natives use to call the wild

mangrove forest typical to the island — is the name of a modern

cuisine restaurant at Trisara Phuket, featuring aspiring chef Jim

Ophorst from the Netherlands whose background includes a stint

in the innovative kitchen of Gaggan in Bangkok. Chef Ophorst

uses organic eggs from Pru Jampa, along with local herbs and

organic vegetables from the 600-rai wild farmstead. He also

sources seafood, fruits and vegetables from all over Phuket. The

result is a menu variety starting from four to nine courses with

wine paring and highlighted dishes include Phang Nga black crab

in its own reduction, iced fennel and vinaigrette and burnt leeks

with mushrooms from the forest of Phang Nha. Monday - Saturday:

18.00 - 22.30, 60/1 Moo 6, Sri Soonthorn Road, Cherngtalay, Thalang,

Phuket, +66 (0) 76 310 100, prurestaurant.com

CAPE PANWA PHUKET RACE WEEK 2018

For 15 years, Phuket Race Week has during the dry and cool seasons to-wards

been the 'it' event for sailing boat the end of the year, July is the charming

enthusiasts from all over the world who 'green' season or the rainy season. But

join the annual race and get together in do not be alarmed — the comfortable

Thailand's southern resort island. This temperature, more active winds and

year, the event will take place during a little bit of tropical rain add to the

18-22 July 2018 at Cape & Kantary challenge and are important factors for

Hotels' Phuket properties, Cape Panwa sailing. This year expects 30 to 40 yachts

Hotel and Kantary Bay Hotel which sit to participate in the event in at least

at Phuket's southernmost bay tip with seven categories, including IRC, Multihull,

an open span of the Andaman Ocean. Cruising/Charter, Firefly 850, Crosair

Like many other seaside destinations, and Platu. The four-day race will finish

seasons in Phuket are mostly designated off with a closing party by the beach.

by weather. While the island is most 113/167 Anupas Golf Ville, Kathu, Phuket,

crowded throughout the year, especially +66 (0) 89 000 4664, phuketraceweek.com

96
---
HAPPENINGS

THAILAND

PHUKET

THAILAND

KRABI

SPOTLIGHT

Balance the Ayurvedic Way

The sports-centric Thanyapura Health and Sports

Resort is now introducing a new 'Ayurvedic

Treatment' that includes a wholesome body and

mind treatment with knowledge that aims to

boost total energy and inner wellbeing.

Reaping wisdom from ancient medicinal

treatments that hark back over five centuries,

the new 'Ayurveda' will focus on three elemental

substances or the doshas (Vata, Pitta and Kapha).

Balance of the doshas results in optimal health,

while an imbalance results

in diseases. Thus balance can

be achieved by maintaining

a healthy daily routine that

include natural cycles of

waking, sleeping, working and

meditation, for example. The

treatment is individualised,

beginning with a consultation

to identify a person's prakriti

(innate energy) or state of

balance, along with an

inspection of any imbalance

or concerns and finally, a

personalised recommendation

for body/mind/spirit activities

or prescription. Abhyanga

or Ayurveda Oil Massage,

Shirodhara or Third Eye

Oil Dripping Treatment,

knee treatment and spine

treatments, along with other

body treatments are also

available in the service of

ancient recipes. 120/1 Moo 7,

Thepkasattri Road, Thalang,

Phuket, thanyapura.com

SPOTLIGHT

Seashells and Lobsters

Chances are that if you are vacationing in Krabi,

you will want to take time for sightseeing and

absorbing the local charm. The ShellSea — a

seaside resort located on the beach very close to

the famed Fossil Shell Beach, is having a lobster

promotion throughout the months of July and

August 2018.

The resort's all-day dining restaurant and

bar, Cerulean restaurant features local lobsters

cooked deliciously in signature recipes. Among

the highlights include lobster served with

saffron risotto, cream cheese

and porcini mushrooms,

garnished with sun-dried

tomatoes and parmesan

cheese. Lobster tagliatelle

features grilled lobster with

pasta and cream made from

a Krabi delicacy known as hoi

chak teen, a wing shell that is

harvested by local fishermen.

Gaeng phed ShellSea is whole

lobster braised in red Thai

curry with local mango, and

you can also have a whole

lobster in sour chilli red sauce

with garlic and ginger. Each

lobster dish is priced at Bt1,800

net. 999 Moo 6 Sai Thai, Amphur

Muang, Krabi, +66 (0) 75 819 519,

theshellseakrabi.com

SUAY SUAY, AROI AROI

The dishes at Suay (beautiful in Thai)

restaurants in Phuket live up to their name

and are designed to also be unique and

authentic. Established by veteran Thai

chef Tammasak Choothong or Chef Noi,

Suay represents fine dining with creative

dishes that retain the Thai taste. The

menu results in an array of tasty and

beautiful dishes such as spicy tuna salad

Isaan style, bua tempura (using the Aralia

leaf and a typical snack in Phuket) served

with seafood curry tempura and avocado

dip and the popular Thai dish of yum

som-o or pomelo salad, served with grilled

sea scallops, Thai basil and crispy fried

dried shrimp. Another dish that ensures

the seaside feeling is their sepia (squid)

carpaccio with chilli and lime dressing served

with a sea pearl salad.

Chef Noi is one of Thailand's leading

chefs with over 20 years of experience in

the kitchen, who pursued dreams of having

his own restaurant. Now Suay has two

branches, one in Phuket Town and another

in Cherngtalay. À la carte and set menus

featuring their signature dishes are available,

starting at Bt1,799++ for two with six

dishes to share. Open daily: 16.00 - 23.00,

suayrestaurant.com

STREET STYLE'S MODERN TAKE

Como Point Yamu Resort at Cape Yamu in Phuket is known for its

stark modernist designs and architecture. But when it comes to

food, they go local and scrumptious. Nahmyaa, the dinner-only

Thai restaurant with a menu inspired by local street food, serves

traditional dishes that range from Phuket's favourites to edgy

and tasty concoctions with local fresh seafood, local spices and

old-school recipes. Their 3-course menu features the signature

starter of khanom bueang ped, with the Thai-styled thin and

crispy wafer. This gets stuffed with braised duck, longan bits,

sweet basil and peanut, or crabmeat curry that's luscious in

texture with turmeric, young ginger and pepper, and chargrilled

pork neck with dried chilli tamarind and coriander dipping sauce.

The desserts include sticky rice and mango and 'lod chong' which

is naturally hued in deep blue with butterfly

pea instead of the traditional green

with the pandan leaf. Also

available are fresh seafood

from Phuket island and

beyond. Open daily:

18.30 - 22.30,

225 Moo 7, Paklok,

Thalang, Phuket,

+66 (0) 76 360 100,

comohotels.com/

pointyamu

98
---
HAPPENINGS

THAILAND

CHIANG MAI / CHIANG RAI

THAILAND

PATTAYA

Chiang Mai, the Lanna capital of

Thailand, might not sound like a

place for onsen indulgence. But at

the spa-centric RarinJinda Wellness

Resort, their line of hydrotherapeutic

facilities offer the popular Japanese

bath tradition. The onsen tubs come

complete with mineral extracts

imported from Gero city in Takayama

prefecture, a place that ranks among

SPOTLIGHT

Having an

Onsen Time

Japan's top three hot springs with

special beauty promoting and

healing properties. Their semioutdoor

onsen pools include a hot

spring pool (40-42°C), cold pool

(18-20°C) and soda-carbonated pool

(34-36°C) that help improve blood

circulation, increase oxygen flow and

detoxify the body.

RarinJinda is known for its

hydrotherapeutic treatments with

a state-of-the-art indoor heated

hydrotherapy pool (eight hydro

massaging stations to address

different body ailments), Vichy

shower, a Hydrotherapy tub, and

Infrared Sauna. Accommodations

include private spa suites overlooking

Doi Suthep for those wishing for

total private pampering. 14 Charoen

Rat Road, Wat Ket, Muang, Chiang Mai,

rarinjinda.com

TALES FROM THE GARDEN

If you are looking for amazing food

and a perfect hideaway from the

hustle and bustle of Pattaya, Tree

Tales won't disappoint. Located

on Na Klue road, the beautiful

glasshouse café provides a casual

garden atmosphere, allowing you

to savour healthy and delicious

dishes while enjoying its vintageinspired

garden. The restaurant

serves up a variety of unique

homemade food, desserts and

healthy beverages. With the owner's

real passion for cooking, every dish

is crafted with fresh and organic

ingredients from the garden. "Tree

Tales Salad" and "Crispy Pork Belly

with Watermelon Salad" are two of

the starters. Do not miss the café's

signature dessert of Pan Baked

Soufflé. +66 (0) 38 429 484,

+66 (0) 80 044 5598, facebook.com/

treetalescafe

INSIGHT INTO BUDDHIST ART

When visiting a temple, do you notice that

each Buddha image has features different

from others? Find out why, together

with other interesting facts by visiting

the Museum of Buddhist Art Nongprue

for better insight into Buddhist art. The

museum collects more than 2,900 ancient

Buddha images and religious artefacts to

showcase the art and cultural heritage

of Buddhism dating back at least 5,000

years. The permanent exhibition has an

incredible collection of Buddhist art from

different ancient kingdoms including

Davaravadi, Srivichai, Lanna, Lan Xang,

Lopburi, Sukhothai, Ayutthaya, Rattanakosin,

and even the prehistoric settlement of Ban

Chiang. The museum also includes a special

exhibition showcasing Folk and Village Lives

and Antique Jars in Thailand. The museum

opens every day of the week.

+66 (0) 38 195 224, buddhistartmuseum.org

RYOKAN AMONG

THE RICE FIELDS

Amidst the green rice fields of outer

Chiang Rai and in the middle of

nowhere is an open-air café and

accommodations built in the concept

a traditional ryokan. The architecture

in the style of the Japanese inn

features wooden frames, tatami mats,

and shoji sliding doors. One would

expect their hosts to actually wear the

yukata kimono as they greet guests.

The Ryokan Café opened first as a trial

project, with a coffee menu, chocolate

drinks and beverages along with

simple Japanese dishes such as rice

with curry, tempura, or tonkatsu pork

cutlets. Customers can enjoy all this

with the enticing view of rice fields.

Each room design has tatami

mats, and also equipped with a

'rotenburo' outdoor pool and rock

garden — a great spot to enjoy

the cooler months of Thailand's

northernmost province. Open daily:

9.30 - 18.30, 134 Moo 4, Tambon Bua

Salee, Amphur Mae Lao, Chiang Rai, +66

(0) 81 863 3010, chiangrairyokan.com

NATURAL TEAS

Tea drinkers will delight in savouring

wild grown teas from northern Thailand.

Monsoon Tea launched their line of

goods based on a sustainability approach,

by cultivating the wild growing forest

tea plant known as Camellia Sinensis

Assamica. The 'undomesticated' tea

plant is native to the northern part of

the country and when brewed, gives an

aromatic and deep taste.

Unlike typical teas that are usually

produced from tea buds, Monsoon

Tea's selections come mostly from fullfledged

tea leaves traditionally made

into fermented tea called 'miang' — a

native food of northern Thailand. The

leaves make more robust tasting teas,

packed with a distinct terroir of the

abundant forests whose naturally wild

plants co-exist with the tea plants.

328/3 Charoen Rat Road, Wat Ket, Amphur

Muang, Chiang Mai, +66 (0) 97 918 9892,

monsoon-tea-company.com

100
---
HAPPENINGS

CHINA

CHENGDU / CHONGQING / GUANGZHOU

SPOTLIGHT

High Up for High Tea

Located in the upper levels

of Guangzhou's IFC Building,

the Four Seasons Guangzhou

is a perfect place to enjoy a

birds-eye view of Huacheng

Park, the city's Central

Business District, and the

iconic Canton Tower. After

a leisurely walk in the park,

take the elevator an earpopping

70 floors up to the

Four Seasons Atrium Lounge.

Enjoy a delectable afternoon

tea complete with finger

sandwiches and petit fours

for 438RMB plus service

charge for two people. For

those looking for a night out,

head up to the Tian (Sky)

Bar on the 99th Floor for a

craft cocktail overlooking

the Pearl River. On the

weekend, be sure to call

ahead to reserve a window

seat, as this chic bar is

a popular place. Drinks

from 150-200RMB, view

is free! +86 20 8883 3888,

fourseasons.com

GUANGZHOU OPERA HOUSE

Designed by Zaha Hadid, the Guangzhou

Opera House is a gorgeous example of modern

architecture in an urban setting and inspired by

river valleys.

The building's shape resembles that of two

pebbles on the bank of the Pearl River. Inside in

1,800-seat theatre with a 400-seat multifunctional

hall, rehearsal rooms and entrance hall.

Major shows coming up include the Danish

drama "Andersen's Fairytale Life" July 7-8, followed

by "Kinky Boots" August 9-19, and the criticallyacclaimed

musical "Cats" August 30 - September 16.

gzdjy.org

FLAVOURS OF SICHUAN

For over a thousand years, Sichuan food has been known for being

flavourful and sweet. It was only around 300 years ago that international

traders introduced the hot pepper to Sichuan, which, along with numbing

peppercorns, became the heart of Sichuan cuisine and the province's

characteristic "Ma La" flavour. Traditional Sichuan dishes layer flavours,

showcasing the region's complex sweet and spicy history.

For a taste of Sichuan beyond hot pot, try the delicious food at

Shītúqíng Rénmín Shítáng ( 师 徒 情 人 民 食 堂 ) in Chengdu. This local

restaurant serves up traditional dishes like spicy mashed eggplant, delicately

spiced and liberally fried potatoes, sweet Gong Bao Ji Ding (Kung Pao

Chicken), and fresh cucumbers layered with coriander and red peppers.

Come with a group and order a variety of dishes to share.

Glory North Road, No. 86, 28 87769215

CI QI KOU — CHONGQING'S

PORCELAIN PORT

Located on the Jia Ling River, the ancient village

of Ci Qi Kou, or Porcelain Port, has been a wellknown

market and trading centre for centuries.

Famous for its porcelain during the Ming and Qing

Dynasties, today Ci Qi Kou has been restored into

a tourist-friendly window into ancient Chongqing.

Its walking streets offer teashops, Shu embroidery

workshops, and artist studios. Local restaurants

serve Sichuan specialties like Mao Xue Wang,

a spicy duck blood stew. Climb up to Baolun

Temple's observation deck to take in the contrast

of the ancient city and backdrop of distant

skyscrapers. From Chong Qing, take metro Line 1

to Ciqikou station.

CRAFT COFFEE AT LAIHUI

Entrepreneurial, daring, and delicious, Guangzhou's coffee

culture has firmly taken off. Tucked into a quiet, tree-lined

neighbourhood just next to the bustling Grandview Mall, Laihui,

or "Back and Forth," is the ideal place to sip a perfectly poured

latte, expertly crafted pour-over, or refreshing cold brew. With

beans imported from Ethiopia, Colombia, and Peru but roasted in

Zhaoqing, Guangdong, Laihui offers customers a mix of exquisite

coffee and local charm. Sit a while or enjoy walking around the

quiet neighbourhood, a treasure trove of boutique clothes shops,

Japanese and Korean restaurants, and small salons.

Tianhe Road No. 84, 20 29847242

ART AND CULTURE IN

CHENGDU

In the heart of Chengdu's historic

district, Chengdu Culture Park

contains a wealth of Sichuan history

amid scenic walks and sculpted

gardens. A highlight is the famous

Taoist Qingyang Palace that dates

back to the Tang Dynasty. As night

falls, head over to the Shu Feng Ya Yun

Theatre to see traditional performance

arts. Guests sip tea while watching

a dazzling display of Sichuan opera,

puppetry, acrobatics, comedy, magic,

fire breathing, and the ancient art of

face changing. shufengyayun.com.cn,

28 66008875

102
---
HAPPENINGS

HONG KONG

SPOTLIGHT

Raising the Beer

The Artist House in Causeway Bay has

literally raised the bar when it comes

to handcrafted beer. In fact, in a short

time, the microbrewery/bar has become

a gathering place for individuals who

yearn for top quality brews.

Craft Beer is the outlet's main

selling point, which do rather well.

The Artist House has an impressive

line-up of handcrafted beers on its

menu including several beer cocktails

as well. For non-beer drinkers, rest

assured there's plenty of options to

consider including an impressive wine

list and the outlet's other speciality,

which is its farm to cup coffees.

With its unique setting and décor,

the Artist House also doubles up

as a unique event space. Still, it is

the beer that keeps bringing guests

back, which is why the proprietors

have allowed guests to make their

own infused beer and customised

beer bottles at the outlet's infusion

microbrewery. Monday 11am-6pm,

Tuesday to Sunday 11am-11pm, Fashion

Walk, 9 Kingston Street, Causeway Bay,

mrtheartist.com

NOT YOUR AVERAGE LOVE SONG

The works of legendary American artist Robert Indiana will be on display at the

Asia Society Hong Kong Center. LOVE Song: Robert Indiana and Asia will also

see works by several artists and collectives from Asia on display.

The exhibition will not only present an opportunity for art lovers to

view some of the artist's incredible works but also how his art form is able

to transcend across different cultures. The artists — Kutluğ Ataman, Candy

Factory, Young-Hae Chang Heavy Industries, Chim↑Pom, He An, Hung

Keung, Charwei Tsai, and Xu Bing — share poetic sensibilities with the late

artist, Indiana, who just passed away in May 2018 through their works of art,

which results in art pieces that examines nuances between words and images.

Until 15 July, Asia Society Hong Kong Center, asiasociety.org

104
---
HAPPENINGS

SINGAPORE

MALAYSIA

KUALA LUMPUR

CULTURAL FLAVOURS

Multi-cultural Singapore is blessed with

a natural infusion of cuisines, which

are directly influenced by the country's

different races. Celebrating that heritage

is Folklore, which presents a menu of

nostalgic dishes reflective of the major

racial cuisines of Singapore.

When the hunger pangs hit for a

taste that's uniquely Singaporean, make

a stop at this establishment housed

at Destination on Beach Road. The

brainchild of local chef Damian D'Silva,

Folklore carries a menu that's populated

by signature Chinese, Malay and

Indian favourites. The chef's Eurasian-

Peranakan heritage also shines through

in his dishes, all of which are prepared

passionately with traditional and

artisanal cooking methods.

The dishes here are practically

made from scratch, with no short

cuts or compromise. D'Silva even

makes it a goal to help preserve

Singapore's culinary heritage, which

is evident by bottles of house-made

sauces and mixes along with

complimentary recipe cards, which

encourages home cooking. Open

daily, 12pm-2.30pm; 6pm-9.30pm,

Level 2, Destination, 700 Beach Road

Singapore, parkhotelgroup.com/en/

destinationbeachroad/folklore

SPOTLIGHT

Pan-American Influence

The rich diversity of cultures and cuisines found

along the Pan-American Highway serves as the

inspiration behind Panamericana, a bold new

bar-grill destination housed at the Sentosa Golf

Club. Opened by veteran bar consultant Julian

Serna, the 6,000 square feet eating and drinking

destination sits on a prime spot in the renowned

golf club, set against the panoramic backdrop of

the Singapore Straits.

Executive Chef Mathew Woon has developed

the grill's signature "farm-to-fire" repertoire

of succulent grilled whole meats, fresh seafood

and regional street food. The focal point of the

kitchen is a brick-encased asador, a traditional

pit where whole meats are grilled in plain view.

The menu is predominantly populated by

a mixture of small and big plates, all of which

celebrates the diverse cuisine on offer at

Panamericana. But the outlet is also an ideal

place for sundowners thanks to the large and

breezy 100-seat terrace overlooking the lush

golf course. Open 12pm-11pm, Wednesday to Friday;

9am to 11pm, Saturday and Sunday, 27 Bukit Manis

Road, Sentosa Golf Club, panamericana.sg

SPOTLIGHT

Fight Time

After his controversial defeat to

Jeff Horn in July 2017, Filipino

boxing legend Manny Pacquiao will

once again step into the ring in

Kuala Lumpur. Not ready to hang

up his gloves yet, the former WBO

Welterweight champion will face

Argentinian boxer Lucas Matthysse

for the WBA Welterweight

Championship in the capital city of

Malaysia in mid-July.

But the 39-year-old boxer

will have his work cut out for him

against the younger Matthysse.

The defending champ has already

notched up an impressive record

of 36 knockouts in his 39 victories

of his professional career. Pacquiao

though has the talent to get it done

and despite dividing his time with

his senatorial duties in Philippines,

is still considered one of the world's

best fighters. 15 July, Axiata Arena,

Bukit Jalil, fightofchampions.com

RAISING THE BAR

The Tippling Club has carved a reputation

for its progressive cuisine and unique

cocktails in the region. Under the lead

of chef/owner Ryan Clift, the outlet has

already notched up an impressive list of

accolades under its belt including being

named 11th best bar in Asia by Asia's 50th

Best Bars 2017.

With a mixture of fun and inventiveness,

Chef Clift and his team have managed to

deliver a dining experience that combines

modern gastronomy with a fresh and

playful perspective. Tippling Club features

a bar, dining and an upstairs private dining

room and regardless where patrons chose

to dine at, they are guaranteed a sense of

excitement and a touch of theatre with

every dish and cocktail served here.

Proof of that can be seen in some of

the more unique offerings available at the

Tippling Club like Dreams & Desires, the

world's first edible cocktail menu made

with gummy bears. Open 12pm-12am

Monday-Friday; 6pm-12am on Saturday,

38 Tanjong Pagar Road, Singapore,

tipplingclub.com

106 107
---
HAPPENINGS

CAMBODIA

PHNOM PENH / SIEM REAP

SPOTLIGHT

Creative Mix Hub

Since 2007, the Meta House has been

a creative space for artists and art

lovers in Phnom Penh. The threestorey

contemporary gallery located in

the heart of the city boasts more than

100 sq. metres of art exhibition space.

An open-air media lounge on the

rooftop overlooks the city.

Photo Michael Klinkhamer

Photo Michael Klinkhamer

The goal of Meta House

is to promote the arts in

Cambodia, as well as local

artists and their works. As

such, the gallery regularly

hosts local as well as

international exhibitions

and workshops. The top

floor media lounge also

screens documentaries and

feature films.

Although it's mostly

art, Meta House has also

Photo Meta House

become a popular meeting

place for locals and visitors.

There is an on-site café,

which serves German

delights such as schnitzel

and sauerkraut and recently,

the establishment has

also hosted music events

with visiting DJs and

musicians. Open 8am-6pm,

37 Samdach Sothearos

Blvd (3), Phnom Penh,

meta-house.com

PRESERVING CAMBODIAN CUISINE

Chef Luu Meng has made it a mission

to carry on the traditional Cambodian

way of cooking in all of his recipes. The

country's only Master Chef, Meng has been

experimenting with flavours and textures and

unearthing his country's culinary secrets to

be shared in his restaurant, Malis.

Meng created Malis in 2004 out of a

desire to promote and highlight Cambodian

cuisine. He has been successful too as the

restaurant itself has become a culinary

attraction in its own right. With the help of

his culinary team, Meng has recreated many

traditional Cambodian recipes that were lost

during the Khmer Rouge regime.

Although most of the recipes used

are traditional, Meng has injected a

contemporary twist to all the dishes that

come out from the Malis kitchen. Along

with his restaurant in Phnom Penh, Meng

also operates an outlet in Siem Reap as well.

Open Sunday-Saturday, 6am-10.30pm,

136 Norodom Boulevard, Phnom Penh,

malis-restaurant.com

UNIQUE & PERSONALISED DINING

Looking for an opportunity to savour service by a private chef and waiter.

Cambodian cuisine in an intimate Destination Dining is opened to

setting? You don't have to look outsiders with guests of Sojourn

beyond Destination Dining in Siem Boutique Villas benefiting from

Reap to get your wish. The restaurant preferential rates.

housed at Sojourn Boutique Villas As there is only one table

offers a unique concept of dining by available per night, diners are required

guaranteeing the utmost intimacy as to book well in advance to ensure

it only houses a single table.

that their romantic Cambodian dining

Although perfect for couples, experience will be available for them

Destination Dining can accommodate during their visit to Siem Reap.

a small part of six at most. Diners Open nightly, Sojourn Boutique Villas,

not only get to enjoy a beautiful Treak Village Road, Treak Village

private pavilion sitting over a lotus Siem Reap, sojournsiemreap.com/

pond but also personalised

destination-dining

HOUSE OF ART

When Cambodian artist and

designer Lim Muy Theam wanted

to promote art in the country, he

took it upon himself to open up

his home to enthusiasts. Theam's

Home is truly a one-of-a-kind

art gallery, being both a place of

residence as well as a creative

workshop and living gallery.

Surrounded by a lush tropical

garden, Theam's House certainly

puts one at ease. Step inside the

confines of the building and you'll

immediately be opened up to a

world of art, curated by Theam

himself. The rooms in the home

holds a number of art pieces and

personal collections of the artist,

which were sourced and also created

on site.

A unique space, Theam's House

provides visitors an insight into a

distinctive world of art, as well as

instruction into making their own

creative pieces – be it painting,

sculpting, or lacquer ware.

Open daily, 8am-7pm, #25, Veal

Village, Khum Kokchack, Siem Reap,

theamshouse.com

108
---
HAPPENINGS

VIETNAM

DANANG / HANOI / PHU QUOC

SPOTLIGHT

Native Touches,

New Cuisine

THROUGH THE FRENCH QUARTER

Hanoi had been the capital of French Indochina until 1954. When the

French left Vietnam, they also left their architectural mark in the city's

French Quarter. Many colonial buildings — including the Hanoi Opera

House, Hoa Lo Prison Museum, the National Museum of Vietnamese

History and heritage villas — are packed together in streets south of

Hoan Kiem Lake. Visitors and culture enthusiasts alike could sign up with

Hidden Hanoi (www.hiddenhanoi.com.vn) for a walking tour (USD25 per

person) with a local guide. At a slow pace, this culture tour will lead into

Hanoi's iconic Ba Dinh Square and focus on the Central Committee of

the Vietnamese Communist Party building — formerly the Lycee Albert

Sarraut High School, and the Ministry of Foreign Affairs. While many

of the old French residences have crumbled badly, others have been

renovated and given a new lease on life as higher end hotels full of

Gallic trimmings or restaurants.

GET SOMETHING CRAFTY

Located on the corner of Van Mieu

and Ngo Tat To streets and next door

to Dai Thanh Mon — or the Temple

of Literature in Hanoi, is Craft Link

souvenir shop. This well-run shop

is worth stopping by for unique yet

beautiful Vietnamese crafts. Set in

a heritage building, the two-storied

shop house has impressive collections

of tribal textiles, embroidered

pillowcases, purses, silk scarves,

woodworks, lacquer, chopsticks and

handicrafts of the finest quality and

decently priced. True to its name,

Craft Link serves as a bridge for local

craftsmanship to market their goods

on the fair trade principle. It helps

Vietnamese craftspeople — mostly

ethnic groups scattered across the

country gain more from their unique

yet beautiful crafts and culture.

Craft Link also collaborates with the

Vietnam Museum of Ethnology in

Hanoi to preserve skills among tribal

groups, the puppet-making craft, and

traditional ceramics. craftlink.com.vn

"Nen" is the Vietnamese word for a hybrid between a garlic

and shallot, and this restaurant plays with elements of local

language and heritage, resulting in dishes steeped in the

country's identity, but modern in flavour and presentation.

In other words, Nen pushes Vietnamese cuisine to fine

dining level with their tasting menus. The restaurant is

located in a Danang quiet and beautiful neighbourhood

next to the Han River. Inside a modern and minimalistic

building with a serene garden, Nen uses local ingredients

and makes them the star of the dishes instead of using

produce from elsewhere. The menu ranges from refined

Vietnamese classics liked roasted pork belly wrapped in lace

rice sheets to New Vietnamese with an inventive quail dish

inspired with wild mountain spices from an ethnic minority

group and a corn puree. For a meatless dining experience,

decisions may be tough, with more dishes using local

ingredients and patron favourites. Their Green Vietnamese

menu offers the Secret Garden, with smoked braised

eggplant with lemongrass and garden herbs, a young

jackfruit curry, or the noodle dish of mi quang with local

pesto and braised tofu. restaurantnen.com

A DUSIT HOTEL DEBUT IN PHU QUOC

Dusit Princess Moonrise Beach Resort opens its

doors in Phu Quoc for holiday-makers looking

to chill out in this tropical spot. Located on the

island's west coast, the four-star resort overlooks

the stunning Truong Beach, also known as Long

Beach for its 20 kilometre stretch of sand. The

resort is designed to blend Dusit's unique Thai

heritage with Vietnamese culture and local

traditions. All 108 contemporary guestrooms

range from 32 square metres of deluxe rooms to

90 square metres of suites with inviting ocean

views. The centrepiece of the resort is a large

infinity pool with an ocean view set within a lush

tropical garden. Other facilities include a kid's club

and Luna Thai Spa, which offers a range of holistic

treatments carried out by trained therapists. The

resort options include an all-day dining restaurant,

a lobby lounge, a swim-up pool bar serving Thai,

Vietnamese and Western cuisines; and Soi 14, a

stylish beachfront bar and lounge where a Thai

chef puts a hot and spicy spin to a Thai street

food vibe. General manager Markus Lohenstein

points out that the stunning resort has gorgeous

sunsets almost every day. Fringed with white-sand

beaches, Phu Quoc is rapidly transformed from a

sleepy backwater island to a tropical paradise.

dusit.com/dusitprincess/moonrisebeachresort

110
---
HAPPENINGS

MYANMAR

YANGON

SPOTLIGHT

Contemporarily

Unique

To experience unique Asian fusion

taste in Yangon, visit Sofaer & Co.

They offer all-day dining combined

with coffee and variety of cocktails

to enjoy in an open kitchen setting.

Local and international dishes get

prepared with local ingredients from

all over Myanmar, and many of

their signature dishes use modern

culinary techniques.

But the attraction isn't just the

food as Sofaer & Co's beautifully

preserved building retains most of

the original features, including the

classic encaustic Victorian-era tiles

from Manchester, steel beams from

Lancashire and wood panels from

possibly the era of the Vienna Café

and Burma Book Club. It harmonises

contemporary design with the

original features, locally designed

furniture with signature Burmese

rattan weaving, locally commissioned

artwork and reclaimed glassware

from Nagar Glass Factory.

Find its location in downtown

Yangon surrounded by amazing

historical buildings on the lower

Pansodan Road. A nice walk around

the block after a great meal is also

recommended. sofaerandco.com,

facebook.com/sofaerandco,

+95 9448 333 499

"HLA DAY"

'Hla Day' means 'beautiful' in Burmese, and a remarkable

handicrafts shop in the heart of Yangon carries the same name.

To get to Hla Day, climb up a steep flight of stairs to find a

colourful and vibrant souvenir shop, with lots of handmade

artistic gifts with a contemporary twist. Full of unique Myanmar

styles, decorative accessories, household design ideas and

clothes, you can easily spend an hour in the shop. Many of

the home decorations come with the touch of local art and

culture that will inspire your inner interior designer, including

quirky papier mâché animals and a variety of handmade silver

jewellery with reasonable prices.

But what makes the store even

more interesting is that Hla Day is

run by a non-profit social enterprise.

These quality handmade products

are designed and developed closely

together with Myanmar artisans and

many disadvantaged groups. Hla Day

also provides skills development and

training and creative design input in

supporting the livelihoods of the people

making the products, while locally sourcing

all materials.

It's s place where you can surely

find something to impress your friends

and family and at the same time, do

yourself proud for having shopped

here. hladaymyanmar.org, facebook.com/

hladaymyanmar, +95 9452 241 465

TAUNGBYONE SPIRIT FESTIVAL

This popular celebration takes place

during the rainy season to appease the

nats, or local spirits. It is believed that

the nats can make wishes come true

and bring wealth and success to their

worshippers, protecting them against

illness and danger. The festival goes on

for numerous days, and is the biggest

celebration of its kind in Myanmar.

Worshippers pay their respects two

revered brother nats and they are the

reason people come to the nat festival is

to make wishes to the spirit brothers.

When their wish is granted they

come back here to offer more flowers

again. In nat worship, suffering is caused

by a variety of spirits that are prone to mischief

— so instead of waiting for the next life, nat

worshipers may attempt a cure for their suffering

in this life — by making offerings to nat spirits.

Most pilgrims to the Taungbyone Nat Festival

make a wish for success in business.

112
---
HAPPENINGS

LAOS

VIENTIANE

MALDIVES / INDIA

MALDIVES / MUMBAI

Each Southeast Asian country's

cuisine has developed unique flavours

of its own, but all are bound by a

dedication to fresh ingredients and

spices. From the spicy minced pork

dish in Laotian cooking to a hot bowl

of Thailand's "Tom Yum Goong," the

3 Merchants restaurant at Crowne

Plaza Vientiane now serves various

Southeast Asian dishes in a stylish

setting. The 3 Merchants is noted

for dishes from Laos, Vietnam,

Cambodia, Thailand, and Malaysia,

and each dish offers a story to match

the restaurant's themed décor.

Freshness and complexity

strongly feature in the spices

of all the dishes. Guests

can choose their

favourite

Southeast

Asian cuisines

like Laksa

(Malaysia),

Massaman

curry

(Thailand),

Pork Stew

(Vietnam),

SPOTLIGHT

Wine and

Dine in Style

Laab, spicy minced pork with herbs

from Laos available for lunch and

dinner. The restaurant also keeps

a large selection of fine wines and

beverages, ensuring an elegant

dining experience. 3 Merchants Crowne

Plaza Vientiane G Floor, open for lunch

(11.30am-2pm) and dinner (6.30pm-

9.30pm) from Tuesday to Sunday,

+856 21 908 888

INDIGO TIME

Indigo Café, an independent lodging establishment — has opened its second

property, going from a bed and breakfast to a restaurant and small hotel

in Vientiane. This follows the success of their property in Luang Prabang

that's located on Phnom Penh Road and within 500 metres of the Mekong

River. The latest venture carries on Indigo's signature white and blue palette,

providing a warm ambiance following a major renovation. With just three

private rooms, each features a living area with a large sofa to unwind after a

long day exploring the capital city. Indigo is noted for their baked goods and

coffee: try their Indigo Plate & Eggs Royale breakfast. Indigo Café also has

plenty of vegan options like the vegetable burger. Handicrafts from Laos and

other Asian countries are available for sale. Indigo also is within walking distance

to the Laos National Museum, Laos culture hall and Chao Anouvong Stadium.

Phnom Penh Road, 01000, Rue Phanompenh, Vientiane, +856 20 22 227 980

SPOTLIGHT

Luxury Stay Amidst Lush Nature

The secret's out that the

AccorHotels group recently

introduced the opening of

their Fairmont luxury brand

on the Shaviyani Atoll in North

Maldives, called the Fairmont

Maldives Sirru Fen Fushi. Couples

or families can enjoy the 112 new

villas complete with 200 metres

of infinity pools, together with

luxury safari-style tented

villas located on the island's

lush jungle. Sirru Fen Fushi,

means 'secret water island' in

the local Dhivehi language and

the luxurious property features

accommodations with design

interiors of copper bathroom

fittings and carved wood detailing

on their furniture, giving the

villas a bohemian rustic chic vibe.

At the moment, the Fairmont

Maldives Sirru Fen Fushi is the

SIP AND DINE

July and August is peak monsoon season in Mumbai with grey skies,

thunderstorms, and rain showers. It's best to duck indoors and

enjoy the rains from the safety of a cosy coffee shop. Here's one

of many ways to make the most of the city when it rains.

Sea Lounge at the Taj Mahal Palace Hotel has arguably the

best view in the city. Here, you can sip a cup of coffee or even

indulge in an elaborate afternoon tea while looking over the

iconic Gateway of India. And this scene becomes even more

poetic in the rains. Another fabulous place to have an afternoon

tea is the Drawing Room at the St. Regis Mumbai. Not only can

you get a quintessentially English high tea, there's also a Mumbai

version to choose from that includes vada pav sliders, Bombay

sandwich fingers, masala chai and more.

Sea Lounge, The Taj Mahal Palace Hotel,+91 22 66653366

The Drawing Room, The St. Regis Mumbai, +91 22 61628000

only hotel on the pristine atoll

and the untouched aspect of the

island has benefitted a thriving

marine life. Setting the hotel

property apart is the presence

of the country's first coral

regeneration project in the form

of an underwater art installation.

Created by underwater naturalist

SOAK IT UP

However, if you want to truly get a sense

of why Mumbai welcomes the monsoon

with open arms, head to Marine Drive.

This long, sea-facing promenade is the

city's prized treasure — lined on one side

by beautiful Art Deco buildings and on

the other side by the Arabian Sea crashing

against its shore. Marine Drive comes

alive during the monsoons, especially in

the evenings when little children, young

couples, and sprightly senior citizens all

congregate here to enjoy the rains. Grab a

cup of piping hot chai or a bhutta (roasted

corn on the cob rubbed with lemon and

chilli powder) and join the masses to enjoy

the monsoon, Mumbai-style!

and artist Jason deCaires Taylor, the work serves

as an homage to the abundant sea life and pristine

coral house reef surrounding the resort. A 'manta

ray cleaning station' at the house reef lets guests

get up close and personal with the sea creatures

that visit the area on a regular basis. The property

pays respect to the natural surroundings even at the

resort's contemporary dining outlets and extends it

to the surroundings of their Willow Stream Spa.

fairmont.com/maldives

ART BEAT

Mumbai has several museums and art

galleries where you can spend hours

admiring everything from classical to

contemporary artworks. The National

Gallery of Modern Art presents art from

the 1850s onwards and has a permanent

collection featuring Jehangir Sabavala,

V S Gaitonde and others. Jehangir Art

Gallery is a contemporary art space

featuring exhibitions by painters, sculptors,

ceramicists, photographers, and the like.

Both the galleries hold special exhibits

from time to time; check their websites

for schedule of upcoming exhibitions.

National Gallery of Modern Art,

ngmaindia.gov.in/ngma_mumbai.asp

Jehangir Art Gallery, jehangirartgallery.com

114

115
---
BANGKOK AIRWAYS NEWS 118 / FLYERBONUS 122 / ROUTE MAP 126 / AIRCRAFT INFO 128

117
---
BANGKOK AIRWAYS NEWS

BANGKOK AIRWAYS AWARDED SUPERBRANDS THAILAND 2017

Bangkok Airways President, Mr. Puttipong

Prasarttong-Osoth, (2nd from left),

represented the airline recently when he

received the Superbrands Thailand 2017

Award from Mr. Preecha Kaenprom,

Country Director, Superbrands Thailand

(3rd from left). The award presentation was

held at the Bangkok Airways headquarters.

With the award, Mr. Puttipong

commented that, "We are much honoured

for the inclusion in the 2017 Superbrands

Thailand. For over 50 years, Bangkok

Airways has operated with the

dedication and commitment to make

every flight a perfect journey for our

passengers. Our high quality in services

and the constant attempts to enhance

the quality of our brand value have

made us one of the most recognised

airlines in Asia. This award is an

affirmation of our service to provide

the highest standards as well as lift our

brand positioning that underlines our

slogan as Asia's Boutique Airline."

The Superbrands Thailand award

is a distinguished accolade bestowed

upon organisations with the strongest

established brands in the country.

Bangkok Airways was selected by the

Superbrands independent council of

judges from a list of over 500 leading

organisations in Thailand.

เมื่อเร็วๆ นี้ สายการบินบางกอกแอร์เวย์ส โดย

นายพุฒิพงศ์ ปราสาททองโอสถ กรรมการ

ผู้อำนวยการใหญ่ (ที่ 2 จากซ้าย) รับมอบรางวัลสุด

ยอดแบรนด์แห่งปี 2560 (Superbrands Thailand

2017) จากนายปรีชา แก่นพรม ผู้อำนวยการ

ซุปเปอร์แบรนด์ประเทศไทย (ที่ 3 จากซ้าย) ณ

สำนักงานใหญ่ สายการบินบางกอกแอร์เวย์ส

นายพุฒิพงศ์ ปราสาททองโอสถ กล่าวว่า "ผมมี

ความยินดีและภาคภูมิใจที่ทางสายการบินฯ ได้รับ

เลือกให้เป็นหนึ่งในสุดยอดแบรนด์แห่งปี 2560

ซึ ่งตลอดระยะเวลา 50 ปีที่ผ่านมา สายการบิน

บางกอกแอร์เวย์สมุ่งมั่นที่จะพัฒนาการให้บริการ

และสร้างผลิตภัณฑ์ให้เป็นเลิศเพื่อตอบสนอง

ความต้องการของผู้โดยสาร ควบคู่ไปกับการ

สร้างแบรนด์ให้แข็งแรงและเป็นที่รู้จักของนักเดินทาง

ทั้งชาวไทยและชาวต่างประเทศมาโดยตลอด

ซึ่งรางวัลดังกล่าวถือเป็นเครื่องยืนยันและตอกย้ำ

ภาพลักษณ์ความเป็นสายการบินพรีเมียม

ที่ให้บริการเต็มรูปแบบภายใต้สโลแกน Asia's

Boutique Airlines หรือ ความประทับใจแห่งเอเชีย

ได้เป็นอย่างดี"

รางวัลรางวัลสุดยอดแบรนด์แห่งปี ถือเป็น

รางวัลอันทรงเกียรติที่มอบให้กับองค์กรที่มีความ

เป็นเลิศในการสร้างแบรนด์ให้มีความแข็งแกร่งและ

เป็นที่ยอมรับในระดับสากล โดยได้รับคะแนนโหวต

สูงสุดจากตัดสินของคณะกรรมการอิสระที่คัดเลือก

มาจากกว่า 500 องค์การชั้นนำทั่วประเทศไทย

BANGKOK AIRWAYS AND TCEB LAUNCH

'FLY AND MEET DOUBLE BONUS'

Recently, Bangkok Airways has partnered

with the Thailand Convention &

Exhibition Bureau (TCEB) to kick off

its campaign to attract meeting and

incentive groups from the Cambodia, Laos,

Myanmar and Vietnam (CLMV) markets.

The 'Fly and Meet Double Bonus'

promotion for Myanmar was launched

by Bangkok Airway's Vice President –

Sales, Mr. Varong Israsena Na Ayudhya,

and TCEB's Director of President Office

Department, Mr. Puripan Bunnag, at

Chatrium Hotel in Yangon.

The campaign delivers a series of

benefits for meeting and incentive travel

groups. For VIPs arriving at Bangkok's

Suvarnabhumi International Airport,

TCEB will provide a special MICE lane

with fast track service through immigration.

It will also offer a financial subsidy up

to 300,000 Thai Baht (USD 9,000) per

group. Planners may also opt for cultural

performances, meet-and-greet service or

Thai craft demonstrations of equivalent

value to their financial subsidies.

Bangkok Airways will provide one

complimentary ticket for every group

of 50 passengers; FlyerBonus double

points, additional 10kg of baggage

allowance, pre-assigned group seating,

a special check-in counter, pre-check-in

service, priority tagging and souvenirs.

To qualify, the inbound group must

comprise at least 50 delegates, enter

Thailand on a Bangkok Airways flight,

and stay at least two nights at a registered

hotel or hold an activity at a venue certified

by the Thailand MICE Venue Standard.

The campaign is applicable in all the

four CLMV countries and is effective

from now till September 2019.

เมื่อเร็วๆ นี้ สายการบินบางกอกแอร์เวย์ส ร่วมมือกับ

สำนักงานส่งเสริมการจัดประชุมและนิทรรศการ

หรือ "ทีเส็บ" จัดแคมเปญ 'Fly and Meet

Double Bonus' เพื่อขยายตลาดการจัดประชุม

และการท่องเที่ยวเพื่อเป็นรางวัลในกลุ่มประเทศ

CLMV (ประเทศกัมพูชา ลาว พม่า และเวียดนาม)

มายังไทย โดยมีนายวรงค์ อิศรเสนา ณ อยุธยา

รองกรรมการผู้อำนวยการใหญ่ ฝ่ายขาย สาย

การบินบางกอกแอร์เวย์ส และนายภูริพันธ์

บุนนาค ผู้อำนวยการฝ่ายสำนักงานผู้อำนวย

การ (ผู้แทนผู้อำนวยการ) สำนักงานส่งเสริมการ

จัดประชุมและนิทรรศการ ร่วมแถลงข่าว ณ

โรงแรมชาเทรียม เมืองย่างกุ้ง ประเทศเมียนมาร์

แคมเปญดังกล่าวนี้ มอบสิทธิประโยชน์มากมาย

ให้แก่กลุ่มผู้เข้าร่วมการประชุมและการท่องเที่ยว

อาทิ การอำนวยความสะดวกสำหรับวีไอพีในการ

ผ่านพิธีการตรวจคนเข้าเมืองพิเศษ หรือ "ไมซ์เลน"

ที่ท่าอากาศยานสุวรรณภูมิ นอกจากนี้ ทีเส็บจะ

มอบเงินสนับสนุนต่อคณะที่จะเข้ามาจัดประชุม

สูงสุดไม่เกิน 300,000 บาท (9,000 ดอลลาร์

สหรัฐ) ต่อคณะ หรือทางคณะฯ สามารถเลือก

รับการสนับสนุนในรูปแบบกิจกรรมแทน โดยมี

มูลค่าเท่ากับเงินสนับสนุน อาทิ การแสดงศิลป

วัฒนธรรมไทย การบริการ meet-and-greet การ

สาธิตการทำอาหารไทย หรือการสาธิตงานฝีมือไทย

สายการบินบางกอกแอร์เวย์ส จะมอบบัตร

โดยสารฟรี 1 ที่นั่ง สำหรับการจองบัตรโดยสาร

ทุกๆ 50 ที่นั่ง และสามารถสะสมคะแนนฟลายเออร์

โบนัส 2 เท่า น้ำหนักสัมภาระเพิ่มอีก 10 กิโลกรัม

การเลือกที่นั่งล่วงหน้า การบริการเช็คอินเคาน์เตอร์

พิเศษ การบริการเช็คอินล่วงหน้า ป้ายติดสัมภาระ

priority และของที่ระลึกจากสายการบินฯ

ทั้งนี้ ผู้ที่จะได้รับสิทธิประโยชน์ในแคมเปญ

"Fly and Meet Double Bonus" ต้องเดินทาง

ด้วยสายการบินบางกอกแอร์เวย์สไม่ต่ำกว่า 50

คน และเข้าพักในประเทศไทยอย่างน้อย 2 คืน

หรือจัดงาน ณ โรงแรมหรือสถานที่จัดประชุมที่ได้

รับการรับรองมาตรฐาน Thailand MICE

Venue Standard (TMVS) ตั้งแต่วันนี้ ถึง 30

กันยายน 2562

สอบถามข้อมูลเกี่ยวกับแคมเปญ "Fly and

Meet Double Bonus" ได้ที่ สำนักงานส่งเสริม

การจัดประชุมและนิทรรศการ ฝ่ายการจัดประชุม

และการท่องเที่ยวเพื่อเป็นรางวัล โทร 0 2694 6000

หรือ อีเมล mi@tceb.or.th

118 119
---
BANGKOK AIRWAYS NEWS

BANGKOK AIRWAYS

AND OMAN AIR

IN CODESHARE

PARTNERSHIP

Recently Bangkok Airways, led by

Mr. Pakorn Rattanarod, Director – Route

Profitability and Alliance and Oman Air

(WY) led by Mr. Aboudy Nasser, Senior

Vice President – Network Planning &

Revenue Management signed a codeshare

agreement, which will provide customers

with an enhanced network to travel

between Oman and cities in Thailand,

commencing on 1 April 2018.

Under the agreement, Oman Air puts

its "WY" designator code on Bangkok

Airways flights, serving 8 domestic routes.

This includes roundtrip travels for Bangkok-

Chiang Rai, Bangkok-Chiang Mai, Bangkok-

Phuket, Bangkok-Krabi, Bangkok-Lampang,

Bangkok-Trat, Bangkok-Sukhothai and

Bangkok-Samui.

For more information and reservations,

Oman Air's passengers may visit

www.omanair.com.

For more information about Bangkok

Airways, please visit www.bangkokair.com or

contact the Call Centre 1771 (24 hours) or

+66 (0) 2270 6699.

สายการบินบางกอกแอร์เวย์ส โดยนายปกรณ์

รัตนรอด ผู้อำนวยการแผนกบริหารกำไรเส้นทาง

การบินและสายการบินพันธมิตรและสายการบินร่วม

และสายการบินโอมานแอร์ (WY) ประเทศโอมาน

โดยนายอะบูดี้ แนสเซอร์ รองกรรมการผู้อำนวยการ

อาวุโสฝ่ายการวางแผนเครือข่ายและการจัดการ

รายได้ ประกาศลงนามข้อตกลงการให้บริการ

เที่ยวบินร่วม ระหว่างประเทศโอมานและจุดหมาย

ปลายทางต่างๆ ในประเทศไทย ซึ่งมีผลตั้งแต่วันที่

1 เมษายน 2561 ที่ผ่านมา

สำหรับข้อตกลงในการทำเที่ยวบินร่วมในครั้งนี้

เที่ยวบินที่ทำการบินโดยสายการบินบางกอก

แอร์เวย์สจะให้บริการทั้งหมด 8 เส้นทางบินในประเทศ

ได้แก่ กรุงเทพฯ-เชียงราย กรุงเทพฯ-เชียงใหม่

กรุงเทพฯ-ภูเก็ต กรุงเทพฯ-กระบี่ กรุงเทพฯ-

ลำปาง กรุงเทพฯ-ตราด กรุงเทพฯ-สุโขทัย และ

กรุงเทพฯ-เกาะสมุย

ผู้โดยสารสามารถสอบถามข้อมูลหรือ

ทำการสำรองที่นั่งได้ที่เว็บไซต์ www.omanair.com

หรือสอบถามข้อมูลเพิ่มเติมเกี่ยวกับสายการบิน

บางกอกแอร์เวย์สได้ที่เว็บไซต์ www.bangkokair.com

หรือ โทร Call Centre 1771 ตลอด 24 ชั่วโมง

ค่าบริการครั้งละ 3 บาททั่วไทย (เฉพาะโทรศัพท์

พื ้นฐาน)

JUNIOR RUNNING CLINIC

Recently, Bangkok Airways' CSR

Department, together with Teelakow

Co., Ltd., organised the "Junior

Running Clinic" event at Thesaban 3

Tha Daeng School's auditorium in

Krabi, which gained a lot of support

from the Krabi Municipality. The

event was part of the "Bangkok

Airways Krabi Half Marathon" at

Thara Park where 3,500 amateur

and professional runners participated.

In the Junior Running Clinic

event, experienced runners invited

to share knowledge and running

guidance with 50 elementary

school students from Thesaban 3

Tha Daeng and Thesaban 1 Talad

Kao schools.

Participating kids who joined the

3km run received a medal for their

accomplishment. In addition, part of the

donation through www.teelakow.com

and an on-site donation box valued

around THB 27,577 was used to buy

73 pairs of sneakers for kids in need.

เมื่อเร็วๆ นี้ ส่วน CSR ได้จัดกิจกรรม

"Junior Running Clinic" ขึ้น ณ ห้องประชุม

โรงเรียนเทศบาล 3 ท่าแดง จ.กระบี่ โดย

ได้รับการสนับสนุนจากเทศบาลเมืองกระบี่

ในโอกาสที่บางกอกแอร์เวย์ส ร่วมกับบริษัท

ทีละก้าว จำกัด จัดรายการวิ่ง "บางกอก

แอร์เวย์ส กระบี่ ฮาล์ฟมาราธอน" วันที่ 6

พ.ค. 2561 ณ สวนสาธารณะธารา ซึ่งมี

นักวิ่งทั้งมืออาชีพและสมัครเล่นกว่า 3,500

คน ร่วมสมัครในรายการ

ในการนี้ ได้เชิญนักวิ่งที่มีประสบการณ์มาเป็นโค้ชแบ่งปันความรู้

และให้คำแนะนำเกี่ยวกับการวิ่งให้กับนักเรียนระดับประถมศึกษา

จากโรงเรียนเทศบาล 3 ท่าแดง และโรงเรียนเทศบาล 1 ตลาดเก่า

รวมประมาณ 50 คน

เด็กๆ ที่เข้าร่วมกิจกรรม "Junior Running Clinic" ยังได้รับ

โอกาสวิ่งจริงในวันที่ 6 พ.ค. ระยะทาง 3 กม. และได้รับเหรียญที่ระลึก

โดยส่วนฯ นำเงินจากการรับบริจาคผ่าน www.teelakow.com

ไปจัดซื้อรองเท้าผ้าใบให้กับเด็กๆ รวมถึงตั้งกล่องรับบริจาคเพิ่มเติม

ในงาน โดยสรุปยอดรับบริจาคผ่าน 2 ช่องทางรวมทั้งสิ้น 27,577.75

บาท (นำไปซื้อรองเท้าผ้าใบได้ 73 คู่)

120
---
FLYERBONUS

BANGKOK AIRWAYS AND CITIBANK ANNOUNCE NEW

FLYERBONUS PROGRAMME AGREEMENT

Bangkok Airways and Citi are joining hands to offer Citi

Credit Card holders with an array of privileges and reward

opportunities via the Boutique Airline's Frequent Flyer

Programme, FlyerBonus.

With the roll-out of a new partnership on 22 July, 2018,

Citi and Bangkok Airways would like to invite Citi Credit

Card holders to experience the award-winning airline's

spectacular destinations, onboard service and vast array

of reward opportunities.

Citi Credit Card holders can now travel faster with the

transfer of Citi ThankYou SM Reward points to FlyerBonus

points. Redeem awards for flights on Bangkok Airways

and Partner Airlines, Hotel stays, Car Rentals and

Lifestyle Awards. Simply contact Citibank online at

www.citibank.co.th/thankyouen and select 'Bangkok

Airways' Menu to start the ball rolling!

To learn more about this agreement and other collaborations,

visit flyerbonus.bangkokair.com

บางกอกแอร์เวย์สฟลายเออร์โบนัสและธนาคารซิตี้แบงก์ประกาศความร่วมมือให้สิทธิ

พิเศษแก่ผู้ถือบัตรเครดิตซิตี้ เปิดประสบการณ์บนเส้นทางใหม่ๆ ได้รวดเร็วขึ้น พร้อม

สัมผัสสิทธิพิเศษแลกของรางวัลมากมายจากรายการสะสมคะแนนฟลายเออร์โบนัส

ซิตี้แบงก์และบางกอกแอร์เวย์สได้ตัดสินใจผนึกกำลังเป็นพันธมิตรรายการ

สะสมคะแนนฟลายเออร์โบนัส เพื่อเอาใจลูกค้านักเดินทางที่ชื่นชอบการบริการ

ที่มีความเป็นเอกลักษณ์ที่แตกต่าง และการแสวงหาเส้นทางเพื่อคนพ้บสิ่งใหม่ๆ

โดยความร่วมมือนี้จะเริ่มต้นตั้งแต่วันที่ 22 กรกฎาคมนี้ เป็นต้นไป

ผู้ถือบัตรเครดิตซิตี้สามารถเติมเต็มแผนการเดินทางของตนได้รวดเร็วขึ้น

เพียงโอนคะแนนสะสม Citi ThankYou SM Rewards สู่คะแนนสะสมฟลายเออร์โบนัส

เพื่อแลกบัตรโดยสารของสายการบินบางกอกแอร์เวย์ส พร้อมเพลิดเพลินไปกับ

ของรางวัลที่หลากหลาย อาทิ รางวัลบัตรโดยสารของสายการบินพันธมิตร

ห้องพักโรงแรมสุดหรู บริการรถเช่า รางวัลไลฟ์สไตล์ เช่น บริการห้องรับรอง

พิเศษสายการบินบางกอกแอร์เวย์ส ผู้ถือบัตรเครดิตซิตี้สามารถที่จะบินไปกับ

บางกอกแอร์เวย์สเพื่อค้นหามุมมองที่แตกต่างและค้นพบประสบการณ์ประทับใจ

ครั้งหนึ่งในชีวิตได้ง่ายๆ ที่ www.citibank.co.th/thankyou และเลือกเมนู

'Bangkok Airways'

อ่านรายละเอียดเพิ่มเกี่ยวกับประกาศความร่วมมือได้ที่

flyerbonus.bangkokair.com

122
---
126 127
---
AIRCRAFT INFO

BANGKOK AIRWAYS OPERATES FOUR TYPES OF AIRCRAFT

AIRBUS A319

NUMBER OF FLEET : 14

LENGTH : 33.84 m

WINGSPAN : 34.1 m

HEIGHT : 12.17 m

ENGINE : IAE V2500

CRUISING SPEED :

920 km/h

MAX OPERATIONAL ALTITUDE :

39,800 ft

PASSENGER CAPACITY :

12 seats & 108 seats / 144 seats / 138 seats

AIRBUS A320

NUMBER OF FLEET : 9

LENGTH : 37.57 m

WINGSPAN : 34.1 m

HEIGHT : 12.17 m

ENGINE : IAE V2500

CRUISING SPEED :

870 km/h

MAX OPERATIONAL ALTITUDE :

39,800 ft

PASSENGER CAPACITY :

162 seats

•••••

ATR 72-500

NUMBER OF FLEET : 6

LENGTH : 27.17 m

WINGSPAN : 27.06 m

HEIGHT : 7.65 m

ENGINE : 2 x 2,750 hp

Pratt & Whitney

Canada PW127F

CRUISING SPEED :

509 km/h

MAX OPERATIONAL ALTITUDE :

25,000 ft

PASSENGER CAPACITY :

70 seats

ATR 72-600

NUMBER OF FLEET : 9

LENGTH : 27.166 m

WINGSPAN : 27.050 m

HEIGHT : 7.72 m

ENGINE : 2 x 2,750 hp

Pratt & Whitney

Canada PW127M

CRUISING SPEED :

509 km/h

MAX OPERATIONAL ALTITUDE :

25,000 ft

PASSENGER CAPACITY :

70 seats

OUR SCHEDULE FLIGHTS AND FREQUENCY

DOMESTIC FLIGHTS

Bangkok, Koh Samui, Phuket and Chiang Mai :

Numerous flights every day from a variety of destinations

Chiang Mai : 1 flight per day from Phuket ;

1 flight per day from Koh Samui

Chiang Rai : 3 flights per day from Bangkok

Hat Yai :

1 flight per day from Phuket

Koh Chang/Trat : 3 flights per day from Bangkok

Krabi : 3 flights per day from Bangkok ;

1 flight per day from Koh Samui

Lampang : 3 flights per day from Bangkok

Mae Hong Son : 1 flight per day from Chiang Mai

Pattaya : 1 flight per day from Phuket ;

1 flight per day from Koh Samui

Sukhothai : 2 flights per day from Bangkok

INTERNATIONAL FLIGHTS

Chengdu : 4 flights per week from Koh Samui

Chongqing : 3 flights per week from Koh Samui

Danang : 1 flight per day from Bangkok

Guangzhou : 4 flights per week from Koh Samui

Hanoi :

1 flight per day from Chiang Mai

Hong Kong : 2 flights per day from Koh Samui

Kuala Lumpur : 1 flight per day from Koh Samui

Luang Prabang : 2 flights per day from Bangkok

Malé :

1 flight per day from Bangkok

Mandalay : 11 flights per week from Bangkok ;

1 flight per day from Chiang Mai

Mumbai : 1 flight per day from Bangkok

Nay Pyi Taw : 6 flights per week from Bangkok

Phnom Penh : 6 flights per day from Bangkok

Phu Quoc : 5 flights per week from Bangkok

Siem Reap : 5 flights per day from Bangkok

Singapore : 2 flights per day from Koh Samui

Vientiane : 2 flights per day from Bangkok

Yangon : 4 flights per day from Bangkok ;

1 flight per day from Chiang Mai

128
---
CHECKING OUT

The Other

Hong Kong

Islands

For local residents,

Hong Kong is not all about

densely-packed building

blocks and skyscrapers.

Plenty of islands open for

exploration require just a

short hike or easy trek to

vast beauty.

130