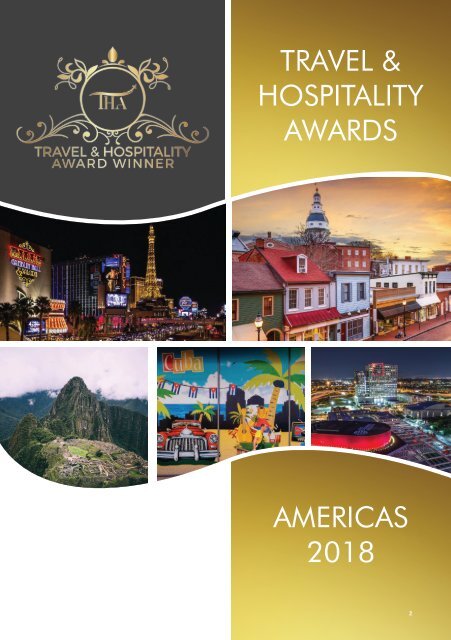 Travel & Hospitality Awards | Americas 2018 | www.thawards.com
www.thawards.com
www.thawards.com
SHOW MORE
SHOW LESS
You also want an ePaper? Increase the reach of your titles
YUMPU automatically turns print PDFs into web optimized ePapers that Google loves.
TRAVEL &

HOSPITALITY

AWARDS

AMERICAS

2018

2
---
TEAM

CEO

Rob Bruce

Contents

EDITOR-IN-CHIEF

Katherine Lozell

ART DIRECTOR

Marcs Bacera

DIRECTOR OF SALES

Stanley Lucas

AWARDS DIRECTOR

Brian Anson

EDITORIAL LIAISON MANAGER

David Hyde

DIRECTOR OF MARKETING

Azim Aftab

SENIOR WRITERS

Tasmai Dave

Jacqui Irvine

Joseph Wilton

SENIOR DESIGNERS

Antoine Jackson

Hafiz Arslan

AWARDS MANAGERS

Adam Cole

Zach Ford

Peter Clement

Joyce Lee

RESEARCH MANAGERS

Jerald Jaime

Mukul

CONTRIBUTING WRITERS

Tracy Morgan

Aisha Ahmed

Criteria6

The Super 810

The Editors Picks10

Chicago Running Tours 12

Boca Roja Wine Adventures 14

Santuario Diegueño Hotel 16

Hotel De La Soledad 18

Aunt Nea's Inn 20

Seascape Coastal Retreat22

Gite Aux Pignons23

Aquafari 24

Cruising The Caribbean 27

Kenard Cruises32

Captain Kenard Cruickshank 39

Morningstar Aruba 42

MasterSki Pilou 46

Travelling Is Learning 49

The Avenue Gallery 51

Aura Cocina Mexicana52

Bahamas Jet Boat 54

SeaPro Divers56

Parques das Aves 58

North America62

Welcome To Canada65

Water Sprite Bed and Breakfast 66

Newfoundland & Labrador |

A Nature Lovers Dream 69

EcoTours Zodiac Adventures 71

24 Hours In Ontario73

Ottawa Boat Cruise74

Grape Vine Tours Inc75

Collingwood Charters76

Alberta | Wilderness Epitomised79

Mountain Haven Cabins 80

British Columbia | Top 383

Blue Waters Cottage 84

The Castle at Swan Lake85

Alternative Tourism In The Usa87

SF Vampire Tour 89

State profile | Mary Land 90

Adventures for Creative Tourists 91

State profile | South Carolina 92

Gay Dolphin Gift Shop 93

Dallas95

Cynthia Smoot100

Nevada | A World Within a State Apart 105

Las Vegas Walking Tours 108

Seattle and Washington State 2018111

A Hiking Holiday In Hawaii 117

Kona Cloud Forest119

Mexico Road Trip 121

El Callejon Boutique Hotel 123

Cancun | Mexico 124

Yum Cooking Workshop 125

Princess Mayev 126

Mexico Cassie 128

Chiapas Hotel Express 132

Malinalco | Mexico 133

Hotel Amate del Rio Malinaico 134

Central America136

Costa Rica Top 3 139

Yens – Drake Bay Getaway Resort140

Mohagine Hotel & Finca140

The Rise Of Tourism In Cuba 145

Experience Cuba Tours 147

Cuba's Classic Cars 149

Old Cars Havana 151

Belize Top 10 153

Jaguar Creek155

Caribbean Beach Cabanas157

South America158

Falkland Islands | The One To Watch161

Estancia Excursions 162

Colombia 164

Trair Colombia 165

Hotel Boutique Posada Las Trampas 166

3 4
---
CRITERIA

Excellence in Service is an important category, as customer

service can often be responsible for having guests return

year after year. We look for the hotels and tour operators

that go out of their way to please their guests, those that

provide a personal level of service and take the time to

get to know each visitor so that they might anticipate their

every need. This can be something as simple as a 24-hour

concierge desk, a hotel manager who offers a personal

greeting or a tour guide who is happy to create bespoke

private tours – but whatever it is, we are always pleased

when we encounter staff that have been trained in the art

of customer satisfaction.

SERVICES

It is no question that style and design plays a big part in

selecting our awards shortlist. A guest will form an opinion

about a hotel as soon as they arrive so it is important

to us that all our winners make those first impressions

count. We're certainly not partial to a particular period of

architecture – but whether we're judging a gothic castle or

an environmentally friendly lodge, the criteria remains the

same. We consider factors such as architectural features,

use of materials, creation of spaces, décor and the overall

feel. We love it when we find a hotel that tells a story

though its design and construction, or offers a design that

is sympathetic to the natural surroundings of its location.

STYLE & DESIGN

Knowledge of the local area is essential for any

organization, be it a hotel or a tour operator. The quality

of services takes a great hit when the quality of this

element is not up to the mark. Quite a few of our winners

in this category are because they have displayed excellent

knowledge about the surrounding areas. The criteria for a

hotel is slightly lenient compared to a tour operator, as the

latter is expected to have thorough knowledge of the area

in order to provide good services.

Image by: Steven Pahel

LOCAL KNOWLEDGE

5 6
---
FACILITIES

Award-winning guest rooms come in all shapes and sizes,

but they all have one thing in common – a home-awayfrom-home

feel. The comfort of the facilities on offer are

of vital importance; we look for luxurious linens, stylish

bathrooms and a coordinated colour scheme that work

together to create a cohesive sense of relaxation. Additional

touches, such as complimentary toiletries, free wi-fi or tea

and coffee making facilities are always a bonus in making

us feel welcome. We're always impressed to find hotel

rooms that embrace technology and offer amenities like

tablets or smart thermostat systems, but this does not

always necessarily trump the traditional – four poster beds,

ornate fireplaces or antique furniture can add a touch of

decadence to a hotel stay.

LOCATION

Location is one of the most important factors, but also

one of the most subjective, as the 'ideal' is very much

determined by the type of visitor and the type of hotel

itself. However, there are a few factors we take into

consideration when determining the winners of locationbased

awards. The first is convenience; that is, hotels that

are easy to travel to. Many of our winners in this category

are in convenient locations, such as adjacent to airports,

close to beaches or found in the heart of easy-to-navigate

cities. We are always impressed when hotels go the extra

mile to take the hassle out of traveling and offer such

additional services as airport shuttles or car hire services.

However, we're always excited to come across a hotel

that is, to use a familiar phrase, off-the-beaten-track. A

hotel that can offer something a little different, in terms of

natural surroundings, can make the difference between a

good holiday and an incredible one.

In today's modern age, a hotel or tour operator cannot

rely on word of mouth to get their message out into the

world. As social media has become a vital part of everyday

life, we like to see companies that go the extra mile to

engage with their guests, both past and future. Attractive

and informative websites and engaging and honest

content are what we look for when judging a company's

use of marketing; how well they display their services, how

up-to-date their content is, how well they get their brand

message across, and, most importantly, how well their

marketing can tempt us to go and see what they have to

offer for ourselves.

What better way is there to know about an organization

than by getting first hand reviews? Customers are the best

judges of any service as they are the ones who experience

them and can assess whether they were up to the mark

or not. Considering reviews from hundreds of customers

gives us a fair idea about the general pros and cons of any

organization and also gives us valuable inputs for the other

criteria as well.

MARKETING

CUSTOMER REVIEWS

Diversity is one important aspect that needs to be taken

into consideration when in the travel and hospitality

industry. It is essential to have staff that has varying diversity

to ensure that the organization can properly connect with

their guests. Diversity is taken into account in terms of

gender, nationality as well as languages spoken among

other factors. Not only do we take the diversity of the staff

into account but even that of the facilities and services

offered; a hotel or tour operator providing a better range

of services is preferred over those that do not.

It is of prime importance that an organization has thorough

industry knowledge. Without knowing the nit-bits of the

industry, it is difficult to flourish and provide services which

are a class apart. Before any organization ventures into

the industry, it is essential that they know how the industry

is moving and how they should make changes to their

methodologies in order to remain relevant and also be a

top-performing organization.

DIVERSITY

INDUSTRY

KNOWLEDGE

7 8
---
THE SUPER 8

THE EDITORS PICKS

Image by: Dimitry Anikin

9 10
---
USA

CHICAGO

RUNNING TOURS

Tour Company of the Year

All tours, whether it be running, walking,

museum, or cemetery, delivered by

Chicago Running Tours and More, are

designed to contain four main ingredients.

55 N Michigan Ave, Chicago, IL. USA ♦ Tel +630 702 9364 ♦ chicagorunningtours.com

How is it that "running" can be considered

the best vehicle to deliver a tour?

Running participants can:

(1) slip down tight alleyways and underpasses

where buses won't fit. (2) They are not confined

to the geography of the river as boats are. (3)

They can slip into indoor spaces bikes can't

go. (4) They are not confined to the myriad of

limitations as are the Segway's. (5) They can

cover much greater distances and area vs a

walking tour.

The running tour guide has much more control

over the route than guides of other vehicles.

Stops can be added, stories lengthened or

shortened, and photo ops galore provided.

Chicago Running Tours & More tosses in a

couple of added bonuses for running tour

participants. 1) The guide takes numerous action

and pose photos, with famous landmarks as

back drops, along the route. Those photos can

be electronically accessed at no additional cost.

2) Participants will receive a follow up message

containing a synopsis of information covered

during the tour. So you don't have to try and

remember everything the guide said. Who else

does that?

1. We strive to make it "ENRICHING":

Participant experienced an enhanced

quality of value.

2. We strive to make it "FULLFILLING":

Participants expectations were met and

or exceeded.

3. We make it "MEANINGFUL": Participant

will hear relevant, useful, & significant

information.

4. We make it "MEMORABLE": Participant

will find experience unforgettable,

indelible, and enduring.

11 12
---
USA

BOCA ROJA WINE

ADVENTURES

Wine Tour Company

888 Prospect St #220, La Jolla, CA 92037, USA ♦ Tel +1 858 472 0321 ♦

bocarojawineadventures.com

Have you ever

wondered if wine

tasting could also be an

adventure? If you answered

that question positively,

then you might be aware

of the hassles of going on

a wine tasting trip. How do

you plan the trip? Which

wineries are worth going?

How would you get there?

However, Boca Roja Wine

Adventures simplifies that

for you. It is one of the most

consistently high-rated tour

service providers which

organizes tours for you with

ready itineraries so that you

can enjoy the tour without

any worries. They take care

of accommodation, food,

wine tasting and everything

else there is to take care of

on a wine tasting adventure

around Baja.

The Boca Roja Wine Adventures gets the crown

from us for these exact reasons.

1. It is consistently rated well across platforms by a

large number of users.

2. They provide a variety of tours – right from a basic

pay-as-you-go to a 5-star wine tasting and food

experience, tailoring to every need, demand,

budget and occasion.

3. They have one of the most well-maintained websites

providing all kinds of information that one could

imagine. Whatever is left, if any, is answered through

their hospitable customer support.

13 14
---
Mexico

SANTUARIO

DIEGUEÑO HOTEL

Mountain View Hotel

Tecate, Baja California, México ♦ Tel +665 / 654 4777 ♦ santuariodiegueno.com

In the northern part of the Baja

region, was a sanctuary for the

Kumeyaay ethnic group. Inspired

by the semi-nomad practices and

ancient traditions of these people,

Santuario Diegueño Hotel was

created. Santuario Diegueño

literally means Santuario

Kumeyaay, as when the religious

missionaries established the San

Diego Mission in today's San

Diego, they named the region's

inhabitants Diegueños because

they were part of the San Diego

Mission's jurisdiction. This hotel is

one of the most scenic hotels you

can come across. It is located at

the start of Baja's mountain range,

surrounded by purple mountains

and beautiful dawns; it has one

of the most serene views around.

The hotel draws inspiration from

the Kumeyaay group for its

interiors as well. It has interesting

designed spaces, coupled with

comfortable and plush facilities.

They complement all of this with

friendly and cordial hospitality to

delight every customer.

The hotel checks all of the boxes

whether you are a traveler or

are looking for a getaway. It is

located at the northern entrance

of Baja's Wine Country, and is

less than an hour's drive from

it, as it is from Tijuana and San

Diego. It provides you with a

complete boutique experience,

tailoring its services to all your

special needs.

Add to that a beautiful and

serene view and a design

meant to provide aesthetic

delight to your eyes – there is

hardly anything more you can

ask for. However, Santuario

Diegueño complements all of

this with a beautiful restaurant

and bar, serving the best wines

from the region.

It is a great place just to escape

from the day-to-day routine.

Staying at Santuario Diegueño

is a complete experience for

your senses, touring its facilities

and perceiving the garden

blush aromas impregnated by

the regional flora, appreciating

the Mexican folk art all over

the areas, and resting in its

comfortable rooms makes for

a mind and body relaxation,

helping you create memorable

moments throughout your stay.

15 16
---
Mexico

HOTEL DE LA

SOLEDAD

Luxury Hotel

- LA JOYA COLONIAL DE MORELIA-

Calle Ignacio Zaragoza No. 90, Morelia 58000, Mexico ♦ Tel +443 312 18 88 Ext. 506 ♦

hsoledad.com | hoteldelasoledad.com

Located in the historic Mexican city of Morelia, Hotel de la Soledad is a stunning luxury hotel

with a rich and vibrant history. The building is the oldest lodging site in Morelia, with its

use dating back to the 18th century. Under new management in 2008, the property underwent

an extensive restoration which transformed it into the modern and luxurious abode that it is

today. The location of the hotel is perfect for discovering the wonderful sites of Morelia and is

within walking distance of main attractions. Guests are ensured a unique and unforgettable stay

in absolute luxury.

Designed with your comfort in mind, the rooms are spacious and combine a colonial style

with modern elegance to create an opulent ambience. All of the rooms are soundproofed

and guests can opt to stay in one of the master or junior suites or a superior deluxe room.

Intricate detailing sees the rooms decorated with original artwork and pieces in wood and

marble to retain a colonial charm. The onsite restaurant and bar will also tantalize the taste

buds with a delicious selection of mouth-watering Mexican food in a stunning setting

overlooking the courtyard, which is beautifully adorned with palm trees.

Hotel de la

Soledad is also

a part of Small

Luxury Hotels

of the World.

17 18
---
Bermuda

AUNT NEA'S INN

Bed and Breakfast

The location of the guest house is an advantage as well. You can easily visit all the

important landmarks of St. George conveniently. Even if you wish to go on tours, the

guest house staff will be glad to book them for you. The guest house is located just a few

minutes away from the beautiful beaches of St. George where you can relax and enjoy

the serene sunset views. You could even go shopping in the local markets which are just a

few minutes' walk away from the guest house. You can truly explore St. George like never

before when you stay at Aunt Nea's Inn.

1 Nea's Alley, St George's GE05, Bermuda ♦ Tel +1 441 296 2868 ♦ auntneasinn.com

Aunt Nea's Inn serves as a

gateway into the past. This

historic Bermudian guest house

is located in the UNESCO World

Heritage Site of St. George's. You

can still feel the grandeur of this

18th century home today when you

see the splendid wood work and

craftsmanship of the building. The

guest house affords some stunning

views of the harbour and garden

and you will be able to sit back and

enjoy these serene views for hours

together at peace.

While the building itself is historic,

the comforts and amenities inside it

are all modern. You can simply curl

up in your bed with a glass of wine

by the side and read your favorite

novels and have a perfect weekend

getaway here. The guest house even

serves fresh breakfast every morning.

You can choose from the 10 different

rooms and suites here which are all

uniquely furnished and decorated

based on your appetite for luxury.

19 20
---
Canada

SEASCAPE

COASTAL RETREAT

Luxury Cottages

Canada

GITE AUX

PIGNONS

Family Friendly Guest House

Situated on the ocean with panoramic

views and surrounded by the Cape

Breton Highlands National Park in Northern

Cape Breton Island, Nova Scotia, Seascape

Coastal Retreat is a luxurious adult-only

retreat where peace and tranquility will

surround you from the moment you arrive.

This is a nature lover's delight with

spectacular bird watching from your own

private deck from where pilot whales can

also be seen playing in the bay.

Relax in the tranquil gardens filled with

woodland creatures & birds. Situated in a

private corner of the garden is an outdoor

spa tub which is surrounded by grape vines

& honeysuckle.

A private pathway takes you down to the

quiet beach below. Wilderness hiking

trails, isolated pristine beaches, golf, whale

watching & kayak tours are all close by.

We are happy to share our wide knowledge

of the area & offer complimentary day

planning.

Each cottage has a private deck with a

BBQ, a large window and fireplace in the

living room from where you can enjoy

cooler evenings.

seascapecoastalretreat.com

165 Chemin des Pignons, Alma, QC G8E 1H4, Canada ♦ Tel +1 418 668-0713 ♦

auxpignons.ca

Want a retreat away from the hustle-bustle of city life? Head over to the edge of

Lac-Saint-Jean and relax in the cozy cottage – Gite Aux Pignons. Situated right

next to the Decharge River, this cottage gives you a peaceful getaway with some beautiful

views and lush greenery all around. At the same time, the cottage is not too far from the city

center too! Every morning, you'll be welcomed with the aroma of freshly cooked regional

breakfast. But that is not it, they take pampering to the next level with freshly cooked

lunches, complete with desserts and salads! Each of their four rooms has a totally different

personality and is equipped with every amenity possible to ensure a comfortable stay. The

cottage is a perfect destination for families wishing to take a break from the busy life and

spend some quality time together. Gite Aux Pignons is truly your home away from home!

21

22
---
Curacao

AQUAFARI

Innovative Experience

Piscaderaweg, Willemstad, Curaçao ♦ Tel +5999 5132625 ♦ aquafari.net

You've been to a wildlife safari

but have you ever been in

an underwater Aqua Safari? That's

the exact experience that you can

get with Aquafari. You can go down

to the depths of the Caribbean in

self-propelled submersible scooters

and explore the underwater life!

You'll be able to see schools of fish,

scenic underwater landscapes and

other underwater creatures on your

voyage in the infinite blue.

You can glide without any efforts

in the ocean in your very own

submersible scooter. You can even

see the beauty of the world beneath

the surface of the seas. Be it fish that

interest you or maybe even corals on

the colorful coral reef, you can freely

explore the oceans far and wide. The

best part about this activity is that it

is a great family activity so you can

take a dip into the deep blue with

your family and friends and have

lasting memories there.

They even have your photos covered

so that you can totally concentrate on

living the experience. You don't need

to even be an expert at diving. They

have got your safety covered as well.

The scooters come with an oxygen tank

that is connected to a glass container

through which you can breathe. This is

your chance to explore the underwater

world without being a scuba diver!

All their tours are 1.5 hours long and you

will be trained well before your voyage

into the oceans. You could even choose

to take their Beach Day Pass along with

your dive. If you wish to have a romantic

dinner by the beach, they arrange that

for you as well.

23 24
---
CRUISING THE CARIBBEAN

The beautiful turquoise crystal clear seas of the Caribbean are so inviting and where

better to join a cruise or go on a boat tour than this dream location?

There are so many options on offer, you could choose to go on a luxury cruise, stopping

at various ports along the way to your destination, with exotic locations such as Barbados,

Saint Lucia or St Kitts and Nevis. The luxurious cruise liners have gourmet dining, spa and

wellness centres, on board activities, so you have plenty to do and enjoy while you relax

on the deck in a perfect climate with wonderful Caribbean views.

There is also the option to take a Caribbean boat tour, there are many on offer, each with

its own uniqueness, so you can choose a tour that provides best for your requirements.

The luxurious Kitty Katt boat cruise takes you to the stunning coral reefs off the coast

of Turks and Caicos, where you can snorkel and see the most wonderful marine life and

tropical fish. Following the snorkelling experience, the boat sails to a deserted Caribbean

beach, where you can relax or collect impressive seashells as memories of your trip.

There are other boat tours such as party boats, fishing trips, or night time boat tours. You

could even for go for something awe inspiring such as the Power 360 Cruise. The tour

is on a luxury high powered catamaran that speeds along the Antiguan coast, passing

spectacular sights such as Devils Bridge and Jumby Bay. The 360 Cruise stops off at Green

Island, which is almost secluded, and where you can relax in the wonderful climate or

enjoy lunch and drinks on board the catamaran, before speeding back along the coast to

your resort.

25 26
---
Another option to see more of the Caribbean is to charter

a private yacht. There are many companies that offer this

service, ranging from small boats, to luxurious yachts.

The cost to chartering a yacht in the Caribbean will

depend on the size, style and age of the vessel. The

price of a luxury superyacht can range from $30,000 to

$1,000,000 a week.

The Caribbean is probably the world's most popular

destination for yacht charters. A crew is provided and

with their experience, they will be able to take you to the

beautiful private beaches or to unique locations where

you can experience different Caribbean cultures.

The Caribbean sailing season runs from November to

July, although the high season is from mid-December to

March. Outside of these months is the hurricane season

.Although rare in the Southern Caribbean region, these

months are usually quieter. For this reason, yacht charter

can be less expensive.

Island hopping is very popular in the Caribbean as many

of the islands are very close together. There are three

different ways to island hop.

The first approach would be to take advantage of the

many ferries and boat trips that operate in the Caribbean.

These ferries and boats travel between the various small

islands and this is probably the easiest way to move from

one island to another, and the least expensive way.

The second approach, although probably the most

popular, is the most expensive way, and that is to island

hop as part of your Caribbean cruise. The cruises are

perfect to visit a selection of islands, but doing so in

luxurious comfort with fantastic facilities.

The final option for island hopping would be by air.

This approach is typically used when the island you are

planning to visit is a long distance away or where there

are no connections by sea. Flight travel to the smaller

islands of the Caribbean is actually not expensive, so it is

a reasonable way to travel. Flights to the larger islands is

typically more expensive.

Safety should be considered when travelling in the

Caribbean. Though the Caribbean has fantastic weather

all year round, it is better to avoid August, September

and October when storms and hurricanes are most likely.

Avoid these months and you can enjoy calm seas and

excellent weather.

27 28
---
Security should be considered

when in the Caribbean, but no

more than any other country.

Valuables left on a beach are at

risk. Avoid taking anything of

value to the beach if it is to be left

unattended.

On a yacht vacation, extra

precautions should also be taken

as there have been problems in

some Caribbean destinations. It is

recommended to choose a marina

with good security and always lock

your cabins when away from your

yacht.

It is likely, although it depends

on where you are travelling from,

that you will need a visa to visit

the Caribbean. If on an organised

cruise, it is likely the cruise line will

organise the necessary paperwork

for your journey. Otherwise, you

should apply to the embassy for

the appropriate visa.

A few weeks before you travel to

the Caribbean, it is recommended

to check that all paperwork is

in order, as it is possible there

could be a change to the visa

requirements for one of the islands

you may be planning to visit. A

small omission or change will take

time to rectify, so don't leave it too

late.

The Caribbean is a fantastic

location for a vacation, and taking

into consideration key information

regarding island hopping, times to

visit, safety and security, can ensure

that you maximise your enjoyment

in this tropical playground and

create memories that will live with

you for many years to come.

29 30
---
Turks and Caicos

KENARD CRUISES

Luxury Tour Company of Year

Bridge Street, Turtle Cove Marina, Providenciales, Turks and Caicos ♦

Tel +6492323866 / +6493323866 / US +954 3383792 ♦ kenardcruises.com

You can choose from a wide variety of

charters that they have designed. Apart

from the full-day and half-day packages,

you can take a sunset cruise that will give

you some beautiful views of the sunset

from the yacht, which makes for a great

romantic evening. Or perhaps, Island

Beach BBQ is more to your liking where

you will go to a deserted island and have

freshly barbecued food on the beach! Wish

to have dinner along with the crimson

shade of the sky during sunset? They do

that for you as well!

Visiting Turks and Caicos

and want to do something

different? Kenard Cruises has got

the perfect activity for you. Hop

on board their luxury yachts and

experience the epitome of leisure

on your vacation here. Whether

you wish to simply head out into

the infinite blue to explore some

deserted islands or are looking to

go for something more specific, like

snorkeling or even fishing, they cater

to all your requirements.

If you've ever dreamt of going into

the seas in your very own boat as a

kid, this is the place where you can

make this dream come true while

enjoying the luxuries that Kenard

Cruises provides on-board. You can

choose between a half-day and

a full-day charter based on your

requirements and then lie back and

relax on the boat while they cater to

all your needs. A scrumptious lunch

awaits you in the middle of the sea

with local cuisine preparations that

will definitely please your palate.

31 32
---
If none of the above packages seem

to fit your liking, you can create your

very own custom charter by telling

them what your exact requirements

are; they will happily create a special

itinerary for you! Sail away on their

luxury yachts, Dream Aweigh II

or Dream Aweigh III and enjoy

your expedition. For the perfect

snorkeling experience, their Dream

Cruiser, a 29-foot speed boat, is

perfect to zip over to the barrier reef.

Their most popular package includes a trip to the famed Iguana Island, where you can

spot hundreds of iguanas along the beach. Before this, there is a snorkeling session

too, where you can see underwater biodiversity like starfish, corals and even the famous

dolphin of Turks and Caicos, JoJo! Wish to take fun dives into the water? They let you

jump or flip into the water from the yacht too!

33 34
---
Other popular places for their

cruises are the Grace Bay Beach,

Water Cay and Parrot Cay.

Their prime focus is on not only

creating memories for you but

to also pamper and spoil you

during your stay on the yacht,

with delectable meals with

Caesar salads, shrimps, kebabs

and more! They even pick you up

from your resort and have loads of

wines and beers on-board for you

to have a relaxing outing! With

hundreds of satisfied customers

across the years, you are sure to

have a gala time on board their

yachts!

35 36
---
CAPTAIN KENARD CRUICKSHANK

TELL US A LITTLE BIT

ABOUT GROWING

UP IN TURKS &

CAICOS?

I came to the islands as a Scuba

Diving Instructor on a Job

placement. I instantly fell in love

with the place, the beautiful

waters and stunning beaches.

I spent 3 years working as a

diving instructor and during

this time, I felt the need to

do something of my own but

with a more relaxed feel where

people can enjoy the beauty

of the islands in the they want.

I started with a 42-foot Regal

doing private days tours and

then moved on to where we are

today, the first and number one

luxury yacht charter.

WHAT MADE YOU DECIDE TO SET UP A

CRUISE COMPANY?

Simply put the beaches and the water. The protection from the ocean has led to a great

barrier reef. Also, because a cruise to the different islands is a must do once you are

here. There is beauty here like nowhere else that only the islands offer.

WHAT IS YOUR MOST POPULAR CRUISES OR PACKAGE?

The most popular is the full day charter followed by the half day charters.

YOU HAVE FANTASTIC REVIEWS ONLINE,

WHAT DO YOU THINK SETS YOU APART FROM

THE COMPETITION?

Apart from the luxury and spacious yachts we offer, our team is the major part of our

what we do. The crew is extremely professional, they're all trained by me and uphold

my high standards throughout. The crew do things the way I do and assess our guests

needs throughout the entire cruise. We go that extra mile that's necessary to ensure a

memorable day out for our guests.

I personally created & design the on-board menu and prepared onboard by myself as

well. Food is always fresh and a big part of the cruise that our guests look forward to.

37 38
---
HOW IMPORTANT IS THE CREW TO YOU?

My crew is vital to running the cruise. Without the crew we would not be where we are

today and without them we wouldn't have the review that sets us apart.

HAVE YOU

ENTERTAINED

ANY CELEBRITIES

OR ANYONE

IMPORTANT? IF YES

ARE YOU ALLOWED

TO SAY WHO?

We have had many celebrities

aboard during our 10 years in

business. There are many we

won't mention here, to name a few

however we've hosted Michael

Douglas, Prince, David Beckham.

Lil Wayne, Keith Richards, Derek

Jeter and so much more.

WHAT DO YOU LIKE

TO GET UP TO IN

YOUR SPARE TIME?

I love to travel.

WHO ARE

YOUR ROLE

MODELS AND

INSPIRATION?

I would say, the Cunard

Lines and Princess

cruise line. As I always

admire their cruises

and service.

ASIDE FROM YOUR CRUISE WHAT ELSE SHOULD

VISITORS TO IN THE TURKS & CAICOS DO?

Other attractions on the islands include the Thursday fish fry and Grace bay

village shopping.

39 40
---
Aruba

MORNINGSTAR

ARUBA

Sailing Company of the Year

Varadero Marina, Oranjestad, Aruba ♦ Tel +297 5649950 ♦ morningstararuba.com

The beautiful islands of the Caribbean are

best explored from the ocean and the

island of Aruba is no exception. The Morning

Star yacht is a splendid way to head into the

infinite blue and have your very own adventure

while exploring the beauty of Aruba. Morning

Star is a 40-foot yacht with a center cockpit and

was built in 1989. This luxurious yacht can host

up to 12 guests and will take you on a journey

of your dreams. Right from the moment you will

step onboard this yacht, you will start getting

pampered by the crew and get spoilt by the

comfort of the plush furnishings onboard.

While the cruise sails off into the deep blue, you

can sit back and enjoy the sailing experience

with the cool wind blowing on your faces. The

able and ever-courteous crew does everything

possible to make your stay on the yacht

comfortable and will take you around the coast

of the island and show you some of the finest

attractions of Aruba right from the ocean. The

best part about their trips is that all their charters

are completely private so that you can get all the

attention throughout the trip. Moreover, there

are no pre-set departure timings so you can

easily weave the sailing trip into your schedule

as per your requirements!

During the charter, you can go snorkeling, lie on the deck to perfect

your tan and even enjoy their freshly prepared food. Right from a

scrumptious breakfast to a five-course candlelit dinner, they prepare it

all to tantalize your taste buds. The food has both vegetarian and nonvegetarian

options based on your needs. To accompany the food,

they have a selection of rums, vodkas, bourbons, gins, tequilas, beers

and wines in the bar, including some exotic cocktails like Margarita,

Cosmopolitan and Bloody Mary for your indulgence. Apart from the

mainstream cocktails, they have their very own cocktail – Morningstar

Rum Punch! If you prefer something non-alcoholic, they have cold

drinks and various juices on offer too.

41 42
---
They have several ready itineraries for both morning and evening sails along with full

day sail packages. The sails start from as short as three hours to seven hours. All their

day sails include snorkeling as well. If you choose to go for evening sails, you can have

a romantic sail which is perfect for a private celebration. They also offer a snorkeling

session in one of their evening sail packages at the Spanish Lagoon. If you wish to

see the island from both air and water, you can choose their Fly and Sail package that

takes you for a helicopter tour over the island first and then takes you for a romantic

sail. This package is perfect for special occasions like proposals and anniversaries. If

none of their packages seem to fit your liking, you can build your very own tailor-made

itinerary with them too!

If the flexibility and comforts weren't enough, they have additional facilities which you

can choose to order based on your requirements. The choicest selection of champagnes,

flowers, cakes, decorations, and saxophonist are just some of the things you can add; the

list is truly endless. Moreover, if you require transportation to and from the boarding point,

they book that for you as well in your choice of vehicle. A trip aboard the Morning Star is

nothing short of a once-in-a-lifetime experience and is something you definitely must not

miss when visiting Aruba; it truly is one of the best ways to discover the island.

43 44
---
St Barthelemy

MASTERSKI

PILOU

Charter Company

Rue Jeanne d'Arc, Gustavia, 97133 St Barthélémy ♦ Tel +590 5 90 27 91 79 ♦

masterski-pilou.com

Recognized specialist in the Caribean Luxury Yachting, Pilou and his team welcome

you onboard their yachts where VIP service is required. Take a moment to come

and join us on an Island adventure with a range of different water sports, discover an

uninhabited wild beach inaccessible by foot, cruise onboard a sports boat or simply sit

back and relax during a transfer between two Islands.

Jet skis rental, seabob rental, flyboard & hoverboard rental are here too !

Image by: Oc Gonzalez

45

46
---
TRAVELLING IS LEARNING

What better way to expand your knowledge than to experience the real thing?

It is all very well reading from a travel book about a particular country where

you can read about its food, language, history and more, but to really appreciate and

understand, travelling to the country cannot be beaten.

Stay away from the tourist areas and head to the traditional tourist free towns, which have

not changed over the years with the tourism revolution. Here you can meet and mingle

with the locals, and experience their native language. Immerse yourself in their town and

try to speak the language; you are sure to find a local who will help you along. You will

soon be ordering your food and drinks in the local bar in the local language instead of

learning pointless phrases from a text book.

The bars and restaurants will typically serve food and wine local to the area, allowing you

to taste the local cuisine and also appreciate how it is made traditionally. Often, you can

watch the locals making a paella for example, and see the method they use which has

probably been passed down the generations.

Visit historic sites and museums to learn about the history of the region. For example,

there are hundreds of books documenting the life of Che Guevara, but rather than read

the viewpoints of others, why not have your own, and visit Cuba and be able to see the

monuments and museums dedicated to him. Even better, speak with the locals who will

have their own stories to tell on his life or their experiences with Che Guevara.

47 48
---
There are attractions and sporting

activities world-wide which we read about.

It could be visiting a natural wonder, or

bungee jumping from a famous landmark.

Reading will paint a picture of what you

could experience, but to actually witness

and experience it for yourself, will create

memories that will never be forgotten.

So much can be learned as you travel

around the world. Each town or country

will offer a new experience and by

actively partaking, you are continuing to

expand your knowledge of the cultures

of each location you visit. Each person

will have different outcomes during their

travels, and good experiences tend to be

memories for the rest of your life, whereas

gaining cultural knowledge from reading

will never offer the same insight and

educational value as the real thing.

Canada

THE AVENUE

GALLERY

Cultural Experience

2184 Oak Bay Avenue, Victoria, British Columbia, Canada ♦

Tel +1 250 598 2184 ♦ theavenuegallery.com

Visit one of the premiere boutique

art galleries in the Pacific

Northwest, The Avenue Gallery, in

Victoria, British Columbia, showcasing

contemporary Canadian fine art since

2002. With over twenty-five years'

experience in the art industry, owner

Heather Wheeler, along with the gallery

representatives, provide knowledge

and expertise to this thriving Oak Bay

contemporary fine art gallery. Patrons

from around the world are treated to

ever-changing exhibits and have access

to unsurpassed collections by painters,

sculptors, glaziers and jewellery artists.

This impressive art gallery carries a

broad spectrum of art that appeals

to those new to the contemporary

art scene as well as knowledgeable

collectors. Having recently celebrated

their fifteenth anniversary of operation,

The Avenue Gallery continues to be

the leading destination for critically

acclaimed art exhibitions and events. A

remarkable art gallery, not to be missed.

49 50
---
Mexico

AURA COCINA

MEXICANA

The Award for

Excellence in Service

Medellín 191A, Colonia Roma Norte, Mexico City, Mexico 06700 ♦

Tel +52 558434-7727 ♦ info@aurawclub.com ♦ auramexcooking.com

Aura Cocina Mexicana lets you immerse into Mexico's extraordinary food culture

through cooking experiences; either with a traditional Mexican cookery handson

workshop where you can rediscover the aromas of Mexican spices while using a

"molcajete" to make a salsa or mole, explore new corners, colors and artistic murals

through a culinary market visit or let us indulge you with a laid-back gastronomic

experience.

Enjoy a unique place where you will learn in small groups and a friendly environment,

with a highlight of Mexican history, art and legends and a warm endeavor to "cook

with your heart".

Located in one of the most traditional

neighborhoods of Mexico City where you

can live the "barrio" lifestyle, the Roma

Norte, Aura Cocina Mexicana will surprise

you with an intimate cooking studio.

Either the intriguing eye-catching narrow

façade observed from the sidewalk as a

small minimalist front in intense blue with

Mexican reminiscences, the pink wall that

ultimately confers the character of the

AURA house, the interesting murals of

shadows and lights that floods the kitchen

and dining room or the carefully selected

crafts and furniture that proudly showcases

the work of local communities; you will feel

comfortable and at home the way we live it

in Mexico: "Mi casa es tu casa".

Our name represents the luminous multicolor

energy field that each person

projects at a given moment, which,

combined with the unique expression that

a dish or beverage provides depending

on the time we taste them, creates a

unique moment where we are able to

grasp, enjoy and experience it. We call it

#momentosaura. It will be a pleasure to

create a unique experience for you and

share #momentosaura.

51 52
---
Bahamas

BAHAMAS

JET BOAT

Adventure Activity

Elizabeth on Bay, Marketplace & Marina, Nassau, Bahamas ♦ Tel +242 323 0222 ♦

bahamasjetboat.com

If you're a fan of watersports, an unforgettable trip awaits you in the Bahamas.

Bahamas Jet Boat takes you on a thrilling sightseeing journey in a high-speed boat

filled with jumps and splashes on waves. Whether you're looking to go on the tour as

an individual or as a family, they make provisions for all. While this high-octane tour will

surely have your adrenaline levels rising, they make sure that your safety is taken care of

first. Their 24-seater boat makes it possible for you to take even larger groups on the tour

with you. Moreover, Their highly-qualified staff and captain ensure that you have a gala

time onboard. You could also choose their photography and videography packages to

immortalize your experience on this voyage! You could also book the boat and tour for

special occasions like birthdays and corporate team building exercises.

Image by: Eirik skarstein

53 54
---
Dominican Republic

SEAPRO DIVERS

Diving Company of the Year

Calle Marcio Veloz Maggiolo, Punta Cana 00023, Dominican Republic ♦

Tel +809 754-3632 ♦ seaprodivers.com

Heading to the Dominican Republic and wish

to explore its crystal clear waters? SeaPro

Divers is the perfect destination for you. With more

than 24 years of experience in the field of scuba

diving and watersports, you can enjoy the very

best of the waters of the country. With centers in

Punta Cana and Puerto Plata, they see to it that

their diving services are available to those visiting

different cities too. Apart from the diving in these

cities, they have special dive excursions which take

your further into the deep blue away from Punta

Cana to the islands of Catalina and Saona. At these

sites, you will get to see spectacular underwater life

and also shipwrecks like Atlantic Princess and St.

George.

If you wish to have a more personalized experience,

their dive charters are perfect for you. You can go

for diving privately with your group and this charter

includes everything – private transfer, boat, guide,

and snacks. Their most unique diving experience

though is a night dive excursion where you can

enjoy the thrill of diving into the deep blue under

the moon! If you wish to have a unique wedding

proposal that you can cherish for a long time, they

also set up underwater marriage proposals with all

the logistics to make a truly wonderful experience

for you.

Moreover, Being a PADI certified diving company, they have PADI diving

courses that can be completed within 3 days too! If you wish to go for

shorter courses, they have a 1-day introductory diving course to get

your feet wet. Apart from their diving related activities, they have other

cool sports like parasailing in Punta Cana, deep sea fishing, snorkeling,

speedboat excursions and even cool boat parties!

55 56
---
Brazil

PARQUES

DAS AVES

Learning Experience

Av. das Cataratas, KM 17.1, Foz do Iguaçu Brazil ♦ Tel +55 45 3529-8282 ♦

parquedasaves.com.br

With the increasing deforestation of

Amazon rainforests, this park is a breath of

fresh air. The rate at which destruction of

species and forests is happening around

us in the name of development, is causing

irreparable damage to the environment

and the nature. Amongst all of this, a park

which the birds call their home without

being caged is not just an attraction but

also an example that humans can co-exist

without destroying the nature. It is situated

on the outskirts of Iguaçu National Park,

near Brazil- Argentina Border.

Parque Das Aves literally

translates to The Bird

Park. The park is spread over

16.5 hectares of lush Atlantic

Rainforests and houses more

than 1400 birds from over

150 different species. The

entire park is built around the

concept of bringing the wildlife

in its entirety and glory to our

civilization, to show us what

we are missing out on. What

separates this park from other

biological parks is that more

than 50% of the total birds

are either donated or rescued

instead of being caught from

their natural habitat. The rest

have been born and brought

up in the park. Zoos and

bird parks around the world

display the animals in a caged

or bounded environment.

However, birds have wings

which let them soar the heights

of the sky and this is exactly

what Parque Das Aves strives

to do; they give them an open

space to fly.

The park was created by Dennis Croukamp

in 1994. He and his wife cleared up the

allocated land area from debris and

invasive vegetation. After which, they

planted hundreds of native trees which

would become home to thousands of birds

today. The park is the largest bird park in

entire Latin America and one of its kind in

the world.

57 58
---
The park's entry takes you into the natural habitat of birds and mesmerizes you not just

by its grandeur and pristine state, in spite of regular human interaction with visitors, but

also awes you and tickles the nature lover in you. The moment you enter, you see and

feel everything in its natural form, so much so that all your senses get heightened. You

realize the cleverness of nature's design, appreciate the beauty of nature's creation,

and understand your connection with nature. With the background of Iguacu falls, the

bird sounds hit your ears like a melody.

You simply cannot come out of the park

without a smile on your face. The park

creates a spark of relationship with the

nature and the birds. You will find a side of

yourself, which you never thought existed.

You will get to learn that we are not so

much apart from nature as much a part of it.

After your visit to the park, you are bound

to observe the nature around you in your

daily life more closely and feel for it with

much more passion than you did before

entering it. Visit the Park and experience it

in person!

This bird park boasts of not just the mighty

eagle, or the nocturnal owl or colorful

parrots, but also the big billed toucans,

flamingos and macaws. The park also

provides you with the opportunity to feed

these birds or get a souvenir photo clicked

with them to take home the memory of

being reunited with the nature. The park

consists of an entire ecosystem within itself,

which consists of various butterflies and

reptiles as well. The Boa constrictor in the

middle of the park is one such attraction.

59 60
---
NORTH

AMERICA

Image by: jameswheeler-5314099

61 62
---
WELCOME TO CANADA

Canada is the second largest country in the World, but one of the most sparsely

populated. Sharing an unpatrolled border of 5,525 miles with the United States.

With a number of major cities, Toronto is the most visited city in Canada. Tourism in

Canada hit record levels in 2017, with almost 21 million visitors.

Canada is a wonderful place to visit, with vibrant cities, culture, great trips and adventures

to be had, natural wonders, unique wildlife and with the facilities to ensure that visitors

have a wonderful Canadian experience.

There is something on offer for everyone in Canada, the country is vast with wonderful

landscapes, mountains, glaciers, secluded lakes and Forests, such as the Rocky Mountains

and the Niagara Falls. The wildlife too, needs to be seen, to be appreciated. The list is

endless with so many natural experiences to be had.

If the wilderness is not for you, Canada is home to a number of vibrant cities, each with

something different to offer, visit the 553-metre-high CN Tower in Toronto, the spectacular

Mount Royal Park in Montreal, Stanley Park in Vancouver or Peace Bridge in Calgary, these

are just a few of the many highlights of this outstanding country. There is no shortage of

attractions to visit. You can even visit the places you learned about in school!

Canada is a unique country, the outdoors are inspiring, the cities are cosmopolitan,

safe, clean, friendly and an exceptional place to live or simply visit. A country you can

continue to explore and to have new experiences, experiences that you could not have

anywhere else in the world.

Let's go over to Newfoundland and Labrador Ontario, Alberta & British Columbia, and

see what each has to offer.

63 64
---
Canada

WATER SPRITE

BED AND

BREAKFAST

Luxury Bed and Breakfast

208 Pelham Street, PO Box 663, Lunenburg, Nova Scotia, B0J 2C0 ♦

Tel +204 960 7368 ♦ waterspritebb.ca

People have been opening up their

houses for travelers, and providing bed

and breakfast service from a long time. It

has been part of the Canadian lifestyle since

so long that it is almost a default option of

choice for travelers and vacationers to stay.

Amidst all of this, Water Sprite in Lunenburg,

a UNESCO World Heritage Site and the Water

Sprite is located in the heritage disctrict, is a

place to visit. Water Sprite gets its name from

the first ship which Harry, Barry's father, had

first sailed in 1937. The ship and the journey

meant so much to Barry and Brad, the owners

of the Bed and Breakfast, that their entire

venture gets references from it.

The Bed and Breakfast provides services

throughout the year with summer (June -

October) being the in-season time of

business and November to May being

the off-season. They provide 2 types of

accommodation options – Mainsail and

Staysail. The Mainsail has a Harbor view,

sleeps 2 adults and a private ocean view

balcony, spa like ensuite. The Staysail has 2

rooms which accommodate up to 4 adults

so that you can have a fun vacation with

friends or family. You may choose to rent a

single room or both the rooms.

Water Sprite is an adults-only Bed and

Breakfast and provides gourmet breakfast

served hot. It also caters to special dietary

needs. Sit back and enjoy an aperitif on

the spacious covered deck and take in the

spectacular views of the harbour.

It also provides you connectivity to internet

and cable along with access to Netflix. They

take special care to ensure that the bedding

and mattresses are also comfortable. They

also provide concierge services.

There are very few Bed and Breakfast

options which cover the extra mile, just to

make you comfortable. So, if Lunenburg is

a stop for you in a longer journey or just

a weekend getaway, make sure you give

Water Sprite a visit. They would be more

than happy to accommodate you and

make your time there worthwhile.

65 66
---
NEWFOUNDLAND & LABRADOR | A NATURE LOVERS DREAM

Newfoundland and Labrador, with 29,000 kilometres of coastline, amazing

landscapes that are always inspiring, is a stunning place to visit. It is surprisingly

easy to travel to as well. It's just a 5 hours flight from London.

There are so many things to do in the natural environment of Newfoundland and Labrador

– history, wildlife, culture, adventure or simply just relax and appreciate the fresh air direct

from the Atlantic Ocean. So much of Newfoundland and Labrador is untouched, not

spoiled or polluted, just there to be enjoyed.

This is the perfect place for adventures, With thousands of miles of coastline, where

you have the opportunity to see the extensive wildlife and birdlife that lives in this area.

Spectacular scenery all year round that can be enjoyed in so many different ways, whether

hiking or biking along the coastline, rafting on the Exploits River, or a visit to the gorge in

Steady Brook, the options are unlimited.

During the snowy winter months, why not hire a snowmobile and travel along the

thousands of miles of trails and experience a completely different landscape? Of course,

skiing and snowboarding are popular pastimes in Newfoundland and Labrador, due to

the 16 feet of annual snow fall.

67 68
---
Canada

ECOTOURS ZODIAC

ADVENTURES

Tour Company of the Year

Newfoundland and Labrador is a nature

lover's dream, with thousands of sea birds,

marine life and other wildlife across the

vast landscape. With no exception, there is

no better place to go whale watching.

Every year, the world's largest population

of humpback whales return to the area to

feed, migrating from the Caribbean. The

humpback whales are seen jumping out of

the water and crashing back into the sea,

between April and October.

Other breeds of whales and dolphins

also visit the area between May and

September,. This includes the Orca, Blue,

Sperm and Minke and you can witness this

every year, close to the shores.

To experience the whales at such close

quarters is an amazing sight and it is

possible to get even closer to the whales

on a boat tour or a sea kayak. The kayak

gets you up close and personal with the

whales.

Newfoundland and Labrador is one of

the only places in the world that has visits

from the whales, seabirds and icebergs all

at the same time, as the animals migrate

north, the icebergs are floating south. If the

timing is perfect, there is a great chance

you will see all three at the same time, but

there is no guarantee!

Lower Loop Rd, Witless Bay, NL A0A 4K0, Canada ♦ Tel +1 709 330 8687 ♦

ecotourszodiacadventures.com

Nestled on the Southern Shore of Newfoundland's East Coast, Ecotours Zodiac

Adventures offers a unique sightseeing tour to those looking for adventure. Leaving

from Witless Bay, join them aboard one of their two zodiacs where their friendly tour guides

will take you on an hour and a half adventure tour, offered multiple times a day, 7 days a

week, of the surrounding coastline area. Travel alongside Gull Island, part of the Witless Bay

Ecological Reserve, which provides a home to the largest Atlantic Puffin colony in North

America and thousands of migratory sea birds every summer. Ride across the ocean waves

as they take you out in search of humpbacks, dolphins, and other beautiful marine life.

Explore Newfoundland's Southern coastline which offers the landmark 'The Spout', towering

sea stacks and coastal sea caves. Get a front row seat as you adventure in to nature with

Ecotours Zodiac Adventures!

69

70
---
24 HOURS IN ONTARIO

Ontario is one of Canada's most popular Destinations and is the most populated

province in Canada with over 13,500,000 living here. Toronto is the capital city

and is the largest city in Canada.

Ontario is the economic hub of Canada, but offers much more. Including the popular

Niagara Falls, four of the five great lakes, beautiful countryside, national parks, and a

diverse culture.

Ontario offers so much to do, but what would we do if we only had 24 hours in Ontario.

The Ottawa Boat Cruise is a certain way to ensure you see as many of the attractions of

Ottawa in a limited amount of time. The tour along the Ottawa River passes attractions

including The National Gallery of Canada, Parliament Buildings, Rideau Falls, the official

residence of the Prime Minister of Canada and Rockliffe Park.

The boat cruise is the best way to see the landscape of Ottawa whilst sitting back, relaxing

and maybe enjoying a cool drink as you enjoy the spectacular sights. The cruise typically

last around 90 minutes, which is more than enough time to capture these fantastic sights

on your camera.

The Essex County Wine Region is located in beautiful countryside and is home to a

number of excellent wineries.

The region has a long history dating back to 1860, when wine production was started by

3 farmers. This has continued to grow and some of the finest wines of Canada are being

produced here.

In total, there are 17 wineries today, and there are some excellent tours available that

will take you to a selection of these. Each estate offers their own wine tasting tours, with

experts on hand to provide tasting advice, so take your own notes and decide what your

preference is and maybe buy a few bottles of your favourite wines to take home with you.

71 72
---
Canada

OTTAWA BOAT

CRUISE

Innovative Experience

Canada

GRAPE VINE

TOURS INC

Tailor Made Tour Company

895 Jacques Cartier, Gatineau, Quebec Canada ♦ Tel +1 819-246-3855 ♦

facebook.com/OttawaBoatCruise/

Kingsville, Ontario, Canada ♦ Tel +519 796 1543 ♦ grapevinetours.ca

Visiting Ottawa and want to explore the beauty of the city? Get in touch with

Ottawa Boat Cruise and see the city from a totally different perspective! They

give you a chance to have a memorable trip down the canal cruising on their 100%

electrical boat. Explore the rich history Ottawa has to offer with their knowledgable

staff. Their tour guides will provide you with some great information about the city

while keeping the trip both fun and informative. If you wish to have the boat to

yourself, you have the option to charter it too! The boat can even be used for private

functions! Who wouldn't want a venue on the water? A unique perspective with an

unforgettable experience. Ottawa Boat Cruise is a must do while in Ottawa!

Grape Vine Tours Inc. is located in

Kingsville Ontario. We provide

private custom guided tours to the

wineries of Essex County and the craft

breweries of Essex – Windsor. Our area

is also home to a large distillery industry

which includes: Wiser's, Canadian Club,

Seagrams and Wolfhead, an award

winning craft distiller. Grape Vine Tours

operates all year round and welcomes

visitors to the southernmost part of

Canada.

73

74
---
Canada

COLLINGWOOD

CHARTERS

Charter Company of the Year

Hurontario St. & Sidelaunch Way by the L.C.B.O., Collingwood, ON, Canada ♦

Tel +705 443 1124 ♦ collingwoodcharters.ca

Relax aboard the Huronic exploring

Collingwood's beautiful harbour rich

in maritime history and learn interesting

facts about the once active Collingwood

Shipyards famous for side-launching

new ships. Enjoy the rugged beauty of

the Collingwood Terminals and continue

your journey cruising by the Nottawasaga

Lighthouse with the picturesque

escarpment in the background.

Collingwood Charters offers sightseeing

tours, sunset cruises, local wine or beer

tastings, dinner cruises and private

charters aboard a 65' tour boat, "Huronic"

operating out of Collingwood Harbour.

Perfect for ANY occasion with a capacity to

hold up to 70 passengers.

75

What Our Customers Are Saying…

"Incredible September Day!

As a birthday gift for my daughter, I took

her and my granddaughter out on a

stellar weather September day on the

Huronic. The crew was so friendly and

accommodating offering to help at any

time. The cruise was delightful with a

little music, a history of Collingwood and

surrounding waters and some quiet time to

just enjoy the views, breeze and sunshine.

A must-do when in Collingwood. I live here

and would go again to take in perhaps the

evening cruise- maybe I will plan my next

family event on board! LOVED IT! Look into

it for sure! Highly recommend…"

Image by: wnk1029-6017062

76
---
ALBERTA | WILDERNESS EPITOMISED

Alberta is a popular tourist destination, close to nature, and a welcome break from

the concrete jungles and over populated areas across the world. Located in the

Western Province of Canada, the wilderness of Alberta is well known, and since Banff

National Park was created in the 1880's, four more national parks have been added, Elk

Island, Jasper, Waterton Lakes, and Wood Buffalo National Parks.

The national parks are protected and home to a variety of wildlife, including some rare

species that continue to thrive. Visitors to the parks can not only enjoy the wildlife in their

natural habitat but appreciate the fantastic landscape, including snow covered mountains,

forests, desert Badlands, over 600 lakes, and fantastic night skies, unpolluted from city

lights.

Alberta has been a tourist destination

since the early 20th century, with so

many outdoor activities on offer, some

more strenuous than others. In addition

to the national parks, there are world

class facilities for skiing, great hiking

trails and camping, with adventures to

be experienced as you explore the vast

terrain.

The wilderness of Alberta also offers

fantastic hunting and fishing, with

worldwide visitors looking to experience

the real thing. Bow River is a dream

location for fishermen, ideal for flying

fishing in the amply stocked rivers,

hopefully landing that "special catch"

There are a number of must see museums

in Alberta, such as the Royal Alberta

Museum, a museum of human and natural

history, this is the largest museum in

Western Canada.

There is so much to see and appreciate in

Alberta for visitors, Alberta is geared up

for tourism with a large selection of hotels

of different standard on offer. Alberta

covers over 600,000 km2, the planning of

your trip is essential to ensure the "must

see" attractions of Alberta are not missed.

77 78
---
Canada

MOUNTAIN

HAVEN CABINS

Country Retreat

While you're at the retreat, you may

want to stay connected with the world.

For this reason, the complete lodge is

WiFi enabled free of charge. You can

even bring your own vehicles along as

there is free parking on site. Each of their

rooms comes with air conditioning and

heating facilities as well.

18 Webb Avenue North, T0K 1N0 Mountain View, Canada ♦ Tel +1 403 331 0905 ♦

mountainhaven.ca

If you want to get away from the moribund

city life, there is no better way than to head

away into the mountains. If you're heading

to the mountains and want a comfortable

stay, head over to Mountain Haven Lodge

and Cabins. This retreat is set in the heart of

Mountain View and provides some stunning

views of the mountains.

The retreat provides a family lodge and 3

cabins which serve as holiday homes. While

the cabins are available all-round the year,

the lodge can be rented only during the

summers. So if you're planning a getaway

vacation for your family, this 7-bedroom

lodge is the perfect place for you! It comes

with its very own yard as well.

The best part about the retreat is that each

of their cabins comes with a fully-equipped

kitchen where you can cook for yourself

and stay there just like it is your home away

from home. You can even find TVs and Bluray

players in some of the cabins. If you feel

like simply sitting back and lazing, you can

sit back on the private patio and watch the

mountains as your food gets slowly cooked

on the propane barbeque there.

While you're there, you can go for some

off-site activities as well. They have

skiing, canoeing, horseback riding,

hiking, fishing and windsurfing facilities

available nearby too. Mountain Haven

Lodge and Cabins truly lets you enjoy

the tranquility of nature away from the

cities.

79 80
---
BRITISH COLUMBIA | TOP 3

British Columbia is a vast terrain known for massive mountain ranges and beaches

with amazing rainforests of natural beauty. It's a great location for hiking or mountain

biking, and also known for its ski resorts. In 2010, British Columbia hosted the Winter

Olympics.

A region full of attractions, but what are the top 3 things to do in British Columbia?

1. Vancouver is a city with so much to offer, with shopping on the famous Robson Street,

explore the historic town or admire the impressive views from all around the city with

the rainforest and Pacific Ocean, almost always visible.

For more energetic activities, hiking or skiing in the North Shore Mountains, or kayaking

in the waterways is a very rewarding way to spend the day.

2. Yoho National Park is certainly worth a visit, with its amazing scenery extending over the

Rocky Mountains. Yoho National Park is easily accessed via the Trans-Canada highway,

and this is great way to visit as access to the main attractions is easy and with ideal

stopping points to take in the views.

A must see is Lake O'Hara, the lake is surrounded by the mountains and the area is one

of the best locations for camping and enjoying the hiking trails that surround the lakes

and lead into the mountains.

3. British Columbia has its own wine region, with over 100 wineries here, making it the

second largest in Canada. Many of the wineries are close to each other, ideally located

with fantastic views, so it's easily possible to visit a few and sample their wines over a

long weekend.

This area has a unique climate that makes it ideal for growing grapes and with a

mixture of well known and family run vine yards, this is a great way to spent a few days,

comparing your wine tasting notes.

81 82
---
Canada

BLUE WATERS

COTTAGE

Cottage

Canada

THE CASTLE AT

SWAN LAKE

Hotel and Restaurant

5218 Sunshine Coast Hwy, Sechelt, BC V0N 3A2 ♦ Tel +604 865 0035♦

bluewaterscottage.com

Tucked away on the beautiful Sunshine Coast in Sechelt, Blue Waters Cottage gives

you a chance to relax far away from civilization. This self-catering cottage is perfect

for a long getaway from the city life for both couples and families and gives you some

spectacular views of the sea. You can sit back and connect with nature and enjoy the

tranquility of the location as well. The cottage is fully furnished and comes with amenities

like barbeque, hot tub, private benches, and more! The kitchen is fully-equipped too so

that you can cook your own meals and have a completely private vacation experience.

If you wish to explore the area, there are loads of restaurants, beaches, hiking trails and

shopping options around. For those who love outdoor activities, kayaking, golfing, biking

and windsurfing options are available too! You can have the perfect home away from

home experience on the Sunshine Coast at Blue Waters Cottage.

7905 Greenhow Rd, Vernon, BC V1B 3S2, Canada ♦ Tel +1 778-475-4232 ♦

swanlakecastle.com

Take in the stunning beauty of the

Swan Lake and Okanagan Valley from

The Castle at Swan Lake All Suite Hotel,

which features balconies or decks either with

views of the beautiful Swan Lake, stunning

landscaped Courtyard or Pool

We are ideally located near the pristine

Swan Lake and close to the Kalamalka and

Okanagan Lakes. Favored by mild climate

and its remarkable natural beauty, North

Okanagan offers endless attractions, outdoor

adventures and voyages of discovery.

At any time of year whether you're traveling

for business or pleasure, The Castle at Swan

Lake is the perfect place to stay and play.

Choose between our spacious, elegantly

designed functional one bedroom area suites

or two bedroom area loft suites, tucked into

a paradise setting, boasting all the amenities

that you expect including a fully equipped

kitchen.

Retreat to this ultimate all-season playground

and stay in luxury and comfort. Located

centrally to the best golfing, wine touring,

shopping, orchards and farmers markets. Any

time of year is the perfect time to enjoy your

stay at The Castle at Swan Lake.

83 84
---
ALTERNATIVE TOURISM IN THE USA

America is home to some of the most shocking murders in history. True crime

and other dark events are no longer seen as only for the fascination of the more

unusual of individuals.

Whether serial killers, vampire or Salem witch tours, these attractions are becoming more

and more popular across the States and the selection of tours is continuing to grow, a few

examples are detailed below.

The Helter Skelter tour in Los Angeles reconstructs the events that led up to the infamous

murders committed by members of the Manson family in 1969. The tour looks at the

events from both sides, and does not hold back on the details of the whole macabre

event.

Another, which is proving popular, is the

Jeffrey Dahmer tour, where you can follow

his footsteps, and hear how he ate seven

of his seventeen victims. The tour is so

gruesome; it has been banned by certain

tourism web sites.

The murder tours are not the only dark

tours proving popular. Tours such as the

Salem Witch Walk where you are with real

witches and take part in a real magical

circle, and educated about modern day

witchcraft and the accused witches of

1692 are popular too.

Vampire tours are on the rise too, typically

beginning at nightfall, when the dark side

of places like New Orleans commences.

Chilling tours through creepy locations

and fantastic storytelling of gruesome

stories from the guide ensure that the tour

is not for the faint hearted.

Another dark attraction is Centralia, a

modern day ghost town. Over the years

the residents have left the town following

an underground fire, which has left the

town a ghost town with no residents and

many buildings torn down.

This has become a popular tourist

destination, although there is nothing to

do in Centralia and not much to see, but

this is the fascination.

So it would appear that the dark tourism

is a growing industry, in some ways an

education where the unpleasant stories of

the past are told to new generations.

85 86
---
People are fascinated by what has

happened historically, but often these

sites can be used as memorials to the

victims and often are run by charities to

raise funds, such as the Helter Skelter tour

above.

These tragic events of the past should not

be forgotten and the organised tours is a

way to ensure that future generations do

not forget what events have occurred in

years gone by.

USA

SF VAMPIRE TOUR

Alternative Tour

Nob Hill Neighborhood | San Francisco, CA, USA ♦ Tel +6502791840 ♦ sfvampiretour.com

Do spooky things give you the thrills? Are you visiting San Francisco and want to go

vampire hunting? SF Vampire Tour takes you to all such places like Grace Cathedral,

Nob Hill Cafe, Huntington Park, Pacific-Union Club, Fairmont Hotel, and Mark Hopkins

Hotel on every first Saturday of the month and Halloween. The tours will take you to pretty

chilling places and we're sure that you'll get spooked out soon! You can either join the group

for a regular tour or approach them for a private tour if you have a group size of more than

10. This 2-hour tour can be undertaken by anyone as the walk is comfortable and easy. It is

also a wheelchair friendly tour. Moreover, You can bring your dogs along on the tour too!

This is your chance to dress up as a vampire yourself and get your spook on!

87

88
---
State profile | Mary Land

How to Get in

• Plane

• Train

• Bus

• Drive in

Get Around

• Bus

• Subway or Light Train

• On foot

• Water Taxi (Baltimore)

America in Miniature

USA

ADVENTURES

FOR CREATIVE

TOURISTS

The Award for

Excellence in Service

11521 Taber St, Silver Spring, MD 20902, USA ♦ Tel +202 294 4265 ♦

adventuresforcreativetourists.com

Attractions & Sights

• Annapolis

• Ocean City

• National Aquarium

• Baltimore Basilica

Things to do

• The Appalachian Trail

• Watch a College Lacrosse

Match

• Sail on a Woodwind

Schooner

• Try a Maryland blue

crap

Find out more – https://

www.visitmaryland.org/

Adventures For Creative Tourists has specially crafted tours that will give you more

art, culture, and history of USA. We are a network of Master Qualified Certified

Guides. Every single tour is created by our expert tour guides that have spent countless

hours researching the collections, history, and communities. With our guides, you'll get a

chance to peek into the rich historic past of Washington DC by visiting some of the most

prominent places in the city such as U.S Capitol, Library of Congress, National Gallery of

Art, and Smithsonian American Art Gallery. Each guide is a local expert that is passionate

about their own field dedicated to giving you in-depth insight into the art and culture you

will experience. You could also choose to have a more exclusive private tour with one of

our experts by contacting our company directly.

89

90
---
State profile | South Carolina

How to Get in

• Plane

• Train

• Bus

• Drive in

Get Around

• Drive

• Bus

• On foot

Attractions & Sights

• Myrtle Beach

• Charleston

• Hilton Head Island

• Fort Jackson

Things to do

• Fishing & Watersports

• A Walking Tour in

Charleston

• Experience Authentic

Soul Food

Find out more – https://

discoversouthcarolina.

com

Rich history, lovely beaches and

spectacular cuisine, welcome to

the quintessential Southern State

USA

GAY DOLPHIN

GIFT SHOP

Local Experience

Myrtle Beach Boardwalk, South Carolina USA ♦ Tel +1 843 448 6550 ♦ gaydolphin.com

Located on the Myrtle

Beach Boardwalk in South

Carolina, the Gay Dolphin Gift

Cove has been an amazing

shopping destination since 1946.

If you wish to purchase something

from this region as a gift or for

memories, Gay Dolphin is the

perfect place for you. Spread

out across 10 floors and 35,000

square feet, this place is more of a

shopping experience rather than

a simple gift shop. In its 72 years

of operation, it has delighted

multiple generations of customers

and has become a local landmark

of sorts. With thousands of

options for gifts to choose from,

you're definitely going to be

spoilt for choice when shopping

here. If you're ever visiting Myrtle

Beach, You should know that Gay

Dolphin Gift Cove is a gateway to

discovering the city rather than

just a shopping destination. Shop

here and come one step closer to

discovering Myrtle Beach.

91

92
---
DALLAS

Forty Years After the Iconic DALLAS series, Dallas Continues to

Shine. There is plenty to see and do in the popular Texas city

DALLAS – (April 2018) – This year marks the 40th anniversary of DALLAS, the legendary

television series that put the city on the map as an international visitor destination, but

there are plenty of developments that will continue the city's momentum going beyond

2018, making it an ideal destination for international travelers. From new hotels to

upcoming arts and sports events, visitors have several reasons to visit Dallas.

Hotel Highlights

THE ADOLPHUS HOTEL

OPENED LATE 2017

Anheuser Busch founder Adolphus Busch

built the Adolphus Hotel in 1912 as Dallas'

first luxury property. Situated on the

original site of City Hall, the Adolphus has

served as a Dallas icon and an integral part

of the city's history and culture. Early this

year, the hotel wrapped up an extensive

renovation that celebrates the hotel's

storied past and adds new amenities. Most

recently, the hotel reopened the French

Room restaurant, which was restored to

its original European interior décor. The

restaurant menu focuses on traditional

French cuisine, offering a seasonal

three-course menu as well as a special

experiential menu that incorporates the

hotel's various dining areas.

THE STATLER

OPENED LATE 2017

Downtown Dallas' historic Statler now

flies the Hilton flag again after a $255

million redevelopment. The 59-year

old landmark opened last fall, paying

homage to its musical roots and Conrad

Hilton's original vision for the special

property. The property also has more

than 200 apartments on its upper floors

and lower levels of the building are home

to several restaurants and shops as well

as the new Dallas Morning News office.

The property recently celebrated with a

week-long grand opening celebration in

February, announcing the opening of all

its restaurant concepts.

VIRGIN HOTEL

OPENING LATE 2019

In 2019, Virgin Hotels will open a 200-

room hotel in Dallas' hip and growing

Design District. The $80 million lifestyle

hotel will cater to the new, savvy traveler,

offering free Wi-Fi, cancellation and late

checkout and a complimentary social hour

for guests. It's the fourth planned Virgin

Hotels property in the United States.

93 94
---
New Flights

ICELAND

This summer, three airlines will have new flights from Dallas Fort Worth International

Airport to Reykjavik, Iceland. WOW Airlines' seasonal flights will operate three times a

week beginning May 23. Icelandair will launch its year-long service on May 30, offering

four flights a week with connections to more than 30 cities, including Heathrow and

Gatwick. The third flight will launch on June 7 from American Airlines and will fly daily

through October 27.

Arts & Culture

SOLUNA INTERNATIONAL MUSIC &

ARTS FESTIVAL

MAY 6 – 28, 2018

SOLUNA International Music & Arts

Festival brings together international

artists with the help of Dallas' various art

organizations. The festival celebrates the

city's cultural legacy and diversity through

contemporary and classic performing arts

anchored by performances with Jaap

van Zweden and the Dallas Symphony

Orchestra.

RIVERFRONT JAZZ FESTIVAL

SEPTEMBER 2018

Texas Horse Park will be the home of

Riverfront Jazz Festival in its inaugural

year, Labor Day Weekend 2018. The

three-day festival will be a celebration

of Jazz, R&B, Soul, Blues and Neo-Soul

with more than 30 performers on the two

main stages and Promising Young Artists

Stage. The line-up includes local artists

Erykah Badu, Euge Groove, Oleta Adams,

Jon Secada and Ruben Studdard among

others.

DALLAS HOLOCAUST AND HUMAN

RIGHTS MUSEUM

OPENING SUMMER 2019

This fall, the Dallas Holocaust and Human

Rights Museum began construction

of a new building that will expand the

educational and cultural programming in

the southwest United States to advance

human rights and combat prejudice,

hatred and indifference. The design of the

new facility — to be located Downtown

in Dallas' historic West End — will create

a narrative that shows the journey of the

many who experienced the Holocaust

and other social injustices.

95 96
---
Sports

NATIONAL FOOTBALL LEAGUE

DRAFT

APRIL 26 – 28, 2018

The AT&T Stadium, home of the Dallas

Cowboys will be the host of the 2018

National Football League (NFL) Draft in

2018. The draft will be the first time in

history the event will be held at an NFL

stadium. The draft site will encompass the

field, stands and outdoor plazas which will

be turned into an NFL Draft Experience

festival.

AT&T BYRON NELSON AT TRINITY

FOREST GOLF

MAY 2018

Less than ten minutes from downtown

Dallas on Great Trinity Forest Way, the 18-

hole championship golf course designed

by Bill Coore and Ben Crenshaw has a

traditional golf course design that is also

carried over to the short course and ninehole

"Horse Course." Trinity Forest Golf

Club is the new home of the PGA AT&T

Byron Nelson, which will be celebrating

its 50th anniversary in 2018. The Club

will also host an annual NCAA Invitational

tournament and is the new home for

Southern Methodist University's golf

team.

SOCCER HALL OF FAME

LATE 2019

As part of a $39 million addition to

Frisco's Toyota Stadium, home of FC

Dallas, located north of Dallas, the arena

will also become home to the National

Soccer Hall of Fame Museum. The hall

will house the museum collection as well

as trophies from the Women's World Cup,

Gold Cup and other U.S. memorabilia

and Olympic medals. The hall will be the

first major league sports hall of fame to be

built within a stadium.

DALLAS TIES: FC Dallas CEO Dan Hunt made it a personal mission to bring the Hall of

Fame to Dallas in honor of his father Lamar Hunt. The elder Hunt championed the sport

and brought Dallas its first soccer team, the Dallas Tornado, in the late 1960s.

Dallas is a city that surprises and a destination that inspires big ideas. As the ninth-largest

city in the country, Dallas is already one of the country's leading hubs for business and

innovation, and the Dallas metro area is a top visitor destination in Texas. Learn more at

www.visitdallas.com.

About VisitDallas

VisitDallas markets Dallas as the ideal visitor and convention destination in Texas. Dallas –

The Most Texan City in Texas – celebrates its heritage in hospitality, and it's the one city

where Southern meets modern and legacy meets luxury. Dallas is the leading business

and financial center in the Southwest offering travelers an unparalleled array of amenities

and a central location with two major airports with more domestic nonstop flights than any

other U.S. city. As the ninth-largest U.S. city, and part of the fourth-largest metropolitan

area in the nation, Dallas is the top visitor destination in Texas. You really can do it all in

Dallas. For more information, visit http://visitdallas.com/.

97 98
---
Oh So Cynthia – Dallas

CYNTHIA SMOOT

Q&A

Tell us a little about yourself

I am a partner at Gangway Advertising

where I create buzz for some of Dallas'

hottest brands through interactive digital

strategies and public relations for the firm's

lifestyle clients. Through my wildly popular

lifestyle blog, Oh So Cynthia, readers get

the latest scoop and inside information

on fashion, food, philanthropy, events,

celebrity and reality TV news. I describe her

blog as "a love letter to the city of Dallas"

and enjoy taking readers along for the ride

as I experience all that the city has to offer.

I consider myself THE go-to resource for

what's happening and who you need to

know in Dallas.

What made you decide to set up a

lifestyle blog?

I started the blog in 2008 as a way to keep

my family connected to our lives in Dallas.

I quickly discovered the "Mommy Blog"

community and fell in love with the support

I received from other first-time Moms

trying to figure out this parenting thing like

me! Through the process of blogging I also

realized how much I loved being able to

marry my love of photography and creative

writing into one outlet. The blog for me as

always been a hobby – now it's just a hobby

gone wild!

You've met a lot of celebrities, who is

the most famous person you met? Who

was the most fun?

Oh my, that is a hard question to answer

because I have met so many famous

people over the years. I would have to

say that my absolute favourite was Reese

Witherspoon. I met her a few years ago

when she opened her clothing store,

Draper James, in Dallas at Highland Park

Village. She is everything you would expect

and more – just a delight. As successful and

famous as she has become (and continues

to be) she has not forgotten her roots and

proudly clings to our Southern traditions of

family, food and manners. I can't imagine

anyone not being madly in love with her.

What do you think sets Dallas apart from

some of the other major US cities?

Oh honey! Texas is a state of mind! The

television show DALLAS launched in 1978

and Larry Hagman and that cast made

our city famous (and infamous) around

the world. The curiosity has never waned

about our city – it's all true! We have big

hair, big closets, big cars and even bigger

personalities. What makes Dallas different

from other major US cities is also our

fashion. Dallas women love to dress. We

will wear fur and diamonds to go to the

grocery store. Designers love to come

to Dallas because they appreciate our

love of color and prints. We like to have

fun with our wardrobes. I also love that

Dallas has such a philanthropic heart for

the community. We take care of our own

– and anyone else who needs it. You can

find a charity luncheon, trunk show or gala

happening daily in this town. Everything

we do is designed to give back to others.

Lastly, the cost of living here is amazing

(hence all those big 'ole mansions we have)

which is why Texas has the fastest rate

of growth in the country. Dallas is just an

amazing place to live and raise a family.

99 100
---
What is the most popular attraction in

the city?

That depends on who you ask. Top

attractions are the Sixth Floor Museum at

Dealey Plaza dedicated to remembering

one of the nation's most tragic and defining

moments – the shooting of President John

F. Kennedy; the beautiful gardens of the

Dallas Arboretum; our annual State Fair of

Texas is world-renown for its unique fried

foods; and my personal favorite, North Park

Center which houses some of the world's

best stores and boutiques along with

rotating pieces from the Nasher family's

personal art collection – so it's a museum

and mall in one!

The best way for a tourist to get around?

Definitely by car. The city (and its

attractions) are very spread out but thanks

to on-demand car services like Uber and

Lyft, it is super easy to get where you want

to go via an app on your phone.

Are there any big events happening in

the city over the next 12 months?

My favorite annual events include the State

Fair of Texas which runs from the end of

September to the end of October; the

Greenville Ave. St. Patrick's Day Parade in

March is loud boozy fun; the Deep Ellum

Arts Festival for art and music in April and

the Greek Food Festival which happens

every September.

Have you ever considered showing

people around, offering private tours?

I show people around town every day

through the stories on the blog! I love

sharing what's fun and cool about Dallas to

encourage people to get off the couch and

experience all that the city has to offer.

Best place to grab a coffee and why?

If you are Downtown, stop by Commissary

to enjoy coffee drinks with a bevy of baked

goods, salads, and sandwiches made

in-house. In Uptown, visit Fiction where

their baristas are known for their intricate

latte art. Ascention Café has multiple

locations around town and any time of day

I encourage you to order the tres leches

coffee cake; it's worth the splurge.

Finally, if someone was looking to get

out of Dallas for a day trip, where would

you recommend?

My perfect day in Dallas would start with

breakfast or brunch at Bread Winners

Café in Uptown. Then head to the Arts

District to visit the Dallas Museum of Art,

Nasher Sculpture Museum and/or the

Perot Museum of Nature and Science

(depending on your personal interests).

Now that you have gotten some culture,

head over to Highland Park Village and

shop the array of designer boutique and

grab some delicious TexMex food and a

margarita at Mi Cocina. End your day at

Truluck's Steak and Seafood House. They

have live entertainment nightly, so grab a

drink at the bar and enjoy the show before

you head upstairs for an amazing meal.

https://www.cynthiasmoot.com

https://www.facebook.com/OhSoCynthia

https://www.instagram.com/ohsocynthia

https://twitter.com/ohsocynthia

101 102
---
Nevada | A World Within a State Apart

Lake Tahoe

Lake Tahoe is known as the

jewel of Nevada. It is the

nation's largest alpine lake,

22 by 12 miles of sparkling

water surrounded by 72 miles

of pristine shoreline. During

the warm summer months, it's

a water-sports paradise and

when it snows, winter sportsenthusiasts

think they've died

and gone to heaven.

The crystal-clear lake is roughly

divided into two shores, north

and south. South shore is the

lively side, with so much to do,

both in and out of the water.

Most of the large hotel-casinos,

from Harrah's to Harveys to

MontBleu, can be found here

in the town of Stateline, along

with the base of Heavenly

Mountain Resort, Heavenly Village. It's

full of shopping, dining and recreation

options, all within easy walking distance

of the hotels. On the southeast shore,

Zephyr Cove is bursting with watercraft

activities, parasailing and beach lounging.

It's also home to the famed paddle-wheel

cruise boats, the M.S. Dixie II and the

Tahoe Queen. There are scenic cruises,

dinner cruises, specialty cruises, even

charter cruises for weddings and parties.

Life moves a little slower on Tahoe's north

shore, where the focus is on celebrating

quiet mountain life. The Hyatt Regency

Lake Tahoe Resort in Incline Village is a

grand hotel with old Tahoe charm. The

nearby Cal-Neva Resort is in Crystal Bay,

where it straddles the Nevada-California

state line. In fact, the border runs right

through the hotel and pool, making it

the only hotel in the world located in

two states! Another famous spot on the

north shore is Squaw Valley USA, known

for hosting the 1960 Winter Olympics. It's

still a favourite of locals and visitors alike,

and it's just one of 18 alpine resorts in the

Lake Tahoe area. The high concentration

of resorts is due to the truly epic winters

at Tahoe, which gets somewhere between

300 and 500 inches of snow annually. The

powdery Sierra snow makes for amazing

downhill and cross-country skiing, not

to mention fantastic snowshoeing, dogsledding,

snowmobiling and more.

When the snow melts and the highaltitude

air cools that hot summer sun, the

Tahoe Rim Trail is a popular destination for

hikers from all over the world. Measuring

165 miles, the trail system passes through

two states, six counties, one state park,

three national forests and three natural

wilderness areas. Guests of the trail have

their pick of several trailheads around the

lake with varying degrees of difficulty and

length. And for the elite hikers, there's

always the 165-Mile Club, reserved for

those who have tackled the trail in its

entirety.

103 104
---
The byway is the Scenic Loop

Drive at Red Rock Canyon

National Conservation

Area, 12 miles west of Las

Vegas off State Route 159.

The one-way scenic drive

is completely paved and

features self-guided trails,

picnic areas and stunning

vistas. The Visitor Center

has audio programs and

scheduled interpretive

activities about the natural

history of the canyon. Red

Rock Canyon National

Conservation Area is a fee

demonstration project area.

A fee of $5 per vehicle is

collected at the entrance to

the Scenic Loop Drive. All of

the money collected remains

at the site for improvements.

Red Rock

The Red Rock Canyon National

Conservation Area [RRCNCA] is located

just a few miles west of Las Vegas within

the Mojave Desert. It is easily recognisable

by the thick Aztec sandstone escarpment

that stretches for nearly as wide as your

eye can see. This main escarpment sits

within 195,819 acres of wilderness and is

home to 10 major canyons with several

highly distinguishable peaks. Amongst

these large formations are numerous

other lower elevation peaks, in addition

to sub-peaks and even smaller sandstone

"hills." The most recognizable formations

from left to right are Mt. Wilson, Rainbow

Mountain, and Bridge Mountain. There

are also the Calico Hills, the smaller yet

still impressive formation that is often

explored by newer visitors looking

to experience Red Rock at a more

manageable scale.

Red Rock Canyon is a maze of canyons

and peaks, ledges and chimneys, chutes

and gullies leading to surprises around

every wall which is perfect for hiking.

There are 26 different hikes and trails

that take you from the deep canyons to

the highest points of Red Rock Canyon.

Climbing is also becoming increasingly

popular as the great boulders and sheer

rock faces bring climbers from around the

world.

105 106
---
USA

LAS VEGAS

WALKING TOURS

Walking Tour Company

Image by: zzim780-726251

Las Vegas, Nevada USA 89101 ♦ Tel +888 571-6587 ♦ lasvegaswalkingtours.net

See, explore and discover Las Vegas like never before on a 2-hour guided walking

tour of Downtown Las Vegas' famous Fremont Street. Your experienced local guide

will take you on a 7-block 'Walk through time' from humble outpost to infamous 'Glitter

Gulch', a gem of urban renewal and revitalization.

Peel back the layers of neon to expose the rich history underneath and discover Downtown

Las Vegas is again a vibrant, top attraction in the USA home to legendary casinos, hotels,

wedding chapels, top restaurants, and even reality TV stars.

Fun for the single adventurous traveler, couples, and the whole family. The tours have a

maximum of 12 guests and wireless audio headsets, which ensure a personal experience

with your guide while hearing every fascinating story along the way.

Tips, tricks and recommendations throughout will have you feeling like a 'Vegas Insider'.

Area restaurant list and business coupons will provide plenty of options following your

tour.

107

108
---
Seattle and Washington State 2018

Washington State is in the Pacific Northwest where Seattle

crowns the state and cruises head to Alaska

New flights

In 2018, two airlines launch new direct,

non-stop routes to Seattle underscoring

its growing popularity with the UK and

Irish markets.

Aer Lingus launches 18 May with four

flights a week on Monday, Wednesday,

Friday, and Sunday from Dublin to

Seattle, with pre-clearance of customs

and immigration in Dublin. Prices from

498 Euros return www.aerlingus.com.

Thomas Cook Airlines launches 27

May 2018 with two flights a week from

Manchester to Seattle on Thursdays

and Sundays, from £399 return www.

thomascookairlines.com.

In addition, Seattle has direct non stop

services from London Heathrow daily with

British Airways from £411 return (www.

ba.com) and Virgin Atlantic from £410

return (www.virginatlantic.com) and four a

week with Norwegian from £349.80 return

(www.Norwegian.com) from Gatwick.

Seattle sizzles with a hip vibe and laidback sophistication and with new flights at very

competitive prices, new hotels and new cruise options, it has never been a better time

to visit.

New Hotels

Nine new hotels are expected to open in 2018 in Seattle, providing the city with 2,568

more rooms, a 21.6% increase and bringing the total number of rooms to 14,480 in

downtown Seattle. The new hotels include the Moxy, Embassy Suites, Even Hotel,

Staybridge Suites, Hotel at the Mark, State Hotel, The Charter, Hotel at former Potala

Tower and the Hyatt Regency.

109 110
---
Space Needle renovation

The Space Needle is undergoing a $100

million renovation programme to reinvent

the Observation Deck to an all glass look,

and to upgrade the restaurant level.

The Observation Deck will re-launch at

the end of May 2018 and the restaurant

will re-open in Autumn 2018. Check the

latest news and timings at http://www.

seewhatsup.space/

Small Ships to Cruise Ships

The Norwegian Bliss, a 4000 berth ship

built specially to sail to Alaska will launch

at the end of May this year, providing a

stunning brand new, superbly appointed

option for the cruise market out of Seattle.

Over 1 million passengers on 215 cruise

ships are expected to sail to Alaska from

Seattle in 2018.

Small ship cruising is growing in

popularity as travellers seek more unique

experiences and more intimate journeys

in the Pacific Northwest. On small ship

sailings, travellers visit inlets, channels

and smaller ports, and see Puget Sound's

marine wildlife up close. UnCruise

Adventures and American Cruise Lines

operate in the Pacific Northwest.

Seattle highlights

The city which swept coffee into the 21 st

century is an addiction like no other. From

the iconic Space Needle to the glittering

angles of the new Mark Tower, Seattle's

skyline is encircled by snow-capped

volcanoes, verdant forests, lakes and

sensational seascapes. World renowned

for Hendrix, then grunge 30 years ago,

Seattle remains cutting-edge with riveting

scenes of Americana, indie rock, hip hop

and electronic music today.

Premium wines born from Washington

State's 900 vineyards complement the

exceptional dining experiences serving

up lashings of the freshest seafood from

its Pacific waters and local farm to fork

treats in its restaurants and hotels.

Above all, it's Seattleites and their

neighbourhoods you come to experience.

HIP! – the word was made for us.

The adventure begins in Seattle. It's

a walkable city. Discover the Seattle

Aquarium and the Great Wheel on Elliot

Bay waterfront.

Take the Monorail from Westlake Center

in the heart of the city to the Seattle

Center, to see the Space Needle, MoPop

(a pop culture wonderland) and the

beautiful Chihuly Garden and Glass which

showcases the glass blowing skills of artist

Dale Chihuly.

Head over to watch the flying fish at

the famous Pike Place Market or stop at

Starbucks' Reserve Roastery and Tasting

Room.

Up for a bigger adventure? Take a day trip

and tour the Boeing airplane factory, hop

aboard a seaplane to the San Juan Islands

or enjoy one of Washington State's great

national parks.

National Parks

There are three National parks near

Seattle – The Olympic National Park,

Mt Rainier National Park and the North

Cascades National Park.

The Olympic National Park is home to

high mountains, Pacific surf beaches,

whales and the only temperate rainforests

in US, with their spectacular massive

bearded mossy spruces just like those in

Lord of the Rings.

At almost one million acres, including

73 miles of Pacific coastline, the

Olympic National Park is the epicentre

of the Olympic Peninsula. Designated

a UNESCO World Heritage Site and

International Biosphere Reserve, almost

95% of the park is designated wilderness.

The park is also home to 26 endemic

species and is visited by over two million

people a year, placing it among the top

10 most visited national parks in the USA.

The Olympic Peninsula also has one of

only three Victorian coastal towns in the

US, Port Townsend, with lovely character

lodges, and B&Bs to stay in.

Mount Rainier National Park is one of

the highest mountains in the USA and

features amazing hiking trails and wildlife.

It has over 120 glaciers and views across

the live volcano Mount St Helens,

one of the most active volcanoes in the

Cascades.

The North Cascades National Park, east

of Seattle, is the wilderness adventure

capital of Washington State. It offers a

range of mountains, lakes and forests, and

is a great area for outdoor adventurers

with horse riding, kayaking, white water

rafting and even rock climbing.

A 400 mile drive called the North Cascade

Loop gives visitors access to many of its

highlights and towns and villages. The

drive starts in Seattle and could take just

two to three days to complete, but visitors

may like to stay longer to enjoy more

adventures in the region.

111 112
---
Top Festivals/events 2018

Taste of Washington 22-25 March 2018 http://tastewashington.org/

Seattle Film Festival 17 May – 10 June 2018 https://www.siff.net/festival

Upstream Festival 1-3 June 2018 https://upstreammusicfest.com/

Bumbershoot 31 August – 2 September 2018 www.bumbershoot.com

Pearl Jam plays Seattle – Don't miss Pearl Jam playing in their home city! They will play

two 'Home Shows' at Safeco in August, pledging $1 million to Seattle-area homeless

initiatives, on Wednesday August 8, and Friday August 10. This marks the first time in

five years that Pearl Jam has played its hometown.

Divine Wines

The Washington state is second only to

California for wine production, with nearly

900 wineries around the state. There are

some amazing places to stay to enhance

the experience plus touring options from

horse riding to cycling to walking and

driving between them!

Drives

There are 25 Scenic Byways in the state

of Washington – lots of great drives!

Wildlife

Washington state is a wilderness and

wildlife viewing playground. Don't miss

whale watching in Seattle's Puget Sound.

See native orca pods all year round, plus

many and varied visiting whales including

humpback, grey, minke and of course,

seals and dolphins! Go squid catching,

see Salmon Ladders where the fish swim

and leap, bald eagles and bears.

Rocky Mountaineer

Travel between Vancouver and Seattle

along one of the most beautiful coastline

in the US on the Coastal Passage train for

a luxurious and relaxing experience.

Canada, Oregon and California

Take a Clipper boat to Victoria, Vancouver

Island off the coast of Canada. Vancouver

is a 3 hour drive from Seattle so enjoy

combining the USA and Canada to make

a Two Nation Vacation.

Lots of visitors also like to pair Portland in

Oregon with Seattle, or take in the whole

west coast of the USA between Seattle

and Los Angeles.

Films and TV

Many films and TV shows have been set

and filmed in Seattle and Washington

State including Sleepless in Seattle, Grey's

Anatomy, Frasier, 50 Shades of Grey, An

Officer and a Gentleman, Practical Magic

and Captain Fantastic to name a few.

The Twilight series and the latest series

of Twin Peaks were both partly filmed in

Washington state.

More information and holiday

itineraries are available at www.Seattle-

WashingtonState.co.uk

HELPFUL LINKS

http://www.portseattle.org/Cruise

http://www.experiencewa.com/guides

http://www.visitseattle.org

For further media enquiries contact:

There's so much to see and do – this is just a taster. If you let me know any specifics you're

interested in I'll explore and come back to you with more.

Caroline Corfield-Rose, Director, Core Communications Europe Ltd

27 Belsize Lane, London NW3 5AS

Tel: 00 44 1923 839 375 / Mobile: 00 44 7979 706 5539

caroline@corecommunications.co.uk / Twitter: @carolineatcore

113 114
---
A HIKING HOLIDAY IN HAWAII

Hawaii is a great place for hiking, it can lead to the most amazing adventure, but can

be dangerous at the same time, so you should be aware of the potential hazards.

The difficulty of hiking in Hawaii is varied with trails for beginners to trails that are

recommended only for the most experienced of hikers.

It gets dark quickly in Hawaii due to its

proximity to the equator. This is because

the sun quickly drops lower towards the

sea. light disappears rapidly. It is important

to plan to finish your hike long before

darkness; in the summer, it is completely

dark by 7.15pm.

Be aware of the weather conditions, as

Hawaii can have high winds and torrential

rain, leading to slippery trails and even flash

floods, as some of the trails are narrow and

can be close to sheer drops on both sides.

You need to be careful here in even good

conditions, so better to avoid them in poor

weather.

The best time to plan to hike in Hawaii

is between April and October as during

these months, the weather conditions are

the best.

There are many excellent hiking trails in

Hawaii, uch as the Ala Kahakai National

Historic Trail along the 175 mile Kona

Coast. This trail will lead you through

cultural sites, Hawaiian fishponds and other

historical sites.

Pololu Valley Lookout is another trail

popular with hikers. The trail leads to a

black sand beach via the green Waipio

Valley; the landscape and scenery are

outstanding.

Why not take part in a Hawaiian rainforests

hike, with dense forests, ideal for another

adventure? Admire the tropical plants, as

well as streams, waterfalls, trees and exotic

animals.

115 116
---
It is important to stay on the trails and

not wander off as there are potential

dangers, such as hunters (wear bright

clothes so easily seen) or illegal marijuana

growers, although you are unlikely to

meet the illegal farmers as their patches

are typically not close to the hiking trails.

If you are hiking alone, always keep a

mobile phone handy, with the uneven

ground, your ankle could be easily injured,

and as many of their trails are remote, it

may be a long wait before another hiker

passes.

In summary, Hawaii is a fantastic place

to hike with many wonderful trails which

allow you to experience all Hawaii has to

offer. A little extra care can ensure your

trip is unforgettable.

USA

KONA CLOUD

FOREST

Walking Tour Company

Kailua-Kona, Hawaii 96740, USA ♦ Tel +808 640 3888

Rising 3000 feet above sea level on the island of

Hawaii, Kona Cloud Forest is a wonderful experience

for young and old. The professionally-guided walking tour

covers 1.2 miles (1.6 km) and usually last 2 1/2 to 3 hours. In

that time you'll not only bear witness to the only remaining

cloud forest in Hawaii, but one of 25 in the entire world.

During your tour you will see many exotic trees, plants and

flowers.

By definition, a cloud forest is a tropical or subtropical

forest characterized by persistent low-level clouds. As one

would imagine, the vegetation inside the confines of this

ethereal environment is dense and the trees are somewhat

dwarfed by the limited access to sunshine, creating an

enchanted and unique experience.

If you love Nature this is a must-see experience while

visiting Hawai'i.Note: All tours by appointment only, call

(808) 640-3888 or KonaCloudForestTours@Gmail.com

#KonaCloudForest #KellyDunn

117

118
---
MEXICO ROAD TRIP

Planning a road trip in Mexico? There are many things to consider, such as what route

to take, essentials to know and how to stay safe.

The roads in Mexico are not of a very high standard, so when planning your route, it is

better to stay focussed on the main roads. In Mexico, these are known as "cuota" and are

the best and fastest roads. These are toll roads, but you will have a much more enjoyable

journey.

There can be delays due to security stops between states, where they search your vehicle,

so allow plenty of time for the journey. When travelling, watch out for speed bumps which

often appear without warning and hitting one at speed could actually damage your car.

Mexico is an inexpensive country for most things purchased, but the cost of driving is high,

with fuel costs in line with the prices in the UK.

THe dangers of Mexico are well documented and safety is a key consideration. There is

a risk of drug related violence, especially on the roads heading South away from the US.

Plan your journey well and be aware of where exits lead, to make sure you choose the right

points to leave the highway.

If you are entering Mexico from America, it is necessary to purchase your insurance at

the border. It will be necessary to provide certain documentation at the border including

passport, vehicle registration document, driver's license (each of these you need the

original and a copy) and the Mexico Tourist Card which is received when the border is

crossed.

119 120
---
Your road trip can take you through

deserts, along amazing coastlines and into

traditional Mexican towns and get a unique

experience.

This includes locations such as Mexico City,

the melting point of Mexico, full of strong

Mexican culture. At first glance, it is a dark

and uninviting city, but given time, there is

so much to keep you interested.

Another location for your trip could

be Cancun, Chichen Itza and Playa del

Carmen; these areas are for tourists but

certainly worth visiting. These are fun and

vibrant places with superb water sports

and activities on offer. There is something

here for everyone to enjoy.

You can see baby turtles hatching on the

beach and swim with whale sharks, this

should be a must visit destination.

It's your road trip, so plan your trip well

and have the most amazing Mexican

experience.

Mexico

EL CALLEJON

BOUTIQUE HOTEL

Hotel

Callejón Morelos 103, Centro, 68040 Oaxaca, Oax., Mexico ♦

Tel +52 951 351 5917 ♦ hotelelcallejon.com

Oaxaca is a city situated towards the south of Mexico's capital. In the heart of

Oaxaca is a nonchalant hotel – El Callejon Boutique Hotel. The name of the hotel

literally means "the alley" and the appearance of the hotel would definitely lead you

into believing that there is nothing extraordinary about it. However, inside is where all

the magic is. While the adobe walls give you a sense of age, the inside is full of modern

architecture. The whole hotel is a mix of modern and classical architecture. The hotel

provides ample amount of open space and natural light and yet the artificial lights put up

stand out and add their own flair to the hotel. There is a distinct charm about the hotel

and one cannot help but be spellbound with it. It is a boutique hotel and has a strange

synergy with the nature and the culture around it. It incorporates all of it together and

tailors it to provide you with one of the most unique experiences.

121

122
---
Cancun | Mexico

How to Get in

• Plane

• Bus

• Drive in

Get Around

• Drive

• Bus

• Local Taxi

Attractions & Sights

• Isla Contoy

• Chichen Itza

• Parque de las Palapas

Things to do

• Scuba Dive

• Swim with the Whale

Sharks

• Jeep Safari

• Attend a cooking class

Find out more – https://

www.visitmexico.com/

en/main-destinations/

quintana-roo/cancun

A paradise unto itself with sandy

beaches, stunning weather, luxury

resorts and a vibrant nightlife unlike

any other.

Mexico

YUM COOKING

WORKSHOP

Culinary Experience

30, 77509 Cancún, Quintana Roo, Mexico ♦ Tel +52 1 998 168 9224 ♦ yumcancun.com

If you have ever thought of cooking Mexican food, this is your chance to learn to

cook it to perfection. Yum Cooking Workshop in Cancun teaches you prehispanic and

colonial cuisines which are made from the choicest ingredients. You will also be taught

how Mexican chefs are using these age-old recipes to create new fusion dishes. But if you

thought that making food is all you'll learn about, you are wrong. They will even teach

you about Tequila and Mezcal and will introduce you to the process of making and tasting

them. At the end of it all, you can feast on their fine 6-course menu and pair it up with a

selection of Mexican wines! It is one thing to eat Mexican food and a completely different

thing to make it from the scratch. Yum Cooking Workshop welcomes you to experience

this gastronomical journey with them when you visit Mexico.

123

124
---
Country Mexico

NAME PRINCESS OF MAYEV

HOTEL/TOUR

Sea View Hotel

Award

Paseo Punta Santa Cruz, P Chahue, 70987 Bahias de Huatulco, Oax., Mexico ♦

Tel +52 958 587 2955 ♦ princessmayev.com

Princess Mayev is situated in the charming town of Huatulco, set on Mexico's vibrant Pacific

Coast. Striking views of the glittering ocean and verdant palm trees stretch out for miles

below this hilltop sanctuary, which is situated less than a kilometer away from Chahue Beach.

Bursting with character, each of the hotel's elegant rooms offer a clean minimalist design with

dashes of traditional Spain incorporated. Atop the camel tiles, wicker seating and polished

wooden furnishings create a chic and tranquil environment, though a classical Spanish theme is

maintained. You can sit back in the comfort of your rooms and enjoy the serene sea view while

sipping on a cup of coffee.

Rising above the rest of Barcelona, Hotel

Arts located on the waterfront, provides a

luxurious stay with spellbinding views of the

sea and city. With some amazing facilities

like terrace gardens, outdoor swimming

pool and spa, they ensure that the guests

here get a unique experience. If that was

not enough, you can keep up with your

gym schedule at the fitness center or get

pampered in the hairdressing salon and

luxury fashion boutiques. The sophisticated

rooms and suites have elegantly done

Mexican favorites such as fajitas and

nachos are served alongside fresh seafood

and succulent steaks in the onsite Xima

Lounge Restaurant. You could even dine in

the comfort of your room or in the balcony!

Sun-kissed and sophisticated, the terrace

bar is a serene spot overlooking a sea of

verdant palm trees, perfect for enjoying a

refreshing pick-me-up in the sun. The hotel

even has a swimming pool with sunbathing

beds right next to it so that you can laze

around and soak in the Mexican sun while

enjoying the stunning views from there.

décor and plush furnishings.To top it all off,

the hotel boasts of some amazing duplex

penthouses that offer the pinnacle of luxury

travel experiences. The penthouses come

with a butler and shopping concierge to

provide assistance along with luxury private

transfer to shopping places.

Anducipit et as nonem

faccatu mquam,

is magnatem quis

eariorpore volorrum

The hotel offers a host of tours to some

of the most breathtaking locations in

the surrounding area. Equipped with

impeccable knowledge of the region,

passionate guide lead you in exploring the

surrounding bays and waterfalls throughout

Oaxaca, as well as Puerto Angel, a popular

fishing village.

125 126
---
Mexico

MEXICO CASSIE

Q&A

Tell us a little about yourself

I'm Mexico Cassie. I'm from London

originally but my family and I now live

in Mexico. We had had enough of the

stresses of London life and decided to

make a change. We wanted to slow down,

live somewhere new and be able to spend

more time together as a family.

My husband and I feel strongly that we

have to make the most of our lives and that

we want to teach our kids to follow their

dreams, not be stifled by the expectations

of others. By moving to Mexico we are

demonstrably doing exactly that: living

the life we want to live, not the life society

expects of us. Our kids will be bilingual and

bi-cultural, which we feel is an incredible

gift to give them.

What made you decide to set up a travel

blog on Mexico?

When we decided to leave London it was

also a decision to leave behind our old

professions (I worked in the third sector). I

have always been a writer so I decided to

write about our new experiences in Mexico.

I realised that Mexico isn't always portrayed

in a positive light across the world and I

want to change that, to encourage people

to visit and decide for themselves. This is

such a diverse country, with so much to do,

see and learn.

Oftentimes Mexico tends to receive

negative press, how safe is Mexico on a

whole for travellers? Are there any nogo

areas?

In my opinion, Mexico is perfectly safe for

travellers. As with any country you want to

visit, talk to locals, read up on what's going

on and figure it out for yourself rather than

listen to scaremongering from others with

a potential axe to grind. Yes, there are nogo

areas in Mexico right now but, please

don't let small areas of danger put you off

a trip to a huge country that is, for the most

part, perfectly safe. Just don't do anything

stupid like to go areas of cities that are

currently known to be out of bounds and

don't try and buy drugs. You'll be just fine.

When is the best time of year to visit?

Mexico is such a huge country that there

is no single 'best time' to visit. There will

always be somewhere that's just right

whenever you want to go.

How important is it to be able to speak

Spanish?

Obviously speaking Spanish is useful when

visiting Mexico. In most of the areas people

are likely to visit, the majority of Mexicans

will have at least a basic understanding of

English (remember we're right next to the

USA here). If you're heading off the beaten

path then yes, Spanish would be helpful.

And even when people do speak English,

showing willing in Spanish will make people

even more happy to help you.

127 128
---
What cities or places would you recommend to someone

planning a road trip?

The Yucatan Peninsula is a great starting point for people who

haven't been to Mexico before. It's beautiful, full of history, has

great beaches and the food is delicious. Oaxaca and Chiapas would

also make for a great road trip, we did that for our honeymoon.

What would you say is the best off the beaten path attraction?

What? Reveal my secrets? Oh, ok then. Well, we loved exploring

the Copper Canyon. It's the biggest canyon range in the world and

not that many foreigners visit, it's very much a Mexican destination

still. The train through the canyon is one of the only passenger

trains in Mexico and the views are breathtaking.

The day of the dead is world renowned, do you have any tips

for anyone planning to attend?

Be respectful. Yes there's a party atmosphere but that doesn't mean

this isn't an important time for Mexicans. You're always going to

be welcome to join in but, please, remember to ask permission

before taking photos of decorated tombs or alters. Do not ever

touch an alter or remove anything from one. They matter.

Mexican street food is extremely popular all over the world,

what is your favourite dish and why?

There's nothing I love more than a street-taco for breakfast,

especially if it's covered in spicy salsa. There's something so

addictive about Mexican salsa, I just can't help myself.

In the evenings we love esquites. This is a cup of corn mixed

with mayonnaise (or cream), cheese, lime juice and chile. It's so

delicious.

Finally, what does the future hold for Mexico Cassie? Planning

to see more of central America?

I have a lot more of Mexico to cover still. I don't think I could ever

get bored with Mexico. But yes, of course, there's a whole world

out there and I want to see as much of it as possible.

Please include any website links and social media handles below.

blog: https://www.mexicocassie.com

Facebook: https://www.facebook.com/mexicocassie

Instagram: https://www.instagram.com/mexicocassie

Pinterest: https://www.pinterest.com/mexicocassie

Twitter: https://www.twitter.com/cassiepearse

129 130
---
Mexico

CHIAPAS HOTEL

EXPRESS

Hotel and Restaurant

Tuxtla Gutierrez, Chiapas, Mexico. Z.C. 29010 ♦ Tel +52 9611407217 ♦ chiapashotel.com

Malinalco | Mexico

How to Get in

• Plane

• Bus

• Drive in

Get Around

• Drive

• Local Colectivos

• On foot

This new city is the perfect base for

exploring the rugged state of Chiapas

Attractions & Sights

• Cascada El Chiflon

• Plaza de la Paz

• Canon del Sumidero

• Estadio Victor Manuel

Reyna

Located in the heart of Tuxtla Gutierrez in Chiapas, Chiapas Hotel Express provides

a luxurious stay for family and business travelers alike. Choose from one of their 32

single and double bedded rooms and estrellas. Each of their accommodation options is

well-furnished and is equipped with all necessary amenities to ensure a comfortable stay

for you. The hotel's bilingual staff leaves no stone unturned to ensure all round comfort

for you. The hotel also features an in-house restaurant, El Itacate Restaurant, where you

can choose from some of the finest Mexican and Latin preparations. The restaurant is

even vegetarian and vegan-friendly! The location of the hotel gives you the advantage of

easily reaching all the prominent landmarks of the city. The airport, Sumidero and Canyon

viewpoints are all located at a few minutes distance from the hotel. You could even rent a

car at the hotel and explore the city at your own pace.

Things to do

• Bike Tour

• Zipline

• Flight Club Valle Bonito

• Try Mole Sauce

Find out more – https://

www.visitmexico.com/

en/main-destinations/

chiapas/tuxtla-gutierrez

131

132
---
Mexico

HOTEL AMATE

DEL RIO

MALINAICO

Hotel

Malinalco, State of Mexico, Mexico ♦ Tel +52 722 783 1133 ♦ amatedelrio.com

Hotel Amate del Rio Malinaico welcomes you to experience its relaxing settings in

the midst of nature. The hotel offers you comfortable accommodation options

with each room equipped with plush amenities to make sure that you have a luxurious

holiday experience. They offer continental buffet breakfast every single day to start off

your day in style. They have something for your kids as well. There's a kid's playground

and a garden so that you can laze around and enjoy the peace of nature. You could take

a dip in their outdoor swimming pool in the midst of the garden and have the perfect

holiday experience. If you want to get pampered even more, you could go for a massage

session as well. The location of the hotel, makes it easy for you to get around town and

explore its beautiful sights.

133

134
---
CENTRAL

AMERICA

Image by: pacificazure-315491

135 136
---
COSTA RICA TOP 3

There are so many things to do in Costa Rica. The country is beautiful with stunning

beaches and welcoming locals who will introduce you to their culture as well as

the local cuisine.

However, the thing that stands out the most in Costa Rica is its natural beauty, with

volcanoes, waterfalls, the rain forest and, of course, the spectacular wildlife.

These are our top three recommendations for Costa Rica.

2. Snorkelling and scuba diving in Caño Island Biological Reserve is so rewarding, enjoy

the warm waters of the Pacific Ocean and discover the colourful life beneath the

ocean.

The opportunities are here to admire a large variety of exotic marine life with species

such as turtles, sharks and manta ray. There are also dolphins and humpback whales,

that you may come across during your dive.

1.A visit to Arenal Volcano National Park is a must. Enjoy long cycle rides or hikes

admiring the hot springs and wildlife which includes tree frogs, toucans, parrots and

even jaguars. Arenal Volcano is still active and the remnants of the 1968 eruptions

can be seen in the cooled lava fields. The area is popular for fishing and water sports.

Take a dip in one of the hot springs, which are perfectly safe as the volcano has

been dormant since 2010. La Fortuna Waterfall, southwest of La Fortuna, is another

attraction worth a visit within the national park.

3. The Gold Coast is yet another beautiful location of Costa Rica with secluded beaches

and a sunny climate, it is very different to the rain forests. It has fantastic landscape

which includes volcanoes, small fishing villages and traditional hotels.

Of all the beaches on the Gold Coast, the Playa Carrillo beach is the ideal place for a

beach vacation, with white sand, palm tree forests and clear waters, although these

traits are typical of most beaches in Costa Rica.

137 138
---
Costa Rica

YENS – DRAKE BAY

GETAWAY RESORT

Q&A

Tell us a little about yourself

I am originally from Costa Rica and used

to live in Seattle. In my old job the money

was good, but I hardly found any time for

life. Patrick and I would travel to Costa Rica

for holidays and finally decided to sell up

and build our hotel on the Southern coast,

where I grew up. We had some land which

we purchased from my family a few years

earlier. This would be the home for our

luxury sustainable hotel

Where did you come up with the name

Getaway Resort?

Since we wanted to "get away" from our

high-tech jobs and fast-paced lives in the

USA and our town is named Drake Bay,

we decided to name our hotel Drake Bay

Getaway Resort.

Who would you say is your target

market? Do you offer any packages

related to this?

Both families and honeymooners are our

target market. About 50% of our guests are

from the USA and about 50% from Europe.

We offer several Night Packages to our

guests.

What sort of dining options can guests

expect at the resort?

We offer gourmet meals made from local,

fresh ingredients. Meals are prepared

based on individuals' special diets and

requirements. Please visit our Dining for

more details. Also, please see documents

attached.

Drake bay itself is famous for Eco tourism,

what steps or measures have you put in

place to ensure you're eco-friendly?

We take sustainability seriously. Please visit

our Sustainability for details.

Wildlife is a key attraction of Drake Bay

& Costa Rica in general; do you organise

any tours related to this?

Yes, we organize all our tours. Please visit

our Tours page.

What is your favourite attraction?

Corcovado National Park day-hike at Sirena.

Aside from Drake bay what other parts

of Costa Rica would you recommend to

travellers?

San Gerardo de Dota.

La Fortuna.

https://www.youtube.com/watch?v=pMdVf25zvYI

https://www.facebook.com/drakebaygetaway.costarica.hotel

Costa Rica is a famous coffee producing

country and Seattle is considered the

Coffee capital of America. Having a

unique insight into both, which would

you say is better for a coffee lover?

Costa Rica offers amazing coffee beans.

However, most hotels and restaurants don't

offer gourmet coffee (lattes, cappuccinos,

etc). At our resort, our guests can enjoy

gourmet coffee drinks for free as part of

their stay!

What does the future hold for Drake Bay

We plan to add more hotel amenities

and tours in the future in order to make

our guests' stay even more exciting and

memorable. We also plan to continue to

support initiatives and projects in our local

community in order to improve the lives of

the people who live here. Here are some of

our Community Commitment.

139 140
---
Costa Rica

MOHAGINE

HOTEL & FINCA

Traditional Hotel

Camino Aerodromo, 2de Esquina Calle Principal, Drake Bay, Osa,

Puntarenas, Costa Rica ♦ Tel +506 2775 0043 ♦ mohagine.com

On the beach of Drake's Bay in Costa Rica, is a hotel which still runs in the most

traditional way and yet would be called unconventional today. The Mohagine

Hotel was started in 2015 and gives you an experience like no other. The hotel has

20,000 square meters of hotel and farm and 50,000 square meters of protected primary

rainforest. They boast more than 50 varieties of orchids alone. If this weren't enough, they

grow more than 60 varieties of fruits and 70 varieties of other tropical flowers, making

them one of the unique tropical gardens in the area, if not the world. This garden is

surrounded by rainforests and hence frequent visits by our exotic friends from nature is a

common sight. Amongst all of this, the accommodation and the hospitality does not take

a back seat. Mohagine offers natural air-conditioned accommodations to ensure privacy.

There is a fully-functional kitchen along with parking. The huts also provide comfortable

beds for you to relax and breathe in nature, one breath at a time.

141

Image by: Nick Dietrich

142
---
Cuba's Classic Cars

Visiting Cuba will take you back in time and automotive history, it could easily be a

living car museum. It is normal in Cuba to see a row of dusty classic cars waiting

to exit from a junction. To the outsider this is fascinating, to the locals, this is the everyday

life in Cuba.

Car enthusiasts from around the work would

pay a fortune for many of the cars on the

dusty streets of Havana, with such a wide

range of classics to see such as Chevrolet,

Buick, Ford, Chryslers old Plymouth,

and also a range of Russian vehicles are

common on the streets. These classic cars

are Cubans' run-around vehicles.

Cuba has that lost in time feeling following

Fidel Castro's long-term dislike for the

United States. Even though Cuba is just

a short distance from Florida, Cuba has

held a ban on the import of vehicles for

many years making it almost impossible to

purchase a foreign made new vehicle. This

ban also made maintenance of the Cuban

cars most difficult with purchasing of fuel

and spare parts for the aging classics,

becoming a very difficult transaction.

How did the Cubans continue to keep their

classic American cars running when new

parts were impossible to purchase? There

was just one option and that was to hand

build parts and improvise with what was

available, a fantastic feat!

143 144
---
However, times are changing in Cuba and

soon Cuba could have new car imports

like most other countries. The need for

permission to purchase a foreign made car

has been abolished for the first time since

1959, so now at last Cubans can purchase

whatever vehicle they desire, although the

prices could be very expensive.

Residents of Cuba are delighted with the

ruling, but the beautiful site of the classic

cars on the dusty streets of Cuba could

soon be lost, unless the locals decide to

retain their old ways.

The changes to the automotive industry

in Cuba will happen over a longer period

of time, and certainly will not be major

changes overnight. What will become of

the many classic cars in Cuba? Maybe they

will be exported to America, where there

would be no shortage of buyers willing to

pay a premium for these classic cars. And

maybe, the premium paid for these classic

motors would be enough for the purchase

and import of a new foreign vehicle!

Cuba

EXPERIENCE

CUBA TOURS

Private Tour Company

Vedado, Havana, 10400, Cuba ♦ Tel +1300 79 55 31 ♦ experiencecubatours.com.au

Visiting Cuba and want to

get the finest experience

of the country? Get private tours

and the most authentic Cuban

experiences with Experience

Cuba Tours. Based in both Cuba

and Australia, this company

ensures that you will see the very

best of the country without having

to worry about travel specifics or

local hazards. Everything right

from visa applications to private

transport and transfers around

Cuba is handled by them so that

you can devote all your attention

to seeing the nation. Their small

group tours allow a maximum

of seven people to ensure that

you can get a more personalized

experience and you can choose

their many packages ranging

from short, 4 days Hotel Tour to

the Grande 15 days tour of Cuba!

However, their most famous tours

are the private tailor made tours

where you can design your own

itinerary with them and see Cuba

exactly the way you wish to!

145

146
---
The Rise of Tourism In Cuba

Cuba has continued to grow as a tourism destination over the years, a low cost of

living and beautiful scenery are all on offer at the largest of the Caribbean islands.

With its fantastic winter weather and hundreds of white sandy beaches with clear seas,

tourists flock to the country. There are the inspiring landscapes of Viñales Valley and

Havana is from another era, with its classic cars on the dusty streets and architecture from

the art deco era.

There are many attractions in Cuba that are worth visiting, a few of which are listed below.

1. Habana Vieja (Old Havana) is a UNESCO World Heritage site with many historic

buildings that have received renovation, a fantastic piece of history has been

preserved for all to enjoy, attractions include Hemingway's favourite hangout,

Bodeguita del Medio and Castillo de la Real Fuerza, a military fortress.

2. The town of Trinidad, also a UNESCO World Heritage site, is one of the most visited

and impressive cities of Cuba, second only to Havana. Once again, the buildings

have been renovated to ensure architecture from the past can be enjoyed by all, and

with plenty of attractions, Trinidad is a town well worth the trip.

Cuba is also a very safe place, with little major crime, so visitors can feel safe to explore

all areas.

Accommodation for tourists is easy to find and the evidence of the growth of the tourism

market was clear to see when Airbnb named Cuba as the fastest growing market in 2016.

It was estimated in 2017, a record 4.5 million tourists visited Cuba, this included a large

proportion from the USA. Tourism is now the leading source of foreign income, now

ahead of sugar.

147 148
---
3. Cuba is known for its beautiful beaches and one of the best is Playa Paraiso. The

sheltered white sandy beach is the perfect place to relax, with a dry sunny climate,

and few other attractions, all you can do is enjoy the surroundings.

4. Santa Clara is the site of the last battle led by Che Guevarra in 1958. His body was

laid to rest here. Monuments at Santa Clara include his mausoleum (Mausoleo del

Che Guevara) and the monument, the Memorial Comandante Ernesto Che Guevara.

Cuba

OLD CARS

HAVANA

Local Experience

Havana, Cuba ♦ Tel +53 5 2905142 ♦ oldcarshavana.com

Some of Che Guevara personal possessions can be seen at the Museo Historico de la

Revolucion and the Monumento a la Toma del Tren Blindado, the site of the final battle

between Che Guevara and the Batista troops.

If you're in Havana or

Varadero and want to

explore the city in a good

"old' vintage car, you can

contact Old Cars Havana.

You can explore the city with

guided and un-guided tours

in their royal vehicles. They

are the only tour company

to offer guided tours in

English, Spanish, German,

Italian, French and Russian.

Whether you wish to see

the city of Havana, follow

the footsteps of Ernest

Hemingway or even see the

beautiful Havana Vinales,

they have tours for it all.

You could choose to go in

a hardtop car, a mini bus or

even a convertible car! Wish

to have an airport transfer or

beach transfer, they do that

as well. You could also go to

the Buena Vista Social Club

in the VIP vehicles and enjoy

the nightlife of Cuba as a

royal guest! They invest their

profits in preservation of old

cars and English lessons for

Cubans.

149

150
---
BELIZE TOP 10

If you are thinking of visiting Belize, consider the top 10 things to do when you visit.

There are plenty of choices, whether relaxing on the beach or being more adventurous

and visiting vast underground cave networks, the choice is yours.

1. Maya Ruins and Temples, once the

centre of the Mayan civilization.

Temples and underground ritual

chambers remain, and so do historic

artefacts such as pottery, stone carvings

and paintings.

2. Caye Caulker is a small Caribbean

island off the coast of Belize, with a laid

back attitude from the locals, beautiful

blue sea, the barrier reef, and fantastic

seafood. This was once a hidden gem,

slowly being discovered by tourists.

3. Over 160 species of marine life have

been identified in the Hol Chan Marine

reserve. This includes 40 different

species of corals, 3 marine mammals

and 3 species of sea turtle. This is the

perfect location for snorkelling and

diving.

4. The ATM cave, is an ancient Mayan

archaeological site, nestled in Belize's

lush rainforest in the Cayo District.

You can hike through the caves, swim

through deep water , experience

amazing sights and create wonderful

memories of ancient history.

5. The Jaguar Preserve is known for one of

the most impressive jungle hiking trails

in Belize. During the hike, Jaguars are

often seen and fantastic fauna can be

seen along the way.

151 152
---
6. View Belize's Great Blue Hole from

above on a helicopter trip that flies

directly over the UNESCO-listed

natural wonder. Also get a bird's eye

view of the Turneffe Atoll island cluster,

Lighthouse Reef, and more of Belize's

barrier reef.

7. Try some unusual Belize food, such as

the traditional stewed gibnut or hudut.

Belize's artisan chocolates should also

be tasted, Belize produces high-quality

chocolate, made from Belizean cacao

beans.

8. The Belize coastline extends 175 miles

along the Caribbean Sea with stunning

beaches such as Placencia and Cave

Caulker, which are ideal locations for

relaxing, snorkelling or scuba diving.

9. Originally opened as a refuge for wild

animals, the Belize Zoo is not a typical

enclosed zoo. Here the animals live in

a natural jungle environment. You can

spot over 150 animals here which are all

rehabilitated, orphaned animals or are

born in the zoo.

10. To visit the real Belize, away from the

tourists, head to Dangriga. . A hotbed

for music such as Punta Rock and

Paranda, this is certainly a town with a

vibe, where you can really appreciate

the culture.

Belize

JAGUAR CREEK

Lodges

Hummingbird Hwy, Belize ♦ Tel +501 610-2034 ♦ jaguarcreek.org

Located in the heart of the rainforests of Belize, Jaguar Creek gives you a jungle

adventure experience like none other. While Belize is known for "it's stunning" beaches

and diving, it's less discovered beauty lies in the jungle. While you're here, you can stay in a

private jungle cabana that offers peace and comfort. With screened in windows that allow

for an indoor outdoor experience you can see thousands of trees towering above you on

all sides. Our 1700 acre grounds offer views of lush rainforest, a self-guided jungle walk,

caves, tropical birds and self guided tours of our cacao plantation. Our full service dining

room provides a homemade breakfast each morning, afternoon and evening. Jaguar Creek

not only supports local entrepreneurs, limits our environmental impact and develops local

talent but we also donate a large percentage of our profits to PathLight International, an

innovative non-profit organization that is changing the lives of children, teachers and local

communities immediately around Jaguar Creek. For the newlyweds or couples looking for

a romantic getaway, our honeymoon suite offers privacy and romantic touches. With eight

private cabanas, multiple private family cabanas and a ranch house that sits amongst the

garden, this is the unique vacation adventure experience you have been looking for.

153

154
---
Image by: Nico Carrera

Belize

CARIBBEAN

BEACH CABANAS

Beach Front Hotel

Placencia Sidewalk, Placencia, Belize ♦ Tel +501 622-4142 / 011 501 622 4142 ♦

caribbeanbeachcabanas.com

When you hear of the Caribbean Islands, the image which comes to mind is that

of a picturesque beach along the coast with the pristine blue waters of the

Caribbean Sea washing your feet. Caribbean Beach Cabanas in Belize are the embodiment

of the same generic image of the Caribbean. Their beauty lies in their simplicity and their

old world charm, and rustic nature of things adds to it. It is the only adults-only resort in

the entire peninsula and provides you with a host of options to choose and plan your stay

there. The hotel is a perfect getaway for a romantic weekend with your partner. It also offers

to organize your dream destination wedding, the memories of which would be etched on

your mind for the rest of your life. The life in and around the resort is so colorful and yet so

quiet and tranquil that you would be forgiven if you thought you had travelled back in time.

155

156
---
SOUTH

AMERICA

Image by: Giacomo Buzzao

157 158
---
FALKLAND ISLANDS | THE ONE TO WATCH

The Falkland Islands are remote islands in the South Atlantic, a real wilderness with

a rugged landscape, cliffs along the coast, a population of less than 4000, and the

perfect habitat for a variety of birdlife.

You can find miles of stunning landscapes, wilderness and secluded beaches, where you

can relax in peace with the exception of the sound of the sea and the wildlife, in particular

the birdlife.

To travel to the Falklands, most visitors

arrive by cruise liner, but it is also possible

to fly from Argentina or Chile, but flights

are limited.

Whatever means of transport you choose,

on arriving the remoteness and wilderness

are so apparent, but there is still plenty to

see and do.

You can appreciate the wildlife, a 4x4

is essential to get around, but there are

locations such as the Bluff Cove where

you can see and walk amongst over 3000

Gentoo Penguins.

There are also many sights to see such as

Christ Church Cathedral in Stanley, and

many other landmarks.

The Falklands War of 1982, plays a

prominent part in the Islands history, with

the 1982 Liberation Memorial, Memorial

Wood, the Argentine Military Cemetery

and the Stanley Military Cemetery well

worth a visit.

Anyone visiting the Falklands, should take

advantage of a country which must be

one of the most fantastic places to walk in

unpolluted, fresh air and clear skies, such

an invigorating environment.

Having such a small population, most of

which lives in Stanley, your walk across the

rugged terrain, will be a peaceful, often

not meeting any others walking but more

likely to meet with the islands' wildlife.

And at the end of a long day, relax in one

of the hotels and guest houses, typically

found in and around Stanley, where you

can recharge your batteries ready for

tomorrow's adventure.

159 160
---
Falkland Islands

ESTANCIA

EXCURSIONS

The Award for Excellence

in Service

7 Allardyce Street, Stanley, East Falkland FIQQ1ZZ, Falkland Islands ♦ estancia-excursions.com

Located in Stanley, the capital of the Falkland Islands, Estancia Excursions is a tour

operator run by Nyree Heathman.

Estancia Excursions provides an array of tours and day trips giving visitors the chance to

explore the Islands' impressive wildlife and delve into its fascinating history. With many

years' experience in the tourism industry, Nyree guarantees a reliable, professional and

friendly service for visitors to this remote South Atlantic archipelago.

Among the tours offered are day trips to Volunteer Point to see the Falklands' largest King

Penguin rookery. Mingling with over 2000 breeding pairs of King Penguins and their cute

fluffy chicks, as well as the numerous Gentoo and Magellanic Penguins that this location

has to offer, isn't to be missed.

For those with an interest in Falklands history they also conduct battlefield tours to

Darwin, Goose Green and San Carlos, sharing their knowledge of the Falklands way of

life as the road meanders through farms where you may spot shepherds working. The

Stanley Mountains Battlefield Tour will give you a deep insight into the history of the 1982

Falklands War as you visit the mountain tops that hosted the battles for Stanley, and pay

your respects at the many memorials along the way.

Meanwhile, visitors with a passion for wildlife can embark on a tour to Cape Bougainville

to view the famous Rockhopper Penguins and possibly even spot an elusive Macaroni

Penguin or two. Here you can also observe King Cormorants crash landing into the cliff

top rookeries that they share with the penguins, or take a trip to Whale Point to see the

docile Elephant Seals slumbering on the beach and surrounding grassy slopes. You can

also spot some of the finest birds of the Islands such as Variable Hawk, Ruddy Headed

Geese and the endemic Flightless Steamer Duck.

Whatever your interests they have a tour for you.

161 162
---
Colombia

How to Get in

• Plane

• Bus

• Ferry

Get Around

• By Plane

• Drive

• Bus

• Taxi

• Metro

(only in Medellin)

• Cable Car

Attractions & Sights

• El Peñón de Guatapé

• Isla Gorgona

• Salt Cathedral of

Zipaquirá

• Tatacoa Desert

Things to do

• Learn Spanish

• Hike

• Visit Cartagena's

Old Town

• Try Aguapanela

• Learn to Salsa

Find out more – https://

www.visitmexico.com/

en/main-destinations/

chiapas/tuxtla-gutierrez

With caribbean beaches, lush forests,

a culturally thriving capital, precolonial

history, trendy nightlife and

wonderful cuisine, Colombia is quite

simply the worlds most underrated

travel destination

Colombia

TRAIR COLOMBIA

Unique Tour Company

Ruitoque Condominio , Colombia ♦ Tel +01 8000 180 020 / +57 310 610 5672 ♦

trair.com.co

If you're looking for a unique way of seeing Colombia, Trair Colombia is the perfect tour

company for you. With them, you will get to have a bird's eye view of the entire city

and natural landscapes all around. You can take private helicopter tours of iconic regions

of Colombia like Chicamocha Canyon and Topocoro Reservoir. WIth 3 helicopters and 4

private planes to choose from, you've got plenty of options to experience Colombia like

never before, in a luxurious manner. If you wish to share the helicopter or the airplane with

others, you can do so as well. Moreover, They've two dedicated trips for destination picnics

where you will get to fly to Chicamocha and then enjoy a typical breakfast or lunch of

Santander. All their tours are narrated in both English and Spanish too. With Trair, you can

truly discover a new side of Colombia; one which only a few are lucky enough to witness.

163

164
---
Colombia

HOTEL BOUTIQUE

POSADA LAS

TRAMPAS

Traditional Hotel

Image by: Ricardo Gomez Angel

Honda, Tolima, Colombia ♦ Tel +57 1 2981752 / +57 3 103057335 ♦

posadalastrampas.com ♦ Facebook: posadalastrampas1 ♦ Instagram: Posada Las Trampas

Located at walking distance from

the Magdalena River, Hotel

Boutique Posada Las Trampas is a highly

recommended property in Honda. Set

in a colonial style house, it has fourteen

individual guest rooms with private

bathrooms. The rooms feature all basic

amenities including air conditioning,

cable TV and free WiFi. Parquet flooring

and rustic furnishing greatly enhance the

beauty of these rooms.

Guests can enjoy the street views from

their private patio or take a stroll down

the shaded galleries. You can also soak in

all the sunshine on sun loungers near the

swimming pool. The in-house restaurant

serves delicious American breakfast. The

hotel also has a bar and offers free parking.

You could also indulge in some relaxing

massages. Nearby attractions include

an aquatic park named Agua Sol Algeria

and Rio Magdalena Museum. The nearest

airport is Perales Airport, located just 88

miles away from the hotel.

If you are looking for a place that combines

rustic vibes with modern amenities, then

this place is the right fit for you.

165

166
---
167