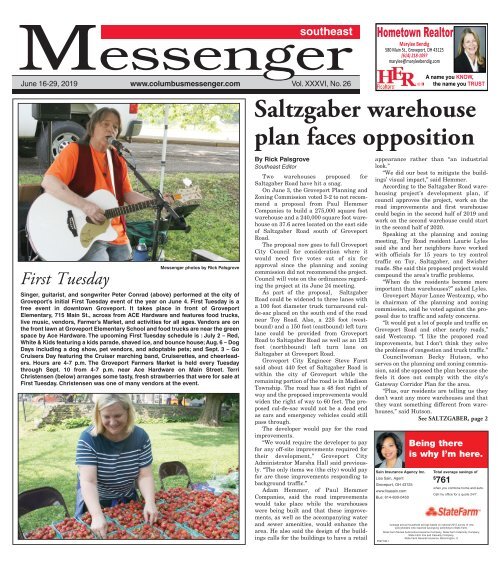 Southeast Messenger - June 16th, 2019
Create successful ePaper yourself
Turn your PDF publications into a flip-book with our unique Google optimized e-Paper software.
southeast

June 16-29, 2019 www.columbusmessenger.com Vol. XXXVI, No. 26

Hometown Realtor

Marylee Bendig

580 Main St., Groveport, OH 43125

(614) 218-1097

marylee@maryleebendig.com

A name you KNOW,

the name you TRUST

Saltzgaber warehouse

plan faces opposition

First Tuesday

Messenger photos by Rick Palsgrove

Singer, guitarist, and songwriter Peter Conrad (above) performed at the city of

Groveport's initial First Tuesday event of the year on June 4. First Tuesday is a

free event in downtown Groveport. It takes place in front of Groveport

Elementary, 715 Main St., across from ACE Hardware and features food trucks,

live music, vendors, Farmer's Market, and activities for all ages. Vendors are on

the front lawn at Groveport Elementary School and food trucks are near the green

space by Ace Hardware. The upcoming First Tuesday schedule is : July 2 – Red,

White & Kids featuring a kids parade, shaved ice, and bounce house; Aug. 6 – Dog

Days including a dog show, pet vendors, and adoptable pets; and Sept. 3 – Go

Cruisers Day featuring the Cruiser marching band, Cruiserettes, and cheerleaders.

Hours are 4-7 p.m. The Groveport Farmers Market is held every Tuesday

through Sept. 10 from 4-7 p.m. near Ace Hardware on Main Street. Terri

Christensen (below) arranges some tasty, fresh strawberries that were for sale at

First Tuesday. Christensen was one of many vendors at the event.

By Rick Palsgrove

Southeast Editor

Two warehouses proposed for

Saltzgaber Road have hit a snag.

On June 3, the Groveport Planning and

Zoning Commission voted 3-2 to not recommend

a proposal from Paul Hemmer

Companies to build a 275,000 square foot

warehouse and a 240,000 square foot warehouse

on 37.6 acres located on the east side

of Saltzgaber Road south of Groveport

Road.

The proposal now goes to full Groveport

City Council for consideration where it

would need five votes out of six for

approval since the planning and zoning

commission did not recommend the project.

Council will vote on the ordinances regarding

the project at its June 24 meeting.

As part of the proposal, Saltzgaber

Road could be widened to three lanes with

a 100 foot diameter truck turnaround culde-sac

placed on the south end of the road

near Toy Road. Also, a 225 foot (westbound)

and a 150 foot (eastbound) left turn

lane could be provided from Groveport

Road to Saltzgaber Road as well as an 125

foot (northbound) left turn lane on

Saltzgaber at Groveport Road.

Groveport City Engineer Steve Farst

said about 440 feet of Saltzgaber Road is

within the city of Groveport while the

remaining portion of the road is in Madison

Township. The road has a 48 foot right of

way and the proposed improvements would

widen the right of way to 60 feet. The proposed

cul-de-sac would not be a dead end

as cars and emergency vehicles could still

pass through.

The developer would pay for the road

improvements.

"We would require the developer to pay

for any off-site improvements required for

their development," Groveport City

Administrator Marsha Hall said previously.

"The only items we (the city) would pay

for are those improvements responding to

background traffic."

Adam Hemmer, of Paul Hemmer

Companies, said the road improvements

would take place while the warehouses

were being built and that these improvements,

as well as the accompanying water

and sewer amenities, would enhance the

area. He also said the design of the buildings

calls for the buildings to have a retail

appearance rather than "an industrial

look."

"We did our best to mitigate the buildings'

visual impact," said Hemmer.

According to the Saltzgaber Road warehousing

project's development plan, if

council approves the project, work on the

road improvements and first warehouse

could begin in the second half of 2019 and

work on the second warehouse could start

in the second half of 2020.

Speaking at the planning and zoning

meeting, Toy Road resident Laurie Lyles

said she and her neighbors have worked

with officials for 15 years to try control

traffic on Toy, Saltzgaber, and Swisher

roads. She said this proposed project would

compound the area's traffic problems.

"When do the residents become more

important than warehouses?" asked Lyles.

Groveport Mayor Lance Westcamp, who

is chairman of the planning and zoning

commission, said he voted against the proposal

due to traffic and safety concerns.

"It would put a lot of people and traffic on

Groveport Road and other nearby roads,"

said Westcamp. "I like the proposed road

improvements, but I don't think they solve

the problems of congestion and truck traffic."

Councilwoman Becky Hutson, who

serves on the planning and zoning commission,

said she opposed the plan because she

feels it does not comply with the city's

Gateway Corridor Plan for the area.

"Plus, our residents are telling us they

don't want any more warehouses and that

they want something different from warehouses,"

said Hutson.

See SALTZGABER, page 2

Sain Insurance Agency Inc.

Lisa Sain, Agent

Groveport, OH 43125

www.lisasain.com

Bus: 614-830-0450

Being there

is why I'm here.

Total average savings of

$

761

when you combine home and auto.

Call my office for a quote 24/7.

*average annual household savings based on national 2015 survey of new

policyholders who reported savings by switching to State Farm.

State Farm Murual Automotive Insurance Company, State Farm Indemnity Company,

State Farm Fire and Casualty Company,

State Farm General Insurance, Bloomington, IL

P097136.1
---
PAGE 2 - SOUTHEAST MESSENGER - June 16, 2019

www.columbusmessenger.com

Non-Hodgkin's Lymphoma, Multiple Myeloma, and

Leukemia may result from RoundUp exposure. A recent

was awarded in a RoundUp injury case.

Call 1-619-493-4791 or email

RoundUp@breakinginjurynews.com

and let us begin work on your RoundUp case today.

Soapcitylaundry.com

2056 Lockbourne Rd.

Columbus, OH 43207

(614) 443-7627

Now Hiring!

ADVERTISING ACCOUNT

REPRESENTATIVE

The Advertising Department

is seeking a Sales Representative.

•No Experience Necessary.

•Base salary plus commissions, auto allowance.

•Senior Cizens and Recent Grads encouraged to apply.

Columbus Messenger Newspapers

Please send your resume to:

Doug Henry, Adversing Manager

Columbus Messenger Newspapers

3500 Sullivant Aveune, Columbus, Ohio 43204

Doughenry@columbusmessenger.com

www.columbusmessenger.com

Levy, bond issue, or both?

Plus, school building repairs

and open classroom updates

By Rick Palsgrove

Southeast Editor

The Groveport Madison Board of Education plans to

decide at its June 26 meeting whether to place a levy,

levy and bond issue, or a bond issue on the November

ballot.

"A decision has to be made by the next meeting in

order to make it onto the November ballot," said

Groveport Madison Schools Superintendent Garilee

Ogden.

Ogden recommended the board place a request on

the Nov. 5 ballot to renew the existing, 5-year, 6.68

mill operating levy with no tax increase. She said the

district could then consider placing a bond issue on

either the May 2020 or November 2020 ballot to obtain

funding for potential new buildings.

Before pursuing a bond issue for new schools,

Ogden said the district needs to establish an overall

plan that includes the look of the buildings, where the

building would be, the order the buildings would be

built, and where students transition

to attend schools while

new buildings are constructed.

The current operating levy

will expire on Dec. 31, 2019.

According to school officials, if

the levy is not renewed the district

will see deficits of $2.7 million

in 2020 and $5.6 million in

2021. Also, if the levy is not

renewed, the district's cash balance

by June 2023 will be

reduced to $3.4 million.

Ogden has said if the levy is

not renewed the "consequences

could be severe" with potential

cuts and reductions starting in

the fall of 2020. What those cuts

and reductions would be has not

yet been determined.

"We will be as efficient and

fiscally responsible as we can

be," said Ogden. "If the levy fails

again, it will have drastic

impacts on our curriculum and

SALTZGABER

Continued from page 1

The city's Gateway Corridor Plan

addresses redevelopment along two of the

main roadway corridors into town: the

South Hamilton Road corridor between

U.S. 33 and Bixby Road; and the west

Groveport Road corridor from State Route

317 west to Swisher Road.

The west Groveport Road corridor currently

is a mix of warehouses, small businesses,

and residences. It features two

areas for redevelopment: Groveport Road

from Swisher Road to State Route 317; and

Saltzgaber Road from Groveport Road

south to Toy Road. The 37 acre tract on the

east side of Saltzgaber Road at Groveport

Road is "one of the few remaining vacant

parcels in the immediate area," according

"We will be as efficient and fiscally responsible

as we can be."

- Garilee Ogden, superintendent

Groveport Madison Schools

programs."

To place an issue on the Nov. 5 ballot, the board

must file a resolution of necessity to do so by July 7

and a resolution to proceed by Aug. 7. The board must

decide if it will place an operating levy by itself on the

ballot and wait to place a bond issue on a future ballot;

or place a levy and bond issue on the ballot. The

board's next meeting is June 26 at 7 p.m. in the

District Service Center, 4400 Marketing Place, Suite

B, Groveport.

Repairs to existing school buildings

Groveport Madison Deputy Superintendent Jamie

Grube said roofing repairs are being made to the district's

schools where needed.

"We have roof leaks in lots of different places," said

Grube.

He said roof leak repairs have been made so far at

Middle School Central and Groveport Elementary.

"Groveport Elementary is not leaking right now,"

said Grube. "But we're assessing to see if the curved

metal vents on the roof are still necessary and to see if

they could be a source of leaks."

Grube added the district is obtaining quotes for

blacktop and concrete repairs and for painting work.

Grube said building maintenance and repairs, as

well as preventative maintenance, have been ongoing

and that 98 percent of the specific repair work requests

have been completed this year.

"We're trying to make our current facilities as functional,

safe, and as pleasant as possible," said Grube.

"We're doing our best to maintain what we have."

Upon hearing Grube's report about building repairs

and the work's positive impact on the learning environment

in the schools, board member Nancy Gillespie

said, "I love it - safe, dry, and warm."

Open classrooms at middle schools

Grube said district officials looked into constructing

walls in the open classroom areas of Middle School

North and Middle School South, but found the idea to

be costly and not feasible.

"If you enclose the rooms by adding walls, because of

legal restrictions you must add sprinklers or add fire

rated corridors," said Chris Dumford of VSWC

Architects. "Both options are expensive and hard to do."

to the Gateway Corridor Plan.

Groveport Finance Director/Assistant

Administrator Jeff Green has stated the

Gateway Corridor Plan helps the city

address: recommended land use, appropriate

zoning, overall aesthetic, what types of

commercial development would best complement

the existing industrial development,

and what the best uses are for

vacant land.

The Gateway Corridor Plan considers

commercial development that would be

compatible with existing industrial and

commercial development. This could

include restaurants, gas stations, last-mile

logistics providers and mixed-use flex

space.
---
www.columbusmessenger.com

Another solution proposed for Toy Road

By Rick Palsgrove

Southeast Editor

Another plan is underway to improve

road conditions and traffic congestion on Toy

Road, Swisher Road, and Saltzgaber Road.

"We're proposing roadway and drainage

maintenance improvements," said Fritz

Crosier, chief deputy of engineering for

Franklin County Engineer Cornell

Robertson.

Representatives from the Franklin

County Engineer's Office, the city of

Groveport, and Madison Township met

with area residents on June 4 to discuss

the plan.

Residents living on Toy Road,

Saltzgaber Road, and Swisher Road have

been frustrated for several years by the

poor conditions of these roads as well as the

heavy traffic from nearby commercial warehouses

that use these narrow, formerly

rural roads. The residents are seeking relief

from the vehicle and semi-truck traffic they

say damages the roads, tears up yards,

knocks over mailboxes (one resident said he

has replaced his mailbox 11 times due to it

being damaged by traffic), causes noise,

generates trash, and creates congestion.

The three roads have the added problem

of falling within several different government

jurisdictions including Madison

Township, the towns of Groveport and

Obetz, and Franklin County. The three

roads total 2 miles with 1.5 miles in

Madison Township and a half mile in

Groveport.

"All three roads are in poor condition,"

said Crosier.

Crosier said the plan is to resurface all

three roads, improve drainage, consider

installing speed humps in places to slow

down traffic, and construct back-to-back

cul-de-sac bulbs on Toy Road just east of

Centerpoint Parkway.

The cul-de-sacs will close Toy Road,

except for emergency vehicles. The closure

is not permanent and the county is not

vacating that portion of the road that will

be closed. Crosier said the closure will

allow the county to see how it impacts the

surrounding area.

"The cul-de-sac bulbs will keep truck traffic

to the west and residential traffic to the

east," said Crosier. "It separates commercial

Toy Road from residential Toy Road."

Additionally, Crosier said the speed

limit on Swisher Road was reduced from 45

mph to 40 mph in April. Toy Road and

Saltzgaber Road have a 35 mph speed

limit. Crosier said the county could have an

opportunity to go back and "take another

look" at the Swisher Road speed limit in

the future.

Crosier said the county is designing the

plan, developing cost estimates, seeing how

utilities and property owners would be

impacted, and seeking funding sources.

The plan will need the approval of the

Franklin County Commissioners and resolutions

of support from Groveport, Madison

Township, and Obetz. Funding sources

could include the Ohio Public Works

Commission and local funds.

"We're not waiting on developers for

funding any more," said Crosier. "We will

also need an intergovernmental agreement

(between the county, city of Groveport, and

Madison Township) to determine who pays

for what."

Crosier said he anticipates construction

on the project would begin in 2020.

Previous plan scrapped

Last summer a $2.8 million proposal

was made to reconstruct about a half mile

of Toy Road that is located in the city of

Groveport from Centerpoint Parkway to

Swisher Road. The plan included a cul-desac

on Toy Road west of Swisher Road.

The city of Groveport had applied for, and

received, approval for an Ohio Public Works

Commission grant of $1.1 million plus a

$433,254 loan to help fund the city's portion

of the project's cost. The county was set to

contribute $218,757 of in-kind monies. A

prospective developer had proposed to kick

in $1 million towards the project.

However, according to Groveport City

Engineer Steve Farst, the developer had a

condition that it had to be successful in

acquiring real estate in the area before it

would provide its share of the funding.

"The developer could not obtain the purchase

agreements, realized it could not

make it happen, and withdrew their $1

million," said Farst. "The city could not

make up the difference. We were disappointed."

In April, Groveport officials notified the

OPWC the city could not proceed with the

project without a private financial partner

and so had to decline the OPWC funding.

June 16, 2019 - SOUTHEAST MESSENGER - PAGE 3

Groveport Garden Club

The Groveport Garden Club meets the

first Tuesday each month at Groveport

Zion Lutheran Church, 6014 Groveport

Road. Call Marylee Bendig at (614) 218-

1097.

AUTO HOME BUSINESS LIFE INSURANCE

Beplerinsurance.com

614.837.4379

staff@beplerinsurance.com

3246 Noe Bixby Rd., Columbus, Ohio 43232

Yappy Hour

Messenger photo by Theresa Garee

Reiko chased after a ball thrown into the dog pond during the Yappy Hour event at

the Walnut Woods Metro Park dog park on June 6. Friends of the Metro Parks hosted

the event as a fundraiser.
---
PAGE 4 - SOUTHEAST MESSENGER - June 16, 2019

southeast

Messenger

(Distribution: 19,206)

Rick Palsgrove ...................................Southeast Editor

southeast@ columbusmessenger.com

Published every other Sunday by

The Columbus Messenger Co.

3500 Sullivant Ave., Columbus, Ohio 43204-1887

(614) 272-5422

The Columbus Messenger Co. reserves the right to edit, reject or cancel

any advertisement or editorial copy at any time. The company is not

responsible for checking accuracy of items submitted for publication.

Errors in advertising copy must be called to the attention of the company

after first insertion and prior to a second insertion of the same advertising

copy.

BIRTHDAY • ENGAGEMENT • WEDDING • ANNIVERSARY

• GRADUATION • RETIREMENT

IN MEMORIUM • ARMED FORCES

Say it with an announcement ad in

the Messenger and spread the word.

You can download the appropriate form from

our Web site or stop by our office

Monday-Thursday, 8:30 a.m.-5 p.m.

Friday, 8:30 a.m.-2 p.m.

Columbus Messenger

3500 Sullivant Ave.

614-272-5422

www.columbusmessenger.com

www.columbusmessenger.com

column

The functional art of street drains

A few years ago I wrote a column about

the interesting decorative designs that

appear atop a variety of manhole covers on

Groveport's streets and how these objects

were examples of functional art.

Editor's Notebook

That column included

photos of some

of the manhole covers

and it received an

Rick

Palsgrove

amazingly positive response from readers. So

much so that some readers over the years

suggested I write a similar column about -

wait for it - the functional art of street drain

covers! This column is for all of you.

Much like the manhole covers, the

street drain covers have an artistic nature

about them while still fulfilling their role of

helping water drain away. They come in

various shapes and sizes with their slot

openings, which allow water to pass

through, mostly arranged in grid patterns.

(See photos with this column.)

One of my favorites is a cone shaped

drain cover with web-like holes whose peak

rises a few inches. It's the only cone shaped

drain cover like it I could find in town. It

looks a lot older than many of the other

street drains in town, but it's still here

doing it's job. This drain cover is located in

a parking lot so I can only guess that its

peak was designed to prevent vehicles from

driving over the drain.

Messenger photos by Rick Palsgrove

This cone shaped drain is located near a

parking lot. It appears to be very old.

A drain cover I came across in an alley,

and which I like the design of, is much

smaller than the other drain covers around

town. It's circular with narrow slots in the

center of the circle. Its design reminds me

of the look of a small 45 rpm vinyl record.

But then again, I wonder if this drain cover

is actually some sort of vent cover because

nearby there's a larger square drain cover.

There are several kinds of rectangular

as well as square drain covers around town

with varying kinds of slot patterns. The

older ones on Blacklick Street have symmetrical

slots in horizontal rows parallel to

the outer shape of the whole cover. The

newer rectangular drain covers have slots

that run across the rectangular cover and

the slots are angled to enhance water flow.

I did find one rectangular drain cover

with oval shaped slots that looked quite

old. I found a square drain cover with wavy

shaped slots that mimic the movement of

water. There are also large, circular drain

A wavy grid drain in an alley.

covers in various places with rows of rectangular

slot openings arranged within the

circle in geometric harmony.

The main difference between the artistic

merits of the drain covers when compared

to the manhole covers I wrote about

years ago is that the manhole covers have

more decorative flourishes manufactured

into them while the more plain drain covers'

pleasing aspects have more to do with

the simplicity of their shapes. (I remember

one manhole cover that was covered with

stars Sadly, I think this cover was later

broken when a vehicle ran over it while

making a turn. Other manhole covers had

diamond shaped lines etched into them,

another looked like a waffle, and so on.)

Beauty is all around us, even in iron,

man-made industrial objects below our feet

and vehicle tires. We only need to be aware

and watch for this beauty to appreciate it.

Rick Palsgrove is editor of the Southeast

Messenger.

SUPPORT

your

Community Paper

Through advertising, community newspapers like the

Messenger have always been FREE papers. In these

tough economic times we are asking you the reader to

help offset the current decline in advertising revenue by

participating in a VOLUNTARY payment program*.

To those who have already participated -

We Thank You.

For those who would like to, below is a form

you can mail with your DONATION.

*This is not a subscription.

Our Pictorial Past by Rick Palsgrove

3500 Sullivant Ave., Columbus, OH 43204

.Name:

Address:

City/State/Zip

1 year ($9) 2 year ($18)

Eastside Westside Southwest

Southeast

At the Elmont

Photo courtesy of the Groveport Heritage Museum

Pictured here in a photo from the early 1900s are some ladies gathered on the front porch of the Elmont

Hotel that once stood on Groveport's Main Street where Middle School Central now stands. The Elmont was

noted for the social functions that were held there.
---
www.columbusmessenger.com June 16, 2019 - SOUTHEAST MESSENGER - PAGE 5
---
FAA grant for Rickenbacker Airport

PAGE 6 - SOUTHEAST MESSENGER - June 16, 2019

Rickenbacker International Airport is

slated to receive $15 million from the

Federal Aviation Administration for airport

improvements, including runway

upgrades, that will support a projected tenfold

increase in cargo activity over the next

20 years.

"The FAA grant and these improvements

align with Rickenbacker's growth

strategies over the next two decades," said

Joseph R. Nardone, President & CEO of

the Columbus Regional Airport Authority

which oversees the cargo-focused airport.

"We are grateful to our Ohio congressional

delegation and U.S. Secretary of

Transportation Elaine Chao for recognizing

Rickenbacker's economic importance to

the region and its critical role in international

commerce."

"Infrastructure is the shot in the arm

our economy needs to continue its growth,

and this investment in Central Ohio is no

exception," Congressman Steven Stivers

said. "Rickenbacker is a critical component

of our community for tourism and business,

and maintaining their facilities is in

everyone's best interest. I'm glad to see

that the FAA understands that and is committed

to fulfilling the full grant amount

that was requested for these crucial

repairs."

Rickenbacker is among a select group of

airports to benefit from the Bipartisan

Budget Act of 2018 that made available an

additional $1.5 billion of supplemental

Airport Improvement Program funding.

This budget deal was signed into law in

February 2018 and was made possible

through the support of Congressman

Stivers, Congresswoman Joyce Beatty, and

Senators Sherrod Brown and Rob

Portman.

Recognized in the industry as a new

global gateway for cargo, Rickenbacker

contributes 15,280 jobs, $880 million in

annual payroll and $2.5 billion in annual

economic impact in Ohio.

Located in Columbus, Ohio,

Rickenbacker International Airport is one

of the world's few cargo-dedicated airports.

Rickenbacker is within a one-day drive to

nearly half of the U.S. population.

Visit RickenbackerAdvantage.com.

www.columbusmessenger.com

at Three Creeks Metro Park

The following activities will be held at

Three Creeks Metro Park, 3860 Bixby

Road, Groveport (Meet at Confluence Area

unless otherwise noted):

•June 25, 10 a.m.: Calling All Kids:

Scavenger Hunt - Look for natural and

unnatural items as we explore the natural

play area. For ages 3-12.

•June 29, 7 p.m.: Stories Around the Fire

- Toast marshmallows over the fire then

listen to stories from around the world.

•July 6, 8:30 p.m.: Bats and Lightning

Bugs - Observe hunting bats and learn how

to call in lightning bugs. Bring a small

flashlight.

•July 7, 9 a.m. : Barking and Breakfast -

Enjoy breakfast snacks for you and your

dog then take a 2.5 mile walk.
---
www.columbusmessenger.com

Township needs road money

By Linda Dillman

Staff Writer

The Madison Township trustees are

finding it difficult to maintain and improve

roadways without an infusion of additional

cash into the road department budget.

According to Madison Township

Administrator Susan Brobst, the township

ran a 3-mill, five-year road levy in 2002

that lost in all township precincts except

one. They came back three years later with

a 2.9-mill levy, which lost by only nine

votes.

"So, every vote does count," Brobst said

during a June 11 trustees' meeting.

Township Trustee Chairman John

Pritchard presented four different options

the trustees are considering, including

running a general fund levy impacting all

township residents, including those in

Canal Winchester and Groveport; place a

bridge fund levy on the ballot affecting

only residents in the unincorporated areas

of the township; doing nothing; or administratively

raise taxes through inside millage.

The last option would not involve a ballot

issue since the township has the ability

to increase millage up to a certain threshold.

In this case, there is less than half a

mill available.

Pritchard said if the trustees choose the

fourth option of raising inside millage,

there are two methods they could use–

raise it by itself or use part of a potential

$10 million fire department budget carryover

by rescinding old levies.

"We're investigating to see if it's smart

to do that for the entire township," said

Pritchard, who said rescinding old levies

would in no way impact service. "The bottom

line is something's got to be done.

We'll look at everything and come to a conclusion."

In May, Public Works Superintendent

Dave Watkins said it costs approximately

$150,000 per mile to renovate a road,

which is money the township does not have

in its budget for areas like Blacklick

Estates or rural areas.

Township officials indicated that the

longer the wait, the more work and more

expensive the situation becomes. If nothing

is done, Watkins said the roadways could

turn to gravel.

Summer trustee meeting schedule

The trustees are starting their summer

round of two meetings per month starting

June 25 and possibly lasting into

September.

"We'll have two meetings a month on an

as-needed basis," said Brobst. "There won't

be any presentations or service awards

during the second meeting of the month,

but there could board action and we'll still

have public comments."

June 16, 2019 - SOUTHEAST MESSENGER - PAGE 7

Warehouses still on hold

By Rick Palsgrove

Southeast Editor

Groveport City Council's vote on a proposal

by the Pizzuti Companies to build

two warehouses on South Hamilton Road

has been postponed until June 24.

Council plans to discuss the project with

at its June 17 committee of the whole

meeting at 5:30 p.m. in the municipal

building located at 655 Blacklick St.

Concerns about the potential for

increased traffic on South Hamilton Road

generated by the project prompted council

to postpone the vote on the final development

plan for the two warehouses. Also,

some council members expressed concern

that the city's residents do not want more

warehouses in that area. The postponement

allows Pizzuti Companies officials and

city staff to further review the traffic issues

and explore options.

The Pizzuti Companies wants to build

two warehouses on 44.4 acres at 4500 S.

Hamilton Road. One warehouse would be

324,000 square feet and the other would be

252,000 square feet. Groveport Development

Director Jeff Green said the property has a

15 year property tax abatement.

Phil Rasey, vice president of development

for the Pizzuti Companies, said the

buildings would be "last mile" distribution

centers with multiple tenants.

If the two warehouses are built, traffic

going in and out of the development would

use the traffic signal at South Hamilton

Road (State Route 317) and Higgins

Boulevard/Director's Boulevard. A traffic

study was done and the plan calls for

improvements to and modernization of the

intersection.

Green said existing zoning allows for

warehouses to be built on the site and that

the buildings fit with the city's Gateway

Corridor Plan. He said if retail businesses

were built there it would create continuous

traffic all day on South Hamilton Road.

The city's Gateway Corridor Plan

addresses redevelopment along two of the

main roadway corridors into town: the South

Hamilton Road corridor between U.S. 33 and

Bixby Road; and the Groveport Road corridor

from State Route 317 west to Swisher Road.

The Gateway Corridor Plan cites potential

uses that include an estimated 300,000

to 400,000 square feet of building space on

the 44.4 acre 4500 S. Hamilton Road site.

When asked how The Pizzuti

Companies' proposal fits in with the city's

vision for the Gateway Corridor Plan in the

Hamilton Road corridor, Green said, "The

developers are taking great pains with

landscaping, buffers and other site features

to create a more attractive and less

industrial appearance. These buildings

will be situated between other similar

structures, it will be compatible."

PAID ADVERTISING

SWACO grants help schools and non-profits

Earlier this year, SWACO awarded approximately

$178,000 to local schools, universities, nonprofits

and local governments to advance their

efforts to reduce their reliance on the Franklin

County Sanitary Landfill. Projects ranged from

funding composting services in school cafeterias, to

purchasing water bottle refilling stations for travelers

passing through John Glenn International

Airport and locating recycling containers in Uptown

Westerville, the historic heart of the community,

just to name a few. SWACO is offering additional

funding opportunities for local organizations this

summer.

Beginning in July, applications for projects

occurring in 2020 will be accepted as part of

SWACO's Community Waste Reduction grant program.

Franklin County schools, universities, nonprofits

and local governments including parks are

eligible and projects submitted should implement

long-lasting and innovative sustainability practices.

Applications will be accepted between July 1

and Sept. 30. Applications will be considered

based on how well they will divert materials from

the landfill by either reducing the amount of waste

that will be created, facilitating reuse, recycling,

composting or providing outreach and education.

Grants range from $5,000 to $35,000 and can

be used to purchase recycling or other diversion

equipment, supplies, materials and services.

Grant recipients are required to contribute 25%

toward the cost of the project.

Visit SWACO.org/CommunityGrants

Is your non-profit, school, university or local government eligible

for a RECYCLING or COMPOSTING GRANT? Most Likely.

Messenger photo by Rick Palsgrove

A visit from our animal friends

Animals and their handlers from the Columbus Zoo, Ohio Wildlife Center, as well

as The Turtle Lady, visited Groveport's Heritage Park on June 8. Pictured here,

Ashton Jerger of the Columbus Zoo (right) tells Groveport resident Suzie Price

about Otis the screech owl. See more photos online at columbusmessenger.com

(look under Southeast News).

On July 1, 2019 SWACO will begin accepting

applications for grant funding from non-profits,

schools, universities, and local governments in

Franklin County for projects occurring in 2020!

Eligibility details and information available at:

SWACO.org/CommunityGrants
---
PAGE 8 - SOUTHEAST MESSENGER - June 16, 2019

Leak temporarily closes the

Groveport swimming pool

The Groveport Recreation Department

announced that the Groveport Aquatic

Center (outdoor water park) temporarily

suspended operation on June 6.

According to city officials, the facility

will remain closed until an outside firm

locates the source or sources of a substantial

water leak and can make necessary

repairs. City officials said the water level at

the outdoor pool was fine at the end of the

2018 outdoor pool season. A leak was found

in mid-May during the fill of the 450,000

gallon pool. City staff along with scuba

divers could not locate the leak. A firm was

hired to locate the leak(s), but was not able

to fit Groveport into their schedule until

early June. The city of Groveport decided to

open the pool despite the leak to give residents

and customers an opportunity to use

the facility. The city will notify season pass

holders when the pool is back open for use.

Visit www.groveportrec.com and Facebook

page for updates. The city of Groveport will

calculate time lost and provide season pass

holders with a pro-rated refund.

"We apologize for this inconvenience,"

the city stated in an official statement.

"This is the first time in our 16 years of

operation that we have experienced such a

leak. Although unpreventable, they are

common, especially given the size and age

of our facility, and the freeze thaw cycle in

our Ohio winters."

Groveport Recreation Director Kyle

Lund said thus far the leak detection company

has found some small cracks in the

pool bottom and repaired those cracks.

"On June 8, the leak location company

located actual water line breaks which feed

the zero-depth entry leisure pool," said

Lund. "Staff has excavated around the

areas, and is waiting for the leak detection

company to return to the site and run a

camera in the lines to check for additional

line breaks within the same lines. At this

point, we are not sure when the facility we

re-open."

Relay For Life

Canal Winchester and Groveport residents

will join together at the American

Cancer Society's Relay For Life of Canal

Winchester and Groveport.

The event runs from 4 p.m. until midnight

on June 22 at Canal Winchester High

School, 300 Washington St., Canal

Winchester. Relay teams, which independently

fund raise throughout the year, connect

with one another at Relay for Life to

raise funds and awareness together, to celebrate,

and to focus on creating a world

without cancer.

Featured activities will include a "Miss

Relay" Pageant Walk for male contestants,

theme laps, inflatable games for kids, and a

silent auction. A luminaria ceremony will

take place at 10 p.m. The luminaria ceremony

honors cancer survivors and those

who have lost the battle to cancer as well.

During the ceremony, Canal Winchester

Mayor Mike Ebert, who recently battled

two forms of cancer, is expected to share

some thoughts with the audience.

Local cancer survivors are invited to

take part in the Relay for Life opening ceremony

and "Survivors' Lap" just after 4

p.m. Survivors are then invited to attend a

special "Survivors' Dinner" beginning at 5

p.m. in the high school cafeteria.

Visit

www.relayforlife.org/canalwinchester-groveport

for information.

"A Walk Down Main St."

The Groveport Heritage Society will

present "A Walk Down Main Street" on

June 25. The walk begins at Groveport

Town Hall, 648 Main St., at 7 p.m. You will

have the opportunity to walk, physically or

virtually, down Main Street listening to

stories and facts about the many businesses

and residents that called that street

home.

It allows long-time residents the

chance to reminisce, while providing information

to newer residents about the historical

relevance of buildings they pass by

daily. It is a perfect way to end your visit

to the Groveport Farmer's Market.

Township Police statistics

www.columbusmessenger.com

April crime statistics for Madison

Township, according to the Madison

Township Police: 9 assist/mutual aid, 8

assaults, 4 burglary, 25 domestic complaints,

12 driving under the influence, 6

juvenile complaints, 7 miscellaneous incidents,

1 missing persons, 3 recovered vehicle,

1 robbery, 6 stolen vehicles, 3 suspicious

persons, 18 thefts, 1 threats or

harassment, 149 traffic offenses, 8 vandalism,

6 hit-skip accidents, 7 vehicle accidents

- with injury, 19 property damage

accidents, 3 vehicle impounds, 2 rapes, and

414 dispatched calls.

Electric conference

AEP is the host for the Institute of

Electrical and Electronic Engineers' biannual

ESMO (Engineering Safety Maintenance

Overhead Lines) Conference June 24-27.

The conference attracts attendees from 16

different countries and more than 600 participants

are expected. As part of this conference,

demonstrations of new line practices

will be held at AEP's Transmission

Training Center facility on west Bixby Road

in Groveport on June 25 and 27.

Drug Drop Box

The Madison Township Police

Department provides an opiate prescription

"Drug Drop Box" for the community.

This drop box is located in the lobby of the

Madison Township Police Department,

4567 Madison Lane, and is accessible to the

public during normal office hours Monday

through Friday 8 a.m. to 5 p.m. Any person

can walk-in and dispose of new or old pills,

including prescription medications, or any

other illegal substances and place them

into this box with no questions asked.
---
www.columbusmessenger.com

June 16, 2019 - SOUTHEAST MESSENGER - PAGE 9

Links Event

Center

The Paddock Pub

Located on the beautiful greens of the Links at Groveport golf course

We are able to cater to all your event needs!

Our event center can accommodate an intimate gathering of 25 or a larger party for 200.

The Links Event Center is perfect for ALL occasions!

Weddings

Reunions

Corporate Meetings

Fundraisers

Baby Showers

Graduations

Holiday Parties

Golf Outings

Family Gatherings

Community Events

After Memorial Services

Why The Paddock Pub & Links Event Center?

Free Parking

Friendly, Professional Staff

AV Equipment Built In

Budget Friendly Option

Lowest Room Rental in Central Ohio

Custom Created Menu

Centrally Locally

In House Catering

Tastefully Decorated for your Special ccasion

Call us at 614-610-9688 or email us for more information.

Or stop by for a tour of the Links Event Center today!

Catering Menu available on our website

Events@thepaddockpub.com
---
PAGE 10 - SOUTHEAST MESSENGER - June 16, 2019

www.columbusmessenger.com

Many lives were touched by this organ donor

By Linda Dillman

Staff Writer

When Andrea Taylor needed a new

heart in 2017 to replace one damaged by a

virus years earlier, little did she know a

teenager she was praying for to recover

from a motorcycle crash would be the one to

give her new life.

Taylor, a Groveport Madison High

School graduate and former Groveport

Madison teacher, never had a heart issue

until her junior year in college. The virus, a

simple cold, got into her bloodstream and

settled in her heart.

"A fluke, if you will," Taylor said.

"Unfortunately, this fluke caused me to

need a pacemaker with a defibrillator to

get me through the next 17 years."

She graduated from Ohio Dominican

University and began a teaching career

that spanned 10 years before learning in

February 2015 her heart was failing. A

year later, she suffered a stroke and was so

weak she slept up to 20 hours a day.

First Baptist

Church of

Groveport

5521 Groveport Road

Groveport, OH 43125

www.1FBCG.com 614-491-8236

Sunday Small Groups - 9:00 a.m.

Sunday Service - 10:30 a.m.

southeast

"Her daughter's choice of being

an organ donor saved so many people

at such a devastating time in her

family's life. This gives her mother

comfort in knowing that her daughter's

heart is five minutes from her.

She can listen to her daughter's

heart. She can see the impact her

daughter has made in my life and in

the lives of my family."

- Andrea Taylor

"On Jan. 21, 2017, I was listed on the

heart transplant list," said Taylor. In the

meantime, she learned on Facebook of the

crash involving 18-year-old Lydia Stewart, an

Eastland-Fairfield Career Center graduate.

"I prayed so hard for her. She was so

young. She had her whole life ahead of

her," said Taylor.

On March 6, 2017, Taylor received a call

from the transplant coordinators telling

Be a Part of Our Local Worship Guide

Our upcoming Worship Guide is geared toward celebrating faith and helping readers connect with

religious resources in our community. Make sure these readers know how you can help with a presence

in this very special section distributed to more than 19,000 households in the Southeast area.

Contact us today to secure your spot in our Worship Guide.

614.272.5422 • kathy@columbusmessenger.com

her that they had found a heart for her.

Before going into surgery, she again

posted on Facebook asking for prayers for

herself, her family, the doctors and the

donor's family. A message came through

asking Taylor what she thought were the

chances that Lydia was her donor.

Stewart had succumbed to her injuries

and donated her organs including her eyes

and tissue. According to Taylor, Lydia

saved three people by donating her heart,

kidneys, pancreas and liver.

Two people in Egypt were able to see

again with cornea donations and 50 people

could have a better life because of Lydia's

tissue donations.

It was not until eight weeks after the

heart transplant that Taylor learned

Stewart was her donor.

"I received a letter in the mail from

Lifeline of Ohio," recalled Taylor. "I was so

excited to open it. I was standing at the end

of the driveway. I stood there with tears

streaming down my face as I read it."

Taylor met Lydia's mother, Kelly, the

day after Mother's Day in 2017. When

Kelly arrived, she told the family they previously

met each other when Lydia was

only six years old and the Stewarts bought

a camper from Taylor's family.

Kelly said she was buying the camper

for Lydia because she showed horses in 4-H

and they spent a lot of time at the fair.

"What are the chances? She slept in the

same bunks I had slept in," said Taylor. "I

understand my case may not be the norm

for organ donation, but her daughter's

choice of being an organ donor saved so

many people at such a devastating time in

her family's life. This gives her mother

comfort in knowing that her daughter's

heart is five minutes from her. She can listen

to her daughter's heart. She can see the

impact her daughter has made in my life

Special Olympics

A chapter of Special Olympics Ohio

formed in the Groveport/Canal Winchester

area. The mission of Special Olympics Ohio

is to provide year round sports training and

competition in a variety of Olympic type

sports for intellectually disabled individuals.

For information contact local coordinators

Penny and Cassandra Hilty at groveportspecialolympics@gmail.com

or at (614)

395-8992 or 395-6640. Donations may be

sent to Groveport Special Olympics, P.O.

Box 296, Groveport, OH 43125.

At Slate Run Living

Historical Farm

The following activities will be held at

Slate Run Living Historical Farm, 1375

State Route 674 North, Canal Winchester:

•June 29, 2-4 p.m.: Built to Bake - Learn

how a wood burning stove works and

browse through our collection of 19th-century

cookbooks,while we prepare baked

goods. Meet at the Farmhouse.

around the Southeast

Messenger photo by Linda Dillman

Groveport resident and heart transplant

recipient Andrea Taylor holds a picture

containing memorabilia from her donor,

18-year-old Lydia Stewart.

and in the lives of my family."

According to Donate Life Ohio, every 10

minutes someone is added to the national

transplant waiting list. One organ donor

can save up to eight lives and one tissue

donor can heal more than 50 lives.

For information on registering as an

organ donor, visit DonateLifeOhio.org/register

or register at the BMV when you

apply for a driver's license or state I.D. You

are never too old or too young to donate.

•July 2-7, 11 a.m. to 3 p.m.: A Hunting

We Will Go - Pick up a scavenger hunt list

at the farmhouse and enjoy searching

around the farm.

•July 13-14, 1-3 p.m.: Horse Powered

Grain Threshing - See how horses power

machinery that separates grain from

straw. Weather and crop permitting.

Wagnalls Gardens

Looking for some exercise and outdoor

time? Wagnalls Memorial Gardens, 150 E.

Columbus St., Lithopolis, are in need of

volunteers to maintain community beauty.

Please consider attending any of the work

sessions below. If you are interested in

adopting a small garden bed, call Tami

Morehart at 614-837—4765, ext 120 or

email tmore@wagnalls.org and give your

name and phone number.

Following is the remaining dates for the

2019 work schedule from 8:30-10:30 a.m.:

June 20, June 25, July 2, July 11, July 16,

July 25, Aug. 1, Aug. 8, Sept. 3, and Sept.

12. All dates are weather permitting.
---
www.columbusmessenger.com

June 16, 2019 - SOUTHEAST MESSENGER - PAGE 11

"Dark Phoenix" is a boring mess of wasted potential

It is inevitable that any theatrical adaptation

of the 'X-Men' comics is going to try

to bring the "Dark Phoenix" saga to life.

For those unfamiliar with the comics, it

is a beloved arc that depicts the struggle of

the mild mannered mutant Jean Grey as

mind and ability merge with that of an allpowerful

cosmic force capable of mass

destruction. It is an enduring storyline for

the devastation wrought, the mental

anguish she and her loved ones go though,

and the showcasing of the unmistakable

love the X-Men have for each other despite

the horror they can inflict.

In 2006, the third installment in the

original 'X-Men' movie franchise attempted

to bring this complex arc to the silver

screen and failed spectacularly. Instead of

depicting Jean (played then by Famke

Janssen) as a good woman struggling with

her humanity, she is this wordless, scowling

being who stands in the background

glaring evilly and breaking stuff.

To this day, I still harbor so much

loathing for the film's creators for failing to

deliver on what should have been a great

story.

So, when the 'X-Men' movie-verse was

rebooted in 2011, I braced myself for the

eventual reintroduction of Jean Grey and

another attempt at the "Dark Phoenix" storyline.

And then when she came onto the

scene in the abysmal Apocalypse five years

later, I hoped they would do right by the

character and actress (played by "Game of

Thrones" star Sophie Turner) and take the

time to fully develop the thread. Alas, my

hopes were dashed shortly thereafter when

it was announced that not only would their

next film be the Phoenix storyline, but it

would be written and directed by Simon

Kinberg, the man who wrote the screenplay

for "The Last Stand."

Since the 'X-Men' is like the

'Terminator' franchise to me, I cannot find

it within myself to fully quit these movies

so I had to see what fresh horror was done.

To be clear, it is as bad as I thought it

would be but it is a slight step up from "The

Last Stand." And by slight I mean in the

slightest sense of the word.

Splash N' Cinema

Splash N' Cinema, held in Obetz'

Lancaster Park, 4390 Lancaster Avenue,

will be June 21, July 19, and Aug. 9 with

free family friendly movies beginning at

dusk and splash pad hours extended to 9

p.m. Films include "Ralph Breaks the

Internet" on June 21; "Incredibles 2" on

July 19; and "Mary Poppins Returns" on

Aug. 9.

Obetz Farmers Market

The Obetz Farmers Market is held the

first Wednesday of the month from June to

September from 4-7 p.m. in the parking lot

next to Veteran's Park in downtown Obetz.

The Reel Deal

It begins with a

phone call from the

president who is

requesting the assistance

of the X-Men

when the lives of astronauts

onboard a shuttle

are endangered.

Team leader Raven

(Jennifer Lawrence,

continuing to look

incredibly done with

this role) is worried

Dedra

Cordle

entertainment

about the risky mission and begs Professor

Xavier (James McAvoy) to turn down the

request. As usual, he overrides her concerns

and then tells her to bring some of

the youngest members to assist for experience

sake.

While up in space, the fears of Raven

are justified when they discover that a

"solar flare" is threatening to destroy

everything in the vicinity.

Then, just when it appears when the

mission is over and they all made it

through unscathed, an accident befalls

Jean and she is nearly killed in the process.

Afterward, her telepathic and telekinetic

abilities are amplified way past 11 and

she complains of feeling as if something

new is living inside her. While she tries to

get back into her normal schedule, she

begins to experience uncontrollable urges

and power surges.

Scared, she runs away believing she is a

danger to herself and others. While on the

lam (she runs afoul of the law when she

blasts a helicopter out of the sky), she runs

into a woman called Vuk (Jessica

Chastain) who shows no fear of her or her

abilities. In fact, she tells Jean she can harness

that power and create new universes

where she can be safe. But when the X-Men

learn Vuk is not who she claims to be (are

they ever?), they race to save Jean before

she destroys the world and her humanity

in the process.

There are many problems with this film,

Famous Fortress Fireworks

The annual Famous Fortress Fireworks

will be held July 4 from 6-10 p.m. at Fortress

Obetz, 2015 Recreation Trail, Obetz. The

event features games, food trucks, inflatables,

giveaways, and fireworks.

Obetz Zucchinifest

The Obetz Zucchinifest will be held Aug.

30 to Sept. 2 at Fortress Obetz, 2015

Recreation Trail. This free family friendly

event features rides, food, games and

music. Bands this year include Warrant on

Aug. 30, Scotty McCreery on Aug. 31, and

Spin Doctors and Smash Mouth on Sept. 1.

Visit obetzzucchinifest.com.

most stemming from the lackluster writing

and uninspired direction from Kinberg. I

don't know why he was given another

chance with this arc but he once again

failed to do anything creative or do it justice.

While the plot within is slightly more

coherent than "The Last Stand," "Dark

Phoenix" is still a boring mess of wasted

potential.

If there is one saving grace for this film,

it is the acting, which is not all that great.

While a vast majority of the older cast have

already checked out (Lawrence, McAvoy,

Michael Fassbender and Nicolas Hoult),

the newest cast (Turner, Tye Sheridan and

Kodi Smit-McPhee) try their best to elevate

the crap given to them. They largely succeed

and make this film vaguely watchable.

With the end of "Dark Phoenix" comes a

new chapter with the X-Men, and by that I

mean Disney has snatched up 20th

Century Fox and Marvel will now have control

of the property.

While I have serious concerns at how

powerful Disney has become in the movie

world, I do think the Marvel Cinematic

Universe will do these characters justice.

Eventually. I hope.

Grade: D+

Dedra Cordle is a Messenger staff writer

and columnist.
---
PAGE 12 - SOUTHEAST MESSENGER - June 16, 2019

www.columbusmessenger.com

CLASSIFIED ADS

Deadlines: Southeast and West editions, Wednesdays at 5 p.m., • East, Southwest, Madison editions, Tuesdays at 5 p.m.

All editions by phone, Tuesdays at 5 p.m. • Service Directory, Tuesdays at 5 p.m.

xFather's Day

HAPPY

FATHER'S

DAY

To all our Fathers!

Enjoy Your Day!

June 18th, 17th, 16, 2019 2018 2017

Father's Day

xAdult Care

Betty's In-Home Care

Has an opening for

Elderly Care In

My Private Home.

Reas. Rates, Years of Exp. w/References

Hot Meals, Laundry,

Visiting Physicians & Home Health Nurses

& Also work with Hospice!

614-777-5850

We offer AFFORDABLE Care

for our Senior Citizens!

Adult Care

INFORMATION

If you or a loved one

were diagnosed with

OVARIAN CANCER or

MESOTHELIOMA after

use of TALCUM products

such as BABY

POWDER or SHOWER

TO SHOWER, you may

be entitled to compensation.

Contact Charles H.

Johnson 1-800-535-5727

NEED SOMETHING

DONE THIS SUMMER?

CHECK OUT OUR

CLASSIFIED SERVICES!

FOR

ADVERTISING

INFO. CALL

614-272-5422

THE COLUMBUS

MESSENGER

LOST AND FOUND

Missing Dog

13 y.r old Yorkie, named

"Lakota", since May 29,

2019 in the Groveport

area. Black, brown & little

gray. BIG REWARD

614-599-8704

xEmployment

ADVERTISING

SALES HELPER

The Advertising Department at the

Columbus Messenger Newspapers

is seeking a

Helper for the Sales Department.

No Experience Necessary

Duties include: Set Appointments,

Make Calls, Run Errands, etc.

Salary plus auto allowance.

Seniors welcome to apply.

Please send your resume to:

Doug Henry, Advertising Manager

Columbus Messenger Newspapers

3500 Sullivant Ave.,Columbus, Ohio 43204

or e-mail to doughenry@columbusmessenger.com

ASSOCIATION ADS

Call Empire Today® to

schedule a FREE inhome

estimate on Carpeting

& Flooring. Call

Today! 1-866-538-7163

WINDOWS: ENERGY

SAVING NEW WIN-

DOWS! Beautify your

home! Save on monthly

energy bills with NEW

WINDOWS from

1800Remodel! Up to 18

months no interest. Restrictions

apply. Call Today

855-809-8795

Dish Network Satellite

Television Service. Now

Over 190 channels for

ONLY $59.99/mo! ,

FREE Installation, FREE

Streaming, FREE HD.

Add Internet for $14.95 a

month. 1-800-219-1271

AIRLINE MECHANIC

TRAINING - Get FAA

Technician certification.

Approved for military

benefits. Financial Aid if

qualified. Job placement

assistance. Call Aviation

Institute of Maintenance

866-453-6204

ASSOCIATION ADS

DISH Network $59.99 For

190 Channels. Add High

Speed Internet for ONLY

$14.95/month. Best Technology.

Best Value. Smart

HD DVR Included. FREE

Installation. Some restrictions

apply. Call 1-855-

837-9146

[WANTED] CARS/

TRUCKS WANTED!!!

All Makes/Models 2002-

2018! Any Condition. Running

or Not. Competitive

Offer! Free Towing! We're

Nationwide! Call Now: 1-

888-368-1016

Portable Oxygen Concentrator

May Be Covered

by Medicare! Reclaim

independence and

mobility with the compact

design and long-lasting

battery of Inogen One.

Free information kit!

Call 888-609-2189

SELLING YOUR OWN

PROPERTY? Need to

advertise it in your local

paper and others like it?

We have the placement

services to help you.

Contact MACnet MEDIA

@ 800-450-6631 or online

at MACnetOnline

.com

HIRING?

Let us help you recruit the qualified employees you need to make

your business succeed. With a print and online audience of more

than 39,000 readers, our employment section is your key to meeting

local job seekers where they look first for fresh career opportunities.

Our Eastside Messenger

now covers

Canal Winchester

Our Southeast Messenger

still serves our Groveport

and SE Columbus areas.

Reaches over 35,000

household in these 2 area

ASSOCIATION ADS

GENERIC VIAGRA and

CIALIS! 100 Pills $99.00

FREE Shipping! 100%

guaranteed. 24/7 CALL

NOW! 888-889-5515

DO YOU HAVE AN AN-

TIQUE OR CLASSIC

CAR TO SELL? Advertise

with us. You choose

where you want to advertise.

800-450-6631

visit macnetonline.com

for details

$$OLD GUITARS & AMPS

WANTED$$ GIBSON*

FENDER*MARTIN. ALL

BRANDS. TOP DOLLAR

PAID. CALL TOLL FREE

1-866-433-8277

Call Empire Today® to

schedule a FREE inhome

estimate on Carpeting

& Flooring. Call

Today! 1-800-508-2824

SAVE ON YOUR NEXT

PRESCRIPTION! World

Health Link, Price Match

Guarantee! Prescriptions

Required. CIPA Certified.

Over 1500 medications

available. CALL Today

For A Free Price

Quote. 1-855-530-8993

Call Now!

Employment

To list a job opportunity, contact a

recruitment advertising specialist today at

614.272.5422

or

Kathy@columbusmessenger.com

NOW HIRING!

Local High Volume Pharmacy

Immediate 2nd & 3rd shift positions available

for Pharmacy Clerks and Technicians.

Looking for energetic associates

in a fast pace environment.

NEW Starting rate: $13.00 per hour

Please apply at: jobs.kroger.com

Use Zip Code 43217

Must be 18 years of age & have high school diploma or GED.

Call 614-333-5012 for more details.

ASSOCIATION ADS

KILL ROACHES-GUAR-

ANTEED! Harris Roach

Tablets, Sprays, Traps,

Concentrate. Hardware

Stores, Home Depot,

homedepot.com

AT&T Internet Get more

for your High-Speed Internet

thing. Starting at

$40 / month w / 12-mo

agmt. Includes 1 TB of

data per month. Ask us

how to bundle and

SAVE! Geo & svc restrictions

apply. Call us today

1-833-707-0984

ASSOCIATION ADS

Applying for Social Security

Disability or Appealing

a Denied Claim?

Call Bill Gordon & Assoc.,

Social Security Disability

Attorneys, 1-855-

498-6323! FREE Consultations.

Local Attorneys

Nationwide [Mail: 2420 N

St. NW, Washington DC.

Office: Broward Co. FL

(TX/NM Bar.)]
---
www.columbusmessenger.com

JUNE 16, 2019 - SOUTHEAST MESSENGER - PAGE 13

xEmployment

The Madison Township Fire Department is currently creating an eligibility list for

the position of Part-time Firefighter/EMT/Paramedic. Must be 18 years of age at

time of application, have a valid Ohio Driver's license and be certified by the State of

Ohio as a Firefighter II and EMT-Basic or Paramedic.

The first step is administering the written test (NTN Fire Team) and the physical agility

test (CPAT). Applicants needing this test must complete the registration process and

submit all required nonrefundable fees to C-TEC Adult Education Center prior to

5:00 pm on Monday, July 8, 2019.

Visit "https://c-tec.edu/ae/adult_education_programs/c_p_a_t" to register for the test.

Applicants that have successfully completed those tests within a year prior to the application

deadline can submit those results with an application directly. The application

deadline is October 31, 2019.

Visit http://www.cpattest.net/ for additional testing information.

Madison Township is an Equal Opportunity Employer.

WANTED

SW CITY SCHOOLS

SCHOOL BUS DRIVERS

The South-Western City School

District is currently hiring drivers

$16.55/HR

Available positions are for substitute

drivers that can develop into "Regular"

positions with benefits. Interested

individuals should submit an application

on our website at swcsd.us. Follow the

employment link. Applicants should have

an excellent driving record and must

submit to drug, alcohol, and background

screening. A high school diploma or

equivalent is required.

EOE

Genpak has the following openings

at their Columbus, OH facility

BETTY'S

Elderly Care

Has Opening for Full-Time

Caregiver Working With the Elderly

Transportation, Some Experience

& References Required. Drug Test.

Call: 614-777-5850

THE

LANDS

HERE!

Call Kathy

To Run Your

Employment or

Help Wanted

Display Ads

and

Get Results Fast!

THE COLUMBUS MESSENGER

CLASSIFIEDS

614-272-5422

ASSOCIATION ADS

Spectrum Triple Play!

TV, Internet & Voice for

$99.97/mo. Fastest Internet.

100 MB per second

speed. Free Primetime

on Demand. Unlimited

Voice. NO CON-

TRACTS. Call 1-855-

652-9304 or visit http://

tripleplaytoday.com/national

ASSOCIATION ADS

A PLACE FOR MOM. The

nation's largest senior living

referral service. Contact

our trusted, local experts

today! Our service is

FREE/no obligation. CALL

1-844-722-7993

Wants to purchase minerals

and other oil and gas

interests. Send details to

P.O. Box 13557, Denver,

CO. 80201

ASSOCIATION ADS

Become a Published Author.

We want to Read

Your Book! Dorrance

Publishing-Trusted by

Authors Since 1920.

Book manuscript submissions

currently being

reviewed. Comprehensive

Services: Consultation,

Production, Promotion

and Distribution. Call

for Your Free Author's

Guide 1-877-626-2213

Earthlink High Speed Internet.

As low as $14.95/

month (for the first 3

months.) Reliable High

Speed Fiber Optic Technology.

Stream Videos,

Music and More! Call

Earthlink Today 1-855-

520-7938

Suffering from an AD-

DICTION to Alcohol,

Opiates, Prescription

Pain Killers or other

DRUGS? There is hope!

Call Today to speak with

someone who cares.

Call NOW 1-855-866-

0913

DO YOU HAVE AN AN-

TIQUE OR CLASSIC

CAR TO SELL? Advertise

with us. You choose

where you want to advertise.

800-450-6631

visit macnetonline.com

for details

Get DIRECTV! ONLY

$35/month! 155 Channels

& 1000s of

Shows/Movies On Demand

(w/ SELECT All Included

Package.) PLUS

Stream on Up to FIVE

Screens Simultaneously

at No Addt'l Cost. Call

DIRECTV 1-855-781-

1565

HEAR AGAIN! Try our

hearing aid for just $75

down and $50 per

month! Call 800-426-

4212 and mention 88272

for a risk free trial! FREE

SHIPPING!

ASSOCIATION ADS

Cross Country Moving,

Long distance Moving

Company, out of state

move $799 Long Distance

Movers. Get Free

quote on your Long distance

move 1-800-511-

2181

SIDING: AFFORDABLE

NEW SIDING! Beautify

your home! Save on

monthly energy bills with

beautiful NEW SIDING

from 1800Remodel! Up

to 18 months no interest.

Restrictions apply. Call

Today 877-223-1938

CARS/TRUCKS WANT-

ED!!! All Makes/Models

2002-2018! Any Condition.

Running or Not. Top $$$

Paid! Free Towing! We're

Nationwide! Call Now: 1-

888-985-1806

Denied Social Security

Disability? Appeal! If

you're 50+, filed for SSD

and denied, our attorneys

can help get you

approved! No money out

of pockets! Call 1-866-

376-3163

Get a SMARTPHONE

for $0 DOWN* with

AT&T Next® and AT&T

Next Every Year; $250

Gift Card for Switching to

AT&T! (*Requires wellqualified

credit. Limits &

restrictions apply.) 1-

888-545-5093

Use RoundUp Weedkiller?

Non-Hodgkin's Lymphoma,

Multiple Myeloma

and Leukemia may

result from RoundUp exposure.

A recent $2 billion

judgment was

awarded in a RoundUp

injury case. Call 1-619-

493-4791 or email

RoundUp@breakinginjurynews.com

and let us

begin work on your

RoundUp case today.

ASSOCIATION ADS

Lung Cancer? And Age

60+? You And Your

Family May Be Entitled

To Significant Cash

Award. Call 866-428-

1639 for Information. No

Risk. No Money Out Of

Pocket.

VIAGRA & CIALIS! 60

pills for $99. 100 pills for

$150 FREE shipping.

Money back guaranteed!

1-800-503-7846

READER

ADVISORY

The National Trade Association

we belong to has

purchased the following

classifieds. Determining

the value of their service

or product is advised by

this publication. In order

to avoid misunderstandings,

some advertisers do

not offer "employment"

but rather supply the

readers with manuals, directories

and other materials

designed to help

their clients establish mail

order selling and other

businesses at home. Under

NO circumstance

should you send any

money in advance or give

the client your checking,

license ID or credit card

numbers. Also beware of

ads that claim to guarantee

loans regardless of

credit and note that if a

credit repair company

does business only over

the phone it's illegal to request

any money before

delivering its service. All

funds are based in US

dollars. Toll Free numbers

may or may not

reach Canada. Please

check with the Better

Business Bureau 614-

486-6336 or the Ohio Attorney

General's Consumer

Protection Section

614-466-4986 for more

information on the company

you are seeking to

do business with.

Genpak LLC provides equal employment opportunities (EEO) to

all employees and applicants for employment.

Employment
---
PAGE 14 - SOUTHEAST MESSENGER - June 16, 2019

xPublic Notices

www.columbusmessenger.com

xFocus on Rentals

PUBLIC NOTICE

SEALED BID

The Madison Township Board of Trustees will accept sealed bids for the

2016 John Deere 4 Wheel Drive Tractor. The Board will accept sealed

bids until 6:00 p.m. on July 9, 2019 and bids will be opened directly

thereafter at the Regular Board of Trustees meeting to be held on July

9, 2019 at 6:00 p.m. Upon bid opening and tabulation, the Board will

sell the tractor to the highest bidder, except the Board may reject all

bids and hold another sale as authorized by R.C. 505.10. Each sealed

bid shall be submitted to the Madison Township Administrator at the

Madison Township Administration Office at 4575 Madison Lane,

Groveport, Ohio 43125, and will be accepted until 6:00 p.m. July 9, 2019.

Late bids will NOT be accepted.

Bid submissions MUST clearly include a contact name, business name

if applicable, address, contact phone number, and the amount of the

bid.

2016 John Deere 4 Wheel Drive Tractor Model 5085E with

approximately 241 hours.

1LV5085EVGG100221. Item is sold as is, where is, and without warranty.

Information also posted on website at www.madisontownship.org

under Public Works and Administration

PLANNING AND

ZONING COMMISSION

***NOTICE OF MEETING***

MONDAY, JULY 1, 2019 6:00 P.M.

GROVEPORT MUNICIPAL BUILDING

COUNCIL CHAMBERS—2ND FLOOR

#2019-07 A request by Jeffrey Finegan for a Use

Variance at 341 Main Street, Parcel #185-000204.

#2019-08 A request by Bobby Sykes for a Rezoning

at 0 Hamilton Road, Parcel #185-001164.

The public is invited to attend and participate.

TO ADVERTISE

YOUR LEGAL/

PUBLIC NOTICES

CALL KATHY

AT THE

COLUMBUS

MESSENGER

NEWSPAPERS

614-272-5422

ASSOCIATION ADS

IMPORTANT

NOTICE

The following states: CA,

CT, FL, IA, IL, IN, KY,

LA, MD, ME, MI, MN,

NE, NC, NH, OH, OK,

SC, SD, TX, VT and WA

requires seller of certain

business opportunities to

register with each state

before selling. Call to

verify lawful registration

before you buy.

ASSOCIATION ADS

Lung Cancer? Asbestos

exposure in industrial,

construction, manufacturing

jobs, or military

may be the cause. Family

in the home were also

exposed. Call 1-866-

795-3684 or email cancer@breakinginjurynews

.com. $30 billion is set

aside for asbestos victims

with cancer. Valuable

settlement monies

may not require filing a

lawsuit.

NOTICE OF PUBLIC HEARING

You are hereby notified that the City of

Groveport will be holding a Public

Hearing on Monday, June 24, 2019 at

6:15 p.m. in the Council Chambers of

the Groveport Municipal Building, 655

Blacklick Street, Groveport, Ohio for:

ORD. NO. 19-022 - AN ORDINANCE AMENDING THE

ZONING MAP AS TO APPROXIMATELY 37.68 ACRES,

MORE OR LESS, OF THE FOLLOWING TRACT OF LAND,

LOCATED AT 5770 SALTZGABER ROAD, PARCEL

NUMBER 185-002541 OWNED BY, DMH FARMS LLC

FROM RURAL (UNZONED) TO PLANNED INDUSTRIAL

PARK (PIP)

and

ORD. NO. 19-023 - AN ORDINANCE APPROVING THE

FINAL PLAT FOR 5770 SALTZGABER ROAD, PAUL

HEMMER COMPANIES, APPLICANT (PARCEL NUMBER

185-002541)

All regular and special meetings of Council are open

to the public. The applications for these zoning

requests are on file in the office of the Clerk of

Council for review.

Ruthanne Sargus Ross, CMC

Clerk of Council

NOTICE OF PUBLIC HEARING

You are hereby notified that the City of

Groveport will be holding a Public

Hearing on Monday, June 24, 2019 at

6:10 p.m. in the Council Chambers of

the Groveport Municipal Building, 655

Blacklick Street, Groveport, Ohio for:

RES. 19-001 A RESOLUTION ADOPTING THE TAX

BUDGET FOR THE CALENDAR YEAR 2020.

All regular and special meetings of Council are

open to the public.

Ruthanne Sargus Ross, CMC

Clerk of Council

LEGAL

Personal Property of:

Charlie Scott A1; Terry

Robinson A22; Jerry

Corne A24; Melinda Garbrandt

A26; Zachary

Sweigart B9; Tamala J.

Weaver B22; Heather M.

Langham B27. B37; Ted

West C8, F19; Johney

Brock C11; Michael Zarzand

C14; Pamela Davis

C21; Mark Tipton C23;

Janice Clark C25; Jeremy

Davis C35; David

Blamble D5; Charles

Stephenson D14, P101;

Michael O'Conner E11,

E14; Anna & David

Harber E12; Christopher

Collins E30; Amanda D.

Christie F3; Allen Rogers

F9; Betty Whitt F27; William

Kesterson G4; Crystal

Walters G24; Keith

Ames H42; Anastasia

Patridis I12, J8;Stephen

Sagar I42; Adam Arcand

P4; Jack Putnam P46;

Douglas Dawes P48;

Luis Garcia P58; Zachary

Sizemore P76 to be

auctioned at Noon, Sat.,

June 29, 2019 at Access

Storage Ohio, Inc, 5625

Groveport, OH 43125

Public Notices

INSURANCE

Guaranteed Health and

Life Insurance, Prescription

Disc. Drugs. State Lic

Broker 614-805-1084

HELP WANTED

Auction Auto Detailers

FRANK'S DETAIL OHIO

Immediate Openings

$500-$650 per week

Will Train / FT Benefits/

Weekly Pay

Monday-Saturday 7am

w/overtime available

Valid Driver's License Req

Apply in person

at our location or

make an appt.

Located: Manheim Ohio

3905 Jackson Pike

Grove City, OH

(Parking at

1394 Stringtown Rd.)

Call: 614-871-6820

Human Resources -

Attention: Leisa Kincaid

franksdetailohio.com

HELP WANTED

Home Health Aides

$13.00/hr. after 90 days

$15.00/hr. Premium Shifts

Performance Bonus and

Paid Time Off after 1 yr.

One yr. experience working

for an employer in a caregiver

6/23 A&M

role is required.

To apply, please visit

v-angels/galloway/employment

ADVERTISING

SALES HELPER

The Advertising Dept. at

the Columbus Messenger

Newspapers is seeking a

Helper for

the Sales Department.

No Experience Necessary

Duties include:

Set Appomtments, Make

Calls, Run Errands, etc.

Senior Citizens and

welcome to apply.

Please send your

resume to:

Doug Henry,

Advertising Mgr.

Columbus Messenger

Newspapers,

3500 Sullivant Ave.,

Columbus, OH 43204

or email to doughenry@

columbusmessenger.com

RECREATIONAL

VEHICLES

2018 Forest River

Cherokee Ltd, 33', fully

furnished plus extras.

Set up in park in Circleville.

Ready to start

camping! 614-204-0545

APARTMENT MANAGERS

Did This Catch Your Eye?

ADVERTISE YOUR

APARTMENT COMPLEX

IN THIS SPACE

And Get Results!

Call The Messenger

For More Information & Rates

614-272-5422

Focus on Rentals

DATED SALES

Great Yard/Garage Sale

Sat, June 22-8am-4pm

3491 First Ave.,

Urbancrest

across from YMCA

Nice things (some brand

new) - Multi-family, Hsld

items, tools, baby

clothes/items, motorized

wheel chair, walker, other

health aid items, clocks

and other assorted

opportunities!

INDOOR-OUTDOOR

COLLECTIBLE

TAG SALE

SAT., JUNE 22, 9-5

OFF E. BROAD ST.

TO MCNAUGHTEN IN

LAUREL CANYON

43213

46" JUKE BOX 8 TRACK

"SOUNDESIGN" W/RE-

VOLVING DISCO BALL,

ACCENT, WICKER, MET-

AL TABLES, "SENTRY"

SAFE, STEREO, APPLE

COMP., MOWER, DECO

METAL HD.BOARDS,

ART, PEZ COLLECTION,

ANTIQUE TW. BEDS,

60'S LIONEL TRAIN,

TOOLS, "GOTHAM"

ELECTRIC HOCKEY

GAME, LEATHER

BENCH, 2002 BLK.

CORVETTE CON.VT.

CALL BILL FOR

EARLY PREVIEW

614-530-3720 (SALE

WILL CONTINUE TIL

END OF JUNE)

xInformation

JUNE GIVEAWAY

Place a prepaid classified line ad in our paper

during the month of JUNE and be registered

to win a $50 Gift Card from

The Columbus Messenger

Newspapers.

All ads received by mail, in person, e-mail or

phone will be included in the drawing.

Drawing will be held June 26th, 2019

and the winner will be notified and published

in our June 30th, 2019 issue .

GOOD LUCK TO EVERYONE!!!!

Information

DATED SALES

YARD SALE

June 21 & 22, 9-3

537 Elm St., Groveport

Oriental items - Ivory &

porcelain figurines, chest,

flower pots, vases, tables,

Elephant statue-other misc

DON'T

FEEL LEFT

OUT!

Have Your Ad

Appear Here!

Call For Prices

272-5422
---
www.columbusmessenger.com

xCome & Get It

June 16, 2019 - SOUTHEAST MESSENGER - PAGE 15

xClassified Services

COME AND GET IT

Deadlines are Tuesdays by 5 pm.

Call For Publication Schedule 614-272-5422

Need to Get Rid of Something Fast - Advertise It Here For FREE!

FREE Garden Straw for gardens or bedding. Call for appointment for pickup.

Circle S Farms, 9015 London-Groveport Road, Grove City, 43123

Grove City - 614-878-7980

Six Foot Sofa Bed Couch, good condition except has some damage to arms,

can cover, brown/green/beige/rust color.

AM - Canal Winchester - 614-837-3109

Concrete Goose. approx. 30" tall. Has several outfits

CB - Galloway - 614-878-7511

. Come and Get It! is a bi-weekly column that offers readers an opportunity to pass

along surplus building materials, furniture, electronic equipment, crafts, supplies,

appliances, plants or household goods to anybody who will come and get them - as

long as they're FREE. NO PETS! Just send us a brief note describing what you want to

get rid of, along with your name, address and phone number. Nonprofit organizations

are welcome to submit requests for donations of items.

Send information to The Columbus Messenger, Attention: Come and Get It, 3500

Sullivant Ave., Columbus, OH43204. Deadline is Tuesdays by 5 pm for following

Mondays publication. Messenger Newspapers is not responsible for any

complications that may occur. Please contact us when items are gone. 272-5422

Come & Get It

xInformation

CALL THE

COLUMBUS

MESSENGER

TODAY!

Call the Classified Department

for great advertising rates!

272-5422

Information

OUR ADS

GET

RESULTS

WANT TO BUY

WANTS TO Purchase

minerals and other oil &

gas interests. Send details

to: P.O. Box 13557,

Denver, CO 80201

WANT TO BUY

CASH FOR CARS

614-276-2597

We Buy Cars & Trucks

$300-$3000.614-308-2626

ANTIQUES

WANTED

Victrolas, Watches,

Clocks, Bookcases

Antiques, Furn.

Jeff 614-262-0676

or 614-783-2629

We Buy Junk Cars &

Trucks. Highest Prices

Paid. 614-395-8775

$ Cash At Your Door $

for junk or unwanted cars

(Free Tow). Call

614-444-RIDE (7433)

MISCELLANEOUS

FOR SALE

Large Selection of

Chandeliers to

choose from.

All in working condition.

Going Out of Business!!

614-271-2469

REAL ESTATE

SERVICES

Property Management

We are always available!

40 yrs. exp in

Certified Property Mgmt.

Reas. Fees. Call Now!

614-783-7464

VACATION RENTALS

Englewood, Florida

Palm Manor Resort

Within minutes of white

sand Gulf beaches,

world famous Tarpon

fishing, golf courses, restaurants/shopping,

Bush

Gardens. 2 BR 2 BA

condos with all ammenities,

weekly/monthly, visit

www.palmmanor.com

or call 1-800-848-8141

INFORMATION

Need Some Kind

Of Repair Or

Home

Improvement

Done?

Check out the

Classified Services

You'll find everything

from A/C to Upholstery

AIR CONDITIONING

AIR CONDITIONING

Complete System

Clean & Check

$49.95 7/7 A

Free Electronic Leak Testing

All Makes • All Models

45 Yrs. Exp. • Senior Discount

614-351-9025

614-351-9005

Air Conditioning

Installation & Repairs

30 yrs exp. $50 Service

Fee. R22 recharge avail.

614-226-0982

APPLIANCE REPAIR

Washer, Dryer, Stove &

Refrig. Repair 875-7588

BASEMENT

WATERPROOFING

Walker's Basement

Waterproofing. BBB

Accredited 614-359-4353

BLACKTOP

J & J Asphalt,

Concrete, Sealcoating

10% OFF Summer Special

Commercial/Residential

Bonded/Insured

*Asphalt *Concrete

*Tear Outs *Grading

*Seal Coating

*Gravel Lots

*Paint Stripping

*Gravel Orders

*Pot Hole Patching

*Free Quote

JJ - 740-506-7861

Joseph - 614-818-8139

Check us out on Facebook

BLACKTOP SEALING

Driveways & Parking Lots

614-875-6971

SANTIAGO'S

Sealcoating & Services LLC

Quality Materials Used

FULLY INSURED

Driveway Seal ( by broom)

Hot Fill Crack, Asphalt Repair

Call or text for Free Est.

614-649-1200

CARPET CLEANING

DIRT BUSTERS

Any 5 areas $75. Home

Powerwash $99 to $200.

614-805-1084

Specializing in Pet Odors

CLEANING

Cleaning-wash walls 20 yrs

exp. Judy 614-946-2443

CONCRETE

EDDIE MOORE

CONSTRUCTION

Quality Concrete Work

Lt. Hauling & Room Add.,

Block Work & Excavation

Stamp Patios,

Bsmt. Wall Restoration

37 Yrs Exp - Lic & Ins.

Free Ests. 614-871-3834

AJ's Concrete,

Masonry

Good Work - Fair Prices

Block Foundations

Driveways • Sidewalks

Epoxy/Overlay Floors

Bonded-Ins. • Free Ests.

Now Accepting Credit Cards

614-419-9932

EVANS

Complete Concrete.

Facebook Evansconcrete

(Schedule Now)

• Foundations • Additions

• Block • Driveways

• Patios • Sidewalks

• Colored & Stamped

(Free Estimates)

614-373-1013

Ins./Bonded • 32 Yrs. Exp.

Pour It Right, The First Time

D.J. & DAD KIMMLE

CUSTOM CONCRETE

6-23

All Types E/SE

Free Estimates

All Work Guaranteed

614-206-0158

ALL-CITY CUSTOM

CONCRETE

All Types Concrete Work

New or Tear Out-Replace

37 Yrs. Exp.

(614) 207-5430

Owner is On The Job!

GUTTERS

Low Price-Great Service

5 & 6" Seamless gutters,

covers, siding, gutter clng.

Bill 614-306-4541

HAULING

DUMPSTER RENTALS

Bulk Pickups

Estate Cleanouts

You Load or We Load

Open 7 Days - Visa/MC

BUCKEYE HAULING

and DUMPSTERS

614-397-1171

HOME

IMPROVEMENTS

J&E

Renovations

Interior & Exterior

Room Additions, Garages,

Insurance Claims & Handyman

Free Estimates

740-272-6421

7/7 A

6-23 A

6/23 A

7-7 SE

HOME

IMPROVEMENTS

LG

REMODELING

Interior & Exterior

Full Service Remodeling

• Bathrooms • Kitchens

• Tile • Drywall • Flooring

• Roofing • Siding • Etc.

NO JOB TO SMALL

A+ BBB Rating

A+ Angie's List

Lic. • Bonded • Insured

614-488-8377

www.lgroofingcolumbus@gmail.com

KLAUSMAN HOME

IMPROVEMENT

Siding-Windows-

Doors-Roofing-Soffit-

Fascia-Gutters-Trim

Earn FREE Seamless

Gutters with Siding Over

1000 Sq. Ft.

FREE Shutters with

Soffit & Trim

EPA Certified

Member of BBB

Financing Available

Over 20 yrs exp. • Free Est.

Licensed-Bonded-Insured

Owner & Operator

James 614-419-7500

SINCE 1973

Phil Bolon Contr.

Windows & Siding

Decks, Kitchens, Baths

Room Additions,

Flooring, Roofing

Bsmt Waterproofing

Deal With Small Non-Pressure Co.

45 Yrs. Exp. - Refs. Avail.

Lic.-Bond-Ins.

Free Est. - Financing Avail.

Member BBB Of Cent. OH

O.C.I.E.B. ID #24273

614-419-3977

or 614-863-9912

C&JHandyman

Services LLC

Minor Plumbing &

Electric

Install Hot Water Tanks,

Dishwashers & Disposals

Also Fencing &

Interior/Exterior Painting

Free Est. ~ 18 Yrs. Exp.

614-284-2100

HOME

MAINTENANCE

Finishing Carpenter for all

your extra home repairs or

Honey-do-list. over 40 yrs.

exp. Sonny 614-325-1910

JOE'S HOME MAINT.

Home Repairs, Roofing,

Siding, Gutters, Soffits,

Misc. Int. Repairs

Int. Painting

Call Joe 614-235-6883

35 Years Exp.

LANDSCAPING

DAN'S

Mowing

Service

Quality Work

Affordable Price

Groveport Resident since 1979

Licensed & Insured

Free Estimate

614-598-2545

LAWN CARE

Marty Mack Lawn Svcs.

Lawn cutting, yard cleanup.

Small tree & bush

trimming. Light hauling &

trash removal

614-589-7841

LET US MAINTAIN

YOUR LAWN & GARDEN

FOR YOU

Summer, Spring,

Winter or Fall

WE DO IT ALL!!!!

Lawn Cuts, Edging,

Trees & Shrubs, Garden,

Mulching, Hauling,

Garden Pond &

Home Maint.

Free Ests. Low Rates

$20 & Up

Kevin - 614-905-3117

MOVING

Aaron Allen Moving

Local Moving Since 1956

Bonded & Insured

614-299-6683, 263-0649

Celebrating 60 yrs in business

A Complete

Moving

Reasonable, Reliable

No Job Too Small

PUCO #150692-HG

Free Estimate

614-878-1179

PAINTING

A Job Well Done Again

A lic. General Contractor

Some Skilled Services

Incl: Painting • Stucco,

Repair•Carpentry•Exterior

Drainage & Home Maint.

Call Today! 614-235-1819

LeVay Painting Co.

Interior & Exterior painting,

Wall Repair,

Wallpaper Removal &

7-7

Powerwashing.

A&M

Zach

614-886-8926

PEST CONTROL

Anthony Pest Control

Eliminate Your Pest For

Less $$. 614-600-8841

PLUMBING

ALL IN ONE

PLUMBING LLC

"One Call Does It All"

$25 OFF LABOR

With This Ad

A

614-801-1508

All Major Credit Cards Accepted

Classified Services

7-7

A/M

7-7 A&M

6-23 A

7-7 A

7/7

SE

7.7 A&M

6/23

PLUMBING

All About Drains & Plumb.

Will snake any sm drain

$125 + tax. 614-778-2584

POWER WASHING

MRS. POWERWASH

Any house wash $149 + tax

Single deck $69 + tax

2 Tier deck $99 + tax

Best Wash In Town

Over 45,000 Washes

Ashley, 614-771-3892

MDB POWERWASH

We Specialize In Decks.

Clean, stain, reseal,

revitalize any deck.

Quality work at fair prices.

Guarantee All Work 3 Yrs.

24 Yrs Exp. Free Est.

614-327-9425

ROOFING

Robinson roofing & repairs

30 yrs. exp. Lifetime Cols.

resident. Lic./bonded/Ins.

Reas rates. Member of

BBB. Dennis Robinson

614-330-3087, 732-3100

SEWING MACHINE

REPAIR

REPAIR all makes 24 hr.

service. Clean, oil, adjust

in your home. $39.95 all

work gtd. 614-890-5296

TOP SOIL

Alexander Hauling

Driveways topped w/new

limestone. We also deliver

Topsoil - comtil - sandmulch.

Specializing in

residential. 614-491-5460

Bobcat Service Avail.

TREE SERVICES

7.7

E/SE

A&M

Fast Tree Service

Tree Removal,

Stump Grinding

Free With Access,

Pruning, Shaping

Insured, Free Est.

Payment Plans Avail.

614-837-8367

614-863-1522

BURNS TREE SERVICE

Trimming, Removal &

Stump Grinding.

614-584-2164

TROTT

TREE & LANDSCAPE

Tree Trimming

& Removal

6/23

A

Also Stump Removal

Free Est. - Fully Ins.

Call 614-235-3791

Cell 614-738-0682

Brewer & Sons Tree Service

• Tree Removal

• Tree Trimming 7-7

A&M

• Stump Grinding

• Bucket Truck Services

Best Prices • Same Day Service

614-878-2568
---
PAGE 16 - SOUTHEAST MESSENGER - June 16, 2019

www.columbusmessenger.com

Village of Lithopolis

Business

Spotlight

Envy

Nail Spa

Envy Nail Spa has just

opened and it is

Lithopolis' first nail salon.

We offer a wide range of nail

services including manicures,

pedicures, and acrylic nails.

We also have waxing and

facial services on the weekends.

We are no ordinary shop as

we have a rustic chic vibe,

hardly any wait times, and we

are family friendly.

Mention our ad and receive

10% off your next visit!

Lego contest

Wagnalls Memorial Library, 150 E.

Columbus St., Lithopolis, will host a Lego

contest for ages 7-12 on June 24, from 10:30

a.m. to 6:30 p.m. Register in person at the

Children's desk in the library. There will be

two age groups for judging: 7-9 and 10-12.

Each contestant must be registered in advance

of the competition and is responsible

for bringing in their own Legos for building.

Contestants will have one hour to create

their masterpieces on a three foot table that

is provided. No "Technics" Legos are allowed

to be used. No one else is allowed near the

table while the contestant is building. No

smartphones or cameras allowed.

Judging by library patrons will take

place on June 25 and June 26. Awards will

be given to the top three winners in each

age group on June 27 when they pick up

their creations. Creations must be picked up

on June 27 by 8 p.m. For information call

614-837-4765, ext, 118.

Bugstravaganza

Bugstravaganza will be held at Walnut

Woods Metro Park, 6716 Lithopolis Road,

Groveport. on Aug. 3 from 10 a.m. to 2 p.m.

Discover the wide world of insects and their

relatives with activities and displays for all

ages. Catch and release bugs, take a tram

ride, explore the creek, make crafts, see insects

up close and more. Meet at the Buckeye

Area.

Fairfield County's "Best Kept Secret"

Lithopolis Honeyfest

The 13th annual Honeyfest in downtown

Lithopolis promises to be bigger

and better than ever and embraces the

theme, "Saving the planet, one honeybee

at a time." It will be held Sept. 6 from 3-

7 p.m. and Sept. 7 from 10 a.m. to 7 p.m.

Admission is free and a shuttle will be

available.

The Honeyfest features live music,

bee beards, beekeepers, honey and honey

tasting, mead competition, Honeyfest

Queen Pageant, honey bake off, Ohio

Honey Show, honey extracting, hive inspection,

junior beekeeping, the American

Honey Princess, mead and wine

tasting, foods made with honey, kids

crafts, photo contest, art, honey beer garden,

and the Bloom-Carroll Kiwanis.

Call 614-829-7355 for information.

Yesteryear's

Antiques, LLC

614-266-3418

Always buying antiques &

collectibles, odd and unusual

70 E. Columbus St., Lithopolis, OH 43136

Open 7 Days a Week 11am to 6pm

Please "Like & Follow" us on Facebook

Summer art festival at

the Wagnalls Memorial

The Wagnalls Memorial, 150 E.

Columbus St., Lithopolis, is hosting its

first outdoor summer art festival, "Art at

the Wagnalls," on Aug. 10.

The event features fine artists and artisans

specializing in painting, photography,

ceramics, glass, jewelry,

furniture, sculpture, wood, metal, and

other mixed media.

Vendors may secure their space now

for $100. Prizes for art entry awards are

$600 first place, $250 second place, and

$150 third place.

Deadline is June 28.

For information, contact Alexis via

email at socialmedia@linearcreative.com

or call 216-741-1533.

Upscale Decor & More

Affordable, functional home furnishings,

décor and a lot more!

Wendy Roush, Owner

614.314.0481

44 E. Columbus Street, Rear Bldg.

Lithopolis, OH 43136

upscaedecorandmore@yahool.com

The Secret Gift Shop

A unique shop, where you can find something

for just about anyone, including yourself

Lesli Brewer, Owner

87 East Columbus St., Lithopolis, OH 43136

614-578-7787

Thesecretgs@yahoo.com

Mention this ad and receive

10% DISCOUNT

Your Local Realtor celebrating 20 years of

helping Home Buyers and Sellers!

Tammy Roof Elliott

614-226-6953 (mobile)

TammyRoofElliott.com

www.pedregalrestaurant.com

44 E. Columbus Street, Lithopolis, OH 43136

Hours:

Mon.-Thur. 11:00 AM - 10:00 PM

Fri. & Sat. 11:00 AM - 10:30 PM

Sun. 11:00 AM - 9:00 PM

Phone: 614-829-2394 Fax: 614-829-2396

DAILY SPECIALS

HAPPY HOUR 4PM-8PM EVERYDAY

Envy

Nail Spa

614.829.2428

Providing professional

nail & waxing services

87 E. Columbus St., Lithopolis, OH 43136

Walk ins welcome, Appointment Preferred

Mon.-Fri. 10-7 Sat. 10-5 Sun. 11-4

Mention ad and receive

10% OFF

Faler Feed

Store, Inc.

Serving Central Ohio Since 1936

4360 Cedar Hill Rd. P.O. Box 277

Lithopolis, Ohio 43136

(P) 614-837-4494

(F) 614-837-3273

Falers4360@sbcglobal.net

FalerFeedStore.com

www.OldeCountryStoreLithopolis.com

Family Owned and

Operated Since 1926

36 East Columbus Street

Lithopolis, OH 43136

(614) 837-4705

Eileen Law Benson & Kathlynn Benson Moling

Proprietors

The Pump House

Pizza & Burgers

Spirits

614-837-6823 • 614-837-9306

Dine In and Carry Out

17-21 E. Columbus St. Lithopolis, OH 43136

Mon. - 4pm-11pm

Tues.-Sat. 11am-11pm

www.facebook.com/thepumphouse2017

Buggy Seat Antiques

4650 Waterloo Rd.

Canal Winchester, OH 43110

(614) 920-1834

Open 10:00 am - 5:00 pm

Wednesday - Saturday

Or by Appointment

edwardrutter@att.net

Freda Rutter, Owner

PLEASE SUPPORT THESE BUSINESSES!