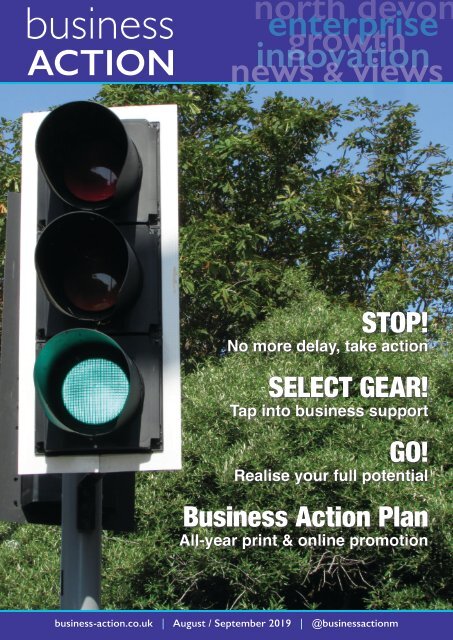 Business Action August / September 2019
August / September 2019 issue of the independent North Devon-based business magazine covering news about business and enterprise in Barnstaple, Bideford, Braunton, Chulmleigh, Combe Martin, Holsworthy, Ilfracombe, Lynmouth, Lynton, South Molton, Torrington, Woolacombe and more. Full magazine available to non-subscribers mid-August. Business Action Plan and magazine subscribers receive priority access of new issues of Business Action on publication. Subscribe at http://www.business-action.co.uk/plans
August / September 2019 issue of the independent North Devon-based business magazine covering news about business and enterprise in Barnstaple, Bideford, Braunton, Chulmleigh, Combe Martin, Holsworthy, Ilfracombe, Lynmouth, Lynton, South Molton, Torrington, Woolacombe and more.

Full magazine available to non-subscribers mid-August.

Business Action Plan and magazine subscribers receive priority access of new issues of Business Action on publication. Subscribe at http://www.business-action.co.uk/plans
SHOW MORE
SHOW LESS
Create successful ePaper yourself
Turn your PDF publications into a flip-book with our unique Google optimized e-Paper software.
usiness

ACTION

north enterprise

devon

growth

innovation

news & views

STOP!

No more delay, take action

SELECT GEAR!

Tap into business support

GO!

Realise your full potential

Business Action Plan

All-year print & online promotion

business-action.co.uk | August / September 2019 | @businessactionm
---
HEADER

Virtual Business Partners

Because running a business

can be a lonely journey!

Why work with a Virtual Business Partner?

What's the Benefit?

If you are a solopreneur, entrepreneur or SME we can help

you to:

• Consolidate your position - stabilise or expand, depending on the

health of your business

• Streamline your business, across - processes, procedures, systems

and people

• Invigorate and energise your reasons for starting this journey -

through coaching and collaboration

How do we do this?

• By listening - to what's working and what's not, and to your end

goal vision.

• By offering practical advice and actually doing what's needed - we

are not just all talk, we are not gurus, we actually do the work.

With the added potential benefit of virtual assistance.

• By bringing extensive experience and a proven track record to the

table.

Are you ready to take your start-up or SME to the next level?

If so, contact us to discuss whether working with a Virtual Business

Partner is right for you.

Contact details: email: nfo@virtualbusinesspartners.co.uk

tel: 01271 603078 or 07788 181419

www.virtualbusinesspartners.co.uk

ii

business action | June / July | business-action.co.uk
---
CONTENTS

business

ACTION

Web site | business-action.co.uk

Online version | business-action.uk

Vol 1 Issue 4 – Aug / Sept 2019 – distribution 2,500 across North Devon

CONTENTS

Initiatives, support & consultations............................................................ 1

Engineering firm's 15th anniversary........................................................... 2

Road haulage company is here to stay...................................................... 2

Home carers fleet goes electric..................................................................... 3

Accountancy firm goes national................................................................... 3

Exeter Airport achieves gold for disability access............................... 4

Waste firm celebrates 60 years of service................................................ 4

Housing group plans big investment in Devon...................................... 5

Children's hospice challenge......................................................................... 5

Fastest wifi in the west?................................................................................... 5

New business: Chartered Financial Planner steps out...................... 6

New business: Keeping clients organised............................................... 6

New business: New accountancy practice.............................................. 6

High street: New café fulfils ambition........................................................ 7

High street: Ethically sourced fruit and veg............................................ 7

High street: Hardware store provides local service............................. 7

What the editor forgot........................................................................................ 8

Stay Sharp with Clarity...................................................................................... 8

From one laptop to a team of eight.............................................................. 9

Manufacturing talent survey........................................................................... 9

A mystery is uncovered.................................................................................... 10

North Devon Enterprise Day........................................................................... 11

Develop your business now............................................................................ 11

Business Action Plan......................................................................................... 11

BBxpo: Bideford Business Expo.................................................................. 12

Free business advice and guidance............................................................ 13

Keeping customers safe and satisfied....................................................... 14

Tap into funding for construction skills training................................... 15

Employment and skills events ...................................................................... 15

Magnetic North Devon: Determination to succeed............................... 16

Diary of a market research apprentice....................................................... 17

In the Hot Seat: Lucy Fitzgerald of Fitzgerald HR................................. 18

Woolacombe development now available to buyers............................ 19

Rafting away on work experience................................................................. 19

People....................................................................................................................... 20

Using strategic financial data for growth.................................................. 21

EDITORIAL

Robert Zarywacz

Editor, Designer & Publisher

t: 07971 176044

e: robertz@business-action.co.uk

@robertz

ADVERTISING

Alan Williams

Advertising, Distribution & Publisher

t: 07970 671192

e: alan@business-action.co.uk

© Need it Find it 2019. All information in this magazine is published in good faith.

Any views expressed are not necessarily those of the publisher, Need it Find it.

Readers are strongly recommended to seek advice from an appropriate professional

before taking any action on any topic discussed in the magazine and to check full

terms and conditions of any products or services promoted in advertisements.

INITIATIVES, SUPPORT & CONSULTATIONS

Cyber security webinars

Barclays is offering businesses

free webinars to introduce

them to cyber security and how

they can improve awareness

of threats and increase their

online protection.

The webinars include an

overview of cyber security and

what it means for businesses; a

look at the main cyber threats

and how to help prevent them;

tangible next steps to help businesses

and their staff stay safe

and secure online; additional

support and information.

The webinars are useful if

you are concerned about the

potential risks and threats

of cyber security and online

fraud, and want to ensure you

and your staff are up to speed

with the latest threats and

prevention techniques. They

will help you to understand

what help and support is available

for businesses.

Webinars are available

Monday to Friday between

8am and 4pm and delivered at

a time that suits your business.

You will need a desktop ⁄ laptop

computer with an internet

connection and a telephone

Webinars can be booked by

speaking to a Barclays business

banking manager or relationship

team.

■■barclays.co.uk/business-

banking

STEM graduates into

business

University of Plymouth's

STEM graduates into business

programme aims to

assist Devon SMEs in finding

talented graduates from STEM

(science / technical / engineering

/ maths) subjects. The

intention is to create a cohort

of graduate-employing SMEs

across the area, leading to

longer term opportunities and

retention of talent in the area.

The scheme helps businesses

to recruit graduates on six

to 12-month internships on

which they can help the business

develop a new product,

service or process. There is

also funding of £1,800–£3,600

available through the European

Regional Development Fund

The university is working

Cover photo: Traffic light by Robert Zarywacz

North Devon

ENTERPRISE

Day

#ndevonent

Diary date: 24 October

Celebrate business in North

Devon on the first North

Devon Enterprise Day – register

your business for free.

■■Details page 11

with strategic partners to

deliver the scheme, including

Exeter University, South Devon

College, City College, Petroc

and Plymouth College of Art.

The process starts with a

meeting to talk through the

potential requirement and a

business 'eligibility check'. Then

the university will help to create

an advert which is published

internally, via strategic partners,

Grad South-West and

LinkedIn. Applications are

collated and passed to the

business which will employ the

graduate, with payment being

made on completion.

■■Details 01752 587736 or

plymouth.ac.uk/STEM-grad

Inspire Launch in Devon

Inspire, the programme to

scale up businesses with more

than five employees, launches

in Devon on 1 October in

Honiton. Inspire is a not-forprofit

business organisation

providing high value support to

the SME business community.

As part of the launch event,

Inspire has partnered with the

Goldman Sachs 10,000 Small

Businesses UK programme

to showcase this package of

support to businesses in the

Heart of the South West.

■■Details eventbrite.co.uk/e/

inspire-launch-in-devon-tickets-62132819937

Meet Somerset Chamber

Barnstaple Chamber of

Commerce is holding a lunchtime

event where North Devon

businesses can meet members

of Somerset Chamber on 18

September in Tiverton.

■■Details eventbrite.co.uk/e/

meet-the-neighbour-somerset-chamber-of-commercetickets-63412542622

@businessactionm | August / September 2019 | business action 1
---
Lilley Precision Engineering,

based in Barnstaple, is celebrating

its 15th anniversary.

The company was started by

Darrian Lilley, who has worked

in North Devon manufacturing

for 30 years after training at

Ayers and Grimshaw, when he

decided he wanted to run his

own business.

The company specialises in

engineering plastics, including

thermoplastics, vulcanised

fibre and high-performance

composites and laminates.

"We offer a competitive

sub-contract CNC milling and

turning service, both locally

and all over the UK, as well as

abroad," says Darrian.

Lilley Precision supplies

products to electrical and

general engineering, electronics,

transport / rail,

packaging, domestic appliance,

lighting, medical, switchgear,

safety critical parts and other

markets. Its products range

from aircraft components to

musical instrument parts.

The company has seen many

changes including a move to

Anyone thinking the familiar

name of William C. Hockin

will disappear from vehicles

travelling up and down

the Link Road is being put

straight by Bill Hockin. While

his tanker business has been

acquired by Greenergy, Bill

continues to own and manage

the main William C. Hockin

(Transport) Ltd haulage business

established in 1974.

The sale of the tanker business

was a logical step after

the two businesses worked

together successfully for more

than a decade.

Commenting on the sale,

Bill Hockin says, "We have

worked with Greenergy for

over 10 years, and with their

support have grown our

business into where it is today.

Greenergy has always been

reliable and respectful to do

business with, and I have every

confidence that they are best

positioned to explore further

opportunities for our business."

Andrew Owens, chief executive

of Greenergy, explains,

"William C. Hockin has been

a valued Greenergy logistics

provider for many years,

providing exceptional levels of

support for speciality movements

such as bioethanol and

super gasoline trunking, as well

NEWS

Engineering firm's 15 th anniversary

The Lilley Precision Engineering team:

(from left) apprentices Jacob Bartynski and Nathan Green, administration

and quality manager Suzanne Lilley and managing director Darrian Lilley

as providing regional support

services for third parties. We

will build on the great work of

Bill, and we look forward to

expanding our capabilities with

an excellent team."

Hockin's tanker operations

in Barnstaple will be integrated

into Greenergy Flexigrid

operations and continue

to service existing clients.

a new unit in 2014, which

quadrupled its space, as well

as becoming one of the first

precision engineering firms in

the UK to receive certification

for the more stringent ISO

9001:2015 standard.

Suzanne Lilley, administration

and quality manager, adds:

"Having the quality management

system in place has

benefited us in so many ways.

Customer growth has been one

of them, as we are now recognised

as being able to provide

a robust quality product and

service, meeting our clients

requirements."

Since 2019, Darrian

and Suzanne have also run

Outboard Motor Loc Ltd.

Darrian explains: "We

manufacture, assemble and

market outboard engine security

products, selling privately as

well as to many trade customers

throughout the UK and abroad,

and exporting to Canada, USA,

Australia, Sweden, France and

South America."

■■Details 01271 370601 or

lilleyprecisionengineering.co.uk

Road haulage company is here to stay

Greenergy is an established

supplier and distributor of

transportation fuels and

Greenergy Flexigrid, its

in-house haulage operation,

employs more than 500

drivers and staff throughout

the UK. Bill Hockin will maintain

his interest in the operation

by joining the Greenergy

Flexigrid board of directors as

a non-executive director.

Bill wanted to drive from

an early age and has worked

in the transport industry since

obtaining his driving licence.

He started William C. Hockin

Transport with Irene, his wife,

in 1974 with a tractor unit

and two trailers. The company

now has some 50 vehicles

that service the UK from

Barnstaple. It remains a family

business and Bill is proud that

it retains the personal touch.

■■Details 01271 372945 or

williamchockin.co.uk

2 business action | August / September 2019 | business-action.co.uk
---
West Heanton's fleet of electric cars with home carers: (from left) Bernie, Jo and Michelle

Home carers fleet goes electric

West Heanton, at Buckland

Filleigh, which operates its

own care home and provides

domiciliary care for 40 families

in the area, has invested in

a fleet of six electric cars for its

home care staff.

The business has always

supported its home care staff

by paying them for the entire

shift they work, including

travelling time, rather than

just for care visits. It has also

always provided vehicles, so

that staff don't have to use

One of the UK's fastest

growing business advisory

firms is expanding its presence

in North Devon after acquiring

one of Barnstaple's longstanding

accountancy practices.

Perrins Chartered Accountants

has joined the Baldwins

Group and changed its name

to Baldwins with immediate

effect, with staff remaining at

the existing office.

Established in North Devon

in 1914, Perrins' 20 staff serve

more than 1,000 Devon and

Cornwall-based commercial

and agricultural, business and

personal tax clients.

This follows the 2017 acquisition

of Davisons and brings

Baldwins' total number of West

Country offices to six. Its other

offices being in South Molton,

Holsworthy, Launceston,

Tavistock and Truro.

Matthew Gard, regional

managing partner for Baldwins

in the West Country, says:

"Joining forces with Perrins

forms part of our ongoing

plans to expand our reach

their own cars, and previously

ran a fleet of petrol cars.

In 2018, the business

started researching electric

cars and realised they would

be a viable option for West

Heanton. It secured finance

from Lloyds Bank Clean

Growth Financing Initiative,

which provides reduced rate

lending for business projects

that reduce emissions, are

energy efficient, low carbon,

reduce waste, recycle or

improve water efficiency.

across the West Country. We

have been working with the

North Devon community for

over 70 years. Our investment

in Perrins underlines

our confidence and long-term

commitment to the business

in the area and our desire to

continue to grow.

"It will be business as usual

for the staff and clients."

This enabled the business to

purchase six Renault Zoes and

six rapid charging stations,

which can charge all six cars

from flat in one hour. The

white cars all feature West

Heanton's branding so are

instantly recognisable.

Each car covers 80 miles

per charge and can be

re-charged between shifts.

They have reduced fuel costs

from 25p to 12p per mile, in

addition to the associated

environmental benefits. They

Accountancy firm

goes national

Baldwins team: (from left) Simon Osment, Matthew Gard and Chris Birch

Shaun Knight, board

director at Baldwins,

continues: "We look forward

to expanding and working

with the business community

in Devon. The acquisitions

underline our commitment to

the Devon and Cornwall business

communities.

"Local relationships are key

and practices will benefit from

also have a precondition

feature, enabling them to be

cooled in summer or heated

in winter before shifts, so are

comfortable and ready to go.

This environmental initiative

is in addition to installing

solar panels and a bio-mass

boiler for heating West Heanton's

care home.

■■Details 01409 281754 or

westheanton.co.uk

West Heanton award

see page 20

the digital and technological

innovations implemented

within Baldwins, in order to

meet the demands of the ever

changing regulatory and digital

landscape, as well as client

expectations.

Chris Birch, director at

Perrins, will continue to lead

the firm's Barnstaple office,

alongside Simon Osment.

Chris says: "Joining forces

with Baldwins takes our firm

to the next level where we can

expand our reach with their

additional services, and in turn,

expand our workforce.

"This spells great news for

our clients as we can use Baldwins'

national coverage and

depth of specialist expertise to

offer business advisory services

that stretch beyond general

accountancy.

Baldwins, a Cogital Group

company, has more than 90 UK

offices, employs over 2,800 staff

and has an annual turnover of

approximately £200 million.

■■Details 01271 343004 or

baldwinsaccountants.co.uk

@businessactionm | August / September 2019 | business action 3
---
NEWS

Finding Jobs for People and People for Jobs

Temporary & Permanent recruitment solutions throughout North Devon!

01237 439500

Exeter Airport achieves gold for disability access

Exeter Airport has received

the highest possible rating

for disability access, having

been judged 'very good' in an

independent annual survey.

The UK Civil Aviation

Authority has published its

fourth annual report on the

disability access of the UK's

largest airports.

Exeter Airport was among

14 airports rated 'very good',

with a further 16 airports rated

'good'. A 'very good' classification

requires airports to

provide high quality support

on the day of travel as well as

www.simplerecruitmentltd.co.uk

keeping in regular contact and

consultation with its users.

Exeter Airport provides this

Attract customer

Attention!

u business journalism u technical writing u

u case studies u blogs & online content u

u magazine production u campaigns u

u events u project management u

25 years of business communication

Z

with your marketing, PR

and communications

Call Robert Zarywacz on

01271 879100

A

R

Y

W

A

C

COMMUNICATE IN SPEECH, PRINT & ONLINE

Z

assistance to more than 20,000

passengers a year. This is set to

increase as overall passenger

numbers are expected to break

the one million mark this year

Recycling firm SWM will celebrate

60 Years serving North

Devon on 14 July 2019. Started

in 1959 by Ray and Vashtie

Penford, or Mr and Mrs P as

they were commonly known,

R Penfold and Son went on to

become South Molton Metals.

In 2002, SWM was incorporated

to accommodate

the growing demand for

integrated waste management

systems, which have enabled

more waste streams to be

processed and transformed

into useful resources. In 2011,

everything was brought under

the SWM and Waste Recycling

banner to reflect the growing

regional presence.

Today, the company is

jointly owned by Ray and

Vashtie's son Raymond and

nephew Shawn Akers, who are

proud of the local employment

the business offers and its wide

range of services.

Follow us:

with the introduction of new

routes by Ryanair to Alicante,

Malaga, Malta and Naples.

Matt Roach, managing

director of Exeter Airport, said:

"We are delighted to be in the

top tier of UK airports and to

have achieved the gold standard

for the quality of service

that we provide to disabled and

less mobile passengers.

"It is a testament to the hard

work and dedication of our

staff and we are committed

to providing the best possible

experience for anyone in the

community who requires

assistance when travelling."

■■Details exeter-airport.co.uk

Waste firm celebrates

60 years of service

During its 60 years, the

company has faced many

challenges. More recently these

have included environmental

demands and sustainable waste

solutions. SWM has continued

to invest in order to keep

pace with and lead the way in

bringing about new initiatives

that have helped many North

Devon businesses meet stringent

compliance criteria.

From humble beginnings

rooted in scrap metal recycling,

SWM has become a

leading provider of integrated

waste management services in

the South West, with a growing

blue chip client list and stateof-the-art

recycling facilities.

The company planned

to mark the occasion with a

companywide fun day and

BBQ at its Roundswell headquarters

in July.

■■Details 01769 572184 or

swmrecycling.co.uk

4 business action | August / September 2019 | business-action.co.uk
---
Investing in Devon: (from left) Stuart Gibbons, managing director,

Lovell London and Southern, and Andrew Johnson,

regional managing director, Lovell Southern

Housing group plans big

investment in Devon

Lovell, partnership housing

division of the £3 billion

Morgan Sindall Group, has

launched its southern region

by appointing an experienced

regional managing director to

drive expansion.

Andrew Johnston, formerly

managing director with

Galliford Try Partnerships,

has joined Lovell to spearhead

its growth ambitions in

Devon. With Lovell's extensive

expertise in housing-led

regeneration, partnership

working ethos and a high

demand for affordable homes,

its aim is to build a sustainable

business that will employ

around 100 people direct and

thousands through the local

supply chain, while increasing

housing capacity in the region.

Securing land and the

recruitment of new staff will be

a first priority. Lovell Southern

will service the area from

Southampton on the south

coast to Plymouth in the west.

Andrew Johnson, regional

managing director at Lovell

Southern, said: "It's an

exciting time to be at Lovell.

The company has a great

delivery model with ambitions

to grow the business and

its investment in the region

demonstrates commitment to

that strategy and to the wider

affordable housing sector.

"The company's strong

financial position and support

from Morgan Sindall Group

will enable us to work with

our partners and increase the

much-needed supply of homes

in the area.

"Our three main business

objectives are to build

much needed new private

and affordable homes, invest

in the communities in which

we are working and employ

local businesses, further

re-investing in the region."

Stuart Gibbons, managing

director of Lovell London

and Southern, said: "Andrew

is a vastly experienced and

committed director with

a proven track record of

developing and growing a

business. We are delighted to

have him on board to launch

our southern region."

■■Details lovell.co.uk

Right Way HR Services

Safeguard your business

• Advice on all aspects of employment law

• Contracts of employment

• Staff handbook • HR policies

• Letters, templates and documents

Call Richard on 07825 090782

e-mail: richard@rwhrs.com

NEWS

Children's hospice challenge

Children's Hospice South

West is inviting businesses to

get 'nifty with your fifty' and

take on its new-look £50 Challenge

this autumn.

The charity will give workplace

teams £50 to see how

much money they can raise

in 50 working days, from 16

September to 22 November.

Cake sales, raffles and

quizzes are all encouraged, but

firms are being challenged to be

creative in making a big difference

to the children's hospice.

Companies of two or 200

can take part and what they

decide to do is up to them.

■■Details 07837 520295 or

chsw.org.uk/50challenge

Fastest wifi in the west?

All too often we hear about

slow broadband speeds, so

here is a story with a difference.

Trimstone Manor

Country House Hotel and

Cottages, near Ilfracombe and

Woolacombe, could have the

fastest wifi connection of any

visitor accommodation in the

North Devon and Exmoor

after upgrading to full fibre.

After encouragement from

his son, owner Philip Milton

upgraded the hotel connection

and both believe the investment

will be justified in more

trade and better business

effectiveness, staff efficiency

and responsiveness.

Unlike a copper wire

connection to a roadside

box, Trimstone has a fibre

optic link direct to the local

exchange and has installed

the latest Ubiquity 'enterprise

grade' equipment. To enable

the connection, Ilfracombe

BT exchange required further

upgrade work just so that the

hotel could be the very first

customer of this new service.

The hotel and cottages have

moved from having slower

speeds than 66% of the whole

country to having faster

speeds than 99% of the UK,

for any form of usage.

Not only do hotel guests get

free wifi access, but with the

infrastructure now upgraded,

the faster service is also available

to Trimstone residents.

Is it the fastest holiday wifi

in North Devon? Let us know.

■■Details 01271 862841 or

trimstone.co.uk

@businessactionm | August / September 2019 | business action 5
---
Helen Persson of Paper Clip

Keeping clients organised

Many businesses are overwhelmed

by admin and

filing, but Helen Persson of

Westward Ho! enjoys them so

much, she has started her own

business, Paper Clip, to help

clients stay organised.

With 14 years in

marketing and retail and

seven years running a recycled

glass gifts business, Helen

has honed her office organisational

skills so that she can

take care of all those tasks

that busy business owners

don't get round to completing.

These can range from sorting

out paperwork to managing

emails, support with social

media management and

marketing, as well as the

creative production of flyers,

adverts and logo designs.

Already, Helen has helped

clients with running events,

bookkeeping, updating their

online presence and more.

"I do all the things they

don't have time for," says

Helen, who is pleased with

how her business is growing

and aims to take stress away

from clients so that they can

be more productive.

■■Details 07870 604019 or

paperclipdevon.co.uk

NEW BUSINESSES

Chartered Financial Planner steps out

Emma Falconer is the latest

professional to join the

ever growing team of independent

financial advisers

at Continuum (Financial

Services) LLP.

Emma explains that the

move will help her build on

her extensive financial services

experience – and provide an

even higher standard of services

for clients in North Devon.

She is looking forward to

continuing to provide a full

range of financial advice, but

with a particular focus on

the needs of high net worth

individuals, and those in the

pre and post retirement phase.

This will not only help answer

a growing need for specialised

advice, it will reflect her key

areas of experience.

"I have over 14 years'

experience of working in

financial services – and prior to

retraining as a financial planner,

I spent a decade in investment

banking in the City of London

on the dealing floor of a leading

investment bank. It has helped

me develop a strong understanding

of financial markets,

and a practical understanding

of the needs and objectives of

investors as well as of the solutions

available to them.

"This has given me the

foundation to specialise in

providing financial planning

for high net worth clients and

business owners, which I have

Emma Falconer, Chartered Financial Planner

built on by gaining a series of

advanced qualifications.

"I am excited to continue

my advice journey with

Continuum and to build a

business I am truly proud of for

my clients."

Emma's qualifications include

advanced pension, investment,

tax and trust planning. This

skill set enables her to provide

a high level of expertise for her

clients, supported by the awardwinning

Continuum team.

New accountancy practice

A well-known face in North

Devon accountancy has started

a new practice after 24 years in

the profession.

Gareth Pollard Accountancy

Services in Holsworthy aims

to "bring the friendly side of

accounting back". Gareth's

experience has ranged from

preparing accounts by hand

and sending paper tax returns

to HMRC to now preparing

returns using computer

software and filing them with

the click of a button. With the

introduction of Making Tax

Digital, Gareth helps clients set

up their own accounts software

packages so that they can keep

better accounting records,

which makes an accountant's

life much easier. His services

include accounts, bookkeeping,

payroll / CIS, tax and VAT.

Gareth is keen that clients

using accounting software

should benefit from any

possible reduction in fees and

is committed to treating every

single client as he would wish

to be treated.

Gareth also wants to

minimise environmental

Martin Brown, Continuum's

managing partner, comments,

"We are delighted to have

Emma join us. Having advisers

of her experience join our team

demonstrates the effectiveness

of our collaborative business

model. It lets us attract the very

best people – which allows us

to put clients at the heart of

everything we do."

Yorkshire-born Emma

sums up her reasons for her

career move:

"As a Chartered Financial

Planner, I take pride in the

advice I give. I therefore

wanted to join Continuum as

a partner to enable me to give

unbiased independent advice.

"I am incredibly impressed

by what Martin has built at

Continuum for clients and

advisers, focusing on providing

expert financial advice and an

outstanding service."

■■Details 01271 830547 or

mycontinuum.co.uk

impact and offers the option of

a secure package where clients

can view all correspondence

and accounts online and even

sign documents electronically

without having to print them.

Having moved to North

Devon when he was five,

Gareth is very much part of the

community and is keen that his

business supports local organisations.

He has started already

by sponsoring Holsworthy's

recent St Peter's Fair.

■■Details 01409 254817 or

facebook.com/garethpollard

accountancyservices/

Gareth Pollard and his son

6 business action | August / September 2019 | business-action.co.uk
---
Lucy and Stuart Cook of No 28 The Cookery , St James Place, Ilfracombe

New café fulfils ambition

No28 The Cookery in St James

Place, Ilfracombe is fulfilling

a long-held ambition of Lucy

and Stuart Cook.

Lucy had worked in retail

before becoming a full-time

mum, while Stuart, who

trained as a chef in London

from the age of 14, worked

in manufacturing for 24

years. This Easter, they felt

it was time to launch their

own business, a barista coffee

shop, which serves lunch and

brunch items to eat in and take

away. These include baguettes,

paninis, sandwiches, jacket

potatoes, soup and cakes as

well as vegan, gluten-free and

dairy-free items. All their

packaging is recyclable and

aim to reduce use of plastic.

Coffee is supplied by

Limini, a small speciality

coffee supplier in West Yorkshire,

while Stuart puts his

professional training into practice

preparing a range of cakes

including chocolate brownies

and millionaire shortbread.

Lucy says the response from

customers, both locals and

visitors from across the world,

has been very positive.

■■Details No 28 The Cookery

at facebook.com

HIGH STREET

Ethically sourced fruit and veg

Greengrocers appear to be

making a comeback as more

consumers take a greater

interest in the food they buy.

Jim Abbott-Bond left a

corporate career seven years

ago, and now he and Sue Gould

run Four Seasons greengrocer

in Crediton High Street.

"I wanted to find a business

with a more ethical side to it,"

explains Jim.

"There is a growing swell for

locally produced and sourced

food that is not catered for

by the supermarkets. People

want to know where their food

comes from and they are fed up

with tasteless food."

And with packaging also

a major concern, like many

independent food stores, Four

Seasons has always used paper

bags rather than plastic.

Jim received lots of support

for carrying on the business as

a greengrocer and enjoys being

part of Crediton's community.

Customers range from young

families to several who are over

100 years old and continue to

shop independently.

As well as fruit and veg in

the shop, Four Seasons provides

vegetable boxes to suit all

budgets, as well as fruit baskets

and trays, which make good

gifts and can all be delivered.

"We do bespoke flower

arrangements, ranging from

small bunches, baskets,

bouquets, aqua-boxes and

memorial funeral commissions.

We also deliver flowers

locally to private and commercial

customers.

"The most enjoyable thing is

meeting customers," adds Jim.

"Everyone who walks through

the door has a story."

■■Details call 01363 772035

Jim Abbott-Bond of Four Seasons

Hardware store provides local service

When small shops disappear

from towns and villages,

consumers face less choice

when the only option left is to

drive to a nationally run superstore

on an out-of-town retail

park. Yet there are signs that

things are changing as more

independent stores open up.

Holsworthy lost its hardware

shop several years ago, but

now Shepherd's Hardware has

opened a new store selling a

wide range of household items,

gardening supplies, cleaning

products, tools, drill bits, bolts,

plumbing and electrical spares,

light bulbs, candles, locks, key

cutting and a lot more.

The store is owned by

Pete Shepherd, who opened

his SW Locksmiths shop in

Holsworthy 10 years ago, to

establish himself as a trustworthy,

local business. Since

the old hardware shop closed,

Pete has been increasing his

range of stock.

"When people ask for

something, I get it in," says

Pete. "The range grew and we

extended our old shop in 2017,

but it still wasn't big enough, so

our new shop on the Square is

three times the size."

Pete adds that people often

like to touch and hold products

and see before they buy, which

they can't do on the internet.

"Customers also appreciate

our product knowledge. They

want to come in and ask

questions, which we are always

happy to answer."

Pete is also keen to reduce

carbon footprint and believes

buying from a local store rather

than online reduces the packaging

required to mail goods

and limits the environmental

impact of so many vans on the

road delivering single items.

With staff helping to run

Shepherd's Hardware, Pete

continues to provide his SW

Locksmiths service across

North Devon.

He has built up trade over

10 years through word of

mouth and says that people in

Holsworthy are very loyal to

the town's independent shops

and businesses.

■■Details call 01409 255533

@businessactionm | August / September 2019 | business action 7
---
Business Action editor Robert Zarywacz, so busy talking about other

businesses that he almost missed his own business anniversary

What the editor forgot

I'm frequently astounded by

many of the achievements of

North Devon businesses, especially

those who are celebrating

anniversaries, whether they've

completed their first year, fifth,

10th or, for one company in

this issue, their 60th.

Anyone who runs a business

knows how much hard work

goes into just keeping it going,

never mind developing and

expanding it. Running a business

requires vision, initiative,

effort, commitment, innovation,

action, resilience and

persistence. That's why I enjoy

writing about business owners

so much. I find their energy

and enthusiasm infectious.

I also find they're often so

busy concentrating on business

that they don't notice their own

achievements. This is probably

why I surprised myself

recently when I realised that

the Zarywacz communications

partnership I run with my

brother, Simon, is reaching its

25th anniversary in September.

Like every business, we've

had good times and bad, but I

still don't know where the time

has gone.

I do know that I still enjoy

writing for and about businesses,

which led to the launch

of this magazine with Alan

Williams. I'm having the most

fun I've had in business for

years and look forward to

meeting and writing about

even more North Devon business

owners in the years ahead.

■■Details 01271 879100

or z2z.com

BUSINESS

Stay Sharp with Clarity

Buying, leasing or renting new

printers or multi-functional

printers (MFPs) can be a

daunting prospect with so

many options available.

Clarity Copiers Group, with

its local office in Barnstaple,

aims to make the process of

acquiring MFPs easier while

ensuring that customers select

the most suitable equipment

for their business needs.

Clarity is a specialist in the

recommendation, installation

and support of Sharp devices,

having built a relationship

with the manufacturer over 42

years. In formal recognition

of this achievement, Clarity is

recognised as a 'Sharp Centre

of Excellence' due to its high

standard of customer service.

Why Sharp? For more

than 50 years industry buyers

have sought guidance from

Buyers Lab (BLi), the global

document imaging industry's

resource for unbiased and

reliable information and test

data. Having won many BLi

awards previously, Sharp has

won BLI's 2019 Copier MFP

Line of the Year award. This

recognises the vendor whose

product line is deemed best

overall, based on rigorous

laboratory evaluations.

"Sharp's copier MFPs have

long been known for their

quality, innovation, and ease

of use, and its current line

holds up to that standard,"

says George Mikolay, associate

director of copiers/

production at Keypoint

Intelligence, BLi's parent. "In

addition to setting the bar

for usability among its peers,

overall reliability was tremendous

throughout the line."

BLi also rates the Sharp

range highly on ease of use,

one of the most important

considerations for customers,

along with quality, reliability,

functionality and service.

This is the reason why

Clarity is pleased to supply the

Sharp range, which includes

hardware and software from

desktop A4 devices to A3

models. Wide format (A1 –

AO) devices are also available

from a different manufacturer.

Customers can discuss

their individual needs and get

professional advice by visiting

Clarity's fully equipped showroom

on Roundswell Business

Park. Alternatively, a Clarity

representative can visit you,

without obligation.

■■Details 01271 374061 or

claritynorthdevon.co.uk

01271 267420 | info@gtales.co.uk

8 business action | August / September 2019 | business-action.co.uk
---
Cooper Golding's Queen Street, Barnstaple team: (from left) Jessica Thompson, Paula Golby, Lorri Stamp and Katie Pullen

From one laptop to a team of eight

A recruitment consultancy

started by two women with just

a laptop has grown to a team of

eight with two offices in Barnstaple

and one in Somerset.

After her business partner

decided to return to Jersey,

owner Paula Golby was

determined to develop the full

potential of Cooper Golding,

which has its head office in

Queen Street, Barnstaple. Paula

invested heavily in the business

in 2017, when she set up its

temporary division, which has

since fuelled significant growth.

Originally from the

Midlands, with family in North

Devon, Paula has 20 years'

recruitment experience and

started Cooper Golding in 2011.

"The opportunity to set up

my own business has been

exciting," says Paula. "I really

wanted to create a high quality,

professional environment so

that anyone who gets in touch

has a positive experience.

Following on from the success

of last year's Manufacturing

Talent Survey and Report,

manufacturing recruitment

specialist Cooper Golding, has

again commissioned and sponsored

the research for 2019.

The survey has been

distributed to more than 2,500

senior recruitment managers,

directors and business owners

of manufacturing, engineering

and production companies.

The reach of the survey

"I invested to grow it from

a one-person lifestyle business

into a consultancy that gives

added value in North Devon

and across the South West."

Cooper Golding's permanent

and temp recruitment

services cover factory and

production, engineering and

manufacturing, and many

other roles. Its Specialist

Talent service for engineering

and manufacturing companies

across the UK focuses on mid

to senior level appointments

in marketing, sales, quality

and technology.

High quality service

Paula is committed to a quality

service that attracts the right

talent: "We've learnt as we've

grown, putting in strong

foundations and developing

processes so that it is clear what

everyone does. Everyone is

really engaged."

Paula works hard to ensure

the team is motivated: "We

have to keep it fun. We have

nights out, try to be as flexible

as possible and want everyone

to enjoy coming to work."

She is equally committed to

making sure both clients and

candidates are fully satisfied:

"We are brand ambassadors

for our clients. Why should

people go and work for them?

What makes them an attractive

employer? What makes a

candidate attractive in terms of

skillset and values?

"We ensure candidates are

aware of the opportunity and

go into a lot of detail about

not only skill sets but also

cultural ambitions, including

the surrounding area, which is

important for staff relocating."

Cooper Golding has the

flexibility and expertise to work

with global players and SMEs.

"We do resonate with SMEs

because we understand the

challenges of growing and

maintaining service."

Cooper Golding 2019

Manufacturing Talent Survey

covers a wide spectrum of

disciplines from across the

South West and Midlands

regions, ranging from SMEs to

global manufacturers.

The aim of the survey and

subsequent report is to revisit

some of the common challenges

and opportunities that

exist within manufacturing,

engineering and production

at a crucial time for the sector

and the wider economy, not

least with the ongoing uncertainty

around Brexit.

Interestingly, last year's

report highlighted a generally

optimistic view of Brexit, with

Expanding business

Paula's drive to provide a

better recruitment experience

is now paying off. This has

included the opening of the

Somerset office in April, the

recent promotion of Jessica

Thompson to senior consultant

and the recruitment of sales

support consultant Katie Pullen

on a temporary basis, which

has changed to permanent.

Adding value

As well as its main services,

Cooper Golding offers resources

for candidates and clients.

Candidates can take advantage

of job search and interview tips,

while the firm's annual Manufacturing

Talent report highlights

key challenges faced by

manufacturing and engineering

companies, and discusses

potential opportunities to

address the talent shortfall.

■■Details 01271 349745 or

coopergolding.co.uk

very little negative impact

experienced. In fact, partly

due to the export competitiveness,

the order books for many

of our regions' manufacturers

were looking healthy.

In this year's report due to

be published in August, we

will find out what a difference

a year has made to the sector.

See the October / November

issue of Business Action to

read the full results.

■■manufacturingtalent.co.uk

@businessactionm | August / September 2019 | business action 9
---
SERVICE

A mystery is uncovered

In 1991, Paul Grafton, a certified

management consultant

who has always been passionate

about customer service,

discovered that he was able to

provide his clients with insight

that would help improve their

customer experience just as well

using mystery shoppers, as if he

assessed the experience himself.

As long as he instructed the

mystery shoppers to take the

approach he would take, and

answer questions designed

to obtain the right feedback,

mystery shopping was a way to

increase his offering without

having to travel around the

country, staying in hotels, when

he had a wife and baby at home.

And so Mystery Shoppers Ltd

was born.

Paul moved the business

from Berkshire to North Devon

in 1998 and ran the company

from a mobile home turned

office. One mobile home grew

to two, and two homes grew to

three, and after the fourth one

arrived, it was decided the next

move would be to an office in

Holsworthy. In the 15 years

the company has been there, it

has grown from an office that

seated 16 to 70.

In addition to the Holsworthy

Office, MSL now has an

office in Bulgaria and franchises

in Myanmar, Botswana

and Kenya, and averages 65

members of staff worldwide.

What is mystery shopping?

Mystery shopping is a versatile

tool used by companies or

regulatory institutions to either

gain insight into customer

experience and / or staff

performance, for compliance

monitoring or even to obtain

competitor intelligence. As

well as being a diagnostic tool,

mystery shopping is often

also the solution – once staff

know mystery shopping is

taking place, an increase in

service levels is often noticed

straightaway as staff are 'on

guard' for potential mystery

shoppers. The feedback and

actionable data mystery shopping

provides can then be used

for staff training. Running

mystery shopping regularly

Next generation: (from left) Sophie Grafton takes on the role of managing

director from Paul Grafton

allows companies to track the

improvements in service as

well as ensure standards do

not slip – a periodic ongoing

programme can quickly

improve overall business

performance, increase sales

and customer service levels and

ensure ongoing compliance.

Once a programme has

been designed, MSL sends

its mystery shoppers out and

asks them to assess a range of

customer touchpoints. They

might contact a call centre to

see how quickly each call is

answered, access a web site

and try to find information or

make an enquiry on a social

media page. They might visit a

shop and purchase a product or

have a sales person visit them

at home.

After their assignment

they will report back on their

experience, providing the

company with honest, objective

results and video, audio or

photographic evidence.

Anyone can be a mystery

shopper and MSL's database

of shoppers now stands at

260,000. Between them, they

complete 60k+ assignments

every year. The mystery shops

provide a valuable source of

extra pocket money for the

people that complete them and

are often done at well-known

high street banks and retailers,

shopping centres, transport

providers and charities.

Lola is head of stress relief

Shoppers use an app on their

phones to search for nearby

assignments and complete

them. The results are all online

for managers to access and

distribute as they see fit.

Next generation

In 2017, Paul handed over

the title of managing director

to his daughter, Sophie, and

is now chairman. Sophie has

previously been a multi-site

manager in the retail and

service industry and, like Paul,

also has a passion for training

and customer service. These

key themes are at the heart of

the company.

"Here at MSL, we carry out

regular on and offsite training

to ensure that the team are

equipped to offer our clients

the best service possible and,

in turn, help them to improve

their customer experience,"

says Sophie.

As well as the 50+ staff

members working in the Devon

office, another important

member of the team is Lola, the

office pup. Her responsibilities

include increasing staff morale

and encouraging an active

work day, and she is also head

of stress relief.

Being a family business, it's

important to both Paul and

Sophie that the company is run

with the interests of its staff at

the forefront. All staff are able to

make use of the company's flexitime

policy, which allows people

to work hours that suit their

home life, such as 8-4 or 10-6,

when business allows it, as well

as to take off a Friday afternoon

if it's been a busy week. All staff

have free access to a local gym

and the company puts on quarterly

staff events to encourage

teams to get to know each other

better. In the past 12 months,

these have included a visit to

Newton Abbot Ladies Day

Races, bowling, beach BBQs,

pub quizzes and the Christmas

Party at a local restaurant in

Bude. The work environment

appears to go down well as 17

team members have been with

the company for 7+ years.

■■Details 01409 255025 or

mystery-shoppers.co.uk

10 business action | August / September 2019 | business-action.co.uk
---
Thursday

24 October 2019

is North Devon Enterprise

Day when all businesses can

join together to celebrate our

vibrant local business community,

support each other

and promote the vast range of

products and services provided

in the area.

Take part

Are you an enterprising

business? Take part now by

registering to

join the Enterprise

Wave at ndevonent.uk

Businesses are already

registering for what we aim

to be the largest independent

enterprise community in the

area – a collection of forwardlooking

entrepreneurs

committed to helping every

business to succeed.

On the day, we'll celebrate

at BBxpo with a panel session

of North Devon entrepreneurs

Develop your business now

Have you been thinking about developing your business or starting

a new venture, but don't know where to start?

STOP!

Don't delay any further – take action now!

There are many opportunities, so what have you got to wait

for? If you have a vision of what you want to do, the drive to make

it happen and the commitment to follow it through, start taking

advantage of the support available to you. Business Action will

support you too.

SELECT GEAR!

Within this magazine you can find many sources of help.

See page 1 for a selection of current support programmes

and initiatives. See page 13 for free advice and guidance provided

by The Heart of the South West Growth Hub and page 15 for

construction industry training grants from CITB. On the same

page, Petroc is offering Digital Solutions training and see page 13

for details of free digital workshops the Google Digital Garage

will be presenting at BBxpo.

And don't forget the benefits of talking to other business

owners, who are very often willing to share expert hints and tips

on all aspects of commerce with you.

GO!

When you are ready to launch, promote your business.

One way is to attend networking and other business events.

Some events are listed on page 1 or see pages 12 and 13 for details

of BBxpo on Thursday 24 October at Bideford – the biggest business-to-business

exhibition in North Devon with a free networking

buffet. Attend for free as a visitor or consider exhibiting.

Consider also our new Business Action Plan, which includes

all-year business promotion in this magazine and online.

and the North Devon

Enterprise Free Networking

Buffet – open to all businesses.

Let's all share our experience

and advice to help other

businesses so all thrive.

And share on social media

– hashtag #ndevonent – to

encourage everyone to join in.

North Devon

ENTERPRISE

Day #ndevonent

Follow and connect

Connect with @northdevon,

@businessactionm and

@needitfinditnow on Twitter

and other platforms.

■■Visit ndevonent.uk or email

ndevonent@business-action.co.uk

for full details.

£50 Business Action Plan

all-year business promotion

business

ACTION

The £50 annual Business

Action Plan promotes your

business throughout the year

in this magazine – see listings

right – and online in our

needitfindit.uk directory.

➤➤Magazine listing, including

name, business type, phone

number, web site and

address, printed in 6 issues.

➤➤Online listing including

name, business type, phone

number, web site and

address, description and

logo for one year.

➤➤6 issues of magazine mailed

direct to your UK address.

Or choose the £150 annual

Business Action Plan to add a

business card advert in 6 issues.

PROMOTE YOURSELF NOW

business-action.co.uk/plans

HYPNOTHERAPY

Paul Holder

New Life Hypnotherapy

South Molton

t: 01769 574711

w: newlifehypnotherapy.org

Landscaping

CW Landscaping

Bideford & North Devon

t: 01237 474335

m: 07960 930974

Locksmith

MJS Locksmiths

Covering North Devon

t: 07532 139388

w: northdevonlocksmith.co.uk

OFFICE PRINT EQUIPMENT

Clarity Copiers North

Devon

North, Mid & West Devon

t: 01271 374061

w: claritynorthdevon.co.uk

Removals

HLH Removals

Covering North Devon & UK

t: 07593 234194

e: hlhremovals@yahoo.com

fb page: HLH Removals -

Horshams Light Haulage

First Thursday of every month

is Steak Night!

01237 473399

49 Torrington Street, East the Water, EX39 4DP

www.theriverbankbistro.co.uk

email@theriverbankbistro.co.uk

@businessactionm | August / September 2019 | business action 11
---
BBxpo

EXHIBITORS SO FAR . . . EXHIBITORS SO FAR . . .

Barclays

Business Banking

barclays.co.uk/businessbanking

Talk to us about what you

want to achieve, in the UK

or abroad, and our team of

managers will do all they

can to help you reach your

business goals.

BNIB

bnibarnstaple.co.uk

Business Networking in

Barnstaple (BNIB) is a team of

businesses from across North

Devon who meet weekly in

order to expand their business

through making new contacts.

Business Action

business-action.co.uk

Meet the publishers and editor

of this magazine.

Cirrusli

cirrusli.co.uk

Top-notch training in cloud

and digital accounting

systems across North Devon

and Cornwall.

CITB

citb.co.uk

The industry training board

for the construction sector,

helping it to attract talent and

to support skills development.

Clarity Copiers

North Devon

claritynorthdevon.co.uk

Advice, demonstration,

service, rental & sale of colour

printers, copiers & MFPs

(multifunctional printers).

Clevera

clevera.co.uk

We're a fun, friendly creative

agency producing fab designs

for all forms of printed and

digital media.

Dare2BU

dare2bu.co.uk

Working to make North Devon

the most mentally healthy

place to live and work.

Devon Electric Heating

devonelectricheating.co.uk

Electric heating systems

– supplied and installed –

throughout the South West.

Fernbank Advertising

fernbankadvertising.co.uk

Promoting your business

through advertisements on

bus shelters across the South

West region.

Thursday 24 October

Devon Hall, Bideford College

FREE BUSINESS EXHIBITION

Fitzgerald HR

fitzgeraldhr.co.uk

With offices in Devon,

Somerset and London,

Fitzgerald HR provides Human

Resources with the human

touch to small, medium and

large organisations.

Heart of the South West

Growth Hub

heartofswgrowthhub.co.uk

The Heart of the South West

Growth Hub provides a

business advice service in

Devon and Somerset.

Heartfelt Products

heartfelt-products.com

We design products including

the ICE Alert pocket medical

wallet, the Woofie Wallet and a

bespoke range Made in Devon

comprising Happy Quilts and

Quilt of Memories (to wrap

around people/children for

their final journey).

Jobcentre Plus

dwp.gov.uk

Engages with employers to

identify bespoke labour market

solutions creating opportunities

for DWP customers.

Learn Devon

learndevon.co.uk

Adult and community learning

courses supporting people in

learning new skills for leisure,

returning to employment,

improving their English and

maths and improving their

health and wellbeing.

Marley Comms

marleycomms.co.uk

An expert leading bespoke

cloud and on-premise

telecommunications and

technology company.

Marsdens

Devon Cottages

marsdens.co.uk

With over 400 holiday

cottages across North Devon

and Exmoor, Marsdens helps

you get the most from letting

your holiday property.

Medicare

South West Limited

medicaresouthwest.uk

We now care for around

3,000 people every year

across North Devon, offering

specialist care to patients

at home and at the hospice,

while supporting the whole

family throughout these

toughest of times.

Need it Find it

needitfindit.uk

Organiser of BBxpo and

publisher of Business Action

and its own online directory.

Nott's Welding &

Sandblasting

facebook.com/Nottswelding

We specialise in welding

and sandblasting offering

dependable and efficient

services.

Petroc

petroc.ac.uk

Petroc raises the aspirations,

knowledge and skills of

individuals, communities and

business.

Safety Supplies Direct /

Tawsa

tawsa.co.uk

Tawsa Ltd is a Health & Safety

consultancy, while Safety

Supplies Direct specialises in

supplying PPE and workwear.

DON'T MISS OUT! EXHIBIT FROM £75

BOOK YOUR STAND(S) NOW at bbxpo.uk

Simple Recruitment

simplerecruitmentltd.co.uk

Specialises in both temporary

and permanent recruitment

solutions across industrial and

commercial sectors.

SWIG Finance Ltd

swigfinance.co.uk

SWIG Finance provides

business loans from £500 to

£100,000 to start-ups and

SMEs in the South West.

The Sign Maker

sign-maker.net

House signs, business signs,

memorials, engraved plaques

and wheel covers all made in

North Devon.

Tarkatography

tarkatography.co.uk

A passionate photographer

concentrating mainly on food

and interior images for web

sites and magazines.

Towergate

towergate.com/locations/

bideford

Through our trusted team

in Bideford, Towergate has

access to a wide range of tailor

made insurance solutions.

Utilities Warehouse

pinkpigsavings.co.uk

Based in North Devon, Nick

Parry can show you how to

make great savings on all your

household bills.

Wall Printer UK

wallprinter.uk

The UK's brand new vertical

wall printing technology for

interior and graphic designers,

advertising agencies, sign

makers, painters, decorators

and artists.

Wills at Home

wills-athome.co.uk

Alan Williams provides a

personal wills and lasting

powers of attorney service

across North Devon.

Wizard Signs and Print

wizardsignsltd.co.uk

Wizard Signs and Print

engages with its clients to

design, manufacture and install

a wide range of promotional

and directional materials.

Zarywacz

z2z.com

Attract customer attention

with Zarywacz's business

journalism and copywriting,

case studies, magazines,

campaigns and events.

12 business action | August / September 2019 | business-action.co.uk
---
xpo.uk

All the support you need

As the countdown to BBxpo

begins, what business support

will be available at the event?

BBxpo is delighted to

welcome Google Digital

Garage, who will be presenting

two free hour-long workshops.

Visitors are urged to take the

opportunity to pick up the

best hints and tips on how to

brand their businesses online

and achieve better visibility for

their businesses.

Google is bringing its Google

Digital Garage to BBxpo.

Two courses will be available

for visitors:

Build Your

Personal Brand Online

Learn to identify your brand,

build and protect your online

presence, and share content to

your network.

Get Your Business

Visible on Google

Get your business visible on

Google Maps and Search.

Book places

To book your free place(s) for

BBxpo and either of the Google

Digital Garage sessions, please

register at

bbxpo19.evenbrite.co.uk

BBxpo

BOOK FREE PRESENTATIONS

Build Your Personal Brand Online | Google Digital Garage

Learn to identify your brand, build and protect your online

presence, and share content to your network.

Get Your Business Visible on Google | Google Digital Garage

Get your business visible on Google Maps and Search.

High Performance in the Workplace | Dare2BU

1 in 4 people suffer with a mental health problem every

year. How does it impact a business when employees have

mental ill-health and what can businesses do to help improve

employees' well-being and their productivity?

Benefits of Upskilling Your Workforce | Petroc

Supporting your staff will bring benefits to you and them.

This presentation will discuss specific qualifications, short

courses or apprenticeships as a route to help your staff upskill.

This interactive discussion will be an opportunity to explore

the options for you and your business and staff.

Celebrating North Devon Entrepreneurs

A panel of local business people will discuss their own business

experiences and answer questions on how to build a

successful business in North Devon.

North Devon Enterprise Day Free Networking Buffet

The ultimate free lunch brings together business people to

network and build new relationships on North Devon

Enterprise Day.

bbxpo19.eventbrite.co.uk

#BBxpo

Local organisations providing

support include CITB, which

will be advising on grants for

construction businesses, while

the Heart of the South West

Growth Hub will be advising

on its free business advice

and support. Jobcentre Plus

and Learn Devon will be on

hand to discuss initiatives for

training and helping more

people into employment, while

Petroc will be promoting its

wide range of courses.

Expert service providers

In addition, business exhibitors

in the main exhibition hall will

be pleased to discuss the range

of expert services they offer.

Free networking buffet

One of the most important

ways of finding support is

from meeting peers and

BBxpo culminates in the free

networking buffet – the biggest

in North Devon – which offers

the opportunity for everyone

to make new connections and

build new relationships.

Full day of activities

With the growing list of exhibitors

opposite and the presentation

programme, BBxpo

offers a full day of activities for

forward-looking businesses

looking to grow.

Free business advice and guidance

The Heart of the South West

Growth Hub is an impartial,

free service providing advice

and guidance to new and established

businesses in the Heart

of the South West LEP area,

which covers Devon, Plymouth,

Somerset and Torbay.

A key role is to help local

business owners access fully

funded support services which

help them to realise their

business aspirations. With a

wide range of resources and

a friendly team of business

advisers on hand to take

enquiries, it's worth contacting

the Growth Hub if you are

thinking about starting up a

business, are in the early stages

or have an existing business

which you want to develop.

David Hynd, Growth Hub

programme and partnership

manager, says: "There

is a wealth of governmentbacked,

free-to-access support

available to both new and

established businesses. It's

our job to understand businesses'

requirements and

to help identify the right

schemes to meet their needs.

The team are on hand to talk

through your business goals

and will provide impartial

advice on what's available to

you. When you are ready to

move forward, we can make

introductions to the services

you choose."

Businesses of any size,

operating in any sector can

benefit from Growth Hub

support and business owners

are welcome to use the service

as many times as they require

as their business growth

journey progresses.

To date, the Growth

Hub has helped more than

6,000 enterprises start up or

grow. There is currently free

face-to-face business advice

available for new and established

businesses throughout

Devon, Plymouth, Somerset

and Torbay, as well as access

to funded skills training in

subjects such as digital and

bbxpo19.eventbrite.co.uk

IT skills, customer service or

leadership and management.

The Growth Hub team are

urging business owners to get

in touch now to take advantage

of the support on offer. The

team can let business owners

know what support is available

to them so they can make

informed choices about what

they would like to access.

Meet the team at BBxpo

The Growth Hub team will

be exhibiting at BBxpo on 24

October 2019 in Bideford.

Registration is free and advisers

will be on hand to talk to

businesses about accessing

funded support.

■■Details 03456 047047 or

heartofswgrowthhub.co.uk

@businessactionm | August / September 2019 | business action 13
---
HEALTH & SAFETY

Keeping

Banner 3.indd 1

customers safe and satisfied

24/07/2019 15:33:39

Keith and Julie Turner started

Tawsa in 2006 by investing in a

printer so that they could print

leaflets. Now the business operates

an established health and

safety consultancy in the South

West and across the UK as well

as its Safety Supplies Direct

store on Pottington Business

Park in Barnstaple and online.

Keith's 'can do' attitude

has enabled the business to

develop through focusing on

delivering what clients want.

Tawsa advises on all aspects

of safety – from site inspections

and audits to writing

procedures, providing training

and full safety management.

Keith is determined to give

a consistently high level of

service, whether a client runs a

multi-site operation employing

hundreds of people or is a

one-man band.

Safety Supplies Direct

works on the same basis. Keith

started supplying equipment

after a client asked him to

purchase some goggles, which

alerted him to the business

opportunity. The store now

stocks a wide range of health

and safety clothing and equipment

and janitorial supplies,

Meeting rates from £25 pp

24 hour delegate rates available

Fully catered team building

Michelin dining experience

Participative courses

Business facilities

Call today for our business package

prices & details 01271 862446

ilfracombecarlton.co.uk

and, again, provides the same

level of service to customers

whether they buy one pair of

gloves or hundreds.

"We offer information and

advice on products and would

rather customers buy the

right product, even if it's a less

expensive one," says Keith.

"It's about loyalty and being

honest. We want people to

come back and let us help sort

their problems."

The drive to help customers

has led Keith to source hardto-obtain

items and start

Whatever health and safety advice and supplies you need:

(from left) Keith Turner, Robert Priestley and Julie Turner

importing them himself, giving

exclusivity for some products.

Customers can purchase by

visiting and collecting from the

store or ordering by phone or

online for delivery by Safety

Supplies Direct locally or by

courier across the UK.

Keith and Julie's hard work

has developed the business

so that it now employs seven

people and they have plans for

further expansion.

One team member, Donna

Salter, who left the business

when she moved from the area,

returned in March after three

years to manage sales. Nadia

Curtis has also recently joined

part-time to assist with admin.

Keith and Julie believe it is

vital that employees are happy

and, as parents themselves,

recognise the importance of

flexibility. Keith says there is

a genuine team spirit where

everyone helps out and he

himself will help re-organising

the stockroom or cleaning.

Health and safety system

Keith never stands still and has

recently developed a system

that can be accessed via PC or

mobile phone to manage and

record all aspects of a client's

health and safety. Available

for an annual subscription,

clients can run it themselves or

Tawsa can manage it remotely,

providing a full back-up service

to guarantee data security.

Always focused on a

commonsense approach to

health and safety, and actively

developing business opportunities,

what innovations will

Keith and Julie launch next?

■■Details 01271 377558 or

safetysuppliesdirect.co.uk /

tawsa.co.uk

WE OFFER ASSISTANCE WITH:

Valuations

Cost Management

Bills of Quantities Tendering

Procurement

Invoice Reconciliation

CALL TODAY for an informal chat:

01271 603053

futuredimensions.uk

info@futuredimensions.uk

14 business action | August / September 2019 | business-action.co.uk
---
CONSTRUCTION

Tap into funding for construction

The construction industry

is fortunate in having its own

training body to help develop

its workforce. The Construction

Industry Training

Board (CITB) is an executive

non-departmental public body

supported by the Department

for Education.

It is also accountable to

government ministers and

ultimately Parliament.

What that doesn't tell

you is that CITB has its own

secret weapon in Devon: Roy

Imeson. For 11 years, Roy has

been on a relentless mission

to help businesses in the

construction industry develop

through improving skills.

Roy has worked in

construction for more than

25 years in a number of roles

from on-site assessment to

apprenticeship programme

delivery and providing advice

and guidance.

As CITB strategic partnership

adviser for the Heart of

the South West, he is looking

to work with as many small,

rural companies as possible

to help them attract, train

and retain talent. He believes

that with businesses facing

challenges from so many

directions, improving and

maintaining skills will help

them survive and grow.

Petroc is hosting a full day

of digital workshops on 21

October. These will cover:

Developing a Marketing

Strategy: New Ways of

Working; Making the most of

Social Media Platforms; and

Measuring Online Success.

skills training

The construction industry needs a skilled workforce and Roy Imeson

of the Construction Industry Training Board is relentless in his

mission to help businesses take advantage of grants for training.

Robert Zarywacz spoke to Roy about funding available to employers

Roy Imeson, advising the construction industry on skills and training

£5,000+ training grants

Businesses directly employing

between one and 49 staff who

are concerned about the cost

of training might be surprised

to discover that when they

register with CITB, its Skills

and Training Fund can grant

them £5,000 to fund construction-specific

training over a

12-month period.

Businesses employing 50 to

74 staff can receive £7,500 and

those employing 75 to 99 staff

can receive a grant of £10,000

per year.

Grants can be used for a

wide range of construction

training from NEBOSH health,

safety or environmental qualifications

to face mask training

or Business Information

Modelling software courses.

What's more, businesses

can apply for grants annually,

so a small business with under

49 staff could receive £5,000

for training every year.

Employment and skills events

The sessions at Petroc's

North Devon campus in Barnstaple

are fully funded for SMEs

that meet eligibility criteria.

■■Details 01271 852428 or

dsfsb.eventbrite.co.uk

Next Steps Development

is hosting a free Untapped

Talent breakfast event in

Barnstaple from 8am to 10am

on 24 September where businesses

can find out about free

Signing up is easy

Roy is always willing to help

businesses to sign up and

access training funds. He

attends skills events across the

region and can visit businesses

to complete applications.

North Devon drop-ins

CITB is organising free dropin

sessions for North Devon

construction companies to

find out more about how to

access training. Roy Imeson

will be hosting these sessions

and will be pleased to discuss

how he can help.

Barnstaple – this session

will run from 10am to 2pm on

Tuesday 17 September at the

Park Hotel.

Bideford – this session will

run from 10am to 12pm on

Thursday 24 October as part

of the BBxpo exhibition at

Bideford College.

Businesses can book free

places at these sessions by

visiting eventbrite.co.uk/o/

roy-imeson-18198201900

■■Details 07770 800 954,

email roy.imeson@citb.co.uk

or visit citb.co.uk

Meet CITB at BBxpo

disability awareness training,

the benefits of becoming a

Disability Confident employer

and how the Access to

Work scheme can help with

recruiting and retaining staff.

■■Details untappedtalent

breakfast.eventbrite.co.uk

Two heads are better than one!

Offering support in marketing, admin,

creative design, book keeping, events,

website, social media and much more

For a FREE consultation

contact Helen today

Paper Clip

paperclipdevon@outlook.com

07870 604019

www.paperclipdevon.co.uk

keeping your office together

@businessactionm | August / September 2019 | business action

15
---
Is there ever a perfect time to

start a business? Jayla Wilcox

started Simple Recruitment

in 2009 when she was three

months pregnant and at the

height of the global recession.

Now the business has offices in

Somerset, Wiltshire and North

Devon and continues to grow.

Recruitment mission

"I was working for a large

national recruiter and I was

genuinely miserable," says Jayla.

"My father asked if I

could do it better, to which I

answered 'yes' and from that

day onwards, this is what I have

aimed to do. To give people an

honest, reliable and communicative

service that is 'Simple',

where we care about what we

do and who we work with."

Simple Recruitment's head

office is in Somerset and Jayla's

introduction to North Devon

was on a caravan holiday to

Bideford with her mother and

daughter in June 2015.

"We had such a wonderful

weekend. The sun shone and

we found Bideford to be so

charming and the holiday park

we stayed on not commercialised

at all. It was wonderful.

"We felt like we were on the

other side of the world when

we came the first time. We

really relaxed and just loved

being so close to the coast. The

fact that it was just so peaceful

saw us return."

Branching out in Bideford

Jayla loved visiting North

Devon so much that she

decided to open up another

branch of Simple Recruitment

in Bideford.

"We launched our Bideford

office on 2 July 2018 in the

hope that we could replicate

the service offering we have

developed in Somerset for the

North Devon marketplace, for

both clients and candidates.

"Our first year has been

NORTH DEVON

Determination

to succeed

What is it that attracts business people to or back to North Devon?

In this issue's Magnetic North Devon feature editor Robert Zarywacz

talks to Jayla Wilcox who was entranced by Bideford while on

holiday and decided to open a new branch of her business there

Jayla Wilcox and Big Juke

fantastic. We have learnt a great

deal and have been warmly

welcomed by clients and

candidates alike. We have had

tremendous growth in these

first 12 months, increasing

our team to three, moving our

offices to a more prominent

location on the Quay and

gaining the trust of new clients

with each passing week."

Jayla has made contact by

driving around the area and

visiting businesses to introduce

her team and the recruitment

services they offer.

Friendly welcome

Jayla has found everyone

extremely friendly in North

Devon and is pleased with the

response Simple Recruitment

has received both from clients

and candidates.

Clients have complimented

the team on their rapid

responses and attentiveness

when helping out with their

recruitment needs, while

candidates have praised the

company for efficiency in

providing placements.

"We are building a reputation

for a good solid service,

communication, honesty,

reliability and integrity."

Simple Recruitment

specialises in permanent and

temporary recruitment across

industrial and commercial

sectors. It provides temps on

both a short and long-term

basis, in roles from reception

and PAs to production operatives,

forklift drivers and more.

Jayla is delighted with the

success of the Bideford office

and to have established a

branch of Simple Recruitment

in an area she loves.

"I spread my time across the

three offices, but I am lucky

enough to have fantastic teams

in place who work incredibly

hard to ensure our service is

delivered accordingly."

■■Details 01237 439500 or

simplerecruitmentltd.co.uk

What attracted your

business to Magnetic

North Devon?

Share your story to

news@business-action.co.uk

Call 01271 326694.

info@boomboomedia.co.uk

visit www.boomboommedia.co.uk

16 business action | August / September 2019 | business-action.co.uk
---
My name is Rosie, I'm 20

years old and I live in the

small seaside town of Lynton.

In my spare time (and when

the weather allows), I love

lounging in the sun on the

beach, swimming and surfing.

I first discovered my interest

in marketing during my time

at college, where I studied an

extended diploma in business.

I really enjoyed learning about

marketing, as it enabled me

to bring out my creative side.

During the course, we had to

conduct market research on

the chocolate industry and use

our findings to come up with

an idea for a new chocolate bar.

With me being a huge chocoholic,

I was in my element and

the task highlighted my interest

in market research, which was

one of the reasons that led me

to apply to Turquoise Thinking

for the apprenticeship position.

Marketing apprenticeship

I started my marketing apprenticeship

through Petroc here at

Turquoise at the end of March

2019. During this time, I have

gained a pool of knowledge

about market research and how

the business operates. What

made Turquoise stand out to

me as a market research agency

is their extensive cross-sector

experience. They have worked

with a mass of blue-chip clients

in a wide number of sectors

over their 30 years in the market

research industry, and really

understand how people work

and what makes them tick.

My first day

I was thrown in at the deep

end on my first day, where I

was given the opportunity to

travel to Somerset to attend

a client presentation with my

new teammates. On arrival at

this highly secure site, we were

invited to sit in a porta-cabin

which had a poster on the wall

with warning signs telling us

to "run, hide and tell" if we

were faced with any immediate

threat or danger. Just the warm

welcome I needed to settle my

first-day nerves! However, we

made it out alive after Laura

delivered a fantastic presentation.

Getting involved in client

projects from the get-go has

made me feel part of the team

and allowed me to get a real

taste for how Turquoise interacts

with clients.

APPRENTICESHIPS

Diary of a market research apprentice

Apprenticeships are fast becoming the best way for young people

to start a career and for businesses to develop skilled people. This

month Rosie Hayton writes about her first month as a marketing

apprentice with Turquoise Thinking in Barnstaple

Deep in thought at Turquoise: (from left) Lisa Ollerenshaw, Mark Harvey,

Laura Scott, Rosie Hayton

My introduction to the

world of market research

Since starting my apprenticeship,

I have had the chance to

work with different colleagues

on an array of tasks each day,

from data analysis to scripting

questionnaires. This has given

me an understanding of everyone's

role within the organisation

and what part each person

plays in taking a client project

from start to finish.

I was also given an exciting

opportunity to experience

a big kick-off meeting for a

client in the water sector in

Birmingham. The project

set out to achieve objectives

such as monitoring customer

satisfaction and increasing

awareness of service.

Attending this meeting

made me feel like I was a

valued member of the team

and gave me a greater understanding

of the process that

Turquoise goes through when

undertaking a project.

Getting on the phone!

The team has helped to push

me out of my comfort zone too.

In my second week, I was given

some training in the art of coldcalling

. . . uh-oh! This took the

form of first getting my head

round the sales process, sales

pipeline and how to introduce

the Turquoise proposition to

attract new business.

We then moved on to roleplay

which was particularly

challenging, because let's face

it, who likes role-play anyway?

However, the training paid

off, and I had some good

conversations, which actually

resulted in being able to book

a couple of appointments

with universities who were

interested to speak to us about

our education sector market

research experience with

regards to upcoming research

requirements. This really

helped to build my confidence.

Best bits

My favourite thing about

working at Turquoise is the

variety that comes with the

job. I get to work on tasks in

different areas of the business,

conduct research, present my

findings to the team, and learn

new things every day.

I have really enjoyed my first

month at Turquoise Thinking.

I'm looking forward to what is

to come and gaining experience

and a full understanding

of the market research industry.

I would like to thank Turquoise

for giving me the opportunity

to help them expand their

close-knit team and for being

so welcoming.

■■Details 01271 337100 or

thinkturquoise.com

Cranford Business

Services Limited

www.accountsindevon.co.uk

Old Stone, Cranford, Bideford, Devon, EX39 5QW

07896 204 857

Does your accountant...

Listen to you and act on your needs?

Explain your accounts in terms you understand?

Arrange meeting at your convenience?

Leaving you free to concentrate on what you do best!

@businessactionm | August / September 2019 | business action 17
---
1. What was your first job?

I was 13 and worked as a

chambermaid in a small hotel

in Cambridge. I made the

beds, cleaned the rooms and

bathrooms. My first proper job

after leaving university was at a

bank called AMP in London. I

was an HR administrator.

2. What is the best

business advice you've

ever received?

Don't worry about perfection.

Just get out there and do it.

Listen to the feedback, and

then refine what you're doing.

I also read a book many years

ago called Ready, Fire, Aim

by Michael Masterson, which

advises the same thing.

3. What do you enjoy most

about business?

I really enjoy the business

improvement process. I enjoy

constantly looking at how we

can improve and how small

tweaks in each area of the business

enable us to move forward

and get better at what we do

and the delivery of our service.

4. What essential

technology could your

business never be without?

Email marketing software.

We recently switched from

Mailchimp to Drip, which is

brilliant.

5. Describe your business

management / style

Collaborative. When it comes

to clients, employees and all our

stakeholders, I view the relationship

as a partnership that we

should all benefit from, and I

believe that we should have fun

as well.

6. How do you go about

personal development?

Mostly reading. I have the

app Blinkist on my phone,

which is great for giving

me a summary of the key

messages of a wide variety

of books. If the summary is

good, then I'll get the book

and read it all. Audiobooks

IN THE HEADER HOT SEAT

Lucy Fitzgerald of Fitzgerald HR

Looking for independent financial advice?

Call us on 01237 426450

for a free initial consultation

Each issue we put a North Devon business personality in the hot seat

and ask them 10 questions. This issue we asked Lucy Fitzgerald,

managing director of Fitzgerald HR

contact@dscottfinancial.co.uk

https://dscottfinancial.co.uk

Your home may be repossessed if you do not keep up repayments on your mortgage.

are great because I can listen

whilst driving and I drive a

lot. A minimum of five hours'

driving a week results in five

hours of learning. But I often

drive much more than this. At

the moment I'm listening to

Let My People Go Surfing; the

Education of a Reluctant Businessman

by Yvon Chouinard.

With offices in Devon, Somerset

and London, Fitzgerald HR

provides Human Resources

with the human touch to

organisations of all sizes looking

for HR solutions across the

employee life cycle.

Fitzgerald HR offers a range

of packages and solutions

tailored to its clients' requirements,

from HR consultancy

services, to acting as an

extension to existing HR teams

ABOUT FITZGERALD HR

7. Is there anything about

yourself that you would like

to change?

I can procrastinate. I prefer to

work on focused projects and

get very absorbed in what I'm

doing. This is difficult when

running a business as I'm often

pulled in different directions.

Sometimes I will put off

important tasks because I want

to keep going on the project

I'm involved in. I'm working

on getting a balance between

giving myself the time to be

absorbed in something that

really interests me, and moving

projects forward, whilst also

getting the important business

administration done.

8. Social media: yes or no?

Preferred network?

Yes. I think it's important for

businesses to take a multichannel

approach to marketing

and we publish on LinkedIn,

Facebook and Twitter at the

moment. Personally, I tend to

use LinkedIn mostly. I find it's a

great business networking tool.

9. How do you wind down

when not working?

I spend time with my family. I

also love to read fiction. Reading

a good book is something I can

get lost in, which makes it easy

to switch off from everything

else I need to be doing!

10. Do you have a motto or

favourite quotation?

Two:

1 – People who wonder

whether the glass is half empty

or half full are missing the

point. The glass is refillable.

2 – You can have it all, just not

at the same time.

by supporting with workplace

investigations or training.

With experience of working

with a wide range of sectors,

Fitzgerald HR knows that

clients often need hands-on

support, rather than just an

advice line. Fitzgerald HR has

built an HR company that

can provide nationwide HR

support on a local basis.

■■Details 01271 859267 or

www.fitzgeraldhr.co.uk

18 business action | August / September 2019 | business-action.co.uk
---
NEWS EXTRA

your link to success

covering Temporary, Permanent and Contract

in Manufacturing, Sales and Marketing and Business Support

offices in Barnstaple and Somerset 01271 349 745

www.coopergolding.co.uk

Woolacombe development

now available to buyers

Woolacombe's Byron development

is now complete and

available to buyers.

The 57 open market apartments

offer spectacular views

across Woolacombe Bay and

benefit from exclusive facilities.

These include the new

Brundle's restaurant as well

as communal outside spaces,

gym, indoor games room,

onsite underground parking,

outdoor surf storage, sauna

and surf showers.

The two to four-bedroom

apartments are suitable for

beachside family holidays or

as furnished holiday let investment

properties.

■■byronwoolacombe.co.uk

Rafting away on work experience

Fahren Woollacott, Callum

Rippon and Joe Passmore,

all 15-year-old students at

Pilton Community College,

designed and built a cardboard

craft for Bideford's Cardboard

Boat Regatta on their work

experience at Atlas Packaging.

The students designed the

boat on CAD software used by

the structural design team at

Atlas Packaging and created

a small version to see how it

would look before embarking

on the big build.

■■Details atlaspackaging.co.uk

£150 Business Action Plan

all-year business advertising

➤ Business card advert in 6 issues

➤ Business listing in 6 issues

➤ Online listing for one year

➤ 6 issues of magazine mailed to you

Call Alan on 07970 671192

Wills Property Trusts (in will)

Children's Trusts (in will) Funeral Plans

Probate Lasting Powers of Attorney

Wills: £70 Single / £105 Joint

@businessactionm | August / September 2019 | business action 19
---
PEOPLE

Tom Bond with his Devon and Cornwall Care Home Manager Silver Award

Tom Bond, manager of West

Heanton, the Buckland Filleigh

care home providing sheltered

housing and domiciliary home

care, has won the Devon and

Cornwall Care Home Manager

Silver Award 2019.

Tom and his wife Hayley

attended the awards ceremony

knowing only that a member

of staff had nominated him for

the award.

"I'm overjoyed to receive

this accolade," says Tom. "None

of it would be possible without

the great team supporting me

at West Heanton."

Established by Tom's

grandparents, Syd and Phyllis

Martin, he now runs the

business with great aplomb,

innovation and vision.

Administration manager

Mindy Duly explains that their

services assist 60+ families in

the area, including residential

and domiciliary care (care in

the community services), meals

on wheels and day care centre.

Future plans include

increasing rooms from 23 to 26

and building a new all‐purpose

reception and activities hall.

They continue to train and

develop their staff with Acacia

Training and Development and

are always looking to increase

their team of 100.

Acacia's programme

manager, Sue Lynne, recently

enrolled three more members

of staff on to apprenticeships.

She is delighted for the team,

saying: "There is always a warm

welcome at West Heanton, with

smiling happy staff and content

clients. It is a pleasure to work

with Tom and his team, a very

supportive employer of his

staff and Acacia as a training

provider. We have worked with

Tom and his team since 2014

and have seen the company

develop over the years."

The team recently received

CQC Good for its domiciliary

care services and a 5-star environmental

health rating.

Professor Jim Norton, one

of Applegate's non-executive

directors, has been awarded an

OBE for services to engineering

and the digital economy.

Jim Norton says: "I am

delighted by the national

recognition for my contributions

to the digital economy

and am continuing to support

that work through the innovation

in e-Procurement being

pioneered by Applegate."

Among many other roles,

Jim was for 18 years an

external member of the Board

of the UK Parliament's Office

of Science and Technology

and is a Fellow of the UK

Royal Academy of Engineering

– bringing a wealth

of knowledge and experience

to the board of Applegate as a

technology business.

Kelly Williams, sales and

marketing director at Savona

Foodservice in Ilfracombe, has

been shortlisted as a finalist

in one of the national IGD

Awards categories.

The awards celebrate the

biggest and best achievements

in the UK FMCG industry

and the national winners will

be announced at the awards

ceremony at London's Tobacco

Dock, London on 7 November.

Kelly is one of four finalists

from across the country in

the Leading Light category as

someone who's made a real

difference within her role over

the past year. Her recent key

Applegate chief executive

Stuart Brocklehurst

commented: "Jim's OBE is

richly deserved. Few people

have done more for the

engineering sector and the

UK's digital ecosystem. His

contributions to our Board are

invaluable, we're delighted to

have him working with us."

achievements include: sustainability

and managing route

consolidation to reduce the

company's carbon footprint,

securing major contracts, exhibition

relocation success, online

ordering and re-branding.

Kelly has made a measurable

difference to the business,

consumers and the wider

industry, and has plans to grow

the company in the future.

Judges looked for evidence

of: how candidates performed

over and above their normal

job role, desirable behaviours

and / or use of their skills, and

how their achievements have

made a difference.

20 business action | August / September 2019 | business-action.co.uk
---
I was contacted by Paula

in early 2018 when she was

looking for better information

to show how her

rapidly growing business was

performing.

Paula's business, Cooper

Golding Ltd, is a North Devon

based provider of high quality,

tailored recruitment services.

Since 2015 their operations

have grown rapidly so that,

with multiple customers and

revenue streams, the accounts

administration was proving a

challenge, and reliable information

to support decision

making was hard to find.

Sales plans for 2018 were

set to treble turnover, which

would require additional staff

and better systems in order

to maintain high standards of

customer service.

The Challenge

Cooper Golding uses Xero as

its accounting system, which

allows the team easy access and

maintenance of their accounts

information. However, like

many businesses enjoying

high sales growth, they were

constantly investing in additional

personnel, marketing

and equipment.

Paula needed clear and

detailed analysis to ensure that

the decisions she was taking

delivered the cashflow and

profitability required.

My Service

When I met the team, we

discussed the challenges and I

took time to work out exactly

what help they needed.

It was crucial that the solution

should be easy to use, to

scale up and not require my

regular attention. The most

appropriate solution was to

improve the information that

Xero reported and to create

a simple structure of spreadsheets

to allow the in-depth

analysis required by the team.

GROWTH

Using strategic financial data for growth

Have you ever wondered what a management accountant does?

Susie Kevern is a North Devon-based independent Chartered

Management Accountant.

With many years' training and experience from working

in a variety of big businesses, she set up her own business

eight years ago. Rather than focusing on technical accounting

compliance, management accountants take a more forward

looking view of business to:

➤➤plan growth and investment

➤➤predict the effects of business decisions, and

➤➤investigate what keeps the business engine going in order to

tune it to work better

Susie works with her clients to make sure that the time and

money spent keeping the books up to date for the tax office also

produce actionable information that shows how well the business

is performing.

She has a particular focus on working with food manufacturing

businesses, but in recent years has helped a variety of

businesses from garages to cleaning contractors and tackled

projects ranging from complex re-financing projects to standalone

project planning.

Here Susie talks about how she uses financial data strategically

in her ongoing work with the team at Cooper Golding . . .

My priority was to update

and simplify the spreadsheets

already in place to ensure they

were accurately recording the

non-financial information.

I reorganised the accounting

reports to show the figures

that the Cooper Golding team

needed to see so that they had

good information on which

to base decisions. In addition,

I adapted the accounting

processes to make sure the

correct costs were being recognised

in each sales month.

The final part of the plan

was to give Paula and her team

a clear, simple report detailing

sales to each customer each

week, showing the key areas of

business growth.

Results

The immediate result of my

work was a set of reports that

allowed Paula and her team

to see how they were driving

growth at Cooper Golding.

This enabled them to grow

the business beyond Paula's

expectations for 2018 while

maintaining high levels of cost

effective customer satisfaction.

As we continue to work

together, we now have the

information we need to be able

to assess proposed changes to

the business and make better,

faster decisions for the future.

What does Paula think?

"We needed the expertise of

a management accountant

to assist us with developing

Cooper Golding and looking

strategically at the accounts

and financial growth.

"Susie quickly got to grips

with the brief and delivered

the solution in a timely and,

most importantly, effective

manner for our needs and has

been, and continues to be, a

supportive part of our team."

■■Details 07801 199671 or

poundlane.co.uk

Susie Kevern improves decision making through

strategic financial information

@businessactionm | August / September 2019 | business action 21
---
TOWERGATE

YOUR LOCAL BROKER

Through our trusted broking team in Bideford, Towergate has access to a wide range of tailor made insurance solutions and risk management programmes.

Drawing on resource from our insurance experts across the UK, we can assist with insurance requirements locally, nationally and globally.

Contact Robin Glover on 01237 429 978

or email bideford@towergate.co.uk www.towergate.com

Towergate, 24 The Quay, Bideford EX39 2EZ

Towergate is a trading name of Towergate Underwriting Group Limited. Registered in England Number 04043759. Registered Office: Towergate House, Eclipse Park, Sittingbourne Road, Maidstone, Kent, ME14 3EN. Authorised and Regulated by the Financial Conduct Authority.

0008NS030119 - TIB Bideford half page ad.indd 1 03/01/2019 12:0

Investment property to Let?

• Competitive commission rates

• Local, friendly, expert advice and support

• Comprehensive marketing

• Fully managed services to suit your needs

• NEW! Mobile-optimised website

• Over 97% of our owners would

recommend us - find out why...

Contact us today on 01271 813777

for your homeowner recruitment pack

marsdens.co.uk