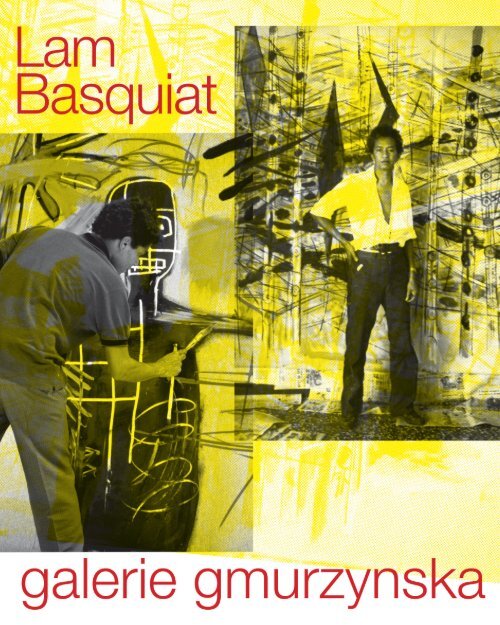 Anthony Haden-Guest – Wifredo Lam / Jean-Michel Basquiat
Excerpt from "Lam/Basquiat", a catalog published by Galerie Gmurzynska on the occasion of a special presentation at Art Basel 2015, prepared in collaboration with Annina Nosei.
Excerpt from "Lam/Basquiat", a catalog published by Galerie Gmurzynska on the occasion of a special presentation at Art Basel 2015, prepared in collaboration with Annina Nosei.
SHOW MORE
SHOW LESS
You also want an ePaper? Increase the reach of your titles
YUMPU automatically turns print PDFs into web optimized ePapers that Google loves.
Wifredo Lam / Jean-Michel Basquiat

by Anthony Haden-Guest

It was while Jean-Michel Basquiat

was working in Annina Nosei's downstairs

space that he became familiar with the

work of Wifredo Lam. It seems that

Basquiat was in the process of looking over

the work of other artists that caught his

attention - Nosei had suggested he check

out the Cobra group, for instance - and he

had been strongly drawn to Lam. Dieter

Buckhart, the Viennese curator who put

together the remarkable show of Basquiat

notebooks for the Brooklyn Museum,

simply says that Lam was "on Basquiat's

ladder."

Not hard to see why. Not only did

Lam have preternatural skills in picturemaking

but Basquiat and Lam shared

biographical background of a nature well

fitted to feed into the making of those

pictures. Both were of mixed race. And

similarly mixed race. Wifredo was the

eighth child of Lam-Yam, an emigrant to

the Americas from Canton, and his mother,

Ana Serafina Catilla, was of mixed African

and Spanish stock. Basquiat's father,

Gerard, was a Haitian of African descent,

his mother Matilde was Puerto Rican. So

both were a melange, yes, but both looked

African. Which means being identified as

African in most of the world. You don't

believe me? Feel free to check with Barack

Obama or Tiger Woods on this.

Lam was born in Sagua la Grande,

a township on the coast of Cuba, on

December 8, 1902. He would often say

that his first intuition of the marvelous was

the shadow of a bat fluttering through

his bedroom when he was five. The family

moved to Havana when he was in his early

teens and he was sent none too willingly

to study law. He went to an art school

instead, disliked the Beaux Arts training,

but got a grant to study in Europe and

left for Madrid when he was 21, planning

to soon move on to Paris. Actually he

spent fourteen years in Spain, joining an

avant-garde group where he made art

variously inflected with Cubism, Fauvism

and Surrealism. But in 1931 his first wife and

their son died of TB, darkening his world.

Lam fought for the Republicans in

the Spanish Civil War, took part in the

defense of Madrid. He then finally made his

way to Paris, arriving in the beating heart

of the avant-garde on May 1, 1938, armed

with a letter of introduction to Picasso,

given to him by the Catalan sculptor

Manolo Hugue. Havana, Lam's former

hometown, was not, of course, "primitive"

but the capital of a former colonial culture

and Lam, whose family had wanted him to

be a lawyer, was scarcely tribal, but this

did not prevent his perceived African-ness

from being a plus with the Parisian avantgarde,

who had long been channeling

the energy of tribal art. Indeed their

use of it had sometimes been attacked

as exploitative, an avant-garde form of

colonialism, but it was actually a matter

14
---
of using that raw, brimming energy

to undermine the genteel salons. As

when Josephine Baker, the dancer who

electrified the Paris of the 20s in La

Revue Negre, had observed, "For too long

people have hidden their behinds. I see

no reason to be ashamed of them."

Picasso told Andre Malraux in 1937

that his discovery of the energy in tribal

art and artifacts had begun when he

had been overwhelmed on a visit to the

Ethnographic Museum in the Palais de

Trocadero. "The masks weren't just like

any other pieces of sculpture," he said.

"Not at all. They were magic things. Les

Demoiselles d'Avignon must have come

to me that very day." He had made that

painting - arguably the first "modern"

artwork - in 1907. This is a Picassoid

reading, of course, and it has been

claimed that it was Derain who brought

the work to his attention. But that

Picasso got the most oomph! out of the

encounter is not open to question.

Picasso and Wifredo Lam did duly

meet. And Picasso took to the Cuban right

away. "Even if you hadn't brought me a

letter from Manolo, I would have noticed

you in the street," Picasso told Lam later.

"And I would have thought: I absolutely

must make a friend of this man." He quickly

saw to it that Lam met the creme de la

creme of the avant garde, introducing him

to Max Ernst, Andre Breton, Tristan Tzara,

Fernand Leger, Henri Matisse, George Braque

and Michel Leiris, who was a Surrealist and

the director of the Black Africa department

in the Trocadero, and who would in due

course write a book about Lam.

The tutelary Picasso/Lam

relationship was discussed at the

time and it makes for an interesting

comparison with the young/old, black/

white relationship between Jean-

Michel Basquiat and Andy Warhol. One

significant difference is that Picasso was

no way perceived as being in a creative

slump - indeed was accelerating from

one prime into another - whereas Warhol

could be seen as needing Basquiat rather

more than vice versa. A more serious

distinction, though, was that Basquiat,

young though he was, was already a

developed artist when he began to work

with Andy Warhol, whereas Picasso

saw promise in the work of the still

evolving Lam, who was soon perceived

as his protégé. Indeed the part Picasso

played in his flowering was huge, and

included getting him a dealer, Pierre

Loeb, who put it on the record that he

visited Lam's studio with Picasso.

Loeb said, while looking at the work,

"He is influenced by blacks."

Picasso said, "He has the right, he

IS black."

15
---
Lam had his first solo show in Paris

with the Loeb gallery in the summer of

1939. Those who attended his opening

included Le Corbusier and Marc Chagall.

And that same year Picasso and Lam

showed together at the Perls Gallery in

New York, as Warhol and Basquiat would

almost half a century later.

I should note that many of the

details above come from a 2003 essay

by Michele Greet, entitled Inventing

Wifredo Lam: The Parisian Avant-

Garde's Primitivist Fixation. In this

Greet observes that "during his time in

Paris, Lam did not employ Africanizing

forms as a reflection of his Afro-Cuban

heritage, but rather he engaged these

forms as a means of emulating the

modernity of the Parisian avant-garde,

and in so doing, definitively breaking

with his academic training. Lam was

attracted to Picasso's incorporation of

primitive forms to invent visually new

and challenging images … Lam began

to explore the possibility of imbuing

these formal constructions with meaning

specific to his identity as an Afro-Cuban."

So. It was 1940 and Lam went

down to Marseilles in Vichy France to

dodge the Nazis. There he became a

habitué of the Villa Air-Bel, HQ for

the "Defense of Intellectuals Menaced

by Nazism," which was run by a

gentlemanly American, Varian Fry,

who described Lam as "the tragicmasked

Cuban Negro who was one of

the very few pupils Picasso ever took."

Amongst the Menaced Intellectuals

were a number of Surrealists, including

Andre Masson, Max Ernst, Victor

Brauner and Andre Breton, who

picked Lam to illustrate his poem

Fata Morgana. In retrospect it was a

last gasp of the primacy of the Paris

avant-garde. And the following year

Wifredo Lam was back in Cuba.

* * *

Yes, Lam was back, with his

mother and his three sisters, but

Havana was greatly changed. Under

the Batista regime, the capital was

Americanized, a tourist playground,

utterly disregarding the hard lives of the

peasantry in the countryside. "For me,

seeing Europe had been everything,"

he wrote. Lam's humanitarian nature,

the side of him that had labored making

anti-Franco posters was reawakened.

"What I saw on my return looked like

Hell," he wrote. "All the drama of the

colonialism of my youth resurfaced in

me."

Nor that only. His sister Eloisa

well acquainted with the venerable

rituals of Santeria. "When I came

back to Cuba, I was taken back by

its nature, by the traditions of the

Blacks, and by the transculturation of

its African religions. And so I began

to orientate my paintings towards the

African."

Eloisa arranged for her brother

and a friend, Alejo Carpentier, one of

the writers who had formulated the

key Latin-American concept, Magic

Realism, to participate in the rites. It

was as if the pictorial language which

had helped Picasso and the Cubists

construct Modernism was now Lam's

to use for real.

16
---
Wifredo Lam with Pablo Picasso, Cannes, 1954

It was at the suggestion of Andre

Breton that he was offered a New York

show by Pierre Matisse. The younger son

of the artist had moved to New York and

opened a gallery twenty years before.

He was now operating out of the Fuller

Building on East 57th, where he showed

Giacometti, Derain, Dubuffet, Balthus

and Le Corbusier. Wifredo Lam might

as well have been back in Paris. Back

in Cuba Lam worked as never before.

MoMA bought his 1943 canvas, La Jungla.

They hung it alongside Les Demoiselles

d'Avignon.

Wifredo Lam died in September

1982. That March Jean-Michel

Basquiat had his first one-man

show at the Annina Nosei Gallery.

It did extremely well. A review by

Jeffrey Deitch read "Basquiat's great

strength is his ability to merge his

absorption of imagery from the

streets, the newspapers, and TV

with the spiritualism of his Haitian

heritage, injecting both into a

marvelously intuitive understanding

of the language of modern painting."

Good call.

17
---
Publication © Galerie Gmurzynska 2015

For the works by Jean-Michel Basquiat and Wifredo Lam:

© 2015, ProLitteris, Zurich

Documentary Images of Wifredo Lam SDO Wifredo Lam

Editors:

Krystyna Gmurzynska

Mathias Rastorfer

Mitchell Anderson

Coordination:

Jeannette Weiss, Daniel Horn

Support:

Alessandra Consonni

Cover design:

Louisa Gagliardi

Design by OTRO

James Orlando

Brady Gunnell

Texts:

Jonathan Fineberg

Anthony Haden-Guest

Kobena Mercer

Annina Nosei

PRINTED BY

Grafiche Step, Parma

ISBN

3-905792-28-1

978-3-905792-28-7