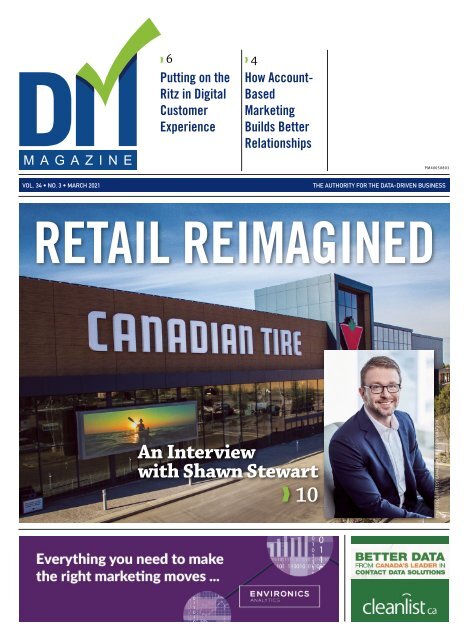 You also want an ePaper? Increase the reach of your titles
YUMPU automatically turns print PDFs into web optimized ePapers that Google loves.
❱ 6

Putting on the

Ritz in Digital

Customer

Experience

❱ 4

How Account-

Based

Marketing

Builds Better

Relationships

PM40050803

VOL. 34 • NO. 3 • MARCH 2021

THE AUTHORITY FOR THE DATA-DRIVEN BUSINESS

RETAIL REIMAGINED

An Interview

with Shawn Stewart

❱ 10

PHOTOS COURTESY CANADIAN TIRE CORPORATION
---
3

ON THE COVER

Vol. 34 | No. 3 | March 2021

PRESIDENT

Publisher & Editor-in-Chief

Steve Lloyd - steve@dmn.ca

DESIGN / PRODUCTION

Jennifer O'Neill - jennifer@dmn.ca

ADVERTISING SALES

Steve Lloyd - steve@dmn.ca

CONTRIBUTING WRITERS

Tom Beakbane

Steve Falk

Christopher Daniels Deanna Ransom

Bob Dowd

Stephen Shaw

LLOYDMEDIA INC.

HEAD OFFICE / SUBSCRIPTIONS / PRODUCTION:

302-137 Main Street North

Markham ON L3P 1Y2

Phone: 905.201.6600

Fax: 905.201.6601 • Toll-free: 800.668.1838

home@dmn.ca • www.dmn.ca

EDITORIAL CONTACT:

DM Magazine is published monthly by

Lloydmedia Inc. DM Magazine may be obtained

through paid subscription. Rates:

Canada 1 year (12 issues $48)

2 years (24 issues $70)

U.S. 1 year (12 issues $60)

2 years (24 issues $100)

DM Magazine is an independently-produced publication

not affiliated in any way with any association or organized

group nor with any publication produced either in

Canada or the United States. Unsolicited manuscripts

are welcome. However unused manuscripts will not be

returned unless accompanied by sufficient postage.

Occasionally DM Magazine provides its subscriber

mailing list to other companies whose product or service

may be of value to readers. If you do not want to receive

information this way simply send your subscriber mailing

label with this notice to:

Lloydmedia Inc. 302-137 Main Street North

Markham ON L3P 1Y2 Canada.

POSTMASTER:

Please send all address changes and return all undeliverable copies to:

Lloydmedia Inc.

302-137 Main Street North

Markham ON L3P 1Y2 Canada

Canada Post Canadian Publications

Mail Sales Product Agreement No. 40050803

Twitter: @DMNewsCanada

SALES

❯❯

4

Nine Ways Account-Based

Marketing Builds Deeper

Relationships with Customers

CUSTOMER EXPERIENCE

INTERVIEW

❯❯

10

Retail Reimagined

An Interview with

Shawn Stewart,

Senior Vice President,

Customer and

Triangle, Canadian

Tire Corporation

RESEARCH

❯❯

8

Using Customer Feedback

to Beat the Competition

TRANSACTIONAL DATA

❯❯

15

Five Trends Shaping the Future

of Global Payments

PHOTOS COURTESY CANADIAN TIRE CORPORATION

❯❯

6

Putting on the Ritz in Digital

Customer Experience

❯❯

18

Part 1.

The Unravelling

of My World

MY VIEW

COURTESY TOM BEAKBANE

MARCH 2021 DMN.CA ❰
---
SALES

// 4

Nine Ways Account-Based

Marketing Builds Deeper

Relationships with Customers

BY DEANNA RANSOM

When customers

feel heard,

they begin

to trust, refer a company to

colleagues, friends and family, and

spend more money. One-to-one

customer relationships can build

lifelong loyalty, but unfortunately,

many of these campaigns are

doomed to fail when companies do

not adequately prepare.

One of the most valuable ways

to target and relate to customers

is by implementing account-based

marketing (ABM). ABM is a strategy

involving the use of marketing and

sales to build personalized customer

relationships.

ABM makes one-to-one

relationships more efficient by

targeting only the customers most

likely to buy. By utilizing this

"zero-waste" strategy, companies

won't use up valuable time or

resources on mere possibilities.

It's also grounded in personalized

messaging, which is essential for

building brand loyalty.

That's why ABM is the integral

foundation on which to build a

one-to-one strategy. Here's what

marketers are saying:

❯❯

87 percent say ABM outperforms

other marketing ventures

❯❯

80 percent say it increases

customer lifetime

❯❯

86 percent say it improves win

rates

❯❯

76 percent say it brings higher

ROI

Additionally, their 20 percent

opportunity rate gives companies a

significant leg-up on competitors.

Creating deeper customer

relationships that will bring higher

ROI, loyalty, and efficiency—but

first, companies need ABM.

How to build customer

relationships with ABM

A one-to-one strategy combined

with inbound marketing will result

in the most rewarding partnership.

Begin with inbound marketing to

acquire a broad target market, use

ABM to select specific customers

within that market, and then

adjust the products and services to

meet the targets' needs. Without

each of the following steps, an

ABM strategy will not lead to

valuable customer relationships.

1. Define ABM Goals

The first action in any campaign is

to define goals related to an ABM

strategy. Some goals might include:

❯❯

Higher revenue

❯❯

Higher value from existing

customers

❯❯

More engagement

❯❯

New target market segment

❯❯

Successful launch of a new

product or service

To successfully measure goals,

attach KPIs to each one. With goals

in mind throughout the entire

campaign, mold every action

thereafter to achieve the returns

you want.

2. Specify and Prioritize Target

Market

After identifying a target market

from an inbound strategy, narrow

the focus with ABM. Make a list of

individual customers that fit the

broad or "average" target market.

Then select the customers that

provide the most value to the

organization. Those people are

new "accounts" to go after—the

people most worth the marketing

investment.

3. Build a Tech Stack

ABM is built on data analysis.

For any ABM campaign, tools for

identifying accounts, tracking

data, and measuring relationships

are a must.

Companies should get started

with these:

❯❯

Data technology: Identify

broad types of accounts

❯❯

Predictive software: Select and

prioritize accounts

❯❯

CRM platforms: Create, manage,

and track customer relationships

❯❯

Marketing automation and

email platforms: Reach out to

current customers

❯❯

Targeted advertising tools:

Home in on the desired audience

4. Align Sales and Marketing

When sales and marketing don't

align, a company often will not

achieve its ABM goals.

While sales refers to activities

that facilitate a sale, marketing

refers to actions that create interest

in business. Sales understands

the audience but needs brand

awareness; marketing can bring

brand awareness but needs to

understand the audience. To merge

the expertise of both, encourage

sales and marketing teams to

collaborate on account plans.

5. Talk to Customers

One-to-one ABM campaigns are

built on discovering customer

needs. While there are many

ways to do this, Jodi Harris said

it best: "The best way to figure

out what buyers really need is

to talk to them directly." Survey

them and conduct A/B tests. Most

importantly, remember to respond

to the needs of a handful of

high-value customers—they will

appreciate the attention.

6. Adjust Business to Customer Needs

With every customer conversation,

you'll learn how to best serve the

customer's organizational needs

and the customer's trust in the

brand will grow as. With each new

piece of knowledge gained, use it

to improve and personalize the

product, service, or the business.

7. Create Personalized, High-value

Content

Combining inbound marketing with

ABM is powerful. On its own, quality

content generates three times more

leads than paid advertising and costs

62 percent less, making it worth the

investment.

High-quality content has:

❯❯

A clear goal, topic, and strategy

❯❯

A powerful headline and hook

❯❯

Keyword optimization

❯❯

Consistent frequency

Beginning with the customer

in mind, create personalized

content. Every blog, sales page,

webinar, or newsletter should be

highly relevant and valuable to the

customer, creating a more positive

experience and greater loyalty.

8. Use Personalized Emails

Email is still a powerful tool. Email

generates 40 times more customers

than social media, and ROI is an

astounding 4,400 percent. The key

to that ROI is writing emails that

customers will want to open.

To leave an impression and

make the connection, personalize

the email to customer. Try the

following:

❯❯

Create powerful subject lines

❯❯

Greet the customer by name

❯❯

Close with a name

❯❯

Include relevant and appealing

offers

❯❯

Be timely—don't spam!

❯❯

Use images

❯❯

Offer tips for how to use

company products

9. Measure Results

Revisit ABM goals: were revenue

goals reached? How much did

engagement increase? What is the

conversion rate? Did the program

accurately interpret customer

needs, and were you able to

meet them? If goals weren't met,

re-evaluate strategy.

Solid customer relationships

are built with ABM. Show your

customers their value with a

personalized approach. With

these nine steps in mind, you'll

be well on your way to forging

deep partnerships and building a

successful ABM strategy.

DEANNA RANSOM is the head of global marketing

and marketing services for Televerde.

❱ DMN.CA MARCH 2021
---
One-Stop Shop for Data-Driven

Marketing Solutions

Now more than ever before, it is vital to get in front of customers and prospects efficiently,

economically and with customer-centricity. Melissa has been helping businesses cut waste,

increase personalization and save on postage since 1985. With proven data-driven solutions,

our formula for direct marketing success is as easy as 1-2-3.

1. GET

2. CLEAN 3. MAIL

Mailing Lists &

Sales Leads:

Micro-target

a customized

list of consumer,

homeowner or

business prospects.

Your Current

Customer List:

Clean up, add

missing information

& enrich customer

marketing lists.

Directly to the

Mailbox or Inbox:

Mail or email your

list efficiently with

postal presorting

and email services.

Get Started Today!

MelissaDirect.com

1-800-MELISSA
---
CUSTOMER EXPERIENCE

// 6

Ritz

Putting on

the

in Digital

Customer

Experience

❱ DMN.CA MARCH 2021
---
CUSTOMER EXPERIENCE

// 7

BY STEVE FALK

Your driver pulls up to a beautifully

lit, elegant entryway. The car door

is opened by the doorman. It's

drizzling, so he opens an umbrella and leads you to the

door motioning for his colleagues to gather your bags.

Once inside a glowing lobby, you get smiles from the

staff around you with hands outstretched guiding you

to the reception desk. They offer to assist with your coat

and bags. You are whisked up to your room. A welcome

note and a small tray of treats awaits, "sniff, are those

cookies still warm?"; the phone rings, and the voice on

the line offers complimentary drinks, to be delivered

along with anything else you might require. Your first

impression could be compared to arriving home after

school as a kid. Your mother asks about your day, a

snack awaits and you are safe and at-home. And that is

no accident. Studies informed the hotel industry that

the comfort of a mother's home is what, in the end,

many guests desire.

Staying at a great hotel is an amazing experience.

They've had centuries to finesse their business model.

The Ritz Carlton brand is synonymous with this

idea of greatness. Its recent success (pandemic era

notwithstanding) can be largely attributed to the datadriven

guidance of Horst Shulze, their former COO

and best selling author of the book Excellence Wins: A

No-Nonsense Guide to Becoming the Best in a World of

Compromise.

The order of the day is loyalty and trust

Have you had an amazing eCommerce experience

lately? Is there an equivalent to the smell of warm

cookies in any eCommerce or digital engagement? Who

is the "Ritz Carlton" of the digital experience business?

Here's what I'm thinking. That relationships created

by eCommerce transactions these days are a huge

compromise and for various reasons marketers are

going to have to wrestle with how to become the best

in the near future. Leaders who are growing their

online business must define their brand not just

by making it available online, next day, same day,

curbside, no charge shipping, as that's already a given.

Once everything is online, which is fast approaching,

the order of the day will be loyalty and trust, in order

to secure returning customers. Otherwise, your

customers are just a tap, click, or swipe away from your

competitor's screen.

Up to this point, the industry's focus has been

acquiring visitors and shoppers. Unlike great hotels,

less attention is paid to lifetime value and retention.

In my view, it's partly due to the way investors value

eCommerce business growth in this new sector. They

invest in expansion of market share, user by user,

assigning a value to each new customer, giving a small

nod to the problem of "churn", which is a cold way of

classifying non-loyal, uninterested customers.

Churn just happens. Investors just pour more money

into acquisition to solve the business model. Since it

can cost hundreds of dollars to acquire a new customer,

what is a brand willing to spend to retain them and

build loyalty? It probably should be more. Maybe a

digital brand has to throw their customers a warm

cookie more often instead of just leaving one in their

browser?

Direct mail can send from online triggers

What can be learned from the hospitality industry?

I'm not sure eCommerce experiences are often

imagined as hospitable, with a few exceptions. Human

chatbot experiences can add a personal touch, a good

supporting call centre certainly improves the trust,

and unboxing impressions are elevated with beautiful

wrapping and hand written notes. Even well trained

and personable curbside and courier staff can help to

elevate the experience.

Printed mail, arriving in-hand and in-home, is even

in the mix as triggered direct mail can send messages

within hours of online triggers, and consistently

improves outcomes. Our order of kitchen spices

arrived recently, and with it an aromatic experience. A

personalized handwritten note and the smell of those

spices as we opened the package left a remarkable and

lasting impression.

As a digital marketer or service provider, the more

often that you provide an actual physical, sensory,

in-person and in-hand experience, the longer your

impact will last. I don't have to remind you that if

you show that you care, and respect the customer

relationship then you will build that customer loyalty.

Doing that through cold digital tactics alone, by email

or SMS or banner ads, or social media, will only give a

shadow of the impression of your more physical and

"real" gestures. Digital experiences can be boosted and

their performance amplified if they are accompanied

by other physical channels. Ignore them and you'll

leave money on the table. The marketer who uses them

in concert will build a trusting and loyal customer base.

Horst Shulze says there are three kinds of customers.

Only one is your loyal customer. The others are the

"unhappy customers" that will be "terrorists against

your company" on social media, and the "satisfied

customers" who will simply go next door for their next

purchase on a whim. But "loyal customers" are willing

to pay more, increase their business with you and

recommend you because they know you care for them.

In that case, we all want more loyal customers.

STEVE FALK is President of Prime Data. He is busy helping digital marketers

exploit personalized and physical tactics which support, amplify and

improve their outcomes.

** A Master Class on customer service with Horst Shulze is presented at the Growth

Institute https://www.scaleupu.com/horst-schulze-excellence-wins

MARCH 2021

DMN.CA ❰
---
RESEARCH

// 8

Using Customer Feedback

to Beat the Competition

BY CHRISTOPHER DANIELS

Whether the

business is in

manufacturing,

telecommunications, or software,

business success relies on customer

delight. When end-users are satisfied

with goods or services and the

support they get as part of the client

experience, customers will come back

again and again. Just as important,

companies can use customer

feedback to beat the competition

and boost the bottom line.

Happy customers are loyal.

Recurring customers save

companies money on new lead

generation. Customers can also

operate as a cost-efficient source of

new leads, serving as inadvertent

brand ambassadors if they share

rave reviews with others in their

network.

Gathering and analyzing

customer feedback to ensure

end-users are content is critical

to business success. Positive

comments can reaffirm a company

is succeeding, while negative

comments can help companies

identify points in need of

improvement.

This data can improve overall

offerings, giving companies a

competitive edge. Here's how

companies can make the most of it.

Your No. 1 Weapon: Customer

Feedback

Knowledge is power, and this is

especially true when it comes to

meeting customers' unique needs.

With detailed feedback from realworld

clientele, companies can:

❯❯

Monitor ongoing customer

satisfaction levels.

❯❯

Get insights into customers'

unique needs.

❯❯

Improve product or service

offerings.

❯❯

Show customers care and avoid

alienating them.

All of this can add up to greater

customer satisfaction, to more

easily win over new customers—

possibly even taking them from

the competition. Companies

can also nurture loyalty among

existing clients, as satisfied

consumers won't be tempted to

look to competitors for products or

services.

Four Ways Customer Feedback

Can Help Beat the Competition

Here's how companies can use

customer feedback to enhance

a competitive advantage in the

modern business landscape.

1. Understand Customers' Needs

to Best Meet Them

Keeping clients happy means

understanding their wants and

needs. This requires detailed and

specific data. Leaders don't simply

want to know whether a customer

is satisfied or not. They want to

know what did and didn't stand out

in the customer journey.

❱ DMN.CA MARCH 2021
---
RESEARCH

// 9

For example, consumers might

be perfectly content with a product

but are turned off by a negative

customer service experience.

Important customer success

metrics could include waiting

time to have an issue resolved, or

versatility of support methods (e.g.,

live chat, email, telephone, etc.).

Many businesses are quick

to assume that dissatisfied

consumers mean a problem

with the product or service. The

issue may be a much easier fix,

like tweaking an ad campaign or

updating a chat bot. It's essential

to understand customers' needs

better than the competition.

2. Gain Customer Insights into

Employee Performance for

Superior Service

Customer feedback is also valuable

in gaining information about

employees, especially those on the

front lines who deal directly with

clients. For example, when offering

in-house telephone support,

companies should ensure that

workers are dealing with callers

courteously and professionally.

A simple training and feedback

loop for customer-facing teams

can significantly impact business

success. In the case of a call center,

the process might involve recording

calls, reviewing positives and

negatives, and using data to inform

coaching and future training.

With this added step towards

accountability, companies can

improve overall customer service

experience. Many consumers will

switch to a different provider after

a bad service experience, so this is

critical to use customer feedback to

beat the competition.

3. Gather Competitive Intelligence

to Assess Advantage

Companies shouldn't just look at

customer feedback—also consider

the feedback consumers are leaving

competitors. Scour the internet for

reviews in public forums to see how

products and services compare to

those of the competition.

Further, companies should make

sure they're meeting the benchmark

set forth by others in the same

field. For example, it might seem

reasonable for 80 percent of clients

to be satisfied, but what if the

industry standard is 95 percent?

There is room for improvement in

this example.

Reading competitor reviews

can also help identify their

weaknesses. Leverage this

information to pinpoint

opportunities to win clients. If

clients complain about a rival's lack

of telephone support, highlight

this as a value-added proposition if

it can be provided with confidence.

4. Avoid Reputational Damage and

Losing Clients to the Competition

Not all customer feedback is

positive. That's normal. If a

customer isn't happy with a

company, be it the product or

the consumer experience, find

out why. There is opportunity

for improvement while avoiding

similar scenarios with future

consumers.

Additionally, targeting negative

customer feedback allows

companies to fix the situation.

Let's say a person purchases a

product, discovers it's defective,

and then writes a scathing

complaint. There is an opportunity

to remediate the issue. If they are

satisfied with the response, they

likely will continue to the business

relationship. It's about turning a

negative into a win.

Elevating the consumer

experience is becoming even more

critical in the wake of the COVID-

19 pandemic. The most successful

companies in the crisis were those

that were able to identify and adapt

to consumer behaviors, needs, and

experiences. That kind of flexibility

requires granular, real-world

data—which is where customer

feedback comes into play.

CHRISTOPHER DANIELS is the Chief Revenue

Officer for Televerde, an integrated sales and

marketing technology organization based

in Phoenix, Arizona. Seven of Televerde's

10 engagement centers are staffed by

incarcerated women, representing 70 percent

of the company's 600+ global workforce.

Foundation Magazine is the Canadian bi-monthly

publication and media channel which reaches more than

25,000 individual executives in Canada who represent

the full charity and foundation sector and the major

donor community, as well as the spectrum of companies

which support, supply to, and advise all aspects of the

not-for-profit industry.

To advertise or to get more information and a media kit:

Contact Steve Lloyd for details,

steve.lloyd@lloydmedia.ca

Foundation Magazine is a Lloydmedia, Inc publication.

Lloydmedia also publishes DM Magazine, Total Finance magazine, Payments Business magazine, and Canadian Equipment Finance magazine.

MARCH 2021

DMN.CA ❰
---
INTERVIEW

// 10

PHOTOS COURTESY CANADIAN TIRE CORPORATION

Retail Reimagined

An Interview with Shawn Stewart,

Senior Vice President, Customer and

Triangle, Canadian Tire Corporation

STEPHEN SHAW is the Chief Strategy Officer

of Kenna, a marketing solutions provider

specializing in delivering a more unified

customer experience. Stephen can be reached

via e-mail at sshaw@kenna.ca

Traditional retailers learned a harsh lesson over

this past year. Slow to make the transition to

omnichannel commerce, they had misread the

slow gradual rise in yearly online spending as a sign

of shopper disinterest. Until the pandemic hit.

The abrupt surge in online shopping left many

retailers scrambling to respond. As foot traffic

dropped off sharply due to restrictions on in-person

shopping, they were forced to close stores. Unable to

make up the difference in eCommerce sales, many

retailers were pushed to the brink of insolvency.

This financial carnage may have been the tipping

point for the reinvention of retail. The industry has

finally woken up to the fact that shopping habits have

radically changed. And as product manufacturers

open up their own digital storefronts, the era of retail

hegemony may finally be over. Retailers will need

to evolve beyond their historical role as the primary

distribution channel of merchandise.

In Canada one retailer has stood out above all others

in transforming its business model — the century-old

Canadian Tire. In the past the company has fended off

incursions by U.S. giants like Walmart and Target eager

to muscle in on its turf. The company's resiliency is

partly explained by its geographical footprint — most

Canadians live within a 15-minute drive of a store —

Shawn Stewart, Senior Vice President, Customer and Triangle,

Canadian Tire Corporation.

but also by its dealer network which gives the company

a strong tie to each local community. In 2019 Canadian

Tire was recognized as Canada's most admired brand in

Leger's annual consumer survey. It rightfully owns the

honorific "Canada's Store", a far cry from the days when

it was mocked as "Crappy Tire".

This past year, despite all of the havoc caused by the

pandemic, Canadian Tire increased comparable yearover-year

store sales by 11 percent across its banners.

Ecommerce sales more than doubled, an impressive

feat considering the company actually backed away

from online selling at one point, until it came to its

senses seven years ago and began to invest heavily in

its digital and eCommerce capabilities.

A big part of the company's recent success is

attributable to its embrace of digital-first marketing,

thanks to its 10-million-member Triangle Rewards

program. Launched in 2018, Triangle Rewards is the

❱ DMN.CA MARCH 2021
---
INTERVIEW

// 11

digital version of the famously

popular Canadian Tire Money,

once looked upon affectionately

as Canada's second national

currency. The Canadian Tire

Corporation (CTC) Executive in

charge of loyalty and insights is

Shawn Stewart who took over the

role six years ago. Amongst his

many accomplishments has been

the stewardship of the Triangle

program and the creation of an

AI-driven recommendation engine

which powers seven million weekly

personalized offers.

Stephen Shaw: Your CTC

stores did amazingly well

this past year in spite of the

pandemic. What explains the

lift in sales?

Shawn Stewart: Customers

came to us as a one-stop shop.

The thing with the Canadian Tire

brand is you can always find things

you never knew you needed.

But we've really developed our

presence in the essentials as well.

The strength of our dealers really

helped because they were very

easily able to launch curbside

pickup and new capabilities that

we didn't have before COVID.

And, in talking to customers

throughout the pandemic, what

we heard, loud and clear, was the

strength of our brand, the love for

our brand, and the appreciation

for all the safety measures we

were taking. Our e-commerce site

was overloaded with volume, but

we quickly got that right. And we

actually acquired new customers,

especially young adults, who joined

the Triangle program for the first

time during this period. We really

focused from a merchandising

standpoint on what we call

"boredom busters." So, people with

kids, spending a lot of time in

their backyards, buying barbecues,

patios, toys. All those core

categories were right in our sweet

spot. And the number of bikes we

sold was just out of this world.

Shaw: Were there merchandise

categories that declined in

sales?

Stewart: The automotive

business. People were staying at

home and not driving as much.

Although on the flipside, we have

a segment that we call the "Auto

Enthusiast" and they loaded up

because they had time on their

hands. They were tinkering around

with their vehicles. So, a lot of DIY

categories in that segment were up.

Shaw: Were there supply

chain issues? Take bikes, for

example. Did you suddenly find

yourself having a tough time

restocking?

Stewart: In that specific case, our

SportChek business was closed,

so we had a bunch of available

bike inventory. And we've always

had great relationships with our

vendor base, so that put us in a

good position to be the number

one supplier in all the top-selling

categories.

Shaw: What permanent shifts

in spending habits are you

likely to see coming out of this

pandemic?

Stewart: We've mapped our

categories of business to what

we call internally "jobs and joys".

These are the everyday things that

make up people's life in Canada.

And we talk to customers. We

understand their sentiment, their

confidence in the economy, their

job security, their opinion around

saving versus spending. And those

are good indicators. But customers

don't always know what they're

going to do. And so, we've mapped

out various scenarios. If demand

continues the way it's going, we've

got a plan. If it tails off, we've got

a plan. But we found our customer

base is quite resilient. And we're in

a lot of essential categories, right?

Shaw: We've seen massive

consumer adoption of

eCommerce this past year that

caught everyone by surprise.

How does that factor into those

scenarios?

Stewart: We've definitely

leaped forward a couple of years

in eCommerce growth. But

overall, we still feel our strength

is the local store — the ability

for shoppers to get what they

want immediately. There's real

attachment to the brand. We're not

just another retailer in customers'

eyes. They want to support

Canadian brands. Many grew up

with us. We've also got the unique

ability through the Triangle data

to understand the channel shift

— and not just what people are

buying, but what they're searching

for. A huge focus for us is using the

Triangle Rewards grew from the well-known Canadian Tire money system

online channel to support in-store

conversion because we can track

the customer across channels and

store banners. So, now's the time

for us to engage our customers.

Another thing we're focused on

is bringing customers into our

"owned audiences". How do we get

them signed up for our mobile app,

for email channels?

Shaw: Like everyone else, I

go to Canadian Tire for certain

things. Once I was looking for a

power washer and I used your

mobile app to find the nearest

location that carried the item

I was looking for. It guided me

right to the nearest location.

Then I walked into this massive

store and now I've got to figure

out where to find it. So, is

MARCH 2021

DMN.CA ❰
---
INTERVIEW

// 12

there still a gap connecting the

experience end-to-end?

Stewart: There's definitely room

for improvement. I actually think

we have a best-in-class wayfinding

feature called "Fast Find" in our

Canadian Tire mobile app that

many customers probably don't

realize we have. It'll tell you if the

product you want is in-stock and

in which aisle to find it for each

different store.

Shaw: With your mastery

of certain merchandise

categories, there must be an

opportunity to make the instore

experience more engaging

than simply finding and buying

a product.

Stewart: No, absolutely. There's

a lot of decision support we could

be doing in the pre-purchase and

post-purchase shopping stages:

how to use your barbecue, how

to set up your patio, how to enjoy

the products you buy from us. We

have a lot of great content. We just

need to offer it up in a targeted,

relevant way to enhance shopper

knowledge and confidence.

Shaw: You've got 10 million

members of your Triangle

program. Amazon has Prime,

of course, but not the store

footprint you do. Could

Canadian Tire soon rival

Amazon in retail commerce

here in Canada?

Stewart: Yeah. But we want to

play our own game. Certainly, the

data we have is just incredible.

Like I joke with the team, Stats

Can should be calling us every

month to know what's going on.

We know Canadians. If you know

exactly what you want, Amazon's

fantastic. You search a SKU [stock

keeping unit] and get what you

want. We're not going to compete

the same way. We think our local

differentiation, the strength of our

store network, and the interaction

with customers across channels

is key. And we saw it more than

ever during COVID. Customers

wanted immediacy. And so we

saw them coming in droves to the

store. Amazon's formidable. No

question. But we've got to play our

own game.

Shaw: Who do you view as your

main competition these days?

Stewart: Well, it depends on the

Digital apps allow for more sophisticated data collection

line of business. Canadian Tire

has a broad set of competitors.

SportChek and Mark's would be

different. We've got a bank, too.

On the credit side we're fighting

for top-of-wallet status. I guess you

could say it's just about everyone.

Shaw: That makes sense. The

"everything store" has everybody

as competition. Now, you've been

quoted as saying that if you offer

a killer digital experience, you

may not need a loyalty program

to understand your customers.

As the guy running the loyalty

program, what did you mean by

that exactly?

Stewart: If you look at the

traditional definition of a retail

loyalty program, its highly

reward driven based on purchase

frequency. You issue and redeem

currency. "Canadian Tire Money"

is an important part of our brand

heritage, but the program's got to

offer much more than that. We've

got great profile information on

our customers — so it's how we

use that data. And it may not be in

the form of loyalty rewards. Maybe

its targeted discounts, or exclusive

access to products. There are many

different ways to create value for

members that go beyond just

having a loyalty currency.

Shaw: Most loyalty programs

are promotional programs in

disguise. Figures I've read

suggest that fewer than half

of loyalty members say it

makes them more loyal to the

brand. Should loyalty programs

become a gateway to a more

meaningful experience?

Stewart: Here we've stopped

calling Triangle a loyalty program.

We call it a "customer platform".

And I think words are important

because when people think of

loyalty programs, they think of

the redeemable currency. As I was

just saying, the power of Triangle

doesn't need to be Canadian Tire

money. I think Canadians love it.

And we've seen, as we launched

Triangle, the halo effect on our

other brands, like SportChek and

Mark's. Many customers didn't

realize they were part of the same

family of companies. We should

be thinking of what can we do

in-store? What can do from an

e-com perspective? What might

we do with partners? So, a value

prop that goes beyond traditional

rewards is hugely important for us.

Shaw: With so much customer

profile and purchase data, how do

you even think about segmenting

a base as large as yours? What

kind of segmentation model do

you use?

Stewart: We look at two different

types of segments. One is a valuebased

segmentation: current and

lifetime value. We model potential

value on a five-year time horizon.

And all of this is done at a CTC

level, across our banners and

assets. And the other is simply

behavioral: what are people

buying, their needs states, and the

intersection between them. You

run the models and you can get a

hundred segments. We landed on

thirty-seven.

Shaw: Thirty-seven? Not 35,

or 40, but 37.

Stewart: Yeah. It's been

incredibly useful for grounding

the business in the customer.

The 37 segments ladder up to

macro segments. Our key target

is a segment we call "the active

family" who have young kids at

home. They really over performed

during the COVID period. So,

we've started using segmentation

to understand where our growth is

coming from. How do we actually

move customers across brands?

For example, SportChek attracts

a younger customer, and we want

to grow that segment within the

Canadian Tire brand. We know

the entry point for them is often

the camping business, so then we

can build programs around that

insight. It's really powerful to

understand the conversion paths

that customers are taking.

Shaw: Do you find it hard

translating customer strategy

into insights merchandisers

can relate to?

Stewart: Yeah, it's a process.

Since Triangle launched, we've

made a lot of progress. On thing

that's helped is empowering the

merchants to access the data on

their own, using internal BI tools.

So, as they're reviewing their

annual plans, they've got the data.

And then the second is proving the

business value. So, actually creating

some use cases, such as "Let's use

customer data to improve the

pet business." So, very mindfully

bringing together cross-functional

teams to pilot a program and then

measuring the value. And that's

gone a long way as well.

Shaw: Part of your personal

background was working at Air

Miles for several years. What

learning did you gain that was

transferable to your current

mandate?

Stewart: The power of the

network effect. Being able to see

customers going from one sponsor

to another. That has very much

influenced our approach here.

The advantage we have is the

ability to use data in an unfettered

way. And then just the power

of the customer data. Finding a

better mix between the mass and

targeted channels — the ability

to prove not just that targeted

marketing works, but it's scalable.

Shaw: Being able to cluster

members by their affinities

and interests, and then

catering to those preferences,

❱ DMN.CA MARCH 2021
---
INTERVIEW

// 13

must represent a massive

opportunity.

Stewart: It is a massive

opportunity. Particularly what

we've seen in the pandemic. Home

exercise, bicycling, the new hobbies

that people took up. I think it's

perfect for our brand.

Shaw: Do you have point on

reimagining all of this?

Stewart: Our team is accountable

for everything customer related.

But we need to amplify the retail

value proposition. And so, we work

closely with the banner heads.

And it's exciting. I think everyone

recognizes that we do need to go

beyond selling products.

Shaw: How do you actually

measure loyalty? Obviously,

in part, behaviorally. But

what about attitudinally?

Emotionally? What are your

composite loyalty measures?

Stewart: We're very good at

tracking customer sentiment. We

use net promoter score across all

of our channels and endpoints.

We track loyalty by segment. So,

for example, we track a driver

called "Cares About Canadians",

and that metric was off the charts

during COVID, with the actions

our dealers took, with our relief

fund 1 . And then I would say more

traditional financial metrics:

lifetime value, repeat visit,

retention rates, the number of

active customers, how much each

customer is spending. We've also

got a panel of 180,000 Canadians

that we lean on. I think it may

be the largest proprietary retail

panel in the world. And we leaned

on that heavily during COVID.

We also do these events called

"coffee talks" where we'll get 10 to

12 customers in a room for just

a casual conversation that really

helps to know how customers are

thinking, and to develop empathy

with the customer.

Shaw: You are collecting a lot

of data. You must have created

a "golden record" 2 by now.

Stewart: We've done a great

job of building that central view.

We tagged the web so that if

someone writes a review, someone

logs into the website, someone

uses the mobile app three times

a month, we know all of that.

So yeah, it's a powerful tool,

MARCH 2021

Canadian Tire's Triangle Rewards program is geared towards managing its portfolio of customers and banners.

particularly understanding the

impact of our digital activity on

in-store behaviour. It's been really

enlightening to understand how

the online channel helps in-store

conversion.

Shaw: How do take all of

the data analytics you do and

convert it into business language

that other stakeholders, like

merchandisers, can understand?

Stewart: I'll give you a great

example. We launched a customer

analytics tool — a BI platform

that allows businesspeople to drill

down to the category level, using

the customer data. There was

an end user at Mark's who used

this tool to develop an incredible,

insightful view of their business.

And we were not involved. So

allowing people to just swim

around in the data — not put

too many controls around it. Just

allowing the learning to happen.

And Greg [Hicks] 3 , on our latest

earnings call, was talking about

the segments. And so, people hear

that. They're curious and want to

learn about it. We're providing

the tools to allow them to do that.

We're in the background. Our

team is doing all the plumbing and

automation.

Shaw: Do you own the

technology budget, or do you

still have to work with IT to

ensure that you have that right

infrastructure in place?

Stewart: It's evolved. Three

years ago, we would not have had

data engineers on our team. And

today we do. It's become more of a

symbiotic team working together.

So, we don't get into budget

debates.

Shaw: Boy, over my long career,

I can tell you that marketing

and IT were never copartners

in anything. How does AI fit into

the picture?

Stewart: We issue seven million

one-to-one offers every week to

customers and that's completely

machine learning driven. But it's

early days. So, for example, from

a supply chain perspective, we're

thinking about overlaying highvalue

customer data to say, "This

SKU is paramount to your best

customer."

Shaw: You talked earlier about

looking across the full span of

the customer relationship with

multiple banners and brands.

Has that changed the way

strategic planning is done?

Stewart: We think about

managing a "portfolio of

customers", and a "portfolio of

banners". For example, if the

"active family" is our priority

segment, we need to map their

needs to the "jobs and joys" we

talked about. And we do white

space exercises to identify gaps in

the experience where maybe we

need to extend assortments, for

example. I think we're actually in

a much better position this year,

particularly with Greg and Susan's

[O'Brien] 4 leadership, because it

encourages horizontal rather than

vertical thinking.

Shaw: Is there a need to find

new talent, new skillsets, fresh

thinking in order to accelerate

your transformation?

Stewart: Yeah. It's a great

question. And I'll go back to what

I said is this horizontal thinking

approach. So, if I'm a merchant,

or in marketing, I need to

understand the customer journey,

using the data we have. So, the

ability to analyze and synthesize

information is important. For

a merchant, it might not be all

about adding new product lines

or brands. For a marketer, it may

not be all about getting an offer in

front of a customer. So, yeah, the

use of information — being able

to empathize with the customer

— there's no question: it's all

changed.

1. The COVID-19 Response Fund donated $5 million to

support relief and response efforts.

2. A "golden record" is the most accurate and complete

version of a master data record.

3. Greg Hicks is the President and CEO at Canadian Tire

Corporation

4. Susan O'Brien is the Chief Brand & Customer Officer

DMN.CA ❰
---
Do you make decisions about your marketing operations?

Are you responsible for customer acquisition, retention or loyalty?

Is your department in charge of fulfilling orders or customer service?

Sign up NOW for a free subscription

to DM Magazine.

Visit our website at www.dmn.ca

and learn more about the magazine

DM Magazine is a Lloydmedia, Inc publication.

Lloydmedia also publishes Foundation magazine, Total Finance magazine,

Payments Business magazine, and Canadian Equipment Finance magazine.
---
TRANSACTIONAL DATA

// 15

Five Trends

Shaping the Future

of Global Payments

BY BOB DOWD

It is no surprise that

the global payments

industry accelerated

substantially in 2020. As the

pandemic birthed arguably one of

the biggest digital revolutions to

date, more and more businesses

are realizing the importance of

having a global payments partner.

Multiple factors have been the

stimulus driving half a decade's

change in just a few months.

Acceleration of digital adoption,

preference for real-time payments,

investment in AI and automation,

and M&A's have been the leading

factors that pushed the industry

to transform. However, the

most prominent change can be

attributed to developing customer

preferences for speed and ease of

use at competitive rates.

In addition, stronger demand

for data security enhancement

and fraud prevention by customers

increased the momentum of

innovation which forced new

players to enter the market.

Advances in technology such as

SWIFT GPI, DLT and others have

also been the key drivers in the

rapid growth of the industry.

Our research shows that

the payments industry's total

addressable market is $3.6 Trillion

USD in core markets, with $245

Billion addressed by specialist

players. The market has grown at

8 percent p.a. driven by specialists

taking share from banks which

gradually experienced decline

due to COVID-19. However, the

industry is expected to bounce

back and return to pre-COVID

rates between 2021 and 2025,

which means that the next five

years will be crucial for players

in the global payments space. In

order to secure their market share,

specialist players will have to

garner deeper understanding of

market volatility and performance,

primary customer preferences and

the strategies they can implement

to remain competitive.

The top five trends we predict

that will influence the growth of

the global payments industry in

the coming years are as follows:

Evolving customer needs

1 will set the benchmark

The provision for fast, seamless,

and trackable payments will

become table stakes rather than

a differentiator for payments

providers. For example, moneycorp

online offers its customers the

ability to not only make payments

online in multiple currencies, but

also store payment and recipient

details, manage exchange rates,

and track transactions all in one

place. The function of making

payments will become part of a

broader value proposition, linked

through API technology to other

elements of business such as

their ERP, CRM, and Accounting

systems.

Customers will become more

sophisticated in cash flow and

risk management which will in

turn impact how they manage

their finances and choose their

payments partner.

Enhancing technology to

2 drive commoditization and

reduced prices

Our research suggests that half of

businesses have their FX provider's

system integrated into their ERP

software. This is a clear indication

that technology is adapting to

meet increasing customer needs

as the majority businesses prefer

payments providers whose

technology fits seamlessly into

their existing business model.

Real time payments (RTP) are

also gaining popularity and are

becoming commercially viable in

a number of regions. As per the

latest FIS report, 54 countries now

have active real-time payments

programs, up from 40 in 2018 and

nearly four times as many as in

2014.

Long term technology is likely

to shift to alternative rails such as

Distributed Ledger Technology.

Payments providers will need to be

able to function across alternative

rails to ensure costs are optimized

and service demands fulfilled.

Increased efficiency will continue

to drive down prices and enable

reduction in service costs.

Intensifying competition for

3 every element of the value

chain

The ecosystem addressing cash

flow management has proliferated

in recent years. Today, fullservice

players have a competitive

advantage as they provide SMEs

a 'one-stop shop' for all their

business needs. B2B disrupters

are successfully carving out a new

niche for themselves using an

end-to-end value chain model that

satisfies the customer's need for

customized solutions.

Increasing competition from

fintech players is also making a

significant impact on the industry

as few global payments providers

are now opting to onboard

third-party payments solution

providers as their partners,

thereby further enhancing their

value proposition. The payment

gateway market was valued at

USD 17.2 billion in 2019, and is

expected to reach USD 42.9 billion

by 2025. Convergence will be at the

core of the transformation of the

payments landscape, through 2021

and beyond.

Increasing cooperation

4 between jurisdictions

Customer demands for an

interconnected international

payments landscape will flourish.

However, the political challenges

of doing so globally will make

the ability of a global payments

provider to offer their services

in multiple geographic locations

extremely important. We are

witnessing common standards

of this being implemented in

pockets due to the complexities

of international standards and

regulations. However, we are

seeing a rapid uptick in cooperation

between international businesses

and regulators alike.

Differentiators will become

5 commonplace

Specialist players will maintain a

significant hedge in the short term

as they will continue to serve the

underserved segments, such as

SMEs, a faster, cheaper and secure

payments platform. However,

eventually this will become

the norm and other sources of

differentiation will be needed

like niche corridors, industry

specific integration, and liquidity

management to set your services

apart from the rest.

In a nutshell, the key strategic

areas of focus for optimizing the

value of business for all payments

providers would be a combination

of three vital elements - owning

the customer relationship with

specific client segments (e.g.

SME's), focusing on efficiency to

drive down costs and constantly

innovating to drive differentiation

around products and services.

To create a new generation of

payments providers, studying

emerging trends is the most

important innovation task. Those

that cling to old ways will be left

behind.

BOB DOWD is Chief Executive Officer of

moneycorp Americas

MARCH 2021

DMN.CA ❰
---
MY VIEW

// 16

The Unravelling of My World: Part 1

CONTINUED FROM page 18

and the latest marketing research

papers in the University of Toronto

and York University libraries

equally unhelpful. Nothing I read

was relevant to my goal of making

marketing communications

more scientific. I needed to come

at the task from another angle.

When I studied neurophysiology

at university, scientists had been

making progress in deciphering

how brains work. Twenty years

on, I presumed there would be

new discoveries, so I looked at

all recently published books

about the human brain. I enjoyed

reading Steven Pinker's How the

Mind Works (1997) and other

similar books, but these left me

perplexed. In trying to explain

how the mind works, he wrote:

"Thinking is computation, I claim,

but that does not mean that the

computer is a good metaphor for the

mind. The mind is a set of modules,

but the modules are not encapsulated

boxes or circumscribed swatches on

the surface of the brain." This is a

literary conundrum rather than a

scientific explanation. If thinking

is computation, which is what a

computer does, but the mind is not

like a computer, then what is the

mind really like?

Pinker muses about another

conundrum: "Once we have

isolated the computational

and neurological correlates of

access-consciousness, there is

nothing left to explain. It's just

irrational to insist that sentience

remains unexplained after all

the manifestations of sentience

have been accounted for, just

because the computations don't

have anything sentient in them."

From this viewpoint, there is

nothing left to explain, except

that it is impossible to nail down

what sentience means or how

consciousness evolved.

Intuition can't be counted on

After reading several books that

describe the brain as a modular

computation device, I retreated

to university libraries to read

papers on brain neurochemistry

in the hope of figuring out the

Tom Beakbane's new book expands our understanding of marketing and how the human mind connect.

conundrums. The papers by

frontline researchers described

remarkable advances that in

their own right made sense, but

the brain-chemistry discoveries

were strangely disconnected from

what Pinker and other authors

had to say about widely accepted

explanations of human behaviour.

However, I discovered

tantalizing insights in books

by John McCrone and Michael

Gazzaniga, who describe how our

conscious mind could not be relied

upon to report our motivations

accurately. It was clear that the

way we think we think is not

how we think. The implication is

that a manager's intuition about

human motivations cannot be

relied upon. Books by Joseph

LeDoux and Antonio Damasio

led me to the conclusion that

emotions and reasoning — at the

level of neurochemicals — are

indistinguishable.

Rather than being able to

understand what all this research

was saying, I became progressively

more confused. What had begun as

a three-month project became an

obsession. I spent days, evenings

and weekends looking into

what frontline researchers were

reporting. I learned fascinating

details about how the visceral

nervous system was more

complicated than the spinal cord,

but also that this aspect of the

nervous system had not been

studied much. The gap between

what was in the textbooks, what

I was reading in the scientific

journals and what would be helpful

in running my business widened.

The literature on psychology

was particularly puzzling.

Dozens of jargon-filled journals

with statistical gurgitations

reported results of hundreds of

student surveys, but the research

approaches didn't fit with the

techniques used by the marketing

research professionals I had

worked with; they also ran counter

to the observations of ethologists,

who study the behaviour of

animals in their natural habitat.

Alternative explanations are valid

That prompted me to study the

history of psychology. I read

several books by Kurt Danziger,

including Naming the Mind: How

Psychology Found Its Language

(1997). This book describes

how the categorizations used

in psychology are not objective,

a realization that first came to

him when he moved to Indonesia

as a professor of psychology.

There, exposed to academics

whose psychology was grounded

in concepts of the mind from

Eastern cultures, he realized that

alternative explanations of the

mind were just as valid and, in

their own way, as scientific as the

psychological explanations he had

been taught in the West. Categories

such as behaviour, stimulus and

response are cultural. Danziger

wrote, "Contrary to common belief,

these categories do not occupy

some rarefied place above culture

but are embedded in a particularly

professional sub-culture." It is hard

for us to see, but the language we use

to categorize mental events is not the

same as the mental event itself. "The

entire investigative enterprise is so

immersed in language that it is simply

taken for granted and its role becomes

invisible."

Marketing professionals

are particularly attuned to the

peculiarities of different cultures.

It goes without saying that the tone

and terminology needed to address

an audience of cardiologists

versus an audience of lip gloss

purchasers is completely different.

The brief booklet on Total Quality

Communications that I had

planned to write for my agency

was turning into something much

longer. I was uncovering ideas that

would be useful for every business

manager. Three months stretched

into two years.

The more I read, the more

bewildered I became. It was like

noticing a piece of lint on an old

woollen sweater. When I tried

to pick the lint off, I found it was

securely attached to the sweater;

so when I pulled, out came a length

of wool and another question.

Why are marketing textbooks so

unhelpful? That led to another

length of wool and another

question. Why are there so many

graduates publishing psychology

papers that have zero utility to

managers of organizations? I

pulled at more lint and found this

led to ideas in brain science that

led to mysteries of sentience and

consciousness. This led to me

yanking on the wool leading to

culture and linguistics.

End of part 1.

TOM BEAKBANE is president of Beakbane:

Brand Strategies and Communications, a

company that has delivered over 20,000

projects to Fortune 500 clients since 1986. He

resurrected the concept of consilience after

attempting to account for the gap between

textbook theories of human behaviour

and his experiences creating marketing

communications. He closed the gap by

tapping into his passion for understanding

developments at the frontiers of science.

Beakbane earned an honours degree in

biochemistry and neurophysiology from

Durham University in England. He lives near

Toronto, Canada with his wife. They have two

daughters.

❱ DMN.CA MARCH 2021
---
Resource Directory // 17

DATA ANALYTICS

LIST SERVICES

CANADA'S SPECIALIZED

PROVIDER OF DECEASED

CONTACT DATA

Canada's most accurate and up to date deceased list.

Information direct from funeral homes,

estate executors and families of the deceased.

Registrations are validated and by consent only.

WWW.CANADADECEASEDLIST.CA

1-877-565-5515

INFO@CANADADECEASEDLIST.CA

Date: July 4, 2013

Client: Cleanlist.ca

Docket: 3540

Application: Print, 4x4.325", 4C

AD: Carter

AM: Sinclair

Version: F6

Media: Direct Marketing Magazine

LIST SERVICES

PLEASE NOTE

This file has been optimized for its intended

application only. For uses other than intended

please contact Seed for alternate formats.

BETTER DATA

FRom CANADA'S LEADER iN

CoNTACT DATA SoLuTioNS

Data Cleaning

• Address Correction

• Mover Update

• Deceased Identification

Data Enhancement

• Phone Append

• Demographics

Prospect Databases

• ResponseCanada

• Consumers, Movers

and Businesses

Custom Solutions

Ask for a FREE

EvALuATioN

and pricing!

1-800-454-0223

sales@cleanlist.ca

)

cleanlist.ca

an interact direct company

TO ADVERTISE Contact Steve Lloyd, steve@dmn.ca

YOU SHOULD BE HERE

DM Magazine

represents all areas of the DM

industry: from small businesses to

Canadian Business 1000 companies.

No matter what our reader's size,

resources or strategies, each and

every organization we reach is driven

by data, powered by orders and

striving for loyal customers.

To advertise in

DM Magazine Resource Directory

Contact:

Steve Lloyd,

steve@dmn.ca

13-07-04 10:43 AM
---
MY VIEW

// 18

Part 1

The Unravelling

of My World

Or…how I started on a journey to close

the gap between textbook theories and

my experience in business. The process

of changing my way of thinking took time

and was unsettling.

BY TOM BEAKBANE

In 1998 I wanted to write a

manual for my marketing

communications company;

it would be called Total Quality

Communications. At the time I

thought it would take about three

months and its purpose was

practical. I saw how manufacturing

companies were using a number

of management approaches,

including Kaizen, Lean and Six

Sigma, to improve product quality,

reduce waste and operate more

efficiently.

As the owner of a marketing

agency I figured that we should

implement something similar. The

field of marketing communications

was changing rapidly, with TV

advertising no longer working like

magic and digital technologies

advancing on multiple fronts. We

needed to get ahead of the online

revolution and make sure the

communications we produced

for our clients achieved their

objectives as reliably as possible.

In every case the approach to

quality management begins with

defining and quantifying precisely

what is meant by "quality." If you

are a steel bolt manufacturer, you

need to specify the dimensions

and the tensile strength. Once

the machine operators know

how quality is defined, they can

monitor their own performance

without the need for management

or the quality control department

to check their work. As I had a

degree in neurophysiology and

biochemistry I hoped to spell

out some general science-like

principles about human perception

that my staff could use to evaluate

their work. By that time I had

also had the privilege of working

with some of the world's leading

packaged-goods companies and

their advertising practitioners in

London, New York and Toronto.

I thought that if I bundled what

I had learned together with

scientific principles, my agency

would be more successful.

I decided to start by taking a

quick look in the most up-to-date

marketing textbooks to harvest

their best ideas. But nothing,

literally nothing I found had

any relevance to what my team

was doing day to day. Every

entrepreneur knows there's no

substitute for practical experience;

nonetheless, I found a puzzling,

large gap between textbook theory

A Three-Part Series based on Tom Beakbane's new book.

and the kind

of information

that is useful for

business people.

The books written

by advertising

and marketing

practitioners,

of which there

are many, do

not overlap

with traditional

marketing theory. It is the same

with leadership.

Lack of formal marketing

credentials never bothered me

Academic accounts of leadership

theory are nothing like the skills

needed to lead a group of people,

nor are they like the approaches

described in the biographies of

great leaders. The gap between

business theory and practice has

been particularly apparent to

me because, by North American

standards, my route into a

marketing communications

career was unusual. I was never

taught business in an academic

institution. When I joined the

marketing department of United

Biscuits in London, I was no

different from the other three

Tom Beakbane

recruits who were graduates

from Oxford and Cambridge

universities with degrees in the

equally un-business disciplines of

geography, chemistry and politics.

My lack of formal marketing

credentials never bothered me,

because even before I graduated

I had a string of marketing wins,

which included promoting a

photo-customization business;

successfully launching the Durham

University Industrial Society;

and being awarded honorary life

membership of the students' union

for running a student health food

store, increasing its sales by 35

percent and working with staff so

that it made a profit for the first

time in its history.

Although I had never been

taught business and marketing

theory, if I ever came across

anything I didn't understand

I'd read books and journals

until, at the very least, I'd get a

measure of my ignorance. Plus, I

enjoyed reading about science and

technology.

While preparing to write the

marketing manual, I found

marketing textbooks unhelpful,

CONTINUED ON page 16

PHOTOS COURTESY TOM BEAKBANE

❱ DMN.CA MARCH 2021