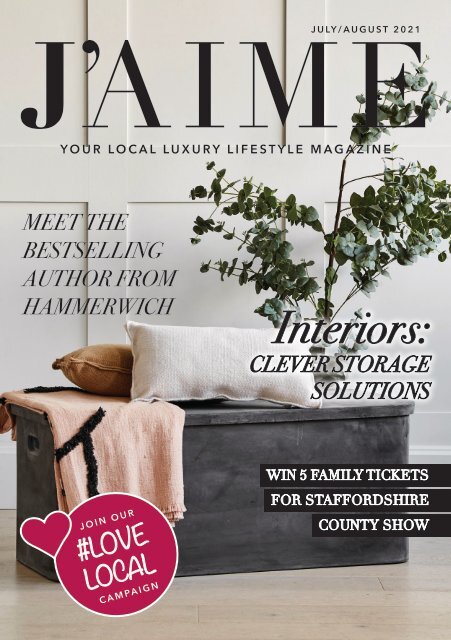 J'AIME July/August 2021
Your local luxury lifestyle magazine
Your local luxury lifestyle magazine
SHOW MORE
SHOW LESS
You also want an ePaper? Increase the reach of your titles
YUMPU automatically turns print PDFs into web optimized ePapers that Google loves.
J U LY / A U G U S T 2 0 2 1

J'AIME

Y O U R L O C A L L U X U R Y L I F E S T Y L E M A G A Z I N E

MEET THE

BESTSELLING

AUTHOR FROM

HAMMERWICH

Interiors:

CLEVER STORAGE

SOLUTIONS

WIN 5 FAMILY TICKETS

J O I N O U R

#LOVE

LOCAL

C A M PA I G N

FOR STAFFORDSHIRE

COUNTY SHOW
---
This summer, take extra

special care of yourself with

hearing support from

Steven Hale Hearing.

Hearing Health

Tinnitus

Hearing Aids

Earwax Removal

Based on 150+ reviews
---
Welcome to J'AIME

Welcome to our joint July and August issue - packed

full of summery features to add some sunshine to your

life, whatever the British weather throws at us.

It's a joy to include articles about things you can

actually get out there and do this month - from live

outdoor theatre in Lichfield to Staffordshire County

Show and from Lichfield Festival to dining at Hoar

Cross Hall.

You can also read interviews with a Sunday Times

bestselling author who lives in Hammerwich (and has

hilarious stories to recount about writing Christmasthemed

books during a summer heatwave) and one

of the stars of this year's Lichfield Festival, who just

happens to have been born and raised in the cathedral

city.

Add to that our usual mix of interiors, property,

fashion, beauty, travel, fitness and food and we hope

we have something for everyone.

You'll see the address of our website across the

bottom of each page in the magazine and that's

because we've given www.jaimemagazine.com a

wonderful revamp. You can visit the website to read

everything you see in the magazine plus much, much

more. The website is updated each day and includes

positive, uplifting lifestyle articles from right across the

Midlands.

As well as being delivered to homes in selected

postcodes J'AIME is now available to pick up free

of charge in major supermarkets around the

Midlands. You can also read a digital, flick-through

version of the magazine free of charge at

www.jaimemagazine.com

We hope our upbeat, positive content will bring a little

added cheer to your life.

Please don't forget to support your local independent

businesses. When you buy from a small business you're

supporting your community and helping to keep

people in jobs.

From everyone at J'AIME, may we wish you a happy,

positive, cheerful July and August.

EDITOR: AMY NORBURY

EDITOR@JAIMEMAGAZINE.COM

ADVERTISING: JAN ASHLEY

ADVERTISING@JAIMEMAGAZINE.COM

07388 335 931

DESIGN: DESIGN@JAIMEMAGAZINE.COM

CONTRIBUTORS: JENNY AMPHLETT, HOLLY

THOMSON, DEBORAH MITCHELL

J'AIME IS PUBLISHED BY ASHBURY

PUBLICATIONS LIMITED AND PRINTED BY

KEP LIMITED, TAMWORTH.

Check us out online at:

WWW.JAIMEMAGAZINE.COM

Find us on

/JAIMEMAGAZINE

@JAIMEMAGAZINE

@JAIMEMAGAZINE

SPONSORED BY

3
---
CONTENTS

InsideJ'aime this month...

6 Feature - Meet the bestselling author from

Hammerwich

10 Feature - Lichfield Festival is back and we

chat to one of the stars

12 Property - Could this be the home of your

dreams?

14 Property - Property of the month

16 Interiors - When life gives you lemons

22 Interiors - Storage solutions

26 Food and drink - Cooking in stately splendour

30 What's on - Outdoor theatre returns to

Lichfield

32 What's on - Win family tickets for

Staffordshire County Show

34 What's On - TILT Festival

35 Travel - An epic US road trip

38 Fitness - How to achieve a peachy bottom

40 Antiques - In-person valuations are back

42 Beauty - Dare to bare

44 Education - Awards success for Midlands

school

46 Health - Putting up with pain is not the

healthy option

SPONSORED BY

4
---
FEATURE

Read all about it

JENNY AMPHLETT MEETS THE HAMMERWICH AUTHOR

WHO HAS MADE THE SUNDAY TIMES BESTSELLER LIST

It's taken 25 books and four different

pen names, but when Phillipa Ashley

finally became a Sunday Times

bestselling author last Christmas she

was as excited as the day she first saw

her words in print.

Phillipa, who cut her teeth as a young

reporter on the Lichfield Mercury

and still lives in Hammerwich, writes

heartwarming romances which have

been flying off the shelves during the

pandemic.

"I've worked so hard for this, but

there's luck involved as well." she

says.

"Publishing is an incredibly fickle

business and you just don't know

what's going to happen with your

next book. You just try to be positive

and optimistic.

"People think it's possible for an

author to be an overnight success but

it takes years of practice, honing your

skills, writing different books and

working really hard.

"It would be mad for a person to

leave their career to become an

author, that's not how it works."

She tasted early success when her

first book, Decent Exposure, won

the RNA New Writers Award and in

2009 was made into a TV film called

12 Men of Christmas starring Kristin

Chenoweth and Josh Hopkins. Yet it's only during

the past three or four years that she's been able to

make a full time living as an author.

Phillipa writes two books each year through

HarperCollins publishers, one released during the

summer and another each Christmas.

She speaks very highly of HarperCollins, one of

the largest publishing houses in the world, and the

relationship she's been able to build with them over

the last dozen books.

For example she's allowed the freedom to lead the

direction of the covers of her books.

"They ask me to send in some photos of how I think

the cover could look and then the illustrator works

from those."

Her latest release, An Endless Cornish Summer,

hit the bookshops on June 24. It's available from

the likes of ASDA, Sainsburys, Amazon, Tesco and

Waterstones and well as independent bookshops.

6 www.jaimemagazine.com
---
Signed copies are currently available at the Stafford

branch of Waterstones.

Phillipa's work is also now available in e-book format,

which she says sound like 'little plays' once they've

been in the hands of a skilled narrator.

"I've always got three books on the go," she says,

"There's one that I'm promoting, one that I'm

editing and one that I'm writing.

"I get involved in writing and then I have to come off

that book to do edits on something else. In the end it

gets to the point where you can't wait to get rid of a

book to the editor.

"Then when it comes out as a book you do look at

it and think 'did I write that?' Writing can be quite

lonely but a book is definitely a team effort."

Born and raised in the area, Phillipa went to

Chasetown High School, later renamed Erasmus

Darwin Academy, before studying English at Oxford.

"I've always written romance and have written some

quite steamy romance in the past. The books I write

at the moment are more community based, with

romance on the edge of that.

"They're escapist and are always about people

overcoming problems. I love writing about small

communities.

"I've really found where I want to be with the books

I'm writing at the moment. The publishers let me

come up with all kinds of things, for example the

book that's just been released is about a woman who

goes to find her bone marrow donor - who doesn't

really want to be found."

Phillipa's latest heroine is an archaeologist, so she

called on the experts at Cambridge University's

archaeology department for help.

Another plotline involved boat building which

obviously meant that she needed to hire a yacht in

Falmouth, purely for research purposes of course.

She says her journalism background proves very

useful when it comes to background research and

fact finding, and she has chosen to make some of her

heroines copywriters or journalists.

"The book that came out last summer was about

a big London journalist who takes a job as a

commercial features writer for a Cornish magazine

www.jaimemagazine.com

7
---
and ends up writing about hot tubs and being

unhappy about having to let advertisers read through

her copy. I loved writing that character."

During the first lockdown Philippa found herself

trying to write a Christmas novel.

"I was editing my Christmas book during a heatwave

last year - I was still thinking about Christmas in

April. There was a rock and roll theme so I had

Christmas songs by Elvis on in the garden while I

was working on it. I did think the neighbours must be

wondering what on earth I was up to.

"I was anxious and worried, just as anxious as

anybody else. I remember thinking 'this book has

been such a terrible thing to write' and then when it

came out it ended up being my first Sunday Times

bestseller."

So far none of her books have been completely set

in her home region, although Fradley Junction has

appeared in a few scenes.

She says she's enjoyed cycling over Gentleshaw and

exploring the Woodland Trust land during lockdown,

so watch this space for mentions in future bestsellers.

Phillipa takes a lot of her inspiration from Cornwall,

where she and her family bought a holiday home

just before the pandemic began and then had to wait

months before visiting it for the first time.

However she has no plans to move to the south of

the country permanently.

"I love living here in the middle. I have roots, family

and friends here. I feel comfortable here. This is my

home," she adds.

An Endless Cornish Summer by Phillipa Ashley is

out now, published by HarperCollins and priced

£7.99

8

www.jaimemagazine.com
---
Adcote School for Girls

Discover the

ISA Senior School of the Year

Confidence | Leadership | Engagement | Achievement | Resilience

Our CLEAR Learning programme prepares your daughter for a bright future

Enquire now for September 2022 entry. Private tours available upon request.

admissions@adcoteschool.co.uk | +44 (0) 1939 260202 | www.adcoteschool.co.uk | @adcoteschool
---
FEATURE

The lady under the lamp

APPEARING AT LICHFIELD FESTIVAL HAS A SPECIAL SIGNIFICANCE FOR

WRITER AND PERFORMER KATIE ARNSTEIN - SHE WAS BORN AND RAISED

IN THE CATHEDRAL CITY. JENNY AMPHLETT MET HER

PHOTO CREDIT - SIMON JEFFERIS

Katie Arnstein was at the cusp of something very

special at the beginning of 2020. After years of

combining her theatre work with waitressing and bar

jobs, she had a UK tour booked for her one-woman

show, Sexy Lamp.

Just three dates into that tour and the world closed

down due to coronavirus, leaving Katie in the same

precarious situation as so many other performers and

arts workers.

So she moved back from London to live with

her parents in Shenstone, from where she's been

giving online performances whenever possible and

preparing for theatres to reopen.

"I grew up in Shenstone, went to school in Lichfield

and spent a lot of my teenage years in the area so the

Midlands feels like home to me," says Katie. "A lot of

my work is centred around that area too."

Katie went to Friary School in Lichfield then trained

at Birmingham Conservatoire, so the second city

often features in her work too.

"Sexy Lamp, the show I'm bringing to Lichfield

Festival, is about leaving the Midlands, moving to

London and chasing the dream of bright lights. I

think it also has the message that there's no place like

home.

"I didn't leave the Midlands until I was 21 so it

completely founded me. I learnt an important

lesson in my first few years in London. I was trying

to be like everyone else and forgot what makes me

unique."

10 www.jaimemagazine.com
---
She ended up writing a trilogy of

one hour semi-autobiographical,

comedy storytelling shows. The first,

Bicycles and Fish, is set in Shenstone.

It's followed by Sticky Door and now

Sexy Lamp.

Katie managed to fit in one live show

between lockdowns, at a theatre in

Scarborough in October 2020, before

arts venues were forced to close their

doors once more.

She's been trying to move her work

online wherever possible, including

performing a version of her show

and a workshop for an audience in

Oregon in the US.

"Trying to work during the pandemic

hasn't always been easy, but I wouldn't

have got to that theatre space and that

audience without Zoom.

"I've also been giving online

performances for friends and family

- being online certainly makes things

more accessible for a lot of people.

"There are a lot of people who can't

go to the theatre for a myriad of reasons. I love the

idea that we will be able to go back to doing shows

in theatres but also stream them too to make them

accessible. We'll be able to reach new audiences that

way."

PHOTO CREDIT - SIMON JEFFERIS

PHOTO CREDIT - HARRISON BATES

Shows at The Hub at St Mary's at 6pm and 8.30pm

on July 8 as part of Lichfield Festival will be amongst

Katie's first live performances in 2021 - and she says

she couldn't be more excited.

"Lichfield Festival is so important for me," she says.

"I used to go to the festival and imagine what it

would be like if I could perform

there one day. This is going to be

really special for me, particularly

after the year we've just had.

"It's so brilliant that festival

director Damian Thantrey agreed

to have my show. After the year

we've had I feel so lucky. I can't

wait.

"Performers like me do shows to

connect with an audience, to feel

the energy in the room. It's going

to feel very good to have that

back again."

To find out more about Katie

visit her website at

www.katiearnstein.com.

Tickets for her Lichfield Festival

shows can be booked at

www.lichfieldfestival.org

or by calling the box office on

01543 306271.

www.jaimemagazine.com

11
---
PROPERTY

Luxurious by design

DO YOU FANCY THE OPPORTUNITY TO HAVE A LUXURY HOME CREATED TO YOUR OWN

SPECIFICATIONS? A NEW DEVELOPMENT IN SUTTON COLDFIELD COULD BE PERFECT FOR YOU

Chosen Home Estate Agents are proud to

present Hillwood, a unique and exclusive

gated development of just four individual

and contemporary architect-designed

homes on the outskirts of Four Oaks,

Sutton Coldfield.

Built by local developers Insisys

Developments, these stunning homes are

surrounded by open countryside affording

spectacular views towards Lichfield and the

Peak District beyond, yet within easy reach

of the shopping centre at Mere Green as

well as the road and rail network.

Finished to exacting standards with five

large bedrooms and a double garage,

these spacious homes offer contemporary living in a

delightful setting.

The impressive principal bedroom will have dressing

room, en-suite and balcony or terrace while the

remaining bedrooms will all have en-suites with some

also having dressing rooms.

The high quality, individually designed and open

plan family kitchens will feature areas for cooking,

dining and relaxing and will be fitted with a range

of high spec integrated appliances including ovens,

coffee machine, microwave, induction hob, fridge/

freezer and dishwasher and are finished with quartz

worktops and Quooker Pro Flex chrome instant boil

taps.

The luxurious bathrooms and en-suites will be fitted

with Villeroy & Boch furniture and sanitaryware with

Grohe taps and Porcelanosa and Utopia tiling.

Further highlights include a bright lounge, snug/

study, cinema room and boot room.

These exceptional homes will be constructed using

handmade bricks and feature an environmentally

friendly 'green' roof and light will flood in courtesy

of floor to ceiling windows and glazed roof panels to

make the most of the fabulous views and landscaped

gardens.

Other features include aluminium windows and

bi-fold doors, oak and glass staircases, underfloor

heating throughout, solid oak internal doors, bespoke

contemporary stepped architrave and skirting,

LED lighting and satin chrome light

switches and sockets.

The development will be completed

in 2022 affording the opportunity

for purchasers to work with the

architect to adapt the specification

to accommodate any specific lifestyle

requirements.

To find out more about this unique

and exciting opportunity, contact

Chosen Home on 08000 886996 or

email team@chosenhome.com.

12 www.jaimemagazine.com
---
We will sell your home for free.

No catches. No strings.

It pays to choose Chosen.

For a free valuation and to

find out why we are rated

as excellent on Trustpilot,

please call 08000 886 996

or visit chosenhome.com
---
PROPERTY

Property of the Month

EACH MONTH WE SHOWCASE ONE OF THE MOST LUXURIOUS HOMES CURRENTLY ON

THE MARKET IN THE MIDLANDS. THIS HOUSE OVERLOOKS LITTLE ASTON GOLF CLUB.

Stonehouse Drive, Little Aston Park, Sutton Coldfield. £2 million.

On the market with Aston Knowles: 0121 362 7878.

THE AGENT SAYS: This beautiful five-bedroom family

home is beautifully presented. The front door opens up into

the reception hallway with guest cloakroom leading off. To

the front of the home is the cosy family room, which could

alternatively be used as a fifth bedroom and features a walk-in

wardrobe and en-suite shower room.

Double doors lead on from the reception hallway into the

spacious drawing room. Two sets of double French doors

lead out to the rear garden and the space features a stunning

feature fireplace along one wall as well as beautiful wooden

flooring.

Double doors to the left lead into the dining room which is a

wonderful space for entertaining and spending quality time

with family and friends. Double doors lead out to the rear

patio, ideal in the warmer months. All the reception rooms

are wonderfully bright and offer plenty of natural light.

The kitchen has ample space for an informal dining/

breakfast area.

An internal hallway is located off the kitchen and can also be

accessed from the front and rear of the home. A utility can

be accessed from here with additional storage space as well as

space for a washing machine and tumble dryer. A door leads

into the garage from here.

Also located off the internal hallway is the boiler room and an

additional WC, as well as a gym with double doors leading to

the side of the home and garden beyond.

The sizeable principal bedroom suite with dual aspect is a

stunning space and features a beautiful traditional en-suite

bathroom with separate shower and his-and-hers wash

basins. The guest bedroom with rear aspect features built-in

wardrobes and an en-suite bathroom with separate shower.

There are two further bedrooms on the first floor as well as a

family bathroom. A study with front aspect, ideal for working

or studying from home, completes the accommodation.

W E L O V E : T H E S T UNN ING V IE W S O V ER A G O L F C O UR S E

14 www.jaimemagazine.com
---
STAFFORDSHIRE

COUNTY SHOW

WEDNESDAY 25TH & THURSDAY 26TH AUGUST 2021

www.staffscountyshowground.co.uk

PREMIUM SALES

More UK homes were sold off market in the

first quarter of this year than in any

quarter since 2007.

If you're looking for a discrete, hassle free

avenue to sell your property, contact our

team for an expert market appraisal.

Our exclusive off market web page is

dedicated to properties that are only

showcased here and not on any other

website or property portal.

Contact us to find out more and to get your

interest registered first

0121 362 7878 enquiries@astonknowles.com

www.astonknowles.com

@astonknowles
---
INTERIORS

When life gives

you lemons…

...It's time to get decorating. Where pineapples,

flamingoes and cacti have gone before as the interiors

motifs du jour, this summer it's the turn of the humble

lemon.

Lemons have been popping up everywhere for SS21,

adorning everything from fabrics to tableware, ceramics to

cushions, so if you're feeling fruity, it's time to follow suit.

The bright, playful motif brings a touch of the

Mediterranean to your home, conjuring up images of

rustic Italian properties and picturesque gardens - and

while our travel options are still limited, who wouldn't

want to add a holiday villa vibe to their abode?

If littering your home with literal lemons doesn't appeal,

then opt for using the zesty shade as an accent colour

instead - perfect for adding a little zing to your decor

scheme. The bold yellow hue is guaranteed to bring a

touch of sunshine to your home and put a smile on your

face.

LEMON CERAMIC DEEP DISH, £9.99, AND LEMON

CERAMIC TRIPLE NIBBLE DISH, £9.99, GISELA GRAHAM.

WWW.GISELAGRAHAM.CO.UK

£12.99

£50

CERAMIC LEMON JUG, GISELA GRAHAM.

WWW.GISELAGRAHAM.CO.UK

MORRIS & CO LEMON TREE LAMPSHADE,

JOHN LEWIS. WWW.JOHNLEWIS.COM

DULUX HERITAGE PAINT IN BUTTERCUP.

AVAILABLE FROM TIPPERS. WWW.TIPPERS.COM

£119

ROST 12 PIECE OMBRE REACTIVE GLAZE

DINNER SET IN LEMON. WWW.MADE.COM

16 www.jaimemagazine.com
---
WELCOME TO BAYLISS BATHROOMS,

THE LARGEST INDEPENDENT LUXURY

BATHROOM SPECIALIST IN THE REGION.

OUR UNRIVALLED ONE STOP PROJECT

MANAGED SERVICE, FROM DESIGN

THROUGH TO INSTALLATION, IS FOCUSED

ON TURNING YOUR DREAM BATHROOM

INTO REALITY.

WHATEVER YOUR REQUIREMENTS,

WE CAN PROVIDE YOUR BATHROOM

SOLUTION. WE WELCOME YOU TO VISIT

OUR NEW WEBSITE OR SHOWROOM TO

EXPLORE THE BAYLISS EXPERIENCE AND

ALL THE OPTIONS AVAILABLE TO YOU

We offer a complete 'One Stop' process to turn your bathroom dreams into reality, which includes:

• A bespoke 2,500 sq ft showroom with over 20 bathroom displays located in Sutton Coldfield

• A specialist design team to create designs to match your every need

• Expert knowledge of our partner brands giving you access to superb products and tiles.

• In-house installation teams working to the highest possible standards

• Management of all aspects of the Project, providing you with a single point of contact, every step of the way

• For those customers who require a Supply Only service, access to all leading brands at competitive cost.

BAYLISS BATHROOMS, 23 GATE LANE, BOLDMERE, SUTTON COLDFIELD B73 5TR

0121 362 1800 - www.Baylissbathrooms.co.uk
---
£29.95

MINI JUG WITH EMBOSSED LEMON, GISELA

GRAHAM. WWW.GISELAGRAHAM.CO.UK

£20

£6.49

EMMA BRIDGEWATER'S 'LEMONS' WOODEN TRAY.

ANNABEL JAMES. WWW.ANNABELJAMES.CO.UK

£40

£32.90

LEMON FRESH MELAMINE PLATTER, WAYFAIR.

WWW.WAYFAIR.CO.UK

LEMON WOODEN DIRECTOR CHAIR, HABITAT.

WWW.HABITAT.CO.UK

SET OF FOUR LEMON PLATES, MONDAY.

WWW.MONDAYONLINE.CO.UK

CONTOUR ERMINE KITCHEN IN LEMON CURD, £POA,

WREN KITCHENS. WWW.WRENKITCHENS.COM

18
---
Curtains Blinds Wallpaper

& More

Refresh your home with

soft furnishings from our family

owned and run business

3 year guarantee

Expert fitting service

Best of Lichfield «««««

Top brands across all price ranges

Lichfield

Showroom

Lichfield Showroom

Interior Choice,

Interior First Floor Choice

Sure 1st Storage Floor

Eastern Sure Store Avenue

WS13 Lichfield 6UY

WS13 6UY

By appointment only. FREE parking. Please book in

online: www.interiorchoice.net or call 01543 406162

PHOTO ME

Proud to be a family run business for over 35 years

HOME IS WHERE THE WARMTH IS

See our

new range of

'Clock' stoves

- all British

built

Suppliers of: Contura, Clock, Jotul, Gazco, Scan, Town & Country Fires, ACR Heat Products and many more

Installers and suppliers of gas fires, bespoke limestone surrounds, and gas and woodburning stoves, since 1981.

1/7 High Street, Erdington B23 6RG Next to Highclare School

Telephone: 0121 384 5251 - www.abbeyfirecentre.co.uk

Open: Mon - Fri: 9am - 5pm (closed Wednesdays), Sat: 10am - 2pm

abbeyfirecentre @abbeyfirecentre abbeyfirecentreltd

For your safety and to observe social distancing we are asking that you

telephone or email to arrange a personal viewing of our showroom.
---
STUNNING LEMON YELLOW VASE, £278, AUDENZA.

WWW.AUDENZA.CO.UK

OLIVER BONAS LEMI FAMILY COOL BAG, £29.50,

LEMI PERSONAL COOL BAG, £19.50, AND LEMON

PICNIC RUG, £32.50. WWW.OLIVERBONAS.COM

ANNA MÖRNER LEMON PRINT, £89, ROSE & GREY.

WWW.ROSEANDGREY.CO.UK

LEMON FRUIT STRING LIGHT ON IVY STRING, £9.99,

WWW.LIGHTS$FUN.CO.UK

SKINNY DIP LEMON BEDDING SET, £42.50,

GLASSWELLS. WWW.GLASSWELLS.CO.UK

20
---
DUPLOSTONE RANGE IN PERLA

EUROPA WAY, LICHFIELD, WS14 9TZ

01543 440000 TIPPERS.COM

MON-FRI

SATURDAY

Refreshingly Different

Visit our Stylish Showroom

11 Belwell Lane, Sutton Coldfield, B74 4AA - Tel: 0800 996 1241

Visit our fantastic website www.jmiwindows.co.uk - enquiries@jmiwindows.co.uk

Windows | Doors | Bi-Fold Doors | Garage Doors | Conservatories | Secondary Glazing | Window Repairs
---
INTERIORS

A place for

everything

FROM the smallest jars to huge purpose-built units,

storage solutions are an essential element of any interior

design scheme.

With the popularity of interiors gurus such as Marie

Kondo meaning we're all looking for ways to declutter and

tidy our homes - which means investment in an array of

storage ideas for every room of the house.

From perfectly organised pantries to hallways free of

shoes-and-coats clutter, good storage is key to creating

household harmony.

But functional doesn't mean it can't be fabulous too;

storage has increasingly become an integral aspect

of stylish home design, tapping into trends rather

than serving as purely utilitarian furniture pieces and

accessories.

When it comes to larger storage, furniture with hidden

space to keep those items you don't need on show are

increasingly popular. Think beds with drawers for blankets

and towels, pouffes which double as storage boxes and

even tables with lifting lids and extra space for storage.

After all, it's much easier to keep everything in its place

when there's a place for everything.

TETBURY TRADITIONAL BATHROOM CABINET, £POA,

AVAILABLE FROM TIPPERS LUXURY KITCHEN AND BATHROOM

SHOWROOMS. WWW.TIPPERS.COM

£10

LARGE BAMBOO STORAGE

CANISTER SET, CURATED PIECES.

WWW.CURATEDPIECES.COM

SASS & BELLE GLASS

CHALKBOARD STORAGE JAR,

WWW.SASSANDBELLE.CO.UK

£37.99

£29.99

BTFY MUSTARD METAL STORAGE

TRUNK, WWW.BTFY.COM

22 www.jaimemagazine.com
---
£POA

£399

ERCOL MONZA UNIVERSAL CABINET,

WWW.ERCOL.COM

TAMBO STORAGE COFFEE TABLE,

WWW.MADE.COM

£53.99

£18

SET OF THREE WOODEN

CHALKBOARD STORAGE CRATES,

ILDECOR. WWW.ILDECOR.CO.UK

£252

JOE BROWNS DECORATIVE PEACOCK

STORAGE POT, WWW.JOEBROWNS.CO.UK

£230

DIAMANT CARVED GREY TWEED STORAGE

BENCH, THE HOUSE OFFICE.

WWW.THEHOUSEOFFICE.CO.UK

VALANCE VELVET BLANKET BOX IN OCHRE,

PEPPERMILL INTERIORS, BURNTWOOD.

WWW.PEPPERMILLINTERIORS.COM

KRISTINA DAM STACK STORAGE BOX, £179,

WWW.NEST.CO.UK
---
TWO ENAMELLED STORAGE TABLES

IN BLACK, £275, COX & COX.

WWW.COXANDCOX.CO.UK

BALLATTA STORAGE CABINET, £POA,

ERCOL. WWW.ERCOL.COM

OSLO CHARCOAL OUTDOOR STORAGE

BENCH OR COFFEE TABLE, £375, ROSE &

GREY. WWW.ROSEANDGREY.CO.UK

24

VALENTIN STORAGE BENCH IN

BUTTERSCOTCH COTTON MATT

VELVET, £570, WWW.SOFA.COM
---
We are a trusted, local family, dedicated to providing

a truly personal service for those who need us

Burials, Horse-drawn Funerals, Bespoke

Funeral and pre-payment Funeral Plans available

All-inclusive Funeral Packages for

Cremation with no hidden costs

Including Crematorium, Doctor and

Religious/Non-religious Celebrant

Simple - £2,300

Traditional - £2,650

(includes family car, service sheets and floral tribute)

16 - 20 North Street, Cannock, WS11 0BA

01543 529813 (Anytime)

Visit our web and Facebook sites to see our reviews

www.omalleyfunerals.co.uk • www.facebook.com/omalleyfunerals

tatlowcarpets

& flooring

Quality flooring at affordable prices

Abingdon, Adam's, Associated Weavers, Axminster, Brintons, Brockways,

Cormar, Crucial Trading, Penthouse, Ulsters, Karndean & Project Floors

Free advice ✔ Free quotations ✔

Furniture moved ✔ Our own regular fitters ✔

ALTERNATIVE FLOORING – QUIRKY B RANGE

(FLOWERS OF THORPE) – SUMMER GARDEN

STUNNING CARPET TO MAKE

YOUR HOUSE A HOME

WE

REMAIN

Established

Established 1990

OPEN

1990

FOR NEW

COVID

RESIDENTS Rosemary Lodge Residential Lichfield Care Home

Lichfield FREE

191 Walsall Road, Lichfield, Staffordshire, WS13 8AQ

Please contact The perfect the Registered 'home Care from Manager home' Jane Evans

The perfect 'home from home'

Tel: 01543

at

415223

Rosemary

E-mail:

Lodge

contact@rosemarylodge.co.uk

Care Home

at Website: Rosemary www.rosemarylodge.co.uk

Lodge Care Home

Rosemary Lodge Care Home for elderly ladies and

Rosemary Lodge Care Home for elderly ladies and

gentlemen offers level of care, community and

gentlemen offers a level of care, community and

comfort that is second to none. Situated short way

Rosemary comfort Lodge that is Care second Home to fRosemary none. Lodge Situated Care Home a short for elderly way

from ladies and the gentlemen city centre offers of a level Lichfield of care, community and set in and landscaped

comfort that is

from second the

gardens, to none. city Situated centre

Rosemary a short of Lichfield

Lodge way from is the and

light, city set

spacious centre in landscaped

of Lichfield and and

set in gardens, landscaped Rosemary gardens, Rosemary Lodge Lodge is light, is spacious and and beautifully

decorated, beautifully offering decorated; residents just offering the right combination residents of just interest, the activity right and

relaxation. beautifully It is a decorated; place that encourages offering residents residents to retain just their the independence right

and

combination

individuality whilst

of

being

interest,

fully supported

activity

to

and

live a

relaxation.

fulfilled and enjoyable

It is combination of interest, activity and relaxation. It is alife.

place that encourages residents to retain their

place that encourages residents to retain their

independence and individuality whilst being fully

independence and individuality whilst being fully

supported to live fulfilled and enjoyable life.

supported to live a fulfilled and enjoyable life.

Rosemary Lodge Care Home is family run home and has

Rosemary Lodge Care Home is a family run home and has

been highly regarded part of the community for over 30

been a highly regarded part of the community for over 30

years. Offering 24 hour care, our fully trained staff work

years. Offering 24 hour care, our fully trained staff work

together to communicate with residents and ensure

together to communicate with residents and ensure

personal care needs are met in person centered

personal care needs are met in a person centered

approach, thus building an important relationship of trust

approach, thus building an important relationship of trust

and friendship.

and friendship.

All rooms are on-suite, and are designed to comfortably

All Rosemary rooms are Lodge on-suite, Care Hoe is and a family are run designed home and to has comfortably

been a highly

regarded part accommodate of the community individuals for over 30 years. and Offering couples. 24 hour care, our

fully trained accommodate staff work together individuals to communicate and with couples. residents and ensure

persoal There care is needs full Wi-Fi are met connectivity in a person centred throughout approach, thus to building allow an

There is

important

full Wi-Fi

relationship

connectivity

of trust

throughout

and friendship.

to allow

residents the opportunity of keeping in touch with family

residents the opportunity of keeping in touch with family

All rooms are en-suite, and friends and are designed with video to comfortably calls. accommodate

individuals and couples. and There friends is full with Wi-Fi video connectivity calls. throughout to allow

residents the opportunity of keeping in touch with family and friends with

Regular activities and entertainment video calls. are always available,

Regular activities and entertainment are always available,

with Regular activity activities timetables and entertainment distributed are always weekly, available but with activity privacy

timetables with activity

and peace distributed timetables

and weekly, quiet but distributed

is privacy also ensured and peace weekly, and in this quiet but

beautiful is also privacy ensured

and peace and quiet is also ensured in this beautiful

'home from home'.

'home from home'.

Our commitment to offering just the right amount of care

Our commitment to offering just the right amount of care

and support has led to an excellent reputation in the

and support has led to an excellent reputation in the

community and with the care professionals who work

community and with the care professionals who work

with us. We value our staff highly and recognise that their

with us. We value our staff highly and recognise that their

care and commitment are great part of our success.

care and commitment are a great part of our success.

We also offer respite care, holiday stay and limited day

We also offer respite care, holiday stay and limited day

care. To arrange visit or to learn more about us please

care. To arrange a visit or to learn more about us please

get in touch using the contact details below.

get in touch using the contact details below.

in this beautiful 'home from home'

Our commitment to offering just the right amount of care and support has led

to an excellent reputation in the community and with the care professionals

who work with us. We value our staff highly and recognise that their care and

commitment are a great part of our success.

Finance facilities now available

@Tatlowcarpetsltd

Please see our website for further details www.tatlowcarpets.co.uk

Tel: 01543 264766

@Tatlow_Carpets

Open to the public. Mon-Fri: 9.00am - 5.00pm. Sat: 10.00am - 4.00pm

Unit 4, Europa Way, Britannia Enterprise Park, Lichfield, Staffs, WS14 9TZ

We also offer respite care, holiday stay and limited day care. To arrange a visit

or to learn more about us please get in touch using the contact details below.

Rosemary Lodge Residential Care Home

Rosemary Lodge Residential Home

Rosemary 191 Walsall Lodge Road, Residential Lichfield. Staffs. WS13 Care 8AQ. Home

191 Walsall Road, Lichfield, Staffordshire, WS13 8AQ

In the 191 first Walsall instance Road, please Lichfield, contact Jane Staffordshire, Evans - Registered WS13 Care Manager 8AQ

Please contact or Shirley the Registered Kent - Administration Care Manager. Jane Evans

Please contact the Registered Care Manager Jane Evans

Tel: 01543 01543 415223 415223 E-mail: - Email: contact@rosemarylodge.co.uk

roselodgehome@aol.com

Tel: 01543 415223

Website: www.rosemarylodgecarehome.co.uk

E-mail: contact@rosemarylodge.co.uk

www.rosemarylodge.co.uk

Website: www.rosemarylodge.co.uk

CQC RATING GOOD
---
F O O D & D R I N K

Cooking in stately splendour

JAMES ST CLAIRE-JONES, EXECUTIVE CHEF AT HOAR CROSS HALL,

SHARES THE SECRETS OF HIS CULINARY SUCCESS

Tell us more about your background and how

long you've been at Hoar Cross Hall.

I joined Hoar Cross Hall back in November last year,

two days before the lockdown! Although I'd have

loved to have dived straight in, it's been great

utilising the time to plan and prepare. I've been

rewriting menus for every restaurant, building our

team – we've brought on board another seven chefs

during lockdown and we're still looking to recruit

further.

I've been a chef for 34 years and have worked

all over; from conference centres and Michelin

Star restaurants to Rosette awarded restaurants

and everything in between both nationally and

internationally.

Do you have a specific vision for the dining

experience at Hoar Cross Hall?

The overall dining experience at Hoar Cross

Hall is split into The Ballroom, which is our fine

dining option, Hugo's, which is our daytime/lunch

restaurant, and Henry's, our newest addition, which

offers guests a more informal dining experience.

My main goal for The Ballroom is to achieve the

second AA rosette. It's going to take some time, but

we have one rosette at the moment and it's really

important to me that we maintain that standard and

continue to grow.

Sustainability is also hugely important, and we're

very lucky to have such vast grounds that we're

able to grow produce on. We make sure that the

vegetables we use in our menu are aligned with

the season, and we'll be changing our menus four

times a year. We're also in the process of expanding

our vegan options, including a dessert menu that is

exclusively vegan.

Do you try to include Staffordshire and

Midlands food where possible and are there

any particular local suppliers that you'd

recommend?

Absolutely! We've got a big herb garden on-site that

26

www.jaimemagazine.com
---
we use on a daily basis, as well as a wild garlic patch

down in the woodland. I'm also in regular contact

with our Head of Grounds, so that I can prepare

to harvest other produce, such as figs from our trees

later on in the year.

Since arriving at Hoar Cross Hall, I have worked

hard to cultivate great relationships with local

suppliers – for example we've sourced red meat,

poultry, pork and fillets from between a mile and

three miles down the road. Part of our sustainability

focus is trying to keep those food miles low and also

help with local food provenance as well.

In terms of UK suppliers, I'm really focusing on

British cheeses. I've recently added a Cornish gouda

to the menu, a beautiful Windrush blue which is

sourced from just outside of Bristol and a cheddar

from Cheddar! It's important to me that the cheese

in our dishes is regional as that gives us the best

possible produce.

with different pickles across

each one, and served with a

British goat's cheese, which

is just beautiful.

We've also got a tortellini

dish, which just won Gold

Best in Class at another

international competition.

The pasta is completely

vegan, with flax seed used

instead of the egg, and wild

garlic from the estate used

to make the pesto with some

roasted hazelnuts, a warm

sweetcorn panna cotta and

a nice mushroom broth.

It's a stunning dish, both in

flavour and presentation,

and I'm very proud of it.

Is there anything you do specifically to get

the best out of your team and really motivate

them?

The last year has been very difficult for everyone, so

my biggest priority for the team has been retraining,

with a particular focus on making both the staff and

guests feel safe after such a long period of lockdown.

I come from a military background, and still serve

now, so can be very military in my way of teaching

and mentoring. I'm a true believer in investing my

time into training in order to support my team and

get the best out of them.

It's absolutely vital to have an amazing team

supporting you when working in the culinary world,

and I've managed to recruit a really nice bunch

which I'm really proud of. So now it's just a case of

In terms of the

dishes themselves

and the new menu,

do you have a hero

dish that you're

particularly proud

of ?

There's a cheese starter

dish that is one of my

personal favourites

and it's just won silver

in an international

competition. It's nice and

seasonal and includes

three different beetroot

variants – a candy, a

golden, and a classic –

www.jaimemagazine.com 27
---
keeping them engaged, ensuring that

they really are enjoying it and that

they're getting to input into the menu

options.

Something I'm always repeating to my

staff is that we are always at someone's

special occasion. Whether that's

a birthday, anniversary, wedding,

funeral, Christmas or Valentine's,

every meal is an event and we are

passionate about reflecting that in our

food and service.

Is there anything in particular

that first inspired you to become

a chef ?

I started when I was 15, as a kitchen

porter, and it was back in the days when all the

chefs wore big hats and neck ties. We used to feel

privileged working underneath them, and I thought

to myself 'one day I'd love to do that'. That was

really what sparked my love for cooking – that and

the atmosphere in the kitchen, the team banter and

the satisfaction from creating these amazing dishes.

Does everything on the menu have to be

carefully calorie controlled or do you have

the freedom to include treats? Is chocolate

allowed?

Chocolate is definitely allowed! At Hoar Cross Hall,

yes, we're a spa, but we're also a luxury retreat –

emphasis on the treat! Of course, we have options

to cater to all, so if you're seeking a delicious but

lower-calorie meal then there is something for you,

but we have some more indulgent options too, for

example our Chocolate Pistachio Tart with Pistachio

Ice Cream.

How does working for a spa like Hoar

Cross Hall differ from cooking at a

standalone restaurant?

I constantly want to grow, and what I find exciting

here is that I have free rein on menus, free rein on

the suppliers, and I can hire the right staff. I can keep

pushing and growing and really make Hoar Cross

Hall even more special than it already is.

What are the most popular dishes on the

menu? Is there anything that's been a Hoar

Cross Hall favourite for years?

As we've been closed due to lockdown, the jury is

still out on the most popular dish! As we had time

to plan ahead of the reopening, the entire menu has

changed, so guests can expect something brand-new

when they come back.

How does working in such a spectacular,

stately home setting influence your culinary

choices?

It's definitely a very inspiring

setting to be a part of. It's

extremely grand, and being in

this environment really does

get the creative juices flowing.

It's important to me that

my menu options reflect the

grandeur of the hall, whilst

also providing an alternative

dining environment for guests

looking for something more

relaxed. The fact we have

the grounds where I can

grow fresh produce, as well

as amazing local suppliers

so close, really does all come

together to make Hoar Cross

Hall a Chef 's paradise.

28

www.jaimemagazine.com
---
THYME TO DISCOVER THE

BEST BRUNCH IN LICHFIELD

Open Daily 10am-4pm | Evenings Thursday-Saturday till 9pm

Telephone: 01543 264050 @thymekitchen

Curborough Countryside Centre, Watery Lane, Lichfield, WS13 8ES

BRUNCH | LUNCH | DINNER

www.thymekitchen.co.uk
---
W H AT ' S O N

Theatre is back...outdoors

LICHFIELD GARRICK IS STAGING A SERIES OF THEATRE PRODUCTIONS IN THE CATHEDRAL

CITY'S HISTORIC PARKS - WITH A VARIED PROGRAMME SUITABLE FOR ALL AGES

Whether your preference is Shakespeare, comedy or

something for the younger members of the family,

Lichfield Garrick has you covered with its exciting

new programme of outdoor performances.

The shows get underway this month with

a performance of Shakespeare's The

Tempest by celebrated theatre company The

Pantaloons on Thursday, July 29. This premier

performance will be held at Stowe Fields, with the

stunning Lichfield Cathedral as the backdrop.

The Pantaloons safely and successfully staged

70 socially distanced open-air performances

in the summer of 2020 and are ready to perform

once again, so get set for a voyage to an enchanted

island full of adventure, romance, magic and

monsters in Lichfield!

Shows continue into August as the magic and

adventures move to Beacon Park on Sunday,

August 8. Families will laugh until their tummies

hurt as Little Red Riding Hood and the Three

Funky Pigs join Karate Granny on their afternoon

adventures...but watch out for that cantankerous Mr

Wolf who is always on the lookout for his next meal!

This picturesque setting invites families to watch

classic children's characters being brought to life with

a fabulous modern twist, packed with songs and fun

for all the family.

The fun continues in Beacon Park as Kick in The

Head Productions perform their rip-roaring barrel of

fun, Three Men in a Boat, with Giles Shenton

playing the part of Jerome K Jerome.

Jerome recounts the hilarious story of his boating

holiday along the magnificent River Thames with

his two companions and Montmorency the dog.

Come and join in the fun as Giles expertly takes

the helm and pilots you through the much-loved

and ridiculous tale of men behaving badly.

There will be another helping of Open-

Air theatre on Sunday, August 22 in Beacon Park,

which will provide the perfect setting for The Tales

of Peter Rabbit and Benjamin Bunny.

Beatrix Potter's classic characters will be brought

to life by Quantum Theatre in a magical and

enchanting production for the whole family, complete

with live music.

The line-up of shows will conclude on the evening

of August 22 when an outdoor production of A

Midsummer Night's Dream is brought to life

by family favourites Quantum Theatre in their

wonderfully funny and exuberant production of this

Shakespeare classic.

Audiences are invited to relax on their own seats or

picnic blankets and watch the tale of magical fancy

unfold as real life becomes unexpectedly tangled with

the supernatural.

These open spaces have plenty of space for families

to bring picnic blankets or chairs and settle

themselves in their own areas, safely and socially

distanced from others for the performance.

Ticket numbers for the shows are limited in

accordance with social distancing requirements and

are on sale now priced at £14 for adults and £12 for

under 16s. You can purchase tickets online at

www.lichfieldgarrick.com or by calling the

Box Office on 01543 412121. Entrance is by

ticket only and these must be purchased in advance

from the Garrick box office or online. There will

be no ticket sales on the day.

30 www.jaimemagazine.com
---
COMING SOON

TO THE LICHFIELD GARRICK

THEATRE & STUDIO

SAT 7 AUG

7.30PM

FRI 13 AUG

7.30PM

FRI 17 SEP

7.30PM

BYE BYE BABY

N O . 1 R E C O R D B R E A K I N G D U O

SAT 18 SEP

7.30PM

Facebook Reviews

T H E G R E A T E S T S O N G M E N

AND FINALLY...

PHIL COLLINS

SUN 26 SEP

7.30PM

ARRIVAL

THE HITS OF ABBA

TUE 28 SEP -

SUN 3 OCT

RICHARD & ADAM

THE GREATEST SONGMEN

RAVE ON

THE RISE OF ROCK AND ROLL

DEAD LIES

ALL-STAR

CAST

OPEN AIR

THEATRE

IN BEACON PARK & STOWE FIELDS, LICHFIELD

29 JUL // 8 AUG // 22 AUG

"PHENOMENAL"

A MANDA HOLDEN

S IMON COWELL

"UNBELIEVABLE"

S IR KEN DODD

"THEY NEVER MISSED A NOTE"

FUN

FOR THE

WHOLE

FAMILY!

29 JUL // THE TEMPEST

8 AUG // LITTLE RED RIDING

HOOD AND THE

THREE FUNKY PIGS

THREE MEN

IN A BOAT

22 AUG // THE TALE OF

PETER RABBIT

A MIDSUMMER

NIGHT'S DREAM

TICKETS ON SALE NOW!

LICHFIELDGARRICK.COM

BOX OFFICE 01543 412121

FOR FULL LISTINGS & TO BOOK

TICKETS, HEAD OVER TO

LICHFIELDGARRICK.COM
---
W H AT ' S O N

The show must go on

STAFFORDSHIRE COUNTY SHOW MAKES A VERY WELCOME RETURN

THIS AUGUST - AND WE HAVE FIVE FAMILY TICKETS TO GIVE AWAY

A certain global pandemic meant

Staffordshire County show couldn't be

staged in 2020, but it's back on August

25 and 26 with all the attractions

visitors expect from one of the county's

premier events.

The show offers something for visitors

of all ages. Children will enjoy the

miniature steam railway or traditional

attractions such as Punch and Judy

whilst teenagers and adults will be

thrilled by daredevil, gravity-defying

stunts performed by the Bolddog Lings

Motorcycle Display Team. Meanwhile

the next generation of farmers will

be inspired by the first class entries in

livestock competitions across the showground that

are at the very heart of this traditional agricultural

show.

Held at the Staffordshire County Showground, just

outside Stafford, the show is one of the region's

major summer events and is expected to attract more

than 65,000 visitors. It offers a full day out for all the

family.

A packed main ring programme includes attractions

from the breath-taking Bolddog Lings to show

jumping and the grand parade of livestock.

In the country pursuits arena visitors can watch a

birds of prey display, visit the ferret roadshow or sit

back and learn all about pigs with the Hogg Show.

Around the showground there will be demonstrations

of traditional rural crafts such as thatching and

drystone walling.

Livestock is at the heart of the show with more than

1,000 cattle, sheep, pigs and goats and more than

1,500 horses and ponies expected.

There will be a number of animal competitions and

shows including a sheep shearing

competition, farriery competition

where blacksmiths will compete to

make the perfect horseshoe, the fur

and feather show with a vast array

of poultry, waterfowl and rabbits

and the bees and honey show with

its working hive.

Children of all ages will be

especially well catered for

with a children's farm, exotic

animal display, donkey rides and

fairground.

Shopaholics will be able to browse

more than 400 trade stands selling

everything from cars to hot tubs. In

32 www.jaimemagazine.com
---
addition there is a food hall with a further 50 stands

selling a range of local produce.

When it's time to take a break, what better way to

relax than having a picnic next to the bandstand

listening to the brass or jazz bands. However,

for something more tranquil, there is a 20-acre

woodland, ideal for a walk in the shade or a quiet

picnic.

The 2021 show's main sponsor is Dunstall Holdings

Group incorporating its two main brands, Rea

Valley Tractors and Altegra Integrated Solutions.

Rea Valley Tractors is one of the region's leading

agricultural machinery dealers and will have a trade

stand on the corner of the main ring.

Advance tickets, which offer a substantial saving

on the gate price, go on sale from mid-July. Further

details about the show and details of how to

purchase advance tickets are available at

www.staffscountyshowground.co.uk

Competition!

WIN FIVE FAMILY TICKETS

We have teamed up with Staffordshire County Show to give away five family tickets,

worth £42 each. Each ticket will admit two adults and up to three children.

For the chance to win a family ticket, simply answer the following question:

Which company is the main sponsor of the 2021 Staffordshire County Show?

Send your answer, along with your name, address and telephone number, via email

to competitions@jaimemagazine.com with Staffordshire County Show Competition

in the email subject box. Entries must be received by midday on Friday, July 30.

Terms and conditions apply. Visit www.jaimemagazine.com for further details.

www.jaimemagazine.com

33
---
W H AT ' S O N

A unique festival

TILT, BIRMINGHAM'S ONLY AERIAL AND PHYSICAL THEATRE FESTIVAL, IS BACK FOR ITS SIXTH

YEAR IN THE CITY WITH AN ADAPTED BRAND-NEW HYBRID FESTIVAL RUNNING LIVE, ONLINE

AND OUTDOORS AT A NEW OPEN SPACE, FROM MONDAY 12 TO SUNDAY 23 JULY

Postponed in 2020 due to COVID

restrictions, TILT is one of the largest

festivals of its kind outside London and

renowned for attracting some of the

world's most talented artistes from the

UK as well as internationally.

The 12-day festival features breathtaking

aerial and physical theatre from

world class performers, free family

outdoor shows and world premieres.

TILT 21 also offers circus sessions for

babies and parents, and masterclasses

and workshops for upcoming artistes,

professionals and young people aged

seven to 14 years.

TILT 21 is produced by RoguePlay,

Birmingham's highly physical theatre

company, based at West Midlands

Circus and Creation Centre in Digbeth. RoguePlay

creates a unique style of narrative theatre using

aerial and ground-based circus, contemporary dance,

spoken word and physical theatre.

Kim Wildborne, artistic director of RoguePlay and

Producer of TILT Festival said: "After a year of

uncertainty we can't express how thrilled we are to

return this summer with an even bigger offer. As well

as events taking place indoors, TILT 21 audiences

will be able to experience a spectacular programme

of open-air performances presented at Tea Works, a

brand-new cultural open space in Digbeth."

TILT 21 will include a range of both ticketed

and free events and shows featuring jaw-dropping

performers from all over the world, workshops for

all the family and, new for 2021, TILT Online will

see some of the in-person classes delivered online.

Participants can join classes from wherever they are

in the world, with some teachers teaching via Zoom

from their home country, exclusively for the TILT

Online programme.

Tilted Circus Night on July 16 (ticketed event)

promises to be an absolutely stunning night of live

circus and physical theatre from some of the world's

best performers.

And on July 17 there will be an afternoon of free

outdoor shows for all the family, including Around

the World in 80 Days, RoguePlay's acclaimed take on

Jules Verne's classic tale.

Following the performance, audience members can

join the cast to play on the big-rig Aerial Playground.

People of all ages and abilities can try aerial hoop,

hammock, and skills on the ladder, with hula hoop,

juggling and toys for little ones.

TILT 21 also provides fans of physical theatre with

the opportunity to see world premieres of brandnew

aerial, dance and physical theatre performances

by professional young companies. The New Work

Showcase (ticketed event) on July 17 is an afternoon

that will be jam packed with circus awesomeness

from some of the best emerging artists.

The festival will also feature masterclasses and

workshops, face to face and online, for those wishing

to pursue a career in the industry or improve their

skills.

TILT 21 runs from Monday July 12 to Sunday July

23. For full programme details and information on

how to book/register for free events go to

www.tiltfestival.com

TILT 21 will take place while following the most upto-date

Government Covid-19 guidelines.

34 www.jaimemagazine.com
---
T R AV E L

The road trip of a lifetime

HOLLY THOMSON FROM LICHFIELD TAKES A ROAD TRIP THROUGH NO LESS THAN FIVE

OF THE USA'S MOST FAMOUS NATIONAL PARKS SPANNING 1,300 MILES, THREE STATES

AND PLENTY OF ICONIC SIGHTS

Five years ago I had the opportunity to live

in the mid-western state of Utah for a year.

Whilst Utah may seem like an odd choice when

compared to sunny California or bustling New

York, what I discovered made me fall in love

with the state and the surrounding region.

There are eight national parks in Utah and

Arizona alone, all with their own highlights and

unique landscapes which lend to one epic road

trip.

I loved driving along the vast and open

highways and did so with my family as well as

with friends.

This area of the US is perfect for a post-covid

escape into some of the most otherworldly

landscapes the world has to offer. I've drawn

together my various experiences of this region to

create one ultimate road trip that covers five national

parks, three states and short drive times to make for

one unforgettable trip!

The journey starts in the brilliantly lit and bizarre

Las Vegas.

Situated in the middle of the Nevada desert, this

metropolis is full of fun and excitement for any

age. I particularly enjoyed the Venetian Hotel and

the Bellagio, both for the features they offer such as

the spectacular water show at the Bellagio and the

replica of Venice in the Venetian.

Choose to spend only a few days here or take more

time to enjoy the sounds and atmosphere of this

famous city.

To travel from Nevada onto Arizona and finally to

Utah, any good SUV style car will suffice. To add

an extra layer of adventure to the trip, driving in an

RV along the wide and quiet roads of this region

will add an element of freedom that cannot be

replicated. These vary in size but ours slept four of

us comfortably.

Of course the first stop on this adventure has

to be the Grand Canyon, a four and a half

hour journey which features dramatic rock

formations and vast desert landscapes.

The drive along Route 11 also takes you past

Hoover Dam, a must-do detour to soak in

the grandeur of this feat of engineering. Built

in 1931, the dam borders the state line of

Nevada and Arizona and holds back the mighty

Colorado River.

A tour can be arranged here to see the inner

workings of this man-made wonder. Or for the

ultimate wow seeing it up high by helicopter is a

must do bucket list item.

Upon your arrival towards the Grand Canyon

National Park you have many options for an

www.jaimemagazine.com

35
---
overnight stay. Flagstaff, a small city an hour and a

half away from the canyon, is a green oasis amongst

the desert. During my stay here I enjoyed the lush

mountain views and small town feel of the city.

One memorable night was spent at Fat Olives,

an authentic Italian restaurant in the city where

we enjoyed woodfired pizzas and local wine with

cheerful and intriguing locals. If you would prefer

to stay closer to the national park there are many

camping spots such as Trailer Village RV park,

perfect for a comfortable stay.

There are many ways to view the Grand Canyon.

Popular options include guided tours and hikes to the

floor of the canyon or even horse rides and skydives!

My family and I chose to see the canyon by bike

which was a great way to cover good ground and see

multiple aspects of the national park.

The bike route we took from the visitor centre

to Hermits Rest was quiet with great views all to

ourselves.

The canyon is unmistakable, with a sheer drop

an average of 4,000ft around the rim, the view is

breathtaking. The canyon is also the best known

example of arid-land erosion in the world and the

visitor centre does well in explaining the many

fascinating geographical and geological marvels

within the park.

The Grand Canyon lays a great foundation to this

epic road trip and will allow you to appreciate the

varied landscapes you will encounter as you continue.

From here we leave the desert of Arizona behind

and trade it for the very similar looking desert of

Southern Utah, just over a five hour drive away.

Although the crossing over Lake Powell into Utah

may look similar, the landscape surrounding Bryce

Canyon National Park will soon change your mind.

The towns surrounding Bryce Canyon will make you

feel as if you have stepped into an old western movie.

Stay in Bryce or Tropic for that outlaw feel.

There are also two camping sites if you stay in an

RV. The first, the North Campground, is perfect for

those who want more freedom as it is first come first

served. The second campground, Sunset, accepts

bookings on a six-month rolling basis.

There is nothing better than stepping out of your RV

in the morning to look over the canyon as the sun

rises whilst you drink your morning coffee!

This National Park is one of the lesser known

amongst America's portfolio. However, it is by no

means less impressive. It is the largest concentration

of hoodoos (irregular formations of rocks) anywhere

on Earth. The shades of red, orange and white rock

make for spectacular viewing and shift in colour

depending on the sun's light.

We chose to explore by horseback with Canyon

Trail Rides. This made for a unique and somewhat

amusing experience. My mum and younger brother

took to it with ease whilst my dad struggled to gain

the trust of his horse, who tried to take him off the

beaten path multiple times!

As the horses navigated the paths with precision

I was able to take in the many intricacies of this

landscape and what may have occurred to form

it. I later found out that it was an ancient lake

with rare minerals which caused the colour and

formations of the HooDoos.

In the evening a must do is to visit the site

to look at the night skies. Bryce Canyon has

hardly any light pollution and one of the most

memorable experiences of my life is lying

down on the edge of the canyon looking up

at the night sky. My dad pointed out many

constellations such as Orion to me whilst

shooting stars soared over our heads. With

no one else around us it felt like the sky was

putting on a show for us alone.

The park arranges astrology nights where you

can get a better look at the planets and stars

through a telescope and learn more about the

mysteries above our heads.

Bryce Canyon is one of my favourite national

parks due to its unique formations and the

wonderful memories I was able to take away

from it.

The third and fourth National Parks of this

roadtrip are Arches and Canyonlands. Situated

36 www.jaimemagazine.com
---
four and a half hours drive away from Bryce

Canyon, these two parks are sisters but not twins.

The town of Moab is the perfect stopping point to

see both of these parks and has a lot of events to

enjoy throughout the year. These include The Red

Rocks Art Festival held each October and the Easter

Jeep Safari where four-wheelers from all over come

to challenge the rough terrain of the backcountry.

Arches, only 30 minutes drive from Moab, is famous

for the Delicate Arch which also adorns the license

plate of every Utahn car and gives the National Park

its name.

Be sure to take the moderate hike to this landmark

from Wolfe Range Parking lot but also do not miss

out on other gems in the park too. I enjoyed the

hike to the Double O Arch and Balanced Rock. The

scenery here is very different to Bryce and the

Grand Canyon, with sweeping vistas scattered with

intriguing rock formations.

Canyonlands is the larger of the two national parks

sitting astride Moab and offers a lot of ground to

cover. The park features canyons of the Colorado

River, smaller than that of the Grand Canyon but

no less impressive and other features which make it

unique.

The Mesa Arch Trail offers spectacular scenery

from 1,200ft above Buck Canyon and is a great

sunrise spot for those early risers who don't

mind a 20 minute hike before the sun has fully

risen.

During our evenings spent on the edge of the

colorado river in Moab we sat and ate with

other travellers on the site and built a fire big

enough to keep us all warm late into the early

spring night.

We visited Dead Horse State Park which

is right next to Canyonlands. This was

particularly memorable as the park was so

quiet I was able to get perfect pictures of some

of the most incredible scenery.

The park has a story behind the name which

involves cowboys and a tragic incident, but I'll

let you find out more on your visit there. The

views here rivalled the Grand Canyon and left

me in awe with sweeping views of Moab, the

La Sal Mountains and the Colorado River.

A five hour drive from Moab, th Zion National

Park will give you another perspective of the

varied landscape in this region of the US.

Zion, named after the term coined by the

Mormon community in the state, is a huge

park with tight canyons, incredibles climbs and

mesmerising views.

For those not of the faint of heart, Angels

Landing has fantastic pay off with a view that

is out of this world. Come prepared however, the last

part of the hike which features slickrock and long

drop-offs is notoriously tricky. A good view can still

be found lower down at Scouts Landing which is as

far as I dared to go!

Zion Canyon was created by flash floods and in good

weather is the most unique hike amongst ancient old

river beds. Be prepared to get your feet wet though!

Each national park has its own unique charm and

will be sure to send you off with new memories and

incredible photos. This part of the US makes me

want to come back again and again due to the vast

amount on offer and the chance to always explore a

new hike or landmark.

The final journey was a short three hour drive back

to Las Vegas where you can choose to continue your

trip amongst the metropolis of hotels and attractions

or say a fond farewell to the land of the free until the

next special trip.

Read more of Holly's travels on her blog:

www.everydaygetaway.co.uk

To plan and book your holiday to the USA call

RB Collection on 01543 258631, remember to

mention J'AIME when you call.

www.jaimemagazine.com

37
---
F I T N E S S

How to have strong,

beautiful buttocks

LICHFIELD-BASED PERSONAL TRAINER RAÚL ROMERO REVEALS

HOW TO ACHIEVE A PERFECTLY STRONG AND TONED DERRIERE

Over the last few years I have had many clients

striving to achieve a stronger, more toned derriere.

Generally speaking, the trend seems to have

moved away from achieving a slim, thin figure to a

more curvy yet strong body shape. It is absolutely

achievable for everyone to tone and strengthen the

buttocks, be it for fitness reasons or aesthetic goals.

Years ago, when I first started out in the fitness

industry, it was very common to see females in the

cardio station area at the gym, though not half

as common to see them in the free weights area.

Nowadays it is great that these historic tendencies

have evolved and it is totally normal to see both

males and females working out in all areas of the

gym. Achieving strong, toned buttocks isn't as

challenging as it first may seem. Targeted planning

and slowly incorporating certain free weight exercises

into our training routine can go a long way to

achieving a perfectly perky posterior.

Benefits of training the buttocks:

Not only does training buttocks help achieve

aesthetic goals, but it can also turbocharge sports

performance. A stronger derriere can make us much

more agile and give us better stability and greater

power when doing exercises like running and cycling.

What role do the buttock muscles play?

Technically, their main actions are hip extension and

hip abduction, but also external rotation and pelvic

tilt.

Gluteus maximus extends and gluteus medius

stabilizes the hips. In short, reading between the

jargon, the buttock muscles play a pivotal role

in being able to successfully move the body and

complete a whole range of different sports.

It is important to mention the psoas muscle, which is

located in the lower lumbar region of the spine and

extends through the pelvis to the femur. When we

spend too much time sitting down it shortens, makes

gluteus muscles weaker and we can develop back

pain and bad posture. Exercising your buttocks will

have a positive effect, helping psoas to stretch and

thus avoiding back pain and bad posture.

My three top tips to achieve strong, toned

and perky buttocks:

• Don't underestimate the importance of resting.

I've lost count of the number of times I see people

training the same exercises in the gym every single

day. Whilst it is definitely applaudable to have that

level of strength and motivation, it's vital to let each

muscle group recover completely before continuing

training.

• Variety is the spice of life! Every exercise uses the

gluteus maximus, medius and minor in different

ways. Mixing up and varying the exercises we do

rather than doing the same exercises every time we

train helps activate a variety of different muscles,

thus toning a range of muscles needed to improve

and strengthen the buttocks.

38 www.jaimemagazine.com
---
• Perfect your technique. The more you train and

then slowly begin to increase the weights you use,

the better the technique needs to be to avoid risk

of injury. This really is vital not only in training the

buttocks, but training any part of the body. This is

where personal training for those who aren't 100%

confident in training using the correct technique

really is invaluable.

There is nothing here that is particularly difficult or

specialist. By making a realistic plan that targets the

relevant buttock muscles, sticking to the plan, resting

when your body requires, mixing up workouts and

using correct technique, anyone and everyone can

tone and strengthen their muscles to achieve their

perfect posterior.

My top 10 exercises to really work the

buttocks:

• Hip bridge: lie on your back and bend your knees

with your feet flat on the ground and heels close

to your bum. From this position, raise your hips,

squeezing your bum, until they are in a straight

line with your torso. Then move the hips down to

the starting position. Repeat this 12 times. For this

exercise you don't need any equipment, although

you can use extra weight on top of your hips to

increase the intensity or a mini band around your

thighs if you want to.

• Donkey kicks: Start on the floor on all fours,

push one leg up towards the heel, hold it for a

second and then bring it back down. Repeat 12

times and then swap legs. If you have any back

problems, I'd recommend placing your elbows on

the floor (similar to the plank position).

• Hip thrust: Do exactly the same as the hip bridge

but lie your upper back on a box or bench. This

is definitely one of my favourites for the buttocks.

Use a dumbbell, a plate or a barbell to increase the

intensity and make it even more effective. Repeat

between 10-15 repetitions.

• Sumo squats: This squat variation puts more

emphasis on glutes work. Keep your feet wider than

your hips and keep your back straight while going

up and down. Hold a kettlebell or a dumbbell for

extra intensity. Repeat between 10-15 repetitions.

• Lunges: As simple as these may sound, all the

different varieties of lunges are great for toning

the buttocks. Ideally if you can mix them up and

incorporate different lunges into your workouts you

will work all of the buttock muscles. Sets of 10 to

15 repetitions are recommended.

• Deadlift: In terms of technique, this is one

that many complete incorrectly. Holding your

dumbbells in front of you, bend your body forward

using your hips like a hinge (keep your back straight

all the way) and bring your body back to standing

position, squeezing your bum and keeping your

chest up. Repeat 10 to 15 times. If you feel the

pressure in your lower back, the technique isn't

totally right so needs to be checked with a personal

trainer or fitness expert.

• Squats with elastic bands: Elastic bands are

great to intensify the workout and really focus on

toning the buttock muscles. Put the band through

your legs above or below the knees and perform

a squat pushing with the knees slightly outwards

to increase the intensity. Repeat between 12 to 20

repetitions.

• Standing leg lift with elastic bands: Standing

on one leg, lift the other leg outwards to the side

keeping your balance. Repeat between 15 to 20

repetitions. The band can be over or under the

knee, depending on the intensity of your resistance

band.

• Clam shells: Lie on your side and keep your

knees bent and feet together, then move your knees

up and down 20 times. Switch sides and repeat.

• Standing back kicks: These are similar to the

standing leg lifts, but here you have to push back

with one leg like a backwards kick (keeping your leg

straight). Repeat 12 to 15 times and swap legs.

Not only can exercises that work the buttock muscles

be incorporated into gym workouts, many of them

can also be completed from the comfort of your own

home without specialist equipment. Over time, the

more the buttock muscles are worked, the higher the

chance of achieving a stronger, firmer derriere.

For any fitness related queries please get in touch

with me at raul@ambitionpt.co.uk or through

social media channels. Happy bottom building!

www.jaimemagazine.com

39
---
I N T H E N E W S

A welcome return

IN-PERSON ANTIQUE VALUATIONS ARE UP AND RUNNING

AGAIN TO HELP YOU UNEARTH HIDDEN TREASURE

"Every day is different in the auction world – that's

one of my favourite things about it," says Ben

Winterton.

It's a busy industry where the fast pace is matched

by a diverse range of knowledge – valuers might be

called upon to appraise pretty much anything you

could conceivably conjure up.

The past year has seen Richard Winterton

Auctioneers, based at The Lichfield Auction Centre,

Wood End Lane, Fradley Park, come up with a

completely new model for online-only auctions and

day-to-day operations.

And, as venues open up again, the family firm is

delighted to be launching free valuations and auction

advice for jewellery, watches and silver in both Sutton

Coldfield and Lichfield city centre.

From the start of July, specialists from Richard

Winterton Auctioneers will be at The Trinity Centre

on Church Hill off Mill Street in Sutton on Mondays

and The Hub at St Mary's in the heart of Lichfield,

above the library in the Market Square, on Tuesdays.

In addition, appointments at The Lichfield Auction

Centre can also be booked for valuations of all items.

"It is going to be fantastic meeting people once again

and hearing all about their treasures and trinkets,"

says Ben.

"Whether it's a Georg Jenson brooch, Pandora

bracelet or a 3ct diamond ring we're happy to assist.

"People can also take the opportunity to securely

drop off general consignments for auction with me.

"With our streamlined, Covid-secure processes,

it's never been easier to put your items quickly and

40 www.jaimemagazine.com
---
efficiently through auction and, as our results over

the past year have shown, demand is stronger than

ever."

To keep up with demand, the firm introduced

fortnightly two day antiques and home sales online

every other Monday and Tuesday, starting at 9.30am

each day.

Jewellery, watches, ceramics, toys and collectables

feature on day one with automobilia, household

items and furniture on day two.

"We are currently gearing up to auction a

spectacular collection of watches and jewellery on

Monday, July 5," says Ben.

"Rolex watches through the years plus Omega,

Hamilton and Jaeger-LeCoultre timepieces all

feature.

"And there is some incredibly impressive gem set

jewellery, including a 2.20ct square emerald cut

single stone diamond ring."

"It's going to be a sale to remember – in fact we're

expecting it to be one of the highlights of the year

for our jewellery department!"

He adds: "There's huge hunger for auctions, with

red-hot sales and a busy schedule of upcoming

catalogues packed with interesting lots.

"It couldn't be a better time to get free professional

advice and perhaps discover a hidden gem or two!

"Whether you come to see us in Sutton Coldfield,

Lichfield city centre or at our HQ at Fradley, we're

here to help."

In the grounds of Holy Trinity Parish Church, The

Trinity Centre in Sutton Coldfield is a popular

location for all manner of meetings, receptions and

parties.

Parish administrator

Reverend Carole Young

says: "Richard Winterton

Auctioneers have supported

us over the last 25 years

since we opened and we

are excited and thrilled to

welcome them back following

a very strange year.

"It will be lovely once again

to have a stream of people

each week visiting the centre

to get their treasured items

valued and then, maybe

afterwards, perhaps have

a look round our historic

church?

"Either way, we look forward

to seeing you and your items very soon."

The Hub's executive director Louise Fleming is

equally excited.

"We are delighted to have Richard Winterton

Auctioneers back at The Hub as we know a great

many people in the community love attending the

venue to get their treasure valued!" she says.

"Richard has been a wonderful sponsor and

supporter since The Hub opened and we are grateful

he continues to support our work.

"As we get back into the swing of things our coffee

shop is now open and makes a great waiting room

while you are waiting for Ben to take a look at your

(hopefully) valuable heirlooms.

"We look forward to seeing you soon."

Starting from July 5, Louise Ludlam-Snook will be at

The Trinity Centre in Sutton Coldfield on Mondays

between 9am and midday and, from July 6, Ben

Winterton will be at The Hub in Lichfield city centre

between 10am and 12.30pm on Tuesdays.

Email ben@richardwinterton.co.uk or call 01543

251081.

Free quotations for house clearances, probate

services and in-person valuations of any item at The

Lichfield Auction Centre, Wood End Lane, Fradley

Park WS13 8NF can be booked on 01543 251081

or by email to office@richardwinterton.co.uk.

Free home visits for bulky items or large collections

and appointments to view pre-sale are also available

to arrange.

Online catalogues can be viewed via

www.richardwinterton.co.uk/auction-dates.

www.jaimemagazine.com

41
---
B E AU T Y

Dare to bare

WE ASKED DEBORAH MITCHELL, FOUNDER OF CELEBRITY FAVOURITE

HEAVEN SKINCARE, FOR HER ADVICE ON LOOKING NATURALLY BEAUTIFUL

With lockdown meaning many of us have been going

makeup-free for months on end, healthy, natural

skin is very much one we're happy to embrace. This

summer you can prove less really is more, just make

sure your complexion is up to the job!

I spent most of my lockdown time revelling in the

fact that I didn't have to put makeup on every day.

In fact, I enjoyed it so much that I have promised

myself that when I can I will wear my skin as nature

intended – without foundation.

But baring all does mean you need to ensure your

complexion is up to the job and there are a few

things you can do to maintain natural radiance.

CLEANSE, TONE &

MOISTURISE: A twice-daily

skincare routine is essential to

keep your face at its healthiest.

Throughout the day your skin comes

into contact with all manner of dirt,

pollutants and environmental factors.

If you don't take care of it properly –

morning and night – you'll soon find

you're suffering from constant spots,

break-outs, blocked pores and early

ageing signs.

TRY: My New Edition Cleansing

Cream, £37.90, contains my

patented ABEETOXIN® formula

to not only deeply cleanse but

also control facial muscles for an

immediate tightening effect.

IT'S TRUE, YOU ARE WHAT

YOU EAT: Ensuring good vitamin

levels is vital for healthy skin. The

quickest way to achieve this is to

eat a varied diet and mix up the

colours in your vegetables – think

of traffic lights, with each colour

representing what your body needs.

Add to this olives, olive oil, nuts

and avocados to improve your

skin's elasticity leading to balance

and smoothness.

TRY: Heaven's new Inner Divine supplements,

£37, are packed with vitamin C to maintain a

youthful, brighter complexion, even out tone and

diminish the appearance of fine lines.

HYDRATE, HYDRATE,

HYDRATE: If your skin struggles

to maintain its natural hydration level

you'll notice dry patches that become

exacerbated by changes in the weather

and the harsh chemicals found in many

beauty products and makeup. Reach for

products that boost hydration for a more

comfortable complexion.

TRY: To rebalance skin, use my

Peppermint Hydrogel, £37.90,

to minimise oil secretion, balance the

PH levels, refine pores and diminish

blemishes for fully hydrated skin.

USE A WEEKLY

MASK: While your

everyday cleansers and

moisturisers are great to

keep the surface of your

skin in good condition,

adding a once-a-week

face mask can help with a

whole host of woes, from

excess oil and clogged

pores to fine lines and

break-outs. They draw

out impurities, remove the build-up of dead cells and

increase hydration to give your face the TLC it really

needs.

TRY: Heaven's signature Silver Bee Venom

Mask, £86.50, is renowned as a natural alternative

to Botox; it controls facial muscles to tighten, firm

and lift.

Heaven Skincare by Deborah Mitchell is available at

Heaven Health & Beauty, 13a Market Place, Shifnal,

Shropshire, and at Harvey Nichols Birmingham.

You can shop the complete range online at

heavenskincare.com.

42 www.jaimemagazine.com
---
アパート

夀 䔀 䄀 刀 匀 伀 䘀

O N L I N E S H O P

N O W O P E N

䈀 䔀 匀 倀 伀 䬀 䔀 䘀 䤀 一 䔀 䨀 䔀 圀 䔀 䰀 䰀 䔀 刀 夀 ꀀ

伀 渀 攀 漀 昀 琀 栀 攀 氀 愀 爀 最 攀 猀 琀 挀 漀 氀 氀 攀 挀 琀 椀 漀 渀 猀 漀 昀

挀 漀 渀 琀 攀 洀 瀀 漀 爀 愀 爀 礀 ǻ 渀 攀 樀 攀 眀 攀 氀 氀 攀 爀 礀 椀 渀 琀 栀 攀 唀 䬀

Specialists in designing

and making, remodelling

and refurbishing

匀 瀀 攀 挀 椀 愀 氀 椀 猀 琀 猀 椀 渀 搀 攀 猀 椀 最 渀 椀 渀 最 愀 渀 搀 洀 愀 欀 椀 渀 最 Ⰰ

爀 攀 洀 漀 搀 攀 氀 氀 椀 渀 最 愀 渀 搀 爀 攀 昀 甀 爀 戀 椀 猀 栀 椀 渀 最 昀 漀 爀 アパート 礀 攀 愀 爀 猀

ALLEN 䄀 䰀 䰀 䔀 一 䈀 BROWN 刀 伀 圀 一 䨀 JEWELLERY

䔀 圀 䔀 䰀 䰀 䔀 刀 夀

䠀 Heart 攀 愀 爀 琀 漀 of 昀 吀 The 栀 攀 䌀 Country 漀 甀 渀 琀 爀 礀 匀 Shopping 栀 漀 瀀 瀀 椀 渀 最 Village 嘀 椀 氀 氀 愀 最 攀

匀 Swinfen, 眀 椀 渀 昀 攀 渀 Ⰰ Lichfield, 䰀 椀 挀 栀 ǻ 攀 氀 搀 Ⰰ

匀 Staffordshire 琀 愀 昀 昀 漀 爀 搀 猀 栀 椀 爀 攀 WS14 圀 匀 㐀 9QR 㤀 儀 刀

01543 㔀 㐀 アパート 㐀 481948 㠀 㤀 㐀 㠀

眀 www.allenbrownjewellery.co.uk

眀 眀 ⸀ 愀 氀 氀 攀 渀 戀 爀 漀 眀 渀 樀 攀 眀 攀 氀 氀 攀 爀 礀 ⸀ 挀 漀 ⸀ 甀 欀

昀 椀 琀

Jean Lamb Wealth Consultancy

My offices are situated in the historic city of Lichfield and I have been providing personal

wealth management advice to my clients for more

than 25 years.

I specialise in the following key areas

and welcome your enquiry:

• Investment Planning

• InheritanceTax and Estate Planning

• Pre and Post-Retirement Planning

• Care Fees Planning and Funding for Care

Telephone: 01543 417342

Website: www.jeanlamb.co.uk

Email: jean.lamb@sjpp.co.uk

Office: 6A Market Street, Lichfield, WS13 6LH

Jean Lamb Wealth Consultancy is an Appointed Representative of and represents only St. James's Place Wealth Management Plc (which is authorised and regulated by the Financial Conduct Authority)

for the purpose of advising solely on the Group's wealth management products and services, more details of which are set out on the Group's website www.sjp.co.uk/products.
---
I N T H E N E W S

Midlands school comes

top of the class

ADCOTE SCHOOL, NEAR SHREWSBURY, HAS BEEN NAMED SENIOR SCHOOL

OF THE YEAR 2020 IN PRESTIGIOUS NATIONAL AWARDS AFTER UNDERGOING

A "REMARKABLE JOURNEY" OF TRANSFORMATION.

Senior School of the Year is one of the top accolades

handed out at the Independent Schools Association

(ISA) annual awards which this year were announced

in a virtual ceremony.

Being named Senior School of the Year was the icing

on the cake for the non-selective all-girls school at

Little Ness, which has won or been shortlisted for a

clutch of national awards in recent years. Last year

its prep school won the ISA award for academic

excellence and innovation.

Adcote, which caters for day and boarding students

from prep school to sixth form, has undergone a

radical reorganisation over the past four years under

the stewardship of headmistress Diane Browne who

joined the school in September 2016.

"At Adcote we have completed a remarkable journey

of self-improvement," said Mrs Browne.

"We are beyond ecstatic that our

determined march to exemplary standards has been

endorsed in this way. Everyone in education knows

what it is to be named as Senior School of the Year.

We could not be more proud."

The school has introduced new systems to improve

both academic performance and the personal

development of students. These include new

methods for tracking, assessing and measuring

individual student progress and greater personalised

learning. Since then Adcote has seen exam results

soar.

Changes include a new tutoring system in the senior

school. The old form tutor role has been disbanded

and, instead, students are assigned a personal tutor to

nurture their individual progress.

An enhanced programme of personal development

has also been put in place to equip students

with the life skills they need not only to tackle

exams successfully, but to face the challenges and

opportunities of life. The programme has attracted

awards success in its own right.

Last year more than 70% of the school's A Level

results were A*/A grades with 86% of all grades

being A* to B. All A level students accessed their

university choices. In GCSEs more than 50% of

the grades were at the highest levels of 7, 8 and 9

(A/A*).

Published performance tables measuring the

academic progress of individual students between

GCSEs and A Level, also put Adcote at the top of

schools in Shropshire and in the top 50 independent

schools in England.

Throughout lockdown Adcote students have

continued their normal timetable of lessons through

virtual classes led by teachers online. Adcote is one

of the first schools in Shropshire to become a Google

For Education School, giving students and teachers

access to innovative digital teaching and learning

support tools.

44 www.jaimemagazine.com
---
Expert care

every step

of the way

If you're considering hip or knee replacement

surgery, the Mako robotic-arm assisted system

could be the solution for you. You could expect:

– A quicker recovery time

– Reduced post-operative pain

– 2–3 times the accuracy of traditional surgery

For you, this could mean a better

functioning, more natural-feeling joint.

How much is a Mako joint

replacement?

Hip replacement: £15,927

Knee replacement: £15,084

Partial knee replacement: £13,080

Three easy ways to go private

– Pay for treatment directly

– Pay for treatment with our finance

partner, Omni

– Use your health insurance

For further information

Search 'Spire Little Aston Hospital'

Call 0121 514 7034

Self-pay, fixed price packages are subject to our Spire Patient Terms and Conditions

(spirehealthcare.com/legal/terms-and-conditions/). Credit is subject to status.
---
H E A LT H

Putting up with pain

is not the healthy option

CONSULTANT ORTHOPAEDIC SURGEON ASHVIN PIMPALNERKAR ANSWERS SOME

OFTEN-ASKED QUESTIONS ABOUT JOINT HEALTH AND JOINT SURGERY

As we get older we complain about creaking joints

and the inability to do things we could do when we

were younger. But there are things we can do to keep

our joints healthy and in good order.

If a joint such as a knee or hip is no longer operating

properly then replacement is sometimes the best

option.

Ashvin Pimpalnerkar, a consultant orthopaedic

surgeon who specialises in computer-assisted and

robotically-assisted joint replacement surgery at Spire

Little Aston Hospital, says many people think you

have to be 'of a certain age' before contemplating a

joint replacement.

"The age to have surgery is when the pain caused by

the knee or hip is affecting your quality of life," he

says. "For some people that might mean when they

are in their eighties but for others it can be much,

much younger.

"In fact, delaying surgery can sometimes cause

added problems as people change their walking style

to accommodate the pain from the joint which then

puts extra pressure on other joints."

Ashvin answers some often-asked questions about

joint health and joint surgery:

Joint pain can be increasingly common when we

age but at what stage should we be thinking about

visiting a GP?

Pain is the way your body tells you that something

is wrong. Too many people ignore the warnings and

battle through - either with the help of painkillers

or by sheer grit. Either way, they are not doing

themselves any favours.

It may be that the pain can be managed or that a

course of physiotherapy is needed but the important

thing is to get it checked out, first by your GP and

then with a scan or X-ray. Putting up with pain just

isn't a sensible option.

What might happen if you do simply grin and bear

it?

As we get older our joints do get stiffer – that's just

a fact of life. However, putting off getting treatment

will only make matters worse and could have a

detrimental

effect on

other joints.

For example,

if you're

limping

because of

a pain in

your knee,

this usually

means you

are putting

pressure

on other joints including your hip or spine as you

change the way you walk.

Limping changes the way you walk and so forces

other joints to operate in a way they have not been

used to.

How can failure to get treatment affect general

health?

If you don't get treatment it could progress until

walking is just too painful and you find yourself

trying to avoid exercise of any kind.

Your heart and lungs need exercise to function

properly and you may also find that you put on

weight because of your lack of activity.

A new hip or knee can give you a new lease of life.

Suddenly walking becomes not only an option but an

enjoyable option.

These days joint replacement surgery has a fantastic

success rate and people really can get back to doing

the things they loved. I know people in their 50s

and 60s who gave up golf or tennis because of joint

pain but are now back in action following successful

surgery.

You can find out more by calling a private treatment

advisors on 0121 514 7034 or search 'Spire

Little Aston' for more information. Alternatively

you can speak with Mr Pimpalnerkar's medical

secretary, Sarah Morris, on 077311 38900, email

Sarahmorris2011@gmail.com or visit

www.orionclinic.co.uk

46 www.jaimemagazine.com
---
Established – Professional – Transparent

The Winterton family name has been synonymous

with auctioneering in Staffordshire since 1864

Probate and formal valuations for

inheritance tax purposes

Our reliable and sympathetic

team can assist all executors in the

administration of deceased estates

From jewellery and large collections

to cars, furniture and household items,

we handle everything

Comprehensive, bespoke

clearance service and

downsizing solutions

We handle clearance of an entire

estate from houses, bungalows and

flats to offices and all other buildings

Jewellery, Watches & Silver

Sutton Coldfield

The Trinity Centre

Church Hill, Mill Street, B72 1TF

Discover that hidden gem with your local auctioneer

We specialise in:

Antique and modern jewellery

Watches

Gemstones

Silverware

Coins, medals and militaria

Works of art

Whisky and wine

Vintage toys

Stamps and ephemera

Cameras and record collections

Scientific equipment

Antique and modern furniture

Modern toys and Pokémon

Musical instruments

FREE LOCAL VALUATIONS - NEAR YOU

Watches, Jewellery, Silver & Antiques

Lichfield

The Hub at St Mary's

Market Square, WS13 6LG

Qualified

All members of our jewellery

department are certified

gemmologists and diamond graders

Record-breaking

international sales

More than 3,800 bidders from

all over the world joined our

online auctions last month

Online services available

Virtual estimates, online auctions

and contactless collections.

Valuations, viewing and consignments

by appointment only

Jewellery, Watches & Silver

The Lichfield Auction Centre

Fradley Park (close to the A38)

Wood End Lane, WS13 8NF

Mondays

9am - 12pm

Meet valuer Louise

for help and advice

(except bank holidays)

Tuesdays

10am - 12.30pm

Meet Ben for general

advice and auction

consignments

BY APPOINTMENT

Thursdays

9.30am - 4pm

With Heather,

gemmologist

& diamond grader

FREE General Valuations of your pictures, antiques and collectables

By appointment only - with our team on Thursdays from 9.30am - 4pm Call 01543 251081

01543 251081

www.richardwinterton.co.uk

office@richardwinterton.co.uk

The Lichfield Auction Centre, Wood End Lane, Fradley Park WS13 8NF

J'Aime Ad 190x280_June 2021.indd 5 14/05/2021 15:43
---
44 www.jaimemagazine.com