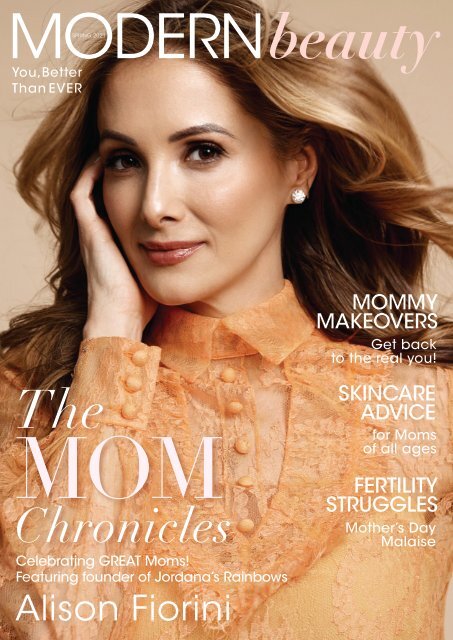 Modern beauty spring 2021
You also want an ePaper? Increase the reach of your titles
YUMPU automatically turns print PDFs into web optimized ePapers that Google loves.
MODERN beauty

You,Better

Than EVER

SPRING 2021

MOMMY

MAKEOVERS

Get back

to the real you!

The

MOM

Chronicles

Celebrating GREAT Moms!

Featuring founder of Jordana's Rainbows

SKINCARE

ADVICE

for Moms

of all ages

FERTILITY

STRUGGLES

Mother's Day

Malaise

Alison Fiorini
---
MODERN beauty

You,Better

Than EVER

SPRING 2021

The

MOM

Chronicles

Celebrating GREAT Moms!

Featuring CMO of Hivestack and Mom of 2

Nikki Hawke
---
MODERN beauty

SPRING 2021

You,Better

Than EVER

SPECIAL EDITION

The

MOM

Chronicles

Celebrating GREAT Moms!

He's equal parts Mom AND Dad

Joseph Tito
---
®

Vitamin A is the cornerstone

ingredient in the Environ Skin Care

philosophy and must be replaced

daily for skin to stay healthy and

resilient. Combined with other

essential nutrients like antioxidants

and peptides, the long-term

enhancement of skin becomes

clearly visible.
---
with

NEW HA

REGENERATION

TECHNOLOGY

Optim-Hyal

FREE

WITH

PURCHASE

Receive

Environ's #1 Selling

VITA PEPTIDE EYE GEL

complimentary with the purchase of the

YOUTH ESSENTIA STEP UP SYSTEM,

C QUENCE SERUM + DEFENCE CRÈME

PLUMPS, FIRMS, &

TIGHTENS

"STEP-UP" your skincare routine this Spring with the

Award Winning system by Environ.

The industry leading Step-Up Program is like a multi-vitamin for your skin

combining Vitamins A, C, and E, protective Antioxidants, powerful

Peptides and Moisturising factors. What more does the skin need?

The clinically researched formulas will deliver transformative results to

your skin using the highest quality active ingredients.

SOFTENS & SMOO

WRINKLES

TOP MEDICAL SKINCARE LINE OF THE DECADE

AESTHETIC EVERYTHING COSTEMIC & MEDICINE AWARDS
---
CONTENTS

SPRING 2021

THS

MODERN beauty

04 WELCOME

Post-pandemic solutions

from Trevor M. Born M.D.

07 CONTRIBUTORS

Introducing our talented

photography team

08 SKINCARE

Good advice for moms

and daughters of all ages

10 MOMMY MAKEOVER

A complete guide to

getting back to the real you

16 HEALTH & WELLNESS

First-hand accounts of

fertility endeavours

19 PATIENT PROFILES

Redefining what it means to

be a mom

10

MOMMY

MAKEOVER

26 DOCTOR'S NOTE

Getting back on track now

that the end of lockdown life

is on the horizon

30 CODA

Judith Born tells us what it

was like raising our favourite

doctor

1
---
CONTENTS

08

MODERNBEAUTY MAGAZINE

Behopeful/ Shutterstock.com

Enex Selvi/ Shutterstock.com

TMB

TMB COSMETIC SURGERY

EDITOR IN CHIEF

Erin Mccann

Supervising Editor

Doug Wallace

Editorial Consulting

Silver Lining

info@tmbcosmetic.com

Media/ Advertising Inquiries:

erinamber.mccann@gmail.

com

Canada

199 Avenue Road

Toronto Ontario

M6H 3G1

Tel: 416 921 7546

USA

910 Fifth Avenue

New York, New York

10021

facebook.com

/tmbcosmeticsurgery

twitter.com

/trevormbornmd

instagram.com

/trevorbornmd

26

30

The information provided herein (Modern

Beauty Magazine, www.trulymodernbeauty.

com) by Trevor M. Born MD and other contributors

does not constitute individualized

medical advice and is not intended as an

alternative to medical advice from your doctor

or other professional healthcare provider.

The information provided is for educational

or entertainment purposes only. Anyone

using the information provided by MB Magazine,

whether medical, legal, business or

other, does so at their own risk, and by using

such information agrees to indemnify MB

Magazine from any and all liability, loss, injury,

damages, costs and expenses (including

legal fees and expenses) arising from such use.

If you have any specific questions about any

medical matter, you should consult your

doctor or other professional healthcare provider.

If you think you may be suffering from

any medical condition, you should seek

immediate medical attention. You should

never delay seeking medical advice, disregard

medical advice, or discontinue medical treatment

because of information found within

MB Magazine or on trulymodernbeauty.com.

2
---
BODYBYBTL.COM | #EMSCULPT

Getting Fit After 50

#emsculpt

Safe

95% Patient Satisfaction

Effective

12-16 Weeks of HIIT

Training in 4 Sessions

Comfortable Environment

Private Workout,

No One Watching

Results and patient experience may vary. As with any medical procedure, ask your doctor if the EMSCULPT NEO® procedure is right for you. EMSCULPT NEO® is intended for non-invasive lipolysis (breakdown of fat) of the abdomen and thighs and reduction in circumference of the

abdomen and thighs with Skin Type I to Skin Type III. EMSCULPT NEO® is also cleared for improvement of abdominal tone, strengthening of the abdominal muscles and development of firmer abdomen. Strengthening, toning, firming of buttocks, thighs, and calves. Improvement of

muscle tone and firmness, for strengthening muscles in arms. ©2021 BTL Group of Companies. All rights reserved. BTL® , EMSCULPT NEO® and EMSCULPT® are registered trademarks in the United States of America, the European Union, or other countries. The products, the methods

of manufacture or the use may be subject to one or more U.S. or foreign patents or pending applications. Trademarks EMSCULPT®, EMSCULPT NEO®, EMSELLA®, EMTONE®, EMBODY®, and HIFEM® are parts of EM Family of products. *Data on file.

899-79MGTCCLENUS100

Emsculpt_Neo_LF_Medical-gym-the-core-club_Letter_ENUS100
---
WELCOME

MODERNBEAUTY MAGAZINE

It's almost impossible to count all the things we've learned from our mothers—

how to treat other people, how to navigate change, how to look after ourselves.

But more importantly, we learn that a mother's love is unconditional, instinctual

and all-consuming. In celebration of Mother's Day, our lineup inside Modern

Beauty includes some very mom-oriented business, including the final word from a

very special contributor this issue—my mom, Judith Born (page 30).

Photography: Billie Chiasson; Grooming: Erin Winn

As spring is a time of revitalization, our med spa experts take a look at some motherly

advice you may have received with regards to skincare, highlighting the tried-and-true

tips and paring down the beauty myths we can set aside (page 08).

Our Patient Profile is expanded a little this time, delivering a cool cross-section of

people who are redefining what it means to be a mom (page 10). We also tackle the

issue of infertility with a few first-hand accounts on the difficulties and distress, both

physical and emotional (page 19).

And my Doctor's Note (page 26) offers an exploration into the collective trauma we've

been suffering for the past year, offering some ways to heal and get back to normal.

The power of ritual and a return to kindness are just two of the ways you can regain

and/or maintain your sanity.

Remember, if you ever need a confidence boost, we're here to help at the TMB Clinic.

We hope you enjoy this spring issue.

Trevor

Trevor M. Born, M.D.

Cosmetic Plastic Surgeon

4
---
MODERNBEAUTY MAGAZINE

EVOLUTION OF

INNOVATION

+ MORE BENEFITS*

+ RADICAL RESULTS

+ STARTING IN

JUST 2 WEEKS 1

5
---
HIT

REFRESH

OUR BEST SCIENCE.

YOUR BEST EYES.
---
C ONTRIBUTORS

MODERNBEAUTY MAGAZINE

BILLIE CHIASSON

INSTAGRAM @BILLIECHIASSON

Billie is a photographer specializing in

all things skin, body and feminine in the

commercial, editorial and creative market in

Toronto. She is represented by Lisa Bonnici.

Recent Projects:

Top Secret :) Coming soon!

Favorite part of the job:

Creating from the imagination and turning

something intangible into a tangible part

of reality. All the while showcasing the true

beauty of the physical, emotion and soul.

Honouring my ancestors who had their

choices/voice stolen from them.

How will you mark the arrival of spring?

Watching the earth flourish and come back

to life.

The most important thing you learned from

your Mom:

Be yourself, no boundaries, do what you

love.

ERIN WINN

INSTAGRAM @ERIN_WINN

Erin is a Toronto-based makeup artist.

Recent Projects:

Junos docuseries Rising, featuring singersongwriter

and actress Carys

Favourite part of the job:

Collaborating with other creatives and

meeting so many incredible people. I feel so

grateful to have a job that I truly love and

still feel inspired by after 20 years in the

industry.

How will you mark the arrival of spring?

Hopefully by soaking up some sun with a

bottle of Paleokerisio.

The most important thing you learned from

your Mom?

Open mindedness. My mother was always

willing to listen to someones opinion and

thoughts, even if they differed from her

own. She did so with a curious mind and

empathetic heart.

7
---
SKINCARE

MODERNBEAUTY MAGAZINE

MOTHER

KNOWS

BEST

SKINCARE ADVICE

WE RECEIVED FROM

OUR MOMS—

WHAT STILL WORKS,

WHAT NEVER DID.

She was our first beauty

school and taught us

everything she knew

about how to look after

ourselves, including our skin. We're

talking of course about Mom, your

original beauty guru. Did you listen

to her?

Mom knew a thing or two about

self-care—most of it to treasure, but

some of it to trash. For instance, all

the cucumbers in the world aren't

going to de-puff your eyes, but

castor oil does indeed do doubleduty

as a moisturizer and makeup

remover.

Here's a rundown of skincare tips

our Mothers gave us: the good, the

bad, and the just plain crazy.

8

Everett Collection/Shutterstock.com
---
ADVICE

TO HEED

MOISTURIZE, MOISTURIZE,

MOISTURIZE

Hydration is the key to greatlooking

skin. Moisturizers reduce

the chances of skin issues, helping

to maintain its balance. Moisturizing

helps fight fine lines and keeps skin

looking younger. We like Environ

Youth Essentia Defense Creme, which

is enriched with antioxidants to fight free

radical damage. Best Advice: Don't forget to cream

your neck!

THE SUN IS YOUR ENEMY.

UV radiation brings on the wrinkles and a loss of

elasticity. As well, sun damage is cumulative: You

may be a sun goddess now, but the damage will

show up later and you will look older than you

need to, particularly your hands and face. Wearing

sunscreen helps stave off signs of aging.

Don't forget to apply sunscreen to your décolleté.

Best Advice: Mineral sunscreens are better

for the environment and for your skin.

Jacob Lund/Shutterstock.com

MYTHS

TO LET GO

MASSAGE UPWARDS, NEVER

DOWN.

In reality, blending up "against

gravity" will not make a difference

to your skin or create

a younger, firmer-looking you.

Just don't pull on your skin –

massage it gently, especially the

delicate areas.

HYPOALLERGENIC

PRODUCTS HELP

SENSITIVE SKIN.

This is nonsense, an advertising ploy, a word marketers

use because there is no regulation saying they can't.

WASH YOUR FACE IN ICE.

Never do this. Ice actually promotes

spider veins and puffiness, disrupting

blood flow and causing your skin to

lose its elasticity. At the opposite end of

the scale, washing your face in hot water

is also a no-no.

Everett Collection/Shutterstock.com

ALWAYS CLEANSE BEFORE BED.

Cleansers not only take makeup off, they also

rid skin of the pollution, impurities and dirt

it has been exposed to during the day. Best

Advice: Make cleansing part of your morning

routine, too – cleanse, serum, sunscreen.

YOU ARE WHAT YOU EAT.

It's true. What's on the inside makes a big

difference to what's on the outside. Diet is a big part of

maintaining overall health, which in turn is reflected in that

healthy glow. Drink plenty of water and make sure you're

eating properly, covering all the vitamin and mineral bases.

Best Advice: No smoking, either.

GET YOUR BEAUTY REST.

Mom probably says that these are the hours of sleep you get

in before midnight. She is mostly right.

Getting enough sleep in general helps your

body recover from the day, including helping

skin rejuvenate. Best Advice: Shoot for

a minimum of seven hours per night.

TYPECAST

FOR LIFE

Many beauty experts will tell you that your age determines the

skincare products you should be using. Actually, this is only

partially true. When you're young, regimen initiation products

get you in the habit of taking care of your skin. Preventive care

takes over right after that, followed by products that turn back

the clock" flooding your beauty cabinet later on in life.

Wayhome Studio/Shutterstock.com

fizkes/Shutterstock.com

YOUR FACE GETS TOO USED TO

CREAMS AFTER A WHILE.

If Mom suggests that you change up your

skincare routine every once in a while, because

using one cream too much will cause it to lose its effect,

she is mistaken. And if she says, "The tingle tells you its

working," you can say that the tingle is telling you your

skin is irritated and could soon be inflamed!

YOU'LL EVENTUALLY

OUTGROW ACNE.

Sadly, no. Or at least maybe not: The occurrence of

acne is as inconsistent as it is annoying – it could be

puberty, hormones, menopause, anything. Putting

toothpaste on your spots does nothing (except

make your pimples minty fresh), and the sun won't

dry acne out either – it just makes skin oilier,

causing pores to clog. A better approach? Wash

your face once or twice daily using a glycolic

or salicylic acid cleanser. We like SkinMedica

AHA/ BHA Exfoliating Cleanser, which gently

but thoroughly cleanses and clarifies the skin.

The real truth is, your skin type is a more important consideration

than your age when shopping for beauty products.

Simply consider if your skin is: Normal, Dry

Oily, Combination (oily and dry), or Sensitive. This is

largely determined by genetics and not by age. Once you

know your skin type, you're set for life. //

Step up to the counter at the TMB Clinic and ask our staff

what products we have that are right for your skin type.

9
---
TREATMENTS

MODERNBEAUTY MAGAZINE

IN THE PROCESS OF GETTING BACK TO THE REAL YOU, THESE ADVANCED

TECHNIQUES MAY BE THE PROBLEM-SOLVERS YOU'VE BEEN LOOKING FOR.

MOMMY

MAKEOVER

Whether a small change or a complete make-better is in order, there's

no time like the present to refine your unique self and regain body

confidence. To improve post-pregnancy volume loss, arrest the

ravages of time and gravity or simply do something for yourself for a change,

these safe procedures will bring back that natural look. >>

10
---
Josep Suria/Shutterstock.com
---
mommy

MAKEOVER

MODERNBEAUTY MAGAZINE

Annie Spratt/ UnSplash

SLOUCHY CLEAVAGE

Solution: Micro Fat Grafting involves

transfering fat from the tummy, thighs or

buttocks to the areas of the breasts that

need contouring.

Benefits: Breasts are more voluptuous, acquiring

a natural fullness and softness, with

any hollowness filled out.

BREAST RENEWAL

UNRULY NIPPLES

Solution: Nipple Correction surgery works to

fix issues surrounding enlarged, asymmetrical,

protruding or inverted nipples.

Benefits: Improve the overall look of your

breasts, alleviating insecurity over the

appearance of nipples.

ALTERING THE SIZE, SHAPE AND

PROPORTION OF YOUR BREASTS

CAN BE DONE WITH AN INDIVIDUAL

PROCEDURE OR INVOLVE A

COMBINATION OF TECHNIQUES TO

DELIVER THE DESIRED RESULTS.

ASYMMETRY

Solution: Bilateral Breast Augmentation

(BBA) is the enhancement of the breasts

using a surgical implant, either siliconeor

saline-filled.

Benefits: The most popoular cosmetic

surgery in North America, this corrects

a loss of breast shape or volume over

time—and a real confidence-booster.

DROOPY BREASTS

Solution: Mastopexy or breast lift is the surgical

revision and reshaping of the breasts to

lend a more youthful, lifted look.

Benefits: Problems due to aging, pregnancy,

breast feeding, weight loss or even just gravity

are eradicated, so you can feel less self-conscious

in tighter clothing—and give your bra a break.

TOO-BIG BREASTS

Solution: Bilateral Breast Reduction (BBR)

is a surgical procedure that reduces fat, tissue

and excess skin on large, heavy breasts.

Benefits: Eliminate pain and posture problems,

find freer movement and improve your

self image with a tighter, firmer bustline.

BEFORE & AFTER BILATERAL

BREAST AUGMENTION SURGERY

BODY BENEFITS

Kyle Smith/UnSplash

SAFE PROCEDURES FOR THE

STOMACH, BUTTOCKS, ARMS AND

LEGS CAN HELP LIFT, SCULPT, TONE

AND TIGHTEN WHERE YOU NEED IT

THE MOST.

SPARE TIRE

Solution: Abdominoplasty or "tummy

tuck" removes excess fat and tightens loose

skin and muscles in the abdomen area.

Benefits: Flatten the flabby midsection,

eliminate crepey skin, improve the

appearance of stretchmarks and wear

clothes that fit better.

BUMPS & BULGES

Solution: Liposuction is the surgical

removal of fat deposits from the body that

are resistant to weight loss and exercise.

Benefits: Streamline your body contour by

targeting the abdomen, arms, inner thighs,

knees, hips, back and chest—putting you

back in proportion.

BATWING ARMS

Solution: Arm Lift surgery removes hanging

skin from the upper arms caused by

extreme weight loss or aging.

Benefits: Get more toned and tight arms—

and welcome the return of the sleeveless top!

UNSIGHTLY DENTS

Solution: Fat Grafting transfers fat from

one part of the body to another to volumize,

shape and sculpt where necessary.

Benefits: Create a more voluptuous behind,

soften boney hands or smooth out unwanted

hollows.

12
---
mommy

MAKEOVER

MODERNBEAUTY MAGAZINE

FACE REFRESH

Oliver Johnson/UnSplash

AGING UNGRACEFULLY

Solution: Injectables like Botox®,

Restylane®, Sculptra® and Radiesse® are

advanced, non-invasive treatments that can

be used individually or in combination.

Benefits: Get help with pesky wrinkles,

creases and folds, and create more volume

in your cheeks, temples, chin and lips.

BIG EARS

Solution: Otoplasty is the surgical correction

of large or protruding ears, including droopy

ears caused by wearing heavy earrings.

Benefits: Reduce or reshape excess cartilage

to lend a more harmonious balance to your

face with ears that are less pronounced.

COMBINING MICRO FAT GRAFTING

WITH MODERN SURGICAL LIFT

TECHNIQUES, YOU CAN UNLOCK

YOUR REAL BEAUTY AND ACHIEVE

NATURAL-LOOKING RESULTS.

GRAVITY ISSUES

Solution: Rhytidectomy or facelift surgery,

along with neck lift surgery, can correct

decreased skin elasticity, create more facial

volume and fix that sagging look.

Benefits: With a plan that is unique to you,

you can reduce facial folds and excess skin,

and tighten and smooth skin on the face

and neck.

SINKING JOWLS

Solution: Sub-Mental Liposuction or

chin augmentation is a minimally invasive

procedure involving the surgical removal of

fat from the jowls, chin and neck.

Benefits: Fix a weak chin, a double chin or

a pudgy face by smoothing the contour of

the jawline for a more youthful, thin and

elongated look.

SUNKEN EYES

Solution: Blepharoplasty or eyelid surgery

is the correction of excess skin and the

removal of fat pockets on the upper and

lower eyelids.

Benefits: You look less tired and less

gaunt, get rid of dark circles and bags, and

restore fuller volume to the eyes.

DROOPY FACE

Solution: Facial Fat Grafting is the transfer

of fat from one part of the body to the

face to contour and plump deflated areas.

Benefits: Enhance or reshape certain

facial features, lift and fill sunken cheeks

and temples, or tighten a sagging jawline.

SAGGING BROWS

Solution: Browlifts are surgical procedures

of varying intricacy, depending on

your particular need. These can involve a

classic lift along the hairline or less invasive

endoscopic lift.

Benefits: Remove excess skin on the

eyelids and forehead, pulling brows into a

more youthful alignment.

BEFORE & AFTER

BLEPHAROPLASTY SURGERY

SAGGY BOTTOM

Solution: Buttock and Thigh Lift surgery

can correct and enhance a flat, droopy or

misshapen backside.

Benefits: Tighten up thighs, contour

buttocks with a Brazilian Butt Lift and

enjoy a more shaplier shape.

LOVE YOUR LABIA

The genital area is so often such a

touchy subject, isn't it? Labiaplasty is

labial reduction, wherein excess skin

is reduced to correct problems due to

childbirth and to alleviate discomfort

caused by drooping or protruding

labia. This is a safe and easy, relatively

short surgery.

Monika Kozub/UnSplash

Benefits: Through trimming and

reshaping, and possibly fat grafting to

add volume to the outer labia where

necessary, you achieve more symmetry,

experience improved sensation during

sex and maintain an aesthetically

pleasing look.

Ava Sol/UnSplash

13
---
mommy

MAKEOVER

MODERNBEAUTY MAGAZINE

Benefits: The underlying weak muscles

of the pelvic floor are strengthened and

stimulated, so you can laugh, sneeze and

cough with confidence.

photo by Carlyle Routh

MEDSPA MIRACLES

"CORE TO FLOOR" TREATMENTS

THAT REQUIRE NO SURGERY AND

PROPOSE NO DOWNTIME ARE A

GODSEND FOR THOSE LOOKING FOR

RESULTS YOU CAN'T GET AT THE GYM.

INCONTINENCE

Solution: Emsella® is an easy, non-invasive

30-minute treatment that delivers electromagnetic

energy to the pelvic floor muscles

through a specially designed chair.

WEAK PHYSIQUE

Solution: Emsculpt® and Emsculpt

Neo® are non-surgical, non-invasive

treatments that use electromagnetic

energy and radio frequency to stimulate

deep, supramaximal muscle contractions

and fat reduction on the abdomen, buttocks,

back and legs.

Benefits: Say hello to six-pack abs and

a firm bottom. Another plus: Emsculpt®

can help reverse postpartum diastasis

recti (the separation of the abdominal

muscles). You burn fat and build muscle,

achieving a strong, lean and sculpted

physique.

STUBBORN FAT

Solution: CoolSculpting® is a safe,

lunch-hour treatment that uses a controlled

cooling method to target and

crystallize fat cells, which gradually then

exit the body.

Benefits: Get a tighter tummy and

thighs, winning the battle of the bulge. //

SAY NO TO INCONTINENCE

Strengthening of the Pelvic Floor Muscles

LIMITED TIME OFFER.

SCHEDULE YOUR FREE CONSULTATION TODAY: TODAY!

416-921-7546

[Practice Name]

[Address] [City, State Zip]

INFO@TMBCOSMETIC.COM

Practice Logo

[(000) 000-0000]

[practicewebsite.com]

Relaxed & Loosened Pelvic Floor

BLADDER

PELVIC FLOOR

MUSCLES

Stimulated Pelvic Floor

BLADDER

PELVIC FLOOR

MUSCLES

©2018 BTL Group of Companies. All rights reserved. BTL®, EMSELLA® and HIFEM® are registered trademarks in the United States of America, the European Union and/ or other countries.

The products, the methods of manufacture or the use may be subject to one or more U.S. or foreign patents or pending applications. Results and patient experience may vary.

BTL_Emsella_AD_Mcm-half-page_Letter_ENUS100; 099-79EMSMADINA5ENUS100

EMSELLA.COM | INFO@BTLNET.COM

14
---
MODERNBEAUTY MAGAZINE

MASKS UP,

LASHES OUT

GROW YOUR LASHES FULLER, LONGER, AND DARKER.

ASK YOUR DOCTOR IF LATISSE ® IS RIGHT FOR YOU.

WEEK 0

WEEK 16

With LATISSE ® at week 16 and mascara. Results may vary. Paid user.

PRESCRIPTION ONLY. Unretouched, real lashes. No extensions. No lash inserts.

Approved Use

LATISSE ® is an FDA-approved treatment to grow eyelashes for people with inadequate or not enough lashes.

Important Safety Information

Do not use LATISSE ® if you are allergic to one of its ingredients. If you use/used prescription products for eye pressure problems, use

LATISSE ® under doctor care. May cause brown darkening of the colored part of the eye which is likely permanent. LATISSE ® may

cause eyelid skin darkening which may be reversible. Only apply at base of upper lashes. DO NOT APPLY to lower lid. Hair may grow

outside the treatment area. If you have eye problems/surgery, consult your doctor. Common side effects include itchy and red eyes. If

discontinued, lashes gradually return to previous appearance.

These are not all the possible side effects of LATISSE ® . For more information, please talk to your doctor.

Please see LATISSE ® full Product Information.

© 2021 AbbVie. All rights reserved. LATISSE ® and its design are trademarks of Allergan, Inc., an AbbVie company.

AllerganAesthetics.com Latisse.com LAT143806 01/21 009731

15
---
health &

WELLNESS

MODERNBEAUTY MAGAZINE

Kovalova Marharyt/Shutterstocka

I'M TRYING

For those struggling with

infertility, we could all use

a little piece of that

Mother's Day love.

bby Erin Mccann

Infertility is really, really hard.

Explaining it to people is also

really, really hard, and there's

one day of the year that makes

it even harder: Mother's Day.

Don't get me wrong. I have a wonderful

mother and I know many amazing

moms who deserve all the adoration,

praise and gratitude we have to spare.

But Mother's Day is a special kind

of torture for those of us struggling

with infertility, a reminder of the club

we yearn to be a part of, the thing we

long to experience but can't.

Every year when Mother's Day

comes around—at least for as long as

I've been trying to conceive—I have

to turn off my social media and bury

myself in soothing rituals like watching

old Gossip Girl episodes, drinking

lots of Champagne, eating an entire

pizza by myself and snuggling my

dog extra tight.

I don't want to celebrate and I

certainly don't want to be reminded of

the arduous, painful process of going

through fertility treatments: overwhelmed

and understaffed fertility

clinics, endless blood tests, needles,

painful cervical examinations, ovulation

sticks, timed intercourse (and no,

it's not fun), medication that makes

you break out, gain weight and want

to sleep all day. And the expense:

thousands of dollars for every cycle

you put yourself through (my urgently

ticking clock meant that I could not

wait the two years it would take to

receive a government-funded cycle).

Then there's the crying—every time a

pregnancy test comes back negative,

every month when your menstrual

cycle rears its unwanted head yet

again, every time you get pregnant

only to miscarry weeks later.

The process is traumatic, and not just

for women like me whose treatments

have been unsuccessful. There are

mothers whose treatments have yielded

beautiful children, yet even they

can be triggered on Mother's Day.

"Like a lot of women, when I was

longing to have children, Mother's

Day would make me feel a little bitter

and sad," says Rana Florida, CEO

of Creative Class and mother of

two girls, about her experience with

Mother's Day and infertility. "And on

top of that, people would constantly

ask me: "Why haven't you had kids

yet?" It was frustrating," she says.

"Now, every Mother's Day, I'm in

disbelief that I have two amazing

little daughters. I'm so grateful, but

the journey I went through is not

for the faint of heart. There are some

tough memories there that still come

up," Rana says. "I did treatments in

five different states from New York to

Washington, D.C. to Toronto to

16
---
MODERNBEAUTY MAGAZINE

California. I suffered an ectopic

pregnancy, and then, after several

more tries, we got pregnant again and

experienced vanishing twin syndrome.

So there was certainly pain and loss

that happened along the way."

Anyone who's been through it can

relate. You need an iron will and endless

stamina to withstand the many

hurdles that come with infertility

treatments, including all the questions

relatives throw at you and quiet

innuendoes at dinner parties that

result in you silently sobbing in someone's

powder room.

When we decided we would do a

special Mother's Day Issue here at

ModernBeauty magazine, I absolutely

wanted to acknowledge all the wouldbe

mothers out there to let them

know: you are not alone. So many

of us keep our fertility struggles to

ourselves, but the reality is that there

are more of us than we think.

"If you take the population as a whole,

about one in six women struggle with

infertility, and that statistic increases

with age." says Reproductive Endocrinologist

and Infertility Specialist

Dr. Sony Sierra. "Nowadays, for many

reasons, people are delaying getting

pregnant until their mid- to late- 30s,

and we're seeing infertility numbers

are more like one in four within that

age group. So yes, there are a lot of

women out there for whom Mother's

Day can be triggering."

DR. SONY SIERRA, TRIO FERTILITYY

RANA FLORIDA WITH HER

DAUGHTERS VALENTINA & MILA

For those of you who weren't fully

aware of just how painful and awkward

Mother's Day can be for so

many of us, here are a couple of ways

you can help make the day easier:

1. Unless you are certain that the

person you are asking about "having

kids" is very comfortable talking

about the subject, don't ask.

2. Be sensitive to the fact that Mother's

Day can be painful for some, and

take some time to acknowledge those

who may be struggling. A personal

note, flowers or a phone call just to

say "Hey" can go a long way.

3. Understand that your childless

friends may not want to be confronted

with all things "kids" and "family"

on this holiday. If they don't like your

Mother's Day Instagram post, don't

get sore. If they don't want to meet

up with you and the kids, suggest an

adults-only activity for another time.

To all the mothers out there still

trying, hoping, wishing: don't lose

hope—treatments for infertility are

constantly evolving.

"Technology has really come a long

way even in the last ten years," Dr.

Sierra tells us. "Things like new

high-powered microscopes, embryoscopes

and genetic testing allow us

to gather more information about

egg quality, place sperm more

accurately and screen embryos, all of

which increase success rates significantly."

For those who are hurting: there's

nothing wrong with prioritizing

yourself on Mother's Day. Take a

"digital break," make grown-up plans

with your partner, steer clear of "family"

zones like parks and nurture your

tender heart in whatever way you

need to. There are also many support

groups out there, and most fertility

clinics offer counselling services for

those who need them.

I try to remind myself on this day of

all the things I have to be thankful

for: a wonderful husband, a full and

rewarding life, and great freedom to

pursue my career and my art. Like

most of the people I know who

have been through infertility treatments,

I am incredibly strong. I don't

need pity and I don't want to cancel

Mother's Day. What I could use is

just a little piece of that Mother's

Day love, because here's the thing of

it: in a way, I'm a mom, too.

Some might not agree or understand,

but I believe that the moment you

get that hope in your heart, the day

you start taking fertility drugs and

think, This might work, or the minute

after an intrauterine insemination or

in vitro implantation and you imagine

your child coming into the world,

you are a mom.

Happy Mother's Day to all of us. //

STRUGGLING WITH

INFERTILITY THIS MOTHER'S

DAY? YOU ARE NOT ALONE.

If you'd like to share your story

or thoughts on this article,

contact me at:

ERINAMBER.MCCANN

@GMAIL.COM

LEARN MORE ABOUT

DR. SIERRA AND TRIO

FERTILITY CLINICS:

TRIOFERTILITY.COM

INFO@TRIOFERTILITY.COM

17
---
MODERNBEAUTY MAGAZINE

18
---
patient

PROFILES

The

MOM

Chronicles

IN HONOUR OF MOTHER'S DAY, WE SHINE A LIGHT

ON A FEW SPECIAL MOMS WE KNOW WHO DESERVE

ATTENTION AND PRAISE FOR THEIR EXCEPTIONAL

COURAGE, DETERMINATION, AND STRENGTH.

Photography by

Billie Chiasson

Hair & Makeup by

Erin Winn
---
TRULYMODERNBEAUTY.COM

MODERNBEAUTY MAGAZINE

Alison wears one of Jordana's favourite headscarves

and The Rainbow Bracelet from JordanasRainbows.com.

20
---
MODERNBEAUTY MAGAZINE

ALISON FIORINI

Honouring her daughter and raising awareness of pediatric cancer with Jordana's Rainbows.

"WE ARE WARRIORS."

Tell us a bit about your motherhood

story.

My motherhood journey began when

I had Lucas in 2004, Jordana in 2005

and Laurence in 2008. Having three

kids under four years of age seemed

like a lot at the time but when I look

back, I wish I had more because I

love being a mom!

My eldest, Lucas, has always been

mature for his age. He tends to be

quiet and modest around us, but he

can also be a real joker. When we

least expect it, he'll jump in with a

clever one-liner or completely offside

joke and leave us all in stitches.

Jordana is a rainbow in every sense of

the word. I can't remember her not

smiling or laughing. She received her

angel wings in 2016, but her divine

presence is still with us.

When we had Laurence we added

the perfect spice to our family. He's

full of energy, super engaging, always

curious and wide-eyed, and looks up

to his big brother in every way.

What's your favourite part about

being a mom?

I truly love it all. I love making

memories with my husband and

kids. Travelling with them, or just

enjoying the simple things like long

walks, family meals, or when they

were little and we curled up in bed

to read together.

What are some of the challenges of

being a mom?

Does a mother ever stop worrying?

On some days, I find myself worrying

about the littlest things. Yet, because

of the trauma we experienced, we've

learned how to let go of some of the

things that we can't control. You become

able to recognize an inexplicable

divinity, which helps you to let go of

some of the pain and worry.

How have you been managing kids

and family during the pandemic?

While this pandemic has certainly

been frustrating, scary, challenging

and lonely, my family has lived

through isolation and fear before. We

are a little more acclimatized than

the average family to the unexpected

and unknown, so we've been managing

pretty well this past year.

Tell us about Jordana's Rainbows.

Jordana was diagnosed with DIPG

(Diffuse Intrinsic Pontine Glioma)

at SickKids in September 2015.

DIPG is an inoperable brain

tumour that affects children in the

early years of their life and has a

survival rate of six to nine months.

Jordana survived DIPG for only

four months.

We continue to honour Jordana

by sharing her light and love of

rainbows through our charity, The

Jordana's Rainbows Foundation.

Our mission is to raise awareness

for DIPG, and raise funds toward

childhood cancer research.

What kind of self-care do you practice,

so that you can survive motherhood

every day?

Apart from regular excercise, reading,

and quality time with friends, my

work with Jordana's Rainbows is also

an important part of my self care. It

has allowed me to be vulnerable with

my pain. Expressing and sharing my

story has allowed me to heal, while

helping others at the same time.

There are many moms out there who

struggle with loss on Mother's Day.

What would you like to say to them?

You're not alone. Whatever your

circumstance is, there are so many

people feeling what you are feeling.

This is not something you need to bear

on your own. We are warriors. We were

destined to weather these storms. The

key is to channel your pain into good,

and service for others—this is where

the magic happens. //

21

photo by Mark Binks
---
MODERNBEAUTY MAGAZINE

NIKKI HAWKE

Managing kids, a full time career and lockdowns with poise and purpose.

"DON'T SWEAT THE SMALL STUFF."

Tell us a bit about your family.

I have two children: Charlotte, who

just turned 14, and Lukas who is 10.

My kids are three-and-a-half years

apart and opposite sexes, so they don't

have a lot in common, but they can

always make each other laugh. They

both love the outoors, music, their

friends and their extended family.

Did you always know you wanted to

be a mom?

I have always loved kids and knew

I wanted to be a mom. When I

graduated high school I was voted

most likely to start an orphanage!

How have you been managing kids

and family during the pandemic?

I'm divorced and a full-time working

mom, so it was really hard

at the beginning. And with each

lockdown or pivot, emotions can be

high. I had to learn to ask for help,

something I am terrible at doing—

whether that was by booking a tutor

for my daughter, calling on teachers

for support and advice, or asking for

more flexible working hours.

If you could go back in time and give

your new mom-self some advice, what

would it be?

I felt pressure to go back to work

soon after both of my kids were born

and I regret it. I would tell my new

mom-self: do not sacrifice this time.

It goes fast and your career is long.

Also "don't sweat the small stuff "

should be a mommy mantra!

You're a single mom, and you're a

powerhouse in business. Can you tell

me about what you do and how you

balance/manage work and family?

I am currently Chief Marketing

Officer for a global advertising

technology company. I have to say

I love what I do. Balance is hard

though—especially in a pandemic

where there are no boundaries

between work and home. A few

things that have helped me keep

it together include: a good chat

with a friend when overwhelmed,

working out, and GoodFood boxes

to take the guesswork out of meal

planning and prep.

What kind of self-care do you practice,

so you can survive motherhood?

For any woman, a lot of who we are

is wrapped up in what we look like

or how we are perceived. A large part

of self-care for me has involved the

treatment of facial paralysis caused

by Bell's Palsy, a virus which is part

of the chickenpox strain, which I

developed in my 20s.

I always had a huge smile that could

light up a room and with the right side

of my face mostly immobile, I felt lost

and self-conscious for quite a while. I

found a doctor in New York who was

able to use Botox to calm the nerves/

activity on the left side of my face so

that I would have more symmetry.

When I moved back to Toronto, Dr.

Born was the only person I trusted to

work with me on symmetry and the

synkinesis I had developed from my

Bell's Palsy. He's been treating me for

the last 15 years, and this past year I

asked him to perform eyelid surgery,

as my right eye was starting to droop

and I already had very hooded lids.

He is literally a magician. My eyes

look brighter and fresher, and the

change gave me the little boost I

needed to look and feel my best.

There are many mom' out there facing

another Mother's Day in lockdown,

who have struggled this past year.

What would you like to say to them?

You are not alone. I want more moms

to share their stories and struggles. It

isn't easy for anyone in these times.

Whether single, divorced, married,

widowed. There is nothing more

powerful than the strength we bring

each other when we come together. //

22
---
MODERNBEAUTY MAGAZINE

23
---
MODERNBEAUTY MAGAZINE

24
---
MODERNBEAUTY MAGAZINE

JOSEPH TITO

A little bit Mom AND Dad, he's raising surrogate twin girls all on his own.

"I'VE CHANGED A LOT OF DIAPERS."

Tell us a bit about your mother/ fatherhood

story.

There was a pivotal moment in my

life—I was 37, living in the Middle

East, earning a good living, travelling

all over the world and living quite a

glamorous life. One morning, I was

sitting by myself in a seven-star hotel

in Dubai watching the sunrise and I

thought to myself: "I need more than

this." There was something missing

from my life, and I knew then that I

wanted to start a family.

I'm a gay man, which made the process

of adoption difficult. There are

many countries that flat-out prohibit

LGBTQ people from adopting, and

then there was the fact that I was in

a relationship but unmarried, which

was another strike against me. I

eventually found a surrogacy agency

in Kenya that permitted same-sex

couples, and that's when my parenthood

journey began.

It was a long, tough road. Along the

way, I broke up with my partner, went

through four unsuccessful embryo

transfers, and had to deal with many

legal hurdles. There were times when

I thought that maybe God didn't want

me to be a parent. When my surrogate

finally did get pregnant (with

twins—surprise!), the agency threw

another curveball at me, telling me

that unless I had a "female" companion

with me, I would not be permitted

to claim my children. I had to bring a

"pretend wife" with me to Mombassa

so that I could get my girls.

It was all worth it though, when

my surrogate brought Stella and

Mia into my world on November

30, 2018. I thought I knew what

love was, but I didn't know the true

meaning of the word until I held my

babies in my arms.

What are they like?

Mia is exactly like me—moody. She

needs to get her way. She's a force to

be reckoned with, which I love,

because as a woman in this world, she

needs to be—but as a dad, it's killing

me! Stella is like my little Buddha.

She always looks after me, making

sure Daddy's OK.

What's your favourite part about

being a parent?

Having two people on this earth

who love me unconditionally and

rely on me to take care of them

gives me a great sense of purpose,

which was missing from my life

before. I'm very grateful for that.

Also, every night when I put them

to sleep and I hear them say,

"I love you." That's certainly a highlight.

As a single parent, you kind of have to

be both Mom and Dad. What are some

of the ways you fulfill those roles for

your kids?

I really just try to give my girls all the

love and affection that I can. There

has definitely been a learning curve.

I read all the mommy books, all the

daddy books. I've had to learn to be

patient, to remain calm and be more

nurturing. I try to give them the kind

of love my own mom gave me—she's

an incredible woman and has taught

me so much.

I think a lot of the traditional notions

of what "moms" do versus what "dads"

do aren't realistic nowadays. I know

some dads who have never changed

a diaper because they think it's "not

their job." That just doesn't make sense

to me. I never had a choice. From

day one, I had to be both. And I have

twins, so I've changed a lot of diapers!

There are many people out there who

have faced (or are facing) the same

barriers that you did when it comes to

starting a family. What would you like

to say to them?

Don't give up. Keep going, and

know that everything happens for a

reason. Prejudice, judgement, legal

blockades—I would be lying if I said I

didn't think about giving up sometimes.

But I never did, and I would do

it all again for them in a heartbeat. //

25
---
DOCTOR'S NOTE

WITH VACCINATIONS ON THE RISE,

THE END OF LOCKDOWN LIFE IS ON THE HORIZON.

BUT THERE IS STILL SOME WORK TO DO

BEFORE WE GET THERE.

GETTING BACK TO

NORMAL

"When will things get back to normal?"

With every month that passes under

the lockdown cloud of COVID-19,

I hear the same question.

I wish I had the answer—but it's

more complicated than just getting

a vaccine and picking a date on the

calendar. Our outines—the way we

eat, sleep, dress, move, work, travel,

communicate—have all been altered

in response to the pandemic.

Our internal compasses have definitely

become a little "off." I'm here

to tell you: It's OK.

Unless you're some kind of superhuman,

feeling abnormal is the only

genuine response to the collective

trauma we have experienced over

the past year. Anxiety, fear, stress,

loss and pain have dominated our

bodies and minds, leaving us shellshocked.

The World Health Organization

has even declared that the

pandemic has caused mass trauma on

a scale larger than the Second World

War, and anticipates the need for

increased mental health resources for

years to come.

Processing our trauma will be a

critical first step on the journey back

to any true sense of normality. Here

are a few ways we can begin to heal,

rebuild and replenish ourselves in

preparation for the light at the end of

the COVID-19 tunnel. >>

26
---
MODERNBEAUTY MAGAZINE

27

Photography: Bille Chiasson
---
OCTOR'S NOTE

MODERNBEAUTY MAGAZINE

ACKNOWLEDGE

NEGATIVE

FEELINGS.

I often see social media posts with

notions like "Positive Vibes Only!" or

"Be the Sunshine on a Cloudy Day"

and I have to admit they concern

me. Many people have been conditioned

to "fight off " negative feelings

by supplanting them with forced

feelings of positivity and this is not

healthy. Suppressing your emotions,

rather than processing them, can

actually make you sick, mentally and

physically. Research has shown that

emotional repression can lead to

decreased immune function, chronic

stress, hypertension, cardiovascular

disease, digestive issues, the list goes

on. To deal with negative emotions

more constructively, acknowledge

that every now and again, you will

have a bad day, and allow yourself to

experience those feelings.

ADD SOME

STRUCTURE.

Anthony Tran/ Unsplash

It's easy to get stuck in a dark place

if you don't give yourself a proper

"out" from your negative emotions.

Give yourself a strict window of

time to fully experience the feelings—an

hour is more than enough.

During that hour, try giving your

emotions an outlet—write in a

journal, or try drawing or painting,

which has been shown to reduce

cortisol (the stress hormone) in

recent studies. Or if you're musically

inclined, play an instrument or sing a

sad song. There's a reason some of the

best music ever written is melancholy—it's

cathartic! Then, when the

hour is up, close the book and reward

yourself with a soothing gesture like a

good cup of tea, a hot bath or a walk

around the block.

SEEK

PROFESSIONAL

HELP.

While many have adopted productive

coping strategies over the course

of the pandemic, such as meditating,

yoga and deep breathing, it's important

to make the distinction between

therapeutic activities and actual

therapy. A professional therapist or

psychiatrist can give you actionable

methods and tools to safely process

your feelings, heal and move forward

in your life. If you're struggling with

feelings of despair, hopelessness,

depression or grief for longer than six

months, it's probably a good idea to

seek out a registered psychotherapist

or psychiatrist. We have a great network

of providers if you are looking

for someone. Just ask!

Tabitha Turner/ Unsplash

BE

HELPFUL.

As we rebound from the emotional,

social and financial impacts of the pandemic,

we must also help one another—

particularly those who have suffered the

effects of COVID-19 more intensely:

the essential workers, those who face

socio-economic barriers, children and

the elderly. The great thing about helping

others is that it benefits both the

giver and the receiver. Countless studies

have documented the mental and

physical health benefits of giving back,

showing that charity work and philanthropy

release dopamine (our feel-good

hormones), lower blood pressure, reduce

stress and help alleviate depression.

The faster we acknowledge and address

the inequities that have been magnified by

the pandemic, the happier we will all be.

There are many simple ways you can

help those in need of support:

Tim Mossholder/Unsplash

• Deliver healthy meals to frontline

workers

• Petition your local government to provide

paid sick leave for frontline workers

• If you have the means, donate to one

of the many organizations who provide

services, programs and resources to

children in need

• Offer your services or donate to a crisis

support line

A little more patience, understanding

and giving—to ourselves and each other—

will help all of us reach the other side

of the pandemic stronger and more

brilliant than we were before. //

28
---
MODERNBEAUTY MAGAZINE

BUILD MUSCLE &

SCULPT YOUR BODY

After the age of 30, one loses

roughly 3% to 5% of one's muscle

mass per decade.*

Core to floor therapy utilizes two HIFEM procedures

to strengthen, firm and tone the abdomen and pelvic

muscles resulting in improved strength, balance, posture,

incontinence and back discomfort issues.

CORE TO FLOOR THERAPY

Because Muscle Matter.

#LiveLife #CoreToFloor

FOR DETAILS, VISIT EMSCULPT.COM

Results and patient experience may vary. As with any medical procedure, ask your doctor if the EMSCULPT® procedure is right for you. Emsculpt® is intended for

improvement of abdominal tone, strengthening of the abdominal muscles, development of firmer abdomen. Strengthening, toning and firming of buttocks, thighs,

and calves. Improvement of muscle tone and firmness, for strengthening muscles in arms. BTL EMSELLA is intended to provide entirely non-invasive electromagnetic

stimulation of pelvic floor musculature for the purpose of rehabilitation of weak pelvic muscles and restoration of neuromuscular control for the treatment of male and

female urinary incontinence. ©2020 BTL Group of Companies. All rights reserved. BTL®, EMSCULPT® and HIFEM® are registered trademarks in the United States of

America, the European Union and/or other countries. The products, the methods of manufacture or the use may be subject to one or more U.S. or foreign patents or

pending applications.*Data on file.

799-74EMCCTFANUS100

Emsculpt_AD_Core-to-floor-A_ENUS100

EMSCULPT.COM | INFO@BTLNET.COM

29
---
CODA

MODERNBEAUTY MAGAZINE

MOTHER

LOVE

JUDITH BORN TELLS US WHAT IT WAS

LIKE RAISING OUR FAVOURITE DOCTOR.

What was Dr. Born like as a young boy?

Trevor was a very adventurous little boy. He was

always his own person, independent and fearless,

which I think served him well as an athlete. He

picked up sports very quickly, and once he set his

mind to conquering a sport, that was it!

When did he start showing an interest in medicine?

He was already talking about being a surgeon when

he was 10 years old. The fact that his father (Dr. Gunther

Born) was a surgeon had a lot to do with that, as

he was a huge influence on Trevor. Many of our friends

were also physicians, so he had access to that world long

before he started medical school. They would let him

watch them in the operating room when he was in high

school, which gave him a great head start in the medical

field.

What about him makes you the most proud?

There are so many things that make me proud. He's a

world-class sailor and has won several titles, including a

bronze medal at the PanAm games. He's such an accomplished

surgeon, with two successful practices. But above all,

he's a good person. He's a very caring individual, and that's

part of what makes him such a great doctor.

What do you think is the most important advice or life lesson

you taught him?

Well first of all, raising him (and our daughter Leslie) was

very much a team effort. Gunther and I have always been

extremely close, so when it comes to our family, we work

together. I would say we tried to teach Trevor the importance

of setting goals and sticking to them. And really, he never

seemed to have a problem with that. He's always had big

goals, big dreams, and has created a full and wonderful life

for himself.

Being his mother, I'm perhaps a little biased, but I think he's

just an absolutely wonderful human being—and a great son. //

30
---
MODERNBEAUTY MAGAZINE

416-921-7546

info@tmbcosmetic.com

31
---
TMB

Photo by Jaclyn Locke

AT TMB COSMETIC SURGERY,

WE HELP YOU BE YOUR BEST SELF – INSIDE & OUT.

www.tmbcosmetic.com

info@tmbcosmetic.com - 416.921.7546

Skincare & Cosmetic Dermatology - Injectables - Surgical & Non-Surgical Beautifying & Anti-Aging Procedures