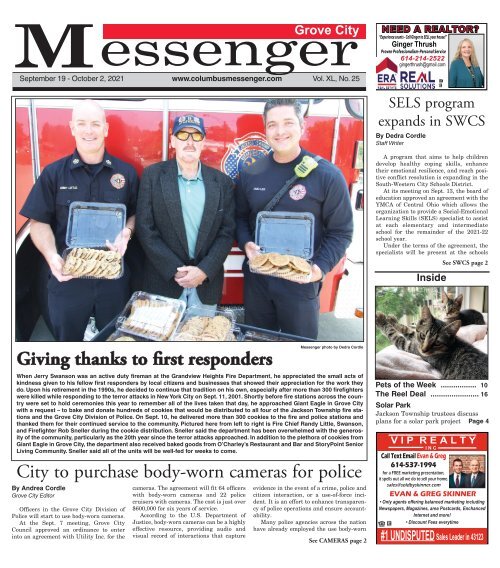 Grove City Messenger - September 19th, 2021
Create successful ePaper yourself
Turn your PDF publications into a flip-book with our unique Google optimized e-Paper software.
Messenger

Grove City

September 19 - October 2, 2021 www.columbusmessenger.com Vol. XL, No. 25

NEED A REALTOR?

REALTOR?

Ginger Thrush

Call Proven Professionalism-Personal Ginger Thrush Service

614-214-2522

"Experience counts - Call Ginger to SELL your house!"

gingerthrush@gmail.com

SELS program

expands in SWCS

By Dedra Cordle

Staff Writer

A program that aims to help children

develop healthy coping skills, enhance

their emotional resilience, and reach positive

conflict resolution is expanding in the

South-Western City Schools District.

At its meeting on Sept. 13, the board of

education approved an agreement with the

YMCA of Central Ohio which allows the

organization to provide a Social-Emotional

Learning Skills (SELS) specialist to assist

at each elementary and intermediate

school for the remainder of the 2021-22

school year.

Under the terms of the agreement, the

specialists will be present at the schools

See SWCS page 2

Inside

Giving thanks to first responders

Messenger photo by Dedra Cordle

When Jerry Swanson was an active duty fireman at the Grandview Heights Fire Department, he appreciated the small acts of

kindness given to his fellow first responders by local citizens and businesses that showed their appreciation for the work they

do. Upon his retirement in the 1990s, he decided to continue that tradition on his own, especially after more than 300 firefighters

were killed while responding to the terror attacks in New York City on Sept. 11, 2001. Shortly before fire stations across the country

were set to hold ceremonies this year to remember all of the lives taken that day, he approached Giant Eagle in Grove City

with a request – to bake and donate hundreds of cookies that would be distributed to all four of the Jackson Township fire stations

and the Grove City Division of Police. On Sept. 10, he delivered more than 300 cookies to the fire and police stations and

thanked them for their continued service to the community. Pictured here from left to right is Fire Chief Randy Little, Swanson,

and Firefighter Rob Sneller during the cookie distribution. Sneller said the department has been overwhelmed with the generosity

of the community, particularly as the 20th year since the terror attacks approached. In addition to the plethora of cookies from

Giant Eagle in Grove City, the department also received baked goods from O'Charley's Restaurant and Bar and StoryPoint Senior

Living Community. Sneller said all of the units will be well-fed for weeks to come.

City to purchase body-worn cameras for police

By Andrea Cordle

Grove City Editor

Officers in the Grove City Division of

Police will start to use body-worn cameras.

At the Sept. 7 meeting, Grove City

Council approved an ordinance to enter

into an agreement with Utility Inc. for the

cameras. The agreement will fit 64 officers

with body-worn cameras and 22 police

cruisers with cameras. The cost is just over

$600,000 for six years of service.

According to the U.S. Department of

Justice, body-worn cameras can be a highly

effective resource, providing audio and

visual record of interactions that capture

evidence in the event of a crime, police and

citizen interaction, or a use-of-force incident.

It is an effort to enhance transparency

of police operations and ensure accountability.

Many police agencies across the nation

have already employed the use body-worn

See CAMERAS page 2

Pets of the Week ................. 10

The Reel Deal ....................... 16

Solar Park

Jackson Township trustees discuss

plans for a solar park project Page 4

V I P R E A L T Y

I N C

Call Text Email Evan & Greg

614-537-1994

for a FREE marketing presentation,

it spells out all we do to sell your home.

sales@soldbyskinner.com

EVAN & GREG SKINNER

COMMERCIAL, INDUSTRIAL, HIGH QUALITY RESIDENTIAL

• Only agents offering balanced marketing including

Newspapers, Magazines, area Postcards, Enchanced

Internet and more!

• Discount Fees everytime

#1 UNDISPUTED Sales Leader in 43123
---
PAGE 2 - GROVE CITY MESSENGER - September 19, 2021

SWCS

Continued from page 1

www.columbusmessenger.com

Monday through Friday and work anywhere between 15 to

32 hours per week or pending the needs of the individual

building. The district will pay the YMCA approximately

$490,000 for the services of the SELS specialists.

The elements within the SELS program are not new to

the district — officials say the lessons featured within those

standards have been folded in throughout years of intervention

and instruction. The elements within the SELS

program are also not new to the YMCA — the organization

and the district have been working together for decades to

meet the social and emotional needs of children through a

variety of programs such as Head Start, after-school care,

and Positive Alternative Learning for Students (or PALS).

The only difference about this program and this partnership,

said representatives with the district and the

organization, is that funding opportunities have allowed

them to focus solely on helping struggling children build

Serving Your Community

Malek &

ATTORNEYS AT LAW Malek

Proudly Announcing

Adding New Attorneys

To Serve You!

WORKERS'

COMPENSATION

PERSONAL INJURY

WRONGFUL DEATH

SLIP & FALL INJURY

DOG BITE INJURY

Since 1972

Douglas, Ed, Jim

and Kip Malek

"Hablamos Español"

FREE Initial Consultation

www.maleklawfirm.com

614-444-7440

1227 S. High St., Columbus, OH 43206

life skills during normal school hours to help them at

home, at school, and throughout their lives.

"We are very excited to see the expansion of the SELS

program at all of our elementary and intermediate

schools," said Dr. Brian Bowser, the assistant superintendent

of curriculum. "We feel that we could not have found

a better partner than the YMCA to provide these services

and we feel that this program offers us another tool to help

enhance the school experience for our youngest learners."

For the last three years, Elana Lenihan has been supervising

the SELS specialist pilot program at Highland Park

Elementary. Lenihan, the YMCA's regional childcare

director for the district, said each year the school focused

on a different strategy that aimed to help children regulate

their emotions to make for a more positive learning experience.

For instance, one year they implemented calming activities

such as yoga after recess to help them decompress

from the frenzy of free play before entering

the classroom. During another, they included conflict

resolution activities to learn empathy and

build friendships, and in another they focused on

"forward thinking," or the act of sharing with others

what they look forward to in the future.

Lenihan said the strategies that will be implemented

during the SELS program expansion would

be entirely up to the individual school building. But

that does not mean the specialists do not have to

follow SELS standards set by the district.

Jimmy Lewis, the SELS program director for the

YMCA, said there will be five main focus areas of

social-emotional learning skills development. They

CAMERAS

Continued from page 1

cameras. Grove City Mayor Richard "Ike" Stage said

the city has held off on utilizing the cameras because

officials were anticipating regulations or guidelines

from the state of Ohio.

"We've been patient on purpose," said Stage. "The

police officers are looking forward to this. That's a winwin

for everybody."

According to Grove City Police Chief Richard

Prepare for unexpected

power outages with a

Generac home standby

generator

REQUEST A FREE QUOTE!

844-334-8353

FREE

7-Year Extended Warranty*

A $695 Value!

Limited Time Offer - Call for Details

Special Financing Available

Subject to Credit Approval

*To qualify, consumers must request a quote, purchase,

install and activate the generator with a participating dealer.

Call for a full list of terms and conditions.

A FREE ESTIMATE

15 10 5

YOUR ENTIRE

PURCHASE *

% % %

OFF + OFF + OFF

SENIOR & MILITARY

DISCOUNTS

YEAR-ROUND

CLOG-FREE GUARANTEE

1-855-995-2490

TO THE FIRST

50 CALLERS! **

| Promo Number: 285

are self-awareness, self-management, social awareness,

relationship skills, and responsible decision making.

Each area will focus on building the skills necessary to

help the student analyze their behaviors — "Why are they

upset? Why are they feeling this way? What can they do to

regulate their emotions?" he explained — and apply that

understanding within the classroom and beyond.

Bowser said the K-6 age range is the target for this program

because the district believes they need more "support

and instruction" regarding social and emotional learning

skills development.

He said these specialists will be trusted adults that "act

as a bridge" to help students develop healthy coping skills

when emotions run high.

"It will help them learn how to work through those difficult

times so those feelings do not carry over and negatively

impact their ability to focus within the classroom or

connect with others," said Bowser.

Though most children in grades K-6 will have exposure

to the strategies and initiatives within the SELS program,

some children will receive additional assistance through

one-on-one instruction or group setting instruction.

Becky Ciminillo, the vice-president of youth development

for the YMCA of Central Ohio, said the organization

will work with the school staff and use data compiled

through Panorama surveys to determine which student

may need additional social and emotional support and

instruction.

SELS specialists will begin to assist at the district's 16

elementary schools and five intermediate schools starting

Sept. 20.

Butsko, the body-worn cameras feature an automatic

start. If the camera senses an officer is running, it will

start recording and alerts all officers that a foot pursuit

is in progress. The body-worn camera will also be

integrated into the uniform.

"This means in a struggle, they (the cameras) won't

fall off. This is more automated than other systems,"

said Butsko.

The police chief said the system has a

holster trigger, meaning as soon as an officer

draws his/her weapon, the camera will

activate.

"That is a very significant feature," said

Butsko.

In addition, the system can be programmed

based on geography. For example,

if the division of police would like a record of

all interactions that take place at the retail

center on Stringtown Road, that can be programmed.

So anytime an officer enters that

area, the camera will start recording.

According to Butsko, the data will be

kept in a cloud with Utility Inc. He said the

data will be secured and the city will have

unlimited data storage. Redaction software

is included to balance the need for community

transparency with respecting the privacy

of victims.

Butsko said a committee of officers

reviewed the product and showed "overwhelming

support" for it.

The city anticipates receiving the cameras

and supporting infrastructure by the

year's end. The body-worn cameras should

be in use in early 2022.
---
www.columbusmessenger.com

September 19, 2021 - GROVE CITY MESSENGER - PAGE 3

Welcome to 2252 Ravine Woods Drive

Welcome to 2252 Ravine Woods Drive. This is the hard to find, most popular Epcon Canterbury that everybody is waiting for.

Deluxe kitchen which is open to the Vaulted Great Room, offering a gas log corner fireplace and opens up into the panoramic

sun room. Private owner suite is also vaulted and offers a large dual sink bath, remodeled shower, and a walk in closet. The

other wing of this Canterbury also offers another bedroom and a den, along with another full bath. This one is special and

shows well and in immaculate condition. Superior location in the complex and very private wooded views with outstanding

Vistas. Decor and condition is superb. As you know, homes in this complex do not stay on the market long, see this one

today! $279,900 MLS #221035808

Evan &

Greg

SKINNER

UNDISPUTED #1 IN 43123

614-537-1994 sales@soldbyskinner.com

COMMERCIAL, INDUSTRIAL, HIGH QUALITY RESIDENTIAL
---
PAGE 4 - GROVE CITY MESSENGER - September 19, 2021

SEARCHING

for More Qualified Employees?

October 17 th , 2021

Deadline: October 8 th , 2021 At 2pm

Special employment Section Featuring:

Job Openings

Job Fairs

Full and Part Time Employment

Seasonal Job Opportunities and more

ALL ADS ARE IN FULL COLOR. Contact us by phone or online to discuss special

advertising rates that are available for this section as well as combination rate

discounts for advertising in multiple coverage areas.

Canal Grove Winchester City • • Groveport City •• Groveport Madison • Madison • South • • South Westside • Westside

Roby

Schottke

For Grove City Council

At-Large

EXPERIENCE WE NEED

6 Year Council Leadership

614-272-5422

Kathy@columbusmessenger.com

Doughenry@columbusmessenger.com

Extended Service to Our Community

Planning Commission/Park Board/SW Educational Foundation

As Council President

Organized/Supervised First City Charter Revision in 32 Years

KEEP ROBY SERVING YOU

IN GROVE CITY

He has the Momentum, Join Him!

Vote for Schottke on November 2nd.

Contact him at 614-441-8238

Councilman Roby Schottke schottkeforgc@gmail.com

Paid for by Schottke for GC Committee

Township Focus

By Dedra Cordle

Staff Writer

www.columbusmessenger.com

Solar park project presented

Jackson Township officials say they

have seen no glaring issues with a solar

energy facility planned at 3413 Jackson

Pike.

At its meeting on Sept. 14, the board of

trustees were presented with an update

regarding the Columbus Solar Park project,

a development collaboration between

the Solid Waste Authority of Central Ohio

(SWACO) and the New York-based renewable

energy company BQ Energy, LLC.

The facility, which is located at the former

Model Landfill (in operation from 1967

to 1985) and the Phoenix Links Golf

Course (in operation from 2000 to 2015), is

estimated to generate 49.5 megawatts of

AC power, enough electricity to power

nearly 5,000 households.

Since the SWACO board of trustees

approved the contract last summer which

allowed BQ Energy to lease the 173-acre

site for a period of 25 years with an option

to extend it with mutual consent, the surveying

and permitting process has been

"smooth," said developers.

"I don't think we have ever been a part

of a smoother project," said Michael

McNulty, senior project manager for BQ

Energy.

McNulty told the township board that

within those 15 months, the company —

which exclusively builds renewable energy

facilities on former landfill or brownfield

sites — has secured a Rule 513 permit from

the Ohio Environmental Protection Agency

to grade and build the solar plant; completed

interconnection studies with the city of

Columbus; and have thus far received no

complaints from federal water regulators

and state wetland conservation groups or

historical preservation groups.

He said within that permitting process,

they are still working with the Federal

Emergency Management Agency to make

flood map revisions; submitting filings

with the Ohio Power Siting Board for

transmission line approval; seeking a no

hazard determination with the Federal

Aviation Administration; and determining

whether bald eagles live within the area.

"We believe there is only one in the area,

so that shouldn't be a problem," McNulty

added.

McNulty said the extensive permitting

process now has them submitting filings to

the township, which has their own zoning

rules independent of Franklin County.

This solar facility project is permitted in

the "exceptional use" zoning district, said

McNulty.

He said they will not seek variances

with the township's zoning standards and

will be submitting a certificate of zoning

compliance with the board next month.

He told the trustees that chain-link

fencing would be installed around the 173-

acre facility with barbed wire fencing

placed around the substation on-site. He

added they will keep the grass (landscapers

will keep it low for operational safety)

and plant native pollinators on the grounds

if permissible.

"We do not want weeds growing super

deep into the ground," McNulty said.

While discussing the design of the solar

energy facility, trustee Dave Burris said he

had concerns regarding the methane that

is still being released from the former landfill.

Scott Perry, the operations manager at

SWACO, said it should not pose an issue

with the development.

"It is burning off at a much lower percentage

currently," he said.

McNulty added that they will not build

within a certain distance of the methane

burners and they will cap the solar panel

stabilization poles that go into the ground

with bentonite clay. Perry added that the

landfill membrane, or composite liner, is

not in danger of being pierced.

"That landfill was working under old

design standards," said Perry.

Another representative with the solar

company said the landfill was "claycapped"

and the state EPA gave them the

authority to cover any potential landfill

disruptions with two feet of dirt.

During the presentation, Jackson

Township Deputy Fire Chief Shawn

Quincel questioned whether broken solar

panels or the wiring posed hazards to the

department personnel should an emergency

situation arise on site.

McNulty said there were no hazards

posed to the firefighters that they knew of

at this time.

"Environmental questions are coming

up more frequently with panels about recycling,

but generally the answer is there is

no hazardous materials," he said. "If one

snaps and you handle it, there is no risk to

you."

He also said emergency vehicles will be

able to access the site via pathways

between the panel rows. He added that

they would provide training opportunities

with the fire department regarding the ins

and outs of the solar facility.

Burris said he believed this solar facility

project to be a "good use of the property."

Township Administrator Shane

Farnsworth agreed.

"We believe this project will be a great

opportunity for the community," he said.

"There are limited uses for former landfill

sites so having a company come in and

transform it into a renewable energy facility

that will benefit the community is very

exciting."

McNulty said if the process continues to

be "as smooth as it has been," the construction

of Columbus Solar Park will start in

March of 2022 and it will be on-line by the

end of the year. The power for the project

has already been sold to AEP and the city

of Columbus.

Once completed, Columbus Solar Park

will be the largest landfill solar project in

the country.
---
www.columbusmessenger.com

community events

Fall Harvest Market

The Grove City Community Club will host its annual Fall

Harvest Market from 9 a.m. to 1 p.m. beginning on Sept. 25 at

3444 Park St. in the Town Center. Pick up farm-fresh produce,

fresh baked goods, a variety of gift and craft items, and enjoy live

entertainment. A harvest market will also be held Oct. 2, Oct. 9,

and Oct. 16. Call 614-875-9968 for additional information.

5K Rescue Dog Walk

The fifth annual Ted Berry 5K Rescue Dog Walk/Run will take

place from 9 a.m. to 3 p.m. Oct. 3 at Breck Community Park, 3005

Demorest Road in Grove City. The event is free but organizers ask

for donations or gift cards that will benefit the rescue group Speak

for the Unspoken. To register or for more information, visit tedberryevents.com.

S.A.L.T. at Evans Center

The Grove City Division of Police host Seniors and Law

Enforcement Together (S.A.L.T.) meetings at 1 p.m. the second

Tuesday of each month at the Evans Center, 4330 Dudley Ave.

Adults of all ages are welcome to attend. If you would like additional

information on other crime prevention programs visit

police.grovecityohio.gov or call 614-277-1765.

Blood drives in Grove City

The American Red Cross will host several blood drives in Grove

City. The events will be held on Sept. 21 from 1 to 7 p.m. at the

Grove City YMCA, 3600 Discovery Drive and on Oct. 6 from 1 to 7

p.m. at the Kingston Center, 3229 Kingston Ave. To schedule an

appointment, call 1-800-448-3543 or visit www.redcrossblood.org.

Community Focus

Head outside for storytime

September 19, 2021 - GROVE CITY MESSENGER - PAGE 5

Photo courtesy of Southwest Public Libraries

Storytime is back, but it will be held outdoors. Mondays in September and October, the Grove City Library

will host a storytime at the Town Center Park, the old Grove City Library site across from the police station

on Park Street. Participants can meet staff at the park and enjoy stories, rhymes, and songs. Here, people

gather at the park for the first storytime event on Sept. 13 while Linda Bils, from the library's youth services

department, reads a story. In the event of inclement weather, storytime will not occur but will resume the

following week. Storytime begins at 10:30 a.m. and will run each Monday through Oct. 25. For more information,

visit swpl.org.

Moses-Mouser Eye Care

Dr. Joshua Morris is an Optometrist who grew

up in Bellville, Ohio. He completed his undergraduate

degree at the University of Akron, where

he graduated magna cum laude with honors.

Dr. Morris attended The Ohio State University

College of Optometry and graduated cum laude

with honors to receive his Doctor of Optometry Degree in May 2019. After

completing his studies, he was awarded the "Primary Vision Care Clinical

Excellence Award", in 2019.

Dr. Morris is a member of the American Optometric Association, the Ohio

Optometric Association, and The Ohio State Alumni Association. He is

excited to practice full scope optometry, diagnosing and treating a variety

of ocular disorders and diseases in patients of all ages, but has a special

interest in contact lenses and ocular disease.

On a personal note, Dr. Morris and his wife Tess, enjoy spending time with

their family, friends, and their Bernese Mountain dog Maverick, cheering

on The Ohio State Buckeyes, trying new foods, and exploring Columbus

breweries.

Q: What are floaters and what causes them?

A: Floaters are small dark shapes that move across your vision. They can appear

as dots, threads, squiggly lines, or even like cobwebs. Most floaters are caused

by normal changes in the eye. As you age, small strands of vitreous (gel-like fluid

that fills your eye) can clump together and cast a shadow on your retina (the

light-sensitive tissue at the back of the eye). Those shadows appear as floaters

that drift across your vision. You may notice floaters more when you look at a

bright background, like a computer screen or a blue sky.

Q: How often should someone with new

floaters get an eye exam?

A: Someone experiencing new floaters, a large increase in the number of floaters,

or flashing lights should see an eye care professional immediately. Sometimes

floaters have a more serious cause, including: infection, injury, inflammation,

bleeding, retinal tear or retinal detachment.

Someone with a few stable floaters should see an eye care professional at least

once a year for a comprehensive dilated eye exam.

Schedule your comprehensive eye exam

today with Dr. Morris

1600 Gateway Circle, Grove City, OH 43123 614-963-3820
---
PAGE 6 - GROVE CITY MESSENGER - September 19, 2021

Follow us on Facebook

JEFFREY P. COMPTON

ATTORNEY AT LAW

General Practice

Personal Injury • Domestic

Probate • Wills

Power of Attorney

Healthcare Documents

FREE CONSULT & PARKING

614-875-7233 Fax: 929-474-9475

1665 London-Groveport Rd., Grove City

www.jeffreypcompton.com

Email: jcompton@jeffreypcompton.com

The Grove City Fall Shredding Day is 8

a.m. to 1 p.m., Saturday, Oct. 2 at Park

Street Intermediate School, 3205 Park St.,

made possible through a partnership with

Keep Grove City Beautiful and Ohio

Mobile Shredding.

Shredding

The following guidelines are vital to a

safe and efficient drop-off.

•Grove City, Jackson Township and

Urbancrest residents only.

•No business shredding accepted.

www.columbusmessenger.com

The City Beat

Shredding Day and HHW drop-off

Bring in this Ad

and your first Beer, Cider, Wine,

Seltzer and a few select Bourbons is

only $ 4

4057 Broadway, Grove City, OH 43123

(Corner of Broadway and Grove City Rd.)

(614) 954-2337

Hours: Sun.-Thursday 1pm-11pm

Friday-Saturday 1pm-1am

•Masks must be worn at all times.

Please remain in your car during drop-off.

•Limit of five boxes or trash bags per

car. All paper is securely shredded offsite.

•Residents must retain their boxes or

bags after paper is emptied into shredding

bins.

For additional information, call the

Grove City environmental coordinator at

614-277-3058.

Household Hazardous Waste

The annual Household Hazardous

Waste (HHW) mobile drop-off for Franklin

County residents, hosted by SWACO, is 8

a.m. to 2 p.m., Saturday, Oct. 2 at the

Kingston Center, 3226 Kingston Ave. Find

a detailed list of accepted items at

www.swaco.org including gasoline, lighter

fluid, thinners, pool chemicals, fluorescent

light bulbs, propane tanks under 20

pounds, all types of batteries and corrosives

such as drain cleaners. For your safety,

all participants should remain in their

cars during drop-off.

The only types of paint accepted are oilbased

and spray. Latex and other waterbased

paint can be disposed with your regular

trash after drying it by adding paint

hardeners, cat litter or sawdust and leaving

the lid off. A $1 fee, per container, will

be charged for dropping off any waterbased

paint.

Franklin County residents can also take

advantage of SWACO's permanent HHW

collection site at 645 East 8th Ave. in

Columbus (the corner of East 8th and

Essex avenues) open weekly Wednesday

through Friday. Visit www.swaco.org for

hours of operation.

Throughout the year, residents can drop

off electronics or e-waste at the Jackson

Township Administration Building, 3756

Hoover Road, weekdays from 8 a.m. to 4

p.m., except holidays. The list of accepted

items includes: computer components, laptops,

tablets and iPads/PDAs, cell phones,

wireless routers, cable modems, chargers

and cables, VCRs, Dish and Direct TV

receivers stereos and speakers. Monitors

and TVs are not accepted.

Visit GroveCityOhio.gov for additional

information.

Come DANCE with us!

RDC Dance Center

3048 Southwest Blvd., Grove City

(614) 875-1044

We hope to see

you in classes!

TAP * JAZZ * BALLET * HIPHOP

LYRICAL * TUMBLING

Ages 3 and up

WE ARE EXCITED TO MEET

YOU AND YOUR CHILD!

(614) 875-1044

email > wendi@rdcdance.com

website > www.rdcdance.com

Light Ohio Blue Photo Challenge

The Grove City Division of Police is taking part in the Light Ohio Blue 2021 First

Responder Photo Challenge. This is a statewide event and is being conducted during

month of September as a remembrance of the many first responders who lost

their lives on September 11, 2001. The photo with the most votes at the end of the

month earns the city a plaque and community pride bragging rights. People can vote

for the best photo once per day through the entire month of September. Grove City

is in a race for first place with North Ridgeville, a suburb of Cleveland. For more information

on the photo challenge, visit lightohioblue.org. To vote for Grove City's photo,

visit bit.ly/gcpdVOTE.
---
www.columbusmessenger.com

September 19, 2021 - GROVE CITY MESSENGER - PAGE 7

Active Lifestyles

A bi-monthly feature celebrating the

wisdom, experience and contributions of our community's senior citizens

Pictorial Past

Picture here is the

Grove City Methodist

Church that was

once located just

west of the Town

Center. The church

was dedicated April

16, 1905. The building

today is the site

for the local masonic

lodge. The photos

and information in

the Pictorial Past are

provided by Don

Ivers, curator of the

Grove City Welcome

Center and Museum.

Get out in front of

the 2021 Election

START ADVERTISING NOW

Community Advertiser Get The VOTES You NEED!

Dates to Advertise before the Election:

10/3

10/17—Ad with Free Story • 10/31—Ad with Free Story

BEST BUY FOR YOUR

ADVERTISING DOLLARS

Our papers reach over 81,000 households!

200 Word Story

With Your Ad

Call or Email Doug Henry

Phone: (614) 272-5422

Email: doughenry@columbusmessenger.com

Even rocket scientists

ask for help!

Boost your Medicare

knowledge to new heights!

Are you new to Medicare?

Do you need help

understanding your options?

Central Ohio Area Agency on Aging's

FREE virtual 'Medicare for Beginners'

workshops through Zoom provide

down-to-earth unbiased information

to help you make informed decisions.

At this time, all presentations are virtual.

Please note varying times.

September 22

October 13

November 17

December 8

PAID ADVERTISING

COAAA partnering with new

online caregiving platform

COAAA does not represent

or sell insurance products.

2:00 p.m.

5:30 p.m.

2:00 p.m.

5:30 p.m.

Central Ohio Area Agency on Aging

(COAAA) is partnering with Trualta, a free easyto-use

online platform that equips caregivers with

the knowledge and skills needed to manage care

for a loved one in the home. Trualta is tailored to

meet the caregiver's learning style through articles,

tip-sheets, quick five-minute videos, and

professional-level trainings.

The online platform, which can be accessed

from a computer or any mobile device, offers

practical caregiving tips and techniques, links

caregivers to local resources and assistance, connects

caregivers to other caregivers, and covers

many topics that caregivers may experience,

including personal care, brain health, safety, selfcare,

and working with memory issues or dementia.

Trualta is for caregivers who live in COAAA's

eight-county area – Delaware, Fairfield, Fayette,

Franklin, Licking, Madison, Pickaway, and

Union. Registration is required to access the platform.

COAAA's Trualta Support Specialist,

Maddie Huggins, can answer questions about eligibility,

assist with registration, help with device

accessibility, and help individuals navigate the

Trualta website.

To learn more about Trualta, contact Maddie

Huggins at mhuggins@coaaa.org or call 614-645-

7445.

Virtual 'Medicare for

Beginners' Workshops

Registration is required. To register,

email Andy Haggard at

ahaggard@coaaa.org.

You can always contact Central Ohio

Area Agency on Aging for your

Medicare questions. Call 800-589-7277

or email medicare@coaaa.org.

COAAA is your connection to care.

Funded in part by:

800-589-7277

coaaa.org

coaaa@coaaa.org

This project was supported in part by grant number

2101OHMIAA/MIDR-00 from the U.S. Administration

for Community Living, Department of Health and

Human Services, Washington, D.C. 20201. Subrecipients

undertaking a project with government sponsorship

are encouraged to express freely their findings and

conclusions. Points of view or opinions do not,

therefore, necessarily represent official ACL policy.
---
PAGE 8 - GROVE CITY MESSENGER - September 19, 2021

Active Lifestyles

A memorial tells the story of your loved ones

to future generations. The experts at Hannigan

Memorials, part of the Modlich Monument

Company, have tips on choosing just the right

monument.

Plan ahead

Aim to purchase a memorial before the emotional

time of losing a loved one. Even with cremations,

there are memorial options, such as

burying cremains and erecting a monument; creating

a cut-out in a monument and sealing the cremains

inside; or using a decorative urn inside a

mausoleum.

"A memorial takes time to complete and place

in the cemetery," said Chad Sothard, branch manager

of Hannigan Memorials. "We deliver and

install every monument we build, making sure

PAID ADVERTISING

www.columbusmessenger.com

How to memorialize a lost loved one

everything is just right for our customers."

Match the memorial to your lot

Some cemeteries restrict the size, shape or

material used for memorials. "We have experience

working with a variety of budgets and different

cemeteries to help ensure your final memorial

choice fits your personal taste, budget and cemetery

regulations," said Sothard.

Personalize your memorial

"We believe a memorial is as unique as the life

it commemorates," Sothard said. "Our craftsmen

can create any type of memorial, with stones in

any type, color, shape or size." Customers can

choose their engraving, from standard sandblasting

to hand diamond-etched portraits. Hannigan

also provides computer-generated scale drawings,

so customers can easily visualize their memorial.

PAID ADVERTISING

Be confident in your plan

Medicare's Annual Enrollment Period (AEP)

2021 will officially start Oct. 15 and run through

Dec. 7. As expected, the insurance carriers have

realized that not everyone is comfortable with

having a face-to-face meeting in reviewing their

options for the coming year. So, different meeting

options are available.

My name is Terri Curcio, and my direct phone

number is 614-460-0601. Call now to schedule

your appointment. After getting your permission,

I can organize and guide a virtual meeting in

which we talk face-to-face via the computer

screen. Other options include, emailing to your

attention plan documents, scheduling a meeting

or dropping an enrollment kit in the mail for your

review. I reside in Franklin County – a member

of the Grove City Chamber of Commerce - not an

operator in a call center.

I work with the major carriers in central Ohio,

not just one or two plans. Select the plan that benefits

you for this coming year, lowest possible

copays for service and medications. Some of the

plan options include dental, vision and fitness

programs. $0 cost for my consultation and enrollment

services. You need to be confident in the

plan you select for you coverage.

Grove City Chamber

Member

Are you or a loved one approaching

Medicare Decisions

Soon?

Call me t

Consultatio on $0 Fee

Terri

Curcio 614-460-0601

Sam

me cost,

pric

cing for

polic

cies using my

help!

Local licensed representative, I can mail you carrier(s) information to review before you

make any

decisions. Can enroll

a client without

a face-to-face meeting or schedule a

personal meeting if you prefer.

Do

phone sales rep p, sometimes you need

answers

throughout the year!

OHIO IN. #43449

Offering plans available in Central

Ohio, with top-rated carriers. I

will work for you to

find

the plan that fits your needs and lifestyle.

Or over 65 and still working

AEP for 2022 starts October 15 th though Dec 7 th

Schedule your appointment today for AEP!
---
www.columbusmessenger.com

Active Lifestyles

September 19, 2021 - GROVE CITY MESSENGER - PAGE 9

Franklin County Board of Commissioners: President Kevin L. Boyce • Commissioner John O'Grady, and Commissioner Erica C. Crawley

The Franklin County Board of Commissioners and The Franklin County Office on Aging join with the Messenger Newspaper in providing this update on aging issues in Franklin County.

Kinship Care Month

This month we would like to recognize Kinship Care Month.

According to the Ohio Department of Job and Family Services,

"Kinship Care refers to a temporary or permanent

arrangement in which a relative or any non-relative adult

who has a long-standing relationship or bond with the child

and/or family, has taken over the full-time, substitute care of

a child whose parents are unable or unwilling to do so". Kinship

Care allows for a child to be within a stable environment

in which they feel comfortable, appreciated, and wanted.

In July 2020, The United States Government Accountability

Office found that "in 2018, an estimated 2.7 million children

lived with kin caregivers", which included grandparents. In

fact, the report found that "62.1 percent of children living in

a kinship arrangement, were living with grandparents". As

we have seen the number of older adult caregivers increase,

we have also seen the need for resources to effectively care

for the caregiver themselves, and the children they are looking

out for.

The Center for the Study of Social Policy reported that "more

than half of all children in kinship care live in families with

incomes below 200 percent of the federal poverty level, yet

less than half of kinship caregivers receive Medicaid or Supplemental

Nutrition Assistance Program (SNAP) benefits,

and less than 12 percent receive Temporary Assistance for

Needy Families (TANF)". COVID-19 has surely made the

need greater for families participating in kinship caregiving.

Even the most basic of necessities such as food, water, formula,

diapers, or shelter, may be hard to afford due to the

ongoing pandemic. Finances are not the only issue facing

older kinship caregivers, but maintaining their physical

health, to be able to care for the children, is in jeopardy.

"Almost half of grandparent caregivers are age 60 and older

and at heightened risk for COVID-19", according to the Generations

United. As statistics have proven, older adults are

more likely to become ill and even die from COVID-19. It

becomes imperative to keep both the children, and the kinship

caregivers safe and healthy because their health will

affect one another, especially since they are living within the

same home.

The Franklin County Office on Aging is determined to keep

older adults safe, while simultaneously maintaining their

independence. The Franklin County Office on Aging has a

Kinship Support Program, which is an extension of the Caregiver

Support Program. In this program, a kinship caregiver

age 55 and older living within Franklin County, can access

resources such as appliances, durable medical equipment,

infant, toddler, and children health maintenance supplies,

kinship counseling, mattress and box spring sets, and other

items and services that may be beneficial to the caregiver.

If you are or know of a kinship caregiver that is age 55 or

older living within Franklin County that is in need of assistance,

please call the Franklin County Office on Aging at

614-525-6200.
---
PAGE 10 - GROVE CITY MESSENGER - September 19, 2021

Pets of the week

These furry friends are available

for adoption at local

rescues and shelters

Elijah is a 1-year-old

pit bull searching for

his forever home.

This guy is high energy

and will need an

active home with a

family that can help

teach him some

manners through

positive reinforcement

training. Elijah

is good around other dogs, but can be rowdy,

so he'll need his new companion to match his

energy level. Elijah is up for adoption at the

Franklin County shelter.

FYI: franklincountydogs.com.

Manny is a 6-yearold

mixed breed and

is a favorite at the

county shelter. He is

a very intelligent dog.

He loves to learn and

lives to please. You

could teach Manny

just about anything. If

you would like to

meet him, stop by the

Franklin County Dog Shelter.

FYI: franklincountydogs.com.

Mark and Lexie are

5-month-old siblings.

They love all people,

especially when

they're giving them

attention. They love to

play just as much as

they love to cuddle.

Though they do love

attention from

humans, they are also

happy just playing with each other. Mark and

Lexie would be so happy to find a home

together, because the only thing better than

adopting one kitten is adopting two. This pair

is up for adoption through Colony Cats.

FYI: colonycats.org

Balboa is a playful

boy looking for his forever

home. He likes to

chase and play with

other cats but is also

happy to snuggle up

on a lap to snooze if

given the opportunity.

A volunteer called

Balboa a rare gem

who would add a layer of love to any family.

Adopt this handsome guy from Colony Cats.

FYI: colonycats.org

Pick-Up &

Delivery

C.M.T

MOWER REPAIRS

Authorized Dealers for BOBCAT Mowers

6446 HARRISBURG PIKE, ORIENT, OH 43146

614-875-5830

www.cmtmowerrepairs.com

"We have the lowest price in town!"

GENERAL MAINTENANCE SERVICES

Push Mowers $49.95 • Riding Tractors $159.95

Zero Turn Mower $159.95

Parts are additional on all units

PICK-UP & DELIVERY AVAILABLE $60.00

CHECK OUT THESE GREAT DEALS!!

• ZT 2000-42... $ 4,200.00

• ZT 2000-48... $ 4,400.00

• ZT 2000-52... $ 4,700.00

• ZT 3500-61... $ 7,900.00

ZT 6000-61........... $ 10,200

ZT 6100-61........... $ 10,600

ZT 7000-72........... $ 13,300

0% Interest

Financing up to

48 months (if qualified)
---
www.columbusmessenger.com

September 19, 2021 - GROVE CITY MESSENGER - PAGE 11

Home Buyers

Guide

Photo courtesy of the city of Grove City

Honoring lives lost

Jackson Township firefighter Greg

Richards takes part in a ceremony at

fire station 204 on Buckeye Parkway,

which honored the lives of those killed

during the terror attacks on Sept. 11,

2001. During the ceremony, Richards

performed the ringing of the bells,

which symbolizes the death of a firefighter.

Internet Purchase

Exchange Zones

The city of Grove City's Division of

Police in cooperation with Jackson

Township established two Internet

Purchase Exchange Zones in response to

safety concerns during person-to-person

exchanges of sales arranged online. The

zones are located at City Hall, 4035

Broadway, and the Jackson Township

Administration Building, 3756 Hoover

Road.

Exchange zones are identified by signage

next to designated parking spaces at

each location with video surveillance 24

hours a day, seven days a week. Residents

can conduct transactions knowing their

interactions are recorded. In cases of emergency,

site users should dial 911 for assistance.

For more information, contact the

Grove City Division of Police at 614-277-

1710.

southwest

Messenger

(Distribution: 22,500)

Andrea Cordle...................................Grove City Editor

southwest@ columbusmessenger.com

Published every other Sunday by the

The Columbus Messenger Co.

3500 Sullivant Ave., Columbus, Ohio 43204

(614) 272-5422

The Columbus Messenger Co. reserves the right to edit, reject or cancel

any advertisement or editorial copy at any time. The company is not

responsible for checking accuracy of items submitted for publication.

Errors in advertising copy must be called to the attention of the company

after first insertion and prior to a second insertion of the same advertising

copy.

Pam Brown

614-975-9462

Thinking about

selling your home?

Call An Experienced Realtor!

42 Years of "Service with a Smile"

GREAT SELLING MARKET!

3656 Broadway Grove City, OH 43123

614.871.1000

www.era.com

Wonderfully cared for corner lot in Clifton Estates. A stream runs behind the lot with some

nice foliage. Great lot in a great neighborhood to build your new home! Utilities available

includes gas, electric, city water and sewer.

Michael E. Logan, GRI

Managing Partner

e-Merge Real Estate Crossroads

mike.logan.e-merge.com

2018 Presidents Club 25 Million

740-412-4506

ONLY

$

37

Next Edition: October 3

Deadline: September 28

Contact Doug Henry:

614-272-5422

doughenry@columbusmessenger.com

$

55
---
PAGE 12 - GROVE CITY MESSENGER - September 19, 2021

www.columbusmessenger.com

CLASSIFIED ADS

Deadlines: Groveport and West editions, Wednesdays at 5 p.m., • South/Canal Winchester, Grove City, Madison editions, Tuesdays at 5 p.m.

All editions by phone, Tuesdays at 5 p.m. • Service Directory, Tuesdays at 5 p.m.

xEmployment

BE YOUR OWN BOSS!

INDEPENDENT

CONTRACTORS

WANTED

If you have a reliable

car and would like to

earn extra money,

then why not deliver?

• Deliver 1 or 2 days a week

• Flexible delivery hours

• Work close to home - often

in or near your neighborhood

CONTACT US

1-888-837-4342

www.thebag.com

FREE

TRAINING

+

$1000 SIGN-ON BONUS

Kroger Pharmacy Warehouse

2nd and 3rd Shift

Positions Available

Scan for more details and

link to apply:

EARN EXTRA

$$$ $$$

MONEY

The Advertising Department at the

Columbus Messenger Newspapers

is seeking a Salesperson.

No Experience Necessary.

Base salary plus commissions, auto allowance.

Seniors welcome to apply.

Please send your resume or call:

Doug Henry, Advertising Manager

Columbus Messenger Newspapers

3500 Sullivant Ave.

Columbus, Ohio 43204

614-272-5422

or

e-mail to doughenry@columbusmessenger.com

• Deliver 7 days a week

• Delivery before dawn

• Work close to home - often

in or near your neighborhood

CONTACT US

614-461-8585

www.dispatch.com/delivery

INFORMATION

I'VE MOVED!

Come See Me At

My New Location!

Call Marilyn Weaver

For An Appt.

For a New Haircut/Color

614-348-6670

Relax Wellness

3663 Broadway

Grove City

ASSOCIATION ADS

Become a Published

Author. We want to Read

Your Book! Dorrance

Publishing Trusted by

Authors Since 1920 Book

manuscript submissions

currently being reviewed.

Comprehensive Services:

Consultation, Production,

Promotion and Distribution.

Call for Your Free Author's

Guide 1-866-482-1576 or

visit http://dorranceinfo.

com/macnet

GENERAC Standby Generators

provide backup

power during utility power

outages, so your home

and family stay safe and

comfortable. Prepare

now. Free 7-year extended

warranty ($695 value!).

Request a free

quote today! Call for additional

terms and conditions.

1-855-465-7624

Employment

ASSOCIATION ADS

The bathroom of your

dreams for as little as

$149/month! BCI Bath &

Shower. Many options

available. Quality

materials & professional

installation. Senior &

Military Discounts

Available. Limited Time

Offer - FREE virtual inhome

consultation now

and SAVE 15%! Call

Today! 1-877-540-2780

Protect your home w/home

security monitored by

ADT. Starting at $27.99/

mo. Get free equipment

bundle including keypad,

motion sensor, wireless

door & windows sensors.

833-719-1073

Replace your roof with the

best lookng and longest

lasting material! Steel

from Erie Metal Roofs!

Three styles and multiple

colors

available.

Guaranteed to last a

lifetime! Limited Time

Offer - $500 Discount +

Additional 10% off install

(for military, health

workers & 1st responders)

Call Erie Metal Roofs: 1-

855-338-4807

READY TO BUY, SELL

OR RENT YOUR

VACATION HOME OR

HUNTING CAMP?

Advertise it here and in

neighboring publications.

We can help you. Contact

MACnet MEDIA @

800-450-6631 or visit our

site at MACnetOnline.

com

SEARCHING

for More Qualified Employees?

October 17 th , 2021

Deadline: October 8 th , 2021 At 2pm

Special employment Section Featuring:

Job Openings

Job Fairs

Full and Part Time Employment

Seasonal Job Opportunities and more

ALL ADS ARE IN FULL COLOR. Contact us by phone or online to discuss special

advertising rates that are available for this section as well as combination rate

discounts for advertising in multiple coverage areas.

Grove City • Groveport • Madison • South • Westside

ASSOCIATION ADS

New authors wanted!

Page Publishing will help

self-publish your book.

Free author submission

kit! Limited offer! 866-

951-7214

Donate your car to kids!

Fast free pickup running

or not - 24 hour response.

Maximum tax

donation. Help find missing

kids! 877-831-1448

614-272-5422

Kathy@columbusmessenger.com

Doughenry@columbusmessenger.com

ASSOCIATION ADS

!!OLD GUITARS WANT-

ED!! GIBSON, FENDER,

MARTIN, Etc. 1930's to

1980's. TOP DOLLAR

PAID. CALL TOLL FREE

1-866-433-8277
---
www.columbusmessenger.com

September 19, 2021 - GROVE CITY MESSENGER - PAGE 13

xEmployment

OPEN INTERVIEWS

ON WEDNESDAYS 10AM-1PM

UP TO $ 19.00/HR + NO MANDATORY OT

$

2000 SIGN ON BONUS + INCENTIVE OPPORTUNITIES

1568 Georgesville Rd. Columbus 43228

APPLY PRIOR @ JOBS.MSCDIRECT.COM

Applicants must sucessfully pass a background check and drug screen.

Equal Opportunity Employer: Minority, female, veteran, individuals with disabilities, sexual orientation/gender identity.

WANTED

• Retail Sales • Back-Up Cooks

• Dishwashers • Servers • Grill

• Host/Hostess

You Can Work 29+ Hrs. Based on

Your Availability & Performance

Immediate Full/Part-time Openings

We Offer:

• Weekly Pay

• Paid Training

• No Tip Sharing

• Paid Vacation

• Employee Meal Discount

• Position/Salary Advancement Plan

• Discount Purchase Plan

Apply online at crackerbarrel.com/careers for

Grove City Location 614-871-1444

DO YOU NEED

SEASONAL EMPLOYEES?

Call KATHY to ADVERTISE!

and reach over 40,000 homes in the

West & Grove City Messengers

614-272-5422

kathy@columbusmessenger.com

ASSOCIATION ADS

ATTENTION DIABETICS!

Save money on diabetic

supplies! Convenient

home shipping for

monitors, test strips,

insulin pumps, catheters &

more! To learn more, call

now! 877-810-0063

HOME BREAK-INS take

less than 60 SECONDS.

Don't wait! Protect your

family, your home, your

assets NOW for as little as

70¢ a day! Call 866-409-

0308

Never pay for covered

home repairs again!

Complete Care Home

Warranty covers all major

systems & appliances. 30-

day risk free. $200.00 off

+ 2 free months! 1-866-

395-2490

Attention Active Duty &

Military Veterans! Begin a

new career & earn a

Degree at CTI! Online

Computer & Medical

training available for

Veterans & Families! To

learn more, cal 888-449-

1713.

DO YOU HAVE

A POSITION

TO FILL?

ADVERTISE IT!

Call

Kathy

At The

Columbus

Messenger

For Rates

272-5422

ASSOCIATION ADS

Best satellite TV with 2

year price guarantee!

$59.99/mo with 190

channels and 3 months

free premium, movie

channels! Free next day

installation! Call 844-842-

4469

Donate Your Car To

Veterans Today! Help and

Support our Veterans.

Fast - FREE pick up.

100% tax deductible. Call

1-800-245-0398

DENTAL INSURANCE

from Physicians Mutual

Insurance Company.

Coverage for 350 plus

procedures. Real dental

insurance - NOT just a

discount plan. Do not wait!

Call now! Get your FREE

Dental Information Kit with

all the details! 1-877-553-

1891

www.dental50plus.com/

macnet#6258

ATTENTION SENIORS:

The average funeral cost

is $9000+ Don't leave

your family to pay your

debts. State Approved,

Final Expense Life

Insurance Plans are now

avaiilable as low as $25 a

month. Hurry and call

before enrollment ends. 1-

877-761-1796. M-F 9am-

6pm EST

Don't let the stairs limit

your mobility! Discover

the ideal solution for

anyone who struggles on

the stairs, is concerned

about a fall or wants to

regain access to their

entire home. Call

AmeriGlide today! 1-844-

317-5246

ASSOCIATION ADS

AMERICAN & FOREIGN

CLASSIC CARS AND

MOTORCYCLES

WANTED. $$PAYING

CA$H$$ Corvettes,

Mustangs, Jaguars, Austin

Healeys, Broncos,

Blazers, Ram Chargers,

AMX, and Triumphs

KRMiller1965@yahoo.com

717-577-8206

DISH TV $64.99 FOR 190

Channels + $14.95 High

Speed Internet. Free Installation,

Smart HD DVR

Included, Free Voice Remote.

Some restrictions

apply. Promo expires

1/21/22. 1-855-270-5098

Wesley Financial Group,

LLC Timeshare Cancellation

Experts Over

$50,000,000 in timeshare

debt & fees cancelled in

2019. Get free

informational package &

learn how to get rid of

your timeshare! Free

consultations. Over 450

positive reviews. 888-965-

0363

HughesNet - Finally, superfast

internet no matter

where you live. 25 Mbps

just $59.99/mo! Unlimited

Data is Here. Stream

Video. Bundle TV &

Internet. Free Installation.

Call 866-499-0141

Employment

ALL SHIFTS

HIRING EVENT

SEPTEMBER 23

from 8am-3pm

3301 Toy Rd., Groveport

online @skfoodgroup.com

Starting $15.00 up to $30.00

ASSOCIATION ADS

Update your home with

beautiful new blinds &

shades. Free in-home

estimates make it

convenient to shop from

home. Professional

installation. Top quality -

Made in the USA. Free

consultation: 877-212-

7578. Ask about our

specials!

Stroke & Cardiovascular

disease are leading

causes of death according

the AHA. Screenings can

provide peace of mind or

early detection! Call Life

Line Screening to

schedule a screening.

Special offer 5 screenings

for $149.. 1-833-549-4540

REPORTER

WANTED

Part-time Reporter wanted to cover

community meetings in the evenings and

write various feature and news stories.

Photography experience helpful.

Please send a resume and

three writing samples to:

Rick Palsgrove, Managing Editor,

Columbus Messenger Newspapers,

3500 Sullivant Ave.,

Columbus OH 43204 or email

southeast@columbusmessenger.com

No Phone Calls!
---
PAGE 14 - GROVE CITY MESSENGER - September 19, 2021

xAdult Care

INFORMATION

www.columbusmessenger.com

xCome & Get It!

Windsong is committed to providing

high quality, loving care, and affordable

home care services to our clients. With our

assistance, clients can lead

dignified and independent lives in the

comfort of their own home.

Individual needs are carefully assessed,

understood, and met through the selective

assignment of quality, trustworthy and

compassionate service-oriented personnel.

Give us a call today for a free in-home

assessment or visit our website at

www.windsongseniorcare.com

614-820-5000

xInformation

Marriages break down

because of incompatible

personalities.

If you and your marital partner are

having trouble, come in and get your

Personality and IQ checked as this

may be the reason for your disputes.

The Church of Scientology of Central Ohio

1266 Dublin Road

Columbus, OH 43215

Information

CRAFT SHOWS

Adult Care

CRAFT SHOWS

ADVERTISE

Your Holiday Craft Show

Bazaar, or Bake Sale!

Call Kathy

Classified Display Rep

614-272-5422

Columbus Messenger Newspapers

614-991-0652 614-376-9761

Welcome

Carolyn's Cottage

Private Assisted Living

3036 Woodgrove Dr., Grove City, OH

2 Resident Openings

Available

advertise

ASSOCIATION ADS

Internet &WIFI Starts at

$49 Call us Today to Get

Started. Find High-Speed

Internet with Fiber Optic

Technology No Credit

Check, No SSN Required.

Call us Today 866-396-

0515

Thinking about installing

a new shower? American

Standard makes it

easy. FREE design consulation.

Enjoy your

shower again! Call 1-

833-769-0995 today to

see how you can save

$1,000 on installation, or

visit www.newshowerdeal.com/mac

Long Distance moving.

Call for a free quote from

America's Most Trusted

Interstate Movers. Let us

take the stress out of

moving! Speak to a

relocation specialist! Call:

888-721-2194

The Generac PWRcell, a

solar plus battery storage

system. SAVE money,

reduce your reliance on

the grid, prepare for power

outages and power

your home. Full installation

services available. $0

Down Financing Option.

Request a FREE, no obligation,

quote today. Call

1-855-900-2894

AT&T Internet. Starting

at $40/month w/12-mo

agmt. 1 TB of data/mo.

Ask how to bundle &

SAVE! Geo & svc restrictions

apply. 1-888-796-

8850

NEED IRS RELIEF

$10K-$125K+ Get Fresh

Start or Forgiveness.

Call 1-844-431-4716

Monday through Friday

7am-5pm PST

YOUR ADULT

CARE SERVICES

Call Kathy

at The Messenger

For More Info

272-5422

ASSOCIATION ADS

Train online to do medical

billing! Become a

Medical Office Professional

at CTI! Get trained

and certified to work in

months! 888-572-6790.

(M-F 8-6 ET)

VIAGRA & CIALIS! 60

pills for $99. 100 pills for

$150 FREE shipping.

Money back guaranteed!

1-844-596-4376

Directv Now. No Satellite.

$40/mo 65 Channels.

Stream news, live

events, sports & on demand

titles. No contract/

commitment. 1-866-825-

6523

DENTAL INSURANCE-

Physicians Mutual Insurance

Company. Covers

350 procedures. Real

insurance - not a discount

plan. Get your free

dental Info kit! 1-888-

623-3036 . www.dental50plus.com/58

#6258

HughesNet Satellite Internet

- Finally, no hard

data limits! Call today for

speeds up to 25mbps as

low as $59.99/mo! $75

gift card, terms apply. 1-

844-863-4478

Want Faster & Affordable

Internet? Get internet

service today with

Earthlink. Best internet &

WiFi Plans. Call us Today

to Get Started. Ask

about our specials! 866-

396-0515

HEARING AIDS!!

Buyone/get one FREE!

Nearly invisible, fully rechargeable

IN-EAR

NANO hearing aids

priced thousands less

than competitors! 45-day

trial! Call1-877-436-0234

IN THEDARKABOUT

A

D

VERTISI

N

G?

CALL US & WE'LL

HELP YOU SEE THE

LIGHT!

272-5422

ASSOCIATION ADS

Wants to purchase minerals

and other oil and gas

interests. Send details to

P.O. Box 13557, Denver,

CO. 80201

HEARING AIDS!! Bogo

free! High-quality rechargeable

Nano hearing

aids priced 90% less

than competitors. Nearly

invisible! 45-day money

back guarantee! 833-

669-5806

The Generac PWRcell

solar plus battery storage

system. Save money,

reduce reliance on

grid, prepare for outages

& power your home. Full

installation services. $0

down financing option.

Request free no obligation

quote. Call 1-855-

270-3785

Pest Control

Find Pest Control Experts

Near You! Don't let

pests overtake your

home. Protect your loved

ones! Call to find great

deals on Pest Control

Services - 833-872-0012

Eliminate gutter cleaning

forever! LeafFilter, the

most advanced debrisblocking

gutter protection.

Schedule a FREE LeafFilter

estimate today. 15% off

Entire Purchase. 10% Senior

& Military Discounts.

Call 1-855-791-1626

SELL YOUR ANTIQUE

OR CLASSIC CAR.

Advertise with us. You

choose where you want

to advertise. 800-450-

6631 visit macnetonline.

com for details.

BATH & SHOWER UP-

DATES in as little as

ONE DAY! Affordable

prices - No payments for

18 months! Lifetime warranty

& professional installs.

Senior & Military

Discounts available. Call

855-761-1725

DISH TV $64.99 190

Channels + $14.95 high

speed internet. FREE installation,

Smart HD DVR

included. Free Voice Remote.

Some Restrictions

apply. Promo Expires

1/21/22. 1-833-872-2545

COME AND GET IT

Deadlines are Tuesdays by 5 pm.

Call For Publication Schedule 614-272-5422

Need to Get Rid of Something Fast - Advertise It Here For FREE!

FREE Garden Straw for gardens or bedding. Call for appointment for pickup.

Circle S Farms, 9015 London-Groveport Road, Grove City, 43123

Grove City - 614-878-7980

. Come and Get It! is a bi-weekly column that offers readers an opportunity to pass

along surplus building materials, furniture, electronic equipment, crafts, supplies,

appliances, plants or household goods to anybody who will come and get them - as

long as they're FREE. NO PETS! Just send us a brief note describing what you want to

get rid of, along with your name, address and phone number. Nonprofit organizations

are welcome to submit requests for donations of items.

Send information to The Columbus Messenger, Attention: Come and Get It, 3500

Sullivant Ave., Columbus, OH43204. Deadline is Tuesdays by 5 pm for following

Mondays publication. Messenger Newspapers is not responsible for any

complications that may occur. Please contact us when items are gone. 272-5422

ASSOCIATION ADS

Attention oxygen therapy

users! Inogen One G4 is

capable of full 24/7 oxygen

delivery. Only 2.8

pounds. Free info kit.

Call 877-929-9587

GENERAC Standby

Generators provide

backup power during

power outages, so your

home & family stay safe &

comfortable. Prepare now.

FREE 7-yr extended

warranty $695 value!

Request a free quote

Life Alert. One press of a

button sends help fast

24/7! At home and on

the go. Mobile Pendant

with GPS. Free first aid

kit (with subscription).

877-537-8817 Free brochure

IMPORTANT

NOTICE

The following states: CA,

CT, FL, IA, IL, IN, KY,

LA, MD, ME, MI, MN,

NE, NC, NH, OH, OK,

SC, SD, TX, VT and WA

requires seller of certain

business opportunities to

register with each state

before selling. Call to

verify lawful registration

before you buy.

VIAGRA and CIALIS

USERS! 50 Generic pills

SPECIAL $99.00 FREE

Shipping! 100% guaranteed.

24/7 CALL NOW!

888-445-5928 Hablamos

Espanol

Attention: If you or aloved

one worked around the

pesticide Roundup

(glyphosate) for at least 2

years and has been diagnosed

with non-Hodgkin's

lymphoma, you may be

entitled to compensation.

855-341-5793

Come & Get It!

ASSOCIATION ADS

today. Call for terms &

conditions. 1-844-334-

8353

Looking for auto insurance?

Find great deals

on the right auto insurance

to suit your needs.

Call today for a free

quote! 866-924-2397

Elminate gutter cleaning

forever! LeafFilter, the most

advanced debris-blocking

protection. Schedule

Free LeafFilter Estimate

today. 15% off Entire

Purchase. 10% Senior &

Military Discounts. Call 1-

855-995-2490

READER

ADVISORY

The National Trade Association

we belong to has

purchased the following

classifieds. Determining

the value of their service

or product is advised by

this publication. In order

to avoid misunderstandings,

some advertisers do

not offer "employment"

but rather supply the

readers with manuals, directories

and other materials

designed to help

their clients establish mail

order selling and other

businesses at home. Under

NO circumstance

should you send any

money in advance or give

the client your checking,

license ID or credit card

numbers. Also beware of

ads that claim to guarantee

loans regardless of

credit and note that if a

credit repair company

does business only over

the phone it's illegal to request

any money before

delivering its service. All

funds are based in US

dollars. Toll Free numbers

may or may not

reach Canada. Please

check with the Better

Business Bureau 614-

486-6336 or the Ohio Attorney

General's Consumer

Protection Section

614-466-4986 for more

information on the company

you are seeking to

do business with.

CHILD CARE

OFFERED

Depend. Quality Child care

in loving hm. Exp. Mom, n-

smkr, hot meals, sncks,

playroom, fncd yd. Reas.

rates. Laurie at 853-2472

HELP WANTED

Kings Kids Daycare in

Grove City is hiring fun,

loving teachers for PT&

FT shifts. Pleaes email

sarragc@outlook.com or

call 614-539-034,

NOW HIRING

Commercial

Janitorial

All Shifts

Full and Parttime

Call or Text Now

614-804-1256

REPORTER

WANTED

Parttime Reporter wanted

to cover community

meetings in the evenings

and write various feature

and news stories.

Photography Exp. Helpful.

Please send resume &

3 writing samples to:

Rick Palsgrove,

Managing Editor

3500 Sullivant Ave.,

Columbus, OH 43204

or email:

southeast @

columbusmessenger.com

MOTORCYCLE

HONDA 2002 VT 600 M/C

$2,000. 614-406-3021

DATED SALES

GARAGE SALE

Sept. 23, 24, 25 - 9am-?

3368 Cameron St.

Grove City

Furn, Longaberger, hshld

items, Christmas decor,

lots of misc.

GARAGE SALE

Sept. 24 & 25, 9am-?

3271 Reaver Ave., G.C.

Large Poster Red Bull

Indianapolis GP Sept 14,

2008; Old cameras; lawn

edger; winter coats &

evening dresses; World

War 2 Navy Jacket;

canning jars; ladies smock

& pants-some new;

wedding dress; bread

machine; baskets; jewelry;

holiday items & lots more

7.4 W/SW/M
---
www.columbusmessenger.com

xFocus on Rentals

WEDGEWOOD

VILLAGE

1, 2 and 3 BR Apts.

Rent Based on Income.

Call 614-272-2800 or visit us

at 777 Wedgewood Dr.

TTY/TDD 711

EQUAL HOUSING OPPORTUNITIES

Rentals

xInformation

Dianetics is a proven and

workable method of

returning self-determination

and freeing you from

depression.

by L. Ron Hubbard

Start the adverture - of you - $25

Call (614)401-0664 Or come to

1266 Dublin Road, Columbus,Ohio

Information

PETS

HOMING PIGEONS

$5.00 ea. 614-662-8655

WANT TO BUY

BUYING VINYL RECORDS.

LPs and 45s - 1950-80s

Rock, Pop, Jazz, Soul.

614-831-0383

ANTIQUES

WANTED

Victrolas, Watches,

Clocks, Bookcases

Antiques, Furn.

Jeff 614-262-0676

or 614-783-2629

CASH PAID for Ohio

State and old sports

items, records, postcards,

old photos, jewelry & more

614-477-5590

We Buy Cars & Trucks

$300-$3000.614-308-2626

WANTS TO Purchase

minerals and other oil &

gas interests. Send details

to: P.O. Box 13557,

Denver, CO 80201

WANT TO BUY

We Buy Junk Cars &

Trucks. Highest Prices

Paid. 614-395-8775

WE BUY JUNK CARS

Call anytime 614-774-6797

HOMES FOR SALE

WOW! Like finding $10,000

in your backyard!

3-4 BR, 2 ba, new roof

siding & windows,

gleaming hdwd flrs, form

din rm w/French doors, full

bsmt, priv. fence, concrete

slab ready for your

garage. $149,900.

Westside - Immac. cond.

Call Fran Lyons 496-0929

VACATION RENTALS

Englewood, Florida

Palm Manor Resort

Within minutes of white

sand Gulf beaches,

world famous Tarpon

fishing, golf courses, restaurants/shopping,

Bush

Gardens. 2 BR 2 BA

condos with all ammenities,

weekly/monthly, visit

www.palmmanor.com

or call 1-800-848-8141

September 19, 2021 -GROVE CITY MESSENGER - PAGE 15

xClassified Services

AIR CONDITIONING

AIR CONDITIONING

Complete System

Clean & Check

$49.95

Free Electronic Leak Testing

All Makes • All Models

45 Yrs. Exp. • Senior Discount

614-351-9025

BLACKTOP

AGM OHIO

ROOFING &

SEALCOATING

Free Estimates

Cell 614-512-1699

SANTIAGO'S

Sealcoating & Services LLC

Quality Materials Used

FALL IS HERE!

Driveway Seal & Repair!

Top Seal Cracks!

Residential & Commercial

Mulching, Edging & Clean-ups

"Ask for whatever you need."

BBB Accredited-Fully Insured

Call or text for Free Est.

614-649-1200

CONCRETE

EDDIE MOORE

CONSTRUCTION

Quality Concrete Work

Lt. Hauling & Room Add.,

Block Work & Excavation

Stamp Patios,

Bsmt. Wall Restoration

35 Yrs Exp - Lic & Ins.

Free Ests. 614-871-3834

Buckeye City

Concrete & Excavating

* Concrete * Foundations

* Waterlines * Drains

*Catch Basins

614-749-2167

buckeyecityconcreteand

excavating@yahoo.com

9/26 A

9/12

A/M

BLACKTOP SEALING

Driveways & Parking Lots

614-875-6971

CARPET CLEANING

CARPET CLEANING

Any 5 areas ONLY $75

Home Powerwash- $99-$200

614-805-1084

Specializing in Pet Odors

INFORMATION

9/26 A/M

CONCRETE

GALLION

CUSTOM CONCRETE LLC

Specializing in Custom Colors &

Custom Designs of Concrete.

Including Remove & Replace

43 yrs exp & Free Est.

Licensed & Insured

Reputation Built

On Quality

Ronnie

614-875-8364

See Us On Facebook

www.gallioncustom

concrete.com

www.hastingsnsons.com

Driveways & Extensions

Patio & Walkways,

Porches & Steps,

Garage/Basement Floors

Hot Tub/Shed Pads,

Stamped/colored concrete

Sealing of new &

existing concrete.

FREE ESTIMATES

Contact Adam

614-756-1754

hastingsandsons.

columbus@gmail.com

AJ's Concrete,

Masonry

Good Work - Fair Prices

Block Foundations

Driveways • Sidewalks

Epoxy/Overlay Floors

Bonded-Ins. • Free Ests.

614-419-9932

GUTTERS

Bates & Sons

GUTTER CLEANING

5 ★ Google Reviews

614-586-3417

FENCING

EAZY FENCE

Chain Link - Wood

No Job Too Big or Small

All Repairs ~ Free Est.

Insured. 614-670-2292

INFORMATION

LOOK TO

THE PROFESSIONALS

IN OUR

SERVICE DIRECTORY

For Service

"That Is Out Of This World"

9/26 W/SW

9/26 A

FLOORING

• Tile • Hardwood

• Laminate • Vinyl

10/10

614-806-6050

SW

Sales • Installation • Free Est.

HAULING

DEAN'S HAULING

614-276-1958

HOME

IMPROVEMENTS

KLAUSMAN HOME

IMPROVEMENT

Siding-Windows-

Doors-Roofing-Soffit-

Fascia-Gutters-Trim

Earn FREE Seamless

Gutters with Siding Over

1000 Sq. Ft.

FREE Shutters with

Soffit & Trim

EPA Certified

Member of BBB

Financing Available

Over 20 yrs exp. • Free Est.

Licensed-Bonded-Insured

Owner & Operator

James 614-419-7500

C&JHandyman

Services LLC

Minor Plumbing

& Electric

Install Hot Water Tanks,

Dishwashers & Disposals

Also Fencing &

Interior/Exterior Painting

Free Est. ~ 18 Yrs. Exp.

CDC/EPA Approved Guidelines

614-284-2100

Handyman - outdoor &

indoor. Reasonable Rates

614-634-2244

SINCE 1973

Phil Bolon Contr.

Windows & Siding

Decks, Kitchens, Baths

Room Additions,

Flooring, Roofing

Bsmt Waterproofing

Deal With Small Non-Pressure Co.

47 Yrs. Exp. - Refs. Avail.

Lic.-Bond-Ins.

Free Est. - Financing Avail.

Member BBB Of Cent. OH

O.C.I.E.B. ID #24273

614-419-3977

or 614-863-9912

SLAGLE

HOME REMODELING

Baths, Kitchen,

Plumbing and Electrical.

All your Handyman needs

No Job too Big or Small

Over 30 Yrs. Exp. Lic.-Bond-Ins.

Jerry

9/26

A/M

614-332-3320

10/10 A

10/10 A

9/26

SW/W

HOME

MAINTENANCE

NEED HOME REPAIRS?

We do it all! Fences, decks,

home repairs, more Just ask!

220-465-2602-local #

HOME

REMODELING

Handyman Remodeling

Over 35 yrs exp.

Larry 614-376-7006

LAWN CARE

The Lawn Barber

Cut, Trim, Blow away

Hedge Trimming, Edging

Garden Tilling

614-935-1466

SOWERS LAW N CARE

Mowing-mulching-trimming

Fall cleanup-614-397-0566

LET US MAINTAIN

YOUR LAWN & GARDEN

FOR YOU

Summer, Spring,

Winter or Fall

WE DO IT ALL!!!!

Lawn Cuts, Edging,

Trees & Shrubs, Garden,

Mulching, Hauling,

Garden Pond &

Home Maint.

Free Ests. Low Rates

$20 & Up

Kevin - 614-905-3117

MOVING

Aaron Allen

Moving

Local Moving since 1956

Bonded and Insured

614-299-6683

614-263-0649

Celebrating

over 60 yrs

in business

PAINTING

A Job Well Done Again

A lic. General Contractor

Some Skilled Services

Incl: Painting • Stucco,

Repair•Carpentry•Exterior

Drainage & Home Maint.

Call Today! 614-235-1819

PLUMBING

All About Drains & Plumb.

Will snake any sm drain

$145. 614-778-2584

Walraven's Plumbing

24/7 Emergency Services

Includes:

Sewer/Drain Cleaning,

Faucet Repairs &

Replacements, Toilets,

Sump Pumps, Disposals

& Water Heaters

10/10

W/GC

Senior Discounts

614-279-5815

Classified Services

9/26 A&M

PEST

CONTROL

TERMITE &

PEST CONTROL

614-367-9000

TORCO®

TERMINATES

TERMITES

Locally Owned & Operated. Any Pest. Anytime.

$

50 00 OFF Service

Expires September July 11, 2021 30, 2021

Free Termite Inspection

PLUMBING

MYERS

PLUMBING

Exp. Expert Plumbing

New Work & Fast Repairs

Lic. - Permit Available

Water • Sewer • Gas

614-633-9694

CHRIS'

PLUMBING

"Plumbing & Drain Professional

That You Can Count On"

24 Hrs., 7 Days/Week

No Overtime Charges

24 Yrs. Exp. in Plumbing &

Drain Cleaning Field

Call For A Free Phone Estimate

$100.00 For Any Small Drain

614-622-4482

30% OFF with AD

ALL IN ONE

PLUMBING LLC

"One Call Does It All"

$25 OFF LABOR

With This Ad

A

614-801-1508

All Major Credit Cards Accepted

POWERWASHING

MRS. POWERWASH

Any house wash $149+tax

Single deck $69+tax

2 Tier deck $99+tax

Best Wash in Town

Over 45,000 washes

Ashley 614-771-3892

Bates & Sons

Soft Wash & Powerwash

5 ★ Google Reviews

614-586-3417

10/10 A

10/10

MDB POWERWASH

We Specialize In Decks.

Clean, stain, reseal,

revitalize any deck.

Quality work at fair prices.

Guarantee All Work 3 Yrs.

25 Yrs Exp. Free Est.

614-327-9425

9/26 A&M

8/1 A

PEST

CONTROL

PLASTERING

DRYW

YWALL &

PLASTER

A&M

REPAIR

10/10

Textured Ceilings

614-551-6963

Residential/Commercial

BIA

INFORMATION

ONLY

$50.00

For This Ad In Our

West & Grove City

For Info Call

272-5422

SEWING MACHINE

REPAIR

REPAIR all makes 24 hr.

service. Clean, oil, adjust

in your home. $49.95 all

work gtd. 614-890-5296

ROOFING

Robinson roofing & repairs

30 yrs. exp. Lifetime Cols.

resident. Lic./bonded/Ins.

Reas rates. Member of

BBB. Dennis Robinson

614-330-3087, 732-3100

TREE SERVICES

Kevin's s Stump

Grinding & More e LLC

Veteran Owned & Insured

Stump, Roots,

Bush Removal

Handyman Services

Provided:

Plumbing & Fixture Repair

Tile Backsplash & more

Kevin Burke

614-325-2649

BURNS TREE SERVICE

Trimming, Removal &

Stump Grinding.

614-584-2164

Brewer & Sons Tree Service

• Tree Removal

• Tree Trimming 9/26

A&M

• Stump Grinding

• Bucket Truck Services

Best Prices • Same Day Service

614-878-2568

2-22 A&M
---
PAGE 16 - GROVE CITY MESSENGER - September 19, 2021

September

26 – Sunday Bible Class 9:30 a.m.: Happiness

September

26 – Sunday Morning 10:30 a.m.: Worship

September

26 – Sunday Evening 6:00 p.m.: Faith

September

27 – Monday Evening 7:00 p.m.: Priorities

September

28 – Tuesday Evening 7:00 p.m.: The Church

September

29 – Wednesday Evening 7:00 p.m.: Pure Religion

Looking for a small,

friendly church experience? Try

First Presbyterian Church

of Grove City

4227 Broadway, Grove City

In-person Worship 10 a.m.

Services will continue on

Facebook Live at 10 a.m. as well

www.fpcgc.org

Free Community Brown Bag Lunch Drive-through

Saturday, September 25th, 11:00 am- 1:00 pm

EMMANUEL LUTHERAN

CHURCH

80 E. Markison Ave., Columbus, OH 43207

elclife.org

SUNDAY WORSHIP SERVICE

8:30 am & 11:00 am

BIBLE CLASS

Adult and Youth (K-5)

9:45 am

*11:00 service includes a radio broadcast

in our parking lot on FM 87.9

Be a Part of Our Local Worship Guide

Our Worship Guide is geared toward celebrating faith and helping reader connect with religious

resources in our community. Make sure these readers know how you can help with a presence in

this very special section distributed to more than 22,000 households in the Southwest area.

Contact us today to secure your spot in our Worship Guide.

614.272.5422 • kathy@columbusmessenger.com

A number of assassin-related films have

come to theaters and streaming platforms

within the last few months, none of which

have been a hit, so to speak, with the viewing

public. This lack of interest from the

populous could be due in part to a desire to

see lighter fare but I think it has more to

do with a general perception that it will be

just like the one that came before it.

While there has never been much variation

within the genre — after all, there are

only so many ways to show how a lone person

with skills can take down a

weaponized horde — it has seemed lately

that writers and directors are not even trying

anymore, relying instead on popular

tropes found within the cinematic assassin

films of yore. Occasionally, these retreads

can click with the audience but there has

to be something new that pulls them in,

something that makes them believe there

is a spark of creative life in a tale that overwhelmingly

deals with death.

The latest film of this type to make an

attempt at bringing something different to

the killing field is "Kate." In this Netflix

original, the creators take that popular

trope of the weary assassin that is determined

to fulfill the mission and spins it

into one where the weary assassin that is

determined to fulfill the mission has but

hours to live. The employment of that plot

device adds a greater sense of urgency to

the narrative but unfortunately the fulfilment

of that creative choice falls a bit short

despite the best efforts of the intriguing

lead.

When "Kate" begins, our skilled assassin

(played by Mary Elizabeth Winstead) is

contemplating retirement. Since her

teenage years, she has been going from

country to country, killing whomever her

handlers want, but lately has found this

way of life to be unfulfilling. When she tells

her main handler Varrick (Woody

Harrelson, collecting a paycheck) her newfound

doubts, he scoffs and tells her he

would give her "two visits to Walmart"

before she changed her mind.

Feeling as if he is right on the mark, she

goes about her latest assignment of picking

off Yakuza members in Tokyo but is unsettled

when forced to kill one while he is in

the presence of his young daughter.

Shaken by the events, Kate is more determined

than ever to get out of her current

line of work but is again drawn back in the

fold with the promise of making one more

hit that would "cut the head off the rest of

the snake."

During her mission to kill Yakuza boss

Kijima (Jun Kunimura), she experiences

sudden fatigue and dizziness and asks for

more time so she can reorient herself. Not

www.columbusmessenger.com

In Entertainment

"Kate" misses the mark

in assassin film genre

The Reel Deal

Dedra Cordle

being granted any

leeway, she takes

the shot, misses and

erratically tries to

drive away to safety

before she can pass

out.

When she wakes

in a hospital 24 hours later, she is

informed that she has been poisoned with

a radioactive material and has less than a

day to live. Though Kate is literally decaying

from the inside out, she rejects the doctor's

offer of a "comfortable death" and

decides she would rather seek vengeance

against those responsible for her condition.

Along the way, she meets the young

daughter of the man she previously killed

and, with her help, sets out to go on one

final mission to avenge her own murder.

Though "Kate" tries its best to become

its own movie, the tendencies of writer

Umair Aleem and director Cedric Nicolas-

Troyan to fall back on well-worn tropes of

action and assassin movies makes it look

like the retread I addressed earlier. While

there are some nice plot deviations and fun

action sequences, the overall film doesn't

necessarily feel fresh or exciting, especially

when overused camera tricks like blood

hitting the lens are employed. It is well

past time directors retire that one, unless,

of course, it's a 3-D horror — those can stay.

One of the most compelling aspects of

this movie is Winstead, who, after playing

The Huntress in "Birds of Prey" is no

stranger to the loner assassin character.

Though Kate is ultimately a ruthless

killing-machine, Winstead plays the part

with some vulnerability, especially when

meeting Ani (Miku Martineau), the young

daughter whose father she killed in the

opening scene. They make an odd quasimentor/quasi-mentee

team but their relationship

is quite underdeveloped, another

unfortunate casualty of the script.

Though "Kate" has many flaws in its

execution of being a trailblazing

action/assassin film, there are enough elements

here that make it mostly watchable.

With its pops of color that pay homage to

the Japanese city, a compelling lead,

moments of humor and engaging fight

scenes, it's a decent, albeit violent, way to

pass some time.

Grade: C-

Dedra Cordle is a Messenger staff

writer and columnist.