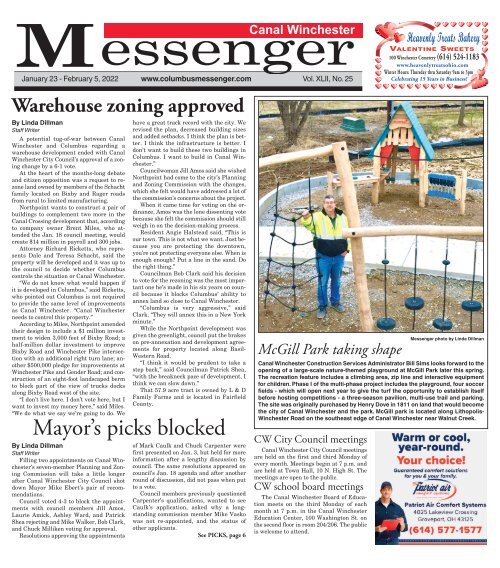 Canal Winchester Messenger - January 23rd, 2022
You also want an ePaper? Increase the reach of your titles
YUMPU automatically turns print PDFs into web optimized ePapers that Google loves.
Messenger

Canal Winchester

January 23 - February 5, 2022 www.columbusmessenger.com Vol. XLII, No. 25

Warehouse zoning approved

By Linda Dillman

Staff Writer

A potential tug-of-war between Canal

Winchester and Columbus regarding a

warehouse development ended with Canal

Winchester City Council's approval of a zoning

change by a 6-1 vote.

At the heart of the months-long debate

and citizen opposition was a request to rezone

land owned by members of the Schacht

family located on Bixby and Rager roads

from rural to limited manufacturing.

Northpoint wants to construct a pair of

buildings to complement two more in the

Canal Crossing development that, according

to company owner Brent Miles, who attended

the Jan. 18 council meeting, would

create $14 million in payroll and 300 jobs.

Attorney Richard Ricketts, who represents

Dale and Teresa Schacht, said the

property will be developed and it was up to

the council to decide whether Columbus

controls the situation or Canal Winchester.

"We do not know what would happen if

it is developed in Columbus," said Ricketts,

who pointed out Columbus is not required

to provide the same level of improvements

as Canal Winchester. "Canal Winchester

needs to control this property."

According to Miles, Northpoint amended

their design to include a $1 million investment

to widen 3,000 feet of Bixby Road; a

half-million dollar investment to improve

Bixby Road and Winchester Pike intersection

with an additional right turn lane; another

$500,000 pledge for improvements at

Winchester Pike and Gender Road; and construction

of an eight-foot landscaped berm

to block part of the view of trucks docks

along Bixby Road west of the site.

"I don't live here. I don't vote here, but I

want to invest my money here," said Miles.

"We do what we say we're going to do. We

have a great track record with the city. We

revised the plan, decreased building sizes

and added setbacks. I think the plan is better.

I think the infrastructure is better. I

don't want to build these two buildings in

Columbus. I want to build in Canal Winchester."

Councilwoman Jill Amos said she wished

Northpoint had come to the city's Planning

and Zoning Commission with the changes,

which she felt would have addressed a lot of

the commission's concerns about the project.

When it came time for voting on the ordinance,

Amos was the lone dissenting vote

because she felt the commission should still

weigh in on the decision-making process.

Resident Angie Halstead said, "This is

our town. This is not what we want. Just because

you are protecting the downtown,

you're not protecting everyone else. When is

enough enough? Put a line in the sand. Do

the right thing."

Councilman Bob Clark said his decision

to vote for the rezoning was the most important

one he's made in his six years on council

because it blocks Columbus' ability to

annex land so close to Canal Winchester.

"Columbus is very aggressive," said

Clark. "They will annex this in a New York

minute."

While the Northpoint development was

given the greenlight, council put the brakes

on pre-annexation and development agreements

for property located along Basil-

Western Road.

"I think it would be prudent to take a

step back," said Councilman Patrick Shea,

"with the breakneck pace of development, I

think we can slow down."

That 57.9 acre tract is owned by L & D

Family Farms and is located in Fairfield

County.

Mayor's picks blocked

By Linda Dillman

Staff Writer

Filling two appointments on Canal Winchester's

seven-member Planning and Zoning

Commission will take a little longer

after Canal Winchester City Council shot

down Mayor Mike Ebert's pair of recommendations.

Council voted 4-3 to block the appointments

with council members Jill Amos,

Laurie Amick, Ashley Ward, and Patrick

Shea rejecting and Mike Walker, Bob Clark,

and Chuck Milliken voting for approval.

Resolutions approving the appointments

of Mark Caulk and Chuck Carpenter were

first presented on Jan. 3, but held for more

information after a lengthy discussion by

council. The same resolutions appeared on

council's Jan. 18 agenda and after another

round of discussion, did not pass when put

to a vote.

Council members previously questioned

Carpenter's qualifications, wanted to see

Caulk's application, asked why a longstanding

commission member Mike Vasko

was not re-appointed, and the status of

other applicants.

See PICKS, page 6

McGill Park taking shape

Heavenly Treats Bakery

VALENTINE SWEETS

100 Winchester Cemetery (614) 524-1183

www.heavenlytreatsohio.com

Winter Hours: Thursday thru Saturday 9am to 3pm

Celebrating 15 Years in Business!

Messenger photo by Linda Dillman

Canal Winchester Construction Services Administrator Bill Sims looks forward to the

opening of a large-scale nature-themed playground at McGill Park later this spring.

The recreation feature includes a climbing area, zip line and interactive equipment

for children. Phase I of the multi-phase project includes the playground, four soccer

fields - which will open next year to give the turf the opportunity to establish itself

before hosting competitions - a three-season pavilion, multi-use trail and parking.

The site was originally purchased by Henry Dove in 1811 on land that would become

the city of Canal Winchester and the park. McGill park is located along Lithopolis-

Winchester Road on the southeast edge of Canal Winchester near Walnut Creek.

CW City Council meetings

Canal Winchester City Council meetings

are held on the first and third Monday of

every month. Meetings begin at 7 p.m. and

are held at Town Hall, 10 N. High St. The

meetings are open to the public.

CW school board meetings

The Canal Winchester Board of Education

meets on the third Monday of each

month at 7 p.m. in the Canal Winchester

Education Center, 100 Washington St. on

the second floor in room 204/206. The public

is welcome to attend.
---
PAGE 2 - MESSENGER - January 23, 2022

www.columbusmessenger.com

Active Lifestyles

A bi-monthly feature celebrating our

community's senior citizens

PAID ADVERTISING

Be confident in your coverage

Medicare's Annual Enrollment Period (AEP)

2022 is officially over. But you still can enroll

into a Medicare Advantage Plan that has a 5-star

plan rating!

My name is Terri Curcio, I live in Franklin

County, and have over 15 years' experience in

working with Medicare. You are welcome to contact

me directly at 614-460-0601 or email me at

TERRILCURCIO@GMAIL.COM.

We can have a virtual meeting, a face to face

or I'll mail plan information to your attention for

review. I am not an operator in a call center – you

are welcome to call anytime during the year with

arthritis and exercise

questions. Also, if you qualify, we can complete

the paperwork for Low Income Subsidy (LIS),

which is advertised on the TV as a way to pay for

your monthly premium. I work with the major

insurance carriers in Central Ohio, not just one or

two plans. Select the plan that benefits you for

the coming year, lowest possible copays for service

and medications. Some of the plan options

include dental, vision and fitness programs. $0

cost for my consultation and enrollment services.

You need to be confident in the plan you

select for your coverage!

Exercise can be beneficial in the treatment

of arthritis, say many doctors.

Physical activity can reduce stiffness

and increase muscle strength and flexibility.

Three types of exercise are most appropriate

for those who have arthritis:

•Strength training.

•Range of motion exercises.

•Aerobic activities.
---
www.columbusmessenger.com

Active Lifestyles

January 23, 2022 - MESSENGER - PAGE 3

Franklin County Board of Commissioners: President Kevin L. Boyce • Commissioner John O'Grady, and Commissioner Erica C. Crawley

The Franklin County Board of Commissioners and The Franklin County Office on Aging join with the Messenger Newspaper in providing this update on aging issues in Franklin County.

Are you prepared to age in place?

The phrase "aging in place" refers to a person who wants to live in a

familiar environment, often their own home, as they continue to age,

for as long as possible.

According to the "Home and Community Preferences Survey"

conducted by AARP in November 2021, "77 percent of adults 50 and

older want to remain in their homes for the long term," a number that

is bound to increase as the aging population grows in the coming

decades. Although people would think that aging in place is the simpler

option, there are many aspects of living that must be reevaluated, and

questions that need to be answered. Fortunately, the Franklin County

Office on Aging is here to support older adults and their families as

discussions begin and services need to be put in place.

Is the home structurally ready for an older adult to age in place?

An article written by Seniors at Home, a division of Jewish Family and

Children's Services, suggest that every family have a safety checklist

to help decrease the likelihood of injuries in the home. Seniors at Home

created a safety checklist of their own which includes "checking the

floors for electrical cords, securing all rugs, cleaning out the medicine

cabinets, setting up a medical alert system, putting in bathmats into the

bathtub and shower, checking smoke and carbon monoxide detectors,

and ensuring there are handrails by all sets of stairs".

Additional safety precautions include making sure outside stairs

leading in and out of the home are accompanied by handrails, or having

a ramp added so stairs are avoided completely. Replace dim light bulbs

for brighter ones to make areas in the home more visible to avoid falls.

Make sure, if possible, that an older adult has everything they need on

one level of the home such as access to the kitchen and bathroom.

Making these safety adjustments will let an older adult maintain their

mobility and independence for as long as possible.

social outings at senior events, older adults appreciate having the

ability to leave their homes. Fortunately, there are many other forms of

transportation if a family member is unable to transport the older adult,

but families need to find transportation that is accessible and safe.

Does the older adult have a trusted caregiver? As a person ages,

their body's ability to see, hear, move, and even think become affected.

Having someone who can pay bills on behalf of the older adult, make

medical decisions, and handle other personal matters, will be vital.

Make sure to choose a caregiver that knows your life wishes and has

your best interest at heart. Never choose a person you just met, or don't

trust, to handle your finances or medical choices. If no immediate

family is around, choose a friend, neighbor, or another individual you

feel confident will not misuse finances or make medical choices that

don't align with your morals and values.

Aging in place has become more popular throughout the years, and

across the nation there are aging resources available for those who are

in need, or just to gain advice on where to begin. Here in Franklin

County, Senior Options, a program administered by the Franklin

County Office on Aging and funded through the Senior Services Levy,

provides resources to older adults and their families which assists them

in the aging in place process. This program provides numerous services

such as minor home repair, medical transportation, home delivered

meals, respite care and so much more. If you are interested in aging in

place and need assistance doing so, please contact Senior Options at

614-525-6200.

Is transportation accessible? Everyone is on the go, and older adults

are no exception. From doctors' appointments to grocery store runs, to
---
PAGE 4 - MESSENGER - January 23, 2022

www.columbusmessenger.com

Hamilton Township High School alumni give back

By Linda Dillman

Staff Writer

Time and distance do not stop Hamilton Township High

School graduates from giving back and the latest round of

Alumni Association donations are benefitting students of

all ages throughout the district.

On Jan. 13, Hamilton Township High School Alumni

Association treasurer, Karen Cook, made the rounds of

three buildings–the elementary, intermediate and middle

school–to distribute $250 Vince Payne Classroom Grant

checks to a teacher in each building.

The grants, much like the association's Elmo Kallner

Scholarship Award and the George Cole Library Fund

projects, are entirely funded by alumni donations.

"Our membership is most generous and donate to our

different funds each year," said Cook. "HTHS graduates

believe in giving back because they want to help students

like they were helped when they were in school."

Late last year teachers were invited to submit a proposal

for the grants for funding of a special project or classroom

need. In the past, award-winning projects included a

video camera, veteran ceremony, special seating, and specialized

camera supplies.

"We want to honor at least one teacher in each of the

buildings by backing them as best as we can," said Cook,

who was a music teacher and said she was well aware of

the money instructors spend out their own pocket on their

classrooms. "We named this grant in memory of former

public relations director Vince Payne who sadly passed

away last year. Vince was always there to help alumni,

"Our membership is most generous and

donate to our different funds each year. HTHS

graduates believe in giving back because they

want to help students like they were helped

when they were in school."

- Karen Cook, treasurer

HTHS Alumni Association

teachers, and kids in any way he could. This grant program

honors him in honoring teachers and students."

At the elementary school, kindergarten teacher Cara

Downerd was selected for her sensory path project, which

will be installed in a hallway later this year. The path is a

series of movements identified on the floor and wall than

can be used by students to re-focus, take a break, or work

off excess energy while developing gross motor skills.

"It can be used by an individual student, a group of students,

or the whole class," said Downerd. "It can be especially

helpful for students who experience frustration,

anger or other sensory overloads. Academics can also be

incorporated with the sensory path."

Intermediate English Language Arts fifth grade teacher

Brittany Smith is using her grant to create a t-shirt design

and sale for an upcoming Purple Star project in support of

military families.

"The proceeds from the sale will be used in part to begin

financing a military memorial in front of the administration

building," said Smith. "The district recently established

a Purple Star Committee that represents every

building in the district. Purple Star schools acknowledge

and support students and families connected to our

nation's military."

Seventh grade middle school teachers Cole Freshkorn

and Jenna Berry are collaborating on turning a storage

cabinet into a 'comfort closet' consisting of snacks and

hygiene supplies for students to take when they are in

need.

"Many of our students come to us every day without

various resources that they need to be successful," said

Freshkorn. "With our care closet idea, students will have

the opportunity to take what they need such as toothpaste,

toothbrushes, deodorant, body wash, female hygiene products,

as well as various snacks/food they might not have

access to at home."

At the high school, science teacher and Army combat veteran

Corey O'Brien wants to purchase military-related items

such as branch insignias for the school's spring Military

Signing Event, flags, and a specialized military themed jersey

to honor two Hamilton graduates killed in action.

O'Brien is also the school's Purple Star liaison and was

deployed to Kuwait in 2003 and Iraq in 2004-05.

"We held our first Military Signing Event last spring

and plan on making it a yearly tradition to show how

proud we are of our students who are willing to make such

a selfless sacrifice in service to our nation," said O'Brien.

"We want to give our future military members the same

type of recognition as we do our student athletes that commit

to play a sport in college."

(See photos of the recipients online at columbusmessenger.com.

Look under South News.)

Serving Your Community

Malek &

ATTORNEYS AT LAW Malek

Proudly Announcing

Adding New Attorneys

To Serve You!

WORKERS'

COMPENSATION

PERSONAL INJURY

WRONGFUL DEATH

SLIP & FALL INJURY

DOG BITE INJURY

Since 1972

Douglas, Ed, Jim

and Kip Malek

"Hablamos Español"

FREE Initial Consultation

www.maleklawfirm.com

614-444-7440

1227 S. High St., Columbus, OH 43206

Bugs and Birds Up Close

The Bugs & Birds Up Close Photography Exhibition

is at the Grange Insurance Audubon Center 505 W.

Whittier St., Columbus, through March 13.

The exhibit features the work of photographers

Richard Schnuerer and David Greenberg.

Schnuerer's work includes 20-plus pieces showcasing

Ohio raptors, including hawks, owls, eagles and

osprey. Learn how the eagle has made a significant

comeback in Ohio from only four nesting pairs in 1979

to 700-plus nests in 2020.

A special feature of the snowy owl "Hedwig," who

visited the Delaware area last winter and became

quite the celebrity, is also included. In addition to the

raptors, an exhibit of ruby-throated hummingbirds

will also be included to tell the story of these tiny birds

and their journey to Ohio and the Grange Insurance

Audubon Center.

On the creepy side of things, the exhibition will

include 20-plus photographs by Greenberg, who presents

mostly insects but also includes spiders, millipedes,

and other multi-legged, chitin-encased creatures,

some flying, some eating (or being eaten), or just

staring at you suspiciously from their faceted, buggy

eyes. These creatures live on land, on water, and in the

air and they are extraordinarily important to human

beings.

Greenberg's work also includes bees, among the

most valuable and most important creatures on earth

because much of what we eat depends on their efforts.

His spiders may look scary, and although they can

sting if provoked, he reminds viewers that spiders are

infinitely less harmful than mosquitoes or ticks,

because they do not carry diseases, and they eat harmful

insects. He also includes beautiful butterflies,

interesting moths, and a number of other multilegged

fellow inhabitants of our planet in his exhibition photos.

Yost asks FCC to help stop scams

Ohio Attorney General Dave Yost urged the Federal

Communications Commission to help stop the flood of

foreign-based illegal robocalls that attempt to scam

Americans.

A letter sent Yost and a bipartisan group of 51

attorneys general calls for the FCC to require gateway

providers — the companies that allow foreign calls into

the United States — to take steps to reduce how easily

robocalls have been able to enter the U.S. telephone

network, including implementing STIR/SHAKEN, a

caller ID authentication technology that helps prevent

spoofed calls.

Gateway providers should be required to implement

this technology within 30 days of it becoming a rule to

help eliminate spoofed calls and to make sure that

international calls that originate from U.S. telephone

numbers are legitimate. In December, Yost and a coalition

of 51 attorneys general successfully helped to persuade

the FCC to shorten by a year the deadline for

smaller telephone companies to implement

STIR/SHAKEN.

The attorneys general are asking the FCC to

require these gateway providers to take additional

measures to reduce robocalls, including:

•Responding to requests from law enforcement,

state attorneys general, or the FCC to trace back calls

within 24 hours.

•Blocking calls when providers are aware of an illegal

or likely fraudulent caller.

•Blocking calls that originate from numbers that

are on a "do not originate" list — such as government

phone numbers that are for incoming calls only.

•Ensuring that foreign telephone companies they

partner with are ensuring that calls are being made

from legitimate numbers.

The attorneys general encourage the FCC to require

all phone companies to block calls from a gateway

provider if it fails to meet these requirements.
---
www.columbusmessenger.com

Downtown CW

Our Pictorial Past by Rick Palsgrove

This is a view of the southwest corner of High and Waterloo streets in Canal Winchester

as it looked in the early 20th century. Note the people posed in the second

story windows. These buildings are still in use by businesses today.

Arrest results in officer

injury and cruiser damage

In the early morning hours of Dec. 27, ,

a Madison Township Police officer was injured

and a cruiser was damaged by a combative

suspect at a Madison Township

residence.

Officers were called to the scene of an individual

who was the subject of a 911 call.

After investigation, the suspect resisted arrest

and allegedly caused the injury of a

Madison Township officer. That officer was

treated at a local hospital and returned to

work the next day.

According to a press release from the

Madison Township Police Department, due

to the quick response of Madison Township

Police officers, the actions of the individual

were neutralized and the suspect was secured

in the cruiser. Officers used their

training and responded well in the stressful

and dangerous circumstances.

"Thankfully Sgt. Gamblin recognized the

danger signs and called for assistance from

Franklin County Sheriff's Deputies," said

Madison Township Police Chief Gary York.

"Otherwise, this situation might have escalated

and turned much worse. The Madison

Township Police Department has an excellent

working relationship with the Franklin

County Sheriff's Office and appreciates

their assistance during this arrest."

eastside

Messenger

(Distribution: 6,500)

Rick Palsgrove........................Canal Winchester Editor

eastside@ columbusmessenger.com

Published every other Sunday by

The Columbus Messenger Co.

3500 Sullivant Ave., Columbus, Ohio 43204-1887

(614) 272-5422

During the arrest, the suspect also allegedly

caused damage to the interior and

exterior of the Madison Township cruiser.

The damaged vehicle has been taken out of

service for repairs, which are estimated to

exceed $6,100.

"Unfortunately, this situation serves as

a grim reminder of the risk and challenges

police officers face on a daily basis. I am extremely

thankful that everyone involved is

okay," said York.

Township Police statistics

December crime statistics from the Madison

Township Police: 3 accidents with injuries,

6 animal complaints, 3 assaults, 73

Brobst Park, 3 burglary, 21 domestic complaints,

7 drunk, 2 fireworks complaints, 10

hit skip accidents, 11 juvenile complaints, 12

larceny/theft, 3 missing persons, 56 parking

violations, 2 person with gun, 20 property

damage accidents, 5 shots fired in area, 5

suspicious cars, 27 suspicious persons, 21

suspicious persons/vehicles, 9 threats or harassment,

104 traffic stops, and 5 vandalism.

Valentines for Veterans

Spread the love and brighten a veteran's

day with a Valentine's Day card. Visit

Groveport Town Hall, 648 Main St., Groveport,

before Feb. 14 to drop off or design a

Valentine's Day card to mail to the Chillicothe

VA Medical Center. For information

call 614-836-3333.

Keep tabs on the news

in Canal Winchester

Look for CW Messenger on

Become a fan!

January 23, 2022 - MESSENGER - PAGE 5

Messenger

Canal Winchester

READ US ONLINE: www.columbusmessenger.com

Valentine's Show

Mike Albert

&

The Big E Band

Tickets - $ 56.00

(Includes dinner)

Sat., February 12th

Villa Milano - 1630 Schrock Rd.

Doors Open - 5:30pm | Dinner - 6:30pm

Show -7:30pm

CALL FOR TICKETS

(614) 792-3135

Pick-Up At These

Locations:

Walgreen's - Gender & Winchester Blvd.

BP Gas Station - Gender Rd. & Freeway

Aldi - Gender Rd. & Freeway (behind BP Station)

Kroger - Winchester Square

Frances Steube Senior Center - 22 S. Trine St.

The Wigwam Restaurant - 4 South High St.

Shade on the Canal - 19 South High St.

Canal Winchester Library - 115 Franklin St.

Canal Winchester Municipal - 36 South High St.

Canal Winchester School Adm. - 100 Washington St.

Fairfield Co. Sheriff - NW Corner N. High & Waterloo

Harvest Moon - 7 N. High St.

Rex Barber Shop - 1 W. Waterloo

Sunoco Gas Station - 501 W. Waterloo St.

Panera - 685 W. Waterloo St.

Schirm Farm Apts. - 6340 Saddler Way
---
PAGE 6 - MESSENGER - January 23, 2022

www.columbusmessenger.com

Plans for CW's Comprehensive Plan are underway

Science: Let's React

Celebrate African American achievements

in science at The Canal Winchester

Branch of the Columbus Metropolitan Library,

115 Franklin St., Canal Winchester

on Feb. 5 at 2 p.m.

Discover brilliant scientists while conducting

experiments. For ages 5-11.

For information visit www.columbuslibrary.org

or call 614-645-2275.

By Linda Dillman

Staff Writer

A guideline created more than two

decades ago to shepherd growth in Canal

Winchester is getting an update as the city

starts to create a new Comprehensive Plan.

Canal Winchester Development Director

Lucas Haire said the city decided to approach

the topic of the plan based on continued

growth pressures. The last plan was

adopted in 1999. While there was an attempt

to update that plan in 2005, the council

chose not to do so in 2007.

"Many of the residential and commercial

areas approved more than 20 years ago are

now nearing final build-out and the city is

seeing interest in new annexations and rezoning

requests," said Haire. "Having an upto-date

comprehensive plan in place with

help guide the planning and zoning commission

and city council as they evaluate the future

development of our community."

A request for proposal for the comprehensive

plan was issued by the city with responses

due Jan. 3. A committee comprised

of residents, council members, and city employees

was assembled to evaluate the proposals

and recommend a consultant.

While establishing a vision for the community

based on core values determined

through the planning process, the plan addresses

the balance of land use with location,

design character, and density in

undeveloped and potential re-development

areas.

The plan also considers the interconnection

among land uses, the build environment,

socioeconomic environment, and the

natural environment. This comprehensive

plan will then be used to guide elected officials'

decisions for the next 10 to 20 years.

CW Council work sessions

Canal Winchester City Council meets in

work session at 6 p.m. prior to each city

council meeting to discuss legislative items

and other issues of the city prior to being included

on a city council agenda. Council

work session consists of all members of

council with the vice-president serving as

chair. The work sessions are divided into

two areas of focus. The first work session of

Elements of the plan as outlined by the

city include citizen participation, demographics

and socioeconomics and their impact,

existing land use within the city, and

surrounding communities and community

character.

Housing and neighborhood elements provide

an opportunity to set policy direction

related to the range of housing products offered

in Canal Winchester. Transportation

will be evaluated as well and build upon the

city's transportation plan.

The plan will also integrate existing

parks and open spaces, trail connectivity,

accessibility along with natural areas and

open spaces, and address governmental

services and infrastructure.

As written in the request for proposal,

"The city considers citizen input essential.

The Comprehensive Plan process shall be

structured to maximize citizen involvement

the month focuses on finance/economic development

items and the second monthly

work session focuses on service/safety items.

While each work session includes specific

areas of focus, other items may be brought

before council as needed. Council work sessions

are open to the public.

We Love Our Veterans

Groveport Town Hall, 648 Main St.,

Groveport, will host the We Love Our Veterans

exhibit from Feb. 1 to March 25. The

city of Groveport is recognizing honorably

discharged military veterans from all

branches of service who reside in Franklin

County.

Motts Military Museum has provided

five cases that will be on display from the

and participation. Participation of citizens,

developers, landowners, business owners,

appointed and elected officials, and other

stakeholders throughout the community is

paramount to success of the Comprehensive

Plan. Community well-being shall be incorporated

into all aspects of the plan; how will

recommendations enhance the well-being of

our community?"

According to Haire, there will be in-person

meetings, surveys, a comprehensive

plan specific website, and other tools that

will allow the community to engage and provide

input into the planning process.

"I would anticipate the city entering into

a contract after city council approval in late

March," said Haire. "The city has budgeted

$225,000 for the project in 2022."

Consultant proposals will determine a

timeline.

Civil War through the Vietnam War.

If you have any items, pictures, and/or

stories that you would like to display in the

exhibit, contact the Groveport Community

Affairs Department at 614-836-3333. Items

must be received by Jan. 28 before 4:30 p.m.

Items can be retrieved after the exhibit ends

on March 28.

Barber Museum

The National Barber Museum in Canal

Winchester is located at 135 Franklin St.

(behind the former CW High School building).

The museum, housed in approximately

5,000 square feet, showcases art, artifacts,

and memorabilia from decades of the barbering

profession. For information call(614)

837-8400.

PICKS

Continued from page 1

"I went to the mayor and asked what can

I do to help?" said Carpenter during the

Jan. 18 meeting. "The mayor asked if I'd

like to help on this commission. I run into a

roadblock and I don't know why."

Amos said council asked that other commission

applicants be contacted regarding

the appointments. She said she reached out

to some of them and was told no one approached

them following the Jan. 3 meeting.

"We are in a crisis situation. I need to

have faith in them when we make a decision,"

said Amos, who felt more qualified

candidates, including Vasko, were overlooked.

"Our asks at the last meeting were

very specific and those were not answered."

She said her personal review of the list

of applicants was done by redacting names

so she could eliminate outside influences.

According to the city charter, commission

members are appointed by the mayor, but

confirmed by the council. They serve for

overlapping four year terms of office.

The commission is charged with hearing

appeals from administrative officers and

employees with respect to zoning, platting,

subdivision, building and other regulations

pertaining to land uses.

Ebert responded to Amos' statements by

saying that he followed all of the rules as set

in the charter– including the only qualification

that you must be a resident of the

municipality to serve on a city commission.

There is no requirement to have experience

within a commission's area of concern.

"You had the opportunity to change that

in the charter last year," said Ebert. "He's

(Carpenter) the only one of all the applicants

that came in and talked with Luke

(Haire) and Andrew (Moore)."

Clark, who voted for the resolutions, said

there are plenty of commission members

who did not have previous experience in

areas of planning or zoning before joining

the commission, but are now doing a good

job.

"The mayor has the prerogative to do

what he wants," said Clark, who felt they

were "putting the community in peril" by

not filling the appointments.

Walker echoed Clark's comments by saying

it is Ebert's decision to make and he has

done so. He felt Ebert is "perfectly capable

of picking someone for planning and zoning."
---
www.columbusmessenger.com

January 23, 2022 - MESSENGER - PAGE 7
---
PAGE 8 - MESSENGER - January 23, 2022

Obetz Ice Rink

The Obetz Ice Rink, 4390 Lancaster Avenue, is open for the

season from 5-8 p.m. on weekdays and 11 a.m. to 7 p.m. on weekends.

Admission is free for residents. Non-residents must purchase

a $5 day pass.

You must bring proof of residency (ID, Obetz water bill, or

recent paystub with Obetz income tax) with you on your first visit.

Minors must have a parent/guardian sign a waiver on their first

visit. On any given day, the rink may shut down due to weather to

preserve the integrity of the ice. This will be at the staff member's

discretion and can happen before or during a skating session. All

closures or delays will be posted to the Obetz Facebook page as

soon as possible. For information visit obetz.oh.us.

Prepare for unexpected

power outages with a

Generac home standby

generator

REQUEST A FREE QUOTE!

866-643-0438

FREE

7-Year Extended Warranty*

A $695 Value!

Limited Time Offer - Call for Details

Special Financing Available

Subject to Credit Approval

Be a Part of Our

Local Worship Guide

Our upcoming Worship Guide is geared toward

celebrating faith and helping readers connect with

religious resources in our community. Make sure these

readers know how you can help with a presence in this

very special section distributed to more than 20,000

households in the South area.

The cost is $20 per issue. (must run twice)

Contact us today to secure your spot in Worship Guide.

614.272.5422 • kathy@columbusmessenger.com

Messenger

South

*To qualify, consumers must request a quote, purchase,

install and activate the generator with a participating dealer.

Call for a full list of terms and conditions.

A FREE ESTIMATE

15 10 5

YOUR ENTIRE

PURCHASE *

% % %

OFF + OFF + OFF

1-855-595-2102

SENIOR & MILITARY

DISCOUNTS

YEAR-ROUND

CLOG-FREE GUARANTEE

TO THE FIRST

50 CALLERS! **

| Promo Number: 285

www.columbusmessenger.com

"Scream" fans are dying for more creativity

A little over two decades have passed since the

influential horror franchise known as "Scream" was

introduced into the pop culture lexicon and I can still

recall watching the original for the first time. There

was a buzz that rippled through the audience as the

lights dimmed, every individual eager for the start of

this new horror flick that promised something new,

something different from this stale genre.

All eyes were glued to the screen as the now iconic

opening sequence unfolded.

This was quickly followed by gasps and genuine

shrieks as we watched Drew Barrymore's character

being stalked and chased throughout her home by a

slippery would-be killer wearing a black hood cloaked

around a vividly white mask with an open mouthed

expression.

Those sounds of alarm in the audience turned into

shocked silence as Casey Becker met her tragic fate —

and just feet away from her unsuspecting parents, no

less.

The film, directed by Wes Craven and written by

Kevin Williamson, gave the audience a little time to

adjust between acts but by that point most of them

were on their feet, screaming and cheering not because

they were little psychos (they could have turned out

that way in the future, but that is neither here nor

there) but because it delivered on that promise of

something new, something difference.

We knew we were in for a real treat — a movie in

which no one, not even the beloved star who received

top billing — was safe from the Ghostface killer.

From that moment, this film established itself as

one not to be trifled with, one not afraid to break horror

rules, to make their own, and to break them again

in a cheeky, meta way that pokes fun at the genre and,

by proxy, itself.

Though the expectation at the time in 1996 was not

to kick-start a franchise, its popularity demanded it

and throughout the years "Scream" has become one of

the horror genre's most recognizable and influential

properties.

One reason why this franchise remains relevant is

because of how immersive it is, and I'm not just talking

about the theatrical experience.

At the heart of these films are the 'whodunnit' mystery:

Who is the person (or persons) wearing the

Ghostface mask and why are they killing people?

There's always a motive (however stupid and senseless)

and it offers clues and red herrings along the way

for you to solve.

Though some of the shine surrounding the franchise

has worn off, it is always a treat to experience a

new one.

That tradition continues with its latest installment,

"Scream," though to a lesser extent than the previous

films.

(And yes, this new film pokes fun at why it is borrowing

its title from the original.)

This "Scream" is the first to be written and/or

directed by someone other than Kevin Williamson and

the late Wes Craven. Picking up the torch for the franchise

are directors Matt Bettinelli-Olpin and Tyler

Gillett working from a script by Guy Busick and James

Vanderbilt.

Their vision for "Scream" follows much of the path

laid by their predecessors a la commentary on the new

wave of horror and more pointed commentary on the

toxicity within fandoms but they were not as capable

entertainment

as Craven at creating tensionfilled

atmospheres, which is kind

of a staple in this franchise.

The opening of this movie is an

homage to the iconic sequence in

the original. A teenaged Tara

Carpenter (Jenna Ortega) is home

alone, waiting for a friend to

arrive when the landline rings.

Ignoring it at first, she eventually

picks up, only to be sucked into a

conversation with a silky voiced

person who wants to know her favorite horror movie.

Having grown up in the town of Woodsboro, Tara said

she despises slashers and is into "elevated horror." If

the other person on the line, who is most definitely

Ghostface, didn't want to kill her then, he does now

with that "elevated horror" quip.

With advanced technology at his disposal,

Ghostface proceeds to terrorize Tara by hacking into

the security system and unlocking the doors. It's a bit

of genius made duller by the trailers giving it away.

Unlike Casey Becker, Tara Carpenter survives her

encounter with the slippery serial killer and is left to

figure out why someone would want to kill her. At first,

there doesn't seem to be a reason but then her

estranged older sister Sam (Melissa Barrera) rolls into

town with a deep, dark secret to explain why she may

have been targeted.

Wanting to get to the bottom of who is behind the

attack, Sam seeks the counsel of the now retired

Dewey Riley (David Arquette) and new horror film

rules aficionado Mindy Meeks-Martin (Jasmin Savoy

Brown) to try to solve the mystery. Their advice?

Everyone, including the sister who was attacked, is a

suspect.

With a mostly new cast of characters sharing similar

personality traits, it is the old crew who largely

steal the show, especially when Dewey makes the decision

to call Sidney Prescott (Neve Campbell) about the

return of Ghostface but text his ex-wife Gale Weathers

(Courtney Cox) the news.

They are equally hilarious and resigned to their fate

— none more so than Dewey, who is ready for it all to

be over with.

Much like its predecessors, "Scream" goes off the

walls in final acts but it also loses some of its beating

heart and wicked humor along the way there. While

great points are made about people taking their love

for "something sacred" too far, it begins to feel too

repetitive and thus makes you feel like Dewey — sometimes

amused by the things that are going on, but ultimately

wanting it to end.

Like the film so aptly points out, sequels are difficult

to do well and it is hard to both expand upon the

established story and keep things fresh.

For the most part, this "Scream" manages to do just

that but it would have been great to see a little more

creativity within.

Grade: B-

The Reel Deal

Dedra

Cordle

Dedra Cordle is a Messenger staff writer and columnist.
---
www.columbusmessenger.com

January 23, 2022 - MESSENGER - PAGE 9

Let it snow!

Messenger photo by Pat Donahue

The first heavy snowfall in January and a day off from school was a great time to take advantage of the

sledding hill at Fortress Obetz.

CLASSIFIED ADS

Deadlines: Groveport and West editions, Wednesdays at 5 p.m., • South/Canal Winchester, Grove City, Madison editions, Tuesdays at 5 p.m.

All editions by phone, Tuesdays at 5 p.m. • Service Directory, Tuesdays at 5 p.m.

ASSOCIATION ADS

DENTAL INSURANCE

from Physicians Mutual

Insurance Company.

Coverage for 350 plus

procedures. Real dental

insurance - NOT just a

discount plan. Do not wait!

Call now! Get your FREE

Dental Information Kit with

all the details! 1-877-553-

1891

www.dental50plus.com/

macnet#6258

!!OLD GUITARS WANT-

ED!! GIBSON, FENDER,

MARTIN, Etc. 1930's to

1980's. TOP DOLLAR

PAID. CALL TOLL FREE

1-866-433-8277

Business Owners.

Eliminate credit card

processing fees 100%,

pass on a legal 4% noncash

charge to the

customer. Chain stores

welcome. 337-849-8083

The bathroom of your

dreams for as little as

$149/month! BCI Bath &

Shower. Many options

available. Quality

materials & professional

installation. Senior &

Military Discounts

Available. Limited Time

Offer - FREE virtual inhome

consultation now

and SAVE 15%! Call

Today! 1-877-540-2780

HOME BREAK-INS take

less than 60 SECONDS.

Don't wait! Protect your

family, your home, your

assets NOW for as little as

70¢ a day! Call 866-409-

0308

ASSOCIATION ADS

Aloe Care Health, medical

alert system. The most

advanced medical alert

product on the market.

Voice-activated! No wi-fi

needed! Special offer-call

and mention offer code

CARE20 to get $20 off

Mobile Companion. Call

today-1-877-728-4065

Wesley Financial Group,

LLC Timeshare Cancellation

Experts Over

$50,000,000 in timeshare

debt & fees cancelled in

2019. Get free

informational package &

learn how to get rid of

your timeshare! Free

consultations. Over 450

positive reviews. 888-965-

0363

Become a Published

Author. We want to Read

Your Book! Dorrance

Publishing Trusted by

Authors Since 1920

Consultation, Production,

Promotion and Distribution.

Call for Free Author's Guide

1-833-719-3029 or visit

http://dorranceinfo.com/acp

Stroke & Cardiovascular

disease are leading

causes of death according

the AHA. Screenings can

provide peace of mind or

early detection! Call Life

Line Screening to

schedule a screening.

Special offer 5 screenings

for $149.. 1-833-549-4540

LONG DISTANCE MOVING:

Call Today for a FREE

QUOTE from America's Most

Trusted Interstate Movers.

Let us take the stress out of

moving! Call now to speak to

one of our Quality Relocation

Specialists: 877-541-6320

xCome & Get It!

.

COME AND GET IT

Deadlines are Tuesdays by 5 pm.

Call For Publication Schedule 614-272-5422

Need to Get Rid of Something Fast - Advertise It Here For FREE!

FREE Garden Straw for gardens or bedding. Call for appointment for pickup.

Circle S Farms, 9015 London-Groveport Road, Grove City, 43123

Grove City - 614-878-7980

WOOD from two trees that we cut down two years ago. FREE.

Call me and let me know when you canp ick it up.

TH - Canal Winchester - 614-949-8963

Come and Get It! is a bi-weekly column that offers readers an opportunity to pass

along surplus building materials, furniture, electronic equipment, crafts, supplies,

appliances, plants or household goods to anybody who will come and get them - as

long as they're FREE. NO PETS! Just send us a brief note describing what you want to

get rid of, along with your name, address and phone number. Nonprofit organizations

are welcome to submit requests for donations of items.

Send information to The Columbus Messenger, Attention: Come and Get It, 3500

Sullivant Ave., Columbus, OH43204. Deadline is Tuesdays by 5 pm for following

Mondays publication. Messenger Newspapers is not responsible for any

complications that may occur. Please contact us when items are gone. 272-5422

Come & Get It!

ASSOCIATION ADS ASSOCIATION ADS ASSOCIATION ADS

Internet &WIFI Starts at

$49 Call us Today to Get

Started. Find High-Speed

Internet with Fiber Optic

Technology No Credit

Check, No SSN Required.

Call us Today 866-396-

0515

HughesNet - Finally, superfast

internet no matter

where you live. 25 Mbps

just $59.99/mo! Unlimited

Data is Here. Stream

Video. Bundle TV &

Internet. Free Installation.

Call 866-499-0141

Looking for assisted living,

memory care, or

independent living? A

Place for Mom simplifies

the process of finding

senior living at no cost to

your family. Call 1-833-

386-1995 today!
---
PAGE 10 - MESSENGER - January 23, 2022

www.columbusmessenger.com

CLASSIFIED ADS

Deadlines: Groveport and West editions, Wednesdays at 5 p.m., • South/Canal Winchester, Grove City, Madison editions, Tuesdays at 5 p.m.

All editions by phone, Tuesdays at 5 p.m. • Service Directory, Tuesdays at 5 p.m.

xEmployment

NOW HIRING BUS DRIVERS

$19.00 an Hour

CDL Drivers get $2,000 Sign On Bonus

Non-CDL $1,000 Sign On Bonus

Paid Training

Apply @ 4400 Marketing Pl., Groveport (Door 16) or http://careers.nellc.com/

614-836-4962

NOW

HIRING

All Shifts

Apply in person at

3301 Toy Rd., Groveport, OH

or online at

skfoodgroup.com

Rates starting at $15 up to $30/hr.

Depending on skillset

Come Join Our Team!

"HELP WANTED"

SIGN

NOT WORKING?

TO ADVER

VERTISE

Call Kathy at

The Columbus Messenger

272-5422

For More Info

ASSOCIATION ADS

AMERICAN & FOREIGN

CLASSIC CARS AND

MOTORCYCLES

WANTED. $$PAYING

CA$H$$ Corvettes,

Mustangs, Jaguars, Austin

Healeys, Broncos,

Blazers, Ram Chargers,

AMX, and Triumphs

KRMiller1965@yahoo.com

717-577-8206

Paying top cash for men's

sportwatches! Rolex,

Breitling, Omega, Patek

Pillippe, Heuer, Daytona,

GMT, Submariner and

Speedmaster. Call 833-

603-3236

ASSOCIATION ADS

Pest Control

Find Pest Control Experts

Near You! Don't let

pests overtake your

home. Protect your loved

ones! Call today to find

great deals on Pest

Control Services - 833-

872-0012

Eliminate gutter cleaning

forever! LeafFilter, the

most advanced debrisblocking

gutter protection.

Schedule a FREE LeafFilter

estimate today. 15% off

Entire Purchase. 10% Senior

& Military Discounts.

Call 1-855-791-1626

ASSOCIATION ADS

Stroke & Cardiovascular

disease are leading

causes of death according

the American Heart

Association. Screenings

can provide peace of mind

or early detection! Call

Life Line Screening to

schedule your screening.

Special offer - 5

screenings for $149. 1-

866-518-8391

Stop worrying! SilverBills

eliminates the stress &

hassle of bill pmts.

Household

bills

guaranteed to be paid on

time as long as

appropriate funds are

available. No computer

necessary. Free trial/

custom quote 1-855-703-

0555

Don't let the stairs limit

your mobility! Discover

the ideal solution for

anyone who struggles on

the stairs, is concerned

about a fall or wants to

regain access to their

entire home. Call

AmeriGlide today! 1-844-

317-5246

Become a Published

Author. We want to Read

Your Book! Dorrance

Publishing - Trusted by

Authors Since 1920

Book manuscript submissions

currently being reviewed.

Comprehensive Services:

Consultation, Production,

Promotion and Distribution. Call

for Your Free Author's Guide 1-

866-482-1576 or visit

http://dorranceinfo.com/macnet

ASSOCIATION ADS

Replace your roof with the

best lookng and longest

lasting material! Steel

from Erie Metal Roofs!

Three styles and multiple

colors available.

Guaranteed to last a

lifetime! Limited Time

Offer - $500 Discount +

Additional 10% off install

(for military, health

workers & 1st responders)

Call Erie Metal Roofs: 1-

855-338-4807

ENJOY 100% guaranteed,

delivered-to-the-door Omaha

Steaks! Get 8 FREE Filet

Mignon Burgers! Order the

Delightful Gift this holiday

season - ONLY $99.99 CALL

1-888-409-0645 and mention

code 65658LQY or visit

www.omahasteaks.com/

thegift1107

Donate your car to kids!

Fast free pickup running

or not - 24 hour response.

Maximum tax

donation. Help find missing

kids! 877-831-1448

Update your home with

beautiful new blinds &

shades. Free in-home

estimates make it

convenient to shop from

home. Professional

installation. Top quality -

Made in the USA. Free

consultation: 877-212-

7578. Ask about our

specials!

ASSOCIATION ADS

Life Alert. One press of a

button sends help fast

24/7! At home and on

the go. Mobile Pendant

with GPS. Free first aid

kit (with subscription).

877-537-8817 Free brochure

Elminate gutter cleaning

forever! LeafFilter, the most

advanced debris-blocking

gutter protection.

Schedule Free LeafFilter

Estimate today. 15% off

Entire Purchase. 10%

Senior & Military Discounts.

Call 1-855-995-2490

SELL YOUR ANTIQUE

OR CLASSIC CAR.

Advertise with us. You

choose where you want

to advertise. 800-450-

6631 visit macnetonline.

com for details.

Looking for assisted living,

memory care, or

independent living? A

Place for Mom simplifies

the process of finding

senior living at no cost to

your family. Call 1-833-

910-1576 today!

Protect your home w/home

security monitored by

ADT. Starting at $27.99/

mo. Get free equipment

bundle including keypad,

motion sensor, wireless

door & windows sensors.

833-719-1073

Employment

ASSOCIATION ADS

AT&T Internet. Starting

at $40/month w/12-mo

agmt. 1 TB of data/mo.

Ask how to bundle &

SAVE! Geo & svc restrictions

apply. 1-888-796-

8850

New authors wanted!

Page Publishing will help

self-publish your book.

Free author submission

kit! Limited offer! 866-

951-7214

Donate Your Car To

Veterans Today! Help and

Support our Veterans.

Fast - FREE pick up.

100% tax deductible. Call

1-800-245-0398

DISH TV $64.99 190

Channels + $14.95 high

speed internet. FREE installation,

Smart HD DVR

included. Free Voice Remote.

Some Restrictions

apply. Promo Expires

1/21/22. 1-833-872-2545

The Generac PWRcell, a

solar plus battery storage

system. SAVE money,

reduce your reliance on

the grid, prepare for power

outages and power

your home. Full installation

services available. $0

Down Financing Option.

Request a FREE, no obligation,

quote today. Call

1-855-900-2894

ASSOCIATION ADS

DISH TV $64.99 FOR 190

Channels + $14.95 High

Speed Internet. Free Installation,

Smart HD DVR

Included, Free Voice Remote.

Some restrictions

apply. Promo expires

1/21/22. 1-855-270-5098

Train online to do medical

biling! Become a Medical

Office Professional at CTI!

Get trained & certified to

work in months! 888-572-

6790. The Mission,

Program Information and

Tuition is located at

CareerTechnical.edu/cons

umer-information. (M-F 8-

6 ET.

The Generac PWRcell

solar plus battery storage

system. Save money,

reduce reliance on

grid, prepare for outages

& power your home. Full

installation services. $0

down financing option.

Request free no obligation

quote. Call 1-855-

270-3785

VIAGRA and CIALIS

USERS! 50 Generic pills

SPECIAL $99.00. 100%

guaran-eed. 24/7 CALL

NOW! 888-445-5928

Hablamos Espanol

DENTAL INSURANCE-

Physicians Mutual Insurance

Company. Covers

350 procedures. Real

insurance - not a discount

plan. Get your free

dental Info kit! 1-888-

623-3036 . www.dental50plus.com/58

#6258

ASSOCIATION ADS

Wants to purchase minerals

and other oil and gas

interests. Send details to

P.O. Box 13557, Denver,

CO. 80201

Directv Now. No Satellite.

$40/mo 65 Channels.

Stream news, live

events, sports & on demand

titles. No contract/

commitment. 1-866-825-

6523

Thinking about installing

a new shower? American

Standard makes it

easy. FREE design consulation.

Enjoy your

shower again! Call 1-

833-769-0995 today to

see how you can save

$1,000 on installation, or

visit www.newshowerdeal.com/mac

Attention oxygen therapy

users! Inogen One G4 is

capable of full 24/7 oxygen

delivery. Only 2.8

pounds. Free info kit.

Call 877-929-9587

Attention: If you or aloved

one worked around the

pesticide Roundup

(glyphosate) for at least 2

years and has been diagnosed

with non-Hodgkin's

lymphoma, you may be

entitled to compensation.

855-341-5793

Looking for auto insurance?

Find great deals

on the right auto insurance

to suit your needs.

Call today for a free

quote! 866-924-2397
---
www.columbusmessenger.com

xFocus on Rentals

xInformation

SCIENTOLOGY CAN HELP YOU

We can give you

1. A higher IQ to handle your problems

2. Higher awareness to get a better job

3. More energy to make more money

4. Better health to breast life

5. Better morale to handle upsets

6. Less despair

7. More life

8. More years to live

Come to our free introductory workshop:

Monday-Friday at 7pm; Saturday & Sunday 2pm.

1266 Dublin Road,Columbus, Ohio 43215

Information

ASSOCIATION ADS

GENERAC Standby

Generators provide

backup power during

power outages, so your

home & family stay safe &

comfortable. Prepare now.

FREE 7-yr extended

warranty $695 value!

Request a free quote

today. Call for terms &

conditions. 1-844-334-

8353

BATH & SHOWER UP-

DATES in as little as

ONE DAY! Affordable

prices - No payments for

18 months! Lifetime warranty

& professional installs.

Senior & Military

Discounts available. Call

855-761-1725

Long Distance moving.

Call for a free quote from

America's Most Trusted

Interstate Movers. Let us

take the stress out of

moving! Speak to a

relocation specialist! Call:

888-721-2194

ASSOCIATION ADS

Want Faster & Affordable

Internet? Get internet

service today with

Earthlink. Best internet &

WiFi Plans. Call us Today

to Get Started. Ask

about our specials! 866-

396-0515

NEED IRS RELIEF

$10K-$125K+ Get Fresh

Start or Forgiveness.

Call 1-844-431-4716

Monday through Friday

7am-5pm PST

READY TO BUY, SELL

OR RENT YOUR

VACATION HOME OR

HUNTING CAMP?

Advertise it here and in

neighboring publications.

We can help you. Contact

MACnet MEDIA @

800-450-6631 or visit our

site at MACnetOnline.

com

Rentals

APARTMENT MANAGERS

HAVE VACANCIES?

FILL THEM BEFORE

THE FLOWERS BLOOM!

ADVERTISE

IT!

Call The Messenger

For More Info and Rates

614-272-5422

ASSOCIATION ADS

VIAGRA & CIALIS! 60

pills for $99. 100 pills for

$150 FREE shipping.

Money back guaranteed!

1-844-596-4376

GENERAC Standby Generators

provide backup

power during utility power

outages, so your home

and family stay safe and

comfortable. Prepare

now. Free 7-year extended

warranty ($695 value!).

Request a free

quote today! Call for additional

terms and conditions.

1-855-465-7624

READER

ADVISORY

The National Trade Association

we belong to has

purchased the following

classifieds. Determining

the value of their service

or product is advised by

this publication. In order

to avoid misunderstandings,

some advertisers do

not offer "employment"

but rather supply the

readers with manuals, directories

and other materials

designed to help

their clients establish mail

order selling and other

businesses at home. Under

NO circumstance

should you send any

money in advance or give

the client your checking,

license ID or credit card

numbers. Also beware of

ads that claim to guarantee

loans regardless of

credit and note that if a

credit repair company

does business only over

the phone it's illegal to request

any money before

delivering its service. All

funds are based in US

dollars. Toll Free numbers

may or may not

reach Canada. Please

check with the Better

Business Bureau 614-

486-6336 or the Ohio Attorney

General's Consumer

Protection Section

614-466-4986 for more

information on the company

you are seeking to

do business with.

ASSOCIATION ADS

IMPORTANT

NOTICE

The following states: CA,

CT, FL, IA, IL, IN, KY,

LA, MD, ME, MI, MN,

NE, NC, NH, OH, OK,

SC, SD, TX, VT and WA

requires seller of certain

business opportunities to

register with each state

before selling. Call to

verify lawful registration

before you buy.

CEMETERY LOTS

Forest Lawn Memorial Park

Garden of Good Shepherd -

4 sold as group $10,000

Lot 130 4 spaces,

Rd. access. 614-530-5583

WANT TO BUY

WE BUY JUNK CARS

Call anytime 614-774-6797

BUYING VINYL RECORDS.

LPs and 45s - 1950-80s

Rock, Pop, Jazz, Soul.

614-831-0383

We Buy Cars & Trucks

$300-$3000.614-308-2626

ANTIQUES

WANTED

Victrolas, Watches,

Clocks, Bookcases

Antiques, Furn.

Jeff 614-262-0676

or 614-783-2629

We Buy Junk Cars &

Trucks. Highest Prices

Paid. 614-395-8775

WANTS TO Purchase

minerals and other oil &

gas interests. Send details

to: P.O. Box 13557,

Denver, CO 80201

VACATION RENTALS

Englewood, Florida

Palm Manor Resort

Within minutes of white

sand Gulf beaches,

world famous Tarpon

fishing, golf courses, restaurants/shopping,

Bush

Gardens. 2 BR 2 BA

condos with all ammenities,

weekly/monthly, visit

www.palmmanor.com

or call 1-800-848-8141

January 23, 2022 - MESSENGER - PAGE 11

xClassified Services

CONCRETE

CARPET CLEANING

CARPET CLEANING

Any 5 areas ONLY $75

Home Powerwash $99-$200

614-805-1084

Specializing in Pet Odors

CARPET SALES

CARPET

Gray Saxony

270 sq.ft. w/6 lb Pad

$398.00

Other Carpet AvailableA

Phone or text Ray

740-927-3504

Delivery & Inst. avail.

CLEANING

Looking for Mrs. Clean?

For excellent cleaning serv

at reas. rates w/great refs,

dependable. 10% Seniorr

Disc. Free Est. Also runs

Errands - Gwen 614-226-5229

INFORMATION

INFORMATION

1/2 a/m

CONCRETE

614-297-7320

CHRIS RUH SR.

Cement Contractor

FOR ONLY

$74.00

You Can Reach

Over 41,000 Homes

In

Groveport & South/

Canal Winchester

For Info Call

272-5422

Serving Central Ohio

Since "1970"

B-B-B, Angis List, Super Service

Basement Walls

Repair, Clean & Seal

CONCRETE

www.hastingsnsons.com

Driveways & Extensions

Patio & Walkways,

Porches & Steps,

Garage/Basement Floors

Hot Tub/Shed Pads,

Stamped/colored concrete

Sealing of new &

existing concrete.

FREE ESTIMATES

Contact Adam

614-756-1754

hastingsandsons.

columbus@gmail.com

AJ's Concrete,

Masonry

Good Work - Fair Prices

Block Foundations

Driveways • Sidewalks

Epoxy/Overlay Floors

Bonded-Ins. • Free Ests.

614-419-9932

GUTTERS

Bates & Sons

GUTTER CLEANING

5 ★ Google Reviews

614-586-3417

HAULING

DEAN'S HAULING

614-276-1958

HEATING

HEATING

Complete System Clean & Check

$49.95

Free Carbon

Monoxide Testing

Gas-Oil-Electric Heat/Pumps

All Makes • All Models

45 yrs exp. • Sr. Discount

614-351-9025

INFORMATION

LOOK TO

THE PROFESSIONALS

IN OUR

SERVICE DIRECTORY

For Service

"That Is Out Of This World"

2/13 A

2/13 A

HOME

IMPROVEMENTS

SINCE 1973

Phil Bolon Contr.

Windows & Siding

Decks, Kitchens, Baths

Room Additions,

Flooring, Roofing

Bsmt Waterproofing

Deal With Small Non-Pressure Co.

47 Yrs. Exp. - Refs. Avail.

Lic.-Bond-Ins.

Free Est. - Financing Avail.

Member BBB Of Cent. OH

O.C.I.E.B. ID #24273

614-419-3977

or 614-863-9912

C&JHandyman

Services LLC

Minor Plumbing

& Electric

Install Hot Water Tanks,

Dishwashers & Disposals

Also Fencing &

Interior/Exterior Painting

Free Est. ~ 18 Yrs. Exp.

CDC/EPA Approved Guidelines

614-284-2100

LAWN CARE

LET US MAINTAIN

YOUR LAWN & GARDEN

FOR YOU

Summer, Spring,

Winter or Fall

WE DO IT ALL!!!!

Lawn Cuts, Edging,

Trees & Shrubs, Garden,

Mulching, Hauling,

Garden Pond &

Home Maint.

Free Ests. Low Rates

$20 & Up

Kevin - 614-905-3117

PAINTING

INTERIOR PAINTING

'Affordable - Top Quality

30 yrs. exp.

614-369-9380

A Job Well Done Again

A lic. General Contractor

Some Skilled Services

Incl: Painting • Stucco,

Repair•Carpentry•Exterior

Drainage & Home Maint.

Call Today! 614-235-1819

Classified Services

2/13

A/M

KLAUSMAN HOME

IMPROVEMENT

Siding-Windows-

Doors-Roofing-Soffit-

Fascia-Gutters-Trim

Earn FREE Seamless

Gutters with Siding Over

1000 Sq. Ft.

FREE Shutters with

Soffit & Trim

EPA Certified

Member of BBB

Financing Available

Over 20 yrs exp. • Free Est.

Licensed-Bonded-Insured

Owner & Operator

James 614-419-7500

11/7 A

1/30 A

PLASTERING

DRYW

YWALL ALL &

PLASTER

1/30

A&M

REPAIR

Textured Ceilings

614-551-6963

Residential/Commercial

BIA

PLUMBING

MYERS

PLUMBING

Exp. Expert Plumbing

New Work & Fast Repairs

Lic. - Permit Available

Water • Sewer • Gas

614-633-9694

All About Drains & Plumb.

Will snake any sm drain

$145. 614-778-2584

CHRIS'

PLUMBING

"Plumbing & Drain Professional

That You Can Count On"

24 Hrs., 7 Days/Week

No Overtime Charges

24 Yrs. Exp. in Plumbing &

Drain Cleaning Field

Call For A Free Phone Estimate

$100.00 For Any Small Drain

614-622-4482

30% OFF with AD

POWERWASHING

Bates & Sons

Soft Wash & Powerwash

5 ★ Google Reviews

614-586-3417

SEWING MACHINE

REPAIR

REPAIR all makes 24 hr.

service. Clean, oil, adjust

in your home. $49.95 all

work gtd. 614-890-5296

SNOW REMOVAL

GOOD NEIGHBORS

LAWN CARE

WINTER IS COMING!

"Leave Snow Removal To Us"

SNOW REMOVAL &

SALT SPREADING

Taking on New Accounts In The Area

Servicing Resid. & Comm.

12/19

Free Estimate E/SE

614-238-9237

614-937-0658

Ask For Bob

TREE SERVICES

Brewer & Sons Tree Service

• Tree Removal

• Tree Trimming 2/13

A&M

• Stump Grinding

• Bucket Truck Services

Best Prices • Same Day Service

614-878-2568

BURNS TREE SERVICE

Trimming, Removal &

Stump Grinding.

614-584-2164

2/13 A&M

1/30 A
---
PAGE 12 - MESSENGER - January 23, 2022

www.columbusmessenger.com

Schools continue to adjust to COVID challenges

By Linda Dillman

Staff Writer

Canal Winchester Schools Superintendent

James Sotlar is pleased with the district's

roll-out of a new transportation plan

to combat a lack of bus drivers, but continues

to hope to return to normal operations

as soon as possible.

During the Jan. 10 Canal Winchester

Board of Education meeting, the first day of

the new plan where start and stop times for

school buildings were changed, Sotlar said

the plan, overall, "went pretty good."

The high school, middle school, and Winchester

Trail are now on a one-hour early

dismissal and Indian Trail is on a one hour

late start.

Parents with students at the elementary

schools are being accommodated by either

doors opening early for drop-offs at Indian

Reynolds is trustee chair

Madison Township Trustee Michele

Reynolds will officiate the next Madison

Township trustee meeting for the first time

as board chair on Jan. 20.

Madison Township voters elected

Reynolds in 2019. She has experience as a

business owner and public servant working

in the governor's office as the director of

Faith-Based and Community Initiatives.

"I am honored to serve my community in

Trail or staying open after the final bell at

Winchester Trail for late pick-ups.

"We had about 65 students participating

in the morning at Indian Trail," said Sotlar,

who said 25 to 35 parents took advantage of

the program at Winchester Trail. It (new

plan) is not the ideal situation we want to

be in, but my goal is to maintain in-person

learning on a consistent schedule…it keeps

our parents and our students on a consistent

schedule."

Sotlar said the district will stay on the

new schedule through the end of February

when the situation will be re-evaluated.

"We'll see what happens for March," said

Sotlar, who sent out an email earlier this

month asking families to be prepared in

case the district is forced to go on remote

learning due to staff shortages. "We're down

bus drivers. That's why we're on this new

schedule. We just have to be prepared and

this capacity," said Reynolds. "In spite of the

perils of COVID-19, we have made great

strides to bring resources into the township

for safety improvements. Being elected as

chair affords me the opportunity to achieve

more of these wins for residents."

Reynolds is referring to the Justice Assistance

Grant dollars Madison Township

was awarded from Ohio Criminal Justice

Services to upgrade the computer server for

the police department.

Reynolds serves alongside Katherine

give as much notice as we possibly can, but

I can't tell you when morning comes how

many people might call off sick for various

reasons."

Sotlar said he will do his best to get the

word out in advance, but notification could

be as late as the next morning of school. He

urged everyone to be prepared just in case.

According to the district's Jan. 2022 online

COVID-19 Mask Metric Dashboard,

even though the number of cases during December

fell below the individual building

threshold of 1.25 percent, the average

throughout the district exceeded 0.5 percent

of the total student population resulting in

a districtwide mask required mandate.

Individual building cases of the virus are

monitored on a weekly basis to determine

COVID-19 averages for the following month

in determining the district or individual

building mask mandate. The data from Jan.

Chipps, who is vice chair, and Laurie Vermeer,

who is the township fiscal officer,

which marks the first time three women will

partner in leadership as elected officials for

Madison Township.

Reynolds and Chipps serve with their fellow

trustee John Pritchard.

The Madison Township trustees invites

residents of the township to make their

voices heard about the needs of the community

in their meetings.

The next trustee meeting is Jan. 20 at 6

5-28 determines the mask status for February.

Data for Jan.31-Feb. 25 determines the

status for March. Feb. 28-Mar. 25 determines

the status for April and data for April

4-29 determines the mask status for May.

Masks will be recommended for the following

month if the average number of positive

cases is less than 0.5 percent of the

student population. Masks will be required

if the number of positive cases is greater

than 0.5 percent–20 or more student cases

on average.

In December, the cumulative number for

all four buildings was 23 cases.

Notification will be sent out before the

beginning of the next month of the upcoming

mask status, which is also posted at the

top of the district's website at

www.cwschools.org.

p.m. at the township offices, 4575 Madison

Lane, Groveport.

To view a schedule of future meetings,

visit MadisonTownship.org/board-meetings.

GriefShare group

Groveport United Methodist Church, 512

Main St., sponsors a GriefShare group commencing

Feb. 17 at 7 p.m. Register online at

www.griefshare.org/groups/144263.Email

groveportgriefsharegroup@gmail.com for information.

Moses-Mouser Eye Care

Dr. Joshua Morris is a board-certified Optometrist

who grew up in Bellville, Ohio. He

completed his undergraduate degree at the

University of Akron, where he graduated

magna cum laude with honors.

Dr. Morris attended The Ohio State University

College of Optometry and graduated cum laude with honors to receive

his Doctor of Optometry Degree in May 2019. After completing his

studies, he was awarded the "Primary Vision Care Clinical Excellence

Award", in 2019.

Dr. Morris is a member of the American Optometric Association, the

Ohio Optometric Association, and The Ohio State Alumni Association.

He is excited to practice full scope optometry, diagnosing and treating

a variety of ocular disorders and diseases in patients of all ages, but has

a special interest in contact lenses and ocular disease.

On a personal note, Dr. Morris and his wife Tess, enjoy spending time

with their family, friends, and their Bernese Mountain dog Maverick,

cheering on The Ohio State Buckeyes, trying new foods, and exploring

Columbus breweries.

Q: Are contact lenses right for me?

A: 9/10 people who wear glasses are good candidates for contact lenses.

Contact lenses can correct for nearsightedness, farsightedness,

astigmatism, and even help you decrease your dependency on readers.

They can provide a wider field of view and the lenses won't fog up in cold

weather like glasses. Contact lenses are also a great option for when you're

exercising or playing sports where glasses could get in the way.

Q: How often should someone who

wears contact lenses get an eye exam?

A: Someone who wears contact lenses should have a comprehensive

dilated eye exam at least once a year. Contact lenses are medical devices

and need to be properly fitted and assessed by an eye care professional.

Schedule your contact lens exam today

with Dr. Morris.

6441 Winchester Blvd. E., Canal Winchester, OH 43110 614-963-3827