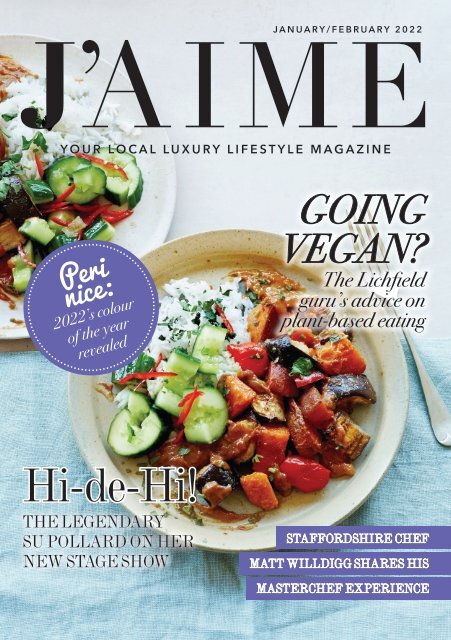 J'AIME JANUARY/FEBRUARY 2022
Your local luxury lifestyle magazine
Your local luxury lifestyle magazine
SHOW MORE
SHOW LESS
You also want an ePaper? Increase the reach of your titles
YUMPU automatically turns print PDFs into web optimized ePapers that Google loves.
J'AIME

Y O U R L O C A L L U X U R Y L I F E S T Y L E M A G A Z I N E

J A N U A R Y / F E B R U A R Y 2 0 2 2

Peri

nice:

2022's colour

of the year

revealed

GOING

VEGAN?

The Lichfield

guru's advice on

plant-based eating

Hi-de-Hi!

THE LEGENDARY

SU POLLARD ON HER

NEW STAGE SHOW

STAFFORDSHIRE CHEF

MATT WILLDIGG SHARES HIS

MASTERCHEF EXPERIENCE
---
アパート

夀 䔀 䄀 刀 匀 伀 䘀

䈀 䔀 匀 倀 伀 䬀 䔀 䘀 䤀 一 䔀 䨀 䔀 圀 䔀 䰀 䰀 䔀 刀 夀 ꀀ

伀 渀 攀 漀 昀 琀 栀 攀 氀 愀 爀 最 攀 猀 琀 挀 漀 氀 氀 攀 挀 琀 椀 漀 渀 猀 漀 昀

挀 漀 渀 琀 攀 洀 瀀 漀 爀 愀 爀 礀 ǻ 渀 攀 樀 攀 眀 攀 氀 氀 攀 爀 礀 椀 渀 琀 栀 攀 唀 䬀

匀 瀀 攀 挀 椀 愀 氀 椀 猀 琀 猀 椀 渀 搀 攀 猀 椀 最 渀 椀 渀 最 愀 渀 搀 洀 愀 欀 椀 渀 最 Ⰰ

爀 攀 洀 漀 搀 攀 氀 氀 椀 渀 最 愀 渀 搀 爀 攀 昀 甀 爀 戀 椀 猀 栀 椀 渀 最 昀 漀 爀 アパート 礀 攀 愀 爀 猀

䄀 䰀 䰀 䔀 一 䈀 刀 伀 圀 一 䨀 䔀 圀 䔀 䰀 䰀 䔀 刀 夀

䠀 攀 愀 爀 琀 漀 昀 吀 栀 攀 䌀 漀 甀 渀 琀 爀 礀 匀 栀 漀 瀀 瀀 椀 渀 最 嘀 椀 氀 氀 愀 最 攀

匀 眀 椀 渀 昀 攀 渀 Ⰰ 䰀 椀 挀 栀 ǻ 攀 氀 搀 Ⰰ

匀 琀 愀 昀 昀 漀 爀 搀 猀 栀 椀 爀 攀 圀 匀 㐀 㤀 儀 刀

㔀 㐀 アパート 㐀 㠀 㤀 㐀 㠀

眀 眀 眀 ⸀ 愀 氀 氀 攀 渀 戀 爀 漀 眀 渀 樀 攀 眀 攀 氀 氀 攀 爀 礀 ⸀ 挀 漀 ⸀ 甀 欀

アパート 夀 䔀 䄀 刀 匀 伀 䘀

昀 椀 琀

䈀 䔀 匀 倀 伀 䬀 䔀 䘀 䤀 一 䔀 䨀 䔀 圀 䔀 䰀 䰀 䔀 刀 夀 ꀀ

伀 渀 攀 漀 昀 琀 栀 攀 氀 愀 爀 最 攀 猀 琀 挀 漀 氀 氀 攀 挀 琀 椀 漀 渀 猀 漀 昀

挀 漀 渀 琀 攀 洀 瀀 漀 爀 愀 爀 礀 ǻ 渀 攀 樀 攀 眀 攀 氀 氀 攀 爀 礀 椀 渀 琀 栀 攀 唀 䬀

匀 瀀 攀 挀 椀 愀 氀 椀 猀 琀 猀 椀 渀 搀 攀 猀 椀 最 渀 椀 渀 最 愀 渀 搀 洀 愀 欀 椀 渀 最 Ⰰ

爀 攀 洀 漀 搀 攀 氀 氀 椀 渀 最 愀 渀 搀 爀 攀 昀 甀 爀 戀 椀 猀 栀 椀 渀 最 昀 漀 爀 アパート 礀 攀 愀 爀 猀

Specialists in designing and making, remodelling and refurbishing

ALLEN 䄀 䰀 䰀 䔀 一 BROWN 䈀 刀 伀 圀 一 䨀 JEWELLERY

䔀 圀 䔀 䰀 䰀 䔀 刀 夀

䠀 Heart 攀 愀 爀 琀 漀 of 昀 吀 The 栀 攀 䌀 Country 漀 甀 渀 琀 爀 礀 Shopping 匀 栀 漀 瀀 瀀 椀 渀 最 Village 嘀 椀 氀 氀 愀 最 攀

匀 Swinfen, 眀 椀 渀 昀 攀 渀 Ⰰ Lichfield,

䰀 椀 挀 栀 ǻ 攀 氀 搀 Ⰰ

匀 Staffordshire 琀 愀 昀 昀 漀 爀 搀 猀 栀 椀 爀 攀 WS14 圀 匀 㐀 9QR 㤀 儀 刀

01543 㔀 㐀 アパート 481948 㐀 㠀 㤀 㐀 㠀

眀 www.allenbrownjewellery.co.uk

眀 眀 ⸀ 愀 氀 氀 攀 渀 戀 爀 漀 眀 渀 樀 攀 眀 攀 氀 氀 攀 爀 礀 ⸀ 挀 漀 ⸀ 甀 欀

昀 椀 琀
---
Welcome to J'AIME

It's the start of a new year, and the new beginning brings

a whiff of optimism that 2022 might just be the one

where we find the words 'pandemic' and 'lockdown'

slipping out of our everyday vocabulary.

If the past two years have left you in dire need of a

much-missed getaway, the experts at RB Collection

take a look at some of the most exciting luxury travel

opportunities for the next 12 months and beyond; a

stylish sojourn to Paris, an exciting Icelandic trip or a

Middle Eastern adventure all sound idyllic to us!

The entertainment industry is, thankfully, back in full

swing, and this month sees the effervescent Su Pollard

bringing her tour to Tamworth for one night only. Su

was a hoot on Celebrity MasterChef last year, and we

caught up with her about all this and more ahead of her

visit, plus we round up some of the best events for all the

family taking place this month.

Speaking of MasterChef, we also chat to Professionals

final week contenter Matt Willdigg about his journey

from Staffordshire to the small screen, and his new

venture with fellow MasterChef alumni Oli Martin.

If you've taken part in Veganary, or are looking for

inspiration to incorporate more plant-based meals into

your diet then Martin Holden-White, the Lichfield

founder of vegan recipe box company Grubby, offers

some top tips, as well as a delicious plant-based recipe to

try at home.

After a festive season spent at home, the start of the year

is usually the time when we decide to start refreshing our

rooms, and we look at some of the hottest new interiors

trends.

With all your usual favourites, from fashion and beauty,

to fitness and food, we've got a jam-packed issue full of

things to love.

If you enjoy what you read in this issue, then why not

help us to spread the word? As well as being delivered

directly to homes in selected postcodes across the

area, you can pick J'AIME up free of charge in major

supermarkets around the Midlands, as well as read the

whole thing - and plenty more! - online at

www.jaimemagazine.com

EDITOR: AMY NORBURY

EDITOR@JAIMEMAGAZINE.COM

ADVERTISING: JAN ASHLEY

ADVERTISING@JAIMEMAGAZINE.COM

07388 335 931

DESIGN: DESIGN@JAIMEMAGAZINE.COM

CONTRIBUTORS: KATY EDGINGTON,

OLIVER BROAD, ROBERT FRENCH,

DEBORAH MITCHELL

J'AIME IS PUBLISHED BY ASHBURY

PUBLICATIONS LIMITED.

Check us out online at:

WWW.JAIMEMAGAZINE.COM

Find us on

/JAIMEMAGAZINE

@JAIMEMAGAZINE

@JAIMEMAGAZINE

SPONSORED BY

3
---
CO N T E N T S

InsideJ'aime this month...

6 Su Pollard - The entertainment legend brings

her new show to Tamworth

10 Everybody Sings - Discover the joy of singing

with a Sutton Coldfield choir

14 Property - Property of the month

16 Property - Ambitious plans from Chosen Home

18 Interiors - Pantone's Colour of the Year

22 Interiors - Declutter for the New Year

26 Interiors - Terrific tigers

30 Valentine's Day - Gift guide

34 Auction treasures - Wine and whisky expert

Robert French looks at investment potential

36 Food and drink - Reviewing The Red Lion at

Bradley

38 Food and drink - MasterChef's Matt Willdigg on

his small screen experience

42 Food and drink - Vegan tips and ideas from

Grubby's Martin Holden-White

46 Food and drink - MasterChef winner Dan Lee

shares a recipe

48 Health - A fitness boost for new parents

52 Travel - Luxury travel ideas for 2022 and

beyond

56 What's On - Events around the Midlands this

month

60 In the news - A original art showcase at Artifex

62 Fashion - Best foot forward

64 Beauty - New Year beauty resolutions

66 Health - Winter skincare advice from Spire

Little Aston

SPONSORED BY

4
---
LUXURY KITCHENS & INTERIORS

BUILT IN BRITAIN

LIFETIME WARRANTY

58 Thornhill Road, Streetly, Sutton Coldfield, B74 3EN

www.kesselerbirmingham.co.uk | tel: 0121 820 6995 | showroom@kesselerbirmingham.co.uk
---
F E AT U R E

The nation's favourite

happy camper

NATIONAL TREASURE SU POLLARD HAS BEEN A FIXTURE OF BRITISH TV, THEATRE AND PANTO

FOR NEARLY FIVE DECADES. KATY EDGINGTON LEARNS MORE ABOUT HER NEW TOUR

SU HAS BEEN SEEN ON TELEVISION RECENTLY AS

A CONTESTANT ON CELEBRITY MASTERCHEF

The ever bright and effervescent Su Pollard first

made her television debut on Opportunity Knocks

in 1974, where she came second to a singing Jack

Russell terrier. Best known for her role as Peggy

in the BAFTA-winning sitcom BBC One sitcom

Hi-De-Hi, Su most recently graced our screens as

a contestant on Celebrity MasterChef last summer,

and in the Christmas Cook-off.

Putting her somewhat controversial ham hock,

broccoli, apricot and kimchi sandwich behind her,

Su is about to embark on her 'An evening with…'

tour, which is sure to be filled with laughter and a

few tears. The tour, which has been in the making for

several years, starts February 2 and runs until the end

of March, stopping off in Tamworth at the Assembly

Rooms on February 4.

Fortunately, Su has never minded travelling and

enjoys the camaraderie of being on the road. This is

the first tour of its kind she is doing, so I wondered

why now and what can audiences expect?

"I did a show about 30 years ago with a 10-piece

orchestra, so when I was offered this I thought 'that

might be rather nice'. In these uncertain times you're

just trying to offer people lighthearted entertainment.

It's a mixture of everything, a few songs, anecdotes

and chats, with a meet and greet beforehand," she

says.

As well as talking about her exceptional 45-plus

year career, Su will also be opening up the floor

for audience Q&A. But is there any question she

wouldn't answer?

"Probably not," she ponders. "It just depends

how it was asked and how I could formulate an

answer. If there was a question I thought might

6 www.jaimemagazine.com
---
e a bit personal, I'd have to think on

my feet because these things can be

misinterpreted. You have to be a bit

careful, but I wouldn't want to be totally

censored. I'd like to be as honest as I

can."

Born in Nottingham in 1949, Su

embraced the freedom of growing up

in the Midlands in the 50s and 60s. The

tour will visit intimate venues of around

400 seats including The Palace Theatre

in nearby Newark, but won't quite

take her back to Nottingham, where

she discovered a lifelong love of the

entertainment business.

"I'd go three times a week to the local

amateur theatre group and it was

terrific," she says. "I started when I

was 11. I love Nottingham; it's a great,

vibrant city in my view, but equally I

wouldn't want to leave London because I

really love it here."

Despite a staggering list of TV, film,

West End, theatre and pantomime

appearances (not to mention a hit single)

many people still know Su best as Peggy,

the chalet maid and eventual Yellowcoat,

from Hi-De-Hi. The show aired between

1980 and 1988 and made Su a household

name. She believes there is a simple

reason for its enduring popularity.

"I think it was because it had a lot of

heart to it - it was real," she says. "I

mean, I know it was high comedy but it was all about

people that wanted to better themselves. Look at

poor Yvonne and Barry - terrible snobs, but they

were trying to get on in life - and so was poor old Ted

Bovis. All Gladys wanted to do was love and be loved

in return.

"And because it was silly kind of stuff, anyone could

love it - eight-year-olds could love it and so could

80-year-olds. The characters were probably like your

friends in real life. We've all known a Gladys, and

we've all known a Miss Cathcart."

From acting to singing to writing, Su has done it all

over the course of her career. For her, the medium

is secondary as long as the topic is interesting.

The acclaimed one-woman hit play Harpy has

been a particular highlight, in which she explores

her character's struggles with mental health and

loneliness, as manifested through extreme hoarding.

"Harpy is an old-fashioned word for somebody, like

SU POLLARD BRING

HER 'AN AUDIENCE

WITH...' TOUR TO

TAMWORTH THIS

MONTH

a bird, that swoops down and grabs everything and

takes it back to its nest - so a hoarder, basically," she

explains. "The writer, Philip Meeks, did ever such a

lot of research. There are millions and millions of

hoarders around the world, so it's always going to be

relevant. It's usually to do with something the person

has lost years and years before. It goes much deeper

than just keeping stuff. I loved doing that play."

Su counts Les Dennis and her Hi-De-Hi colleagues

as some of those she has most enjoyed working with,

feeling very fortunate to have worked with so many

like-minded people who take their work seriously, but

have fun as well: "Every day, if you can, you make

life as pleasurable as you can for yourself and other

people, I think. If you're working together you have a

duty to do that."

The energetic, bubbly and colourful Su you see on

screen is very much what you get in real life: "I do

like to be on the go, as it were. Even when I walk, I

walk fast. But equally, when I do get some downtime

www.jaimemagazine.com

7
---
I might watch a movie or something. I don't just sit

about, generally, because I think you're a long time

dead. I've been fortunate; I think if you've got energy

and you're lucky enough to be healthy, you have to

make the most of what you've got."

This philosophy shone through on Celebrity

MasterChef 2021, which was won by Paralympic

athlete Kadeena Cox. After being asked by an old

friend from This Is Your Life, Su agreed to get

involved partly because of the ongoing effects of the

pandemic.

"None of us could work, per se, at the time and so I

had plenty of time to prep and get the ingredients.

It wasn't so much pressure as it might've been if I

was doing a show as well. When you do MasterChef

you realise that there's a lot of effort involved, not

just from the person participating, and it's a lot of

commitment. It's not just cooking, it's all the other

elements that go with it. You are nervous, because if

you're out of your comfort zone you're going 'what

am I doing? Is it going to be alright? What if I burn

everything?'"

In the end she thoroughly enjoyed the whole

experience, and even bought herself some serving

spoons and proper measuring spoons. Despite

learning all about sauces and spices, she confesses

she hasn't been putting that newfound knowledge to

great use.

"I haven't really done that much cooking since, but

I am that much better than I used to be," Su says.

"So it proved to be very beneficial for me, to be fair.

And I met some great people so it was a really good

experience."

Following on from the tour, Su will star in

Tickledom, a West-End-style family musical in which

she plays Fluella the icy cold witch alongside a host

of colourful and curious characters all based on

plants, flowers and herbs.

"I wanted to do it because there are some great

numbers in it - the music is fabulous," she says.

"It's only on for about four or five weeks, but it was

something that caught my interest. Beyond that,

I don't really know. I might even give myself two

months off and go travelling, for pleasure you know."

Su has certainly been lucky in the sense that her

work has taken her all around the world, travelling

in Southeast Asia, Oman, New Zealand, Australia,

America and India. Top of her list of holiday

destinations is a rather unlikely choice - perhaps for

anyone but her.

"I'd like to go to Antarctica. There was an article in

the paper and I thought 'wow, this is really fabulous'.

It was a little island populated only with wolves. I

thought, 'I could howl here with the wolves'. You

could yell to your heart's content! You'd probably

have to get special permission to go there. I'd

definitely love to fulfil that, but we'll have to wait and

see."

oh….and another thing….An Evening With Su

(POLLARD) will be at Tamworth Assembly Rooms

on Friday, February 4. For tickets visit

www.tamworthassemblyrooms.co.uk

ACCLAIMED ONE-WOMAN PLAY

HARPY HAS BEEN A HIGHLIGHT

OF SU'S CAREER

8

www.jaimemagazine.com
---
will be exhibiting a collection of

original 19th & 20th century paintings

by recognised British and European artists.

Exhibition runs from Jan 22nd to Mar 31st 2022.

Prices from £1,000 to £18,000

William Raymond Dommersen (Dutch 1850-1927)

'A view of Flushing'

William came from a famous family of Dutch artists who

moved to England in the 1860's. He travelled extensively

around Europe and England painting genre, town scenes

and marine scenes with great success. His works are

widely exhibited throughout Europe and North America

and are on show at many galleries worldwide.

John Robert Dicksee (1870 – 1905)

'The Love Nest'

John was born in Westminster London

and was the most successful of a family

of 19th C painters including his uncle Sir

Frank, president of the Royal Academy.

He was a genre and portrait painter

renowned for his superb attention to

detail. He regularly exhibited at the RA

(1850-1900) and was head art master at

the City of London Art School.

James Thomas Linnell (1820 – 1905)

Royal Academy Exhibit 1857 'The mountain pass'

James Thomas Linnell studied at the Royal Academy. He was

the son of John Linnell one of Britain's most successful early

19th Century Landscape painters along with Samuel Palmer

who was married to James' sister. This particular painting

is an exceptional example of one of his most accomplished

works. He used the Pre-Raphaelite technique of setting the

painting on a white ground so that it has a superb luminosity.

His works are displayed in 12 UK museums, as well as stately

homes and appear in major US collections.

The Midlands leading gallery for original paintings, designer jewellery,

handmade ceramics, glass and bespoke furniture.

www.artifex.co.uk - 0121 3233776

The Mitchell Centre, Weeford Road, Sutton Coldfield B75 6NA

Open 7 days a week. 10am to 5pm (4pm Sundays)
---
F E AT U R E

Sing me sunshine

CHOIR MISTRESS HELEN WILLIAMS LOVES TO SHARE HER PASSION FOR SINGING AND ALL THE

BENEFITS IT BRINGS, ESPECIALLY AT THIS GLOOMY TIME OF YEAR. KATY EDGINGTON LEARNS MORE

"My love of singing with gusto came from singing at

school. Then I studied classical singing, and that was

my life - to be a performer," says local choir mistress

Helen Williams.

Helen has always sung herself, but it was a little

over 10 years ago when she was asked to run a local

school choir and - rather reluctantly at first - agreed.

From there, she embarked on conducting courses

and running choirs has been her life for nine years

this January. Helen now runs four course-based

community choirs under the Everybody Sings

banner - two in Sutton Coldfield, one in Lichfield

and one in Solihull.

Although most of those who attended are retired,

there are some choir members in their 20s and 30s,

and people of all ages are welcome. The music each

choir learns and performs is a mixed bag, from folk

songs and pop songs to songs from musicals and

more.

"In Everybody Sings, I want to give my members

what they want to sing," explains Helen. "We did

21 songs on Zoom over the lockdowns in 2020 and

2021, so we've been revisiting those together. They're

songs like Loch Lomond, Blue Moon, Skye Boat

Song, Memory from Cats, True Colours, The Way

You Look Tonight; good, wholesome, hearty songs

that it makes people happy to sing. If they're not

feeling uplifted and better by the time they leave the

rehearsal then I haven't done my job properly!"

EVERYBODY SINGS BRINGS PEOPLE

TOGETHER FOR A SINGALONG EVERY WEEK

CHOIR MISTRESS HELEN WILLIAMS

Helen works with the same accompanist, Clare, at

each Everybody Sings session, and Clare is also her

partner on Sing Me Sunshine, a pay-as-you-go choir

in Boldmere on Tuesday afternoons. Starting off as

a dementia choir, it soon evolved as the pair realised

just how much isolation and loneliness were affecting

the community. Now, many more

people with other health conditions

- and their carers - benefit from an

hour a week around the piano. They

include a 93 year old man and a 93

year old woman who have started

attending since lockdown restrictions

were lifted.

"The lady said she hadn't been out

in two years, but this is now the

highlight of her week," said Helen.

"It's about the social enjoyment of

10 www.jaimemagazine.com
---
singing. We sing in parts so we have

music, but most people don't read the

music; it's all about getting people

laughing and singing and chatting. We

do have regulars who come along every

week without fail, but sometimes they just

can't make it."

Understandably, the pandemic had a

huge effect on Helen, who was teaching

singing and piano as well as doing the

choirs when everything ground to a

halt. The singing groups moved online

onto Zoom, which she describes as "an

absolute saving grace". Around 70 people

each week attended this way, keeping the

choir connected and engaged while most

members were unable to go anywhere

or do anything. Helen still hosts Zoom sessions on a

Friday for those who are still reluctant or unable to

go out, as well as for others who have come back to

live rehearsals but enjoy the online interaction.

"Because I thought we might have lots of technical

hitches - I'd never even heard of Zoom before

lockdown and I knew lots of my members hadn't - I

decided to open up half an hour before we started

singing," says Helen. "In fact, the technical hitches

were sorted out pretty instantaneously, but we kept

that half hour. Now when I do live rehearsals we

open up early for some social interaction, because we

all need it now more than ever, I think."

Indeed, Helen believes Everybody Sings might

have folded because of COVID - as many other

choirs did - without the transition to online practice.

Not only that, but singing together was even more

important in keeping everyone's spirits up during the

lockdowns.

ZOOM KEPT THE CHOIR GOING

THROUGHOUT LOCKDOWN

THE EVERYBODY SINGS GROUP IN SUTTON COLDFIELD

"Even though they couldn't hear everyone else

singing - just themselves singing individually -

keeping that choir community together really helped.

My members have been really happy to come back.

Over the four sessions, I have about 150 members,

which is amazing, so I'm thrilled to be back doing

it. I have a riot. I feel like I go out to play and other

people come out to play with me."

You might be surprised by what Helen loves most

about being a choir mistress, as it's not those perfect

two-part harmonies!

"I love getting people singing, but I love getting

people laughing," she says. "If I can hear the room

erupt into laughter then it's happy days for me,

because it's such a tonic."

Equally, for the choir members it can be the amazing

friendships that they form, the bonds that are built

by singing together, that are most rewarding. The

pandemic was a chance to form new friendships

when members of the various Everybody Sings

choirs met on Zoom. Helen explains

how they now sometimes come to other

rehearsals just to see each other.

"They would never have known each

other if not for the choir. It's an amazing

thing to combat loneliness, which is a

major problem."

Sing Me Sunshine is tremendously

important in this regard - not just for

people living with dementia and other

conditions - but for the people who look

after them, by helping them to deal with

the pressures and stresses of being a carer.

If you're thinking, "this all sounds

marvellous, but I can't sing!" Helen would

encourage anyone who is nervous or

www.jaimemagazine.com

11
---
worried about singing in front of other people just to

come along and give it a go.

"It's called 'Everybody Sings' for a reason. Even

people who don't think they can sing should, because

of the benefits it brings. I think there's a lot to be

said for safety in numbers; you can hide within a

body of people. Like any skill, the more you sing the

better you get at it. In all the years I've done this, I've

worked with hundreds of people but only four or five

of them really couldn't sing."

Those benefits are mental and physical, with the

endorphins released by singing in a group creating

a feelgood factor that Helen reckons can rival the

euphoria many people experience after running or a

gym session.

"Michael Mosley did a podcast called 'Just One

Thing', about little things that you can do in your

everyday life that make a difference to your health,

and one of those was singing," she says. "He made

reference to 'endocannabinoids' - chemicals that are

released in your body that give you a kind of natural

high. When you sing on your own it's good for you,

but singing with others is much better."

Whether you decide to go it alone with a hairbrush

in front of the mirror or you think joining a choir

could be for you, Helen has these recommendations

for songs that will help lift those post-Christmas

winter blues.

"Bring Me Sunshine is always a good one. We're

starting Don't Worry Be Happy for the new year,

which seems fitting, and we've been doing a really

fun arrangement of Mr Sandman which is quite

challenging and very uplifting."

Everybody Sings takes place

weekly in term time at the

following venues and online.

• Solihull Women's Institute, Warwick

Road, Solihull: Tuesday morning

(doors at 10.45am, singing

11.15am-12.45pm).

• Lichfield Methodist Community

Centre, Backcester Lane, Lichfield:

Wednesday morning (doors at

11.30am, singing 12pm-1.30pm).

• Holy Trinity Catholic Church Hall,

Lichfield Road, Sutton Coldfield:

Wednesday afternoon (doors at

1.00pm, singing 1.30pm-3.00pm)

and Thursday morning (doors at

9.30am, singing 10.00am-11.30am).

• Zoom: Friday morning (chat opens

at 10.00am, singing 10.30am-

11.30am).

Sing Me Sunshine is hosted at St

Michael's Church Hall, Boldmere

Road, Sutton Coldfield. It takes

place on Tuesday afternoons from

2.00pm-3.00pm and is £5 per

session including tea and biscuits.

Head to the Everybody Sings

Facebook page to find out more,

including how to get involved.

Alternatively, you can call Helen on

07981 957061.

CHOIR MEMBERS SANG AT LICHFIELD CHRISTMAS

FAYRE TO RAISE MONEY FOR PARKINSONS UK

12 www.jaimemagazine.com
---
P R O P E RTY

Property of the Month

EACH MONTH WE SHOWCASE ONE OF THE MOST LUXURIOUS PROPERTIES CURRENTLY ON

THE MARKET IN THE MIDLANDS. THIS MONTH'S SELECTION IS A CHARMING, CHARACTERFUL

FAMILY HOME SITUATED ON THE CANWELL ESTATE NEAR SUTTON COLDFIELD

Keepers Lodge, Canwell Drive, Canwell, Sutton Coldfield: £925,000

On the market with Aston Knowles: 0121 362 7878

THE AGENT SAYS: Keepers Lodge, which dates back

to the early 1900s, used to serve Canwell Hall and has

maintained many of its period features including its

impressive ornate high ceilings, shaped windows and large

marble fireplaces.

This delightful property is set in a rural location on the

Canwell Estate. Approached via a country lane, the

property has views of the greenbelt to the front of the

house and is full of character and charm.

The ground floor accommodation comprises a welcoming

reception hall with Minton tiled flooring, spacious lounge,

separate dining room, farmhouse kitchen/breakfast room,

utility room and guest shower room.

The dining room is bright and light with picture windows

overlooking fields to the front of the house. The room

is perfect for formal dining and entertaining, with its

oversized marble fire surround and strip wood flooring.

The drawing room is located on the other side of the

reception hallway. The windows to one side provide views

over the greenbelt and bask the room in natural light and

make the space feel inviting and homely.

The farmhouse kitchen/breakfast room towards the rear

of the home features a comprehensive range of wall and

floor cupboards with butcher block worktops and flagstone

tiled flooring. A signature blue Aga is a stunning feature of

the kitchen.

Additionally to the ground floor is a spacious utility room

and re-fitted fully tiled shower room.

The basement has underfloor heating and offers flexible

additional accommodation including a store area, fitted

shower room and a fifth bedroom/office.

To the first floor there are four bedrooms; the master and

second bedroom both enjoy picture windows overlooking

horse fields to the front of the house.

W E L O V E : T H E S T UNN ING P ER I OD DE T A I L S

14 www.jaimemagazine.com
---
PLANT A TREE

We are delighted to announce that we will be supporting The Queen's Green Canopy,

unique tree planting initiative 'Plant a Tree for the Jubilee'. We will be planting a tree

for every home that we sell during 2022. By choosing to sell your home with us, you

will be playing a part in creating a legacy for future generations to come.

Book your free, no obligation, valuation today.

0121 362 7878

sophiebullock@astonknowles.com

www.astonknowles.com

@astonknowles
---
P R O P E RTY

A different approach

to property

LOCAL KNOWLEDGE, LISTENING AND LOVING WHAT THEY DO; THE SECRETS

TO MIDLANDS ESTATE AGENCY CHOSEN HOME'S SUCCESS SO FAR

THE CHOSEN HOME TEAM WAS NAMED

DISRUPTOR OF THE YEAR AT THE WEST

MIDLANDS BUSINESS MASTERS AWARDS

As award-winning Midlands estate agency Chosen

Home looks to implement its expansion plans in 2022,

the business has reflected on the success it has enjoyed

since its launch in September 2020, with director

Nicki Ash citing its willingness to respond to client

needs, a flexible approach and a strong knowledge of

the local area as the key secrets to its success.

Nicki said that when she and her fellow directors

formed Chosen Home, they took on board the

feedback of hundreds of former clients from previous

roles to ensure the business delivered a first-class

service, ensuring that every detail was considered.

"The key issue I wanted to focus on was

communication. Unfortunately estate agents have

a reputation for following their own agenda rather

than that of their customers. We pride ourselves on

consistent, excellent communication – our clients

know exactly what we're doing, when, and have an

immediate progress report, so that they are involved at

every stage of the sales or purchase process.

"It's crucial to listen to a client and look to fulfil

their requirements, not just go through a box-ticking

exercise of showing a buyer all of the properties on

our books, and that's where having spent my whole

life living in Sutton Coldfield has worked in my favour.

Knowing the area back to front means that when

16 www.jaimemagazine.com
---
someone has an area,

or a school, or a specific

house-type in mind, I can

use that knowledge to

hone in on the appropriate

properties to suit them.

CHSEN HOME HAVE MARKETED SOME STUNNING

PROPERTIES SINCE LAUNCHING IN SEPTEMBER 2020

"Listening is essential,

and I think that's part of

the reason we've received

consistent five-star

TrustPilot reviews: I know

from experience now the

most common questions

I'm going to get asked by

a potential buyer - Where

is the boiler? Which parts of the garden get full sun,

and at what time of day? - so I always spend time

with a vendor to get the answers to all those questions

in order to host an efficient viewing and respond to all

the enquiries I'm likely to get about a property, and

I've worked with my colleagues to ensure they do the

same.

"As far as Chosen Home is concerned, the job isn't

done until the new owner has the keys in their hands.

CHOSEN HOME DIRECTOR NICKI ASH

Recently, we have been working with our clients to

speed that up – as anyone who has bought or sold a

property will testify, one of the biggest hold ups in the

journey is the legal process, so one of the biggest tasks

we've taken to undertaking is to handle the contact

with solicitors ourselves in order to get those deals

over the line," she added.

Nicki said that the business, which initially launched

with a unique sales model whereby the purchaser pays

the sales fees as opposed to the vendor, has honed

the way it operates to make it more flexible,

coining the phrase 'You choose with Chosen'

to decide how the agency's fees are paid.

As the company looks to 2022, it has its

eyes on growth, without compromising its

principles.

"Those principles have secured us some

prestigious awards – earlier this year we

were presented with a gold accolade in the

British Property Awards, which acknowledge

outstanding service within the estate agency

sector, and we picked up the Disruptor

Of The Year Award at the West Midlands

Business Masters; the annual leadership

awards held by news site The Businessdesk.

com recognising the achievements of new

and established companies across the region,

an award we really wanted to win as it

summed up exactly what we set out to do

when we launched last September; disrupt the

marketplace, shake up the sector and change

the way people buy and sell houses for the

better.

"We plan to continue to do just that, and

we plan to grow the contents of our trophy

cabinet, as well as our business, over the next

year," she said.

www.jaimemagazine.com

17
---
I N T E R I O R S

Peri

nice

THE colour gurus at Pantone have made history with their

Colour of the Year for 2022 - by creating a brand new,

never-seen-before shade from scratch.

PANTONE 17-3938 Very Peri is, says Pantone, 'a

dynamic periwinkle blue hue with a vivifying violet red

undertone' which blends 'the faithfulness and constancy of

blue with the energy and excitement of red' to create the

'happiest and warmest of all the blue hues'.

Leatrice Eiseman, executive director of the Pantone

Colour Institute continued that `Very Peri 'displays

a spritely, joyous attitude and dynamic presence that

encourages courageous creativity and imaginative

expression.'

This modern hue is perfect for injecting a sense of playful

freshness into home interiors, enlivening a space through

unusual colour combinations. A versatile shade, Very Peri

is perfect for providing a pop of colour into your living

space; opt for a bold painted wall or statement furniture

for a generous splash, or choose Very Peri as an intriguing

and eye-catching accent in a pattern.

BENJAMIN MOORE INTERIOR PAINT

IN SHADOW, FROM £24.50.

WWW.BENJAMINMOOREPAINT.CO.UK

£5,731

OPAL QUIZ FREESTANDING BATH IN

VERY PERI, ACQUABELLA.

WWW.ACQUABELLA.COM

£27

£48

£420

SMALL CUSHION VASE IN AMETHYST,

DARTINGTON CRYSTAL. WWW.DARTINGTON.CO.UK

JULIETTE FEATHER AND BRASS

LIGHT, COLDHARBOUR LIGHTS.

WWW.COLDHARBOURLIGHTS.COM

ORGANIC LUXE CRYSTAL AGATE

SALAD SERVERS, CIELSHOP.

WWW.CIELSHOPINTERIORS.COM

18 www.jaimemagazine.com
---
The Sutton

Coldfield

estate agent

that doesn't

charge you to

sell your home?

"Excellent"

Sold.

chosenhome.com

Call 0121 222 1180
---
WISTFUL RECOLLECTIONS CANVAS

CUSHION BY ALPENGLOW WORKSHOP,

FY! WWW.IAMFY.CO

£POA

£59

CHUKKA TABLE LAMP, £116, WITH 20CM WIZARD

HAT SHADE IN COBALT SILK WITH VELVET TAPE,

£48, POOKY. WWW.POOKY.COM

TOGO SOFA IN KYOTO BLUE PURPLE

LEATHER, LIGNE ROSET.

WWW.LIGNE-ROSET.COM/UK

£679

£22

£17.99

ARTIFICIAL PURPLE THISTLES STEM,

WAYFAIR. WWW.WAYFAIR.CO.UK

£99

JACOBSEN-STYLE EGG

CHAIR, PASH CLASSICS.

WWW.PASH-CLASSICS.COM

BUNCH OF DRIED LILAC CAPE

BLOOMS, THE HAPPY BLOSSOMS.

WWW.THEHAPPYBLOSSOMS.COM

CATANA RETRO ROUND TABLE,

OUT & OUT. WWW.OUTANDOUT.COM

SELECTION OF VERY PERI INSPIRED ART

PRINTS, FROM £18, CLAUDE & LEIGHTON.

WWW.CLAUDEANDLEIGHTON.COM

20 www.jaimemagazine.com
---
ONCE UPON OUR TIME WALLPAPER,

£98 PER ROLL, MINEHEART.

WWW.MINEHEART.COM

ABERDEEN CHAIR, £POA, KOKET.

WWW.BYKOKET.COM

AND THAT'S THE TEA WALLPAPER,

£180 PER ROLL, BOBO 1325.

WWW.BOBO1325.COM

LILAC BERTIE PENDANT LIGHT,

£169, GLOW LIGHTING.

WWW.GLOWLIGHTING.CO.UK

52

KOSSET BELFORD TWEED TWIST CARPET IN

AMETHYST, £21,99/M2, CARPETRIGHT.

WWW.CARPETRIGHT.CO.UK
---
I N T E R I O R S

Time to get

organised

FOR many of us, the start of a new year means a time to

take stock and get the house in order. After the chaos of

the festive season, we're craving calm - and there's nothing

like a good old-fashioned tidy up to invoke that sense of

serenity within our surroundings.

Cluttered spaces can be, at best, uninviting, and at worst,

anxiety-inducing, so having a thorough sort out often

proves to be quite cathartic.

If the thought of a whole house blitz feels a tad

overwhelming, break the task down into manageable

chunks, tackling one room at a time and making sure you

finish the job before moving onto the next.

Donate or recycle anything you no longer have a need for,

and once you've cleared away the clutter, make sure you

have plenty of stylish storage solutions to keep the rest of

your belongings in check.

HADDON RANGE IN PAINTED CHARCOAL BY

BURBIDGE & SONS KITCHEN MAKERS. AVAILABLE

FROM TIPPERS LUXURY KITCHEN & BATHROOM

SHOWROOMS, LICHFIELD. WWW.TIPPERS.COM

£95

£645

£695

POT PIE STORAGE FOOTSTOOL,

LOAF. WWW.LOAF.COM

£30

X-FRAME BOOKSHELF, PEPPERMILL

INTERIORS, BURNTWOOD BUSINESS PARK.

WWW.PEPPERMILLINTERIORS.COM

YELLOW RETRO TV STORAGE CABINET,

RED CANDY. WWW.REDCANDY.CO.UK

FOLDING BRASS WIRE MAGAZINE RACK,

HEAVENLY HOMES AND GARDENS.

WWW.HEAVENLYHOMESANDGARDENS.CO.UK

22 www.jaimemagazine.com
---
WELCOME TO BAYLISS BATHROOMS,

THE LARGEST INDEPENDENT LUXURY

BATHROOM SPECIALIST IN THE REGION.

OUR UNRIVALLED ONE STOP PROJECT

MANAGED SERVICE, FROM DESIGN

THROUGH TO INSTALLATION, IS FOCUSED

ON TURNING YOUR DREAM BATHROOM

INTO REALITY.

WHATEVER YOUR REQUIREMENTS,

WE CAN PROVIDE YOUR BATHROOM

SOLUTION. WE WELCOME YOU TO VISIT

OUR NEW WEBSITE OR SHOWROOM TO

EXPLORE THE BAYLISS EXPERIENCE AND

ALL THE OPTIONS AVAILABLE TO YOU

We offer a complete 'One Stop' process to turn your bathroom dreams into reality, which includes:

• A bespoke 2,500 sq ft showroom with over 20 bathroom displays located in Sutton Coldfield

• A specialist design team to create designs to match your every need

• Expert knowledge of our partner brands giving you access to superb products and tiles.

• In-house installation teams working to the highest possible standards

• Management of all aspects of the Project, providing you with a single point of contact, every step of the way

• For those customers who require a Supply Only service, access to all leading brands at competitive cost.

BAYLISS BATHROOMS, 23 GATE LANE, BOLDMERE, SUTTON COLDFIELD B73 5TR

0121 362 1800 - www.baylissbathrooms.co.uk
---
£329

INDUSTRIAL KIDS LOCKER STORAGE

BENCH IN HERTOG GREY BY WOOOD,

CUCKOOLAND. WWW.CUCKOOLAND.COM

£POA

FOUR GOLDEN BELLS NAPKIN

RINGS, COX & COX.

WWW.COXANDCOX.CO.UK

£99.99

FLUTED GLASS WITH MATT BLACK METAL FRAME

STORAGE SIDEBOARD, BESPOKE OPTIONS

AVAILABLE, KESSELER BIRMINGHAM.

WWW.KESSELERBIRMINGHAM.CO.UK

LENA RATTAN STORAGE UNIT,

VONHAUS. WWW.VONHAUS.COM

£420

£475

NOSTALGIC COAT STAND WITH

MIRROR, CUCKOOLAND.

WWW.CUCKOOLAND.COM

SAXTON WOODEN SIDEBOARD, PEPPERMILL

INTERIORS, BURNTWOOD BUSINESS PARK.

WWW.PEPPERMILLINTERIORS.COM

HIDEY-HO STORAGE SIDE TABLE, £225, LOAF.

WWW.LOAF.COM

24
---
BELLWOOD STORAGE TABLE, £85,

BEAUMONDE. WWW.BEAUMONDE.CO.UK

TWO DRAWER ZINC STORAGE UNIT, £42.50,

COX & COX. WWW.COXANDCOX.CO.UK

BURFORD OAK STORAGE BENCH,

£425, COX & COX.

WWW.COXANDCOX.CO.UK

ORTHEX SMARTSTORE RECYCLED

BASKETS, FROM £5, HOMEBASE.

WWW.HOMEBASE.CO.UK
---
I N T E R I O R S

Feline

fierce

AS the Chinese New Year rolls around this month

heralding 2022 as the Year of the Tiger, it's time to take a

walk on the wild side and incorporate a little of that feline

fierceness into your interiors.

Bold, fun and full of confidence, the tiger motif has been

a firm favourite in interiors for a while now, perhaps in no

small way inspired by the standout Netflix hit Tiger King,

which was on just about everyone's watchlist at the start of

the Covid-19 pandemic.

With animal prints galore and jungle botanicals featuring

on everything from wall coverings to textiles, it's now

the turn of the tiger to come to the fore - and we're not

just talking tiger stripes. Look out for full blown cool cats

creating sculptural details for lamps, candle holders, vases

and more.

If you're feline bold, opt for tiger-inspired wallpaper

or murals, or just go for a splash here and there with

accessories to channel the look and give your decor some

added grrrr.

KALEIDOSCOPE TIGER 100% SILK CUSHION,

£145, CATHERINE ROWE DESIGNS.

WWW.CATHERINEROWEDESIGNS.COM

GOLD RESIN TIGER CANDLESTICK,

HEAVENLY HOMES AND GARDENS.

WWW.HEAVENLYHOMESANDGARDENS.CO.UK

£17 £65

£89

TIGER LAMPSHADE, MOUNTAIN & MOLEHILL.

WWW.MOUNTAINANDMOLEHILL.COM

BOLD MONKEY SONGS OF THE

NIGHT TIGER VASE, CUCKOOLAND.

WWW.CUCKOOLAND.COM

£27

TIGER RATTAN ART, HEAVENLY HOMES AND GARDENS.

WWW.HEAVENLYHOMESANDGARDENS.CO.UK

26

www.jaimemagazine.com
---
Walsall Wood

✓ Friendly in-home service ✓ Options for every budget ✓ Price includes measuring & fitting

YOUR LOCAL BLINDS,

CURTAINS & SHUTTERS

SPECIALIST

• I provide expert advice on the

best window solutions

• Flexible appointment times

• Blinds & curtains tailor-made

here in the UK

"My local advisor helped me

find a blind to fit my budget.

The service was second to none".

Laura Jackson, customer

• Ask me about multi-blind

discounts

• I won't be beaten on price*

• Electric blinds available

ROLLERS | ROMANS | VERTICALS | VENETIANS | CURTAINS | SHUTTERS | WOODEN BLINDS

Call me for a free in-home appointment:

Michael Holdway 07949383322

*Based on the same spec, size & levels of service.

Refreshingly Different

Treat yourself to a new door for 2022

Visit our Stylish Showroom

11 Belwell Lane, Sutton Coldfield, B74 4AA - Tel: 0800 996 1241

Visit our fantastic website www.jmiwindows.co.uk - enquiries@jmiwindows.co.uk

Windows | Doors | Bi-Fold Doors | Garage Doors | Conservatories | Orangeries | Secondary Glazing | Window Repairs
---
£25

£82 £26

SET OF FOUR SAFARI

COASTERS, JONATHAN ADLER.

UK.JONATHANADLER.COM

TIGER HOOK, MINT & MAY.

WWW.MINTANDMAY.CO.UK

PROWLING TIGER CUSHION, MINT &

MAY. WWW.MINTANDMAY.CO.UK

£158

£195

SAFARI NEEDLEPOINT

CUSHION, JONATHAN ADLER.

UK.JONATHANADLER.COM

NATURAL HISTORY MUSEUM X MADE.

COM VINTAGE TIGER SET OF THREE

FRAMED PRINTS. WWW.MADE.COM

BENTLEY THE BENGAL TIGER PERSPEX

WALL ART, £395, YARDART UK.

WWW.YARDARTUK.CO.UK

28 www.jaimemagazine.com
---
FREE no obligation design service with our kitchen specialists

16 -18 Britannia Way Britannia Enterprise Park, Lichfield WS14 9UY • 01543 263340

info@lichfieldkitchensandbedrooms.com • www.lichfieldkitchensandbedrooms.com

Opening Hours: Mon - Fri 9:00 am - 5:00 pm Sat 9.30am - 12.30pm 12.30pm – 4.00pm by appointment only.

STOCKISTS OF ALL LEADING QUARTZ AND GRANITE BRANDS IN THE WORLD:

SILESTONE · DEKTON · FUGEN WORKSURFACES · CRL · CAESARSTONE & MANY MORE

A FAMILY-RUN BUSINESS OPEN TO BOTH TRADE & PUBLIC

* Fully fitted showroom with 7 displays of high quality quartz, granite and stone worktops

* Over 100 plus EXTRA LARGE samples showing the true detail of the material

* FREE sample service. See our website for details.

* Email us with a plan/drawing of dimensions and requirements and we will quote you within 24 hours

UK Stoneworx Ltd. Unit 28a Ring Road, Burntwood Business Park,

Burntwood WS7 3JG (opposite Peppermill Interiors)

Open Mon - Friday 8am - 4.30pm. Sat 9am - 3pm. Closed Sundays

01543 742272 · www.ukstoneworx.co.uk · email: info@ukstoneworx.co.uk

Facebook · Instagram · LinkedIn @ukstoneworx
---
G I F T G U I D E

To the one I love

SHOW YOUR SIGNIFICANT OTHER JUST HOW MUCH YOU CARE WITH A TOKEN OF YOUR

AFFECTION - OR A GRAND DECLARATION OF YOUR LOVE. WITH VALENTINE'S DAY JUST AROUND

THE CORNER, WE ROUND UP SOME LITTLE TREATS WHICH ARE SURE TO HIT THE RIGHT NOTE.

£865

£1,100

18CT WHITE GOLD EARRINGS SET WITH TWO HEART

SHAPED FINE AQUAMARINES, ALLEN BROWN

JEWELLERY, HEART OF THE COUNTRY SHOPPING

VILLAGE. WWW.ALLENBROWNJEWELLERY.CO.UK

18CT WHITE GOLD 16 DIAMOND OPEN KISS

HEART PENDANT, JOHNSONS JEWELLERS.

WWW.JOHNSONSJEWELLERS.CO.UK

DELIZIE DI CALABRIA LOVE'S BOMB

HOT CHILLI SAUCE, HARVEY NICHOLS.

WWW.HARVEYNICHOLS.COM

£369

£5.95

£1,295

18CT WHITE GOLD EMERALD CUT DIAMOND

CLUSTER RING 0.50CT, JOHNSONS JEWELLERS.

WWW.JOHNSONSJEWELLERS.CO.UK

APPLE WATCH SERIES 7 IN MIDNIGHT.

WWW.APPLE.COM

£32

HEARTS KNITTED PICNIC BLANKET,

SOPHIE ALLPORT.

WWW.SOPHIEALLPORT.COM

£79.95

I LOVE YOU BUNCHES, DRIED FLOWER

BUNCH, THE HAPPY BLOSSOMS.

WWW.THEHAPPYBLOSSOMS.COM

£41.50

£37

HORDEN OVERSHIRT, BABOUR.

WWW.BARBOUR.COM

HARE CASHMERE SOCKS, SOPHIE ALLPORT.

WWW.SOPHIEALLPORT.COM

30 www.jaimemagazine.com
---
Your health

doesn't have

to wait

Few things in life are as important as

your health. That's why Spire Little

Aston Hospital gives you access to

world-class experts when you need

them most. Join us at one of our free

health mini consultations and speak to

our consultants directly.

Meet the experts

Come along to one of our free virtual events* to meet

the experts at Spire Little Aston Hospital. You can

get advice and information on the best treatments

available from the comfort of your own home.

10

Feb

Treatments for hip and knee pain, 6.30pm

with Mr Amit Kotecha and Mr Shiv Jain

17

Mar

Find out about weight loss options, 6.30pm

with Mr Amir Khan

Booking is essential, so please visit our website or call

0121 514 7034 to book your place.

Book to see an expert today

Search 'Spire Little Aston Hospital'

Call 0121 514 7034

*All events are being held virtually via Zoom, you will not need to attend the hospital, and you can

receive expert advice from the comfort of your own home. Mini consultations are an opportunity to

ask any questions you have about surgery and are not a formal outpatient consultation. If you wish

to proceed to surgery or your consultant suggests that further treatment may be necessary, a full

outpatient appointment will be required to assess your suitability for surgery/treatment

www.jaimemagazine.com
---
£16.50

£2,655

£45

PLATINUM HEART SHAPED DIAMOND

CLUSTER RING 0.90CT, JOHNSONS JEWELLERS.

WWW.JOHNSONSJEWELLERS.CO.UK

£28

LOVE YOU CANDLE, MINT AND MAY.

WWW.MINTANDMAY.CO.UK

MIRABEAU DRY ROSE GIN,

HARVEY NICHOLS.

WWW.HARVEYNICHOLS.COM

£9

£275

SILVER ENAMEL 18CT YELLOW GOLD PLATED AND

DIAMOND EARRINGS, ALLEN BROWN JEWELLERY,

HEART OF THE COUNTRY SHOPPING VILLAGE.

WWW.ALLENBROWNJEWELLERY.CO.UK

£4,255

TWIRL COUPE SET OF TWO, FIVE AND DIME.

WWW.FIVEANDDIME-INTERIORS.COM

RASPBERRY MACARON SELECTOR,

HOTEL CHOCOLAT.

WWW.HOTELCHOCOLAT.COM

PLATINUM THREE STONE EMERALD CUT DIAMOND

CLUSTER RING 0.81CTS, JOHNSONS JEWELLERS.

WWW.JOHNSONSJEWELLERS.CO.UK

£299

£85

GABRIELLE FOOTSTOOL, SOFOLOGY.

WWW.SOFOLOGY.CO.UK

£30

DEVERON QUILTED JACKET, BARBOUR.

WWW.BARBOUR.COM

STORK PINK GOWN, ONE HUNDRED STARS.

WWW.ONEHUNDREDSTARS.CO.UK

STRAWWBERRY 'I LOVE YOU' TRAY,

DAISY PARK. WWW.DAISYPARK.CO.UK

£99.95

32 www.jaimemagazine.com
---
Check out what's coming up in 2022 at the newly

refurbished Tamworth Assembly Rooms Theatre – lovingly

preserved and modernised for future generations to enjoy.

An Evening with Su

Friday 4 February

The Music of

Northern Soul Sat 5 Feb

MJ The Legacy

Friday 11 February

Coldplace

Saturday 12 February

Wrestle Carnival

Thursday 17 February

Herman's Hermits

Friday 18 February

TwirlyWoos Live

Thursday 24 February

The Billy Joel Collection

Saturday 19 February

The AMAZING

Bubble Man! Fri 25 Feb

The Roy Orbison

Story Saturday 26 February

Scummy Mummies

Thursday 3 March

Box Office: 01827 709618 www.tamworthassemblyrooms.co.uk

Corporation Street, Tamworth, Staffordshire. B79 7DN

*Please note that these events were correct at time of print and are subject to government guidelines, please check our website for latest updates.
---
F E AT U R E

In search of liquid gold

WHISKY HAS BECOME THE ULTIMATE LONG-TERM TIPPLE – AS EXCITING TO KEEP AS IT IS

TO DRINK. ROBERT FRENCH, WINE AND WHISKY SPECIALIST AT RICHARD WINTERTON

AUCTIONEERS, RAISES A GLASS TO THE QUINTESSENTIAL CONSUMABLE COLLECTABLE

Neat, as a highball or in a cocktail, our love of

whisky is far from on the rocks.

But whichever way you opt to quaff, another option

for the forward-thinking is not to drink it at all.

Straight up!

There's a world of whisky out there which may never

see the inside of a glass – or, if it does, will form a

very pricey tipple indeed.

Wealth reports regularly show the golden spirit on or

around the top of the Luxury Investment Index and

in some circles it has become quite the status symbol.

In October 2019, a bottle of The Macallan 1926, a

'Fine and Rare' 60-year-old from the hallowed cask

263 and one of only 40 bottles ever produced, set

a new world record after selling for £1.5 million at

Sotheby's.

In effect, it values one shot of the Scotch as costing

the same as a Porsche.

More recently, The Macallan Red Collection – a rare

set of six whiskies, including two of the distillery's

oldest at 74 and 78 years old – sold at £756,400 at

Sotheby's in November 2020, with proceeds going to

food charity City Harvest London.

But aside from these lofty highs, there's a wealth of

whisky worth cashing in right now.

Scotch squirrelled away in the 1970s could be worth

four figures today.

While top-end rare whisky prices have risen by as

much as 400 per cent in the last decade, demand is

strong across the board and spirits, wine and port

sections in our auctions regularly achieve a 100 per

cent selling rate.

But how do you know there's a whisky windfall

hiding away unopened in the back of your drinks

cupboard?

Ones to watch out for include Scottish single malts

such as The Macallan, Clynelish, Benromach,

Lagavulin, Ardbeg, Glenlugie, Brora, Bowmore and

Ben Wyvis.

A bottle of The Macallan 25th anniversary fetched

£2,700 with Richard Winterton Auctioneers in

ROBERT FRENCH, WINE AND

WHISKY SPECIALIST AT RICHARD

WINTERTON AUCTIONEERS

2019, and we sold a bottle of Bowmore Bicentenary

1779-1979 Islay single malt for £2,600 in 2020.

And last year a bottle of Laphroaig malt whisky – a

rare example from a limited amount exported to

America in the late 1950s – made £3,300.

Also highly collectable is unusual whisky such as

Loch Dhu, also known as 'The Black Whisky'. Very

different to the golden tones classically associated

with Scotch, this very distinctive single malt gets its

signature colour from maturing in double-charred

casks and regularly sells at auction for £200.

The most coveted whiskies come from low-yielding

batches; others to collect include product from

distilleries no longer producing – so-called 'silent' or

'lost' distilleries such as Glen Mhor, St Magdalene

and Ladyburn.

34

www.jaimemagazine.com
---
A project to reopen one such lost distillery, the

renowned Port Ellen, is still ongoing and if and when

production recommences, it will be a most eagerly

sought spirit indeed.

We've found ourselves firmly footed north of the

border today talking Scotch but there is of course a

whole catalogue of fine whiskey – note the 'e' in the

spelling – from Ireland and America with bourbon

booming – despite a 25 per cent tariff on imports, it's

estimated that one in 12 bottles of whisky sold in the

UK is American whiskey with Jack Daniels still being

number one.

Crafted from corn mash as opposed to Scotch, which

is made from malted barley and water, other popular

brands of bourbon include Stagg, Old Forester,

Benheim and Woodford Reserve.

Japanese whisky – note we are now back to spelling

without the 'e'! – has its own proud heritage and

traditions, offering innovative and complex flavours

garnering huge respect and credibility in the whisky

world from distilleries such as Yamazaki,

Hakusku and Nikka.

These, too, can be smart investments as

well as delicious drinks.

In August 2020, a bottle of 55-yearold

Yamazaki sold for HK$6.2 million

– equivalent to more than £605,200

– establishing a new world record for

Japanese whisky at auction.

If you believe some of the reports in

the press, up to a quarter of us started

drinking more during lockdown, while

alcohol sales in general have risen by

nearly a third.

With many distilleries temporarily

closing due to Covid and production

slowing, casks produced in 2020 could

prove highly sought-after – although

that, of course, will not be proven for

many years to come.

While for many gin remains the 'in'

spirit, it's one to drink now rather than

an investment. Fine wines, whisky and

port will always be the ones to watch –

with the latter becoming increasingly

popular at auction.

Warres, Graham's, Niepoort and Quinta

do Noval are all names to look out for,

with good years including 1966, 1977,

1983, 1985, 1992, 1995, 2003 and 2007.

You won't be drinking it for many years

but 2015 was also a good year and is

possibly one to look at for an investment.

For it's worth remembering that whereas whisky

only matures in the cask – once it is bottled it will

taste exactly the same, provided it has been stored

correctly, even after many, many years – port, like

fine wine, will continue to mature in the bottle for

half a century or more if stored correctly.

So, to drink or not to drink? That could indeed be

the million dollar question!

If you have a mystery bottle, do drop us a line and

together we can see if you've struck liquid gold.

For free valuations of whisky, wine,

port, spirits and cigars, email rob@

richardwinterton or call 01543 251081

to book an appointment at The Lichfield

Auction Centre, Fradley Park, WS13 8NF. You

can also see Robert French at The Tamworth

Auction Rooms at 34-25 Church Street, B79

7BX – call 01827 217746 to book. Visit

www.richardwinterton.co.uk.

THIS BOTTLE OF LAPHROAIG

WAS VERY UNUSUAL AS IT WAS A

RARE EXAMPLE FROM A LIMITED

AMOUNT EXPORTED TO AMERICA

IN THE LATE 1950S. IT SOLD FOR

£3,300 LAST YEAR

www.jaimemagazine.com

35
---
F O O D & D R I N K

A new dawn for The Red Lion

ACCLAIMED STAFFORDSHIRE PUB THE RED LION AT BRADLEY IS TRIUMPHING

WITH A NEW KITCHEN TEAM AT THE HELM, AS AMY NORBURY DISCOVERS

Businesses the world over have endured

a torrid two years in the face of the

global coronavirus pandemic. And

no industry has been harder hit than

hospitality. Pubs, bars and restaurants

were forced to close their doors for

months, then jump through endless

hoops in order to continue serving

customers.

And just as it felt hospitality was seeing

brighter days, acclaimed Staffordshire

pub The Red Lion was hit with another

setback as it was forced to close its

kitchen unexpectedly once again in the

autumn when the newly-recruited head

chef opted - at the last minute - not to

take up the role.

But, happily, The Red Lion is back with a bang - and

an exciting new kitchen team to boot.

Nestled in the Staffordshire village of Bradley, not

far from the county town, The Red Lion is part of

the Lewis Partnership, whose flagship venue is the

renowned Moat House at Acton Trussell. And the

pub is not short of an accolade or two itself, having

featured in the Michelin Guide and awarded a

prestigious Michelin Plate for the past four years.

The Michelin inspectors praised the pub's 'hearty,

flavoursome dishes', noting that it was worth

diverting off the M6 for a visit.

And I concur.

After a higgledy-piggledy drive through the

Staffordshire countryside, The Red Lion is a beacon

of hospitality, drawing diners from miles around to

this pretty little village. The pub itself is a tale of

two halves, with a beautiful oak-framed conservatory

creating a bright and airy bar area, before a quaint

and quirky snug - anyone taller than my five foot

three inches will need to mind their heads on the low

beams - leads through to the cosy dining room.

In the kitchen is new head chef Kris Redshaw, who

spent most of his early career in the Michelin-starred

kitchen of The Chester Grosvenor Hotel under

Simon Radley and Nick Brodie and has staged in

some of Britain's top restaurants owned by the likes

of Tom Kitchin, Daniel Clifford and Tom Brown.

A keen forager, Kris is also passionate about

growing veg in his family's allotment - both

influences which can be seen on The Red Lion's

menu.

J'AIME was invited over to give Kris's dishes a

try, and we jumped at the chance to venture out

for a bite to eat on a dreary January Saturday

evening.

We were greeted in the restaurant by manager

Sophie and shown to a cosy table tucked in the

corner. It was right at the start of evening service

but a handful of tables were already occupied,

and by the time we left the pub would be filled

36 www.jaimemagazine.com
---
with diners - a heartening sight in these Covid times.

A nice pint of ale and a crisp G&T were perfect

for slaking our thirst while we perused the menu,

accompanied by a pile of the lightest, warm focaccia

and a moreish Marmite whipped butter.

On the succinct side with just seven options each for

starter and main, the menu was nonetheless perfectly

formed, with each choice sounding as tempting as

the next one.

The torched mackerel, chicory marmalade, pickled

black radish, and toasted barley sauce, £8.50, caught

my eye, as did the pan seared scallops with scallop

roe emulsion and butternut squash textures, £10. But

it was the chicken and black pudding terrine with

Earl Grey and date purée and toasted milk bread,

£8.95, which sealed the deal. And it was a stellar

choice. The terrine was succulent, with a flavour

punch from the black pudding, the sweet date puree

cutting through the richness perfectly.

My husband's seared pigeon breast, salt baked

swede, sunflower seed paste and pear, £8, was a

dainty morsel which looked pretty as a picture and

tasted just as good.

Moving onto the main event, again we could have

happily chosen any dish from the list, with Sandon

Estate pheasant, braised pork belly and roasted stone

bass all vying for attention. My seared duck breast,

caramelised turnip, baby turnips, fondant potato and

bourbon whiskey jus, £20, was both comforting and

delicious; beautifully pink duck, a real earthy note

from the vegetables and the umami savouriness of

the jus. An accompaniment of braised winter red

cabbage, £4.50, was wonderfully jammy and sweet,

balancing out the plate nicely.

My husband's braised feather blade of beef, glazed

carrot and black garlic purée, served with a pile

of truffle and parmesan chips, £18.50, proved to

be another winning dish. The beef was meltingly

tender, falling apart at the merest hint of a fork,

the chips delightfully fluffy on the inside with a

crisp outer adorned with a generous shaving of

parmesan and just enough truffle to hit the spot. An

accompanying pear, candied walnut and Dovedale

blue cheese salad, £4.50, was the perfect example

of a winter salad, and something we'll definitely

recreate at home.

With just enough room left for a little something

sweet, I took on Sophie's dessert recommendation of

a deconstructed tiramisu, £7. Coffee-soaked sponge,

with a boozy hit of Tia Maria, paired with crisp

hazelnut tuile and shavings of dark chocolate, all

atop a creamy mascarpone layer, it was an indulgent

yet balanced pud.

My husband dug into his vanilla panna cotta with

pear jelly, lemongrass and milk ice cream,

£6.50, with gusto before realising it was,

in fact, the spiced apple pavlova, £7,

rather than the panna cotta he'd ordered.

Cue apologies all round, although he

declined a replacement since the pavlova

was rather lovely itself, with a spiced

apple compote and slivers of cinnamoninfused

meringue teased with gooey white

chocolate.

After a tumultuous time, it's evident that

The Red Lion has come back fighting.

Impeccable service - with manager Sophie

particularly worthy of plaudits - and

skillful cookery of a menu which elevates

pub dining to new heights, it's certainly

worth a visit.

www.jaimemagazine.com

37
---
F O O D & D R I N K

A foray into the unknown

STAFFORDSHIRE-BORN CHEF MATT WILLDIGG TALKS ALL THINGS

MASTERCHEF: THE PROFESSIONALS, FORAGING AND FINDING BALANCE

THROUGH HIS NEW BUSINESS WITH KATY EDGINGTON

Chef Matt Willdigg impressed

judges, critics and audiences alike

when he made it to finals week as

one of the last six contenders in

MasterChef: The Professionals

2021, which aired on BBC One last

November and December.

With stages at the likes of Hibiscus,

The Fat, Duck, Quay and Whatley

Manor under his belt, as well as

stints at Murano and Hipping

Hall, Matt's culinary pedigree is

impressive and fine dining has

taken him to the other side of the

world - a long way from his roots in

Staffordshire.

Matt grew up in the creative county - he still has

family living in Burntwood and Birmingham - and

his first time in a professional kitchen was at The

Moat House at Acton Trussell, aged just 16. His

apprenticeship there was a stepping stone to a career

behind the pass, opening his eyes to the world of

gastronomy.

"I really enjoyed the atmosphere in the kitchen. I was

a bit crazy and hard to control growing up, but the

kitchen environment seemed a perfect match. I could

FORAGING IS AT THE HEART OF

MATT AND OLI'S CULINARY ETHOS

MATT HAS SET UP FORAY CATERING

WITH CLOSE FRIEND AND FORMER

MASTERCHEF FINALIST OLI MARTIN

be myself, the hours didn't bother me, and I got to

try new things all the time," Matt tells us.

"I was quite fussy when I was growing up, so it was

quite hard for my mum to feed me. It's only through

being in the kitchen - trying things how they're

meant to be cooked and seasoned - that I fell in

love with cooking and the history of food. I can lose

myself for hours down rabbit holes about fermenting

or pickling or old plants that have been forgotten."

Matt moved to London at 18, where his experiences

at the height of the molecular gastronomy trend blew

him away. His early days as a chef were

heavily influenced by the two colossi of

the time: Heston Blumenthal - "I was a

bit obsessed with him for a while" - and

Gordon Ramsay.

"I remember watching him on Boiling

Point and The F Word before I was

a chef, swearing and shouting, and I

thought he was amazing. Obviously

times change and that's not the way

kitchens should be anymore, but he was

a big inspiration for sure," says Matt.

Five years spent working in Australia

inevitably impacted Matt's development

as a chef, too, particularly given the

38 www.jaimemagazine.com
---
t he heart of t he home...

Visit our showroom to be amazed by the choice -

from traditional to modern

With such a wide range of fires, fireplaces and stoves

there is sure to be a style to suit you & your home

WE OF F ER

A C OMP LE T E

INST ALLA T ION

SERV ICE

Visit our showroom and be amazed by the choice! With such a wide range from traditional to modern, there's sure to be a style to suit you!

5 Stafford Road, Lichfield WS13 7BZ - Tel: 01543 263 383 • www.thefireplacelichfield.co.uk • Email: sales@thefireplacelichfield.co.uk

Opening hours: Open Tuesday to Saturday 10am - 4pm. Closed Sundays, Monday's and bank holidays . FREE ON-SITE PARKING.

BURBIDGE

& SON

SOMERTON KITCHEN

BEAUTIFUL AND DISCREET STORAGE

DESIGNED TO MAXIMISE

EUROPA WAY, LICHFIELD, WS14 9TZ

01543 440020 | SHOWROOMS.TIPPERS.COM

WEEKDAYS

7.30AM - 5.00PM

YOUR SPACE.

SATURDAY

8.00AM - 2.00PM

BOOK AN

APPOINTMENT

APPOINTMENTS.

TIPPERS.COM
---
wide-ranging Asian influences in food there.

"As a chef it's exciting to find a new

ingredient or a new flavour, so going to a

new country is almost like starting from

scratch; some of the basics are the same,

but you get another perspective on food,"

he explains.

Matt is very honest about the fact that

he's struggled for the past eight years with

cluster headaches, lasting two or three

months at a time, which had stopped him

progressing to a head chef position.

"I always felt I was letting people down in

the kitchen, because I'd have to go away

for a bit and then I'd come back," he says.

"They were really tough to get over - I thought I'd

never get to the other side, because there's no cure

and none of the drugs I was prescribed worked. It

was only when I started to get a grasp on how to

manage them that I decided to apply. I was turning

30 and I wanted to have achieved something that

would better my future."

This was the motivation for applying to MasterChef:

The Professionals, and Matt's dishes when he

appeared in that kitchen were a culmination of all

his influences and experiences so far. Every dish he

put forward was a new one, led very much by his

passion for foraging and presenting undiscovered

foraged ingredients. Each aimed to showcase an

ingredient people might not be familiar with, but

used in such a way that the audience watching at

home could understand them in context.

"With a competition like that you have to play to

your strengths," Matt says. "You have a better chance

of getting through if you stick to what you know. It

used to take me ages to work through a dish - a lot

of trial and error - but there were a few times when I

had only one trial, so even if it wasn't right I'd have

to go for it and tweak it on the day."

The most challenging aspect of the whole experience

was contending with the limited amount of time

between recording each show - only two or three

days in the later stages of the competition - while still

going to work at Hipping Hall on the Cumbrian and

Yorkshire Border.

"Sometimes I'd come back from London, do a

service at work, practice a dish, go home, get up

early, go to work, practice a dish and then go back

to the MasterChef kitchen," says Matt. "It was so

hard to balance everything through the six or seven

weeks of filming. Taking part in the competition was

the toughest thing I've ever done. It's given me a lot

more confidence in the dishes I create, because the

feedback I got throughout the whole show was really

positive."

In his quest to show the audience at home something

new, Matt included some plants grown from seed

in his garden in Ingleton where he was living at the

time, and some picked wild. A particular favourite

was costmary, an ancient forgotten garden herb.

"It's almost a cross between mint and rosemary, I

find, and I really wanted to use it in a lamb dish

because they're classic companions for lamb. It's

quite strong, but used delicately in the right context

it can be great. There were a few more

ingredients I wanted to use, but obviously I

went out so I didn't get to!"

So, does Matt have any tips for budding

foragers? The main point is to be very careful

and absolutely certain about what you've got

before you eat it, especially when it comes to

mushrooms and fungi.

"It's taken me years and years of reading and

picking and identifying to get to the point

where I can pick and eat safely," he stresses. "If

you want to go out foraging, pick something

really simple like wild garlic or, if you're at

40 www.jaimemagazine.com
---
the coast, pick some sea arrowgrass or

samphire or purslane - plants you're

not going to confuse with poisonous

lookalikes."

When filming for the series ended in early

summer 2021, Matt left his full-time job

for a new adventure. Last autumn, he set

up Foray Catering with 2018 MasterChef:

The Professionals finalist, colleague and

close friend Oli Martin. After meeting in

Sydney's two-Hat Gastro Park restaurant,

the pair went on to work together for

a further five years at Hipping Hall

– achieving many incredible awards

including four AA Rosettes.

A shared interest in foraging has played

a big part in making the two such good

friends. Matt was already researching

plants during his time in Australia, and when they

both returned to the UK Matt paid close attention

to what Oli was doing with local plants and other

ingredients at Hipping Hall before joining him

there. As for many of us over the last two years, the

pandemic was a factor in looking for a change of

pace.

"Lockdown showed me that there's a bit more to

life than cooking," Matt muses. "I love cooking, but

you've got to have that balance. I needed to step

away from fine dining for a bit. Someone approached

Oli asking if we could cater for a wedding, and we

got talking and it grew from there."

With more than 30 years' experience between

them, the pair decided to use their knowledge of

the hospitality industry and bring it to weddings,

parties, events, and private dining across the North

West. The Foray Catering food philosophy is quite

straightforward.

STAFFORDSHIRE CHEF MATT

WILLDIGG MADE IT TO FINALS

WEEK OF MASTERCHEF THE

PROFESSIONALS

"We just want to serve real, tasty, good food to

everyone," says Matt. "All the dishes at Hipping

Hall we used to create together, and I find having

someone you can bounce ideas off like that makes the

dishes come out better in the end. I've never been to

a wedding and thought 'this is really good food'. We

want to do high-end food, using the best ingredients

and treating them with respect, so that people can

enjoy it and get excited about it."

Matt is enjoying the opportunity to have a better

work-life balance while still doing what he loves. And

it means they are still able to get involved with popup

restaurants and private dining when the chance

arises.

"Obviously there's a lot of stress along the way

in starting a new business, but I've got a lot more

energy now, I've got a girlfriend, and I'm enjoying

being in the kitchen more than I was before," he

adds.

Matt is now based in the seaside

town of Lytham with Foray's

kitchen unit a short drive away

in Preston, but ventures further

afield are not entirely off the

cards.

"We're concentrating on the

North West at the moment,

although we do have an event in

Buckinghamshire in a few weeks.

We don't want to run before we

can walk, but we're not ruling

out travelling!"

To find out more about Matt and

Oli's new venture, visit

www.foraycatering.co.uk

www.jaimemagazine.com

41
---
F O O D & D R I N K

The power of plants

AMY NORBURY SPOKE TO MARTIN HOLDEN-WHITE, THE LICHFIELD

FOUNDER OF VEGAN RECIPE BOX COMPANY GRUBBY, TO DISCOVER

HOW TO MAKE THE MOST OF PLANT-BASED EATING

You've taken the new year

as an opportunity to try

a healthier approach to

eating - something most

of us probably need to do

following a festive season

filled with cheese, chocolate

and wine! - and decided to

give Veganuary a go.

But finding new and exciting

ways to eat completely

without meat, fish or dairy

products can prove to be

difficult, especially if you're

more used to the British diet

of meat-and-two-veg with

every meal.

And that is why Martin

Holden-White set up

GRUBBY PROVIDES ALL THE

INGREDIENTS FOR DELICIOUS PLANT-

BASED COOKING

Grubby. The nationwide vegan recipe box company

launched last year with the aim of simplifying plantbased

eating, providing meat-free meals which are

easy to create and taste delicious.

"A big part of why people struggle to go vegan,

or struggle to eat more plants, is because of the

cooking," says Martin, who hails from Lichfield.

"Although we do love our takeaways, ultimately

around 70 percent of meals in the UK are still homecooked,

and one of the bigger challenges of getting

people to go plant-based is that they don't know that

it can taste good, and they don't know the techniques

to achieve this, because that's just not how a lot of

us were raised. So that's what we're trying to do with

Grubby."

While completing a challenge like Veganuary and

going completely vegan can provide a much-needed

health boost, many of us will find it difficult to

sustain long term. But, says Martin, making gradual

small changes to your diet can still make a huge

difference.

"At Grubby we're a team of flexitarians," explains

Martin. "We all have different dietary needs, and

we're not preachy about being vegans; in fact,

around 80 to 90 percent of our customers aren't

vegans. A large part of our customer base wants

to build more plants into their diets rather than go

completely vegan.

"The main reasons why people decide to go plantbased

are to do with health and the environment,

with the animal cruelty aspect being the third reason.

"Eating less meat is far more prevalent now that

people are more aware of the health benefits that it

can bring, but I think the thing that people get wary

about with going vegan is that they're not going

to get enough protein. But that's a myth; there are

plenty of ways to get enough protein with plantbased

food - if you know how to do it properly.

"And from an environmental point of view, when

you compare an individual meat-based meal to a

plant-based meal, the savings on CO2 and water are

mental; it's crazy the impact it has, and becoming

more aware of this is what is encouraging people to

try more plant-based eating."

In fact, a study by Oxford University found that if

42 www.jaimemagazine.com
---
Proud to be a family run business for over 35 years

HOME IS WHERE THE WARMTH IS

Introducing

the Sudbury

woodburning

stove from

Clock

Suppliers of: Contura, Clock, Jotul, Gazco, Scan, Town & Country Fires, ACR Heat Products and many more

Installers and suppliers of gas fires, bespoke limestone surrounds, and gas and woodburning stoves, since 1981.

1/7 High Street, Erdington B23 6RG Next to Highclare School

Telephone: 0121 384 5251 - www.abbeyfirecentre.co.uk

Open: Mon - Fri: 9am - 5pm (closed Wednesdays), Sat: 10am - 2pm

abbeyfirecentre @abbeyfirecentre abbeyfirecentreltd
---
everyone in the UK made the simple swap from

red meat to plant-based just once a week, it would

cut our greenhouse gas emissions by a staggering

50 million tonnes. That's a reduction of up to 8.4

percent in the UK's total greenhouse gas emissions -

the equivalent of taking 16 million cars off the road.

"And that's just if everyone moved to one plantbased

meal a week," says Martin. "The impact of

that small change is immense, and that's something

everyone can do."

Making plant-based food more accessible is at the

heart of Grubby's ethos.

"From Grubby's point of view, we're trying to

educate people as to how simple the cooking

techniques are," says Martin. "It's just about learning

them, and trying Grubby can help. People dip in and

out of Grubby, they use it for recipe inspiration, they

enjoy the meals and then go on to cook them again

themselves, which is cool - it means we need to keep

coming up with new recipes to keep people coming

back."

And introducing people to new ingredients which

can make their vegan dishes as flavoursome - if not

more so - than meat-based counterparts is key to

changing perceptions around vegan cookery.

"Finding nutritional yeast, or using tahini if you've

never used it, can be daunting," says Martin. "There

are all these weird and wonderful ingredients out

MARTIN HOLDEN-WHITE, LEFT,

AND THE GRUBBY TEAM

there but they might be harder to find, and can be

expensive, then you end up with an entire pot which

sits in the cupboard.

"We provide a small portion so there's no wastage;

Grubby enables people to dabble in plant-based

cooking without fully committing to spending loads

of money on ingredients."

So what are Martin's go-to hero ingredients?

"Nutritional yeast is something that really opened my

eyes, especially in dishes like stews and pastas, where

you want that tang and that cheesy element," he says.

"Add a few tablespoons of nutritional yeast during

the cooking process and you'll be really surprised as

to what that can deliver. If you're trying to emulate

dishes like macaroni cheese, it's perfect for that, and

in a mushroom stroganoff with coconut milk and

smoked paprika, it's a great combination."

Cashew nuts are another firm favourite for Martin.

"They're an absolutely brilliant ingredient," he says.

"Cashews are great for making sauces; you can blitz

cashews with Oatly cream, soy sauce and a bit of

lemon juice, and you have the makings of a tasty

carbonara.

"Or you can make toppings that have a similar taste

to parmesan; nutritional yeast mixed with salt and

blitzed cashews sprinkled over the top of dishes

makes a great cheesy topper."

For added zing when it comes to salads, lemon juice

is another of Martin's must-haves.

"Lemon is everybody's friend; in vegan cooking it's

so good for bringing out the flavour in salads, just

pulling everything together.

"And miso paste. It doesn't just have to be spread on

things and roasted, that tastes great, but you can use

it for other things too. We were testing a mushroom

risotto and put a little bit of miso in the background

of the stock; if you just use a small amount, it has the

same effect as Marmite or Worcestershire sauce - it

gives that umami, you don't taste the miso, it just

gives a depth of flavour."

And while vegan cookery can often be based around

meat replacements, such as tofu and other products

designed to taste like meat, Martin is a firm believer

that veg is the way to go.

"We've always believed in the power of plants, and

believe that you can create really delicious food by

just making the veg and raw ingredients really sing;

you don't need meat or meat replacement products,"

says Martin.

"There's so much you can do with just veg."

For more details on Grubby, visit

www.grubby.co.uk

44 www.jaimemagazine.com
---
INGREDIENTS: SERVES TWO

300g sweet potato

1 aubergine

1 red pepper

150g rice

2 spring onions

2 tablespoons tamari soy

2 cloves garlic

30g ginger

1 red chilli

1.5 tablespoons agave syrup

1.5 tablespoons white wine vinegar

2.5 tablespoons peanut butter (nuts)

1 cucumber

handful coriander

1 lime

Sweet potato and

aubergine satay

Preheat your oven to 200 degrees / 180 Fan /

gas mark 6.

Cut the sweet potato, aubergine and red pepper

into 3cm chunks. Add all the chopped ingredients

to a large roasting tray along with a tablespoon

of olive oil and a pinch of salt and pepper. Place

into the oven for 15-20 minutes, turning half way

through.

Meanwhile, rinse the rice with cold water, place

into a saucepan and cover with 300ml of boiling

water. Bring the rice to the boil on a high heat

with the lid on, then turn down to a low simmer

and leave to cook for 10-12 minutes. Once all the

water has evaporated, take off the heat and set

aside. While the rice is cooking, finely slice the

spring onions.

To make the sauce, using a blender, add the

tamari soy, peeled garlic and ginger, half of the

red chilli (deseeded), agave syrup, white wine

vinegar and 2 tablespoons of water. Blend until

the chilli and garlic are well chopped, then add in

the peanut butter and blend until combined.

To make the cucumber salad, using the palm of

your hand or a wooden rolling pin lightly bash

the cucumber to crack it, then slice into rough

2cm chunks and add it to a bowl along with the

remaining red chilli and finely chopped coriander,

stalks and all. Mix well and set aside.

When the sweet potato and aubergine are cooked,

serve them next to the rice, pour over the satay

sauce, sprinkle with the spring onion and serve

alongside the cucumber salad. Finish with a good

squeeze of lime juice.

www.jaimemagazine.com

45
---
F O O D & D R I N K

The taste of victory

MASTERCHEF: THE PROFESSIONALS 2021 WINNER DAN LEE COOKED UP A STORM IN

LICHFIELD AT A RECENT SAUCE SUPPER CLUB EVENT. HERE HE SHARES THE RECIPE FOR A

DELICIOUS MARINADE TO HELP YOU WHIP UP A TRADITIONAL CANTONESE DISH AT HOME.

PHOTOGRAPHY BY BECKY TRANTER. WWW.BECKYTRANTER.COM

After an intense final, Birmingham chef Dan

Lee was crowned winner of MasterChef: The

Professionals 2021, impressing judges Marcus

Wareing and Monica Galetti with his Asian

and modern European inspired dishes; Wareing

described Dan as "a star in the making", while

Galetti praised his "exciting, innovative flavours".

With a Chinese father and British mother, Dan has

grown up around a mixture of Chinese and British

cuisine; his Chinese grandfather ran a takeaway

serving traditional Cantonese dishes, while his British

grandparents fed him stews and bacon sandwiches.

After gaining his Diploma in Cookery at University

College Birmingham, Dan worked in a Michelin-star

celebrity restaurant in Singapore, Table65. He is

now a private chef, doing pop-ups and residencies at

restaurants.

This month, he took over the kitchen at

Curborough's Thyme Kitchen, home of Sauce

Supper Club, where lucky diners got to experience

some of the dishes which saw Dan walk away

with the MasterChef title. From mouthwatering

Hainanese chicken with rice, sesame and chilli, and

scallop with XO, chive and sweet potato, to duck

with hoisin and cucumber, and Lo Bak Go, it was a

feast inspired by Dan's heritage.

MASTERCHEF THE

PROFESSIONALS

WINNER DAN LEE

And here, Dan shares the recipe for a traditional

Cantonese favourite - char siu pork.

Dan says: "Char siu is one of the most popular

roasted meats in Cantonese cuisine, it's

something I ate regularly growing up and to

this day it's still one of my favourite things to

eat! Traditionally char siu pork is served over

rice with some Chinese cabbage or pak choi

on the side, you can also find it inside Bao,

in fried rice and on top of delicious wonton

noodle soup. Below you can find my marinade

for char siu pork, I like to use shoulder when I

make it due to the tasty fatty nature of the cut,

this marinade also works with fillet and jowl,

although for jowl you would braise it in the

marinade rather than roasting!

46 www.jaimemagazine.com
---
Char Siu

Marinade

INGREDIENTS:

1.2kg pork shoulder (sliced into 3/4

thick strips)

3 cloves garlic

2 inch ginger

60g demerara sugar

50g runny honey

30ml groundnut oil

80ml Shaoxing rice wine

80ml light soy sauce

20ml dark soy sauce

40g sweet hoisin sauce

45g yellow bean sauce

1 tbsp MSG (optional)

1 tbsp red food colouring (optional)

Set the pork aside, then blend all the remaining

ingredients together to make the marinade.

This can be done in a food processor or with a

stick blender. If you have neither to hand you

can finely chop the ginger and garlic then mix

everything.

Place the pork into a large glass bowl or a large

zip lock bag and pour over the marinade, mixing

well to ensure all the pork is covered. Then leave

the pork in the fridge overnight preferably, or for

a minimum of four hours - I'd recommend 12-18

hours for the marinade.

Set your oven on fan to 220c

Remove the pork (reserve the marinade) and place

onto a roasting rack, on a roasting tray. Roast the

pork on the top shelf of the oven for 15 minutes,

then remove, turn over and brush with the

remaining marinade - be generous!

Roast for a further 10 minutes on 220c then

drop your oven to 140c to roast for a further

30 minutes. Check the pork is nicely coloured,

remove from the oven before resting for 5-10

minutes. Slice and serve.

Alternatively you can barbecue this pork - I'd

highly recommend giving this a try!

www.jaimemagazine.com

47
---
H E A LT H

Move to the beat

PRIMARY SCHOOL TEACHER AND FITNESS INSTRUCTOR NICOLA WILLIS, FROM

LICHFIELD, IS PIONEERING A NEW TYPE OF FITNESS CLASS AIMED AT PARENTS - WHERE

THEY CAN WORK OUT WITH BABY IN TOW. AMY NORBURY DISCOVERS MORE

Primary school teacher Nicola Willis has always had

a passion for fitness and exercise. Living and working

in central London, she trained as a group exercise

instructor, hoping to share her love of staying active.

And when her school lost the use of its outdoor space,

leaving the children with nowhere to run around and

let off steam, Nicola jumped at the chance of helping

to keep her pupils active.

"The school was having a new playground put in so

we lost the playground and, being in central London,

there was nowhere for the kids to play," says Nicola,

who now lives in Lichfield.

"So I thought that if I taught aerobics, it would be an

extra active session for them."

Rather than call the classes 'aerobics', Nicola wanted

something which would be more appealing to her

pupils. Inspired by her and husband John's recent first

wedding anniversary trip to Tanzania - where they

climbed Mount Kilimanjaro - she researched Swahili,

the language spoken in Tanzania, for ideas.

"It's such a singsong language, which fitted perfectly

with the classes, and I came across the word 'Wimbo',

which means rhythm."

And so, WIMBO Fitness was born.

With the classes proving a hit with the pupils, Nicola

then started teaching aerobics classes to school staff

after school as part of staff wellbeing, before training

BABIES CAN RELAX OR PLAY WHILE

THEIR PARENTS WORK OUT

WIMBO FITNESS FOUNDER NICOLA

WILLIS WITH DAUGHTER IVY

to teach pilates.

When Nicola discovered she was pregnant with

her first child in early 2020, she didn't want to give

up exercising, but needed to ensure she could keep

herself and bump safely active throughout her

pregnancy. So she decided to train as a pre and post

natal exercise specialist too.

But then, the coronavirus pandemic hit, forcing

the whole country into lockdown. As a key worker,

Nicola continued to teach full time - but missed her

previously active lifestyle. So she decided to take her

fitness classes online.

"I was teaching pilates and aerobics online every

week, for friends and family, throughout lockdown,

just to keep everyone active, for free," she says.

"I was teaching every day, which really helped me to

get through it because it gave me something else to

do."

Nicola, who's originally from Walsall and now has

48 www.jaimemagazine.com
---
FREE NEW APP

brings history to life!

A new app – Historic 'Tamworth AR Trails' – is using

augmented reality to offer a new and exciting way to

discover the history of Tamworth.

Hear stories told by some of Tamworth's historical figures such as

Sir Robert Peel, Thomas Cooke and William MacGregor, to name

but a few. Discover the resilience of the town and how its hard

working people have survived throughout the ages.

The Historic Tamworth AR Trail app tells of some of the town's

lesser known intriguing stories and will transport you back in time,

as you take a walk around the town to unveil the hidden lives of

some of the Tamworth's most fascinating characters.

Download the FREE Historic 'Tamworth AR Trails'

app from your app store now!

More info: www.visittamworth.co.uk/historic-trail
---
family in Shropshire, and John, whose family lives in

Derbyshire, decided to make the move back to the

Midlands to be closer to their families in time for the

arrival of daughter Ivy, now 16 months old.

The couple settled in Lichfield as the perfect midpoint

between their two families, as well as being easily

commutable back to London for John's work.

When baby Ivy arrived in September 2020, Nicola

wanted to find a way to involve her and her baby

friends in her fitness classes. She realised that, as a

new parent, it can be difficult to carve out time away

from baby to attend a traditional fitness class, but that

most baby classes are, understandably, focussed on

baby's needs rather than the needs of the parent.

The brand of pilates Nicola teaches is Fitness Pilates,

which was founded by UK fitness personality Rachel

Holmes. Rachel also pioneered the Buggy Beat idea

- which Nicola decided would be the perfect way to

incorporate Ivy into her work.

Buggy Beat is a cross-training class for parents and

babies to attend together. Incorporating elements of

cardio, tabata and pilates, it's a class where parents

can work out with their babies in tow. The initial run

of Buggy Beat classes started last August in Lichfield's

Beacon Park.

While Buggy Beat is a fitness class for parents, it's

completely baby-led, with feeding, changing and

entertaining the little ones all part and parcel of

proceedings.

"It's all about having fun; you get active but you can

work as hard as you want," says Nicola. "It's a class

for the parents, not the babies, but the babies are

always well entertained by their parents prancing

around in front of them.

"And I found that in other baby classes, especially

during the pandemic where you had to be two metres

apart from other people,

that you'd go to the

class, do the class and

then go home, and you

hadn't really spoken to

anyone.

"I wanted to make

Buggy Beat more of

a social thing, we're

here for the parents.

When we were outside

there wasn't the issue

of keeping distance, so

we have a section where

we walk around doing

walking lunges and I try

BUGGY BEAT IS A CLASS AIMED AT ALL PARENTS AND

CARERS TO ATTEND WITH THEIR LITTLE ONES

to encourage everyone to have a chat at that point.

"Then we always have a coffee afterwards; in the park

we'd go to a local cafe afterwards."

But as winter hit and temperatures plummeted,

Nicola realised that outdoor classes wouldn't have as

much appeal. So she found a temporary indoor space

in Mere Green, before moving to Buggy Beat's new

home for 2022 in Shenstone, at the Cooper Room on

Main Street.

While the class may be indoors, there's still plenty of

room for those walking lunges - and the onsite kitchen

means all attendees get to enjoy a cuppa and a chat at

the end, once they've caught their breath.

Under the growing WIMBO Fitness brand, Nicola

also offers online Fitness Pilates classes, with two

20-minute classes each week. These are pre-recorded

in Nicola's home fitness studio to make them

accessible to the busiest of clients, and cost just £15

for a five-week course.

Nicola relishes life as a busy working mum; as well as

juggling her fitness classes with looking after baby Ivy,

she still teaches one day a week at a private primary

school in Derby.

"I love being busy," she says. "It's how I've always

been, and I'm looking forward to sharing my

knowledge and passion for exercise as WIMBO

grows."

Nicola runs Buggy Beat classes at the Cooper

Room, Main Street, Shenstone on Mondays

from 9.45am-10.30am and 11am-11.45am.

The next six-week course runs from February

28 to April 4 and is priced at £36. For more

information follow Nicola on Instagram

@WIMBOFitness and search for Buggy Beat

with WIMBO Fitness on Facebook, or visit

wimbo-fitness.mailchimpsites.com

50 www.jaimemagazine.com
---
Michaels Menswear

SALE

ALL MEYER WINTER

TROUSERS £99.95

NOW £79.95

Holistic Centre for Body, Mind & Spirit

Confused? Hurting?

Stuck? Need Help?

Ask Sonia, a highly skilled

and experienced counsellor

and psychotherapist, and

founder of the Anam Cara

Holistic Centre

For more information

Call: (Confidential line) 0121 353 1508

Visit: www.anamcaraholisticcentre.co.uk

Moor Hall Hotel & Spa is a 4* country house hotel,

full of character and set in beautiful grounds.

Our family-owned venue is the perfect venue for

your civil ceremony, outdoor wedding and

wedding reception for up to 180 guests.

Our Silver Wedding Package starts at £114 per person in 2022

and £125 per person in 2023 and includes a welcome drink,

a four course meal with half a bottle of wine per person,

a glass of sparkling wine for the toasts, an evening

finger buffet, room hire, complimentary overnight stay

for the couple and much more!

Sunday 27th February 2022

Free Entry | Fashion Show at 1pm

From 11am until 3pm you'll be able to meet the

experts from a wide range of businesses all

under one roof and all ready to inspire you with ideas for

flowers, photographs, wedding dresses, menswear, wedding

cars, mother of the bride outfits, jewellery, toastmaster,

chair covers, cakes, musicians, entertainment and more.

Moor Hall Drive, Four Oaks, Sutton Coldfield B75 6LN

0121 308 3751 weddings@moorhallhotel.co.uk

www.moorhallhotel.co.uk
---
T R AV E L

New year, new opportunities

OLIVER BROAD, JOINT MD OF LICHFIELD TRAVEL EXPERTS RB COLLECTION, TAKES A

LOOK AT SOME OF THE MOST EXCITING TRAVEL OPPORTUNITIES FOR THOSE SPECIAL

OCCASIONS IN 2022 AND BEYOND

THE CITY OF LOVE, PARIS IS PERFECT

FOR A SPECIAL OCCASION

So many special occasions were lost over the past two

years and so in this special report we make our expert

suggestions on where to visit to celebrate in style and

enjoy special moments linked to some of the world's

most exciting new hotels.

The City of Love, Paris is the top choice for many

romantic escapes. Cheval Blanc's collection of

'intimate maisons' has now added Paris to its existing

portfolio of hotels which includes St-Tropez, St Barth,

the Maldives and Courchevel.

Located within the famous La Samaritagne building

and overlooking the Seine, this 72-room hotel is part

of a 15-year project spearheaded by the LVMH

group. The hotel taps into the fashion house's links

with a Dior Spa and you will easily spot the group's

luxury brands around the hotel. Three Michelin star

chef Arnaud Donockele runs the gastronomic venue,

and we will no doubt see this as THE luxury hot spot

in Paris for a while to come yet.

Sticking with the fashion theme, Bulgari Hotel Paris

opens in the city's 'Golden Triangle' on Avenue

George V following the opening of the brand's

flagship store in the city. Over three-quarters of

the hotel's rooms have been designed as a private

apartment as they take luxury to another level.

Our top tip for Paris is to wander the narrow streets

of the Marais, slightly off the beaten track from the

main tourist spots. Enjoy dinner at Les Pinces where

their philosophy is that good quality lobster can still

be enjoyed at reasonable prices. For a more decadent

experience, enjoy the gourmet menu at Gaspard de la

Nuit.

Over in Italy, romance seekers have some exciting

new options this year. For a taste of golden-age Italian

52 www.jaimemagazine.com
---
glamour, the talk of the town

on the Neopolitan Riviera is

the reopening of the Hotel La

Palma on the island of Capri.

Built in 1882 as Capri's first

hotel, this 50-room hotel is steps

from the famous Piazzetta. This

re-imaged incarnation of Capri's

hot spot once hosted notable

writers, musicians, artists and

poets from around the globe. It

will no doubt once again be the

epicentre of Capri's social scene.

Capri is located off the Italian

coast in the Bay of Naples, and

you access the island by water

from Naples or Sorrento. You can

also visit the neighbouring island of Ischia which is

Capri's lesser known and more traditional island. You

can also twin Capri with a stay on the Amalfi Coast or

Sorrento; it is most definitely worth a visit!

Also in Italy, Venice is firmly on most travellers'

bucket-lists, and the new famous Baglioni Luna

re-opens this year after a major refurbishment. One

of Venice's oldest hotels, you can now also enjoy a

brand-new Venetian-style spa at this iconic hotel.

Venice has suffered from over-tourism pre-pandemic

and so our tip would be to visit off season when visitor

numbers can be much lower and the experience more

enjoyable. Don't forget to stop by Harry's Bar for a

Bellini!

Often overlooked, Ibiza Town's traditional cobbled

streets and historic castle are a far cry from many

people's vision of the White Isle. It is a favourite place

OMAN IS A RICH AND INTERESTING ALTERNATIVE TO

DUBAI. PHOTO BY OLIVER BROAD, RB COLLECTION

ICELAND IS A TOP PICK FOR

AN EXCITING SHORT BREAK

for us to escape to, and more luxury hoteliers are

investing in the island with the opening of Gran Hotel

Montesol Ibiza.

Developed by the well-known Experimental Group,

who also operate the popular sunset beach club of

the same name, their latest project is the reinvention

of this historic 1930s building in the narrow streets

of Ibiza Town with a rooftop restaurant and cocktail

bar, Sabbaba Montesol. Also new in Ibiza Town is

the Standard who are known for their hip hotels in

hotspots such as LA, New York, Miami, Bangkok,

London and the Maldives.

If you are after a little more adventure but still want

some comfort, Iceland FINALLY opened a new

luxury hotel from the Edition chain. Ian Shrager, of

New York's Studio 54 fame, is behind this collection

of design-led hotels which you can also find in

Barcelona, London , Bodrum, Miami, New York, Los

Angeles, Abu Dhabi,

Dubai and Tokyo. It is

great to see Reykjavik

join this impressive list

of popular destinations

and we are sure it will

open the city up to a new,

emerging clientele.

Iceland is a great place

for itchy-feet shortbreakers,

or those in need

of a change of scenery.

You can jam pack an

itinerary to include the

Golden Circle, Super

Jeep and Northern Lights

or, if you prefer, relax at

the Blue Lagoon and go

www.jaimemagazine.com

53
---
EXPERIENCE GOLDEN AGE ITALIAN GLAMOUR IN CAPRI

whale watching. When we visited, we enjoyed a little

bit of everything, and it was perfect. A popular option

with our clients is to self-drive; we arranged one such

trip last September and the feedback was excellent.

If your idea of a special trip includes a beach and you

need to travel in our cooler months, then we have just

the tonic.

We have noticed clients are seeking to minimise their

flying time and keep changes to a minimum which

makes the Middle East a popular choice for winter

and spring getaways. Temperatures remain warm and

with flying time of only six to seven hours destinations

such as Oman, Ras Al Khaimah and Abu Dhabi are

proving popular in addition to the top seller which is,

of course, Dubai.

Jumeirah's Muscat Bay in Oman has been in

development for a number of years, and we are

finally set to see it open in

2022. I first caught sight

of it during my own trip

to Oman in 2019 and we have

been following its progress ever

since. Oman is a firm favourite

for those who are looking for

an alternative to Dubai for

some winter sun and top-class

luxury accommodations. Oman

is more scenic, less built-up and

has a deeper, richer cultural

heritage to enjoy too.

Set in the secluded cove of

Bandar Jissah between the

Al Hajar Mountains and the

Gulf of Oman, the luxurious

Jumeirah Muscat Bay is just 15

minutes south of Muscat city

centre. Jumeirah is known for

its high-quality resorts, and this

will no doubt be very popular.

As soon as we have a confirmed

opening date we will let you

know.

Our top tip for any visit to

Oman includes a visit to the

'Green Mountains' where

you can stay at the dramatic

mountain top Anantara Al

Jabal Resort. The scenery is

eye-dropping, and it really adds

another aspect to an already

wonderful destination, as I

found out during my visit.

If wine tasting is your thing,

Four Seasons opened their new Napa Valley resort last

year and is one of the most exciting new properties

on their roster. We visited Napa ourselves a few years

ago and it really does live up to its reputation as being

one of the most beautiful spots in Northern California

to visit. If time permits, we suggest a few nights in

San Francisco followed by a self-drive exploration of

the valley. There are some nice independent wineries

we toured which are great and dinner at FARM at

Carneros is a must!

Staying in the USA, Virgin Atlantic recently

announced a new flight to Austin, their first new USA

route since 2015. The city's slogan is Keep Austin

Weird and it is famous for its live music scene and

its independent shops and restaurants. Austin hosts

the South by Southwest music festival and has a

THE NEW ORIENT-EXPRESS LA DOLCE VITA

54 www.jaimemagazine.com
---
huge student population

making it a real creative

hub. The new flight will

operate four times per

week and starts in May

2022 and will compete

with British Airways on

the route.

One of the top new

luxury hotels is the

Thomson Austin located

just off the East Sixth

Street nightlife and

entertainment strip.

Austin is a great starting

point to explore Texas

and the South, and we look forward to the new

opportunities opening to clients to the region

Now we look further ahead to 2023 for those

who want to plan special occasions early - highly

recommended for these new opportunities.

Italy welcomes a new Orient-Express train! The

pandemic has certainly shaken up the travel industry

in all areas. Rail travel was already an increasingly

popular method of transport and now EU states are

investing heavily improving connectivity and offering

more affordable solutions. Luxury rail travel is also

getting an upgrade with a brand-new train, the

Orient-Express La Dolce Vita.

The Orient-Express La Dolce Vita routes will

welcome passengers starting in 2023 with six trains

and several iconic itineraries. Guests will travel in

luxury through a leisurely-paced tour from Northern

to Southern Italy, across 14 regions, and beyond

NAPA VALLEY IS ONE OF THE MOST

BEAUTIFUL SPOTS IN NORTHERN CALIFORNIA

CHEVAL BLANC'S NEW PARIS

HOTEL OVERLOOKS THE SEINE

including three international destinations from Rome

to Paris, Istanbul and Split. A magical stopover in

Rome will feature the very first Orient Express Hotel,

Minerva scheduled to open in 2024.

Hotel group Accor is behind this new project, not to

be confused with Belmond's Venice-Simplon Orient-

Express which will continue to operate, we expect

with raised eyebrows.

Over in the Americas, the famous Rocky Mountaineer

Railroad is now offering itineraries south into the

USA on their 'Rockies to the Red Rocks' trips.

Journey through two days of extraordinary landscapes

between Moab, Utah and Denver, Colorado. Vast

canyons, inspiring deserts, natural archways and

enchanting hoodoos are just a start. Available in

SilverLeaf Service, this Rocky Mountaineer rail route

is filled with highlights best seen by train, including

Ruby Canyon, Mount Garfield and crossing the

Continental Divide. This will no doubt appeal

to those who have

experienced the Rocky

Mountaineer in Canada

before and want to travel

by train to another part

of the Americas.

As you can see, there

are lots of exciting travel

opportunities on the

horizon for our clients in

the future.

If you would like to

discuss your special

trip call us on 01543

258631 or email vip@

rbcollection.com.

Remember to mention

J'AIME when you call.

www.jaimemagazine.com

55
---
W H AT ' S O N

What's on this month?

THERE'S PLENTY TO SEE AND DO AROUND THE WEST MIDLANDS THIS

FEBRUARY, PARTICULARLY FOR FANS OF DANCE, BALLET AND MUSIC!

WHAT: MOTIONHOUSE: NOBODY

WHERE: BIRMINGHAM HIPPODROME

WHEN: FEBRUARY 4

Fast-moving and highly physical, Motionhouse's new show, Nobody, explores

the tension between our inner lives and how we make sense of the world around

us. This is a spellbinding and strikingly visual adventure that resonates with the

times we live in.

We follow seven characters on their journey of self-discovery to find strength and

support in each other, while a group of curious crows questions their every move.

As they negotiate their ever-changing reality, the performers search for answers

while the world unravels around them. Can they work together to find out who

they are?

Motionhouse's dance-circus style combines with mesmerising choreography to

tell an emotional and ultimately uplifting story, full of twists and turns. Packed

with visual magic, the world on stage is transformed before your eyes. Digital

projections and the shape-shifting set create a constantly changing environment

where nothing is quite what it seems… For more details visit

www.birminghamhippodrome.com

WHAT: OH! WHAT A NIGHT

WHERE: SUTTON COLDFIELD TOWN HALL

WHEN: FEBRUARY 5

After their last sell-out show, the boys are back! Oh! What A Night transports

you back in time on a musical journey through the incredible career of Frankie

Valli and The Four Seasons, now immortalised in the multi-award winning show

Jersey Boys, which has been packing theatres worldwide since its debut in 2005.

Valli's unmistakable voice dominated the airwaves for more than two decades

with classics such as Sherry, Let's Hang On, Big Girls Don't Cry, Can't Take My

Eyes Off You, My Eyes Adored You, December 63 (Oh What A Night), Bye Bye

Baby, Who Loves You and many more.

This feel-good performance combines infectious personalities, amazing vocals,

slick harmonies and even slicker dance moves. It's a celebration of one of the

greatest rock 'n' roll bands that is full of energy and nostalgia and is sure to leave

you wanting more! Tickets are priced at £25, or £23 for concessions. For more

details, visit www.suttoncoldfieldtownhall.com

WHAT: AFTERNOON TEA WITH DISNEY CLASSICS

WHERE: MOOR HALL HOTEL AND SPA

WHEN: FEBRUARY 6

Enjoy a delicious afternoon tea at Moor Hall Hotel and Spa, while listening

to their live choir perform the most iconic songs from some Disney classics on

Sunday, February 6. This popular themed afternoon tea is back for 2022 to

delight guests both young and young-at-heart. The four-star country house

hotel's skilled chefs will prepare the afternoon tea of dreams, served while you sit

back as live performers, The Wings Family, entertain you with songs and dances

from a collection of your Disney favourites. Listen out for tunes from Moana,

Lion King, Frozen, Frozen 2 and many more. Arrive at 12.30pm for a 1pm start.

Tickets for the afternoon tea are priced at £32 per adult and £22 per child. For

more details and to book, visit www.moorhallhotel.co.uk

56 www.jaimemagazine.com
---
tatlowcarpets

& flooring

Quality flooring at affordable prices

Abingdon, Adam's, Associated Weavers, Axminster, Brintons, Brockways,

Cormar, Crucial Trading, Penthouse, Ulsters, Karndean & Project Floors

Free advice ✔ Free quotations ✔

Furniture moved ✔ Our own regular fitters ✔

Lots of new rug designs now in store, in

various colours and sizes to suit any home.

Mastercraft rug - Gallaria collection

Size 1.33m x 1.95m - £185.00

STOCK SALE with 20% off all

stock rugs until end of February

WE

REMAIN

Established

Established 1990

OPEN

1990

FOR NEW

COVID

RESIDENTS Rosemary Lodge Residential Lichfield Care Home

Lichfield FREE

191 Walsall Road, Lichfield, Staffordshire, WS13 8AQ

Please contact The perfect the Registered 'home Care from Manager home' Jane Evans

The perfect 'home from home'

Tel: 01543

at

415223

Rosemary

E-mail:

Lodge

contact@rosemarylodge.co.uk

Care Home

at Website: Rosemary www.rosemarylodge.co.uk

Lodge Care Home

Rosemary Lodge Care Home for elderly ladies and

Rosemary Lodge Care Home for elderly ladies and

gentlemen offers level of care, community and

gentlemen offers a level of care, community and

comfort that is second to none. Situated short way

Rosemary comfort Lodge that is Care second Home to fRosemary none. Lodge Situated Care Home a short for elderly way

from ladies and the gentlemen city centre offers of a level Lichfield of care, community and set in and landscaped

comfort that is

from second the

gardens, to none. city Situated centre

Rosemary a short of Lichfield

Lodge way from is the and

light, city set

spacious centre in landscaped

of Lichfield and and

set in gardens, landscaped Rosemary gardens, Rosemary Lodge Lodge is light, is spacious and and beautifully

decorated, beautifully offering decorated; residents just offering the right combination residents of just interest, the activity right and

relaxation. beautifully It is a decorated; place that encourages offering residents residents to retain just their the independence right

and

combination

individuality whilst

of

being

interest,

fully supported

activity

to

and

live a

relaxation.

fulfilled and enjoyable

It is combination of interest, activity and relaxation. It is alife.

place that encourages residents to retain their

place that encourages residents to retain their

independence and individuality whilst being fully

independence and individuality whilst being fully

supported to live fulfilled and enjoyable life.

supported to live a fulfilled and enjoyable life.

Rosemary Lodge Care Home is family run home and has

Rosemary Lodge Care Home is a family run home and has

been highly regarded part of the community for over 30

been a highly regarded part of the community for over 30

years. Offering 24 hour care, our fully trained staff work

years. Offering 24 hour care, our fully trained staff work

together to communicate with residents and ensure

together to communicate with residents and ensure

personal care needs are met in person centered

personal care needs are met in a person centered

approach, thus building an important relationship of trust

approach, thus building an important relationship of trust

and friendship.

and friendship.

All rooms are on-suite, and are designed to comfortably

All Rosemary rooms are Lodge on-suite, Care Hoe is and a family are run designed home and to has comfortably

been a highly

regarded part accommodate of the community individuals for over 30 years. and Offering couples. 24 hour care, our

fully trained accommodate staff work together individuals to communicate and with couples. residents and ensure

persoal There care is needs full Wi-Fi are met connectivity in a person centred throughout approach, thus to building allow an

There is

important

full Wi-Fi

relationship

connectivity

of trust

throughout

and friendship.

to allow

residents the opportunity of keeping in touch with family

residents the opportunity of keeping in touch with family

All rooms are en-suite, and friends and are designed with video to comfortably calls. accommodate

individuals and couples. and There friends is full with Wi-Fi video connectivity calls. throughout to allow

residents the opportunity of keeping in touch with family and friends with

Regular activities and entertainment video calls. are always available,

Regular activities and entertainment are always available,

with Regular activity activities timetables and entertainment distributed are always weekly, available but with activity privacy

timetables with activity

and peace distributed timetables

and weekly, quiet but distributed

is privacy also ensured and peace weekly, and in this quiet but

beautiful is also privacy ensured

and peace and quiet is also ensured in this beautiful

'home from home'.

'home from home'.

Our commitment to offering just the right amount of care

Our commitment to offering just the right amount of care

and support has led to an excellent reputation in the

and support has led to an excellent reputation in the

community and with the care professionals who work

community and with the care professionals who work

with us. We value our staff highly and recognise that their

with us. We value our staff highly and recognise that their

care and commitment are great part of our success.

care and commitment are a great part of our success.

We also offer respite care, holiday stay and limited day

We also offer respite care, holiday stay and limited day

care. To arrange visit or to learn more about us please

care. To arrange a visit or to learn more about us please

get in touch using the contact details below.

get in touch using the contact details below.

Finance facilities now available

@Tatlowcarpetsltd

@Tatlow_Carpets

Please see our website for further details

www.tatlowcarpets.co.uk

Tel: 01543 264766

Open to the public. Mon-Fri: 9.00am - 5.00pm. Sat: 10.00am - 4.00pm

Unit 4, Europa Way, Britannia Enterprise Park, Lichfield, Staffs, WS14 9TZ

in this beautiful 'home from home'

Our commitment to offering just the right amount of care and support has led

to an excellent reputation in the community and with the care professionals

who work with us. We value our staff highly and recognise that their care and

commitment are a great part of our success.

We also offer respite care, holiday stay and limited day care. To arrange a visit

or to learn more about us please get in touch using the contact details below.

Rosemary Lodge Residential Care Home

Rosemary Lodge Residential Home

Rosemary 191 Walsall Lodge Road, Residential Lichfield. Staffs. WS13 Care 8AQ. Home

191 Walsall Road, Lichfield, Staffordshire, WS13 8AQ

In the 191 first Walsall instance Road, please Lichfield, contact Jane Staffordshire, Evans - Registered WS13 Care Manager 8AQ

Please contact or Shirley the Registered Kent - Administration Care Manager. Jane Evans

Please contact the Registered Care Manager Jane Evans

Tel: 01543 01543 415223 415223 E-mail: - Email: contact@rosemarylodge.co.uk

roselodgehome@aol.com

Tel: 01543 415223

Website: www.rosemarylodgecarehome.co.uk

E-mail: contact@rosemarylodge.co.uk

www.rosemarylodge.co.uk

Website: www.rosemarylodge.co.uk

CQC RATING GOOD
---
WHAT: VAMOS THEATRE: DEAD GOOD

WHERE: MAC BIRMINGHAM

WHEN: FEBRUARY 8 AND 9

Worcester-based full mask theatre company Vamos Theatre are heading on tour

with their latest show, Dead Good, with two Birmingham dates this month.

Bob and Bernard don't have that much in common. But after a chance meeting

at their weekly hospice group, they realise they share one ambition – to do some

serious living before they die. So, with a bottle of Bollinger and the keys to

Bernard's Bentley in hand, they hit the road, and take on one final, death-defying

adventure.

Originally commissioned by London International Mime Festival, Dead Good is

a funny and poignant theatre show celebrating friendship - and the importance of

living every precious day to the full. Bubbling with humour and awash with pathos,

this beautifully crafted production is performed entirely without words.

Tickets are priced from £8. For more details visit www.macbirmingham.co.uk

WHAT: MATTHEW BOURNE'S NUTCRACKER!

WHERE: BIRMINGHAM HIPPODROME

WHEN: FEBRUARY 8-12

This is a Nutcracker! for all seasons, adored by audiences and critics alike. With

generous family-sized helpings of Bourne's trademark wit and magical fantasy,

Nutcracker! follows Clara's journey through a shimmering, ice-skating wonderland

to the scrumptious candy kingdom of Sweetieland, on a set influenced by the

lavish Hollywood musicals of the 1930s.

Tchaikovsky's glorious score and Anthony Ward's fabulous sets and costumes

combine with Matthew Bourne's dazzling choreography to create a fresh and

charmingly irreverent interpretation of the classic. Expect a sprinkling of

delicious new surprises in this re-imagined production, for ages five-plus. The

running time is approximately two hours - with an interval - and tickets are priced

from £22.50. For more details visit www.birminghamhippodrome.com

WHAT: KYLA BROX

WHERE: LICHFIELD GUILDHALL

WHEN: FEBRUARY 12

Widely regarded as one of the best soul-blues singers the British Isles has ever

produced, Kyla Brox has been described as "the finest female blues singer of

her generation". The award-winning Mancunian singer-songwriter was named

winner of the 2019 European Blues Challenge, Best Female Vocalist in the 2019

European Blues Awards, and took home Best Vocalist at 2019 UK Blues Awards

as well as being nominated in 2020 and 2021.

With many albums under her belt and many miles covered touring all over the

world, her voice is tender, urgent and gritty, blurring the distinction between

pleasure and pain. Combined with the enchantingly fluent guitar work of Paul

Farr, inspired bass playing of Danny Blomeley and in-the-pocket drumming

of Mark Warburton, it makes for a unique and powerful, often joyous, always

emotional experience.

Tickets are priced between £8.50 and £17. For more details, visit

www.lichfieldarts.org.uk

WHAT: ROMEO & JULIET - THE ROYAL BALLET

WHERE: LICHFIELD GARRICK

WHEN: FEBRUARY 20

Romeo and Juliet has become a modern ballet classic since its creation by

Royal Ballet Director Kenneth MacMillan and premiere in 1965. In this special

screening of a performance recorded live at the Royal Opera House, the doomed

lovers attempt to find their way through the colour and action of Renaissance

Verona, where a busy market all too quickly bursts into sword fighting and a

family feud leads to tragedy for both the Montagues and the Capulets. Prokofiev's

ravishing score sweeps this dramatic ballet towards its inevitable, emotional

end. The performance features Marcelino Sambé as Romeo and Anna-Rose

O'Sullivan as Juliet, accompanied by the orchestra of the Royal Opera House.

Tickets are priced at £16.50. For more details visit www.lichfieldgarrick.com

58 www.jaimemagazine.com
---
A D V E R T I S I N G F E A T U R E

Financial advice

of real

family value

Prudent financial planning should cater

for the needs of all family members,

from the youngest to the oldest.

When the Queen turned

94 on 21 April 2020,

she served as a very

public reminder of how

much longer, as a society, we are living.

In her own family, four generations are

now all alive at the same time, from the

Queen herself down to her latest greatgrandchild.

An increasing number of

families now find themselves in the

same position, which has implications for

financial planning.

As a nonagenarian, Her Majesty is far

from alone. The number of people over 90

years old rose by 44% between 2008 and

2018, according to the report Estimates

of the very old, including centenarians,

UK: 2002 to 2018, published online by

the Office for National Statistics (ONS) in

September 2019.

Increasing life expectancy

and major social change mean

many need their wealth to work

harder for the whole family

We are now witnessing a phenomenon

where the baby boomers – those born

in the post-war era and in retirement –

represent the wealthiest generation in

society. However, whilst they enjoy the

fruits of their labour, they are sandwiched

between elderly parents facing the

challenges of old age and children

struggling with the hangover of university

debts and rising house prices.

For those born after the Second World

War and in the 1950s, the economy

of their working years was benign and

kind to them; but it was less so for those

born in the 1980s and 1990s – the socalled

'millennials' – who are finding it

harder to get jobs and to get onto the

property ladder.

While our children are struggling with

their finances, our parents are living

longer. This has led to an increase in the

need for long-term care, which is likely to

be financed from accumulated savings,

selling the family home or with support

from younger generations.

A study into intergenerational wealth and

retirement planning, which combined

ONS data with an Opinium Research

survey of 4,000 UK adults in April 2019,

estimated that the number of families

with multiple generations in retirement at

the same time will exceed one million in

the next 20 years.

This means people may need to start

reassessing how they plan for the later

stages of life. Traditionally, wealth has

passed from one generation to the next

upon death. However, intergenerational

wealth management challenges that

notion and looks at how families can

use their wealth more collaboratively to

support each other during their lifetimes.

This offers legitimate estate planning

and tax mitigation opportunities, whilst

providing the much-needed assistance

to help alleviate the financial burdens of

everyday life.

Transferring assets

from one generation to the

other is becoming much

more common

St. James's Place provides a range of

family-oriented financial products and

services, enabling families to work

collaboratively to support each other

across the generations. Financial support

need not be in the form of a handout; it can

become an integral part of generational

financial planning.

Whether you would like to help your

children onto the housing ladder,

contribute to a grandchild's education or

wedding, or help your parents with laterlife

planning, careful consideration can

ensure your wealth works harder for all

your family without putting your own

security and retirement comfort at risk.

JE AN

L MB

A D ipPFS

A ccredited Later Life Adviser

P rincipal

J EAN LAMB WEALTH CONSULTANCY

Pa rtner

Practice of St. James's Place Wealth Management

T el:

01543 417342

| 07855 529358

j ean.lamb@sjpp.co.uk

w ww.jeanlamb.co.uk

Th e Partner

P ractice

i s an Appointed Representative of and represents only St. James's Place Wealth Management plc (which is authorised and regulated by the Financial Conduct Authority)

f or the purpose of advising solely on the group's wealth management products and services, more details of which are set out on the group's website www.sjp.co.uk/products.

T he 'St. James's Place Partnership' and the titles 'Partner' and 'Partner Practice' are marketing terms used to describe St. James's Place representatives.

SJP12 205

V 2 (09/21)

SJP12205a V1 A4 Intergen - Practice.indd 1 04/08/2020 15:57
---
I N T H E N E W S

Original art showcase

LEADING SUTTON COLDFIELD GALLERY ARTIFEX HAVE INTRODUCED

A NEW COLLECTION OF ORIGINAL ART TO THEIR OFFERINGS

Artifex Gallery have been trading for more than 27

years under the ownership of Nigel Bates and Ross

Fenn, and are considered to be the leading gallery in

the Midlands for original art and crafts.

The 3,000 square foot gallery, based at Mitchells

Shopping in Sutton Coldfield, is home to an eclectic

range of works, from handmade glass, ceramics,

jewellery and bespoke furniture, to a superb range of

original 21st century paintings.

And now Artifex have strengthened their

commitment to providing the best of original British

art by increasing their works to include earlier

offerings.

Partner Ross Fenn says: "Over the last few years

many of our customers have requested that we

expand the range of our paintings to include earlier

works from the 19th and 20th century.

"Consequently, using both my personal knowledge

of the art market and in collaboration with an art

consultant, I have spent the last 18 months sourcing

what I believe to be an exciting collection of original

paintings, dating from the mid-19th century to the

late 20th.

"Both Nigel and I are really looking forward to

launching this new venture, which will offer an even

broader selection of paintings, both to our existing

as well as to customers. I would emphasise that the

ARTIFEX CO-OWNER

ROSS FENN

new venture is an addition to our current offering

and does not signify a change of direction for the

gallery."

The first floor is dedicated to original paintings, and

visitors can peruse works from around 18 artists

at any one time, with an exhibition programme

focusing on more substantial one-person shows.

"The art market is now strengthening after a fairly

quiet period and as well as offering the chance to

own a beautiful original painting, your purchase

might also make a sound investment," Ross adds.

SPOTLIGHT ON ART

Tom Malone (British 1913-1986)

'Landscape with Road'

Oil on board 39 x 50.5cm (15¼ x 19¾ in.)

Ross says: "I love the beauty and simplicity of

this painting by Tom Malone, especially the way

in which your eye is drawn to the distant horizon

and leads me to imagine what wonders lie at the

end of the road. It conveys peace and tranquillity

which is priceless in these difficult times and

gives me hope of better things to come."

Tom Malone (1913-1986) was an accomplished

painter originally from Warrington. Despite

being employed as Chief Inspector of Weights

and Measures in

Salford, he was

always involved

in the art scene

of Manchester,

being friends with

artists L.S.Lowry

and Ted Finley.

He was often

found painting on the weekends, his subjects

ranging from landscapes to portraits. His art style

was influenced by the fauvist movement, which

confers to his works a very painterly and textured

quality, present even in the more traditional oil

portraits.

60 www.jaimemagazine.com
---
N E E D A

S P E C I A L

E S C A P E ?

WE ARE A TRUSTED, LOCAL FAMILY, DEDICATED TO PROVIDING

A TRULY PERSONAL SERVICE FOR THOSE WHO NEED US

BURIALS, HORSE-DRAWN FUNERALS, BESPOKE FUNERAL

AND PRE-PAYMENT FUNERAL PLANS AVAILABLE

I N V E S T I N Y O U R H O L I D A Y W I S E L Y

ALL-INCLUSIVE FUNERAL PACKAGES

FEES FOR CREMATORIUM, DOCTOR AND CELEBRANT INCLUDED

*DIRECT - £1,495 *SIMPLE - £2,300 *TRADITIONAL - £2,950

ALL NEEDS AND WISHES CATERED FOR.

PRE-PAYMENT FUNERAL PLANS AVAILABLE

OUR SECOND FUNERAL HOME IS NOW OPEN AT

152, CANNOCK ROAD, BURNTWOOD WS7 0BG

ALSO AT

16 - 20 NORTH STREET, CANNOCK, WS11 0BA

01543 529813 (ANYTIME)

C A L L N A T H A N - 0 1 5 4 3 2 5 8 6 3 1

VISIT OUR WEB AND FACEBOOK SITES TO SEE OUR REVIEWS

WWW.OMALLEYFUNERALS.CO.UK • FACEBOOK.COM/OMALLEYFUNERALS

Set in the heart of historic Lichfield, The George Hotel is a

charming 18th century coaching inn which offers a

delightful setting for civil ceremonies and wedding

receptions of up to 110 guests.

Our All Inclusive Wedding Package starts at £3,750 in 2022 and

£4,000 in 2023 and includes a welcome drink,

a three course meal with a glass of sparkling wine for the

toasts, an evening finger buffet, room hire, complimentary

overnight stay for the couple and much more!

Based on 50 adult day guests and 80 adult evening guests.

Sunday 20th February 2022

11am to 2pm | Free Entry

Bird Street, Lichfield, Staffordshire WS13 6PR

01543 414822 weddings@thegeorgelichfield.co.uk

www.thegeorgelichfield.co.uk
---
FA S H I O N

Best foot forward

A STAPLE PART OF ANY WINTER WARDROBE, BOOTS ARE HAVING THEIR ANNUAL MOMENT IN THE

SPOTLIGHT. AMY NORBURY PUTS HER BEST FOOT FORWARD TO FIND THE SEASON'S TOP PICKS

AS the colder weather rolls around each year, we feel positively

giddy at the prospect of swapping our summer sandals and

flimsy trainers for some hardcore footwear.

Boots, in their myriad guises, are a wardrobe must-have at this

time of year. And donning our best boots - old and new - is one

of the biggest positives of winter weather. After all, even the

dreariest of days can be perked up by the perfect pair of boots.

The catwalks, understandably, agree, with designers everywhere

showcasing an array of styles during their winter events. From

Isabel Marant's standout cowboy boots to Simone Rocha's

elevated take on the classic combat, it was a feast for the feet.

The best part? Choose wisely and your new boots will be putting

a spring in your step through next spring and summer too -

Cuban heels teamed with floaty dresses is definitely going to be a

look for SS22.

After last year's pandemic-influenced pared back offerings, this

season has seen the resurgence of statement footwear. From bold

colour choices to luxurious textures, silhouettes are all about

standout design.

The ubiquitous knee-high boot has been a style staple since time

immemorial, and this season's tall boots scream 'go big or go

home'. Look for added interest with animal print leathers, opt

for a bold colour choice or even evoke the decadence of disco

days with metallic hues; the choice is yours.

When it comes to heel height, though, there's still not a stiletto in

sight. Block heels and chunky platforms offer a more sturdy vibe;

the days of teetering home on your spike heels are, thankfully,

gone.

Cuban heels, too, are making waves in a big way. Cowboy styles

have made their way back to fashion's front row as the most

obvious iteration of the Cuban heel, but smart Chelsea boots

are also perfect for rocking the stylish low heel. Team with

luxury knitwear and ankle-flashing midi skirts for effortless dayto-night

dressing.

For a more practical option, combat and biker styles, with their

durable soles and rugged aesthetic, are boots you can rely for

both comfort and functionality - and with plenty of stylish

attitude to boot.

These are definitely worth the investment spend; find the right

ones and they'll be a footwear favourite to serve you for years to

come.

LETTY LEATHER LACE-UP HIKER BOOTS,

£80, MONSOON. WWW.MONSOON.CO.UK

62 www.jaimemagazine.com
---
£89

£170

£200

NO PLANS SUEDE BOHO BOOTS, JOE

BROWN'S. WWW.JOEBROWNS.CO.UK

PRIME BIKER BOOTS, DUNE LONDON.

WWW.DUNELONDON.COM

COLLIER FLATFORM BLACK LEATHER

ANKLE BOOTS, DR MARTENS.

WWW.DRMARTENS.COM

£85

£850

£89

AMBER TAN COMBAT BOOTS,

OFFICE. WWW.OFFICE.CO.UK

KABUL WALNUT SUEDE

KNEE HIGH BOOTS, OFFICE.

WWW.OFFICE.CO.UK

£99

LIRNEE 90 BLACK LEATHER BOOTS,

ISABEL MARANT AT HARVEY NICHOLS.

WWW.HARVEYNICHOLS.COM

AUCKLAND CHUNKY HEELED ANKLE BOOTS,

OFFICE. WWW.OFFICE.CO.UK

TYREN CHUNKY SOLED KNEE HIGH BOOTS, £170,

DUNE LONDON. WWW.DUNELONDON.COM
---
B E AU T Y

Beauty resolutions

for heavenly skin

THE BLEAK MIDWINTER IS THE PERFECT TIME TO GIVE YOUR SKIN SOME MUCH NEEDED TLC. AFTER

A TIRELESS ROUND OF OVER INDULGENCE IT'S NO SURPRISE THAT THE STRESSES AND STRAINS OF

THE FESTIVE PERIOD START TO SHOW. TO HELP RECAPTURE YOUR RADIANCE THIS JANUARY

DEBORAH MITCHELL, FOUNDER OF CELEBRITY FAVOURITE HEAVEN SKINCARE REVEALS FOUR

SIMPLE NEW YEAR BEAUTY RESOLUTIONS FOR A BEAUTIFUL 2022

I will cleanse morning and night...

Because your face is constantly exposed to pollutants and bacteria a twice

daily cleansing ritual is essential to ensure you're not only removing grime

and impurities, but also helping to boost hydration and clear pores for a

fresh-looking complexion. Not only that, but clean skin means that the

active ingredients in your favourite moisturisers and serums are also easily

absorbed.

Heaven's Hydro Cleansing Milk is designed to hydrate skin, remove

pollutants and deep clean. It contains organic jojoba, the closest match to

the skin's natural oil, to balance and condition. Perfect for all skin types, it's

also a great stress-reliever, with its rosemary and lavender properties.

I will indulge in a weekly mask...

Adding a regular face mask to your weekly routine can help

with a whole host of woes, from dehydration and excess

oil to clogged pores, fine lines and break-outs. Blemishbusting

masks penetrate deeper into the layers of your skin,

draw out impurities, remove the build-up of dead cells and

increase hydration. Whether you're looking for a quick fix

or want a more luxurious spa-at-home experience, we can

all find the time for a once-a-week mask ... and believe me,

your skin will thank you for it.

My signature Silver Bee Venom Mask contains my

revolutionary ABEETOXIN® formula – renowned as a

natural alternative to Botox – to control facial muscles to

lift and firm. Apply after your cleansing routine, leave on

for ten minutes and wash off with warm water; or leave on

overnight for accelerated results.

64 www.jaimemagazine.com
---
I will hydrate my skin ..

Water is essential for our skin – it is, after all, the body's biggest organ – and

ensuring we take in enough of nature's good stuff every day is essential.

Your usual moisturiser alone may help improve your skin's appearance, but

more often than not a moisturiser alone won't give you enough hydration

and you'll find you skin will still look dull.

Choose my Orange Flower Hydrogel with its added benefits of organic

neroli and vitamin C – these restore balance, eliminate scars and help to

maintain the oil levels in the skin. It's the perfect anti-aging solution as it

helps penetrate fine lines even around the delicate eye area.

I will focus on signs of ageing...

As the cold weather dries out our skin, it's easy to spot wrinkles

and fine lines; you know the ones that no amount of makeup can

hide. Opt for an innovative anti-ageing formula that reduces the

appearance of wrinkles while smoothing and plumping skin.

My Divine Cream is suitable for all skin types but it works

particularly well on more mature complexions. It contains

organic mandarin and orange, both natural sources of vitamin

C, which help increase collagen and elastin levels for a more

youthful appearance.

Heaven Skincare by Deborah Mitchell is available at Heaven Health & Beauty,

13a Market Place, Shifnal, Shropshire and online at www.heavenskincare.com

www.jaimemagazine.com

65
---
H E A LT H

Looking after your

skin this winter

IF THE COLD WEATHER IS WREAKING HAVOC ON YOUR SKIN, CONSULTANT DERMATOLOGIST

DR JON GOULDING HAS SOME TOP TIPS FOR TAKING CARE OF YOUR SKIN IN WINTER

The skin is our biggest organ and, just like any

other part of our body, it can become damaged.

Spire Little Aston Hospital offers specialist opinion,

diagnosis and treatment for skin problems such as

skin cancer, eczema, psoriasis and skin lesions.

Here Dr Jon Goulding, consultant dermatologist at

Spire Little Aston Hospital, advises you on how to

take care of your skin during the winter season.

DR JON GOULDING,

CONSULTANT DERMATOLOGIST

How does the cold weather affect your skin?

Many people find that the onset of colder weather

in the winter months make their skin much drier,

and sometimes more irritable. This is often most

pronounced on the hands, but may be noticeable

elsewhere. It is a particular problem for those with

a pre-existing chronic dry skin condition, such as

eczema and psoriasis, and may lead to a significant

disease flare. Less commonly, people run into

more problems with chilblains and Raynaud's

phenomenon at this time of the year.

Is wearing an SPF still important in winter?

UV penetration tends to be less marked in the colder

months of the year, but may still be significant. It

is important to continue wearing sunblock if you

are very fair-skinned and spending lots of time

outdoors, if you have a history of skin cancer, if

you take immunosuppressive medication, if you

have a photosensitive disorder such as lupus, or a

hyperpigmentary disorder such as melasma. It is

also very important to take a vitamin D supplement

throughout the autumn and winter, to make up for

less frequent sun exposure.

What's the best way to protect your skin in

the cold?

It makes obvious sense to keep your hands warm

and protected with gloves, to avoid chapping from

exposure to cold temperatures and biting winds.

Many people benefit from dispensing with soap

and shower gel in the shower or bath, and at the

basin, instead using a gentle, moisturising soap

substitute, which may be purchased at a pharmacy

or supermarket. You may want to apply a bland

moisturiser regularly which also helps greatly to

hydrate the skin. For those with very dry, irritable

skin on the hands, using a greasier emollient

overnight really helps, occluding the skin with thin

cotton gloves.

Dr Jon Goulding is a friendly, enthusiastic consultant,

passionate about the speciality of dermatology, and

committed to offering the best possible service to

patients at Spire Little Aston Hospital.

If you are suffering with any aspect of your skin,

they have private treatment advisors on hand to

help you to book an appointment with one of

the dermatologists. Search 'Spire Little Aston

Hospital' or Call 0121 514 7034.

66 www.jaimemagazine.com
---
Established – Professional – Transparent

The Winterton family name has been synonymous

with auctioneering in Staffordshire since 1864

Probate and formal valuations for

inheritance tax purposes

Our reliable and sympathetic

team can assist all executors in the

administration of deceased estates

From jewellery and large collections

to cars, furniture and household items,

we handle everything

Comprehensive, bespoke

clearance service and

downsizing solutions

We handle clearance of an entire

estate from houses, bungalows and

flats to offices and all other buildings

Pictures, Antiques & Collectables

The Lichfield Auction Centre

Fradley Park (close to the A38)

Wood End Lane, WS13 8NF

Discover that hidden gem with your local auctioneer

We specialise in:

Antique and modern jewellery

Watches

Gemstones

Silverware

Coins, medals and militaria

Works of art

Whisky and wine

Vintage toys

Stamps and ephemera

Cameras and record collections

Scientific equipment

Antique and modern furniture

Modern toys and Pokémon

Musical instruments

FREE LOCAL VALUATIONS - NEAR YOU

Watches, Jewellery, Silver & Antiques

Lichfield

The Hub at St Mary's

Market Square, WS13 6LG

Qualified

All members of our jewellery

department are certified

gemmologists and diamond graders

Record-breaking

international sales

More than 3,800 bidders from

all over the world joined our

online auctions last month

Online services available

Virtual estimates, online auctions

and contactless collections.

Valuations, viewing and consignments

by appointment only

Jewellery, Watches & Silver

The Lichfield Auction Centre

Fradley Park (close to the A38)

Wood End Lane, WS13 8NF

BY APPOINTMENT

Thursdays

9.30am - 4pm

With David and the

team for general

valuations and advice

Tuesdays

9.30am - 11am

Meet Ben for general

advice and auction

consignments

BY APPOINTMENT

Thursdays

9.30am - 4pm

With Heather,

gemmologist

& diamond grader

FREE General Valuations of your pictures, antiques and collectables

By appointment only - with our team on Thursdays from 9.30am - 4pm Call 01543 251081

01543 251081

www.richardwinterton.co.uk

office@richardwinterton.co.uk

The Lichfield Auction Centre, Wood End Lane, Fradley Park WS13 8NF

J'Aime Ad 190x280_June 2021.indd 5 16/11/2021 16:51