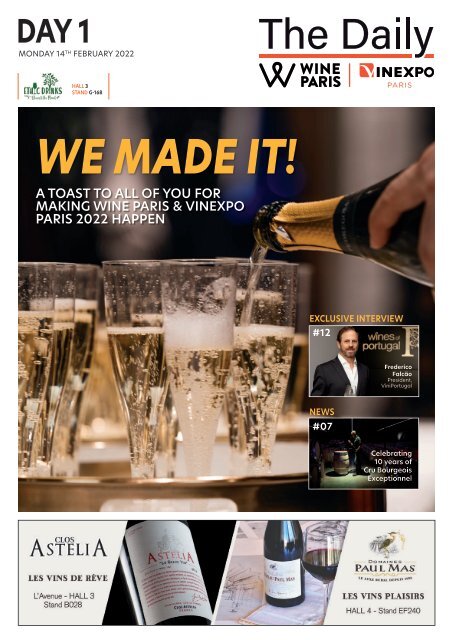 The Daily Wine Paris - Vinexpo Paris - Day 1
You also want an ePaper? Increase the reach of your titles
YUMPU automatically turns print PDFs into web optimized ePapers that Google loves.
DAY 1

MONDAY 14 TH FEBRUARY 2022

HALL 3

STAND G-168

WE MADE IT!

A TOAST TO ALL OF YOU FOR

MAKING WINE PARIS & VINEXPO

PARIS 2022 HAPPEN

EXCLUSIVE INTERVIEW

#12

Frederico

Falcão

President,

ViniPortugal

NEWS

#07

Celebrating

10 years of

Cru Bourgeois

Exceptionnel
---
PRACTICAL GUIDE

Hall 6 / Stand HJ-110

Hall 6 / Stand B-152

Hall 4 / Stand C-020

Hall 4 / Stand FG-086

Hall 4 / Stand A-125

Hall 3 / Stand KL-124

Hall 3 / Stand B-028

Hall 3 / Stand B-352

Hall 5-2 / Stand DE-024
---
I MORNING BRIEFING I

Morning

Briefing

By Rodolphe Lameyse,

Vinexposium, CEO

© Philippe Labeguerie & Joanna Margan

Good morning and

welcome to Wine Paris

& Vinexpo Paris 2022

PROGRAMME

DAY 1

MONDAY 14 FEBRUARY

PRESS CONFERENCE

EVERYTHING YOU NEED TO KNOW ABOUT

THE 2023 ASI WORLD'S BEST SOMMELIER

COMPETITION

09:30 am - 10:30 am

Location: HALL 3 - Room 1 On! Les

Masterclasses

SPIRITS MARKET DEVELOPMENTS:

OPPORTUNITIES, CHANGES AND

PRESSURES ON THE ROAD TO RECOVERY

09:30 am - 10:30 am

Location: HALL 3 - Room 3 On! Be Spirits

Free entrance

What a pleasure it is to see everyone

together for the first time in two

years. We've got no less than 2,800

exhibitors here today, so please take

full advantage of the wonderful events

that we have organised for you.

Why not start by exploring the next

generation of winemakers at La

Nouvelle Vague in Hall 3. It features

40 young producers who are keen

to impress and looking to grow their

network. Or check out the Be Spirits

area where there are many drinks

waiting to be sampled at the Infinite

Bar. Next door in Hall 4, you will find

wines from Mediterranean climates just

waiting for you to explore through free

pour tastings. Anyone interested in the

very best of Bordeaux should definitely

sign up for the presentation of the

2019 vintage of over 100 Bordeaux

Grands Crus, organised by the Union

des Grands Crus de Bordeaux between

10am and 5pm today in Hall 5.

Our popular 'Wine Talks' will be hosted

in Hall 6 covering a wide range of hard

hitting topics, like everything you need

to know about working with social

media influencers, how to deal with

supply chain issues and the pandemic's

impact on wine merchants.

You can end the day in Paris, where The

OFF will bring you the best of choice

with 80 restaurants and bars for you to

enjoy across Paris after the event.

So to everyone who is attending Wine

Paris & Vinexpo Paris 2022 for the first

time and those of you who have been

with us from the start, I raise my glass

A PRESENTATION OF THE DIGITAL USAGE

INDICATOR IN THE WINE INDUSTRY

10:00 am - 10:20 am

Location: HALL 4 - On! La Wine Tech

Perspectives stand 4AC026

Free entrance

THE SIGNIFICANCE OF INFLUENCERS

ON SOCIAL MEDIA: WHAT IMPACT DO

THEY HAVE ON BRAND OR APPELLATION

AWARENESS? TESTIMONIALS, GOOD

PRACTICE AND ADAPTING TO LOI EVIN

ADVERTISING REGULATIONS

10:00 am - 11:00 am

Location: HALL 6 - On! Les Wine Talks

Free entrance

TOP BEAUJOLAIS PUT TO THE TIME TEST

10:00 am - 11:00 am

Location: HALL 6 - On! Le Village RVF B260

By registration

PRESENTATION OF THE 2019 VINTAGE OF

OVER 100 BORDEAUX GRANDS CRUS

10 am - 5 pm

Location: HALL 5 - On! Les Grandes

Dégustations

By registration

The Daily is a CLEVERDIS Publication. 439 route de la Seds

13127 Vitrolles, France - Tel: + 33 442 77 46 00

SARL capitalised at €155,750 - VAT FR 95413604471 - RCS Marseille 413 604 471

info@cleverdis.com - www.cleverdis.com - www.vinexpodaily.com

UNDERSTANDING WINE TRENDS AND

THE DRIVERS OF FUTURE CONSUMPTION

11:30 am - 12:30 pm

Location: HALL 6 - On! Les Wine Talks

Free entrance

• Publisher: Jean-François Pieri • Senior Account Manager: Benjamin Klene • Head of Editorial Team: Emiliana Van Der Eng

• Editorial team: Daniel Bardsley, Thomas Campbell, Luc Citrinot, Laura Sharman, Reuben Tasker • Art Director: Hélène Beunat

• Webmaster: Guillaume Vinrich. With the participation of: Bettina Badon, Zineb Elhabiri, Veronika Verzhak.

>>>> To contact them: first name.last name@vinexpodaily.com

Cover: Alexander Naglestad - Unsplash.

© CLEVERDIS 2022 - Registration of Copyright February 2022. Information presented in this publication is purely indicative in order to illustrate

subjects contained therein. No guarantee can be given as to the accuracy of data or content at time of printing and thus the latter should not

be used for professional or commercial ends. While all efforts have been made as to accuracy and pertinence of content and data contained

in this publication, CLEVERDIS may in no case be held responsible for the consequences, whatever their nature may be, that may result from

the interpretation of this data or content, or any eventual errors therein. Any reproduction of the content of this publication, even partial, by

any means whatsoever, is strictly prohibited without the prior autorisation of the publisher. Any copy, whether by photography, photography

film, magnetic tape, disc or other means constitutes a forgery, liable to punishment under French law according to the legislation of 11 th March

1957 covering copyright. All brands cited in this publication are registered trade marks and/or belong to companies which are their respective

proprietors. The publishers and editorial staff decline all responsibility as to opinions formulated in this publication by those interviewed or cited

therein. Their opinions are entirely their own, and are included with the understanding that they contain, to our knowledge, no malicious intent.

The inclusion of all texts, photographs and other documents supplied by those included in this publication imply the acceptance by their authors

of their free publication therein. Documents and photographs will not be returned. It should be understood that this publication contains forwardlooking

statements that involve risks, uncertainties and assumptions. All statements other than statements of historical fact are statements that

could be deemed forward-looking statements. Risks, uncertainties and assumptions include assumptions relating to the timing of the recorded

date. If any of these risks or uncertainties materialises or any of these assumptions proves incorrect, actual results could differ materially from

the expectations outlined in these statements. Cleverdis assumes no obligation and does not intend to update these forward-looking statements

during the period of publication. Photo Credits and Copyright: All Rights Reserved.

ALL SESSIONS

PRACTICAL

INFORMATION

THE DAILY • MONDAY 14 TH FEBRUARY 2022 • 5
---
I NEWS I

ADVERTORIAL

THESE PAST 10

YEARS ARE JUST

A FIRST STEP.

Celebrating 10 years

of Cru Bourgeois

Exceptionnel

A symbolic year for Château Malescasse, marking 10 years since

Philippe Austruy took over this reputable Haut Médoc domain

© Christophe Goussard

His nephew, managing director, Alban Cacaret,

looks back at a decade dedicated to giving Cru

Bourgeois Exceptionnel the praise it deserves.

"My uncle stumbled upon

Château Malescasse by a stroke

of luck", Alban recalls. "Even

though he always dreamed

of purchasing a vineyard in

Bordeaux, he had given up

on the idea, either because of

its astronomical price tag or

because the properties were

too far gone for him to dip his

toe in. His acquisition of La

Commanderie de Peyrassol in

Provence in 2001 is emblematic

of his approach: identify a place

with potential on a superb

terroir, with an authentic setting

that has seen better days, and

invest to make it a place beyond

your wildest dreams, producing

exceptional wine. And that's

precisely what happened with

the domaine médocain.

In 2012, Philippe Austruy met

Bordeaux-based consultant

Stéphane Derenoncourt, who

helped him figure out how to

get the most out of the terroir.

The vineyard, located on the

gritty mound of the Médoc

region, near the estuary, had

not been receiving the attention

it deserved, and there was

still much to do. "It was the

beginning of a new adventure

for Château Malescasse", Alban

says. An ambitious restructure of

the vineyard was launched after

a deep analysis of the soils and

parcelles. Between 2012 and

2018, 50% of the vineyard's total

surface area was ripped out."

The merlot had sometimes been

planted on ground which was

better suited to cabernet, and

vice versa - to begin with, we

had to invert them to obtain

better quality grapes", Alban

says. Removing them has also

allowed us to replant at higher

densities, which was necessary

for quality purposes. Taking such

drastic action did however mean

renouncing higher levels of

production for a few years. "We

knew what it meant, but didn't

want to delay the day when we

would start being really satisfied

with our wine."

Changes were also being made

in parallel in the cave, where the

tanks were replaced with smaller

ones, which could be filled with

gravity, unlocking more precise

wine making, parcelle by parcelle.

"It's taken 10 millésimes for us to

really find ourselves and with the

last three - 2018, 2019 and 2020,

I think we've finally reached the

style and quality which we aspire

to", Alban declares.

The past 10 years of relentless

work to put Château Malescasse

on the Médoc map paid off

last year when it received a

"mention Exceptionnel" in the

Crus Bourgeois ranking. "These

past 10 years are just a first step.

Over the past years we have

adopted an environmentally

friendly approach, by planting

cereals and vegetables between

the vines. We also rely on mating

disruption techniques to avoid

having to use pesticides and

have planted hedges and

trees to preserve the natural

environment and its biodiversity.

"A responsible production for

demanding and high quality

wines is the challenge we have

set ourselves for the future",

Alban concludes

Hall 3 / Stand EF-128

THE DAILY • MONDAY 14 TH FEBRUARY 2022 • 7
---
I NEWS I

ADVERTORIAL

THE IDEA IS

TO CREATE

A REAL

CHATEAU DE

LA GAUDE

EXPERIENCE

Château De La Gaude

moves towards biodynamic while

preserving the DNA of its oldest vines

The luxury estate on the heights of Aix en Provence has brought in

a team of young winemakers to shake up their grapes

Pierre Decarme, the domain's Chef de culture, has a

big part to play in this, so we asked him to tell us more

about the estate and what they are presenting at Wine

Paris & Vinexpo Paris.

What are you be presenting at

Wine Paris & Vinexpo Paris?

I arrived at Château De La Gaude

a year ago, in November 2020 and

have been working to restructure the

entire vineyard. It is our first time at

Wine Paris & Vinexpo Paris so we

are presenting our entire wine range.

We're not very well known outside

of the Bouches Du Rhône, so we

are hoping to get more visibility. We

present our full range, which includes

two reds, two rosés and one white

wine, in bottles and, in some cases,

samples. It's also an opportunity for

us to showcase the domain and all

the work we're doing.

Tell us more about your wine

making process?

All of the harvesting is done manually

by hand. For our reds, we sort the

grapes twice on a specially designed

table with two belts. They are then

placed in small vats which we carry to

the cellar ourselves and are positioned

above the tanks. This way, there is no

mechanical intervention or pumps, it

simply relies on gravity. We have also

made some trials with horses in our

plots, in order to see how we could

push our production forward into a

full respect of our soils and its terroir.

We have a really interesting terroir

here, because we have a natural

spring running through the domain. It

confers our vines a natural watering,

hard to get in Provence, resulting in

an atypical freshness in our wines.

We also practice a delicate pruning

approach, and only when the moon

is descending, which improves the

reserve.

Rumour has it, you have some

seriously old vines here. Tell us

more...

We have about 3 acres of really

old grenache vines on the plateaux

dating back to 1968, which had

almost been abandoned. We've

created our very own "pépinière" -

a nursery, to preserve their genetic

heritage. So we selected around

50 stems and buds which are then

grafted and replanted to preserve

the identity of our grenache. So

that's going to be really exciting

when it's ready.

What is the plan for 2022?

We are going to expand our range of

whites because we have new vines

coming into production, including

viognier, marsanne and roussanne.

We are also looking to complete

the transition to becoming certified

biodynamic. The domain has been

bio - organic, for the past 20 years,

so it was a logical step for us. We

will also be planting another 4 acres

of vines in 2022 but we're not sure

what grape variety yet. The domain

is also developing its tourism offer,

with major art works being exhibited

through the grounds and a third

restaurant opening. The idea is to

create a real Chateau De La Gaude

experience.

What are you looking forward

to at Paris Wine Paris & Vinexpo

Paris?

Meeting people face to face and

giving them an opportunity to try our

wine

Hall 4 / Stand C-020

8 • THE DAILY • MONDAY 14 TH FEBRUARY 2022 vinexposium-connect.com
---
I VINEXPO TALK I

Taste one of Bordeaux's

best years

Don't miss the Vintage 2019

tasting organised by the Union

des Grands Crus de Bordeaux

which is taking place in Hall 5

today at Wine Paris & Vinexpo

Paris 2022.

Starting at 10am today, more than 110

Grand Crus will be available for tasting

throughout the day, presented by the

Bordeaux appellations' Chateaux owners

or operations directors. 2019 was another

big year for the region's wines thanks to

a more clement climate, with a relatively

dry winter except in January, a wet spring

and exceptionally hot summer through to

September. Coupled with the hard work of

the region's winemakers, the Vintage 2019

is likely to follow in the footsteps of other

classic years in terms of quality including

2018, 2015, 2010 and 2009. Bordeaux's

summer heatwave benefited the cépage,

cabernet sauvignon, which features more

prominently among many of the Grands

Vins, just like the cooler winter months

has breathed a breath of fresh air into the

merlot.

The year was also good in terms of

production volumes compared to 2018

when domaines on both sides of the river

were plagued by mildew and warmer

temperatures. The event titled "Présentation

du Millésime 2019 de plus de 100 Grands

Crus de Bordeaux" is being organised by

the Union des Grands Crus de Bordeaux

and a complete list of châteaux is available

on their website. The Union has grown

since being founded in the early 1970s by a

handful of winemakers and now boasts 131

estates from the most prestigious Bordeaux

appellations

© Philippe Labeguerie & Joanna Margan

Today, Monday, 14 February,

10:00 am - 5:00 pm

"PRESENTATION OF THE

2019 VINTAGE OF OVER 100

BORDEAUX GRANDS CRUS"

HALL 5

ON! LES GRANDES DÉGUSTATIONS

THE DAILY • MONDAY 14 TH FEBRUARY 2022 • 9
---
I TRADE TALK I

PRESS CORNER

Iris Trenkner-Panwitz

Editor, Weinwirtschaft

"Do not consider

wine tourism only

as an ancillary

activity"

Changes in viticulture and

the importance of Wine Paris

& Vinexpo Paris 2022

For years, Iris Trenkner-Panwitz has been at the forefront of

cutting edge wine journalism with Weinwirtschaft magazine.

The editor sat down with us to discuss what to expect from

Wine Paris & Vinexpo Paris 2022, changes in viticulture and

which beverage trends are worth your investment.

What do you expect from Wine Paris &

Vinexpo Paris 2022?

First and foremost, I am curious to see

how Wine Paris & Vinexpo Paris will be

received by the visitors. It takes a lot of

optimism, self-confidence and courage

to hold the fair on time as the only major

wine event in Europe. I expect to have

many interesting opportunities to talk

to producers and buyers, to find out as

many new products and news from the

industry as possible for our readers. And

I hope I can finally make new contacts

again, after the long forced break - the

basis for well-founded and up-to-date

reporting in our medium.

What are the most important trends in

wine and spirits that you follow?

There are many interesting topics

and trends, some of which have been

manifesting themselves for quite some

time. In addition to non-alcoholic wine

and sparkling wine, these certainly

include increasingly alcohol-reduced

wines and mixed wine drinks. The

issue of sustainability is also becoming

increasingly important, while organic

has almost become the norm for some

producers. But of course it continues

to play a major role. We also follow

with great interest the development

of distribution structures since Corona

times, the shift to the online-sector.

What are the biggest challenges and

opportunities for the industry?

Climate change and the resulting

weather extremes are already having an

impact on viticulture. And according to

the experts, this will become even more

acute in the next few years. Adapting

viticulture to this will probably be one of

the greatest challenges. Piwi will play an

increasingly important role, as will the

rediscovery and cultivation of indigenous

grape varieties. Nevertheless, it will not

be possible to deal with extreme frost,

heat or drought periods; this is an issue

that must be tackled globally. On a small

scale, however, the issue of sustainability

has to be implemented, and that will be

a major challenge for some companies.

By now, however, most wineries have

probably realised that this is not only

a trend among the younger generation,

but has become a necessity in order to

secure the future of viticulture, its quality

and the wine-industry.

On the other hand, climate change offers

opportunities for new wine-growing

areas in more northerly or higher regions.

Some wines then develop a completely

new style, which can be advantageous,

but does not have to be. A wine with a

hitherto fresh acid structure is more likely

to lose out due to climate change

© AD LUMINA Ralf Ziegler

Noemie Catier

is a consultant

in wine tourism,

working with

numerous Wine

Paris & Vinexpo

Paris exhibitors.

How does wine tourism help to promote

vineyards and products?

Wine tourism is an accessible means of global

promotion and developing direct sales.

Opening up your estate, showing off your

profession, inviting visitors to live a real

experience, highlighting your products in a reallife

situation and creating events are all ways

of gaining notoriety and increasing turnover.

However, this requires a real investment on

the part of the winegrower, both in terms of

resources (human and financial) and in terms

of availability.

Is wine tourism only a complementary activity

of an estate?

Wine tourism should not only be considered as

a complementary activity, but as an integral

part of the estate, with its own seasonality

and organisation. It is too often considered as

an ancillary activity, whereas it can be easily

added into an already busy organisation.

Setting up a wine tourism project is never

trivial in terms of cost and time, especially if

you want to give yourself the means to make

it work!

How has wine tourism evolved and how do

you see the future of this sector?

Wine tourism is clearly in line with the

development trends of wine estates, as

visitors are increasingly interested in

activities, discoveries and shared experiences.

The evolution of technologies supports this

development with the great boom of virtual

visits for example. But a simple winegrower's

lunch also delights wine lovers! It seems to me

that the possibilities really are numerous and

that it is necessary to consider things according

to one's own means and objectives, to know

how to target an audience, to communicate

well, and there you go! Don't hesitate to ask

for help to manage it !

© Vincent Agnes

10 • THE DAILY • MONDAY 14 TH FEBRUARY 2022 vinexposium-connect.com
---
I EXCLUSIVE INTERVIEW I

Paul Mas reinvents

the 'tradition of tomorrow'

with a drop of wax

The renowned wine maker's new gothic edition brings back lost

traditions while taking an environmental step forward. We asked Jean-

Claude Mas, Founder and Executive Manager, Les Domaines Paul Mas,

to tell us about this year's innovations in an exclusive interview

We have made a new wine bottle

for our 'gothic range' with the help of

students at the Beaux Arts - Fine Arts

school. The bottle is inspired by the

concept of rural luxury and designed

to look like a 'gothic flûte' with a crystal

finish. They are sealed with a drop

of wax instead of using a traditional

cork or screw top. This technique is

nothing new, it was used during the

so-called Californian wave around

25-years ago. But all the machines

have gone out of circulation and I

couldn't find one anywhere. So three

or four years ago, I started working

with a manufacturer to relaunch the

so-called 'wax drop'. In the gothic

range I've used a variety of grapes,

all well suited to the flûte, including a

shiraz from the north, a grenache, a

pinot noir, pinot gris, riesling, gewurz,

viognier.

What are the advantages of using

wax over caps?

It has many advantages over screw

tops which are harmful for the

environment. So for people who want

to go the extra environmental mile,

there is a natural product here - made

with a drop of wax, paper and glass,

which is much better because it can

be recycled over and over again. For

now, we can't use the 'wax drop' in

France because of the marianne or

CRD. Hopefully this will change, but it's

going to take time. In France, change

has always been complicated. You

have to reinvent the tradition of

tomorrow. Because today's tradition

is not fixed, it's always dynamic.

You export wines all over the

world. What advice would you give

other wine makers looking at new

horizons?

When it comes to wine making, there's

always room for innovation, but the

key is to make wine which is enjoyable

Jean-Claude Mas

Founder and Executive Manager,

Les Domaines Paul Mas

to drink. You see, I think there are two

types of wine - pleasure wines and

dream wines. Pleasure wines, you

buy a bottle without really looking at

the label and you buy more because

you like the taste. So for pleasure

wines, appealing to the palette of

new consumers is very important.

Obviously, people's tastes are

different in other parts of the world,

and you must not fall into the trap

of trying to tailor wine to a specific

market, but there are different terroirs

which are better suited to some

THERE ARE

TWO TYPES

OF WINE -

PLEASURE WINES

AND DREAM

WINES.

places than others. So discovering

what terroir reveals the right style of

wine for a certain place is key.

How do you see Wine Paris & Vinexpo

Paris 2022?

I think Paris has always attracted

more people, so naturally we needed

to have a big wine trade show like

Wine Paris & Vinexpo Paris. It's been

two years since people have been to

a trade show, so I think they are going

to be thinking 'let's do it'

THE DAILY • MONDAY 14 TH FEBRUARY 2022 • 11
---
I EXCLUSIVE INTERVIEW I

WINE PARIS &

VINEXPO PARIS IS

ONE OF THE MOST

IMPORTANT AND

MOST IMPACTFUL

WINE FAIRS IN THE

SECTOR.

Frederico Falcão

President, ViniPortugal

12 • THE DAILY • MONDAY 14 TH FEBRUARY 2022 vinexposium-connect.com
---
I EXCLUSIVE INTERVIEW I

How Portuguese wine

has changed and why it is more

popular than ever

Exclusive interview with Frederico Falcão,

President of Wines of Portugal.

Portugal has long been revered for exporting quality

wine domestically and around the world. However,

the country's wine sector has recently seen success

and investment unlike ever before. Frederico Falcão,

President of ViniPortugal, discusses how the Portuguese

wine market has changed and how it is becoming more

and more lucrative.

You have been promoting

Portuguese wines for the past 25

years. Broadly speaking, what has

changed in this time?

In the nineties, if we think about what

Portuguese wines were in terms of

quality or image recognition, and if

we compare it to today, it's radically

different. At the time, the world was

unaware of the quality of our wines

and many markets didn't even

know where Portugal was on the

map or that Portugal was a quality

wine producer. However, there

was a generation of Portuguese

winemakers who travelled, who

changed the wines to a more

commercial style and that helped

to change a certain mentality. We

spent many years producing inhouse,

improving ourselves, but

this in-house strategy delayed

our internationalisation as a wine

producing country for a long time.

It's a delight to see that, in the last

10 to 15 years, Portugal has been

doing an excellent job in terms of

world wine promotion and that, in

a few years, we've conquered the

world. It's not in vain that we're the

ninth country on the international

wine trade list.

Today the reality is thus very

different from what it was 25 years

ago. Foreigners enter our country

daily with the goal of tasting

our wines. We have tourists in

experiencing the harvests and

falling in love with our wines. Some

of them end up settling in Portugal

and investing in the Portuguese

wine sector.

The fact that the Portuguese

wine sector is very well organised,

having created its own association

ViniPortugal to represent and

promote the sector, speaking with

a single voice, has helped Portugal

to grow so fast in international

markets. In 2010 all this was

reinforced with the creation of the

brand 'Wines of Portugal'.

The popularity of Portuguese wines

is growing, what differentiates

them from other countries?

Portugal has more than 250

identified native/autochthonous

varieties, and our terroirs are

completely different from anywhere

else. Even though it is a very small

country, the diversity of internal

terroirs is huge, making Portugal

a truly different world. Our wines

have an excellent value for

money ratio, we've been running

a good marketing campaign in

international markets. All of these

factors have helped us obtain many

achievements across borders.

What are the best performing

Portuguese wines and why?

Portuguese wines have shown

remarkable evolution, especially in

these last two difficult years. The

wine sector has managed to make

the best use of these constraints

and we manage to achieve more

international share every year. It's

not easy to highlight any region,

since most of them are recording

a great increase in sales, but

Douro and Port, Vinho Verde,

Alentejo, Lisboa, Península de

Setúbal, Bairrada and Tejo wines

have recorded the best results

since the beginning of 2019 in

terms of business value, according

November 2021 data.

What are the target markets for

Portuguese wines and why?

In addition to France, the US

and the UK, we also count Brazil,

Germany and Canada among our

top export markets. Our strategy

includes being on four continents,

where we are also present in:

Angola, China, Japan, Norway,

South Korea, Switzerland, Russia,

Sweden, Poland, Mexico, Ukraine,

Spain, Belgium and Denmark.

In these markets, the Wines

of Portugal brand focuses its

communication on 10 varieties – reds:

Touriga Nacional, Aragonez / Tinta

Roriz, Touriga Franca, Trincadeira

/ Tinta Amarela, Castelão, Baga

and whites: Alvarinho, Arinto,

Fernão Pires/Maria Gomes and

Encruzado – which are a flagship

in the promotion of Portuguese

wines. This communication has

been a success attracting many

buyers from these countries, so

we will increase and reinforce our

presence there and continue to add

new achievements.

You are one of the biggest

exhibitors at Wine Paris & Vinexpo

Paris this year. Why is this such an

important event for you?

Wine Paris & Vinexpo Paris is one

of the most important and most

impactful wine fairs in the sector.

The event is a meeting between

the most famous wine regions in

the world and professional buyers

from the five continents. We

couldn't miss this presence and

being here in a prominent way.

The Wines of Portugal stand has

55 exhibitors, representing the main

wine regions – Vinho Verde, Porto

and Douro, Dão, Lafões, Bairrada,

Beira Interior, Alentejo, Lisboa, Tejo,

Península de Setúbal, Algarve and

Madeira – with several news over

the three days and a tailor-made

tastings area

THE DAILY • MONDAY 14 TH FEBRUARY 2022 • 13
---
I REGION I SPAIN & PORTUGAL I

Madeira Vinters

make Award-

Winning Wine

with a feminine

touch

Madeira Vinters was founded just under ten years ago, yet the progressive

brand has already built a name for itself by making award-winning wine with

a feminine touch. The exciting company is showcasing a range of new releases

at this year's Wine Paris & Vinexpo Paris.

Founded in 2012, Madeira Vinters is

the most recent producer of Madeira

wine on the market. That said, the

company has already reached

several noteworthy milestones. After

launching its first wines in 2016,

the company honoured Women's

Day in 2018 with its first five-yearold

Madeira wine. Soon after,

the company's five-year-old

Malvasia won the Vinos De

Licor/Encabezados Prize at the

Vino y Mujer 2019 awards. The

progress did not stop in 2021,

with the anticipated launch of

a one-year-old Boal and Tinta

Negra single harvest from 2012.

Madeira Vinters is not

just known for its awardwinning

products, but also

for its progressive company

operations and importance to

the region of Madeira. Founding

the company was made possible

thanks to the Agricultural Cooperative of Funchal

(CAF), as a project dedicated to farmers in Madeira.

There is a distinct focus on the women of Madeira,

from the farmers who source the ingredients to the

supply chain to the administrative decisions at the

top.

The all-female team specialises in Madeira wine

with a lower alcohol content (17%). "The innovation

comes from the team behind the project – which

is exclusively women", CEO Suzanne Pedro claims.

"There is also a lower amount of alcohol. The

grapes are selected by hand and different varieties

grown on the Porto Santo island are incorporated".

With the aforementioned releases set for this

year, Madeira Vinters looks to go from strength to

strength, attracting women from around the world

to help grow this organic regional project

Hall 5.2 / Stand EF-024

A family dream turned

into wine

Hall 5.2 / Stand F-111

With a storied history dating back to 1968, Bodegas

Piedra has one of the largest and most productive

vineyards in the Toro D.O. region. Now, the company is

welcoming a new era by presenting releases such as the

Paredinas at Wine Paris & Vinexpo Paris.

soil of the hillside vineyard makes

the vines find a dynamic balance

with their environment, producing

a bottle with distinct value and

flavour. Visitors can try a taste

of this storied wine at Bodegas

Piedra's stand, where they can also

find more information about their

future and heritage

The story starts at the source, the

largest parcel of old vineyard in the

Toro. Ingredients are taken to the

Bodegas Piedra winery, located in

the Guareña valley, where a team

of professionals craft revered wines

with a set of different inspirations.

"Piedra wines have been created

to delight the senses, to celebrate

life and friendship", says the

company. It is worth noting that the

Bodegas Piedra vineyard is also a

key destination for enotourism in

the region, with a variety of tasting

sessions and experiences.

The origin of the wines are reflected

in the flavours, made to appeal to

a wide variety of taste palettes.

There are young and natural wines,

along with aged products that tell

the story of the vineyard they came

from. Standout releases include

the Piedra Natural, with handharvested

grapes sourced from the

company's Bocarrage Parcel. There

are no sulfites, additives or any

kind of treatments, and has been

described as the "best that an old

vineyard site in the Toro region has

to offer".

For perhaps more seasoned wine

tasters, the Paredinas is something

of a masterclass in "tresbolillo"

winemaking. This method is

described as a "staggered"

approach, with grapes sourced from

the Paredinas vineyard (Bodegas

Piedra's oldest, from 1927). The deep

14 • THE DAILY • MONDAY 14 TH FEBRUARY 2022 vinexposium-connect.com
---
I REGION I FRANCE I VAL DE LOIRE I

Maison Colin explores

emotions with new "A Travers

Champs" collection at Wine

Paris & Vinexpo Paris

The artisans at Colin Champagne have been

exploring their local Vertus vineyards in search of

new inspiration. The result is a new collection from

the Maison, featuring vintage, parcel and Terroir

champagne, presented at Wine Paris & Vinexpo

Paris 2022.

Domaine BID'GI:

producing quality wines

through traditional and

organic methods

Domaine BID'GI is a 100-year old family estate

located in the Loire Valley near Nantes. It is turning

increasingly to organic Muscadet Sèvre et Maine and

Melon de Bourgogne.

The current winemakers, Daniel

Bideau and Marie-Béatrice

Giraud, took over from their

parents in 1984 and have

continued the two vineyards

(Domaine du Vieux Chai and

Château Haute Carizière) by

creating the Domaine BID'GI.

Convinced that wine quality

starts in the vineyard, they turned

to sustainable agriculture with

Terra Vitis and then to organic

farming. Their philosophy is the

strength of the land through

the development of Melon de

Bourgogne grape varieties and

by consolidating the designation

of the Muscadet Sèvre et Maine.

Today, the 52 ha estate is

cultivated organically to 50m,

the rest being in Terra Vitis

(sustainable agriculture).

Domaine BID'GI produces mainly

Muscadet Sèvre et Maine and

dry white wines from Pinot Gris

and Colombard grapes. Wines

are vinified "sur Lie", a specific

Nantes method which consists of

letting the Muscadet rest on its

fermentation deposit all winter

without racking or filtration.

Daniel Bideau and Marie-Béatrice

Giraud have many new projects in

mind. As they are due to take over

the entire Domaine in January

2023, this year will be important

to prepare the handover.

The focus is already set:

• to develop the environmental

approach by increasing the

proportion of organic vines and

moving towards biodynamics

– this will be completed with an

environmental and educational

trail

• to reintegrate the horse-work of

the soil for some vines (vintage,

old vines…)

• the construction of a new ecoresponsible

cellar

• sharing the Muscadet

designation's experience with

young Nantes winegrowers

developping short circuits

• rejuvenating the domaine

through social networks and

partnerships with start-ups

such as Ankorstore or Ekhi

Hall 6 / Stand CD-188

Named "A Travers Champs", the

new collection from Maison Colin

features a range of exceptional

colours and aromas. Envisioned

by Delphine and Romaine

Colin, the collection is a tour

through local Vertus vineyards,

introducing you to new tastes

and characters from the Family

House. Over 10 Cuvees are on

display at Wine Paris & Vinexpo

Paris 2022, including four from

the exclusive "A Travers Champs"

collection.

One standout is La Croix Saint

Ladre, a 2016 plot cuvée from

a plot on the Vertus Premier

Cru terroir. The Chardonnay is

perhaps the most faithful to

the Colin family's winemaking

philosophy, represented by its

source at the family's original

vineyard plot.

The Premier Cru vineyard has

the oldest vines of Maison

Colin. This land also produced

the anticipated Les Prôles and

Chétivins cuvee. Bursting with

personality and elegance, the

2008 vintage is being unveiled

to the public for the first time at

Wine Paris & Vinexpo Paris 2022.

More highlights from Maison Colin

include the Les Grandes Terres

Millésime 2013. This elegant

wine can be traced back to the

northern Colin vineyard, with

inspiration from the communes of

Cramant and Oiry. Meanwhile Le

Chemin des Roses Millésime 2013

will give you a taste of the Pinot

Noir de Vertus vines, a true rarity

from Colin Champagne.

"The land has always guided our

family. Over two hundred years

of winemaking and farming have

sculpted our brand and expertise.

So it's only natural that it's our

main source of inspiration when

it comes to creating our vintages",

say Richard, Romain and Delphine

Colin

Hall 6 / Stand B-158

THE DAILY • MONDAY 14 TH FEBRUARY 2022 • 15
---
I SPECIAL FEATURE I CHAMPAGNE I

ADVERTORIAL

Champagne Palmer & Co

goes green with 100%

recycled gift box

The house's iconic prestige cuvée, Amazone de Palmer,

will be presented in an environmentally friendly gift

box, which is 27% lighter than other packaging and

made from FSC-certified virgin fibres.

As CEO Rémi Vervier explains:

"We are determinedly looking to

the future and are aware that

it is necessary to move forward

to make wines that respect the

environment, uphold and protect

the union between the terroir and

people. We want to state loud

and clear our strong values of

ethics and excellence."

The move is part of the

champagne maker's sustainable

development progress plan which

was launched in 2015 and marks

a new phase in its quality, safety

and environmental policy.

It follows the construction of its

state-of-the-art winery in 2018,

which meets high environmental

standards and saw the

introduction of beehives two

years later.

The box, a tribute to Palmer & Co's

emblematic Premier and Grand

Crus, is made from FibreForm

paper, an innovative packaging

material from the Swedish

company BillerudKorsnäs.

Its high-strength makes it possible

to replace plastic, glass or metal

with a tactile, renewable and allnatural

material sourced from

responsibly managed forests.

The ultra-premium Champagne

House, founded in 1947, also

has more than 220 hectares of

vineyard which received HVE3

and VDC certification last year.

Amazone de Palmer, a blend of

Chardonnays and Pinot Noirs

from renowned terroirs of the

Montagne de Reims, are aged

on lees for ten years in chalk

cellars before undergoing manual

remuage - or riddling.

The gift box's unique decorative

finish, inspired by the domaine's

chalky soils and embossed

designs, has been brought to life

by French printing company Le

Sanglier

Hall 6 / Stand A-043

Hall 6 / Stand GH-068-15

Pierre Trichet Rosé

de Saignée reinvents

traditional Champagne

Champagne producer Pierre Trichet signs a new

exclusive product with his Rosé de Saignée, an

exceptional vintage packaged in an eco-friendly box

made of linen and vine stock.

1,573 numbered bottles. This is

the total number of Pierre Trichet

Rosé de Saignée. The cuvée

breaks all the presentation codes

of traditional champagne. The

bottle, the colour of the wine, the

original packaging : all this makes

this vintage extraordinary!

With his Rosé de Saignée,

Trichet demonstrates the brand's

commitment to a sustainable,

eco-responsible viticulture. The

champagne producer is working

hand in hand with local suppliers

bringing multiple achievements:

• a 100% paper cap, a real

innovation

• an openwork capsule displaying

its logo, with 99% ink reduction

• an original 100% natural,

eco-friendly box made of

compressed linen and vine

stock. Never seen before!

in the production. Since 2019, the

producer completely stopped the

use of herbicides. An achievement

which earned the company a High

Environmental Value level 3 label

as well as a Viticulture Durable en

Champagne certification. All of

this without compromising on the

quality of its range of racy and

original champagnes.

Rosé de Saignée is no exception.

Made from the 2018 harvest, from

70% Pinot Meunier & 30% Pinot

Noir Premier Cru, Pierre Trichet's

Rosé de Saignée offers a very

intense colour with ruby tints,

a raspberry and blood orange

nose, a fruity, crisp and pulpy

palate with notes of blackberry,

sloe, pomelo and accents of

peppery violet and poppy

This green approach is part of

Pierre Trichet's continuous work to

include eco-responsible practices

Hall 6 / Stand B-187

16 • THE DAILY • MONDAY 14 TH FEBRUARY 2022 vinexposium-connect.com
---
I SPECIAL FEATURE I CHAMPAGNE I

© Claudine Grin

Collard-Picard

Champagne Synesthésie

redefines "the pleasure of

the senses"

"The pleasure of the senses gives meaning to

pleasure". With these words, the owners of the

Champagne House Collard-Picard created

"Synesthésie", an exceptional champagne vintage

set in a jewel-like box...

Konrat, four hedonist

cuvées of Champagne

Champagne Konrat to present four delicately

balanced and hedonist vintages at Wine Paris &

Vinexpo Paris

"Synesthésie" celebrates all of

the human senses, a blend of

feelings that French poet Charles

Baudelaire celebrated in his most

famous collection of poems "Les

Fleurs du Mal". "Synesthésie" was

used by Baudelaire to describe

his mystical experience. Scents

are assimilated to sound, colour

and touch.

traditional corks and clips enable

the champagne to breathe while

it matures for a minimum of ten

years in the cellars.

The grapes, picked from vines of

45 years on average, make up

this subtle blend as follows: 80%

Chardonnay from the famous

Côte des Blancs classified as

Grand Cru (le Mesnil-sur-Oger

It is on the heights of the village

of Montigny-sous-Châtillon, in

the heart of the Champagne

region, that Faustine and Marc

have brought the gestures and

secrets of their ancestors back to

life – after 50 years of dormancy.

Both ancestors of this

winegrower's family, located in

the Champagne hillsides and

along the banks of the Loire,

would be proud to see their

grandson and great-grandson

perpetuate their traditions of

excellence with audacity.

At every stage, from the perfect

grape to the bottling, the couple

look for elegance and finesse

to create gourmet cuvees.

"Champagne accompanies all

of life's great pleasures. Our

creations are not conventional in

order to arouse the most beautiful

emotions", they explain.

The selection of sandy plots,

the vinification in oak barrels

according to the lunar calendar

and from this harvest in amphorae

participate in the birth of these

authentic and charismatic

Champagnes, created for ageing.

"Wine is a living product. We

accompany it in a natural way

with love", they say.

Respect for the environment and

biodiversity guide the philosophy

of their exclusive production of a

few thousand bottles. "Only the

palate and the soul recognise

the passion of a handcrafted

terroir. This is why we produce in

very small quantities, as a family

and alongside the best local

craftsmen - coopers, cork makers,

printers…"

This year, four vintages will leave

their vaulted cellar: Collection

IIème édition, a delicately wooded

brut with no vintage year which

is the brand signature. Rosé, an

ode to hedonism. Blanc de noirs,

an extra-brut with a masculine

stature. And Velours, a tribute to

the very first Champagnes

Hall 3 / Stand H-241

It is the same kind of experience

that the special champagne

vintage 2006 and 2007 will

give to the owners of one of

the Synesthésie gift boxes

created by Champagne Collard-

Picard. The two owners of the

champagne house, Caroline and

Olivier Collard, are passionate

about preserving the great

wine-making traditions of the

region. For "Synesthésie", they

selected the 'Coeur de cuvée',

which is the very purest juice

drawn from the first pressing.

The wine is aged in traditional

large oak barrels. Malolactic

fermentation is withheld,

allowing the champagne to

age for many years. Rarely used

and Oger) and 20% Pinot Noir

from the Marne Valley (Reuil).

They can be kept for up to 15 years

in optimal conditions, protected

from the light.

In its black and gold case, the

beautifully shaped bottling of the

Synesthésie contains exceptional

vintage champagnes from 2006

and 2007. Only 500 signed gift

boxes are available!

Hall 5-3 / Stand DE-146

THE DAILY • MONDAY 14 TH FEBRUARY 2022 • 17
---
© Emilio Del Prado

The Off - getting into

the right mood in the

French Capital

The Off by Wine Paris & Vinexpo Paris is THE definitive

list of partner bars across the city of lights. Take the time

to drop by one or two – and get into the right mood for

the show!

WHERE

TO GO IN

PARIS

Le 52

A must-visit located rue du Faubourg Saint-Denis, the 52

reflects perfectly its lively neighbourhood. On the menu:

carefully crafted bistronomic cuisine and a demanding wine

list where visitors can find a bottle of Vacheron or even of

Gangloff.

52, rue du Faubourg Saint-Denis

75010 Paris

TEL: +33 1 48 00 95 88

Les Fines

Gueules

Combining the pleasures of a dining

experience with those of the eyes,

the restaurant unveils its assets in a

splendid 17th century building listed

as a French historical heritage and

designed by the famous architect

Jules Hardouin Mansart.

43 rue Croix des Petits Champs

75001 Paris

Tel: +33 1 42 61 35 41

Café compagnon

Coffee, lunch or dinner, this new multi-ambience neobistro

brings its neighbourhood to life and brings people

together. You can taste delicate cuisine as well as a

fine collection of wines, those from the vineyards of the

owner, Charles Compagnon, located in Beaujolais, as

well as rare vintages from trusted houses.

Le Canon d'Achille

A wide and specialized choice available at Canon d'Achille,

where the wines, mostly natural, are carefully sourced:

Domaine Luneau-Papin, Domaine Antoine & H. Lienhardt,

Domaine Lapierre... And for some bubbles: champagne or

pet nat'(sparkling wines). On the table side of things, the

plates are refined and the products in their simplest form.

76, boulevard de la Villette

75020 Paris

TEL: +33 1 44 52 96 53

22-26, rue Léopold Bellan

75002 Paris

TEL: +33 9 77 09 62 24
---
20 • THE DAILY • MONDAY 14 TH FEBRUARY 2022 vinexposium-connect.com