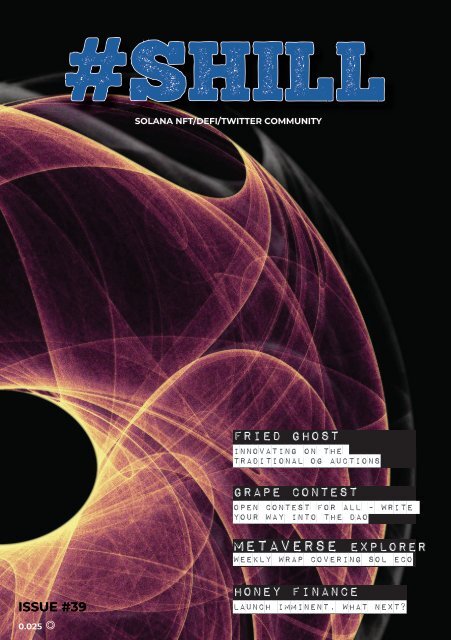 SHILL Issue 39
Solana ecosystem zine
Solana ecosystem zine
SHOW MORE
SHOW LESS
You also want an ePaper? Increase the reach of your titles
YUMPU automatically turns print PDFs into web optimized ePapers that Google loves.
#SHILL

SOLANA NFT/DEFI/TWITTER COMMUNITY

FRIED GHOST

FRIED GHOST

innovating on the

traditional OG auctions

GRAPE CONTEST

open contest for all - write

your way into the DAO

Metaverse explorer

Weekly wrap covering SOL Eco

ISSUE #39

0.025 ◎

HONEY Finance

Launch imminent, what next?
---
THIS

In

ISSUE

39

skyscapes_art
---
4

FROM

6

8

12

16

34

38

THE EDITOR

So much to write. So little

space.

CONTEST

Grape protocol has an open

contest, time to enter!

Probably Nothing

JoeMccann with his finger on

the pulse

Metaverse

Wrapping up recent events

via Youtube.

HONEY Finance

Honey is about to go live.

Know what to do with your

pHoney.

EasymoneyDing

3 mints ChaChang is

watching.

Fried Ghost

Innovating the OG auction

prcess
---
the

from

EDITOR

Short and sweet. The next wave. Innovation.

Enough said. You know the drill. Let's f go!

Pixeltoy

4

SHILL Issue #39
---
GRAPE EVENTS

Need to be seen?

Over 8000 views/week

Advertising space in #Shill

send an email to:

pixeltoy.sol@gmail.com

with "Ad query" as the

subject.

SHILL Issue #39 5
---
Skill based

CONTEST

Grape Discord

This is one of the several skill based contests we will be launching,

in an effort to discover creative & skilled individuals to not

only join, but also spread the word about what is happening

within, the Grape community!

By participating, you get a chance for a Class B /Great Ape

membership, (streamed through MeanFi) and the appropriate

skill role for the contest!

Don't miss these chances to upgrade your Grape membership

AND be part of our ever-expanding skill-force, enabling you to

earn $GRAPE emissions for your work!

These contests are open to @Verified Wallet users and above!

DFA Initative Writing contest

Objective: Collect & curate all information around the Grape

community's initiative with Decentralized Football Academy

(DFA) and write a Medium article about it (1500-2000 words).

Medium: https://medium.com/@dfacademy

Hive Blog: https://hive.blog/@dfacademy

LBRY Channel: https://lbry.tv/$/invite/@dfacademy:d

Twitter: https://twitter.com/dfacademyfc

Instagram: https://instagram.com/dfacademyfc

Facebook: https://facebook.com/dfacademyfc

YouTube: https://youtube.com/dfacademy

Discord ID: @dfacademy

Patreon: https://patreon.com/dfacademy

Post your story submissions in the thread below for a chance

to win a Class B membership and a community creator role

(writer) and be part of our largest and most creative SubDAO!

Deadline for submissions: Sunday, 27 Feb, 22:00 UTC

6

SHILL Issue #39
---
Gyris
---
PROBABLY

NOTHING

@joemccann 46.9K Followers

Rust eating into

EVM Language

dominance

grapeprotocol

8

SHILL Issue #39
---
PURPLEanalysis

@Purpleanalysis

SHILL Issue #39 9
---
the ASTRONAUT

The Astronaut @thexastronaut

10

SHILL Issue #39
---
Insaphiens
---
grapeprotoco

METAVERSE

SolCasino sUSD

https://youtu.be/iIrAcLQzC9k?t=847

Magic Eden

https://youtu.be/iIrAcLQzC9k?t=1286

12

SHILL Issue #39
---
OVER 5Sol & TOP NFT

SolsWatch

SHILL Issue #39 13
---
GoferZun
---
hipocreate
---
Honey Finance

The Honey token is built to serve the protocol's mission to empower the NFT ecosystem

and its users with powerful financial tools. The HONEY token aims to achieve this by

decentralising governance of our protocol, passing the torch from Honey Labs to our

DAO (Decentralised Governance Organisation) as well as our Association (Honey

Development Association).

To guarantee that the token is distributed fairly

amongst users and across the ecosystem, we

created pHONEY (pre-IDO HONEY). The pre-IDO

token allowed the protocol to be tested and served

as a measure of who was using it the most.

DAOs and communities who hold HONEY tokens

after the transition, and better yet, decide to lock up

the tokens for governance, will have a sizeable voice

within the protocol.

Distribution

The total supply of 1 Billion tokens is distributed as

follows:

77.5% of the total supply is allocated to the

community.

• 54% goes to the DAO's treasury to be split between

the insurance fund, the Honey Foundation,

grants, and much more.

• 15% goes to liquidity incentives either through

liquidity mining, bond purchases, or NFT staking.

• 8.5% is allocated to the IDO to

22.5% goes to the builders of the protocol.

• 22.5% is allocated to Honey Labs inc. based on a

2 year vesting schedule, following the same model

as Rari Capital

• 0% is given to Venture Capital, Advisors, Angel

Investors, etc.

Almost every DeFi protocol revolves around the incentives its token provides, usually

to lenders and borrowers, and secures the growth of the protocol. Half of all liquidity

incentives will be distributed to the Genesis NFT stakers over a period of 2-years. The

community can vote to extend this or increase it via governance.

16

SHILL Issue #39
---
IDO

Our IDO will follow the very successful Mango auction style model, used by Solend,

Parrot, Aurory, GenesysGo, and many more. This model tends to be an incredibly fair

way to distribute the token, as everybody buys it for the same price, and any bots are

rendered obsolete.

TL;DR Auction IDOs — Investors deposit USDC into a smart contract during a 24 hour

period. The price of the IDO token will fluctuate as the ratio between tokens/USDC

changes with each deposit. The final price is decided

fairly, by the market, and without bots.

veHONEY

The protocol uses the ve (vote-escrowed) model to

manage governance which allows votes to be weighed

by how long someone is willing to vest their tokens. This

allows us to distribute governance on the basis of long

term interests instead of the amount of tokens that an

individual has.

The model is also greatly resistant against governance

attacks as anybody wishing to manipulate votes must

lock up their liquidity in the protocol for significant

amounts of time.

veHONEY is also how we involve DAOs to play a more

meaningful role in our governance. DAOs or communities

can buy HONEY and vest it for their community to have

a larger share of governance, and thus allocate liquidity

and rewards accordingly.

pHONEY

pre-IDO HONEY, also referred to as pHONEY is rewarded

to early stakers in the protocol and NFT communities.

The token is not tradeable on any exchange and is not

officially backed by any liquidity until the IDO.

pHONEY will have a conversion rate of 1:1 with Honey.

You will need to deposit your pHONEY on the honey.finance website before

the IDO and once the pHONEY pool is live. HONEY will then be distributed to

pHONEY stakers over a period of 4 weeks.

HONEY can then either be locked up to earn fees or sold on the open market

after the IDO.

SHILL Issue #39 17
---
DoggoCap
---
jughashvilli
---
mintmiee
---
premepremenft
---
sergeseidlitz
---
SolitudeCry
---
sptmbrborn
---
unitetheworld
---
tat2fingers
---
Tommmyw_
---
unitetheworld
---
Skyscapes_art
---
Solana Piranhas
---
Space__Rhinos
---
easymoneyding.

chachang

@easymoneyding

3 overnight mints

@TheDevilKidz Wl tokens were going for 18-30 pre-mint on famous

foxes, 2.7k volume, current number of listings is at 20%, pretty high for a

low supply project, if you're looking to join the hype, i'd be watching the

listing count

SolsWatch - Solana NFT Insights & Charts and Devil Kidz / MINT TODAY 9pm UTC

@YakuCorp, well awaited mint that kept it's hype despite a slightly

delayed launch outside of their control, sold out in 43 seconds, highest

volume for mints overnight at over 10k in a matter of hours, accumulation

is happening rn, low 2s would be a great entry imo

34

SHILL Issue #39
---
SolsWatch - Solana NFT Insights & Charts and YAKU Corp. | 1 Bike = 1 WL for the Yakuverse

@ShizenOrochiNFT

2222 stake and earn project, just under 3k volume off the bat

27% listing is a tad high indicating the number of quick flippers, but not

surprising given it minted today would need to see listing % come down

and floors thinning for an entry if you rate

SolsWatch - Solana NFT Insights & Charts and Shizen Orochi | SOLD OUT

in other news:

SHILL Issue #39 35
---
@ProjectAkira_, hotly debated project moving into ln,

discord was 'hacked' before mint, wallets were drained because

of this, however @monkelabs ended up holding mint

funds in escrow and are refunding all drainage of wallets,

huge win for @monkelabs imo

Akira NFT SOLD OUT (ALL WALLETS REFUNDED)

speaking of mints tho:

here's your gentle reminder that @honeydefi is tonight!

this one is gonna be a banger!

36

SHILL Issue #39
---
eunoianfts
---
Fried Ghost

judgement.key auction now LIVE http://friedghost.holaplex.com.

No ordinary NFT, judgement.key unlocks the judgement.bin NFT which allows

its holder to choose punishment.exe or penitence.cfg as an additional NFT. But

that's not all, the unchosen NFT will be burned, and a monochrome version will

be distributed as a pNFT to all judgement.key bidders.

However, judgement, penitence and punishment will all be listed for sale at the

same time. This allows anyone to subvert judgement. You can play fair, or you

can buy the result that you seek. After all, judgement is but the plaything of the

wealthy.

This part of the series is a comment on

@ghost_fried

the interplay of money and justice in

religion and society as well as a social

experiment.

In medieval times indulgences were granted to those willing to pay for them as

a way of absolving sin and avoiding punishment.

The right to judge others has also traditionally been the exclusive domain of the

wealthy.

A more modern and light-hearted example is the existence of pay-to-win

38

SHILL Issue #39
---
systems in gaming. Simply being

willing to pay more than other players

entitles you to the ability to dominate

or harass those around you.

I have given the same options in this

art auction.

Will everyone play fairly and bid on

judgment.key and choose the NFT they

like and allow the participants their

pNFT. OR will someone come in and

use their buying power to steal all the

NFTs, trolling everyone.

This auction is an attempt to bring my

contemporary art sensibilities to the

NFT space and to play not only with the

visual imagery, but to use the auction

format to make an artistic statement

and generate conversation and thought

as well.

If this attempt at artistry is successful,

then I believe it can help to elevate the art scene on Solana and make people think

more deeply on the work they create as well as

the work that the buy. As such, I will tag several

people I feel might be interested for visibility: In no

particular order, a list of art advocates I thought

might be intrigued:

@N8Solomon @wgarrettdavis @Papa_MooMoo

@0xBanana @TheObserverNft @zen0m @

notjohnlestudio @64jooski @S0Ltoshi @

chartsnip3r @BU___UB @_ledao @particlesnft @

sleeprNFT @adam_ape_ @notbunjil @howl33333

In no particular order, a list of art advocates I

thought might be intrigued:

@0xCelon @A2KDeFi @MilstGuga @erhancrypto

@earlyishadopter @itsMcNatt @CompoundI3 @

poohaus @pixeltoy @holaplex @holalistings @

TheOnlyNom @0xbustos @rainnen23 @Sunless_1

@Solchemist @softmoneyinc

SHILL Issue #39 39
---
64jooski
---
dat_a_bstract