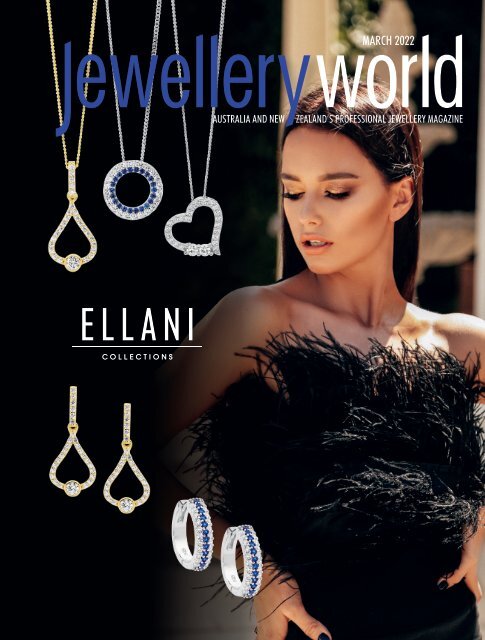 Jewellery World Magazine - March 2022
This issue celebrates the highly successful Jewellery Industry Network Fair held in Melbourne in February and also takes an indepth look at how buy now pay later schemes benefit both jewellery retailers and suppliers.
This issue celebrates the highly successful Jewellery Industry Network Fair held in Melbourne in February and also takes an indepth look at how buy now pay later schemes benefit both jewellery retailers and suppliers.
SHOW MORE
SHOW LESS
You also want an ePaper? Increase the reach of your titles
YUMPU automatically turns print PDFs into web optimized ePapers that Google loves.
MARCH 2022

AUSTRALIA AND NEW

ZEALAND'S PROFESSIONAL JEWELLERY MAGAZINE
---
Concept to Creation

YOUR JEWELLERY DESIGN BROUGHT TO LIFE

Palloys has the largest CAD team in Australia, supported by the

most cutting-edge technology. The start to finish approach is what

makes us truly remarkable at Palloys.

1300 886 108 | AUSTRALIA WIDE

palloys.com
---
AFFECTION DIAMONDS

Suite -504, Level -5 250 Pitt Street Sydney -2000

CALL US : 02 9264 2211 * Mobile: 0400 60 70 70

GIA Certified Diamonds | Matching Pairs &

Fancy Shapes | Treated Colours Diamonds |

Calibrated Small Diamonds | Natural Colour

Diamonds | Argyle Pink Diamonds | Old Cut

Single Cut, Rose Cut Diamonds | Salt & Pepper,

Champagne, Cognac Diamonds

Your One Stop Shop for Diamonds

Buy Diamonds with Confidence

Diamond & Jewellery Wholesaler

Gemstone & Labgrown by order

www.affectiondiamonds.com.au

Follow us on
---
Jewellery World Magazine

ABN: 82 637 204 454

ISSN: 2207-6751

PO Box 54, Camden NSW 2570

P: 0431 844 903

Subscription: www.jewelleryworld.net.au

Enquiries: info@jewelleryworld.net.au

Web: www.jewelleryworld.net.au

managing director

Jeremy Keight 0431 844 903

jeremy@jewelleryworld.net.au

editor

editor@jewelleryworld.net.au

contributing writers

Kirsten Ehrlich Davies

Stefan Juengling

Cheryl D Harty

art

design@jewelleryworld.net.au

advertising sales

sales@jewelleryworld.net.au

REGULARS

6 News

12 Palloy's Points

14 Trade Well with Rami Baron

16 JAA News

38 Lab Grown Diamonds

44 Watches

48 New Products

50 Directory

FEATURES

18 JAA Australasian Jewellery Awards

The winners! Six talented jewellers share their

inspiration and dreams for the future.

18

34

40

28 A rising era of buy now, pay later

An examination of the deferred payment

systems and their use in retail jewellery.

34 A new industry event for a new era

Our report on the highly successful

Jewellery Industry Fair which took place

in Melbourne in February.

DISCLAIMER:

This publication may not be reproduced

in whole or part without the written

permission of the Publisher.

Articles express the opinions of the

authors and are not necessarily those of the

Publisher or Editor. Mention of a product or

service in this magazine does not indicate the

Publisher's endorsement.

The Publisher excludes all liability for

loss resulting from any inaccuracies or false

or misleading statements that may appear

in this publication.

All information is copyright.

40 Jeweller Profile

WA-based jeweller and valuer, Christine

Ezekiel, works with Australian pink diamonds.

AUSTRALIA AND NEW

MARCH 2022

ZEALAND'S PROFESSIONAL JEWELLERY MAGAZINE

FRONT COVER

Ellani Collections

www.ellanicollections.com.au

4

jewellery world - March 2022
---
All Silver is Rhodium Plated

All Silver is Rhodium Plated

• Sydney AGHA Gift Fair - February 21-24, 2020 (Homebush)

• International • Sydney AGHA Jewellery Gift Fair -September - February 21-24, 12-14, 2020 (Homebush)

(Darling Harbour)

• International Jewellery Fair -September 12-14, 2020 (Darling Harbour)

TJDSILVER.COM.AU 0400272365 ADMIN@TJDSILVER.COM.AU

TJDSILVER.COM.AU 0400272365 ADMIN@TJDSILVER.COM.AU
---
News

Hello? Adele? Is that an engagement ring?

Singer Adele is remaining coy about engagement

rumours after she appeared at the BRIT Awards wearing

an enormous pear-shaped diamond ring by Lorraine

Schwartz, rumoured to be valued at around $1 million.

The Grammy winner also wore matching 50 carat

earrings, featuring pear and emerald cut stones.

Royal jewels

On February 6, Queen Elizabeth commemorated a historic 70 years on the

throne with a tea party at Sandringham House, where she wore a blue

crepe embroidered dress with a triple-strand pearl necklace and two rosette

brooches from the Nizam crown of Hyderbad.

The Nizam crown was a detachable diamond tiara featuring an English rose

pattern, which could convert into three brooches. Designed by Cartier,

the tiara was a wedding gift for the then Princess

Elizabeth from the Indian prince Nizam of Hyderbad,

who was the world's richest prince at that time. He

also her a Cartier necklace, which is considered to

be one of the most valuable jewellery pieces in the

British royal collection.

The Queen wore the tiara in the years following her

marriage, but she later opted to break it up. Most of

the diamonds were used to create the Burmese Ruby

Tiara, but the three rose brooches remain.

While she has refused to confirm or deny any

engagement news with her

boyfriend of six months,

Rich Paul, she did wear

the ring again a few

days later during an

appearance on the

Graham Norton show.

Lorraine Schwartz is

a celebrity favourite

when it comes to

engagement rings,

having previously

provided romantic

sparklers to Kim

Kardashian and

Beyonce.

Maurice Lacroix x Red Bull

Swiss watch brand, Maurice Lacroix, has become the official sponsor of Red

Bull Dance Your Style.

The innovative dance

competition attracts

dancers from around

the globe, keen to show

their best moves to an

assembled audience. Like

modern-day gladiators,

their fate is decided with a

flick of a card: red or blue.

Maurice Lacroix chose to

join Red Bull in the event as it matches the characteristics of their audience,

Generation Z – ambitious, competitive, connected and urban according to

Red Bull.

This is the first time a watch company has entered into the

world of competitive street dance, upholding Maurice Lacroix's

reputation for being innovative.

Participants perform in front of an audience that judges

competitors simply by brandishing a red or blue card. Events will

be held in several prominent cities around the world before the

finalists travel to the World Final and put it on the line.

Maurice Lacroix

is a 40 years

Swiss watch

brand with an

active and urban

brand image that

captures the

vitality of city life.

6

jewellery world - March 2022
---
News

Bad news is good news for gold

As world tensions rose in February due to

the Ukraine crisis, the price of gold took

its usual jump when the news turns bad.

At the beginning of February, gold was

trading at US $1,800 per ounce but by

late February the spot price had crossed

the US $1,900 mark, the result, according

to analysts, due to the Russia-Ukraine

crisis. Investors often flock to the yellow

metal in times of turmoil.

Blue diamond auction

One of the most valuable blue diamonds in existence will be auctioned by Sotheby's in April.

The De Beers Cullinan Blue was originally a type IIB 39.34 carat rough stone, unearthed from

the Cullinan mine in April 2021. It was sold to De Beers and Diacore for US$40 million and was

transformed into an internally flawless 15.10 carat step-cut fancy vivid blue diamond.

Gold broke the US $2,000-an-ounce

barrier for the first time ever in August

2020. It soared to an all-time record of

$2,067 an ounce, before heading back

down again.

Analysts believe the tension may also

affect the price of platinum as Russia is a

key producer of that metal.

Only five blue diamonds weighing more than 10 carats have ever come to auction, and none of

these ever exceeded 15 carats. De Beers now value this diamond at $48 million, although experts

believe that the rarity of the gemstone could achieve a record price of up to US$4 million per

carat.

Precious coral traceability breakthrough

An international research group led by scientists from the Swiss Gemmological Institute SSEF

and the University of Zurich's Institute of Forensic Medicine (IRM) has reported a breakthrough

in precious coral jewellery traceability, through the use of a novel forensically validated genetic

technique called Coral-ID.

Coral-ID is the first reliable and forensically validated method to scientifically identify

corals using non-destructive sampling, so that species protected by the Convention on the

International Trade of Endangered Species (CITES) can be distinguished from their nonprotected

counterparts.

Four precious coral species used in the jewellery trade are listed on Appendix III of CITES,

and they require species-specific and country-of-origin documentation when being traded

and transported across international borders. For the customs authorities that must check

the merchandise, the colour of a coral specimen has to date been the main indicator for

ascertaining its biological species identity. However, different coral species can have similar

colour ranges, and this frequently has caused difficulties when trying to conclusively identify

the specific species of coral contained in a jewellery item.

8

jewellery world - March 2022
---
9 c t & 1 8 c t C H A I N S
---
News

B2B website for Australian South Sea pearls

Pearl producer Paspaley has launched a wholesale website that

offers prospective clients an extensive assortment of Australian

South Sea pearls via a B2B platform.

Australian South Sea pearls are highly coveted and amongst the

rarest and most valuable pearls in the world. Paspaley's online

inventory includes rare one-of-a-kind pearls, high-quality pairs,

strands and loose pearls, providing a reliable supply of fine-quality

Australian South Sea pearls with guaranteed natural colour and

lustre. Pearls are handpicked by pearl graders with experience in

selecting pearls to meet the specific requirements of various types

of jewellery.

"Paspaley has built a successful fine jewellery brand in Australia by

offering contemporary pearl jewellery designs that meet the trends

and expectations of today's market," shared executive director Peter

Bracher. "This opportunity is largely untapped on an international

level. As the world's largest producer of high-quality Australian

South Sea pearls, we can supply a wide range of South Sea pearls at

competitive prices."

"Authenticity, ethics, sustainability and provenance are factors that

modern consumers desire, in addition to the beauty or quality of the

product itself," Bracher continued. "Paspaley's Australian South Sea pearls

are well positioned to become the choice of conscientious jewellery

buyers who want a product derived from nature with an authentic,

romantic and ethical story."

The wholesale catalogue can be accessed at wholesale.paspaley.com

Time to buy Australian-made

Ph: (03) 9650 5955 Fax: (03) 6950 5977

Email: sales@millenniumchain.com.au

Web: www.millenniumchain.com.au

6th Floor, 313 Lt. Collins St.

Melbourne 3000 Victoria

Millennium Chain

Finished Top 5 in the category of

Best Selling Gold Jewellery Suppliers in

Australia and NZ, as voted by retailers.

millennium_chain
---
Experience Unmatched Service & Reliability

Precious Metals

Jewellery Production

REFINING | METALS | CASTING | CAD/CAM | FINDINGS

1300 984 751

sales@chemgold.com | www.chemgold.com

Follow us

Servicing Australia & New Zealand

Sydney: Unit 37, 34-36 Ralph St, Alexandria 2015

Melbourne: 1406/227 Collins St, Melbourne 3000
---
PALLOYS POINTS

Sophie Kim,

Creative Consultant, Palloys

Concept to Creation

JEWELLERY, CONCEPT TO

CUSTOMER: CAD AT PALLOYS

CAD, or computer-aided design, has truly revolutionised how we manufacture jewellery

at Palloys. Its multi-faceted effects have enabled us to streamline and personalise the

manufacturing process of a piece, from concept to customer. CAD has enabled jewellers to

create magnificent designs with the most accurate precision, in a prompt manner.

The importance of computer-aided

design is paramount in the current

state of our jewellery industry. CAD

enhances the product offering by giving the

jeweller greater control over the design and

manufacture of their designs. That is the

essence of what separates Palloys in the

jewellery industry—our ability to take a client

from their first design and guide them through

the processes involved in bringing their piece

to life, facilitated by the fact that every single

process is undertaken exclusively in our

workshop at Palloys, beginning with CAD. The

wide uptake of CAD technology has illustrated

the significance of creating specialised and

accurate designs. CAD at Palloys involves

a wonderfully personalised, one-to-one

consultation with our designers.

The CAD team at Palloys is enriched with

the sharp expertise of our staff. Each team

member has over 10 years of experience

with CAD software,

primarily in the

speciality of jewellery

design. We are one

of the largest CAD

teams in the jewellery

industry, and our

communicative

and positive work

environment allows

for a true forum

of skills and styles

that improves our

team overall. This

amalgamation of

individual competency, teamwork and calibre

of combined skill is unique to Palloys in the

jewellery design sector. Our highly proficient

designers have the advantage of overlooking

the manufacturing process to achieve the

highest quality of precision and intricate

designs for the jewellers.

The CAD team is supported by an

unmatched print capacity. Palloys has

invested in the most advanced

printers and the team focuses

on producing the highest

resolution of resins and

waxes which ensures there

is no porosity and minimum

breakaway during casting.

Whether we receive a design brief or

stereolithography (STL) files from clients, there

is always a dialogue between designer and

client that results in the creation of the final

3D rendering from which physical production

of the piece begins. This ensures that the

client has significant input in their design and

the final 3D render, thereby improving client

satisfaction when the piece is finished.

CAD itself is a competitive service. As

we are equally well equipped for its

complimentary service, CAM (Computer-

Aided Manufacturing), Palloys' service is

rare in that we are enabled to oversee and

streamline every step, from creating the 3D

render to the 3D print of the final design. Our

12

jewellery world - March 2022
---
precise control and strong interdepartmental

communication skills, coupled with the lack

of need for outsourcing, is drastically more

cost-effective for both manufacturer and client

and enables a much quicker turnaround from

design to the finished piece.

Moreover, Palloys is one of the most cuttingedge

and current when it comes to both

software and hardware. We are fastidious

with ensuring all our programs have the

newest and most advanced licensing and are

functioning on the most recent updates. Our

hardware is carefully quality-controlled and

is regularly replaced with the newest models,

ensuring we are equipped with the finest and

most advanced technology in the industry. Our

highly skilled Design & Print team is proficient

in all major CAD applications, and we can

work with your files created in MatrixGold,

RhinoGold, 3Design and JewelCAD. We can

work from a PDF, sketch, photo, or logo for the

most streamlined and efficient CAD service. At

Palloys, we want to educate you on the best

techniques to create the most magnificent

CAD designs.

Having a start-to-finish approach to jewellery

manufacturing, especially involving CAD,

allows a more satisfied client, as well as a

more fulfilling role as a creative consultant.

Having the ability to oversee a piece's entire

manufacturing journey is so rare, but even

more unique to Palloys is how at the end, I get

to experience the genuine joy and delight in

a client when their completely custom design

has been brought to life at Palloys. For the

upcoming and new jewellers, we emphasise

that it is essential to recognise CAD as an art

form, customised to your own preferences.

To be authentic, to learn and to observe and

recognise your own signature style is the best

way forward.

This is the golden aspect of Palloys that

make us a truly remarkable front-runner in

the jewellery industry: our ability to take a

concept to customer approach to each and

every piece. Managing CAD as an aspect of

this journey has been as challenging as it is

gratifying.

"Hollywood Couture"

By Poix & Troy

www.poixandtroy.com.au

@poixandtroy

luxury@poixandtroy.com.au

0448 434 819

Amethysts, diamonds, peridots, pink sapphires and

an exquisite 11.30ct daffodil yellow sapphire
---
WHY IS THIS NEW GENERATION

OF JEWELLERS POWERING

AHEAD OF THE OLD?

I just returned from Melbourne where I attended the wonderful Jewellery Industry Network Fair.

Without a doubt, a lot of credit goes to Laura,

Brett, Ewan and Andy for putting together

such an event during these difficult times.

They put on a professional event and we all

look forward to the next one.

As always, it's about meeting and greeting,

listening and learning as to what are the

different strategies that jewellers are using to

grow their business.

On this trip I had an epiphany.

Consumers buy the story. Is it an

old one or a new one?

I was speaking to several jewellers who came

from jewellery families. In some cases, it

was three generations of family jewellers. In

listening to them, I recognised so much of

myself and how I used to communicate when

I had my jewellery stores. It's so easy and

comforting to define ourselves with the past. I

was the first to say that I'm a third-generation

jeweller. I even have that written all over my

bio on LinkedIn now.

So how can you, a new jeweller, who

doesn't come from a traditional apprentice

workshop background, or diamond dealing

family, compete with me or those who have

that heritage, that training, that historical

knowledge that is handed down from one

generation to the next?

Rather than beating around the bush, I'm

going to get to the crux of it straight away. I

must add that what I am about to say doesn't

apply to everyone, but it applies to the

majority.

With the advent of social media, a small

independent jeweller can create as much

content as a multinational jewellery brand.

The beauty of the content is that it is

authentic and about them, who they are,

often what they do, how they look and how

they speak. In fact, you get to know these

people before you even make contact or visit

them.

These new jewellers won't show you photos

of the past and won't have signs that say

established in 1950. Instead, they have built a

social media presence and marketing, which

is very much about saying "This is who we are

today".

As a consumer,

you either buy

into their story

or not—that's

up to you.

The power of

social media

has meant that

the trust that a

consumer needs

to build before

they purchase is

largely formed

before they

even enter

the jewellery

operations of

this new generation of jewellers. An easy way

to understand this is to observe the big luxury

brands.

The consumer has already bought the Tiffany

brand before they enter the store. The

salesperson needs to be friendly and nice, but

the trust in making a purchase has already

been created by the marketing message

that the brand has promoted. Again, if the

customer aspires, relates, and connects to

Tiffany's message, then it's the experience

that will facilitate the sale. To a large extent

though, the decision to buy a Tiffany piece of

jewellery was already made.

The old and traditional jeweller thinks that

just by showcasing jewellery, they will attract

the next customer. They also rely so much

14

jewellery world - March 2022
---
DDCA NEWS

Rami Baron

President, Diamond Dealers Club of Australia

rami@ddca.org.au

on their past to build trust when they first

meet the customer. When and if they get this

concept that trust is built before the customer

interacts with them, they too will see a

massive change to their business.

Modern issues do influence your

customers

Of course, there are a few other factors.

The new generation of jeweller is happy to

focus on the gems and where they come

from. There are comfortable to talk about

traceability, sustainability and transparency

and don't keep saying "my customers aren't

interested in that, they never ask." Mark my

words — if they haven't, they will, or you are

dealing with an older demographic.

Do you think that a 28-year-old has any idea

who or what DeBeers is or was? This company

literally created the modern diamond

engagement ring industry. They also stopped

generic marketing of diamonds 20 years ago

which contributed to the slowdown of our

product in the luxury market, and they lost a

name which was as famous as Rolex today.

If you don't come from the jewellery industry

historically, you're not saturated with stories

of how things were—the good old days. In

the 1970s, jewellers told me that a customer

would come in to purchase an engagement

ring, were told to sit down at a table where

they would be shown six designs from which

they had to choose one. The customer

provided their budget, they were shown what

fitted the budget, they paid a deposit and put

the ring on layby. The finger was measured,

they were asked how long they would need

to pay off the ring, and after the second last

payment it would be ready for pickup. The

markup was normally 2.5 to 3 times on cost.

No credit cards at that time.

I think it goes without saying, that you need

to be comfortable with digital photography.

Learn how to get the most out of your

iPhone or Android camera.Understand how

to improve lighting, ask others how you can

combine a Zoom call, flicking back and forth

between a face-to-face discussion and the

image projected on one of your monitors.

Make sure there is good lighting on your

face, and the background reflects the sort

of business you are. Everything you do must

align with the image you are trying to create.

You must be authentic, and you must walk

the talk. Every piece of marketing literature,

especially when it comes to social media,

screams about this very issue.

I don't care if you're ultraconservative or way

out there, if it lines up and your marketing

tells a true story of who you are and what you

do, your customer will buy you and your story

before they get to your store or showroom.

My conversations with generational jewellers

were about defining their future because they

found themselves inadvertently trapped in the

past.

My conversations with the new generation

of jewellers were about technology, bringing

NFT's and crypto into their business, utilising

online databases of merchandise and stock,

rather than tying up money in physical stock.

Share and embrace change

This new generation of jewellers are not

fearful to share knowledge and information

with other jewellers. I have written in

numerous articles about my disgust at the lack

of sharing. Yet when I was in Melbourne, I saw

a couple of the new generation of jewellers

visiting a forward-thinking tech savvy jeweller,

who was happy to sit and share the logic of

his software. He openly shared contacts he

used for his fit out and the whole logic of his

business structure. No fear, no secrets, just

"This is how we do it, and I hope it helps."

Change isn't easy for any of us. I gave a

presentation at the fair explaining blockchain,

crypto currency and NFT's and how they relate

to our industry. It will be on the Jewellery

Industry Fair website and Facebook shortly. I

finished my presentation with the following

advice:

This crypto, NFTs and let's-nottalk-about-the-Metaverse

requires

a radical mindset change. You

don't have to jump into it, but you

need to understand it. The key is

never to stop asking questions

until you get some comfort,

getting your head around it.

Trade well,,, Rami Baron.

P.S. And yes, at some point in the

not-too-distant future, you too will

accept crypto as a form of payment.

And yes, chill out about that because

in reality you already have a digital

wallet on your phone—it's just

limited to one or two banks.

March 2022 15
---
PRESIDENT'S

MESSAGE

Karen Denaro

An awards night like no other! Literally, like no other event the JAA have ever previously hosted.

Alongside the rest of the world, the JAA

pivoted to present our very first 'JAA

Australasian Jewellery Awards LIVE' – a

live telecast, online event, which I had

the personal and professional pleasure of

delivering, both as master of ceremonies and

as president of the Jewellers Association of

Australia, alike.

On the evening of 8 February, 2022 we united

virtually with entrants, their families, friends,

colleagues, employers, and the jewellery

industry, at large, in an online exclusive event

to celebrate the Australian jewellery industry.

More to the point, we celebrated the truly

awesome, next generation of highly skilled

Australian jewellers.

All entrants went above and beyond to

produce their unique creations for the highly

prestigious JAA Australasian Jewellery Awards.

Every entrant a winner, in their own right,

with every piece of bespoke fine jewellery

coming to life. Each individual piece exhibited

its very own story on how it came to be, from

conception to final delivery. An incredible

amount of thought and passion was put into

every creation. Eye-for-detail, craftsmanship,

design, and finish – absolutely second to

none.

I have never felt prouder of the Australian

jewellery industry, and I am thrilled to see

the next generation of Australian jewellery

artisans deliver this calibre of bespoke, fine

jewellery.

Behind the scenes, once all entrants'

submissions were received, our JAA

Australasian Jewellery Awards commenced

with what we refer to as 'Judging Day'. My

deepest gratitude goes to one of my very first

employers, award winning, master jeweller,

Nicola Cerrone. Nic and his team graciously

hosted myself and Megan from the JAA, as

well as fellow judges Kirra-Lea Caynes and

Gary Thyregod and our film crew, for the

day. House of Cerrone delivered the ideal

ambience to produce a wonderful flow of

energy. The synchronicity between all judges

was magnanimous—an experience I feel

incredibly humbled by.

The judges were certainly put to the test.

There was much discussion about each piece.

Ultimately, the unanimous vote went to

Jeweller of the Year, Michael Muratore, for

his sensational 'Cascade' statement earrings,

featuring hand-cut Australian sapphires and

pave' set diamonds in 18 carat white gold. By

his own admission, these earrings represented

Michael's life work. His passion and dedication

to our industry portrayed in every detail of

these superb representations of objet d'art.

There was a definite theme of local support

with the vast majority of pieces paying

homage to our Australian oceans. The thought

behind these amazing pieces extending to

issues of sustainability, the constellations and

an all-encompassing, multidimensional view

of the world. To view these pieces through

the eyes and via the hands of these incredible

Australian jewellers was simply mind-blowing.

The JAA congratulates Michael Muratore

for his well-deserved win and extends our

congratulations to winners of all categories.

Every entrant was indeed a winner. You, the

next generation of master jewellers, designers

and artisans, are the future of the Australian

jewellery industry. I am overwhelmed by

excitement for the bright future of the

Australian jewellery industry. You have all

inspired me beyond words.

Thank you to everyone who took the time to

join us and to those who watched the event

recording via our social media platforms.

If you have not already had the opportunity,

please do take the time to watch our 'JAA

behind the scenes' video. I dare you not to

share a tear!

16

jewellery world - March 2022
---
Key

Points

False alarm? Its after hours and

you receive a notification from

your alarm carrier. Do you

brush it off or check on your

business?

The Jewellery Industry has historically been

targeted for theft and break and enter. Yet this

has become increasingly challenging for thieves

due to advancements in security and

technology. Now, cutting the power and

triggering false alarms has become a trend in

jewellery store thefts.

Recent trends show that there have been

incidents in which thieves have cut the power or

created power surges with the goal to disable

alarms.

They may create false alarms over a period of

time in an attempt to create complacency by the

owner, or take their chances in a one off

incident.

Some points to note:

Thoroughly investigate the source of all false

alarms at your store.

Ensure that your alarm carrier is updated in

your call list so that you can respond to

notifications quickly.

If the alarm does go off, we recommend you

do not arrive alone.

Double check the fit out of your store, has

the roof been tampered with? Are there any

modifications to common walls?

Make sure that your burglar alarm has

operational line security.

Make sure that in the event of a break and

enter, your safes can withstand physical

damage and cannot be compromised.

Operational

Line

Security

Make sure that your

burglar alarm system

has operational line

security. This will

protect your business

in the event of a power

outage or if it is cut

intentionally.

Keep Track

of False

Alarms

Creating a series of

false alarms is strategy

used by thieves in an

attempt to create

complacency by the

owner. If you notice a

pattern occurring,

don't brush it off. Speak

to your alarm carrier

today.

Insurance

Make sure your

business has sufficient

insurance coverage.

Ask yourself the

following:

Is my stock figure

up to date?

Do I have cover for

damage to contents

and glass?

Will I be covered for

loss of income if I

have to close due to

the damages?

Stay informed by following the JAA's email

updates on alerts and security, including the

monthly Jnews.

Other ways to stay alert:

Be aware of strangers or individuals who

may be observing your business or who

are asking questions about how your

business runs.

Document suspicious incidents in a

logbook.

Use a codeword or phrase to alert your

staff of something suspicious.

Refrain from sharing photos detailing the

layout of your store or merchandise

displays.

Recent trends show that

there have been incidents

in which thieves have cut

the power or created

power surges in attempt to

disable alarms.

Insurance

Whilst all measures can be taken to reduce

your exposure to theft and loss, jewellery

crimes continue to slip through the cracks. A

quality insurance policy may just be the

difference between your business bouncing

back from an attack or not.

The JAAIS has over 20 years experience

offering services to the jewellery industry. We

are well equipped to advise you of your

potential risks and ensure that in the event of

an attack, your business is adequately covered.

Get in touch today for a quote jaais.com.au or 02 8350 9999
---
debuting student +

apprentice

ADEN WYLIE

Item:

Neckpiece

Name of piece:

Constellations

Description:

Yellow gold rotating ball with diamond

constellations, encased by a platinum sphere

pendant, on an 18ct white gold chain.

Aden Wylie is an apprentice with Melbourne-based

jewellers MDT Design. He joins a collective of master

jewellers with an impressive record of award wins,

numerous JAA Award wins amongst them. So it is no surprise

that Aden's work attracted the attention of the judges in this year's competition.

My inspiration for this piece came

from my love for the night sky. I love

a dark night full of stars and I used

constellations as a way to incorporate

that into my work.

In my piece, the gold ball signifies a

bright orange moon and the platinum

sphere was used to have the piece spin

to see all the different constellations

around the ball.

I saw the JAA awards as a learning

opportunity. Entering was definitely a

good chance to try new techniques and

different ways to get to the end product.

It also taught me about my work and

what style I enjoy making, and winning

the award did very much give me more

confidence in my abilities.

I am very lucky to have won this award

and cannot describe the feeling. I

believe it will definitely impact my career

path in the future and I am looking forward

to seeing what opportunities come from this

experience.

I entered the awards to push my skills and

abilities making jewellery and to try designing

my own piece which I could interpret some of

my personality into.

I really recommend entering the award to

other jewellers and apprentices. It was a lot

of fun coming up with a design and it is a

great way to showcase your personal style of

jewellery.

I would very much like to thank Greg and Nick

for taking me on as an apprentice and giving

me the opportunity to create my own piece

in the JAA Awards. Also, a big thank you to

everyone else at MDT Design.

18

jewellery world - March 2022
---
precious metal

CLAIR BRICE

Item:

Pendant

Name of piece:

Herperus, the evening star

Description:

Handmade 18ct yellow gold pear shape green

tourmaline and round brilliant cut diamond pendant.

Pendant is movable on the chain.

Claire has been at the bench for five years, but jewellery has been in

her soul her whole life. Her story shows that inspiration can come from

something as aimless as doodling and as deep as a memory in your heart.

I'm a second-generation jeweller. I was lucky

enough to learn my trade from my Dad

before he sadly passed away last year. I was

his biggest fan—the talent, love, and passion

he had for jewellery definitely came through

to me. Dad taught me the importance of

'well-made'. When I was 18, he made me a

record player ring covered in black and white

diamonds. The record spun around on a rivet.

Moving jewellery is incredible and I love that

the wearer can feel they have a part in the

piece, just like the movement of my Awards

piece—the pendant on the chain.

Jewellery is 100% an art form. Creativity, love,

and passion go into the making and wearing

of jewellery. I wear jewellery as a form of

art and to express myself as an individual. I

love chunky, heavy, and unusual jewellery.

Asymmetrical has always interested me in all

ways of creativity, so this tends to show in the

jewellery I design and have always worn right

from a teenager.

Dad told me when I was an apprentice

that I should make something for the JAA.

Annoyingly, life got in the way. He told me

how important it is to push yourself and to put

yourself out there for everyone to see. So, this

year was my year.

My boss, Andrew, and I were looking at

stones we had in stock to get inspiration. I

love ancient jewellery and mythology like

the Aztecs and Egyptians, so my mind always

tends to go on that path. This drawing came

from me doodling on a sketch pad using the

stone that Andrew was actually going to use.

He looked at my sketch and said, "Do that! You

should do that."

The piece itself changed a little along the way

when making it—as you know metal doesn't

work as easy as drawing an image. Having

the piece 3D was something I really wanted

to concentrate on, so that's when having

the tapered bars sit back and forward on the

piece came together. When the piece was

completed I had to think of a name. The V

shape was shouting out at me—Venus, Venus,

Venus! So, Hesperus was born. In Greek

mythology, he is the evening star, a son of the

dawn goddess.

Entering the awards has shown me that I'm a

far better jeweller than I thought. It's funny,

maybe it's just me, but I always think I'm just

ok. This experience and getting my name

out there in the jewellery world has given

me confidence to grow as a jeweller and has

got the creative juices flowing. It's taught

me to push myself even further. When I was

nominated for the jeweller of the year award I

was blown away. Never did I think those words

would be before my name. The next day I was

already thinking about what can I make next

year to blow the judges away again.

I've always thought it's important to have

an open mind and be progressive so I hope

my jewellery making career is full of lots of

different styles and that I can learn from a

wide range of different jewellers.

I'd like to say a massive thank you to my boss

Andrew and the team at Diamond Jewellery

Manufacturers, where I've been working for

the two years, for all their advice, direction

and support.

And thanks to my Dad for pushing me to be

confident in my work and for being that little

voice in my head saying, "Do it."

March 2022 19
---
colour

MICHAEL MURATORE

Item:

Earrings

Name of piece:

Cascade

Description:

Earrings showcasing 16 geometric freeform rose cut natural

Australian sapphires. Each one custom cut perfectly to interlock

together. Complemented with diamond set bars separating

every unique and individual stone.

Michael Muratore says he fell into the jewellery at the age of 15 and has enjoyed

every moment of the journey since. Seven years ago, he started Murazzo, with

the dream to make his company renowned world-wide as an Australian jeweller

of the highest quality one-of-a-kind handmade creations. Here are Michael's

words on his winning piece and his place in the Australian jewellery industry.

This piece was inspired by my fascination with

Australian sapphires. I love the vast array of

colours the sapphires produce and I wanted

to create a piece that showcased this beauty.

Having access to some of the largest and

most unique Australian sapphires allowed

me to create a showpiece that pushed all

boundaries. The Cascade earrings are an

ode to the many different landscapes that

span across our beautiful country such as

the bright blue Pacific ocean, the lush green

rainforests and the stunning yellow sands

of the Australian coastline. The earrings

are a representation of my life's work—a

combination of the technical skills and artistic

vision that I have perfected over a 22 year

career. Every skill I have learnt in the trade

has been incorporated into this design—from

the faceting of gems to handmaking jewellery

to diamond setting, this piece was brought

to life by my single pair of hands. With over

360 hours of labour from start to finish, these

earrings challenged me in ways I've never

been challenged before.

I believe that jewellery is one of the greatest

artforms of all time. As a jewellery creator,

you have the ability to imagine a design in

your mind and then transform the most

precious metals and gems into a work of art.

The greatest form of expression is to create

something you love every day. I believe there

is a little piece of myself in every creation.

Entering this award competition challenged

me to operate outside of the box of

traditional jewellery design and manufacture.

A competition of this calibre requires you

to bring your best of your skills and ability

to the table to be judged by the industry's

best. It has taught me that even after 22

years there is always a higher level you can

take your work to and you should never stop

learning and striving for more. The awards

pushed me beyond my limits and set a new

standard for the work I want to regularly

create. I encourage everyone in the industry,

regardless of your experience, to utilise the

amazing opportunity the JAA awards offer.

The process of creating an award entry is the

most rewarding part. It teaches you so many

valuable skills and lessons you would not

otherwise experience.

Winning the colour category and being

awarded as Jeweller of the Year is one of

the proudest moments of my career. This

honour not only creates credibility and trust

with my clients but also within the jewellery

industry. I see a very bright future ahead filled

with endless Australian sapphire creations

that have never been seen before. I am

determined to keep innovating and advancing

my skills to see how far I can evolve as a

jewellery artist.

I truly feel blessed to be part of such an

amazing industry. I want to thank all the

amazing craftspeople who have given me

the invaluable gift of knowledge and time.

Thanks also to the Australian Natural Sapphire

Company for their trust in supplying me with

the finest Australian sapphire rough to cut

the stones in the award pieces. I'm honoured

to be in partnership with such an amazing

company. Thank you to the JAA for all the

hard work that has been invested into this

competition. Most of all, thank you to my

beautiful wife Natalie and my three children

for believing in me to keep achieving my goals

and dreams.

20

jewellery world - March 2022
---
diamond

BENJAMIN TRACY

Item:

Ring

Name of piece:

Le Chemin des Reves

Description:

A cognac diamond surrounded by white baguette,

princess and round diamonds set in platinum and

18ct rose gold.

Benjamin Tracy says he has kept his eye on the winning pieces of the

JAA competition with amazement and had always planned, one day,

to enter with a piece of his own. Last year, he felt the time was right,

and his win in 2021 only inspired him to enter again this year.

My piece was inspired by the Dutch artist MC

Escher. It must have been subliminal, because

I didn't set out to pay homage to this artist,

but ever since I was young, I was captivated by

so-called impossible constructions, such as his

1960 lithograph "Ascending and Descending".

While I was sketching out ideas, the right side

of my mind must have been drawing on those

early influences.

I named this ring in French—"Le Chemin des

Rêves"—because I spent years designing and

making jewellery in France which had always

been a dream of mine when I was studying

as an apprentice here on the Gold Coast. It

translates as "The Pathway to Dreams" and I

do believe that it's those dreams that I've had

along the pathway of life that keep inspiring

me.

I've always loved designing and creating

thought-provoking pieces, but sometimes I get

caught up in the infinite day-to-day activities.

When there is an opportunity to create a

piece for an Awards its finite. This pushes me

to challenge my thoughts and skills of how

jewellery can look, feel and be crafted.

For me, jewellery has been a form of art more

than anything else. In fact, before I became

a jeweller, I wanted to create artworks, but

was never quite sure in which medium, and

it wasn't until an excursion to an art school

that I discovered silver and goldsmithing,

and realized that was how I wanted express

myself. As much as a sculpture or a canvas

evokes certain emotions, so too does a piece

of jewellery, but with the added benefit that

jewellery adorns the wearer, is transportable

and can be enjoyed no matter where or when.

It sounds cliché but winning this award means

a lot to me. It reminds me how fortunate I

am that I can make jewellery, that people

are touched in some way by a piece that has

come to life from my heart and head through

my hands, and this win has encouraged me to

continue making unique pieces.

I think that The JAA Awards are such an

institution here in Australia, and its such a

fantastic opportunity for jewellers to showcase

their ideas and skills. It's a great promotion of

Australian jewellery and it's really never too

early or too late to give it a go. You may just

surprise yourself and others while you're at it.

It's been 33 years since I started my life as

a jeweller, and it has presented me with

so many opportunities and life-changing

experiences. Commencing as an apprentice

on the Gold Coast to spending a year working

with goldsmiths in Bali, then having the

honour of working at 'The Crown Jewellers'

Garrard & Asprey in London for a decade.

After living and working in France for nearly

five years, I returned to Australia, where I

reside back on the Gold Coast with my French

wife, Soazig, and our four kids. And it is all

those experiences that inspire the jewellery

that I create.

I have been fortunate enough to work with

some fantastic craftspeople throughout

my career and it is thanks to them, and the

opportunities they provided me, that I'm the

jeweller I am today. Now, running my business

for eight years, I'd like to thank my dedicated

team and our loyal clients, for without them

none of this would be possible.

March 2022 21
---
cad | cam | cast

ROBERTO MATTEI

Item:

Drop earrings with interchangeable pearls

Name of piece:

Ocean's 7

Description:

A hinge mechanism working with a chain and a spring, designed

and engineered in CAD, make it possible to interchange

the bottom piece with any item that can be attached to the

mechanism.

"My jewellery tries to be dynamic in meaning," says Roberto Mattei, a third-time

winner of the JAA Awards CAD category. "I always try to insert mechanisms and

customisations that include the wearer in the meaning and that will change daily and

forever. My jewellery is not a picture of your memories, but a movie about them."

For me, every spark of inspiration I get starts

from the beauty of the natural creations

around us. The meaning behind this piece

comes from the depth of the ocean, which

has as many secrets and mysterious creatures

as the depths of space. These earrings, with a

sophisticated and unique coupling mechanism

for the lowest part, represent the fascinating

and powerful suction of an octopus's

tentacles.

My goal was to have a jewel that changes with

the wearer. It follows your differences and

allows you to be part of the creating process,

changing with your mood and daily fashion. It

is always in mutation—shapes and colours—

exactly like an octopus. Exactly as you.

As a form of art, jewellery is like a memory

that is constantly in our lives. For me, it's

a need, which is never filled because art,

memory, personal expression is always

changing and growing with us. They are

precious things—jewels and memories—and

you always want them with you. Here is

my art, I say. Fix it into metal. As a wearer

of jewellery, I only wear what has meaning

for me, but as a creator, I am constantly

challenging myself. I'm always thinking about

the future and the next step that will bring me

there, with my art.

Winning an award, especially here in Australia,

makes me to feel part of the community.

I feel as if this win contributes not just to

my personal success but helps in raising

the profile of jewellery in this country and

representing it to the world.

Participating in competitions, particularly the

JAA Awards, has become an obsession for me

but it's only recently that I've understood why.

A diamond is created under high pressure

and high temperature and it turns out that

applies to me too. I found myself always

able to produce amazing things under a big

pressure to compete and deliver the best

possible result in a defined timeframe. Errors,

hesitations, frustrations are all there with me

in the creation moment. I feel already like a

winner when I dominate all those ghosts and

the piece takes form. Winning the competition

is a plus which I always like to share and

dedicate to all the people and suppliers who

joined with me in the journey of creating the

piece.

To my colleagues, I really recommend entering

the JAA jewellery awards as the challenge

and competition will increase as more and

more people join in and that will benefit us

all—as artists and as an industry. The only

suggestion that I would make is to draw

inspiration from an unusual input such as

nature, science, mechanical things, numbers...

Don't contaminate your brain with someone

else's job.

In my future products I see innovation and

communication. The jewellery I'm looking at

will always be disruptive and unique. That's

my style. If I had a dream, I would love to

create a team of jewellers able to blend

together as one person, so that we could take

on big challenges then create the impossible.

Who I am as a jeweller is a distillation of the

training I've received and the dedication I give

to everything I study in life. Every time I draw

the first line of a new job I picture in my mind

all the teachers, masters and professors who

have helped me throughout my career. Their

gifts to me indirectly contribute to this success

which grows every day.

Thank you also to all my customers, my friends

and the people who sustain me. And to the

best workmate ever, Myra, my partner and my

future wife.

22

jewellery world - March 2022
---
PEOPLE'S CHOICE

MARIA KOSTINA

Item:

Ring

Name of piece:

Sea Urchin on the Rockpools

Description:

A bold white gold statement cocktail ring. The wavy shank sides

are channel set with baguettes. The heavy shank base, pave set

with 204 diamonds, symbolises glistening sand on the ocean floor.

The top symbolises the rockpool with the sea urchin taking centre stage as a Japanaese

Akoya pearl with an ombre layout of blue sapphires to colourless diamonds. Outside

are the baby sea urchins represented by Akoya seed pearls and adorned with blue

sapphire under halos as the ocean.

Inspiration for Maria Kostina's winning piece came from a walk around the rockpools at

Sydney's Collaroy. She saw an opportunity to create a piece of jewellery that was not only

beautiful, but which also carried an important message, as all jewellery does, she says.

The rockpools at Collaroy have tiny sea creatures

living in them such as anemone, crabs, sea urchins

and more. One morning I saw a sea urchin shell just

lying on top of one of the rocks and it made me

think. If we don't preserve the oceans' wildlife now,

we will only see the shells like this in the museums.

The "Sea Urchin on the Rockpools" design is an

advocate for all the sea creatures and animals.

I created a statement cocktail ring which, I

hope, will spark a conversation and focus some

attention on the issues of ocean pollution and

the preservation of sea-life. Art and jewellery are

conversation starters and I hope that this ring will

raise issues and educate everyone who comes

across it and make them interested in this global

problem. The result which I'm trying to achieve is

to keep oceans clean and help preserve sea animals

and sea life safe for future generations.

I like think the piece is already having some impact,

having been selected as a finalist and winning the

People's Choice Award.

For me, jewellery is a miniature wearable art piece

which represents a point in life for a person. The

pieces are meaningful and might not look like

the event which they are representing, but in the

beholder's eye, the jewellery is a time capsule and

the preservation of that point of time of their life.

Jewellery is body adornment too, which is about

representing personal style. The wearer is adorning

themselves in jewellery to show the world their

personality, style, and character – a voice and an

unsaid message.

This award is definitely a special achievement for

me and a proud one which I have strived for and

was such a surprise and an honour to receive! I

believe that this is a stepping stone in my career

and an acknowledgement that I will use as a

momentum to commence my jewellery design

collection as this has provided me with all the

confidence necessary to succeed providing me with

the recognition from the public.

My current plans in the works are to create two

jewellery collections and to set up a studio for client

meetings. My dream is to create art jewellery and

hopefully enter other markets like USA, Middle East,

or Japan in the near future.

As a CAD designer for the trade, I don't make too

many physical pieces or in fact I don't get much of

a chance to bring to life and create my ideas, and

so this competition gave me a great reason to make

something I'm passionate about – to tell a story

and to execute a complex piece to be shown as my

vision to the public eye.

Design competitions are highly motivating, though

it's not about winning. It's about creating a piece

within a short timeframe that really pushes you

to make and execute a project within the extreme

deadlines It has also taught me to be patient and

have resilience!

I believe more designers should enter this

competition and showcase their work because I

meet so many designers just in Sydney who are

hesitant, and they have incredible pieces! The

important part of the competition is to see and

showcase all the talent we have across Australasia

and this needs to be brought to spotlight for the

public eye. My advice is just to "go for it" and make

something that is you, creative and unique, pushing

your own boundaries as a designer and creating a

challenging piece which you can learn from.

I'd like to thank my team for making this happen

in such a short turn-around. Their patience and

attention to detail to make it right, particularly

because we started making it during the lockdown

when the due date for the entry was in July 2021,

and we had only one week to physically create the

piece as I just came out of hotel quarantine!

Most importantly I'd like to thank my parents, my

family and friends and each and every person who

has voted and supported me along the way. It's

been a truly humbling experience and I couldn't

believe the amount of support that I have received!

I'd like to dedicate this award to each and every

person who has voted for my piece. Your support

has provided me with such a boost of confidence

and the belief that I'm on the right path doing what

I love and, most of all, that there is an audience out

there for my designs.

March 2022 23
---
Superhero Charm

Pandora teams up with Disney's Marvel Cinematic Universe to

release jewellery inspired by the iconic heroes

Pandora has assembled your Avenger heroes in jewellery form as the brand announced its new

collaboration with the Marvel Cinematic Universe.

Available online and in stores from 17 February, the first Marvel and Pandora collaboration includes

14 karat gold-plated and sterling silver hand-enamelled charms of Black Panther, Hulk, Black Widow,

Iron Man and his arc reactor, Captain American's shield, Thor's hammer, the Infinity Gauntlet and

stones, and the Avengers logo.

The charms are finished with cubic zirconia stones and are engraved with the characters' mottos

which symbolise their personalities and values – "Wakanda forever" for Black Panther, "Actually, I

can," for Natasha Romanoff and "Find your power" for Tony Stark.

A gold-plated Infinity Stones ring, with a rainbow of six gems, is engraved with the powers each stone

represents, and the arc reactor is engraved with Tony Stark's daughter's words, "I love you 3000."

The charms can be worn on Pandora's snake chain or leather bracelets, adjustable rolo chain

necklaces and keychains.

24

jewellery world - March 2022
---
ALROSA takes steps

to offer the market

additional supplies

of rough diamonds

Russian mining company, Alrosa, reports that

the demand for rough diamonds in early 2022

as well as in the second half of 2021 was

outstripping supply, as cutters were actively

buying rough to restock and fulfil the orders

placed by jewellers and retailers.

Given the primary importance of a balanced market and the need

to meet the real-backed demand, Alrosa is now offering its longterm

customers a new option to adjust supply schedules between

trading sessions. As a result, holders of long-term contracts can buy

rough diamonds from their allocations ahead of the schedule by

shifting booked volumes to an earlier date.

"The first quarter of the year is traditionally a period of active rough

diamond purchases, as cutters seek to stock up after a holiday

season in retail. The high season of 2021 was one of the most

successful ones in the entire history, as we see robust demand

from our customers underpinned by real orders," said Alrosa

spokesperson, Evgeny Agureev.

"We are now offering customers a new option of adjusting diamond

purchase schedules within their allocations by requesting the part

of the booked rough diamond volumes to be moved to an earlier

date. We believe that this innovation will speed up progress in

addressing current market deficit. With the same goal in mind, we

will hold an additional tender between trading sessions. We will

offer the rough diamonds highly sought-after by cutters as soon as

these goods leave the work-in-progress," said Evgeny Agureev.

Long-term contracts for a three-year period with major jewellery

holdings, cutters, traders, and consumers of industrial diamonds

make up the core of Alrosa's sales system and traditionally account

for the largest part of the company's turnover.

Alrosa is the largest diamond miner by volume worldwide and has

trading offices at the world's major diamond hubs in Antwerp,

Ramat Gan, Dubai, Hong Kong, New York.

LUXURY pearl AND opal JEWELLERY

Tel: (02) 9266 0636 | enquiries@ikecho.com.au

www.ikecho.com.au
---
Proud to be the global pioneer of the

Green Bullion

concept

Ethical sourcing has become increasingly important for both the consumer and

associated industries concerned with responsible supply chain management.

For this reason, Oakley Mint is proud to provide its Green Bullion® product alternative,

with precious metals refined exclusively from recycled materials including distressed

jewellery products, dental gold and technology such as e-waste.

Our capability and product quality are quantified by our

NATA accreditation and an attention to detail that ensures

that our customers receive the highest quality and

purity bullion guaranteed.

Visit www.greenbullion.com or contact us at info@greenbullion.com to learn

more about our products and our passion for environmental sustainability.

"Environmentally Friendly Precious Metals"
---
Discernable by their unique hallmark and serial

number sequencing, every Green Bullion® product

is accompanied by a certificate, guaranteeing the

recycled origins of its content and its purity.

www.greenbullion.com

A division of the CPG Group of companies
---
By Stefan Juengling

A RISING ERA OF

BUY NOW PAY LATER

With ever-present economic uncertainty and volatility, flexible payment options

have become more vital than ever, especially for luxury purchases such as jewellery.

Speaking to a couple of jewellers, a jewellery buying group, and two Buy Now, Pay

Later platforms, we looked at just how important Buy Now, Pay Later options are to the

Australian jewellery industry.

Global retail bank and Buy Now,

Pay Later provider Klarna recently

released its "The State of Smooth:

Unpacking Luxury in 2022 Report" which

revealed some eye-opening trends in the way

consumers shop and pay. One notable finding

was that according to the research, 84% of

consumers buying luxury goods would find

it helpful to pay for these goods over time,

without interest or fees. It also showed 57%

are looking for flexible payment options at

checkout.

humm

Commenting on results from a separate

consumer study, executive of data insights app

42matters Sinisa Sambolic said that consumers

love buy now, pay later (BNPL) options for

convenience.

"Since BNPL apps tend to be interest-free and

charge only modest fees, they make it easy for

shoppers to finance larger purchases without

breaking the bank," he said.

How BNPL works for jewellery

customers

For insight into how BNPL assists jewellery

customers, we spoke to two of Australia's

biggest BNPL brands, Zip and humm.

humm is part of the ASX-listed hummgroup

and has operated for more than 20 years as

one of Australia's most popular payment plan

options. National Account Manager Brent

Schmidt described humm and jewellery as a

match made in heaven.

"We provide our customers with a choice of

how they want to shop, with flexibility and

purchasing power at their fingertips," he said.

He said humm's BNPL product features two

wallets: Little Things for more frequent

purchases up to $2,000, and Big Things

for life's bigger purchases up to $30,000.

Jewellery customers can access both services

through humm's jewellery retail partners

either in store or online. Customers wanting

Little Things purchases can simply use

the humm//CARD to 'tap and go' with the

jeweller's EFTPOS machine. For Buying Big

purchases, customers just speak to one of

humm's thousands of trained jewellery sales

professionals, complete a quick and simple

application, which will be processed in less

than five minutes with instant outcome.

"In both scenarios, customers will be able to

take the jewellery on the day and pay in easy

affordable repayments over time, interest

free."

Zip was founded in 2013 as a comprehensive

solution to fix retail payments and provide

customers with fast, fair and transparent

options to access credit. Director of Corporate

28

jewellery world - March 2022
---
Affairs Matthew Abbott said that for jewellery

customers Zip offers flexible and transparent

payment solutions that enable them to spread

the cost of their purchases over a schedule

that meets their needs with zero interest,

making it a more attractive option over credit

cards. zipPay is one of their solutions: a digital

wallet, giving customers up to $1,000 to

buy now, pay later, interest free, perfect for

day-to day purchases. zipMoney is a legislated

financial product that allow customers to

make purchases from $1,000 to $30,000

interest free and without fees so long as their

monthly balance is paid on time before the

end of the calendar month.

"Accounts remain active and won't incur any

fees until used again," he said.

He said that a fee of $7.95 is applied when

there is a balance owing on an account at the

end of every month.

Seamless integration for jewellers

and suppliers

For jewellers and suppliers, integrating Zip's

products into their existing systems is a

breeze. Matthew said that merchants can

apply online and become a Zip partner within

48 hours with no establishment fees.

"They can then add Zip to their payment

platform with free integration and a step-bystep

guide for POS and e-commerce," he said.

"Zip will pay the merchant directly to their

bank account via EFTPOS each day for each

transaction made using Zip."

He said that merchants will not only get paid

in full but Zip also assumes the credit risk of

Zip

the customer not paying

follow-up instalments.

Brent said that for online

shopping humm is fully

integrated for the majority

of eCommerce platforms

on the market (Shopify,

BigCommerce etc) with

seamless integration

possible for the jeweller

within a matter of hours.

For in store integration,

Brent said humm provides

a humm//CARD solution:

a digital card saved to the

customer's digital wallet

that can be used with

the ease of a credit card,

avoiding any need for Point

of Sale integration.

"Alternatively, for larger

purchases we provide web

portal access for jewellery

sales professionals to

complete a simple five-minute application on

behalf of the customer," he said.

In addition, humm also provides jewellers

and suppliers cashflow support through their

hummpro, a product which allows businesses

to spend up to $30,000 to pay for all the

equipment, supplies and capital they need to

run their business.

My Jewellery Shop

Boho and Bokeh, Belle Fever

"hummpro then gives these businesses the

ability to choose when they repay to stay in

complete control of their cashflow.

"Once a hummpro account is opened and

added to a digital wallet, businesses can start

transacting in-store and online, at any location

where Mastercard is accepted, which means

they're not limited to certain merchants."

How Australian jewellers have

integrated BNPL

Sydney-based online personalised jewellery

brand Belle Fever has been in the BNPL space

for some time, having integrated Afterpay

and Zip in 2017, and since then has added

Laybuy as an additional option for customers.

Company founder Sarah Saputra said she

added Laybuy because they, like Afterpay, also

offered cross-border services, were extremely

competitive in terms of pricing and offered a

lower rate than Afterpay.

March 2022 29
---
"In addition to providing more options, it

exposes us to another user base where we can

advertise," she said.

My Jewellery Shop

Founder of Gold Coast-based online jewellery

store and physical store My Jewellery Shop

Catherine Pevy-Trewartha said that in the

first 12 months of integrating Afterpay, her

business experienced a huge interest in BNPL

sales, with Afterpay payments being around

50% of all sales. Conversely, ZipPay was a very

small percentage. Despite the initial success

with Afterpay, since 2020, Catherine said her

business has seen a steady decline in both

Afterpay and Zip, and admits that BNPL only

equates to a few percentage of turnover now.

Showcase Jewellers Buying Group is

Australasia's premier buying and marketing

group, representing over 250 independent

jewellery stores across Australia and New

Zealand, and chief operations officer Nicola

Adams said a lot of their membership have

adopted BNPL options over the past two

years.

"It's almost not an option anymore not to

offer a BNPL provider," she said.

She said feedback from members tells

Showcase that both Afterpay and Zip work

through their EFTPOS system which is great as

consumers can easily tap for payment.

"Zip Pay integrates onto our websites very

simply and easily while Afterpay is a bit more

of a complex process."

BNPL's importance to jewellers

As 42Matters' research showed, BNPL apps

are growing in popularity for a number of

reasons including consumers' concerns

about inflation, pandemic-related economic

uncertainty and Australian budgets feeling

squeezed.

For humm, Brent said their jewellery partners

can attest that providing customers with

purchasing options like humm have led to

both higher transaction values and more

purchases than when they just offered cash/

cards.

"Enabling a customer to shop, when they

want, how they want

and pay the way they

want, is all about

providing choice," he

said.

the option to indulge in something they can

pay off over convenient installments.

"The desire for instant gratification has

significantly increased especially with the

younger generations and the BNPL affords

consumers the ability to enjoy their new

purchases immediately," she said.

Sarah said that while the percentage used to

be higher, around 40% of her sales are done

through BNPL.

C

M

Y

CM

MY

CY

CMY

K

"Buy Now Pay Later

provides customers

with flexibility and

purchasing power."

Nicola said that for

Showcase members

BNPL options offer

their customers a level

of security, and allows

HIJK, Belle Fever

"Despite the drop, we believe it's still

important to have them available to our

customers as choices," she said.

She also said that keeping consumers'

economic concerns in mind by providing these

flexible payment options is not only important

Zip

30

jewellery world - March 2022

G
---
GD-half-page-ads-2.pdf 1 22/2/2022 3:10 pm

Access Australia's largest

lab-grown diamond inventory.

Grown Diamonds

Register now - Trade customers only

GROWNDIAMONDS.COM.AU | 1800 849 291

C

M

Y

M

Y

Y

MY

K

Optically, chemically and physically identical to earth mined diamonds

70% - 80% cheaper than mined diamonds!

Your clients can get a bigger diamond and/or better quality than

earth mined diamonds

A great alternative for clients with a smaller budget!

Available online access of close up videos, photos and

lab certificates

5% discount if you buy ONLINE

Eco - Positive and 100% mine-free

Consignment available

Free express shipping

GROWNDIAMONDS.COM.AU

1800 849 291

contact@growndiamonds.com.au
---
for the convenience of the customer but also

for the company's competitiveness.

Baby Jumpie, Belle Fever

"Each of these payment providers also has

an exceptionally large user base, so some

customers look for a particular payment

method they already have an account with."

Matthew said Zip is not just a payment

provider, it's a pathway for businesses to

drive growth, increase sales and also offers an

avenue for credit adverse customers.

"Zip is uniquely ideal for the jewellery industry

because it is an evergreen vertical for Zip

customers and it enables those customers to

purchase jewellery products without being

charged excessive fees," he said.

Brent noted that humm is seeing a trend

towards BNPL for large purchases, "As people

become more familiar with the ease and

value of BNPL we've seen jewellery purchases

over $2000 increasing, with the average

transaction now $2233."

Conversely, Catherine said that while she feels

it's important to have BNPL options on offer,

My Jewellery Shop customers rarely use them

for purchases over $500.

"For us, our higher priced sales such as

diamonds are paid to us directly via direct

deposit or credit card, not BNPL," she said.

Keeping ahead of payment tech

innovation

humm

When remarking on the consumer study,

Sinisa Sambolic went on to say that

jewellers ought to keep an eye on what

their competitors are doing, keep expanding

their reach digitally, via social media and if

it is a good fit, through these kinds of BNPL

services.

The call to keep innovating and expanding

when it comes to payment tech is a sentiment

all our respondents agreed with. Nicola

said the Showcase marketing teams have

been steering their membership into the

online world for the last five years. They

provide innumerable assets for members

to implement full digital campaigns across,

website set up and subsequent support

material including landing page content,

blogs, eDM, white papers, digital brochures,

downloads, and magazines etc, and support

for social media content.

"Digital marketing is an area in which we

continue to develop and expand our offering

monthly," she said.

Catherine said her team at My Jewellery Shop

certainly keep an eye on other BNPL providers

and have spoken to most of the others

including humm, MoneyMe, and Klarna.

"After consulting our clients, we have chosen

to stay with the two providers we have now,"

she said.

"We will continue to monitor this and we

are certainly open to embracing any future

changes in payment tech offerings."

Sarah feels that, as businesses, they need to

constantly innovate and keep ahead of the

times.

"We're always looking for new tools and ways

to serve and appeal to our customers," she

said.

"The payment tech industry is set to evolve in

such a way that customers will benefit from

ease and convenience as well as the ability to

shop online.

"Using crypto as part of this ecosystem is also

anticipated."

My Jewellery Shop

32

jewellery world - March 2022
---
Calling all Suppliers

Calling all Suppliers

Calling all Suppliers
---
By Kirsten Ehrlich Davies

A NEW INDUSTRY EVENT FOR A NEW ERA

The Jewellery Industry Network overcame countless obstacles and setbacks to launch the industry's

social networking event of the year – the Jewellery Industry Fair

After two long years, the jewellery

industry has finally launched back into

in-person networking and buying, with

a dynamic and versatile new format to meet

the challenges of the 2020s.

The inaugural Jewellery Industry Fair (JIF22)

– held at the Timber Yard in Melbourne

on February 6th and 7th. – was an exciting

achievement for the Jewellery Industry

Network (JIN), headed by managing director

Laura Moore, who had deftly navigated

multiple obstacles and delays over the last two

years to make the long-awaited fair a reality.

While there have been virtual fairs during the

pandemic, these events cannot achieve same

colourful collaborative energy of a real-world

jewellery fair.

With more than 450 guests over two days, it

was a testament to the ambience of the event

that people lingered for hours, rather than

just dropping in to "shop and go". While lastminute

restrictions prevented attendees from

Western Australia, the other Australian states

were strongly represented by exhibitors and

guests, making the fair a resounding success.

Gemmologist Victoria Gibbins said that

the event "brought style and youth to the

industry" while Jennifer from Vous Creations

said "the vibe from the fair and the JIF team

have been most friendly and supportive… it

has paid off in more ways than one."

"It was a fun-filled, business-filled event,"

said Laura. "Guests had the opportunity to

learn more about new brands and view new

product lines, see what the industry is doing,

and keep up with market trends."

34

jewellery world - March 2022
---
attendees could browse through the list of

exhibitors, click to view booths, interact with

exhibitors by sending questions or products

requests, and watch live feeds from the Fair.

Exhibitors at the Fair included Chemgold,

Cudworth, Hamid Bros, Ikecho, Millennium

Chain, Fortune Opal, Metro Diamonds, Najo,

JC Jewels and so many more. Influencer

Bebe Bashke of Champagne Gem gave a live

podcast interview, which will be available to

listen to on The Jewellers Podcast.

Innovation and Transformation

The Timber Yard, in the centre of Melbourne,

was a fitting backdrop for the sparkling jewels,

precious metals and elegant innovative

designs on display at JIF22. A spacious and

versatile 6,000 sqm venue, the Timber Yard

is consisting of indoor and outdoor spaces,

designed around the philosophy of recycling

and upcycling. Laura saw a connection

between the refurbished premises and the art

of making jewellery.

"The beautiful space of the Timber Yard is airy

and bright, making it easy to network," said

Laura. "It has a raw rustic artisan atmosphere,

which complements the work of jewellers who

transform raw materials into items of beauty."

The COVID-safe

event provided

the long-awaited

opportunity

to mingle with

fellow industry

members,

along with the

hybrid option of

joining the event

online. Virtual

Sustainability Message

The venue also reflected one of the key

messages behind

the event –

sustainability.

Both event days

hosted various

speakers who

spoke on the topic

of sustainability

from their

own different

perspectives, all

relevant to the

jewellery industry

audience. Matt

Taylor of Heart HR

spoke on building

a sustainable

workforce, while

Andy Phanthapangna of Apeirogon Technology

talked about sustainable technology for your

business, and Jacky Green of Grit and Heart

Coaching gave a talk on sustainable leadership

for the future of your business.

Paul Moore, Head of Energy at Sage Group

had some important tips on how to make

a jewellery business more environmentally

sustainable, and Jeff Sawade spoke about

safety and wellbeing for your business.

The best-attended event at JIF22 was the talk

given by Rami Baron, CEO of both Q Report

Jewellery Insurance and The Australian

Jewellers Consortium. Rami spoke about NFT,

block chain and cryptocurrency, and their

place in the jewellery industry.

A Touch of Luxury

Designer Kiron Barui of Wearing Memories

has built her jewellery range, such as her

signature champagne locket, around "the

sound of happiness" – the popping of a

champagne cork. So it was fitting for Wearing

March 2022 35
---
Memories to be Sparkling Sponsor at the

event, and arrange for every attendee at

JIF22 to receive a complimentary glass of

bubbles. Once inside, attendees could enjoy

complimentary freshly shucked oysters served

by roaming oyster butlers or they could

explore the options available at the bar and

the food trucks at the event.

On the Sunday evening, around 80 to 90

people attended Sparkle Under the Stars, a

cocktail party for suppliers and customers to

mingle and network, while enjoying drinks

and canapes in an exciting and convivial

atmosphere.

Door prizes donated by sponsors ranged from

glamorous – a set of lab-grown diamond

emerald cut pendant and matching studs

from JC Jewels – to practical – an Introduction

to Gems & Gemmology short course in your

state, from GAA. The National Council of

Jewellery Valuers (NCJV) gave away a prize

of $2,000 to be spent at any exhibit at the

fair. This prize was won by Michelle Cangiano

Jewellery – Michelle is very excited by her win,

and says she intends to spend the prize money

on gemstones from Hamid Bros.

Upskilling Opportunities

While JIF22 was primarily a promotional and

buying event, for some attendees, it was

also an opportunity to consider options for

upskilling and further education. Jewellery

Industry Network (JIN) and Minres provided

information regarding the Business Certificate

III, while representatives of the company

Banquet Creative had some great marketing

tips for visitors to JIF22.

36

jewellery world - March 2022
---
As well as giving away generous door prizes,

the NCJV and GAA also had information

on training options for industry members.

Members also have access to an expert

network for up-to-date advice and guidance

regarding industry issues.

Marketing Exposure and

Promotion

The lead-up to JIF22 inspired some symbiotic

promotion as jewellery businesses showcased

their upcoming product lines and innovations.

This promotional strategy attracts the

attention of customers and industry peers,

and helps create a buzz about new product

lines while simultaneously highlighting the fair.

Golden Mile Jewellery Manufacturers began

linking their social media promotions to JIF22

in late January, with an Instagram post of a

variety of gold chains, captioned: "Stand by.

Launching new designs at the Melbourne fair."

The next few posts presented the launch of

a range of new chain styles at the fair, while

simultaneously promoting those products and

the fair itself on social media.

Salt and Pepper Diamonds took a similar

approach, posting a link to the fair with the

caption "We will be there! Find us near the

entrance"; followed by images of their display

booth featuring their ethically sourced natural

earth mined diamonds.

Brand ambassadors Philippe Poix and Craig

Troy of Poix & Troy gave sneak previews

of their booth on Instagram: "Just add

the jewellery and we are ready to see you

tomorrow."

Najo Jewellery promoted the latest Halo

collection in connection with the company's

appearance at the fair.

The new face of networking

The overwhelming success of JIF22 was due

to the tireless planning and perseverance of

the team at the Jewellery Industry Network,

who channelled the obstacles of the last two

years into a dynamic and versatile event that

propels the industry into the 2020s. The result

was a truly inspiring and welcoming event,

where attendees were enthusiastic about

participating, whether as exhibitors or visitors.

Chris Sherwin of the Gold and Silversmith

Guild paid tribute to "the enthusiasm and

professional dedication" of everyone involved

in running the fair. "Despite the difficulties

of the last two years of the pandemic, the

optimism in the event has opened the door to

fresh beginnings for many organisations within

the jewellery industry," Chris said.

Adam from Orange River Diamonds expressed

the same views more succinctly: "Thanks for

putting on a great fair, we had a blast."

March 2022 37
---
LAB-GROWN DIAMONDS

Craig Miller

CEO, JC Jewels

www.jcjewels.com.au

Have lab grown diamonds

accelerated the consumers' demand

for sustainability rated diamonds?

Our feedback reflects on how sustainability and climate neutrality

are coming up in customer conversations more often. These

days, consumers are becoming more environmentally and socially

conscious than ever before.

Would you like to offer your clients 'Certified

Sustainability Rated Diamonds'?

Sustainability is not straight forward. The

rating provides a level of transparency that

can be used to understand exactly how well a

diamond performs in terms of sustainability.

This rating is based on the combined average

of the specific scores achieved under each of

the five pillars of sustainability. Independent

assessment of diamonds and determination

of sustainability rating is conducted by SCS

Global Services, a recognised pioneer and

leader in third-party sustainability certification

and standards for nearly four decades.

Each certified diamond can be accompanied

by a detailed certificate on request, that

explains how its sustainability rating

was earned, including origin traceability,

conformance with rigorous ethical and

environmental requirements, progress in

reaching climate neutrality and zeroing

out other production related impacts, and

sustainability investments.

What are the five pillars

of sustainability?

Origin Traceability

– Sustainability rated

diamonds are tracked

through a verified origin process

that provides 99.9% accuracy of the origin

of each diamond through its entire chain of

custody, from producer to point of sale.

Ethical Stewardship – each diamond

is certified to adhere to twelve core

ethical principles aligned to the strictest

internationally recognised norms of business

integrity.

Climate Neutrality – Sustainability rated

diamonds are certified on their journey

toward achieving full climate neutrality,

produced in a manner that mitigates both

current annual climate pollutants and past

(''legacy'') greenhouse gas emissions still

affecting the climate.

Sustainable Production – Sustainability

rated diamond producers are committed to

the principle of doing no harm to humans

or environment, and are actively working to

avoid, eliminate or offset any impacts that

might be associated with the production

process.

Sustainability Investments – Sustainability

rated diamond producers engage in

sustainability investments that help uplift

artisanal and small-scale miners and

other vulnerable communities, clean

the air, protect the climate and protect

endangered watersheds and ecosystems.

Sustainability rated diamonds earn their

rating based on performance under these

pillars.

I am excited and proud that JC Jewels

can now supply these premium certified

stones to our clients. This will bring

exceptional value to your clients and the

diamond industry.

Watch this space and if you are interested

in learning more or having access

and availability to sustainability rated

diamonds, connect with your JC Jewels

account manager for more information,

education, and supply.

38

jewellery world - March 2022
---
Platinum Guild

International leads

innovation with the

launch of PlatinumABC

PlatinumABC offers a platform for creativity

within the jewellery industry covering design and

technology.

The Platinum Guild International (PGI) has announced the launch

of a new platform on Youtube, called PlatinumABC. The platform

is an integrated arena for different sectors within the jewellery

industry to share novel and important ideas and practices. The aim is

to allow various voices and messages from industry experts to share

their knowledge through the creation of videos. The guild seeks to drive

awareness and innovation around the future of platinum in the jewellery

industry, improve the production process and influence the business

ecosystem.

With the platform's content focusing on ideas that are specific to the

jewellery industry, the target audience of PlatinumABC will primarily be

specialists such as manufacturers and designers, additionally aiming to

reach technology and design innovators. The contribution of new and

relevant ideas in the industry aims to influence the way platinum jewellery

is designed and made, while making information regarding emerging

trends unprecedentedly accessible.

PlatinumABC offers a series of videos on design and tech trends and

interviews with industry leaders, including precious metal 3D printing

technology and platinum jewellery trend reports amongst young

consumers. Through sharing design trends, reviewing the manufacturing

process, participating in offline workshops and a series of other activities,

the platform provides inspirations for creativity, and explores new R&D

capacities that lead the ways for platinum jewellery development.
---
By Cheryl D. Harty

BESPOKE JEWELLERY DESIGNER

AND REGISTERED VALUER SAYS

AUTHENTICITY IS PARAMOUNT

WA-based jewellery designer and registered valuer, Christine Ezekiel has operated

her jewellery making business for 30 years and has frequently used champagne

and pink diamonds sourced from the Argyle mine in the East Kimberley Region,

Western Australia in her distinctive jewellery pieces.

For the past nine years, Ms Ezekiel has

worked from a 12 sq m home based office

in East Perth, equipped with computers,

scientific instruments and other equipment

used in her design and valuation business.

The Christine Ezekiel Jewellery offer includes

bespoke wedding, eternity and engagement

rings, dress rings, pendants and earrings made

from precious metals and a variety of gems.

She also designs and manufactures a vast

array of bracelets and bangles. Most of the

gemstones she uses in her work are sourced

from Australian suppliers to ensure the highest

possible quality.

"These companies also source some stones

from overseas. I try to source all of my

champagne and pink diamonds from Argyle

WA stock as they are unique, sought after

and the pinks in particular are rare and range

in quality from low to exceptional colour and

grades," Ms Ezekiel said.

Over three decades of jewellery making,

she has observed how consumer demand

for various gemstones, metals and cuts of

jewellery, will always change over time.

"Gold and other precious metal colours and

designs have come full circle over the 30

years. When I started, popular colours were

mainly yellow gold, then two-tone yellow, rose

or white gold. Over the last several years there

has been demand for mainly white gold or

platinum. Now I am getting lots of requests for

two-tone yellow and white jewellery.

"Clusters were popular in the 90's, solitaires

in the 2000's and halo clusters from 2010

onwards. Now the trend is moving back to

larger solitaire diamond rings with accent

shoulder diamonds. There is an increasing

trend towards very personalised, unique oneoff

designs for engagement rings using varied

coloured diamonds or gemstones," Ms Ezekiel

explained.

The bespoke designer and gemmologist

specialises in creating unique custom pieces.

She points out that

most of her clients

have done their

homework and

come to her with

pictures taken from

various sources, or

drawings they have done

themselves, to illustrate the style

they are looking for.

Currently the majority of people are asking

for either white gold or platinum using white

and/or pink diamonds, while yellow, pink and

blue sapphires are being requested as well,

she noted.

"The designs now are more towards solitaires

or a larger central stone/diamond with a

diamond halo and/or shoulders. I designed

and made a cocktail ring using a very large

pear-shaped amethyst with a diamond halo

and filigree lower gallery in yellow gold. Also,

a three-tone five band stacking ring set with

all diamonds and designed to be worn either

as a single band or mix and matched in any

combination."

The jewellery designer has a catalogue of

hundreds of old wax moulds of designs

she has created over her career. Most

40

jewellery world - March 2022
---
Peter W Beck has been passionately committed to the jewellery industry for 45 years.

Please be assured that we are still here and we will continue to provide you with the world class products and

services that you rely on. We stand beside you through this tough time and beyond.

Toll Free 1800 888 585 | Email customerservice@pwbeck.com.au
---
of her designs today are done by CAD in

collaboration with the client to ensure the

designs meet the client's wishes, while

still being made to the highest quality and

standard.

Ms Ezekiel recounted one occasion where she

was approached to design an engagement

ring to look like a spider. It involved

collaborating with the client to obtain exactly

what they wanted in conjunction with her

CAD designer.

"Over a few consultations, she

came up with an exclusive

eye-catching design that

my client was extremely

happy with. The CAD had

to be separated into three

files to be cast separately and

hand-assembled in platinum

with ruby abdomen, platinum

head/thorax and black diamond eyes with

micro-beaded diamonds in the spider's legs,"

she said.

"Another time I received a one-off design

request for a pendant and matching earrings,

set with teeth from a dolphin, which I

designed and had made. My client was very

happy with the end result."

Ms Ezekiel observes that an increasing

number of young people are requesting

synthetic diamonds in jewellery today in

line with the trend today for larger central

diamonds.

"A lot of people can't afford the equivalent

mined diamonds in the size they want with

the equivalent colour and clarity. The older

clients are still wanting the natural diamonds

whereas the millennials are happy to go for

the lab-grown equivalent," she said.

With low overheads, the home office based

designer is able to design and manufacture

her jewellery pieces at very reasonable prices.

Her work also involves remodelling which

gives older and heirloom jewellery pieces a

new lease of life.

"The pieces are generally old, worn and

no longer fashionable but people still

wish to wear pieces of jewellery that have

significant sentimental value. They have them

remodelled so that they can wear them with

pride and honour the memory of a loved

one," she said.

A registered jewellery valuer with 30 years

of experience, Ms Ezekiel points out that

the authenticity of the jewellery piece is

paramount.

"In a full technical examination, I

use all my laboratory equipment to

check gold content, colour, clarity

and cut of stones. Microscopic

examination is used to confirm laser

inscriptions and check stones for any

treatments, clarity, fracture fillings,

diagnostic inclusions, and a myriad

of other faults," she said. Manufacture

type, whether cast or handmade, foreign

or Australian and the particular quality of

the piece overall are also examined in the

valuation.

Ms Ezekiel said she normally values in three

main markets – Retail Replacement (new for

old), Fair Market Value (Second-hand) and

Auction Reserve (agreed lowest price).

"Most insurance companies today insist on a

professional jewellery valuation for jewellery

and high-end watches. I recommend that if

there is no history, getting an independent

professional valuation of the jewellery item to

ensure the item that someone is paying good

dollars for, is actually worth it."

As a designer, she finds her work in the

jewellery field very rewarding. "The best

thing is the enjoyment I get from creating an

individual design through to the completed

piece and the joy of my clients on seeing their

finished pieces," she said.

On the valuing side, where she examines a

myriad of items, she cites "the enjoyment I

see in some of my clients when they realise

their investment in their item - quality pieces -

has appreciated beyond their expectations."

Ms Ezekiel is a Member of the National

Council of Jewellery and Member of the

Gemmological Association of Australia. Her

website showcases many of her jewellery

designs and provides information on the

valuation services she offers. Over the years

she has built up a considerable regular client

base for her business and awareness through

word of mouth.

She is fortunate that the lockdowns resulting

from the pandemic did not impact on her

business too much, except for delays in

postage at times. "I am hoping things are back

to normal by the end of this year," she said.

The jewellery designer and valuer said she

intends to continue in the trade either full or

part time until she no longer enjoys it, or if

travel begins to take up more of her time.

For further information visit

www.ezekieljewellery.com

42

jewellery world - March 2022
---
YOU ARE

MY

ROCK.

Becoming a member of the Jewellers

Association of Australia has a comprehensive

range of benefits.

We are here to help support, protect, guide

and grow your business, whilst being a voice

for the Australian Jewellery Industry.

The 2022 Member Prospectus details the

benefits available to members and we

welcome you to contact us with any questions

or feedback you may have about the JAA.

INSPIRING CONFIDENCE. SINCE 1931.

view the

MEMBER

BENEFITS

jaa.com.au/benefits
---
CZ SMART HYBRID

CITIZEN

Following up the success of its CZ Smart Wear OS, Citizen Watch Company has

introduced its newest smartwatch – a hybrid with an analog display.

With the aesthetic of a Citizen sport watch, the new CZ Smart

Hybrid provides avant-garde technology and feature-rich

convenience. The new model's innovation is distinctive in

that it marries the style of a traditional timepiece with the technical

capabilities of a smartwatch. With these modern features, the CZ

Smart Hybrid has the look and feel of a sport timepiece with analog

hands that snap to the sides to reveal notifications.

the watch's five customisable dials have been created to fit any lifestyle

and personality – with information including heart rate, steps, active

minutes, day/date, a second time zone, weather and many other

features. Receiving your smartphone notifications allows for the

convenience of at-a-glance updates for calendar, email, text, and other

important alerts.

The 44-mm stainless steel case features a standout bezel with bold

numerical design. Offered in both silver-tone stainless steel and black

ion-plated stainless steel, the timepiece is a true showstopper. The

integrated silicone strap with hexagon inlay pattern contours to fit all

wrists and is available in a range of stylish colours: black, bright white,

navy and hunter green. The watch features a large black-and-white

display that eliminates glare, making it easier to read the screen in

daylight and is compatible with both iPhone and Android phones.

One of the most notable features of the Hybrid is its robust 15-day

battery life that eliminates the need for daily charging, and the watch

comes with a 40-minute quick charging cable. The Citizen Connected

app seamlessly syncs with Bluetooth connection within 30 feet, and

"The CZ Smart hybrid smartwatch is for those who want the

accessibility of a smartwatch but prefer the elevated style of a

traditional timepiece," says Citizen Watch America President Jeffrey

Cohen. "We are continuously creating new solutions for our customers'

needs. Many smartwatches on the market are only about functionality.

This timepiece not only provides the functionality, but also makes a

statement with superior Citizen design and style. It embodies Citizen's

commitment to excellence and the drive for continued innovation."

Dubbed "Genius Incognito", the CZ Smart Hybrid smartwatch integrates

so seamlessly into its owner's life that it is sure to become a favourite

timepiece from the get-go.

44

jewellery world - March 2022
---
SEVENFRIDAY

The Cuxedo – Classy Metallurgy

As they say themselves, 'classy' is not a trait immediately associated with their brand.

But this time, the designers at SevenFriday have decided to marry ancient metallurgic

technique with a classic interpretation of their signature multi-layered dial.

The name 'Cuxedo' arises from the chemical symbol for

copper – Cu – and its role with brass in the melding

known as Damascene. The damascene animation ring

is contrasted with a stainless steel bezel and crown in

gun metal PVD, giving the watch the more masculine

feel that is usually associated with the brand.

The new Cuxedo model – the PS2/02 – also

features a

classic opaline

white dial,

surrounding a

copper inner ring,

itself interspersed

with 10 applied

luminous hour markers. The final layer is made of gun

metal Geneva stripes, incorporating a skeletonised

section to showcase the inner mechanical workings of the

watch.

With this watch, SevenFriday offers new ways to establish the

wearer's place in the SevenFriday universe. When the buyer

registers their Cuxedo with the brand's proprietary app, they

are offered an NFT, a digital certificate, authenticated by

a blockchain contract, attesting to the ownership of a

genuine SevenFriday product.

Stepping deeper into the brand journey, the

buyer can also acquire, for a limited time, an NFT

collectible, a unique artistic digital image.

The watch can be connected to the SevenFriday app

(iOS and Android) thanks to an NFC chip embedded

in the caseback, allowing secured authentication and

registration.

www.sevenfriday.com

The final touches are a simple, straight cut, black calf leather

strap and a sapphire crystal.

March 2022 45
---
CALIBRE E4

TAG HEUER CONNECTED

Tag Heuer has released a new generation

of its connected watch in two new

models. The luxury Swiss brand has

been a pioneer in the luxury connected watch

segment since 2015.

Building on its long-standing heritage in the

sporting world, the larger 45mm model offers

a striking redesigned sporty look. With the

feel of traditional high-end timepiece, the

design has significantly changed from previous

models, giving the watch an increased sense

of flow and making it easier to use on the go.

The crown

has a large

diameter

and stands

out from

the watch

meaning

it can be

adjusted and

used with just

a fingertip. The pushers have a mechanic feel,

highlighting Tag Heuer's 160 years of heritage

in making high-end mechanical watches – and

the watch slopes inwards, so it feels lighter on

the wrist.

The smaller 42mm model offers a slimline

look built for elegance. Designed to appeal

to all, it has a thinner case with ergonomic

steel pushers, a thin bezel and a bracelet fully

integrated into the design.

Customers can no opt for a large variety of

straps, including a leather or steel strap for a

more refined look. For a sporty, rugged feel,

there are a number of multi-coloured rubber

straps.

The new model also offers a curated selection

of new watch faces which highlight many

aspects of Tag Heuer's connected universe

– from watch faces based on Tag's rich

watchmaking heritage alongside trendsetting

models which offer artistic animations and

quick access to all the information users care

about. The new 'Riverside' face is animated

with an immersive futuristic effect of time

elapsing, and the new 'Wellness' face offers

information on exercise direct from the

watch's home screen, such as live heart rate

and number of steps taken that day.

Battery life is 30 percent longer on the 45mm

model compared to the previous generation.

On the 42mm model, users can enjoy a full

day using the wellness app before the battery

runs out. The watch runs on Wear OS by

Google. At launch, the watch will run on Wear

OS 2.0.

Tag Heuer is extending its trade-in program

which allows customers to bring back an

eligible device from a previous generation of

Tag Heuer Connected and receive trade-in

credits towards a new Calibre E4. The program

applies to all previous generations, even

non-functional watches, as Tag is committed

to working actively towards environmental

protection.

The company

will dismantle

old watches

and their

accessories

to separate

the reusable

materials.

46

jewellery world - March 2022
---
ENDEAVOUR PERPETUAL

CALENDER IN FUNKY BLUE

H. Moser & Cie.

Complexity made simple: this is the philosophy behind the H. Moser & Cie. perpetual

calendar, created in 2005 and considered by many to be the easiest on the market to read

and set, as it can be adjusted both forwards and backwards at any time of the day.

In 2015, H. Moser & Cie. unveiled the Endeavour Perpetual

Calendar Funky Blue, which contributed to the brand's revival

while establishing its new aesthetic codes – a bold blend of the

traditional and modern. In 2022, H. Moser & Cie. is launching an

updated version of the Endeavour Perpetual Calendar Funky Blue,

measuring 42 mm and featuring the brand's logo in transparent

lacquer. To mark this event, and to aid those who may still wonder

how their perpetual calendar works, H. Moser & Cie. is creating a very

special commemorative limited edition which showcases the ingenious

technical characteristics of the Endeavour Perpetual Calendar,

transforming its normally minimalist dial into a "cheat sheet".

An iconic piece, the

Endeavour Perpetual

Calendar model by H.

Moser & Cie. is known for

its complex movement,

which nevertheless

boasts unrivalled ease

of use. No hard-to-read

sub-dial or date disc: the

indices display not only

the hours, but also the

months, using a small hand in the centre. A very large date window

at 3 o'clock, with the "Flash Calendar" function providing an instant

date change at midnight, and a power reserve indicator at 9 o'clock

displaying the movement's

seven days of autonomy,

complete the piece.

The time and date are easy

to set using the doublepull

crown and can be

changed at any time of the

day. Virtually all perpetual

calendars on the market

require careful handling,

with strict adherence to every step of their very precise instructions.

This leaves many customers reluctant to take them out of their box and

tackle this time-consuming process – and too afraid to risk changing

the date. H. Moser & Cie. has revolutionised the perpetual calendar

by transforming a complication designed for the most discerning of

collectors into a watch that even a child could operate.

In a creative undertaking demonstrating the offbeat humour of H.

Moser & Cie., the dial of the Endeavour Perpetual Calendar has been

scrawled with notes and drawings which encapsulate the features of

this movement, with helpful arrows and instructions.

H. Moser & Cie.'s own and unique take on Haute Horlogerie.

March 2022 47
---
NEW PRODUCTS

Zahar | +61 413 872 810

Zahar introduces the Birthstone Collection. Associated with

the month of one's birth, each birthstone has unique meaning

and is believed to hold wonderous cosmological powers.

info@zahar.com.au

@zahar.collection

www.zahar.com.au

Jewellery Centre | +61 7 3221 3838

Sterling silver long oval freshwater cultured pearl with 4-claw 5mm

natural stone earwires

Available in 3 colours:

Natural Amethyst

White CZ

Natural Blue Topaz

www.jewellerycentreaustralia.com

Jewellery Centre | +61 7 3221 3838

A new range of sterling silver assorted stud earrings.

Black and white enamel yin and yang studs.

10mm plain disc studs.

CZ infinity studs.

CZ open circle studs.

www.jewellerycentreaustralia.com

Bianc | +61 413 872 810

Bianc introduces the latest drop in the Mademoiselle Collection.

Featuring bold semi-precious stones and pearls in our most

feminine designs yet.

Everything is ready for order and available now. Bianc product

prices range between RRP $35-$399.

Info@bianc.com.au

@bianc_jewellery

www.bianc.com.au

48

jewellery world - March 2022
---
Ellani Collections | +61 2 9899 1525

Another beautiful addition from the new Ellani Collections

AW22 release.

www.ellanicollections.com.au

Ellendale Diamonds Australia | Desert Rose Jewellery

18K white/rose gold opulent ring. A four-claw setting with 0.72ct

F VVS diamond and two 0.122ct bezel set pear cut Argyle pink

diamonds 6PP SIAV. 34=0.476ct sparkling round white diamonds G+ SI

+61 8 6180 1562

www.ellendalediamonds.com.au

Ellendale Diamonds Australia | Desert Rose Jewellery

18K W/R gold cluster earrings.

Square earrings feature 18=0.27ct Argyle pink diamonds 6PP SIAV

enveloped by 32=0.48ct G+ SI diamonds.

Round earrings feature 14=0.168ct Argyle pink diamonds 6PP SIAV

and completed with 24=0.36ct G+ SI diamonds.

+61 8 6180 1562

www.ellendalediamonds.com.au

Ikecho Australia | +61 2 9266 0636

Sterling silver U-shaped keshi white 10-11mm & opal

6mm stud earrings. Product code" IP150EU-OK6

www.ikecho.com.au

March 2022 49
---
chain

services

services

AUSTRALIAN

JEWELLERY TOOLS

WHOLESALER

SPECIALISING IN QUALITY

JEWELLERY TOOLS & EQUIPMENT

WITH EXCEPTIONAL SERVICE

Chris O'Neill

Piecemaker

2015 YJG Bench Challenge

Hand Engraving Champion.

Also specialising in quality

Handmakes, Repairs and

Antique restorations in the

Sydney CBD.

0405 689 834

MILN & CO. Pty Ltd

Ph: 02 4655 7707 M: 0412 702 834

E:stuart.miln@milnco.com.au

Lancier Watch Bands - Leather, metal, sports.

Watchglasses. Seals. Batteries. Quartz Movements.

Pins/tools. Jewellery findings. J C Hurst Bangles.

Fischer Barometers and Tide Clocks

for sale

PO Box 112

Toronto NSW 2283

P: 02 9380 4742 ∙ F: 02 8580 6168

E: sales@adelaimports.com

Adela Imports offer over 180

designs of sterling silver chain,

with up to 20 lengths available

in each from stock.

Also offering a range of

uniquely designed silver

jewellery.

Catalogue available.

www.adelaimports.com

DIRECTORY

2023

Miss out on being in the 2022

Directory? Get organised

now for next year.

(07) 3876 7481

sales@labanda.com.au

FAX: (07) 3368 3100

ADELAIDE (08) 7221 2202

MELBOURNE (03) 9038 8545

PERTH (08) 6363 5517

SYDNEY (02) 8004 1626

Glues

www.labanda.com.au

Relaxing ...

Retail Jewellery Business for Sale

Established 35 years ago in

busy Gold Coast street location.

Includes retail fit out, fully

equipped jewellery, valuation and

watchmaking workshops. Would

suit a manufacturing jeweller

specialising in design and makes

and/or watchmaker.

Owners seeking to retire

$75,000 plus stock at cost.

Contact Norm on 0450 703 325.

There was an elderly couple who in their old age noticed that they

were getting a lot more forgetful, so they decided to go to the

doctor. The doctor told them that they should start writing things

down so they don't forget. They went home and the old lady told

her husband to get her a bowl of ice cream.

"You might want to write it down," she said. The husband said,

"No, I can remember that you want a bowl of ice cream."

She then told her husband she wanted a bowl of ice cream with

whipped cream. "Write it down," she told him, and again he said,

"No, no, I can remember: you want a bowl of ice cream with

whipped cream."

Then the old lady said she wants a bowl of ice cream with

whipped cream and a cherry on top. "Write it down," she told her

husband and again he said, "No, I got it. You want a bowl of ice

cream with whipped cream and a cherry on top."

So he goes to get the ice cream and spends an unusually long time

in the kitchen – over 30 minutes. He comes out to his wife and

hands her a plate of eggs and bacon.

www.jewelleryworld.net.au

The old wife stares at the plate for a moment, then looks at her

husband and asks, "Where's the toast?"
---
Calling all Retailers

Calling all Retailers

Calling all Retailers