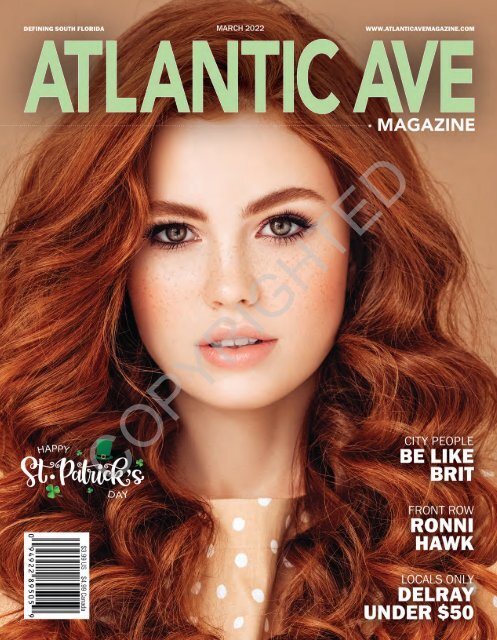 Atlantic Ave Magazine March 2022
You also want an ePaper? Increase the reach of your titles
YUMPU automatically turns print PDFs into web optimized ePapers that Google loves.
COPYRIGHTED
---
COPYRIGHTED
---
COPYRIGHTED
---
2 | March 2022 | www.AtlanticAveMagazine.com

COPYRIGHTED
---
COPYRIGHTED

www.AtlanticAveMagazine.com | March 2022 | 3
---
contents

36

44 54 70

REGULARS

6 From the Editor

70 City People

Be Like Brit

LOCALS ONLY

8 In The News

22 Under The Spotlight

26 Delray Under $50

PICTURES

28 On The Ave

32 In The Pineapple Grove Arts District

36 Concerts

ENTERTAINMENT

38 Gotta Know

40 Gotta See

44 Gotta Hear

46 Gotta Read

4 | March 2022 | www.AtlanticAveMagazine.com

HEALTH & BEAUTY

48 Pain Relief

Bad Posture = Neck Pain

50 Body Beautiful

Spring Clean Up!

SPECIAL FEATURES

54 Front Row

Ronni Hawk

56 One Sotheby's International Realty

Real Estate with Passion and Excellence

58 Global Pursuit

Local Shopping at its Best

60 Posh Properties

Experts In Real Estate

62 This Month in History

Looking Back March in History

65 Old School Square

What is Happening?

68 Delray Beach Chamber Of Commerce

"The Delray Affair"

FASHION

72 What RU Wearing ®

DINING

82 Restaurant Review

Il Contadino Ristorante

84 Guide

87 Recipes

St. Patrick's Day Recipes

COPYRIGHTED

MISC

92 PetXpert

When Do I Need to See My Veterinarian?

93 Pet Spotlight

LEISURE

94 Brain Teasers

Crossword Puzzle, Sudoko, and Codeword
---
74 88

Publisher

David Mizen

Editor

Yvette Birdsong

Contributing Editors

Diane Feen, Nicol Jenkins,

Lisa Marie, Tom Craig

Art Director

Fabio Passere

Designer

Eduardo Passere

Senior Account Executive

Harvey Lustig

Photographers

Melissa Korman

Tom Craig

COPYRIGHTED

Office Contact

335 E. Linton Blvd. - B14-832090

Delray Beach, FL. 33483

Ph. 888-309-1110

Fax 0800-350-8239

info@atlanticavemagazine.com

www.atlanticavemagazine.com

Printed in the USA. Atlantic Ave Magazine is not responsible for typographical or production errors or

accuracy of information provided by its advertisers. Reproduction or use of editorial or graphic material in

any manner without permission is prohibited.

The opinions, beliefs and viewpoints expressed by the various authors in this magazine do not necessarily

reflect the opinions, beliefs and viewpoints of Atlantic Ave Magazine or the staff at Atlantic Ave Magazine.

www.AtlanticAveMagazine.com | March 2022 | 5
---
from the

editor

Hello

Spring!

On Sunday, March 13 (2am to be exact), clocks Spring

forward (see what I did there?
---
COPYRIGHTED

www.AtlanticAveMagazine.com | March 2022 | 7
---
locals only | in the NEWS

Invasion Duo

Upcoming Shows

Invasion Duo is performing at Crazy Uncle Mike's Boca St.

Paddy's Day Happy Hour on Thursday March 17th from 5pm-

7:30pm. 6450 N Federal Highway, Boca Raton. Also performing

at Tim Finnegans Irish Pub on Thursday March 31st from 7:30-

10:00pm. 2885 South Federal Highway, Delray Beach. Great

food, drink and early British invasion music.

Knights of Columbus

Food Drive

COPYRIGHTED

The Knights of Columbus (Delray Beach) is in its 14th year

of hosting food drives for the C.R.O.S. Ministries Food Pantry,

which has a location in Delray Beach. The Knights collected

over 12,000 lbs. of food through the two food drives in 2021.

C.R.O.S. Ministries (crosministries.org) has seven food pantries

continued page 10

8 | March 2022 | www.AtlanticAveMagazine.com
---
OCTOPOD

This pre-owned table clock by

L'Epée 1839 blends contemporary

design and aquatic themes to

create a unique kinetic sculpture.

Limited edition of 50 pieces.

COPYRIGHTED

411 E. Atlantic Avenue, Suite 200W

Delray Beach, FL 33483

goldsmithandcomplications.com

561.332.3747

www.AtlanticAveMagazine.com | March 2022 | 9
---
Atlantic Community High School located

in Delray Beach, had 12 of their student/

athletes participate in National Signing Day

on February 2, at the Delray Sands Resort, lolocals

only | in the NEWS

in Palm Beach and Martin counties and last year fed over 70,000 people.

Knights of Columbus #13338 Food Drive (Non-Perishable Food/No Glass) will

be held March 19-20, at Emmanuel Catholic Church, 15700 S. Military Trail, Delray

Beach. For more information call (561) 496-2480.

The food drive will be held from 3:30pm to 6:00pm on Saturday March 19th, and

from 7:30am to noon on Sunday March 20th.

Achievement Centers for Children

& Families and Hopportunities First

Annual Cornhole Tournament

Achievement Centers for Children & Families (ACCF) and Hopportunities partnered

to host their First Annual Cornhole for the Kids Tournament on January

29 at Hopportunities, 440 NE 5th Ave., Delray Beach. All proceeds benefitted ACCF

programs, serving more than 700 local children and families.

"We had an awesome day planned for all of our players!" said Hopportunities founder

John Macatangay. "So many Delray Beach locals want to learn more about partnering

with local non-profits, this event was the perfect opportunity. Everyone came out

ready to play, enjoy food, drink, music and camaraderie - all for a great cause."

Prizes were awarded for first, second, and third-place teams; there was also a 50/50

raffle and a unique ring toss game for the chance to win cash and additional prizes.

For more information, please visit www.achievementcentersfl.org.

COPYRIGHTED

12 Seniors Earn Football

Scholarships and Will Sign On

National Signing Day

continued page 12

10 | March 2022 | www.AtlanticAveMagazine.com
---
Splash

into

Spring

AT CRANE'S BEACH HOUSE

COPYRIGHTED

Whether you are new parents traveling with toddlers, or nearly empty-nesters

traveling with teens, Crane's Beach House has you covered. With two pools,

on-site wellness enhancements, close proximity to the beach and downtown

shops and restaurants, and bungalow-style suites and villas, Crane's checks off all

the boxes on your long list of family travel "must haves".

BOOK NOW

& ESCAPE THE ORDINARY.

83 Gleason Street, Delray Beach, FL 33483

CranesBeachHouseHotel

cranesbeachhouse.com

www.AtlanticAveMagazine.com | March 2022 | 11
---
locals only | in the NEWS

cated at 2809 S Ocean Blvd, Highland Beach, FL.

The seniors were dressed for success in their Blue Blazers

thanks to Macy's partnership with Atlantic's football program.

The players who earned college football scholarships

include: Marquis Lymon, Reece Dobard, Desmond Penn, Levert

Edwards, Jakkeven Smith, Jhamari Pierre Louis, Corey

Reddick, Omari Mitchell, Medro San Claire, Lamarcus Bonner,

Jaden Ramsey and Darisse Bridgett.

Formal signing began at 9:30am immediately following Delray

Morning Live that is filmed at the resort. Atlantic's Head

Football Coach Jamael Stewart said, "These kids have been

working towards this day their whole life. They earned this

by working earnestly in the classroom and on the field and

we are just so proud of their accomplishments." Ten of the 12

students signing will be entering as First-Generation Students

attending university.

Boys & Girls Clubs

Be Great Dinner Returns

Boys & Girls Clubs of Palm Beach County's 9th Annual Be

Great Celebration Dinner returns after two years due to the

impact of the COVID-19 pandemic. The dinner will take place

on Thursday, March 10, at 6:30pm at Quail Ridge Country Club,

3716 Golf Road, Boynton Beach, 33436, in support of Boys &

Girls Club of Delray Beach's summer camp initiatives. Guests

will gather to enjoy a violin performance from Club members,

honor longtime supporters and listen to a heartfelt speech

from Boys & Girls Club of Delray Beach's 2022 Youth of the Year

Aryatha Dornezon.

For tickets or sponsorship information for the Be Great Celebration

Dinner, please contact Nicole Miranda at (561) 676-

5472 or nmiranda@bgcpbc.org.

All People's Day Diversity

Festival March 19 at Delray

Beach's Pompey Park

Event Celebrates All People, All Cultures, All Traditions

With Art, Music, and Dance

COPYRIGHTED

For more than a decade, the All People's Day Diversity Festival

has brought people from all backgrounds to Delray

Beach's Pompey Park for a day of celebration that includes art,

music, dance and outstanding activities for children and adults.

This year, as the free indoor festival returns on Saturday,

March 19 following an absence due to the COVID 19 pandemic,

it arrives with an added importance.

"We need All People's Day today more than ever," says Susan

Berkowitz-Schwartz, the founder and president of All

People's Day (APD). "Because of the situation in the world

right now, many people are against one another instead of being

for each other."

continued page 14

12 | March 2022 | www.AtlanticAveMagazine.com
---
COPYRIGHTED

www.AtlanticAveMagazine.com | March 2022 | 13
---
locals only | in the NEWS

All People's Day Founder Susan Berkowitz-Schwartz (in red)

with representatives from many different cULTUres

Bringing people together to share cultures has been the goal

of the festival, which Berkowitz-Schwartz ran in New Jersey for

35 years before bringing it to Delray Beach.

"In order to make the world a better place, we have to find

out about people who are different from us," she said. "The

13th Annual All People's Day Diversity Festival will be a day

of fun but it is also an opportunity to connect with people of

diverse cultures. All People's Day is really about learning from

one another through the arts."

Presented by All People's Day Inc., the Lake Worth Interfaith

Network and the Delray Beach Parks and Recreation Department,

the festival features free admission, free arts and crafts

and even free food from several cultural restaurants.

COPYRIGHTED

The Delray Divas dance group will return to the All

People's Day Diversity FESTIVal at Pompey Park on March 19

The main event runs from 11am to 3pm. It features as many as

15 different local performing groups, among which are the Delray

Divas, Carol Garrett's Jewish Soul, Chinese Performing Arts

and Anthony Bacchus with the Milagro Center Kids Drum Circle.

All People's Day has three traditions – the Craft Dough People,

the Symbol, and Origami Peace Cranes.

Prior to the main event, from 9:30 to 11am, Berkowitz-

Schwartz will host a free workshop for up to 30 children from

4 to 11 years old, where they will learn to create Craft Dough

People comprised of different skin colors. Pre-registration is

required and can be completed by contacting her at susan@

allpeoplesday.org or (561) 495-9818. "The lesson is that we're

continued page 16

14 | March 2022 | www.AtlanticAveMagazine.com
---
COPYRIGHTED

www.AtlanticAveMagazine.com | March 2022 | 15
---
When Delray Beach Kiwanis Club learned that a mother

and her five children had to flee their home after a fire in

a nearby apartment, members sprang into action.

Little did the Kiwanians know at the time that they would

also be helping a second Delray Beach family pay forward a

good deed done by club members decades earlier.

The club, which supports organizations throughout the community

– with an emphasis on those benefiting children and

families – discovered that a couple of the families displaced

by the blaze had children attending Orchard View Elementary

School, which the club had "adopted" years before.

Working with the school's principal – fellow Kiwanian Danielle

Garcia – members withdrew $300 from the club treasury

to buy clothing and other items for the family members who

were temporarily staying with relatives.

It was when the Jenkins family was able to move back into

its apartment that club members Ezra Krieg and Peggy Kellelocals

only | in the NEWS

all made from the same materials and therefore we should all

be treated with equal respect," she said.

The Symbol activity takes the form of a family mural. The

young participants draw representations of their own families

connecting with one another. "We believe we're all one family,"

Berkowitz-Schwartz said.

Origami Peace Cranes will be made throughout the day representing

the poignant tale of a young Japanese girl's wish for

peace among nations. According to legend if 1,000 cranes are

folded a wish will be granted. In addition there will be a onehour

presentation by the Morikami Museum about the cranes.

"If we care about people we want peace in the world," Berkowitz-Schwartz

says.

The festival also includes more than 50 interactive merchandise

booths featuring a diverse mix of things to see and do. Kids

will find additional free arts projects such as puppet making

with a stage to perform and face painting. Teens and adults enjoy

hands on issue-based activities including interactive word

games by nonprofits, a health fair, an Issues Mural, and an opportunity

to take a selfie with life-size diversity figures. Also present

will be items for sale such as artwork, books, T-shirts, and more.

Sponsors of the festival include Lake Worth Interfaith Network,

Esterman Eye Institute, Haitian American Culture Day,

Greenberg Elder Law Services, Ocean Breeze Prosthodontics,

Heal the Planet, Humana, A&H Automotive and WiseTribe.

For more information visit: AllPeoplesDay.org.

Delray Beach Kiwanis

Club Connects Mother and

Children Displaced by Recent

Fire with Family Helped By

the Club Decades Earlier

Donation of Furniture and Other Items Helps Family

Return Home

COPYRIGHTED

continued page 18

16 | March 2022 | www.AtlanticAveMagazine.com
---
COPYRIGHTED

www.AtlanticAveMagazine.com | March 2022 | 17
---
locals only | in the NEWS

her reached out to the community through

Facebook and email asking for donations of

clothing, furniture, and furnishings.

"The response was amazing," Kelleher

said. the club member who helped coordinate

the effort. "I received at least 50 calls

and emails from people wanting to know

how they could help."

While all of the contribution were well

received and greatly appreciated, it was the

donation from Laurie Zuniga and her husband

Frank that really stood out.

The Zunigas were in the process of clearing

out their daughter Jackie's nearby apartment

following her death from COVID related

pneumonia a few weeks earlier, when Laurie

saw the Kiwanis' posting on Facebook.

It was while she was on the phone with

Kelleher that Zuniga discovered the same Kiwanis

group had helped the struggling family

in the early 1990 by paying their electric

bill for several months while Jackie was recovering

from a kidney transplant that had

drained the family's savings.

"I just couldn't believe it," Zuniga said.

"I thought what a blessing and the timing

couldn't have been more perfect. Now another

family could have Jackie's furniture. I

was thrilled because we could pay it forward

through the same organization that helped

us out years ago."

Early in February a small army of volunteers

led by Kiwanians loaded many of the

items from the apartment onto a trailer provided

by Exhilaride Golf Cart Rentals and delivered

them to Elethia Jenkins and her family.

"My husband and I are so happy that

THE

PRINTERS

P L U S !

2681 West McNab Road • Pompano Beach, FL 33069

Beautiful

wholesale printing

something beautiful came from such devastating

tragedies," Laurie Zuniga said. "We

feel heaven definitely played a part in the

bringing together all those involved. Just

like the person who so selflessly donated

their kidney to help our daughter, it is so

comforting to know that, through Jackie,

we could be of help to another family. We

wish them many blessings."

Other donations from the community included

everything from a television set and

a rug to a full living room set and small appliances.

The club also received gift cards

for the family.

"We are so grateful to everyone who

helped with donation and who made it

possible for the Jenkins family to be able to

move back home," Kelleher said.

The Kiwanis club is still accepting donations.

To find out what's needed and how

you can help contact the Delray Beach Kiwanis

by email at delraykiwanis@att.net.

COPYRIGHTED

continued page 20

18 | March 2022 | www.AtlanticAveMagazine.com

to the trade

2681 West McNab Road • Pompano Beach, FL 33069

quotes @ theprintersprinter.com

2681 West McNab Road • Pompano Beach, FL 33069www.theprintersprinter.com

2681 quotes West McNab @ theprintersprinter.com

Road • 2681 Pompano 2681 West West Beach, McNab McNab FL Road 33069 Road • Pompano • (954) Pompano 917-2773 Beach, Beach, FL 33069 FL 33069

www.theprintersprinter.com

2681 quotes West @ theprintersprinter.com

McNab Road • quotes Pompano quotes @ Beach, @ theprintersprinter.com

FL 33069

www.theprintersprinter.com

(954) 917-2773 quotes @ www.theprintersprinter.com

(954) www.theprintersprinter.com

917-2773 (954) (954) 917-2773 917-2773

(954) 917-2773
---
COPYRIGHTED

www.AtlanticAveMagazine.com | March 2022 | 19
---
atlantic ave magazine on vacation

Thank you for all your submissions to

On Vacation With Atlantic Ave Magazine! Take

Atlantic Ave Magazine on vacation with you and send

us a picture with "On Vacation with Atlantic Ave" in

the subject box to info@atlanticavemagazine.com

and you will be entered in a drawing to win a gift

certificate for dinner in a restaurant on the Ave!

THE winner of Atlantic Ave Magazine on vAcation contest

this month is cArole & Matt Haley. Congratulations! Please

contact info@atlanticavemagazine.com for details of where

to send your prize.

COPYRIGHTED

WINNER

AMOFTA by Mahya

1047 E Atlantic Ave., Delray Beach, FL 33483

561-566-2202 - mahya.com

20 | March 2022 | www.AtlanticAveMagazine.com
---
COPYRIGHTED

www.AtlanticAveMagazine.com | March 2022 | 21
---
locals only | under the spotlight

Spotlight

In their own words

22 | March 2022 | www.AtlanticAveMagazine.com

POSH PROPERTIES

BY Jeremy Charles

Allow me to introduce myself. I'm Jeremy Charles, an adopted

member of the Floridian family. I relocated to Palm Beach from

a small Caribbean Island a few miles off the coast of Florida

back in 2001. As a kid I can recall involuntarily waking up one

Saturday morning at 7am to start my workday because my 3 older

biological sisters refused to babysit. To my surprise it was a blessing

in disguise. On our way to work my mom drove through this siren and

tropical road, (A1A), to get to the Residence Inn by Marriot on the

corner of Atlantic Ave and Seabreeze Ave. I remember escaping my

duties to explore the Ave and admire Lady Atlantic. Like an attractive

woman with many admirers, I have been in love with the city of Delray

Beach since then. Choosing a career in Real estate should derive

from the same unrelenting passion instead of the "love of looking

at beautiful houses and being good with people." One must have

grit to persist during improbable outcomes, an insatiable desire for

development of their craft, and a genuine interest in getting to know

people with the objective of matching them with the right home.

COPYRIGHTED

Jeremy Charles

Real ESTate Agent & Probate SpeciaLIST

Posh Properties

Direct: 561-572-1749

Email: jeremyycharles1@gmail.com

Website: jeremy.poshflorida.com
---
COPYRIGHTED

www.AtlanticAveMagazine.com | March 2022 | 23
---
24 | March 2022 | www.AtlanticAveMagazine.com

COPYRIGHTED
---
COPYRIGHTED

www.AtlanticAveMagazine.com | March 2022 | 25
---
locals only | delray under $50

By Darien Davies

Delray Under $50

Most Fun Small Town, Most Crazy Small Town, Most Small Town that Feels

Like a Big Town. Delray has it all. With a bustling downtown, Pineapple

Grove area, and little nooks and crannies in between, there's more

to do in Delray now than ever, with events and happenings

spanning from daytime to nighttime. While it can

seem expensive at times, there's a great

opportunity to enjoy all the City has to offer

without breaking the bank. Here's what you can

do in Delray Beach in March for $50 or less.

Break out the green or you're getting pinched! That's right,

folks, it's time once again for the meanest, greenest St. Patrick's

Day party this side of the rainbow, and everyone's invited

to paint the town green. Even though St. Patrick's Day falls

on Thursday, March 17 this year, the party is getting started

the Saturday prior (you know, so we can all keep our jobs

on Friday). The City of Delray Beach's

St. Patrick's Day Parade and Festival

has proudly enjoyed a

52-year history and provides

fun-filled entertainment for all

ages and backgrounds. The parade

features more than 70 entries

comprised of floats, schools,

businesses, community groups,

non-profits, elected officials, United

States Veterans, fire engines, motorcycles,

Pipes and Drums, marching

bands, first responders, Irish heritage societies

and other ethnic groups. This first

responder-themed St. Patrick's Day Parade

is truly Florida's premiere hometown parade!

The parade is held from 12 to 2pm

beginning at the Intracoastal Waterway

and heading west on Atlantic Avenue to

Northwest Fifth Avenue. After the parade,

head to the festival, located at Old School

Square and held from 1 to 7pm. Both the

parade and festival are free, family-friendly

events that draw in crowds from not only Delray

Beach and its neighboring cities, but from

around the world. You can expect to enjoy live

music, food trucks, food booths, vendors, merchandise,

games, Pipes and Drums and so much

more! Visit www.stpatsdelray.com or call (561)

243-7452 for more information.

26 | March 2022 | www.AtlanticAveMagazine.com

After 13 years of being in the know, you'd

think you'd have a front-row seat, right?

Ha! That's not the hustling and bustling

Savor the Avenue way. But, have no fear, a good

idea is near. March is International Ideas Month

and even though the delicious Savor the Avenue

event is out of our DU50 budget and reach (it

has been sold out practically since the moment

tickets went on sale), that doesn't mean you

have to miss the entire event. The beauty of the

dining experience is that Atlantic Avenue is closed,

and all the tables and wild decorations are set

up in the street. So, if people watching is your

thing, as well as sipping delicious cocktails

while perusing tablescapes, then grab the

pals and enjoy the event from start to finish.

This dining destination is held Monday,

March 28 from 5:30 to 9pm and includes a

champagne toast and four courses, served from

some of Delray's most notable restaurants. The

best part is that participating restaurants, and other

local restaurants along the Avenue, are still open for regular

dining, so you can mix and mingle to your heart and stomach's

content. If you like what you see, make a note to book

your tickets early for next year's event. (You know, like this

year.) Visit www.downtowndelraybeach.com or call (561)

243-1077 for more information.

COPYRIGHTED

Sure, it can be difficult to be optimistic nowadays. Are

we still dealing with COVID, is it safe to be super social,

what's the long-term plan with my job, etc. etc.

etc. But there are reasons to be optimistic everyday, and

that's not just coming from Deepak Chopra. March is Optimism

Month and it's a great time to tune into the optimistic

part of your brain and head out into the land

of possibilities. If you need somewhere specific to go,
---
head to the 13th All People's Day Diversity Festival. Held Saturday,

March 19 from 11am to 3pm at Pompey Park, this free

event is a celebration of Delray's community members. Created

to showcase the many cultures that make Delray Beach one of

the most diverse communities in South Florida, the All People's

Day Diversity Festival is a free indoor event that features as

many as 15 musical and dance performances. Committed to

highlighting all people, all cultures and all traditions, the festival

offers free food from different cultural restaurants as well

as 50 booths that include Origami Peace Crane folding, puppet

making and other children's activities as well as hands-on word

and art games for teens and adults from many non-profits. So

come on out and celebrate the optimism and positivity of the

community! Pompey Park is located at 1101 N.W. Second St.

Visit www.downtowndelraybeach.com or call (561) 706-7779

for more information.

Long noodles equal a long life, right? There's only one way

to find out! (After all, who isn't down for a good slurp?)

March is National Noodle Month and is a delightful time

to carb load for a cause. Sure, you could go the spaghetti route,

but think outside the box and order the bowl instead. Lemongrass

Asian Bistro invites you to indulge in delightful noodlebased

dishes. Maybe the Duck Noodle Soup, made with housebraised

five spice long island duck, fresh rice noodles, bean

sprouts, garlic, basil and bok choy in duck broth ($19) sounds

like something you could get down on. Or maybe the Drunken

Udon Noodles with stir-fried thick chewy wheat noodles, onion,

chili jam, garlic, Thai basil, red peppers, asparagus and

scallions ($18) tickles your fancy. You can really bring it home

with the Mongolian Udon Noodle entree, with marinated Mongolian

steak, stir fried with thick chewy wheat noodles, chili

jam, garlic, Thai basil, red peppers, onions and scallions ($29).

Whatever your noodle pleasure, Lemongrass is sure to deliver.

Lemongrass Asian Bistro is located at 420 E. Atlantic Ave. Visit

www.lemongrassasianbistrodelraybeach.com or call (561)

278-5050 for more information.

You only have one body, so it's time to treat it like the temple

that it is! March is National Nutrition Month and not

that you have to always eat right, or always take the stairs,

or always opt for no butter on your movie theater popcorn (if

you're a psycho), but it's a great reminder to go that extra step

every now and again. To make this goal less daunting for you,

and since no one really knows how to cook tofu anyway, the

lovely chefs at our downtown eateries are here for you and your

BMI. Head to Elisabetta's for lunch and lovingly sink your teeth

into their Quinoa and Grilled Chicken Salad, made with gorgonzola

dolce, seasonal vegetables, fingerling potatoes, walnut

vinaigrette for $18. Yes, please! Or maybe City Oyster's crudo

plates for dinner will do the trick. They're dishing out tuna with

shallot, garlic, and chili oil; salmon with avocado, micro cilantro,

and pickled jalapeños; and hamachi with ponzu, jalapeño,

and garlic, for $17 each. If you're feeling the meat, Gary Rack's

Farmhouse Kitchen's Nut & Seed Crusted Chicken, with roasted

Brussels sprouts, mushrooms, cauliflower, and mustard vinaigrette

for $26 is sure to hit the spot. Regardless of your selections,

going the nutritious route has never been more delicious

and more doable. Visit www.downtowndelraybeach.com or call

(561) 243-1077 for more information and restaurant locations.

COPYRIGHTED

www.AtlanticAveMagazine.com | March 2022 | 27
---
pictures | on the ave

photos by melissa korman

1 2

3

1 Andrew, Marc @ Legacy Barber Shop

2 robert, Erin, Chris @ One Sotheby's International Realty

3 angela, Sonya @ Massage Heights

4

5

4 Dr. Tony @ Acupuncture Zen

5 audrey, Steve @ Engel & Völkers

6 Shana, Dr. Lewis, Hillary, Lorraine @ Delray Dermatology

& Cosmetic Center

8 9

6

7 Paul @ Engel & Völkers

COPYRIGHTED

7

8 Bill, Jill, Marc @ Illustrated Properties

9 carlos, Bryan @ Silverball

28 | march March 2022 | www.AtlanticAveMagazine.com
---
DELRAY BEACH'S PREMIER ACUPUNCTURE TREATMENT CENTER

"Thanks for those wonderful

ZEN treatments."

KAMARU USMAN • UFC

WELTERWEIGHT CHAMPION

"Thanks for the Pins!"

JON BON JOVI

"I'm ready for

the Acupuncture."

JACK EICHEL, CAPTAIN

• BUFFALO SABRES NHL

"Thank you for the Best

Acupuncture of My Life!"

HASSAN SALIHAMIDZIK

• JUVENTUS F.C. ITALY

PhD. Acupuncture Hefei, China

•

Clinical Doctorate D.A.O.M USA

Doctor of Acupuncture & Oriental Medicine

•

Trained in Shanghai & Anhui, China

•

Nationally Double Board Certified

Acupuncture & Chinese Herbal Medicine (NCCAOM)

•

"Academic Excellence Award"

Atlantic Institute of Oriental Medicine

•

5 Years Sports Acupuncture Doctor

Blackzilians Fight Team (UFC) Ultimate Fighting Championship

•

7 Years Florida Panthers (NHL) National Hockey League

Medical Team Acupuncture Physician

COPYRIGHTED

"Thanks for the Healing Power."

CHRIS ROBINSON

• QUARTERBACK FAU OWLS

"Great Relief

After Acupuncture."

DAVID FROST • PGA

CHAMPIONS TOUR

"Thanks for helping me

reach my ZEN!"

ERIK COLEMAN • NY JETS NFL

"Thanks for helping me

get my body right!"

DANNY VALENCIA

• OAKLAND ATHLETICS MLB

Dr. Tony Willcox PhD.

D.A.O.M., D.O.M., A.P., L.Ac.

SPORTS MEDICINE ACUPUNCTURE PHYSICIAN

ULTIMATE FIGHTING CHAMPIONSHIP (UFC) 2011-2016

TEAM ACUPUNCTURE PHYSICIAN 2007-2014

(561-633-3537)

900 E. ATLANTIC AVE, STE. 11 | DELRAY BEACH, FL 33483
---
pictures | on the ave

photos by melissa korman

1

2

3

1 Stephan @ Lanzetta's Barbershop

2 Elvin, Charlie @ Lanzetta's Barbershop

3 Tayla @ European Wax Center

5

6

4 angela, Corey, Mark, Sam, Didi @ Global Pursuit

5 adrianne @ Morley

8

9

4

6 Sandy, Santiago @ Legacy Barber Shop

9 Bernie, Len, Love, Charlie @ belikebrit.org

7

7 Emiliano, Trevor @ On The Ave

8 Margie @ Douglas Elliman

COPYRIGHTED

30 | march 2022 | www.AtlanticAveMagazine.com
---
COPYRIGHTED

www.AtlanticAveMagazine.com | march 2022 | 31
---
pictures | in the pineapple grove arts DISTrict

photos by melissa korman

1 2

3

1 richard @ Vatican Tattoo

2 Steve, Shannon @ Man Cave

3 Ivy, Zoe @ Whits Frozen Custard

5

6

COPYRIGHTED

4

7

4 anthony, Doris, Jerylin, Lillian, Thomas, Harry, Jim

7 Dr. Schrier, Emily @ Schrier Family Chiropractic

@ Posh Properties

8 Muffy @ Coffee District

5 Tom @ The Goldsmith Shop

9 Jeff @ Vatican Tattoo

6 Jason, Stoyan @ Starks Barber Shop

8 9

32 | march March 2022 | www.AtlanticAveMagazine.com
---
COPYRIGHTED

www.AtlanticAveMagazine.com | march 2022 | 33
---
pictures | in the pineapple grove arts DISTrict

photos by melissa korman

1 2

1 nick, Louis, Mike @ Ramen Lab

2 Margot @ Purgreens

3 nick, Maggie @ El Camino

3

6

4

7

COPYRIGHTED

4 Bonnie @ The Art of Delray Gallery

5 Tom @ Purlife

8 Steve, Susan @ Delray Art & Framing

6 John Spec @ Gallery Studio 5

9 audrey @ Man Cave

8 9

5

7 Flave, Ronald @ Furst

34 | march March 2022 | www.AtlanticAveMagazine.com
---
COPYRIGHTED

www.AtlanticAveMagazine.com | march 2022 | 35
---
pictures | CONCERTs

photos by tom craig

Storyteller and guitarIST Billy

Prine perFOrms the songs of

his brother John Prine at The

Parker in Fort Lauderdale.

British singer and

sonGWriter Corinne Bailey

Rae perFOrms her hits at The

Parker in Fort Lauderdale.

Bass guitarIST and

co-FOunder of hOT Tuna

perFOrms at The Parker

in Fort Lauderdale.

COPYRIGHTED

Popular music singersonGWriter

Johnny Mathis

perFOrms at Broward

Center FOr the PerFOrming

Arts in Fort Lauderdale.

36 | March march 2022 | www.AtlanticAveMagazine.com

Blues, FOLk and rock guitarIST

and co-FOunder of hOT Tuna

Jorma Kaukonen perFOrms at The

Parker in Fort Lauderdale.

English singer, songwriter

and actress JOSS Stone

perFOrms at The Parker in

Fort Lauderdale.
---
COPYRIGHTED

www.AtlanticAveMagazine.com | march 2022 | 37
---
otta Know

entertainment | GOTTa knOW

19th Annual Delray Beach Home Tour

in Scenic Lake Ida Neighborhood

Several homeowners in Delray Beach's beautiful Lake Ida

Neighborhood will be opening their doors to visitors during

the 19th Annual Delray Beach Home Tour benefiting Achievement

Centers for Children & Families (ACCF) on Wednesday, March

9th from 10am to 4pm. The Delray Beach Home Tour is a unique

opportunity to see exquisite interiors of homes and gardens.

During the tour, which attracts visitors from throughout South

Florida, guests can enjoy a leisurely day exploring unique residences,

a catered luncheon and trolley service between homes.

All Home Tour ticket sales and sponsorships benefit ACCF, which

supports children and families throughout Delray Beach and the

surrounding neighborhoods. At ACCF children are involved in Early

Learning (Toddler and Preschool), Out-of-School (After School and

Summer Camp), and Teen Mentoring programs that prepare them

for academic and social success and empower them to discover

their talents. ACCF families are served through programs like Family

Strengthening and Economic Stabilization, which benefit the

community by helping families in crisis; enabling them to serve as

the foundation of their child's growth.

The Home Tour was first conceived by long-time ACCF board

members and supporters Anne Bright and Barbara Murphy.

Planning for the home tour, which draws more than 600 visitors

annually, involves more than 100 dedicated volunteers.

Despite their best efforts, ACCF had to cancel the Home Tour

in 2020 and 2021, due to the COVID-19 pandemic. Thanks to the

generosity of ACCF supporters, funds

donated to Home Tour the past two

years were critical for ACCF's children

and families.

Tickets for the Delray Home Tour

are available online at www.achievementcentersfl.org/delray-home-tour.

COVID-19 safety protocols will be in

place at Home Tour. For more information,

to purchase tickets, or become

a sponsor, visit www.achievementcentersfl.org/delray-home-tour/.

COPYRIGHTED

38 | March 2022 | www.AtlanticAveMagazine.com
---
COPYRIGHTED

Before

Before

After

After

• INSTALLS

• REPAIRS

• ExTENSIoNS

• RooT REmovAL

• PooL REmoDELS

• DRAINAGE ISSUES

• CLEANING / SEALING

• BAD SEALER REmovAL

Before

After

The way we design:

Simple clean lines that make

bold statements and must

function for Clients' daily lives.

We take pride in our Work

Licensed & Insured | Established in 1994

954.850.3359 | superiorpavers.neT

www.AtlanticAveMagazine.com | march 2022 | 39
---
Gotta See

entertainment | GOTTa SEE By lisa marie

march 4

March 11

► The Batman Dubbed "The Bat and The Cat" about the Batman

vs Catwoman feud in the movie. In his second year of fighting crime,

Batman (Robert Pattinson) uncovers corruption in Gotham City

that connects to his own family while facing a serial killer known

as the Riddler. Andy Serkis as Alfred, Zoe Kravitz as "Catwoman,"

Jeffrey Wright as Gordon, plus Colin Farrell as Cobblepot, Paul

Dano as Nashton, and John Turturro as Falcone.

► After Yang (Theaters + Showtime) When his young daughter's

beloved companion - an android named Yang (Justin H. Min) -

malfunctions, Jake (Colin Farrell) searches for a way to repair

him. In the process, Jake discovers the life that has been passing in

front of him, reconnecting with his wife (Jodie Turner-Smith) and

daughter across a distance he didn't know was there.

► Great Freedom (Theaters) Based on a true story about a

prisoner in post-war Germany, Hans is imprisoned again and

again for being homosexual. The one steady relationship in his

life becomes his long-time cell mate, Viktor, a convicted murderer.

What starts in revulsion grows to something called love. The film

stars award-winning German actor Franz Rogowski as Hans, Georg

Friedrich as Viktor, plus Anton von Lucke, and Thomas Prenn.

► Pixar's Turning Red (Disney+) Growing up is a beast. Young

actress Rosalie Chiang lends her voice in Turning Red to Mei Lee, a

13-year-old who suddenly "poofs" into a giant red panda when she

gets too excited (which is practically ALWAYS). Sandra Oh voices

Mei Lee's protective, if not slightly overbearing mother, Ming, who

is never far from her daughter - an unfortunate reality for the

teenager. Turning Red is both written and directed by Chinese-

Canadian animation filmmaker Domee Shi.

COPYRIGHTED

► Gold (Theaters) When two drifters traveling through the

desert stumble across the biggest gold nugget ever found, the

dream of immense wealth and greed takes hold. They hatch a

plan to protect and excavate their bounty with one man leaving

to secure the necessary equipment. The other remains and must

endure harsh desert elements, ravenous wild dogs, and mysterious

intruders, whilst battling the sinking suspicion that he has been

abandoned to his own fate. Zac Efron co-stars with Anthony Hayes,

who also directs the film.

40 | march 2022 | www.AtlanticAveMagazine.com
---
An exclusive suite of services

designed to make buying and

selling your home a delight.

STRATEGIC HOME RENOVATIONS

GLOBAL REFERRAL NETWORK

COMMITTED LENDING PARTNERS

TITLE INSURANCE & SETTLEMENT SERVICES

SELL AT AUCTION

NEW DEVELOPMENTS

VIRTUAL HOME STAGING

Robert Guntmacher

A Global Real Estate Advisor with

ONE Sotheby's International Realty

561.870.8193

RGUNTMACHER@ONESOTHEBYSREALTY.COM

ROBERTGUNTMACHER.ONESOTHEBYSREALTY.COM

White Glove

Let's have a conversation about

presenting your home to the market

with the White Glove difference

COPYRIGHTED

© 2022 ONE Sotheby's International Realty. All rights reserved. ONE Sotheby's

International Realty fully supports the principles of the Fair Housing Act and the

Equal Opportunity Act. Each franchise is independently owned and operated.

www.AtlanticAveMagazine.com | march 2022 | 41
---
entertainment | GOTTa SEE

March 18

► Operation Fortune: Ruse de Guerre Super spy Orson Fortune

(Jason Statham) and his team of top operative's recruit Hollywood's

biggest movie star, Danny Francesco, to help them on an undercover

mission to stop billionaire arms broker Greg Simmonds from selling

a deadly new weapons technology that also threatens to disrupt the

world order. Operation Fortune: Ruse de Guerre is directed by British

filmmaker Guy Ritchie. Also stars Aubrey Plaza, Josh Hartnett, Cary

Elwes, Bugzy Malone, and Hugh Grant.

The Unbreakable Boy Is a film about a young boy with both a rare

brittle-bone disease and autism. But what makes him truly unique

is his joyous, funny, life-affirming world view that transforms and

unites everyone around him.

► The Outfit (Theaters) Mark Rylance stars as Leonard - an

English tailor who used to craft suits on London's world-famous

Savile Row. But after a personal tragedy, he ended up in Chicago,

operating a small tailor shop in a rough part of town where he

makes beautiful clothes for the only people around who can afford

them: a family of vicious gangsters. The full cast includes Zoey

Deutch, Dylan O'Brien, Johnny Flynn, Nikki Amuka-Bird, Simon

Russell Beale, and Alan Mehdizadeh.

March 25

► The Lost City Brilliant, but reclusive author Loretta Sage

(Sandra Bullock) has spent her career writing about exotic places

in her popular romance-adventure novels featuring handsome

cover model Alan (Channing Tatum), who has dedicated his life to

embodying the hero character, "Dash." While on tour promoting

her new book with Alan, Loretta is kidnapped by an eccentric

billionaire (Daniel Radcliffe) who hopes that she can lead him to

the ancient lost city's treasure from her latest story. Wanting to

prove that he can be a hero in real life and not just on the pages

of her books, Alan sets off to rescue her. Thrust into an epic jungle

adventure, the unlikely pair will need to work together to survive

the elements and find the ancient treasure before it's lost forever.

COPYRIGHTED

► Alice (Theaters) The film stars Keke Palmer as Alice, an

enslaved person yearning for freedom on a rural Georgia plantation

under its brutal and disturbed owner Paul (Jonny Lee Miller).

After a violent clash with Paul, she flees through the neighboring

woods and stumbles onto the unfamiliar sight of a highway, soon

discovering the year is actually 1973. Rescued on the roadside

by a disillusioned political activist named Frank (Common), Alice

quickly comprehends the lies that have kept her in bondage and

the promise of Black liberation. Inspired by true accounts, Alice is

a modern empowerment fable tracing Alice's journey through the

post-Civil Rights Era American South.

► Mothering Sunday On a warm spring day in 1924, house maid

and foundling Jane Fairchild (Odessa Young) finds herself alone

on Mother's Day. Her employers, Mr. and Mrs. Niven (Colin Firth

and Olivia Colman) are out and she has the rare chance to spend an

afternoon of abandon with her secret lover, Paul (Josh O'Connor),

the boy from the manor house nearby who is Jane's long-term

romantic love despite the fact that he's engaged to be married to

another woman, a childhood friend and daughter of his parents'

friends. But events that neither can foresee will change the course

of Jane's life forever.

42 | march 2022 | www.AtlanticAveMagazine.com
---
COPYRIGHTED

www.AtlanticAveMagazine.com | march 2022 | 43
---
otta Hear

entertainment | GOTTa HEAR

March 2

JOHN LARIVIERE SINGS 'YOU'RE THE

TOP!' THE MUSIC OF COLE PORTER

Singer John Lariviere presents a joyful

tribute to the musical genius and rapier

wit of prolific composer and lyricist Cole

Porter. This collection of over 22 songs

features hits such as "You're the Top",

"Night and Day", "I Get a Kick Out of You",

"It's Alright with Me", and "Let's Do It –

Let's Fall In Love."

12:30pm

Tickets: $44

delraybeachplayhouse.com

March 4

Kara Grainger

Some people just have music running

through their veins. From her innercity

beginnings in the town of Balmain

Sydney, Australia, Kara's musical journey

has taken her all around the globe. Kara

combines slide guitar, powerful and

sultry vocals with an honest approach to

songwriting, the result is a unique blend

of Singer Songwriter/Americana/Soul

and Blues. Kara Grainger is known for her

passionate performance and is sure to

leave any audience inspired and uplifted.

8pm

Tickets: $15-$20

artsgarage.com

MIRAGE – VISIONS OF FLEETWOOD MAC

Celebrating the classic lineup of the

legendary superstar band! Based in Los

44 | march 2022 | www.AtlanticAveMagazine.com

Angeles, "Mirage" has earned the top

honors among tribute artists – endorsed

by AXSTV as one of "The World's Greatest

Tribute Bands" and heartily praised by

the 'real' Stevie Nicks after she heard

a performance. "Mirage" recreates the

classic lineup with a strong stage show

and every detail to authenticity. 8:00pm

Tickets: $35-$45

delraybeachplayhouse.com

March 5

BEST OF BROADWAY STARRING

BROADWAY'S GRACE FIELD

Grace has been featured on NBC's the

Today Show performing with Hugh

Jackman, is a proud member of Tony

Award Winning Broadway Inspirational

Voices and has been in multiple musical

theatre productions across the globe. She

most recently performed on Broadway in

"Disney on Broadway 25th Anniversary

Special" with Whoopi Goldberg at the

New Amsterdam Theatre.

7:30pm

Tickets: $45

delraybeachplayhouse.com

A Jazzy Cabaret FEATURING The

Music of JOAN CARTWRIGht

Women In Jazz South Florida Members

Roberta DeMuro (Musical Director,

pianist) and vocalists Edlene Hart and

TC Carney III perform music composed

by Joan Cartwright, founder of Women

in Jazz South Florida, Inc., a 15-year nonprofit

that promotes women musicians,

globally. A Jazzy Cabaret features 14 of

Joan's songs and four sets of lyrics to

songs by Miles Davis (Tune-Up), Dizzy

Gillespie (A Night in Tunisia), John

Coltrane (Bessie's Blues), and Kenny

Dorham (Blue Bossa).

8pm

Tickets: $40-$45

artsgarage.com

March 6, 7

THE EDWARDS TWINS

AS SEEN ON NETFLIX- The Kominsky

Method. Remember all the wonderful

Variety shows we all grew up on in the

70's & 80's? Now is your chance to see

them live and re-created by Las Vegas'

number one impersonators of all time.

Anthony & Eddie Edwards use state of

the art make-up to look and sound like

the superstars of today and yesterday. All

your favorite legendary Superstars come

alive in An Evening with The Stars.

3:00pm

Tickets: $59

delraybeachplayhouse.com

March 11

COPYRIGHTED

Nicole Henry – Time To Love Again

Powerhouse jazz vocalist NICOLE HENRY

returns to celebrate the release of her

newest CD "Time to Love Again," an eclectic

mix of jazz standards and reimagined

pop tunes that showcase Henry's soulful

interpretations. Whether burning through

a swing tune or gently crooning a ballad,

Henry truly makes each song uniquely her

own and is often favorably compared to

Whitney Houston and Natalie Cole for her

dynamic range, impeccable phrasing, and

bluesy gospel style.

8pm

Tickets: $45-$50

artsgarage.com
---
March 13

Nicole Henry – I Wanna Dance

With SOMEBODY: The Songs of

Whitney HouSTON

Soul Train award-winning vocalist

Nicole Henry returns to Arts Garage with

her theatrical concert-event "I Wanna

Dance with Somebody: The Songs of

Whitney Houston" for a night of jubilant

celebration.

7pm

Tickets: $45-$50

artsgarage.com

March 14 - APril 18

Jazz & Java: Jazz and Rock Fusion

In the spring session of Jazz and Java,

we will be listening and discussing the

similarities and differences between

Jazz and Rock Music, and how Fusion

gained popularity from the late 1960's to

the present. Some of the musicians and

groups that we will be exploring include

Miles Davis, Herbie Hancock, Chick Corea,

Weather Report, Fourplay (Bob James),

The Brecker Brothers, Spyro Gyra, Jaco

Pastorius, Pat Metheny, Mike Stern, and

others.

Mondays 10am

Tickets: $120

artsgarage.com

March 18

Finnegan Blue

Starting out their "Luck of the Irish" tour

in South Florida, sibling duo Anna Lee and

Willie Fleming pay homage to Irish music

by adding their own modern twist for

some good craic!

8pm

Tickets: $40-$15

artsgarage.com

March 18, 19, 20, 25, 26, 27

DEATHTRAP

Ira Levin (the best-selling author of The

Boys From Brazil and Rosemary's Baby)

conquered Broadway in 1978 with this

spellbinding thriller which went on to play

for over 1700 performances. It remains

the longest-running mystery-thriller in

Broadway history.

2:00pm and 8:00pm

Tickets: $38

delraybeachplayhouse.com

March 19

The Seth Rosenbloom Band

Come see the future of the blues! Blues

guitarist Seth Rosenbloom performs songs

from his latest CD Keep On Turning, with

53 weeks on Roots Music Radio charts.

8pm

Tickets: $30-$35

artsgarage.com

March 20

Helen Miller Live

Nationally known gospel recording artist

and ordained minister, Helen Miller- Best,

transports listeners back to the way

church "used to be", with hand- clapping,

foot- tapping praise. Helen Miller along

with a band and singers will play songs

presented with brief testimonies and

quotes from the Bible inserted between

and during songs to encourage listeners.

7pm

Tickets: $25-$30

artsgarage.com

March 22

THE VICTORY DOLLS: I LEFT MY

HEART AT THE STAGE DOOR CANTEEN

Tickets include a catered Lunch by

TooJay's Deli. The Victory Dolls are a vocal

singing group that is reminiscent of the

tight harmonies of the Andrews Sisters

and features many of the top Carbonell

Award-winning actresses in South Florida.

12:30pm

Tickets: $44

delraybeachplayhouse.com

March 23

CROSSING OVER: COUNTRY MUSIC'S

BEST SUCCESSES IN THE MAINSTREAM

Country music has crossed over into

mainstream pop charts more than any

other genre of music and singers who

took their cues from Nashville have sold

millions of records to people who would

never consider themselves fans of country

music.

2:00pm

Tickets: $28

delraybeachplayhouse.com

March 26

The Dr. Gianni Bianchini Piano Trio

The focus of the Dr. Gianni Bianchini Trio

is to encompass the jazz tradition of this

great American music and simultaneously

push the boundaries for the next

generation of jazz musicians. The trio will

be performing for the first time at the Arts

Garage since 2019 and will feature new

arrangements of the American classics

that span the generations.

8pm

Tickets: $40-$45

artsgarage.com

March 27

Josh Hoyer & Soul COLOSSAL

Night after night at their live shows, Josh

Hoyer & Soul Colossal leave it all on the

table, bringing crowds palpably authentic

music. This is a real working band; music

for the people, by the people.

7pm

Tickets: $35-$40

artsgarage.com

March 28, 29, 30, 31

"ANOTHER OPENING, ANOTHER

SHOW!" THE BROADWAY MUSICAL

CAREER OF ALFRED DRAKE

Alfred Drake will always be remembered

best as the first performer to sing the

words, " Oh, What a Beautiful Morning!"

As Curley in the original production of

OKLAHOMA, he also introduced such

Rodgers and Hammerstein classics as

"People Will Say We're in Love" and

"Surrey With the Fringe on Top."

2:00pm and 7:30pm

Tickets: $38

delraybeachplayhouse.com

COPYRIGHTED

Arts garage

94 NE 2nd Ave, Delray Beach

561-450-6357

www.artsgarage.org

The delray beach playhouse

950 NW 9th Street, Delray Beach, FL 33444

561-272-1281

www.delraybeachplayhouse.com

www.AtlanticAveMagazine.com | march 2022 | 45
---
Read

entertainment | gotta read By lisa marie

The Night Shift

by Alex Finlay

Released March 1st

It's New Year's Eve 1999. Y2K is expected

to end in chaos: planes falling from the

sky, elevators plunging to earth, world

markets collapsing. A digital apocalypse.

None of that happens. But at a Blockbuster

Video in New Jersey, four teenagers working

late at the store are attacked. Only one

inexplicably survives. Police quickly identify

a suspect, the boyfriend of one of the

victims, who flees and is never seen again.

Fifteen years later, more teenage

employees are attacked at an ice cream

store in the same town, and again only one

makes it out alive.

In the aftermath of the latest crime,

three lives intersect: the lone survivor of

the Blockbuster massacre who's forced

to relive the horrors of her tragedy; the

brother of the fugitive accused, who's

convinced the police have the wrong

suspect; and FBI agent Sarah Keller who

must delve into the secrets of both nights -

stirring up memories of teen love and lies

- to uncover the truth about murders on

the night shift.

My Darling Husband

by Kimberly Belle

Released March 8th

Bestselling author of Dear Wife and The

Marriage Lie, Kimberly Belle returns

46 | March 2022 | www.AtlanticAveMagazine.com

with her most heart-pounding thriller to

date, as a masked home invader reveals

the cracks in a marriage.

Everyone is about to know what her

husband isn't telling her…

Jade and Cam Lasky are by all accounts

a happily married couple with two

adorable kids, a spacious home and a

rapidly growing restaurant business. But

their world is tipped upside down when

Jade is confronted by a masked home

invader. As Cam scrambles to gather the

ransom money, Jade starts to wonder

if they're as financially secure as their

lifestyle suggests, and what other secrets

her husband is keeping from her.

Cam may be a good father, a celebrity

chef and a darling husband, but there's

another side he's kept hidden from

Jade that has put their family in danger.

Unbeknownst to Cam and Jade, the home

invader has been watching them and is

about to turn their family secrets into a

public scandal.

The Golden Couple

by Greer Hendricks, Sarah

Pekkanen

Released March 8th

psychological thriller here that will

A have you gnawing at your fingernails

asking, WHAT were they all thinking?!

Simply riveting — as such suspense

should be.

Wealthy Washington suburbanites

Marissa and Matthew Bishop seem to

have it all—until Marissa is unfaithful.

Beneath their veneer of perfection is a

relationship riven by work and a lack of

intimacy. She wants to repair things for

the sake of their eight-year-old son and

because she loves her husband. Enter

Avery Chambers.

Avery is a therapist who lost her

professional license. Still, it doesn't

stop her from counseling those in crisis,

though they have to adhere to her

unorthodox methods. And the Bishops

are desperate. When they glide through

Avery's door and Marissa reveals her

infidelity, all three are set on a collision

course. Because the biggest secrets in the

room are still hidden, and it's no longer

simply a marriage that's in danger.

COPYRIGHTED

The Book of Cold

Cases

by Simone St. James

Released March 15th

true crime blogger gets more than

A she bargained for while interviewing

the woman acquitted of two cold case

slayings in this chilling new novel from

the New York Times bestselling author of

The Sun Down Motel.

In 1977, Claire Lake, Oregon, was

shaken by the Lady Killer Murders:

Two men, seemingly randomly, were
---
murdered with the same gun, with strange notes

left behind. Beth Greer was the perfect suspect—a

rich, eccentric twenty-three-year-old woman, seen

fleeing one of the crimes. But she was acquitted, and

she retreated to the isolation of her mansion.

Oregon, 2017. Shea Collins is a receptionist, but

by night, she runs a true crime website, the Book

of Cold Cases—a passion fueled by the attempted

abduction she escaped as a child. When she meets

Beth by chance, Shea asks her for an interview. To

Shea's surprise, Beth says yes.

They meet regularly at Beth's mansion, though

Shea is never comfortable there. Items move when

she's not looking, and she could swear she's seen a

girl outside the window. The allure of learning the

truth about the case from the smart, charming Beth

is too much to resist, but even as they grow closer,

Shea senses something isn't right. Is she making

friends with a manipulative murderer, or are there

other dangers lurking in the darkness of the Greer

house?

The Diamond Eye

by Kate Quinn

Released March 29th

The New York Times bestselling author of The Rose

Code returns with an unforgettable World War II

tale of a quiet librarian who becomes history's deadliest

female sniper. Based on a true story.

In the snowbound city of Kiev, wry and bookish

history student Mila Pavlichenko organizes her

life around her library job and her young son—but

Hitler's invasion of Russia sends her on a different

path. Given a rifle and sent to join the fight, Mila

must forge herself from studious girl to deadly

sniper—a lethal hunter of Nazis known as Lady

Death. When news of her three hundredth kill makes

her a national heroine, Mila finds herself torn from

the bloody battlefields of the eastern front and sent

to America on a goodwill tour.

Still reeling from war wounds and devastated

by loss, Mila finds herself isolated and lonely in

the glittering world of Washington, DC—until an

unexpected friendship with First Lady Eleanor

COPYRIGHTED

Roosevelt and an even more unexpected connection

with a silent fellow sniper offer the possibility of

happiness. But when an old enemy from Mila's past

joins forces with a deadly new foe lurking in the

shadows, Lady Death finds herself battling her own

demons and enemy bullets in the deadliest duel of

her life.

Based on a true story, The Diamond Eye is a

haunting novel of heroism born of desperation, of

a mother who became a soldier, of a woman who

found her place in the world and changed the course

of history forever.

www.AtlanticAveMagazine.com | march 2022 | 47
---
health & beauty | pain relief

By Dr. Safranski

Bad Posture = Neck Pain

Text neck, tech neck, forward head posture, anterior head

carriage, upper crossed syndrome, military neck, straightening

of the cervical spine, and loss of lordosis are all terms used by

health care professionals today. These big fancy words mean

one thing, you have bad posture. Aside from the aesthetics,

why is posture important?

48 | March 2022 | www.AtlanticAveMagazine.com

In a study published in Clinical biomechanics, posture in the

cervical spine (neck) they found that having a forward flexed

posture was more likely to have an increase in failure of the

disc in the middle C3/4 or C5/6. This is important to note because

most people have this posture. When we have the increase

in flexion or loss of cervical lordosis, we become susceptible to

injuries of the spine and neck. Think about it like this, the discs

act as the shock absorbers of the neck, along with good biomechanics

of the cervical spine (posture) and well hydrated discs

(shock absorbers) the spine can absorb injuries and function as

it should. Continuing with the car analogy, if the alignment (cervical

biomechanics) is off then, the shock absorbers are going to

wear out faster which can lead to tires wearing out faster, and so

on and so forth.

You might be asking yourself: How did I get like this? How did

this happen? What can I do to fix it? Well, this happens to all of

us that use a cell phone, a computer, and/or have a desk job. We

are constantly looking down, stretching the posterior (back) side

of the neck - elongating and weakening the muscles in the back

and strengthening the muscles in the front - causing a forward

rolled shoulder. These repetitive actions that we do on a daily basis

cause long term change.

Our bodies are amazing organisms. The human body does

many adaptations to keep our eyes on the horizon and keep us

upright and moving in our day-to-day lives. However, it is not always

the right way to compensate for improper actions such as

looking down at your phone, looking at your computer screen, or

working out the big flexor muscle groups. Eventually we will have

symptoms like neck pain, shoulder pain, numbness in hands and

fingers, muscle weakness, headaches, limited movement, and disc

issues. If we don't take care of these postural corrections, they

can turn into much more severe problems further down the road.

There are steps to take to regain what has been lost, correct the

necessary structures, and live an active pain free lifestyle.

Step 1: Go to a chiropractor and get an assessment that includes

x-rays, range of motions, and a postural assessment.

Step 2: Get adjusted. Getting adjusted puts motion back into

the segments of the cervical spine that have not been moving

properly. This is not only good from a biomechanics perspective,

but from a physiologic perspective. The spinal discs get their hydration

through movement, so any lack of movement in the cervical

spine leads to dehydrated discs.

Step 3: Find a place that does non-surgical spinal decompression

or traction. Stretching the muscles, ligaments, and tendons in

the case of posture not only helps establish plastic deformation to

restructure the ligaments of the cervical spine, but it helps bring

more motion in to the discs, to hydrate them.

Step 4: Stretch the anterior compartment of the cervical spine

and strengthen the posterior compartment. This will ultimately

solidify the changes that are being made with the adjustment to

achieve long standing changes.

Structure and function are correlated, If the structures are

good, you will function well.

Move well, live well.

COPYRIGHTED

Conde Center For

Chiropractic Neurology

401 West Atlantic Avenue, Suite #014

Delray Beach, FL 33444

561-330-6096

www.thecondecenter.com
---
COPYRIGHTED

www.AtlanticAveMagazine.com | march 2022 | 49
---
health & beauty | body beautiful

By ashley sica-de souza

Spring Clean Up!

The hot weather is here and bathing suit

season is upon us. If you haven't shed

that extra layer yet, now is the time!

I'm sure most of you are familiar with that layer that I'm talking

about. That "layer" from the holidays that you swore would be

off in time for summer. It is never too late to get that body in

gear! Here are some tips to kick-start your spring and have

you feeling ready for that summer wardrobe!

The first and most important component of shedding

that unwanted layer is nutrition. I highly

recommend keeping a daily food log of exactly

everything that you are consuming…the

good the bad and the ugly! This will help

you easily pinpoint your strengths

and weaknesses. Make sure to

write it ALL down to make

yourself accountable! Next,

try your best to eliminate processed

foods from your diet and

stick to 70-80% homemade prepared

meals (yes, you can do it!). Food prep

is 100% essential in helping you

reach your goals! These meals

should consist of lean proteins,

healthy fats, complex carbohydrates,

fruit, and of course lots of veggies.

Having healthy food on hand

at all times is a game changer. The

other nutrition component is water!

Your body will not burn fat if

it is dehydrated. It is such a simple

thing many people don't do. Drinking

proper amounts of water will

also help to keep you feeling full,

help flush out toxins and help decrease

bloating!

The second component

is weightlifting.

It must

be done…period.

Weightlifting is essential to

fat burning and your metabolism. The more muscle

you have, the more calories your body will burn at rest.

Ladies, I promise you will NOT get bulky from lifting

more than five pounds. I compare weight training to a

sculptor taking a piece of round clay molding it into

a nice shapely figure. That is what real work does

50 | March 2022 | www.AtlanticAveMagazine.com

to your body. It gives your body the "shape" most are looking to

achieve and that will not happen without picking up some sizable

weights! Many people think cardio alone will do this and that is

the farthest thing from the truth. Although cardio has its time and

place (more about that next) resistance training is essential.

You should aim to get in 4-5 sessions a week, lasting no longer

than 60 minutes.

The last component is incorporating High Intensity

Interval Training also known as HIIT. This is the fastest

and most effective way to decrease your body fat

and show off all the resistance training that you

have been doing. The best thing about this

type of cardio is that you don't need a lot of

it. The days of super long and slow cardio

sessions are OVER! HIIT will keep your body

burning calories for hours after your actual

session. This type of training involves alternating

between intense bouts of exercise

followed by low intensity exercise. If you

are a beginner, you may want to start

with a 1:1 work ratio. One minute on,

one minute off. HIIT can be performed

anywhere…. outside using sprints or

stairs, on the treadmill, at the beach,

etc. This can also be incorporated

with your weight workouts, which

is what I recommend.

Take these 3 components of

eating clean (do that food prep!)

weight training, and proper cardio,

and you will be

summer ready in

no time. There

is no better way

to welcome the

summer heat

than with a healthy, more

confident you.

COPYRIGHTED

Ashley Sica Fitness

TranSFOrmation Studio

7400 N. Federal Highway

Boca Raton, FL 33487

561-445-7445

Ashleysica@gmail.com
---
COPYRIGHTED

www.AtlanticAveMagazine.com | march 2022 | 51
---
52 | march 2022 | www.AtlanticAveMagazine.com

COPYRIGHTED
---
COPYRIGHTED

www.AtlanticAveMagazine.com | march 2022 | 53
---
COPYRIGHTED
---
FRONT ROW

Interviewed and written by Emily Peters | photo by Deidhra Fahey

focus

Ronni Hawk

If you aren't already familiar with American

actress Ronni Hawk, let me introduce you to

one of Hollywood's powerhouse rising starlets.

Auditioning for, and securing a spot at the Bak school in West

Palm Beach, Ronni excelled in dance and cultivated a passion

for being on stage, all prior to her teenage years. A love of performing

now running through her veins, an open modeling audition

in Miami for the Disney Network set into motion her now thriving

profession. With determination and a list of local agencies in hand,

Hawk was quickly signed to World of Kids Model and Talent Agency in

South Florida, and began working at a breakneck pace. Prompted by

a majority of television commercial bookings, Ronni enrolled in acting

classes to hone her new found life path. After enthusiastic feedback

stemming from an intense clinic instructed by two Los Angeles

based coaches, she relocated from Boca Raton, Florida to the west

coast, her mother in tow. Hawk was signed to the prestigious Osbrink

Talent Agency and Monster Talent Management within one week of

her arrival, and started the daunting task of casting calls.

Fast by industry standards, Ronni landed a guest spot on Playing

Hooky as Leah, and more involved roles presented themselves soon

thereafter. Even with a blossoming television career underway, California

law required the young entertainer to obtain schooling, and

she did so assisted by on-location tutors.

"Attending classes while working on a hot set is interesting. You can

be in the middle of a test, and production will call you to film. But I

graduated, have my diploma, and I'm proud of that accomplishment."

Prepping for an audition can be one of the most anticipated and

pivotal facets of acting, and Ronni makes sure to become fully immersed

in the person she wishes to portray. Hawk describes living in

her desired role for a few days in advance, even dressing and speaking

as the imagined individual, placing her in the correct headspace.

"I'll quickly memorize my lines, and then meet with a coach to

polish my delivery. If the part is more girly for example, I'll put on a

good amount of jewelry and make my voice a bit higher to really get a

sense of their personality traits. But if I really want a project, I'll sleep

with the sides under my pillow for luck."

In 2016, Ronni was at home with family, when a phone call delivered

the life-altering news that she had landed the character of

Rachel Diaz on Disney Channel's comedy series, Stuck in the Middle.

After two seasons, Hawk made the decision to move on when she

booked the coveted part of Olivia in the show On My Block, a coming-of-age

Netflix teen dramedy. That same year she also procured a

role on the second season of the CBS produced action drama, S.W.A.T.

"The Tiffany Experience" episode featured Ronni as a social media

star dealing with an overzealous threatening stalker.

Life sometimes imitates art, and when a former fellow cast mate

concocted a vicious rumor, the lie spread swiftly throughout various

media platforms. Recalling advice from one of her first managers

about staying tough in this business, Ronni was confident her true

disposition would shine through and held her head high. "People can

be extremely competitive and sometimes will try to sabotage you

with untruths."

As the judgments reached an unnerving level, Hawk had no choice

but to ease away from the internet community for a moment. "It can

be hard at times... there was a period where I couldn't go through any

of my comments. To stay positive, it's a good idea to take a break in

these circumstances. When an audience thinks of me, I would like to

be known for being a kind, giving person and a loyal friend."

This multi-talented actress is adding producer to her resume, currently

working on Girl With a Gun, an Indie Movie she stars in and

produces, and admires the catalog of an American filmmaker who

exhibits a distinctive expressive style.

"I would love to work for Wes Anderson. He's amazing... his vision

is beautiful and I fully enjoy everything he does."

In her down time Hawk is a self-described avid adventurer, partaking

in scuba diving, hiking, skiing, and horseback riding. The dedicated

perfectionist practices jumping horses almost daily, and is looking

forward to participating next year on the competition circuit.

A visceral love of nature and mankind subsequently led Ronni to

connect with a widely praised charity, The Thirst Project. Hoping to

be a beacon of change amongst her peers, Hawk is involved with

raising awareness for humanitarian issues across the globe. Thirst

Project is a nonprofit organization that works to end the worldwide

freshwater crisis by constructing wells in developing countries

throughout Africa, with one hundred percent of donations disbursed

directly to ongoing projects.

From dance school to taking a leap of faith in the entertainment industry,

Ronni Hawk embodies what happens when raw talent meets

motivation. Always giving viewers her full capacity as an artist, fans

should be eager to see where Ronni proceeds in the future.

Agent: The Osbrink Agency

Manager: Monster Talent Management

**To donate to The Thirst Project go to www.thirstproject.org

COPYRIGHTED

www.AtlanticAveMagazine.com | march 2022 | 55
---
ONE Sotheby's International Realty

The White Glove Experience -

Real Estate with Passion and Excellence

By Diane Feen | photos by melissa korman

They say you are only as strong as your weakest link.

That's why Taylor Travaglione, VP of Growth and Evolution

for ONE Sotheby's International Realty is always on the

lookout for top notch savvy real estate agents.

This vision for the crème de la crème of realtors is the most

potent ingredient to their marketing strategy, especially

in the Delray Beach office. "We have only been here for a

short amount of time, but the power of our brand and the continual

growth of the company attracts the best and brightest agents,"

said Travaglione.

Robert Guntmacher fits that exalted pedigree that Travaglione

searches for exclusively. The New York native moved to Delray

Beach six years ago and began renovating and flipping multi-family

properties in Palm Beach County.

Fast forward to today and Guntmacher is a high-powered player

in the residential redevelopment of vacant land, rehabs and teardowns.

His sales history is remarkable, and his reputation and

work ethic are in a rarefied category of exclusivity.

"Robert has done a tremendous amount of business in a relatively

short amount of time. He has achieved what most agents would

hope to accomplish in their entire career. Robert is a property hawk;

he has an incredible eye for identifying and coveting real estate opportunities.

He is the first to learn of investment opportunities and

56 | march 2022 | www.AtlanticAveMagazine.com

the most aggressive and proactive agent around," said Travaglione.

Another reason that Guntmacher is the perfect match for ONE

Sotheby's International is because of their new Development Division.

They now offer sales and marketing strategies for pre-construction

of multiple dwelling town homes and condo projects. According

to Travaglione they partner with a developer and do their

marketing and sales after the project is completed.

So far this is Guntmacher's ace in the real estate race. "Last year,

while working at a small independent office, I participated in 26

redevelopment closings. This accounted for $271 million in ongoing

and planned new luxury construction re-development projects

in Delray Beach in the 33444 and 33483 zip codes."

Prior to coming to ONE Sotheby's International Realty, Guntmacher

was working in a small local office with one broker, minimal

marketing support and what he calls a "limited future."

But this charismatic king of real estate doesn't dwell on the

downside of existence, like water he bounces above the shore and

creates his own path to success. That is why ONE Sotheby's came

calling for him to join their team in Delray Beach.

COPYRIGHTED
---
"This year I was contacted by Taylor Travaglione of ONE Sotheby's

International Realty in Miami, the second largest franchisee

in the Sotheby's universe. Taylor's mission is to establish ONE Sotheby's

as a major player From Miami-Dade and Broward County to

Jacksonville, Florida."

Guntmacher is spot on. Travaglione is adamant that ONE Sotheby's

is on the fast track to the pinnacle of sales and service

for their clients – whether residential, commercial or corporate

pre-construction.

"We have a grand vision for what we are going to accomplish

in Delray Beach and the surrounding areas. We are showing our

strength in the marketplace by attracting the best agents to our

ever-growing company.

Part of this new team – that includes Guntmacher – is Julie Giachetti.

She specializes in luxury waterfront property and is at the

top of her game. She is a multiple Diamond Award Winner and has

sold nearly $1 billion in closed real estate sales.

And no one is happier than Travaglione to welcome these two

real estate pros to the ONE Sotheby's team.

"We have a diverse approach to the brokerage, that is residential,

commercial and new development in South Florida. We have two

amazing new members on our team that align with a market leader

that's growing at an accelerated rate. The South Florida offices are

in the top tier of the ONE Sotheby's International Realty portfolio

of real estate."

Part of this Florida success, according to Travaglione, is their

hyper focus on creating and establishing the best working culture

with support and service for their team.

"Robert and Julie have two amazing careers and are partnering

with ONE Sotheby's because we are an exciting company with tremendous

growth and resources. We provide unbridled service and

support with a thriving marketing and creative department."

The ONE Sotheby's International Realty philosophy is that they

are more concerned with quality than quantity. They are also very

selective about who joins their team.

The reasons are obvious to those who know the ONE Sotheby's

history and heritage. "ONE Sotheby's exceeds any and every expectation

one could have for representing a professional organization

populated by quality individuals," said Guntmacher.

ONE Sotheby's International Realty is supported by market

knowledge and insights, the latest technology, and a global backbone

of support and service. This expertise is grounded in the belief

that the best experiences inspire the best decisions.

That is why they are experiencing exponential growth, especially

in the Florida marketplace. The company has 27 offices and 1,300

agents from Miami to Jacksonville. Their reputation for experience

and passion for their customers define the Sotheby's International

Realty brand.

ONE Sotheby's is known for being a company that finds "Exceptional

Homes for Exceptional People." Their belief is that the client's

vision is their inspiration at the highest level of service and

expertise.

They are recognized as a market leader with associates that

bring passion and commitment to every client they serve. Robert

Guntmacher and Julie Giachetti exemplify this creed to reach (and

surpass) real estate royalty.

COPYRIGHTED

Robert Guntmacher

ONE Sotheby's International Realty

900 E. Atlantic Ave. Suite 18

Delray Beach, FL 33483

rguntmacher@onesothebysrealty.com

@robbyrobbyrobby

561-870-8193

www.AtlanticAveMagazine.com | march 2022 | 57
---
global pursuit

Local Shopping at its Best

By Nicol Jenkins | photos by melissa korman

When you step through the doors of the

newly opened store, you can tell that it's

not like any other shop on Atlantic Avenue.

The carefully curated array of products ensures each member of the

family will find a piece they love. The beach-to-bar and office-tostreet

merchandise, from brands like Scotch & Soda, Vineyard Vines

and Peter Millar, perfectly suits the Delray audience and marks Global Pursuit

as a local alternative to the mall. What completes the exceptional shopping

experience, however, is the store's spacious, welcoming atmosphere

and passionate, friendly staff.

The store's owners, mother and son team Angela and Sam Marsh, strive

to stock and support environmentally conscious brands. Patagonia, Faherty,

and Marine Layer— all born on the water— have excellent initiatives to

save our oceans. "Each of these brands represents Global Pursuit and our

drive to give back to the source that's given so much to us," said Angela, adding,

"One of the things that set us apart is that we seek out these sustainable

brands," said Angela, "And the other is customer service. The people in the

shop are the true difference; it is what makes shopping local so special."

58 | march 2022 | www.AtlanticAveMagazine.com

Angela opened her first store in Stone Harbor, New Jersey, and has expanded

her business with her son, Sam, by her side. The Atlantic Avenue

shop opened last October, and the community has responded well as repeat

customers are now the norm.

"Global Pursuit began over 13 years ago. Much has changed since then,

but our mission remains the same: To stock the best designs and best fabrications

while keeping sustainability front of mind. We have bespoke clothing,

accessories and footwear for the whole family, so you can Feel Good

about Looking Great," said Angela, adding, "We are also so lucky to be able

to work together as a family with Sam starting work in the shop back in

Stone Harbor, NJ when he was just 13. Through the last dozen years, he

came to many trade shows, learned the back office and now is a true partner.

He was the primary designer of the Delray store's interior and has a

great eye for what works in the space."

The duo is excited to be a part of the Delray community. Giving back

to the local community is at the core of their mission. They supported

and participated in the Tenth Annual Delray Beach Fashion Week and are

members of the DDA and Chamber of Commerce.

"The community has been incredibly receptive to the store, some of

whom know us from our NJ location. Others who are just finding us for the

first time are happy not to have to trek to the mall for a new button down for

work, a polo for golf, or a new dress for the office or dinner out," said Angela.

Brands like Peter Millar and Chubbies have been a favorite for many

local gentlemen. Women adore the breadth of styles featuring Gretchen

Scott, Sanctuary, and Tribal. Everyone loves the options from Faherty

Brand, Vineyard Vines, and Marine Layer. Art-driven brands like Obey,

plus sports fan favorites, '47 Brand, and Mitchell and Ness, are also part

of the mix. Much of their apparel is made from environmentally friendly

COPYRIGHTED
---
products, such as organic cotton and repurposed recycled materials—you

can find a bathing suit from Patagonia made of recycled fishing nets or a

tee from Marine Layer made of organic cotton. Global Pursuit also offers a

great selection of shoes and sandals including Hey Dude, Havaianas, Ugg,

Vionic, and Teva.

It has been a labor of love for the family to transform the old pharmacy

location into a beautiful shopping environment.

"I love being in the retail industry, every season brings new challenges.

Working with our team to meet those challenges is so incredibly rewarding.

Supply chain issues, the lack of in person trade shows was an additional

difficulty that we had to navigate these past two years but working

with our vendors as partners we were able to make it through successfully.

Learning our customers and meeting their needs, making them happy

about how they look is so fun. We love making people feel good about looking

great," said the owners.

Though the shop is new to the Avenue, the shop's heart and soul is not.

Mary and her team including Didi, Athena, and Terri have long worked

in retail on the Avenue and are magicians at assisting guests. Customers

praise Global Pursuit's owners and staff for a positive shopping experience.

"This place is simply amazing. Wonderful staff that are knowledgeable

about their products. It seemed like they really wanted to make sure I

walked out satisfied with my purchase. Also, great style for Delray! I'll definitely

be back!" said one customer.

"I had a great experience at Global Pursuit. Friendly and accommodating

staff were eager to help both my fiancé and I will definitely be back to

revisit their great selection!" said another happy customer.

"I knew that I would become a loyal customer the moment I walked

through the doors. I was immediately welcomed by a member of the staff

and the store has a bright, inviting atmosphere. The clothes are perfect if

you are going for a casual yet stylish beach vibe. I would definitely recommend

this store for all age groups and plan on coming back to stock my

spring wardrobe!" praised another frequent customer.

"Absolutely will be my new go-to in Delray - awesome selection of men's

clothing. Love the style and feel like just about anyone could find something

they like in here!"

Stop by Global Pursuit for a wonderful local shopping experience for

your entire family!

Global Pursuit

400 East Atlantic Avenue

Delray Beach, Florida 33483

561-501-5389

https://shopglobalpursuit.com

COPYRIGHTED

www.AtlanticAveMagazine.com | march 2022 | 59
---
POSH PROPERTIES

Experts In Real Estate

Photo courtesy of posh properties

By Nicol Jenkins | photos by melissa korman

Local, knowledgeable and professional, is what Jerilyn Walter

looks for when adding to her already successful roster of agents.

only do the candidates need to understand the business of real estate, they also need to have a strong knowledge of their

community, the area trends, and possess a strong desire to create and sustain a successful real estate practice. In this current

"Not

and extremely competitive real estate market, work ethic is an absolute must," says Jerilyn.

Posh Properties is a successful boutique Real Estate firm with offices in downtown Delray Beach, Ocean Ridge and downtown Lantana.

Some of the top producing agents at Posh Properties share their success stories and insight into the local real estate market.

John Russo and Anthony Addeo are one of the

newest POWEr teams at Posh Properties

ohn and I originally started to work together because of similar

"Jstyles and knowledge of the area. We share mutual contacts

and have the same work ethic. John brings his vast database as well

as knowledge of the locations; I handle the research, negotiations

and paperwork," said Anthony.

"Together we have become the "go-to" team because of our

knowledge and ability to deliver time and time again. At the office,

we are the first ones in and last ones out. We have already contracted

over $10,000,000 this year and have 4 new listings coming over

the next 60 days," They said, "Now is the time to buy a property before

you miss out on what this area is becoming, this market is not

likely to crash. We deal with too many out of town clients relocating

to South Florida and making it their primary residence. Miami has

now passed LA in the housing market, and we suspect will spread

throughout the rest of the state."

60 | march 2022 | www.AtlanticAveMagazine.com

Anthony Addeo and John Russo

addeorealty.poshflorida.com

561-414-7484

561-929-3719

561-678-4881

Husband and wife team Steve and lOri Martel

are well kNOWN as local real ESTate experts

They met in third grade, have been married for 27 years and a

successful full time real estate team since 1996.

Steve is out there every day making connections with everyone

and anyone who wants to talk real estate. Buyers, Sellers, other realtors,

builders, bankers, people in the grocery store, you name it!

These connections translate to a very successful real estate business

based on their large network, and their ability to continue to

break records for their customers. "We have been long time neighbors

and part of the community for many years, and thoroughly understand

what it takes to sell in the area at the best price and best

terms for our customers. Being longtime residents and being part

of Posh Properties, allows us to secure buyers for our sellers' properties

before they hit the market." Lori is more behind the scenes,

working in marketing, which includes analysis reports, advertising,

pricing, setting up open houses, and following statistics to make

sure we are on track with pricing for our sellers and buyers.

"We specialize in Delray Beach listings and sales. Our business is

built on referrals. We live and work here. Our 11-year-old daughter

and 15-year-old son help to keep us up to date on everything Delray

Beach," they said.

COPYRIGHTED

Steve & Lori Martel

Posh Properties

561-573-3728

www.steveandlorimartel.com
---
Paige Fiedorowicz and Dawn Libiszewski

enjoy building STrong relationships with

their cuSTOmers

Agents Anthony Aliberti and Thomas kOrnitzer

are working together with a million-dollar

developer who is building homes in Delray Beach

While these two dynamos don't work as a team, their real estate

businesses are very much alike and based on their commitment

to their clients and their persistence to deliver exactly what

they expect. They hold themselves to a very high standard and want

the absolute best for their clients.

As a past Division 1 basketball player at Marquette University,

Paige learned dedication, communication, and team building. These

skills are what set Paige apart from other agents. That drive and

focus as a Division 1 athlete is what allows her competitive side

to work tirelessly for her customers and to ensure she exceeds all

their expectations. "A person doesn't remember what you said, they

remember what you did and how you made them feel," Paige said.

"I love meeting new people and building strong relationships and

friendships. I genuinely enjoy seeing others succeed. Whether I can help

a friend buy their first home or help an investor create wealth, those relationships,

smiles and celebrations make me addicted for more."

Paige Fiedorowicz, PA

paige.poshflorida.com

561-569.7962

Dawn Libiszewski says now in the right time to buy a home in

Delray Beach. "Why is this the right time to buy in the #1 hottest

town in the South Florida Palm Beaches? This town is unlike

any other Florida beach town and has been a secret to those that

live here," she said, adding, "I love sharing my knowledge to help

buyers understand the wonderful sense of community and that we

offer so many diverse ways that one may want to live. It really is all

offered here in our (unique) town. In just a few miles radius, we offer

Coastal living, historical homes, an art district, urban, city or just

a quiet little neighborhood. We have got it all!"

"It really brings me so much satisfaction and joy that comes from

helping families find their perfect home here in South Florida. My

family and I work, live and play in our community. We are so enthusiastic

about all the wonderful opportunities that are coming to our

town, including parks, libraries, beautiful event pavilions and great

schools. I provide a diverse knowledge for my customers and help

with their real estate needs."

Dawn Libiszewski

407-461-6646

dawnlibiszewski@gmail.com

dawn.poshflorida.com

Originally from New York, Anthony came to vacation and never

left. So he knows first hand how to relocate and where to buy.

Anthony began his career with Prudential and quickly found his

way into the top producing agent status, and focuses his practice in

the Luxury home market. " 2022 has already brought us over $6.7m

in closed sales", said Anthony. Thomas specializes in commercial

transactions, while Anthony has focused on residential for over 21

years. "He's good at the technical side, and I have the experience of

living in the area for many years. Delray Beach is the place where

you want to be right now. You don't even need to go on vacation because

you have everything you need right here," said Anthony.

Anthony Aliberti

561-232-5924

Anthonyaliberti61@gmail.com

Thomas Kornitzer originally started in real estate in Manhattan

while looking for a loft. "

I joined Lofts Unlimited, a high-end boutique brokerage shortly

thereafter. I have over 20 years of experience in real estate, both

residential and commercial, I've been licensed in FL, NY, and NJ with

over five hundred million in career closed real estate transactions.

Many of my clients' purchased properties in Delray Beach and Boca

Raton in recent years and while visiting I became interested in this

vibrant RE market and became licensed in FL as well."

"We pride ourselves in pushing the envelope and have consistently

achieved record breaking sales per square foot of homes in

the Delray Beach and Boca Raton Markets as well as new offerings

coming soon in Ocean Ridge, we currently have more than $18

million dollars of new construction and gut remodeled listings,"

said Thomas.

COPYRIGHTED

Thomas Kornitzer

973.985-8828

Thomas@PoshFlorida.com

thomas.poshflorida.com/

Free Home Evaluation Report:

https://thomas.poshflorida.com/home-valuation

www.AtlanticAveMagazine.com | march 2022 | 61
---
This Month in hISTOry

Looking Back

March in History

By Lewis David

Looking back at important dates that took

place in the month of March both here in

America and across the globe.

March 1st, 1781

• The Articles of Confederation were formally

ratified by Congress and would establish Congress

as the sole governing body of the 13 states until

1789 when the US Constitution was adopted.

March 4th, 1681, 1789, 1933

• King Charles II of England granted

a huge tract of land in the New World to

William Penn to settle an outstanding debt.

The area later became Pennsylvania.

• Newly elected President Franklin D. Roosevelt delivered his

inaugural address, in which he claimed the American public

had nothing to fear but fear itself.

COPYRIGHTED

• The first meeting of the new Congress under the new U.S.

Constitution took place in New York City.

March 5th, 1770 and 1946

• The Boston Massacre occurred as a group of rowdy Americans

harassed British soldiers who then opened fire, killing five and

injuring six.

62 | march 2022 | www.AtlanticAveMagazine.com
---
• The "Iron Curtain" speech was delivered by Winston Churchill at

Westminster College in Fulton, Missouri. Churchill used the term to

describe the boundary in Europe between free countries of the West

and nations of Eastern Europe under Soviet Russia's control.

March 6th, 1836

• Fort Alamo fell to Mexican troops led by General Santa Anna. The

Mexicans had begun the siege of the Texas fort on February 23rd,

ending it with the killing of the last defender. "Remember the Alamo"

became a rallying cry for Texans who went on to defeat Santa Anna in

the Battle of San Jacinto in April.

March 10th, 1862

• The first issue of U.S.

government paper money

occurred as $5, $10 and $20

bills began circulation.

• During World War II, the Lend-Lease program began allowing

Britain to receive American weapons, machines, raw materials,

training, and repair services. Ships, planes, guns, and shells, along

with food, clothing, and metals went to the embattled British while

American warships began patrolling the North Atlantic and U.S troops

were stationed in Greenland and Iceland.

COPYRIGHTED

March 11th, 1918 and 1941

• The 'Spanish' influenza first reached

America as 107 soldiers become sick

at Fort Riley, Kansas. One-quarter of

the U.S. population eventually became

ill from the deadly virus, resulting in

500,000 deaths. The death toll worldwide approached 22 million by

the end of 1920.

March 15th, 44 BC

• Julius Caesar was assassinated in the Senate chamber in Rome

by Brutus and fellow conspirators. After first trying to defend himself

against the murderous onslaught, Caesar saw Brutus with a knife

and asked "Et tu, Brute?" (You too, Brutus?) Caesar then gave up the

struggle and was stabbed to death.

www.AtlanticAveMagazine.com | march 2022 | 63
---
March 19th, 2003

• The United States launched an attack against Iraq to topple

dictator Saddam Hussein from power. The attack commenced with

aerial strikes against military sites, followed the next

day by an invasion of southern Iraq by U.S. and

British ground troops.

March 23rd, 1775

• Patrick Henry ignited the American

Revolution with a speech before the

Virginia convention in Richmond,

stating, "I know not what course

others may take; but as for me, give

me liberty, or give me death!"

March 25th, 1807

• The British Parliament abolished the slave trade following a

long campaign against it by Quakers and others.

March 26th, 1979 and 1992

• The Camp David Accord ended 30 years of warfare between Israel

and Egypt. Prime Minister Menachem Begin

of Israel and Egyptian President Anwar

Sadat signed the treaty of mutual

recognition and peace.

COPYRIGHTED

March 24th, 1934

• The Philippine Islands in the South Pacific were granted

independence by President Franklin D. Roosevelt after nearly

50 years of American control.

• Soviet Cosmonaut Serge

Krikalev returned to a new

country (Russia) after

spending 313 days on board

the Mir Space Station. During

his stay in space, the Soviet

Union (USSR) collapsed and

became the Commonwealth of

Independent States.

64 | march 2022 | www.AtlanticAveMagazine.com
---
old school square

What is Happening?

Old School Square

Has Been All Over

the News these Days

The well-known non-profit that created Old School Square

had its lease terminated in August. They were forced to vacate

the property in February. Here are the Top Ten Things to

Know about the Old School Square issue.

Old School Square's (OSS) lease was terminated by the City

1 Commission after 32 years of service "without cause." The public

was given no notice and the item did not appear on the agenda.

The vote was 3-2.

2

Despite invoking the "no cause" portion of the lease, a majority

of commissioners have alleged that Old School Square fell

out of compliance with the lease terms. OSS maintains that they are

in compliance, have produced clean audits, and have been willing

to talk to the city about any issues or concerns. OSS was late with

audits because its auditors quit during the pandemic. But subsequently,

a new auditing firm was hired, and OSS produced clean

audits.

OSS made many offers to meet with the City, which have been

3 rejected. OSS made a settlement offer in January, but the offer

wasn't considered. Commissioners refused to talk about it among

themselves, cancelling a scheduled session one hour before it was

scheduled, citing lack of interest in settling.

OSS programmed right up until the end, citing its desire to serve

4 the community. The last concert was held in February.

The city has alleged that a renovation of the Crest Theatre and

the construction of a commercial kitchen for special events was

5

done without permission. OSS did receive a building permit for the

renovations which were fully paid for by a donor: Margaret Blume.

The project was halted one month before completion. Taxpayers

will have to complete the theater and commercial kitchen.

OSS paid for 75-80 percent of the costs of OSS operations and

6 the CRA paid for the rest so OSS could provide below market

rate events and programming including free Friday night concerts.

Without the presence of a non-profit, the city would be responsible

for 100 percent of the costs. Ticket sales, rentals and concession

sales would offset some costs, but without a 501c3, donors would

not be able to make tax-deductible contributions.

The city issued an RFP (Request for Proposals) to take over

7 the facilities (except for the Cornell Museum which went unaddressed)

and nobody applied.

At press time, the city was considering hiring a consultant to

8 provide direction and help restart the facility.

To date, there has been no effort to engage the community

COPYRIGHTED

9

about the future of their cultural arts center despite the efforts

of eight former mayors who sent a letter to the commission urging

public involvement.

The CRA, which was taken over by the City Commission, has

10 so far failed to pay OSS for services already rendered. OSS

may challenge that decision.

What's Next

OSS has filed suit against the lease termination. OSS officials have

said they would like to settle the case and continue serving the

community. To date, a majority of the City Commission has shown

no interest in settling or talking to OSS.

www.AtlanticAveMagazine.com | march 2022 | 65
---
60 th

Celebrate the

60

th

Anniversary

of the

April 8-10

2022

Fri. & Sat. 10am - 6pm

Sun. 10am - 5pm

Delray Beach will come alive with flower

power during this three day art event.

COPYRIGHTED

DelrayAffair.com

66 | march 2022 | www.AtlanticAveMagazine.com

Sponsors as of 1/29/2022
---
#DID YOU KNOW

The Delray Affair traces its roots back to the 1940s

and ʻ50s as the annual Delray Beach Gladiola Festival.

In 1962, community leaders organized a committee

that wanted to expand it to include arts and crafts.

"The Delray Affair" was chosen as the name of the

bigger, better arts-and-crafts event.

The 60th Annual Delray Affair includes:

Beer & Wine Garden with Live Music

on front lawn of Old School Square

Official Merchandise Booth

FREE Kids Zone at Veteran's Park

sponsored by Avenue Church, Delray Beach Library,

Silverball Museum, and Sandoway House

Live Music at Arts Garage

60s Music, Decor, Games & Drink

Specials at Silverball Museum

History Head Quarters & History of Delray

Affair Exhibit at Delray Beach Historical Society

Over 500

Artists &

Crafters

COPYRIGHTED

www.AtlanticAveMagazine.com | march 2022 | 67
---
Delray Beach chamber of commerce

"The Delray Affair"

By Roy M. Simon

This year, the Delray Beach Chamber of Commerce celebrates the 60th anniversary of

the Delray Affair. Since its inception in 1962 as the Gladiola Festival, it has grown to be

a much loved annual event celebrating the Arts and our town. Read on for a history of

the Delray Affair by one of its founders, Roy Simon.

Over the years, dating back to the late 1940's, events have

been held celebrating the farmers of the community and the

local agricultural industry which is Delray's heritage and

was its economic base.

Because the Delray area was the "Gladiola Capital of the World"

in the 1940's and 50's, the Gladiola Festival was created during

spring harvest to show off the product of the area. This Exposition

was a huge event, drawing thousands to Delray from all over with

large, glamorous Orange Bowl floats, bands, and beauty queens. It

was a time when the gladiola farms of our area created a beautiful

pallet of color as you headed west on Atlantic Avenue. As the

gladiola farms became urban developments and vegetable farms,

tourism became the focus of the area.

To maintain ties with the agriculture industry and to arouse interest

in its contributions to our economic vitality, the Chamber

of Commerce introduced the "Agricultural Expo". Chaired by Roy

Simon, the first event was a small stand in the parking lot of First

National Bank of Delray Beach (now SunTrust) on East Atlantic Avenue.

The stand was furnished by Vic Neal, who helped prepare the

display of the many varieties of fruit and vegetables grown in the

area, in addition to flowers and nursery items. The Display provided

information regarding the products grown and shipped from the

area and the economic contributions of the agricultural community

to the area and the county.

Because of the enthusiasm of the farmers and the wonderful reception

by the community, the second expo was a two-day event,

held in the Delray Community Center gymnasium. The displays

covered the entire floor of the gym and were filled with produce

of every variety and proudly presented by the participating farms.

The exhibits included livestock, which were displayed in the lawn

between the Community Center and the tennis courts, ranging from

hogs and chickens to Santa Gertrudas beef cattle. The variety and

extent of the displays and the fact that all was local had many members

of the community in a state of surprise and awe.

Times continued to change and farms continued to be lost to

more development. At the same time, the City and the area were

growing, becoming the home of artists and authors, many of whom

were nationally and internationally renowned. President of the

Delray Chamber of Commerce, Roy Simon, recommended to the

Chamber Board that the expo be expanded to an art festival, similar

to the ones held in Winter Park, Florida. The concept was well

68 | march 2022 | www.AtlanticAveMagazine.com

received and President-elect John Bordeman volunteered to chair

the committee.

The first committee meeting was held at the Arcade Tap Room

with members Andy Gent, Ken Ellingsworth, Buddy Merritt, artist

Beth Simon, authors Nathaniel and Sylvia Weyl, artist Gay Drake

and Chairman John Bordeman. Among the discussions was the

naming of the event. Suggestions were "Delray Art Festival", "Delray

Art Affair", etc. From there Andy Gent or Nathaniel Weyl joked,

"Delray Affair". After a brief discussion, all agreed that this festival

of the arts should be named "The Delray Affair".

As an enhancement and to diversify, it was decided that the festival

should include art, literature and music. The concept was to

recognize the abundance of talent of the area and to bring in others

from around the state and beyond. Events were designed to bring

the communities closer together and to inform the public and local

residents of the products grown in the area's agricultural fields and

of the creative artisans residing in the area.

One feature of the arts festival was the "Literary Tea" held in the

Delray Library. Gathered there were the many authors who made

Delray their home, such as Theodore Pratt, Nathaniel Weyl and

Laura Sinks Britt. This activity was a great success. Unfortunately,

it was never repeated.

To enhance the display of art along East Atlantic Avenue, a local

grower provided hundreds of pots of mums which were set out

like luminaries on both sides creating a half mile of floral color.

Before the day was finished, most of the plants disappeared as

people picked them up to take home, some in cars and others in

pick-up trucks. It was the birth of selling the flowers for charity,

instead of trying to display. Hence, the reintroduction of gladiolas

as a trademark.

Music and dance volunteers performed on several strategically

located "stages", and musicians strolled along Atlantic Avenue. It

was a beautiful scene, well-received by the entire community. It

worked and became so popular that the "Thieves Market" and

crafts were added. The event became a fixture on the calendar for

the first weekend after Easter, hoping to retain the snowbirds and

tourists at least one more week. It has grown from a one block

display to the current eight blocks-plus event. This new event, THE

DELRAY AFFAIR that excited the entire community, has grown to

become a top event of the Southeastern United States.

May it continue and grow.

COPYRIGHTED
---
COPYRIGHTED

www.AtlanticAveMagazine.com | march 2022 | 69
---
Be Like Brit

COPYRIGHTED

Our kids

healed my

soul. If we

can make

the world a

little better

place before

we leave

this earth,

then we have

accomplished

great things.

-Len Gengel

70 | march 2022 | www.AtlanticAveMagazine.com
---
egulars | city people

by diane feen | Photo by melissa korman

Bringing Light to Darkness

The Gengel family learned firsthand

how life can change in an instant.

That instant was 12 years ago.

It was then that 19-year-old Britney Gengel – daughter of Len

and Cherylann – went to Haiti on a missionary trip to build

houses with her classmates from Lynn University.

But the houses never did get built. Instead, a catastrophic 7.0

earthquake shook Haiti to its core and left 300,000 people dead

and 180,000 homes destroyed.

Unfortunately, Britney was one of the 300,000 who perished on

that day. It also left the Gengel family bereft for their beloved Britney.

"Brit was the 'it' girl. She had a beautiful soul inside and out

and a smile that would melt anyone. She was a voice for those who

did not have one," said her father, Len.

As a way to turn grief into gratitude the Gengel family sprang

into action and created what is known as the "Be Like Brit Foundation."

The foundation's first large undertaking was to build a 9.0

earthquake-proof orphanage in Grand Goâve, Haiti.

Though hope and loss were the underpinnings of this foundation,

it is love and symbolism that has enclosed its vast grasp. Grand

Goâve was the town that Britney was going to build houses in the

day after the earthquake. The building is shaped like the letter "B,"

and is 19,000-square-feet symbolizing Britney's 19 years on earth.

The non-adoptive orphanage is a place of love, education, nurturing,

activities, and happiness for children that have lost their families

in the earthquake or other calamities. There are 66 children in

residence – 33 boys and 33 girls – which stand for the 33 days it

took to recover Brit's body from the rubble.

In her 19 years Britney inspired her peers, her family and her

classmates. She also found her calling in the wilderness and deprivation

of Haiti.

In a text to her mother just hours before the earthquake Brit

had an epiphany. "They love us so much and everyone is so happy.

They love what they have and they work so hard to get nowhere,

yet they are all so appreciative. I want to move here and start an

orphanage myself."

That is the sole reason why Len, a retired home builder from

Rutland, Massachusetts took 39 trips to Haiti (over two years) to

help build the orphanage in honor of Britney.

He also moved to Delray Beach in 2014. So did his son Bernie,

the VP of the Foundation and IT savant. "We chose Delray because

Brit loved Delray and her brother Bernie really wanted an office

in Delray," said Len.

They opened their first Florida office in the Delray Beach Chamber

offices, and their Marketing Director, Diane Rosayn co-chairs

the chamber's Nonprofit Council program.

The "Be like Brit" Orphanage is in full tilt with full-time support

staff, teachers and security staff under the direction of Manmi

Love Pun, whose husband Johny Pun was a Delray police officer

killed on his motorcycle.

For years the foundation also invited guests to help build homes

in Haiti and experience the beauty of its origin. Called the "Britsionary

Program" over 1,800 people have built over 145 houses in Haiti.

Delray Chamber's Program Director Lynn Van Lenten was one

of them. "Len and his family did something with their grief I have

never seen before – they took Britney's dream and saved 66 kids

(and others) with this orphanage. Be Like Brit adopted each child,

ensuring security for a lifetime.

My husband and I stayed at Brit's Home, got to know the kids,

helped build a house and experienced the gift of love, safety and a

future that Be Like Brit has given each child."

If you talk to Len or Bernie, you realize that these are not just

children from Haiti being sheltered in place. They are considered

part of the Gengel family. "The Brit Foundation kids really saved me.

After losing my sister I kept coming back to Haiti to do good and

continue Brit's compassion full time. I have 66 nieces and nephews

– the kids call me Uncle Bernie or Ton Ton Bernie."

Len also sees these children as an ethereal conduit to goodness

and grace. "Our kids healed my soul. If we can make the world a

little better place before we leave this earth, then we have accomplished

great things. That's my goal for our children."

As a way to empower the children even more they are building a

house in Northwest Delray so the children can come to the U.S. and

attend college or get jobs.

"This six-bedroom home will be a place our children can call

home as they go to college in the states. It's in a Haitian neighborhood

and will be an extension of Brit's Home in Haiti. It's a metaphorical

bridge from Grand Goâve to Delray Beach," adds Len.

Just last month the Delray Beach Habitat for Humanity reached

out to help build the "House of Love" (as Len calls it) on NW 11th

Avenue.

The Be Like Brit Foundation has also built homes in Haiti for residents,

employed local workers and gives away clean water from its

nanotechnology water filtration system. Bernie also created a social

media site for the kids called Britnett.

This heart rendering story about the Gengel family and its mission

to create diamonds out of destiny is documented in a book

written by Len and Cherylann called, "Heartache and Hope in Haiti."

There is also an outstanding YouTube Video that shows the children,

the beautiful grounds, and the outpouring of love during poignant

moments at the "Be Like Brit" compound in Haiti.

You can move mountains - and create wonders in the name of

love - Just ask Len, Bernie and Cherylann. "When Be Like Brit started

it was a way to honor my sister. It also kept my family together

and gave us a lot of hope. And it has," said Bernie.

To get involved or attend future events contact them at: Support@BeLikeBrit.org.

COPYRIGHTED

www.AtlanticAveMagazine.com | march 2022 | 71
---
fashion | what RU © WEARING

photos by melissa korman

What RU

Wearing?

as told to Atlantic Ave MAGAZINE

©

COPYRIGHTED

Bella

Dress Walker & Wade $108

Shoes Roxy $65

Bag Periwinkle $64

Kristin

Dress Walker & Wade $238

Necklace Periwinkle $610

Sunglasses Gucci $350

Bag Periwinkle $170

Shoes Periwinkle $78

Bracelet E.Newton $400

72 | march March 2022 | www.AtlanticAveMagazine.com
---
COPYRIGHTED

www.AtlanticAveMagazine.com | march 2022 | 73
---
fashion | what RU © WEARING

photos by melissa korman

What RU

Wearing?

as told to Atlantic Ave MAGAZINE

©

COPYRIGHTED

Molly

Sunglasses Bisous $150

Necklace Perle by Lola $ 196

Top Walker & Wade $98

Skirt Walker & Wade $98

Shoes Dolce Vita $80

Bag Periwinkle $80

Virgina

earrings Perle by Lola $150

Dress Periwinkle $198

Shoes Serperga $190

Bag Periwinkle $150

74 | march 2022 | www.AtlanticAveMagazine.com
---
1020 South Federal Hwy

Delray Beach, Florida

561.272.1147

COPYRIGHTED

www.AtlanticAveMagazine.com | march 2022 | 75
---
fashion | what RU © WEARING

photos by melissa korman

What RU

Wearing?

as told to Atlantic Ave MAGAZINE

©

COPYRIGHTED

Clem

Clutch Morley $98

Dress Morley $253

Necklace Temple $950

Bracelet Tiffany $2K

Shoes RP48 $275

Siobhan

Shirt Morley $98

Skirt Morley $200

Necklace Morley $50

Bag Morley $72

76 | march 2022 | www.AtlanticAveMagazine.com
---
COPYRIGHTED

www.AtlanticAveMagazine.com | march 2022 | 77
---
fashion | what RU © WEARING

photos by melissa korman

What RU

Wearing?

as told to Atlantic Ave MAGAZINE

©

Lee

dress The House of Perna $158

Necklace A Little Wyld $58

shoes Gucci $300

Bag The House of Perna $80

Bracelets A Little Wyld $100

COPYRIGHTED

Lynn

Top Cato $25

earrings Handmade by Lynn Priceless

necklace Delray Art Affair $35

Jeans Versano $50

Shoes Rack Room $30

Bag Marshalls $35

Bracelets Versano $20/ea.

watch Brighton $150

78 | march March 2022 | www.AtlanticAveMagazine.com
---
COPYRIGHTED

www.AtlanticAveMagazine.com | march 2022 | 79
---
fashion | what RU © WEARING

photos by melissa korman

What RU

Wearing?

as told to Atlantic Ave MAGAZINE

©

Amanda

sweater Amazon $35

Top Express $20

Skirt H&M $30

Bag Neiman Marcus $125

Shoes Roxy $38

Necklace Claire's $18

COPYRIGHTED

Stephanie

earrings Mayors $185

Necklace Mayors $245

dress Second Time Around $80

shoes Ralph Lauren $79

Bag Nordstrom $350

watch Bulova $500

bracelets Luckie Street Boutique $35

Sunglasses Prada $275

80 | march 2022 | www.AtlanticAveMagazine.com
---
COPYRIGHTED

www.AtlanticAveMagazine.com | march 2022 | 81
---
dining | restaurant review

By diane feen | Photos by melisSa korman

coconut shrimp on stirfry sesame salad

Homemade Food Made to Please You

IL CONTADINO RISTORANTE

Michel Menna is a people

pleaser – in a foodie kind of way.

He dotes on his customers with homemade Italian fare at his

intimate restaurant in Pineapple Grove.

The restaurant, Il Contadino is a place where people

come to celebrate holidays, birthdays or just want to luxuriate in

the pampering and power of a homemade Italian meal.

Menna likes when his patrons call ahead to tell him what foods

they prefer. That way he has time to create the perfect version of

their favorite dishes with élan.

82 | march 2022 | www.AtlanticAveMagazine.com

Veal Siciliana

Ken Chiarella came to Il Contadino with his mother Marilyn

(who was celebrating a milestone birthday) and three of his

friends. All are snowbirds and find themselves smitten with the

culinary prowess of Menna.

"Michel puts out food that is second to none. Everything is personalized

and fresh, and the flavors are distinct and amazing. Every

time we come here, he asks us what we want, and then he

prepares it beautifully."

When Ken's mom Marilyn asked for lamb chops for her birthday

dinner, Menna didn't have them. But within an hour they

mysteriously appeared in front of her with all the trimmings. She

beamed with delight as her son looked on with amazement and

accolades fit for a prince.

"I have been to the best restaurants in New York and Italy and

Michel is as good as all of them. I always tell the truth; this place

is amazing."

Others feel the same way. "Do not walk past this place when you

visit downtown Delray. If you're a true foodie tell Owner/Chef Michel

you want to try the meatball first and you will be blown away!

Then enjoy dinner and very fine wines! Support your local chef,

there's no one better!"

Some of the dishes that Ken and his guests (Sam and Judy Maruca)

had are steeped in Italian tradition and prepared artfully and

tastefully. They raved about the artichoke hearts basted in garlic

with a wine sauce, sprinkled with Reggiano cheese. As lovers of

homemade Italian food, the group feasted on Zuppa di Mussels in

a light tomato sauce with clam broth, as well as Cowboy Rib-Eye

COPYRIGHTED
---
Peperonata with peppers, onions, tomatoes and mushrooms in a

red tomato sauce.

Cooking has been a passion of Menna's since he was a tot. When

his parents were away, he would go into the kitchen and create

gourmet dishes for them. "My parents would come home and say,

'who catered this meal.' I could barely reach the stove, but I loved

cooking, it's always been my creative outlet."

His guests can tell. "This pasta made me feel like I was in Italy.

We have been here so many times and it's always wonderful," said

Maruca. His wife Judy was all smiles as the spaghetti with anchovies,

garlic, olive oil, and breadcrumbs came to the table.

One of Menna's finest dishes is his tequila tortellini, prepared

tableside in a flame-lit pan that sparks the tequila to adhere to the

creamy light sauce. Add that to the peas, prosciutto, and Reggiano

cheese, and you have a delicious pasta that hails from the greats.

It seems Michel is always on the prowl for new dishes and new

experiences. After all, he has been in the restaurant business for 40

years. Just recently he tasted potato latkes from another restaurant.

Not impressed he quickly got out his frying pan and tried his hand

at this ethnic dish. What he came up with is a potato latke lover's

dream. Tasty, crispy, and fresh, they seemed to disappear as quick as

they came to the table. He also added sour cream to the center fold.

For Marilyn's birthday, Menna cooked up a rack of lamb with

roasted garlic and rosemary. It was a dream dish, she said. And she

ought to know. The Boynton Beach resident cooked delicious authentic

Italian meals for her family for years.

For Michel time does not stop. Though the restaurant business

has been hard hit by the pandemic he continues to experiment in

new ways to please guests. "I will be open for breakfast if people

want me to. I make great omelets with fresh vegetables and other

style egg dishes. People just have to call me."

Menna is also making fresh pizzas with all the trimmings of the

pizza heritage. There is a difference between pizza and homemade

pizza, and Michel wants to show everyone the difference. Also

new at Il Contadino are fresh paninis and wraps with meats, fresh

cheese, lettuce and tomato.

Other outstanding dishes are Pork Osso Bucco that is braised all

day with tomatoes and vegetables as well Mozzarella En Carrozza.

If you are a fish lover, try the whole Branzini, baked with garlic and

wine, delicately cooked.

If you are celebrating a special occasion Menna will prepare

Cowboy Ribeye Steak Pepperonata

homemade dishes for as many people can fit inside this intimate

space. He also has over a thousand different wines from around the

globe waiting to be opened.

The Chiaprella and Maruca clan had a bottle of Napa Valley Eagle

Eye red wine that was divine. Full-bodied and smooth to the palate,

it was an excellent choice. Whatever your wine preference is,

Menna will make it happen.

That might be another reason people love dining there. "Michael

and his staff take the farm to table concept to new heights. I had

Eggplant Napoleon, wow. A fresh and delicious take on eggplant

rollatini. His presentation of veal cutlet with eggplant gave new life

to an old favorite – it was amazing. Topped it off with cannoli and

cappuccino. Best ever. This place is the real deal," said Doug.

It's comments like Doug's that makes Michel smile. It is also what

makes his passion flame – not only table side – but inside his heart.

Il Contadino Ristorante

165 NE 2nd Ave.

Delray Beach

561-330-0004

Catering and take-out available

COPYRIGHTED

dolce en carrozza

the famous wine wall

www.AtlanticAveMagazine.com | march 2022 | 83
---
dining | guide

We at Atlantic Ave Magazine try to keep our Dining Guide

as accurate as possible for our reader's benefit, however

this can sometimes be a difficult task. We may omit

some eateries and others may have moved or closed. If you are not

listed in this guide we apologize but please feel free to e-mail

lisa@atlanticavemagazine.com and we will get your details entered

for the following month. By the same token, if you see a listing that

is no longer there then please e-mail lisa@atlanticavemagazine.

com and it will be removed for the following month. Your help in

keeping our Dining Guide up-to-date is very much appreciated.

DELRAY BEACH

American

Atlantic Grille

1000 E. Atlantic Ave

(In the Seagate Hotel)

561-665-4900

Boston's on the Beach

40 S. Ocean Blvd

561-278-3364

Brulé Bistro

200 NE 2nd Ave #109

561-274-2046

Bru's Room

35 NE 2nd Ave

561-276-3663

BurgerFi

6 S. Ocean Blvd

561-278-9590

Burt & Max's Bar & grill

Delray Marketplace

Atlantic & Lyons

561-638-6380

Cut 432

432 E. Atlantic Ave

561-272-9898

Dada

52 N. Swinton Ave

561-330-3232

Death or Glory

Restaurant & Bar

116 NE 6th Ave

561-808-8814

Deck 84

840 E. Atlantic Ave

561-665-8484

Donnie's Place

60 NW 5th Ave

561-243-9996

Ellie's 50's Diner

2410 N. Federal Hwy

561-276-1570

Ember Grill

233 NE 2nd Ave

(in The Ray Hotel)

561-739-1705

End Of The Ave

1155 E. Atlantic Ave

561-562-8196

Gourmet Killer Dogs

4057 W. Atlantic Ave.

561-513-1761

Grangers Grill

802 SE 5th Ave

561-276-7881

Harvest Seasonal Grill

and Wine Bar

1841 S. Federal Hwy

561-266-3239

Henry's

16850 Jog Road

Between Linton Blvd &

Clintmore Rd

561 638 1949

Jimmy's Bistro

9 S Swinton Avenue

561-865-5774

Johnnie Brown's

301 E. Atlantic Ave

561-243-9911

Longhorn Steakhouse

1562 S. Federal Hwy

561-278-1944

Lucilles Bad to the Bone

BBQ, Delray Marketplace

9173 West Atlantic Ave

561-810-4045

MIA Kitchen & Bar

7901 W. Atlantic Ave.

561-499-2200

Outback

1300 Linton Blvd

561-272-7201

Park Tavern

32 SE 2nd St

561-265-5093

Rosewater Rooftop

233 NE 2nd Ave

(in The Ray Hotel)

561-739-1700

Salt7

32 SE 2nd St

561-274-7258

Seacrest Grille

(Opal Grand Resort)

10 N. Ocean Blvd

561-274-3200

Sundy House –

Historic Restaurant

106 S. Swinton Ave, DB

561-272-5678

Surf Shack

916 SE 5th Ave

(Federal Hwy.)

561-501-7868

The Grove Restaurant

187 NE 2 Ave.

561-789-8636

The Office

201 E. Atlantic Ave

561-276-3600

The Original Brooklyn

Water Bagel

14451 S. Military Trail

561-455-7490

The Wine Room Kitchen

& Bar

411 E. Atlantic Ave

561-243-WINE (9463)

Asian/Sushi/

Chinese/fusion

Buddha Sky Bar

217 E. Atlantic Ave

561-450-7557

COPYRIGHTED

China Gardens

14402 S. Military Trail,

561-498-5226

Lemongrass Bistro

420 E. Atlantic Ave

561-278-5050

Shiitake Asian Bistro

4900 Linton Blvd, #14

561-865-5538

Yama Japanese

Restaurant

200 NE 2nd Ave

561-266-9929

Ziree Thai & Sushi

401 W. Atlantic Ave

561-276-6549

Continental/

Greek

Blue Anchor

804 E. Atlantic Ave

561-272-7272

Boheme Bistro

1118 E. Atlantic Ave

561-278-4899

Joseph's Wine Bar

200 NE 2nd Ave

561-272-6100

La Cigale, A Taste of the

Mediterranean

253 SE 5th Ave

561-265-0600

Olio Bistro

42 SE 2nd Ave

561-278-6633

Taverna Opa

270 E. Atlantic Ave

561-303-3602

Victor's Indian Palace

2222 West Atlantic Ave.

561-332-3827

Coffee/Dessert

Ben & Jerry's

1155 E. Atlantic Ave

561-272-3112

Carmela Coffee

247 SE 6th Ave, Suite 1

& 8918 W Atlantic Ave

561-303-1351

Coffee District

325 NE 2nd Ave

561-455-0541

Cream Frozen Yogurt,

Gelato & Gourmet Coffees

1163 E. Atlantic Ave.

561-303-1912

84 | march 2022 | www.AtlanticAveMagazine.com
---
Gizzi's Coffee

2275 S. Federal Hwy #380

561-266-9797

Jellies at Seagate

1000 E. Atlantic Ave

561-330-3775

Kilwin's Chocolates &

Ice Cream

402 E. Atlantic Ave

561-278-0808

Puro's Cigar

777 E. Atlantic Ave

561-278-6118

Starbucks

205 E. Atlantic Ave

561-243-9332

Health Food

Fit Food Express

302 NE 4th St

561-330-4525

Nutrition Cottage

1815 S. Federal Highway,

561-734-4626

Purgreens

Inside Purlife Fitness

Center

45 NE 2nd Ave

561-276-7387

The New Vegan

528 NE 2nd St.

561-404-5301

Italian

4 Brothers Italian

Restaurant & Pizzeria

7323 W. Atlantic Ave

561-496-3990

Anthony's Coal Fired Pizza

115 NE 6th Ave

561-278-7911

Bambini's Garden Pizzeria

14466 Military Trail

561-638-6442

Caffe Luna Rosa

34 S. Ocean Blvd

561-274-9404

Carrabba's Italian Grill

335 E. Linton Blvd

561-266-9393

D'Angelo Pizza Tapas

16950 Jog Road.

561-381-0037

Il Bacio Restaurant

& Lounge

29 SE 2nd Ave,

561-865-7785

IL Contadino

Ristorante

165 NE 2nd Ave,

Pineapple Grove

561-330-0004

Il Girasole

1911 S. Federal Hwy,

561-272-3566

Mellow Mushroom

25 SE 6th Ave

561-330-3040

Pizza Rustica

1155 E. Atlantic Ave

561-279-8766

Pizzeria Sophia

15065 S State Rd 7 (441)

Bay 400

561-359-2606

Rose's Daughter

American Trattoria

169 NE 2nd Ave

561-271-9423

Sazio

131 E. Atlantic Ave

561-272-5540

Sazio Express

1136 E. Atlantic Ave

561-276-2637

Scuola Vecchia

Moved to Coral Springs.

For info call 954-775-0861

Terra Fiamma

Ristorante. Pizza. Bar

9169 W. Atlantic Ave.

Delray Marketplace

561-495-5570

Tramonti Italian

Ristorante

119 E. Atlantic Ave

561-272-1944

Vic & Angelo's

290 E. Atlantic Ave

561-278-9570

Windy City Pizza

401 W. Atlantic Ave

561-266-2811

Latin/cAribbean/

Spanish

Bamboo Fire Café

149 NW 4th Ave

561-749-0973

Cabana El Ray

105 E. Atlantic Ave

561-274-9090

CHE!!! Restaurant

900 E. Atlantic Ave,

On the Intracoastal

561-562-5111

Papa's Tapas

259 NE 2nd Ave

561-266-0599

Mexican

El Camino

15 NE 2nd Ave.

561-865-5350

Hacienda Mexican

Restaurant & Bar

14820 S Military Trail.

561-562-5151

Las Catrinas Mexican &

Tequila Bar

3035 S. Federal Highway,

561-894-8716

Rocco's Tacos &

Tequila Bar

110 E. Atlantic Ave

561-808-1100

Senor Burrito

142 SE 6th Ave #E

561-278-5757

Pubs/Clubs

3rd & 3rd

301 NE 3rd Ave,

561-303-1939

Blue Anchor British Pub &

Restaurant

804 E. Atlantic Ave.

561-272-7272.

Bull Bar Inc

2 E. Atlantic Ave

561-274-8001

Honey

16 E. Atlantic Ave

561-270-7187

Hurricane Bar & Lounge

640 E. Atlantic Ave

561-278-0282

O'Connors Irish Pub

210 NE 2nd Ave

561-330-0022

Delray Hideaway

1045 E Atlantic Ave

561-562-5500

Sandbar

40 S. Ocean Blvd

561-278-3364

Wine House Social

104 NE 2nd Ave

The Hyatt Place

561-501-0175

The London Lounge

2725 N. Federal Hwy

561-808-7138

Tim Finnegans Irish Pub

2885 S. Federal Hwy

561- 330-3153

Seafood

50 Ocean

50 S. Ocean Blvd, Delray

Beach, FL 33483

561-278-3364

City Oyster

213 E. Atlantic Ave

561-272-0220

J & J Seafood Bar & Grill

634 E. Atlantic Ave

561-272-3390

Lionfish

DelrAY Beach

307 East Atlantic Ave

561-865-7066

Mussel Beach

501 E. Atlantic Ave

561-921-6464

Racks Fish House

5 SE 2nd Ave,

561-450-6718

Sandwich/Deli

Bagel's With Deli

1732 S. Federal Hwy

561-279-4799

Big Al's Steaks

450 E. Atlantic Ave

561-819-1888

Brighton Beach Bagel &

Bakery

14587 S. Military trail

561-270-3771

Checkers

450 W. Atlantic Ave

561-278-9939

Christina's Restaurant

263 NE 2nd Ave

561-278-3200

Conte's Italian Deli &

Gourmet Market

311 NE 2nd Ave,

561-501-7399

Cornell Café Morikami

Museum

4000 Morikami Park Rd

561-495-0233

Domino's Pizza

142 SE 6th Ave

561-330-0002

Dunkin Donuts

37 W. Atlantic Ave

561-243-1196

Famous Market Deli

6570 W. Atlantic Ave

561-495-8590

Jersey Mikes Subs

455C NE 5th Ave

561-276-8949

COPYRIGHTED

Jimmy John's

Gourmet Sandwiches

1911 S. Federal Hwy

561-243-1100

Marianne Gourmet

Shop, 803 George Bush

Blvd, 561-278-3349

Nemo's Fish & Chicken

943 W. Atlantic Ave

561-865-5094

Sandwiches by the Sea

1214 E. Atlantic Ave

561-272-2212

Subway

900 Linton Blvd, Ste 905

561-330-7442

Tea-Licious Tearoom

4997 B, W Atalantic Ave,

561-638-5155

The Sandwich Man

Pizza Too

2001 W. Atlantic Ave

561-274-7135

Tony's Deli

Breakfast, Lunch, Hero's

301 W. Atlantic Ave

561-276-1749

Boca raton

American

Abe & Louis Glades Plaza

2300 W. Glades Road,

561-447-0024

The Addison

2 E. Camino Real

561-372-0568

Boston Market

7020 Beracasa Way,

561-392-2795

Cheesecake Factory

5530 Glades Road.

561-393-0344

Chops Lobster Bar

101 Plaza Real

561-395-2675

Duffy's Sports Grill

21212 St Andrews Blvd.

561-869-0552

Grand Lux Café

Town Ctr Mall, 6000

Glades Road,

561-392-2141

Houston's

1900 N.W. Executive Ctr

Circle.

561-998- 0550

J. Alexander's

1400 Glades Road.

561-347-9875

Kathy's Gazebo Café

4199 N. Fed. Highway.

561-395-6033

www.AtlanticAveMagazine.com | march 2022 | 85
---
dining | guide

Kee Grill

17940 N.Military Trail.

561-995-5044

Lucilles Bad to the

Bone BBQ

3011 Yamato Road

561-997-9557

Madison's New York Grill

2006 NW Executive Center

Circle. 561-994-0808

Mariposa

Neiman Marcus at Town

Ctr-5860 Glades Rd.

561-544-2320

Max's Grille

Mizner Park-404 Plaza

Real 561-368-0080

Miller's Ale House

1200 Yamato Road.

561-998-9142

Mississippi Sweets BBQ

2399 N Federal Hwy.

561-394-6779

Morton's The Steakhouse

Shops at Boca-

5050 Town Ctr Circle

561-392-7724

New York Prime

2350 N.W. Executive Ctr

Drive 561-998-3881

Pavilion Grille

301 Yamato Road

561-912-0000

Polo's Restaurant

5030 Champion Blvd.,

561-997-2920

Rebel House

297 E Palmetto Park Road.

561-353-5888

Ruth's Chris Steak House

225 N.E. Mizner Blvd.,

561-392-6746

Seasons 52

2300 N.W.Executive Ctr,

561-998-9952

Six Tables

112 N.E. 2nd St.

561-347-6260

The Capital Grille

6000 Glades Road,

561-368-1077

The Grille on Congress

5101 Congress Av.

561-912-9800

Yogurt Rendezvous*

*(ORB Kosher) 7150

Beracasa Way,

561-392-8384

Asian/Sushi/

Chinese

Bluefin Sushi Thai Grill

861 Yamato Rd.

561-981-8986

Boon's Asian Bistro

19605 SR7.

561-883-0202

Fah Asian Bistro

Boca Valley Shopping Plaza

-7461 N.Fed Hwy.

561-241-0400

5 Spice Asian Market

Shoppes at Blue Lake

1200 Yamato Rd.

561-989-1688

Kapow Noodle Bar

431 Plaza Real.

561-347-7311

Lemongrass Asian Bistro

101 Plaza Real South.

561-544-8181

P.F Chang's

1400 Glades Rd. Boca

561-393-3722

Sushi Masa & Thai

2240 NW 19th Street.

561-347-0008

Sushi Ray

Shops at Boca Ctr-5250,

Town Ctr Circle

561-394-9506

Sushi Yama

7055-33 W Palmetto Park

Road. 561- 362-6416

Tempura House

The Reserve-9858 Clint

Moore Road. Building

561-883-6088

Yokohama Sushi

60 N Fed. Hwy,

561-392-9328

Yokohama Sushi

9168 Glades Rd.

561-451-1707

Continental

Bakery of France

625 NE Spanish River

Blvd., 561-361-4490

Casa D'Angelo

171 E Palmetto Park Rd.

561-996-1234

Cote France Café

100K Plaza Real South,

561-955-6021

Casimir French Bistro

416 Via De Palmas #81,

Royal Palm Place

561-955-6001

Le Rivage

450 N.E.20th St.

561-620-0033

Mario's Osteria

1400 Glades Road.

561-239-7000

Matteo's

233 S Federal Hwy.

561-392-0773

Milos Taverna

1600 N Fed. Hwy

561-750-6720

Taverna Kyma

6298 N. Fed. Hywy.

561-994-2828

Villa Rosana

9858 Clint Moore Road.

561-470-0112

Italian

Arturo's Ristorante

6750 N.Fed Hwy.

561-997- 7373

Carraba's Italian Grill

6909 S.W.18th Street,

561-544-8838

Josephine's

5751 N.Fed. Highway. 561-

988-0668

La Luna Italian Bistro

The Polo Shoppes-5030

Champion Blvd.

561-997-1165

La Villeta

4351 N. Fed. Highway

561-362-8403

Maggiano's

21090 St. Andrew's Blvd.

561-361-8244

Nino's Italian Restaurant

7120 Beracasa Way,

561-392-9075

Novello Restaurant & Bar

5999 N. Fed. Highway.

561-994-3495

Ristorante Sapori

Royal Palm Place-

301 Via De Palmas

561-367-9779

Tanzy Restaurant

Mizner Park

301 Plaza Real

561-922-6699

Trattoria Romana

499 E. Palmetto Park Rd.

561-393-6715

Umbria

Renaissance Hotel 2000

NW 19st, Boca.

561-368-5252

Latin/

Caribbean

Caribbean Grill

1332 NW Boca Raton Blvd

561-362-0161

Cuban Café

3350 N.W.Boca Blvd.

561-750-8860

Warike Peruvian Bistro

2399 North Federal Hwy

561-465-5922

Mexican

Senor Burrito

513 N.E 20th Street

561-347-6600

Rocco's Tacos

5250 Town Center Circle.

561-416-2131

Seafood

Bonefish Grill

21065 Powerline Road.

561-483-4949

City Fish Market

7940 Glades Road.

561-487-1600

Deli/Cafés

Ben's Deli Kosher

The Reserve-9942 Clint

Moore Rd.

561-470-9963

COPYRIGHTED

Boca Beach House

887 E Palmetto Park Road.

561-826-8850

Carmela Coffee

3200 N Federal Hwy,

Suite 106 & 4800 T-Rex

Ave, Suite 150

561-430-5633

Deli on Rye

4311 N. Federlal Hwy.,

561-347-1400

Hotdogopolis

6020 N Federal Hwy.

8177 Glades Road

561-998-5959

Oasis Cafe

Renaissance Hotel Boca

2000 NW 19st,

561-368-5252

Saquella Caffe

82 Royal Palm Place-410

Via De Palmas,

561-338-8840

Toojay's

3013 Yamato Road.

561-997-9911

Toojay's Gourmet Deli

Polo Shoppes-5030

Champion Blvd.

561-241-5903

86 | march 2022 | www.AtlanticAveMagazine.com
---
dining | RECIPE

DAY

RECIPES

Corned Beef Irish Feast

Mouthwatering tender corned beef with corned beef

flavored potatoes, cabbage, and carrots. This is great

served with both Irish soda bread and corn bread.

ingredients

• 1 (3 pound) corned beef brisket with spice packet

• 1 cup brown sugar

• 4 (12 fluid ounce) cans or bottles Irish stout beer

(such as Guinness®), or more if needed

• 1 quart beef stock

• 1 onion, peeled

• 2 cloves garlic, peeled

• 2 bay leaves

• 12 whole black peppercorns

• 2 pounds red potatoes, quartered

• 1 (16 ounce) package carrots, cut into sticks

• 1 head cabbage, cut into wedges

directions

1. Rinse brisket thoroughly in cool water and place into a

large Dutch oven. Generously coat beef with brown sugar

on all sides. Pour Irish stout beer around roast, followed

by beef stock. Liquid should cover brisket by about 1 inch;

add another beer if more liquid is needed.

2. Place onion, garlic, bay leaves, spike packet from

corned beef, and peppercorns into liquid. Bring to a boil,

reduce heat to low, and cover Dutch oven. Simmer for 2

1/2 hours, turning brisket over in the beer mixture every

30 minutes. Place potatoes and carrots around roast,

cover, and simmer for 20 minutes. Add cabbage wedges

and simmer until tender, about 10 more minutes. Brisket

should easily pull apart with your fingers or a fork.

3. Transfer vegetables to a serving bowl and place corned

beef on a serving platter; let meat rest 10 minutes before

slicing across the grain to serve.

COPYRIGHTED

www.AtlanticAveMagazine.com | march 2022 | 87
---
Irish Shepherd's Pie

A lovely alternative to the much

more common corned beef and

cabbage for St. Patrick's Day dinner.

DAY

RECIPES

ingredients

• 1 tablespoon olive oil

• 1 tablespoon butter

• 1 onion, diced

• 2 pounds lean ground lamb

• ⅓ cup all-purpose flour

• salt and ground black pepper to taste

• 2 teaspoons minced fresh rosemary

• 1 teaspoon paprika

• ⅛ teaspoon ground cinnamon

• 1 tablespoon ketchup

• 3 cloves garlic, minced

• 2 ½ cups water, or as needed

• 1 (12 ounce) package frozen peas and carrots, thawed

• 2 ½ pounds Yukon Gold potatoes, peeled and halved

• 1 tablespoon butter

• 1 pinch ground cayenne pepper

• ¼ cup cream cheese

• ¼ pound Irish cheese (such as Dubliner®), shredded

• salt and ground black pepper to taste

• 1 egg yolk

• 2 tablespoons milk

88 | march 2022 | www.AtlanticAveMagazine.com

directions

1. Preheat the oven to 375 degrees F

(190 degrees C).

2. Place olive oil and butter in Dutch

oven over medium heat. Stir in onion

and ground lamb; brown the meat,

breaking it up into small crumbles as it

cooks, about 10 minutes.

3. Stir in flour until incorporated, then

mix in salt, black pepper, rosemary,

paprika, cinnamon, ketchup, and

garlic; cook and stir until garlic is

fragrant, 2 to 3 minutes.

4. Stir in water and scrape up any

brown bits from the bottom of the

Dutch oven. Reduce heat to mediumlow

and bring mixture to a simmer;

cook and stir until thick, about 5-6

minutes.

5. Remove lamb mixture from heat

and stir in peas and carrots until

combined.

6. Spread lamb mixture into the

bottom of a 9x13-inch baking dish and

set aside.

7. Place potatoes into a large pan of

salted water. Bring to a boil, reduce

heat to medium, and cook until tender,

about 15 minutes. Drain well and

return potatoes to pan.

8. Mash butter, cayenne pepper, cream

cheese, and Irish cheese into the

potatoes. Mash until combined and

potatoes are smooth. Season to taste

with salt and black pepper.

9. Whisk together egg yolk and milk

in a small bowl; stir into the mashed

potato mixture.

10. Top the lamb mixture in the baking

dish with the mashed potatoes and

spread evenly to cover.

11. Bake in the preheated oven until

the top is golden brown and sauce is

bubbling up around the edges, 25 to

30 minutes.

COPYRIGHTED
---
Amazingly Easy

Irish Soda Bread

A good old fashioned soda bread with

just the basic ingredients. Buttermilk

gives this crusty loaf a good flavor.

ingredients

• 4 cups all-purpose flour

• 4 tablespoons white sugar

• 1 teaspoon baking soda

• 1 tablespoon baking powder

• ½ teaspoon salt

• ½ cup margarine, softened

• 1 cup buttermilk

• 1 egg

• ¼ cup butter, melted

• ¼ cup buttermilk

directions

1. Preheat oven to 375 degrees F (190 degrees

C). Lightly grease a large baking sheet.

2. In a large bowl, mix together flour, sugar,

baking soda, baking powder, salt and margarine.

Stir in 1 cup of buttermilk and egg. Turn dough

out onto a lightly floured surface and knead

slightly. Form dough into a round and place on

prepared baking sheet. In a small bowl, combine

melted butter with 1/4 cup buttermilk; brush

loaf with this mixture. Use a sharp knife to cut an

'X' into the top of the loaf.

3. Bake in preheated oven until a toothpick

inserted into the center of the loaf comes out

clean, 45 to 50 minutes. Check for doneness after

30 minutes. You may continue to brush the loaf

with the butter mixture while it bakes.

Irish Apple Pie

A delicious end to any family meal!

The apples are soft and sweet

with just a touch of tartness.

ingredients

• 1 ½ cups all-purpose flour

• ¾ cup cake flour

• ½ teaspoon salt

• 1 tablespoon white sugar

• 1 cup unsalted butter

• 3 tablespoons shortening

• ¼ cup sour cream

• ⅛ teaspoon lemon juice

• 5 large Granny Smith apples -

peeled, cored and sliced

• ½ cup white sugar

• 2 tablespoons all-purpose flour

• ½ tablespoon ground nutmeg

• ⅛ teaspoon lemon juice

• 1 egg, beaten

directions

1. Preheat oven to 350 degrees F (175 degrees C). Grease a 9 inch

pie pan.

2. To Make Crust: In a large bowl, combine flours, salt and sugar.

Cut in butter and shortening until coarse crumbs are formed. Mix

in sour cream and lemon juice. Keep mixing until dough forms a

ball; dough may be slightly lumpy, this is fine. Wrap dough ball in

plastic wrap and allow to chill for 1 hour.

3. Once chilled, take dough out of refrigerator and cut it in half;

keep one half covered and in the refrigerator. Roll dough to 1/8

of an inch. To lift pie shell, roll dough around rolling pin and then

unroll into pie pan. Trim overhanging edges of pie crust.

4. To Make Filling: Place apples into pie shell. In a small bowl,

combine sugar, flour and nutmeg; mix thoroughly. Sprinkle

mixture over apples. Squirt lemon juice over apples. Place pie in

refrigerator while top crust is rolled out.

5. Remove pie from refrigerator. Brush outer edge of bottom crust

with beaten egg. Place second crust on top of pie; crimp pie shell

edges together. Brush entire top crust with egg and cut 4 steam

slots into it.

6. Bake in a preheated 350 degrees F oven for 45 minutes, or until

golden brown. Allow pie to completely cool before serving. Serve

warm with whipped cream or vanilla ice cream and (Irish) coffee.

COPYRIGHTED

www.AtlanticAveMagazine.com | march 2022 | 89
---
Stout & Shiitake Pot Roast

Mushrooms, onions, and a bottle of Guinness add

excellent flavor to this pot roast. This one-dish

wonder tastes even better the next day.

Irish Coffee

Fresh hot coffee gets a little

added pep with the addition of

Irish whiskey and Irish cream.

ingredients

• 1 (1.5 fluid ounce) jigger Irish cream liqueur

• 1 (1.5 fluid ounce) jigger Irish whiskey

• 1 cup hot brewed coffee

• 1 tablespoon whipped cream

• 1 dash ground nutmeg

directions

1. In a coffee mug, combine Irish cream and Irish whiskey.

2. Fill mug with coffee.

3. Top with a dab of whipped cream and a dash of nutmeg.

90 | march 2022 | www.AtlanticAveMagazine.com

ingredients

DAY

RECIPES

• 3 tablespoons olive oil, divided

• 1 boneless beef chuck roast (2 to 3 pounds)

• 2 medium onions, sliced

• 1 garlic clove, minced

• 1 bottle (12 ounces) of Guiness, stout or nonalcoholic beer

• 1/2 ounce dried shiitake mushrooms (about 1/2 cup)

• 1 tablespoon brown sugar

• 1 teaspoon Worcestershire sauce

• 1/2 teaspoon dried savory

• 1 pound red potatoes (about 8 small), cut into 1-inch pieces

• 2 medium carrots, sliced

• 1/2 cup water

• 1/2 teaspoon salt

• 1/4 teaspoon pepper

directions

1. In a Dutch oven, heat 1 tablespoon oil over medium heat. Brown

roast on all sides; remove from pan.

2. In same pan, heat remaining oil. Add onions and garlic; cook and

stir until tender. Add beer, stirring to loosen browned bits from pan.

Stir in mushrooms, brown sugar, Worcestershire sauce and savory.

Return roast to pan. Bring to a boil. Reduce heat; simmer, covered,

1-1/2 hours.

3. Stir in remaining ingredients. Return to a boil. Reduce heat;

simmer, covered, 15-25 minutes longer or until meat and vegetables

are tender. If desired, skim fat and thicken cooking juices for gravy.

COPYRIGHTED
---
COPYRIGHTED

www.AtlanticAveMagazine.com | march 2022 | 91
---
misc | ask the petxpert

When Do I Need to

See My Veterinarian?

We are faced with this question on a daily basis as most pet

owners do not trust their own instincts and judgment.

The person that knows the most about their pet is YOU,

the pet parent. We all understand that when our pet has an off day,

whether it is lack of appetite, loose stool, vomiting, itching or so

many other symptoms, we tend to panic. Why do we panic?

The real reason is that we have elevated our pets to family status

which means we have brought our own values into their lives.

While we celebrate these upgrades, we should also follow a more

humane treatment regimen for our pets. First and foremost, we

must understand that the physiological requirements of our pets

are much different than what humans are. This is why it is so important

that we use resources available such as these pages to learn

more about the requirements that our pets need. Their physiology

dictates a different nutritional program than what we require. We

also have to weigh the disease and pathogen threats that are very

different than those of ours.

Obviously, veterinary attention is always necessary in the case of a

known acute trauma or injury. Major cuts, accidents, possible broke

bones and internal injuries definitely need emergency care. Possible

poisoning and medication adverse events also should be verified.

However, we must ask if our over reactions to minor changes in

our pet's behavior and health put the veterinary providers in an

awkward position? We need to understand that they are trained in

medicine like human medical providers. Their expertise is in medical

treatments. They are normally not trained in nutrition, health

and behavior sciences. It is not required or often not offered in the

veterinary curriculum at veterinary schools and universities. As

a result, most veterinarians do not have the expertise that one is

looking for in holistic alternatives.

Your pet's health is your responsibility! You should know as

BY Bill Piechocki and Dr. Diane Sudduth, DVM

much of your pet's history as possible so you can make informed

decisions. With rescues, normally you only know that they have

had every vaccination that the administering veterinarian recommended

without knowledge of any previous medical history. We

also know that the diet is that of commercially prepared pet foods

of various brands and qualities which we know have a profound

effect on overall health.

While we understand that you are looking for knowledge for

your pet's health, I ask you this, is a medical doctor that is trained

in medical procedures and drugs the best source for your pet's

health? Pet food companies are product companies, not health venues.

Medicine, drug companies can be very helpful for treating specific

symptoms; however, do they actually cure disease?

The bottom line to this article is that veterinary care has become

very expensive. On so many levels, we expect our veterinarians to

be experts in choices that they may not even have the expertise

to offer advice. They are the experts in medicine emergency care.

Health is a pet parent's responsibility. We are here as nutritionists

to help guide you through our ongoing education and research.

Follow us here and on our podcasts at iHeart.com Pet Health

Café for the information and education you need to provide your

pet with the optimal health and life that they deserve.

Bill Piechocki, animal nutritionist and CEO at My Paleo Pet in Pompano

Beach, FL hosts The Pet Health Cafe web radio show. For over 40

years in the animal industry Bill has provided unparalleled vision and

information that is passed on to his clients and animal lovers daily.

Visit the radio show to listen to LIVE broadcasts with his special guests

and esteemed colleagues at www.PetHealthCafe.com or tune-in to the

show's archives at iHeart.com. Call for a free consultation or stop by

My Paleo Pet in Pompano Beach, FL 954-971-2500, where Bill and the

staff would be more than happy to help.

SEND YOUR Questions OR COMMents for OUR PETXPERT TO: Pets@ATLANTICAVEMAGAZINE.COM

COPYRIGHTED

THESE pets are available for adoption

21287 Boca Rio Road,

Boca Raton, FL

561-482-8110

www.tricountyhumane.org

breeze Zorro cassy

Hi, I'm new here! My name is Breeze and I'm

one cool girl! I'm still basically a kitten at 1 year

old and I'm so ready to get into my forever home

at last. I'm a Domestic Shorthair with giant,

loving eyes to gaze at you. I'm up-to-date on my

vaccines and spayed so all that's left is for us to

meet and get this lifetime of love started!

I'm Zorro and I'm as dashing as my

namesake, don't you think? My green eyes

will captivate you! I'm quite an easygoing guy

of 9 years. I'm low-maintenance, just happy

to snooze in a sunny spot before my dinner

and ear scratches! I'll be good company, so

let's move in together today!

I'm cassy and I'm sassy (See what I did

there?). I put on my shiny blue collar to look

gorgeous when we meet. I'm 2 years old,

current on all my vaccines, and spayed. I'm

happy to be safe here after my rescue, but I

dream of a real home of my own and someone

to adore me. Let's meet!

A NO-KILL animal shelter.

Open Tues - Sun

11 a.m. - 4:30 p.m.

All animals are up-to-date

on vaccinations and

heartworm tested.

Adoption fees $110 and up.

92 | march 2022 | www.AtlanticAveMagazine.com
---
misc | pet spotlight

pet pix

Dakota Michos

Lucy

Bear

Meet Pablo! The new mascot at our favorite

Post Office – Pak It Tight, located at 335

East Linton Blvd. Stop in and say "woof!"

Denver

COPYRIGHTED

Rocky

You can now give your

pets the fame they deserve!

Make your pet a celebrity.

Email your favorite photo along with their name to:

pets@atlanticavemagazine.com

Photos must be 300 dpi (high quality)

www.AtlanticAveMagazine.com | march 2022 | 93
---
leisure | brain teasers

crossword puzzle

1 2 3 4 5 6 7 8 9 10 11 12

13 14 15 16

17 18 19

20 21 22 23 24

25 26 27

28 29 30 31 32

33 34 35 36 37

38 39 40 41

42 43 44 45

46 47 48 49

50 51 52 53 54

55 56 57 58

59 60 61 62 63

64 65 66

67 68 69

sudoko

Fill in the grid so that every row, column and

3x3 box contains the numbers 1 through 9.

1 8 3 7

9 1 8

6 9

3 5 9

1

2 7 3

1 4 6

9

9 3 7 4

ANSWER TO this sudoko will be printed next month.

ACROSS

1 Concert appearance

4 Dirty

9 Cooking meas.

13 100 square meters

14 Contradiction

16 Chief Hawaiian island

17 Short for the least

18 Tennis great ___ Gonzales

19 Tax

20 Applications

22 Tap's partner

23 Hoop dunk

25 Added for free

27 About this size

28 Surrounded by

30 Subject of spectacular

bankruptcy case

33 Very similar to

35 Flashy

37 Tokyo Yoko

38 The Pobble had none

39 Engender

41 One of four

42 "You've Got Mail" company

43 "The hour ___ hand":

St Matthew's Gospel

44 Dangerous feats

46 G W T W's ___ Butler

48 Green, blotchy frog type

50 Toque wearers

52 To do with plants

55 A machine's productive hours

57 Honorific title in India

58 ___ of the above

59 Happy feline rumble

60 Letters, these days

63 Of a thing

64 Surrounded by

65 I'm sorry ___ you waiting

66 "The sloeblack, slow, black,

crowblack, fishingboatbobbing

___" (Dylan Thomas)

67 Egg holders

68 Peter Pan's pal

69 Blunder

DOWN

1 Complete range

2 Whiskey choice

3 Thomas Edison was once a

director of it

4 National economic indicator

5 State of preparedness

6 Baseball segment

7 Clickers or squeakers

8 Expression of derision

9 Add as a bonus

ANSWER TO this PUZZLE will be printed next month.

CODEWORD

10 Hi-fi is not supposed to

suffer from it

11 Card dispenser

12 Golfing short shot

15 Gray wolf

21 18-wheelers

24 Sleeping

26 Stir-fryer

27 Pack

29 Election list

31 That show's going to be

___ 9 pm

32 Silently indicates assent

33 State emblem on Old Glory

34 Expression of amazement

36 Pristine

40 Chums

41 Holy book of Islam

43 Agenda topic

45 Make lace

47 Musical intervals

49 "1984" antagonist

51 Bases

53 Bury

54 Hotelier ___ Ritz

55 Poisonous Javanese tree

56 Catamountain

57 Japanese rice wine

61 Cut

62 Intelligence officer

1 2 3 4 5 6 7 8 9 10 11 12 13

L

14 15 16 17 18 19 20 21 22 23 24 25 26

ANswer to this codeword will be printed next month.

I

16 5 25 16 16 16 25 7 5 16 4 4 22

25 2 12 22 20 17 20 25 3 24 16 25 12

D

3 25 5 22 14 19 16 3 25 16 20 3 26

I

22 13 2 16 8 19 20 9 18 22 16 20 20

L

12 16 22 19 12 25 6 2 10 21

D

8 16 19 25 22 1 24 3 2 8 22

26 22 10 21 26 3 7 23 4 24 25 12 11

16 4 3 14 1 3 8 16 26 8 16 14 16

15 12 25 3 1 23 19 17 12 22 8 22 4

19 14 7 16 25 4 4 16 10 24 3

5 19 3 1 21 3 25 14 16 22

COPYRIGHTED

17 24 22 15 12 12 3 8 20 4 19 14 12

8 3 7 12 15 12 20 20 16 12 8 5 12

10 24 2 25 8 22 7 12 10 1 12 8 20

10 3 26 12 6 12 19 25 12 16 6 12 22

Sudoku Medium No.303

ANSWERs fROm

last month's

brain teasers

CROSSWORD

1

W

14

H

17

E

20

R

24

E

32

E

36

G

39

A

42

N

49

R

54

O

58

O

61

F

2

A

3

S

4

F

5

R

6

15 16

T

M O O N I C E

A

7

I

8

L

9

S

10

C

11

A

12

R

13

F

U N E R

M U R A M O S A T O N E

A N G E E N S H R I N E D

25 26

T

N D O W E D

33

M

50

I

27

B

28

R O W T

A R E

H I S 29 30

C I

31

S

I G R E O A R P A P A

A T E D D U N V I S O R

Y E S G E T N E V A D A

O S P A S S S N O B

51

V

45

P

U L P 46 R A T T L 47 E

48 D

E R S I D E U S A G E

D O R S S A V O R N Y C

L L I E E L U D E C P A

E E L S D E E D S A T F

SUDOKO

3 5 1 6 4 8 9 7 2

8 7 2 9 3 1 4 5 6

6 4 9 2 7 5 1 3 8

4 8 6 5 2 9 7 1 3

7 1 3 4 8 6 2 9 5

9 2 5 3 1 7 8 6 4

1 3 7 8 5 4 6 2 9

5 9 8 7 6 2 3 4 1

2 6 4 1 9 3 5 8 7

codeword

1

W

14

V

9

5

4

M

E

D

23

A

7

L

12

T

8

H

2

U

25

J

23

A

16

P

22

O

4

D

5

2

E

12

T

2

U

4

D

5

E

13

R

5

E

14

V

2

U

16

P

13

R

2

U

5

E

U

15

Y

9

M

23

A

18

C

8

H

20

I

11

N

5

E

9

M

23

A

4

D

5

E

5

3

E

12

T

18

C

B

16

P

22

O

7

L

5

E

22

O

22

O

23

A

24

S

9

2

4

M

U

19

Z

23

A

26

K

D

17

F

18

C

23

A

13

R

12

T

24

S

5

E

5

E

26

K

5

E

18

C

18

C

3

B

24

S

17

F

23

A

15

Y

5

E

4

D

2

U

11

N

23

A

1

W

23

A

15

Y

6

X

19

Z

13

R

23

A

11

N

4

D

3

B

10

G

23

A

7

L

24

S

20

I

13

R

5

E

7

23

A

7

L

5

E

5

E

3

2

B

U

13

R

26

K

23

A

5

7

L

20

I

E

L

24

S

23

A

8

9

M

22

O

5

E

24

S

5

E

11

N

5

E

9

H

21

Q

M

24

S

4

D

22

O

24

S

16

P

22

O

13

R

12

T

13

R

23

A

20

I

12

T

2

U

13

R

5

E

5

9

E

11

N

12

T

M

22

O

13

R

2

U

9

M

24

S

7

2

6

5

10

G

23

A

L

U

X

E

21

Q

2

U

23

A

15

Y

24

S

5

E

18

C

10

G

11

N

18

C

23

A

23

A

11

N

24

S

2

7

U

L

12

T

12

T

23

A

3

B

7

L

5

E

24

S

16

P

22

O

22

O

11

N

24

S

12

T

25

J

20

I

11

N

11

N

5

E

13

R

13

R

22

O

13

R

16

P

7

L

23

A

11

N

26

K

13

R

26

K

12

T

23

A

22

O

4

5

D

E

23

A

11

N

24

S

24

S

23

A

6

X

5

E

24

S

94 | March 2022 | www.AtlanticAveMagazine.com
---
An exclusive suite of services

designed to make buying and

selling your home a delight.

STRATEGIC HOME RENOVATIONS

GLOBAL REFERRAL NETWORK

COMMITTED LENDING PARTNERS

TITLE INSURANCE & SETTLEMENT SERVICES

SELL AT AUCTION

NEW DEVELOPMENTS

VIRTUAL HOME STAGING

Julie Ann Giachetti

Talent & Experience with Results that Count

Broker Associate

Premier Luxury Specialist

Over $1 Billion in Closed Sales to Date

Member of Who's Who in Luxury Real Estate

Top 100 Realtors in the state of Florida

COPYRIGHTED

561.212.0022

JULIE@JAGHOMES.COM

JAGLUXURYHOMES.COM
---
96 | march 2022 | www.AtlanticAveMagazine.com

COPYRIGHTED
---
SIRENEVILLASDELRAY.COM

@SIRENEVILLASDELRAY

"HOME IS NOT

A PLACE BUT

A FEELING"

Located in Delray Beach, a vibrant seaside town in southeast Florida filled

with art galleries, upscale shops and fine restaurants, Siréne Villas is a

collection of six townhouses conceived as a haven of understated

sophistication and discrete luxury. Taking a cue from the town's thriving art

scene, the architects drew inspiration from Cote d'Azur, a magical corner

of southern France known as much for its eternally summery allure as for

the long list of illustrious painters like Matisse, Chagall, and Picasso who

made it their home. The six townhouses channel the soulful charm and

artistic heritage of the French Riviera through a poised, pared down

aesthetic of minimalist purity and sculptural rigour.

COPYRIGHTED

Underpinned by a sense of openness and lightness, the interiors are a

paradigm of understatement with a soothing color palette of white,

cream and earthy tones complementing natural materials and exquisitely

crafted details. Combined with all the amenities you'd expect in a luxury

property, Siréne Villas are a serene retreat of timeless modernity and

heightened refinement.

1236 GEORGE BUSH BOULEVARD,

DELRAY BEACH, FLORIDA

CONTACTS:

CANDACE FRIIS

tel.: 561.573.9966

PHIL FRIIS

tel.: 561.706.1922
---
Turn What You Love

into Where You Live

Delray Beach | 1171 S Ocean Boulevard

$24,950,000 | 6 BR, 8 BA, 3 HALF BA | Web# RX-10758039

Nick Malinosky: M 561.306.4597

Boca Raton | 18161 Daybreak Drive

$5,000,000 | 6 BR, 7.5 BA | Web# RX-10764901

Katia Reisler: M 561.801.8250

COPYRIGHTED

Fort Lauderdale | 701 N Fort Lauderdale Beach Boulevard, 1202

$4,850,000 | 4 BR, 4.5 BA | Web# F10305879

Marc Brandt: M 954.445.3033

Hillsboro Beach | 1170 Hillsboro Mile , 201

$1,250,000 | 3 BR, 3.5 BA | Web# F10314986

Christopher N. Couzens, PA: M 954.999.7598

James Miller: M 954.999.7085

elliman.com

900 EAST ATLANTIC AVENUE, 1 & 2, DELRAY BEACH, FL 33483. 561.278.5570 © 2022 DOUGLAS ELLIMAN REAL ESTATE. ALL MATERIAL PRESENTED HEREIN IS INTENDED FOR INFORMATION PURPOSES ONLY. WHILE, THIS INFORMATION IS BELIEVED TO BE CORRECT, IT IS REPRESENTED SUBJECT

TO ERRORS, OMISSIONS, CHANGES OR WITHDRAWAL WITHOUT NOTICE. ALL PROPERTY INFORMATION, INCLUDING, BUT NOT LIMITED TO SQUARE FOOTAGE, ROOM COUNT, NUMBER OF BEDROOMS AND THE SCHOOL DISTRICT IN PROPERTY LISTINGS SHOULD BE VERIFIED BY YOUR OWN ATTORNEY,

ARCHITECT OR ZONING EXPERT. EQUAL HOUSING OPPORTUNITY.